July 31 Back to the Family History Library today for another round of searching for the seemingly impossible to find, smile. One thing that is amazing is the inherent beauty of this valley. As we walk down the hill to East 9000 South, it is spreads out before us, but with a different view than when we walk down the hill towards State Street when returning to the RV park in the evening. This morning the valley roof was covered with clouds, the mountains to the west distorted in the slight haze that permeated the sky, the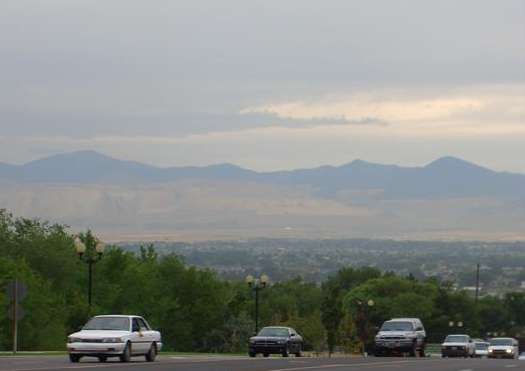 rumble of traffic providing an ersatz musical background as we walked along, talking about what facts we might uncover today. We negotiated the intersection of 9000 South and State Street and began to climb the hill to the TRAX station. Near the top of the hill we turned around and paused for a moment taken in the feelings the valley imparted. What would those early Mormons think if they could see the same view we were? Would they be pleased, displeased, awe struck, mystified or would they just shrug their shoulders and get on with life? What about the ancestors Linda and I would be searching for today. They were real people, what would they think of us digging into their lives, trying to not simply know who they were, also trying to find out what, when, why and how of who they were. Someday it will probably happen to all of us. I wonder how that person will look at me.
The family History Library is five floors of information. It is far, far more than just names, it is history that you can make come alive. Of course there are books, stacks and stacks of books, but there are also microfilms, hundreds of thousands of microfilms. The cabinets that hold them seem to go on and on, almost disappearing into the distance.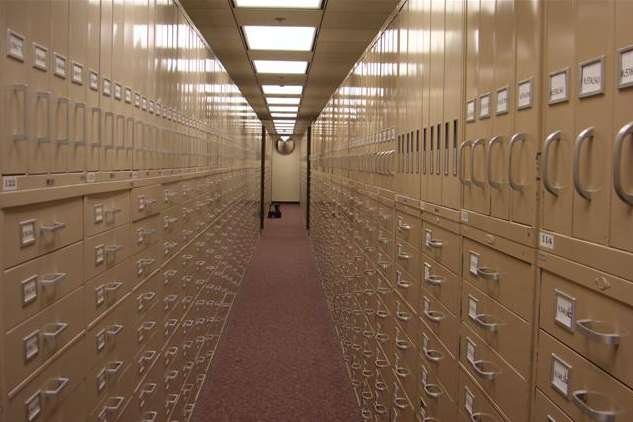 Then there are the computers. Here is a cameo photo of a researcher hard at work sitting at a computer terminal, lol. It was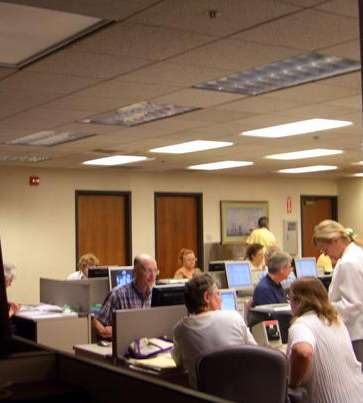 purported that one of my great grandfathers on my mothers side had come to America as as young man, returned to Europe, married, then brought his family to America. There is so much information available it is hard to sort it all out. From earlier research I knew he had actually started for America with his family, then due to an advanced pregnancy, they had aborted the trip in England returning to the continent where the baby, a girl named Lina was born. A few months later they left a second time for America, this time successfully completing the voyage. This morning I was successful in identifying the voyage he took as a young man of 22. It was one of those moments that makes the untold hours of frustration worthwhile. Another piece of the puzzle was in place, smile.
All work and no play can make us yean for something else. Today, at noon, we actually took a break, meeting Chris for lunch at Lambs, which is one of the oldest and best lunch places in Salt Lake City. We can't speak to eating any other meals there, but if they are any where near as good as lunch, you can't go wrong. Linda had lasagna while I enjoyed blackened snapper. Two radically types of food, both done the way each of us likes them. We spent a wonderful hour talking with Chris and realizing just how unique the life we live really is because it is the life almost everyone we meet would also like to live, smile.
Sometimes there is humor in what we do. Several days ago I had spent hours and hours reading through early New England town records in search of a third great grandfather of mine who seems to magically appear out of thin air. I found no information about him, but I did learn what life must have been like in the towns of early New England and I can most assuredly assure you that the crap you see on TV and in movies bares no resemblance to what actually transpired. Today it was Linda's turn to uncover the past and walking back from lunch she asked me if I had read about the cows and the homeless problem. Indeed I had. It seems that early New England towns had some of the same problems we have today, plus a few others that have, how shall we put it, become obsolete. The records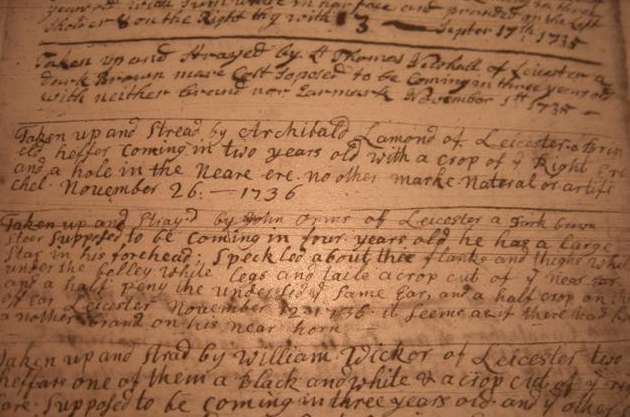 are filled with discussions about what to do with paupers. The amount of money spent on them was a burden to the taxpayers. Different ideas to solve the problem were presented during the town meetings, but it seemed like the problem just wouldn't go away. The general consensus was these people would never support themselves as long as the taxpayers would, yet a vocal minority of towspeople always prevented simply cutting off aid to the leeches. Sounds just like modern times, lol. The other side of the coin was the cow problem. The town was inundated with stray cows, Just read the accompanying photo excerpt from the town records of Leicester about the problem they were having in the early 1700's with stray cows. And you think you've got problems, lol.
We returned to the coach at sunset, just in time to record how pretty it was.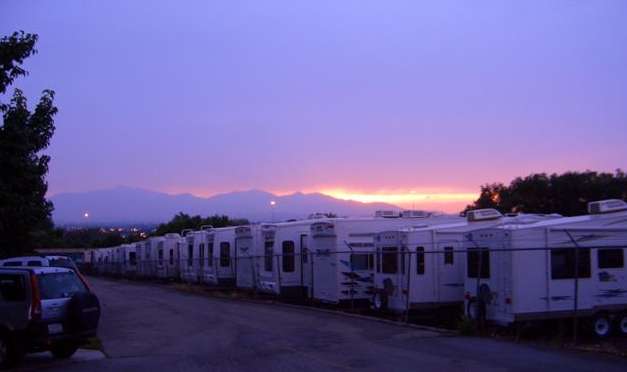 The excitement of the discoveries of the day had put a temporary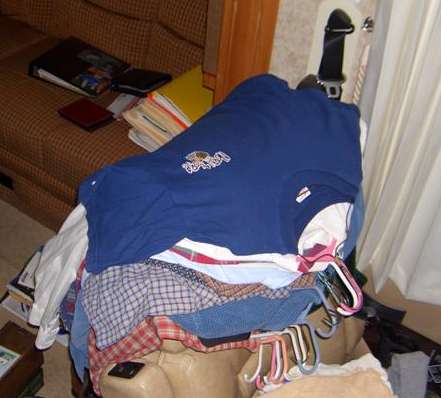 crimp in our hunger plans, so we took stock of our clothing. As is no doubt the case with nearly everyone who embarks on the same journey of adventure we did, there were far too many clothes which were brought along. To bring things into better alignment with reality, we purged the closet. It turned out that at least a third of what we had brought was going back and it wasn't going to be replace with anything else. There is simply no way of knowing what to bring on an adventure such as this, you do your best and adjust from there, lol. The closet held more than just clothes and soon enough we had accumulated a pile at the front of the coach. I think the Explorer is going to be full when we return to the house, lol.
Dinner was cooked under the stars, or at least we hoped there were stars up in the heavens. Unfortunately the clouds put a barrier between them and us, so we had to be content with enjoying just dinner, rather than dinner and the view. I must say that we do eat good, but then again, you no doubt already know that, smile. Grilled marinated pork loin, sweet potato salad, corn on the cob and tossed salad was a very special treat tonight. May your days be filled with the discovery of the new and different, the old and familiar so that your heart may go to bed as happy as ours.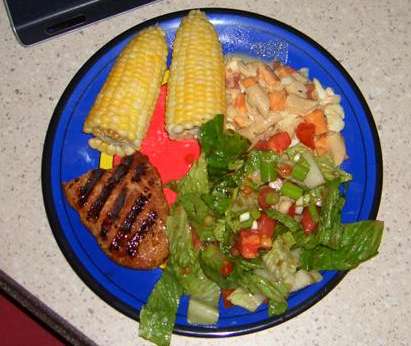 ---
click image for

the current post
---
July 30 This is a day for surprises. Not surprises for Linda or I, today we are the surpriser's, some very dear old friends who we haven't seen for years are the surprise's. In my life I have done many things that I would classify as out of the ordinary. For example, have you ever been the business manager of a radio station or MC'ed a church talent show dressed in a bikini, now you can say you know a man who has. Or how about you ladies, how many of you have had Senator Ted Kennedy, or any United States Senator for that matter, place both of his hands on your body? Linda has, and it was back when the Senator was called Teddy and he was a
handsome 35 year old. But one of my finest moments was in a more serious vein. Nearly 20 years ago I had the honor to give the "charge" to a good friend named Neal as he was ordained a Presbyterian minister. This morning we planned to show up, unannounced at Neal's church, Westminister Presbyterian in Fruit Heights. They had 3 services, first was a traditional/contemporary blended service, next was a traditional service and lastly was their contemporary service. It wasn't even a choice as far as we were concerned as to which service to attend, contemporary all the way. We arrived early and got to hear the praise band practice all the songsthey would be singing. They were our kind of songs. We laughed as Neal would occasionally look at us with one of those, I know I know you, but I don't know who you are, looks. And we sure weren't going to tell, lol.
We were sitting up front, singing the opening song when we were attacked. With a shriek followed by much hugging, Neal's wife, Chris had recognized us. It was one of those very, very special moments. Oblivious to what was going on around us, we luxuriated in the pure joy of sharing our friendship and companionship with each other. Chris is the epitome of beauty and vivaciousness, while Neal is truly a "Renaissance Man." As Chris and Linda were hugging I looked up at Neal and and got the finger point and smiling shake of the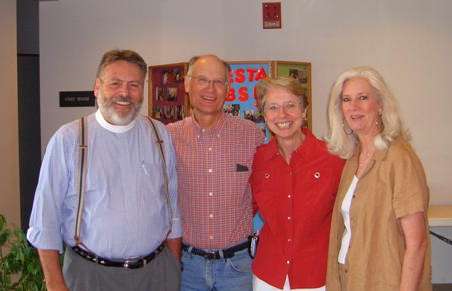 head that meant he now also knew who we were. It was one of those absolutely priceless moments. Of course, after the songs Neal said he was going to do something he hardly ever does and asked us to stand while he spoke of his past connection to us. The sermon was filled with humor and challenge, same old Neal, smile. If you're near Kaysvlle, Utah on a Sunday morning and are looking for a Presbyterian Church, Westminister on South Mountain Road in Fruit Heights isthe place. Later we lunched at a Mexican restaurant, catching up on the happenings of lives, plus the news of all our kids and grandkids, while constantly commenting on the great times we had shared. Then it was time to say goodbye, but not before making plans to have lunch with Chris in downtown SLC tomorrow. To know the link with the past. To experience the connection of being human. The joy of life. The spirit of individuality. The adventure goes on and on.
Lest I forget there had been another surprise this morning. I had awakened this morning to the sound of rain. While normally not a concern, today it was, because, for some reason, while laying there in bed I made the connection with the sound of rain and the fact I had not closed the bay door after grilling our turkey burgers last night. Things had gotten a little damp, but since we were in a hurry to get up to Kaysville, I had just pushed the Joey Bed back in and closed the door. Now it was time to see what had transpired. The first thing that struck me was the amount of water. The second thing that struck me was that it wasn't from the few sprinkles of rain we had. No, it was from the sprinklers for the tiny little patch of grass beside the coach. That was what you might call, not a good sign. Actually it turned out to be not so bad after all. Sure, some things got wet and ye,s some were slightly damaged, but it wasn't like it was the end of the world or anything. The final result was a spotlessly clean bay and the some joking with the neighbors about the what and why of our having stuff piled everywhere outside the coach. Since we were in the cleaning mode, I also cleaned up the battery compartment and performed the monthly battery maintenance check, all was as it should be. I am amazed at how little water the batteries use, plus the only corrosion was a little bit where the solar charge lead is attached. While I was at it I cleaned the inverter compartment which had aquired a coating of dust from all the gravel roads we had to put up with back in Iowa.
Later we just relaxed and enjoyed life. It had been a great day. I did spend time doing some journal updates, getting almost caught up. The neat thing about getting caught up is that I then don't feel so bad when I fall behind for a few days, lol. Dinner was grilled salmon with both tossed and sweet potato salad, while dessert was the last of the apple cake. You will note we have not been having any ice cream lately. Believe you me, this is something that gets heavily discussed during each and every visit to the grocery store. The skinny lady that I'm married to has this thing about the way she looks, so for now she is winning, but I'll keep lobbying and one of these days her resolve will weaken and it will be sugar free, nonfat ice cream with dessert once again, lol.
---
click image for

the current post
---
July 29 Guess what? No library today. Oh, it's open alright, but we need a break, so we'll go back to the routine we followed for many years. The best way to get the day started is by working on the computer, so we both spent time doing our thing. Linda answered email and I worked on the daily journal. Then it was time for breakfast. One of the things we often do prior to eating breakfast is to weigh ourselves. When we where deciding what to bring along on our adventure into a new way of living, more than a few moments were spent debating the merits of our digital scales. We finally decided to bring them and they have been a great morale builder, as the way we feel has been confirmed by the numbers, so to speak. Obviously, rational people hold widely varying views on the merits of diet and health, else why would the country be plagued by a pandemic of obesity, smile. On the other had, the vast, vast majority of people we see living this nomadic RV lifestyle appear to be quite healthy. The tale of the tape, the number on the scale and what our bodies tell us, all confirm that we must be doing something right.
With Linda smiling from ear to ear as she recorded a new low weight, she celebrated by having a glass of milk with her scrambled eggs and strawberries. I, on the other hand had my usual, which was the same eggs and strawberries, but with a slice of Canadian Bacon. How does it work? Is it that we are healthy because we eat health food or is it that because we are healthy, the food we eat is therefore health food. One of the conundrums of life, but one that is a pleasure to have, lol. After this great breakfast it was time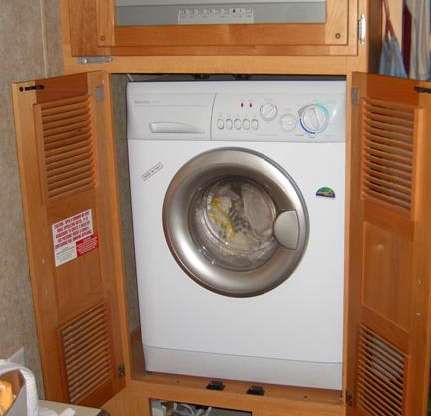 for chores. Whenever we go to the laundromat it costs approximately five dollars. When we use the washer/dryer in the coach it is approximately twenty cents per load. Yes, I know the coach washer/dryer is smaller than a commercial machine so it takes more loads, but it is so easy. Whether it would work out on balance to save money is probably debatable. That it is convenient, is not, at least by the measure of how we live. What this is leading to, is, soon the washer/dryer was humming and shaking. That's because I still haven't installed the new mounting brackets. But it has only been several months since Linda got them and since she doesn't remind me, out of sight, out of mind, lol.
Chores around the house done, we spent more time on the computer (the ultimate time waster, smile), had an abbreviated lunch of just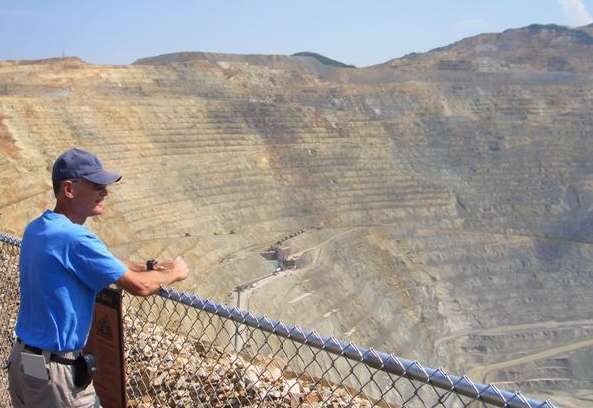 turkey wraps and took off to buy some groceries and do some sight seeing. As we were about to find out, the gigantic tan scar on the mountain due west across the valley from the RV Park was not a freak of nature, it was man made. It marks the western side of a hole that exists where a mountain once stood. Not just any hole, the largest man made hole on the face of the earth. So big it can be seen from outer space. It is Kennecott Utah Copper's, Bingham Canyon Mine and it is one of those things that if you don't see it, you couldn't comprehend what you missed and if you did go you would be awe struck looking at it. Some things are so big that the brain can not process what the eye sees. This is one of those places. It is just a big hole that has a bunch of ants crawling around. The only problem is, those are not ants they are dump trucks, but not any old dump trucks. Rather they are trucks that can haul up to 320 tons of ore or waste rock per load. Trucks that have tires that are 12 feet high. Trucks that look like ants when they're are down in the mine.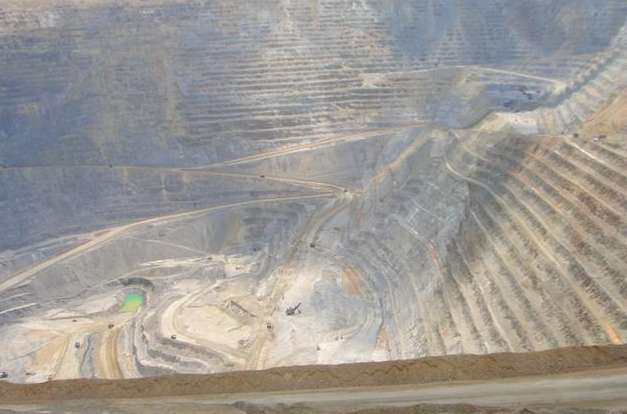 They also have a very nice museum that tells the story of the mine, the people, the places, the minerals and the technology that have made the Bingham Mine what it is.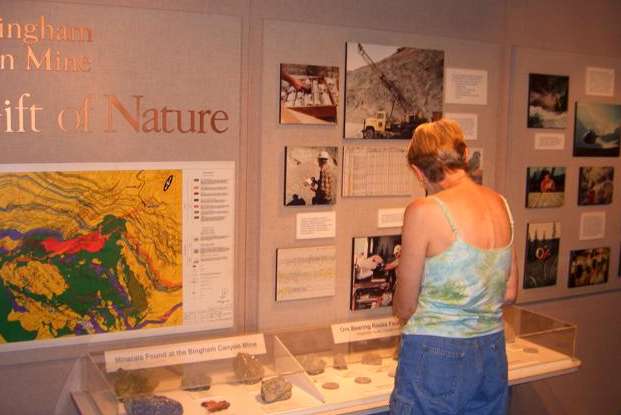 Here's something to give you a comparison of the size of the tires on those trucks that look like ants.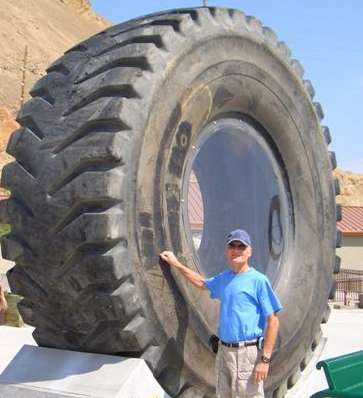 Now look at this photo. Those stacks of tires in the middle are the size of the one above. This is the repair yard for the mine and is at the top of the pit, yet it still looks small in the photo beacause the sure size of the mine is mind boggling.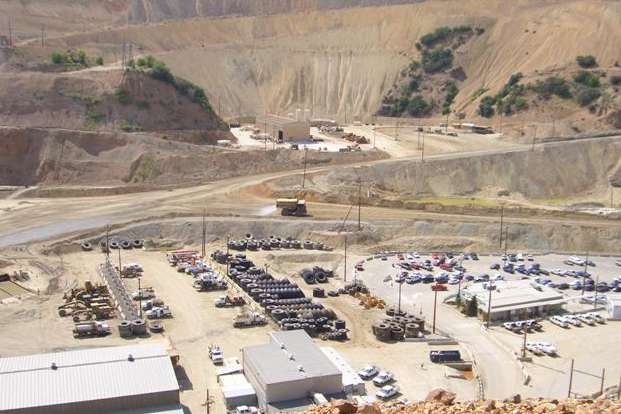 Returning from the mine we stopped for groceries. This is one of those times that we find the GPS really helpful. It's one thing to drive to the grocery store in the small towns we are usually near, since they are normally on the main road into town, but the big city is something different, though I must admit the street numbering system in the Salt Lake area makes finding things very easy. This Albertson's did not have strawberries on sale, but grapes, peaches and nectarines where 98 cents a pound. Not only were the green and red grapes on sale, so were the black grapes and did they ever taste good. I see peaches and nectarines at breakfast and black grapes at lunch in our future. Looks like besides being a hack writer I'm also an amateur fortune teller, lol. When we got back to the RV Park, we took a walk. I wonder what these people said when the trailer tire blew and did all this damage. Bet wasn't "darn, that's too bad", lol.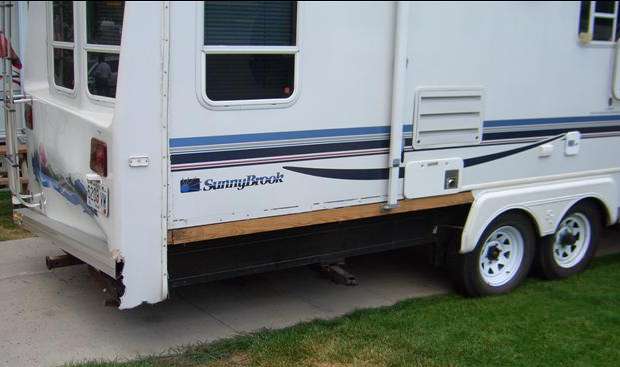 Back at the house the farm girl did her thing in our vegetable garden. Those Tiny Tim tomatoes were tiny alright, but the woman I am married to was far smarter than they were. They might try to hide in that tomato plant, but the flying female farm fingers will bring them to harvest. And harvest them she did. Not much in size, but gigantic in taste, they sure hit the spot.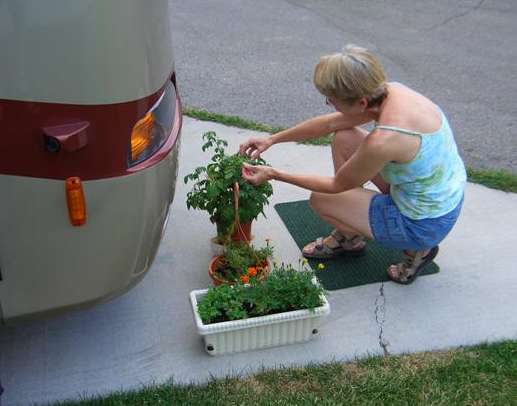 Dinner was as delicious as ever. When it has to compete with turkey wraps everyday, you know it has to be above and beyond, lol. Tonight it was grilled turkey burgers, baked beans, sweet potato salad, corn on the cob and tossed salad. That sounds like a lot, even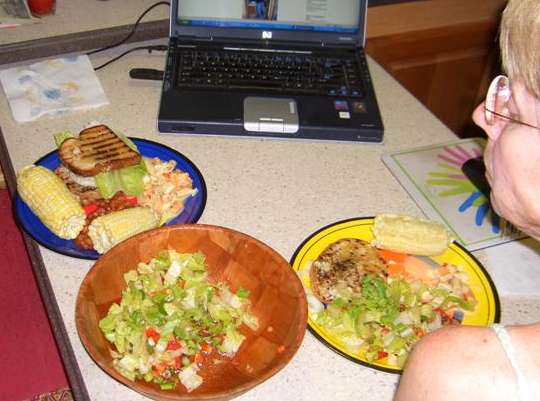 though there is really nothing bad there other than the corn, but what the heck, we gotta splurge every once in awhile don't we, lol. Afterward, while I cleaned up Linda surfed the net. She has two or three sites she has on her must visit list. I won't divulge them yet, but we do eat to the adventures of Ms. Tioga and George every night. This is something we have been doing for years. Back when we worked for living, rather than lounging around as a way of living, we used to sit down at the computer every night as dinner cooked and read "George". Being the creatures of habit that we are, we still do it, lol. After all this there was cake for dessert and what a great end to the day. May your days be as wonderful as ours.

---
click image for

the current post
---
July 28 As Yogi Berra is purported to have said, "It's like déjà vu all over again." I could make this real brief, breakfast, library, concert, dessert, or I could write a tad more detail about the day. For those of you who get their news from CNN Headline News, "That's all folks", to borrow the line Porky always ended the Looney Tunes cartoons with. (Any implied similarity between Headline News and Looney Tunes cartoons was...., smile)
For those of you looking for the lowdown on what took place today, its going to be interesting to see how I can stretch the second sentence in the above paragraph into a full days journal, then again....., lol. One thing I have really been working hard at is keeping the journal up to date, which means trying to be only a couple of days behind at the most. I can definitely see a struggle coming this week. Yesterday morning I spent a few minutes on the journal when I first got up, but most of the time was spent deciding what area I wanted to research at the library. Then, when we got back to the coach it was nearly 10 o'clock, and truth be told, I just didn't have any energy left to think about writing. Today will be more of the same and I know it will just mean I fall further behind. Yet it will only bother me for a brief instant, since the time at the library is so rewarding in and of itself.
The ease with which we travel to the library by using TRAX is amazing. There is a large parking lot at the station where we could drive and park, but we really, really need the exercise we get from walking over and back. Again today, the train fills as we near the near the downtown area. We spend the trip talking about what we had found yesterday, and in particular, what Linda would be searching for today. It sure made the trip go faster. Today, our research will involve two different floors of the library. We will spend time on the fourth floor, which has all the microfilms of the US records, then later, we will head to the fifth floor where the US books are kept. I spent an entirely fruitless and frustrating morning searching for one of my most elusive lines. It included hours spent reading late 18th and very early 19th century town records with no luck. It is one of those cases were a person seems to appear out of thin air. Only in this case it is two people. Old handwriting is hard enough to read, but when the town clerk changes every few years and you have to try to decipher a different persons writing it leads to a bad case of blurry eyes and tired brain, smile.
Linda, of course, was far more successful. What makes it okay is knowing that on other days the situation will be exactly reversed. After lunch we looked at books. Instead of trying to read the original town records, I looked at town histories. As always the clues are tantalizing, but the connections are not there. I did uncover enough information to decide that for the immediate future I would focus on several other states rather than the one I had been looking at. There is only so much of this total immersion of the physical and mental that our bodies could tolerate. We finally cried uncle and took a walk. It was a walk with a purpose. This was Friday night and there was music in the park. It was a marvelous experience. We, well, Linda, had packed some snacks and so we sat on chairs in the grass in park and enjoyed the sounds of the Sam Payne Project which was many, many times better than the last band we heard, the one at the cowboy dinner in the Black Hills. This was part of the concert in the park series put on by the LDS Church. As we were walking back to the TRAX station we strolled through the Temple Square. The crescent moon was in the sky just near one of the spires of the Salt Lake Temple. Though the photo looks good, it doesn't begin to impart the beauty of the scene we beheld. It was a very magical moment. Just another reason we are glad we we have had the opportunity and the desire to enjoy this way of life.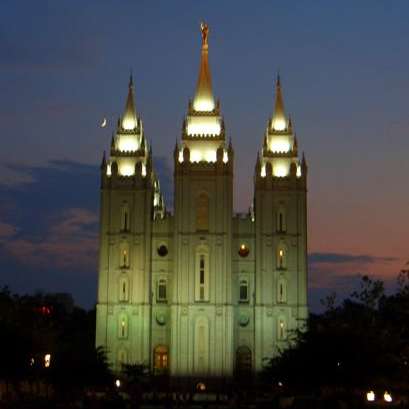 ---
click image for

the current post
---
July 27 A day to look to the past. When you travel to the town which has the largest genealogy library in the world, do you stay in the coach and read or do you go visit the tourist sites? Not if you're us. You go to the library, all day, lol. Eggs, Canadian Bacon and strawberries eaten, we venture off in search of dead relatives. Of course, we are in Sandy which is about 15 miles south of where the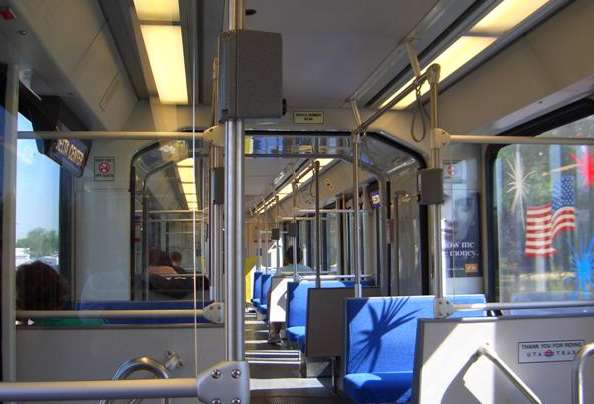 library is located. Thirty miles round trip, $5 parking when we arrive, we're not driving, we're riding. The campground we are staying at is about a half mile from a TRAX station, where we can catch a light rail train to within a half a block of the library. The cost is $1.50 per person per trip, or $6.00 total for both of us to go up and back. Not only is it stress free, it will even be cheaper than driving, plus we will get some exercise from the walk. How can you possibly beat that, lol. We locked up and walked to the station. It was a downhill walk to the intersection, then uphill to the station. There is parking at the station for those who drive, but being so close, why drive and the station was only a 15 minute walk. The ticket vending machine was easy to use and in short order, in exchange for a $20 bill, we had two tickets good for the next two hours and 17 Sacagawea $1 coins we will use for future fares. A brief wait and the train was at the station. It took just a half hour to arrive at the Temple Square station. It was definitely the way to travel, lol.
The library is five floors, three above ground, two below. Today we will be spending our time on the main, or ground floor, which is actually the third floor . It is called the Family Search floor and is where the family history and biography books are kept. We will call it a "get your feet wet" day, smile. Talk about awed, Linda was more than awed, she was blow away by what was available. She was like a moth drawn to a lantern at a campground, lol. If you are interested in family history, this is the place. If you're thinking about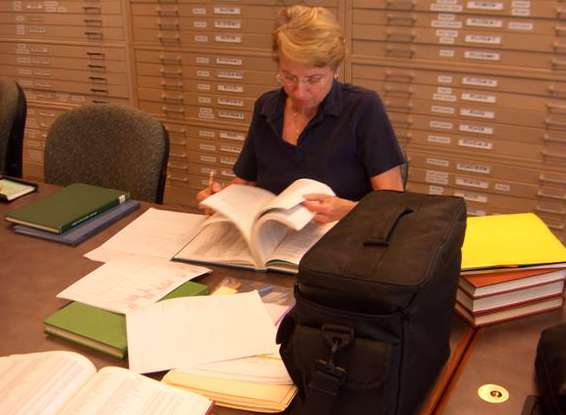 visiting, then decide to do it. Why, because you can, smile. Linda has not done as much research as I have, partly because many of her ancestors have what could be considered very common English names. This means two things. One, there is a plethora of information available for her surnames. Second, she has to wade through a gosh awful amount of information to find anything even remotely connected to her ancestors and even then it is often a guess as to whether it is her family or not. It did not take her long to bury herself, so to speak, in work, smile.
We spent the entire day in the library. The facts we uncovered will either help us fill in some gaps in our list of dead or live relatives, or perhaps, add some flesh to the lives of those who have preceded us. Most of my time was spent on the latter, most of Linda's on the former. I find that I not only want to know the names of my ancestors, I want to know something about them. The what and how are just as important as the who. For example, Linda is blessed with many old photos of her ancestors, I on the other hand had a mother, who for some reason or other got rid of nearly all the photos from my dad's family. Narrow minded and bitter, she was reported to have asked "Who would want those old things". Petty little people who think only of themselves, sometimes they are our own. Once the deed has been done it is too late. As they say, it ain't no use crying over spilled milk", but why, Mom, why,why were you so bitter? The piles of books around Linda tell the tale of her search for her past far better than I can. If you've never done it, I'd encourage you to at least give it a try. You never know what you'll find. Who knows, you could be related to someone famous, or someone notorious or someone that though they were neither, was someone you would be proud to call your relative.
After spending, quite literally, all day in the library, Linda had a break planned for the evening. We were going to choir practice, but not just any choir practice, The Mormon Tabernacle Choir practice. The Tabernacle is being renovated, so both the Thursday evening practice and the Sunday morning broadcasts are being temporarily held at the Conference Center. We were clueless as to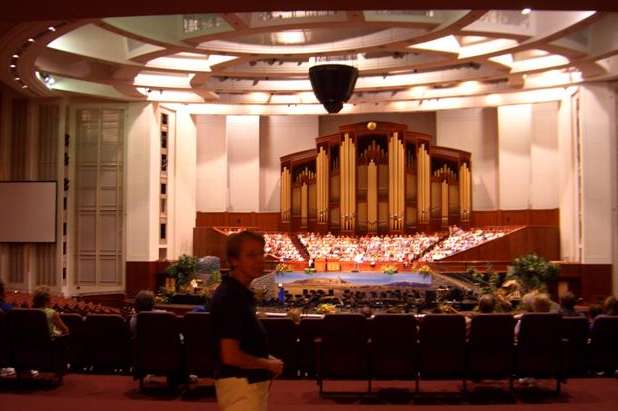 what we were expecting to see when we walked into the auditorium. To say we were blow away would be a colossal understatement. There is seating for 21,000, the pipe organ has 7,667 pipes and 125 ranks, and to top it off, the 360 some members of the choir look small standing up behind the podium. They were practicing some very challenging music from Stravinsky that was part of a program they were presenting at the Deer Valley Music Festival in Park City this weekend. Taking a break, they sang the Battle Hymn of The Republic and God Be With You Till Me Meet Again. Somehow they made it seem that they were honored that the people in the audience had cared enough to come watch them practice. As we exited, I reflected on how the church we had attended before leaving on our adventure had let political correctness dictate that all the hymnals should be replaced with ones where all references to war and gender had been removed. Then they wondered why the membership was declining.
It was just after sunset when we arrived back at the TRAX station in Sandy. The gentle breezes, the warm air, the barest hint of sunset still remaining above the tops of the mountains to the west, the sliver of the moon adding its majesty and the lights of the valley at night as we walked down the hill from the station, coupled with the wonderful and inspiring music we had just heard, made us realize just how wonderful the life we lead truly is. Dinner was grilled burgers with baked beans and sweet potato salad, followed not too long after by apple cake for dessert. To say that this was a good day would be an understatement, it was a fabulous day.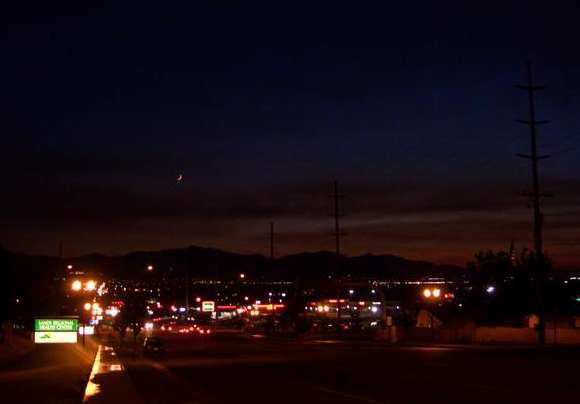 ---
click image for

the current post
---
July 26 Another of our up early, late getting started days. I still remember reading forum posts before we left on our great adventure that talked about what time people would get on the road. Some liked to leave early and drive all day, others left around noon and only drove for an hour or two. I didn't know what our routine would be or if we would even have a routine. Looking back on the past 6 months, it appears we have several different routines depending on the situation. If we intend to boondock for the night, we plan to arrive later in the day and adjust our schedule accordingly. When we boondocked, then we left early in the morning, particularly if we were at a Walmart, trying to be out of the lot and on the road before 8 AM. However, life has been different for the past month. The temperatures have led us to pretty much look for an electrical hookup every night. Also one nighters have not been in the plans very often. We settle in for a couple of days, then move on down the road. Today proved to be a typical day. Up early to work on the journal, but in no hurry to leave. Finally at 10:50 we were on the road. What a life we live, smile.
Our route today would lead to Sandy, Utah. For one of the very few times, we have reservations. Our thinking was we were going to be in a major metropolitan area, area that has a lot of summer vacationers and we wanted to stay for a week or longer, hence reservations were in order. We planned to take US-89 from Montpelier, around Bear Lake, down through Logan, Utah until it intersected I-15. Then we would take I-15 down to Sandy. It would be an interesting route that would involve several sections of narrow mountain driving and end up on what we try so hard to avoid, an Interstate. And not just any Interstate, a section of Interstate that bisects a large urban area. I shall approach the drive with the motto: Variety is the spice of life, lol.
After leaving Montpelier, US-89 follows the Bear Valley south, skirting Bear Lake, before climbing up into the mountains. The succession of small towns meant that this was not a route to make time, it was a route to enjoy our travel time. There continued to be wonders in the middle of nowhere. About 10 miles down the road, as we passed through the small town of Paris, the Paris Tabernacle, constructed from the red sandstone of the area caught our eye. Another few minutes brought us to St. Charles and a link with our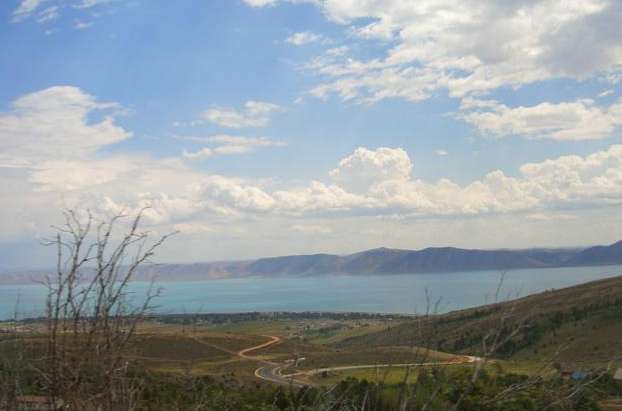 past, that is, our immediate past. Last week it was Mt. Rushmore, this morning it is the birthplace of Gutzon Borglum, the sculptor who created Mt. Rushmore. Driving on, we enjoyed the views of Bear Lake and continued to pull over at the numerous historical markers, learning that Bear Lake is a natural lake and that the fur traders rendezvous of the late 1820's lived in the tales of the trappers and mountain men as the greatest of all, not in size, but rather in terms of the "celebration" that took place, smile. Then it was time to leave the valley and traverse the mountains. One of the definitions of traverse is to go up and down and back and forth. What an apt description to what we did. This road is designated as a National Scenic Byway and it was easy to see why. From the beautiful views of Bear Lake on the eastern end to the marine terraces that marked the 1000 foot depth of Lake Bonneville above the Salt Lake Valley some 30,000 years ago on the west end, it was an very interesting and inspiring drive.
Until we reached the mountains, Bear Lake had always been off on the left side of the road. I guess it finally hit me that we were in the mountains when, after climbing for some time, a gorgeous blue and green lake appeared on the right side of the coach. Concentrating on the driving, I asked Linda what lake was it. She said it was Bear Lake. Not that I was lost, but I then asked her if there were two Bear Lakes, one in Idaho and one in Utah. She laughed and told me we were on a switchback and it was the same Bear Lake we had been seeing for the past half hour or so. Guess you could say I got turned around a little bit, smile.
Of course, how can you drive on a mountain road in the summer without encountering some road construction. Back where we only had our our weekends or way to brief, week long vacation during which to travel, road construction was a very bad thing, as it kept us from hurrying on to where we were going. Now we look at it as a welcome break that lets us relax for a short time. Same situation, separate outlooks. In the process of driving on roads under construction in the mountains, there is not always pavement. Driving a little slower and watching out for potholes, there weren't any, got us through those couple of areas with no problems. Besides, Utah roads under construction are in far better condition than Iowa roads that are constructed, lol.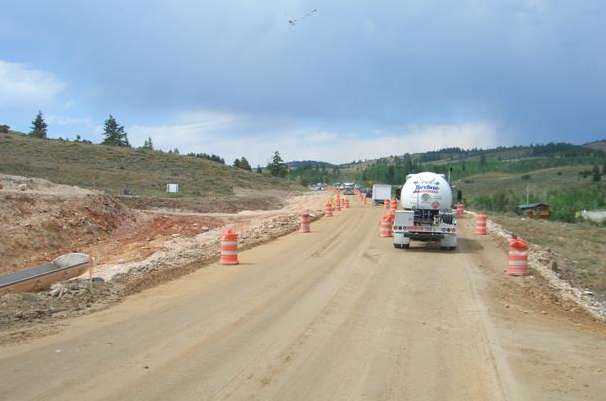 The scenery was remarkable. The mountain stream that meandered near the road, peeking behind trees, then sparking beside us, or more correctly, but less idyllic, the road followed a stream making the drive one filled with ooh's and aah's.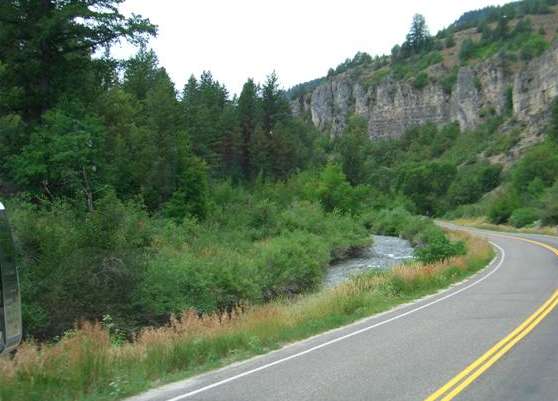 We could readily understand why the road through Logan Canyon is a scenic byway. As we continued to descend, we got closer and closer to the mouth of the canyon. Soon we had our first glimpse of Cache Valley and Logan. We passed Utah State University, set on a hill high above town. The most prominent landmark was the beautiful Logan Temple. This area is just filled with wonderful attractions, but our plans had us looking at miles to go before we could sleep (so to speak, lol).
The highway went through downtown Logan, but was no problem and almost before we knew it, we were nearing I-15, where we would head south towards Salt Lake City. As you know, we are not in love with Interstate highways, but this was going to be the route that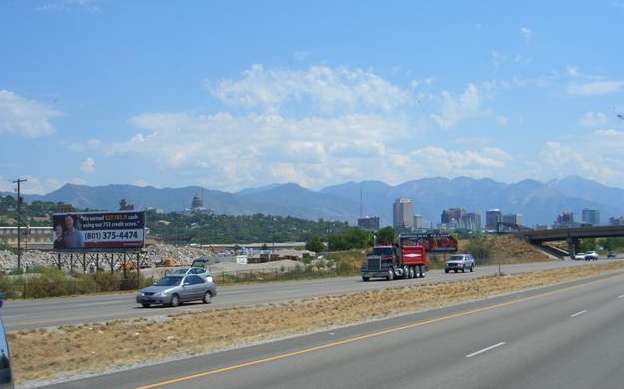 best met our needs at the moment. As always, construction cones, lane closed ahead signs and the corresponding narrow lanes and heavy truck traffic seem to be part and parcel of big city interstates. Utah has a population of approximately 2,500,000 and nearly 2,000,000 of those live along the 1-15 corridor centered on Salt Lake City, so I could definitely understand the heavy traffic, smile. Soon, downtown Salt Lake City came into view and then receded as we passed mile after mile of city. Finally the signs indicated our exit was ahead and after a short trip on city streets we were at our destination, Ardell Browns Quail Run RV Park. The sites are some what narrow, but then what do you expect in town. The park was almost full, we counted only four empty spaces, and we were glad we had made reservations. The concrete pad made for easy leveling, the 50 amp hookup for a cool interior, and site the orientation towards the Wasatch Mountains for a great view.
We were only there for a half hour our so when we noticed the wind picking up, Looking out the window we could see the trees thrashing about. Then we noticed the mountains had disappeared. It never did get black and no rain fell, so we decided it must have been dust in the air that gave everything a gray look. An interesting welcoming to Salt Lake City. After the storm passed we took a walk. Out on the street some markings caught my eye that just demanded a photo. What a town, they even mark the potholes so you will know where they are at, lol.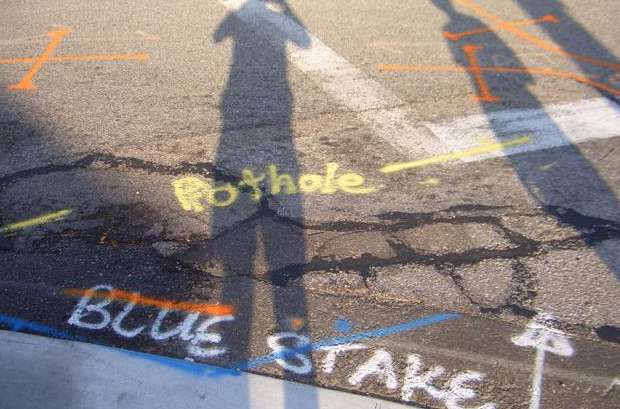 Dinner was chicken sauteed with garlic and squash, plus a tossed salad. Dessert though was something else. We had really enjoyed the apple cake several weeks ago, so Linda baked another one. This time she made a few alterations to the recipe and managed to kick it up a couple of notches. The recipe will no doubt be showing up on the website one of these days. It will also served every night for a while, smile.
---
click image for

the current post
---
July 25 Early morning is always a special time. As long time readers know, it is a time I truly treasure. This morning, as I sat in the coach, the sun suddenly burst forth over the mountains, and I marveled at the wonder of it all. Did those pioneers of 150 years ago see the beauty in the sunrise or did they just see another day of endless toil? They had recently crossed what was known as the "big hill" which is often described as the most serious impediment they would cross on the trail. After the ascent and descent of the "big hill", they would usually rest for a few days at Clover Creek, the name for Montpelier in those days, before traveling on. Could a wagon have been parked on the vary spot the coach is? Could someone have looked up at the same scene I was seeing? Unanswerable questions, but I couldn't help but believe the answer was yes.
Lost in my thoughts, it brought reality to the words in the, song by ABBA titled, Eagle.
They came flying from far away, now I'm under their spell
I love hearing the stories that they tell
They've seen places beyond my land and they've found new horizons
They speak strangely but I understand.

History is so many things, what it is today may not be what it is tomorrow. To some it is knowing, to others seeing and to still other, understanding. Today, for me, it is dreaming.
Information abounds on what those travelers ate, and had we wanted to, we could have had a trail breakfast. However, the realities of progress and a lack of information resulted in the usual of egg, etc., smile. As the days go by I find myself putting more and more coarse ground black pepper on my eggs, There is just something special that it adds to a meal. For most of the morning I worked on the journal while Linda made sure all things financial were in order. There are only two transactions a month that we make that can not currently be done on line. She had worked diligently to get it all set up and now she is reaping the rewards. Besides paying bills, having everything on line lets her do a quick daily check of each account to see if any unusual activity has taken place. She spent a good part of her working life doing this for the businesses she was responsible for, so it comes naturally to her now, to do the same for our accounts.
Finally it was time to journey to the National Oregon/California Trail Center. Even though it was only a couple of blocks away, we drove. After all, wouldn't the pioneers ridden a horse, smile. Talk about hidden gems, this was another of those little known places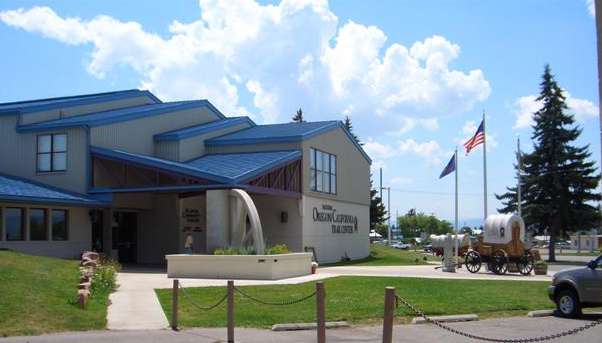 that we stumble across that turns out to be far more than you expect. It was at the Stagecoach Museum in Lusk, Wyoming, way over on the eastern edge of the state that Linda had picked up an advertising card on the Trail Center. Plans changed, the route was altered and here we were. In talking to the lady in the gift shop I learned that when the railroad pulled out of Montpelier in 1972, the town began to slowly wither away. Over a number of years the town lost more than half of its population, the main street lined with shuttered buildings. A group of businessmen decided that either they did something or the town would indeed, die. This was not a place where industry would flock, being far removed from any interstate highway, but the Bear Valley had always had a number of tourists, and it was also on the direct route from Salt Lake City to Yellowstone. It was on what had once been the Oregon/California trail, but furthermore, it was an important stopping point where the weary travelers could rest their stock and replenish their supplies. Thus was born the idea that grew into the attraction we were about to enjoy. Built with a combination of public and private funds, it reflected the attitude of the people who live here. An attitude that doesn't ask others to do it for you, but rather uses what you have, to make your life better. That they did right was reflected in the number of people we saw enjoying the Center.
This is not a place of interactive displays or animated dummies. This is a place where real people, accurately portraying the pioneers, lead you on your journey across the country. It begins with a movie that lets you see and hear what the journey was like. Done in the Ken Burns fashion, the words come from the journals and diaries of the people who actually crossed the continent on the trail, the accents imparted to the readers reflecting the wonderful diversity of people from all over the world who journeyed westward in search of free land. The movie finished, the wagon master takes you around to several shops were you learn about the the equipment and supplies you will need for the trip. You will need weapons, a rifle, a pistol and a shotgun, not for personal protection, but rather, to secure meat as you cross a country where there are no stores. But rather than just tell you about it or show you a gun or two like you would need, we stopped at the gunsmiths shop. A shop where guns are not only sold, they are also made. We learned how the gunsmith took a flat piece of iron and by heating and beating it with hammer, made it round. We saw the pieces of boring equipment he used to drill out the barrel and add the rifling. The block of wood that became the stock and how after a week's worth of work, a rifle worth $20 dollars had been made. A large expense to the traveler, if he had to buy all three types of weapons, but a necessity if you wanted to undertake the journey.
Next we learned about the wagon we would have to buy and the necessary accessories that we could not do with out. The water barrel, that would hold one or two days worth of water for man and animals, at the most. Axle grease and the routine maintenance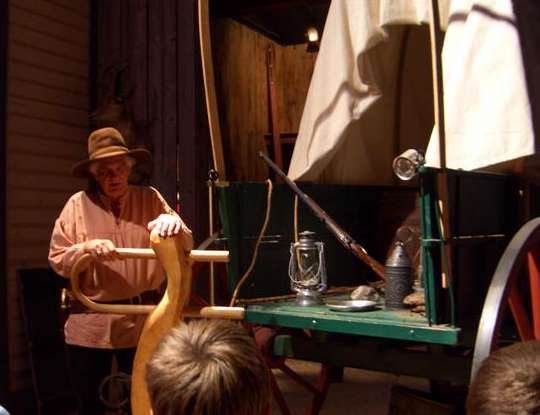 that would need to be done during the months of travel. The necessity of a tar bucket to waterproof the box for river crossing or, heaven forbid, the need to turn the wagon box into a raft if the water was too high. The fact that you needed to buy a good team of oxen and if they were not available, then a team of mules. That a horse was for riding, not pulling a wagon to Oregon or California. We learned how an ox yoke worked and why you wanted oxen with horns (it would keep the yoke from slipping off when the ox lowered its head or went down hill). The chicken coop and chickens that would be carried on the side of the wagon and provide a couple of eggs a day. The stuff of survival on the trail.
Next it was off to the mercantile store to get your supplies. Since the wagon weighed about 1000 pounds and it could hold about 1500 pounds, and this about all you could expect the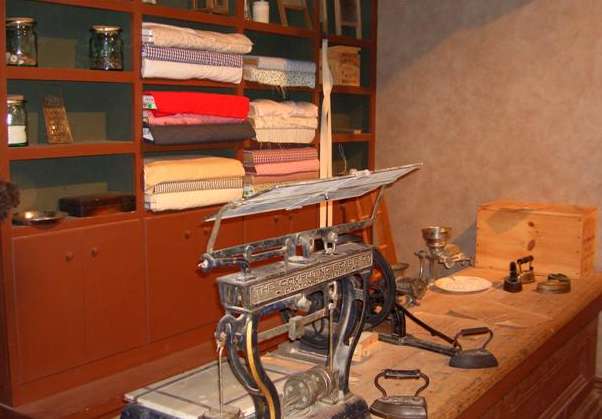 team to pull, you needed to take only the things that were necessary. The china dishes might be a family treasure, but weighed a lot and regardless of how well they were packed, most would be broken by the time you reached your destination. Grandmas dresser or the cast iron stove may break your heart to leave behind, but they will break your animals if you take them along. It was far better to have extra cloth to mend the clothes that will be torn to shreds, a number of times over, during the trip. A bottle of liniment to rub on sore muscles, the medicines to treat the illnesses that would happen. The hundreds and hundreds of pounds of food that would be stuffed into every nook and cranny of the wagon. A wagon that would be loaded so full, that everyone walked along side, unless you physically couldn't walk, then you rode only until you could walk again or died. And your chances of dying were actually quite good, whether from accident, disease or exhaustion, as 1 in every 10 persons who started on the trail, died before reaching their destination. Their were 14 people in our group, which one wouldn't be alive when we reached the pacific? Was it the old man who had trouble walking, was it the young boy who had to touch everything, was it the pregnant mother or her young husband, or could it have been me. As the song, Eagle, by ABBA goes: "They speak strangely, but I understand". History is the story of real people.
Having bought all our gear and supplies it was time to start the journey. We stepped into a covered wagon, took our seats and the curtains at the ends of the wagon closed. We heard the steady clopping of the oxen, the jingle of harness and the groan of the wagon wheels, then the wagon itself started moving, jolting, swaying and bouncing. Suddenly voices began to read passages from the journals of actual travelers. Words that related the hardships they had gone through on the journey. I listened for awhile, then closed my eyes and Drew back the curtain, To see for certain, What I thought I knew, Far far away, someone was meandering, But the past was beckoning, Any dream will do, (with apologies to T.R.). And just like that I was no longer here, I was truly far, far away. I was there. I hope you can do the same thing in your life, as it is a most magical time. Eventually we reached our destination and found that we were at a camp for the night. We heard stories of what these travelers had been through and stories of others. We found out how the mileage was measured and how things were made and food cooked on the trail. Standing there, in the dim light, the fire flickering, the crickets chirping, once again with a little bit of drawing back the curtain, I was on the trail.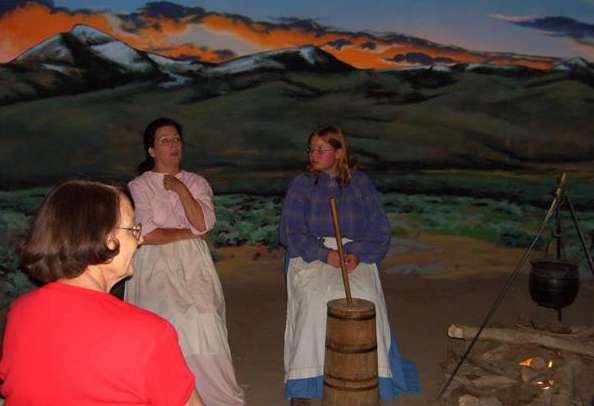 If you travel through this area and you enjoy history, it will most definitely be well worth your time to stop at the Oregon/California Trail Center in Montpelier, Idaho. There is also a collection of paintings that depict the journey across Idaho, plus the local history museum is located in the basement of the building. At the local history museum one thing in particular caught my eye, a display of cheese making equipment that was from a nearby settlement called Bern. Settled by Swiss immigrants, it brought home the journey my ancestors under took from Switzerland to the US. On a small piece of paper were the particulars of one families journey from Switzerland to Idaho in 1871. What caught my eye was the mention of the ship they were on, The Cimbria. Only a year before my ancestors had left Switzerland and sailed to America on that same ship, the Cimbria. They too were cheese makers who also settled in Bern, not Bern Idaho, but Berne, Minnesota. The link with the past. To experience the connection of being human. The joy of life. The spirit of individuality. The adventure goes on and on. With that in mind, below are photos of the cheese making equipment used at Bern, but it no doubt was the same as what was used at Berne.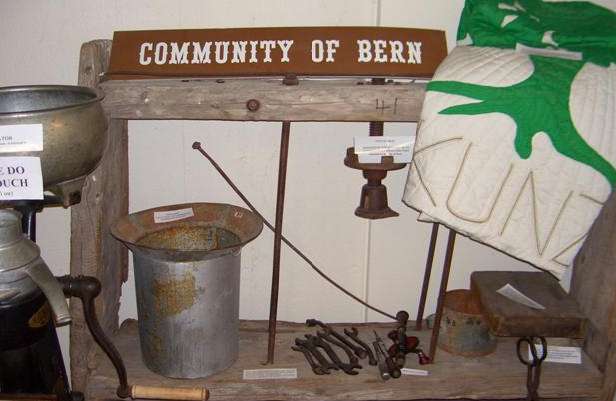 For any of my cousins on my mothers side, here is an actual photo of the ship that our great great grandfather immigrated to America on.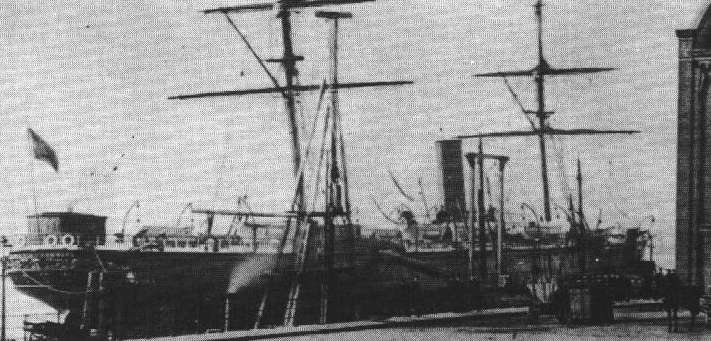 We do get off track sometimes, but if all we did was follow the straight and true path, just think how boring life would. Linda and I call this our great adventure for a reason, first because it is a great adventure, and second, because we can, smile.
But the day was not done yet. This is a very, very famous frontier town. It was late afternoon of the 13th day of August in the year of 1896, the bank was about to close, across the street, Bob Lay held three horses, while George Cassidy and Ezra Meeks entered the bank. Moments later they emerged with about $7000 in a gunny sack and all three rode off on their horses. A Sheriffs Deputy named Cruikshank gave chase on a bicycle, later switching to a horse and still later, accompanied by the Sheriff and a posse, pursued the robbers for almost a week before losing their trail. Below is copy of the affidavit filled out by the Bank President regarding the robbery. The Geo. Cassidy cited in the document was none other than Butch Cassidy.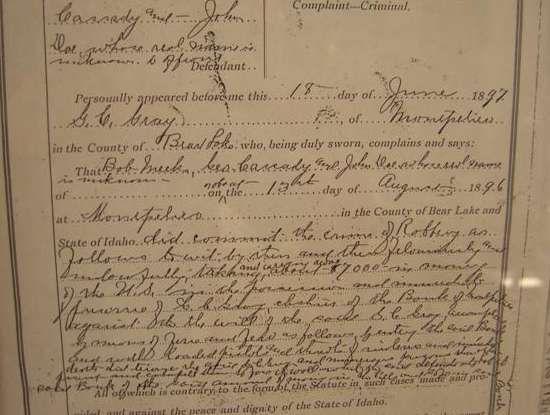 With a place this famous, who could resist having their photo taken in front of the Bank Building that was robbed by Butch Cassidy, lol.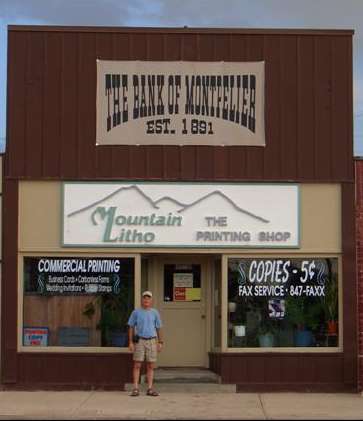 In the evening we took a walk along Washington Street, the main street in town. Residing in the realm of little known and maybe unless facts, is the fact, nonetheless, that the second oldest continuously operating J C Penny Store in the world is on this street. It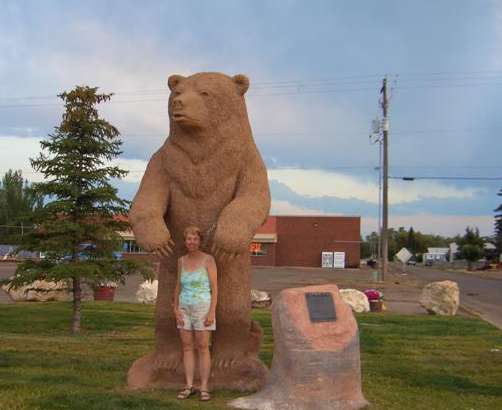 was also the sixth Penny's Store ever built. It still operates in the same building and unfortunately this intrepid journalist forget to take a picture of it, lol. There are nine plaques placed along the main street that document the history of some of the buildings in Montpelier, most still existing, several long gone. There was one other famous event that happen in the area which is commemorated by a statue. Old Ephraim was a grizzly bear, a very special grizzly bear. The last grizzly bear killed in Utah. He weighed 1100 pounds and stood 10 feet tall. The photo shows Linda standing in front of another, I mean a life sized statue, of that grizzly bear.
Dessert was the last of our chocolate chip cookies so we shall see what Chef Linda bakes for tomorrow night, that's a hint to the journal editor so it isn't pudding, lol.
---
click image for

the current post
---
July 24 This was a good morning, as Linda woke up and pronounced herself apparently fully recovered from whatever had laid her low yesterday. She did not feel like eating eggs this morning, so we reverted to to past. It was time for oatmeal, sliced strawberries,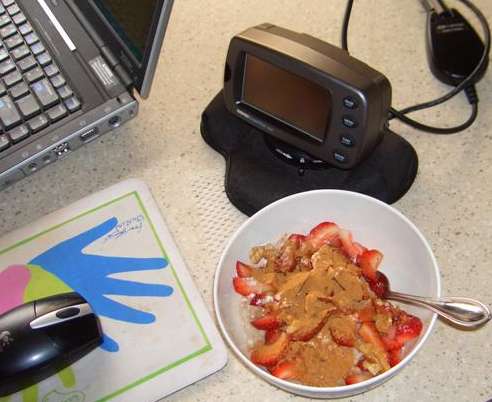 stevia, walnuts and cinnamon. Was it ever good, even though I had forgotten the ease with which the cinnamon shakes out of the container and so got just a little more than usual on my strawberries, smile. Before yesterday we had discussed where we be moving on to next. One thought had been Antelope Island State Park, which is located on the largest of the Great Salt Lakes islands. Then last night I had noticed a brochure Linda had picked up some place that talked about the California-Oregon Trail Center in Montpelier, Idaho. Understand that Idaho had not been on our general plan of states to visit, but a glance at the map showed it was only 70 miles away. Funny how this life leads you to places you never knew existed. A further check determined there was an RV park just down the street from the center, so we knew it was meant to be. Since the drive was going to be so short, it allowed for some time to work around the coach, particularly on the website. Finally we pulled out off Foothill RV park, hitching up the Explorer as an isolated shower passed overhead and headed west. It was only after we had been on the road a while that we remembered I had not taken any photo's of the campground and neither had we gone into town to visit the museums. Oh well, maybe someday when we're back through this area following the Oregon Trail, we can make up for the oversight.
One thing we did get a photo of, was the road closed signs. That this country gets heavy snowfall goes without saying. That those snows impact the country is apparent in the signs. At the base of almost every steep grade is a sign that warns the road is closed when the yellow lights flash. Linda always contended the best thing about moving to California was no more snow.
<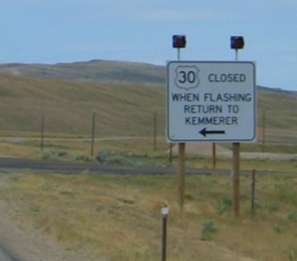 The drive itself was very easy. The terrain was mountainous, but not difficult. The road consists of long gradual grades and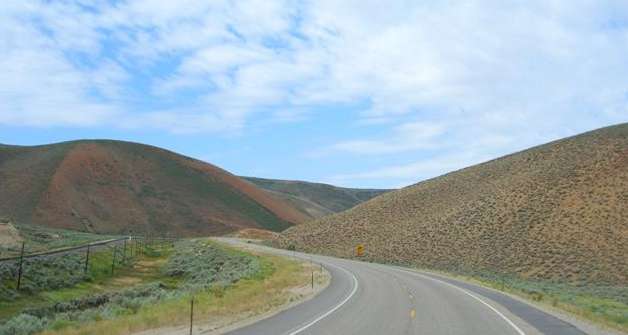 sweeping turns. How different it was from Ohio, Indiana and Iowa where we had traveled on this same road through flat farm country. A road that was wide and smooth (except for Iowa) and led us to several wonderful places that we wouldn't have seen otherwise. The more we have thought about it, the better the idea seems of someday planning one of our trips to follow a road like US-30, stopping in small towns and big cities, just enjoying the small, simple things that cross our path. Maybe there is actually such a thing as meandering through life, smile. That US-30 is different in Wyoming is readily apparent as the contrast between the beauty of the red rock and soil, versus the sparse vegetation, most of which is sagebrush, lets you know this ain't Kansas, Toto. It wasn't all mountains. There were broad valleys, one of which was home to the small town of Cokeville which has a Flying J. So we stopped to top off the tank. For a station out in the middle of nowhere, so to speak, it was surprising busy. Maybe it was just because it was the only thing in the middle of nowhere, that it was busy, smile.

Montpelier was a pleasant surprise, The campground was spacious and open for good satellite reception, the weather warm, but not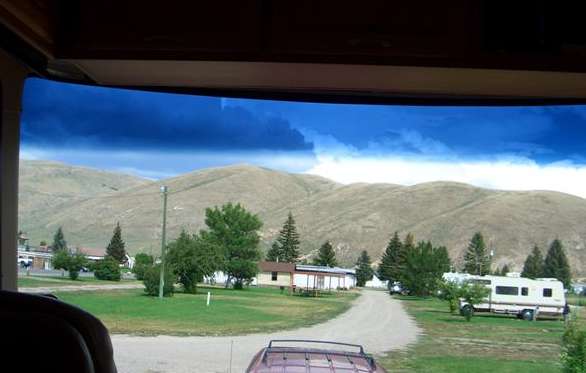 hot. After yesterday, we had decided to just rest today and leave the touristing until tomorrow. Even so, the touristing, in a way, came to us. US-30 through town follows the original route of the Oregon and California trail. The coach was parked so we faced the road and hence where the trail had passed by. The view out the windshield was of the mountains rising up to the east, the trail ran in a northerly direction through here, and had to be the same view the pioneers saw when they made camp. The resulting web searches and daydreaming severely limited the amount of daily journal writing I could do. The best intentions once again go by the wayside, lol.

We did have the salmon for dinner and you can guess what the sides were. Sweet potato salad and baked beans. By the way, we always eat the baked beans cold, just happens to be the way we both prefer them. The sunset was exceptionally pretty tonight, so here is another sunset photo. It's not to say that the sunsets in the east and Midwest are not pretty, they are, it's just that there is something special about western sunsets. Not always what the eye sees, sometimes it what the mind sees. Because of the mountains, sunset does not mean darkness and so we decided to walk in towards town.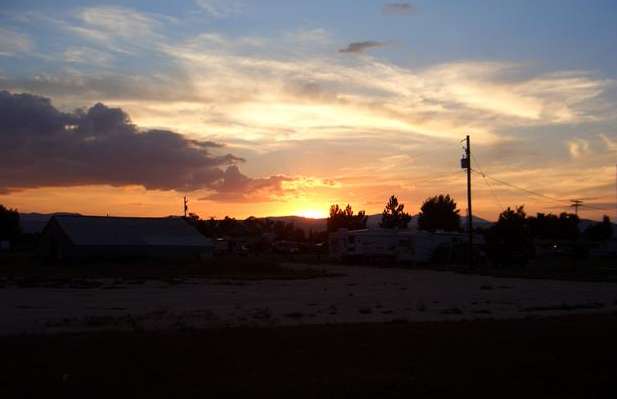 The political leanings of the landowner next to the campground were displayed on a sign for all to see.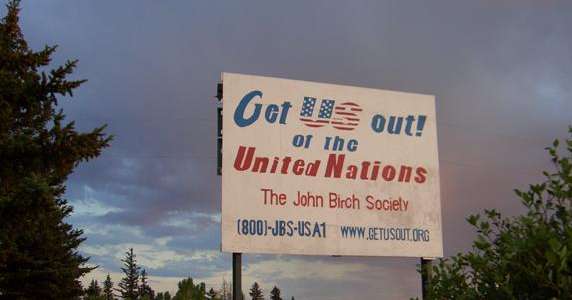 As we walked along we could hear running water and soon discovered its source, the town is laced with open irrigation ditches. No wonder everything in town was so green, lol.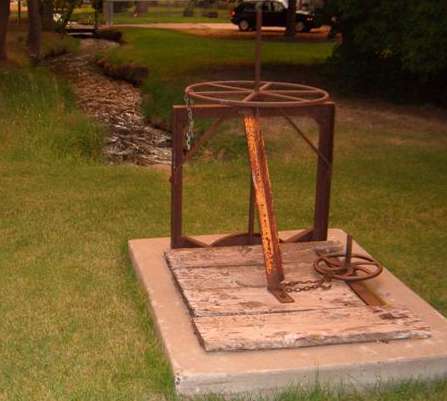 We finished the day with two chocolate cookies apiece, trying to replace all that energy we burned off on our walk. Tonight we will sleep with the pioneers.
---
click image for

the current post
---
July 23 A day for adventure. The call of the wild. Fossil Butte beckons. Breakfast beckons. Scrambled eggs, Canadian Bacon and sliced strawberries. Grind on some course black pepper and five or six shakes of hot pepper flakes and its time to eat. Linda is excited at prospect of seeing some fossils. Fossil Butte National Monument opens at 8 AM. Fortunately or unfortunately, depending on the point of view, we have learned that there is alway tomorrow, that our lives are no longer run by the clock, heck our lives are not even run by the calendar, they are just lived.

Little Fly, Thy summer's play
My thoughtless hand Has brushed away.

Am not I, A fly like thee?
Or art not thou A man like me?

For I dance And drink, and sing,
Till some blind hand Shall brush my wing.

If thought is life And strength and breath
And the want Of thought is death;

Then am I A happy fly,
If I live, Or if I die.

William Blake
Most people know Blake from the poem that begins: Tiger! Tiger! burning bright, In the forests of the night, What immortal hand or eye, Could frame thy fearful symmetry? But he has so many other wonderful poems that cause you to think, like the one above. Small incidences in our lives. Did the Indians see the fish in the rocks at Fossil Butte and wonder what and where. Do the commercial fossil miners wonder how or do they just see a dollar. In case you don't know, our quarry for the day are fish, or rather the fossils of fish, smile.

Fossil Butte lies west of Kemmerer on US-30. Leaving the campground there was a brown park service sign that stated the park was 8 miles away. Two miles up this road, and believe me, it is uphill nearly every inch of the way, there is another brown sign that says the park is 11 miles away. Linda got the biggest kick out of these two signs and wondered if anybody from the park service had ever looked at them. Maybe the rumors we have heard over the years are true. That since they are government workers it is most likely they either weren't smart enough to know they were wrong, or they simply didn't care, smile. Finally reaching the turn off to the park, we started back a long asphalt road. Soon the sign for the park appeared and the female fossil fish finder posed for a photo.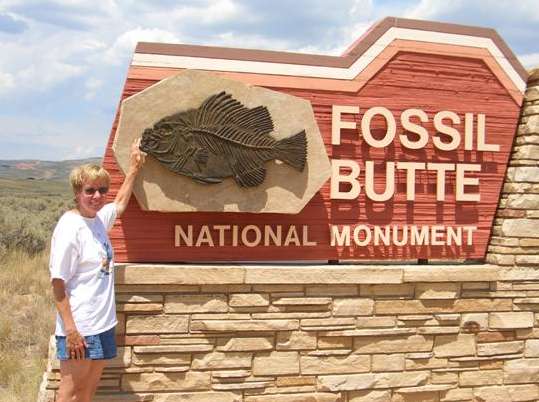 Our first stop was to be the visitors center, but before we arrived, we ran into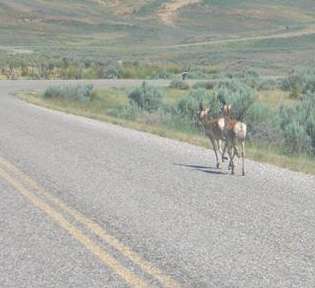 a roadblock, or rather two of them. A pair of Pronghorns was using the same road that we were. They were so cute sauntering down the road in front of the Explorer, Linda just had to take a photo. I have to admit that she was correct in her observation. Their butts do look cute wiggling as they walk, lol. ( No I'm not going off on a giggle in their talk side trip a la The Big Bopper, smile.) (But I sure would like too, lol).
There is no admission charged at the Monument, but if they did, it would be worth it.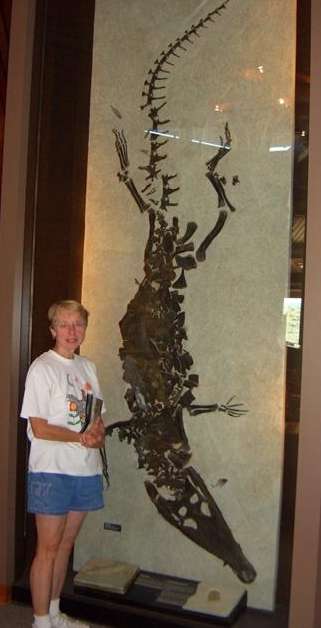 The park does not get a large number of visitors, Linda notice a chart that showed they average under 20,000 visitors a year. Some of the big parks average 10,000 visitors a day. Kind of gives you a feel for just how far off the beaten path this place is. When you walk in the visitors center, one of the things which immeiately stands out, is the fossil of the 13 foot long, 50 million year old crocodile. It gives a sense of realism to the lake that existed here those many years ago, as well as the sense of connectivity to life as we know it. Will mankind still be here in 50 million years and if so, will we be as raedily recognizable as this crocodile? Of course Linda just had to have her photo taken with another of her kind, err, I mean with her find, smile. One thing that makes the fossils here different from many other sites, is the fact that all the animals, insects and plants that made up the ecosystem of the lake are preserved in the rocks. Made up of innumerable thin layers of rock, they now reside high up on the side of the mountains which ring a valley. One side is the park, the other commercial fossil mines. The entire center of the lake has been eroded away, but millions of fossils remain. As always with the National Park Service, the museum and visitors center is very well done. As I've said over and over, they do it right.

Leaving the visitor center we drove further up into the mountains. The view from up on the top was magnificent, the broad valley with a train moving across it, the road beyond the tracks and in the far distance the other side of the valley. But we could not stay to admire the view, the lady desired to look at fossils in the rough so to speak and so we were off to the old quarry. Actually, our trip up here had been our attempt to find the old quarry, but the driver got totally turned around and it took a while before the tongue lashing from the old fossil hunter sunk into his brain. Made for a great side trip, thought the steep winding gravel washboard road would certainly not be for for everyone. The Explorer has been on many of these types of forays over the years and took it in stride, though my passenger wasn't exactly enthalled with the experience. Seems she always thinks I drive a little to fast when we come down off the cliff, as she refers to it, lol.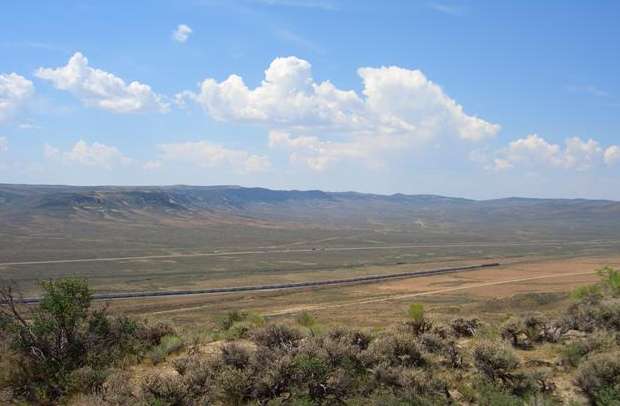 Finding and climbing to the actual quarry site proved to be our undoing in more ways than one. Lying high up on the butte, the trail to the quarry was 2.5 miles long. We packed food and four bottles of water and took off to climb to the top. We were about 1000 feet of trail and several hundred feet in height short of reaching the quarry when we met several people coming down. As we were facing the most difficult portion of the hike, we asked them if it was worth it. They said it was and more. We continued on, but only for 25 or so feet when Linda said she could go no further. While she sat on a bench out in the merciless sun., I completed the climb. They were right it was worth it.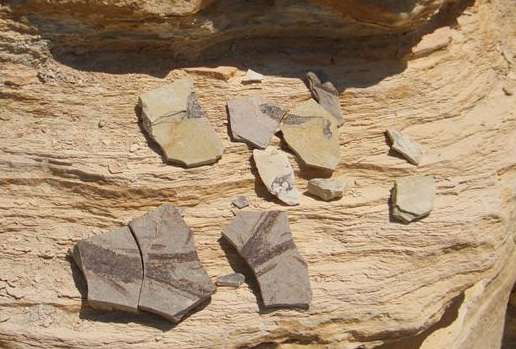 Far below I could see Linda sitting on the bench and having made the rounds of the quarry, reading all the plaques and now having a far better understanding of the forces that preserved the fossils in that ancient lake bed, I descended the trail. Before leaving the
top, I signed the register, noting that there were not many people who made it up here. Either that, or they were so exhausted after the climb that they didn't have the energy or possibly the mental state to sign in. When I returned to where I had left Linda, she was sitting on the ground in the sparse shade of a sagebrush bush. The bright red color of her face had lessened and she was feeling a little better. When I drank some more water and noticed she didn't drink any, I asked her why. She said she wasn't thirsty. Not good, maybe she was partially dehydrated as I vaguely remembered that was one of the symptoms, or thought it was. By the time we reached the parking lot, all four bottles of water were gone. Driving back to town we couldn't help but wonder about the two men we had passed on the trail. Both had the same tale-tell red face Linda had had and their car was still in the parking lot when we left. Linda commented she hadn't noticed either of them carrying any water. We hoped they were all right.

We took one small detour on our way back, driving thru downtown Kemmerer. Kemmerer was the starting place for something that touched almost everyone our age. In 1902 a young man from Missouri arrived in the wild mining town of Kemmerer and open a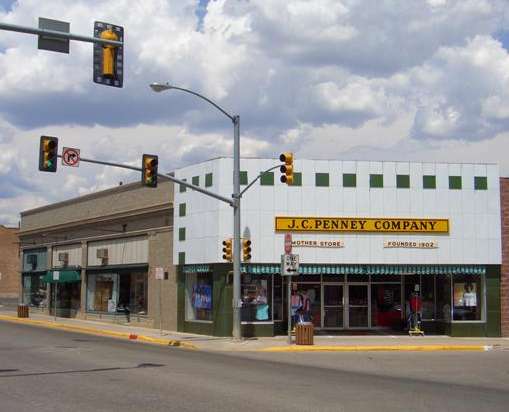 mercantile store called The Golden Rule Store. So named, because of the man's strict adherence to the golden rule in his personal and business life, it flourished to the point that in 1913 he changed the name of what then become a chain of stores to his own name, J C Penny. I still remember the Penny's store that we shopped at when I was boy. The creaky wooden floors, the second level on the back half of the store. The office area with its big glass windows. The brass tubes that quickly whisked your money up to that same second floor and just a quickly returned your change and receipt. It was a good time in my life, just as now is a good time in my life. Linda was still not feeling 100%, so she stayed in the car as I walked across the street and took a picture of what is referred to as the "mother store".

Linda never did feel good the rest of the day, spending most of the time sleeping or drinking water. She did try to determine what she had and we concluded maybe it was heat exhaustion coupled with dehydration. She didn't eat any lunch or dinner, but rather drank water and had a few crackers as her stomach wasn't feeling the best. I had gotten out some salmon for dinner, but ended up not fixing it because Linda didn't want any. Instead, I ate a little of this and a little of that. Next time we are out like that I will take my Camelbak along to supplement the 4 bottles of water we normally carry. You can't carry too much water in the desert.
---
click image for

the current post
---
July 22 Another travel day, one of about 200 miles to Jeffery City for an overnight stop. Unfortunately it didn't work out that way. What did work was our plan for an early start. After yesterdays late start we had vowed to do better today and we did. We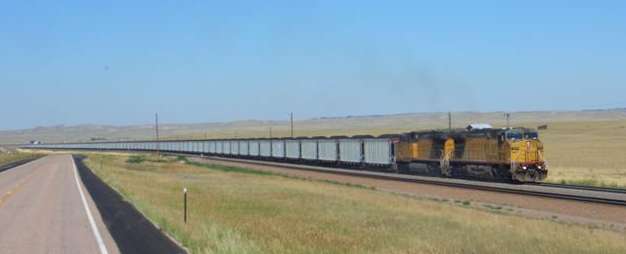 were on the road just after 10 O'clock. Two things became immediately apparent to us, first, that we were paralleling a railroad and second that we were in coal country. The tracks carried train after train loaded with coal. We finally started counting the cars and determined there were probably right around 100 cars in each train. Each looked to be identical to the next, with two engines in front and on in the rear. Their speed didn't seem to vary, either. It was slow uphill and slow downhill, but they obviously got to where they were going. What a contrast to the semi trucks on the road we were taking, creeping uphill before flying downhill as the road was not one of those twisty mountain roads, but rather had long straight sloping stretches and gentle sweeping curves.

Speaking of roads, our route today was going to include a stretch of Interstate. We would take 18 west out of Lusk over to I-25, then head northwest past Douglas to Casper. In Casper we would exit I-25 and take Wyoming Rt-220 southwest to just north of Big Muddy where US-287 would lead us west to our destination for the day, the town of Jeffery City. When we had been trying to determine where our journey through Wyoming would lead, we needed to decide if we wanted to use the Interstate, I-80, across southern Wyoming or our hold true to our aversion to super highways and use the old US and state highways. Based on the excellent road conditions we found yesterday, it looked like we had made a good decision in planning our route over the non-interstate roads. Since land for the right of way does not pose a problem in Wyoming, the roads are wide asphalt ribbons with broad shoulders, built on a heavy, brawny base that allows traffic to drive quickly and smoothly, while the sparse population means the amount of traffic is low. There were probably almost as many "vacationers" on the road as there there was local traffic. Though, since some of the country we drove through appeared to have no ranches, no towns, not even any roads leading of the main highway, the term local was relative, smile.

The first "big" city we would come to, Douglas, was essentially by-passed by the interstate, but it does have its claim to fame. You see, Douglas has declared itself to be the Jackalope capital of America because, according to legend, the first Jackalope was spotted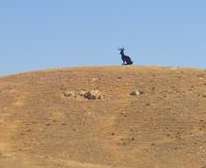 there around 1829. We saw a large statue of a Jackalope at the interstate exit and have since learned that Jackalope are a very big deal around here, even to the point of the annual Jackalope festival. Later we learned that if we had been interested in hunting Jackalope we could have gotten our Jackalope hunting licenses at the Chamber of Commerce. It wouldn't have done us any good since the hunting of jackalopes is restricted to the hours of midnight to 2 a.m. on June 31 and it was already July. Linda wants to come back some year and participate in the annual hunt, so maybe in a few years we will be back this way again, smile.

The miles rolled by, the bugs splattering on our recently washed windshield and the road construction ahead signs gave warning of changes coming. That is one of the many reasons we like to take the non-interstate highways. Is it possible the so called Federal Interstate Highway System is a glimpse of the country as a whole? Is our national system of government in disarray, falling to pieces, just as the deplorable condition of the interstate roads and the the "loud thunk and big bump" that greets you when you approach the bridges on them implies. Was the atrocious, deplorable and what in my mind, could be considered the criminal response to Katrina by our Federal Government, just a continuation of the incompetence and criminality that is prevalent in government? For the life of me I don't understand why people such as that incompetent, two bit, worthless political hack, Michael Brown, who was in charge of FEMA during the Katrina debacle are not in prison. The good old boy network and way it is perpetuated, no matter which party is in power, turns my stomach. Rant over.

There was also beauty in the air, the sunflowers growing along the sides of the road providing a brief distraction from the construction zone.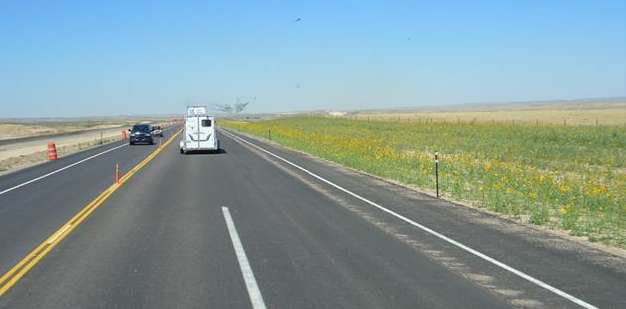 A little further down the road the question of what was the destination of the coal trains was also partially answered. Power plants, electricity. Not for Wyoming, for places far removed. I found it intriguing that much of the power generated by the company that owns this plant goes to Oregon, the land of the environmentalists. Guess their motto is no pollution in Oregon, but it's okay elsewhere if it provides us with the necessities of life. Hypocrites that want to tell others how to live as long as it doesn't affect their own life, guess you can tell today wasn't the best day we've had for a while, lol.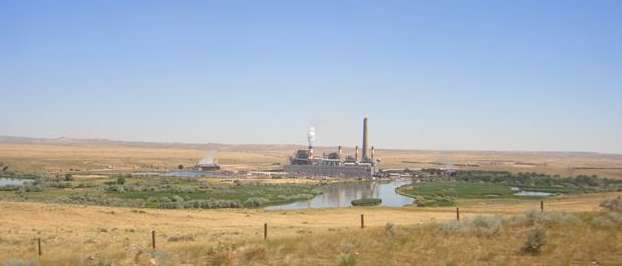 Not to be outdone by Douglas, the City of Casper also has statues at the Interstate exits.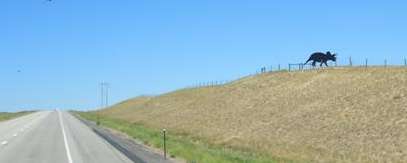 These, however, are something that is immediately recognizable, dinosaurs. As we had learned back at the museum in Lusk, this was the land of the Triceratops. Since we had spent a good bit of time on vacation several years ago visiting dinosaur areas, we decided to pass this time.
We did stop for diesel at the Flying J on the east side of town. Turned out to be a little bit of a challenge. After having passed through the road construction near Douglas, here it was again and right at the exit we wanted. We decided to exit anyway and by going slowly, very slowly, we made it down to the traffic light. A left turn and we were at the Flying J, the only problem was there was so much traffic going every which way, that I rolled just far enough past the entrance that I couldn't make the turn into the diesel pumps. I made the decision to turn into the gas pump area and go around back and pull up to the diesel pumps from the rear. The only problem was, there was no rear entrance. Not only that, but the gas pumps were so busy, neither could I cut across the end of the islands to get over to the diesel area. But there was even more, the road we had turned in on dead ended just ahead with no turn around. Luckily, a not too busy fast food establishment was off to the right and I was able to make a U turn in their lot and get back to the main road. This time we made it into the diesel pump area and pulled up along side another RV that was also pulling a toad. But our little saga was not over yet. The machine would not take our credit card, telling us to see the cashier. Linda went inside and I, rather impatiently, waited. Finally the pump reset and I filled the tank. The clerk told Linda the pumps were set up to randomly require a customer to come into the store to serve as a credit card fraud check. Good idea, but it "could" have picked another time to do it, lol. It took far less time to pump the diesel that it did to get to the station and soon we were on the road again. But only as far as getting back to the entrance ramp to the Interstate. Remember the exit was under construction, well, so was the entrance, even more so. A long slow, vehicle by vehicle ascent to the top of the ramp brought us face to face with a stop sign and no merge lane to enter the interstate which had one of its two lanes closed. Finally the gods were smiling and with traffic some distance back, I pulled out on I-25 to continue our journey. And you wonder why we really, really don't like to drive the Interstates, lol.
We exited on Route 220 and headed off towards the southwest and Jeffery City. We had noticed that this was also oil country around here, and the replica wooden oil derrick that sat in a city park we passed, served to confirm our observations.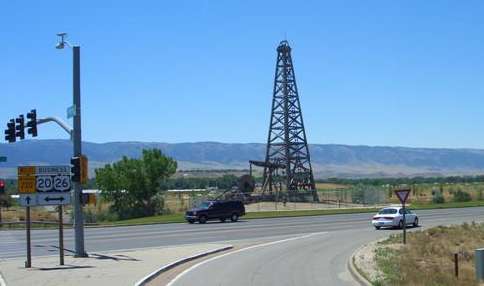 Leaving Casper behind, the landscape began to change. The red rock country started to appear. No matter how many times and places throughout the west we see those red cliffs, we are always awed by them. There are one of life's simple pleasures. Photographs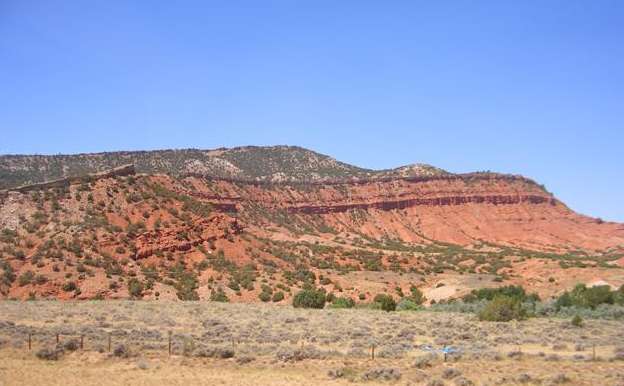 never do them justice. The eye gives a depth and vastness to the scene that impossible to duplicate other than being there in person. Just another reason we are out here doing it, because we can. We did miss one thing we really wanted to see. How we managed to do that, we never did figure out. Somehow or other we drove right past Independence Rock and did not see it. No signs, no rock, no nothing. One thing we do know for sure, we will be back to this little corner of the world again, as now our appetite has been whetted for following the Oregon Trail. It just won't happen this year. It was around 2 o'clock when we arrived at Jeffery City, our stopping place for the night. It was shortly after 2 when we pulled out, heading another 200 miles down the road to Kemmerer. It just wasn't where we wanted to stay. A bare dirt lot with hookups, multiple signs on the door directing you to do this or not do that. We just didn't have a warm and fuzzy feeling, heck even the town looked mostly deserted, and since it was still early in the day, we decided to drive on. We had nothing planned to do in Jeffery City other than break up the long drive and spend the night, so going on meant we were not going to miss anything, just drive for a longer time today.
Down the road we drove, and something different loomed in the distance, not the rounded hills we had been passing through for the past 2 or 3 hours, rather it was mountains, real mountains, the continental divide. It didn't take long before we reached the turnoff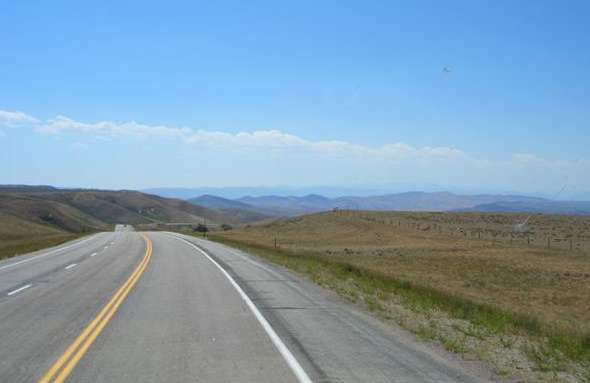 from US-287 to Wyoming 28. The next 35 miles of road will take us through the mountains. It will also take us through the famous South Pass of the Oregon Trail. The pass was interesting. It is not a narrow gorge, rather it is a wide broad, gently sloping expanse, seemingly sparsely covered with grass. Not the thing of Hollywood where the handsome husband and attractive wife in clean clothes, with not a speck of dust nor dirt on them and every hair of their head perfectly held in place, step down from their wagon pulled by horses and gaze longing down from the crest on the mountain to the river flowing through the forest that borders the fertile green valley below. I find it sad that some people really think what they see on TV or in the movies even remotely resembles what life was actually like, those many years ago. Through the pass, we began our descent, eventually coming out onto a flatland that center pivot irrigation had turned into alfalfa fields, then it was back once again to the arid lands of sagebrush. It is amazing how cattle survive in this dry seeming desolate land.
We also enjoyed the warning signs that had been erected to make drivers more aware of the fact that wildlife can cross the road at any moment.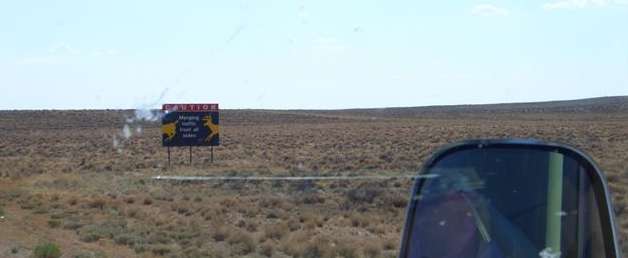 Much of this route had also been open range. It was a different place than most travelers to Wyoming see. The Grand Tetons and Yellowstone it was not, but Wyoming it was. Occasionally we would pass a lone head of beef (Though we suspected it was most likely a steer, we didn't have a clue as to whether it was a cow or steer), so head of beef will do. And before you pick on Linda for not knowing, first she was a farm girl, not a ranchers daughter and second they were so far away we were lucky to tell they were cattle, let alone what kind, lol.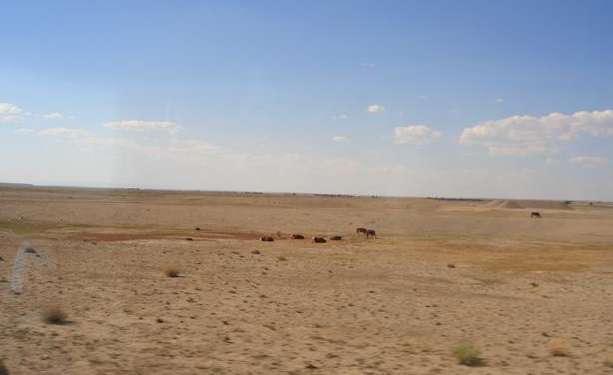 At last we arrived at Kemmerer. There were two RV parks that we were aware of, One called Foothills and one called Riverside and only about a half mile apart. Guess which one Linda picked. Trouble was it was almost full with only two vacant spots. It wasn't exactly on the side of the river, though it looked like the river had to be on the other side on the embankment. There wasn't one blade of grass in the whole park, but there were wall to wall campers. It really wasn't going our way today. Also there was no one in the office and a 5th wheel with two older people had pulled up behind us. Figuring to let the old people in the 5th wheel have the site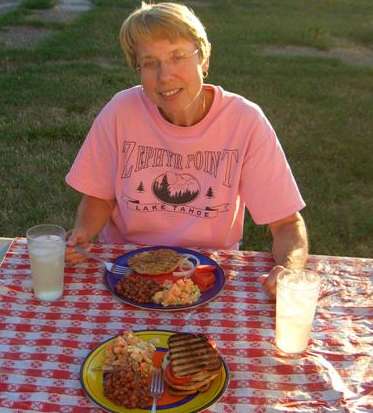 between the two families with all the kids, we drove to the other RV park. This one seemed to have a lot of long term residents, but the sites were wide, they had grass and though it had a somewhat less than stellar appearance, this one felt right. Again, there was no one in the office, in fact there wasn't even an office, only a drop box like at the forest service campgrounds. We picked a nice 50 amp site and set up. Taking a walk around the park, it appeared many of the sites were occupied by 5th wheels with an oil field or coal field type truck in front. Families were visiting and we were glad we had picked this park over the RV Crampedground by the river, smile. Dinner was turkey burgers with all the trimmings. As we were sitting outside enjoying the meal, another RV pulled in and set up beside us. Worked great because their RV shaded our table and since it was on the side we have no windows, they were in essence, not there when we were in the coach.
Linda couldn't get over the size of the garbage cans. They were the same shape as the ones we had at our house, only many times larger.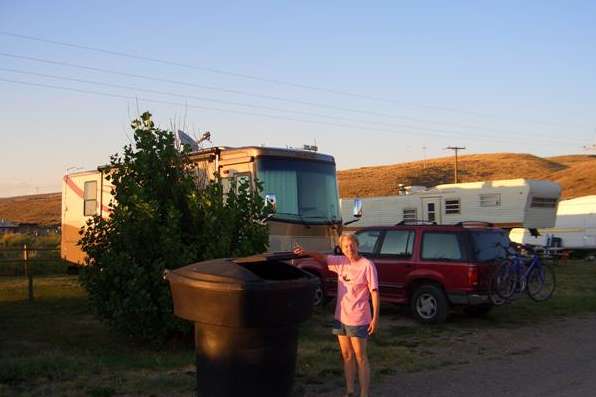 Later we took a walk and discovered there were more hidden gems in Kemmerer. At the back of the RV park, a hill or mountain rose up, depending on what term you would like to use. There were rocks back there and since tomorrow we were going to a place called Fossil Butte, the family rock hound was on the prowl. There were rocks of many colors and textures and also coal, but look as intently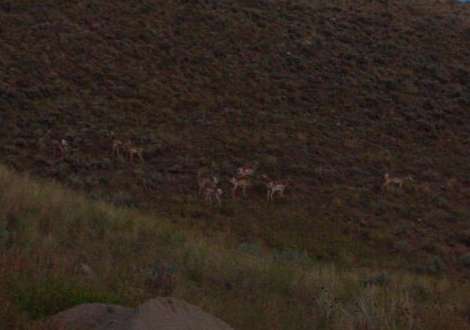 as she could, she could find no fossils. Finished having our heads buried in the dirt, we looked up and noticed movement on the hill or mountain side. They were pronghorn. Pronghorn, as in a whole herd of Pronghorn. Some still on the hillside, but most were down where we were, ahead of us in the tall grass. Unfortunately it was rapidly getting darker. So in order to both see them better and also to take some photo's, we moved in closer. Wrong move as single animals looked up and started moving toward the hill, soon the whole herd was on the mountain side and we had only gotten a few poor photos. Walking back out towards the road we noticed some signs and ended up taking a wonderful walk on a paved trail that followed a portion of the river. It was one of those special times you can only stumble across and it seems like our lifestyle lets us stumble often. A day that held many surprises, so good and some not so good, faded into night with us walking along a river in the middle of Wyoming. Life is good.
---
click image for

the current post
---
July 21 We leave South Dakota today to spend some time in its neighbor to the west, Wyoming. Our route would take us south on South Dakota Rt-79, then west on US-18 across the state line and down to Lusk, Wyoming where we planned to spend the night. As always, our day started with a good breakfast. Though we may sometimes inadvertently skip lunch, we do not skip breakfast, house rule, lol. It was our customary scrambled eggs, Canadian Bacon and sliced peaches. Since Linda bought 3 dozen eggs at the grocery store yesterday, I think we are going to be having eggs for the immediate future. Rather than spend the entire morning piddling around like we seem to find ourselves doing on travel days, we decided to hit the road a little earlier today. The fact that we pulled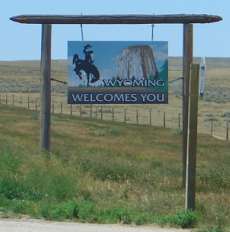 out at 11:40 is testimony to how miserably we failed, lol. Maybe we will do better next time. The land we drove through is a place of wide expanses as they say, where topping a rise can reveal a vista that literally can encompass hundreds of square miles. We had more than a few ooh's and aah's as we headed towards the west and we weren't even out of South Dakota yet. Then as we traveled over the curving rolling road a sign loomed ahead, Wyoming, we were there.
As we continued further to the west and south we did notice changes in the landscape. For one thing country was becoming drier. We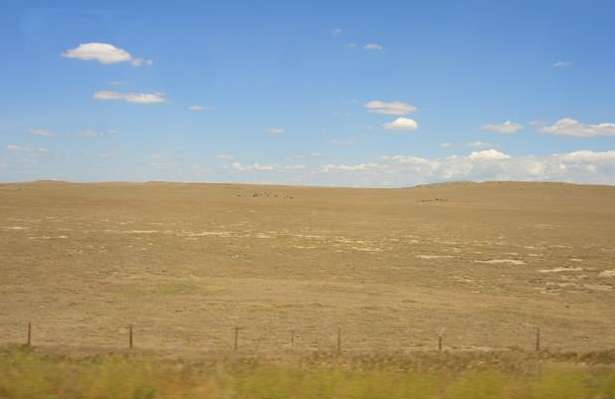 had noticed for some time how few trees there were, but now even the hints of green grass which had been mixed in with the dry brown landscape were also disappearing. We began seeing animals grazing in the brown grasslands that were not cattle. We couldn't tell what they were, as they were to far away. Maybe Mule deer, maybe Pronghorn antelope, maybe something else.
We also saw cattle, but now sagebrush seemed to be a constant roadside companion to our travels.
Almost before we knew it we were in Lusk. Since there were only 120 miles to travel today, it had not taken long. We traveled thru the small town and arrived at an open field with hookups, our stop for the night. There were several other motor homes parked, one of which appeared to be a fairly new Alfa. It looked like a good choice for a place to stay and with full hookups, a good 50 amps and only another $10 a night, it's tough to beat. We hooked up, turned on the air conditioners and took off back to town. Lusk is the home of the Stagecoach Museum and we wanted to see the stage coach. $2 a head and the history of the area at your fingertips, you can't beat it. There is one great mystery surrounding the stagecoach, one we did not answer. How did they get the stagecoach up in the second floor of the old Armory? If you want to know, you'll have to visit the museum as it didn't occur to us to ask the question until we got back to the campground, lol. This coach was used on the Cheyenne to Deadwood (South Dakota) line, a trip of more than 300 miles. They say that Buffalo Bill Cody and Calamity Jane were passengers in this coach. With a history like that, I just had to touch it when Linda took a picture of the two old timers together, smile. Now I really wish we had asked how they got it up to the second floor.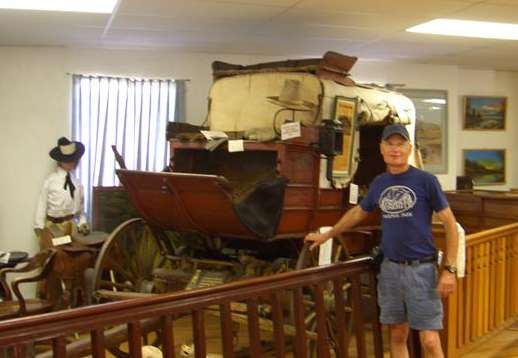 Of course Linda got more excited over a dusty old stuffed chicken than the stagecoach, but that would be expected of a women who loves chickens and anything to do with them. The most unusual item was the two headed, four legged, two tailed calf. It was like the body was normal, it was just the two ends that got doubled.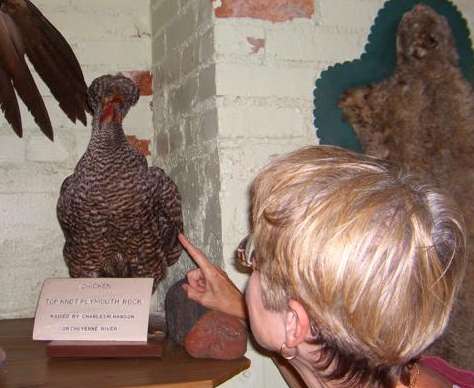 One other thing that caught my eye was a gallon jug of Merthiolate. Being a child of the 50's I remember the bright red liquid in the little bottle with the glass rod in the cap that mom would daub on any cut I would get. It never hurt and it always made the cut look like it had bleed a lot. It also worked great as warpaint when we played cowboys and Indians. My aunt Dorothy, who was a nurse, once told me I'd be just as well off spitting on it as using that worthless Mercurochome. From then on I bit the bullet and used the stinging, burning Merthiolate. That's why I probably survived all those cuts I got in childhood and all thanks to my aunt Dorothy who was visiting from Kentucky, lol. When I reached my teenage years I took it up one more notch and started using iodine. Drug use in the 50's sure was different, lol.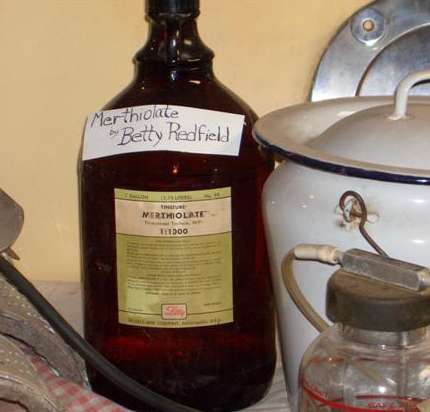 Dinner was marinated grilled shrimp and our now usual side dishes of tossed salad, baked beans and sweet potato salad. Have we fallen into a rut or just come up with some quick, simple, easy to fix items that we enjoy?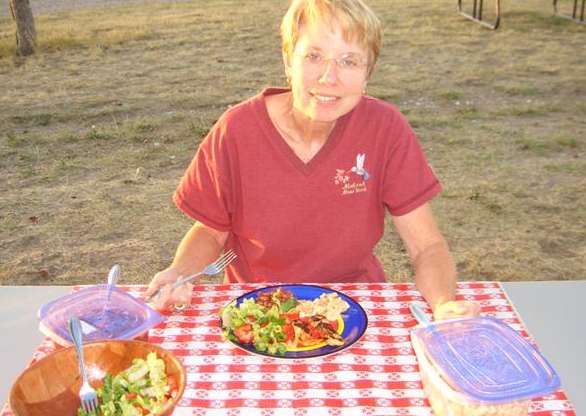 ---
click image for

the current post
---
July 20 The following is a way to describe the day.
I knew a man Bojangles
And he'd dance for you
In worn out shoes

With silver hair a ragged shirt
And baggy pants
He would do the old soft shoe

He would jump so high
Jump so high
Then he lightly touch down
Do you love the words and melody of that song like I do? It's music to my ears, lol. That's also what we've been doing the last few days. We've danced the dance, talked the talk and walked the walk, now it's time to touch down lightly and get ready for the next dance. So after 2 and a half days of touristing, we are going to call a halt to such activities today.
Breakfast held no surprises with scrambled eggs, onions, Canadian Bacon and sliced peaches filling our plates, then came cleaning time. It is amazing how quickly the impeccable beauty of the coach's interior is marred by dust and debris. With no kids or animals tracking in any dirt, where does it all come from? Some of it is tracked in on our footwear and lately as we have lived in the dry dusty conditions of northern Nebraska and South Dakota, it has been worse than usual. Those early morning, bare footed foray's to the computer are often fraught with the prospect of stepping on a small stone. One that was carried in by the groove of a sandal tread and subsequently lodged in the carpet or one of the throw rugs. One can vacuum on a daily basis, or accept them as part of life. We find that we are exceptionally accepting people, lol.
But it is just not the floors which seem to be collectors of dirt. Every horizontal surface quickly attains a gritty covering of airborne particles. This is was made worse by the fact we like to have the windows of the coach open whenever possible. Maybe the concept of sod walls, dirt floors and roofs that the pioneers availed themselves to made cleaning a lot simpler, smile. A dust rag only moves the dirt around, the magic, magnetic cloths do better, but there is still grit. The only way we have found to get it all picked up, at least until the next breeze, lol, is to use the time tested method of soap and water. Still, I would have trouble seeing how someone who was a compulsive neat nick could travel in an RV out in this part of the country. Of course there are always the high end resorts with their well watered lawns and asphalt roadways and the prices to match. We have also been parked next to neighbors where the wife seemed to be wiping and cleaning much of the time. Not our way of living. We accept the old saying, "Dirt Happens" as something that we coexist with.
Linda was in more than just the mood to tidy up a bit around the house this morning. There were things to mend, such as the bathroom rug we had brought from our house. The half circle shape fit perfectly in the space between the commode and the sink. The colors and chicken design complimenting the coaches decor. Unfortunately, it had not been a new rug, but it had been the "right" rug, smile. As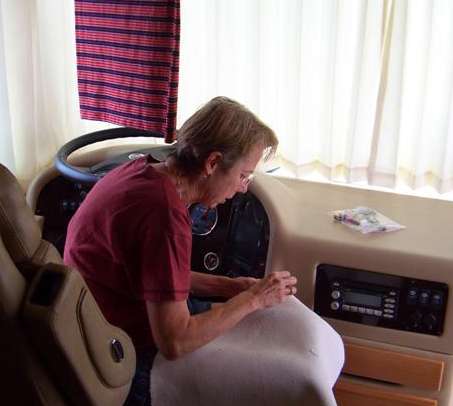 the months have gone by, one of the edges had become slightly frayed, not so much that a man would would notice, but enough that it would incessantly bother a woman. I think she finally reached her limits today with the raveling rug, because before long she was digging deep into one of the seldom used boxes, searching for just the right color of thread. Before long, sitting in the front seat with its better light, the ravels were being reigned in, the imperfect being made perfect. I always think it is amazing to watch a woman as she sews. The look, the tilt of the head, the licking of lips, the intense concentration, the pause and examination, the completion and final inspection. It must be inherent in the female of the species, for just as I remember my great aunt and mother sewing, so too, does Linda sew. When she was done, she held it up to the light, then took it back and carefully placed it on the floor of the bathroom. She commented it looked much better now. I looked at it and thought it was a little more centered than before, other than that it looked the same, but I held my tongue. Good Bob, lol.
Even though we live in a very small space, it does not take a small amount of time to properly clean it, at least to clean to the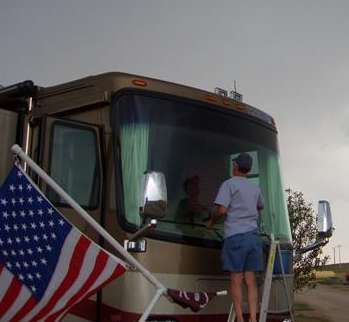 standards of the coach labor boss, smile. One of her final acts was to point out how nice the windows all looked from the inside, now that they had been cleaned, by her, lol. Having learned over the years that a comment like this is both a commentary on conditions and a command to take action, I dutifully, though gracefully, exited the coach to dig out the step ladder so I could wash the windshield. It was not just a bug speckled expanse of glass that greeted me. The sky was sending its own message regarding an eminent change in the weather. The forecast had been for possible thunderstorms and it appeared the possibility was becoming reality. Looking at the good side, it meant I could wash and not have to rinse or dry. The bad side is that rain means mud and mud means dirt in the coach. In the distance, we could see the rain falling from the clouds, so I decided a little bit of speed would be a good thing. It didn't take long before the distant rumble of thunder was heard. With lightning flashing ever nearer, I decided that standing on an aluminum ladder in a lightning storm was probably one of the things that the judges in the Darwin Awards look for when nominating candidates for the award. Since that is one contest, let alone award,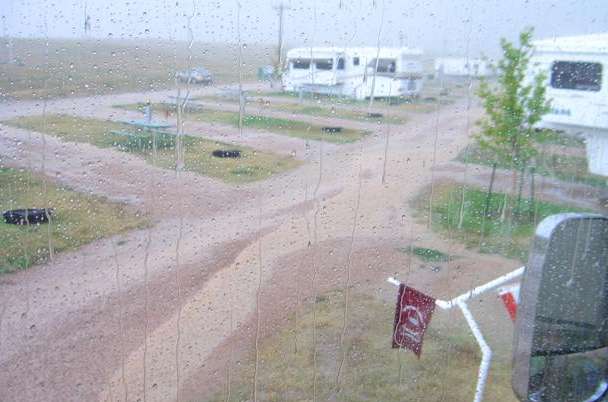 that I never want to be associated with, I climbed down as the first raindrops started falling and quickly put the ladder away. By now the storm was showing its massive black clouds and the drops were growing in intensity and size. Inside the coach we wondered if it had started to hail, the sound of the rain was so loud. It was as if the sky had opened up and soon a miniature creek had formed on the road in front of the coach. It lasted for about 15 minutes, then as quickly as it had come it was gone. From what we had just witnessed, it was apparent where the term, cloudburst, had originated. Not only that, but the bone dry dirt that passed for soil around here had turned to a sticky morass. As the vehicles would drive down the road in front of our site, they would throw off gooey globs of mud and stones that were bound together, something that given a few million years would become conglomerate rock, smile.
Given the weather and our singular lack of energy, we drove into Rapid City to find that ever elusive Verizon store to replace the broken plastic cell phone holder, the one Linda had broken the night of the fuel leak. Since we needed groceries, the navigator had also spent time identifying the location of a grocery store. As a fall back, should we not be able to secure what supplies we needed from the above two stores, she had also plotted the location of the SuperCenter and the Sam's Club. This trip was pregnant with the possibility of being financially devastating if she went to all four stores, lol. Talk about luck, the fellow at the Verzion store took one glance at our phone and said he had the clip in the back. The best part was I kept my mouth shut after we left the store and never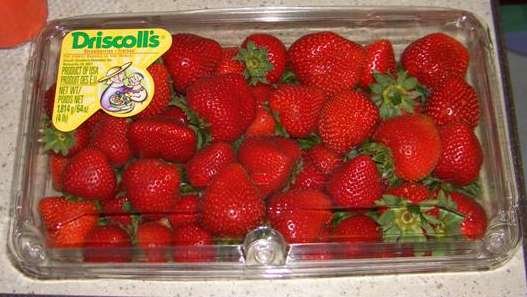 reminded Linda what I tried to tell her when she was trying to find the clip in Nebraska where Verizon had no coverage or stores. I will admit that the ease with which the purchase was made and the look on Linda's face when he said just a minute, more than made up for the inability to verbally gloat, smile. Luck was with us in more ways than one, because the Albertsons grocery store turned out to be just up the street from the Verizon store. Not only was it close by, it had everything we wanted and more. A quick trip to the customer service desk got Linda a shoppers card which in turn got us 4 pounds of really great looking strawberries for $3.99. We have learned the system in our travels, smile.
As we left the store I kept looking back at the building. Something was different. Finally it dawned on me. The drive up window for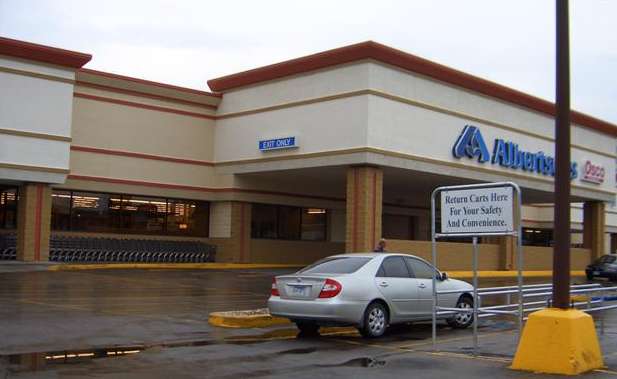 the pharmacy was not the only thing that had a cover over it, the actual exit from the store also had a covered area, and a large one at that. Two lanes wide to be exact. I decided that while it was nice to have a covered area to load your vehicle when it was raining, that wasn't its main purpose. Think winter, Bob, snow, blizzard, you know South Dakota miserable bitterly cold howling wind, blowing, drifting snow. These people are pretty smart up here, lol.
Given the storms during the day the sunset was extra pretty tonight, in a way, an appetizer for the enjoyment we got from our chocolate brownies we once again had for dessert.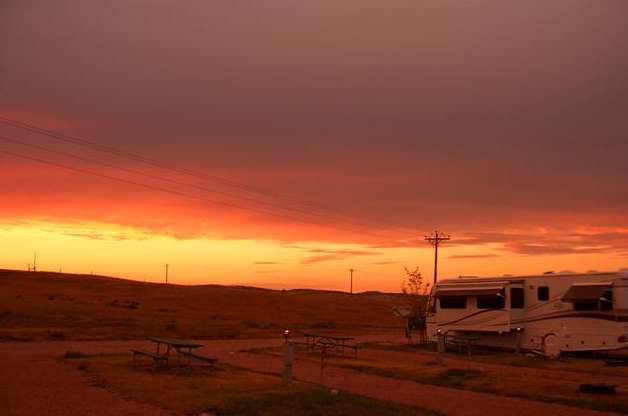 ---
click image for

the current post
---
July 19 Up much earlier than normal today because we have to be near Cactus Flats, South Dakota at 9 AM. This is a place that fits the description, in the middle of nowhere, but for good reason. I remember as a young boy, hearing the warning being sounded and all the students getting down under their desks. Later on, they built a new wing on the school so we walked to the hallway and got down on our knees facing the wall, covering our heads. They were the atomic bomb drills we practiced in those early years of the cold war. I can remember my mom saying if we saw a really bright flash in the sky, head for the coal cellar. It was just that way in those years. The sheer power of an atomic blast has always captivated me. Then came the time when I wondered how any human being could be stupid enough to actually push the button. The mentality of, you may wipe half of humanity of the earth, but we'll show you, we'll wipe the other half off too, somehow didn't seem quite right. Personally I think the Neutron bomb concept is a lot better. Country "A" can wipe all life out in Country "B", while Country "B" does the same thing to Country "A". All the rest of humanity survives unharmed and gets to enjoy the material things that "A" and "B" had deprived them of. Poetic justice in a macabre sense. A little off base, but growing up in the 50's and 60's did that to a lot of people, lol.
That concept was called Mutually Assured Destruction, or MAD, for short. Talk about the government's use of acronyms, smile. All this was our reason for driving the 90 miles out into the middle of nowhere. To visit the Minuteman Missile National Historic Site. The tours are limited to 6 people in a group and reservations are a must. There was a brief orientation at the visitor center, then everyone drives their own vehicle to Launch Control Facility (Delta-01) for a very well done tour of both the above ground and below ground facilities. The guide for our group had served a two year stint as a launch control officer, then later as a training officer for new crews. Talk about getting your info from the horses mouth, he was the best tour leader we have ever had. Next we drove over to the missile silo complex (Delta-09) to view one of the missiles still in its silo. This one of those things that sounds like it would be neat thing to do and turns out to be far, far better than you could ever imagine.
There is a certain indescribable feeling that comes on as you prepare to pass through the gate and enter the Launch Control Facility. Maybe the term; "Through the Gates of Hell", was not just a figure of speech.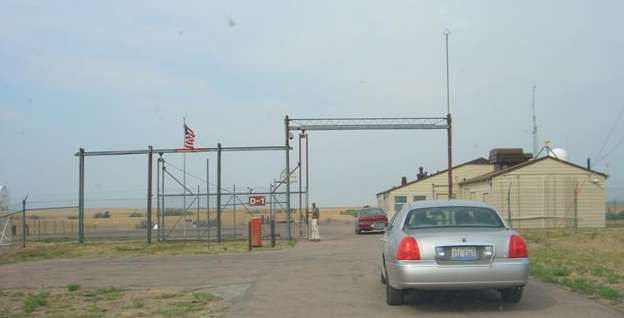 I wonder what the psychology behind the tranquil mural on the far wall was?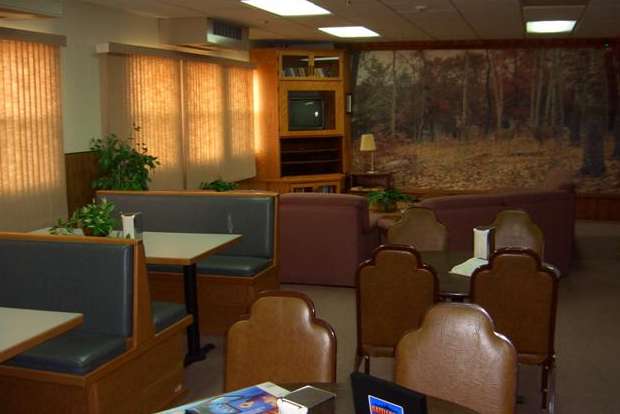 Did the human being who sat here think of it as just a job?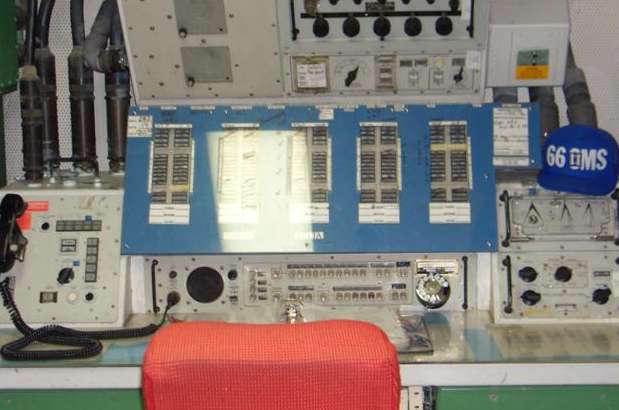 The guide had to leave for a few seconds and I couldn't help myself, I was compelled to sit in the chair. Could I have sat here 35 years ago? I'm glad it's a question that never had to be answered. We have a friend named Duane, who sat here. Some of the stories he tells makes we realize the people who sat in these chairs were no different that me or you, no different than the one with the rifle in the jungle, and they had all the emotions of you and I. Not supermen, just men, men with a different job to do.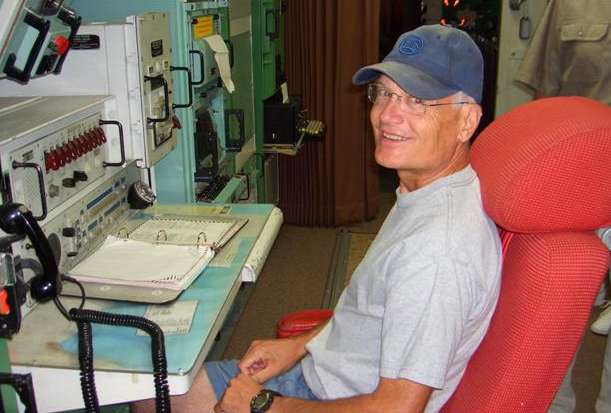 A long drive, a gravel road, a gate and brief walk and the reality of something called MAD stares you in the face.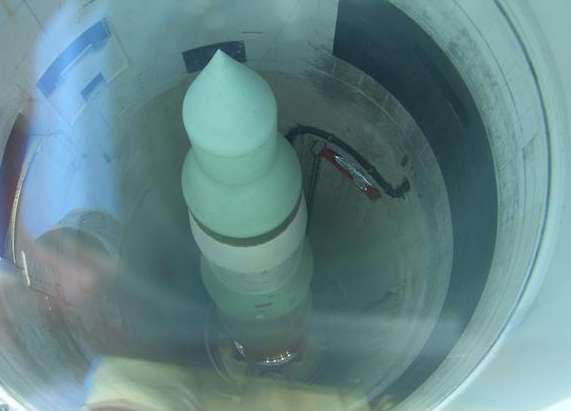 The variety of emotions that are portrayed in the photo as our guide makes a point, says it all.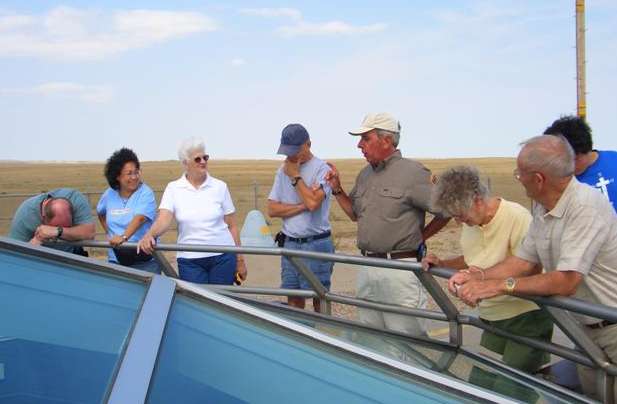 Then came the fall of the wall and the end of the cold war. Here is a snippet from a song that we have long enjoyed that reflects that moment in Berlin. Click on "Freedomsong" to play it. Check out the other songs as well, they're great (we've got all the Edlos CD's to prove it, lol).
Our next stop was just a few miles down the road, the Prairie Homestead, an intact sod house, built by homesteading sod busters in 1909. This was the opposite of the what we had just seen. As I have said so many times, the National Park Service does things right. This place was privately run and the difference was like night and day. They promote it as the Prairie Homestead and Badlands Trading Post. The trading post is nothing more than a souvenir stand, and a rather large one at that. There was a person in the sod house, I really hesitate to use the word docent, who answered a couple of our questions, then announced it was time for lunch and went down to the trading post to join the half dozen or so clerks there. No one replaced her and we were on our own.
Inside the house it was cool. The walls are almost three feet thick and it is dug into the side of a hill, which is probably why it survived so long. You can see the blocks of sod in the photo below. The white boards at the bottom of the photo would not normally been part of a sod house. Because the house was lived in for so many years, they were added later, but the floor remained dirt.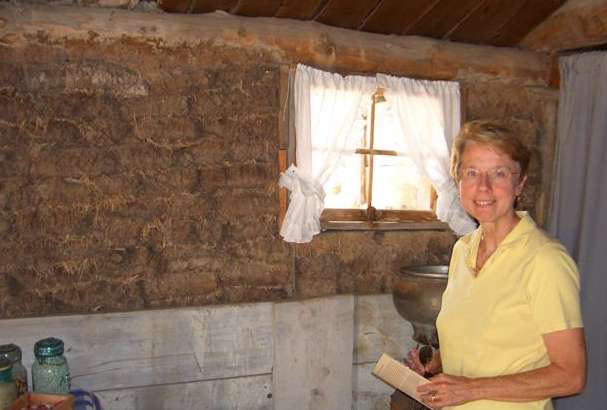 If you looked at the outside front of the house, it doesn't look all that special, it is only after you go inside or walk around it that can see it is a sod house. They also built a small one room shanty they called "the claim shack" that was attached to it which served as the living room. The bedroom and kitchen were always in the sod house.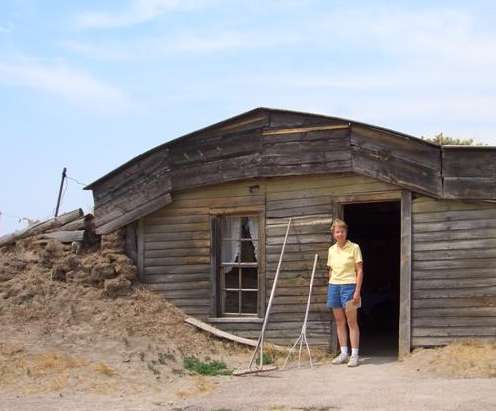 From up here it looks more like a living in a cave than in a sod house. It wasn't what we expected.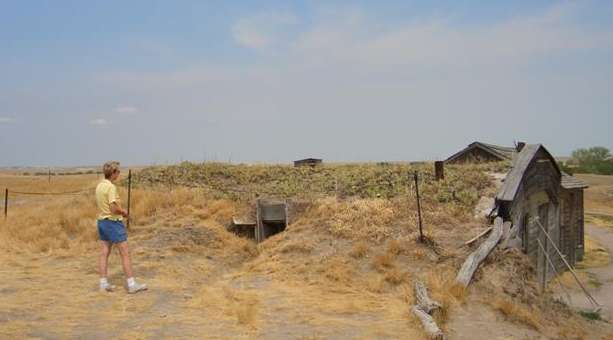 They also have what they refer to as the worlds only white prairie dog town, yawn. But at the same time we were watching the prairie dogs, Linda found the bathtub of her dreams, lol. Instead of having to heat water on the wood stove and pour it into a tub, this one was the height of efficiency and comfort. The huge cast iron tub sat over the fire box. Fill the tub with water, light the water and a day or so later you could take a nice hot bath, lol. Looking at it brought to mind the New Christy Minstrels song that went: "Saturday night, Saturday night, We all get together on Saturday night." This would certainly give new meaning to those lyrics, smile. Linda was so excited about it that she volunteered to get into it for a picture. As I've said, you can take the girl out of Appalachia, but you can't take Appalachia out of the girl, lol.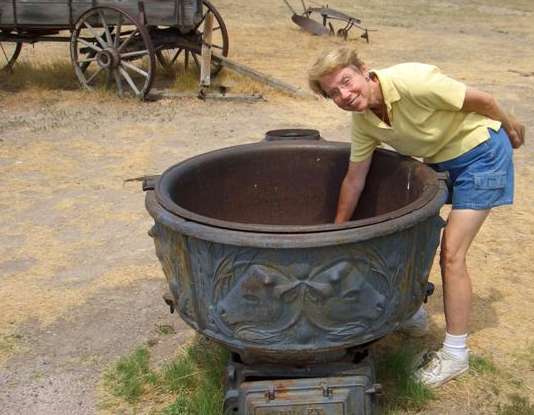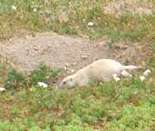 But the true highlight of our visit was Linda getting to feed the chickens, guess you could call it chicken soup for the tourists, lol.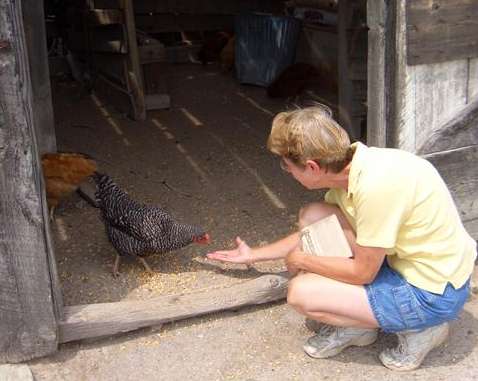 After this, we were really looking forward to what was down the road, another National Park Service run facility, smile. From the "bad" we were headed towards the "Badlands", as in Badlands National Park. We were approaching the badlands from the north. It reminded me of when we first approached the north rim of the grand canyon many years ago. The land looks just like you've been traveling on for miles and miles. Then, bang, it's right there in front of you, awesome is the word that comes to mind. It is also not just miles and miles of the same thing. The badlands vary, the overlooks, the trails, the visitor center, the pig dig, the flora and fauna, all keep your interest, even though the place is miles and miles big, smile.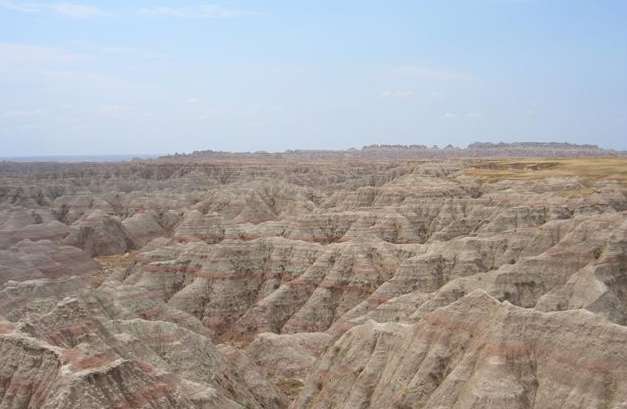 The badlands are the result of the erosion of the sediments of an ancient riverbed. Here is a closeup of the soil. In some places it is harder and others it is so soft as to easily crumble under your touch.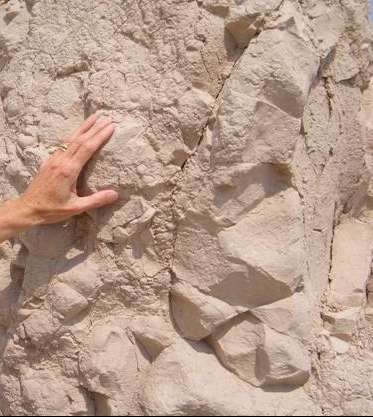 As is always the case in a National Park, the visitor center/museum was very informative. While we were there we attended a talk on the fossils that are found in the park, which, of course, meant we would be going in search of fossils later in the day. Do I know that woman or what. After lunch eaten on a picnic table out side the lodge, we went in search of the 'pig dig'. With unerring accuracy Linda guided us to it and was soon lost in her own dreams and thoughts as she watched them uncovering fossils, wrapping them for later research and gluing bits and pieces into slightly bigger pieces.
There are quite a few bones exposed in the photo, the blue pieces of tape are used to identify the bones that are thought to belong to the same animal. At other places in the dig pit, there is a rainbow of colors displayed, which is not a good thing.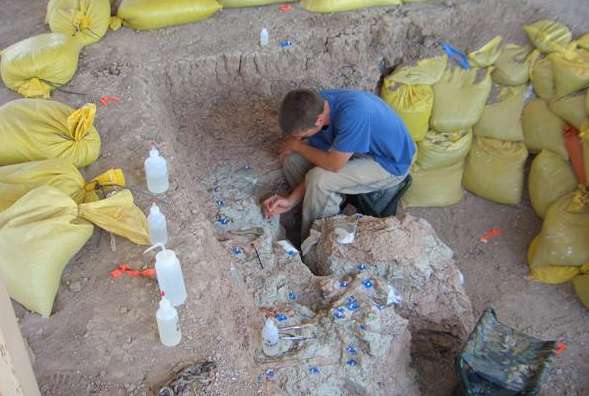 The digging is only the beginning. The plastic dishpan has a potion of a rib bone that is going to be wrapped for transport back to the lab. The young lady was removing and cleaning small bone chips that were in separate pieces in a matrix, which she then attempted to glue together into some resemblance of what once was. What that once was, was, we had no idea.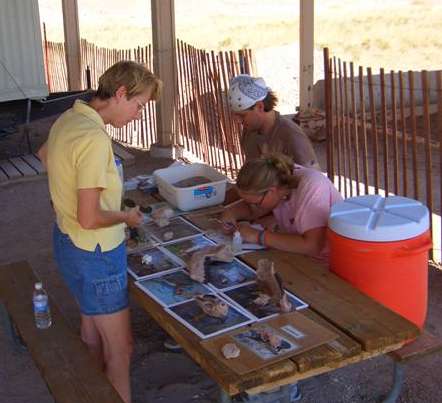 Shortly after leaving the pig dig Linda saw something along the road. We stopped and it turned out to be one of the mountain goats that inhabit the park.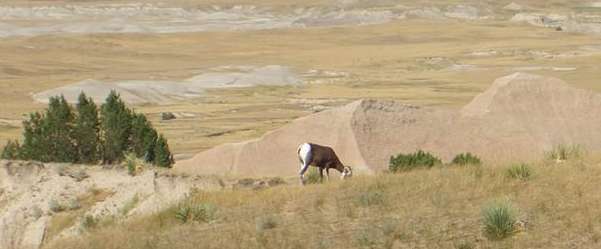 Leaving the Badlands, we drove into Wall to visit Wall Drug. Sure we knew it was a pure tourist trap, but the herd instinct took over and we needed the comfort of the masses. It was just as we were entering the town that we noticed a bright yellow RV turn in front of us. Naturally curious, we followed it into a gas station and took a picture. Just goes to show you never know what you're going to come across in your travels, smile.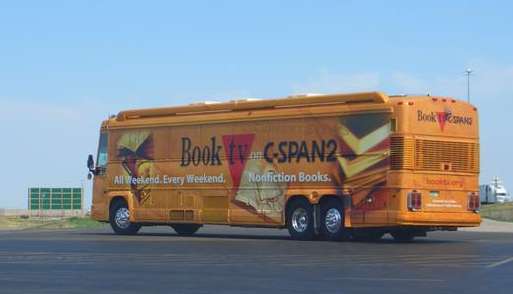 Wall Drug is a destination and an experience. I had been there before, many years ago, and other than growing larger and denser with more people per square foot in the store complex, it was the same. If you can imagine a souvenir, they have it, lol.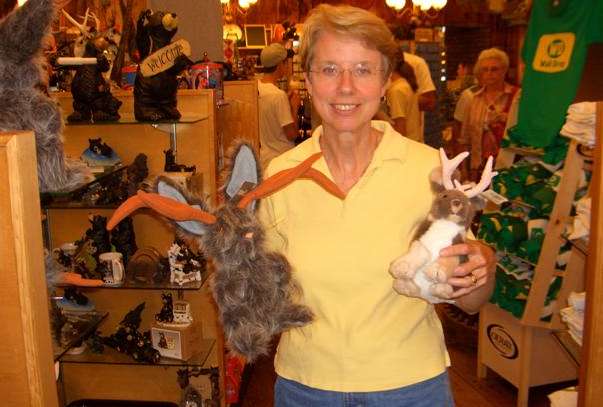 Dinner was as great as always, turkey burgers, tossed salad, baked beans and sweet potato salad, as was the chocolate brownie for dessert. Notice the evidence of quality control testing on the sandwich, lol.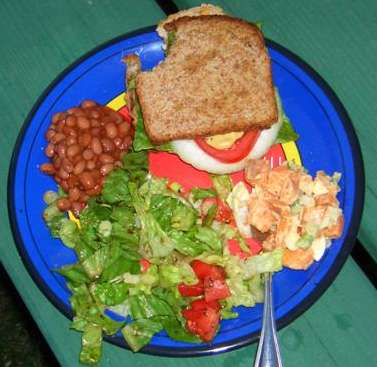 ---
click image for

the current post
---
July 18 Hey, what's that sound? How about Richie Furay, Bruce Palmer, Steve Stills and Neil Young. So what's the connection, It's time we stop, hey, what's that sound, Everybody look what's going down. Do you have now? Not the song, the group. Buffalo Springfield. I think of what might of been, had they been able to stay together, but it wasn't to be. So why the guessing game? It's a hint as to what's on tap for today. (And if you didn't remember those words, then maybe you were asleep in the 60's, lol.) Just to keep you on your toes here's another one. That famous day in history the men of the 7th Cavalry went riding on, And from the rear a voice was heard, A brave young man with a trembling word rang loud and clear... What am I doin' here?? Need a hint? Its peak Billboard position was #1 in 1960. Still don't have it? Answer coming up: Larry Verne sang it. Still not enough, this will do it. Please Mr. Custer, I don't wanna go, Hey, Mr. Custer, please don't make me go. So what does all this mean? Where we are going and what we we are going to see (hopefully) today. Buffalo in Custer State Park. Breakfast was the usual, though I did put 3 or 4 extra shakes of red chile pepper flakes on my eggs. This was beyond the 3 or 4 normal shakes. I don't know why, they just seem to taste better that way, smile. Then it was off on the great Buffalo hunt.
It was only a half hour later that we were at the entrance station to Custer State Park, the crown jewel of the South Dakota State Park system, paying our $10 entrance fee. The words of the Ranger were music to our ears and made every penny worth it. "The buffalo herd is all over the road, 2 miles ahead." I was afraid I was going to have trouble taking photos because Linda's smile was so big. The solution was to give her the camera, lol. Almost exactly 2 miles ahead, where Rt-16 and Wildlife Loop intersected, there were buffalo, and they were everywhere. Dozens and dozens of photos later, she was satisfied, or at least appeared to be, and we drove on down the road, only to encounter more buffalo. and once again they were everywhere. In the fields, along the roads and on the roads. We have been to Yellowstone a number of times, but never have we seen buffalo like this. It was exactly what we had read about, if you want to see buffalo, then by all means, you must stop at Custer State Park. We had become true believers. Let us pass it on. If you want to see buffalo, stop at Custer State Park.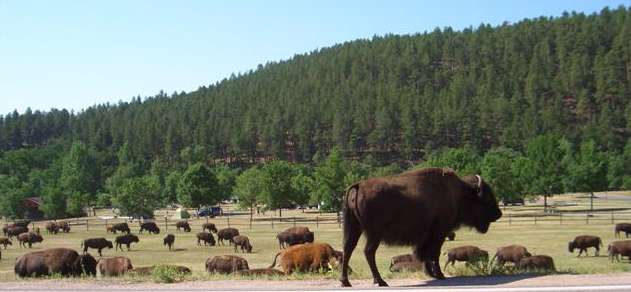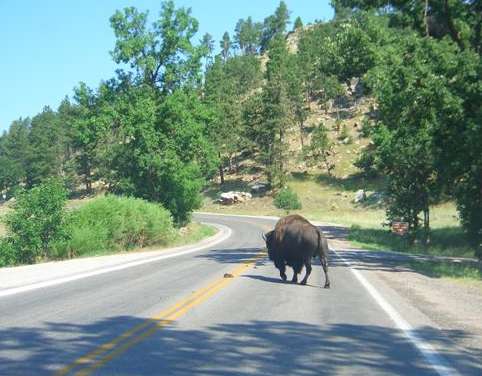 Another thing we wanted to see was the "Badger Hole", the cabin where the renowned poet, Charles Badger Clark lived. What a neat place. The volunteer hostess was everything you could ask for. Somebody who genuinely cared about what she was doing. We came away with an understanding and an appreciation of a man who was unto his own self, true, As always, not something for everyone, but if your sails are set a little left of center, my guess is you'd really enjoy it. The masses can watch Oprah and Martha, I'll take the road less traveled every time, smile. His most famous poem is hardly ever attributed to him, a fact that actually made him proud. As he said, the dream of every poet is to have a poem that will out live the poet and the legacy of the Cowboy's Prayer very well may continue for centuries into the future. If you'd like to read it, here is a link.
The park is over 70,000 acres in size. We had seen what we came for, but a little seems to whet the appetite for more. So we decided to drive around a small portion of the park on the Wildlife loop. About half way around we stopped at the Blue Bell Lodge area to eat our lunch. The picnic tables in the front of the Lodge were the perfect place and the turkey wraps were delicious. Afterwards Linda walked across the road to check out the general store, but unfortunately came back with all her money, lol. We noticed a hay wagon parked near us, that announced a wagon ride to a western cookout. We smiled and thought of things to come. Soon it was time to continue on down the road. Before long we came upon signs announcing the prairie dog town. Ghost town was more like it. Lots of holes, but no critters. Lots of cars but photos. We drove past on down the road, passing many prairie dog ghost towns. Finally, we saw a dog, or I should correctly state, Linda saw a dog, then several more and finally a whole town of the little critters. Of course photo's followed. Just as we were ready to move on, the group that had been stop at the earlier prairie dog ghost town drove up.
We left the group happily snapping photo's and headed out towards the burro basin, but here we had no luck. There small size and relatively few numbers conspired to prevent our finding any, even though they are famous for standing on the road and blocking traffic to get handouts, hence their name, the begging burros. We did see a number of deer and then rounding a corner we were back to where the buffalo herd was grazing. Once again Linda got her fill of Buffalo as they completely blocked the road in front of us. She was one happy woman and the smile on her face said it all, lol.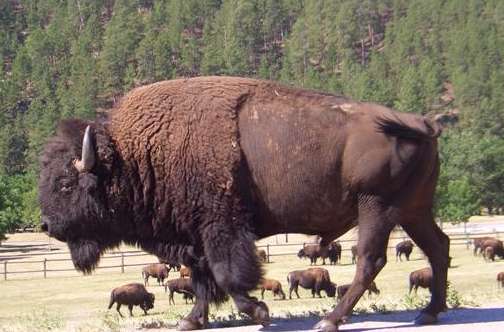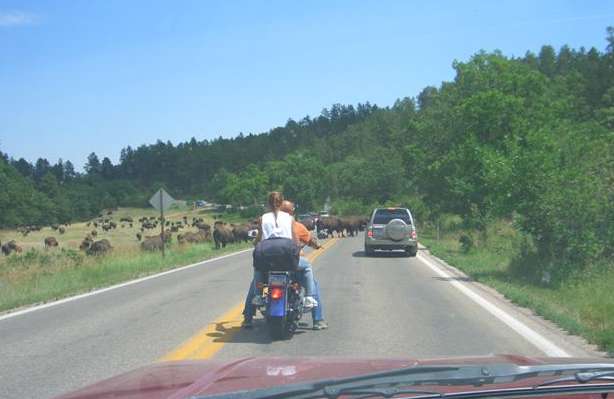 Back at the coach we both rested. Linda took a nap on the couch and I valiantly tried to work on the website, but the excitement of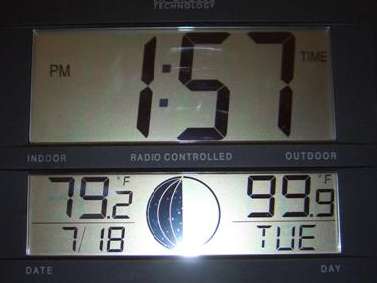 the day had taken its toll and I was soon taking a nap on the bed. This touristing business is hard work for us old people, lol. One thing that had changed from our Nebraska experience. Contrast the inside temperature in this photo with those I took several days ago. South Dakota electric is much better than the Nebraska type, lol. But the day can not be all rest and no play, so soon we were on our way back over toward Mt. Rushmore, not to visit the mountain, but rather to visit the Flying T.
One of the things we had wanted to do was to go to a dinner and music show, and The Flying T was the one we picked. The food was good and the music entertaining and a very enjoyable evening was had by all. There are three of these shows in the area. There is no way to pick one versus the other, so we picked the one closet to us. Was it good? yes, Would we go back again, sure. Is one of the other shows better? Who knows, but does it matter? If someone is that much of a purist, then they and I live in different worlds and I wish them luck, Lord knows they will need lots of it. As far as the food was concerned here's a photo of what they served. Both Linda and I were members of the clean plate brigade, lol.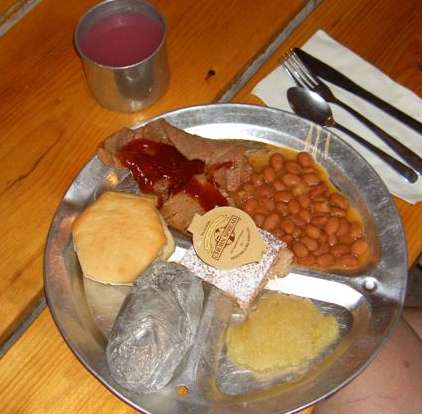 They announced there was seconds to be had and the most amazing thing happened. Linda nearly trampled me getting out for seconds. Of course I was right after her. Here is a photo of one of our seconds, which was very close to the firsts in quantity, lol.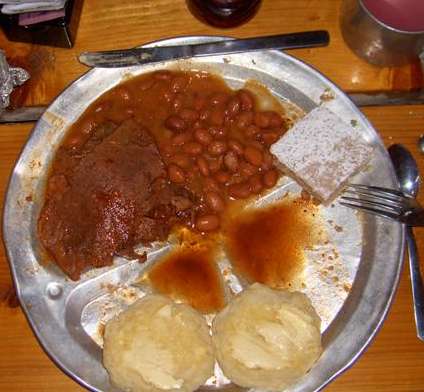 The songs were familiar, the banter of the musicians filled with groaners and gigglers. All in all, it was a very entertaining evening.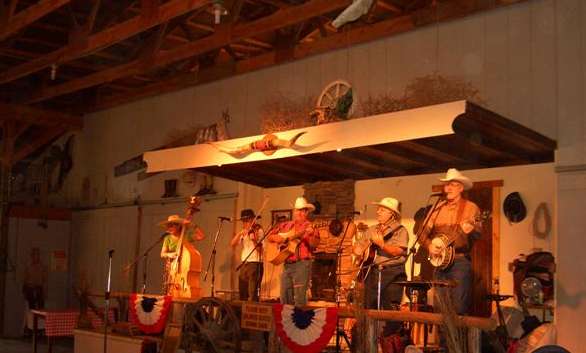 ---
click image for

the current post
---
July 17 We leave Nebraska behind today and head north to the south, South Dakota that is. We will return again someday to Nebraska, but not to their State Park campgrounds. Oh well, nothing ventured, nothing learned, smile. Our planned route is simply to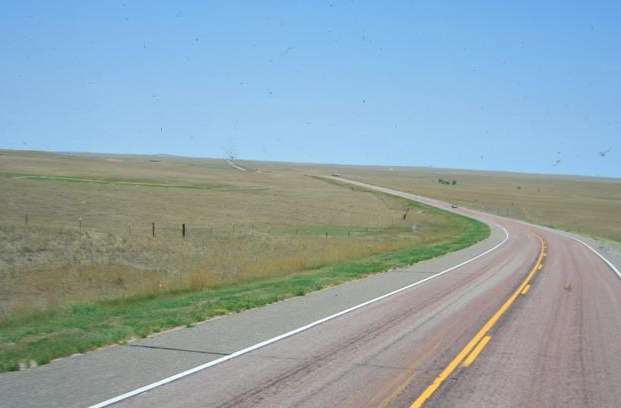 leave heading to the north and drive in that direction. The route number will change, but the road won't, US-385, SD-79, US-16T all one and the same. The scenery changes as the miles roll by. We are on the prairie, trees become a thing on the past, the land more rolling, always seeming to either climb to a distant horizon or descending down to the base of the next rise. How different from west Texas, north Georgia or the Illinois prairie. One thing that is also different is the wind. All morning the wind blew. It was not an even wind, it was a rippling wind, coming like waves across the grass, then as we would duck behind a hill, disappearing briefly, then giving us a nudge to let us know it was back. Not a wind that made driving difficult, but a wind that made its presence known.
As we looked at the country roll by we wondered if there was actually more than a little bit truth to the joke about the state tree of South Dakota. [a telephone pole]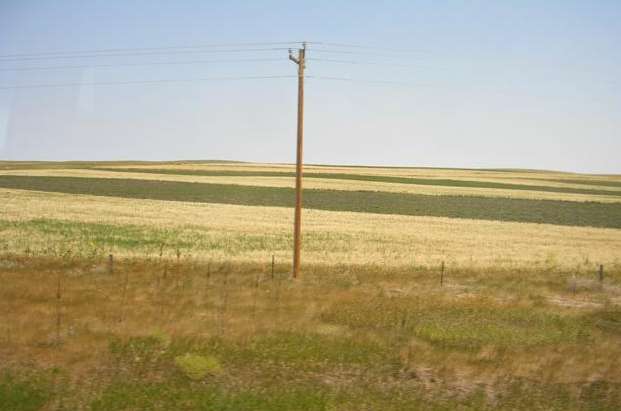 The roads in South Dakota was in excellent condition, even so they were doing a lot of road work, widening sections and repaving. This was such a refreshing change from the horrors of Iowa. Sorry to keep coming back to Iowa roads, but I just can't for the life of me, understand why people, i.e., taxpayers, would ever tolerate such total incompetence on the part of the people in charge of their roads. In life there are people who have no ability and so make excuses, blaming the situation on something outside their control, to try to hide their incompetence, or people who have the ability to rise above the situation and their limitations to solve the problem. Your observations in life may differ, smile. One constant throughout this area of the country is the bugs. It didn't take long for our windshield to collect more than its share, as all the above photos taken through it so readily show.
It was early afternoon when we arrived at our destination and home for the next 3 or 4 days, Heartland RV Park in Hermosa. This was another Passport America park. When we arrived, the sign on the door said closed till 2PM for lunch. Since we hadn't had our lunch, we turned on the generator and enjoyed turkey wraps. By the time we had finished eating and cleaning up, the office was open. All the sites are pull through and soon we were pulling into site 503, the Explorer parked along the outer road, the coach leveled and slides out and most important of all, both air conditioners pumping out cold air. What difference from Chardon State Park which was $18 a night with 30 amp electrical hookups that could only intermittently run one air conditioner and no other appliances, plus no water and no sewer. Here for $15 a night we had a 50 amp full hookup site with power enough to run both air conditioners, the convection oven and the water heater all at the same time. We've seemingly had good fortune at all of the Passport America parks we have stayed at, may it continue, smile. We hit the search button on the MotoSat and in 5 minutes we were once again on line, life is good, lol.
The rest of the afternoon was spent researching all that there was to do in the area. We were here because Linda wanted to see Mt.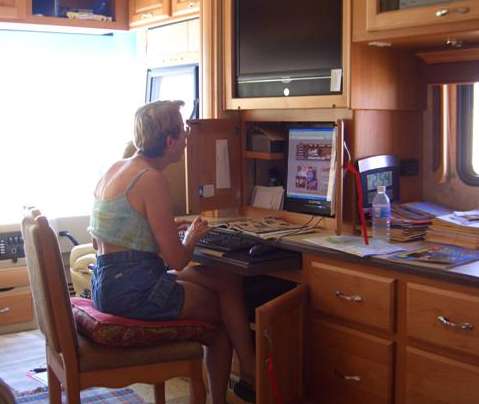 Rushmore. Before long we had picked a number of like to's, among them, Minuteman Missile National Historic site, Custer State Park, a western cookout and music show, The Badlands, Prairie Homestead, Wall Drug and also a little kick back and do nothing time. That should pretty well fill the next 3 days. Of course there is also the cleaning of the inside of the coach, it's been a while, laundry, a never ending task and shopping for groceries. In other words, a mix of routine daily living and tourist activities. All with a view of the eastern edge of the Black Hills out our front window. It doesn't get much better than this. Soon Linda was working out all the details, planning each day and some of the evenings. Of it really wasn't quite that simple. Maybe things go without a problem in your house but in ours....., lol. There was the usual, "what do you want to see", "what do you want to see", "whatever you want to see", "I'm not doing everything" and other comments like that. The end result was a plan of site seeing and touristing that appealed to both of us. Maybe I'm geetting closer to finally understanding her, lol.
This being a hot day, though cool in the coach, we opted for cold ham loaf, tossed salad, baked beans and sweet potato salad for dinner. You'd think Linda's motto for the day was, "Who, me cook?"with a direct from the fridge meal like that (and it really hit the spot), but earlier the urge to cook, or at least the urge to eat a good dessert had taken over, lol. The smell of baking brownies had filled the coach and the prospect of a relaxing evening loomed ahead. Then we got to thinking, why not drive over to Mt Rushmore tonight and watch the lighting ceremony. Why not? So we did. There are probably much better routes to drive from Hermosa to Mt. Rushmore than the way we took, but there can not be a more scenic way, an observation we confirmed up our return and the subsequent internet search, smile.
We learned a new term, "pigtail bridge", a feature on Iron Mountain road. A 360 degree curve on two levels with a wooden bridge and a narrow tunnel that frames Mt. Rushmore. Words and pictures do not do it justice, it has to be experienced to be understood. We arrived in a line of traffic about 15 minutes before the ceremony was to start, got some seats in the amphitheater and really enjoyed the show. Of course the show is the mountain, everything else they do is secondary. As is so often the case, we were glad we had decided to do this. We were not alone, there must have been at least 2000 other people there. As we told each other, this is a MAJOR attraction, smile. We returned by way of the "normal" roads, then enjoyed a chocolate brownies for dessert. I had a cup of hot chocolate while Linda had a glass of warm milk with vanilla. May your days be filled with as much joy and end so pleasantly.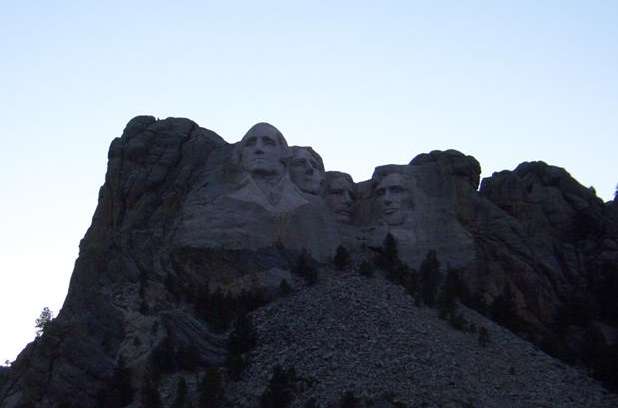 ---
click image for

the current post
---
July 16 The morning after dawned warm, but not hot. The air conditioner had done its job and we had a restful night. Of course there is always the mid-day heat and it is supposed to be a record breaking high of 109 today, but for now we will enjoy what we are given. We have tourist plans for today, a visit to the Museum of the Fur Trade, a peek at downtown Chadron, a stop at the Dawes County Historical Museum and a drive further into the Nebraska National Forest. As always, we expect we will find more than we thought we would and enjoy our tourist day, just as we have so many others. Driving into Chadron we passed a sign we just had to take a picture of. Remember when a room at a Motel 6 was absolutely no frills and hardly any money? It was about 15 years ago that a French company bought it, and now look at it. There's an old saying that the French don't know to do anything right, but it looks like they may know how to make money off Americans, lol.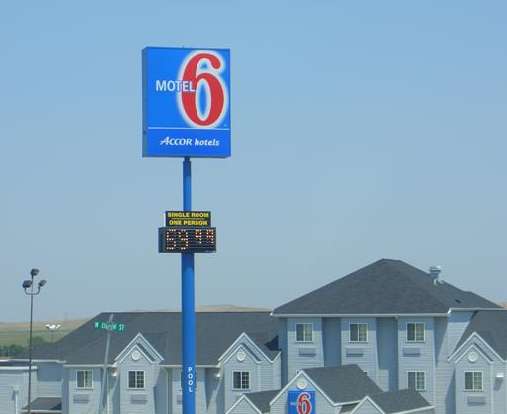 Our first stop was to be a museum we had passed on the way into Chadron, The Museum of the Fur Trade . Talk about something unexpected, this place was one totally engrossing exhibit after another. A place where myths are dispelled and history is more than just words. The kind of place I, and now Linda, just love. A place where we literally spent hours, even though it is not a large facility. A place that began as the dream of a single man and has grown into the worlds foremost repository of things relating to the fur trade.
It is a place you can spend as little or as much time as you like. Not a place for small children, but yet one where people from 8 to 80 can totally lose themselves in the exhibits. Over the years we've been exposed to bits and pieces of the history of this time period. Here it is all brought together. The relationship between Europeans and native Americans, an exhibit about trade blankets, on and on it went. The mind pictures, drawn from the stories and history books we read and supposedly studied in school, all drawn together, shown and explained in such a way that you say over and over, I never knew that, or that's why. It is that kind of place.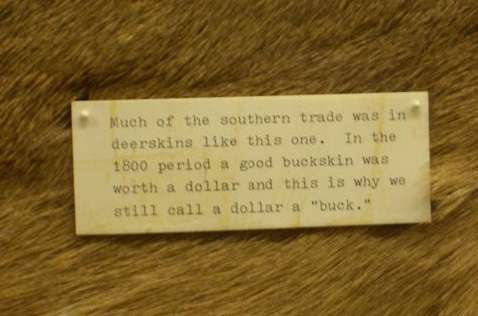 It is almost when you think there can't be any more that you round a corner and a whole new subject is introduced, but always under the unifying theme of the fur trade. It's not a museum of black powder weapons, yet it has the largest collection of Northwest trade guns in the world. Northwest meaning the Great lakes and west. The exhibits draw you in, they bring the past alive, not in the slick professional gobs of money way of some of the museums we have been to lately, rather through the sheer force of what is on display and the simple words on the placard that describes the what, how and why of the items.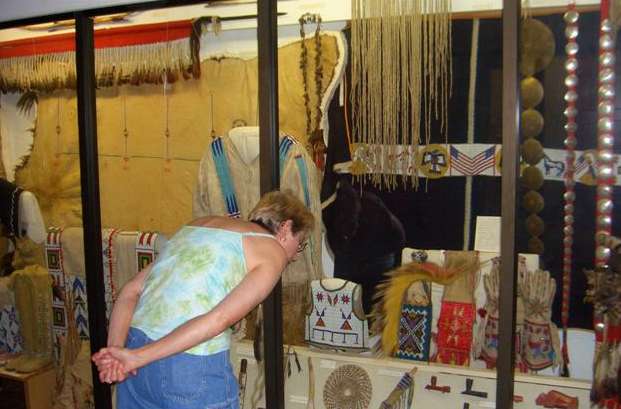 But the museum does not end with the final row of display cases. Through a door at the back of building, a path leads to another surprise. One fact that begged to be answered, why was this museum out here in what is essentially the middle of nowhere and in Nebraska to boot? Outside was the reconstructed remains of an actual frontier trading post, a trading post that stood here in the 1800's. That was the reason for this location.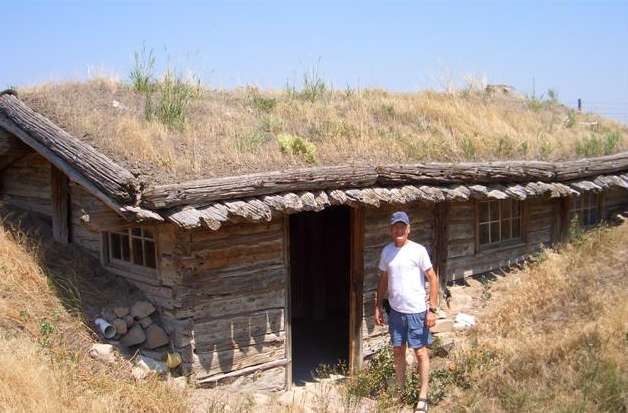 So what was the most interesting object we found. For Linda it was the Indian robe decorated with over 4000 dentalium shells. For me it was the waterproof parka make from seal intestines. Someone else might prefer Kit Carson's shotgun or the the Hudson Bay blankets. If you stop, you too will find something unique that will be your favorite. At $5 a person it is inexpensive entertainment and a invaluable history lesson if you tend in that direction. We would certainly stop here again.
This was not the end of our experiences for the day. Returning to Chardon, we stopped on the main street under the shade of a tree, and while we ate our turkey wraps, we called our son on the cell phone to let him know the fuel line repair had been taken care of and his parental units were okay, lol. Next it was off to the Dawes County Historical Society and Museum.This was another of those special little places we seem to run across in our travels.
Take something as simple as a washing washing, of course this one is not a fancy modern one, but rather a 1930 model. It sat in a row of old washing machines, battered, the paint worn away be years of use. What made it special was the handwritten note that was on top of it telling a story that made it more than an artifact in a museum.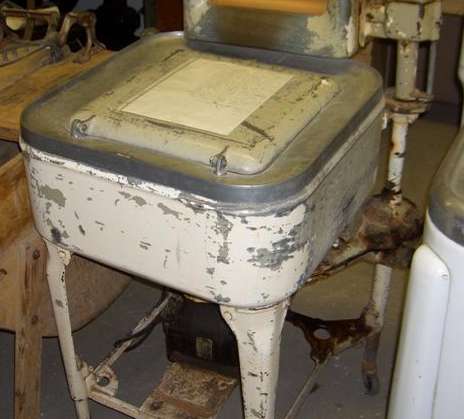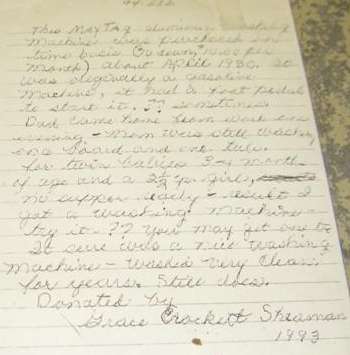 The note reads: "This MayTag aluminum washing machine was purchased on time basis ($10 down, $10.00 per Month) about April 1930. It was originally a gasoline machine, it had a foot pedal to start it, ?? sometimes. Dad came home from work one evening - Mom was still washing on a board and one tub, for twin babies 3-4 months of age and a 2 1/2 yr. girl, no supper ready - result I get a washing machine - try it, ?? you may get one too. It was a nice washing machine - washed very clean, for years. Still does. Donated by Grace Crockett Sheaman 1993"
History? That is history. With those simple words it comes to life. It is real. It's also what makes us human and binds us together. We lavish attention and money on the entertainment stars, the politicians, and the athletes. But they are really the pathetic little people of life, ego driven, concerned only with themselves and fame or wealth. They would look down of Grace Crockett Sheaman as a pathetic little person not realizing she was far more of a person than they could ever hope to be. But I know it. In case you're wondering, the museum is free, as I said, it's that kind of place.
We still had one more place to visit to make our day complete. Just down the road from the State Park was the Nebraska National Forest. I think the following pretty well sums up just what the Nebraska National forest is.
The forest is here because a century ago a University of Nebraska professor named Charles Bessy thought you could bring development to the barren sandhills if you supplied would-be settlers with an easy supply of timber. Thousands of Ponderosa Pine seedlings were planted. The forest grew, but the timber industry never took off. What remains is something of an open air laboratory for growing trees in sand complete with a sizable tree nursery that nurtures young seedlings.
The entire article can be read here. Indeed, just as it says, it is a "planted " forest. When I first heard of this forest, I visualized a flat plain with trees in regular rows, like a tree farm, stretching to the horizon. Wrong, it is in the sandhill country, so there are hills, it is not in straight rows, but neither is it like the forests we have seen anywhere else. There is a lot of open space. At least we have seen it and that's about all there is to it, other than it probably sucks up a vast amount of tax dollars for no worthwhile purpose. But of course politicians and those that live off those tax dollars can always justify their continued expenditure, smile. To prove there actually is such a thing we took this photo. A nice campground, paid for by your tax dollars with not a single person in it. Politicians or Grace Crockett Sheaman, who's the real American that cares for their fellow human beings?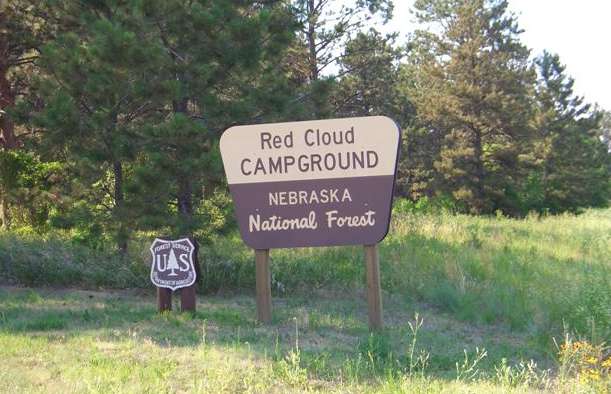 Dinner, after all that touristing, was a special treat. We marinated and grilled the last pork loin. Then served it with baked beans, sweet potato salad and sauteed zuchinni, onions, fresh home grown basil and parmesan cheese.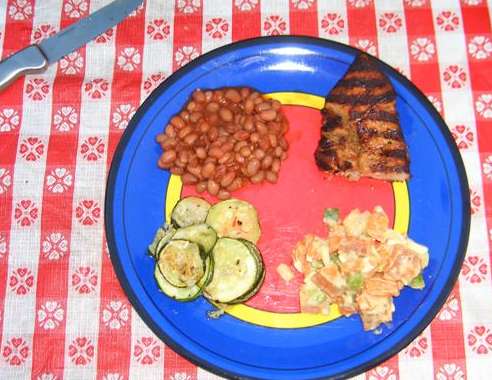 In the evening it cooled off and Linda finally got to have a fire. It was a quiet peaceful way to let the day slip away.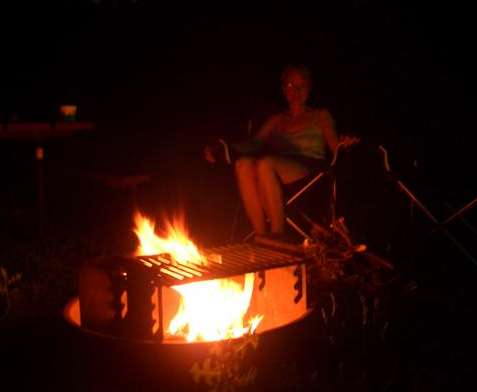 ---
click image for

the current post
---
July 15 When I got to the garden party, they all knew my name
No one recognized me, I didn't look the same
Strange as it may seem Ricky's words (as I've said before, you may call him Rick, but to me he will always be Ricky) were what greeted me this morning when I looked into the bedroom. Deciding it was time to take a shower and wash who knows what off, Linda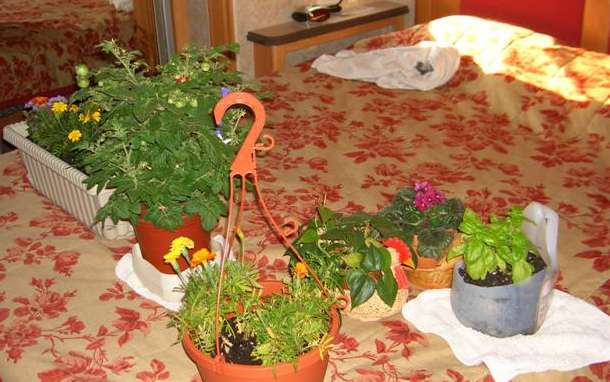 had taken the plants out of the shower and temporarily set them on the bed. Because of my brilliant mind, I was immediately able to make the connection between flowers, bed, garden and Ricky. Some may think that having a mind like this as a burden, I look at it as a gift, lol. After all, each of us has a choice and must decide for ourselves, You see, ya can't please everyone, so ya got to please yourself. If by now, you're guessing that Linda and I are in a good mood today, your right on. It looks like our home life has returned to normal, indeed, It's alright now, "we've" learned our lesson well, lot-dah-dah-dah (lot-dah-dah-dah) lot-in-dah-dah-dah. Not bonkers just happy.
After our usual breakfast of scrambled eggs, onions, ham and melon, and as we used to joke about a black lab we once had, two times makes it a habit, we walked around the campground in the park, realizing that there are so many wonderful things in life, we just have to open our eyes and see. It did not take long until Linda was out at the Explorer, wash bucket and rag in hand, cleaning the spots that had got me in such deep do-do last night. Deciding that it might be better in this case to please her rather than myself, smile, I withheld comment upon her re-entry into the coach. When she mentioned she had the Explorer all cleaned up and ready to go, I offered as to how nice it looked. From her wry smile, it took it that I had said the right thing. Good Bob, lol.
Soon we were leaving the park, noticing that at least a couple of RV's looked like they were going to stay for another day.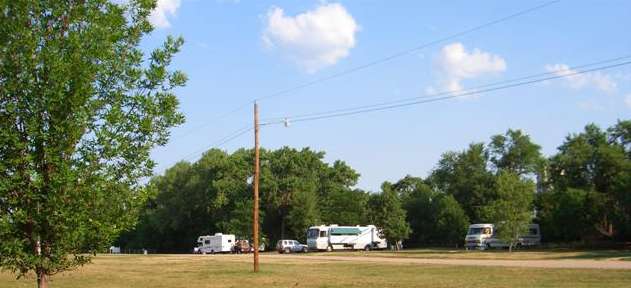 The last time we had been to Nebraska, those nearly 25 years ago, Linda's opinion of the state was not good. Our next stop would either refute or reinforce that feeling. Once again we turned west on US-20 and headed towards the end of the line, as Chadron was once known. Once upon a time, a hundred and 25 or so years ago, the railroad stopped in Chadron, thus the town was known as, the end of the line. Today US-20 continues west of Chadron and on into Wyoming. For us Chadron was the stopping point for the next several days. At the Life on Wheels Conference, I had taken a class on "RV'ing the Heartland". It had revolved around the myriad small towns that line the US highways that bisect these sparsely populated states. Because Chadron had been located at what would have been a normal stopping point for us, we had checked on the attractions in the area and decided to visit several of these places that seemed to be especially interesting. The drive was 250 miles, but as the miles rolled by, the scenery began to slowly change over what it had been further to the east. After we passed Ainsworth, the terrain became more hilly, the road more curvy. We saw differences in the way the land was used. One interesting sight was the appearance of haystacks.
Further down the road we saw our first snow fences. Not exactly the thing we were used to seeing in California, lol.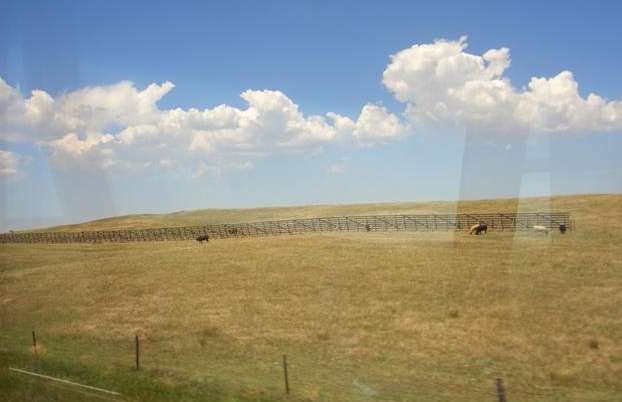 One other interesting feature was the stark contrast in color between the various elements that make up this country. The black river of asphalt, highlighted by yellow and white ribbons. The light green of the recently cut hay fields, standing out sharply from the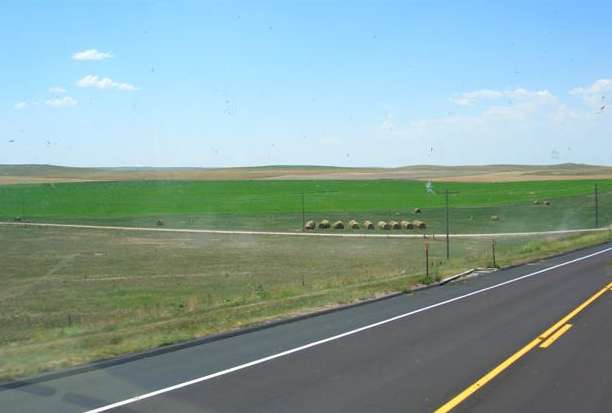 deep rich green of the heavily irrigated stands of alfalfa. The giant bales of hay, lying in the fields like grazing cattle up to their bellies in the vegetation of the praire. The view crisscrossed by the light gray lines of the gravel side roads disappearing off into the distance, leading to a land that lies somewhere beyond. The ever present power poles standing like silent sentinels, watching over the land and the people and all the while, the distant horizon marked by the rolling grassland, beckoning us ever onward to adventures yet to come. This is a very special place and we are so glad we could be part of it, even if for a brief time.
It was mid afternoon when we arrived in Chadron, and after slurping up far too much $3.09 a gallon diesel, we turned to the south and Chadron State Park, which is surrounded by the Nebraska National Forest. Yes Toto, there are trees in Nebraska, lol. We also quickly found out that trees aren't all they have in Nebraska, the also have heat, some serious, heavy duty heat. One other thing they have, at least at Chadron State Park is lousy electric hookups. What a joke our supposedly 30 amp hookup was. While I appreciate the fact that temperatures were at a record breaking high of 109 degrees, I don't appreciate the Nebraska concept of electric. Bottom line, a park where we could only get one air conditioner to work and that one not very efficiently, so we will be looking elsewhere to spend our campground fees in the future. Below are a couple of thermometer shots to give you an idea of the temperatures.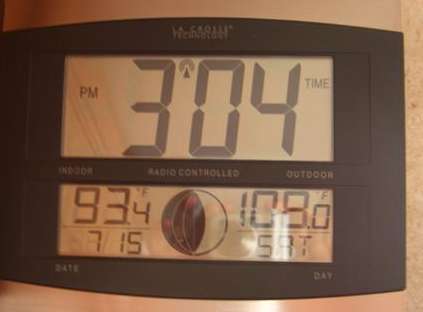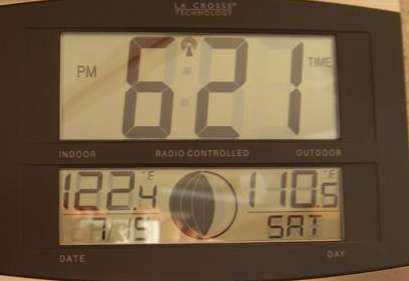 Not only was it hot during the day, it didn't cool off in the evening. Lest you think we are heat wimps, we lived for the last 25 years in the Central Valley of California where during the summer, daytime temperatures that are a little under 100 are the norm and temperatures over 100 are a routine occurrence. Also, to date during our trip our air conditioners have functioned flawlessly, except at parks like Lake Snowden (Ohio) where the electric was a joke. Okay, okay, enough of a rant, but our troubles go a long way to explaining why there are so few people at this campground.
Because of the heat we had cold ham loaf, baked beans and sweet potato salad for dinner. Later Linda sat out in front of the coach while I worked on the website. I know it was hot outside, because although there was a large stash of wood directly across from our campsite, she didn't build a fire. That to me says how hot it was, far better than any thermometer, lol. The air conditioner worked to cool the bedroom, so after a bowl of chocolate pudding, we retired to a comfortable nights rest.
---
click image for

the current post
---
July 14 Today will be a test of our patience as we await the arrival and installation of our fuel line. One thing that did not help matters was the fact I woke up in the middle of the night with a terrible back ache. I think maybe the stress of the past several days has caught up to me. Of course it could be something entirely different that caused it, if it had a cause. A couple of ibuprofen in the night and a naproxen this morning and it was quite bearable. One thing had returned to normal and that was breakfast, a delicious plate of scrambled eggs and onions, a small piece of ham and the melon we bought yesterday. One thing we hadn't done was put the slides out. It was our choice. We can certainly live fine, albeit a little cramped, with them in, and given the number of trailers that are constantly being dropped off and picked up, we thought it best to not hang out (literally) so to speak. Breakfast dishes done, we settled down to wait for the repair. And wait we did. All morning.
It was funny because several times we saw a UPS or FedEx truck drive in and of course the topic of conversation immediately became, is this it. When we heard nothing, we went back to what we were doing, which was pretty much nothing. I tried to work on the web page, having fallen several days behind, but my mind just wasn't in the mood and generating words was akin to extracting teeth. The fact my back was less than perfect and felt best when sitting in a somewhat awkward position only served to compound the difficulty I was having generating words. Finally Linda decided to walk up front and see what was happening. She returned with some good news. Turns out the last FedEx truck had brought the part. The reason it was some good news was that there was also some bad news. All the mechanics currently resembled grease balls, so to speak, but as soon as there was a clean, or reasonably clean one, he would be coming out to install the line. It was a little over an hour later when we saw someone walking our way from the building. Unfortunately he veered off and disappeared into the lineup of trucks. We decided to put the bedroom slide out to give the mechanic more room. This worked like a charm, because in about 5 minutes someone else came out of the building headed our way, followed soon after by a knock on the door. Our number had been called, lol.
Our mechanic was cheerful smiling young man, probably in his late 20's or early 30's and wearing a clean uniform. This trip was to check out the situation and find out how much access he had to the area of the engine where he needed to work. He had also brought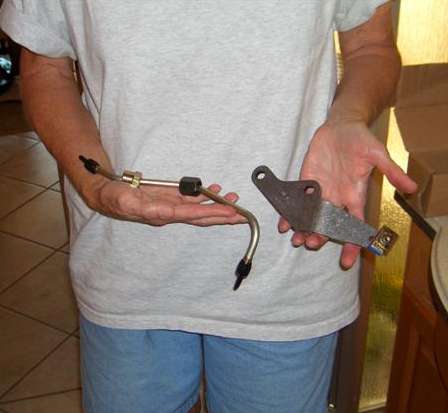 along the new parts, which consisted of the fuel line and a bracket. We were surprised at how heavy the fuel line was. He commented that the line was under a tremendous amount of stress and need to be installed just right. He didn't think there had been a bracket installed before, which probably contributed to the fatigue crack in the line. The mechanic returned to the shop to get some paper to put on the floor to keep the carpet as clean as possible. When he returned he carefully placed the paper, removed the rear hatch cover and surveyed the dark cavity that was the engine. It was dark and even though we turned on the overhead light, more light was needed. He returned for a flashlight as we took some photos. Upon his return, it only took about 10 minutes before he asked me to start the engine. As soon as it started he was using his flashlight to inspect the entire engine, peering first this way and then that way. Standing back up, he asked me to engage the fast idle. This was followed by more inspection as the flashlight beam swung back and forth over the engine. Standing up he said it looked good and gathered up his tools and paper and asked us to back the coach into bay number 4 and he would power wash as much of the engine as he could.
Linda walked over as I drove the coach around and through the gauntlet of semi's that had been parked in front of us. With Linda's expert guidance, I backed dead center into the bay. The mechanic was surprised at the placement of the radiator and transmission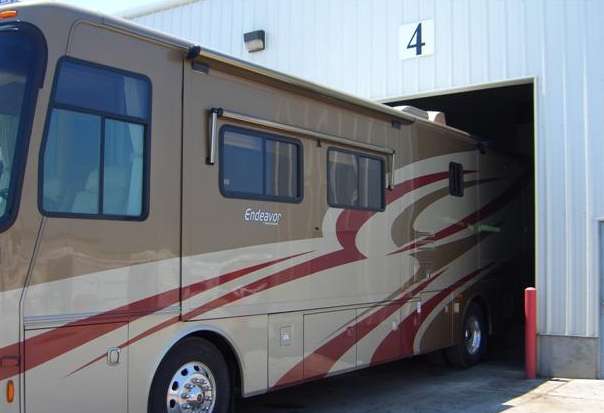 cooler, wanting to know who manufactured this chassis. Since they are also a Freightliner dealer and repair center, most of the RV's they see are on Freightliner chassis. We talked for a while and he commented he liked this setup with the radiator and cooler stacked vertically much better than the way Freightliner does it by placing the transmission cooler behind the radiator. Soon he announced he was done. The radiator and in fact the whole back of the coach glistened. He suggested we may want to stop at a pressure spray car wash in a few weeks, back up to the bay and wash the radiator and cooler off once more. While I drove around front and hooked up the Explorer, Linda went into the office to handle any paperwork we needed to sign. Just as I was finishing with the Explorer, she walked up. Everything was taken care of and they would mail us a copy of the bill they send to Monaco. Both Emme Towing and Norfolk Truck Center are great people. The mechanic we had could teach doctors a thing or two about bedside manner, smile.
Here's a photo taken through the open bedbroom hatch looking down on the top of the engine. The new fuel line and bracket are in the center of the image.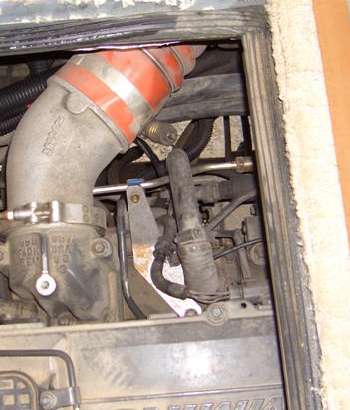 Now it was time to see if the proof was in the pudding so to speak. Slowly we pulled out onto US-81 to begin our drive back once again to the west. Our plan was to take US-275 northwest out of Norfolk until it joined US-20 just beyond Ewing. The Ewing of the flat trailer tire, smile, then follow US-20 into O'Neill, staying at the O'Neill city park and picking up our mud flap. I am not sure what percentage of the time I had my eyes on the road ahead, but I do know they spent an inordinate amount of time on the fuel gauge and rear camera, lol. It is amazing how time crawls in these circumstances, yet we we finally reached O'Neill with no noticeable abnormalities detected. The mind is a most amazing thing, how it can conjure up hobgoblins and ersatz problems. My had definitely been working overtime on the drive, attempting to convince me that we were getting atrocious fuel mileage indicating some addition problem with the engine. Made me out to be something like Macbeth, "Out damned spot! Out I say!" Walking back to the Explorer after pulling into the park, I found nary a spot diesel fuel on coach, Explorer or ground. Would that the mind of man....., lol.
The park had concrete pads with electric and water. Driving around we saw a pull thru off to the side and pulled in. What a change of view from the previous night. We were home again, in more ways than one, smile.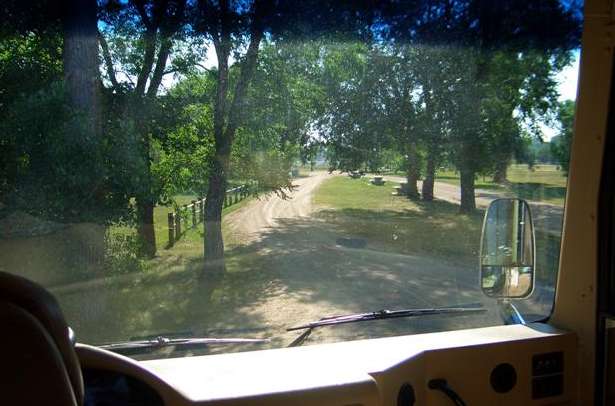 Then it was time to cook dinner. The other day when we had been at the laundromat in Norfolk, we took a walk while the clothes were washing and found a local grocery store in the same shopping center. Not being ones to pass up the opportunity to find something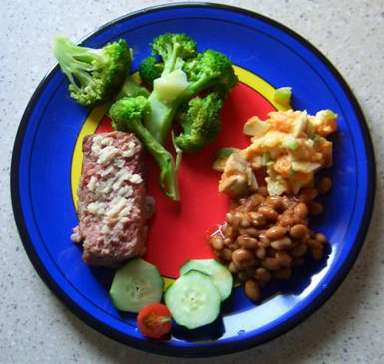 good to eat, we went in. What we found was a fabulous butcher department and left with some great looking center cut pork loin chops and a ham loaf. There had been far to much to choose from, who knows, maybe someday we will be back, in which case we will definitely stop at Lou's Thrifty Way at 807 South 13th Street. If you like fresh sausage, you'll like Lou's. That wasn't their motto, but from the line of people at the meat counter, the people in Norfolk definitely know about Lou's. With hookups tonight, it was time to get the convection oven up and running, so soon the smell of ham loaf was in the air. I read posts on the forums about people who don't like to cook in their RV because of the smell. I wonder what they cook, garbage? To Linda and I, the smell of great food cooking is like a summons to the feast table of the king. It is truly the harbinger of great things to come. To each his own, but to us, a plate with a thick slice of just cooked ham loaf covered with horseradish, steamed broccoli, sliced cucumbers, baked beans and sweet potato salad is a meal that would do Julia Childs proud.
We had a visitor for our meal. Don't know what it is, but sure was pretty.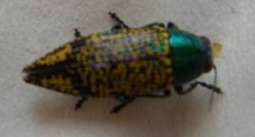 After dinner we drove over to O'Neill Body and Frame, Butch and Elaine's shop, where they had left the mudflap. O'Neill is the kind of town where you don't have any problem finding places. We drove right to it, and just as promised, the mudflap was around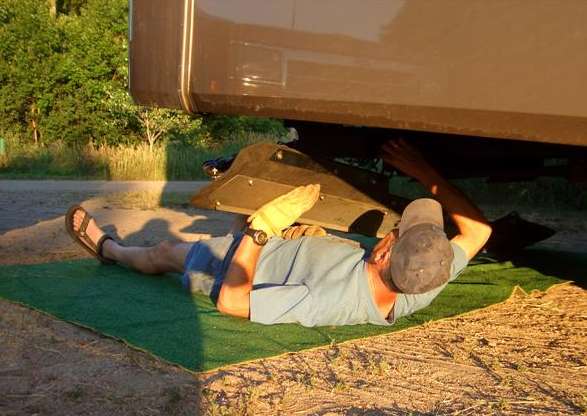 back. We loaded it in the Explorer, my back causing Linda to do a little more than she wanted to, smile, and soon we were back at the Park. Linda came up with the idea of using the grass patio mat we carry to keep me out of the dirt. Out here the term grass is better used to describe the green and brown tufts that occasionally break up the expanse of soil. Mat spread out, I crawled under the coach and with a little bit of finagling, got the mudflap installed, then extricated myself from under both the mudflap and coach. Good thing I'm thin, lol. The mat folded and put away, I retired to the coach to work on the website, while Linda entertained herself by washing the Explorer. Since I had been in the coach, she called for me to come see what she had done when she was finished. My comment that, I see she had washed most of the Explorer, was met with a stare. When I pointed out two spots on the drivers door that she had missed, I gathered it was most definitely not the comment she was looking for. Is it a genetic thing common to all males, or are we just that stupid, lol. I was surprised her comments back to me didn't ignite some on the dry grass and brush around the coach. I guess it must have been wet down by the over spray from her hose when she washed the Explorer, lucky us.
The end of the day found us turning out the lights early tonight, exhausted from the days adventures, both mental and physical, as well as our appetites being satiated by the delicious butterscotch pudding Linda made and which we ate every little bit of for dessert.
---
click image for

the current post
---
July 13 Our only thought this morning was about, just how wonderful the high powered shower spray had felt. There might also have been a hint of a thought about just exactly what the day would bring, but the luxury of the stinging water temporarily blotted it out,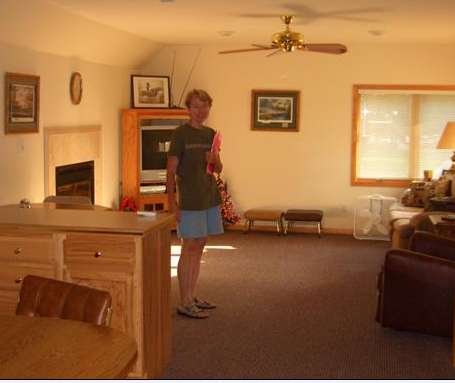 lol. Breakfast wasn't the usual this morning, in fact breakfast wasn't. It wasn't that there wasn't anything at the hidy-hole to eat or that there were no restaurants in O'Neill, it was that for some reason we just weren't hungry, wonder why. In daylight the hidy-hole was even more impressive than at night. We enjoyed walking around outside, watching the rabbits who were themselves probably wondering who these two strange people were. For a few moments our unusual situation was left behind as our minds let us enjoy the wonder of the moment. Since the tire shop didn't open until 8, we were in no hurry, still it finally became time to head east, not our preferred direction, but since our home was going that way, so were we, smile. We closed and locked the door, turning to face what would certainly be something different from what we expected when we left Iowa less than 24 hours ago.
We drove the 80 or so miles to Norfolk, turning off the highway at Ewing to take a look at the coach, which was resting easily on it's perch high above the street in front of the tire store and across the street from a small town neighborhood bar. The tales it will no doubt be able to tell to its fellow RV's at the next t RV park will probably last late into the night, lol. Reassured that all was right, we headed once again towards Norfolk, stopping just outside Ewing to read a State Historical Marker, the story of daring and tragedy on the Nebraska prairie by the Savidge brothers. As we were going through the area around Neligh, huge drops of rain began to pelt the Explorer, drops that soon morphed into a deluge as the sky darkened and opened up to satisfy the thirst of the drought stricken ground. Elaine had told us the Elkhorn River, which the road follows, was in danger of drying up unless they soon got rain. It looks like the prayers of the people had been answered and then some, smile. We passed through the storm and then kept abreast of it as we journeyed on into Norfolk and the next chapter in the saga of the leaking fuel. We drove through town in order to find the Truck Center and located it with no problem. Linda went in to advise them of the eminent arrival of our home, they were all set for it, but she emphasized it was our home. They promised a speedy and careful repair.
Then it was off to kill some time before the coach arrived. At least I thought it was to kill some time, Linda on the other hand had a mission or two in mind. That's the problem with top management, they simply don't know how to just kick back and relax. It turned out to be more like Dona Quixote and her faithful man Sancho than Wonder Woman and Robin, lol. When in Nebraska, think and do as the Cornhuskers think and do. That however is not her way. She thinks in terms of a square peg and a round hole only requires a little ax work to provide a fit, smile. Where this is leading to is the search for a new belt clip to hold our Verizon LG4650 cell phone. I'll spare the necessity of her having to edit out the tale of the broken clip, by simply saying, maybe I should have read her mind, taken it off and handed it to her. But since I hadn't, it would have been much better if I had just kept my mouth shut after she broke it, smile. The key component here is the word Verizon. You see, where we were, Verzion had no presence, nada, nicht, none, zip. Everything is Alltel. We had been on the extended network for the last several days, meaning, no Verizon. Didn't phase her. Every store we went in, they didn't have any clips for this model. For the LG models that Alltel has, yes they had clips, for the 4650, sorry. After several stores she got the idea that maybe they didn't carry them around her. To salve her bruised ego we soon found ourselves in a Great Clips, her hair raining down on the floor at the same time the storm we had crossed paths with back up the road, passed over Norfolk, the rain coming done in sheets. She couldn't have planned it any better if she'd have tried, lol.
We shopped, or I should say, bought at a Dollar Tree store, then got a call from Elaine letting us know they had arrived at the Truck Center. We watched the unloading process of our home, happy to see it once again and hopeful it would soon be fixed. We said goodbye to our new friends and watched the Emme Towing truck pull out. In case you are wondering, the cost of the tow was just a hair over $524, which will be paid by Monaco because we are still under warranty. Big smile!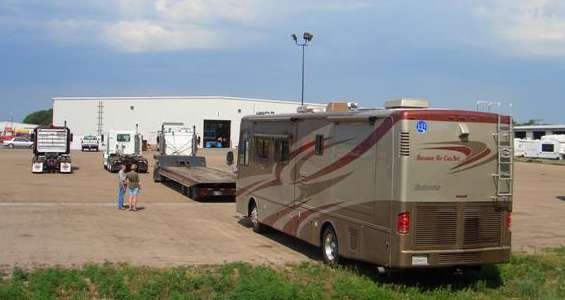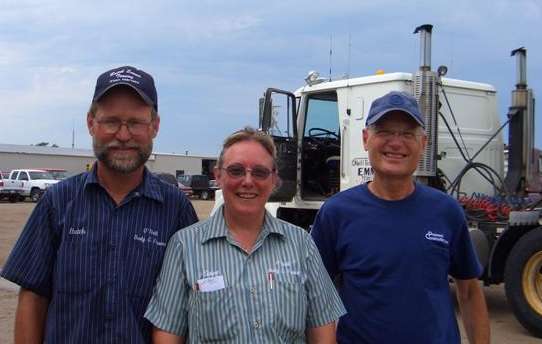 Going back into our home, we got the MotoSat up and running, catching up on email, then decided to go find a laundromat and get caught up on the washing. It was more of a lets do something while they check out the coach than anything else. The wash done, we stopped at another phone store only to find only the clips for the same phones as at the other stores. Seeing a pickup truck with melons and sweet corn in the bed we stopped once again. Our haul was a melon, a cucumber and a zucchini. Later the local SuperCenter provided milk, broccoli and a few other goodies. While we were there we got a call from the Norfolk Truck Center. The problem was a ruptured high pressure fuel line. Unfortunately the replacement would have to be overnighted, so it would be tomorrow until they could replace it. Also the bed was all torn up, so we would have to stay in a motel for the night. Not exactly the kind of information we wanted to hear.
We drove back to the Truck Center to find out more about the circumstances surrounding the recalcitrant fuel delivery system, pun intended, lol. Shakespeare would have been delighted, in fact he probably would have rewritten his play, Much Ado About Nothing, for that, dear reader, was what it was. While the truck center occasionally got in an RV for repairs, it is not an everyday thing. All they had done was lift the bed to obtain better access to the engine through the hatch. We will spend the night with no problem. The coach was parked all the way at the back of their lot, so it was out of the circus that was taking place hourly in the front of the lot as semi's came and left. It was interesting watching the care the truckers took with their rigs. Some would come in with there trailer attached. The trailer drop spot was back alongside where we were parked, so sometimes the neighborhood was nice and sometimes not so nice, lol.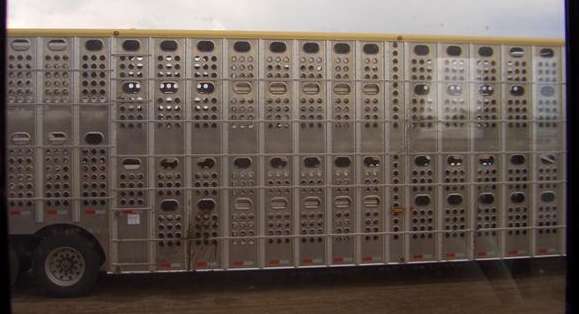 Linda had bought a new flower pot at the Dollar Tree store. How can a woman resist a $1 hanging basket, and now it was time to plant it. This worked out really nicely, using the last of the potting soil and holding all the Marigolds.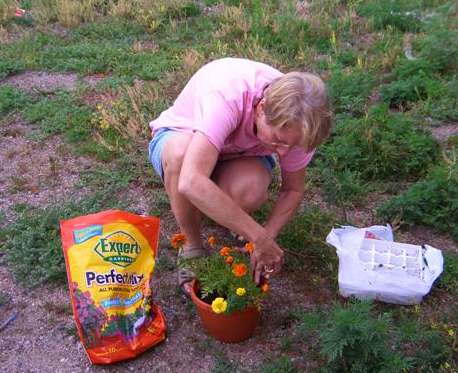 The view out the front of the coach was one we hadn't seen before and one we hoped would not be repeated, lol.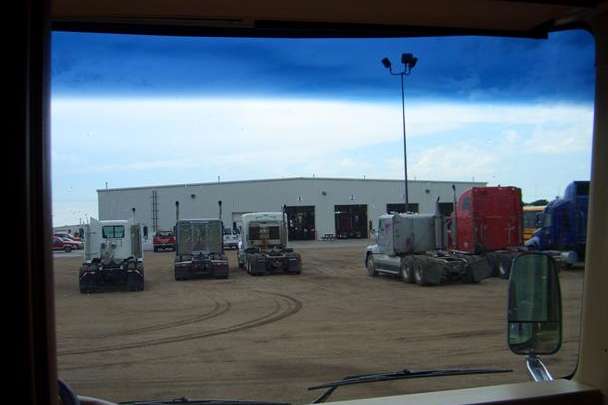 When Linda had been planting the flowers we had noticed some sand piled back behind the coach. Since there was a pile of broken concrete behind the other side of the coach, we thought we might go do some exploring. Talk about being surprised. We found a lake and sand dunes where you'd least expect it. We took off our sandals and enjoyed playing Lawrence of Arabia, even including an oasis.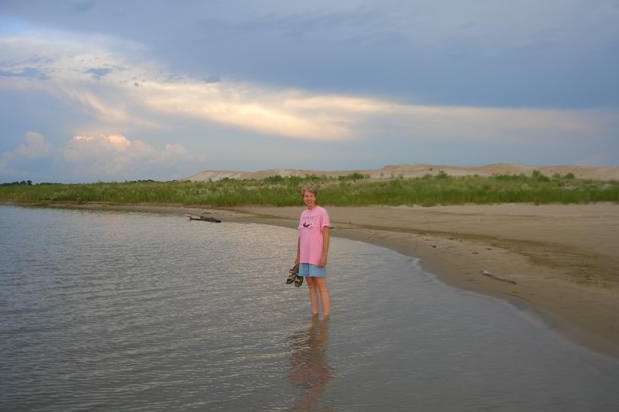 The dunes were steep, but the desire to see what was on the other side won out.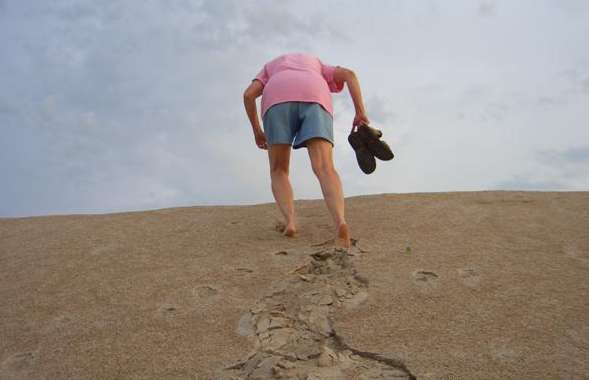 And just look at what we found on the other side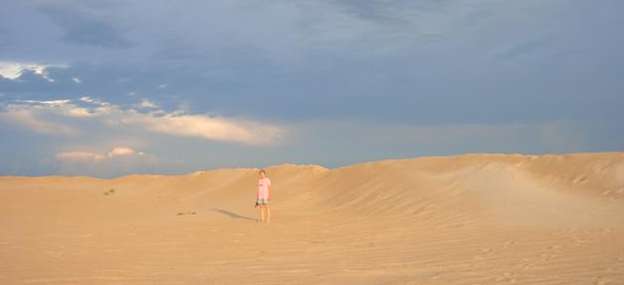 But as all worth it to get a photo like this.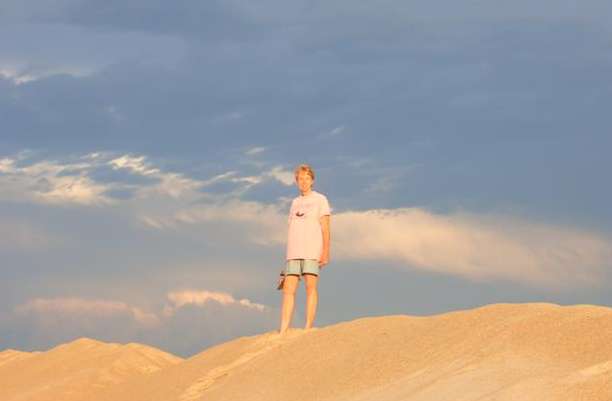 Dinner included another Tiny Tim tomato, it don't get no better than this, grilled turkey burgers and a half of a fresh tomato on the side. Do we live right or what, lol.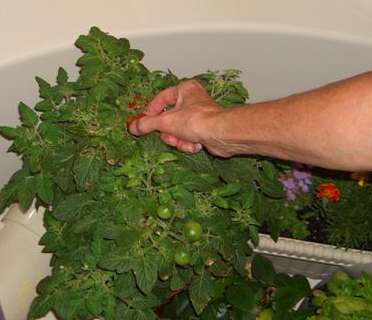 Taking a page from George, we'll call this place Camp Truck Center and show you the great view of the sunset out the front window of the coach. Even the mighty Ms Tioga would have trouble finding a spot like this, or at least George would hope she would, smile. Dessert was chocolate pudding with sliced almonds. A fitting way to end a day that went far, far better than it might have.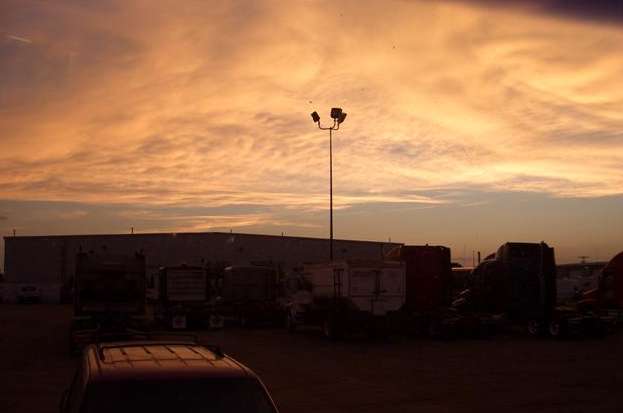 ---
click image for

the current post
---
July 12 Just like Lewis and Clark in 1804, we're heading west today. For the Corps of Discovery the route followed the Missouri River. For the Couple from California, the route will cross the wide Missouri and then follow US-20 across far northern Nebraska What a difference the passage of time makes. Just as the Corps broke their camp on a summer morning so are we, yet we have things they never dreamed of. Take Linda's tomato plant for example. It was early March when those two seeds were planted in a paper cup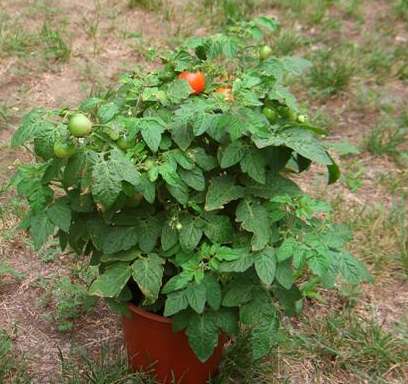 and set nightly in the cabinet over the halogen under counter light that was left on every night to provide bottom warmth for the soil and seeds. The one spindly seedling that survived, propped up by a toothpick when its stem was weakened, has grown into a pot overflowing, Tiny Tim tomato plant. As we've gotten more into the summer we've noticed other people who have their potted plants placed outside their RV's. I guess you could say, the RV can take the person out of the garden, but the person can take the garden in the RV, lol. That this plant has had love lavished on it would be a colossal understatement. The Tiny Tim tomato is a near perfect plant for traveling, growing only about a foot tall and wide, with a sturdy stem and small cherry sized fruit. Linda has learned more about how to grow, "on the road", as the miles and months have passed by. Our garden has grow to fill our shower as we travel down the road, the bright light from the skylight substituting nicely for being outdoors in the sun, reemerging outdoors whenever we stop of a couple of days.
Our breakfast of ham and eggs, eaten, things put away and stowed, we thumped our way north towards Sioux City, where we would turn west, crossing over the Missouri into Nebraska and hopefully, better roads. Iowa has many great things to do and see, the people are wonderful, but the atrocious roads would give me pause before returning. We crossed the Missouri on a concrete bridge and arriving in Nebraska, we were confronted with more concrete roads. Only there was a difference, the thumping was gone, so were the sudden bumps and dips. Maybe it is just not football that Nebraska is much better at than Iowa, lol. We did drive across one section US-20 in Nebraska that was more like the Iowa roads, but we attributed that to the designer of this section, no doubt having been a graduate of The University of Iowa or Iowa State University, rather than The University of Nebraska, lol. Soon a smooth ribbon of asphalt replaced the thumping concrete indicating that Nebraska is a progressive forward thinking state. Either that or the use less Roundup in this part of the state, smile. One thing about traveling on the highways and byways of America as opposed to the expressways and freeways, you find yourself sharing the highway with some very interesting vehicles.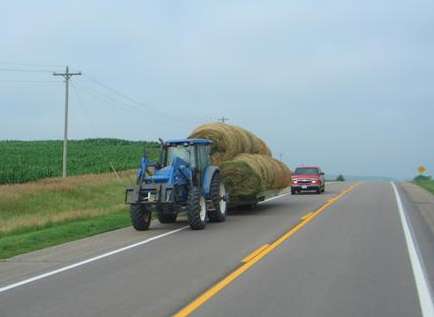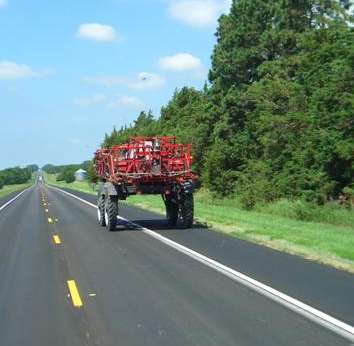 It was late morning when we arrived at our first stop of the day. A place that bills itself as the American Pompeii. Ashfall Fossil Beds State Historical Park is one of those places that you don't hear about and have to really be off the beaten track to accidently find. Yours truly on the other hand, during one of his legendary web surfing sessions had stumbled across it many months ago and had filed it in one of the back corners of his cranial cavity. I definitely had room for it since Linda feels there is a great deal on empty space in there, lol. Talk about fossils, here were lots and lots of fossils. Heck there are so many fossils that they are just laying out on the ground. About 10 million years ago, a volcano over in Idaho erupted, well it more than erupted, it exploded. The ash plume was carried a thousand miles down wind, resulting in the killing off of the animals around a waterhole in northeastern Nebraska. The site is very well done and the museum does a wonderful job of explaining the what, when, why and how that took place here.
Along the walk way you can see fossil bones lying exposed on the surface of a sanstone layer.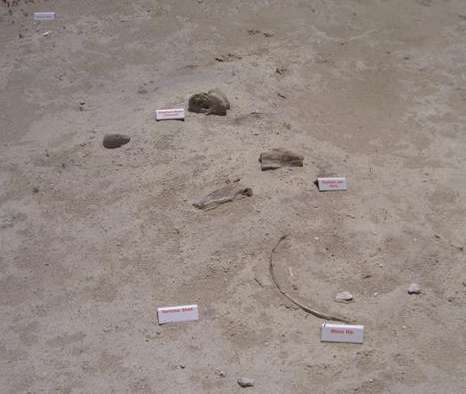 The Rhino Barn protects the soft ash, in which the bones were found and many still remain, from being eroded by the elements.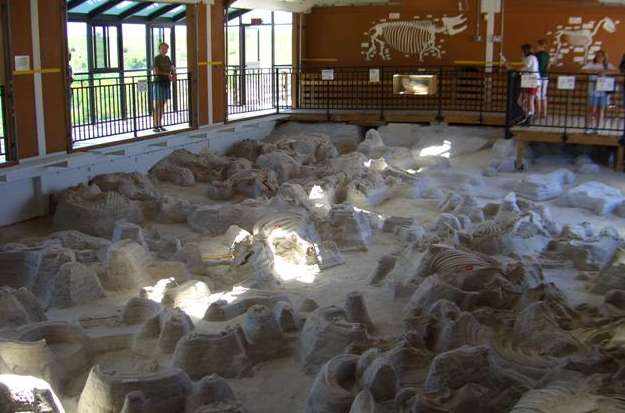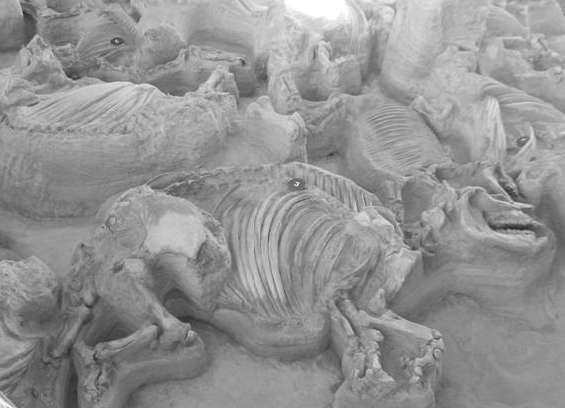 Inside the museum are a number of exhibits that explain the why, where, who, what and how questions you have. The fossilized remains of this baby rhino reach out to you from millions of years ago. Just as the work of the paleontologist cleaning a fossilized jaw bone reach back million years.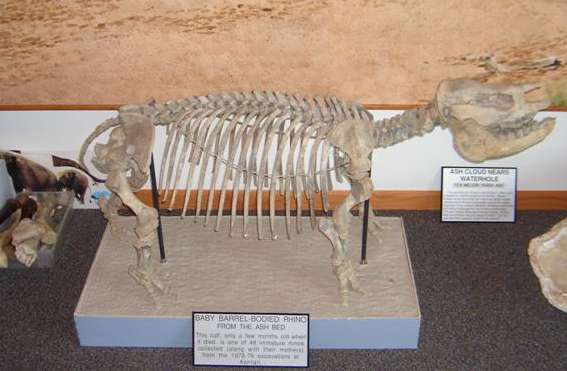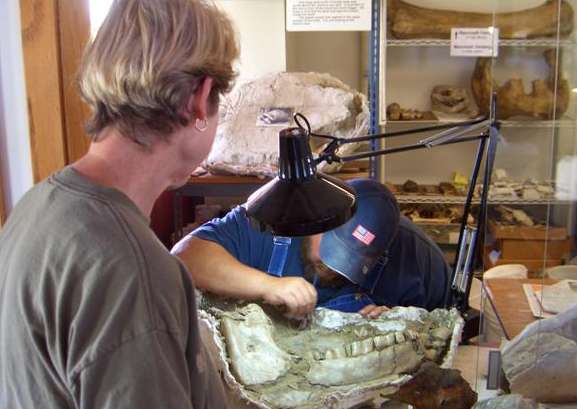 We had ended up spending far longer at Ashfall than we intended, really well done historical sites will do that to us every time, but since we were really in no hurry, we started the generator and had our turkey wraps in air conditioned comfort prior to pulling out. The miles rolled by, as did irrigated fields, those center pivot irrigator's are interesting to say the least, the open grassland and hay fields giving us an ever changing view out the window. This is also a land where towns are few, far between and often have the main street and in some cases the whole town bypassed by the roadway. Twice we were stopped by construction crews, something we didn't mind at all. We're in no hurry and the more miles they pave, the better the roads are. Eventually we entered the little town of Bassett, our stop over for the night. Our plan was to stay at the fairgrounds, which we found with no difficulty. This is one of those places where they provide electric and ask only for a donation. Makes you want to go into town and spend a little money, smile. Since there did not seem to be any marked spots, we stopped and decided to walk around to scout out a spot. As we were looking, I happened to look back at the coach and noticed some dust blowing behind it. Then I realized there was no wind. If it wasn't dust what was it, steam, smoke, at that moment my instincts took over and I literally started running back toward the coach. Nearing the back I could see it was smoke and something was dripping out from underneath the engine area. Going around the back of the Explorer I could see liquid quite literally pouring out on the curbside and the smell of diesel filled the air. By now I was in overdrive, yanked open the door, took the five steps in a single bound and shut off the key.
Now what to do. Was it on fire? Was it going to catch on fire? What was I going to do? Returning to the back of the coach I could see the smoke had almost completely dissipated and the flow of diesel was rapidly diminishing. Maybe nothing was going to happen. It was then that I noticed the Explorer. The passenger side from the bumper on back was covered in diesel. Linda was not an bystander in all of this, being right there and asking questions that caused me to think and adding her own astute observations as to what the problem appeared to be.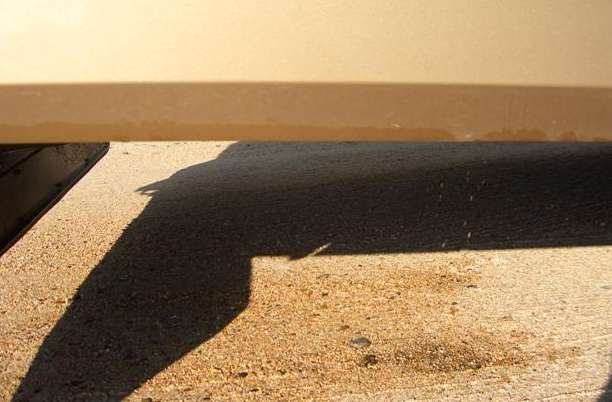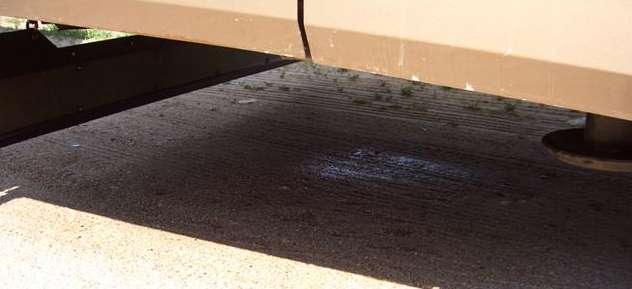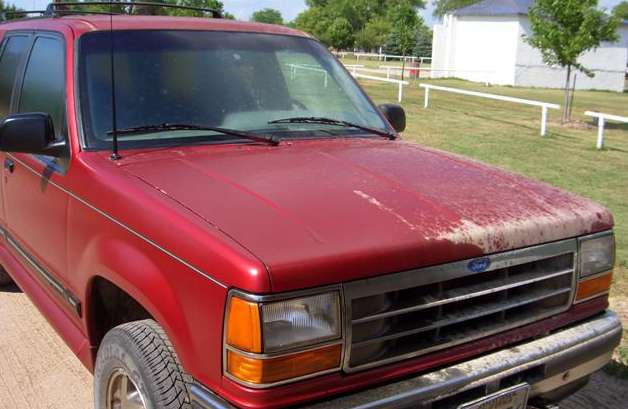 Having concluded that there was no danger of fire and that we had a major diesel leak, she called Monaco Service. After several calls, a tow company was dispatched to tow us to the nearest authorized Cummins dealer, Norfolk Truck Center in Norfolk, Nebraska. All of this taking place in a span of less than 15 minutes. Norfolk lies 125 miles to the east of Bassett, so this was going to be a big deal, so to speak. It would also mean that we would be almost back to where we started this morning. Certainly not what we intended when we left Salix, Iowa, but then, we are on an adventure, so why not live life, lol.
We weren't sure how long we had been leaking, but looking at the entrance to the Fairgrounds, we could see the trail of spilt diesel coming in off US-20, smile.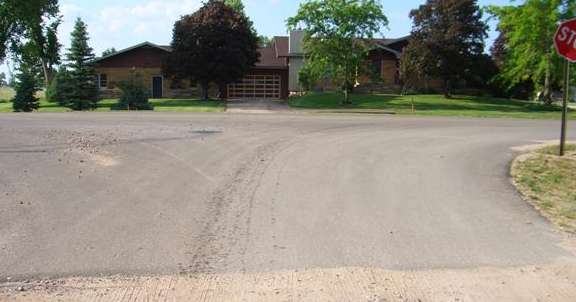 One thing the Monaco Service person mentioned was that diesel is not good for paint. So while we were waiting for the truck to arrive, we washed the Explorer and the back of the coach. We were going to be doing some serious driving of the Explorer over to the Norfolk Truck Center so we filled up with gas. $2.99 a gallon, but that was less expensive than the $3.05 we had paid for diesel the other day. The same high priced diesel that we saw pouring out onto ground, smile. We also fixed supper and then began looking for other places like this (the Bassett Fairgrounds) to stay at since we were going to be taking a second trip across this part of the state. The old lemons, make lemonade idea.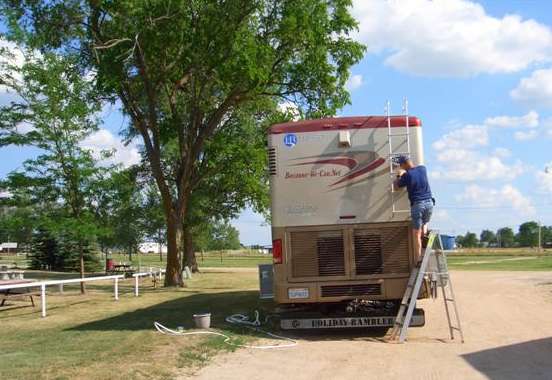 We were sitting at a table talking to one of the other RV'ers staying at the fairgrounds, when a semi-truck pulling a lowboy trailer pulled in. Were we ever pleasantly surprised. This was much more than we ever expected. But there was more, for Butch and Elaine Emme, who own Emme Towing, turned out to be two of the nicest people you'd ever want to meet. Because of the height of the trailer and the large limb on the tree immediately in front of the coach, it was necessary to drive the coach forward to clear it before loading it on the trailer. The only time I saw Butch move fast during the whole process was when he noticed how much diesel was pouring out when the engine was running, it was then that he was running also, lol. The trailer tilted and the axles were moved forward and backward to get just the right angle. Slowly the coach rode up on the trailer. The angle had not been dead on when they started to load it, so the coach was going on at a slight angle. The overhang behind the rear wheels was enough so that the hitch dug in the ground, the Blue Ox towbar had been removed prior to loading so it wouldn't be damaged, however the mud flap that runs across the width of the coach was torn off on one side. In hindsight it should have been removed. It took almost 45 minutes from the time they pulled in until the coach was secured and ready to take a ride. Since the Norfolk Truck Center was open until 2AM, and if we were lucky and it was a simple repair, maybe we could be back on the road heading west in the morning. If not, it was no problem, since we didn't have to be anywhere.
We joked about leaving a trail that showed just where we had been. Then we decided to look on the bright side. Lewis and Clark had kept track of where they had been so they could come back the same way. Our trail of diesel would achieve the same purpose, letting us know where we had been when we came through here once more a day or so, lol.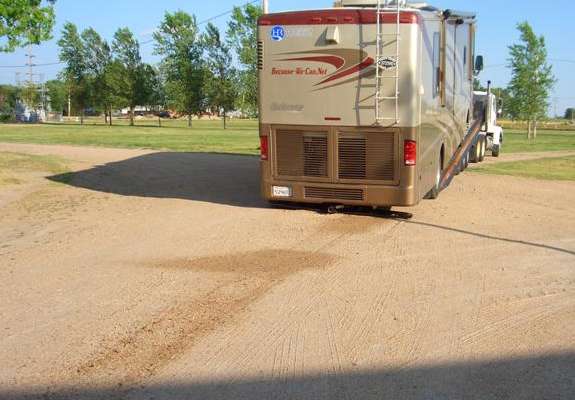 It was fanscinating watching our home being loaded onto a trailer to be hauled away. We both felt a very real and real powerful sense of loss and helplessness while this was taking place. Suddenly our home was gone, with all that we had.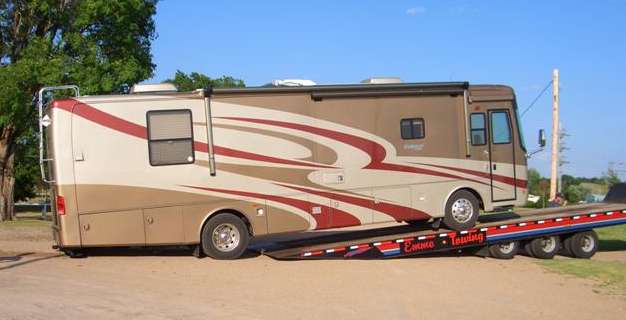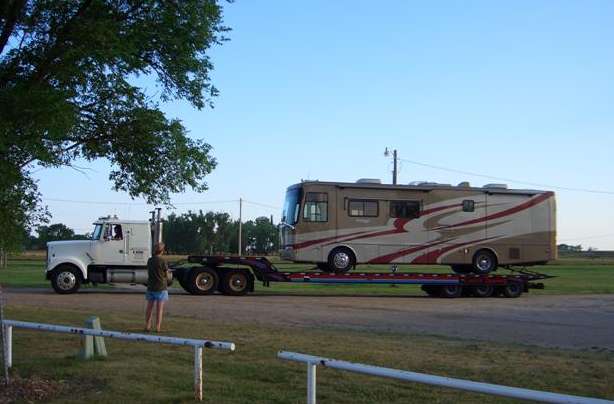 Sometimes in life things don't go the way you would like them to go. Such was today. However, the day ain't over till it's over and so as we turned back to the east on US-20 to follow our coach, we talked about how lucky we were that it wasn't any worse and that lemonade was certainly being made out of the lemons we had been handed today.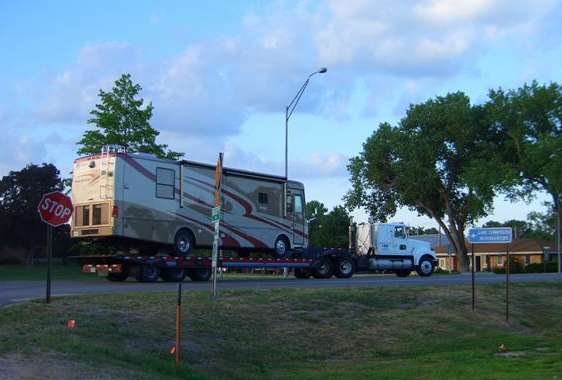 Since the coach had been loaded at a slight angle to the bed of the trailer it looked like a giant crab going down the road. Of course when you see your home being carted off like this, all manner of wild thoughts fly through your mind. Once when the semi and trailer got far over on the right shoulder of the road, the thought of our home on its side in the ditch went dancing through my mind. After several seconds it was back in the lane, but it was interesting to later hear Linda comment she wondered whether it was going to end up in the ditch. The human mind and what it can do, smile.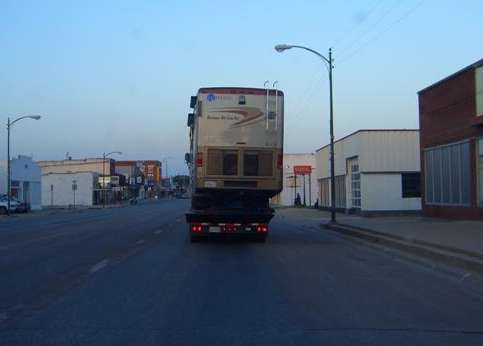 The miles rolled by and we saw places we had been in only a few short hours ago. There was one stop, in O'Neill, while Butch filled the semi with diesel. It made for an interesting sight.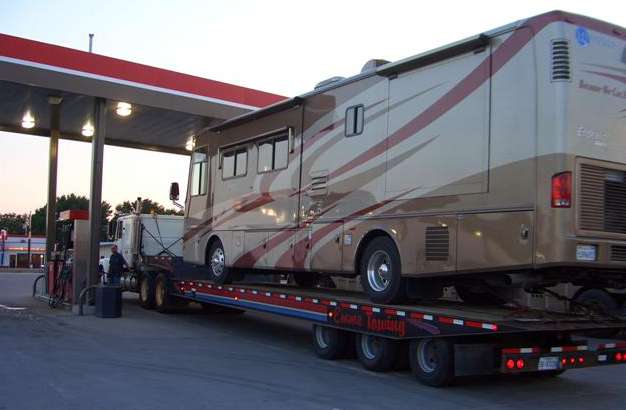 We continued to head for Norfolk, past miles and miles of grassland, interspersed with new mown hay fields. At the little town of Ewing, the tow rig once again swung into a gas station. We stopped behind the trailer and Butch slowly walked up the curbside of the trailer and bent down. As we watched him, we both realized where the little black pieces we had been seeing on the highway for the last several miles had come from. One of the trailer tires had gone flat and had been shredded. There was much squatting in front of the tire, some placing of hand on chin and a little staring off into the distant sky on the part of Butch. As for Linda and I, our minds were not so deeply engaged in thinking, they couldn't be since every bit of our brain was occupied with the thought, "now what."
It was almost surreal, standing there in the rapidly fading remains of the day, physically tired and emotional spent, not knowing what our immediate future held. There were several long discussions between Butch and Elaine and finally they approached us. By this time we were at the point of looking at any news as good news, smile. The proposed solution turned out to be great news, though someone else in our situation might have felt, frustration or even anger at the situation, what good would that do, would it solve the problem? Thus we were happy with what they proposed, which was to take the rig back a few blocks to a tire dealer, where the tire could be changed tomorrow morning. We would drive back to O'Neill, which was 25 miles to the west, where we had just come from, taking Butch and Elaine. They had a number of rental properties, one that they called the hidy-hole, a cabin where they would go when they just wanted to get away from things. We would stay at the hidy-hole and they would stay at their house, get the tire fixed in the morning and meet us at the Norfolk Truck Center in the morning. Arriving at the cabin, we were surprised beyond words. It wasn't a cabin in the sense of what we were used to, this was a very nice house. To say it was perfect end to a long day would be exactly right. Now what will tomorrow bring, smile.
---
click image for

the current post
---
July 11 When we had decided to stop in the Sioux City area it was simply because it was near the limit in daily miles that we like to travel. We had done no research on the area, so had no plans as to what we were going to do. Maybe just sit around and watch the corn grow. lol. Then Linda discovered she was kith and kin with Lewis and Clark, hence today is another vacation mode day. She has it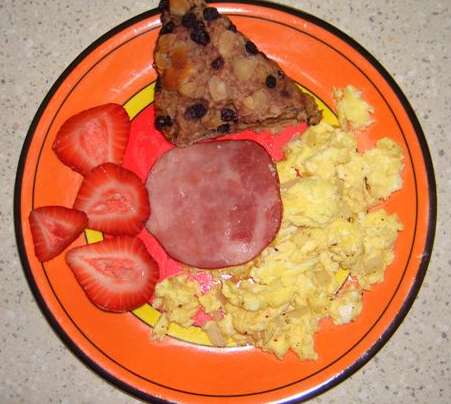 all planned out, all I have to do is drive, smile. As I sat at the computer in the early morning, there was rustling in the back, followed by the sounds of personal preparation and female beautification. Shortly afterward, the days tour director and historical researcher swept into the room, as pleasant and cheerful as a man could ever hope his wife of nearly forty years to be, lol. I smiled to myself in total understanding of her changed countenance. When a person grasps the wonder of history, it does that to them. Smiling and laughing, she fixed breakfast. A plate fit for two intrepid adventurers, whether in 1804 or 2006. Scrambled eggs with Vidalia onion and fresh basil, a side of perfectly fried ham and a wedge of warm huckleberry scone, served with a flourish and a smile. I wonder, if when Lewis and Clark were in the west, they savored the bursts of flavor so miraculously stored in those little blue and purple berries?
Almost before I knew it, she had lunch prepared and packed in our little cooler, along with a morning snack and cold drinks. In addition, the GPS was loaded, highlighted maps printed off Streets and Trips, extra batteries for the camera packed and guide books stacked at the ready. Obviously this wasn't going to be just another day of vacation mode, this was going to be a full depth immersion into history day, lol. I love it, you know I love history, and it looks very much like she is also going to love history, even if it is just for a day. Our first destination was Lewis and Clark State Park. One of the great things about this life of adventure is not being tied to a set schedule or destination. How did we know when we decided to stop at this little county campground that it would be in the heart of Iowa Lewis and Clark country. The State Park was about 30 miles south of here, on another oxbow of the Missouri. Accompanied by the ever present thumping, we headed south. Made I should equate the present day Iowa tire thump to the sound of the waves slapping against the boats as the Corps of Discovery headed up river those several centuries ago. What Iowa won't do to give you the "whole" experience of history, smile.
As the miles thumped and bounced by, we were amazed at the number of RV's we saw headed north on I-29, a highway that leads to not much of anywhere. Of course I had to tease Linda about how most of them must be headed to the Black Hills and Mt Rushmore, which was not the smartest thing to say. Soon a brown sign, that no doubt announced the exit for the park, loomed in the distance and the glare on her face finally disappeared, me and my big mouth, smile. As we approached the sign my impression of the Iowa scheme of things wavered slightly. What, I mused, what if the Department of Transportation people of Iowa are a lot smarter than I give them credit for. What, and it was just a fleeting thought, what if there is actually was a devious plot to the seemingly near impassable road conditions in this state. When your eyes are constantly yo-yoing in their sockets, they can't focus clearly enough to allow you to read the signs, thus requiring either a reduction in speed or total illiteracy on the part of the occupants of the vehicle. Maybe the roads were actually stealth speed control devices. Deciding I had probably inhaled too much Roundup over the last few days, I quickly banished all such thoughts from the bouncing gray mass that was my brain and slowed down to see what the sign said.
Indeed, it was the exit for the park. We were surprised to see three RV's heading our way and a little further down the road, several more. Turns out this road led to more than just the State Park. We saw several more RV's waiting to enter from a side road, a road that had a sign announcing a casino, we also noted a KOA sign. The mystery of the appearing RV's had been solved. The State Park also had a campground, making it a convenient overnight stop. The reason we came was to see the full scale keel boat replica. This was our first opportunity to grasp the size of the Expedition of Discovery. It is one thing to read about 33 individuals setting out on journey in a keel boat and two smaller boats, called pirogues, it is another thing to look at full sized replica's of them.
Here's a photo that shows the relative sizes of the keel boat, note Capt. Bligh in the foreground.

When I sat at one of the oars, I was amazed at how heavy it was.

Not content with just commanding the keel boat, Capt. Bligh moved down to the docks and boarded a replica of one of the pirogues.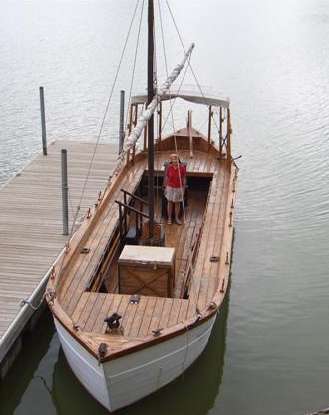 The park has a number of signs that provide a wealth of information about the journey and it was a place we were glad we had visited.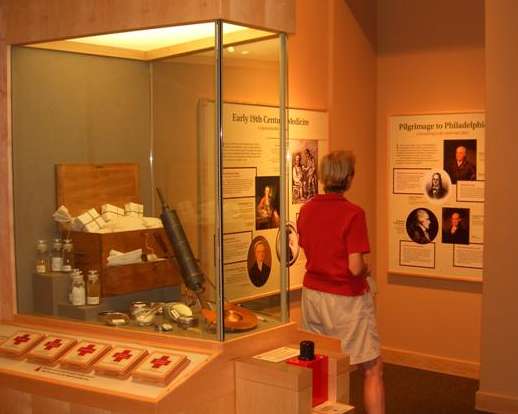 Our other stops for the day were located next to each other in Sioux City, the Lewis and Clark Interpretive Center and Sergeant Floyd River Museum and Welcome Center. What a neat experience the Interpretive Center was, A large statue of Lewis, Clark and Seaman greet you out front. The building is surrounded on three sides by a area that has been naturalized with wildflowers that are native to the surrounding prairies. Every once in a while in our travels we have stumbled across something that really special. This was one of those places. For over two hours we were completely immersed in the past. If interactive history is not your thing, you will find this Center to simply be a very nice way to learn more about the expedition. If you let go, become a kid again and allow yourself to interact with the displays, it will take you back in time and you will find yourself as an actual member of the expedition. All I can say is, we really, really enjoyed ourselves.
The animated lifelike manikins of Lewis and Clark sure manage to grab our attention.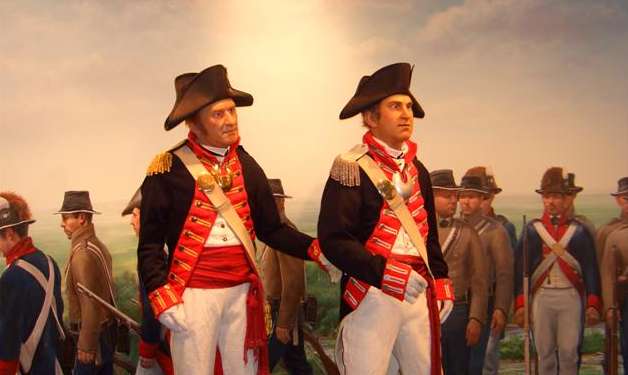 Nearby is the Sergeant Floyd Museum, named in honor of the only member to die during the expedition, a journey that lasted a little over 29 months. The museum building is a Missouri River boat, the M.V. Sergeant Floyd which was used by the US Army Corps of Engineers in maintaining the navigational markers on the river. Of course wherever there is a boat, whether afloat or ashore, Capt Bligh is probably near. Once again the sure eye of the camera caught her at the helm.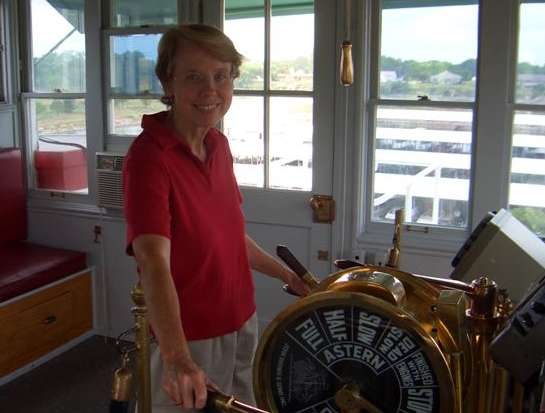 We still had wood left over from my playing Paul Bunyan last night, so the family pyro-maniac hosted another conflagration after a dinner of leftovers which was followed by the last of the apple cake. Travel day tomorrow so we didn't stay up past midnight for a change.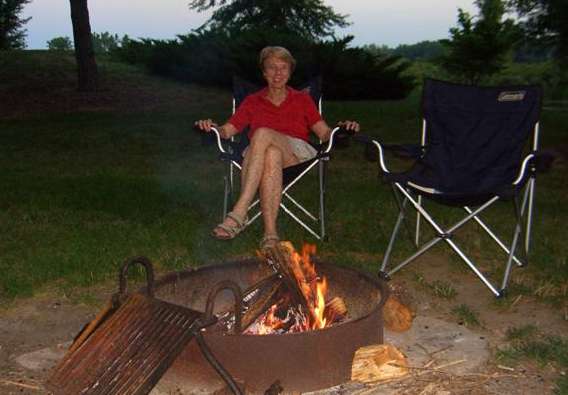 ---
click image for

the current post
---
July 10 What's that saying about not letting the corn grow under your feet, or at least something to that effect, lol. Around here, the way the corn grows, you'd soon be 10 feet tall. As for the grass, they're in the middle of a drought and it doesn't grow at all. Isn't that what this life is all about, searching for the tallest corn stalk. Trying to find out if the grass really is greener over the fence. Taking that to heart, we will move on today, so, after a breakfast of onion eggs with a twist, fresh basil, plus the ever present strawberries and the recently arrived huckleberry scones, we started packing to leave. It is amazing the amount of things we can drag out in just a day or two. Now we were adding beach shoes and swimming suits to the mix. I should never have worried, after all this is a woman who never met a left over she couldn't cram into a refrigerator. Thus everything was packed away in short order. Talking about corn and grass, did you know that the fresh basil for the eggs came from our garden, the one that rides in the shower when we travel. Farm girls, aren't they special, smile.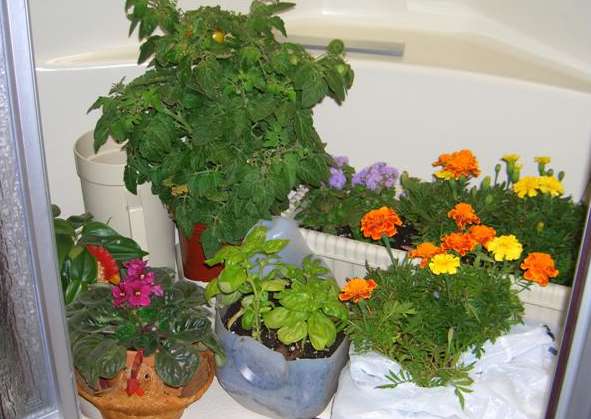 One thing we didn't do was wash the Explorer. That would have been an exercise in futility, for as sure as there had been a gravel on the way 'in', there would be one on the way 'out'.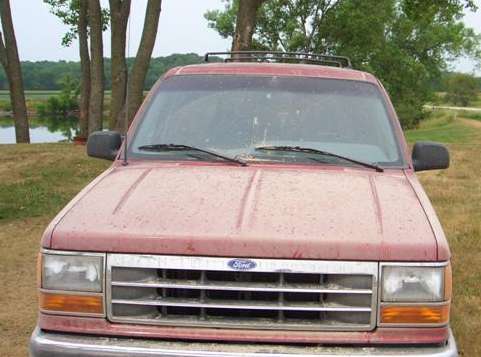 We are heading over to the far western edge of the state today. After our little excursion into no man's land on our journey here, Linda has worked diligently at getting our route inputted into the GPS. We shall see, lol. As usual, our route took us over the roads less traveled. Instead of heading west on I-80, we took US-30, the same US-30 we had traveled a month ago in Ohio looking for dead relatives. There was definitely one thing different about the Iowa US-30 as compared to the Ohio US-30. They leave the bump out in Ohio, lol. One thing they do in Iowa is build the absolutely worst roads we have encountered on our adventure. Doesn't matter whether it's a county road, a state highway or an Interstate, the roads in Iowa were designed and built by either morons or crooks. I thought Louisiana roads were bad, these make Louisiana roads look good. Most of the roads are concrete, yet the only good roads we have encountered in Iowa are asphalt roads. Why on earth the people of this state would put up with the total incompetency of their state highway department is beyond me. It has to be either too much roundup on the corn and soybeans affecting the genetic pool or payoffs by the concrete people. I'm a traveler so I am limited in what I can do, but what I can do is spend no more money than necessary in this backwater state. End of rant, lol.
Leaving the the endless thump, thump, thump and bounce, bounce, bounce of US-30 behind we headed off towards the Loess Hill on another bumpy endless ribbon of concrete.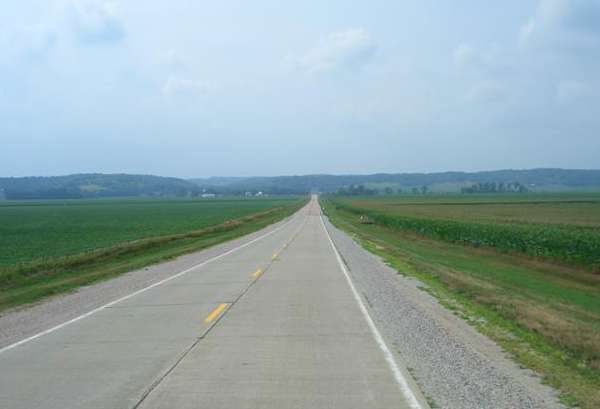 While I may have been a little harsh regarding my comments on the roads of Iowa, no I wasn't, they are crap, at least the concrete ones are, it is neat watching the towns with its prerequisite grain elevator roll by. Back in the eastern part of the state it seemed like each farm had there own granaries. Out west it is on a different scale. The elevators towering over each town as we pass by. As we neared our destination for the next couple of days, we passed a town that was totally dominated by the gigantic elevator reaching for the sky above the bumpy concrete pavement. It seemed to proclaim that this was farming country and they were proud of it. As we had crossed the state we had enjoyed seeing the signs at the edges on towns proclaiming they were the girls state basketball champion in such and such a year, or something similar. The signs changed, but the pride was always evident. It's just people doing the same thing everywhere, smile.
The rough roads make for a long slow ride, but finally we arrived at our destination for the next couple of days, Synder Bend County Park near Salix, Iowa. We didn't realize it when we picked this park to stop at, the $15 per night for 50 amp hook ups had more to do with it, lol, but it was actually a very special place. It was mostly Linda's no more than 200 miles in a day mantra lead us to this pretty little park on a ox-bow of the Missouri River, so how were we to know that on August 12th 1804 the Lewis and Clark Expedition pick this same location to encamp for the night. This led us to discover something we had known about, but actually didn't know. The Lewis and Clark Expedition. Linda took to it like a fish to water. She proceeded to inundate me with all manner of information about the Corps of Discovery. I think I've got my own tour guide for all things Lewis and Clark. Soon she had a site up on the internet that had excerpts from the journals kept by the members of the Expedition. She could hardly contain herself and I was ecstatic. She had discovered HISTORY. It's there for each of us to latch onto, some of us just have a lot more "glue" than others, smile.
Emulating the Corp of Discovery, we set up camp. Linda even set up the bird feeder our Grandson, Zach, made, filling it with sunflower seeds in hopes of attracting a new bird.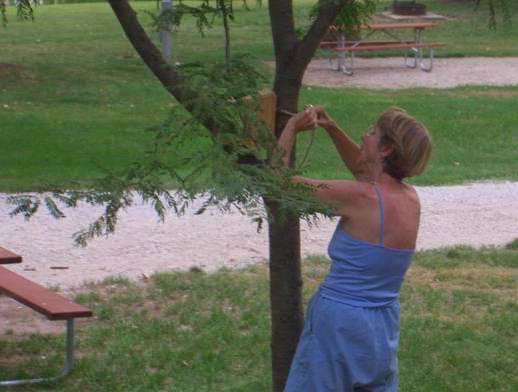 Next we took a walk around the park. The birds and flowers here are different than those we are used to, as are also the insects. One flower that seemed to be especially appreciated by a different bug caught our eye. They sure made a pretty picture.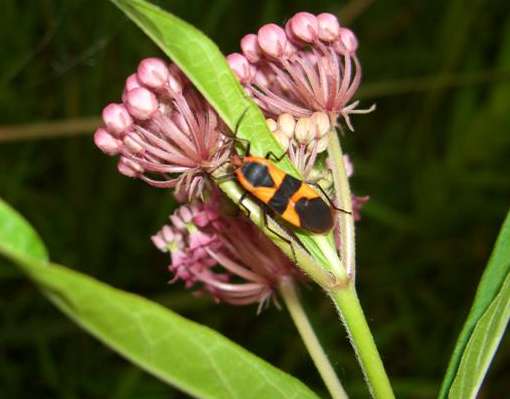 During our walk we discovered even more about the place were Lewis and Clark camped. The oxbow we were camped beside had been the river when Lewis and Clark came up the river in August of 1804. There were signs in the park that were really helpful in orienting us to what had taken place. No one knows for sure where the camp was, but it was likely that it was somewhere in this photo, lol.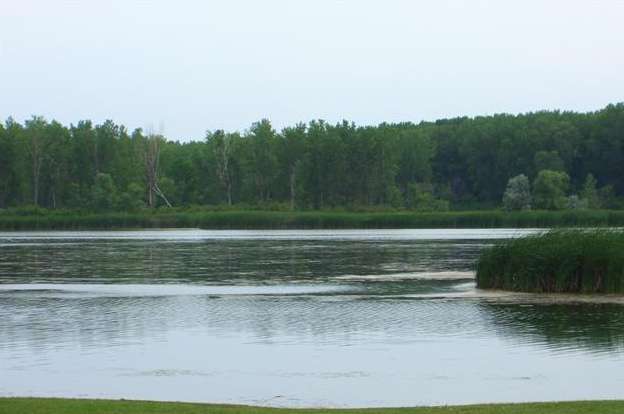 Dinner was absolutely divine. Bob Evans sausage patties with the works, on whole wheat bread, sweet potato salad and baked beans. It was so good in fact that we had to take another walk to get all that food settled. This led to the discovery of a large pile of cut
trees that included some shorter logs, that if split, would be perfect for burning in a campfire. Knowing Linda, I didn't even ask, but just gathered up some logs and headed back to the coach. Soon the sound of an ax rent the air, as I used the skills with an ax I had honed as a child. That furnace and fireplace we used to heat our house in the winter required a lot of wood. The furnace, to light the fire every morning and the fireplace, as that was what we burned since my mom couldn't stand the smell of burning coal. It was my job to chop kindling and split wood. Doing that kind of work during your childhood will give you a few skills with an ax that time does not diminish. Who was I to know that my childhood was serving as a training ground to better serve my wife, lol. Before long, pyro-mom had a nice fire going and we had a pleasant time sitting out in the fading light of day talking once again about how fortunate we are that we can do the things we do.
A day without mention of dessert is a day wasted. Tonight it was once again apple cake and whipped topping, and still the original cake. Linda froze part of it and it has served us well. May your days be as enjoyable as ours are.
---
click image for

the current post
---
July 9 Up early this morning, just me and you. Some things just are and I was really stuck by what I saw this morning. Remember the Frankie Valli song that went:
You're just too good to be true.
Can't take my eyes off you.
You'd be like Heaven to touch.
I wanna hold you so much
Pardon the way that I stare.
There's nothing else to compare.
The sight of you leaves me weak.
There are no words left to speak,
Those words describe what I saw as I watched the darkness turn to light this morning. It was a magic moment. The words say it far better than this picture conveys.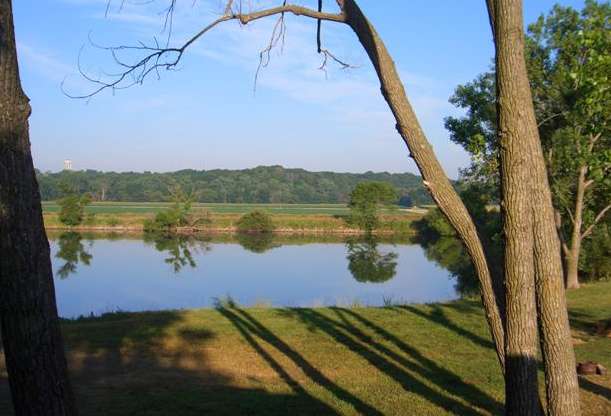 Since I was in a great mood, who wouldn't if they had been staring at something beyond compare, smile, I decided to kick breakfast up a notch or so this morning. Soon, whole wheat flour, baking powder, ICBINB and other ingredients were on the counter. About 25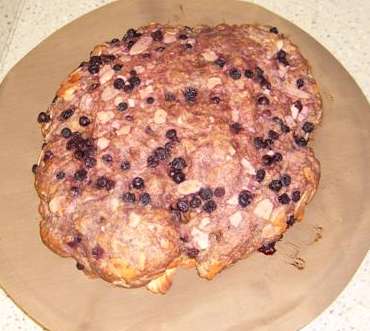 minutes later, hot from coming straight out of the oven, wedges of huckleberry scones sat on our plates beside the usual onion and egg scramble and those ever present sliced fresh strawberries. The quite, mirror like surface of the lake was dotted with the ripples of the on rushing wind. The reflected branches and leaves of the trees, grayish blob huddling near the far bank. It was almost as if nature had decided to go into hibernation with the onslaught of the heat of the day. Conserving its placid beauty till the darkness of night allowed it to refresh itself, until ready to burst forth once more as the rising mists of early morning were seduced by the warming rays of the sun. Even with its beauty shrouded in the shadows of the day, we carried our plates outside, sitting beside each other at the picnic table down near the water. Good food, gorgeous scenery and your partner by your side. How could a day start any better.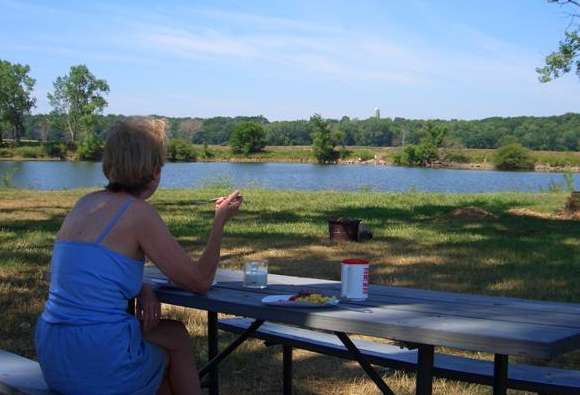 We spent the morning doing housekeeping things, light cleaning, heavy duty web page updating, responding to emails and talking with children. All the while watching the unfolding scene outside our window. After all, it was Sunday, the day the weekender's take down their temporary houses and return to the world of work or domestic duties. Just like we did last year at this time. How many times had there been someone watching us breaking camp on Sunday morning, thinking the same things we were now thinking and saying the same things we were saying. A note here on our lunches. There have been a number of days recently where no lunch was mentioned. I assure you, dear reader that this has not been an oversight on my part. We have not been on a very regular schedule of late. One of the casualties of this aberrant behavior has been lunch. we are endeavoring to be more regular in our habits, but this lifestyle seems to encourage a certain amount of sloth. I think we shall welcome it, nay, embrace it. Because we can, smile.
The afternoon emerged from the morning and settled in, hot, but not oppressively so. Beckoning us to join the scantily clad young people in the lake. What comments were made as the two sexagenarians, actually one sexagenarian and one quinquagenarian, maybe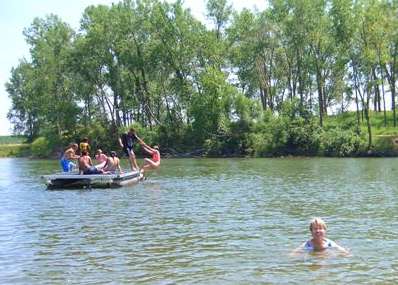 that's our problem, lol, very daintily crossed an abyss of fiery hot sand on uncalloused feet and ever so cautiously entered the water. Linda. exhibiting the foolhardy bravura that only the young can display, quickly entered the water and plunged into the lake. There is one thing about this lady and water that is the key to understanding her behavior. Water must never touch the the area of her body that is near her nose. This is an ironclad rule that can never be violated, smile. Submerged, but afloat, she luxuriated in the water. There is something special about going for a swim in a warm lake on a sunny Sunday afternoon.
I, on the other hand, was a total wuss. Totally, as in totally tubular, dude. Just look at the following photos, lol.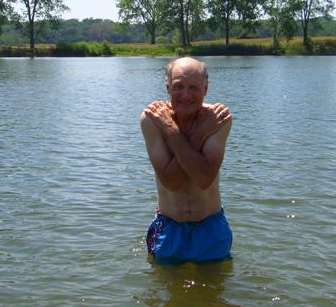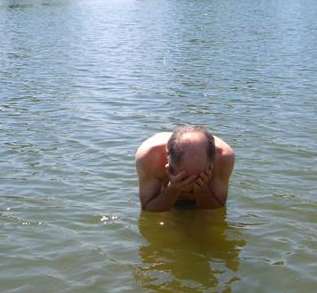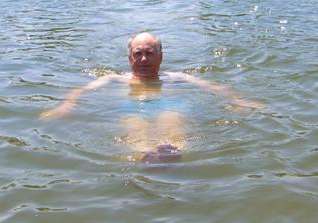 The water was actually quite refreshing and so we did our thing for a while, cooling off and relaxing. We had ensconced ourselves on a pair of lounge chairs on the deck by the cabana, when I had a recollection from the past. My Aunt Jane, who we had visited in Ohio had always loved to swim when she was younger and I had fond memories of times spent swimming with her, those many, many years ago. The result of these thoughts and the wonder of modern technology, was a very pleasant cell phone conversation. The connections to the past, indeed, they are important. Returning from the beach, we were walking towards the coach with this awesome corn field stretching of to the point of disappearing in the distance. If we had looked to the left, we could have said the same thing about a soybean field, lol. Anyway, before I know it, I look out the window of the coach to see my farm girl wife crossing the road and heading toward the cornfield. The deep drainage ditch does not deter her, neither does the waste high weeds. I see her gingerly cross the barbed wire fence. She better be very careful after all the times she's reminded me to be careful around them. It has something or other to do with the big scar on her knee and playing near a barbed wire fence, lol. I know, I always say she's both pretty and smart, it's just that I don't claim they both arrived on the scene at the same time, smile. Next thing I know she's disappeared into the corn. Sensing a Kodak Moment, the camera and I head that way.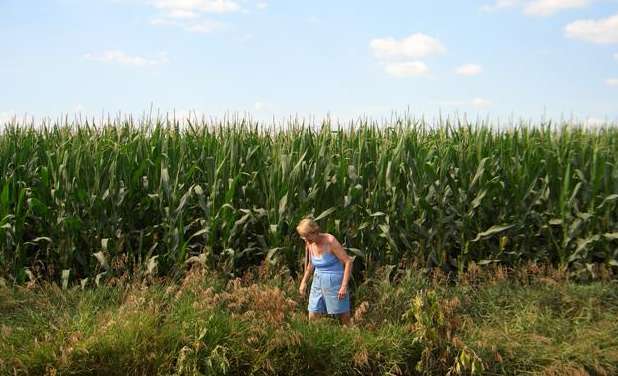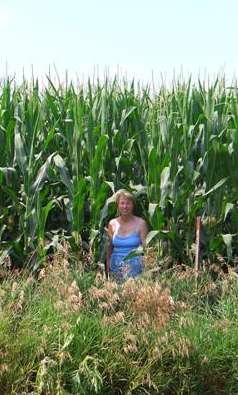 After dinner, we talked about going for another swim, the weekender's all having departed and the wind having died down. Of course with this woman, everything is always susceptable to change at a moments notice. The whim of the moment was to give me a haircut, so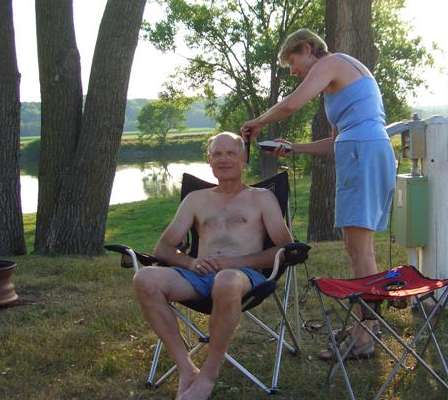 that when we went in the water I could wash all the cut hair off. To me it sounded like a plan to get my head under water. I guess, however, that if I needed a haircut, it couldn't have happened under better circumstances. So there I sat, in a lawn chair, beside a lake, surrounded by corn and soybean fields in Iowa on a Sunday evening getting my haircut. Certainly not the thing I would ordinarily expect to be taking place. Heck, it's not even the extra-ordinary thing I would be expecting to take place. Afterwards we walked down to the lake and discovered we had it all to ourselves. Linda's plan worked to perfection and soon I was jumping and diving off the raft like a kid. The warm layer of water on the surface was so comforting and a quick dive down to the depths brought a refreshing coolness to the experience. Of course while all this was taking place, Linda swam around, all the time with her glasses on, making sure no drop of water ever touched her blond locks. I, on the other hand, didn't have to worry about that, as most of my hair was on the ground back at the campsite, lol. Later we had what is becoming our new usual dessert, apple cake and whipped topping. Now, what adventure will tomorrow bring?
---
click image for

the current post
---
July 8 I'm thinking that maybe we are finely into this lifestyle. After all, here it is Saturday, and we are moving on today, smile. We have enjoyed just hanging out at this campground, getting caught up on some things, taking our evening walks, eating outside, heck it is almost like it was in the past. The past times when we were weekender's. Drive the RV to work on Friday, then leaving an hour or so early to get a jump on traffic out of town. Our meals eaten at the picnic table, the campfire, the lake, the walk around all the loops in the campground to see who was there and if anyone had something that looked like a good idea. This wasn't like that, there was no campfire (it was in the high 80 and low 90's), lol, but there was a faint reminder of past times as we sat here. Maybe that was why it struck me as odd that we were moving on a Saturday. One other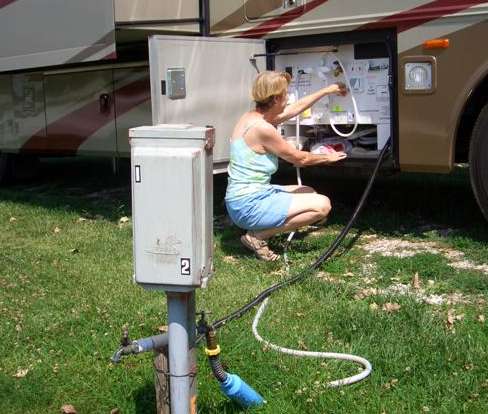 thing, in that past life to get a spot for the weekend, reservations in season were a must. Maybe it was just the fact that there are far more campers in Northern California than there are campsites, whatever, it was a fact of life. Not the case anymore. Little things, different things. The life we live.
One of the nice things about the full hookups at this campground was the ability to use the washer to get caught up on all the laundry. We do not hookup the sewer, preferring to use the Sani-Con to pump out the tanks when they are full. It is so simple, I'm not sure that it is even necessary to have an on board sanitary engineer to handle the dumping of our tanks. After all, it's so easy, anyone could do it, lol.

One thing this campground does have is some interesting electrical wiring. This is another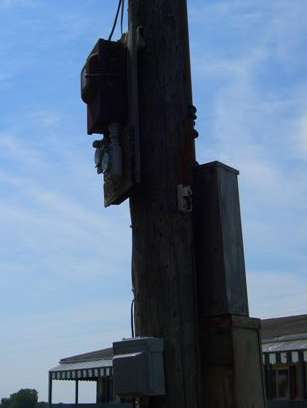 of those parks from the past so speak. We have seen our share of them on our adventure. Usually Passport American parks, their days of glory past, and not a park for those wanting the resort experience, they function nicely as home for the few days we are there. I have to wonder about the history of this park. What gave rise to its birth and growth, what caused its demise? A guess would be the interstate highway system was its demise. The road in front of the park, US-136 is a very busy road. A look at the map shows it going from Champaign, Illinois to Denver. In the days before the interstates, I figure this was the type of road people took when then wanted to go from one place to another. Was that part of its past? It's all here, you don't have to go any further than the electric pole outside the coach to see the past. The mishmash of cords, wiring, junction boxes and outlets would have had Thomas Edison wondering what he had wrought. The photo simply does not do it justice. Out of curiosity I peeked in the large junction box at the bottom right. Romex and circuit breakers it was not. By the way, there was more below and also above what shows in the photo, smile. All this aside, our 50 amp hook-up worked flawlessly and for $10 per night, it was a great deal. They don't have a website, but if you wander off the beaten track you may want to stop. It's New Life Campground (the owner is the pastor of a local church) and it's between Wayland and Kahoka, Missouri.
Leaving Missouri behind, we drove north on what is referred to as the Avenue of the Saints. This is a road that connects St Paul, Minnesota to St Louis, Missouri. Here's a link to the Wikpedia article on this unique roadway. We were surprised, that in what is roughly equivalent to the middle of nowhere, there is this new, smooth, four lane highway, lightly traveled on this Saturday morning, that took us where we wanted to go. Another one of those things you don't know are there, but are glad you found. Though our final destination for the day was a little east of Des Moines, we had one very important intermediate stop to make. Kalona, Iowa is the home of the Kalona Cheese Factory. There are many other reasons to visit Kalona, what with its close proximity to the Amana Colonies, the Amish people who live nearby, plus it also has what is called the Kalona Historical Village. We did not partake of these venues. We were on a mission and the tour director smelled cheese, good cheese. Talk about accurate directions. Remember the "problem" we had finding the 1200 foot long lock on the Mississippi. Today we drove with the accuracy of an atomic watch. Every turn was called out well ahead of time and before we knew it, there it was in front of us. Soon, goodies from the world of cheese were being placed in the refrigerator, which included horseradish cheese, a favorite of Linda's and two bags of cheese curds. Don't you just love the squeeking sound when you eat fresh cheese curds, lol. One of the neat things to look for if you visit are the windows on the left as you enter the building. They show the curds being processed. It's a stop well worth making, which was obvious from the amount of people who were there.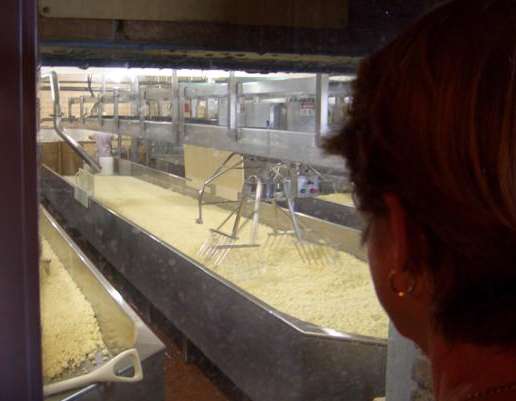 Check out the beautiful model to the left of the entrance. Note how she has her bag of cheese in a death grip lest the lady walking towards the door should try to grab it, lol.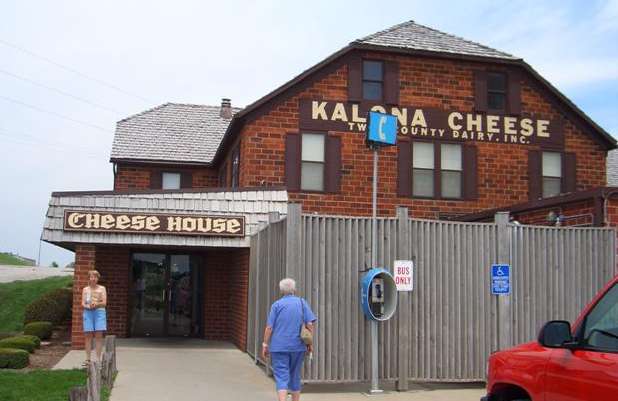 Shortly after leaving the cheese factory it became readily apparent where Linda's total and complete attention had been when she was planning the route for today's drive. It was getting to the cheese factory. Afterward, who cares, we've got fresh cheese, lol. Instead of back tracking a few miles, we headed off west into the depths of the Iowa corn and soybean country. I had to ask her twice as we pulled out of the cheese factory parking lot if this was the right road. She assured me it was. All I could see was a very narrow ribbon of pavement that resembled the view from the top of the roller coaster, disappearing off in the distance. She reminded me of the RV we had seen making a turn off of this road as we walked out to the parking lot. She said this was proof that it was not only the right road, it was an RV road to boot. I figured out later that the driver of that are RV was probably thinking something along these lines as he saw us heading that way, "Wow, they make me feel better, there is someone else as dumb as I am." As I so often report, I will spare you the details, but feel free to fill them in as you wish, they'll probably be pretty close, lol.
As the miles rolled by, both literally and figuratively, smile, The road changed, and not for the better. At long last we arrived at the road Linda had chosen to take us north (the direction we needed to go), there was one small problem, however. It was a gravel road. Not good, in fact, very bad. Very, very bad. Not a good time to be a little birdy in the coach, either. Linda did get to the heart of the matter. There was nothing we could do but stay on the road we had been on. The miles rolled by and before long we discovered something new. The torture test track they show on the automobile and truck commercials, you know the one that has all the bumps where the tires of the vehicle madly flop up and down while the occupants of the vehicle ride in perfectly smooth comfort. We learned something about that test track today. For one thing, it wasn't out here in the middle of Iowa, however,the really rough track, the one they don't shoot the commercials on, that one is, lol. The kind where going slower only increases the amount of time you have to endure the shaking. Sometimes our adventure takes us to places we would rather not be, given a choice. This was most definitely one of those times. Undeterred, and also unable to turn around, lol, we continued on, following the bouncing road. Thank goodness there was a little variation on the roughness of the the road. And by the way, who in their right mind builds a concrete road, of all things, way out in the middle of nowhere. Maybe the County Commissioners brother-in-law was in the concrete business or something like that, smile.
Eventually we did come to a real road, and fleeing from the deadly tentacles of that Iowa county road, we actually found our way to I-80. Not only that, but having had enough of Iowa back roads for the day, we took it west towards our stop for the next several days. The difference between what we had experienced on the county roads and this Interstate was interesting to state the obvious. No traffic versus constant traffic, all of whom wanted to go a lot faster than I did. I cruised at 59, most of them cruised at the speed of a strafing fighter jet. The close similarity was the smoothness, or maybe I should say, lack of smoothness of the road surface. Some stretches of the interstate leave a lot to be desired. Not as bad as the road we had been on earlier, but bad none the less. Some 40 miles west of Des Moines, Linda announced our exit was coming up. We were in the middle of somewhere, it was just that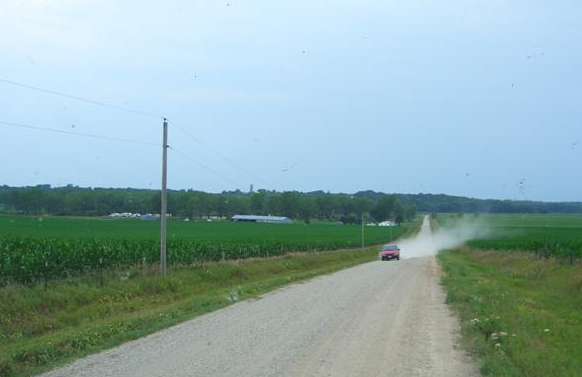 with all the corn and soybeans around, it was difficult to tell exactly where that somewhere was, lol. Linda had prepared a good map for the last few miles of the trip, (but I've got to get her to work on the middle part), smile, and was giving me great directions. It wasn't long before we were on a road that seemed to disappear over the top of a hill. It turned out to be partially true, the paved road disappeared, to be replaced with a gravel road. Sometimes you can figure out why a park is in the Passport America system before you get there, lol. Having grown up living on a gravel road, I did the courteous thing and slowed way down each time we approached a house so as not to envelop them in a swirling gray cloud. I can still remember how my Dad would get upset every time someone would drive fast in front of the house in the summer. A link to the past. To experience the connection of being human. The joy of life. The spirit of individuality. The adventure goes on and on.
A few miles, a cloud of dust and a hearty high-ho silver this way, well not quite that way, but soon at least we were at Lake Pla-Mor campground, our home for the next few days. They were not busy, so we got to park parallel to the lake, giving us an awesome view out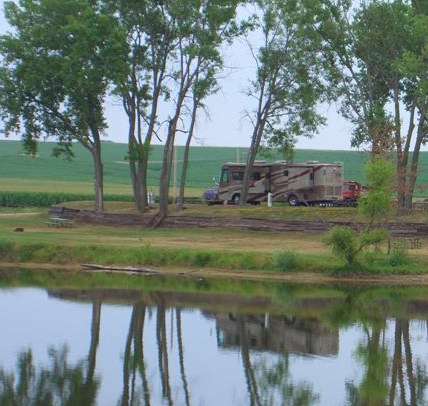 the windows of the coach. The only problem was the MotoSat was directly under a large branch. Directly and large, meaning we couldn't raise it. We decided the view outweighed the convenience of the internet. We took care of the TV by using the antenna, getting excellent reception of the Des Moines channels. We took a walk around around the road that encircled the lake, noting that they seemed to have a number of weekender's here. There was another couple who are full timers that pulled in right after us, then later several overnighters showed up. As we walked, Linda found pieces of chert lying in the roadway. Soon we each had the perfect "rubbing" piece, though Linda also had quite a few more, smile. Next we decided to walk down the gravel road that passes in front of the campground. We could see a bridge in the distance and that became our goal. Shades of childhood as we climbed done under the bridge and explored. I was particularly fascinated by the rusted out hulk of what appeared to be a farm tractor engine that was almost completely buried in the silt along the stream bank. For a few brief moments I got to be a kid again, ain't our life great. Back at the coach, the walk over, the chert in a safe place, can't be to careful with treasures you know, lol, we fixed dinner. Earlier we had put a split pork loin chop in marinade and now it was time to grill and enjoy the result. Grilled to soft, tender, juicy perfection, with a tossed salad and homemade baked beans, it was the fitting end to a day with a few more bumps than usual, lol.
Before we leave I must tell you about the baked beans. The beans we used were Zuni Gold beans, a two tone yellow and white bean from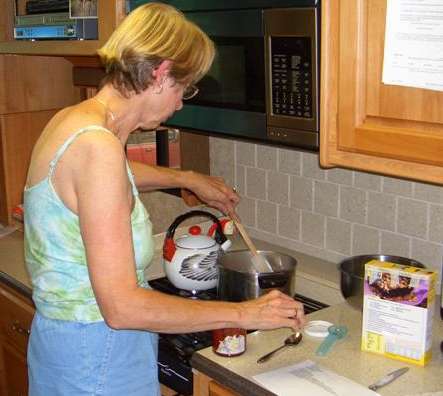 southwestern Colorado which we had bought in Quartzsite. They have made for great tasting baked beans. Linda is still tweaking the recipe a little, but when she gets it where she wants it, we will post it in the recipe area. The same goes for the sweet potato salad and the apple cake. Not your typical sounding health food recipes, but they are, the way she fixes them, smile. We also had a great time talking with the couple who are next to us. After 13 years on the road as full timers, they just finished building their retirement home. After dessert, apple cake and whipped topping, the clock radio lulled us to sleep. Hope your day was just as great.
---
click image for

the current post
---
July 7 Keokuk. What's a Keokuk? It's a town. A town in the United States. A town in Iowa. A town tucked into the southeast corner of a corn belt state that only people from that little corner of the world know about. Our goal for today is to learn a little more about a small town in the middle of nowhere.
After a delicious breakfast of eggs, ham and strawberries, what would you eat if large eggs where $.49 a dozen, we started planning our trip into town. Well, at least Linda started, I worked on the website, smile. Through her research we, oops, she, came up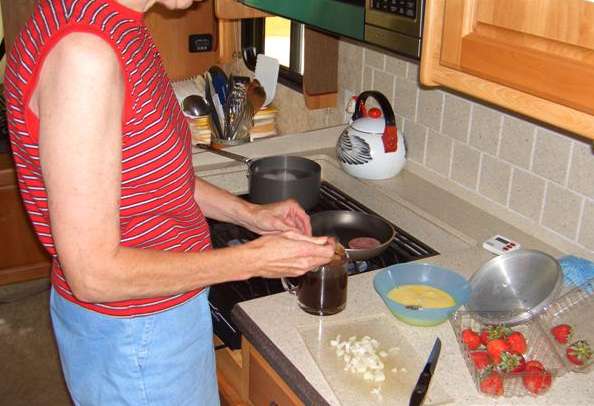 with several things to see. The lock and dam on the Mississippi, the riverboat museum, and the National Military Cemetery. There was also a local history museum, but unfortunately, it was not going to be open this afternoon. Like many old towns, the urban renewal craze of the 1960's had destroyed the old buildings and charm of the downtown area overlooking the riverfront. The truly sad part to me is here you have a town, trying to preserve and improve its economic base. Meanwhile in Washington, the money and power hungry slime, commonly referred to as politicians, don't really give a damn what happens to the country or the people. All they care about is grabbing as much money and power as they can. They're just nothing more than low life scumbags, almost each and every one of them. The only exceptions are the altruistic dreamers who run to do good, saying they will only serve a term or two and quit. They are so few and far between as to be nearly invisible. End of rant, lol.
We decided to take a snack along since we weren't sure just how long we would be gone. Besides enjoying the sites and sounds of Keokuk, we also needed groceries, so a stop at the SuperCenter was also on tap. When we drove through Keokuk and out to the campground on the 4th, it hadn't seemed like we were a long ways from the town. Now driving back, it seemed like it was a long way. In fact, it was only 16 miles from the bridge across the Mississippi to the campground, it just drives longer, smile. As we arrived in town, Linda was as prepared as always. The GPS was tracking our progress, plus she had both a large map and smaller detailed maps at the ready. With unerring accuracy she called off the streets and turns we needed to make to drive to the lock and dam on the Mississippi. Arriving at the place I was simply amazed with the sight that greeted us. The largest lock on the Mississippi River had somehow been moved, lol. At least it sure wasn't in the place Linda had navigated us to. Shall we simply say that a brief, somewhat terse conversation took place between driver and navigator, the navigator threatening to never ever navigate again, the driver temporarily assuming both the driving and navigating duties, which was followed a little later by the arrival of a red Explorer at the parking area for the observation deck that overlooked the lock, smile.
In the 1980's a new highway bridge had been built across the river, but the old bridge, because it was a double deck bridge that had been built originally as railroad bridge and still carries rail traffic, was not torn down. Since it crosses over the shipping lane, so to speak, that section was built so it would turn. All this was done well over a century ago, so it was sugar candy to eyes of this history lover. It is one of those things that pictures just can't can't convey what the eye beholds. The observation deck, which is the old automoble roadway, allows you to walk out along the curve of the bridge and stand, overlooking the south end of the lock. The view up river, I started to type, up stream, but somehow the word stream just does not fit into a sentence describing what we were looking at, is one that includes the lock, the powerhouse and the dam. Just as we were walking away, Linda noticed something up river. A tow was about to enter the lock. For the next 45 minutes we watched as over 1000 feet of barge and towboat entered the lock. Soon water roiled the surface of the channel as the barges and boat were lowered 38 feet, the gates opened and it moved on down river. We just happened to be in the right place at the right time with our eyes open.
The center, pivoting section, of the old bridge is directly across from the end of the observation platfom. In fact if the bridge would swing closed, you could see the old roadway stretching away in the distance. The information we read said The railway portion


of the old bridge was still used. Of course as I am writing this, I wonder why I didn't look closely at the rails to see if the they were rusty or shiny. I try not to be a, "why didn't I" thinker, but every once in a while, sigh.
Several photos showing the passage of the Raymond Grant Eckstein and its tow through the lock. The tow was three barges wide and five long.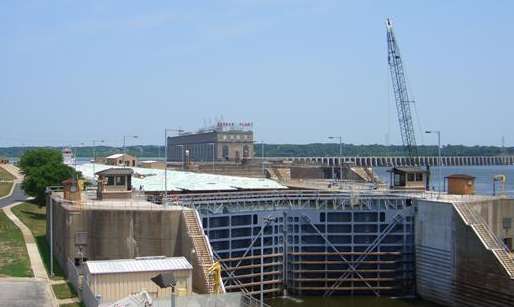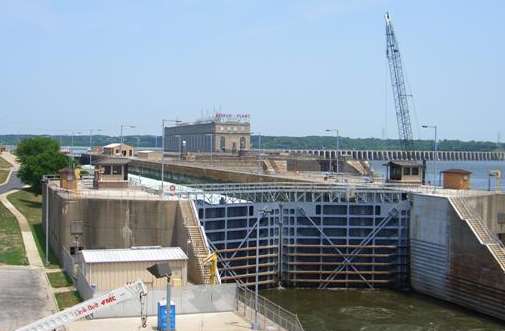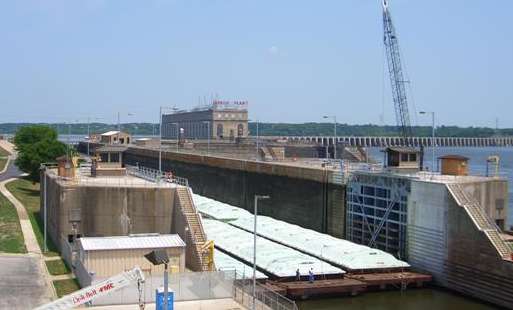 Our next stop was the George M Verity, a sternwheel towboat that has been turned into a museum. What another neat thing to do. What made it extra special was our hostess. This lady knew so much about the river, the boat and the Keokuk area I wouldn't be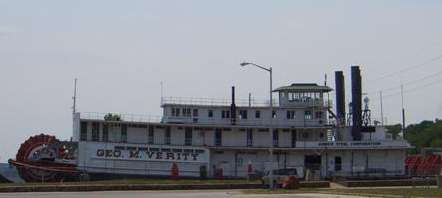 surprised at all if she was born on a boat on the river, her first food was a drink of Mississippi River water and got her schooling at the knee of the old river boatmen, lol. This is another one of those things you sometimes just stumble across. If you want to just look at the boat by yourself, you can. But if you want to really know, and I mean really know about the boat, the area and it's history, just open your ears, smile. The Verity was oil fired, using steam boilers and steam engines connected through a Pittman Arm to turn the stern wheel.
In order to repair the boats and barges, a diver in full diving gear would have to descend into the murky river in a diving suit like this one. This was an actual diving suit which had been donated to the museum. The amount of lead that the diver had to wear was incredible. The box with the wheels on the right side of the photo was the hand operated air pump. You would have been weighted down with so much lead to keep you on the bottom and upright in the face of the river current, the only way you could come to the surface would be if someone pulled you up. Who would you have trusted to turn the air pump?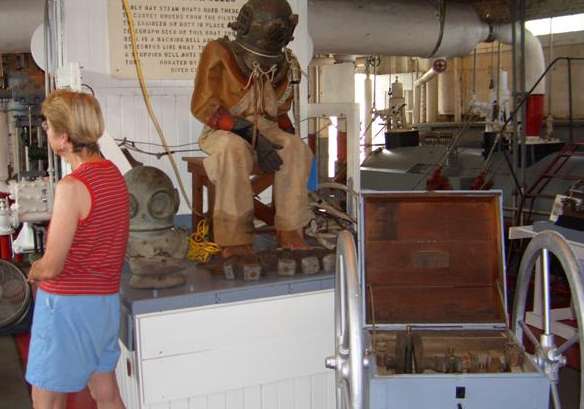 After walking around the lower decks we went up to the pilot house. Would you believe it, one of those crusty old riverboat Captains was actually sitting in the Captains Chair, lol.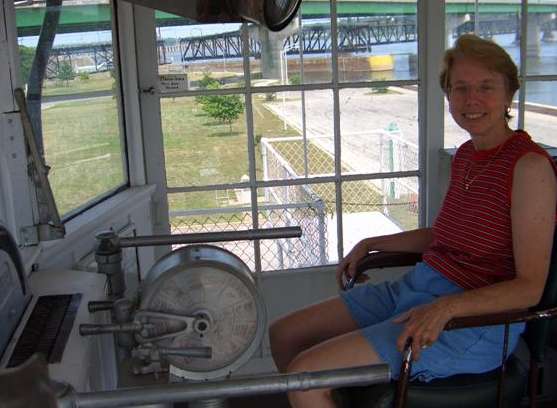 As we left the museum our stomachs where strongly hinting it was time for food. Just below the museum we spied some picnic tables, so we stopped to eat our snack. It turned out to be a little city operated campground right on the banks of the Mississippi. The had water and electric, but not an RV to be seen. The next time we are through here we will spend at least one night, literally, a stones throw from the Mississippi.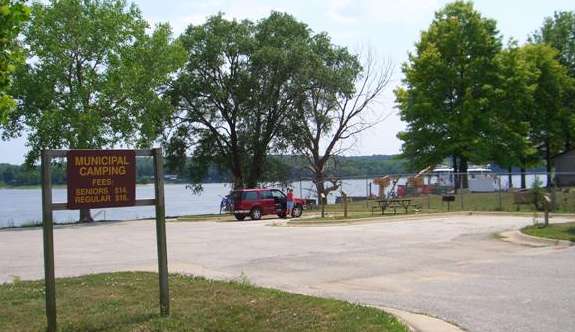 Among the many things our hostess talked about was the section of Keokuk that had some grand old homes. We drove out 5th street which changed its name to Grand Avenue. Indeed it was a grand avenue. The homes on the east side of the street were built on the edge of the bluff overlooking the Mississippi. It was here that the wealthy could build the proverbial home with the million dollar view. The style of architecture was quite varied but one home in particular caught our eye. I'll just say the stone work was unlike any other that we have seen.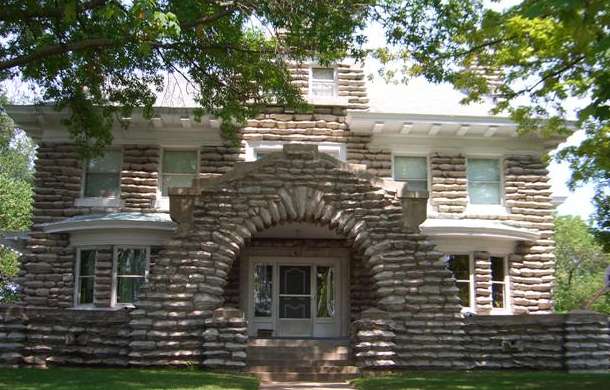 Next we stopped at the National Military Cemetery in the northwest part of town. At one time in the past Keokuk was was a very important medical center. Unfortunately, time and circumstances mean that it is now only a fact of history, not a current event. What

it did mean was that at the time of the Civil War a large medical complex existed. But since the state of medical care was less advanced in the 1860's, there were a significant number of deaths associated with the hospitals, hence the existence of the cemetery. In our travels we have stopped at a number of the cemeteries, most poignant of which was Andersonville, the most personal, Marietta. As casualties and soldiers suffering from disease were sent here from all over the west as this ares was known at the time, this the most eclectic, in terms of the soldiers who are buried here, of all the military cemeteries we have visited. Here we saw both Union and Sessionist (C.S.A) troops buried side by side.
The graves of what was then known as colored troops, were also here, though there placement along the outer ring of graves, gives us a silent and powerful reminder of the culture of the time. Confederate and Union soldiers buried side by side, colored troops along the outside. Mute testimony to the gulf that existed and that we, as Americans are still perpetrating. It is just the ethnic group it is being directed that varies as the times vary.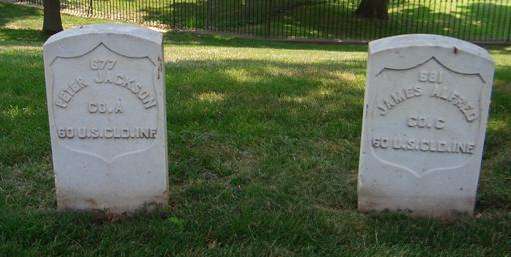 That the war touched deep into the homes of the country is told on this stone. My guess is the family of Frank Staff felt that being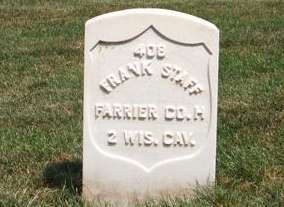 a farrier would keep him safe. After all, shoeing horses is not something that is normally done in the front lines of battle. There is a story behind this simple white stone of a soldier from Wisconsin who rests for all eternity on a hillside in Keokuk, Iowa. Unfortunately I don't know what it is. Battle death, guerrilla action, died of wounds, accidental death, wagon overturned, burns, disease, why is he lying here. History, a mystery in time
Our final stop was at the SuperCenter for some groceries. As always it was a more expensive trip than we anticipated, smile. The list called for Flatouts (used for our turkey roll ups), grapes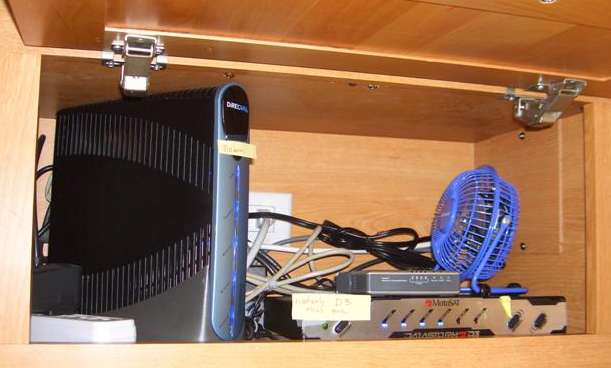 (but cherries were only $1.99 per pound so guess what we bought), an onion (we got an entire bag of Vidalia's for only $.99), eggs and whipped topping. Not on the list was a fan for the DataStorm controller compartment and a small clock radio. The radio was a 100% impulse purchase, five bucks and just the right size to fit on the shelf beside the bed, how could we go wrong. As for the fan, Linda had been doing a lot of reading on the DataStorm groups and had concluded that heat is probably the worst enemy of the system. This fan seemed just the right size to do the job. We installed it as soon as we got back and the difference in temperature is unbelievable. The picture shows it in the cabinet. I will try to post an update on how both the radio and fan are working in a couple of weeks.
As is normal at out home on wheels, dinner was again, food for the gods. 4% fat, beef patties, grilled to perfection, topped with melted hot pepper cheese and served on toasted multi grain bread. Add a big slice of Vidalia onion, tomato slices, dill pickle relish, spicy mustard and horseradish. The result is indescribably good. Lest you think this would be a tad to spicy for your taste, just remember, the woman I have lived with for almost four decades considered a dash of regular ground black pepper far to spicy when I first met her.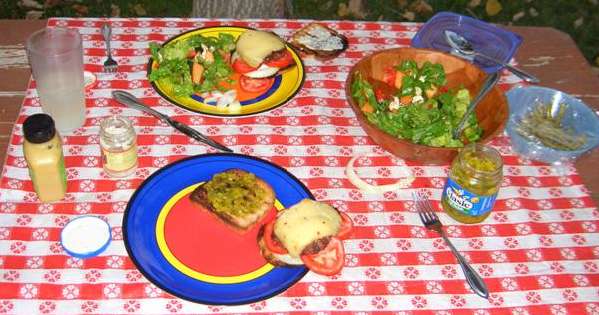 As we ate dinner with a beautiful sunset serving as the picture perfect backdrop, we once again took time to reflect on how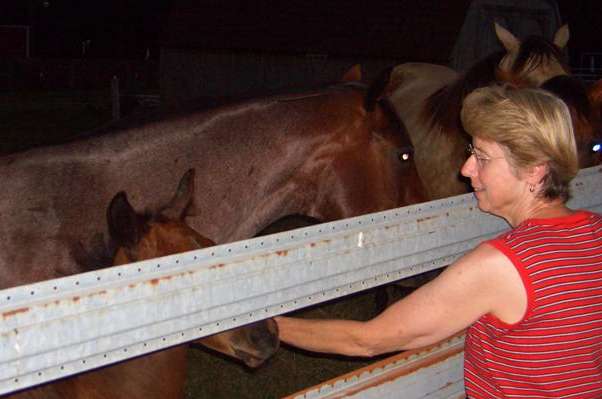 fortunate we are to be able to live this life and how glad we were that we made the decision quit our jobs and leave the problems and stress of our normal lives behind us. This discussion resulted in our taking the dishes into coach and leaving them for later. We were going to take a walk. We headed off on the gravel road that is across from the park and soon came upon a small herd of horses. It was hard to tell in scant amount of light that the quickly receding remnants of the day dangled on the western horizon, but there appeared to be six mares and six colts. Linda, of couse, had give each and everyone a good rubbing, smile
Desert was once again apple cake, but with a change. That low fat, whipped topping had been bought with a purpose in mind. The apple cake just begged for a little extra. The topping provided it. The perfect end to a great day.
---
click image for

the current post
---
July 6 This does not sound like it will be a good day. As I sit here, catching up on the latest news via Yahoo!, I can hear intermittent coughing sounds coming from the back of the coach. Here it is, only just after 6 AM, and Linda has already coughed more this morning than she did all day yesterday. It's times like this which prove that we are often our own worst enemy. My train of thought as I work on the website is constantly interrupted with thoughts of Linda. My mind races to fill the void that the lack of knowledge about how she feels creates. And as always, it portrays the worst of all possible scenarios. Does it say that all the coughing is a good sign. No, it says maybe she's taken a bad turn for the worse. Does it say that the crackling sound means the tighter dryer cough of yesterday might be breaking up. No, it says what if it's turning into pneumonia. Does it say that the constant throat clearing is a sign of drainage, meaning it is moving out of her throat. No, it says what if this is a sign she might have something serious, cancer or something. How the mind, left to its own devices, can twist the smallest, simplest things into giant bogeymen. When she finally arises, she tells me she feels much, much better. That, though she is coughing more and, no doubt, sounding worse, it is a good sign. The cough is breaking up, she is on the mend. The mind, what a terrible thing it can be.
Breakfast was a return to eggs, Canadian Bacon and strawberries. The day was a duplication of yesterday. Linda working on her family history, sending emails and checking last months financial transactions, then comparing some recent quotes we have received for RV insurance. I on the other hand was hard at work on the website. The internet problems we had in June really put me behind in more ways than one. It is taking more of my time than I imagined trying to get caught back up. In addition, I do like to spend time surfing and working on my family history. There is one other major distraction that always occurs at this time of the year. Suffice it to say that I am not a johnny come lately to the world of the TDF. As Linda knows only too well, the first three weeks of July always find me engrossed in Le Tour as the call it in France, The Tour as the rest of the world calls it, or as we in the United States call it, the tour de france. Over 25 years ago I was seeking out what small amounts of info were available each day the race was held. It has only been in the last few years that we have gotten full blown coverage. To me these riders are by far the greatest athletes in the world. I will simply leave it at that. And what ever you do, just don't ever, ever, ever mention the words, major league baseball and athlete in the same sentence to me, smile.
Linda also did another load of laundry, once again reminding me that I still had not installed the mounting brackets she had ordered for the washer/dryer. Our machine is a Splendide 2100 and when the dealer (DeMartini RV) installed it, the supposedly trained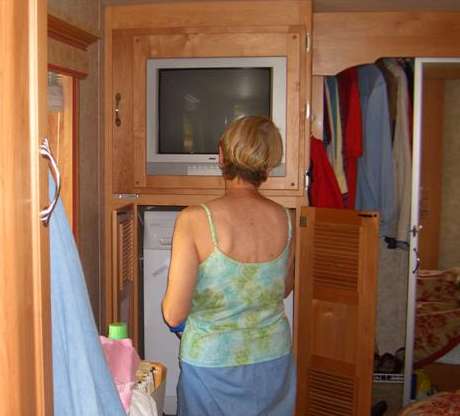 technician they had do the work didn't have a clue about what he was doing. Either that or DeMartini simply didn't care whether it was done right or not. It's funny, but when we first bought the coach I thought they were a great dealer, but as time has passed and my knowledge of things RV has increased, I've come to revise my opinion a great deal. The one thing that has never changed is the fact that we did get a great deal on the coach and I would certainly buy from them again, given the same deal. The reason for this commentary is the vibration I feel from the washer whenever it runs. Vibration that occurs because the vibration dampening mounts were not used. Linda found this out at the Holiday Rambler Rally we attended. You can feel the whole coach gently shaking because the washer/dryer is fastened directly to the cabinet with "L" brackets. That's bad enough, but the brackets don't even match. Plus there was the little matter of the leaking water hose because it was not tightened enough. Speaking of enough, that's now twice in two paragraphs I've gotten off base (LOL), so let me just calm down. Before long the sheets were washed and hanging on the park's clothesline to dry. The smell of clothes dried outside is so much better than those dried in the dryer.
The day passed with the mundane things that make life what it is. Working on the computer, folding clothes, checking for that interesting tidbit of information about a dead relative, emails, one of which was an update of the things that had transpired at the company where Linda worked since she has been gone. Many were the nights she would come home angry and frustrated over what was going on at work. We would talk and then I would comment, Linda they just don't have any clue as to how good you really are. After seeing what has happened, truer words were never spoken. The freedom from those things that wear us down and slowly suck the life out of us, that freedom is what we now have with the life we are living. A life that lets us now laugh about the past. even though it wasn't funny then. I hope that each of you are either on your own great adventure or are committed to attaining it. Life is to short to waste dealing with people that are just not smart enough to get it. Lunch was turkey wraps, as the turkey had defrosted, smile, then it was peanut time. What did you do at 4 o'clock this afternoon? We sat at a picnic table, in the sunshine of a Missouri summer afternoon, a gentle breeze blowing, shelling peanuts watching the soybeans grow in the field across the road and thinking about how, only a few months ago, we would still have been at work. We made a good decision, life is good.
Earlier we had gotten some shrimp out of the freezer to defrost and now it was time to make a marinade for them. We had decided, this time, to not refrigerate the shrimp as they were marinaded, so into a Ziploc went olive oil (otherwise it would have been canola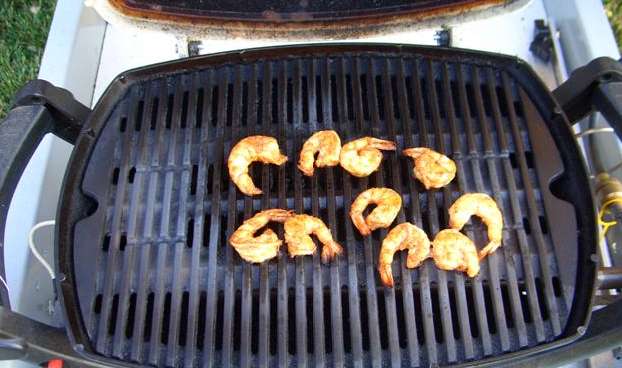 oil), Jack Daniel's, fresh crushed garlic, ground chili powder and fresh ground pepper, followed by the shrimp. It was my turn to shell them, so I tried something a little different. Normally when we shell them , we do it the same way that I suspect most people do. Either we remove all of the shell including the tail or we leave the tail and the segment of shell just in front of it. As I started to shell the first shrimp the thought occurred to me, why do we always shell shrimp this way. Not finding a definitive answer in the recesses of my dusty, cobweb ridden mind, I decided to try a different method. I would remove all the shell except for the just the three small pieces on the tail itself. This set the tone for the meal. The shrimp, grilled for all of four minutes were an epicurean delight that almost melted in the mouth leaving a delectable soft spicy glow on the palate. The tale the tail told was similar. It served as the perfect handle for picking up the tasty morsels. Linda would bit the shrimp off at the tail, while I ate shrimp, tail and all. I like the slight crunch you get from the shell, yea I know, but I water isn't the only thing that will float your boat ,lol. The shrimp, served with green bean salad (something new) and the last of the sweet potato salad made for an enjoyable dinner. Later we once again had apple cake for dessert. Linda tried to make whipped cream from fat fee evaporated milk, but it just wouldn't hold its peak so to speak. I'd give our food a 9.95 today. The deduction was because one of my grapes at lunch had a bad spot on it, lol. Enjoy life, we do.
---
click image for

the current post
---
July 5 Just when you thought we'd given up on oatmeal, here it is again. Linda let me know how she was feeling long before she got up this morning and that was that the congestion in her throat was just as bad, if not worse, than yesterday. Forewarned, I put on my loving spouse hat and wore it all day, well almost all day, smile. As she lay back in bed, intermittently coughing, I worked on the website, a task I would be doing most of the day. When she finally came out, I was relieved to learn her bark was worse than her bite so to speak, meaning she was feeling a good deal better than her outward symptoms would leave me to believe. Thinking that oatmeal might taste better to her than eggs, I suggested I cook a pot for breakfast. She readily agreed, though I think she would have agreed to most any food I proposed, just as long as I fixed it, lol. It tasted so good for being nothing more than, oatmeal, wheat bran, steel cut oats, milk, strawberries, stevia, chopped walnuts and cinnamon. So good tasting and good for you, plus it's actually easier to fix than the eggs.
The day soon settled into a quiet routine as we both sat in front of our computers, working away. Linda took the opportunity to get caught up on our email, while I spent time on the website. As always, I was behind on the posts, but each day I get a little more caught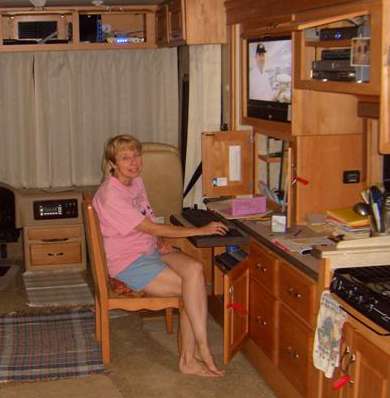 up. I remember the last time I got behind. Then I promised myself I wouldn't let it happen again, yet here I sit, once again trying to get caught up. Kind of like, I have met the enemy and he is me, lol. Over on the distaff side of the coach, the email was done and Linda started entering data into the genealogy program. At the rate I'm going it may be 2007 before I get to do it, smile. So many things to do and so little time to do them. Just think, if life was rearranged so retirement came immediately after we completed our schooling instead of waiting 40 years, maybe we could get everything done, smile. Speaking of getting things done, it has been ages since we were at a site that had a sewer hookup, in fact I believe it was sometime in May, if memory serves me correct, that we last had full hook-ups. Those big holding tanks sure do make life easy. Here I am wandering again, so back to the subject at hand which I never got to in the first place, lol. The full hookups mean that we can do laundry in our very own washer and dryer. It's not only the money, its the convenience and ambiance that makes doing the laundry in the coach so nice. The clothes hanging from the overhead cabinets makes the coach feel like home again, smile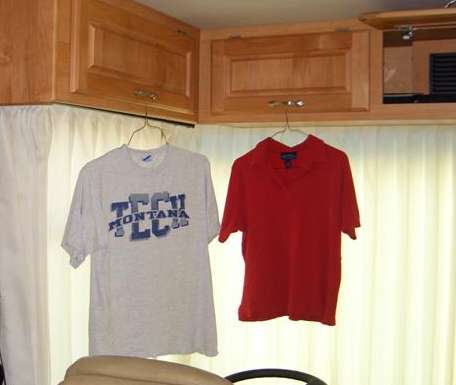 Before long, lunch time had crept up upon us. Due to a small oversight on Linda's part, made worse by the fact she was not feeling well yesterday, we had no turkey for our turkey roll ups. Correction, we had turkey alright, it was just that it was in the freezer, so turkey wraps were out of the question for lunch. Linda mentioned we had some boiled eggs and that egg salad sure sounded good to her. Since I was in charge of making it, it turned out a little different from usual, but it will definitely be made in the future by popular demand. While I had always been an aficionado of tuna salad, egg and chicken salad were two things I just couldn't eat, or at least that was was case up until we started eating the South Beach way. Now I like all three, but this was going to be my first ever attempt at making egg salad. Kind of scary isn't it. Suffice it say that 3 chopped boiled eggs combined with a little lite Miracle Whip, spicy mustard, grated horseradish make for the most awesome tasting egg salad.
Linda was giving me guidelines on about how much of each ingredient to use, you know, like, three chopped eggs. Of course I don't normally chop eggs so I used my own judgment on just what chopped meant. To me it was pieces smaller than the end of my little finger to start with and about 1/3 that size by the time I'd chopped the last egg. I think the variation in size of the pieces of egg white gave it improved structure, smile. Her recommendation was for one rounded, not heaping, serving spoon of the lite Miracle Whip. Here I followed her instructions to the letter. For the mustard she suggested I squeeze out a strip no longer than an inch. Here I faced a decision. You see, I have never met a mustard that I didn't enjoy eating, so I decided that while her statement of length was correct, it wouldn't hurt to have a couple of strips that long, so we ended up with two and a half strips of mustard, smile. When it came to the horse radish, I learned just how different we thought. When I asked her how much horseradish, she answered that she didn't know, she'd never used it before. Maybe that was why I'd never ever tasted an egg salad I liked, lol. She finally mumbled something about half a teaspoon. That sure didn't seem like enough to me, so I threw in a big glump of it. Served in whole wheat pita pockets with some fresh crunchy grapes on the side, it was food for the gods as they say, lol. Creamy with a little chew, tasty with a hint of spiciness, it's how we live.
The afternoon was more time on the computer, more loads of laundry and all done in the air conditioned comfort of our own home overlooking the soybean and corn fields of northern Missouri. Whenever we talk on the phone with our grandson and he asks us where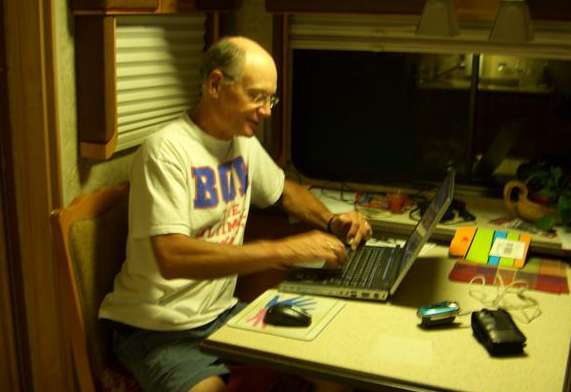 we are, we also seem to start the answer the same way, we're at this beautiful place in.... Yet it is true, we are always in this beautiful place called America, a place we can't wait to see even more of. While I continued work on the computer, Linda looked up some recipes and with her magic touch combined them together to come up with something new. A recipe for a healthy apple cake. Of course if you have the recipe, you have to also try it out, so soon the delicious smell of baking was wafting through the coach. Life is truly what you make it. We were having such a good time, we couldn't believe it when the 4 o'clock alarm sounded, meaning it was peanut time. Sitting at the picnic table, shelling our peanuts, we realized this was the first time either one of us had been outside the coach today. The coach truly is home to us. Later I grilled Bob Evans sausage patties which we ate with whole wheat bread and all the trimmings. Linda's fabulous sweet potato salad, bean salad and homemade baked beans rounded out the meal. Then it was time for that apple cake Linda had baked this afternoon. Talk about good. It has been forever since we last had a cake. Here was a cake with all the taste you could ever want and it was health food, do we live right or what.
---
click image for

the current post
---
July 4 Independence day. A day for sweet memories of youth. The trap shoot that started at 7AM. The swimming and canoe races in the afternoon. The baseball game after the picnic supper, followed by a sack race, balloon toss and finally the three legged race. As night fell the fireworks went off over the lake. Memories of youth. Time passes, wife and kids, camping, staying in replica of a 49'ers cabin, setting off our own fire works, grandchildren and more fireworks, sweet memories of life.
Now life is at another stage. Eggs, Canadian Bacon and strawberries for breakfast, packing up and moving down the the road. Another state, another campground. New memories of adventure. Freedom, don't take it for granted and don't be reluctant to use it.
The rain had passed during the night and though the day dawned overcast, things were drying out. Linda was not feeling the best yesterday evening and this morning the symptoms were manifesting themselves in the form of a congested throat. Other than sounding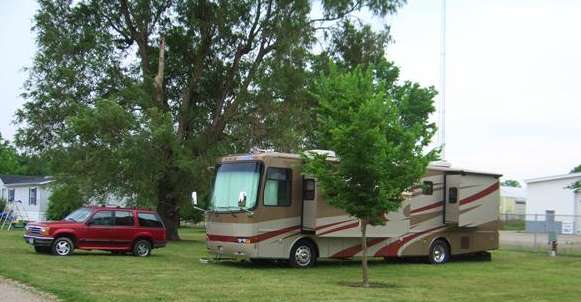 like a cartoon character and not having as much pep as usual, there was nothing wrong with her. After breakfast we proceeded to put things away. A task that always increases in direct proportion to the time we spend in one location. It is also a task that, as the months have rolled by, has become easier and easier. One thing we do without exception, is to go over our checklist. It is just too easy to overlook something or to be momentarily distracted. Soon the Explorer was hooked up and it was time to pull out, leaving Illinois behind us. As we did on our tour of the Lincoln historical sites, I programmed the GPS with our route on the computer, then uploaded it to the GPS unit. We shall see if it works as well today as it did a few days ago, (that is, as long as we do what it says, smile).
Since Linda wants to see Mt Rushmore and the Badlands of South Dakota, we are going eventually be heading towards the northwest, but since we're still nearly a thousand miles from those places, for now our route will take us pretty much due west following US-136. It was an easy drive, with little traffic, passing by the ever present alternating fields on soybeans and corn and encountering the occasional small town. Small towns in this country are all quite similar in appearance. Harking back before the days of modern transportation, they had been the retail and commercial center for the area, but no longer. In the smaller towns, most of the buildings that once served this purpose are either gone or in the process of falling down. It is only in the larger, and I use the word advisedly, towns that much remains as a reminder of their former days as the hub of the region. Sad, that is true, but then my grandfather's could never have dreamed of leading the life we are. Just before crossing the Illinois river we passed through Havana. We joked about the sign we had seen that said Peru and Mexico, the one we took the photo of the other day, laughing as we remarked, now we've really taken a wrong turn, we're on our way to Cuba. Little did we know, smile.
We weren't too many miles further down the road before Linda made the casual comment, "I haven't seen any signs for 136 in a while. Talk about rain on a party, it didn't take long to confirm we were no longer on US-136, but just exactly where were we and why hadn't the GPS let us know. It is at times like these that tensions rise, tempers flare and words can be spoken, so was it here, lol. After a while things returned to a level of tense respectability and facts were uncovered, the situation analyzed and the solution found. Turns out, and that is the right word to use, turns, that the sound was turned off on the GPS, so while it was trying to tell us the turns to take, no sound was being heard. The cause of the debacle uncoved and laid bare, Linda rapidly plotted a new route that would get us back on 136 over good roads. GPS was a little distraught over our meanderings and so was telling us to turn at virtually every wide spot in the road in its attempts to get us back on course. I can say that Illinois 95 and 41 are very good roads if your route takes you that way, lol.
Back on route, the miles rolled by and soon we were approaching the Mississippi River. In Hamilton, Illinois, just before we started down toward the river, we passed the community Fourth of July service. Flags and speakers platform, the local VFW and American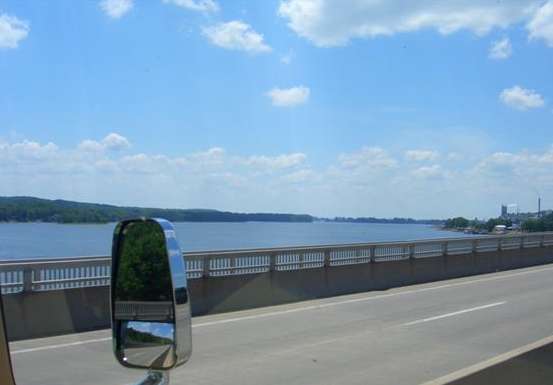 Legion, flag and color guard, the tent in the corner with food and refreshments, a large crowd gathered to celebrate the day and our country. Small town America at its finest. Unfortunately the road was such that there was no place to pull off or we would have joined them. Immediately past the celebration the road began to angle steeply downward and rounding a curve, there was the Mississippi in front of us and Iowa on the far side. Entering Keokuk, we were almost as soon out of Keokuk and only a few minutes later out of Iowa. Thats the kind of state that Linda likes, one that only takes 15 minutes to drive through, lol. The northern Missouri countryside rolled past, a corn field, then a soybean field repeated over and over. This didn't look any different than western Illinois. I couldn't tell you about Iowa, we went through it so fast that I never got to really look and see what it was like, but I supect it looks just like Illinois and Missouri, smile.
A few more miles down the road and we were at New Life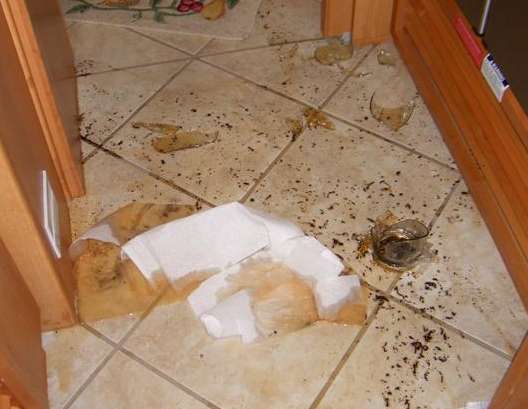 Campground, a Passport America park where we will be staying the next few days. Our site was right up front, water, sewer, 50 amp hook-up with a clear view of the southern sky for only $10 a night. I now understand why it is called the "Show Me" state. They sure showed me that a nice full hook-up site doesn't have to cost an arm and a leg, lol. We did have one minor incident as we arrived at the park. The transition from the road to the drive was not as smooth as my driving speed was set for, smile. I did slow down, but by then we'd had one good shake, rattle and roll. End result was that when the refrigerator door was opened, out came a quart glass jar of solar tea. Broken glasses, tea leaves and tea everywhere. Got it cleaned up with only one minor cut to the thumb, besides that it was time to mop the floor. And just for good measure,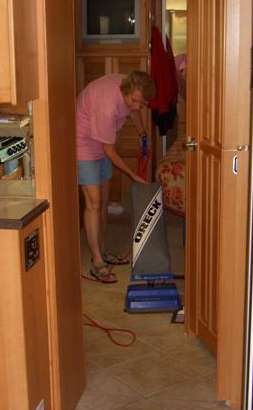 Linda got out the sweeper and gave all the carpets a through vacuuming, lest we had any slivers of glass fly about. It doesn't matter how many times I preach about being careful about opening the doors after we travel, she still goes ahead and does it anyway. You'd think that after all the things I've had fall out of the doors she would remember to tell me to be careful before I open them, lol. She always has some remark about how I'm a big boy and should be capable of remembering myself, to which I simply shrug my shoulders and mumble something about being a guy, and so I'm totally lost in a kitchen. Never works, but at least it's worth a try, smile.
Later when she was putting the peanuts back after our daily 4 o'clock peanut break, she discovered another mouse stash. This one in the cabinet over the commode. It was a very neat little pile of peanuts. Those buggers were setting up housekeeping, lol.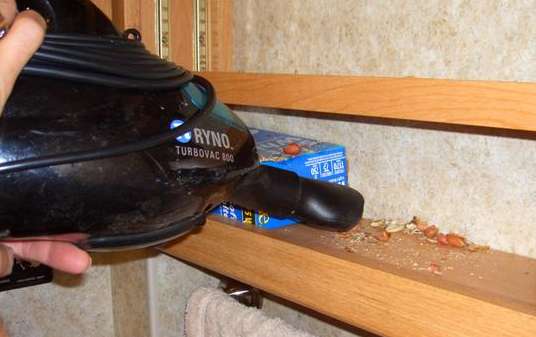 Dinner was as delicious as always. I know I keep saying how good the food is, but when you eat in a 4 star quality restaurant every night, how can you not say something. After all, I spent a good part of my life on the road, eating in some pretty good restaurants, so I think I have some basis upon which to judge our meals, lol. Grilled salmon, sweet potato salad, baked beans and a tossed salad featuring romaine and cauliflower. Just another little touch by the woman of my life that put the meal over the top. Plus the chocolate brownie and chocolate pudding for dessert was just more icing on the cake, even though we don't eat either cake or icing, smile.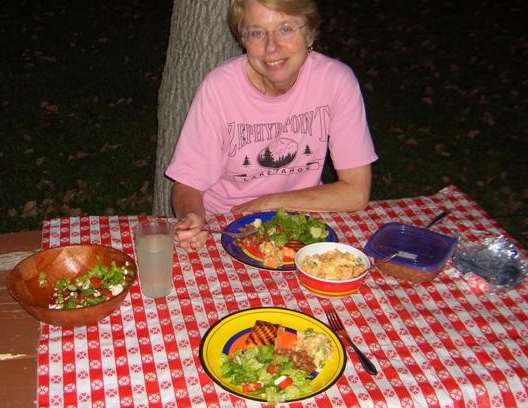 click image for

the current post
---
July 3 Have a little of the morning after feeling today, as in the morning after we touristed a little to much, smile. Thus, today is just another one of those sit around and don't do much days. It's just that "don't do much" hardly ever happens. One thing remained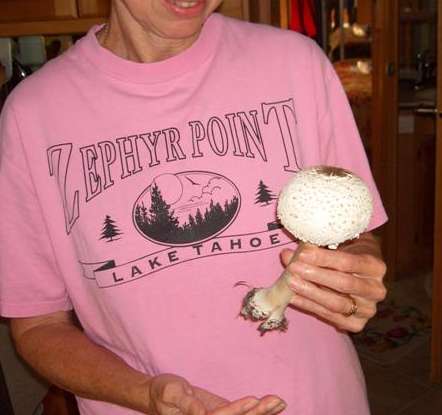 the same, eating eggs, Canadian Bacon and strawberries for breakfast, smile. Creatures of habit we are, for sure. It was while eating breakfast that we noticed something new had popped up in the neighborhood. Linda just couldn't resist the temptation, so it was only a matter of time before she brought it into the coach. Then she searched the internet to see if she could identify it. Finally she called me over and showed me some photo's. She still wasn't certain of the identification, but she was close. She recalled how her dad would go out every so often and bing back some puffballs for dinner. He knew the difference between the good ones and the poisonous ones. She didn't, so after the requisite amount of handling, probing and prodding, her puffball found its way into our wastebasket. It may hay been a waste of a wonderfully good tasting mushroom, but there was no way she was taking the chance. To me, this is just another small example of how our world changes. No longer do we learn at the sides of our parents and others the ways of nature, not that it doesn't happen, it's just not the norm anymore. Little connections, lost with the passage of time and the onset of technology. Roots, we all have them, we have just been nourished in different ways.
Most of the morning and early afternoon passed as we sat in front of our respective computers, working on family history and the website. (As I said in the previous paragraph, times are not what they used to be, though there were a few breaks to read the occasional chapter in a book, smile.) The fact that the Motosat had been having trouble locating and locking onto the satellite had consumed a good bit of Linda's time. She discovered that there were some updates that needed to be done to our D3 controller and also the search parameters in the configuration file were a little too tight. I was not in a mood to help, so she did it all herself. With the help of Motosat tech service, she was able to update the firmware and adjust the search parameters. She is really very good at these things and the result will be tested tomorrow when we move on down the road.
There was one other task that we had been putting off for some time, rearranging the boxes in the lower bays. So, while Linda worked inside the coach, updating the Motosat, I went outside and decided it was just about as hot out here as it was inside. Then a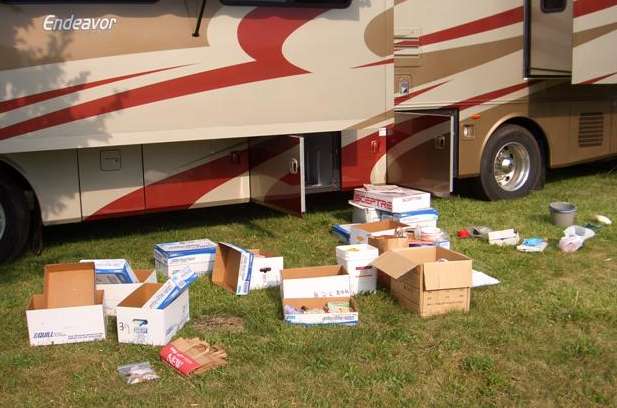 thought hit me. Water. Water is used to cool things off. How about I undertake a little cleaning of the coach. So that's what I did. Got buckets, rags and soap out and by spraying the windshield a little and myself a lot, manage to clean off all the Japanese Beetle residue while at the same time, cool myself off. Recognizing a good thing when it hits me smack dab in the face, I proceeded to wash the back of the coach, followed by throughly cleaning the service bay. Linda's software upgrades complete, she emerged from the coach just as I was finishing with the service bay. Soon we had all manner of boxes pulled from the storage bay and scattered over our end of the fairgrounds. The end result was three empty boxes and the discovery of two stashes of mouse food and one mouse nest. They were nice mice was they had only chewed up some newspaper we didn't want. Thus our freeing them as opposed to destroying them was a very appropriate means of removing them. At least we think we have them all removed, but only time and an always baited trap will tell. We had read about people having problems with mice in their RV, but of course we adopted the "it can't happen to me" attitude, lol.
As we were finishing up, rain clouds started moving in, so while Linda was able to make an accurate list of what into the boxes, the hurried manner by which the boxes were returned to the bay by yours truly meant we once again have no record of where the box is, only what's in it. By putting out the awning on the curbside we were able to finish putting the tools and small items in, even though it was starting to get darker by the minute. We got everything put away just as the winds started whipping up and the rain began thrashing about. One thing we did learn was that it isn't the easiest thing to put the awning away in a blowing rainstorm, even though it only means pushing a button from inside the coach. This did not have the appearance of a brief storm and it wasn't. We stowed the satellite and listened to the reports on the weather radio. Severe storms were occurring to the west, but moving our way. It wasn't long before Linda thought she heard a tornado warning siren, she did, but was one on an ambulance. After a while the high winds and heavy rains passed, but lighter winds and rain remained. So instead of grilling turkey burgers we cooked them in the skillet. These served with, the now absolutely delicious sweet potato salad and home made baked beans made for another great meal. I have to say, Linda really, truly, absolutely, positively nailed the sweet potato salad this time. Having set for a couple days, other than the color of the potatoes, you could not tell it from regular potato salad. Potato salad as health food, yes siree, lol.
Dessert was once again chocolate pudding and a brownie. It just doesn't seem possible to eat like this, yet call it healthy. Choices, we all get to make them. When you look at the horizon always remember that if you change your position, so will the horizon.
---
click image for

the current post
---
July 2 We are going back in history today. Sitting in Lincoln, Illinois in the heart of the land where Lincoln lived his adult life, it is time to venture forth, to learn more about the man. This time we are actually planning where we are going, smile. First will be Springfield, to visit his tomb, then his home and then lastly driving to where he lived as a young man, New Salem. This is backwards from the chronology of his life, but does it really matter. The moment in time we have is wherever we are. What makes the past different from the present?
After a breakfast that included those totally awesome Well-Pict strawberries, I tried a different approach to planning the route we will take. Instead of doing the routing in the GPS unit itself, I did it on the computer and then transferred it to the GPS. Based on the results, we will definitely be doing it that way whenever we can from now on. It first took us to Lincoln's Tomb in Oak Ridge Cemetery with unerring accuracy. Or at least it would have if we had understood that bear left meant turn left, lol. Being the brilliant creature that it is, it immediately determined we were off route and directed us back to the right road. I will say that if you can get to Oak Ridge Cemetery you will have no trouble finding Lincoln's Tomb. Even if you miss all the signs, just follow all the cars, smile. The license plates on the cars in the parking area reflected every area of the country and the people themselves reflected the ethnic diversity which gives our country the vitality and vibrancy that makes it what it is. At the same time, by simply closing my eyes, I can be back in the 19th century, the events of the day swirling around me. How can you do that, some may say, to which I offer the words of Carl Sandburg, who truly understood: "I'm an idealist. I don't know where I'm going but I'm on the way."
The Tomb is very impressive, but I'm not sure what I expected. Having been to the Lincoln Memorial in Washington D.C. a number of times, there was an anti-climatic element to the tomb.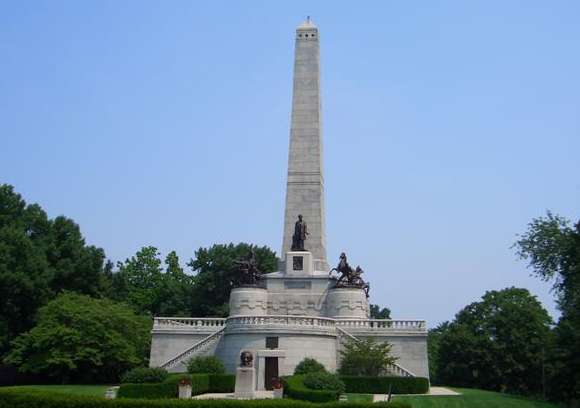 That it is a magnificent memorial, there is no doubt. I particularly liked how each of the four branches of the military that fought in Civil war were represented at each corner of the tomb.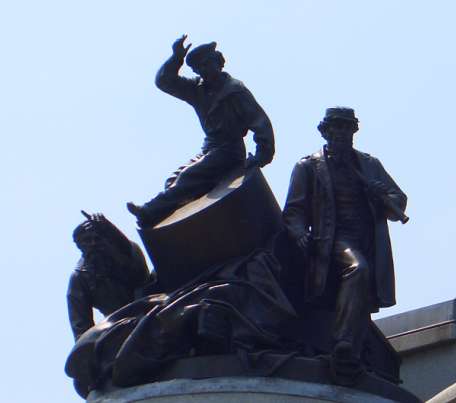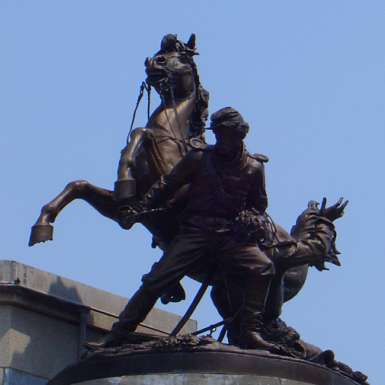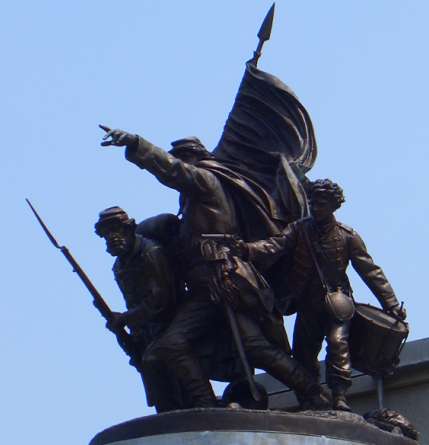 It was only after entering the tomb and walking down the marble lined corridors that emotions begin to rise. Suddenly there you are, standing in front of the "tombstone". That was moment I realized where I was, filled with thoughts of what was and what might have been.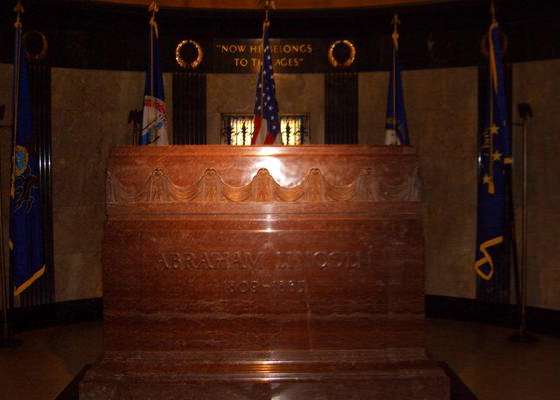 In front of the tomb is a statue of Lincoln that it is said to be good luck to rub Lincoln's nose. As you can tell from the photo, Linda wasn't the only one to do this, lol.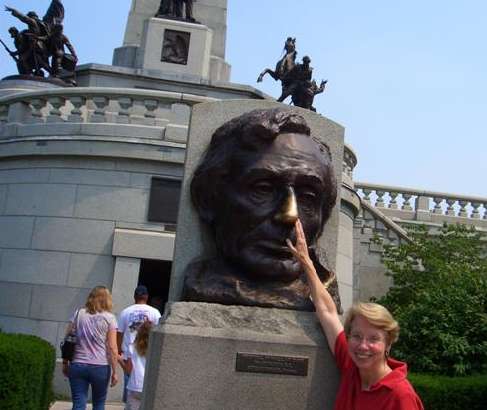 Next we went into Springfield to visit the Lincoln Home National Historic Site. Here you can walk the neighborhood just as Lincoln did in 1860. Here you can also tour the house the Lincoln family lived in at the time he was elected president. Here you can walk up the same stairs to the second floor while touching the same banister Mr. Lincoln did. Here you can stand in the Kitchen where Mary cooked dinner for her husband and family. Here you realize the true magnificence of the journey Lincoln made from a single room log cabin which was no bigger in size to this kitchen, to being, arguably, the most revered of all American Presidents.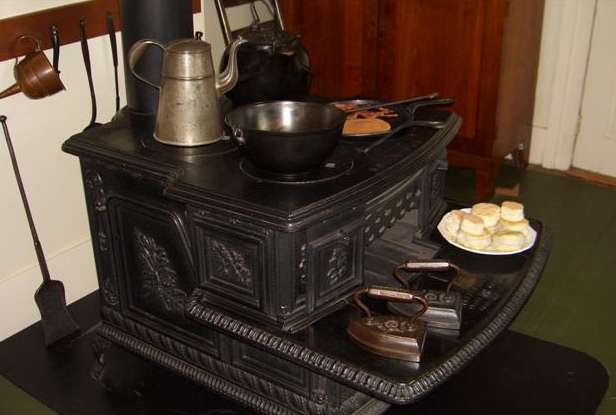 I also find it refreshing every time we visit a National Park Service site. Simply said, they do things right. Below is a photo taken at the end of the tour, twenty people, packed into the Lincoln's kitchen with our tour guide, and yet so wonderful an experience.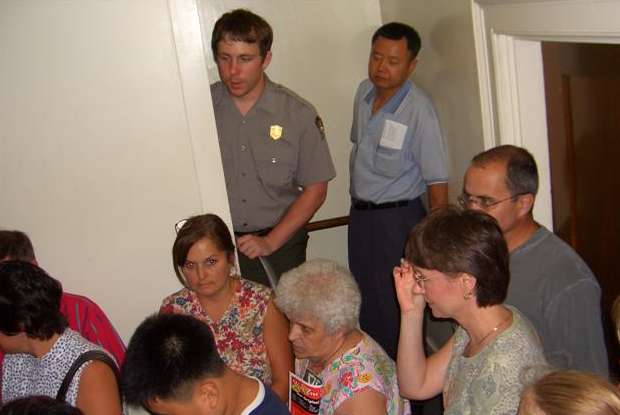 There was no indoor plumbing in those days. I wonder if all three holes were ever used at the same time?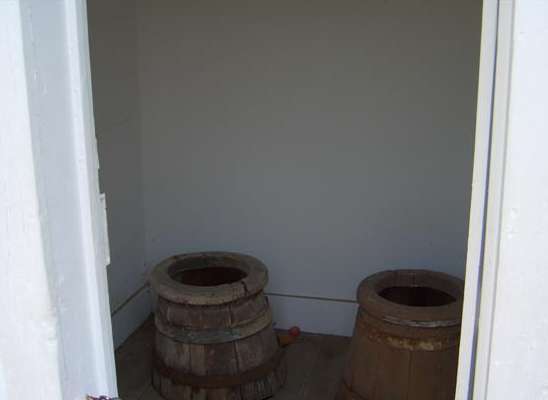 One of those things you never knew, but find interesting. Lincoln is the only President to ever be issued a patent. Prior to becoming the 16th President, Lincoln was issued Patent No. 6469 for a device to lift boats over shoals. Perhaps it was the 1831 incident where his flatboat became stuck on a mill dam that provided the idea for this, who knows.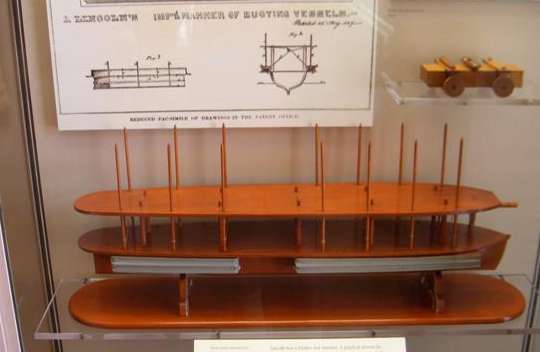 The house has been restored so it looks as closely as possible to how it appeared in 1860. Note the amateur historian and dreamer in the photo below, lol.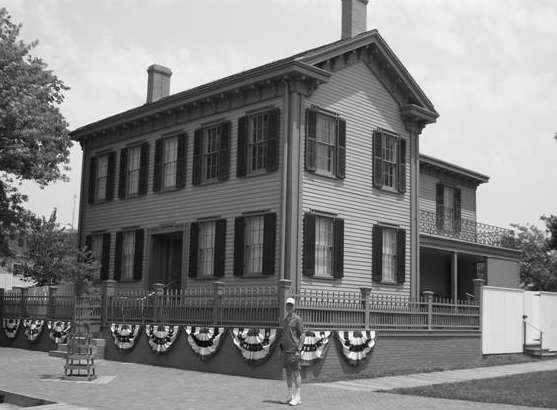 Next it was off to were Lincoln lived as a young man, New Salem, a town that exists solely as a reconstructed historical site. The town itself was abandoned over a number of years as its citizens moved to nearby Petersburg. New Salem was different from the other places we have visited over the past months. Here we both got lost in thoughts of time past. There were several buildings that were of particular interest to us. The stores and the tavern. It was at this same period in time, about 450 miles east of here that Linda and my ancestors were engaged in those same occupations.
As the Mamas and Papas so eloquently put it: Sweet dreams till sunbeams find you, Sweet dreams that leave all worries behind you, But in your dreams whatever they be, Dream a little dream of me.
Could our ancestors have dreamed a little dream of us? Today we were dreaming a little dream of them. The merchant who became the town banker, the tavern keeper who died an early death, leaving a young widow and little children, our ancestors. We looked at these buildings and saw the past come alive. The miracle of the human mind. The connection with our past. We found New Salem to be a welcome respite from the crowds and hub bub of Springfield. We lingered there, savoring the images and the musings it brought forth from the recesses of our minds. Now the tall, lanky Lincoln as shop keeper, now Linda' great great great grandfather. Over there, the tavern of James Rutledge and with a blink of my eyes, the tavern of my great great great grandfather. To experience the connection of being human. The joy of life. The spirit of individuality. The adventure goes on and on.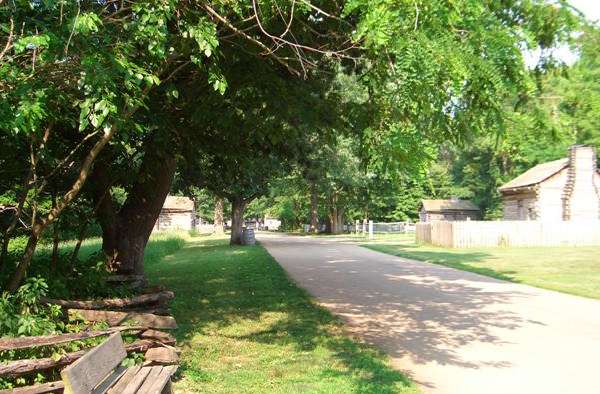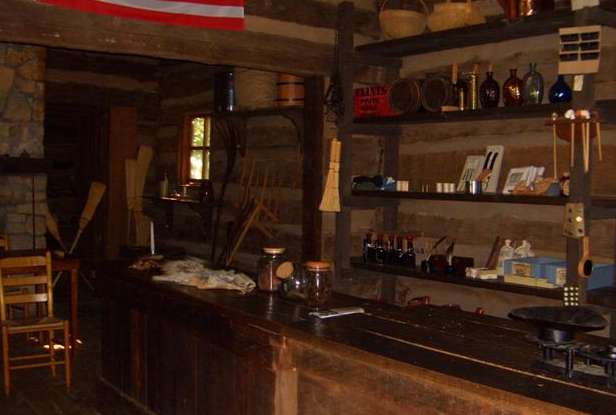 Speaking of the Rutledge's our final stop on our journey through time was to stop at the cemetery in Petersburg to visit the grave of Ann Rutledge. To what degree the stories and legends pertaining to Abraham and Ann are true, it is not up to us to know. But we can stand in front of the tombstone, read her epitaph written by Edgar Lee Masters and wonder what if. The grave of Masters, the author of Spoon River Anthology, is only a few feet away from Ann Rutledge's and the Spoon River lies a few miles to the northwest.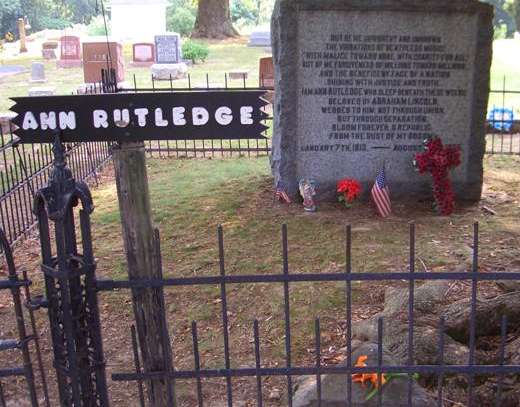 Returning to the coach, dinner was grilled salmon while dessert was a cup of chocolate pudding topped with a chocolate brownie. The perfect end to a near perfect day.
---
click image for

the current post
---
July 1 It's Saturday, but then I also thought that yesterday was Saturday for some reason or other. I finally decided it was because of the things we did yesterday, which was nothing in particular. Well, today isn't going to be much different, but at least it's actually Saturday. I had not realized I was at that age where the days all start running together, lol. Breakfast was once again scrambled eggs, Canadian Bacon and strawberries. The strawberries were a real pleasant surprise. Most of the time the stores seem to have the Driscoll brand, which is apparently distributed nationally, or at least in the areas of the country we have been traveling through. A little research and the internet says, 25% of the fresh strawberries sold in the U.S. are Driscoll berries. They brag about their superior size, texture and flavor, but then those are just words, the proof is in the pudding as the saying goes and while we eat them nearly every morning, I would describe them as merely okay in the world of strawberries. I would suspect that nearly all of their research dollars go into developing a berry that 'ships' well. We've had the occasion to eat some great tasting berries in our travels, the ones "Dan the steel driving man" gave us at Mountain Stream RV Park in North Carolina immediately comes to mind as do the berries we got last month at the road side stand in Ohio as well as the ones my Aunt's caregiver gave us. We had bought some yesterday at Kroger's. What a surprise they were. Sweet, juicy and the taste, man o man, was it ever good, just the way we like them. The brand was Well-Pict and we will be on the lookout for it in the future. The fun we have with the little things in life, I just love it.
Breakfast over, I hit the computer to try to get some more updates for the web page done. While this was underway, Linda was getting ready for the 4th of July Holiday. This is one Holiday that has always been synonymous with the word, picnic. I think there is sometimes a misconception of this lifestyle. That is that the people engaged in it basically picnic every day. After all, we have spent almost everyday for the last 6 months in reasonably warm weather. We usually stay in campgrounds or the equivalent of campgrounds, so eating a picnic lunch or dinner should be a daily occurrence. Maybe it is with some people, but I seriously doubt that is the case with most people, I surely know it isn't with us. Most of our meals are just regular meals, just like the ones we ate everyday before we added wheels to our house, smile. That said, Linda proceeded to get the beans soaking for our homemade baked beans, then cut up the sweet potatoes for the potato salad. This will be our first attempt at the baked beans. We used to make homemade when we didn't care about how healthy they were, so she plans to do some substituting, no fat and and no sugars. I already know the result will be delicious, smile. The sweet potato salad will be the same one she made last week with a slight amount of tweaking.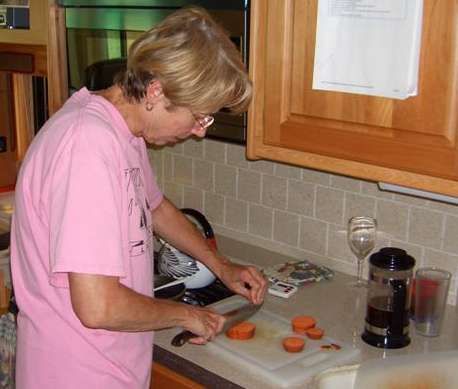 The real key to both of these foods is to let them rest for a day after they are made so the flavors can meld together. That's what makes fixing them so neat, it's the seemingly interminable wait before you can eat them that makes them taste ever so good, lol.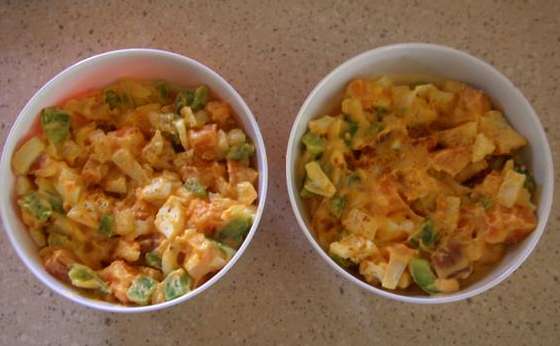 Done with the potato salad, Linda spent time on the computer updating some of our statistics. One of these days I'm going to get them up on the internet, of course I've been telling myself that for months,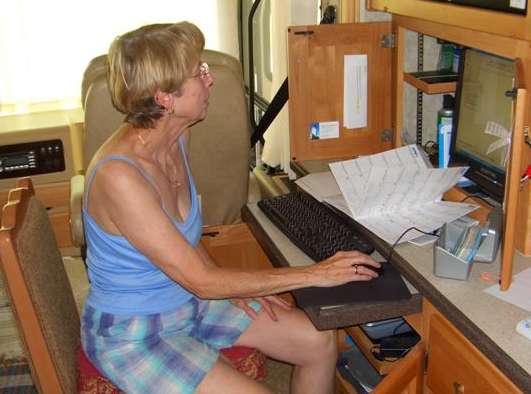 but it unfortunately, it just isn't ready for prime time as they say. It is hot today, so we got out a fan and are living in a reasonable comfortable environment. I know what you are thinking, just turn on the air conditioner, after all, there are two of them in the coach. There's just one slight problem. The electric hookups at the fairgrounds are only 20 amps, so when we try to run one of the air conditioners, our energy management system politely suggests we don't do it. The fact that the suggestion consists of not allowing it to run, means that we have no air conditioning. Hence the reason for the fan. This is the fun of what we do. Everyone is given choices. We could choose to stay at a different place, we could choose to grump about the lousy electric hookups or we could marvel at the adventure we are on and either overcome or mitigate the problem. To fume or have fun, it's our choice. Sometime in the future we will look back on today and have a good laugh when we are in one of those "remember when" modes.To experience the connection of being human. The joy of life. The spirit of individuality. The adventure goes on and on.
The day passed and transition to evening began, bringing with it cool breezes that sent a refreshing breath of natural air conditioning throughout the coach. Evening also brought on something else, a stream of assorted trucks and trailers entering the fairgrounds. Different but similar as they delivered their cargo to the far end of the track. It's Saturday night in the Midwest and means the track will soon be in use as the roar of engines, the sight of dust and smoke and the smell of speed fulfill our sensory desires. I came from the Midwest and hence I can state unequivocally, the 45 years ago tonight, I was at a fairgrounds in a small Midwestern town watching the races. Simply put, it was what we did on Saturday night when I was a kid. Every Saturday night during racing season. Even if it was pouring down rain you still drove over to the track, afterall, maybe it was dry there, lol.
Dinner tonight was sauteed chicken breast with homemade bar-b-que sauce. Was it ever good. Can that woman ever cook or what, lol.Time passed as we both worked on family history projects, when suddenly a loud noise got our attention. It was time for the fire works. They were being set off about 500 feet from us across an open area of the fairgrounds. Going outside, we stood and enjoyed the show. The combination of slow shutter speed and a shakey hand make for some interesting photos, lol.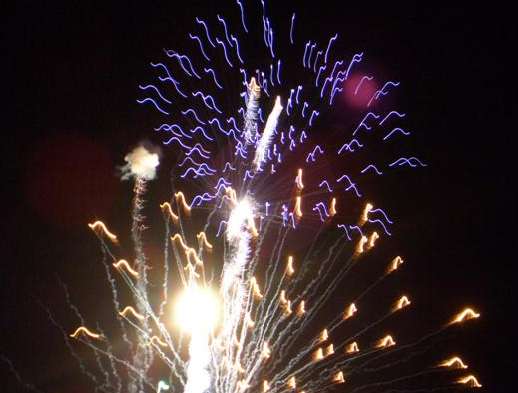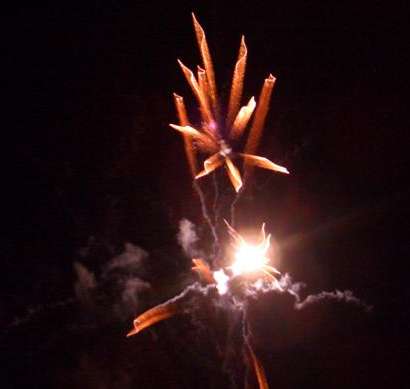 The races resumed and some time later we noticed the wings of the sprint cars on the track. We walked over and and watched the feature race. It quickly became obvious there was one driver who was very good, to say the least, completely dominating the feature. If you're curious about the driver, click here.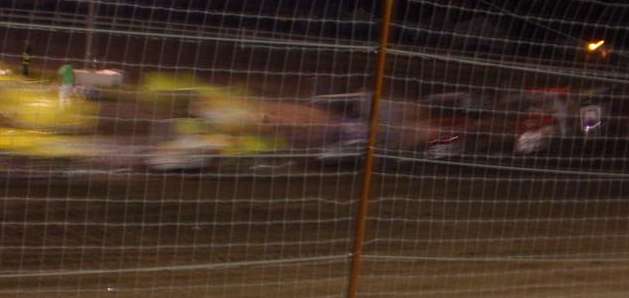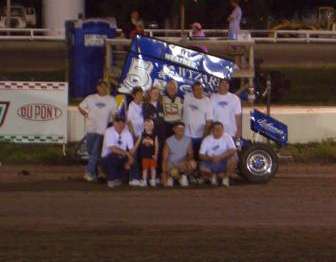 As you know, our day is never done until dessert has been eaten and the Pistachio pudding with a brownie was just as good tonight as it was last night.
---
click image for

the current post
---