May 31 The last day of the month dawns sunny and bright. Today we are digging into the past in a different way. Yesterday the ladies learned the early records for Athens county had all been transferred to the Alden Library Archives Department at Ohio University. That means we will spend the morning at the opposite end of Court Street from where we were yesterday, so after the now usual breakfast of oatmeal and blueberries, we headed off to Athens. None of us knew where Alden Library was, so instead of Linda and Katherine getting out of the car near the heart of the campus and asking someone where the Library was - they're always somewhere near the center of the campus - they had me drive around so they could look for it. One of the reasons to get a college education is so you'll intuitively know where the library is located, lol.
Needless to say, I was not happy. With almost 17,000 students in a town of 21,000 people, traffic on campus is almost gridlocked. So we moved slowly, very slowly, away from the area I thought the Library was, to a point where traffic thinned enough to head back to where we started. At this point Linda asked someone where Alden Library was and the place where we had recently been was pointed out. Circling back around, I told the ladies to get out of the Explorer and find the Library as I was going to find a place to park and would be along shortly. Given the population of the town in relation to the student body, off street parking is very limited and difficult to come by. About three blocks above Court Street in the midtown area I found a spot and pulled in next to a high concrete wall. Walking away I happened to glance back at a small white sign. This surely saved my bacon, as it said there was no parking after 1:30 PM on weekdays. That would work for me as we were planning on spending the morning at Alden Library and the afternoon at the Historical Society. smile.
What a wonderful place an archive and research library is. A place I could had spent my life, a place I would happily spend the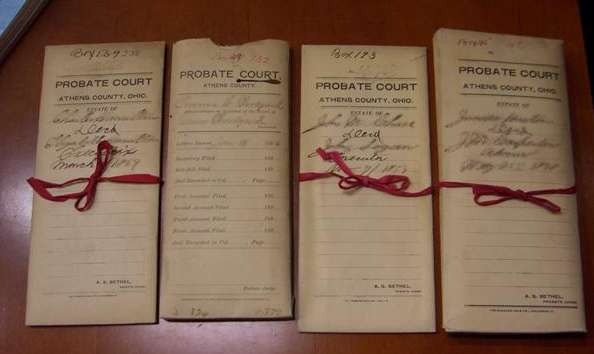 next few hours. We sign in and a short time later four will packets containing the clues to how four of Linda's ancestors lived their lives was brought to us. Slowly, piece by piece, glimpses into the lives of two of her great grandfathers and two of her great great grandfathers came to light. Some had money, one had virtually nothing. Some had outlived most of their children, another died young. The faded, yellowing, brown tinged papers breathed life into what had previously just been names, then in the past few days had turned into stones in small country cemeteries. Doctor bills showing repeated visits over the last few weeks of life. A receipt to an undertaker for a coffin. A request for money's from a daughter who had been the caregiver during the decedents last years. Little scraps of paper that drawn together paint a real life picture of a person, not of their countenance, of their very being. This is truly the real deal.
We were so immersed in the past, three hours had flown by almost before we knew it. Later, lunch at the subway over, the car moved, we settled down at the Historical Society for more research. It was an instant replay of yesterday and resulted in an afternoon of discovery for the ladies. One of the more interesting finds was a photograph of their great great grandfathers mercantile store taken sometime in the late 1800's. In the photo below, the store is not the large building with the sign in the foreground, it is the small building at the far right of the photo. As always, it's not how big the store is that counts, it's how much money you make from it, and in that area Linda's great great grandfather really excelled.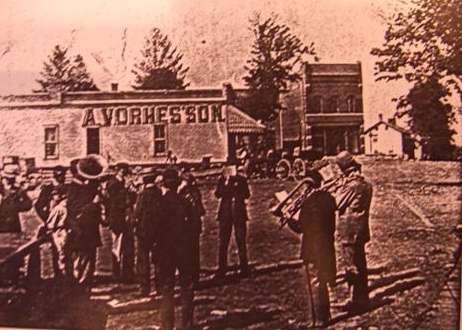 Dinner was a leisurely affair. Eaten slowly, savored. Followed a few hours later with a dish of ice cream. Yesterday, we didn't think it could get any better, but it did. We live a never ending adventure and life is good.
---
click image for

the current post
---
May 30 Something the same, something different. The same is breakfast. Oatmeal over frozen blueberries. The different is family history research. We begin our day with a trip to a school. Not any school. A very special school. One that was the dream of a man who never got to go to high school. One that was designed to give a practical education to the youth of this area. One that recognized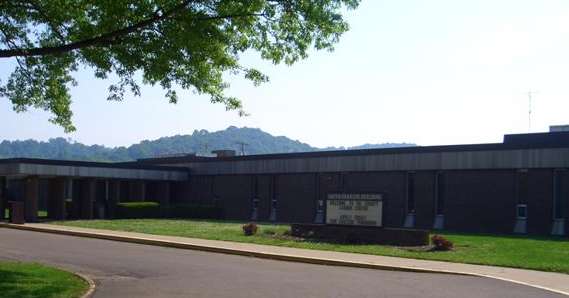 not everyone goes to college. One that allowed real world people to be trained for real world jobs. Jobs as varied as auto mechanics, health care services, office work, carpentry and criminal justice, along with a host of other occupations. The man with the dream was Linda's father. A man who truly understood the value of education in giving everyone the opportunity to get ahead in life. A man who watched all his children move away shortly after completing high school to chase the dream of a better life. A man whom I was always proud to call my father-in-law and someone who knew the true meaning of "going fishing." For over 35 years this school has given the young people of the area the skills they need to remain here and raise their own families instead of moving away in order to find jobs as was so often necessary years ago. A gentle, unassuming man with a big dream. How big are your dreams?
Our next stop was to visit with Katherine and Linda's Aunt Ellen , who will be 98 years old in a few weeks. Not only did they get to visit with their aunt, but also with their cousins, Hellen and Clarence.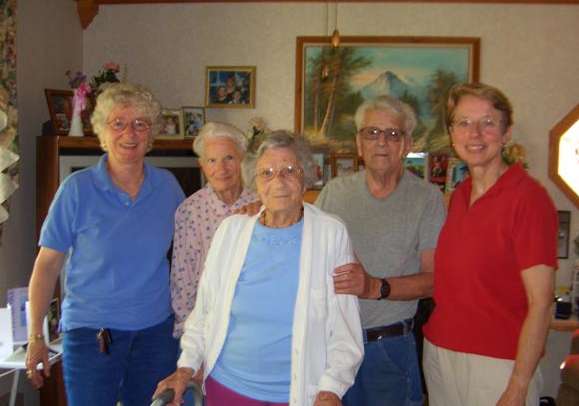 Following this, we drove into Athens. That this is a college town, there can be no doubt. Students everywhere, the main street lined with stores that cater to their every need and a total dearth of available parking, smile. Even given all this, Athens is a magnificent
place. One where many of the streets mark the passage of cars with the gentle hum of tires on bricks. The tree lined streets, gently rolling terrain and architecture of a bygone era adding to the scene. The past and present juxtaposed in ways that tend to be pleasing with only the occasional garish intrusion. The new modern bank building that stands out like a sore thumb. Why must they destroy the "sense" of the town with some ugly, utilitarian modern building right in the heart of the old town area? Even more exasperating is why cities allow "them" to erect buildings like this in the first place. Just goes to further prove that the terms "dumb politician"and "cheapskate banker" are indeed oxy-morons. So much for one of my pet peeves, smile. Well not quite because next we walk by the site of the former "Berry Hotel". Once a magnificent edifice that catered to the rich and famous, today its former location is marked by a historical plaque. Instead of the hotel there is a hole in the ground, fronted by a small glass and stainless steel diner. Urban renewal at its finest. I often wonder how many other people see this destruction of America the same way I do, or am I simply stuck in the past, just one more impediment to progress?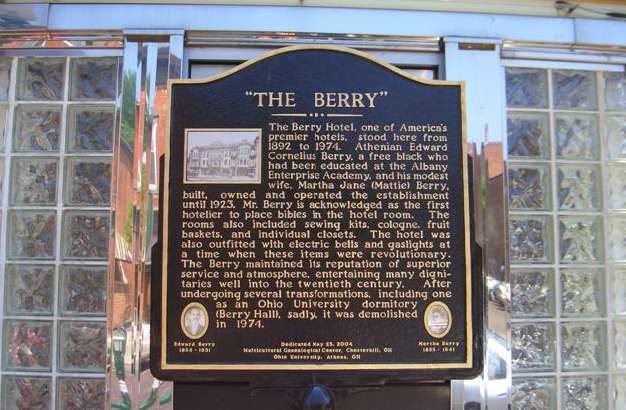 They do have one absolutely glorious archetctural gem in Athens, the county courthouse.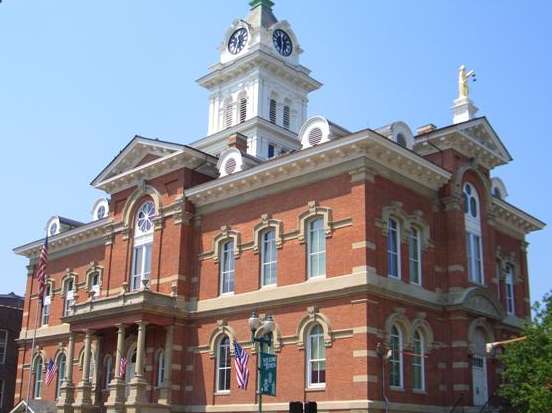 Continuing the theme for the day, the old and the new, we enter through the old facade of a building and find ourselves inside a subway sandwich shop. You're right, no turkey roll ups for lunch today. It's turkey on whole wheat instead. I would say finding both the current use of this old building and the substitution of the whole wheat bun for the whole wheat tortilla, acceptable, goes to prove I'm somewhat adaptable in my views, lol. Next it was off to the Athens County Historical Society, about a half block away. They have off street parking at the side of their building, so we could stop feeding quarters into the meters if I moved the Explorer, which I did. Later we found out the city is ruthless about towing cars that are parked where they shouldn't be, so be sure to park in their lot only during the hours the Society is open if you plan to spend time there. We weren't sure what to expect, but what ever our expectations might have been, the ACHS far exceeded them. They had a number of displays highlighting the type of wedding dresses worn over the years in the front of the building. Many of them were from the latter half of the 1800's and all were from weddings that took place in Athens county. Behind the display section was the genealogy library and research area. While I spent a good deal of time in the displays, Linda and Katherine made a beeline back to the past, so speak, perusing the the shelves of the genealogy library. By the time I got back there, the table they were using was already littered with books, papers, notes and copies. They were like a pair of birds flittering around a newly discovered berry patch. Excitement filled the air as "Look at this", "I never knew that", "They even have these records" and other statements of that type passed back and forth between them. As they made find after find, I took a different route, selecting one of the "dead end" family lines to pursue. It made for a lot of interesting reading on my part, but no discoveries. Linda was definitely finding more than she could handle so I helped her for a while, while Katherine tried to make a connection to Edward Berry of the famed Hotel Berry. You know, the old family story which can be looked at either with a preconceived notion or an open mind.
We did not close down the library. Rather we left early, the ladies somewhat mentally exhausted from information overload. Returning to the campground, we decided to go off in search of the final two pieces of the cemetery puzzle. The only problem was, we left without the GPS or the modern county map. What we did leave with was a vague idea of the location of the two cemeteries in question. This proved to be a very bad idea. The ladies were tired, I was tired and the roads didn't seem to be where they were in 1875. At least we did have a map, the only problem was it was 131 years old. It wasn't necessarily that the roads on the old map didn't exist anymore, because most of them did. It was that all those new roads they build seemed complicate things, smile. Suffice it to say we had a long but not very happy trip. Nothing seemed to be where we thought it would be and eventually we found ourselves heading back to Athens. Later, upon returning to the campground we had a nice long talk. Linda talked, I listened. After dinner we set out once again in search of those last few missing relatives. Having paid very close attention to Linda's comments after the fiasco of this afternoon, I had programed the GPS for both cemeteries and also had brought along a full complement of maps, smile.
Just like in the movies, we had no problem finding the first cemetery.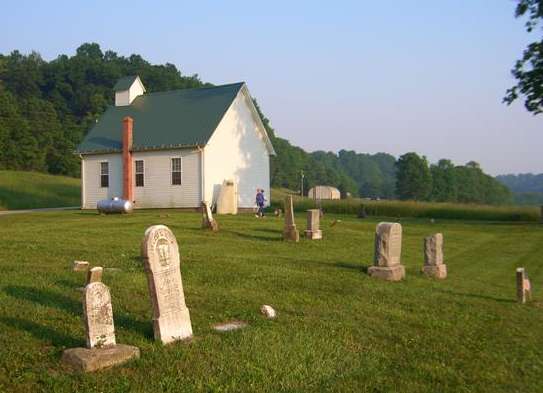 In the slowly setting sun about a half mile away from a gigantic brick house, a house that had the family name of one of Linda's ancestors displayed on the mailbox, we walked among Linda and Katherine's kinfolk. Other than that the low angle of the sun made reading some of the stones a challenge, we had an awe inspiring time. The setting sun, partly hidden behind a huge maple tree, the green fields and contrasting woods, the little white church next to the cemetery and the big brick house on the hill in the distance all combined to produce an most marvelous and almost ethereal scene. The most difficult part of the visit turned out trying to get photo's of the stones in evening light, which abounded with shadows.
As we left, bound at last for the object of our fruitless and exasperating afternoon quest, the GPS provided directions in the British accented voice we've come to know so well, especially when it has told us to make a U-turn in the middle of an interstate highway, lol. With unerring accuracy it took us down the same roads, only in the opposite direction, that we had traversed this afternoon, eventually directing us to turn onto a small side road that veered off at an oblique angle. Soon we were in the back country, driving on very narrow, extremely curvy and precipitously steep gravel roads. Linda followed each turn on the map she had which showed all the township roads we were driving on. Finally, after the steepest climb of all, a few headstones appeared in the rapidly graying remains of the day. At last, we had found the cemetery and the marker we had been searching for. All alone it stood, relatives of neither husband nor wife present. No wonder it was so hard to find. A simple, yet beautiful light gray stone carved to resemble an alter with a closed bible placed atop it. An unreadable verse carved near its base. A story of tragedy, love and family bitterness standing forlornly in the fading light of a late spring day. Never do we seem to find answers, only more questions. It was time to leave the old man and his much younger lover. It was time to leave the 19th century and return the present. But nothing can ever take away the feeling of loneliness and sadness that we we felt in concert with these two forgotten souls as we stood there in the fading light, wondering how and why. Have you, today, told someone they mean the world to you and you love them with all your heart ?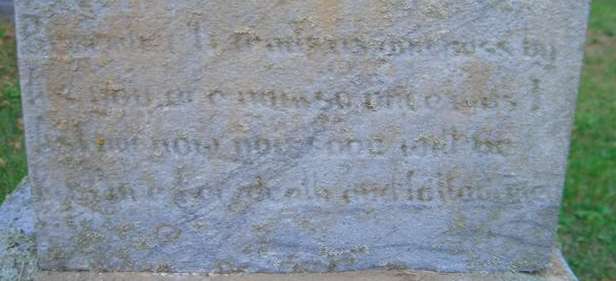 To know the link with the past. To experience the connection of being human. The joy of life. The spirit of individuality. The adventure goes on and on.
---
click image for

the current post
---
May 29 Memorial Day. Today Linda and I will do what we have done on Memorial Day for most of our lives. As children we accompanied our parents and as adults we took our children. You see, today it is our tradition to visit cemeteries. As children we visited the cemeteries where our grandparents were buried. After we had moved to California, we took our children to a local cemetery. We wanted to hand down the same tradition to our children that had been passed on to us. We explained it was day to honor those who had gone before us. After many years, we would once again be visiting grandparents graves again today.
It was a hot, muggy, buggy, humid day, a local weatherman referred to it as "muggidy", a term I find very appropriate, smile. Still, there is an underlying beauty in these hills that transcends the weather. A certain calmness, sort of like slowly ambling through life, no cares, no hurry, just enjoying the day as it unfolds. Linda had gathered up all her "cemetery things", put in four bottles of water and packed a lunch in our little cooler. Our first stop was a little cemetery on a hill overlooking some distant rolling fields. The morning air was fresh, the cemetery newly mown, the songs of birds filled the air, it was a beautiful resting place for one of Linda's great grandfathers.
It did not take Linda long to find the grave, as she remembered being here many years ago with her mother. The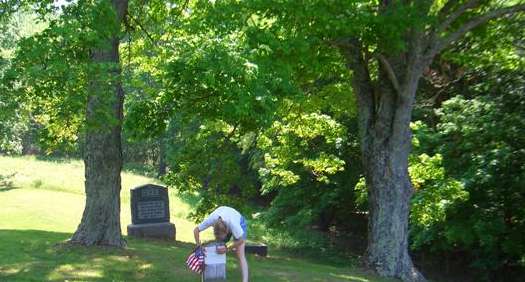 stone sat between two ancient maple trees. The thought crossed my mind as to whether they were here when he was laid to rest, some 95 years ago and if so how big were they at that time. Irregardless, they stood there today, like two silent sentinels guarding an old soldier. And an old soldier was what he was. The simple headstone, the standard government issue for the day, listed only his name and the company and regiment he served in during the Civil War. The old soldier was alone. No companion stone stood beside his. His wife of over 50 years was not here. A small mystery that may never be solved. As we walked the back part of the cemetery, checking all the markers, we were struck by the fact that these badly weathered stones were probably the only trace left to mark where almost all of these people had lived. The old cabins, houses, barns and out buildings had all fallen into disrepair many years ago and virtually no trace of them was left. Only these old stones where left, the merest hint of what had gone before. I was glad we were here.
One of the problems we have had when trying to find these cemeteries is that the name we have for the cemetery may have changed. This one had proved to be a different sort of challenge because the name of the town (crossroads) had changed. That, however, would not be the case with the next cemetery we were going to visit. We had been there a few days ago with Charles, spending a very limited amount of time before moving on down the road.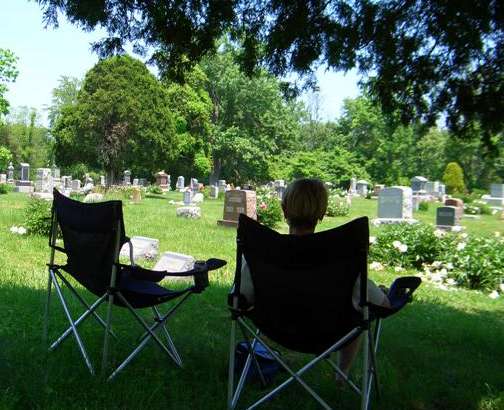 This would be a very special visit today for Linda. That was because her mother had brought her here on numerous occasions when Linda was a little girl. This was a repetition of something Linda's mother had done many years ago as a little girl when her mother had also brought her here to this same cemetery. Traditions, things we pass on to those we love. Though Linda knew exactly where the marker for her grandparents and great grandparents were, we still walked the entire cemetery, recording many names and taking a photo of each stone that could be a relative. Later we walked back to the Explorer, got our picnic lunch and lawn chairs, then walked back into the cemetery and sat under a tree near the grave of Linda's grandparents. As we sat in the cool shade Linda talked about some of the things her mother spoke to her about. The traditions she had passed down to Linda. How Linda's grandmother would bring her kids to this cemetery and they would eat a picnic lunch under the trees. Talk about something special. There was no way I could be feeling what Linda was at this precise moment, but I knew it was a feeling no words could convey. This was not a quick lunch, this was a long, slow, leisurely time of reflection and memories.
Loading the chairs in the Explorer, Linda noticed a movement. It turns out we were not the only ones enjoying the cemetery today.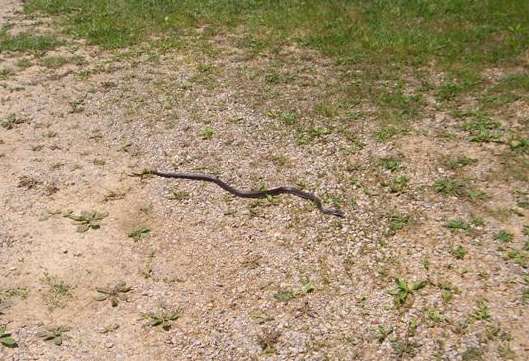 As we sat there, we noticed a lady slowly walking through the cemetery, stopping on occasion in front of a stone before slowly moving one. Linda could sense the same feeling emanating from this starnger that she was feeling. Finished eating, we carried everything back to the Explorer, then Linda walked over to the lady. Indeed she was also visiting her ancestors. Having been born directly behind the cemetery, her ancestors and relatives were present in abundance. Linda had one cemetery which she had visited many, many years ago with an aunt. The problem was, she couldn't remember where it was located. This lady was familiar with it, and gave Linda directions. It would be our next stop. One of the problems when a woman gives directions to another woman is the information tends to get garbbled at both the sending and receiving ends of the communication. We ended up taking a somewhat round about way of driving to the cemetery. Our actual driving distance via the route we took was 9.5 miles along gravel roads.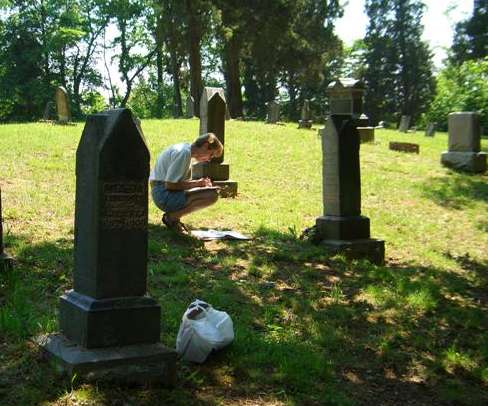 The actual distance between the cemeteries, all on paved roads except for the last 1000 feet was just under a mile, smile. In the end the semi wild goose chase ended happily. Because this cemetery proved to be a goldmine for Linda. There were a number of her grandparents with many "greats" buried there. But of even more importance to Linda at the moment was finding the grave of her mom's favorite aunt. The "Aunt Rosette" that Linda always remembered her mom speaking so fondly of. But that was not all. There was a quilt that had been divided among the family over years that had a story behind it. Seems that when Linda's grandmother was a little girl she lived with and helped the wife of one of the local store owners. During this time she sewed up a quilt made from the fabric scraps from the store. Linda found the tombstone of the store owner and his wife almost next to Aunt Rosette's. To know the link with the past. To experience the connection of being human. The joy of life. The spirit of individuality. The adventure goes on and on. What an awesome day this has been.
Later, after a dinner of roasted chicken with garlic and onions, served with sweet potatoes and asparagus, the "kids"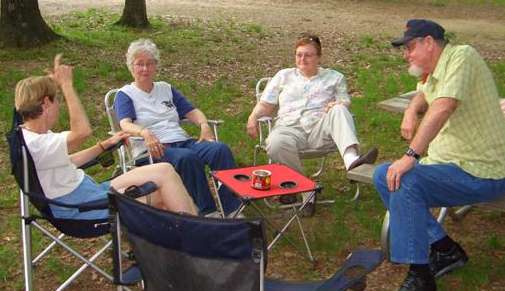 relaxed and talked. I must add a comment about the meal. The electric hookups at this campground are not the best. We can only run one thing at a time, so although the chicken should have baked in the convection oven, it ended up being sauteed on top of the stove. Still turned out to be great, smile. It was such an emotional day that we had our ice cream early and called it a day. A day that we had both predicted would be wonderful and ended up far exceeding our wildest dreams. Just one more reason we're so glad that we just up and quite our old life to live this one. That now we can do things like we did today, because we can and you can too, just believe you can.
---
click image for

the current post
---
May 28 History beckons us into the hills today. Of course before you can expend all that energy searching the hills, you must properly fortify yourself with the nutrition necessary to enable the adventure to proceed, smile. I have to admit that after so many weeks of strawberries on my oatmeal, I find that blueberries, even if they are frozen, to be a refreshing change. As always, Linda intuitively knows what is best, and the general rule is, what is best for her is also best for me, lol.
It is the Sunday of Memorial Day weekend, so we are planning on doing something very special this morning. We are going to attend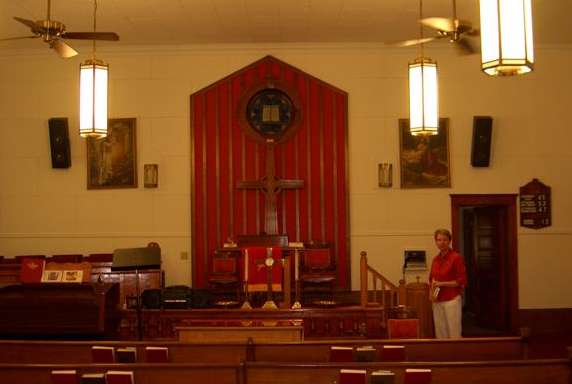 the Sunday Service at the little country church were we were married. What a wonderful experience this proved to be. Linda's high school class Sunday school teacher and also her youth leaders still go to the church, 40 years later. She had a great time talking to them before the service. It was also a special day for them, because their son, one of Linda's classmates, had been killed in Viet Nam just a few months after their class graduated. We have our freedoms in America because of the sacrifices voluntarily made by Americans. This little country church reflects everything which makes America great. The minister had served as a ships chaplain and when they had the veterans in the congregation stand, nearly every older person stood. The hymns were: God of Our Fathers; My Country Tis of Thee; and The Battle Hymn of the Republic. As we sang the latter two, in each case my mind went back to the sanitized hymnal they used in the church we had formerly attended before we started on our journey of adventure. A hymnal where all references to he or she, war, battle or any other supposedly politically incorrect reference had been purged. Then they wondered why the attendance kept declining, we were two of them, smile. It's the opportunities we have to take part in the real America that give special meaning to the life that we now live.
The rest of the day was spent searching for the past. When we had visited cemeteries with Linda's brother and sister, Charles and Katherine last week, it had been more to identify the location of the cemetery, rather than identify all their ancestors who were buried there. Also, there had been no real plan, rather it was more of a where do you want to go next type of thing. Then when we would get to a location it was interesting to listen to the conversations. It seemed like everything that Charles has done in life can only be related to mowing grass. Pull up to a cemetery and he would soon be talking about mowing it at one time or about how many cemeteries he mowed for various townships in Indiana. Never did figure out what that had to do with the task at hand, smile. Linda was running the video camera, but she was not the one with the information about many of the places. Charles and Katherine were familiar with the places, yet they didn't want to talk about it on camera. It was that special opportunity to get all those stories about grandma and grandpa, so to speak, recorded for future generations, they were able to get a few stories on film, but never enough. That wouldn't happen in my family, but that is because there is only me left, sigh.
It was an interesting drive back down to the area where Linda's ancestors had lived. Four generations of her family on both sides had lived within just a few miles of each other. The hills, the woods, and the small fields, most of which were no longer farmed, marked our passage. Soon off the paved roads, a plume of dust trailed behind us as wound our way along narrow gravel roads that were the same roads her ancestors had used for the last 175 years. I drove slowly, the crunch of gravel mingling with the songs and calls of the birds, much of the way in the shade of trees arching over the roadway. A drive filled with magical moments. It would be neat if this were a land that time had forgotten, but that is not the case. Once sparsely dotted with log cabins, old farm houses and barns, it is different now. The log cabins and almost all of the farmhouses and barns are long gone. Only the occasional newer house or trailer gives evidence that someone lives back here. It is more or less a land that people forgot.
Immersed in thoughts of the past, we drove until we arrived at one of the cemeteries we had been at last week. Often times cemeteries are associated with churches. Back here that does not seem to be the case, or if it was, the church and all evidence of it is long gone.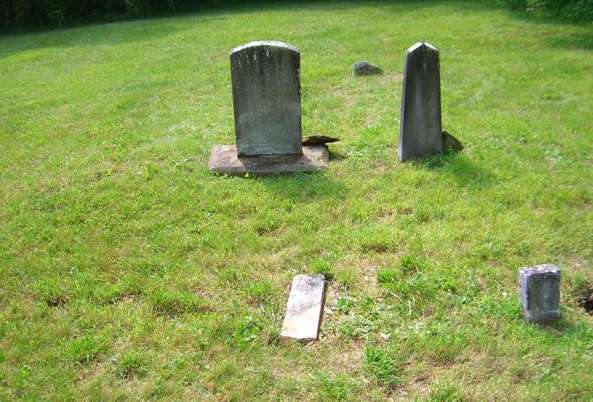 We walked the entire cemetery, trying to decipher each stone, many of which were illegible. The easy way to do this would be to look in one of the books that lists the transcribed information from the stones in the cemetery. If all you want is information, it will provide you with it. But standing there, in front of the stone, you are given a window into the past. Stand in front of a simple stone with two initials carved into it, the initials of your great, great, great grandmother and dwell for a moment on her. To deny her is to deny yourself, to ignore her is to to tell others to ignore you. History is a treasure that is unbelievably rich and deep. It is also the most difficult to mine.
One of Linda's real treasures has been a simple black and white photo. Taken in 1901 and showing four generations of women in her family, it has hung on our family room wall for over 30 years. The one constant question Linda has repeatedly asked over the years was, where was the picture taken. The reason is because of the rocks, the rocks that serve as a backdrop for the picture. So what you say, it's just a picture. Think again. Linda's aunt as a baby, held in the arms of Linda's grandmother. On one side of them Linda's great grandmother, on the other side, Linda's great, great grandmother and behind them those rocks. Linda has this love of rocks and these rocks were the most special of all rocks. The story was that the photo was supposedly taken somewhere on the family farm and since the farm had been located just down the road from the cemetery were were at, we decided to stop there next.
Down the hill we went, the same view appearing that we saw a few days ago when when we had been her with her brother and sister. That day, from her brother, we'd only learned that there had once been a log cabin and barn "over there" somewhere. On the other hand we also learned he'd cut his thumb and saw some snakes when he was here mowing. Since we were interested in history, we had come back again. The road followed the edge of a hill, before us spread an expanse of open flat bottom land, bordered by a creek on the far side with another line of hills sloping upward from the creek. No evidence of a cabin or barn could be seen and the electric fence that enclosed a number of grazing cattle precluded exploration. The other day her brother had driven only a few hundred feet down the road and then turned around. As the bottom land extended for quite a ways we decided to drive on down the road.
As we drove, our eyes searched the far side for any sign of a barn or cabin. There was none. Deciding we had driven far enough, we turned around and very slowly drove back. At he highest point on the road, I stopped and turned off the engine. Linda looked at me quizzically. Here we were, on a warm, sunny afternoon, stopped in the middle of a gravel road in the hill country of Southeastern Ohio. That was one way of looking at it. The second way was look out over the very land Linda's ancestors had lived on and imagine them here. I told Linda I had stopped here to listen to the sound of the birds, at the same spot and with the same sounds that three generations of her grandmothers had no doubt experienced. We sat there for probably close to 5 minutes, deep in the past. Could her great, great grandmother and grandfather have once paused on this very same crest to look at their land, see their cabin and listen to the sound of the birds. I have to believe that not only could they have, they did.
Finally I asked Linda if she was ready to go and she said yes. As I was starting the Explorer, she exclaimed, "The rock, it's the rock!" Peeking out above the trees beside us was a sandstone prominence. Before I could even get out of the car, she was half way up the hill to the base of the rock. Normally a very timid and overly cautious climber, she was grabbing bushes to pull herself up the slope, unmindful of the possibility of poison ivy or snakes, she had a goal. A goal that now towered over her. What I was seeing right now was the answer to the question as to why ordinary people can sometimes accomplish extraordinary things. I truly believe that at that moment she was every bit as exited and happy as Professor Carter was, the moment he first saw King Tut's Tomb.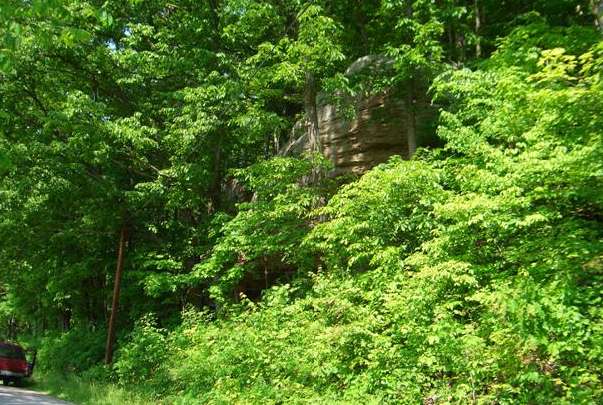 The sandstone face, being soft by nature, had eroded such that there was a natural indent in the rock face. She was immediately drawn to the spot. By now, I had also climbed up to the rock, the Explorer still parked in the middle of the road. What a difference just a few feet can make. Here at the edge of the woods, near the rock, it was cool, almost as if it were a natural air conditioner. A place to find respite from the summers heat. Yes, this was the spot she had been wondering about all those years. All the while, the most beautiful smile covered her face. She wanted her photo taken and I framed the picture. Her smile had vanished, replaced by the same more serious look that stared out from the faces on the photo she so cherished. A photo taken by her grandfather that summer day, 105 years ago. We just didn't happen on this spot, we weren't just lucky to find it, it wasn't just coincidence that I stopped the Explorer right here to listen to the sounds. We were led to those rocks.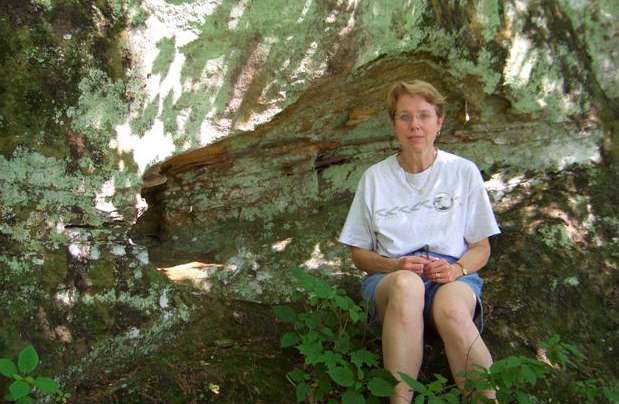 Later, as we drove on towards another cemetery, we talked about one of the mysteries of the rocks. Linda had remembered being told a long time ago that the rocks were on her great grandmothers property. As we talked she dug through a pile of papers she had. One of them was copy of a land map from 1875. It solved the mystery. Her great great grandmother had owned the land on both sides of the road, the rocks were on her land. Now there was no doubt in our minds, we were led to those rocks. Another cemetery, more glimpses into the past and the day drew to a close. We enjoyed a picnic dinner with the family. It had been a long, hard, hot emotion filled day for both of us. To know the link with the past. To experience the connection of being human. The joy of life. The spirit of individuality. The adventure goes on and on.
---
click image for

the current post
---
May 27 Linda's day today. At noon her classmates are getting together for a picnic lunch. Then at 6:30, the annual Albany Alumni Banquet is being held. It will be her 40th, so she's hoping many of her former classmates will be there. In the past, the turnout has been low with many of those living close by not attending. Whatever happens, it should be fun. But first breakfast calls and so we repeat our 7:1 breakfast blend of yesterday morning. We will have to make a food run today as we used the last of the fresh strawberries. As we were eating our oatmeal a Redwing Blackbird came to the bird feeder, landing under it and started eating the seed that had fallen to the ground. What a pretty sight with its red patches outlined in creamy yellow on its wings. Visitors like these make the typing go very slow, smile. Some days you don't accomplish very much and this morning proved to be one of those days.
Finally, with noon approaching, we began to get ready for the picnic. This was my time to anticipate what she wanted and do it before she needed it done. It was a time of strict and immediate obedience on my part to any and all of her wishes. I did a fairly good job of it with only one or two miscues. Though they were only minor deviations from blind devotion to her needs on my part, I was immediately chastised and my position in the order of things made known, lol.
We drove into Albany and soon located where the picnic was, just as we drove by it. Turning around, we followed an early 1950's flatbed truck in the driveway. Linda was back among the people she grew up with, some of whom hadn't changed much, smile. We had a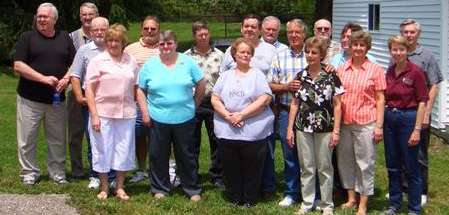 great time. They had decided to not use name tags, which meant there was a lot of "I don't know who that is", and "Come on, guess again who I am", type of conversations going on. One neat thing that Linda had us do, was wear our shirts that had our names embroidered on them. Made it so no one tried to guess who I was since there were no Bob's in the class, they just asked who I was married to and besides, a number of people knew me from the reunion, five years ago. You hear the following comments repeated over and over, is "Where is X", "We talked to X, but he/she says they see us all the time, so they don't need to come." "Whatever happened to X?" and so on and so on. This is a special time, heck we came almost 2500 miles to attend. Why is it that some people get so wrapped up in themselves they can't see the trees for the forest. Better get off my soapbox before I get in trouble with Linda, smile.
It was fun listening to everyone joke about how they should have it at their house next time because it would give them an excuse to clean out the garage. The setting was gorgeous. Small town America, the expanse of green lawn, the shade of the trees, a peace and tranquility gently resting over the land.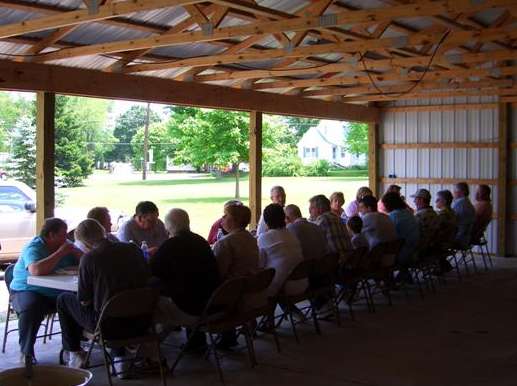 Everyone was asked to bring a dish for the meal and a dessert. While it was not a food judging, I'm sure most people tried to bring one of their favorite dishes. Hence, I, an outsider so to speak, took it upon myself to try to sample all the dishes. It was a tough job but I had the stomach for it, lol. There were so many really good dishes it was actually hard to pick the definite winner. After resampling some of the dishes several times, I decided that this bowl of homemade noodles was the hit of the party. Never did find out who made them, which was appropriate, since they were all winners in my book.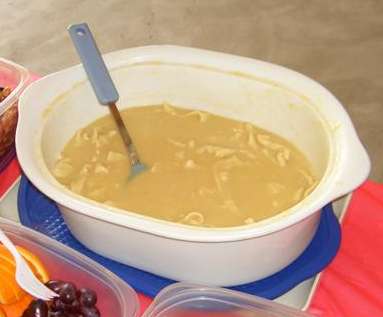 I had almost decided to have a separate judging for desserts, but luckily common sense won out, lol.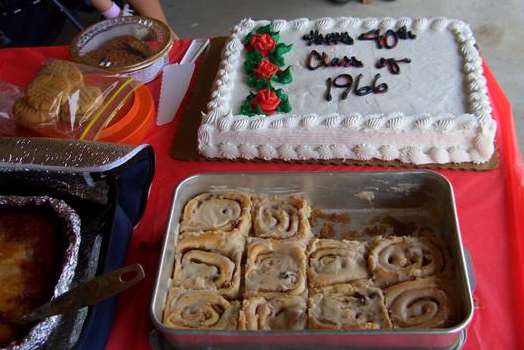 But the most fun of all was the fun of sharing pictures. Connections.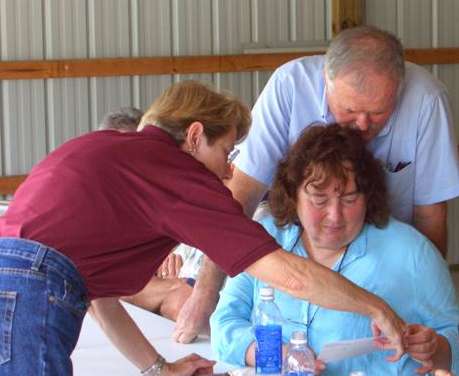 After the gathering of all the old people had concluded, we drove in towards Athens to get some groceries. This is definitely not the big city and the selection was, shall we say, limited at best, small. We did end up with frozen blueberries for breakfast after a diligent search. As we were putting the groceries into the Explorer, I noticed the right front tire was quite low. It had been pulling just a little to the right on the drive over and I guess it was just in my mind to look as that is Linda's side of the car so to speak and I very seldom would ever look at that tire. I drove over to a shady spot an put on the spare. Of course it was also slightly low, but there was an air hose at the gas station just in front of the store we were at. All set, we drove back to the campground. During the trip back I thought about how fortunate we were to have the tire go down now. It could have been a major problem if it had gone down while we were pulling the Explorer behind the coach. As Linda says, things happen for a reason, smile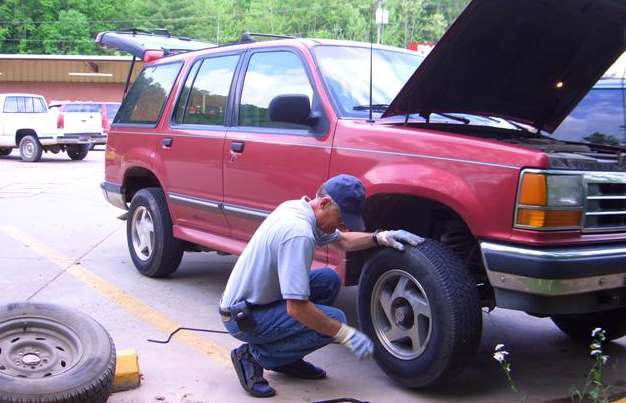 As 5:30 approached I was once again put under the total control of the woman with whom I live. It was time to get ready for the banquet. I thought it a tad bit early, but the boss was amandant we arrive about 10 minutes early at 5:50. I had been under the impression the banquet started at 6:30, not at 6:00 as she thought. Given the tension in the air, it was not a subject I was about to brooch, smile. After we had dressed to her exacting standards, I had to admit we both looked very sharp, she had really done an outstanding job. W got there right on time at 5:50, parked and walked to the building where the banquet was being held. There were quite a few people already there and it looked like Linda had been right about the time. The name tags were all laid out by class year. It looked like we were one of the first to arrive from her class, but with the earlier picnic, we suspected most would arrive at the very last minute.
Going into the room it appeared most of the people from the older classes were already there.There we former students of Albany High School from the class of 1929 to 1966, the year the school closed. No, it wasn't what you are thinking. Linda and her classmates were not so bad they had to close the school. They consolidated with another school district and built a new school.That was the real reason, or at least that was the story Linda told me, lol. Six o'clock came and went without the banquet starting. We wandered out front and found out it didn't start until 6:30. My nearly 39 years of training by Linda on how to please a woman served me well and I simply talked about how most of the people from the early classes seemed to have arrived early to talk with their classmates.

Since we now had a little time to kill, we looked at the pictures of some of the earlier classes when we happened upon several of her classmates doing the same thing. The rest of the evening was either conversation, consuming food or listening to the program. One of the very interesting things they do is to recognize all the former students that are present. Linda got special mention as the person who had traveled the farthest to attend. As they introduced the oldest alumni present, Linda leaned over and said, "He was in my Mom's class." Connections, they are everywhere, we just have to recognize them. After the banquet was over, Linda went over to the member of her mothers class and talked with him for a few moments about her mother. He remembered her mother and Linda felt it was a very special moment getting to talk to him. More connections.
When the last class to graduate is celebrating its 40th, its no wonder there might be a few gray hair gentlemen present.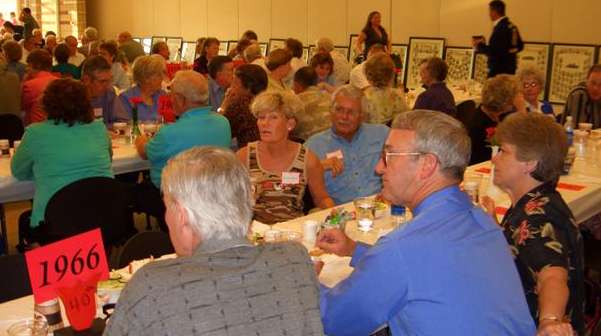 Isn't it always amazing just how much there is to talk about . The hub bub in the halls between class,. The laughter and banter before class started. It's like the intervening 40 years never occurred.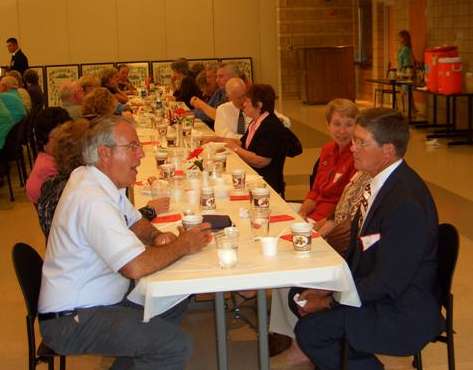 Looking out over the sea of alumni, there are conversations going on everywhere. Everyone has a common bond. In a way this is a melancholy moment. When these people are gone, there will be no more direct connections to Albany High School. They also represent something else. A shift in the way we live our lives. These were the kids who grew up and left the farm. Some because of war, others because of opportunities for education and most for jobs. This was Appalachia where when Linda was a little girl, the log cabin where both her great-great, and also her great grandmothers had lived their lives still stood. These are real people and I was very lucky to meet one of them on a blind date almost 40 years ago.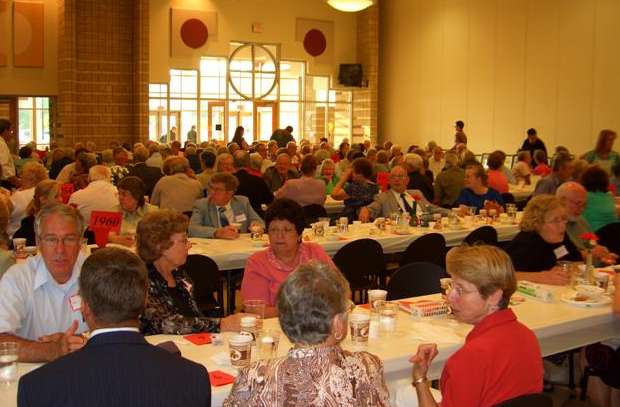 ---
click image for

the current post
---
May 26 Another grave day, smile The blend of oatmeal and steel cut oats was a little different this morning. Instead of a 3:1 blend, today, Linda made a 7:1 blend. A little runny, not quite so nutty as yesterday, and also not quite as good, but as long as it's oatmeal, it's got to be good, smile. While all this was going on, we had a new visitor to the bird feeder. The long billed, short tailed, upside down bird, smile. Flying in towards the feeder, it would land on the trunk of the oak tree the feeder hangs from. After perching there for a while with its white breast contrasting against it bluish black wings, it fly over to the feeder, and perch hanging upside down. It was the first nuthatch we have seen.
Once again Charles, Betty Lou and Katherine picked us up and we were off on another quest for graves, tombstones and markers. We first drove through Athens, a city from another time. As we drove down Court Street, I overheard the constant exclamations regarding stores that were no longer there. With the Ohio University campus sitting at the south end of the street, downtown had totally been reinvented over the last 40 to 50 years. This area was the domain of the students, all the stores catering to their needs or whims. The main shopping area had migrated east of town on State Street. It was not the town the three of them had left those many years ago. I was amazed at the number of brick streets. It was almost like time stopped 60 years ago as far as the streets were concerned. And not only were the streets brick, the curbs were cut stone, just like they would have been a hundred years ago when Linda's grandparents would have come into town.
Connections with the past. Sitting in a modern mini-van, riding through a small town, my mind a hundred years in the past. The dream of my life as small boy to be a history teacher, the dream of my life as a teenager, to be a college professor. A war in a small southeast Asian country and somehow my dreams turned to dust. I for one would not live my life the same were I to live it again. I would have been a history professor at a small college in the Midwest. How about you, the pat answer is, I wouldn't change a thing, but are you sure? What about the dreams you had? I didn't get to live mine, did you?
Soon we were passing through the gates of the Athens City Cemetery. Up near the front gate is a huge monument surrounded by a number of smaller stones. It is the grave of Linda's great, great, great grandfather and his son, her great, great grandfather who rose from being a small merchant in Albany to become the leading banker in Athens in his day.To know the link with the past. To experience the connection of being human. The joy of life. The spirit of individuality. The adventure goes on and on.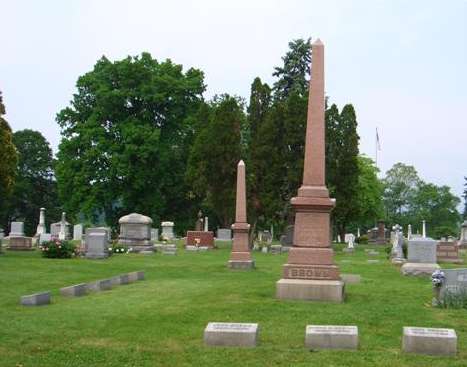 Later in the day, after we had eaten our turkey wraps for lunch, we were treated to some outstanding entertainment. It is Memorial Day weekend, which, when I was a boy, was called Decoration Day. A day we went to the school building and heard a memorial service. Afterwards there was always a parade to the local cemetery. First came the flag bearers, followed by the honor guard. Then came the members of of the Foreign Legion, the Veterans of Foreign Wars, the Boy Scouts and the Cub Scouts in that order. It meant something to me, first as a Cub Scout and later as a Boy Scout, to march in that parade, to hear the guns fired in salute at the local cemetery. It's sad, what this day of remembrance has become. A three day weekend to party in preparation for the summer. Sometimes the old way is actually the better way.
So what was this entertainment I was referring to before I wandered in my thoughts? It was watching people. People in pickup trucks, towing their travel trailers and attempting to park in the campground for the first time this year. The sight we were treated to was worth the cost of camping for the weekend. Three travel trailers, all bearing the brand name, Salem, pulled by pickups with drivers that, putting it kindly, had difficulties parking. At around 1 o'clock the first trailer showed up. Clad in Gucci type shoes, dress pants and shirt, the driver pulled in with his wife, a somewhat overweight middle aged blond. Then the fun began.
The backing process, with the wife standing at the back of the trailer giving directions (though we were never were able to figure out what directions she was trying to give) was accompanied with a number of stops where the Gucci shod river got out of the truck, apparently to ascertain the situation. Each time he got out of the truck, there were heated discussions regarding his inability to follow her instructions and her propensity to stand in the exact spot that placed her between a tree and his point of vision. Having finally gotten the trailer backed up into the site, they pulled up and backed up, three, six, maybe nine times before it appeared that the optimal orientation of truck and trailer had been attained. We weren't sure as to why all the micro maneuvering was taking place, as it appeared to us the real problem was that one side of the trailer was much lower than the other, smile. Finally they got it in just the perfect spot, and with a great deal of clattering and banging it was unhitched from the truck, the tongue jack resting on cement block.
It was at this point that Linda noticed the trailer wheels were not blocked. It was only moments later that a loud noise and a yell got our attention once more. The obvious had happened. The trailer, which had not been blocked, had rolled backwards, burying the jack in the wet dirt. Shortly thereafter a cell phone appeared in the man's hand just about the same time his wife seemed to disappear. Sometime later the trailer was once again hitched to the truck and leveling blocks were placed behind the trailer wheels. The trailer was backed up and suddenly the orange blocks appeared in front of the wheels. Some yelling took place and the wife reappeared from the other side of the trailer, standing stiffly, arms folded across her ample bosom. The trailer moved forward and this time stopped directly on top of the bright orange leveling blocks. We heard the same sounds as before and watched the same scene unfold. It was as if a video of the first attempt was being rerun, replete with the trailer again rolling off the orange blocks and the wife disappearing, lol. The cell phone now seemed to become permanently attached to the man's ear. I marveled at how he was able to do everything once again, virtually one handed, smile.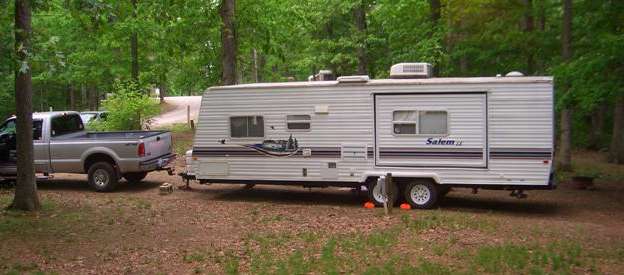 About this time a second trailer, the identical model to one beside us, stopped two campsites over. This site had a very shallow angle off the road, making it very easy to back into. The blond woman we had seen trying to direct the trailer beside us soon appeared and hugs were exchanged between her and the newcomers who we took to possibly be her parents. Now began a scene reminiscent of the one we had watched in the site beside us. We could only see the road and front of the site from the coach, but that was enough, smile. With the same ability she had so aptly demonstrated earlier, she began once again to give directions during the backing process. We watched the truck back up, then pull forward and back again, over and over. Unfortunately, they still weren't off the campground road. What they were, was too close to the entrance to the site to make the turn. Finally the truck pulled forward quite a ways and started back.
The only problem now was that he was on the far side of the road. After several more maneuvers to align the trailer with the site, the truck ended up partly in the dirt and grass on the far side of the road. He backed up one more time, then for some inexplicable reason pulled forward . This put the trailer across the campground road, completely blocking it, and the truck in the grass and dirt across the road from their site. At least they were finally aligned to back straight into their site. But still there was a problem. Not a small problem, but rather, a large problem. Due to the slight slope they now found themselves on, their truck had no traction when they tried to back up. Fortunately there was no one in the campsites in front of them, so they went a little cross country drive, through that campsite and then down the road. A little while later they reappeared and proving that practice makes perfect, backed right into the site on the first try.
Several hours later a third trailer of the same type appeared and tried to to back into the spot between the first two trailers. This fellow I felt sorry for. The other to spots were wide open, very easy to back into. This site was at a 90 degree angle to the road and was flanked by two trees near the entrance. It wasn't long before the whir of spinning tires announced he too was in the grass and dirt across the road from the site. After also taking the cross country route back onto the road, he was gone for quite a long time before later reappearing on the road in front of the site. This time he began backing right into the site. We would hear the engine roar and see the truck and trailer move backwards. Then one or two loud cracks would be heard over the noise of the engine, followed almost immediately by a loud yell. The driver would emerge from the cab, a survey would be taken, and the scene repeated once again. Finally the trailer was parked and about a half hour later all three trucks drove out. They were still gone when we went to bed. Maybe they were out celebrating their adventure in parking, lol. Looks like there could be some real interesting entertainment around the campground this weekend.
Later in the evening, Linda's niece, Susan, arrived at the campground pulling her pop up. It was fun helping her set it up. Cranking up the top, setting the jacks under the corners and watching her drop the door and attach it. It brought back memories of the days back in the late 70's when we had our Jayco Swift pop up. It had the ability to sleep 7 and also had a cook top that could be used either inside or out. Once again, memories. Before calling it a day we had chocolate chip ice cream. Is life good or what.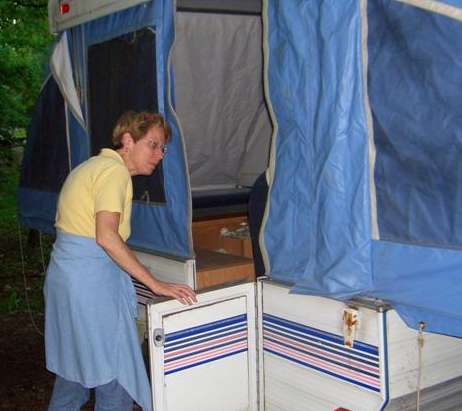 ---
click image for

the current post
---
May 25 A day of history for Linda and a day of photography for me. Yesterday, shortly after our arrival, we put up a bird feeder filled with the seed and sunflower mix. We were not sure if any birds would come, but since we would be here for several days, why not try. Wasn't long until the first Starling showed up, and a little later several more. The small feeder we had first bought in North Carolina had foiled the larger birds. Now, the tiny perch proved no obstacle to these Ohio decimators of all things edible. Almost before we knew it, the contents of the feeder were scattered among the leaves and patches of grass below it. The black bodies of the starlings dotting the ground, the green sheen of the heads providing a tantalizing hint of beauty. I remember as a boy, growing up in northeastern Ohio, how the Starlings would roost in the canopy of the gigantic maple tree that grew in the ravine beside our house. The early evening air filled with their piercing calls. Dozens and dozens of them coming to settle for the night.
It was only years later that I realized there was more to this little scene than met the eye. That maple tree and the one like it that grew in the other ravine on the opposite side of the house, were "old growth" maples. Their massive trunks and vast spreading limbs unlike any other trees that I could remember. The kind of trees that covered Ohio before the settlers arrived from the east in the late 1700's and very early 1800's. A forest of trees that birds by the millions would roost in at night. I remembered reading stories of the passenger pigeon whose flocks would blacken the sky. A bird that was hunted to extinction to provide food for man's table. Memories and thoughts triggered by a handful of birds under a feeder. The connections of life. One of the reasons we travel. So much to see, so much to experience.
Breakfast was slightly different this morning. We still had oatmeal, strawberries, walnuts and cinnamon, but there was an additional ingedient, steel cut oats. Yesterday, between checking in and the search for enough extensions cords to connect to the distant electrical box, Linda had struck up a bond with the lady who ran the campground office. One thing led to another and some time later Linda had the directions to the local bulk food store and a small baggie of steel cut oats. The lady had a great deal of success in lowering her cholesterol by eating steel cut oats and she was a true disciple of healthy eating. This morning Linda substituted some of the steel cut oats for our regalar oatmeal, using 3/4 cup thick oatmeal and 1/4 cup steel cut oats. This resulted in a somewhat soupier bowl, probably because the steel cut oats don't absorb liquid as readily as the oatmeal. Linda described the oatmeal as chewier than usual, with a nuttier flavor. All because of a chance encounter with another person. To experience the connection of being human. The joy of life. The spirit of individuality. The adventure goes on and on.
Soon, Charles, Betty Lou and Katerine

came by and the five of us were off hunting houses and cemeteries. As we left the campground the whine of leaf blowers filled the air. The first big weekend of camping is in the air. Down the hill a mower speeds through the grass, a sea of dark green before it, a swath of lighter green trailing in its wake. Its passage marked as if a ship had sailed through an ocean.
We visited the sites of the various houses they had lived in growing up. The houses where their grandparents had lived and the cemeteries where their ancestors were buried. One of the more interesting places was seeing the remains of the old country store that was just down the road from where Linda's grandparents had lived and her father had been born. A store that her grandparents traded at. A store, her father as a little boy would have walked down to. If only walls could talk, then what would this country Walmart of its day, say.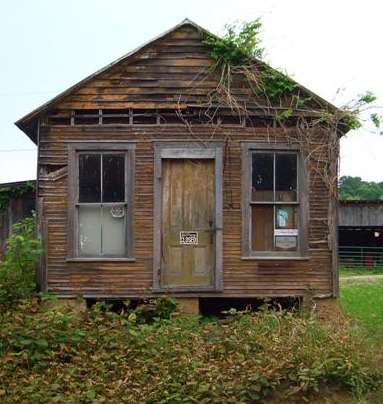 Then down the road a ways further was also the small country church that Linda's mother had spoken of so often. Now also boarded up and abondened. Is this the same fate that awaits the little country church across from the campground we called home for two months in North Carolina? This was the church her mother had attended with her brothers and sisters and parents. As she gazed on the little white church she tried to imagine her mother as a little girl. Where did they sit? Did her mother run around playing after Sunday School? What songs did they sing, did they have an organ or a piano? What friends did she have? Unanswerable questions. Why do we wait until after the older generation is gone to ask these questions.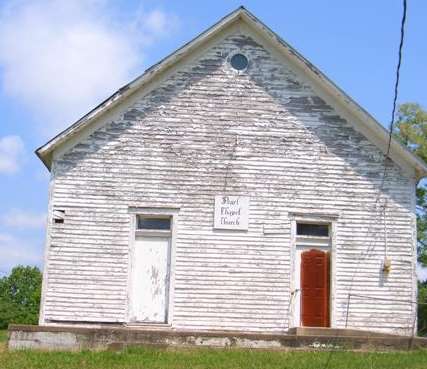 The next stop was in the town of Albany. A town that was in decline over 90 years ago. A town that has been connected with several different branches of Linda's family over the past 200 years. Right on the corner of the main interection in town are two vacant lots. The one on the southwest corner has a set of steps remaining that lead from a brick side walk to nowhere. Across the street, on the northwest corner is a historical marker in front of a grass covered lot that recounts Albany's past. As the three siblings stood in the grass I took their picture. The spot where they were standing had once been a store. Not just any store, but the store right on the corner in downtown Albany. In the 1840's their great-great grandfather had operated a mercantile store on this very spot. What thoughts were coursing through their minds at this moment. How did each react to this spot. Afterward, talking with Linda and her sister, they remarked how they had transported back to that time, trying to imagine the sights sounds and smells of the day.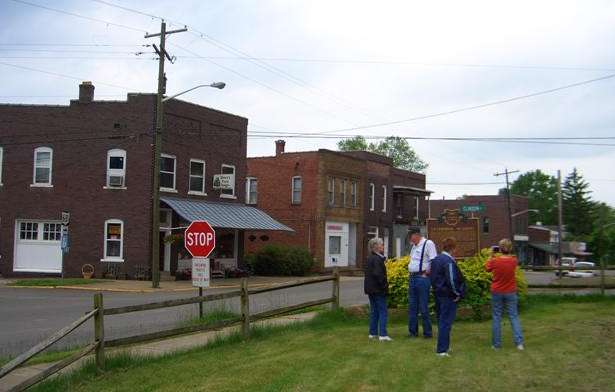 Next it was a stop at the school they had all graduated from.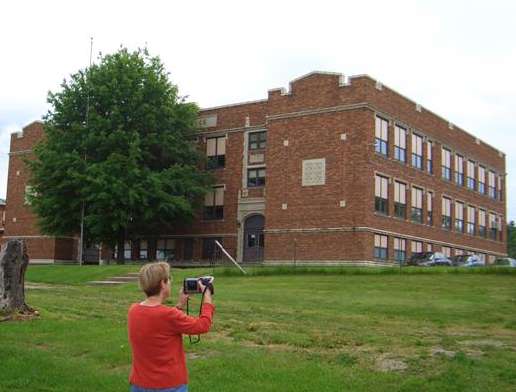 Next it was the church Linda had attended and where we were married.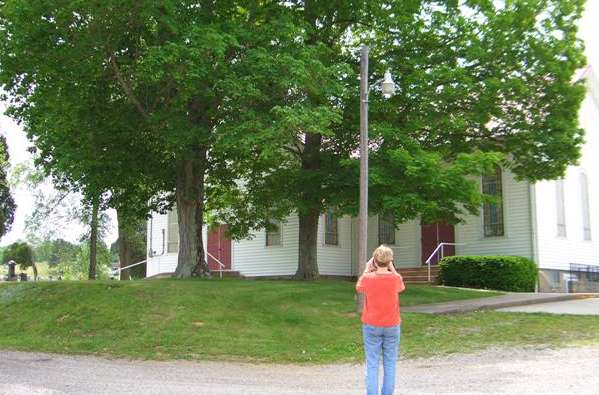 Lastly was a visit to the house Linda had been raised in. Linda wanted a special picture taken. The cellar had an outside entrance and they kept their home canned fruit and vegetables down there. Whenever Linda's mom wanted something to fix for supper, she would send Linda after it. The only problem was that there were black snakes living down there. Linda hated having to go down there.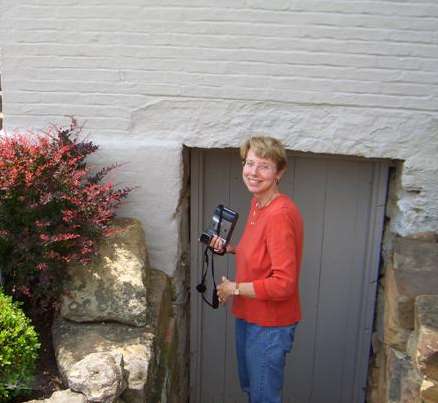 Later we all enjoyed a meal of garlic chicken with sweet potatoes and asparagus. A loaf of Betty Lou's famous zuchinni bread topped off the evening. OK, so I did have three pieces, but then so would you, lol.
---
click image for

the current post
---
May 24 The Appalachian farm girl was going home this morning. The southeastern Ohio hills covered with green woods, the rich bottom land dotted with little patches of farm fields, all of it bisected and connected by twisting roads, the land where she was born, was calling her. John Denver got the true essence of this land in his song, Country Roads. While he sings about West Virginia in his song, the only difference between the land he sings about and the land we are heading toward is man's artificial division, naming one area West Virginia and another Ohio. This rugged, but beautiful area bisected by the Ohio River, is the same land with different names. A place where hollow, run and ridge is used just as street and avenue are used elsewhere. Where underground coal mine fires still burn more than a hundred years after they started during the violence that beset the coal industry in the late 1800's. Where places and cemeteries carried the same name as your surname because that was where your family settled almost 200 years ago. Today she was returning home.
We headed east, away from Chillicothe, on US-50. There is a section of US-50 in Nevada that is called the loneliest road in America. This section, passing through Vinton County, the poorest county in Ohio, may be the poorest road in America. Our destination for today and abode for the next week would be Lake Snowden campground in Albany, Ohio.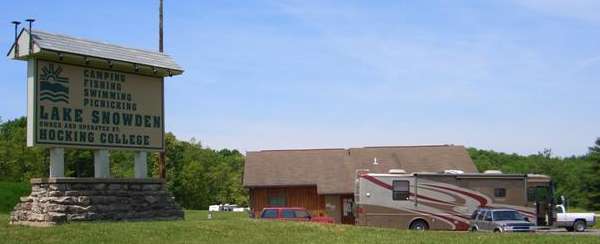 The passing of hills and valleys marked the miles and shortly after 1 o'clock we arrived at the campground. We had made our reservation some months ago since this was going to be a holiday weekend. The campsite we got was termed "kind of long and you may have trouble reaching the electric hookup." They were sure right. Our site was deep in the woods, so to speak. In fact you could have parked two coaches like ours on the site and still had room for more vehiles. As we were leaving the registration area, the host stopped by and said he sure hoped we could get into the site as we were driving the tallest motor home he'd ever seen. We had noticed a tendency towards more travel trailers and pop ups the last few days. Out west most people have either a motor home or a 5th wheel. Back here, travel trailers and pop ups seem to predominate.
Undeterred, we drove towards our site, stopping first to empty our tanks at the dump station. The first thing we noticed was how sharp the road arced around the dump station. Sort of like a dump station on a smaller scale, smile. Linda was concerned we would hit the railroad ties that defined it on the way out, but after dumping the tanks the no mess way using the Sani-Con, we pulled out with room to spare, not much, but at least we didn't hit anything. They also had used part of the dump station road to park the garbage dumpster, making the turn even tighter.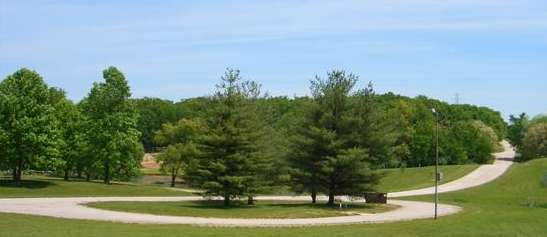 We drove over a very dusty road and turned into the loop where our site was located. It first traversed a parking lot, then tuned sharply, becoming what seemed like a narrow pathway through the forest. Arriving at

our site we concurred with the campground host about the low tree branches. We checked out the site, decided it was doable and proceeded to unhitch the Explorer. After realizing how dusty it had gotten on the drive in, it would have been better to have unhooked at the registration area and driven in separately. Except for a near altercation with the water hydrant on the far side of the road and a number of small branches that hung down in the way, we were soon backed into the site. We backed as far as we could and stopped. This meant we were still at least 75 feet from the electrical hookup, lol. We finally got electric to the coach, with a combination of extension cords. To say I have been less than pleased with the two campgrounds we have stayed at in Ohio would be a colossal understatement.
Later we took a drive and visited the cemetery where Linda's parents are buried. It is always so interesting, walking through cemeteries and and reading the gravestones. There was one stone that particularly caught my eye, the stone of a lady who was obviously an optimist.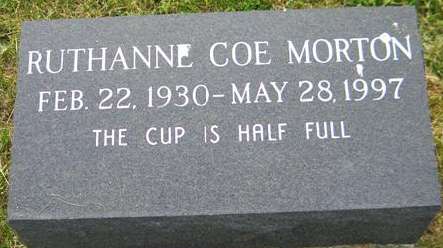 Dinner was in keeping with the tenor of this so called campground. Linda had decided to slice the special whole wheat buns we had recently boughten into three pieces. The only problem was she did it so two of the pieces were thicker and one was thin. Since we always toast the buns on the grill, we ended up with one quite burned slice of bun and two somewhat burned slices. Had they been cut in two, they would have toasted up perfectly. Also the chicken patties she had bought were breaded and tasted like garbage. Our southwestern beans are made from red kidney beans, but not tonight. Tonight she used black beans. Suffice it to say neither one of us particularly cared for the end result. Then to top off this meal from the devils domain, as I was finishing the last of my meal, my plate feel into my lap. Crumbs of burnt bun flew everywhere. Very carefully I swung around on my chair while Linda held the wastepaper basket in front of me. We brushed off the crumbs as best we could, more tiny pieces of blacked bun scattering across the floor. Linda got out our shark vacuum and got almost all the debris picked up. At last supper was over and we could relax, watch some TV, upload the web page and surf the internet.
However, our day from you know where was not going to go away smiling. Oh no, to complete the day, it turned out we are so deep in the trees that there is no way the MotoSat can even begin to find a signal, so no internet and also no DirecTV. Because of all of the trees, I can't even set up the portable dish to receive DirecTV. To say I am not happy with this campground wouldn't even begin to tell how I feel. We will have to resort to taking the laptop in town and see if we can find a wireless connection in order to check email and upload the website. If you don't hear from us for a few days, you'll know why, grrrr. At least there is always dessert and our chocolate ice cream was one of the few things that went right today, smile.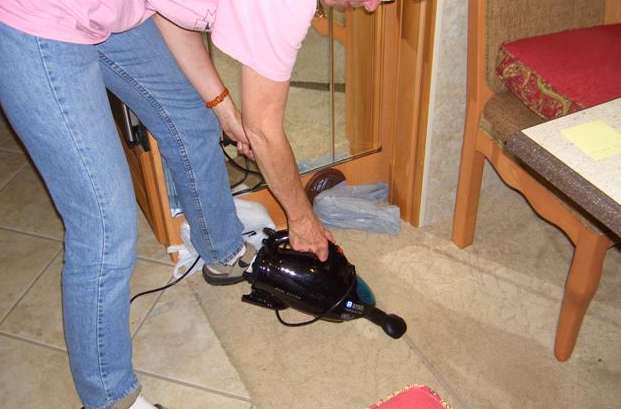 ---
click image for

the current post
---
May 23 Time to move on. Today. But first came a startling revelation. Linda sadly announced we would be eating like paupers this morning. That woman had let us run out of, not only fruit, but also milk. Seems like, even though she knew the situation had entered the critical mode yesterday, she ignored all the warning signs. This morning it was time to pay the piper as they say. I was cool about it. After all, she knew she had erred and besides that, I've got to live with her, lol. Turned out that old fashioned, thick rolled oats cooked with powdered milk and served just like that, actually taste pretty darn good, especially when you are hungry, smile.
Most of the morning was spent on getting further caught up on the website and allowing the sisters time to be together. I know leaving is always a hard time for Linda, so I try to be as considerate as possible. Talking about being considerate, as it neared the time to leave she came out said she and Katherine were going to do a little shopping. Turns out, they went up to the market and got milk and fresh strawberries. What a pleasant surprise and she did it all on her own, most likely because I had never once commented about the lack of milk or fruit this morning. Now if I could just learn something from this lesson - the worth of keeping my mouth shut - life would be so much better, smile. Reality did intrude for a few moments when I was called to get my hair cut. As always, Linda did a superb job, meaning I will look perfect to accompany my lady this weekend. Of course, the fact she had a quality control inspector checking each cut she made also helped, lol.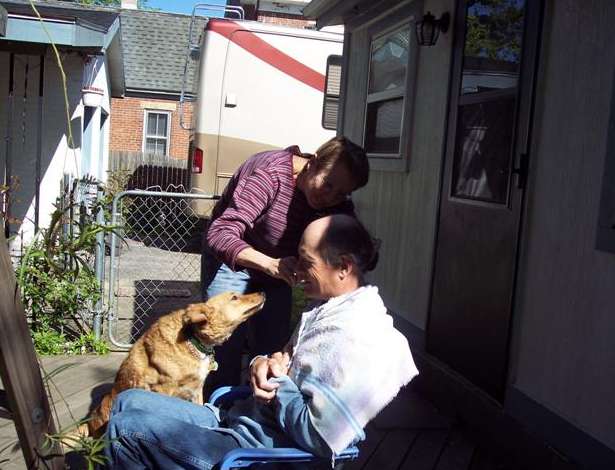 Just before it was time to pull out, Katherine's neighbor down the street, Jon, came over to say goodbye and also to help us pull out onto the street by stopping traffic, if needed. That's what makes small town America so special, special people like Jon. We drove separately down to the Jubilee Market and hooked up the Explorer, ready to head East.
There are several roads that we could take to get to our destination tonight and something that happened thousands of years ago play a major part in the selection of the route we took. The area we would be crossing was the southern terminus on the glaciers which covered North American during the last ice age. The direct route from Carlisle to Chillicothe would mean first driving on Ohio Route 73. If you like riding on a roller coaster then this would be the road for you. Just to the north, US-35 traverses flat countryside. The difference is the land under US-35 was flattened and smoothed by the glacier as it ground southward, pulverizing and pushing everything in its path. The land under Rt-73 was where the glacier was stopping. The land here is more in the form of giant ripples, undulating for miles and miles. Though it was a little out of our way, US-35 was a much better road to drive and so that was the route we took.
When we were out west, everything was far apart. Here in Ohio, everything is close together. First the bypass around Xenia, a town which has been destroyed by tornado's, not once, but twice. Many years ago we had driven through Xenia shortly after it had been hit by one of those tornado's and the devastation was unbelievable. Today, the bypass speeds traffic around the town with never a hint of what happened in the past. Next we also bypassed Washington Courthouse. Some 25 years ago this town used to host a great antique show where we shopped for furniture in the rough and other "must have", smile, items from the past. Those days are now long gone and only a shell of the former show remains.
Finally we were nearing Chillicothe, our destination for the night. Our GPS was bound and determined to run us all over back country roads to get to the campground, so Linda took over the navigating duties. We exited US-35 and drove on County Road 550 for a couple of miles. Where Biers Run Road intersected with CR-550, there appeared to be a one room schoolhouse that had been converted into a house. The old brick high roofed building with a large front door, high narrow regularly spaced windows on the side and its location near a country intersection all pointed toward its probable former life as a school building. Memories flooded my mind. The stories I had heard as a little boy. Tales of a teacher at a small one room school and the marvelous affect she had on the lives of her students. My grandmother, she died young, several years before I was born, but at this moment she was reaching out to me, letting me know she was proud of the things I had done in my life.
We had checked for campgrounds in the area and selected Sun Valley Campground which was close by. I'll keep it simple and say we would never again stay at this place. The photo below shows where their emphasis is.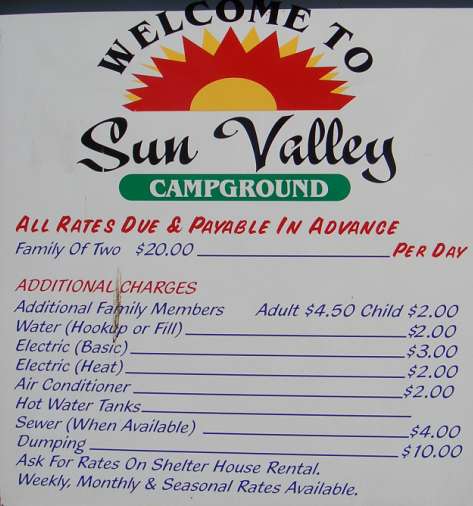 Other than our experience at the campground, our stay in Chillicothe was fabulous. We were there to visit with some old friends, Doug and Betty, that we had kept in touch with during both our and their moves from state to state. It used to be that our kids played together, but we now talked about grandchildren. Isn't it great how you can visit with someone you haven't seen for years and take up right where you left off, smile. I have to laugh at myself because while Linda's first thought was of visiting and learning what had happened in the past few years, I confess, I thought of food. You see, Betty is probably the best cook by far, that we have ever had the privilege of knowing. The only other person even in her league is our daughter, Jennifer. I don't know how many times over the years I've asked Linda where she had found the recipe for some fabulous dish she had just fixed, and she answered, it was one of Betty's. I don't know whether Betty creates the dishes herself or picks the best from other people, but either way, she is one awesome cook. I've often wondered if she has ever entered any cooking competitions over the years. She'd be as close to a sure bet to win as the only horse in a one horse race.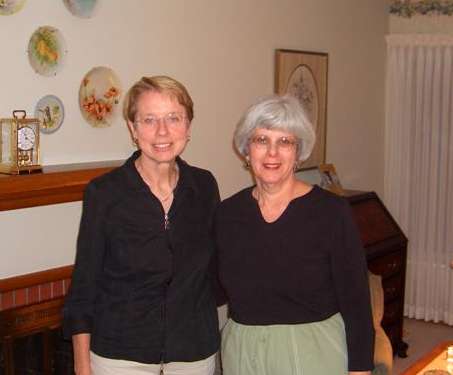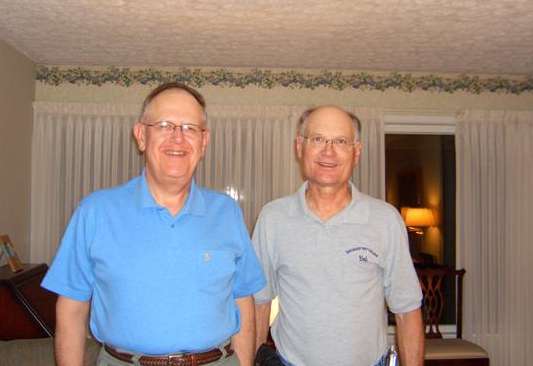 Besides the wonderful visit we had with them, reminiscing about church, family and friends, Betty also cooked dinner, smile. Lemon Turkey Tenderloins (to die for), baked asparagus, sweet onion (Vidalia) pie and tossed greens finished off with coffee, tea and accompanied with a mixed berry pie topped with ice cream. I simply luxuriated in the panoply of tastes and textures. Simply said, that woman is one awesome cook. Doug, you sure picked a good one, lol. It seemed that almost before we knew it, over 5 hours had literally flow by and it was time to leave. Saying goodbye for another, but surely not the last time, we returned to our home on wheels thankful for the opportunity we have been given to know people like Doug and Betty during our lives.
---
click image for

the current post
---
May 22 Sometimes things just go to the dogs. Take for example, carrots. One of Katherine's dogs is an Affenpinscher, who just
loves carrots. "Eddy" looks like a shaggy mop of hair (the dog in the movie, "As Good as it Gets", was an Affenpinscher) who does things his way. This morning was carrot time. Watching Eddy proudly display that carrot got me to thinking about how I approach life. Every time I post a journal entry, I update the newsflash entry on the menu page. Each time the little comment about the lack of entries for April 29 & 30 stares back at me. Sometimes I have good intentions and change the wording slightly to reflect my optimistic outlook. Sometimes I have actually written a little bit. Once, even going so far as posting the few paragraphs I had completed to the website. Linda suggested I just drop it and not post anything for those dates. That was not what I wanted to do. So why didn't I just write something and post it? I'm the only one who can answer that question and the answer is, I simply don't know the answer, smile. After what has been weeks, this morning was the day to write. It was only for the 29th of April, so the 30th remains to be written, someday, smile. Why, I don't know why, but today was the day to write. After Linda read my scribblings, she asked me how I remembered all those things. I dunno, maybe suppressed memory syndrome, lol. If you'd like to read it here's the link. Use your back button to return to this page.
Of course, preceding all these literary endeavors was the need for food. I must report we have reached a critical juncture in our life. Though we have lots of oatmeal, the fruit and milk situation reached critical this morning. We sliced the last peach, meaning we have no more fruit left in the house. No dried fruit, no canned fruit, no frozen fruit and not even any fresh fruit. To further compound this calamitous condition, I was also informed the milk used to cook our oatmeal was a blend of our normal milk to which powdered milk had been added to have enough for the meal. Obviously, the quality of help in this household is extremely poor, lol. Of course this information was passed on to me in casual conversation after I had eaten my oatmeal. Fortunately our day will include a stop at the store to purchase milk and fruit, so all will be well for tomorrow morning.
The route we take from Carlisle to Franklin passes by some positively gorgeous, restored victorian era houses. Here are a couple of photos I took out the window as we drove by.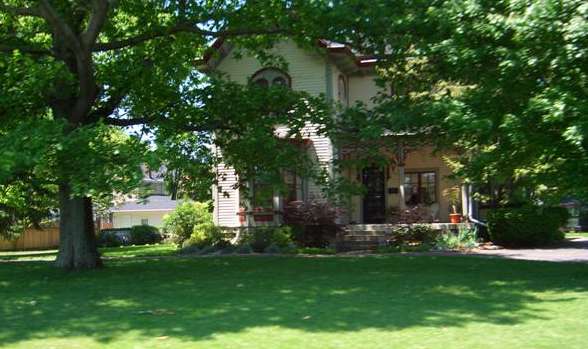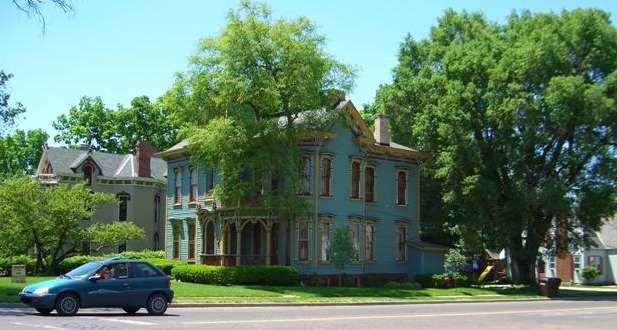 We spent the afternoon visiting the Boonshoft Museum of Discovery Planetarium in Dayton. Even though I read 365 Starry Nights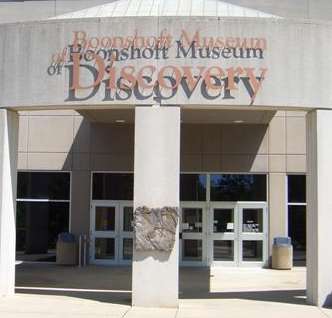 every evening, it has been years since I was last in a Planetarium. Seems they have this fabulous computerized "star ball" that projects the image on the dome. While all the special effects were awesome, including the roller coaster ride (gotta show off what these nifty new computer thingys can do, smile), the actual projection of the night sky was faint and blurry. During the program I wasn't sure whether it was the projection system or my glasses. After the show we all commented how fuzzy and indistinct the stars and planets were. Then again, maybe we were just three old folks with failing eyes, lol. Later, I did a little web surfing to see if I could find out if it was the computer system or our eyes that were the problem. Of course I could have asked our narrator after the show, but just wasn't thinking about it then, smile. From what little I read, unless the computer system is really good, the stars aren't as bright and distinct as with the old electro-mechanical devices. But it does allow for entertaining shows that appeal to the current generation. As seems to happen more and more with these things, there is more emphasis on the razzle-dazzle than the substance. Gotta keep the kids attention, you know, doesn't matter if you fill their heads with mindless blather.
Linda was in 7th heaven however. You see, as we exited the museum building she spied a number of large rocks which were part of the landscaping. Turns out these weren't just any ordinary old rocks, these were labeled specimens of the different types of rock commonly found in Ohio. The one below really caught her eye, but since I declined to carry it over to the car, she had leave it, smile.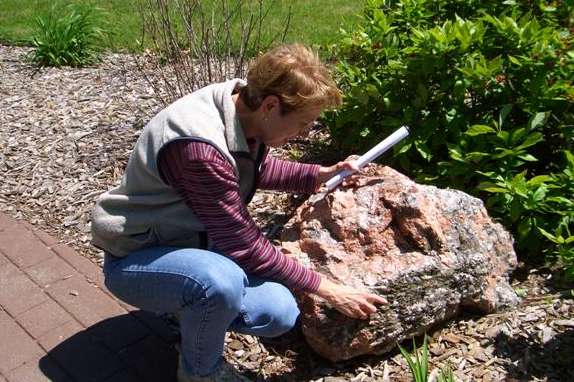 One of the things we had really enjoyed, was using the metal detector to search in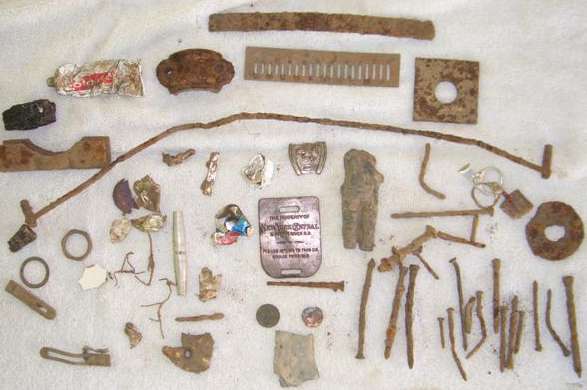 Katherine's back yard. Linda placed all our finds on a towel and took a picture. You'll note there were no gold rings or diamond necklaces, but the sheer fun of searching more than made up for the lack of buried treasure, though we did unearth some interesting pieces as the photos below show. There was a metal toothpaste tube, old aluminum pull tabs, square nails, a piece of lead sheet, a cast metal (non magnetic) toy soldier and a brass or bronze plate from the New York Central RR (if anyone knows what this plate was used for, drop us an email), two pennies and a nickel and a million bucks worth of fun. You know the old story about how someone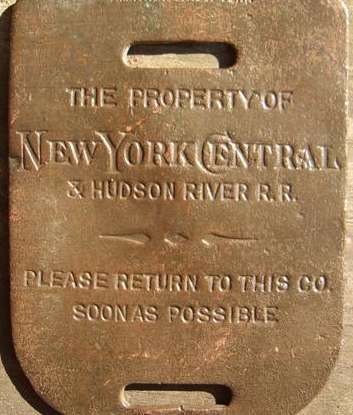 enjoys a place so much they bought it. Well we did too. Bought the metal detector that is, lol. As with everything there is more than meets the eye. Seems Katherine bought the detector to find a ring she had lost in the back yard. Miracle of miracles, she found the ring too!!! But as with most things, there is more to the story, smile. Doing some cleaning in her bedroom the morning she was going to start searching the backyard, she heard a tinkling sound. Looking on the wood floor see saw the ring. The metal detector had served its purpose, so she no longer needed it. I wonder if we will have as much luck finding rings with it as she did, lol.
The bells of the church chimed out the 5 o'clock songs and I wondered back over to the churchyard. As they rang out the hymns I knew so well, I wondered through the adjacent cemetery and chanced upon a tombstone that drew me back to the summer of 1864 when a family grieved over the death of a 17 year old girl. Worn with age and hard to read, I made out the words, "Here sleeps our darling Rebecca E." To never know the story behind those words, I stood as the bells chimed on and the day drew to a close, lost in thought of days long ago.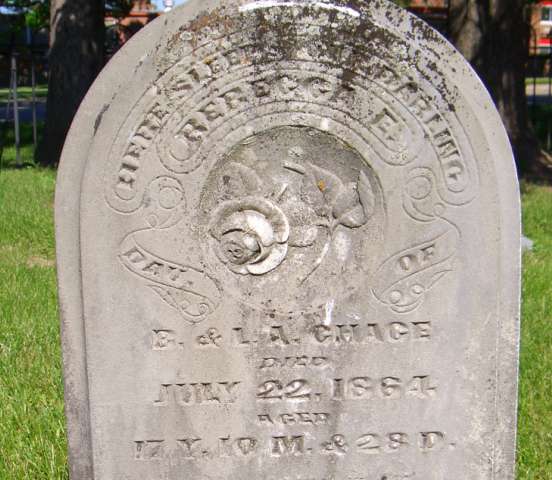 Since we would be leaving tomorrow the ladies decided to paint the town red tonight. No not that way, lol. When you're as old as those two it's, it's -- it's best I not say anything more, lol, lol. What was red was the color of the meal. Everything on the plate was either red or orange. Everything on the plate also tasted fabulous. There was grilled salmon and sweet potatoes accompanied by a carrot salad and sliced tomatoes. Later there was dessert, of course, after all, someone had to eat the last of Katherine's date nut bread, lol.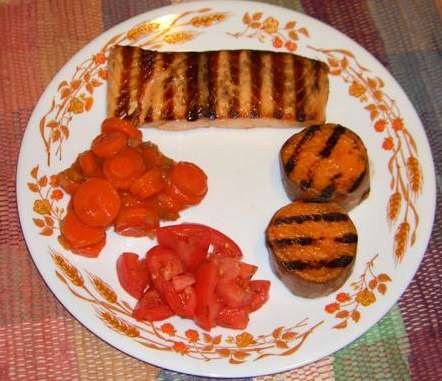 ---
click image for

the current post
---
May 21 Something different today. Right across the River from Carlisle is Franklin, Ohio, home of Eric Henn. Who is Eric Henn you

say? It's not so much who he is, it's what he does. And what he does is transformation and teleportation. Not through magic, not through gizmos and wires, rather through paint. Look at the scene to the right. The entrance into a park where everyone is from another time and place. It is Franklin alright, but the Franklin of 1906, not 2006.
What you are looking at is a mural painted on the side of a building. In this case it is the Huntington Bank Building in Franklin. From across the street where this picture was taken, it looks so real, you expect the people to move.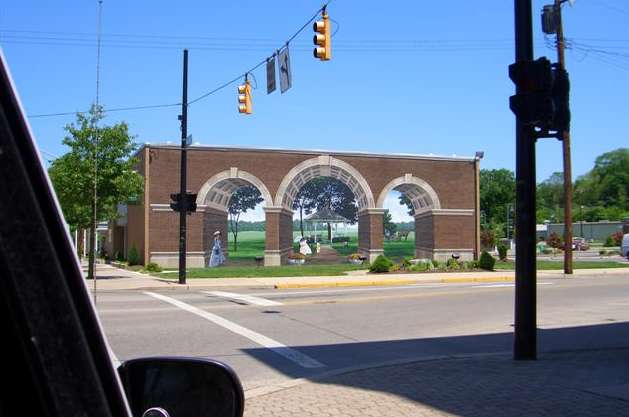 Here is another building in Franklin. Note the pretty lady standing next to the Model T.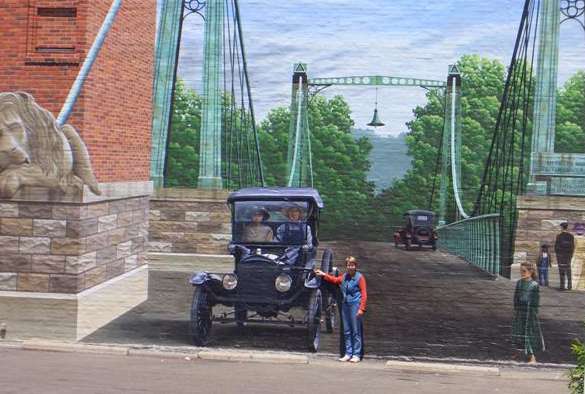 And here is the same photo taken from further away.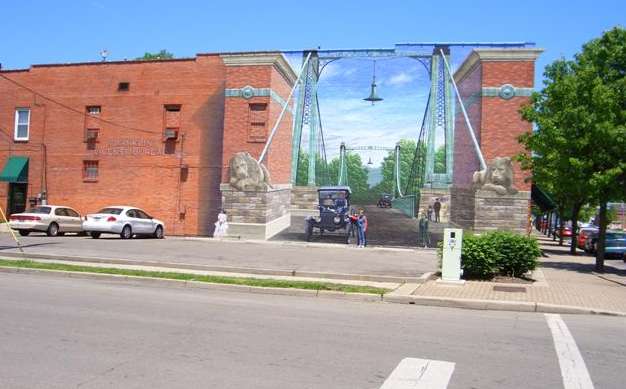 Here's a link
to Eric's website. He's got lots of graphics, so it may be a little slow to load. We were driving north on Main Street in Franklin when we saw them. If you go to the current projects page on his website, he has a series of photo's that shows the transition from the bare brick Huntington Bank wall to the completed mural. If you spent your life traveling the interstates, just think of all the gas stations and McDonald's you'd get to see. Come to small town America and you can see a whole new world, smile.
Our next stop was something familiar, Trader Joe's a very necessary stop to replenish supplies before moving on. We sure were glad we had shopped at Jungle Jim's yesterday and saved a bunch of money on what we bought. That gave us more money to spend at Trader Joe's today, lol. And spend it she did. Of course the case of two buck chuck merlot that found it's way into the cart also added to the total. Two buck chuck is $3.39 in Ohio. Seems Ohio has some real peculiar laws about the pricing of adult beverages. By law, the distributor has to mark it up 50% from the manufacturer and then the retailer has to mark it up 33% from the distributor. Of course that begs the question, with a mandated markup like that, why isn't everyone in the adult beverage distribution business? When I think politicians, monopolies and mandates only one answer comes to mind, lol. Distilling (how's that for a pun) my answer down to a simple phrase, vote the bums out. Sometime I'm going to have to write about the time I wrote in Daffy Duck as my vote for a County Commissioner. (Later, during his term in office, the Commissioner was indicted, tried, convicted and sent to prison).
Note the two attractive models posing in front of the Kettering, Ohio Trader Joe's store. A great place to shop if you are nearby.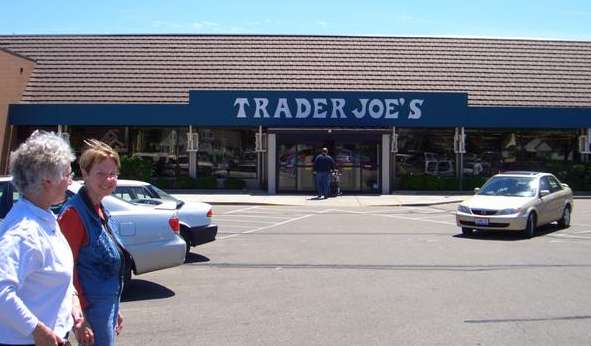 Next we off to visit Linda's niece and her family. What a great time we had visiting and what a neat family they are. The fact they were in the midst of a major kitchen remodel never phased them. A persons lot in life depends to a great degree on how they view life. The grill provided bar-b-que pork and corn and tales of their camping adventures filled the air with laughter. What is it about family that transcends the ordinary and lifts the heart?
How did Susan and Tim know pork is our favorite bar-b-qued meat?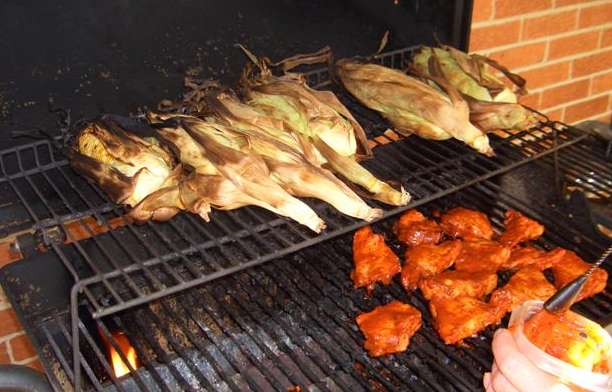 There's always a family picture and there's always someone who closes their eyes, lol.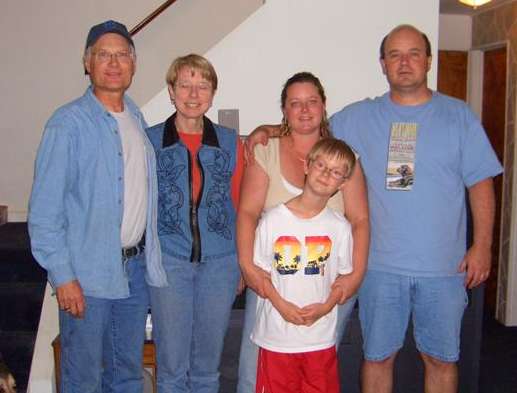 ---
click image for

the current post
---
May 20 Another beautiful morning in southwestern Ohio. We are in the small town of Carlisle where many of the houses date from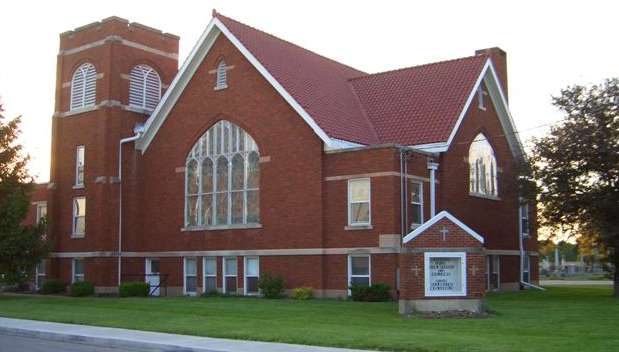 the late 1800's and early 1900's. Nearby is the New Jersey Presbyterian Church, a beautiful old brick church whose bell tower puts on a magnificent performance twice each day that is worth stopping for. The church was founded in 1813 when Carlisle was known as Jersey Settlement and sits just north of "the" traffic light. Yes, it is a one traffic light town, smile. The bells play twice a day, at noon and 5 o'clock and ring for about 15 minutes each time. Earlier this month we enjoyed the beauty and sound of the carillon bells at Valparaiso University. Now on a different scale we are enjoying the bells at a old red brick church in a small town in an area that, while changed to a degree, still reflects its Midwestern roots and history.
Some things hardly ever change, like our oatmeal for breakfast. So it may come as a surprise that we strayed from the norm today. Not at breakfast, but rather, at lunch. I know it is hard to believe, but today Linda did not fix turkey wraps. The fault dear Reader, is not in our stars, but within that woman (apologies to Mr Shakespeare, smile). First off, she allowed us to run out of turkey, requiring a package of frozen sliced ham to be procured yesterday from the depths of our freezer. This was secretively placed in the refrigerator to be ready for todays noon meal. Upon readying herself to prepare what would definitely be a less than stellar repast for the noon meal, she discovered she had also allowed us to run out of whole wheat wraps. While the lack of one ingredient may have been forgivable, running out of two ingredients at the same time translated into an unpardonable offense. Incensed, but unable to correct this intolerable situation ,I struggled to retain my cool collective calm demeanor when the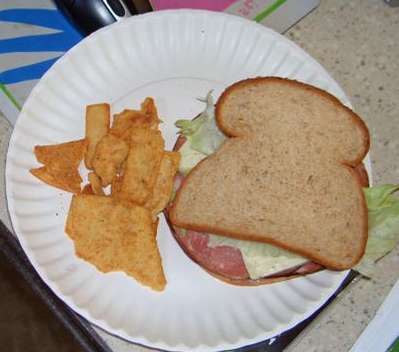 following was place before me.
Note that in addition to the lack of turkey and wrap, the cabbage is also missing. Oh horror of horrors, what did I ever do to allow such inequities to be visited upon me, smile. Not being a King of Old, I could not declare, "Off with her head", or some similar degree of punishment for the bedeviling behavior she had exhibited.
As if to throw a bone to a poor dog, she had gotten out the last of our Trader Joe's pita chips to place on the plate. Obviously she knew she had definitely done wrong, smile, and was doing her best to mollify her aggrieved husband. Realizing I now had the upper hand but understanding if I utilized it my life would dissolve before me, I chose to eat in silence, commenting about how good the pita chips tasted. You can't say I haven't learned something after being married to this woman for almost forty years, lol.
After lunch it was time to beautify the beast. In preparation for the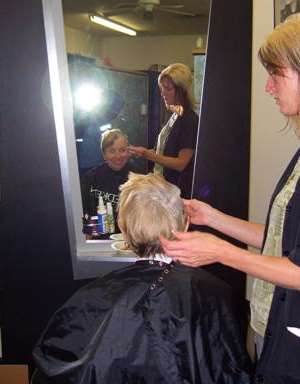 fortieth High School reunion of the royal goddess, she required a 'doo', as in hair doo. This was not some spur of the moment thing, no siree, this was a methodical well thought out plan of personal enhancement. You she, her niece, Lori, is a professional beautician who owns her our hair salon. It had been determined Lori would add the final crowning touches to Linda's coiffure and while I waited outside the shop, studying the feeding habits of robins, Linda was made perfect.
The mysterious ways of women. They are far to deep for a mere mortal like man to even begin to comprehend their ways, isn't it fun trying. Recalling the last time she had her hair done, as she refers to this process, I was as nervous as a cat. This time it was much easier, but I must admit to a tinge of nervousness as I awaited the results. I was not disappointed as the smile on her face told just how pleased she was. Of course, rather than think of the stress having this hair thing done by Lori had saved me from, I was already thinking of the next time I would again be on the hot seat to do the do just right, lol.
Trimmed, tinted and ready to make her grand entrance in several weeks, we traveled down I-75 to the most unique grocery store we have ever had the experience to shop at. Jungle Jim's is literally the store with more. Located on Dixie Hwy in Fairfield, Ohio, this is one of those stores that truly has to be experienced to be believed. I got so engrossed in looking at all the "things" they had in this shopping and entertainment extravaganza, that I only took a few pictures. If you don't like choices, this is definitely not the store for you. I wish I had counted the number of different types of butter they carry. And cheeses, they have more cheeses than you can imagine, let alone try to eat. How about a separate store within the store for the foods from different countries. None of this begins to describe this store. If anyone has been there you know what I'm trying to convey, if you haven't and you get the opportunity, you gotta stop. Just another day in the adventure we live.
Here is the section of foods from England. The magical enchantment of Sherwood Forrest hangs suspended over the aisles (pun intended, smile), with row on row of foods, British.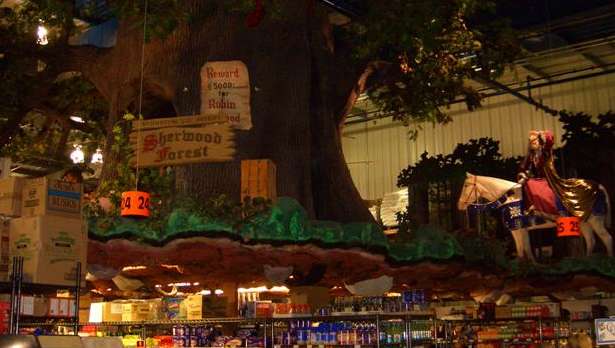 We have seen many parts of the pig sold in stores as journeyed across the south, but Jungle Jim's definitely out does them all. I'm not quite sure just exactly how you prepare this delicacy, but it's also something I won't have to worry about. Not only would Linda never allow it in the RV, even if she did it would never fit in either the oven or the grill, lol. If your tastes run to the less exotic, you can buy elk, alligator, ostrich, kangaroo and other meats that may be more likely to appeal to your palate.
Does your corner market have a theater. One that shows a movie about the store?
Jungle Jim's does. Not bad for a kid fresh out of college in 1972 who had a big dream
and started with a seasonal roadside vegetable stand.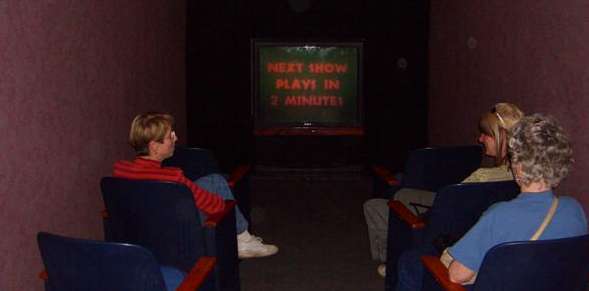 Waterfalls, a gorilla and a satisfied shopper. Kroger or Safeway it ain't, smile.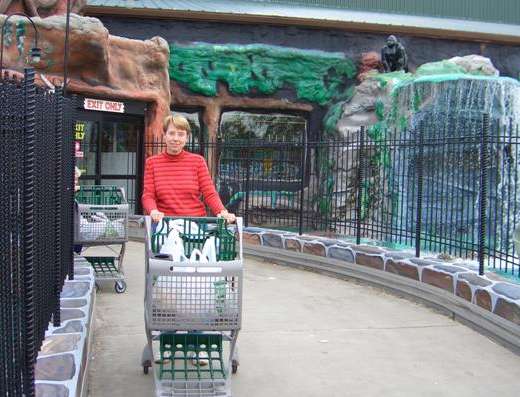 As you can see, good time was had by all.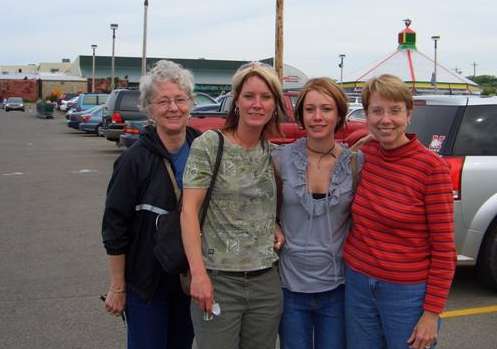 Returning to Katherine's, we took time out to play in the backyard.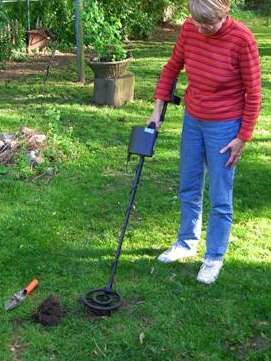 This is an old house, Katherine has a metal detector, so Bob & Linda searched for "stuff". We never realized just how much fun doing something like this was. While we didn't discover any buried treasure, we did have a good time.
One other enjoyable event during our time at Katherine's was being able to visit with one of the readers of our daily journal. Jon lives nearby and has dreams of someday enjoying the same lifestyle we do. He stopped by the other night, toured the coach and talked about how much he enjoys reading a number of the journals, blogs and websites that deal with life on the road. It was fun listening to him describe his life and his dreams. Took us back to the not too distant past when we were doing the same thing. To experience the connection of being human. The joy of life. The spirit of individuality. The adventure goes on and on.
Dinner was a night out at the local Pizza Parlor with Jean and Andy who are friends of Katherine. It had been a long time since we had some white sauce pizza and we both managed to make pigs of ourselves. Ok, I made a pig of myself, but I did notice when we got down to one piece of pizza left on the tray, it was Linda who grabbed it, lol.
---
click image for

the current post
---
May 19 A day to relax, a day for adventure. Linda's sister, Katherine, has three dogs and we, being the newest thing in town, were the object of much affection. How many times can a dog retrieve a ball? As many times as you can throw it. If you do it right, you can get some much needed exercise, smile.
After our usual oatmeal breakfast, Linda visited and I worked on the daily journal. Then it was time to go exploring. One of Linda's pleasures is looking for rocks and fossils. Fortunately, located nearby, is Hueston Woods State Park, where fossils are very abundant and collecting is allowed. After a drive through the glorious late spring Ohio countryside, we arrived at the park where we were soon engaged in picking, poking and looking for fossils.
We probably weren't looking in one of the prime areas, but it didn't really matter. Linda just wanted to find something. We looked along the creek below the dam near the park road. There are fossils in almost every rock along the creek bank. All the fossils are from the late Ordovician period (440 million years ago) when one of the great mass extinctions took place.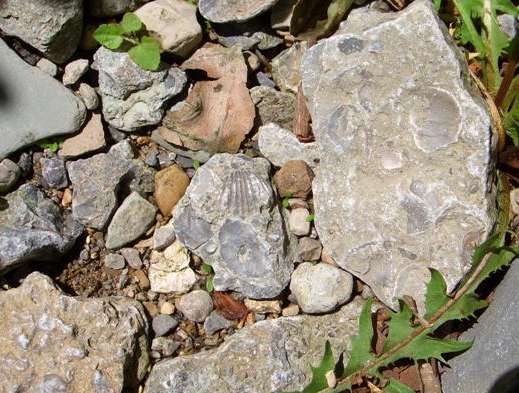 This rock had just a few fossils showing, then I turned it over, note the discoloration from the dirt.
To give you an idea of scale, it was about the size of my hand, to big to be a "keeper."
As Linda says, she doesn't really know anything about rocks or fossils, but she does know that she really, really likes them. Over the past forty years I have probably carried several tons of rocks for her. It seems like every time we go on a hike she finds a rock that she just has to have, lol. This time she was carrying her own rocks. Note the very carefully place pile by her right foot. Observe that the rocks are in contact with her shoe. She does this in case someone would come along and try to take one of them. For years I was under the mistaken impression she did this so she wouldn't walk off and inadvertently leave them. She only had to inform me once that it was to protect them. If you have ever wondered what a mother grizzly bear would be like if you tried to take one of her cubs, just try taking one of Linda's rocks.. On second thought, maybe you should actually try to take a grizzly cub, it would probably be safer than messing with one of Linda's rocks, lol.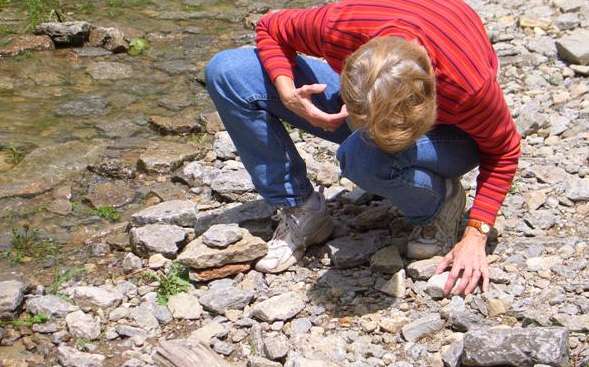 Note the rocks securely clutched in her hands in the photo below.
Notice it is she that is carrying them and not me, smile.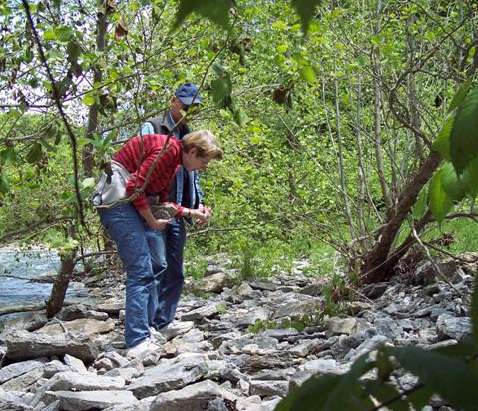 Even the greatest of the great fossil hunters need a break from the constant walking, bending and looking as they attempt to locate that rare, elusive, absolutely perfect specimen. Of course even on a break, they can not help but continue searching the ground, thinking maybe it is right here, under butt, so to speak, smile. Observe that this is not just idle eye time. The clue that gives credence to the fact she is still intently searching is the bag in her right hand, open to receive any treasures she might locate, lol.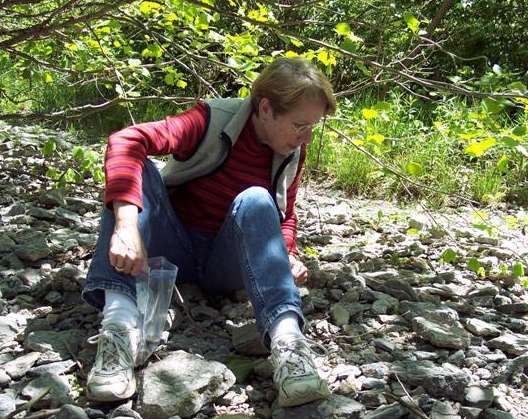 Sometimes even the most persistent fossil hunters can overwork themselves, spending too much time in the sun, head down, searching and searching. The eyes start to bulge, the hair begins to fall out clothes go unwashed, becoming mere tatters. Before long their appearance changes and this is all that is left, lol.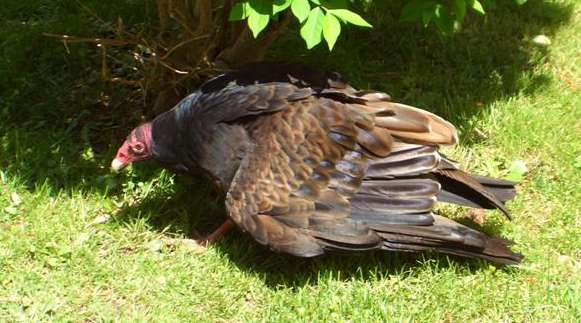 Our adventure over, we returned home. For Linda this meant more visiting, while I spent time updating the journal. It soon became obvious that I needed help in order to get caught up on the journals. As you can see, before long I had all the help I needed, lol. As I was soon to learn, the quicker I was done working at that computer, the sooner I could go back to throwing the ball, lol. Notice how Linda is intently watching, not watching the dog or I, rather guarding all the collected fossils laying on the towel drying after being lovingly washed.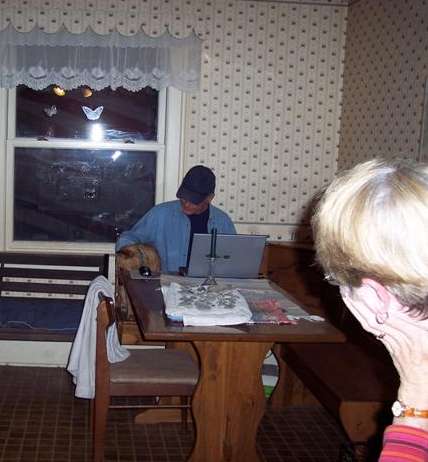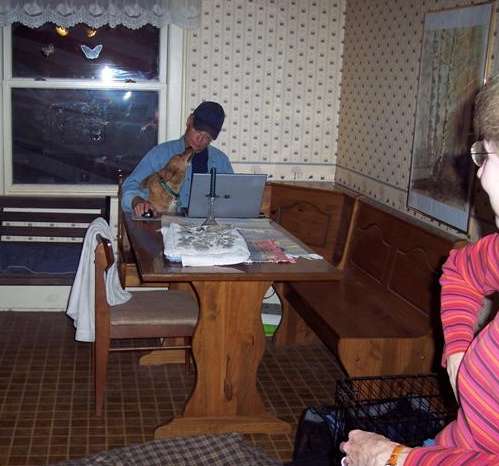 As always, our day ended with dessert, tonight we had a delicious date nut bread that Katherine made, using Splenda, just for us. Do we ever live good or what, smile.
---
click image for

the current post
---
May 18 A day of change as we leave Kentucky and travel north to Ohio. For the next month the focus of our adventure will be shaped by our origins. Everyone comes from somewhere and for us it was Ohio. Replete with relatives, family history and childhood friends, we look forward to the next month of slow gentle wandering interspersed with joyous reunions and renewed acquaintances. This is just another small part of what this lifestyle we live allows us to do.
I had to laugh at Linda as we prepared to leave the Horse Park.
A 5th wheel had parked next to us while we were visiting our friends yesterday and now it was Linda's chance to check it out. Our adventure is always full of new and different sights and this one certainly got her attention this morning. I joke about her being a snoop, while she classifies herself as an astute observer of human activity. Of course, she's right, but it still leads to a lot of fun as I tease her about it, smile. The thing of beauty about how she observes others, is her ability to continue on with the task at hand while devoting most of her attention to the scene she is observing. Note the head turned to the left in the photo below, while the hands are poised to put the sock on the foot, lol. While the totality of the unfolding scene was being observed and absorbed, the sock was placed in perfect orientation on the foot without even so much as the briefest glance away from the window. Where do women pick up these skills? Heck I'm lucky to even find my sock, let alone get the right sock on the right foot without ever looking at it, lol.
Using our checklist, we went through the process of preparing to leave. We have learned that if you don't check to see if all the drawers are closed tight, one of them come open as we round a corner. Something new that we have started doing, is placing the Euro-lounger and foot stool off the slide and in the center aisle when we put the roadside slide in or out. It's very easy to do and results in there being that much less weight for the slide motor move each time. Less weight for the slide motor to move, may translate into longer life for the motor, somrthing that would be good, smile.
Slides in, MotoSat stored, and the checklist completed, we pull out and find a level spot to hookup the Explorer. While we don't have a checklist for this task (probably a mistake, smile), we do double check each thing the other person does. I hookup the towbar, safety cables, breakaway cable and lights. And in the exact same order each time. Then check them, after which Linda also checks them. Next the Explorer ignition, shift lever and parking brake, which were placed in the proper position by Linda are checked by her and then again by me. This is followed by pushing the test button on the SMI vacuum box and watching the brake pedal on the Explorer activate. Then Linda watches from the rear of the Explorer as I return to the coach and turn on the tail lights and test the turn signals and the brakes, ending up with pushing the test button on the SMI monitor. We do this in the same order each time and Linda signals me that each operation has been successful. Then I drive forward as Linda checks to make sure the towbar arms lock in place. Sounds a lot more complicated and time consuming than it actually is, taking less than 5 minutes. Now, and only now are we ready to leave.
Thinking about the route we took in hindsight, it begs the question, why did we take the interstate. I guess the reason was because it was the most direct route to where we were going. The Horse Park was only about a mile from I-75, and our destination today, though roughly 100 miles to the north, was less than five miles from the same I-75. Besides I don't relish the idea of navigating through Cincinnati on surface streets and Linda was anxious to see her sister, smile. As we headed north, Linda started up the book on tape we had been listening to during the last few day's drives. We find these books make for an entertaining experience, plus they are so easy to turn off when distractions occur, only to be restarted where we left off at a later time.
A distance north of Lexington, storm clouds appeared on the horizon, rain began falling and the CD was turned off. Intermittent heavy rain accompanied us all the rest of our drive. Many people have apprehensions about driving an RV and may use that as a reason not to embark on their own adventure. I still remember my first few frightened (and that is truly the right word) times behind the wheel of our coach. Then we took the driving lessons. This gave us the knowledge and increased our confidence in our ability to actually drive this "thing" Once we hit hit the road and the miles rolled by, we both became more comfortable driving. As we now drove on I-75 through a heavy rain with trucks on either side of us, a small corner of my brain reflected on how far we had come in our driving ability from those first few miles so many months ago. (The other 99% of my brain was engaged in the process of driving, lol)
Our website says it all, Because-We-Can, that we have the ability to do things, and that if we believe we can do it, we can. That is the very essence of our adventure. Some people RV on weekends and during brief vacations, some are snow birds spending months at just a few locations, some travel the country living in their RV and some RV through the words and images of others. Each is doing it because they can. Some RV on less than a $1000 a month and others live what could be termed a life of luxury, spending $10,000 or more a month and in between the extremes are the great majority of RV'ers, but all of these people are living this life, because they can. It was some 40 years ago I that changed from being a boy and evolved into a man. It happened in Ohio, the state we were minutes away from. How different my life would have been, if when new opportunities arose I had chosen to think I wasn't up to the challenge. We live it because we believe it.
We descended the steep downgrade into Covington and saw the skyline of Cincinnati looming before us.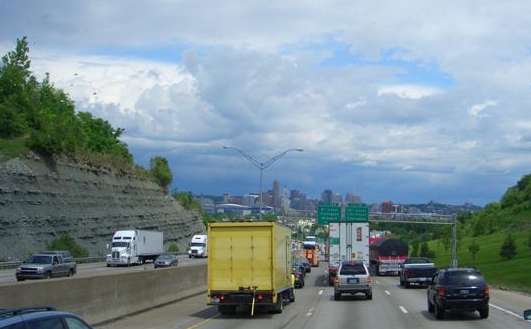 Crossing the bridge, we looked down and saw the barges that ply the river just as the have since this country was first settled.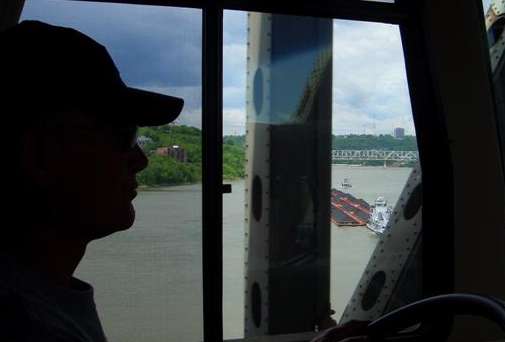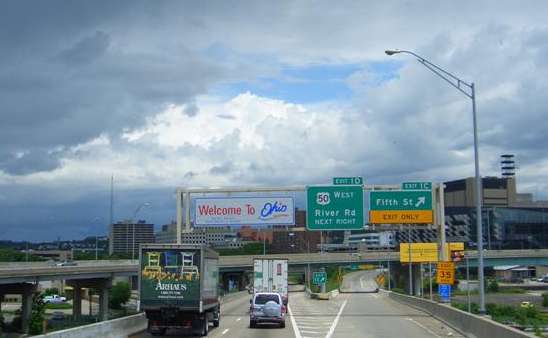 Before long we were in small town America, unhooking the Explorer to drive to Linda's sisters house. We were planning to stay in her driveway, but first we needed to reconnoiter the territory, so to speak. After checking it out, I returned in the coach and while the ladies stopped traffic and directed me, we got it positioned perfectly in the driveway. Almost before we knew it, we were set up and the visiting commenced.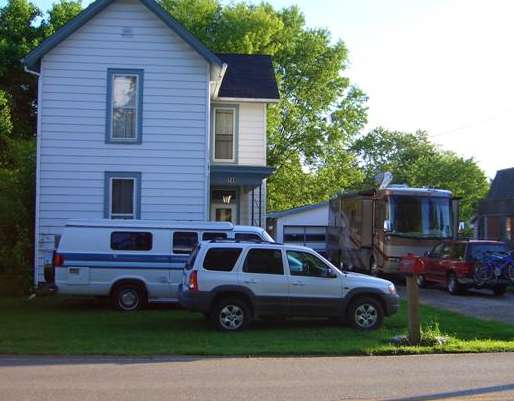 As the sisters talked, I glanced out the window and saw the car pictured below stopped at the traffic light in front of the house. There has to be a REAL story associated with that sign, lol.To experience the connection of being human. The joy of life. The spirit of individuality. The adventure goes on and on. It is everywhere around us if we will only open our eyes and experience it.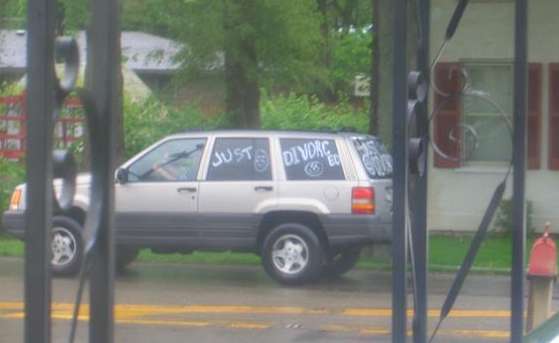 ---
click image for

the current post
---
May 17 Would you believe that, this morning we plan on just horsing a round, lol. Because the first scheduled activity at the Horse Park was at 9:15 and since Linda was bound and determined to see each and every one of these, we were up early. Of course, everything we do has its pleasures and this morning was no exception. The park is home to a great number of birds. Birds, whose presence is known, not by their image, but rather by their song. Never in our months of travel have we ever heard an avian concert that would come close to the one we were now hearing.
The sounds brought to mind Bobby Day's great hit from 1958 that had the following words:
He rocks in the treetops all day long,
Hoppin' and a-boppin' and a-singin' his song.
All the little birds on J-Bird Street,
Love to hear the robin go tweet, tweet, tweet.

Rockin' robin (tweet, tweet, tweet);
Rock, rock, rockin' robin (tweet, tweedle-dee);
Go rockin' robin, we're really gonna rock tonight.
Every little swallow, every chickadee,
Every little bird in the tall oak tree,
The wise old owl, the big black crow,
Flappin' their wings singin' go bird, go.
That was finger snappin' walkin' an' a swaying jive music if there ever was. Heck, my head starts a-boppin' just reading the words, lol.Though the rhythm and beat we were hearing this morning weren't the same, the smile it brought to our faces and the joy we felt listening to this live concert was just as special. Sometimes I simply blurt out to Linda, "I just can't believe we are really doing this." This was one of those moments. The past meets the present in the most unpredictable way. Yesterday I was taken back to the 1800's, then today, to my teenage years. I'm so glad we simply up and did it. You know, I could still be getting up at 4:30 every weekday morning to go to the same old job. Today I'm up at 6:30 to write in the daily journal, which is my choice, then will be off to visit the Kentucky Horse Park. And just think, I'm not on vacation, I don't have to go back to work next week. Life, make sure you live it.
Since the horse park was located right next to the campground, it made for an easy drive. They charge you to park your vehicle at the Horse Park, but will waive the fee if you are staying at the campground, plus the entrance fee is very reasonable. This is the antithesis of those so called attractions, that exist simply to part you from as much of your money as they can. I had read on some of the internet forums about how the Horse Park was an attraction you should not miss, but still I had no idea what it was all about. After spending almost a full day at the Park, I am still a little unclear as to what it is all about. But that is simply because one day is not enough time to take in everything the Park has for you to see and experience. While the Park's website can give you a good overview, it simply can't do justice to the enormity, variety or beauty to be found there. The next time we are back to this area we will most definitely stop again.
The park was an actual horse farm of over 1000 acre's that the State of Kentucky purchased and developed into an educational, entertainment and exhibition extravaganza. I will give you a few highlights of what we saw while there.
There was the draft horse barn with different breeds of work horses from the giant English Shay to the small Haflinger.These horses really had to work, smile. 3 or 4 days a week, several times a day, for about a half hour each time, they had to pull a cart of visitors around the grounds.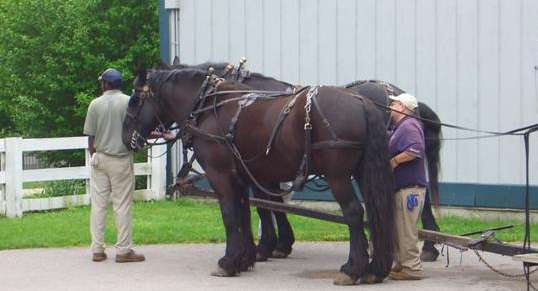 The park hosts various equestrian competitions throughout the year. Today they were having hunter/jumper trials for the weekends finals. Some of these shows are quite large with over 1000 horses competing.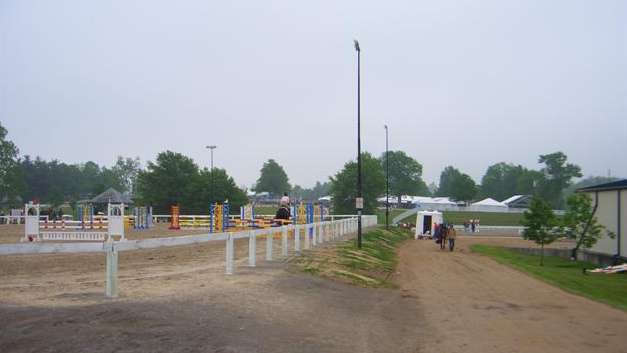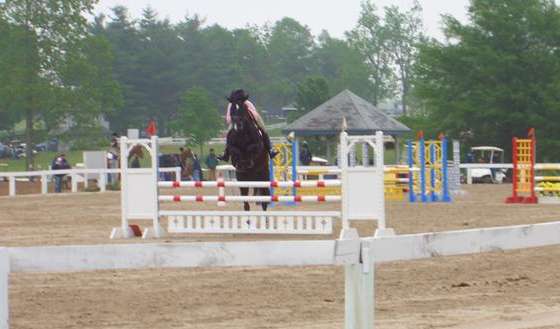 This was a small competition, but none the less, never have I seen so many horse trailers in one place.

Another interesting feature is the Hall of Champions where past Champions from different equestrian venues are displayed. These are retired horses that get to live out the last years of their lives in pampered elegance. CH Gypsy Supreme, the Horse of the 1990's Decade, (also voted the Saddlebred and 5 Gaited Horse of the 1990's decade ); Cigar, the Racehorse of the 1990's Decade and winner of 16 consecutive races; and also Western Dreamer, winner of the 1997 Pacing Horse Triple Crown. You may be asking why are these horses here at the park. I know that I was. Why aren't they standing at stud, collecting millions and millions of dollars for their owner's syndicates. Unfortunately for their owners, Gypsy Supreme and Western Dreamer are geldings, while Cigar proved to be infertile. However, without exception these are very beautiful animals and we were glad to be able to see them.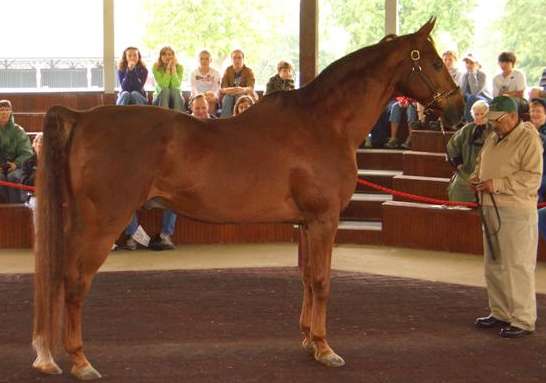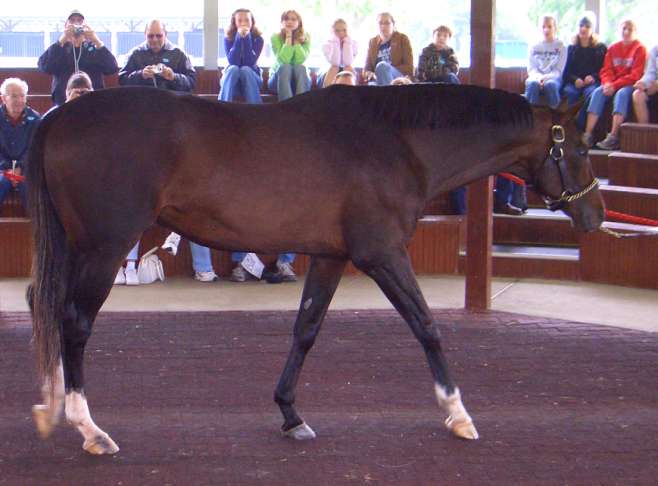 Of course, what would a horse farm be without foals and the Horse Park was no exception. We laughed as this little fellow tried to get a mouthful of grass without success. It seems his front legs were so long he couldn't get head down to the green grass.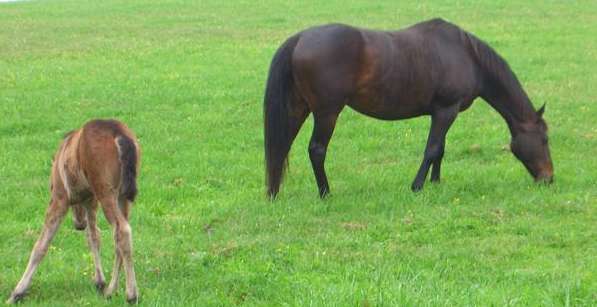 Next we went to the Parade of Breeds. Each show is different. The one we saw included the Appaloosa, the Chincoteague and the Welsh Cob among others.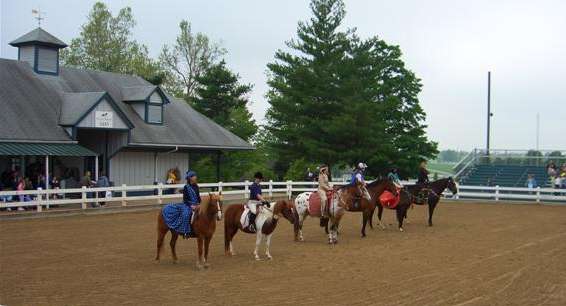 There are also two museums dedicated to the horse on the grounds of the park. We only had time to tour one of them, but found it so fascinating, we could have literally spent an entire day in it. The photo below shows the actual Concord stage that provided stagecoach service between Keene and Spofford, NH. My last boss, Bruce, was a native of Keene, and as I gazed on this coach, I was once again transported back in time, wondering if maybe his grandfather or great grandfather had once ridden in this very coach.To experience the connection of being human. The joy of life. The spirit of individuality. The adventure goes on and on. Past and present intertwined. And to take the adventure back even further, in the late 1700's one branch of my family also lived in Keene, maybe my great, great, great grandfather also rode this very same coach. Small world, getting even smaller, smile.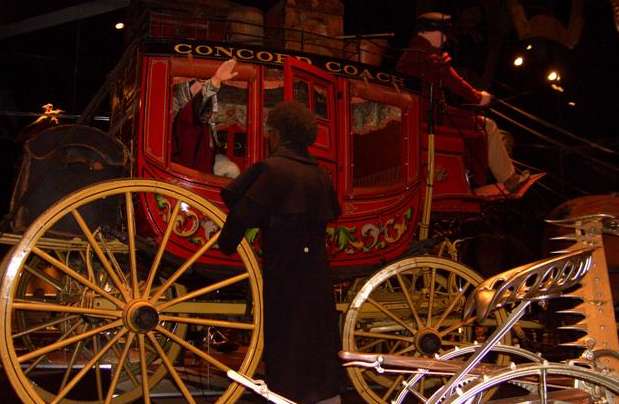 The past and present intertwine in more was than one. You see, many, many years ago in a state far away we were next door neighbors to the most fascinating couple you would ever want to meet. They had a son who was the same age as our twins and being German citizens, brought a touch of Europe into our lives. For 25 years we have kept in touch and today we would finally be able to visit with them after all these years. What a great time we had. Dorthea picked us up at the campground and we spent the afternoon with with her and their son Stefan, visiting and touring Ashland, the estate of Henry Clay, known as The Great Compromiser. This was a man who has always been one of my "heroes", and I was thrilled to be able to reach back into history and understand a little more about this often misunderstood true American, intellectual giant of a man. And even though this wasn't the actual house he had lived in, this was the ground over which he had walked and the estate he had built and overseen.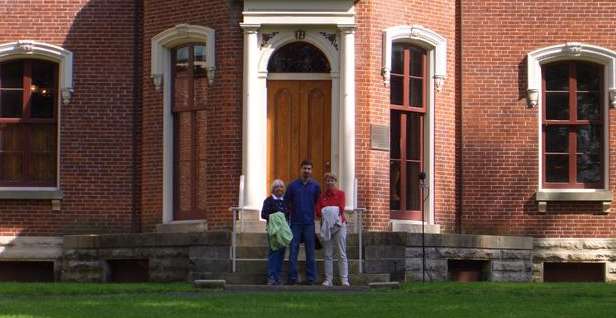 When we went to Dorthea's house, her husband, Joachim had returned home from his business trip. Once again we enjoyed the thrill of remaking a long lost connection. Joachim gave us a tour of their home and grounds. And speaking of the ground over which Henry Clay had walked, we found out the house was sitting on land that had once been part of the original Henry Clay Ashland estate. Another connection. Could a lifelong lover of history ask for more? I don't think so, smile.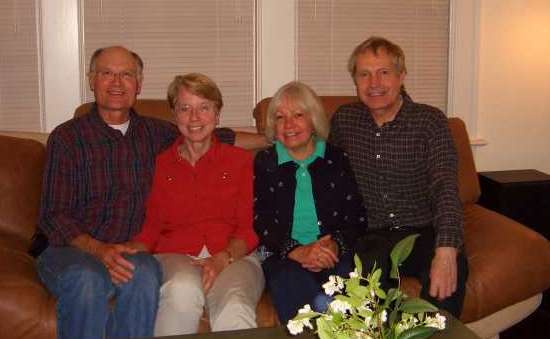 Later we reminisced about our times together, those long years ago. I recalled a New Years Eve when we had some special German Schnapps where the bottle actually had a full grown pear in it. Joachim excused himself and moments later returned with the bottle pictured below. Connections. So wonderful. Life. Meant to be lived. Joy. Meant to be shared.
Later, our three fellow travelers on spaceship earth took us back to our home on wheels. Goodbyes were said and vows made to get together once again someday in the future whether in America or in Germany.
---
click image for

the current post
---
May 16 Looking forward to mammoth day today, smile. After our usual breakfast of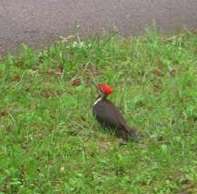 oatmeal we headed of to the Mammoth Cave Visitors Center. Of course, first we had to pack up the coach. In the midst of getting ready, Linda noticed something large, moving around outside the window of the coach. Imagine our surprise when we saw a Plated Woodpecker on the ground beside the coach. We both drove over to the Visitors Center, Linda driving the Explorer, and me driving the coach. We plan to hookup the Explorer after our tour. This a huge parking lot and at this time of the year there is plenty of parking for RV's and buses in the lot.
Arriving at the boarding area for the buses we would be riding over to the where the tour started, we encountered a lot of kids who appeared to be in Junior High School. Of course, we imagined the worst. We would be on a tour with 50 or 60 Junior Hi aged kids. Fortunately we found out this is a common occurrence at the Park and everyone is easily accommodated. They simply have the kids leave a few minutes before the adults.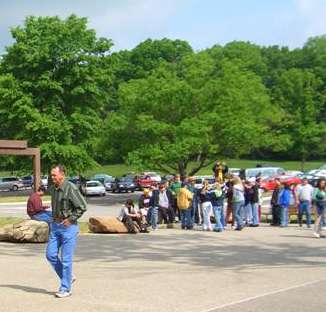 The actual tour starts at a remote opening in the cave. You see, they don't call it mammoth cave for nothing. To date over 300 miles of passages on five different levels have been mapped. To get to the opening we would enter the cave through, we boarded buses and rode for about ten minutes. We then heard a brief introductory talk by the Ranger who would be leading our tour. Our Ranger had obviously been leading tours for many years and had us laughing and really looking forward to our journey through the cave. The tour would begin with a descent down stairs and through passages until we were more than 200 feet below the surface. This was an area of vertical, natural shafts that literally served as a drain for the cave system. As we descended, the sound of falling water accompanied us. The Ranger explained how the heavy rains of the past two days had caused the drain to start flowing so to speak. When you realize it was this exact same process, repeated over millions of years that created the cave in the first place it, you begin to understand how nature works to build masterpieces like this. It is a process that proceeds so slowly that we can not see it take place, but the results of which we can enjoy immensely.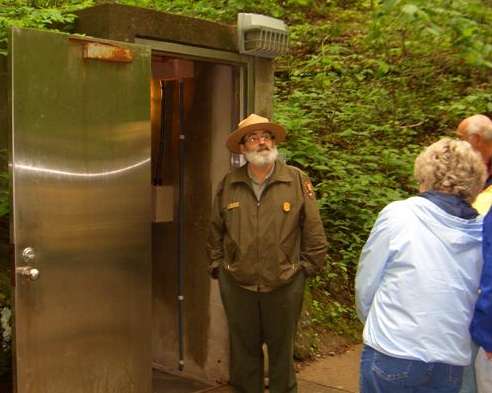 As you descend you certainly know that you are inside the earth. The dark narrow passageways, the dripping water, the dank smell, the stairs and walkways made out of marine grade stainless steel, all let you know it is a different world down there.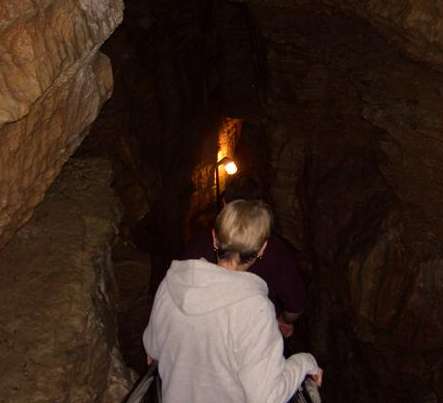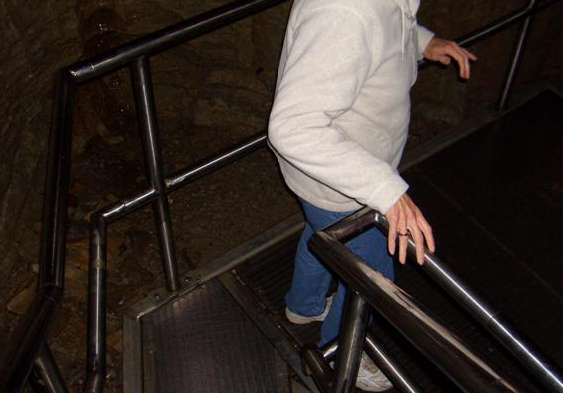 Fossils are found on the walls.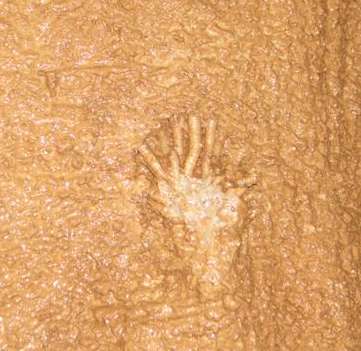 Huge slabs of limestone have broken off the top of the passageway, creating rooms with a flat roof and floor.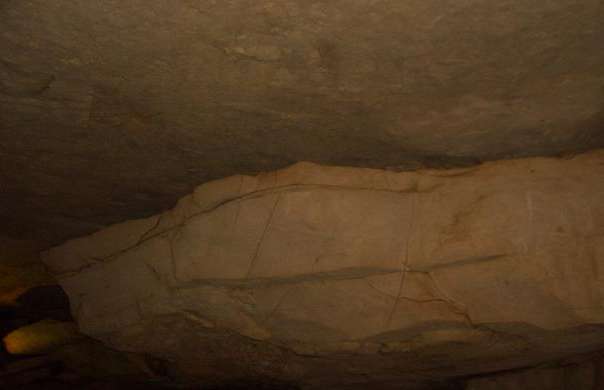 We continue further and further along the passage and enter into an area of active stalactites and stalagmites. We learn from the Ranger this is an area of the cave which is it's last stage of life. The water that is penetrating the limestone is entering through fissures in the sandstone cap that protects the layer of limestone in which the cave has grown. Eventually the roof of this section will completely collapse including the overlying sandstone and this section of the cave will cease to exist. Of course, while all this is taking place, new sections of the cave will continue to be created in a process that that will be repeated over and over for millions of years. Somehow we will have to take the Ranger's word for this as it is doubtful we will see any of it happen, smile.
Near the end of the tour we passed under a small opening which lead to the surface.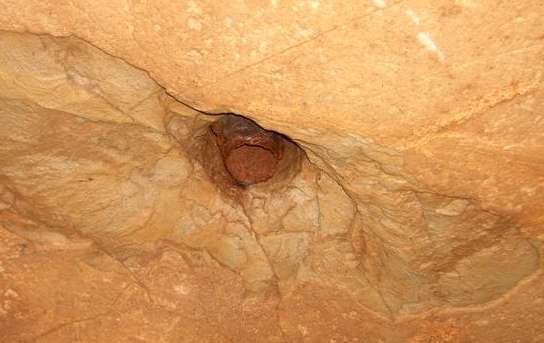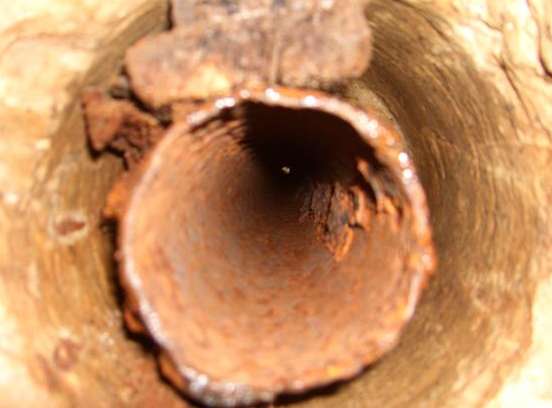 There was also one section that that had some very interesting flows. I don't know if these were called "tites", "mites" or something else. What I would call them is, beautiful.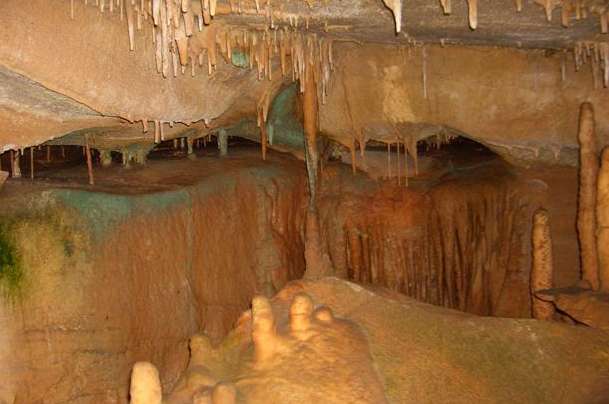 At last we came to what the Ranger said was called by many, the most beautiful feature of the entire tour. The 7 foot tall, gleaming stainless steel exit door, lol.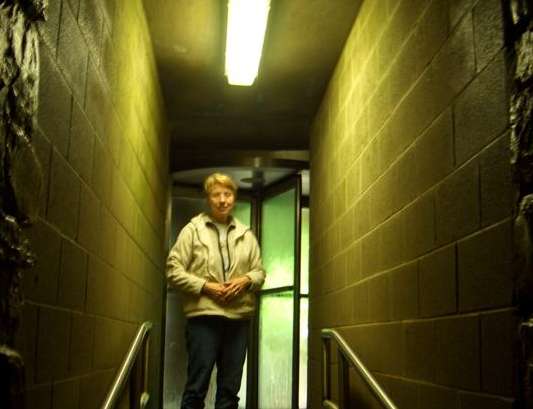 After returning to the Visitors Center on the Park Service bus we hooked up the Explorer, ate a quick turkey wrap and headed off to our next stop, the city of Lexington. Our plan was to stay at the Kentucky Horse Park Campground on the northside of the city, touring the Horse Park and then visiting with some old friends we had not seen in nearly 24 years. The drive through central Kentucky was quite pleasant. Our route took us north on I-65 to the Blue Grass Parkway, where we angled northeast towards Lexington. Both roads were in good shape, though there were a few sections of the Parkway that were somewhat rough, particularly in the right hand lane. Overall traffic was light, more so on the Parkway than I-65, which made for a low stress trip. When we arrived at the Horse Park Campground we weren't sure whether or not we had made a mistake. As we drove back the entrance road we could see many RV's parked out in the grassy areas of the park. As we drove closer to the campground itself we could see many empty sites. It turned out to be a combination of a horse show and an RV show that caused so many RV's to be parked in the grassy areas. We stopped at the campground store and got a site. Arriving at site, we discovered that it sloped quite a bit to the front, so we switched to a nearby site that was somewhat more level. We later found out many of the sites in the park slope downward from the back of the site toward the front. We were also amazed at the number of horse trailers that were parked at the campground. The horses being housed in the stables over at the horse park and the trainers staying in the front half of the horse trailers.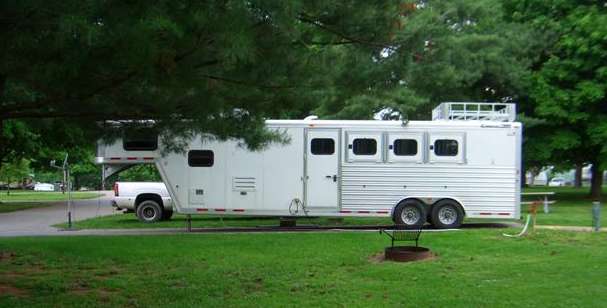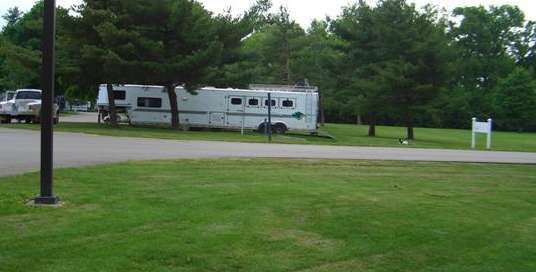 Because of the time of the day, sat down at the picnic table to eat some peanuts. As we sat there reflecting upon what a great day it had been a Class C RV pulling a tow dolly stopped at the site next to us. It was humorous watching them unload their sporty looking car off the tow dolly. The car just barely cleared the dolly and it was only with some difficulty that they got it unloaded. The four down method we use for the Explorer is so much easier. That was one thing we certainly did right.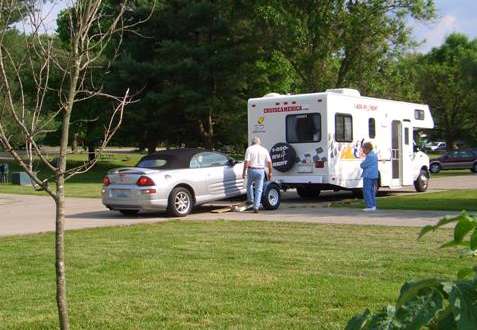 After setting up we grilled sirloin burgers for supper, then later Linda baked chocolate chip cookies for dessert using her new baking sheets she got at the Goshen Holiday Rambler Rally. They sure bake good chocolate chip cookies, smile making for a great end to a great day.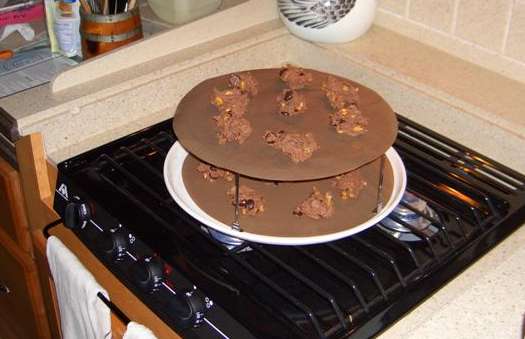 ---
click image for

the current post
---
May 15 Are we a classy couple or what? Of course, this afternoon it won't be as easy to make that statement since this will be the final morning of classes for us at the Kentucky LoW conference and we will therefore be out of class, lol. Linda proved to be a creature of routine and habit by not going to the Yoga Stretch again this morning. Still there does not always have to be routine in our lives. For example, do we always eat oatmeal for breakfast? Probably not, but it's been so long since we haven't had oatmeal that my memory dims.
So what classes are we going to attend today? How about: Five Insider Tips to Save you Money on Your RV Insurance; RV'ing America's Heartland - Enjoying your Heritage First; Quartzsite - A Survival Guide and for our last class: The Frugal RV'er. Three great classes and one dud. Broke my rule and took a class from one of the less than scintillating instructors. Next time I'll know better. Next time? Yes, there will be a next time. The Idaho Life on Wheels Conference lasts for an entire week and is held in mid summer. Based on all the neat things we have learned here, sometime in the future, we will be students once again. All to soon the closing session is over, the raffle has been held (our ticket numbers weren't even close). While luck wasn't with us it was with another lady. She won the grand prize, plus two other prizes with just as many tickets as we had. It just wasn't our day. Soon the parking lot was a beehive of activity as coaches pulled out and 5th wheels were hooked up. The temporary neighborhood we had been part of for the weekend was breaking up before our eyes and the landscape was returning to the parking lot it had been four days ago.
One of the classes we had not attended yesterday was on batteries and charging systems. It appeared that one of the RV'ers who was parked in front of us had not only attended, he was was also putting the info he had learned into practice. We saw him clean the terminals and batteries with some type of cleaner, fill the batteries with water, then wash everything. Basically making a grand mess right in the college parking lot. Here you can see him getting ready.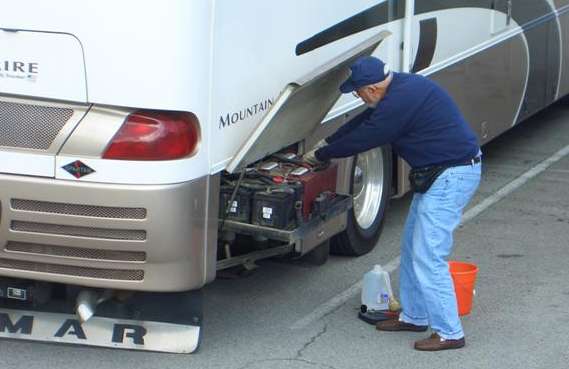 Notice the water and the beginning of a stain appearing on the pavement.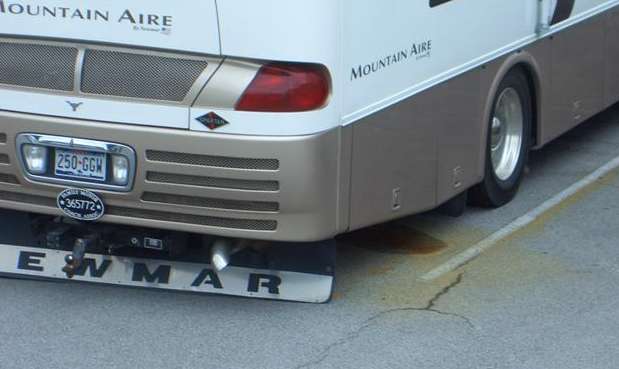 Here's the mess he left in the parking lot. Is it no wonder we are constantly being told cities and businesses that we can not "blacktop boondock." All we need are more idiots like him with a I simply don't care attitude and it will be ruined for everyone.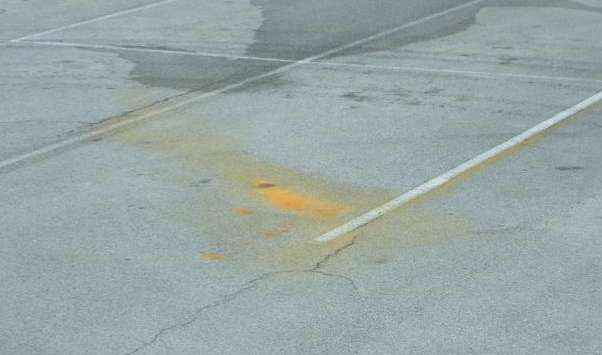 One other problem we saw was due to the parking lot itself. It sloped to the side, meaning most people had to use their jacks to level. But because of the slope, almost all the weight was on one side of the RV. Because of this there were a number of nice little indents in the pavement.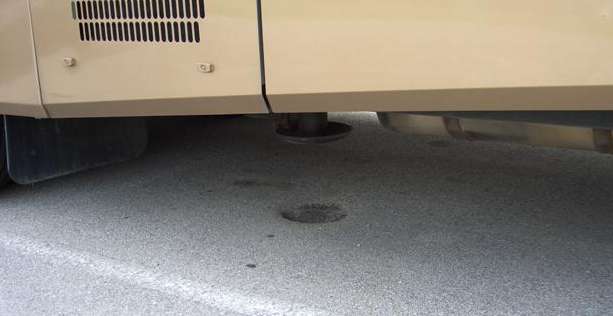 We had our turkey wraps of lunch, said our goodbyes to new found friends and headed north towards our next stop, Mammoth Cave National Park. Since the Park was only about 40 miles away, it was an easy drive. The campground was in a heavily wooded area and was built long ago before RV's grew to be the behemoths of today. There were very few people in the campground, meaning most of the sites were available and yet they assigned us to a site with the admonition that, if we did not fit, drive back and they would assign us another site. I find that this type of instructions always seem to give me anything but warm fuzzy feelings about the campground. We drove to our site, a pull through with a precipitous exit including a sharp turn around a tree. However, since the entrance to the site was pretty decent we decided to give it a try. It turned out to be an acceptable spot since we don't need a site with easy access. One that is wide and level with full hookups. This one was a case in point: adequate access from one end, narrow and curving with a slope toward the front and the roadside and without any hookups. We liked it.
After we got the coach set up, it was time to drive over to the visitors center and plan our visit. We were in real tourist mode. Here we were, at a National Park without a clue as to what we wanted to do other than see this great big hole in the ground. We ended up purchasing tickets for the "Frozen Niagara" tour at 10 AM tomorrow morning. Since we still had a lot of daylight left, we walked down the path towards the natural entrance to the cave. As you can see, it was closed, but what the heck, the bats have been living in the cave a lot longer than man has been visiting the cave.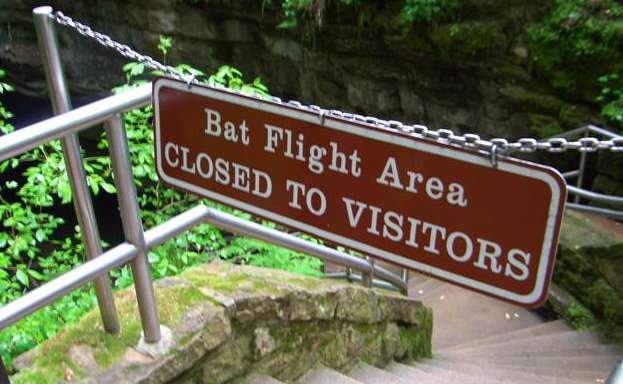 We figured that since we were out and about, why not just take one of the many trails in the park. and see where it goes. As trails are sometimes known to do, this one not oly lead to a different place, but also to a different time. Did you know that before there were roads to the park there was a railroad and before the railroad there were steamboats that brought in the visitors. We wouldn't have known it either, except that this trail ended at a marker that told about the the steamboat landing that had once existed where we were standing. Looking out at the Green River (that's its name) gently flowing past I could image the sights, sounds and smells of the time in the distant past.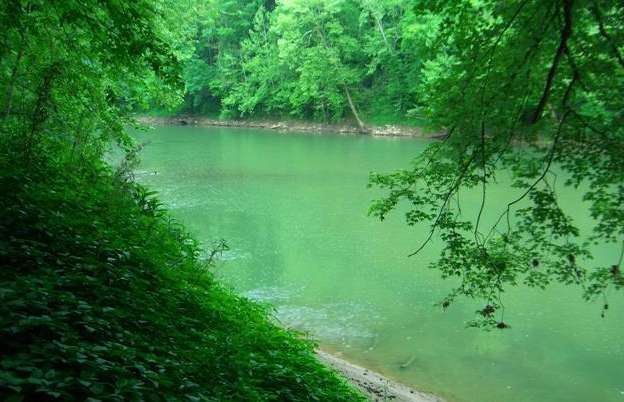 As I sat there mesmerized by the scene my imagination was playing out before me, Linda's voice broke the spell. But what she was called me to come see only served to plunge me deeper into the mists of the past. Was the tree in this picture standing when the steamboats tied up a few yards away? Did some man stand, looking at the a huge tree that may have stood next to it and ask questions similar to mine? Did he close his eyes and imagine frontiersmen and pioneers like Daniel Boone and others traveling this very river in their canoes. To experience the connection of being human. The joy of life. The spirit of individuality. The adventure goes on and on. An adventure of not only the past and present, but the future as well.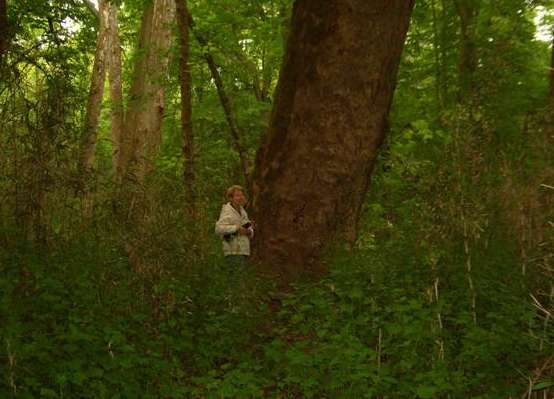 As we ascended from the past up the long walk from the river back to the present we happened on the scene below.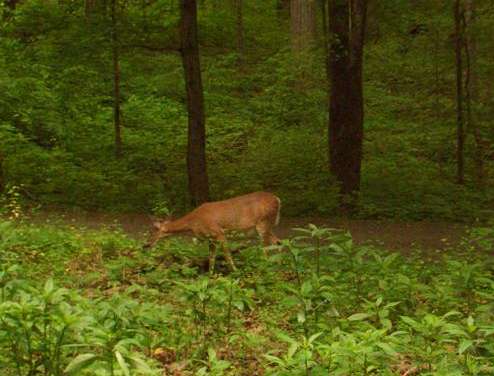 After returning to the coach and enjoying a dinner of leftovers which included a dab of this and a dab of that, we went for another walk, this time around the campground. We stopped at the campground hosts site and began talking. Before long we were joined by another couple who were tent camping. We sat around the campfire and talked about our respective experiences until a rain shower chased us back to the coach. Of course yours truly went the wrong way in the dark and we ended up a little more than just damp before we got back home. Someday I'm going to learn to listen to that woman when she tells me I'm going in the wrong direction, lol. No day is complete without dessert and today was no exception as we finished the last of the chocolate peanut butter ice cream. Just think, that means something new for dessert tomorrow night, goody, goody, smile.
---
click image for

the current post
---
May 14 Another day, another class. Looks like our life has settled into a routine, smile. No, I can't say that, because Linda decided not to get up quite so early today and hence skipped going to the Yoga Stretching at 6:45. She actually was up early enough to go to the class, but decided she had other things to do this morning. As is our custom, we had hot oatmeal for a healthy start to the day. Our class list for today includes: Personal Safety for RV'ers, Choosing a Home Base, Pepper Spray Certification, Fire Safety, Writing on the Road, Gizmos & Gadgets, Getting Ready to Fulltime and lastly, RV'ing with a Goal.
After our experience yesterday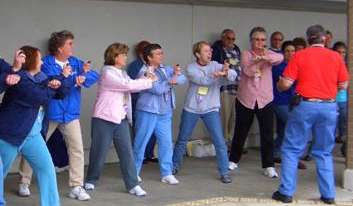 with the poor quality of instruction in several of the sessions, we had decided to make some changes in the classes we would attend. With so many classes available, we could expose ourselves to new and different ideas, after all isn't that what this life is all about. Two areas you may not always think about are personal and fire safety. Though we have never been "worriers" as far as personal safety is concerned, as you can tell from the photo below, Linda is now our official "attack dog", lol.
Several times we were told that the one class that everyone here at the conference really should attend is the fire safety class and demonstaration given by Mac McCoy. We took it and can heartily second this admonition. You can be oblivious to the danger of fire in a recreational vehicle. You can be fearful of a fire in a recreational vehicle. Or you can know what to do in case of a fire in a recreational vehicle. Because of the course, we now know what to do in case of a fire. One of those little things that could someday be a big thing and save our lives.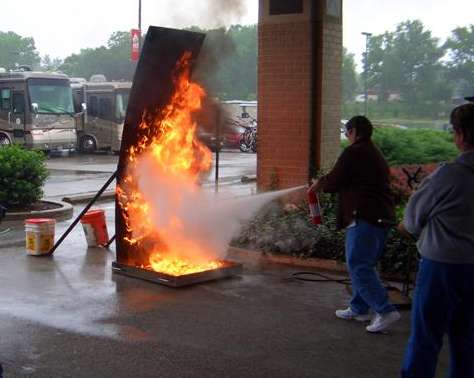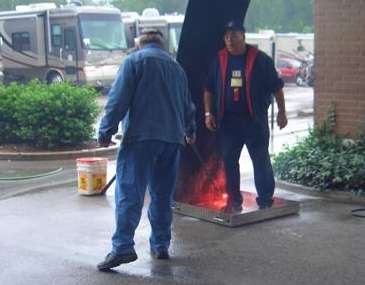 After the sessions were over for the day, we had a quick dinner of leftover pasta and sausage/tomato sauce. The reason for the hurried meal was the RV open house. It was an opportunity to walk around and look at the different RV's, to visit with their owners and to see how people lived in them. It was totally voluntary on both parts. We had decided to open ours, so I played host while Linda walked around to visit some of the other RV's. Of course prior to allowing anyone to enter our little home on wheels, Linda had to clean our home.
If you attend one of these conferences and open your RV as we did, please don't make the same mistake I did. Seems Linda was talking about cleaning and straightening up the coach when out of the mouth of the idiot she lives with came the comment, "Why don't we leave it like it is so people can see what it really is like living in an RV." Men, take these words to heart, Do Not, I repeat, Do Not ever even think about saying those words in a situation like this. The only reason I am alive at this moment to type these words mostly likely had something to do with a devine intervention I was not even aware of. After I had cleaned the coach to her satisfaction, she left. (Hopefully she will realize all men have the same mental disabilities I suffer from and return, smile). The open house lasted for an hour and a half and during that time there was a constant flow of people in and out of the coach. People who asked great questions, people who wanted to know and learn from the experience of others. The MotoSat generated a lot of questions as did the side TV. I had several people comment that they had their curbside couch removed and a computer desk installed because it was not offered as an option in the RV they bought. Made me feel good that all the time we had spent looking at and comparing motor homes had paid off for us.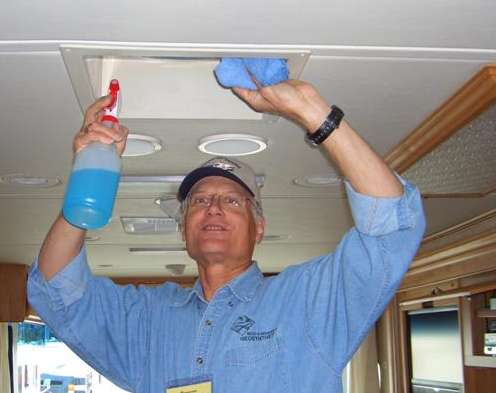 Linda picked up a few pointers during her visits. One really neat RV she visted was the "Gypsy Journal", the bus conversion that Nick and Terry Russell work both, in and on. Actually Nick works "in" it as he puts out the Gypsy Journal newspaper. So, while Nick works on the paper and the RV books he authors, Terry or "Miss Terry", as Nick refers to her, has converted their 1976 MCI bus from a shell into a cozy home on wheels. All the major appliances are full sized 110 volt and made for home use. While they have some great stories on their website, if you subscribe, you'll discover the newspaper is even better.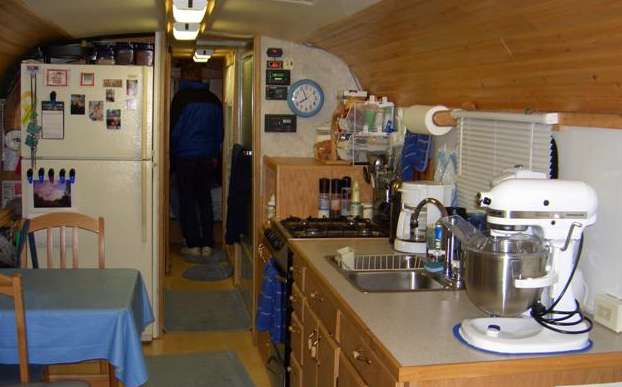 You know, we find the most wonderful people out here on life's road. To experience the connection of being human. The joy of life. The spirit of individuality. The adventure goes on and on. Of course each day must end and so did today, but not before we had our low fat, sugar free chocolate, peanut butter ice cream, smile.
---
click image for

the current post
---
May 13 Today we accelerate the process of becoming real RV'ers, lol. One of the appellations given to the Life on Wheels conferences (LoW for short) is: College for RV'ers. Up to this morning what we have learned about living in our RV has been on a "as we travel" basis, now we get to spend some time in a classroom setting and learn about this way of life before we make more of those stupid mistakes we seem prone to make on a fairly routine basis. If you're wondering why we are doing this, the answer is, not to be facetious, because we can. This lifestyle has so much to offer that we want to experience as much of it as possible. This first trip of our adventure, if you will, is the grand circle so to speak. West to East and then back to the West again. This trip is somewhat structured, but it is definitely not how we plan to adventure in the coming years. In the future we plan to only have the most general plan for where we will be going. I think it is probably near impossible after working all those years and taking that yearly vacation to immediately shift into a mental state of: we don't have to be in a hurry and we don't have to go anywhere in particular. Thus we have visits to friends and relatives planned, conferences and shows, plus those places we always wanted to see but hadn't had time or been able to visit. The LoW conference is part of this first blush of RV life in terms of time constraint, but, and that is a very important "but", but we also want to use what we learn here to help make the next part of our RV life something different.
The Mamas and the Papas song "Go Where You Wanna Go" which was written by John Phillips has the following words:
You gotta go where you wanna go,
Do what you wanna do
With whoever you wanna do it with.
That is what Linda and I want to do and do together. Isn't it wonderful when our dreams become reality and reality is a dream lived. Without your having done what we are doing, it is probably near impossible to completely grasp what I am trying to say and for once words fail me. For that I apologize. Of course, you could always do what we are doing, then you would most likely understand, smile.
Linda had decided she want to go to the 6:45AM Yoga Stretch class this morning. I had our oatmeal ready when she came back at 7:30, then shortly before 8:00 we joined the hordes and went to our respective rooms for our first classes. They have an interesting way of conducting these conferences. They offer classes during ten time periods over two and a half days. The total number of class sessions is 73. Bottom line, there is no way you can go to every class you want to attend. Since we were coming off a technical conference, we were able to skip some of those sessions, still there were some specific technical sessions we would have liked to attend but couldn't. We limited ourselves to just the lifestyle type of sessions. Each class lasts 90 minutes and most were very good.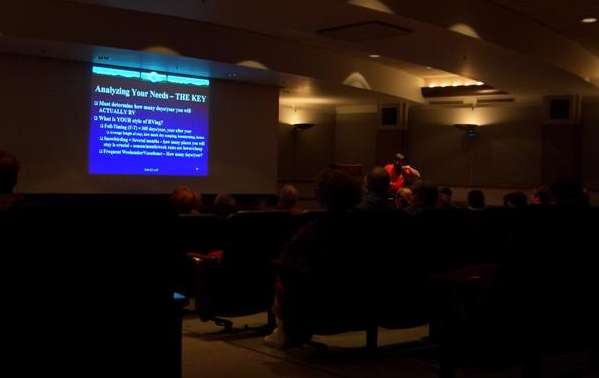 This is the list of the 8 classes we attended today: RV Insurance, Boondocking, RV Park Discounts and Memberships, A Personal Blog, Full Timing Overview, Working while RV'ing, Efficient Traveling and lastly, Computer Trouble Shooting. Most of the instructors were very, very good and a couple like Linda Quinn and Mike Steffen should, in my humble opinion find something else to do rather than waste the time of the people who attend their classes, smile.
It was interesting going back to our little encampment and seeing the various RV's parked side by side. We had a 5th wheel on one side of us and a little Class B on the other.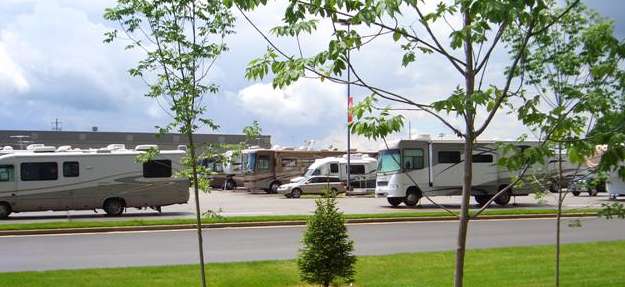 Dinner was Bob Evans sausage patties on whole wheat muffins accompanied with a great deal of discussion about what we had been exposed to today. Our sense was, we had already paid for the cost of the conference in what we learned about RV insurance and the money we will save on it. No day is complete without dessert and the chocolate peanut butter ice cream filled the bill quite nicely, drawing the day to a close.
---
click image for

the current post
---
May 12 A day of change for us. We were tired after all we had been through yesterday and slept a little longer than we had we had planned, but since it was still quite early, no harm. After all, as long as we are in Bowling Green before 3:30, it is no problem. Checking the atlas I found out it was even less of a concern than I had thought. It turned out Bowling Green is in the Central Time Zone so we would gain an hour today. Linda heated a little milk on the stove and we poured it over a bowl of bite sized shredded wheat, a few sliced frozen berries along with our usual chopped walnuts, stevia and cinnamon. Certainly not a "threshers breakfast", but just perfect to send us down the road.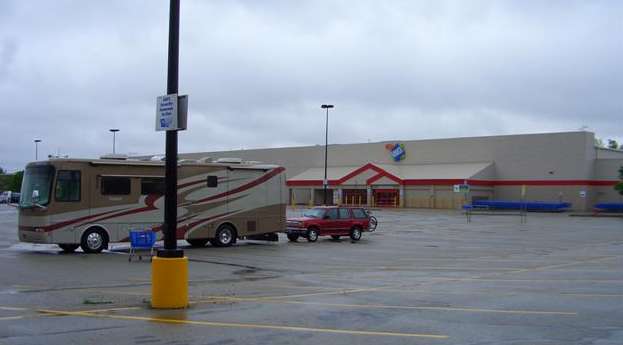 One thing that always amazes me when we are doing these types of overnights where we don't extend the slides, is how small the coach seems. How quickly we become accustomed to the space allotted to us in which we live our lives. With the slides in, we have far more room than we had in the 24' Class C RV we had before, still, because we are used to the space the extended slides give us, we feel cramped. It seems like each time we want to do something, the other person is in the road. Mostly it is because many of the things we do in our daily routine, we do together. I don't recall this feeling at anytime the first two months we traveled. Those days when we were on the go many of the days and the only way to get the curbside slide out was to crank it out by hand. Over the next month we be staying for up to a week at three different places. Will we be space challenged each time we leave? After that it will be two months of travel across the Midwest. Will the constant new places we visit affect how we view our home? I think it is easy to settle into a routine, it simply depends on what the routine is. For us, it seems to change on a routine basis, smile. Each day a new start. To experience the connection of being human. The joy of life. The spirit of individuality. The adventure goes on and on.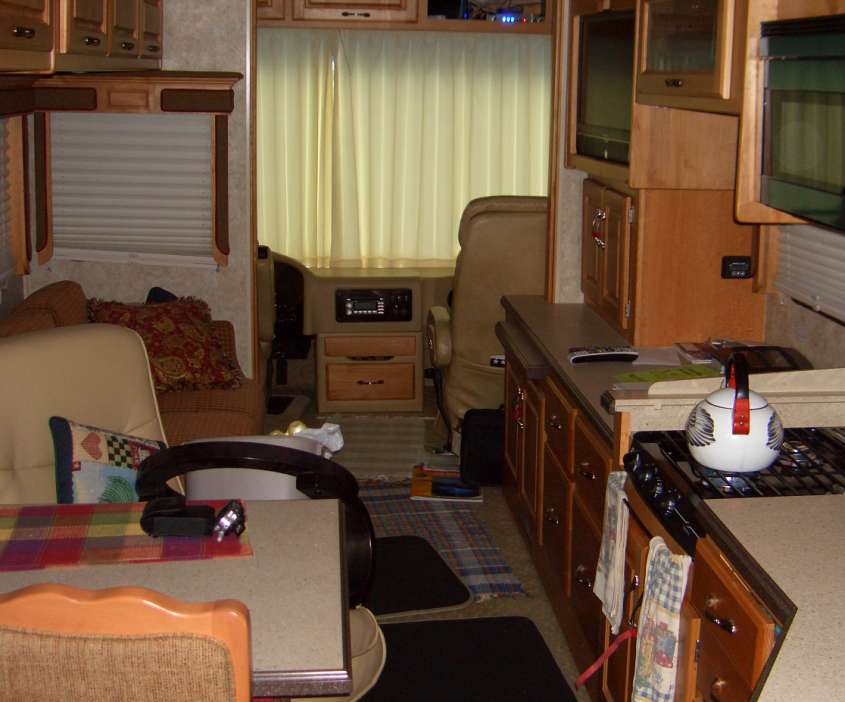 When you overnight at a Walmart or Sam's Club leaving the next morning is a snap. For us it is simply a matter of checking the Blue Ox tow bar and electrical connections, turning on the SMI Brake in the Explorer, putting the key back in the ignition and making sure the emergency brake is off, the ignition is turned to the unlock position and the transmission is put in neutral. Once the coach engine is up to temperature, we are off. One thing I always try to do, is use the exit from the Wal Mart that has a stoplight, if there is one. As we traveled from Kikomo down towards Indianapolis, the wind was doing its best imitation of the big bad wolf. Fortunately our house was built like the one from bricks, so we journeyed on with just an occasional gentle push to the side. The eight airbag suspension system worked great and made the driving easy.
Our route saw us driving south on US-31 to Indianapolis, taking I-265 around the east side of town, then I-65 south towards the Ohio River. There was rain the entire way until just north of the river. Traffic backed up at one point due to an accident, but other than that, it was an uneventful trip.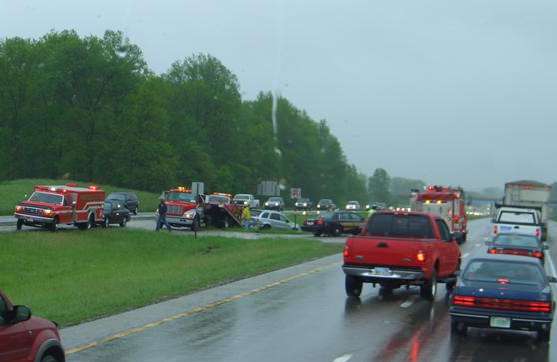 All during the drive our GPS was having a serious problem. It started on the east side of Indianapolis. Somehow or other it decided I-265 did not exist. It kept trying to have us use state highways. Then on I-65 south of town it got rather insistent about us not using I-65 to go to Louisville, even though it was the shortest, fast way there. When it started telling us to make a "U" turn in the middle of I-65, Linda had to take a picture, lol. Rest assured, we ignored its dire warnings and successfully navigated toward our destination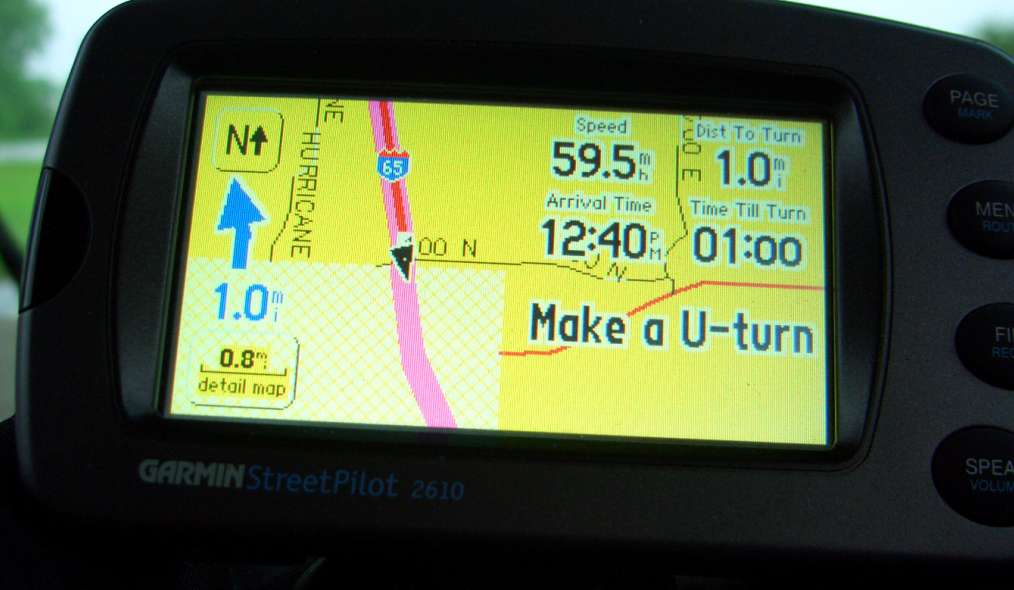 A little further down the road we passed a strange bridge. Instead of being held up by girders, it had a steel arch structure with cables attached. Kind of like a cable stayed bridge in miniature. One of those strange but true things you sometimes run across.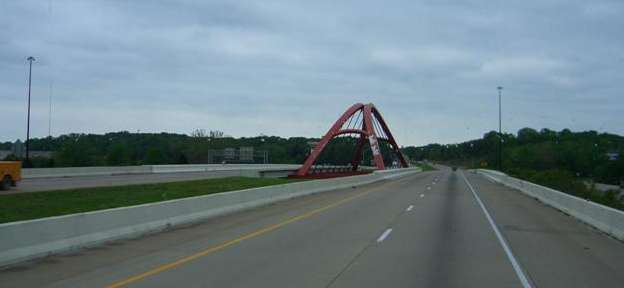 This time we also got a picture of the Welcome to Kentucky sign on the bridge over the river.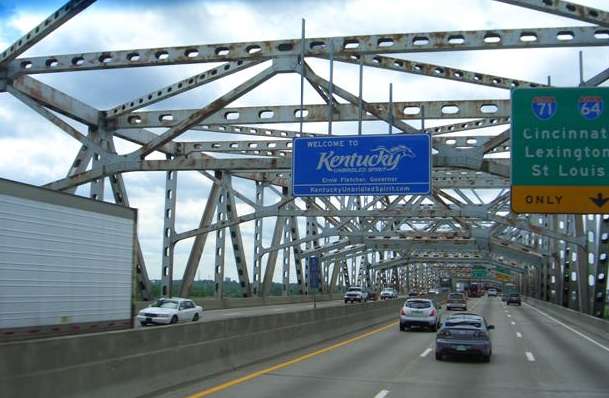 We wanted to have a full tank of diesel when we arrived at the Life on Wheels Conference in case we needed to run the generator for long periods of time. Linda has this almost morbid fear of running out of diesel, which not a bad thing, it is something that will no doubt keep us out of trouble someday, smile. We stopped just north of Bowling Green and had our most expensive fill to date. It was $2.99 a gallon, inching ever closer to the magical $3.00 per gallon price, magical only in the sense that it will take some magic to stay within the budget if the cost goes much higher, smile. A few more miles of driving and we were arriving at the south campus of Western Kentucky University. The directions were just a little sketchy, but we dutifully counted traffic lights and the campus was right where it was supposed to be. Just after turning we saw the RV's in a parking lot towards the back of the buildings and drove up to the attendant. I recognized his name from the list of instructors, since I was planning to take one of his classes. Soon we were unhitching the Explorer and driving the coach to its assigned spot. That's assigned spot as in they assign a spot when you drive in, the next available slot. The parking lot sloped away from the road side of the coach so it took two tries to get the coach level and three tries to get the Motosat to lock onto the satellite.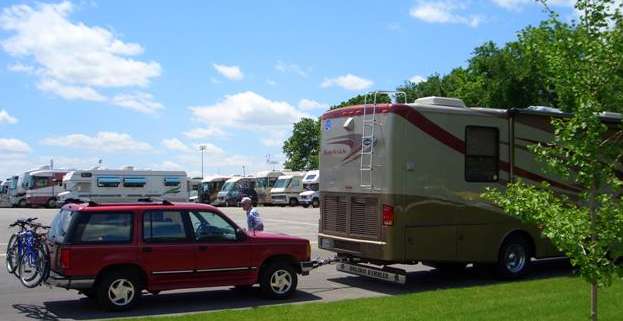 We went in and picked up our registration papers, looked over the books and other items for sale, decided to pass and returned to the coach for a lunch of turkey wraps. We straightened up and worked on the website until 4 o'clock when we went to the orientation meeting. It was lead by Gaylord Maxwell himself and was concluded with each of the instructors giving their most important RV'ing tip. Some were serious, some humorous, but all were very pertinent to the life we are living. It looked like we were coming from one great conference to attend another. After the orientation, we drove over to the local Camping World store for a reception and the ability to shop to our hearts content. This is the place were Camping World started and also has their national outlet store. For your information the national outlet store is the back two aisles of the store, unfortunately I neglected to take a picture, but suffice it to say that there was an abundance of RV covers and little else. Back at the coach we had chocolate peanut butter ice cream for dessert, then settled in for a good nights rest in preparation of a big day tomorrow.
---
click image for

the current post
---
May 11 This morning we were glad that we had not volunteered once again to do donuts. Not that we couldn't have, but if we had, it would have been a stand around and do nothing morning. All night long, a slow steady rain had fallen, at least it was every time Linda was up, as for me, it was lights out and sweet dreams. It was still raining when it began to get light out. I can't say that when the sun came up because we never saw the sun, even once today, smile. When it was nearing time for the first session to start we headed out, umbrellas in hand. It was not only raining, it was also windy. So windy in fact we needed to keep the umbrellas pointed into the wind, lest they do the reverse twist. The good thing about this was the rain slanted in the direction of the wind so the umbrella actually worked. It was just very disconcerting to have the umbrella held at such an angle that the top of your head is uncovered. I did say it was windy, just not how windy, lol. When we got to the building, the crowd was fairly sparse. Talking with the donut crew, we found out hardly any one came for the sweet treats this morning, so we did good not volunteering, smart Bob, smile.
The sessions today were even better than the ones yesterday. We learned about our inverter, what to look for in an extended warranty, how the energy management system operates and everything we ever wanted to know about our refrigerator. It was not some general presentation on RV refrigerators, it was about the exact kind we have. This session alone was worth the money we paid to attend. I must say it again. If you have a Holiday Rambler Diesel Pusher this is a must attend rally for two reasons. First, the information is directly related to your RV and second, this is the nicest bunch of people you will ever meet. Conversely, if there is a session along these same lines for your RV, it would most likely be worth your time to attend as you never know what you're going to learn.
We hadn't heard from the Cummins people about our fan, but our neighbor, Bill came up to us during one of the breaks and said he was getting his fan installed just after lunch in the parking lot. Seems the rain had thrown Cummins into total disarray. We went over to their display area, but no one was around. Guess they truly were in total disarray, lol. After our lunch of turkey wraps, we walked over to the parking lot, but there were no Cummins people there either. I headed off to a session and Linda walked back over to the display area to see if anyone was there. This whole thing was beginning to take on a Keystone Cops look, smile. About 30 minutes later I saw Linda outside the the door to the room I was in. She had finally found them and they could install the fan as soon as we could get to the parking lot. This was not as easy as it sounds. We had been here for five nights so things were a little scattered, plus we needed to hurry. From such a combination can come disaster. That is not what happened. Not that we remembered everything, because the digital wall clock did crash to the floor on the way to the parking lot, but the tanks got dumped, the water and electric were disconnected, the jacks retracted, all the important things were done, smile.
Turned out what should have been a 25 minute job took almost 2 hours. Three things conspired to cause this. First and foremost, the floor plan of our coach does not provide for good access to the fan area of the motor. Second the rain made for totally miserable working conditions. Third, the mechanic doing our install was, to be kind, somewhat less experienced. Access to the engine is through a hatch in the raised platform at the back of the bedroom. The problem was, the access to the fan assembly required dismantling the closet at the very rear of the coach. Why so, you may ask. It's because they design them to be assembled, not worked on.
To give the mechanic access, we began by taking all the clothes out of the closet and piling them on the table, then we removed all the shoes which went under the table and finally, we took out the rack which we had designed and installed last month. Then I started dismantling the closet by removing the face trim panel above the closet (I loosened it at first, then removed it after it came completely loose, falling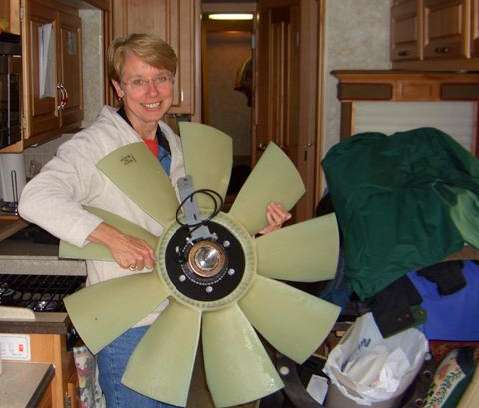 and hitting me on the head, lol). This allowed me to undo the locking tabs and remove the two sliding closet doors. Next I took out the top and bottom door rails, then removed all the screws holding the front closet frame in place. This allowed the frame to slide forward giving access to a panel under the carpet. Peeling up the carpet at each corner of the panel exposed a large screw. When these were removed, the panel could be lifted out giving access to the fan. The problem was the hole where the panel was provided only severely limited access to the fan, even with the engine cover removed. Mind you, all this time it was raining in sheets, the mechanic was walking in and out of the coach dripping wet. At first he was joking, then serous, then the epitaphs started coming, mild at first. Every trip in and out of the coach carried a more steely look that the previous trip. It also brought in a bigger wrench or air ratchet. Soon it was apparent things had gone from bad to worse as determined by the string of words and shouts coming from the far end of the coach. Shortly thereafter a second mechanic came into the coach. The problem was a rounded off bolt. Turns out there is an aluminum spacer that is not reused which can be split off with a chisel. Before we knew it, the old fan was going out the door. Sometime later, the new fan ended up in Linda's hands. About 2 hours after they started, the 30 minute job was done. Does the engine ever sound quieter. This is one of things that each individual has to decide if it is worthwhile to do. Given that we will probably put close to 70,000 miles on the coach before we trade it in about 4 years, it certainly makes economic sense. The intangibles are the quieter ride and less dirt on the toad.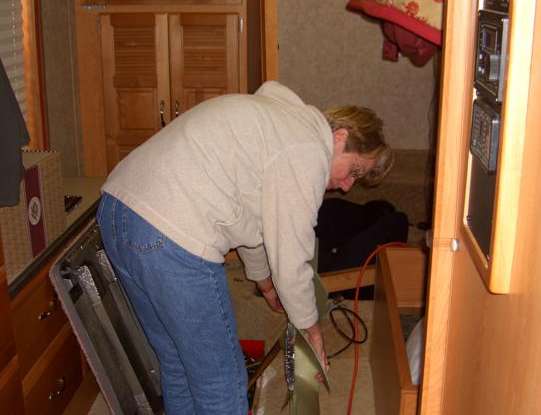 Once the fan was installed, we got the coach weighed by RVSEF, Recreational Vehicle Safety Education Foundation. We had planned on having this done back when we first read about the rally. Then, once we attended their session on Saturday we knew we were doing the right thing. They weigh the RV at every tire position, as this is the only way to accurately determine whether or not you are either over weight and or have the tires under inflated. We were really happy to learn we were significantly under weight. Good job Linda, smile. After this, we parked in the front lot of the fairgrounds and proceeded to put the closet back together. It actually went together easier than it came apart. Other than a few grease stains on the floor of the closet which we will clean up some time in the future, you can not tell it was ever taken completely apart. I've got to say we both did a great job of rebuilding our house, smile.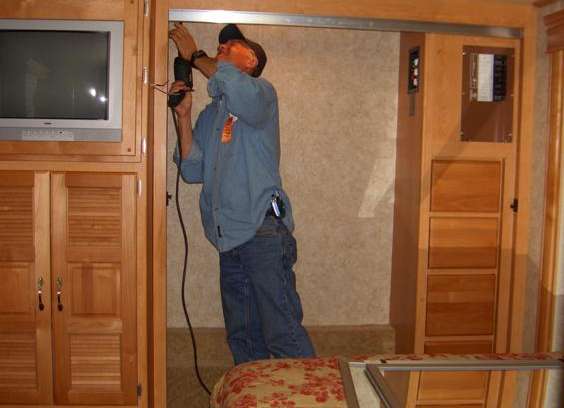 Once the rebuilding project was completed, we headed south since we needed to be 286 miles to the south, in Bowling Green, Kentucky, at around noon tomorrow. Our route took down Route 31 and was accompanied by heavy rain and intermittent, but very strong winds. We had decided to overnight at the Walmart in Kokomo, but when we arrived, there were several RV's at the Sam's Club, which was across the street. So we ended up staying in their lot instead. As you know, day is never done until dessert has been served. It being a cold and rainy night, Linda cooked a huge pot of hot Tapioca pudding on the range top. It was more than good, it was all eaten, lol.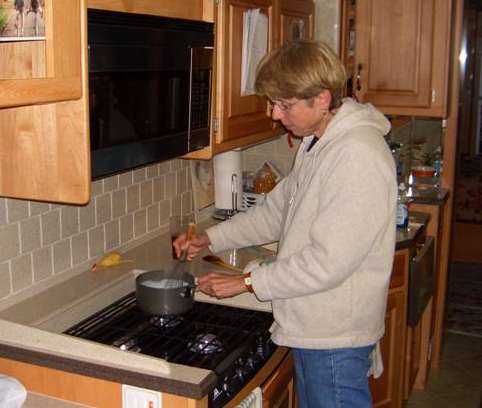 ---
click image for

the current post
---
May 10 Would you believe it if I told you we were up at o'dark 30 once again for the second day in a row? You better, because we were, lol. Some people are gluttons for donuts, we on the other hand were gluttons for punishment. Yesterday when our early morning stint of dishing out donuts was over, I made the bright, (but not right), comment that it had been so much fun, why not do it again tomorrow. At that moment we were right by the sign up sheet and Linda in one swift, unthinking move grabbed the pencil and wrote in our names. Now it was time to pay the piper. We arrived early as usual per Linda's need to never be late. You would think we could at least compromise so that between her, we have to be early, and my, so what if we're a little late, that we would always be right on time, smile. As the saying goes, the early bird gets the worm. That's what we got today. The couple who were working the bagel bar yesterday asked us if we wanted to do bagels today. We thought that sounded like a good deal so we said yes. If we had been one of Tom Sawyer's friends we would have been covered with whitewash from painting the fence, smile. We were instructed briefly how to toast the bagel and spread cream cheese or butter on it. Then as a parting comment, they both mentioned to be careful not to burn your hand when you are holding the bagel. At the time those words did not fully register, but did they ever later on, (very, very big smile).
The crowd arrived even later than yesterday. This gave us a chance to sort of ease into our roll as bagel toasters. One thing became apparent right away. You toast bagels, you burn your hands. No way around it. Experience being the best teacher, we quickly found out that you needed to remove the bagels from the toaster as soon as they popped up. To do otherwise meant hot fingers and a burnt palm. All in all it was another great time of fun and fellowship.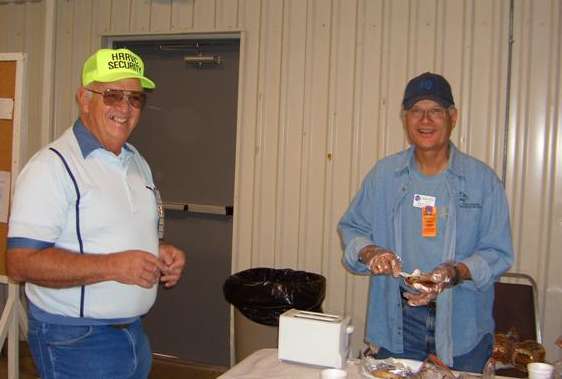 Todays seminar schedule was packed once again, but the highlight of the day was the microwave convection oven cooking class Linda attended. Talk about picking up helpful pointers. The lady who taught the class has literally written the book on cooking in an RV using these types of ovens. I got there in time to take a few pictures and taste the foods she had prepared. Linda, on the other hand, had take voluminous notes and purchased some pans and utensils that will help her do a better job of baking. It wasn't that she was doing things wrong, it was that she just didn't know the little hints that would put her cooking over the top. Now she does, smile.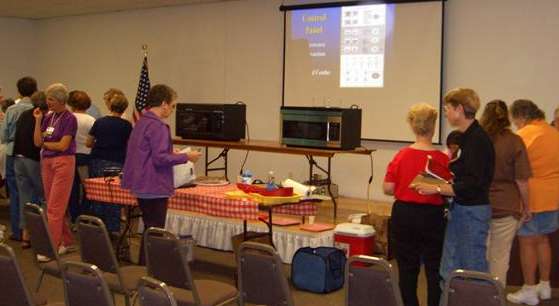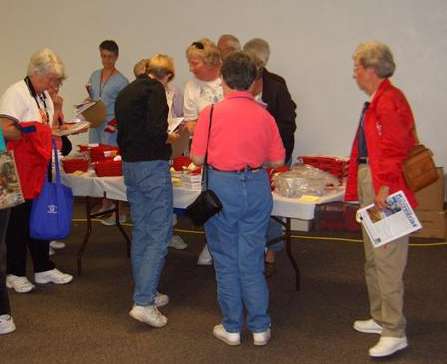 For the afternoon we decided to play hooky with the seminars and take a tour of the plant were our coach was built. But first we went over to the Cummins display and made arrangements to get an electric fan installed on the coach. It will mean quiet operation, no dust, about one mile per gallon improvement in fuel economy and $725 less in our pocketbook. They will let us know in the morning when they can install it. Next it was a drive over to Wakarusa to the plant where they build the coaches. Linda, the early bird was worried we wouldn't be able to get on the tour if we were late. We got there about 45 minutes early. We had no problem getting on the tour, there were only 12 people, all but 2 were from the show. Last fall we toured the Coburg, Oregon plant. This one was very similar. They build almost all of each coach from scratch. Only 10% of the parts that go into a coach are purchased, everything else is made in house by Monaco. The plant has two production lines. The one for gas and mid-range diesels produces 10 coaches a day. The second line is for the high end coaches and produces 10 coaches a week. Every coach they make has been ordered by a dealer, either for a customer, or for dealer inventory, meaning they produce no "spec" coaches.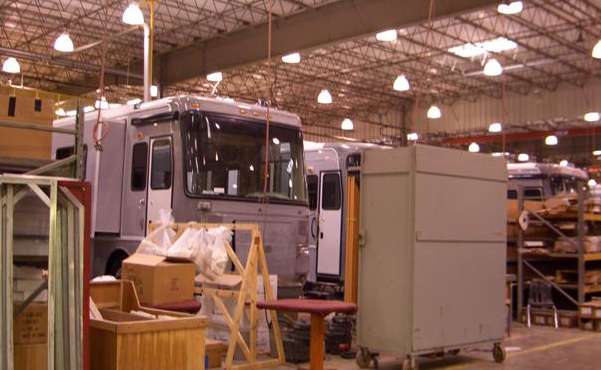 Shortly after we returned to Goshen it started to rain. It was interesting watching people walk their dogs in the rain.

Dinner was chicken quesadillas and dessert was the peanut butter chocolate ice cream we have been enjoying. Having been up so early two mornings in a row, one of was really tired tonight, guess which one, smile.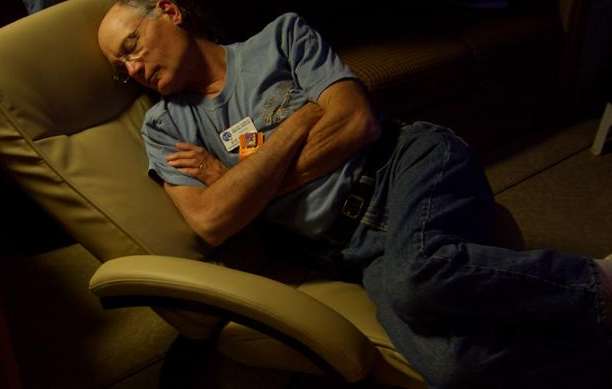 ---
click image for

the current post
---
May 9 Did this day dawn differently or what. Yesterday they announced that helpers were needed to serve donuts during the morning hospitality hour. So this morning we were up at 5:30 in the dark part of the morning getting ready to go down to the meeting hall and serve donuts. We didn't have to be there until 6:45 but Linda has this thing about never being late, so early we would be. When we got there we were assigned position number 3, Linda, and number 4, me, on the donut line. Since there were only 4 positions that meant that I was as low on the totem pole as you could go, smile. There were a few stragglers who came in when the 7AM hour rolled around, but it wasn't until 7:30 that any sizable number of people came by.
In the midst of all this, Linda wanted to take our picture. Of course the batteries were dead on the camera. Somehow batteries and us seem to always be having problems. Bottom line was I ended walking up to the coach not once, but twice. Yes, twice. The first set on batteries I put in were also dead. Of course who tries them right after you put them in, not me. The second time I walked all the back up to the coach to replace them, I made sure they worked, they did, before I walked all the way back down. Not so dumb the second time around.
We couldn't just set the donuts out, we had to actually serve the donuts. Indiana requires that the donuts be served to the people, you just can't have a big box and everybody reaches in and grabs one. Something about germs, smile. To serve the donuts we had to wear these over sized plastic gloves the one size fits all that they make them to fit somebody who can put their entire hand around a basketball, lol. The actual process of serving meant taking a napkin in one hand and wrapping it around the donut such that when you handed it to the person they could take it without touching the donut. I soon found out why they had put me down at the end of the line, This was more than my brain could communicate to my fingers, lol. I finally solved my dilemma by taking the napkin in one hand, picking the donut up in the other and folding the napkin over it. Now how you would think someone this smart should be at the head of the line instead of the end of the line, lol. We were serving four kinds of donuts, plain, apple, blueberry and chocolate. Guess which ones were the most requested, if you guessed apple and plain, you were correct. Blueberry brought up the end of the line (along with me). In case you were wondering, I was serving the chocolate and blueberry. Linda and I were both on our best behavior, health food wise, and didn't even have so much as a nibble of a single donut. Part of our resistance to this temptation was that even though we may not have always been serving, we were always talking to someone. Then as soon as we were finished serving, we started putting things away and cleaning up until it was time to go to one of the seminars.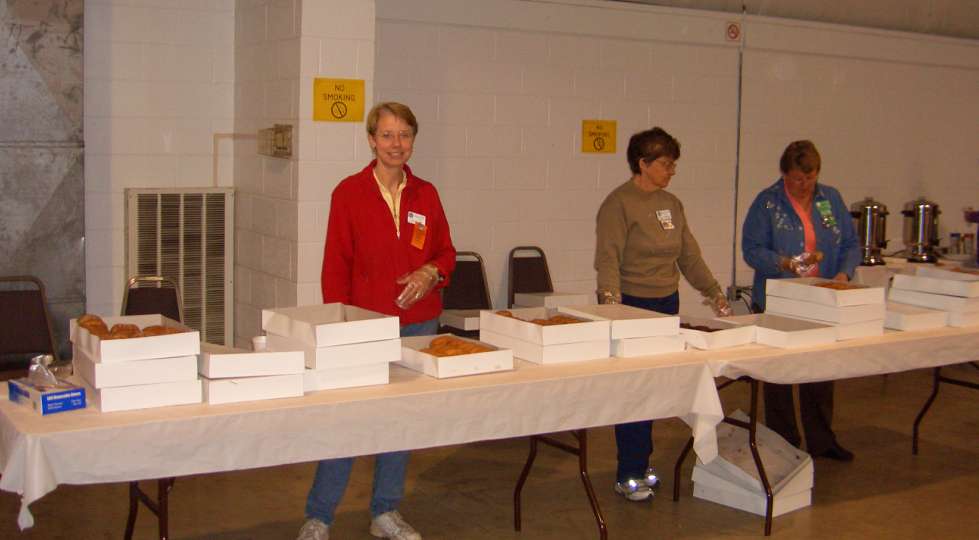 If you're not a worker, you could be a people watcher. There is so much going on it is simply amazing.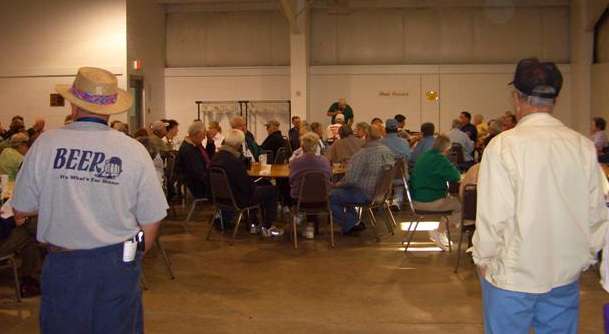 We have been astounded by how much we have learned at the sessions. If you own a Holiday Rambler Diesel Pusher, this is a must attend rally. One of the things I have been remiss about is not talking enough about the sessions we have been attending. Todays sessions which we attended were: 1. A question and answer session led by the Service manager and lead foreman for Monaco Coach Corporation. These are the two people in charge of the Indiana Service Center. 2. Two sessions by the Cumins Allison people, the engine and transmission manufacturers. One was more of a semi-formal presentation on what you should expect and do, the other was an open question and answer period. 3. A presentation plus question and answer session on the Aladdin engine monitor system. Done by a salesman, it was one of the poorer presentations. 4. An informal presentation and question & answer period on Onan generators. 5. Same type of session on Atwood furnaces (We have two of them in the coach). 6. Question and answer period on the SaniCon waste macerator system. . Question and answer period on the Roadmaster chassis. There were several other sessions we could not attend. Each of these sessions dealt with products that are actually installed on our coach and that we use all the time. That is what was really great about this rally, real world information for real world situations. Instead of having some generalized information on a product, i.e., an engine monitor that is not on your coach, everything here is specific to Holiday Rambler Diesel Pushers. It simply doesn't get better than this. I will not bore you with a description of all the things we learned, but we will be getting our Aladdin checked out once again (it is not wired correctly), however our transmission temperature gauge that never shows any temperature is actually working correctly. Our SaniCon bypass line is plugged and lastly we still don't know what is the best way to setup at an RV park. We think it is slides out, dump air and jacks down to set up and jacks up, air up, slides in when leaving. Plus a whole lot of other things that will come to mind as we encounter situations in the future.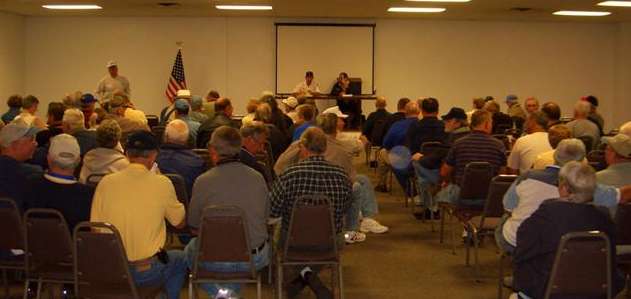 It was a beautiful, sunny day, so we had the tomato plant out in front of the coach all day. It is really blooming now. Haven't seen any tomatoes set yet, but hope springs eternal with the tomato lady. For dinner we had grilled marinated chicken, with grilled sweet potatoes and grilled peppers, plus a tossed salad. Of course later, there was peanut butter chocolate ice cream for dessert, then and only then was the day done, smile.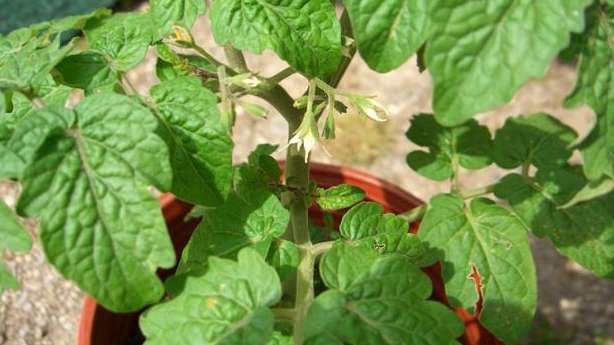 ---
click image for

the current post
---
May 8 The first official day of the rally. This is the annual rally of Chapter 419, The Ramblin' Pushers, of the Holiday Rambler Recreational Vehicle Club, HRRVC for short. It is for owners of Holiday Rambler diesel pushers and is a mix of technical sessions for both men and women, plus area tours and crafts for the women. It is four days in length but you can come up to three days early because there are early sessions to attend. When we bought our HR motor home we got a coupon good for one year's dues in HRRVC which is the parent club. There are over 300 chapters of which this is one. Besides the technical sessions there is a display of new coaches by local dealers. All in all there will be over 200 HR diesel pushers at the fairgrounds. We have never attended a rally of any type before so everything we are experiencing is totally new to us.

After our usual breakfast, remember the 10 pounds of oatmeal Linda bought at the Bulk Food Store, we headed off to the start of activities. Every morning they serve donuts, bagels, orange juice, coffee between 7 and 8. We don't eat donuts, but we so enjoy the fellowship of meeting and talking with our fellow RV'ers, many of whom live in their coaches year round, like us, that we were soon down with everyone else. No, we didn't eat any donuts, but the decaf coffee sure hit the spot. The reason was we were saving room for our Amish meal tonight. The day begins with announcements to the donut gobbling, coffee swilling throng. At 9:30 the first technical sessions began. We both went to the Endeavor Round table, since we own (live in) an Endeavor. It was very informative. First off we found out everyone has a few problems with their coach and a very small, but vocal minority have a number of problems. Then there are the few who's level of expectation is totally unrealistic. You know, the ones who think the factory should fix every loose screw, etc.. And at the end of the their rope is the couple who have the lemon. As we listened and took copious notes, okay as Linda took copious notes, we found many of our questions answered.
The session over, we came back to the coach for a lunch of turkey wraps, then Linda was off to a cooking and decorating round table discussion. I was killing a little time before going on a new RV walk through when Mike, the service technician, came to work on our coach. This was the work we had signed up for on Saturday morning. They determined there was nothing wrong with the Aladdin Jr monitoring system, I still don't believe them, smile, but at least we know where we stand. There just doesn't seem to be anyone who knows how it is supposed to operate, they just say whatever I say or that what it does is how it should work, but always after seeing what it does. The other two problems were able to be corrected. The battery checked out okay with no unusual drain on the engine batteries. The solution was to install a battery minder which was placed in the left front electrical bay and which should keep the engine batteries charged when we are hooked up to shore power. The problem with the non-functioning black tank flush system was solved be replacing the blocked flush spray head.
When Linda returned from her class where she made a soy candle, we went to the dealer open house. We were pleasantly surprised to see one of the salesmen from the dealer we had dealt with in California. Turned out he was now working for the same dealer in Indiana. Small world, isn't it. We toured coaches and ate cheese, talked with other people about the day and reached the time we needed to leave for Yoders to eat our Amish dinner. There was supposed to be a carpool leaving at 5:30, but remembering what we had learned at the first timers gathering last night we decided to leave at 5:15. As we were leaving a red SUV was in front of us and turned in the same direction we were going, away from town. We strongly suspected they were going to the dinner and later events proved that supposition to be true.
Our route took us through the heart of Amish country. As we drove,

we saw many Amish buggies out on the roads and farmers with teams in the fields trying to use the evening light to prepare the fields for planting. We followed the red SUV, making turns at all the right roads. Unfortunately we were busy talking when we should have been noticing that the red SUV missed a key turn. The sign that proclaimed the Michigan border in 3 miles alerted both them and us that we had definitely gone to far. We turned around and headed back the way we came. At last the right road was located in Middlebury and the turn made. About 5 miles out of town the Red SUV missed another turn, but we didn't. I flashed my lights to alert them and made the turn. As we waited for them to turn around and come back, the car pool from the fair grounds turned onto the road and went around us. We followed them the rest of the way, lol.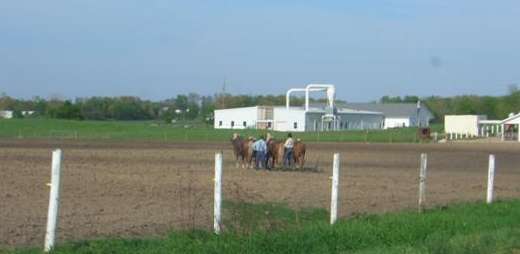 The meal was at an Amish farmhouse. No electricity and with horses for transportation. The real deal. The meal was served home style,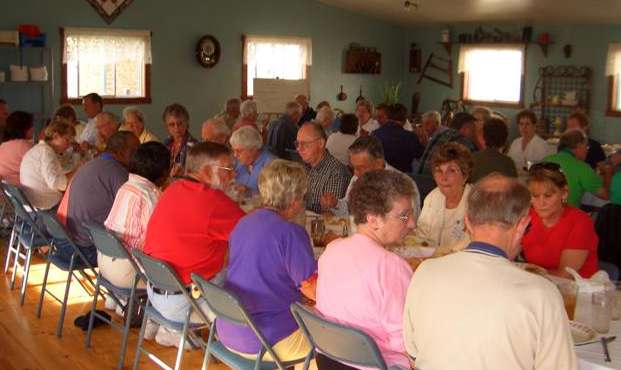 Homemade bread with honey peanut butter and apple butter was served first followed by a finely chopped lettuce and cauliflower salad smothered with a sweet dressing. Next came the main course, whipped potatoes, beef gravy, mixed vegetables (carrots, green beans, lima beans and corn), meatloaf and breaded fried chicken. Talk about good, it was as good as good can be. Dessert, a Bob & Linda favorite, was totally over the top. Peanut butter custard, chocolate and rhubarb custard pies made for a dessert to end all desserts. To give you an idea of just how good, each pie was cut into 6 pieces. Everybody cut a piece in half except yours truly. Okay, so I'm a pig, but they were that good. Don't think for a New York second that I took a large piece of each of those three pies, no sir, I am one discriminating pie pig, lol. A long time ago when I was dating this teenage girl, every time I went to her house, her mother had just baked my favorite pie, rhubarb custard. It was only later, after she had captured me, that she admitted she told her mother to bake those pies every time I came over. Guess which pie I had the two full pieces of, lol.
After the meal was over, we took a ride in a buggy. Not a want to be buggy, this was a real Amish buggy. The kind with the little windows in the back and sides like we had seen on all the roads in the area.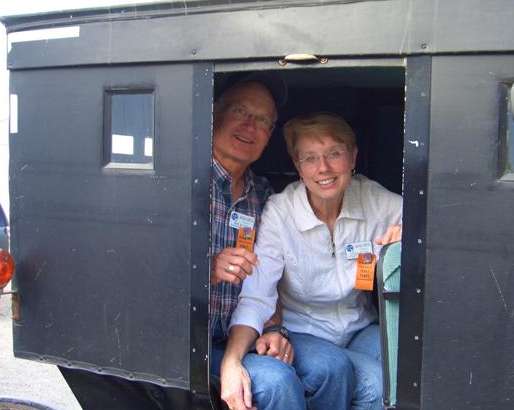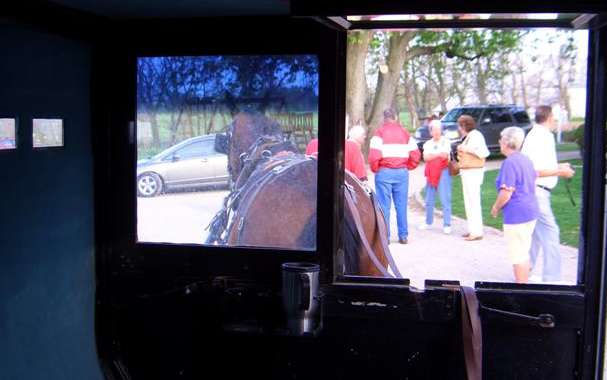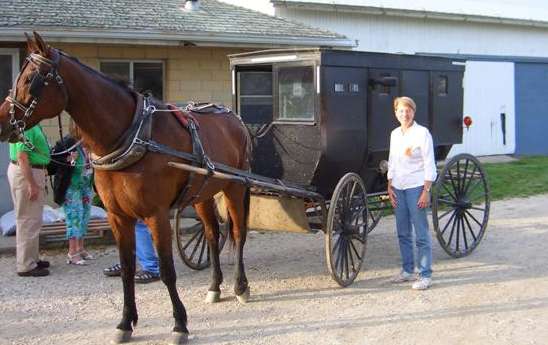 During the drive drive home we continually passed these buggies on the road and teams in the fields pulling disks and harrows.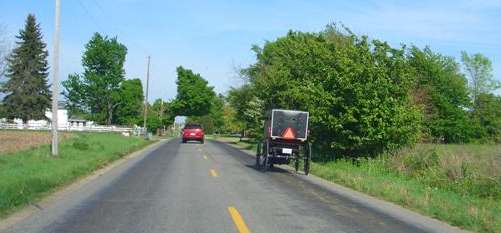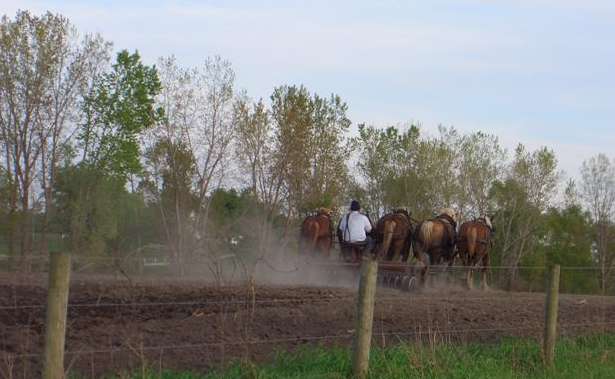 Soon we were back at the coach eating another dessert, chocolate peanut butter ice cream and heading to bed as we needed to get up very early in the morning, but the story about that will have to wait until tomorrow, smile.
---
click image for

the current post
---
May 7 Sunday morning dawns sunny and warm in northeastern Indiana. The early risers are walking past the front of the coach, intent on their morning exercise routine. A set of railroad tracks runs behind the fairgrounds, the roar of a passing train breaking the silence. The standard Bob & Linda breakfast slowly bubbles on the stove, the air filled with pleasant aromas, life is good.
We start the day by going down to the ECCC building for a church service. It was led by a retired local minister who related the RV lifestyle to the lesson of the sermon. It has been really interesting to visit the many different churches and denominations as we have traveled. We have continually been surprised at the number of really interesting sermons we have heard, ones that not only keep your attention but also have you thinking when you leave. Whether a battlefield, church or small town, there is so much in this country of ours to experience and enjoy, plus it seems to be everywhere, we just have to open ours eyes to it.
After that it was time to go to work. The first item on her list was the installation of our FMCA plaque on the back of the coach. A quick walk down the row of motor homes revealed two distinct methods of attachment. One was the use of special clamps designed to offset the plaque behind the ladder, the other was to use zip ties. I was directed to use the zip tie method by the labor gang boss. We had noticed some people used white ties while others used black ties. This was not a problem as I told her I only had black ties, which saved my having to hunt for the white ones if she wanted that color, smile. The hardest part of the whole operation was getting the ladder out of the bay. The actual mounting was quite easy and the finished installation looked like I knew what I was doing.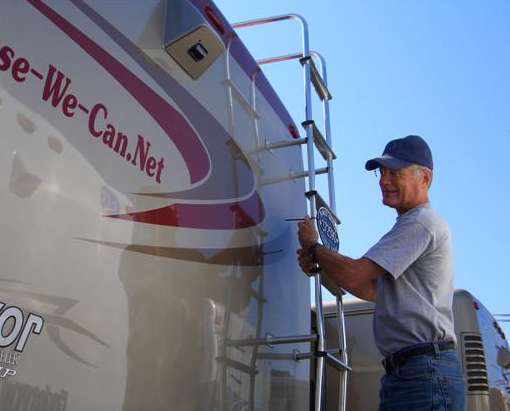 Next Linda used the ladder to clean the front of the coach, windows and all. I marvel at how anyone gets anything done to the front of their coach. Most people who walk by seem to stop and talk and every time she would climb down off the ladder and converse. Think of it as a very pleasurable way to get your exercise. Of course the fact her tomato plant was right there soaking up the afternoon sun also served as a point of conversation. Just looking at someone is usually enough to get a conversation started and that is what this is all about, sharing with people.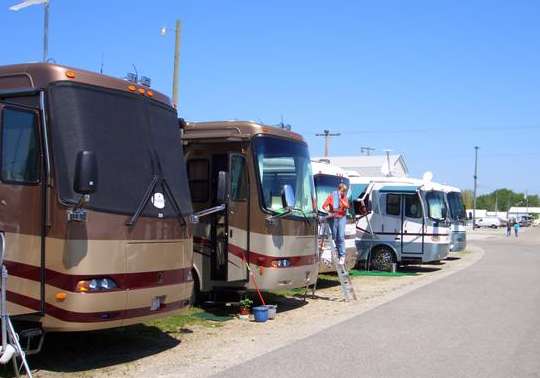 It also amazes me (we are newbies at this rally thing) that all the vehicles parked near the coaches are toads. In fact every coach that I saw drive in to the fairgrounds appeared to have a toad following it. Instead of calling this a field of dreams, you could call it a field of toads, lol.

The fairgrounds slowly fill up. I tried to take a picture from atop the grandstand to give a birds eye view of the rally. The problem is it is spread out over so much of the grounds, plus there is a huge area filled with coaches in the front corner that is blocked by some buildings. I did take a picture that shows some of the coaches. If you hunt you can find us, as we are the far right hand brown coach just peeking over the roof the long building in the foreground.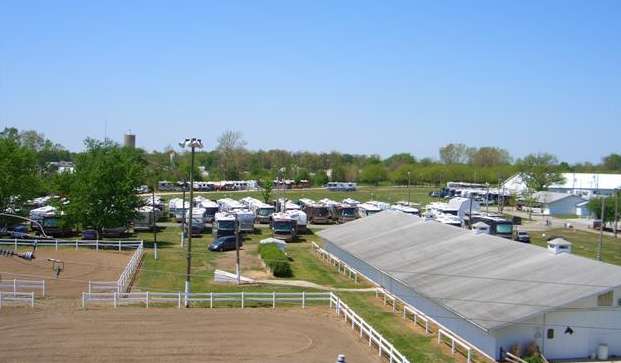 The afternoon was spent working on the website, napping, watching TV and visiting. The latter is the easiest thing to do. Just stand out by your coach. We also went down to the ice cream social. Arriving we found out we needed our tickets which came in our registration envelope. This was one of those incidents in the lives of your intrepid RV'ers that shows just why we are so happy. Walking down to get our ice cream the first time, Linda kept telling me to slow down. She claimed I was walking too fast for her. Then we found out we didn't have our tickets and headed back to the coach to hunt for them. This time she was a woman on a mission. I debated whether or not to tell her I was having my little legs run off when the pain got the best of me. It elicited no sympathy from her. I doggedly tried to keep up, finally arriving at the coach to see papers flying from the white envelope our registration materials came in. It was almost in triumph that she announced that there were no tickets in the packet. Then, as she was putting the scattered papers back into the envelope, I heard her mutter, "What's this." Turns out, this, was one of the ice cream social tickets. A flurry of activity located the second ticket stuck inside a pamphlet. The return trip to the social hall was at moderate speed as we good naturedly teased each other about being newbies at this whole thing. So new, we don't know what we are missing cause we don't know we are supposed to have it in the first place, lol. Of course as happens constantly, we ended up sitting across from a very interesting couple who had been coming to HRRVC rallies for over 20 years. Listening to their rally stories, we realized we had a lot of dumb things left to do, smile.
We returned to the coach, full from our pint of vanilla ice cream and started eating cheese and drinking soda, accompanied by more work on the website for me and surfing for Linda until it was time to go down to the first timers meeting. This was meeting specifically for people who were attending their first rally. Sounded like just what we needed to attend. There were quit a few people at the meeting where we were given the basics of all that would be happening this week. Afterward there was fresh popped popcorn and sodas. While waiting in line we made some more new acquaintances and spent the rest of the time talking with them about our respective coaches and adventures. Later we snacked on cheese and crackers for supper. See we don't always eat health food, lol. Lest I forget it, after watching Desperate Housewives and Grays Anatomy, we ate our dessert of something new, chocolate peanut butter ice cream, and called it a day.
---
click image for

the current post
---
May 6 So what's a day at a rally like. I guess we'll find out on Monday when it starts, lol. We plan on being tourists today, driving up to Shipshewana for some shopping. After our usual breakfast of, you guessed it, (if you didn't, 92.6% of the time we have the same thing for breakfast, oatmeal cooked in milk, strawberries, stevia, chopped walnuts and cinnamon), we headed off for the registration area. One thing we quickly learned was that most of the people here have attended many of these rallies. Hence they know where to go. The secret then, is to find someone heading in the same direction you are going and also carrying the same piece of paper you are. Simply follow them and viola', you're right where you need to be. Obviously we're not just your average RV'ers, smile.
Registration went as expected. It was easy, once Linda showed the lady handing out the registration packets which one was ours. I think our high number (ours is over 112000, most of the others were under 90000) threw her off. Next it was over to the ladies activities table, or rather I should say, Linda zoomed over to the ladies activity table and before I could even get there, she had signed up for a candle making class and was in the process of signing us up for a meal at an Amish home on Monday evening. And I thought we came here to learn about how to operate and maintain our coach, lol. Her primal female needs quenched, we headed off to the Monaco Coach Corporation service sign up area. This is where you get on a list to have your coach worked on during the rally. We gave them several things to look at. You were only supposed to ask for 2 things but our groveling and tears moved them to list the black tank flush not working, the batteries discharging and the Aladdin Jr not shutting off, smile.
At last we were off to Shipshewana, following the directions Linda printed off from Streets and Trips. Of course it always helps to have the names or numbers of the roads on the map, but at least we had a map. I will spare you the gory details, just suffice it to say we saw a lot of very interesting countryside on the way over to Shipshewana. We had been there the other day with Linda's brother, so we knew a little about the roads leading into town. I'll just say that our approach to town was from a different direction than he took, even though we had started from the same direction, smile. Relieved that we were actually there, we didn't notice the almost gridlocked traffic in the downtown area. Seems there was a festival going on. Our first stop was going to be at the bank near downtown to use the ATM machine. We ended up parking in the middle of someone's backyard and walking to the bank. Fortunately either the homeowners were out or weren't watching their backyard. The only thing we left was some mashed grass and possibly some minor ruts. Who knows, maybe we gave them a money making idea for a parking concession if they can figure out where the tracks came from, smile. There are times in life that you just have to do what you have to do, regardless of what Linda says, lol.
Next it was off to The Bulk Food store, the same one we had been at a few days ago. Actually, it was more like a game of dodge'em cars in an attempt to get on the road to the bulk food store. Yours truly, acting like a local, took off on back streets only to find himself in a line of Amish buggies heading to the Saturday morning auction. A quick right turn proved to actually be a turn in the right direction, pun intended, and soon we were on the road heading toward the bulk food store. It was far enough out of town that the traffic was much lighter as we approached the left turn into the parking lot. I was about to make the turn into the store when I realized why traffic was so light, it appeared everyone on this side of town was already in the bulk food store parking lot. Undeterred, I turned in and low and behold found a parking spot. Besides all the cars and pickups, there was also a RV and numerous horses and buggies there. The RV was gone when we finally came out of the store, how he got out of that lot I'll never know, and wouldn't want to guess, lol. This is one big store, but it is closed on Sunday, as are almost all of the stores around here, so Saturday becomes shopping day. Linda was in a shopping mood. She claims to be a buyer, not a shopper but get her in a store like this and her genetic makeup takes over. Isn't it something when a female's shopping genes takes over their body, smile.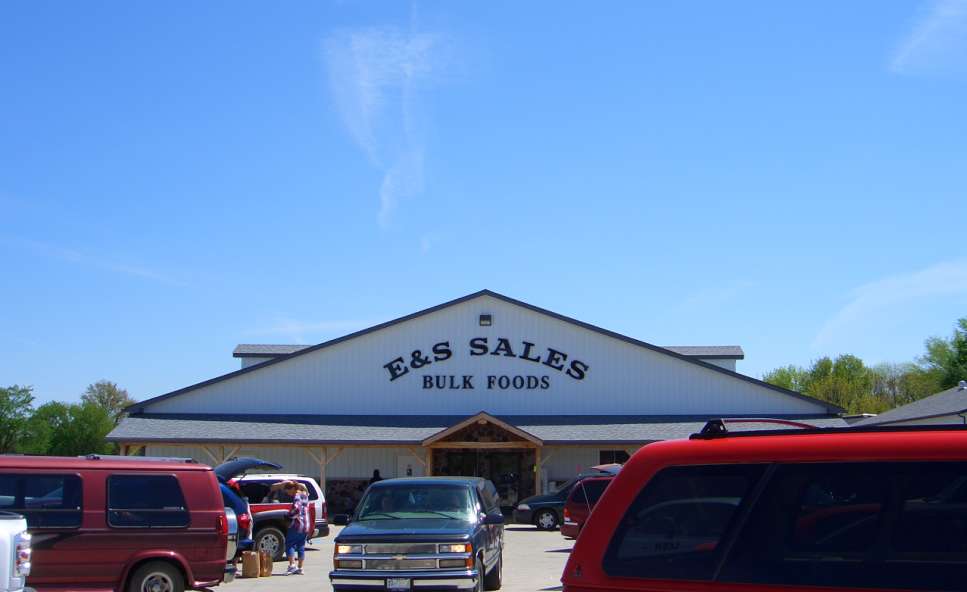 We get more of the $.29 per lb oatmeal, plus lots of other necessary stuff in huge quantities. How about instant pudding where the directions start: add 1 gallon of milk, smile, or the half pound of ground cinnamon (don't worry we eat lots of oatmeal she says) or the two pounds of roasted soy nuts (we don't, correction didn't, even eat soy nuts). A bargain is a bargain and not to be passed up, lol.
They had little cubes of cheese cut as samples and placed next to each type of cheese in the case. All in all, there were probably 20 to 25 different types of cheese displayed there. This woman I am married to sampled each and every type of cheese they had out, sometimes more than once. Did you know we don't eat any cheese other than low fat. That didn't deter her from sampling each one. Something about a little bit of each type won't hurt. Of course by the time she was done with her taste testing, she had probably eaten at least a quarter pound of cheese. I wasn't going to point this out to her since I was still in deep trouble over my comment on the map with no names or numbers during the drive here.
Next she decided the books and toys of the Amish need a microscopic examination. Unsaid during all this dilly dallying was my old mans disease, you know, the one where you have go every so often and do a number 1, lol. By now I was in near agony with no relief in site (I've heard all the stories about childbirth, but they pale in comparison to this, lol) when at last she asked if I was ready to leave. I was probably red in the face by then, but still managed to blurt out, yes. I'll bet you're wondering why I didn't just go the the restroom in the store. Well I did, go that is, because I had made a near microscopic examination of the inside of that store and there was no restroom. I'm with you on that one, where I come from every store that serves the public is required to have a restroom. This one didn't. Maybe driving automobiles isn't the only thing the Amish don't do, lol.
As she got in line I told her I needed a breath of fresh air and was going outside. I hadn't told her my of uncomfortable situation, so escaped rather easily. Outside my mind worked furiously to come up with a solution to my predicament. I walked around to the side of the building thinking there might be be a rest room over there. Nothing but a row of Amish buggies. Maybe there is an outhouse I thought (you can tell that by now I was in total brain function shut down, but I was literally drowning (from the inside out, smile) and had to do something quick. Thinking maybe there was a place on the other side of the building that was screened enough to give relief, lol, I headed that way. Suddenly two women walked right in front of me. I took a couple of steps and stopped. I was now in directly in front of the door to the store. Turning around I saw it. There was a "women" sign over the door they had come out. The restrooms were outside the front of the building. I was saved, lol.
I was on my own as far as directions were concerned for the return trip (that woman doesn't forget easily, smile), but I felt so good it was not a problem. Driving the main roads, it was much faster than the round about county road route we had taken on the trip over. We did stop at a Kroger grocery store to get a couple of things. We found the store by driving around on the main roads in and out of town since we didn't have a map worth anything, smile. Back at the fairgrounds, we went to a seminar on RV tire safety then worked on the web page, finally getting an update finished and uploaded to the server. Dinner was chicken quesadilla's, followed later by that peanut butter ice cream that has been so good.
---
click image for

the current post
---
May 5 A travel day again, but today it's only a short trip over to Goshen and the HRRVC rally. Linda was so enjoying her visit with her "big brother" it was hard to leave. Somehow or other they managed to spend all morning once again visiting. It gave me a chance to work on the website and then get the coach ready to travel. But first we needed a farm style meal to send us off. Somehow or other Betty Lou managed to serve what is both Linda's and my favorite vegetable, pickled beets. Even better was, she gave us the leftovers to take along. That's as good as it gets, bar none, lol. Plus for dessert there was both Betty Lou's Zuchinni bread and her Pumpkin bread. I think it just got better, lol,lol.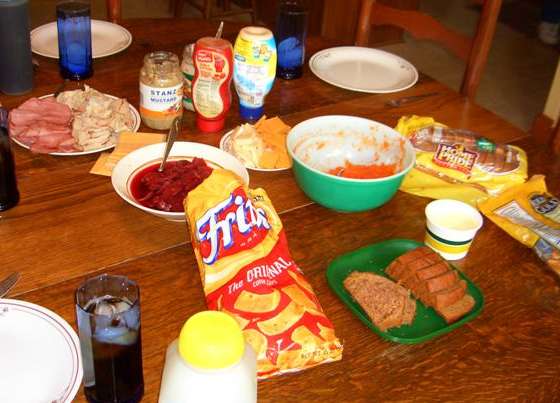 Before long we were on our way to Goshen, located about 70 miles to the east. It was a nice leisurely trip as we were not in a hurry. The miles slowly rolled behind us and in Nappanee we noticed two Holiday Rambler coaches were now behind us. They followed us the entire way to Goshen. Just before we turned on the road to the fairgrounds another coach made a turn at the light so there were four coaches in a row going into the fairgrounds. We had never been to a rally before so didn't know at all what to expect. After turning into the fairgrounds we stopped directly behind the coach we had followed for the past couple of blocks. There were a number of fellows in orange vests and one of them came back and told us to unhitch. Then we were told to follow the coach in front of us.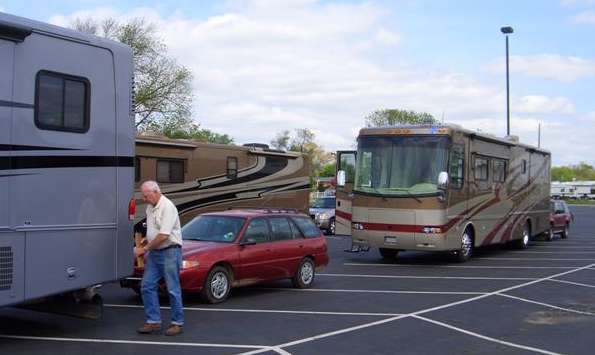 Our little convoy was led by two orange vests in a golf cart, the first coach, its toad, then me, followed by Linda driving the Explorer. We went through a narrow gate, past some construction equipment that hung way out into the road, then came out into a large grassy area. They waved the coach and toad in front over towards the left and into the grass. The coach made a large looping turn in the grass and was directed by the attendants back into a wide space. We waited all the time this was happening and while doing so, I was thinking how easy it was going to be to park. Linda has always directed me into our spots, so I will admit to being a little nervous at facing the prospect of doing it without her, smile. Soon they waved me forward, but instead of motioning me over to the left and into the large grassy area, the golf cart drove on down the road then turned left on another road, then left again which took us down what seemed like a very narrow road with RV's parked on both sides. About 2/3rds of the way down we stopped. And waited. And waited. And waited some more. Finally a SUV backed out onto the road and drove off. Then we waited much, much longer, until I was finally waved forward. The only thing was, I didn't like how he was waving me forward. He was motioning for me to pull far to the left then angle across the road to the right. As I drove forward I could see a small opening to the left in the line of motor homes. It looked like the perfect spot to park a Mini-Cooper or a motorcycle. Then I noticed a wide opening to the right. Ah, I reasoned, they are having me shade to the left to make it easier to pull into the opening on the right. As we kept moving forward I saw that idea beginning to fall apart with every foot we moved forward. It was now apparent they wanted me in that tiny little spot on the left. The parking attendant giving me directions outside my front window was the epitome of economy in both motion and words. I couldn't figure out what his wiggling fingers meant. His words came out around the wad of tobacco in his mouth sounding more like grunts than syllables.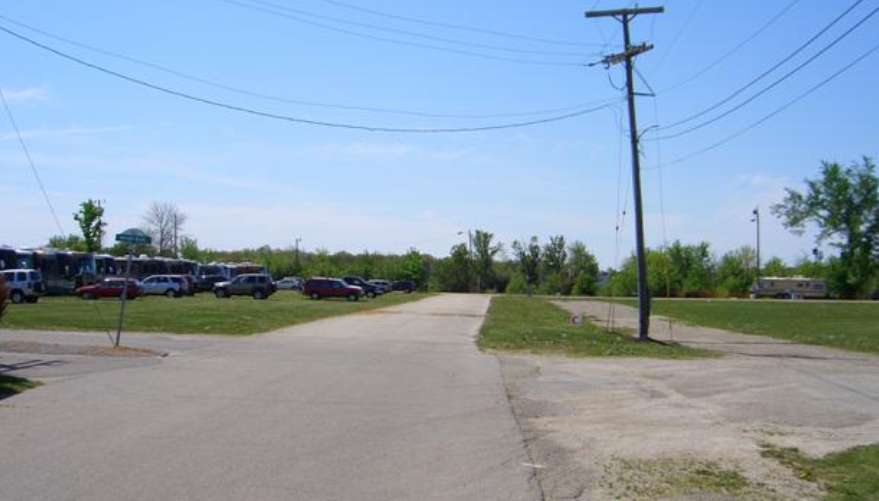 Confused wasn't the word to describe my state of mind. However, me being the bright young lad that I am, communication between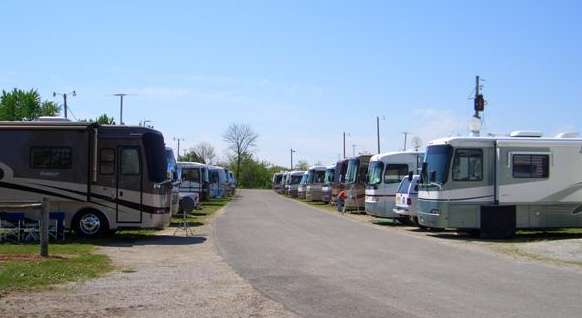 us was finally established when I started telling him out the open window of the coach what I thought he might be directing me to do. If my words were followed by his rendition of, finger licking good, then what I said was right. If my words were greeted with grunts, then I did the opposite of what I said. On the rare occasions when that wasn't right, an immediate symphony of loud sounds and windmill gestures let me know I'd better stop immediately and figure out what he wanted me do, smile. While this was going on up front, there was a second parking attendant at the rear of the coach also giving directions. He was soon joined by Linda who was giving her best imitation of a windmill in a tornado. Talk about confused, I wasn't sure who to take direction from, lol. It actually only required several maneuvers to have the coach parked in just the right spot, once I figured out what I was supposed to do. But what really made me feel good, was later, when several people commented on what a good job I'd done of parking in that real tight spot.
After we got set up, we went out to eat our 4 o'clock peanuts and ended up sitting with a group of people, several coaches down. That's how we met Bill & Phyllis from near Houston, Texas and Joe & Linda from Hanford, California. One thing led to another and soon the six of us were off to eat hot wings at BW3, followed by a stop at Ritters Frozen Custard. Since Goshen is nicknamed, The Maple City, we all enjoyed the maple walnut flavor. Several of us even had the 2 scoop serving size, smile. Of course you have to realize we could not let the day end on this note. Not without dessert. You see, the frozen custard was not dessert, it was simply an after dinner treat, lol. Thus we closed out the day with a dish of peanut butter ice cream. Do we live the good life or what, lol.
---
click image for

the current post
---
May 4 Another day for rising early. What's going on here? Now, just because we are about five miles into the Central Time Zone, it is no reason to get up at the crack of dawn. Call it 5AM or 6AM, either way, that's early in the morning. Of course I didn't let it go to waste, typing in my maddeningly slow fashion, I worked on the journal until she who I have spent my life with arose. How she can always be so happy and cheerful when she first gets up took me a long time to figure out. After years of marriage it finally hit. The first person she always sees in the morning is yours truly. It has to be my good looks and muscular body that gives rise to some type of prehistoric celebration over the man animal she has captured for her own, lol.
All this flitting about the coach and domestic activity she displayed, jarred my senses back to the normal. It also made me aware our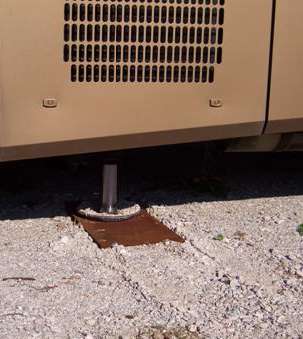 list to the port side had once again returned. Sometime later when I was in as jovial a mood as she was, I checked the coach to see what had transpired during the night. It was as I had suspected, the channels of the channel iron had reacted as all channels do. They dug deeper into the ground. However, now with the flat of the channel iron resting on the rock, not above, maybe the gravel would hold. With deft precision I lowered and further adjusted the jacks. The coach raised to a level position and stayed, Hurray. A little later as Linda was leaving she came back in the door. Seemed to her the front steps weren't where they should be. I took a look and had to agree. When we raised the port side, then the starboard or opposite side of the coach which has the steps, lowered. Too low it would seem. The final solution was to raise the front an couple of inches giving the coach a slight list to the stern. Wonder what tomorrow morning will bring, lol.
We are parked in front of Charles' storage building, a building filled with memories of my childhood. There was time in my life, 45 years ago, when I could have operated a Gravely tractor, in my sleep, blindfolded and upside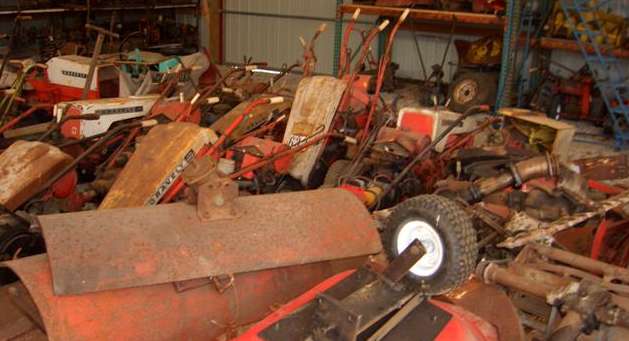 down. My teenage summers were spent walking behind one of those deafening, shaking, cantankerous contraptions, attempting to guide either the sickle bar into high weeds or the rotary mower through grass. Rough ground caused those handlebars to violently swerve to one side or the other, sometimes it seemed like both sides at once. If you have ever had the pleasure of operating one of those old all red, Model L rattletraps built in the early 1950's, you know exactly what I'm trying to describe. If you never did, you missed one of life's great wonders. Like, I wonder where the leather starting strap got to, I wonder if it will start, I wonder if it will shake either it or myself to pieces. I wonder what will fall off it this time, I wonder if there isn't someone else I can trick into wanting to operate it, simple things like that, lol. In this building are literally piles of Gravely tractors, parts and attachments. Most are the newer, tamer white hooded style, but back along the back wall I found the hulk of one of the old beasts, defiant in pose, even in death. Memories, so many memories. No wonder man dreams of a time machine. Would that we could witness our past from the present. But alas, it's not to be, so we have memories.
I spent the entire morning working on yesterdays journal write up. I don't claim to be fast, but all the same, I got to enjoy a few hours of classical music on the radio while I worked. (Linda is most definitely not a fan of this particular type of music, actually neither am I, but in my never ending quest to experience life, I also like to experience different types of music, some which I enjoy much more than others, smile). While this was going on, Linda washed several loads of clothes and got to spend time alone with Charles, as Betty Lou was having her own time away, courtesy of her hair appointment. Lunch was not turkey wraps today, instead we had turkey sandwiches. Didn't think we were going to stray 100% from the straight and narrow path did you, smile.
After lunch we were off to do some more tourist things. This time we headed north to the southern shore of Lake Michigan and Indiana Dunes State Park. What a beautiful place. Views of Chicago, freighters on the Lake, steel mills and the sandy southern shore of Lake Michigan. There was a campground, newly remodeled to accommodate modern campers, you know, the kind that have axles, wheels and tires on the bottom, not just a canvas bottom, smile. If you're wondering, we saw rigs over 40' in several spots, though the only hookups appeared to be electric. Just beyond the campground, a road led back to the nature area. We took a leisurely walk through a marsh area. Saw violets and even a May Apple in bloom. There were a pair of Canadian geese swimming in the water, shepherding three small gosling's. Betty Lou told us how she used to come to the park when she worked nearby and eat her lunch, which she followed with a walk along the trails. You could tell from the smile on her face as she was telling us this, that those were very pleasurable times.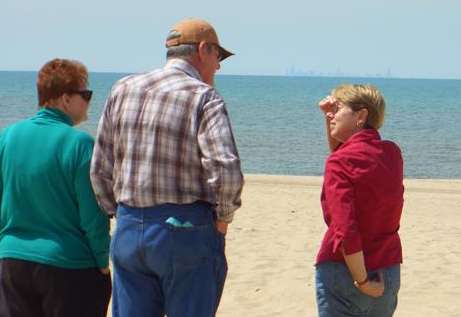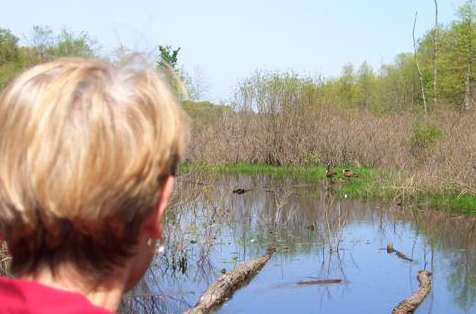 Next we drove over to Beverly Shores. Here are located four houses that were originally exhibited at the 1933 Chicago World's fair, then after the fair was over, moved by barge across the Lake to the bluffs between Porter and Michigan City. Here they have remained for all these years. After decades of neglect, they are currently being restored to the same state they were in at the time of the Worlds Fair. Their original purpose was to showcase new building materials or techniques, one that were not used in the 1930's. Unfortunately I got so wrapped up in looking at the houses, which we could only view from the road, that I forgot to take any pictures, sorry about that. There was a house with porcelain siding, another with huge glass windows (unheard of in houses at the time), another with cypress siding and the fourth, called the Florida house was pink in color (it was on the wrong side of the car for me to read anything about it, so I know nothing about it, other than it was pink, lol).
Heading south, we stopped at Valparaiso University to see their world famous chapel with its almost hundred foot high stained glass windows. Talk about awe inspiring, this is one truly beautiful building. As we slowly wandered through this architectural masterpiece its magnificence was beyond description. Each portion of the building brings a "wow", yet each part goes with the others to make the whole more than the sum of the parts. The nave is over 190 feet log, the walls rising 58 feet to provide seating for over 2000. At the front, limestone columns rise nearly 100 feet, the area between each of the columns is filled with a floor to ceiling stained glass window. On the floor below is a small chapel and the Baptistery, with a 5 ton baptismal font made from a singe piece of granite. The photo below does not begin to do justice to the beauty of this building. Standing right in the middle of the Valparaiso University, it dominates the campus of this Lutheran College, world famous for its School of Law. Completed in 1959, it is one of those things that you can so easily pass by. If you in any way appreciate the beauty of the marriage of art and architecture, you'll enjoy a visit. Standing outside the chapel is the bell tower, it itself a thing of beauty, rising nearly 150 feet into the air its 9 bells sound each quarter hour. This was one of those simple, yet unknown pleasures in life that can lift your spirit just by coming into its presence.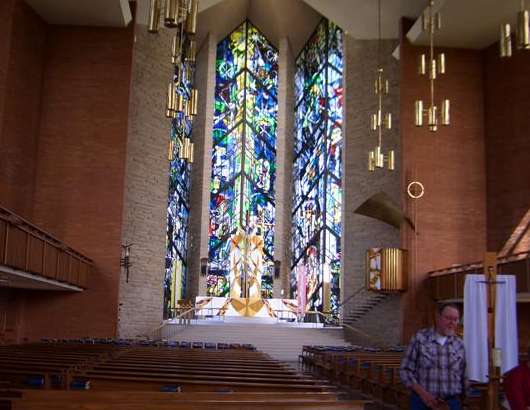 Next we visited with Linda's niece, Amy, at the church she attends and where she oversees the monthly fish supper that is served to between 400 and 900 people depending on the time of the year. Listening to her describe both the work involved in holding these suppers and the wondrous good things that the money raised from them does, gives one a better appreciation for what really makes our country what it is. How many thousands of times is something like this repeated through the USA. People helping people and asking nothing in return, what a wonderful feeling.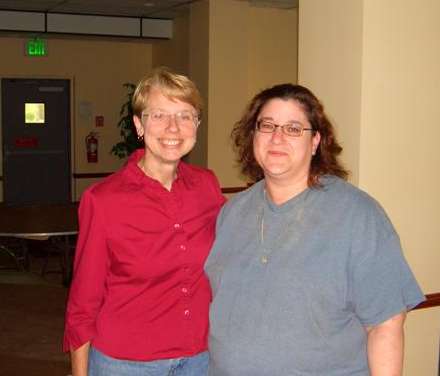 Our last stop resulted in another display of gluttony by yours truly. CiCi's Pizza parlor, an all you can eat haven filled with the most scrumptious pizza. After my fifth trip to the counter, I lost count of the number the number of pieces I had consumed. I shall pay a high price tomorrow, and it reminds of a saying attributed to Thomas Jefferson which was displayed in a store in Shipshewana. It said something to the effect, we never complain we ate too little at the banquet we attended the day before, only that we ate too much. So will it be for me, lol. Later at the house, Linda and Charles continued to catch up on family things, (living 2/3rds of a continent away for all those years leaves many family heirlooms to be to shown and discussed). As this went on, I did my best imitation of a bobble head doll, finally catching a good cat nap. Got to be alert and ready when dessert time rolls around, lol, which means the peanut butter ice cream was a perfect ending to a great day.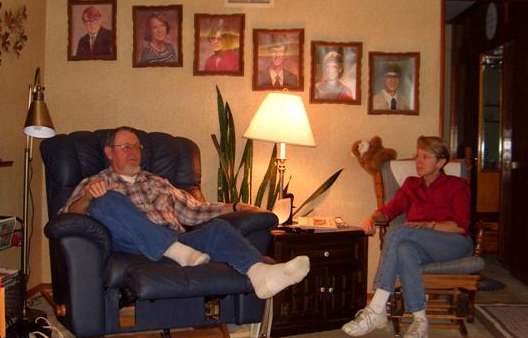 ---
click image for

the current post
---
May 3 For some reason we awoke early this morning, so early in fact, the birds have not yet began their morning serenade. We are going over to Shipshewana today, which is in the heart of Amish country. We again tried to get on the internet but the Motosat can not pick up the satellite, no matter how much it looks. The big tree in the yard is smack dab in the middle of where it is searching and there is no way it is going to find the signal. That means no email or web updates for a few days. Sometimes things just don't go your way and this is one of those times. Oh well, I'm sure we will survive, smile. We just hope everyone will understand we are having major technical difficulties as they used to say on TV. My goal is have the journals current, so that we can up load all the updates just as soon as we get a signal. And if you are reading this, then you know we got out from under that tree, smile.
For breakfast we drove down to a local diner and had a real country breakfast. I had apple pancakes while Linda had a feta cheese omelet with American potatoes (sliced fried). We noticed you could get one egg, toast and either a slice of bacon or a sausage link for $2.19. There was a table near us that had eight older men at it. Charles told us that every morning some of the retired farmers in the area got together for breakfast. The urge to be a bird and be able to listen in strikes once again. As we head across the Midwest later this summer maybe the opportunity to learn some local history will present itself.
Breakfast finished, we were on our way eastward toward our destination for the day. Besides being the center of the Amish/Mennonite communities in country, it is also the countries RV manufacturing center. As you drive into and out of towns, you see RV assembly plants, some small, some large and some gargantuan. As we traveled along, Linda's brother related how most of these companies are run the same way. Five or six men get together and one of them gets a small business loan, they operate the company sucking all the money out of it, making everything as cheap as possible until the company goes into bankruptcy. Then another man in the group gets his own SBA loan, buys the bankrupt company and starts the process all over again. That way each one of them becomes extremely wealthy but they never have to pay back the loan or repair any problems with the RV's. I'll let everyone make up their own mind about the validity of that story, smile.
The further off the main highway you go, the more apparent the Amish way of life becomes. The contrast between the neat, well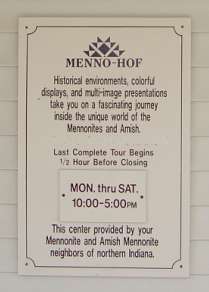 taken care of Amish farms with the horses in the pasture and the unkempt, almost trashy appearance of some of the farms with modern equipment makes for a stark contrast. Entering the outskirts of Shipshewana we stopped at Menno-Hof, the Amish-Mennonite visitors center. As their brochure so aptly puts it, Menno-Hof offers accurate information about the faith and life of Mennonites and Amish. If you travel through this area I would most highly recommend you stop and take it in. It is one thing to to drive down the road and see the spotless farms, the quaint way these people dress, the outmoded, but intriguing methods of transportation, ask yourself, how can they live this way, and then be on your way. It is a completely different thing to have a small glimpse into the "Why" of their life and realize just how much they live their faith in God. A faith, not as we or the world interprets it, but how they, the people that live it everyday, interpret it. As it has been said, sometimes a little non-conformity is a good thing. At the very least it will cause you to think, try to visit Menno-Hof if you are nearby. The story of the persecutions they endured through the ages and their triumph over them is worth it in itself. It is just that here you can see it recreated, down to a 16th century torture chamber. History, remembering the past so we don't repeat its errors, but then just look around the world today. Man can always justify his inhumanities to to his fellow man.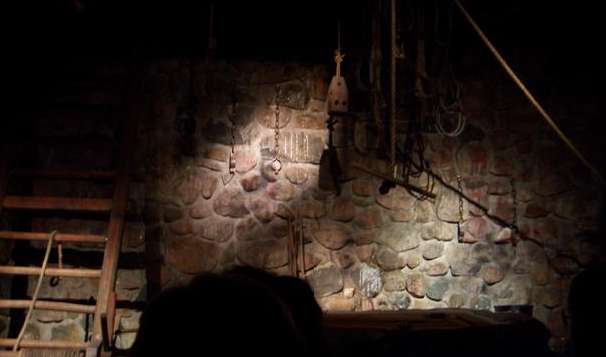 We learned that one of the things the Amish do which sets them apart, is their speech. Among themselves they speak the particular German dialect that has become to be known as Pennsylvania Dutch, while in their dealings with the outside world they speak English. Another interesting exhibit was the depiction of a room in an typical Amish house. There is a short narrative describing how surprised the researchers were when they discovered how modern a typical Amish house actually is. Think of your house, now take away anything that connects you to the outside world. What do you have left? Sometimes just taking a few moments to reflect on what life means is like a refreshing breathe of fresh air.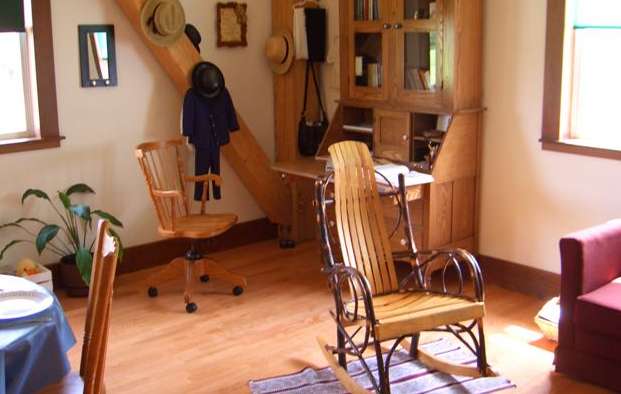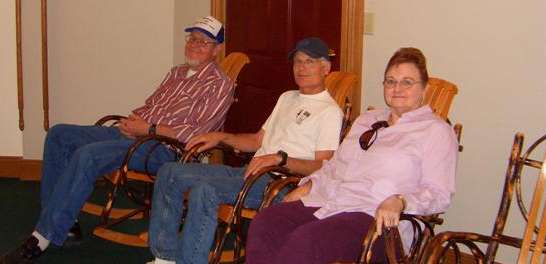 Next we went into town and spent time walking through tourist shop after tourist shop. Shops that cater to all tastes and types of people. Shops, some run by Mennonites, that bring us back to our way of life. Though, as you sit on one of the many benches scattered throughout the area, you often hear the clop, clop of the horses pulling their wagons into town. Seeing them swiftly moving past, two separate lifestyles mingle for a magical moment. One thing we learned at Menno-Hof was the Amish do not like to have their picture taken. I respect this, so other than a few photo's of buggies tied along the street, those were the only photos I took. To watch a buggy come down the street, driven by a young mother, a shy smile on her face, three or four children peeking out, bursting with curiosity, just like children everywhere in the world doesn't need a photo to give it meaning. To experience the connection of being human. The joy of life. The spirit of individuality. The adventure goes on and on.


Next we drove to the Yoder shopping complex. They have a number of different stores under one roof. We were particularly intrigued with the store that would be analogous to an ACE Hardware store, but with a difference. While there were things electric in the store, they were limited. Everything to do home canning was available, There was one entire aisle of kerosene and Coleman style lamps. The bolts, nuts and washers seemed to be in much larger sizes than normal. Pitcher pumps, horse supplies, Rada knives and high quality housewares, all were readily available. Housewares Linda has only been able to by through mail order, the special turner she has used for years, all were there, the variety and quality were mind boggling. Here you learn there are products available other than the cheap, worthless crap from China that lines the selves of most stores today. One thing that we both found intriguing was the food grinder section. We're not talking the electric miracle machine advertised on TV where all manner of gadgets are thrown in for free, if you buy it right now, (sure, smile). We're talking made in America, heavy duty, hand powered machines built to last a lifetime with spare parts readily available. We never knew there were so many grinders. Maybe, just maybe, the new way is not always the best way.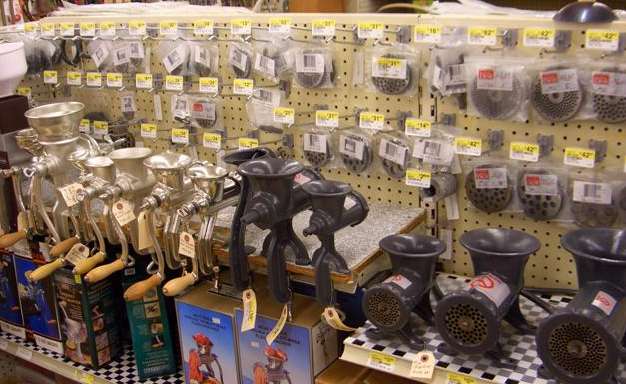 As we were leaving town, we stopped at what is simply called the bulk food store. It is just what it says it is. It also shows you just exactly how much you pay for Quaker Oats to advertise the slop they pass off as oatmeal. At the bulk food store, oatmeal, the nice thick kind with no hint of dust in the bottom packaged in a clear plastic bag so you can see exactly what you are buying was $1.90 for six and a half pounds, that's $.29 per pound. The next time we get to a grocery store I will check on the price of Quaker Oatmeal. We picked up some other things as well, English walnuts, tapioca, wasabi green peas and a round of swiss cheese. (England, Africa, Asia and continental Europe, talk about an eclectic diet, lol). We had got to the store just minutes before they closed, but that may have actually been a blessing in disguise, as limited shopping time results in limited expenditures, lol. Somehow I suspect that when we are at Goshen this next week, a return trip to this store will be in the offing, smile.
Our return trip took us past Wakarusa with the Travel Supreme factory and just down the road, the Monaco factory where our RV was built, then on to Nappanee where the Newmar factory is located. Dreaming, dreaming my life away, smile. Though this fall when we are in Oregon and we get to the Country Coach factory, I'll probably be doing more than dreaming, I most likely also be heavily salivating, lol. For dinner we stopped at the Country Kitchen Buffet in Nappanee. Good food, country cooked and lots of it. Linda has been a model of dietary propriety until now. All of those pot luck meals in North Carolina could not shake her resolve to avoid excessive consumption of calories. She has repeatedly stated she enjoys not having to take antacids after eating. Tonight I witnessed a small crack in that monolithic block of feminine resolve. It was the plethora of desserts which tested her past the breaking point. Her position was she took a small piece of several different desserts. My point was that no matter how it was achieved, the result was still a full plate, smile.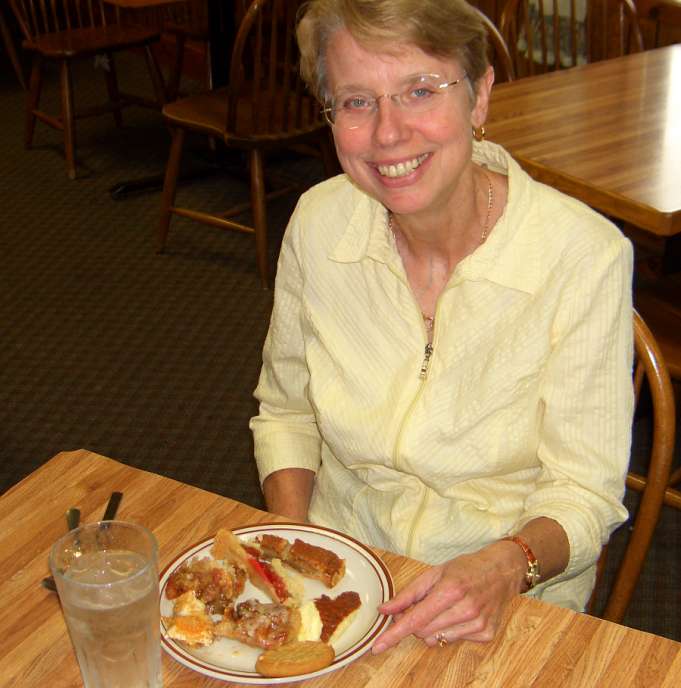 After we returned home we noticed the coach had developed a slight list to port. The left rear leveling jack base had punched a hole into the gravel. Linda found what she called a piece of 3/4" outdoor plywood and put over the hole. I said we'd better find something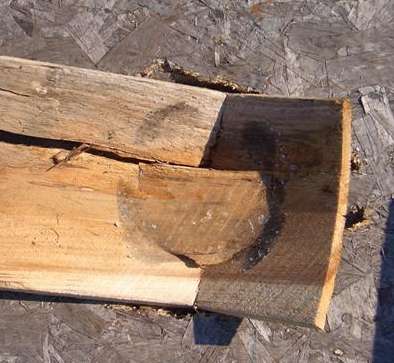 heavier, so placed a piece of 1x10 hardwood on top of it. Adjusting the level yielded some creaks and pops, but no feeling of being level. Linda opened the door to the coach and reported both ends of the boards were pointing up in the air. I raised the jack and went out. We now had a bigger hole and two broken pieces of wood. The outdoor plywood was actually particle board and the plank was pithy. Time for heavy duty reinforcements. We found a piece of channel iron about 12 inches by 24 inches. That should do the trick. But first we needed to get at least a little bit of gravel back into the hole. More gravel, more support. Though if the rock had just had that road fabric under it when it was originally installed we wouldn't have had any trouble at all, smile. I had to put the channels facing down, but the there was at least a solid piece of steel under the jack. Returning to the coach, it leveled and held.
That meant it was time for dessert, the peanut butter ice cream and brownies tasted just as good tonight after all those fancy desserts at the buffet as it does every night. Exhausted after a hard day of touristing, (let me tell you, if you can tourist, you'll find work camping easy, lol), we touched our heads to the pillow and fell instantly to sleep. Though in my instance it was after reading, as always, tonight's description of the cosmos in 365 Starry Nights.
---
click image for

the current post
---
May 2 As happens so often, when we awoke to a gray overcast morning, we were not alone. Sometime during the night another RV

had pulled in near us. Since we are in traveling mode, breakfast was shredded wheat and frozen peaches topped with warm milk. We went through our pre-departure check list, or at least we thought we did. A few hours later the kitchen utensil drawer came open reminding us that we had not checked everything before pulling out, smile. We were on the road at 8:45, heading north to Indianapolis and our first Trader Joe's store since January 28th. Linda had done a lot of research to find and print maps of the two TJ's stores on the north side of Indianapolis. Of course I got in the wrong lane at the wrong time on I-465 and ended up on I-69 (I add Indiana to my list of states that that have either morons or worthless political hacks in charge of the signs for their interstate highways, why else would there not be an 'exit only' sign on lanes that have to exit). Not all was lost as she quickly regrouped and got us off at an exit, even though we were on the wrong road, that would eventually take us to our destination.
The parking area at Trader Joe's was small, but directly across the street there was a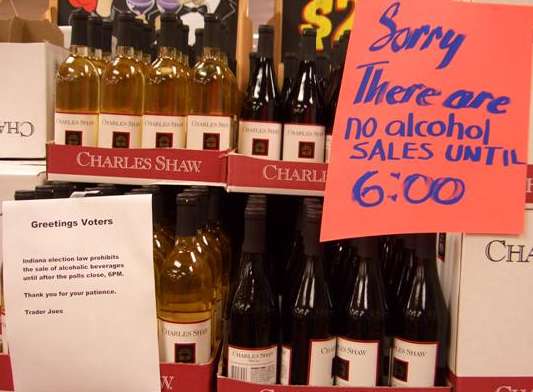 large shopping plaza . We pulled into this parking lot, parked, unhitched the Explorer and drove across the street to shop. The analogy would be backing somewhat similar to using your car to visit the neighbor across the street. We had thought about simply walking across the street, but figured we'd probably buy so much we wouldn't be able to carry it all, so we drove, lol. While we didn't go wild, we sure did enjoy walking the aisles and buying old favorites. The layout of this store was somewhat different to that of the stores we had previously been in out west. They also didn't carry some items we had hoped to get. We couldn't find the breads we had been missing, there was no naan, the Indian flat bread I enjoy. Neither were there any bean chips or preformed 4% fat ground sirloin patties, but they did have Hansen's soda, so we stocked up on black cherry. Some of this we excused because while we weren't in a third world country, it was Indiana. Also it was primary election day in this state. Seems like they have had a major problem with the politicians giving free liquor to the voters to get them to vote for one candidate or another, so all sales of alcohol are banned until the polls close at 6PM. I had planned to get some three buck chuck, but it was not to be. Another day, another store, besides there's fresh asiago cheese to assuage any damaged feelings I might have.
The groceries put away, we headed north towards Westville and Linda's brothers house. Our route took us northwest on I-65, a very busy road with more trucks than we have seen during our travels, until Lafayette where we headed due north on state highways. What a pleasure to get off the interstate and enjoy the drive through farmland and small towns. I just love the architecture in the small town's we pass through. The building on the downtown corner with the door in the front corner, probably a bank, the overly large brick house a couple of blocks from downtown on the main street, probably built by the wealthiest man in town at the time. This is my "someday isle", because wouldn't it be nice to be able to talk to some of the old timers in this town and find out its history.
Almost before we knew it were are at Linda's brother, Charles' house, 235 miles from where we had spent the night. Then the fun began. Even though he has an RV, it is no where near the size of our coach. We pull into his driveway and barely get the Explorer off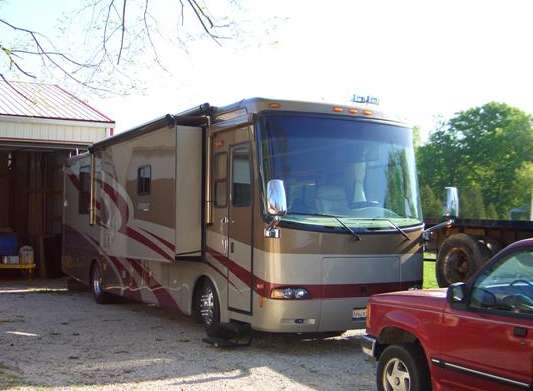 the road while leaving room to turn the coach in his circular driveway. It is a small circle and a large tree with very low hanging limbs grows in its center. Linda is concerned about our hitting the garage while I know we will miss the garage, but can not see how we will miss hitting the limbs. Multiple small turns accomplished by pulling forward then backing up, while never coming close to the garage, yet hitting the branches several times finally gets the coach in the right spot. Dear reader, I was the model of decorum throughout this ordeal. Not once did I yell and scream at the little lady, though I may have been a little loud at times. She, bless her heart, made no comments about irreconcilable differences or division of community property, so I think we handled it as well as anyone would have, smile. The remainder of the day was spent on catching up on all the goings on with our respective families. All this conversation was put on hold when Charles' wife, Betty, served the best baked boneless pork chop we have had in ages. Then it was back to talking. One of the things I really enjoyed was when Linda or Charles would start a sentence with, "Do you remember when Mom", or "Do you remember when Dad." Being the only surviving sibling in my family, I have no one to share those words with, no one to help me remember those times. But in a way I can, because as Linda and Charles talk about their parents I can sit there and and visualize mine doing similar things. To experience the connection of being human. The joy of life. The spirit of individuality. The adventure goes on and on.
Finally our nodding attention called a halt to the gathering and we headed off to our home on wheels. There was still the matter of dessert and as always, Linda rose to the challenge. Low fat, no added sugar ice cream and her special brownies, The usual perfect end to the day.
---
click image for

the current post
---
May 1 The day of departure dawned sunny and bright. We began our few small chores we had left until the last. We are not in a hurry to leave, as we are waiting till after the mailman comes at 10 o'clock to leave. Our grandson mailed a letter to us at the campground as part of a project his grade class is doing. It involves their writing, addressing and mailing a letter to someone important in their life. The letter, composed and written by Zach is a request that we write a letter back to him describing what it was like when we went to first grade. We saw the letters the previous years class had written last spring during the school open house and had been hoping he would write to us when his class did the same thing. He did and now we anxiously await the the arrival of the letter. There are so many ways we can give our love and guidance to the following generations, it gives me goosebumps just thinking about it. To experience the connection of being human.The joy of life.
My first task was to take down the bird feeders. Now what was really interesting was that no birds had visited them this morning. Did they know that we were leaving or was it all the movement in the coach that that kept them away. I think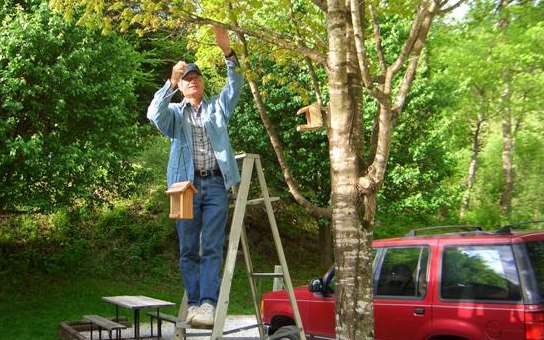 I know. Saying goodbye is a hard thing to do, even for birds. The feeders down, the uneaten seeds emptied into the bags, they were carefully placed in the back bay atop our green rug where they would be safe during our trip to Indiana. Linda disassembled the flag stand and it too was stowed in the bay. We had a slight problem pulling the re bar out of the ground, but a pair of pliers was just the tool to get the job done. The test was now whether the coach would start our not. Did the Trik-L-Start do its job or not. I turn the key, lights light, beepers beep, it worked, hurray. I turn the key further and everything goes dead. Not good, not good at all, it didn't work, bummer. Hold down the battery boost switch. The engine starts, take my finger of switch, engine stops. Once again, battery boost, engine, this time hold battery boost down, engine runs, hurray again. Let engine run to warm up. Roscoe and Carole come over to say goodbye. It doesn't seem possible that is only been a month since we first met. We know that our paths will cross again in the future, till then, this is only a temporary goodbye.
The engine warmed up, we shut it down, bring in the slides, do our final checks and get ready to pull out. Turn the key and nothing. Decide it is probably best to call Monaco. Linda starts over as I give it one last try. Once again, nothing. Something is definitely wrong. As I walk down the steps to follow Linda over to the phone I get an idea. Walking to the back of the coach I open the battery compartment and instantly spot the problem. The engine battery switch is turned off. No wonder it won't start, lol. With the switch turned on, it starts instantly, what a genius, what an idiot, lol. We pull out, hook-up the Explorer. The new brake and tail light works, mostly. We pulled up towards the office. Time to say goodbye to Ron and Becky. They own the park but through them we grew to realize part of living this life is to simply give yourself up to the opportunities you encounter. Good people and good things result. We said a fond but sad goodbye. Someday we will return to the "prettiest little park this side of heaven" and help out again. It is an opportunity not to be passed up. If you get the chance, do it, you'll be glad you did.
Leaving the park we give a couple of blasts on the air horn, a last goodbye to a wonderful chapter in our life. Slowly we wind our way down the hill and turn towards the west, leaving Marion and our life for the last two months behind. We drive up the mountain on I-40 towards Asheville and beyond. I-40 angles northward out of Asheville, winding through a beautiful pass through the mountains. We stopped at a rest area for lunch and uploaded our position to Datastormusers.com, ate a lunch of turkey wraps and talked with Jim and Marge who were full timers from Halstead, Kansas. When we drove into the rest area we saw a Holiday Rambler Neptune motor home in the parking area. Later I noticed a couple walking up toward our coach and walked over to them. That's how we met Jim & Marge who were just returning from a HRRVC full timers rally in Myrtle Beach, heading toward Kansas for a few weeks of grandchild time before heading off to Maine and the International HRRVC rally.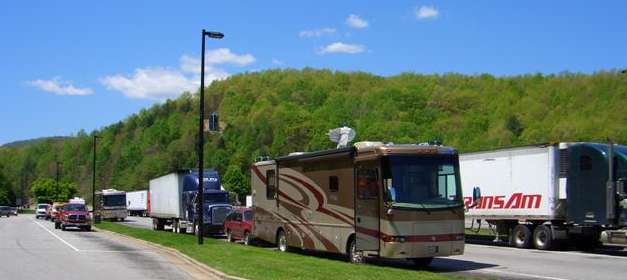 We switched drivers and Linda took over the behind the wheel duties. Talk about a slow speed chase, she'd have had OJ look like a world speed record holder, smile. I was just about to say something when it dawned on her, she was only going 20 mph on the interstate which had a 65 mph speed limit. Before long we were flying along at 45 mph and she was beginning to get her RV legs back. It was going to take a while since it had been over two months since she had last driven the coach.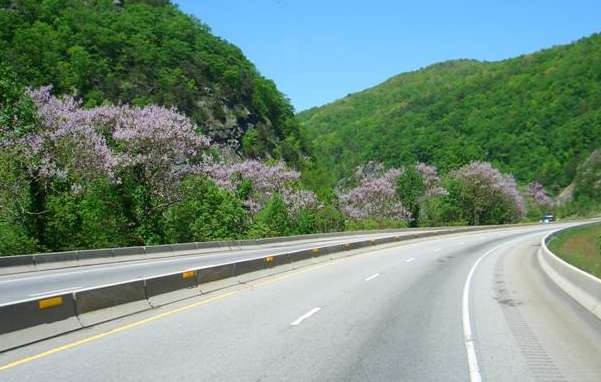 Suddenly the blue lights of the Motosat router caused an exchange of, "Did you lower the Motosat", which resulted in our stopping to lower the dish, smile. Apparently no harm was done, though she was quite chagrined at having forgotten to check to see if it had been lowered before driving off. The drive continued through a beautiful winding valley, then merged with I-81 and headed toward Knoxville, TN. She continued driving for almost 2 1/2 hours before stopping for diesel just over the border into Kentucky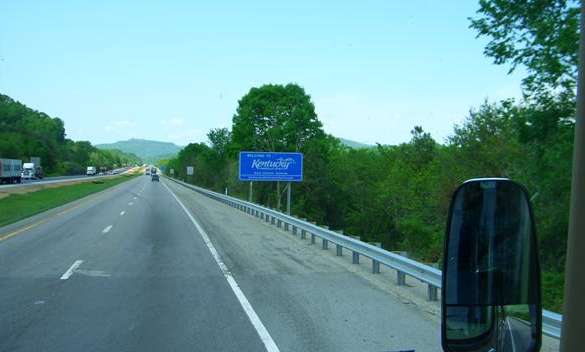 At this point I took over the driving, heading north on I-75 toward Lexington. The miles rolled by and soon we were heading west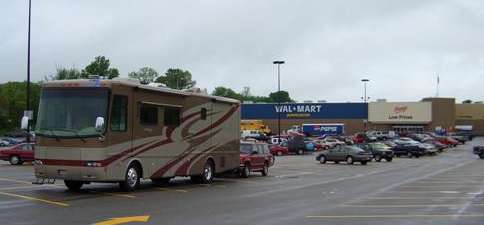 once again, but this time on I-64. Frankfort came and went and suddenly we were approaching the bridge across the Ohio River at Louisville, Kentucky. Now we were following I-65 north through Indiana. Linda had done a lot of work spotting the WalMarts between Knoxville and Lexington. Since we were about 150 miles beyond this point, she needed to regroup and find someplace in Indiana to spend the night. After a few minutes she came up with the WalMart at Scottsburg, Indiana. And a little while later we parked on their lot, having asked if it was ok. It was, smile. There was a shopping trip to the store, followed by a dinner of white bean chili, followed by more shopping. We closed out the day with brownies and ice cream for dessert.
---
click image for

the current post
---