Sept 1 Vacation begins today, up early, finish the final packing, a breakfast of Uncle Sam cereal and mixed berries, then off to work. Ya work, but we're going to cut out a little early to get a jump on traffic. On the road at noon for long day of driving. At 5:45 we stop at a roadside rest area to fix a supper of ham wraps and find the refrigerator is still not working on gas! Started the generator and switched the refrigerator to electric. Took a walk to stretch our legs and returned to the road. GeePeS guides us right to the Walmart in Roseburg at 9:30. We see several other RV's in the back corner of the parking lot and park near them. We turn off the generator and try to start the refrigerator on gas. Doesn't seem to want to start. Leave it on gas hoping it will ignite and go check out the store. Return to the RV and gas still not working. Walmart can save our bacon (both figuratively and literally). Go back to the store, it's open till 11:00, and buy a 50 qt cooler and 2 blocks and 1 bag crushed ice. Between putting some food in the cooler with ice and some ice in the refrigerator with the food we figured it would keep. Decided not to do anything to the freezer as it should stay frozen on it's own. Watch some TV and have pistachio pudding.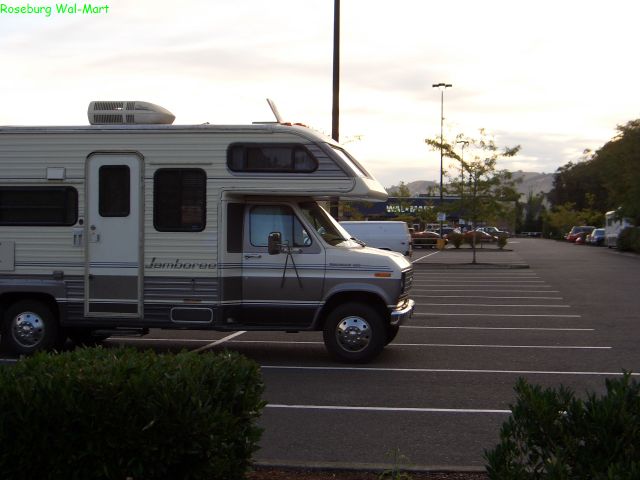 Sept 2 Walmart overnighting means bright parking lot lights all night and early morning departure noises. Still, it was very easy and convenient. The food was saved, we were rested, what more could we have asked for. We had Uncle Sam cereal with peaches and milk for breakfast, took a walk around the parking lot, the store was already busy at 7:30, fired up the generator so we could run the refrigerator on electric and headed north towards Coburg. GeePeS once again guided us right to our destination, the Monaco factory. The parking for RV's is very limited, but we found a spot at the outer edge of the parking lot. As we walked up to the entrance, we noticed virtually every vehicle in the visitors parking area was a toad! Obviously there were going to be a lot of RV'ers on the Monaco plant tour. Lunch was smoked ham wraps eaten in the plant parking lot while browsing the brochures we had picked up. Dreams!! We drove over to the coast on Rte 126, lots of traffic, a little curvy, but overall a good route. Tillicum Beach campground had just what we needed. Site no. 1 with an electrical hookup. Thank goodness we had reserved that site. Supper was a sirloin patty on a bun with both a cabbage and a spring mix salad. A night of Yahtzee followed by pistachio pudding with pistachio bark completed a day where things got better.

Sept 3 A lazy day at Tillicum Beach. We awoke this morning to clear skies and no fog. After a breakfast of scrambled eggs, canadian bacon and freshly baked current almond scones we decided to explore the beach. It is a very wide beach that appears to go for miles both north and south from here. We started walking north and came upon a stream entering the ocean, since it was low tide, we could walk across in our shoes near the waters edge. About a 1/2 mile to the north we noticed a lot of people on the beach and RV's above the beach. It was Beachside State Park. Walking through it most of the sites appeared to be small with either tents, or small RV's in them. We did see several larger RV's. But the number of sites that could accommodate large RV's is extremely limited. Coming back down the beach the tide had come in and we were forced to remove our shoes and wade the stream we had walked across going up. Lunch was turkey wraps with black cherry jello. In the afternoon we compared the features of the Endeavor and the Diplomat, as expected we ended up more confused than when we started. Dinner was fillet mignon, herbed sauteed squash, and salad. The evening was spent helping Linda create a special website. White chocolate pudding and pistachio bark finished off a great day.
Sept 4 Another beautiful day at the ocean. Breakfast of ham & pepper omelet with currant almond scones, it can't get much better than this. We had seen people riding their bikes along the beach yesterday. They ride up above the edge of the water in the hard packed damp sand. We figured if they could do it so could we. If you've never tried it you should, there was a slight resistance from the sand , but it was relative easy to peddle. We rode 30 minutes up the beach, rested and returned. Surprisingly the hardest part of the ride was pushing the bikes though the soft powdery sand from the edge of the beach to packed sand near the water. A daily dose of this would really have your legs in shape. Lunch is our old standby, turkey wraps and bean salad. In the afternoon we take chairs and books and head off for the beach. it is so relaxing sitting on the beach, listening to the surf and soaking up the sun. For supper we fix turkey burgers, black beans with cumin added, spinach salad and pita chips. In the evening Linda completed the final design of her special web page, then we programed GeePeS for tomorrows drive. White chocolate pudding and pistachio bark once again finished off a great day.



Sept 5 Today we will move further south down the coast. Breakfast consisted of oatmeal and raspberries with currant almond scones. Used frozen raspberries and they were not very sweet, to put it nicely. Will add a little stevia next time. Put things away in the RV and cleaned up outside. Took a leisurely walk around the campground. The owner of the Monaco Cayman was out giving it a wash down, so we chatted a while. They've stayed here for many years. Told us that sites 26 and 50 were the only ones that big rigs could fit into. 26 fronts the ocean, 50 is in the back corner, out of the wind. Really likes his Cayman and says even though it's an entry level model Monaco quality is there. Couldn't speak highly enough of Monaco support. On the road at 10:00. Drove north to Waldport. The have signs showing were RV's can park off 101. We parked near the Bridge Museum. Very interesting place, shows the history of the coast highway with emphasis on bridges. A neat place and never would have known it existed if we hadn't parked nearby! Walked down to the south edge of town to the fish market. Bought a fresh caught salmon steak for dinner. Back on 101 we headed south. Stopped at Cape Perpetua visitors center. Has a marvelous overlook of the ocean among other things. Saw several gray whales swimming and blowing- not an everyday occurrence according to the staff. Picture time!!!! Our photo skills with the new camera still leave a lot to be desired, but still got some decent photos. Lunch was at a pull off over looking the ocean several miles further south and was our usual turkey wraps, bean salad and Jello. Stopped at a Fred Meyer store on the north side of Florence for needed groceries including tapioca - hot dessert tonite - and gas. Driving through town we found a WiFi connection at a travel agency, so sent and received email and uploaded the website changes. About 5 miles south of Florence is Jessie Honeyman SP where we planned to stay. What a difference a day makes in the number of people. They had already closed off several loops and the rest were lightly filled. Found the perfect spot with full hookups and went exploring. This campground is on the edge of the dunes. Great exercise walking up the first one we came to, which was enough. Then found THE HUCKLEBERRY PATCH to end all huckleberry patches! Each bush was overloaded with huge dead ripe berries. Grazed till we couldn't hold any more and plan to return in the morning with containers, Dinner was
grilled
fresh salmon, sauteed squash and spring mix salad. Later we sat around one of Linda's famous fires and talked about the differences between the Diplomat and Endeavor. Dessert was the aforementioned warm tapioca. The perfect end to a wonderful day. Weather: sunny, warm and breezy, H 72 L 47



Sept 6 Huckleberry Day! Breakfast was scrambled eggs, canadian bacon and the always wonderful currant almond scones. Bought some sugar free hot chocolate mix yesterday. It was just the thing on this cool morning. Then it was off to the huckleberry patch. Along the way we found a blackberry thicket that had huge, absolutely dead ripe berries. Of course we stopped to graze and graze and graze. Ha Ha. Linda remembered exactly where the huckleberry patch was, though Bob tried his darnedest to take us off in the wrong direction. The picking began. Toward the front the bushes were all the black type, in a ways there were several blue bushes. Bob crawled in and started picking while Linda worked the outside edge. In a little over an hour all the containers we had brought were full. Headed back to the campground, stopping to wolf down more blackberries - some days you just live right - and broke camp. This will probably be our shortest travel day, only 25 miles to Umpqua Lighthouse SP just below Reedsport. Stopped in Reedsport to upload the website and send & receive email, then drove a few miles south to the park. After yesterdays 417 site campground, this 44 site park seems tiny. Found a nice shady spot on the upper level and set up. Fajitas for lunch, man o' man were they good. After lunch we walked over to the Lighthouse area and checked out the displays for whale watching. Didn't see any whales today, plus we were too late for the lighthouse tour but will be back tomorrow at 10:00. Bob noticed a nice Coach parked with a super ocean front view, we asked and it was a volunteer's rig. We talked to the lady who was the Keeper/Coordinator of the Lighthouse (she was in the office) some more and we came out of the office with a volunteer application (which we will turn back in tomorrow) to be a Tour Guide of the Lighthouse (Bob) and a Receptionist, Greet Visitors person (Linda) for next September (2006)! We started to clean and clean huckleberries - we completed 2-1/2 lbs with 5 more to go..... With the evening being cool we fixed White Chili with Chicken, sure hit the spot. We played Yahtzee, then ate cheesecake pudding with pistachios and also some pistachio bark, yum! Weather was partially overcast with an overnight low of 51.


Sept 9 This morning was bright blue outside, that meant the wind was blowing to clear the fog from the ocean. Breakfast was Uncle Sam cereal smothered in awesome blackberries we had picked yesterday, YUM! Programed GeePeS for Patrick Point State Park and took off for California. Unfortunately we decided to stop for gas in Gold Beach first and ran into, literally, an immovable object at the Exxon station, the picture tells the story. Back to the RV shop for some repairs when we get home. The drive south was uneventful. We stopped for ice in Klamath and picked up a brochure describing a storytelling festival being held at Patrick's Point. Thought the campground might be full because of this but it wasn't. We got a nice secluded site near the trail head leading down to Agate Beach (a very steep trail we might add). Lunch was the usual turkey wraps and bean salad and no we never seem to get tired of eating them! Hiked down to Agate Beach, looked and looked for agates even though we did not know what we were looking for. Decided to hike back UP and over to the visitors center to see if they had any agate info, they did and we figured out we possibly have three or four of the bag full of rocks we picked up, the other ones were pretty though, just not agates. Dinner was left over White Chicken Chili and chicken in green sauce with tomato and avocado in wraps, plus homemade pita chips (baked them in the oven). We decided to go to the Storytelling Festival's Friday night performance, so off we went with blankets and seat cushion in hand to the amphitheater which was on the opposite side of the park from where we camped, about a 20 minute walk. Boy was it a neat experience, we would certainly go again if we had the chance. Back at the campground we watched the stars then made tapioca pudding for dessert. After a disastrous start the day turned out to be great.


Sept 10 Morning brought another trip down to agate beach in oder to attempt to find an agate. The trip yesterday afternoon to the visitors center was very helpful. We were pretty sure what wasn't an agate, but were unsure what was. If that sounds confusing, know that we were definitely confused. In spite of all this we found our first agate! Those yesterday were not agates. It was approximately the size of a penny and amber in color. Wasn't much, but it made us happy. Back at the RV breakfast was oatmeal with huckleberries, Yum!!!! accompanied by huckleberry almond scones, double Yum!!! Left the campground at 11 for the journey down the coast to Mackerricher. Stopped in Eureka across from a Comfort Inn to send and receive email plus upload the website. This is the second time we've used a wireless connection at a Comfort Inn. Snacked on Granny Smith apples and peanut butter while on the net. Gas was $3.15 on the north side of Eureka and $3.19 on the south side. Fortunately we needed ice so had stopped on the northside. You could say we got the ice free! Ran the generator the whole day to keep the freezer cold. Works out pretty good. Lunch was at a scenic overlook that overlooked a bunch of trees which had grow up and blocked the view. The leftover chicken in green sauce on wraps and cottage cheese was tasty. Near Fortuna we stopped at Chapman's Gem and Mineral Shop and Museum, WOW you would not believe all the gems and rocks they had on display, we ended up purchasing a rock tumbler, the polishing grits and a bag of rocks to tumble, We have wanted a tumbler for several years. GeePeS had us take Hwy 1 at Leggett up and over the mountains. We drove it the opposite direction last year so knew what to expect. Very slow going, lots of upgrades, downgrades and very slow going. Got to Mackerricher SP about 5PM. They were full, but suggested a little RV park about 300 yards north of the park. We're there tonite, it's the Cleone Grocery and Campground. Site 33 is surrounded by blackberry brambles. Guess what was for dessert? But I get ahead of myself. As soon as we got backed in the site and set up we grabbed pans and started picking blackberries and of course, snacking on a few for quality control. Got the Baby Q out and had supper of beef tenderloin, rice with mushrooms, sauteed baby squash with herbs plus tomatoes and mozzarella cheese in balsamic. All this was accompanied by Obsession from the Ironstone Vineyard (Linda's favorite wine). After dinner we made a mad dash to the beach about a 20 minute walk down the road beside the campground and just made the sunset by about one minute to spare. Of course the beach had no rocks (to collect for tumbling) just sand, oh well. Dessert was the aforementioned blackberries baked into a cobbler and accompanied with vanilla ricotta, yum yum yum.


Sept 11 All good things must end and today ends this years RV adventure. We're not going out with a whimper though, so at early light we were up eating a breakfast of Uncle Sam cereal totally smothered in those blackberries we picked last evening. Dang, one time we didn't take a picture we should have, oh well, we'll have to make sure we get one next year. Ya next year, we love it up here, goin' to be back again! After breakfast, but before doing dishes we hopped on our bikes and rode down Ward Avenue to the ocean, then along the trail to Mackerricher SP. Rode around the park and the campgrounds. Now we know why they were full last night. This is one of the nicest campgrounds at a state park in California we've seen. Definitely not for big rigs, but for tenters, pop ups, small 5'ers, trailers and motor homes it is absolutely fantastic. Well spaced out sites, with some close together (we saw large groups in these sites) loads of shade, maybe next time we'll get in. One of the big attractions at the park is the seal pup season in April and May as there are signs everywhere telling you not to disturb the seal pups. Back at the RV we did dishes and packed up, took some photos of the campsite and headed for home. Lunch eaten along the way was the usual wraps wrapped around smoked ham, bean salad and cottage cheese. The last of each - it really is time to go home, we're almost out of food! Lots of winding up and down mountain roads, with great scenery. All to soon we were home and back to the realities of laundry, sigh! Tomorrow we go back to work, but the memories of a wonderful vacation will be with us for a long time.