Journal Archive 01/11 - 01/20 2008
Scroll down to read the latest post
January 14 Monday
Today was going to be a do nothing day, and for once I attained success in achieving my daily goal. Not that there weren't a few moments of activity, but they tended to be few and far between, though Linda was a different story. However, she doesn't write our Daily Journal, I do, so it shall be told from my point of view. I realize that given my recent production of words on this page, that statement about me being the one who does the writing may be held to some degree of ridicule, but consider this, I'm not perfect, no matter what Linda's expectations.
Breakfast was a delight, at least as far as Linda was concerned, especially since it was once again prepared by yours truly. I even asked her what she would like her galley slave to prepare, eggs or oatmeal, and word came from on high that the queen of the morning would like maple oatmeal. Before long a pot of oatmeal, wheat and oat bran, Splenda, vanilla and Maplene was simmering away. The flavoring aspect for this dish has proved to be a case of trial and error, so today I used a teaspoon of each of the last three ingredients, which according to Linda is a much better way to fix this dish rather than just pouring in some of this, and some of that the way I normally do.
She was a little skeptical of whether I had used enough Maplene, and also pointed out that there was certainly more oatmeal in the pan than we could eat. This all being said before she tasted the porridge, because in a few minutes I had to smile watching her carefully divide the pan so she got exactly half once she had actually tasted it. Is that what is known as getting off to a good start?
Once the meal was over and the dishes washed, it was time to sit down at my computer and do my best at doing nothing. I had no sooner settled in than happened to glance over at the counter, and setting there, was the the package of beef we had bought the other day. Resigning myself to the interruption of my intended task, I asked if it was time to start the soup. While the words coming from her mouth where saying it was time, the hard set to her face was saying it was past time. I took that as my clue and snapped into action.
The soup was to be Beef Burgundy, à la Bob, so digging out one of the disposable paper and plastic cutting boards, I set to trimming fat and silver skin from the roast. Since the beef was going to be cooked for hours in liquid, it hadn't been necessary to buy a good cut in the normal sense, and that was just what we had done. In the end it turned out that other than the time spent trimming it, this proved to be a better value than buying a more expensive cut, which would still have had to have been trimmed anyway, though just not as much. You can run the math, but to save you the trouble, I'll do it for you. We bought 1.76 lbs at $3.49 a pound with a loss of 0.3 lbs due to trimming which is the same as 1.46 lbs at $4.21 a pound. Since the better cut of meat was $4.49 a pound, the trimmed piece was indeed the better buy.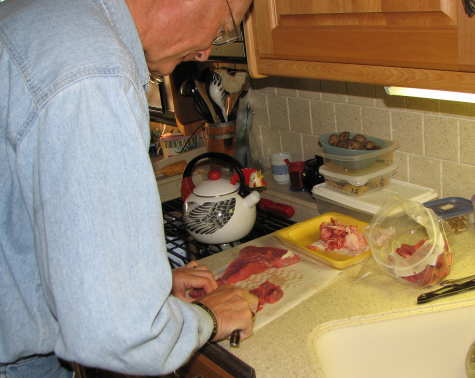 One may wonder why we would waste our time doing something like this, the answer, because we can. That's what living this Life can do to you, give you a freedom you never knew existed. Sure there are people who rush around trying to do as much as they can in a day, and believe it or not, we were both that way once, but no more. Now it is time to do what we want to do, and I was working at it big time today.
Once the soup was done, Linda was out the door to spend the day with Katherine, while I started doing research on the Internet. I've got several projects that I've always wanted to do, and this is the year to do them. Between this and reading several books, the day just seemed to fly by, so fast that I never got around to writing the Daily Journal, but that's Life. Then I noticed the time for Linda and Katherine to show up was fast approaching, so I did a little straightening and cleaning. I figured that was what Linda would want me to do since she always really cleans everything around here before we get company, and that was what we were getting tonight.
We enjoyed the soup surrounded by candlelight, then while the girls made plans for early March, (it looks like we will be heading towards the Rio Grande Valley, before turning westward for our trip back to the Petrified Forest) I simply relaxed and observed the wonder of it all. When I was a little kid, these two would have been called "old women", given their advanced years, but tonight they were acting like a couple of young school girls, talking in exited rushes with broad smiles constantly flashing across their faces. Life, that is what we live, Life.
---
January 15 Tuesday
A day out on the town, or as much as you can do in Fredericksburg in mid January during the week. The plan, as formulated by the ladies, was to have some lunch then tour the Historical Society Museum, also known as the Pioneer Museum. That left the morning open, but once 11:30 rolled around, Linda was all action. She and Katherine had selected a special place to have lunch, a highly recommended local BBQ joint which was only open for lunch. She had also been advised to get there early, for two reasons, they really fill up at noon, and when they are sold out, they are sold out. Maybe that's why they have the name they do.
Due to wise planning on Linda's part coupled with a no nonsense attitude which insured I would ready to leave on time, we picked up Katherine and headed south on Hwy 87. Cranky Franks was located a little ways out of town, but having been forewarned to look for it on the east side of the road, I actually pulled in without driving past. Once out of the car Katherine immediately had to take a photo of the sign out front. Noticing the same exact sign on the building, I took a photo of the sign with her taking a photo of the sign.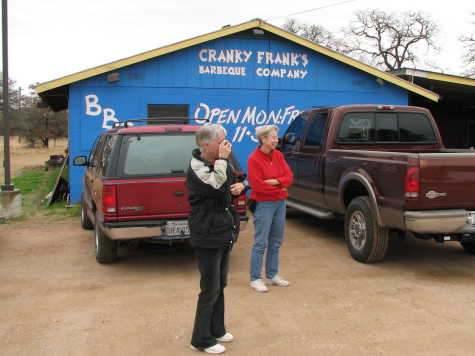 When we walked inside there was line, but it moved fairly quickly and soon we were placing our order for the daily special, BBQ'd pork with all the fixin's. As testimony to just how good it was, we had all cleaned our plates before I thought to take a photo of my plate of melt in your mouth food. The good sized portion of meat and all you can eat sides made for a place we may just have to visit again before we leave.
Realizing that we needed to work off some of the extra poundage we had just acquired, we set off for the Pioneer Museum. I wasn't sure what to expect, but the museum turned out to actually be a collection of buildings which were representative of Fredericksburg's past, and each had exhibits pertinent to their historical use. The visitors center building through which you enter the complex, is one of the oldest buildings in Fredericksburg, and had been added on many times as the family which lived in it grew in both size and wealth.
I was particularly intrigued by the way the original one room building had been constructed. It had wooden beams and braces which were fastened together by wooden pegs, nails being in very short supply at the time, and then the spaces were filled in with rocks, followed by a natural plaster which formed the surface.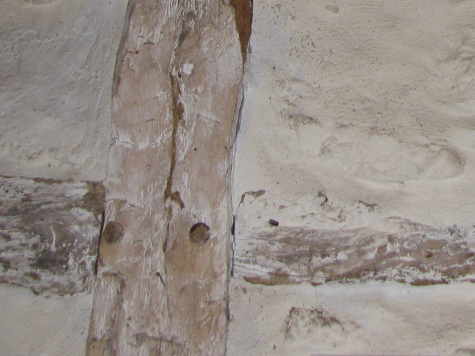 We discovered many little hidden gems as we walked through the complex. This one the girls puzzled over for the longest time.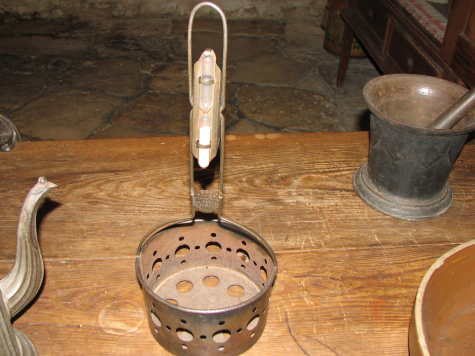 A closeup answers the question.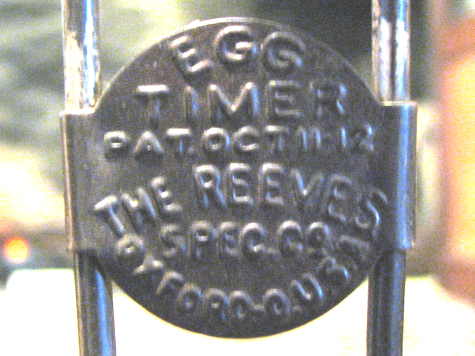 I had my own "what is it", but there was a sign on top which explained that it was a kerosene dispenser that had been used by one of the stores in town to fill the customers containers.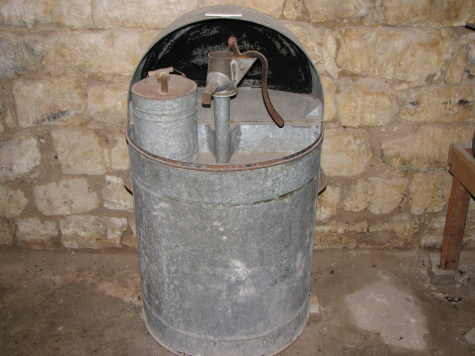 While all these items were quite intriguing, they weren't what made the day for Linda, it was something outside.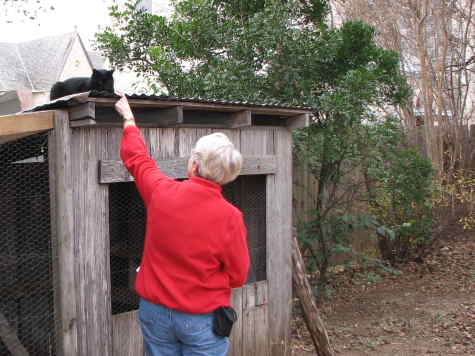 Then looking down she saw something even better.
Like I said, it was museum which something for everyone.
---
January 16 Wednesday
Wednesday means up early for Linda because the weekly staff meeting starts at 8:15 in the Bush Gallery conference room. One of these days I'm going to have to remember to take a photo just to document what it looks like, but as usual, I forgot once again this morning. We aren't required to attend, but as the RV volunteers, we are encouraged to attend. For starters, it gives us a chance to see everyone since we are somewhat isolated from the main buildings, down here in the Combat Zone. Plus it also gives us the opportunity to stay abreast of all that was, is, or will be going on at the museum. Nothing like a behind the scenes view to give you a real appreciation for what makes an institution like this tick.
Once the meeting was over, and they have always been short, I think only one time has a staff meeting lasted longer than forty minutes, we decided to once again tour the Bush Gallery. We may be giving tours of the Combat Zone, but still, our visitors sometimes ask questions regarding something they saw in the museum. So it never hurts to refresh our memories on what is in dozens and dozens of displays in this section of the museum. The last time we were here one of the exhibits was not working. It was the one where two servicemen are talking while stationed on an island in the Pacific. Fortunately it was working today, and it is almost like being there in person overhearing their conversation, the animated figures are that realistic. It reminds of what we had seen in the Lewis and Clark Museum in Sioux Falls, only far better done.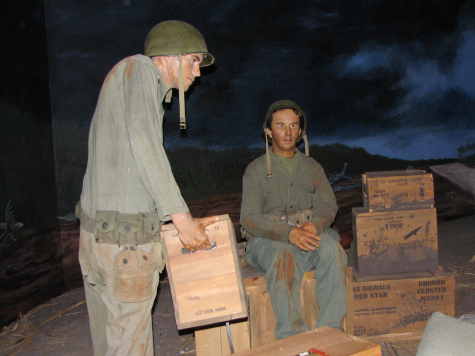 I must admit that my favorite part of this whole diorama is further down the path where you get a better understanding of just what those Marines and soldiers went through as they tried to survive the battles in the jungles of the South Pacific. They obviously had one constant companion everywhere they went.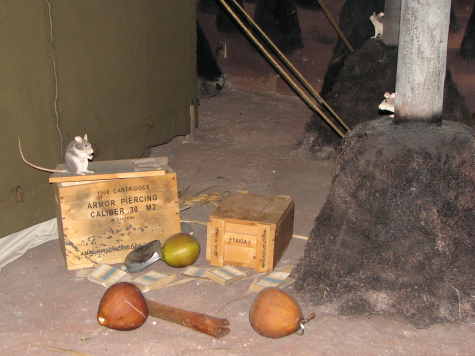 Once we were back at the coach we were surprised to see our neighbors had not pulled out yet. After being fulltimers for a number of years they had bought a house and so were leaving this morning. When we actually got inside the compound we could understand the reason for the delayed departure.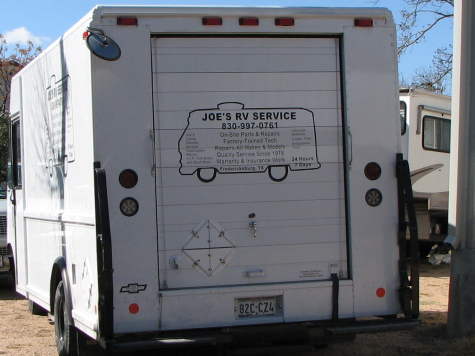 We had seen this same truck in the park where Katherine is staying, so there must be enough business to keep they busy. It appeared to be an electrical issue, and it didn't take long before we saw a flash go by as the repair truck backed out, then almost immediately thereafter we saw the flash as the coach left. I wasn't sure whether it was going to clear the brace that holds the gate post up or not, but they just kept going and got by it. I guess if you reach the point of giving up this Life, little things like that no longer matter, meaning fulltimers can get a case of short timers disease, just as workers can. The brace is wrapped with bright orange safety fence and as you see, they just barely cleared it by just the closest of amounts, or maybe they didn't, because once they were past this point it was pedal to the metal. Besides it was too late to do anything about if they had hit it.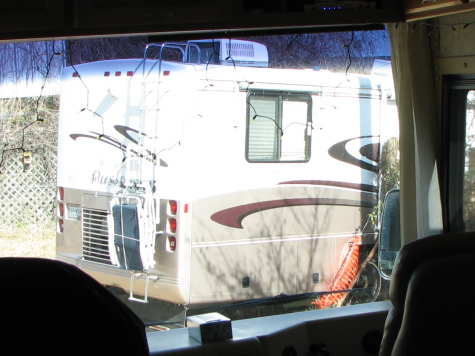 The remainder of the day was very pleasant, if fact it warmed up to the point where the on board hairstylist started getting anxious to ply her trade. Maybe there are some advantages to marrying a woman for whom everything is easy. To those who dream about it, yes those dreams can come true. This is what the fulltime RV Life is all about. A Life of leisure, a glass of wine, and a beautiful woman who dotes on you.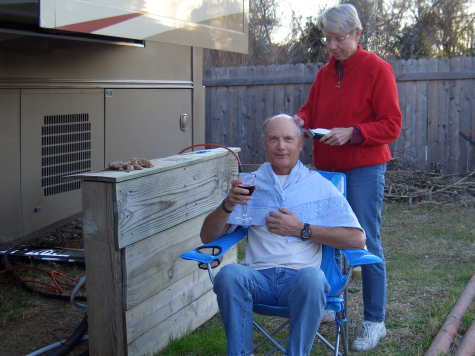 Maybe those words in Mama Cass's song were actually reality rather than just a little dream and with a change here and there, they fit our Life perfectly.
Sweet dreams, we know the sunbeams find us,
Sweet dreams that leave our worries far behind us;
Yet living those dreams, no matter how far,
We always dream a dream of how we are.
---
January 17 Thursday
Yesterday, after the staff meeting, Roy had asked us if would switch the days we worked from Thursday, Friday and Saturday to Friday Saturday and Sunday, explaining that they have trouble getting their local volunteers to work the weekends. Linda and I looked at each other and we both knew what was going through our heads. We liked having Sunday off so we could go to church, and now that we had attended the First Baptist Church twice, we had discovered a church we found both stimulating and enjoyable. So we both knew what our answer would be, and while I think it was me who answered it could have been either one of us.
Reflecting back, it hadn't required any thought at all, we were host volunteers, we were receiving an RV site for our time, so sure we could do it. One thing we didn't realize was one of the reasons they had more trouble getting volunteers on the those days was because the number of visitors were significantly higher over the weekend compared to weekdays. Once we had agreed, we also learned Roy would like us to work four days straight for just this weekend, our usual three days and then again on Sunday. Starting next week we would be on a three day Friday, Saturday, Sunday schedule.
Today was a very cold day, so cold that I had trouble hooking up the flags and getting them raised. As I was to learn later, I had not done a very good job on the American flag as the snap pulled out of one of the grommets, something we only learned about when one of our guests pointed out the American flag was laying on the ground at the base of the flagpole. It also turned out one end of the rope was stuck at the top of the flagpole and there was no way to get it down. I might be a bad Bob, but at least it wasn't because I did something dumb in the coach. I think that's looking at the best side of the bad side, or something like that.
The weather had put a serious crimp in the number of visitors, besides Thursday is probably the slowest day of the week anyway. That gave us a little time to do some reading and closeup studying of the various artifacts. While I enjoy all the artifacts in the Combat Zone, I have a special affinity to the Mobile Hospital. My future Uncle Eddy was badly wounded while making an amphibious landing during war, and his life had been saved on a table like this. Then during his convalescence he met an Army Nurse, my Aunt Dorothy, to whom he was subsequently married. Whenever I look at this room I see the fact that lives were saved and families created, then realize that without these hospitals and aid stations, there would have only been the darkness of death.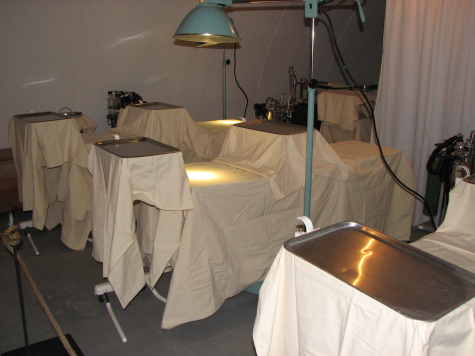 What caused those deaths were the instruments of war. Our purpose is not to glorify war, but to show what it was like. How it was waged not just by machines but also by men. That men inflicted death and destruction, but it also affected them. As part of the TBM diorama there is a Mark XIII aerial torpedo, a 500 pound general purpose bomb and an aerial depth charge. These were three of those instruments of war. Just two months ago I could have looked at them and recognized that I was seeing a torpedo and a bomb, and maybe I could have guessed the third was a depth charge, but that was all I would have known about them. Today I could discuss them in detail, yet I had never actually touched them or even examined them closely.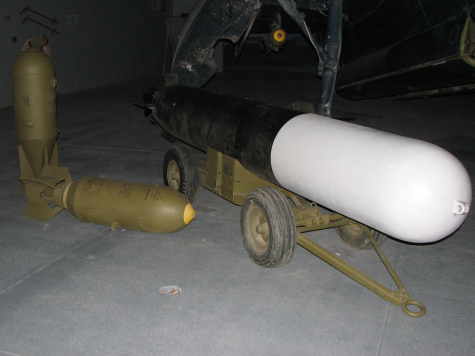 Days like today, when there are few visitors, the day seems to drag on forever, but at last it was time to close. After turning off all the lights and locking the gates, we headed back to the coach. We knew it was cold outside, but didn't realize just how cold it was.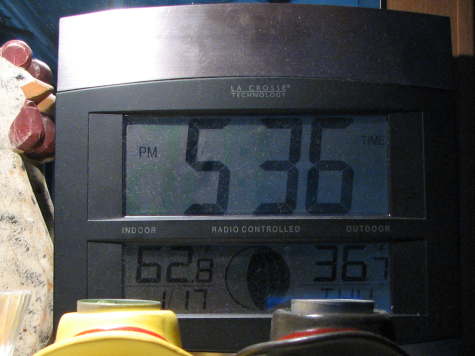 As we enjoyed our dinner we talked about the day. it had been cold, we had not been busy and we still had three more days to work. Were we complaining? Not in the least. Not everyday can be the greatest, but everyday can be a joy. Today was one of the latter.
---
---