Journal Archive 03/01 - 03/10 2008
Scroll down to read the latest post
March 3 Monday
We were both up early, not because we were eager to be off, but rather because we were truly excited about the prospect of being on the road again. We had both been awake during the night, I wasn't sure at what time though Linda said it was 3 am, because a strong thunderstorm had roared through. Lots of rain, some slight rocking of the coach, and a reminder of what we would be leaving.
After a breakfast of eggs, where I used the last tomato, not one of my best efforts as the sugars in the tomato burned rather nicely in the bottom of the skillet. I had called it a caramelized tomato omelet, Linda called it a slightly burnt omelet, but she did eat it. Then it was time to finish packing. One good thing we had done yesterday was to take up the grass rug, it sure wouldn't have been any fun after the rain. Linda also used the sweeper to try and pick up all those nasty little burrs we kept finding. Only time will tell if she succeeded.
When you've been sitting in one place for so long, the three months we had been here was a month longer than we ever had before, your possessions just seem to want to spread out all over the place. The running joke was to try and guess what we had missed and where it would fly the first time we went around a corner. Turned out we, mostly Linda had done a great job, and nothing flew anywhere.
Finished with all the things around the coach, we headed up to the Nimitz to turn in our uniforms and say our last goodbyes. Sad time for both us and those we saw. Joe was most complimentary, and Sally even said that all we ever had to do was give them a call if we wanted to come back and they would have a spot ready for us, even if they had to encourage someone else to leave. Somehow or other we got the impression they really, really liked us. (Of course the glowing report by the History Channel Vice-president who had taken my tour unknown to me, a few weeks ago, probably helped.)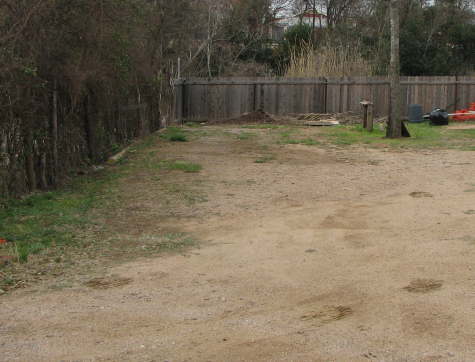 It was just past 11:45 when we pulled out from the Combat Zone, and after rounding the very first corner, we stopped, hooked up the Explorer, then Linda suggested we have lunch before hitting the road for real. We weren't exactly going to be flying out of town as our first stop was one Linda had been planning for months, a stop at the Quonset hut propane station to get our tank topped off. The last thing Linda wants to have happen was for us to run out of propane when we are at PFO again this year, so there was objection on my part.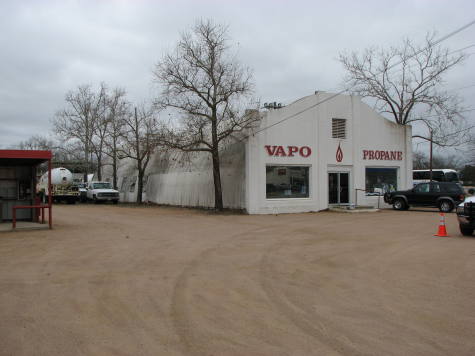 But still, we weren't ready to leave this little town we have come to appreciate more by the day. We had done what might be considered a no-no when we had stayed for the three months with only a quarter tank of diesel, but we weren't leaving "home" without filling it. That's what the Fina station was for, and there we hit our first glitch. When Linda came out after giving them her credit card, she said they mentioned the pump we were at had been acting up this morning. I'm not sure acting up was the right word, not acting at all was probably a better term, because that's exactly what it did. We drove around to the pumps on the other side and before long we had added 67 gallons of $3.60 diesel to the tank and were on the road to the south and new adventures.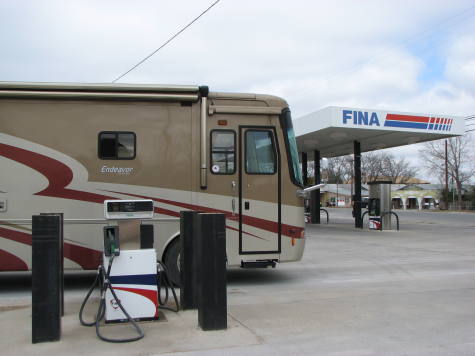 South to Comfort, east towards San Antonio, the way out bypass around town, then south towards the small town of Pleasanton, Texas which Linda had picked as our stopping spot for the night. It turned out the Wal Mart was half way between Pleasanton and Jourdanton, easy to find, and was not crowded at all. In fact we were the RVers there for the night.
Once we had set up, which when we overnight at a Wal Mart means turning off the engine, we checked with the store to make sure it was okay to stay, then decided to drive the Explorer back to Jourdanton, since it was the county seat, and do some waymarking. Talk about a good time, we explored the courthouse, and as Linda said, this has to be small town American, as there was no security check point to go through, in fact it was operating just like it probably had for the past 100 plus years. Blue road travel, the best way to go.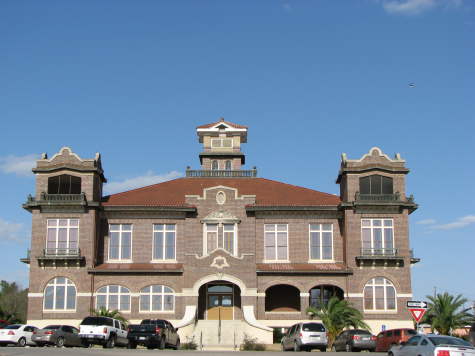 Out at the corner in front of the courthouse was something else we wanted to waymark, McBee's Bar B Q Restaurant. As we were making some notes a lady came out carrying a takeout bag. I told her we were tourists from out of state and were looking for the best BBQ in town. She told us to look no further, we were standing right in front of it. That's how we came to enjoy a very, very good meal, way better than what we had gotten at Cranky Franks in Fredericksburg, something to which we both agreed. Linda had the beef brisket and I had the turkey, but everything else looked just as good.
Once outside we happened to notice just how powerful the aroma of the meats were, and with a little exploring discovered the place were meat was transformed into something divine.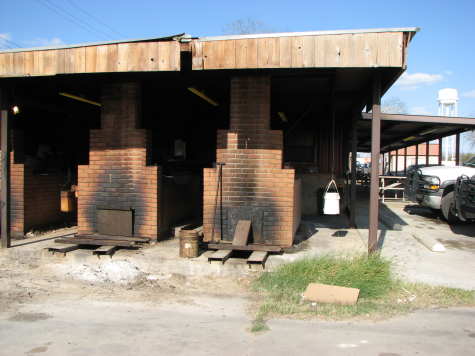 Back at the coach, we headed up to the store to re-provision the coach, and spend some money to thank Wal Mart for letting us overnight, then after a little time checking emails, we decided to turn in. It had been a great day, especially for our first time traveling this year, and we look forward to many more. For some, the change from sitting in one place for three months, then going back to traveling can probably be a little un-nerving, for us it had proved to be exhilarating. Life, it's what you make it.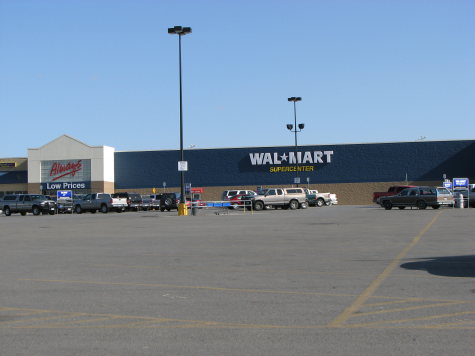 As one last note, just several days ago we received word that Dave Baleria, one of the instructors at many of the events we have attended since we started living this Life had been taking a walk with his wife Sandy, when he dropped dead of a heart attack. Dave was a great guy and anyone who ever met him could sense it immediately. Our hearts go out to Sandy, but we also reflect on the fact that for some nine years they had lived the fulltime Life, lived it to its fullest. Their goal was to visit every town in America with a population under 300. Dave didn't get to achieve that goal, but just think, if he had never had the goal, perhaps he would have died at work still dreaming that maybe someday he and Sandy could become fulltimers. I'm so thankful, we decided to risk everything those few ago, quit our jobs and do what we do, because no matter what tomorrow brings, our yesterday's can't be taken from us.
In the after life, if you see a big white Ford truck with two orange kayaks on it, pulling a 5th wheel, honk and wave, the big man with the huge smile that waves back will be Dave, no doubt trying to visit every town of under 300, but now with all of eternity to do it. Is that an RVers heaven or what.
---
March 4 Tuesday
Just a tad chilly this morning, so for the first time in months, the furnace came on. Linda sure appreciated it when she came out into the front of the coach. Guess that's the nice thing about having two furnaces, heat the front where I am at early in the morning, leave the rear cool so Linda can sleep in comfort. Of course the reason I was up so early was that there had been various human extremity's draped all over me, the reason being as I later learned, my body was as warm of toast.
Those of you who are determined to keep checking whether I ever write or not were no doubt pleasantly surprised with what I did next, write the Daily Journal for the first time in weeks. I must confess I enjoyed it, and besides, now Linda won't be gently reminding me that it's been a long time since any writing was done. Of course just because I was writing, it didn't excuse me from the task of preparing breakfast. Is there ever going to be a celebration in this house when that slave bracelet I wear breaks. It was Spartacus leading the slave rebellion 2000 years ago, it will be Bob on that day. On the day the slave becomes the master, the little woman better watch out.
We weren't in any hurry to leave, but once the journal had been uploaded, it was time to depart. Maybe there was more than just the writing that delayed us, because we hadn't hooked up the Explorer when we returned to the coach last night, so we needed to do it this morning. That chilly air I had mentioned earlier had warmed up by this time which made the task much more enjoyable. Not only that, but for the second day in a row all the lights worked perfectly when we hooked up the electrical connection.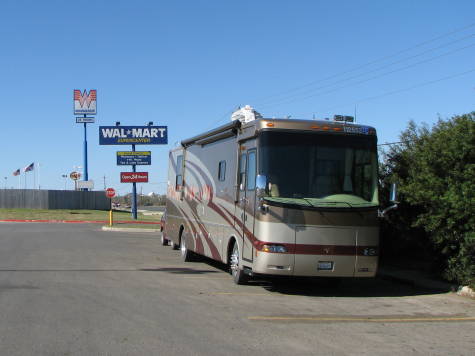 It was a little past 10 am when we departed, heading southeast on I-37 for a few miles, before taking off on US-281 for the drive due south into the Rio Grande Valley which would be our home for the next week or so. At first the country was slightly rolling, but it soon flattened out and for miles and miles there was scrub trees, or tall brush, I'm not sure what, very intermittently broken by the occasional small town. Whenever we passed something other than countryside or small towns, it was time to comment, or for Linda, to take a photo.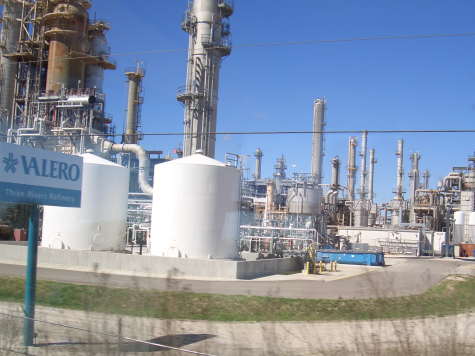 Where there is fuel, there is fire, and what with the drought that Texas is in the grips of, there were fires aplenty. We probably counted at least five on the horizon as we drove along, the tall columns of smoke boiling up, darker at the base, turning white as they climbed ever higher, topping out and spreading out as they drifted towards the east.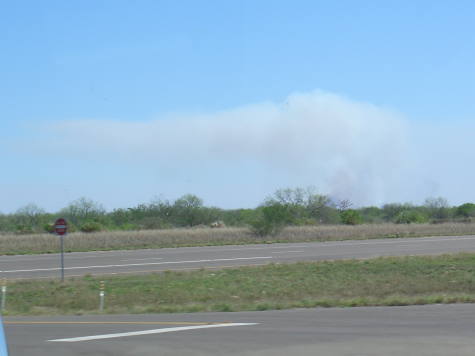 The further south we traveled the flatter and more open it became, and the evidence of the many fires sometimes ran right up next to the road.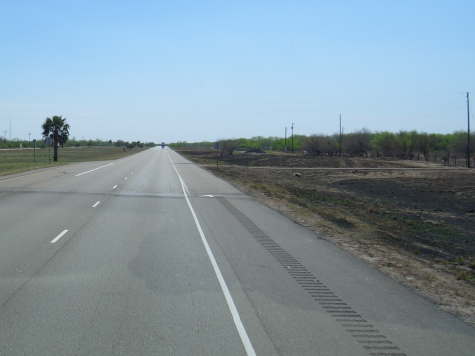 Eventually the amount of traffic began to increase and we began to see the occasional RV parked instead of coming towards us on 281 heading north after a winter in Texas. Soon the road became a freeway and where 281 meets 83, the ramps were quite elevated, giving us a birds eye view of the valley. It only took about ten more minutes before we were at Countryside Mobile Park, a $10.50 a night Passport America park that would be our home for the next week or so. Just as we turned off the road, I noticed a RV that looked exactly like Linda's sister's at the second site in from the road. Guess what, it was Katherine, and she told us we were in the spot right next to hers. Not a bad spot at all, plus we fit with no problem.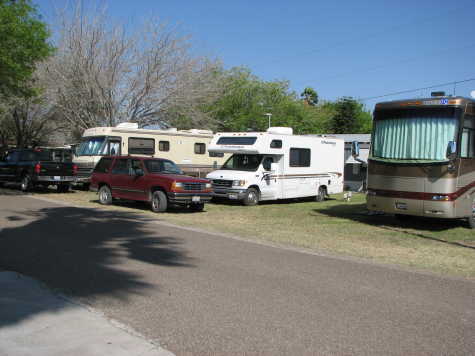 Dinner was hot dogs, beans and cornbread, this our first peanut butter and jelly in months. We had not been able to get the MotoSat to connect to the satellite, so while I took a nap, Linda called Bill Adams who had originally installed our unit to see if he could solve our problem. Sometimes in life we do things right, having Bill and Janet install our DataStorm unit was one of those times. It may cost us a couple of dollars more, but when you have a problem, it is more than worth it. It only took Bill a couple of minutes to have us online and advise Linda of the software updates we would need to install to make the system purr once again. Not some update he just mentioned, the update he is going to walk us through step by step tomorrow. Too bad Tioga George didn't have Bill install his system, as something tells me George wouldn't be having all the problems he does in that case. If you're interested, here is Bill's website, Internet Anywhere.
As I was getting ready for bed I thought back to four years ago when we first were investigating this thing called fulltiming, and how I read about people spending their winters in the Rio Grande Valley. Now we were doing it, maybe for only a week, but we are here. Life, living, dreaming, doing, maybe there is no such thing as the impossible dream.
---
March 5 Wednesday
Beautiful morning, warm and sunny, it may already be March, but we can see why people come to the valley for the winter. Surprised myself when for the second day in a row the Daily Journal went up on the website, have I turned over a new leaf, or is it there are interesting things to write about for a change? Breakfast was a huge vegetable omelet topped with fat free sour cream and salsa. I think I may have finally gotten through to Linda on breakfast, it's not simply how much you eat, it's how much you eat of which foods.
With the weather so nice, Linda and Katherine took a walk. Of course when Katherine takes a walk, she's not alone.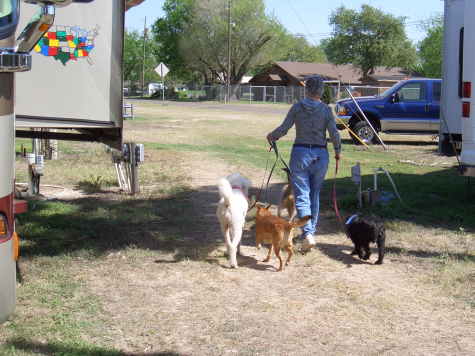 Yes, you're right, there are four leashes and four dogs. Isn't that what makes the world go around, we are all different. While they were out walking, Linda couldn't help but notice the beautiful roses blooming in front of one trailer.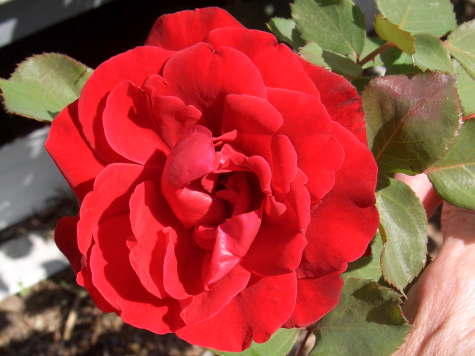 Once all the animal exercising had been accomplished, the pooper scoopers put away and the GPS programed, or so I thought, it was time to head off to the Don-Wes Flea Market. Linda was fully prepared with sunglasses, water bottles, money and the the GPS. Once everything and everyone were in the Explorer, off we went. And went, and went and went. I was thinking we must be going to turn soon, else we'd be seeing the Atlantic Ocean in a few minutes. Well, maybe we hadn't actually gone that far, it was being to seem like it. Finally I asked Linda, "How much further till the GPS tells us to turn?" To which she replied, "I didn't program in where we are going, I thought it would be easy to find."
It's moments like this that we sometimes need to rise up above our basic instincts, you know, the ones that demand immediate strangulation of the person making that last comment. So was it with me, and in one of my finer moments, instead of strangling her, I almost strangled myself keeping my mouth clamped tightly closed. Then, when she suggested I pull off the road so she could determine where we were at and where we needed to go, I did exactly what she asked, turning in the next entrance. While she fiddled with the GPS, I did some sightseeing in the parking lot, getting a big Texas, Howdy, from one fellow.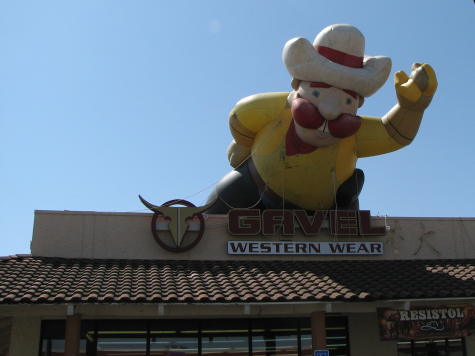 Once you know where you are and where you are going it is real easy, or at least it should be to drive to your destination. Due to some excessive girl talk when Linda should have been watching the GPS for upcoming turns we wandered a bit, but eventually we arrived at our destination. It was definitely one of our kinds of flea markets, the parking area was dirt and grass, the vendors were not some business set up outside in a nice clean building the way they are trying to civilize Quartzsite, no, this was your honest to goodness junkie flea market. The kind you walk through and never can clearly focus on any one thing because there is just so much variety.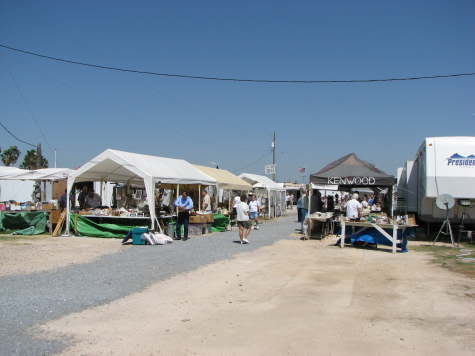 It didn't take long to decide that shopping wasn't the order of the day, so we decided to buy some of the fresh produce we had heard about. That meant a trip across Hwy 83 to the long shed on the other side. Walking in we weren't sure we were at the right place, as there wasn't any food. Heading towards the back we discovered the center section was where the food was, and before long I was resembling a walking pile of white bags. A little of this and a little of that was what she wanted, but what her heart was set on was sweet ruby grapefruit, the kind that only grows in the valley. Deciding to limit herself, and since they were 4 for $1, that's all she bought. Good girl Linda. I will admit she offered several times to help carry the produce, but humble slave that I am, I declined. If I thought the haggard look on my face was going to elicit any sympathy I was badly mistaken. The other thing I couldn't figure out was why she was buying all this produce, especially in light of the fact i do all the cooking. Now I've got to come up with some recipes to use it. Maybe she's into that philosophy about once you've got a man down, you need to keep him down.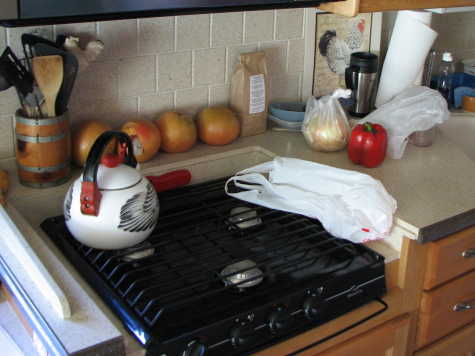 Dinner was grilled pork tenderloin marinated in Linda's special concoction that is heavily based on Jack Daniels, and was it ever good. I also served a tossed salad, broccoli and the sweet potato salad Linda and Katherine had fixed earlier in the day. Sorry there is no photos of that, I had asked Linda to take the camera along and get some photos but I guess they just got to talking to much that the photos were forgotten. In the evening, after the dishes were done, Linda was on the phone with Bill Adams, installing the software update for the DataStorm, so I headed outside and read for a while. There was a slight breeze, but as I sat there reading it dawned on me just what we were doing. We were living our dream, not bad for a couple of kids from Ohio who met on a blind date over 40 years ago.
---
March 6 Thursday
Wonder of wonders, I managed to get up and write the Daily Journal for the second day in row, maybe I've started a new habit. One old habit I have is fixing breakfast for the distaff side of the family, though there is always a portion for yours truly as well. I might be that woman's virtual slave, but I'm not a dumb as I look. She passed on coffee this morning since she and Katherine are going on an adventure of sorts, but when the combination of half of a fresh grapefruit and an omelet was placed before her, she dug in.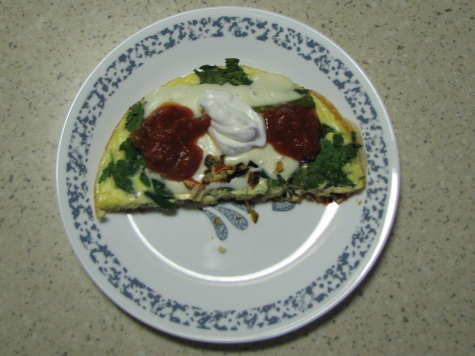 With their adventure being a trip to Mexico, a Mexican omelet was the perfect choice to put her in the right frame of mind. Then it was time for Linda to prepare for the trip. She programmed the GPS to get her to the border, where they would park the Explorer and walk over the bridge, she put on our new GPS so she could waymark any interesting sights she saw, her camera was at her side and the backpack was loaded with the necessities a young lady always has along, whether for a stroll down the street, or a trip to a foreign country.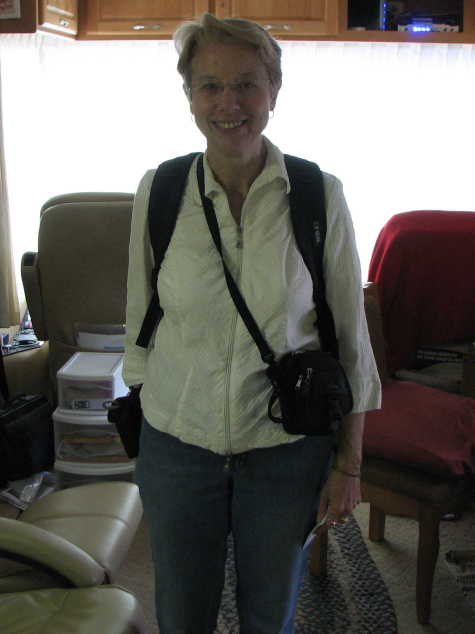 Once they were off, I spent time on the computer, updating some of the waymarks I had gotten behind on, entering some of the better ones. In looking at how different people do waymarks, some seem to simply go for quantity, doing as basic a write-up as they can, others strike a middle ground, while those in the category I fall into, do research, digging for facts and history, then use that information in a much more detailed write-up that will hopeful lead others to discover the same waymark.
In the meantime, as I worked, the ladies drove ever closer to the border, then after arriving and parking, walked up to the end of the bridge to cross the Rio Grande.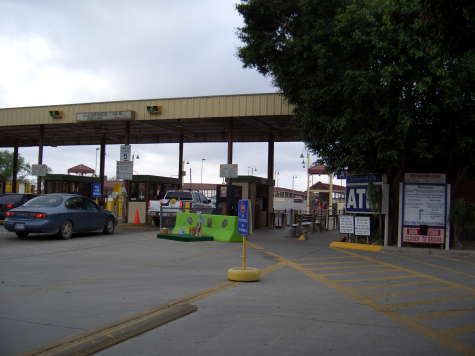 The view of the Rio Grande from the bridge is one that gives you pause, it is so peaceful and serene. No high fences or concrete barriers, just the river flowing along. This view is looking west, north and the United States is to the right; south and Mexico is to the left.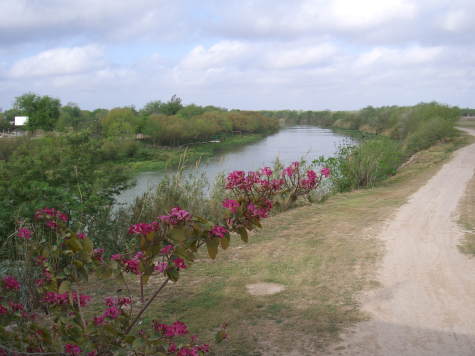 Of course when you cross a border and you're into waymarking you have to stop and take a photo, which was exactly what Linda did.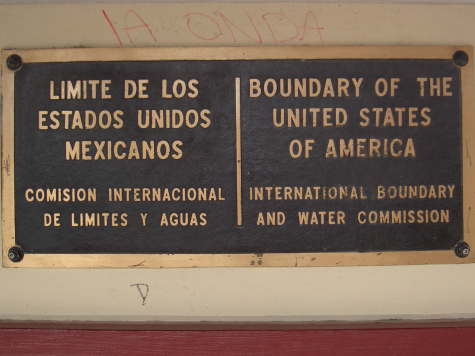 Then it was time to do what Linda and Katherine went to Mexico do, which was shop.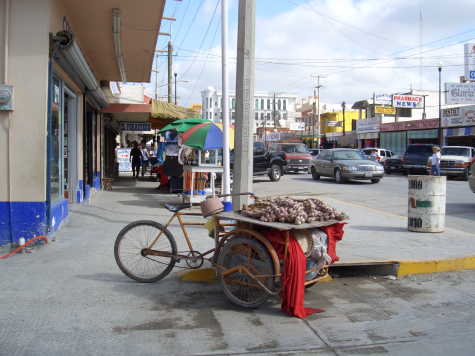 All that shopping can make even the hardiest female hungry, so spying a liking looking restaurant, in they went. Looking around they quickly decided this wasn't a place where the locals hung out, especially since every customer was dressed like an American and also talked like one. Something else they noticed was the little announcement at the bottom corner of the menu.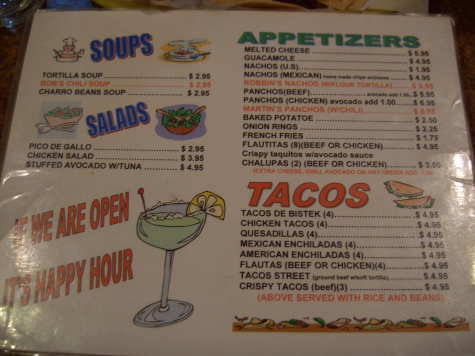 Katherine, being the older of the two sisters, did her best to lead her younger sibling astray as you can tell from this photo.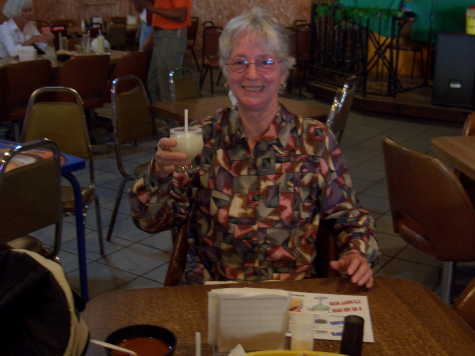 While all of this partying was taking place, a young man came around and offered to clean their shoes for $1, something that the fastidious female I married, just couldn't pass up. It made her happy; so now just as long as she doesn't get any ideas that I should not only be doing the cooking and dish washing, but also the shoe washing, I will also be happy.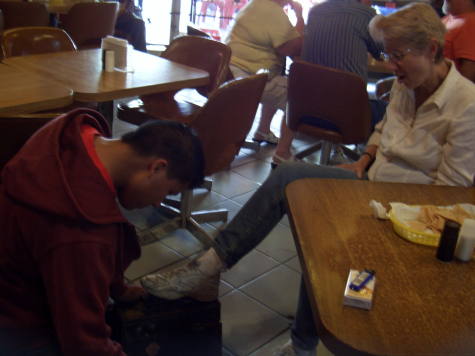 Eventually the good times had to end, which was what happened when the food arrived. Linda had ordered the four taco plate, with chicken as her choice of meat. As you can see from this eyeball view, after all those happy hour margaritas, it was hard to tell just exactly what the food looked like, though they both reported it sure tasted good.
After meal and once again finding the street, the senoritas had more good times shopping, even to the point that Linda found the same brand of habanero sauce our daughter had bought for us on her trip to Mexico a few years ago. Linda also got a bottle of Mexican Vanilla, of which it only takes one sniff to know that what we buy here is only a poor imitation in more ways than one. Then it was back to the border where the signs this time were all in Spanish as opposed to the English they saw when heading south.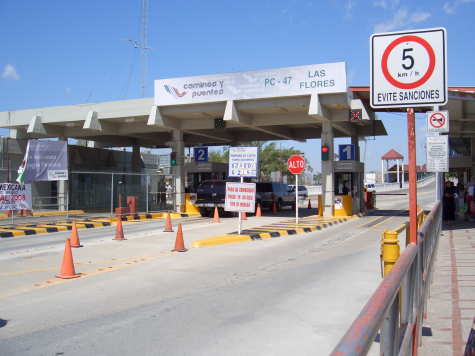 No day is complete without peanut time, and today was no exception. We did enjoy them inside for a change since it was 88 outside, a little to warm for Linda. The thing to look at in this photo is not the peanuts, nor the beautiful young model, it is the the tiny yellow sticker on the side of the atomic clock.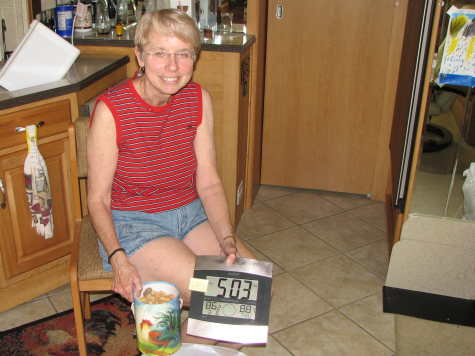 It seems that two mornings ago I awakened a little later than usual, or at least the clock said so. Checking my wristwatch and computer clock, I discovered that our atomic clock must have suffered some kind of nuclear reaction, throwing out radioactivity of some sort that affected its time keeping ability. It had become one hour fast. When Linda got up, she too noticed the timekeeping error, so I mentioned that maybe she could correct the problem, I being immersed in writing the Daily Journal at that moment. I hadn't paid any further attention to the clock until she picked it up for the photo, the purpose being to show the outside temperature. That was when I noticed how she had corrected the problem of the clock being 1 hour off.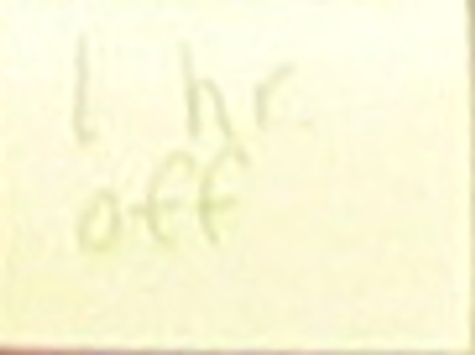 What's not to love about spending your Life with a woman with a mind like that, and may your Life be just as wonderful.
---
March 7 Friday
Another beautiful day in the Valley, and while it was definitely on the cool side this morning as a cold front blew in last night, it warmed up very quickly. I think Linda really enjoys it here, because once again she was up early. On the other hand, maybe she just wants to get an early start visiting with Katherine. Breakfast was the usual, an omelet, today with just peppers and onions. Have to make it different or Linda will get tired of my cooking. Maybe that's what I should do, cook the same thing all the time, then when she says something, I could tell her she can cook from now on. However, something tells me that wouldn't work out to well for me.
After the dishes were done, and while I had fun with entering waymarks, Linda went out with Katherine to do some thrift shore shopping, mostly because they couldn't find any other stores.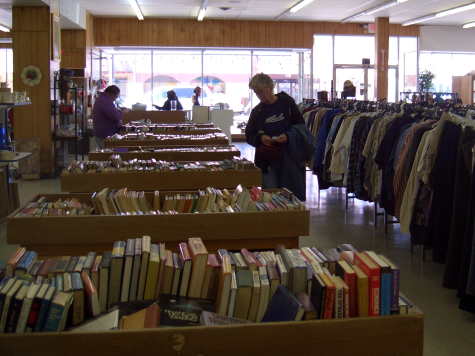 From the looks of things, Katherine has the same attraction to books that I do. Linda may have gotten the best of the deal however, because she came back with a first edition signed by the author. Of course, a little research on the Internet deflated her somewhat when she found out that it appeared he signed quite a few of his books, that there was only ever one printing, and the books don't seem to sell. Of course the fact she only paid a quarter for the book helped salve any disappointment she might have.
On the way back, Linda did a little waymark visiting, trying to show Katherine why we so enjoy this new hobby, and sharing just how much fun it was. Her first attempt didn't fare to well as she hadn't written down the specific address of the historical marker she wanted to visit, but rather had only copied down the name of the street, meaning she couldn't find it. As you can guess, after returning to the coach and looking it up, she discovered if she had only gone two more blocks..., well you know the story. They did stop and look at a very interesting old concrete water tower that was on her list, so the trip wasn't completely a bust.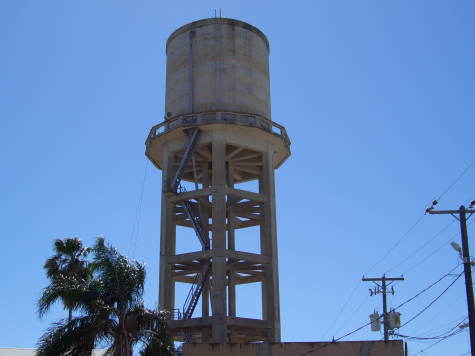 While the ladies were doing their thing, I was doing mine, surprising Linda with my industry by reattaching the big flap to the back of the coach. It had dragged badly when we backed into our spot at the Museum and had actually jammed on the bracket that holds the muffler, so one day we had removed it, intending to leave it off until after we pulled out. Then we decided to copy Luke and Cool Judy's idea of adding reflective tape to the flap. We had met Luke and Cool Judy at the LOW Conference in Moscow, Idaho last July, so I had obviously been mulling over the idea for quite some time. It was to put some reflective tape behind the cutouts for the Holiday Rambler symbol, making them more visible. I had wanted to use blue to match the HR colors, but we couldn't find any, and not wanting red since everybody uses red, we settled on white.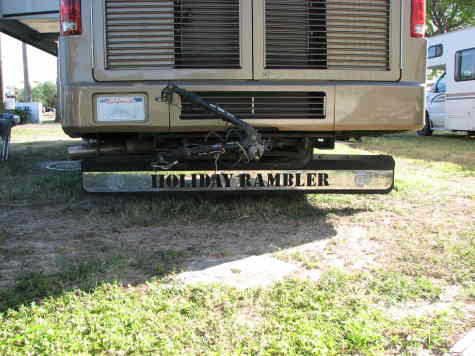 After that we just kicked back for most of the remainder of the day, with Katherine coming over and the girls watching TV and talking, while I cooked dinner. Tonight it was Bob Evans sausage and Trader Joe's marinara sauce, with some "Bob" spices added, over whole wheat angle hair pasta. Add steamed asparagus and a tossed salad and what we had was definitely delicious. Both the ladies raved over how good it was, but I viewed their glowing laudatory comments with a pinch or two of skepticism. Something told me what they liked most about the meal was the fact that neither of them had anything to do any of the cooking, so their approbation may have had more than just a pinch of preservation of the status quo to it.
Katherine did volunteer to wash the dishes and so Linda pitched in to dry. There is a good probability that it had been at least 50 years since this last took place and I would suspect that last long ago time was accompanied with the usual childhood sibling squabbles. What a difference the passage of time makes, for the only time their voices rose was when they were laughing. Wonder if it was at me, because from the look on Linda's face, she may be learning a new trick of the trade.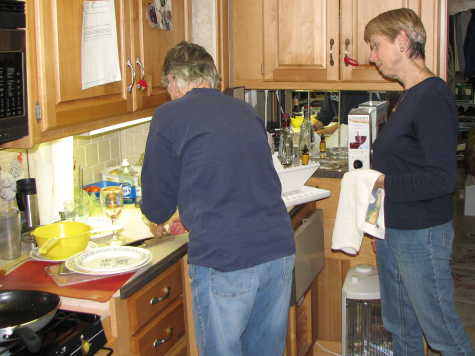 Since it was Friday night, we had to watch Monk, which turned out to be an episode from last year that we missed, then it was time for dessert. Linda may not be fixing any of the regular meals, but she hasn't turned over the dessert duties to me as of yet. I've expressed an interest in trying a couple of new and completely different recipes, but I think she prefers to stick with her old standbys for dessert. I do think some of my experiments at making things a little differently have rubbed off on her, especially since we have been having 10 or so peanuts along with our chocolate chip zucchini cake. Like they say, if you're not the lead dog, the view never changes.
---
March 10 Monday
Time to move on up the road. Guess we could go a few miles further south, but more than few an we would be out of the USA. Looking at the map, it is a long way from anywhere when you are at the southern tip of Texas. We will be traveling towards Petrified Forest National Park, our next major stop, over the next three weeks, and we plan to follow the Rio Grande River as much as possible, driving a short distance, then stopping to enjoy the towns along the way. I believe Linda is referring to it as, drive a hundred miles or less, spend a couple of days, method of traveling. We had to hurry a lot faster than we wanted to in getting to Texas last fall, but now that we have the time, we'll just take our time.
Back in our working days when time was limited, we would dive over a 1000 miles in 36 hours, spend a week, and drive back. There are many people who travel in RV's that still like to travel that way even though it is not necessary. I know that since we have gotten into waymarking, we are seeing far more than we ever did before, simply because we now see more things where ever we are. Those things were always there, we just had been looking down the road past them.
A good case in point was what we saw when we stopped at the little park in downtown Donna, a Christan rock band giving a community concert, a plaque explaining how Donna came to be called Donna, and the fact that this was where the Chisholm trail ran. A trial on which the great cattle drives of the old west took place. Like I said, we now open our eyes more, of course rather than the cattle and drivers on the trail, now it is the automobile.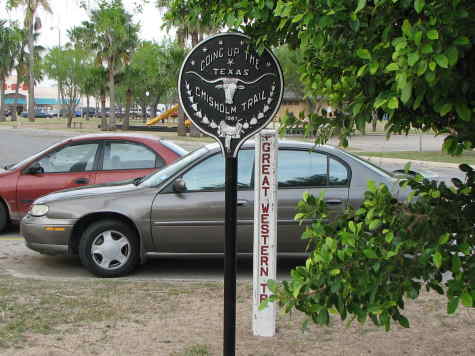 At last it was time to hit the road, but first Linda had to take a ride in Katherine's RV while I did a little running around. The purpose of Linda's trip was to track down a squeak that Katherine was hearing constantly while she was driving. It turned out to be inside the cabinet that holds the microwave, meaning it was not like the axle was getting ready to fall off, so she could just ignore it, or tear the cabinet apart and silence it. I believe I heard her mumbling something about ear plugs or some such thing, so it doesn't appear the cabinet is in danger.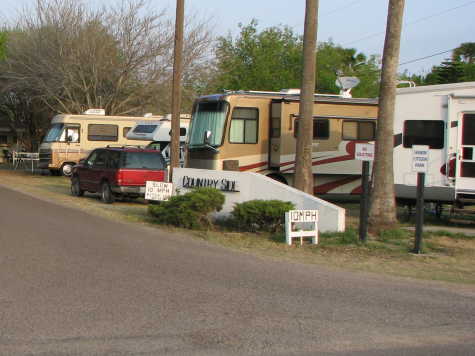 Ever wonder why some parks are Passport America parks, well here's one reason. I don't know if it would be possible to get the hookups any closer, or what the current regulations in Donna are, but something tells me that the sewer would not be right next to the water.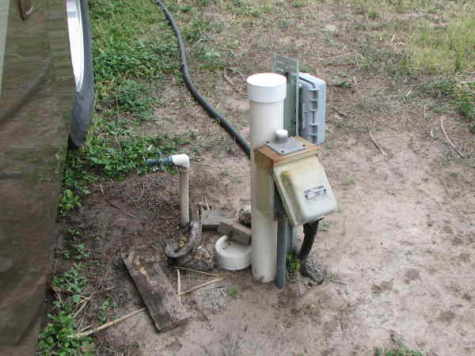 Finally it came time to head out, and with a little bit of sadness we took leave of the Valley. In just the few days we have been here we have come to realize why it is such a popular Winter Texan destination. Maybe someday we will return, spending a winter here, or maybe we will find another spot we like even more. Isn't that the joy of living this Life, finding new places and discovering new things.
No sooner did we get all hooked up than it started to rain. Not a big downpour, just off and on again showers. We decided that instead of jumping up on the freeway, we'd take Business 83 to the west, getting a chance to see up close more of the Valley rather than simply zipping past everything. Eventually the urban area ended and agriculture took over, then just before noon we arrived in the town of Rio Grande City, not the most dynamic towns in terms of economics that we have visited. There was one place in town we wanted to visit, a replica of the Our Lady of Lourdes Grotto. Since the chances of our ever seeing the real Grotto are somewhere between slim and none, this was the next best thing.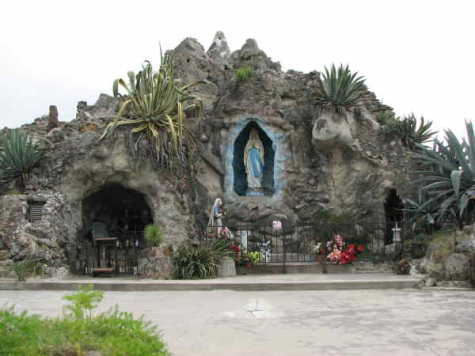 We also enjoyed our lunch in a setting that reminded us of a time years ago when we were in Mendocino, California on our first major RV outing ever. Then too, we had lunch in our RV along side a street in town. Memories, aren't they great.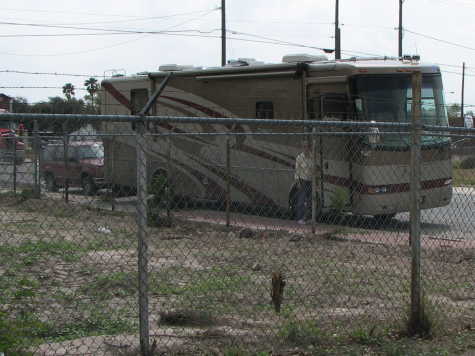 In the afternoon we drove on to Zapata, a town that is nearly the opposite of Rio Grande City. Zapata has the oil and gas revenues to fund government services, it has a world class bass fishing lake that draws fishermen from all over, and it has a warm winter climate that Winter Texans really love. We plan to stay here for several days, seeing the sights and just generally relaxing. Too bad we aren't into fishing, because the place where the Bassmasters tournament show is held is just a little over a quarter mile from the RV park where we are staying.
I had earlier talked about slowing down and seeing things. Well one of the things we saw while we were down here in the Valley was a rich beautiful wood called Texas Ebony, scientific name: Pithecellobium flexicaule. Texas Ebony is common in the southern tip of Texas and has dense, lustrous, very dark green foliage and zigzag branches with many spines. From June to August it has attractive creamy-yellow flower spikes, which are followed by thick, woody, curved pods 4-6 inches long. It is often a shrub, but can reach 50 feet in woods along the Rio Grande. Deep, rich brown heartwood used to make art objects and small furniture; red seeds used in jewelry; fence posts, fuel; green seeds cooked and eaten; ripe seeds roasted or popped; shells used as coffee substitute. In parting today, I'll leave with a photo of it, a reminder of the wonders of the new discoveries we make while living this Life.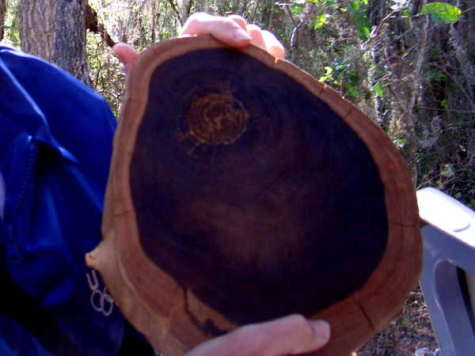 ---
---