Journal Archive 03/11 - 03/20 2008
Scroll down to read the latest post
March 13 Thursday
This is a day for doing things, Laredo here we come. There are places you plan on visiting, Carlsbad Caverns, for example, and there are places you drive through and never even noticed what was there. Then there are the places you find yourself in that you decide to visit and learn what is there. Laredo falls into the later category, and I think you could call it, not your normal destination.
After fortifying ourselves on a breakfast of turkey bacon, sweet red grapefruit and portabella mushroom omelet, off we headed to town. Our first stop was going to be at the visitors center to learn what the people who promote the town suggest that visitors see. There we learned most people visit the old section of town down near the river, so that is where we headed.
As always, I wasn't paying close enough attention to what the young lady was saying. I heard the words, I just didn't get their meaning. When you talk of the old section of town it can mean different things depending on where you are. Given a town that began in the 1700's, wouldn't it seem natural to make the connection in terms of width of streets and traffic congestion? Not Bob, so once we found ourselves on narrow streets, streets that often just ended, or had no street signs, the term strained relations seemed to describe the situation between Linda and I better than anything else.
The nice thing about total silence in the car is that you can concentrate on your driving, realize that you've been around this block before and eventually get orientated to the area. The silence was broken by Linda, on our second trip next to where the crossing into Mexico was, with the words, "There's a parking spot." Of course at that moment I was looking over towards the river and so drove right on by, but being an old hand at driving in this section of town by now, a few turns and we were back and parked.
The section of town we found ourselves in reminded us very much of Mexico. Maybe the fact we were only a few feet from the border should have given us a hint. Walking up the hill we came out into an open plaza area that was, as it turned out, the place where it all began. Maybe not in the very first few months of Laredo's existence, but once the Rio Grande had flooded out the original "town" a few times, the tiny collection of buildings was moved up here, above where the flood waters would reach. The visual highlight was the Church of San Agustin de Laredo, which was founded in 1755, though the current building dated from the late 1800's.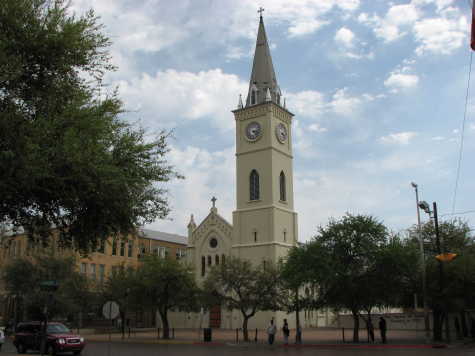 All around San Agustin Plaza there is history in abundance. The Museum of the Republic of the Rio Grande was another place we visited, learning the story of a bit of history almost no one is familiar with. An ill fated attempt at independence from Mexico by the landowners in the area, it lasted less than one year, but was the portent of things to come. They even had their own flag, one which had similarities to the flag of the Republic of Texas.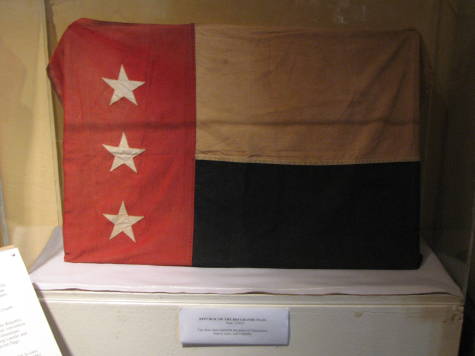 There were several other sections of town that we wanted to see, and so while I drove, our tour guide and neophyte map reader did her best to keep me on course to our next destination, which was the Center for the Arts, housed in the old City Hall Building. This time we did a much better job of traveling, conversing in a civilized manner, and quickly driving to where we wanted to be. Almost by magic, a parking spot open up just across the street, and in short order we were once again tourists. One thing touristing does is make you hungry, so spying a small restaurant, in we went, where we each had a delicious taco. As we waited on our order Linda had to document just how relaxed I was.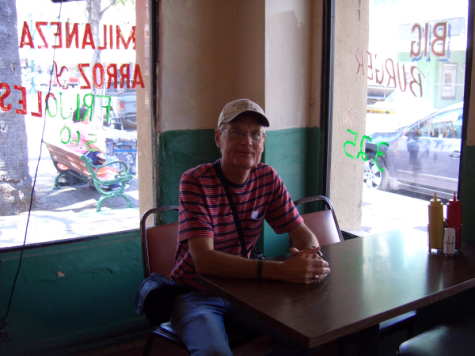 Lunch over, we visited the art gallery, being amazed at the different exhibitions, one of which used dead things found in nature and another by the local school students. It was in the latter gallery that Linda found a piece of art "she could really sink her teeth into."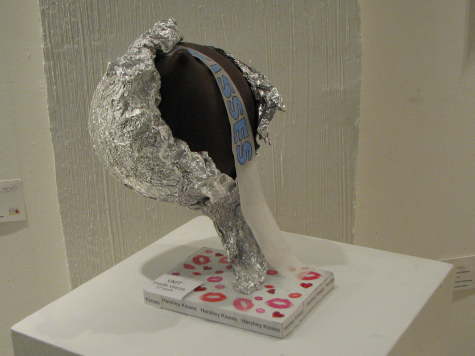 Coming out of the gallery, Linda made an astute observation. We were actually parked closer to San Agustin Plaza than we were when we had done our traveling in forced silence though old town. I guess I should look at the good side. If we ever get here again, we won't make that mistake twice.
On the way back to the coach we made several stops, one at an HEB to get some produce, then another at the City Cemetery. Anyone who has been a longtime reader knows that we have a special affinity for cemeteries, and although this one was much bigger than we normally like to visit, it had some very interesting characteristics, the principle ones being that it was divided off into sections. For example, there were sections for veterans, for the Odd Fellows, for children and even a Jewish section. A most interesting place to spend time learning about the diversity and the people of Laredo.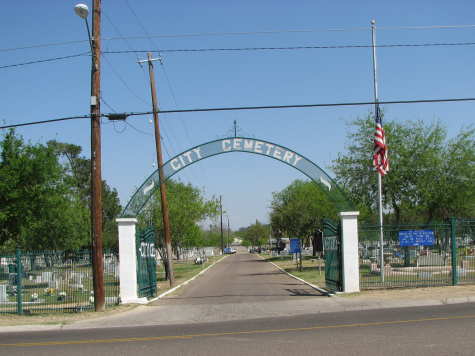 We ended the day with leftovers for supper, took a walk, though I'd have thought we'd walked enough already for one day, then watched some TV and relaxed. Thus ended our day in Laredo, a town that surprised us, that was more than just a stop in our passage through Life. Look around, explore and you never know what you will see.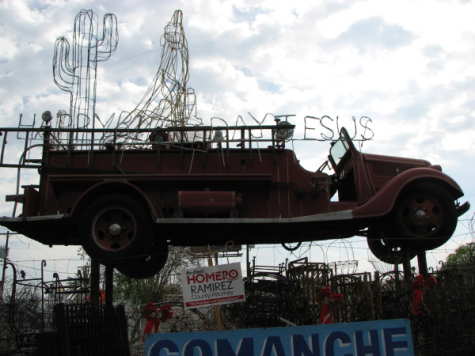 ---
March 14 Friday
We were on a mission from Linda today, and comparing it to the Blues Brothers movie may be stretching the point, but things happened. The goal was to be just west of Comstock before 3 pm so we could take a tour at Seminole Canyon State Park. It was foggy when we got up, but Linda being eager to get on the road, we didn't actually see the fog until the sun came up, or more accurately, it started getting light. We only had some 220 miles to travel, but considering our pace over the past tree and a half months, it meant we were practically running a marathon, and with a time deadline to boot.
Breakfast was the last portabella mushroom drizzled with olive oil, then smothered in beaten eggs to make the same great omelet as yesterday. Then it was time to put everything away. It is amazing how much stuff we can drag out, even when we are only staying for two nights. We had also got neighbors during the night as there was a fifth wheel in the spot next to us this morning. In a way it is funny, because there are spots all over the place and here we were, three in a row, the third one being a motorhome that was two sites over and had been there when we pulled in. Since they were both Canadian rigs, the annual migration back north must be underway.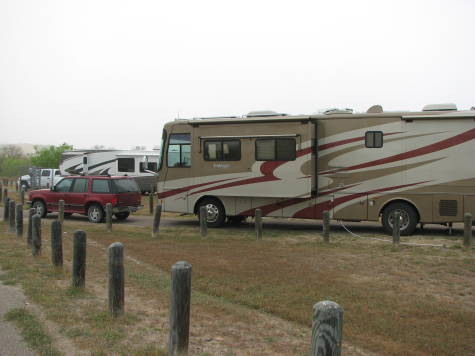 At last everything was put away, the Explorer was hooked up, and we were off. Linda had spent time checking on the closest Flying J, which turned out to be just a few miles north of Laredo, so a stop for diesel was first on the list. That was when I should have gotten a hint about the day. Actually I should have gotten the hint when the first light of day exposed the fog, but either way, I didn't. Turned out there was major road construction going on at the exit and it was closed, which meant we could either turn around and go back or head on to the northwest. One look at the line of trucks on the road to the place convinced us that continued travel was our best option.
Travel we did, mile after mile after mile. Our first stopping point wasn't until we reached Del Rio, some 180 miles away. We kept having omens, but we were so intent on making the tour, we just weren't paying attention. First there was what might be referred to as the hanging bridge, or the disappearing lane bridge.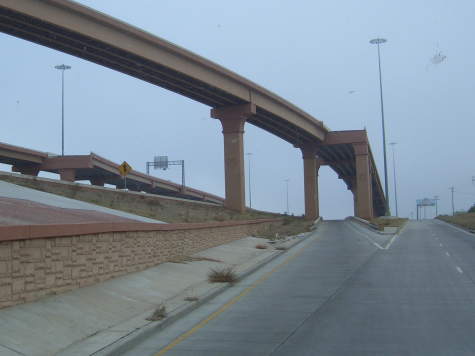 Then there was the large yellow object on the road.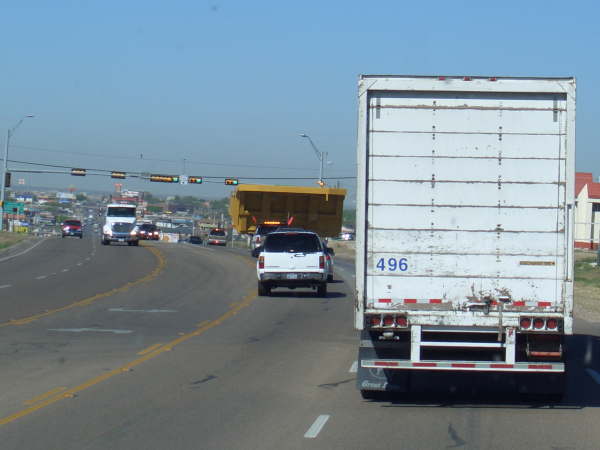 It was just any over sized load, it was a way, way over sized load, taking up more than two lanes. There was absolutely no way we, or anyone else for that matter, was going to pass that thing.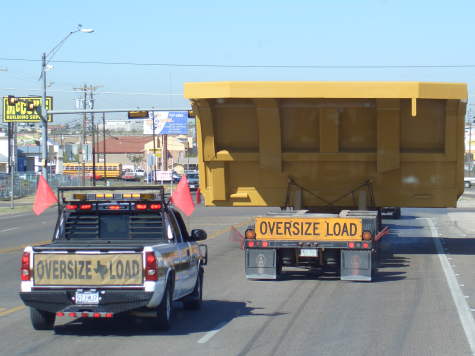 Of course we were so focused on the fact it was there, and we were going much slower than we had hoped to be going, that any thought of stopping for fuel was nowhere in our thoughts. Looking ahead we could see the road we wanted to take was going to turn, so we figured that we would soon have a clear road. How wrong we were. That began a game of anticipating the next turn, then discovering the wide one was also going the same way.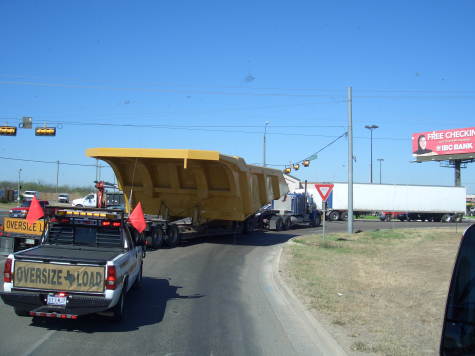 It finally turned off leaving us, and before long we were in Del Rio. The problem then became finding a fuel stop that we could fit into. Of all the states we travel in, the one that is the least RV friendly as far as getting fuel seems to be Texas. Going out of town, and also getting near the bottom of the fuel tank we finally saw a station we could fit into. The problem was that it was on the other side of the road, necessitating a turn and traverse of the uneven connector between the two sides of the divided highway we were on. We made it, and soon the fuel was flowing into the tank, and flowing, and flowing.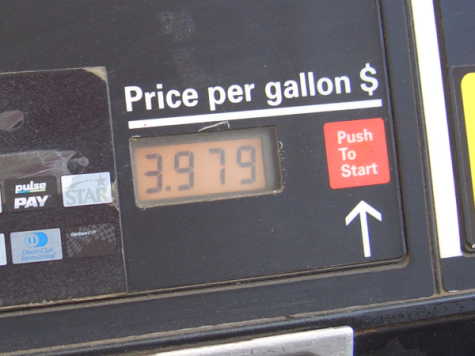 As you can see, fuel wasn't the only thing flowing, there was some good old fashioned dollar bills flowing also. Out of our pockets and into the station's cash register. For all that, I sure do seem awfully relaxed. Maybe I knew what still awaited us down the road, though I just wasn't conscious of it yet.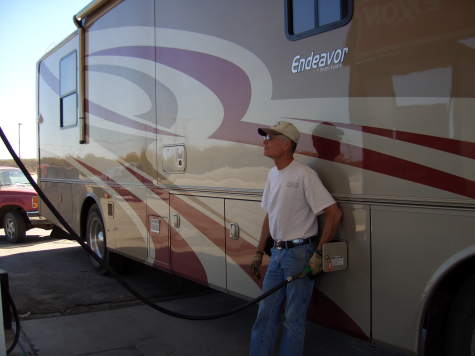 Oh, before we get to far, there was another thing that kept cropping up as we traveled through this part of Texas. The immigration check stations that dot the roads and require that you stop. It is good that they do this, it is only when you are trying to make time that you really notice them, be advised that we noticed them.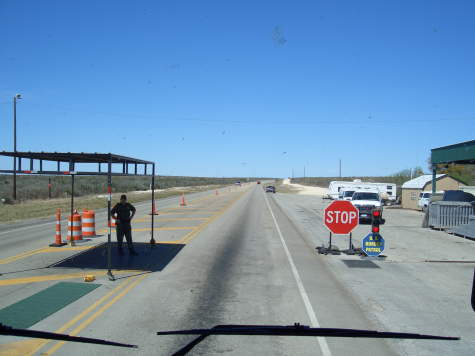 At last we arrived at our destination, Seminole State Park. Linda's plan was to take the 3 pm tour, then stay at their campground for the night, heading to Big Bend NP tomorrow. That was when things didn't get any better. Once we were parked and started walking over to the visitors, a couple came up to us and said we were dragging something from the rear of the coach.
The mudflap at the rear of the coach had torn loose from one side, and as luck would have it, at least something good happened, the end of the bracket had caught on the arm of the tow bar, preventing it from dragging too badly, or worse yet, breaking loose and tearing up things under the Explorer. I'd say we may have been unlucky, but definitely in a lucky way. It had ripped apart and straightened out the connector that held the flap on the drivers side, fortunately the one on the passengers side had held. I often times think of Linda as "my Rock" in the sea of bedlam, and maybe her good karma was working overtime today.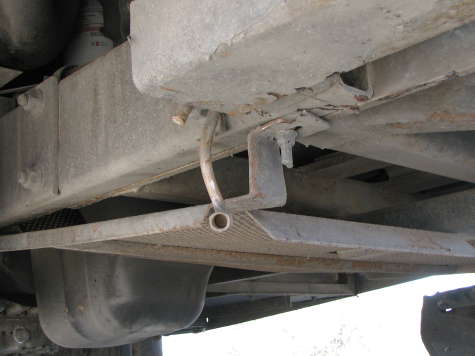 With a little work, I removed the other connector, (it was bent, so it wasn't all that easy) and things began to get back to some semblance of normal. I did leave out the part about there not being any sites at the campground, but in the context of the mudflap fiasco, that was small potatoes as they say. It may have been when we crossed the connector into the fuel station that the flap tore off, but we have no way of knowing.
Once all that was taken care of, and I had washed up, we headed off to the museum, where Linda was spellbound, really enjoying the exhibits.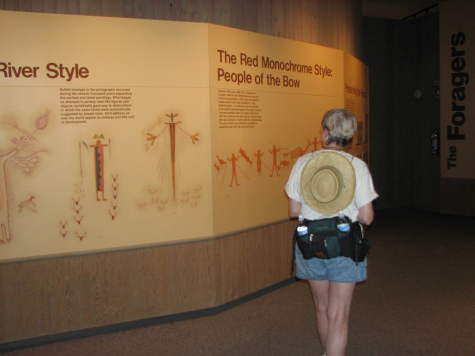 Then it was time for the tour. Since the tour was of the rock art in the canyon, the first thing you have to do is get down into the canyon. Linda had suggested we take our new walking sticks along, and did they ever make the trip easier. There were hand rails in some places, but we noticed that several of the older people on the tour seemed to have a a good bit of difficultly with some sections of the trail.
Of course what we had come here for were the pictographs, and those we saw. The rock art we have usually seen has been petroglyph's, where the ancient ones used a chipping tool to chip away the stone. Here the art is painted on the stone, hence the name pictograph.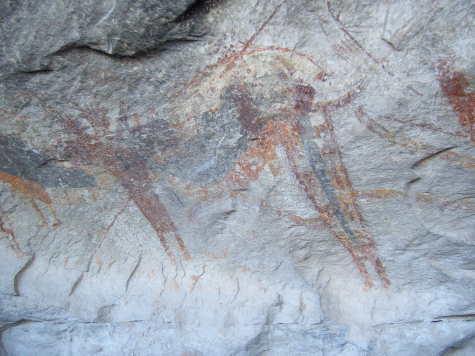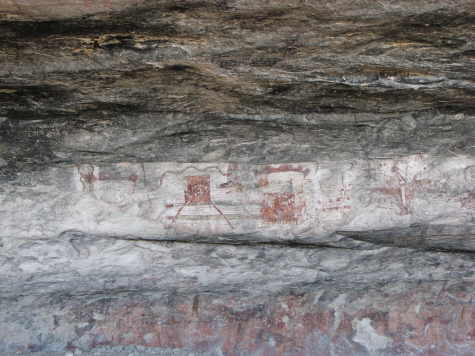 The tour over, we now had to find a place to stay for the night, something which proved to be easier than I first thought. We had passed a small RV park about 9 miles before the park, so we headed there. It turned out to be a great spot. Full hookups including 50 amp eclectic so we could run both air conditions, it was 100 degrees outside, and all for $15, not bad. Plus, being just a wide spot along the road, it had a clear view of the sky so getting on the satellite was no problem.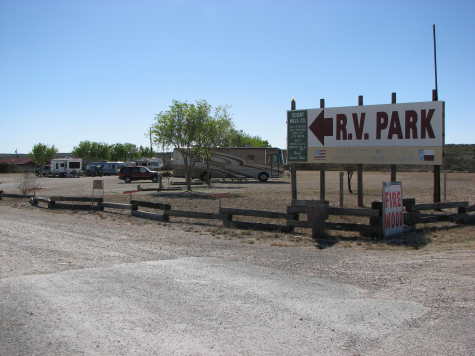 Not everything went perfectly today, and bless Linda's heart, she stayed cool through it all while I had to do a little venting, she'd probably call it more than just a little venting, but in the end, sitting at the table, enjoying our grilled steaks, couscous and salad, it was a time to relax and savor the good things that had happened to us. Maybe someday I can laugh about all that went wrong, but irregardless, there are more adventures awaiting us tomorrow.
---
---