Journal Archive 04/01 - 04/10 2008
Scroll down to read the latest post
April 6 Sunday
Our first day off since arriving at Petrified Forest National Park, and we plan on spending it out in the Painted Desert. According to the weather report, it is going to a very good day for a hike in the desert, mild temperatures and not very windy. That means we wouldn't have to leave in the early morning, but instead could take or time and enjoy our free day.
Breakfast was the same as it has been for the past several weeks with one or two exceptions, turkey bacon and scrambled eggs, which was followed by packing the food for our hike. Linda is not one to die of starvation in the desert, so I knew we would have more than enough. Four cheese sticks, an apple cut into slices, two rollups, not the usual, but rather peanut butter and blackberry jam, a bag of trail mix and several dried peaches went into her camelback. Like I said, she wasn't going to starve in the desert. I think I overheard her muttering something about never knowing what might happen, so it's best to be prepared.
We both had our camelback's with several liters of water, the GPS, a camera apiece, windbreakers and all the confidence in our bodies that two not so young people who have also not done any extending hiking for a while, can muster. Our starting point was going to be the Painted Desert Inn, taking the trail we had descended many times last year down into the Painted Desert.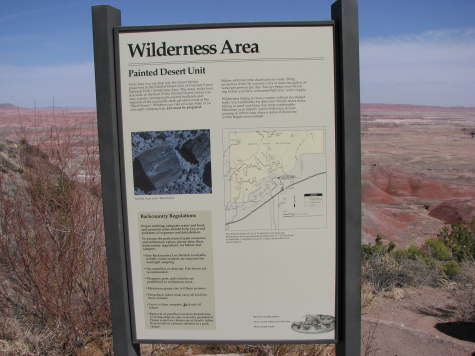 Once down on the desert floor, we walked out to the petroglyph rock we had visited several times last year. A location that when we were on duty at the Painted Desert Inn, we had often directed visitors as to how to find it. As we walked along we could see the stories we had heard about the heavier than usual precipitation over the winter where true. We wondered how much erosion had taken place the areas we knew so well. At least erosion wasn't going to be the case as far as these petroglyphs were concerned, and it was very long before we were standing before them.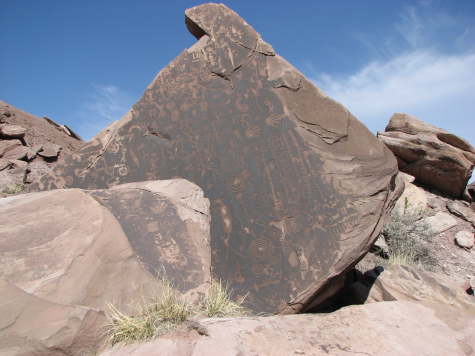 Here are a couple of closeup photos to show some of the individual petroglyphs on this sandstone rock. You will also notice at the center of the right edge three thin lines that are the markings of a modern moron. Whether humans are descended from apes or not is a debatable question, but things like things are living proof that some humans (subhumans?) descend to the level of apes, at least as far as their mental capabilities are concerned.
to be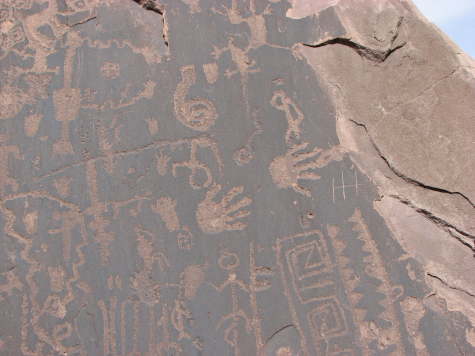 Linda loves Kachina figures, and on the narrow edge of the rock, somewhat faded from age, is this nice example.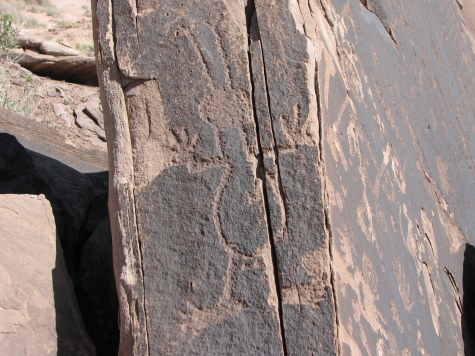 A little distance further on we spotted our first pottery sherd, a piece of gray corrugated, and it was at that moment that we knew we were where we belonged, at least for the next few months. We enjoy the volunteer jobs we have at the park, but we absolutely love our time spent during our days off, out in the wilderness areas, exploring and enjoying what the average Park visit never gets to see.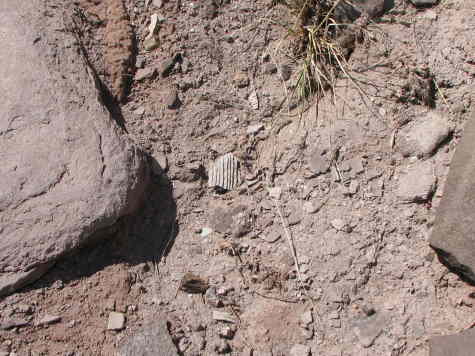 There is far more to what we were looking at and here is a link that talks a little about the pottery, but this is just the tip of the iceberg for this website and in several months we will be in the Canyon of the Ancients area, doing some more exploring.
When you find something at the base of a hill, maybe there is something up higher, and it wasn't long before I had made my way to the top. That was where Linda and I engaged in a little bit of what might be called dueling cameras. The view looking up.
The view looking down. It is easy to tell why Linda prefers to stay at the bottom of these steep little hills, but then again, show her a mesa that a mountain goat would struggle to climb, and if thereto be are artifacts up there, up she goes. It is always the same, when she finally reaches the top, she looks down and says with a little awe in her voice, "It sure was a lot steeper and higher than I thought it was." Luckily she never remembers this from time to time, so she's not afraid of the climb. Today, being our first day out, she postponed her first climb for a while. Linda is standing in the center of photo to give you an idea of to bethe climb she had forgone.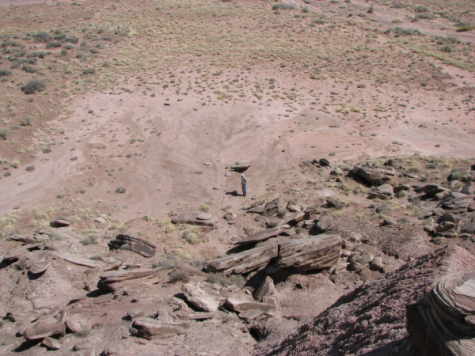 With our first stop out of the way, we headed out across Lithodendron Wash towards the spot where we would begin our climb up to Onyx Bridge. As we walked along Linda spied our first litho object, a scraper, laying in the dirt. At first glance we weren't sure if it was just a piece of petrified wood or an artifact, but since it was out of place, we had our suspicions. A quick look and the secondary flaking along the edge was readily apparent, which meant Linda was beaming since she had beaten me to our first litho find. Carefully laying it back down exactly where we found it, we walked on, having begun a day which would be filled with many more finds such as this one. And you wonder why we came back?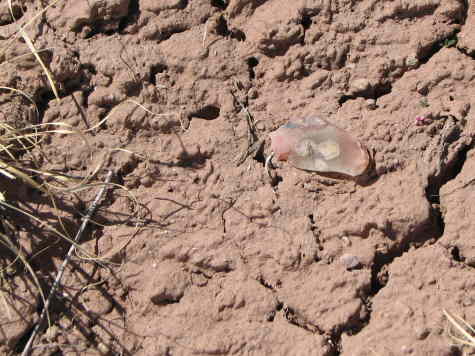 It took a while, but finally we arrived in the vicinityto be of Onyx Bridge, and headed back into the badlands, trying to remember which gully to climb in order to top out near our goal. It was while walking further up towards the dry falls we were looking for that Linda found a section of petrified wood which showed where a limb had grown.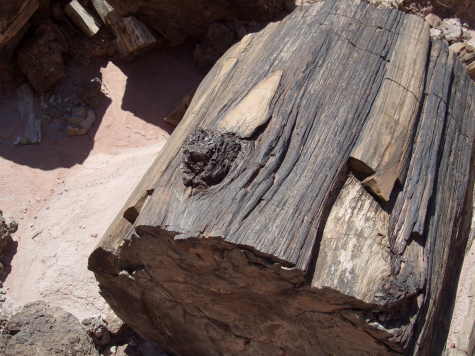 Once up on top, it only took a minute or so to find Onyx Bridge, though we had done just what we did last year, having started our search a little to the south of where it actually was.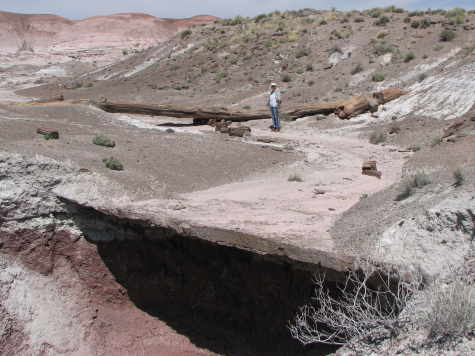 To make it easy to find the next time we used the GPS to mark several waypoints along the route, including the turnoff from Lithodendron Wash. Once you get on the right wash off of the Lithodendron, take the first fork to right, pass by the next two forks to right and take the third one, climbing all the way up and out. Go around the little hill in front of you, and you will be looking at Onyx Bridge.
From Onyx Bridge you can see the Painted Desert Inn. In fact, if you knew where to look you can see Onyx Bridge from the Painted Desert Inn, using a good pair of binoculars, of course. The little dot in the center of the horizon is the Painted Desert Inn.
There really is a dot on the horizon, and it really is the PDI-Painted Desert Inn.
Next, it was trekking off towards the east to do some exploring. If you hike in the desert, sometimes the desert finds it way into places it doesn't belong, such as can be seen here.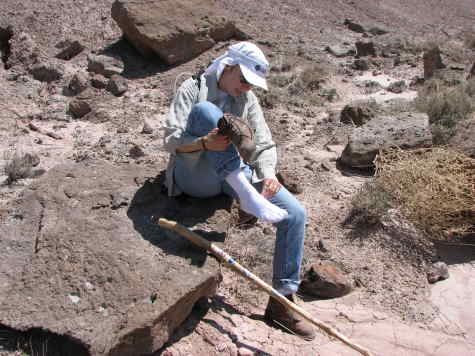 That wasn't the only stop Linda made to remove a supposed speck of dust from her shoe or sock, and sometimes I get the idea it has nothing to do with what is in her hiking boot, rather it has more to do with taking a rest. Something else that is readily apparent out in the desert is that we are not the only animals who venture out here. This must be a good route, as those coyote tracks going out in front of us point out.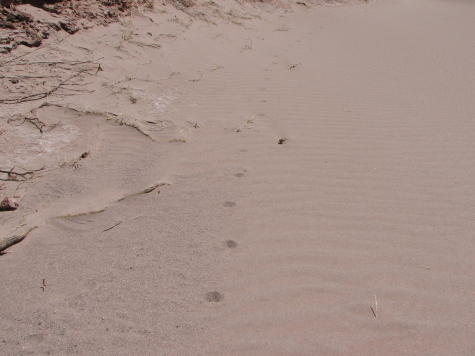 It wasn't long after that before Linda was one happy girl, as we walked across an area that had a many fragments of fossil bone scattered around.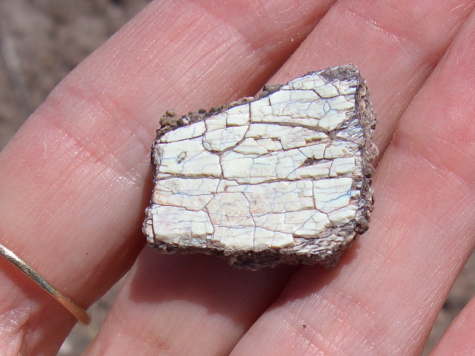 Looking around for a nice location to eat our lunch, weto be decided to climb up to the top of one of the mesas and eat lunch with a million dollar view of the Painted Desert. Something tells me that we may have been the only people sitting on a rock ledge, with our feet hanging over the edge of the Painted Desert, eating peanut better and blackberry jam rollups on this Sunday afternoon in April.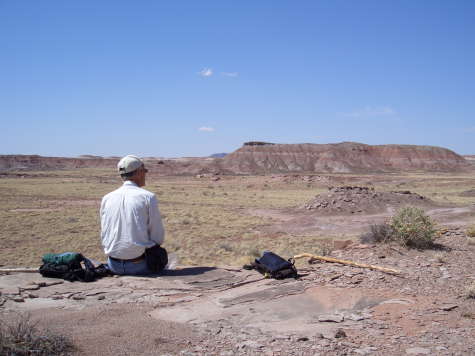 After lunch we decided to head over towards the dry falls we had discovered on our first outing last year. We only entered one wrong canyon, which we immediately realized was not the one we wanted, as we hiked ever eastward. Suddenly everything looked familiar and we were heading up the right canyon, at the upper end was the dry falls, but after having been here last year, we knew the easy way up and out of the canyon. Checking out the area around the dry falls we could see some erosion had obviously taken place, but Linda's old tire was where we had seen it last year. She wanted a photo of it, but what she really wanted was photo of me beside the tire, so down I went. After all, I've got to keep her happy or she could complain about my cooking or whatever.[Editors comment: Believe it or not, Bob has been cooking every meal since New Year's Day lunch, WOW!!!]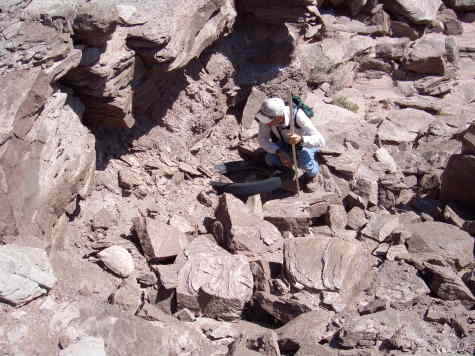 From there it was just a short distance to where we had discovered our first pot sherds last year. We wondered how they had fared, given the heavy rains that had occurred, so we headed off to take a look. They had been exposed for over 13 months, but they were still visible and we we had no trouble finding them. Here is a side by side view of the same spot, the right photo was taken in March 2007, and the left one was taken today, in April 2008. Several pieces had been carried down off the slope and were in the process of being buried by the sediments, but still, the various pieces were recognizable.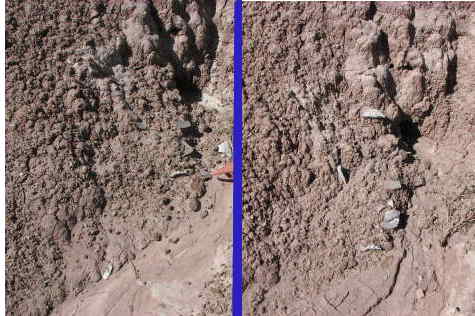 By now we had been hiking for over 5 hours and it was time to head back. Our goal was to hike towards the bandlands area below the Painted Desert Inn, getting a good look at the petrified wood in that area, then after climbing the trail, drive back to the coach. Along the way Linda saw this beautiful piece of orange selenite. Not only was the color fantastic, the shape was nearly perfect. This is why we were down here, hiking, instead of up above driving, stopping and looking down as do almost all the visitors to the park, seeing the big picture in all its beauty, but none of the nearly unbelievable details that we were.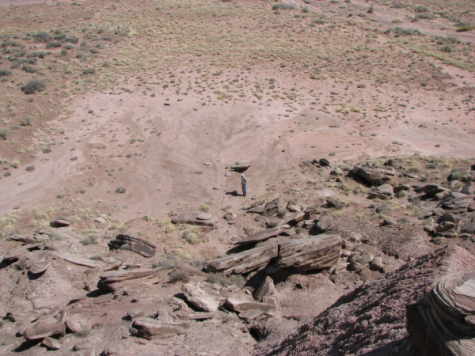 At last we arrive at the gully below the Painted Desert Inn that is just littered with black petrified wood. This is one of our favorite times of the day to visit this location because the angle of the sun causes the wood to sparkle like jewels. Unfortunately, the camera just could not capture what the eye was seeing. It is easy to see the larger pieces of wood and many pieces of logs scattered about, but the ground itself in that area is almost solid with petrified wood. It is so spectacular, yet easy to get to, that we sometimes recommend it to visitors who want to experience what the area was once like before all the tourists came and picked up their one little piece of wood, which when multiplied by the nearly one million visitors the Park receives each year, makes it look like some areas were vacuumed of all the wood.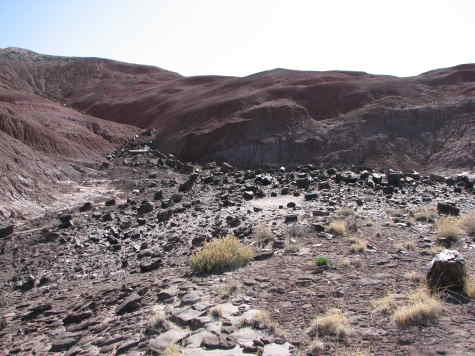 We were tired but happy when we got back, having been gone for just over 6 hours and hiking 7.8 miles. As many times as we hiked up and down different mesas, we probably had something near a mile in elevation changes also, though I'm just guessing at that one. Dinner was chicken marinated in Tennessee sipping whiskey, white wine, garlic, onion, chili powder, cumin, with a artificial brown sugar sweetener thrown in for good measure. For once it was turn about time, as Linda asked, "Where in the world did you get the chicken recipe, this chicken is fabulous?" To which I could only repeat the words I heard her say so many times in the past, "From my head, I just threw together a few things that sounded good." I could see from her smile that she knew I had been well trained, and she was proud that I had actually paid attention to her over all those years.
If Life is what you make it, we had made it in capital letters today. Tomorrow we plan for a day of rest, resting tired muscles, then on Tuesday it will be time for another day of exploration in the Painted Desert. LIFE, ain't it grand!
---
April 7 Monday
After all the exercise we got yesterday, we had decided to take it easy today, something we accomplished to near perfection. Our plan for our routine on our days off is to do our adventures in the Park on Sunday and Tuesday, taking it easy on Monday. Of course taking it easy may mean different things as we progress in our time at the park. We do have shopping on the menu, but also we want to also see some of the other Parks in the area. Understand that the area encompasses something on the order of 100's of square miles, so it may entail some serious driving.
I started the day by actually working on the Daily Journal. Now before you think it was something I readily banged out, it took me some nine hours of working off and on to complete that massive missive. In between all of the work I did fix both breakfast and lunch, plus it was all work and no play. I tried to duplicate the banana nut pancakes I fixed several weeks ago, but this time the banana flavor just wasn't there. I had made it just like before with the exception of adding some almond flavoring and also mixing all the liquid ingredients together. It did look a little like some type of reaction was taking place when I mixed the flavorings into the eggs, so maybe that was the cause of the flavor failure.
Part of our training at the Park this year is completing a series of online courses put out by Eppley Institute for Parks and Public Lands. We had tried to work on these last Friday, but hadn't completed as much as we were supposed to. Part of the problem was fact we wanted to attend the two talks by Michael Kaboti, one on his own work, the other over at the the Painted Desert Inn on his father's murals. What that meant was we were working on these during our days off, something we were both less than happy about. But then again, it was definitely worthwhile, plus you gotta do what you gotta do, and this was something we had to do, so we did.
One lesson was not online, so we had to do it using a notebook, something which was a royal pain in the posterior portion of the anatomy. The other thing was that in the beginning of the lesson it says the time to complete it is on the order of 8 to 10 hours. Since this was one of three lessons we were supposed to have complete on Friday, either we had really messed up as far as what we were to be doing, or our old brains were in senior citizen mode when then should have been in first grader mode. At least as you can tell, Linda was really into trying to get something out of these lessons.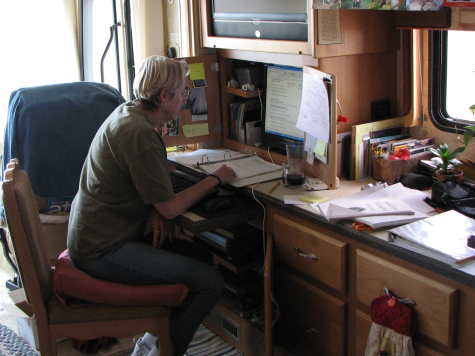 i
One thing all this work did was make the day longer, something which was different for a change. Eventually the Daily Journal was written and posted, the lessons at least partially completed, Linda being much more into them than I was, and it was peanut time. Over the course of the past 27 months we have sampled quite a number of different brands of peanuts, but the ones we have been eating recently have been the best ever. Bought at the Walmart in Silver City, they were a New Mexico peanut instead of one of the brands Walmart usually carries. Very small and with a bright red coving over the nut, they have a taste that is unbelievably good. We had bought four bags of them, untasted, and now that we know what they taste like it is going to be a sad day when they are all gone.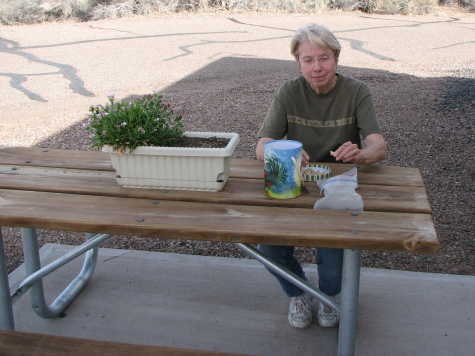 One of the nice things about having a do nothing day is the ablity to come up with something different for dinner. I was suffering some brain fade from all the writing and and online lessons, but still, I wanted something different for dinner. A quick look at the South Beach cookbook our son had given a fews ago and the germ of an idea was planted. I had seen a recipe for a a warm beef salad, something that my fertile brain converted into a cold lamb salad, and that was what we had for the dinner salad course. Trying to make it a little more palatable for Linda, I mixed up a horesradish-mint dressing for on it, and then topped it all off with plenty of fresh grated Reggiano.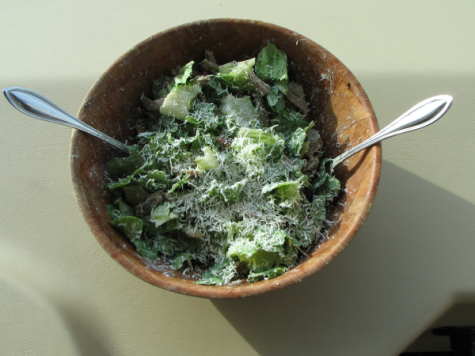 Now since lamb is not one of Linda's favorite things, it meant that there must also be a soup course. Not having had the white bean chicken chili for ages, bet you can guess what we had. As the food was set in front of the reigning monarch of the family, I was egerly awaiting any reports on just how tastey it was, especcially the lamb salad. When none was forth coming my first thought was that it was so good she just wanted to eat it. A little observation of the movements of her utensils soon dispelled that notion. I finally broke down and asked her what she thought of the salad. Her reply, "It's lamb, what more can I say", said it all.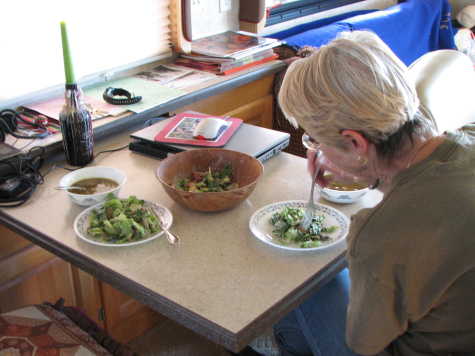 Maybe today wasn't the greatest day, but tomorrow will be another day out in the Painted Desert and we can't wait. Plus I ate all of the lamb salad so it won't be showing up on the menu again anytime soon.
---
April 8 Tuesday
With a rest day behind us we were looking forward to more adventures out in the Painted Desert, and it showed when Linda was up by 8 o'clock. Being the ever humble and faithful servant, I had her cup of coffee ready, along with breakfast prepared, but not cooked. It didn't take long to finish it up and soon we were enjoying a small slice of melted low fat cheddar cheese on a Bob Evans sausage patty, on a banana pecan pancake, on a puffy egg. We both pronounced it a perfect start to the day even though the egg got a wee bit over cooked.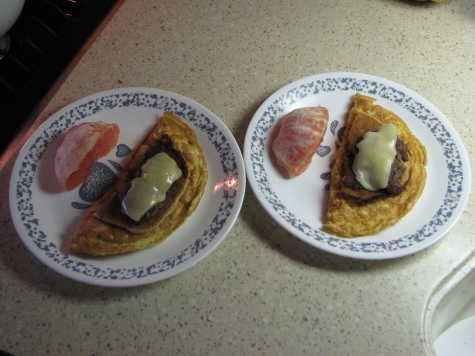 i
One thing that we are reminded of over and over is just how fortunate we are to be able to spend so much time in the Park. As we ate we could see the visitors driving into the Park and we talked about how many of them were simply passing through. Knowing they would never have any idea of the wonders that were here, yet if they only had the time to stop and smell the desert, or walk among the petrified wood, or look for the fossils, or see the wildflowers, or ..., you get the idea. I have to feel sorry for those RVers towing their toads through the Park, they have no idea of what they are missing, and missing most of the Park was what they were doing.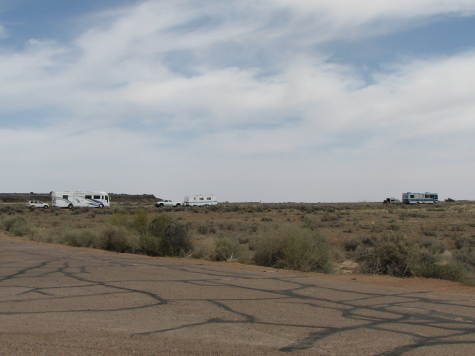 Finished with breakfast, we gathered everything up, cheese sticks, apple slices, peanut butter rollups, windbreakers and camelbacks and headed out towards the desert. Our plan was to walk northeasterly from the coach, crossing old Route 66, then skirt the edge of the Painted Desert in a more northerly direction looking for a way down that Linda could handle. Heading out we passed a good deal of rabbit evidence including the remains of a rabbit after it had passed through a coyote, then in another few steps we happened upon the remains of another type of beast.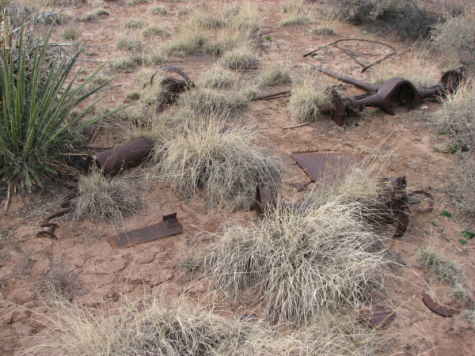 What we were traversing was not actually desert, it was one of the few remaining examples of high altitude short grass prairie left in the country.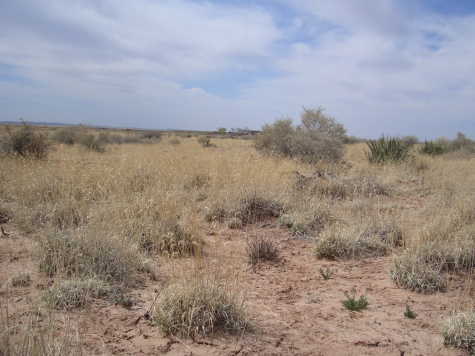 By the way, here is that dug out rabbit hole we passed a little earlier with the coyote deposit that was left in front of it.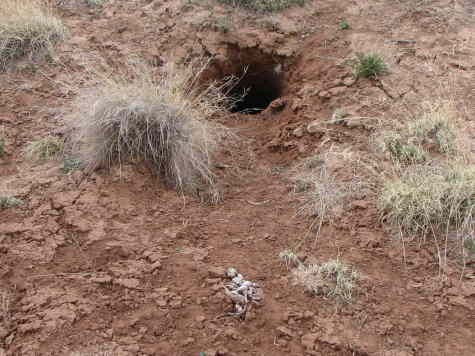 It was about this time that Linda uttered a few choice words that had me wondering what was wrong. It turned out she had realized we had forgotten our hiking sticks, something that we were really going to need once we started down towards the floor of the desert. I could tell she was one very unhappy woman, but also realizing that I held to power to convert her mood into one of delight, I volunteered to walk back and get those two pesky pieces of wood. It was something on the order of a mile round trip, but the smile on her face when I returned made everything okay.
It was still quite a distance to the edge of the desert, where the hunt for an acceptable place to descend to the desert floor began. The problem is that you simply can't tell what you will encounter lower down from the conditions at the top. Picking a gully that looked to be somewhat elongated, meaning that hopefully it wasn't real steep, we headed down. I must admit I did look the part of desert explorer, especially with all the paraphernalia I was carrying.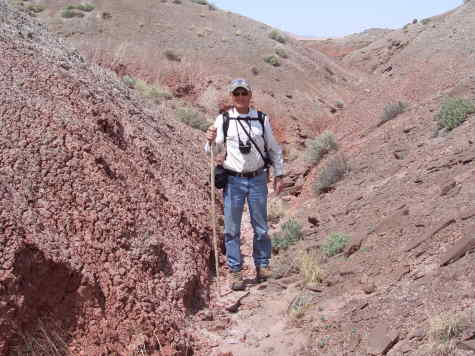 Of course, just like I said, the top is no indication of what we will encounter on the way down, and it wasn't long before the easy trip began to get more difficult.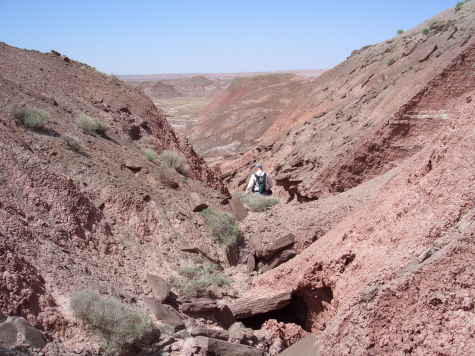 As can be seen from Linda's position, doing this without out hiking sticks would be much harder. I often wonder if people who hike out here without hiking sticks know what they are missing, or do they simply have a better of a sense of balance than we do?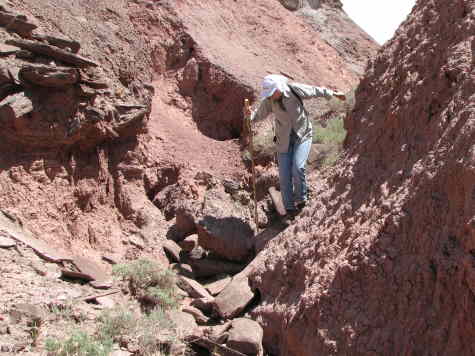 Once down in the desert we found all kinds of interesting things, including this area that was literally littered with fossil shells.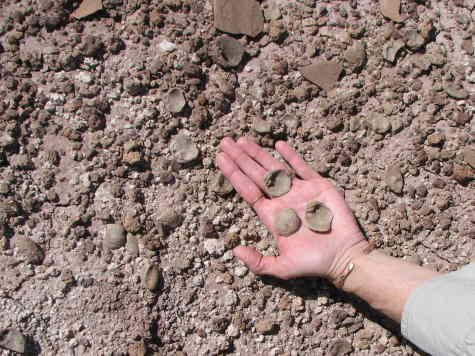 And while we didn't find any large source of fossil bone, there was enough to keep us busy pointing the pieces out to each other. Now the rock Linda is pointing to may look like just another rock.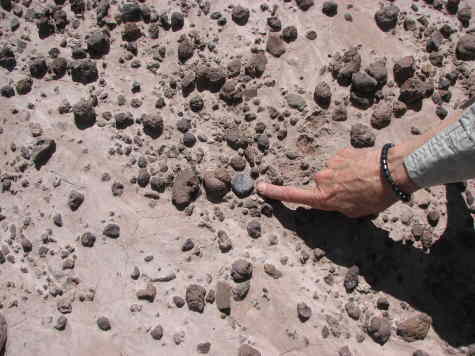 But try doing this just any old rock. If it is a fossil, it sticks to your tongue.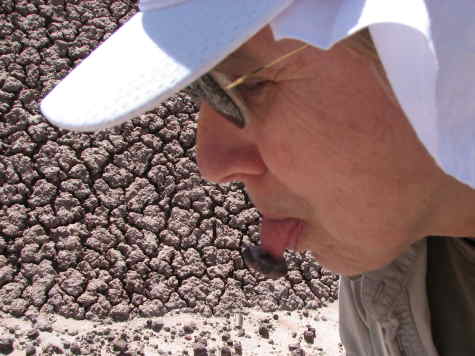 One of the nice things about this area is that the terrain is always different. So when we finally got hungry, there in front of us was an area of large rocks which made a perfect spot to sit and eat.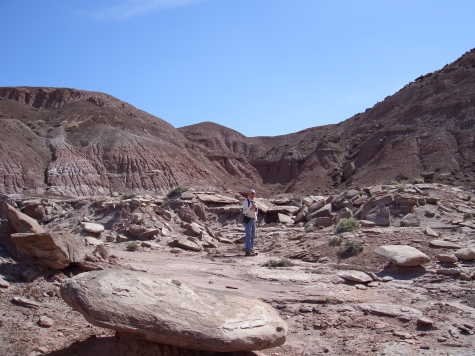 Eventually it was time to climb back out and return to the coach, which we did, a little worse for the wear, but feeling good about ourselves and what we had done. After a desert of zucchini chocolate chip cake, topped with sugar free lemon pudding, it was time for bed. Another day where we lived a Life we couldn't even have dreamed about just a few years ago.
---
April 9 Wednesday
Back to work today, or whatever it should be referred to. Apparently we weren't really going to be doing anything in terms of directly interfacing with visitors, with the schedule listing only "Eppley", so we simply got up and got ready to walk up to the interp offices. We were feeling no effects from the nearly eight miles of hiking in the Painted Desert we had enjoyed yesterday, so we should have been excited about going back to work, but we weren't. I can understand that training is a good thing for a little puppy, but an old dog who has already done a lot of hunting over years, has a habit of yawning, looking bored and simply laying down on the floor when you try to use some academic whiz bang training scheme on him, having been out in the field learning those things first hand over the years.
Maybe that was why I was less than enthusiastic about fixing breakfast, ending up microwaving the pancakes twice which caused them to have the texture of old shoe leather. Not being mentally prepared to create something new, I copied yesterdays breakfast, a small slice of melted low fat cheddar cheese on a Bob Evans sausage patty, on a banana pecan pancake, on a puffy egg. The difficulty with the pancakes came about because they had been kept in the refrigerator, meaning they were cold, so while I was cooking the eggs, I popped them in the microwave for 30 seconds (which was far too long in and of itself) then when everything was assembled, in order to melt the cheese, I put the plate in the microwave for another 30 seconds. What happened was the pancake became more than a bit chewy, while the cheese was only partially melted.
It was shaping up to be a day where things weren't always what they seemed. Our first order of business once we got to interp center was to go over the online unit that we had to do offline. Linda had struggled with it, but had finished it. I had taken a different approach, not because I planned it that way, simply because that was way it turned out. We had been working on this unit during our time off, trying to get it finished, but getting somewhat frustratrated because much of what was being asked revolved around be able to detect body language, something you can not do from a written script that only relates the words being said and describes none of the participants actions.
It was during a break that we got to talking to talking to the volunteer in the RV next to us, and we learned he had been given the codes to the courses and had taken them before he arrived, all online, something we were not afforded the opportunity to do. That was what did it for me, figuring I was considered a second class volunteer, why did I need to struggle with trying to figure all the unseen things in the unit out. Obviously not much was expected out of me anyway, so did it matter whether I did it or not? Once that was out of my way it sure made my life easier, and I was able to do things I wanted to do.
Hallie, who we were working with today, did a good job of going over the material with us, commenting on how difficult it is to not be able to watch the actions of the people involved in the different scenarios. Her descriptions of several of the encounters had us laughing, but in the back of my mind was always the fact that why didn't they just let us do it online if it was so important that we and a Ranger had to spend several hours going over it, let alone the additional hours we had spent working on it.
Once that was out of the way, we spent the remainder of the day working on our program. Needing some background material to be able to put together the required outline, we headed toward the library, only to learn there was an important all day meeting taking place, so it was unavailable. As an observation, last year it seemed that there was a lot more "doing things" going on, while this year there are a lot more "meetings, and getting ready for meetings" going on in the Park.
Last year I gave the Painted Desert Inn, Puerco Pueblo and Rainbow Forest programs during our second month, but this year I'm not on the schedule for any programs during our two months here. That's okay by me, but both Linda and I still have to prepare our program, which is called an informal program, and will be given when appropriate during those times we are roving the Park, not that we necessarily have a good deal of roving time scheduled either. We have to prepare an outline for this, which must be approved, then develop the talk on that basis. Being a person who works best starting with nothing more than an idea and turning it into something on my own, I find all this "oversight", somewhat, trying to put it nicely, stiffling.
I think this sums up our day about as well as anything.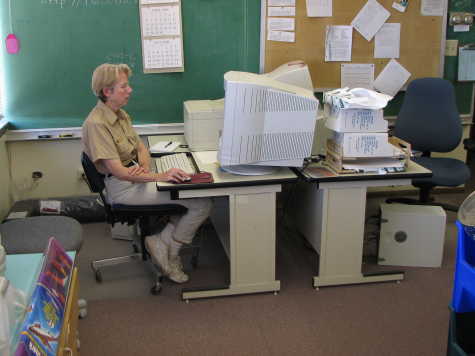 Once we were back at the coach, we relaxed, had a much better dinner than we have recently, at least in Linda's mind as she really enjoyed the guacamole, then after an evening of watching Top Chef on Bravo, and having vanilla pudding over the chocolate chip zucchini cake, we slept like logs. Not every day can be great, and this wasn't one of our better ones, yet we still felt good about ourselves, eagerly anticipating tomorrow when we would be at the Painted Desert Inn for the day, the site of so very pleasant times when we were here last year.
---
---