Journal Archive 06/21 - 06/30 2008
Scroll down to read the latest post
June 26 Thursday
It hardly seems like its already been a week since we left the states. So much has happened and so little has been written. For now we will skip what has transpired, hopefully catching up on our writing some day, and will describe what life today is like.
Without a doubt life in Europe, at least where we have been in The Netherlands, Germany and Belgium is different and we are beginning to see it in a new light. Transportation, whether by train or bus is fast, efficient and inexpensive. The feeling you get from standing in a town square for 3 hours watching with thousands of other fans as the Netherlands soccer team plays in the Euro cup defies description. Sitting in a sidewalk cafe in the town my great grand father was born in has no equal. Buying a pair of sandles in that same town was a totally unique experiece. I think the key to what we are doing is that word, experience.
For the past five nights, which were also our first five nights in Europe, we have stayed at the Guesthouse 16 in Heerlen, Netherlands. To Americans used to Holiday Inns and desirous of the same facilities while in Europe, this is not the place. To Americans wanting to truely experience Europe, we give Guesthouse 16 our highest recommendation. Our host, Chir, has been most gracious and helpful, truly going out of his way to make our visit the best it can be. We couldn't have gotten a better start for our adventure. Speaking of starts, it really started to rain when we went down for breakfast and all we could think of is that we should have bought umbrellas earlier in the week. Suffice it to say there were more than one "I told you So's" that assultemy ears as we descended the steps. Breakfast was the usual, soft boiled egg, orange juice, cheese, jam, wonderful coffee and various toasts. The coffee in Europe is, without a doubt, the best coffee we have ever had.
All to soon it was time to leave and as the rain stopped and the skies began to clear we headed off to the Heerlen railroad station, where we bought tickets to Maastricht. Maastricht is an international station, so once there, we were able to buy tickets on Belgian rail for the trip to Brugge Belgium. This was a fast inter city, or IC, train, unlike the regional trains we had taken in Netherlands and Germany. We've also learned that when a train carries the designation, Stoptrein, it is the opposite of what we were on today. The train was not only fast, it was also smooth, so Linda was able to work on post cards for part of the trip.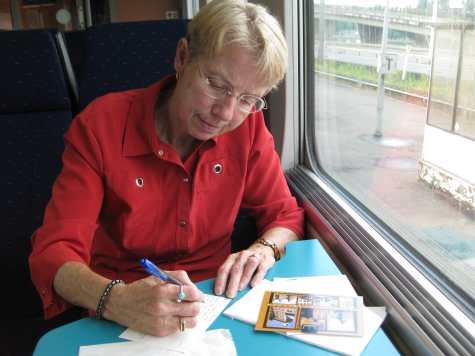 We were to change trains in Brussels and it gave us our first glimpse of a major European city. Being the capitol of the European Union, skyscrapers abound. There may be parts of the town that are very old but it looks like the downtown is as "modern" as any US city or maybe more so. One thing that really amazed us was the number of satelite dishes we saw from the train. I wonder if that also makes us "modern" tourists, looking in awe at the number of satellite dishes on the building instead of noticing the building is hundreds of years old?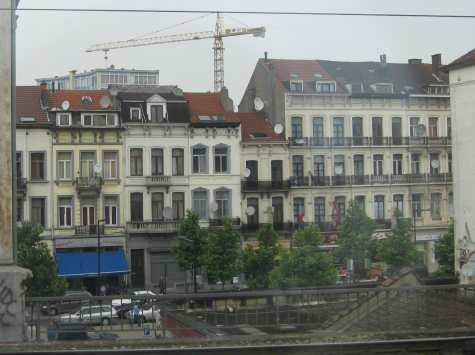 At the Brussels-Midi station we changed trains for the ride north toward the coast. This was an extremely long train, at least 3 to 4 times longer than American passenger trains, yet virtually every seat was occupied. An hour later we were standing on the platform at the Brugge station trying to get our bearings. But in less than ten minutes we were ringing the bell at our Hotel, then climbing the narrow stairs to look at several rooms. After checking one on the backside of the hotel and one on the street side, Linda got her pick. Though she may say otherwise, I think the flower box of bright geraniums out the front window played a major part in her selection. We soon checked into the room which had the window overlooking the street and leaning out, here is the view we had.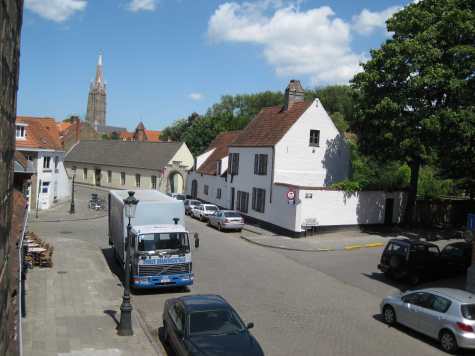 We were in a new town, so the questions were: where to go and what to see and do? We had done some research, yet were not prepared for the short streets, tiny alleys, and dead ends of this gothic town. Coming from a country where old is something from the 1800's, we are in a town where old is before the 1500's and anything after the 1700's is practically modern. After spending a little time simply wandering, or mostly being lost as Linda said, or being engaged in creative discovery as I tried to point out to her, we literally stumbled across the entrance to Saint Saviours Cathedral, originally founded in the 14th century. The best word to describe our experiences is unique. Each of the catherdals we have visited has been impressive in its own way, though one common feature persists with each, the shear magnificance of the gigantic stained glass windows. As we have learned, their purpose was to substitute for something very common to us, the written word. It has been fascinating to look at those windows and recall the Bible stories of our youth. Other windows may simply carry the image of one of the supportors of the cathederal. Whatever they portray, they have a stately elegance that produces awe in anyone who looks upon them.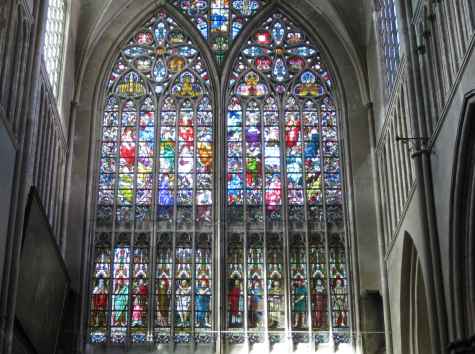 Within the cathederal, some things are readily apparent, take these massive silver candle sticks for example.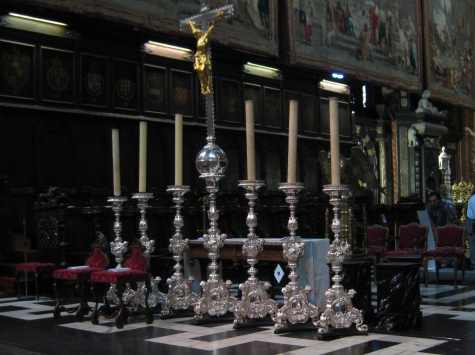 Other things were not as readily apparent and it took some digging to ferret them out. As you can see Linda, the snoop, was in her element. According to Linda...There was a piece of plastic there with a human sized statue lying on it, evidently they were doing some renovations, either that or the mysteries of the Church are far beyond the comprehension of we mere mortals.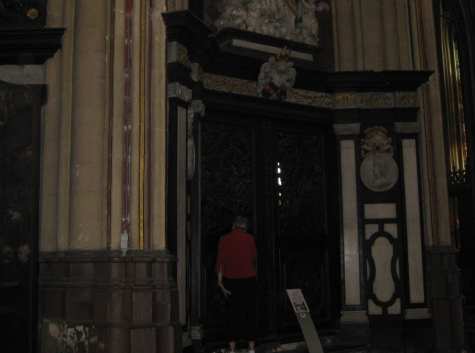 Suddenly the church was filled with the sound of organ music, and we found a seat, closed our eyes and imagined ourselves back hundreds of years ago. How insignificant man would feel when confronted with power and majesity such as we were in the presence of at the moment. I was also drawn back, maybe I should say ahead to the church we had attended for years. It also had a pipe organ, but many was the Sunday I remarked how it wasn't played the way it was meant to be played. As I sat there I realized just how true those thoughts were. This was a real pipe organ and was it ever being played.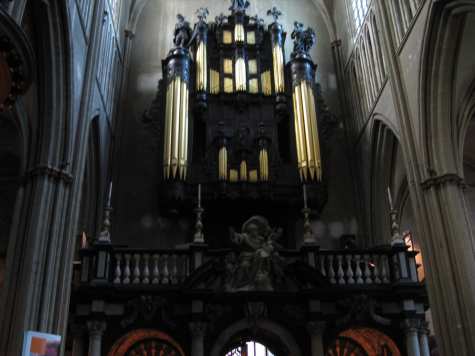 As we exited this enormous edifice we reflected on the incredible power the medieval Catholic church exercised over the people. Just think of how far man has come in the ensuing centuries yet, how far we have yet to go.
Speaking of power over man or woman, as the case may be, our next stop was at the Dumon Chocolate shop. Choices...choices...choices, for once in her life Linda was overwhelmed by chocolate. Fortunately for Linda, I mentioned we going to be joining a Rick Steves Tour to the shop keeper which led to a recommendation that we buy the Rick Steves 15 piece selection box. A minute later and 5,25 euros lighter, Linda was outside the shop tightly clutching the bag.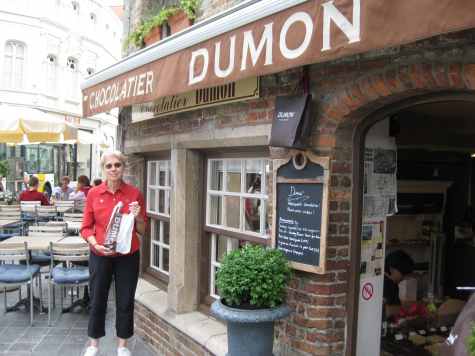 Knowing it was useless to try and get the bag away from her, I suggested we stop for our usual afternoon refreshment. We have come to understand the European custom of sitting at a cafe enjoying a glass of beer and watching the people go by. While it won't substitute our 4 pm peanut time in America, it is truely the thing to do here. Linda, on the other had had an even better idea, "How about we stop for a waffel before we sit at a cafe?" she asked in that special way of hers. You may know it, the one little girls practice and practice so that they can always get their way.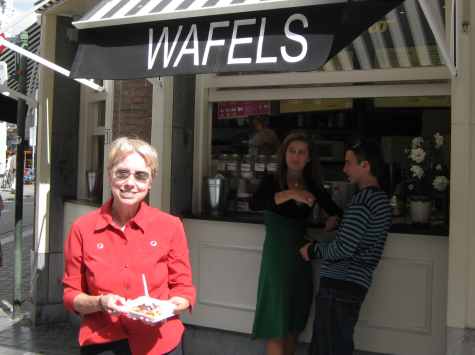 My, my, my, there is no waffeling about Linda when it comes to choosing the topping for her taste treat. It was Nutella all the way. After that it was off to a cafe to sit, sip and see.It is always an adventure picking just the right cafe each evening, then once we are seated and enjoying our ourselves, it is fun watching all the people walking by trying to do what we just did. You see them looking, talking in hushed tones, pointing, then walking on, or sometimes sitting down. That's when you realize that no matter what the circumstances, the place you are, or the language spoken, people the world around are all the same. It makes us glad we are here experiencing a variety and vitality we have not before known outside our own country.
Speaking of things different and things the same, when was the last time you ever saw signs like this on a grocery store shelf?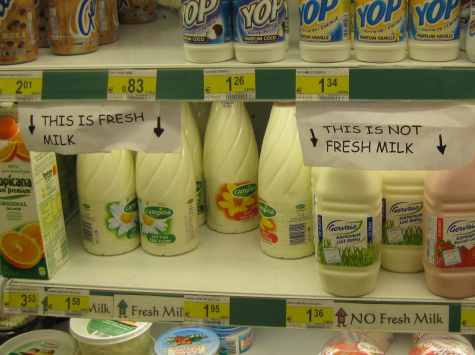 For dinner tonight we decided to picnic and picked up a mozzarella basil tomato salad and cheese, tomato and sprouts on a roll sandwich at a small sandwich shop. This coupled with some Emmenthaler cheese from a cheese shop and a bottle of sweet white Belgian wine we got at the supermarket where we saw the milk signs, made for a fabuious meal. We debated wher to eat and finally decided what better place than in our room at the table, looking out the window over the bright red geraniums. Our goal is to never eat at the same place twice, and to always try to make each meala new experience. Once again we succeeded.
Of couse those chocolates were just going to waste in their box, so it didn't take long for linda to gobble down the food, so she get on to the FOOD, or translated, the box of chocolates./p>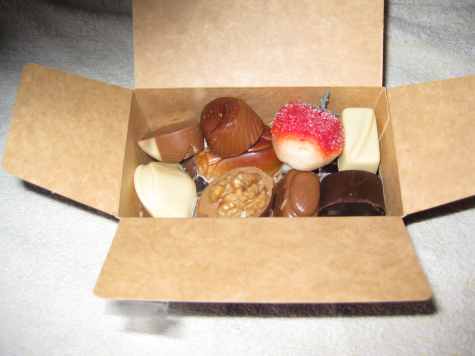 ---
June 28 Saturday
Our last full day in Brugge, Belgium and in a way it is too bad we have to leave tomorrow what with my discovery last evening of the only beer brewed in Brugge, Brugse Zot. Still, we plan to do our best, not only to see those sights we have missed, but also to empty those last barrels.
In terms of the not so small kindnesses that have been continuely bestowed upon us during our adventures on the Continent, last night was one of them. The small, seven room hotel where we are staying was closed as of last night. The owners planning to take their annual vacation, or holiday as they termed it. Unfortunately the father of owners wife had open heart surgery,and so they need to stay in town. They are allowing us to stay two more nights because of this.
After a breakfast of coffee, bread, rolls and spreads, we headed into the downtown area on the most important mission of our stay. Linda had the object of our travels well mapped out, but as has been the case since our arrival, we only have to look up and see one of the many church steeples to know where we are at any time.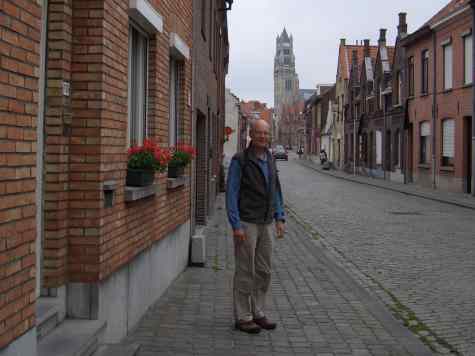 Our destination was on the opposite side of town, but with an uncanny accuracy seemingly springing from the genetic makeup of my wife, we quickly found ourselves at our destination without a single, solitary misstep.
Looking at the photo you can easily comprehend the state of euphoria Linda was in as we ascended the stairs to enter the Brugge Chocolate Museum, where we would learn about the history of the greatest food on mankind's table. Linda was really intrigued by the Aztec's use of cocoa beans for money, though I don't see her spending any of her hard earned beans for a rabbit.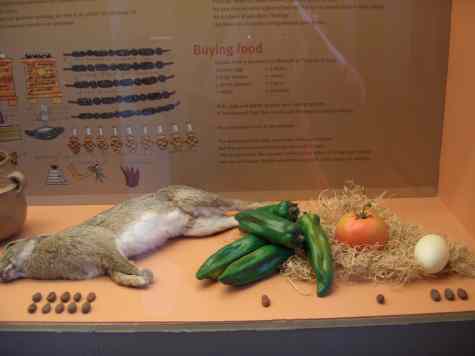 While Linda was concentrating on the edibles, I was more interested in the artistic. One historic person who has always captivated me has been Marie Antoinette, so it was with a sense of awe that I gazed upon a chocolate set that she had used. The blue color in the design was the most intense cornflower blue, and to read that this was the color she preferred because it was the same as the color of her eyes blew me away. I had to wonder, could it have been this chocolate set she was being served from when she is reputed to have uttered that famous phrase - "Let them eat cake." Words that marked an attitude and a lifestyle which ultimately lead to her being beheaded during the French Revolution, The historian in me finds wonders everywhere I turn in Europe.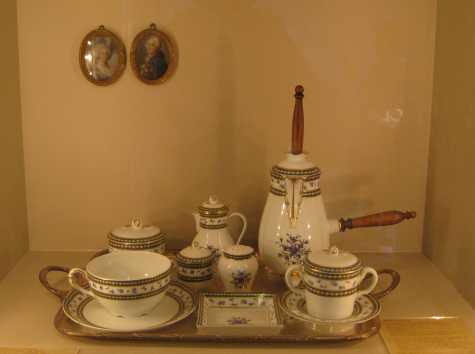 It may be that we are only given one chance at at life. On the other hand maybe we do get more chances, in which case Linda knows what she wants to be the scond time around, the girl in the chocolate shop. Here you can see her auditioning for the part, which is not the chocolate maker, it is the official chocolate taste tester.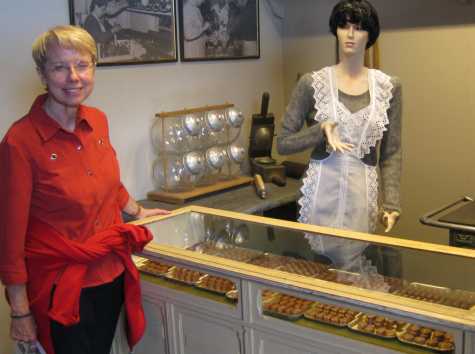 Other things were not as readily apparent as can barely be deduced from this photo. At first appearanc it looks like a chocoholic standing n front of a case filled with ceramic figures. Oh ye of little chocolate knowledge, those are not ceramic figurines, they are chocolate. The mastrof making chocolate, no color or shape is impossible. Or as Linda pointed out, "Chocolate is good the world around and I'll eat it wherever and however it is found."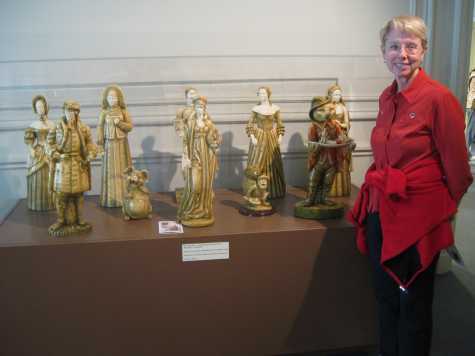 Our time in the chocolat museum ende with a live demonstration of just how they make chocolate pralines. From start to finish it takes almost an hour and a half because of all the cooling time that is required. The demonstration cut out all that time but the thing that impressed me the most was not the actual process of making those delicious little morsels, rather it was the commentary about the process. Europe is a land of many languaages so the young woman doing the demonstaration repeated everything in four languages, Dutch, French, English and German. It took a while to catch on but once I did, it was quite easy to follow what was being said.
In a way it gets me when i hear people in the USA complaining about having to push a number on the phone to get English, over here there are four diffferent languages at some of the phones. The concept that the whole world revolves around America is quickly laid to rest when you travel in Europe. I love it when you select english and what you hear is a very pronounced British accent. Or should I say, it is very much in English and any accent is my American accent.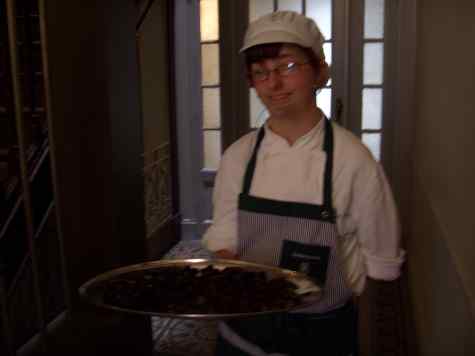 Linda wasn't into any of this language deciphering, focusing all her attention on the most imortant matter at hand, the free samples of chocolate pralines being handed out after the demonstration. After going through the line once and getting her sample, she doubled back, took a photo of the young lady passing out the samples and got her second piece. The ability of that woman to procure a piece of chocolate knows bounds,
Speaking of Linda's power to procure chocolate, our next stop was at the Dumon Chocolate shop, the same one she has been to several times before. After the tour she was in the mood to try something new so she bought some orange filled chocolate sticks. Then, just to show she knows a good thing when she sees it, she also bought several chunks of hazelnut chocolate bars. In the end that may prove to be a bad move as I also really like them. Now if I'm really nice I may get to have an ounce out of every pound. By the way, buying chocolate in Europe can be dangerous, the unit is the kilo which is 2.2 pounds, meaning that woman gets twice as much as she usually does.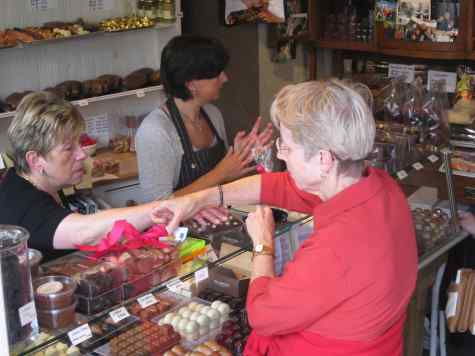 Afterward we stopped for our favorite refreshment, a Kriek for Linda and a Zot for me.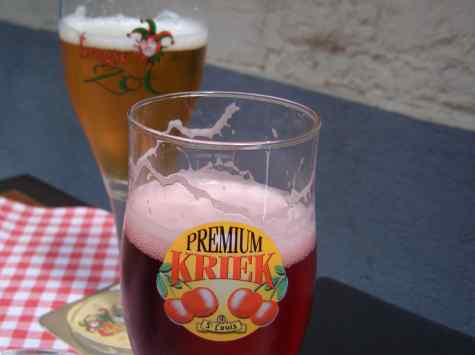 Kriek is a stawberry or raspbery flavored beer, while Zot is brewed here in Bugge. One of the interesting things we come to appreciate is that each beer is served in its own distinctive glass. The idea is to enhance the good points of the beer through the shape of the glass. For example a beer which has a tantalizing aroma is served in a glass that more closely resembles a brandy snifter than a beer glass. The other thing is the cardboard coaster which on occasion can be different to say the least. Take the one which comes with Zot for example.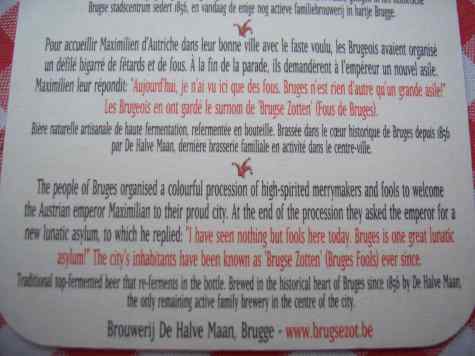 Deciding to head back to our hotel and rest for a while, we took a shortcut through Minnewater Park. Once again the difference between the USA and where we now find ourselves was readily apparent. In the US the roads through the parks are lined with cars. Here there are no roads, only wide paths, but they are lined, even moreso than in the US, the difference is what they are lined with.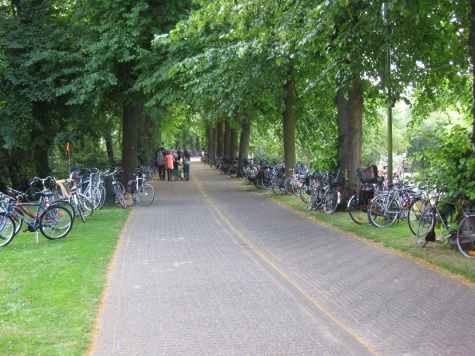 There was more to the day, a tour of the Brugge brewery, a fish sandwich for dinner that was unlike anything we had ever eaten before (part of the fun of being here is ordering food from a menu that you can't read then being pleasantly surprised at what you find on the plate. The best part as far as Linda is concerned are the desserts. We try to have one with every meal, and never once have we been disappointed. Universally we find them to be much better than the desserts in the usual American restaurant, using a lot less fat and sugar and a lot more fruit, eggs or other secret ingredients to achieve a level of sophistication we are not used to.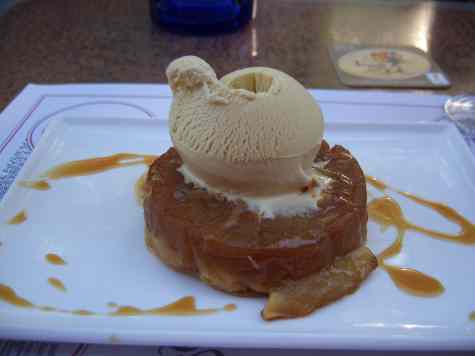 ---
---