Journal Archive 09/21 - 09/30 2008
Scroll down to read the latest post
September 21 Sunday
After a breakfast of shredded wheat topped by canned blueberries, something from the the far distant past those blueberries were, it was time to go over to the museum for our two days of greeting visitors and giving tours.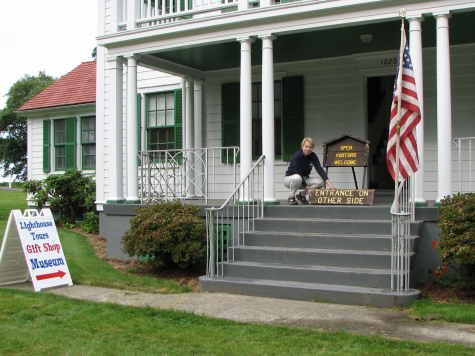 There is a little more to opening than just unlocking the door and turning the sign that is velcroed to it to the side that says: Open. What you see here is not the entrance to the museum, but rather the original entrance from the days it was the Coast Guard Administrative building. There are three signs and the flag placed here that need to be put out each morning and taken in each night. There are also two flags that have the word open on them and two additional signs that placed on the other side of the building, as well as in the parking area. I must say that Linda has this all down to a science, especially since she now has me trained to do much of it.
Yesterday we had birds around the coach, today we have birds on the coach. Looking out the window of the museum we could see as many as six crows up on the roof. Checking what they were doing with binoculars, Linda discovered they were drinking water from a small puddle that forms up there. We both remembered occasionally hearing strange ticking noises when we have been in the coach and now we knew what they were. Don't see them damaging our fiberglass roof, and besides, they are just trying to live their own lives just as we do.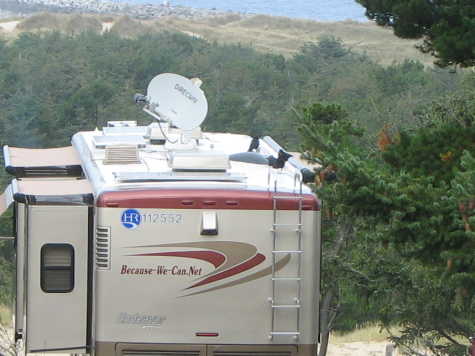 To say it wasn't a busy day would be an understatement, in the first hour only four people walked through the doors. By the end of the day I had only given three tours and the last one had left at 4 o'clock, meaning that during the six hours the museum is open, between 10 and 4, there had been only three tours. Let's just say it made for a very long day. We did have a reasonable stream of visitors throughout the day so it wasn't like totally boring, but darn it, I do enjoy giving those tours. There is one thing that always brings a smile to my face and that is the beauty of the light. Today, the light reflecting off the brass column was no exception.
Given all that time with nothing to do, we both spent some of it wandering through the museum, trying to see how it looked through the eyes of our visitors. By the time the last tour was over and the door to the museum locked, we were both ready for the day to end. Myself, because I wanted to get started on dinner and Linda because she had a number of Ebay items to box for shipping. While Linda wrapped, I heated leftovers and uploaded the last two days daily journal articles. Then we spent a little time watching the Emmy Awards. It was indeed, very little time, as we rapidly concluded that there are bad shows and then there are really bad shows. And even worse than those shows are shows like this one. Later when we tuned back in to see if it had improved any, it was just as the great race was announced as the winner in the reality show category. Give me a break, that show is probably even more scripted than survivor. Reality, the only reality about it is the laughter of the all those people who make gobs of money off the people who watch crap like that. (That felt good, it's been a while since I've had a rant.)
It occurs to me that we talk all the time about what we do here at the lighthouse, but we really haven't posted a nice photo of the building itself. So to rectify that oversight, here is what the Umpqua River Lighthouse looked like when I was walking back from the day's last tour.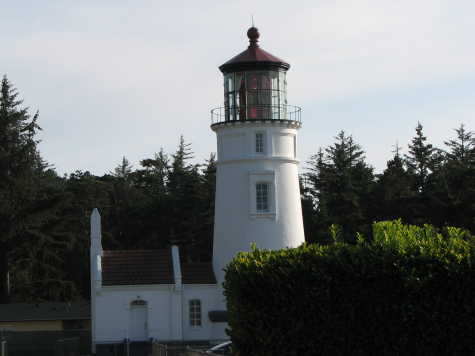 The end of this Sunday brought a glorious sunset, which Linda just had to photograph. What makes it different is something we haven't seen for at least the last three weeks. A sunset with no fog bank, instead there are the puffy plumes of clouds lining the horizon. We will take this as a good omen meaning there will be near picture perfect weather over the next week or so.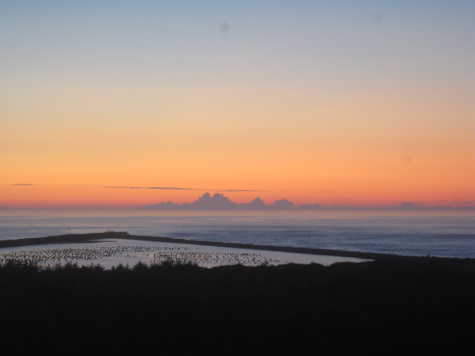 Before we go, we need to mention the death of Gaylord Maxwell, Founder of the Life on Wheels conferences we have attended, and one of this world's truly nice people. It is because of people like Gaylord that Linda and I not only enjoy the Life we live, but want to share it with others.
---
September 22 Monday
This was one of those days when we had to say the Gods must have been smiling, because there is no way it could be as a pretty as it was otherwise. Every time we looked up as we sat in the coach before going over to museum, we could only marvel at the beauty of the water and the contrast between the intense green of the trees and the blue water. It's time like this that remind us of just how lucky we are.
Once it was time to open, I was presented with another breath taking view, the lighthouse lens was sparkling like a many faceted jewel as it slowly revolved. At night it generates its beauty from the light within, but in the morning light with the sun striking the lens at just the right angle, it takes on a completely different personality. It's one of those cases where photos simply can not do justice to what the eye beholds.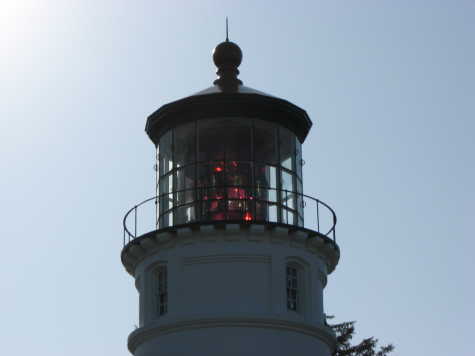 I had as much time as I wanted to stand and look at the lens, because it was another day of light traffic at the lighthouse. Walking through the door of the museum I asked Linda whether she had a tour scheduled yet and she answered that no one had come by as of yet. Besides, after listening to her describe what she had been doing, if someone had come by, she probably wouldn't have noticed them anyway. Every year we are at the lighthouse she has had fun watching the eight legged inhabitants of the window by the counter live their own lives.
After spinning their web, which covers the glass areas of the lower sash, they retreat to their living space, which is in the crack formed where the upper and lower sashes meet in the middle of the window. Should an insect become ensnared in their carefully crafted web, they quickly descend to enjoy a new meal. This morning one of those resident spiders wasn't just enjoying a meal, it was enjoying a feast, as witnessed by the size of the insect it had trapped.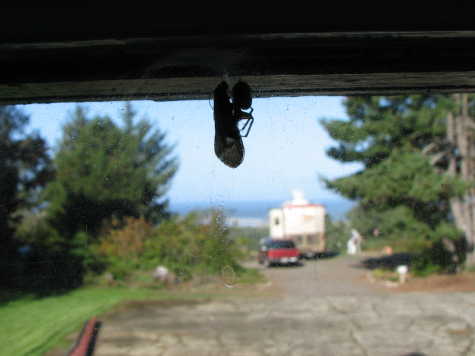 You can see the rounded shape of the spiders body as it sucks it meal out of the insect carcass. This also allows me to post a photo of a meal, even if it isn't of the normal variety, for those of you who enjoy my photo's of what we eat. Of course you have to believe I'm chuckling as I type these words. As we both continued to watch the spider sucked away, our first visitor finally walked through the door, and it was time to go to work. It ended up being a fairly busy day, even though we only had four tours and by the end of the day we were both tired.
Given the fact that I had a little time between tours, it gave me a chance to look at something that was new to the museum, at least new in terms of comparing it to the previous year. There had always been several ships models on display, but over the winter they seemed to have multiplied. What follows is look at those model ships. The first one is located where Linda plies her trade, greeting our visitors and recruiting them for the lighthouse tours.
Model of a British ship displayed in the early history room.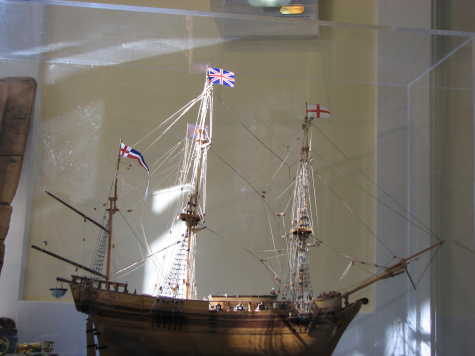 A schooner, rigged with a square topsail on the foremast, also located in the early history room.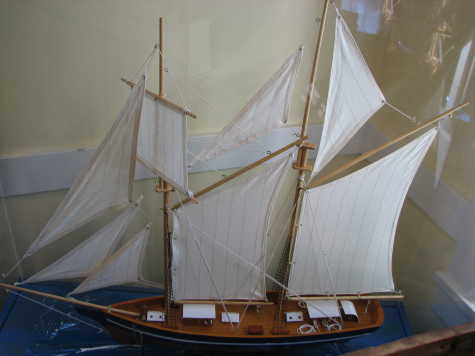 Another model, displayed in the center room.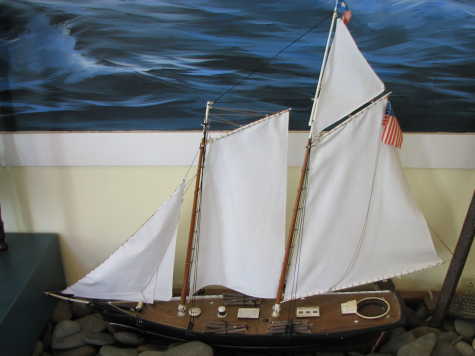 Model of the Eva, one of the sternwheelers that moved cargo up and down the Umpqua River. It is also located in the center room.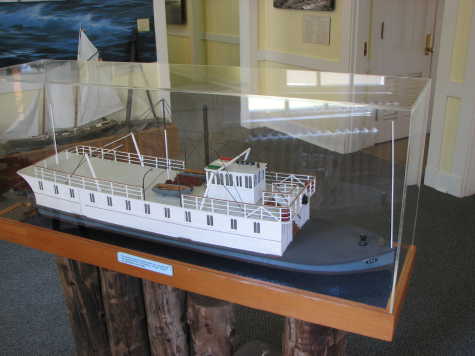 Another British ship, this one is located in the third room.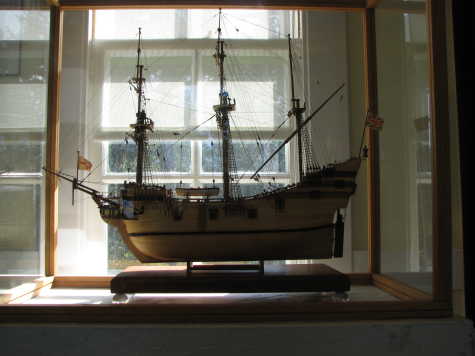 Four masted schooner of the type that carried cargo up and down the coast, also located in the third room of the museum.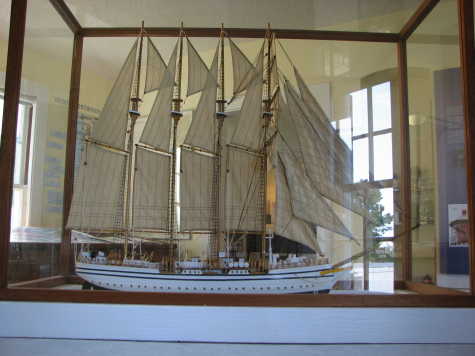 As you can tell, it was one of those days where our Life seemed to mirror a play written by that guy in England, the fellow we all had to learn about in school . Something about much ado about nothing. For those thespians out there, I was referring merely to the title of the play, not the play itself. And while back when this play was first penned, the play was the thing, now we have entertainment that comes to us rather than us having to go to it.
That's what we did, at least of some of the evening, and my, my have our TV viewing habits changed, not only over the years, but also over the past month. With the networks filling their time slots with either reruns or mindless reality shows, we looked around and low and behold there are alternatives on some of the cable channels. One show that we have really come to enjoy is The Closer, on TNT.
Talk about us being Johnny come lately's to this show, it's been on since 2005 and here we are just discovering it. The good part, we've got years of reruns to watch and they will all be new to us. All we can say is between the southern accent and the looks she can give, it makes Horatio - her Monday night competition - look like day old road kill by comparison. So long CSI Miami, hello The Closer.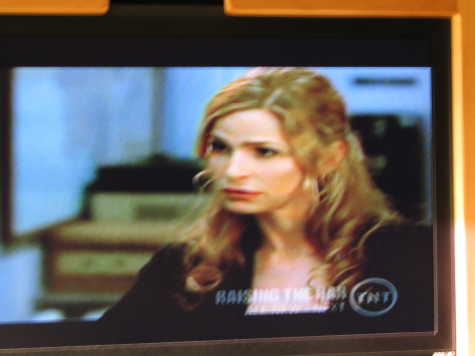 There was also one other new thing in our Life today (we've watched The Closer the past several weeks, so it wasn't brand new to us), I managed to write a new home page article, and it dealt with something that happened to us during our travels in Europe, plus there is also a photo montage of some of the places we visited during our European travels on the drawing board, but don't hold your breath as it a few weeks away at the moment, unless Linda gets after me, in which case it will be about a week away. (With that run on sentence it may have taken several breaths just to read it.) Hope you tried something new today, after all, what better way to turn life into Life.
---
September 23 Tuesday
This was one of those days where I simply got lost this morning. I had really great intentions when I was sitting in front of the computer at 4:55 to get the daily journal written and also post some waymarks. Unfortunately Linuxtoday.com had some really interesting links, causing my curiosity to get the better of me. One thing lead to another and by the time Linda made her appearance, I not only hadn't written a single word, I also hadn't made her coffee. My bad, big time.
Sometimes the devil is in the details and that pot of coffee was one of them. Not because I hadn't made it, but rather how we got to the point we are in terms of how it is brewed. I don't drink coffee, never have, though I will admit to discovering the pleasures of European coffee this summer, but the made in America stuff just doesn't cut it for me. By the way, Linda would give up the coffee here for the real thing from over there in an instant, also.
What I was trying to say before I got off the track was that the method we use to make coffee now is not the method we used when we first started living in the coach. At first, to save space, it was a simple french press, with the water heated on the stove. Later, as we found we were remaining in one place longer because of our volunteer stints, we started using our old coffee maker, one of those big coffee, expresso, cappicino maker monstrosities that take up so much counter space. Then came the little plastic holder that fits over a coffee cup and holds the filter and coffee grounds, which works by heating the water on the stove and pouring it on the grounds.
Now we have changed once again, recently going back to an electric drip machine, but with a difference. This one is a small four cup machine that takes up very little counter space, has only an on/off switch, no fancy timers, comes with easily visible marks so we know how much water has been added, and is so simple even I can operate it.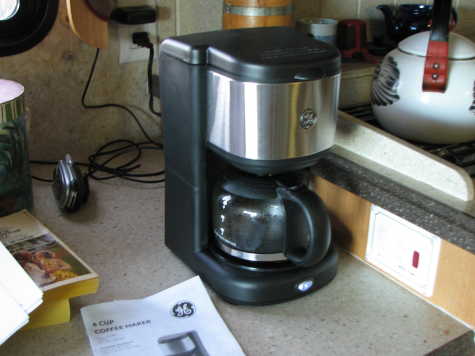 Linda has only to fill it with water and coffee each night before she retreats to the back of the coach, then each morning I merely have to flip the switch after I get up and she has hot coffee when she makes her appearance to begin the day. The only problem has been that as of late, her ladyship has been forgetting to fill the maker with water and coffee in the evening. However, the family slave has now gotten into the habit of checking it before he flips the switch, sigh, and then adds the water and the coffee. The only problem was, this morning I also forgot, forgot not just to check, forgot completely about making the queen's coffee.
The problem was that I remebered my error just as I heard it, I mean her, getting up. All I could think of was that the smiling teddy bear that ussually prances out each morning was somehow going to moroph into a grumbling, growling grizzly once she discovered there was no hot hot coffee waiting for her. Making her usual entrance, sporting a big smile, she turned towards the counter to get her coffee. It was the moment I was dreading and I hunched down in the chair a little, the better to whither the impending blast. Wheeling around towards me, she said, "I forgot the fill the coffee maker again, didn't I?" Then smiled and started to fill it. Like FDR said, the biggest thing we have to fear is fear itself.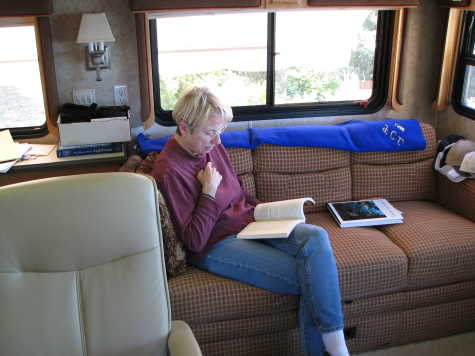 Breakfast was shredded wheat with canned peaches. Linda topped her's with yogurt, I used milk, then it was time to tackle the daily journal. Meantime Linda immersed herself in a book about a woman's journey across the Oregon Trail. Then it is time for one those, "one thing leads to another" incidents. When we were in Texas I had purchased a small prism to use during the lighthouse house. Thinking that it would help illustrate how the glass of the lighthouse lens was made, and remembering about it at this moment in time, I set out to find it. Look as much as we might, we just couldn't remember where we put it. It was during this search that we found a drawer badly in need of being cleaned out, not because it was dirty, rather because it was full of things we had never used. Busily invovled in that task, and after a number of trips outside to store things in places where we know where they were, it became time to fix lunch.
A little lettuce, turkey, mustard and fat free cream cheese yielded a delicious wrap, which coupled with reduced fat cottage cheese, grapes and unsalted blue corn chips made for a delightful lunch. Afterward Linda busied herself hand washing our table mats, showing me why she used the sink instead of the washer, the water was the red color of the mats, then hanging them out to dry.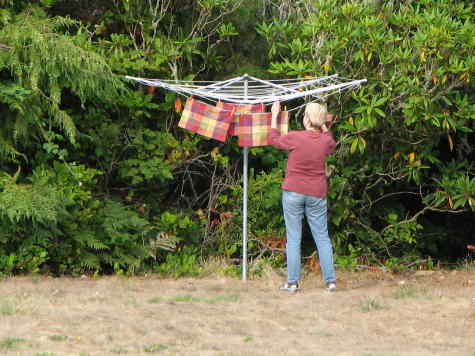 The remainder of the day was spent in reading and munching on peanuts before Linda advised me that I really had something I needed to do. It was to fill out some more forms regarding the probate of my mother's estate. I do believe they make those forms the most user unfriendly pieces of paper in the world, but by very, very carefully reading the instructions, we were able to get them filled out correctly, or at least I hope so. Our probate attorney had sent very good instructions, it was just hard trying to locate the information on all the documents we had to fill in the blanks in those forms.
Dinner was once again a mix of leftovers, that shedded pork doing its job once again. Letting Linda know in a subtle way how much I appreciated her being so nice to me today, I fixed her a special creamy vanilla lemon dressing for the salad. As we sat there eating we couldn't help but think and talk about our son's girlfriend, Lisa. Her father had died today of a heart attack while she at his house, and our hearts went out to her. Lisa, you're in our prayers.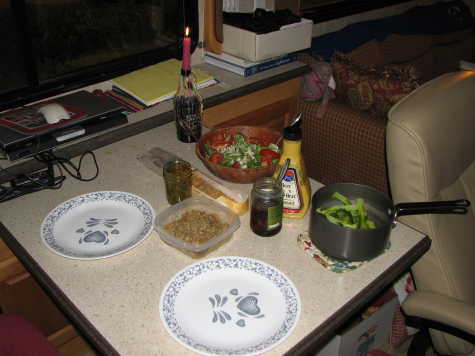 Later, Linda got her NCIS fix, though she almost missed it and would have if hadn't remined her to turn on the TV. As we turned out the lights, we could see the bright lights of several fishing boats out on the horizon, something that we hadn't seen for weeks. Maybe it was the beautiful clear night, maybe it was something else, but it remind us that over the horizon there is something that none of use can forsee, and the only way to find out is to continue our journey through Life. We love you Lisa.
---
September 24 Wednesday
The smell of fresh brewed coffee wafted through the air this morning as Linda made her entrance, my thinking being that I might forget to make her royal ladyship's coffee for one morning and get away with it, but twice in a row, never. The problem is that if it isn't one thing, it's another.
Yesterday she had gotten a number of things ready to mail and was going to put them in the mailbox. The problem is the mail is delivered around 7:30 each morning, meaning they would have to go out the night before, something that is probably not the best from a security standpoint. I therefore suggested that maybe it was better if they went out in the morning. The words were no sooner out of my mouth than I realized I was about to get an earful of something, and it wasn't going to be very pleasant. Why didn't I think before I opened my mouth, there was no way she was going to get up and take that mail out. After all if it's one thing Linda enjoys, it's her "bedtime" in the morning.
Me, the morning person who likes to be up long before the sun rises and who likes to go to bed early to get some reading time in. Her who likes to stay up later, but who dislikes getting out of bed in the morning. What a pair we make, but that's also what makes Life interesting. Back to the story, instantly realizing the grave error I had committed, I immediately volunteered to take the mail out in the morning before the delivery was made.
Maybe it was the coffee, or the long restful night of sleep, whatever it was, her countenance immediately changed, a smile crossing her face as she readily agreed to my offer. The problem was that just before she swept into the room this morning, I had realized the mail was still sitting where she had placed it on the dash yesterday. Would luck be with me two days in a row or would I have to face the music? I'm going to have to consider buying a lottery ticket, because once again, she just smiled and replied to my hurried apology for being so stupid, "That's okay, you can do it tomorrow."
No lamentations about how her Ebay packages would arrive later that she liked. no remarks about the general stupidity of the male of the species and her male in particular. What has gotten into this woman? Whatever it is, I like it. Carrying it even a step further, later, while I was still working on the daily journal, she even offered to fix breakfast. It may have just been shredded wheat, but it was the thought that counted. Speaking of thoughts, it's driving me crazy trying to figure out what it is that she wants. There's got to be something more to this than it seems, doesn't it? Over forty years of being married to her and I still don't understand her, probably never will either.
While I continued to work on the computer, Linda did a little tidying up of the coach, and it was during this time that she discovered a piece of paper that directly tied into the new homepage article I had recently posted. I little worn, probably from being looked at so much that fateful first day of August, it was our train connection schedule, the one that resulted in our "Going to Berlin", at least for a few kilometers. It's difficult to read in the photo, but understand it would be difficult even if it were in your hands, there isn't a single word of English anywhere on it.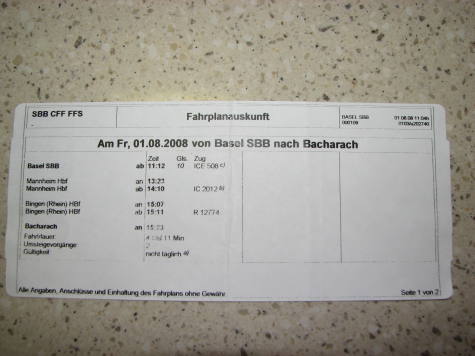 With breakfast over, the daily journal posted and the coach in good order, it was time for Linda to get me working on my next project. Wait I'm jumping ahead here, because she had also been packing for our weekend trip up to the Portland area. It was going to include a little sightseeing, some research into the life of one of our early lightkeepers, a wedding, and some Trader Joe's shopping. There were a few things that she had designated to be my responsibility, such as pack my shaver and deodorant, stuff like that. The rest she was doing, most likely because she knew if she left it for me to do, it probably wouldn't get done.
I've got to say that woman is certainly organized, making a list for nearly everything. I also had to admire the way she was dressed as she was doing all this packing. Let's just say you can take the girl out of Appalachia, but you can't take the Appalachia out of the girl.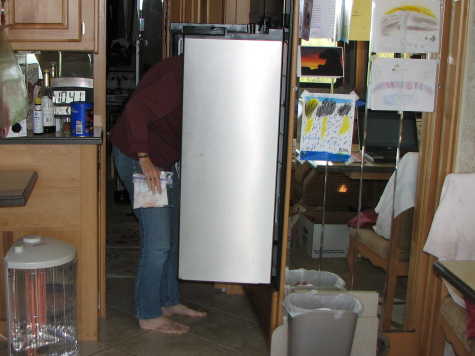 She didn't have any idea I had taken this photo, but then neither did I that she had taken one of me. This photo also points out the difficulties of getting your cell phone to work. Two years ago we had only intermittent coverage for our Verizon phone. Last year it worked perfectly and Jim and Liz who are in the site next to ours were able to connect to the Internet with no problem with their phone card. This year it has been different, Jim and Liz can not connect at all with their phone card, and have to stand outside to talk on their cell phone. We have what could be called our phone booth, the stairwell at the front of the coach which is the only place we can talk on our phone without the call dropping. That is, unless we want to go outside like Jim and Liz do.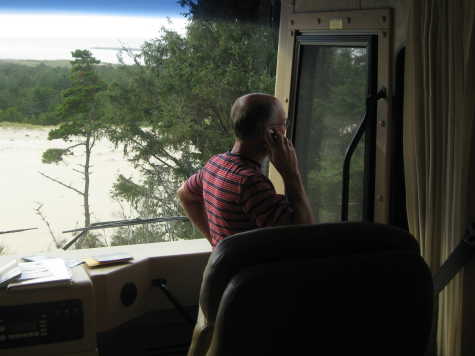 When it came time to fix lunch, Linda reminded me that I needed to fix wraps for the next several days. We had debated over what to do about meals when we were on our little mini-vacation, and had decided that we would take along our usual lunch and enjoy dinners out. After all those weeks in Europe and the fabulous food we had meal after meal, we knew there was no way we could repeat that experience, plus we are still trying to remove those extra pounds that somehow attached themselves to us during that time.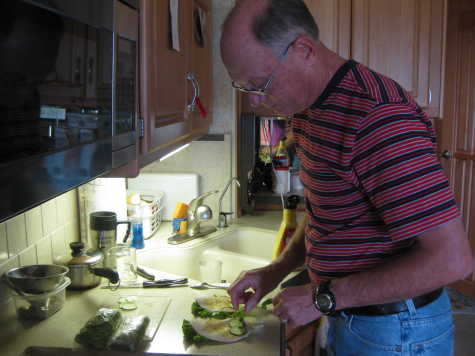 The remainder of the day flew by, we were both busy with reading, computing and enjoying Life. One of our joys is a glass of wine in the early evening before dinner, and I had recently made an interesting discovery along those lines. A longtime consumer of Trader Joe's Two Buck Chuck Merlot, I had found my wine cellar to be bare of that tasty treat. What to do, well one thing was to do without, but deciding that I didn't like that option, I needed to decide what to do with. Being a frugal sort of guy, and having no real palate to satisfy with the good stuff, I choose a box wine, Franzia Chillable Red to be exact. Yet even in my uneducated ignorance as far was wine was concerned, i could detect an enormous difference.
Enter the solution, and by accident none the less. The last time we were to the store, something caught my eye, it was an ingredient that some of the recipes for margarita's had called for, but that we had never bought or used. That day I saw it on the shelf, we had bought it, intending to stow it away until we found ourselves down in Mexico this winter, when it would be put to good use. For some reason it didn't get put away, but instead remained out on the shelf near the box of wine. One day, looking at it, I wondered what would happen if I put some in my glass of wine. I recalled it mentioning you only used a couple of drops in a margarita, so why not do the same with this glass to wine. I simply couldn't believe how much better tasting it made that glass of wine. Angostura aromatic bitters, just a drop or two will do you. Of course your results may vary, but that's what makes the world go round.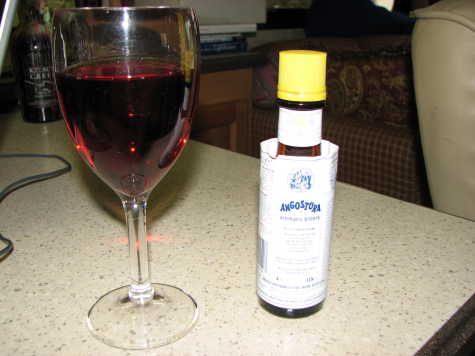 Linda also has her own special thing taking place and it's a bloom that has appeared on her Caladium plant. It reminds us of the old adage, Bloom where you are planted, something that served us in good stead early in our marriage when job transfers took us from place to place. Today it continues to work as we take what Life gives us and try to give something back to Life.
---
September 25 Thursday
A gentle reminder was what I started the day with. When I emerged into the darkness of the front room and turned on the light, my computer looked different.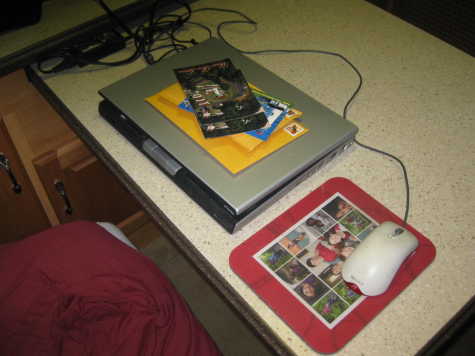 Linda was going to make sure her packages got mailed today. Of course it was still far to early for me to take them over to the mailbox, so I set them aside. That did not mean they were out of sight nor out of mind. The location was carefully selected so they were in the corner of my peripheral vison and also just above the mouse pad so that everytime I glanced that way I would see them. Plus the computer clock is also on that side of the screen, meaning there was no way I was going to forget to mail them today.
With part of my mind on typing and most of it focused on those pieces of mail and the clock, it made for some slow going on the creative front, but it also made for blessed assurance on the security side of my Life. At last the clock reached my self appointed time to take the mail to the mailbox and out the door I went, trying not to make too much noise, an impossibility given the coach door, but the thought was there. I raised the red flag and placed the mail in the box, but noticed something amiss. The floor of the mailbox was wet. Not damp, rather it was wet as in liquid water wet. That was not good for the Ebay packages I had just placed in there, so I put all the mail up on edge against the side of the box.
Walking back over to the coach, my mind started doing all kinds of things with what that water was going to do to those pieces of mail. What if she had used water based ink, what if the mail I had so carefully placed on edge fell over, what if the water was wicked up into the mail, those kind of things. Deciding that it was better to be proactive than burdened by a mind full of should have's, I got a towel from the rag drawer and went back over and wiped up all the water. I also wiped up a lot of dirt, meaning the water situation had obviously not bothered anyone else, but I guess I'm just not anyone else. Maybe Linda's occasional comments about the fact I worry about things she has never even thought of is true in more ways than one.
Since this was the day we were leaving to go north, Linda was up earlier than usual, breakfast was scrambled eggs and Canadian Bacon, the entrance to the coach was soon filled with the things we were taking and the daily journal was finished. It was while Linda was doing her editor chores that I noticed a replay of a photo in the just finished post. She may have been several feet away from where I took a photo of her yesterday, but I have to say those feet were the same.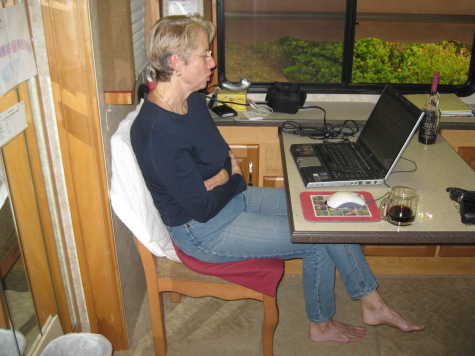 As we loaded up the Explorer I made one interesting discovery, finding the ropes for the crab pots in the back storage area. We had thought we had lost them, having serched high and low a couple weeks ago, even to the point of removing the wood panel that covers the space under the bed, all of which had been to no avail. We had finally purchased new ropes at WalMart when we were down in Coos Bay several weeks ago, but now we can return them since we still have yet to go crabbing, but that's for another day.
Once on the road, heading up US 101 along the coast, the miles flew by. Since we weren't in a hurry, we stopped in Florence to visit a thrift store, deciding they liked their merchandise so much they priced it high so it wouldn't sell. Call us cheap, but used paperback books at $1.25 each is not the price point at which we will buy them. We weren't too many miles beyond Florence when the weather began to change, the clouds rolled in and patchy fog began to appear.
We did make one stop, which was at Tillicum Beach campground, a place that is quite familiar to anyone who visits this website. Now you're probably asking, what did you miss and where is he going with this one. It is in the upper right had corner of this webpage, or for that matter, any of the webpages on the site. The photo of a sunset which appears on each page was taken from this very spot.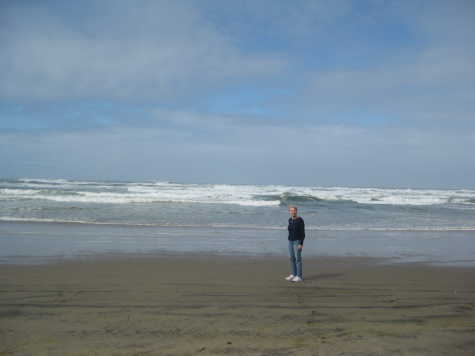 That was back in September of 2005 and the beach was a little different today. Back then we had ridden our bikes up and down the hard packed sand as the water was far out from the small bluff where the campground is located. Today it was nearly up to the edge of the bluff, with tall breakers pounding the beach into a gray froth. Maybe there wasn't any sun, but the bright light of Life sure made a good substitute. One other thing we were able to do was to pick a few ripe blackberries.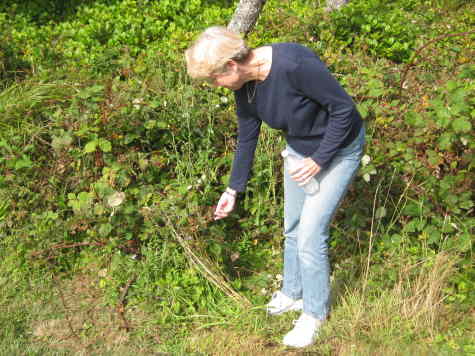 One of the simple pleasures of driving along the Oregon coast is the opportunity to see the Conde B. McCullough bridges. Here is the one at Newport.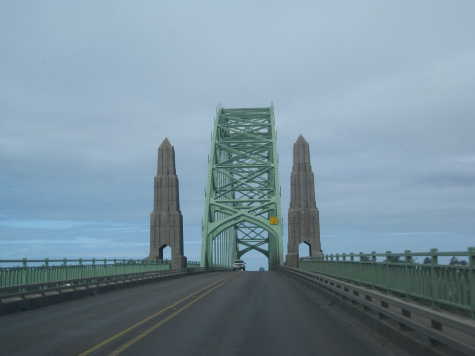 Sometimes traveling down the road the road you run into something a little out of the ordinary. Take this truck for example. As we followed along behind it, Linda kept trying to get a photo of both the sign truck and the sweeper truck. Finally the right kind of curve in the road came along and she got her photo. I don't dare leave it out of the daily journal or something tells me I'd be heaaring about it.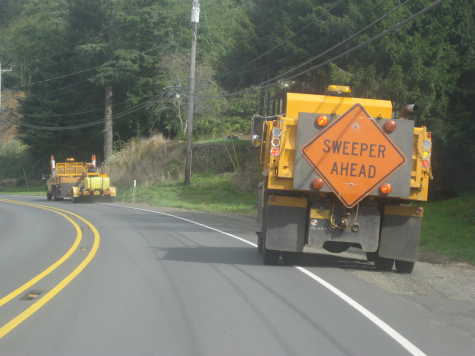 There was one "must" stop on the trip, the Tillamook Cheese factory. After our visit last year, the garlic, red pepper cheddar we watched them make that day has been on our list everytime we go food shopping. Not because we want to eat it all the time, rather because it is so darned hard to find, so when the store carries it we buy it. That was what we planned to do today, buy a piece of that cheese. Of course we were also looking forward to watching the cheesemaking process from the big windows.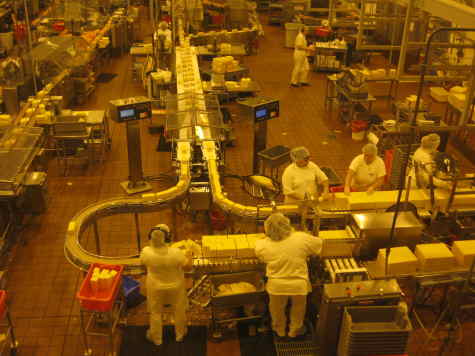 Once we were back downstairs, the first place to stop was the cheese tasting station, something that Linda certainly didn't pass by. Next comes the sales area, where I quickly found that cheese, meanwhile Linda was slowly perusing all the shelves of other foods and souviner type items, ending up with as much in the way of non-food items as food items. There was one last thing left to do before we left, which I think was the real reason why Linda had wanted to stop here.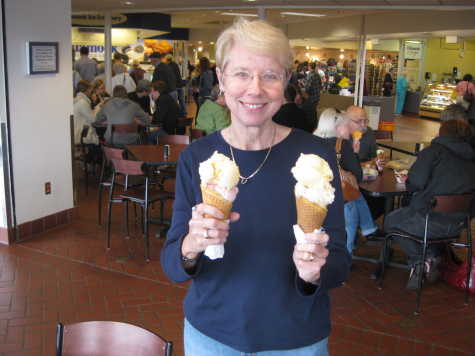 I have to believe that woman could have eaten both of those cones by herself if I'd have suggested it. As we sat there licking away, we had fun remebering all the experiences we had in Europe doing this same thing. Linda even got me with a question about where we were when she caught her scoop of ice cream in her bare hand as fell off the cone. I wasn't able to recall that it was when we were on the Eiffle Tower, and she ended up standing in a long, long line to go into the restroom and washup. Connections and memories - Life is good.
One thing which did not go our way was the purchase of a tank of gasoline. Seems we got this ten cents off a gallon deal at any Safeway that sold gas, but it expires at the end of the month. Of course when we started out, we had between a half and three quarters of a tank, so I didn't stop at the station in Florence. Then I had to tell Linda I was sure we had enough to get to another Safeway which would sell gas. At the time she had sweetly inquired whether I had ckecked to see if there were any other Safeway stores along our route which also sold gas, which I admitted I hadn't.
Driving along we had passed several Safeway's, but none of them sold gas. My last hope was Astoria, where we were planning on spending the night. Coming into town we saw a Safeway, but it didn't sell gas. Looking at the gas gauge I decided to stop and fill up at a Conoco Phillips station, remembering all those years I worked for Phillips. Then it was off to check out the town for a motel and also to buy a few things to eat, having decided to recreate our European picnic experiences rather than eat at a restaurant.
At the far end of town we spotted a Shilo Inn and another Safeway store, meaning there was a Safeway at each end of town. That was when Linda uttered a not so nice word and pointed out that there was a Safeway gas station here. After buying a few things we ended up with tens cents off an additional tank of gas, but only if we used it today, meaning we now had two discounts. Then my little joke about how, even if we wouldn't have filled up at the other station, we probably would have filled before shopping, meaning we couldn't have used the new discount, fell totally flat. Sometimes you win, and sometimes you lose. We also decided not to stay at the Shilo Inn, too many bad memories associated with this end of town, and besides the cute little place at the other end of town had free DSL in their rooms.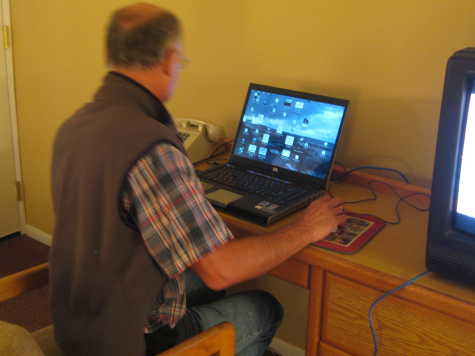 That meant the daily journal could be posted, if it was written, something I strived mightily to do, and even though most of this post got written, the chance to do some sightseeing won out. By the way, that was one of the things we ran into in Eruope. On those infrequent occasions when we had an Internet connection, we either had other things to do, I was simply too tired, or there wasn't enough time write a post the way I wanted to write it. Which was exactly what happen to this post, and is why it is a day late.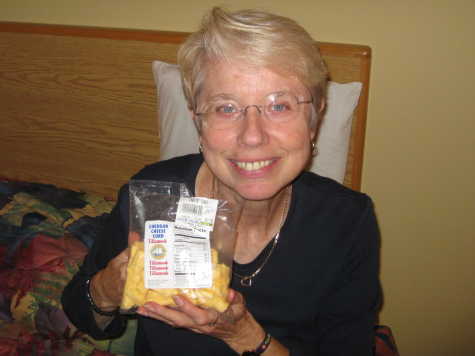 By the end of the day, Linda was a happy girl once again, my error over the gas forgotten, and the joys of fresh cheese curds had brought a huge smile to her face. What better of way to end the day, smiling at the world.
---
---