Journal Archive 12/11 - 12/20 2008
Scroll down to read the latest post
December 11 Thursday
We did it!!, Not to brag, but we have now gone 3 weeks without dumping. It was the 20th of November when we left Rio Viento RV Park in Rio Vista, California that we last dumped the tanks. I'm not sure that going this long without dumping is something that one would want to do on a long term basis, especially with the water conservation efforts we employed: paper plates, washing dishes once a day, sponge baths, etc, but it does attest to what can be done if needed. One of the "carrots" here was the fact we were planning on leaving Quartzite today and heading over to Phoenix and Tucson to visit friends and family, meaning there were hot showers and full hookups in the offing.
Maybe there was another good reason to be leaving, the temperatures, the past two mornings the thermometer was registering in the upper 30's when I got up. Yesterday the generator had come on, letting us run the heat pump, but this morning without the generator, I only used the Wave 6. It is really surprising just how quickly it will warn me up when it is pointing in my direction. Of course as soon as Linda makes her appearance I act the gentleman and direct it towards her. Usually the interior temperature has also risen quite a bit by that time, so it really isn't that bad.
We've had one other goal the past few days which was clean all the leftovers out of the refrigerator, and this morning it was time to remove the last of the breakfast fixings, which were two small pancakes. Of course you need something to accompany them, so I made those scrambled eggs Linda has been praising so much lately. Three sliced green onions, two pieces of Canadian Bacon diced, and a chopped garlic clove lightly sauteed in olive oil; then two eggs whisked with a small amount of milk are added. Occasionally stir the eggs as they setup, then top with some fine grated cheese, cover till it melts and serve. Believe me that brings a big smile to at least one woman's face.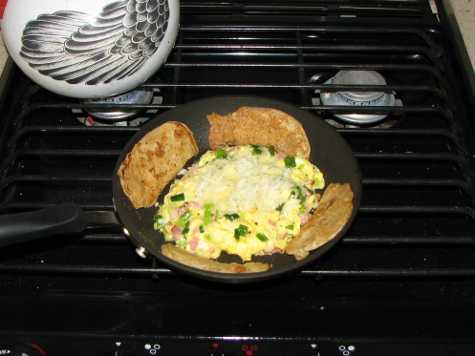 Just to set the record straight, that was not pancakes and eggs in the photo, it was eggs and pancakes. Isn't it also interesting how easy it is as a full timer to talk about dumping the tanks and what you fixed for breakfast in almost the same breath. They are rather intimately connected are they not. Thinking of connections, we had grown rather connected to the spot we were in. Not in a spot as in a pickle, but in a spot as in the location we were residing.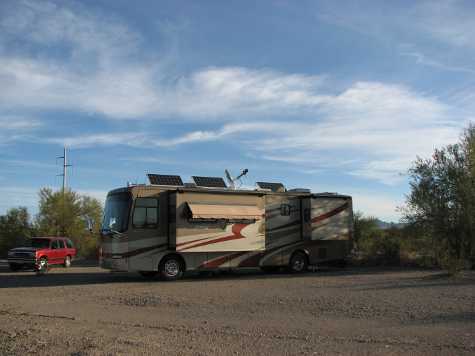 Life can not be all food and interesting thoughts, sometimes there is real work to do and that was the case I was facing. It was time to get the rear ladder extension out and climb up on the roof.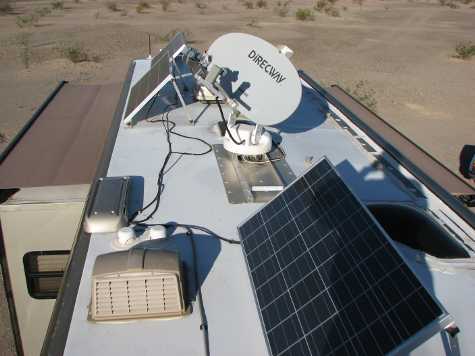 Before we could travel I needed to lower the solar panels, a job which always requires a little more effort and a great deal more contortions than anticipated. I've done this a few times and everytime I do it, I say, actually tell myself very emphatically, that the next time I raise them I'm going to drill out the holes in the brackets a couple of 32nds to make it easier the next time. Well the next was here and I hadn't drilled them out when I raised them, so once again it was give them the near eyeball and the knee bump, all the time watching out where I was so as to not put my hand through the skylight or some other disastrous thing. Eventually it all completed without a problem, but I just gotta' believe that the next time I go up there, there's going to be a drill along side of me.
Eventually we got everything stowed, and it was time to pull out. One thing we have learned during our different visits to Q is not to have the Explorer hooked up when we are driving to and from our spot. That is unless it already is covered with dust, in which case it doesn't matter. Out near the entrance to La Posa North there is a nice wide naturally graveled area that is just off the paved section of the entrance road and is dust free. That's the place we usually hook up and today was no exception.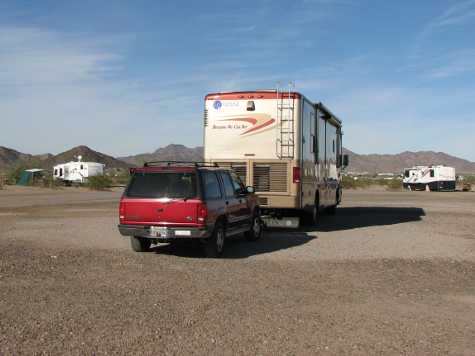 By the way, every year that we are here, the RV's to the right and the left of our coach in this photo are in those same spots. We don't know who it is on the right , but on the the left is the the brand new 5th wheel of Ron & Terry. That's the Hitchitch website and their goal is to be the best site on the internet to find RV Travel Adventures and Journals. If you've never visited their site, please do and your world will never be the same again, even if just like what happened to us some years ago when we did.
Leaving Quartzsite, we traveled across I-10 to the Phoenix area, an uneventful drive, though anytime you're in a major metropolitan area, the traffic situation is a little more hectic than what would be the ideal. Our goal was a Passport America park in Gold Canyon which is way out on the eastern fringe of the Phoenix metro area, where we arrived in the early afternoon. After getting set up we went off to do some shopping. In a way we had to laugh because on our other to trips to the area in previous years we had elected to stay at locations which were very convenient for shopping, but not so convenient to where the people we were visiting lived.This time it was the exact opposite.
Of course convenient shopping is all relative, especially since there was a nice Basha's grocery store right across the road from the RV Park. Unfortunately Linda had her sights set on a completely different type of store. But then again, maybe she was right on target with her choice, especially since we found a pair of jeans in both the style and size that I wear. We'd been trying to find them at Walmart for some time, but it would appear, at least based on the selection we would find, that the Walmart shopper might be a person of somewhat more substantial girth when it comes to wearing men's jeans than the Target shopper.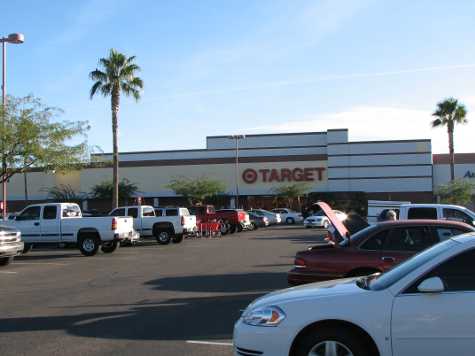 There was also another stop on her list, Home Depot, where we bought some remodeling materials for a little project I've been wanting to do for some time. Then it was the 10 miles back to the RV Park where we were treated to a glorious sunset. It was little while later that Linda called me over to the window to show some strange lights she was seeing in the sky. At first I thought they might be streetlights, but Linda pointed out they were far to bright to be streetlights and besides that they were moving. Thinking for a moment I realized the Phoenix airport was in that direction and politely suggested they were merely planes coming in to land. Wrong thing to say as I got an earful of opinion on the fact that I never agree with anything she says. That one, I'll just let drop. Anyway, here's a photo of... , well I'll just let it up to the reader to decide for themselves.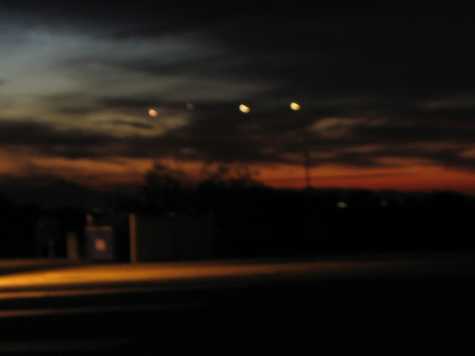 ---
December 12 Friday
We woke up this morning to discover that maybe there was something to those mysterious lights we saw last night. The lights Linda wasn't so keen on my finding a rational explanation for as you may recall from yesterday's Daily Journal article. The Phoenix area is referred to as the Valley of the Sun, but this morning either the valley had been moved by the creatures behind Linda's mysterious lights, or there was a freak weather event taking place as it was completely clouded over. That however did not prevent me from cooking up another delicious breakfast for the mysterious woman of the house.
In a way this photo is a turnabout because I wasn't going to take any food photos today. Heck, I was late getting it fixed and was also very hungry, but Linda was waxing so poetic about how nice it looked on the plate, what with the colors and the curve of the melon matching the curve of the eggs, I had to take a photo. Of course the fact she had done the plating problem played no small part in her enthusiastic appraisal of the sight, but wanting to be the obedient slave, err, husband, I did as she bid.
The RV park we are staying in is called Canyon Vista, and is a newer RV Resort that has a few spots up near the entrance which are for the Passport America travelers. I guess you could exaggerate a little and say it sits in the shadow of Superstition Mountain, at least you can see it from the site we are in; that is if you go outside and look over the concrete block wall. I will admit the rest of the "RV Resort" is pretty cool even it does carry an "age qualified community" label, meaning you have to be old to get in.
This label piked Linda's interest concerning the check-in process. I had to smile as she mused how the girl in the office knew that she was over the required age. That is where I came to the rescue as I posited how perhaps the front desk had been forwarned. Since it had been I who had talked to the host at the entrance station when we first arrived, he could tell just by looking at me that meeting the age requirement was no problem on my part. Since she was accompanying the old guy driving the motorhome, she could also stay. Afterwards I thought that maybe I should have mentioned something about it just being assumed she was probably my daughter or something, but then again it's probably better that I didn't.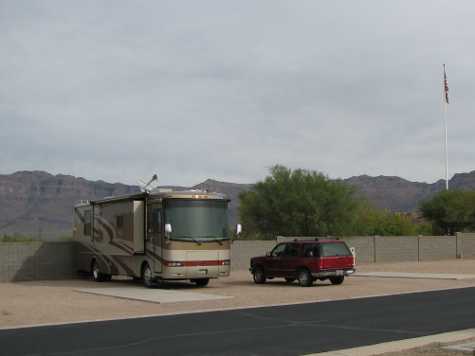 After all this it was time to do some shopping. We had to see if we could locate some German Dunkel to take along tonight to our friend's house and Linda also needed to return part of what we had bought yesterday at Home Depot. Not that there was something wrong with it, it was just that after seeing what I was talking about doing she had to agree that my feeling as to the size of the piece was right. Believe me, that was not something to gloat over on my part, though it will make the end result much better. I'll withhold comment on what it is until I get a chance to work on it late next week.
As is oftentimes the case, how things turned out was not what we had planned. We had found the Dunkel at a store called AJ's, but as we were exiting the parking lot one of those moments that are meant to happen but we don't know it at the time, occured. When we had been ready to leave Quartzite, one of our long running bugaboo's cropped up.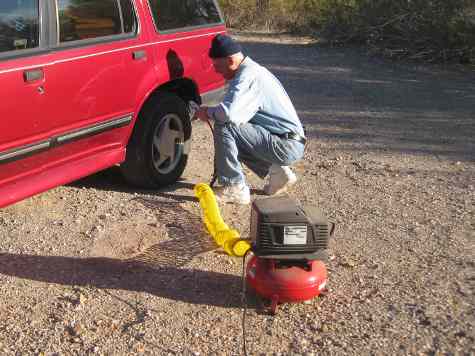 We've had a continuing problem with loss of air in both rear tires, more so the left rear as it has also suffered several flats. As we waited to pull out on the street and head towards the Home Depot, Linda saw an OK Tire Store across the street. One thing lead to another and before long, well, can probably guess the rest of the story.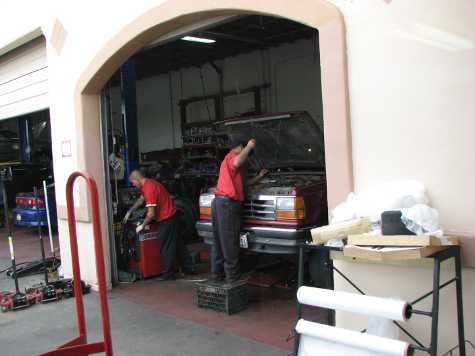 Leaving with four new tires, Linda commented that the lack of air in that tire yesterday morning was a sign that it was time to do something. I'm not so sure about that, but I was more than pleased with the fact that one more potential problem had been taken care of. I decided it must have also been a very grueling experience for Linda, because when we returned to the coach, after making the stop at Home Depot, we each did our own thing. I got ready to visit our friends and then spent time on the computer working on the Daily Journal, the writing of which I am already a day behind. Linda opted for the rest now ready later route/\. What she didn't take into account was that although it only would take us 5 minutes to drive there, if you don't wake up until 10 minutes before you need to be there and it it takes you 8 minutes to get ready, you're going to be late. Now this is a woman who has never been late in her life, at least in her own mind, while she has me categorized as a man who has never been on time. This time the roles were reversed, but boy was I ever cool about it. I figured one little peep out of me and my life would have been misery for the foreseeable future.
The couple we were visiting, Bruce and Tressa, have been going on canal boat cruises in France for the past three years, and we had a great time talking and learning. Having worked with Tressa for many years in my previous life, aka work, made it even better. They have a beautiful home and as we sat out on the patio the view to west went from awesome to beyond words.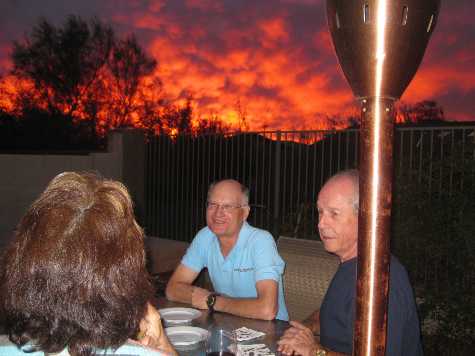 That is not a fire in the background, that's the sunset. Now it was fairly obvious where the sunset was as opposed to the people in the above photo, but can you find the dog, aka Louie, in the photo below. Extra points if you can spot the bone he was just given.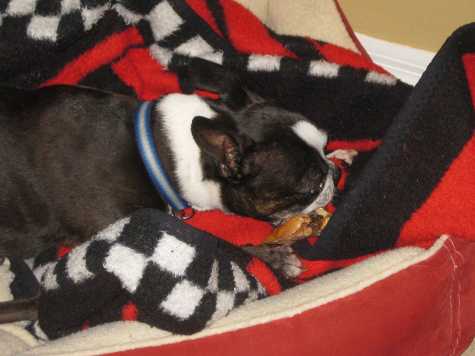 By the time the evening had drawn to a close we were certain of one thing, our canal boat trip was going to be even more fun than we had realized, and secondly Bruce had given me something to seriously think about.
---
---