Journal Archive 3/11 - 3/20 2009
Scroll down to read the latest post
March 11 Wednesday
Leaving day today, and the process of getting ready started with breakfast. Rather than take any fruits and vegetables back with us, many of which we couldn't anyway, we decided that we would eat the last of them for breakfast. Since the last of the eggs and cheese had disappeared several days ago, it made for a rather interesting mix of foods.
How about avocado, date, pablano peppers, tomato, cucumber, grapefruit and papaya. The upside was it made for a great tasting breakfast. The downside, the future means perfectly appearing, lousy tasting fruits and vegetables bought in the US at prices that are double, triple, or even more than what we have been paying. Lousy quality at a higher price, maybe the bankers also control the US food distribution chain.
There was something we were bringing back to the states, and that was some Puerto Penasco seafood. A quick trip in to old town resulted in founder fillets, colossal and jumbo shrimp, plus bay scallops. We were limited in what we could buy only by what we could eat. Of course we will have to eat it before March 30th, but with some good planning we should be able to make a go of it.
We had aimed to leave the Playa Bonita RV Park between 10:30 and 11 o'clock, and did pretty good, driving through the gates at 11:06.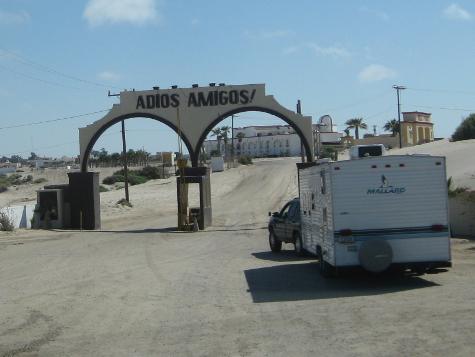 Not to say it was big deal, but always before we gone into or left Mexico with a group. This was our first time doing it on our own, so in a way it was a mini adventure. Not an adventure in terms of knowing which roads to take or where to turn, more like being strangers in a strange land. About that time we got to joking about how we spent 7 weeks in Europe last summer and we are going back for 15 more this year, so what is the big deal. Afterall, in 20 days we will be in Spain, so the signs won't be much different from here. One thing we are unlikely to encounter will be the desert and the sand roads.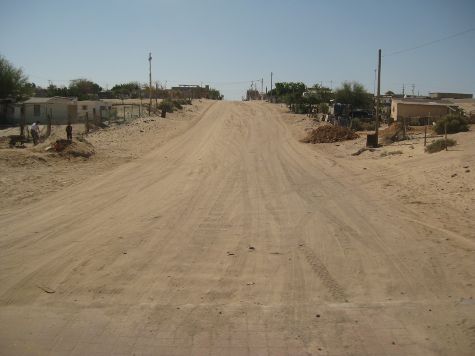 Before long we were out on the main highway and encountering our last speed bump.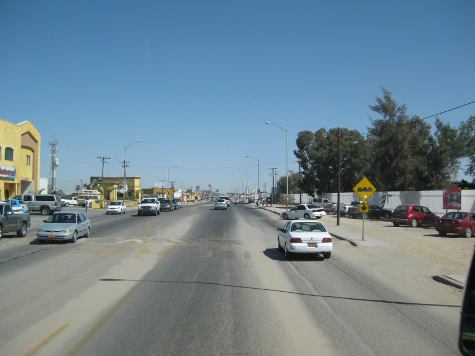 Then it was time for the long drive across the desert. It was interesting as we saw more of a police presence during the drive back than we had the other times we had driven this road. Whether it was because it spring break time, or simply stepped up enforcement, we couldn't tell. If I was taking a guess, it was to quell any fears Americans may have had about traveling in Mexico after all the warnings that had been put out. I have no idea if that was the case or not, but regardless, they were there. The interesting thing was that not only was it the local police, it was also the Federal Police.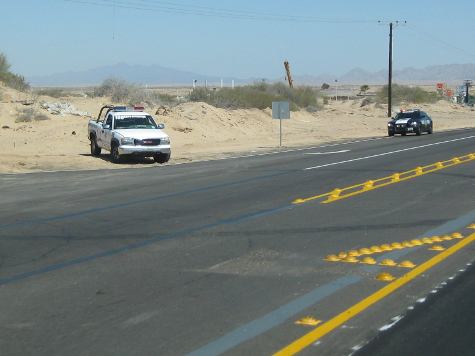 Since the signs are different that what we are familiar with, Linda was the keen eyed observer whose task it was to make sure we were in compliance with the speed limit. More than up to that task, she had the GPS set up to show our speed in kilometers per hour, then made sure to inform me every time I tried to exceed the limit. Think it easy to stay under the speed limit? Just try driving a mile or so at 20 kilometers per hour. In case you don't know the conversion to mph off the top of your head, it's 12.4274 mph. Believe me, it isn't easy, especially when you have "the enforcer" sitting right next to you.
The other thing that happens when you encounter those go slow zones is traffic and pedestrian congestion, which might explain why they have those go slow zones in the first place. Here's one we know from past experience in Sonoyta, the one where I tried to run over the traffic officer several years ago. Today I knew what to expect, which was stop and go, along with very narrow traffic lanes, so it was a breeze. We did watch a young boy try to sneak across the road when it was the vehicles turn to go. The office grabbed him, and yelling at him shoved him back onto the sidewalk. Hard to believe isn't it, laws are meant to be obeyed and they are enforced. Don't think there is any woe is me, touched my boy and I'm go to sue you down here.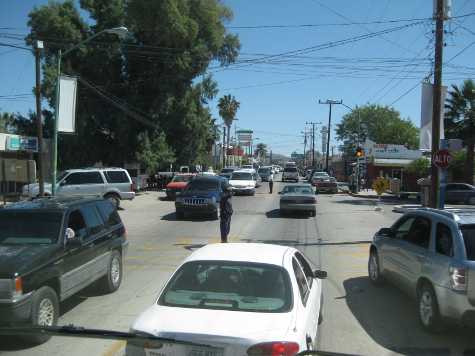 It's really not hard getting around, just follow the signs and there is no problem. We did have to laugh at one car in front of us with US plates on it that tried to turn at all the wrong places. Either they weren't paying any attention to the signs, or they were just plain stupid. Recalling that nearly every vehicle we saw going way over the speed limit during the trip had US plates on it, we decided it was most likely the latter.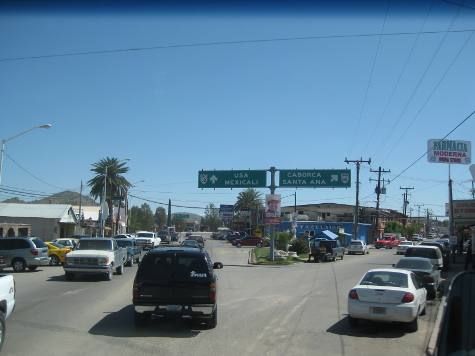 This has become our favorite sign. The State of Sonora has worked hard to make the area friendly to US and Canadian visitors, one of the results being the use of these signs. This one is special however. It is situated just prior to the border crossing back to the US, and you just know you are going to get "hassled" in the next kilometer or so, but not by anyone from Mexico. The customs agents have a tough job to do, no question about it, but it almost makes you feel like you live in place where "if you're in, you're in, and if you're out, stay out." Don't they want me to come back and spend my dollars to help the economy recover. If they are going to be like that, I'd just as soon spend my time and money somewhere else.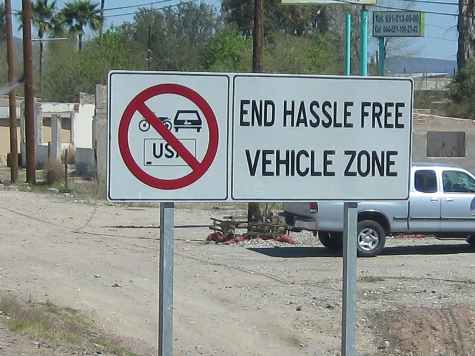 Before long we were in the line to cross the border.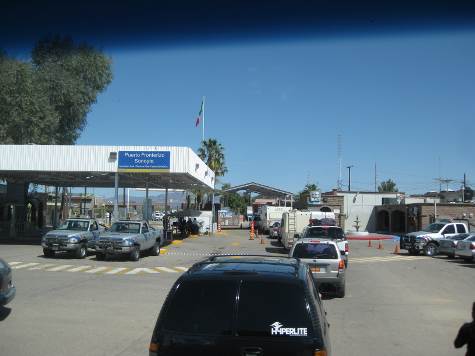 Getting ready for our turn after a 15 minute wait in line.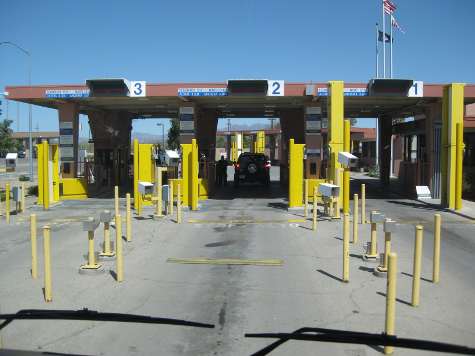 The wide lane which would easily accommodate trucks and RVs was closed so we ended up in a lane that left us about 6 inches [Editor's note: I say it was 3 inches, where did he learn to measure?] to spare on each side of our mirrors. A few questions, a quick scan of our passports, and we were back in the USA. Then it was a few mile up the road to our stopping place for the next few night, Organ Pipe Cactus NM, a place we have to love. One thing we don't love are the campground RV sites. Many have too sharp of a turn to get into them and even then, a level site is something we have never been fortunate enough to find. I think Linda's sign says it all.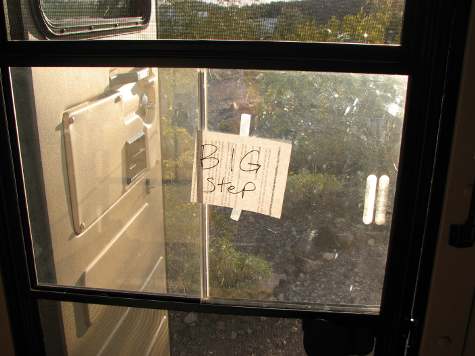 There were benefits to all this, and one of them was a delicious meal of Puerto Penasco shrimp. Linda's smile tells it all.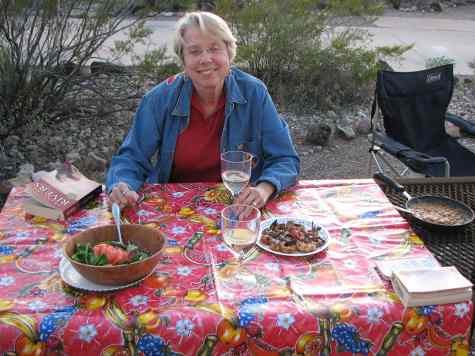 We'll leave you with this thought. Yes our country is a wonderful place, but until you see the rest of the world, you have nothing with which to compare it.
---
March 12 Thursday
A kick back and do much of nothing day coming up. I guess you could say we are in simple living mode, no TV last evening, we read instead, and no getting up before dawn this morning and sitting in front of the computer. We stayed with that thought when it came time for breakfast, having half of a grapefruit and one plain scrambled egg each. Doesn't get much easier than that, plus the use of paper plates means no dishes to wash.
We did have one thing we wanted to do, which was to hike the nature trail, something we had done several years ago. It was 10 o'clock by the time I was organized enough to be ready to go, but for once Linda didn't seem to mind as she was in ground sloth mode herself. One nice thing was that it was definitely tee shirt and shorts weather by then. Know ye that a shorts guy I am not, but it has been hot enough for the past month that I'd actually been known to wear them a time or two in the coach. Today was going to be my maiden voyage outside, and I could just imagine that sunglasses would be in short supply due to the glare reflecting off my lower limbs.
Linda was really cool about it and suppressed any laughter, grins or smirks that might have come to mind. All the same I was just dying to know what was going on under that blond mop of hers. I do think she did an awful lot of squinting behind her sunglasses whenever she was looking in my direction however.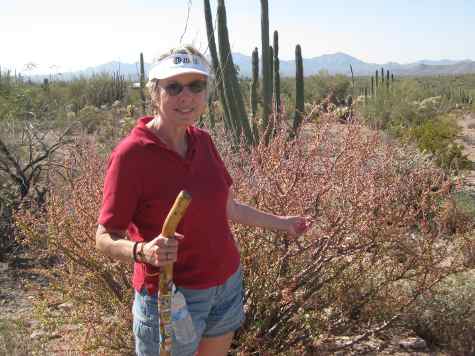 We weren't too far down the trail when we came upon a number of Teddy Bear Cholla plants. I could tell it was time for the photos to begin, so got out the camera, which I soon had to hand over to her. Then she asked me to ascend the hillside and commune with the cholla. After telling me to move several times, it finally looked like I had properly positioned myself, but wanting to make sure, I inquired whether this was good enough or not. She surprised me when she said, "That's perfect, you fit in just perfect." Now that I look at the photo I have a sneaking suspicion there was more to her answer than I thought.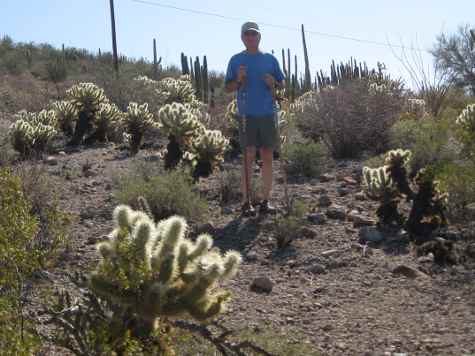 A little further down the trail the opportunity came to turn the tables, and I jumped at it. Looking at a particularly interesting specimen of Saguaro cactus the perfect pose came to mind and she pointed out that cactus sure reminded her of something. Getting her placed just so in front of it was almost impossible but with a little imagination you can probably guess what the similarity was.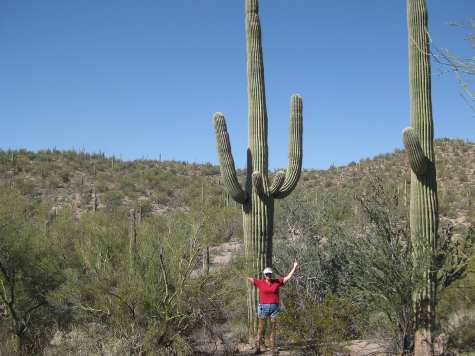 The actual discussion went more like this. "Look at that cactus, doesn't look like something familiar," to which I non-commitally reply, "Yes." After a few giggles on her part, "I think it looks anatomically correct" comes out of her mouth, to which my rejoinder was, "You think so, do you." Then after she moved down in front of it and assumed her pose, she said, " Don't we look the same." As I took this photo my verbal comment was, "You sure do", while my mind was adding, maybe about forty years ago. Like we always say, you gotta live Life with a capital L.
It was a nature trail, and so there were more than one or two opportunities to capture the beauty of the desert in ways other than as depicted in the above. Take, for example, this new growth at the base of an Organ Pipe cactus, the color and shape are almost breath taking in their beauty.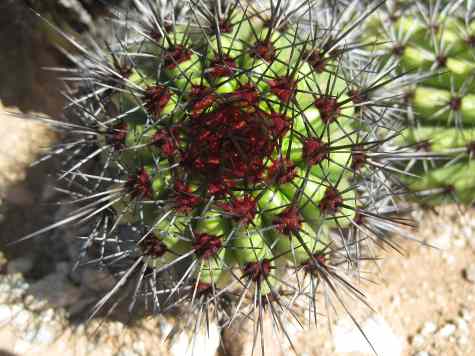 If Linda has a favorite of all the plants in the desert, it would probably be the ocotillo. Dead looking thorny canes arching upwards from a central base, get a little rain and the stems are covered with tiny green leaves that soon wither and die. The real reason she likes them so much is their blooms. Given what those blooms look like, I'd have to agree with her choice if I wasn't a cactus man myself, even if I do admit those leggy canes sure do catch a man's eye.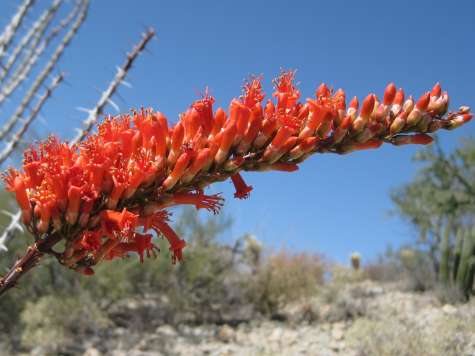 The trail winds up and down, then abruptly climbs to its highest point, where we can overlook the campground. There does seem to be a difference from when we were here in late January. It is not in the number of units, which seem to be about the same. Rather it is in the type of RVs, there being far fewer large motorhomes now, and far more much smaller units.
By the time we had come to the end of the trail, it had been a very pleasant morning, well spent. Walking up the road from the trailhead Linda spotted the perfect place to pose for a photo. Glorious color, exotic shapes, cactus columns and a tremendous example of what was created as mans helpmate. What more could you ask of a photo. (And no, I'm not trying to get back into her good graces after my earlier posting of my thoughts on her picture in front of that interestingly shaped cactus. I've told her hundreds of times that I probably wouldn't be here today if it wasn't for her. Am I lucky man or what.)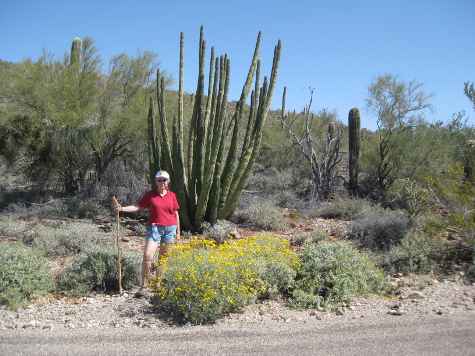 We did have one other thing planned for the day which was to attend the 3 o'clock program at the visitors center. Linda had gone to the campfire program last evening and couldn't say enough about how good the ranger was who gave the program. Note that we have been here twice before and the ranger programs we attended were about as bad, no, they were the worst programs we had ever sat through, having been given by either SCA students who didn't have a clue, or volunteers with absolutely no personality whatsoever. Given that they finally had someone giving programs who could get you excited, off we went.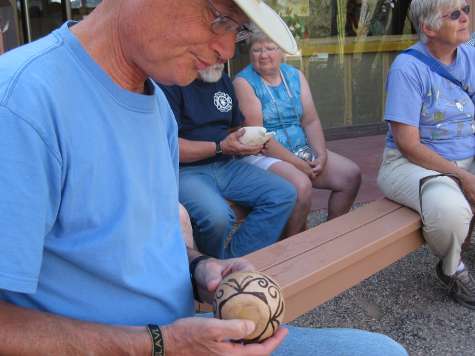 While I handle a ancient pot, feeling the fingerprints left in it by its maker, the man behind me contemplates how a 1000 year old conch shell ended up so far from the ocean, having been found with the park boundaries. If you're here and Scott is giving a talk or a program, you got to go. This kid is really good.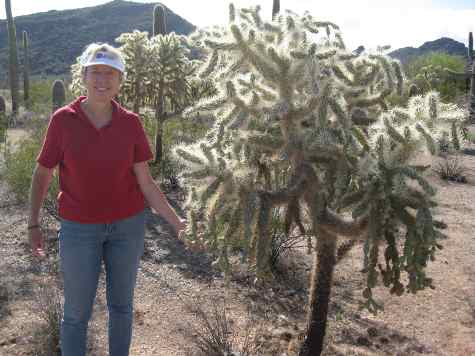 Before going back to the coach, we walked around the short trail next to the visitors center. It was here that Linda just couldn't help showing off how tough a woman she is. Look at her holding those cholla fruit in her hand. Is it any wonder when she she says to jump I say.... Well somethings are best kept from her so I'll just say: Have a great day, we did.
---
March 13 Friday
Friday the 13th had no effect on Linda, in fact she was oblivious that was what it was until I realized it myself later in the day. Guess that means it had no effect on either of us. Put another way, the affect of Friday the 13th was to have no effect on either of us. Hopefully the result of Mrs. Jones, my high school English teacher and life mentor, attempting to teach the difference between effect and affect has been remembered after all these years.
Unfortunately there wasn't time to put the effects of any grammar lessons into affect this morning, as the lady in charge had decided that we would be going on the volunteer led Victoria Mine walk that left at 9 o'clock. After a quick breakfast, the same as yesterday, plain scrambled eggs and half a grapefruit, we went up to the entrance station to pay for an additional day, since we had decided that we were really enjoying being here.
After returning to the coach for our hiking sticks we walked down to the trailhead at the southwest corner of the campground. The slowly gathering group eventually became surprising large, and since large groups like this have always resulted in my not being able to hear much of what is being said, I was a little leery of what I'd get out of the walk. It turned out to be much ado about nothing because between my hearing aids and and the leader, Bruce's loud voice, I had very few times I couldn't understand what was being said. I will say however, that when you are standing with a group of people in a gravel area, the crunch of that gravel under their feet as they shift and move can be more than a little distracting, something that is still new to me.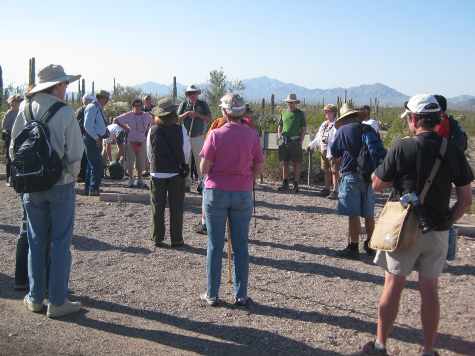 After a rather lenghty introductory talk that became less interesting as it went on, and which the ever increasing noise from peoples feet starting to constantly shift around showed I wasn't the only one who thought it was a little too long, we headed of down the trail.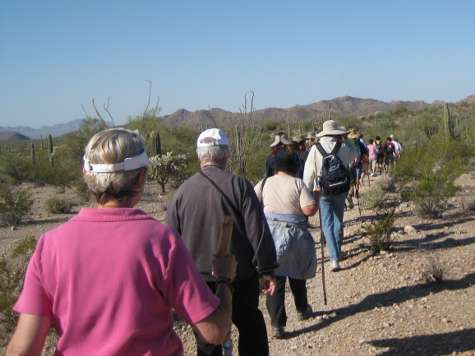 The key to what was going to take place was right in front of us, Bruce's comment about that we wouldn't be getting back to the start until near one o'clock. Add to that his comment about being time challenged, and what we learned was his propensity to way over answer questions, and it was shaping up to not be the hike to the mine we had in mind. Then there was the fact he set far to fast a pace for some of the people who were unable because of their age to keep up. We'd get way ahead, he'd stop and talk until they caught up, then he'd talk and talk, before taking off like a rocket once again. Let's just say that it wasn't making Linda the happiest camper in the campground.
Eventually we arrived at Victoria Mine. There isn't a great deal left of the buildings or even the places where they once were, but thanks to Bruce's commentary we were able to fill in a mental picture of what it may have looked like. As he talked, out came the cheese sticks, crackers, apples and other assorted foodstuffs people had brought along. One enterprising young man even brewed a cup of tea on a tiny backpacking stove he had brought along. It didn't take Linda long to devour her cheese stick, and then it was off to find the perfect place for a photo. Actually she already knew the spot, the same spot she wanted her picture taken when we were here two years ago.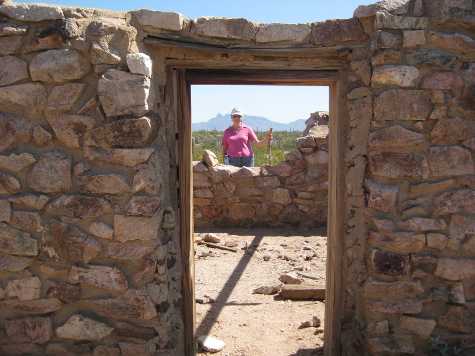 What you see here is the only building that remains standing at the site. It also becomes apparent that we are talking about a small mining operation, and as we learned, the number of men on the site at any one time would not have exceeded 15.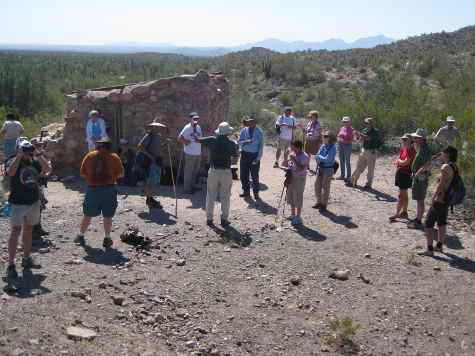 As I was standing there, a glint of a different color caught my eye, and picking it up it proved to be very similar to something nearby.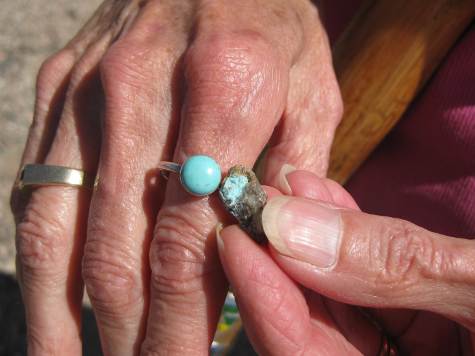 After putting it back where I had picked it up from, we followed the group over to the area where the mine housing had been located. It was then that someone spotted three turkey vultures soaring overhead. To say the least, I was photographically challenged, but eventually I did manage to get one of those birds in my sights.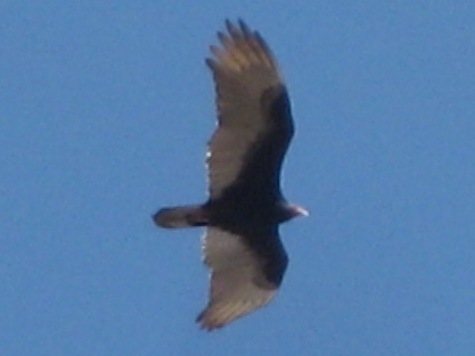 While a number of the group stayed behind to continue to ask questions, Linda indicated she was more than ready to leave. In a way I felt sorry for some of the people who were almost trapped into staying as long as Bruce did, and given the heat and conditions, they were going to be paying the price tonight and tomorrow. I knew we were and we were in better condition than many of them. Going back we noticed something had appeared since we had passed by earlier on our way to the mine.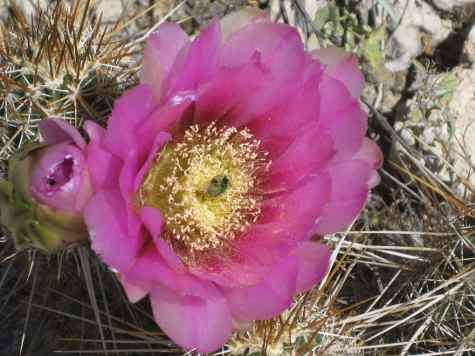 By this time Linda was hot, tired and more than ready to be laying down in the coach resting. Unfortunately we still had a ways to go, but though she may have been tired, she still had her brain engaged, as I was soon to learn.
On the way in we had passed a tiny little cactus that looked like it was just getting ready to bloom. Now that we were ambling rather than rocketing down the trail, I mentioned to her that I would like to take a photo of it if she saw it. Sure enough, spy it she did, and so I got down on the ground to take a close up of it, using my finger to show its diminutive size.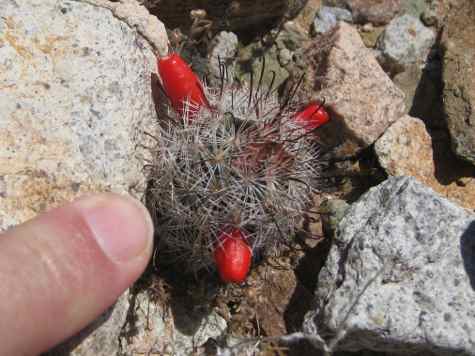 As I was taking the picture, she pointed out that here was something else that while maybe not exactly anatomically correct in every aspect, at least was in one way. Innocently rising to take the bait, I asked her what she meant. "Well, yesterday you implied in your post that parts of me pointed in a different direction than on the cactus." Swallowing hook, line and sinker, I said "Yes, I thought that was one of my better moments." With a huge smile she replied, "You do realize that cactus is anatomically correct to certain of your body parts also, even down to the size." This was followed by a schoolgirl giggle which evolved into outright laughter.
Talk about payback, talk about living Life. It makes that motto we have on the bottom of the page real: Life is not a dress rehearsal, Don't be afraid to laugh, love and retire early.
---
March 14 Saturday
Today we planned to drive north up Hwy 85 to Gila Bend, staying once more at Holt's Shell RV Park where we have stopped several times already this year. It is a Passport America park, meaning it is inexpensive, it has mostly pull-thru sites, free wifi, and best of all from Linda's point of view, washers and dryers so she can wash and dry the sheets. Guess if she doesn't need to have the clothesline inside the coach to hang them on, she's a happy camper.
I wasn't feeling the greatest when we got up, something that was appearant from the fact I had slept in, and a breakfast of cold milk on shredded wheat did nothing to help. Since it was such a short drive to Gila Bend, we weren't in any hurry leave, so I had time to post the Daily Journal. There is something very special about the desert, and while the view out the front of the coach may not give the best impression of our site, we both always enjoy our stays here.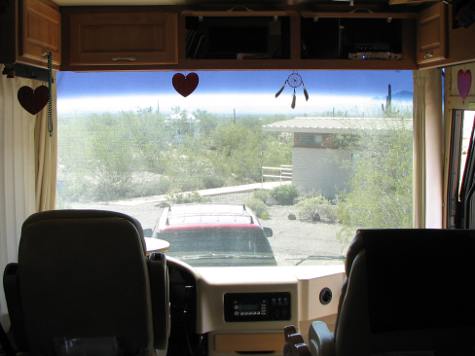 The view from the outside looking at the coach, where a lone saguaro cactus gives a different picture of our site.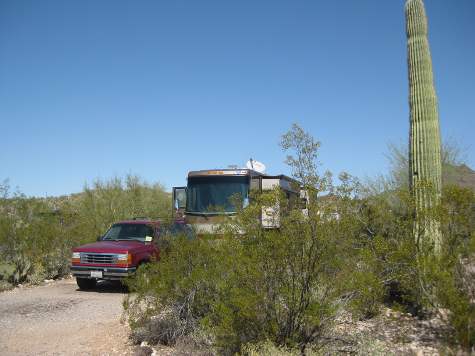 Then looking at our current home from the next campsite over you get another view, what with the paddle cactus, creosote bush and palo verde tree. The site was also open enough that we could have had our awning out if the wind had died down a little. That's one of the sounds we had gotten accustomed to hearing, the sound of awnings being retracted and extended as the wind would come up in the afternoon.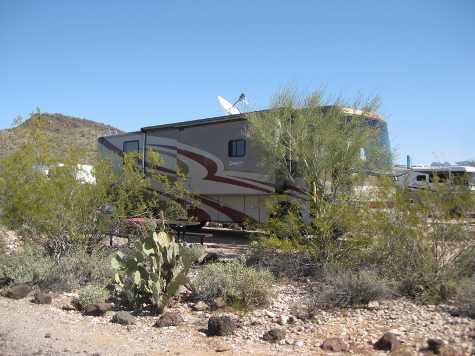 When it came time to go, something happened. I had just finished hooking up the Explorer and was sitting in the drivers seat, when the world started spinning. It had been doing that a little on and off for the past several days, but this time it wouldn't stop, so I asked Linda to drive. She was concerned about pulling out of the site, and maybe it was simply my concern that she was concerned, but whatever it was, when she said that, the world suddenly stopped spinning, allowing me to drive the coach the few feet out onto the campground road. Then, when I got up to let her into the drivers seat, the world started spinning again. Needless to say, I ended up laying down on the bed for most of the drive.
I knew we would have to pass through the border patrol checkpoint eventually, and so when I sensed the reduction in speed, I started a wobbly walk up front. She was so relieved to see me, and said so. Her concern was what to tell the agent when he asked if anyone else was in the vehicle. Did she say, "My husband is not feeling well and laying on the bed." Did that mean they would then need to come in to check. By my coming forward, it made her life a whole lot easier, she going through enough stress, not only having to drive the coach, but also worrying about me.
After that I must have slept for a while, because the next thing I knew, we were slowing down again. Getting up to see where we were, I no longer felt any vertigo, which was good, and looking out the window I could tell we were on the main street through Gila Bend, which was even better, especially for Linda. I came up front and was able to confirm to her all the places to turn getting us to Holt's. Remembering how to get to places when she has only been a passenger, has never been one of her strong points. Today it was different, and she said as much, that for some reason she knew where to turn each time, and I was only confirming what she already knew.
While Linda went in to register, I moved around inside the coach some, feeling a little better. As she walked back to the coach, I realized she was probably worried about pulling into both the RV park and the site, so as she came up the steps I sat down in the drivers seat. It looked quite normal out the front window instead of a view similar to the view from the Tilt-a Whirl we used to ride at Idora Park when I was younger. Safely in our site, all the hookups finished, I decided the Euro-lounger was the place to reside for the remainder of the day.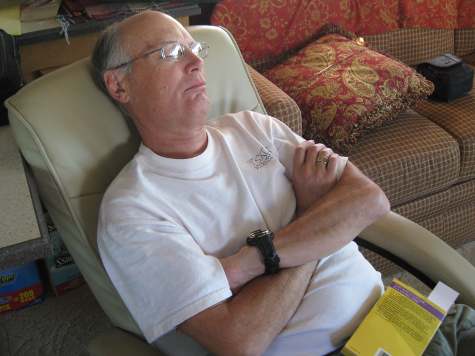 Sleep was what I did for most of the day, meanwhile Linda spent some time on the Internet trying to better understand what might be happening to me. Obviously something to do with the inner ear, something my extra, extra loud roaring tinnitus was confirming. By evening I'd gotten my appetite back, and while quick, jerky movements still caused some spinning, the world was returning to a more normal state. Linda, the would be doctor, had done more researching and concluded it could be either the stones in my inner ear were out of place, or more likely, I had a virus infection. Feeling someone had been throwing stones at me, rather than having some displaced, I opted for the virus theory. I know self doctoring isn't the smart thing to do, at least in a few people's mind, but we've always been extraordinarily healthy, and I have a real aversion to taking pharmaceutical company drugs, preferring natural methods instead. We'll give it a few days and see how it plays out, but since I had an increased feeling of well being by the time came to retire for night, I was optimistic. Call me naive or childish, but I believe that more often than not we are what we believe we are.
---
March 15 Sunday
What a difference a day can make. One day I'm a wobbly bobbly, the next I'm getting back to the way things used to be. Not all the way back, but much closer to say the least. I didn't exactly bounce out of bed, but soon after I was up, the Daily Journal was being written, even if I was somewhat stiff necked about doing it. It hadn't taken me long to learn that sudden or quick movements of my head brought back a little bit of movement to all things in front of me. Absolutely nothing like yesterday, but disconcerting to say the least.
Before long Linda was up and asking all kinds of questions about how I felt. Bottom line was my tinnitus was practically deafening and my ears were popping occasionally, plus I was somewhat stuffed up. We concluded, almost in unison, that I should take some of the medicine we had bought last summer in Europe that had immediately lessened the cold symptoms Linda was experiencing at the time. With that in me, we settled down to a day on getting odds and ends done. Well, maybe it was more of a day where I just sat around, either reading, watching TV, or working on the computer, while Linda did odds and ends.
I've got to admit that I sure enjoy not having to do all the cooking. Maybe I should give some thought to making a bracelet for Linda to wear similar to mine. I can just imagine that immediately after placing it on her wrist, something would break out that would make the Roman slave revolt led by Spartacus look like child's play in comparison. So much for that thought. She did fix a great breakfast, her version of a McMuffin, with a touch of secret sauce which turned out to be yogurt.
We were surprised the RV park wasn't full last night, there being at least four sites that were vacant, including one pullthru. Of course the ones that left early were the 5th wheelers pulled by the diesel pickups, meaning the loudest, noisiest of the bunch. Why is it they can put those huge big diesels in the motorhomes, yet make them quiet, while the diesel pickups sound like a runaway train roaring through the campground.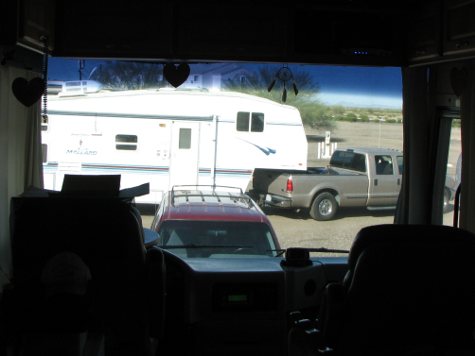 One of the reasons Linda likes to stop here is the great laundry facility they have, so it surprised me when I felt the coach shaking from our washer/dryer running. Seems that she does the usual laundry in the coach, and uses the campground washers for the sheets and blue jeans. That still didn't mean that the inside of the coach wouldn't take on the look of laundry day.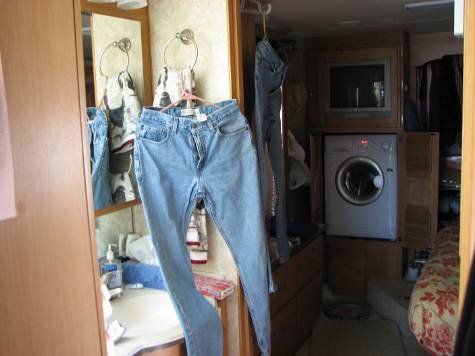 Then in the afternoon she did some cooking, making a pot of re-fried beads, boiling some hibiscus flowers to make agua de Jamaica, then later fixing supper which was fish tacos. Guess you could say that we could travel out of Mexico, but we couldn't take Mexico out of our travels.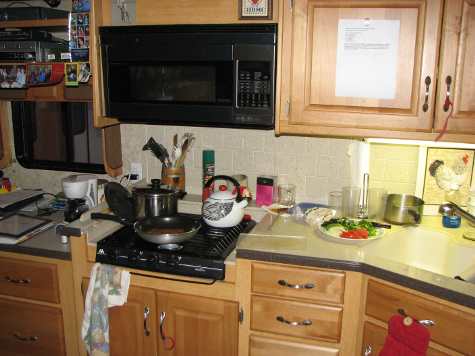 One thing about that photo brought something to mind, which is the fulltimers saying: Home is where you park it. When that photo was taken we hadn't been here anymore that 24 hours, and in another 24 hours we will be leaving. Yet looking at the counters it looks like we have been here for quite some time. That's one of those small things we have come to understand about our way of life, which is that we live it everyday. I think what happens is that when we finally pass that point of no longer being on perpetual vacation, it no longer becomes a case of setting up and taking down like it was when we were weekenders. It's something different, something I can't put a word to, but something that if you've experienced it you know what I mean.
---
March 16 Monday
Woke up this morning feeling fine
I really wasn't sure what I'd find
Last night my world was still spinning pretty good
Now I'm feeling a lot more like I should
It's everything I'd been dreaming of
Woke up this morning feeling fine
Ya know it had really been on my mind
Cause up to now I'd not been feeling good
Something tells me I'm into something good
Something tells me I'm into something good
From that half hearted attempt at a take on the old Herman's Hermits song, you can tell I'm feeling better, but not quite back to normal yet. As long as things keep going in the direction they are, I'll give it another 24 hours and I'd bet I'll be just about straightened out (pun intended).
I wasn't the only one who wasn't quite all there this morning, as the photo of Linda doing a little baking shows.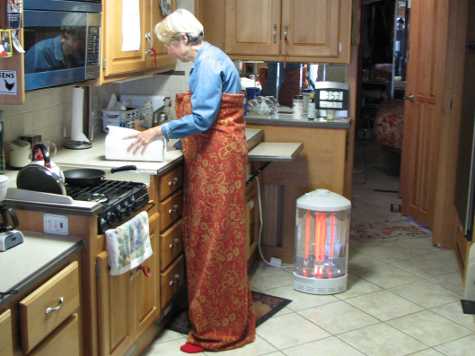 Maybe this is where the term one hot woman comes from, those Appalachian hill girls all bundled up and standing in front of the fire on those cold winter mornings. Of course she is not longer an Appalachian hill girl, those days being long past, but she is standing in front a warm heater. Maybe a better title would be one cold woman. On second thought, maybe I should just drop this line of thought right here and now, cause something tells I'm not into something good.
That was not the only odd sight that came into view this morning. This rig is certainly different from the normal RV and toad setup that we see. Has like more of the utility look, than the matching paint job, tow and toad look.
Actually, the more I think about it, the more utilitarian that setup looks. A big RV with lots of room, storage space and power, a toad that can be used for multiple purposes, plus a motorcycle for either quick trips or off road fun. Something tells me that if I suggest we change to similar setup, my life wouldn't be so good. Before we left Gila Bend we topped off the coach's fuel tank, and that was when we noticed something we hadn't seen for a long time.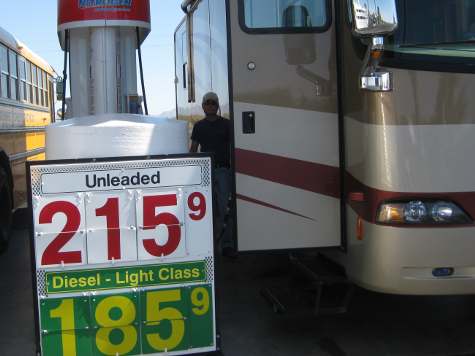 Then it was time to head off down the road, an experience that Linda enjoyed in more ways than one.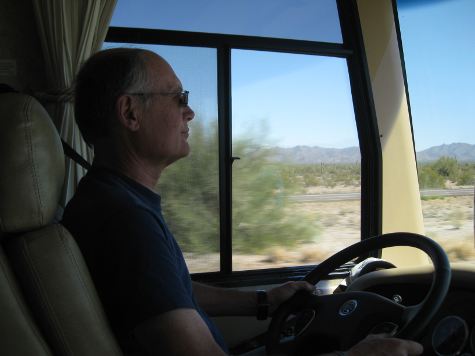 Our route was the near reverse of the one we traveled back in December when we had stayed in Gila Bend on our way to the Imperial Dam LTVA. As is our custom, we used the Interstate as little as possible, exiting from I-8 onto Route 84, going through Casa Grande, where we took a wrong turn and found a less congested way through town, a case of lemonade from lemons. Then it was over to Florence, past all the prisons and up to Apache Junction and our home for the next few weeks. Being from California, we had heard of those "terrible" Arizona dairy's, the ones with the thousands of cows that produced milk cheaper that the California dairy's could. Of course the California dairymen spent untold amounts of money convincing the state legislature that California milk was better and to keep out the lower quality Arizona milk. To me, the fact California had laws to do that just showed that most politicians are dumber than a board, and I suspect that those that weren't were just bought off. Anyway, here is one of those, cows almost as far as we could see, Arizona mega dairy's.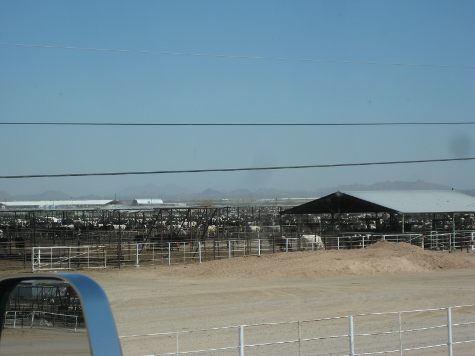 All those cows, all that milk, just remember they have to eat something to produce all those gallons and there were fields of it alongside the the road. Linda, the old farmgirl, remarked that it was the best looking hay, colorwise, she had ever seen, or at least words to that effect. Her only problem was that she couldn't smell it, and as she said, just what is there that smells better than fresh hay.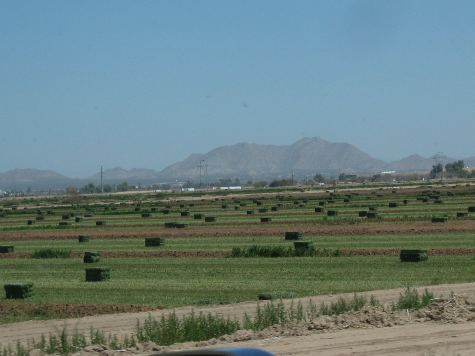 Consider for a moment what it takes to produce milk. The feed, the cows, the milkers, the dairy, the jugs or cartons, the store. However that leaves something out, which is what leaves the cow besides the milk. Sure enough, it didn't take long before we weere presented with an up close example of just what that was.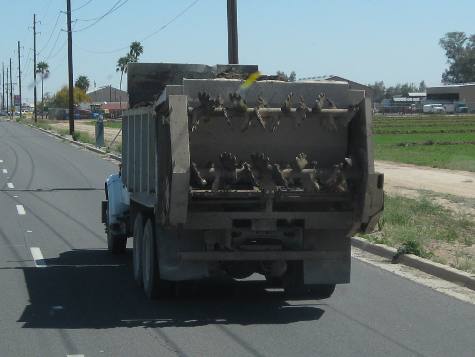 Fortunately for us he was slowly heading to a field to spread his load and we quickly passed him. Eventually we made it to Apache Junction, found an RV Park near where our friends, Bruce and Tressa live, and got set up. Things didn't go as well as they could of, at least when it came to leveling the coach. Looking around at the few other vacant spots in the park, I do believe we had the only one which was not perfectly level. It wasn't that it was on the side of a cliff or anything, it just wasn't level. Then when I tried to level, it just wouldn't. First it was off on one side, then on the other. Linda seemed to think I was shutting the leveling device off before it had finished leveling, I thought otherwise. Finally to prove her wrong, I hit the button and did nothing for about 5 minutes. Guess what, she was right.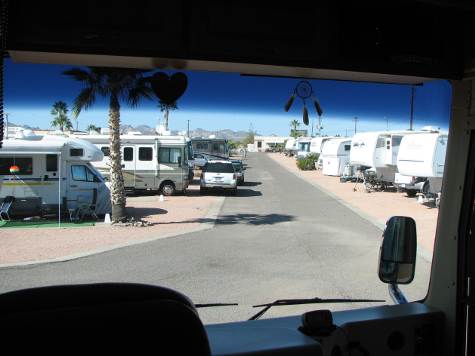 I wasn't done yet however, as my little episde with leaving the cap on the end of the sani-con waste hose proved. I'd hit the switch to dump the gray tank and nothing was happening. Then it dawned on me, doofus that I am, I had done went and left the little green cap on. The connection was directly below the sanitary compartment, so after switching the motor off it only took a couple of seconds to loosen the cap. Bad move. It wasn't like in RV the Movie where Robin Williams had the volcano erupt, but it was bad enough. The good thing was that it was only gray water. When I came back into the coach and immediately started washing my arms as well as my hands, Linda wnated to know what happened. I mumbled something about you don't want to know, whereupon she smiled and said, "You left the cap on didn't you?" I just nodded my head and continued with cleaning myself up.
Later we went over to Bruce and Terssa's house to pick up all the Rick Steves information and gear we had shipped to their address. We'd only intended to stay for just a few minutes, but ended up spending several hours talking about canal boats, they've done it three times, hearing aids, Bruce is the person who recommended Zounds to me, and all their and our travels. It's hard to believe that two weeks from today we will be flying to London to begin our three and a half month adventure in Europe. No shoulda's, coulda's or woulda's, we're going to do it, living Life to its fullest, not because we can't, but because we can.
---
March 17 Tuesday
Woke up this morning feeling great and it looks like I'm over what I've had of late. My tinnitus is still a little louder than normal, but other than that, it's like my old self, with old maybe being the operative word here. Old must have rubbed off in other ways also, because I went back to one of our old standbys for breakfast, spinach, cheese and scrambled eggs. And since it's been a while since I've posted any food photos, here's what it looked like in the skillet.
It was after the dishes were done and we were working on a few details of our European trip, that glancing out the window we noticed the RV in the site next to us had a wee bit of a problem, flat tire. It was a fairly sizable Lance truck camper on a medium sized Chevy pickup and the rear tire was flat, not down, flat. A little later the owner, a lanky, single gentleman of retirement age came out, sat down at his table and started to enjoy a cup of coffee. That was all the enjoyment he was going to get this morning, since in a few minutes he noticed the tire and the next thing we knew he had moved his chair over near it and was trying to determine what was the cause of his deflated day.
Being in the midst of trying to get a piece of sulking software to function properly, I had almost forgotten about what was taking place out the window when I noticed him struggling to get a tiny 12 volt air compressor hooked up, attempting to inflate the tire. Based on a personal experience many years ago up in the Sierra Nevada mountains, I was wondering if he had ever tried to do what he was attempting. I'd figured he'd either change the tire himself or call his emergency road service and have them do it.
Deciding that my 150 psi pancake compressor would actually be able to do a much better job, I walked over, asked him if he could use it.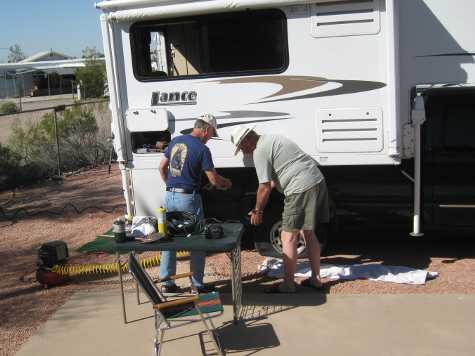 Even with the large compressor, at least compared to his, it took a good bit of time for the tire to begin inflating. We had about 38 psi it and I asked him what his normal inflation pressure was. When he said 80 psi I remembered that was the same as our class C we owned a number of years ago. Rather than air the tire all the way up, he decided to stop and pull forward a little to check the side that was down for nails or other obvious punctures.
He pulled the truck forward, I gave him the high sign to stop, and the hunt for the nasty nail resumed. I did a quick check as he came back around from the cab, and couldn't feel or see anything. His examination turned up the same results, then he noticed that I had stopped him too soon when he was pulling forward. He had marked the area he couldn't see with two pieces of black tape on the rim, which I hadn't noticed before.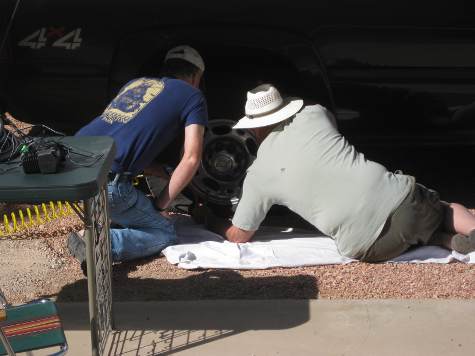 Then, just as he was leaving to go pull the truck further forward, I realized I could hear air hissing. There wasn't any obvious place it was coming from, but while moving my hand over the valve stem I heard the noise change. Placing a finger on the end of the stem stopped the noise. Deciding that maybe he could seal it with a valve cap, he went to look for one.
While he was gone I discovered the real problem, the stem was actually broken. After he returned and could see that it worse than it first appeared, he decided to call "AAA", and I headed back to the coach, figuring it would let me finish up my computer problem solving, along with being able to watch when AAA showed up. Of course the super snooper practically had brush burns on her nose from being plastered up against the screen watching what we had been doing, but at least she took some photos of the action.
AAA finally did come, fixed the tire and I went over to retrieve my compressor, and of course to also pick up any details I could as Linda was wanting to know all about it. Turned out that with the 80 psi he was carrying in those tires he should have had metal valve stems instead of rubber. Kind of enjoyed his description of the low price tire shop he had bought the tires at. Maybe there is something to that saying about the lowest price not necessarily being the best value.
Linda did have one errand to run for the day, which was a quick trip to the post office to mail some packages. For someone as navigationally challenged as she can be, I thought it pretty brave of her. Then, when I hadn't noticed the Explorer back out onto the road, I peeked out the window.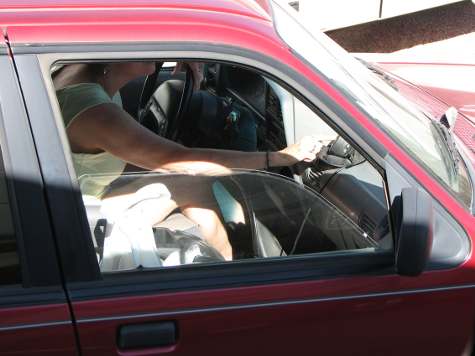 All those thoughts about how brave she was just went up in flames as I watched her fiddling with the GPS. I did get a little chuckle when she came back and announced she hadn't erased the last "home" waypoint from the GPS, so when she started back and told it to guide her home, it was going to be a long, long ways from here. Of course, her being her, she just used the return route function and drove right back. By the way, we did erase the errant "home" and make our present home our new "home".
Dinner was a joint effort, mine being shrimp and salad, hers being couscous and serving the food. It was a fair trade, after all boiling water to make couscous takes real talent as she put it. And I sometimes wonder why I love that woman so much. After an evening of enjoying some old favorites, NCIS, and BBC's, Last Restaurant Standing, plus something new, The Food Channel's, Chopped, it was time for me at least to hit the hay.
The reason for this was that I was going to be up late tonight. I needed to download a program, and because of its size, I needed to do it during our free hours, which are 11PM to 4AM. Before going to bed I set my internal alarm clock to wake up between 11 and midnight. Internal alarm clock? A long time ago I discovered that if I told myself I really needed to awake at a certain time, I would always seem to wake up before the alarm clock went off. Later I learned that just telling myself was good enough and so only occasionally do I ever use an alarm. Linda doesn't trust my internal alarm to work, so if we both have to be up she always sets the alarm clock and I oftentimes have fun waking her and telling her the alarm is going to go off in a few minutes. I believe it's a case of: whether a person thinks they can, or thinks they can't, they usually turn out to be right.
---
March 18 Wednesday
Not all things are as they seem; take this morning for example. Breakfast was over, having been scrambled eggs with shrimp, and I was just finishing the Daily Journal when I first heard it. It being one of those very different, and very loud, sounds from a bird outside the window. I looked but couldn't see anything, went back to typing. Linda finally saw it over by the fence, and it turned out to be a sizable, though somewhat drab colored bird with a long, slightly curved beak. It seemed to be watching something, and after a bit it glided down from the fence to land near a water spigot.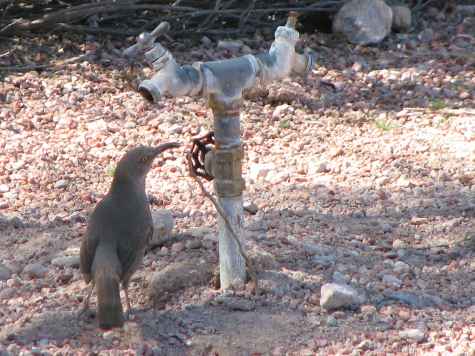 There was something it was certainly interested in, but we couldn't see what it was. Eventually I went back to writing while Linda looked in our Sibley's to find out what it was. Deep in thought, my concentration was broken by Linda's voice saying, "Do you hear that." Listening, I could distinctly hear two birds calling each other. Turning my head from the computer, I looked outside, but couldn't see the second bird. "Where is the second bird bird", I asked her, the answer to which was a somewhat muffled giggle. After several more attempts to locate the wayward avian, I turned toward Linda and got my answer.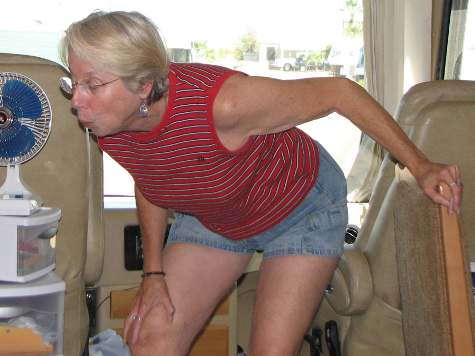 I had to admit for someone who was not a birder by any stretch of the imagination, she was doing a pretty good job of fooling the real bird. Heck, she'd done an even better job of fooling the bird brain who is writing this. It also explained the giggle in response to my earlier question. Not sure whether it was a question of my being slow or her being good, though I do know which one she would pick. She'd be right too.
As the countdown for our time in Europe continued, she did have more than playing birdwoman in mind, with the schedule for today calling for a shopping trip. Since we had been quite pleased with the clothing and shoes we bought at REI for our trip last year, that was where we were headed today. Fortunately there was one relatively nearby, if 20 to 30 miles is relatively nearby, and once she got me ready, off we went. Her biggest concern buying a pair of shoes, a pair that were more "closed in" than her Keen sandals. We didn't know what it might portend, but this was what greeted us as we walked across the parking lot towards the store.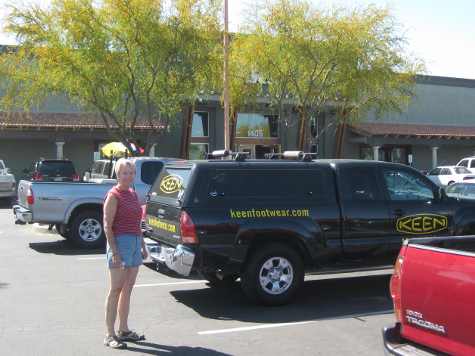 As I've pointed out in the past, Linda is not your typical woman when it comes to shopping, she's not a shopper, she's a buyer. Second there is this shoe thing she has, if the shoe doesn't feel perfect when she is trying it on, it's only going to feel worse when she starts wearing it. It turned out there was nothing in the "look" she wanted in a shoe at REI, which meant that if that look was out, there were other looks that were in. When we walked out the door we were carrying a neat looking black skirt which will work for the mosques in Turkey and the opera in Prague, two really cool belts that will fit right in, a pair of navy pants with zippered pockets in all the right places, a blue gray shirt with a front pocket, and a black canvas shoulder bag just like we had been wanting. Not bad at all, we only got out there buying five items and saved money by redeeming our dividend to boot. Of course three of the items were actually mine, one of the belts, the pants, and shoulder bag, but even so I'm not sure it made up for what I would have to put with as we continued our shoe shopping outing.
What makes it really interesting is she doesn't absolutely have to buy the shoes, it's just that white athletic shoes in Europe screams American, besides European shoes are much more stylish and more comfortable than ours. I absolutely swear by my ECCO's I bought in Germany last year, the best fitting pair of shoes I've ever owned. That means if necessary she can buy a pair over there this year. What she fears is going through what I went through, shopping in a shoe store where there is very little or no English spoken. I looked at it as half the fun of buying those sandals, she looks at it as no fun at all, telling me that it's hard enough to buy shoes as it is, let alone when you can't even talk to the salesperson. I told her if the first shoe store we go into doesn't have someone who speaks English, we'll just go to another one. She wasn't buying it.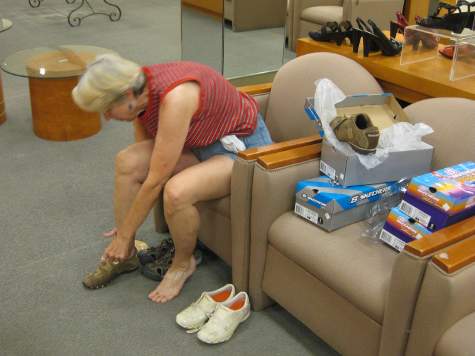 Where we finally ended up was at Superstition Springs Mall, going to all the department stores, at least the ones still in business, or in several cases barely still in business and also several athletic shoe stores, there being no independent shoes shoes in the malls anymore. It was a case of several pairs which came close, but like she said, "After wearing these Keens which are the best fitting shoes I've ever worn, it makes it almost impossible to find something that fits the same, and I'm not going to wear anything that doesn't."
Coming home without any new shoes, we were none the less elated with what we had bought. Of course I'll bet that when we get to Europe, the first place we go into will have the perfect shoulder bag, but that's just the way it goes. There was one other item which had to do with Europe which was on the schedule today, fixing that ASUS 701 4G eee PC that wouldn't connect to the Internet, no matter which tweak I tried.
It had served us well last year, but this year it just wasn't cooperating. Now it was time to discover if my late hours in the middle of the night downloading the Easy Peasy operating system had been worth it. I sure was optimistic going in, what with all the good luck I've had with the various Ubuntu based Linux systems I've used, Ubuntu, Kubuntu and Xubuntu. The first problem was making a bootable USB stick, something that a Google search quickly answered. One of the reasons I love linux is because it is so easy to do just these types of thing and just a few minutes I was holding Easy Peasy in my fingers. After inserting the USB stick and hitting the power button, the wait began for lights to start blinking indicating activity which would be hopefully followed by the appearance of something on the screen.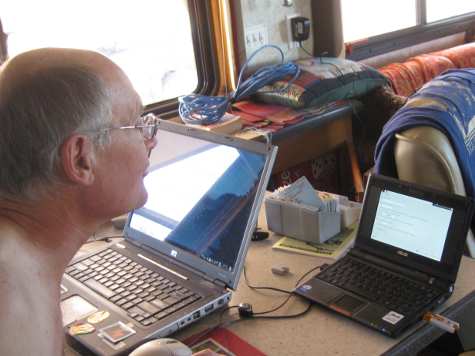 What it was doing, was running what is known as a "Live USB". It allows you to check whether the operating system you're trying out will work with all the hardware on your computer without any installation actually taking place. The wireless connected with no problem, I could access my data drive, and I was one happy camper. Some more testing to make sure everything worked, after all with reformatting, everything would we wiped out on the drive, and then it was time to install Easy Peasy.
It took a while but in the end it was everything I had hoped it would be and more, plus the fact that it was a linux based OS, meaning it and all of the programs were free made it even better. Now if it had just come installed in the first place none of this would have been needed to be done. Maybe the educational experience was worth it, regardless, I know having it completed is certainly worth it. The system still needs tweaking, removing any unneeded programs, etc, installing Gnucash so Linda can track our expenses, an HTML editor which will most likely be Screem, so I can write the daily Journal, plus deciding whether to install Gimp as the image editor or just use the already installed Picasa.
The other things we will need, a word processor, a spreadsheet and the like are already installed meaning that it is nearly ready to go. Once it is set up, I will make some posts before we leave to make sure everything works, then it's off to Europe. I also promise to try to post more than the two times that I did during our last trip, though there may be times when we have no Internet for periods of time. I'm not sure about the canal boat trip, eastern Turkey and also some parts of Eastern Europe. Guess we will just have to wait and see. But isn't that exactly what makes this Life so much fun, either not always knowing what is around the next corner, or exactly what Sara N. Dippity is going to get us into next.
---
March 19 Thursday
Linda surprised me this morning, getting up earlier than usual, just like she said she would. The surprise was because these are normally what is referred to as mutually exclusive; Linda and getting up early. I've been getting up earlier and earlier each day, my reason being that having done this same thing last year and finding that it may have helped in reducing jet lag when we flew to Europe, I'm trying it again this year. Whether it's a physical or psychological phenomenon, if it works, great, otherwise it's simply a few days of early to bed, early to rise.
Not one to waste her early, at least for her, morning hours, she plunged into preparing for the trip. We had discussed the lack of a pad on the strap of the new shoulder bag and found the one for my laptop case. I'd already removed it, and now she set to sew it onto the new bag so it could freely slide up and down on the strap. At any age, finding enough light to sew by is a problem, but with her ever advancing years it has become even harder to find the perfect place to use needle and thread.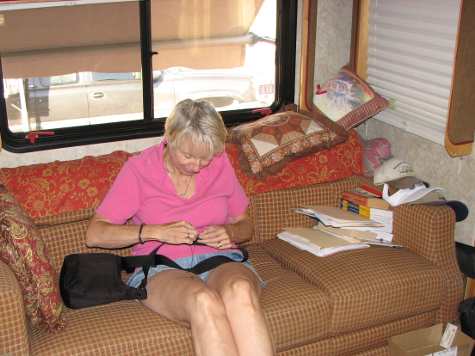 Other than a little teasing of her, saying, I hoped there we no flies in the air (it's because the more she concentrated on her sewing, the more her tongue keep coming out, which reminded me of a lizard), it didn't take her long to finish. I knew when she was finished because she said so. Her "Oh [expletive deleted] coupled with the exasperated look on her face, speaking volumes.
Sensing a situation that would require all my decades of marital experience with this woman, to properly handle, I inquired in a most pleasant and benevolent manner, "So what did you screw up now?" With near tears in her eyes she said, " I've sewed it on backwards, the pad is on the wrong side." Quickly sensing that my manly attempt of making light of the situation had been the wrong tack to take, I said, "I'm sure it's not that bad." Then proceeded to learn that it certainly was, that all her sewing would have to be ripped out and be redone.
Something told me this was not the best way for her to start the day, which meant it had to solved in some other way. Taking a look at the situation, it occurred to me that she didn't have to remove anything, all we had to do was rotate the pad on the strap, then it would be right side up. That was the easy part, now for the hard part, how to tell her so that I neither came off looking like an "arrogant know it all man", nor made her feel like the solution was so simple she thought of herself as a "stupid woman" for not having thought of it herself.
A moments hesitation, then "If it slides on the strap, couldn't we just rotate it around and fix it?" said while intently looking at her. A softening of her look, the slow spread of a smile, then, "Yes, that should work." Quickly I got up, took hold of the strap, pinched it slightly and suggested she try to turn the pad. It rolled right over and the look on her face was worth a hundred thousand words. I had done good, the day was saved. Who could ask for anything more.
I was really into writing the Daily Journal and so forgot all about fixing breakfast. Showing how much she appreciated my help with her problem, she fixed her own while I typed away. Her breakfast over, she then started in on the task of notifying our card issuers when we would be out of the country and to which foreign countries we would be traveling. With one customer service rep I heard her laughing and joking and with the other she was all business and none to happy. It turned out the bank rep was really good and she new exactly what Linda was asking. The credit card rep was half lost and Linda ended up having to spell some of the countries for him. Bet you can guess which one had the India/English accent. If you guessed the man behind door number two, you're right.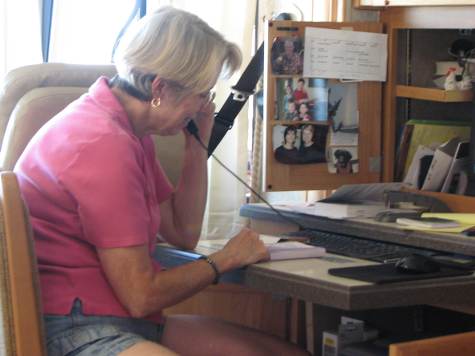 After I fixed and ate my breakfast, we spent the remainder of the day getting ready for the trip, Linda set up her foreign currency charts (I use my head), she read more of the guide books, and went to see if our general delivery mail package had arrived, it had. I spent time fine tuning Easy Peasy on the eee pc, deleting unneeded programs, and installing needed ones. After installing Thunderbird as our email program, we set it up and sent John and Judy a test email. The reply confirmed it was working just as it should.
After a day like this, we decided to spend some time sitting outside and reading something that had nothing to do with our upcoming travels. It was so pleasant, forgetting about the events, both of the day, and of the future. Being serenaded by hummingbirds, doves, quail and also by Linda's bird friend. And no, she did not hold a conversation with it like she did yesterday morning. What glorious sounds and sights. We even have a view of Superstition mountain, it's above and to the right of the neighbors sewer hookup, in the center of the photo and partially hidden by the trees. Views like that can only come when you're an RVer, that's for sure.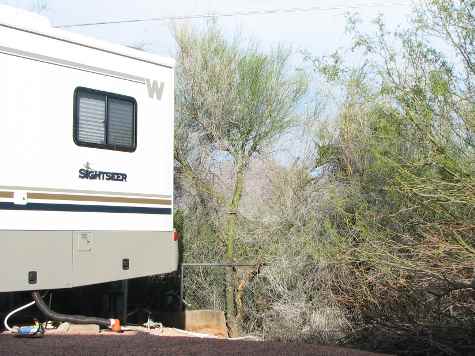 Then we had another great view a little later on, out from the other side of the coach. Not that all the sunsets here are not spectacular, they are, but with the change in weather that is being forecast, it was extra pretty tonight.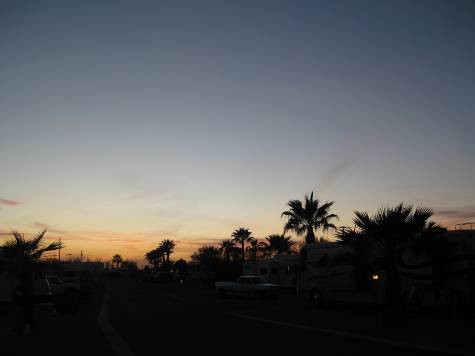 Our day ended with grilled lowfat kielbasi on toasted whole wheat buns, sliced vegetables and Linda's beans. To make it perfect we ate outside with a single candle glowing on the table as darkness settled over us. It may not have been a perfect day, but as far as day's go, it simply doesn't get much better than this, at least until we touch down in Europe, twelve days from now.
---
March 20 Friday
There was a problem in the coach this morning, not something major, just irritating. Somehow a number of small pesky fies appeared, and their mission this morning was to harass me to no end. At first I thought it was only a single fly, a fly whiich landed on the top edge of the screen, something that proved to be a reconnaissance operation. Next thing you know, it was landing on the screen itself, which turned into strutting around, usually in the exact spot my typed letter were appearing. This resulted in repeated hand waving by me to shoo it away.
For a while it worked, its interest being drawn elsewhere, but as with all good things, its was soon to come to an end. The result was far more irritating than a mere walk on the screen. This time it landed on the mouse, flying off whenever I used it, but immediately returning to land on my hand. A fly walking across the back of a hand on a mouse quickly becomes more than merely irritating, it becomes maddening. But as it had before, it grew tired of this little game to again fly off.
Though it was no doubt longer than I imagined, within a brief time it had returned, not to the mouse but rather to the touchpad. For someone who was a touch typist this would be the best of a bad situation, since they would not be able to see the fly. For someone like myself who is a hunt and peck, look at the keys typist, it can almost drive you to near distraction. It came to the point where all I could focus on was the stupid little fly walking around inches from my fingers.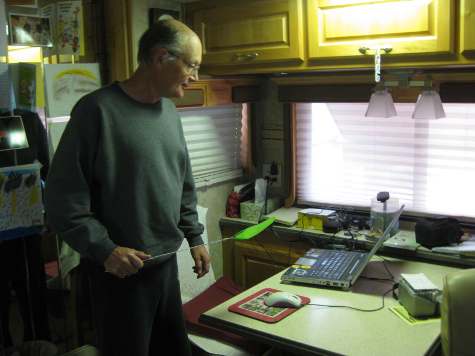 Its demise came suddenly and I'm certain it never suffered, and so I could return to my typing. That was when I learned it had not been alone, and before I knew it, at least three flies had appeared, prancing around on the screen, keyboard, touchpad and mouse, almost as if daring me to make the same attempt to snuff them out. There is a time to turn and walk away, and a time to stand and fight. Unfortunately for them it was kind of like Grenada versus the US, it's not the outcome only the timing that is in doubt.
Once the deed was done and I could concentrate on my writing it didn't not take long for the daily Journal to be completed. It was a good thing too, because Linda was starting to get itchy about heading off to the store. Bruce and Tressa were coming over tonight and we had the menu all planned, which would be centered around Puerto Penaso seafood. It was just that we didn't have any fresh vegetables in the house, though Linda did have a rather lengthy shopping list prepared.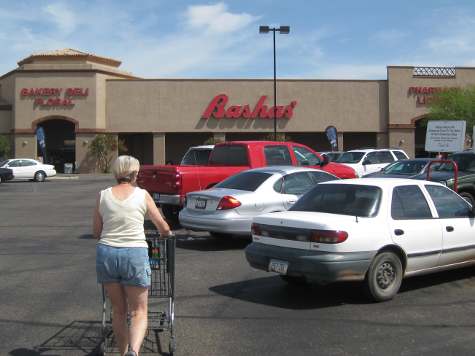 We walked out of the store with six bags, four of which were full of fruits and vegetables, making us the kind of customer the cashier either looks forward to as a break from mindless swiping of UPC codes in front of the scanner, or the customer from you know where because every code has to hand entered. By the time we had paid for our purchases we knew we were in the former camp. Returning home, it was time to begin preparations for the evening.
We decided that since we would soon be in Spain we would copy one of their ways of eating, i.e., a number of small dishes, rather than a big main meal. The plan was for strawberry margaritas and guacamole, followed by grilled olive oil saturated thin bread slices topped with Brie cheese and still later seared tiny bay scallops accompanied by a cilantro peanut dipping sauce. Next would be a buttercruch lettuce salad, and then colossal grilled shrimp, couscous, chilled thin asparagus with olive oil, garlic and balsamic vinegar. The finale would be vanilla ice cream with a warm huckleberry sauce topped with chopped pine nuts. About half of the dishes we'd fixed before and half were new to us, some of which we had no recipe for, it was just something we wanted to fix. Afterall, isn't that what is really fun about doing something like this, simply letting Sara N. Dippity handle parts of it.
I love making my guacamole, and for a change it was Linda who wanted me to use more than one avocado. We compromised and I used one and a half, and also did a better than normal job of keeping all the other ingredients in the proper ratio. The last thing to make was the strawberry margaritas, and here we had been fortunate in finding some very ripe strawberries that would provide great color and flavor.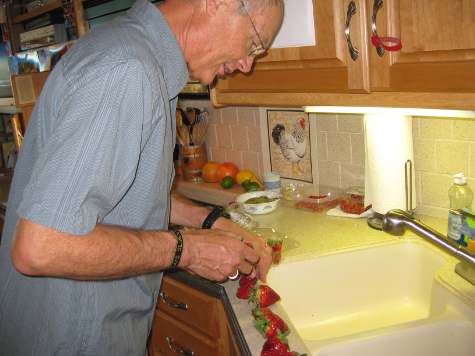 While part of the fun is in the fixing, the real fun is in the visiting and eating, something that we dove into with a passion after showing Bruce and Tressa our house and corner lot. As you can no doubt tell, we were really enjoying ourselves.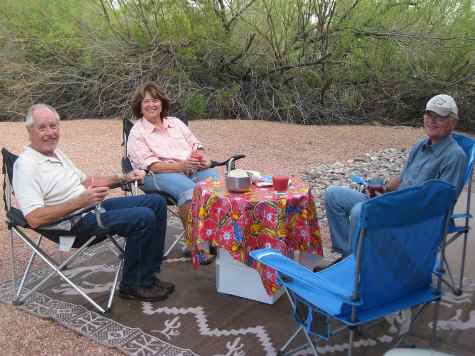 We couldn't have asked for better weather, the light strings I installed this afternoon proved to be the perfect mood lighting, and all the while we laughed and had a good time. Having worked for years with Tressa in my prior life, it was fun to revisit old times. Then as darkness settled in, it was time to grill the shrimp. With the falling light, I put on my little LED light to see what I was doing, something that set off another fork in the conversation. As you can tell, the shrimp turned out to be just right, and Linda just had to take a photo.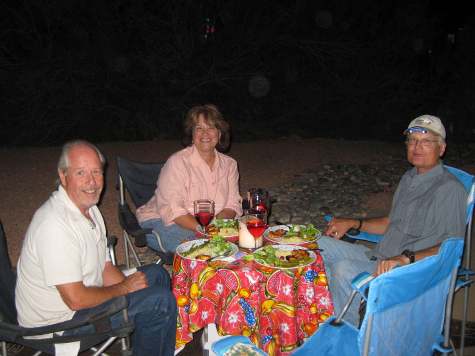 Like we say at the bottom of every page, Life is not a dress rehearsal, Don't be afraid to laugh, love and retire early.
---
---