Journal Archive 4/11 - 4/20 2009
Scroll down to read the latest post
April 11 Saturday
A day of rain and travel, a day when water filled shoes and soaking wet clothes became the norm. A day that began with a drizzle and ended with cloudy skies which bracketed a journey through the most awesome lock on the entire canal during a torrential rain that was punctuated with thunder and lightening. A, you had to have been there to believe it, kind of day.
We had hardly gotten started on the day when we came upon something that few people ever get to experience.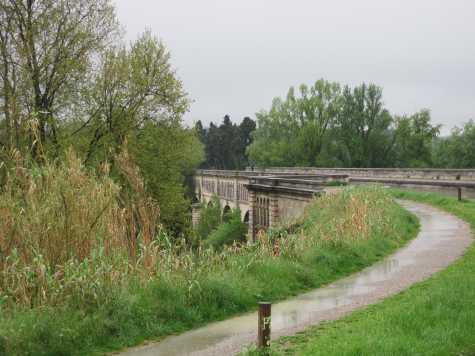 Not that it looks like much coming up on it, but it is a bridge that carries the canal high over a river.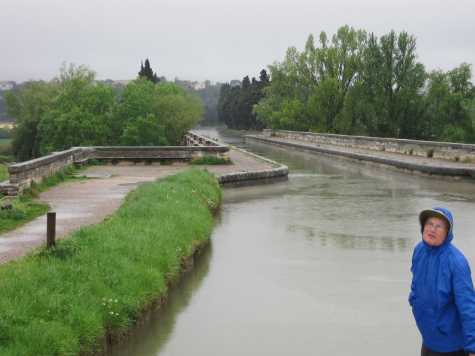 As you might gather from looking at my outerwear, this was most definitely not a sunny day outing, as the rain had already started to fall. A short time later we came upon the famous Fonserannes Staircase, which are seven locks in a row one leading immediately into the next. It is also a great tourist attraction, as people stand watching the boats climb or descend the locks. Here we are beginning the climb.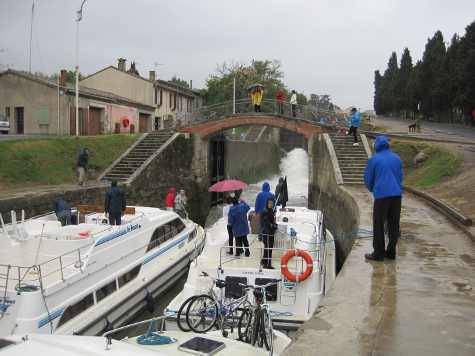 Note the tourists on the bridge, plus the ones you can't see lining the bank. Now observe the difference in the photo below. There are no tourists left, they having fled a long time ago. The wind had turned into a howling beast, the rain had started coming down in buckets to the extent it was hard to see. Lightening had flashed and thunder boomed, leaving only the, by now, throughly drenched boat crews and the lock keeper to keep the boats moving upward one lock at a time.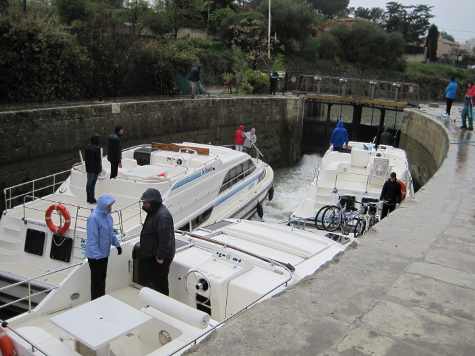 We did make it to the top, and even though this photo does not do justice to the climb, it still gives an indication of what we had done. In the future we will probably run into some people who took a boat through these locks, but when it comes time to describe what the experience was like, I seriously doubt any of them have a story to match ours..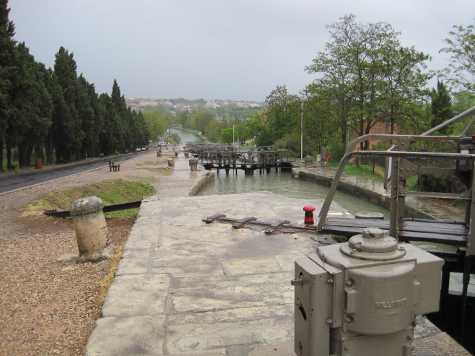 Once beyond the locks, it did not get appreciably better. The visibility from inside the boat was minimal, with the window constantly fogging up. Here is Judy wiping off the inside of the window as John tries to make out what is on the canal.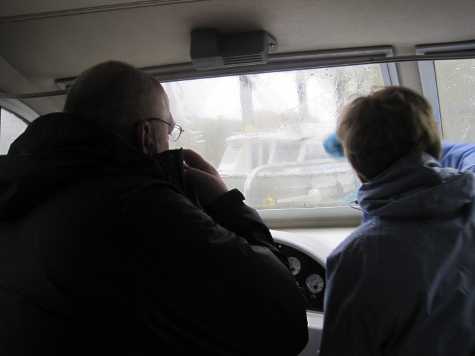 Eventually we rigged up a 12 volt fan from one of the bedrooms to blow on the window, creating a small hole to see through and allowing safe passage to our destination for the night, the town of Columbiers, where once again we moored along the canal bank and a short walk to town.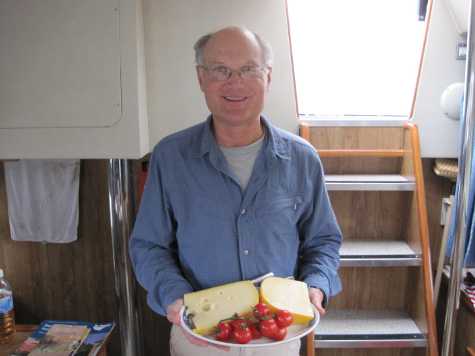 As you can see, we had cheese and vegetables for lunch, including a gigantic pepper that John used as a photographic subject.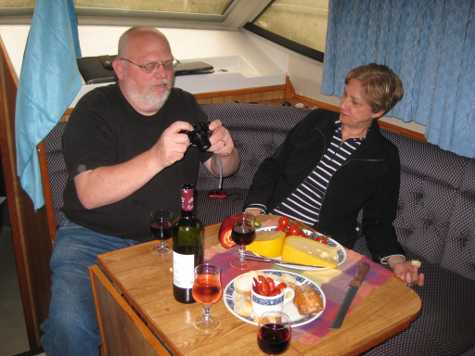 I thought the ladies would object that he was interfering with their lunch, but was I ever proven wrong.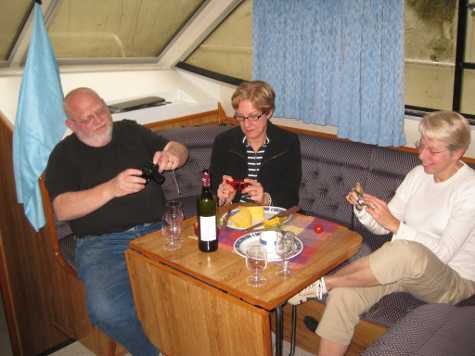 Deciding that it was more fun to photograph food than eat it they busily snapped away while the food was ignored. While all this was going on, there was another process also taking place in the boat.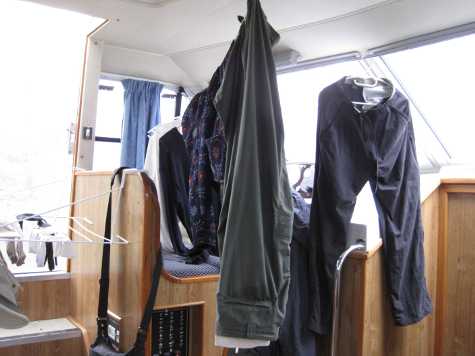 It was one of those days, the kind that get recalled years into the future, the ones that we can laugh about, knowing that it was not only an adventure, it also taught us something about ourselves that we hadn't known was there.
---
April 12 Sunday
Easter Sunday, more rain and a fabulous Easter dinner in a small French village restaurant. However your day went, it couldn't be any more enjoyable than ours was. Enjoyment is often times in the mind of the enjoyer, and this morning proved no exception.
While many in America participated in Easter egg hunts, we hunted through the darkness and gloom for the Canal du Midi..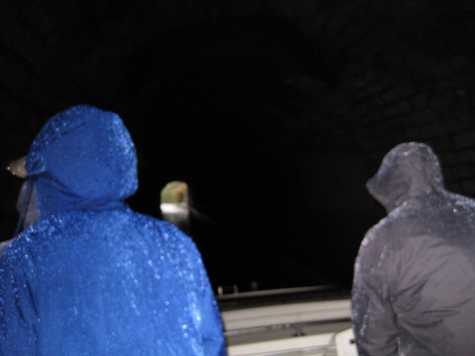 That is water droplets on our raincoats, but the darkness is not early morning gloom, it was a much needed break from another day of hard rain. It was taken while we were inside the longest tunnel on the canal. Unfortunately it was only a few minutes respite from the rain.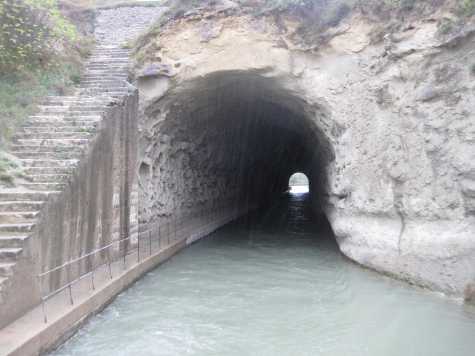 Fortunately the ladies came up with a good way to get out of the rain, calling us to breakfast, so after mooring the boat we sat down to Easter breakfast. We even had a special Easter treat, if having boiled brown eggs can be considered colored Easter eggs..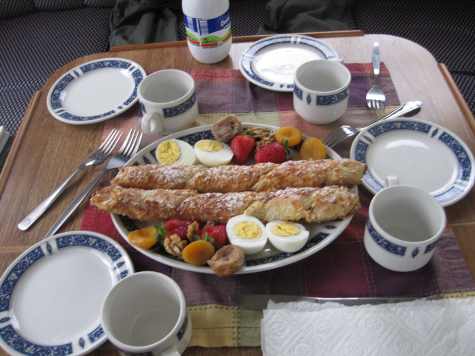 Our jury rigged fan was working to a degree, leaving a small hole through which Capt. John was able to keep our worthy craft on a steady course..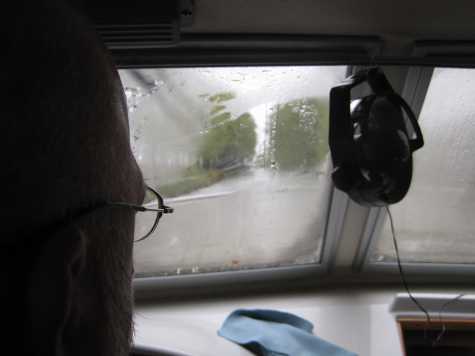 It was exhausting work, and so I took my turn spelling our fearless and vigilant Captain.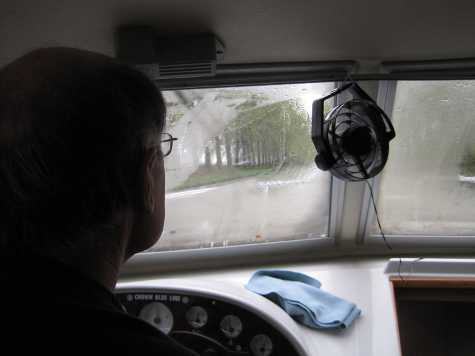 Even though it was raining today, it was much lighter than yesterday, so the traffic on the canal was much heavier..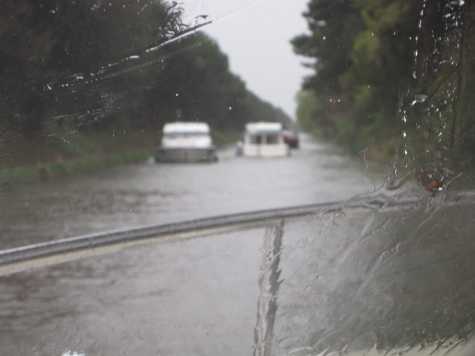 Our destination today was another small village along the canal, Somail, the distance was short, and had been so designed by our now beloved Captain, most likely to allow us to dry out in terms of the water dripping once again off every article of clothing on our bodies, and also allowing us to soak up the maximum amount of wine. It was beginning to look like Sir Francis Drake, Ferdinand Magellan, John Paul Jones and Admiral Nimitz would have an equal in the annuls of seafaring history.
To relieve the tension his crew was under, Commodore John, formerly referred to as Captain John, once again entertained us we his photographic skills.Yesterday it had been vegetables, today it was cheese. At this rate there would next most likely be a day of fruit. A fruit on the plate, and a fruit behind the camera.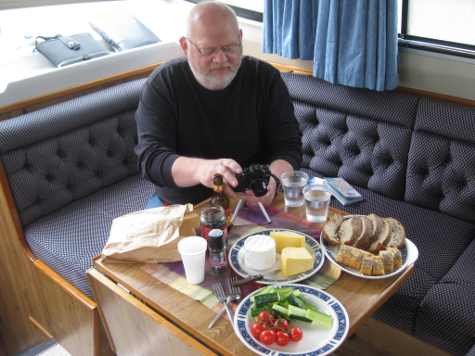 Unfortunately the now, Commodore j.g.,was so engrossed in his photography that he didn't realize the degree of exhaustion his crew had attained. So while the once again Captain, continued to take photos, his crew was taking something else. The Captain, decreeing that none of his crew would go without their rations, thoughtfully provided a cup of coffee for the exhausted deckhands.
Easter dinner, eaten at a tiny country inn, was pork for the ladies.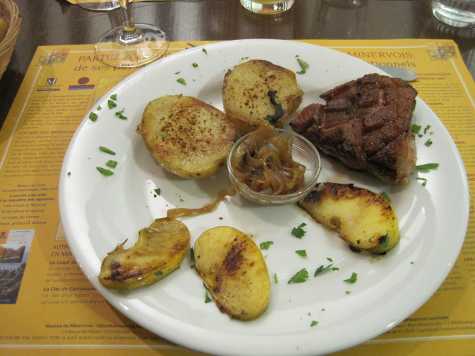 Duck for the men.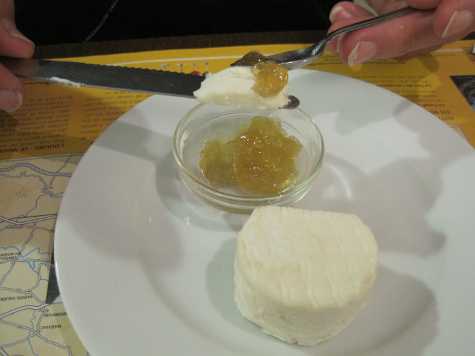 And desserts that were out of this world, meaning chocolate cake for the women and a cheese assortment for the men. Say what you want, but for a dessert, goat cheese with rosemary sauce is simply as good as it gets. Viva la France.
---
April 13 Monday
Monday morning, a new week, and a change in the weather. Long waits to get through the locks, and an evening in Homps where we spent our first night without boondocking.
No patter of rain on the roof this morning, only the promise of a beautiful day..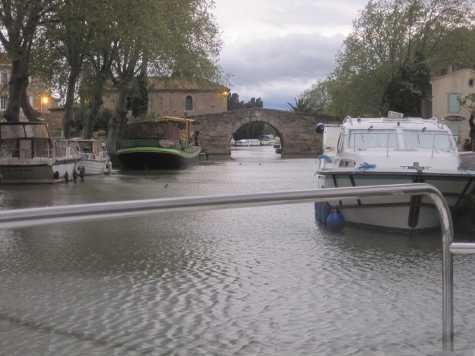 While crew worked to prepare the ship for another day's voyage, the Capt., endeavouring to get back in our good graces after the cheese episode yesterday, walked up to the grocery barge moored along the canal, and returned loaded with breakfast goodies.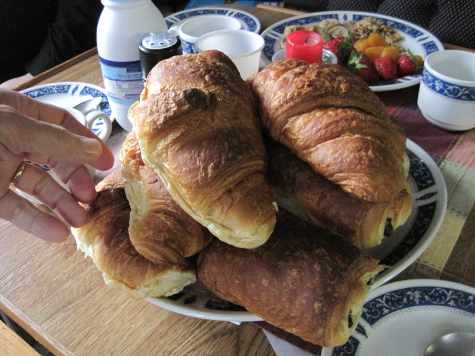 With the good weather we were in no big hurry to make kilometers, so when we crossed the second oldest canal bridge in the world, it was time to stop and explore.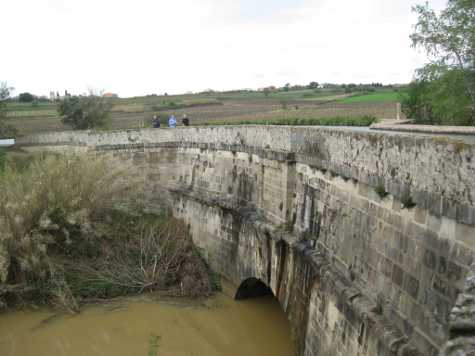 At each lock there is a sign which gives the distance to the next lock in each direction. as this sign shows, it had been a long way since those seven stairstep locks two days ago, but we were facing many locks today.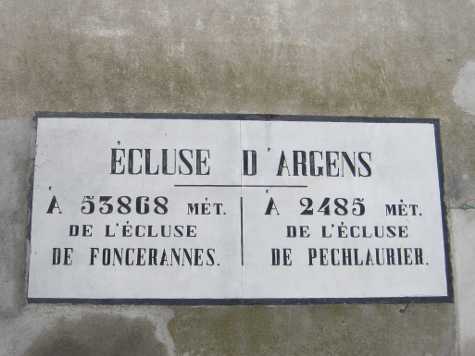 As we sailed along, we passed kilometer after kilometer of fields of grapes.We also passed through lock after lock. With the good weather, boat traffic was especially heavy, and we often times had lengthy waits to get through the locks.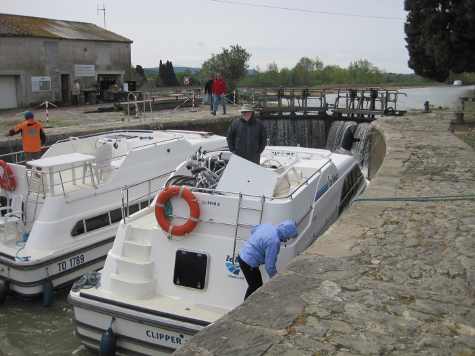 We were also pleasantly surprised at the wonderful greetings we would get when other boaters and people along the tow path or at the locks would recognize our flag.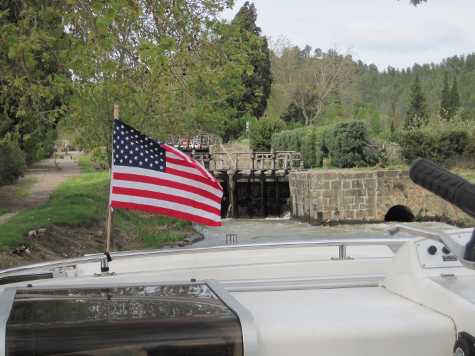 With the easy sailing conditions, it wasn't long before a third person took a stint behind the wheel, at least until we came to a slight bend in the canal, when she quickly turned the driving duties back over to a more experienced hand.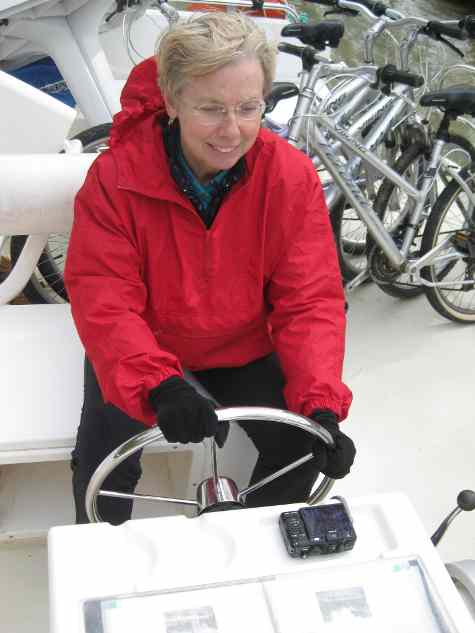 Once at our destination, Homps, we walked to a nearby supermarche, which is French for supermarket, though no where near the size of the ones in the States.. One thing that we really liked were shopping baskets, They had a long handle and wheels to use when the they became to heavy to easily carry.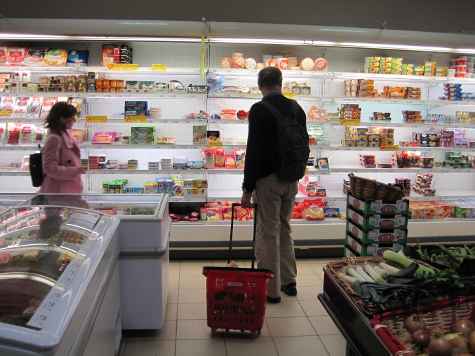 Later, because they eat late here, we had a light meal and then went back to the boat for dessert. It had been another great day on the Canal du Midi.
---
April 14 Tuesday
A grand and glorious day of cruising on Canal du Midi. A day for the photos to do the talking instead of the words.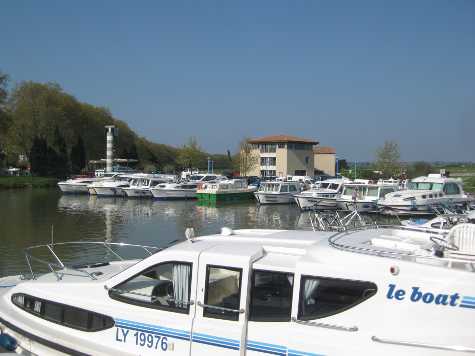 A view of the Le Boat base where we moored overnight.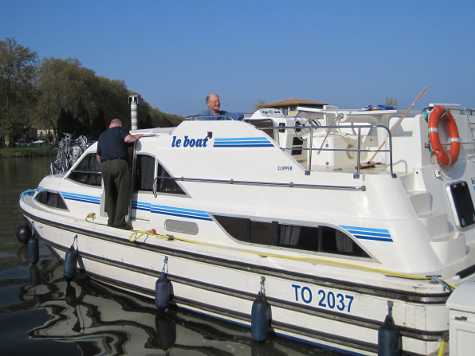 Preparing the boat for a day of cruising.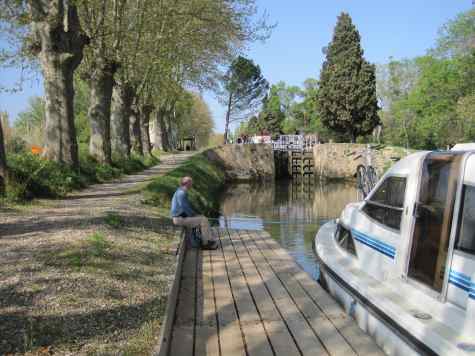 Waiting at one of the locks.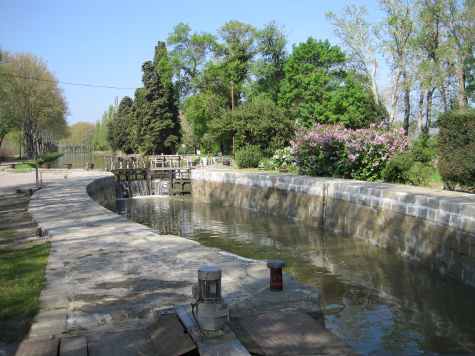 The locks on Canal du Midi are not the rectangular shaped locks typical in the states. rather they are somewhat oval, which often required some interesting manuvering when entering the lock.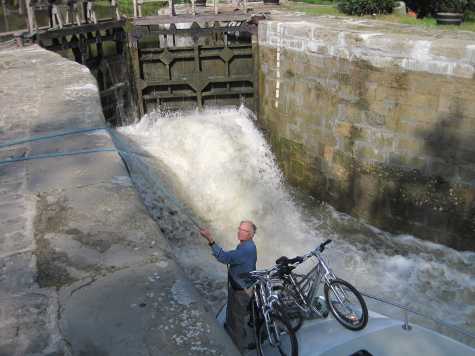 I really enjoyed being the forward deckhand, especially when the sluice gates opened and the water came roaring and roiling out into the lock. It was even better if some of the water splashed up on me.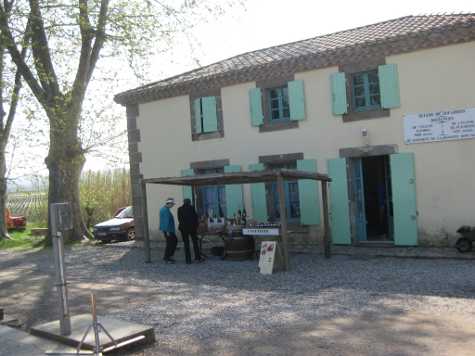 Many times the lock keepers would supplement their income by selling things. Here are the ladies availing themselves to some of those wares.
Some lock keepers were real artists, at least in their own minds. This one was really into metal sculpture. Searching through the various insects and Objects d'art, Linda found one to which she could really relate.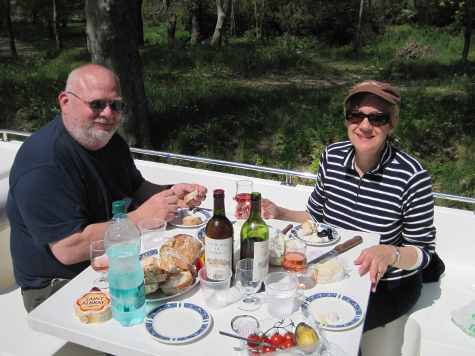 It's not all work and no play on the Canal du Midi.Take this onboard lunch for example. Fresh baguettes, local cheeses, speciality meats, and Vin du Pays wine. It doesn't get any more local or better than this.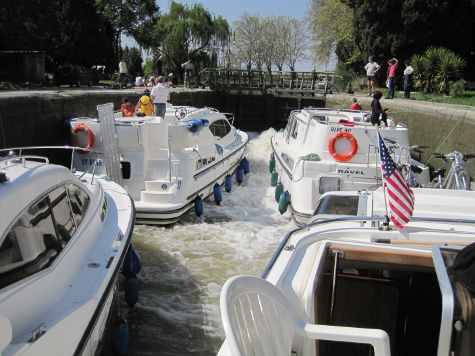 Then it was time to get back to work, with the heavy traffic on the canal, it wasn't unusual to have the locked filled with four boats at a time.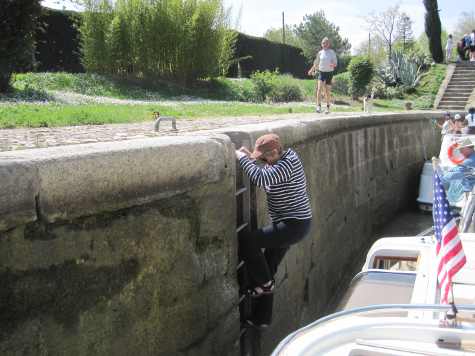 Some of the locks proved to be major obstacles to some of the crews, but under our stalwart Captain's command, our crew performed like a well oiled machine. For example here is Judy climbing the ladder inside one of the higher locks so we could throw the mooring ropes up to her.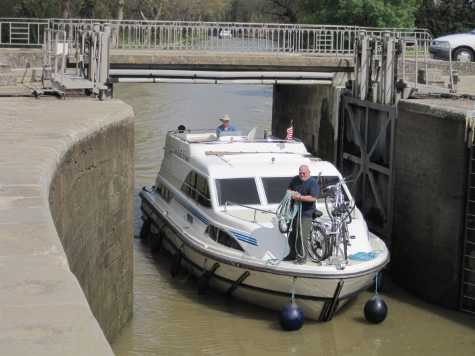 We got so good at what we were doing that to shake us up, the Captain switched us all around, taking offer the bow lines himself. which left yours truly at the helm.I can report that it wasn't that hard to drive the boat into a lock. Just put it in forward, bounce off enough sides of the lock and the other boats until eventually you end up in the right spot. It's also really helps to turn your hearing aids off when you're doing it.
There are good days and there are great days. Today exceeded our fondest dreams of what cruising on Canal du Midi would be like. We ended it at another of those small restaurants that one can find with a little searching. While Linda waited on her pasta with Gorgonzola cheese and walnuts, I was marveling at my Fruits du Mer a la Jacques, which was a fabulous seafood lasagne. Meanwhile John and Judy prepared to mix a raw egg into the plate of steaming pasta carbonara before them. It's not food for those that think using spicy mustard on a hot dog is being adventurous in their eating, but if you desire to Live Life with capital L's, it's like the nectar of the gods.
---
April 15 Wednesday
Another grand and glorious day of cruising on Canal du Midi. So for the second day in a row I will let the photos do the talking instead of words.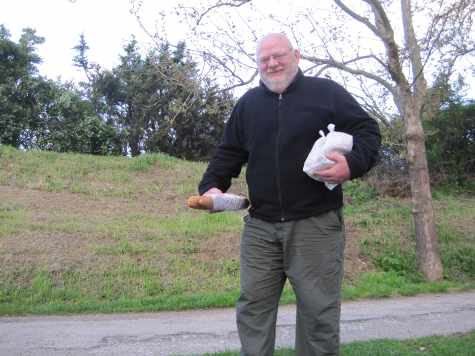 Look at the happy surprise that appeared outside the boat this morning. John loaded down with our fresh baked breakfast goodies, and sporting an enormous smile.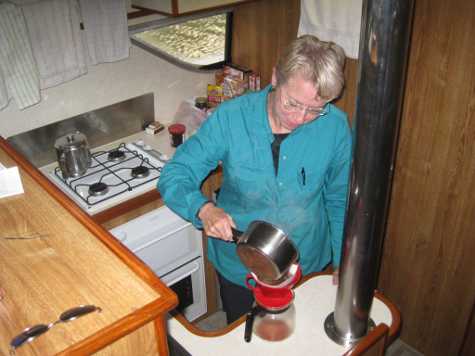 Preparing breakfast does not mean doing a lot of cooking. Sometimes it is as simple as making coffee.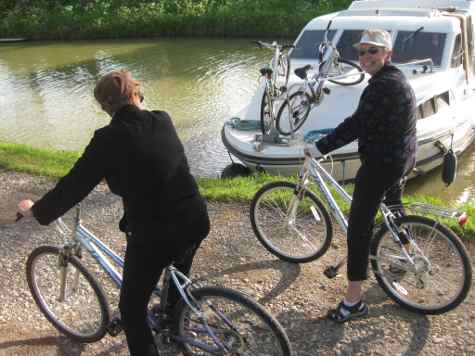 Judy and Linda decided to ride their bikes along the tow path, so we threw them off. I mean we got them all set up, but Linda discovered a problem with her bike. It just wouldn't work right. Once she discovered she had the handlebars turned around backwards, and turned them in the right direction, off they went, though she did have a somewhat sheepish look on her face for quite some time.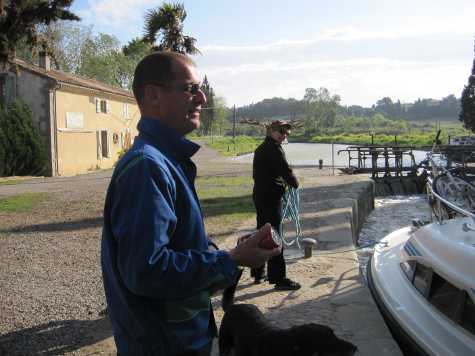 Something that we found that went a long way towards easing our passage through the locks was a simple can of beer.The lock keepers appreciated it, and would often radio ahead to the next lock to let them know we were coming, allowing us to enter the lock before traffic coming the other way.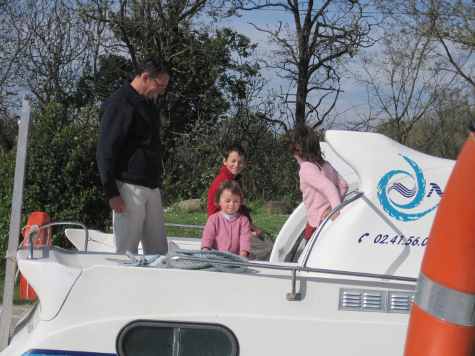 We also enjoyed getting to know some of the other boaters who we travelled with. We spent several days going through locks and staying overnight at the same places with this French Family..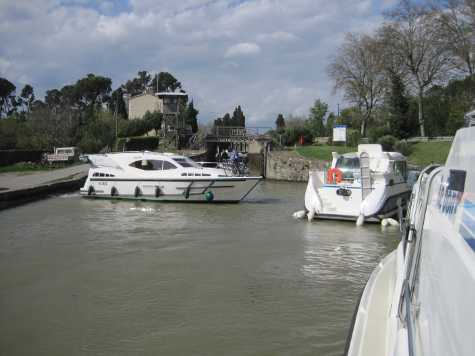 One of the great things about the other boats is, no matter how bad you think your boat handling skills are, there are lots of people on the canal who are far worse. You should have heard the yelling and screaming on the boat that is sideways in the canal. Luck was with them and they did not ram anyone, but it sure was close.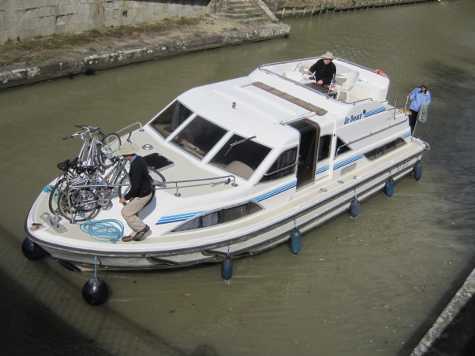 Contrast that last photo with the composure and efficiency of our crew entering a lock.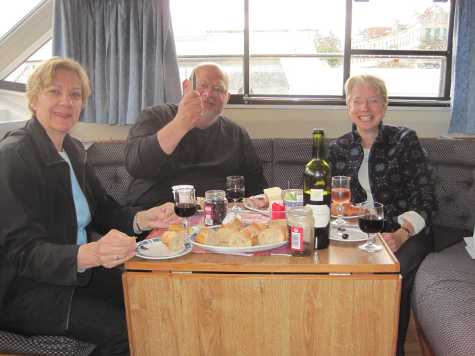 Any crew which works this hard works up a big appetite, and ours was no exception. Here we are enjoying a typical lunch. John is ready to once again slice the cheese, a food we had in abundance.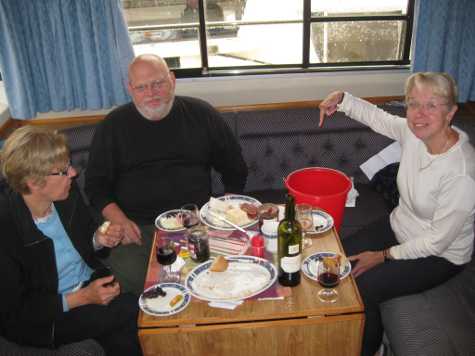 It was while we were eating that the skies opened up, with water falling almost by the bucketful. It was coming down so hard and fast, the boat sprang a leak. Luckily it was in the roof and not in the hull. Unluckily for Linda,it was directly above where she was sitting.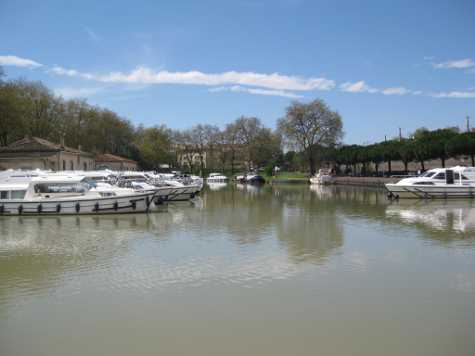 We were staying two nights in the marina at Carcassonne, and were surprised by how few boats were moored there.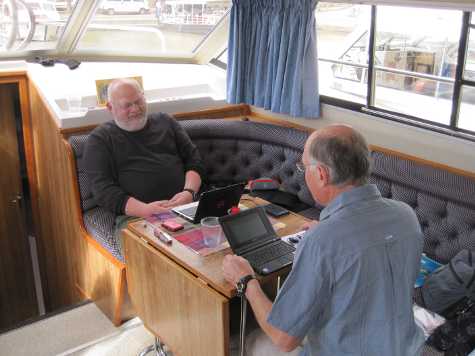 It also gave us a chance to relax a little, which meant trying to get a little writing done.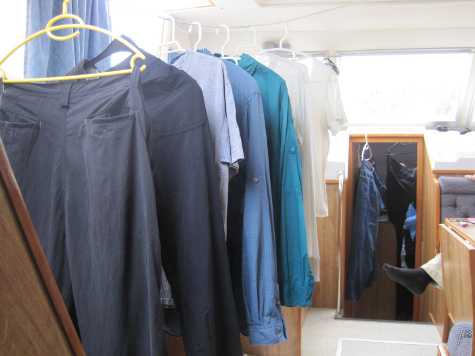 The ladies discovered there was a washer and dryer at the marina. They used the washer,but passed on the dryer, deciding that Euro 2 for 20 minutes was too much to spend when the onboard dryer was free..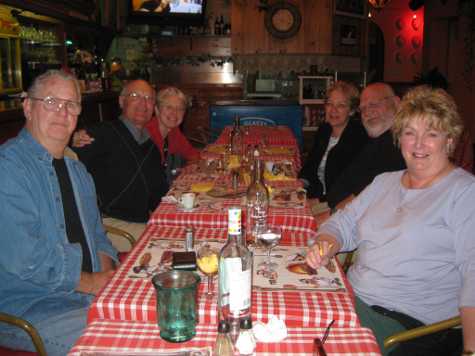 We ate dinner at a Latino Pizza place across the square from the marina. While eating we started hearing a couple near us talking in a language we didn't recognize. It turned out to be Oklahoman, which was how we fell in with Phil and Lynn who were from near Oklahoma City and were on a driving vacation through this part of France.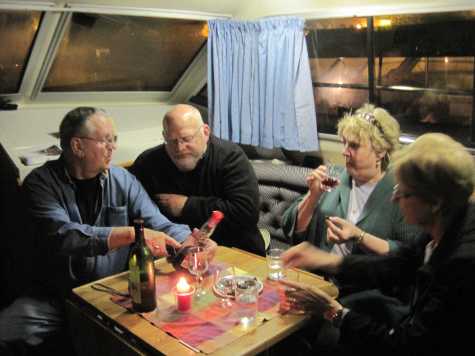 Later, just to prove that we really were traveling through this part of France on a boat, we invited them onboard. We shared some of our wine and cassis, while Phil shared some of his stories. It was a great time, though I think they never did believe were traveling through Europe for three and a half months with only 18 pounds of luggage each, as they had brought 100 pounds apiece for their three weeks. But that's exactly why traveling is so much fun, each of us can do it our own way.
---
April 16 Thursday
A day in Carcassonne, buying cheese at the market, visiting "La Citi", eating cassoulet, picking out cookies and enjoying an awesome sunset.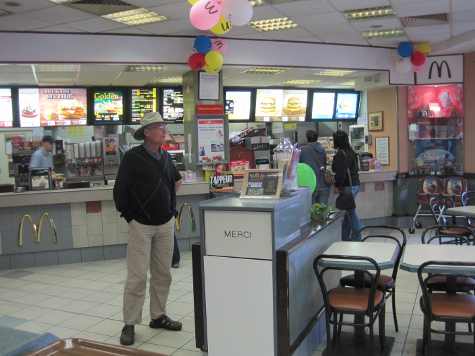 No, we haven't gone over to the dark side. We were here to check out the wireless connection with John's Ipod, though I did take a good look around.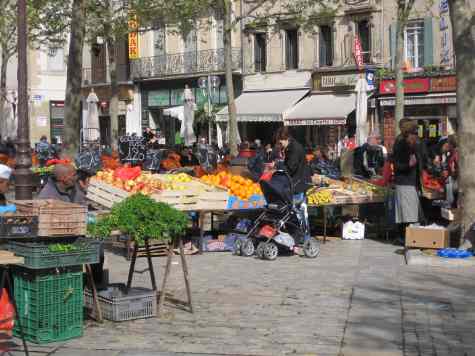 While walking to the La Citi,we happened upon an outdoor market.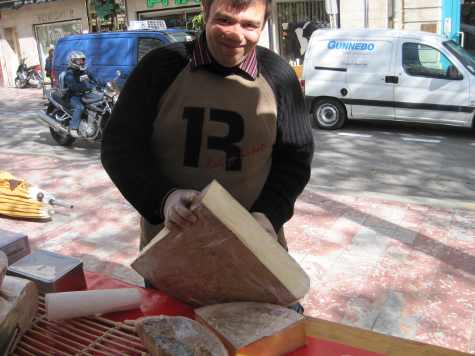 And while there were vegetsbles galore, we opted for the cheese seller, buying over Euro 50 worth of cheese. Bet you can guess what is going to be on our menu over the next few days..
Next, it was off again to La Citi, the old town up on the hill.The new town down below, just across the bridge was built in the 1600's. Over her old and new take on completely different meanings. In this case the old town dates from 1100.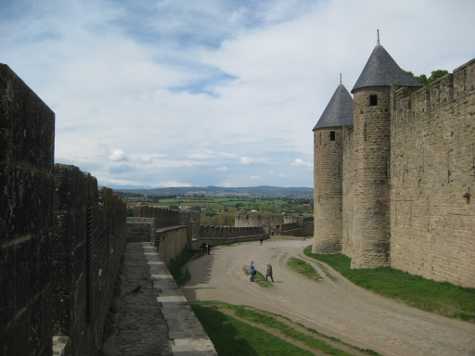 The area between the walls would be a death trap to any invader who got this far. Also when talking about the age of the town, what you see, La Citi, was built in the 1100's, the walls and the town were actually started by the Romans, meaning it really is almost 2000 years old.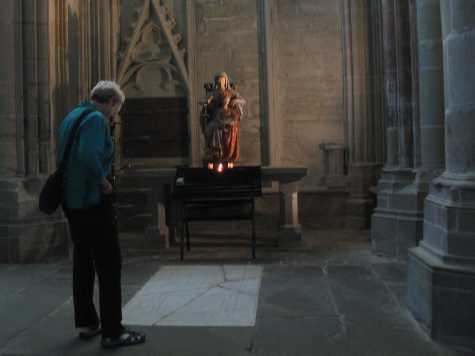 There was a church inside the walls which we visited. The guide books and the sign outside said it was closed, but people were going inside anyway, so we just joined in with them.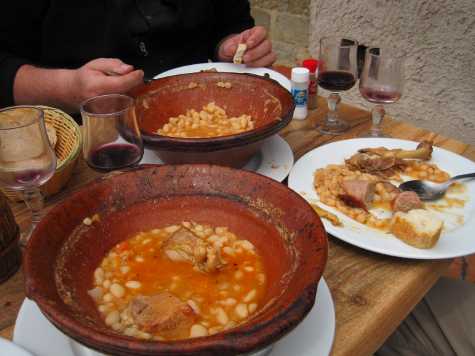 While in La Citi we also had our first, but not last, taste of cassoulet. Calling it a white bean soup is kind of like calling Chicago, a town in the Midwest. It doesn't begin to describe what it is. In the case of cassoulet it leaves out the the duck and the duck fat, the pork and the sausage, plus all the seasonings.
Just in case you're thinking, duck and duck fat, no way. The ladies opted for the type without, then tasted the one John and I were eating. The difference was so astounding they declared they would order the one with duck and duck fat next time,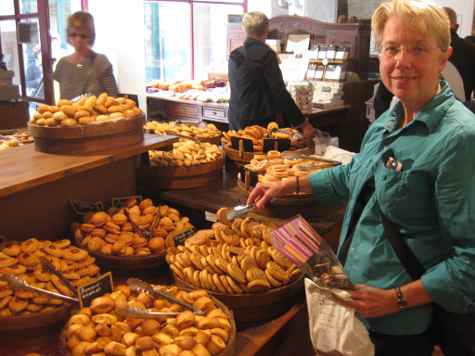 La Citi is thronged with tourists, but that didn't deter Linda and Judy when it came to finding those little speciality shops that have just what you're looking for.Forget gifts for the people back in the States. Look at the fabulous cookie store they discovered.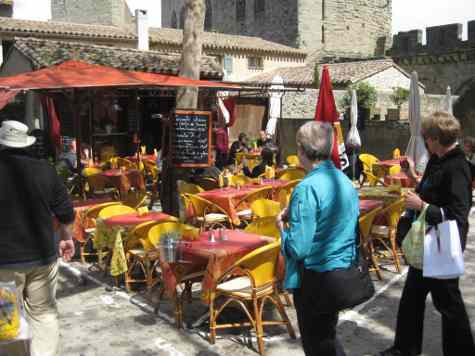 With the many restaurants vying for the tourists, they go all out to attract customers.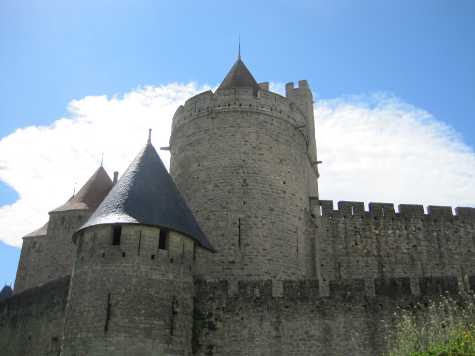 There is just so much elbowing through crowds that we could take, besides we knew what was for dinner, so it was time to say goodbye to the walls, turrets and towers of La Citi.,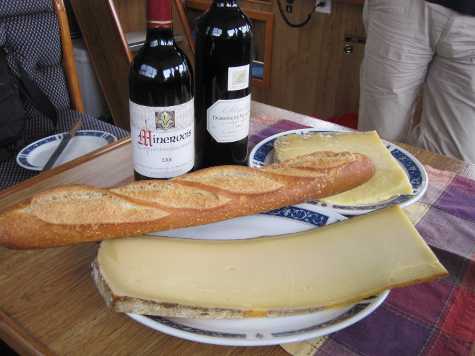 A stop on the way back to the boat to buy some artisan breads completed the meal. Couple that with our peasant cheeses and some Minervios vin du pay, and what a meal it made. You can make a great meal from bread, cheese and wine, but it better be the right kind.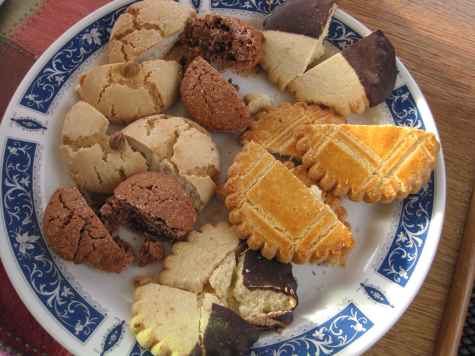 For dessert there were those cookies that made for the perfect ending to the day, capped only by this.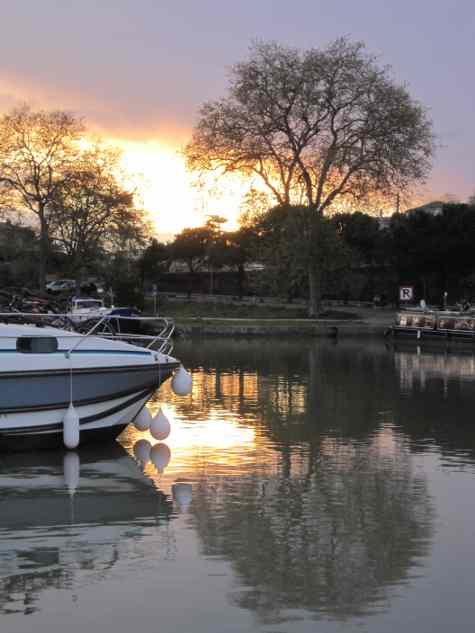 ---
April 17 Friday
Cruising the canal, a wonderful lunch on the sundeck, a bike ride through the French countryside, a walk to town and a fabulous cassoulet, what a wonderful day.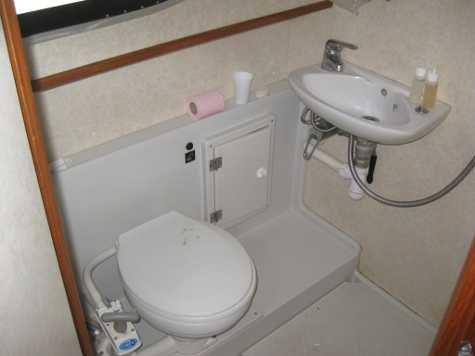 The day began just as every other morning on the boat has, with a good cussing out of the toilet, or what passes for the toilet on this boat. Using the toilet is a combination of using it for its intended purpose, vigorously trying to pump the result out using the handle. Holding the lid shut so nothing splashes out, which was a real learning experience those first few days. Then filling the bowl with the shower wand and doing it again.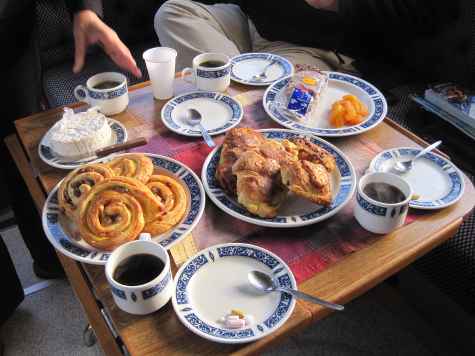 What goes out has to first go in, so here's a look at what will be the cause of tomorrow mornings dirty work.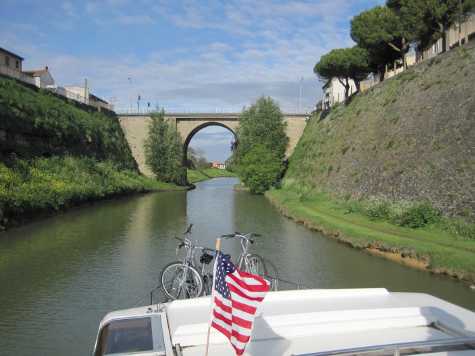 The canal just outside Carcassonne was different than we had seen anywhere else, going through a deep cut. However, the crack American crew of manning our boat made the passage with no difficulties.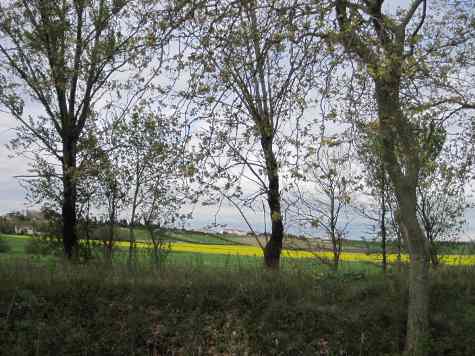 Once we were beyond the cut, the canal took on its normal look. However the land beside the canal became a riot of color, both in the fields and also with the wildflowers along the banks. It was indeed, springtime in the south of France.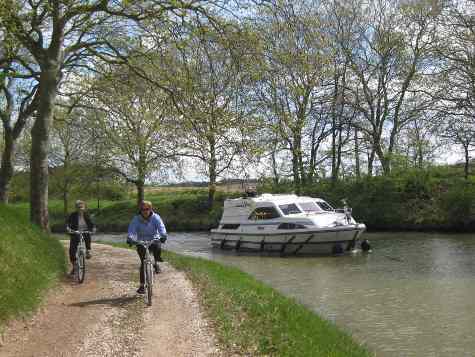 It was such a nice day, the three crewmen abandoned ship, taking off on a bike ride along the tow path.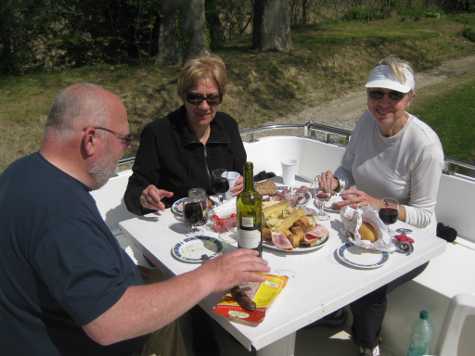 Later it was another of our wine and cheese lunches onboard the boat. This has truly been a vacation in so many ways, not the least of which has been the different foods we have encountered and consequently feasted upon.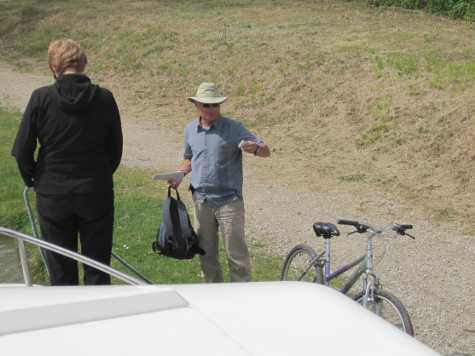 After lunch, it was time for me to set out on my adventure through the countryside, taking off on a solo bike ride with plans to rejoin my shipmates near the little village of Bram where we hoped to moor for the night. As you can see, they made sure I was fully prepared including maps and directions.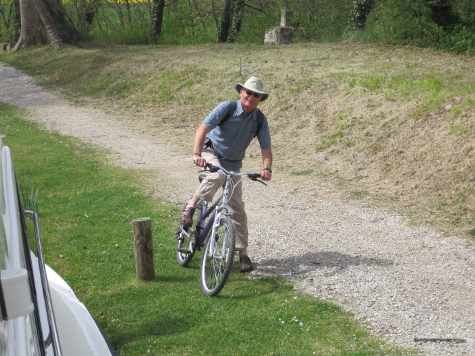 All ready to head down the bike path and into something I have wanted to do for a long time..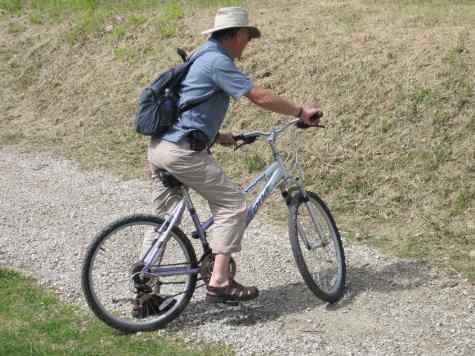 Fortunately, just as I was leaving someone pointed out I was going in the wrong direction and got me turned around. I'm sure Linda was beginning to wonder if she was ever going to see me again.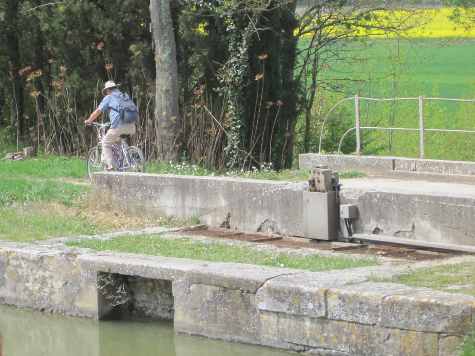 Then it was off into the fields of wine grapes which were everywhere along the canal.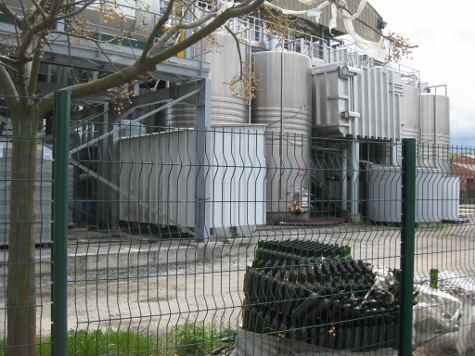 Discovering a winery, I tried to get a photo of the entire building. Riding around to the rear I discovered that while it might look like a quaint brick chateau from the front, from the rear it looked just like any California winery..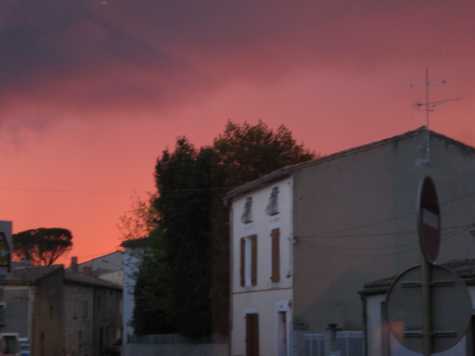 Our day ended with us walking several kilometers into the village of Bram, where we ate a fabulous cassoulet dinner with a wonderful inexpensive local wine recommended by the owner. While we were at the restaurant the skies opened up, which ended as we finished eating and which had been accompanied by a most unusual pink sky.. It had been another day of dreams, and we just knew Sara N.Dippity had a hand in it.
---
April 18 Saturday
Our last full day on the boat, cruising on water so still, it was like a mirror. Shopping at the lock keepers along the way, an apple pie,and our first and only less than superlative meal.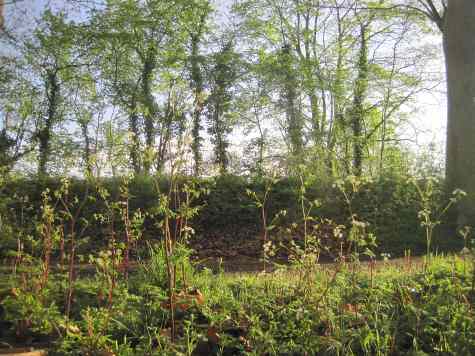 You'd figure that for a gift on our last day of cruising, the toilet in the bathroom would work today, but there was no such luck. For revenge, we wrote comments, the length of which Tolstoy would have been proud, about our difficultie and displeasure regrading those crappy things on the trip evaluation form. Those feelings didn't last long, because one look outside was all it took to change smirks to smiles.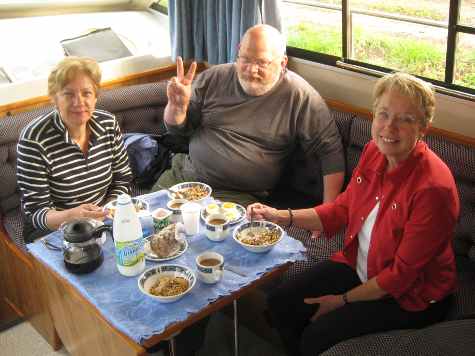 There was a celebration of sorts at breakfast, with Capt.. John giving the V for Victory sign over the fact we were not having any cheese with this meal.
Linda was also about to say goodbye to a new and dear friend, her beloved coffee. Wanting to make sure she remembered what it was, she took a picture of the bag. When you consider this coffee was made exactly the same we she makes coffee in the coach, yet this coffee was incomparably better to drink, it makes you almost want to cry. If the coffee sold in the States is made for American tastes, Americans have to have the world's worst taste in coffee.,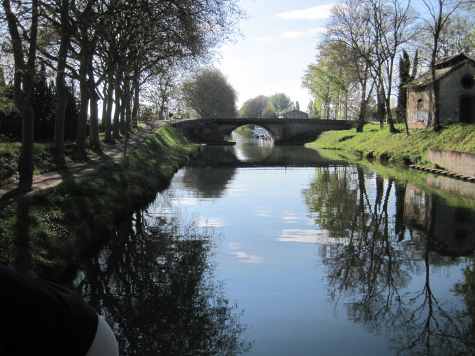 As we got ready to cast off on our last day's voyage, the scene down the canal behind us was beautiful beyond words.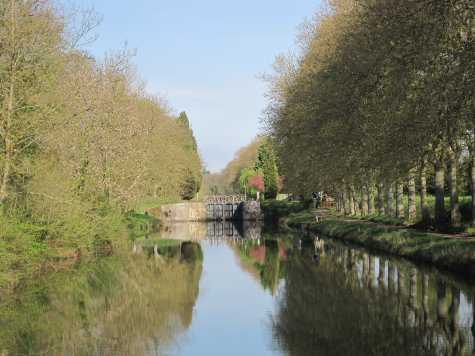 In the forward direction it was just a pretty, but in a different way.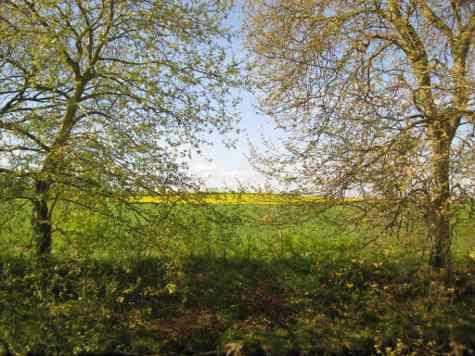 As we traveled on the canal, the scene to the side tried to compete with those from this morning..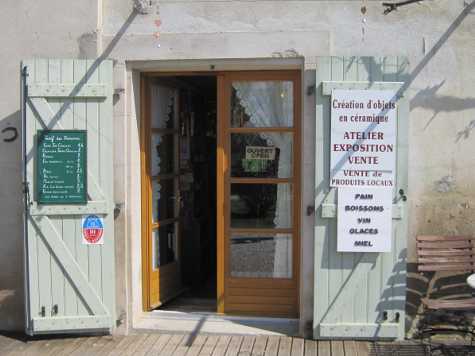 We also knew that when a lock keepers door looked like this, it wouldn't be long until the ladies had disappeared inside, soon to reappear loaded down with wondrous things.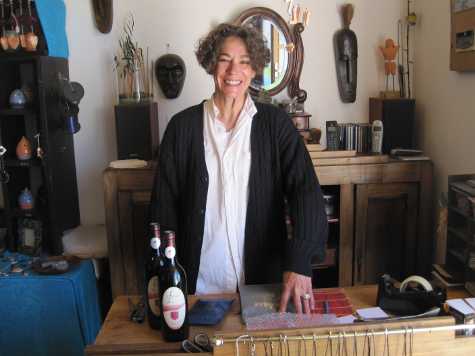 You can probably guess what they bought in this little shop.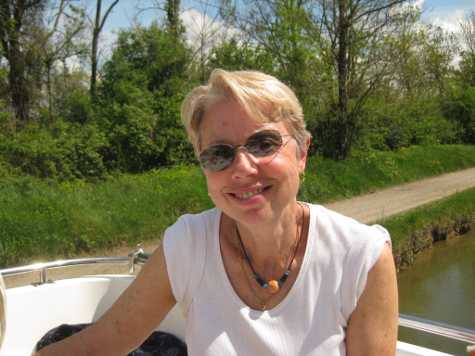 It wasn't all play and no work, because as you can see, Linda spent time happily working on her suntan. Also let me explain the reason for the big smile, and it wasn't merely because she was posing for a photo.
It seems that while going through one of the locks, while Linda was doing a great job of holding the rope,and therefore the boat, to prevent it from being dashed to pieces on the walls on the lock, she was being watched. The two French men watching her were making pantomine about her holding the ropes ans talking to her. Finally one of them made a muscle with his arm, pointed to Linda's arm and said, "Buff." Did that ever make her day.
Then it was time for the end to come into sight, with the last set of locks looming ahead. This was a quadruple lock with four locks in a row immeditely after each other, and did they ever look pretty, like something out of a picture book.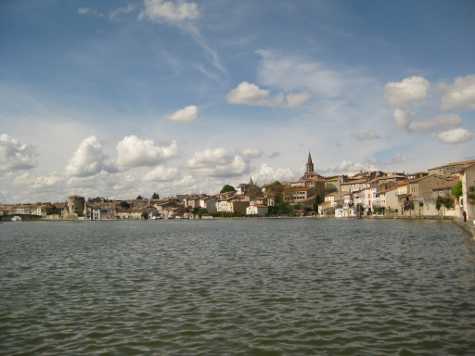 Once we were through all four locks, our final port of call came into view, Castelnaudray, where we would be leaving the boat tomorrow morning. John backed the boat into slip just like a professional, the ladies tied the boat to the mooring rings and John and I began hooking up he electric just as we had a number of times before.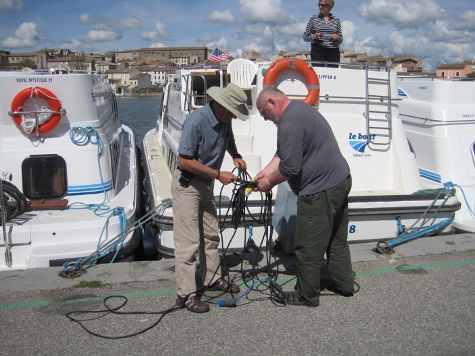 You'd think by now we'd be old hands at this hooking up business, not only because of our boating experience, but also because of our RV experience. Unfortunately that wasn't going to be the case today.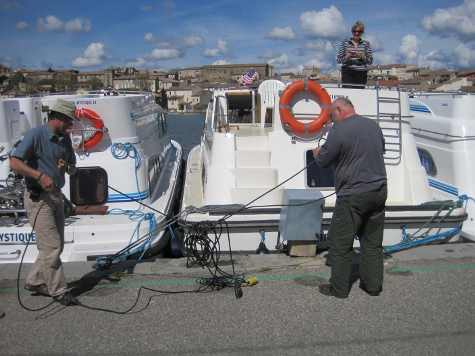 As you can see, the "Just pull on the ends of the electric cord and it will straighten right out" technique most definitely did not work.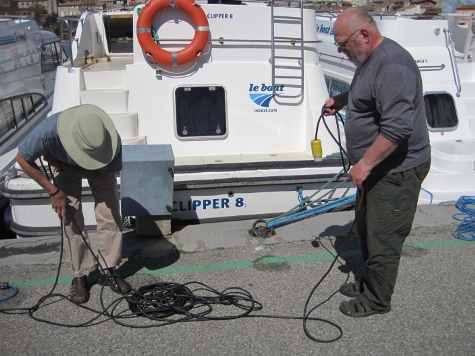 We eventually got it untangled and probably had many of the people watching us wondering just how we ever managed to get through any locks, if we had this much trouble with the electric cable.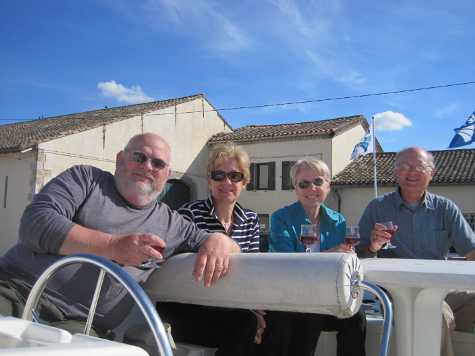 Later, after taking a walk around town, we posed for our offical Trip Photo, hoisting a glass of wine and cassis in tribute to perilous passages and fun filled times. We had done it.
Dinner was a less than memorable meal, with niether the food nor the service up to th level we had experienced in the small towns along the way. It was only when we were leaving the restaurant that we noticed it was one of four restaurants withe the same name in the towns in the region. A chain resturant, no wonder it was so unimpressive. There was no way it put any kind of damper on the joy of our trip, and besides,we still had an apple pie we had bought from a lock keeper along the way to eat for dessert. It was with smiles on our faces and also in our hearts that the four of our enjoyed our last candlelight dessert
---
April 19 Sunday
Packing our things, turning in the boat, saying goodbye, a train ride to Arles, a rainy afternoon, and pizza for dinner.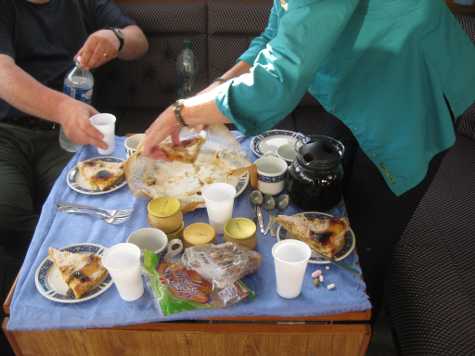 We had realized several days ago we not going to be able to finish all the cheese we had bought, so John and Judy were kind enough to donate their portion of what was left to us. With the Munster being one of the ones left, we won't have to worry about any body odor for a while since BO can't hold a candle to the smell of a good ripe Munster.
That meant the leftovers for our last meal were dried figs and apricots, coffee and the last of our apple pie.
We had just a small amount of leftover wine, so in a final act, we poured it into the Canal du Midi, in a way uniting the joy of the journey with the water that had that joyful journey possible.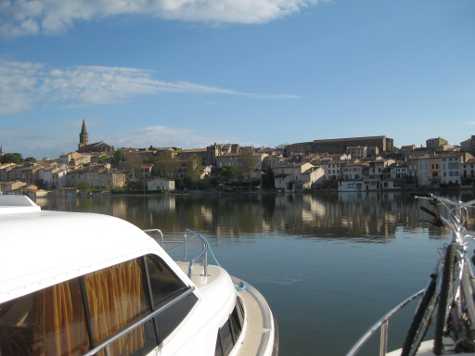 A quick cleaning of the boat, sweeping and wiping the inside, and it was time to checkout. The base was closed today, which was Sunday, but we had been told that we could still checkout, so after a wait that seemed longer than it was, we signed off, having just a small amount of extra fuel charges to pay, and walked to the train station.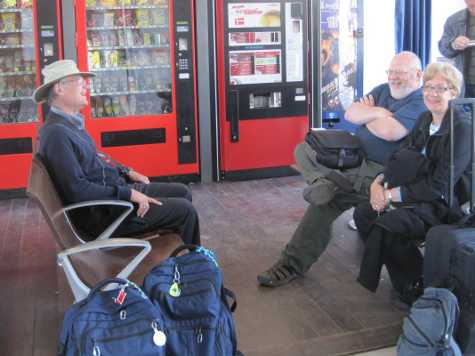 John and Judy were heading north to Toulouse, while we were heading southeast to Arles. When their train came we went out on the platform to say goodbye, something that was hard to do..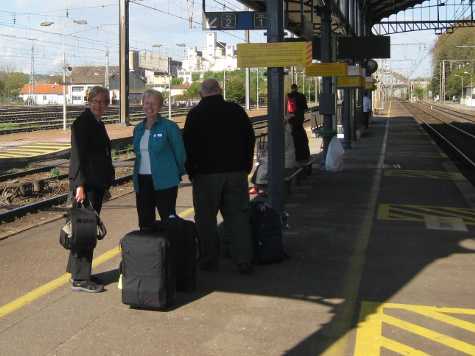 While John watched for the train, the ladies posed for a photo.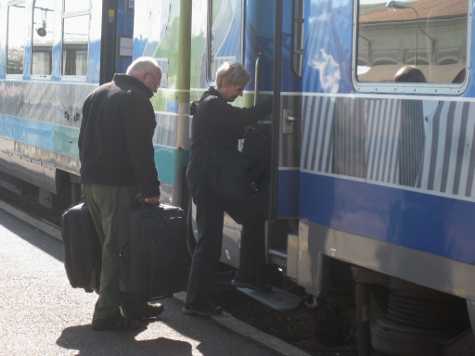 Then the train was here, John and Judy climbed aboard, and in a minute we were all alone and wondering what was next. A problem which was soon solved when our train pulled into the station and we boarded, getting on the right car even, though we took some seats not assigned to us.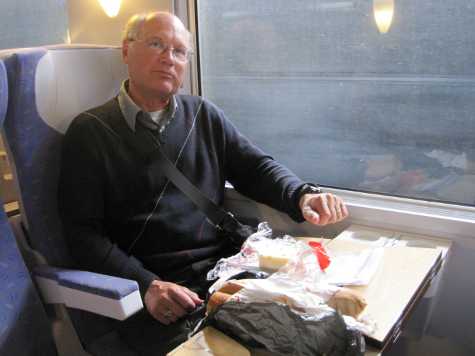 We also did our usual and ate lunch aboard the train, a high speed TGV, while dried salami.cheese, bread and water made for a lunch that tasted far better than it appears from the expression on the sourpuss in this photo.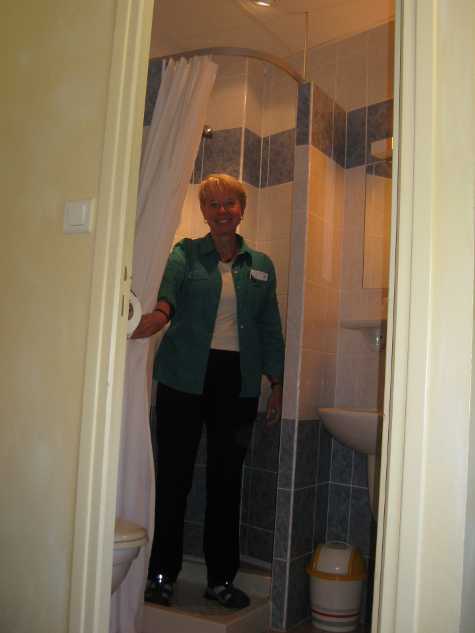 After a mere six minute walk from the Gare du Arles, or the Arles railroad station, we were at our hotel. The room was cute, but not large, though compared to the boat it was huge. It did have the smallest shower we have ever seen in a hotel. So small it was even smaller than the the one we had in our 24 foot Class C RV a few years ago. You know the kind where you bend over in the shower and your butt hangs out of not only the shower, but the bathroom itself.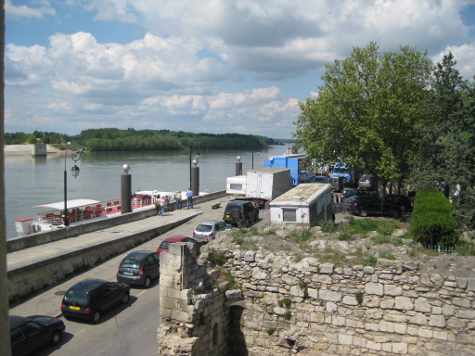 The view out our window was a different story. The wall in the foreground dated from shortly after the Romans left, while the bridge pier that is visible in the center left side is all that remains from the bridge destroyed by American bombers during WW II.
When the rains began to falling earnest shortly after our arrival we tried to catch up on our rest, for Linda,and our writing for me. There was one time when lightening was flashing and thunder was booming and crashing that we both had the same thought. Was this what it was like when the American bombers were making their runs on the bridge back in 1944. History is everywhere, and with just a little imagination we can make it come alive. The rain stopped just before 8 PM, so we had a nice walk to small restaurant where we dined on salad and pizza, before returning and calling it a day. It had been a day of immense change, that will not end until we travel to Italy in a few days.
---
April 20 Monday
Back to Roman times, and remembrance of other times, a walk in the footsteps of Van Gogh, updating the website, and ending with some excellent French cuisine.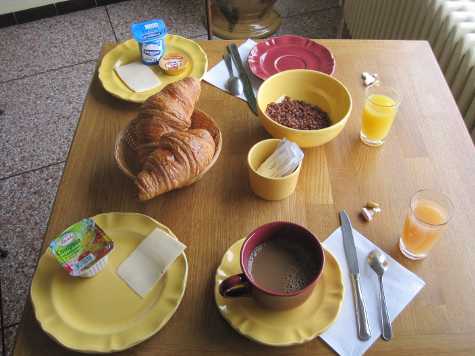 We had decided to eat the optional Euro 6 breakfast at the hotel rather than eat out. So what exactly do you get for your Euro 6 each. Cereal, yogurt, croissants, fruit and nut spreads, cheese, juice and coffee. It more than filled us up and besides, it was much cheaper than the same thing would have cost in a cafe. Though in a cafe we would have probably opted for just a croissant and coffee.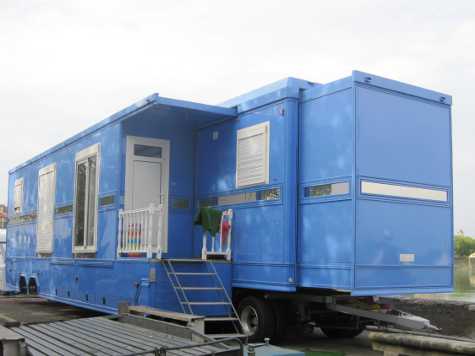 Leaving the hotel we passed a traveling carnival which was set up in the park along the river. We couldn't help but marvel at the slideouts on this trailer, including the one on the end.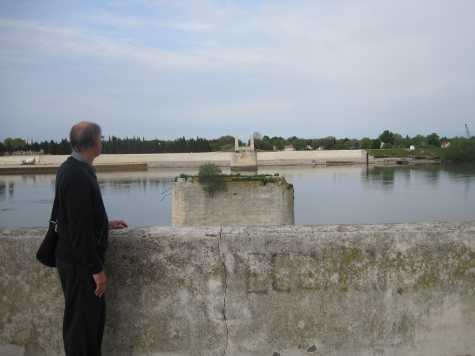 Soon we were at our destination, the bridge across the Rhone River at Arles, France that was at the site where Vincent Van Gogh had painted Starry night over the Rhone in September 1888. History, whether the great French Impressionist painters of the 19th century or the terrible destruction of the 20th century wars, it was all here, all you need do is open your eyes and look through the mists of time drawn in front of you.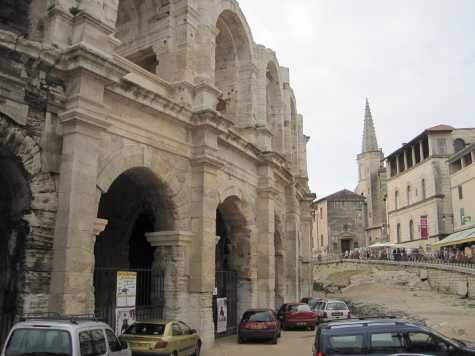 The Roman Amphitheater dates from around 80 A.D., and seated over 20,000.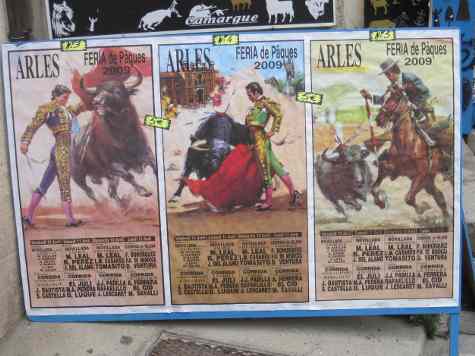 It is still used to today for the famous bloodless Arles bullfights. We just missed this years, as they had been held a few days before we arrived.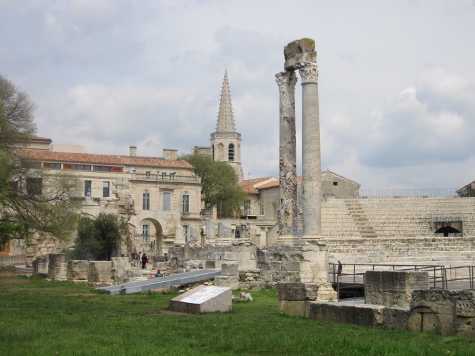 There is also the Roman theater, constructed around 20 B.C., and which besides seating thousands with near perfect acoustics, also had a curtain that dropped into a slot in front of the stage. I can only wonder just how advanced society would be today day if the the decay and persecutions attendant with the rise of the Catholic Church not happened, and the knowledge and works of the Romans remained.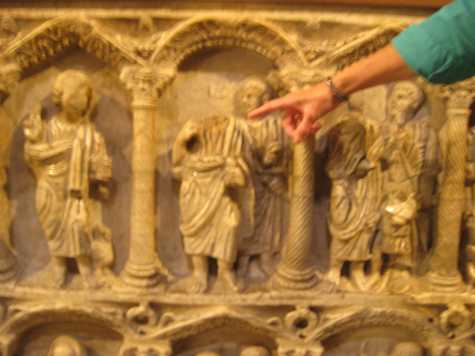 What the concept of the church and state being one resulted in can be seen in many of the churches in Europe where any carving that had overt Catholic meaning was often defaced, and quite literally, as can be seen in this photo. Maybe that is even where the term deface comes from.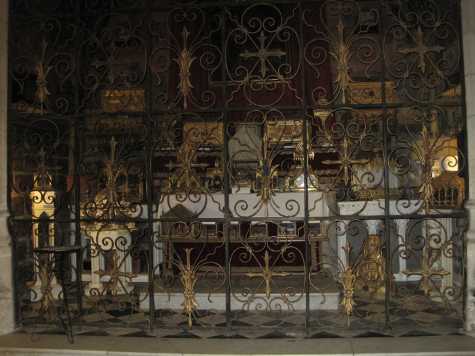 This same church had the largest collection of relics we have ever seen.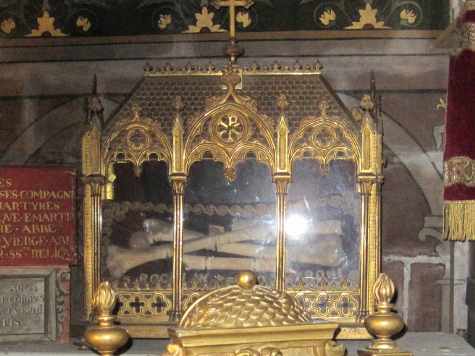 I will admit to not understanding the importance of displaying all these bones, and as long as they don't tell me I have to believe whatever it is they believe, I'm glad to let them do it their way.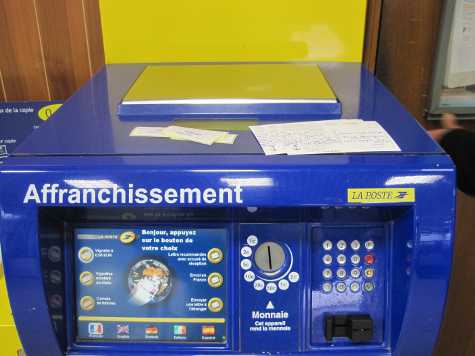 A French stamp dispensing machine. You know as much about operating it as we do, which is why a postal employee finally took pity on us and pushed the buttons while all we did was feed it money. Post card rate to US .85 euros.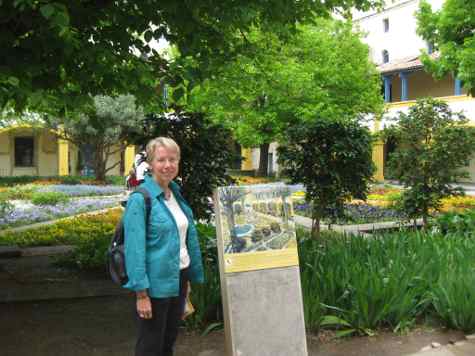 One other thing we had fun doing in Arles was going around to different spots where Van Gogh had painted pictures during his stay in Arles. In April of 1889, while hospitalized in a mental institution he painted a scene looking out from his room. The plaque shows the original painting, which didn't have the pretty model this photo has.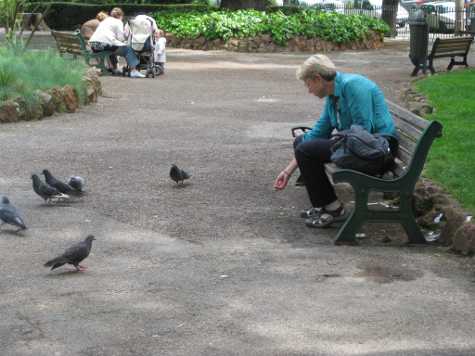 Towards the end of the day, while walking through a park, I happened upon a scene that is the same the world around, a little old lady feeding the pigeons. Happiness is within each of us, we just have to realize it, and be willing to accept it for what it is at the moment, something Linda is very good at, which makes we a very lucky man. May joy and happiness also fill your day.
---
---