Journal Archive 4/21 - 4/30 2009
Scroll down to read the latest post
April 21 Tuesday
A day to travel by train, plane and boat. A hotel room with no bath, but a room that overlooks a canal where singing gondoliers pass by. A walk through the streets of Venice that brought back pleasant memories and a meal to forget.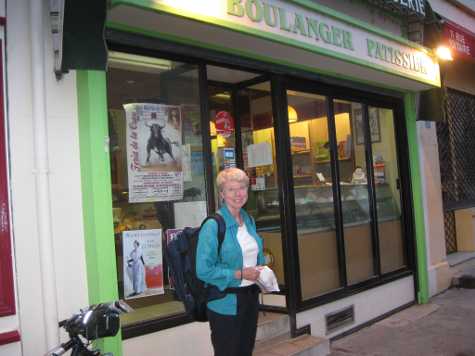 The day started early, the alarm going off at 6 AM, and we were out of the hotel before they opened this morning, having paid our bill last evening. Linda had spied a pastry shop just down the street during our travels yesterday, and that was where she led us. The huge smile on her face at this early hour is because of the chocolate and almond pastries she bought, a kind we had never had before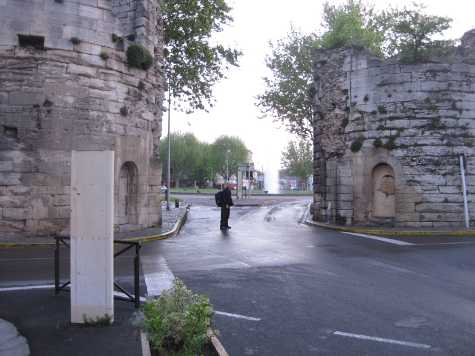 On our way to the train station we passed through the ancient city gates which had long served as the main entrance into the city, and stood only few meters from our hotel.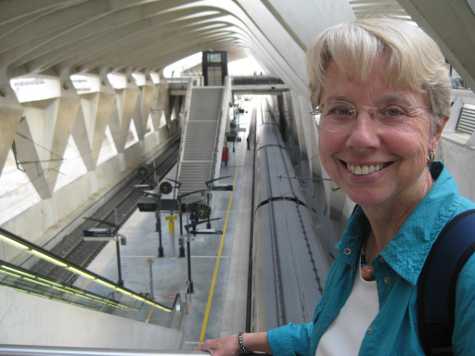 Once on the train it became a study in contrasts, boarding the high speed TGV train for the trip to Lyon, then exiting the train at the Lyon Airport, where we were plunged into a world of ultramodern design.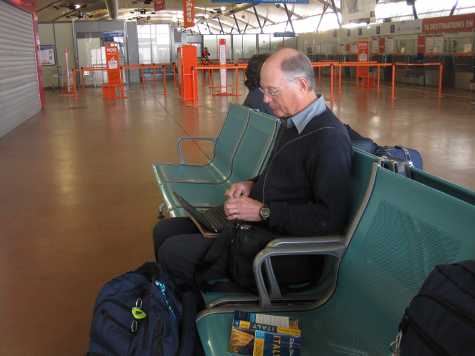 We are not into rushed connections where you barely make your plane, that was for another time in my life, and so had some three hours before our Easy Jet flight to Venice was scheduled to take off. That allowed me to work on not falling further behind on the Daily Journals.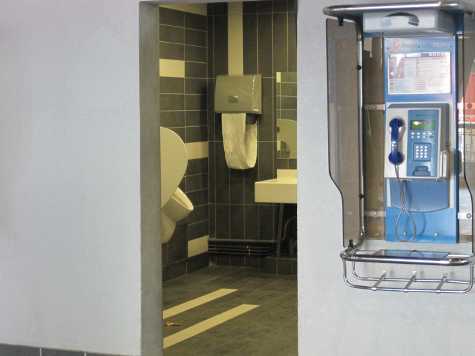 Meanwhile Linda was doing her own thing, which was to checkout the view of the men's restroom. A view that revealed more than what the restrooms in the States would. Yes, that is a urinal you see sticking out there.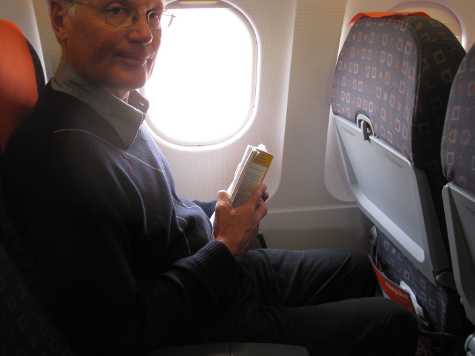 When they announced our flight, we put our experience from having already flown on Easy Jet to good use. We also boarded from the rear of the plane, easily getting a window seat for me and the aisle seat for Linda. Luckily the plane was not full and the center seat remained empty. Again the seats did not recline and the legroom was next to non-existent, but for the price, it's what you get.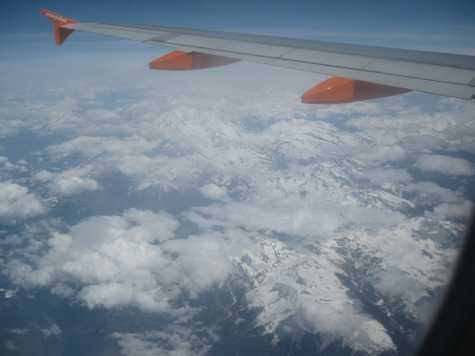 Our route took us over the French and Italian Alps.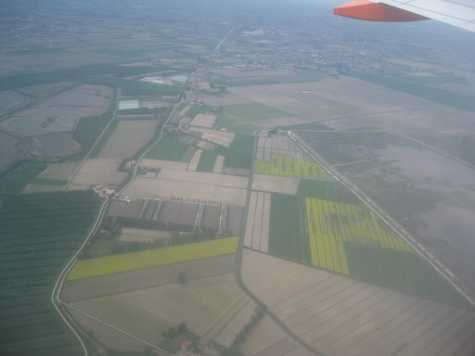 We also had a different view of those bright yellow fields we had seen along the Canal du Midi. This time it was as the plane was descending to land in Venice.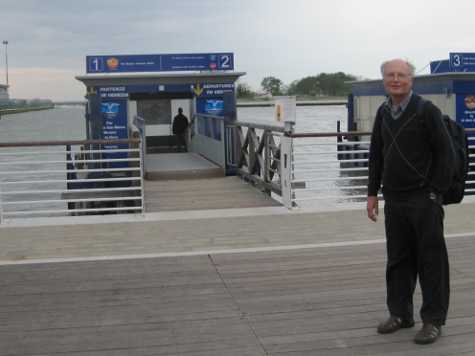 We were taking the Alilaguna over to Venice Island, and the way to the stop was well marked and was a less than ten minute walk from the airport terminal. It also showed the wisdom of the Rick Steves travel light philosophy as we watched many of the people really struggling with their multiple and overloaded bags.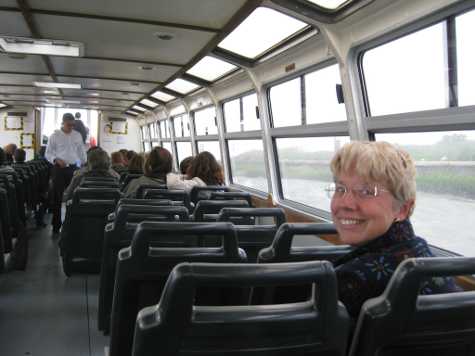 The Alilaguna is one of the different types of water bus that serves as public transportation for Venice.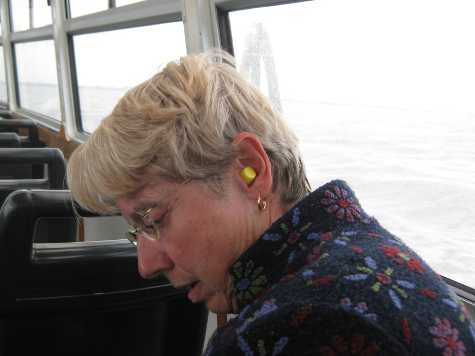 It was also the noisiest form of public transportation we had ever been on. Linda complained for a while, then dug into her bag and came up with the solution.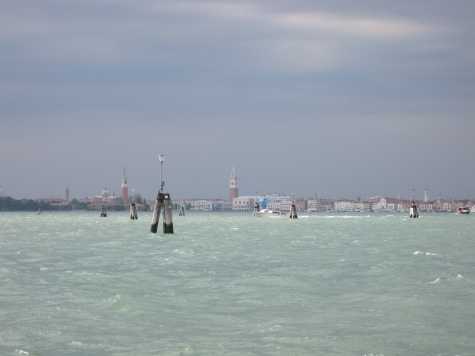 When the island and the first view of the tower at St Marks Square, the tower is the one to the left of the piling, came into view, the scene was almost surreal.
It was a short walk from where we landed at St Marks to our hotel, which was directly behind the Doge's Palace. It also had something that most American travelers do not like. And no it is not the bidet, it is the toilet down the hall, shared with the other four rooms on the floor. Hey,what do you expect for less than Euro 100 per night, breakfast included, one minute from St Marks Square. It works for us, and besides it's actually fun in its own way because this is how all the rooms used to be at one time. I look at it from the adventure side, Linda looks at it from the financial side, with her per night room limit set at Euro 100, but she always tries to find something in the Euro 50 to 60 range, which she usually does. And with the bathroom in the room to boot.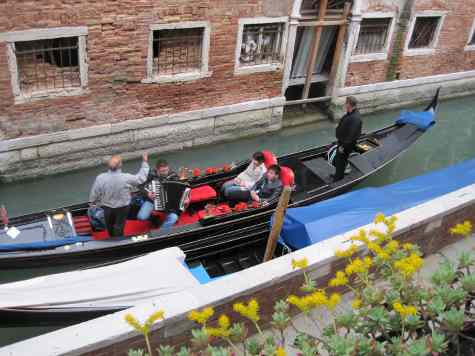 Then as we were putting our things away we heard singing, and opening our window, looked down on the canal below us, to see this singing gondola pass by.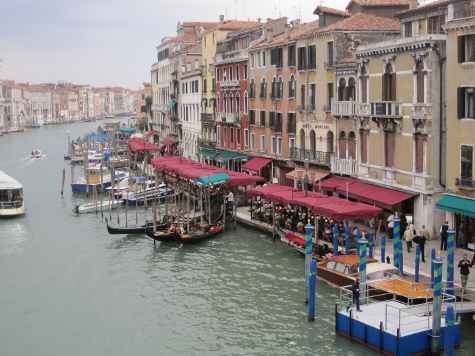 During our walk around the island, we had to make the obligatory stop on the Rialto Bridge and take a picture, but in a way it also sums up what Venice is all about. A place where the only way to get around is either by water or by foot and Main Street is the Grand Canal.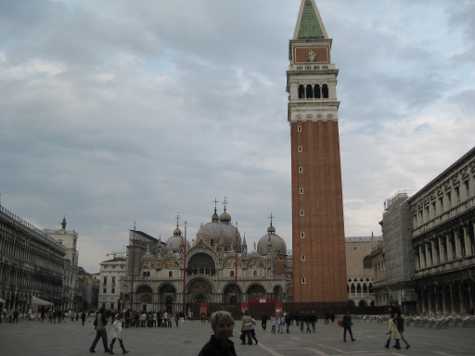 The other must see place is St Marks Square, where we had been asked by John and Judy, our recent shipmates, to lookup Harry's Bar and drink a Bellini.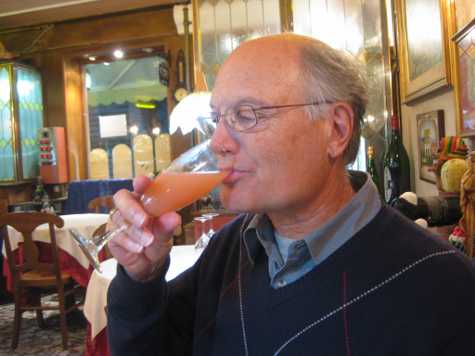 Search as we might, we couldn't find Harry's, but we had no trouble finding a Bellini. After sharing our drink, we had one of the worst meals we've had in ages, but it in no way dampened our enjoyment of the only city we wanted to return to this year that we had been to last year. Life is so wonderful, and the memories of travel are priceless, needless to say we have a number of them from today.
---
April 22 Wednesday
A day made especially for Linda, a trip to Murano Island, watching glass being made, buying glass and a lighthouse. Two great meals and enjoying a spritz. St Marks in the evening and Linda's first gelato cone.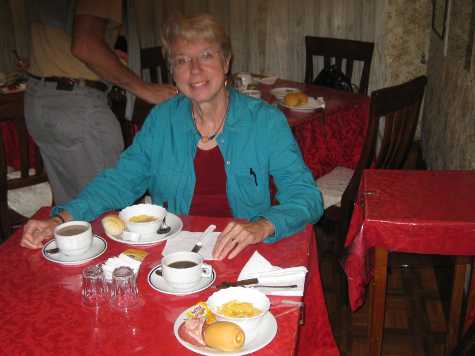 Breakfast was served between 8 and 10 and we walked down to the breakfast room shortly after they opened. The food was cereal,salami, mortadella, hard rolls, spreads, coffee or tea. Which, though not what we might think of as a normal breakfast, was in fact quite good.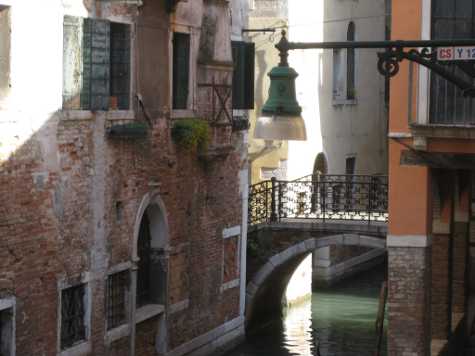 Breakfast over we returned to the room,only to look out the window and see the most amazing display of sunlight on the bridge just up the canal from our room.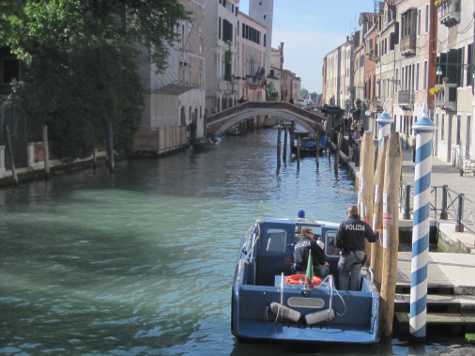 Police stations and police patrols are different in this city.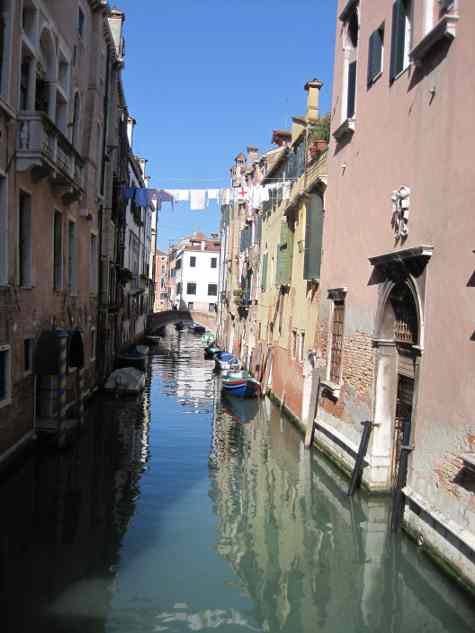 Linda is fascinated by all the different ways people find to dry their laundry, particularly when it has been hung out over one of the canals.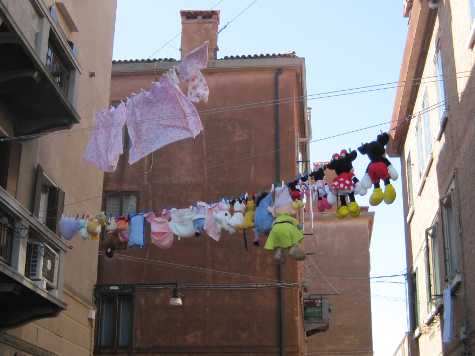 Sometimes you even have to look twice to make sure what you saw was what you thought you saw.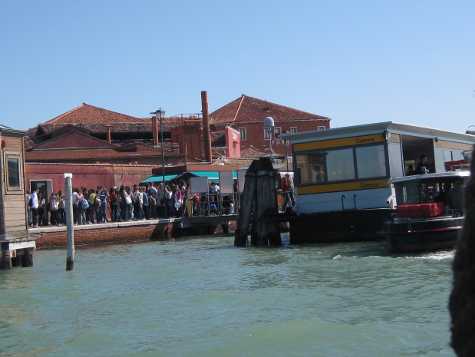 Then it was time to catch the No. 41 Vaporetto, the water bus, over to Murano Island were the worlds finest glass comes from. It was also were Linda planned to acquire her rightful share of that glass. As the Vaporetto approached Murano something told us we weren't the only people who were visiting the island today.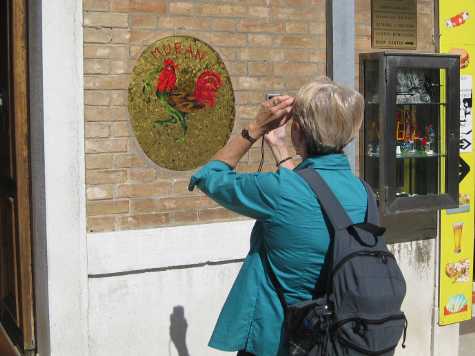 We hadn't been there but a minute or two before Linda was off in a world of her own, discovering they have chickens on the island.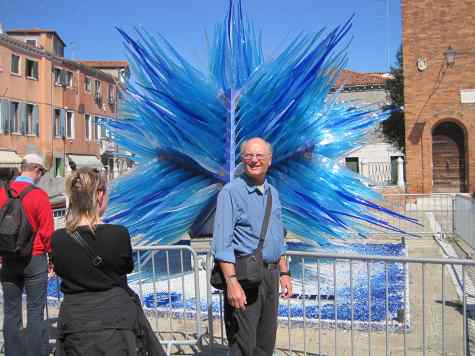 Then there were the displays of public sculpture, the medium being glass of course. From the look on this fellows face I'd say he's totally confused as to the meaning of the sculpture behind him.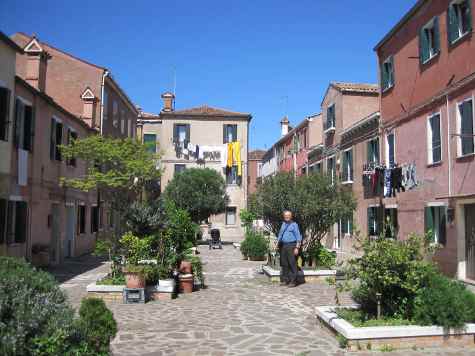 Murano is known for its glass factories and showrooms, plus all the shops catering to the throngs of tourists who visit the island. But walk back one of the side streets, make a couple of turns and suddenly you are in a totally different world, the world the people who live on the island know. This is what we love to do, and it is why our impression of Europe may be entirely different from those who make a rushed trip, looking at a few of the important sights, but in reality, seeing nothing.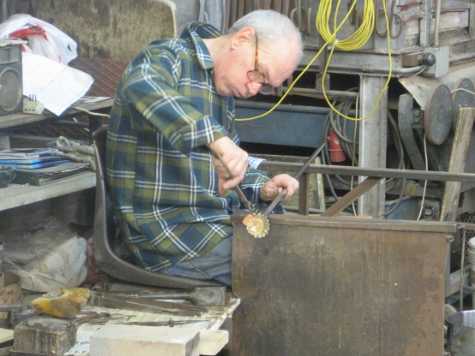 We also visited a glass factory, where Linda only saw the sign saying don't take any photos after she had taken several. She made sure not to take any more.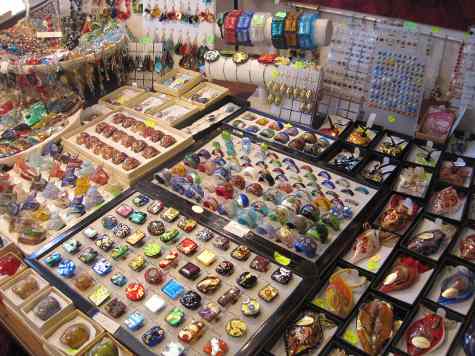 That there were glass trinkets to buy in abundance was something Linda relished. I was just glad her tastes didn't run to the really expensive artistic pieces costing four to six figures that a number of shops had on display. As it is, if she was to wear all the glass she bought for herself at the same time, she would have a hard time walking, she'd be so loaded down with the stuff. Bet you can guess whose backpack all that glass is going into, and if you guess hers you're wrong.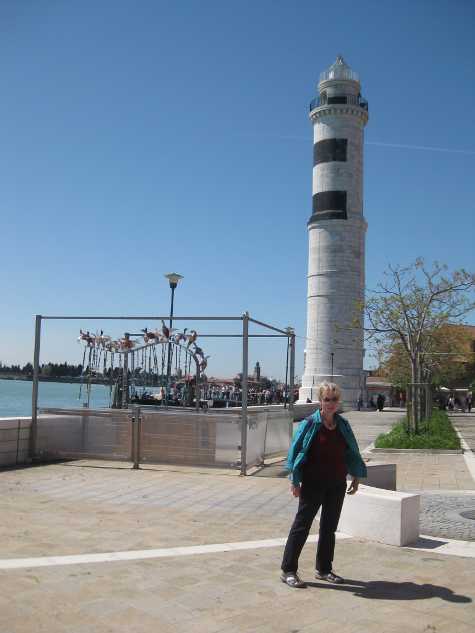 We also got to touch our first European lighthouse. This one was made from marble and was still in use.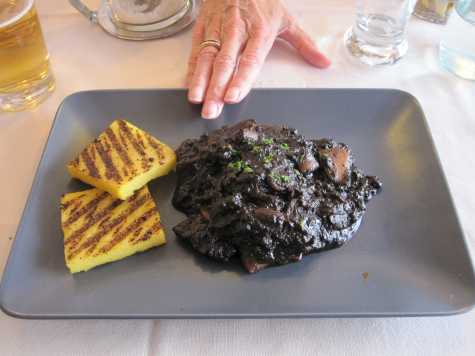 For lunch I had something I'd definitely never had before, and definitely will never have again. Cuttlefish in squid ink. It was blacker than the inside of a coal mine at midnight, and had a taste that would best be described as needing to be acquired to be appreciated. Sometimes you just have to try something different and this was one of those times.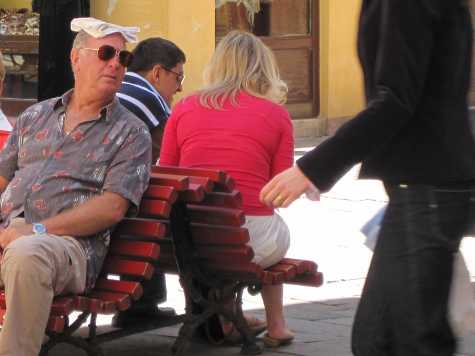 It was really hot day, and while many people seemed to be complaining about the heat, here's one fellow who had an inventive way of coping with it.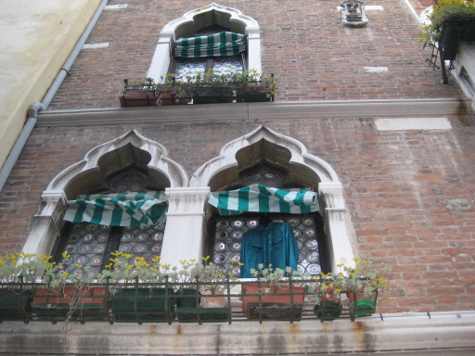 If you can guess which window is ours, you can probably guess the innovative way Linda came up with drying her shirt..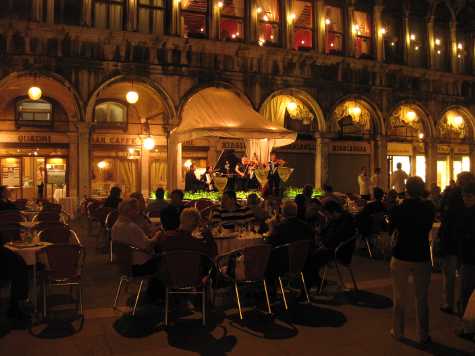 We ended our evening with another walk to St Marks Square, were there virtually no people, but the music was still being played for the few paying guests, As for us, it had been a very good day indeed.
---
April 23 Thursday
Sleeping late, enjoying the foods of the city market, baby the rain must fall, a stop at a pharmacia, Basilica Santa Maria Gloriosa Dei Frari, umbrellas, spritz and a canalside meal make for an interesting day.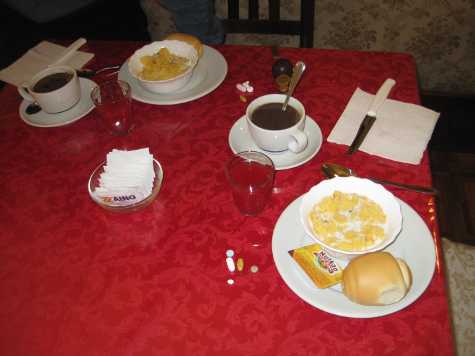 Linda wasn't feeling 100 percent this morning, so she slept a little later than usual, purring like a grizzly cub, which allowed me to almost get caught up on the Daily Journal. We did manage to make it down in time for breakfast, though the meats were all gone which saddened me since I couldn't eat any, and gladdened Linda since she wouldn't have to look at mine.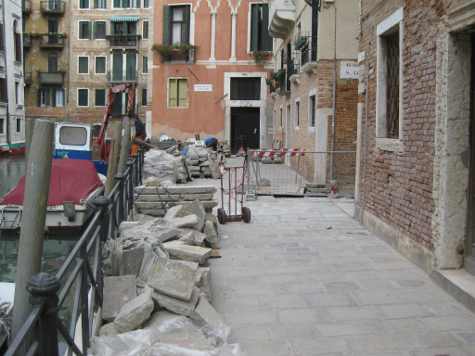 As we walked along the streets of Venice this morning we came upon several areas where repairs were taking place. That meant the stones were being taken out, the sand base was being renewed and the stones replaced. To say streets here is not like saying streets in the States. The streets of Venice are usually quite narrow, and on some two people can not walk side by side.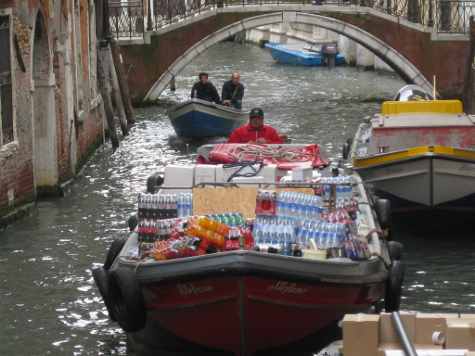 Of course the real streets of Venice are the canals, where you find boats doing everything that motorized vehicles do in the states, take this delivery boat for example. It also helps explain why prices are so high in Venice, everything has to be brought to the island by boat and delivered to the stores by hand cart.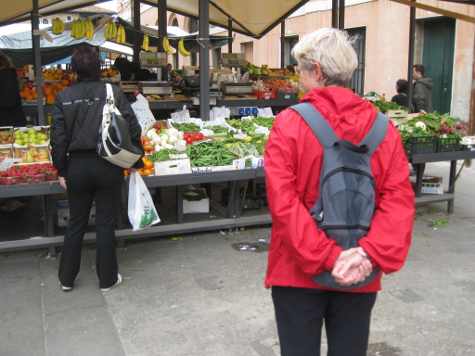 Our first stop was at the Venice market, not to buy, but to look. You will note the placement of Linda's hands in the photo. Last year she learned that you most definitely do not touch the fruit in the market, so she was going to be on her best behavior this time.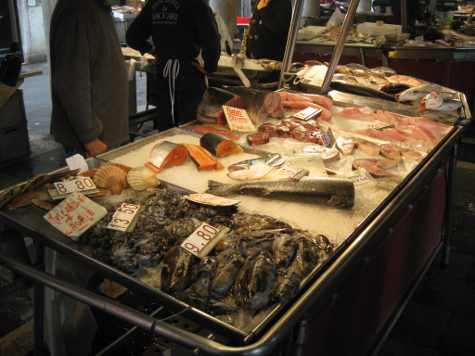 At the meat market Linda shed a tear for the poor chickens hung up for sale with their feathered heads and tails proudly displayed. Next came the fish market with everything from the sea available, including these inky squid that someone other than us will eat.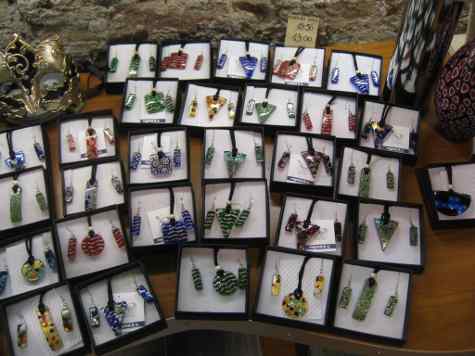 Linda always has her eye out for another Murano glass pendant, or set of earrings, so when she stopped in front of a small store on a very narrow side street, I could sense a major buying session coming up. A half hour later we departed with a very happy Linda carrying some of the very latest pendant designs. To her question as to why she keeps buying them, I know the answer. It's because she absolutely loves them and wears them so often, plus it's also simply, because she can. Besides that, it's only the second time in her life she's been here, and it will be a while until we are back again.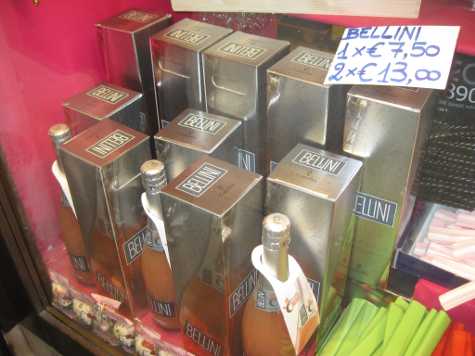 We also learned more about Bellini, the drink, not the famous Venetian painter, though we were on our way to look at one of Bellini the painter's more famous works. It seems that Bellini the drink is a Venetian speciality, made from prosecco and white peach juice. As you can see, it is available bottled, in many shops.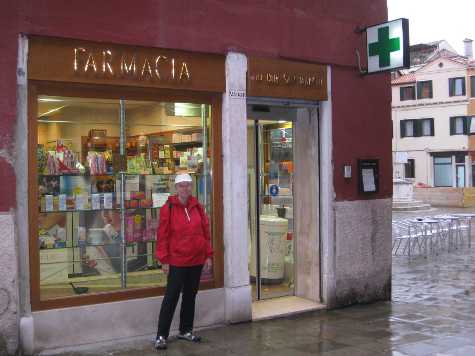 We also made a stop at a Pharmacia to buy some vitamin C. We go in, explain to the person what we have and/or what we want, they get it for us, we pay for it and leave. This is done in a manner that varies from all English to complete pantomime, though it is usually a mixture of the two. We have never felt uncomfortable buying medications of any type while over here, and this time was no exception, the adult vitamin C tablets being kept behind the counter, and we getting the chewable/dissolved kind as opposed to the kind you only dissolve in water.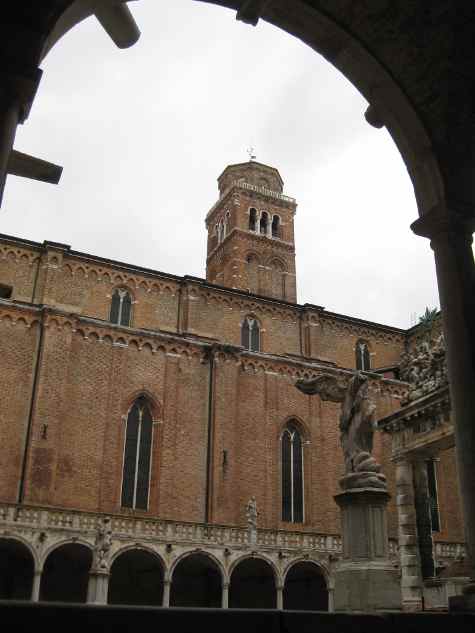 With the rain now falling in earnest, we set off for the Frari Church, and by nothing more than than a sense of unerring accuracy on my part coupled with 99 percent dumb luck, walked right to it, first visiting the courtyard area.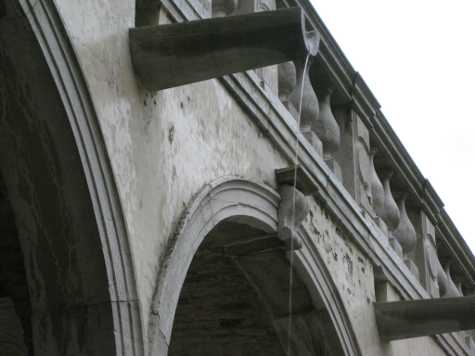 It was also one of the first times we had seen the water spouts that collect rainwater off the roof actually work as they directed the water away from the foundation onto the stones in the center of the courtyard..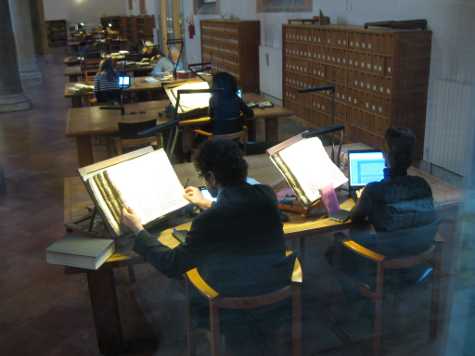 Many of the old church buildings are used to house the Venice State Achieves, and we could look through a large glass window and see the researchers working with some of the old manuscripts.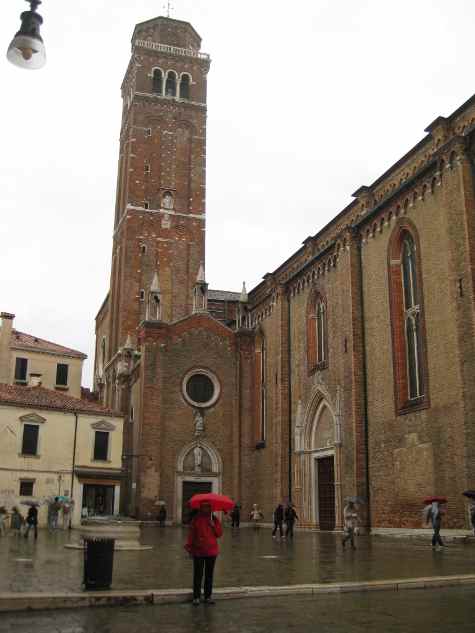 Photo's were prohibited inside the church, and while we didn't take any, we observed the typical behaviour of Americans busily snapping away, all the time talking loudly. And then we wonder why other countries don't like us. Maybe our obsession with individual rights isn't so great after all. We did see some awesome works by Donatello, Bellini, and Titan, including his magnificent tomb. Linda is not big on the arts, but she had to agree the works in this church were wonderful. The fact that we used the audioguide also made for a much better visit, and we try to use them whenever they are available.
With the rain, Venice had become a vast and colorful sea of umbrellas, and it wasn't long, before I was in a shop buying one to join everyone in learning the quick flip as you pass on the narrow streets to keep the umbrellas from hitting.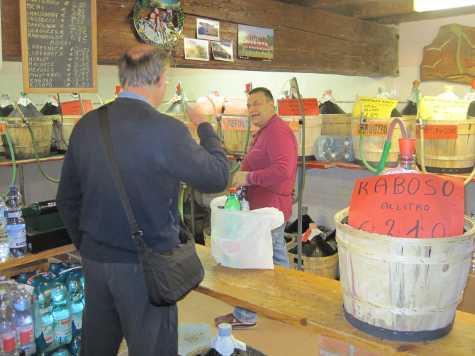 In the early evening we went over to one of the wine shops and bought 1 1/2 liters of both white and red, a Malbec, to take along over to Padua tomorrow. We had to laugh as the the two plastic bottles cost us as much as the 3 liters of wine, but hopefully we will get the chance to reuse them in Tuscany.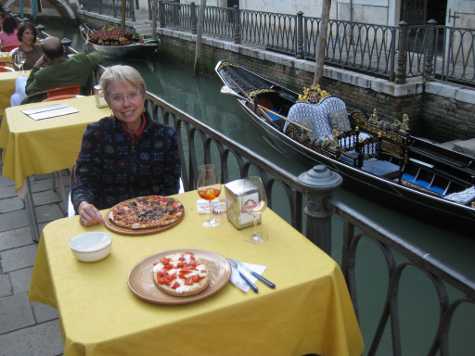 We ate dinner right around the corner from Rick Steves top rated location for a canalside dinner in Venice. While the food here may have been simpler, and the cost about a fourth of the other place, the experience to us was the same. Spritz, bruschette and pizza, simple food done right. It might be bar food, but you couldn't tell it from the fancy places by its taste. Now if we can only figure out how to make bruschette this way when we return home.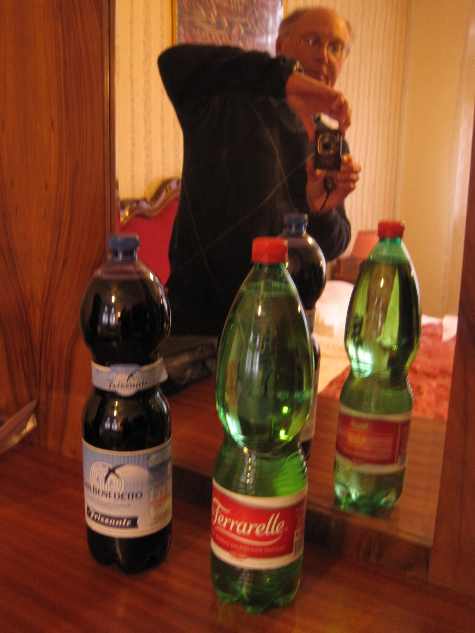 Back at our room, we decided to take a photo of our wine, with Linda's photo being picked the best by the writer of this Daily Journal due to the handsome looking young man she managed to capture in her photo. And it was another great day in Italy, a day where rain only managed to make the adventure more interesting. Isn't that the better way to look at things, not as obstacles, but as opportunities.
---
April 24 Friday
Saying goodbye to Venice, riding the a waterbus, train and tram, a University town, too many Saints, fighting a cold, women everywhere, and Friday night at a Pizzeria.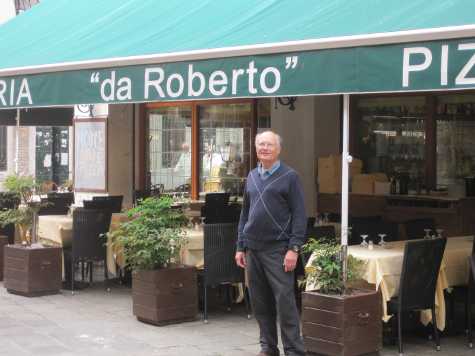 Venice is such a wonderful city it is no wonder we have returned. Take for example what we discovered during our morning walk just down the street from our hotel. It was a sign with my name in Italian on it and underneath they had erected a likeness of me, now that is my kind of city,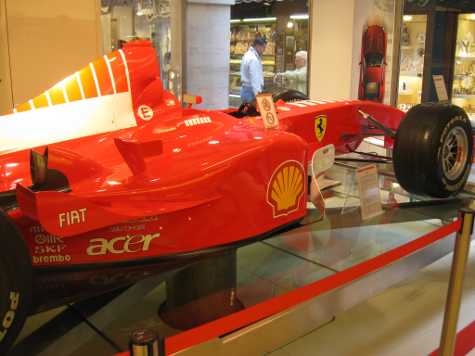 We also found a shop where they they sell all things Ferrari, but not the Formula One Racer that's on display.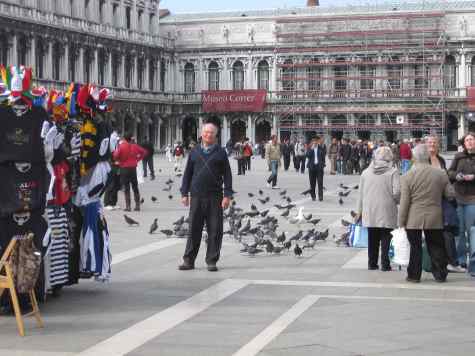 St Marks square was busy with vendors, people and the ever eager pigeons.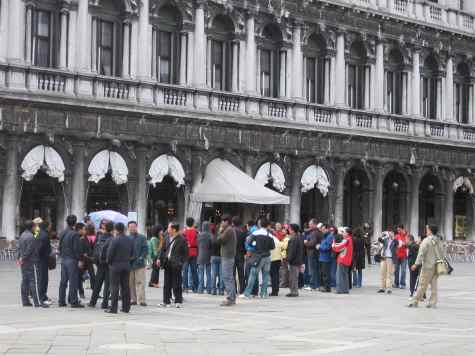 The most common sight seems to be the multitudes of Chinese visitors. We estimated that 90 percent of the people riding the gondolas by our window were Chinese. Times get tough and the Americans stay home while the Chinese come in droves, wonder what that does to the Italian's perception of America and China. We find that since we started traveling to other countries, we have begun seeing the world differently.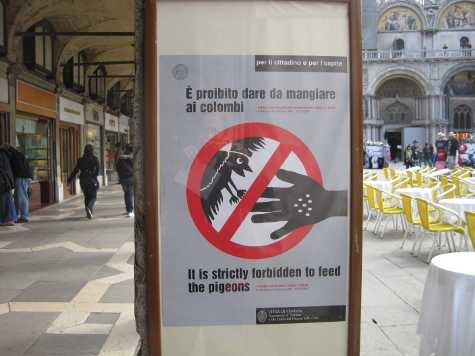 The pigeons have been a real problem for years in St Marks, so they have banned feeding them, to the point of having these signs and even pigeon police to enforce the rule. Last year we saw the pigeon police in action, but not this year.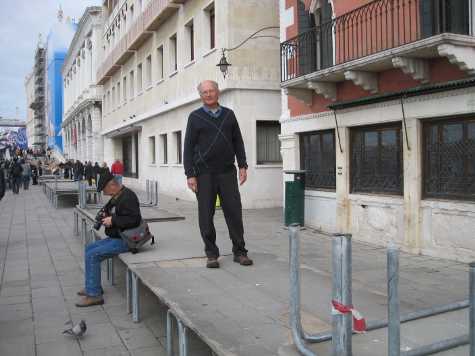 Venice floods to differing degrees about 100 days per year. When it does they use these portable sidewalks to keep people out of the water.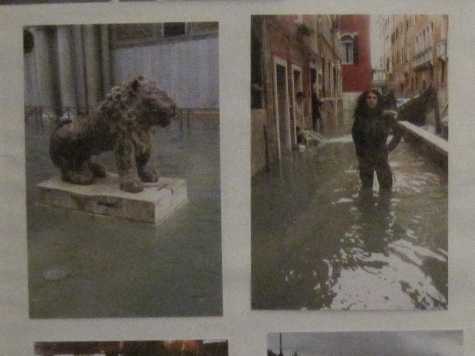 On the wall of our hotel breakfast room were photos showing how high the water can get. On the left is one of the Lions in St Marks Square, and on the right is how deep it was in front of our hotel during one of the big floods.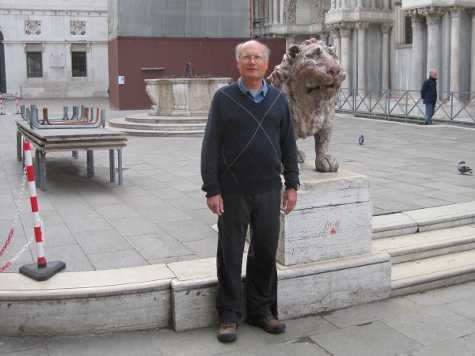 Here's the same Lion that was in the previous photo to show how deep the water was. Note the portable sidewalk in the background which wouldn't be nearly high enough to keep you out of those flood waters.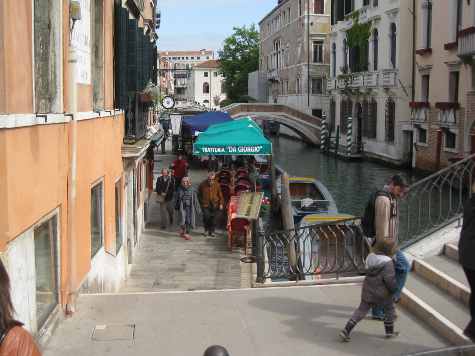 A photo of what Rick Steves calls the best canal side dining experience in Venice where you can pay the big bucks, or in this case the big Euros..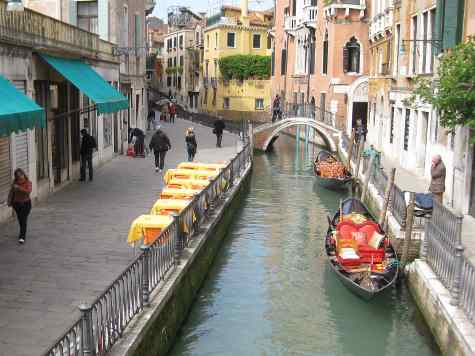 A photo taken from the exact same spot, but 90 degrees to the left showing the tables of the "Crazy Bar" where we had our own canal side dining experience for little bucks, or little Euros. I'm not sure what the difference in the view is supposed to be.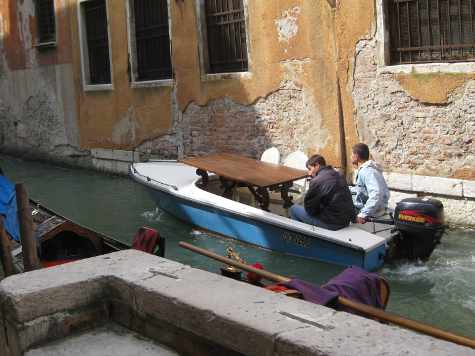 But for the ultimate in canal dining it had to be what we saw when were leaving the hotel to catch the Vaporetto. Now that would truly be a canal side dining experience. If you think about it, when you need anything moved in Venice, using a boat is often the only method available.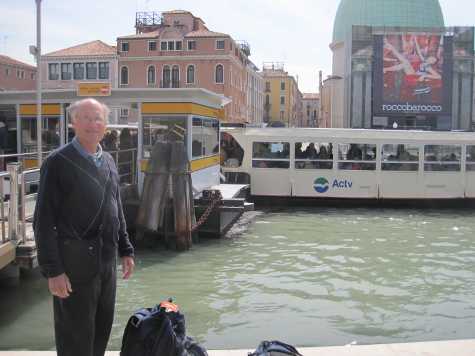 We took the Vaporetto over to the train station, standing outside, and taking in our last views of the islands. The lines were long at the ticket counters so we bought our tickets to Padua at the ticket machines, the cost being only Euro 2.90 per ticket. Arriving in Padova, which is the Italian spelling, we were confronted with how to get to our hotel which was much further than we normally like to walk. Plus I was carrying those 3 liters of wine that Linda just had to buy in Venice. [Editor's comment-change Linda had to buy to Bob had to buy]
Padova is a famous University town and to say there were hordes of students at the train station leaving town for the weekend would be an understatement. There were multiple bus stops and well over a dozen buses in front of the train station, and we were without a clue as to which one to take to get to our hotel.
That's when the problem of too many Saints came up. Going to the Billeteria, or ticket counter, I said we needed a ticket and the bus number to St Patrick's. The ticket agent looked at me like I was some stupid American lost in New York City, which is exactly what I probably looked like. Especially since St Patrick's is in New York City, while Padova has St Anthony's.
Once we got the geography correct, we were soon seated in a brand new tram heading in the right direction. After getting off at the stop after St Anthony's, who knows, maybe I was still looking for St Patrick's, we eventually found the hotel, but not before Linda had decided my map reading skills were about on par with my ability to differentiate between the Saints. Especially since I kept insisting I didn't need a map to find Saint whoever he was, wherever his church was. After all, he was a really big Saint, so I figured he had to have a really big church.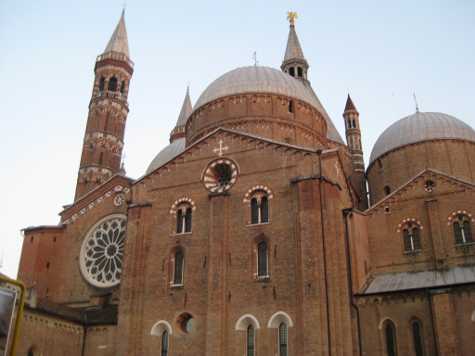 i was right, it was a really big church, with all these spires sticking up. Unfortunately the streets of Padova are so narrow and lined with tall buildings, you have to be almost at the church before you see it. We eventually found the church, and then the hotel, and maybe it was with St Anthony's help. That's because later we were to learn St Anthony is the Patron Saint of travelers, and on this day did we ever need help.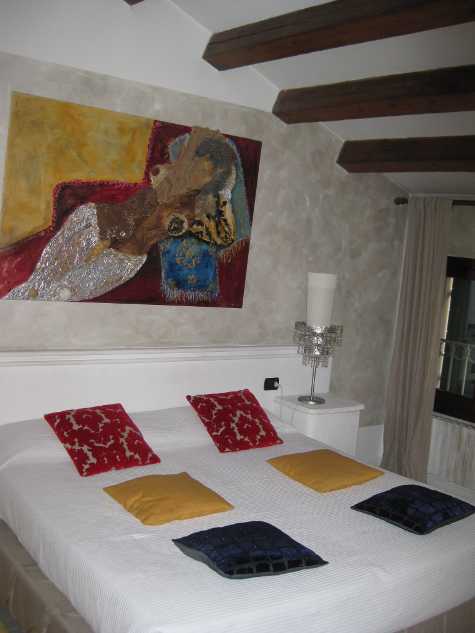 I will let the book describe the hotel and its rooms. Hotel Al Fagiano has 30 rooms each uniquely decorated with Rosella Fagiano's modern art canvases. The hotel is all about the union of a man and a woman, quite romantic.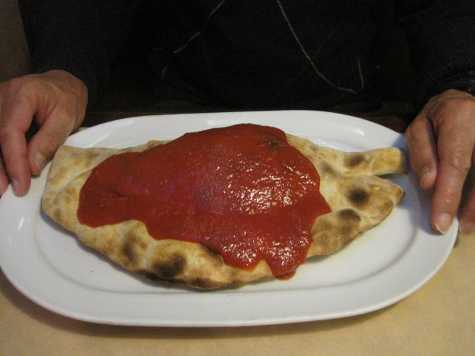 You thought I was going to get through one day without a food photo, but unfortunately the Calzone I had for dinner was just too good to pass up. We had spent the later part of the afternoon in the room, as Linda was fighting a cold, while I struggled to decipher her scribblings and get our expenses entered in the computer and decrease the amount of wine she had me lugging ariund. Later we took an early evening walk through the streets of town prior to finding a place to eat dinner. We found a little pizzeria just after 8 o'clock, and 15 minutes later the place was full, but we could completely understand why, based on how good our food was.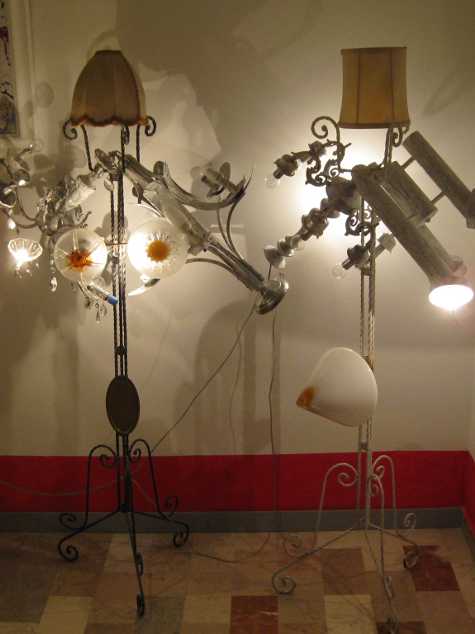 Back at the hotel we walked up the stairs, hoping to burn off a few calories, when we discovered the most unique lamp we had ever seen. Isn't that what travel is all about? That wherever and however any of us travel, whether in an RV in the States or while wandering through Europe, we will expose ourselves to things neither seen nor contemplated. That's living Life with a capital L.
---
April 25 Saturday
Liberation Day holiday, an Internet connection, Saturday markets, Linda has a cold.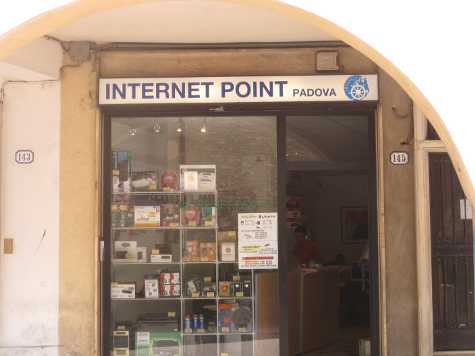 Linda likes to sleep in late on occasion, with me being just the opposite, meaning I like to get up really early on occasion. Today was Linda's turn, but not because she wanted to sleep late, rather because she needed to sleep late. It seems that somewhere along our travels she picked up a cold bug, which had grown into a full blown cold. Because they always seem to settle in her throat, it means the hacking and coughing level goes up about tenfold. It also meant she was putting the cold medicine we had bought in Spain to good use.
It also didn't mean that she was staying in bed all day, and by late morning she was feeling well enough to venture outside. Emerging from the hotel we were immediately struck by two things, it was a beautiful, blue sky, spring day, and second, the streets were thronged with people. We later learned the cause of this, which was Liberation Day, a national holiday which marks the end of World War II in Italy.
As I led Linda in a slightly wrong direction, she insisted I look at the map, which I reluctantly did, finally acknowledging that I didn't know where we were. The problem is that the two words, straight and street, were not allowed to exist together in the part of town we were walking through. It turned out we weren't that far away from our goal, meaning we could walk rather than use public transportation. So much for my unerring sense of direction.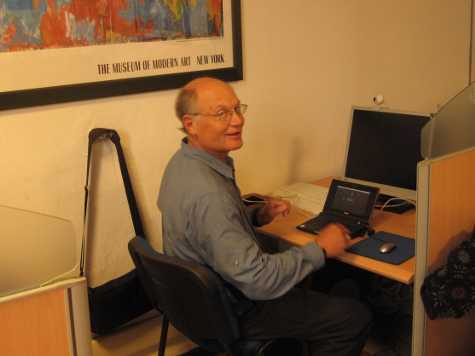 The internet point had wired connections for using your own computer, though you had to use the right cable to get the connection to work. I'll let you fill in the details to that story.. It also made us feel rather insignificant, more like we were using a toy, with our computer being smaller than the mouse pad.
We were able to upload the website through the 24th, and also download the mail. All in all, it took nearly 45 minutes and cost Euro 2.90. Hopefully we will be able to do another update before we leave Padova on Tuesday morning, but who knows, even with a map, it takes all the skills of a Christopher Columbus to find the Internet Point, and he had the advantage of being Italian..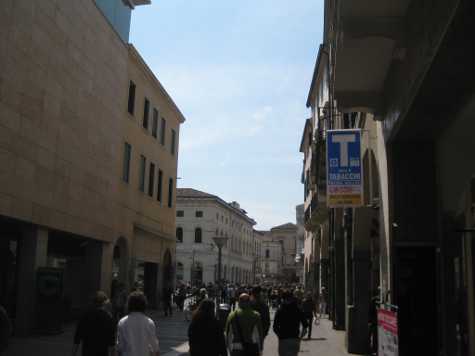 As is so common in the larger cities we have visited, the downtown/oldtown streets are for people, not cars. People actually live in this part of town, they aren't afraid to walk here from other areas, they bring their little pull behind carts if they are buying more than they can carry, and the public transportation system is easy to use and inexpensive. What's not to like about a place like that? Maybe the American tourist who complains he can't find a place to park his rental car, but other than that, people sure seem to be having a good time.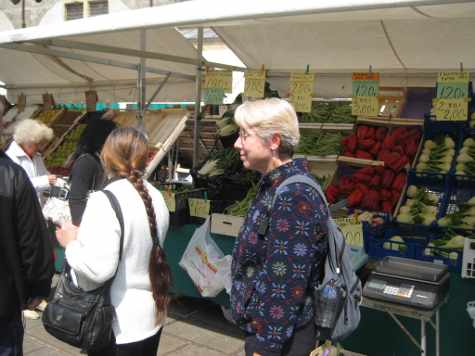 Even Linda had to manage a smile at the unbelievable display of fruits and vegetables at the outdoor market in Piazza Della Erbe, which is said to be the second best in all of Italy. We always try to walk through the markets in the towns we visit, and while we can't say whether this was one was the best or not, if the number of people buying and the way the stalls were constantly being restocked was any indication, to live here would be to eat very well.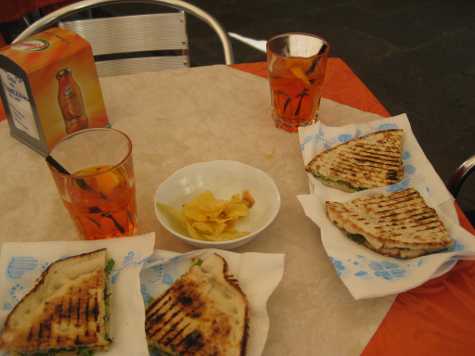 It being after one O'clock, and we not having eaten yet, a side walk cafe beckoned, and we were soon enjoying a spritz and sandwich. We have also come to enjoy the little cup of potato chips that they serve.. They have the saltiness of peanuts, but are much lighter and better tasting. We also got a laugh out of the fact that Linda had bypassed a number of places earlier, claiming they were too expensive. It turned out this was also an expensive place, though you'd never know it from the décor. Either that, or they took advantage of two tired, hungry, sick, Americans. I'll give them the benefit of the doubt and go with the former, as the sandwich Linda wanted was not on the menu, but was all her stomach could take.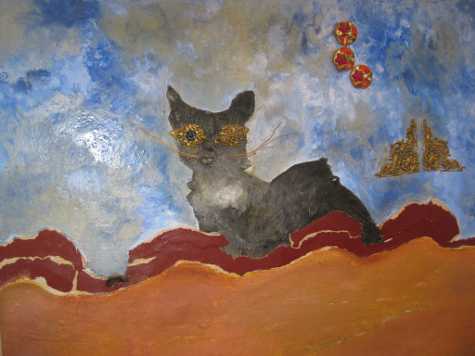 Linda had had more than enough walking for the day by this time, but when we entered our room it still hadn't been made up. They must have been watching for us, because 30 seconds later, just about the time Linda was getting ready lay down, the knock on the door came. Leaving the room so they could clean as quickly as possible, we found this interesting looking cat hanging on a hall wall.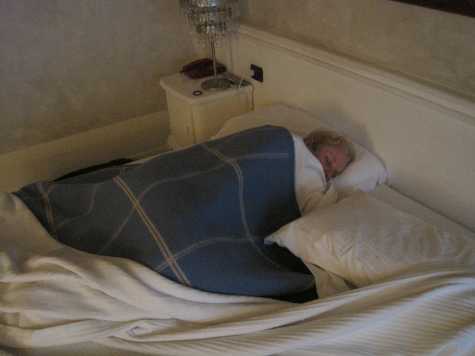 Once back in the room, Linda took on a pose of repose, and held it for the rest of the day.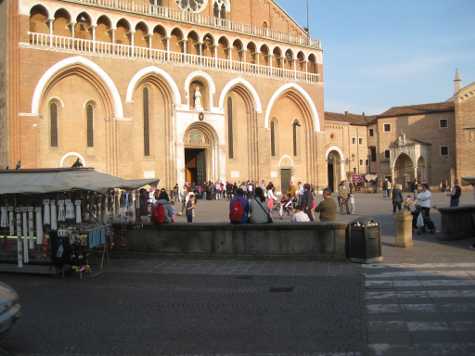 In the early evening, when hunger pangs were striking me, and the crowds still flocking to St Anthony's across the street, I ventured out trying to find something that Linda might enjoy. Deciding that a "choice by her" was better than a "choice by me", I brought her back a Spritz, a tomato mozzarella hot sandwich, an almond dessert, a lemon dessert, and her favorite heart shaped cookie, the kind of cookie we find all over Europe.
It turned out to be a stroke of genius on my part, as she devoured one bite of the heart cookie, claimed her stomach couldn't take any more, which left all the other things I'd brought back for me to eat. And please know, they sure were good, so just remember that while not everyday goes exactly like we'd like it to go, there's always some good that comes from it.
---
April 26 Sunday
Running through the streets, St Anthony's, people everywhere, a marathon, rest, a rainy evening meal.
Linda was feeling somewhat improved this morning, and sometime during the night her fever had broken, so it looked like the worst was over. That didn't mean she was better, because all the noise coming from her was reminding me of how the engine in the old John Deere tractor's sounded.
That wasn't the only sputtering that was going on. There were noises that sounded remarkably like a very frustrated woman coming from the bathroom, who try as she might, couldn't get the hair dryer to work. With no switch, how did the thing work? Then it started and stopped, something that was repeated several times. At last she solved the riddle of the reticent dryer, you had to pull up on the hose for it work.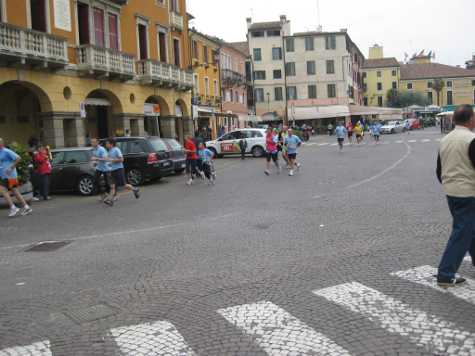 Leaving the hotel to get some breakfast, we were amazed to see people lining the nearby street and cheering. Once among them we could see the reason for their enthusiasm, runners were streaming by.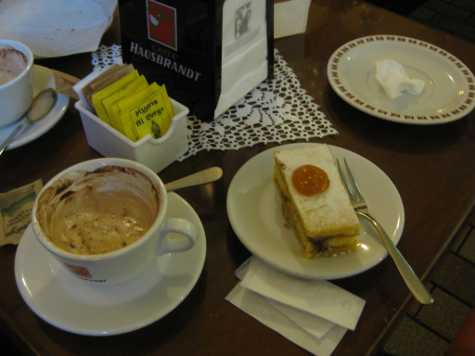 The fact that there were so many people out at the street, made it easy to find a seat in nearby bar and have a cappuccino and sweet pastry. Maybe I should say sweet pastries since we each had two, each one different of course in our never ending quest to discover Europe's best tasting pastry..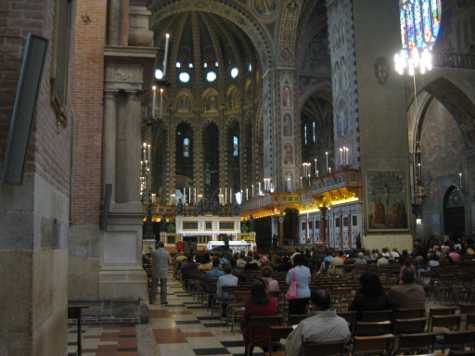 With St Anthony's next to where we ate, it was only natural to join in with the mass of people going into the church.It was so crowded that it was hard to see anything, then we heard some music and suddenly there were even more people crowding towards St Anthony's tomb, where we happened to be at the moment.
Then it dawned on us, Mass was over and there were seats down the entire center of the church. Linda was feeling tired and said she would to sit down. Pretty soon all the seats started filling up again, some music started and that is how we came to attend our first ever, Catholic Mass.
We couldn't understand what was being said, but the ritual, the incense, the formality and the sincerity of the worshipers made for a very moving experience. It was almost like we had been led here. St Anthony was said to posses such miraculous power, he could heal the sick and had once even healed a donkey. Linda commented as we left that she was actually feeling better. Connection or coincidence?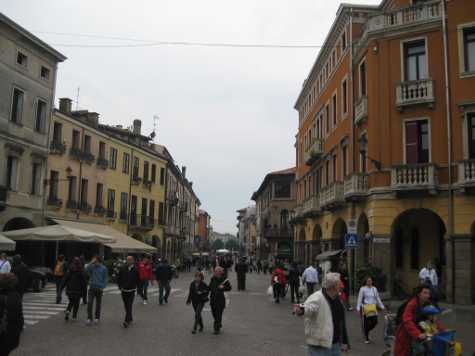 Back outside it was once again a typical street scene. No cars and the streets filled with people. It would be almost hilarious if it wasn't so sad, how in the States they try all kinds of things to entice people to come back downtown, while over here it would appear they never left in the first place. I know they say the good old days weren't really so good, but maybe in some ways they truly were far better.
With Linda feeling much better, we walked to the gigantic plaza located to the south of the area where we are staying. It was here we came upon this scene.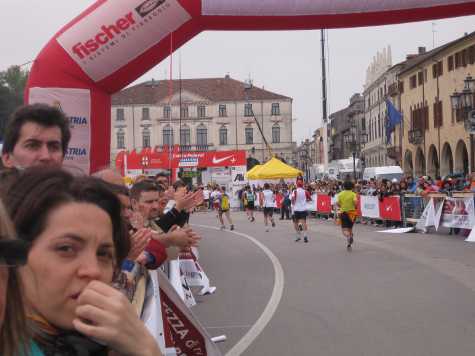 Look at the deep concern etched on the face of this woman.
It turned out to be the finish of the Padova Marathon, Sara N.Dippity was sure with us today.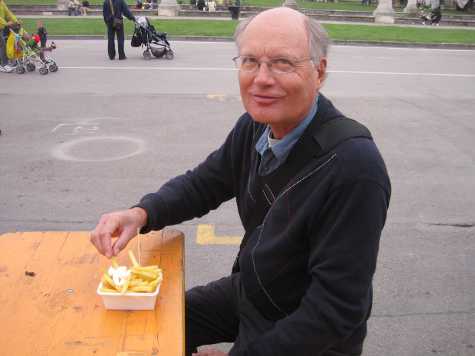 Having worked up an appetite after watching all those exhausted runners crossing the finish line we joined in with the other Padovans, and enjoyed some patate fritte topped with maionese. That's one of the little things we learned last year, catsup makes French fries taste better, but mayonnaise makes them taste awesome.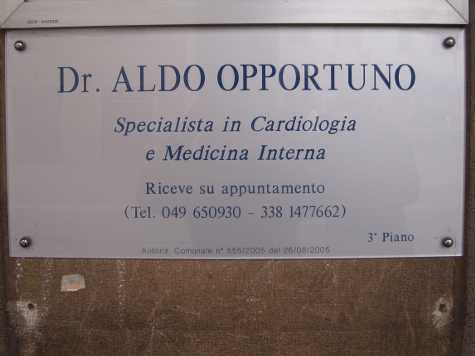 Walking back to the hotel, Linda saw this sign, and just had to take a photo. French fries and mayo, who knows, maybe we will be needing his services to unclog some arteries before we leave town.
After all this excitement, Linda decided it was time to return to the hotel for some rest. When it came time to eat dinner, Linda said, "What's that noise?" I wasn't sure what she was talking about because the woodpecker making a hole in the tree outside our window was making so much noise I could barely understand her. Opening the window we discovered it wasn't a woodpecker, it was the rain pouring down. That's when we realized the real advantage of the covered walkways of Padova, and so, just when you least expect it, Smile, You're --- in the the hands of Sara N. Dippity.. Besides the bufalo mozzarella Cheese pizza was the best we've had to date in Italy, and that bufalo wasn't Buffalo, New York.
---
April 27 Monday
Back to St Anthony's, shopping, graduation fun, first tour group meeting, dinner and a walk in the rain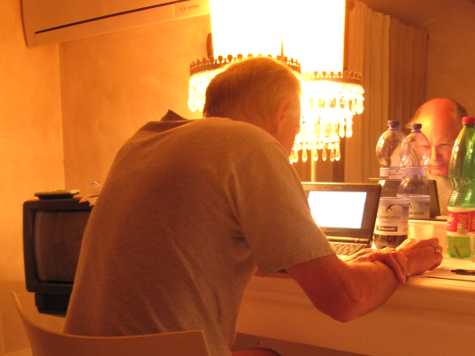 Linda was feeling nearly back to her old self this morning, while I was doing what my old self normally does, writing the Daily Journal. When she commented about how hunched over the computer I was, I realized that I hadn't put my glasses on. At this rate what will I be like by the end of the trip?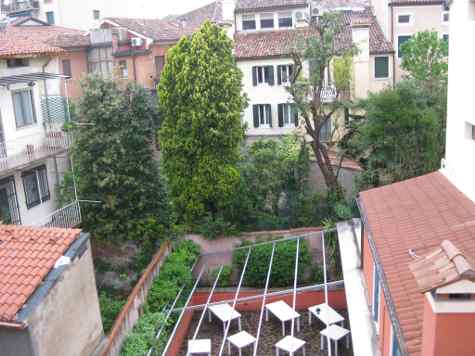 With no TV or newspapers in over a week, even if they are in a foreign language, what the day holds weather wise requires looking out the window. Today's "outlook" was cloudy skies and moderate temperatures. We have no canal view like in Venice, but even so, the beauty of springtime Italy, even in the city, comes through.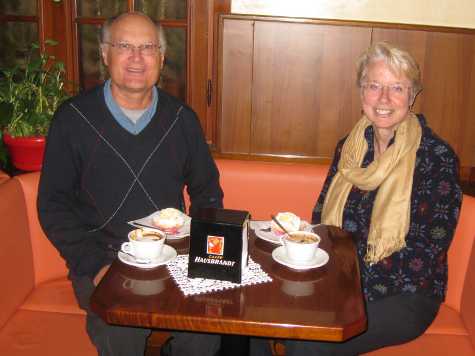 For breakfast we crossed the street to the bar we had eaten in the past two mornings, While the cappuccino was as good as always, we stumbled on a cream filled pastry which was no less than divine. The fact I managed to sit at a table with a great looking, well dressed European woman also made the meal memorable. Now if I can just figure out where Linda went.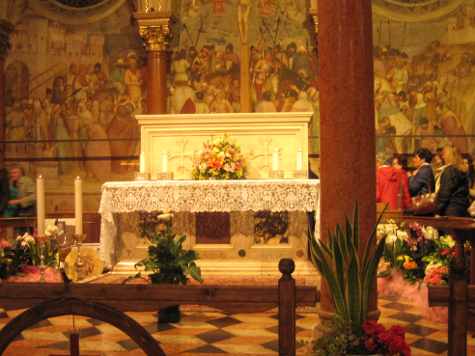 With the weekend crowds gone, we walked over to St Anthony's, seeing his tomb, tunic, tongue and lower jaw. We also asked him, while touching his tomb to intercede on behalf of those members of our family and extended family who needed healing.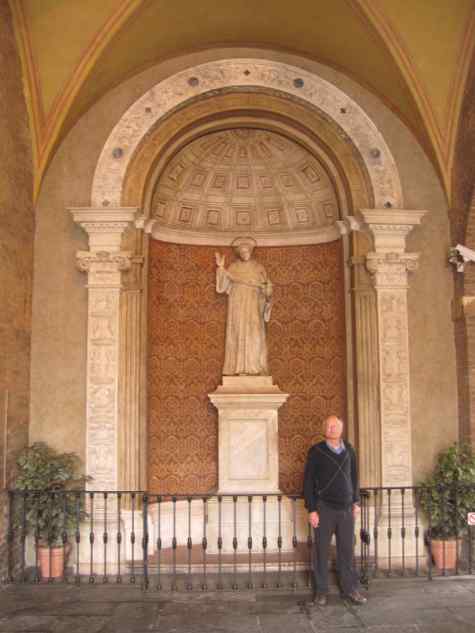 Later, in the cloister, we found this wonderful statue.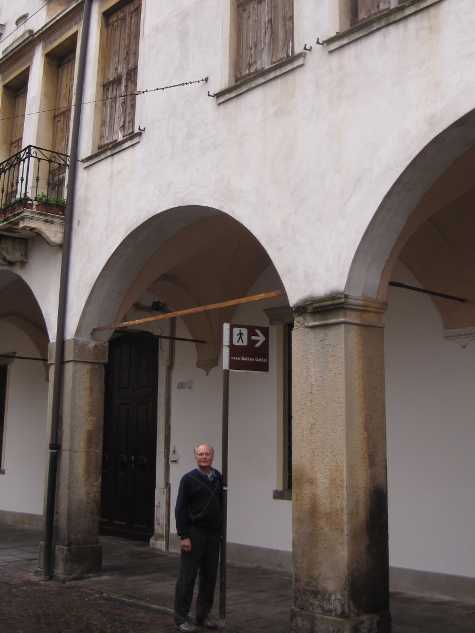 This may look like a, what is it photo, but it's Bob standing by the sign indicating this was the home of Galileo. Not much to look at today, but just being able to walk down a street that Galileo would have also traversed was more than enough for Bob.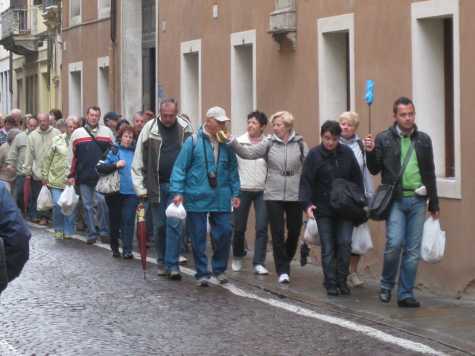 We also got a glimpse of what we will look like tomorrow, as this tour group came down the street. About the only difference will be the lack of the little flag to follow.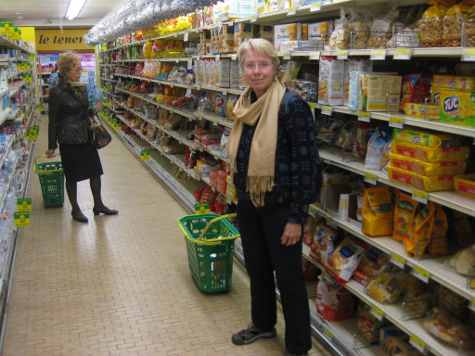 We also got a little shopping in, buying some things at a Pharmacia that Linda just had to have, and paying way too much for them. Then we stopped in a PAM grocery store, where we confirmed she'd paid way too much at the Pharmacia, and also buying some cheese and other goodies. While there I managed to lose Linda again, but I did take this photo of two attractive Italian ladies with their cute little shopping carts.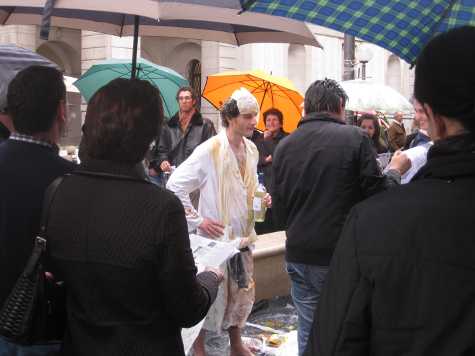 In front on the University of Padua,we witnessed one of the rituals of graduation taking place, It seems that graduations take place every day of the year, and part of the tradition is to dress the person in something very unflattering and subject them to what is best described as a very public, and raunchy roast. It's one of those things that unless you see it, you aren't going to believe it.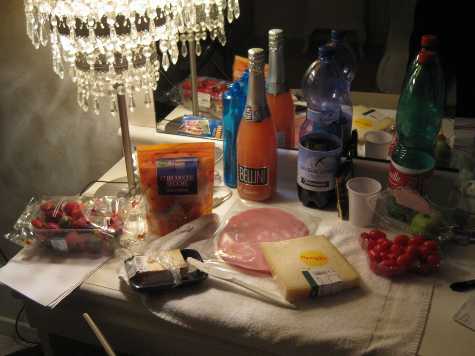 We had bought some food at the PAM, planning to eat a picnic lunch because, with the tour starting we would be eating a rather large and hopefully, scrumptious group meal tonight.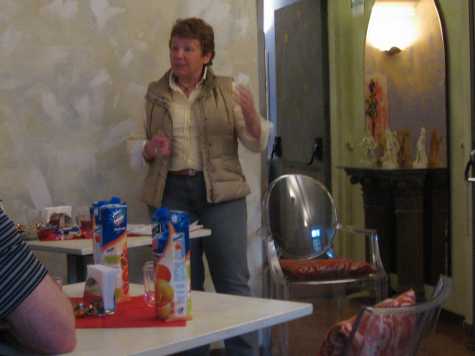 When 5 O'clock rolled around it was time to gather with the rest of the group and meet our guide, Tricia, who turned out to have the most wonderful accent, It was just disconcerting that it was a melodious Scottish brogue rather than a charming Italian one.
Once she'd explained that she was all Italian on her mother's side, but had been raised in her fathers country, and hence the accent, all was well. As we and the eighteen other people on the tour introduced ourselves, the process of becoming more than a mere collection of strangers began. Something that continued with our group meal later in the evening.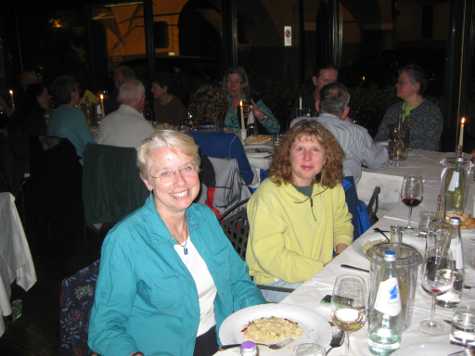 We had fun getting acquainted, it was a rather fancy restaurant, but at best the food was only so-so, with the sliced beef main course being the best of the lot. Fish ball appetizers started the meal, and I was one of the few people at our table to eat them, Then a eggplant appetizer that was said to added to the menu, maybe because no one was eating the fish balls,and which provd to be rather tasty. Then risotto with white asparagus, no wow here, and most people ate very little of it, the beef and finally, a bland chocolate dessert. I only drank the red wine, which was definitely not smooth, though Linda reported the white wine to her liking. Maybe I'm just a pizza and spritz kind of guy, or maybe it was just a so-so meal.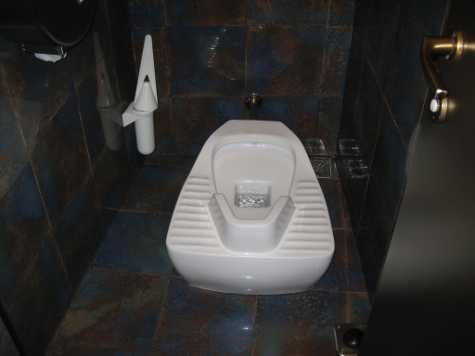 Lets just say that highlight of the meal for many people seemed to be looking at the high class toilet in the restaurant's single shared men's and woman'srestroom.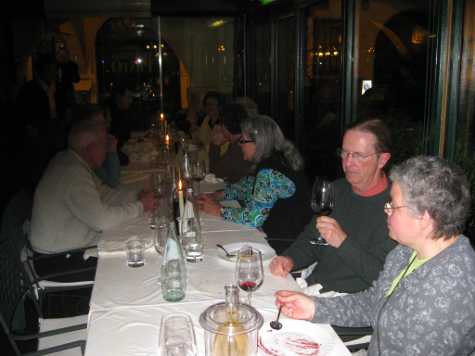 At least with the wine flowing freely, everyone had a good time and names slowing started to be imprinted.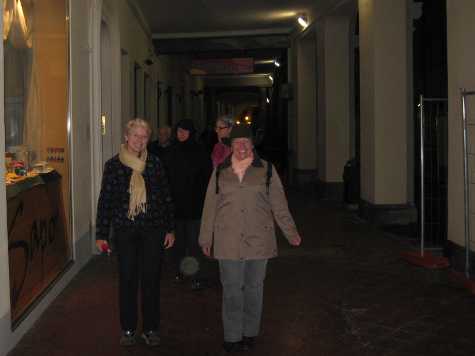 Afterwards we went on a brisk walk, mostly under the covered archways of Padua, but occasionally out in what was now a chilly rain. Tricia set a very fast pace, and it was all I could do too race ahead to get this photo. At least all that exercise helped burn off a little of what we had just eaten.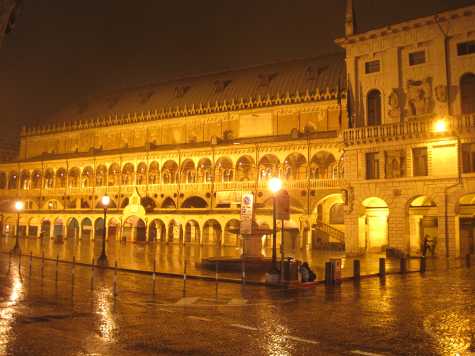 At night and in the rain, the Palazzo della Ragione shone with the soft luster of gold, and as we gazed at it,we wondered what other treasures we would be discovering over the coming two weeks as we explored the hill towns of Italy.
---
April 28 Tuesday
Scrovegni Chapel, a walk in the rain, back to St Anthony's, learning anatomy, rest, fun with students, a search for food.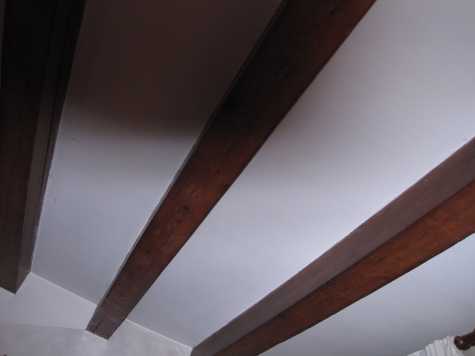 We awakened to a strange sight this morning, or maybe it was something we hadn't noticed up until now, which was the ceiling beams in our room. Now it's going to bug Bob to learn just how old are those beams.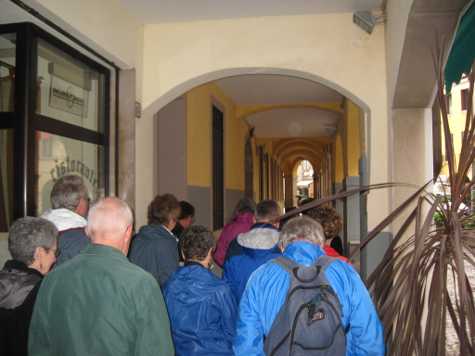 Breakfast, with the tour group at the hotel, was a pale comparison to what we have been eating at out little bar across the street, Think a hard roll, several spreads,and coffee or tea at 7:30. Then at 8:30 we left to walk to the other end of the town, and begin the day's activities.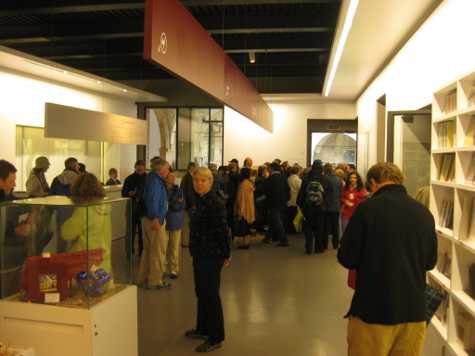 Our first stop was the Scrovegni Chapel, one of those places that is so popular you have to have a ticket to get in and if you're late you go to the back of the line, so to speak, and buy another ticket. A small chapel, decorated with frescos, it was a son's attempt buy his father back into the good graces of the Church. It was also one of the first real attempts at using perspective in paintings. Some say it is better than the Sistine Chapel. I'd say they and I don't look at art the same way. Since no nothing is allowed in the chapel, this view of Linda looking a little lost, she was trying to find the restroom in the main entrance to the complex, will have to do.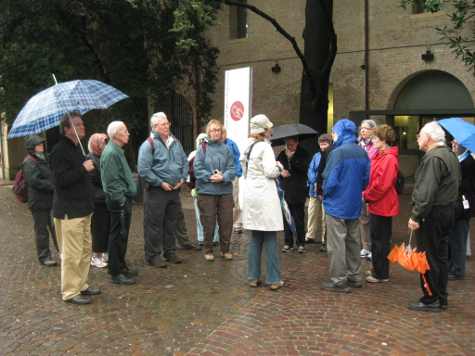 Then it was off to tour of Padua with a local guide whose family had lived here for many generations. She was very good, and I really appreciated the little stories, places or things she would point out that brought the history of the city and the region as well, to life. Besides she had a great attitude, pointing out how lucky we were to see Padua in the rain, since it hardly ever rains here. That's my kind of tour guide.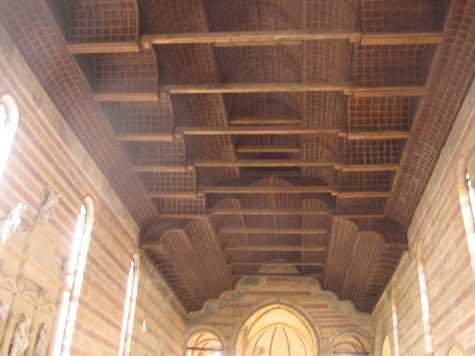 One of our stops was a large church that had the most wonderful wooden ceiling..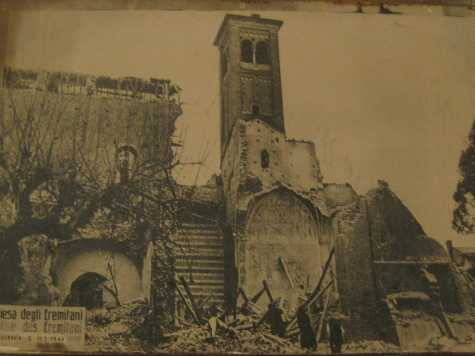 Not all things are as they seem, as this photo of the interior of the church after the WW II shows. Fortunately the wall that was standing was able to be saved as were the frescos, which were currently under restoration. As the guide pointed out, The people of Padua understand the true horror of war, that is why we don't want to fight any more. Perhaps it is a lesson we have forgotten, the American War between the States in the 1860's which was the last war fought on our soil, having happened so long ago..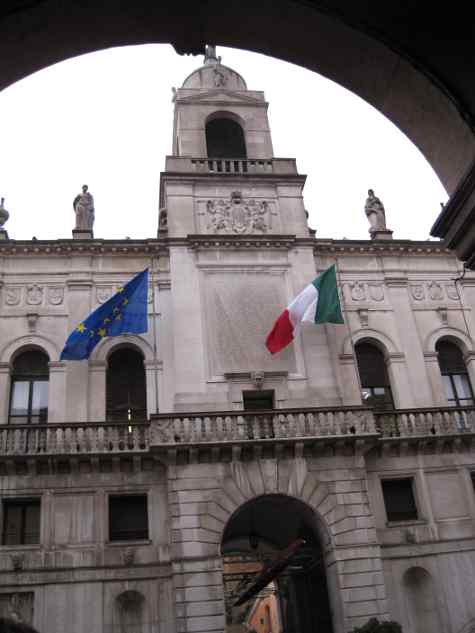 A building with the flag of Italy and the European Union, both of whom are rather recent entities, Italy in the late 1800'a and the EU in the late 1900's. We tend to think of Italy as an old country, what with Rome and all, but in actuality it anything but.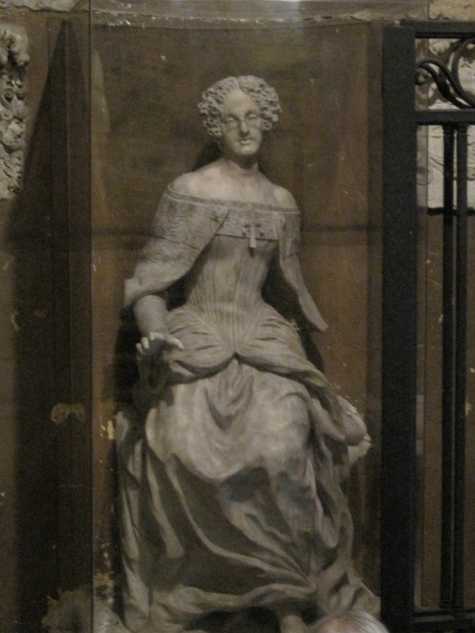 One thing that is definitely old is Padua University which claims to be the second oldest in the world, being founded in 1222. It does have the distinction of granting the first degree ever, to a woman, Elena Lucrezia Cornaro Piscopia, in 1678.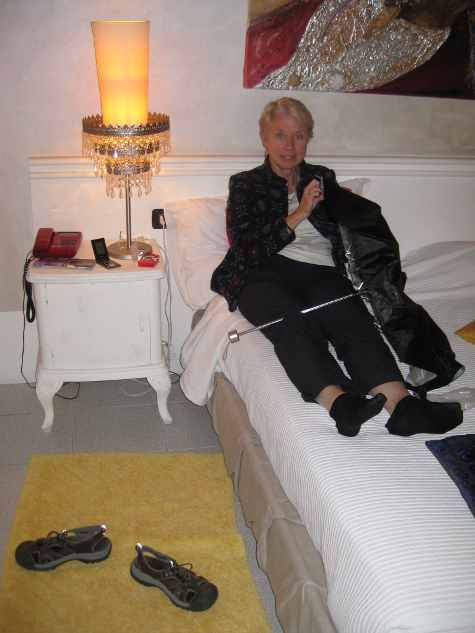 We sort of fadedout in the afternoon, which had no scheduled activities. Linda repaired my new umbrella which had already seemingly exceeded its design life for the number of openings and closings. Then, because I was fighting something, I feel asleep and wasted away the entire afternoon.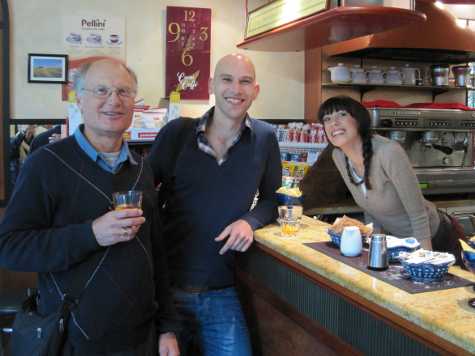 After returning to the living and finishing the Daily Journal, we set off to find the Internet Point, once again to upload the past few days, and also to check our email. That was when we ran into another of those Sara. N. Dippity moments. Seeing a bar with a wireless sign, we dropped in, ordered a spritz, and inquired about the wireless. It wasn't working, but what transpired over the next hour was fantastic as we had a wonderful conversation with the two University students in the photo. They were really excited about our new President, saying the fact he was 46 years old would hopefully mean he was concerned about the same things that young people around the world were concerned with.
The young lady was majoring in Neuropsychology and the young man in International Corporations, and the fact he was fluent in four languages, Spanish, French, English, and Italian helped showed just how serious he was. During ths course of the conversation the young woman even offered to take us to her apartment after she got off work so we could get on her wireless. Many in our country tend to look down on the Europeans for not supporting us in our war on terror the way we want them too. Once you see the seemingly endless list of names of those killed and the photos of the destruction of their cities during the last two world wars, then have conversations like these, it causes you to think long and hard about what the best response to world events should really be, and realize others may have very valid reasons to disagree with our policies.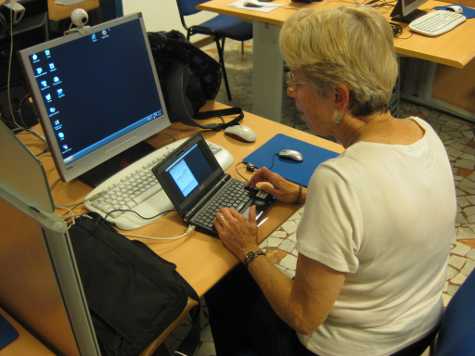 We did find the Internet Point, thanks to the student's excellent directions, and once the website was updated, it was Linda's turn to try her hand. This time the connection speed was much faster than on Saturday, and the chargeof Euro 1.90 was less than before. Speed is time is money in this case, I guess.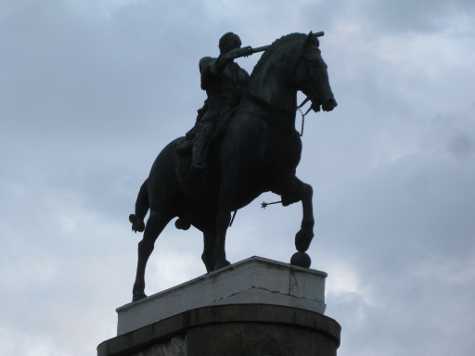 We had one other interesting incident occur during the day. The fact that the statue of a horse and rider on the square by St Anthony's was the first bronze statue cast in over a thousand years after the fall of Rome.It was just another small example of what was lost with the fall of that great civilization, and something that will happen to ours someday whether we think it will or not.. In case you're wondering, and most people don't even think of it, it is most definitely a boy horse. Caio.
---
April 29 Wednesday
On the bus, mosaics, early church, Autogill, small town welcome, a quaint room and a fabulous feast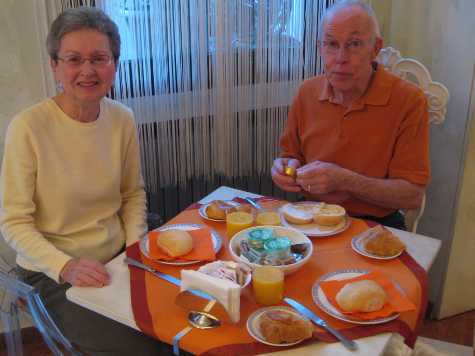 This morning we weren't going to be the last ones down to breakfast, but when we showed up five minutes early, the early birds were already there, and as you can tell, Ed and Karen were enjoying their rolls and coffee.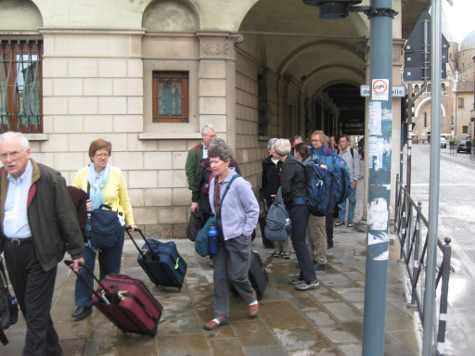 We weren't sure how far the walk to the bus would be, but everyone certainly set out in a jovial mood.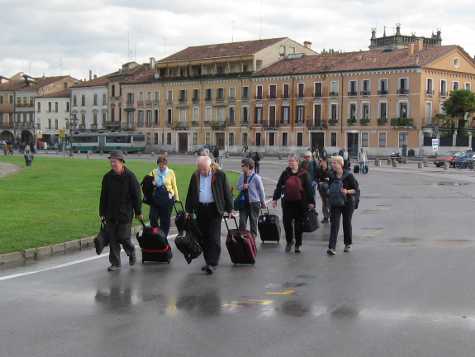 After walking several blocks, and then entering the huge piazza to the south, the pace Trica was setting started to tell on the troops, and it wasn't long until we were more closely resembling the German Army in retreat from Stalingrad, than a Rick Steves tour group of Italy. Well, maybe not quite, but hidden behind the group in the photo, and a long way back is a second group, while way out front was a small group running alongside Trica,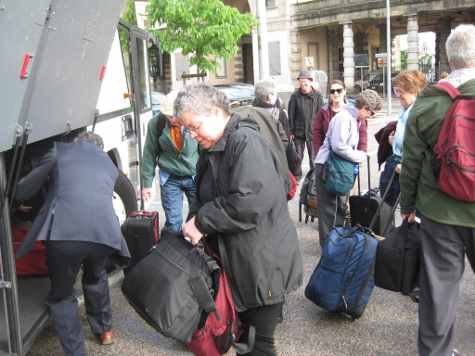 Then we were at the bus, and the mass confusion of loading the bags began, with the result being the opposite of military precision.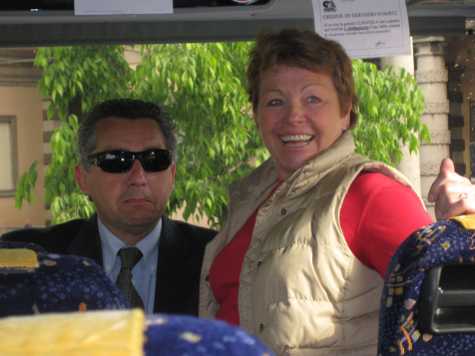 Once we were all on the bus it was time for Trica to make sure all was right, and to introduce our driver, Mario. From the looks of them, Trica is ecstatic that everyone survived her death march, while Mario seems to thinking, "Oh momma mia, I've got drive this bunch of rabble around my wonderful country. I wonder how many will be left at the end."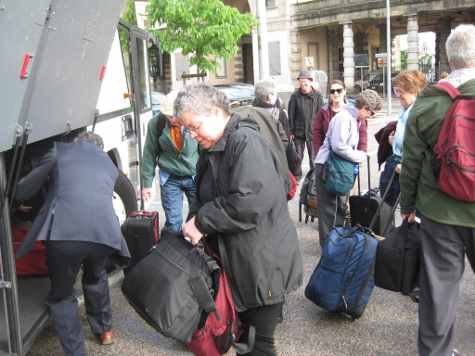 On our last tour our bus was black, this time it is white.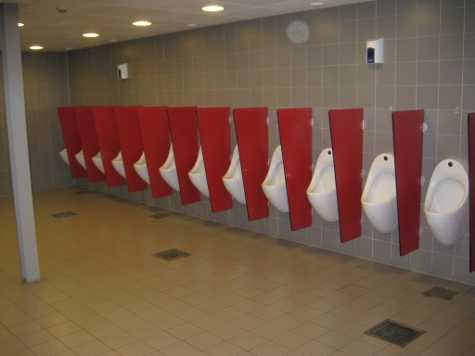 We were heading off to Ravenna to look at their wonderful mosaics, but the ride was long enough that we stopped at our first Autogrill where modern day Italian efficiency was on display.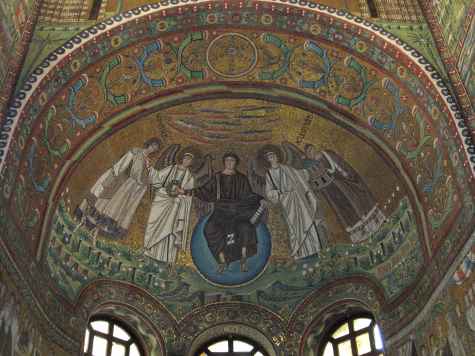 Basilica di San Vitale, built in 540, has the most spectacular mosaics this side of Istanbul, or as it was previously known, Constantinople. They are so vivid, photos cannot do them justice, but seeing them in person, they look almost like jewels.even after nearly 1500 years.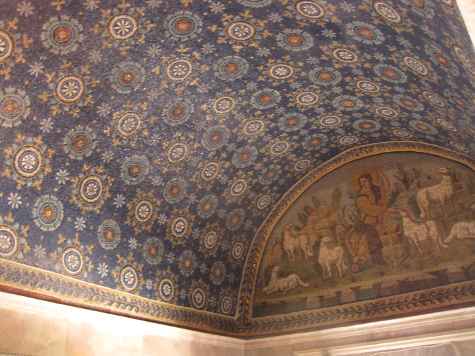 Another example in a nearby Chapel dating even earlier. Everything here is a is mosaic, none of it is painted or frescoed.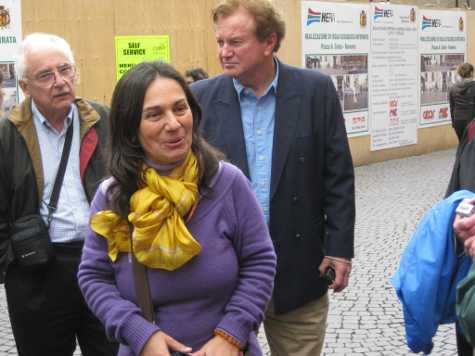 If you ever go on a tour of Ravenna and are fortunate enough to get Marina, our local guide for this morning, you will have had a wonderful experience. I consider myself pretty good at giving tours, but I could only bow down in admiration of her, she was that good. It was a case of wishing you could spend several days with her rather than merely several hours.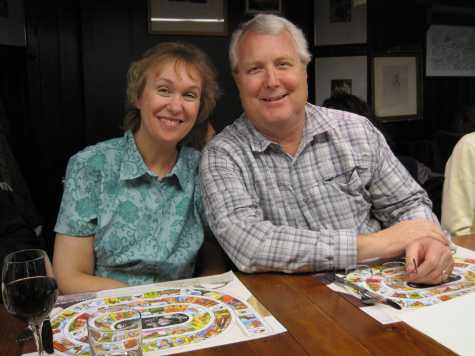 For lunch we enjoyed a local favorite, Padina, which is something on the order of a tortilla-pita bread, with something in the dough itself, or between layers of it. A lunch in an Italian restaurant, what can be better than that, as the big smiles on Brian and Bonnie show.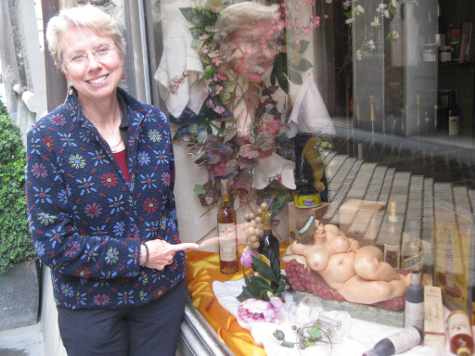 Linda liked the Padina, but she absolutely loved the restaurant's sidewalk window display..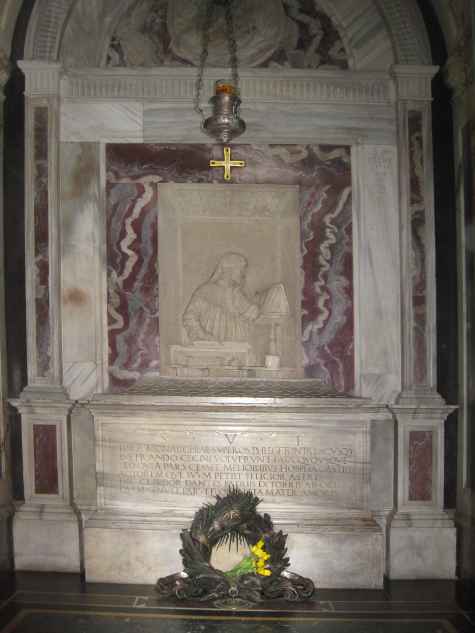 Near the restaurant was the small memorial crypt of one of the giants of literature, Dante.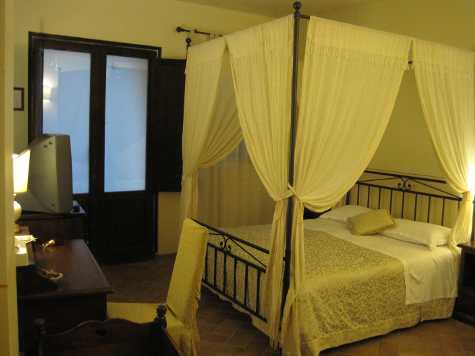 Then it was off on a bus ride through the beautiful Italian hill country to the tiny town of Montone where we would be staying the next two nights. When we walked into our room we could only say, wow.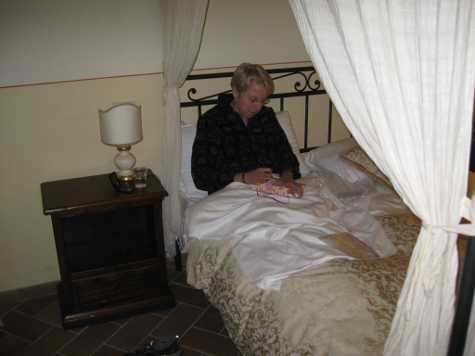 As you can tell, it didn't take Linda long to be completely at home. Her thinking is, if you're going do some writing, at least do it where you are comfortable, not hunched over a keyboard like Bob.
They had arranged a welcome for us down at the local bar, and from the looks of things, we arrived rather thirsty. With two bottles of Proseco, and 20 people, it didn't take long for Steven to start pouring for the group. I wasn't sure what Wendy was doing, whether that's a, "what is it look", or a, "this bottle is mine reach", but it turned out to be the former as there was enough for everyone and more.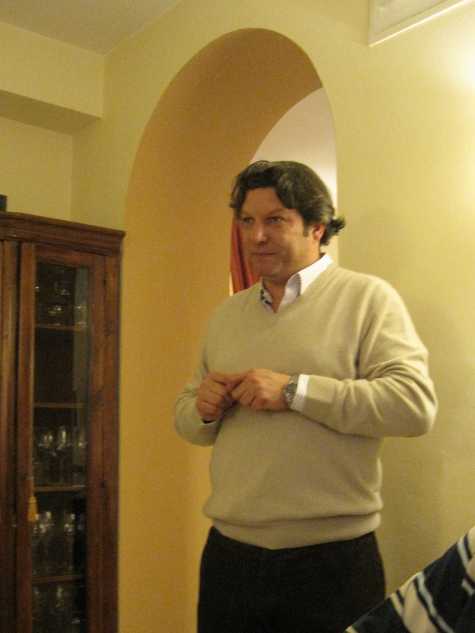 At dinner, which the group ate together at our hotel, our host, Giancarlo, who looked and sounded like an Italian movie star, explained each course as it was brought out.. We all got a big laugh when describing one course, he called it "a very old food.", and after we burst out laughing, hastily interjected, "My English is not so good, I mean a very old recipe." Unfortunately I didn't get a photo of his lovely wife, Carmen, but she too looked like she could also be an Italian movie star, but just like Giancarlo, she was so warm and instantly made you feel comfortable.
The dinner itself was just as fabulous, from the first course to the dessert, it was everything our previous groupmeal wasn't. There was simply no comparison between the two. The name of the place is La Locanda del Capitano, and it sits in the midieval, and virtually unspoiled hill town of Montone. Great rooms, fabulous food, set in a small town of 400 souls that hardly anyone knows about, it doesn't get much better than that.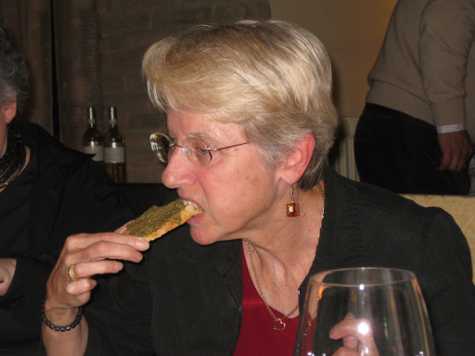 It was also during this meal that Linda did something I couldn't believe. After all her claims over the years about how liver would never darken our door, let alone that should she ever eat any., here she is sampling the liver spread that was served as an appetizer. Maybe there's now hope that she will realize that slavery was abolished a long ago. But after the look on her face as she slowly chewed that bite, I won't hold out any hope. We can all do with something new occasionally in our lives, it may not turn out to be exactly what we expected, but at least we've tried it.
---
April 30 Thursday
Saint Francis, the churches of Assisi, party in the park, hunting truffles, and a farmhouse dinner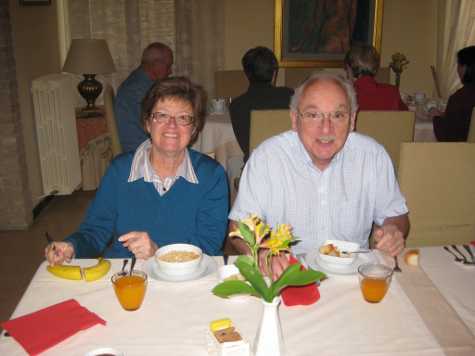 A new hotel, a new type of breakfast. This morning we had cheese, meat, two types of bread, home made spreads and even cereal and fruit. At this rate we will be having four course breakfasts before the tour is over. As you can see, Maria and Matt sure seem to be enjoying it. Maria is also my buddy, which means when the words "Buddy check" are called out, I look around to make sure she is present and she does the same for me.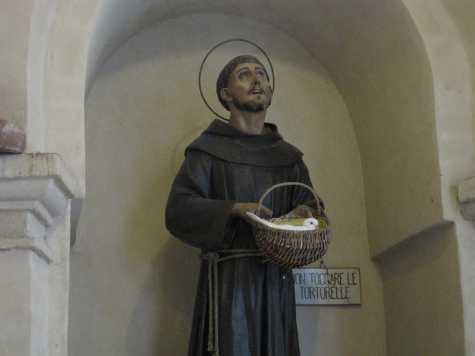 That's a real dove in Saint Francis' basket, and the likeness is said to be just as he really was. He was also to be our focus for much of the day, Born to a wealthy family in 1181/82, he turned to religion, became an early cult figure, founded the Franciscan order of monks, died young, and today huge Basilica's mark the locations where he lived and died, while throngs of pilgrims come to pay and pray..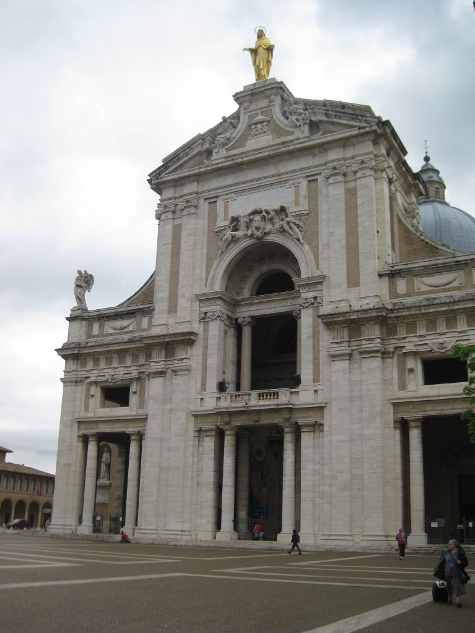 Our first stop in Assisi was at Basilica di Santa Maria degli Angeli, Christianity's seventh largest church. Imposing from the outside, it is even more so from the inside. The balcony is where the pope presents himself when he speaks to the pilgrims. It is part of a false front which was later added to the original church. Comparing St Francis, his desire to rebuild the catholic church, not the buildings and materialism of the church which he rejected, but the faith itself, taking it back to its roots in Jesus, then seeing what the vatican has turned his life into, the use of a false front for the pope seems rather appropriate to me.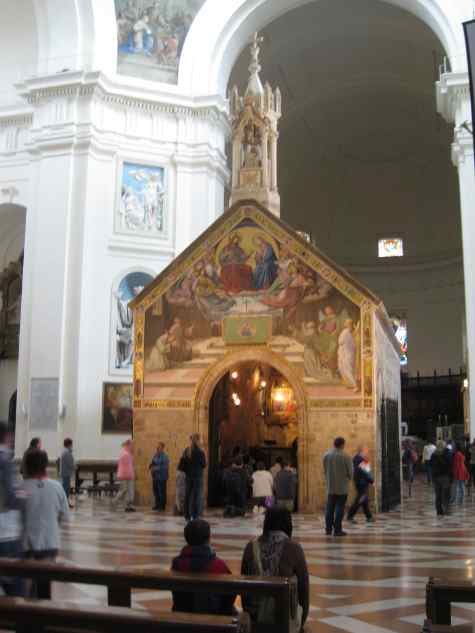 Inside the church is what is said to be St Francis' chapel.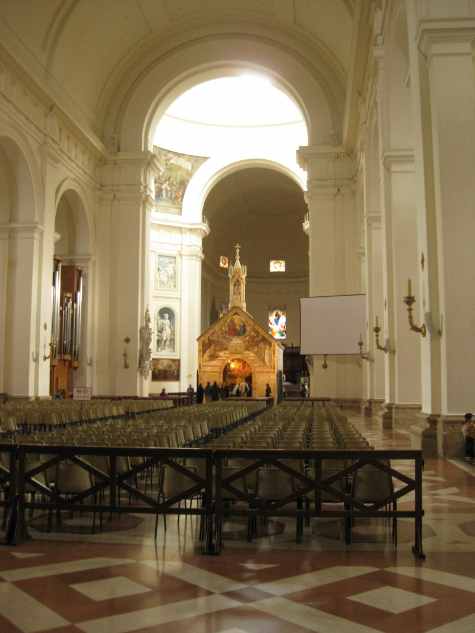 From farther back, giving a better idea of the size of the Basillica erected over the chapel.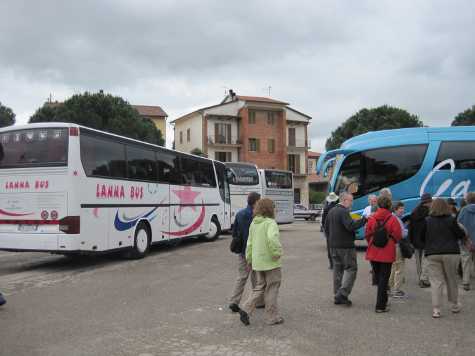 By the number of buses in the bus parking area, which is in the lower town, meaning it was a good walk up to the Basillica, we weren't the only ones visiting today, even o, they were not very busy..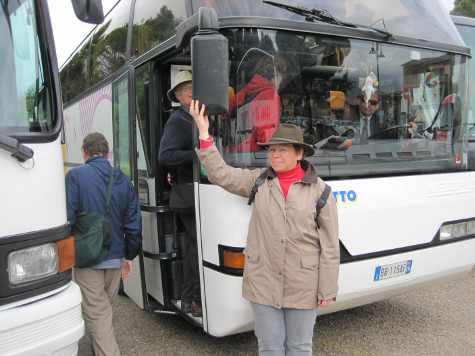 We were not finished with St Francis yet, as this was only the little Bascillia at the bottom of the hill, up in Assisi on the top of the hill was the big Basillica. Here is Santa Trica, guardian of bus mirrors, keeping us from banging our heads on the way into the bus.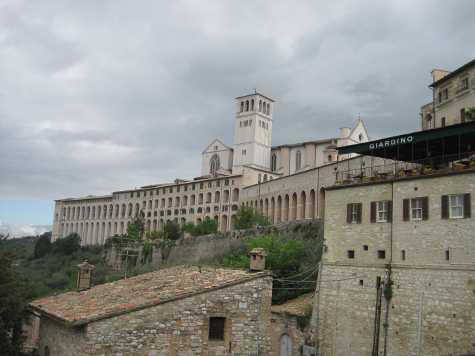 The Basillica complex is gigantic, and the Basillica itself has three parts, the upper basillica, the lower basillica, and below that, St Francis' tomb. I took no photos inside, not because we were asked not to take any by the church,even though we were, I did it simply to honor St Francis, a simple man of God whose message the vatican has perverted into a money making enterprise. As our guide pointed out, any money that comes in goes to the vatican, any money that needs to be spent on repairs and restoration, the vatican tells the Italian government to pay for. And all supposedly done for the glory of God.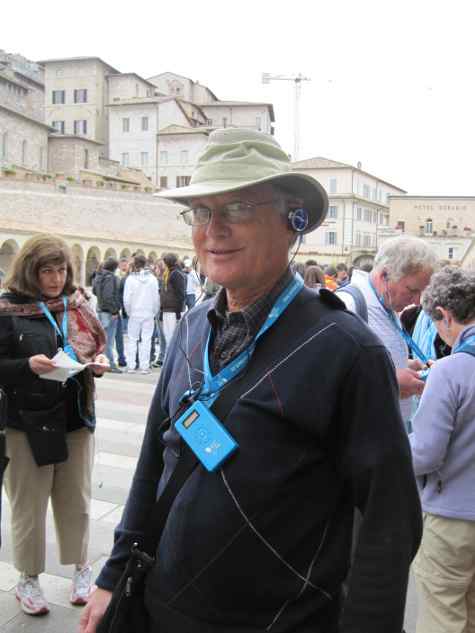 Another example of money making in action.Only licensed "whisper guides" are allowed to lead groups through the Bascilla using the personal speaker systems so commonly used in many of the museums during last years tour. While everyone else was struggling with the one size hits all, in-the-ear earphones, I was was sporting my own over the hearing aid style that we had brought along just for such times.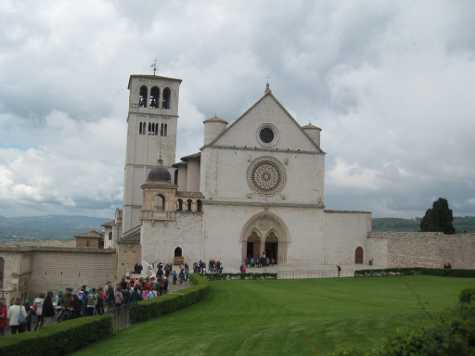 A look back at the basillica before begining the walk into the old town of Assisi. The frescos on the walls and ceiling of the upper basillica are outstanding, the colors so brilliant, as only extensive restoration can bring to life. It was well worth the visit, not only to view the beauty of the facilities, but also to realize the way a humble man's intentions can be made into something entirely different at the hands of other men with quite different intentions.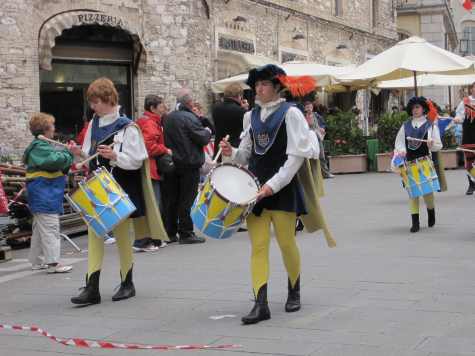 While walking through Assisi, we were treated to some mideaval pageantry, which is something that is not done for the tourists, but rather, continues a tradition that has been carried on for centuries by succeeding generations of townspeople..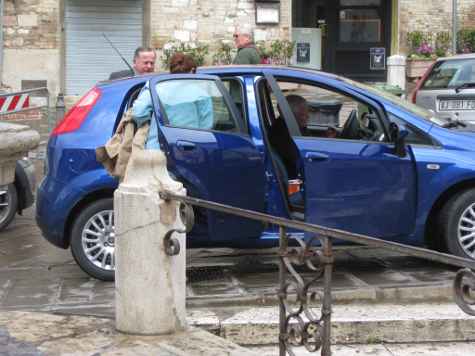 This is one of the reasons why I made the decision not to rent cars during our travels. From the yelling that was going on between the man in the drivers seat and the woman, it was plain they were Americans, and they weren't having any fun. Then someone who was obviously at the hotel they were trying to drive to came and attempted to give the man directions, a man who was so flustered by this time, nothing was getting through to him. Then the person from the hotel got their bags, and set off up the street with the woman. That happened just after I took this picture and man was still in the car yelling at them. I like our way of travel a whole lot better.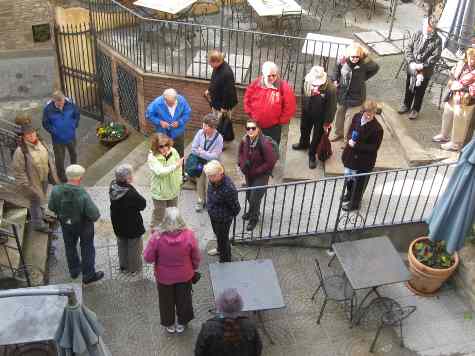 We had three activities on the schedule for tonight. A walk around Montone, hunting for truffles, and a farmhouse dinner. Here is our somewhat disorganized mob gathering before our walk.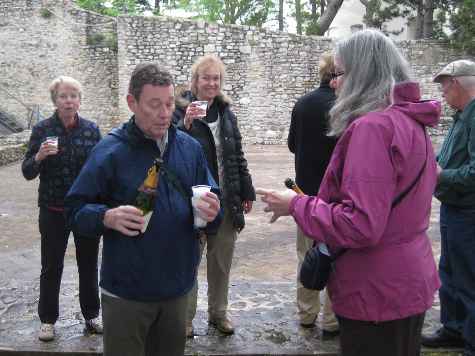 It wasn't just a walk, it was also a small and informal picnic in the park. As you can see, Jim is explaining to Rita the benefits a plastic cup brings to a glass of Prosecco, while Bonnie raises hers, proclaiming Salute!, and Linda exclaims, "Wow, this is good" after her first sip.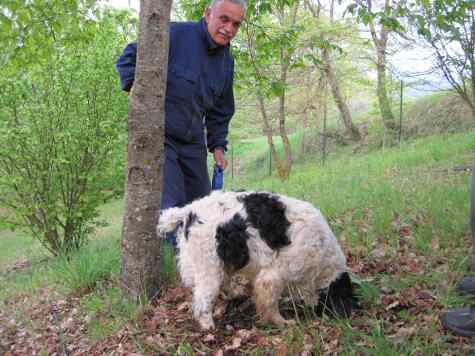 The farm we where we were having dinner was a truffle farm, so before eating, we had to dig our food. Well,not really, it sure was fun anyway. Sergio had planted some 600 trees, oak, beech, and hazelnut, more than 15 years ago, that were inoculated with truffle spores, and today we uses his his dog, Nano, who he trained, to hunt the truffles.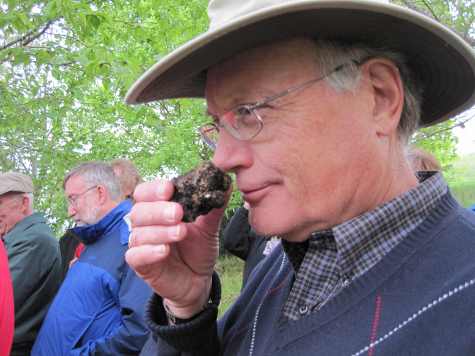 They say truffles have a peculiar smell. It certainly seemed peculiar to me, exactly like a compost pile, but maybe that's what they are supposed to smell like.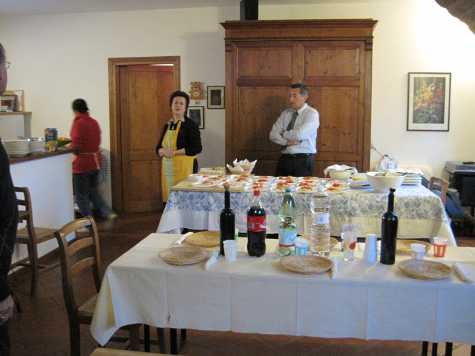 After the truffle hunt we retired to the farmhouse where Sergio's wife, Eva, had prepared a typical farm meal for us.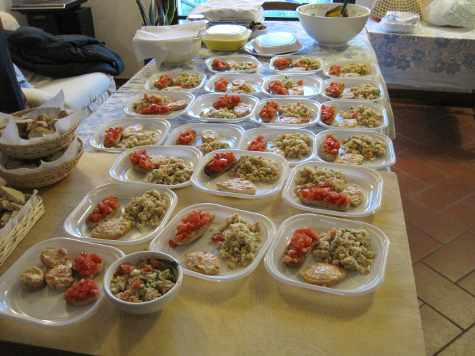 As course after course came from the kitchen, and the wine flowed freely, it became a very special time..
At the end of the evening, our hosts were singing Italian songs to us and we were singing American songs to them. It was a very special time, and Trica said it was the first time on any of her tours that the Americans also sang, as it was always only the hosts who sang to the tour group. When they started phoning their friends and holding the phone up as we sang, we got the idea something special was going on. Isn't it great when we can be part of something really special. Tonight it was our turn.
---
---