Journal Archive 5/1 - 5/10 2009
Scroll down to read the latest post
May 1 Friday
A Holiday, fun with ceramics, Wine tasting with lunch, climbing to a village, a beautiful church, an evening walk.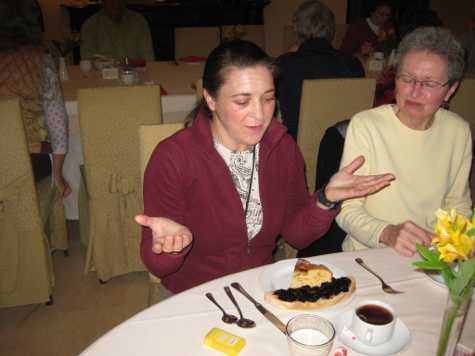 At breakfast, where I had vowed not to eat as many sugar filled foods this morning in a small attempt to control my rapidly expanding waistline, I noticed that Phyllis was eating something unusual. She's a girl who likes a bit of bread under her blackberry jam. While she was claiming it was perfectly normal, June appears to be displaying a good bit of skepticism about it being normal.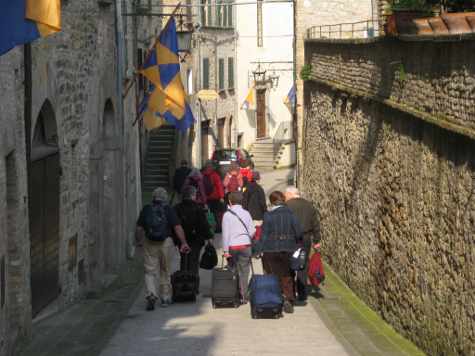 In hill towns you generally walk uphill going from the bus to the hotel, but in the morning you walk downhill going back to the bus.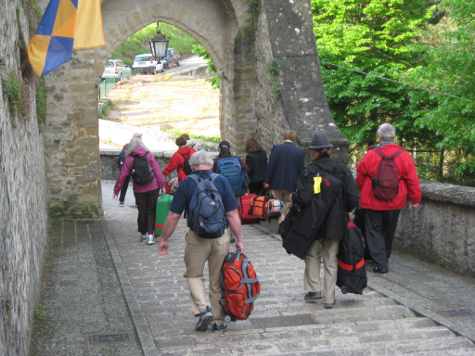 And then there are times when you really walk downhill. By the way, we had not walked uphill t our hotel, as Mario our bus driver had dropped us off at the top of town when had arrived. This way both walks with our bags were downhill. That's my kind of driver.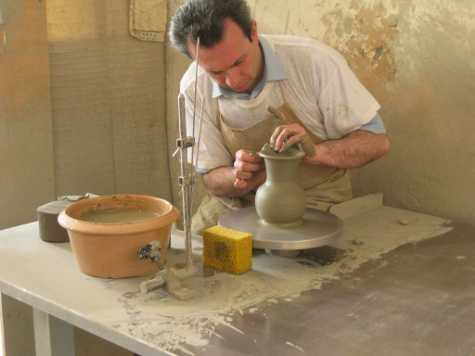 This is a small.family owned company where all the ceramics are hand made in the same way they have been for centuries. One of their biggest competitors are the cheap Chinese knock-offs exported to the American market that have nowhere near the vibrancy of color, nor overall quality, but are far cheaper. A case of what has happened to so many American companies.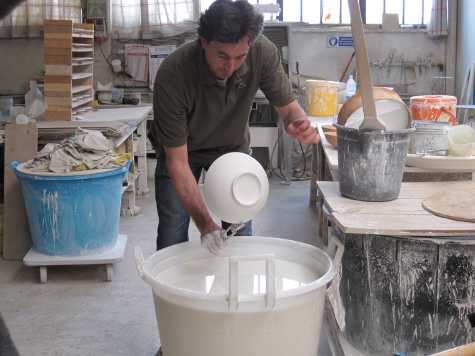 After the first firing, they are dipped in a glaze. This is one of the two brothers who are the next generation of the family that will, and in fact are running the business, greatly expanding their exports and quality.They were very proud to show us some tiles they had been selected to make for a very important building restoration in Rome.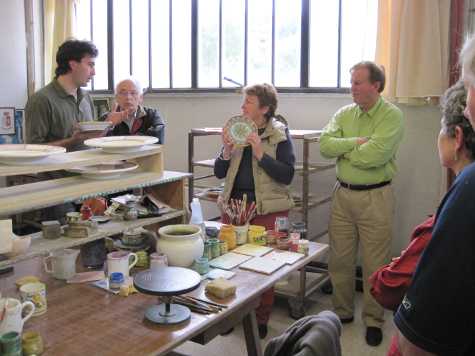 They also discussed the difference between lead and non-lead paint. We could see the difference easily once they pointed it out, a difference they described as viscosity, which was not a term I would have used. Depth, luster, softness, maybe, but not viscosity. Maybe that'swhy I'm not a ceramicist, or is it potter.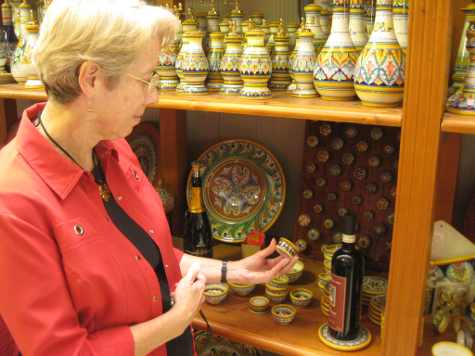 Linda also spent more than a little time looking for just the perfect item for our home. But while others bought huge plates or bowls, we had to look on a far smaller scale.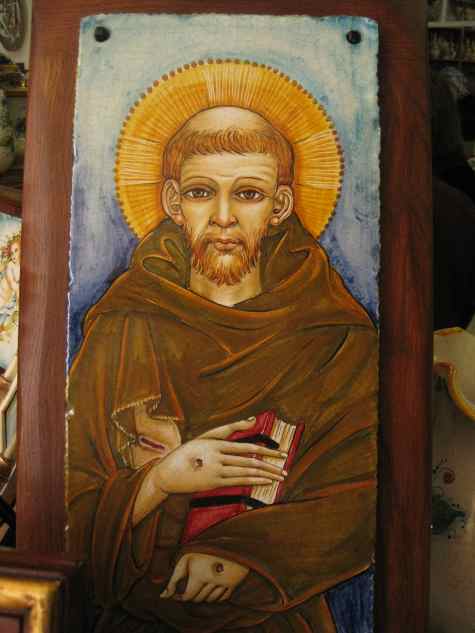 We also ran into the man who we spent so much time with yesterday, St Francis.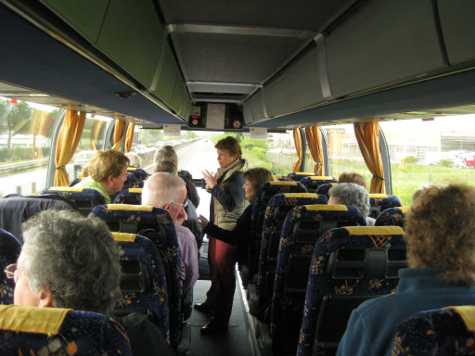 Then it was time to ride up into the hills for a combination wine tasting and lunch.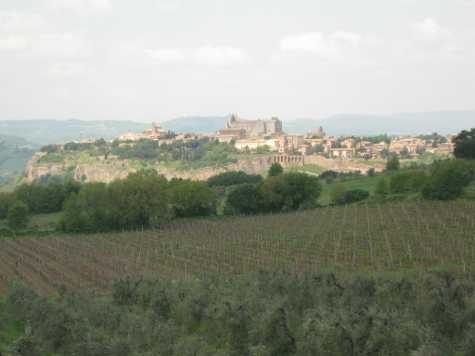 The view from the hilltop winery towards our destination for the night, Orvieto, was spectacular.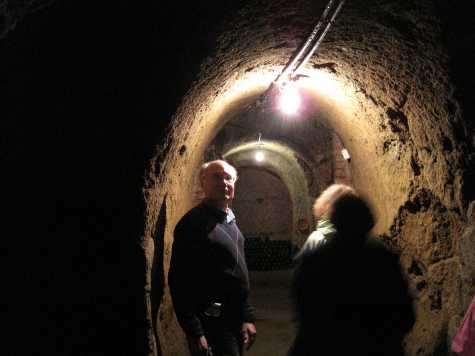 Our winery experience started with the history of the winery, the grapes and the wines, and included a tour of some of the oldest cellars they have. Old meaning very old, as in hacked out by the Etruscan's around 500 to 300 B.C. Once Linda saw movement in one of the passages, and hoping to get a photo of one of those ancient Etruscan's managed to only get a photo of this old guy.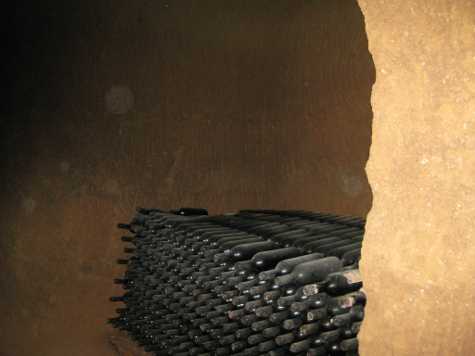 In cavities along the tunnel are bottle after bottle of wines, not for sale but the private stock of the family who owns the winery.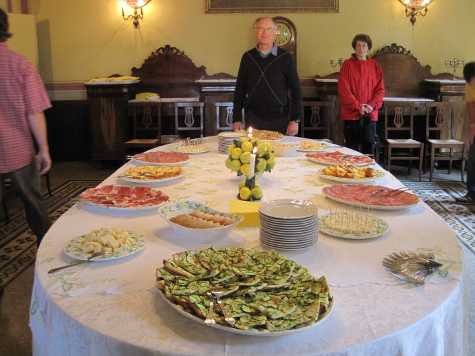 The tasting was built around the fact that we usually drink wine with a meal, so we would be tasting wines with the foods they were designed to accompany.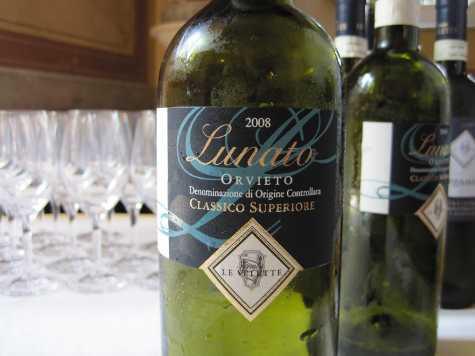 It turned out our favorite was the one we had been introduced to last year when we visited Orvieto, the Classico.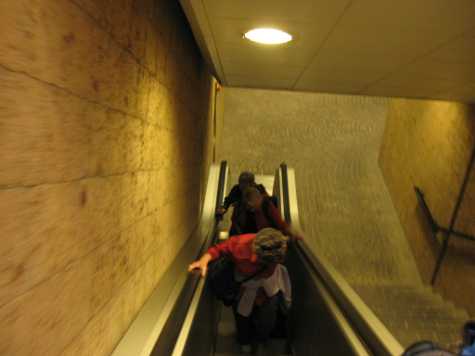 Orvieto is a true town, perched on the top of an huge section of volcanic rock. To get there you must climb, but the way we went up was with the modern convenience of escalators and moving sidewalks.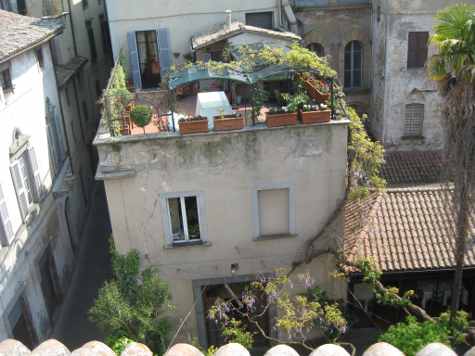 Our room was quite nice, with a small terrace off it that gave us this wonderful view.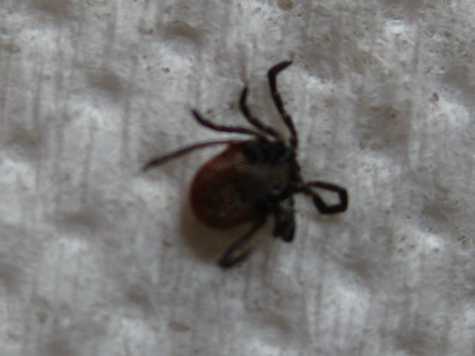 As I was getting the computer out, a cry rang out that must have been heard far and wide. Linda had discovered a tick had attached itself to her ankle, most likely last evening during the truffle hunt. Between alcohol, fingernail clippers and a needle, I successfully extracted all the parts. We later found out she was the only person to have picked one up, and I'll bet based on how sweet she is, she may have been the only one whom the tick thought tasted good enough.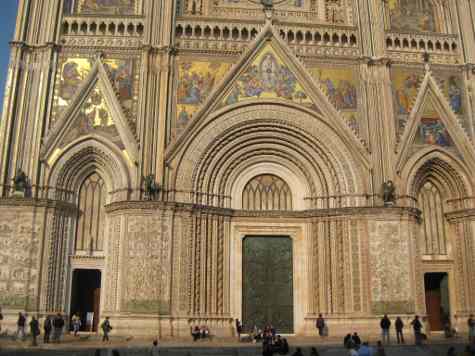 Later we took a walk around town, visiting the Duomo. The colorful facade is the result of some fantastic mosaics. The building is huge and the scenes are too high up to get a any detail with our cameras. Below them are some wonderful stone carvings. The one portraying the torment of hell was no doubt enough to convince any back sliders that the church was the place to get your soul taken care of.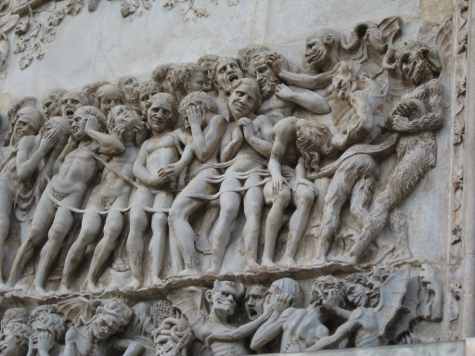 Linda's favorite is the fellow looking at us with his hands clasped under his chin. The look on his face seems to be a combination of help me, and you really, really don't want to be here.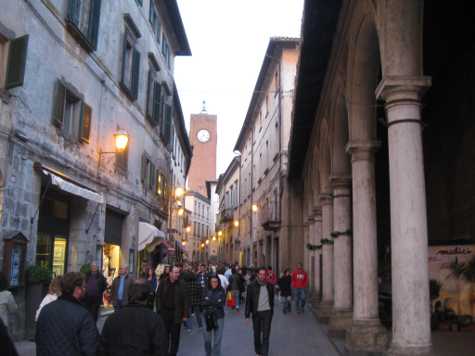 It was a Holiday weekend, so the streets were crowed with people. It was a startling contrast to the rainy day we had been last year when we practically had the town to ourselves.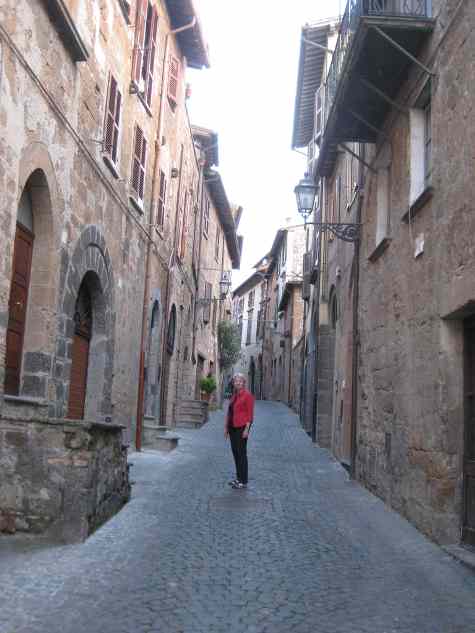 By simply getting away from the main tourist area we found the solitude we were seeking. A street where the buildings dated from the medieval period. On this street we could hear the people talking to their neighbors and understand exactly why it is not the materialism and desire for money that makes for the great quality of Life here. Yes, it is money that allows Linda and I to travel here, but it is not money that makes these people who they are. Our guide, Tricia, sums it up nicely. It's not that these people are poor, its just that know that money isn't everything, plus the government provides wonderful benefits to them, their free healthcare system being just one outstanding example.
---
May 2 Saturday
Market in the Square, picnic in the park, visit to a hilltop town, photo time.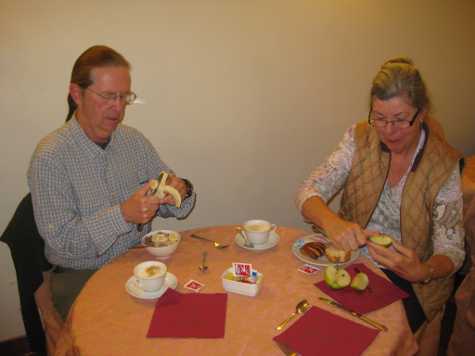 I'd actually done fairly well in the healthy eating department yesterday, but this morning I could see that my heroes needed to be Stan and Rita, rather than yesterday's jam jamming Phyllis.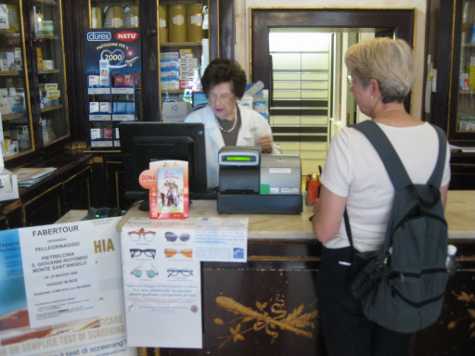 Linda had been having burning twinges off and on for several days, and this morning she decided that she was possibly getting a urinary infection. That meant a trip to a pharmacia, there being one just a short distance from the hotel. In the states it would have meant a trip to the doctor. Here for normal things the pharmacist handles what a doctor would do in the States. Even though the pharmacist spoke no English, we had no trouble getting some antibiotics to treat it, and also an understanding of how to take them.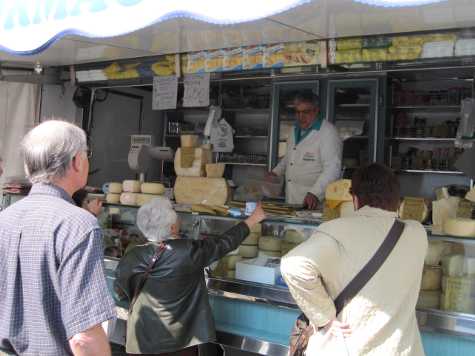 While the vegetable vendors put their goods out on racks, cheese is sold from inside ta vehicle, which was obviously set up specifically for this purpose.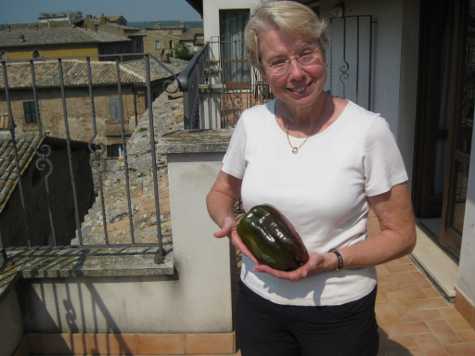 Linda couldn't get over the size and quality of the peppers, so she bought one.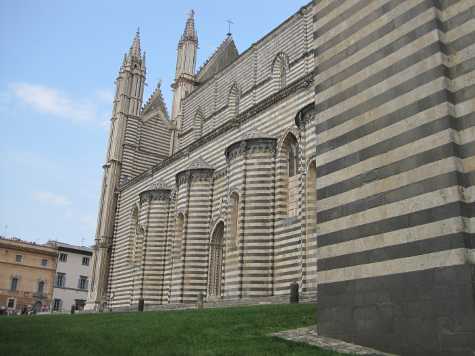 We also returned to the Duomo, the back and sides are composed of alternating rows of white and green marble, making for a stripped appearance, which is quite nice.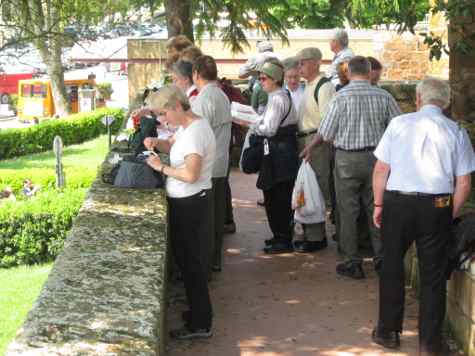 We gathered together at the appointed time and set out for our picnic spot, which was on the old walls of the city, setting the food out on the natural table the walls provided.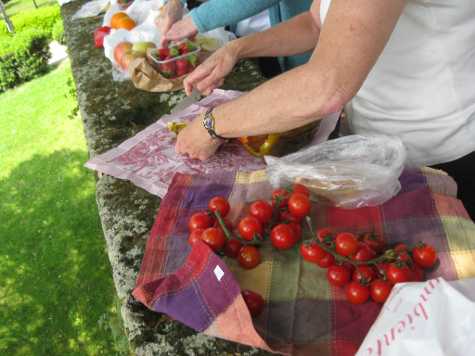 It was simple food, but when you are all buying what you want, you discover that almost everyone has not been getting their share of fruits and veggies.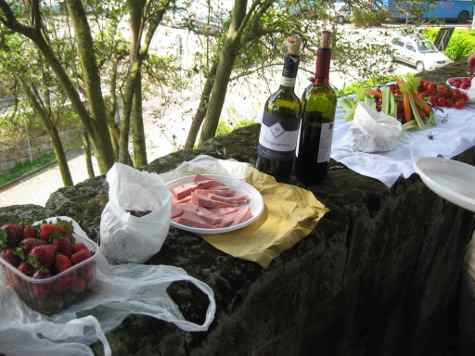 Even so, we weren't completely without meat and drink..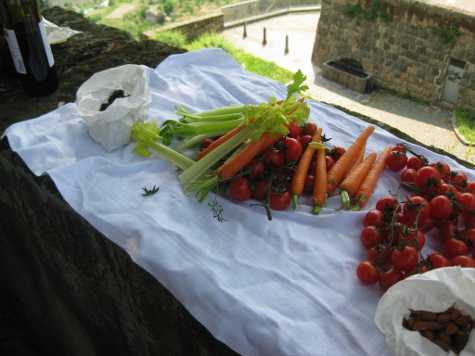 Someone remarked this simple row of food looked like a feast.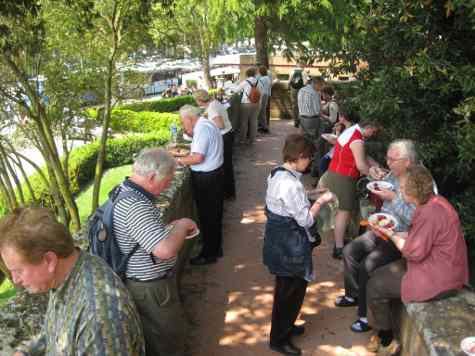 No one had to give the word to start, just as no one could eat only one plate full. Think in terms of a ravenous mob and you get the idea.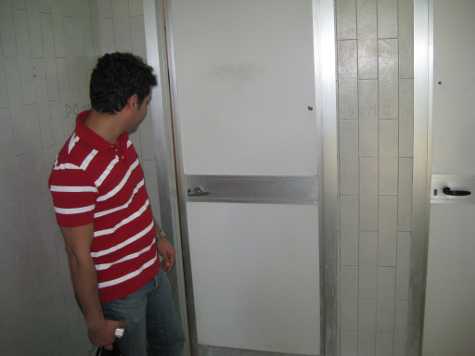 The public restrooms are not quite like the ones in the States. The one in this park is typical, with a row of stalls, just take your pick. The biggest problem was there was no way to latch the door, which for the ladies can be a real problem. I stood guard in front of Linda's door while she was using the facilities, as we say. This young Italian man took it a step further, firmly holding onto the door handle the entire time his wife was in there. Unfortunately just as I was taking the photo he let go as she started to open the door. Travel can certainly be interesting at times.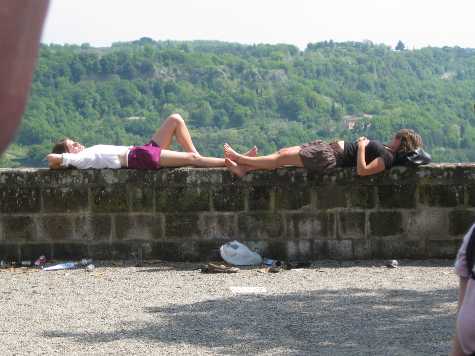 With the sun out and the temperature just perfect, a few people used the opportunity to relax and soak it up.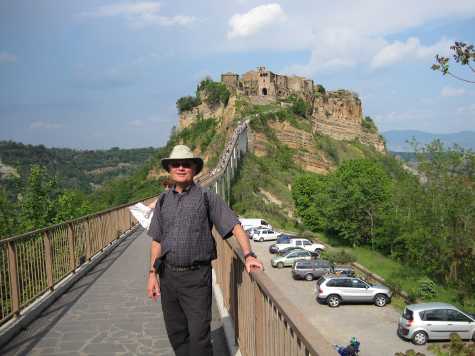 Then it was off by bus to Civita di Bagnoregio, a town with only one remaining resident, perched precariously on top of an eroding soft sandstone mount, and which can only be reached by walking across this narrow and at times, extremely steep walkway.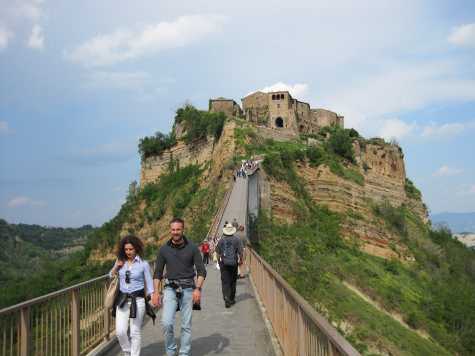 Striding off, it doesn't look like too difficult of a walk.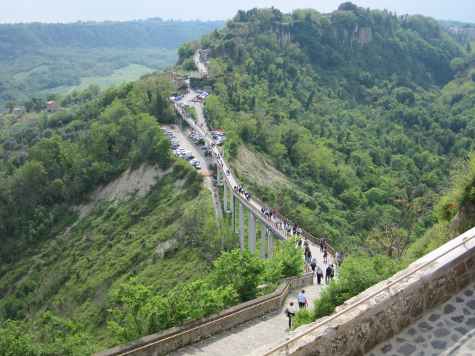 It is a climb which is breath taking in more ways than one, as the view looking back down shows.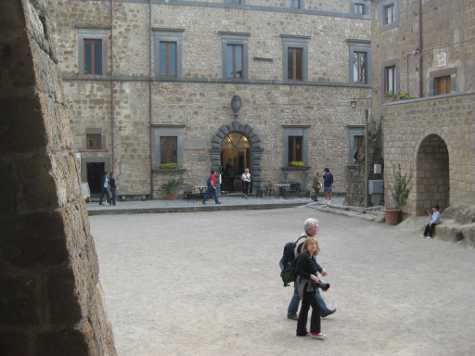 It's one of those places that requires a good bit of time and energy to get to, but once you are there, it's a case of, is this all there is. Well, at least we can say we've been there and have the photos to prove it.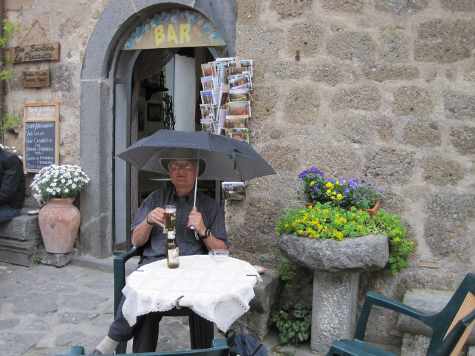 Deciding to support the local economy, what little there was of it, I sat down to have a beer. This took place just before it decided to start raining. I, however, wasn't going to let a little rain spoil my enjoyment of the moment.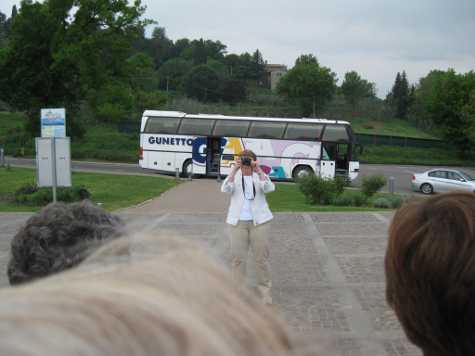 On the way back we stopped to take some photos of Orvieto, when Tricia suggested a group photo. Here it is from where I stood. It was that kind of day, a day when depending on your perspective, things sometimes took on new meanings, making it a very good day indeed.
---
May 3 Sunday
Etruscan's, learning to cook, and an agri-tourismo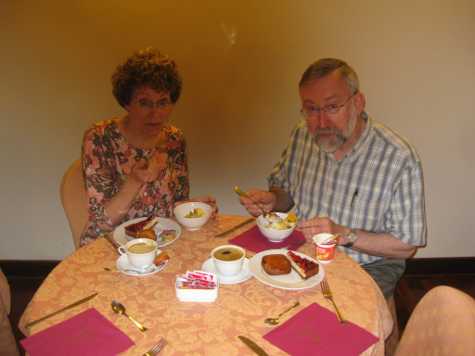 This morning we have David and Ginger showing us what great breakfast food looks like.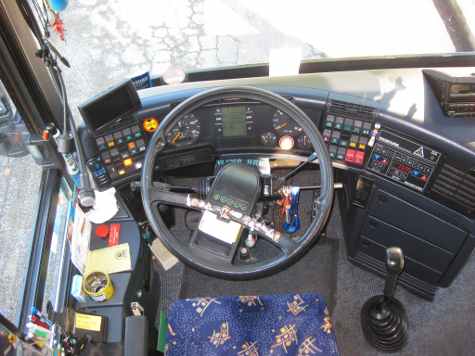 Being one of the first to board the bus, I decided to sit in the front seat. This also gave me a great view of Mario's world, which is different from the setup in our coach.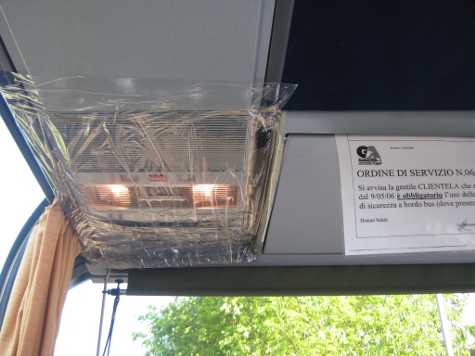 A couple of days ago during a rainstorm, Tricia had joked about water dripping on Mario. This morning I saw the solution he had come up with.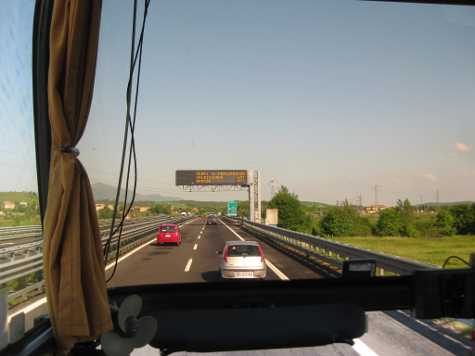 Looking down the autostrada, or freeway.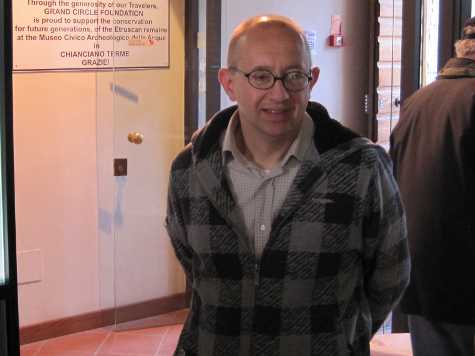 Our first stop of the day was at an Etruscan museum, where our host, Roberto, gave the best tour we have had to date. His knowledge was encyclopaedic, his smile genuine and his sense of humor entertaining.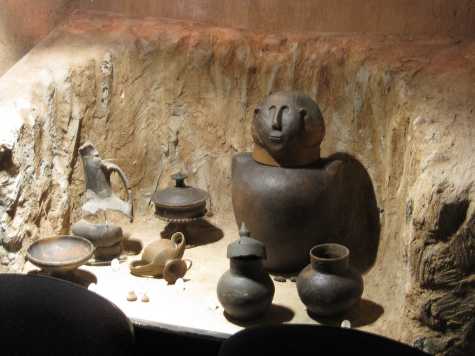 The Etruscan's pre-dated the Romans, their inventions being numerous and their pottery being wonderful.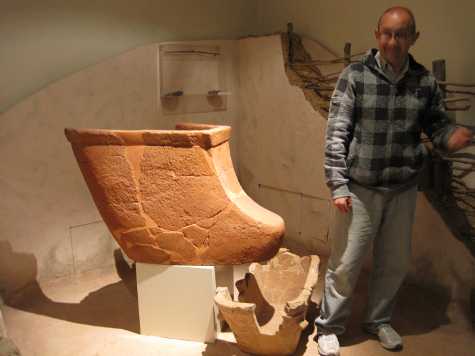 Roberto showed us how recent discoveries can alter the way we look at these people. For years these large pottery devices were thought to be bathtubs, however the recent discovery of a partially burned and buried building showed it was full of grape seed, indicating it was an early wine press. Bbut as Roberto said, someone who got their PhD based on justifying its use as a bathtub is not going to change their mind, else their carefully constructed reputation goes out the window.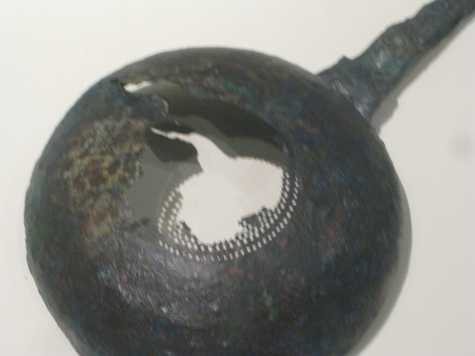 I was amazed they had these carefully crafted metal sieves.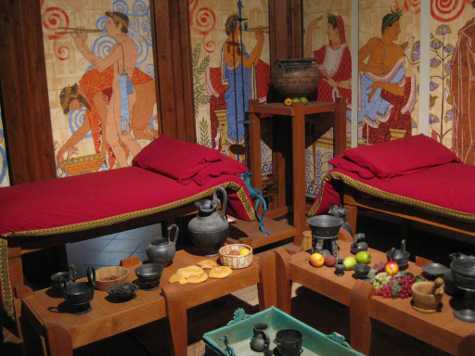 Yesterday we had our feast, today we got see what an Etruscan feast looked like.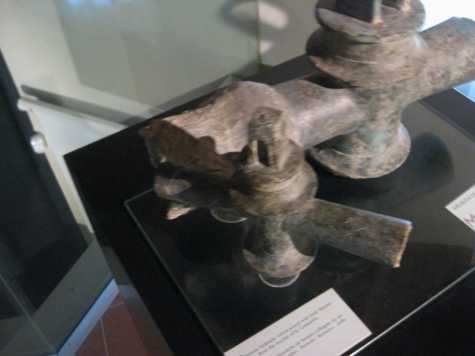 There was one exhibit on the Romans, and it was to expel another myth, that of the use of lead pipes by the Romans. The Romans used bronze pipes, but were done in by the lead solder they used. I look at some of the primitive wooden pipes we saw in museums that were used early on in our country, then look at this joint with two sizes of pipe and valves that the Romans used. Are we really as advanced from prior cultures as we think we are.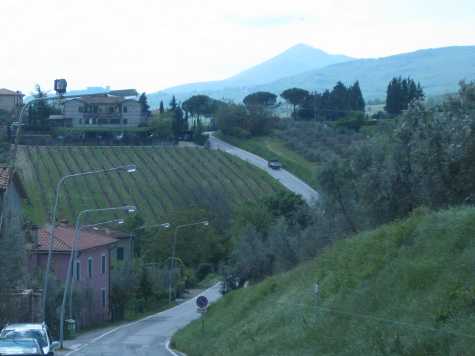 Our next stop was at an agritourismo for a cooking lesson. The owner and chef, Stefano was proud of the farm that had been in his family for generations.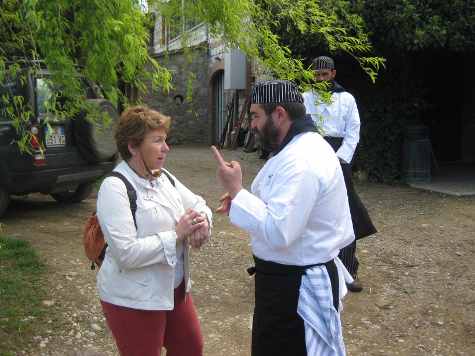 Here is Stefano getting a point across to Tricia. We were soon to learn he could cook or he could talk, just not at the same time due to fact he needed to use his hands for each.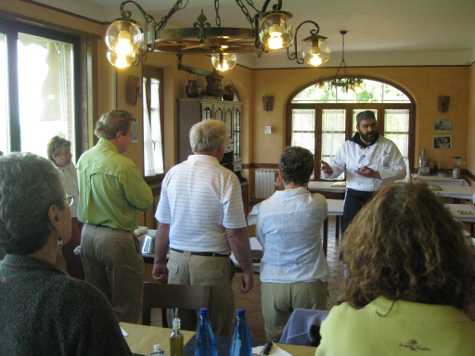 With each dish Stefano would explain it to us in his heavily accented English, show us with a speed that challenged the speed of light, which I think that was to make up for all the time he spent talking about it.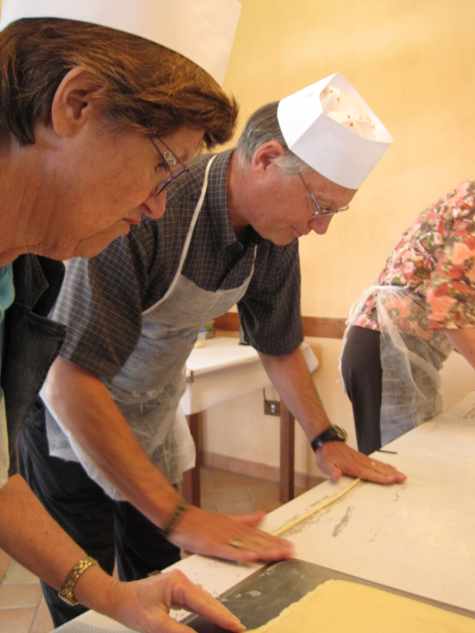 Here is my best imitation of Stefan..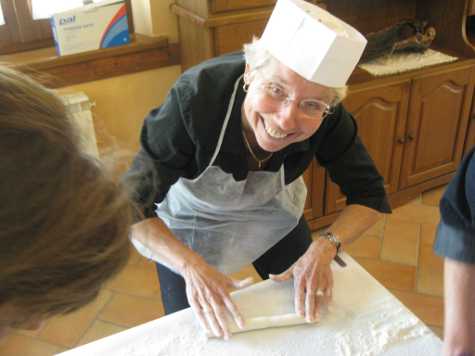 You can see that Linda also loved making whatever it was we were rolling out and stretching into strings. When I asked her what it was she said, "Some long skinny stuff you put sauce over." Obviously there is no Italian blood coursing through those veins of hers.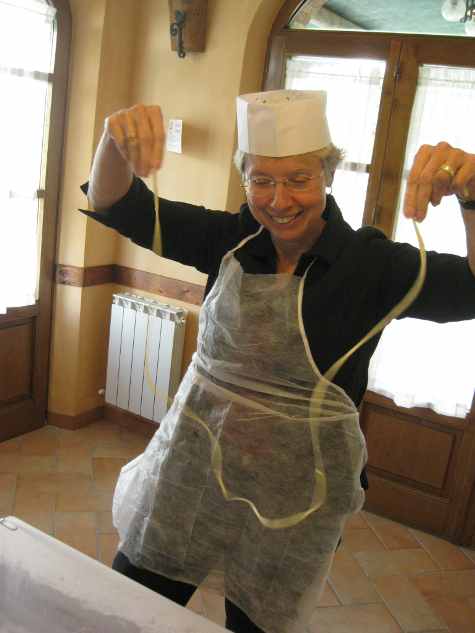 She was great at shaking those strings out exactly like Stefano showed us. She almost looked like an exotic dancer bouncing around. I wonder is there a side to her I never knew about.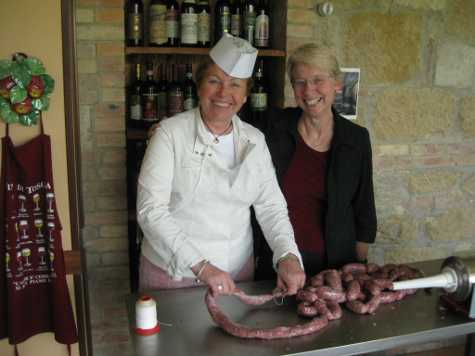 Linda also got lesson in sausage stuffing and tying, though I can assure you no sausage stuffers or tyers need fear for their jobs.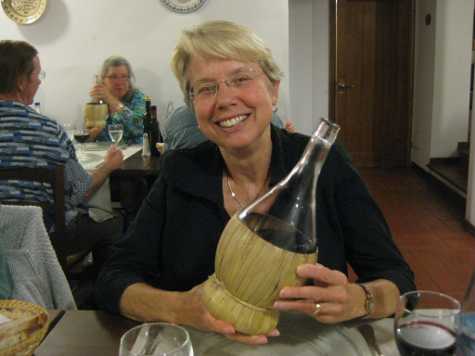 Our final destination was an agritourismo where, the rooms the food and the fun were all first class. Life is good.
---
May 4 Monday
A day in Siena, rainy afternoon, another great meal.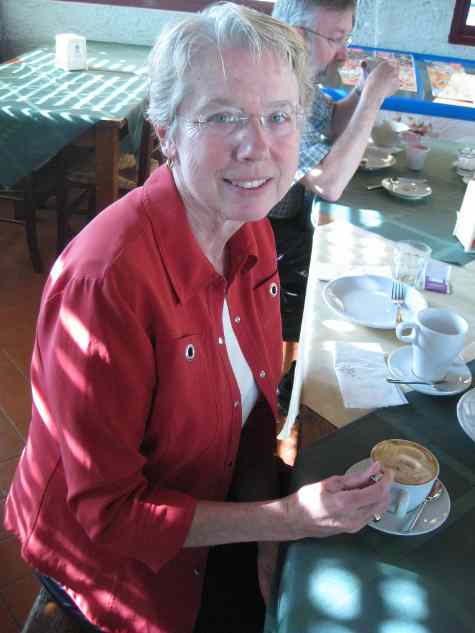 The breakfast at the agritourismo was the best we have had yet. While I dined a-la south beach on cheese, meat and eggs and juice, others just raved about how good the cappaccini were.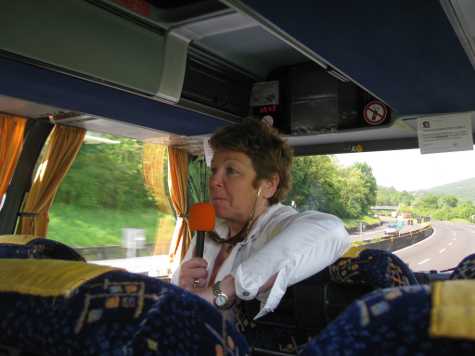 Having liked the view yesterday from the front of the bus, I decided to again sit closer to the front. As we drove to our destination, Siena, Tricia filled us in on the things we could do and see because this was a town where guides were very tightly regulated, and had to be licensed. That meant she would be walking around talking out loud to herself, and if we crowded around her we might overhear what she was saying to herself.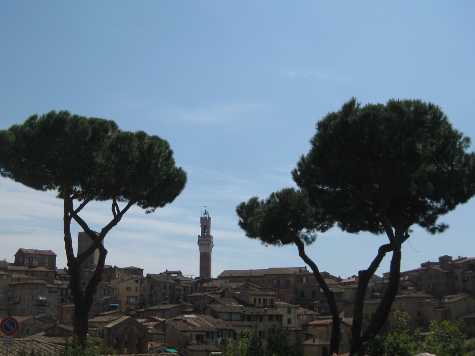 Siena has been called the ultimate hill town, and the very first view we saw as we walked into town seemed to confirm those words..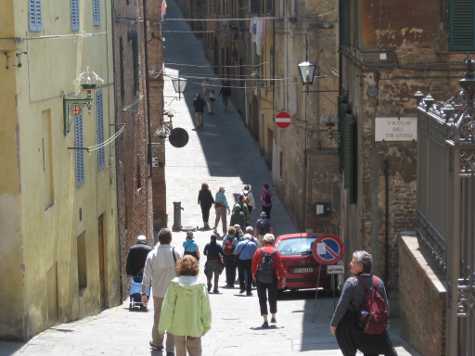 Being a hill town, there are a lot of hills..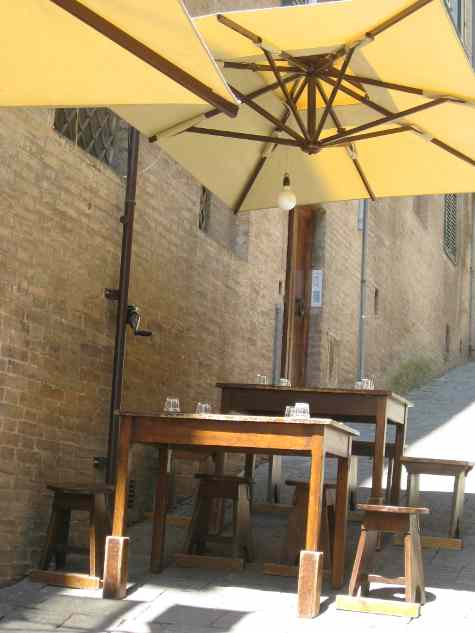 Just because you're on a hill doesn't mean there aren't outdoor cafes. It's just that they have to also get a little inventive with their tables and benches.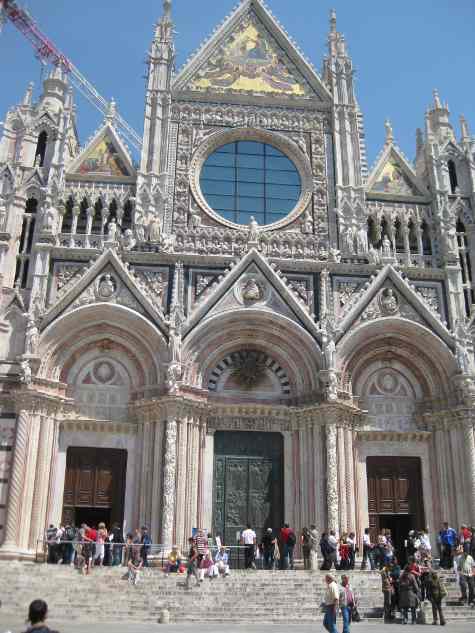 There was, of course another church, there always is and the joke was that this was turning into one of those famous ABC tours, meaning: Another Blasted Church tour.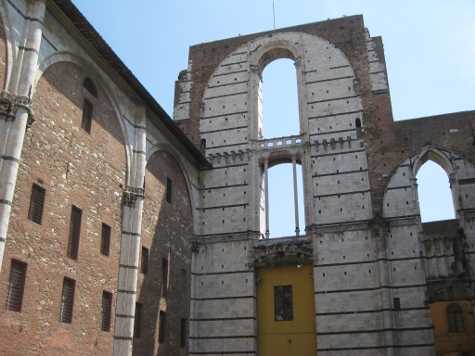 This was planned at one time to be the biggest church in the world, but centuries ago they ran out of money, so only a few walls were ever built, most of which have been bricked in over time.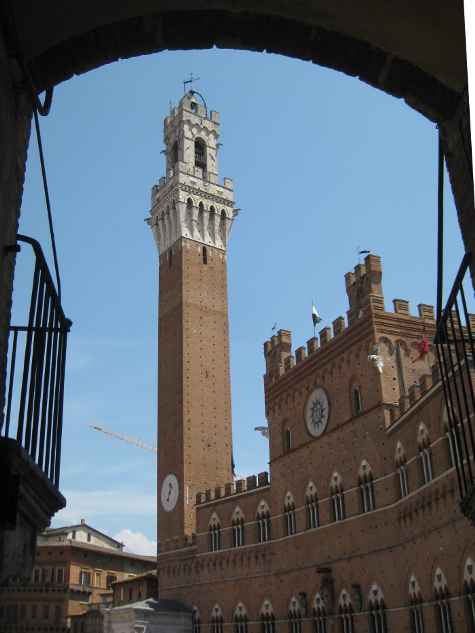 Almost everywhere you look, it is one of those, wow, moments.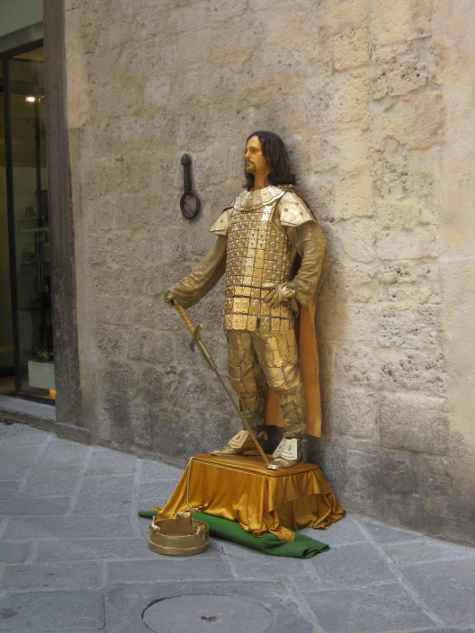 When we saw this living statue of a golden prince, Linda put a Euro in his crown, so I could take a photo of him, something you don't have to do, but these fellows are working hard for what they get.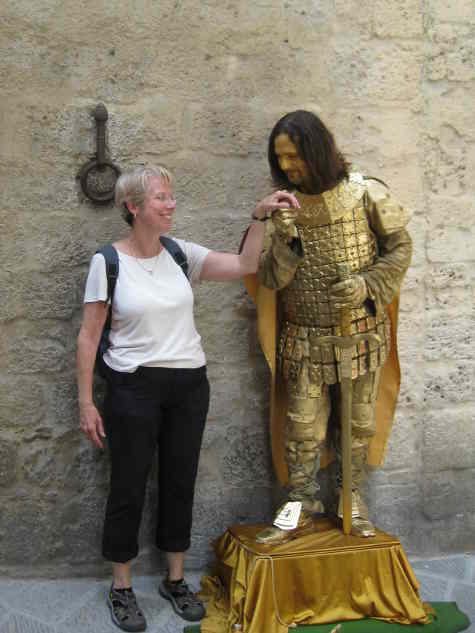 The coin earned m'lady a kiss on the hand from Prince Charming.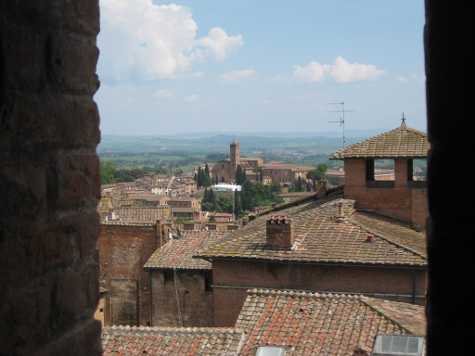 Climbing on of the town's towers gave Linda a birds eye view. I stayed at a lower level since I hate narrow spiral staircases with a central column that are so common over here.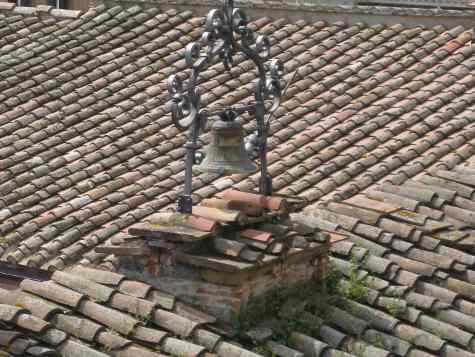 A bell on a rooftop..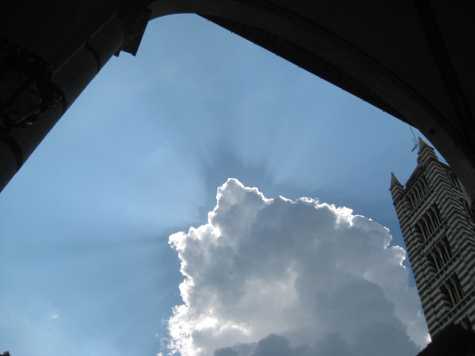 Is it the silver lining in a cloud over Siena?.
Linda is renowned for her ability to find the very best gelato, whatever the town. It was this in mind that we visited several shops before the order was placed. This is a Linda eye view of a Gelateria. Those mounds are what you look for. Unfortunately she had hers eaten before I got around to taking a photo.Maybe next time, if I not too busy eating also.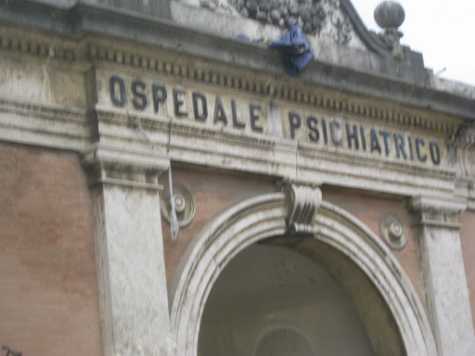 Sometimes it is fairly easy to figure out what Italian words mean. Take the words caved into this arch for example.
Italy hast the highest rate of traffic accidents and fatalities in Europe. On the return home it started to rain and this Mini thought it could go around the corner far faster that conditions allowed. That's the joy of slowing down, enjoying Life and taking things as they come.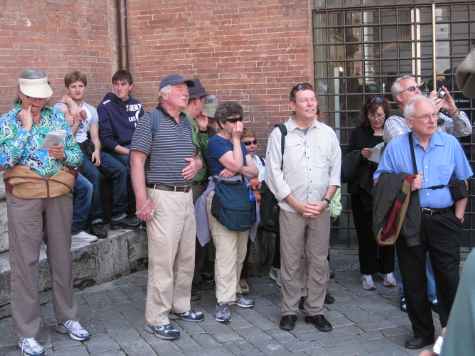 To end today, here's a photo of Tricia sitting near the Duomo in Siena talking to herself while the goup gathers around her. The Romans couldn't oveercome the Scots, and it looks like it is the same today for the Italians. That's her in the center of the photo, sitting back against the wall.
---
May 5 Tuesday
War and Remembrance, a true hill town, and then to Lucca which is not much of a town.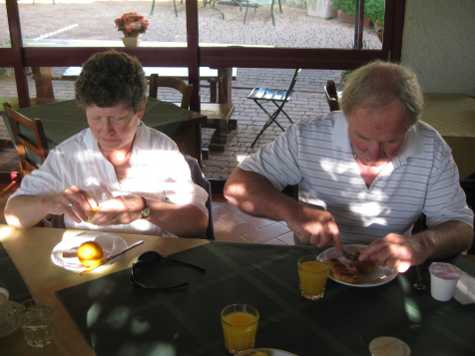 This morning, in the dappled sunlight of the breakfast room, David and Diane enjoy another wonderful agritourismo meal.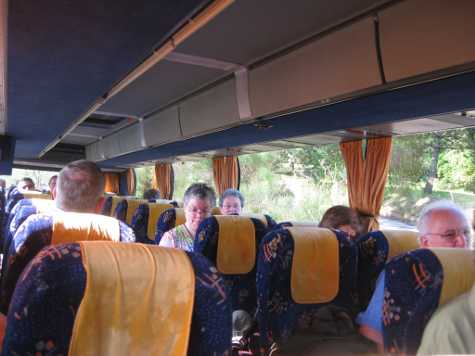 Tricia had told us we would be stopping at a surprise location this morning and on the bus, heads were spinning trying to figure out what it was.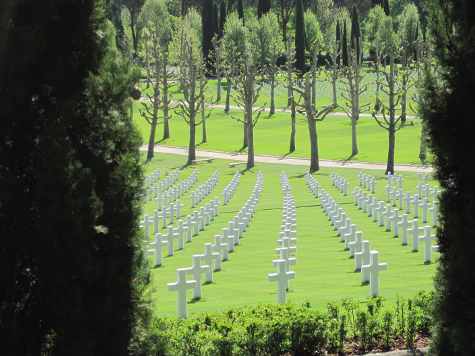 It turned out to be the final resting place of 4402 American men and women from World War II, Florence American Military Cemetery.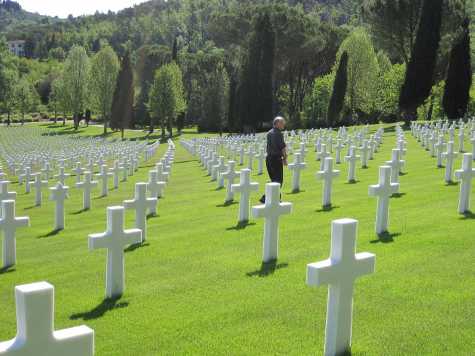 It is a very special place, just as the Martagen Cemetery we visited last year in The Netherlands was. Some people make war, some people die in war, some people remember war, and then the cycle starts all over again. Why can't we learn from what went before? Why do we have to repeat the same mistakes over and over?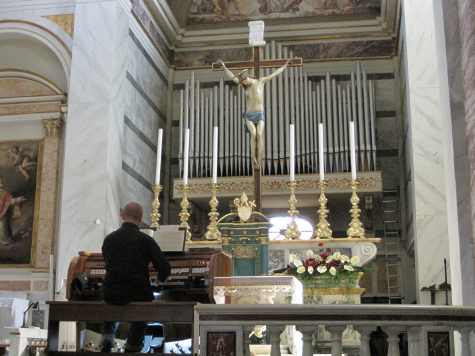 For lunch we stopped at the tiny hill top town, San Miniato, where a peek into one of the churches resulted in a mini-concert as we sat listening to the organ fill the church with music as the organist practiced for an upcoming service. It was truly one of those Sara N. Dippity moments.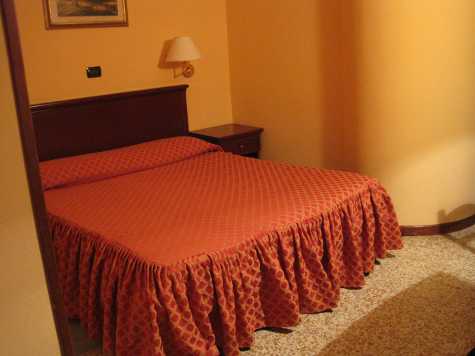 Our stop for the night was in Lucca where our room in the Hotel La Luna was, to put it mildly, tiny. The photo can't do it justice,meaning it makes it look far bigger than it was. I think the name for a room this size should be a "bag tripper", because that'swhat i seemed to be doing, tripping over my bag which was always in the way.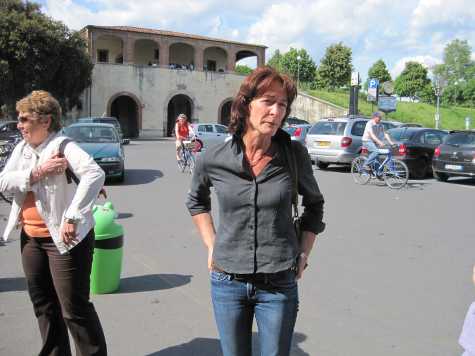 Then just when you think it can't get worse, it does. Our guide for our city tour had a very strong accent, a soft voice that had no carry what-so-ever, plus the tour was scheduled at 5 O'clock when the streets were packed with people. Couple the guide, the room, and the fact that Lucca just didn't feel right to us, that Linda's wheels were already turning, thinking up something that would take us out of town tomorrow when we had so much free time.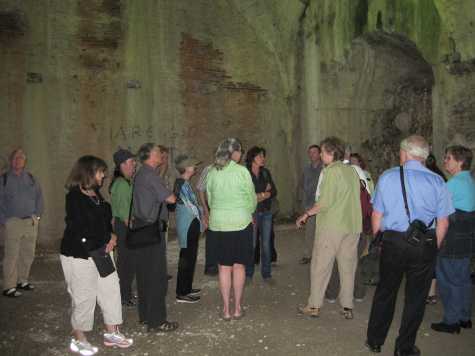 The town walls were thick. So thick it took almost 100 years to build them, but they worked, since they discouraged Lucca's enemies from ever attacking the city.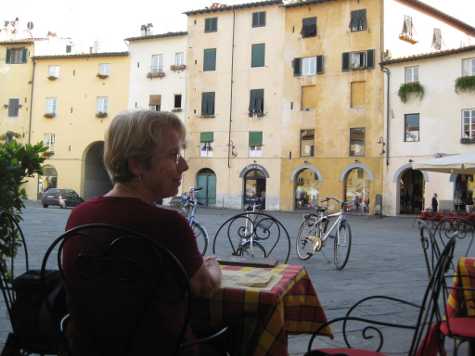 Later we enjoyed a drink at the site of the old Roman Arena, something that was replaced with other buildings in the middle ages. In a way that pretty much summed up what we thought of Lucca, Rick Steves would do well to replace this town with something else. In contrast to the agritourismo we had stayed in the last two nights where the room was wonderful and the food the best of the trip, this place was a slum and that's being kind. If you get the idea we didn't like Lucca, you're right.
After more than a month of great things maybe it was time for a disappointment, and even though today wasn't all it could be, Life is still great. All it takes is to once again remember the sacrifice of all those men and women in the Florence American Military Cemetery, and know that without them we would likely never had the opportunity to be disappointed.
---
May 6 Wednesday
Visiting Italian Villas, thumbing a ride, doing what Linda wanted to do, a delicious meal.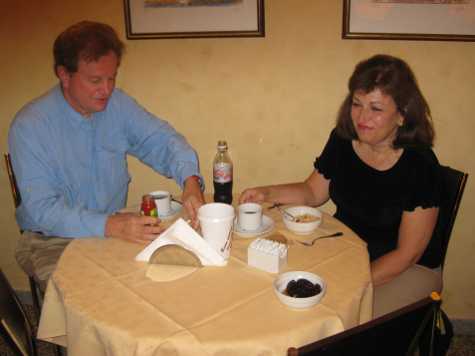 This morning it is Karen and Steven looking forward to the day while enjoying breakfast.
Tricia spent some time giving us the background of the villas, the Romans first coming up with the concept and taking it far further than did later cultures. The villas we would be visiting today were built during the renaissance, and first onewe were to visit has survived pretty much intact. The whole idea of the villa was to be a place to relax, entertain and impress.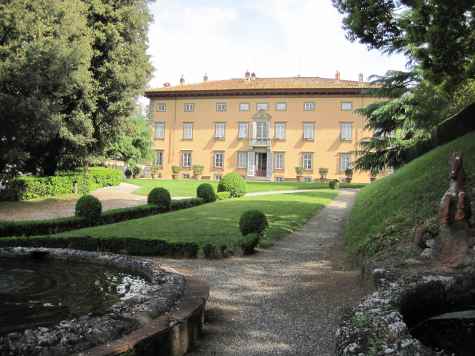 This is the back of the villa seen from one of the garden areas.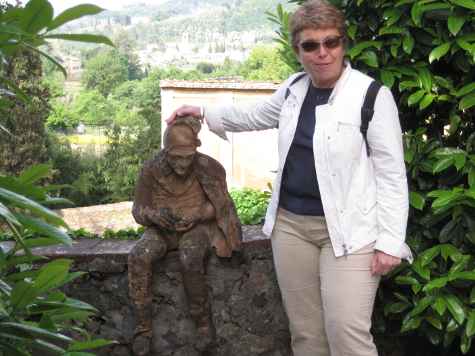 Statues abound and Tricia told us this was one of her favorites, which she called the garden keeper.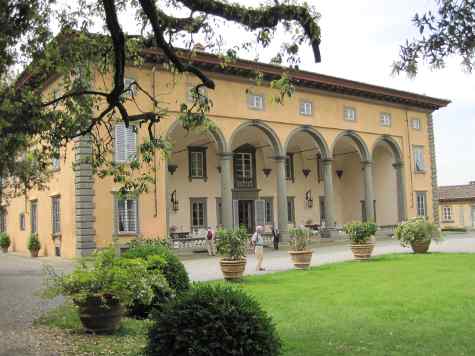 The front of the house, which actually faces the back of the property, is quite impressive. The gigantic front porch area was designed as a place where people could be outside and in covered shade, yet still have an open, airy feeling. We also enjoyed a tour of the interior, but since this was a private home we could not take any photos. It was like stepping back in time, from upper bedrooms to the basement kitchen.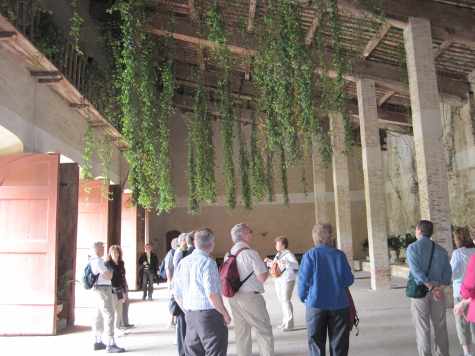 The second villa was equally impressive, with the limonaria, a huge room where the decorative lemon trees were placed during the winter, being one of the highlights.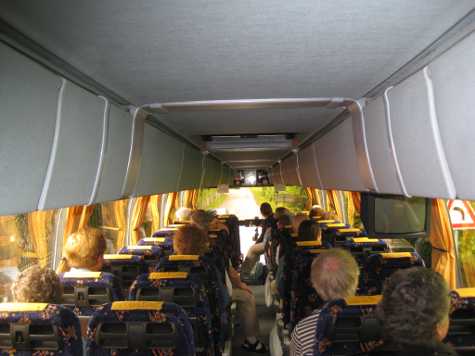 Returning from the villa tour, I went where I'd never gone before, to the very back of the bus. The photo Itook shows one of the joys of a Rick Steves tour: plenty of room to spread out on the bus.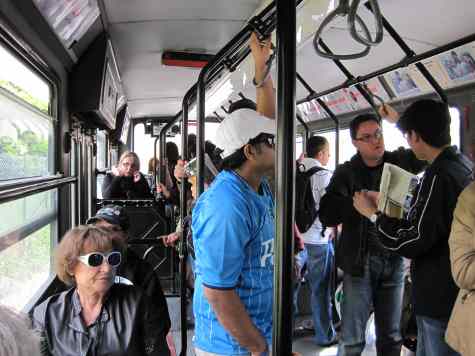 That wasn't the only bus ride we took today. Linda had something she really wanted to see, so when Mario dropped the group off, we discovered the bus parking was near the railroad station, so we hitched a ride with him. He was so nice, dropping us in front of the station.
We lucked out at the train station, a ticket to our destination costing only Euro 2.40 each, and there was a train leaving in just a few minutes. Today was looking to be the exact opposite of yesterday. Then once we arrived where we were going, after getting on and off the wrong bus a few times, we eventually headed towards our destination on the right bus along with a good many other people it seemed.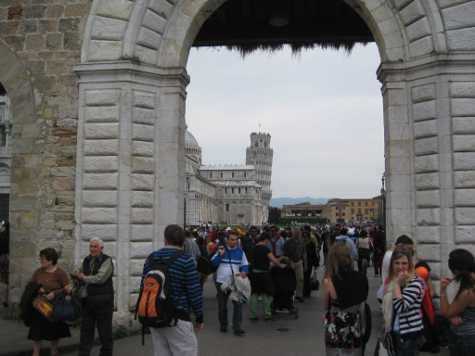 You can see what it was leaning out into the center of the photo. And yes, it really does lean.Being the bell tower of a Duomo, it is part of a large complex,and while the other buildings are of significance, all eyes are first drawn to the Leaning Tower of Pisa.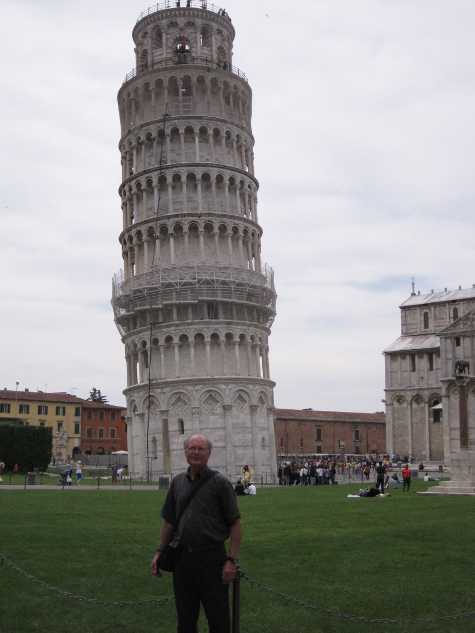 The first thing everyone wants to do is to have their picture taken in front of the tower and I was no exception, jumping out there so Linda could take my photo.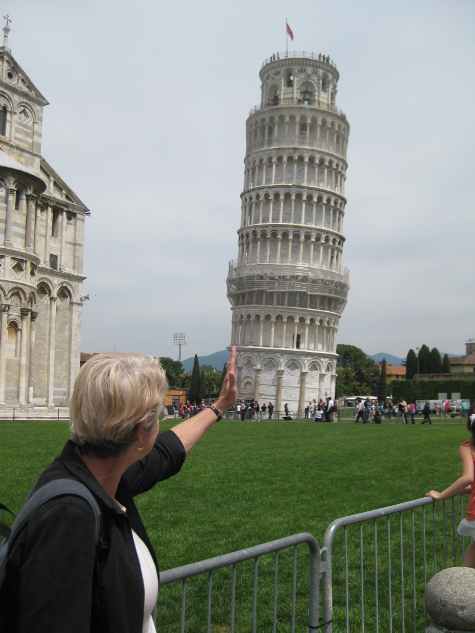 Linda, of course couldn't just look at it,she was wondering out loud what would happen if she pushed it just a little bit more. I didn't think she was serious until I stopped and looked back.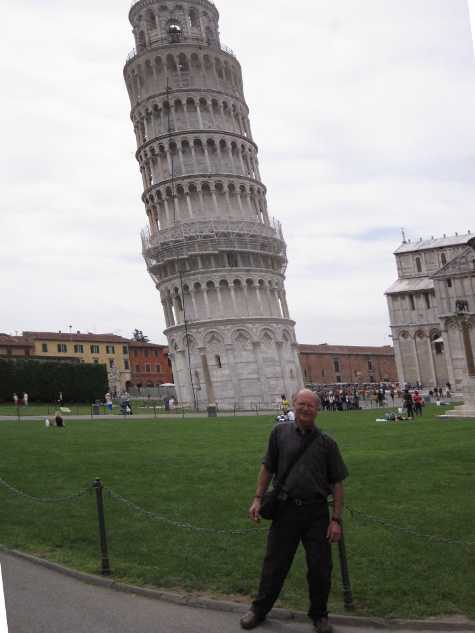 There then ensured a slight disagreement about whether she had tipped it over even more. I contended she had, she said there was no way she was strong enough to move it. Look at the above photo of me standing in front of the tower after she pushed on it and tell me it isn't tipping more than it was before.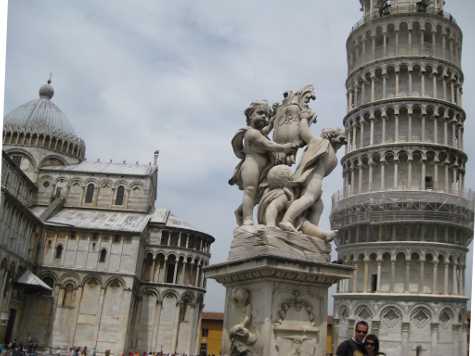 Later, just to prove her point that she can't be wrongl, she took this photo to show that one had taken of the tower leaning even more was merely an optical illusion. It wasn't the tower that was leaning at all, it was the buildings around the tower that were leaning. I didn't believe her for an instant, but to humor her I said I could certainly see her point.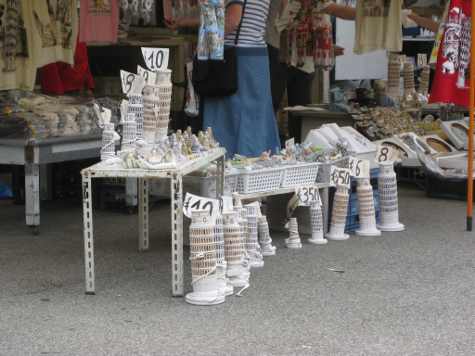 One thing that we both could agree on was the number of tacky souvenirs being sold in all the shops on the walkway near the tower. It they could make it into the tower, it was for sale. We joined in the buying spree, getting two tower pins, one as a gift for Mario for dropping us off near the train station, and being such a wonderful driver and person, the other to use as a hiking staff emblem.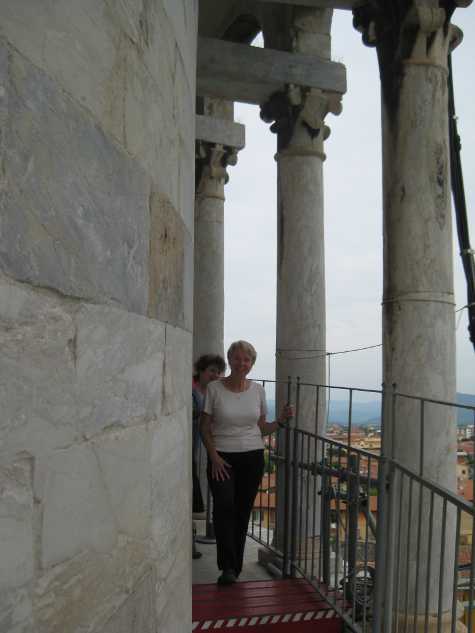 They only let groups of 30 people ascend the tower at 20 minute intervals at a cost of Euro 15 each, reservations required. Wegot lucky and secured a spot in a group leaving in 60 minutes. About half way up they shunt you to the outside of the tower to let the people coming down pass by. There is a safety rail, but the sense you get from being so off balance is astonishing. On the steps inside the tower, when you are on the high side the steps are worn on the inside, on the low side they are worn on the outside. You can actually feel the change in direction the tower leans just from the slope of the grooves worn in the steps.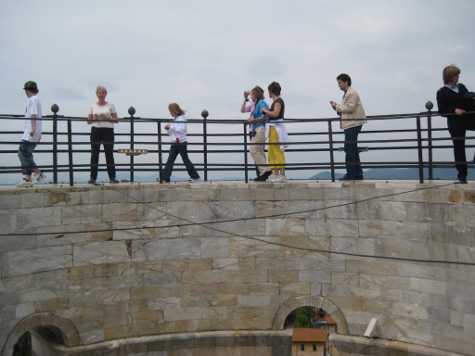 At last we made it to the top, Linda even having to use her hands on the steps at one point they are so steep. At the top the lean is very noticeable, the only problem is that what the eyes see, a photograph cannot show. Here is Linda on the high side, while I take the photo from the low side.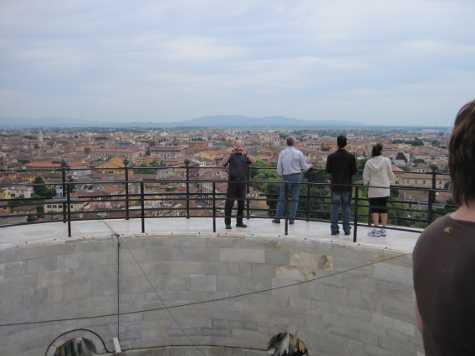 Now Linda taking a photo while we are in the same positions, she on the high side, me on the low side.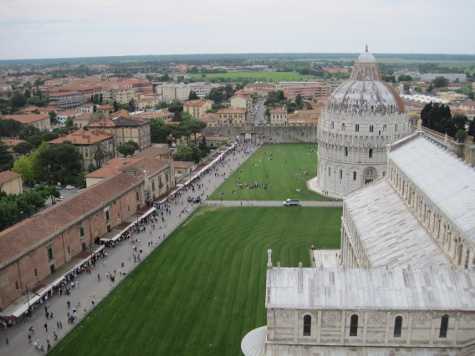 A view of the Duomo, Baptistery and some of the people who were visiting the tower on a Wednesday afternoon in early May. I can't imagine how crowded it must be in the summer.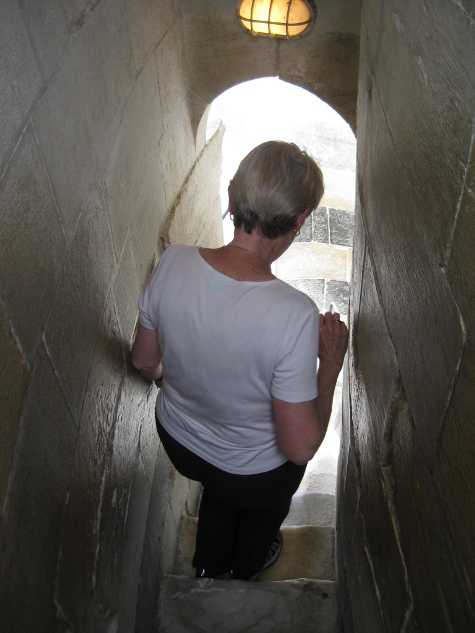 Heading down, and showing how narrow and steep the stairs are,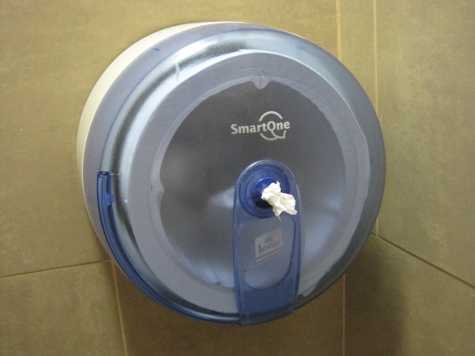 Before returning to Lucca, we did our own version of the keystone cops, as I inadvertently cut the line to the WC, skipping past the place were you paid your Euro 0.30 to use the facility, though the attendants yelling finally got my attention, so that I rather sheepishly got in line as I should.
Linda had her own problems trying to find the toilet paper. It was in the dispenser shown, but the paper wasn't sticking out as the photo shows, meaning she squatted and frantically searched for the paper before discovering the problem. Squat is the word because very few public toilets in Italy have toilet seats. The Italians think it is more sanitary that way. We have our own opinion of what it is.
What a difference a day makes, what a wonderful time we had, and what great memories we now have. Life once again lived with a capital L.
---
May 7 Thursday
Fun with words, marble, marble, marble, the Mediterranean coast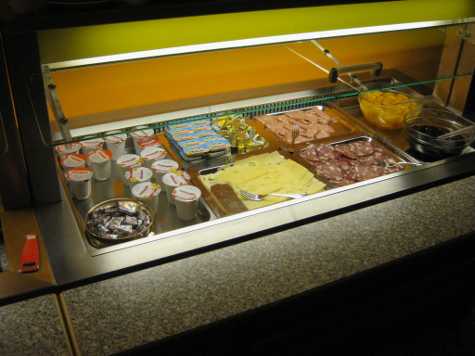 The problem with being in the early group for breakfast is that you never get any photos of the late arrivals. So here is a photo of what they will have to eat when then come down to the breakfast room.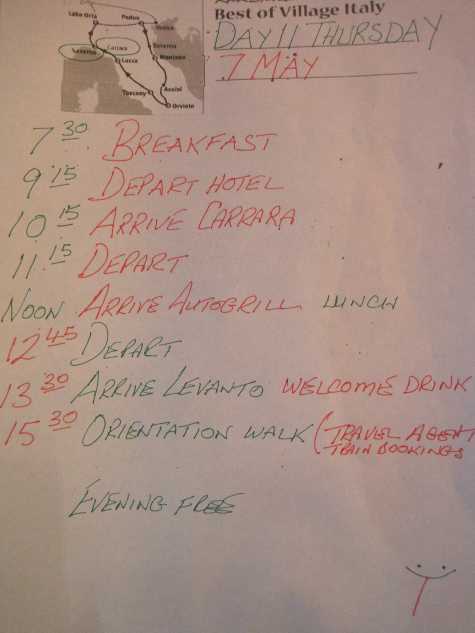 Tricia posts a schedule of the day's events near the front desk of the hotel. Here is what was on tap for today. When we check into the hotel she always gives us our room numbers in Italian, guess we are lucky she doesn't do the same for the schedule.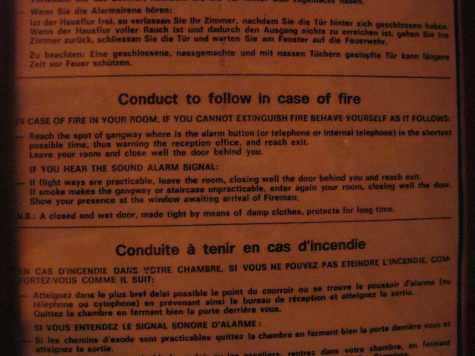 This may be the reason she writes the schedule in English. As you read this you can see some things are lost in the translation..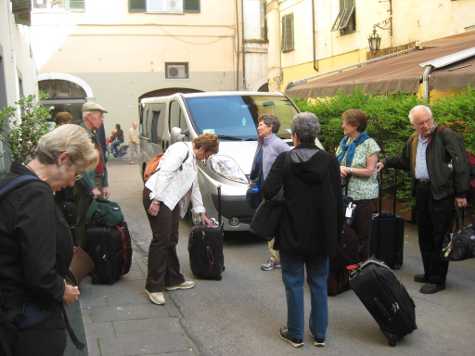 As we were getting ready to leave the hotel, a minivan arrived. The joke was the bus was costing too much and Rick Steves wanted to see if the group would fit into a minivan, saving him money.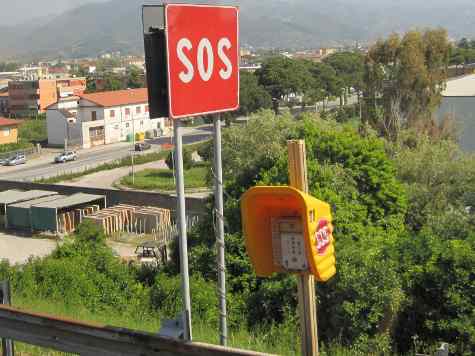 The roadside emergency call boxes in Italy leave no doubt what they are for.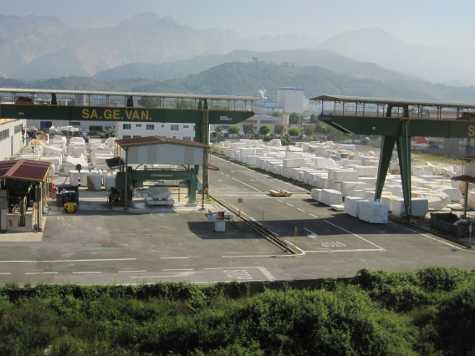 It was a short bus ride to our first stop of the day, The town of Carrara, known as the home of the world's finest marble.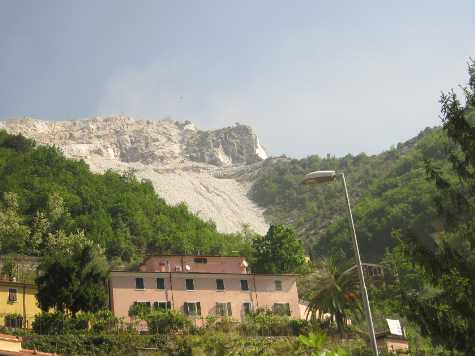 While the town and the marble cutting facilities are mostly down in the valley, the marble is quarried high up in the mountains.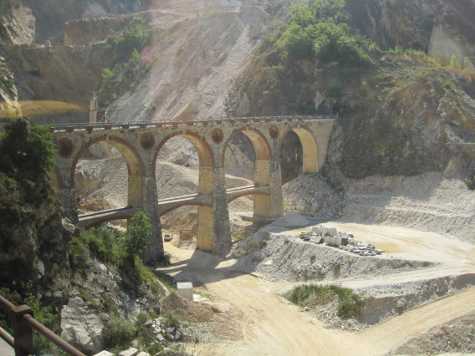 The higher you go,the more the world changes. Up here it is a place where marble has been quarried since Roman times, and where in some places, time seems to stand still.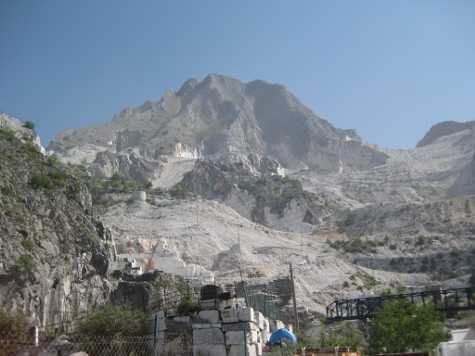 You can see what looks like snow up on the tops of the mountains. But it is not snow, it is the result of all the marble quarries.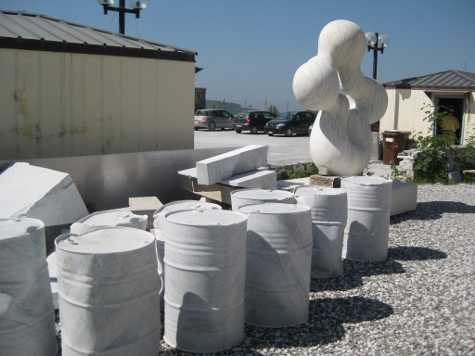 Up where the quarries are, there is a seemingly permanent haze in the air from all the marble dust. We saw these 55 gallon barrels and couldn't believe they were so coated with dust. They weren't, they were carved out of solid marble and made to look like old oil barrels as a special order for a customer.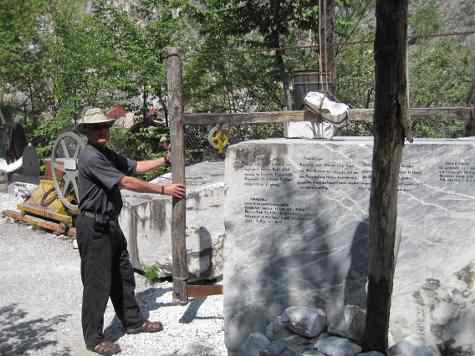 After a somewhat harrowing bus ride far up the mountain, we visited a mining museum. The displays ranged from the tools of the Romans to the modern day. Here is an old guy showing how the Romans sawed the marble with an iron blade, sand and water.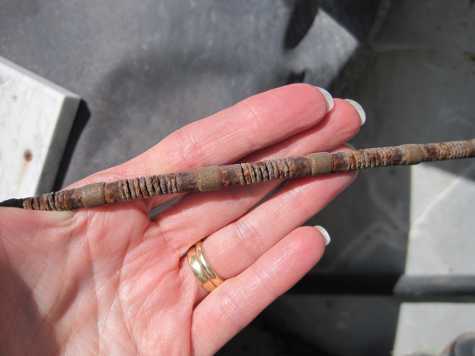 In the hand of this beautiful young modern day model, who bears a striking resemblance to Linda, is a diamond impregnated band saw blade like is used today.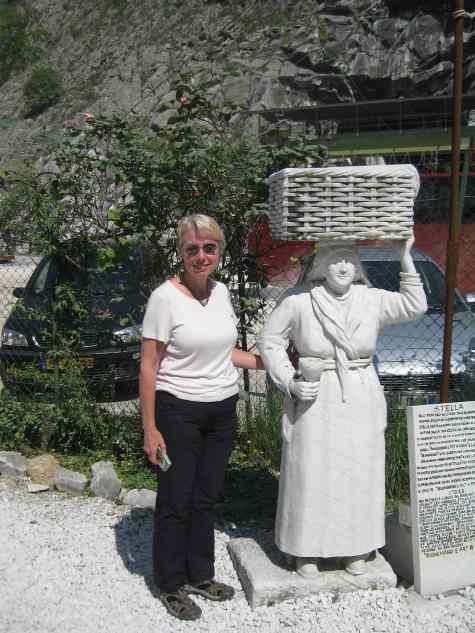 Linda was commenting that I had only been showing parts of her lately, so here's one of two old ladies in Carrara.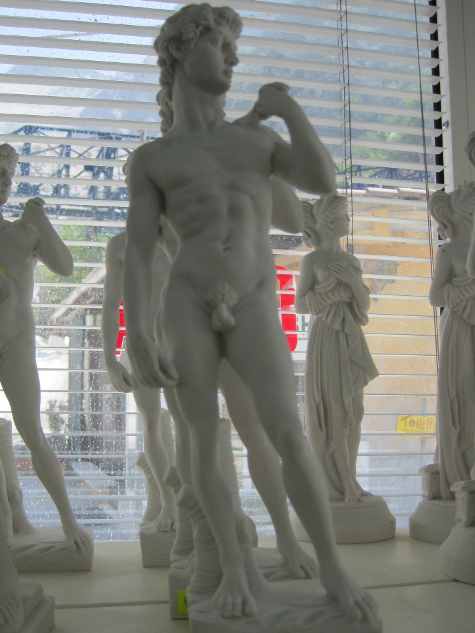 She retaliated by taking a photo of a statue that bears a striking resemblance to me, Well maybe in my younger years, but still, it looks mighty impressive.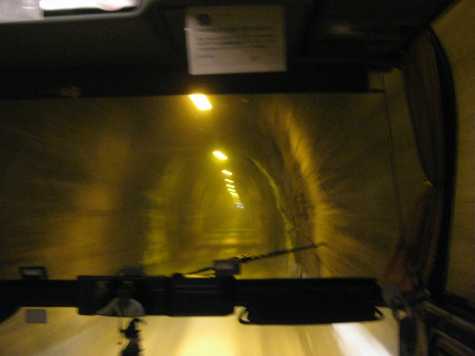 As Tricia said, this was a drive were Mario earned every penny they paid him. The descent included long, very narrow, and dust filled tunnel.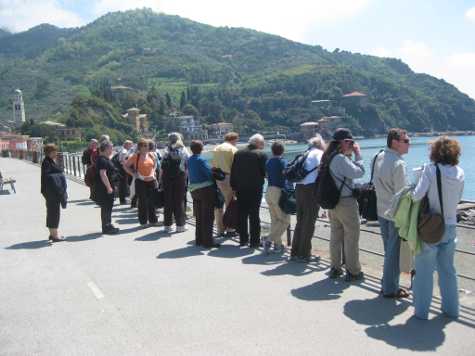 The day ended with our arrival in the Cinque Terra town of Levanto, which is on the Mediterranean. As you can see, when we arrived I noticed that everyone rushed over to the boardwalk to get their first glimpse of the sea.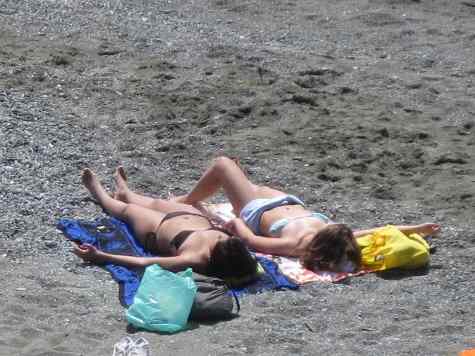 It wasn't until I walked other there myself that realized their eyes had stopped short of the water and were focused on the beach. I agreed with the other men on the tour that Levanto looked like a very nice place to spend a couple of nights.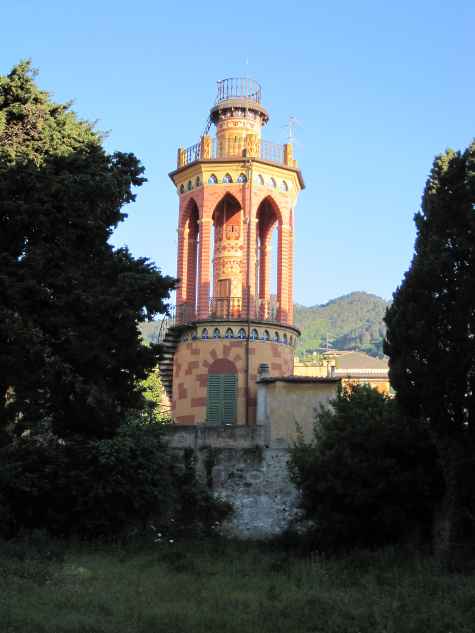 Later, during an evening walk around town, we discovered that Levanto had other sights to see as well.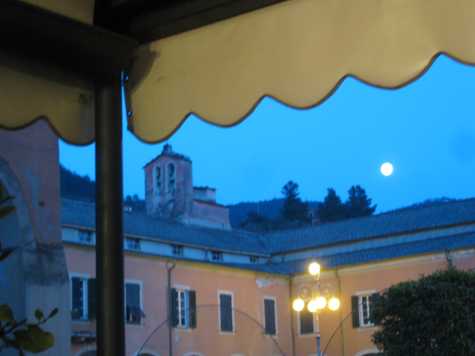 We ate dinner beside an ancient convent, and as the moon rose near the bell tower, we enjoyed what we both considered to be the finist meal we have had during this years trip. Our tour is winding down, Switzerland and Turkey are calling, yet Italy still had this wonderful surprise for us. This is truly living Life.
---
May 8 Friday
Stuffed on the train, hiking the coast, colorful towns, not a meal but a feast.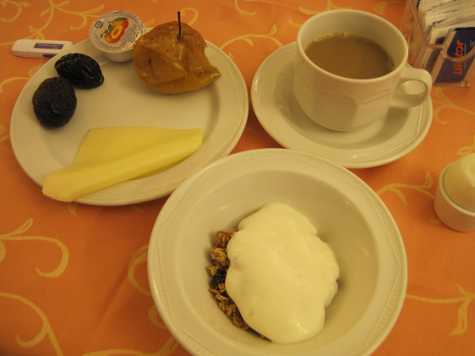 Breakfast is different things to different people, and what is served varies from country to country. A baked apple half eaten,prunes, a slice of cheese, muesli topped with yogurt, the ever necessary cup of coffee. That's the kind of food that should get you going, it sure worked for Linda.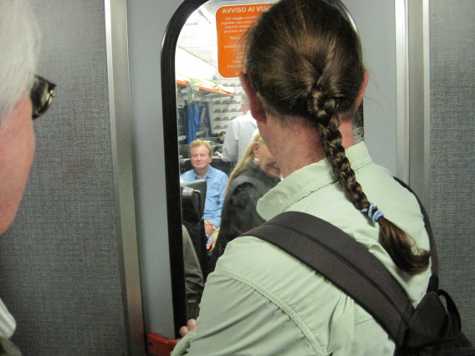 It was a day for Tricia to relax and for us to be on our own. Tricia is not a person to sit around however, so she set up an unofficial trip along the towns of the Cinque Terra, which is pronounced, chink wah tayr uh. The plan was to take the train to Riomaggiore, then do a combination of hikes and train rides to return to Levanto. The train ride down was interesting to say the least because it was packed, with standing room only, though there was at least one person in our group who found a seat.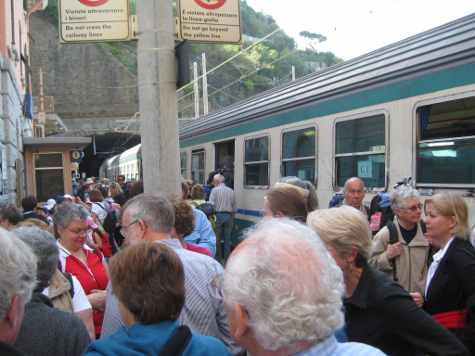 Exiting the train it hard to imagine this was a small town on the Italian coast, the mass of people was so great. We actually got off the train in a tunnel and walked back to the terminal. In a small way it reminded me of the movies that show the refugees fleeing during WW II, the train whistles and other sounds adding to the atmosphere.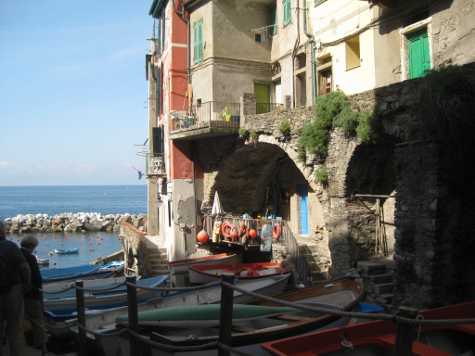 Our first destination was the waterfront, where we discovered the streets are for boats and people.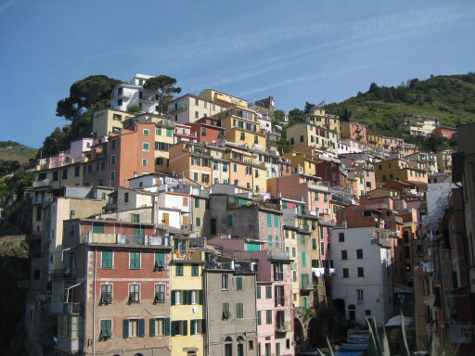 Looking back toward town, the buildings rise like Joseph's Technicolor Dreamcoat, following the hillsides upward, and which also served as a welcome beacon to generations of fishermen.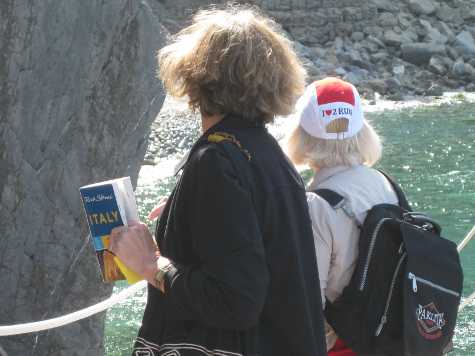 These towns are part of an Italian National Park, and hence are popular with people from many countries, and particularly the Germans who come droves with their backpacks and hiking poles. But Americans are not to be outdone easily, especially with Rick Steves doing so much to popularize the towns, and one of our little jokes was to see how many blue book ladies we could spot. The blue book being Rick Steves Italy guidebook. We were lucky, because with an actual Rick Steves guide in Tricia, we didn't need our guide books.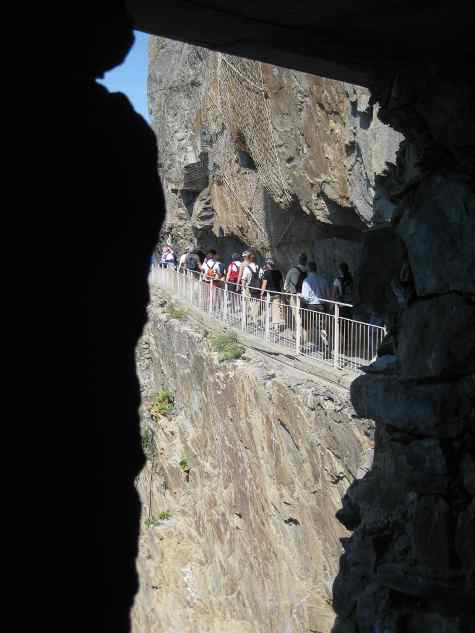 We weren't here to dwaddle, we were here to hike, so it wasn't long be fore we had shown our passes and were hiking towards Manarola, the next town north.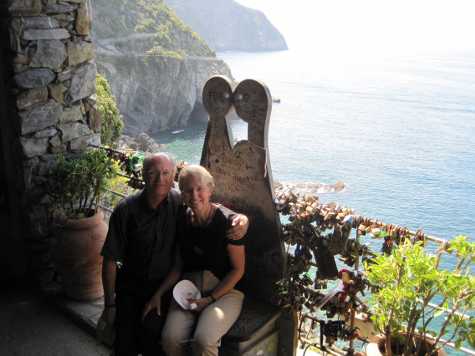 We did stop to have our picture taken at "Via dell Amore", the Pathway of Love, which is spot about half way between the two towns where young lovers, when one lived in Riomaggiore and the other in Manarola, met in days gone by.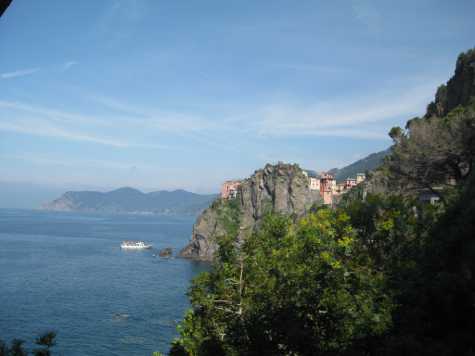 Rounding a bend, Manarola, perched on the rocks above the Mediterranean came into view, and with that first glimpse also came a better understanding as to why Italy chose to protect this stretch of coastline by declaring it a National Park.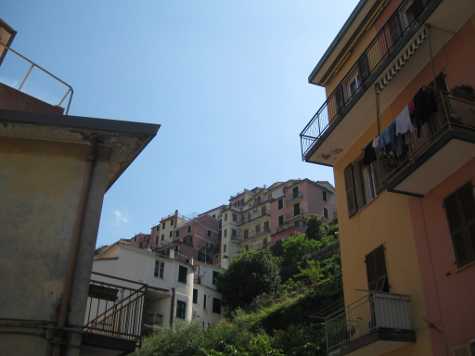 Manarola rises above the sea, but not from the sea. Instead it is situated on a cliff above the sea with no harbor. Something that would normally be a problem for a fishing village.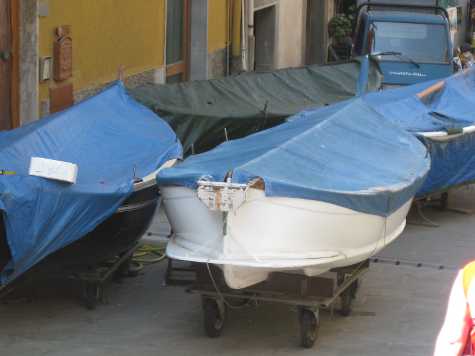 Not in Manarola though, they hoist the boats out of the water, loading them on these little carts, push them up the streets and by using a block of wood, keeping them from rolling down the hill.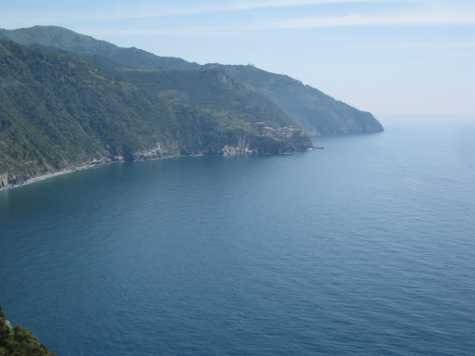 The rest of the day was more of the same, small towns, hordes of people and incredible views.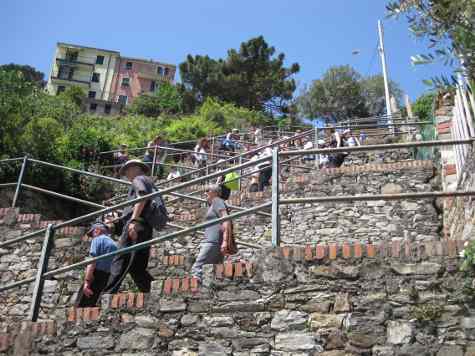 It also included the famous switchback stairs at Corniglia, where with Tricia's excellent Suggestion, most of us took the bus up the hill to the town and then walked back down via the stairs.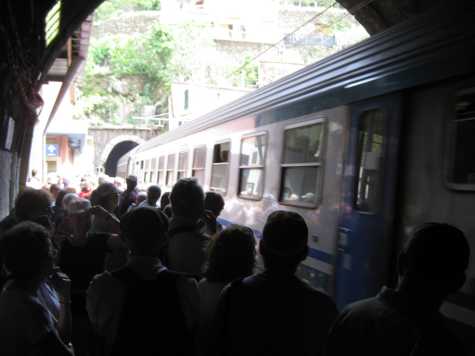 At the train station it was once again a mass of people, a tunnel and a packed train ride.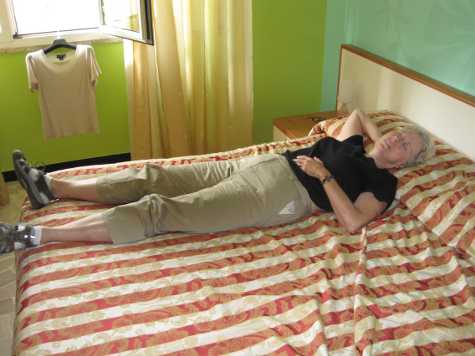 When we returned to Levanto we were a tired lot, with some of us a little more tired than others.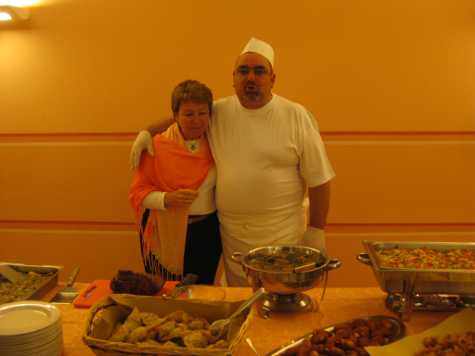 That evening we were treated to a feast by our host and chef, Carlo.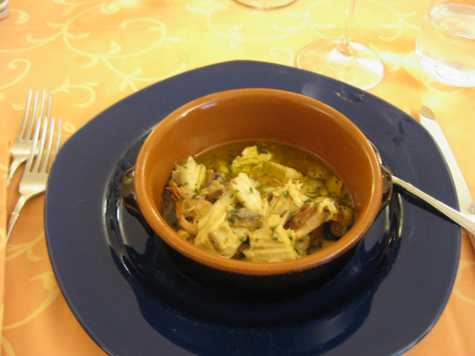 The first course was a fish and seafood soup, something Linda has never eaten before, always refusing to even taste any. Tonight was a different story, since after gobbling her own soup down, she started looking hungrily at mine, all the while telling everyone that she never realized fish soup tasted like this. She had always assumed it tasted fishy, something this soup was most definitely not.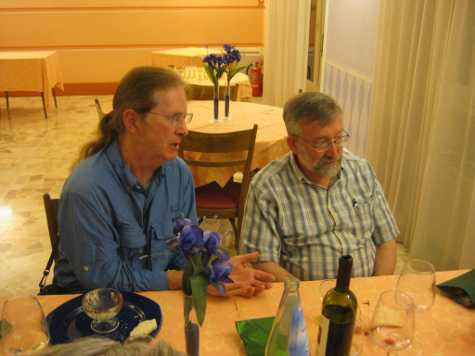 It was also a meal where everyone had a great time just talking.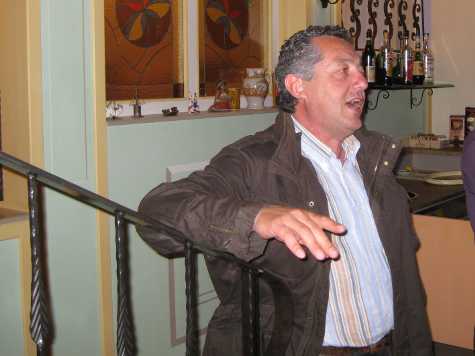 It was also a time to say goodbye to Mario, our driver who was the greatest. We learned he was the senior driver in his company, and he learned that we very much appreciated his professionalism and jocularity. It was the begining of a new phase in our travels, with new adventures waiting just a few days ahead.
---
May 9 Saturday
Into the lake country, the last supper, saying goodbye.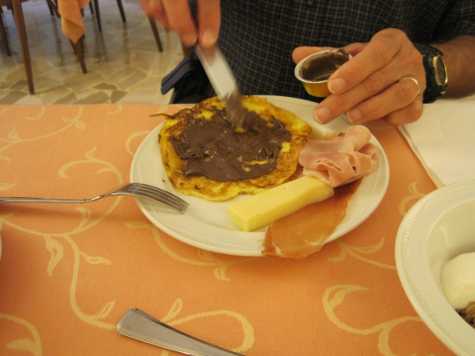 In the States the cereal companies spend millions trying to convince us that Sugar Pops or Fruit Loops is the best way to start the day. Over here things are different because for one thing we can't understand the advertisements. It's also the opportunity to try something different which is what I am doing this morning. Scrambled eggs topped with Nutella, along with various meats and cheeses, now that's a breakfast to sink your teeth into.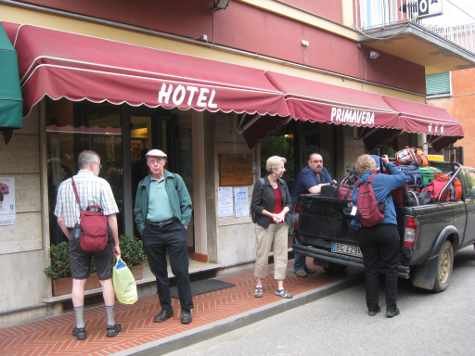 Even though it was not far from the hotel to the bus, our host, Carlo, hauled our bags for us in his truck,
We then started the climb up away from the Mediterranean to the motorway that would take to Lake Orta, our destination for the night.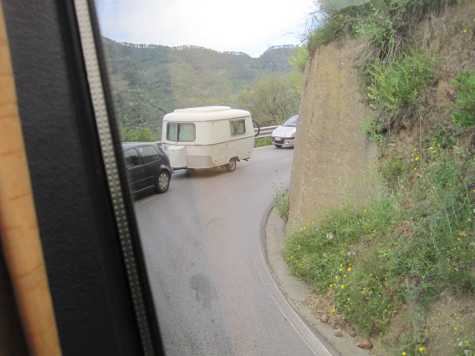 The narrow roads and tight, sharp turns make for some interesting travel. When we met this small trailer on a curve, Mario had to back the bus up. It was amazing it didn't happen more often given the number of blind curves on the road. I know I've never driven our coach on a road like this one, and to think, Mario drives on roads like this all the time. He does have the advantage of the front wheels of the bus being set further back and also the wheel cut being much greater than on the coaches in the States.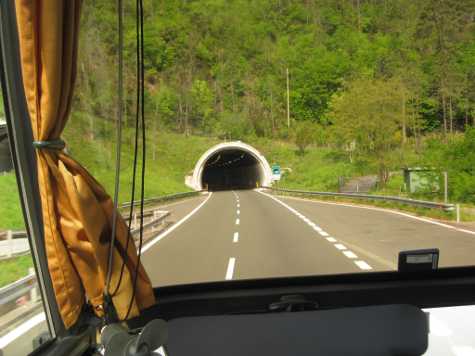 It was also a day of tunnels, there being more than 70 of them on the route we were taking, as the Italians do not build freeways around and over mountains as they do in the States, they build them through the mountains. Me, with my aversion to driving the coach through tunnels would not do very well over here.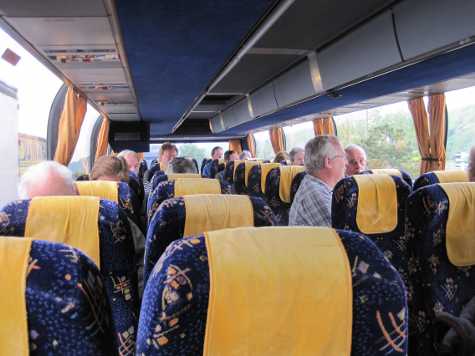 From this photo of the bus, it is easy to figure which side the view was better for the moment.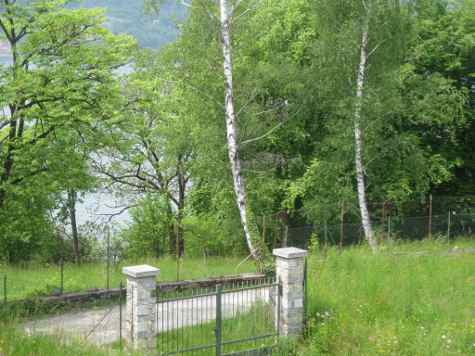 We also had a view of the lake from our hotel room, which was one of the nicest we had stayed at, and definitely had the nicest owners. The hotels we stay at are almost always small family owned and operated places. I plan to put a list up someday of where we have stayed throughout our travels, but it may have to wait until we are back home in July.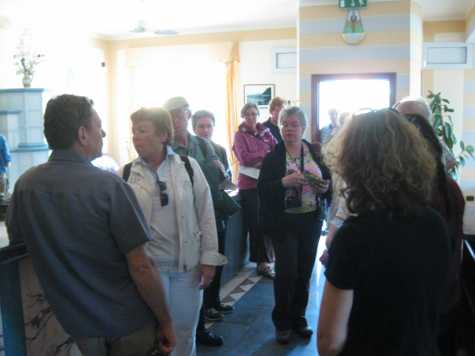 Once we were all settled in, Tricia took us on an orientation walk of the town. I've decided the bright light you see over her head, she's the one in white, is really a halo. God sometimes creates very special people and she was one of them, certainly qualifying as our angel.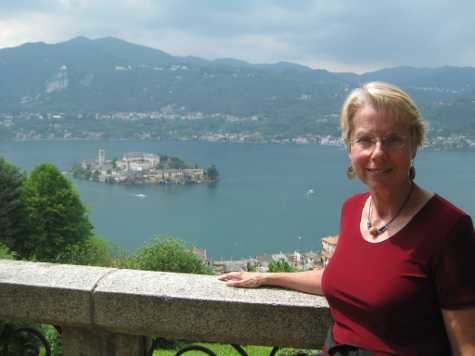 Later Linda and I climbed to the top of the hill above town where we were treated to this wonderful view of the tiny island in the middle of Lake Orta.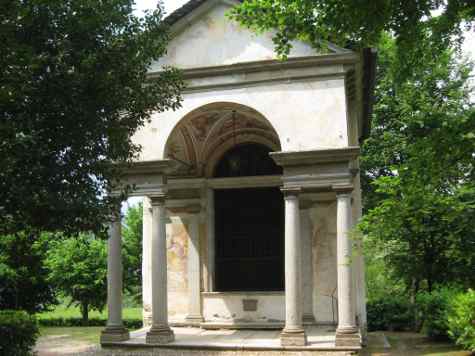 Our purpose for the long hard climb was not to see the views, we'd seen views over and over the past two weeks, it was to visit the twenty or so small chapels on the hilltop, most of which had been constructed in the 1500 and 1600's.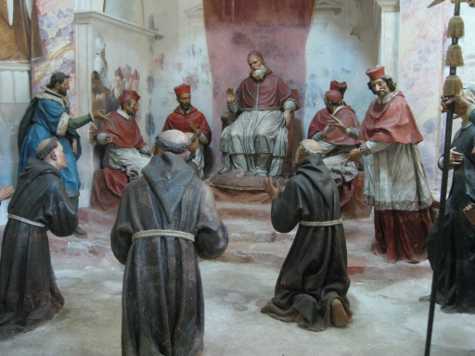 I found the frescos on the walls and ceilings, plus the statues more than worth the climb.The chapels were designed to show scenes from St Francis' life and it was fitting that, since he had played such a prominent role in many of the places we had visited during our travels on the tour, we should end up here.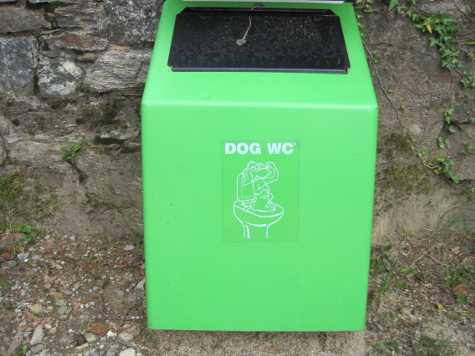 I think Linda had had enough of the good saint because when I looked at her photos, I discovered that she was photographing a different subject than I was. She could have at least looked at the bright side of being up there, it was going to be all downhill going back to town.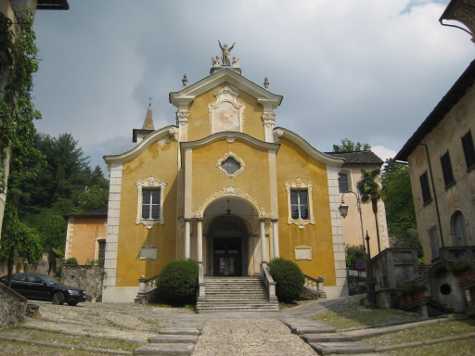 About half way down, we stopped at this church where we could hear the organist practicing for Mass. It was a wonderful respite to our arduous adventure.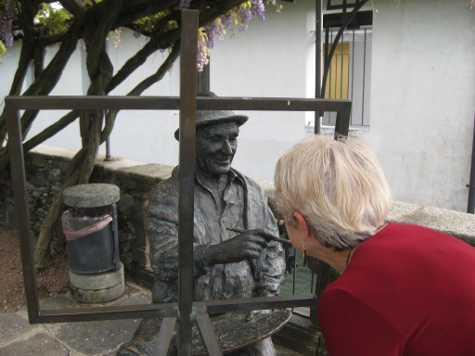 Wandering the streets of town we also discovered this artist creating a painting of a beautiful young lady.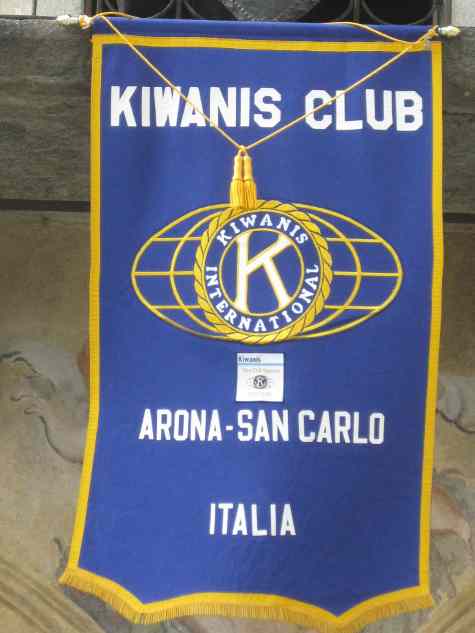 There are some things which connect the world, help us realize that though we may speak different languages in one way, we all speak the same language in other ways.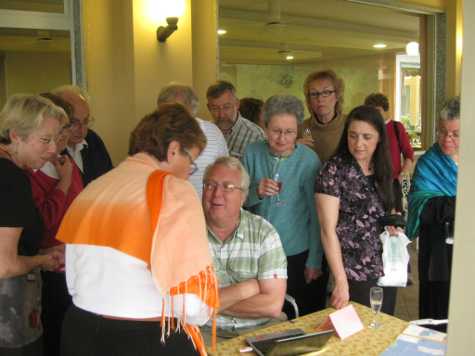 Then it was time for our last meal together. Tricia brought down her computer and treated us to photos of the fabulous villa she lives in, and gave us an appreciation for why people choose to move from their home country to live in Italy.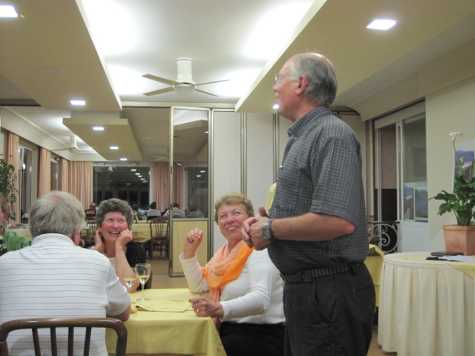 Then after another really great meal, we said farewell to Tricia with a card and small gift, though not before first telling of the shock of first meeting her, and joy of spending two wonderful weeks with her.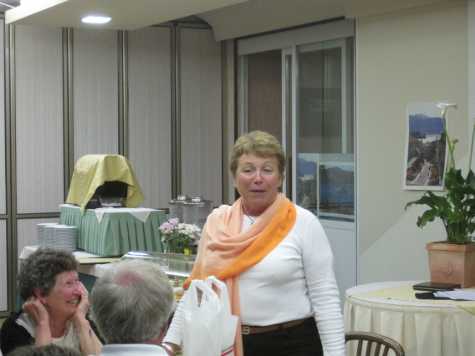 As always, she kept us laughing right up to the end.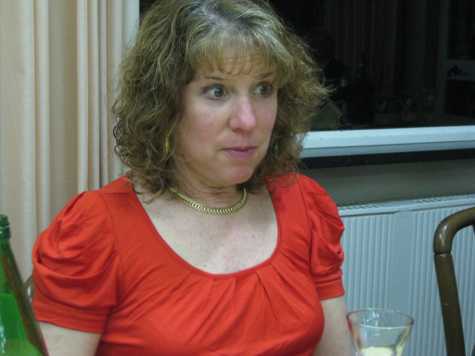 Our tour of the Italian hill towns was now over, but there was still one last thing to do, share a grappa. Grappa is a drink that is often described as firewater and is made by distilling the skins, seeds and stems left over from wine making. It's one of those, you should try it at least once in your life, things. Wendy's reaction is perfect, because if you don't try something new, how do you know what you......, I'll let you fill in the blanks for yourself.
---
May 10 Sunday
On to Switzerland, Lugano and a room with a view, Swiss Franc inflation, some rest and relaxation,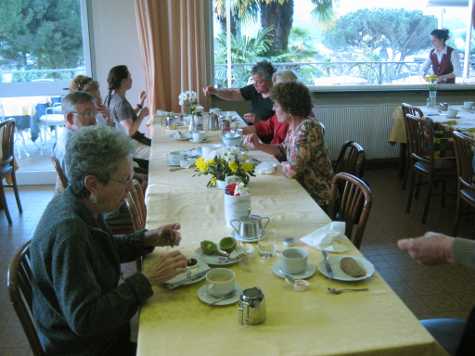 Breakfast was a little earlier than usual this morning as we needed to be at the train station shortly before 8AM. Tricia had scheduled a minivan for the eight of us going by train, and I ate so hurriedly I don't remember what was for breakfast other than it was very good and I had my Nutella on bread, not eggs.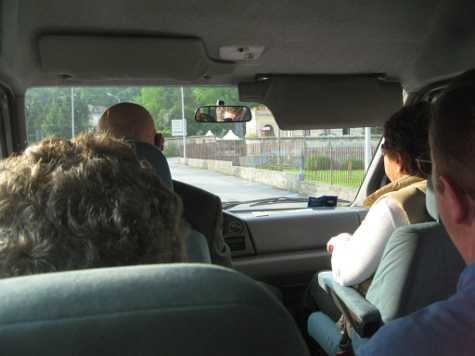 Once we were loaded, the ride to the train station didn't take long, but since we only went in two directions, either up or down, we could see why the minivan was a good idea.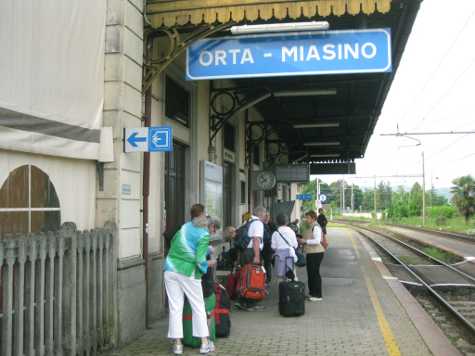 We were there right when Tricia said we needed to be, but as is often the case, the train wasn't.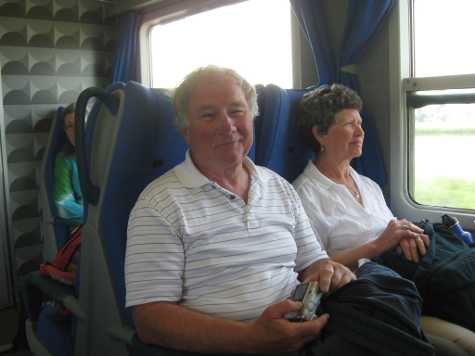 Once on board there were smiles all round as everyone began thinking about what was coming next, because when we arrived in Milan, everyone would be going their separate ways.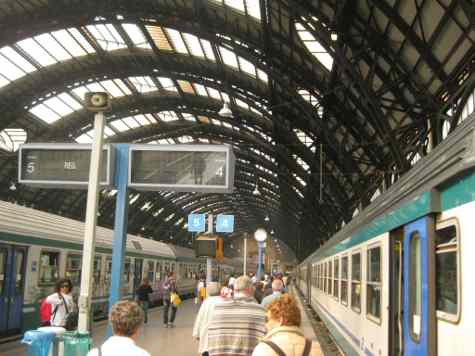 The Milan train station was huge, with 20 tracks dead ending into the station. That is, the rails end inside the station so the trains in essence pull in and then back out. Of course the train seats face in both directions so half the passengers are always riding backwards.
With more than an hour before our train was due to depart, our first task was to find somewhere to sit. With the terminal crowded with passengers and only two benches available, we made our own seats, finding a quiet place along a wall to sit on our bags.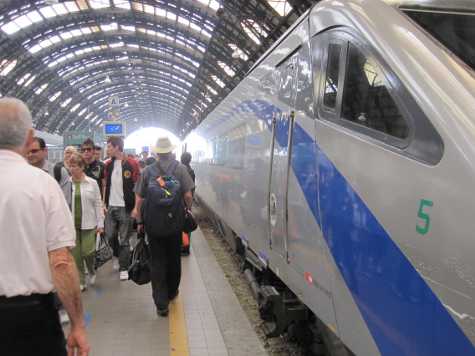 Our train was 10 minutes late arriving, but we boarded immediately so we would at least have a comfortable place to sit. The train was fully booked, but with all seats reserved, we found our car and seats with no trouble, though of course our car would have to be at the far end of the train.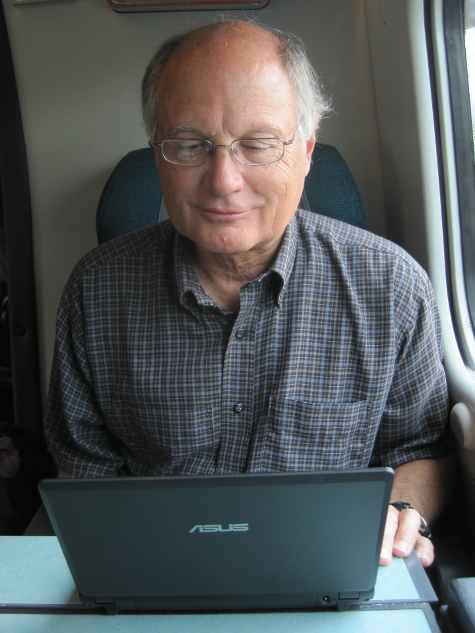 I set to work on the computer as the train pulled out, checking out the photos we had taken the past few days.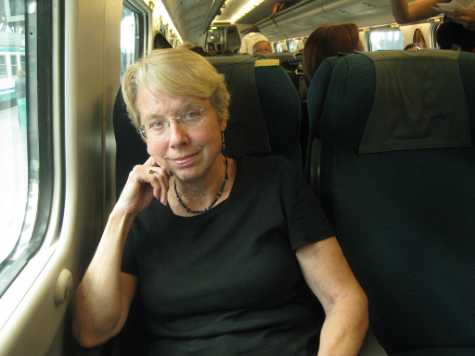 Meanwhile Linda sat there wondering how she had once again managed to pick the seat that was backwards to the direction the train was traveling. Hint to my blond wife, if you look at which way the train is heading when you board, it isn't to hard to sit in the right direction, that's what I do.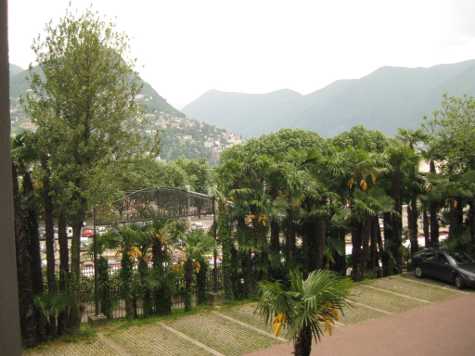 Our hotel in Lugano was near the train station, though a little too much in the uphill direction for Linda, with my comments, that it was good training for any mountain climbing we might do while here, falling on deaf ears. She did agree that our view of the palm trees in the foreground and the mountainside dotted with buildings in the distance was rather awesome, however.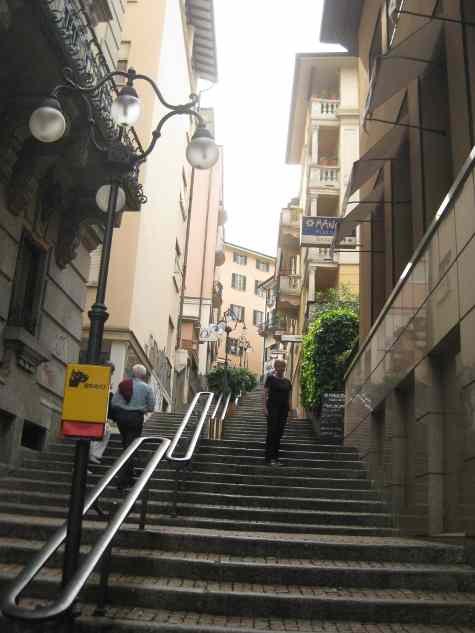 We immediately learned that Lugano had one striking similarity to Lake Orta, having only the same two directions, up and down. It didn't take Linda long to determine that there definitely more ups than downs, and nothing I might say could make her believe otherwise. It's hard to believe this woman is the same person the men along the Canal du Midi were calling "buff" just a few weeks ago. How far and fast the mighty have fallen.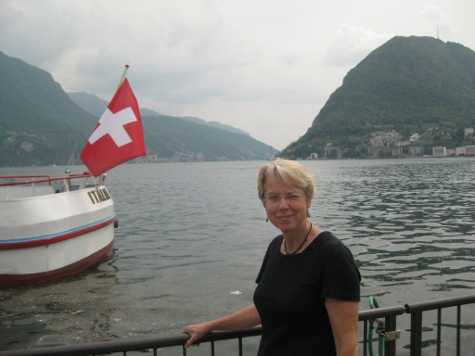 That we were in Switzerland was quite apparent, what with this photo of a beautiful alpine lake, the beautiful mountains, the beautiful Swiss flag on the boat, and of course, the beautiful woman married to a man who is half Swiss.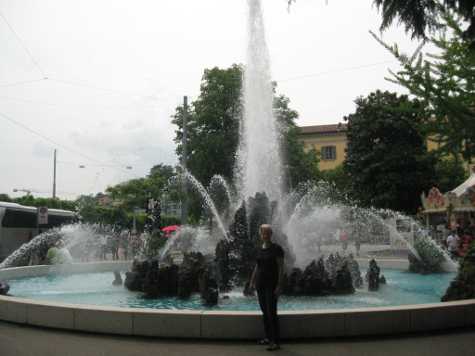 A fountain down near the waterfront that provided a form of natural air conditioning on this hot Sunday afternoon. As you can see, it was also a place where beautiful women came to pose for photographs that required multiple shots. It was only after I inquired why she kept posing for so long that I discovered it must have been 15 degrees cooler where she was standing. Besides being good looking, she's also very smart, for a blond that is.
Lugano is also a town where a couple of small and simple pizzas, plus a glass of wine and a beer wil set you back 43 Swiss francs, or about 48 US dollars at the current exchange rate. Switzerland is an expensive place, maybe that's another reason all my great grandparents moved to the US, and we figure it costs roughly 200 to 250 Swiss francs every day we are in the country.
The rest of the day was spent relaxing and recovering from the past two weeks of constant travel while on the tour. That meant I was able to almost get caught up on my writing, and Linda made a significant dent in her lack of nap time. She also got Mothers Day wishes from our kids, getting caught up on all the good news from them. For the next week we plan to take it easy, enjoying Switzerland and recharging our batteries in preparation for our time in Turkey.
---
---