Journal Archive 5/11 - 5/20 2009
Scroll down to read the latest post
May 11 Monday
Sleeping in, cafeterias, walking around town, a little shopping, more time relaxing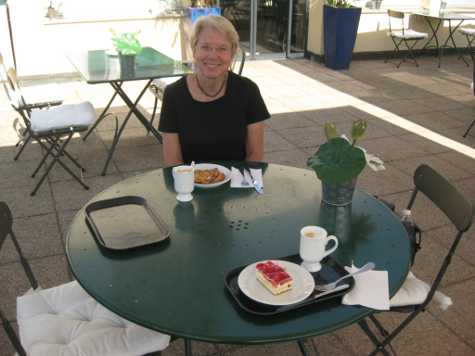 Last night, Linda mentioned that this morning was going to be great, and she certainly made it come true for herself, putting a hibernating grizzly to shame with the amount of sleep she managed to get. Eventually all good things must come to an end, so we actually did do some things in the morning, breakfast being one of them.
Breakfast where we are staying is 12 Swiss Francs per person, which is more than the family financial wizard thinks a breakfast should cost. The result was a search for a place of our own, which ended at the COOP store cafeteria. It is in the Rick Steves book, is on the top floor of the building, and it has an outdoor terrace area where we could eat. Add to that the fact we were now in "diet mode", so a cappuccino and pastry were all we wanted meaning it was the perfect solution at half the cost of the hotel brakfast.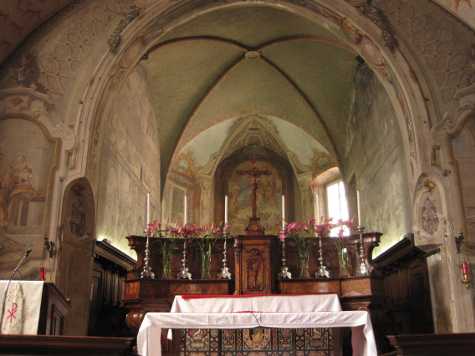 Finished with breakfast, we headed out on a tour of Lugano, a resort town that has many old and grand former hotels along its waterfront, not that it still doesn't have many hotels, but it is also the second largest banking center in Switzerland. Deciding we wanted something older, we headed off to a church that was built in 1499.
It was not a large church, but its frescos were rather interesting, which made it worth seeing..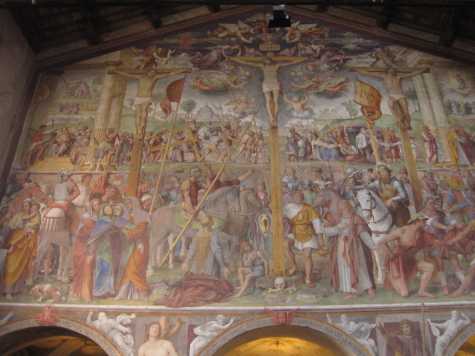 Unfortunately it was also one of those good news, bad news places. The frescos were great, but the church was too small to get any decent photos of them. This magnificent fresco of the cruxifiction which divides the church into two sections, looks awesome when seen in person, but our cameras simply can not begin to do it justice..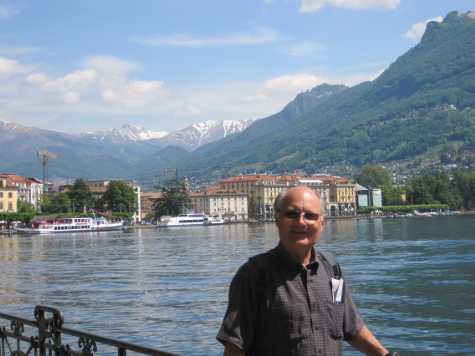 There was a walkway next to the lake, which was right beside a very busy street ruining much of the ambiance, but making for a pleasant walk anyway. We hadn't gone very far when Linda insisted I stop so she could take a photo of me with the mountains in the background. While it wasn't as pretty as Lake Thun had been last year when we were previously in Switzerland, there was no doubt it still had a charm of its own.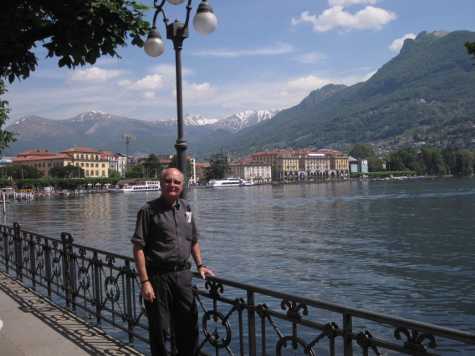 This is the first photo she took, which I've titled "post from the head shot". She was insisting that I stand by this post, and I was insisting I shouldn't. She wasn't giving in, so I acquiesced. On a review of the photo she decided I should move away from the post. I was really nice and didn't even suggest we return to our usual roles of me being the photographer and her being the model.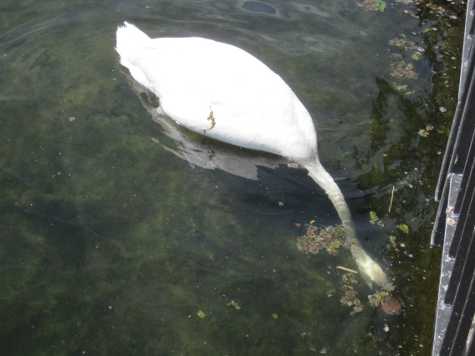 Apparently we aren't the only country that tries to turn our beautiful lakes into cesspools due to over development. Along the pathway we saw signs describing all the work that had been done to try and return the lake to its former beauty, something that obviously still had a long way to go. The swans that are found along the shore did provide several bright spots. However try as she might, Linda just couldn't get a photo of them with their tails in the air, so just a neck underwater will have to do.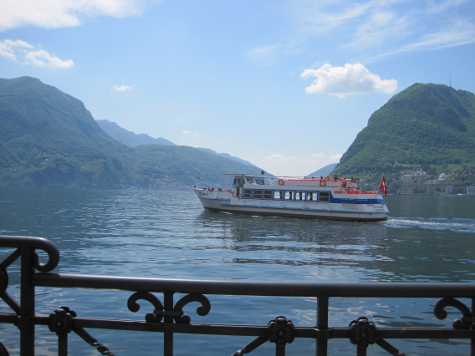 There are number of boats that provide trips around the lake, which may be something we will do tomorrow.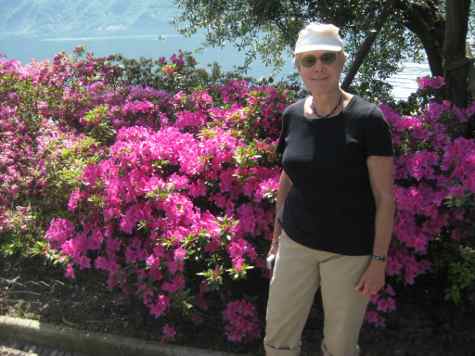 The walkway leads to a city park that was filled with azaleas in bloom.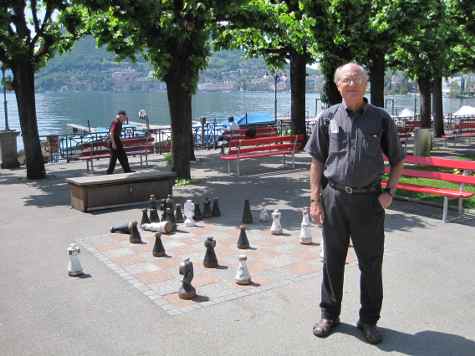 Our grandson, Zachary, loves to play chess, so we couldn't help but think of him when we saw this outdoor chess board and pieces in the park. We have seen these at other places around Lugano, so it must be a popular pastime to play chess like this. From the way some of the players stand, it could be inferred they take the matches very, very seriously. Fortunately there was no one using this one, so we could take a photo.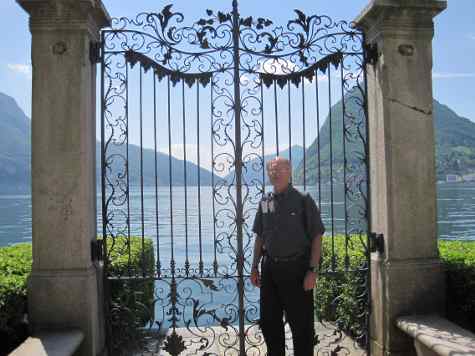 There's no clue what the gates to heaven may look like, but maybe this one would be in the running. One nice thing about all this walking from Linda's standpoint, it was all on flat ground. Of course there was still the hill to climb to return to the hotel, but out of sight, out of mind.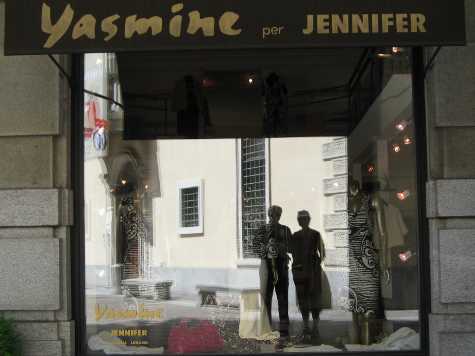 We always look for something unusual, and when we were doing some window shopping an opportunity occured. Seeing ourselves reflected in the window, then noticing the window had the name of our oldest daughter on it, we had just had to take this picture and say, Hi Jennifer, just because we are far away doesn't mean we don't think of you.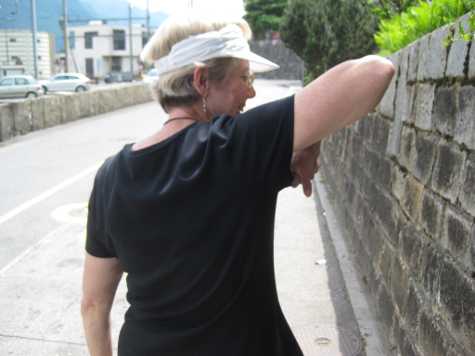 It was mid afternoon before we decided to return to our hotel and have a picnic lunch out at the tables. A stop at the cheese shop and a bakery, then the long climb back up the hill awaited us. I got to teasing Linda about all the hot air pouring off her, to which she replied by raising her arm and suggesting that if I thouht the air was bad before, it must really be bad now. I kept my mouth closed the remainder of the climb for obvious reasons.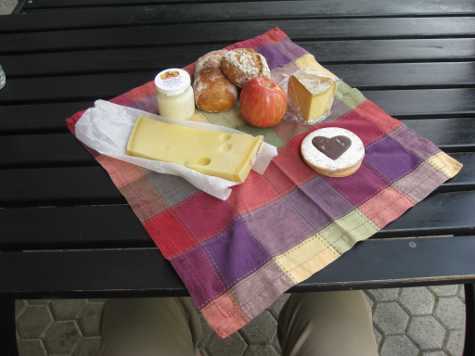 Lunch proved to be awesome, the yogurt, cheeses, breads, apple and pastry filling us up without, hopefully, filling us out.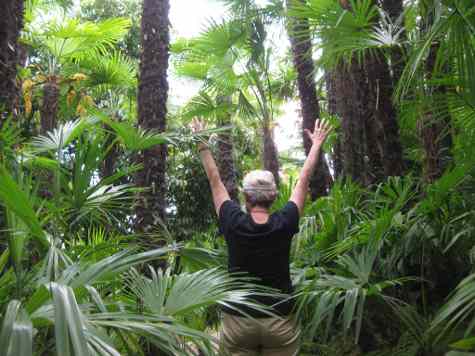 After lunch we took a walk to burn off a few calories and also to explore the grounds of the hotel. Here is Linda walking through an area of palm trees, something we certainly don't normally associate with Switzerland.
For dinner we ate at another cafeteria, limiting ourselves to a bowl of soup and a medium salad. Afterwards we decided the small salad would have been more than enough, and with that and another walk, those hills do certainly burn calories, it was time for Linda to go back into hibernation once again. Hopefully tomorrow we will once again be back into travel mode, not as in transportation, but as in being able to do and see more sites. That's one of the small pleasures of being on such an extended trip, the luxury of being able to take a few days off now and then.
---
May 12 Tuesday
On the lake, a meal to remember, a change in plans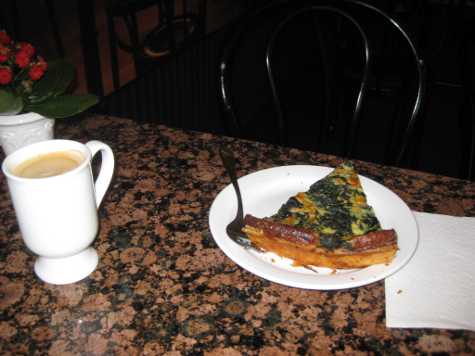 Breakfast wasn't as simple today, because we decided to go back to where we had eaten last, the Manor Cafeteria. The problem was, there were simply too many choices, plus we quickly figured out that the prices for what appeared to be equivalent items were higher. That led to a return to the COOP cafeteria, and a wonderful spinach quiche.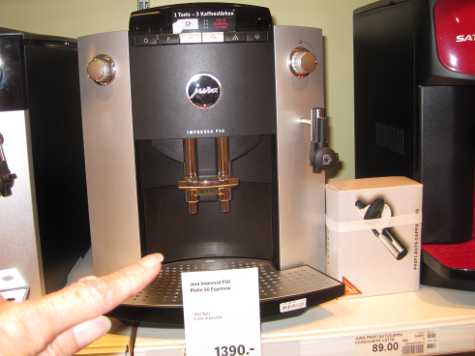 Having saved all those francs on breakfast, Linda decided to look around the store,and maybe find something to spend them on. She couldn't find a blouse that met her needs, so then it was off to the appliance department. Figuring that the only way to make really good coffee was to buy a machine over here, she aimed for that section. Here's one that would definitely do the job, the only problem being that it would take a whole year's worth of breakfast cost savings to pay for it.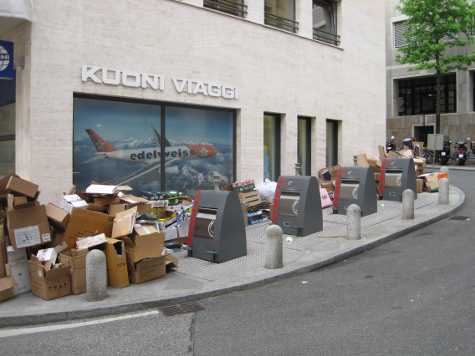 Leaving the store we were soon presented with another of the contrasts between the US and Europe. While the US seems to try to find ways to keep from recycling, in Europe it has already become a way of Life. Travel has a way of opening eyes to the fact that the way we do things in our country is not what is done everywhere in the world.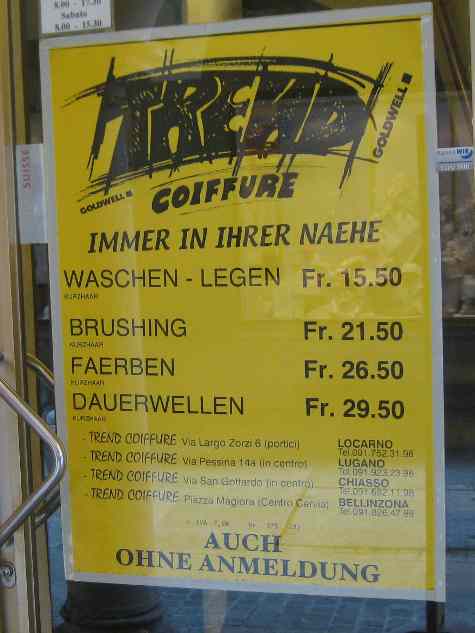 Walking several more blocks, Linda got all excited when she saw this sign. She has determined that she will be blinded by her hair falling in her eyes before we leave Turkey if she doesn't get it cut soon. After borrowing some francs from me, she went inside. A short time later she returned disheartened because they didn't have any openings in their schedule. She's going to keep her eyes open because the alternative is to have me cut it with the small sewing scissors, ugh, that would be something to see, or maybe not to see.
All this was just fun stuff, because the real activity for the day was yet to come, a boat ride on the lake. We had decided to go to one of the small towns up the lake and have a late lunch. We weren't sure whether we would be eating at a restaurant, or picnic, so we took both a picnic and plenty of francs, bought a day ticket for each of us, and set off.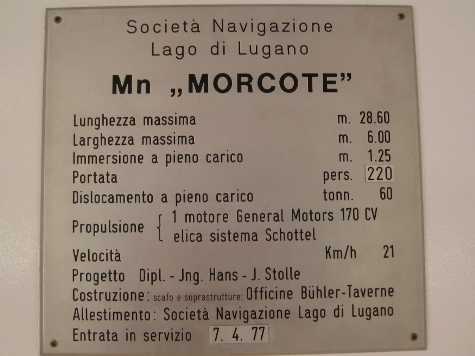 For the particulars on the boat, here's the info, and you will note the engine is by General Motors.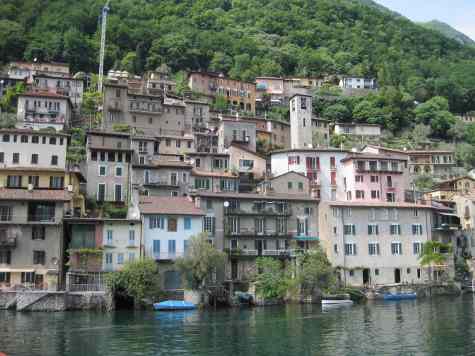 Our planned stopping point was Gandria, an old fishing village that seems to rise up out of the lake. It was also home to a highly recommended restaurant according to the Rick Steves book, and we wanted to check it out.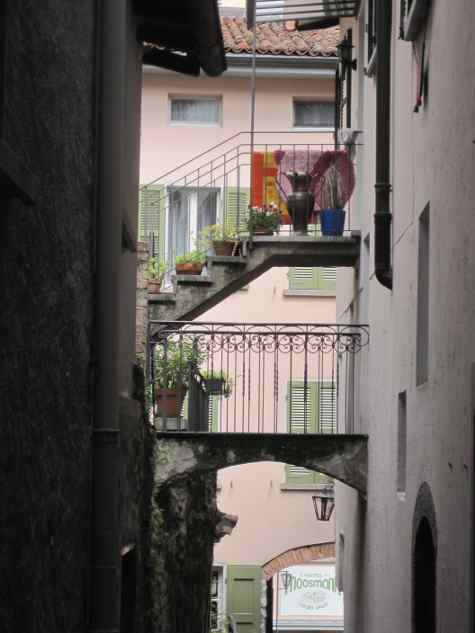 It was a great place to walk around and explore the narrow passages and nooks that seeming appeared around every bend. It was also a place where once again the only directions were up and down.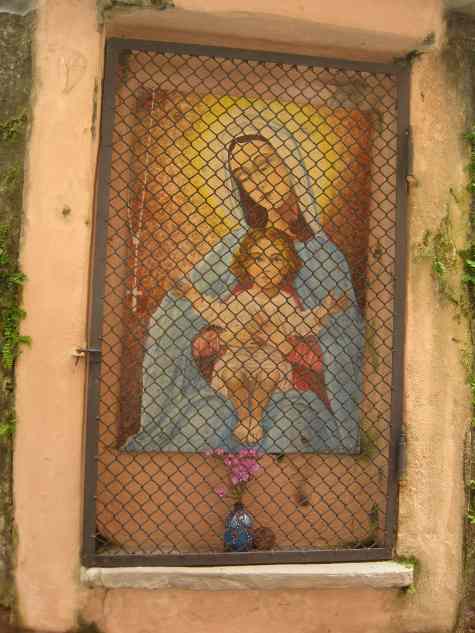 I found this painting to be particularly interesting, what with the baby seeming to have blond hair.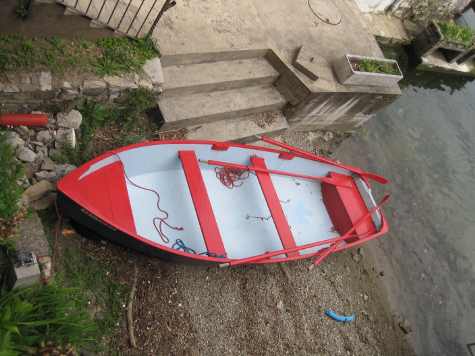 It seemed like everywhere we looked there was something that caught our eye.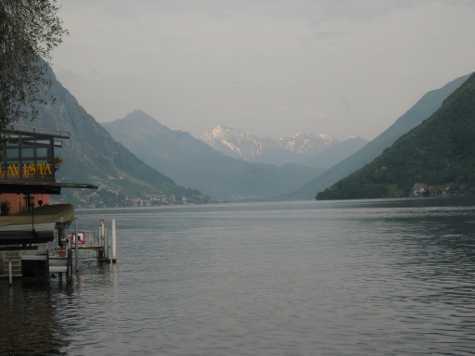 At the far end of the lake, snow covered mountains rose up, and because it was such a pretty place, we decided to stay for much of the afternoon, catching a later boat.
It turned out that the food at Locanda Gandriesi was every bit as good as promised and more.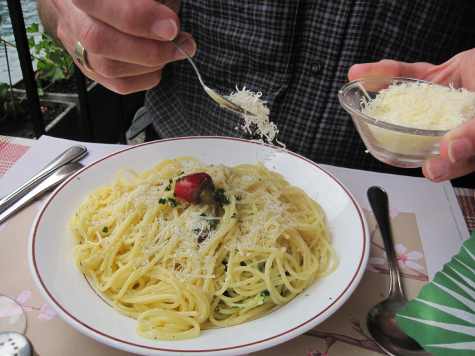 Before we were done, we had both come to the conclusion this was the best meal we have had so far on the trip.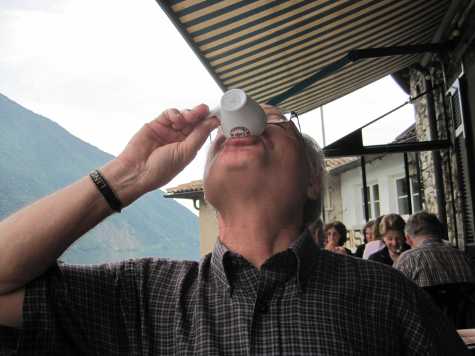 By the time we were down to that last gulp of espresso, we knew we had found one of those special places that you recall years later with a big smile on your face and excitement in your voice. Expensive, yes, but really worth far more.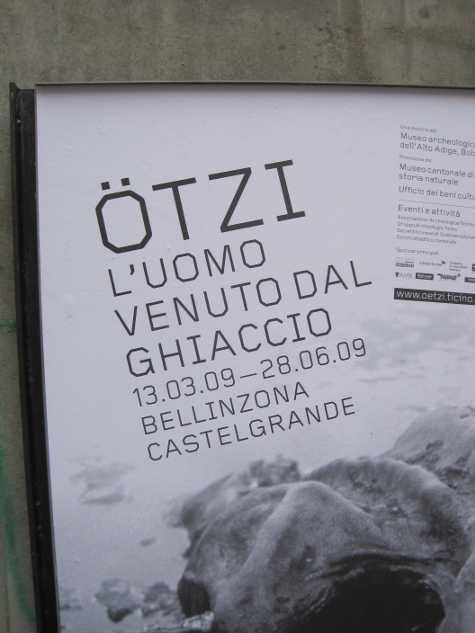 After the late afternoon return trip to Lugano, it was while walking back up to the Hostel that we saw something that resulted in a change in our plans. Originally we had planned to go to Lucerne, but after seeing this poster, then doing some searching on the Internet, we decided to go to Bellinzona instead. With three castles, a city wall, a small town atmosphere, and while Oetzi is not there, the exhibits about him looke like a wonderful added bonus.
Once again we could see Sara N.Dippity was doing her thing. With the weather report showing good weather for Wednesday and Thursday, it will give us time to enjoy the town, then if the 90 percent forecast of rain on Friday comes about, we can use the day to do any last minute things that need done before flying to Turkey on Saturday. Life certainly can be full of surprises, and we think we are going to like this one.
---
May 13 Wednesday
The slow train, walking and shopping, new town new doo, new record too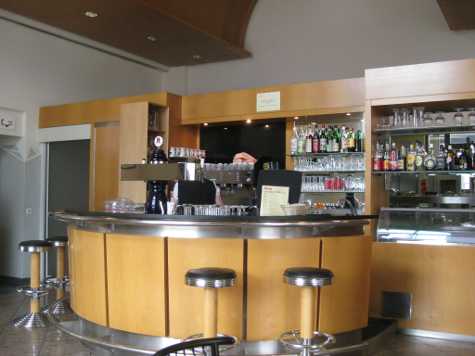 Another lazy day started slowly with the Daily Journal written and Linda catching a little extra shut eye. We were in no hurry to get to Bellinzona, knowing we had 2 1/2 days to spend exploring the town. With checkout at ten, we barely beat the buzzer, then made the short walk down to the train station, something Linda sure liked, the down part that is.
With a train every 30 minutes from Lugano to Bellinzona, we had the ability to enjoy a leisurely breakfast at the train station. It wasn't much, just cappuccino and a chocolate roll since just the bar area was open, but for Linda it made to order.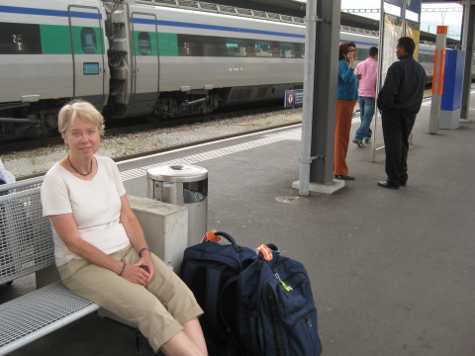 Stopping at a ticket machine we bought two oneway tickets to Bellinzona, which cost 16.80 francs each. Train travel in Switzerland is just like everything else in this country, quite expensive.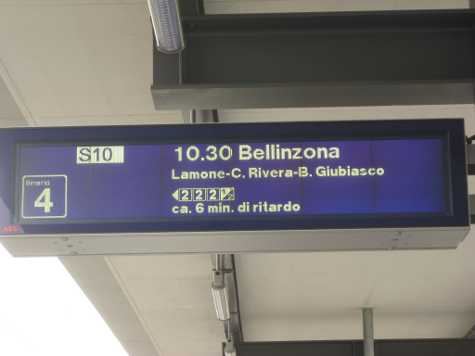 Swiss trains are also supposed to always be on time, which was why we were surprised to learn the next train was behind schedule. That sign, on the platform, had one thing we sure appreciated, the graphic showing were the cars are that make up the train. It makes it easy to stand in the right spot on the platform, meaning no mad dash past 3 first class cars like is typical of Italian trains stations where the idea of giving passengers helpful information is not very common.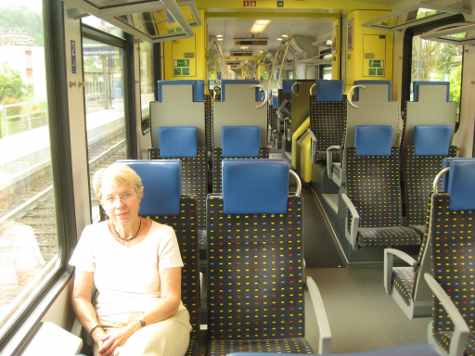 The train, local, was stopping at five small stations before arriving at Bellinzona, which wasalso the end of the line. Clean, bright and quiet, the train made for for a pleasant trip, as did the one other passenger in our section, a fellow American who was also visiting Switzerland on vacation.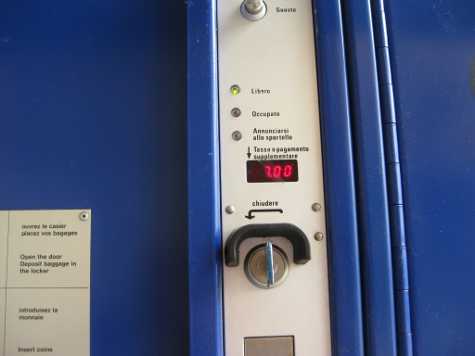 Once we were off the train it was time to store our bags in a luggage locker and explore the town. That was when we ran into our first blip of the day. I had spent most of our coins buying the train tickets, so we didn't have enough for the locker. Linda solved that problem by volunteering to go get change, so after borrowing a ten franc note off me, she disappeared around the corner.
That ten franc note is the smallest denomination of paper money they use. having 5, 2 and 1 franc coins. They also don't use a .01 franc coin, their equivalent to our nickel being the smallest coin. It takes a little getting used to, but once we did, we found we like it much better than the way it is in the States.
A few minutes later she returned and handed me the seven francs we needed. When I asked her how she'd done it, she said she had bought a Ritter Sport, her favorite chocolate bar, for 3 francs. Leave it to her to make both of us happy. The best news was that she promised me a couple of pieces of the Ritter Sport.
Our bags stored, we set off to explore the town, which after only walking several blocks we both liked better than Lugano. Linda because those dreaded hills of Lugano were just a gentle slope here, in my case it was because it had a small town feel to it. A few more blocks and we were in the pedestrian only zone, With three castles, two on one side above it and the other in the town itself, though on a high rocky area, it was not your usual town,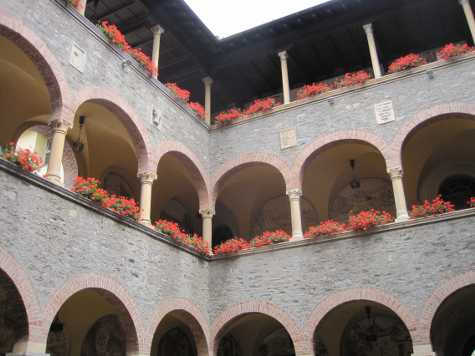 One other thing that we quickly noticed was the profusion of window flower boxes. They had been one of the small unexpected pleasures of our time in Switzerland last year, and now here they were again.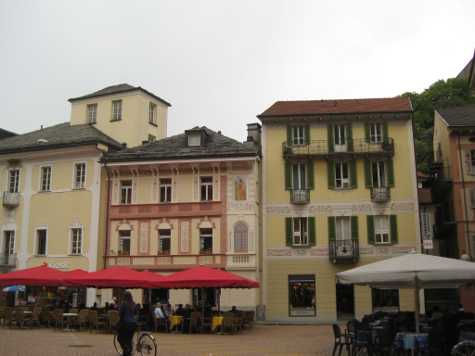 Another thing that struck us was the way all the buildings are so well kept. Many of them have designs painted on the front facade, and we had fun trying to determine whether they were real details, or they were simply painted on.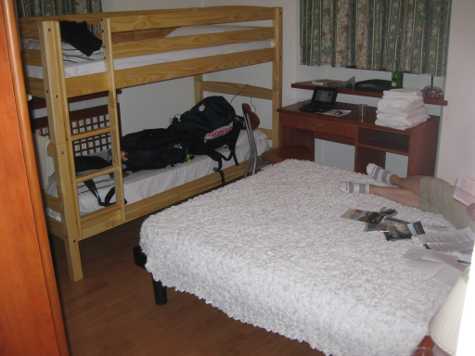 Our hotel room certainly proved to be interesting, having the ability to sleep four. Located directly across from the railroad station, it probably wouldn't be most people's choice for lodging. It was also the first time we had ever stayed in a no star hotel, yet for our purposes it was just fine. The bunk bed made it a little crowded, yet gave us a place to put our bags. Add in the price of 120 francs including breakfast and we were pleased to call it home for the few nights.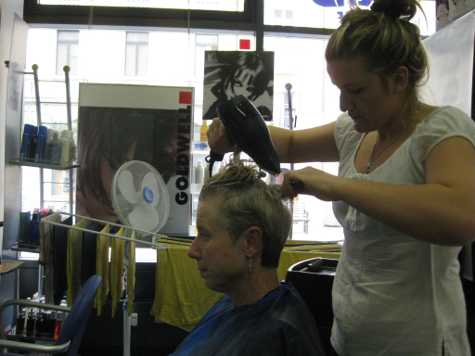 We had one last thing of importance to do today, which was to be at the hair salon at 16:00 for Linda's appointment, something we had made during our earlier walk. It was amazing watching the stylist cut her hair after looking at the photo she had brought along. It was quit obvious that the ability of this lady was head and shoulders above the people who had cut her hair in the many different places during our travels in thw States.
The end result was that she ended up with a "30 something" hair style. I had to tease her about how, on the up coming Turkey tour, everyone would assume we were father and daughter based on how young it made her look. Sometimes it truly is amazing just how different things can be with just a small change. What's it called?, taking the road less traveled, I did my way, or maybe it is simply Living Life. Whatever it is, we are enjoying it.
---
May 14 Thursday
An unexpected stop, castle time, Oetzi, more castle, picnic supper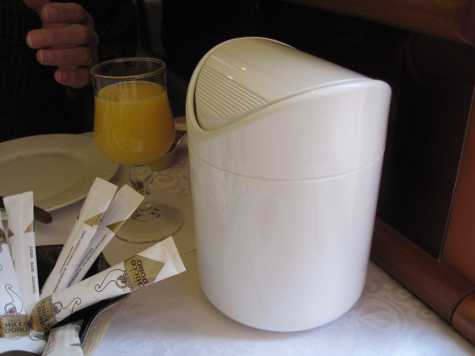 Our first trip to Europe had one surprise for us, which we are reminded of it nearly every morning at breakfast, and that is the little plastic or metal can which is nearly always on the breakfast table. It was Chere, our ebullient host at No. 16 Guesthouse in Heerlen, Netherlands who had set us straight on its purpose, and ever since we have been sure to deposit our egg shells and other mealtime refuse into those containers.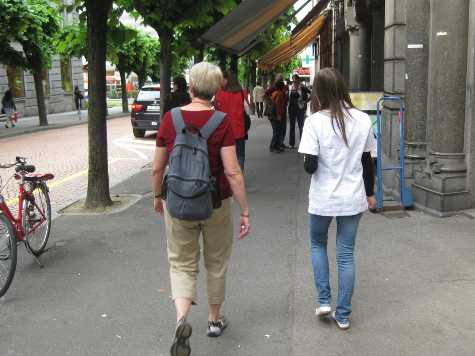 It was while eating breakfast that Linda mentioned she thought she was coming down with another urinary infection. The fear was that it could develop into a full blown infection about the time we were beginning our Turkey tour. With that she decided she needed to see a doctor. The first pharmacia proved to be the answer to her problems as the pharmacist spoke almost perfect English. Once Linda had explained her situation the pharmacist called a doctor and within seconds were were following one of the pharmacy's employees through the streets of Bellinzona, then up three flights of stairs to a doctors office.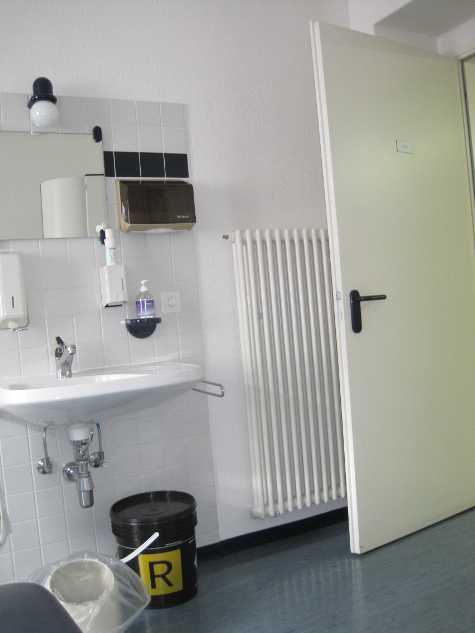 The Doctor's office reminded us of the Doctor's offices we used to visit when we were kids, but with all the latest medical gadgetry. It was as if they spend the money for things that actually help them treat the patients rather than all the gleaming cabinets that look pretty and cost lots of money. The doctor was also muti-lingual, and we heard him speak Italian, French, German and English while we were there. If you're wondering, his English was almost flawless, but there was no doubt he was Italian.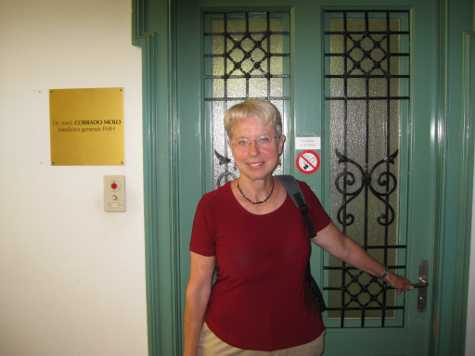 She was a happy girl as we left, having gotten a prescription that we promptly took back to the pharmacy that had called the doctor. The visit ended up costing 110 francs and the prescription, 47 francs, all of which would have been free had we had a Swiss medical card. Being US citizens, all we had were the francs to pay the bills. This was still far less than what it had cost us to do essentially the same thing in Oregon last fall. Universal and complete 100 percent taxpayer funded healthcare in the US cannot come fast enough for us. It's our tax dollars that pay for the healthcare of those without insurance now, why not pay some more and have it for ourselves while cutting out all the sleaze bags that make their millions selling and administering private ripoff insurance. Guess you can tell where I stand on private healthcare, having had both employer paid and our own paid plans. But that's what travel does, it exposes you to things that are different from what you are accustomed and gets you to thinking about them in different ways.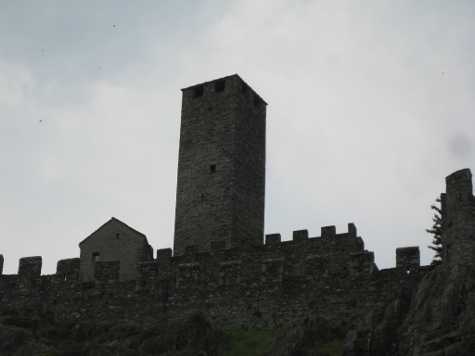 Now it was time to take the elevator up to the top of town, visiting Castelgrande.
The valley where Bellinzona now rests had been an important trade route for many centuries. The result was three castles in and above what is now the town.Castelgrande is the largest, and also the lowest, being surrounded by the town that grew up around it. It had fallen into disrepair over the years, but in the 1800's an effort was made to preserve and restore it. What we see today was the result of those and later efforts.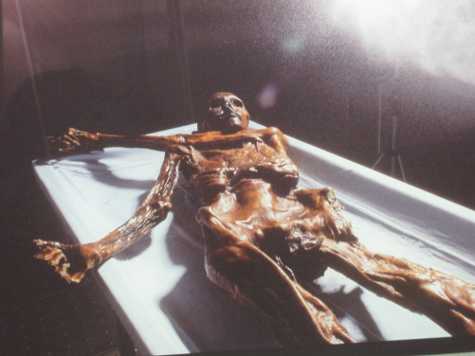 While the castle was interesting, the real reason we had come was to an exhibit relating to Oetzi, the Iceman who had died sometime around 3200 BC in the Italian Alps, and had laid buried in the ice up until a few decades ago.
While neither Oetzi, nor any of the objects found with him were on display, there were reconstructions on many of the objects. The displays were extremely well done, and were in Italian, German and English. We were amazed at the craftsmanship of the articles, and also the use of different materials which were best suited to the specific article that Oetzi carried. It is almost like everywhere we turn, we discover modern man is not nearly as smart nor advanced as he thinks he is. And in the same way, those we try to classify as savages, uncultured, or worse, were actually far smarter and more advanced than our narrow viewpoint permits us to believe.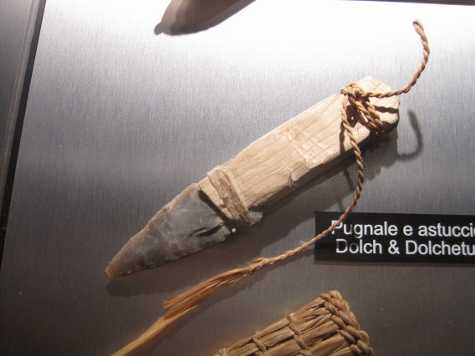 The knife he carried was one small example, with a stone blade, wooden handle and cord to prevent its loss if it was jostled out of its sheath.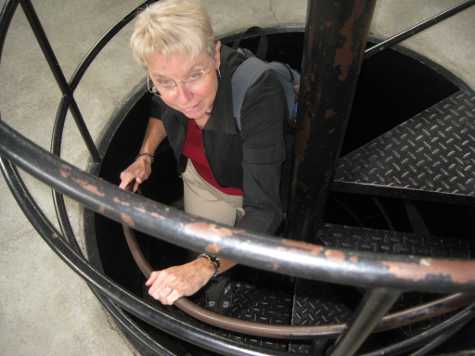 After getting our fill of Oetzi, and also deciding that the next time we are in Europe we will take a side trip to Bolzano, Italy to actually see Oetzi, we explored the castle. This meant going in the direction Linda loves least, up. Which in this case meant taking a spiral staircase the last few meters to the top of the highest castle tower.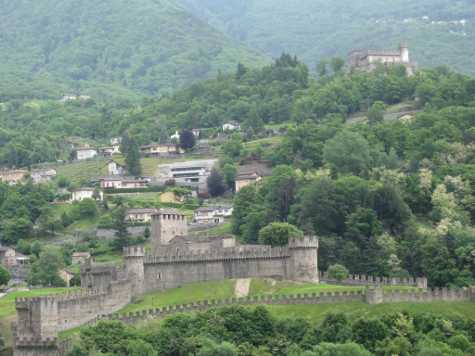 The end result was a view of the two other castles in town, Castello di Montebello and at the top of the hill, Castello di Sasso Corbaro. We also decided that what you see, is what we will see, because Linda wasn't going to be walking up there.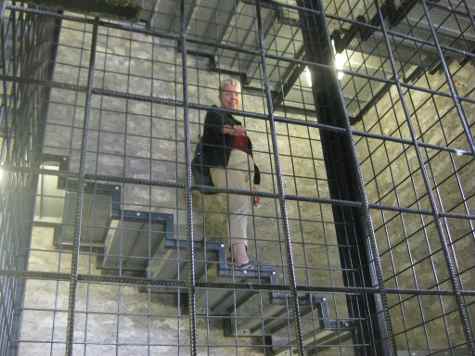 It isn't as easy as it seems to climb up and down a castle tower. In this case the stairs which are against the walls of the tower, are enclosed in a wire cage because the center of the tower is open. Something tells me they didn't have any safety measures like these in place when knights in armor ruled the roost.
After all this climbing up and down it was time to sit down and do something really important. Last year our grandson, Zachary, wrote a report on his ancestors from Switzerland. He learned to love Switzerland while writing that report, plus he really enjoys getting postcards. So here is grandpa writing a postcard to Zachary while sitting on a bench in Bellinzona, Switzerland.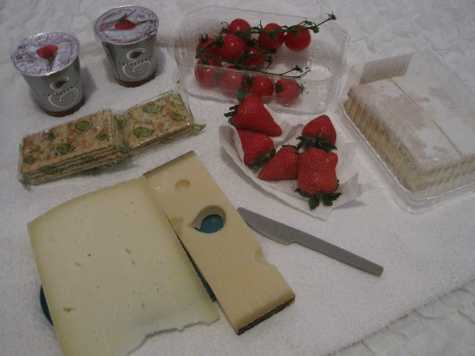 We then opted for a picnic dinner, stopping at the Migros store and picking up a few goodies, included a really great cream pastry for dessert. The weather report for tomorrow is calling for rain, and with Linda once again fighting an infection, we plan to do some shopping and some resting to be ready for Turkey. It is simply a case of planning to changing our expectations to meet the circumstances.
---
May 15 Friday
Rain, rain go away, a time to shop, no time to buy, a time to rest, Linda feeling much better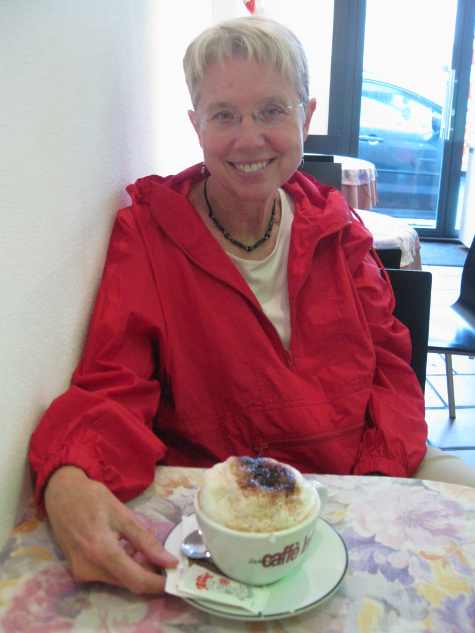 Neither one of us was with it this morning, and somehow or other we managed to eat breakfast without taking a single photo. We rationalized it by saying the little baby at the table beside us was so cute, we were total;y distracted. To make up for that, Linda suggested we go to place that had been mentioned on the virtual tourist website. It was a tearoom that was supposed to have a huge "Cappuccino Grande". We went, Linda had it, it was big, but they would be better off sticking to teas far as Lindae was concerned, as the taste left a little to be desired.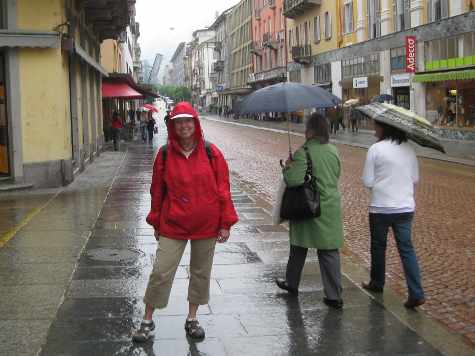 Just because it was raining didn't mean it wasn't a good day, even if it had rained hard enough in the night to wake us. I think it had more to do with all the shopping Linda was planing to do. She spent most of the morning going from shop to shop saying that she really didn't need a new top, but she kept shopping for one.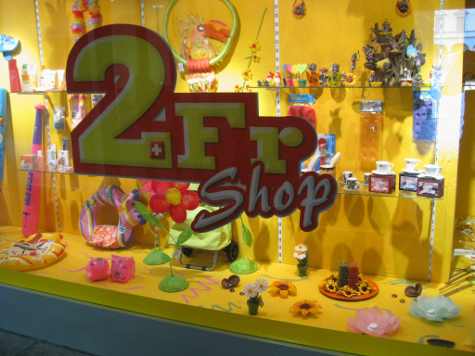 We shopped everything from the high end to the low end. The low end being the Swiss equivalent to the 99 cent store in the US, the 2 franc store.It was notable for two things, there didn't seem to be any of the Chinese junk so prevalent in the 99 cent stores, and they don't have many things you'd want to buy for 2 francs in Switzerland, in fact they don't have many things at all for 2 francs in Switzerland.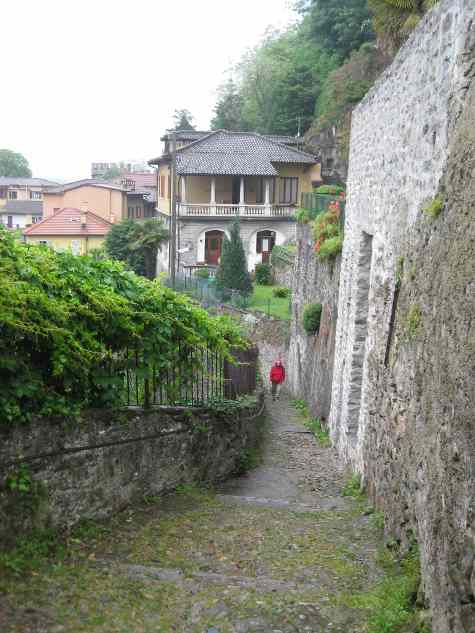 My one attempt at doing something different ended in inglorious failure. I had finally talked her into walking up the the middle castle when disaster struck. I thought I found a short cut to the castle, only to find out that around the next corner was a locked gate that blocked the path. At least I didn't have to worry about getting wet on the way back down as the blasts of hot air aimed at me from her direction would have instantly evaporated any moisture. If I'd have been any closer they would have probably also singed my clothing.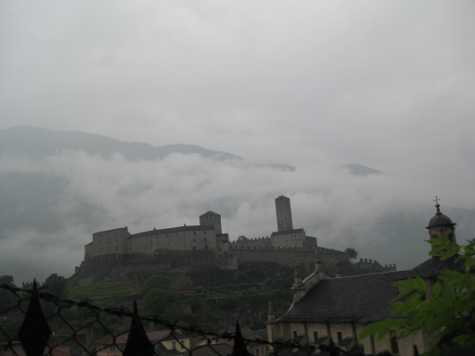 Even she had to agree that the view of Castelgrande, where we had been yesterday, with the clouds and mountains behind it was pretty awesome..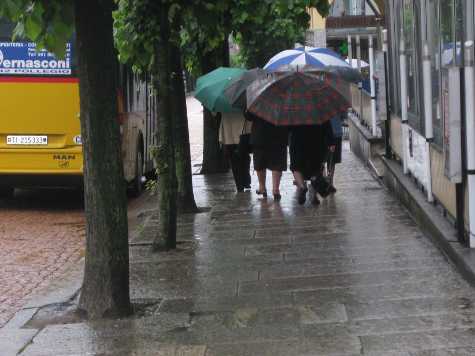 Later when we went to the train station to buy our tickets to Zurich for tomorrow's trip, we ran into the Swiss army. This group of little old lady's, a term which described them perfectly, was slowly moving down the sidewalk. With their umbrellas rhythmicly bouncing up and down as they walked, they drew stares and smiles from everyone who saw them. Never once did they break ranks for oncoming walkers, instead those that dared to meet them head to head detoured out into the street.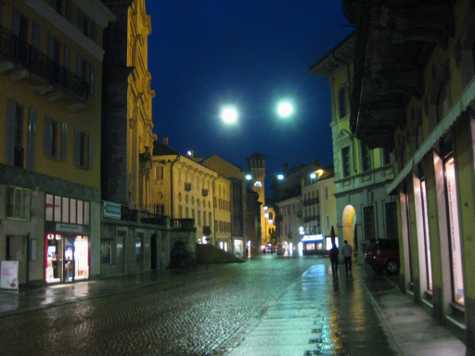 Later, with darkness coming on, and the rain still falling, we took a walk to see the town at night.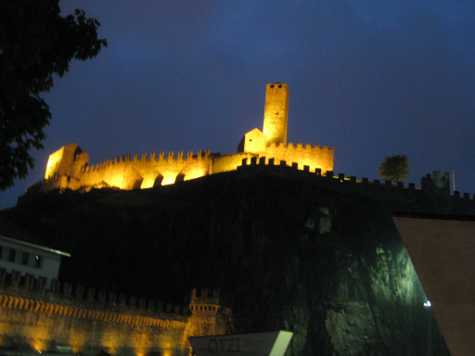 Photos, at least our photos, do not do justice to the beauty of the castles glowing in the light of this night, It was a special moment, and a fitting end to what we consider the first part of our trip. Tomorrow we journey to an entirely different culture where we know new adventures and memories await us.
---
May 16 Saturday
Train travel, leaving on a jet plane, Istanbul, Shish Kebabs and water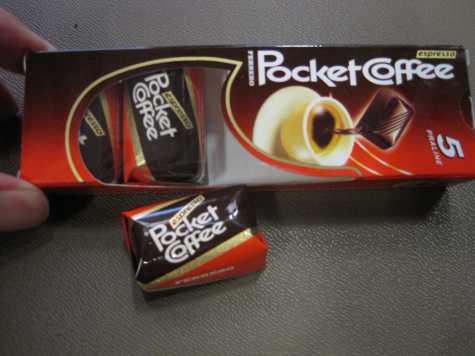 Travel day today, Europe to Asia and back to Europe. A little misleading because the Asia part is the Anatolian side of Istanbul where the airport we are flying into is located, and the back to Europe is the Constantinople side of Istanbul where our hotel is located. With the the alarm going off at 5:45, breakfast was a pastry bought yesterday and eaten in our room, the coffee being a Pocket Coffee eaten along the way. A pocket coffee is a piece of chocolate filled with espresso concentrate, what you might call a sure fire jolt, if there ever was one.
Linda wanted to start for the train station at 6:45 to make sure we got there before our train was supposed to depart at 7:05. It wasn't raining this morning, still, exactly as she wanted, we left at precisely 6:45 with her setting a torrid pace so we would arrive in time.She did good, because exactly one minute later we were standing on the platform waiting for the train, the hotel being directly across the street from the train station.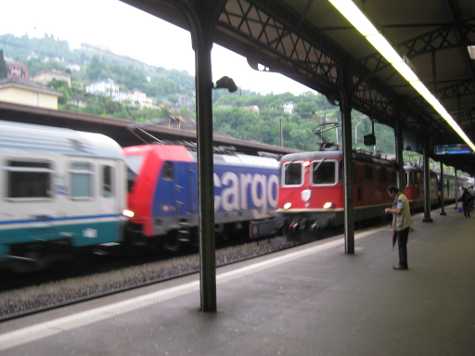 The train was exactly on time, but as you can see, it wasn't one of the intercity express trains, it was a local.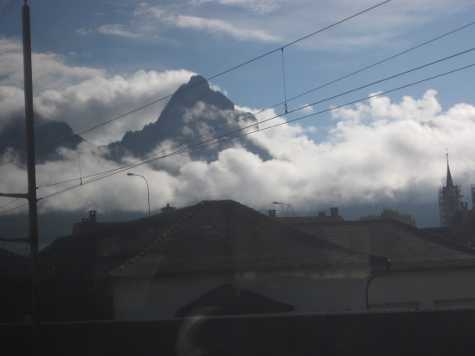 We did enjoy the scenery along the way which included a spectacular view of a glacier sheared Matterhorn type mountain peak.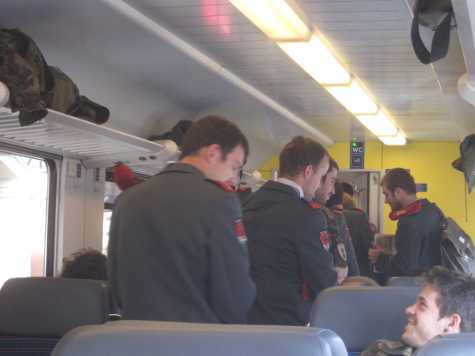 Yesterday we joked about seeing the Swiss Army, well today we saw it for real. At several stops a large number of military personnel boarded the train. While none of them carried any weapons, like we had seen traveling on the train last year, they showed that being a neutral country, doesn't mean a disarmed and impotent country.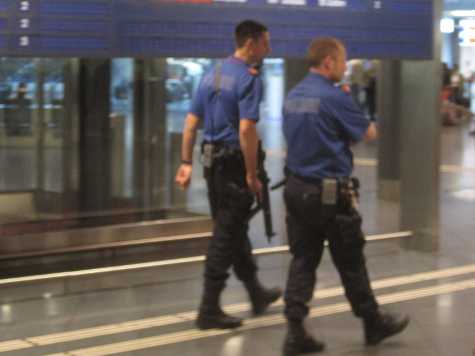 We switched trains at the Zurich HBF, and soon arrived at the train station underneath the Zurich airport. It is a rather large airport, so while Linda sat and rested, I went off to see if I could figure out which terminal our flight was departing from. It hadn't been posted on the board yet, but it wasn't hard to determine. Terminal 1 and 3 were almost exclusively Swiss Air, while Terminal 2 was the home to virtually everyone else. When I returned, Linda said she felt really safe, though until I looked at this photo I wasn't sure what she had meant.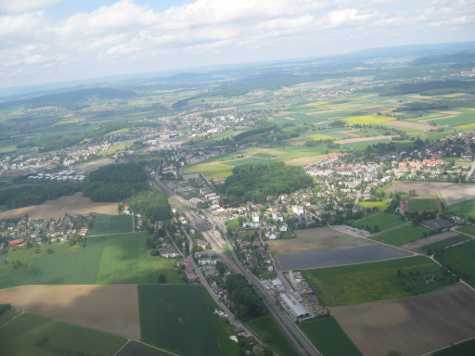 We were flying Pegasus Airlines, a Turkish discount airline, to Istanbul. The plane was an Airbus 319 with 3 and 3 seating. Once again we lucked out, and Linda got the aisle seat, I got the window, and no one got the center seat. Other than that, the plane was almost completely full, with almost everyone being from Turkey. Soon it was time to once again say goodbye to the country of my ancestors, and we were headed to Turkey.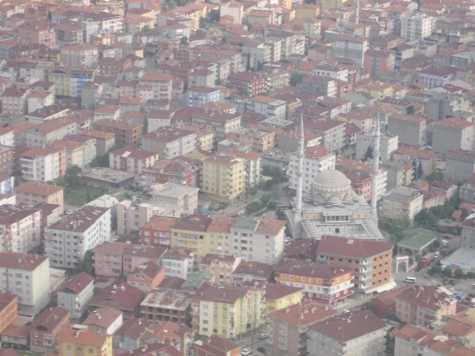 The flight was supposed to take 3 hours, but we were early arriving in Istanbul, a reason why we selected Pegasus. The percentage of early arrivals was higher than their competitors on time arrivals. One of the first things we could pick out from the air as we came in for the landing were the mosques.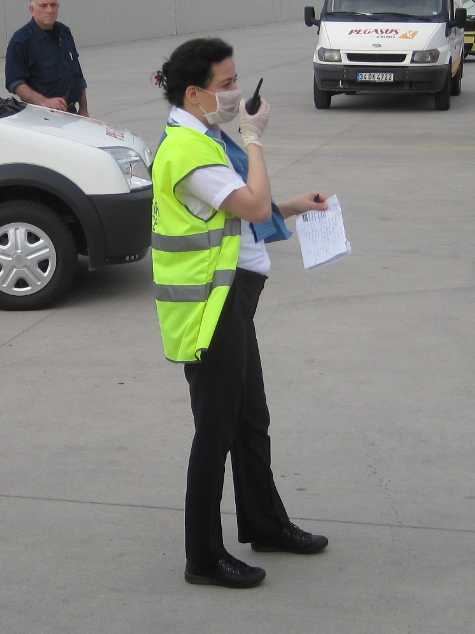 We also learned they are taking the swine flu very, very seriously in Turkey. While on board the aircraft, all passengers had filled out a very detailed medical form that was obviously designed to identify anyone who had been in a country that is experiencing the swine flu. It was also the first time we had ever de-planed where all the ground crew had worn masks.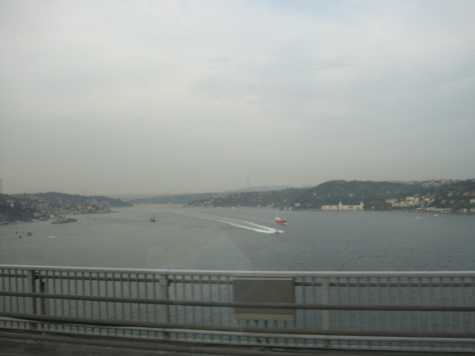 Because we were flyingn into the airport on the Asian side,and not the main airport nearer the olld town district, we had arranged for the hotel's driver to met us. Because we were early it led to a little delay, but eventually we connected, even though he spoke no English, and we were off to the hotel. I used the time to practice what little Turkish I knew with out driver, and we also spent a whole lot of time in the most god awful traffic jam we've experience in many years.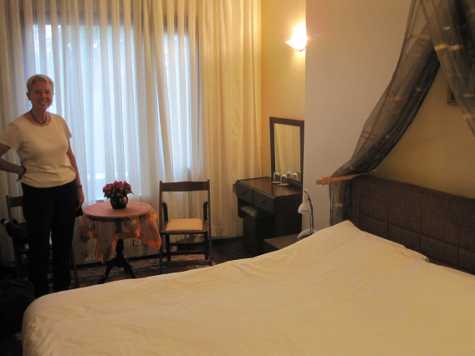 Our room was a pleasant surprise, and I really liked the young lady who showed up in the room at the same time I did. Once we were settled in, we went for a walk, checking out the neighborhood, which was awash with hotels and restaurants. Nearby was a bazaar and we got our first taste of the stalls lining the narrow pedestrian walkway.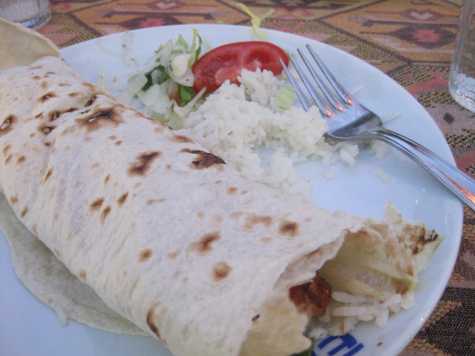 Deciding that we were hungry, we picked a place at random, and had shish kebabs. Chicken for Linda, lamb for me. While Linda drank an ice tea, I enjoyed an Aryan, which is a salted yogurt drink, something I'd never had before, but will definitely have again. Linda was sorry she wasn't adventurous and ordered one also. I think she;s already starting to hope her motto doesn't become: "Safe and sorry."
Later we discovered the couple sitting next to us were also from California, and so got to talk to someone from the states for the first time in almost a week. We also had an apple tea, a speciality here, and something that Linda couldn't get over how good it was. We were also treated to some entertainment as the restaurant next to where we were eating had a dervish whirling for their diners, but in plain si9ght of where we were sitting. It's something that could make you dizzy just from watching, though the flowing robes and music are almost mesmerizing.
Much later we returned to the hotel, but not before stopping at a little shop to buy a dessert and 3 liters of water. All the drinking water in Turkey is bottled, and water vendors are everywhere, including in the middle of this afternoons traffic jam. The dessert appeared to be some type of filled cherry pastry/cake combination. The taste was wonderful, as we sat in our room enjoying it, Then with an open window letting in the sounds from the surrounding area, plus also having lost an hour traveling eastward, we called it a day.
---
May 17 Sunday
A wake up call, different breakfast food, grand buildings, Sultanahmet area, archaeological museum, people everywhere, an evening walk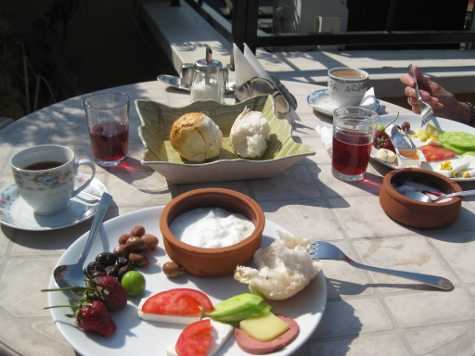 We got both our welcome to Turkey and wake up- call at the same time this morning, just a couple of minute before 5 AM. That was when the loudspeaker on the minaret located a hundred feet or so from our open window broadcast the morning call to prayer. While I dwelt on the fact that this is how the people in many countries around the world start their day,Linda indicated she had other thoughts about noise that reverberated through our room.
She had no trouble going back to sleep, and it was hours later when we climbed the stairs to the roof top terrace for breakfast. They say that it is a matter of pride to the hotels as to the quality of breakfast they serve. We sure did enjoy this one, though we only managed to sample about half the items. We loved the slightly fermented cherry juice, and the plain yogurt was by far the best I've ever eaten, while the olives where pure bliss.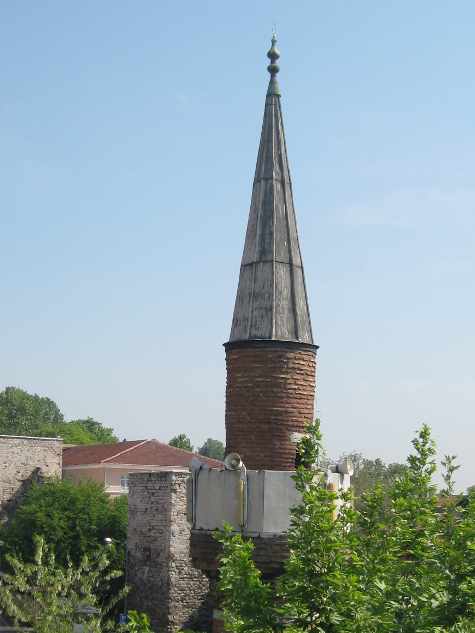 From the terrace it was also easy to see the source of Linda's early morning displeasure. At least it is on the opposite side of the hotel that our room is on. I can't even imagine how loud it would be if it was right outside the window.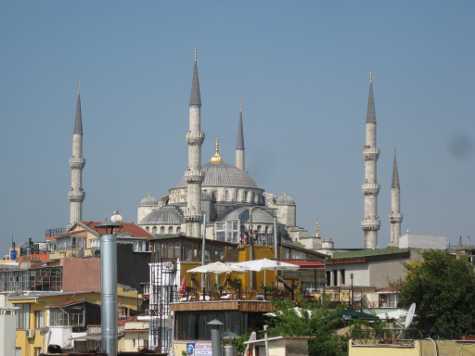 In the other direction, over the tops of the nearby buildings, we could see the domes and minarets of the Blue Mosque. We also had fun looking at the people on all the hotel terraces around us, since every roof top has tables, chairs and people just like us sitting out eating breakfast.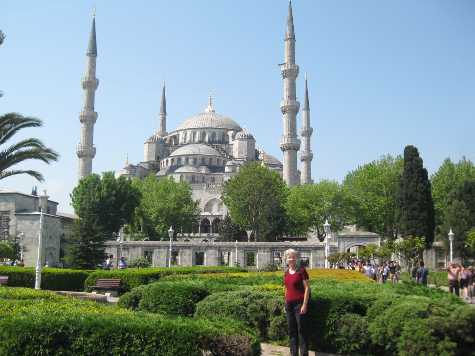 After breakfast we set out to explore the sights we had seen from the terrace. Since we will be visiting most of them on the tour, we decided walk the area and visit what we wouldn't be seeing. At the top of the hill, the first sight was the Blue Mosque.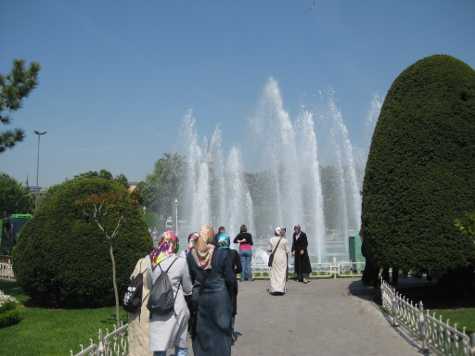 Another marvelous sight was this fountain that is in what used to the be the Hippodrome, the place where the Romans held chariot races. The old towm was built by the roman Emperor Constantine when he moved the capital of the Roman Empire from Rome to what he named Constantinople, after himself of course.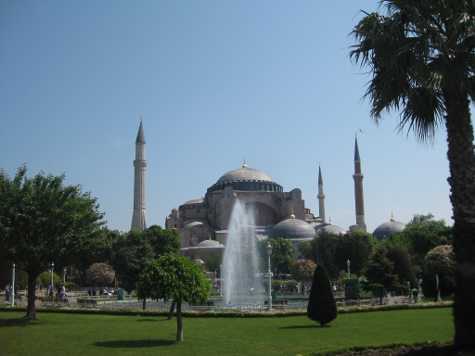 Think of the fountain as the Washington Monument, bookended by the Lincoln Memorial and the Capitol. Here the fountain is bookended by thee Blue Mosque and the Hagia Sophia. The Hagia Sophia was originally built by the Emperor Justinian to be the grandest church in the world. Converted into a mosque by the Ottomans, and now a museum, it is still the grandest religious structure in the western world.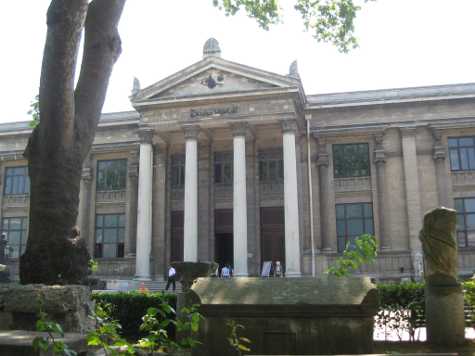 Beyond the Hagia Sophia we discovered there was another great structure,the Topkapi Palace, It also made us realize our earlier Washington DC analogy was all wrong. The fountain wasn't one of the three structures for my Washington DC Mall reference, the three buildings are the Blue Mosque, the Hagia Sophia and the Topkapi Palace.
Because we would be seeing all these on the tour, plus we would have free time to explore them on our own later that day, we decided to visit the Archaeological Museum, and really go back in time. It would by like a history book come to life since many of those early kingdoms were in either the Ottoman Empire, or modern day Turkey.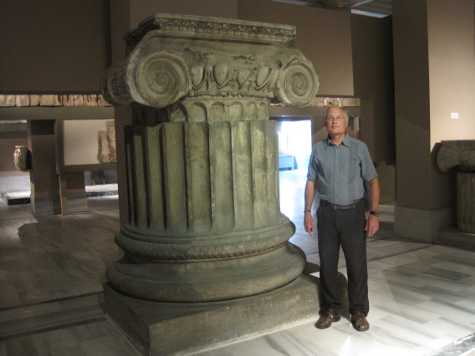 We ended up spending over four hours in the museum complex, where we saw big things like this column top from an ancient temple.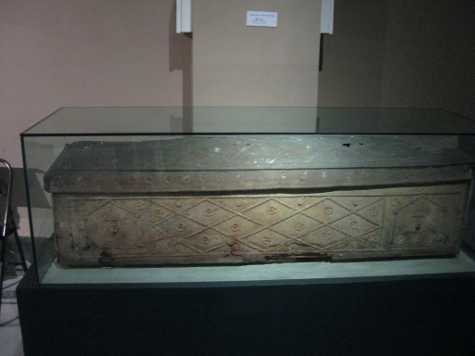 Unusual things like this 2000 year old lead coffin..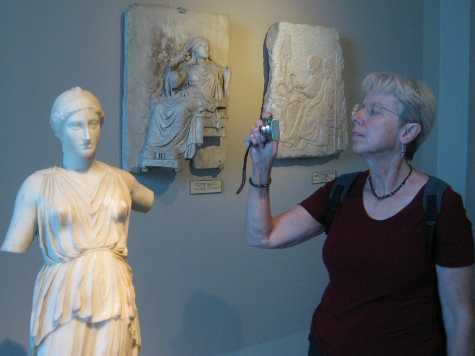 Statues of great beauty and elegance, not to mention beautiful women.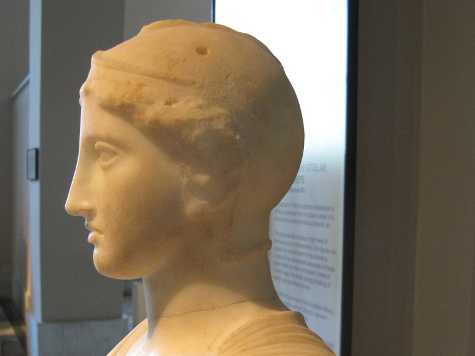 A close-up of one of the two beautiful women, showing the beauty of the marble and the delicate features the sculptor brought out.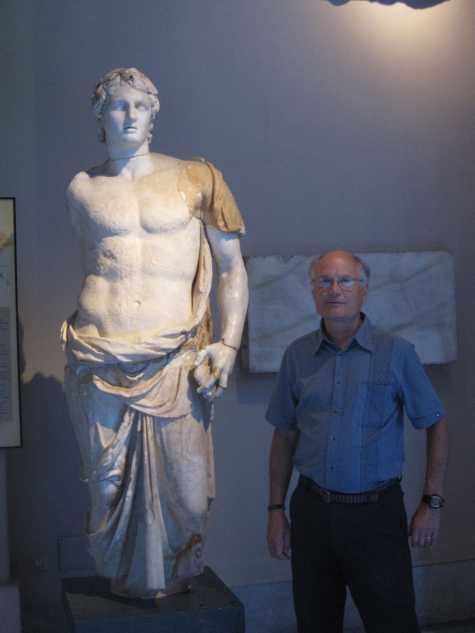 Linda was quick to discover that not all the statues were of beautiful women, there were also heroic men on display, such as Alexander The Great with a slave.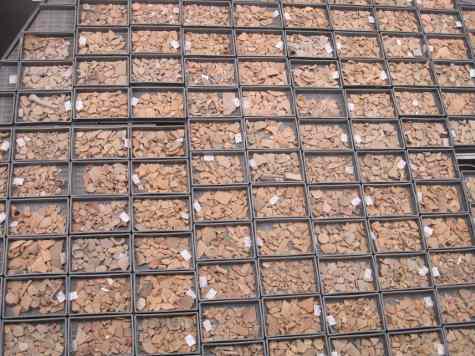 In one room we looked down on crate after crate of broken amphora. Each crate as about 18 by 12 inches and there seemed to be hundreds of them. Linda called it lifetime job security for whoever had the job of putting them back together.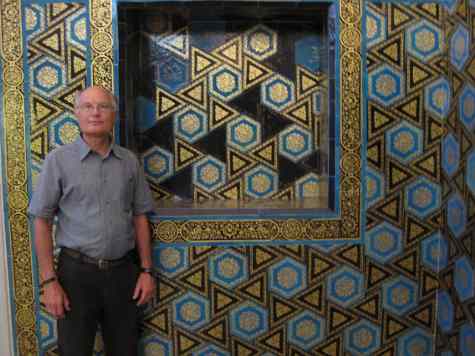 Another building featured ceramics and pottery and was the only part of the museum we were disappointed in. After visiting Ravenna while in Italy and hearing about the fantastic mosaics of Istanbul we were expecting more. Maybe it was because the mosaics here were from the period of the Ottoman Empire, while the ones in Ravenna were were from the earlier Roman period. We will get the great mosaics of the Roman times when we visit the some of the other buildings during the tour.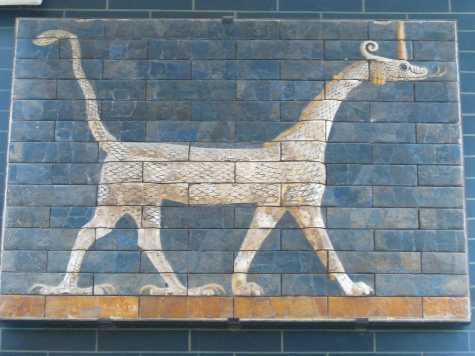 It's not a what is it, it is one of the ceramic art pieces that decorated the walls and gates of Babylon.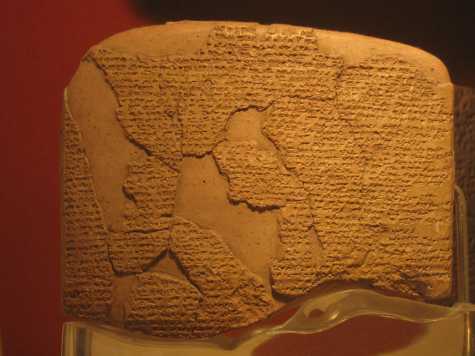 Peace treaties are not something new, In 1269 B.C. the Hittites and the Egyptians entered into this peace treaty which has been preserved because copies were made on clay tablets.
Once back outside we discovered the sidewalks had turned into moving masses of people. Back at th4 hotel we both took a nap to recover from museum fatigue, then went back out to simply enjoy Istanbul on a May evening. As darkness fell the lights on the mosques and minarets made for a spectacular view around almost every corner.
We ate at 8 o'clock, and as we were finishing up at 9, the restaurant started filling up with what were obviously local people. Tonight we had left the heart of the tourist district to see another side of the city. The sounds of Life being fully lived were all around us, and it was another of those, pinch me, am I really here, moments. Life is good.
---
May 18 Monday
Another wake up call, changing hotels, Internet connection, a Bazaar experience, the Turkey Tour begins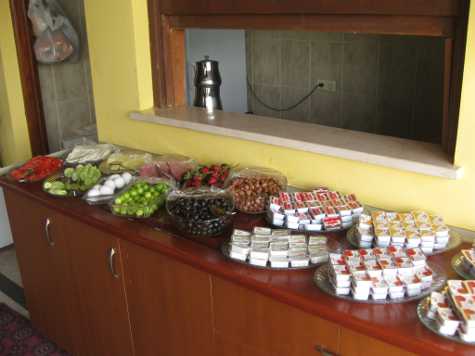 Once again, just a couple of minutes before 5 AM, we were greeted by the loudspeaker on the nearby minaret broadcasting the morning call to prayer.From Linda's escalation of her reaction to the rude awakening, I can only hope that when we switch hotels today, that there are no nearby mosques, or she opts for wearing earplugs.
Breakfast was the same wonderful spread of fresh foods. One of the things I had yesterday that was new to my palate was the green plums. Green meaning not ripe and very crunchy,and while sweet they are not, they do make a great contrast to the sweetness of some of the other foods.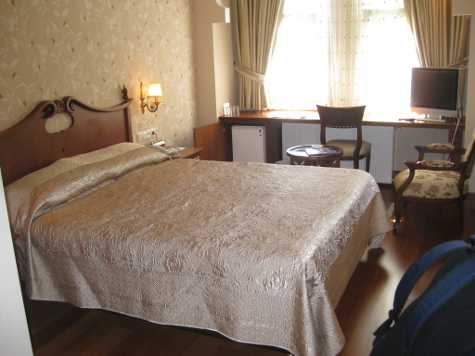 We decided to get the Daily Journal caught up to date, then move to the hotel that we would staying in for the Turkey Tour. It was only a few blocks from this hotel, and we'd already checked it out, finding the best way to walk to it. That meant the way with the least uphill travel, a decision that was greatly influenced by Linda, so just before 11, we were checking in and then getting the first look at our room,which was just a little larger than the one we had just left.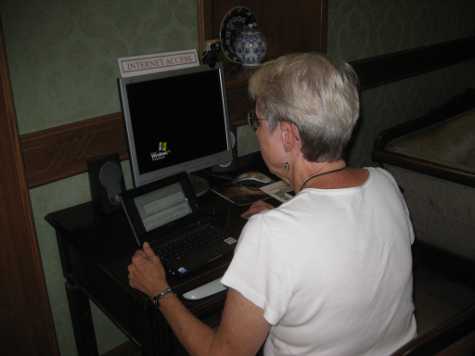 Our first order of business was to upload the website, which we did on the hotel wireless down in the lobby. Then Linda wanted to check the email and our accounts. It seemed like it was taking her forever, so when I finally checked on what she was doing I discovered she was getting caught up on the blogs she follows. Then she remembered that she needed to send out some more emails, and I was beginning to wonder if she even wanted to do any sightseeing today.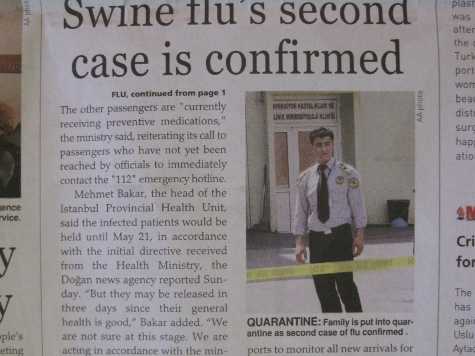 To kill some time I picked up the paper and found it was the English language version of the Istanbul paper. One thing lead to another and I ended up learning that Linda had taken a photo of the swine flu screening at the airport, then was pulled aside by the authorities, questioned, even to the point of checking her camera for photos of what they were doing. It was one of those, "Now you tell me" moments. I told her it was a wonder she didn't end up in a Turkish jail. She told me she was now very careful about what she photographed.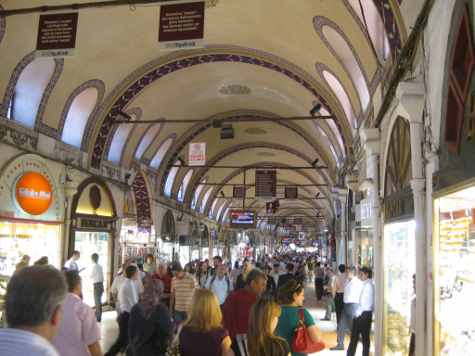 We decided to explore by wandering, and after going down side streets where various items were being made in small workrooms, we wandered into the Grand Bazaar. It was one of those times when your mouth opens and nothing comes out. For the next hour we wandered the aisles and corridors. I have to think most Americans come away with the same thought. We didn't invent the shopping mall, we just copied what these people were already doing. Built in the 15th century and with over 4000 shops it is a truly amazing place.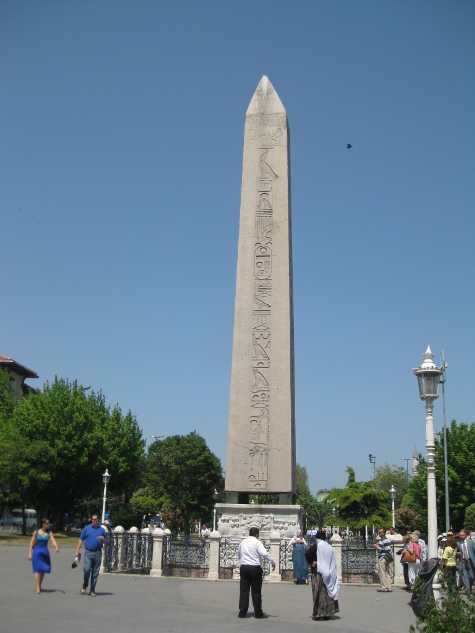 We did get to our sightseeing, visiting the different tall monuments that are in the Hippodrome. This was the Egyptian Obelisk that was brought to the city by the Romans shortly after they built the Hippodrome. Nearby was another tall monument that looked in bad shape. It had originally been covered with bronze panels but the crusaders took then and melted them down even though they had nothing to do with who they were fighting.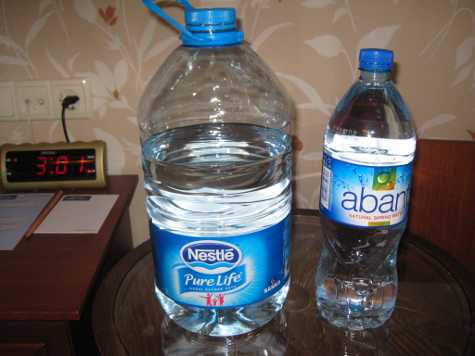 On the way back to the hotel we stopped for some dessert and apple tea, a treat that we are going to have to give serious thought to.Maybe for our time in Turkey it will replace our other 4 o'clock customs. Before leaving we went big time in the water department, buying a 5 liter jug. Half a liter is 0.50 Lira, one and a half liters is 0.75 Lira, while five liters is 2.00 Lira, meaning it pays to refill our smaller bottles from a bigger one.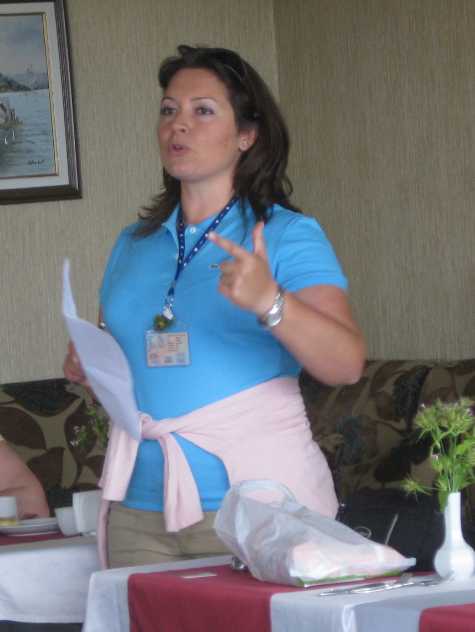 Then at 4 o'clock we went up to the terrace where we met the Turkish bundle of energy called Mine, who would be our guide.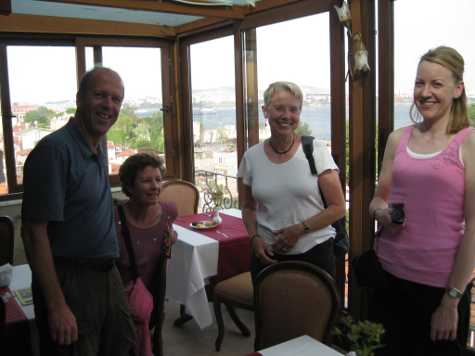 It was also a time to begin finding out about the other members of our tour. The experience level ranged from Don an Colleen on their first Rick Steves tour, to Karen who was going on her 13th Rick Steves tour. Afterwards it was time to spend a little time together and pose for those first photos where we try to put the names to the faces. Here's Don, Colleen, Linda and Dana posing for their mug shot.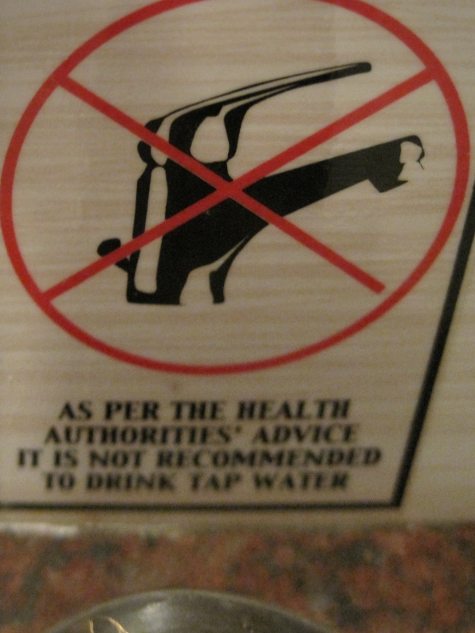 In case you wonder why we buy all our drinking water, this is the answer.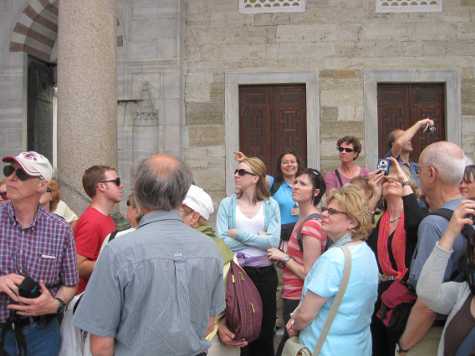 Then we were off to the Blue Mosque to begin learning about a new culture. As you can see it takes a tour group a little while to get in sync with the guide. The fact that hardly anyone is looking in the direction that Mine is pointing, but rather in about 10 other directions shows we have a ways to go in the guide and guided department.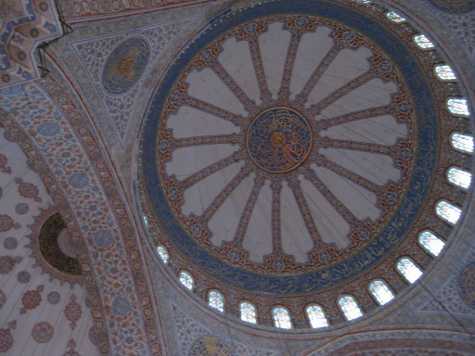 Before entering the mosque, we all removed our shoes and the women covered their heads, Once inside, it only took a glance uwards to understand where the name, Blue Mosque, came from. Visitors are allowed in a section to back of the praying men, and behind the visitors in a screened off section is where the women prayed. Unlike the Catholic Churches in Europe, photos are allowed in the mosque. We also noticed there wasn't the constant pleading for money like in the Catholic Churches.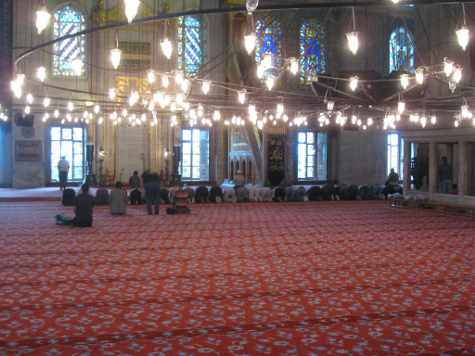 The Imam leads the prayer service, of which there are five a day. We also learned there aren't any images in a mosque, and it was in stark contrast to the churches whose interiors were plastered with saint so and so, or the virgin mary like we had seen in Italy.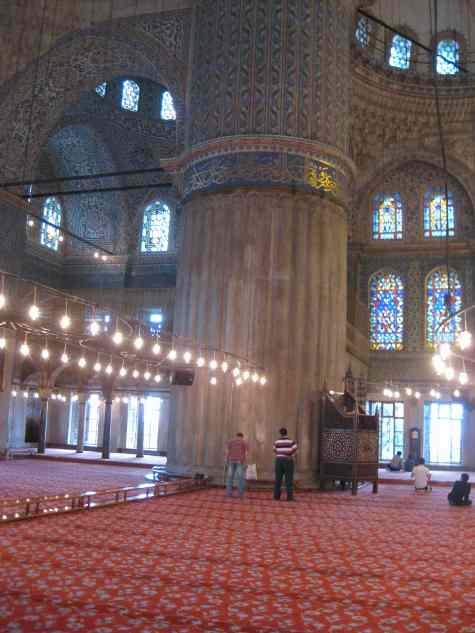 While the cathedrals of Europe have rows and rows of columns supporting the roof, the blue Mosque had four gigantic columns supporting the dome, giving it the appearance of a modern building with its huge open floor plan.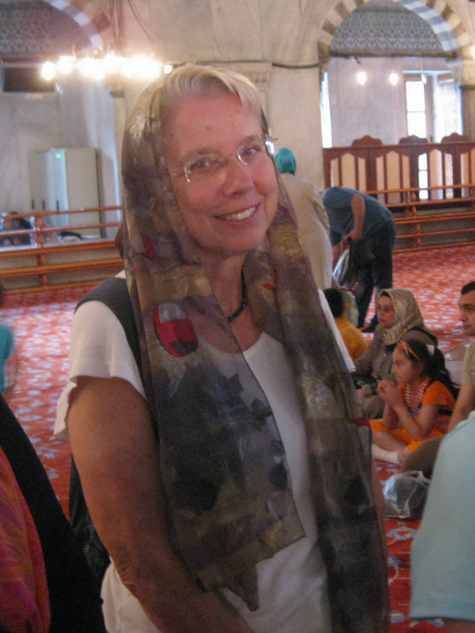 I also had to take a photo of Linda's attempt to comply with the requirement that females cover their heads.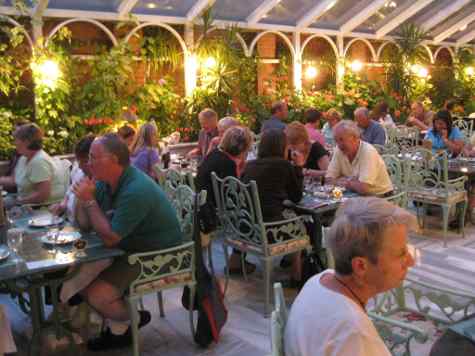 Later we had our first meal together, where we learned it would definitely be different from our Italy tour in one respect. While on the Italy tour wine was served with every meal, and was part of our ritual welcome a each hotel, in Turkey it would be the exact opposite, with any wine being an extra that we would be paying for ourselves.
With a completely different religion as well as culture, it was easy to see why many of the continental European countries were having difficulty assimilating Turkish immigrants. We were looking forward to what the next 12 days would bring. It had gotten off to a great start and once we got out of Istanbul with its millions of people, we wondered how things would change.
It will be several days until we find out as tomorrow we will be visiting more sights in Istanbul, concentrating on the old town area where we are staying and learning of the Moslem and Christian heritage of Constantinople/Istanbul. Being brave we went to sleep with our windows open and hopes of a quiet morning, feeling somewhat like strangers in a strange land.
---
May 19 Tuesday
A good start, Roman water works, a grand edifice, soccer stars, Arts Center, too much food, back to church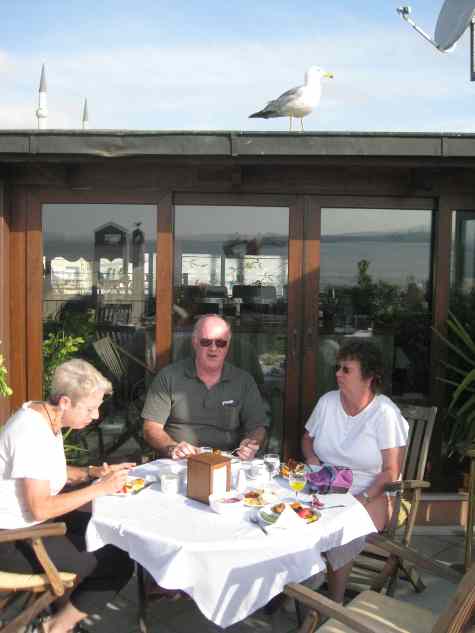 There was no wakeup call this morning that I heard, Linda said she barely heard it and went right back to sleep. That didn't mean we had a peaceful night however. The pillows at this hotel are the most uncomfortable ones I have ever experienced. Hard as a piece of marble and half the height of Mt Everest, they are the worst excuse fore a pillow I have ever been subjected to, and we have had some pretty bad ones during our travels.
Between the headache and the neck ache I had this morning, I wasn't the happiest traveler in Turkey when I finally decided to get up. Once we got to the rooftop terrace for breakfast it didn't take long to replace the pain with a smile. Maybe it was the visitor we had for breakfast.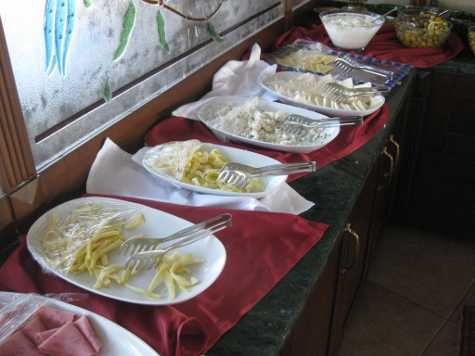 Maybe it was this wonderful spread of cheeses.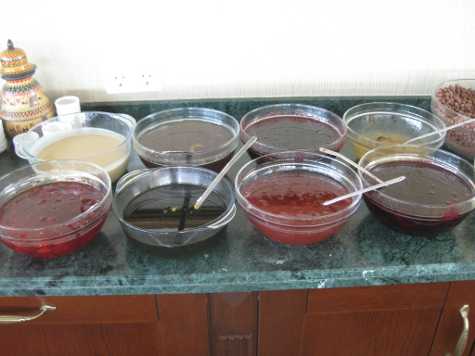 Or maybe it was the array of sauces, far too many to try all of them. Whatever it was we both left breakfast wondering whether we even needed to eat again today.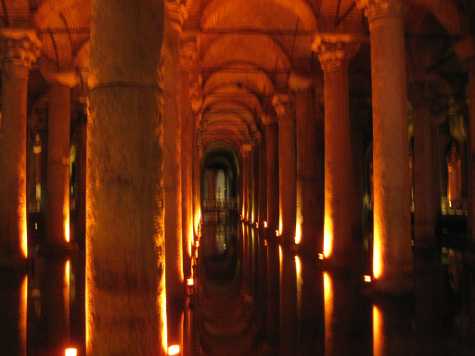 Our first stop was at one of those, you had to be there because pictures don't do it justice, places. When the Romans had built Constantinople, they in essence recreated the best of Rome. To supple water to the city they built aqueducts and a vast underground cistern. Over the centuries it had been lost until the Ottomans rediscovered it. After the James Bond movie, "To Russia with Love" was filmed here it became a popular tourist destination.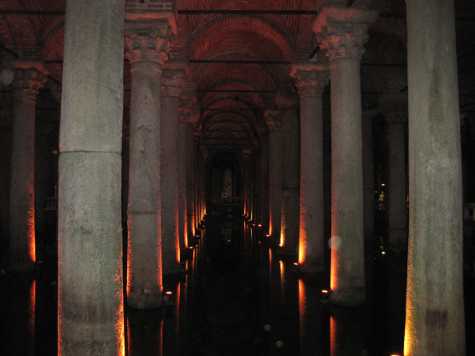 Designed to hold 27 million gallons of water, its roof was supported by hundreds of columns. These columns were all recycled from older temples throughout the country, showing that the concept of recycling is not something new.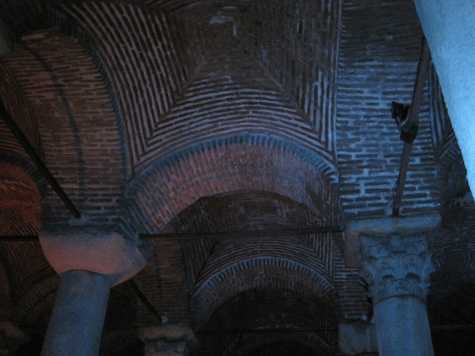 The brick work that makes up the roof of the cistern. In area, it is about the size of two football fields.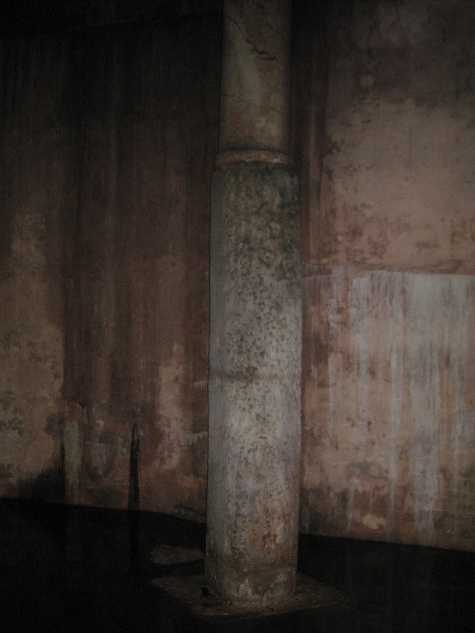 If a column was to long they shortened it. If it was to short they simply put another on top.In this case the two column sections were of different sizes,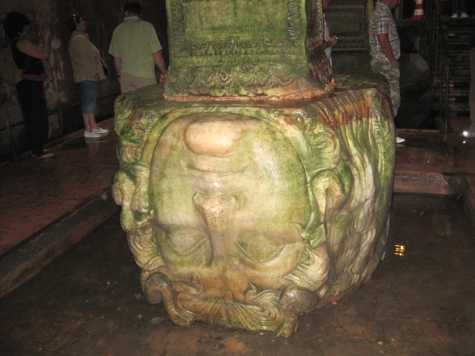 A Medusa head used as a column base. By turning it upside down the Romans believed it lost its power.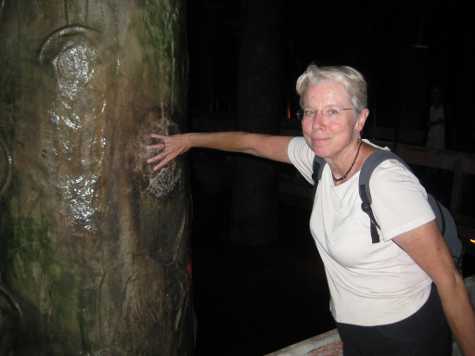 Linda at a wishing hole in one of the columns. Insert your thumb, make a wish, rotate your hand 360 degrees and the wish is supposed to come true.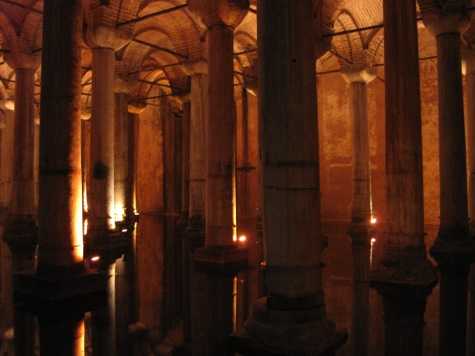 To say that I really enjoyed the cistern would be an understatement. After the million catholic churches of Italy, seeing something truly different was fascinating to say the least.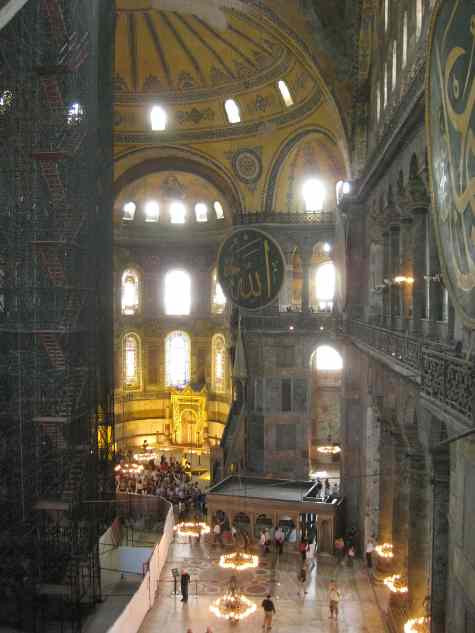 Then we were off to the Hagia Sophia, first the grand church of Justinian, then a mosque and now a museum, it certainly showed the strain of all the changes it had undergone as well as its age. They are currently during restoration on part of its dome so much of the floor area was filled with scaffolding..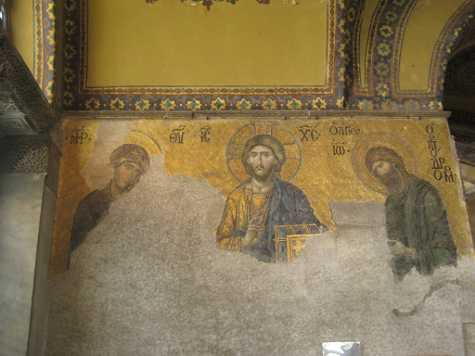 Many of the mosaics are hard to see because the building is so big. In fact they are proud to point out that Notre Dame cathedral in Paris would fit inside the Hagia Sophia. There has also been deterioration over the years, but what remains is outstanding.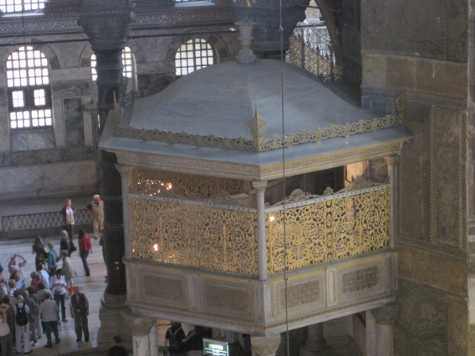 When it became a mosque, a special place was constructed to protect the Sultan from assassination while he was praying and worshiping.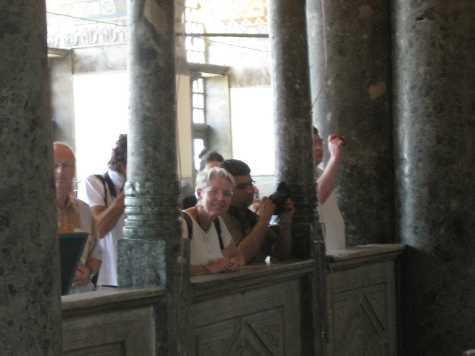 At the same time, up on the second floor with the women, the Empress had her own special place to pray. Is that a modern day Empress between the columns where the Empress of long ago stood?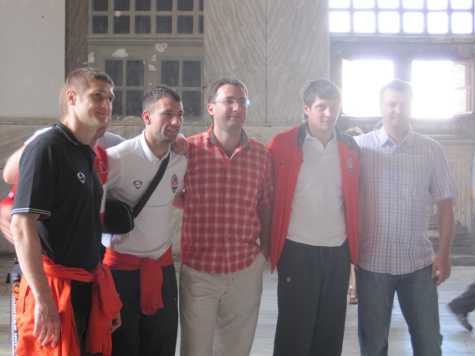 While we were there we also saw members of what was obviously a sports team being followed by a huge throng of people, and photographers. We had to get a shot of a small part of the team. Later we saw a feature on TV about their arrival in town, unfortunately it was all in Turkish so we never did learn who they were or what sport it was, though we suspect it was soccer.
Next it was off to the Islamic Arts Center, where Linda was intrigued by this candle stick.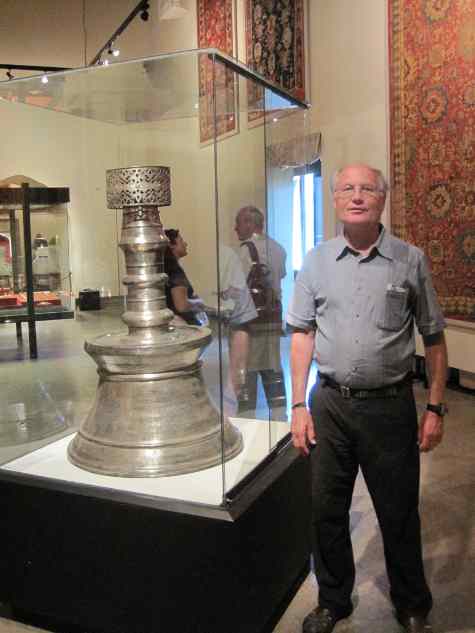 It looks like the Catholics weren't the only ones into giant candlesticks. Later we had an enormous lunch at a cafeteria, so much food that a dessert and tea was enough for dinner. In the afternoon we took the bus to a church that had mosaics, but by this time we had had our fill of looking up at little objects high overhead and hearing the same explanation over and over.
---
May 20 Wednesday
Topkapi Palace, the Spice Market, cruising on the Bosporus, the night train to Ankara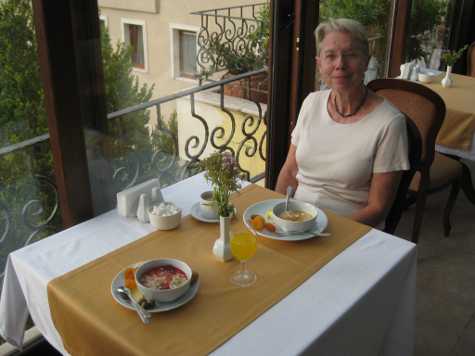 Another morning, another head and neck ache, the good part is it is our last night in this hotel. In a way it is funny, in a way not. We come all the way to Turkey for a Rick Steves tour and they put us up in Best Western hotel that is a joke. Yesterday the wireless Internet stopped working and they just shrug their shoulders when you ask about it. Lousy hotel, incompetent staff, looks like Rick is in it for the money and not concerned about his customers.
Breakfast was also one of those interesting experiences. The girl who was supposed to set the food out was late, then only a few things came out, so that by the time we were done eating there was all the rest of the food. Something the hotel couldn't control was the weather. It was very windy so we ate inside the glassed in section rather than outside in the wind. All in all it wasn't the best way to start the day, but with what is on the schedule, it's going too get better.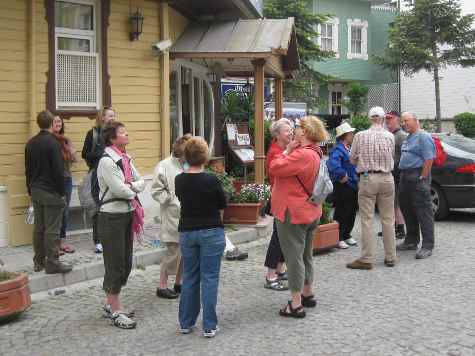 Our destination this morning was obviously somewhere everyone want to go because at the appointed time all 27 of us were ready.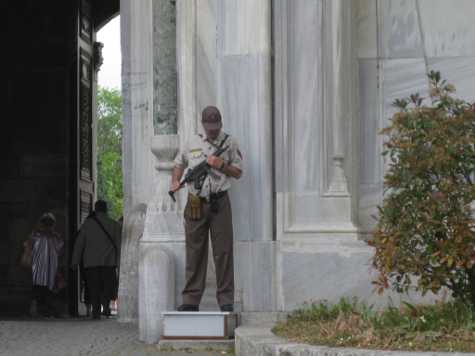 While the Palace is a museum and the Sultans are long gone, because it is an important national building armed guards are posted in front of it. We'd be curious to know what this guard was looking for the moment this photo was snapped.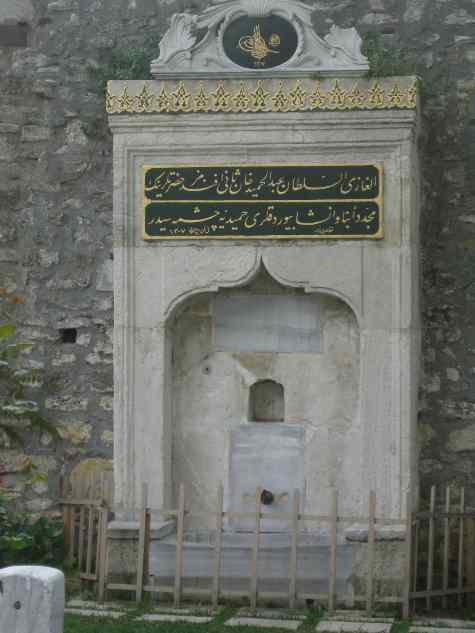 Just before the gates of the palace is a very important fountain. The Sultans were all powerful, and the punishment handed out to enemies real or imagined was often death by beheading. This fountain was where the royal executioner washed the remains of that punishment before hanging the head from nearby trees as a warning to others that might have designs on the Sultan or his rule.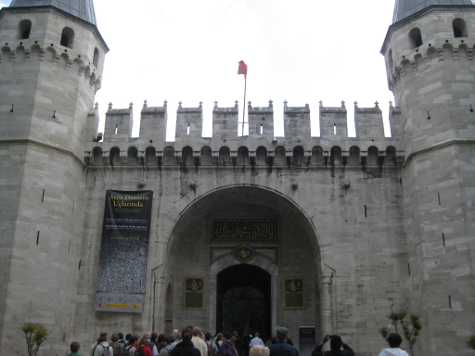 The entrance to the Topkapi Palace which is the most visited place in Turkey. The heads of the people around the entrance doesn't do justice to the mass of humanity that was there.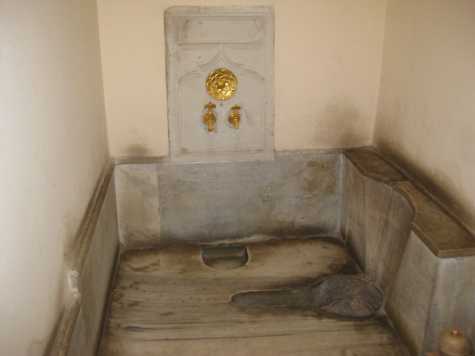 The harem is an interesting place. Not only did the young women of the harem live there, so did the Sultan. The big thing was to catch the Sultan's fancy and move up the ladder so speak. Yet for all the power the Sultan had,he still had to do some of the things every human being did. He did have more comforts though as evidenced by the back rest on his squatty potty. As far as the gold faucet, that was more common in the palace.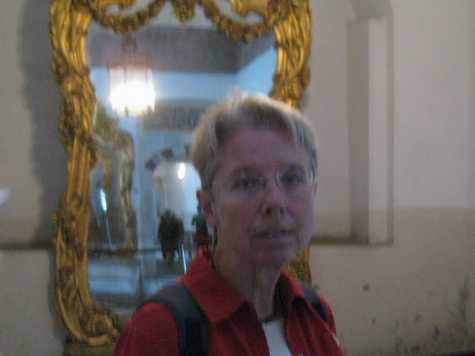 While inside the harem this beautiful harem girl walked past, though from the expression on her face I get the indication she was none too happy with having her picture taken.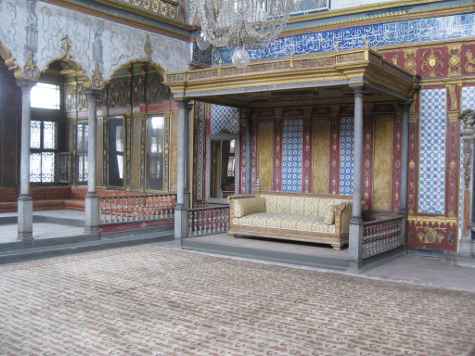 The Sultan didn't have a throne like we typically think of, what he had was a couch that he could recline upon. The mark of the Sultan was a very big belly due to the rich foods he consumed and and lack of regular exercise, except for what the harem provided.
There were other parts of the Palace where pictures weren't allowed but where some of the Sultan's jewels were displayed. The best part however was the section with the religious relics. After our time in Italy where saint so and so's tooth or whatever was displayed, it was refreshing to see some real relics for a change. How about Mohammed's beard, David's sword, or the staff Moses used to part the Red Sea. That's what I call real relics.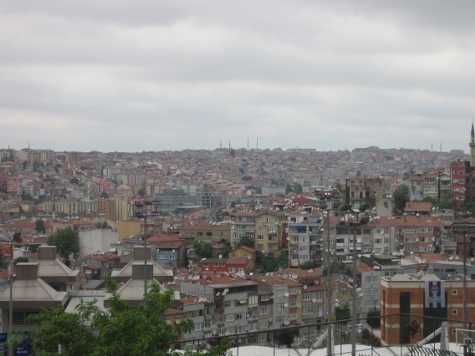 In the afternoon we visited the new part of Istanbul. The town has a population of over 11 million, and is over 100 miles in length. One out of every 7 Turks lives there, and like all big cities, it has the jobs, but it is also expensive to live there.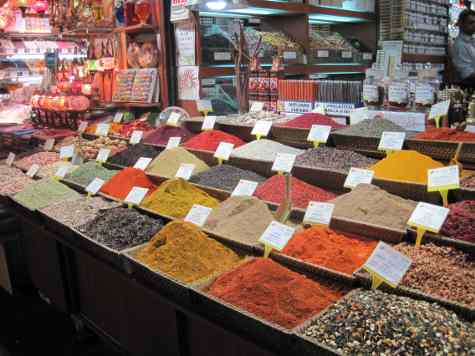 We also stopped at the spice market, a place that certainly lives up to its name.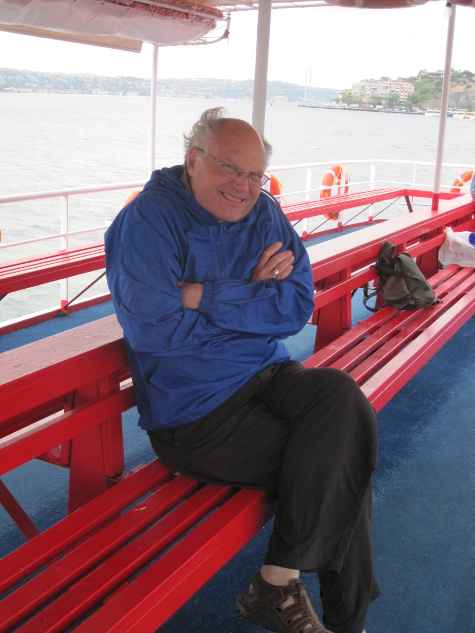 We then took a cruise on the Bosporus. I'll let the picture give you an indication of just how much fun it was. Of course the fact we had to wait 45 minutes for a tour member that has repeatedly demonstrated that saying they the brains of a flea would possibly be making them out to be smarter than they are, certainly didn't help matters as the temperatures were dropping by the minute.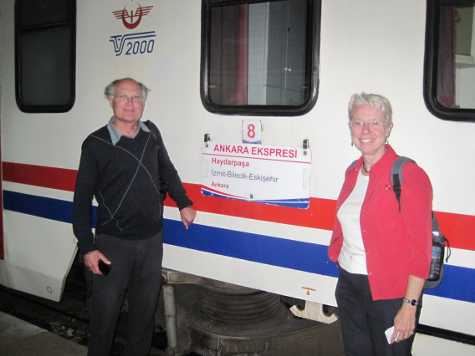 The day ended with us boarding a train for an overnight journey from Istanbul to Ankara, the capital of the country.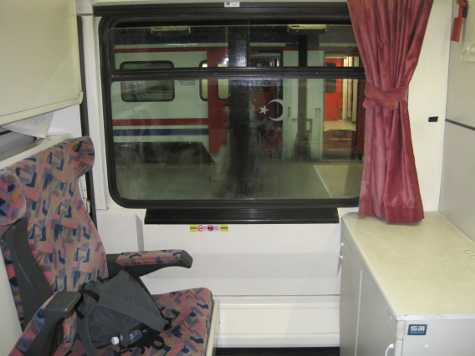 Our room for the night. Two seats that turn into a bunk and another bunk above, cabinets and a sink. Oh, there was a ladder to climb into the top bunk, which was the one Linda assigned to me. It was to the rocking of the train that we turned out the light and prayed that we would get some rest over the next hours.
---
---