Journal Archive 5/21 - 5/31 2009
Scroll down to read the latest post
May 21 Thursday
Something different about eating, Ankara, museums and a mausoleum, sitting down to eat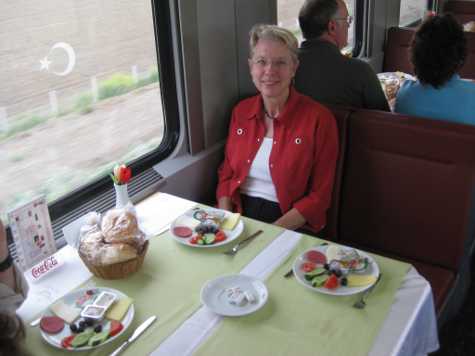 Breakfast was something new, not the food, the setting, which the train's dinning car.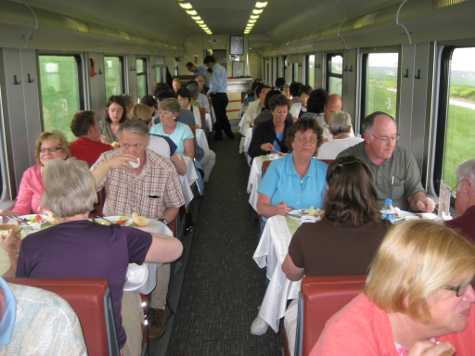 The reservation for our group was at 7 AM, and even though many of us didn't get much sleep during the night, we sure were hungry.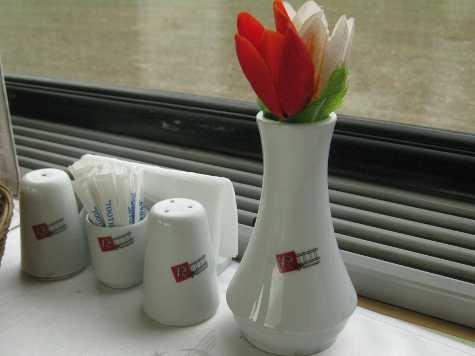 While the food was simple, what intrigued Linda the most was the insignia on all the table ware.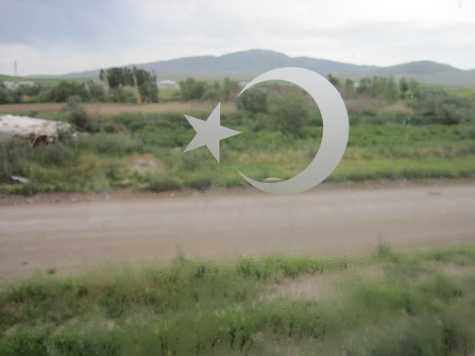 The marking on the train windows was the crescent and star that are on the Turkish flag.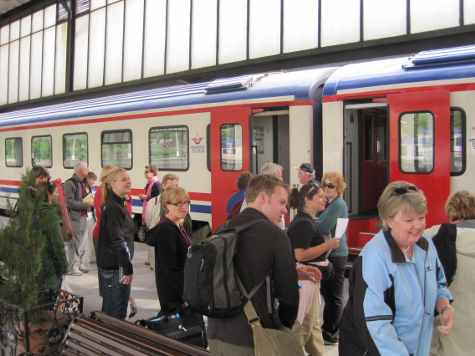 The way people were milling around once we arrived at the station made it hard for Mine to get things organized. Our bus was waiting for us at the station, our driver having slept in a special compartment inside the bus while a second driver drove it during the night from Istanbul to Ankara.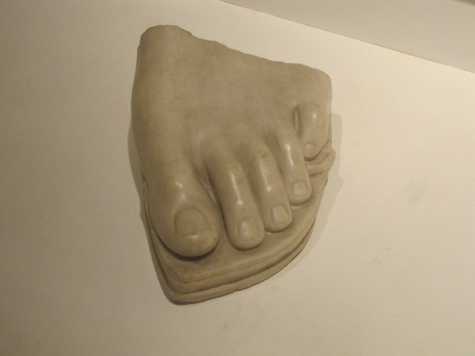 Our first stop was at the museum of Anatolian civilizations, which while nice was certainly not the world class museum it was advertised as. Linda did find the toes of this piece of marble statuary interesting.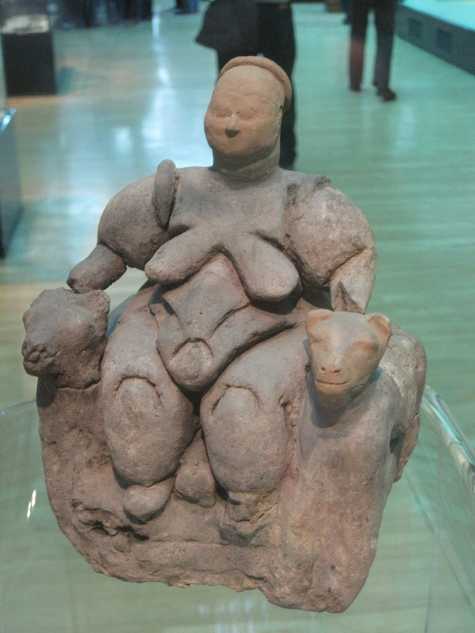 One of the major pieces in their collection was a small clay statue called the mother goddess. As you might divine, she was an ancient goddess of fertility..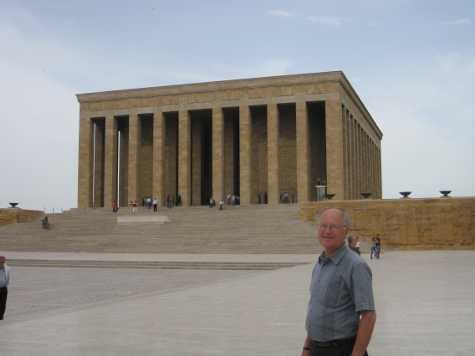 Next it was off to the Ataturk mausoleum, which was a very impressive memorial to the founder of modern day Turkey.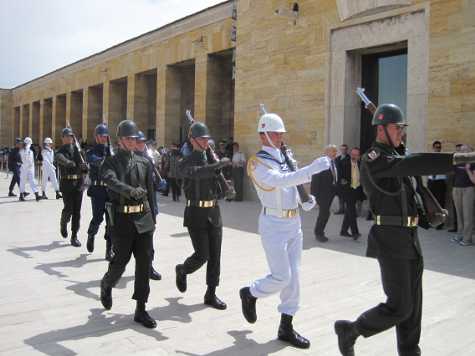 While there we got to see the changing of the guard ceremony.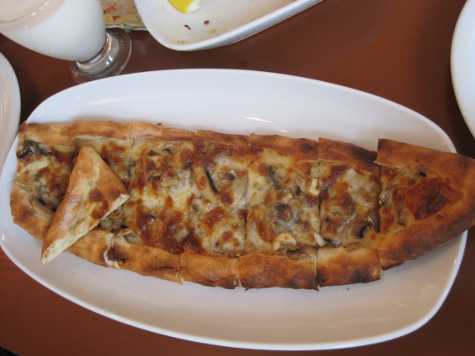 For lunch we had a pide, which is very similar to a pizza, just in a different shape, and with a crust that is outstanding, even if it is thicker that we prefer.
Ankara is a city of 4 million people, but with streets designed for something other than the amount of cars in the town. It at least made crossing the street easier as you just waited until the cars all stopped, then walked between them.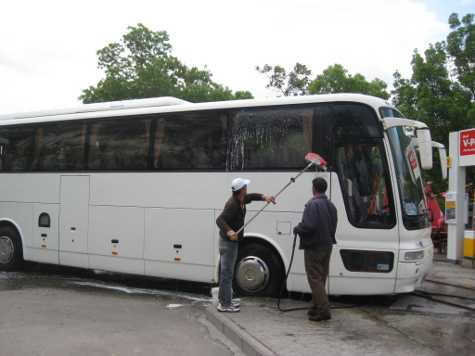 It had rained during our afternoon drive and with the roads being paved but still somewhat muddy, the bus windows were soon impossible to see out of. Our driver took care of this problem during a rest stop by having the bus washed.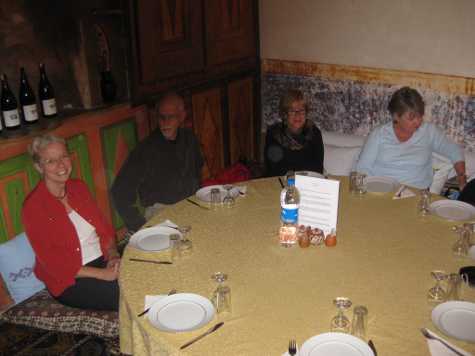 The setting for the evening meal was different, sitting on the floor around a low table and eating family style. Unfortunately Linda was not feeling well so she posed for this photo, then returned to the room.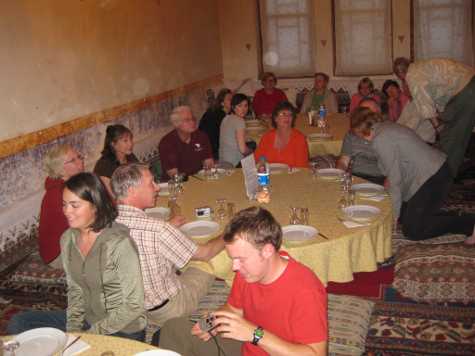 We all had a great time. though getting those last few legs under the table was sometimes a bit of a struggle. Hopefully we are through with the museum part of the tour as we are now out in the countryside, and new interesting adventures await in the coming days.
---
May 22 Friday
An old Greek town, looking pretty, a different kind of church, a meal to remember, Turkish carpets, after dinner fun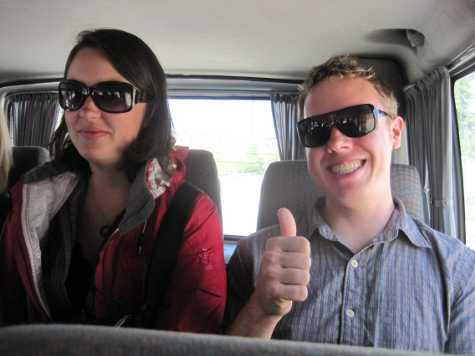 Just how good was our breakfast this morning, here's Ben letting us know during our ride down to the meeting point. Between the cream cheese with a bite, the tangy, semi-soft, white cheese and the black shriveled olives, I didn't need anything else. It's an enjoy it while you can moment, something that we are doing forkful after forkful.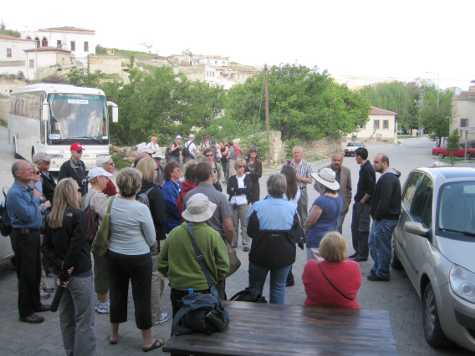 The group then gathered around Mine to get some background as to what we would be doing. She pointed out that the upper part of town is not called upper because the town is flat, so we better be prepared for some walking uphill. We are staying at the Upper Greek House while most of the group is at the lower main hotel building. Fortunately they have a minivan shuttle to take us back and forth whenever we need to go to one or the other. This time however, everyone would be walking.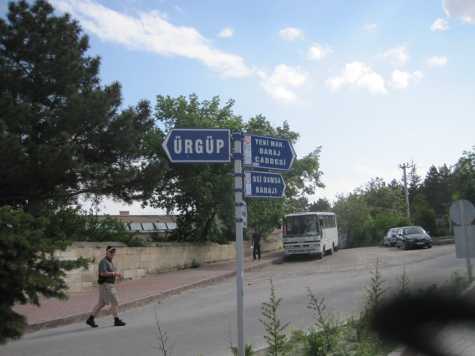 Could it be that even the signs in town show the way up? Well maybe not, but then again it's all Turkish to us..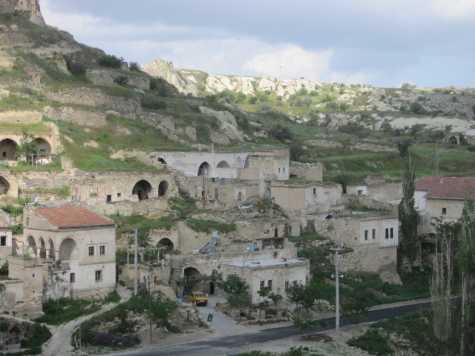 Originally a Greek town, when the agreement between Turkey and Greece was signed in the early 20th century, all the Greeks in Turkey had to move to Greece, just as the Turks in Greece had to move to Turkey. Many of the earlier homes were simply carved into the soft tuffa rock, making for a cave house, the remains of some which can be seen on the far hillside.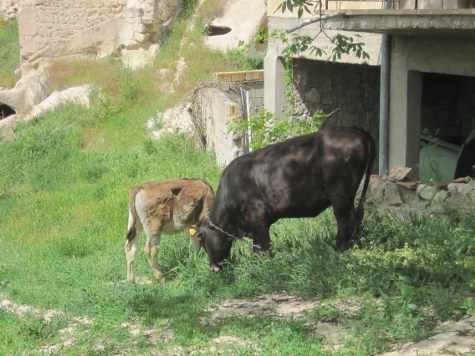 On the grassy patches in the town people still graze their animals just like they have done for generations. Mine said the population was about 2000, of which at least half are related, and where everybody knows everybody else.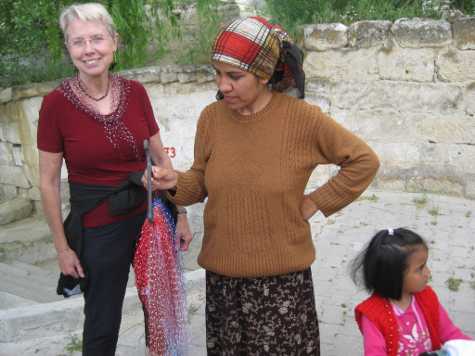 Linda bought this pretty net neck scarf for one of the local people. Everyone was looking and no one was buying until she bought hers, then the purchases began. Someone joked Linda should have gotten a commission for helping the lady and her daughter sell so many scarves..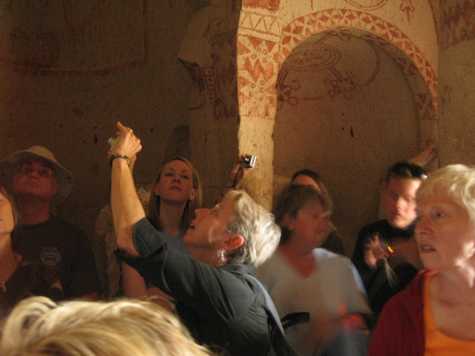 Then we drove to an open air museum which was a series of caves that were actually churches used long ago when the early Christians were being persecuted. There were photo opportunities galore and some people tried to get a photo of everything, one of whom I know only too well.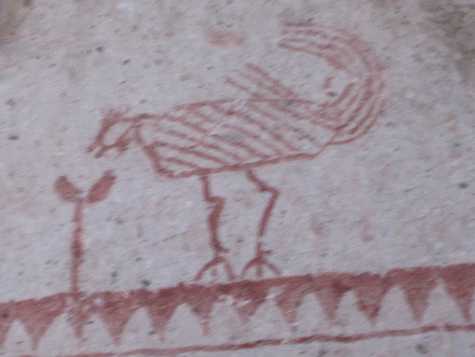 All these churches were carved out of solid rock, and had drawings and frescos in them. With all the decoration in this church, here is what she was taking a photo of. I should have known when I heard the guide talking about a drawing of a chicken.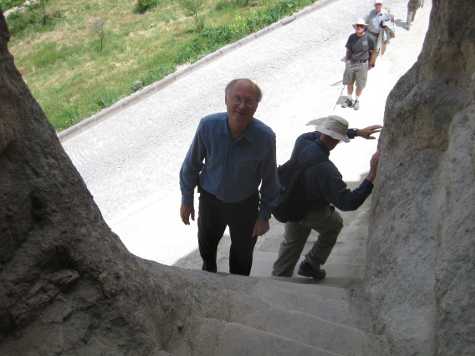 Some of the churches required a little climbing to enter..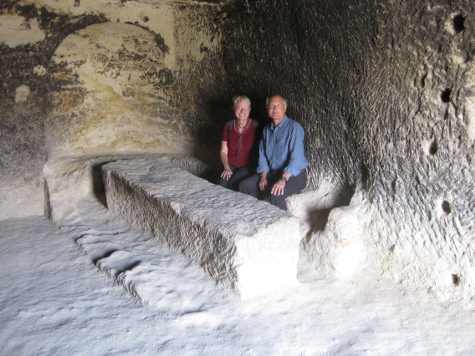 Even the tables and chairs were carved out of the rock.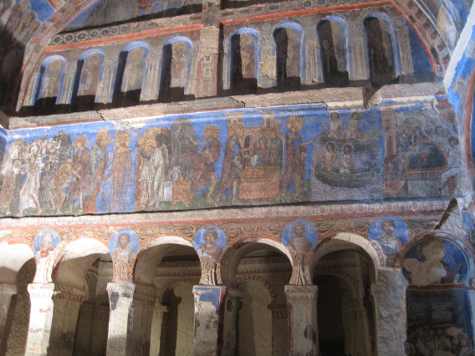 The churches varied from small in size and virtually devoid of decoration, to examples like this.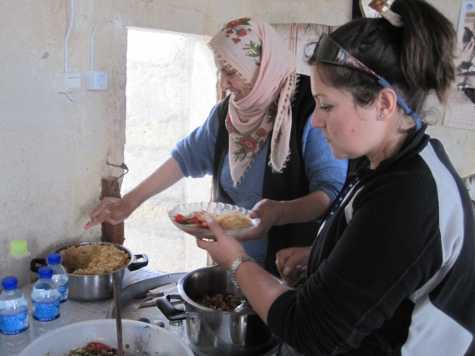 For lunch we had a real treat, going into the home of a friend of Mine for a typical village meal.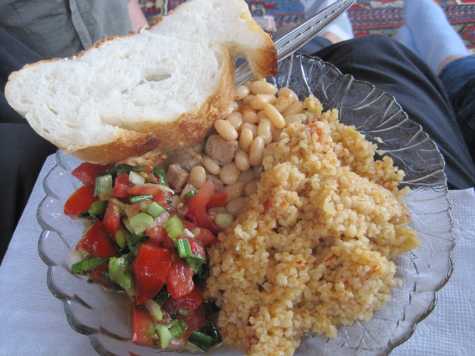 Shepherds salad, which is mostly chopped cucumbers and.tomatoes, white beans, bulgar rice and the ever present slice of white bread made for a delicious meal, which was followed by an apple for dessert.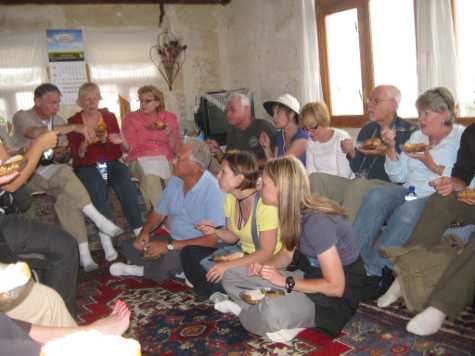 It goes without saying that this was by far the best meal we have had so far while in Turkey that was part of the tour. All the others were outstanding, it was just the this one took the term "great food" to a brand new level. You will also notice that since we were in a home we had all removed our shoes before entering.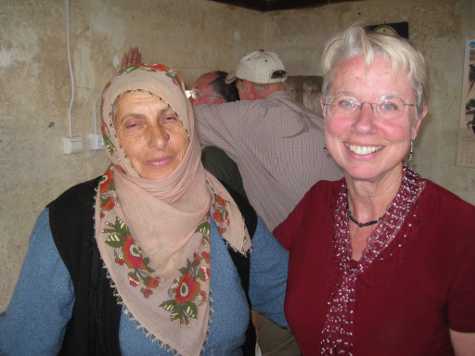 Linda and our hostess. Life in the small villages is not easy, and it shows, as our hostess was younger than Linda.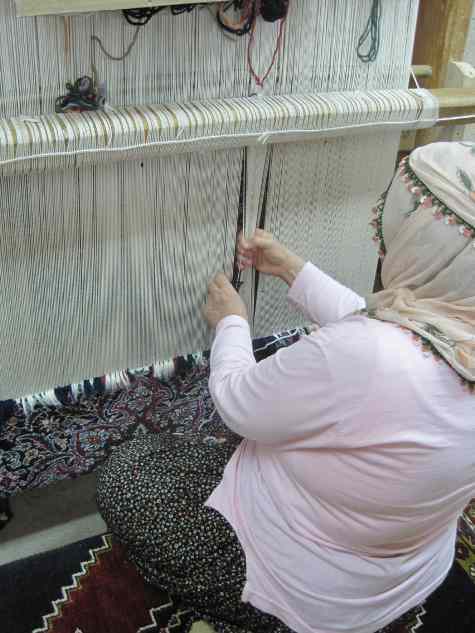 Our next stop was at a carpet weaving demonstration where we were treated to the way Turkish rugs have traditionally been woven by hand.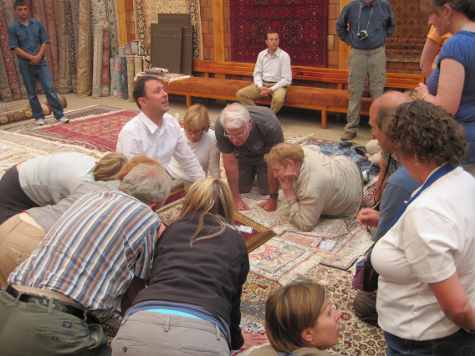 Next it was into the sales room for a showing of the different types of carpet. It was designed to draw you in, then have a salesman try to sell you a carpet. We looked at several silk carpets that were 3 feet by 2 feet, with a price of nearly 3000 US dollars. Everything was priced in US dollars for our convenience of course. When we balked at the price, it was immediately dropped a sizeable amount, When that was still too high and we it known, we got the I've got to speak to my manager line. Since I think car salesmen who pull this are only one level above slime, it was time for us to walk out with the salesman calling out a lower price to us.
All this really turned us off and we thought Rick Steves Tours were above this kind of crap. Obviously we were mistaken at least as far as the ones our guide takes groups on. I am seriously wondering if she gets kickbacks from the some of the places she takes us to because they sure leave a bad taste in our mouth. She takes us to a restaurant when it is a non-tour meal, then as soon as we get ready order, she disappears out the door while all the people there struggle to figure out what is what on the menu. Wonder if it is to go to the atm and deposit her kickback. That is most likely not the case, but it is difficult to tell from her actions.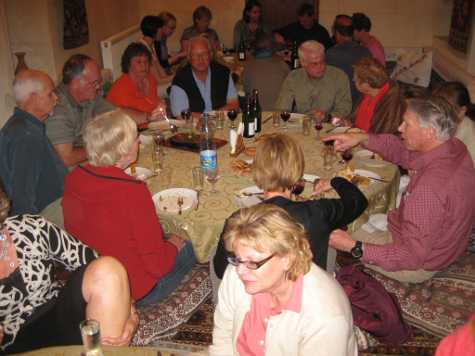 Our evening meal was once again around the low tables and was just as good as the previous night. One of the highlights was a small stuffed squash that was done just right. Good food and good friends, as you can see we were having a good time.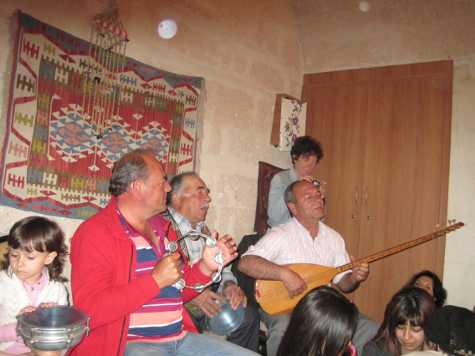 But the food was only part of the fun, as soon as we finished eating the tables were removed and a band moved in. Made up of local people they entertained us with music and song.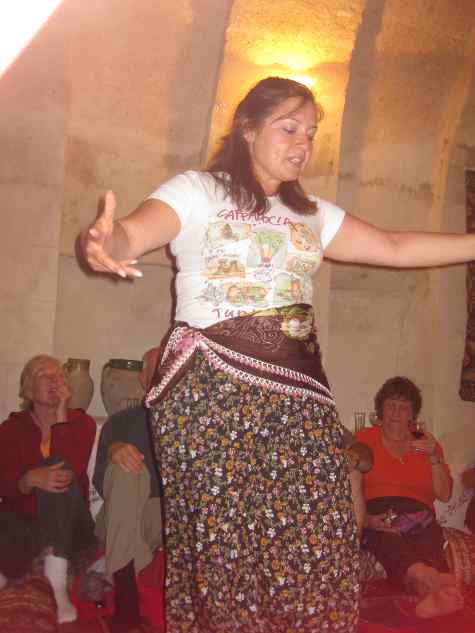 Next Mine came out in a partial costume and treated us to some dancing.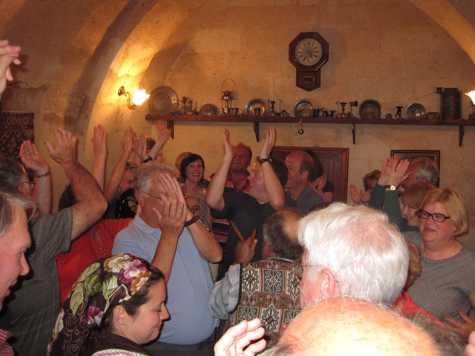 Lets just say that over the next half hour one thing led to another, the end result being that at the end everyone was up dancing. Though we didn't dance the night away, we did dance away any troubles we may have had, and probably a few us us relived some moments from the past. It was a night to remember.
---
May 23 Saturday
A valley hike, wine tasting, pottery production in a cave, an underground city, monastic living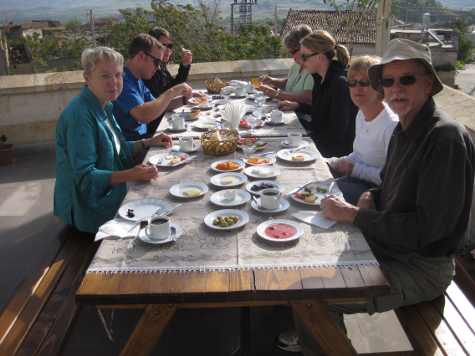 A beautiful morning in Turkey found us out on the terrace of the Upper Greek House discovering that small changes had been made from the foods of yesterday. As you can see from the way Ben is digging in, they were all good changes, and as we left the table, though, struggled to rise up from the table may be a better way of putting it, Linda noted that my vow to be more conservative in my eating, quantity wise, had evaporated with the first forkful of fabulous food.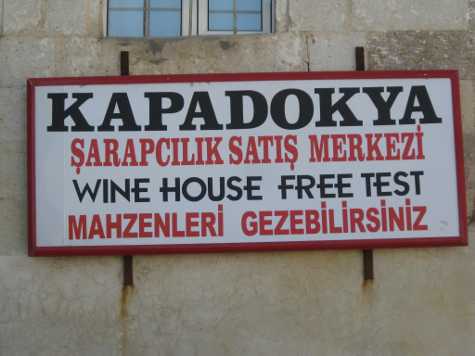 The scheduled departure time was changed but of course Mine didn't have the forethought to inform us at the other lodging place. If I'd have known I could have spent some time at catching up on the Daily Journal, then walked down to the meeting point. Simply another of many small irritations that make you wonder about this tour.
Speaking of wondering, given the extra time, I wandered off around town, One thing that caught my eye was this sign, and it certainly was cause to to stop and think. Wine testing, maybe it was like in the days of the Sultans, we got to test the wine by drinking some and if we became ill or dropped dead, then it was not any good, otherwise the wine was released to the public. On the other hand maybe it was just a problem with the translation into the English we speak.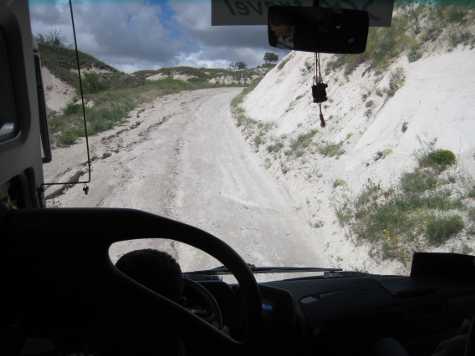 We had several optional activities this morning and Linda and I were going on the valley hike. The trailhead was at a different location than other tour groups had used in the past and with the recent rains, the dirt road was heavily rutted. We laughed as it reminded us of several places we have taken the coach where no road existed before I made one.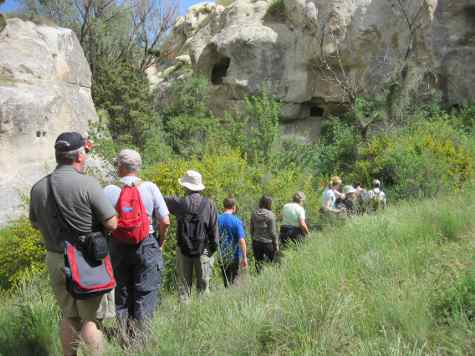 It was a happy group that set off to see what the Turkish countryside looked like up close and personal. With the valley carpeted with wildflowers and the occasional cave house in the walls, we were really looking forward to a fun time.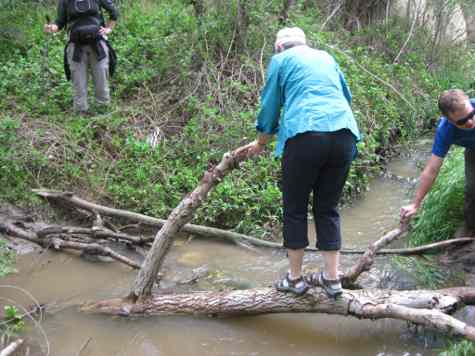 It was fun, fun, fun until we got to the first creek. As you might guess, Linda may not have been voted most likely to fall into the creek, but she was certainly a finalist in the competition. Everyone was fortunate, and even though there were many water crossings like this, no on took a dive, though some feet got wet on occasion.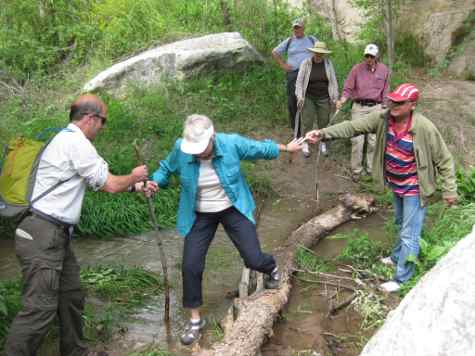 Linda successfully completing the difficult double handed crossing.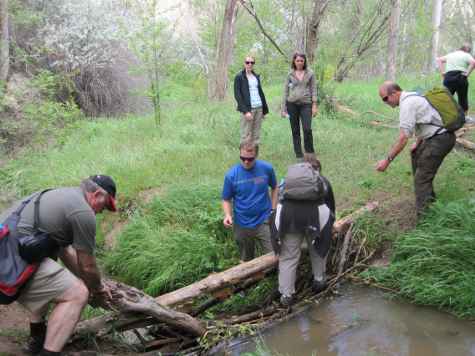 Each crossing was different, but with everyone helping each other, we would always cross the stream and continue on down the trail.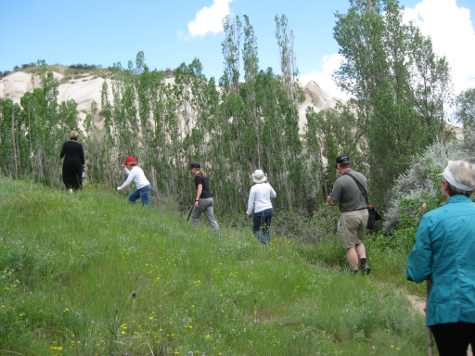 At times the trail climbed up and away from the valley floor into meadow areas that were carpeted with wild flowers. It made us wonder how many of the flowers we buy in America are descended from the wildflowers growing in Turkey. Sounds like an Internet search when we return to the States.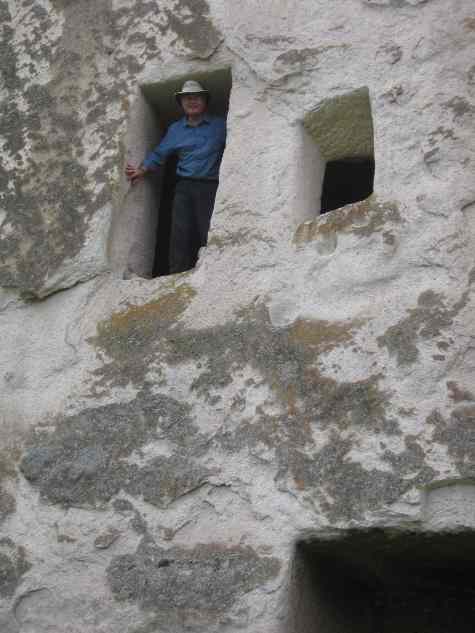 Eventually we reached an area where we could climb into some of the rooms..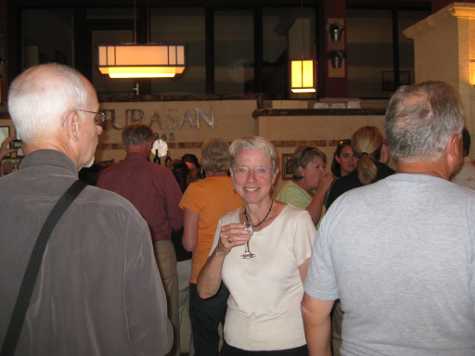 Being a wine producing area we made a quick and unscheduled stop at a winery. Linda decided that the wnes were a little to dry for her taste, but a few tour members did buy what they had been drinking at the evening meal. In our case, we much prefer the inexpensive local vin du pays French wines to these higher priced Turkish wines.
With views like this we quickly forgot the disappointment of the wines and came close to hallucinating. For a minute we thought we saw the Turkish turkey in those rocks.
We also picked up a hitchiker, or at least prevented a tortoise from becoming road kill. After the photos were taken it was carried to the side of the road and released.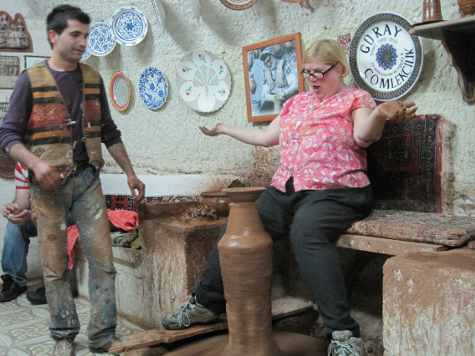 While at a ceramics shop that was carved out of rock, we were treated to a demonstration by one of our tour members, Becky.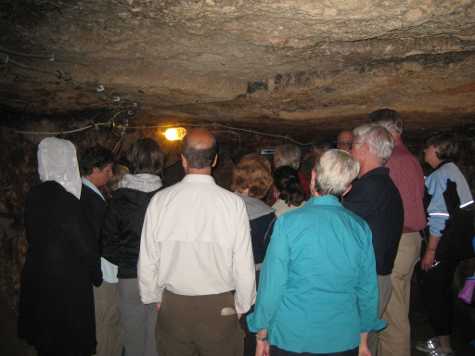 Our last stop was at an underground city which was a place where centuries ago the local people hid from their enemies. It was so large that some 5000 people could have lived own their for months at a time.
We spent the night in a former Greek Orthodox Monastery, which while interesting from the point of view of uniqueness, it left a lot to be desired. As Linda so succinctly put it, the meal they served was the worst we have had in the eight weeks or so we have been in Europe. I had to agree, and while every meal can't be great, we certainly expected better than this on a Rick Steves Tour. Don't get us wrong, we love being in Turkey and the Turkish people, it;s just that the tour and our tour guide leave a lot to be desired.
---
May 24 Sunday
Meeting an Imam, a walk around town, kids and tea time, silk road camel stop, Sufi memorial.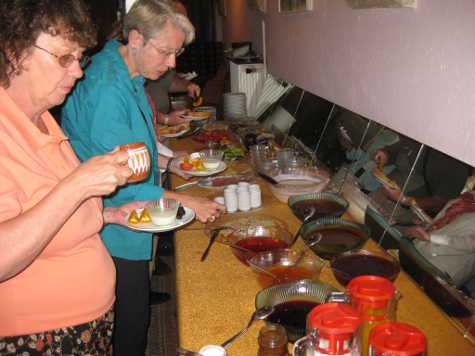 As is usually the case, we were faced with a decision once again as we went down the buffet line.I managed to get one up on Linda this morning, coming back with a glass of cherry juice, while she had made a cup of Nescafe for herself. You want coffee, then it is instant, not the way she prefers to start the day. Sometimes I'm glad I'm not a coffee drinker as in Turkey the prefered drink is hot tea.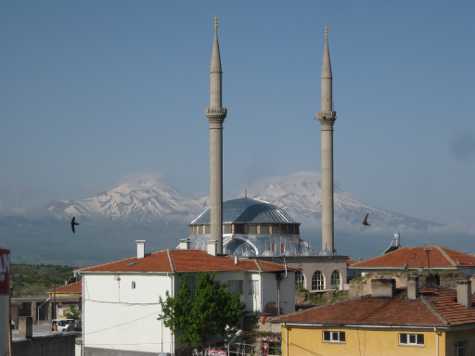 Monasteries were typically situated high up, and the one we were staying in was no exception. Yet it wasn't the only thing that stuck up in the air. Between the minarets in the foreground and the snow capped mountains in the background, the view was certainly spectacular.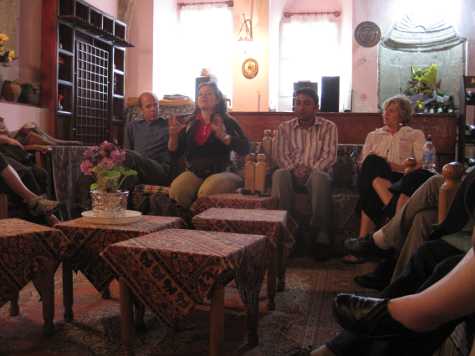 The morning began with a meeting with an Imam, or prayer leader of a small local mosque. It was a real learning experience as he explained what he did and answered our many questions about Islam. Maybe when we get back I can write an article about it. We came away realizing that things are not always as the media portrays them, and that Islam is a religion that we want to learn a lot more about, as it seems to have more similarities with what we believe than differences..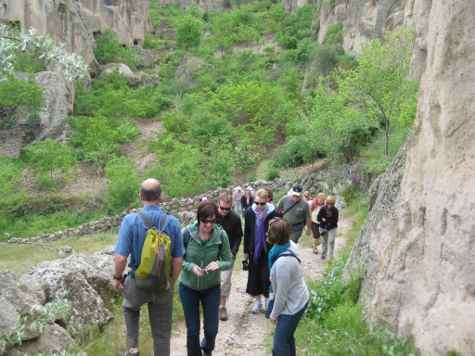 The walk around town included getting a view of the Imam's mosque from on high.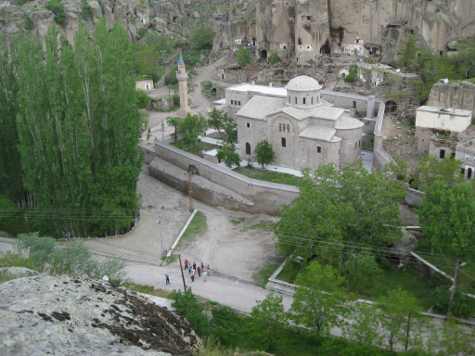 Like many of the older mosques in this area, this one had formerly been a Greek Orthodox church. One of the tiny figures on the road at the bottom was Linda, who along with a number of other ladies, decided that mountain climbing was an activity best left to others.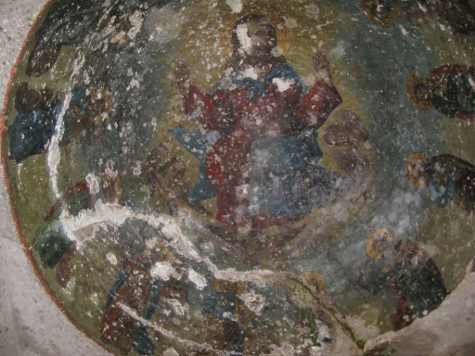 There are cave churches everywhere we go, and though badly deteriorated, even up where we had climbed there was one.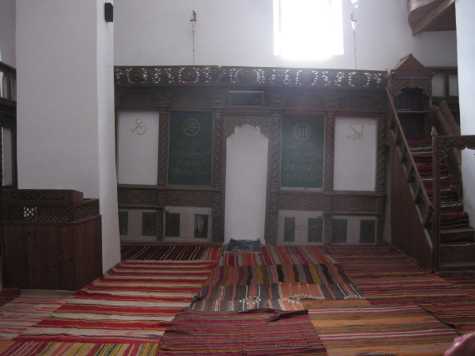 The church that had been converted to a mosque was devoid of all frescos and ornamentation of the cave churches, those christian symbols having been plastered over. Note that they were not destroyed, simply plastered over. It would be the modern day extremists like the Taliban who would destroy, just as both the right wing and left wing extremists in our own country would also rather destroy rather than just plaster over. Though maybe we should give credit to a fomer Attorney General who merely covered up the statue in thr Justice Dept, building,rather than destroying it. Though my guess is it would have been destroyed if they thought they could have gotten away with it.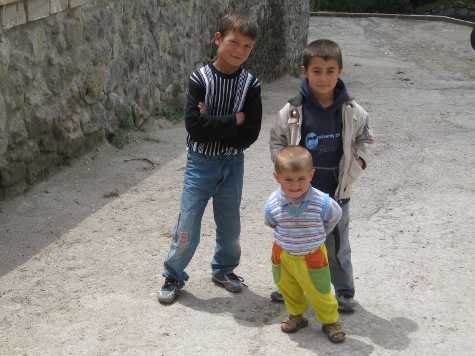 Outside the mosque we had a good time with these kids. The little fellow proudly held up two fingers when our guide asked him how old he was. They also really enjoyed looking at the photos we had taken of them.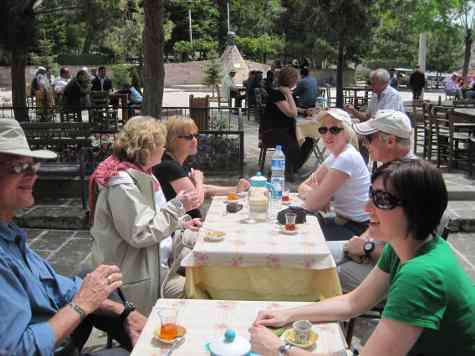 The villages have not been immune from the effects of the economic slowdown that has effected most of the world. There was one merchant in town who spoke English where many of the tour members stopped for a cup of coffee or tea. I had the apple tea and it was by far the best I've had to date. I asked him why it was so good and he said he made it the right way. I took it to mean it wasn't the instant apple tea of the big cities, but honest to goodness brewed tea.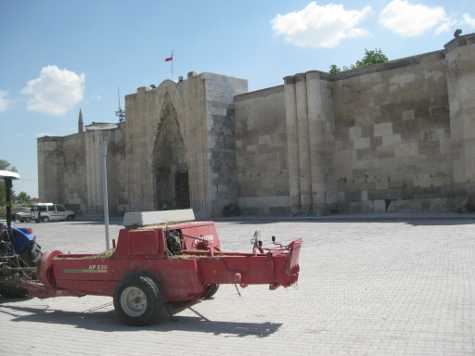 Talk about differences, modern vehicles and equipment in front of a centuries old camel stop on the silk road. Spaced 27 kilometers apart on the over 4500 mile route, they were free to the caravans. They provided food, water, lodging and security for all who used them.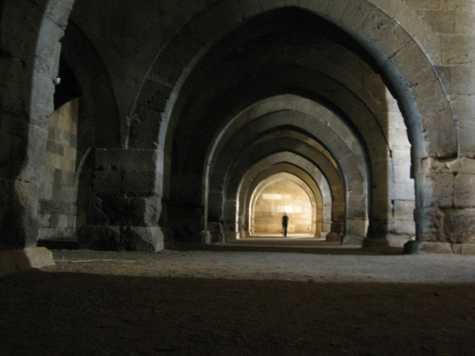 It was huge, even though what exists today was only a small part of the original building. Within its walls some 500 men, their camels and goods could stay, safe from robbers.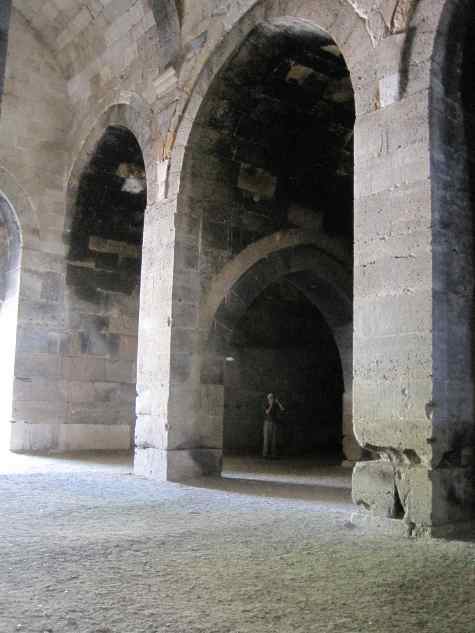 Photos don't do justice to its size, but it was big enough that many of the churches we had seen in Italy could have fit inside of it.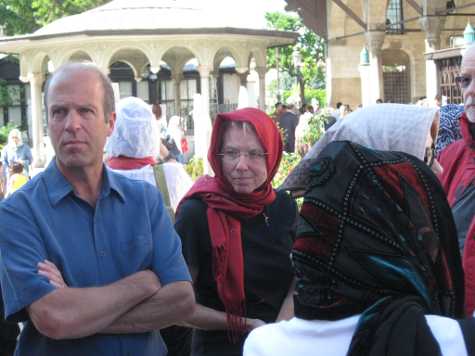 Our last stop of the day was at Rumi's memorial. Rumi was a 13th century mystic poet who began the sufi order, which we know from the whirling dervishes. He is buried here and it is a very holy place for many followers of Islam. While no photographs were allowed inside, one of the few places that does not allow them, the ladies of the group, having to wear a head covering to enter, could be photographed outside the building.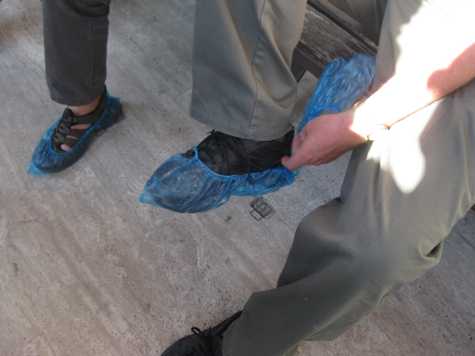 I suspect the primary reason for prohibiting photos had to do with the huge number of visitors. It was also probably the reason we slipped these plastic covers on our shoes instead of removing them. I decided that while my feet aren''t big, the feet of most Turkish people are much smaller, since the covers barely fit over my shoes.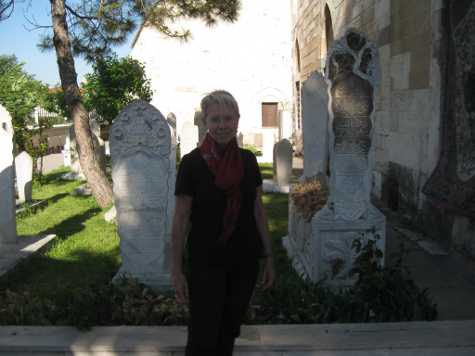 Back outside we stopped by these tombstones. Believers in Islam are buried in direct contact with the ground, wrapped in a simple white shroud. This is done so the body will decompose as rapidly as possible. Something tells me the funeral home lobby in the US would be dead set against this practice,
The memorial also contained a number of very important relics. In a small but very ornate box surrounded by a glass cover with holes at the corners, was Mohammad's beard. It was said to let off a faint odor, and when we sniffed at the holes we thought we detected the odor of cloves. Not trying to mock religion, but I have to give far better marks to the relics in Turkey than the ones in Italy. On the other hand, given what passes for relics in Italy, maybe they should be mocked.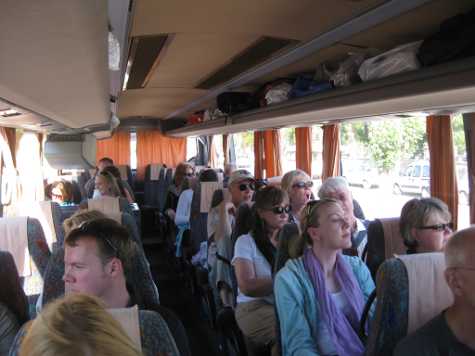 Then it was back on the bus to travel to our hotel and end a day where everyone was looking rather tired by the time it was over.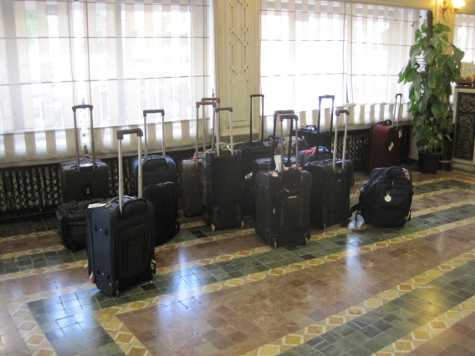 All backpack people have theirs on, here's lineup of the pull along bags. By the way these things are dangerous because the people who pull them have to stop every time we come to an obstacle, push the handle in and pick up the bag, while backpackers keep walking and almost stumble over them The way they struggle to lift them makes you think they are all 98 pound weaklings. There aren't any John's of our canal boat cruise who could carry his and Judy's without missing a stride. Makes me wonder if they know about the Rick Steves pack light philosophy.
Dinner once again a group meal, and while the soup was great, the desserts were far too rich. Unfortunately I managed to eat all of each kind, including a totally decadent chocolate pudding Linda could only eat one bite of. I told her sometimes you just have to suck it up and eat things like this. Her reply was to the effect that if I continued to eat like this there would be no way I could suck it up as my stomach would be too big for any sucking up.
---
>
May 25 Monday
Guessing game, a day of driving, cavern and lunch, more driving and dinner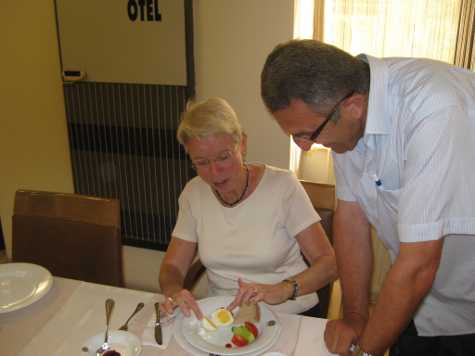 This morning as Linda was getting ready to cut her egg, our driver, Rafet, came over and asked her if there was one or two yolks. She didn't know, so he told her there were two.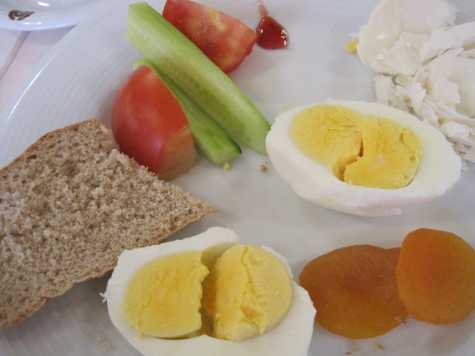 And he was right. Turns out this is a game he plays, often times betting that he can guess correctly, which he always does.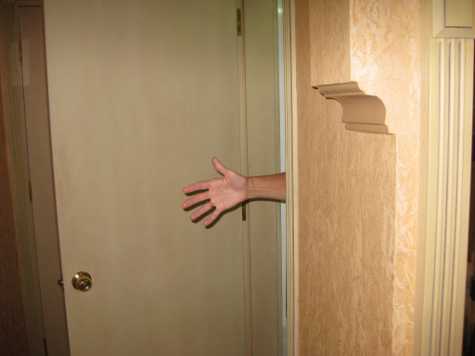 Don't drink the water is something we hear over and over. It also extends to brushing your teeth, something Linda has a hard time remembering. Lately she thinks she has solved the problem by the method shown. Called the hand put the door method, there is no way she can turn on the tap water with the other hand holding her toothbrush.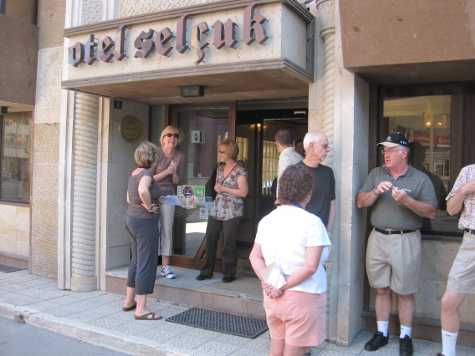 As you can see, nobody was anxious to board the bus this morning. The prospect of a long, long day of travel, coupled with very high temperatures at our destination, Anatyla, had us thinking in terms of how to survive.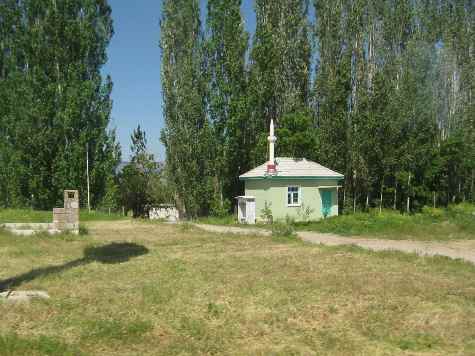 For some reason I had always thought of mosques as large buildings with multiple minarets, which is probably best termed as ignorance on my part. That misconception changed as we drove along, with the appearance of small mosques such as this.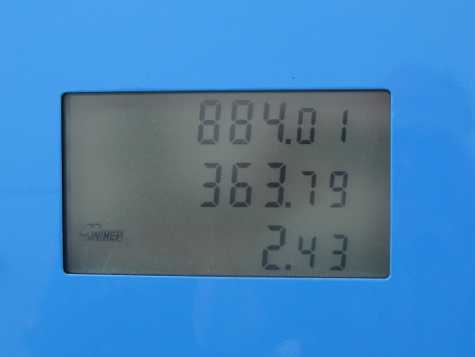 At one of the pit stops this morning, Rafet had the bus refueled. Top to bottom it is the cost in lira, liters of diesel fuel and price per liter in lira. The exchange rate is 1.5 lira to the dollar, but as Mine pointed out, Turkey has some of the world's highest fuel prices because of all the taxes.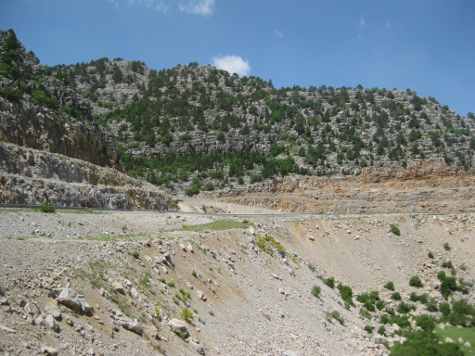 Soon we were climbing ever higher into the mountains, with a view that was somewhat similar to the Sierra Nevada's.
This was the view when we pulled into the parking lot at the caverns. Somehow my mental pictures of Turkey before this trip had not included scenes like this one.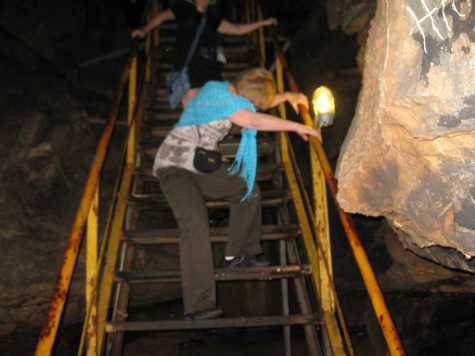 The cavern, or cave, was said to be the longest in Europe, so of course we all walked its length, which is all on walkways. Some of those walkways included very steep stairs. Here is Kristine giving a great demonstration of the two handed, one rail descent. After exiting the first cave we walked over to the second cave. It was supposedly the more spectacular of the two. Unfortunately the lights were not on in this cave. Braving the darkness we entered anyway, but after a few steps Linda turned back. Going further inside I took the above photo to show her what she had missed. According to her she didn't think she had missed anything at all. Even my comment that it looked exactly likea coal mine at midnight on a moonless night failed to arouse any enthusiasm in her. At least the photo shows in great detail exactly what I saw.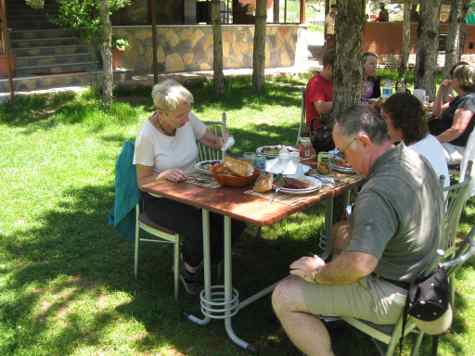 Then came lunch, which was eaten at the caves. Served outside, the food was wonderful, but there was a problem. The chairs tended to sink into the wet earth. Notice how Steven's chair is a little low at the back, giving him the opposite problem I had. Mine was tipping to the front. Linda, being light on her butt, had no problems according to her.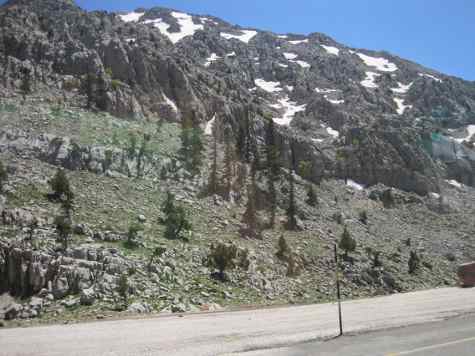 Another scene that could be in the Sierra Nevada's.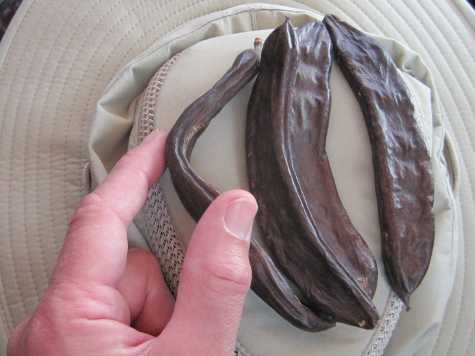 At a roadside stand we bought a few things, ending up with some carob beans. Its a case of eating everything but the stem and the seeds. The taste is exactly like the ground carob powder we buy in the store, only richer and deeper.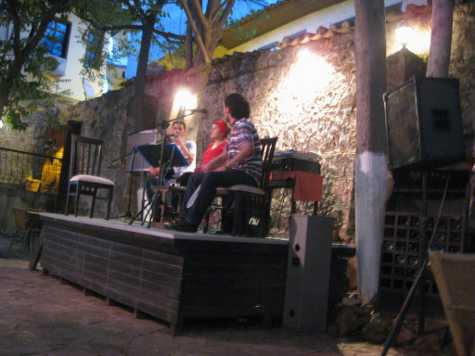 Much later we enjoyed a dinner under the stars, or under the leaves of the trees in a walled, centuries old courtyard to be precise. Being still stuffed from lunch, which was also eaten under some trees, we opted for just appetizers and a salad.One of the problems with food in turkey is that the prices are so low you want to order more, yet the servings are so huge there is no way to eat very much.
We were also treated to Turkish music by a trio, which made for a most enjoyable evening. Later as we walked back to our hotel using the little traveled back alleys, the call to prayer boomed out from a nearby minaret. It was one of those moments that you dream about, but never expect to happen. Life, lived with a capital L.
---
May 26 Tuesday
A day of R and R, going on a sea cruise, swimming in the Mediterranean, walking around town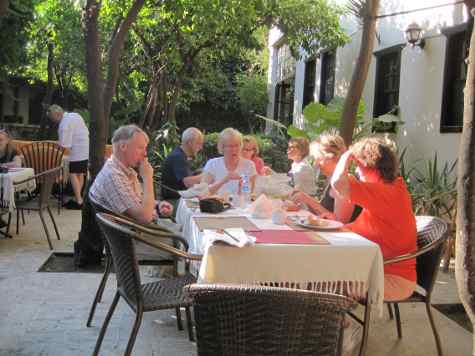 It was breakfast under the trees this morning, with the best black olives yet. Every hotel has nearly the same thing for breakfast, but each also has one of those items that is really good. If we had to pick one thing that is quite good from place to place, it would be the cucumbers. If only we had cucumbers this good in the States. They don't always look perfect, but the taste is divine.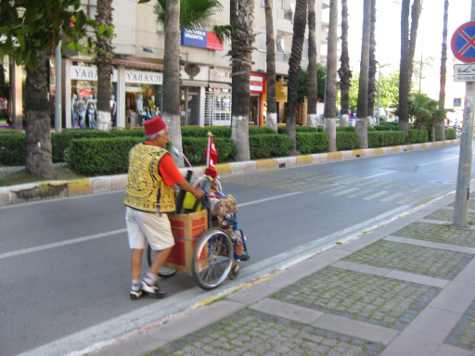 On the way to the bus, this vendor was pinning tiny evil eyes on the ladies in hopes they would buy something. You have to give him credit for most inventive method of wheeling his merchandise around, recycling a wheelchair into a moving showroom.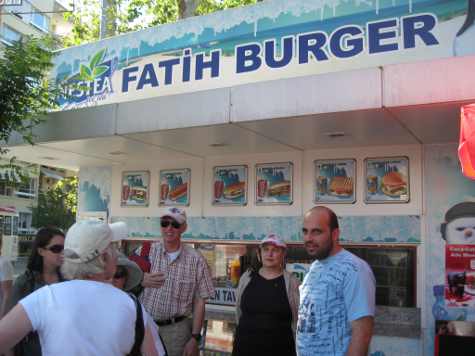 While we saw a McDonald's in town, the typical burger joint looks like this. The Nestea in the corner refers the cans of tea that are so common. Almost everything you drink is sold in individual containers, and litter from the plastic containers, cans and bottles is a real problem, as recycling does not seem to be something that is done.
If you're going on a sea cruise, you need a sea cruiser.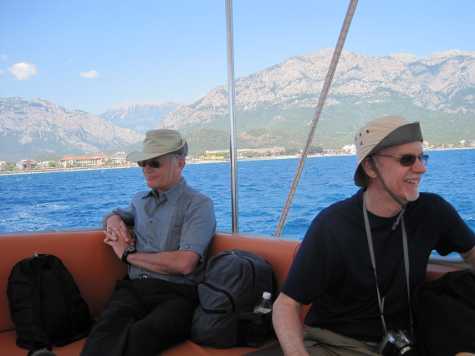 Even though a brisk wind blowing to the starboard, the crew may not have needed to batten down the hatches, but the passengers were certainly battening down their hats.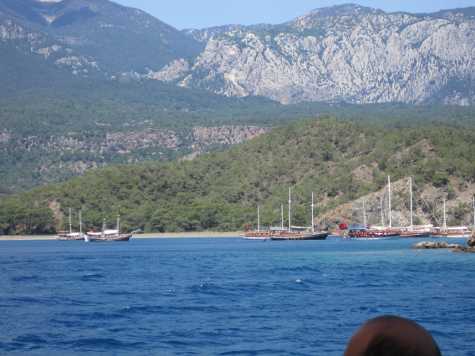 We cruised south along the coast for about an hour, then turned into a cove that already had more than a dozen boats in it. That was no problem as it was quite large, and once we were anchored, it was time for the fun to begin.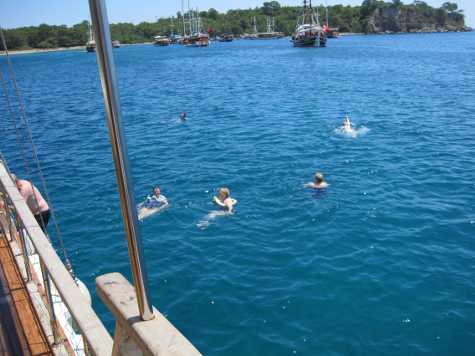 Soon the warm blue water of the Mediterranean was filled with swimmers as almost everyone joined in the fun. The only problem is that it makes the swimming photos few and far between.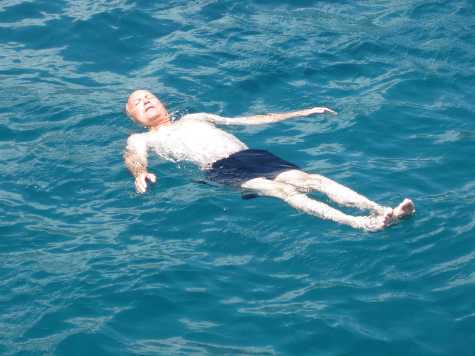 Linda got out of the water before I did, so here is a photo of me shining like a lighthouse beacon. The water was really saltly, and it was no problem bobbing around like cork, though I suspect the extra padding I've picked up during our travels helped some.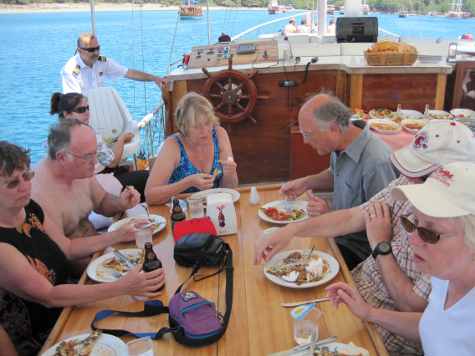 Lunch was also part of the package, and after expending so much energy swimming, we were real chow hounds at the table.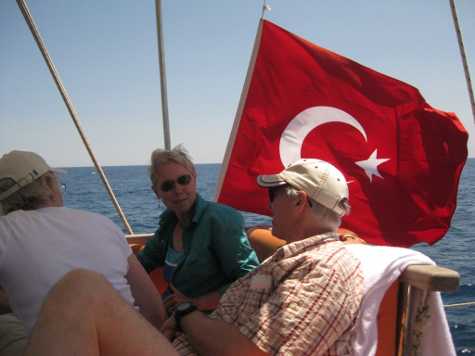 They say a photo is worth a thousand words, and this one says it all. Mediterranean, boating, Turkey, good fun and fellowship. It doesn't get much better than this.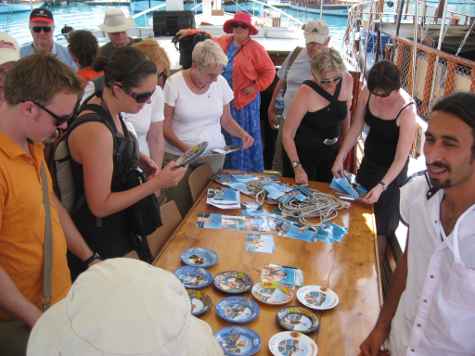 Then came the little mementos of the trip that you could buy. Linda was separated from 5 lira for a photo, but most people didn't buy anything.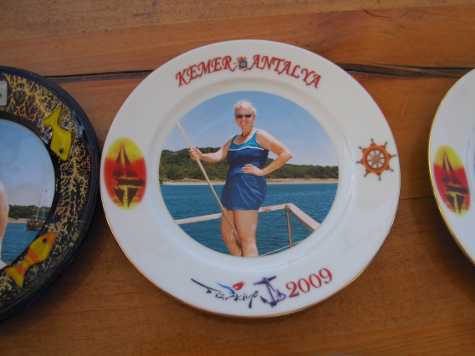 I did see this plate bearing the image of a cute young blond, but at 25 lira it was just too much money. As we walked away we noted that at 25 lira for a plate it didn't look like any had sold, but we surmised that at 10 lira many of them would probably sold. Maybe we are just a bunch of cheapskates on this tour, or maybe we are simply astute shoppers.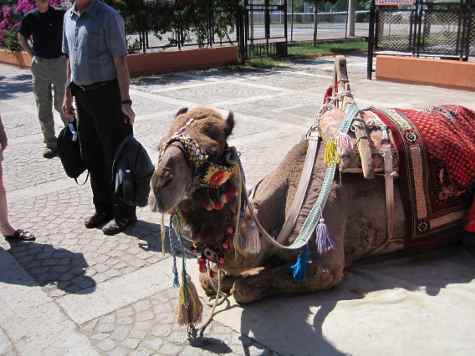 If there is a way of separating you from your money they have tried it. This camel was laying just outside the marina and for a given number of lira, you could sit on him as he stood. Only one person in our group paid for the privilege, proving that if you can't separate a sucker from their money one way, try another way..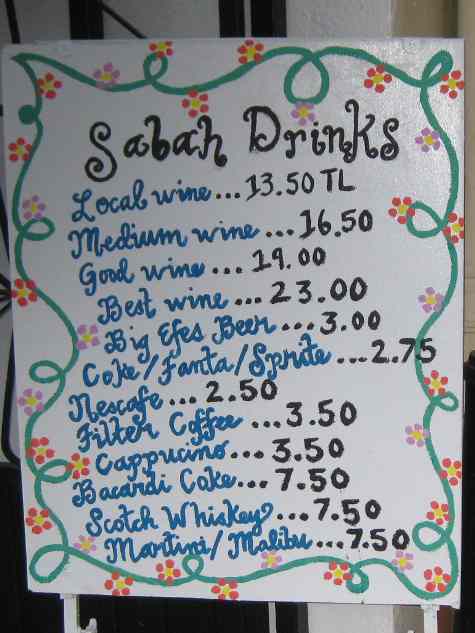 The day ended with a walk around town. When we ran across this sign, it pretty much summed up the way we have been treated, There is no wool over your eyes, if it's good they say it is, and if it isn't, well you can only blame yourself. Turkey, a country we want to return to someday.
May 27 Wednesday
Goats, shopping, getting clipped, ancient ruins and thermal pools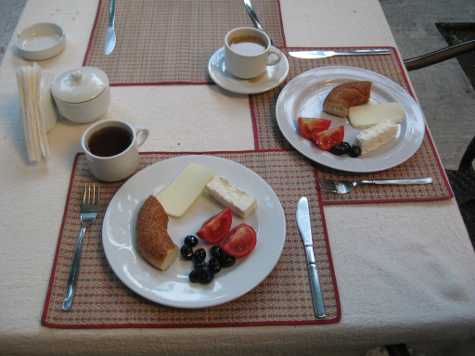 From the looks of those plates it could be assumed that we are on a diet. But that would not be the case, instead we chose only the best of what was out for breakfast, having learned what is merely good, and what is sublime. We would have added cucumbers but none were out this morning.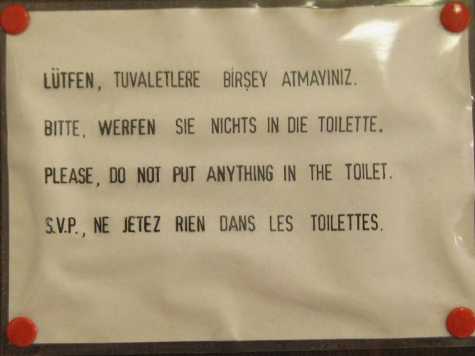 If you saw this sign on the inside of the bathroom door when you closed it, what would you take it to mean? Is it literal, or is it figurative?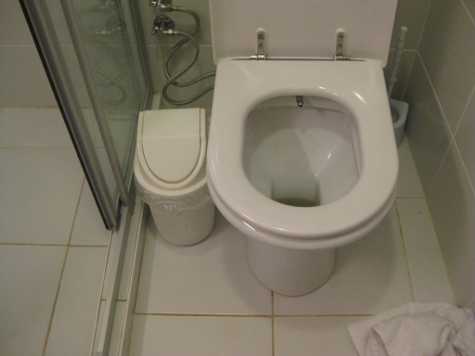 Is it a case of number 1 in the big one and number 2 in the little one, or does it mean something else? What it means is the sewer systems in Turkey have a real problem with toilet paper, so the little container next to the pot serves the same function it does in many towns in Mexico. It is designed to hold the paper, somethng that you have to do several times before it becomes second nature. And no, there is no smell, and that's on the good authority of the Linda, the super sniffer who has a nose like a bloodhound.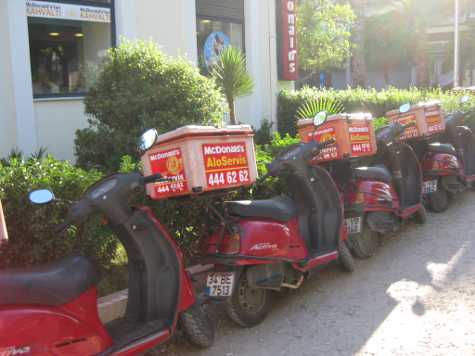 In Turkey, if you can't get to McDonald's, they'll bring it to you.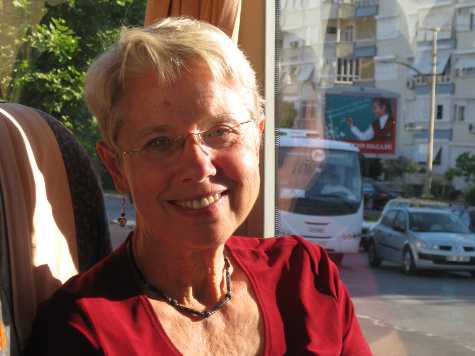 Our travels today were taking us far out into the countryside to visit some ancient ruins.But as we traveled for miles and miles, the trip was made more pleasant by the good looking young blond sitting across the aisle from me.
Stop lights in Turkey are identical to the those in the States. Stops signs have the same shape and color, only the letters are different. Bet you can guess what word in Turkish means stop.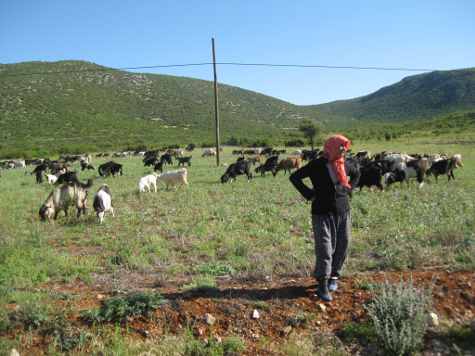 Along the way we stopped to look at a shepherdess, her dog and her flock of goats.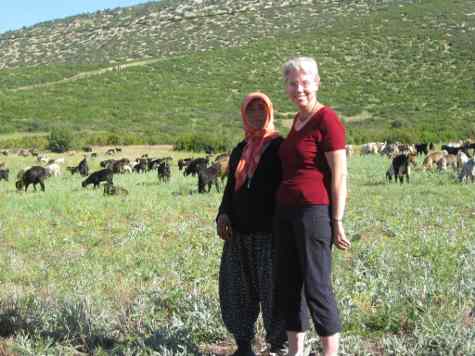 We learned she was part of group of nomads who lived in some nearby tents. Looking at her diminutive stature and weathered and aged appearance, it apparent it was not an easy life.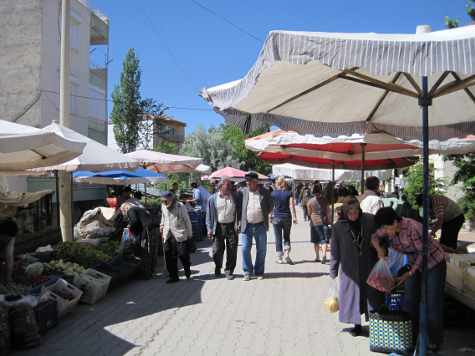 While the shepherdess had been an unscheduled stop, the next one, for a local town market day, was.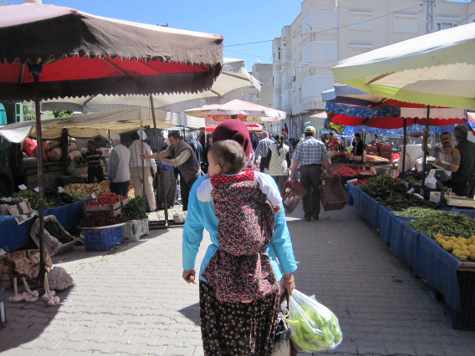 Soon it was time to get into the culture of Turkey. For once instead on Mine going on and on with another boring and disconnected talk that dealt very little on what were going to see and be doing, she pretty much just turned us loose on our own to discover the town and market.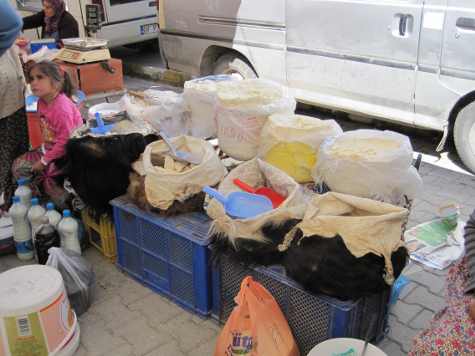 We were on the hunt for cheese, but not goat or sheep. Sometimes the packaging gave away what milk was used in the cheese as witnessed by the use of these goat skins around the cheese container.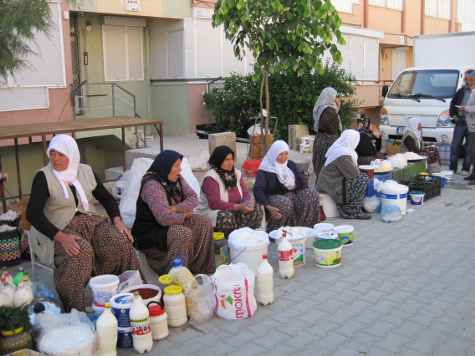 That was when we stumbled upon a section of the market that was simply some local ladies selling a few things. Through signs and tasting we discovered a really awesome white cheese that was by far the best we have had to date in Turkey. With Linda certifying it wasn't goat or sheep, and me giving it flying colors on the saltiness scale, meaning no salt taste, we bought the cheese we had been looking for but never thought we would find.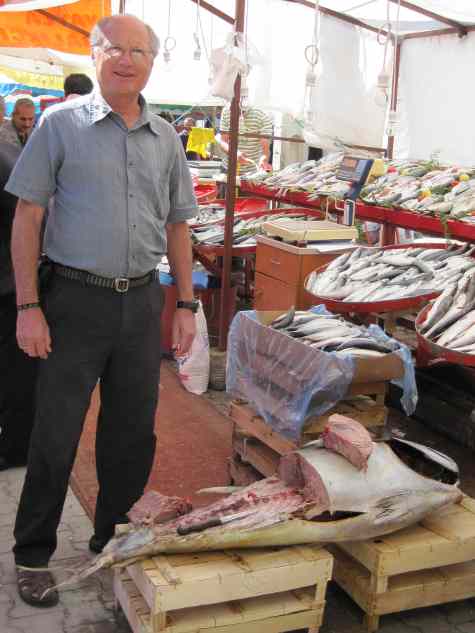 This is the way they sell fish. Just have a tuna laying out and when someone wants some, whack off a piece. We also liked their way of cooling the fish without ice by occasionally splashing water on the fish and using evaporation to do the cooling. You could also buy live fish as we saw them being scooped out of tubs to flop around on the tables and attract customers.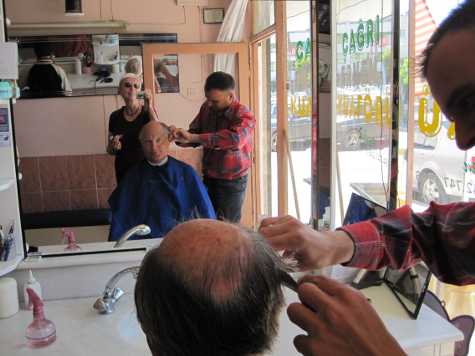 Walking back to where the bus was parked, we passed a barbershop. The barber was standing in the door, and before we knew it, I was in the chair getting a haircut.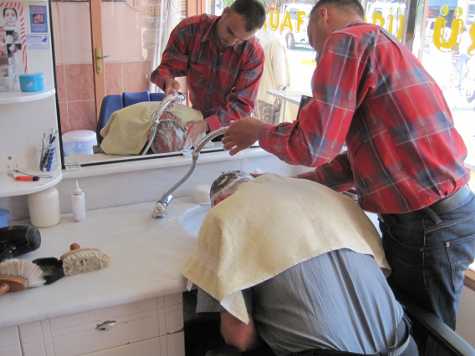 It was more like a sheep shearing than a haircut, even if it was all done with a comb and scissors. I wanted it short, and short it was going to be. But not only was it a haircut, it also included a shampoo and blow dry, not that there was much to dry.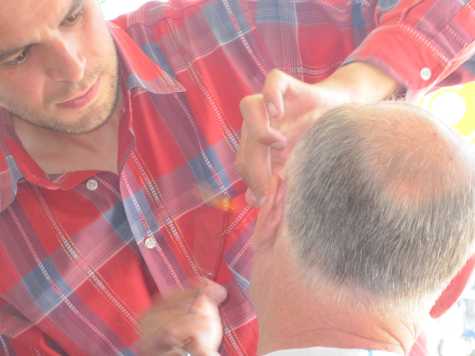 The highlight was the method he used to remove the fuzzy little hairs that are impossible to trim. He took a metal rod with a cloth swab on the end, dipped it in a solutionl, applied a match, and used the flaming swab with tapping stroked to singe off any remaining hairs. It worked great and was even accompanied by the smell of burnt hair. The final step was to apply a liberal amount of great smelling lotion.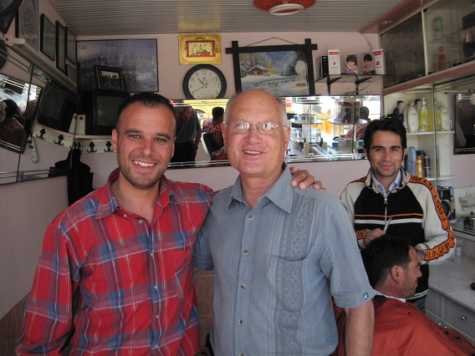 So if you are ever in this area of Turkey, and want a great haircut, go to Cagri Erkek Kuaforu, I.e. barbershop, at Yeni Carsi 3, Blok No. 27 in Korkuteli / Anatalya and ask for Suleyman Mor. He'll do you right or my name isn't Bob.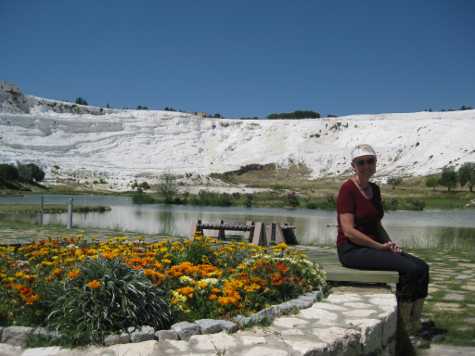 In the afternoon we stopped at the former Greek and Roman, and now Turkish town of Pamukkale, which was famous for its hot mineral baths and travertine thousands of years ago.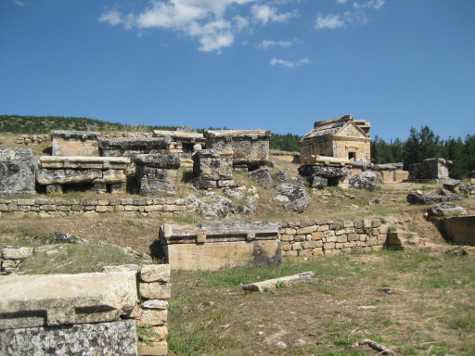 That was just the beginning as there were many Roman ruins in the town site. We started in the necropolis where many of the sarcophagi, though badly weathered and often times damaged by the grave robbers of centuries ago, make for an interesting introduction to the town. Linda and I were in close to seventh heaven as many long time readers probably know, since cemeteries are one of our favorite places, and this one was the oldest one we had ever visited.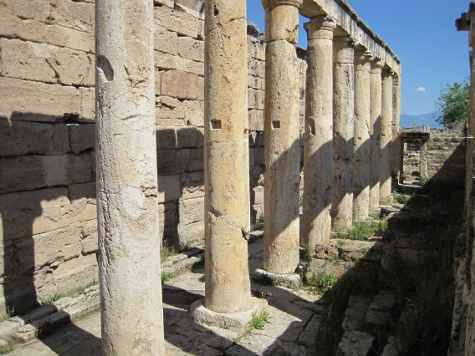 That the Romans were master engineers and builders there is no doubt. To give an idea of just how advanced they were, under the streets was a storm sewer and sanitary system.They also had a fresh water plumbing system, as well as heated floors in their baths. This is a public latrine, or pay toilet, which included fresh flowers and music. Now that would be something to see in the pay toilets of modern day Turkey.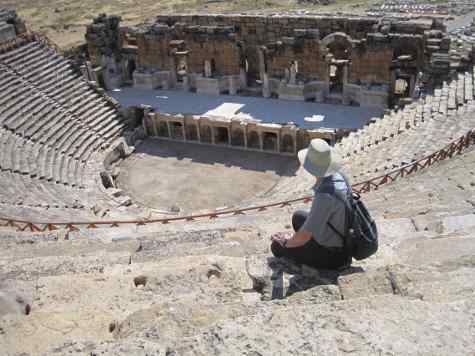 The amphitheater, a place which could seat thousands, is very well preserved.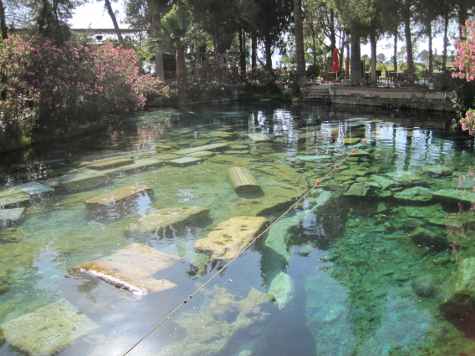 We also had to visit the hot mineral water pool where the high and mighty of those ancient times came to soak in the relaxing and healing waters. Among those who frequented the pool were Marc Anthony and Cleopatra.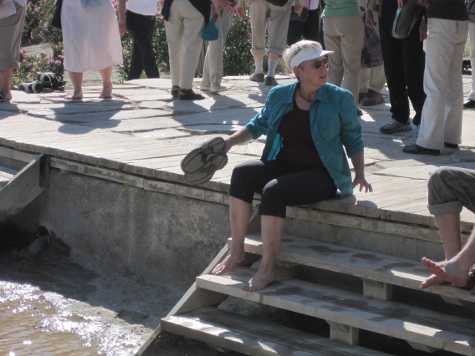 Some distance away from where the mighty and powerful of the past bathed, Linda was trying to decide if she should do the same thing. Well not exactly bath, as the free area was merely a place to wade in shallow water, but in a small way she was probably doing the same thing Cleopatra did.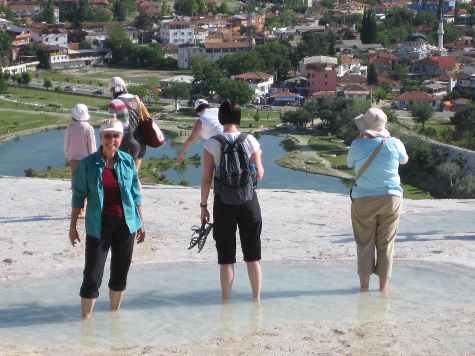 In the end Linda's Cleopatra complex won out and she found a shallow pool to soak her feet in. A special day, one where the past came alive in so many ways. Following in the footsteps of the famous from the ancient world, yet looking forward to even more astounding adventures tomorrow. Turkey certainly is going out with a bang.
---
May 28 Thursday
Aphrodisias, school bell, the Aegean Sea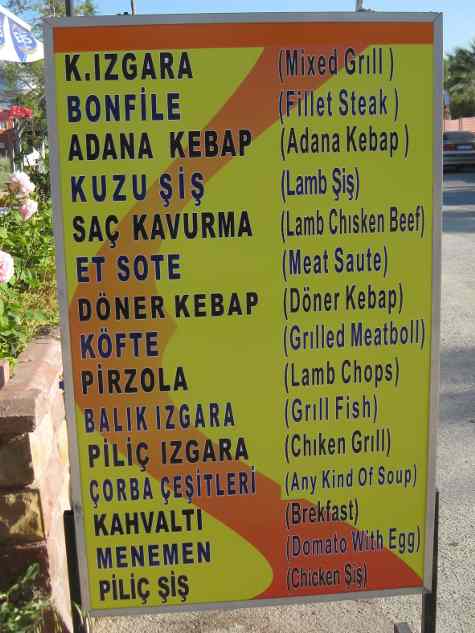 Took a walk outside the hotel this morning and passed this sign. The breakfast at the hotel sounded better than the "brekfast" at the little cafe. We still don't know what all the things displayed are, but it sure is fun ordering something the waiter says is good, then waiting to taste it to discover if you can guess what it is.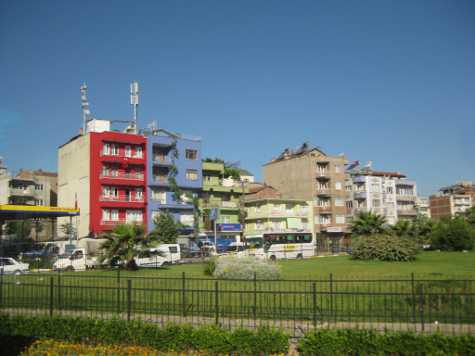 Apartment buildings are very common in the larger towns and cities. While they are somewhat similar in design, sometimes a little color can go a long way to giving the building a different look.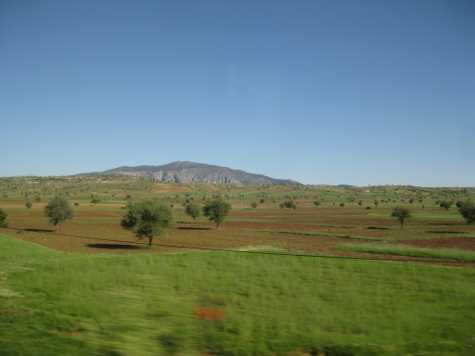 Farmland in this area is not like you see in the States. Instead of clearing huge areas of all the trees to make enormous fields of a single crop, They leave a light sprinkling of trees and break the land up into smaller plots. Different crops are gown, plus some of the land is left fallow to regenerate for a year. The trees provide shade to the farmers as they work in the fields, and several times we saw babies hanging in a cloth cradle from the branches of a tree.
Arriving at the ruins of the ancient town of Aphrodisias, where the temple to the goddess Aphrodite was located, Linda found a friend. Cats are everywhere in Turkey, and many people put out food for them. Unlike the feral cats of the States, these cats are not the least afraid of people, with the opposite being true. Sometimes they are almost too friendly. I don't think Linda minded to much as it saved her from yet another disjointed and rambling introduction to what we would be seeing.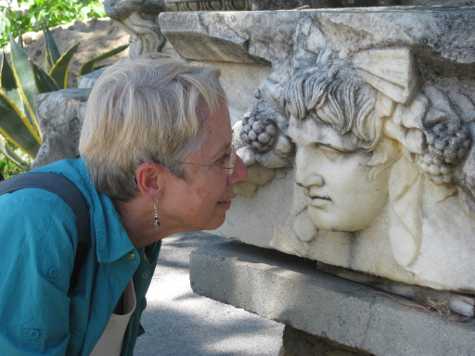 One of the highlights of the site was the large number of heads, or masks as they called them, that were preserved. The fact that the town had an artists school contributed to this, it it was also part of the worshiped Aphrodite. It looks like Linda has found someone to see eye to eye with.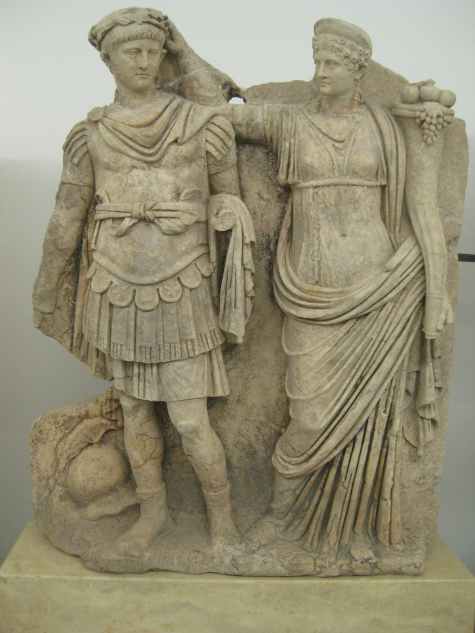 Among the many statues was this one of Nero being crowned Roman Emperor by his mother. It was just a few years later that the infamous Nero had her murdered.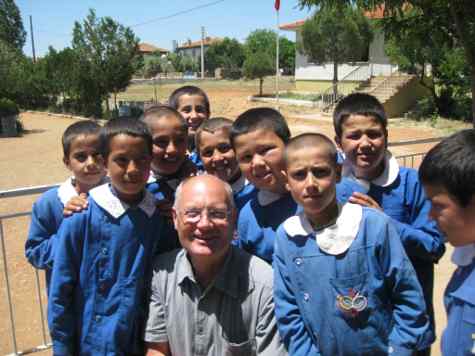 The highlight of the day was a visit to a small village school, where some of the boys had fun at my expense..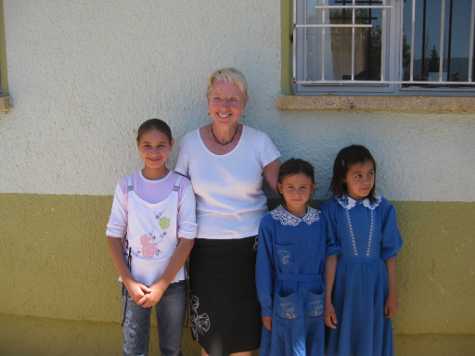 Meanwhile Linda was over with a couple of the girls. The kids showed off how they could count in English. The also knew our President's name, as well as who our first President was. These were all 5th grade students and this was part of their normal education.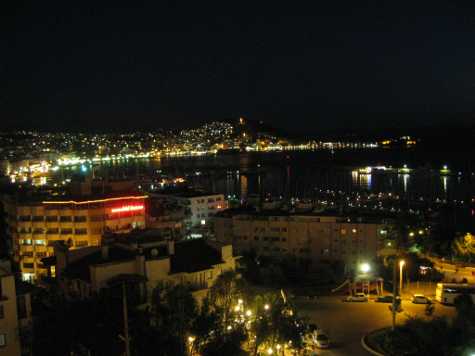 That evening we settled into our hotel room overlooking the harbor at Kusadasi and sat back to enjoy the harbor lights.
---
May 29 Friday
Good morning, following Paul to the ruins of Ephesus, fantastic lunch experience, another last supper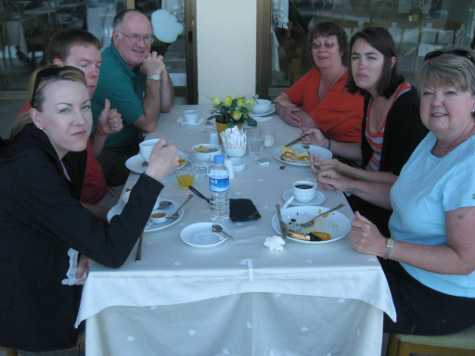 Breakfast was an early morning affair, beginning at 6'30 so we could be on the bus by 7:30. From the looks of it, today some people were more morning persons than others.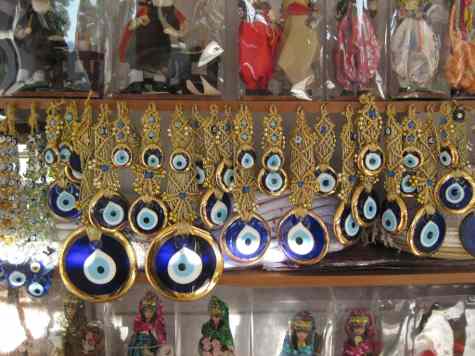 Sold everywhere in Turkey, the blue evil eyes are supposed to capture all the bad spirits. We have one on Linda's backpack and it seems to work, as both of us have been in good spirits for as long as we've been in Turkey.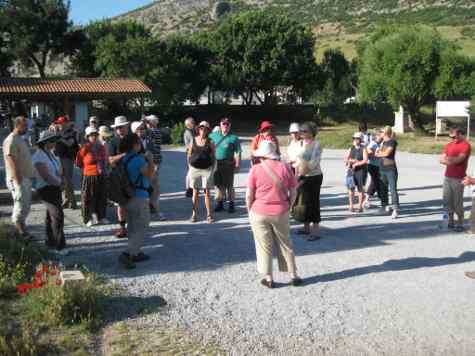 The reason for the early morning antics was our day trip to Ephesus, where you need to arrive early to beat the crowds. All that was negated by several long rambling disconnected talks by our guide, Mine, which meant that by the time we were actually down to the "good stuff" the hordes had arrived.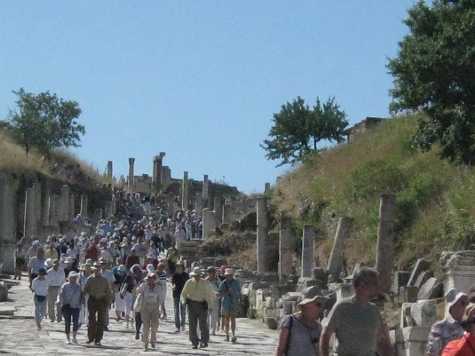 Almost like a flood, the people were pouring in to see the town. It was were Paul tried to preach but could, the result of which was his letter to the early Christians living there, which has become part of the Christian bible, which is known as Ephesians.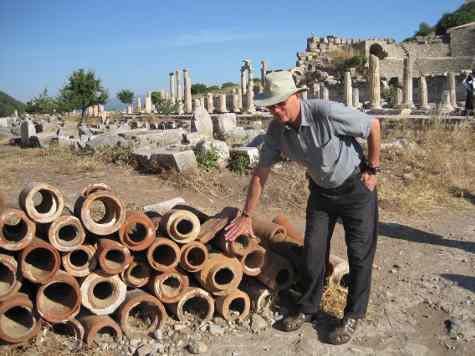 We think we made great advances in sanitation with the use of sewers in our cities in the last 200 years. In the time of Paul, Ephesus, with a population of approximately 200,000 had fresh water piped in, plus sanitary and storm water systems under the streets. 1500 hundred years later we had the Catholic Church imprisoning people for saying the earth was round and preventing the advance of science, while diseases ravaged the populations. Maybe those so-called pagan gods of the Romans weren't so bad after all. Note the different size pipes, and the bell ends which allowed for a good seal.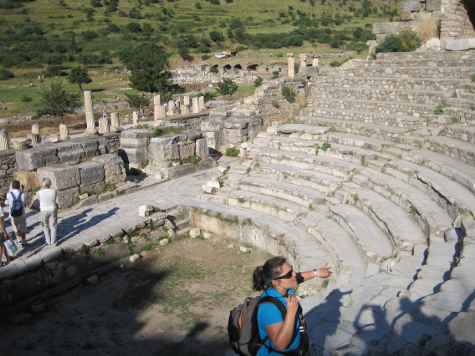 The small amphitheatre where the city council met and where smaller cultural events and meetings took place. This is also the place where the debate led by an Egyptian astronomer took place that set our current calendar of alternating 31 day and 30 day months. What do you mean alternating 31 and 30 day months you say? Google about how our calendar came about, it makes great reading.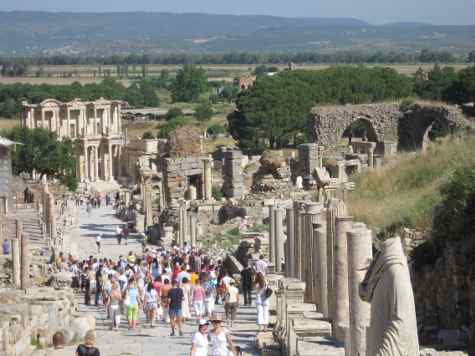 The mass of people in front of the only toilets in the center of town.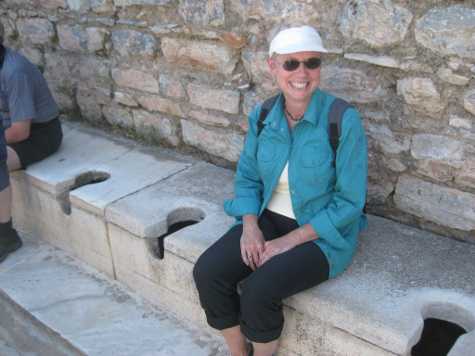 Linda giving a demonstration of how the Romans used those toilets, known as the latrine, action and sound effects not included.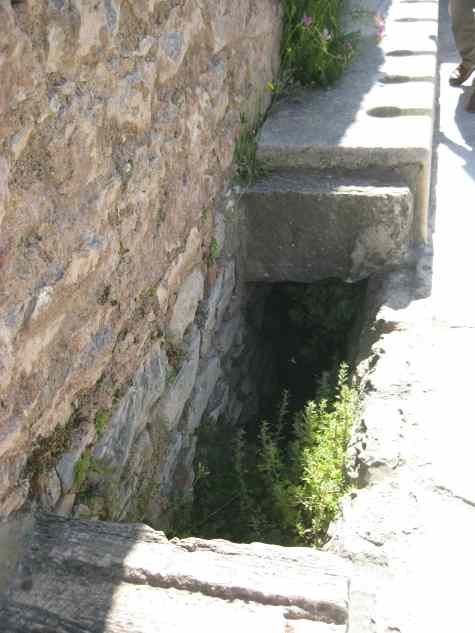 Under the seat was a large cavity, but it wasn't like our outdoor toilets in the States where everything is held in a big underground tank. Here there was a flow of water that swept away all the crap and urine, which was collected and used for fertilizer on the fields. Think about how, up until not to many decades ago, our cities often times dumped this stuff untreated into our rivers. Then wonder where humankind would be if the advances of the past could have continued and been built upon, instead of losing it all through the stupidity of war, conquest, power and religious dictates.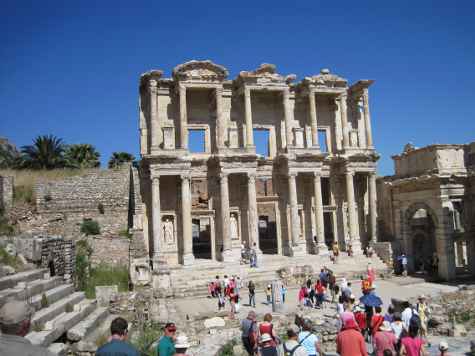 All that remains of what was once the third greatest library in the world.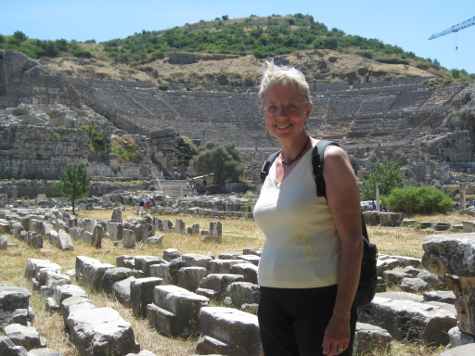 Behind Linda is the amphitheatre which seated nearly 30,000 where Paul was not allowed to preach. All the local merchants were afraid the new religion would cut into their sales of objects relating to the emperors and gods, so they opposed the preaching of the new religion here as in other places. Doesn't sound any different from today, as it is always the local merchants and store owners who seem to oppose any progress, being blind to the fact that often times it will be good for them, if they have the desire, ability and intelligence to capitalize on it. At one time General Motors had it, but somewhere along the way they got to the point that the preservation of the status quo was more important than looking to the future, and now it looks like they may have no future, I love it when the greedy get what's due them.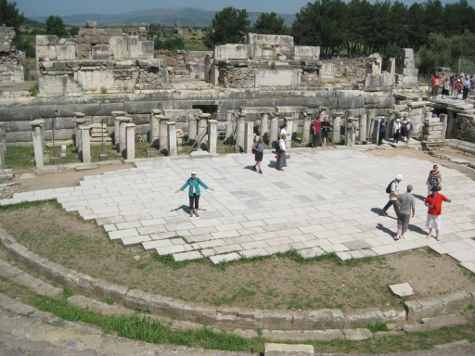 Most of the stage area, as we would call it, is gone, but here is Linda standing in front of where it was, giving her best imitation of how Paul might have looked, had he been allowed to speak.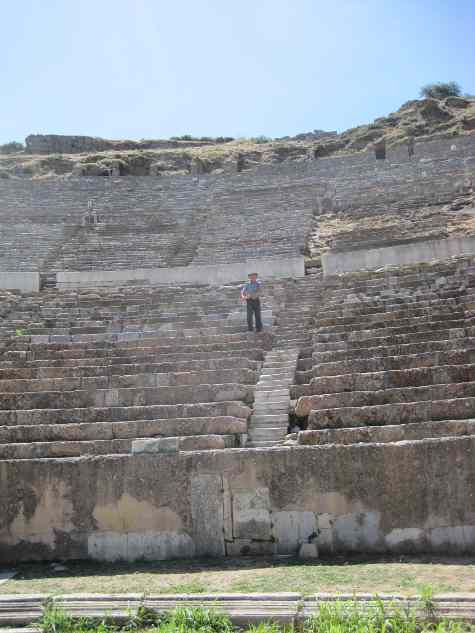 The acoustics of the place are amazing even in its present ruined state, I could clearly hear someone giving a reading on the stage from up here, and that was without the use of my hearing aids. Today we design buildings with lousy acoustics and cheap sound systems and wonder why people complain. Our motto seems to be build it cheap, the people won't know the difference. And yes, I admit it, I do greatly admire the Romans for their engineering ability and understanding that it takes more than just politicians talking to make things happen.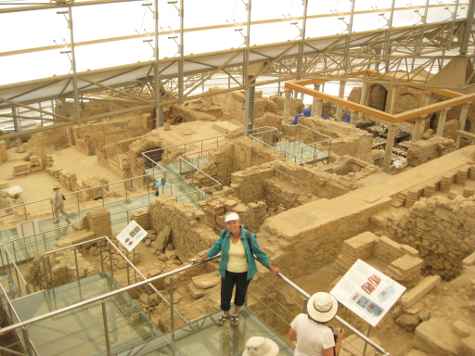 We also got to visit the terrace houses on the site, which costs extra but is more than worth the price. The tickets were included as part of the tour.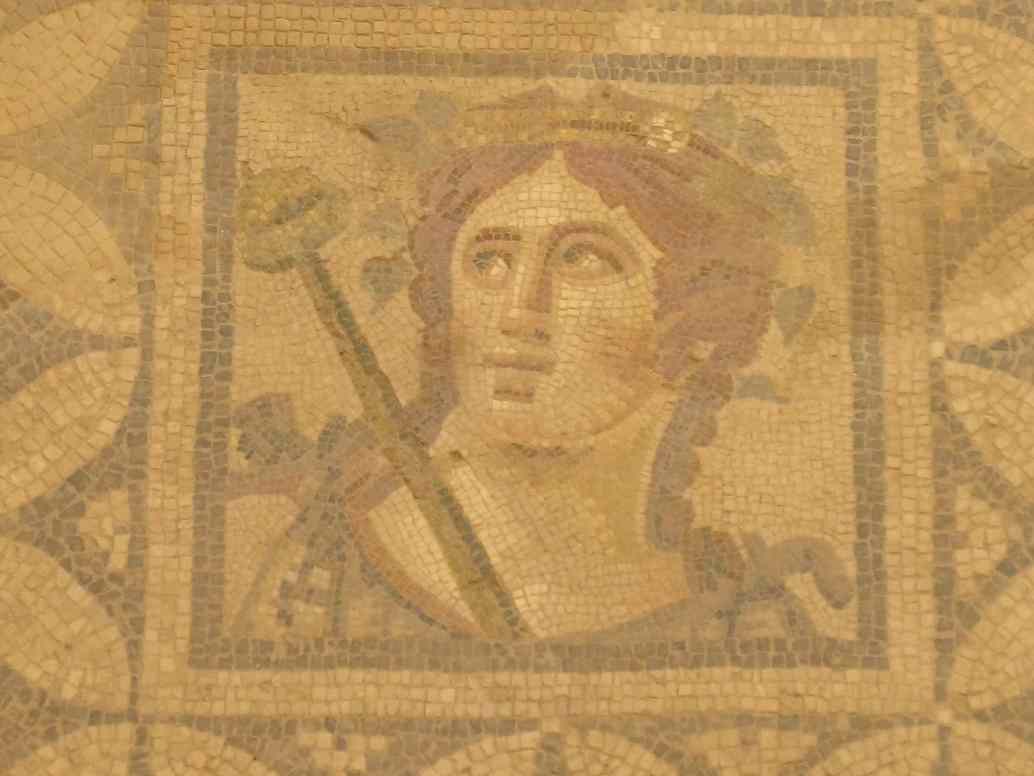 These houses which were up to three stores high had been rebuilt several times during the Roman period, then buried under a landslide. Many details have survived, including mosaics such as this one.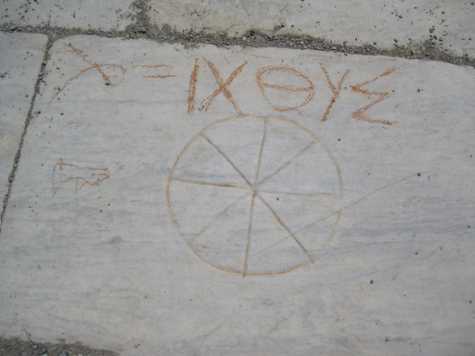 As we were leaving Linda noticed this ancient Christian symbol comprised of five Greek letters incised into one the rocks. It's something she had read about and was thrilled to see an actual one. The line at the top was not incised into the rock, but it shows what the letters are.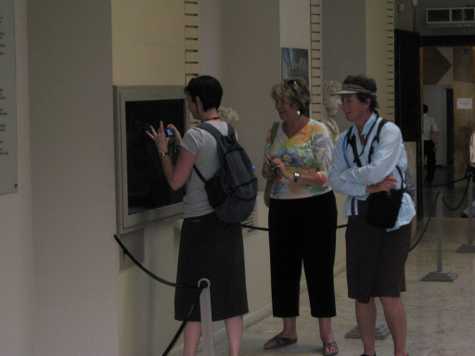 There seems to be something very interesting in this display case. A closer look revealed that it was a male fertility god with an enormous body part.
Linda wasn't into that, no doubt because she's satisfied with what she's got, but she was intrigued by this giant hand from a statue of a Roman Emperor. I hope she wasn't wishing for something like that to pound some sense into my head.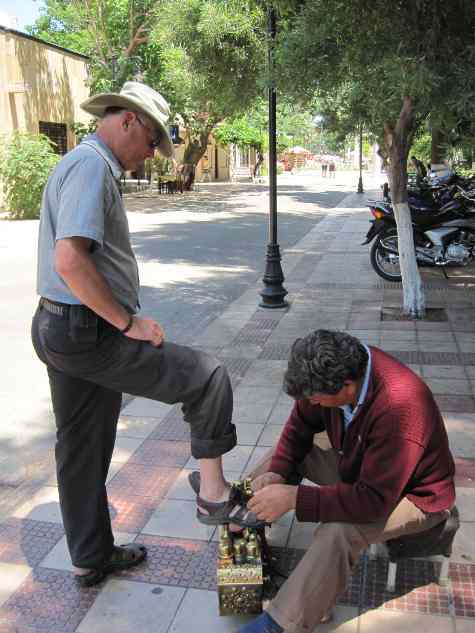 Since this was our last full day in Turkey, and we had a little money left, we decided that a shoe shine would be a good way to use up a few more lira.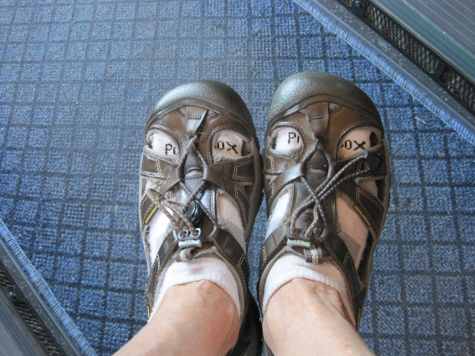 Linda didn't think her shoes would take a shine, but the shoe shine man proved her wrong.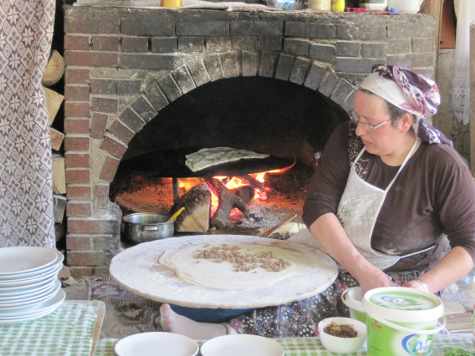 We found a really wonderful little place to eat lunch. The tables were outside under a canopy of tree branches and grape vines, while the cooking was done over an open wooden fire. We had pancakes which are nothing like pancakes in the States, but rather are more like the best quesidilla you've ever eaten, with the added flavor of wood smoke.
In the evening we had our farewell dinner, and with that it was time to get ready to leave Turkey. We have already decided we will come back some day and spend more time here, traveling further west toward Iraq. We also want to visit Syria and Jordan as they sound like really interesting places.
We have gained a better understanding of Islam and the fact that the religious extremists of this part of the world no more represent the vast majority of the people than the right wing religious extremists of the US represent the vast majority of believers in our own country. Kooks are kooks, no matter where they live.
As for the Turkish government, they have been long time staunch allies of the US, and that was one of the reasons that President Obama choose to visit Turkey on his trip to the G-20 summit in Britain. That also made a fantastic impression on the Turkish people, who are very friendly towards Americans. Travel, we are glad we can do it, and glad it gives us an opportunity to be exposed to things we never dreamed of.
---
May 30 Saturday
Leaving on a jet plane, fast food Turkish style, a rainy night in Berlin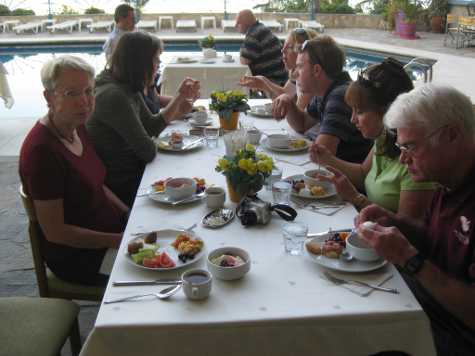 Breakfast was once again early but for a different reason. We were all going our separate ways today, but the means of doing this differed. With a good number of us flying out of Izmir, Rafet, our bus driver, would be taking us to the Izmir airport on his way back to Istanbul. He was leaving at 8:00, so once again it was a 7 AM breakfast. You can bet that everyone's plates contained only what they had come to love for breakfast during their time in Turkey. No experimenting with unknown foods this morning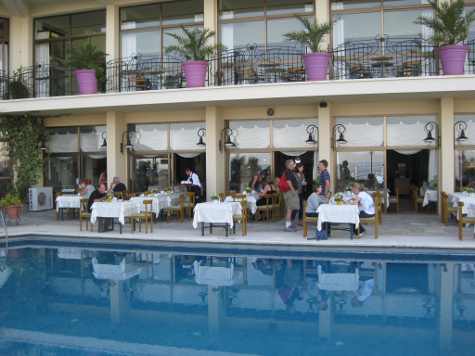 The view across the pool towards the breakfast tables. The reflection in the pool is so pretty, the only problem is that we don't see it when we are eating.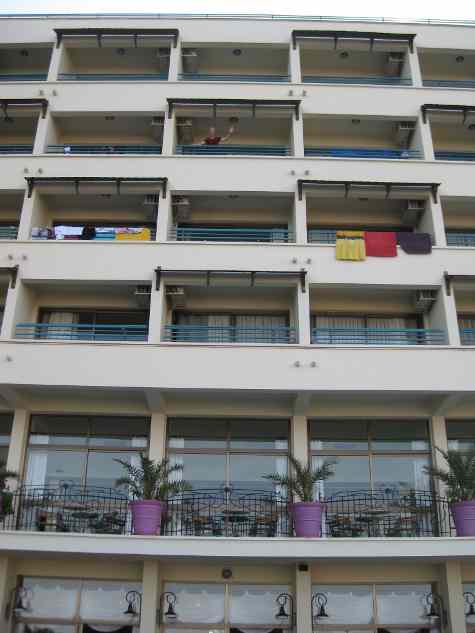 Looking up at our room. Linda is standing on our balcony, just above and between the balconies with the towels.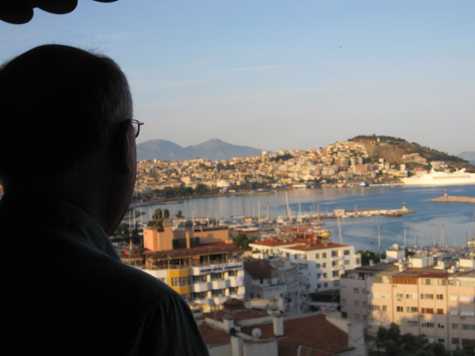 All packed and ready to go, it was time for one last look at the harbor and the Aegean Sea.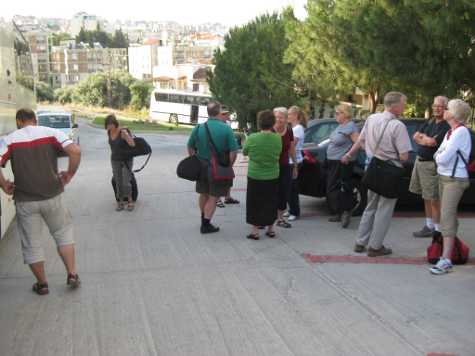 A ritual repeated a number of times over the last several weeks, bringing the luggage out to the bus. That's Bob's trip buddy, Marilyn, just about to have her bags loaded by Rafet's son Assam.
Because of Turkish Airlines weight restrictions, we had to check our bags. Connecting through Istanbul on a international flight to Berlin, Linda was sure we would never see them again, the heck with the fact Turkish Airlines is one of the worlds highest ranked carriers. We took anything valuable or irreplaceable into our daypacks to carry on-board, then zip tied the backpack zippers, but not before Linda took this photo show she could show the lost baggage agent what our bags looked like.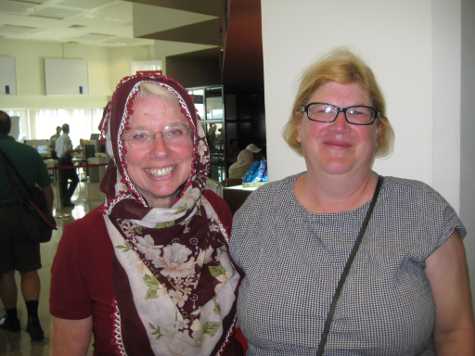 Just before we left, Linda got a scarf wrapping lesson from Becky, who was waiting for her flight to Paris. Mine had told the women she would give them a scarf tying lesson, but because one, the world revolves around me person, not having remembered to bring her scarf, it was put off and never done. Time and again we saw Mine not do things that almost everyone in the group wanted to do because of the objections of one person. And then you wonder why I saw I loved the Turkish people and Turkey, but found Mine to be the worst guide we have ever had.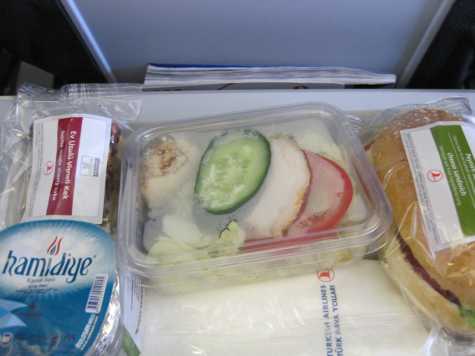 Our flight from Izmir to Istanbul was only one hour, and the plane, an Airbus 319, configured similar to how easyJet configures their, read no legroom, included a meal, and with a nearly full plane to boot. On a flight like this in the States they wouldn't even have time to serve peanuts.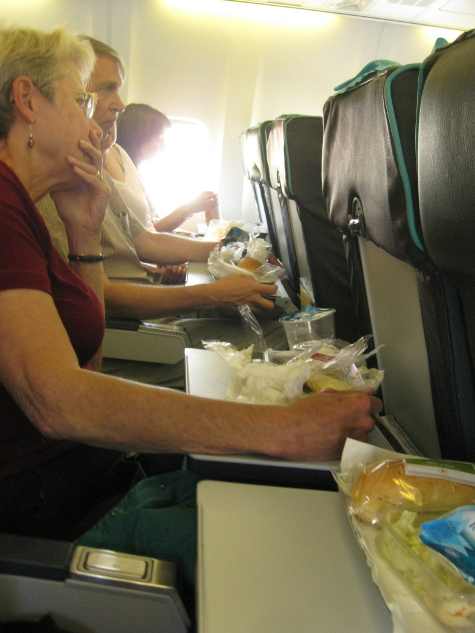 we found out that the flight didn't include enough time to collect the remains of the meal prior to landing. This was most definitely not a case tray tables in the locked position and everything stowed under the seat in front of you. It was more like hope the tray stays on the tray table and in some cases, held in your hands as we landed and braked.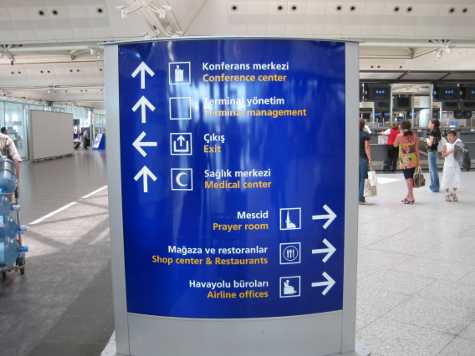 A sign in the terminal building with a mosque symbol and arrow pointing to the prayer room. Now we wished we had looked at it, but at the time Linda was really into finding our gate even thought the flight didn't leave for several hours.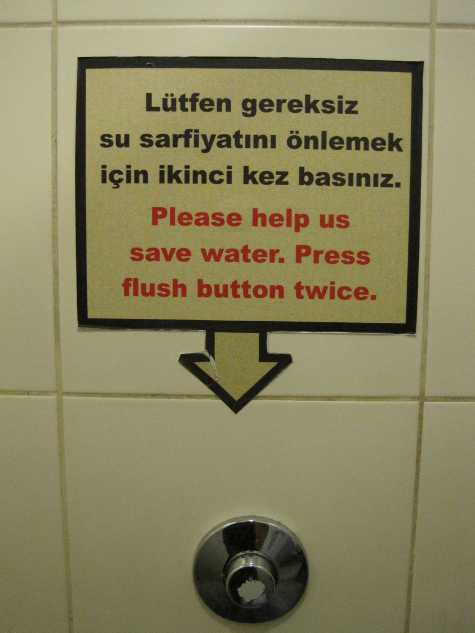 Linda calmed down in a few minutes, as the problem wasn't a desire to find our gate, rather it was a need to get rid of the coffee she had drank this morning at breakfast. This was the sign in the stall. Depending on how you read it, it just might be a little confusing. The toilets here do not work the same as in the States. With those you pull down on the handle and it flushes, empting the tank, and then refilling it. Here you push or pull something to start the water flowing, then repeat the process to stop the flow. We joke about big flushes and little flushes, but one you get the hang of it, it works great.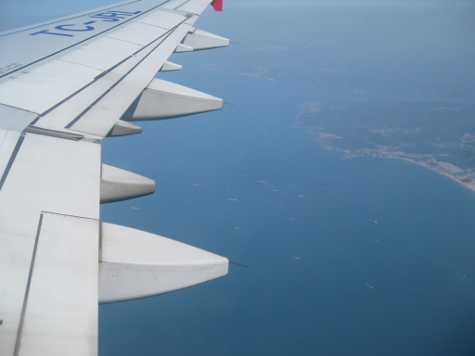 Our plane was delayed prior to boarding, them held once again after we had boarded but before taking off. There was also another long delay once we were out on the taxiway. Once we were airborn, it was time to take one last look at Turkey as we headed up over the Central European countries, Bulgaria, Romania, Hungry, Slovakia and Poland on our way to Berlin.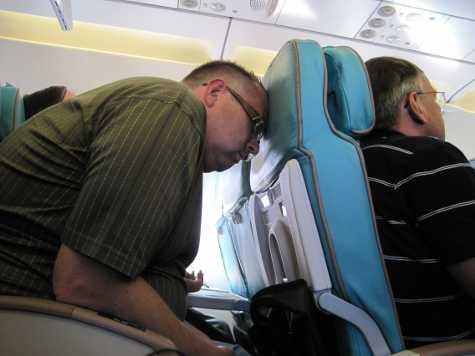 While Linda slept and I read for much of the three hour flight, this fellow found a different way of getting around the crowded seats and boredom.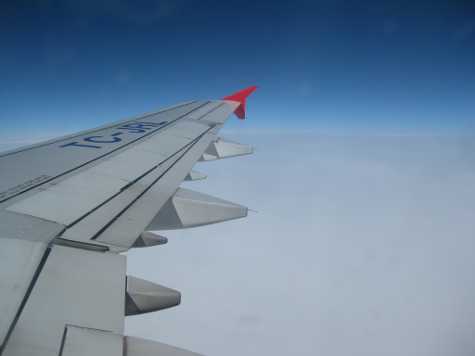 My window seat afforded me a view of all the different countries we were passing over. The problem was that there was a huge storm system causing heavy rains over most of Central Europe, so my view consisted on looking at the colorful wing and the clouds below.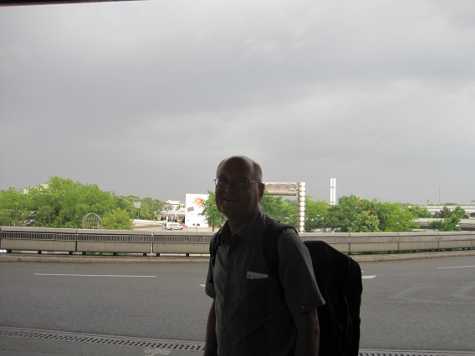 Getting through Passport control, claiming our bags, Linda was very excited when she saw then on the baggage conveyor, then walking through customs, we emerged at the bus stop to discover why we had been delayed before take-off in Istanbul. Berlin was being buffeted with massive thunderstorms, and no sooner had our bus come than the skies opened up.
We were taking the No. 101 bus to OlivearPlatz, then walking a few blocks to our hotel. The bus had a screen showing the upcoming stop, so we had no problem getting off at the right stop.By now the rain had abated somewhat, but we still wore our rain parkas and used our umbrellas. The Hotel was in an old building that had apartments and offices in it. The Lobby was up several stories, and our room up another, but it was going to be home for the next week.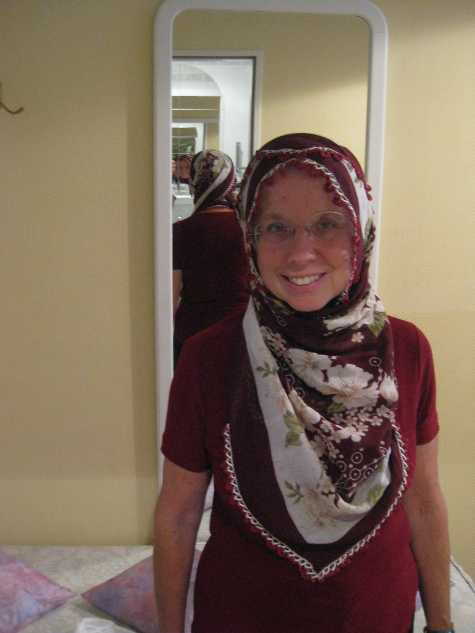 Berlin, with a huge Turkish population, is the fourth largest Turkish city in the world. Linda seemed to fit right in as she practiced wrapping her scarf around her head.
---
May 31 Sunday
Guten morgen Deutschland, different breakfast, U-Bahn und S-Bahn, history come alive and the things of dreams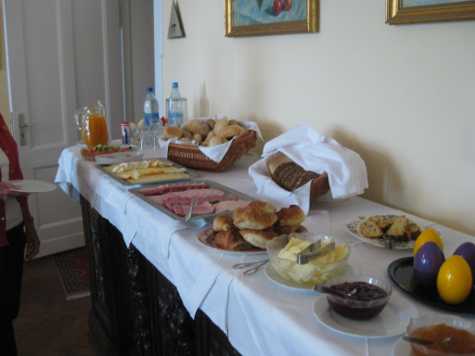 With all the meats, cheeses and breads for breakfast we were more into eating this morning than taking photos. One thing about staying in a hotel that Rick Steves recommends in his books is that there will be other Americans. In this case the other people in the breakfast room when we arrived were all Americans. However, as soon as we were done eating it was time to venture out onto the streets of Berlin.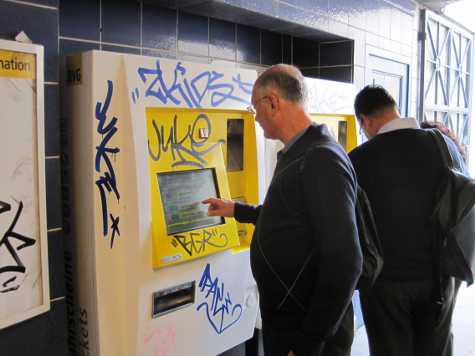 Getting around Berlin is easy with its extensive system of underground, or U-Bahn, and above ground, or S-Bahn, train systems. That meant our first task was to buy a day pass for each of us, then venture off to explore the town. We had decided that today we wouldn't be visiting any museums or attractions, rather we would just travel around town, visiting the places we had read so much about, like The Wall for Linda and the famous buildings for Bob.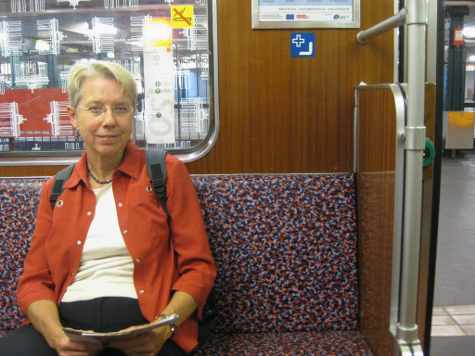 Being early Sunday morning, neither the stations nor the trains were crowded. Since we were learning the lines and the stations as we traveled, it was the perfect time to discover how to navigate the Berlin transportation system. And just like any major world city, some of the stations were small, and others were a complex maze of levels and corridors..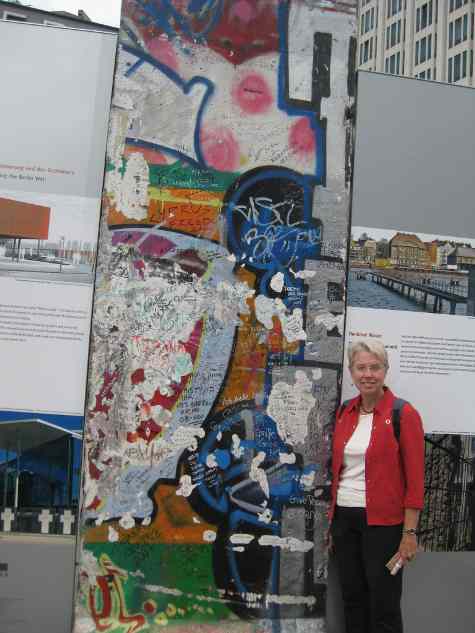 We are staying near SavignyPlatz in what was formerly known as West Berlin, but this morning we were taking a trip to the former East Berlin. Exiting the Potsdamer Place U-Bahn station, we had only walked a few blocks when Linda asked, "What's that." Then with her eyes sparkling more than I've seen in years, she exclaimed, "It's a piece of The Wall." And with that, one of her childhood dreams was realized.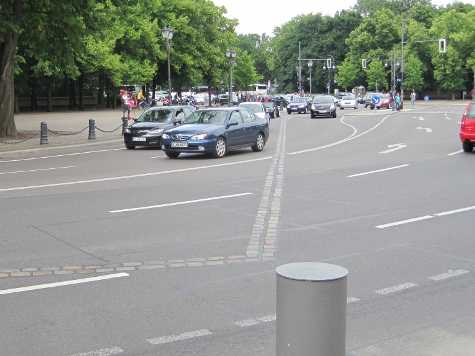 The path of the wall is marked by a double row of cobbles, since only several small sections remain in their original location. There are now buildings and streets across the path in various places. The line going across the street to the top of the photo and angling slightly to the right marks its path in this location.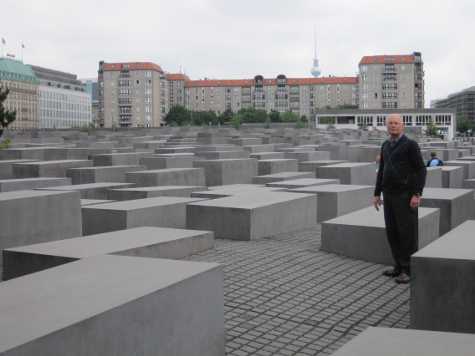 then we passed a large area with 2711 rectangular concrete blocks. It is a memorial to millions of Jews who were murdered by the Nazis, but isn't what it seems at first glance.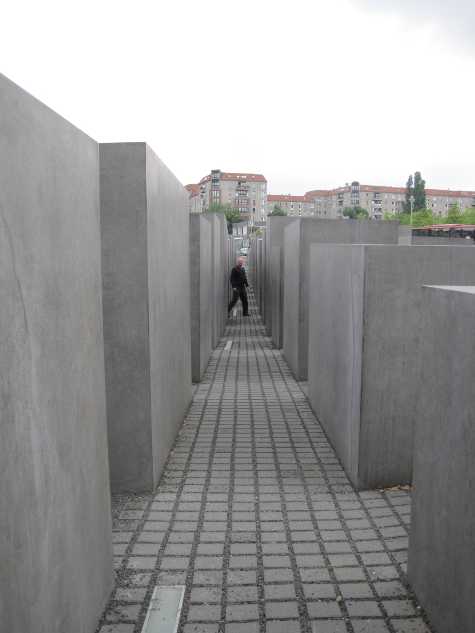 The blocks are not all the same size, and the ground is not level, giving a sense of unity and disunity at the same time. It does what it was designed to do, gets you to think.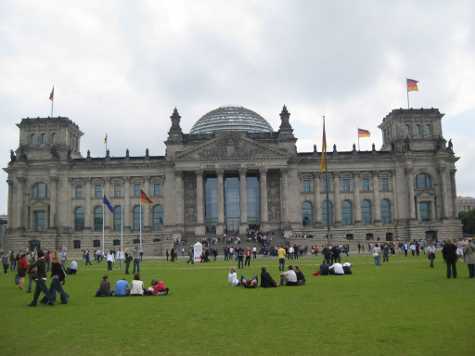 Nearby is the heart of the city, where the Reichstag stands. Analogous to our Capital Building, it was burned by Hitler in the early 1930's to facilitate his rise to power. Left a ruin in a wasteland area by the Soviets during the cold war, it has since been once again turned into the building where the German legislature meets.
Not far away is the Brandenburg Gate, now fully restored and a tourist mecca.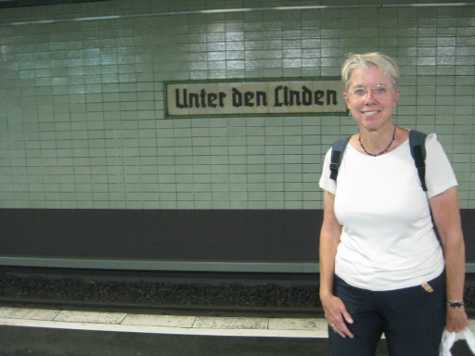 One of the underground stations we were in was a time capsule of sorts. When the Berlin Wall was erected some underground stations were on West Berlin underground lines, but were actually in the Eastern Sector. The trains merely passed through the stations, which were guarded by East German border guards, before the tracks swung back to West Berlin. They still have the original tiles and signs from the early 1930's and by letting your mind wander, you can imagine the crowds of people who might have been here during a WW II bombing raid.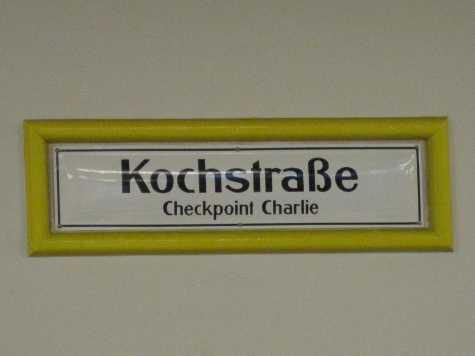 There were other sites that Linda wanted to see, and after a brief U-Bahn ride, she was about to see Checkpoint Charlie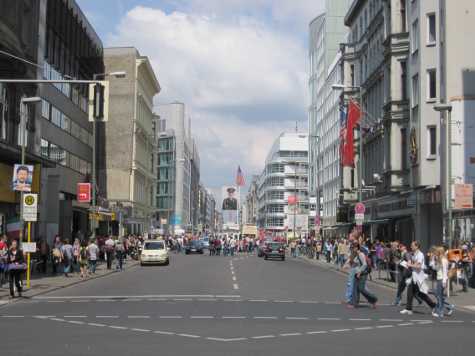 The original was torn down, but a replica has been erected, and the street is a mass of tourists.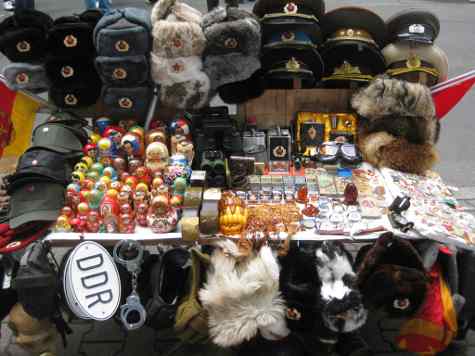 It is also a mass of stands and shops selling "genuine" souvenirs to the those wanting to have a memento of their visit.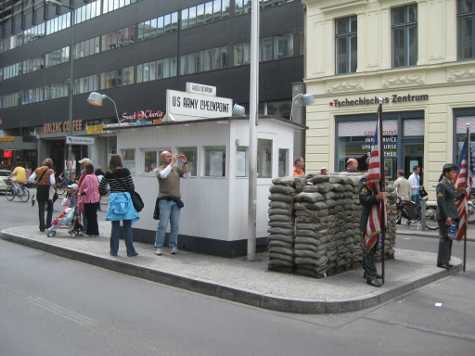 For only 1 Euro you can pose with the "guards". If there is a way to make money off Checkpoint Charlie, someone has probably tried it.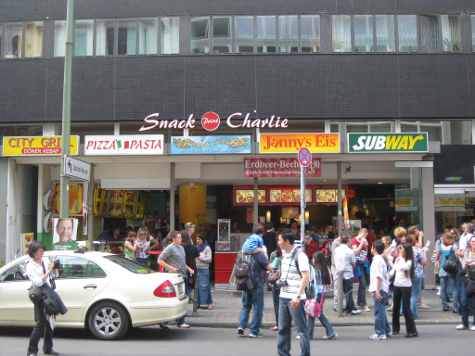 All these tourists get hungry, and to satisfy their thirst and hunger, no matter what type of food they might want, there was a Snack Point Charlie's.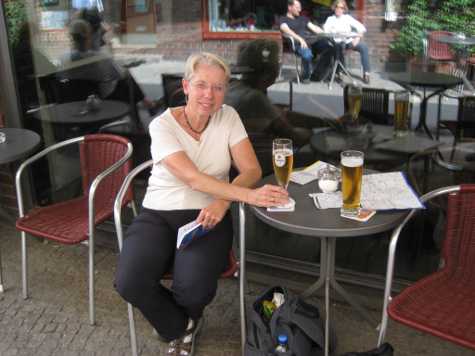 We opted for peace and quite, traveling back to the neighborhood near our hotel where we enjoyed a little refreshment at a sidewalk cafe. Just as we were leaving here, the sky opened up and it started raining heavily, so being tired from a full day of sight seeing, we decided to relax and rest up for tomorrow.
---
---