Journal Archive 1/1 - 1/10 2010
Scroll down to read the latest post
Jan 9 Saturday
This post is a little different in that it is also the new homepage article. I'm doing this in case there is anyone left who still checks to see whether my meandering missives of Life still appear on these pages. Since someone may have just the daily journal page and not the homepage bookmarked, then they will see my efforts at producing a prodigidous, but hopefully pertinent espistle of the past few months, hence it is cross posted here. Keep tuned, more to come in the near future.
Talk about not writing, it's been far too long since my fingers pecked away it this keyboard, unrolling the events of our Life on our webpages. It was nothing more than a time of distancing myself from what I really wanted to do, which was write, all because I didn't want to write. Life is made up of paradoxes, and this was certainly one of those and more. I'll put it over into the unsolved mysteries category and pick up where I left off those many months ago.
What follows is going to be a travelogue, iterating our stops of the past half year, with very little commentary, beginning with a miserably hot day in late July when we were staying in Baker City, Oregon at the time when we last opend the curtain on our daily lives. Since then our travels have taken us to Washington, Idaho, Montana, Utah, New Mexico and currently, Arizona. In addition, Linda flew back to Ohio to visit her sister. It was just the usual life on the highways of America, a few minor problems with the coach, an inordinate amount of wonderful scenery and places, topped off with time spent with great friends.
Our reason for going to Oregon was to watch our granddaughter, Lindsey, play in a national softball tournament. The team didn't expect to win the tournament, but they ended their season playing far beyond the expectations of any of the players, making for a wonderful life lesson for those 12 year old girls. It was a time to revel in the thrill that our son-in-law felt as a team coach, and to spend time with our daughter Jenny and other two grandchildren, Justin and Abby. We also sweltered through the worst heat wave in Salem's history as our front air conditioner continued to exhibit a lack of life purpose, meaning it still wasn't working.
Immediately after the tournament, at the first of August, aka the hottest month of the year, and still without air conditioning, we were fortunate the weather started to co-operate as we moved to the far north across the mighty Columbia River. For several weeks we stayed near Mount St. Helen, Washington at Castle Rock, while our son Rich and our grandson Zachary flew up to visit. Later, when "Uncle Richie" flew back, Zachary's mom, our daughter Megan flew up for a visit.
Next we moved south, once again back into the heat bouncing around the Portland area having the air conditioner problem diagnosed, then waiting a week for the new air conditioner to be shipped and finally installed. Comfort and joy, comfort and joy that's all that needs be said. Talking about being said, so much for my little preamble about this being a travelogue with little commentary, however if I don't start following that ideal this is going to take weeks to write. Bad Bob, stay on track.
Heading east we visited with a couple we had met during our tour of Turkey, then angled south, ending up in Deer Lodge, Montana staying for a week and where, along with some day trips, we spent a good bit of time simply relaxing. Discovering the weather was supposed to continue to be much more pleasant than usual for this time of the year, rather than continuing south, we turned 180 degrees and headed north to Glacier National Park. After spending several days on the west side of the park and wondering why everyone raves about what a glorious place it is, we moved over to the east side and discovered that they were right. We fled just in front of the snow a few days later, but will definitely be back.
After a brief one night stop in Idaho, as the snow held off a day, we arrived in Utah, where we would spend the next five weeks. Between Provo, Salt Lake City, the Genealogical Library, Linda flying back to visit her sister, our time in northern Utah seemed to fly by. Then it was off to what is truly one of the most magnificent places anywhere on earth, southern Utah, or more percisely, the red rock country of southeastern Utah.
There is beauty and then there is beauty. One night we had 5 inches of snow, but the next day found us in Arches NP, where every twist and turn of the Park's road brought another Oh! or AAH! from us. We had seen photos of Arches after a snow, but actually seeing it covered with a blanket of white in person makes you realize that there are some things that have to be experienced to be apprciated and understood. We also found time to visit Canyonlands and Natural Brigdes along with many other natural wonders. After only two brief weeks there, the forecast was predicting the emminent arrival of a prolonged cold front and we knew it was time to head further south.
For most of November we were in New Mexico, staying in Grants, Albuquerque, Tularosa, and Roswell. Between the lava fields of Grants and the aliens of Roswell, a good time and then some was had by all. We discovered we had cheated ourselves by never spending time in this State. They call themselves "The Land Of Enchantment", and we call ourselves "Dumb and Dumber", for never having realized that those words aren't just a slogan, but precisely what New Mexico is. The more places we visit, both here and abroad, the more we realize the more there is to see, kind of like drawing water from a well. It doesn't matter how many bucketfulls you pull up, there's always just as much water in the well.
I had always wanted to visit Roswell, not because I believe in little green men, but then I don't disbelieve either, rather it was simply to experience the experience of experiencing Roswell. While all the alien "stuff" was fun, we discovered there was another side to Roswell, history and art, something that seems to be ignored by most visitors, but will have us coming back again, as we barely touched the surface of this fascinating town. I feel sorry for all the tourists who spend a couple of hours in the several blocks of downtown that are all things alien, then leave town thinking they've been to Roswell. They may have been to Roswell, but they were also to show'em and fleece'em.
We left Roswell the day after the big snow to meet our good fiends John and Judy, they of our spring French canal boat cruise. Unfortunately the meeting place was Carlsbad where the storm had dumped even more snow than it had in Roswell. So much for thinking it gets nicer the further south you go. Perhaps John and Judy were to blame, being from Michigan and all, maybe they got homesick and ordered in this weather to pick up their spirits. It only took a couple of seconds for us to realize they were thinking the same thing, but in reverse. That this weather was our doing, and we were trying to make them feel at home with these icy blasts reminding them of Michigan. Something they were quick to point out they didn't want, preferring the mild weather more typical of the southwest. It took us several days to get this all straightened out, but shortly we were back in nice weather once again.
The next several weeks were spent meandering slowly towards the Tucson area where we would be spending Christmas, while John and Judy planned to fly to Portland from Phoenix. Our stops included both Columbus, NM and Bisbee, AZ, two places we have visited several times before, and are seemingly drawn towards like moths to a light. Christmas Day was spent with Bob's cousin Steve and his wife Anna at their winter home in Tucson. Our home base during most of this time was the SKP Co-op park at Benson. While there we talked with them about getting on the "hot list" for a lot, which currently has a 8 or 9 year waiting period. It's one of those if, you wait a few more years you may never get in, so we added our name. Whether this is where we will live out our "used to be" years someday is for the future, may or not be the case, but we are on the list just in case. That "used to be" is John's term for all the SKP's that have stopped traveling, and are now living the stationary life in their RV. I guess some day, in the far, far distant future, we won't be saying "we've been fulltimers for x number of years", we'll be saying, "we used to be fulltimers" but got too old for the travel, becoming "used to be's".
Just before New Years we journeyed to the Imperial Dam LTVA, about 20 miles north of Yuma, where we celebrated the New Year, and are currently enjoying the warm weather while boondocking in the desert. It is a time of relaxing before heading off to Quartzsite and the Big Show for a few days. The future brings Mexico once again, and also, though on no timetable, the resumption of my daily posts. Gosh, it's good to be back writing once again.
---
Jan 10 Sunday
This may take a while for me get back into the swing of things, writing-wise, but the urge to write is finally back, so write I will, even if mere mule mush comes out at first.
We are currently back to the same LTVA, or Long Term Visitor Area where we were last year at this same time. Called Imperial Dam LTVA, it is north of Yuma about 20 miles and just over the line into California. As the name implies, it is near the Imperial Dam. With no hookups, yet it is far different from Quartzsite LTVA where we also stay, in that it isn't near a town, is quite rocky, being traversed with gullies, is beset with nearly constant winds, but also has far fewer people. There is a dump station, water fill and trash dumpsters near the main entrance. We like it and since December 31 it has been home.
While we stay here for the solitude, there are times when it can get downright scary. Not threatening scary, rather the thing under the bed scary, and that was the case early this morning, for below is an image of one of the ghost like apparitions that can appear at a moments notice.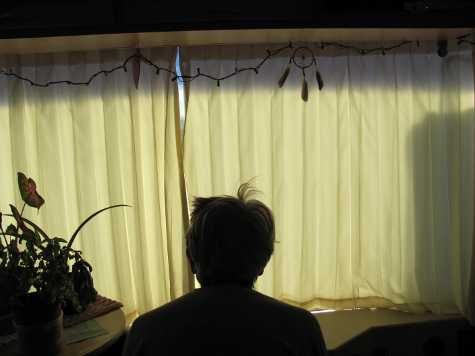 Now when something as startling and scary as that suddenly pops up in front of you, what you do? In this case I wasn't sure what it was, and voiced those thoughts to it. Was it a wraith like waif or a gnome like goblin. To find out I asked, and from the snarly answer I received, I decided it was most likey neither, but rather a grizzly bear with its top knot askew. Mixed in with all the growls I thought I heard something like "sure know how to make a person feel good first thing in the morning." Once I discovered it was really Linda, and not some maniacal ax murderer, though for a few seconds it had me wondering, I mentioned I was glad to be able to make her feel good first thing in the morning. From her reaction to that statement I wondered what I had said wrong. Women, try to give them an early morning compliment and....
Once breakfast, the usual eggs with diced tomato covered with baby spinach, them smothered in blue cheese, was over, the writing bug struck with a vengeance, and the result was the new homepage article about where we have been. Much of the rest of the day was spent in reading and relaxing. Of course there was a little computer time thrown in. Okay, okay, a lot of computer time thrown in, as I tried to clean up some of the badly out of date material on the website. Got most of it done, removing the non-posts of September and October, and then bring our future plans into 2010 from 2008 and 2009 where they had been.
Think I was more behind than I realized. I also tried to get the RSS feed to work, which I did, then promptly broke it again. Deciding I'd spent enough time on it, I put the remaining tasks off to another day. However it is not all work and no play around here, and even though we are mostly off by ourselves, we did have some visitors today.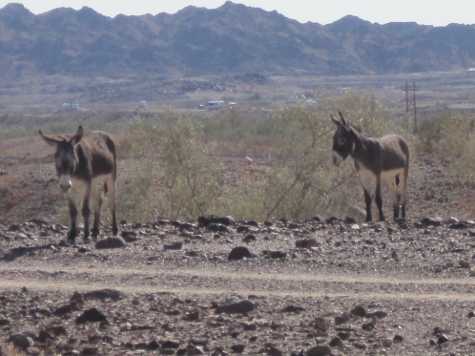 This area has a population of wild burros, several of which we saw last year. This year we are in a different area of the LTVA, and the number of burros here is definitely higher. It may have more to do with the fact there are far fewer RVs in this neck of the desert, or maybe it is because there is more for them to eat. Regardless, by the time the entire herd had wandered past we counted nine burros.
One thing about burros, they have an attraction that draws photographers like flies, with John and I doing our best fly on the wall imitations. John being the real photographer, set out prepared with a real camera. I on the other hand, when Linda inquired whether I was going to sit at the computer all day, or was I going to get some photos of the burros, merely meandered over near them, crossing three gullies, crept in close and took out my trusty little PowerShot SX120 IS. Or at least I reached down to where my camera case was supposed to be fastened to my belt. Nada, zip, nothing but air. In my haste to prevent a beating by she who thunders and roars, I had skedaddled out of the coach without my camera, confirming that deadly fear can be the cause of irrational actions.
Rectifying the situation and returning, I found that the real photographer of the group knew where to position himself for the best shots. Note how the three subjects have arranged themselves into a seemingly casual grouping, showing different sides of themselves in case they were show up on the cover of a magazine. Well, maybe that wasn't exactly what was going through their minds, but they still did look really good standing there.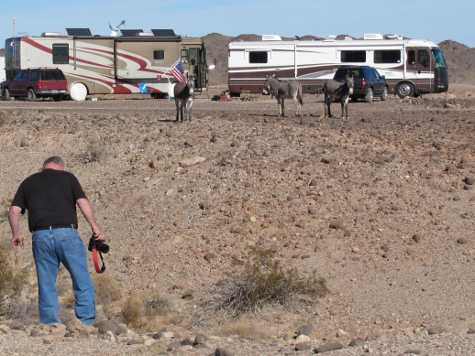 While john and I were across the wash taking photos with our RVs in the background, Linda was inside our coach taking photos of the burros with John and I in the background.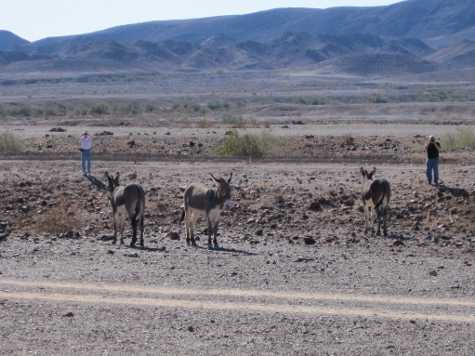 I think the results of my two trips across the rugged terrain were worth it. It's not everyday we get to see both the old and the new means of transportation in this area in one picture. It's also a sort of: Yes Virgina, there really are burros at Imperial Dam, kind of image.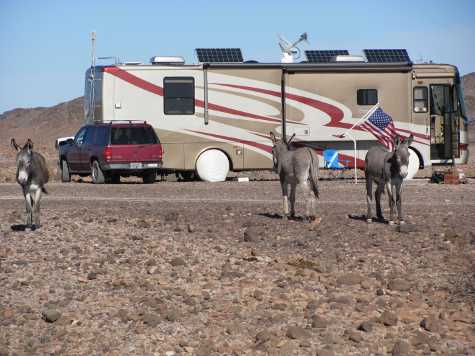 Later the entire herd moved into the wash on the backside of the coach, and we were treated to the sight of one of the burros walking up to our bird feeder. It discovered that the pole could be the perfect neck scratcher, and Linda stood there laughing as it would move its neck over and rub and rub, them move its neck back and stand perfectly still for a while before once again rubbing its neck against the pole.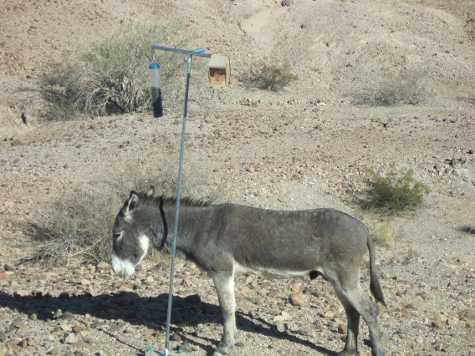 While I did my best to enjoy the sight of the burros outside the coach, Linda did her best to fill her SD card with burro photos.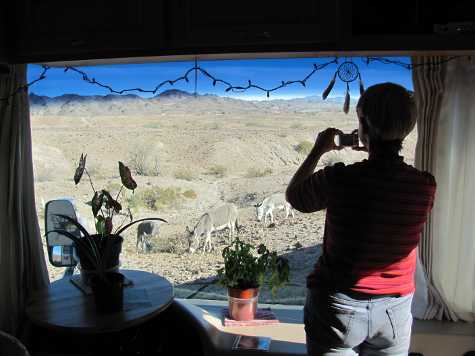 Later we had our evening fire as the sun disappeared behind the mountains. With this being a fairly clear sky day, there were very few clouds to give us the fabulous beyond words sunsets we enjoy most nights. In a way you should be glad I haven't been posting, otherwise you would probably be gagging at the thought of yet again, more sunset photos.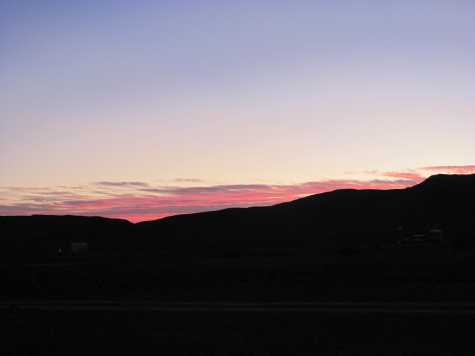 Dinner was at John and Judy's tonight, grilled porkchops with cole slaw, summer squash and zucchini. Later we enjoyed playing Mexican Train, and for once, all four of us won a game, though it wasn't until the final game that I added my hat to the ring. It seems like no matter how hard I try, the dominoes hardly ever fall right for me. Maybe that is the thought for the day, if you just keep trying the odds are that someday your time will come. Our day is here because it was just over four years ago that we backed out our driveway, and and drove to the coach to start on this advventure on the road, the one we now call Living Life.
---
---