Journal Archive 5/11 - 5/20 201
Scroll down to read the latest post
May 19 Wednesday
We are now several days into our summer of 2010 Alaskan trip. Sunday night we stayed in Bellingham, Washington, which is not far from the Canadian border, with the intention of crossing into Canada on Monday morning. After doing some reading and looking at the map, we decided that Sumas would be the border crossing we would use. It proved to be easy to get to, and the crossing itself was no problem. There were five vehicles in each of the two open lanes when we pulled up, and of course the one I picked was the one which moved the slowest.
The lanes really narrow down at the point the border agent interviews you, but still proved no problem as we just took it real slow. I quipped about the narrow lanes being Canada's RV driver's test as I pulled up and got a chuckle from the agent. Handed him our passports, answered a few questions similar to what we are asked when returning to the US from Mexico, but with the addition of questions about guns, and we then were on our way.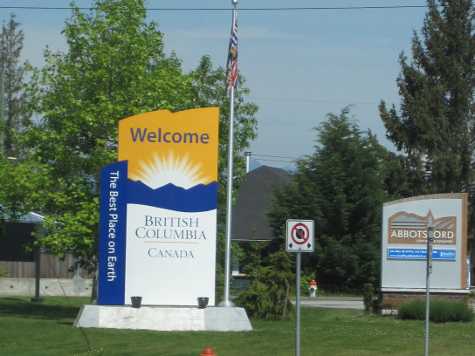 Our immediate destination was the town of Hope, we didn't want to drive a long way today, preferring to do some shopping to restock our refrigerator as we were out of fruits and veggies, and also just relax for a bit. Maybe everyone else takes a border crossing with a grain of salt, but we find them to be a little stressful, at least before hand. The mind is a wondrous thing, but the damage it can sometimes do when there is nothing to be concerned about. Besides we have all summer to make this trip, so we are in no hurry.
It took a little over an hour to arrive at Wild Rose RV Park just west of Hope. The road, Hwy 1, was a freeway, and the traffic wasn't very heavy. Hope had several things going for it, an easy drive on day 1, a small town, some interesting things to see and do in the area, as well as being the point from which we would start heading in a northerly direction. Below is the view from the front window of the coach.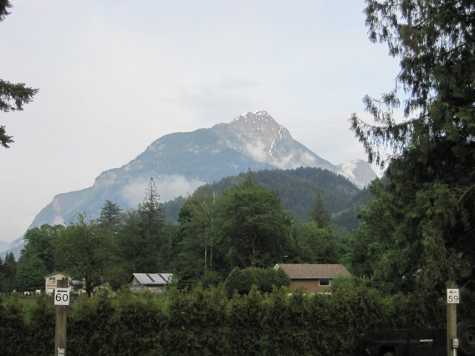 It turned out the grocery store, Coopers, was a BC chain, and like many chains, gives it's best prices to those who have a "card". Didn't take Linda long to get one of those baby's and soon she was racking up the big savings. English cucumbers, $2.99 each without card, $0.99 with card for example, meant in her mind she could buy three and get two free if she had the card. In my mind she could buy one with the card and and save $2.00. I think this is one of those examples of how men and women think differently. Once we returned to the coach and she cut one up I had to admit she had done good. They were Canada grown and far crunchier and better tasting than the ones we had been buying in the States.
After a restful night, the exception being the carbon monoxide detector going off for a brief time just before midnight, we had a wonderful omelet compliments of yours truly, before setting off to explore the town. The CO detector alarm was really puzzling, especially since we had no propane appliances on, meaning nothing with a flame that could have generated the carbon monoxide. Speaking of alarms going off, back many years ago Hope definitely had alarms going off.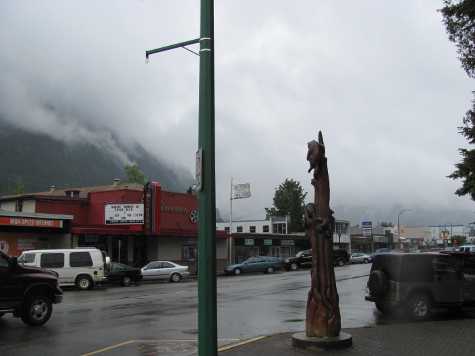 It's impossible to tell from that photo, but Hope is the town where the movie "First Blood", the first of the Rambo movies, was filmed. Our first stop was the visitors center where we got a map of the various film locations that all visitors want to see. It being a rainy day we decided to forgo following the film in town, and instead, head out of town to a series of abandoned railroad tunnels. Linda especially liked that suggestion from the gal at the visitors center when she mentioned at least we would be dry while we were inside the tunnels.
Unfortunately, or as it turned out, fortunately we didn't make it to the tunnels. We were out of town, heading up a very steep hill when the Explorer started acting like it didn't want to go, and then it did. This went on for a little bit, then stopped. Now a slight squealing noise could be heard, then the smell of something hot was in the air. Pulling over and popping the hood, it was apparent the air-conditioner pulley was objecting to working like it should. Deciding that it was time to turn around and head back, we did just that.
It didn't take long before we were being well taken care of at a repair shop. The compressor was dead, but the owner suggested the easiest fix was to just put a shorter belt on, bypassing the compressor. What with going to Alaska and figuring that hot weather wasn't going to be the big thing this summer, we opted for the belt. All this took less than a half hour and we were happily once again on our way.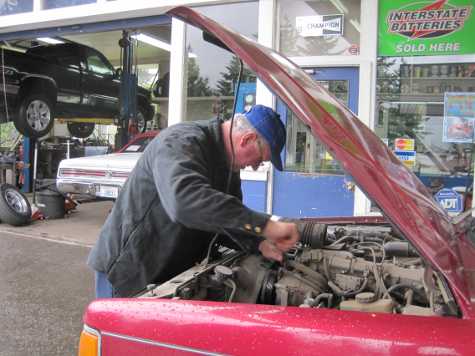 All we could think of was how lucky we were this had happened here rather than out in the middle of nowhere, and that we had been able to drive back to town. Once we got to the tunnels we enjoyed a leisurely walk in the rain, though Linda seemed to hurry when we were outside and proceed at a more leisurely pace once inside the tunnels.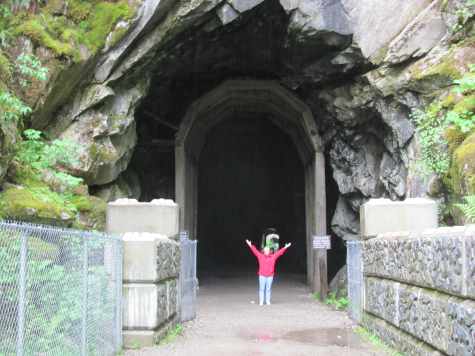 That evening we were reminded of a former time in our life.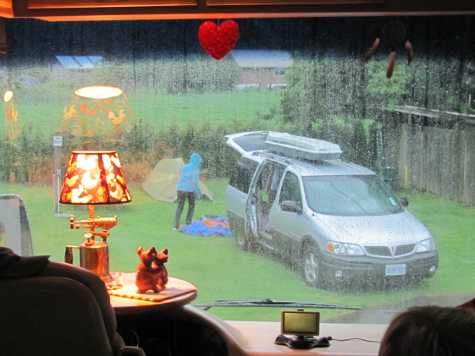 Once that was us, setting up a tent in the rain, and I can remember sitting under a picnic table as the rain poured down, trying to cook something for supper as Linda questioned the wisdom of camping rather than staying in a motel. Thank goodness for the memories, but thank more goodness that we are living the Life we are today.
This night proved to be repeat of last night, the midnight alarm. I came up with a theory as to what was happening, but all Linda did was get really, really upset at my suggestion. We'd had beans for supper the past two nights, and the detector was on her side of the bed. I made the natural connection with beans, Linda and flatulence. So much for my theory. Then a little later it started doing it again. Checking the manual and the light sequence and beeps it was the indication of time to replace the thing as it had gone bad. Still think my original theory had some merit though, maybe it just overwhelmed the detector to the point of failure.
The weather forecast for the 19th was sunny in the AM and rain in the late afternoon, so we were off early in the day up the Fraser River Canyon to visit Hell's Gate. This was one of those today or later things. This weekend is the Victoria Day holiday in Canada, and as we learned, the one which kicks off the camping season. We had decided to ride it out since everyone talks about the extremely heavy traffic, all the accidents, and the fact all the campgrounds are full. Luck was with us and we were able to get a reservation at an RV park in Spence's Bridge, from which we can take a few day trips to nearby sights.
Hell's Gate turned out to be neat experience. it isn't cheap to ride the AirTram down, $16 each with a discount coupon, but the experience was worth it. Besides, we got a little of the Swiss experience since the cable car system was made in Thun. The cable car operator on the way down was a summer employee from Bavaria, the girl in the fudge shop at the bottom was from South Africa, and cable car operator on the way up was from Nova Scotia, so you could almost say we had a global adventure.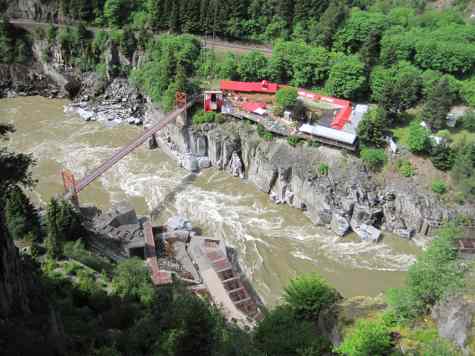 We will admit it, the whole thing is a tourist attraction, but is one of those places that just brings out the kid in you, unless you are afraid of heights, cable cars and, if you want to walk across it, an open grate suspension bridge over rushing waters. As narrow as the canyon is at this point, sign said the water was 135 feet deep today, but there was no way to tell.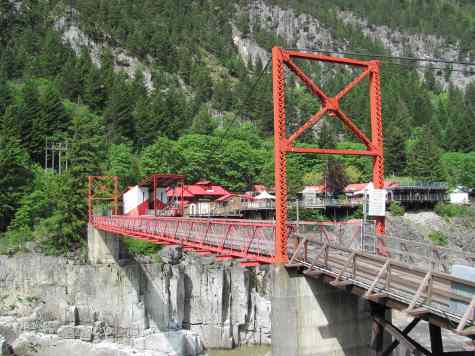 After buying a few things, and smashing a penny for a certain grandson, Linda visited the fudge factory where she relieved them of a piece of maple walnut fudge. I will admit it made for a great dessert along with the picnic lunch we ate in the small town of Yale.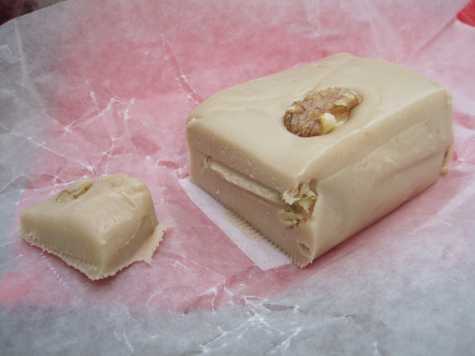 It doesn't take a genius to figure out which piece was mine and which was hers, though she claimed she wouldn't eat all of it until later. We also visited the site of a massive rock slide which took place in 1965 and resulted in the death of four motorists as the entire side of a mountain slid into the valley. It is one of those, you need to stand there and look at it to understand it places.
This area, with the snow on the mountains, broad rivers, deep gorges, and the wonderful people who have touched our lives just in the few days we have been here, have us both literally and figuratively looking forward to what is around the next bend. Life, meant to be Lived.
---
May 20 Thursday
I'm laying in bed, when I hear it. The only problem is I'm asleep and it's a dream. It being the beeping noise we had heard the two previous nights. The beeping of the carbon monoxide detector, the one I unplugged, removed from the side of the cabinet and put into a drawer. It wasn't fair, here I was dreaming about the blasted thing and it was waking me up. Deciding if I was awake it couldn't be a dream, I looked at the clock. Twelve o'clock midnight it read. What on earth was going on?
Laying there for a few minutes I decided it really was beeping, whatever it was. Out of bed, the refrigerator was eliminated, then heading towards where the CO detector was formerly installed, it seemed the noise increased in volume. Without thinking I reached for where the reset button on the detector was and stuck my hand in the hole where it had been. Next I fumbled with the drawer I had placed the detector in, and lifting it up I could see in the dim light there were no lights blinking, nor was there any sound coming out of it.
Now I was really puzzled. Thinking back to supper, there had been no beans tonight so that eliminated any gaseous emissions on the part of the sleeping beauty laying in the bed. Turned out she wasn't asleep because next thing I know she's asking what is that blasted noise and why don't I turn it off. I almost blurted back that if I knew what was making the noise, it would already be turned off, but remembering that triffling with a grizzley just after it awakes is likely to get ones head torn off, I said nothing.
When I'd turned back toward her, I'd noticed the beeping decreased in volume, so it had to be somewhere near where the CO detector had been installed. All this was being done in the dark of course. Afterall, I'd gotten the riot act read to me the other night when I turned light on when the CO detector was doing its thing and I certainly didn't want a repeat of that. I could feel a pile of clothes on top of the cabinet, and I started pawing my way down through them. Since everything the modern woman wears was in that pile, it took a while to finally reach the bottom, but when I did, I found the monitor for our weather station. For some inexplicable reason the thing was beeping. I started pressing buttons and it quieted down.
Getting back in bed I hear, "What was making that noise?" I replied, "I'll tell you in the morning." And promptly went back to sleep. At that point I couldn't have told you whether it was dream or not. In the morning, given the new placement of the weather monitor and Linda wondering what happen to her clothes, I knew it wasn't a dream. I think I need to play the lottery, given the odds of hearing that same noise three nights in a row, but from two different sources.
The dark cloud that was over me was not going to go away. In the afternoon we went into town to do some sightseeing and shopping. We parked at the west end of the main street and walked up through town, stopping to look at the many great chainsaw wood carvings exhibited around Hope. Finding the other grocery store in town, we went in and did some shopping. Unfortunately when we came back outside the weather had changed.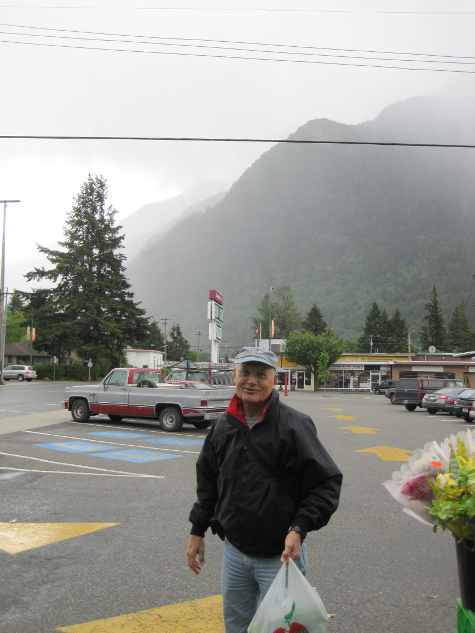 Gone was the sun, replaced with a mixture of sleet and rain, something that accompanied us during the long walk all the way back across town to the Explorer. Rather than immediately return to the coach, we drove around doing some additional sightseeing. Among the local sights was something we don't get to see in the States.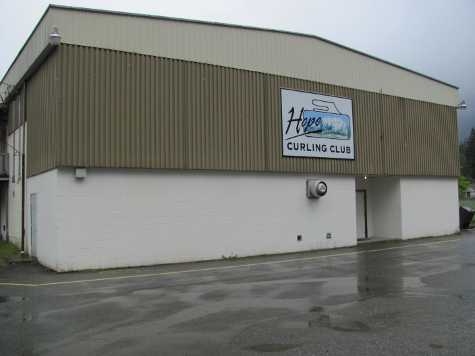 Back at the coach we had fried perogies for dinner and free entertainment out the window. Each night we have watched as CruiseAmerica and CruiseCanada rental Class C's would pull into the park and after a few attempts, make it into one of the back-in sites across from us. Tonight a really long CruiseAmerica Rv pulled in, only they were facing the wrong way. They proceeded to very, very, very careful pull the wrong way into a pull through site beside us. Then we watched as they tried to figure out how to get the electric, water and sewer hooked up, especially since they were on the wrong side of the RV. It took them about 15 more minutes, but eventually they got the thing turned around the right way. It was definitely far better entertainment than anything on TV.
This is our last day in Hope and tomorrow we will be moving up the road, Hwy 1 that is, to Spences Bridge. They don't have any wifi at the park we will be staying at and with all the trees and mountains in this country, we are not sure about getting on the Internet. But rest assured, I will write, and it will eventually get posted, if not tomorrow, then later in the week. Now if we can just get a good nights sleep without any beepers going off, we will be happy campers.
---
---