Journal Archive 6/11 - 6/20 2010
Scroll down to read the latest post
June 11 Friday
Enjoying Juneau and a flight back in time
This was going to be the only full day we spend in Juneau, and with something special planned for mid-day, we had the morning and late-afternoon to get in some sightseeing around town. One thing you quickly learn is that Juneau comes on several levels. We are staying at what was formerly the water front, but now is dry land. Then there are all those buildings "up there", as in up high and out of the water those many years ago. Also up, as in climbing up, either on the sidewalks or by using one of the many stairs you find scattered about town connecting down here to up there.
Linda had the choice and she decided to start the day by going up. I was glad she did, because I would bet anything she wouldn't have gone up at the end of the day. As luck would have it, there was a stairway not too far from the motel, and prepared for all emergencies, including being stranded on the steps without food and water, we were soon off.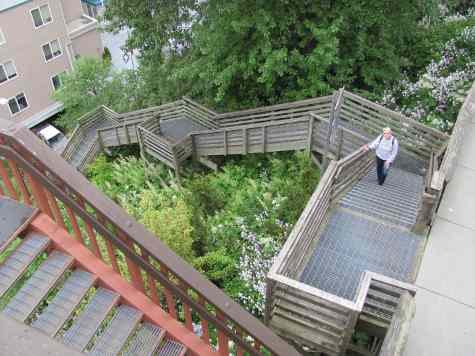 The smile had more to do with the fact I'd promised her she'd only have to climb one set of stairs, though there was also probably a hint of just a few more steps and this will be over, involved. Our first stop was the big house we can see from our window, the Governor's House. In a way it keeps with Alaska's low key approach to things. Other states can have their Governor's Mansion, here it's the Governor's house.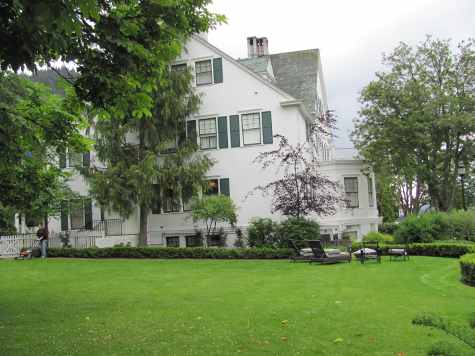 Something tells me Sarah, when she was Governor, never spent time out here in the back yard sunbathing on that lounger, but what a great place to hold a small gathering. As we were walking away I turned back for one more look and did a double take. Was that attractive young woman standing there the former Governor just back from moose hunting?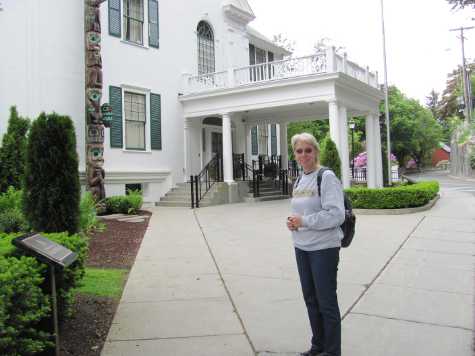 The hillsides are steep, but they are also covered in a carpet of wildflowers. In fact throughout the town there is a profusion of blooms both on the ground and in baskets attached to the street light poles.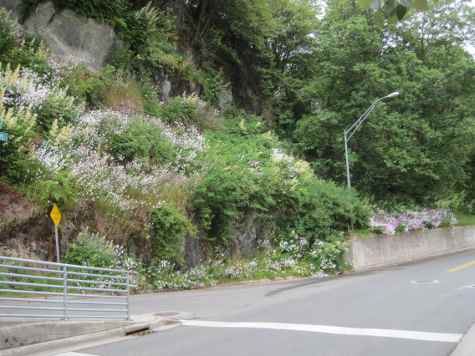 This set of stairs looked interesting, it was so long I couldn't see the top, which meant some exploring was in order. After climbing the nearly 200 steps, then returning, I was officially done with stair climbing for the day. The one saving grace is that Juneau is at sea level so it was merely hard on the muscles, not on the lungs. Linda made a wise choice as there wasn't even a view from the top due to all the trees.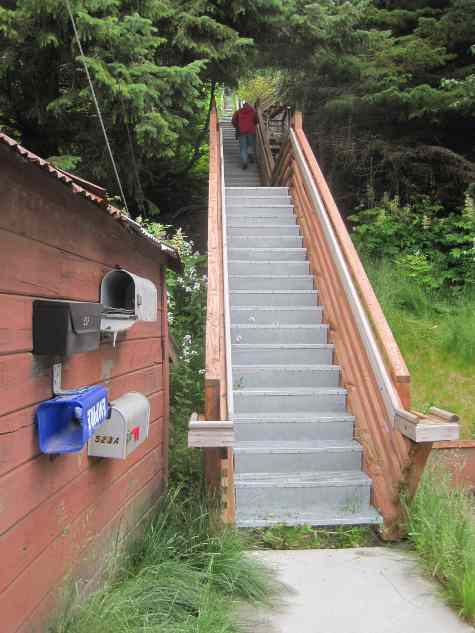 Juneau is a great little town, with a seemingly endless array of interesting things to see and do, but what we had scheduled for the day would require us to leave town. As the time neared, we ventured down to the dock area and watched a float plane come in for a landing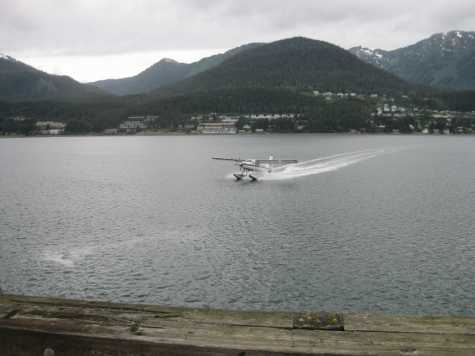 We were repeating Linda's adventure of ten years ago with her sister, taking a float plane trip out to the Taku Glacier Lodge. This was going to my first float plane trip, Linda having had this experience before, and I was interested in just how rough the takeoff on the water and the touchdown and landing would be. A little rough, but nothing bad at all, so much so that I can't wait to do it again some time.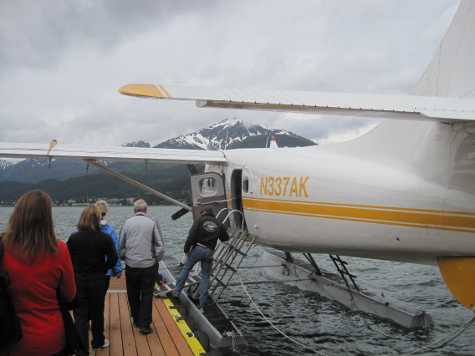 I can also see why so many people take a flightseeing ride to get a better look at the Juneau Glacier Field. This was a great trip, combining a glacier fight with a salmon bake. At the front of this glacier, the intense blue of the ice shows where a section has broken off.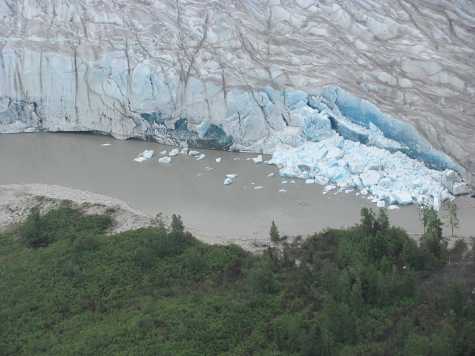 One of the problems with glaciers is that they are so big they are difficult to comprehend. These are nothing like that little remnant of an almost totally melted glacier we saw last fall in Glacier National Park. This was the real thing, huge wasn't the word, this photo includes the area above but still doesn't begin to show the entire front of the glacier.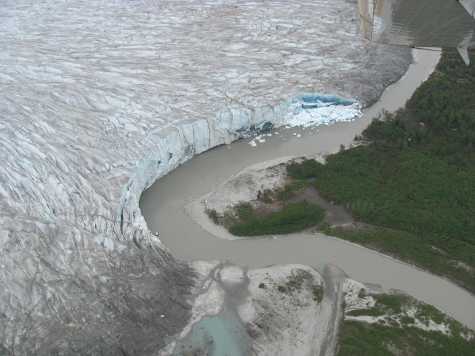 At the lodge we were treated to a delicious salmon bake, and during the meal I was able to finally get a taste of those biscuits that Linda has raved about for the last ten years, and they proved to be even better than she described. Linda loved the salmon, which was cooked to absolute perfection with a slightly smokey touch. For someone who doesn't like smoked anything to comment on how she liked it was the ultimate compliment.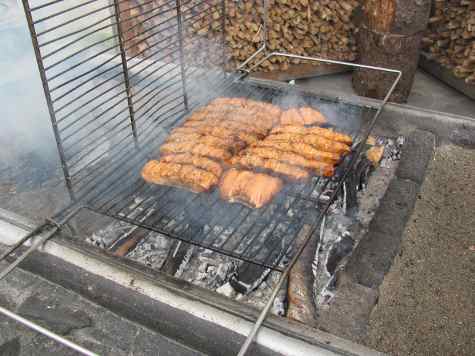 After the meal we went on a guided walk, Linda and her sister had gone on there own last time and this time wanted to find out about what she had seen on that walk. It had also started to rain, which is predicted to fall for the next several days. Those smiles you see are real. This was a wonderful experience and worth every penny. It wasn't a land on the glacier and touch it experience, but to us it was just what the doctor ordered.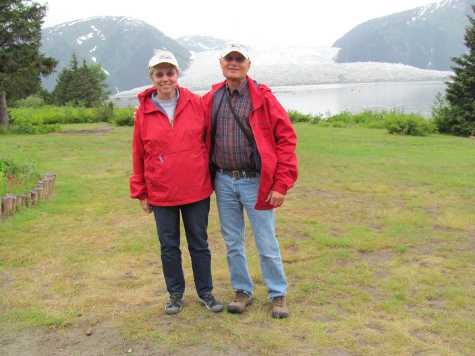 Back in Juneau, the rain came down, we did some more sightseeing around town, got in a few minutes rest and later shared a very small pizza for dinner, both of us still full from lunch. What a great time we had doing, what for me had been a dream for many years. We were so glad we changed our plans and took time out to head to Skagway, and then down here to Juneau. Like Frank sang, it is our Life, and We did it our way.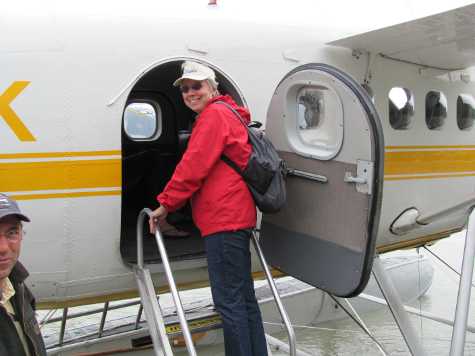 ---
June 12 Saturday
Correcting an omission and taking the ferry back to Skagway
It was pointed out to me by Linda that I had made a major mistake by not including a certain photo and an accompanying description in yesterday's Daily Journal. Let me assure both wife and readers that this was completely unintentional on my part and will be rectified post haste. We simply did so may neat things yesterday that there was no way to include them all. In this case however, I managed to over look a photo I wanted very much to include. This also happened frequently during last years European trip, but never to this degree.
One reoccurring thread woven in the musings on these pages has been the grizzly theme. It has evolved over the years we have been together into something we both get a laugh out of, and often after one of Linda's mutterings or frazzled appearances, she will mutter something about a grizzly before I get a chance to point out she acted or looked like one.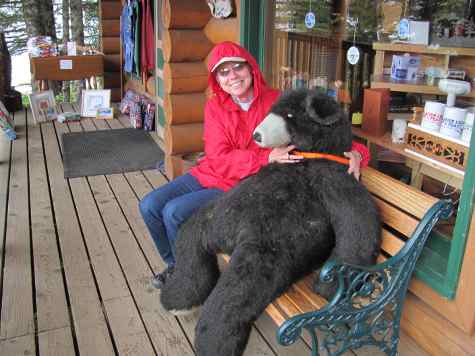 That smile says it all, and it is fun to tease each other, but sometimes things get really serious when it comes to bears. Sometimes when we hike in bear country Linda has worn bear bells, at other times she has even refused to go at all. Generally there is one thing she does virtually everytime we are confronted with the possibility of a bear encounter. She finds a stick to use as her "bear stick".
One could find photos, either posted or not, sprinkled throughout our wanderings, and they always show Linda, smile on her face brandishing a stick an inch or so in diameter and 8 or 9 inches long. Though she has never had to use one on an actual bear, her plan is wait until the bear is right in front of her, closing it's mouth for a bite, and at that moment jam it in its mouth. While that has always sounded like a good plan I knew I'd never get to see her carry it out, having been long gone as fast as these feet will propell me elsewhere.
Yesterday we were at Taku Lodge, a place where bears were a fact of life, meaning a place where bear encounters are the routine rather than the exception. Our visit also gave Linda a chance to obtain a better understanding of the term "bear stick".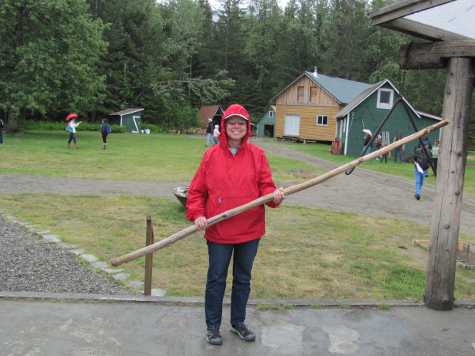 This could be titled, post Crocodile Dundee, "That's not a bear stick mate, this is bear stick." Now that she knows what a real real bear stick is like, I wonder if she'll retain her confidence in the micro-sticks she has used in the past? We also got to see this stick being used, even if it was in a purely percautionary sense. When the Lodge grills salmon for the guests, the bears like to "clean up the grill afterwards, only today one came out of the woods before we stepped off the float plane, and they used this same bear stick to keep it at bay. When we arrived the bear was sulking at the very top of a tree near the lodge, with one of the employees standing watch nearby.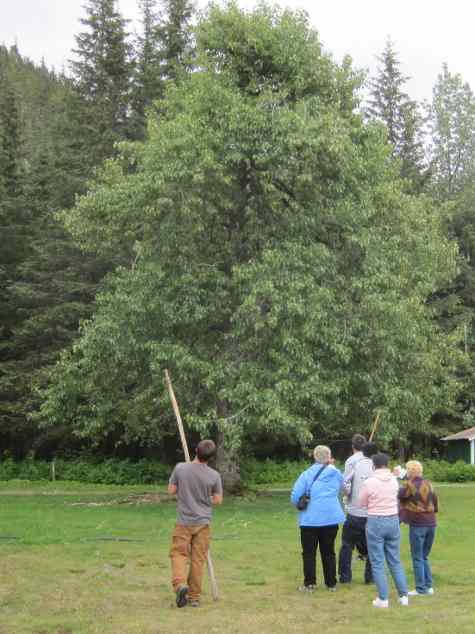 A day later and back in Juneau. We were planning on spend more time exploring Juneau this morning, then taking the ferry back to Skaway, leaving Juneau at 3:00 this afternoon and arriving in Skagway at 9:30 tonight. It rains a lot in Juneau and today once again proved to be no exception. Sometimes it was showers and at others it was a blowing, cold, biting rain that took no prisoners. No wonder Sarah wanted out of town.
There are many old historic buildings in Juneau, and they have erected displays in different areas describing the history of where you are and what you are seeing. Then there are the ones that just don't seem to fit in. Take this sculpture that now languishes on the grounds of the Alaska State Museum. Originally displayed in front of the Courthouse, it provoked such an uproar the State Legislature, which meets across the street from the Courthouse in the State Capitol Building, had it moved. We both like sculpture, and even with trying to keep an open mind and think out of the box, this one just doesn't seem to have anything going for it. But since beauty and art are in the eye of the beholder, maybe we just aren't seeing it clearly. Or maybe it truly doesn't have anything going for it.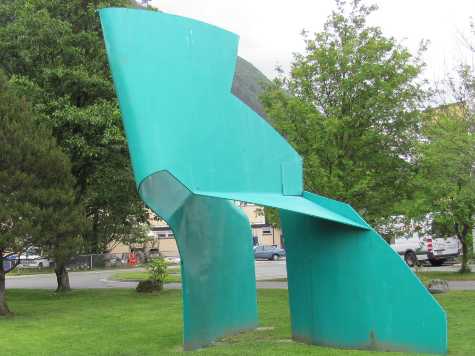 We had some delicious crab cakes for lunch, huddled under a canvass covering in an outside seating area while the wind whipped the rain all around us. Almost made us feel like Klondike sourdoughs fresh off the ship and ready to head to the gold fields. Almost but not quite. By the time we were finished eating, Linda already had our next stop planned. She had previously spotted a crepery on one of walks through this section of town, and today we were not going to pass it by.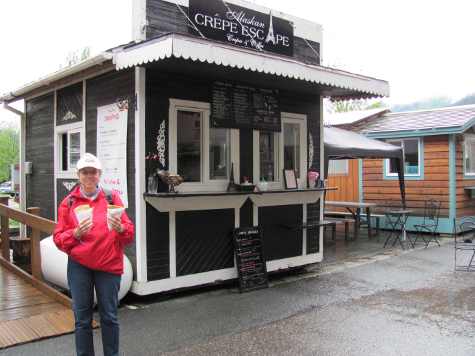 As much as she would have enjoyed eating both of them, she was very kind and gave mine back after I took the photo, though I wasn't sure whether the crepe was torn at the top or was suffering a case of nibble marks. I'll give it the benefit of the doubt and believe the crepe was damaged when it was made.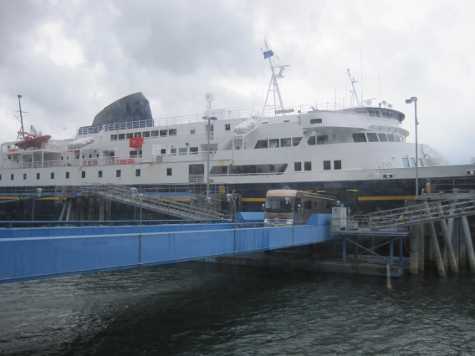 While all the Juneau sightseeing was fun, the best part of the day was yet to come, the ferry ride back to Skagway. We were dropped off at the Ferry Terminal just after the ferry arrived, and so were able to watch the vehicles leave the ferry. Most of the RVs on board were smaller class C's or truck campers. That class A was the biggest one we saw coming off.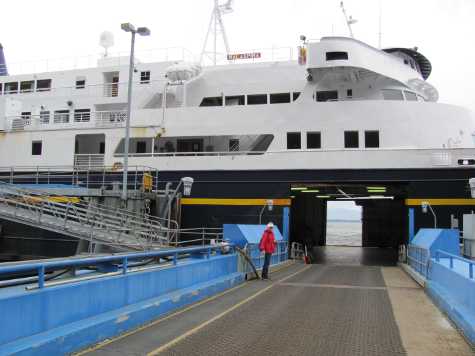 We were one of the first passengers to allowed to board, and other than following the yellow lines and the signs that indicated stairs ahead, we weren't at all sure where we were going. This wasn't some little ferry like we have taken in other places, this was a rather large ship. We did determined the last ferry we had been on was the one which crossed the Rhine River between St Goar and St Goarhausen the day we visited the Lorilie, or was it when we visited the Island of Rab in Croatia? Guess it really doesn't matter.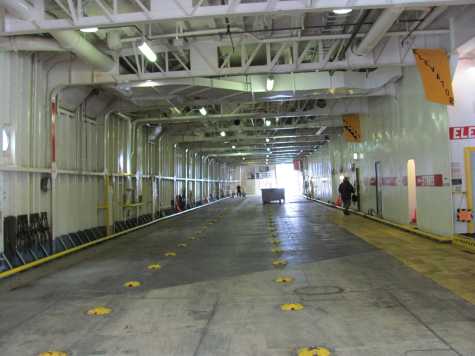 The hold of the ferry was rather large, and we could see that we would have no trouble driving the coach on and off if we ever wanted to take it. It took a little wandering once we were on board, but eventually I found what I wanted. Front row seats at the front of the boat. We had brought our backpack on board, though the we was me, and with all we, though the we was she, had bought in Juneau, plus the computer now inside it, that thing was bulky and possessed a good bit of weight compared to the downward trip.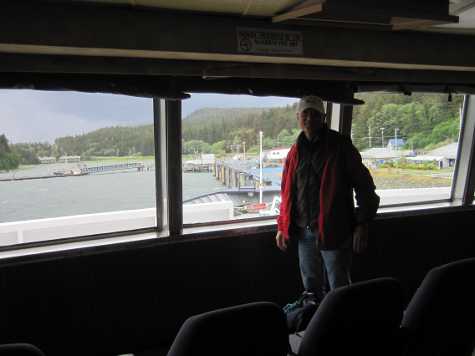 We left the terminal right on time, and started up the inside passage. One of the earlier sights was that same glacier we had seen from the plane, only today their was U.S. Forest Service interpreter on board who was announcing the various geologic formations and also giving several programs during the trip. By the way, the glacier was actually the Hubbard Glacier.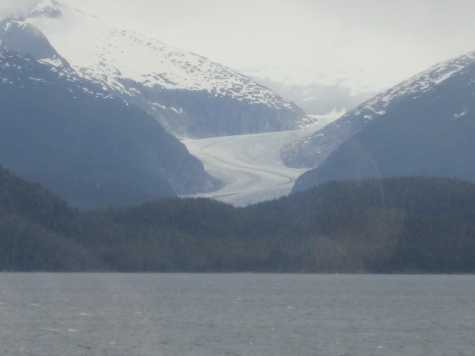 We also passed numerous islands, several of which had lighthouses on them. Rain fell intermittently, but it sure didn't dampen the trip, not when you are inside the ship.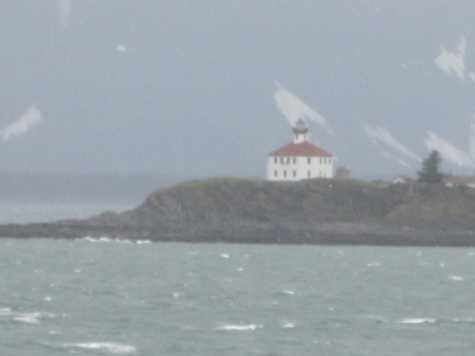 We could go outside anytime we wanted, however the weather was not co-operating most of the time, meaning it was raining porpoises and whales. At last, as we approached Haines the weather cleared enough for me to take a stroll, and after waving madly to catch Linda's attention, she managed to figure out that I wanted her to take my photo. Hard to believe, but somewhere in that brain of hers, so well preserved with Appalachian moonshine, some gray matter still functions.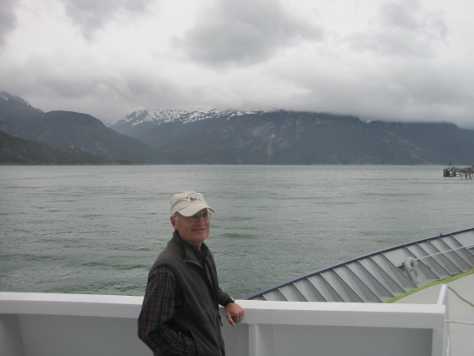 It was just a few minutes after 9:30 PM when we walked off the ship and into the blustery cold air of Skagway. What had happened to the hot, sunny days we had left behind on Thursday when we flew to Juneau? Had Juneau weather spread north? No wonder Sarah wanted out of Juneau, looks like you'd have to have something loose to want to live there. It had been a wonderful trip and in reality we loved Juneau and hope to return for a longer stay sometime in the future. The Malaspina had been a great ship and we were sorry to leave her.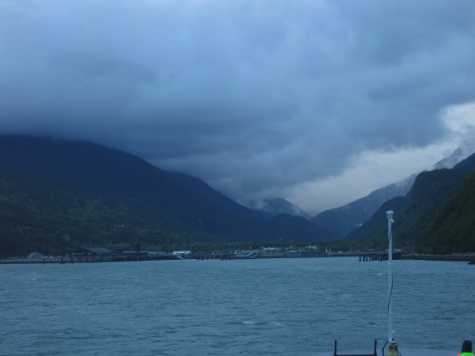 Let me leave you with a thought for the day. When we ate lunch at noon, Linda claimed a table out of the weather, while I braved the wind and rain to order our food. I struck up a conversation with the lady taking the orders which eventually got around to the "Babe" holding the table for me and a discussion of her attributes. What I ended up with was a button to pin on Linda that described her perfectly
Great legs, always were and still are, but at times she can be a bit crabby. The moral, never pass up a conversation with a pretty woman, you never know when they will give you new insight into your marriage. Here I always thought Linda was a grizzly, then I come up to Alaska and find out she's just crabby. The moral: there is no limit to what you can learn if you travel enough.
---
June 13 Sunday
Exploring and having fun in Skagway
We were brought out of our vacation reverie this morning when we realized that the refrigerator was a little to empty. That meant a trip to local supermarket to do some restocking. The little woman was most desirous of obtaining eggs and Buffalo Burgers, so imagine her surprise upon discovering neither was on the shelves. An inquiry to the butcher, a quick trip to the walk-in freezer, and he was handing us the burgers. Now on to the Dairy section, an inquiry to the young lady restocking the shelve, she darts to the back, and returns to say, "We're out of eggs."
The green cargo container in front of the market says it all. All their merchandise is brought here in containers, usually by barge, which means that on occasion they actually run out of things. The shopping done, we went back to the coach where Linda did some baking using egg-beaters in place of eggs. Pretty smart I thought, and there were only two cartons of them left at the store so she probably wasn't the only one desperately needing eggs for baking in Skagway.
Our major outing for the day was to take a Ranger led tour of the nearby ghost town of Dyea. Nearby being relative and access requiring driving on gravel roads, but it was worth the trip. Because it is so far out of town it is a place not often frequented by the cruise ship passengers, i.e., not overrun by hordes of people wandering aimlessly with shopping bags in their hands.
In 1896 Dyea was a small trading post and native village, by 1898 it was a town of 8,000, only to see just 3 people in the town by 1903. Today it is a few weathered boards, holes in the ground and Interpretive signs. In a gold rush, people often rush out as fast as they rush in.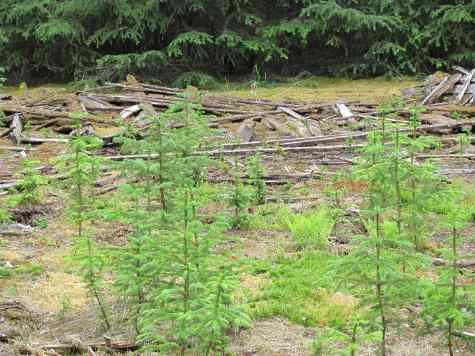 As part of the trip we also stopped to eat, choosing the Slide Cemetery, which is where some of the victims of the April 3, 1898 avalanche that claimed 69 lives are buried. The sign said the headboards showed the names from the records of the time, though some may never have been buried here, and others were later exhumed and returned to their former homes by their relatives to be re-interred there.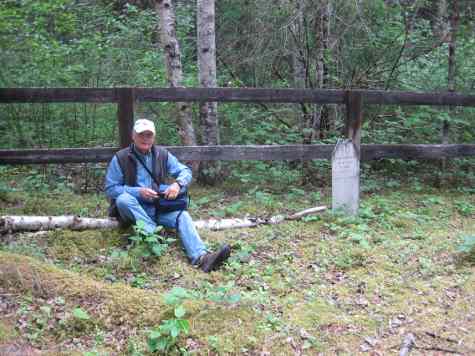 The things I wanted to see out of the way, it was time to do something Linda was really, really wanting to do. At least that was until she realized what it was that she wanted to do.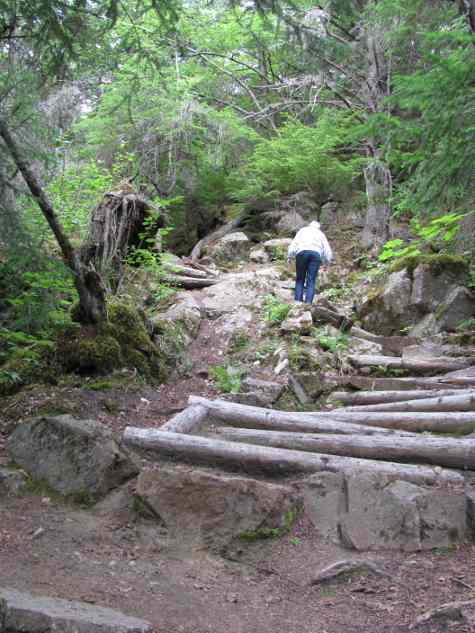 She hadn't climbed but just a few scant yards of the Chilkoot Trail before she decided that it was completely impossible to imagine what it had been like to ascend this trail with 50 pounds on your back. As you can see, she had even stripped off her small backpack, and still it proved to difficult after just a few minutes of climbing. Truth be told in those few minutes she spent as much time recovering her breath and resting as she did climbing, and we were still down near sea level, not up at thousands of feet of altitude in the mountains. No 98'er in her, more like a deep 6'er, how about: no sourdough in her, at least not the dough, just the sour. Something tells me she's not going to see that with as much humor as I do.[Editor's comment: YEP, he is right.]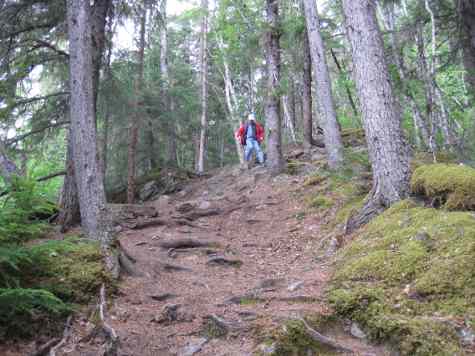 I'd climbed on ahead to see if there was any sign of the trail leveling out to some degree, there was, but Linda wasn't having any of my story, plus she was facing another steep climb to get up to that point, so we turned back. Looking back at it maybe the reason she was having difficultly was because of the weight of what she was carrying.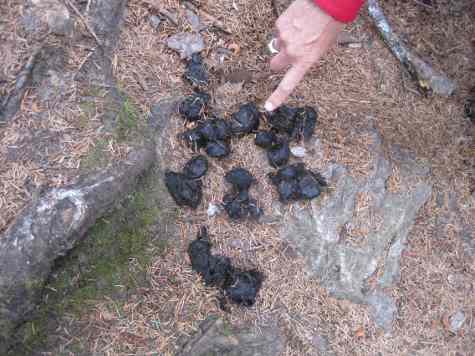 We hadn't walked far along the trial, in fact we hadn't even come to the official beginning of the trail when we came across this. One side of me was saying that since they routinely grow 100 pound cabbages in Alaska, maybe these were Alaskan Rabbit droppings. My alternate self, the one that had been seeing bear droppings for many days was rolling with laughter at the very thought that someone would think they were rabbit droppings. Linda wasn't having any of my bunny wabbit talk, and immediately armed herself for any future encounters with mister bear. [Editor's comment - Bob told he they were fresh droppings, you will need to ask him how he knew.]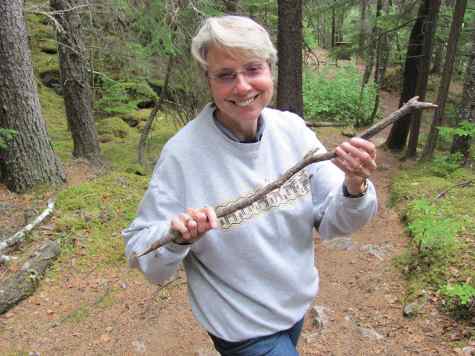 She had obviously learned something from her visit to the Taku Glacier Lodge on Friday, welding a much longer stick than before. I also noted the sharpened ends and multiple barbs, something the Taku stick did not have, but perhaps an improvement on their design. I hesitated to mention to her that a bear might possible break the stick rather easily, especially since the look of triumph on her face seemed to indicate she was feeling quite safe. Linda Carter might have been Wonder Woman, but my Linda is Bear Bait, I mean Bear Basher.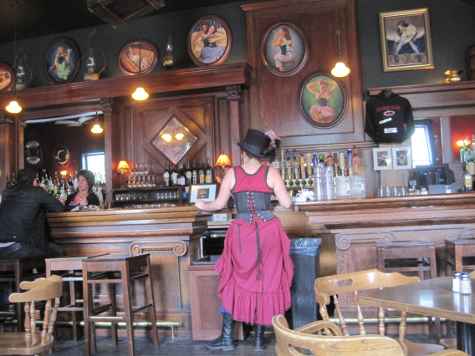 We ended the day in the most notorious of Skagway bars, The Red Onion. It was only ten years ago that Linda and her sister Katherine visited this establishment during their Alaskan cruise, and I was glad to see that the chandeliers were back up. It's obvious, looking at the bar, that must have fit right in with the decor and demeanor of those frequenting this particular place.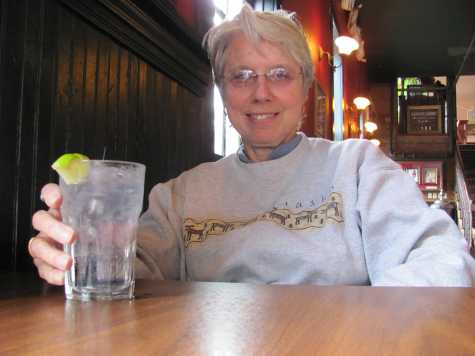 We had a great time, stopping for a drink, deciding that multiple drinks were in order, then getting hungry, adding on an appetizer followed by a pizza. Then realizing no meal is complete without dessert and upon seeing a decidedly decadent chocolate dessert and a red cake cupcake with white cream frosting, we indulged our sweet tooth and a bit of the past. Growing up my favorite cake was always seven layer red cake, but it was such a pain to make that my mom only made it on my birthday. That made the one I had tonight, if only a capcake, a real treat.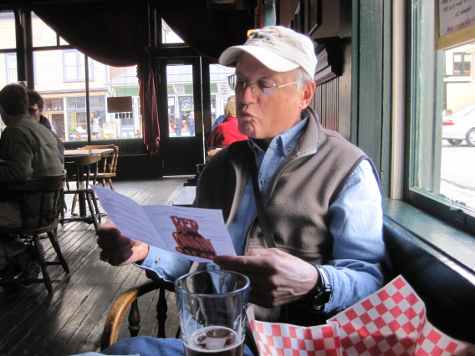 Rather than show either of those atrociously delectable desserts, I'll just show the look of satisfaction that overcame me when I espied that red delight on the menu. A simple of case of our guide, Sara N. Dippity bringing us to the right place at the right time.
Speaking of the right place at the right time, Skagway is usually overrun with cruise boat passengers, not so today. We practically had the whole town to ourselves. As an example, normally this intersection, at this time of day would be tourist central. Today I could relax in the middle of that intersection, a parasol warding off any precipitation or any unlikely rays of the sun, and have Linda take my photo.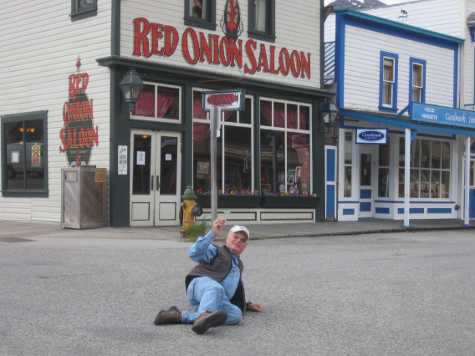 What a great day to be alive! We had fun, we had the town nearly to ourselves, we had great food and met some neat people. We strolled the sidewalks, and lay in the street, we drank beer and bought Buffalo Burgers. We heard the train whistle and the blast of the ship's horn as it left port. We did things that when we were first married, we never dreamed about. But best of all, we lived Life.
That motto at the bottom of ever page of the website was never more appropriate: Life is not a dress rehearsal, Don't be afraid to laugh, love and retire early. We did and Life couldn't be any better. Remember, Someday Isle may be a fabulous place, but it's also a place you will probably never reach.
---
June 14 Monday
A walking tour of town and a train ride.
The weather never has returned to the bright sunny days and warm temperatures that we experienced our first day in Skagway. While there was to be no rain today, a cold blustery wind was the norm, with the sun occasionally peeking out to give us a glimpse of what might be. Knowing that, we chose to go on the 9 o'clock tour of town, which would hopefully be before the hordes of cruise ship passengers show up. One way to tell how many cruise ships are in port is to look out the window. The other is to listen to the train whistles at 8 o'clock. This morning there were two separate sets of whistles, which mean only two ships since there is an early morning excursion train for each ship.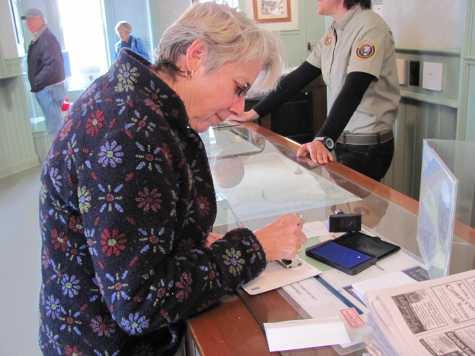 The tour started at the Park Service visitor center, which meant we needed to arrive early so Linda could stamp her NPS Passport book. They have a very interesting museum, but it will have to wait for another day. At least we had the tour figured right, it wasn't full, and when the Ranger called for a show of hands of those arriving on a cruise ship, less than half went up.
We very much enjoyed the tour, and as we walked around town later in the day could see that each Ranger gives their own tour, so that if you were to take several, you very well wouldn't be visiting the same places twice. Among the interesting displays we ran across was this one.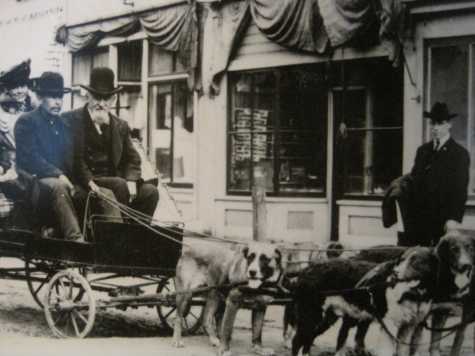 All those childhood memories of Sgt. Preston, or Big Sam going North to Alaska, mushing their huskies through the snow were dashed when we saw this photo. No snow, no dogsled, no huskies. Somehow I don't think Sgt. Preston would have been as popular if he had chased after the bad guys in this.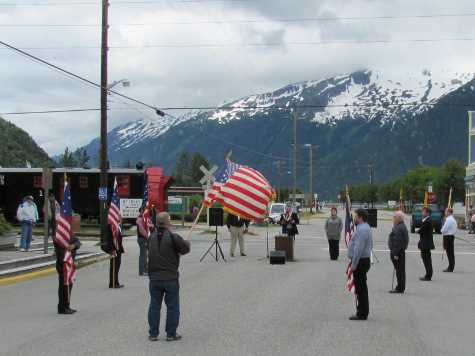 Returning from the tour we happened across the town's Flag Day ceremony.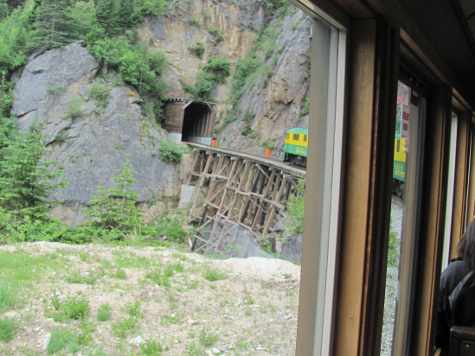 Our highlight of the day was a trip on the White Pass and Yukon Railroad to the summit and back. Awesome scenery and interesting views were all along the route. Plus they do a reasonably good job of pointing out the sights to you. Linda was sweet, having taken the trip when she was here before, she insisted I have the window seat. Worked out pretty good too, because it allowed her to tell me to lean forward or backward depending on what she wanted to take a photo of.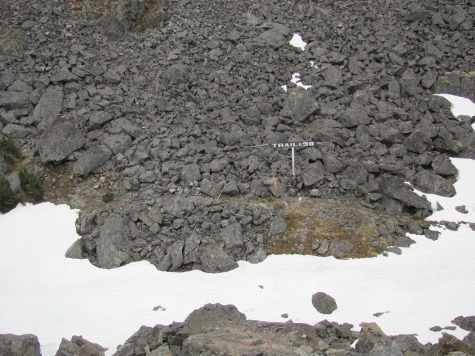 Up near the top, as we approached the actual pass, you could still see a few feet of the original trail that the sourdoughs used to climb the pass before the railroad was completed. Oh the tales those rocks could tell. At the top, they switch the three engines from the top end of the train to the lower end for the return trip. Then everyone gets up, flips the seat back on their seat and switches with the people sitting across the aisle. That way everyone has a chance to partake of the views, either on the climb or the descent.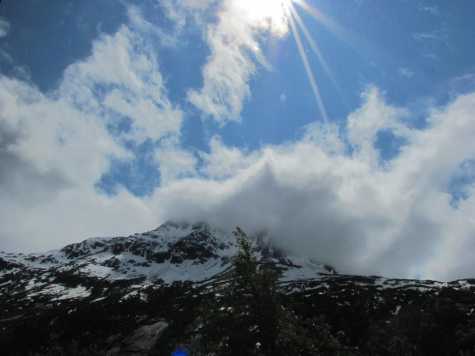 Sometimes no words are needed to convey what we saw.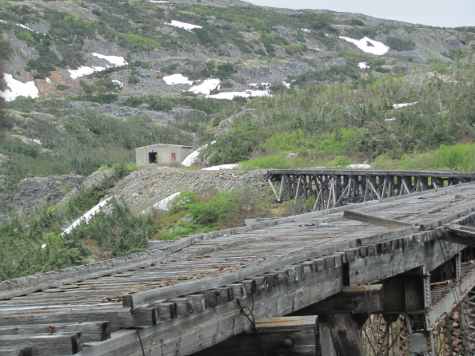 Linda seemed particularly happy the trains no longer went over this old trestle. To me it looked a lot like what the two old wooden roller coasters, the Jackrabbit and the Wildcat, that we used to ride at Idora Park when I was kid.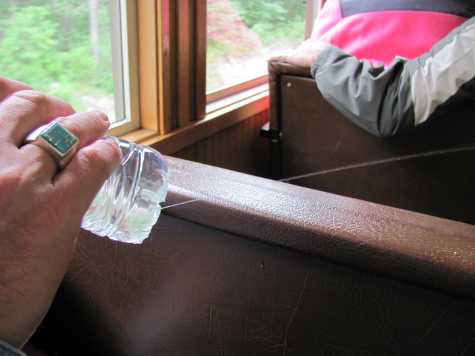 Bringing up being a kid reminds that the trip wasn't just a train ride, it was more than that. They provided free water to anyone who wanted it, and Linda was quick to scoop up a couple of bottles. Later she notice a small wet spot on her leg, and not seeing any dogs on board, finally deduced that one of the bottles had a pinhole leak in it. Three hours of trees passing by can do strange things to the mind, and it wasn't long before I was having fun in ways that stuffy people think that adults should've long ago given up. I'd hate to think they live Life with a little "l", cause they're missing out on so much. Hey, I didn't get thrown off the train and we and the people sitting behind us had a bunch of laughs.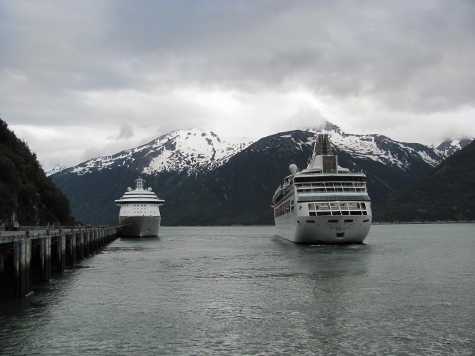 We had those Buffalo Burgers tonight, very good, and then walked down to watch one of the cruise ships leave port. To leave it moves sideways from the dock until it is clear of the ship in front of it, then heads out to the inlet. It was so much fun watching, maybe we'll have to do it again tomorrow night.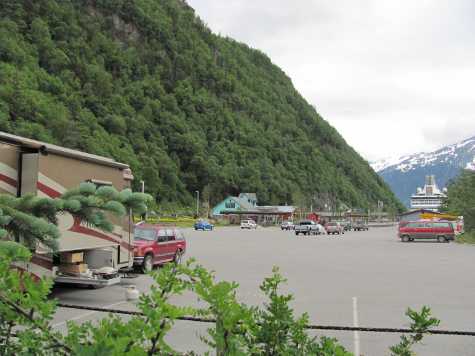 It is hard to get a good photo of where we are staying and include the coach and the view to the front. Took this while the burgers were cooking, and as you can see, we were once again the only ones in this area of the park. Tomorrow is our last day in Skagway, and then we are off to Whitehorse, where we will once again be staying for a while. We have to recover from this vacation you know.
About 9 o'clock we drove up to the Library to see if we could upload the past few day's journals to the website. Unfortunately all we could do was to surf the web and download the mail. No uploads of any kind. Hope to try again tomorrow, otherwise it will be midweek before we can post anything or answer emails.
---
June 15 Tuesday
Enjoying Skagway
We had two items on the agenda today, taking the self guided walking tour of the town, and doing some shopping for some girls and boys. The only thing memorable about breakfast was how bad it was. Remind me to never ever fix eggbeaters the same way as you would plain scrambled eggs. The box makes it out like it's a taste treat. It's not. We both classified it as the nearest thing to inedible due to lousy taste that we've eaten in ages and ages. It's one of those, I wouldn't feed that to my worst enemy, but I was hungry so I ate it anyway, kind of things.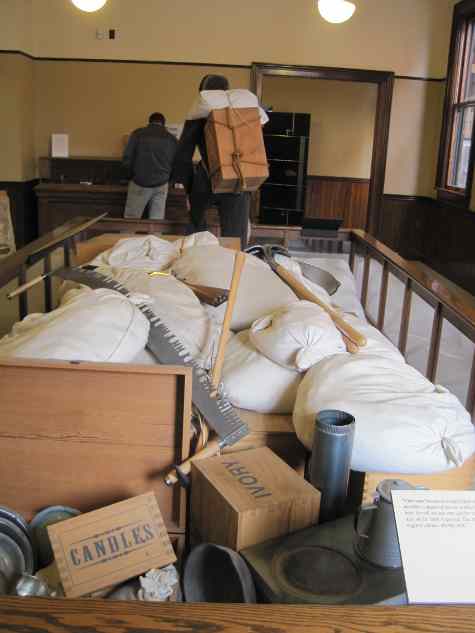 Once we'd choked down breakfast, it was off to the National Park Museum, where we proceeded to soak up a good dose of history. Each miner who entered Canada, and that's where the Klondike discovery was located, was required to bring enough food for a year with him or her. The pile in the photo is representative of what a miner had to carry on his back up one of the trails out of either Skagway or Dyea.
Some carried the ton of provisions and equipment by themselves, making repeated trips. Others hired a Tlingit, a local native, to carry it for them. Some used beasts of burden such as horses, oxen, or dogs. Eventually several tramways were built and later a railroad. It's all there in the photos and artifacts in the museum.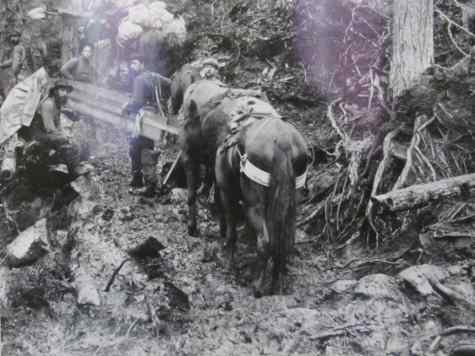 Nothings is ever as easy as it seems, which was the case with the walking tour. By now the hordes from the cruise ships had descended on the town, jamming the sidewalks as there were four ships in port today. One was a gigantic Holland American Line ship that was the size of two of the others, so we had the equivalent of five ships so to speak. It also seems like they either take an outside tour or go shopping, with very few interested in the historical sights.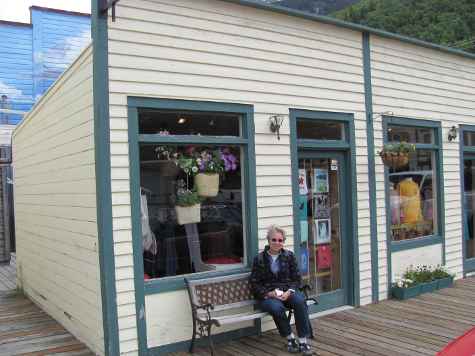 History is what brings us to the above, because of what we are seeing here. It's the part of town where those loose women plied their trade, posing outside their tiny crib to lure the customer in. The response from this beautiful babe to my best smile was, "Don't get any ideas mister." Obviously times have changed in Skagway, or was it that my approach was all wrong.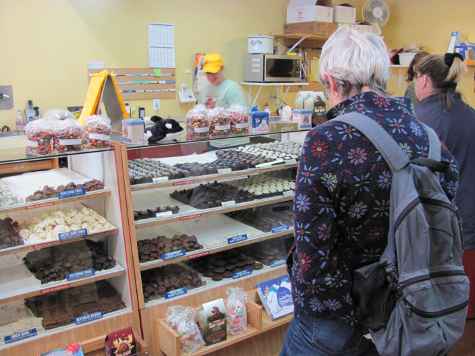 As we're walking to the next stop on the tour, Linda suddenly made a hard right and disappeared into a small store. Thinking she had made a wrong turn I followed her in. Oops, no wrong turn on her part, so while she shopped for fudge, I talked with the fudge maker. Turns out his father is one of the pilots who fly the groups to the Taku Glacier Lodge. Sometimes it is a small world. It also helps to wear a Taku Glacier Lodge hat like I had on today, to spark the conversation.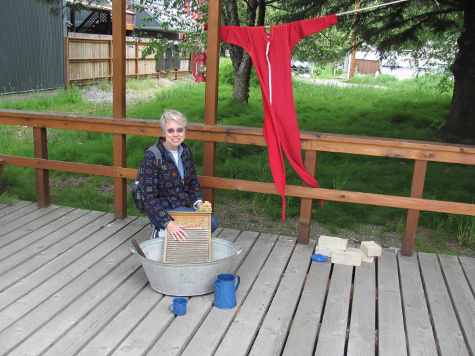 Next we passed a little exhibit with a sign inviting you look like a sourdough. What a great idea I thought. Linda could pose, I could take a photo and we could label it great-great-great grandma on her way to goldfields in 1898 where she found no gold, but did work in laundry 12 hours a day to keep from starving. That would give the grandkids something to think about. Problem is that she looks more like Diamond Tooth Linny, the dance hall queen who married one of the sourdoughs who struck it rich. And to think how much fun I could have had with the grandkids. Oh well, I'm thinking the consolation prize of Old Diamond Tooth is just as good.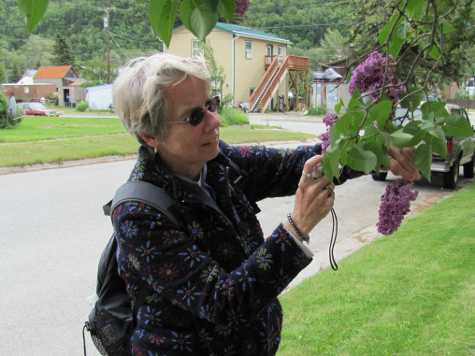 Another bonus of walking around town, besides seeing loose ladies and dance hall queens, is watching Linda get all wrapped up in smelling and photographing flowers. This time it was a lilac, and I had to admit the fragrance was awesome.
There were other places, lots of them in fact that we visited today, and even with several breaks to rest, we were both tired tonight. This sightseeing business is hard work. Tomorrow will find our vacation over and we will be back to the normal day to day wandering around the world. Technically that is correct because we will once again be in foreign country, though my editor my take issue with my choice of words. Does she always have to be so darned precise about everything. What's wrong with being an "about" person like I am.
I do have to admit that it is exactly because of the precise nature of her navigating that we will arrive sometime in the early afternoon tomorrow at Whitehorse, Yukon. Our plan to stay there for a while, enjoying the history of the area, and reading our three books about the area. I just finished Klondike, Linda's reading Tisha, and we just bought I Married the Klondiketoday. All three of them are very highly recommended books about this part of the world, and we can vouch based on our reading to date that they are all they are said to be and more.
We tried to get on the internet again tonight at the Skagway Library and have to say it is the poorest excuse for a wifi connection at a library that we have ever run into. Who knows, maybe one of Jeff (Soapy) Smith's descendants has the local internet concession, or maybe we just weren't supposed to get on line. If you ever get to read about Mr. Smith and his Skagway Telegraph, know that it is a hoot. I'll leave it there and maybe you'll come up here some day to find out the rest of the story. I know we will be back again.
---
June 16 Wednesday
Off to Whitehorse
We have a number of friends who drive the way we do, and one couple who are at the opposite end of the spectrum. I can imagine a conversation between them going something like this.
He, "Did you see that?
She, "See what?"
He, "How do I know, that's why I asked you, besides, we've got another 450 miles to today, so keep your eyes open."
That is not something we can be accused of, in fact it may be just the opposite, wondering how we can spend so much time in such an out of the way or seemly uninteresting place. It's actually pretty easy, we don't have to be anywhere on a certain date. Other than the Saturday night of Memorial Day next year when we need to back where Linda went to High School so we can attend her forty-fifth class reunion, that is.
Now that we've already been to Alaska once this year, we're in no big hurry to go back again. Besides we have learned to love the Yukon. Sure there is a steady stream of RVs heading north, but the people and places we discover are the best. So once again we have decided to slow down and now it maybe several more weeks before Linda sets foot in Chicken, Alaska, the town of her dreams.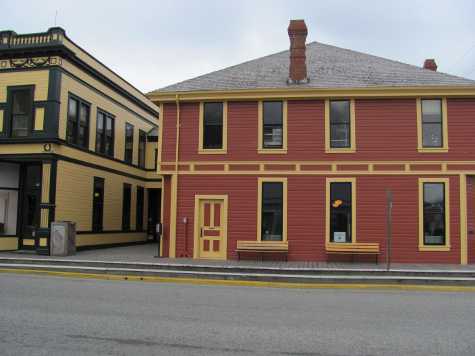 With it being our last morning in Skagway, I thought I'd get up early and take a walk around town. It was an entirely different town than what we see at midday, and it is also far different from the town at 7 o'clock in the evening after the cruise ships leave. At midday you could barely walk on this boardwalk in front of the Park Service Headquarters, yet this morning it was deserted.
I also enjoyed watching the various clerks in the stores come to work. There is just something about a young man in a black suit riding an old beater bike to work at one of the high end jewelery stores that brings a smile to the face. Or the young lady that strides past you, old fashioned high heel shoes clumping on the boardwalk, with her bouncing bustled derriere doing a delightfully devilish dance. Did I just discover why the movies often have an old man sitting on a bench along the boardwalk. Maybe they know something the rest of us don't.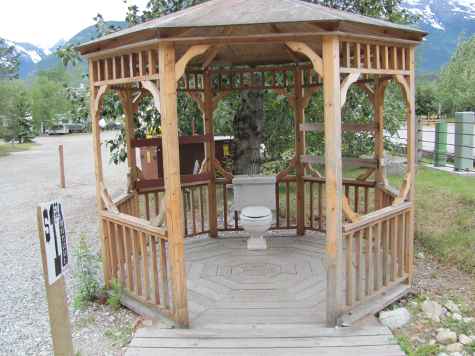 At the other end of town there is something else that also involves a wiggling rear, only this time there didn't seem to be any takers. It's one of those, if you gotta go, you gotta go places. Only I wasn't seeing anyone who'd gotta go. The joy's of an early morning walk are almost countless.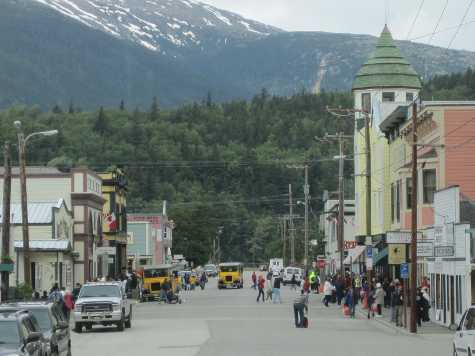 The trip was going to be short today, but we would lose and hour of time, as Alaska is an hour behind the Yukon. By the time we left, cruise ship shoppers were already filling the streets. As we came down 2nd Street Linda kept up a running commentary as to when the gentleman bent over in the street was going to realize we were bearing down on him. He eventually did, and Linda laughed as he hurriedly scuttled out of the way.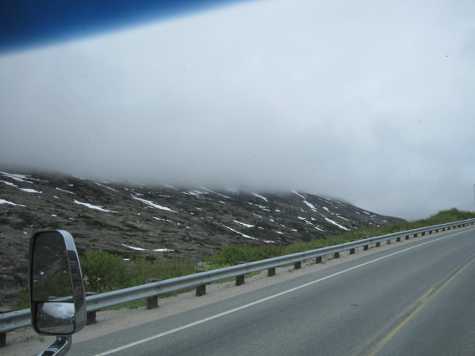 It had been very cold in Skagway this morning, and as we steadily climbed higher towards the White Pass, the clouds swooped lower and lower. They never did get all the may down to road level, but still, they formed a tunnel at the very top. We had no difficulty with Canadian Customs, though the officer did come up the steps of the coach to ask us the questions. Once again we had consummed the adult beverages and fruits and vegetables that might have raised a question, so there was no problem in truthfully answering his questions.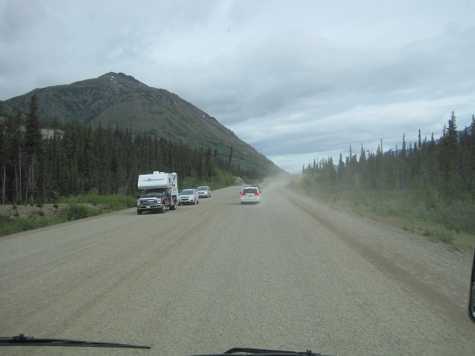 We were also prepared for the gravel sections between the Customs Station and Carcross, having stopped to put the rock shield on. We still got a couple of small pieces of gravel up on the hood of the Explorer, but we could only imagine what it would have been like without the rock shield in place. Even so the front of the Explorer looks like it has been through a dust bowl with little bug tracks across it.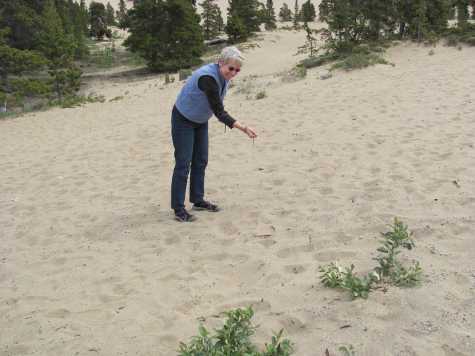 Between Carcross and Whitehorse is an area that is laughingly called the world's smallest desert. it actually isn't a desert at all, just an accumulation of windblown sand the nearby river had eroded from an area of sand that was deposited during the last ice age. Kids the world around are the same, give them a sand box and they immediately start playing, and soon I spied this sweet young thing having a grand time in the "desert".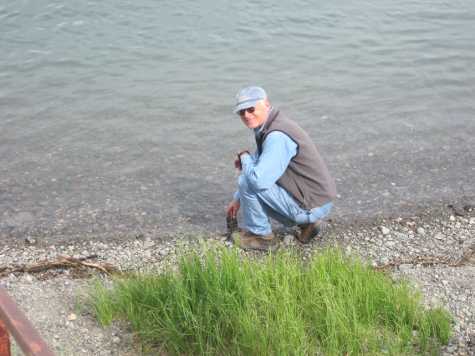 Once we were at the RV park, it was time to go into Whitehorse and get some groceries. That also involved a stop at the Yukon Visitors Center where we picked up a slew of good info on things to see and do in the area. We also checked out several other RV parks and decided to move to one closer to town tomorrow, as this one, the Caribou, is far out of town, and the wifi has left something to be desired. They've gotten fixed for the time being, but the damage has already been done as far as we are concerned.
While we were in town I took the opportunity to get up close and personal with the river I have been reading so much about, The Yukon. Walking down a set of steps near the Visitors Center, I dipped my hand in it, this the river the men of '98 strove so mightily to reach. Looking down in the water I could see the sparkle of precious metal. Could it be that I had struck it rich?
Alack and alas, it proved to only be the ring on my finger, but for a brief moment I felt the same thrill those men of long ago felt. History, more than just words or dry dates. The Yukon gold rush, 1898, on a high school history test. Up here it becomes something that still lives, something to be studied and savored. History, boring? Not if you open you mind.
---
June 17 Thursday
Exploring Whitehorse
We are suffering a little from the effects of the sun. While there is technically a sunset and a sunrise, it never actually gets dark, and this is causing our internal clocks to get all out of whack. It seems like we never get to bed before 11:30 and often it is after midnight. This is definitely not what our bodies are used to, and in a small way it has a resemblance to jet lag. We haven't really read about it in the blogs of other travelers to Alaska, but we are sure feeling it.
To try and overcome that feeling, I went all out for breakfast this morning. Scrambled eggs, topped with onions, tomato, avocado and sour cream, with a couple of strawberries on the side. From the atta boy I got from Linda I must have done very good indeed.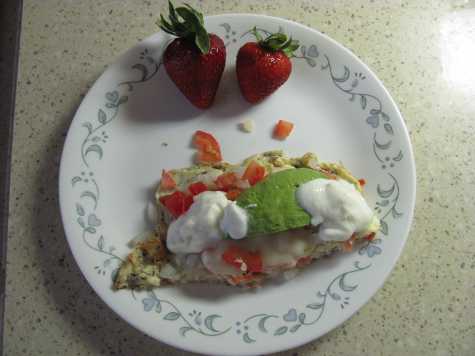 We are moving to another RV park today, one that is much closer to Whitehorse. The park we are currently at, the Caribou, is okay though we did have some problems with the wifi, but unfortunately the park is a looong way from town, and town is where we want to be. If we were going to just hole up and spend a few days doing nothing this might be okay, but that's not why we came to Whitehorse. For some reason we thought it was closer to town, plus we've also discovered Whitehorse is very strung out.
We did enjoy a few minutes in the park Rec Hall, as they call it, which is modeled on either a miners cabin or a Swiss mountain hut. It sure reminded us of the hut we stayed in at the top of the mountain during the torrential rainstorm when we visited Switzerland two years ago.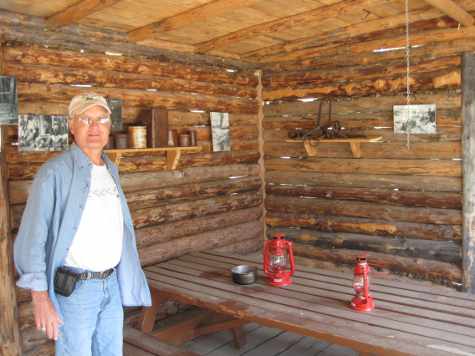 We moved to the new park just before 11:00, got a FHU site near the office, meaning great wifi, and wiggled our way into it, dodging trees and laughing because while the hookups were on the correct side, they were at the wrong end. Amazingly everything reached and soon we were set up with the slides missing the tree limbs by a scant few inches. Linda's first order of business was to start a load of clothes washing.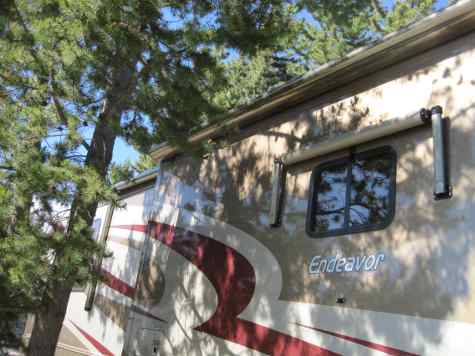 While I was getting lunch ready, a backhoe drove up in front of the coach. We face the main entrance to this section of the park and to our left is the dumpster and dump stations. We watched in fascination as he put out the stabilizer bars and lifted the bucket over the dumpster. We weren't sure what he was going to do at first, but it soon became apparent, he was compacting the trash in the dumpster. Don't know if you could classify this as dumpster diving, but we sure found it entertaining. Does that mean we've grown old and have too much time on our hands? Or merely that we are slowly loosing touch with reality?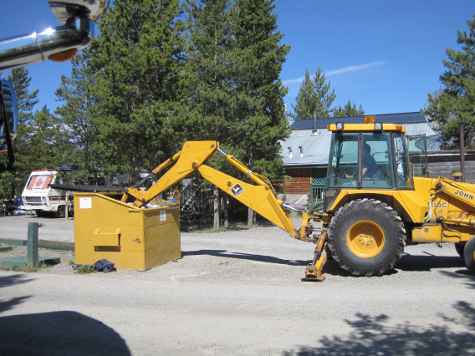 Since I've been so remiss in discussing and posting photos of what we have been eating, I'll try to work my way back into condition today. Lunch was great according to Linda, though I think she'd say that about almost anything I'd fix as long as it was me fixing it and not her. Smart woman.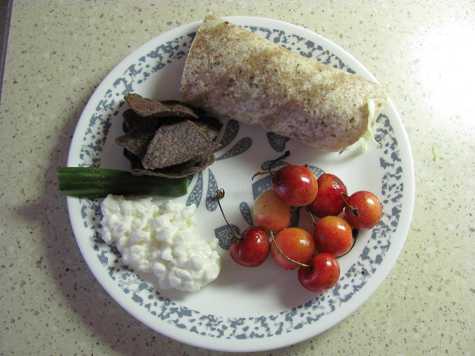 Next we ventured into town, picked up a free three day parking pass, and enjoyed a walking tour of the town. Many of the towns in Yukon have printed walking tour brochures, Whitehorse doesn't because they have docent led tours. We had a great time, and the small fee they charge helps them preserve more of the town's history.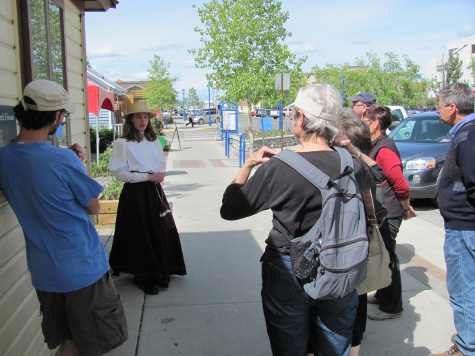 One thing that I found really amazing had nothing to do with the historical buildings on the tour. It was how unbelievably far advanced the people up here are in applying the most innovate technologies in transportation. While most of the industrialized world claims that the existing means of power generation for transportation will not be replaced for decades, the hardy and ingenious people of the Yukon are not only in the far north, they are far ahead of the rest of of the civilized world. Virtually every car and truck with Yukon plates is an electric vehicle. It is amazing the number of plugs you see sticking out of the front of vehicles. We're not talking just the most modern vehicles here by any imagination, they've also managed to adapt this technology to older vehicles as well.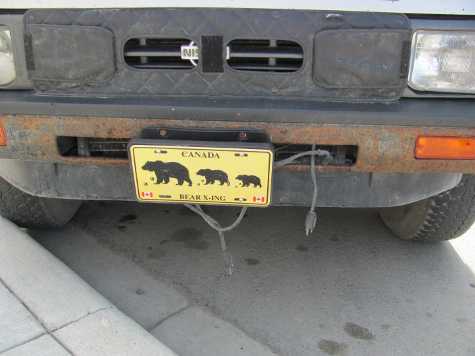 What was that I said a few paragraphs ago about loosing touch with reality. Maybe we are just breathing in too much good clean fresh air. Or maybe it is just too much dust filled air. However, I don't think I was the only one with slightly delusional thinking, how about the fellow that constructed this log "skyscrapper" just because someone said it couldn't be done.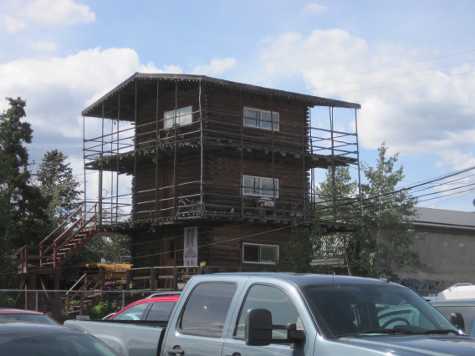 Downtown Whitehorse is an interesting locality if you are looking for out of the ordinary things, or maybe that's just what we found. Eventually ended up at the local farmers market, where we looked at everything but fresh fruits and vegetables, mostly because they didn't have any. Well not entirely, they did have one thing we just couldn't pass up.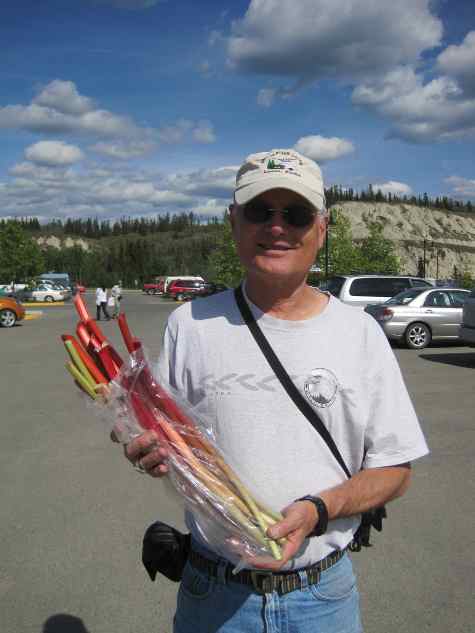 Rhubarb, what Linda's mom used to make sure I kept an interest in her daughter. Those Appalachian mothers sure had a way of snaring a likely man for their youngsters. First time I ever ventured down to the hills to visit Linda's home place, we having met in the big city, her mom brings out a rhubarb pie for dessert. Was I ever hooked, looked like this girl I was dating could bake my favorite pie. And while it took a while for Linda to move from the burning stage, to the well browned stage, to the perfectly baked stage, she's been right on now for over forty years. Looks like her mom knew we both had potential, it just took a little while for it to develop, though I'm sure there are numerous times that Linda wonders when I'm going to shed the juvenile stage and finally reach my potential. Hey, I cook and dry the dishes, and most important of all, I always put the toilet seat back down. What more could she want.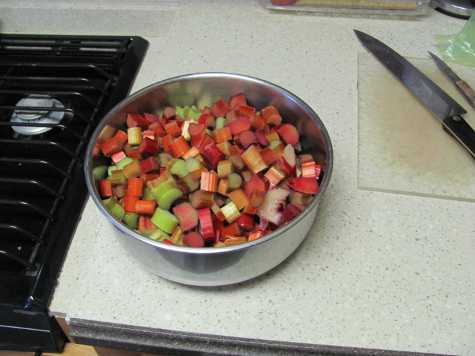 Didn't take me long to wash and cut the rhubarb, and Linda taking the hint, soon had it turned into rhubarb custard. We jointly decided to skip the pie crust, and just bake the custard part, but it was still as good as ever.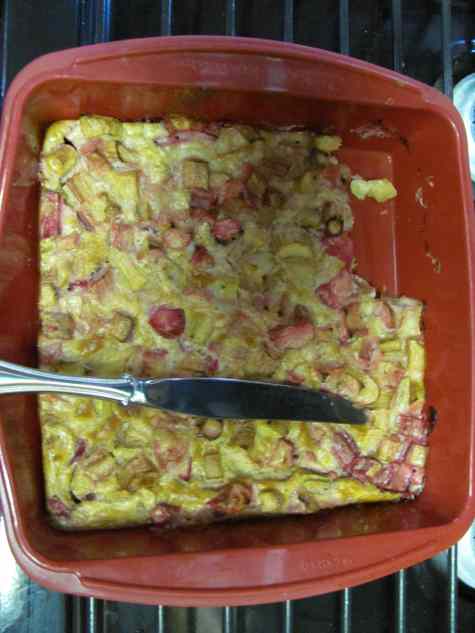 Linda had offered me a nibble of the rhubarb off a fork when it was done, just to make sure I liked it, and I did. Then when I was getting ready to go to bed, I asked Linda if she was ready for dessert. Imagine my surprise when I got up to fix our plates and saw this! "What happened to the rhubarb?" I cried out, my lamentations equaling anything found in the Book of Job. "I had a little bigger taste than you did," my wife sweetly replied. There are times in Life when a man needs to take a stand, to make the little woman understand who's the boss. I looked at her sweet smile, my stomach churning and said, "Do you want just as much for dessert?"
Yep, a man's gotta take a stand, but I ain't about to take one that might result in a future without rhubarb pie. Something tells me Linda's mom passed on to her more than just how to bake a rhubarb pie. Let me end the day by saying, I hope everyone has had the opportunity to have as wonderful a mother in law as I did.
---
June 18 Friday
Exploring Whitehorse
Well who would have thought it. Those Canny Cannucks aren't as advanced as we might think. Those electric vehicles are only electrified for winter, not for summer. I'm not sure I'd even want to go outside if it was 65 below, but if a heated crankcase is all it takes to get them on their way, so be it. You'd think they could come up with a way of adapting that plug and cord to an electric motor and save themselves a few bucks.
Of course if you think it looks bad with a cord dangling from your front, look what the inside of the coach looked like when I got up this morning. Looks like the little woman was into some heavy duty clothes cleaning last night.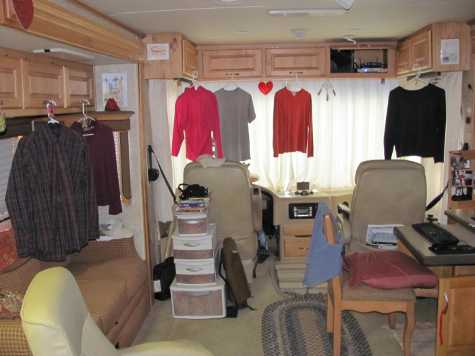 We had a full day of exploring Whitehorse on tap for today, and so, after another plate of delicious scrambled eggs and beans, we were off to Beringia where we spent a good part of the morning learning about the Land Bridge between Alaska and Siberia, plus all the animals that roamed the area during those glacial times.
The one with the giant toothy grin is a Giant Beaver and as you can see, an animal that Linda immediately developed a special relationship with.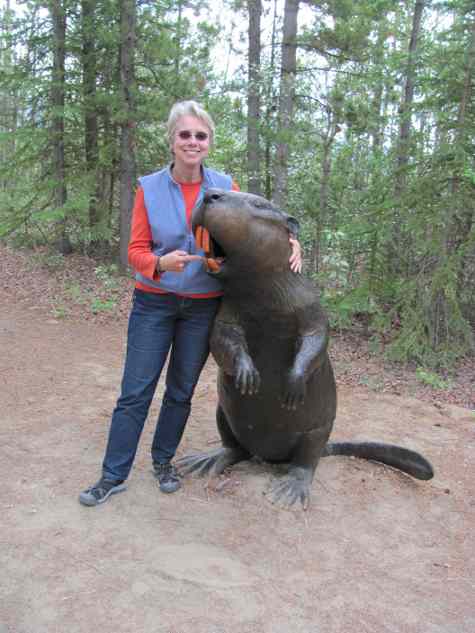 As for me, I didn't have any favorites, though there is something to be said for the Giant Sloth. Famous for their incredibly slow movement, at least in their modern version, I don't think I'd want to tangle one regardless of their speed. With a foot that size and claws that long, I'm not going to get in his way.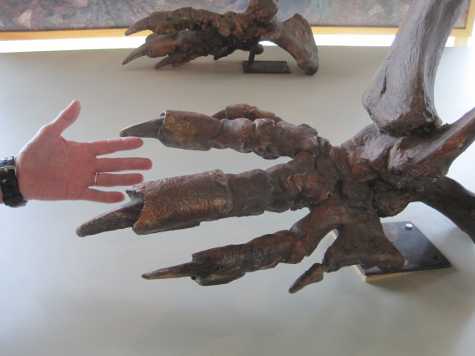 At the very back of the museum is the kids room. Linda managed to take a photo of one of the kids having a good time with a small woolly mammoth.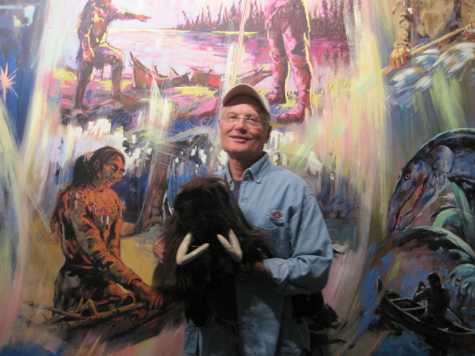 When lunch time rolled around we were glad that we had moved to Hi Country RV Park, as it was less than five minutes from the time we left the museum until we were at the coach and I was fixing lunch. Since I'm way behind in posting photos of what we eat, and I won't even mention how far behind we are posting more recipes, or me writing about what we eat, (aren't you glad), here's a photo of today's lunch. Besides, I'm willing to admit that I'm just not that into writing today for some reason. Hopefully it is a momentary and passing phase.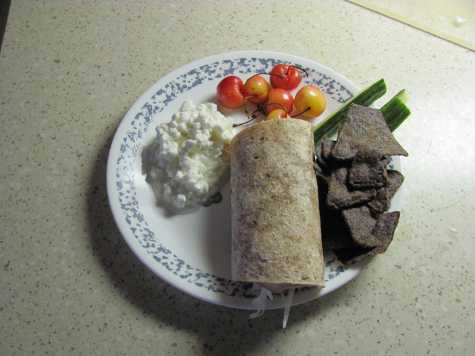 Of course my lethargy might have something to do with our next stop. Up here, in the Yukon, there is only one real brewery, Yukon Brewing, and as we have repeatedly read, no trip to Whitehorse is complete without stopping in at 2pm and taking the tour. It's a little brewery, but it sells more draft beer in the Yukon than the two largest big breweries combined.
Everyone has to start some place when you go into business, and Yukon Brewing is no exception. They use recycled bottles for all their bottled beer, but they do have a new to them, well used bottling machine that they recently installed. The best part was how they fill their cans.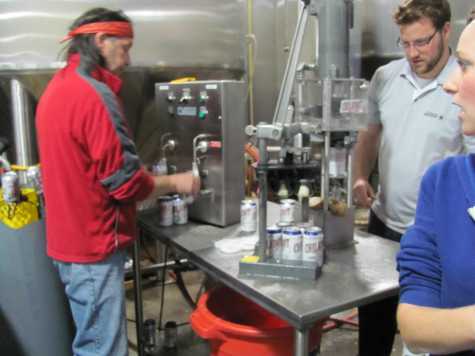 What you see is what you get. All their cans are filled by hand. One fellow takes a can in each hand, rinses them out, them places them under the fill tubes. When filled they are set on the little table where the second fellow places tops on both, then sets them in the machine that seals the lids on. Next he places them in a jig, two by two until there are six in it, places a plastic mold with six cones on them, over which goes the plastic six pack ring. A pull on the lever and the ring is pushed down over the cans and the packaging is complete. You can bet they are looking forward to the day the business grows to the point where an automatic can filling machine is cost effective.
At the end of the tour we got to taste a half dozen or so of their beers. I was surprised to discover that I didn't particularly care for most of them, though their red, which was judged the Best Beer of 2009 by the Canadian Brewing Association, was quite good. Linda turned thumbs down on all of them, and with that we were off to do some grocery shopping. We were soon to learn that the Canadian Superstore may call themselves the Canadian version of Walmart, but when it comes to customer service, there is only way to describe them, they suck big time. So much for trying to buy locally, and price isn't everything, so next time it's back to Walmart for us.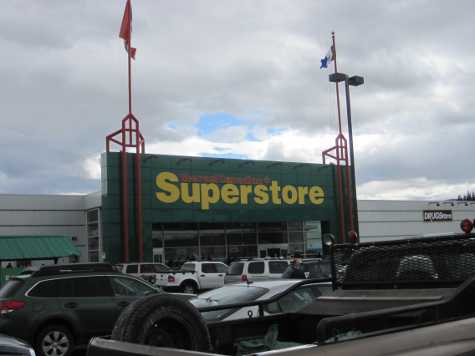 Our last stop of the day was to take a guided tour of the S.S. Klondike, a sternwheeler that once moved freight on the Yukon River. This was a Parks Canada site, the equivalent to our National Park Service, and the quality of the restoration, display and guided tour was similar also. This was more than worth the cost of the tour, plus it was another place where Linda could get her Yukon Passport stamped. That woman wants to win a gold nugget in the worst way.
Tomorrow it is more museums, and other spots that can put a stamp in her book. Somethings tells me it is going to be a long, but very interesting day. We topped off today by locating a geocache just a few hundred feet from the coach, then in turn topped that with a double dessert of chocolate cake and rhubarb pie. At least somethings went rather awesomical today, even if the writing tetse fly managed to bite me.
---
June 19 Saturday
Further explorations of Whitehorse
Some mornings prove to be better for Linda than others. But knowing today was off to a good start versus off to a less than scintillating start has good side if she looks at it correctly. Linda likes vitamins, minerals, supplements and natural preventatives, so much so, that this is what she faces once a week.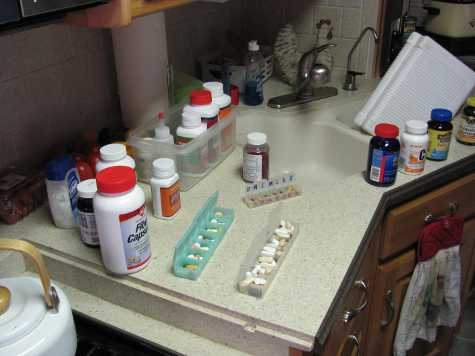 I'm not entire innocent in this, the blue container being mine, while the two clear ones are hers. I used to fill them, but with the additions she keeps making, it was just too confusing for my aging mind. This morning there was a double whammy awaiting her, as it was also fish oil morning. She loves what those omega-3's do for her, she just doesn't like ingesting them. I'm not complaining, I like her healthy, and want to be that way myself. By the way, this is a big business in the U.S., nearly 24 Billion dollars a year worth.
Today is going to be a museum day, and we were off once we were properly fortified and fed. It was scrambled eggs with beans again, though we did add a satsuma orange as a supplement. Our first stop was the MacBride Museum of Yukon History, which proved to be a most enjoyable experience. With only some 32,000 people in the entire Territory, Yukon doesn't have the the same kind of museums you see in the states. What is does have are museums that you can actually enjoy, ones that you walk out of, not tired and hoping this one was the last one of the day, rather ones that make you wish they had actually had more for you to look at because you enjoyed the experience so much.
I have never understood big museums that just have stuff out for you to look at. It's like it's so important you're supposed to know what it is. There are a lot of the big boys that could take a serious lesson from what they no doubt refer to as minor museums. Up in this part of the world, Robert Service is a big man, a poet who actually made money selling his poetry, and Whitehorse is where he got his start.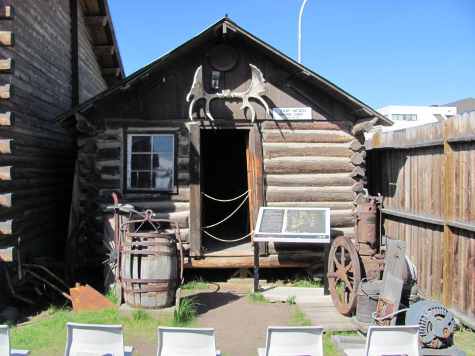 One of his more famous poems was The Cremation of Sam McGee, which was loosely based on real people, Sam McGee actually being a real person, but with a great deal of the proverbial poetic license added to the poem. Here you get to see Sam McGee's actual cabin, or at least that part of it that could be moved the few blocks to museum. There are stories to everything here, and it's why a visit is more than worthwhile. It's one thing to look at the outside and the inside of the cabin, it's an entirely different thing to sit before the cabin and watch a very talented young man play the part of Sam McGee, describing his life and including a recitation of the poem. It's one of those, you got to experience it to understand it deals. It was a performance that definitely rated a ten.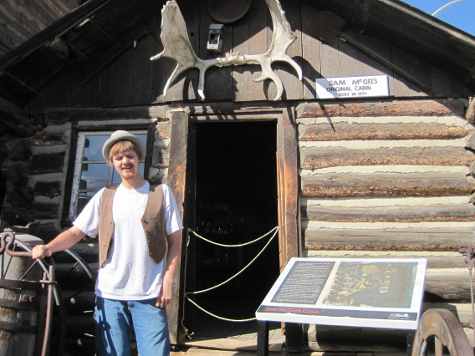 Rather than give you a blow by blow account of what we saw, here is the heart of what it is all about.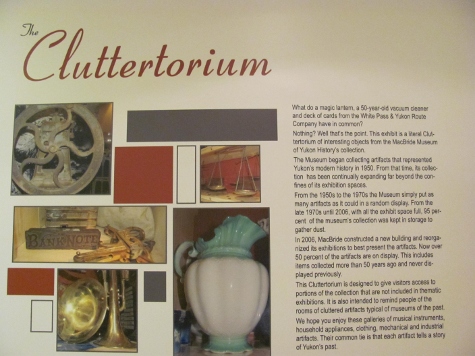 One area of the museum is called the Cluttertorium, a most apt turn of phrase to describe what a room housing a collection of various memorabilia given to the museum by one person, and displayed together should be called. We've been to museums that we now know should be called cluttertoriums rather than museums. How wonderful it is to visit a museum where they understand that it is not what is on display that makes the museum, it's how people interpret and react to what is displayed that makes the museum.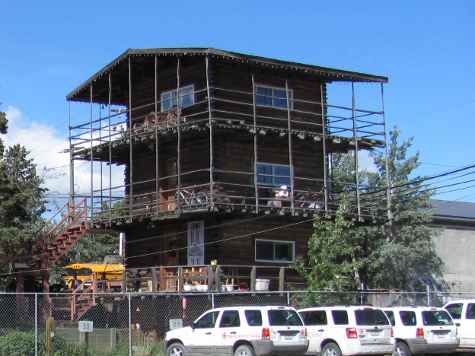 Since it was Saturday morning and the downtown area was virtually deserted, we took time to walk around, enjoying the sights. Whitehorse is very congested on weekdays as we had found out the day we arrived, so today gave us a more relaxed view of the town. Off on a side street are these two log structures which are being preserved. One is two story's and the other four story's tall. There's a tale as to why they are here, never bet a man who builds log cabins that it's impossible to build a cabin taller than two story's.
It was about this time Linda remarked about how she had one of those next to her, something about me not being able to resist attempting what others call impossible. I think she has the wrong opinion of me. It not that things are impossible, it's just that no one else has tried the right approach yet, and I've always had a knack at looking at things from a somewhat different perspective, then wanting to show that is the way to accomplish what refer to as impossible.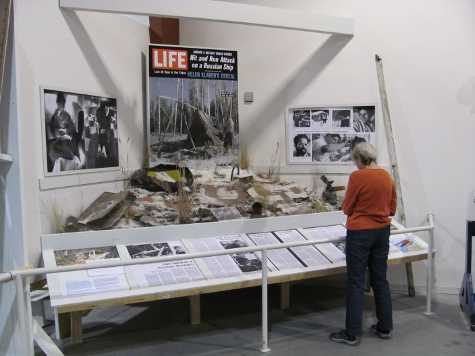 Here's Linda at our next stop, the Yukon Transportation Museum, intently reading about how two people survived a plane crash. This is another excellent museum that we spent far more time at than many people might. Having slowly traveled here, reading books about the area at the same time, this museum helped put much of our experiences in perspective. They have a combo ticket with Beringia that saves you a few loonies, but both are worthwhile in their own right. Linda is reading a blog about a family who are doing the Chicago to Alaska and back trip in six weeks. It will be interesting to see what they miss, but at least they are making the trip. I feel sorry for the people who say it is too far to drive, or it is too hard on the RV. They miss so much, hopefully if they stumble on one of the blogs about RVers traveling to Alaska, it will offer them a different perspective. I'd better watch out or this is going to start sounding like a editorial rather than a Daily Journal, or maybe it already has! [Editor's comment - You are close Bob.]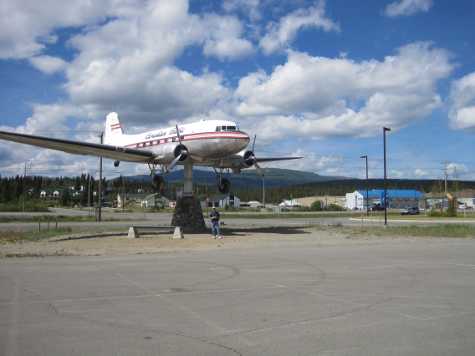 Outside the museum, and just off the Alaskan Highway, is what is billed as the world's largest weather vane. Whether, it is or not doesn't really matter, because it actually works. It only takes a five kilometer per hour wind to make it move. Look at how it is pointing in the above photo in relation to the blue building in the background. Then look at the same building in the photo below. It really does move and the amount of breeze it takes to make it move is not very much.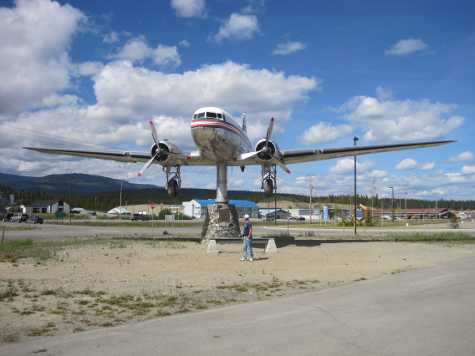 We still weren't finished with museums, but the Art Museum gets a thumbs down. Wasn't a good experience at all. Doesn't mean you shouldn't go if you like art, but for us, between the lack of art and the wedding going on in the grounds, it wasn't a good day. Maybe if we could have viewed to outside sculptures it would have been better. Maybe we will try it again when we come back through Whitehorse on our return trip, but something tells me I'll be going by myself if Linda's reaction to the place was any indication.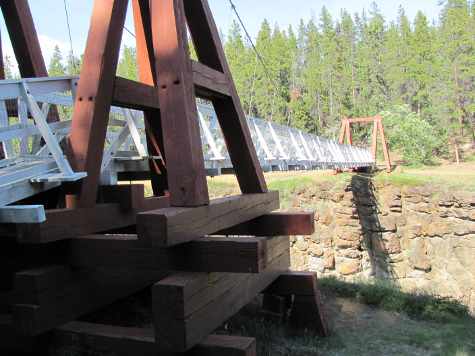 Our last outing was across this bridge, then along the series of paths that mirrored the old tramway route next to Miles Canyon. This was one of the more dangerous parts of the trip to Klondike for the goldseekers of '98, as the narrow confines created by the basalt walls greatly increased the velocity of the water in the Yukon.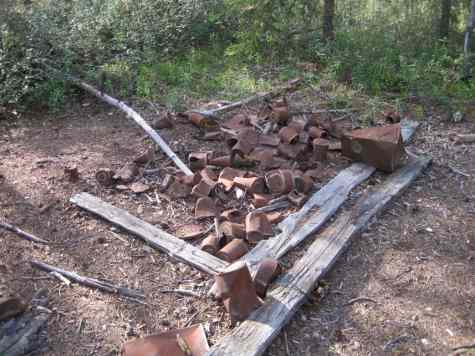 Our destination was the ghost town of Canyon City. There is virtually nothing left other than rusting piles of old cans and depressions in the ground of a town of over 4000 people at the height of the gold rush. Yet this is what we really enjoy. We were the only people there, the ghosts of the past were all around us, closing our eyes, we were back 112 years and the sounds and sights of the Klondikers were all around us. For some, saying they've been to Alaska is enough, for us it is the journey.
We will probably be without Internet for the next three or four days, will post the next few days journals when we get back on.
---
June 20 Sunday
North to Carmack
As we were getting ready to leave this morning a startling revelation occurred. It was revealed that today's drive was going to be some seven hours because of where Linda had us staying tonight. "What do you mean," I exclaimed, or something similar which was something probably not suitable for print. After a quick look at the map by the driver, it was determined our day would end a lot sooner, and in the town of Carmacks. The caravans may do the drive from Whitehorse to Dawson in a day, but for us it is going to take three to four days.
The real entertainment this morning was provided by the view out the coach window. Linda learned just how entertaining it can be when you are parked close to the dump station. She was in seventh heaven when this Class B pulled up to dump, then backed up several times to to position their RV just so.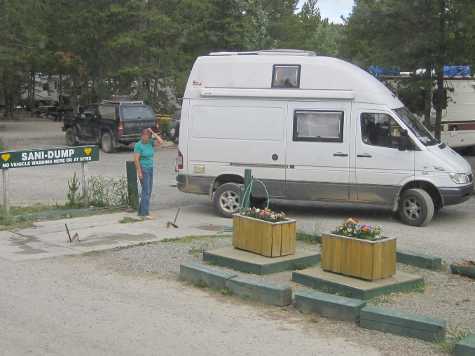 I believe that pose is called, I guess we are in the right place. Linda couldn't figure out what all the maneuvering to back into just the right spot was about. Then when they started dumping she knew. They didn't have a stinky slinky, they were dumping it directly onto the ground near the dump station. An apt description might be low life, and as you could tell the woman was embarrassed with what they were doing as she wouldn't look at Linda who was very intently staring at her out the window when not taking photos. It's unfortunate that RV trash like this give all RVers a bad name.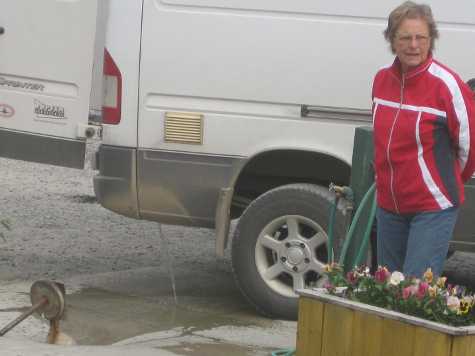 That's not to say that we didn't spill a few fluids of our own this morning, because we did. It was just that ours was of the potable water variety. Yours truly had the bright idea of filling the fresh water tank since we may be boondocking for a couple of nights on our way to Dawson. Got it started filling, then became involved in uploading the web pages. Wrong thing to do. Next thing I know, Linda is mentioning something about the water tank being full and that she turned the water off. Later, going outside I noted there was water around where the overflow tube is, but didn't connect it to Linda's comment. It was only when going through the photos to write the Daily Journal that I saw this photo of the water spurting out of the fill cap and realized what I had done.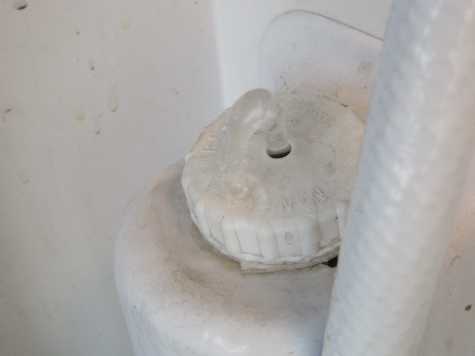 Not long after leaving Whitehorse we came to one of those forks in the road where the route taken gives the journey the chance to take on a different perspective. Straight ahead was the Alaskan Highway and Fairbanks, Alaska. To the right was the road to Dawson City, another opportunity to follow in the footsteps of the Kondikers, and after Dawson would be the Top of the World Highway which leads to Chicken, Alaska. Whenever we have the chance to chance upon a chicken anything, I know that is the way Linda is going to insist we go, and that was the route we were taking today.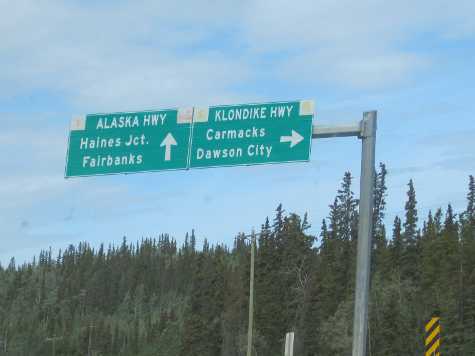 Two things quickly became apparent once we were on the Klondike Highway. There wasn't nearly the amount of traffic there had been on the Alaska Highway, and the scenery was mindboggling. It wasn't a day for wildlife, but it didn't matter because the views of the forests and the lakes were magical by themselves. There is no way a normal person could get bored driving up here, as there there is a never ending display of absolute beauty constantly unfolding along the road.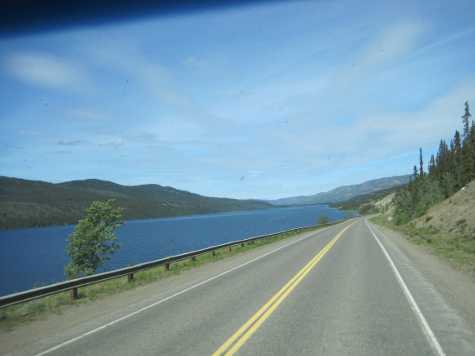 But it wasn't just driving, we also stopped frequently, trying to enjoy as many of the roadside displays and sites as we could. I was particularly enthralled when we stopped at a heritage site that was the ruins of an early roadhouse and discovered this young beauty perfectly posed in one of the window frames. History, art and beauty, now that's a winning combination for sure. Maybe its one of those you can take the girl out of modeling, but you can't take the modeling out of the girl things.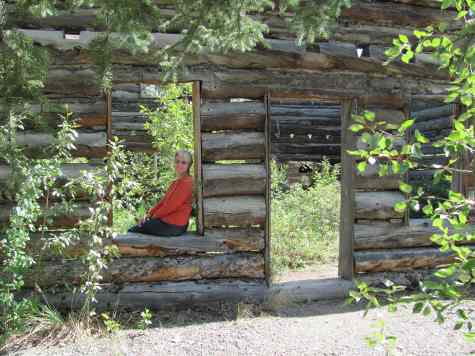 By the time we arrived in Carmacks, Yukon, it was almost 2 o'clock, meaning I needed to get hopping on fixing lunch. There are times when this fixing the meals gets to be a little overwhelming, but then I think back to all the times Linda helped me work around the house, working just as hard as I did, and then she had to fix the meal. My sacrifice today is minuscule in comparison to hers which was repeated over and over for years. I had no idea of just how lucky I was at the time. The wasted years of youth, or if I only realized then what I realize now.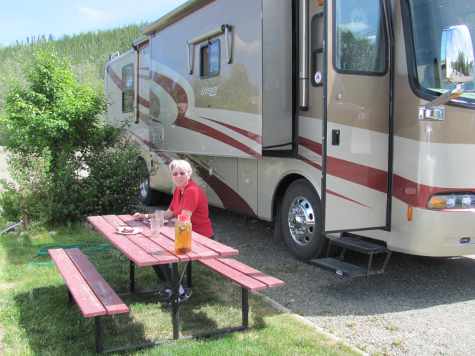 Once lunch was over it was time to do some exploring around Carmacks. First was a drive to the local cultural center to get Linda's Yukon passport stamped. only the center wasn't open. That meant a drive to the visitor center to find out why as she could see the gold nugget she was going to win disappearing before her eyes. Unfortunately the girl at the VC had a good heart, but her knowledge of what was going on was a bit on the lean side. We finally decided to take the Carmacks walking tour, strolling along the boardwalk alongside river.
It was only when we returned from the walk that Linda looked at her pedometer and realized we had walked over 3 1/2 miles. Can't complain though, as the river was gorgeous, our thoughts we constantly wandering back to the days of the gold rush and the day was about as perfect as could be. At the visitor center Linda had learned we were getting to enjoy the best weather they get. June and July are hot, it starts getting cold in August and by September winter is starting, which continues until May when it begins to warm up some, and the cycle repeats itself all over.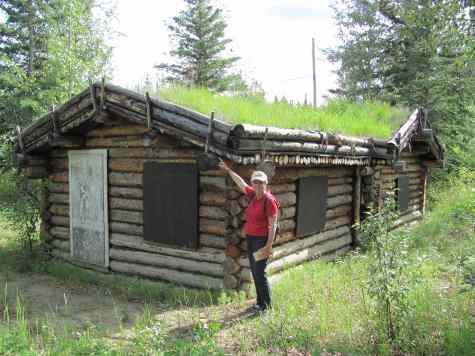 There are a number of structures past the end of the boardwalk, some in a sad state of disrepair, and others which have been rebuilt using as much of the salvaged original materials as practical. This is the Hazel Brown house, and having been rebuilt, it gives a good sense of what the dwellings looked like 100 tears ago. We were especially intrigued by the means they secured the end logs that helped hold the dirt roof in place.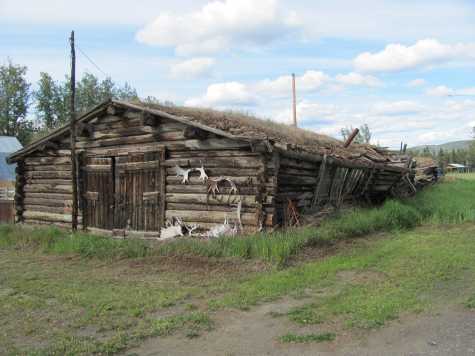 Sure doesn't look like much, just an old building that is slowly decaying into a pile of rubble. Yet is is so much more than that. It is the very heart of why we take these long walks, read the books about those past times and visit the museums. It's what makes all the history of the area come alive.
We had taken the White Pass and Yukon excursion train in Skagway and we had visited the Yukon Transportation Museum in Whitehorse where we saw an actual sled they used to transport goods and people further north during the winter months. We had learned the sleds were pulled by teams of horses, but as soon as tracked vehicles became operational, they replaced the horses. We were now looking at the last remaining relic from those earliest of days, a White Pass and Yukon stable where the teams horses were stabled that were switched out with the ones who had pulled the sleds to this point.
It's one thing to look at early photos, it's something entirely different to come face to face with that past. This was another time that we stumbled upon something that both of us looked on in awe. Sara N. Dippity was with us again. Before turning around and returning to the coach, we climbed a rather steep grassy hill, and chanced upon the local cemetery. Among the trees was the grave of Hazel Brown. From up here we could look down, and just barely make out her cabin set in the woods near the bank of a small river that flows into the Yukon. As I've said so many times, why did our teachers so often try to make history merely the remembrance of dates and names when we were in school. History is so much more, and we were getting our share today.
---
---