Journal Archive 6/21 - 6/30 2010
Scroll down to read the latest post
June 21 Monday
A side trip on the Silver Trail
The prediction for today, weatherwise, was rain, and for once they seemed to have gotten it right. Lucky us however, we had washed the Explorer last night so there was no need to go outside this morning and do what our neighbor across the way was doing. That muddy water pouring off around his license plate is exactly what was coming off the Explorer last night, because getting covered with dust is a daily occurrence with all the gravel sections of road up here. The rain streaked windshield of the coach gives an indication of just how much fun he is probably having. Wonder if there was a "I told you to do it last night when all the neighbors were doing it," kind of discussion in their trailer this morning.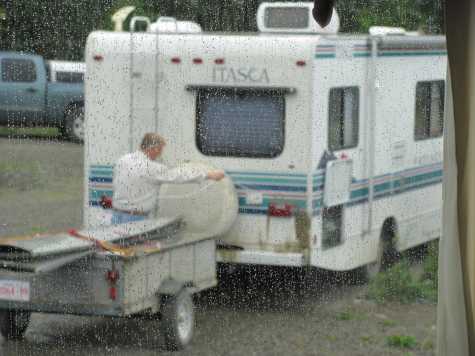 Our first stop of the day was to once again relive history at Five Finger Rapids on the Yukon River, and fortunately by this time the rain had either stopped, or we had out run it. The Klondike Highway is far above the river at this point, and there is a large pullout with interpretive signs and a trail leading down to the rocks for those who want to get up close.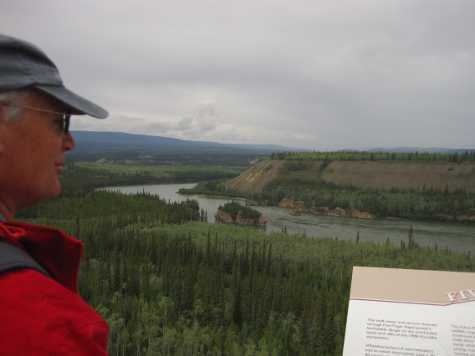 There was a sign saying it was a one hour round trip walk, a long steep set of steps led off the viewing platform, while the rapids appeared to be very small in the distance. All of which meant we would soon be descending those steps. We'd read so much and seen enough old photos of how difficult the passage through this section of river was for the sternwheelers, that we were compelled to go down and stand at the end of the river. As always, it was far easier going down the steps than climbing back up them.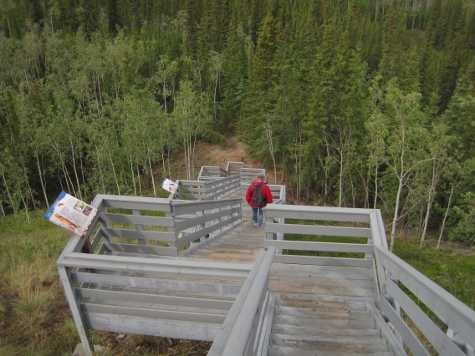 It turned out that the first set of steps weren't the only ones on the trail, and then there was the last section of trail that was a little close too the edge for Linda, but she still made it to the riverside overlook, the one with the sturdy railing around it. She contends she stays back from the edge on the trails so she can show the rescuers where I fell off. Besides I usually take photos to show her what the view was like, so she gets to stay safe and still enjoy the view. Please note in the following photo just how securely she is clutching the rail with her right hand. She's a strong subscriber to the old theory that it is not the heights or danger that frightens her, rather it's the impact at the bottom.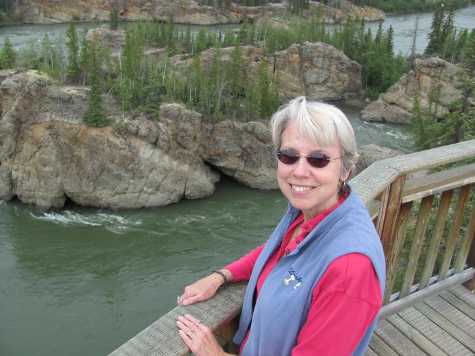 All good things must come to an end, and so it was with Linda's joy at seeing the narrow channel the riverboats had once navigated, because next up was the long, steep set of steps she would have to navigate as she made her way out of the canyon and back up to where the coach was. As I steadily climbed those steps, slowly leaving her further behind, I got a glimpse of how she really felt about the climb back up to the top, and my ability to do it without stopping to rest. I try to help her understand that if you think you can do it you can, but she just insists she thinks the same thing, it's just that her way of thinking think includes the fact that you can take rest stops along the way. There's no trying to convince a woman who has a sense of logic like that, that my way is the better way.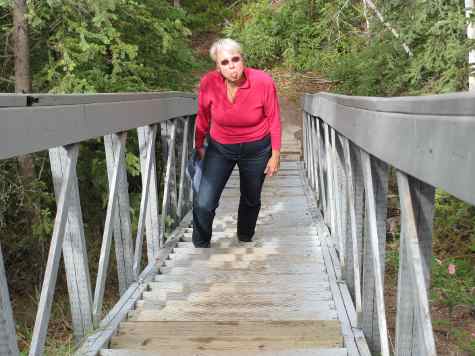 The Klondike Highway seems to vary from place to place as to how wide and how well maintained it is. Up until now all the rough sections and frost heaves had been repaired, but now the red warning flags started to really mean something. It gives you pause when you see the flag, yet there doesn't appear to be anything wrong with the road. That's when the bottom sort of drops out and you go through a serious dippsy doodle. We know this is only a slight taste of what awaits us further up the road, but it is a good learning experience. I'm also curious about the term, frost heave, because along this section they seemed to be frost dips, though something tells me we will be gaining more intimate knowledge of the term over the next week so when we travel the Top of the World and Taylor Highways.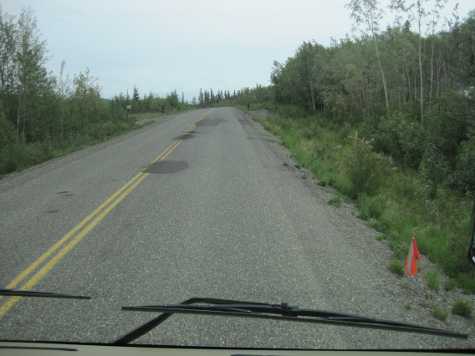 Eventually we came to that stop sign, the one where to turn left is to follow the route of the masses, and to turn right is to take a deadend road to places seldom seen. Having long ago decided that what we see on this trip, we see, and that the reason we are here is to experience the trip to Alaska, and not that we can say we have been to Alaska, we turned right. And if we run out of time to see things, we already know we will be back up here again in the future, so maybe next time. In other words, we are in no hurry to get to Alaska as we want to enjoy the getting to Alaska.
The road we were now on had originally been built in the 1950's because of the need to move silver ore from the area mines to the smelter. Until that time the only access had been by sternwheel riverboats, but the fluctuating levels of the Stewart River made river transport unreliable. It is some sixty some kilometers of road. No turnoffs, no roads leading off from it, just an unending ribbon of asphalt. We don't know what the magenta flowers that hugged the edge of the roadway were called, but they definitely added a beautiful border that helped make the drive oh so special.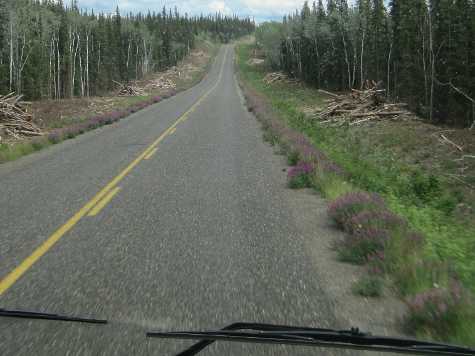 Mayo was our goal for the day, and midafternoon we arrived and found a spot to boondock behind the Bedrock Motel. They had one 15 amp site left, but we decided to park in their boondocking field and leave the power to someone who needed it. A little later a small van with a couple who we had been seeing off and on all day came in and took that last site. We had done the right thing and were happy for them. We had thought we might have a chance at getting on line, but with the satellite so low in the sky, and a tree line in the direction of the satellite, we knew couldn't get on, though in all fairness I should point out there was a tree line in every direction.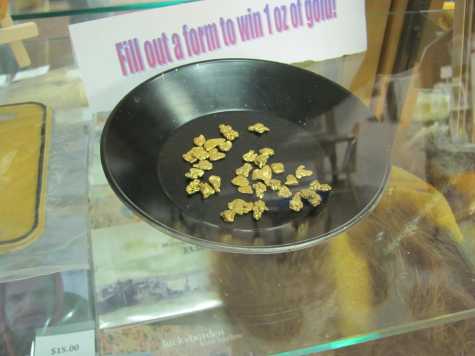 It wasn't long before we were out driving around town searching for the elusive Binet House where Linda hoped to find the pot of gold at the end of the rainbow. She's really into collecting these stamps to win those five ounces gold, and besides the stamp, Mayo also has its own drawing for an additional ounce of gold to tempt visitors into making the drive. I joked with her that if we did win, all it would do is pay for our diesel fuel to drive through the Yukon. Seems I heard hersay something about me already having paid for the fuel, and she won the gold it was hers. Wonder if I should ask for a cut since it was me who drove her to all these places? Something tells me that might be the wrong thing to say. Either that, or the last thing I ever say.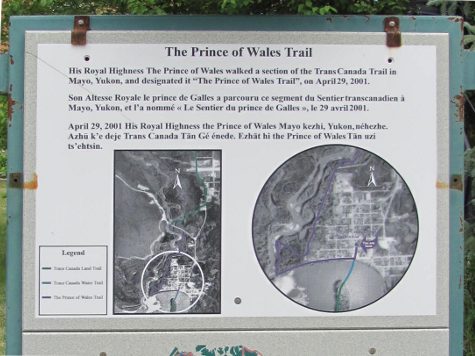 It turned out that someone quite important had visited Mayo some years ago, His Royal Highness, Charles, Prince of Wales. Last year we saw one of his childhood homes at Buckingham Palace in London, and this year we find he has traipsed to the outer reaches of the Commonwealth to hike and dedicate a portion of the Trans-Canada Trail. See, when you get off the beaten path you never know who you will run across.
Towards evening the sky opened up and the first extremely heavy rain we have experienced in quite a long while washed the dust off the vehicles and cleansed the air. It being the longest day of the year, and knowing it wasn't going to get dark tonight, we thought about staying up to take a photo of what it looked like at midnight. Even with the heavy cloud cover we knew it was going to be light out.
Selecting the sleep option, we retired, though I did wake up later and thought briefly of getting up and taking a photo, but when I looked at the clock it was only 9:30, I went back to sleep. Hey, when it's basically light all the time, the clock looses its meaning, and besides we were going to be getting up early in the morning, so Linda heading to bed at 7:30 and me following at 8:10 didn't mean much. Guess it's kind of like New Year's Eve as you get older. It's going to happen whether you're stay up or not, so do what you want to do.
---
June 22 Tuesday
Off the beaten track
This was going to be a long day, driving to Keno, exploring and driving back. Apparently Linda knew a good deal more than I did about just how arduous it was really going to be. Yet as I was up at 3:55, typing away on the Daily Journal, I sensed either I was going to be living with a close kin to a grizzly all day, or she rally was smart to get her rest. She'd gone to bed a couple of minutes before 7:30 last night, saying she'd be up early, and now it was 7 o'clock and there hadn't been a stir from her yet. At last, at 8:14, out she came, huge smile on her face, excited about the day. Acting like a colt just turned loose in the pasture, she remarked, "Now that's what I call a good night's sleep."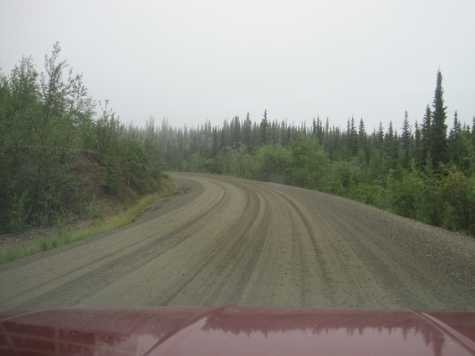 After I'd fixed a slightly bigger breakfast than usual, figuring we'd need a lot of energy for what we had planned for the day, Linda fixed a lunch to bring along while I filled the Explorer with outer wear for what ever conditions we might meet, and we were off. Keno City was 62 kilometers up the road. The gravel road ends there but we had planned a full day's worth of things to do once we reached Keno.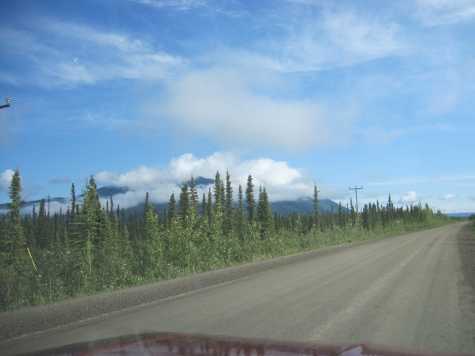 As we left Mayo, it was spitting rain, with the clouds threatening to descend even lower. The great thing about this was it also meant there was no dust as we drove along. The scenery was great, at least what we could see of it, and once we reached the Minto Lake area, the clouds started to lift and part, allowing the sun to shine. Because the road was damp there was still no dust, and it turned into a glorious drive.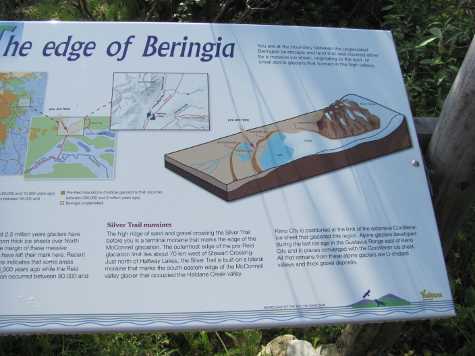 There was very little else in addition to the scenery along the route, just several roads leading elsewhere, a farm and a Bed and Breakfast. we did find this interpretative sign that let us know exactly where we were. Not at a point on the map, but at a point in times past. Last week we'd been to the Beringia Center, here was a chance to put it all in perspective. It's almost like the more you know, the more you learn. You can't start school in the 9th grade, but you sure do use what you've learned in the previous eight grades to provide a base for what you are learning in ninth. So it was here, being another close your eyes and imagine, moment.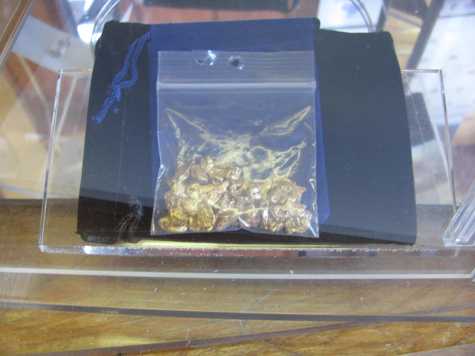 Once we reached the town of Elsa, which is a private town associated with a mine, the road deteriorated some, with the occasional stretch of potholes to dodge, plus traffic really picked up. Of course a single vehicle would have been one more that we saw on the drive to that point, so the two that we met a few minutes apart from each other constituted a veritable rush hour traffic jam. Once we arrived at Keno our first stop was the museum, where Linda immediately got her Yukon passport stamped and both of us signed up in the drawing for the additional ounce of gold.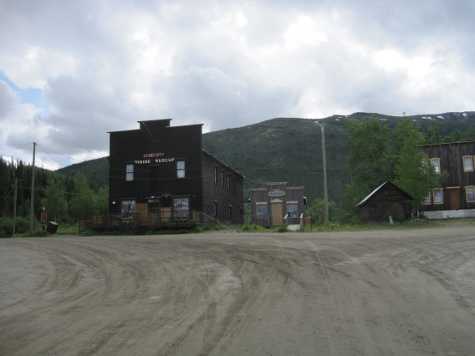 Keno is one of those places that once was. Used to be over 800 people living there, used to be a thriving little place 40 to 60 years ago. Today it's the museum buildings and a small cafe across the street, being the only "open to the public" buildings, but with many other buildings in various states of repair or disrepair. It's a town that has definitely seen better days, but it is certainly not a ghost town. Afterall, with some twenty hardy soles that living there, and a gaggle of tourists who flock there each summer, its a good sized place for this part of the world. Also, when I made a comment to the gentleman at the museum about Keno being like a ghost town, I was immediately informed in no uncertain terms that it certainly wasn't a ghost town. While I might possibly have been a slight bit insensitive in my use of that term to describe the town, he sure was sensitive about my use of it. I know exactly what he thinking, 'Tourists, they ain't got a clue.'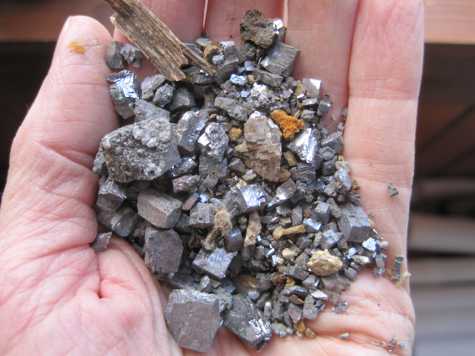 The museum was filled with wonderful exhibits and we spent almost two hours exploring the artifacts and pouring over the photo albums of the way things once had been. We were surprised to see that most visitors, what few they were, just got their book stamped and never paid to see what lay behind the museum entrance. What a shame, and you know what I was thinking? 'Tourist's, they ain't got a clue.' Linda can be a hands on girl when it comes to these type of places, and they had just the display for her, a box of galena. Heavy it was, lead it was, a silver and lead mining town Keno was, happy Linda was.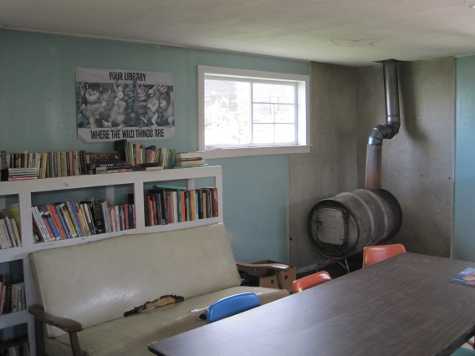 We also learned what you do when winter comes, the snow piles up and the thermometer drops to below 40 below. You go to the town library, build a wood fire in the oil drum heater, and curl up with a good book. We had to chuckle at the lock on the library door, a hook and eye that keeps the door from blowing open in the wind.
Before the Daily Journal takes us away from town and on to other sights let me make another plug for going through the museum if you ever get to Keno. It has the most marvelous collection of artifacts, centered around mining and contained in at least four buildings. If you have any sense of history, remember growing up in the 50's, or need a break after the drive to Keno, pay the admission, enjoy the displays. Plus, don't be afraid to talk to the old man who is there. He has a knowledge of the area that makes it come alive, once he opens up and you can understand his accent.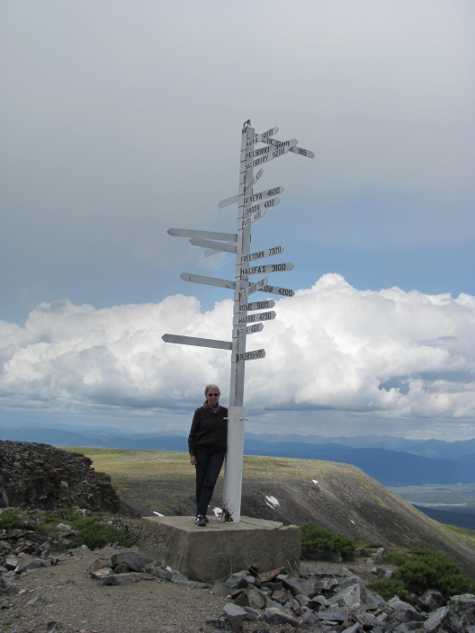 Our next stop was at the top of the world, or so it seemed. Really it was only the top of Keno Hill, but if this was just a hill, their mountains must be marvelous. Up above the tree line, up on a "hill" that produced huge quantities of silver and lead, there is a sign post that lets you know just far from the rest of the world you are. It points to the major cities around the world, but interestingly enough, not a single one in the States. The one we liked best of all wasn't even a city, it was 185 miles away and it was the Arctic Circle. No wonder it's light all night up here.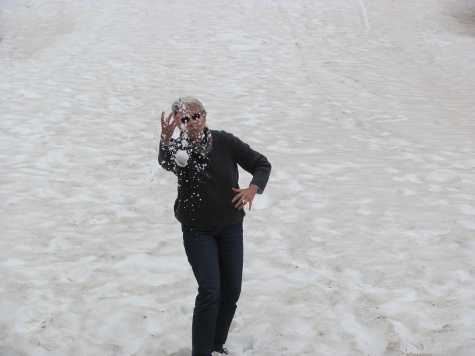 It wasn't long before we were having fun in the snow, which was just a few steps away. Here is Linda doing her best to imitate the softball pitching style of our granddaughters, Abby and Lindsey. While the pitching form may not be perfect, that certainly is a soft ball she is throwing. What do you think girls, does grandma have the right stuff, or is she just a fluffball pitcher?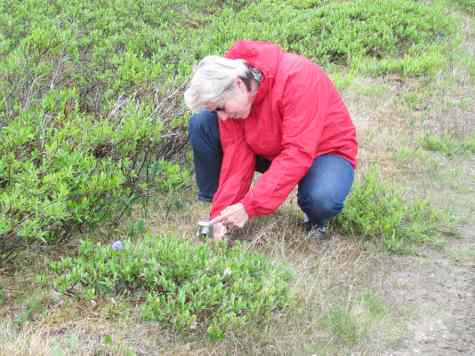 This was a land of wind, wildflowers and walks. You couldn't step of the track we were following without stepping on a wild flower, they were growing in such profusion. It was as if every plant, no matter how tiny, had a bloom. That meant for slow going, as Linda had to get a photo of every one. For the day we took 317 photos between us, over 110 at the museum alone. Just think of how difficult it has been to write today and not just show photos. But since this is Daily Journal, not a daily Photo Journal, you'll just have to visit Keno to see what all the photo taking was about. Besides, if I put up as many photos as I really like to, I'd soon have all my disk space on the server filled, and it would be a real pain to easily get more.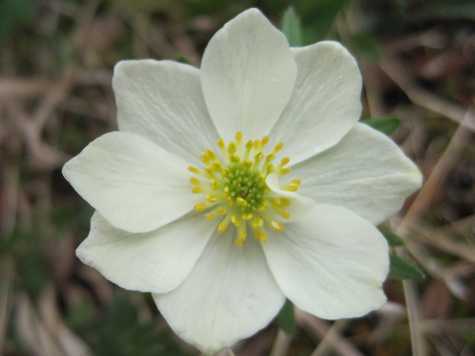 Knowing how hard Linda works to get those wildflower photos, I'd better put at least one up to give you an idea of what we were experiencing.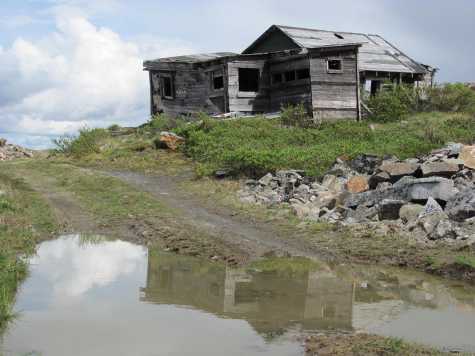 Further on the trail, we spent time exploring this old shack and the remains of a mine. I waded through the snow to get to the mine ruins while Linda took the steep and long way around, avoiding the snow. We were glad to be here now, much earlier and the snow would have made it impossible to get to the mine, much later and it will be all melted off.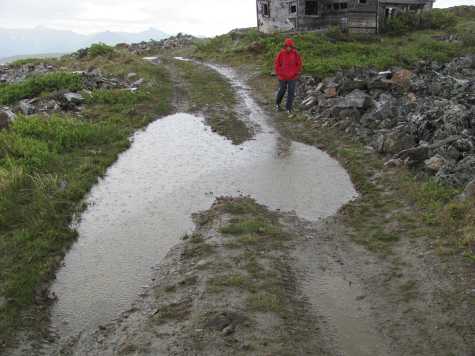 As we were climbing back up the hill from the mine, the sky opened up, and the rain started to fall. As we walked along in the mud of the trail, which in drier times is a road, we were both amazed at how awesome an experience today had been. Driving down the hill, it's 11 kilometers to town from the top, we discovered it had rained only up on the hill, not down towards the town. That meant more time walking around town before we finally left.
The Silver Trail makes a gigantic loop at the Keno end, the side we had driven up on being the new and well maintained part. Being adventurous, we opted to take the other loop back. It was interesting to say the least, and even though it took much longer, it was worth it to us. The road was well pock marked in stretches with bear droppings, and while Linda always had her camera at the ready, unfortunately no bear showed itself.
By the time we got back to the coach we had been gone for over eight hours. It had been a tiring day because of all the driving and climbing we had done, but it was oh so gratifying that we'd do it again in heartbeat. Needless to say, I beat Linda to bed by a comfortable margin, needing my rest to drive to Dawson tomorrow, where we will hopefully once again have an Internet connection.
It's days like this that make life, Life.
---
June 23 Wednesday
Driving to Dawson
Since this is the land of the midnight sun, and since I woke up shortly after midnight, here's a photo from the front of our coach with the time stamp.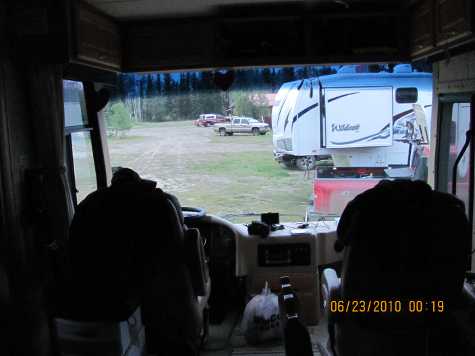 Then it turned out I wasn't the only one with that idea, Linda had also taken several photos a short time after mine. No wonder we are compatible, we even think alike. Now that's a scary thought if there ever was one.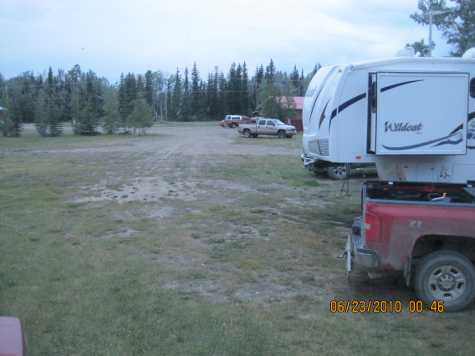 When we finally did get up, none to early for either of us, the weather had changed to rain. Not being in any hurry today, our only plans being to drive to Dawson and find a RV park with descent wifi, we watched our neighbors out in the rain, get their 5th wheel ready to travel. It was one of those be thankful for what you have moments. As he unhooked the electrical cord, then struggled to wipe it off and coil it in a box to placed in a storage compartment, I reflected on how easy the cord reel on our coach made this task. We hadn't been sure we needed it when we ordered the coach, but over the years I've come to appreciate just how handy it truly is.
We are really off the beaten path up here, but there were seven overnighters in the park last night, three of us boondocking in the open field. Another option would be the Provincial Park just up the road, which is nestled in the trees and beside a lake. Knowing now that there was no way to get on the Internet because of the trees around this park interfering with the satellite, we would have stayed at the Provincial Park, even though it is further from town and costs two dollars a night more. Sometimes we just like to have a "camping", not just a "parking" experience.
For the second time on this trip we had to backtrack, and again it was because we were literally at the end of the road, just like at Skagway. Most of the drive was accompanied by a light rain, but the word hurry has been stricken from our vocabulary, so we just traipsed along, enjoying the scenery. The only thing in the way of wildlife today was one black bear that we saw ambling towards the brush as we sped past. Once we had driven back to the Klondike Highway, which is Hwy 2, we started seeing traffic coming towards us, i.e., traveling from Dawson. We know many people drive to Dawson and return, preferring not to drive the Top of the World Highway, so maybe that was what we were seeing. Still, it was strange, since it has been weeks since we last saw a good amount of RV traffic heading south.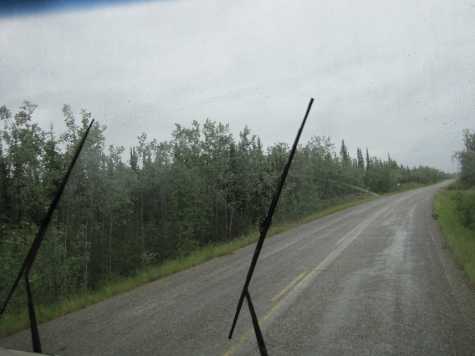 We always make note of any interesting sites mentioned in the Milepost, and today Linda marked one that just begged to be visited, the Moose Creek Lodge. As you can see, Linda had her favorite attraction all picked out, and a little rain didn't dampen her enjoyment of the moment. They have several other interesting carvings, plus a replica "miners cabin", complete with miner to get you stop and hopefully spend some money. We had no trouble stopping, and since everything outside was free for the looking, hadn't spent any money. That was until we went inside.
The roadhouses all have their homemade specialties, and the moment we step through the door we knew what we were going to be eating.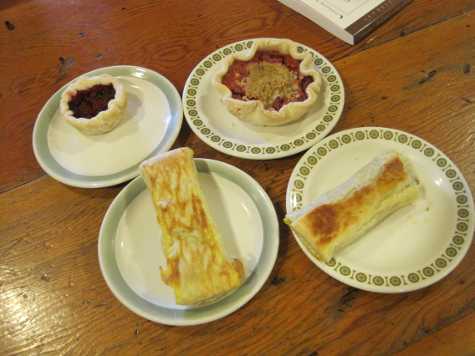 That flaky crust encloses a delightful beef sausage roll, and the tarts, mine was the larger, were raspberry for Linda, and strawberry rhubarb for me. The best part was that my tart was light on the strawberry and sugar, but heavy on the rhubarb, and while not exactly a "pucker' tart, which I prefer, it was close. Before we left we had also bought another book, this one the account of a steamboat captain, which is another part of the history of the area that we will be getting even deeper into.
Back on the road, we noticed the road was beginning to show more effects from the winter, though all the frost heaves had patched. The closer we got to Dawson, the more anxious we became, and then Linda announced the river beside the road was the Klondike. We may not have been part of the Klondike Stampede back in that winter of 97-98, but we still felt the excitement of having reached the Klondike.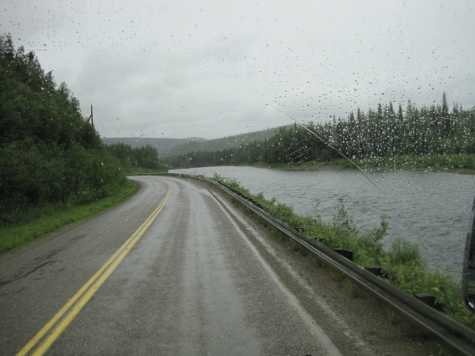 I think Linda had visions of gold running through her mind as she looked out the side window. Eventually we reached Dawson, picked an RV park, where we ended up with a 50 amp FHU site for the price of a 30 amp site because a caravan coming in tomorrow which would take most of the 30 amp sites. Not knowing how good the wifi was, we only paid for one night, but once we were set up, and discovering it was far better than the check-in person had said, we decided to stay in the park for three additional nights. And if we really enjoy Dawson, we may stay even longer.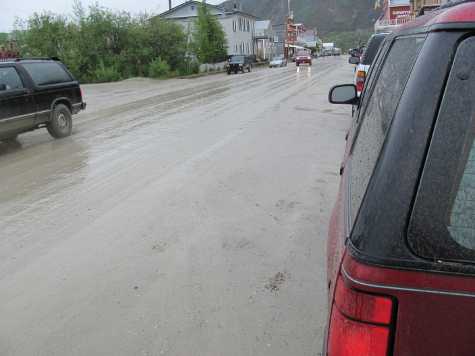 Our first order of business was to once again head back out into the rain and drive the short distance into town. It was at this point that I discovered Linda was on a mission. One that had only one possible outcome. I like long hair, have always liked long hair. Linda had long hair when I met her, Linda had long hair when we married. Once she had me, off came the hair, she hates long hair, only using it to trap a man, and has worn it short ever since.
I wouldn't even classify it's current status as unshort, let alone, getting long, but to hear Linda talk, you'd think that Lady Godiva had a bob cut compared to the current length of Linda's hair. Thus our mission was to find a butcher chop, I mean a beauty shop hair salon, that would do her doo. The check-in person had recommended one, and that's where Linda was ordering me to take her so she could get an appointment. I wasn't sure a place called Hair We Are was where she should go, especially since I'm the one who has to look at her after she gets it cut, and the only time she sees herself is when she looks in the mirror.
The biggest surprise wasn't the salon. it was happened when we turned off the main road to drive into the business district of town. "The streets are dirt!" was what came bellowing out from the passenger seat. Yep, they sure were, and a gritty mud was being splashed up everywhere. There were even real boardwalks, not to give the town some touristy veneer, but because they honest to goodness needed them. This was fast becoming a town we could really enjoy.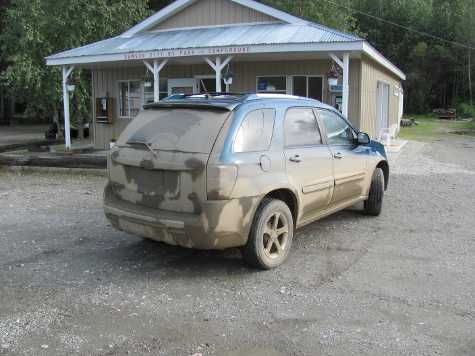 She did get an appointment for tomorrow morning, we drove around town, knowing that we would be willingly walking many of these streets during the next few days, then returned to the RV park where we had a great mustard encrusted pork tenderloin for dinner. Later we took a walk around the RV park and discovered several things. One of which was that most of the vehicles in Dawson are the same gray color.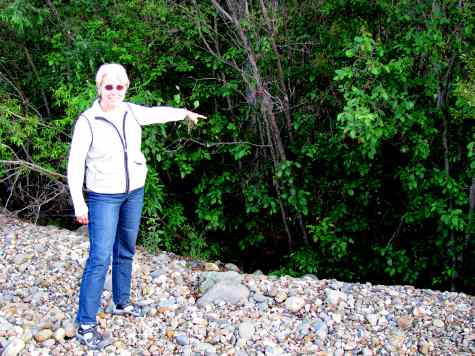 The other discovery was something that we had no idea that was so nearby. There is a creek that runs back a distance behind the RV park. Imagine our delight at discovering it was once called Rabbit Creek, or was before George Carmack, Skookum Jim, and Tagish Charley saw some yellow metal along its banks. After that it's name has always been known as Bonanza Creek, the creek where the Klondike gold rush all stated.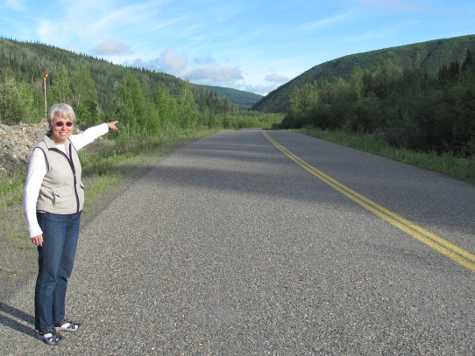 Duh! Maybe that is why the place we are staying is called Bonanza Gold. Taking a few more steps up the road that runs beside the park, the past came rushing at us, though 114 years ago immediately after the gold discovery it would have been rushing away from us as the first few prospectors started a frenzied rush up the valley Linda is pointing to. To us, having read and learned so much of the history of those times, to be staying here was almost beyond words.
We occasionally speak of our erstwhile guide, Sara N. Dippity, and we now knew she had been leading us in our journey today. How much better can it get. Not merely just another town, with Alaska the goal. No, again, it's the journey that really matters, a journey composed of many destinations you didn't know were destinations.
---
June 24 Thursday
Around Dawson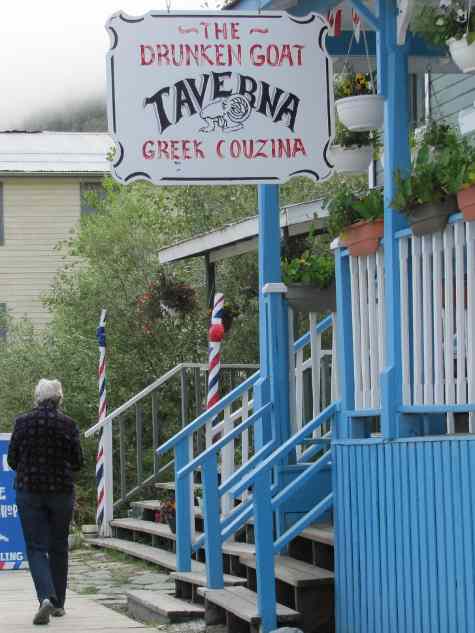 Sometimes it's better not to say anything about a photo, because what it is showing might be misconstrued. So I'll leave it to the reader to determine just what is going on in this one.
While often times photos do accurately represent exactly what is going on, sometimes they don't, which is the case with this one of the Explorer parked beside a Dawson sidewalk. It would appear that Linda had to step out into the water that remains from yesterday's rainstorms. Not the case. Chivalrous man that I am, once she had yelped, "How am I supposed to get out with all this water here?" I backed up so she could make a more graceful exit and not look like a mudhen all day.
Once I had parked I took the photo, then when we were ready to leave, I pulled away from the water and parked on the other side of the street so she get get in with sloshing around. I figured she would be happy, but from the grim look I got, I'd managed to screw things up again. And here I thought she'd done a great job of jumping over the mud and water to get to other side of the street.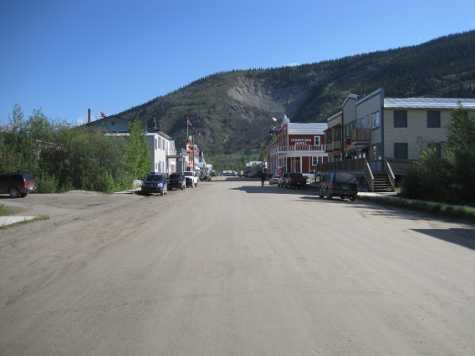 Dawson is not a big place, and even though it was nearly eleven in the morning when I took this street view, parking was not a problem. It wasn't a problem when we went back in the afternoon either, so either we are here on an off day, or it really is our kind of place.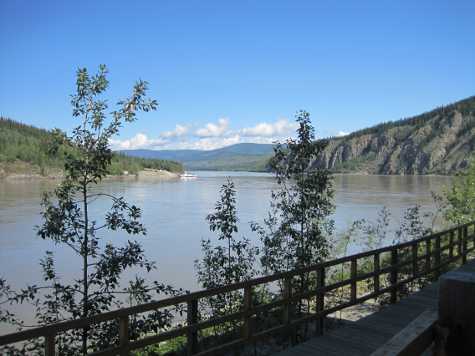 We spent almost three hours in town during the morning, getting our feet wet, figuratively, not literally, though you did have to watch where you stepped crossing the street or it could have been literally. We had a great experience at the visitor center, and even sat through all three movies, since to us with our love of history, they were great. It seems like every experience we have had with Parks Canada has been outstanding. Then it was off to walk around the town and along the river. The Yukon and Klondike rivers not only define Dawson, they created it, or the gold rush did because of its location.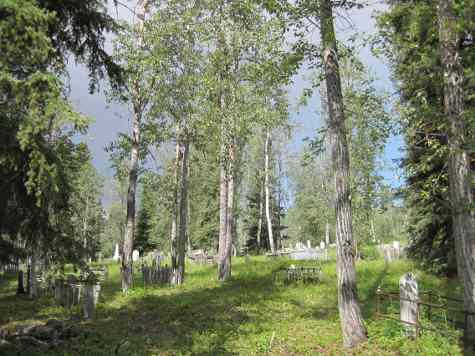 What with our soft spot for cemeteries, and Dawson having a number of them, we had to do some visiting. While there are few graves of people known outside of the Yukon, each cemetery was special in its own right. There is just something about standing in the midst of the real lives of people, looking down on a gold rush town, that can't really be described. There are very few stones, with almost all the graves marked by a headboard, not a gravestone. We even found a few old tin markers, which were the first of that kind we had ever seen. We've seen the heavier cast zinc markers, but never the thin tin ones. The sad thing was that most of them had been used for target practice by people with guns in the past. And to think, there are people who would insist it was the gun that put the holes in those markers, not the worthless piece of crap that used the gun and then the NRA would defend the slimeball's right to own the gun. Then they wonder why people could possibly be supportive of gun laws curtailing gun ownership.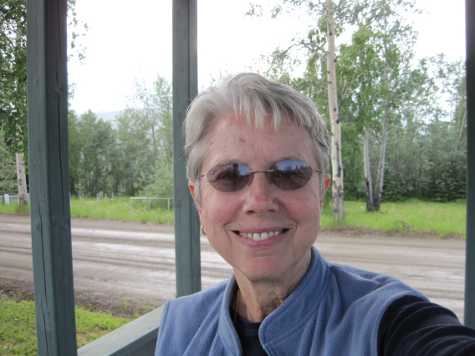 Why is this person smiling so? The answer is in the background. The road has taken on a different appearance. That is water you see on it. Note this person is dry. She is standing in a shelter where the history of the various cemeteries is displayed.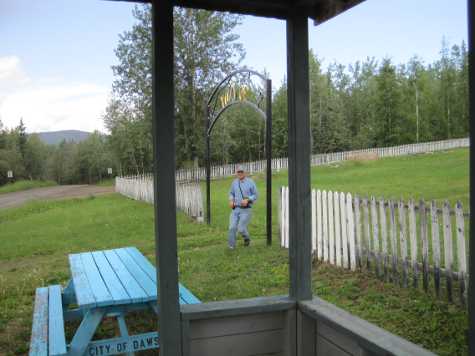 This is the reason for the smile. This is the husband of the dry person. The husband is running. The husband is wet. The husband did not pay attention to the dark cloud overhead and walked far up the hill to see another cemetery. The husband was not smart. The wife was very smart. Moral: the husband may the wet and out of breath, but he'd still do it all over again, especially if it brings such a big beautiful smile to the wife's face.
With the rain, we drove back to the coach, fixed lunch and once the rain ceased, headed back into town. There are so many interesting things to see, but a don't miss is the riverboat Keno. It is similar, yet different from the Klondike II we toured in Whitehorse. However, it is worth every penny to see the movie they show on board which is about the Keno's last journey in 1960.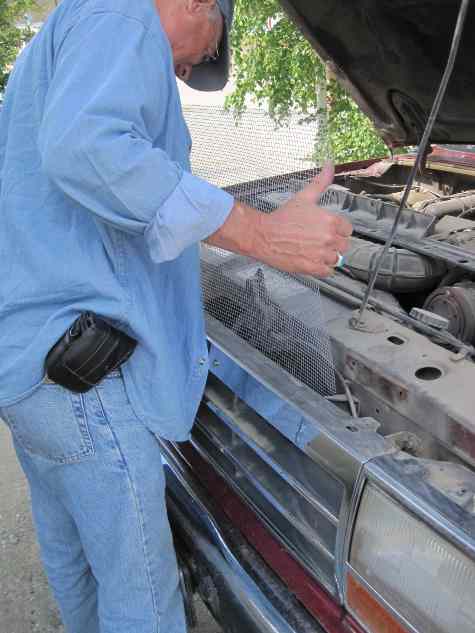 Having seen some fairly large dings in the radiator fins of the Explorer, and not wanting to take a chance of accidentally getting a hole in it, I bought a small piece of finer hardware cloth at the hardware store this morning while Linda was getting her hair cut. Now it was time to install it. We could have just fastened it to the outside, but why not make it look descent was my thinking. There was also an opening to the radiator in the middle of the bumper and by placing the screen inside it would protect both the upper and lower sections.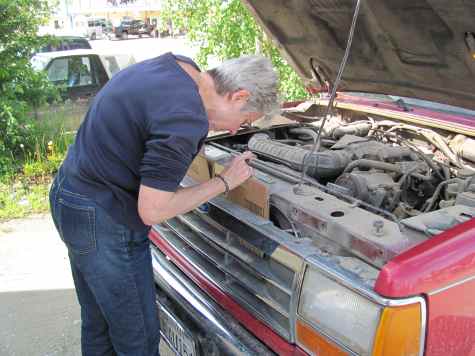 We also noticed there was a great deal of fine sand on the radiator, so Linda suggested she cut a piece of cardboard that could be slipped down in there when we crossed the Top of the World Highway. It didn't take her long to have one cut, with a slot so we could open the hood with it in place. We'll insert the cardboard when towing if we need it, then remove it when we get to our destination. All this took less than an hour, and resulted in only a minor loss of blood on my part from several shedded knuckles. That hardware cloth, at times it can be almost as dangerous as a grizzly.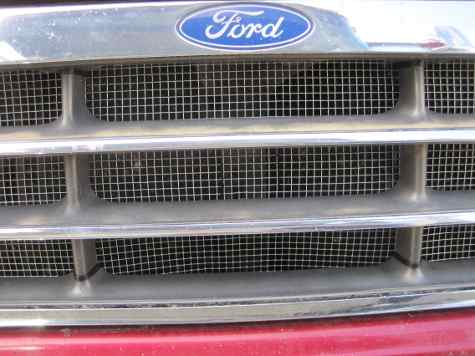 The completed look. It probably would have worked better with a smaller sized opening for the wire mesh, but that was the smallest the Dawson Hardware had. Think I'll just leave it on after the trip and see how it works, maybe it will be the Explorer's badge for having made the trip to Alaska and back.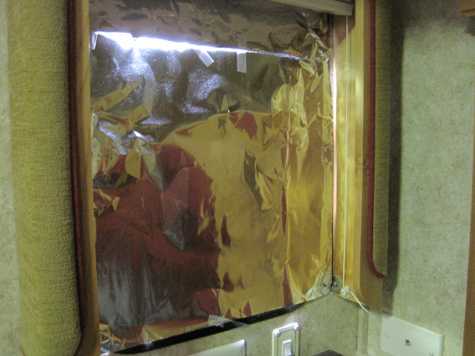 What is that? Some modernistic painting Linda has mounted on the wall? No, but get that woman working and more than just one thing gets done. The midnight sun has been greatly interfering with Linda's night long beauty sleep. She has become the all time fidget champion, and now she was doing something about it. Aluminum foil on the window beside her to block out the sunlight at night. Pretty ingenious, and it really did work. Things you never think about until you have been to the land of the midnight sun.
---
June 25 Friday
"Never let the truth get in the way of a good story" A Robert Service quote.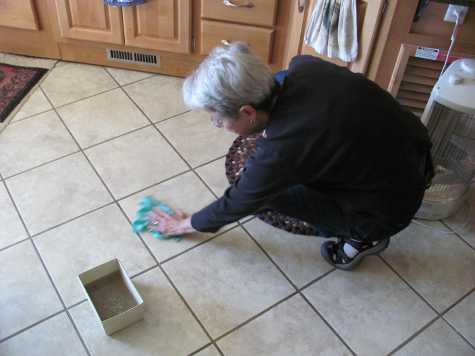 The day's plan included sitting in on presentations at the Jack London Center and the Robert Service Cabin. It is intersting that the most famous author as well as the most famous poet of the early 1900's both spent time in the Yukon, and they both wrote about ordinary everyday happenings in extraordinary ways.
Meanwhile, I was slaving away, trying to write about the ordinary things in our life with an extraordinary lack of talent. Yet at the same time Linda was busily tidying up the coach, while waiting for me to finish so we could delve deeper into the past. It is amazing just how much dust collects in the coach with a rapidity that would make a whirling dervish at maximum rotation, envious. And just to prove how bad it was, she waved the container of very dirty water under my nose while pointing out she hadn't even started on the tile floor yet. With it being so hot here, the windows always open, and the dirt and dust everywhere, she is in a no win situation.
She finished before I did, and seemed to disappear, then came the call from the bathroom, "The toilet seat is about to fall off." I wasn't sure if this meant to immediately get my sorry little rear in there, or whether it was only a description of what might be. Opting to be the good husband I tore myself away from my writing and checked, only to confronted with this.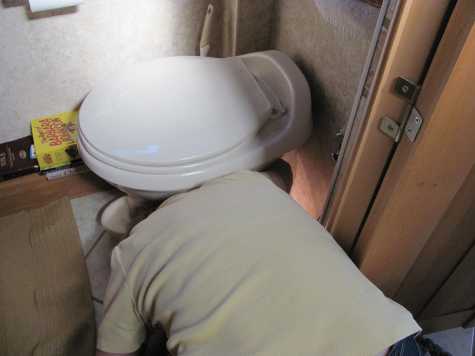 My first thought was that she had fallen off the seat and was trapped between the toilet and the wall. On closer inspection I detected a flashlight beam sweeping the area behind the toilet, meaning that while there was no emergency, I'd better pay close attention to anything she might say because she was really into what ever it was she was doing. That turned out to be hunting for the plastic nut that holds the seat securely in place.
I'm going to fast forward here, skipping the discussion regarding the whereabouts of that nut, plus the ensuring hunt, and just say it was located, handed to Linda, and using her slender fingers, she positioned it at the end of the bolt. Then after I had tightened it down, very tight I might add, we proceeded to leave for the presentation at the Jack London Cabin. Linda was apparently still in an agitated state from her encounter with the wayward toilet seat, because she forgot her camera and all the information we had about what was taking place and when. And that's all I going to report about the episode of the tilting toilet seat.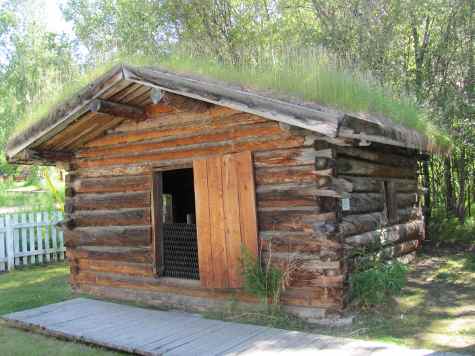 One thing we wanted to catch was the presentation at the Jack London Center. While he had stayed in the Yukon during the winter of 97-98, records indicated Mr. London had only been to Dawson to record his claim, returning to the area near Stewart Crossing to spend the winter and work his claim. So what was his "cabin" doing here? First it was only half of his cabin, the bottom half, and it's here because of one man, Dick North, who has spent years researching Jack London. In case you're wondering, the top half is located in Oakland, California.
There is a charge for the presentation, but it was worth every loonie, and we were glad we attended. Somehow I've managed to avoid reading Call of the Wild even though it must have been required reading at one point or another during my school years. Now we find we both want to read many of his works, both novels and shorter stories, which means more searching through used book stores along the way. If you enjoy reading, even though you've never read any of his books like me, it is certainly worth attending, if just for the tidbits about Mr. London's fascinating life.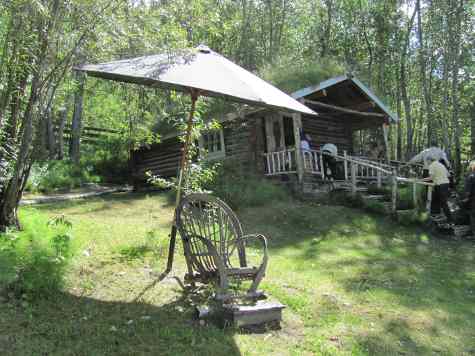 There was also another presentation we wanted to hear, this one at the Robert Service cabin. This time the cabin had not been divided up, it all being original. Of course, it wasn't really his cabin in the sense of ownership, because it was merely the cabin he had rented while he was in Dawson. After he left, the owners kept it just the way it was when he lived in it, and today Parks Canada preseves it and gives a wonderful presentation about Service's life.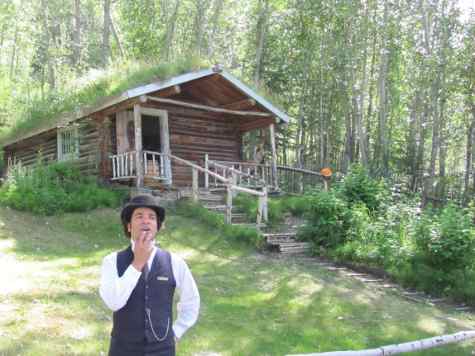 For over an hour we sat enthralled while an interpreter, clad in the garb of the times, recalled stories of Mr. Service's life, along with reciting some of his poems. This was truly an outstanding presentation, one that even people who are neither into poetry nor history, would enjoy. As Linda mentioned, when we first saw those little books of poetry by Robert Service early on in our travels through British Columbia, we didn't know what they were and ignored them. Now we understand why they are for sale virtually everywhere; at some point in your travels you're going to learn enough about Robert Service that you're going to buy one yourself.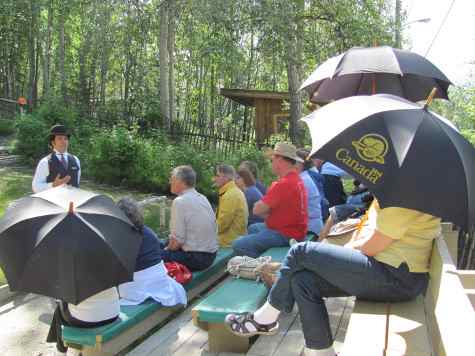 The presentation is given outside, facing the cabin, and this afternoon, the sun was shining brightly. They are prepared for that, having umbrellas they let the ladies use to keep the sun from damaging their skin. Here is my fair maiden, managing to ward off those rascally rays while she sits, absorbed in the presentation. Another outstanding Parks Canada site and presentation, which we rate as not to be missed.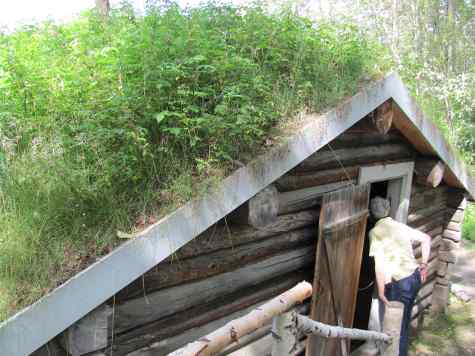 We had stopped by the Service cabin earlier in the day to check on the time of the presentation, so when we were looking at the back of the cabin after the presentation Linda mentioned something that had happened when she was there earlier. Seems she couldn't find the Parks Canada person at first, but eventually found them back here, spraying for hornets. Then during the presentation, reference was made to Mr. Service mentioning hornets in the eaves. Seems like they were still there, nearly 100 years later.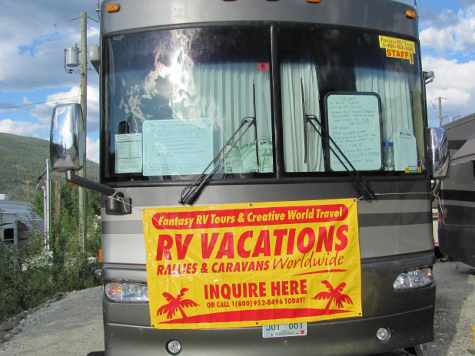 In the evening we took a long walk, exploring some of the Klondike River and Bonanza Creek, checking out a now defunct tourist attraction nearby, and discovering that the caravan had indeed arrived, being parked on the far side of the RV park. Each RV had a sicker at the top corner of the windshield with the name of the caravan and a number on it. The numbers went up to 23, and in the window of the "staff" RV was a schedule of what was going on. Looks like they will be leaving on Sunday, and since their destination is Tok, it helped us in deciding to stay for a few more days. Not that we are going to be able to avoid the caravans, but there is simply more to see and do in Dawson than we will have time for if we also leave on Sunday.
We know we won't be returning by way of Dawson, so this is our one chance to take in the sights and enjoy the area, and we are. Tomorrow it's off to Dredge No. 4 and the original gold discovery claim site, followed by an evening at Diamond Tooth Gerties. We also want to fit in the Parks Canada downtown walking tour, plus walk the river trail and take a drive up to the dome overlooking the town. It's one of those, the more we see and do, the more we find out there is yet to see and do situations. If we were into sightseeing from morning to evening, Dawson could be done in a day, or at the most two, but since we are into the slow Life, we'll stay for as long as we enjoy being here. That caravan is either 35 days or 48 days to Alaska and back, and then we realize we are at day 42 and we aren't even to Alaska yet. There's nothing like a good deep breath of Dawson dust filled air to put Life into perspective.
---
June 26 Saturday
A golden day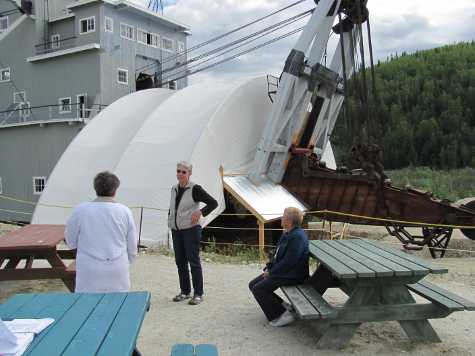 We were heading up Bonanza Creek today, taking in Dredge #4 and then panning for gold. Last night the family tour guide had stated we would be getting an early start this morning as she was most anxious to get to the gold. This morning she was anxious to get her rest. We didn't make the 10 o'clock tour, but with all the beauty sleep she got, when we did arrive she was the prettiest girl on the tour.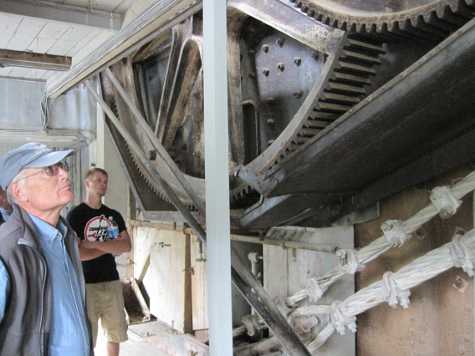 Never having been inside or even beside a dredge before, Dredge No. 4 was incredible in size, and once again Parks Canada made it an incredible experience. Our guide for the tour was quite knowledgeable, the dredge was remarkably well preserved, and the tour group was small enough so that we could easily see and hear everything. The dredge was made by Marion Shovel works in Ohio and shipped by steamer to Skagway, then on the White Pass and Yukon to Whitehorse, by sternwheeler to Dawson and from there to where it was assembled on the Klondike Mines Railway. The huge gears in the photo would not fit through the tunnels on the WP&Y, so they had to come all the up to Dawson by water. We could just imagine that sternwheeler passing through Five Fingers Rapids.
Due to its size it was difficult to imagine what the dredge must have been like when it was operating. Floating in a man made pond, it could dig about twenty feet above the water and nearly 60 feet below the water. The crew consisted of a four man crew and progress up Bonanza Creek was slow, averaging about 1/2 mile a year.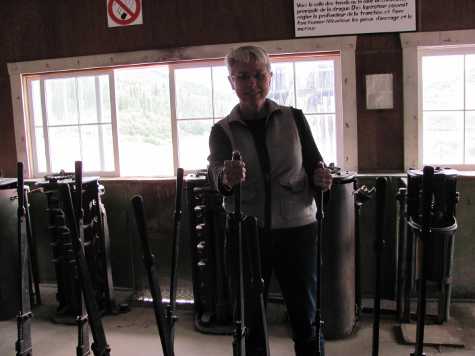 The highest paid of the four crewmen was the operator, who used a series of electric switches and levers to control the operation of the dredge, this made him the top dog on the dredge. As you can see the top dog in our family immediately assumed control of the switches and levers when she entered the control room. Fortunately the dredge ran on electric and the power lines had been taken out years ago so all she could do was pretend to be a daring dredge driver.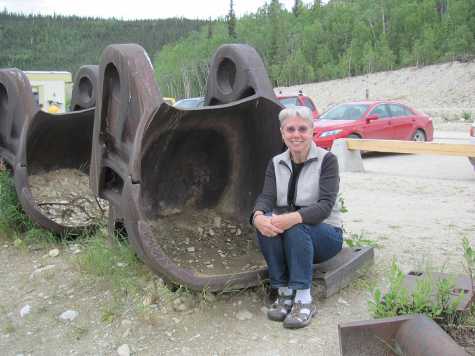 I was first going to call this one, the bottom of the bucket, but deciding that the editor might not like that caption, it shall be known as the babe in the bucket.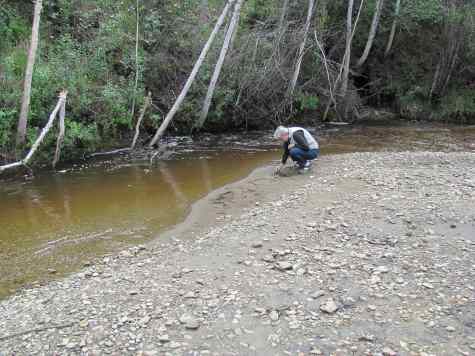 Heading further up Bonanza Creek we came to the place we had read so much about. The spot where the original discovery of gold was made which ignited the rush that exploded into the Klondike Stampede. Unfortunately they are in the process of upgrading the area, installing new interpretive signs, with only the metal stands in place and no signs. This meant we were on our own as far as what was where, still, it didn't diminish the thrill we felt at being here and following in the footsteps of those who came before.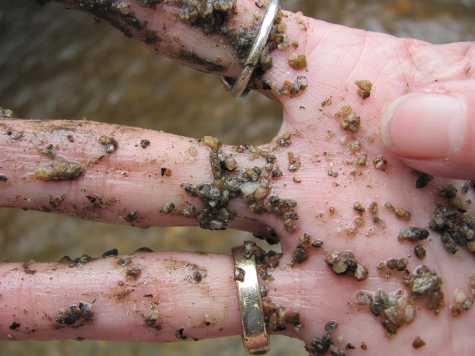 Linda was sure there was gold on her hand. My first inclination was to heartily agree, and get all excited, then once she was looking for it, point out that there was enough gold to make several rings out of it. Then I thought better of that idea, deciding I'd be in really big trouble if I tried that one on her. Sometimes I actually think before I open my mouth.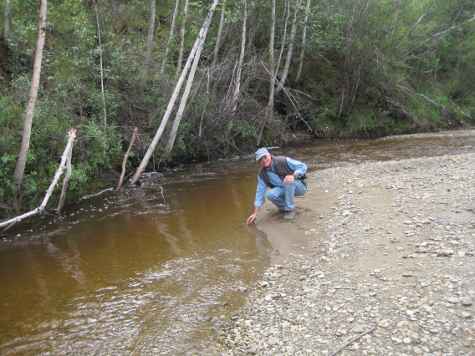 It wasn't long before I too, was dipping my hand into the water of Bonanza Creek, then letting its sand slowly sift through my fingers. From George Carmack to Dredge No. 4, the things it had seen. If you are coming to this area, a must read is Pierre Berton's, Klondike. It has given so much more meaning to our travels as, in a small way, we have followed in the foot steps of those who came before, and for us that is a very big deal.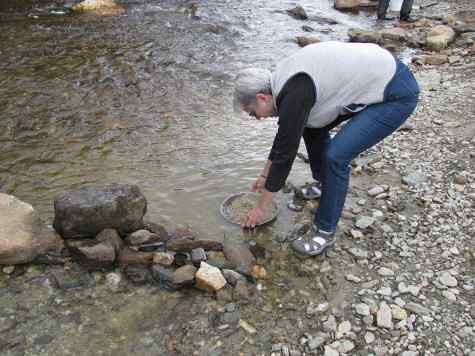 Still farther up the road I saw this little old Klondike panning for gold in Bonanza Creek. The Klondike Visitors Association owns the 6 Above claim, and allows visitors to get the real Klondike experience. Linda had borrowed a shovel and two pans from the RV Park, so we were well equipped for the task at hand. Unfortunately my digging skills were far superior to our ability to dig in the right place, though that was still better than our technique with the gold pan, which was almost nonexistent.
It didn't really matter as we had a great time, possibly finding some tiny flecks, possibly not. But again, it was the experience not the results that mattered. At least to me it did. As for Linda, it looks like she has a case of gold fever. As for our tiny flakes, Linda reported one of them bent when she touched it with her fingernail. I couldn't tell as it was hidden under her finger. As far as our efforts at panning helping to pay for the trip, by my calculations, if the fleck is gold, and with gold at approximately $1300 an ounce, we panned about two cents worth. Prospectors we are not, but our prospects of having a great time are beyond anything we dreamed of.
---
June 27 Sunday
Waiting on the ferry and the Commissioner's Residence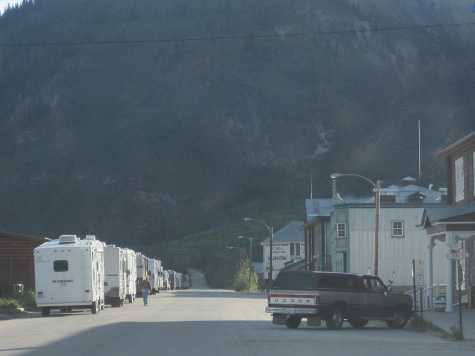 When we first arrived in Dawson, we thought we would spend four nights here before moving on. Yesterday we extended our stay two more days, partly because we are really enjoying Dawson and haven't taken in all it has to offer. Playing a small part in that decision was what is shown in the photo.
If you leave Dawson, but don't backtrack all the way to Whitehorse where we were a week ago, you have to cross the Yukon on the ferry and traverse the Top of the World Highway. We had learned that there were two and possible three caravans leaving Dawson today and heading over the Top of the World to Tok. This was the line at the ferry this morning, just after 8 o'clock, a line that stretched from the ferry ramp to the visitors center for anyone familiar with Dawson.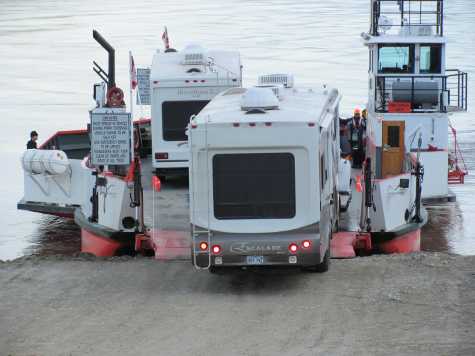 It was surprising how quickly they were able to load the RVs and other vehicles on board. It was easy to see who knew how to drive and who didn't. It almost seemed like some of the drivers of the RVs didn't even want to drive onto the ferry. We chuckled as we watched the ferrymen wildly gesturing to a few of the drivers to get a move on it and where to go. After watching this display of RV driver incompetence, maybe a frequent driver tests for RV drivers isn't such a bad idea. It looked like a few of the Winnebago Itasca Owners group or WIT as it is known, should be hanging up the keys. No wonder they were in the tour, it seemed as if they might trouble driving around the block on their own.
As we watched, they loaded two RVs on board for every trip, with each round trip taking just about 10 minutes. We were glad we weren't in the middle of this lineup, but still aren't sure whether we will opt for an early or a late departure on the day we leave. It's probably pretty easy to determine which of us is leaning towards the early departure and which is for leaving later.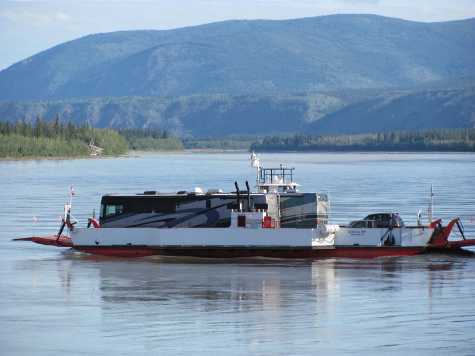 We watched for nearly 40 minutes as they made multiple trips across the Yukon. It is interesting how they use the River to help them make the trips. Going across the river from Dawson, they were fully loaded, the arc was deeper and the pace was slower. Returning to Dawson, there were only cars or small trucks on board, the arc was quite shallow and the speed of crossing much greater. In approaching the loading area they used the river to swing the bow around and help hold them steady. Of course we couldn't keep the thought 'What happens if the ferry engine fails?' out of our minds, but we'll just have to wait a few days to find out. Oops, I think there is something badly wrong with the way I worded that sentence. We did feel sorry for the people who were at the back of the line, but then again, the early bird gets the worm. Or as Linda might put it, the late bird probably gets second helpings and all the rest of the pie.
By the time all the ferry fun was over, Linda was feeling the effects of the lack of breakfast, so it was back to the coach for some scrambled eggs and beans. That might be an exact duplicate of a Klondiker's breakfast, but it was close enough. Unfortunately, what happened next was a bit of miscommunication on my part as to what my intentions were, or at least the timing of those intentions. In my way of thinking, if something doesn't open until one o'clock you don't need to go there until then. Linda on the other hand likes to be at places early, way, way early. I learned my lesson, once again, and will communicate better next time and have us to places early.
Having eaten breakfast, and a certain period of time having elapsed, lunch was fixed, and then we departed to visit the Commissioners Residence. This elegant home is only open on Sunday afternoon, but once again we were struck by what a great tour the Parks Canada people put on. Upon entering, a musty smell strikes you, and the thought occurs that you are actually entering the past. Room after room had been restored on the first floor, transporting us back into time, allowing us to live with the very people we have been so avidly reading about.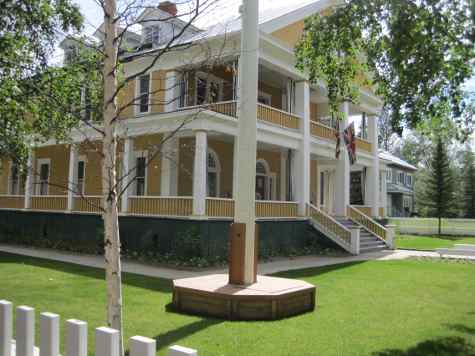 One thing I couldn't understand was why there were so few people visiting this house. Here it was, the heart of the summer tourist season and we were there for over an hour and only one other couple visited the house, though as we were walking away two other couples were walking up. I'm glad Parks Canada invests some of their money in things that may not be wildly popular, yet are historically important.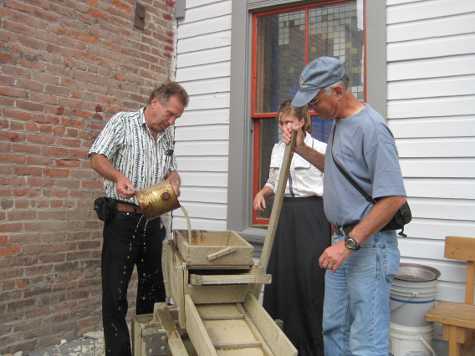 Our next stop was at the Dawson City Museum. As might be expected, it showcases the history of Dawson, but today it also showcased a couple of old sourdoughs demonstarting how to use a rocker to recover gold. There were no volunteers when the docent first asked for them, but after the comment, "it's the opportunity of a lifetime", it was just too good to pass up. Let me tell you, after working that rocker for just a few minutes, I have a world of respect for the Klondiker's who could do it hour after hour, day after day.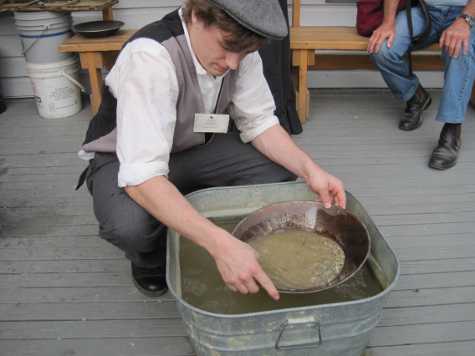 After what seemed like an eternity, and with my arm ready to fall off, the docent stopped us and proceeded to scrape all the remaining sand and small rocks into a gold pan for the really important part of the show. Seemed just like old times, I do all the grunt work and someone else makes all the money. When I asked what was our share of any gold recovered because we did all the hard work, he just smiled and said the experience was payment enough.
It took a while, but once the last of the sand and the dirt had been washed out, there was actually some color in pan. I just hope that little experience did not give Linda any ideas about using me to do the high grading while she does the final panning. We spent the rest of the afternoon in the museum, thoroughly enjoying ourselves and pointing out to each other things we noticed. I am reminded of the Museum in Bisbee, Arizona which proudly boasted that they were a Smithsonian affiliate museum. We didn't care much for it, thinking it wasn't a very visitor friendly place, but the museum people probably thought it was great. Lets just say the Dawson City Museum was everything the Bisbee Museum wasn't.
Remember that family I wrote about yesterday that was doing the Chicago to Alaska and back trip with their three kids in 36 days? Well what should we see tonight, but their rig parked parked directly across from us. What really wonderful people.Here is the link to their blog. Make sure to go back to the months before they leave and check out the preparations and planning they were doing. Just as with each of us, the trip has not gone exactly as they planned, but I can only imagine the stories they will be able to tell once they return to chicago and the snow is piled high this winter.
---
June 28 Monday
A rainy day with a theater tour and fresh bread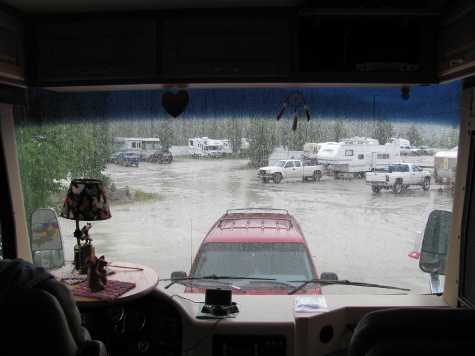 Woke up this morning to the pitter patter of rain on the roof, and from the look of things it had been coming down for quite some time besides not planning on letting up anytime soon. I have to really admire Linda on these days. That sound makes it so I can't sleep, but to her it is just white noise.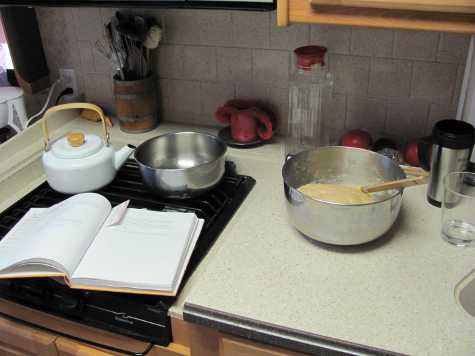 There is, however, a pleasant side effect to her sleeping in on a rainy day. She is not only well rested, she's also looking for something to do inside. That led to several requests for my assistance, first to get out the mixer and then to get down the gluten. After the latter request I was sure what she was up to. We were going to have the fragrance of fresh baked bread filling the coach.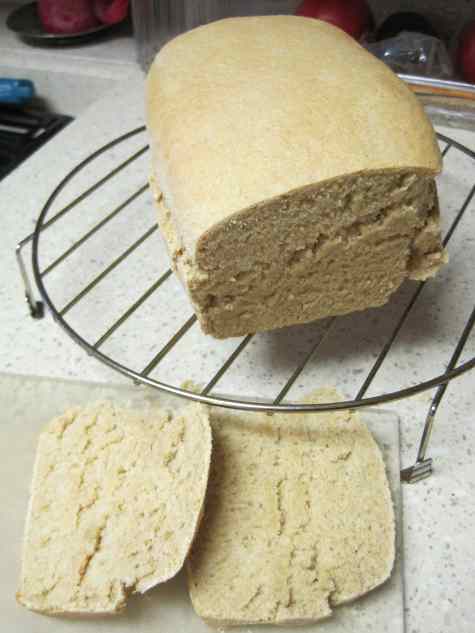 Why is it that it seems to take forever to bake bread? Mix it using the dough hooks in the mixer, let it raise, bake, then turn it out and let it cool before cutting. And that's not counting the fact that once it starts baking, the smell alone is enough to drive a person crazy. When, at last, Linda pronounced it ready to eat, she managed to express disappointment because it seemed to her to be slightly crumbly. What was she thinking? Crumbly? No way. Bread simply doesn't get better than this, well maybe it does if you buy it fresh baked along a canal in France, but otherwise it doesn't. Aroma, flavor and texture that can't be beat. It sure made my rainy day.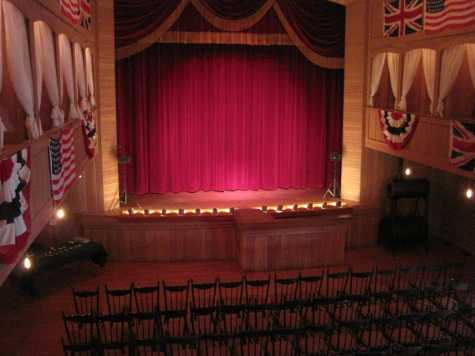 After lunch we drove into town to take the tour of the Palace Grand Dance Hall. This was one happening place back in the summer of 1899, as the Kings of the Klondike vied to out do each other with their profligate spending. The rain did cause one problem as the docent giving the tour told us this was the largest group she had ever had on a tour. Those small booths at the very top were the most expensive, and Linda was lucky to get to sit in the largest of them, the one where the greatest of the Klondike Kings most likely sat.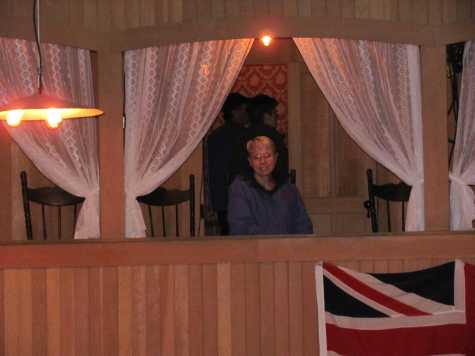 Then, once most of the people on the tour had left, I looked back over to those booths where only the wealthiest men and most beautiful women sat, and low and behold, one of those beauty's was still sitting there, giving me a big smile.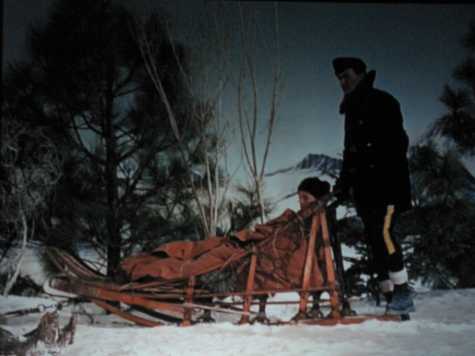 After the tour, they showed an episode of Sgt. Preston of the Yukon. Linda was on the edge of her seat throughout, totally engrossed in what was happening. After it was over she said she didn't remember that specific episode, but she knew she had seen it since Sgt. Preston and My Friend Flicka, it was her two TV favorite shows when she was growing up.
In the evening we drove back into town to catch the 8:30 show at Diamond Tooth Gerties and also to allow Linda to participate in a little adult entertainment. With our coupon we got half off on the price of admission, which enabled Linda to lose the other half to a one armed bandit and it didn't cost us anything. Not quite sure about my reasoning on that one, but we did have some fun. As you can see, all the old geezers lined up in front of Linda's camera sure enjoyed the show, though Linda and I both agreed the floor show left something to be desired.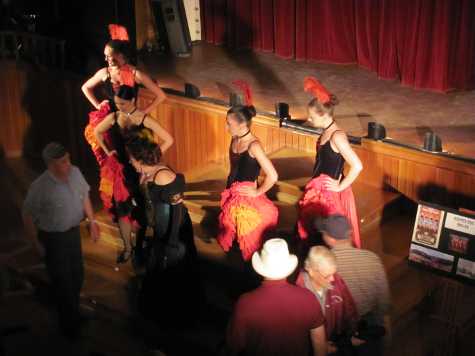 After the show, Gertie and the girls come down front to try and lure all the old guys into posing for a photo. Many were too shy to consort with this bevy of provocative dance hall beauty's, yet there's always those few who know no fear.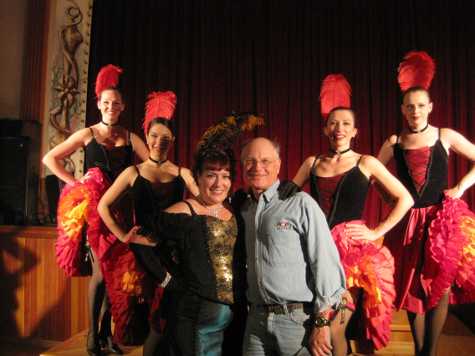 Since I now know that life isn't a dress rehearsal, I wasn't going pass up the chance to jump back into the Klondike Days and relive a bit of history. Besides, at my age when five attractive and willing young ladies want me in their presence, I'm not about to ask, "Who, me?" and then stand back.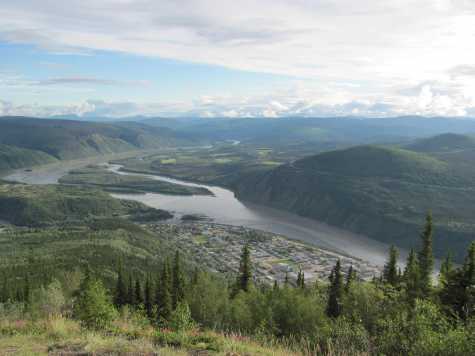 To cap the day we drove high up above Dawson to Midnight Dome where the views are awesome. Looking out over a landscape dominated by the Yukon River, we could see the Klondike River, Bonanza Creek and Bonanza Valley, Dawson itself, and the Top of the World Highway climbing up above the town on the far bank, then winding its way along on the tops of the mountains towards Alaska. It was a view where we could see the past, present and future all at once. This is truly a special place, on where photos can give an idea of what the view looks like, but they can never express the feelings that flow through you as you gaze out on that landscape. One of Life's unexpected moments.
---
June 29 Tuesday
Around town and back to Gerties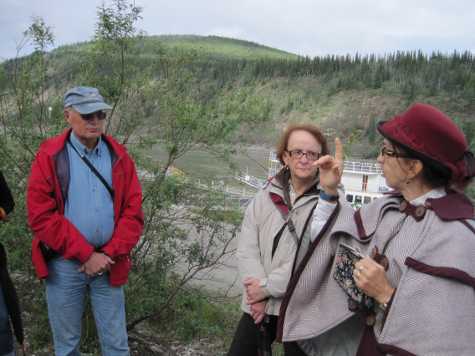 It took a little scrambling this morning, both for the eggs and for us hurrying, but we made the 9:30 town tour. After beginning with a recap of the events and people leading up to the discovery of gold and the rush of 97-98, we walked through the old town area, learning how the buildings now standing were part of those times.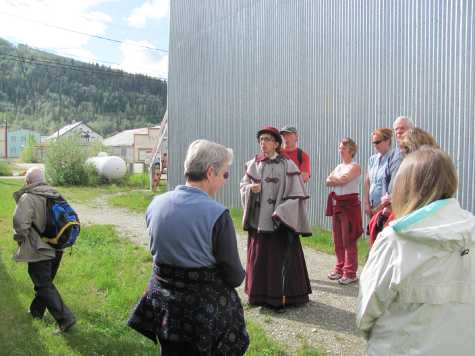 Unfortunately fire and time have taken its toll on some of the buildings, so we sometimes stood in a vacant lot while the history of what now wasn't was related to us. As was the case yesterday at the Palace, the tour group was quite large, and it wasn't always possible to hear everything the docent was relating. Yet when we were done, an hour and fifty minutes later, it had been a great experience.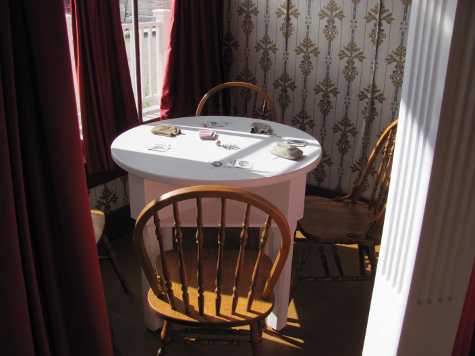 We each had different things we were particularly interested in. I enjoyed the post office which, along with the photos of Klondike days allowed me to relive the past. Linda had her own special interests. I noted the above photo of the gambling table in the Red Feather Saloon when going through the day's photos. Adult entertainment options, either modern or historic were of interest to Linda.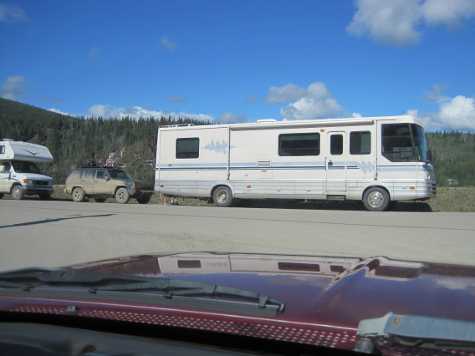 The tour over, we drove back to the RV park to catch up on a few things and then eat lunch prior to going back into town to walk the streets on our own. As we were leaving town to get lunch, Linda wanted me to drive down towards the ferry to check how long the line of RVs was today. Who should we see in line but Celebrating 20, getting a somewhat late start today after their drive up the Dempster to the Arctic Circle yesterday. Since we are doing the Alaska circle in the opposite direction they are, who knows, our paths may cross once again.
Among the many things we saw during our afternoon in town was this bank building where Robert Service worked during his time in Dawson. While we really enjoy his poetry, this building has some intersting points in own right. In Dawson everything was an illusion during those gold rush days according to our guide this morning. This building was no different. Built of wood, it had a molded tin cover placed over the timbers. Then a sand cement mixture was placed over the tin to give the illusion of sandstone. It's amazing it has lasted as long as it has, and when the funds become available, it is going to be restored to its former elegance.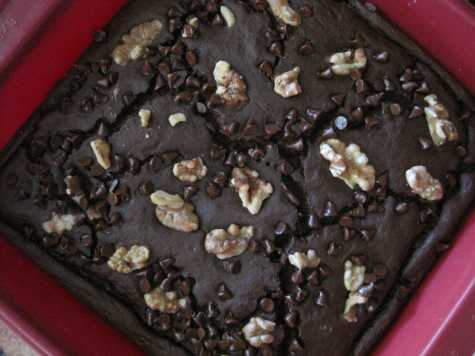 The day was not all play and no work, especially since Linda had put on a pot of Mayacopa beans this morning. I thought the beans were for breakfast and dinner, but that woman had something else in mind also. With an aroma that strongly resembled chocolate wafting through the coach, what should appear from the oven but bean brownies. It's been a while since we last had them, but better late than never.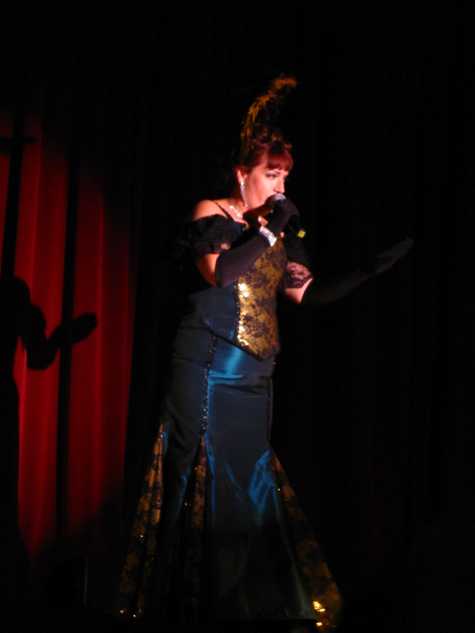 In the evening we drove back into town, just like last night, to catch the 8:30 show at Diamond Tooth Gerties and also to allow Linda to again participate in a little adult entertainment. We quickly discovered the 8:30 show tonight was the same as last night, a show neither of us thought was scintillating last night or tonight. Gertie and the girls are entertaining but the fellow that plays the doorman/singer could be replaced with most anyone, even someone of my singing ability or lack thereof, and they wouldn't be much worse. Yes, I know I'm not a music critic but I am entitled to my opinion on what I like and what I don't like, and his singing and acting I don't like.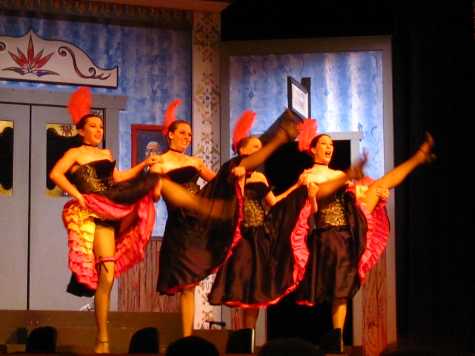 The dancing girls with their ultra high level of energy were once again the highlight of the show. As far as the adult entertainment portion of the evening, Linda quit when she was ahead tonight, muttering that she doesn't like to lose. Maybe she did, maybe she didn't. One dollar ahead to tonight, five dollars down last night. I'm not going to argue if she says she came out ahead.
Tomorrow morning we are leaving Dawson and driving across the Top of the World Highway towards Chicken, Alaska, meaning tomorrow night we will finally be in Alaska. The place we plan to stay is some distance prior to Chicken, but it is a good spot to use for visiting Eagle, Alaska before traveling on to Chicken. This will mean three or four nights boondocking and no Internet, so we will post when we can.
---
June 30 Wednesday
Over the top of the world to Alaska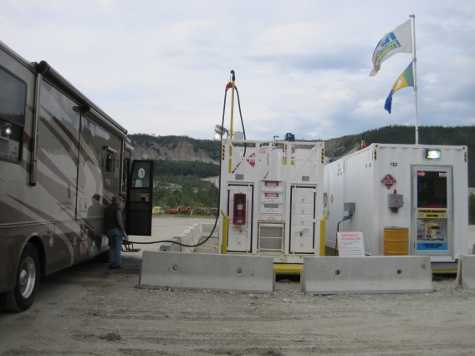 Since we were leaving today, and quite literally going out into the middle of nowhere, it was time to fuel both the Explorer and coach before we pulled out. For once I showed a little intelligence in the matter, asking at the RV park office where the least expensive gas and diesel were. Was told it was back in an industrial area about a mile up the road. Turned out to be a cardlock that took charge cards, but one which had the most confusing instructions on how to obtain fuel that mortal man could devise. If a lady, whose husband worked for the company that owned the place, hadn't taken pity on us and helped us out, we never would have figured it out.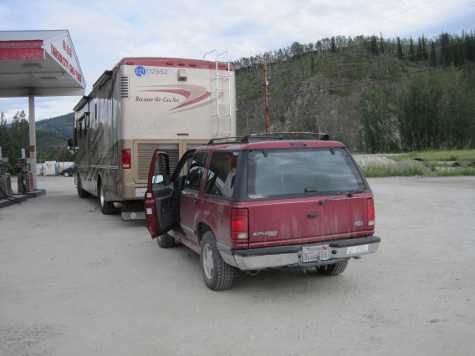 Then to makes matters even more confusing, while we were able to fill the Explorer and save a bundle, the pump was so slow for diesel we gave up and went to next lowest priced station in town. It was about 20 cents more than the cardlock, but still, it was some 20 cents cheaper than the downtown station, and that's per liter, or roughly 75 cents a gallon.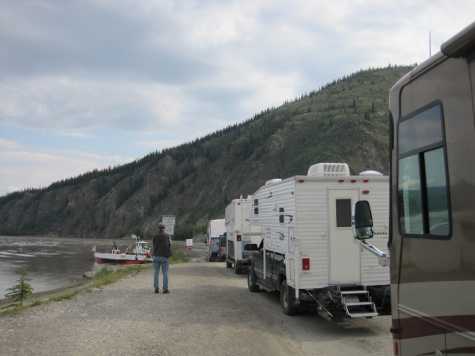 Then it was time to join the line for the ferry. It was just after 10 when we pulled up, and there were five RVs ahead of us, two 5th wheels, a Class A with a toad, and two truck campers. We got on the third trip over, but since a round trip only takes between 10 and 12 minutes depending on loading and off loading time, we soon found ourselves in mid river.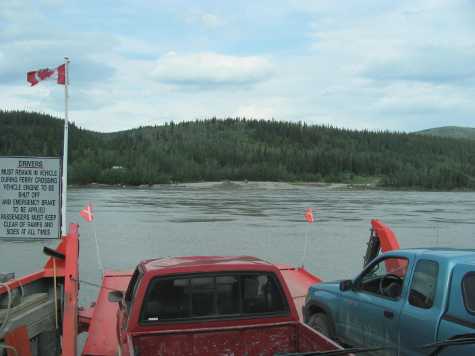 It was amazing how much faster the trip seemed to take when we were actually on the ferry rather than waiting in line. We were the only RV, and as soon as we were off the ferry, we pulled over and attached the rock shield Chuck had so graciously given us at Quartzsite. At the same time I installed Linda's custom made cardboard radiator shield. The way the road was at first, we should have had a dust shield. You would never have know it had rained cats and dogs just a couple of days ago from the swirling dust cloud that emanated from the rear of the coach.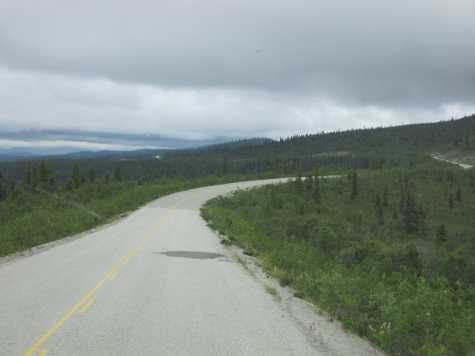 Besides the dust, the road seems to go only in one direction, uphill. Eventually the road did become more roller coaster like and then the gravel changed to pavement. Initially it was a stretch of pavement, then gravel then pavement before becoming just pavement. However, do not think that this meant a better road, even though at times it did. The problem is that nemesis of the Yukon, the frost heave. The good thing was that the patches placed over the frost heaves were usually dark so you could either drive on the other side of the road, or try to straddle them, though not always with success.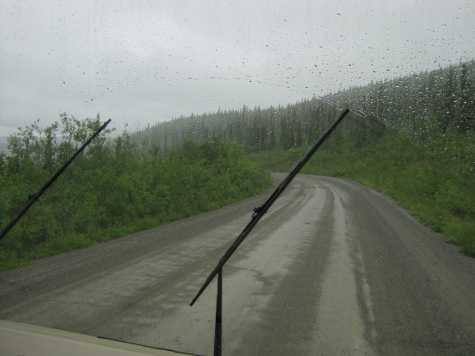 Then there came a time when we had neither dust nor frost heave problems thanks to a generous dose of dust down supplied by mother nature. The road is called Top of the World Highway for good reason. You can see forever up here, plus any leftover weather from the rest of the world is dumped here. Sunny one minute, raining the next, and so on.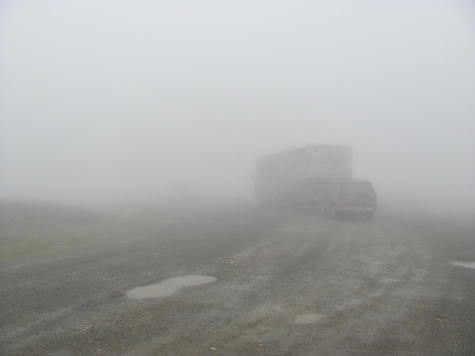 An unexpected impediment to our travel were the clouds. With a little forethought we should have anticipated them, Top of the World, meaning up high, and up high being where the clouds are. As we were approaching the highest point of the Highway, it was interesting watching all the clouds in the valleys below us. What wasn't interesting was when we entered the clouds that were up higher. We pulled off at a rest area, ostentatiously to see the cairn marking the summit, but actually because the clouds were so thick it was almost impossible to see where to drive. We'd heard there might be dust, rain, and slippery roads, but no one forewarned us about the clouds.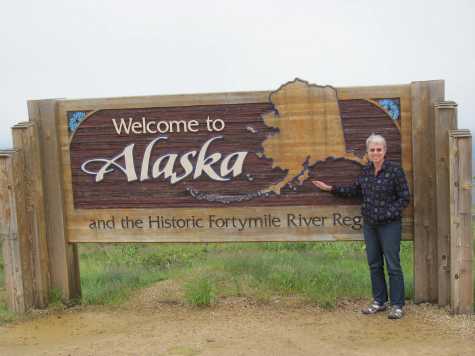 We were still in the clouds, though they were thinning when we came to the border. The crossing was very easy and as we waited for the signal to pull up to the station we could see them using binoculars to check our license plate. A few questions and we were on our way. Of course I managed to drive by the entrance to the nearby pullout with the Welcome to Alaska sign, but with a little maneuvering we were soon in the pullout even if we were now headed back towards the border. I didn't even have to ask Linda if she wanted her photo taken by the sign, as she immediately walked over to it and stood waiting for me to get with the program. The best part was that the wind was rapidly blowing the clouds away and in just a few moments we could see the valleys and mountains in the distance.
Everyone says the section of road in the US is much worse than the section in Canada, and we would whole heartily agree with them. Don't think it is really, really bad because it's not, because in some places there is actually road between the potholes. What we found was that you just needed to drive a lot slower and not be afraid to use both sides of the road as long as you could clearly see the road ahead. There were some lengthy sections where we drove almost continuously on the wrong side, and that was obviously what everyone else did as well. Traffic was very light, and while we did meet some cars and RVs, everyone was facing the same road conditions and traveling slowly.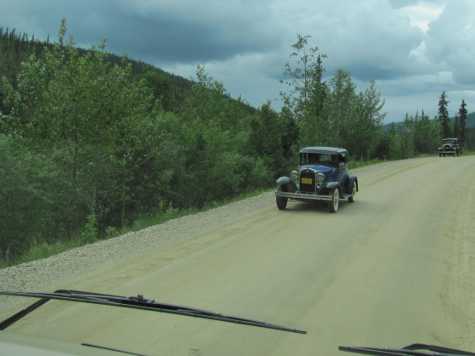 Shortly after passing through one quite rough section we saw this coming towards us. My first thought was, did something happen to us like in The Langoliers were they pass through a time warp. Maybe those potholes jolted us into an alternate reality or bumped us back in time. Fortunately after the Model A's had driven past a modern RV also swept by assuring me we were where we thought we were, though my mind was still a little muddled from the incident.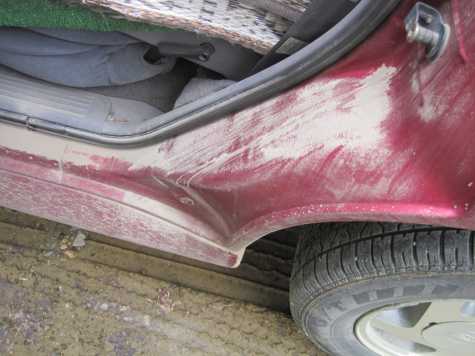 When we arrived at Walker Fork BLM campground, we were pleasantly surprised by how nice it was. No hookups, but we are out in the middle of where. The campground hosts have been here for ten years and they obviously keep coming back because they love this campground and the people who camp here. We did discover that everything had a coating of dust on it. The coach bays as well as the door wells of the Explorer.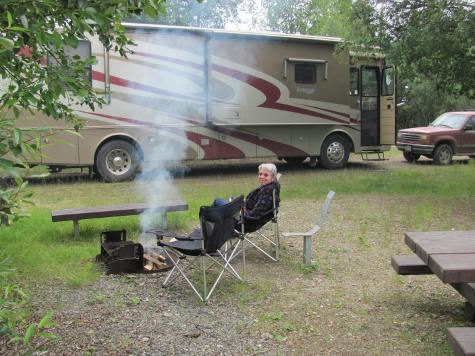 Once were set up, meaning I had got the chairs out, Linda built a really good smoke. That woman is something I'll tell you. The first thing you notice about this place is how pretty it is, the second thing is that there are more flying insects than there are grains of sand at the ocean shore. Maybe that's an exaggeration, but the air is filled with bugs of every kind. That's where Linda's smoke came in handy. While it made it difficult to sometimes see what we were reading it did keep the bugs away. She'll claim she was really trying to build a fire, it just wouldn't burn right. I know better, if she was smart enough to pick me for a husband, she's smart enough to build a smoke when it's needed.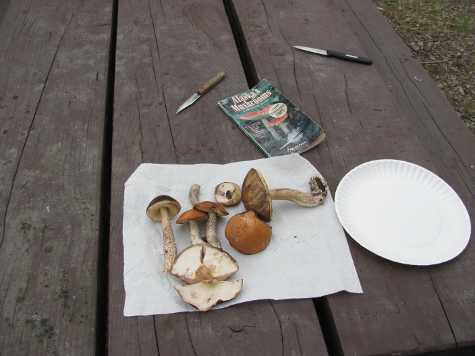 Linda had noticed the hosts were cleaning mushrooms, so with a bit of advice from them we set out to pick some ourselves. Hey, there's a first time for everything and this was one of them. We did good and bad, because as they pointed out when we returned, we'd gotten some real good ones, but also a couple of poisonous ones. We threw the bad ones out, cut up the good ones and sauteed them in butter for supper. Since I'm still alive to write this they must have all been okay to eat. As far as taste, they were the best mushrooms we've ever had, besides being the first ones we've ever picked.
I can't really express the feeling we had, out in the woods, walking along a stream, or through an area of muskeg, looking for those elusive fungi, seeing moose droppings or vast areas of moss covered ground. We both agreed we would never have imagined we would be doing this tonight when we left Dawson this morning. It was one of those pinch me moments.
---
---