Journal Archive 8/1 - 8/10 2010
Scroll down to read the latest post
August 5 Thursday
Down on the Homer Spit
Haven't written for a while, the main reason being I've been fighting a very bad cold for the past several weeks and haven't felt like doing much. Then I go the lethargy bug, and the desire to write wasn't coming back. Now that I'm starting feel much better, we are heading off to a campground where there will not be any Internet coverage, so I thought I'd better post.
Won't try to catch up on what we haven't been doing, since it has been mostly sitting around in Soldotna and Homer. Got out a few times to do some exploring, but each time, the nextday wasn't too much fun. Thus we will just do a brief post for yesterday, then have some ready to post when we emerge from our upcoming Internet blackout.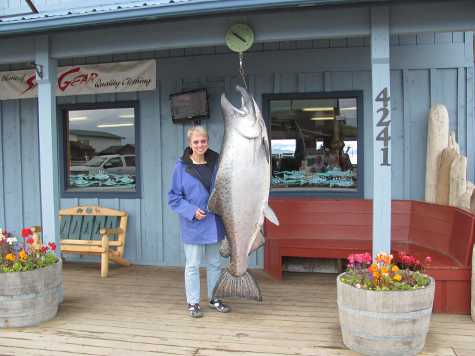 Homer is the Halibut fishing capital of the world. You can't go but a short distance around here and not see a building that advertises charters. But even if you don't go fishing you can still have your photo taken by a fish and tell the people on the "outside" that you hooked a big one. Linda wanted her photo taken by this one so she could send a few emails.
It sure looks real, even has a dribble of blood coming out the gills. I just hope she didn't tell them she went halibut fishing and caught this one. Not because it is a fiberglass fish, rather because it is a salmon instead of a halibut.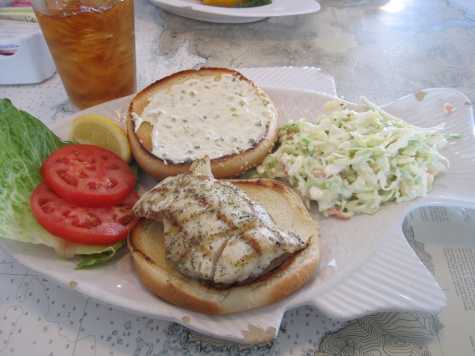 We ate lunch at Captain Pattties on the spit, and Linda really enjoyed this grilled halibut sandwich. Ever the one to watch her slim figure, she passed on the bun, but did manage to scrape ever speck of tarter sauce off of it. Unfortunately with my nasal passages, is was thwarted from fully enjoying my meal. I will say the razor clam chowder was absolutely fantastic, and I wished I'd ordered a bowl instead of just a cup.
The spit is long and narrow, plus it is very crowded. Parking can be difficult to find depending on where you want to be, though everyone does seem to find a spot. My first attempt at parking was met with gales of laughter from Linda. Seems I had pulled up to a very large puddle of water, something that can be quite easy to do I certain areas, and she was facing having to buy the knee high boots we see so many people wearing just to get out of the Explorer. Being a nice guy, I moved so she wouldn't have to do the wading bit, it also reminds us that we have had some rain every day we have been here.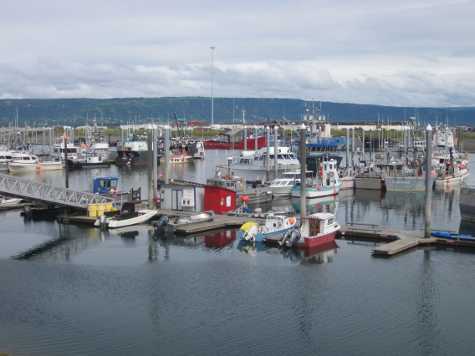 One of the boats that is shown on the TV program, "Deadliest Catch", is supposed to be moored in the harbor over the summer. It may or may not be in this photo, as we don't watch the show, so have no idea of which one it might be.
Tomorrow we are moving back to Portage Glacier for at least three and maybe six nights. There are no hookups, and it is in the middle of a forest, so no Internet. Sorry for the short post, but wanted everyone to know we are okay, with Linda doing a lot better than me.
---
August 7 Saturday
Rainy day in Soldotna after a change in plans
On Thursday while we were driving towards Portage Glacier where we planned to boondock for at least five nights while waiting for the big bore tides to come in on Monday and Tuesday, we realized what we were doing. With me still not feeling the best, why did we want to boondock for the next three days when we could stop in Soldotna and have hookups at an RV park? That was a much better idea, so we returned to the King Salmon RV Park where we had stayed a week ago when I was first catching this cold.
On Friday we drove back to Kenai and enjoyed the Cultural Center. They had a special display on the Russian Orthodox Church that we had driven past the last time we were here. Since the church building was undergoing renovation, the interior had been removed. We discovered they had it on display at the museum, and was it ever glorious.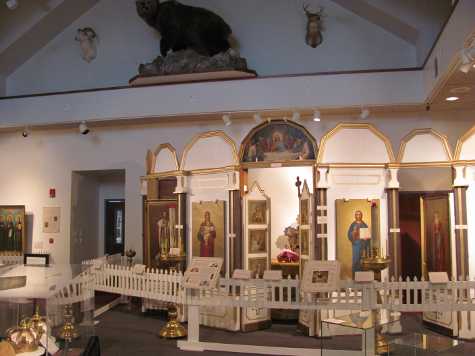 We spent close to two hours in the cultural center, from what I could tell most people spend about 15 minutes, and while I immersed myself into Russian Orthodoxy, Linda enjoyed the videos on female participants in the local annual Yukon Gold dog sled race. That's our kind of place, something for everyone.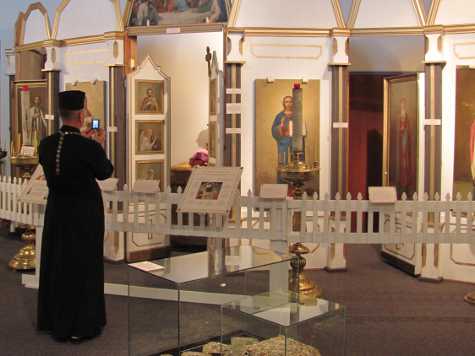 It was also enjoyable watching this Russian Orthodox priest look at the displays. At first he was very stiff and formal, but after a few minutes he was just like the rest of the people at the exhibit, getting up close and taking photos. It was especially cool listening to him explain some of the items to several teenagers who are also there.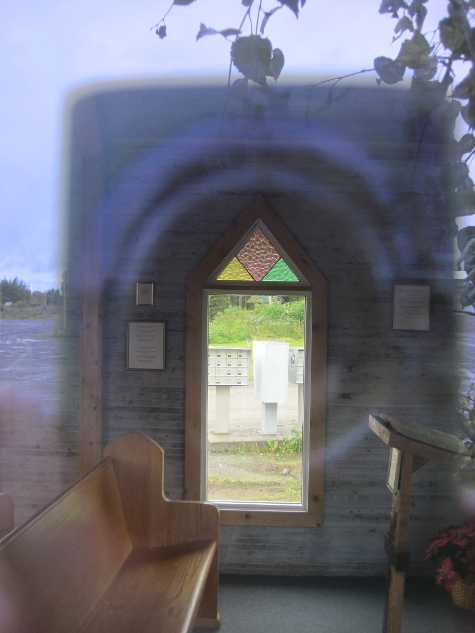 Near Soldotna is a small, roadside chapel that we stopped at. Unfortunately it wasn't open, but we did enjoy looking in the windows. Three pews was all it would hold, but the best part was when we went through the photos Linda had taken and this somewhat surreal image was among them.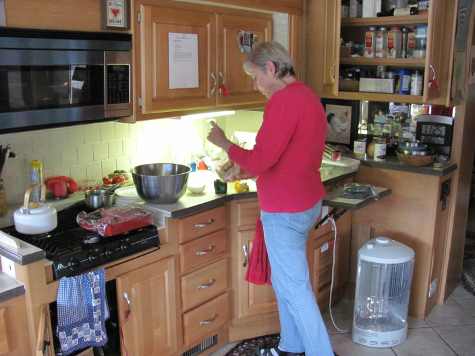 Today we decided to just hang out and do nothing once again, especially since there is going to be a lot of things we are going to be doing once we get to Portage Glacier on Sunday. That didn't mean Linda wasn't busy, because we had also gone grocery shopping yesterday, buying a large package of low fat ground beef that was in the reduced price bin. It had a, use it or freeze it label, so we did both. Made for some good food today, Parmesan meatballs, and many more great meals in the future.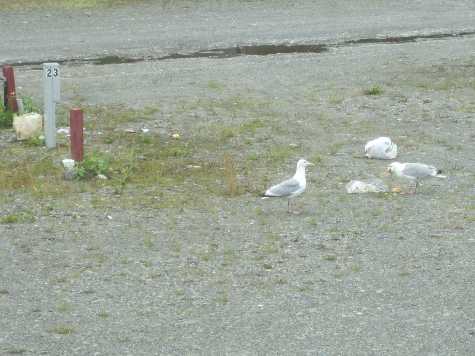 We weren't the only ones who were enjoying good food. There are no dumpsters where we are staying and we are supposed to put our garbage out in front of the site and they will pick it up. It looks like the seagulls have learned that they don't pick up the garbage until mid afternoon which gives them time to open the bags and enjoy a meal themselves.
Tomorrow we are really and truly are moving back to Portage Glacier, for at least two and maybe three nights. There are no hookups, and it is in the middle of a forest, so no Internet, which means no posts for several days. I know I said this several days ago, but this time we are going to be doing it.
---
August 8 Sunday
Liar, liar, pants on fire!!
Let me begin right off with admitting to a major faux paux, my second in just a few days. We do have Internet at the Williwaw campground, and you could knock Linda over with a feather. When we arrived we drove around a few times trying to find just the spot. The one that had the view of the blue ice of the glacier that is in the mountains above the campground. We never did find one that had a great view, but we did find one that had a partial view. Then when I checked the compass, low and behold, the satellite was over the shoulder of the mountain, and just to the right of a tree directly in front of the coach.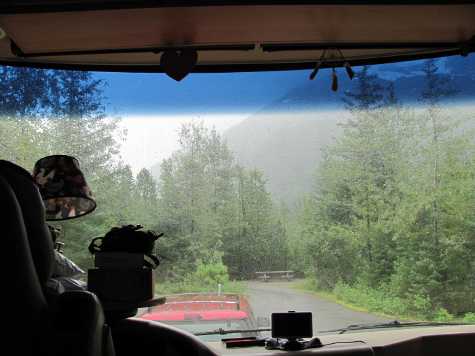 A little to the left and the tree would block it, a little to the right and the mountain would block it. Sometimes you just live right and this was one of those times. But I get ahead of myself, because after having day after day of rain with only one or two exceptions, where we had sun for part of the day either before or after it rained, It looked like we were having another sunny day.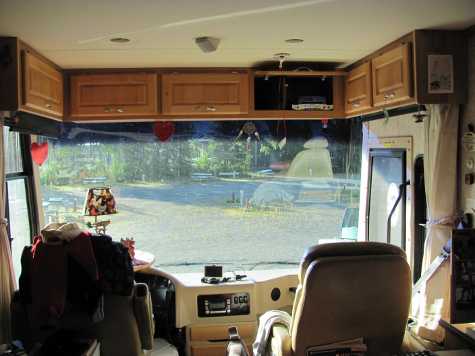 Morning was sunny in Soldotna, then after a nearly three hour drive, we arrived at wet Portage Glacier. That first photo in today's Journal showed what it was like when we arrived. However it wasn't like that all the time, because at times it didn't rain as hard as at others, but it seemed like at a minimum there was always mist in the air. That, however, wasn't deterring Linda from her mission of voyaging to Portage Glacier.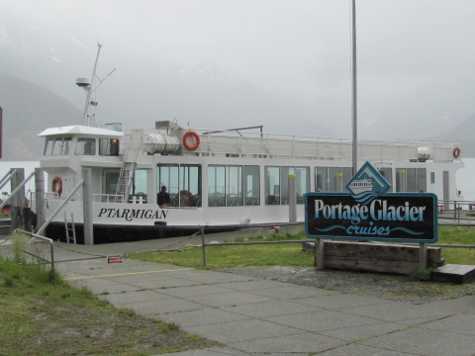 There was coupon in the Tour Saver Book for buy one tour ticket for $29, get a second ticket for free, which was something she wasn't going to pass up. I wasn't complaining since I had really enjoyed the previous two tour boat trips to view glaciers. Somehow the old adage, seen one, seen them all, doesn't hold up when it comes to Linda and I and glaciers.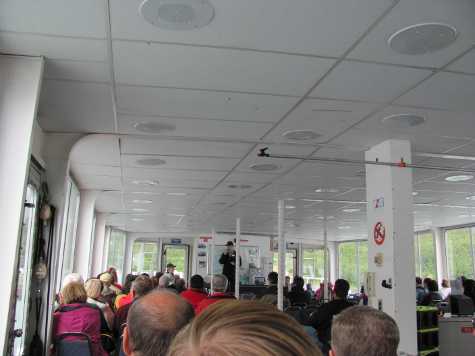 The cruise was only one hour total and the boat was entirely different than the ones we had been on for our Prince William Sound trips. Those had been out in the open water, this one was on a relatively small lake, so differences were to be expected. Today the lower deck was enclosed, while the upper deck was entirely open. During the early part of the voyage we sat in our seats, having been fortunate enough to dash for a window when we boarded, and then listened to a Forest Service guide describe what we were seeing. All this area is part of the second largest National Forest in the US, and the tour is operated by Portage Glacier Cruises under a special-use permit from the USDA Forest Service.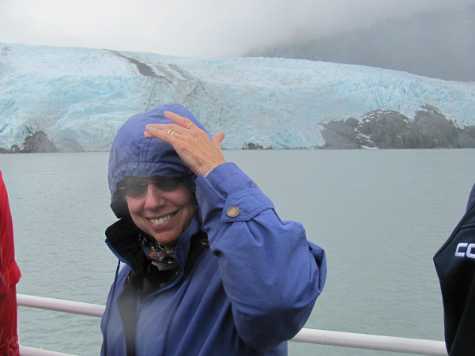 As the boat neared the glacier two things happened. First there was a steady stream of people leaving the enclosed lower deck, climbing the stairs to get a better view of the glacier from the open upper deck. The second thing was that the weather turned even nastier. None of this was going to deter Linda from joining in the stampede to the stairs, and because I worried the poor little thing would get trampled in the rush, I led the way doing my best imitation of a pulling guard in the NFL. It must have worked because once we were on the top deck I turned around to see this big smile on her face. I think this is called a Good Bob moment.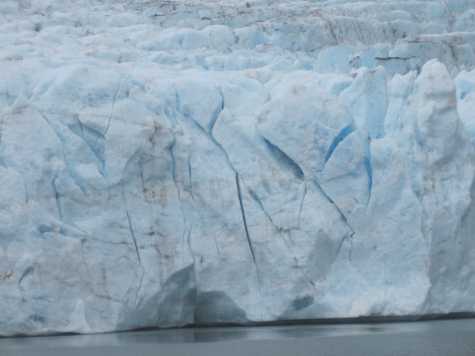 What followed was more glacier photos than a good sized SD card can hold, okay, not really, but it seemed like she was either taking a photo or shooting some video the entire time we were near the glacier. We never did get to see an iceberg calve, but there was more than enough blue ice so that we both got our fill of "wow look at that view". I'll just say the experience was well worth the money, and we'll do it again the next time we drive back up here.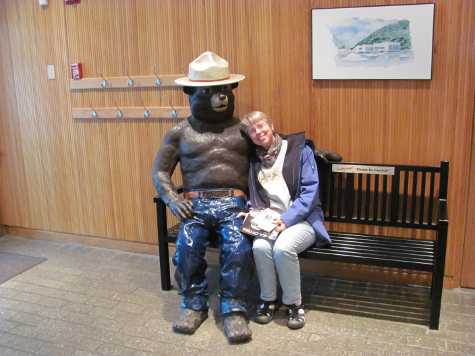 Another interesting stop was at the Forest Service visitors center. While there Linda got up close and personal with Smokey Bear. And it was also where we partially experienced an interesting phenomenon, the collapse of an iceberg. We had stopped here before the boat trip, and had enjoyed looking at a huge iceberg that had broken off the face of Portage Glacier several weeks ago and had floated down in front of the visitors center.
They told us it was the second largest iceberg to ever float to this end of the lake, the glacier being at the other end. This photo of it with Linda doesn't begin to due it justice, as it was huge. Not Titanic sinking size, but it sure would have put a world of hurt to the boats we have been on recently.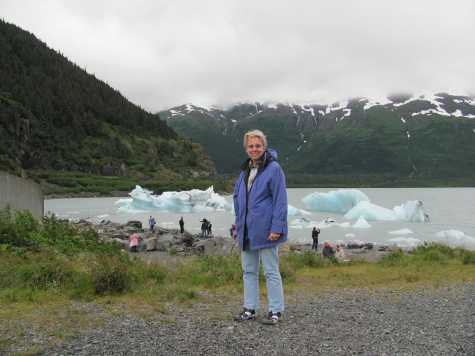 This was what we saw when we returned from the cruise, it had collapsed. To get an idea of its size even after the collapse, just look at the people along the shore behind Linda. It would have been great to have been here when it collapsed, but Linda was excited to have before and after photos taken just a few hours apart. Another day, another great time.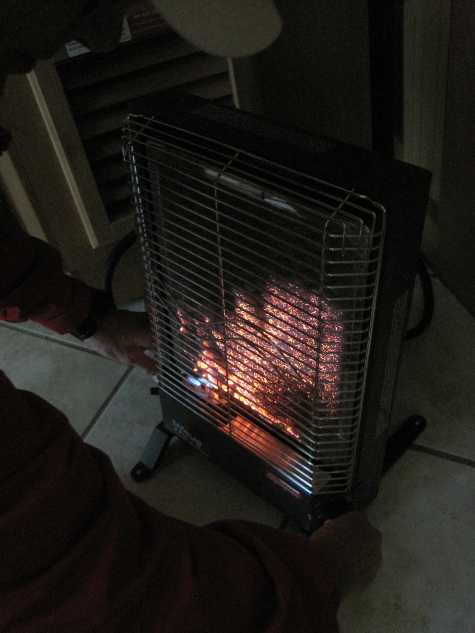 Back at the coach, the rain continued to come down, but we were nice and warm thanks to our Wave heater. Then after a dinner of kale soup we relaxed in our house. Tomorrow we hope to go to Hope, which Linda has been reading about in the book The Dragline Kid. We've been trying to buy books that have something to do with the different areas we are visiting up here, and Linda says this one is great. Since I'm second on the reading list for it, I get it after she is finished. But that wasn't all there was about Hope, on Sunday night, the TV show 48 Hours was about a murder in that very same town of Hope, so tomorrow could prove to be a very interesting day.
---
August 9 Monday
A little Hope goes a long ways
Husband Down
A husband and wife are shopping in their local Wal-Mart. The husband picks up a case of Budweiser and puts it in their cart.
"What do you think you"re doing?" asks the wife.
"They're on sale, only $10 for 24 cans he replies.
"Put them back, we can't afford that," the wife tells him, and so they continue shopping. A few aisles over the woman stops, picks up a $20 jar of face cream, and puts it in the basket.
"What do you think you're doing?" asks the husband.
"It's my face cream. It makes me look beautiful," replies the wife.
Her husband retorts, "So does 24 cans of Budweiser and it's half the price."

On the PA system: "Cleanup on aisle 25, we have a husband down."
We find most forwarded jokes to be funny, but every once in great while there is one that is an 11 on a scale of 1 to 10. This one got us both to really laughing. Thanks Lynda with a "y".
We seldom if ever run the furnace at night when we are boondocking. Heck, we've only run the furnace a few times during our travels over the years, and actually like low temperatures at night. It doesn't get really cold at night up here, at least in the places we have been at, the thermometer rarely going below 50.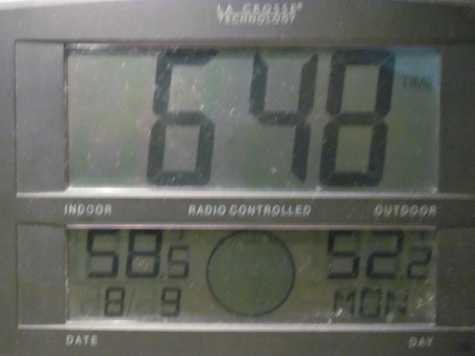 The problem this morning wasn't the temperature, the Wave heater made quick work of that, it was the rain coming down, because today was our outing to Hope. What really got us confused was the weather radar we could view on the Internet. It wasn't showing any rain where were staying. Then we remembered the drive here yesterday, with nice sunny weather until we made the turn back into the valley we are staying in, then then mist, followed by rain.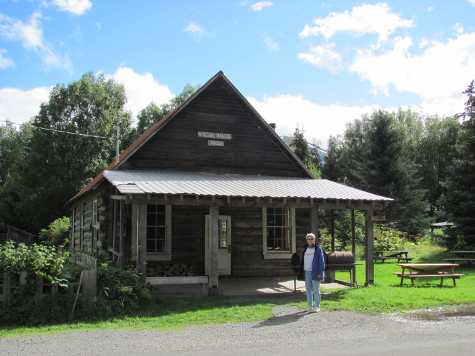 We found the exact opposite when we left for Hope. By the time we turned onto the Seward Highway, which is just four miles from the campground, we had seen numerous rainbows and patches of blue sky. Then a few miles further towards the Hope cutoff, the clouds lifted and the mountains came into view, and by the time we arrived in Hope it was downright pleasant. One thing that attracted Linda was the town Social Hall. The book she is reading, The Dragline Kid, mentions it a number of times and Linda had fun telling me about the dinners and dances which took place here and are mentioned in the book.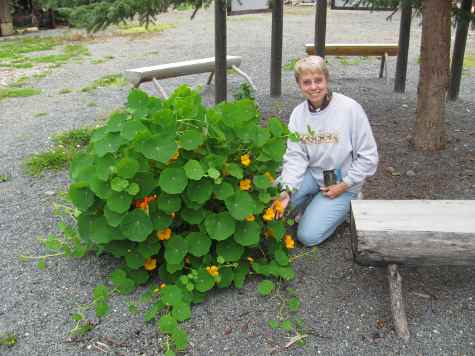 There is not a lot to do in Hope, but then I had to ask myself why did we spend so much time there? One answer was that we stopped at the town history museum. And what made it really special were the two elderly gents that sat in the chairs and could answer any question you could ask about the town or the people. Behind the museum building Linda found the biggest nasturtiums either of us had ever seen.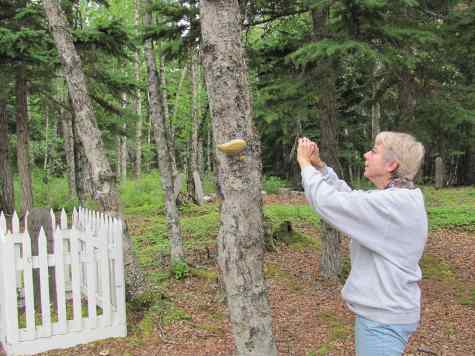 We also visited several cemeteries, neither of which has a sign, nor were they easy to find. Try finding, "Drive back the highway to near 8 mile and you'll see a very steep road right before the guardrail starts. It's too steep to drive down, but one car can park there by the road. If you see the house with the cedar siding you've gone too far. Besides, it's the first house you will see after leaving town, so you can't miss it." which was the way one of the old fellows sitting in the chairs had told us how to find it.
That was about six miles from Hope, and we did find it, and walked down to where the cemetery was at, which is something that very few visitors to town probably do. There were less than 20 graves at this one, and it had been redone a few years ago with new wooden headboards. While I walked among the scattered graves, included five boards in a row for the five people killed in a 1901 avalanche, Linda did her own thing.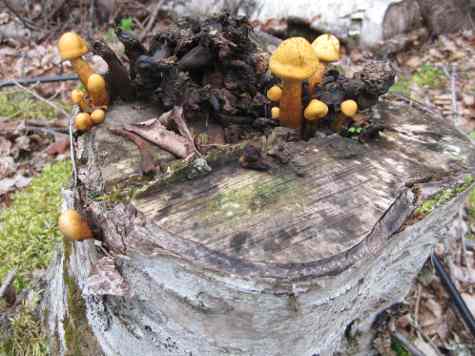 What that thing is, is taking fungi photos. Both cemeteries were filled with them, and with so many different varieties, she had a field day. It's one of those, I could post several dozen of her photos, they are so good, but just like glaciers and icebergs, the viewing is better done in person, especially given what you have to do to get there in the first place.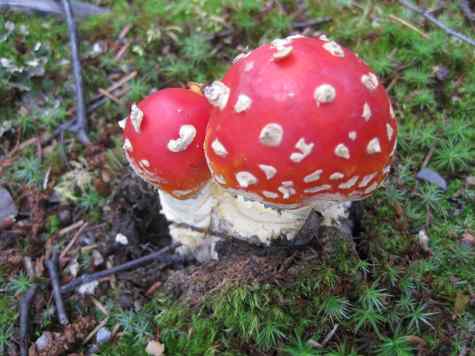 However, this one is just too pretty not to show. Something tells me that anything in nature that looks like that, is a feast for the eyes and not for the stomach.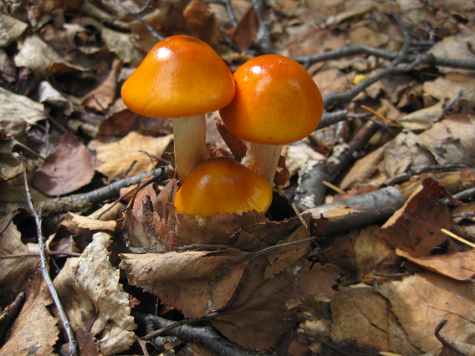 My will power to prevent the posting of more fungi photos is weakening. Got to love the "shine" on the surface of this one.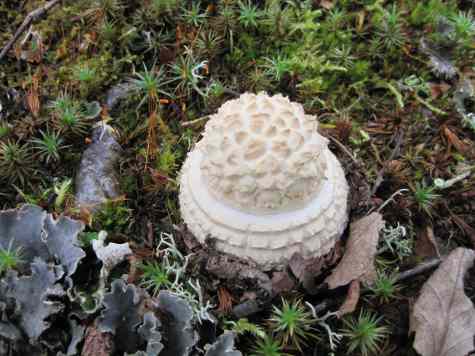 Last one, but suffice it to say there are many more, and all just as unique as these.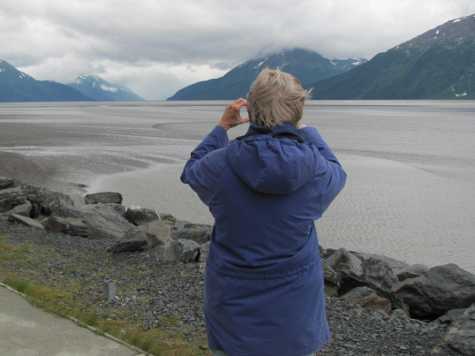 We ended the day by standing out in the cold wind for over an hour waiting to see a bore tide. Linda was really into this, and it was actually the reason we had stopped at Portage again on the way back. To hear it described you would think it was spectacular. It being a wall of water that rushes up the Turnagain Arm twice a day. With an extra low minus tide today, Linda was expecting a four to five foot high wall of water to come rushing in.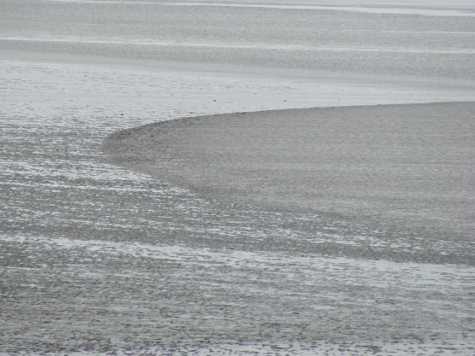 What we got was some water flowing past us over the mud flats that was nothing like Linda thought it would be. Oh well, sometimes you win and sometimes you only come close to winning. Back at the coach we fired up the generator, ran the heat pump to thaw out, then had a great meal of leftovers. Tomorrow we are going to stay here if the day dawns sunny, or at least not rainy, otherwise it is off to somewhere north of Anchorage to begin our travels to Denali and then Fairbanks, at which point we will turn south and begin our return trip to the "outside".
---
August 10 Tuesday
Somedays things don't go the way you plan
Today we planned to leave the campground around 10 o'clockand drive to Palmer. This would allow us to miss the noon traffic in Anchorage and also arrive at the RV park early in the day. At least that is what we planned to do. One small problem with Anchorage is that while the Seward Highway is a freeway south of town, and the Glenn Highway is a freeway north of town, they are just city streets in town. Got to love how you come around a curve and suddenly there is a traffic light in front of you. Nothing like the smell of coach brakes to get your heart pumping.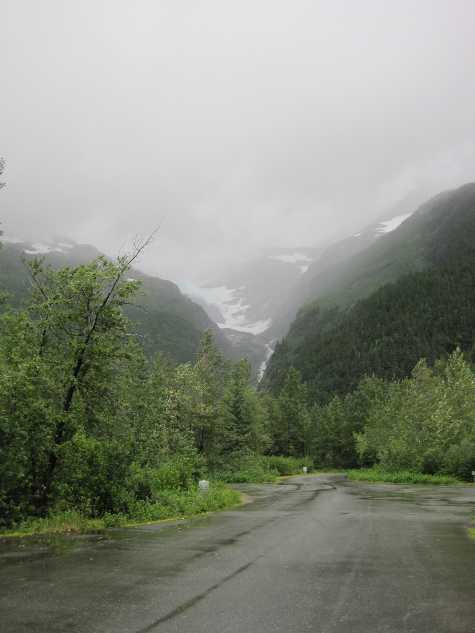 But back to the beginning of the day as I've gotten ahead of myself. The weather was not co-operating, so our plans to do some glacier hikes were out the window. Not only could we not see the blue ice of the glacier of the glacier above the campground, we could just barely see the bottom edge of the glacier. We both worked towards getting ready to leave at 10, and while I uploaded the website, Linda tried to do a good turn and take the garbage up to the dumpster. If it hadn't been raining she would have walked, but since that wasn't the case, she drove the Explorer.
I hadn't realized what she was doing as I was taking down the wind gauge. When she got back she had a story, and it wasn't pretty. When she tried to start the Explorer after dropping off the trash, it wouldn't start. She'd had the same problem down in Homer on a similar rainy morning, but this time, when I walked up to where the Explorer was at, I couldn't get it started either.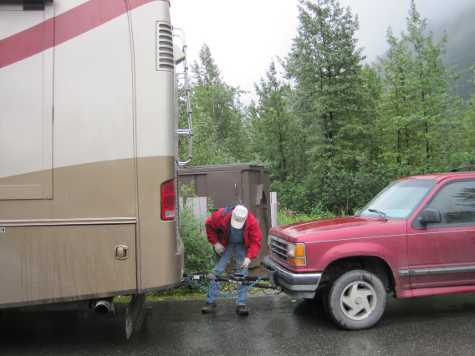 The good thing was that we had a perfect tow vehicle, the same one we have used to drag the Explorer around all these years, the coach. Of course when it rains, it pours, so when I started the coach the ABS and ATC lights both stayed on. That's happened before when it is wet, so I wasn't worried about that. What did cause a problem was that the backup camera had also decided not to work, something else that has happened several times in the past. The problem with the balky camera was that I would be totally dependent on Linda to back the coach up to the Explorer so we could hook it up.
I could tell this was really bothering her, and it was shaping up as one of those times that try a marriage. Then for some unfathomable reason my good side kicked in, maybe the good fairy was perched on my shoulder, and with just a couple of tries, and no ill words, the coach was maneuvered into position. What's happening to me! I don't know, but Linda sure likes it. The bad part is that I can't relate any, I said, she said narrative to the mornings events.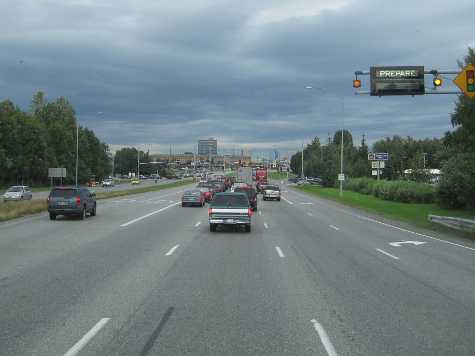 All this excite meant we got started 30 minutes later than planned, but still let us get into Anchorage before noon. By the way, when I restarted the coach to leave the campground, the ABS and ATC lights went out and the camera started working. Some things just can't be explained, or maybe my good karma was overwhelming the bad karma causing the problems in the first place. Once on the road, and approaching Anchorage, we couldn't get over the way the freeway ends, as you see the stoplight in the distance before you see the overhead warning signs. The skid marks on the road attest to the fact we weren't the only ones who were surprised by this.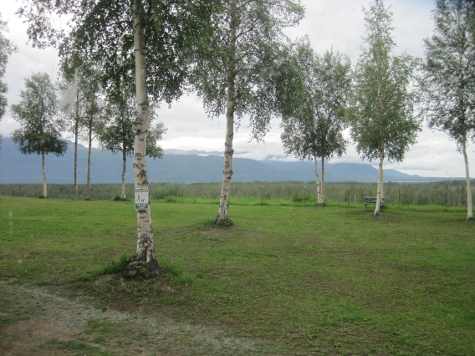 Eventually we arrived at The Homestead RV Park in Palmer, and manged to get a reasonable pull-thru site. The problem being that with the Explorer not working, we had to fit the full length of both the coach and toad in the site. We just barely fit, and after a little jockeying, including unhitching the Explorer and backing the coach up the distance of the hitch, we put the slides out, hooked up the electric and settled in.
Once lunch was over, I tried again to start the Explorer and to the horror of Linda, I got it started. We had asked where was a good place to get a vehicle repaired when we registered and were told the local Ford dealer was the best place in town. Linda wanted to take it over as soon as I got it started, while I was thinking that we could wait.
That brought about the following exchange. Linda, "lets take it over to the Ford dealer right now." Me, looking at my watch and seeing it was already after 2 o'clock, "Maybe we should wait until tomorrow." Linda, "How do you know if it is going to start tomorrow?" Me, "I don't think I'll have a problem starting it tomorrow as it only happens when you try to start it."
Note to self, don't ever under any circumstances make the mistake of saying something even remotely similar to that again. Then to compound my error I said I would shut it off and show her it would start. Even after getting the death stare, and being too much in a world of my own, I turned it off. Then when I tried to start it, it wouldn't start. It was either quickly figure out how to start it, or there would be a "Husband down, cleanup of the Explorer interior" taking place. Luckily the old, hold the pedal to the floor and crank away worked and it started.
A few minutes later we were at the Ford dealer talking to the service writer. We had them not only working on the starting problem, but also replacing the drivers door hinges that have worn out. We decided to leave it overnight so they could work on it tomorrow morning, and rode back to the RV park in their courtesy van.
We have a great view of the mountains in the distance out the front of the coach. Now the reason we are staying here instead of the park we stayed at when we were here before, is because of the electrical problems at that other park. Just to end the day on the right note, the breaker at the electric hookup box had tripped while we were gone. Somedays you just hope to have enough containers to make lemonade out of all the lemons Life gives you.
Resetting the breaker fixed that problem, though our great view soon disappeared as the clouds, and the rain moved in. We had another great dinner of leftovers, meatloaf this time, served with cauliflower mashed potatoes topped with salsa. Sort of a comfort food meets heath food with a dash of Mexican food thrown in for good measure kind of meal. We know not what tomorrow will bring, but something tells us it's going to cost us some money, but then again, we can't take it with us. And besides, fixing our 17 year old Explorer is a lot cheaper than buying a new one.
---
---