Journal Archive 8/11 - 8/20 2010
Scroll down to read the latest post
August 11 Wednesday
Oh! Lord stuck in Palmer again.
Something tells me if John Fogerty had been from Palmer, Alaska instead of Lodi, California, the CCR song, Lodi, wouldn't have been quite as good as it was. Not sure when they would get to the Explorer, we patiently waited in the coach, doing next to nothing for most of the day. And what little we did was pretty much confined to fixing meals.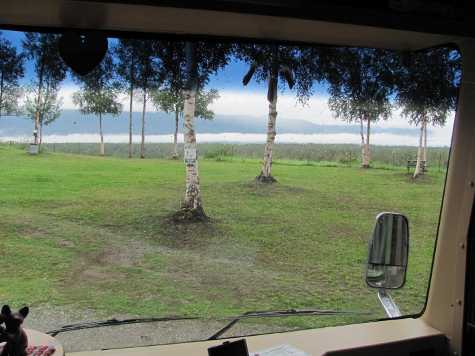 The nice thing was that it wasn't raining, in fact it never rained once during the day. Interesting view to the front though, at least in the early morning, as there was a layer of clouds down in the valley in front of us. That proved to be one of the more exciting things that happened during the course of the day.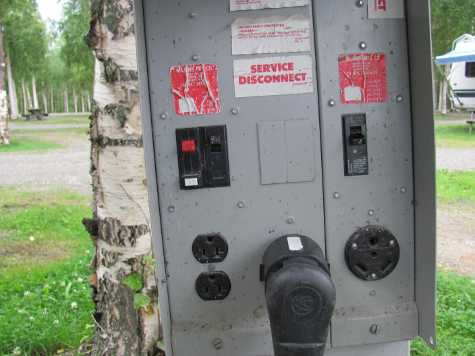 The second exciting thing was the electric in the coach going off again today just like it did yesterday. Must be something about us and the Wasilla-Palmer area that causes these problems. It was the circuit breaker again, but this time I paid a little more attention to the box and noted that the breaker on the other side had been replaced, but the one on our side had not, and it was looking mighty old. Usually when we get near the maximum amps, 30 in this case, the EMS in the coach shuts something down, like the hot water heater. This breaker must be on its last legs, and so it trips before the EMS has a chance to do its job. We will just run the heater on low when the water heater is on and solve the problem that way.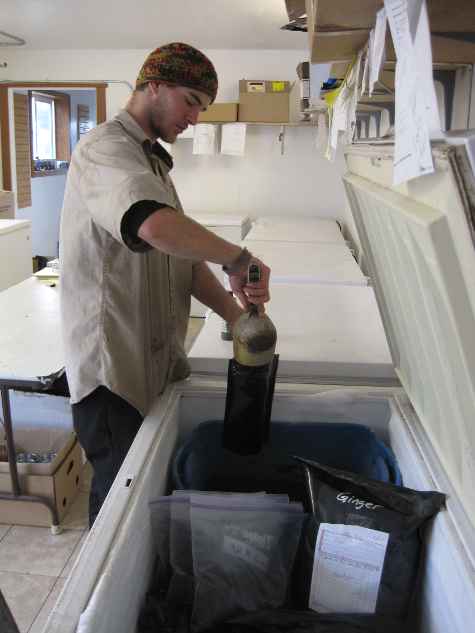 Linda, the ever observant one, had noticed a sign across the road from the RV park that indicated a coffee roasting business was located there. At first she was hesitant to walk over because of the busy highway she would have to cross, but then her curiosity, as well as her never ending search for good coffee, got the best of her. It was a small business for sure, but they opened one of the freezers, filled a bag, and then vacuum sealed it. The result was a package that certainly smelled like fresh roasted coffee.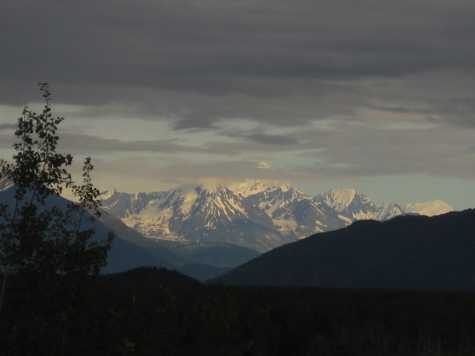 In the late afternoon we walked out to the overlook that is at the end of the park, and marveled at the view of the mountains in the distance. Sitting at the table they have there, we went over our plans for the next few weeks, deciding to stay in Palmer tomorrow even though the Explorer will be ready early tomorrow morning. It will give us some time to stock up on groceries, especially some decent veggies, before we head off to Denali. Looks like the weather is supposed to be clear at the Park on Sunday, meaning we may get to see the mountain, so we will drive part way there on Friday, then arrive on Saturday. We don't know how long we will be at Denali, but we figure at least four or five nights, then it will be off to Fairbanks. It's hard to believe our time in Alaska is going to be soon coming to an end, but Linda is already excited about spending time in Drumheller, Alberta, the dinosaur capital of the world, on our way back south.
---
August 12 Thursday
Hanging out in Palmer
Knowing that the Explorer would be ready shortly after 8 o'clock, the little woman surprised me and made her first appearance of the morning all dressed and ready to go. That had me scrambling to get her scrambled eggs cooked before the call came.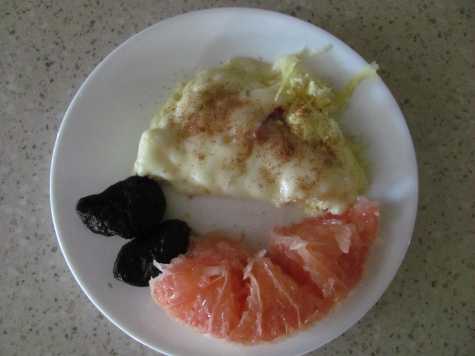 It's also been a long time since I did my food photo thing, and I'm sure that some people, or at least, Mark, are wondering what kind of food we've been eating. That's scrambled eggs using buttermilk instead of water to thin them out and topped with jalapeno jack cheese, a couple of prunes for taste, and a quarter of a ruby red grapefruit. The red powder on top of the eggs is cayenne pepper to add a little zip. Normally there is more stuff on the eggs, but I was in a hurry this morning.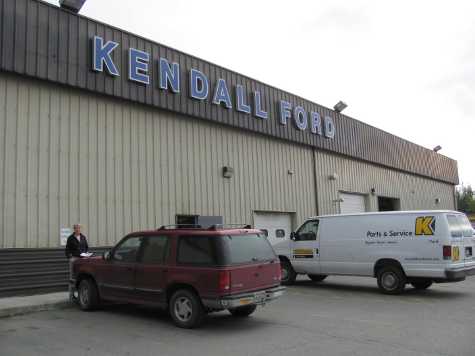 Shortly after we were finished with breakfast, the call came from the Service Department, and we headed up front to await the arrival of the courtesy van. Had a little excitement when he picked us up, as he managed to back into the fresh water outlet in front of the office. The owner, a very fiesty woman, came running out of the office and when the driver got out Linda said to me, "You can get out if you want, but I'm not going out there."
Since Linda had dealt with her over several problems with the wifi yesterday, I figured it would be best to follow her lead and stay put. It all turned out okay as there was really no damage done, which was a very good thing. From the driver's comments on the way back, the lady was pretty good at making a mountain out of a molehill. I could tell from the smirk on Linda's face that she probably wouldn't have been bothered if the lady had been standing in front of the water outlet when the driver backed into it.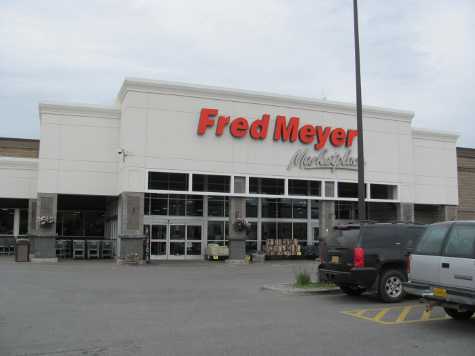 Driving back to the RV park, I noticed the fuel gauge was indicating the Explorer was almost out of gas so we stopped to fill up. It puzzled me because I would have sworn there was at least a quarter tank when we were having trouble starting it. Then again I could have been wrong and the problem may have been related to a nearly empty tank, though that was definitely not the case when Linda had the same problem down in Homer a week ago. Another of those unsolvable mysteries of Life.
We also went grocery shopping, after all we have to have a little excitement in our days, which meant driving the five miles to Palmer. Linda likes shopping at Fred Meyer as they have an great selection of fresh foods, plus they also seem to have excellent quality. Since we have both stepped on the scales the past few days, we were both in the, it's time to eat more veggies, mode.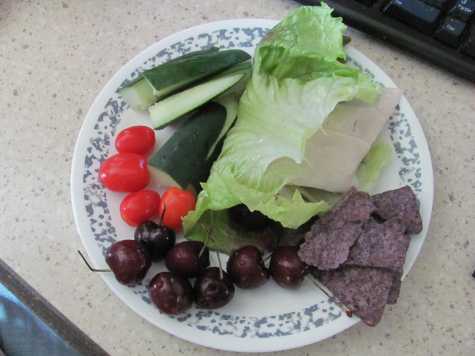 This veggie fixation carried over to lunch, after all didn't I say this was going to be a "meal" day. Lettuce wraps filled with sliced turkey breast, cucumbers, grape tomatoes, a few blue corn chips and eight cherries made for a great meal. We spent the afternoon doing little things around the coach, including washing a load of clothes. We don't have a sewer connection, but there was plenty of room in the gray tank, and we will be dumping on our way out tomorrow. The only negative was when Linda tried to preheat the oven to bake some bean brownies and the outside circuit breaker tripped again.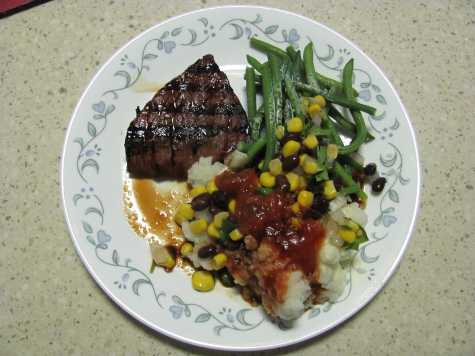 We ended the day by grilling a London Broil cut of buffalo we had bought at Fred Meyer, and serving it with the cilantro/bean/corn salad and mashed cauliflower topped with salsa. Now that was one really good meal and it had both of us scraping bowls and plates. Tomorrow we get back into travel mode and we are not sure whether we will have an Internet connection or not, as we plan to stay in a State Park campground which usually means trees. At least the weather report doesn't call for rain, so who knows, there may be at least some good weather for the day's drive for a change.
---
August 13 Friday
Slight change in plans
As Linda said shortly after she flounced her way into the the front of the coach this morning, "It's Friday the thirteenth, wonder what will go wrong." This was accompanied by the usual scratching and other things women do when they first get up in the morning.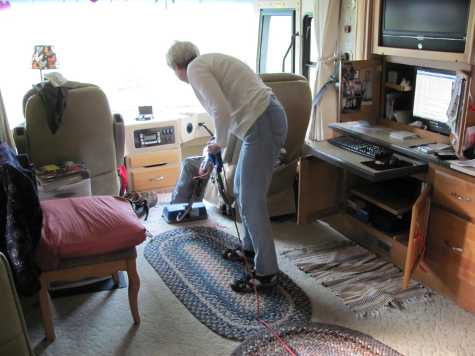 Once everything was arranged just as she liked it, it was Facebook time. Meanwhile I did a little scratching of my own, then proceeded with breakfast, washing my hands first. Just as I was getting ready to melt the cheese on her perfectly cooked scrambled eggs, she leaped up and announced she needed to get dressed. That's what I call impeccable timing, and even though the eggs were cooked to perfection and served hot from the skillet, she pulled that old female date trick, and kept me waiting while she got ready.
I have to give her credit, because she never said anything about the eggs being cold, and in fact she complimented me, mentioning how good they were. She's got me on pins and needles because it has been almost two weeks since a grizzly attack and I'm torn between loving the fact my new leaf is actually working and the fear of god over what might happen if I slip up some day. Add to that it was Friday the 13th and you can see my dilemma.
It was moving day, but as I was finishing up drying the dishes, I heard a roaring sound coming from the back of the coach. Could this be the moment I was dreading? Maybe she'd found I absent mindedly threw a sock on the floor, or perhaps I didn't pick up her dainties and put them in the washer. Then the door burst open and she pushed the sweeper out in front of her, working at making the coach look even better than it normally does. With a huge, though possibly temporary, sigh of relief, I continued on with my Life as it was.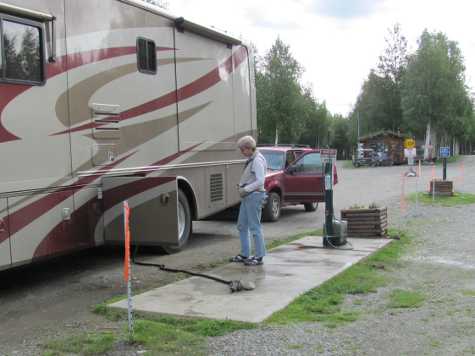 We needed to dump the tanks before leaving the park as we might be boondocking for a few nights, so while I hooked up the Explorer, Linda played sanitary engineer after I connected the hose. Her task was to open and close the valves, as well as turning the macerator pump on and off. She was really nice about it and let me know when I could return the hose to the wet bay. Maybe that's why she's the chief engineer and I'm the helper.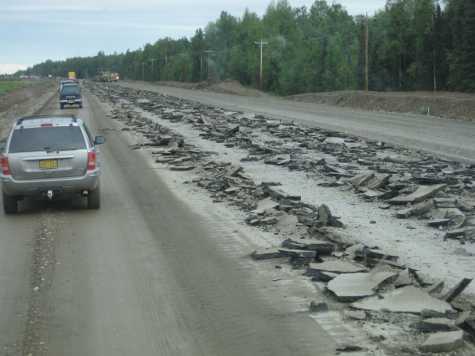 Our plan for the day was to drive about 100 miles north on the Parks Highway, spend the night, then drive on into Denali in the morning. Actually our original plan was to spend a couple of days in Talkeetna, then drive to Denali, but that got changed last night. On the way up we ran into a major construction project with the accompanying slow travel. That got Linda thinking about what the night would bring.
Since she is a woman that can feel a chill walking past the refrigerator, the prospect of spending the night boondocking with no heat was giving her the chills and more. As we discussed the options it became clear that with all the RV parks with hookups along the road, the chances of us boondocking tonight were fast approaching slim on the way to none.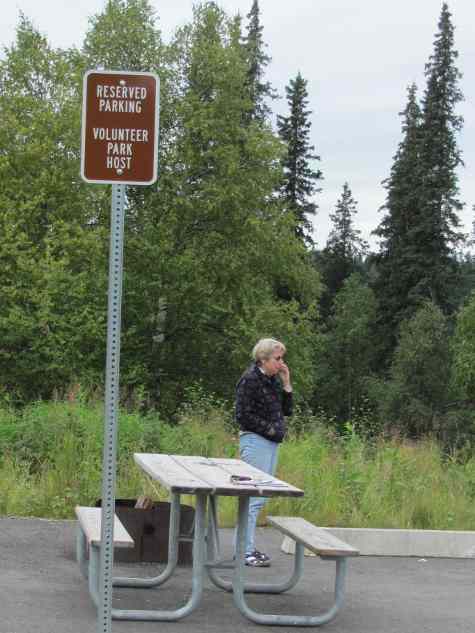 The situation was quickly resolved when we stopped at our first possible boondocking spot for the night and found it wasn't anything like we thought it might be. At that point Linda indicated there wasn't going to be any boondocking tonight no matter where it was, and with the options for RV parks being ever closer to Denali, we decided to just drive all the way to Healy and stay in the RV park we had picked for our time there. A quick call confirmed that getting a site was no problem, so off we went.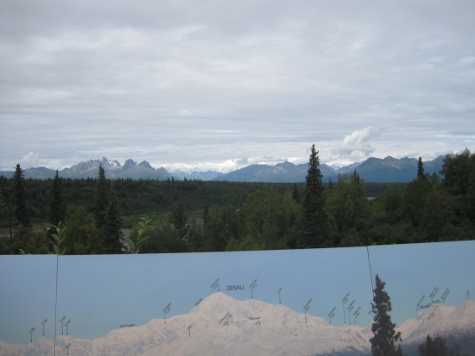 Before hitting the road, we took a photo of Denali. Well not exactly of Denali, which is somewhere in the clouds out there. The board on the bottom shows what we were supposed to be seeing, and with any luck we may get to see the mountain sometime in the next few days.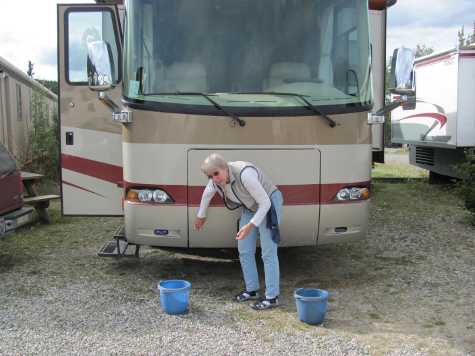 We ended up driving further than we have on any day of the trip. It was our 90th day and it was the first time we have driven over 200 miles in a day, 210 miles to be exact. There was a caravan at the RV park and somehow we ended up in the middle of them, but it gave us a chance to scout out a few Jeep Wranglers as it is looking like the Explorers days may numbered. Of course the fact we just received notice that the final funds from my mothers estate had finally been released also played into that thinking.
The park we are staying at has a rule which is stated in bold letters on the sheet they hand out, No Washing of RVs, and I won't say who I saw washing the front of their coach. The day ended with grilled hamburgers accompanied by a glorious rainbow peeking over the mountains in front of us. Linda's happy about the coach being warm tonight and the chance to spend more time in Denali, while I'm glad that it appears that even though winter has yet to come, the grizzly is already hibernating. How could Life be any better.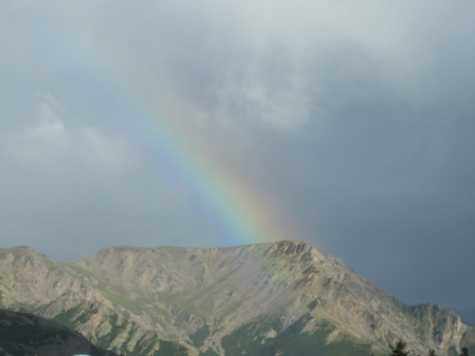 ---
August 14 Saturday
We saw it!!
It's what I get for writing in the evening instead of the morning. No sooner do I get finish with uploading the Daily Journal than Linda shows me a photo she took of the view out the front of the coach. It may be a day late but here it is, looking almost surreal.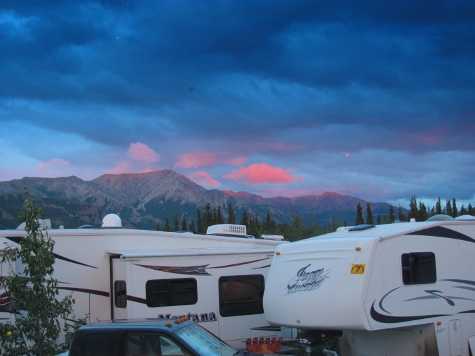 The actual plan for today was pretty simple, do what Linda wanted to do. The to do list wasn't long but it had several very important items. The first thing was a stop at the Park Adventure Center to get our tickets for a bus trip into the park. We'd already decided on the Wonder Lake trip, the problem was the time. We ended up with a 6:45 tour tomorrow morning, a little early as far as Linda was concerned until we learned that early in the morning is the best time to see wildlife in the park.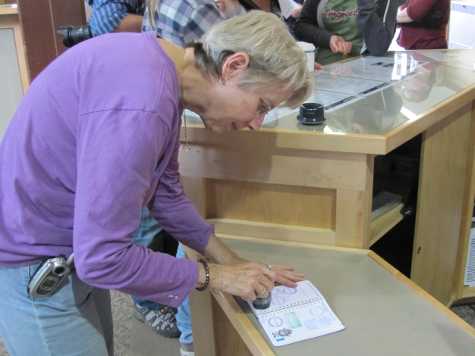 Number two on her list was to get her National Parks Passport Book stamped. That was actually easy as a stamp station was located in the same building where we bought the tour tickets. She'd already checked things out and there are several stamps that she can get while we are here at the Park. That meant our next stop had to be at the Park Visitors Center where another stamp was located.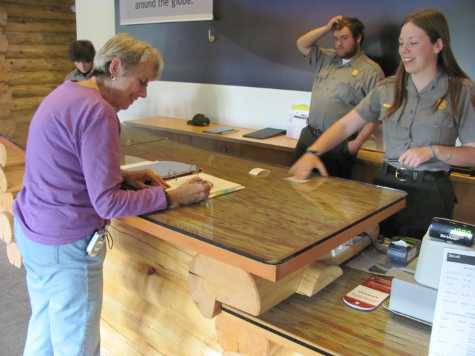 The only problem was on her way to get her book stamped she saw the sign she had been looking for since January. The one that says, Senior Lifetime Pass - $10. I know she looks many years younger, but she has finally attained the age when she can buy the old persons pass.
The real kicker was that this is a free weekend for the Park and no one had to pay to get in. Didn't bother her, she was going to pay whether they wanted her to or not. Turned out they were quite happy to take her money and issue her a card. Even though I have a pass, she wanted her own senior pass. She figures there is no way our politicans would ever take the pass away from current holders of the card, even if they discontinue selling new ones sometime in the future. She figures in that case she will be grandmothered in so to speak. Smart woman, and it once again proves just how smart I was to let her pick me.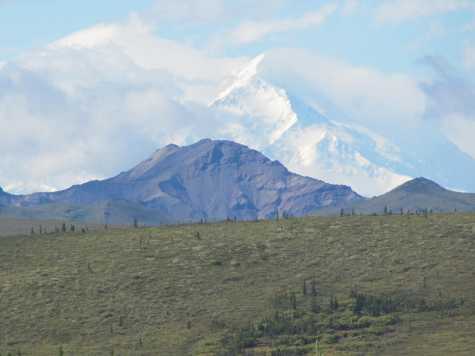 While at the Visitor Center we saw the Denali webcam was showing the mountain with just a few clouds around it. That sent us off on the Park road to the mile 9 pulloff for a our first actual glimpse of Denali, the mountain. As we could have guessed, by the time we got there, the road being a mix of 15 and 35 mph speed zones, more clouds had rolled in, but we could still see that it was a mountain, and not just any mountain.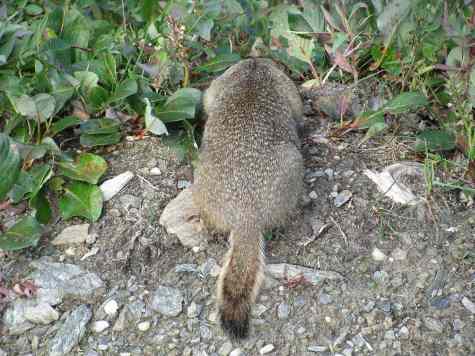 Since our drive to see the mountain took us almost to the end of the road, at least the part the public can drive on, we stopped at the parking area and hiked the Savage River trail. There's probably a time during the year when it is savage, but it wasn't now. Neither did we see any Dall Sheep on the steep sides of the valley. We did see several Arctic ground squirrels, and this little fellow was so into gathering food for the coming winter months that he didn't want to turn around to have his photo taken. Besides everybody always posts photos of what they look like from the front.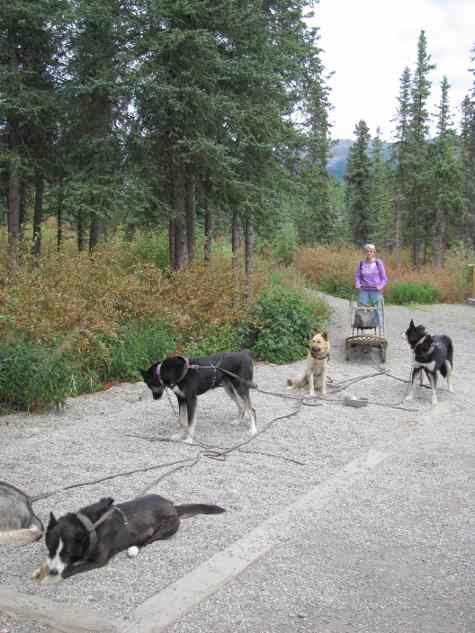 In the afternoon we attended a sled dog exhibition that was held at the Park Service kennels. During the winter they use dog sleds to transport things within the park, something that has been taking place for more than 70 years. During one of the demonstrations the dogs are harnessed up and excitedly pull a sled around, and it takes some real skill to be a great musher and get the most out of the team. As you can see, Linda needs to do a little work on her technique to get the dogs going.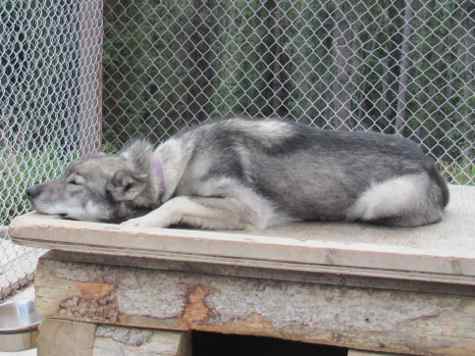 Then again, maybe it really wasn't Linda's technique, maybe it was a lazy dog. We've already decided we want to extend our stay here, and it looks like we could spend at least five nights or more if we do everything we now have on our list. As I write this, the coach is rocking from the wind, and according to our wind gauge the wind is blowing around 25 mph with gusts in the 45+ mph range. Guess you could say this has been a day where we experienced a little of everything the Park has to offer.
---
August 15 Sunday
Far into the Park
With an 11 hour, 85 mile trip via bus to Wonder Lake, deep in the Park was on the schedule for today, the up and at 'em girl bounded out of bed immediately after turning off the 5:30 alarm. It was great, because by the time I met her, she was no longer a little girl, and this morning she was definitely as excited as if she were a little girl. I even did my part, fixing breakfast, being ready to leave the coach on time and getting us to the Wilderness Access Center where the buses depart when she wanted to be there.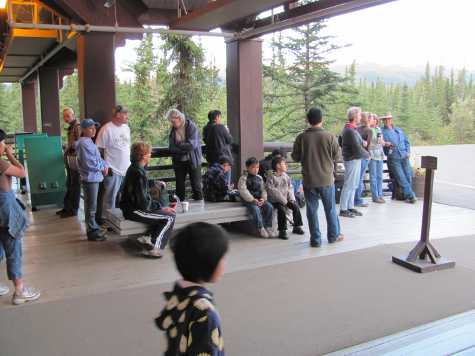 Our adventure today would involve going 85 miles into the Park, and then retracing those same 85 miles back out of the park while riding in a school bus, with only the first nine miles being paved. Linda wasn't worried about the bouncing of the bus during the journey, well she was in a way, but not how most people would think. Her concern was not the up and down so much as the swaying back and forth of the bus, especially if she is sitting anywhere other than near the front. She'd already downed a dramamine so she was covered on that front.
To get a seat near the front of the bus you need to be near the head of the line, and even though I actually got us there a little earlier than she had said, there were already quite a few people waiting. This was really not good, but I didn't marry just anyone. When you grow up in Appalachia, somewhere in your family line someone had the smarts to keep the still hidden from the Revenuers, and those genes sure were passed down to Linda.
Once she had assessed the situation, she made her stealth move. She simply walked up the couple standing at the head of the line and struck up a conversation with the wife. Didn't take long before Linda was safely ensconced near the head of the line. Fortunately for her I realized she did not have her ticket, since both were in my pocket, so I took hers to her, and returned to the back of the line. I wonder what would have happened to me if I had not thought to do that? Something tells me it would have made a typical Bad Bob moment, look good in comparison.
When I boarded the bus, I could see a big smile on her face as she sat in the third row back on the right side of the bus. Once under way we learned our driver had been doing this job this for the past 14 summers, and it showed over the next 11 hours. Note that you don't have to stay on the same bus if you don't want to, and as we drove along some people would occasionally get off to hike an area, catching a later bus.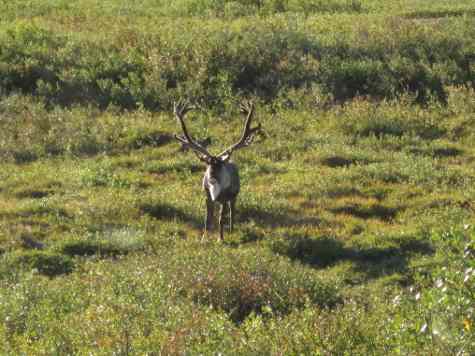 We were doing this as a sightseeing and wildlife viewing trip, and we weren't disappointed. The sights and the wildlife were awesome. Since it is through a wilderness area, you aren't guaranteed seeing wildlife, so maybe we were just lucky, or the driver always starts out with her little talk about the fact there have always been sightings on her trips over the years, but it is up to the people on the bus to look for animals. Our list for the day included caribou, that's the first animal we saw, which is pictured above, Dall Sheep, Grizzly, Red Fox and Golden Eagle. And no, I'm not going to show all of the 250 plus photos that we took, during the trip, most of them by Linda.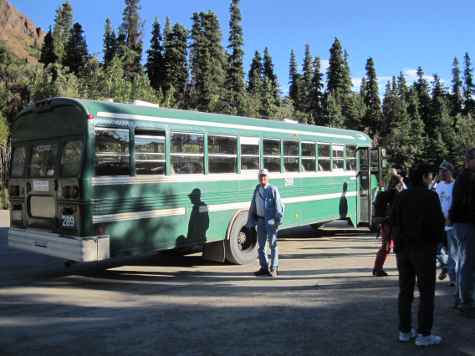 There was so much to see during the trip that it was never boring, the stops whenever wildlife is spotted break the trip up, and they also have restroom breaks built into the schedule as well, which seemed to take place about every hour and fifteen minutes or so. Usually they consisted of a long line of pot-a-potties, with the exception of the Eielson Visitor Center which has real restrooms.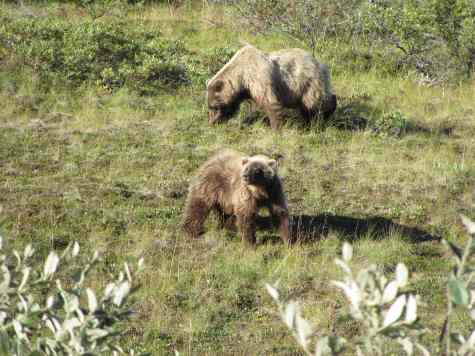 Our most spectacular wildlife sighting was a mother grizzly and her two cubs that were just off the side of the road feasting on berries. I just need to point out that while Linda did good in getting a seat near the front of the bus, she sure wasn't on her game when it can to picking which side to sit on. I'd hazard that 80% of the wildlife we saw during the 11 hours were on the left side of the bus, meaning we had to look over, under, or around the folks sitting on that side to see anything.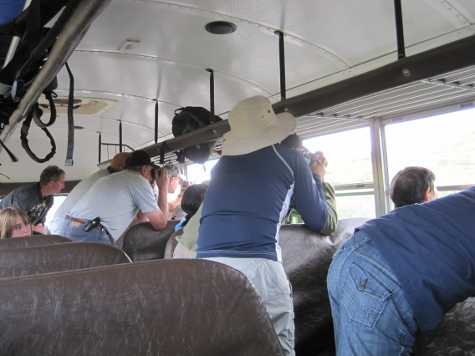 A typical wildlife sighting out the left side of the bus.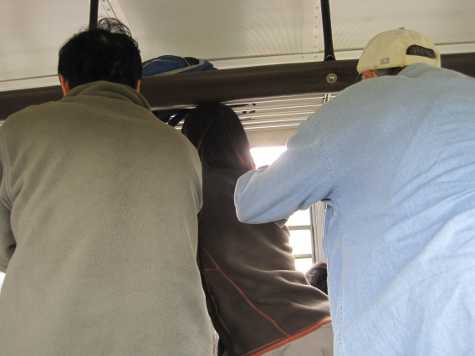 Guess I should look at the good side of this wrong side of the bus thing. There was no way we were going to get sore butts from sitting too long what with all the standing in the aisle we had to do to get a decent, or maybe not so decent, wildlife photo. Next time we do something like this we are not sitting together. she can have the font of the bus, I'm going for further back on the opposite side.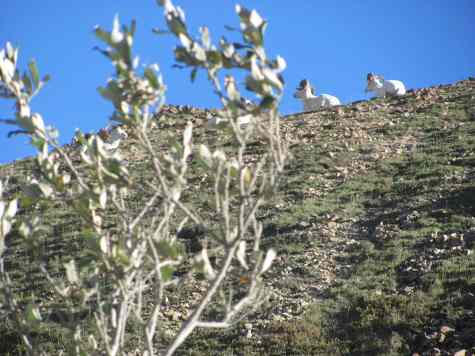 Then to make matters worse, when an animal would appear on our side of the bus, this is the kind of photo we would get. Twice there were creatures on our side where, when the bus came to a stop, there was some type of vegetation directly in line with our window and and what we were looking at. I really have to believe Mother Nature was punishing Linda big time for cutting in line this morning. Don't get the idea we didn't enjoy the day, we really, really did, and will go again the next time we are here. Plus we would heartily recommend it it anyone visiting Denali. Just don't cut in line because you can't fool Mother Nature, she's going to have that last laugh.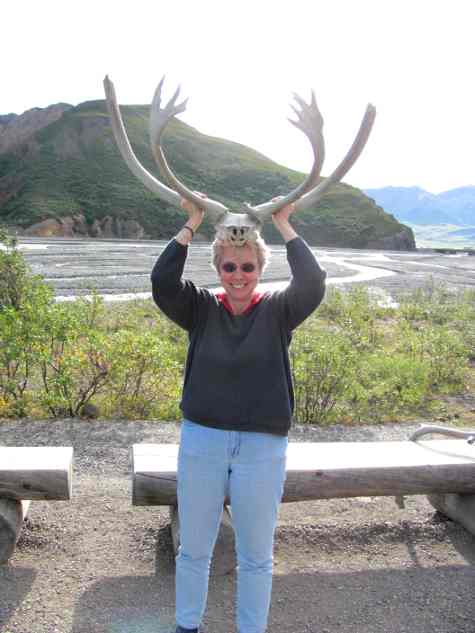 The driver had explained to us that both the male and female caribou grow antlers, so you can't tell them apart that way. The best wildlife sighting of the day was this stunning caribou, sporting a great rack, that I chanced upon at one of the rest stops, and which was definitely female.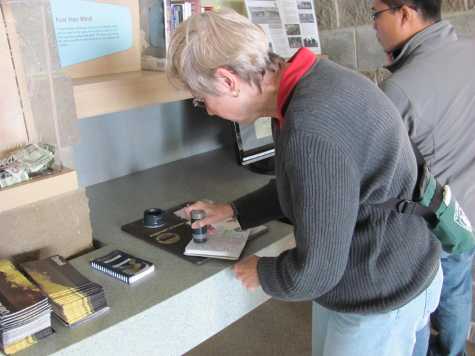 Linda had her NPS Passport book with her and collected two more stamps during the day. At one of them she hadn't brought it with her when she got of the bus and had to make a dash back out to get it. After I took this photo I headed off to the bus, while she looked around. She made it back to bus, but not until she'd really scurried the last few feet, then climbed the steps with the door closing behind her and the driving thanking everyone for getting back in a timely manner. Maybe Mother Nature put those words in the driver's mouth.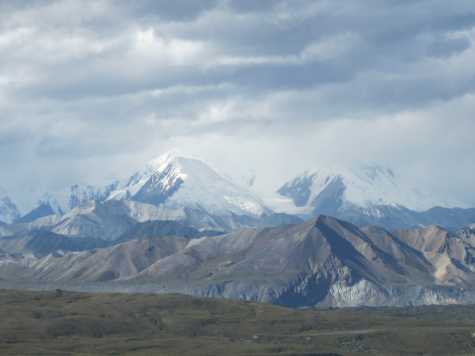 Of course there's another reason everyone comes out all these mile on the bus is to get a view of the mountain, Mt. McKinley, or Denali is it is also sometimes called. It's there, but it isn't either of the two peaks in the foreground. On the right side a little of the slope can be seen, but most of the mountain is in the clouds. Given the fact that most days it is not visible, we were happy to see what we did, and of course the chance to see it is another reason to come back in a few years. I know we have photos from today that show more of the mountain but there are so many of them to wade through that this one will just have to do.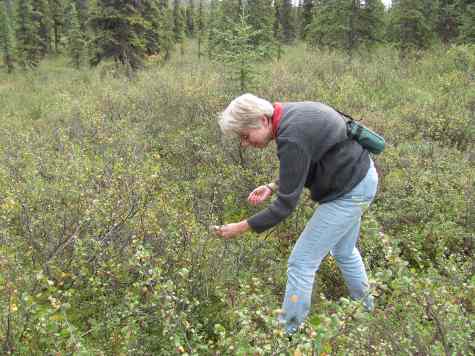 With extra time at the turn-around point, which is Wonder Lake, most of the people on the bus walked the few yards to the lake. Not Linda and I. We set off out in the tundra to see what edibles we might find. Just like the grizzlies we saw, we found berries. The lowbush cranberries weren't something Linda wanted to try due to their being quite tart. Finally she gave in and tried one, but unfortunately I never did find out how she would describe them, what with all the sputtering and spitting going on. I did eat a few, finding the taste and texture to be somewhat similar to raw cranberries, and while they were edible, it is said they improve greatly after the first frost, so we will just assume the the first frost had not yet occurred, though Linda doubts that even that would help.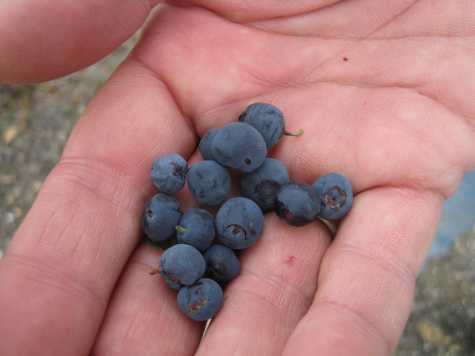 Linda did pick and eat some blueberries, high grading the biggest and juiciest ones, then letting me have what was left. We had a great time picking and eating, then boarded the same bus for the return trip. 11 hours being more than enough for us, and besides, it was 80 degrees and the wind blows constantly which makes for an even longer day.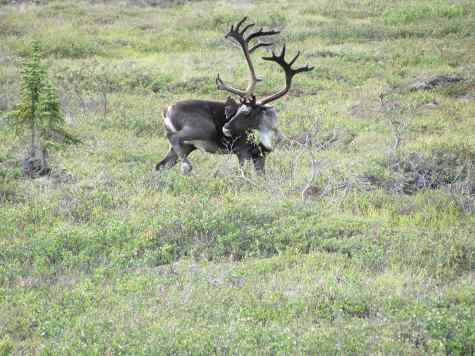 Our day of travel ended just like it began, with a caribou sighting, though this time it was much closer to the road and doing more than standing still. I'd like to think it was the perfect ending to a wonderful day. Well not quite, I still had to drive the ten or so miles back to the RV park, then fix dinner while Linda relaxed. I will give her credit, once I was ready to serve the food she did comment on how she had done nothing to help. Maybe that was Mother Nature giving her one last little nudge for the day.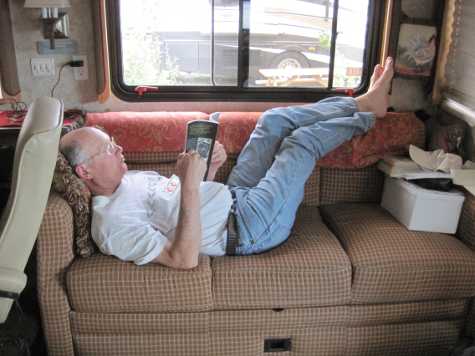 A soft couch to curl up on. A volume of Robert Service poetry. Life just doesn't get much better than this, something we've said before and will be saying again and again.
---
August 16 Monday
And was the coach ever rocking
After yesterday's 11 hour, 170 mile round trip via bus to Wonder Lake, this morning we found ourselves ready for a day of rest. We also decided to extend our stay, which proved to be a money saver. Not only was the daily rate reduced for the next three nights, we also got a fourth night free as part of their pay for six, stay seven deal. The other nice thing was that we were pretty much all alone in the park.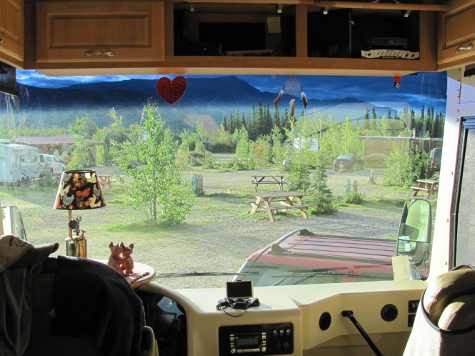 After being in a packed RV park since we arrived, at least the full hookup section was full up, it was nice to finally have the view of the mountains that the office person spoke about when she assigned us this space when we checked-in on Friday. Given the view and the fact that we were both still beat from yesterday we decided to make this a do nothing day.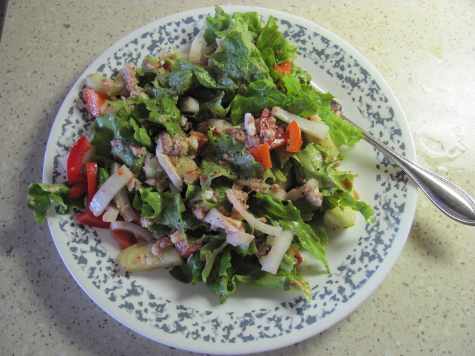 I was so much into doing nothing that Linda ended up making both breakfast and lunch. Yogurt, Uncle Sam's cereal and blueberries for breakfast and a tuna salad for lunch. As you can see, what she fixes is certainly different from what I normally fix. I'm not going to complain, especially when it tastes so good, and I once again realize why she was always so appreciative of the infrequent times I would fix a meal in the earlier years of our former life.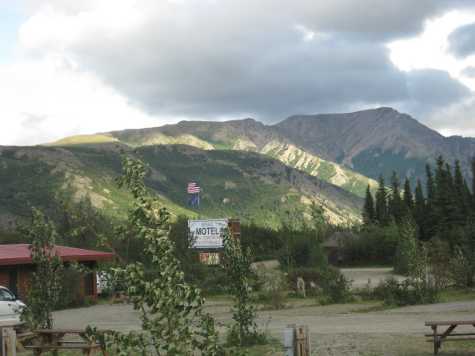 The real story of today can be seen in that photo. Those clouds are the harbinger of what was to happen, and it was something that we had not experienced to this degree. From that bright sunny view of this morning the scene changed in the early afternoon. The clouds changed color and seemed to be moving ever faster past the front window.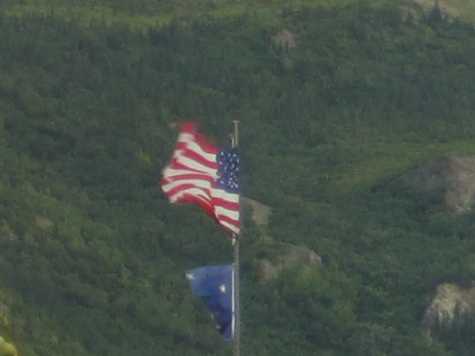 It started with a gentle rocking of the coach, then the slide covers started flapping, then things would calm down. This cycle seemed to continue, but everytime it seemed that the wind was blowing harder and harder, and the gusts becoming more pronounced in their intensity. We remembered the old flag trick we learned while we were volunteering at Petrified Forest NP, that a flag that was blowing straight out meant the wind was bad, and when it blew upwards, it was really bad.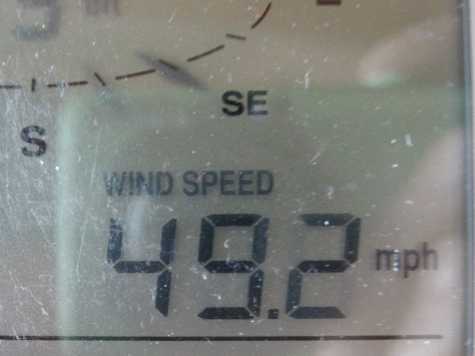 But we have another way to tell the wind speed, our weather station. As I write this we have hours to go until the sun goes down and even more hours before the high wind advisory for the area is lifted. Here is the forecast for tonight: Becoming cloudy. A chance of rain. Lows around 50. South winds 10 to 20 mph...except 35 to 50 mph with local gusts to 65 mph through Windy Pass. Winds diminishing to 20 to 35 mph by morning. The key here is that we are staying in Windy Pass. A quick check of the winds for today as recorded in our weather station show the highest sustained wind has been 57.7 mph, while the maximum recorded gust has been 65.9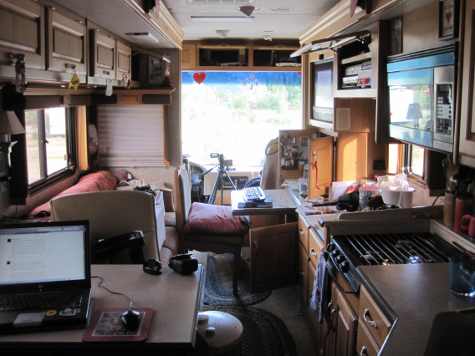 Remember that sunny view out the front window shown in the first image today? Well here is what the view to the front looks like now, slides in, jacks down, and we are still rocking. Linda was laughing a minute ago as the coach was moving so much she was having trouble hitting the right keys on her keyboard. Something tells me that old adage about being gently rocked to sleep isn't going to be happening tonight. Tossed out of bed onto the floor may be more like it. It will be interesting to check the weather station a tomorrow morning to see if it got any worse during the night.
Just down the road a mile is an Alaska Highway Department remote weather station. Here is a link to the weather underground webpage that shows the station's history. Change the date and look at the graphs on the bottom of the page. Just another interesting day in the Life of living where you are parked.
---
August 17 Tuesday
Dinner theater fun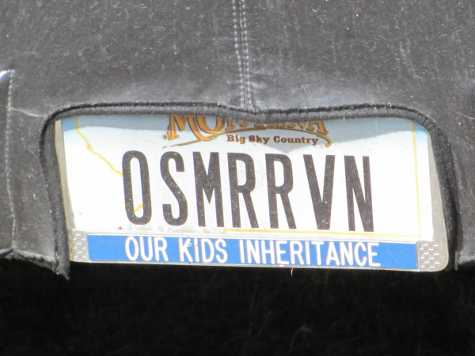 Some people say they do it and others flaunt it, but still, I just wonder how many people are actually able to do it. "Awesomer RV", maybe their next RV will be Awesomest RV.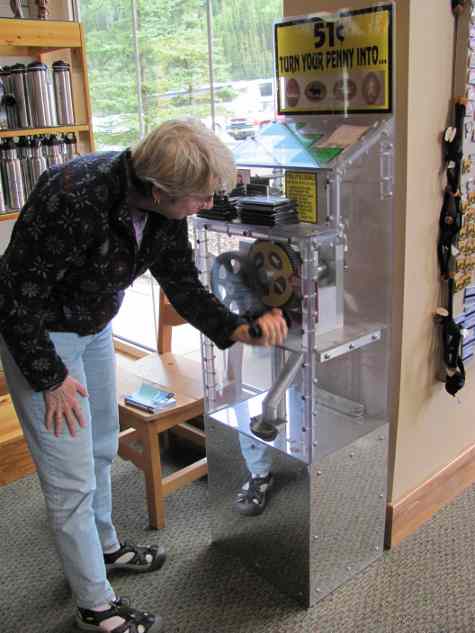 Since we were rested up from the long bus ride of Sunday, we got out and about today, spending the most time shopping, or maybe I should say looking, since we didn't buy anything. We weren't the only ones just looking and it might be that the stores in Denali aren't doing so well. Either that or it was just a slow day with very few cruise ship passengers in town.
In one way our day was a smashing success, and here is Linda demonstrating just how. We actually found two machines in town, each just across the street from the other and she feed her 51 cents into both of them. Whenever she talks to our grandson, Zachary, he can always tell her exactly how many smashed pennies she has sent him, I believe the last count is 26.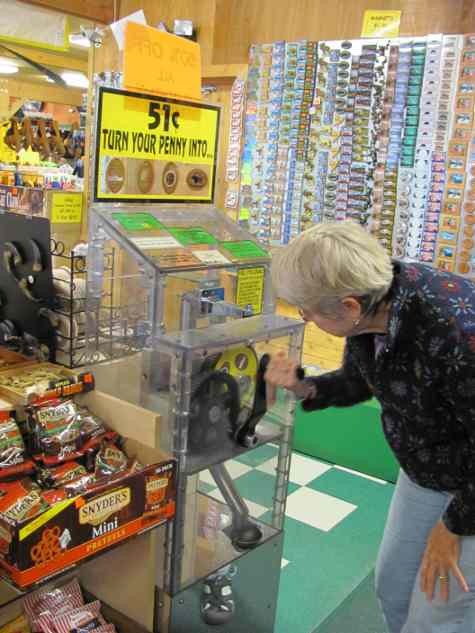 Another store, another 51 cents. maybe she has a secret pocket in her wallet where she keeps those quarters and pennies.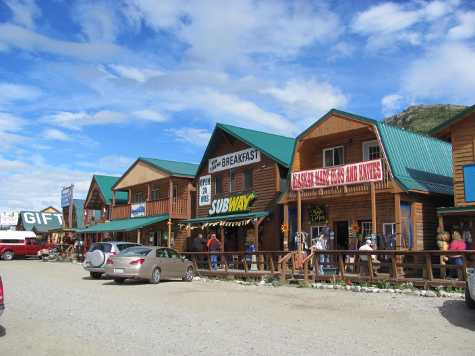 One of the several rows of stores that we slowly shopped in today. I had to laugh because the only store that had any people in it was the Subway, and I finally decided that was because it had cheap sit down seating. It looked like most of the people in the line were 80 if they were a day, and they were just looking for someplace to sit and rest for a spell.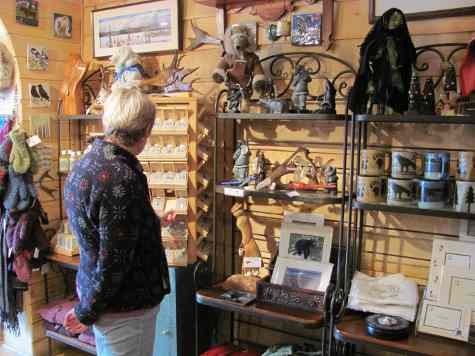 This was what Linda did for most of the afternoon, one hand behind her back, the other fingering the merchandise. We both agreed they have some very nice things, especially some of the stone carvings and scrimshaw jewelry. We also both agreed that we really don't need any of it. Well, we did agree that we didn't need any stone carvings, as for the scrimshaw jewelry, I think I will probably see some dangling from Linda's ears after our next excursion into town. And that's as much because I want her to have them as she wants them herself.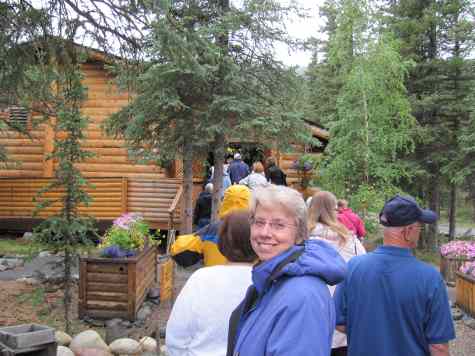 During our shopping trip we had stopped into the McKinley Chalet Resort and bought tickets to the Cabin Night Dinner Theater. This is another of those deals in the The Great Alaskan TourSaver that we probably wouldn't have gone to if it hadn't been for the book. It is always funny because we keep telling each other how much money we saved on each thing we do that is in the book, even though without the half off coupon we would probably would have saved even more because we would have skipped it and not spent any money. Of course that is exactly the reason they have the things they do in the book, to get you to spend money on something you otherwise might not have. Our shopping completed we drove back to the coach to get rested up for our big evening.
As it neared the time for us to leave the coach and drive into town, we had gotten tickets for the 5:30 show even though the TourSaver 50% discount was supposed to only be applicable to the 8:30 show, the clouds literally opened up and it started raining buckets. It was by far the hardest rain we have experienced in during our travels up here, but by the time we reached the Chalet, it had greatly moderated. We caught the bus down to the theater, waited in line, as you can tell from Linda's smile it had stopped raining by this time, and were led to our assigned table. As luck would have it, even though we were one of the last ones to buy tickets for the performance, we ended up with great seats at our table and clear view of the stage for the musical performance.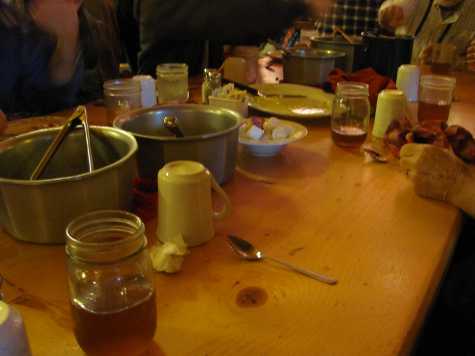 For the meal we had ribs, salmon, beans, corn and biscuits, followed by berry cobbler for dessert. The problem was that the food was so good, by the time I got around to taking a photo, this was all that was left. The ribs were some of the best we've ever had, as were the biscuits.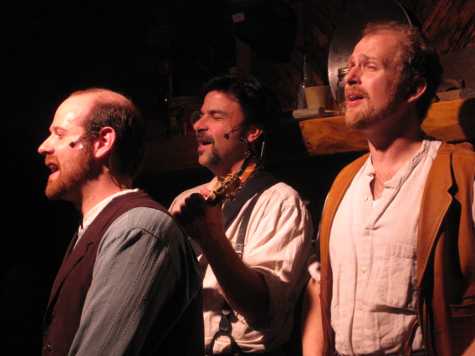 The entertainment portion was also excellent, and we left knowing we had certainly gotten our money's worth. It was typical of these types of shows, some gags, some audience participation, and some really good singing, what more could you ask for, and as it turned out the entertainment wasn't over. When we got on the minibus to take us back up to the Chalet, a short woman who had to weigh at least 300 pounds if she weighed an ounce got on, and ended up standing with a number of other people in the center aisle. All the seats faced the aisle and she was so broad abeam that no one was going to offer her their seat because she simply would not have fit into a seat without crushing the people on either side of her.
She was wearing this tiny little backpack and she kept asking her husband to watch so she didn't hit anyone with it. From the smirks we could see on the faces of everyone sitting around us, we could tell they were all thinking the same thing we were, 'Lady, it's not your backpack we are worried about, it's getting banged by your butt."
Now, just what is that person doing, standing out in the rain, taking photos of a chain? Since it is my lovely wife, I know exactly what it is. The chain serves as a downspout, and she is trying to take of photo of the water running down it. You can take the girl out of Appalachia, but you can't take the Appalachia out of the girl.
---
August 18 Wednesday
Off road fun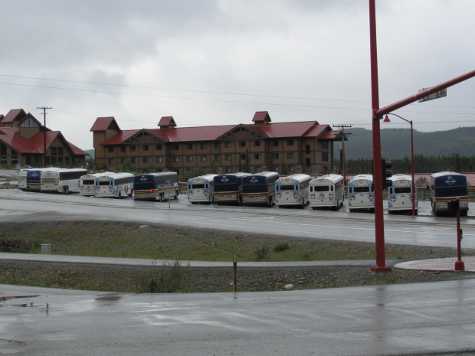 It looks like our rainy weather is continuing, especially since the weather report called for a 60% chance of rain today. Yet that still wasn't bad because our outdoor plans for today called for us to be spending most of our time inside. It was still raining when we left for the drive into Denali for the start of our day's adventure.
We've mentioned before about how this is the quintessential tourist town, and as if to prove the point, this row of buses was across the road from where we parked. We counted 14 today, and yesterday we had counted 21 that we could see at one time, when taking a break from shopping. Later today we were to learn that everyone leaves town in the winter and everything is boarded up. Now that is a real seasonal tourist town if there ever was.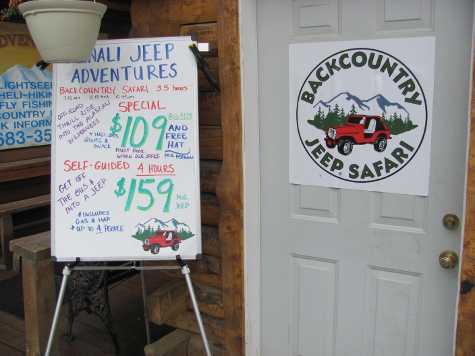 The day's adventure was going to be a 4 hour jeep trip along Stampede road, giving us an opportunity to ride in and drive a Jeep Wrangler, the type we are considering getting. We were paying the $129 fee shown of the board, but the $129 was for both of us using a two for one couponfrom the TourSaver Book. The book cost $99 so even if we hadn't paid for it with all the other times we had used it, it was worth the price we paid for this trip alone.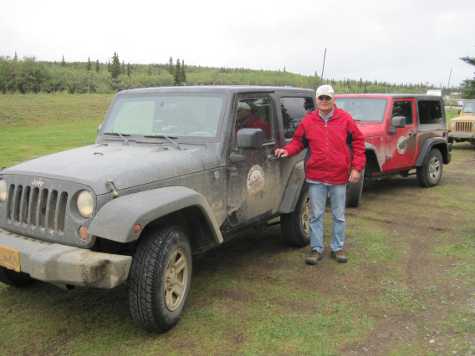 It's been awhile since we have felt the presence of our personal Life guide, Sara N. Dippity, but she sure was with us today. No, it wasn't to keep us from getting lost, it was to give us a better opportunity than we could have imagined. The reason we had decided to take this tour was because it would give us a chance to drive a Jeep, the very vehicle we are pretty sure we are going to buying to replace the Explorer.
The 11:15 tour is the one they have for all the discount people, and one of the rules is four people in each vehicle. Then occurred one of those as luck would have it, or more properly, as Sara would fix it, moments. Because of the number of people taking the tour and the fact several people wanted to drive and not ride, our guide asked if anyone wanted to go in his Jeep and drive it while he rode in the back seat. I was standing there, along with everyone else when Ms. Dippity kicked me really, really hard, causing me to blurt out that I would drive his vehicle. Sara must have then said something to Linda, because Linda sure had a big smile on her face after I spoke up.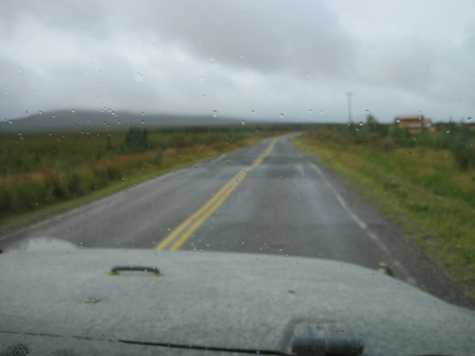 Once we had signed the releases, we drove the Jeeps out to where the adventure would begin. It was raining, the roads were paved, but it gave me a chance to get a feel for the 2007 Wrangler X we were in. The ride was a little stiffer than the Explorer, but the seats were very comfortable, and we were sitting high enough to have a good view of the road. I could tell from Linda's continuing smile that she was enjoying this just as much as I was, and we weren't even off the pavement yet. We joked with the guide that this was our Jeep test drive, since a dealer isn't likely to let us drive on the type of roads, or non-roads we would be on today, and he should be getting a commission if we end up buying one.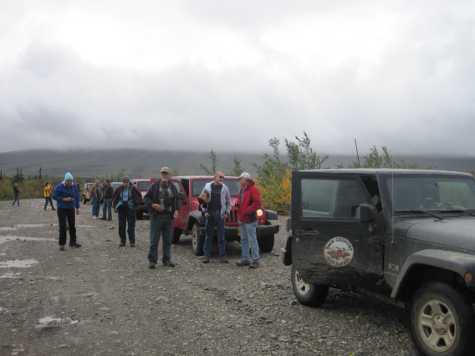 After driving a distance on a typical gravel road, we pulled off to the side for a break. As we were to learn, it was what could be considered the calm before the storm, as the road would change once we left this area. We weren't the only ones who were doing this for the first time, and it was fun talking to other people about how much they were excited about what was coming up. The road to this point had been no different than many we had driven on with the Explorer, so we were looking forward to something new.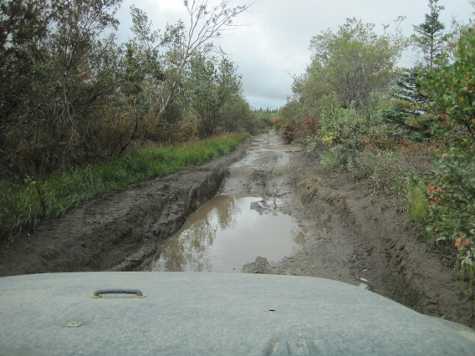 Up till now we had been in two wheel drive, but before leaving our rest stop, our guide had us put our Jeeps in four wheel drive. The track changed, becoming narrower, with many more water holes and lots of mud. One section was named bobble head, and as our guide put it, if you wonder why it was named that, just look at the heads of the people in front of you as you drive through it. It was great fun, and we could see the Jeep could go many places we would never dream of taking the Explorer.
I was so concentrating on the driving, that I forgot to look over and see how Linda was doing. Once I'd heard a banging sound like we'd hit something, only to learn afterward it was the camera flying out of Linda's hands as she was trying to take a photo. Since there were no claw marks on the dashboard, she too must have really enjoyed the trip. We now also know why we sometimes see the big smiles on people's faces as they drive their mud splattered Jeeps back to the RV park, especially when we have been in southern Utah.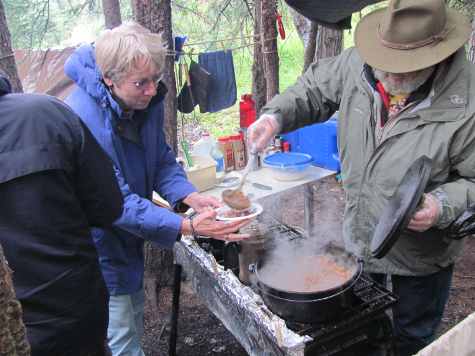 At the turnaround point they have a camp set up, fry bread and hot stew to eat, along with camp coffee and lemonade. While it may not have been 5 star restaurant food, given that it was a cold, rainy day, it sure hit the spot, especially since we could stand next to a blazing fire, and under a tarp.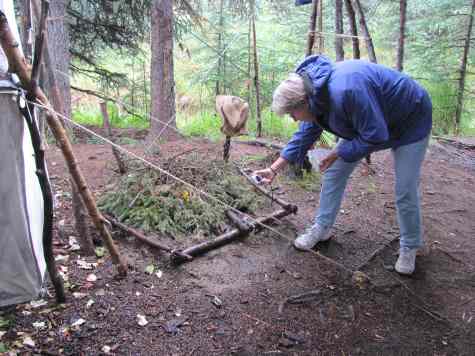 Linda was curious as to what this hole in the ground was for. Turns out it was an ice box. Dig a hole down to the permafrost and it is just the thing to store anything you want to keep cold.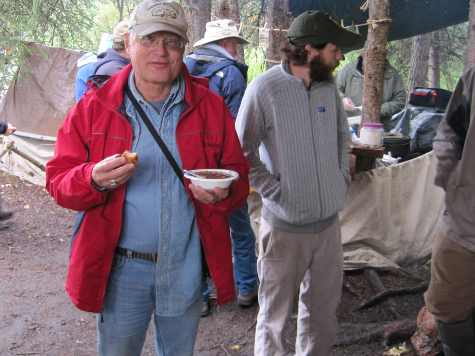 I'm not sure whether I was the only true stew affectionado, or whether I just have dulled down taste buds, but I was the only person who asked for seconds on the stew. So what if it was merely canned Dinty Moore with a little liquid smoke and a lot of black pepper added, by the way, Linda had guessed the black pepper but not the smoke, but since I like things spicy, and was this ever peppery spicy, to me it was delicious stew.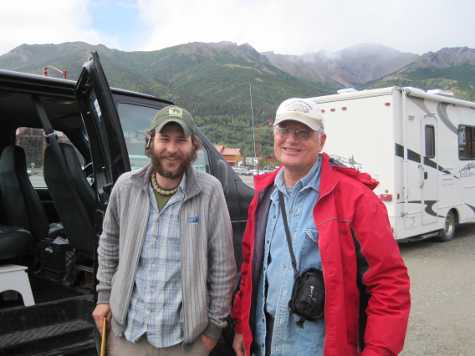 Our guide, Aaron, was great, giving us extra driving tips, and making the trip far more interesting than we could have ever imagined. We was into Jeeps, having bought his first Jeep when he was 16 and never owning anything but a Jeep. It was cool, driving along as he used the two way radio to talk to the other Jeeps about what we were seeing, or what was up ahead. I really liked the extra tips he gave to me because we were the lead Jeep, on how to drive through some of the obstacles we came upon.
It was another day where Life was great. We know our time up here is drawing to a close, not because we have used up all the coupons in the TourSaver, in fact we have only used ten or so, but the ones we have used have been more than worthwhile. We see the trees starting to turn, a hint of yellow showing up over the past week, meaning that Autumn is just around the corner. But as Linda says. "I'm not sure I want to go back to all the traffic and people of the lower 48." Maybe that is why we plan to spend some time in Montana and the Dakota's before turning south, weather permitting. Gotta kinda ease back into things and get Alaska and Canada out of our system, ya know, eh.
---
August 19 Thursday
Off road fun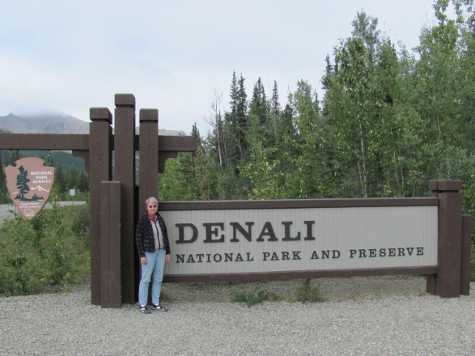 Today we finally made it official, Linda has visited Denali National Park. At each Park we visit, we always take a photo of her by the Park sign, and even though we have driven by it numerous times over the past week, we hadn't stopped until today. Our plan was to do a little hiking in the park, then a little buying in town, having completed the shopping portion several days ago.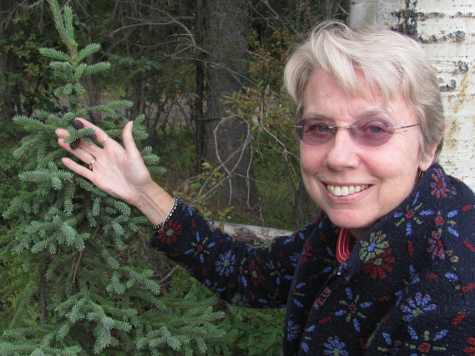 As we were walking to our first stop of the day, the Park's Science Center, Linda noticed this tiny tree that was sporting some very dark cones. Because of the cones we decided it must be a Black Spruce, and of course she had to have her photo taken with it. Little did we know at the time that this was an omen of what would occur later in the day, but that will just have to wait until later.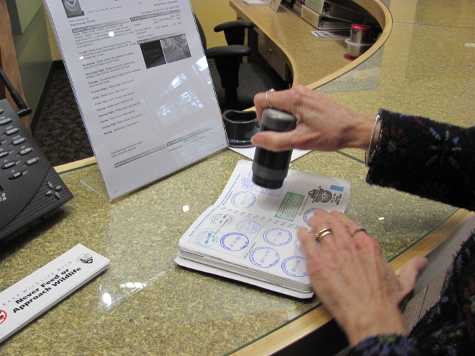 Now you know the real reason for our stop at the Science Center, it wasn't for science, it was for the stamp. That makes five stamps she has collected in the Park, the most ever for a single Park during our travels. Loved Linda's comment, "My book is getting filled up." Of course I was thinking, 'Well, duh, what did you think woman, you've been on a five year mission to collect every stamp you can, and you wonder why your book is getting filled'. Sounds to me like she's going to be starting on her second book in the future.
Part of the problem is that the book is divided into regions, and we spend most of our time in just two of them, the West Region and the Pacific Northwest Alaska Region, and they both are really filled. However, when we return to the lower 48 we will be be out of those two regions for more than a year, so she should have some blank pages to work on.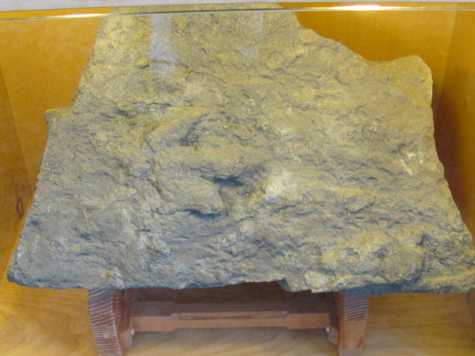 Just to show that one never knows what one is going to find, even though we only went into the Science Center to get Linda's stamp, we came away with far more. Once, a long, long time ago, when the land that we now call Alaska was far, far distant to the south, dinosaurs roamed this area. The first evidence was accidentally discovered not too many years ago, and is on display in the Center. That was something we had no idea about, but after our days at Petrified Forest NP, we know that the land masses of today are not where they were during the Triassic.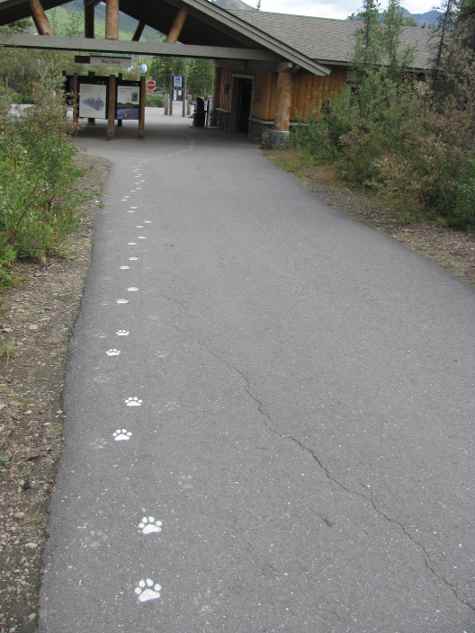 Excited over the dinosaur tracks, we set out to do what we had actually come to the Park to do today, hike the McKinley Station Trail and see the new pedestrian bridge they had just constructed. What we ended up doing was the Bob and Linda version of the Keystone Cops. For some reason the trailhead was something we just couldn't find, and not for lack of trying. We traipsed from one end to the other of the Visitor Center parking lot without luck before Linda took matters into her own hands and went into the VC to ask where it was.
I was pulling the usual guy thing, the one where we say,"Map? Directions? I don't need no stinking map or directions, I can find the trail myself. It's right over here. What the heck, somebody must have moved it. Let's try over there," and on and on. It ended as always, with the woman, Linda in this case, carefully looking at the map and marching off in the right direction. When we actually arrived at the trailhead, I piped up with, "Well this is exactly when I was going next," all the while trying to maintain a air of superiority while Linda tries to stifle a laugh. At least I think it was a laugh.
In case you are wondering, the white paw prints in the photo are there to prevent what happened to us from happening to others. Not that it is the trail we were trying to find, it is to find the bus that takes you to the dog kennels for the daily demonstrations. We'd used those white tracks a few days ago to find the bus ourselves. I don't know, maybe that was confusing me this time, and that led me in the wrong direction. I know I wouldn't have gotten lost on my own when trying to find the trail today. After all, I am a guy, and guys don't get lost, women get lost.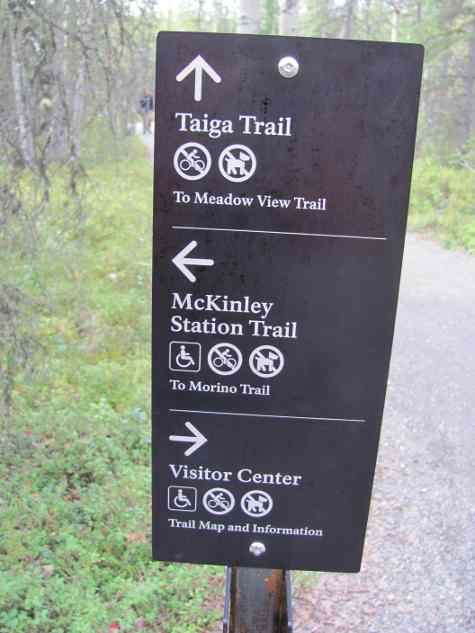 After Linda so unerringly led us to where the trail started, we set out. It turned out that my ability to find a location other than the one we desired, remember- guys don't get lost, was still working quite well. Missing the turnoff to the suspension bridge, we walked a quarter mile or more in the wrong the direction before we discovered we needed to go back the way we had just come and turn onto a side trail. This was accomplished with only minor comments by Linda concerning both my eyesight and the relative amount of gray matter I possessed, unfortunately all justified.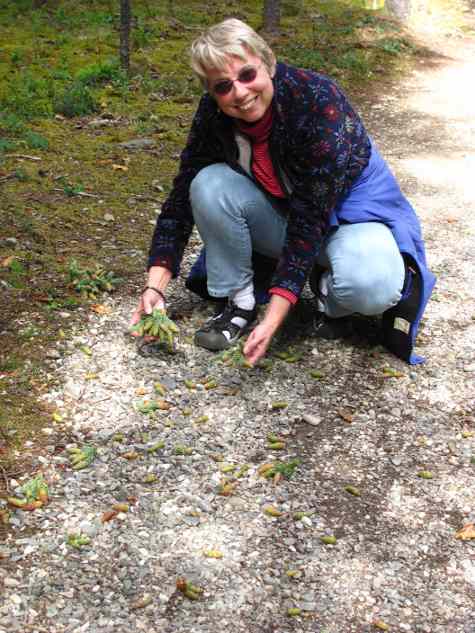 As we walked along the right trail, I was leading to make sure we didn't get sidetracked once again, Linda remarked that she was hearing a weird sound. Stopping, I heard also heard it. Turned out it was the sound of spruce cones hitting the ground. A brief search located a squirrel in the top of a nearby tree, biting off the cones and on occasion, branch tips, then throwing them out of the tree with its front paws. He was still tossing them down while Linda was posing for this photo, but luckily none hit her.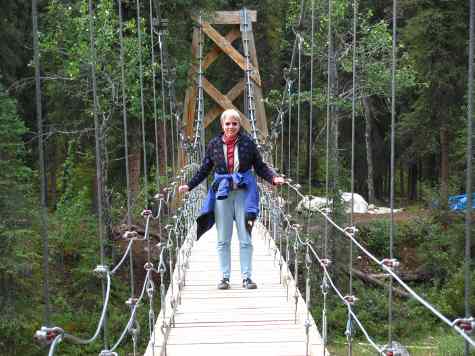 Linda doesn't like these kind of bridges, note the firm grip of both hands on the cable, but then she really surprised me. Once I was out on the bridge, having promised to not make it sway or bounce, she starts making it bounce up and down. Man 'O Man, let her find the right trail and she thinks she's king of the heap. Memo to self, be on best behavior today.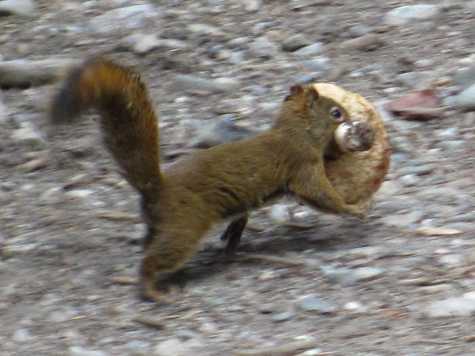 As we returned to the trailhead, Linda once again being really nice, and allowing me to lead the way, we came across a squirrel on a different mission than the one we had seen earlier. This one wasn't into climbing trees, it was into harvesting mushrooms. As we watched it pulled up a Bolete mushroom, then carried it across the trail and into the woods on the other side. We didn't even know that squirrels did this, but a quick search of the Internet confirmed that indeed they do stash mushrooms. Even at our age we are always learning something new.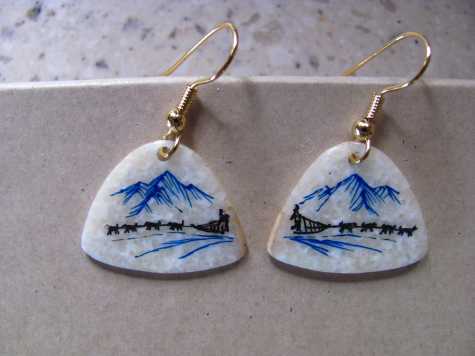 We did some shopping before returning to the coach, and it gave me the chance to repair a little of the damage I had inflicted earlier. Linda loves earrings, and these just jumped out at me. Fossilized mammoth tusk ivory with scrimshaw that has color added to highlight it, and in a color that she doesn't have. It wasn't a peace offering, and it wasn't an I'm sorry offering, it was just to let her know that I consider myself the luckiest man in the world. Am I ever glad she picked me, now that's Life with a catital "L" and more.
---
August 20 Friday
A stop in Nenana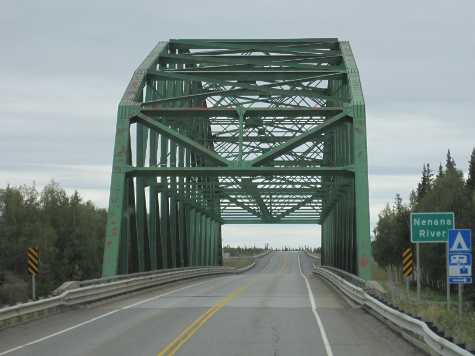 For the past week we have been parked a few miles from the Nenana River, so when we headed north this morning through the valley, it wasn't unexpected that we would encounter it at some point during our drive. We also encountered some sections of the road that were dotted with frost heaves, though from the areas sporting fresh black asphalt, it appeared the worst ones had been patched. Must have been fun for the people driving the road before they were patched.
Our destination, the town of Nenana, was only 60 miles up the highway, making for an easy drive that would also give us some time to explore the town. Even better than the short drive was the weather that greeted us upon our arrival. After getting situated at the aptly named, Nenana RV Park, we fixed lunch before heading out to explore the town.
It's been weeks and weeks of not so nice weather, so we were really enjoying the sunny sky and warm weather that had first appeared some 20 miles south of Nenana. It was so nice that we even decided to eat lunch outside, and if Linda wants to do that, it means it really is nice weather. In fact it was so nice it wasn't long before she was peeling a few layers off, and once back inside the coach, opening the windows and turning on the overhead fan.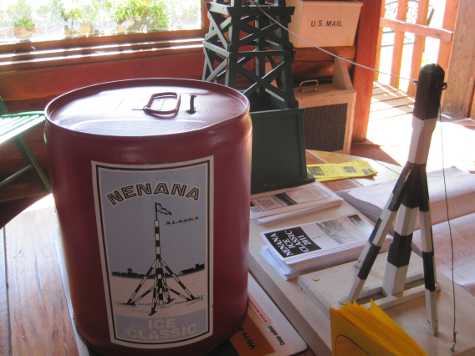 Our first stop was at the visitors center where we not only discovered a few things to see in the area, but where we also took a shot at winning a most interesting lottery. A ticket for the Nenana Ice Classic costs $2.50 and the payout this year was just over $279,000. It is simple, just guess the exact month, day, hour and minute the ice on the Tanana River breaks up and you are the winner.
No sooner had the lady at the visitor's center explained what it was, than Linda had her wallet out and was asking me whether I wanted to enter, because if I didn't she would enter twice for herself. Since it wasn't going to cost me anything, afterall she was buying the tickets, I decided why not. Guessing is easy and it is hard. They have a list of all the dates and times since the contest began in 1917 which helps, especially since the dates basically span from the end of April to early May.
Having an idea of what might happen this year, I promptly wrote down the wrong month, then had to double check the list for what dates in that month it had previously broken up. Pulled a day and time out of the air and dropped my ticket into the can. Linda had an easier time as her numbers "Just came to me" as she said. Looking at the two entries I had to think that her method produced a much more viable guess than mine, sigh. On the good side, maybe she will share some of her winnings with me.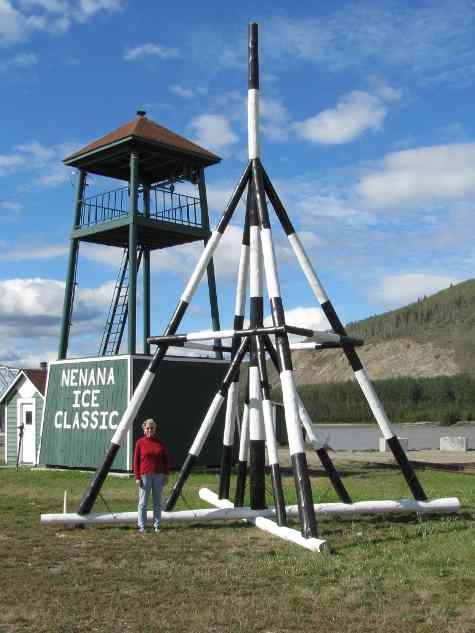 All this led to our next stop, the riverfront, where the tower, timing shed and the tripod that will be placed on the ice this coming winter are located. Had to laugh when she wanted to pose in front of the tripod, maybe this will give promoters a before photo of the 2011 winner. Notice I didn't say, hopeful winner, as she has a high confidence level in her entry.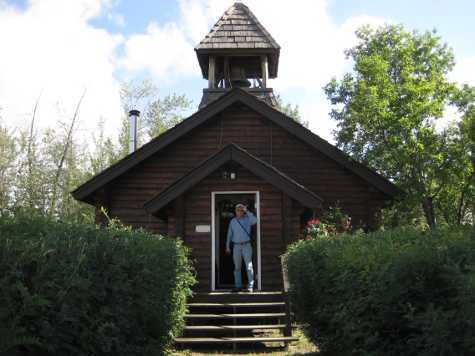 Nearby is St. Marks church, which has a fascinating log exterior that is far more artistic than the other log churches we have seen during our trip. It is open during the day, and venturing inside we saw the beautiful stained glass window over the alter and the moose hide and beadwork alter coverings. This alone made our stop in Nenana worthwhile.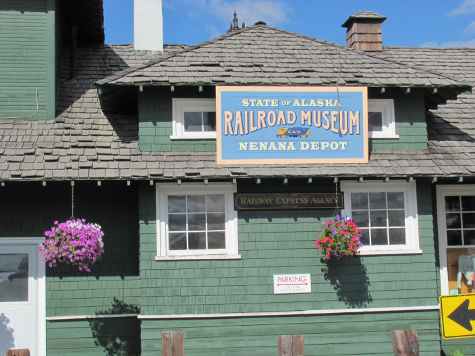 Also nearby was the Nenana railroad station, museum and gift shop. Lots of interesting items to look at, the most interesting thing I found was a newspaper article describing how a drunk driver had crashed into the building several years ago doing several hundred thousand dollars worth of damage to the historic structure. He literally buried his truck up to the rear bumper, but suffered relatively minor injuries. It was a bad blow to the town from a tourism standpoint, but it has now been restored to look like it did before. Almost unnoticed is a small clipping off to the side of the large display about the crash. Just a few paragraphs long, it describes another accident the same recently had. A single vehicle roll over with no property damage, where he was ejected from the vehicle during the crash.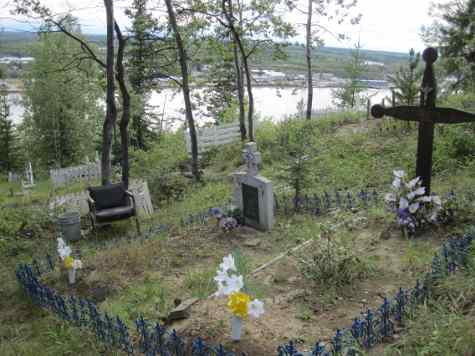 Speaking of death, we also took the opportunity to visit the towns two cemeteries. We'd gotten directions at the visitor's center, the kind of directions that name no roads, but do include landmarks like log houses and railroad tracks. The lady also wanted to make sure we were driving something other than a "city car", plus giving us, a watch out for bears warning, which made them our kind of cemeteries.
Our first foray was to the town cemetery, with a go out past the airport, right at four corners, left at the log house, etc., etc. set of directions. Linda had the GPS on as we drove out of town, then noticed a Cemetery Road coming up. The problem was we hadn't seen any airport, but at her insistence I turned right, but after driving a ways I became convinced it wasn't the right road. Then began a series of drives and turning around on the main highway that resulted in me flagging down a really nice teenage boy riding an ATV on a deadend gravel road I had turned onto.
A short time later we were headed back towards town, and turned left just before the ponds as he had said. It was all Linda could do to keep from bursting out laughing as we drove back Cemetery Road. After a brief discussion regarding the fact that she is indeed sometimes right, we reached the cemetery. Now who would have ever thought they would actually have the cemetery on Cemetery Road.
The second cemetery, The Native Cemetery, was located high on a hill above the Tanana River, overlooking Nenana. With the graves scattered throughout the woods, the colorful way the native people honor their dead, and the magnificent view, we both agreed it was the most picturesque cemetery we had ever visited, and one where it seemed Life was celebrated rather than death being mourned.
In the evening we walked around town. It's so small that you don't need a vehicle, and besides the walking did us good. Plus we found a number of places that we hadn't seen when we had been driving because we were paying attention to the streets instead of what was the buildings. It was one of those towns where not many people stop, but that we were glad we had taken the time to visit.
---
---