Journal Archive 8/21 - 8/31 2010
Scroll down to read the latest post
August 21 Saturday
North to Alaska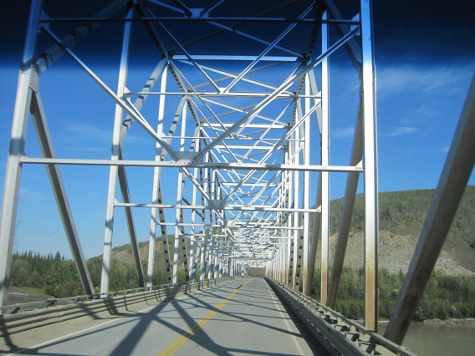 Another day, another 60 miles, another long bridge over a wide river, sounds like we are going no where fast, but in fact today we reached a real milestone. Every morning, as we have hit the road for the past three months, we have been playing the song, North to Alaska. Today is the last time we will play it, since the next time we hit the road we will be heading south towards Texas.
That made for a good discussion during today's drive, what song, if any, should we play next. We didn't listen to any books on tape on the drive up, so that is going to be something we will be doing on the drive to the outside. However, since we only played North to Alaska at the beginning of our day's drive, we are thinking that we should play Yellow Rose of Texas to start each day on our way south. It's nice and peppy, plus it fits right in with where we are going.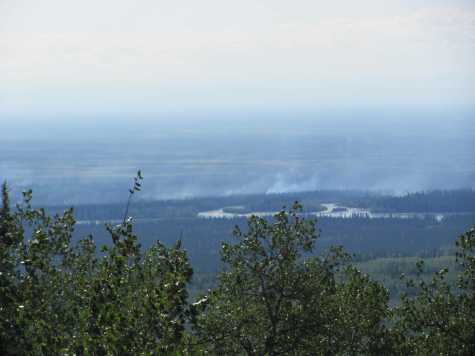 South of Fairbanks we stopped at a pulloff and got a birds eye view of the Willow Creek fire that has been burning since June 10th. A short distance later the road widened to four lanes and we were in the Fairbanks metro area. The nice thing was that being Saturday morning there was very little traffic on the road, which made the drive much easier.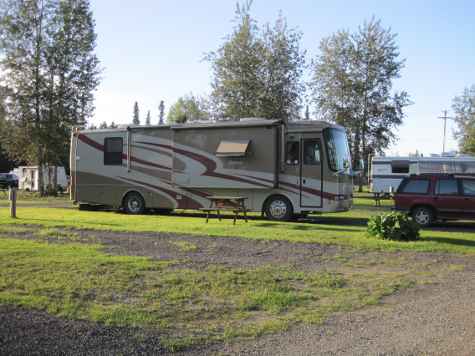 Checking in at the RV park we found the same situation we have been encountering during our trip, a virtually empty RV park. The lady said they have 180 sites, but less than twenty RV's in the park. She said they were relatively busy up until August 5th to 7th, then the bottom just seemed to fall out. We decided to stay for a week, taking a 50 amp full hookup pull thru site. Unfortunately there are trees blocking our satellite; fortunately they have both cable TV and wireless Internet.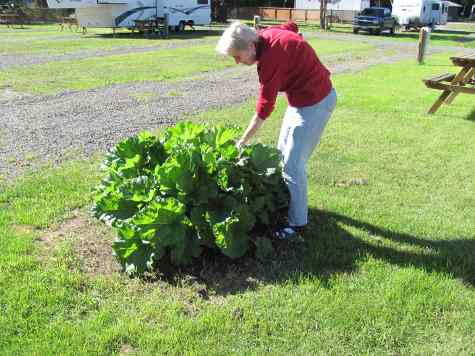 The weather was once again great, short sleeves for me, pushed up sleeves for Linda, which meant enjoying the outdoors. It also gave Linda an opportunity to spend some quality time with the plant growing outside our front door. Something tells me that it might just find itself missing a few few stalks over the next week, afterall, rhubarb is one of our favorite foods.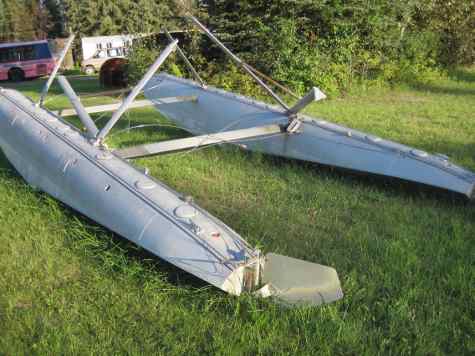 We will end the day with a photo of something we have become quite familiar with over the course of our travels in the 50th state. Made from aluminum, it's what gives a float plane its float. Tomorrow we are going start exploring the Fairbanks area, with a trip to North Pole the first order of business. That's not the North Pole, the place where Santa lives, it's the town called North Pole, a place where Christmas lives year around. Should be fun.
---
August 22 Sunday
Santa Claus House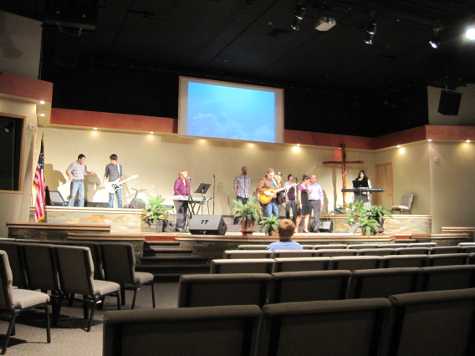 It has been a number of months since we last went to church and Linda had been looking on the Internet last evening for a place to attend this morning. Unfortunately she had no luck, mostly because we prefer contemporary services because of the music and the casual dress. Then as luck would have it, this morning I was doing a quick search and discovered just what we were looking for, and it was on the same road as the RV park we are staying at. Problem was the early service was starting in less than an hour and we hadn't even eaten breakfast yet, though an even bigger potential problem was the fact that the grizzly was still hibernating.
Banging a few pots as I retrieved the skillet from under the stove, then slamming the refrigerator door took care of the Griz, while speed cooking and bathing took care of the remaining problems. Unfortunately the church wasn't on our end of the road, it was on the other end which was about 15 minutes away. Jumping in the Explorer, and with our guardian angel watching over us, we made it with a few minutes to spare.
Pulling into the parking lot, we had our first suprise, there were very few cars there. Inside we took our seats with the countdown clock on the screen showing 3 minutes 14 seconds until the service started and there were only seven people in the auditorium. Heck there were more microphones for the Praise Band than there were worshipers. When the service started, nearly five minutes late, I counted twelve singers and musicians in the Praise band and 19 people in the auditorium.
Then the people started coming in as the singing took place, and when we had stood for 20 minutes and they were only on their second less than stellar song we understood the late arriving crowd. They had a guest minister and we both agreed that he was exceptional, blending humor with a practical message that we could take with us and apply during the week ahead. If you're interested, the name of the church was North Pole Worship Center.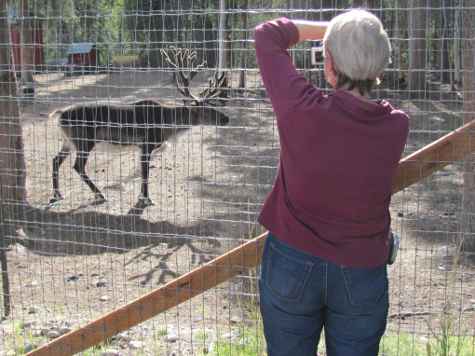 Our big event of the day was a visit to The Santa Claus House in North Pole. It really isn't hard to figure out what the theme of this place is, and even before we went into the building Linda was fullfilling a childhood dream. I can remember getting up on Christmas morning and my Dad showing us the tracks Santa's sleigh made in the snow near the front of the house, which was good enough to satisfy my curiosity at that age. Still, most kids want to see Santa's reindeer, and here is the kid in our family getting to do just that.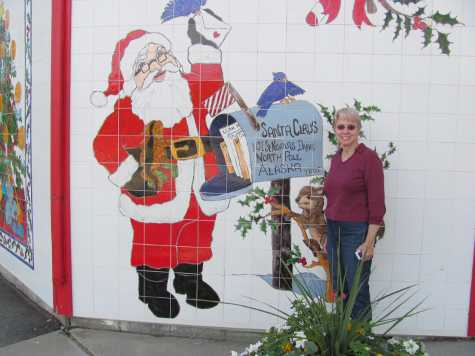 Several outside walls of the building are done up as murals. Linda especially like this one.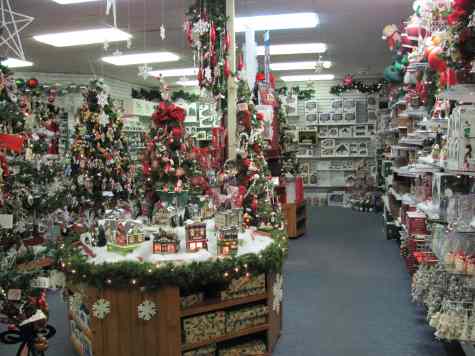 Inside there are ornaments galore, plus most everything else you can think of to decorate for Christmas. The most surprising thing about our visit was that neither of us bought anything. Guess we just aren't in the mood for Christmas yet.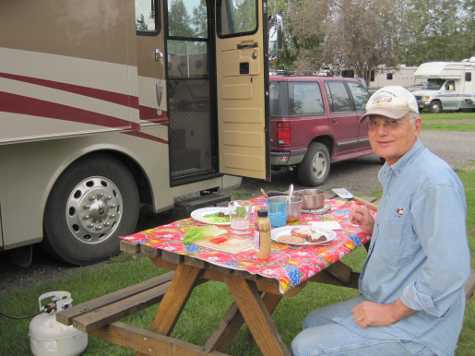 The weather was once again great, and so we relaxed at the picnic table with hamburgers fresh off the grill. Right now we are into taking Life at a slow pace, as the only other thing we had done today was to stop at Safeway and buy a bunch of produce. Back at the coach, Linda took in a couple of bags then just seemed to hang around the kitchen area while I brought in all the remaining bags. It wasn't until I brought the last bag in that I saw what had caused her to seeming just hang around.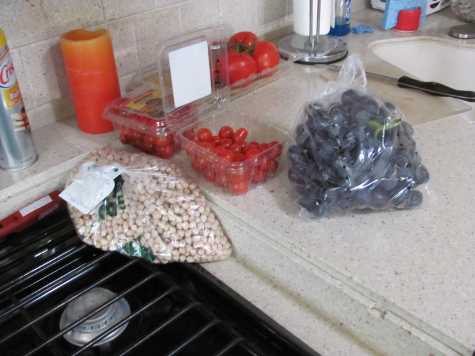 The answer is in that photo, and it's not the dried garbanzo beans or black grapes, its the opened container of grape tomatoes. While we were shopping, I noticed the grape tomatoes were on sale for $1.49 a carton, so as Linda pawed through the cumcumbers I found the two best containers and put them in the cart. A little later, cucumber in hand, Linda returned to the cart, then noticed the grape tomato display. It was all I could do not to laugh as she picked up a carton and said, "At $1.49 each I think I'll buy two." The smile she gave me when she started to put them in the cart, only to notice the two I had already put in there was priceless. I might call her a grizzly, but she's actually a very nice grizzly.
---
August 23 Monday
Riverboat Discovery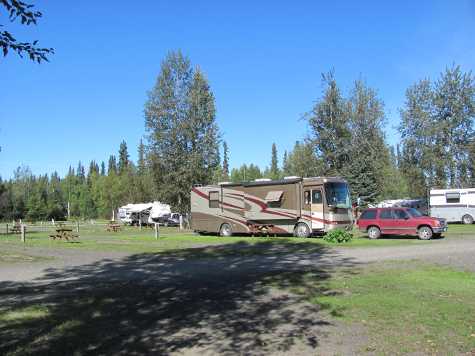 After making a comment about the fact the RV park hardly had any RV's in it the other day, and noticing that the park was indeed rather barren this morning, I decided to walk around the park. Besides getting some needed exercise from this exercise, it was also a good opportunity to count the number of RV's in the park. The number was 18 RV's, and with there being 180 sites, the park was exactly 10% full. It makes one wonder how the RV parks can stay in business with occupancy rates as low as that given how short the season is.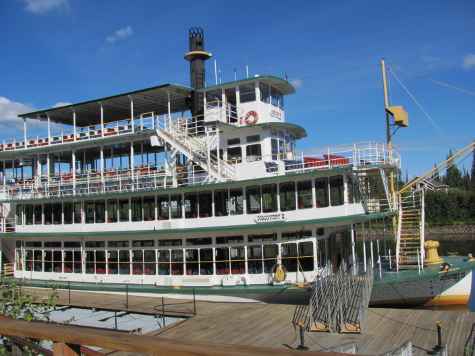 Because of this we weren't sure how many people we would be joining us for our main outing of the day, the afternoon cruise on the riverboat Discovery III. It turned out to be quite a few, but only because of all the cruise boat passengers that were bussed in. Still the boat was not at all full, so they were probably feeling a decrease in business just like the RV park.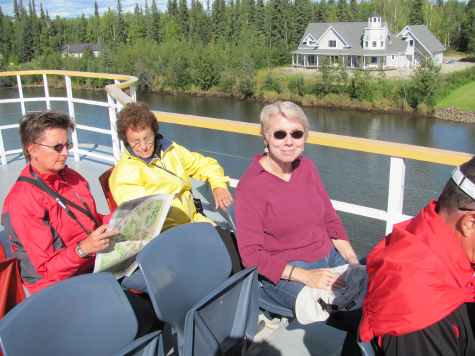 If you remember the curse of Linda regarding the choice of seats on our recent bus ride through Denali, we faced it once again as the boarding of the riverboat began. With four decks, the odds of getting a seat at the side of the boat were improved, but the matter of which deck and which side were still with us. Linda let it be known that she wanted a seat on the topmost deck, so after a tiny bit of cutting in line, we followed the herd on board and up the multiple sets of stairs.
The reason for the line hopping was because the one to whom I am married didn't hear any of the announcements about boarding as she was so deeply involved in picking out just the right necklace to go with the silver chain she had bought in Mexico last winter. Arriving on the top deck, the ball shifted to my court, and quickly looking around I selected a seat on the left side of the boat, reasoning that if that had been the good side on the bus, it should be the good side on the boat. No sooner were we seated than my Life partner gently reminded me that if these seats were on the wrong side this time, it was going to be because I had picked them. Talk about pressure.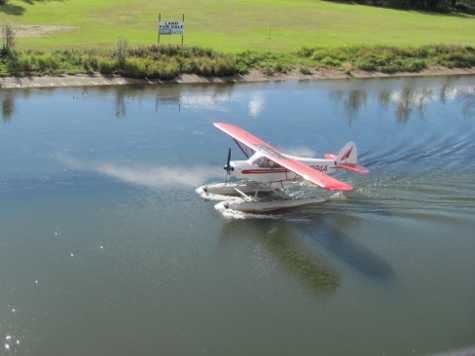 We hadn't been cruising for five minutes before my choice was vindicated big time. There was a float plane demonstration which included a takeoff and landing, both of which took place on our side of the boat. Nothing like a good start to make a guy feel good, and Linda was really happy too. While this was great, the next major stop was something that really got Linda excited, Susan Butcher's Sled Dog Kennel.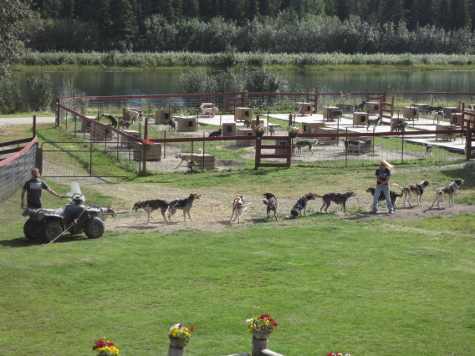 Even though Susan Butcher died from leukemia in 2004, the kennel is still a major stop for the Discovery. We saw a neat demonstration of the dogs, but the real story was what Linda did as we approached the kennels. For some reason she had no faith in my seating selection, and as we drew closer to the bend in the river where the kennels were located, she got up and moved over to the other side of the boat, then went down a deck and towards the front of the boat. All this was designed to give her the perfect view of the kennels to shoot a lot of video, and was unknown to me.
There was only one problem, the kennels were on the left side of the boat, the side we were sitting on, the side I had picked. With her nowhere to be seen, I started taking photos and the people from the other side of the boat moved over to our side, filling our row. As I was taking photos someone poked me really hard in the arm, a person that turned out to be Linda. She couldn't get up to me, but instead handed me the camcorder and told me to start shooting. Sensing I might soon be coming face to face with Susan Butcher if I didn't do as she indicated, I hit the record button and never turned it off the entire time the boat was by the kennels.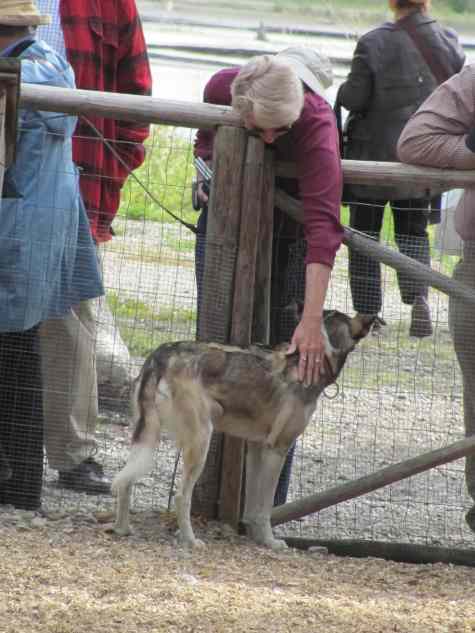 The cruise lasts about 3 1/2 hours, and near the halfway point there is a stop at a "village" where we get to view talks and demonstrations about various native crafts and customs. There is also a dog demonstration and talk that you can attend afterward, and that was where Linda made a beeline. As you can tell, the talk wasn't the only thing she was interested in, as she managed to make friends with almost every dog that walked by where she was standing.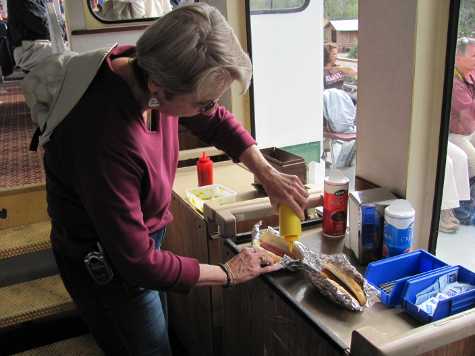 Back on the boat, we passed the galley on the way to our deck, and stopped to avail ourselves to something we have been wanting to try since we arrived in the North, but somehow had never gotten around to actually doing. Thus we ate our first reindeer sausage dogs, and were they ever good. Of course since a reindeer is a caribou, and a caribou is a reindeer, we could just as easily say we were eating caribou sausage dogs. Had to love how our village guide explained the difference, "If it inside a fence it is a reindeer and if it outside a fence it is a caribou."
Off the boat, Linda took a photo of that famous Iditarod racer know as mush head Bob, I mean musher Bob. That's a $3,600 custom made dog sled I am standing on, but not just any $3,600 custom made dog sled, because it is the actual sled that carried the winner of the 2010 Iditarod. We really enjoyed the cruise on the riverboat Discovery, feeling we certainly got our money's worth and would heartily recommend it. Man, it just seems to get better every day, even though our days in Alaska are rapidly drawing to a close.
---
August 24 Tuesday
Pioneer Park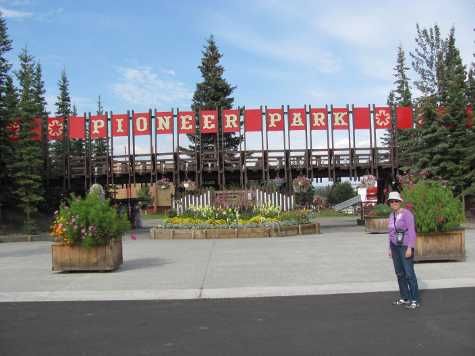 A little change of pace today, and it resulted in our spending the afternoon and early evening at Pioneer Park. Built for the Alaska Centennial in 1967, it has a little bit of everything. I was struck by the great beauty found near the main entrance, though you may have to look carefully to see what I'm talking about, what with all the color in the image.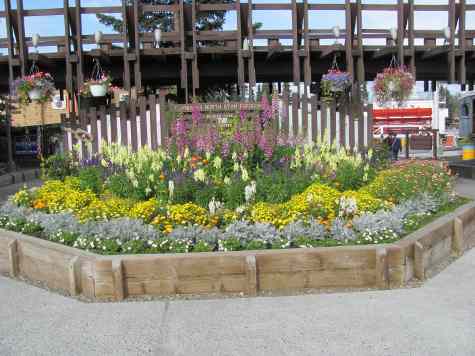 We'd seen these types of displays in many places throughout Alaska, and it was one of the real surprises of our trip. We knew about the wildlife, the spectacular scenery, and the giant vegetables, but the absolutely stunning flower displays have taken us by surprise. Linda has also learned a new flower, the Foxglove, something she can now spot from a great distance. As she enthusiastically point out to me, that is what is growing in the rear of this bed.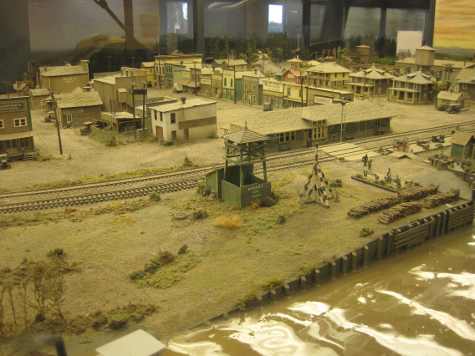 Since it is a Borough park, no park entrance fee is charged and while some of the attractions do charge, most are not very expensive. One of our favorites was a series of scale models of various Alaskan towns based on what the towns looked like in the distant past. This model of Nenana instantly caught Linda's eye, as she pointed out the tower and tripod of the Ice Classic.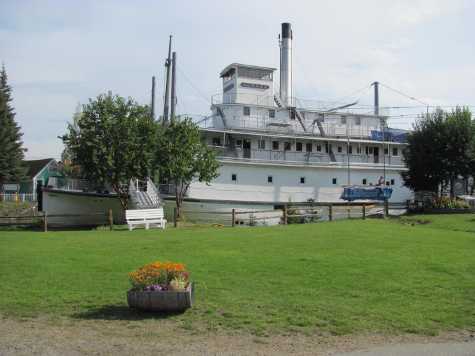 What made this display even more interesting was where it was displayed, on the cargo deck of the S.S. Nenana, a restored stern wheeler that is one of the featured exhibits in the park. There was another connection to the boat other than the obvious, as it figured in one of the book mentioned in the homepage article about books we have been reading during our travels, and is titled, A Cheechako Goes To The Klondike.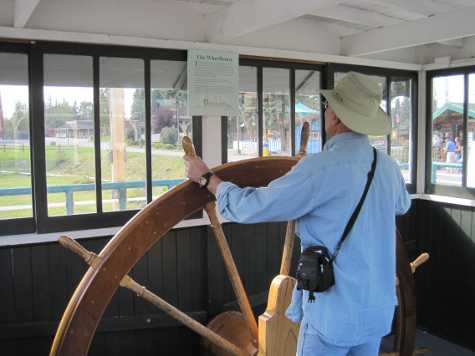 No, that's not an old riverboat captain at the wheel, though this display also figures in the book just mentioned. This is the wheelhouse of the sternwheeler, Lavelle Young, and even though the wheel was a reproduction, by closing my eyes for a second, I could image what young Charles W. Adams must have felt when he first took the wheel of the Lavelle Young.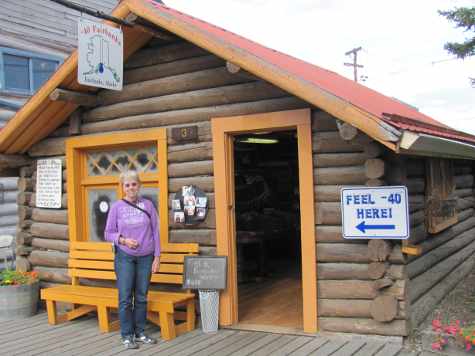 There was one attraction we wanted to experience that did cost more than just a nominal amount, but that didn't matter. Linda was bound and determined to experience the 40 below room, and me, being the wonderful mate that I am, was going to accompany her. Admmission paid, we bundled up and prepared to go into the deep freeze room.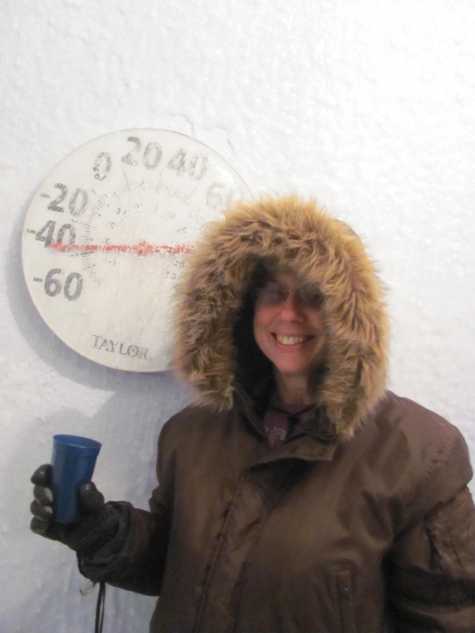 It was certainly cold, but is was also a lot of fun. They had a banana in there that was frozen solid and I used it as a hammer to drive a nail into a board. One other little trick was done with the water in the plastic cup Linda is holding, throw it into the air, and it freezes before it hits the floor, which we thought was rather cool. I also noticed my fingers were not working quite the way they should when I went to put my camera back into the case, and it makes one wonder just how long we would survive exposed to that kind of cold without proper protection.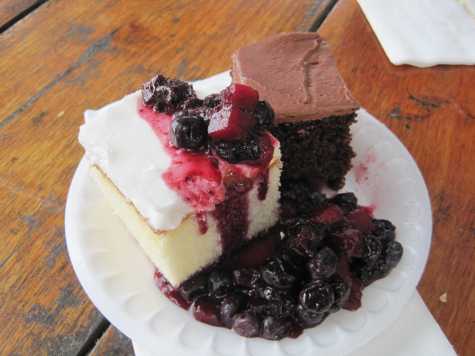 We ended the day by partaking of the Alaska Salmon Bake that is held every night during the summer months. It's all you can eat for $31 dollars, which includes salmon, prime rib, halibut, cod, beans, salads and dessert. We really liked everything but the cod and halibut, the real problem being we like them two helpings worth, which was too much. I guess that sometimes we just have to take the bad with the good. I've left out far more that is in the park than what I've talked about, but that is just another reason to visit Alaska, to see what you are missing. We sure are glad we are doing just that.
---
August 25 Wednesday
Gold!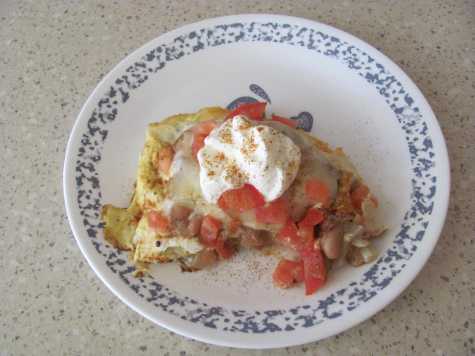 Linda's plans for the day called for some hard work on her part, so to keep her energy level up I went all out with breakfast. Onion scrambled eggs, topped with homemade baked beans, cheese, diced tomatoes and a dollop of sour cream, then a dash of cayenne pepper on just mine, and we were off to a good start.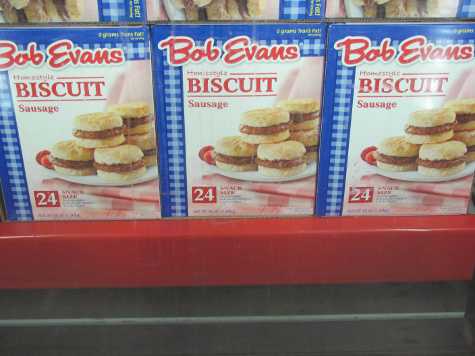 The action was going to take place in the afternoon, but the morning wasn't going to be just doing things around the coach. Linda has been exhibiting some serious symptoms of large store withdrawal syndrone as of late, and she was determined to obtain a treatment for it today. Her treatment of chioice was a visit to Sam's Club for a combination of shopping and buying, concentrating on the latter. In our former life, when we were a much larger size, those Bob Evans Sausages and biscuits were one of our standard food groups, but now we can easily pass them by. Well maybe not that easily, but by talking to each other we were able to continue down the aisle without either of us grabbing a box and putting it in the cart.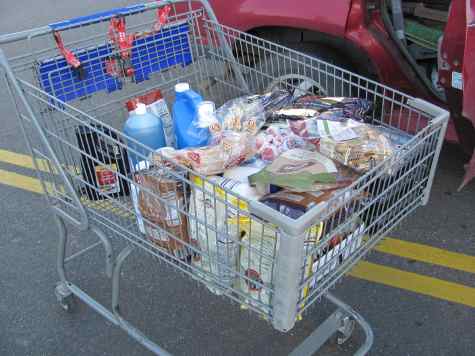 The most amazing thing about shopping at a warehouse store is just how much you get for your money. That is as long as you have a shopping list and stick to it. Turned out we only needed a couple of things, unfortunately our wants greatly exceeded our needs. More unfortunately, we gladly indulged our urges, ending up with a shopping cart full of things we couldn't eat, and that will probably take us a year to use up. They sure seemed like a bargain when we were putting them in the cart, but when this was all we got for over $400, maybe it was a case of going a little overboard on our part. Still, think of all the time we will save not having to buy any dishwashing soap for the next three years.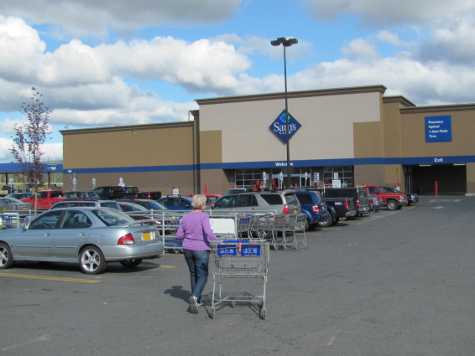 I watched with a sense of dread as Linda took the shopping cart to the rack. Would she stop there, or had she only temporarily satisfied her female shopping and buying urge. Remembering the extended conversation she had with herself as we slowly walked down the coffee aisle, where she was telling herself she didn't need anymore coffee, I wondered which Linda would win out. She seemed to linger for a moment longer than necessary by the cart return, but in the end she shuntted aside her inner desires and returned to the Explorer.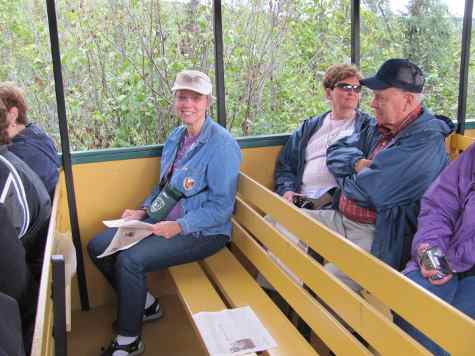 In the afternoon we drove out to the El Dorado Gold Mine, having used the TourSaver book to save even more money. I haven't got it figuresd out how she can claim the TourSaver keeps saving us money, when all it does is make us spend money. In this case, she said the the 2 for 1 offer saved us $34.95. Me, being a bit more practical in viewing this, suggested that had we not taken the tour we not only would have saved $34.95, we wouldn't have spent anything. She says I don't understand, and I guess I don't. Jumping ahead here, in reality it was more than worth the $34.95 we spent.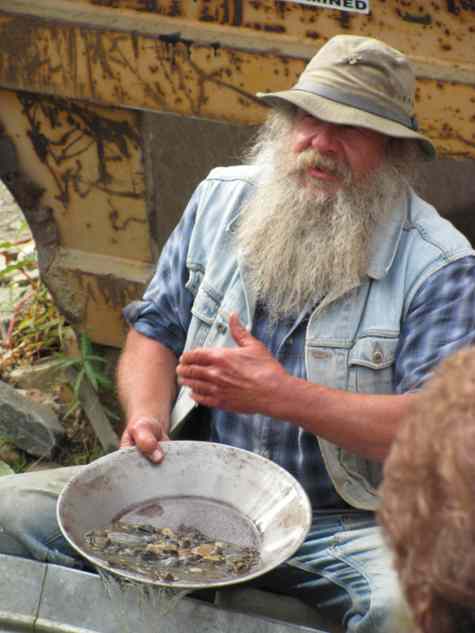 It was a very interesting 2 hours, beginning with a train ride where we saw displays and heard talks about the various methods of mining for gold up here. However the heart of the tour is the opportunity to pan for gold yourself. Prior to that, we received a lesson in the proper way to use the pan. And while this grizzled oldtimer made it look easy enough, our hand, wrist, arm and eye co-ordination left a lot to be desired.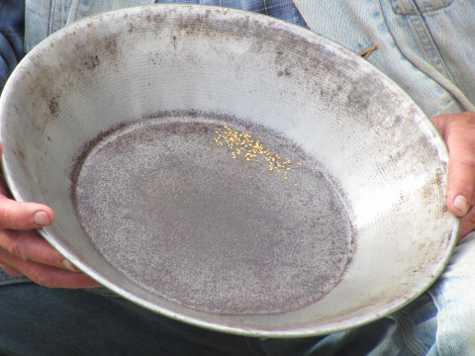 This was what was in the bottom of his pan when the sloshing, dipping, washing and rinsing was finished. Next, everyone walked over to the panning area, receiving a small poke of dirt on the way. What follows is a glimpse into the Life of a woman who has a case of gold fever.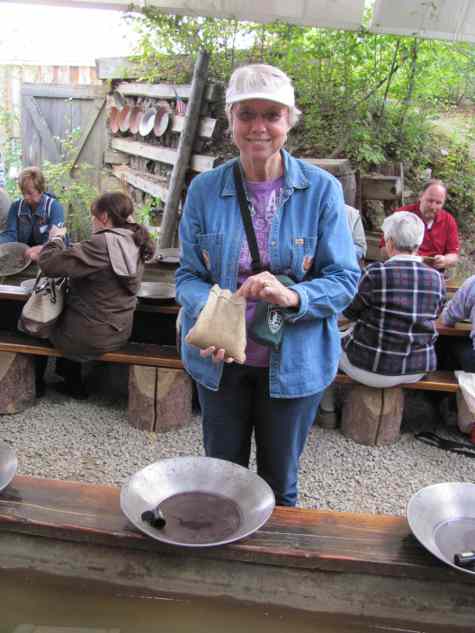 Proudly displaying the bag containing some paydirt. Paydirt is dirt that you are sure contains gold. I knew this was paydirt because they told us earlier that everyone was guranteed to find gold in their bag.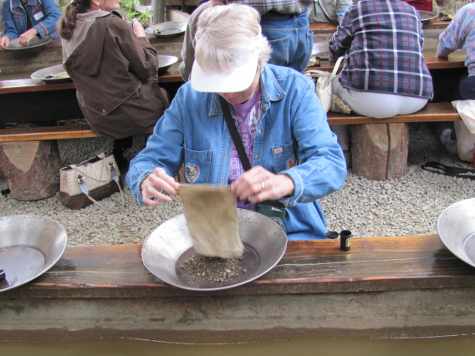 Carefully dumping the bag into the pan. Great care was taken to make sure all the dirt was transferred from the bag to the pan. Then just to make sure, the bag was given several good hard shakes to dislodge any remaining treasure that might have stuck to the canvas.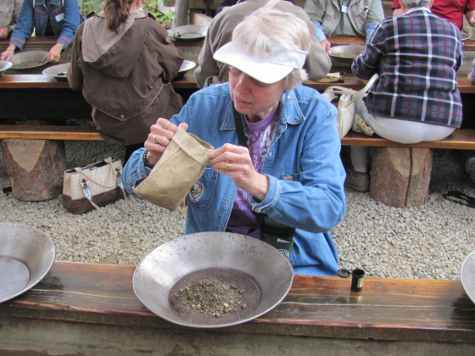 The amateur dumps and sloshes. The goldminer works with great care, gold fever coursing through her veins. Not content with merely dumping the bag, she peers inside to discover if any traces of the elusive yellow metal lurk in the bag's recesses.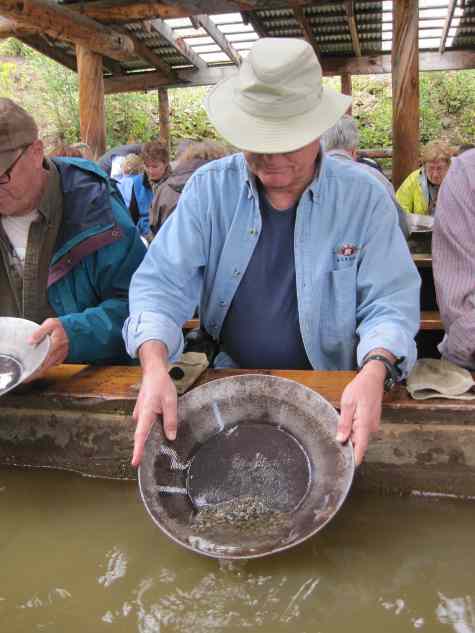 As previously stated, the inexperienced miner rapidly sloshes the water in the pan, and with a couple of flips of the wrists, gets rid of most of the material in his pan.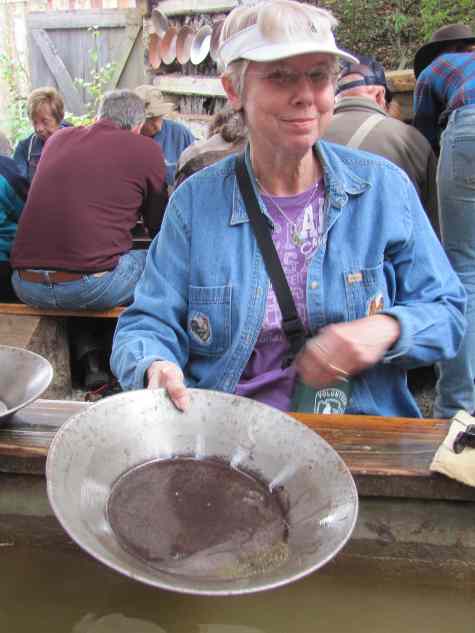 Note the smirk on the face of this old pro as she shows the neophyte miner across from her the way it is done.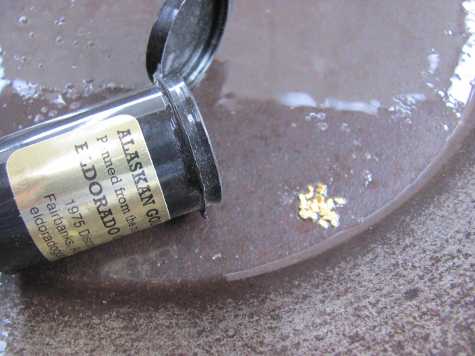 Maybe my technique wasn't as good as the "real" miner, whether they are a really "real" miner or only a really "imagined to be real" miner. Still I was proud of the color in the bottom of my pan. So what if I didn't pan out as much as the old girl, not that really mattered any, as I had a lot of fun. As far as the gold we panned, I quickly learned that what was her's was her's and what was mine was her's also.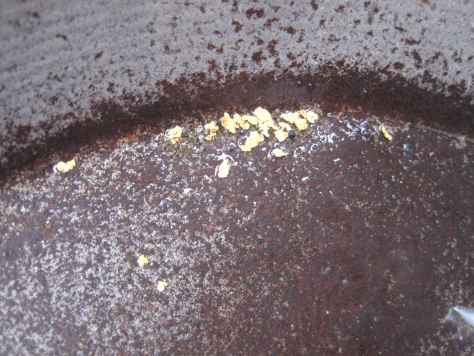 The color that was in the bottom of Linda's pan. While the gold was bright, the huge smile on her face was even brighter.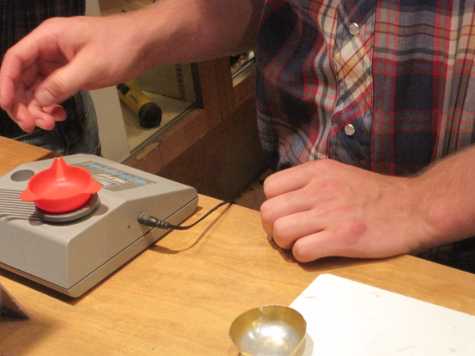 The proof of who was the better panner was in the weight of gold recovered, at least according to the old minerette I'm married to. She recovered a half grain of gold more than I did, though I only had mine until she took it away from me. I claim she had more gold in her dirt, she says it really doesn't matter since all the gold we recovered ended up in her hands anyway. Remember how I started out mentioning how the TourSaver somehow saves us all this money by helping us spend money? Well, our gold panning experienced took another step down the same path. we ended up buying a glass pendent to hold "her" gold that cost four times what the gold we found was worth. Though looking around the room, I think most husbands were in the same boat.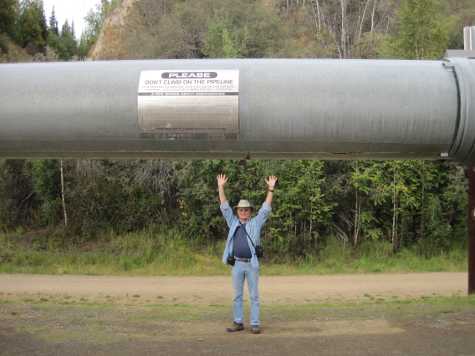 We ended the day with a stop at the Pipeline viewing area, which was on the way back to the coach. There are displays which are full of interesting facts about the pipeline, but the best part is that you can actually stand under a section of it, or even touch it if you want. I keep saying Life can't get any better, then we do something like we did today, and doggone, you realize it keeps getting better and better. We know one thing, we will be returning to the far North in a couple of years, it's just too good not to come back up.
---
August 26 Thursday
A great museum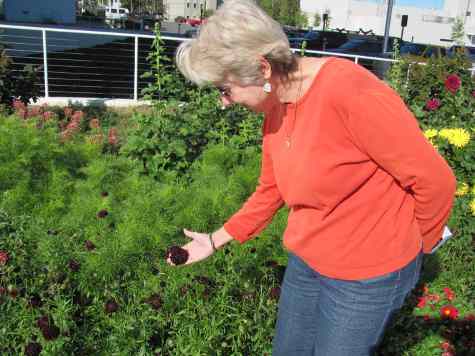 We spent a good part of the day at the University of Alaska Museum of the North, another of those places that the TourSaver would supposedly save us money. Actually, just like all the other attractions we have gone to because they were in the book, this one was also wonderful and we were so glad we went, even though we ended up spending far more time there than Linda thought we would.
Our first hint that this was going to be a very special place was apparent before we walked inside the architecturally quite interesting building. It was one of those, I was just walking along with Linda and suddenly she just up and disappeared moments. What she had found was her greatest, most wonderfulest, favoritest flower in the whole wide world. A apt description might be: huge pin-cushions of the richest, deepest maroon dome shaped flowers you can imagine. It is known as the Pincushion Flower or Scabiosa, and does she ever love this particular color of Scabosia.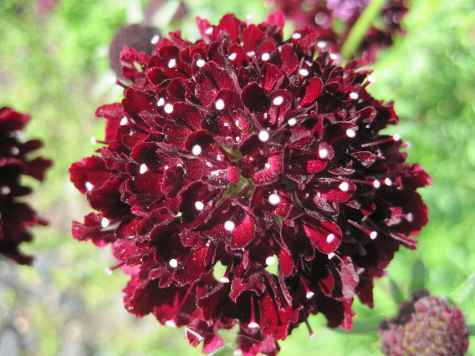 All those years she grew them in our backyard, and now that she has gone without for five summers, she sees them again. That's what happens when you take up the full time Life and the whole world becomes your backyard. Changing subjects, that TourSaver, saved us $9.00 on the admission, one senior entrance fee instead of two. However the little woman added the movie pass for each of us and an audio guide, making the total entrance fee $23. See what I mean about it saving us a lot of money. Linda says it saved us enough on the normal entrance fee that the movie passes and the audio guide were almost free. Sounds like some of the vendors in Mexico, "Senor, over here, price is so low today it is almost free."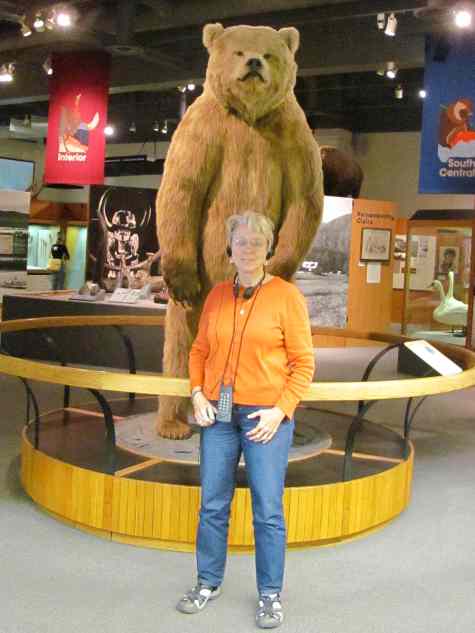 The most amazing thing occurred not long after we had paid our, excuse me, saved money on our, entrance fee. The first exhibit room had this ferocious looking bear standing right in the entrance. I was so distracted by the grizzly with tourist accouterments hanging around its neck, I completely overlooked the huge Kodiak Bear looming up behind it.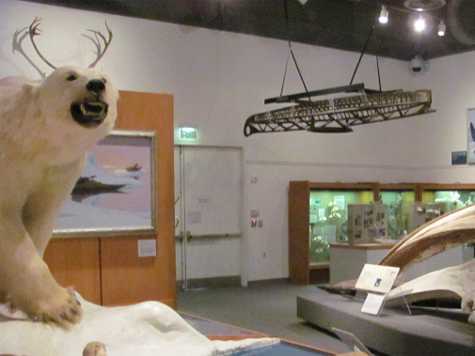 We really enjoyed the museum, which certainly lives up to its name, with exhibits on just about anything pertaining to the North. Certainly the animals play a prominent roll, though occasionally the shear number of things displayed can bring a smile to ones face. I wonder if the curators considered what would happen if a patron looked at the polar bear in the left of the photo from this angle. Is that a Polabou or a Caribear?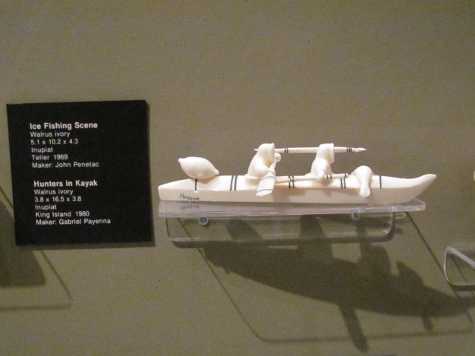 My two favorite types of displays were the intricate ivory carvings and the exquisite basketry. This also caused me trouble when we were finally done touring the museum and had moved on to the "gift shoppe". It was a case of, "would like to have", but not enough to pay what they were asking. I had no complaints with the prices, they were more than fair for the artistry involved, it was just that my want wasn't great enough to pay that price, if you know what I mean.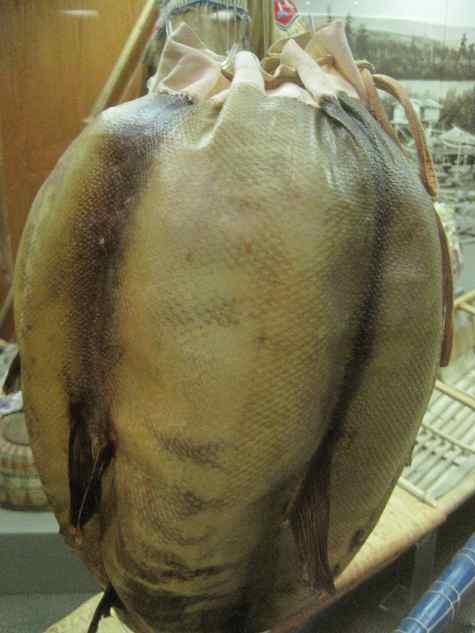 Life in the far north wasn't easy for the native peoples, and they had to use what nature provided them. I found this salmon skin bag intriguing, wondering what it normally carried or stored. A great use of the materials on hand, and the moose hide collar at the top made it pretty as well as utilitarian.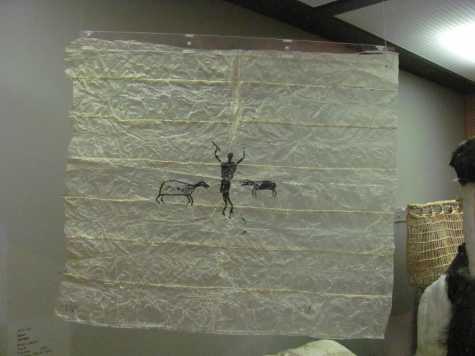 This one is not easy to guess. It is strips of seal intestine sewn together with a decoration painted in the center. We knew the native people made rain coats out of the seal intestines, but weren't sure what this was until we read the description. It is a window, or more accurately, the substitute for glass in a window.
Perhaps I was interested in more things than I give myself credit for. In going through the photos I discovered a number of photos Linda took that showed me lost in deep thought as I pondered an interesting exhibit. For this one I know exactly why I was so interested. The boat is a umiak, and I could remember reading about them in several of the books about the far North. After having felt the power of the waters up here in the different excursion boat trips and the ferry ride, it is hard to imagine the native peoples setting out to sea in a boat like this.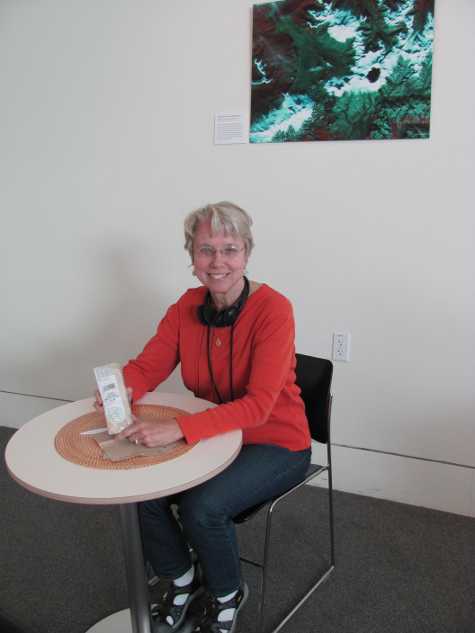 That's not just a photo of a pretty young woman holding up a hummus and vegetable wrap. No, it's far more than that. It's a great memory of our 3 1/2 months in Europe last year. One of our favorite places to eat whenever we found ourselves in a museum or at a historical site, was at its cafe. In places as diverse as The British Museum and Auschwitz, the food served was typical of the country, reasonably priced and great tasting. We found the same to be true today, and it was also interesting to note that most of the people eating were obviously from foreign countries. Hey, if we hadn't traveled to all those places we would have done just as we had always done, eaten somewhere else thinking the food wouldn't be any good at a museum of all places.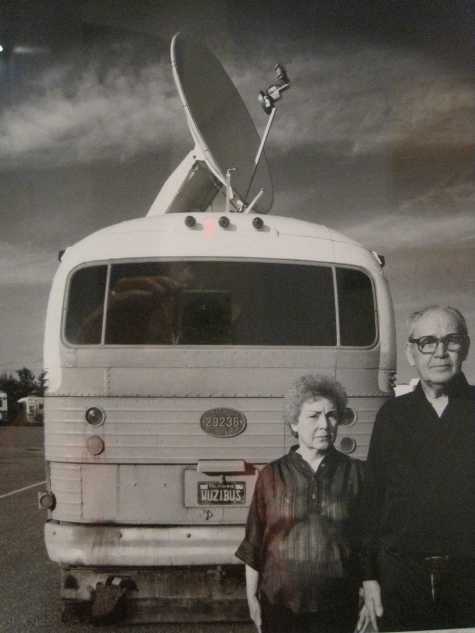 On the second floor of the museum can be found art in abundance. I cannot create art, but I do strive to appreciate art. In some cases what was on display was beyond my keen, but in this case it was right on. A take on Grant Wood's famous American Gothic, this similarly named piece by Charles Mason spoke directly to the depths of my soul, and it also touched Linda the same way, I might add.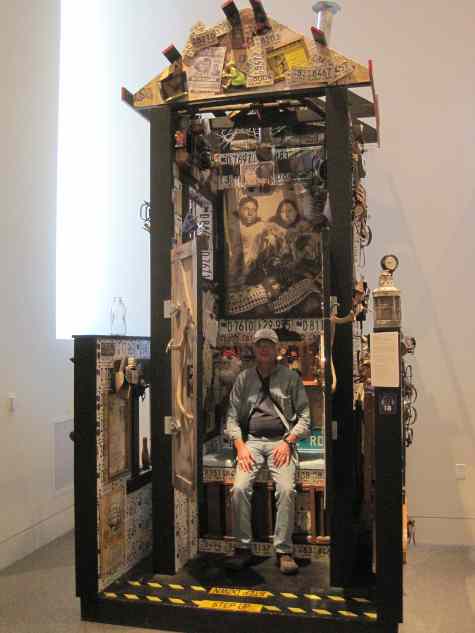 One of the really unfortunate things about having part of the museum feature art is that so many people skip the art part completely. They were the losers because they missed out on an outstanding piece of interactive art, this marvelous outhouse. I'm not even going try to explain it, but if you get to the museum, please, please, go up to the second floor and experience it, and if you were there and missed it, shame, shame on you.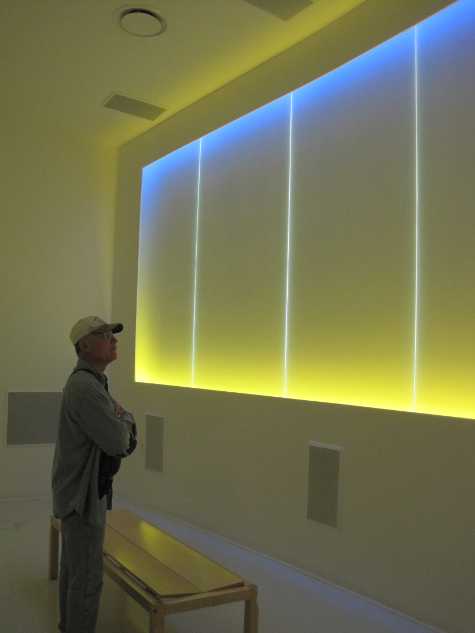 It's not what it looks like, it's simple called: The place where you go and listen. A room with sounds, sounds that weren't anything familiar, yet they also weren't noise. Art isn't just for the eyes, it can also be for the ears. Unfortunately my eyes seem to be able to appreciate art better than my ears. Still, to not have experienced it would have been our loss, though we were both at a loss to explain what that loss would have been.
A day where were cocooned in the familiar and also pushed a little out of our comfort zone. a day to Live Life and experience what it has to offer. Another day when we were so glad we have paid attention to, and are Living our motto which is found at the bottom of every page: Life is not a dress rehearsal, Don't be afraid to laugh, love and retire early.
---
August 27 Friday
Just hanging out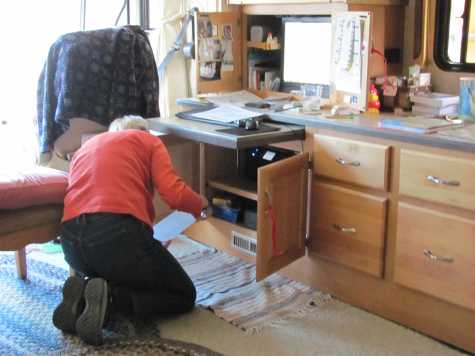 Today we engaged in one of the joys of being a full timer and not having a schedule, we did what amounts to nothing. Neither of us got up very early, though I did beat Linda by a couple of hours, principally because we were up till after 2 AM this morning. Linda had been wanting to see the Northern Lights for the past several months, and last night she got her wish.
She'd found a website that had aurora predictions, and had spent much of the late evening watching the website. Even the weather was co-operating as it had been a nice sunny day, and it looked like it was going to be a clear night. Around 11 we went out and saw a very faint greenish band in the sky, but it was still too much light remaining to really see much. We set the alarm for 1:45, climb into bed and had gotten what seemed like 15 minutes of sleep when the alarm went off.
I rolled over and saw that "she who loves her sleep" was already getting out of bed. Knowing the little woman was on a mission, I quickly followed. Outside we could see, high overhead, shimmering green clouds that changed in shape and position. Talk about one happy girl, she was finally getting her wish, and even though it wasn't as spectacular as it will probably be during the winter, it was more than good enough for us. The only problem was that we never even tried to take any photos, though they probably wouldn't have turned out anyway.
So see, I actually had a good excuse for not bounding out at the crack of dawn. Once up and breakfast over, we really did engage in doing pretty much nothing. Though while I got caught up on the latest from the Internet, Linda battled our next to worthless Kodak printer. I have to laugh because every time she has trouble with it she always says it normally doesn't give her any trouble, which is probably true as far as it goes. Eventually she printed what she wanted, while I enjoyed looking at her contortions under her desk.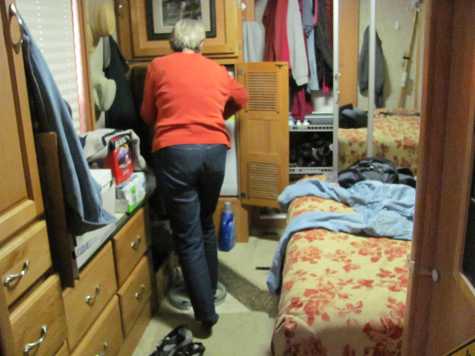 That extra sleep had seemed to give her some added energy and soon she was doing laundry and vacuuming the floors. Of course when you have as little floor space as we have, and the combonation washer/dryer holds so few clothes, we are not talking about a major undertaking. Don't think I was being a total sloth, I wasn't, as I took over one of her jobs and did a good job as the coach sanitary engineer, dumping the gray water tank so she could do the laundry without worry of a flood. I was going to do it yesterday, but forgot, a fact she was nice enough not to point out.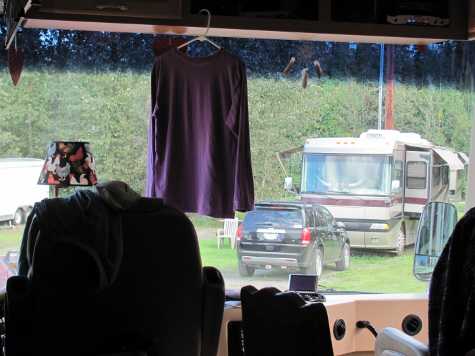 One thing amazed me, and that was the limited number of clothes she hung at the front of the coach, looks like one of the reasons she was done so quickly with the laundry was it was mostly her things. Actually it wasn't, it's just that most of mine are dried in the dryer, having something to do my not caring if there is a wrinkle or two in my clothes, while she has much higher standards. That was about it for today, a day when we didn't do much, and there wasn't much to write about, but then when you live Life with the capital "L", some days are like that.
---
August 28 Saturday
Vacation time traveling to Coldfoot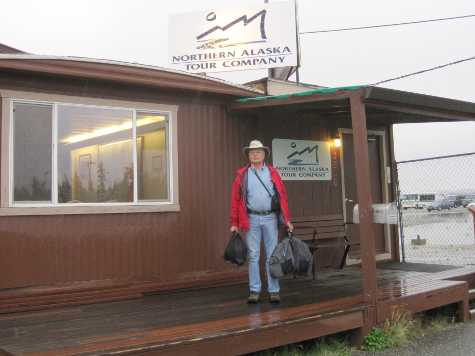 Since we took a vacation when we first got to Alaska, Juneau being a long time ago, we decided to go out the same way. This time we are heading north, far, far north, to Deadhorse/Pruhoe Bay and then over to Barrow. Taking the easy way out, we are going on a Northern Alaska Tour Company four day tour.
It consists of two days of driving north bound, ending up in Deadhorse, flying to Barrow, then flying back to Fairbanks. Four full days starting at 8 AM this morning and ending after 9PM on Tuesday. That meant an early morning, the alarm going off at O'dark thirty, and Linda was up like a flash. She didn't beat me though as the pitter patter of rain had awakened me earlier. We weren't worried about the rain since we would be traveling so far north we would probably soon be leaving it behind.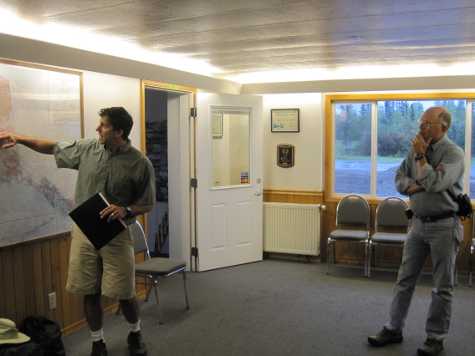 During an overview of the trip we met our three fellow travelers: Paul from Frankfurt, Germany, and Martha and John from the Detroit area. They were all just doing the Deadhorse segment, so Linda and I would be traveling on to Barrow by ourselves. Our driver and guide was John, who not only had a wealth of knowledge, but also turned out to be the best wildlife spotter we have ever traveled with.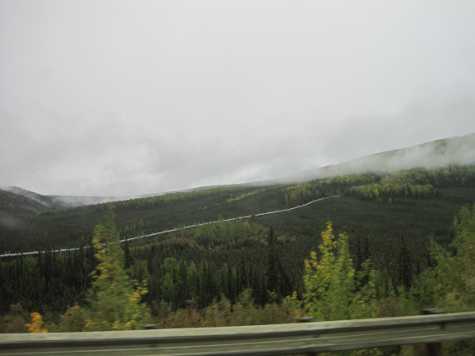 Our route at first was through familiar territory, the same road we had taken just a few days ago when we toured the El Dorado gold mine. Eventually it veered off and we picked up another traveling companion who would be with us for the next two days. Most of the trip would be on the Dalton Highway, the road that was built to support the pipeline, and which TV has made famous with the program, Ice Road Truckers.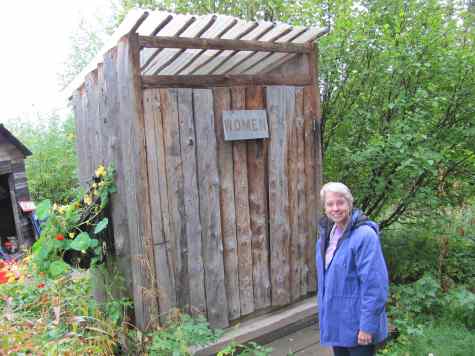 One nice thing were the rest stops every several hours, which varied from a lone outhouse in the middle of nowhere to a roadhouse with a story, Our first stop, at a place called Joy, was the latter type. Think late 60's, early 70's when many in our generation were dropping out and trying their hand at self sufficency via homesteading. Think of raising 23 children between your own and those you adopted and you have a hint as to what is behind Joy, Alaska. In Linda's case, joy was finding a certain building soon after we stopped.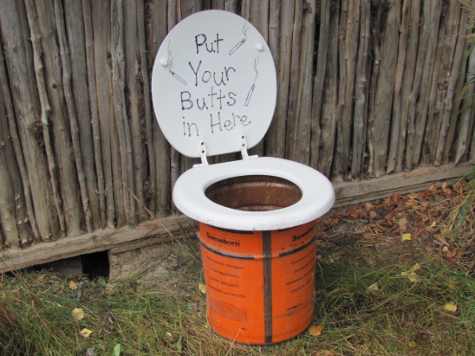 This was Linda's favorite spot, and summed up what Joy was all about, this off the grid living, with none of the things that we take for granted. For example a diesel generator produces their electricity and they operate a small store that generates cash income. Not the easiest Life judged by our standards, yet very satisfying for them. In a small way it is how people who live in houses look at the crazy people who live in a RV traveling around the country.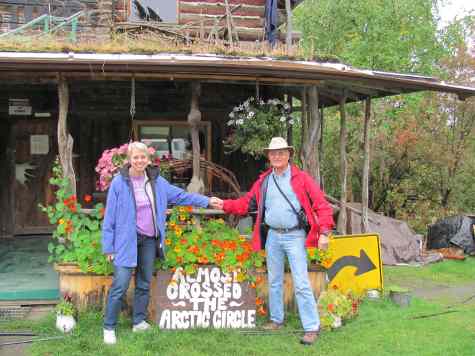 While things like this were certainly interesting, Linda wasn't forgetting one of the two principle reasons why we were taking this trip. Almost there was stretching it a bit, but before the day was out we would be crossing that imaginary circle only a very small number of all the visitors to Alaska ever cross.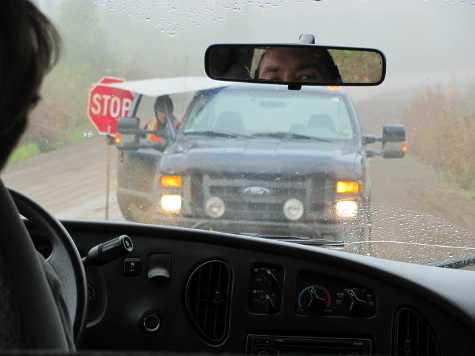 Even if there wasn't a sign announcing the start of the Dalton Highway, which is so plastered with stickers from all over the world that it is hard to recognize, you'd know it simply because it's where the pavement ends. The Dalton is not all gravel, some sections have been paved, but there were also numerous construction zones as it is constantly being improved. We had to admire the ingenuity of the flagger, creating an improvised roof to shed a little rain.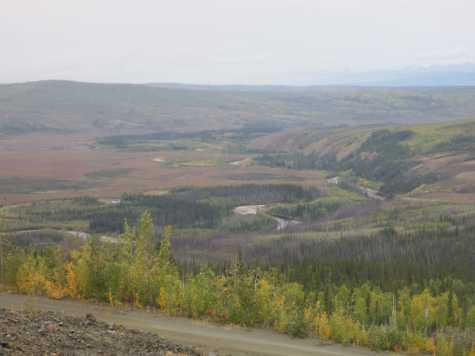 We were really just beginning our drive up the Dalton Highway at this time, and the prospect of miles and miles of rainy weather wasn't what we really wanted. Then almost as if wishes come true, the rain stopped, and even though it was gloomy and overcast, the drive became much nicer. Now we finally started to see the fall colors, which were mostly the yellow leaves of the alder trees.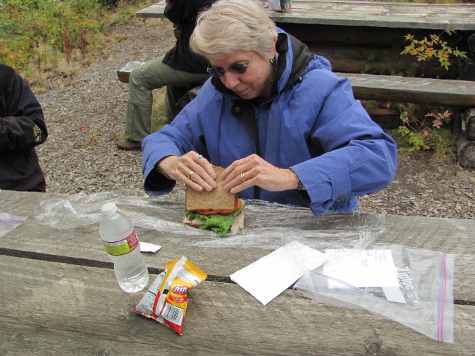 We had ordered lunch this morning before we left, and the food was ready at Yukon Crossing when we arrived. It was one of those, you can have almost anything you want as long as it is a sandwich made from the list of ingredients, type of meals. We learned two things right off. First, everything is a lot more expensive up here, and second, as far as the food is concerned, you get enormous quantities of whatever you order. Here's Linda trying to prevent a landslide of her sandwich fixings when she picks it up. There was more to her sandwich than we would normally eat at two lunches, yet it was all gone every time. It is like your appetite grows to match the size of the country, or maybe the cold just sucks all the calories right out of you.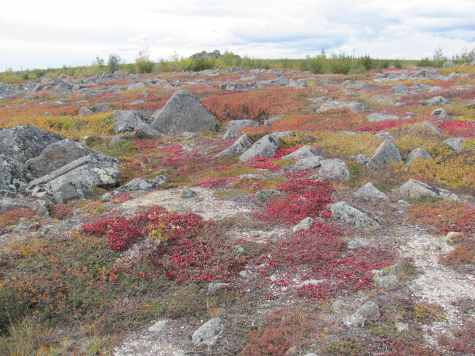 When we had looked into taking a trip to Deadhorse, we had the option of driving north and flying back or flying north and driving back. After reading a few peoples observations we decided to drive north which would allow us to see the gradual change to the far northern vegetation and terrain. And no, we never considered driving ourselves, figuring we would get a lot more out of the guided drive knowing how easy it is to drive by things, especially wildlife that is not right by the road. Take this natural rock garden bursting with fall colors for example. Just a few weeks earlier this was all green, but look at it now, wow.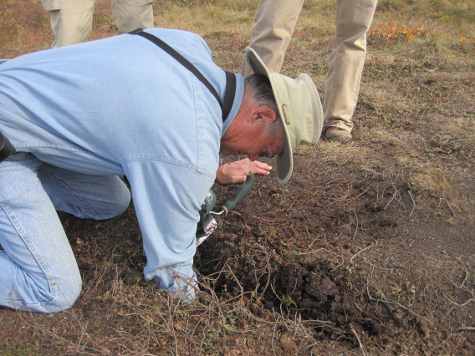 At one stop. out in the middle of nowhere, we walked a short distance out in the tundra where John dug a hole some 14 to 16 inches deep, then had us stick our hand down in if we wanted to. No it wasn't a wolverine den, it was to touch the permafrost layer where the ground is frozen year around. Frost conjures up something that is not solid, but let me tell you, it is as solid as a rock, or maybe a better analogy would be, as cold and solid as an ice cube.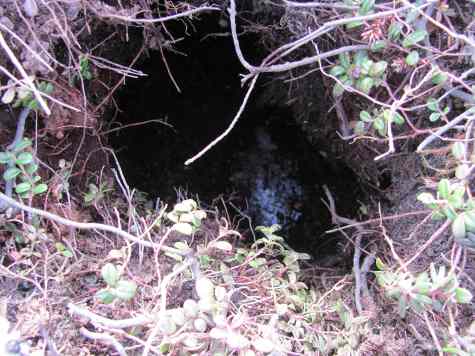 It's hard to take of photo of the bottom of a hole, but the bright area is the ice of the permafrost. In a way, this was an introduction to what was just up the road. That imaginary line on the earths surface that marks the Arctic Circle.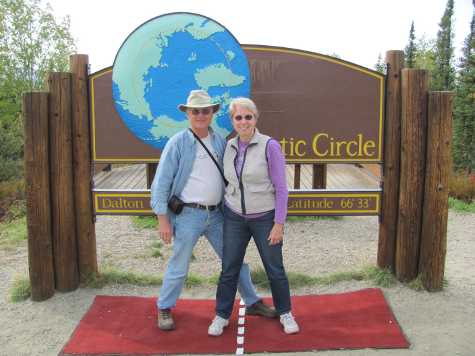 It was a fun crossing, there was no snow, the temperatures were moderate, and it completely swept away those childhood fantasies of the only thing north of the Arctic Circle is snow, ice and Eskimos. After the actual crossing, we had to pose for our "official" photo. Below is what our actual crossings looked like.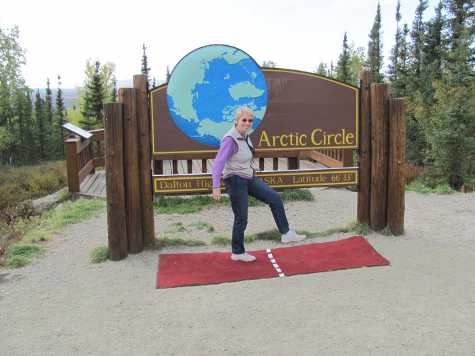 Linda's one giant leap for womankind.
For my once in a Lifetime opportunity, hey you only get to cross it the first time on land once, I chose to do it differently, showing my excitement with a somersault.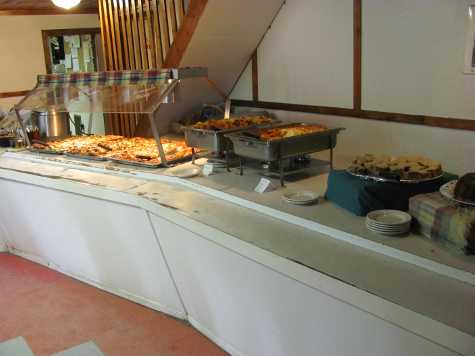 Our stop for the night was at Coldfoot, a place that is aptly named. Dinner was served buffet style, and tonight it was pizza. Made for a great meal, and we all chowed down in the best Northern fashion.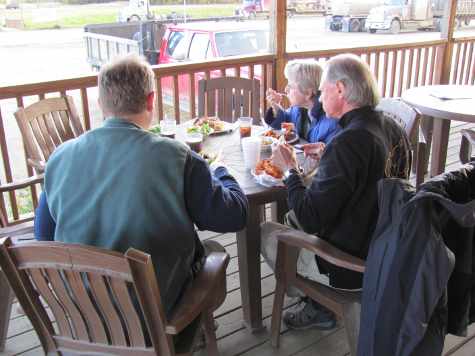 Now I don't want to point fingers at the folks that were really, really chowing down, but if you look closely you will see someone is really shoveling the food bigtime. It was a great day, we really enjoyed our traveling companions, while John, our guide was able to use just the right blend of knowledge and humor to keep us interested in what was happening during the nearly ten hour day.
Sleep came easy even though we had just been passengers, and we were eagerly looking forward to tomorrow when we would crossing the Brooks Range and journeying to Deadhorse and Prudhoe Bay.
---
August 29 Sunday
North to Deadhorse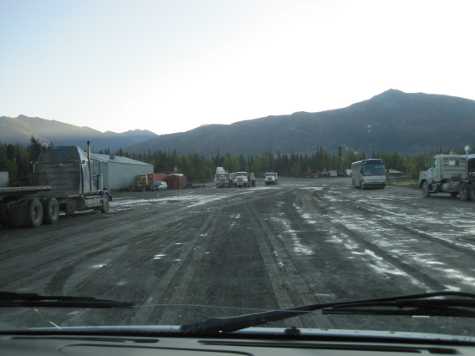 There was frost on the pumpkins, or at least on the steps, this morning, just another indication that we were indeed north of the Arctic Circle. We didn't have to leave until 7:30, so it gave us a little time to relax after we got up. The room was small, two twin beds and a very tiny bathroom, but it served to keep us safe and warm.
As we drove out of Coldfoot this morning we could see the Ice Road truckers all around us. Well not exactly, but with all the trucks stopped there, we could close our eyes and imagine what it would be like with all that snow. As for now, it was just muddy slop that splattered all over any vehicles that passed this way.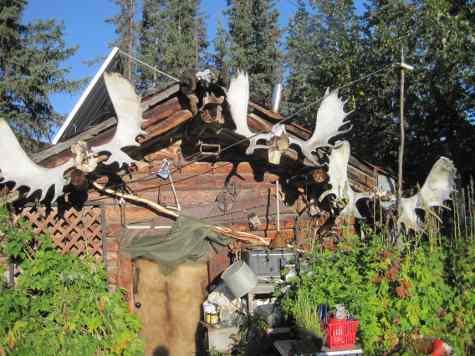 A short distance north we made our first stop of the day at Wiseman, a small village where we were given a talk and tour by Jack Reakoff that brought to life just what it means to live way up here. It was one of those, I'm not sure what we are getting into, boy I'm glad we experienced that, situations.
It wasn't that Linda didn't enjoy listening to Jack, it just that she has the ability to divide her attention, something she learned while raising our three kids. In this case it is Willow, Jack's cat, who is getting some much needed attention. We are inside one of the two stores in town, and it seems that Willow had a busy day yesterday. First off he had chased a wolf out of Jack's yard, then proceeded to get himself locked in the store overnight. I don't know if he was looking for an atta boy for chasing off the wolf or was just interested in a little cuddling with a good looking woman. Either way he got his wish.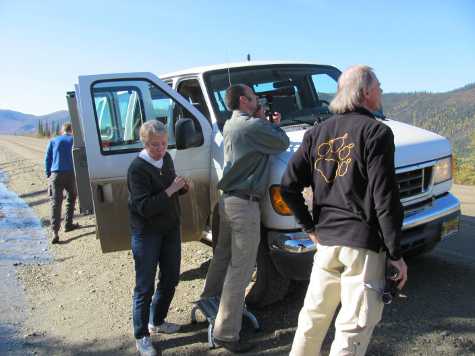 Once we left Wiseman, a new routine was quickly established, drive a ways, spot some wildlife, stop and look, then repeat all over again. By the end of the day we had seen so many different types of wildlife I had lost count, and the only animals left on our list were a wolf and a wolverine, the latter hardly ever being spotted and the former becoming the standard joke each time we stopped.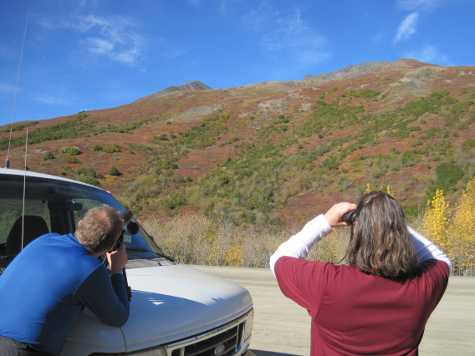 It wasn't that what we were seeing was right beside the road, though on a occasion it was, rather it was usually on a distant mountainside. Here are Martha and John busy watching a grizzly gorge itself on berries up high across the road.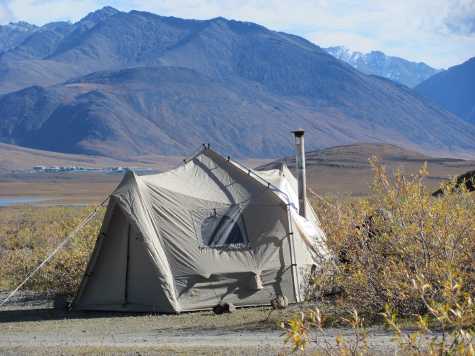 Sprinkled along the way were potty stops, this one being miles back off the main road at a camping area. Got to love the stove pipe coming out of the side of the tent.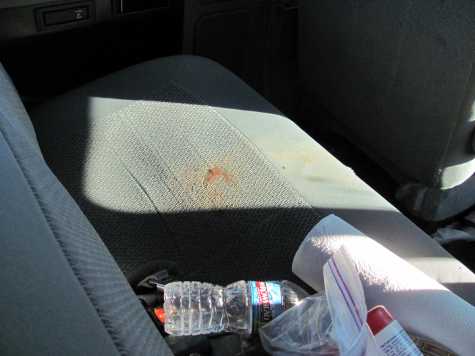 Even with those semi-frequent stops, accidents were bound to happen, take this mess on the seat of the van for example.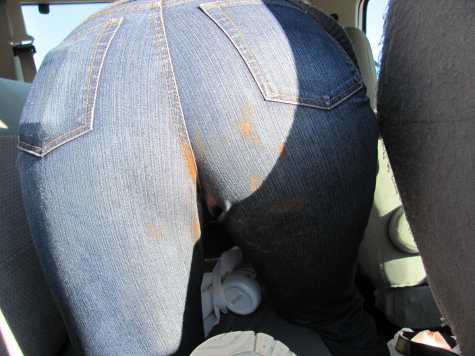 And here is the other end of that accident, showing just who was behind it, a behind I've been looking at for many, many years. What she did was eat one too many little Hershey Bars. Seems she had dropped one on the seat then proceeded to place a certain part on her anatomy atop it. The results were good for a group laugh, and she had so ground it in her jeans that I had to use my knife to scrape it off. Now don't laugh because someday this might be you.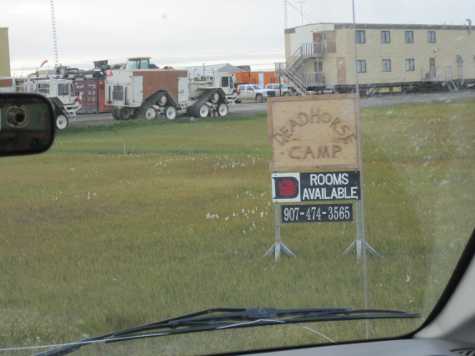 It was quite late when we arrived at Deadhorse Camp where we would be spending the night, but with all the wildlife we had seen it was worth it, afterall when is last time you saw a Musk Ox busily munching away near the road. One of the rules of Deadhorse camp is that in the door all outside shoes must come off. That was easy, but what about when you get assigned your room and learn that there are no keys to rooms, try that one on for size.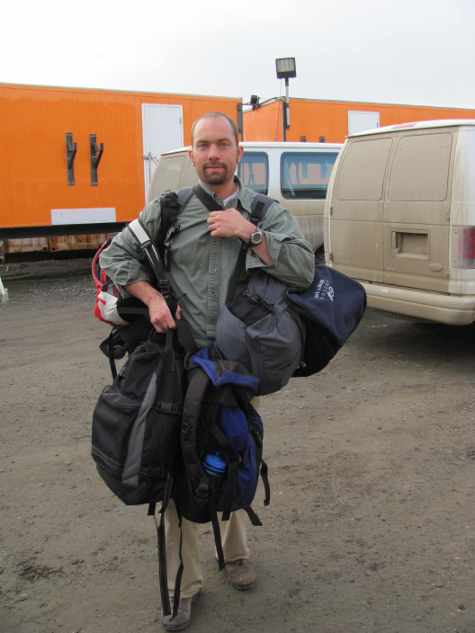 Now you may be wondering whether we actually saw any animals since I haven't posted any photos, but what the hey, anyone can post the normal photos of animals. Now for something different, how about the seldom seen great northern bearded packabalding. Here is one in action. Well maybe not quite, but we never had to worry about our luggage as John always took care of it for us. Here he is carrying all the gear everyone brought for the trip. I think we all took the pack light suggestion to heart.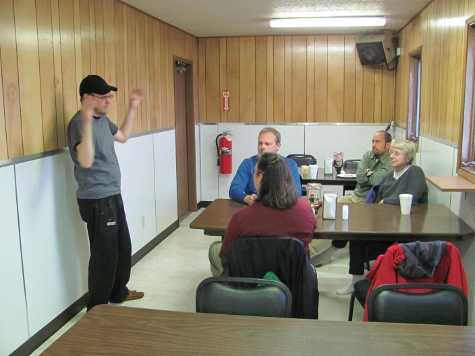 We also ate at Deadhorse Camp, and here is Jesse describing how big the hamburgers are. Well maybe not exactly, but it sure did describe just how good the food was. I ended up with a reindeer sausage topped with peppers and onions in a bun while Linda went with grilled chicken. Served with a side of steak fries the food was beyond great.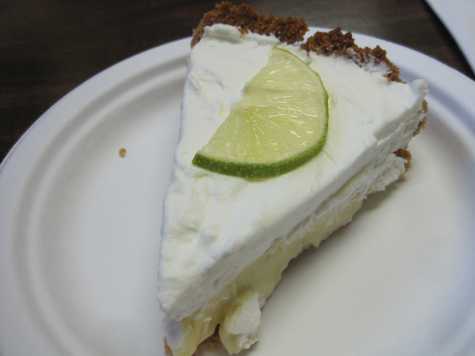 For dessert it was a slice of key lime pie, which was followed by a drive around Deadhorse. Deadhorse isn't a town like you are used to, because no one lives there permanently. There are no houses to buy, only large dormitory buildings, often operated by the company for their workers. It is a place that exists for one purpose, and one purpose alone, oil.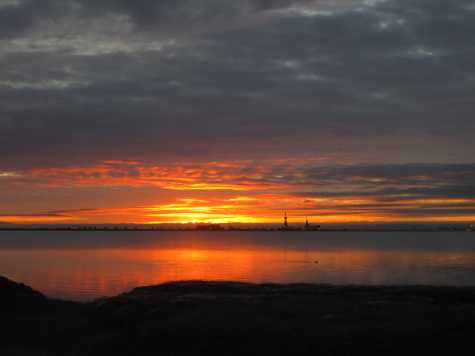 Caught in the colors of the setting sun, several of the drilling towers can be seen in this photo. Tomorrow morning we will be taking a tour of a portion of the Prudhoe Bay complex, which is the only way you can see it, then we will be flying on to Barrow, the northern most incorporated town in the United States.
---
August 30 Monday
Into the Arctic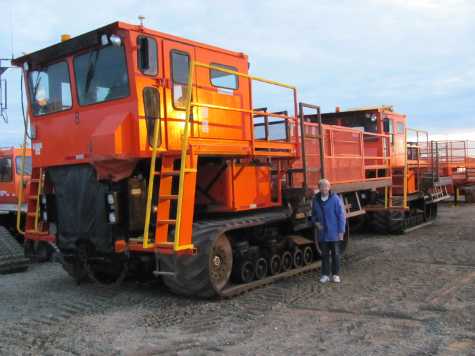 After a delicious breakfast of oatmeal and orange juice, we took a walk over to the equipment parked around Deadhorse Camp. Up here, everything must be built on a gravel pad, making for many combined uses of the available "land". These machines are only used in the winter when the tundra is frozen solid, so no trace of their passing will be left. In fact the dead of winter is when all the exploration takes place.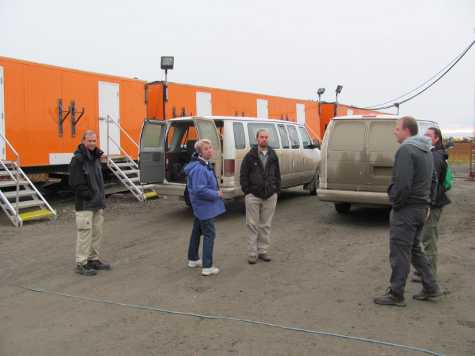 Our little group ready for another day, some of them more so than others, but take a look at the mud on the back of the vehicles, something that goes with driving up here. The other thing is the orange structures, which are mobile dormitory rooms. Each has three beds, a twin on one side, bunk beds on the other, and they can be pulled out onto the tundra. Things are just different up here.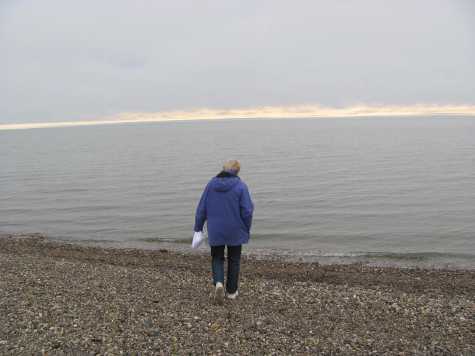 Sure we took a tour of Prudhoe Bay, and for me it was to see the wells, drilling rigs and associated structures. Mostly because I worked for the second biggest oil company up here for over twentyfive years, though always in the lower 48, and this oil helps pay for how we Live, or least the retirement checks we get from them do. Linda on the other hand was here for something entirely different, and the firm stride and towel should give a clue.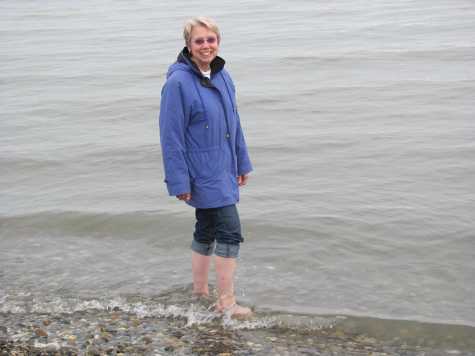 This, the woman I'm married to, the one who has to wear socks to bed to keep her feet warm, this woman is standing in the Arctic Ocean, huge smile on her face and asking when I'm going to come in. There's more to the story as I shot video of her walking out and standing, then while she continued to stand there, took these photos. Believe me, I'm never going to make a comment about her cold feet again.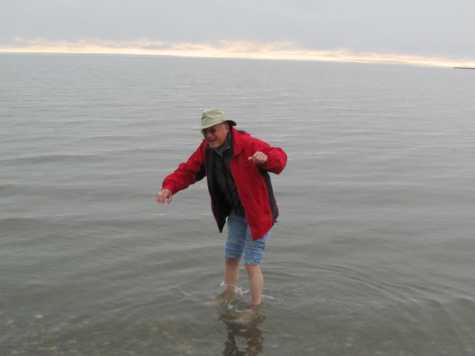 Here's why I'll not make anymore comments, that water was so cold I could hardly stand it. And besides being cold, the bottom was nothing but rocks varying in size from marbles to golf balls, making for a surface that was painful to walk on, at least for me. The expression on my face says it all, get the darn video taken so I can get out of here. So what if I'm a wuss, at least I got my feet wet in the Arctic Ocean.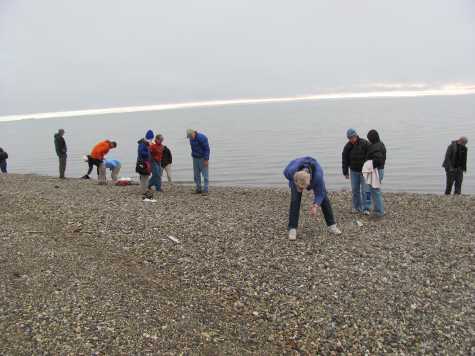 While we had the memories and the photos of our sojourn in the Arctic Ocean, we still needed something tangible to tie us to this Life event. Rocks, it was the rocks, not only for Linda, but many of the other people. Which meant that for the next day and a half we were carrying around more than a mere handful of those things. I will give her credit as she replaced some of the lesser quality ones with better specimens, and will also admit to encouraging her to keep as many of them as she wanted. I won't say the fact she, and not me, was the one carrying them around had anything to do with those comments, but...
We also got the requisite certificates attesting to our toe dipping abilities.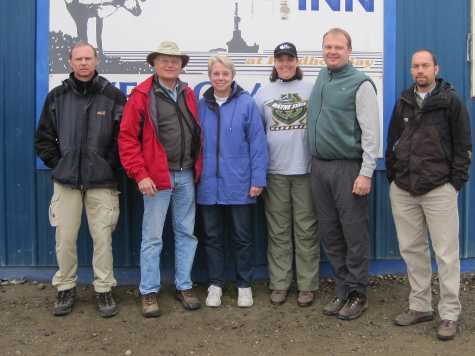 Our little group of five Arctic trekkers, Paul, myself, Linda, Martha and John, along with our great guide, John Morton. Paul, John and Martha were flying back to Fairbanks, Meanwhile John, our guide, would be picking up a group that was flying into Deadhorse today, and driving them back to Fairbanks over the following two days. And in a few hours Linda and I would be flying up to Barrow to continue our adventure.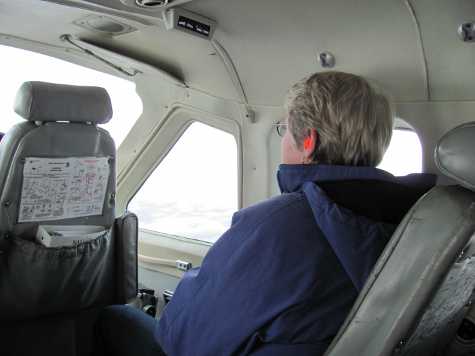 Gotta love how prepared my wife is. As has been the norm for our flights while up here, the flight to Barrow was in a small, single engine plane, which means lots of noise. We hadn't been in the air very long before I noticed Linda digging something out of her pack. Note the orange objects sticking out of her ears. Ear plugs. That woman thinks of everything. For all I know she had a parachute along in case there was an inflight emergency.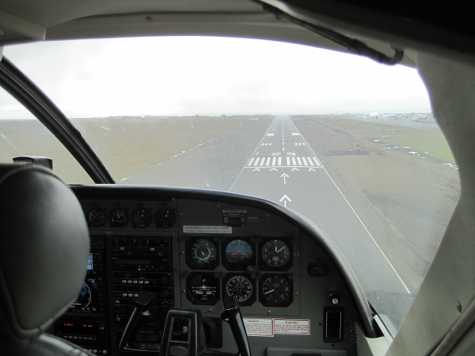 One of the neat things about flying in small aircraft is that you can sometimes see what the pilot is seeing during the landing. We also were to learn that nothing in Barrow is paved except for the airport runway, everything else is either dirt of gravel.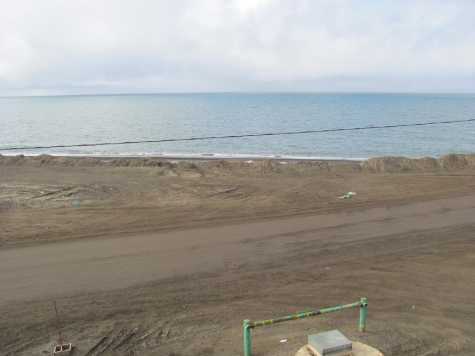 We walked from the airport to our hotel, which only took 10 minutes at the most and we weren't in any rush, since Barrow was, to put it mildly, different. It looked like everything that anybody had ever bought that had broken was out in their yards. We were later to learn that there are no spare parts available for repairing things, so everyone keeps everything which serves as a spare parts bank for anyone who needs a part. Once in our room we marveled at the view, the Arctic Ocean was only a couple of hundred feet away.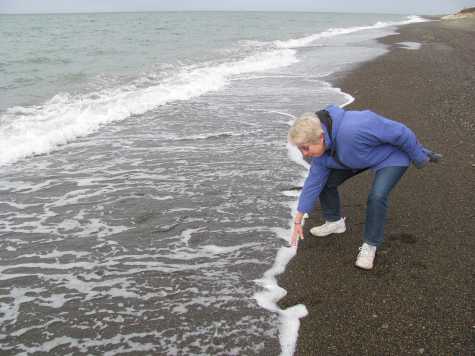 Didn't take long for us to take the short walk to the ocean, which was when I discovered that the woman who had that morning paraded around in the arctic Ocean was no longer the dauntless dipper, turning into a fingertip female.
I will confess to doing the same thing, though doing the full polar bear, head under water plunge, crossed my mind. That thought only lasted for a nanosecond before sanity returned, at which time we decided that a walk along the beach would be a good substitute for anymore water activity. During the walk we came across the body of this seal that had obviously been washed ashore only very recently.
We ended the day with a great meal at a nearby restaurant, then returned to our room and continued tell each other, 'Look out the window, right there, that's the Arctic Ocean." There are memories and then there are memories. Last summer we stood overlooking the site of Hitler's bunker in Berlin, then later spent several days at Auschwitz. This year we stood in the water at the edge of the Arctic Ocean. World's apart, yet the type of things that many people can only dream of doing. We are truly blessed.
---
August 31 Tuesday
Chilly day in Barrow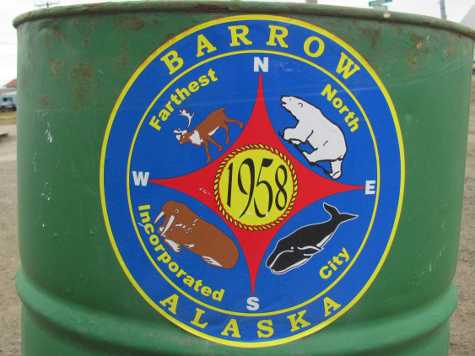 We found ourselves once again marvelling at the fact the Arctic Ocean was just a few hundred feet from our room as we lazily got ready for the day. The Tundra Tour we would be taking today wouldn't go anywhere near the tundra, being confined to Barrow and the Barrow spit, still it was scheduled to start at 10 this morning and go until 6:30 this evening, making for a long day.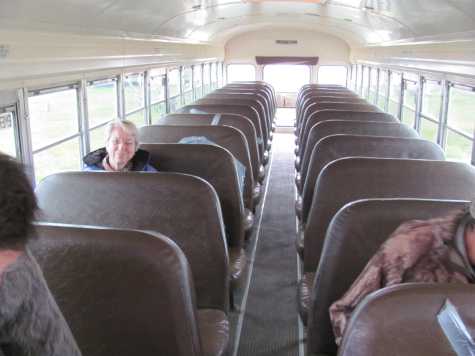 Our transportation was via a bus, a big bus, and it with only twelve people on the tour we certainly had as much room to spread out as we wanted. Our guide was Ryan, whose family roots went back centuries in this area. One thing which quickly became apparent was that the cold everyone was bundled up against had no effect on Ryan.
While we all had multiple layers on, Ryan wore only a long sleeved pullover shirt. While we sat and shivered in our seats, he stood and proudly showed us his 27 Polar Bear Club Certificates attesting to the fact he had done the fully submerged Arctic Ocean dip that many times. Our son. when he was in the Marines, tried to convince Linda that cold was only a state of mind. She wasn't buying any of it, but today she saw another example of what he was talking about. I think her state of mind is probably to think that the more layers you wear, the warmer you'll be, and you know something, as far as I'm concerned she'd be right.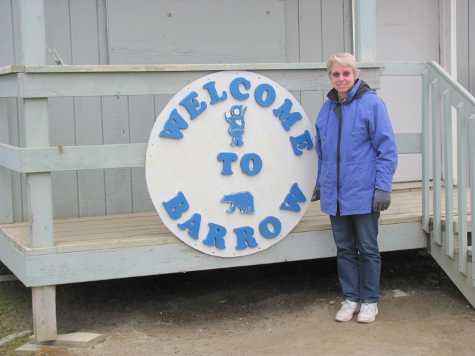 Gotta have proof we were really in Barrow, so here it is. High temperature of 40, low last night of 34. Like Ryan said, just a nice mild summer day in Barrow. Linda and I both quickly realized our ancestors came from somewhere much further south than Ryan's.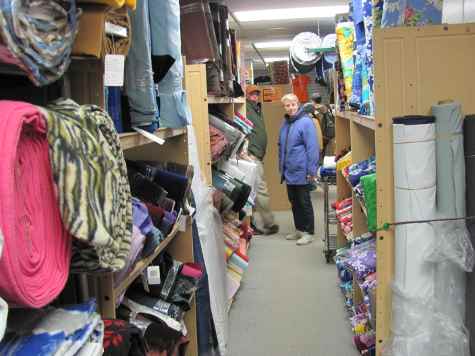 Among the places we stopped at during the tour was a small store that was where you go when you want that piece of fabric to sew a garment. Many of the people in Barrow live a subsistence lifestyle, so making their own clothes comes naturally.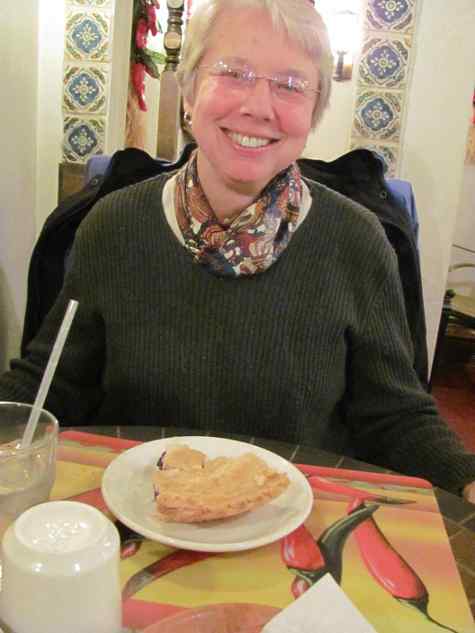 We enjoyed the places we stopped at, though it seemed like people took a lot longer to get back on the bus at the ones that were inside as opposed to the ones that were outside, wonder why that was? When lunch time rolled around everyone was allowed to eat whereever they wanted, mostly because the majority of eating places are just a short distance from each other. We headed for the most renowned place in Barrow, Pepées Mexican Restaurant, where the food proved to be surprisingly good. Had to like their slogan, "Pepées north of the border." And that's north as in really north of any border. And yes, that smile on Linda's face is one she's worn before, the one she gets as she's about to dig into some wild blueberry pie, something we will certainly miss when we go back to the outside.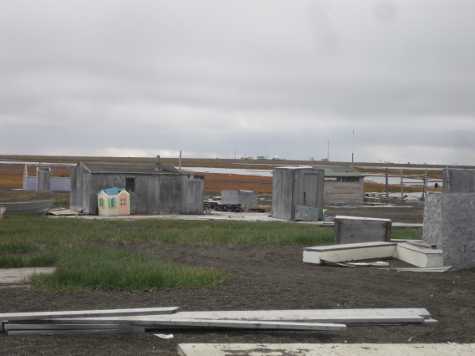 Another of the stops was the Barrow spit, and while we didn't get to go all the way out to the point, the last few miles require a four wheel drive vehicle which our bus was certainly not, there were still many interesting things to see. Take these summer homes which many of the residents of Barrow use during the summer, which is July. June being spring, August fall, and the remainder of the year winter.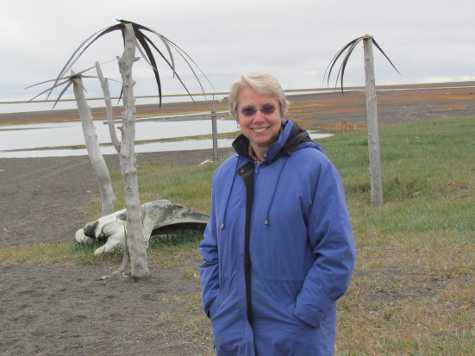 To give the area a true summer atmosphere, there are even Barrow palm trees. They don't produce any coconuts, probably because they are pieces of baleen nailed to a pole, but they do lend a tropical air to the area. Remember, today is the 31st of August so it is still fall, which is why Linda is wearing her Barrow fall outfit of only four layers.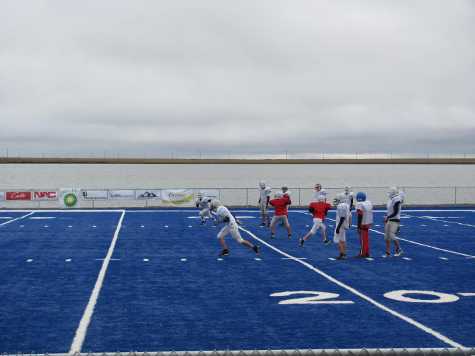 You never know what you are going to see when you travel, so how about the Barrow High School football team practicing on their blue AstroTurf field. One thing about playing football here, the Barrow team never loses a home game, which may have something to do with the winning team having to go for a swim in the Arctic Ocean right across from the field. Funny thing is that the visiting team always seems to find a way to lose the game, even if it takes them until the last seconds to do it.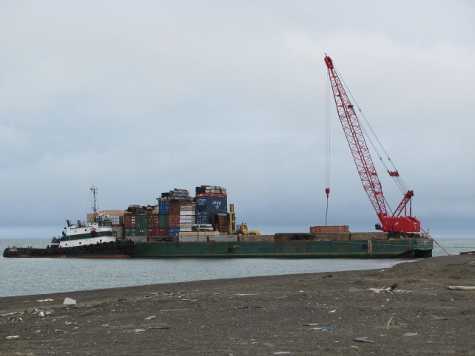 Another unusual sight, but you say it's only a barge. So just how does anything get to Barrow, which has no road access, by air or by water, and is one of the reasons why everything is so expensive up here. This is the barge, not a barge, the barge. The once a year order that you placed in May, is delivered on the barge in late August, making it the one and only barge.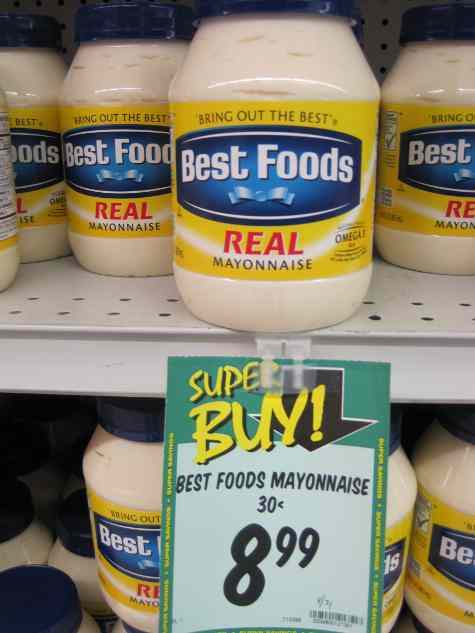 How's this for a super sale price for a quart of mayo.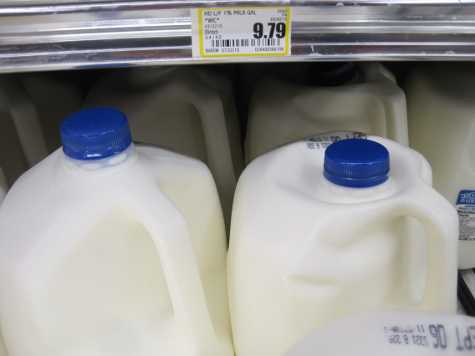 Next time you complain about the high price of milk, consider what the people of Barrow pay.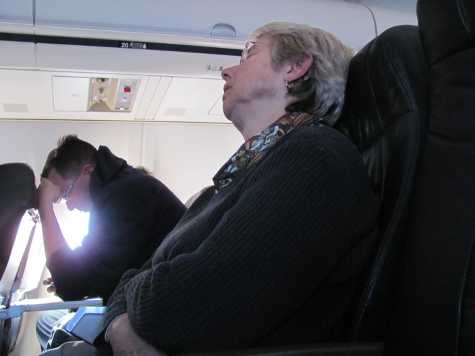 Eventually the time to fly back to Fairbanks arrived, and this time it was on an actual jet plane, an Alaska Airlines flight. The long day caught up with some of the passengers during the flight and they used the comfortable sets to their advantage. This is good example of the two best positions, the head down, mouth closed, and the head back, mouth open pose. Between the roar of the jet engines and the roar of the grizzly, I didn't get a chance to rest, but the views were awesome.
This aircraft was configured for the route it was flying, with the area over and in front of the wings dedicated to cargo and the rear section for passengers. we were delayed while they finished off loading freight, but it was fascinating to watch them maneuver the forklift with those giant containers. We arrive back at the coach to find everything just as we had left it. It had been a wonderful trip and we were so glad we did it, though having done it once, the next time we will fly up to Barrow and spend a couple of days on our own, having no desire to go back to Deadhorse, or do the Dalton long drive for that matter. Living Life, isn't that what it's all about?
---
---