Journal Archive 9/1 - 9/20 2010
Scroll down to read the latest post
September 1 Wednesday
Chilling out after a chilly day in Barrow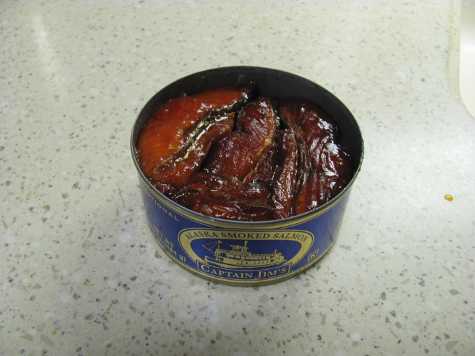 We don't have to do anything some days, and we made that our motto for today. Before we left on the trip to the Arctic we had decided to stay in North Pole an extra day before leaving on the drive south. That didn't mean we didn't do anything, because after all, we had to eat. The result was opening the can of smoked salmon we had bought on the Riverboat Discovery and trying to make the salmon spread they gave us a taste of, to induce us to spend $10 for a can of smoked salmon. It had worked to perfection, we being only one of many who lined up to buy one of those cans.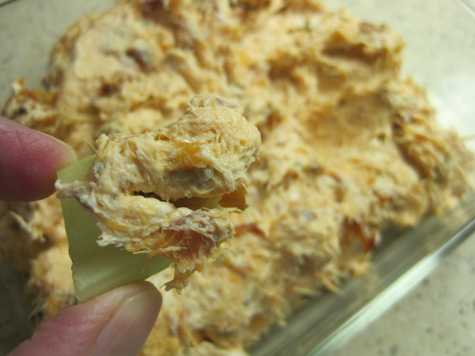 It proved to be a success, not only in the taste department, but also in the cooking department. One, Linda made it all by herself, two, the recipe was, take two cans of salmon and mix with one 8 ounce package of cream cheese. Linda had to make a slight adjustment to the recipe since we only had one can of salmon, but even in a diluted state, that smoked salmon spread was smokin' good.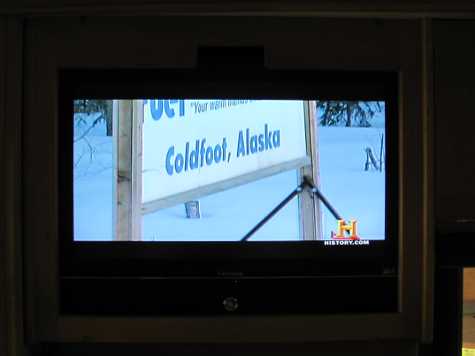 Then in the evening we watched a TV show we have seldom seen, but know it will be on our list in the future. How could we have traveled up the Dalton and then not watched Ice Road Truckers? It was great, and as we watched, Linda kept jumping up like a little kid, pointing to the screen and saying, "We were there", or "I remember that place." Funny how something as simple as a drive up a highway can change how you look at things.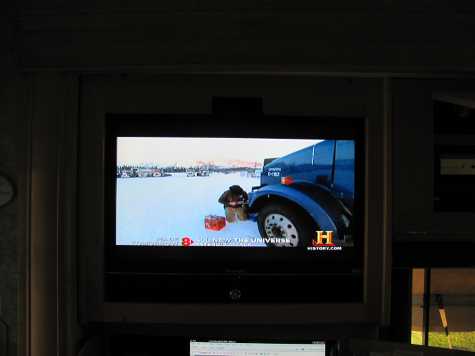 It's one of those, you had to of been there to understand scenes. It's the muddy parking area at Coldfoot that we walked across to get from the office/restaurant to where the sleeping area was, only for the ice road truckers it has no mud. Memories, that's the most important thing we will take with us when we leave Alaska in a couple of days.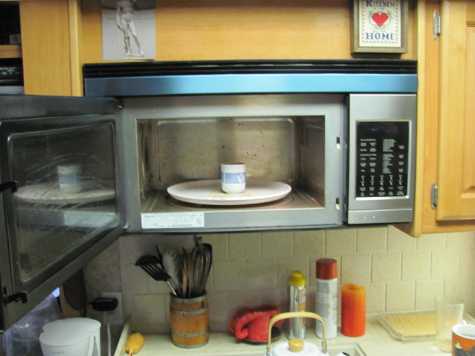 The only bad thing about Linda doing what she did in the kitchen was this. Meaning my tendency to microwave things smothered in tomato sauce caught up with me. I'm a guy and so I'm naturally messy. It also means that not only do I make messes, I don't see them after I've made them. Once she was done trying to clean off the walls and top of the microwave, it was stated that henceforth THIS WILL NOT HAPPEN AGAIN. I went to bed mumbling, If it goes into the microwave, it is covered, if it goes into...."
---
September 2 Thursday
Leaving North Pole and starting our journey south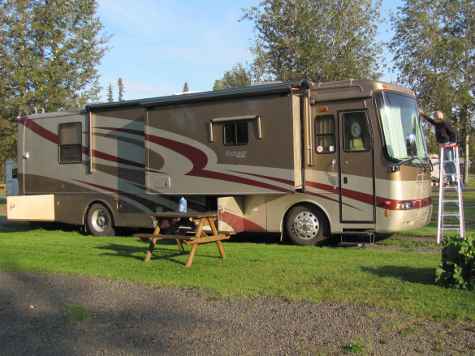 No more North to Alaska playing as we leave in the morning from now on, but other than that, not much different. Before we left Linda wanted to make sure the windshield was clean, something about taking photos through it. Note that while she is on the ladder, there are two bay doors open.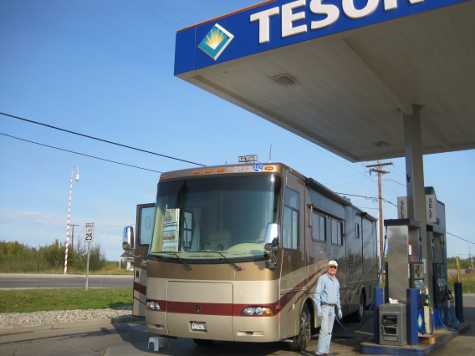 We already had our first stop planned out, which was a fuel stop at the Tesoro in North Pole. We decided that either we had stayed at the RV park too long, or that we were just lucky, but from all the driving we had done in the area we had figured out that it was both a shorter distance and also faster to take Badger Road rather than go back out to the freeway to get to the other end of Badger. It's another of those you have to be here to understand kind of things.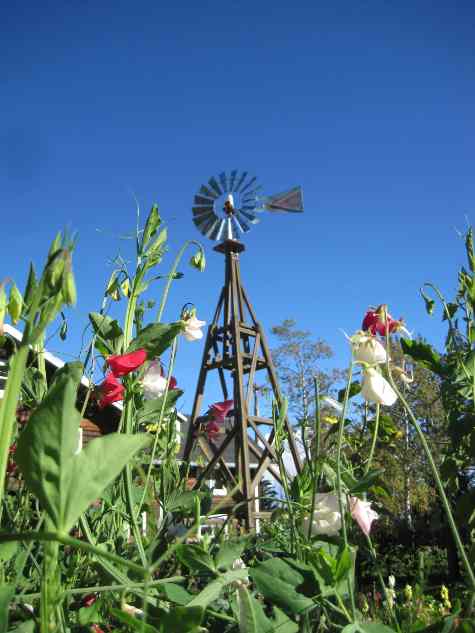 Our first stop was Big Delta State Park, but the real story wasn't the history or the beauty of the place, it was what I saw after we parked. Remember those two open doors in that first photo, well, when I got out the back bay door was open. This had also happened once before when the windows had been washed, and I won't mention the time the Explorer door was open after the ferry crossing in Dawson City.
I think it is understandable that I might be a bit perturbed at this happening a third time, and when I pointed it out to the person who had opened them and closed them, not, I learned I was responsible for the doors being open. Excuse me? Seems like I'm supposed to not just check to see if they are locked, I'm also supposed to yank on them making sure that another member of our family of two had shut them tight. I'm not sure how we are going to solve this problem, but something tells me that if it happens again, I'm to blame. To her it was quite logical, to me it was....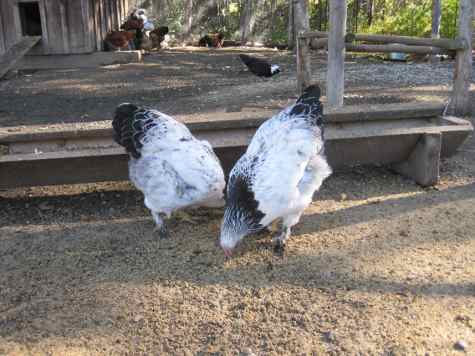 Somehow or other this photo kind of summed up how I felt about the whole incident. As far as Linda was concerned, it was about spending time with her favorite barnyard animals. Just look at those hens pecking away, and that the operative work, peck. With chickens there is a pecking order, in our family there is a pecking order. Sometimes I have to lose a few feathers before I remember exactly where in the pecking order I stand.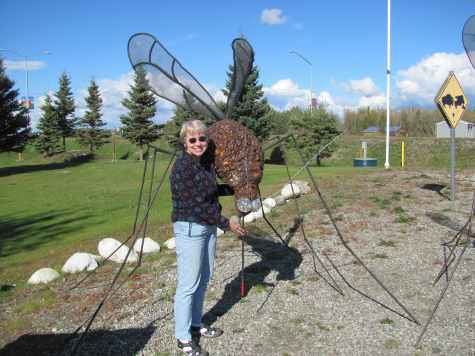 Now I'm not sure whether Linda loves chickens just or simply likes anything that has wings, makes noise and pecks.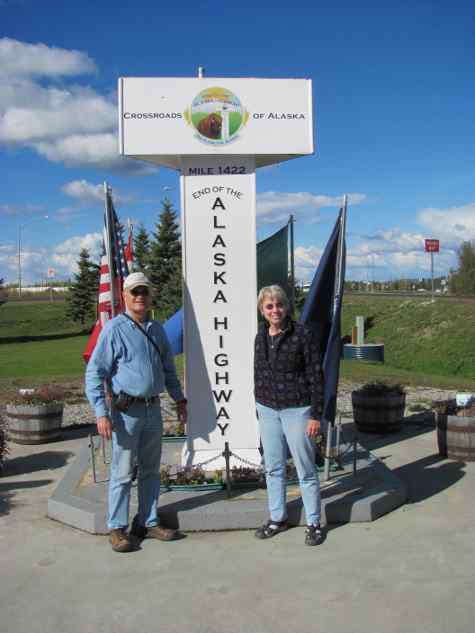 We finally made it, the end of the Alaska Highway. It's what happens when you turn towards the Kenai at Tok on the way north, then hit Fairbanks at the end of the trip. Actually we still haven't driven all of the Alaskan Highway, though we will before we turn onto the Cassiar just north of Watson Lake.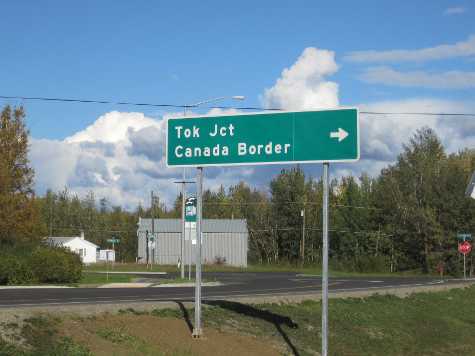 If it hadn't hit us to this point that we were beginning a new phase of our journey, this sign made it real. We won't be crossing over into Canada until tomorrow, as we need to stop in Tok to pick up our mail. Having learned the last time we were in Tok that the Post Office is closed on Saturday, we will definitely be there first thing in the morning to get the mail. The real problem will be if it is not there, because with the Labor day weekend, the next day it will it would be open will be Tuesday.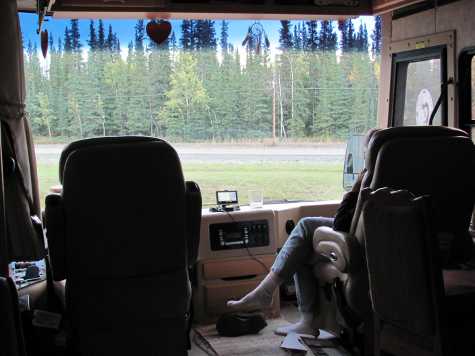 Linda had plans for the evening, telephone plans. Once we cross into Canada our phone rates go up astronomically, which means no more talking to Zachy for a while. Grandma wanted to make sure he was doing okay in school, after all he's a sixth grader this year and has his first ever man teacher. Turned out he just loves school which made his grandma and grandpa just as happy as he was. Keep up the great work Zack. Maybe the day didn't start out so good, but it sure did end on a high note.
---
September 3 Friday
A longer drive than expected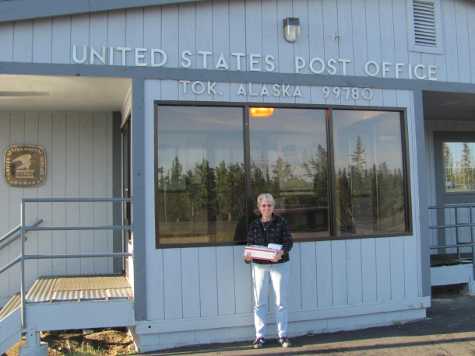 That's a real smile on this young woman's face. Maybe all her comments about the mail WILL be at the Tok Post Office worked, because both packages, the one with the mail, and the one with my hearing aid ear piece, were there.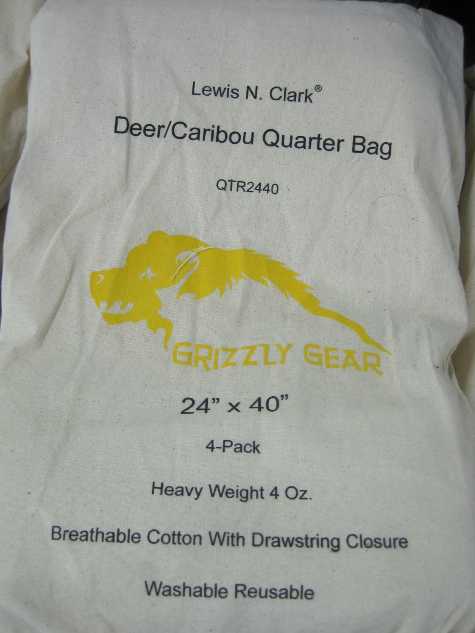 We had a few things we wanted to pick up at the grocery store in Tok even though we will be in Whitehorse in a few days where we will have three big stores to choose from, Walmart, Canadian Tire, and Real Canadian Superstore. It is always interesting to observe products that are meant for the local market, in this case these meat bags. Moose season started on the 1st and we saw many hunters in the parking lot stocking up for there trip.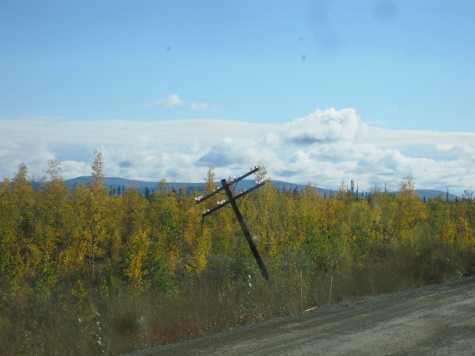 The plan for the day was to drive across the border, traversing the infamous frost heave section of the Alcan, then stop at Destruction Bay for the night. No sooner had we left Tok than we ran into a large construction project with traffic control. It actually wasn't bad because with a pilot vehicle the speeds are reasonable, though doing the follow the person in front of you thing can be interesting at times.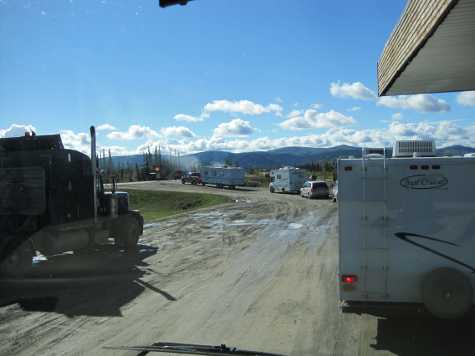 Like when you find yourself driving through a gas station for example. To back up for a second, when we had originally driven up to the flagger there was just us and the trailer in front of us and we were immediately waved through. At the time we didn't realize there was a pilot vehicle with a line behind it a ways further up the road. Driving, we both focused on the very narrow and very straight road, the construction equipment and the trailer we were following, meaning when it turned into the gas station my thought was that it had turned off and I needed to go on down the road. That only lasted for a brief instant, or at least until we both saw the large rock hauler heading directly at us, at which time I deftly made the turn into the gas station behind the trailer making it appear that was our intention all along. Note to Bob, in Alaska construction zones always have a pilot vehicle, though little good that will do since we be out of Alaska in just a few miles.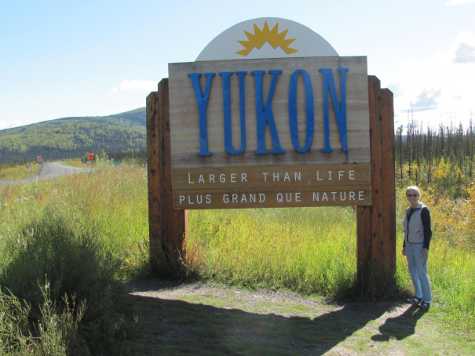 We did stop at the border rest area so Linda could get her Yukon sign photo. No wimpy little "Welcome to Yukon" sign here, if Yukon is Bigger than Life, then so is their sign.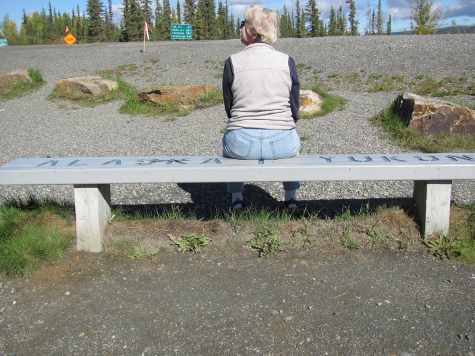 Not sure what to call this one, how about: The Great Divide. Here's another one: Alaska and Canada, so close they are cheek to cheek. Or how about this one; There's no two butts about it, we definitely are on the border. What does she think I'm going to write when she sits on a bench straddling the border.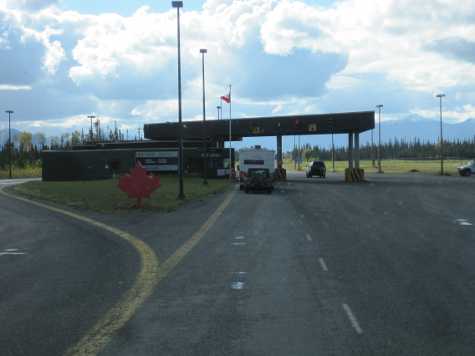 The border crossing was easy with just the usual: where are you from, how long in Canada, and any weapons, guns, bear spray, etc., questions. And as an additional observation, what's with the huge yellow metal barriers you have to pass through at the US border crossing points? It's like everyone of them was stamped out by the same cookie cutter design no matter where they are. No wonder the country's in such a deep mess, our politicians and bureaucrats don't have enough brains between all of them to generate an original thought, and even if they did, they wouldn't know what to do with it. I side with the throw the bums out, every single last one of them, no matter which party or which office, line of reasoning. And absolutely no retirement benefits to any elected official in any office anywhere, ever, for any reason, other than the basic social security everyone else gets. Of course since they're the one who vote the extra benefits for themselves, that will never happen.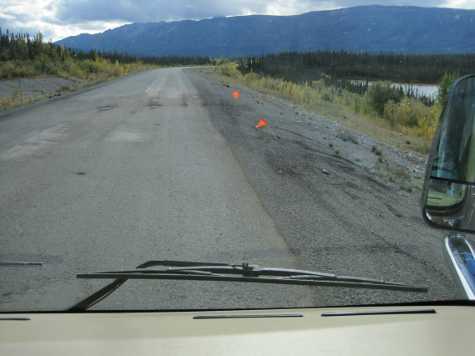 After the border we hit the worst section of the Alcan where the frost heaves seem to go on and on. While there are areas where the road is better, that is also bad because it lulls you into a false sense of security, only to have it shattered by the next unmarked frost heave. Doesn't take long to develop a seventh sense as to what might be a frost heave.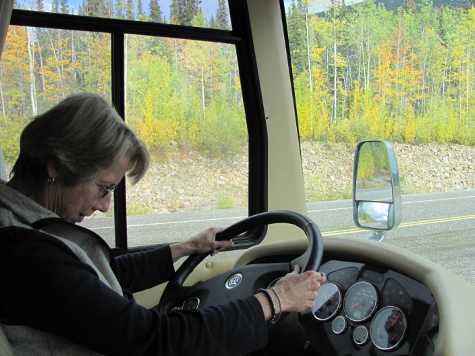 It was one of the harder driving days we have had, and as we continued, heaving our way along, Linda started talking about taking a turn at driving. The joke was that since we wanted to get to our destination tonight I needed to keep driving. Linda hadn't driven for over a year, and knowing how sloooow she drives on rough roads, there was more than a little truth to that joke. Eventually most of the bad sections were behind us, and deciding to give her a chance at proving me wrong, we switched off.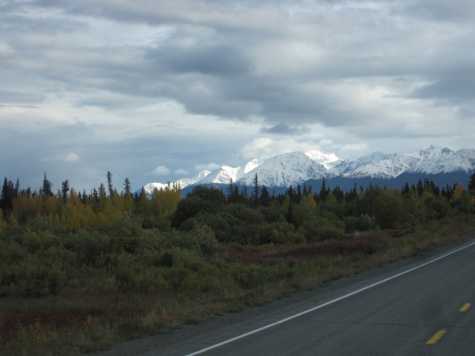 The country we were driving through had absolutely stunning scenery, probably the best we have experienced to date with the possible exception of the drive to Skagway. Unfortunately we couldn't stop and enjoy it. Sure we could pull off the road, but the RV Park Linda wanted to stay at for the night was already closed for the season. Deciding that we would appreciate the benefits that hookups would provide, especially the heater, we decided to keep on driving rather than spend the night parked alongside the road.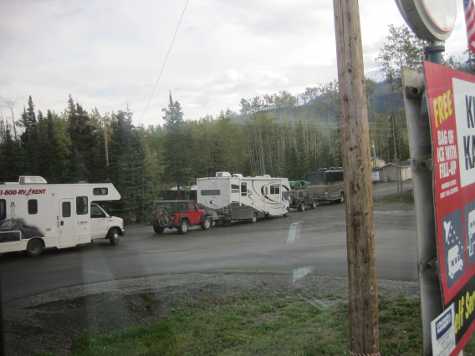 It was a long day's drive, nearly 300 miles as it turned out, and we weren't the only ones who were ready to call it quits when we arrived at the first open RV park in Haines Junction. It was one of those days that you are just glad it's over, and the green chicken chili Linda made sure fit the spot. We also ended up with a view of the snow capped mountains out the front window, but the view seemed to follow what the day had been like.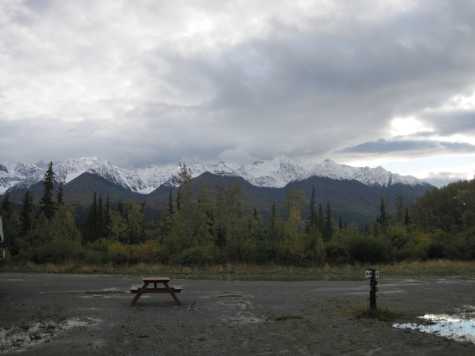 Our plans for the next few months are still evolving, but for now we plan to travel down the Cassiar, maybe getting to see the bears at Hyder if they are there, then cut across to Jasper and Banff, before sitting for a spell in Drumheller so Linda can get her dino fix. Then down into Montana where we will follow US Rte 2 over to Fargo, with a possible side trip to the Twin Cities, before turning south towards Texas. If we find that many of the RV parks are already closed and cold weather is moving in, it may mean an earlier turn to the south. It's times like these that I have to feel for the people who have their trips all planned out and their reservations made, though as long as we are each happy, does it matter?
---
September 4 Saturday
Short day to Whitehorse
That view we didn't have last night was here this morning. Almost made us want to stay for another day, almost but not quite. There isn't a lot to do in Haines Junction, and to drive to Haines for the day would mean two very long days in a row. We briefly considered taking a side trip to Haines for a couple of nights, but with the cold weather drawing ever nearer and the desire to visit dino country burning brightly, we realized that going on to Whitehorse was in our best interests.
Sometimes you do things, not realizing the full impact of what you did at first. That was the case with that photo. I was out unhooking the electric cord when I saw the lady next to us walk back behind her RV and take a photo of the mountains. Thinking that was a very good idea, I did likewise. Then as I walked back towards the coach I looked up and the MotoSat caught my eye. We had used it last night, but had forgotten to lower it this morning. So rather than drive off with it up, soon it was being stowed and all was once again right in the world.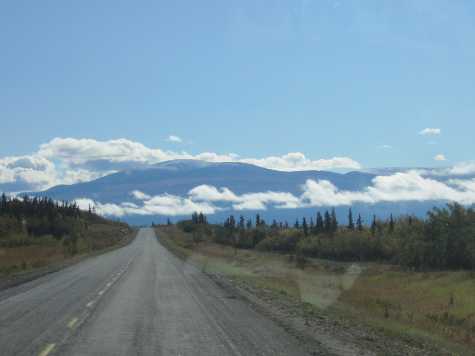 It was the same as yesterday when we got out on the road, awesome views all around. I really liked this view where the mountains stretched from side to side and the clouds were not only above the mountains behind them, but also below the peaks in front of the mountains. It was a day where, if we were into photography it would have been another very long one before we arrived at our destination.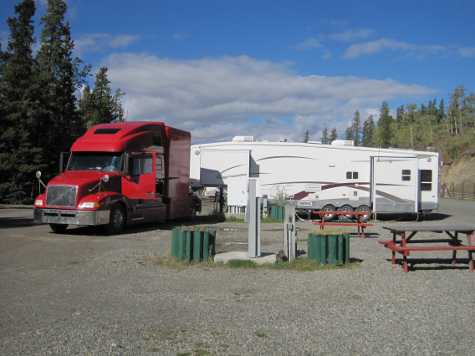 We had decided to stay in a different RV park in Whitehorse this time, principally because the sites were so narrow at the one we stayed at last time. What a difference a few months make, last time we were in Whitehorse all the RV parks were full, not so now. This fellow was from New Orleans, but was going to have to detour through New England on the way home. Seems the frost heaves had done their thing and his hitch was being held together with 2x4 bracing and wire, and the hitch manufacturer was in New Hampshire.
Linda noticed that we were not damage free ourselves, as the driver side slide seemed to have dropped just enough to shave a little aluminum off the trim where the rear support went in and out. Looks like some bolts have slipped, so we will have to get it looked at when we get back to the outside. We could continue to use it without any problem, and for all we know it's been like this for some time. Still we decided that we will not put it out for now as we still have more than enough room with the passenger side slide out.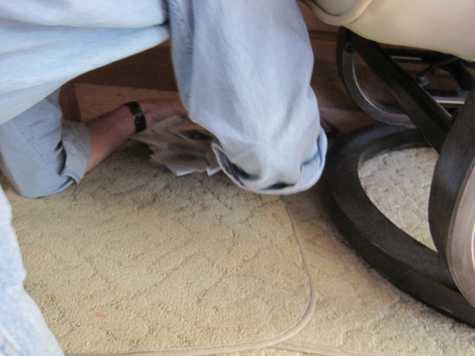 That wasn't the only thing that was knocked out of place. My big pile of literature that I keep on the ledge beside me had slid off, lodging itself behind the recliner. I didn't realize Linda was taking photos of my imitation of a gopher until I looked at her photos.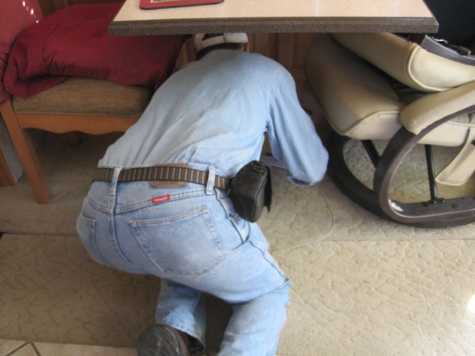 I guess turn about is fair play, and if I can photograph her posterior, she can document mine as well. The only thing I could say when I saw it was, "No butts about it, yours is bigger than mine." Actually I only thought those words because if I would have said it, it would have probably been the last thing I'd ever say. Besides, being a guy, I'd rather look at hers than mine anytime.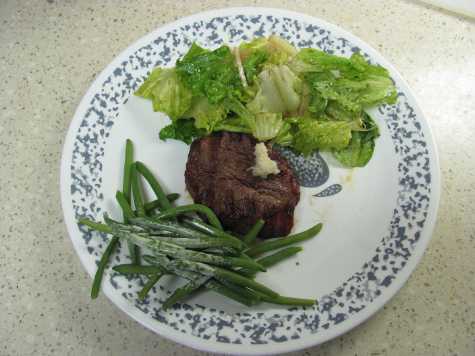 For dinner we grilled something that we had picked up at the grocery in Tok, an untrimmed beef tenderloin. I trimmed it, and Linda used the trimmings used to make a wonderful beef broth. Maybe trimmed wasn't the right word, maybe butchered would be a better description. You know butchered, not in the Butcher Shop, but more in the Texas Chainsaw Massacre sense. Hey, as long as they taste so heavenly who cares if they look a little ragged. It was one huge piece of meat, and we ended up with 20 cuts at just about 4 ounces each, give or take a little on account of the butcher's inexperience at such things.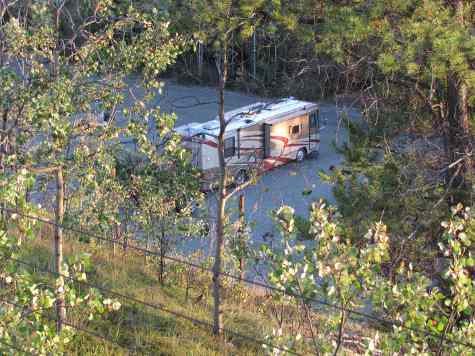 Later we took a walk around the RV park and discovered there was an upper level with treed sites. They were all back-ins, and were water and electric only. Surprising what you can find when you do a little exploring. There were a few rigs up there, most of them being on the small side, though we would have easily fit in many of the sites. It was interesting, looking down on our little corner of the world, kind of a, "all alone am I with no one nearby", situation. Hey, who's complaining, we like it that way, though we can't get the MotoSat to find the satellite because of all the trees and the park's wi-fi makes the pony express look like greased lightening. One day it is a hard drive with a great RV park, the next day an easy drive with a not so great RV park. One of these days it's all going to come together.
---
September 5 Sunday
A rainy writing day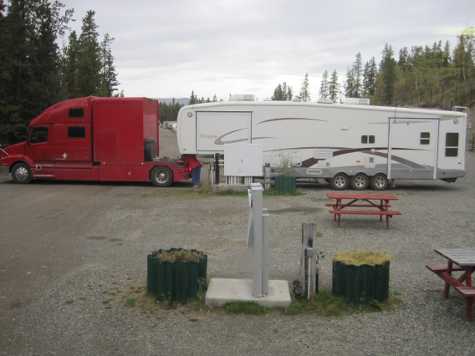 Mr. 2x4 and baling wire pulled out this morning, leaving us and four other rigs in the lower section of the park. I sure hope he makes it back to New Hampshire to get his hitch repaired or replaced. With rain in the forecast for today and possibly tomorrow we were glad to let the other Alaskan travelers do the driving.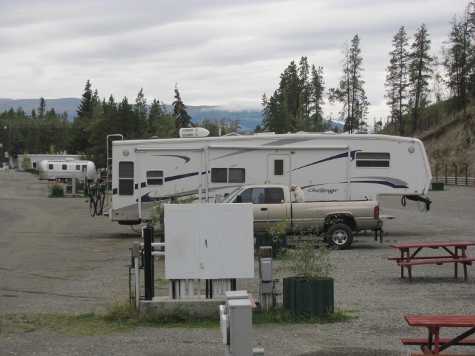 After the big rig pulled out we got a surprise, seeing Jo sitting in the back of Boscoe and Sandy's truck, something that goes into the small world category. It started yesterday when we stopped at a rest area/overlook and a 5th wheel stopped behind us. A bit later the driver came up and asked about the because-we-can.net that is on the back of our coach. They had seen us several other places in Alaska over the summer and wanted to know what it meant. That's how we got to meet Boscoe and Sandy along with their two four legged traveling companions, Jo and Maggie.
We talked for a while, then parted ways, wishing each other a safe journey. Boscoe's last words were, "If you see a truck with a dog in the back, it will be us." Well, outside the window, up towards the other end of the park was a truck with a dog in the back, and it was Jo.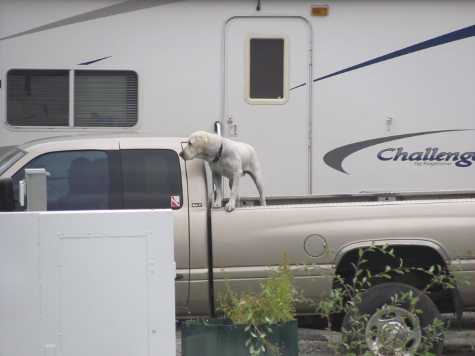 A few minutes later the truck drove off, with Jo watching to make sure they were going the right way. Isn't it funny how so many people seem to have so enjoyed the life they lived before they retired so much that they make very few changes. Or those that say, I waited all my life to do -----, and I'm going to do it, and then they do it. Some people look to the unknown and others stick with the known. Then there are the ones like Jo, who look at it so that no matter where they are or what's going on, Life is wonderful.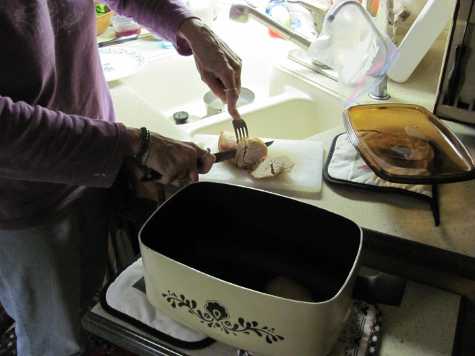 With the weatherman prediction of an all day rain coming true, it was a day we spent in front of our computers, not online since the wi-fi is next to worthless, but instead, we worked at getting caught up on our writing. Linda also found time to cook two turkey tenderloins in the crockpot, one of which we had for supper, the other being held to use in kale soup. It's almost like we don't want to leave as neither of us had any desire to go into town and engage in any tourist type activities. Of course the rain put a damper on anything outside, making a day in the coach good enough. Some days are like that, not awesome, but rather just good enough. However, living the way we do, in a few days we will be somewhere else, enjoying new opportunities and living Life.
---
September 6 Monday
Last day in Whitehorse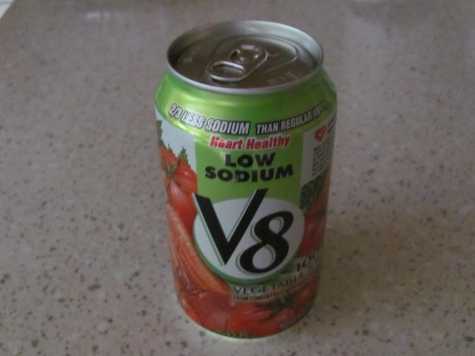 It's been a while since I posted a breakfast photo, and wanting to ease back into it, rather than jumping in with both feet, here is something that has been bugging me. Several weeks ago in Fairbanks we had shopped at the Sam's Club with Linda buying a case of V8 juice in the low sodium edition. Since there is enough salt in a regular can to partially pickle anyone who drinks it, and with a valid concern for salt intake and blood pressure, we try to cook with no added salt and always try to buy the low salt versions of prepared foods if possible.
That's not the reason for the photo however, it's because no matter how hard I have tried since she bought that case, I haven't been able to remember to open a can to have with our eggs in the morning. Fortunately Linda's memory seems to have deteriorated to the same extent that mine has, so she hasn't thought to remind me to serve it. So this photo is a reminder to myself to go right now and get a can out and set it on the counter. Hopefully I'll remember to replace it with another in the morning. Like Linda's sister says, getting old is pigeon poop.
Linda has never dried her tops in the dryer, or maybe I should say she has never completely dried her outer clothes in the dryer, preferring to hang them when damp. Normally she hooks the hanger on the bottom of the cabinets at the front of coach. Not so today, because it is so cold outside the front of the coach isn't all that warm. Where we sit is warm enough, but with the big window up front she doesn't consider it warm and fuzzy enough for her tops.
With the temperatures in the low 40's and the power only being 30 amps, power management is a must. Not one to let a small problem like that stop her, she has turned the folding shelf by the sink and the electric heater into am impromptu dryer.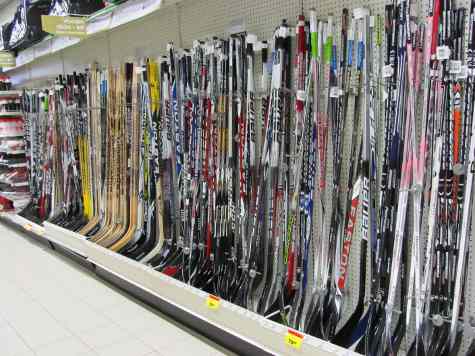 We did get out today, spending some money at Canadian Tire and Real Canadian Superstore, while not finding anything at Walmart. Even if we didn't know where we were, one look at this aisle in Canadian Tire would have provided a strong hint. Hockey sticks galore, and nearby were curling brooms and shoes. We'd always wondered how the curling players maneuvered so easily on the ice, and one look at the bottom of those shoes answered our question. One shoe has a plastic disk on the sole while the other has a felt like pad. One for sliding, one for traction. Pretty smart these Canadians are.
Over at the Real Canadian Superstore, we knew what to do this time, and brought our own bags. Last time we were here we got the lecture about bringing our own bags or having to buy their bags. We thought the clerk was a little snotty about it, then went over to Walmart and learned the clerk over there had the same bad attitude. Hey, we're just dumb Americans, and looking at the mess we've made of our country and several other country's around the world, what should these clerks expect.
I was surprised to see Linda had taken a photo of me bagging our purchases, but I sure was glad I was using an appropriate bag. It's our Ed bag, the one we got when we stopped along the Canal du Midi in France last year, and walked to the nearby Ed store. Back we four came, John, Judy, Linda and myself, all loaded down with provisions worthy of a Frenchman. It was the day we learned that Vin du Pays really means pay very little for a wonderful wine. I can't say that our purchases today were cheap, but we did get what we needed without maxing out our credit card. Actually the prices are quite reasonable and the quality is good.
Another thing that we have continually run into up here is the coin for the cart. It takes a loonie to release the cart, though when you take it back you get your loonie back. There is no problem with carts left all over the lot the way it is at the nearby Walmart, since if you don't return the cart you are out a dollar. Those few that do get left are quickly returned, which rewards that person with the loonie. I could just imagine the outcry if that was become the standard in the States where it is far easier to always say no than to try something new.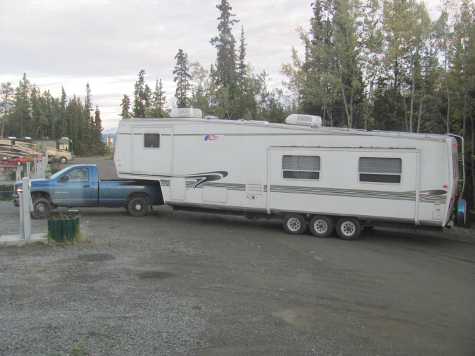 Being unable to surf the Net, we had to look elsewhere for our entertainment. Linda discovered that Google Reader and, at times Facebook, still worked, so she was a happy camper, while I continued to try and get caught up on the Daily Journal. Looking outside we saw this rig, a monster triple axle 5th wheel being pulled by an older and smaller pickup truck. It looks like a picture postcard about how to exceed the capacity of your tow vehicle. The fellow driving it took forever to get set up, seeming to move in slow motion, making us wonder what would happen if he ever needed to stop in a hurry while driving.
The great thing about RV'ing is that each of us can do it our own way. The bad thing about RV'ing is that each of us can do it our own way. Still, however we are doing it, it is better than not doing it all. RV'ing, Living Life that is larger than Life.
---
September 7 Tuesday
Travelin' to Teslin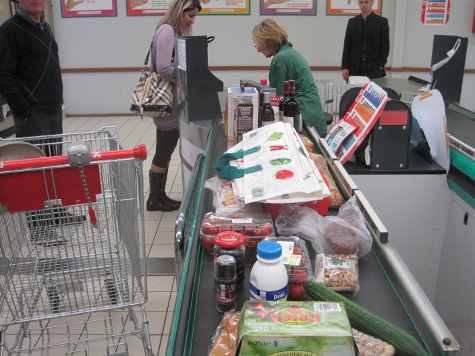 Going back to the comments about the ED bag yesterday, this photo was taken April 10, 2009 at the ED store just outside Bezier, France alongside the Canal du Midi. That's the very same bag laying on top of our groceries. Notice that I am standing down near our carefully selected wine bottles, keeping a close watch only on them. There are adventures and then there are ADVENTURES. This was an ADVENTURE. Some day we'll have to something like this again, right John and Judy?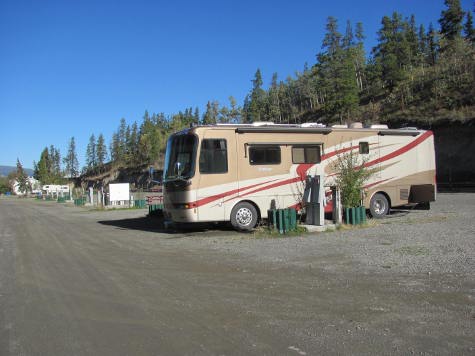 So almost exactly 17 months later we find ourselves getting ready to leave Pioneer RV Park in Whitehorse. As you can see, by this time we were practically the only ones remaining in the park. We had decided that we wouldn't drive all the way to the Cassiar Highway cutoff today, which made Teslin, where we stopped for several days on the way north, the logical stopping point.
I have no idea of how many times we have hooked up the Explorer over the years, but however many it has been, one thing remains a constant. Take a look at the two arms of the tow bar. You can see the two arms of the tow bar are not equal. The two arms should be equal but are not equal because the Explorer is not perfectly aligned with the coach. I won't say who it is that pulls the Explorer up while I stand in line with the tow bar showing that unnamed person exactly where the center of the hood of the Explorer should be. Maybe it will be easier to align our Jeep when we get it. Still, as the driver of the non aligned Explorer usually points out to me, "Does it really matter, or would you like to do it all yourself?" Tough to argue with logic like that.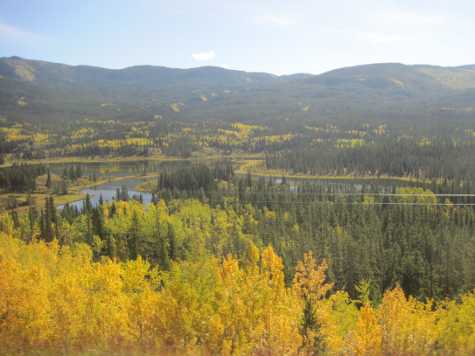 As we travelled south, the intensity of the fall colors seemed to increase. We did notice a lack of reds in the trees, but the variety of yellows and oranges had us telling each other to look there, or look over there, or look up there. Add in the reds and whites of the fireweed and it made the kilometers seem to fly by.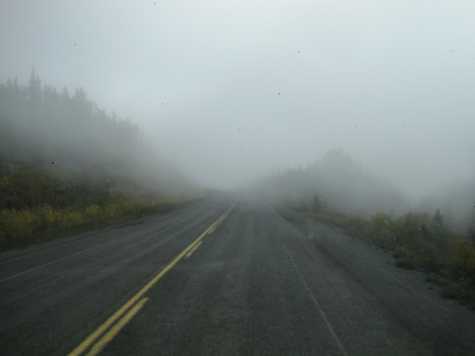 Many of the lakes had a fog bank hovering over them, giving them a true picture postcard appearance. Once or twice we had a view of a blue lake topped by a layer of fog, with the tops of the mountains appearing above the fog only to be capped by fluffy white clouds, above which was blue sky. The problem with those times was that they were so awesome we forgot to take any photos. At other times the fog/clouds settled over the highway, like at the top of this long climb.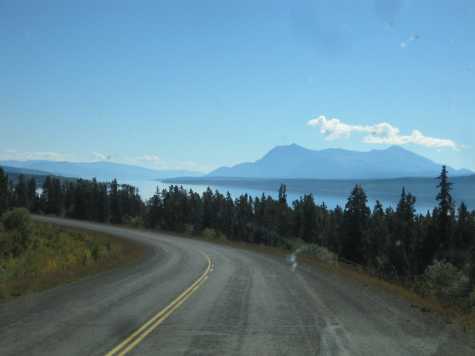 Eventually we saw an old friend, Teslin Lake, which became our right hand companion for many kilometers, leading us to Teslin, where we stopped for the night. Last time we were here we had gotten on the satellite, so we were expecting to get on again. Not so, but we think we know the reason. The last time we were on Satellite 89W, and this time 127W. Linda recalled the coverage map of 127 showing areas of the Yukon where no signal could be received, and it look like we are in one of those locations. She did manage to find an unsecured network to get on-line, but my old computer just wouldn't connect. Do I sense a new computer in my future?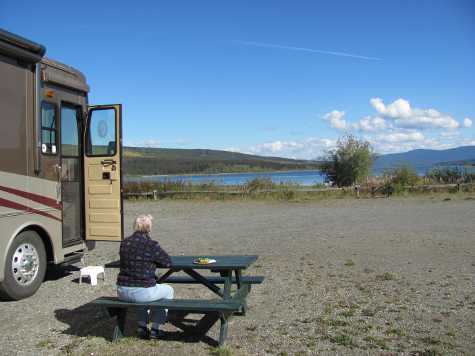 The weather in Teslin was so nice that we ate lunch at our picnic table, then sat out in the lawn chairs enjoying the sunny afternoon. What a contrast to all the rain and cold we experienced in Alaska. It may be a little chillier now than when we were in the Yukon several months ago, but the sun is out and the views are awesome. Need I tell you that we really like the Yukon.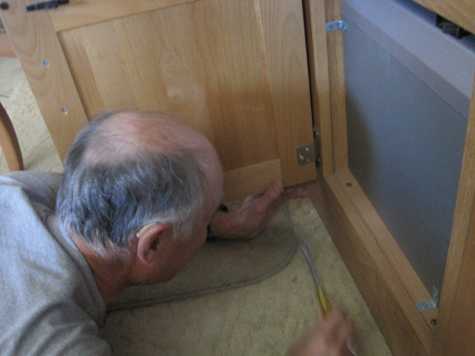 While I was busy fixing Linda's lunch, she had mentioned that I'd seemingly been ignoring the 'to do' list she had put on the cabinet door above the sink. To do list? What to do list? Dog gone if there wasn't one that she'd put up when I wasn't looking. Strangely enough, it turned out she'd already done all the things she'd needed to do, leaving only my jobs undone.
I wasn't in trouble, but I knew I'd better at least make an attempt at one of the jobs if I wanted to remain in one piece. I bided my time waiting for the opportune moment, then got it because after a grizzly eats, a grizzly likes to sleep, thus once I started hearing the gentle roar of the beast resting in the lounge chair, I went to work fixing a badly bent cabinet hinge.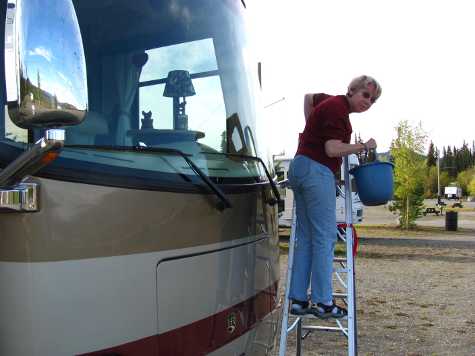 Interpretation of that look: There better not be any comments made about my ....
As for my thoughts when I took the photo, I couldn't believe she'd even think such a thing, butt she did.
---
September 8 Wednesday
Preparing for the Cassiar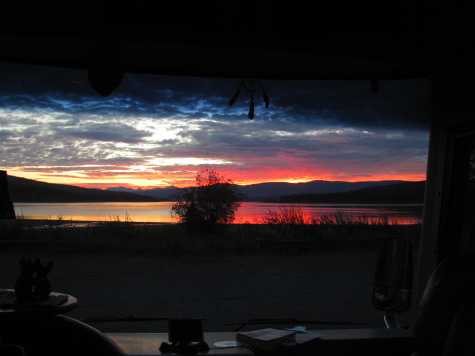 Did I luck out this morning. We had parked facing an arm of Teslin Lake, and with the sunrise occurring later each day, this was the scene that unfolded out the front window. What was even more interesting was watching the change in intensity of the reds as the sun rose higher behind the mountains. Once it cleared the horizon the magic was gone, but until then, wow.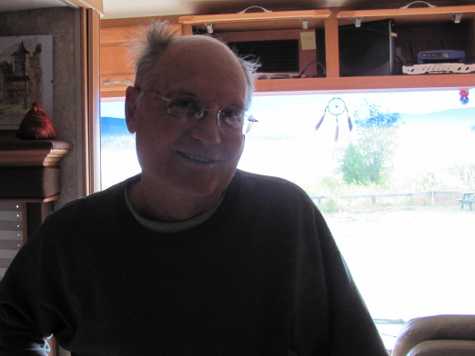 By the time Linda made her appearance, the show was long over, or so I thought. I tried to tell her what she'd missed, but all I got in return was a giggle. Seems like she saw something just as interesting to her, as the sunrise was to me. She is famous for arriving in the front of the coach just after she gets up in the morning with the most unruly mass of hair north of the equator. For some reason she seemed to think my doo this morning rivaled hers. No way, and if she says different I will start posting photos of each of her morning's doo disasters.
When we were in Whitehorse we had bought eggs. This morning when I was fixing our eggs I started using them and noticed something we had seen before. Eggs bought in the US have a bright yellow yolk. Eggs in Canada, like the eggs we bought last year in France have a pale yellow yolk. So why the bright yellow in the US eggs? Different chickens, something added to the chicken feed? Maybe there really is something to the whole free range thing. Wonder if the plant and animal genetics people laugh all the way to the bank at the gullibility of the masses. Afterall, when have we ever heard someone in that industry say a genetically modified product we consume either directly or indirectly was bad for us.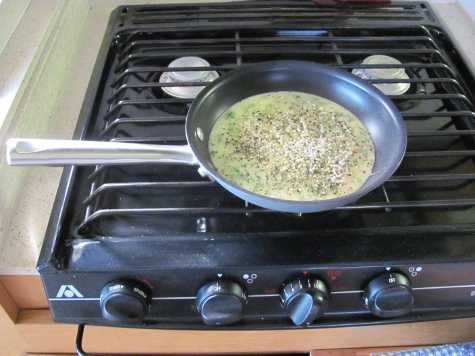 Something else was new this morning. and it wasn't what was cooking, it's the skillet. Linda finally got tired of having to scrape and scrub the old one, so we bought a new one in Whitehorse. It's interesting how things can gradually change from good to bad, and if the change takes place at a glacial pace, we don't even notice it. No more scraping, in fact she could have just wiped it out with a paper towel and it would have been good to go.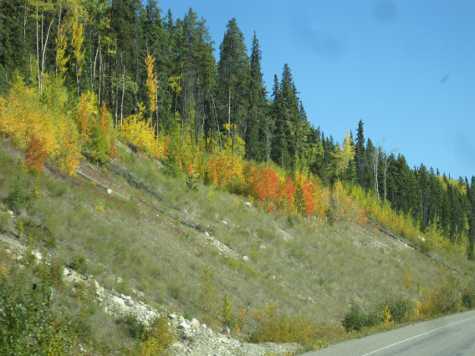 Another colorful driving day as we seem to be slowly climbing in altitude, which increases the intensity of the fall colors. We had hoped to see some wildlife today, but it wasn't to be. The yellows and oranges that peppered the mountainsides more than made up for it though. When we drove north in May and June, we saw wildlife, but the vegetation was all green. Now there is no wildlife but the vegetation sports a multitude of colors. Looks like we were able to have it both ways.
Arriving just after 2 o'clock at Baby Nugget RV Park, near the Cassiar Highway turnoff, we found it to be unoccupied, at least until we got set up. As we were arriving a coach pulled out, and it was one we recognized from Whitehorse and Teslin. Then shortly after we finished eating lunch, the people who were next to us in Teslin last night pulled in, parking next to us for the second straight night. We got to talking with them and it turns out they plan to stay at the same park we will be driving to tomorrow. That's not coincidence, that's great minds thinking alike.
Deciding we needed some exercise, Linda led us on a walk to a nearby rest area. Once out on the Alaskan Highway, she got to jumping up and down yelling, "I made it, I made it." Yea, and if she didn't watch what she was doing and danced out onto the highway at the wrong time, she'd have been made into road kill. Us old folks have got to rein in these exuberant youngsters every once in a while.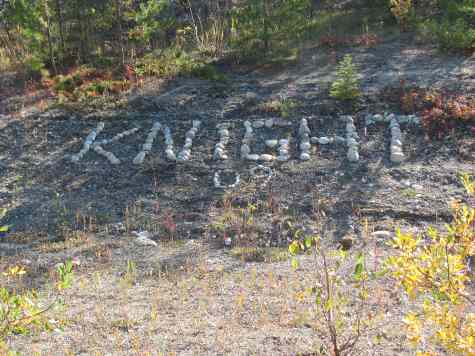 During our walk we saw this rock sign along the Alaskan Highway. In fact for miles and miles during the day's drive there were these types of signs alongside the road. That gave Linda a bright idea, which was that I should gather up rocks so we could make one of our own. Soon a pile of rocks began to appear, and Linda began to make her sign. Of course I was soon told that I was doing it wrong, it being the piling of the rocks. The pile was going to have to be moved so she could add more letters.
I was puzzled at this because the pile was there, albeit smaller, before she started her sign. That meant she had started the sign too close to the pile. If that was the case, why was it my fault the pile was in the wrong the place? Must just be another case of woman's logic that defines man's reasoning. Now there are two rock signs on the west side of the Alcan just north of the Baby Nugget RV park, on with an 09 date, the other with a 10 date. Since the one has already lasted a year, we wonder if ours will still be there when we return to Alaska in a few years?
In contrast to the stupendous sunrise of earlier today, the sunset sort of just snuck up on us and was over before we knew it. Tomorrow we leave Yukon behind, heading down the Cassiar towards Hyder and hopefully some bear watching. It will take us a few days to get there and tomorrow should be interesting as we traverse the area that was the site of a major forest fire just a few weeks ago.
---
September 9 Thursday
Driving the Cassiar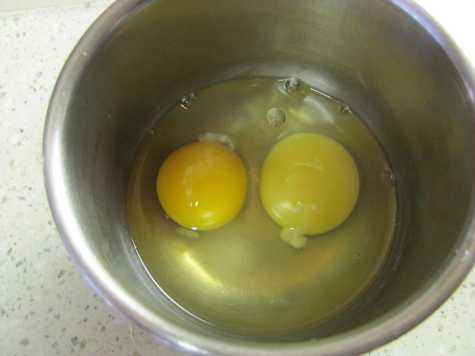 Another day, another increase in smarts. Yesterday I mentioned about the difference in eggs between the US and Canada. Today I will show you the difference between the two. The bright yellow one is the US egg, and is probably loaded with all kinds of things that benefit's agribusiness to our detriment. And I don't buy the, they're cheaper in the US argument, because when has cheaper been better quality? Stuff made in China is definitely cheaper, but junk it is, so in the end it wasn't worth the lower price. Are people really stupid enough to believe the fat cat CEO pulling down the million dollar plus salary as head of an agribusiness honestly has their best interest at heart? Gosh, rants three days in a row, I've got to kick this habit, guess I just get cranky from driving too many days in a row.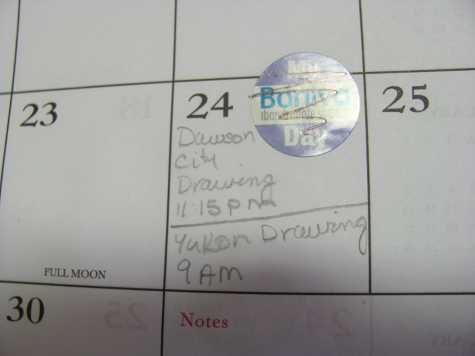 I was doing a couple of RV Park Reviews this morning and needed to check Linda's calendar for the dates and what we spent, which was when I noticed this entry. We sure did work hard to get all those stamps in her Yukon travel passport book, getting the twenty needed for the big bucks drawing. She even got the stamps for the specialty drawings, which took us to some very interesting places. But writing the date and the time of the drawings in her calendar? Something tells me she really thinks she's going to be a winner. Doesn't matter though because I'm the true winner since I get to see that great big beautiful smile on her face first thing every morning.
For the lore and stories that surround the Cassiar Highway you'd think there would be a sign announcing you were about to embark on this monumental journey. Maybe there is one if you approach it from the south, but coming from the north, if you weren't paying attention, you could possibly drive right past the turnoff. Our ever vigilant navigator kept us on course and soon we were following its curving path. A short distance south of the turnoff we left Yukon for the last time, and it was fun watching Linda trying to decide whether to have her photo taken in front of the BC or Yukon sign. She kept looking over at the Yukon sign, but in the end BC won out.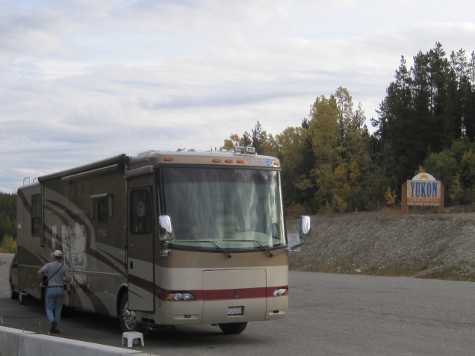 Then I found out she hadn't given up the Yukon as easily as I thought. Seems she took a photo when I headed back to the coach after taking hers. Looks like you can take the girl out of the Yukon, but you can't take the Yukon out of the girl. And Yukon, we know we will be back; Carmacks, Mayo, Keno and Dawson, we miss you already.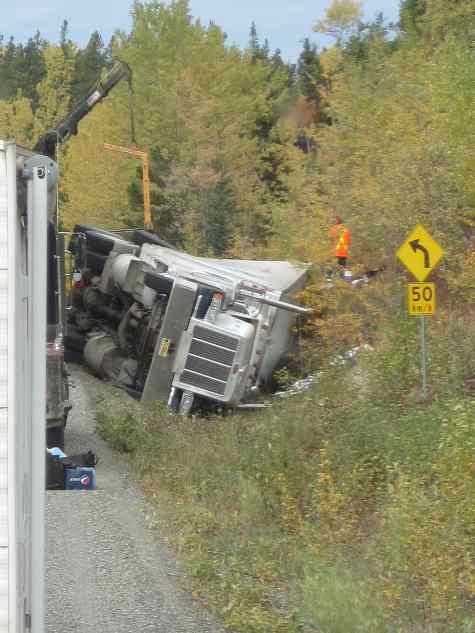 The Cassiar proved to be just like described, narrow, hilly, curvy and lined by very narrow shoulders. All it takes is one inattentive moment to ruin your day. We waited for a while at this wreck as they offloaded fruits and vegetables from this overturned truck and loaded them on another semi. Wonder if that means there will be more signs in the stores about the truck being late so they were out of produce like we saw at times during the last months of travel? The best one was in Skagway when the sign said: out of eggs, barge is late.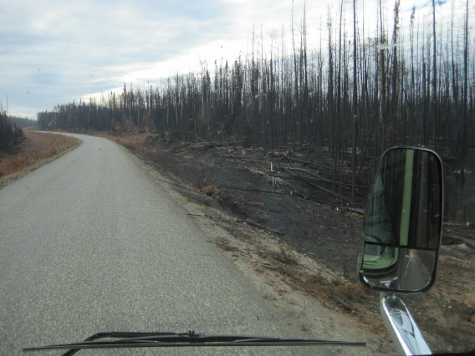 During much of August there had been a forest fire burning along the Cassiar, causing traffic disruptions to the point that caravans were altering their itineraries and bypassing the trip to Hyder. For kilometers and kilometers we could see the evidence of the fire, and could even smell what appeared to be the lingering smell of smoke. At the RV park we stayed in last night they told being full night after night as hundreds of RV's waited for the chance to be allowed to drive the Cassiar during the time of the fire.
We were surprised at just how few vehicles there were on the road, with the majority of them being RV's. It's interesting how people seem to travel about the same pace, and during the day we repeatedly played leapfrog with two truck campers and a class A pulling a pickup with a freezer in it. That went on all day, even to the point of all of us ending up at the same RV park for the night.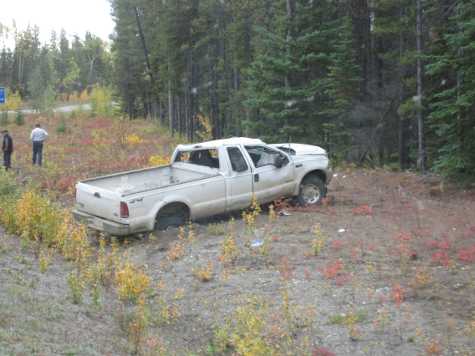 Further on we passed the site of this very bad single vehicle rollover accident. It had happened not long before we arrived, and we ended up stopping in Good Hope Lake and calling it in, though fortunately someone else had already done so by the time we got there which was about 40 minutes down the road. It was sad to think of what could happen to the victim, and how the people on the scene felt, given the extremely long wait for emergency crews to arrive. Needless to say, between these two accidents, we drove very conservatively, which is the best way to drive the Cassiar, accidents or not.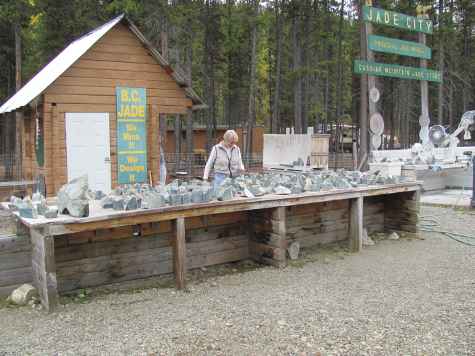 We made Jade City our lunch stop. Well, I was driving down the Cassiar when I saw the signs for Jade, so I asked Linda if she wanted to stop. The YES that was bellered out gave me a hint that there was going to be more than mere eating lunch involved. Then when I saw her lovingly contemplating the rough cut pieces of jade outside the shop it became apparent that this was going to be an expensive lunch, and not for the food. When she went back out to the coach to get a necklace so she could see if a pendent would go onto it, I knew the Jade City folks were going to be smiling when we left. The pendant looks great, as does the little jade Inukshuk we are going to have on our dash to assist Sara N. Dippity to guide our future travels.
Time after time we could see views like this, which made it easy to understand why everyone who has driven the Cassiar tells you to drive it. The contrast in colors because of the time of the year made it even better. The yellows and oranges lower on the mountains, then the dark green of the pine or spruce which were supplanted by the reds of the shrubs, only to be topped by the barren rocky summits and in some cases, a dusting of snow. Country we never knew existed, but which is already beckoning us to return.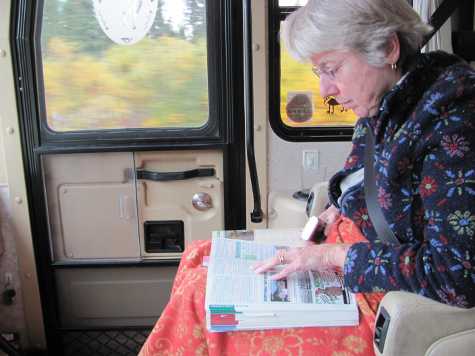 While I drove, the on staff navigator and tour guide settled in like she owned the place. First thing I knew she'd wrapped herself up in a blanket to ward off a chill, and was making sounds like she was queen of the world. To my question, "Why the Blanket, eh?", the answer was "Because if I asked you turn up the heat you would, eh, probably get too hot." Yeah, sure. Maybe we've been in Canada too long.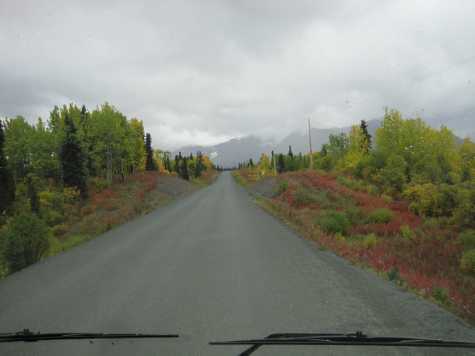 Too many scenery photos, but how do you do justice to what we kept seeing kilometer after kilometer. It was one of those days you just had to experience to believe. Life is so wonderful, live it to its fullest today because you never know what the morrow may bring.
---
September 10 Friday
Bears, Glaciers and Hyder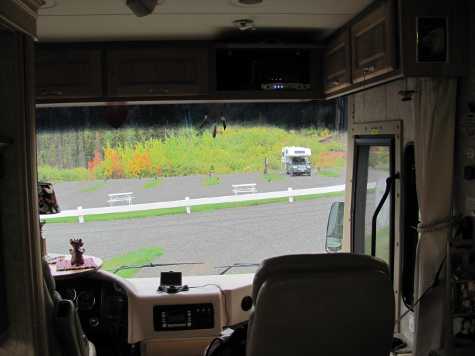 We have been driving each day since we left Whitehorse, something we really don't like to do, but we have the end of the season in the back of our minds and want to see Jasper/Banff and Drumheller while we still have some choices in RV parks. The park we are in, Mountain Shadow RV Park, would be a good place to lay up for a day, especially since we can get the Internet satellite, and they have wi-fi at the park to boot. We finally decided to move on, even though the forecast calls for a 90% chance of rain at our destination. As Linda put it," I don't think the rain will keep the bears away."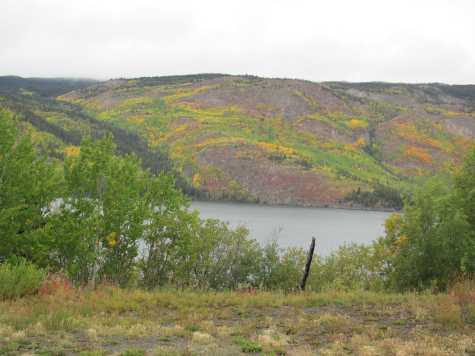 Along with the rain came clouds, and during the first miles of today's drive they obscured the mountains. Then, as the lifted, the brilliant colors of the past few days reappeared on the mountain sides, turning Linda into a regular swivel head. We now understood why so many people want to drive the Cassiar, though we strongly suspect there are several distinctly different reasons. One might be to say that you have driven it and another might be because you want to stop at Hyder. Those both applied to us, but a third reason could be to simply savor the drive.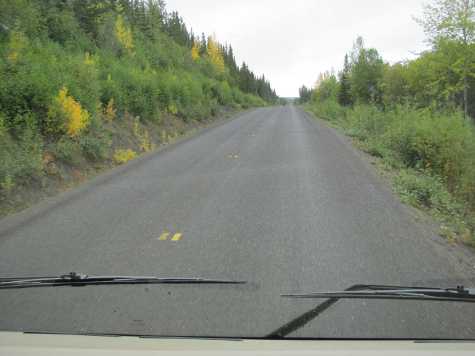 One thing soon caught our attention, an indication we were slowing returning to what might be considered a more urbanized environment. Of course the only indication of that was what we were seeing on the road, a bit of intermittent yellow paint marking the center of the road.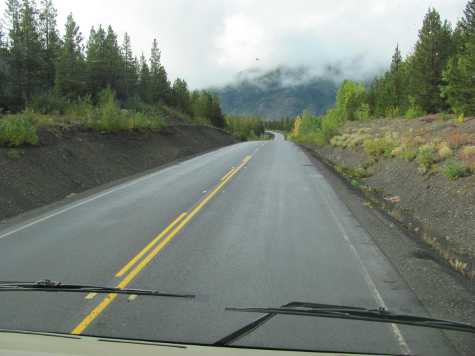 We travelled many kilometers with no change in the road, or the scenery, what we could see of it with the clouds returning to fill the sky. Then it happened, beginning a long downgrade, asphalt replaced the chip seal surface, and now there were both stripped and continuous yellow lines, plus solid white lines marking the edge of the road. It was amazing how much easier it became to drive simply with the addition of the edge lines. With the steep dropoffs along the shoulder, it seemed like you could never let your attention wander for a second, but now, with the line unreeling in front of the coach, driving became much easier.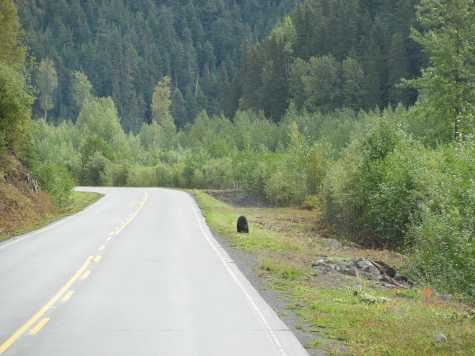 Linda saw it first, Blurting out, "Bear, bear, there's a bear by the road." Sure enough there was a black dot down the road, and she scrambled to get out her camera, I slowed the coach. It was very busily engaged in eating something right beside the road and seemed to pay no attention as we crept slowly toward it. With virtually no traffic on the road, we were surprised when a car rounded the curve from the opposite direction, slowing somewhat, then driving past the bear. We thought they would surely scare it, but it paid them no mind, continuing to munch away.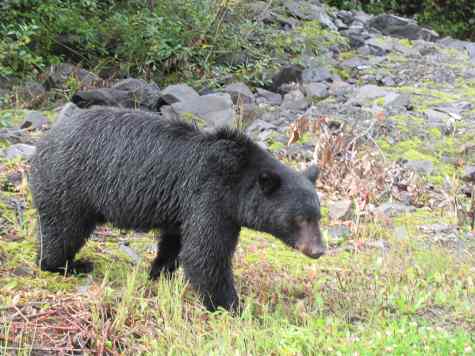 Eventually we ended up stopped right beside it and Linda was able to get a couple of great shots of it. She was as much into watching it as I was, and we should be glad she took as many photos as she did. We thought it was a black bear, but later, after a comment by someone we showed the photos to, we discovered it was really a black grizzly. Sometimes you just stumble onto things, and this case I guess we were in the right place at the right time.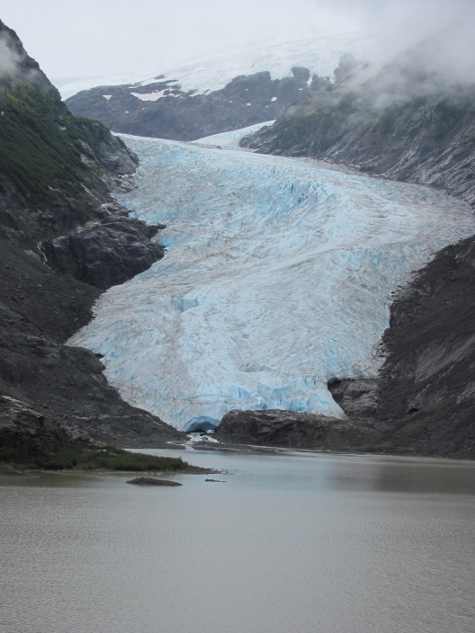 We saw two other bears on the drive, one laying in the ditch alongside the road as we zoomed past, which may have been hit and killed a passing truck, and later another in the road ahead of us that turned and ran into the woods before we could get close enough to take photos. Then after we had left the coach at a Provincial Park, and were driving to the Stewart/Hyder area in the Explorer, we saw a really big bear. Well it was called Bear, Bear Glacier, and it was beside the road.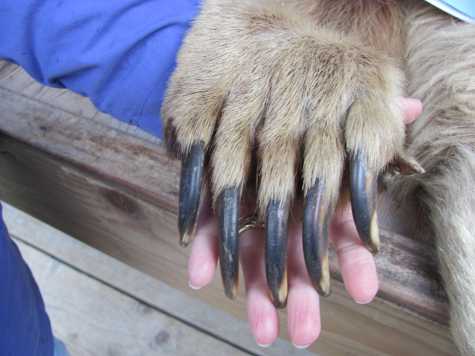 Hyder is famous for the bears that come to feed on the salmon spawing in the stream outside of town. Knowing what happens whenever we go to some place there is supposed to be wildlife, we weren't really disappointed when all we got to see were a few fish in the steam. I did discover that Linda's hand is just about an equal match for a grizzly's paw, which mirrors what I already know about her disposition at times.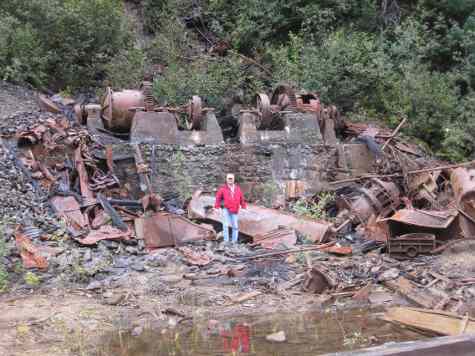 Later we drove up the long dirt road to catch a view of Salmon Glacier, which by the time we got there was close to being eveloped in clouds. Still, it was a great drive and we stopped at the ruins of this old mill that had burned sometime in the past. It was interesting exploring what was left of it, and made my day, though I could tell Linda was bummed out by not seeing the Hyder bears. What do they say about about one woman's junk being another man's treasure.
---
---