Journal Archive 10/1 - 10/10 2010
Scroll down to read the latest post
October 1 Friday
Checking out Shelby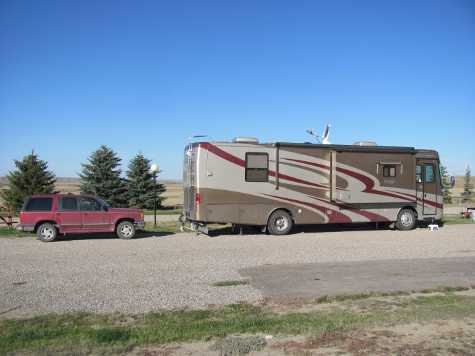 Strange thing about being back in the USA, the coach looks the same, the RV parks look the same, the only thing different is that we are now able to connect with the MotoSat. That really had nothing to do with being back, rather it was because we had a site with no trees. Linda is suffering some though, a case of no DirecTV. Now we need to get switched back over to satellite 89W, and all will be good in the Life of Linda.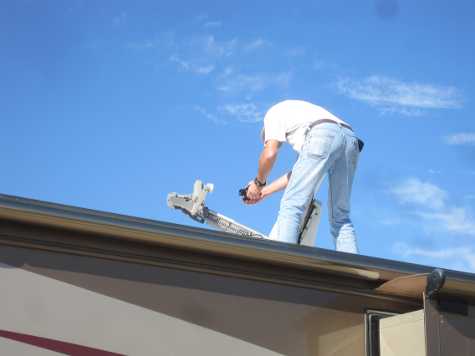 Well, not really. Shortly before we headed into Canada the LNB on the BOW on the MotoSat stopped working. For a while we used the portable dish we carry, but then we had the account suspended for four months. It's now back on, but since we are now on satellite 127 we are not able to pick up the DirecTV signal on satellite 101. To determine what LNB we needed, Linda had me climbing up on the roof and taking photos.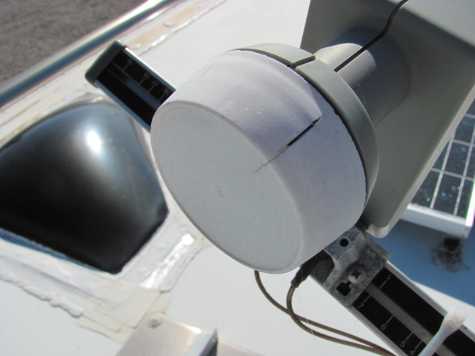 Our efforts were rewarded and now we know what we need to get, which is readily available and inexpensive. The cause of our problems is apparent in the photo, and explains why the first time it started to cut out we were in a rainstorm. Now all we have to do is find a DirecTV installer or retailer in one the towns we are going to be passing through.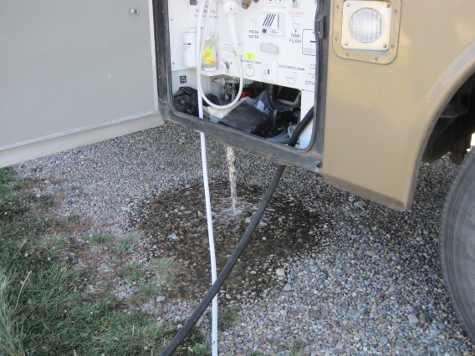 Another job we did was something we do every couple of years maybe. I get a kick out of the people who post so seriously on the forums about the need to drain, flush and sanitize your fresh water tank at least twice a year or more. It's been at least two years and maybe three since we last did that task, the drain and flush. Plus, we don't sanitize, though we did sanitize for a while when we started out, until we figured out the only thing it does is make money for the people selling the sanitizer. This park has great tasting water, the tank was empty after all our boondocking, our site makes the flushing easy, so flush and fill is what we did.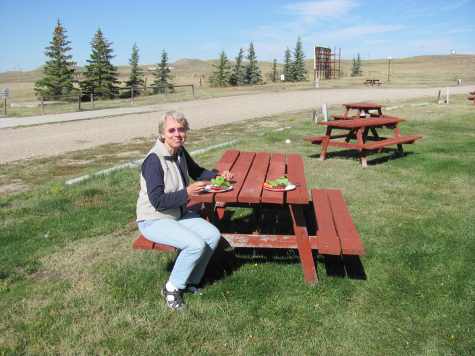 I'd also called Bretz RV in Missoula to set up an appoint to have them check out the slide and front steps. The first time we could get in was on Monday, the 11th, a week out. The weather is supposed to be good, and we have a number of places in this part of Montana that we have never visited, so it proved to be no problem. Havre, Fort Benton, Great Falls and other points yet to be determined, here we come. It's almost just like last year when we decided to stay another week in Montana at this time of the year because the weather was so nice.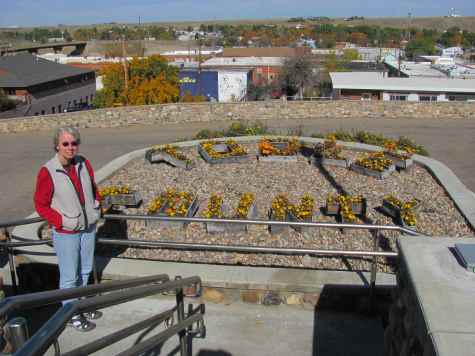 We spent most of the afternoon walking around the "downtown" area of Shelby. It's something that many people would probably not find to be the way they would want to spend a sunny afternoon, but we both like to do some exploring in small towns. At the foot of the steps leading up to the Toole County Courthouse we discovered a flower bed that spelled out the county's name in marigolds. It's a little faded, just like the town, but it's things like this that make this Life worthwhile.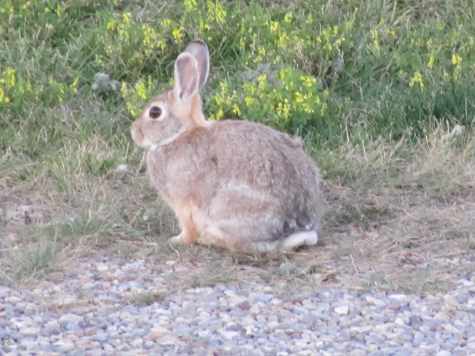 Last night there were seven other RVs at the park, but tonight we got a visitor of a different kind. For the longest time two rabbits dined beside the coach, and even though I was going in and out to grill our corn and steaks, they just kept munching away. Finally another RV came in and as if on cue, the rabbits disappeared.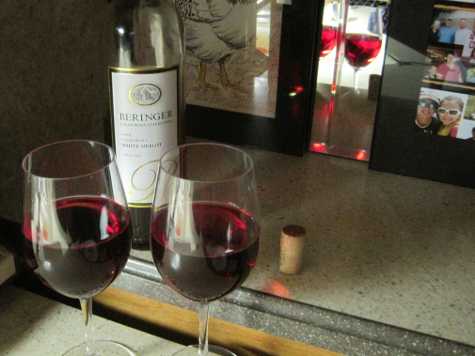 Along with our steaks we had something special with dinner. Not that it was a fine wine, far from it, but was it ever good, mostly because it was the first wine we have had in over 4 1/2 months. We'd consumed all our wine before we crossed over into Canada in May, and then because of the very high prices, more than anything else, we just never bought any during the trip. From all the yum's coming out of Linda, I think she really missed her occasional glass of wine even if she did have a gin and tonic every night.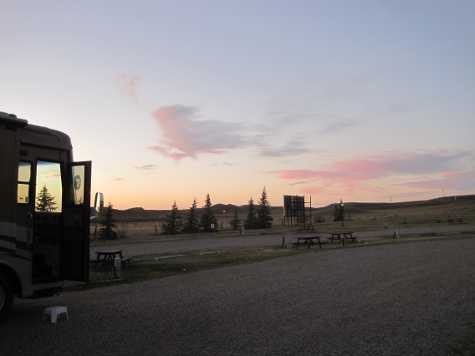 It's not the prettiest sunset, but there was a modicum of pinks in the sky tonight. It's strange how, after a summer when we never saw the sun set, now we are seeing it set every night, and in fact I had to put the grill away in the dark. From too much daylight this summer and Linda putting foil in her window so she could sleep, now we are facing not enough daylight to do everything we want. Hey, when Life is this much fun, you want to enjoy as much of it as you can.
---
October 2 Saturday
Heading to Havre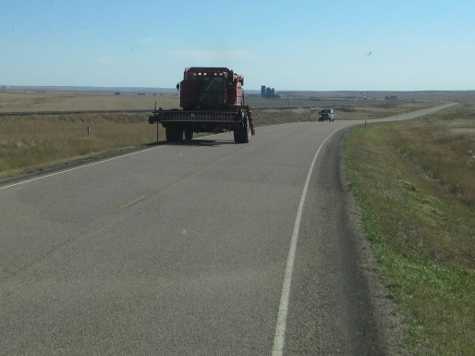 Interesting day that included paying too much for diesel, it was way cheaper farther east, learning what Big Sky Country means, finding a quaint little RV park and discovering that the treasures of a city may be hidden beneath its surface. We thought we were buying cheap diesel in Shelby, and compared to what we had paid in Canada and Alaska we were. Then when we got down the road a ways we discovered it was 10 cents a gallon cheaper.
We generally do not go out of our way to buy cheaper fuel with very few exception's, the 20 cents a liter, 80 cents a gallon, we saved in Dawson being one of those. Some deals you just can't pass up. What got us today was that even the small crossroads stores were cheaper than Shelby.
Cheap fuel wasn't the only thing we ran into today, how about massive grain combines that took up most of the road. The area from Shelby to Havre is wheat country, with wheat fields spreading from horizon to horizon. We tried to figure how many acres of wheat we saw today, but once we got over the million acre mark we just decided to say we saw more wheat fields than a man and woman had a right to see.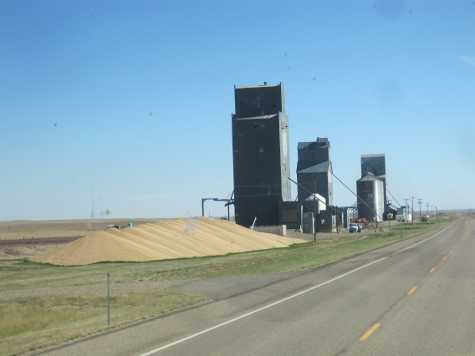 We saw grain truck after grain truck transporting the wheat from the fields to the grain elevators. In fact there was so much grain that sometimes it was just piled on the ground. We'd heard about something like this, but it was the first time we'd ever seen it. Now we have a better understanding of why they call the Great Plains the breadbasket of the world.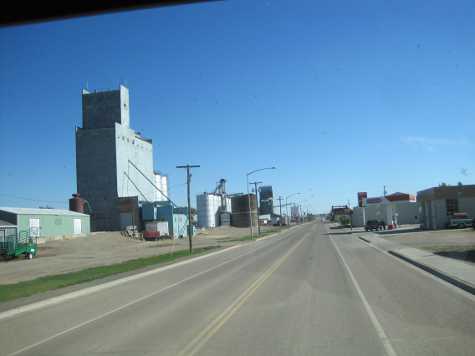 It also made it easy to tell when we were approaching a town. The bigger and more massive the elevator or elevators, the bigger the town. We'd heard so much about how driving across US-2 was one of the great American Road Trips, but after today, we were wondering what all the excitement was about. Maybe the problem was that we didn't pull off the road and explore those small towns.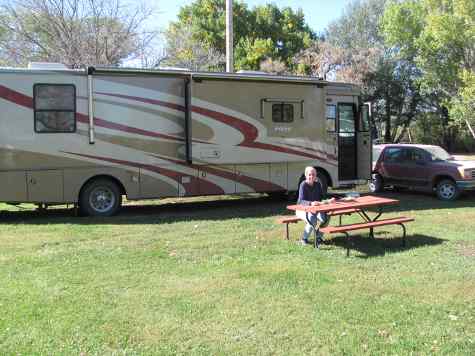 Linda had picked the RV park today, and mentioned she thought I would like it because it was away from town and in some trees. She forgot to tell me about the long dirt road we had drive back to get there, but once we arrived, it turned out to be a great little campground. All those RVs at Walmart can have their asphalt, we've got grass, trees, water and electric, and it wasn't that much money either.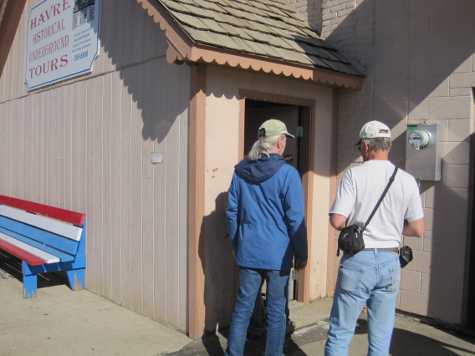 Our major outing of the day was the underground Havre tour, something we would recommend for anyone visiting Havre. In the early 1900's the city pretty much burned to the ground, and until the town could be rebuilt, many businesses set up shop beneath the old town streets. Underground tunnels followed below the streets and rooms with various businesses flourished under the burned out buildings. Then it was all forgotten, only to be rediscovered some years ago. Now you can take a "Havre Beneath The Streets" historical tour and learn of a unique time in the city's history.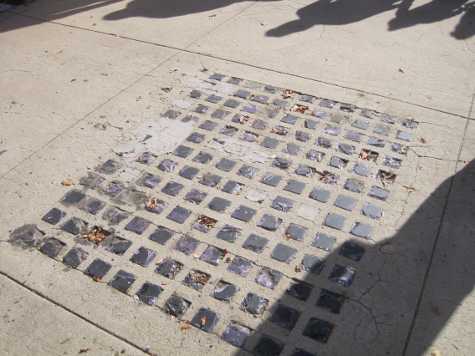 While there was every kind of legal and illegal business to be found down there, I found the means of illumination to be the most fascinating part. As you walk down some of the sidewalks above ground you will notice these square areas of glass blocks on occasion.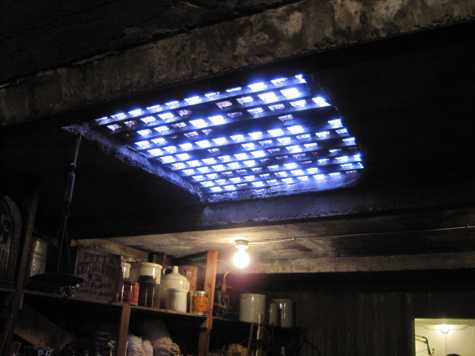 From down below there purpose is quickly apparent, they were skylights. Now many of the remaining pieces of glass have turned purple, just like happened with some of the skylights on the lighthouses we have visited. Manganese in glass and sunlight seem to always lead to the same thing.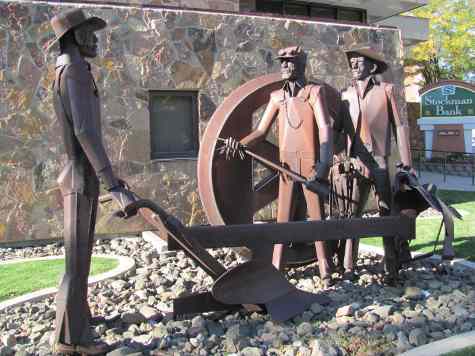 After the tour we wandered some of the streets of town, admiring the old buildings with their interesting architecture and on occasion stumbling upon a gem or two. I think both of us would rate this sculpture in front of the Stockmans Bank as one of the more interesting objects in town. This wonderful welded steel sculpture by Lyndon Pomeroy features a farmer, a rancher and a railroadman, all of which made Havre what it was and is.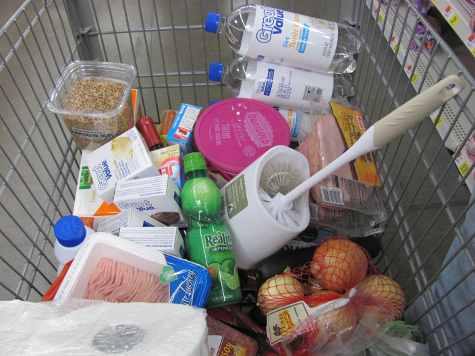 On the way back from town Linda asked me to stop at the Walmart since she needed a bottle of lime juice. Knowing how important her daily anti-malarial medication is, at least that's why I think she has her gin and tonic everday, I immediately pulled into the parking lot.
I guess the first hint that maybe she had some more shopping in mind than a bottle of lime juice was when she grabbed a shopping cart as we entered the store. Some $122 later we had not only bought the lime juice, but we'd ended up with a whole lot more.
I'm afraid I can't blame her for all those purchases either because I was a more than willing participant. Going all those months without getting to shop in a Supercenter with all the things we are used to seeing in them caused us to just pig out. It was fun, it was a celebration of sorts of our return to the outside. Now I can understand how all those Klondike miners could go into town after all those months of backbreaking toil and just blow their gold poke. Sometime you just gotta Live Life, even if doing that includes cleaning the toilet on occasion.
---
October 3 Sunday
Fun in Fort Benton
Interesting view to the front this morning. It started early, very early with movement in the back of the coach. I'd been up for a couple of hours, but 7 o'clock was way to early for it to be Linda. Then suprise of suprises, she appeared already dressed. To say I was perplexed would be a colossal understatement. Then she picked up the phone and before long the laughter began. It had been too long since she had talked to her sister. The odd shape at the top of the right hand seat is the top of the head of a happy girl.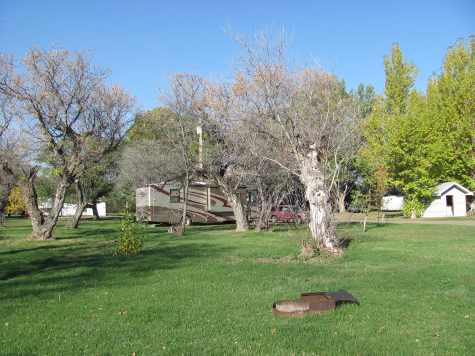 It was interesting that no more RVs pulled into the park after we did yesterday afternoon. While the park wasn't any five star resort, it was exactly the kind of place that we enjoy. I'm not sure how to describe it, maybe quiet ambiance, or under stated country, but whatever it is, we like it, even if others passed it by. We did notice that the Walmart was by far the most popular RV park in town, with many rigs lined up on the one side of the parking lot, most of them with Montan plates. Maybe it was a group campout.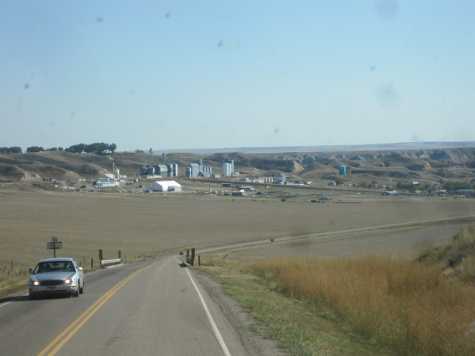 The drive from Shelby to Fort Benton on Rt 87 was easy, with enough historical markers along the way to break it up, not that we needed any breaks, since it was only some 70 miles. Just like yesterday we saw farmers out in the fields with enormous spray rigs, and just like yesterday we couldn't figure out what they were spraying. Then we crested that last small rolling hill and started our descent down into Fort Benton and the past.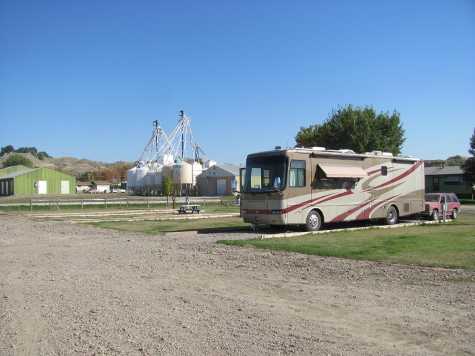 Fort Benton, Montana, the place where the river became to shallow for the riverboats to go farther. A town steeped in history. A town where many of the streets are gravel including the ones around our RV park. We also couldn't get away from the wheat that we have been driving through for so long. The bins in the back are for the Montana Flour and Grains facility in the next block. Yet just a dozen or so blocks toward the river, the past comes alive, at least we hope it does, because so far it looks like we are going to enjoy our stay in this town.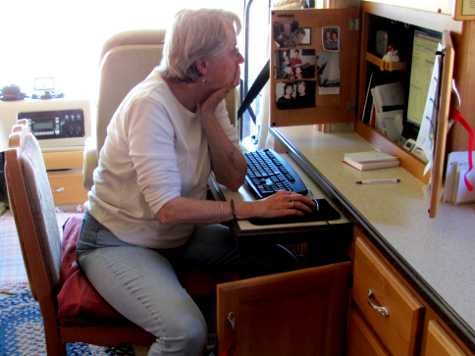 When we had checked-in, we'd paid for one night, mainly because we weren't sure we could get on the Internet. So before we were completely setup, we made it Linda's job to find out if we could get on. Didn't take her long before she was on Facebook, which sealed the deal, and she went back over and signed up for two more nights. It is hot, we have no shade, but we did have Internet. The site next to us has shade, but we wouldn't be able to see the satellite. However, with the 50 amp hookup, air conditioning is just a push of a button away if we need it. And besides, at a PA rate of $15 a night, it's a good deal.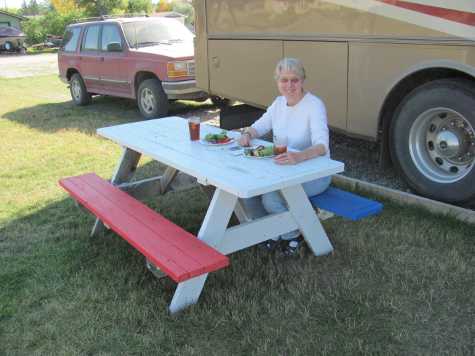 Well I was wrong, we discovered that we did have some shade, it was just that we were making it for ourselves. When we were in the office, the lady mentioned how unusually nice the weather was for this time of the year, so we decided we'd better enjoy as much of it as we could.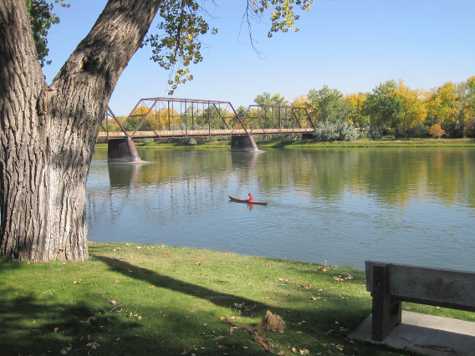 We spent the afternoon down by the river. The old town sits pretty much right in front of the river on the aptly named Front Street. They also have a walkway that has numerous exhibits, signs and statues along its path. It was very pleasant, almost like a scene from a movie, and with so many things to see. We'd only been in Fort Benton a short while, but we'd say it is a more than worthwhile stop.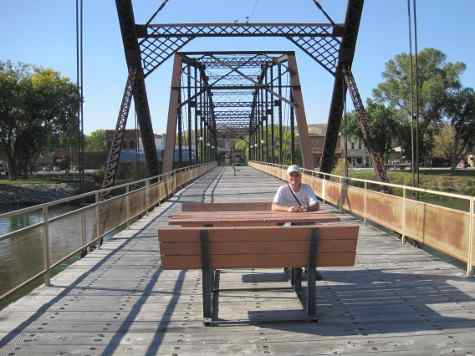 It is amazing how different towns approach modernization. Need a new bridge, build it, then tear down the old one. Here the old bridge has been turned into a pedestrian walkway, complete with tables and benches. You can just sit and enjoy the river, or you can examine the way they built bridges in the old days. This one was built in 1888 and looks nothing like the modern steel and concrete span just a few blocks upriver.
Just when it about time to head back to the coach, I sprung my surprise on Linda. She has this thing about Lewis and Clark, and at the far end of the riverwalk was the official Montana memorial to Lewis and Clark. She may have been tired, she may have been thirsty, but when she heard this, it was difficult to keep up with her as she set off to see something dealing with her two favorite explorers.
I had to wait my turn to take photos as there was this woman there when I arrived who was taking photos and staring intently at the bronze statue. Walking around it, she exclaimed, "There's Pomp," pointing to the baby strapped to Sacajawea's back. Linda's day was complete, and we were both enjoying Life.
---
October 4 Monday
Around Fort Benton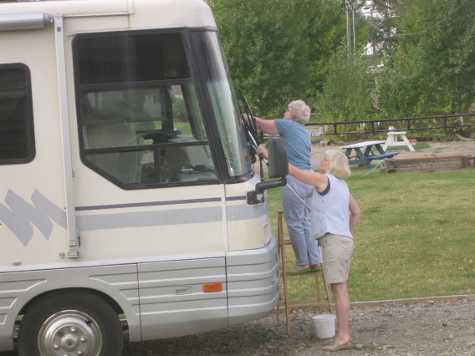 Interesting view to the side this morning. Last night, while we were eating dinner, a coach pulled into the site next to us, the one with the shade. This morning, while we were eating breakfast, activity started taking place, and it wasn't long before we saw the windshield being washed. There was actually a third lady and, as Linda noted, they were all blonds. At the back of the coach was a man hooking up their jeep, and I could only wonder what his secret was. Maybe he does the cooking and just let it be known to one and all with this as the result. Though something tells me that if I tried anything like that Linda would make sure she would be the only blond, or female for that matter, around here.
One of the problems with visiting places so far north at this time of the year is that many of them have already closed for the season. There are a number of great museums in Fort Benton, and every one of them had closed within the past week. The only place open was the Missouri Breaks National Monument Interpretive Center, which remains open year around. Well, maybe we should say open most days during the year since when got to the door a small sign said, Closed Monday October 4, Open Tuesday October 5. Such is life.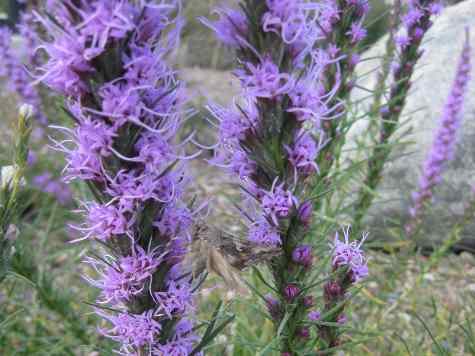 While I walked around the outside of the building, taking a few photos, Linda was off doing her thing. That lady does like to take photos of flowers. When I asked her what they were, I got the big eyed look and the response, "They're curly, spiky things", followed almost immediately by, "I don't know." That's the neat thing about beauty, it doesn't have to have a name, it just is when you see it.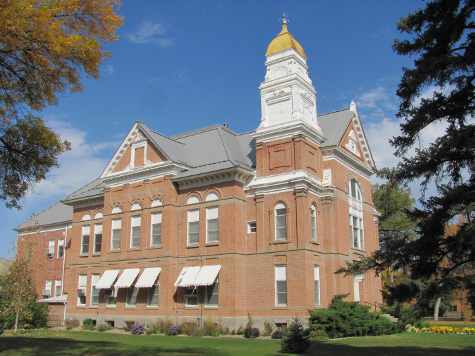 It turned out the other end of the river walk originated here, so we walked back towards town, once again learning about all the interesting bits of history that took place along this stretch of the river. Later we stopped at the County Courthouse, which was built in 1884, and still carries a refined elegance, even today, though it is a bit tattered around the edges.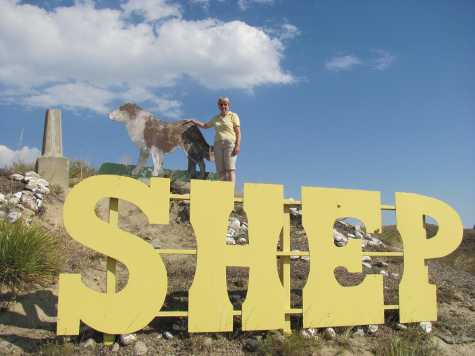 Yesterday we had seen a memorial statue of a dog the town had adopted, or maybe the dog had adopted the town. Apparently its master had left on a train, never to return, so for years it greeted every arriving train looking for its master until it was hit and killed by a train. That memorial statue was down by the river, but today Linda wanted to see the dog's grave, which was on the hill directly above the train station.
For once something turned out to be relatively easy to find. It helped that is was short distance from the RV park, and also that it was well signed. At least it was well signed for a while, meaning we turned when the signs said to turn. However, to actually get to the start of the path leading down to the site, you have to drive down an unmarked road, well actually two wheel tracks of gravel and follow that to a small turnaround where you park in the road.
Now the dog, which was named Shep, can always see the trains coming as well as watch over the town that took care of it. As a side note, I think one of the reasons Linda was so into visiting Shep's grave was because the dog we had when our kids were growing up was also named Shep. She was a stray that wandered in and won Linda's heart. I was there when she fist walked up to the house, then went out of town, as always in those days. When I arrived back home at the end of the week Linda said no one had come by saying it was their dog so she wanted to keep it. She, the dog that is, was very gentle and well behaved, so I said yes. Turned out the reason no one had come by to claim the dog was because Linda had kept it on the back deck all week.
Shep became inseparable from the kids and ended up moving with us as we crossed the country from NC to OH to CA. When she eventually moved on to the great doghouse in the sky we scattered her ashes at her favorite spot up in the Sierra Nevada Mountains. I think both Shep's have a fitting final resting place.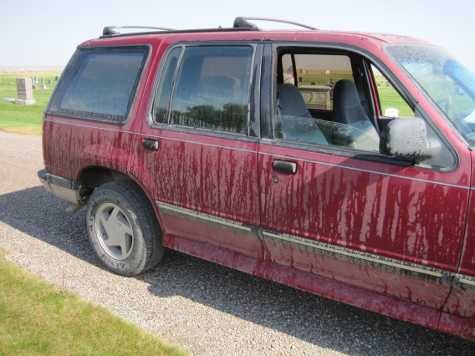 Further down the road that passed by Shep's grave was the town cemetery, and since we like to visit cemeteries, that was our next stop. Manicured is an excellent description for this very well maintained final resting place. There were several interesting old stones that told a story of tragedy, like the one where the dates showed the mother dying two days after the birth of her child and the child dying the following day.
The sprinklers were running in some sections of the cemetery and when we headed down a lane that had one of them spraying over the road, Linda came up with the idea of driving slowly and getting the explorer rinsed off. It was a good idea that unfortunately didn't work.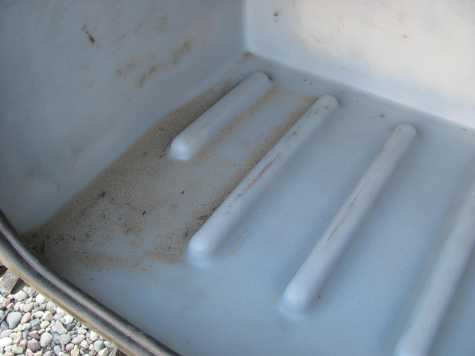 Back at the RV park in the afternoon, Linda got the coach work party organized, and soon there was dirt disappearing from both vehicles. While Linda washed the dirt off the Explorer, I was assigned the task of removing the dirt and dust from several of the lower compartments of the coach. Of course we both got so caught up in what we were doing we forgot take any photos until we were almost done. This is the inverter compartment of the coach, and the dirt shown is about a third of what was in the compartment. Looks like we tried to bring part of the far north back with us.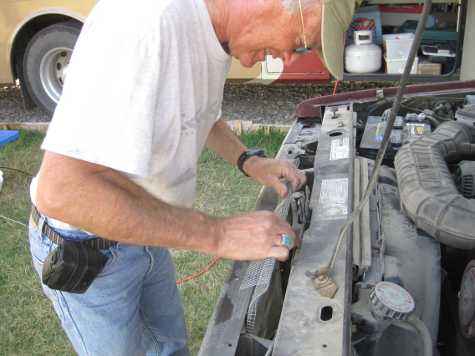 We ended up with the outside of the explorer washed and the coach's inverter and electrical compartments thoroughly cleaned. Then we removed another traveling companion from our journey north, the piece of hardware cloth in front of the Explorer's radiator we had installed when we were in Dawson City just before our trip over the Top of the World highway. Now it was time for it to go, something that also resulted in my blowing a good bit of dust out of the engine compartment.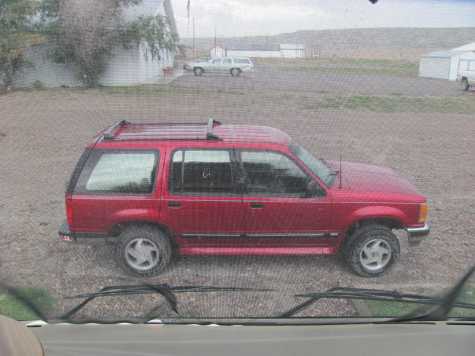 What's that saying? The one about no good deed going unpunished. It didn't take very long after we had gone inside the coach for a refreshing drink till the dark clouds moved in and water drops started falling from the sky. It's been quite a while since we have had rain, so it looks like all that gyrating Linda did to keep water from splashing on her as she washed the Explorer was interpreted as a rain dance. Maybe the Alaska weather has caught up with us once again, who knows? The forecast calls for more rain tomorrow, so we may get a day of rest for a change, though we still want to visit the Missouri Breaks Interpretive Center.
---
October 5 Tuesday
Rainy day in Fort Benton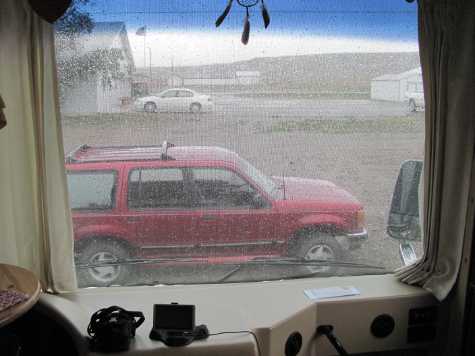 Last night the Fort Benton forecast called for a 20% chance of showers today. This morning the weather was saying there was a 100% chance of rain, and that it was happening now. As if that wasn't bad enough, it got even worse. I had been able to get on line when I first got up, but by the time Linda came out, we had lost our Internet connection, which was not a good thing, but unfortunately there was nothing we could do about it.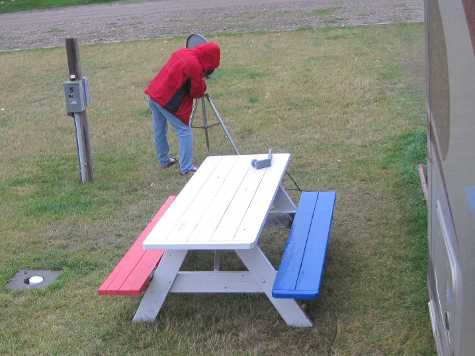 With the rain negating any outdoor activity, and the lack of Internet crimping Linda's indoor style, that left TV as the principle entertainment option. The only problem was that last night the wind had blown over the tripod, meaning I had to brave the elements to set it back up. Donning rain jacket, and with the wind playing havoc with my hood, I set out to make upright that which wasn't.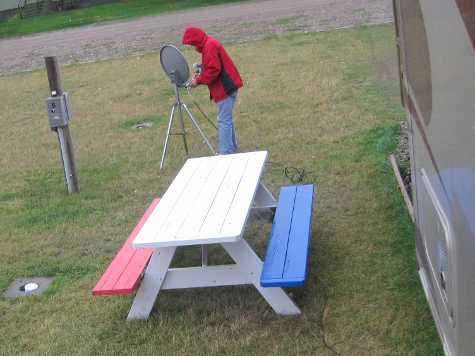 The up part proved to be easy, the right part was a little more difficult. Unfortunately when the tripod tipped over it landed squarely on the arm, changing the angle from 34 to 0. Then when I loosened the nuts that allow the angle to be adjusted I discovered the four rivets holding the arm in place had fractured and the next thing I knew, the dish was where it was supposed to be, but the arm was laying on the ground.
This was definitely not good. Linda was oblivious of all this as she waited inside the coach, warm and dry, waiting for me to provide her with some entertainment, so little did she know there was some "interesting" entertainment taking place just outside the door of the coach. What to do, what to do? Then it came to me, use one of the C-clamps that were in my tool box to hold the arm in place. That done, it only took a couple of adjustments to bring in DirecTV, making Linda a very happy girl and me a very relieved guy.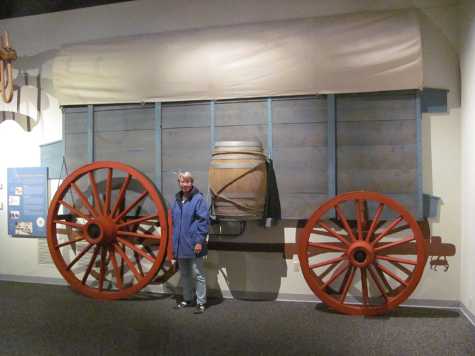 The rain fell all morning, and so, after lunch, deciding it wasn't going to stop, we headed off to the Missouri Breaks Interpretion Center. It really was after the end of the season, and it turned out we were the only ones there, as in visitors and staff, though after we had been there for nearly an hour a staff person did come by. That's what you'd call a real laid back place.
A word of explanation regarding the wagon depicted behind Linda. Along the river walk there were photos showing the wagons they used to haul freight along the numerous trails that led form Fort Benton. Usually there were thee wagons hitched together and pulled by teams of eight or more oxen. We had thought the wagons were the same size that the pioneers used to cross the plains along the Oregon and California Trails. Were we ever wrong, these freight wagons, called Murphy Wagons, were enormous and each was loaded with up to three tons of goods. With a play on what Crocodile Dundee said, "That's not a wagon mate, this is a Wagon."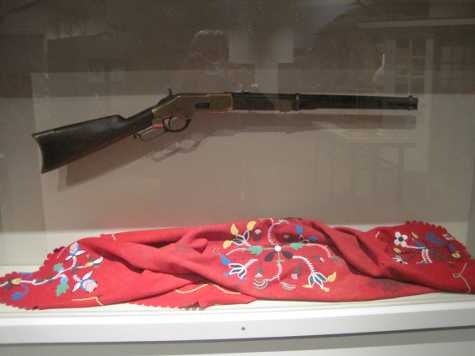 The center had a number of displays relating to the history of the Missouri Breaks, but the one item that impressed me the most was a rifle. Not just any rifle, but rather the rifle carried carried by one of the greatest Americans that ever lived. This was the rifle that the Nez Perce, Chief Joseph, turned over to General Howard on the day he uttered those famous words, "From where the sun now stands, I will fight no more forever." I actually got chills looking at it and realizing what it represented.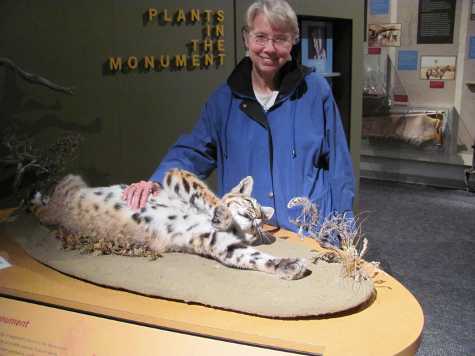 There was more to the center than just history, and Linda found something she could really relate to, a nice little kitty cat. Well maybe not exactly little, and certainly not nice, but in its present state it wasn't going to object if Linda rubbed its belly.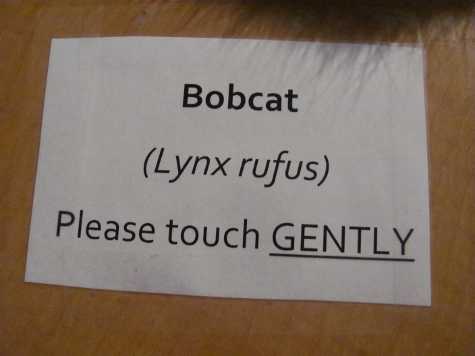 Before you wonder what Linda was doing touching the displays in the center, this was the sign by the kitty. I think Linda saw it as, "Please touch, but be gentle."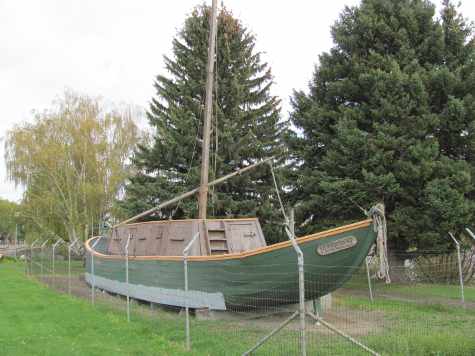 When we exited the center the rain had stopped, so we drove uptown and did some walking along the banks of the Missouri. At the far end of town was this keel boat, which was the actual boat used in the Howard Hawkes 1952 film, The Big Sky, which was based on Guthrie's novel by the same name. For being almost 60 years old it is remarkably good condition, plus we will now have to keep an eye out in case the movie is on one of the cable channels.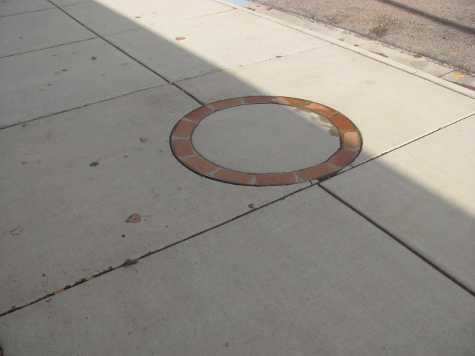 Not just a circle of bricks in the sidewalk, but a bit of history. Fire was always a threat in early frontier towns and Fort Benton was no exception. Prior to the late 1880's, a series of brick lined wells along Front Street provided water for the water troughs used by the animals hauling the many freight wagons that left town loaded with the freight brought in on the steamboats. They also served as wells to supply water to the pumper wagon in case of a fire. This circle marks the location of one of those wells, something that most visitors would step over without ever knowing what it was for.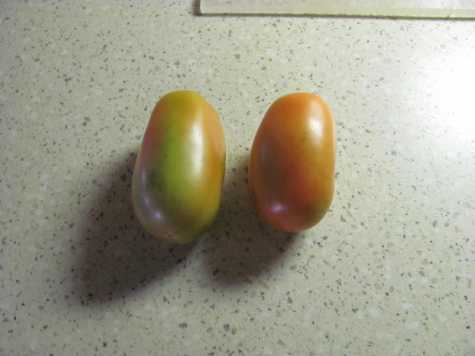 I can't end today's Journal without posting this photo. These just seemed to turn up in the Explorer as we were finishing up our history walk. An inquiry to the distaff side of the family turned up the answer. I had prefaced my, "Where did the tomatoes come from?" with a "don't tell me this was another of your, I couldn't help myself moments."
Turned out my fears were well founded. She had been walking up the street when she saw a tomato plant that had incurred severe frost damage. No one was around, and these two tomatoes were doing their best to live out the day. Taking pity on them, she decided that that only way to save them was by picking them and taking them home. Now you know why I absolutely adore that woman, and why I call life, Life.
---
October 6 Wednesday
Going to Great falls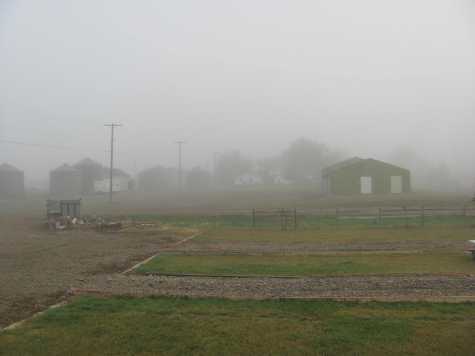 Another day where the weather was somewhat different from normal as evidenced by this was the view out the window after the sun finally came up this morning. We were going to be traveling down to Great Falls today, but since it was less than 50 miles, we figured the sun would burn off the fog before we had to leave.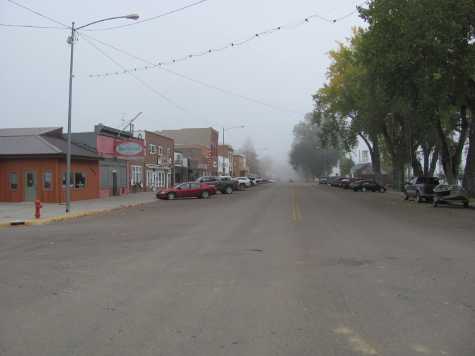 While Linda enjoyed some well deserved time by herself, I went back down to Front Street for a last few moments spent in the past as I enjoyed the history of this town. It wasn't the sleepy downtown of the past few days, though the fog that was coming up from the river was doing its best to put everything to sleep. It was Wednesday, which must have meant that it was going to town day, since all the eating establishments as well as the senior center seem to be filled to overflowing. Or maybe it was because it wasn't just because it was a Wednesday, rather it have simply been the day after it rained.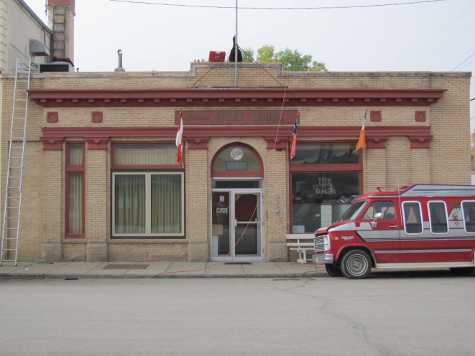 What is it about old towns that draws the tourists to them? For me part of it is wanting to know what took place there. I can just imagine those huge Murphy wagons hitched three together, and pulled by 10 pairs of oxen heading down Front Street, then up one of the many trails that radiated out from Fort Benton. Those teams are long gone, replaced by machines, yet the stores those teams passed by still remain, and I can look on those old buildings and dream about what once was.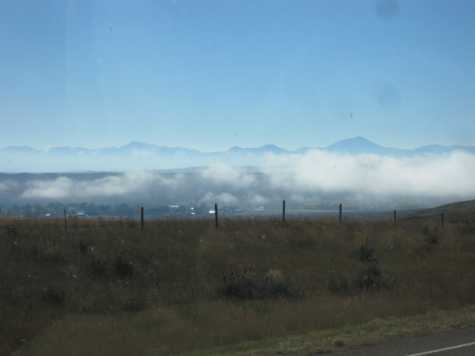 We didn't pull out of the park until after 11 o'clock, and even then there were still wisps of fog hanging in the air. But as the road climbed up out of the Missouri River valley, the sun came out in full force and the outside air became noticeable warmer. Looking over at the valley it seemed as if we were above the clouds.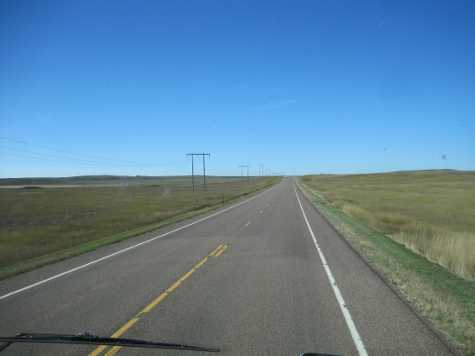 One thing we have learned in our week in this part of Montana is that the term Big Sky Country is a very apt description for the landscape. Still, it's just like a lot of other areas of the west, a place with a whole lot of nothing. Well there are all those grain fields and farms, and we did see several antelope in fields near the road, as well as numerous grain elevators, but other than that, everything look pretty much the same.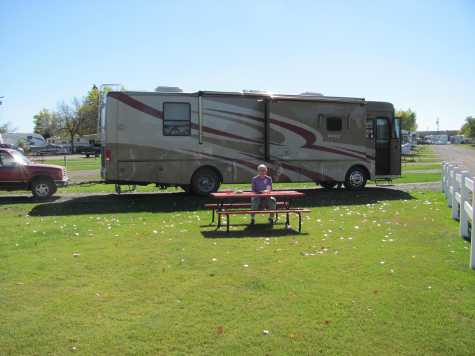 Our destination today was Dick's RV Park in Great Falls, which turned out to be situated between a set of railroad tracks and two very busy streets. To compound the situation, on a bluff some distance away above the park was the airport. If you don't like noise this is a place to stay away from. If you want an RV park reasonably close to town, or in town in this case, this is the place. Noise aside, and that is something we can live with, the nice weather, large grassy area beside the coach and the great lunch I fixed made it home.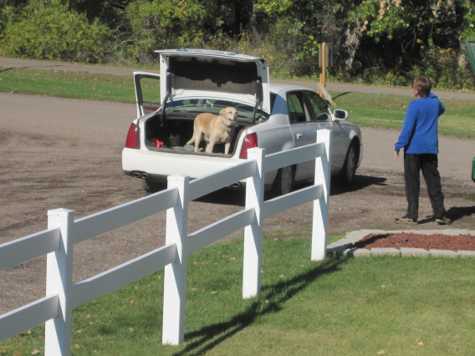 We also had some entertainment since our site has several park roads and a dumpster outside Linda's window. This car came driving past, the trunk open with a garbage bag and a dog in it. Then after the garbage bag was placed in the dumpster, the trunk was shut with the dog still in it and the car drove out of the park. We never could figure it out, and finally decided there must have been an opening between the trunk and the car. Just another of those unsolvable mysteries of Life.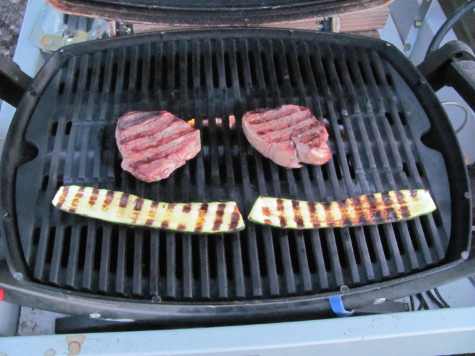 In the end we chose to hang around the park today since we will probably be staying here for three nights, we only registered for two but will probably extend our stay, and this will give us two full days for sight seeing. When it came time for dinner, we decided to say goodbye to an old friend, something we have been carrying with us since we left Tok, Alaska. It was time to grill the last two pieces of that huge beef tenderloin we had bought and cut up into enough pieces for nine meals. We're guessing that was a one time thing, especially since we have never seen them since. Just another special thing that we encountered and grabbed a hold of while living Life.
---
October 7 Thursday
Checking out Great Falls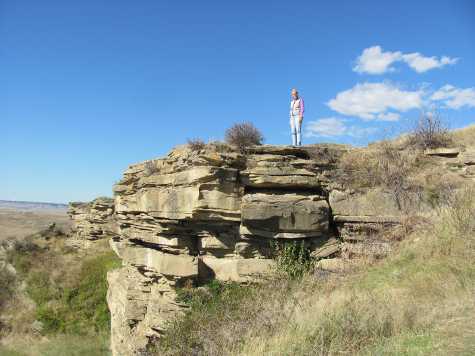 We began the day by driving to First Peoples Buffalo Jump State Park. We had been there 17 years ago during our vacation, and today reinforced the old adage, you can't go home again. That vacation was different in that it was our first one after all our kids had left home, and it took place a week after I found out I would very likely be out of a job within several months. A prediction that came true.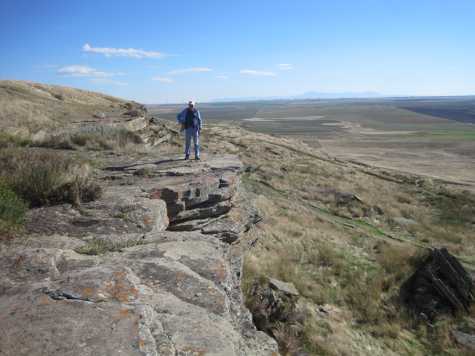 The name had changed and we didn't recognize all the features, but we knew we had been here once before. That day it had rained, today it was sunny, but very windy. The problem was that we couldn't find the spot we remembered where we had shared a moment of history. The wind was howling today, sand and grit in the air. It wasn't the same as it had been of that day years ago. Yet never would I trade that day and all its impending uncertainties for the Life we live today. Always remember, no matter how bad today is, tomorrow will either be worse, the same or better than today, but unless we get there, we will never know which it will be.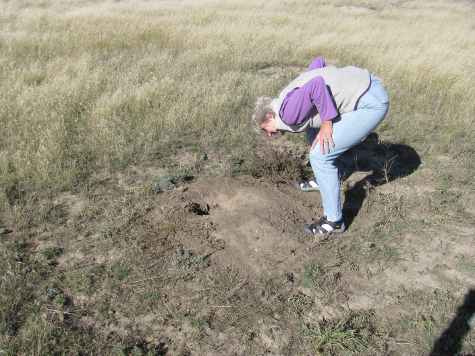 Yet looking for things we had seen in the past wasn't the only thing that happened to us while at the park. While there we saw both pronghorn antelope and prairie dogs. Then when walking back along the paved trail to where the Explorer was parked I saw it, a grizzly checking out a prairie dog hole.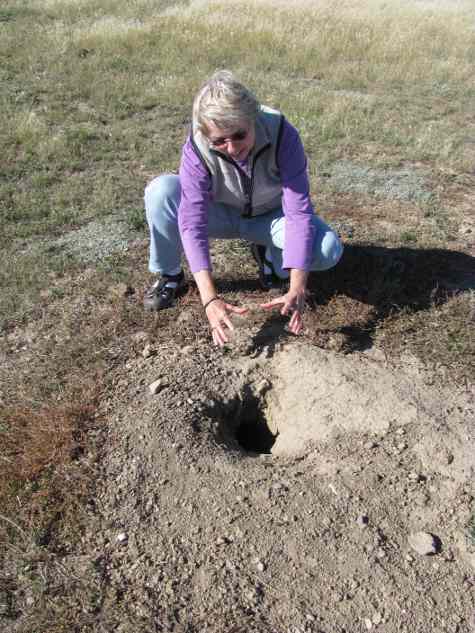 Standing still as a statue so as not to cause the bear to shift its attention from the little doggy to me, I watched as it very slowly crept up to the hole. Placing itself downwind, and casting no shadow over the hole, it set about patiently waiting for the prairie dog to again pop out of the hole.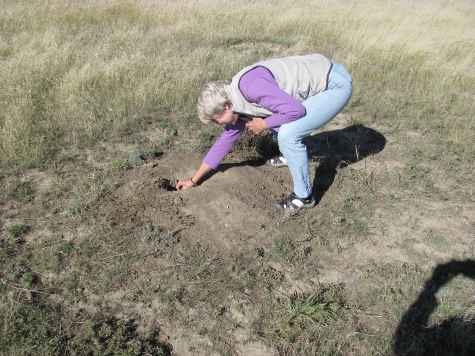 That grizzly's concentration was amazing to watch, though it wasn't any better than the intelligence the prairie dog displayed as he popped up in another hole a few feet away and watched the grizzly watch for him. Eventually that mean old bear grew tired of waiting and proceeded to try to draw the dog out by other means. But it was all for naught, and before long the bear gave up and I was able to move at last. I was amazed just how close I had been able to approach that ferocious bear, as indicated by my shadow in the corner of the above photo.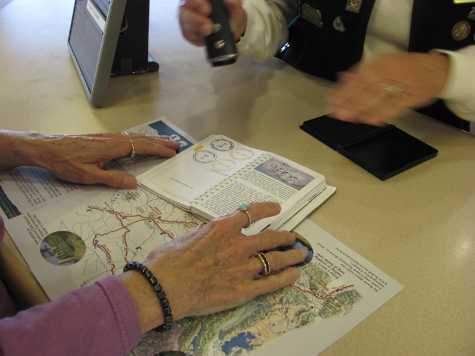 Wrung out from my close encounter of the bear kind, Linda and I returned to the coach for some rest and lunch. In the early afternoon we headed out for a different kind of visit, one that was dear to Linda's heart. Our destination: the Lewis and Clark Voyage of Discovery Interpretation Center. Once again as we exited the Explorer, Linda had her Parks Passport book in hand, and she wasn't disappointed. In fact the lady at the counter seemed almost as excited as Linda.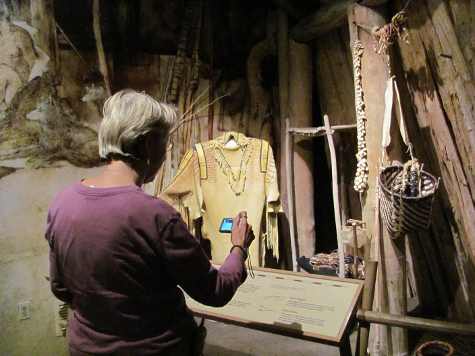 By now Linda probably has a good portion of Lewis and Clark's original journals memorized. Over and over I heard her commenting and and adding to what the displays said. On occasion there was something she was not familiar with, but those times were few and far between. I loved how, when she would find out about some thing new, she'd comment about having to read about it.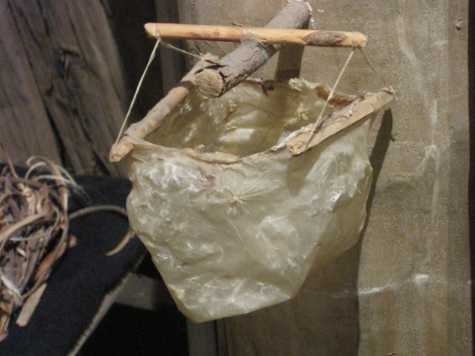 We spent almost four hours in the center, though we did attend three programs and one video presentation, but they were among the best we have ever experienced at a park or visitor center. We each had things that caught our attention, such as this water carrier that Linda found fascinating. The native people used everything from the buffalo, and in this case it was the membrane that surrounded the heart.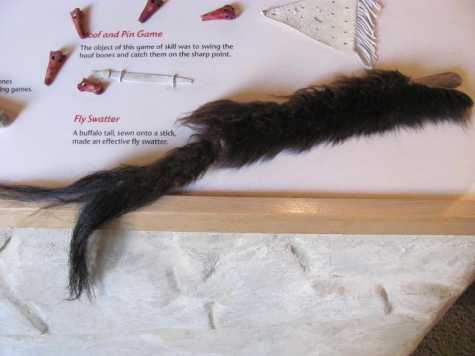 In my case that special something was this fly swatter that was made by attaching the end of a buffalo's tail to a stick. Why is it that we have in the past, and still do today, look at people who aren't exactly like us as backward, uncultured, uncivilized, or even worse, savages?
Down river a short distance from the center was the Giant Spring. Bubbling up beside the Missouri, it flows at the rate of more than 180,000,000 gallons per day. We remembered this from our earlier trip, and unlike the buffalo jump, this looked just like we had remembered it. Unfortunately it is difficult to take a good photo when the sun is in the exact wrong place.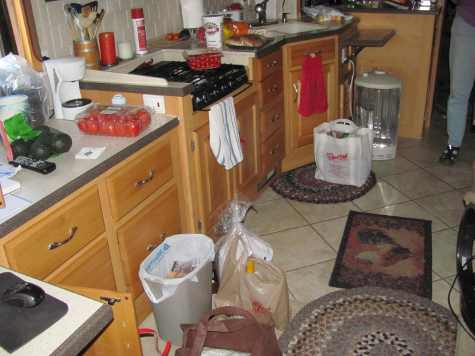 No. this photo is not to show that the coach is a mess, it is show that we bought so much food on our way back that it is scattered all over the place. Between Sam's and Smith's, we really stocked up on more than just a few things. We did exercise restraint in the toilet paper department, passing all those bundles of 36 or so rolls, by.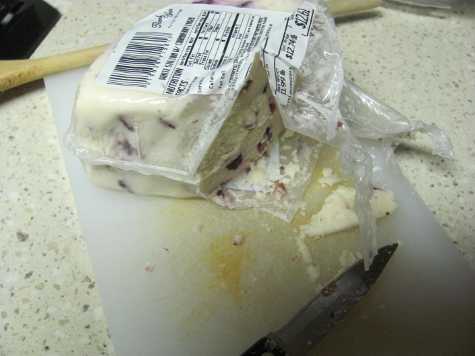 But just to show you that we didn't pass everything by, when I picked up a block of white Stilton cheese with cranberries, the look I received from Linda could only mean one thing. Put it in the cart, now! She has such good taste in cheese, and this just furthered the high regard in which I hold her cheese judgment.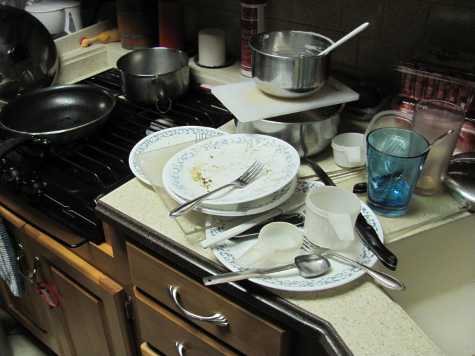 I won't go into what all we had for dinner, only that it was a gourmet meal that left a mountain of dishes to wash, but was worth every ounce of effort it took to make it. It had been another of those days where it starts off less than stellar, then ends beyond our dreams.
In closing for the day: Our prayers are with you, Tioga George.
---
October 8 Friday
Enjoying the C M Russell Museum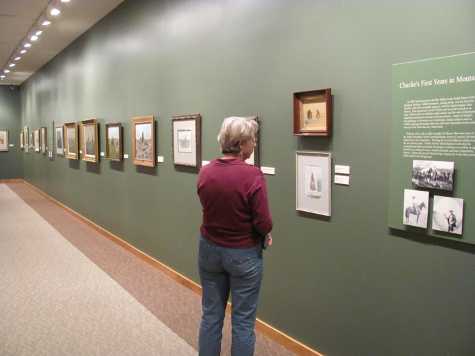 We spent the morning doing very little, but the afternoon was a different story. Charlies M. "Charlie" Russell, the great painter of the American West, called Great Falls home for much of his Life. Today we wanted to immerse ourselves in his life. What better way to do that than to spend an afternoon in the museum dedicated to him and his career.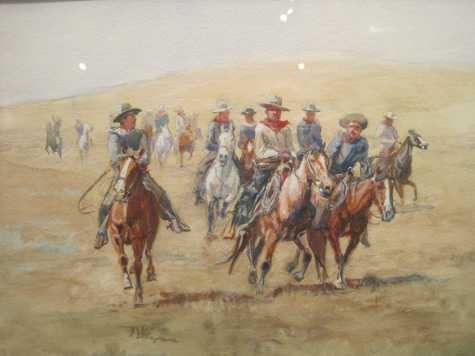 Even if you don't know who Russell was, you may recognize his paintings. His use of certain colors, the action that was so often present in his works, and his tendency to show things from the Indian perspective give his works a distinctive look and feel.
I always get a chuckle out of watching Linda when we get to an art museum. For someone who used to claim she wasn't interested in art, having done other things while I visited art museums, she sure does get into them now. That is due mostly to the wonderful experiences we had in the great art museums of Europe where we both learned to look at art in whole new way.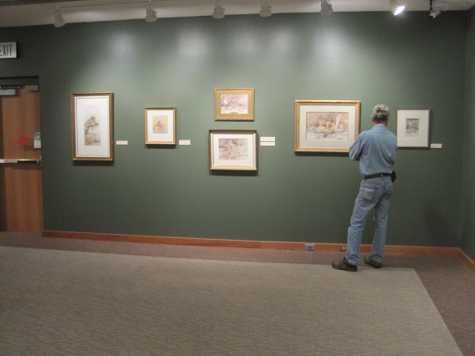 From my pose, you can tell that I am just as much into the wonderful pieces we were being treated to as Linda was. It was great being able to follow Russell's development as an artist from winning a gold medal at the young age of 15 to becoming the world renowned in his later Life. Not only that, he was not only an artist, a sculptor and an illustrator, but he was also an accomplished writer. You could say, creativity was his forte.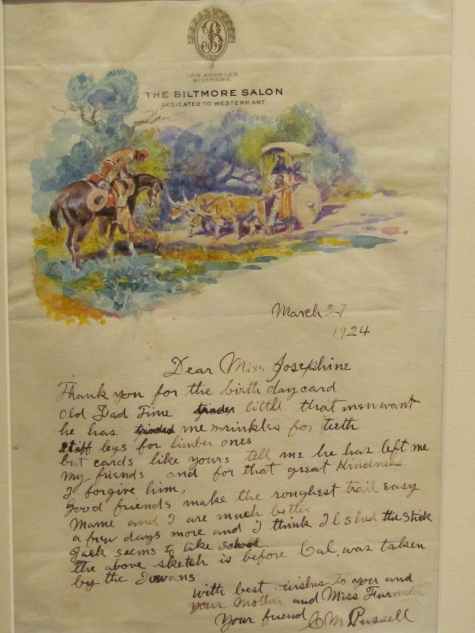 One thing that we both found to be especially intriguing was Russell's letters. Displayed on several walls of the gallery were letters he had written to friends over the years. Russell had left school early to spend time in the West, and his abbreviated formal education in the 3R's was reflected in his early missives. But what really got our attention was his drawings that he used to illustrate those letters, making them more that merely words on paper.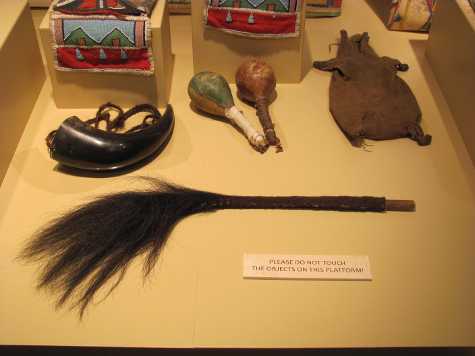 But the museum wasn't just about Russell, it was also about his subjects, whether the animals of the plains or the people of the plains. For the second day in a row I was treated to the early version of the fly swatter. The difference was that today I actually got to try one out. Contained in drawers in this room were replicas of some of the objects displayed, and a buffalo tail fly swatter was one of them. Since we were encouraged to open the drawers and handle there contents, that meant I got to try one of those swatters out, and let me tell you, if you swat your own hand with one of these things it will really sting. My verdict was that they did their job very well. After all, they served the same purpose when they were still attached to the buffalo when it was alive, so why not after the buffalo's demise.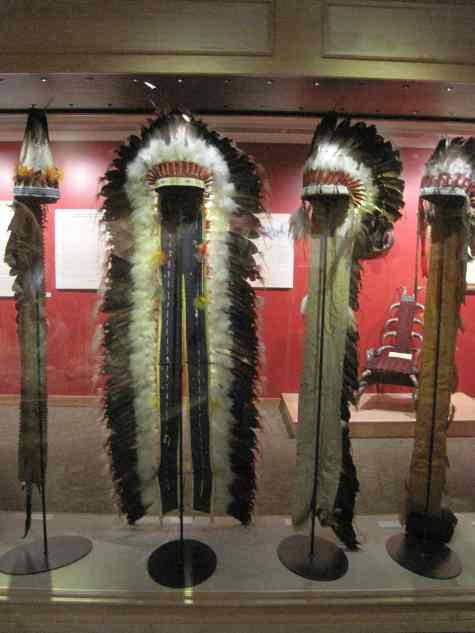 We've seen them in the movies, we've seen them on television, but this was our first time seeing them close up as they really were. TV can't show a chief without his war bonnet, after all everyone expects it. In reality it was quite different, yet the beauty of those head pieces was quite simply a work of art. An up close look reveals how the feathers were strung together and held in place. This was something that had never crossed our minds, but when you get to see the real thing, your mind starts to think in different ways.
I've left out more than I have described about the museum and studio, in fact I haven't even talked about the studio at all. I'll just leave it that if you appreciate the art of the old west, and if you ever get to Great Falls, it is more than worth the price of admission to visit the C. M. Russell Museum, Studio and Home. It also means we will have to return some day during the summer to view the home because it was closed at this time of year. Culture, history, art and one mans love of the west that rapidly disappearing, preserved for future generations to see and enjoy. When "Charlie" rebelled at being sent to military school as a young teenager I'm sure he had no idea of the impact he would have, not only on his own generation, but on generations to come. Just another reason why, if we have dreams, we should do all in our power to Live them.
---
October 9 Saturday
Meandering to Missoula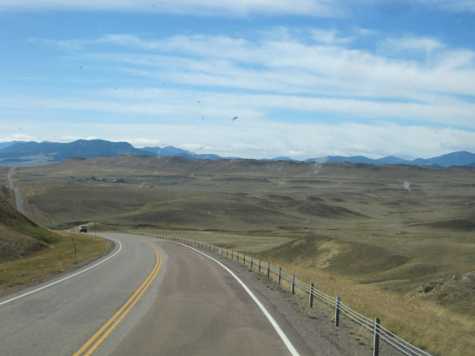 Not much planned for today, just a 170 mile drive over to Missoula where we would be staying at Jim and Mary's RV Park while waiting for our service appointment on Monday morning. One thing about the scenery in this part of Montana, it doesn't vary much at this time of the year. A few vehicles on the road as you travel, plus the endless tan fields and the occasional pronghorn to break the monotony. Though I must admit the pronghorns always pop up when we least expect them, so we never seem to get a photo of them.
I suspect that I could lay out a good scenario as to why Linda never seems to get a photo of them, but what ever I would say would be wrong. That's not because of any lack of camera skills or readiness on her part, it's because those pesky pronghorns never seem to appear at any time other than when her attention is distracted. And that's usually because I've just asked her something she has to look up. Carrying the argument to its logical conclusion, the lack of any pronghorn photos is entirely my fault.
Just to show you what I mean, traveling along at 60 plus, we see a big plastic bull in front of a service station in the distance. As we approach I don't slow in the least, but Linda never the less readies her trusty Canon SD 1200 IS, and places it against the window beside her. As I roar past the fiberglass bovine, she presses the shutter and in an instant the bull, cow, or whatever, is merely a distant memory.
Knowing there is no way she could have captured its image, I still ask, "Did you get it?" knowing full well she didn't. Expecting the usual stream of adult comments, I wait to hear her say something about me not slowing or something along that line. Then it comes, a huge smile, and the words, "Of course I did." All I can think of is, 'Damn, I sure did marry good' and for good measure, 'How'd I ever get so lucky.' It's one thing I'm certainly not complaining about, that's for sure.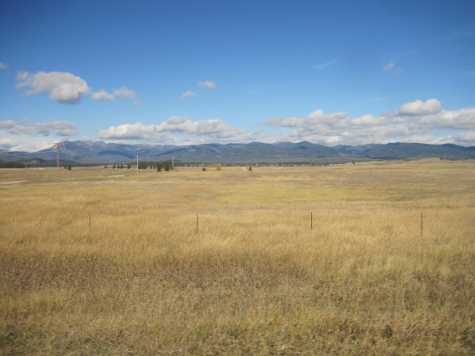 We did pass through the Rockies, crossing the continental divide, and eventually winding through the valley that Missoula is in. Once we arrived at the RV park, Linda had fun looking up the Missoula Ice Dams and the great Missoula Lake floods of some 10,000 plus years ago. She'd sit there staring at the computer, then look over at me saying like, "Can you believe it, at one time we were under thousands of feet of water or ice." When she puts it like that I can believe it.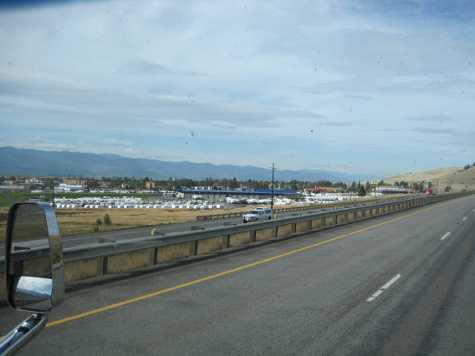 On the way to the RV park we passed by Bretz RV where we plan to get a few things fixed in the coming week. Right now our list consists of the slide being adjusted, the front steps being repaired and getting the windshield replaced. We've got no schedule to meet, and the weather is supposed to remain good for the next 10 days. So if they have to order in parts, or we need to go elsewhere it should prove to be no problem.
We know the insurance will take care of the glass, and the extended service plan will probably help out with the steps. As for the slide, it looks like it is the same adjustment problem as we had some four years ago, and shouldn't be a difficult fix. Now if it turns out to be as we expect we will be happy campers. If it turns out to be otherwise, well that's Life.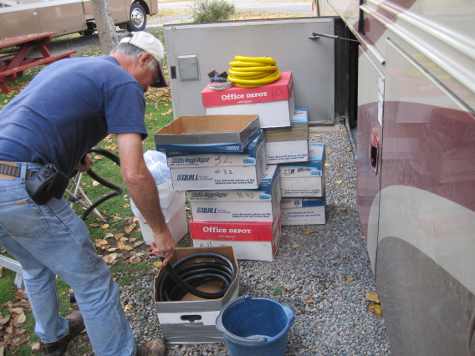 Jim and Mary's turned out to be a neat little park. Lots of trees, no way to use the MotoSat, but it wasn't needed as their wi-fi worked great. Combine that with the cable TV and Linda was a happy young lady. In addition, the weather was near perfect, which meant that doing something outside was in order. While Linda did the online thing, I proceeded to clean out one of the bays.
We've been carrying the dust of Yukon and Alaska with us for months, so today it was time to get rid of some of it. It really wasn't bad, and I only cleaned half of one of the bays, but we were able to rearrange the boxes making things more accessible, which made it more than worthwhile. The boxes really did work, as only the tops had dust while the contents were as clean as could be. We always get a good laugh when we do this job because we will discover some items that we looked and looked for but never found when we needed them. Today was no exception.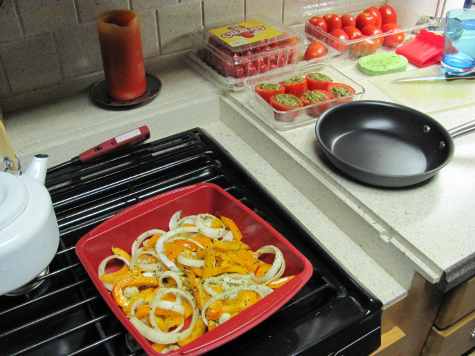 For dinner, I reached back into the past and made rosemary chicken, roasted peppers and onions, plus broiled tomatoes topped with pesto. I must admit that there was absolutely nothing left over when were done, and isn't that the way it often is. We have things we enjoy, then with the passage of time we cook other dishes and the ones we liked seem to fade from memory. Then when we fix them again we wonder why we ever stopped making them.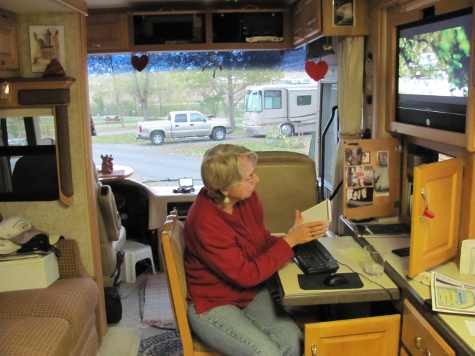 I'll end this post with a view to the front. Not so much for what appears out the window, but for what appears inside the coach. As always, Linda was busy keeping our records and accounts up to date, logging our expenses. She is so good at what she does that I sometimes forget just how much she does. I marvel to think that for all those years I not only took this for granted, I also took her cooking for granted.
Not in the sense that I didn't know it was good, believe me I always was raving about how good her cooking was, rather that I just took it for granted that she would always have a meal ready for us to eat. It was in mid 2005 that I started doing some of the cooking, then a couple of years later that I started doing all the cooking. I'm not bragging about being a great guy, but I am thankful I was able to see what she had always done in a new light. Isn't it amazing how men can be so dumb for so many years? Don't ever say you can't teach an old dog new tricks, though sometimes we are just so blind we don't see the obvious when it's right in front of our noses. Guess the bottom line is this: Ladies, don't give up hope, there's always a chance that lightning will strike.
---
October 10 Sunday
A slow Sunday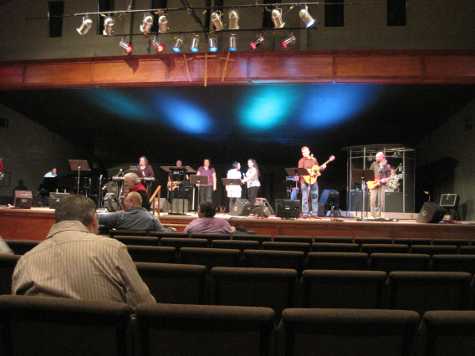 Searching the Internet, we found a church that advertised a contemporary service, so that was our destination this morning. It was an interesting experience, and one that confirms our observation that it is the very rare church that can hold both traditional and contemporary services and have each stand on their own. As we drove home, neither of us could recall much about the message, which led to the decision that if we were still in Missoula next weekend, we would not be going back.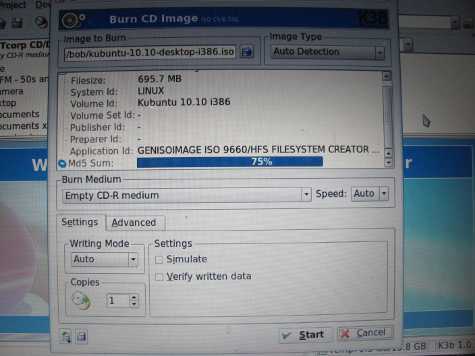 Much of my day was taken up with doing something I haven't done before. Nothing extraordinary, but it was something that was definitely out of the ordinary, that being the installation a new operating system in my computer. Today is 10/10, and the the latest version of Kubuntu is 10.10 Maverick Meerkat, so keeping with the 10.10 theme, it was released today. Usually I wait months after a release to upgrade, but today we have a fast wireless connection, so it made it easy to download the new distro.
Then I was like a kid in a candy factory, and just couldn't keep my hands off of it. By the time evening came it was installed on both my laptop and the eeePC. The best part was that it was running great on both computers. Still have some additional programs to install, and a few personal tweaks to apply, but I was amazed at just how easy it was to do. Just have to toot my horn and say that Linux/Gnu rocks, or at least Kubuntu 10.10 does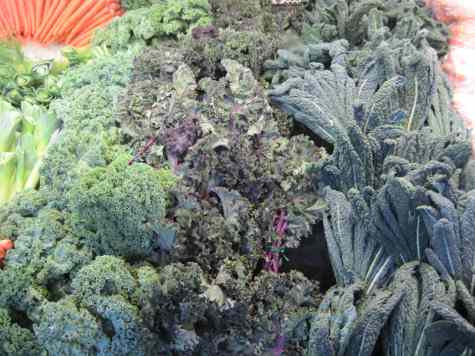 We did make one trip, which was to a market that was about as cool as any we have found in our travels. The Good Food Store, which we learned about from our good friends, John and Judy, is a don't miss place if you like quality food. I couldn't believe how much of the produce was Montana grown, and the selection beat anything we have come across in our travels. Most stores have a few bunches of half wilted kale, here there are three kinds of kale, including one we'd never seen before.
The real problem was limiting what we bought, mostly because we weren't sure just when or how long the coach repairs would take, and whether it would involve an interruption in the use of our refrigerator. We don't think so, but knowing that we would find out that answer tomorrow, we decided we could always come back again, or even several times. Yes, we're sure it will be several times.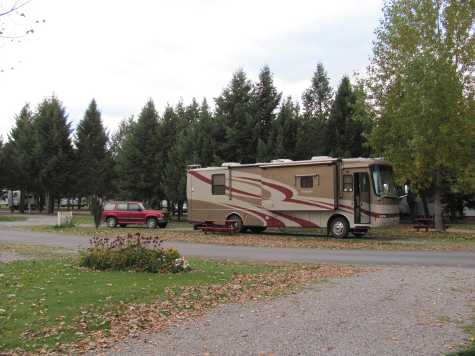 Jim and Mary's RV Park has lived up to itsratings and we are glad that decided to stay here. Be forewarned that if you have Verizon cell service, it's probably not going to work. We did like the great pull-thru sites, and it was far enough from the road that traffic noise was not a problem.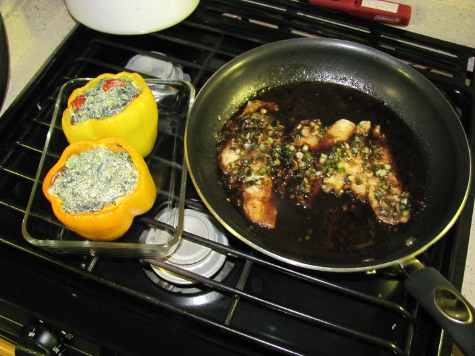 Given that we had been to one of the preeminent purveyors of fine foods in Missoula earlier today, is it any wonder that dinner was fantastically fabulous. Simplicity in balsamic chicken combined with the taste treat of yellow peppers stuffed with a spinach, sour cream, herbed filling, food just doesn't get better than this.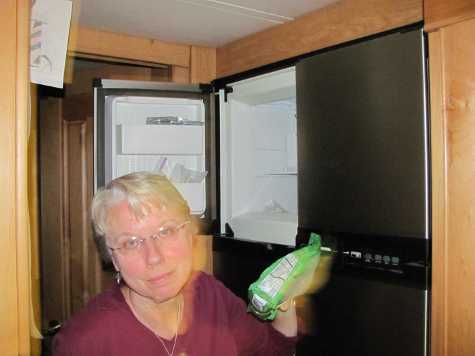 That look says it all. The little woman heard a grinding noise coming from the freezer, which meant the ice maker was iced up and it was time to do a little defrosting. Since I'm the one that takes everything out of the freezer and uses the hair dryer to melt the ice, I'm not sure where the look came from, but obviously I'd done something wrong. Twenty minutes later, everything was back in the freezer, new cubes were being made and all was once again well with smiles all around.
We don't have an appointment time at Bretz RV in the morning, but with them opening at 8:00, we plan to be there shortly thereafter. Broken steps, a cracked windshield and an out of adjustment slide, wonder how the morrow will turn out. We will just have to take the attitude that however it turns out, it sure will make for a good story sometime in the future.
---
---