Journal Archive 10/11 - 10/20 2010
Scroll down to read the latest post
What Did We Do Today?
October 11 Monday
A mellow Monday
The morning we had been waiting for had finally arrived. Of course it didn't go off as expected, but that's to be expected. First off, it was drizzling and while I had told Linda I would disconnect the water last evening, it didn't get done. That meant departure was a little later than planned, but that wasn't the biggest thing.
We'd decided I'd drive the coach and Linda would drive the Explorer since it was such a short distance to Bretz. As I turned to walk back to the coach, I asked, "The exit is Reserve, isn't it?" Her answer was, "It's the first exit." Later, after I'd exited where she said, driven quite a distance on city streets before eventually returning to the exit near the RV park where I'd originally got onto the freeway, then driving once again down the freeway, this time exiting at the second exit which was Reserve, I pulled into Bretz to see her already there.
As she greeted me with a smile and a, "It was the second exit," I could only chuckle. Maybe I'd worked off all my frustration while trying to find the right way to get here. Or maybe I just remembered telling her that I didn't need the GPS.
It didn't take long to get the work order written up with Jack, our service writer, and they will check out the steps and the slide and submit an estimate to the insurance company for the windshield. With that done we decided to drive into town and see if we could find a replacement DirecTV dish for the one that I broke the arm off of. No luck, as the place we had picked had a very pretty and personable young lady at the desk who knew absolutely nothing about what we were talking about.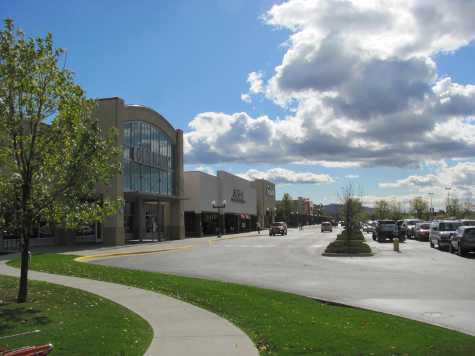 It did give us a chance to do some shopping since right around the corner was a Michael's where Linda got to work off some of her frustrations the day was piling up on her. With a generous portion of those frustrations directly attributable to me, I might add. Nothing like the chance to spend some money to make a girl feel better, so by the time we left, Linda was in great spirits.
Then it was off to Lowe's to look at water filters. Our daughter works for Home Depot, and it is our store of choice, but their selection of water filters is such that we needed to look at Lowe's selection in this case. We found exactly what we wanted, but decided that we'd give the nearby Home Depot a final look before buying at Lowe's After-all, blood is thicker than water.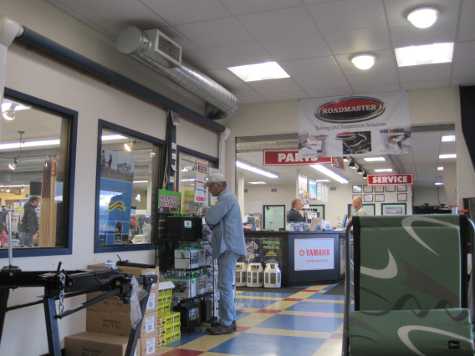 Then it was back to Bretz where there was more shopping. They have a large parts display, and if they don't stock it, they can get it in a day or two, and so we now have the replacement carbon monoxide detector on order. We also saw some other, not needed but nice things that we will probably buy before we leave, as well as some great prices that we can't turn down on several other items.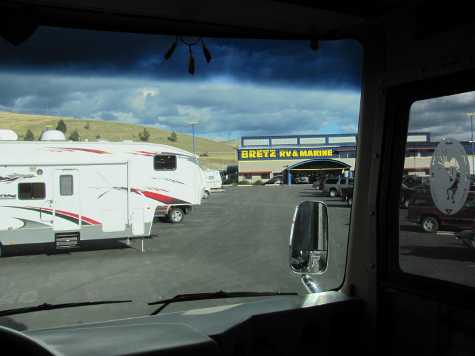 We'd also learned that we wouldn't have needed to have stayed at Jim and Mary's the last two nights, but could have parked in one of the service spots here with water and electric. As far as the coach went, the steps were not repairable, but would be replaced under our extended service warranty. The windshield was awaiting approval by the insurance company and the slide had been adjusted. They were looking at the end of the week for the steps to arrive, and then there was the windshield, so it looked like we would be here for a week or so.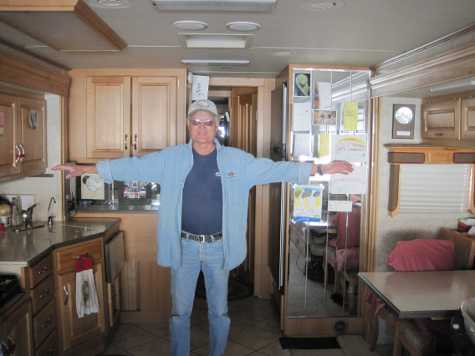 One of the first things we did was to open the slide and enjoy the room it gives us. We've gotten so used to the one slide-out that it was like a whole new coach. Then we had to laugh because all it is only open space, still, we have our house back again.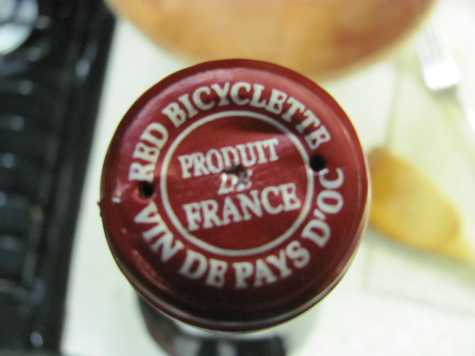 That's not the greatest wine by far, but the words, vin du pays, are filled with wonderful memories, so we opened it to celebrate the fact we are at the cusp of heading south for the winter. After the start we got this morning, it was good to end the day on a pleasant note. Plus with the weather forecast calling for sunny skies and warm weather, it look like our stay in Missoula will also be on a pleasant note. Life is good.
---
October 12 Tuesday
Getting a few things done
We were in no hurry to get going this morning, wanting to give Jack a chance to learn about the windshield approval. We also had the time to think about the proposed repair to the slide floor and decided to have it done. My concern was that the adjustment had not fixed the problem with the slide, only masked it, and the repair of the floor would only fix damage and not correct the cause.
After some discussion with the tech, it was decided that the problem extended back into the floor of the coach and that would also have to be repaired. Big bucks, but it looks like the problem will be fixed and not just the symptoms. It's going to be at least a week before the needed material for the bottom of the slide-out arrives, so it will give us the opportunity to do some sightseeing around Missoula.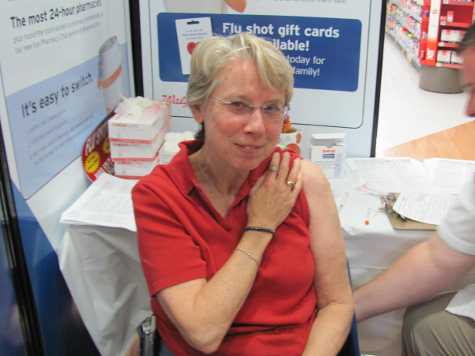 Now with the repairs in waiting mode, Linda determined that our first order of business would be getting our flu shots. So we drove all the way down to Safeway, only to learn that they weren't giving them now, but would be later in the afternoon. When driving down to Safeway Linda saw a sign concerning flu shots at Walgreens, but the little lady had also been on the Internet and had determined WalMart was giving them.
We drove back up to WalMart only to learn that they had no idea about there being flu shots available. Let's just say that I was very proud of Linda and the control over her emotions that she displayed. It didn't help that on the way out of WalMart we passed a sign that indicated they would be giving flu shots tomorrow.
Back on the street I didn't know whether to mention Walgreens or not. Turned out that she was thinking the same thing, and we got a laugh out of the situation. Joking that the third time is a charm, we pulled in, and after a wait, we found ourselves with sleeves rolled up, facing that huge pipe they call a, no pain, needle.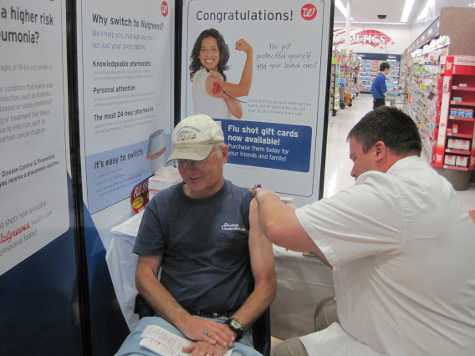 It wasn't as bad as I remembered it. Linda claiming I make a mountain out of a molehill, and that statement was made between her many giggles. But I'm sure that the only reason I didn't feel that monstrosity puncture my arm was because I must have blanked out for a moment. Linda thinks I'm a wuss, I prefer to look at it as being in close touch with my inner feelings and when they are touched, I hurt. Hey, at least it makes for a good story.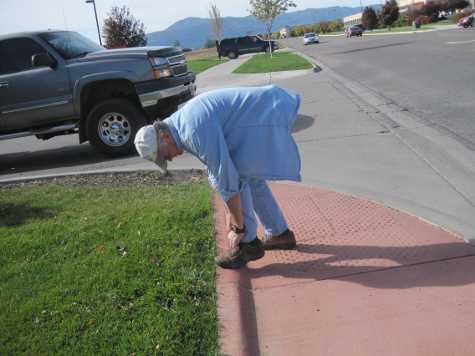 Had to put this photo up. How many times have I taken photos of Linda taking rocks out of her shoe, so turn about is fair play.
For all her problems with the flu shots, that's one happy young lady, and the reason is because of another thing we did that didn't quite work out as planned. We had our mail forwarded to Milltown, a small town just a few miles east of Missoula, wanting avoid the big city, lost in the system problems we'd experienced in the past. Linda will never forget Alamogordo, New Mexico, which was the worst run Post Office we have ever encountered.
Milltown appears to be a mere shadow of what it once was since the mill no longer seems to be operating. When we arrived at the post office, the metal partition to the sales area was closed. Then we noticed a sign on the door indicting the hour it was closed for lunch. We had timed it perfectly, but that gave us the opportunity to look around town.
We returned, waited for the postmistress to open back up, and chatted with her as she got our packages. When we'd asked for two general delivery packages she knew exactly who we were, and where they were. The joys of the small post office. Linda's joy was opening the mail, and that smile speaks volumes.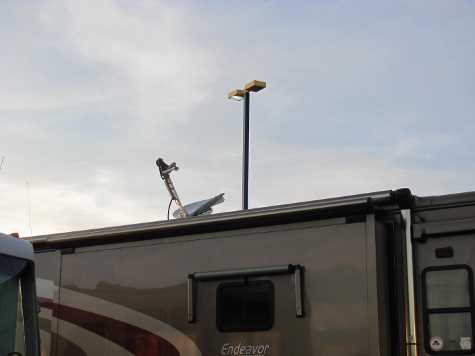 The day couldn't end without one more problem, which was that the MotoSat was acting up. Not exactly on its own since we had tried to get the satellite switched back over to 89W without luck, and now it appeared that had upset the controller to the point it was pointing everywhere but where it should. We finally managed to get on-line, plus I also set up the tripod for the DirecTV, so despite what went on between morning and evening, the day ended on a high note. Once again it proved our motto: Life is not a dress rehearsal, Don't be afraid to laugh, love and retire early.
---
October 13 Wednesday
Workday Wednesday
The curse of the confused controller was back with a vengeance this morning and before long we were both in full fledged electronic technician mode. The D3 controller, which might be called the brains of the MotoSat, was a definite busybody, and that was not a good thing. Lights flashing when they shouldn't were a symptom of what was wrong. At the same time the DW7000 which is the communicator between us and the Internet through the satellite, was going off line whenever the D3 acted up.
Then in the middle of all this, Linda discovered she couldn't print. The printer to computer connection is via wifi so that meant we had just about everything that could go wrong, going wrong. We got the printer to print by connecting her computer to the printer with a USB cable, but that didn't solve the other problems.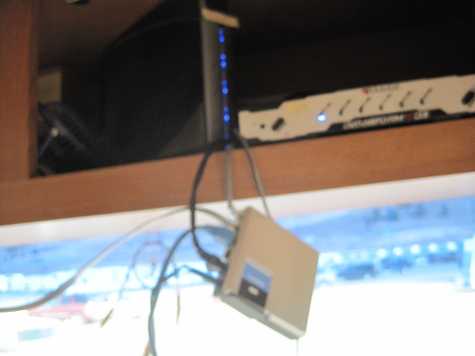 A blurry photo of our Linksys wireless router shows cables going in every direction. Solving these problems turned out to be harder than we thought it would, mainly because it turned out we had more than one problem going on at the same time.
Backing up to yesterday, when we couldn't get a transmit signal with 89W, the MotoSat technician suggested we download the latest D3 firmware and the current satellite tables, then install them. This we had done, which didn't help us get on the satellite, but seemed to be the precursor of the blinking light problem that occurred later.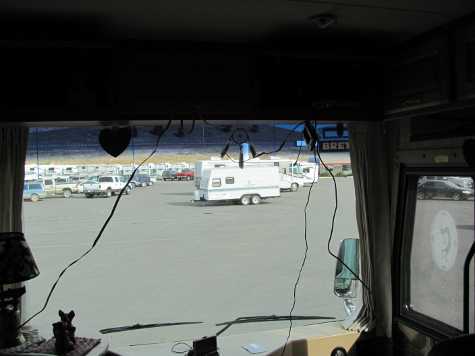 What we wanted to do today was to reinstall the firmware and satellite tables, but now neither of our computers could see the Linksys router. That lead to the process of elimination method of fixing the problem. We had the software on the computer, but we didn't have a WI-fi network to communicate with the different parts.
The first step was to try to direct wire the current Linksys router to our computers using cat 5 cables. That's when we got our first surprise. We knew they were connected correctly, since we'd done this before, but there was still no network. That meant our Linksys router had completely died, as in dead as a doornail. We still had our old Linksys router, the one the wireless component had stopped working, at least unless you pressed on its top, which was why we had bought the one we were now using. Or maybe I should say trying to use since it was now belly up.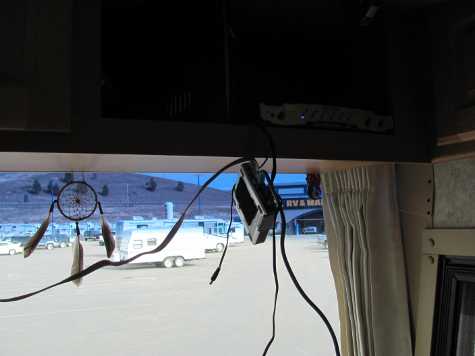 When we connected the computers to the old router with the cables, we had our network back. That confirmed the fact it had been a wireless router problem as far as some of the communications had been concerned. Now with everything wired up, we once again checked the operation of the D3 and DW7000. The result was the same problem, blinking lights and intermittent connections with the satellite.
Time to reinstall the the firmware and satellite tables. Yesterday we had tried to do this with a cat 5 cable, as you can not do it with the wireless network, but it hadn't worked. Now we knew the problem had been the fact the Linksys router was going bad at that time, talk about co-incidences.
Today we used a twisted pair cable direct connection. We also decided to follow the DataStorm Users guide to update the firmware and tables rather than the instructions we had printed off the MotoSat website. What a difference, everything happened exactly as it was supposed to and the installations resulted in the system now working exactly as it was supposed to work. A case of users knowing more than the manufacturer, or at least not leaving out any of the steps.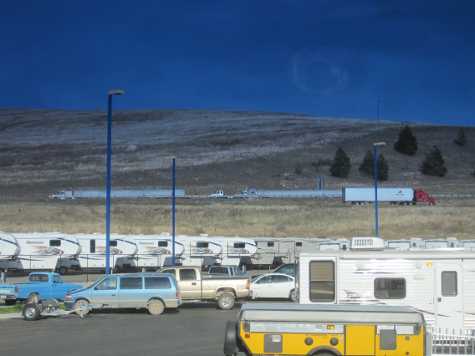 Once the system was up and running, we researched wireless routers, checked the inventory at the WalMart, and drove down to buy a Cisco Linksys E1000 which looked like it would do the job we needed it to do. So far it is working like a charm. I'm not sure what our plan for the day had been when we got up this morning, but it still tuned out to be a good day. I marvel at the fact we were able to work through the two problems occurring at the same time, allowing us to return the system to proper operation.
Looking out the window we see the world going by. Sometimes we get so caught up in the little things that we never stop to appreciate the big picture. And sometimes, when things come together in unexpected ways, we have to break the little things down into even smaller segments. It's amazing what we accomplish when we put our mind to it.
---
October 14 Thursday
Lazy day today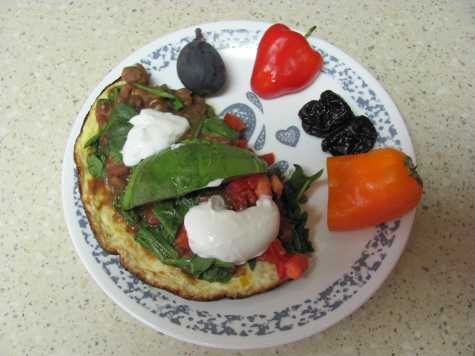 One thing we have no problems with is breakfast. There has been one addition to the normal, normal, and that is sweet peppers. They may have always been in the stores, but this was the first time we had noticed them. In our other life we would grow different varieties of peppers in our garden. They certainly were not the bell peppers that are in the stores, but even then, they weren't as good as these peppers.
The other addition is a fresh fig. We had a couple of fig trees at our house, but they were the most anemic producers of figs known to man. Still, if you've ever had figs directly off the tree, you know how one can develop a liking for fresh figs. Add it all together and it totals up to a smaller lunch than we usually eat.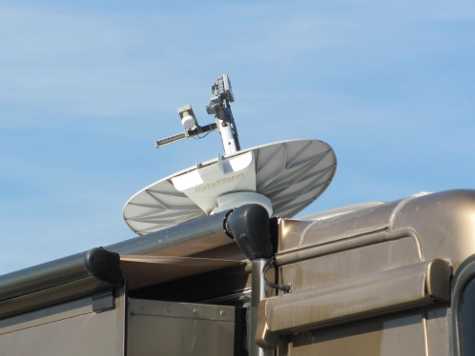 With our success yesterday getting the wireless router replaced and the firmware and satellite tables installed we decided to give the switch over to the 89W satellite one more try. After going through all kinds of gyrations and tests, it finally found the satellite. Unfortunately it was only in terms of receiver lock, not transmitter lock.
Another call to MotoSat, and we decided that until we move to different location, 127 is our satellite. It may be that we are in a hole as far as reception is concerned and 89W just isn't going to come in no matter what we do. The only way to find out is move to some distant location and try again. Once the steps, windshield and slide are fixed, that's exactly what we are planning on doing.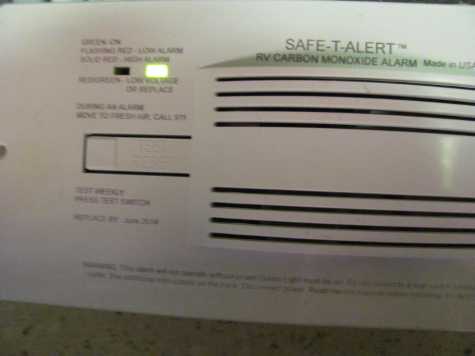 The carbon monoxide detector we ordered on Monday arrived today, which meant I had a job to do. It was exactly the same as the old one, so the installation was a breeze. The only problem was the actual electrical connection. I lucked out and got the right colored wires hooked up to the right colored wires. It was one of those guy things, don't the read the installation instructions until after you install it. My reward was the fact the test resulted in exactly the right color of lights and sounds. I looked at it as proof that I intuitively knew what I was doing, Linda thought it was dumb luck.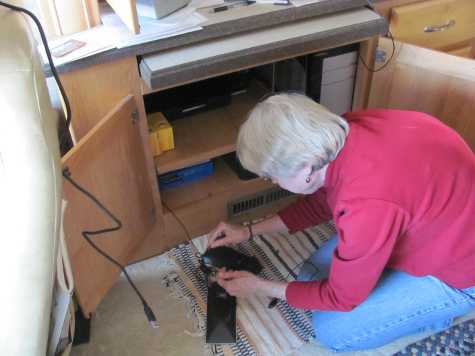 No, Linda is not having more problems with her computer or printer, she's in cleaning mode. We keep talking about installing a pullout tray for the printer, but that's all it ever is. But again today, Linda said it was no problem taking it out by hand because she has to do it so infrequently. Just because she's young and limber doesn't mean that she's always going to be like this.
Right now we are in waiting mode and also doing our final research into our domicile change. As far as next week or the week after is concerned, we will be heading to either South Dakota and then Texas, or directly to Texas. Life is good.
---
>
October 15 Friday
Linda's day today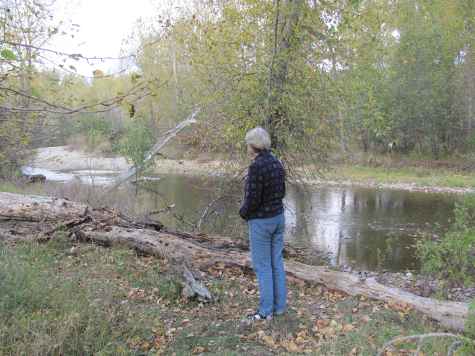 We are in Lewis and Clark Country, meaning we are also in Linda country. To walk around here is to walk in the tracks of the Corps of Discovery. But, and it is big but, although they spent some two years crossing and recrossing the continent, there is only one place where actual evidence of their journey had been found.
That was Travelers' Rest State Park in Montana, and Linda had decreed it would be our destination for the day. Located about ten miles south of Missoula, it didn't take us long to make the drive, but once there it took a long time to return to the present. I could only watch in amazement as Linda stood alongside the stream that had seen Sacajawea, Pomp, and the rest of the Corps walking, talking and working in this same place. I could visualize Sacajawea standing in this very spot, looking to the west where she had been born. Two women, living several centuries apart, yet joined as one together.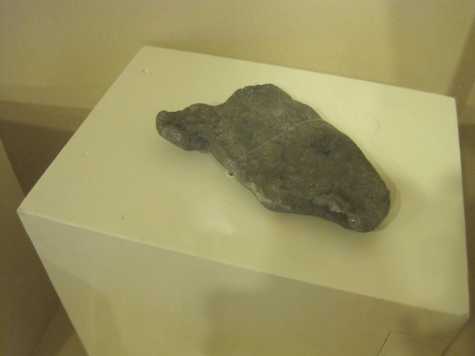 A lump of metal in a museum. Not just any metal however, metal that dates from the time of the expedition and metal that came from the mine that supplied the US military at the time of the expedition. This was as good as it gets for Linda, and I left her to her own world.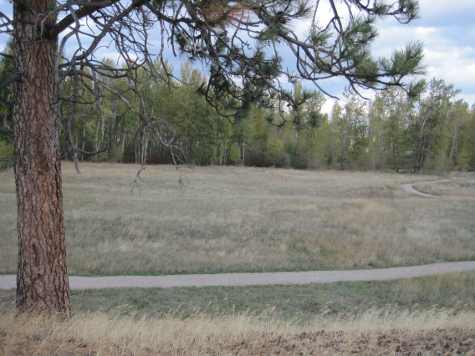 There is a loop trail that goes past the site of the actual encampment, a site where they stayed on both the westward and eastward journey's. A side path leads up to a small bluff, and area that offered a small measure of protection to the camp. From up here we could look out over the camp area. Closing our eyes we could see the members of the Corps going about their daily tasks. It reinforced or desire to retrace the entire route of the expedition some day in the future.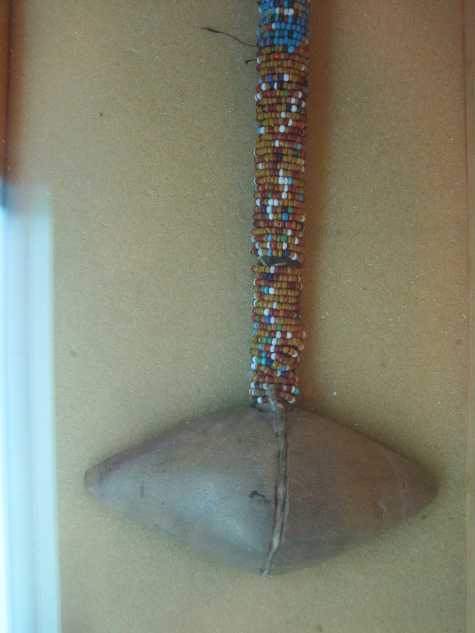 There is a small museum at the site which has a number of interesting displays besides the few artifacts from the expedition. Linda was particularly intrigued by this highly decorated war club. A stone head, wooded handle bound with rawhide to the head, then decorated with bright beads. We could only wonder at what it had seen and experienced. Not just something displayed in a museum, but rather a story waiting to be told, yet forever silent. Such is history at times.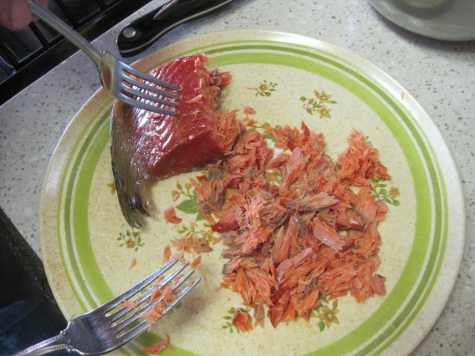 We had been exposed to the glorious taste of smoked salmon and cream cheese on the Discovery Riverboat cruise in Fairbanks, so how better to end a day where we delved into the Corps of Discovery than by making batch of that delectable spread. Genuine Montana Smoked Salmon mixed with reduced fat cream cheese, what could be better. I won't concede the Montana Salmon to Alaska Salmon, but I will concede that full fat Philadelphia Brand Cream Cheese would probably taste better. Health won out over taste and we used the reduced fat cheese.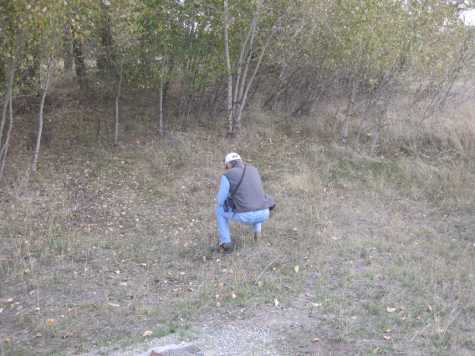 I'll leave you with my close observation, at Linda's request, of what is near the latrine area of the camp. Sure, we are marooned in Missoula so to speak, but by opening our eyes and minds we are finding those special things that every place has that turns the ordinary into the extraordinary. Life, meant to be lived.
---
October 16 Saturday
Around the UM campus
Since it was the weekend, and there was no home football game today, we decided to spend some time exploring the campus of the University of Montana. Many of the buildings are quite old, and while they were closed, it was still an interesting experience walking around the campus.
As always I was overwhelmed with the thought of what might have been. My childhood desire of being a history teacher or professor having been cast aside during my college days because I listened to the people that told me that wasn't the way to be successful, especially from a financial standpoint. Looking back I wonder if the financial success I attained was worth the loss of that love of history, something that makes visiting college campuses especially difficult at times.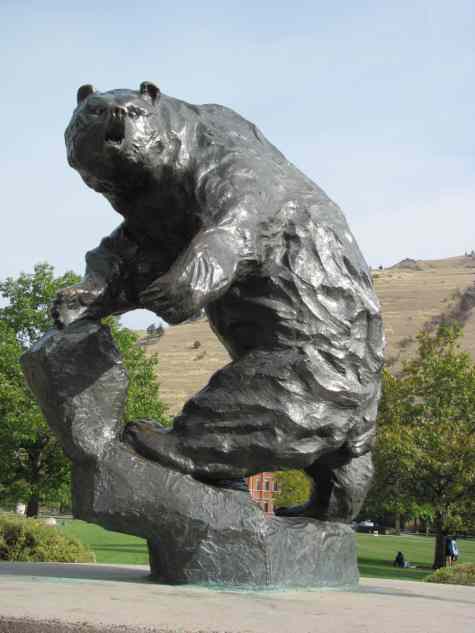 Everywhere in town you see things "Griz", due, I would suspect, to the nickname of the University's sports teams. Two national championships in football, plus other successes, both in sports and academics are trumpeted loudly. Near the center of the campus is the Oval, and at one entrance is the Grizzly statue that proclaims to one and all that this is a bear to be feared.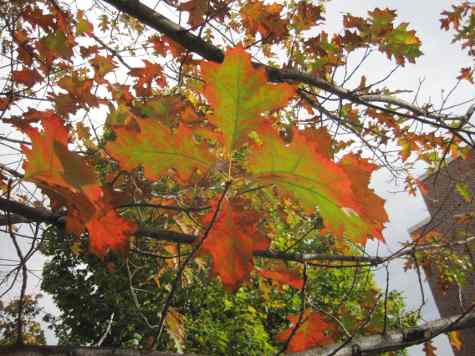 While I was enjoying architecture and art, Linda was enjoying nature. The leaves are turning, which means that Linda's camera is busier than ever.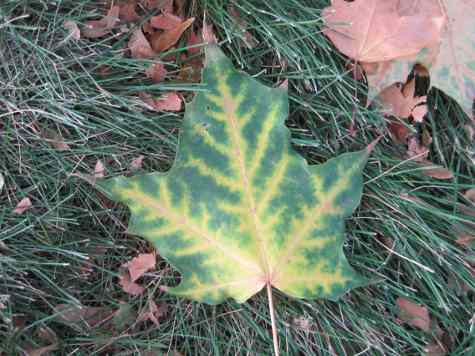 Turn that woman loose and she points her camera everywhere there is a leaf or flower. Given the time of the year and the latitude we are at, fall leaves are far more prevalent than flowers.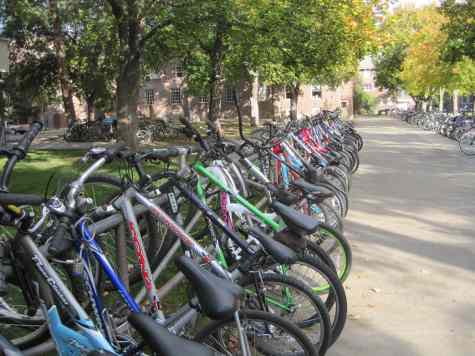 No sooner do I use the word, latitude, than I look at more of her photos and and see the breadth of latitude she covers in her search for photo subjects. Bikes were everywhere around the campus, but I didn't really see them until I saw this photo she had taken. If you get the idea I am proud of her and what she does, you're right, and not just because it was the best thing that ever happened to me when I met her on that blind date nearly forty-five years ago.
Over the years we've posted many views from the front, but almost without exception they have been daytime photos. Here is what our current view from the front looks at night. Some people live their entire life with the same view out the front. Fulltimers live their lives with the view ever changing. Some people live life as if it were a dress rehearsal, other people live Life to its fullest. The choice is ours.
---
October 17 Sunday
Around town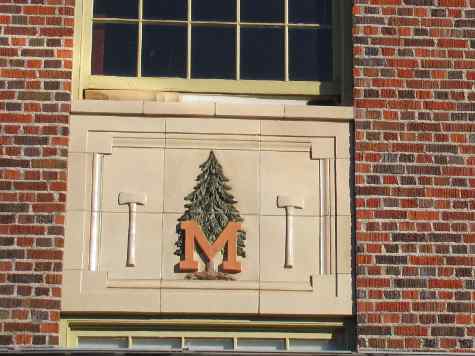 After our experience in church last Sunday, we decided to assume the role of former communicants today, and return to the campus and the nearby environs of the town, instead of going to church. That path eventually led us to the Forestry Building and these wonderful architectural details.
Somehow the steel and glass monstrosities that pass as todays architecture lack the something special that these old buildings exude. I don't have a photo, but the brand new Native American Studies building on campus is, to me, a prime example of what I'm talking about, as it seems to have "the something special" missing from it. Maybe the inside is a wow, but the outside is a blah. Just telling it like I see it, but as long as the Payne family who donated the money for the building, thinks it got its money's worth, I guess it's okay.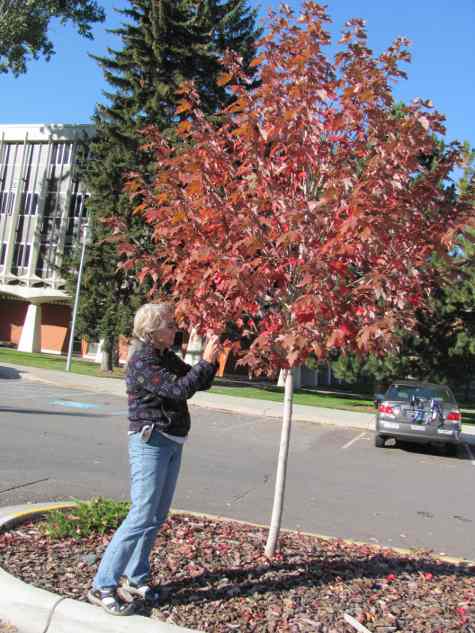 While I was into buildings, both awesome and otherwise, Linda was off doing her own thing, and to think, this was taking place right in front of the Forestry building. The one of the awesome architectural details. It just goes to prove that what floats one persons boat may be fine wine to another.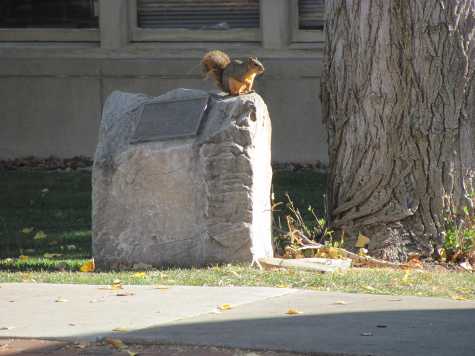 One for both of us. Linda gets her photo of the squirrel on the rock, and I get a touch of something I enjoy, the nearby tree. Don't know if you've ever heard of Dorothy Johnson, but maybe you've heard of "The Hanging Tree", or "A Man Called Horse", or "The Man Who Shot Liberty Valance". If so, you've read a story, or seen a movie based on the story written by this lady. The tree was a memorial to Johnson, who besides being a famous author, and quite possibly the best western short story writer of all time, was also a UM graduate and a onetime member of the faculty.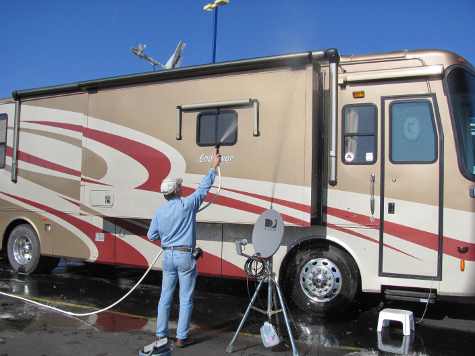 Once we were back home, Linda did a great Tom Sawyer imitation and I soon found myself washing the coach.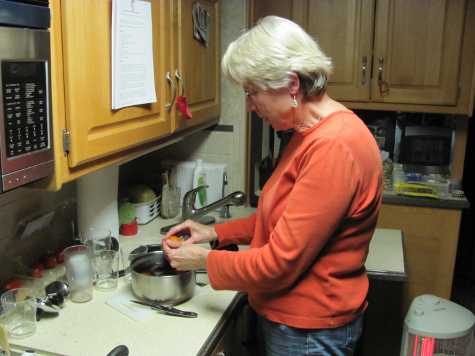 I must have done a good job because when I came back inside, Linda was busy fixing one of our favorite foods, fresh beets. For a change we had bought some golden beets at the Good Food Store, and that was what she was busy peeling after they had been cooked. Now I wonder if that wasn't a sneaky way of getting me to consider washing the coach the next time, also. Sort of like training a dog. The do what I want and I'll give you a treat training method. She wouldn't do that to me, would she?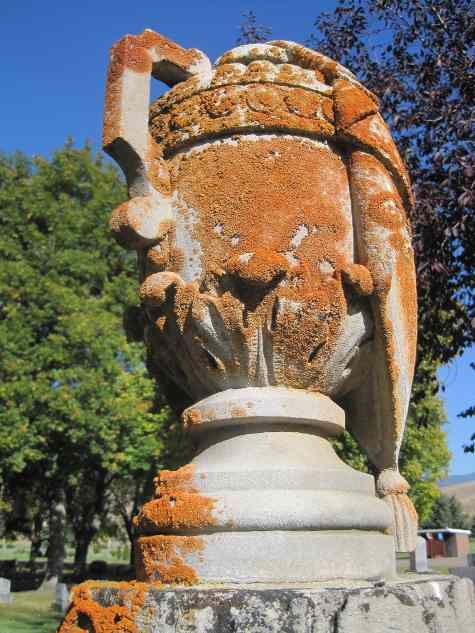 One other stop we made was at the Missoula Cemetery, a place where we could pay our respects to an old childhood friend. Saturday mornings when we both grew up always included watching the Songbird and it's pilot, Sky King. Kirby Grant who played Sky is buried in this cemetery, so it was more than just seeing old lichen covered monuments, it was a chance to go back into the past. I know many people say you must live for the present, but without the past, what would the present be?
---
October 18 Monday
Waiting game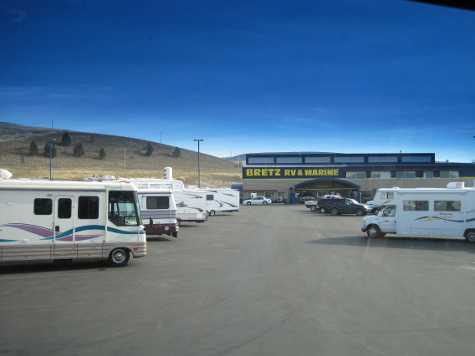 Still waiting, but hopefully we will get everything repaired this week, and be on our way. We aren't the only ones wanting something done as the view from the front shows. Everyday there is a steady stream of RVs moving in and out of the spaces in front of us. Cold weather is rapidly approaching, so right now the big thing is winterizations rather than repairs.
The vast majority of RVs are travel trailers, followed by 5th wheels and class C's. There are very few class A's, and it appears most of them are in for repairs rather than winterization, though it may be both in some cases. Where we are staying is called the overnight line, and today they are winterizing it also, or at least they are shutting off the water to the sites, so yesterday we made sure our fresh water tank was full.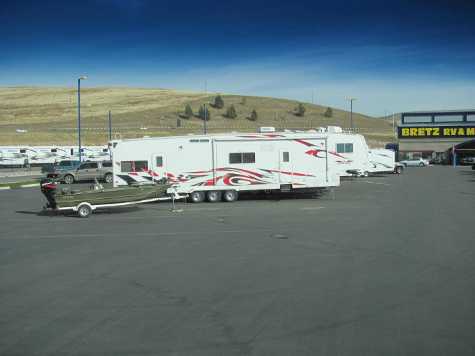 Sometimes we get a chuckle over what we see out the window. Take this small boat and monster toyhauler, each just as important to their owner as the other is to theirs.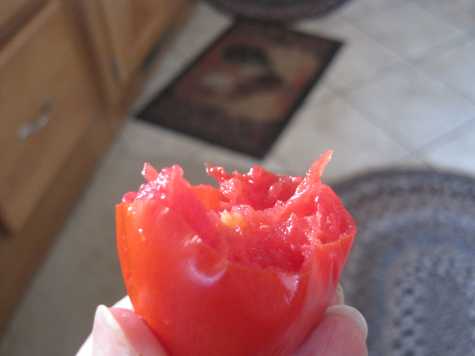 Not everyone would post a photo of a tomato with a bite taken out of it. Well, Linda would but that's a story for another time. Anyway, remember those two tomatoes that somehow found there way into Linda's hand during our walk in Fort Benton a week or so ago? Today one of them found its way into her stomach, and the process was not only lengthy, it was accompanied by much lip smacking and a lot of yummy sounds. The way to that woman's heart isn't with flowers, candy or diamonds, it's with tomatoes. Gotta hand it to those honest to gosh country girls, they know what's really important in Life.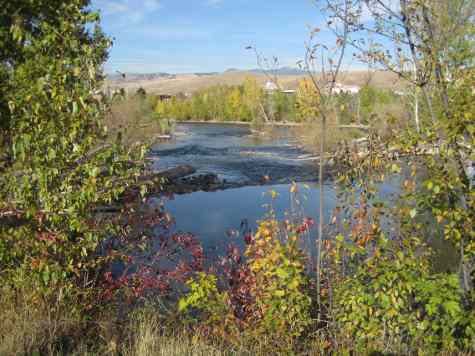 The longer we are here, the more things we discover about the town. Today we spent several hours walking along the river trail that parallels the Clark Fork River that divides Missoula in two. At times it seems as if you are out in the country and not in the heart of the city. And a nice additional touch is the numerous signs they have along the trial relating to history or the environment which helps break up the walk.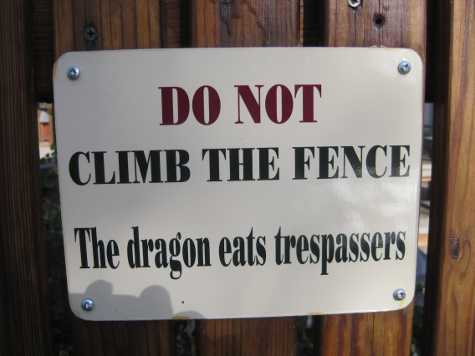 Speaking of signs, here's one that the little girl in the family got a good laugh over. They have a children's playground area alongside the river which is enclosed by a wooden fence, and spaced along the fence are these signs. The dragon refers to the dragon motif that is featured on the structures in the playground. The more time we spend in Missoula, the more we realize this is a city where its politicians seem to use its tax dollars and other funds in a worthwhile manner rather than just spending money to buy votes.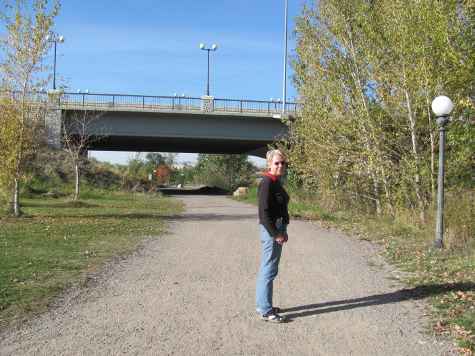 No, it's not the scary dragon the kids are supposed to be afraid of, it's just Linda giving me the, 'We've walked long enough!', look. Another great day, some wonderful weather, some time to relax, some time to explore and the opportunity to enjoy some fine food. What more could we ask of Life.
---
October 19 Tuesday
Fort Missoula today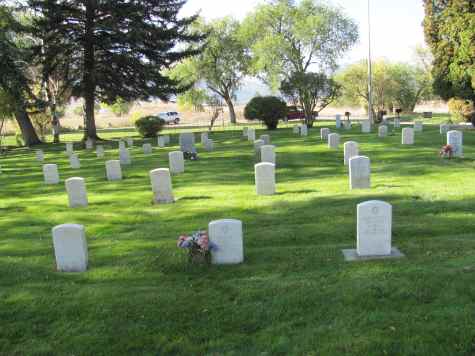 As of now the schedule calls for the work to be done on the coach starting Thursday. Day one will be the steps and windshield, the following two days will be the days the slide work will be done. With it looking like our time in Missoula is rapidly coming to an end, we decided to drive down to the Fort Missoula historical site.
Our first stop was at the old post cemetery, a place which gave us a glimpse into the past. While not large, it does contain the graves of two recipients of the Medal of Honor, and at the back of the cemetery are the graves of the dependents of the soldiers stationed at the fort. The number of children and infants buried here offers mute testimony to just how hard life on the frontier was.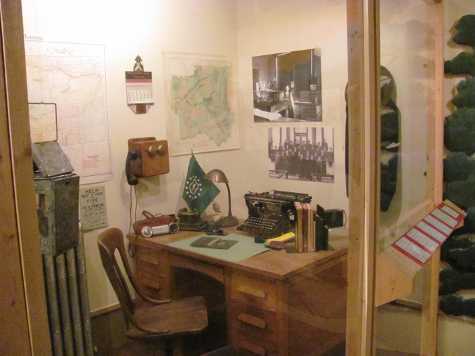 The Historical Museum features displays on the great forest fire of 1910 as well as the history of the fort and the area. It was amazing that we had never heard of the "Big burn", or "Big Blowup" as it is called, especially since it was the biggest recorded fire in US history. Three million acres burned in just two days with entire towns destroyed and some 87 lives lost, and all presented in a very compelling way that draws you into both the horror and the heroics of the moment.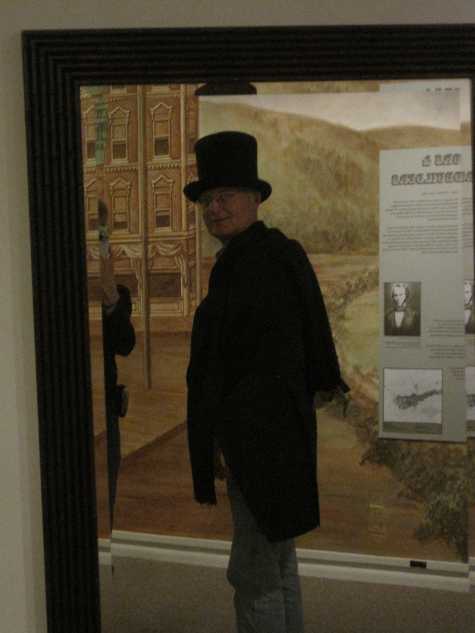 The other side of the museum had the more tradition displays, including a box of clothes that you could put on and pretend to be something from the past. For once it was I who did the role playing bit instead of Linda. Here's my best approximation of Honest Abe, albeit perhaps only the hat makes it look anything close to the real thing.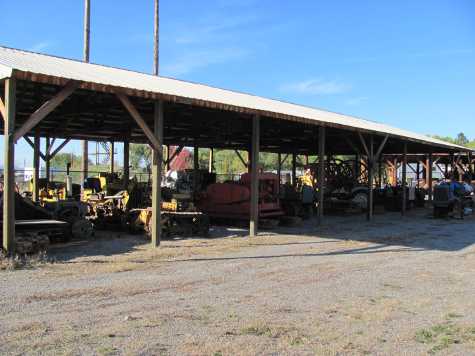 The museum, while located on the fort grounds, is not really about the the fort as much as it is about the history of the area. There are many outside displays, some are buildings which have been relocated here, and some are more mechanical. I found this display of old logging and timber equipment to be not only well done, but quite fascinating.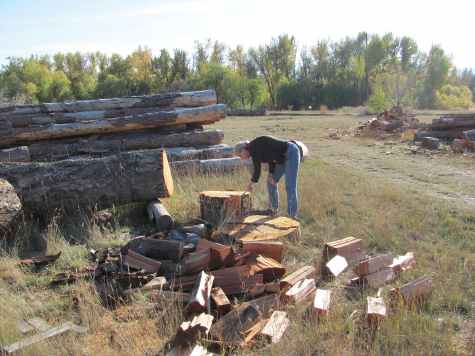 I made a remark to Linda about one of the old Caterpillar tractors, and when she didn't answer, I noticed she was gone. It took a little searching, but I eventually found her over by the wood pile, doing her own thing. We ended up spending several hours looking at the old buildings, then decided that we weren't going to be able to see everything the way we wanted to in just one day, so we will be back again in a few days.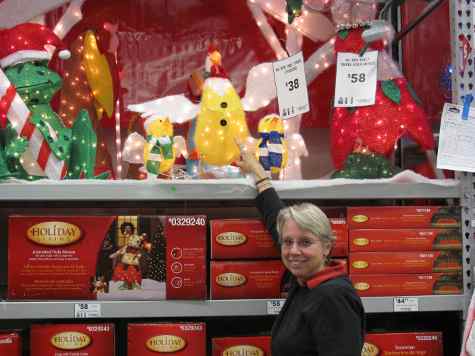 Then we made a couple of stops on the way back, one of which had something that sure caught Linda's eye. She surprised me when she didn't want to buy this lighted chicken Christmas display. I thought it was just the thing to give the coach a festive look during the season. She thought it would take up to much room to store it. Sometimes we just have to be impractical, but I guess this wasn't one of those times.
---
October 20 Wednesday
Not much going on
Up late last night, up late this morning, not what I like since I'm the early to bed, early to rise type, but sometimes, things just are, as Linda is prone to saying. We did have one thing in mind and that was to go shopping at the Ace Hardware just east of downtown. With the Ace Gift Cards we get, it makes shopping at Ace "free", and how can we turn down that deal.
Unfortunately we didn't pile up too many rewards this summer on that credit card since we mostly used another card during our trip. Still, we have "money to burn", and today was the day to work on that little problem. Actually we got smart and that is why we are doing it.
We started thinking about the water filter we needed for the ice maker, and why buy it at Lowe's if Ace had one that will work just the same, after all, it would be "free". Sure enough, they had exactly what we were looking for, priced quite competitively with Lowe's, and so after doing so more buying than we intended, we not only had the filter, but some other "needed" things as well.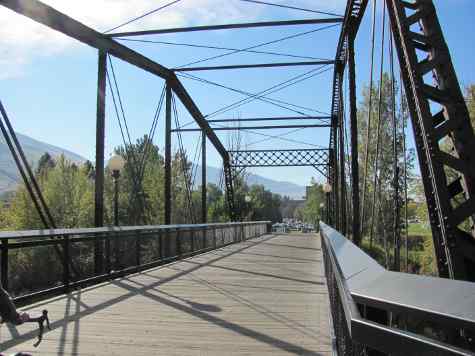 When we were pulling into the parking lot at the shopping area the Ace is located in, we noticed all the signs prohibiting parking by anyone other than customers of the stores. We've seen these type of signs before but not quite as emphatically posted. A little walk after coming out of the store made the reason the signs a lot more clear. Right beside the parking area, and at the back of the stores, is an old bridge. Now converted into a pedestrian only bridge, it provides a direct connection to the university area. Now we knew why the non-metered on street parking spots were always full, and the reasoning behind the signs in the parking lot.
The rest of the day was taken up with getting things ready for tomorrow when we have to move out of the coach for several nights while they work on it. As always Linda has us organized to the point that all I have to do pack my razor and deodorant, then carry the bags out to Explorer. I stand corrected. She has herself organized to the point of only needing to pack her antiperspirant. As for me, if all I pack is my deodorant and razor, I'm not going to have any clothes to wear. How far we've come from the days when "A woman's place was in the home" and everything at home was taken care of by the little woman of the house.
---
---