Journal Archive 3/01 - 3/10 2011
Scroll down to read the latest post
Mar 1 Tuesday
Making curtains daily, aka MCD
Today was the day our MCD shades were to be manufactured, though we didn't expect for the installation to begin until Wednesday. With that in mind we drove into Mckinney this morning to look around. Mckinney was rated No. 5 on Money Magazine's 2010 list of America's Best Small Cities, and we enjoyed walking around the historic downtown area. With too much traffic and a serious lack of nearby parking spots, though they do have a number of large lots a few or more blocks a way, we were a bit skeptical as to just how these cities were rated.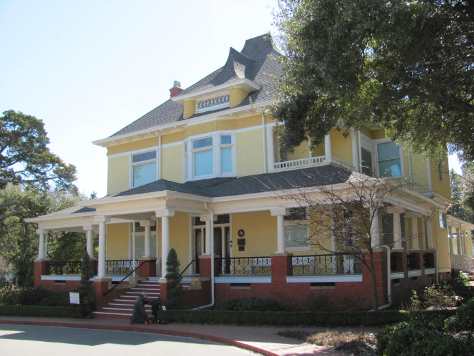 Granted there were some very interesting old houses, many of which were on the National Register of Historic Places, like this one which was now a museum. Still we couldn't help but feel that those Best Places to Live lists, at least in McKinney's instance, had some major outside influences into how they were rated. Of course being only passers by we may have a different perspective as to what makes a place so desirable, but with the traffic backups we encountered outside the old town area, the locals may wish it was never included on that list.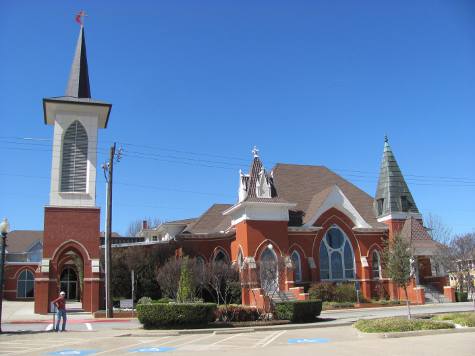 We has a very pleasant surprise when, at noon, we heard the notes of the "Old Rugged Cross" peeling out over the town. That was when we discovered the Methodist Church and its carillion tower. While the carillion was relative recent and the bells were electronic, the sanctuary was over 100 years old and had some of the most magnificent stained glass windows we have seen in a long time.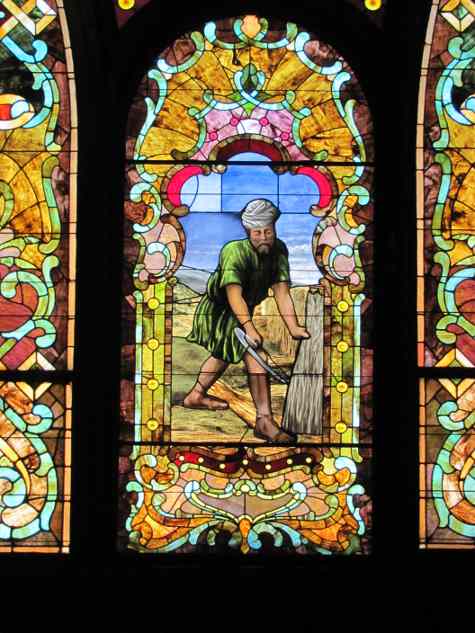 As you might imagine, standing in the darkened sanctuary with the light streaming in through the windows was quite a moving experience. As we left, we noticed the sign welcoming people to the Sunday morning services. Four of which were traditional services held in the sanctuary we had just left, and two contemporary services held in a nearby hall. We thanked Sara for leading us to this place we otherwise would have passed by without stopping.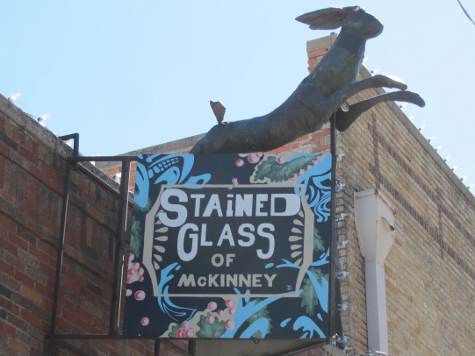 In the unusual category was this jumping rabbit sign, which we both saw just as we rounded a corner. Just having our stained glass needs saited at the church, plus not having a spot for any in the coach, we hopped right on by and quickly noticed that nearly all the stores in this area of town seem to be on the boutiquey more upscale end of the spectrum. Deciding that we didn't exactly fit into the demographic they were looking for, we circled the old square and headed back to the coach for a late lunch.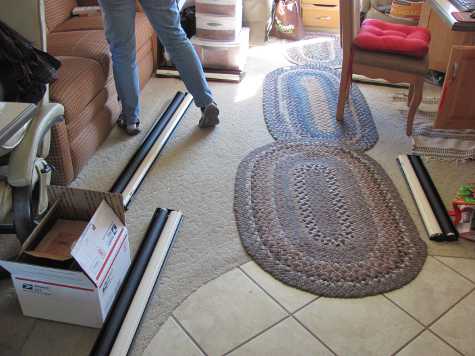 We both did some work on the computer, having the idea that maybe we would venture back out later and a fresh look at old town would change our perception. That all went out the window when we heard a knock on the door just after 3 o'clock and our shades started coming in the door. As the shades were carried in they were placed in front of the window where they were to be installed. Each unit had a screened black day shade and an opaque cream night shade.
Working window by window, they took the current blinds out, installed the new mounting clips, snapped the shade unit into them and moved on. It took between 4 and 8 minutes per window depending on the size of the shade and how easy it was to access where the blind was, such as working over the table, etc.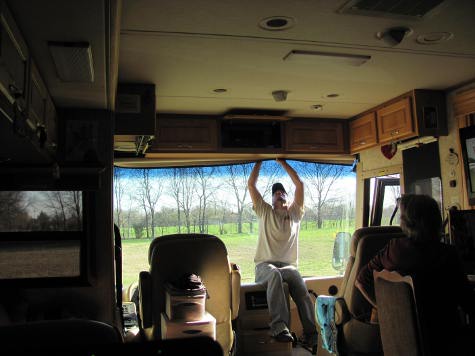 They also installed the two powered shades and temporarily wired them up so they could be lowered for the night. We did notice a wrinkle in the front shade we will talk to them about tomorrow, but other than that, we were quite pleased with how things were going. We ended the evening with Linda raising and lowering shades like a little girl who just got the toy she wanted so badly for Christmas. Today, Life was good.
---
Mar 2 Wednesday
Mad customer definitely, aka MCD
We were told the installer would be back shortly after 8 this morning to complete the installation of our shades. That meant I had to wake the coach grizzly from its nightly hibernation rather than let it rouse when it wanted. Depending on when we went to bed, and how deep a state of hibernation she was in, this could be a gentle shake on my part or a full fanged attack on her part.
Luckily she had obtained her requisite amount of snores for the night and my gentle shake of one of her toes merely resulted in a "Give me two more minutes and I'll be up" response. By the time she was up, then done with putting on her face and other necessary morning tasks, I had her breakfast ready and a cup of coffee waiting for her. What ever happened to that "man is the master of the house" thing, anyway?
The knock on the door came just shortly after eight oclock for the start of what we hoped would be the last day of the installation of the shades. The only things left to do today were the shades in the cockpit area. One thing we really liked about MCD shades was the way they covered the entry screen door with the day shade. But then again, considering the prices you pay for the MCD Shades, it had better be something special.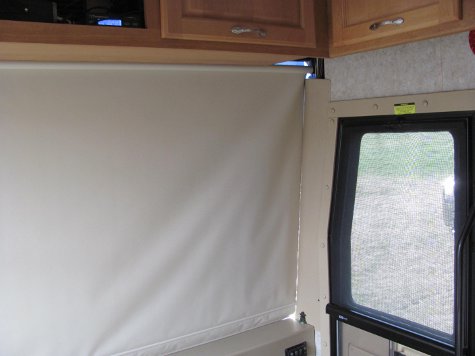 We knew the front shade had only been installed on a temporary basis so we would have privacy for the night, but let's just say that Linda was not going to be a very happy customer if those wrinkles were a permanent fixture. Turned out that it was caused by the fabric walking on the roller, something that is fairly commom with the wide front windows, but is easily fixed.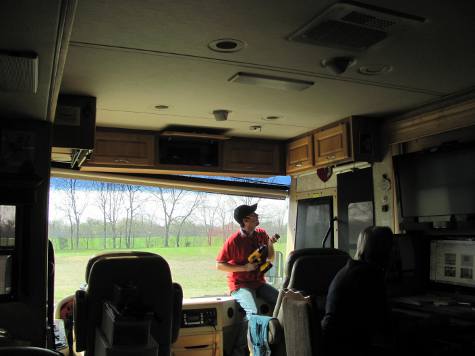 They had said it might take as much as 3 to 4 times as long to finish up this front section as it took to do the back part of the coach, and they weren't wrong by much. A good deal of time seemed to spent in getting everything to hang straight and seal out the light around the edges.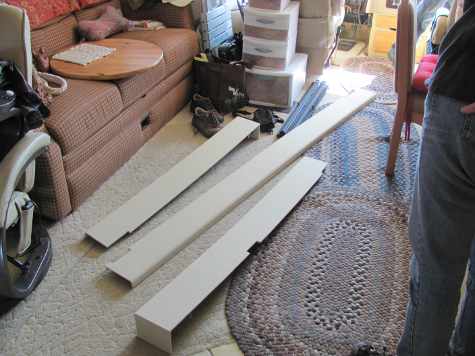 The final part was to fabricate, cover, and install the trim pieces that would hide the shade mechanisms in the cockpit area. The trim pieces consist of a thin plastic board that is covered with the fabric of our choosing, and attached to the bottom of the cabinets at the front of the coach. Once all this was done, they did some more checking of the shades, adjusting them, and then left.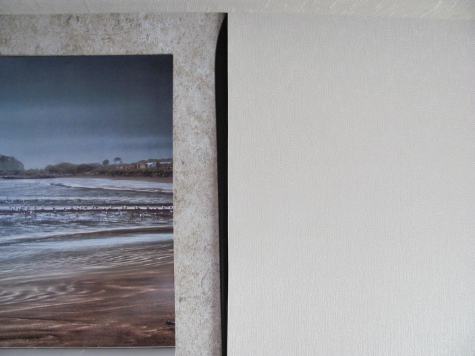 As we waited for Tremaine to come out for the final inspection, Linda noticed something that definitely was not right. Not only not right, but it totally baffled us as to how it could have been left that way. That is the rear edge of the window beside my driving seat, and it is clearly visible that the shade is not hung straight. But it goes beyond that.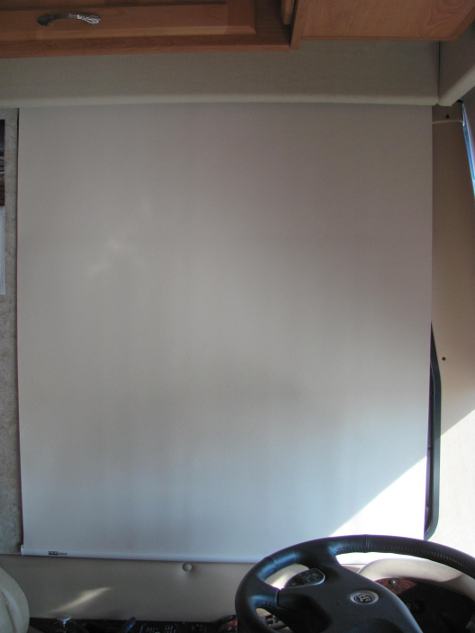 We also didn't like the large gap in the corner of my window. Perhaps I was louder than necessary, but sometimes one has to voice their displeasure in ways other than quiet indignation. We're going to have it all fixed in the morning, but that doesn't mean that the bad taste of this part of our dealings with MCD will quickly vanish. We'll let it be for a few days, our feelings that is, and then see.
---
Mar 3 Thursday
Molified customer debating, aka MCD
Right after 8 o'clock this morning the knock came at the door, and Brandon, who had done most of our installation came in and started adjusting the shade by my seat. I'm not sure what they look at when they square things up, but there was a good inch plus of the window frame on the left side showing when he was done.
Last night we heard got a bit of song and dance from Peggy about how they measure the windows, which was after she had told us several days ago that the installers do the measuring and she didn't get involved in it. I believe that might be interpreted by some as changing your story to fit the circumstances. I had said to myself that I would work with them on this, even though in the custom fabric manufacturing operation I ran in a former life, and we would have handled a complaint like this, which was due to communication breakdown, by immediately re-fabricating the product, no questions asked.
To cover the light leaking in at the front of the window, a blackout insert was made, and apparently it was scratched it when it was was being cut out. Meaning it needed painting, and we were told it would be dry in about 45 minutes. After 90 minutes of waiting, Tremaine and I had a discussion, soon after which the piece was brought out, very tacky with paint, which suggested very strongly to me that it had very recently been painted. After all, how long does it take black spray paint to dry.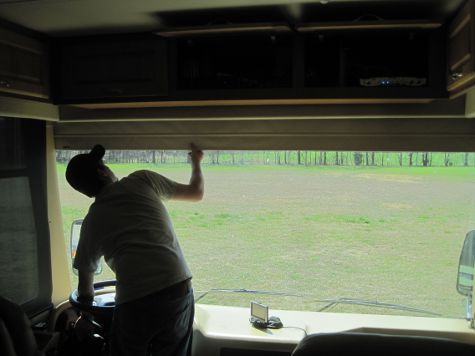 We were told we were good to go, but not having seen the front shades being operated with the engine running, I thought I'd test them first. Thank goodness I did, because they were programmed wrong. Instead of coming part way down the windshield and stopping so they wouldn't block my view of the road, they came all the way down, then would only go up a short way and stop. To get them to go up I had to turn off the engine. When I showed Tremaine the problem, this time there was no trying to tell me I may be wrong, and explaining something to me that someone else should have told me some time before but hadn't. I could tell from the way he was muttering about his installer that something was going to happen fast. It wasn't but a few seconds and Brandon was back out, reprogramming the control. This time it worked right.
I plan to put together an article that will appear on the left side of the page under the "Neat Things" heading, describing in more detail our MCD experience. Should be up within the week. We really do like the shades from what we have seen so far, but whether it is upper management not setting the right tone for the rest of their employees, more work than they can handle, or a lack of attention to detail, there is something definitely not working with their factory installations. More to come in the sidebar article.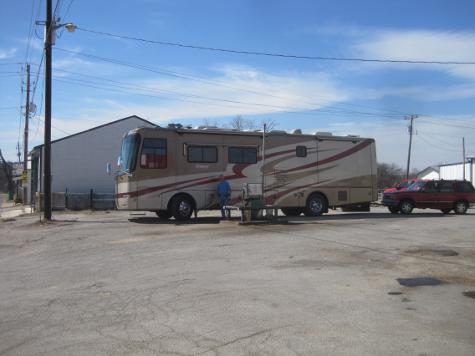 Can you believe what's happening to the price of diesel fuel? It really isn't as big an impact as it seems, at least if you do the math on a 70 gallon fill up, but that's not the point of the this photo. When we left McKinney our plan was to take US 381 west to Haswell and then US 277 south to the Abilene area. This would keep us away the Dallas-Fort Worth area, and off the Interstates. Which meant that when we decided to fuel up, it was in Graham, Texas, small town USA.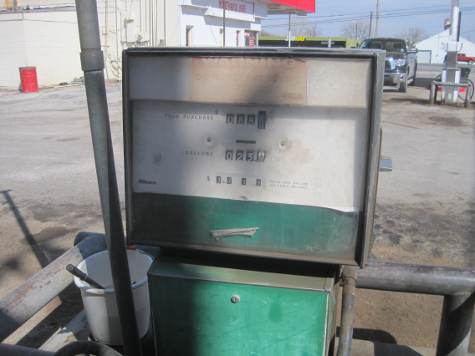 I'm not sure just how long it has been since we used a pump where the numbers went round in circles, but that was what they had here. Across the street was modern Shell station, but not only was it on the wrong side of the street, it looked like we wouldn't have been able to get out from the pumps, so that was why were here.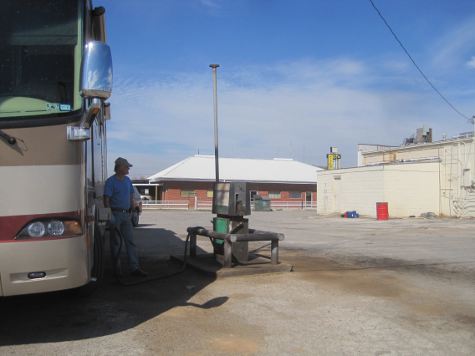 There is more to this story, and it is similar to our MCD experience where most everything went great with just a few glitches. In this case the glitch is shown in this photo. Well not exactly, but it is if you could see where the photographer is standing. Seems like the driver of this motorhome pulled up to the wrong side of the pump because the photographer is standing on the curb.
So when it came time to drive back out onto the highway, the words, "Don't worry, I can make it rang out." Which were quickly followed by a female voice asking, "Do you want me to watch" and "Are you sure you won't hit the island." And no I didn't hit the island, and no, there were no cupboards flying open when I drove off the curb, but that was because I was smart enough to drive straight off the curb and not at an angle. Linda, bless her heart, never said a thing to me. Well, she did say, You're going to open all the cupboards tonight, and you're going to do it slowly," but that was when we were almost out of town.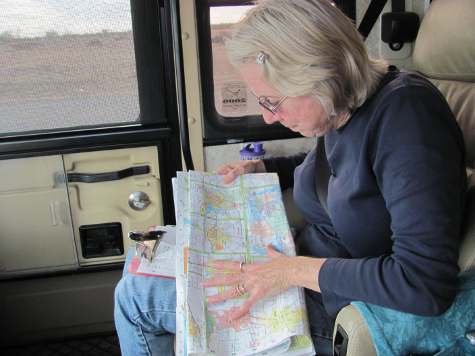 As the pilot of our house on wheels, I draw strength from Linda's calm clear voice reinforcing and confirming the what's and where's of our route as voiced by the GPS. Then there is the other side. The GPS says something and Linda immediately says, "I'm not sure what is going on." Meanwhile I am steering a 38,000 pound, 65 foot long train through multiple lanes of traffic with several road veering off just up the road.
That's when I glance over at her for help and see the above. My first thought is, 'Hurry up and tell me what to do.' My second thought is usually a prayer, 'Lord please have her holding the map right side up.' Over the years I've learned that this is the one time to absolutely keep my mouth shut, because if I say anything, she's going to go off like the proverbial 4th of July firecracker saying something about how can she find out where we need to turn if I keep talking.
If I turn without saying anything, she's going to go off like a 4th of July firecracker wanting to know why I turned there, and now it's going to take her even longer to figure out where we are, let alone where we need to go. I believe that is called, lose-lose, or the wife is always right so just shut up and listen. She's not really that nasty, but I'm just saying, you know, she's not far from it. [Editor's comment: You all do know he does exaggerate, right?]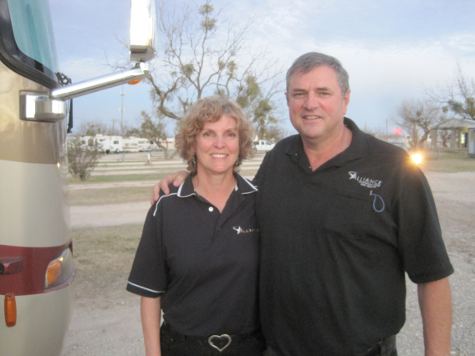 Our day ended with a surprise, not ours, but our fulltiming friends Mark and Sue. The surprise being our stopping at the same RV they are staying at totally unannounced. They are doing some traffic pattern survey work in the Abilene area and from their blog we knew where they were staying. To say they were surprised when the drove in and saw our coach parked near theirs would be a classic under statement.
We spent the evening visiting and getting caught up on each others lives, particularly those interesting, but unsaid parts that both their and our daily writings sometime leave out. Now some of you that don't know Mark may think that is the setting sun shining near his shoulder, but you'd be wrong.
He's one of those people who literally glows with his enthusiasm for life, which also helps explain the larger than life smile that is beaming out from Sue's face, though truth be told, it's probably because she knows that while he talks a mile a minute, she's a whole lot smarter and way better looking to boot. They're people we are proud to call our friends. P.S. He puts food pictures in his blog also, so he really is okay.
---
Mar 4 Friday
Making tracks to the Valley
Yesterday Dianne had emailed us several photos of our lot that showed stakes at various locations. That's wooden stakes that mark the corners, etc., not steaks as in food, for those of you that are wondering when I'm going to start posting more food photos. We'd hoped they wouldn't start until we got back, but having the photo's was just as good as being there. Heck, maybe it was even better since there was no blowing dust this way.
It was a dreary, cloudy morning, but since we would be driving down to the north side of San Antonio, it really didn't matter. Just so long as it wasn't raining or windy. Fortunately there was no rain, unfortunately the wind didn't get the same message. While it wasn't a death grip on the wheel kind of drive like we had a couple of times when we owned our old Class C RV, it was a day of constant corrections which called for less sightseeing on my part as I drove along through the beautiful Texas countryside. I also noticed Linda made no comments about her driving for a while, a wise choice on her part.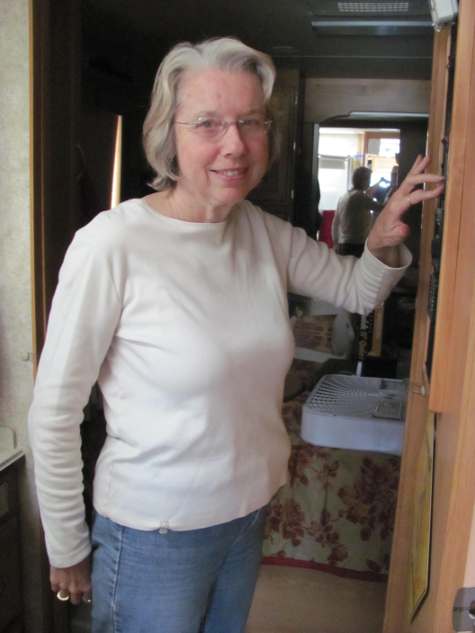 Don't get the idea that Linda didn't do anything, she sure did. Most of the day was spent in telling me were to go and did I notice the speed limit sign up ahead. The latter usually accompanied shortly after by, "Did you hear me?" To which I would dutifully reply, "I've got the exhaust brake on, it will slow us down in a second or so." The slowing typically starting about half way through my sentence.
Guess that's just the price I pay for marrying someone as smart as her. Speaking of smart, did you notice in the above photo how she was prepared for almost any emergency she would run into today?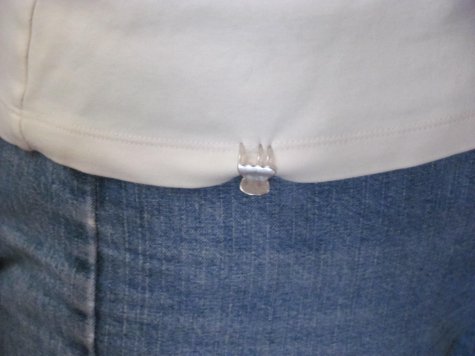 There is not going to be any hair falling down into the face of that woman. Somehow I think the analogy of an old west gunslinger with weapon at the ready is right on. I am always telling her how she does things that bring a smile to my face, to which she always responds, "Well, I certainly don't do it on purpose." Maybe not, but I have to believe that women just subconsciously do things that instinct tells them will keep their mate in line.
Our route today was a mix of roads, the first half being on US 83, which took us through more of those great small towns that we are discovering Texas has in abundance. This is why we enjoy traveling the slow Life and being able to spend time in towns like this, and it is what we miss when we don't travel that way. For now, this part of Texas will just have to be relegated to the "someday isle" list of places we want to visit.
The second half of our drive was on IH-10. With Interstate's not being on our favorite roads of America list, this was a route of expediencey rather than of desire. It also angled toward the southeast, which seemed to greatly lessen the wind, so I guess it was one of those bad thing, good thing, things. It also helped that there wasn't as much traffic as we had thought there would be.
Since this was Friday and we would be getting to the San Antonio area in the mid to late afternoon, we sure weren't going to drive through town, or at least I wasn't. Linda had checked out RV parks and had found one in Boerne, a short ways north of San Antonio that fit our plans perfectly.
As we were nearing Boerne, Linda remarked that I shouldn't pay any attention to the GPS because it would tell us to get off at the wrong exit and she had a map of where we were going. No problem. Sure enough it tells us to exit and she says keep going. I do. And going, and going, and going.
I can tell she's a little agitated by the way the map is being held and the fact she keeps looking at it and then looking off to both sides of the road. I tried to help her out by saying I didn't see anything that looked like an RV park. Big mistake, (skipping what was said), gripping wheel and thinking that it isn't going to be long before we're in San Antonio.
Then she says, "I don't see the RV park anywhere, I'm getting concerned." Wrong thing to say on her part. I say, "You're concerned, you mean you don't know where we are?" Really, really wrong thing thing for me to say. Now I am going to have to do all the planning, navigating, etc., etc. for the rest of my Life.
No sooner do I go into a deep depression wondering how my Life could have sunk to this level, she chirps out, "The big sign. Over there. That's it. Get off at the next exit." Thank Goodness she had such a short memory. And you thought you had a bad day.
---
Mar 5 Saturday
With a start like this it's got to get better
Needless to say, after surviving the ordeals of yesterday, I wasn't up to writing last light, then this morning, we wanted to get an early start since the forecast was calling for a wind advisory in the San Antonio area starting mid morning today. Unfortunately when I got up, just before 5 o'clock, the coach was already shaking and moving. And it was wasn't from the movements of the large hibernating mammal in the back of the coach.
The wind had come in early and it wasn't looking like today's drive was going to any improvement on yesterday's. So much for our planning. We had agreed to be on the road by 7 this morning, and even though the wind was here, my thoughts were, I'd rather drive through San Antonio early on Saturday morning in the wind than later on Saturday morning in the wind with even more traffic. Hey, why should we drive in traffic if we don't have to.
I awakened Linda at six o'clock, actually at two minutes to six, figuring that I could out smart her. She always says, "Give me a couple of minutes and I'll be up." So this way, she get's her extra two minutes of sleep and will still be up on time. As I was leaving the bedroom I hear her mumble, "Oh good, it's not even six, I'll be up in about five minutes. There is no winning when you go up against a woman.
I was hurrying because I wanted to get on the road, what with both wind and rain in the forecast, and she wants to get more beauty rest. However she was true to her word, and soon appeared already dressed and heading for her computer. Meanwhile I fixed breakfast and started to put away the things we normally stow, getting ready for the day's travel.
We proceeded to get ready, she doing her things and I mine, then when she was bringing in the front curb slide I noticed her chair was still in front of her computer and the cabinet doors were open. I yelled at her to stop, and while she came up to put things away I went outside to unhook the electric and do final check on the Explorer.
Back inside, she had finished up, I started up the engine, and read her the mileage, then started to pull out. She mentioned that there was a sound like a dragging tail pipe or muffler that she was hearing, but a quick glance in the mirror showed it was there, so I quipped, "Nope, the muffler is where it is supposed to be." I was starting out where I left off last night, because next thing I know she is tearing into me about how she meant it sounded like a loose muffler, not a dragging one and I should have known that.
"Silence is golden, Bob"' was all I could think of. Then, just as we were about half way out of our site, she yells out, "The slide is still out!" The proper way for her to have said that was to have calmly said, "Bob, you need to stop. I've left the slide out a few inches." But that was only what I was thinking, and was never verbalized.
The slide in, we once again tried to quietly leave the park at an early hour. We'd almost made it out when we both started noticing people waving, one fellow in particular walking down the road in front of us pointing up at the sky. Now even I am smart enough to figure out he wasn't trying to tell us the sky was falling.
Meanwhile Linda is saying, "There must be something wrong, there are three people trying to get our attention." Light bulbs!! Me turning to Linda, "Did you put the MotoSat down." Linda, "I thought I did." Later, when a short distance from the RV Park we went under a very low bridge we were more that just a little thankful those people cared enough to flag us down. Of course from all the nicks and gouge marks on the bridge, it may be that driving off with your TV or satellite dish up is an all to common experience.
Then, just as we were driving through San Antonio, it started to sprinkle. Not rain, just a light enough shower to make our dirty windshield resemble shower door glass. As I drove right by the turn we are supposed to make, I hear, "Didn't you see the sign, that's where we were supposed to turn, I told you a while ago it was coming up."
Sign, sign, how was I supposed to see the sign when I could barely see the road itself. Besides, if she would have taken her nose out of the map she had it buried in, she could have not seen the sign just like I didn't. Flashback: Linda, "We can wash the windshield when get to Retama." Why didn't I put my foot down and say right then, "We will not, you get out there right this second and wash that windshield." Most likely because death is something that should always come in the distant future, and never at this moment.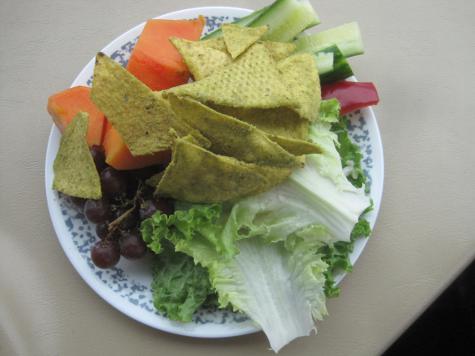 Just because our camp breaking skills seem to have been broken, didn't mean that our cooking skills were. Of course even that didn't go as planned today. I'd been looking for a place to stop for lunch, having passed one roadside rest area a number of miles back up the road, when I drove by second one. Understand these are in the center of the divided roadway, so there was an excuse for not noticing them, I having been conditioned to the non-Texas placement of roadside rest areas all of my life.
As I was turning around to go back the other way, so I could then turn around again and come back past the one I had just missed, Linda remarked, "You must really want to stop." She was right, since it had been over three hours since we had left the RV park, I was ready for a break. Normally we break up the day with a number of stops, but on the days I am driven to drive, I drive.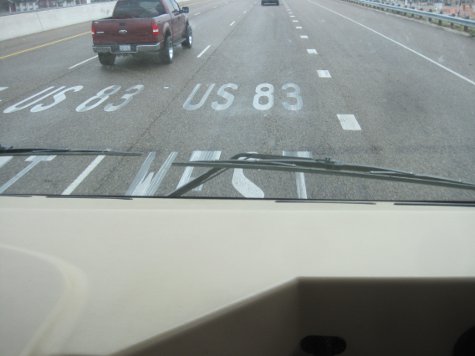 Back on the road, the miles flew past, and soon we were in the heavier traffic and added lanes that said, Rio Grande Valley. Remembering it was just a few weeks ago we arrived here the first time, and that was also on a Saturday afternoon, I knew to take it easy because traffic was going to be very heavy until we got some ways out on Route 83 towards Mission.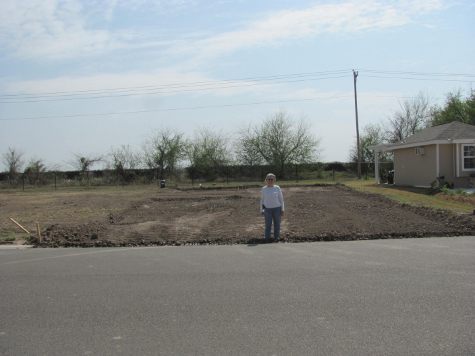 Once we got the Retama and were situated on the lot where we would staying for the next four weeks, then it was time to walk down to where our lot was to see if they were working on it today. We talked with Roger and Dianne, feeling sorry for them because they were having friends visiting this week which was going to made less pleasant by the work going on at our lot, do to the fact it was up wind from there's, meaning lots of blowing dust. Here's Linda standing in the excavation at the front of our lot. It's nice to see that the concrete pad thickness is based on heavy RV's.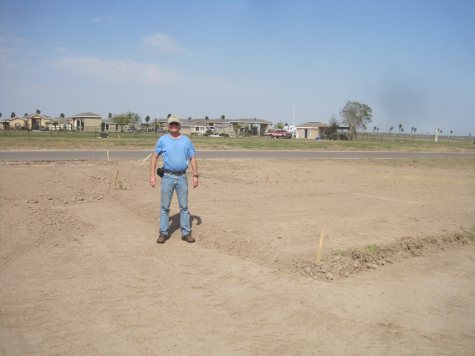 Standing near where the door to the coach house will be located. The slightly elevated area marks the soon to be floor of the coach house. It's hard to believe this is really happening. This coming week will be one we've never experienced, having always bought either used houses or new spec houses in the past.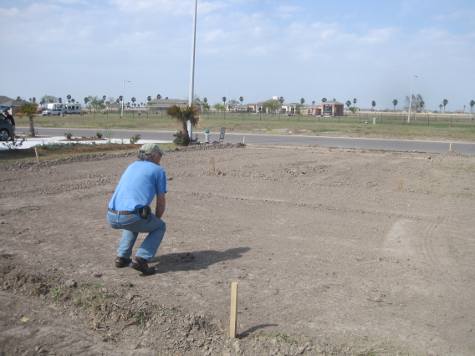 Just to show you the layout of the coach house, here is some unnamed person demonstrating where the toilet will be. Say what you want, but today ended up being a lot less crappy that it started. Life is not a dress rehearsal. Don't be afraid to laugh, love and retire early.
---
Mar 6 Sunday
Sunday's not for shopping
We were tired when we arrived yesterday. My status could be attributed to the stress of driving through San Antonio without being able to see the road. Linda was obviously stressed out from me asking stupid questions, like, "How do you expect me to see the sign when I can't even see the road." Or when I did manage to see a sign, "Why do you want me to take the road toward Austin when it is to the north and we're going south." I didn't force her to say "I do" at the alter, so why is everything I do, wrong?
With the very early to bed last night, it was a very, very early to rise for me this morning. Meanwhile Linda just looks at an early to bed, as a gift from heaven to get more hibernation time in. At least I had the opportunity to get caught up on the Daily Journal articles, being honest in my assessment of our interactions over the past two days, and even leaving out numerous things that might have cast some negativity on the actions of one of us.
Still, I wasn't finished when Linda emerged from her night of sleep, and when I was called to get back there, now I wondered what was wrong. Fortunately there wasn't anything wrong in a wrong way, but there was something wrong in a right way. No paparazzi photos were permitted, but she was sporting a slight resemblance to the character Barf from the movie, Spaceballs. Some images are best viewed only in the minds eye.
Our plan for the day was very simple. Do some shopping this morning at Sam's Club before the crowds arrived, do some looking at Home Depot, then return to the coach and pretty much relax for the rest of the day, getting rested up for some possible lot watching on Monday.
Unfortunately in the infromation packet they pass out for Retama Village they neglect one very important bulletin. The one that says, YOU SHOULD UNDER NO CIRCUMSTANCES SHOP AT SAM'S CLUB WHEN IT OPENS ON SUNDAY MORNING. We weren't in the store 30 seconds before we realized that we had made a big mistake, though the fact we had to park near the outer edge of the lot may have been an overlooked clue.
Walking in we had remarked about all the license plates from places like Nuevo Leon, Coahuila, and Tamaulipas, but again, being conditional permanent Texans, we weren't quite up on what that really meant. Inside there were carts everywhere piled sky high with goods, so much so that it was hard to get through a number of the aisles. Like Linda said, "In here english isn't the second language, it isn't even spoken."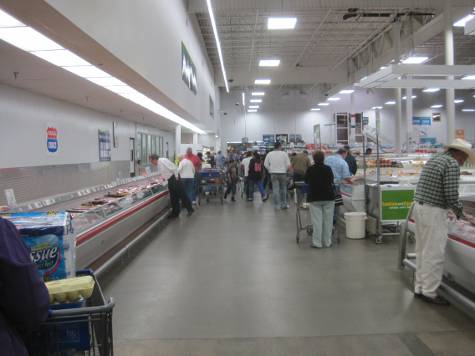 We were getting to witness first hand the Sunday Mexican shopping phenomenon. In fact we were right in the middle of it. So for the next hour we spent more time watching the shoppers than we did shopping ourselves. It was interesting how, when the Sam's people would bring something out at the meat or bakery counter, there was a seemingly immediate surge of nearby people to see what it was.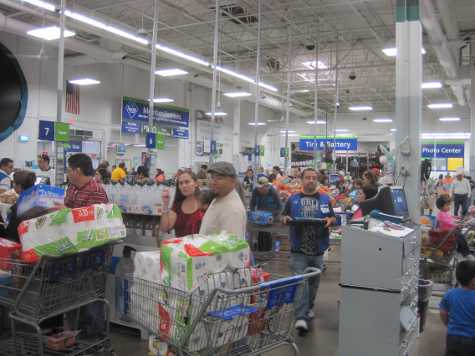 Then almost like magic, the crush of people in the food section of the store seemed to melt away and we decided to was time for some shopping, rather than looking on our part. Hey, when you live the full time life, what you do for entertaiment isn't the same as what you did in your former life. By the time we were finished and up to the checkouts, the lines were surprisingly short. Of course every checkout in the store was open and there were three or four carts at each of them.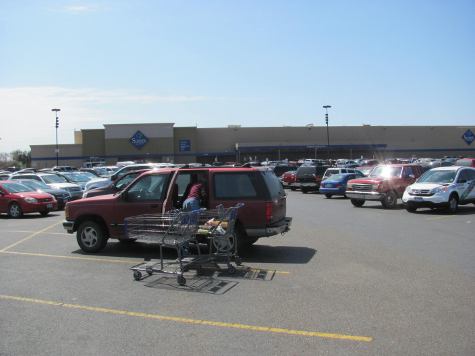 Our haul for the morning wasn't that great, just the things we always buy at Sam's plus a few extras. We were pleased they had the Ghirardelli double chocolate bitter sweet chips we both love so much and the small sweet peppers we have grown so fond of. A special treat was the Black Diamond Platinum Reserve Cheddar Cheese, the kind that is aged four years and has a slightly gritty texture. Something tells me that it's not going to last long once it gets opened.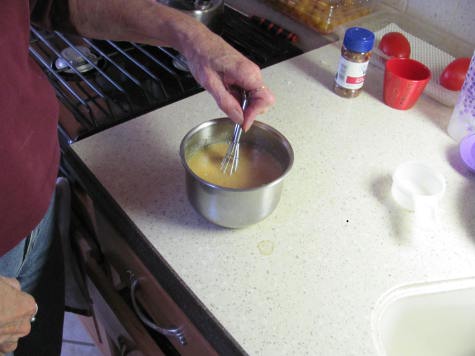 How could I leave out the other special thing we found, reduced price, pork boneless baby back ribs. Remembering how good the last ones we bought turned out, they practically jumped into the cart by themselves. Back at the coach we discussed how to fix them, and came up with a modified dry rub using a little of the commercial rub we bought in Bisbee a year or so ago, with the addtion of some chili powder, garlic powder and paprika. We used the commercial rub by itself last time and it was way too salty for our taste.
For the barbecue sauce we modified one we found on the Internet. Vinegar based, we added canola oil, almond oil, maple syrup, prepared spicy mustard, dry mustard, garlic powder, Worcestershire sauce and hot sauce. We loved the non-tomato barbecue sauces that would find when we lived in North Carolina for a time during that former life, and this was an attempt to come up with something along the lines of those flavors and tastes.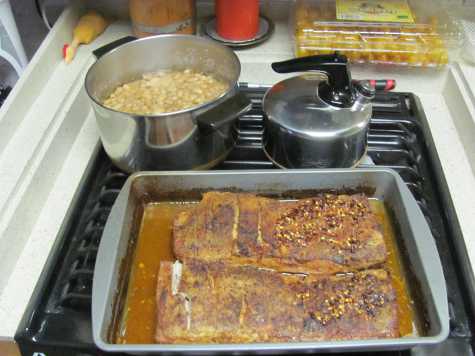 Not bragging mind you, well maybe a little, but that is about as good as it gets for Linda and me. My side, to the right, had the addition of hot pepper flakes so it looks a little different from Linda's. Oven temperature 325, one hour just the ribs with the rub only on the top and covered with aluminum foil. One hour at 325 with the barbecue sauce spooned over the ribs and covering them about half their thickness, covered with aluminum foil. Then baked one more hour with the aluminum foil removed to brown them up and finish them off.
Add a pot of Mayocoba beans cooked with dried onions, and then seasoned with a healthy dose of cumin, chili powder and garlic powder, with a couple of dashes of salt thrown in. To complete the meal I made my world famous cole slaw, at least Linda thinks it should be world famous since she's never tasted any better. But since she's just a tad prejudiced, I'll just say it is really good.
Like yesterday, today didn't start out quite like we wanted, but by the end of the day it just couldn't have gotten any better. A zoo at the Sam's Club. A real find in the meat department. Lemons and lemonade. Life is what you make it.
---
Mar 7 Monday
A middling Monday
We weren't sure when it was going to happen today as far as our lot was concerned, but we knew we would be meeting with Jennifer, and the new construction superintendent, Arnold, sometime during the day. Other than that, it wasn't going to be a day of thrill packed adventures, more likely one of not much of anything going on.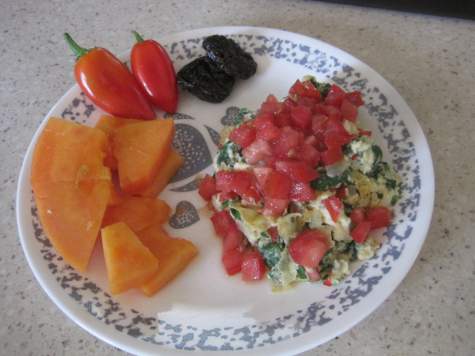 Having been remiss in the food photo department during the past month, I've been getting better at posting them lately. Breakfast was my usual, but it still garnered a WOW! when I set it front of Linda. I was really proud of how the scrambled eggs looked with the pieces of sweet red pepper mixed in with them. Then I had to go and put fresh chopped tomatoes on top, covering them up. The papaya, we've had for a while, which means it's getting a little long in the tooth, but those small, sweet, crisp and crunchy peppers are a true treasure.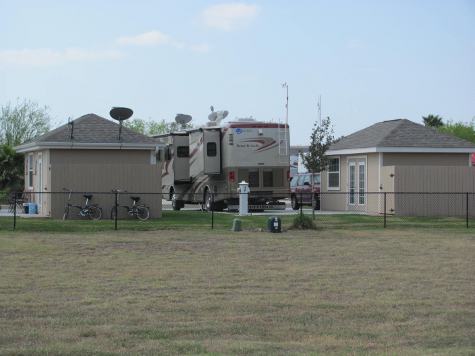 The view looking towards where we are parked from over by the clubhouse. The view to the back of our lot will be somewhat similar to this but it won't be anything we will be able to actually see. That's because the area behind our lot is part of a show cattle ranching operation, and hence we can't even get back there. Come to think of it, if this were our new lot, it could be called a cattle eye view. Or how about this. With Linda in a great mood today and all vestiges of grizzly behavior suppressed, to her eye it could be called, an unbearable view. I wonder what Newton Minnow would have called my mind, what with his reference to TV as a vast wasteland.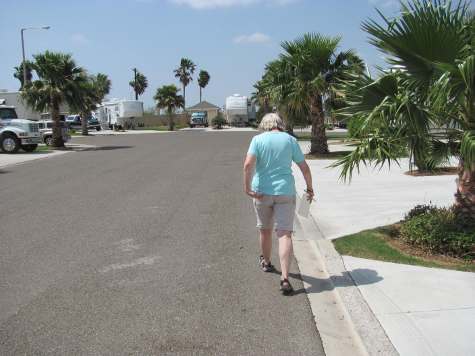 No, that's not Linda going to find someplace else to live after reading the above. In fact it's a happy photo because just after one o'clock Jennifer called and said that she and Arnold were ready for us. Now it wasn't like we were going to do battle or anything, it was just that Linda had a few minor changes to our floor plan and she wanted to make sure it was built the way she wanted, hence the Blucher at Waterloo stride.
We went over our changes, which dealt mainly with making sure the door of the coach house would be in the right place. The plans had it shown as being placed too far towards the back wall, which wouldn't leave room for the counter with the bar sink along the side wall. At least that is what we think we want now. Next week it might be different, but Linda is a woman, and I've heard it reported that the female of our species is prone to changing its mind for no apparent reason. Though I've never personally observed that behavior from Linda. You don't believe me? Well, since she always says I never pay any attention to her, how could I have ever noticed her changing her mind.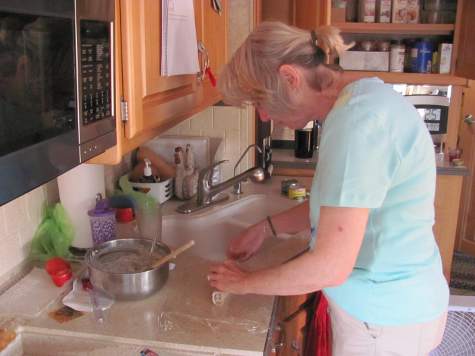 How could I have ever implied that my wife was anything less than perfect? How are women able to so completely transform themselves with only a small band of elastic? I heard her rummaging around in the back of the coach, then buried my head in trying to put together an article about our MCD experiences. When when I look up, I see this ingenue standing in front of me. Wonder how many more tricks she has been saving all these years just waiting for the right time to bring them out?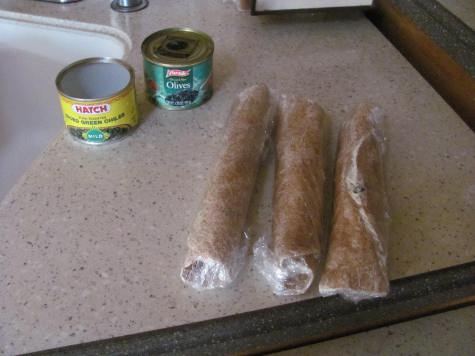 I really am trying to make up for all those days of no food photos. While my full time RV blogging license isn't about to be revoked, I'm sure there has been an investigation initiated into my lack of the required number of those photos. Hopefully these few will put that matter on hold for the time being.
What Linda was preparing, was her tortilla rollup appetizers for the weekly Retama social hour and get acquaint, that is held every Tuesday evening. Guess it is time to start moving into the neighborhood so to speak, and join in with the activities. When we were walking over to our meeting with Jennifer and Arnold, Linda pointed out the low impact water aerobics class in the pool, something which I suspect she will be joining in on, on Thursday.
After much debate I've decided to include the following in the Daily Journal. One of us, I will not mention the person's name to protect their identity, went grocery shopping this afternoon. During their time in the store that person made a call regarding some potential purchases to the other family person who had remained in the coach.
A short time later the shopper was observed walking into the coach, hands empty. A brief inquiry elicited the fact that person had forgotten their wallet, but had left everything non-perishable in the shopping cart to facilitate the acquisition of all the necessary foodstuffs upon their return to the store. Some time later that forgetful, but definitely, unforgettable, person returned to the coach with the groceries. I know I've left a great deal out of this story, but please excuse me, as I really wanted to protect her identity.
---
Mar 8 Tuesday
What a trencherous Tuesday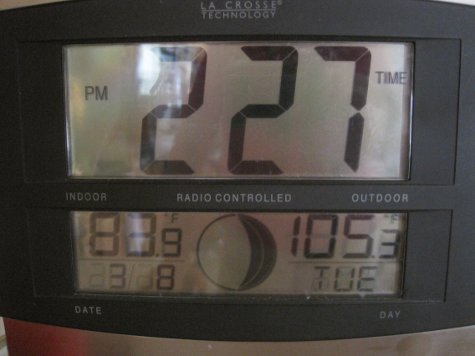 All I can post is what the reading was. All I can say is that our air conditioners could barely keep up. As to what the actual temperature was, Linda said it was really hot. It's also why we are here instead of in Minnesota, North Dakota, or the like. Sometimes we wonder why we got so lucky in this Life, and then we realize that it wasn't necessarily luck, we're here because we can.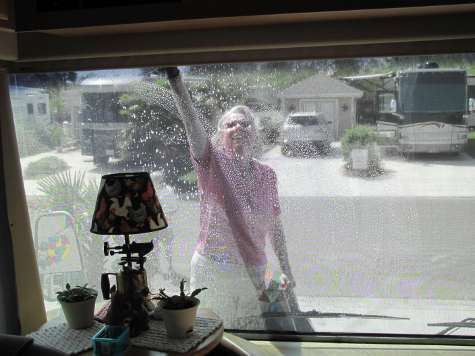 Earlier in the day, when it wasn't nearly as hot, Linda got bit by the, wash the shield bug, which meant that I had to get the ladder out for her. I'm not complaining, because I certainly appreciate the results of her efforts in this area, but no matter how hard I work at training her in the proper way to get the ladder out, she always needs my help.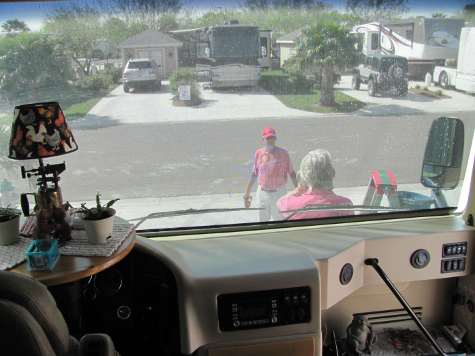 The other thing is that if you are outside, you are either going to be waving at people or talking to them. Since most people know that we are the proverbial new kids on the block, we get that special piece of knowledge that everyone gained going through the same thing we are. Here Linda is learning to make sure we know where the front sewer clean out is before they pour the concrete, to check that the roof vent opening is not partially obstructed by the roof sheathing, and to confirm that the shower drain is properly located. Our notebook gets more entries each the day.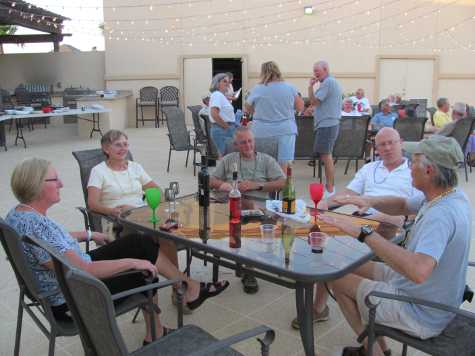 Tonight we availed ourselves to a Tuesday night Retama ritual, the Retama regular residential raconteur roundup. Well, maybe that it is not exactly what it is, nor exactly what it is called, but since this was our first time going to one of these get togethers, and the fact that description seemed to be fit the photo so well, it is what it is we will call it for now.
Here we see Cindy, Dianne, Roger and Chuck deeply engaged in conversation while I am busy trying my best at signing for the hearing impaired. Note how I am attempting to relate in great detail what their conversation is about. Since they were all four from Indiana, the conversation was usually about snow, rain, or if a team from Indiana was ever going to beat Ohio State in any sport. Being born Buckeyes Linda and I could understand their frustration with their sports teams, but at least it gave them something to talk about other than the miserable Indiana weather.
I know that by now everyone who reads our Daily Journal, even on a semi-irregular basis is just chomping at the bit to see what they did on our lot today. So there it is. It was trench day, so trenches are in abundance. Trenches for footers and trenches for the plumbing.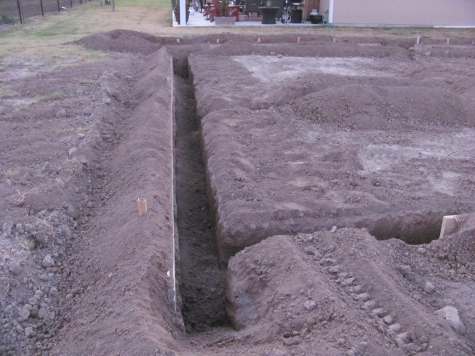 Like I said, there were trenches everywhere, but they are our trenches, so trenches is what you are going to see. Once everyone had their fill of trenches, we all gathered under Roger and Dianne's pergola where the conversation about how much nicer the weather was here, than it was back in Indiana. Now I know why they sing that song, Back home in Indiana. Anyone with any smarts is long gone from Indiana.
Okay, so I was having some fun at the expense of those four, who really are great people, and we are glad to be their friends. At least Linda is, I'm not sure what they consider me, and if I knew it might not be printable anyway. Life, live it with a capital "L".
Mar 9 Wednesday
On a mission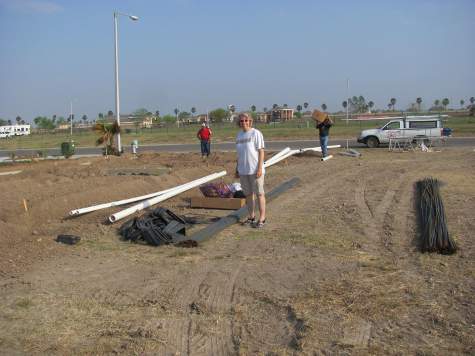 If you're not interested in what is happening on our lot, it looks like you had better stop reading for a week or so. Not that you should, mind you, but it's looking like that's going to be the most exciting thing in our lives for the next several, and besides, what I put down here will be what Linda and I can come back to and recall the excitement of these days, in a few years down the road. So forewarned is forearmed
After missing out on the late afternoon work yesterday and not seeing anything until after they had quit for the day, not that digging dirt is all that exciting, Linda was up long before her usual dishibernation time. As you would expect, if you show up earlier, they are going to start a little later, but I still had a great walk at a quarter to seven, and it was my banging of the coach door that had Linda up shortly after I returned.
The result was an early breakfast, then a leisurely walk down to the lot where much had taken place in just the past several hours. The rebar was now onsite and the plumbers were there to install the sewer pipe and drains. Fortunately I was able to find this attractive young model to spice up an otherwise mundane photo of dirt, trenches and pipe.
That picture may be a little out of focus but it was hard to see what I looking at through the camera. I believe she said her name was Snowflake, what with all the white glare coming off her, but I may not have heard correctly. I also believe she said something about not taking off her sunglasses because of the bright white area where I was standing. All of which is a nice way of saying that we both need to get to work on our suntans, or lack thereof.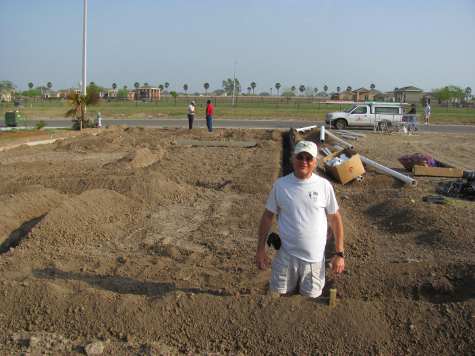 Not ever having had a house constructed from the ground up, we were surprised at how deep these trenches were. This one is at the back of the concrete pad, and still it was very deep. Maybe there are some pipes that are going into it, but seeing what takes place is part of the fun of this whole process.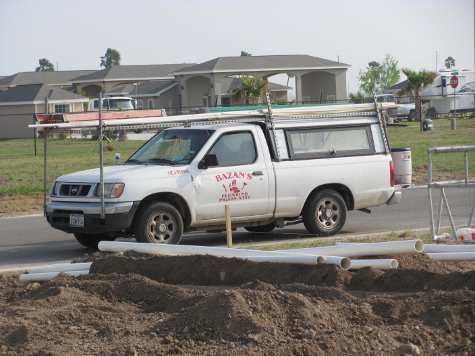 The plumbing sub-contractor. There were three men working on the plumbing. One that we took to be the boss/owner whatever, one that obviously had experience in doing this work, and one that did most of the hand, dirt work. It was a nice division of labor which looked to be quite efficient and put the skill and experience where it was needed.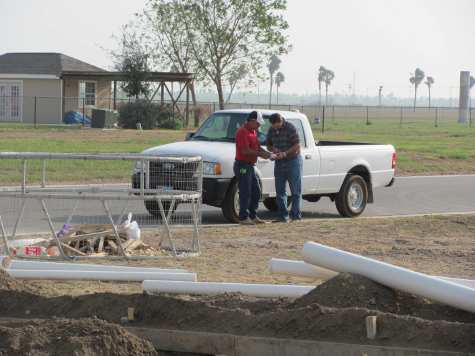 Arnold, the construction superintendent, going over the plans with the plumber. The tentative schedule called for the plumbing to be installed today, the concrete forms and rebar on Thursday, with the concrete pour taking place on Friday.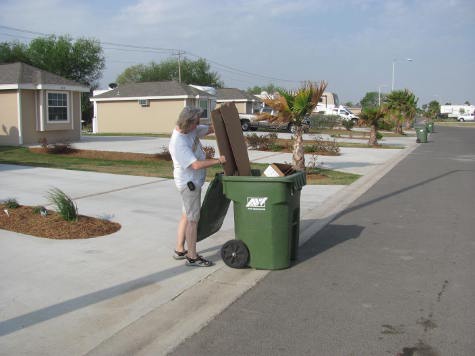 Here's something I never thought I'd see in an upscale neighborhood like Retama, a dumpster diver. The only reason I know what this is called was because last night Linda was reading to me from a blog of a person who was an accomplished dumpster diver. Wish I could have seen who this person was but they had their face turned away so they couldn't be identified.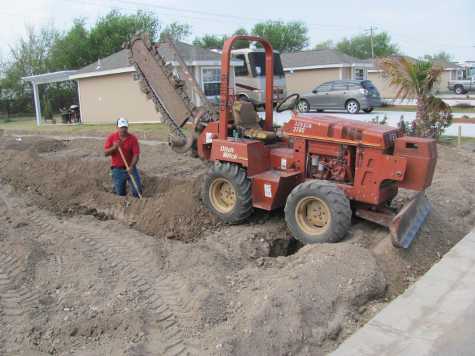 Digging the trench where the line from the coach house connects into the sewer line from the street. We tried to walk down every 60 to 90 minutes, so we could better follow what was going on. It soon became a case of seen one trench, seen one pipe connection, seen them all. More activity than a turtle race, but not a whole lot more exciting.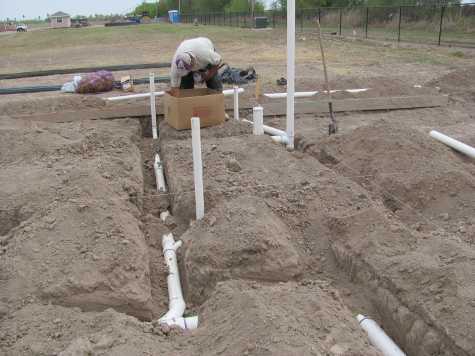 Scraped dirt and trenches are one thing, but this was real. It was the first time we could tell that the coach house was not just something we saw on other lots, here was our very own coach house plumbing.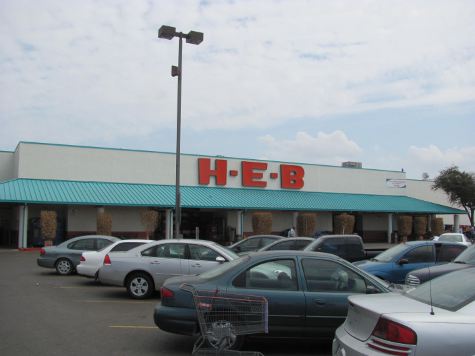 Our day wasn't only one of sidewalk superintending, we actually did something productive, at least in the eating department. Linda had some mail that needed to be overnighted, so we combined that with a stop at the closest HEB. We knew we had found our market when there were several coolers full of hot, fresh made corn tortillas right inside the door. It was sealed a few seconds later when they announced a shoppers special in Spanish before English, and our first look at the produce department confirmed who they considered their primary daily customers. Are we ever lucky.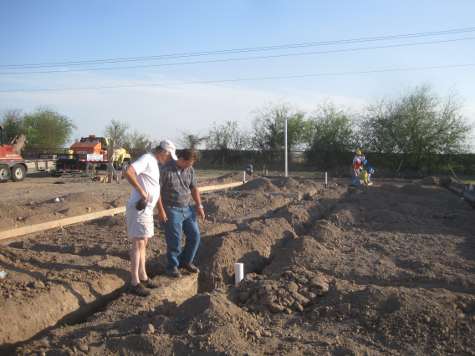 Our last progress check of the day coincided with Arnold's last check. We got to go over what had been accomplished, and why things were done the way they were. They are now awaiting the sewer inspection and the resulting green tag which should probably be done by mid morning tomorrow. Until that is done, all the trenches must remain open, though there is much that can be done in the meantime.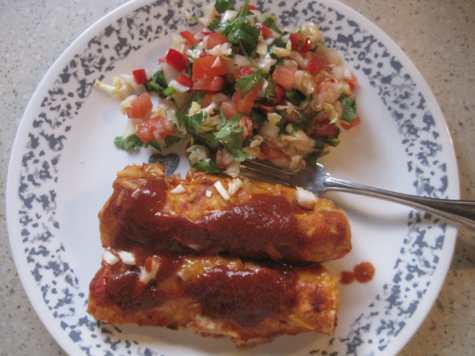 Linda wasn't about to let those fresh corn tortillas get old, so she soon had a pork loin in the crockpot surrounded by red chile sauce. Once cooked, she worked her magic with those tortillas and some cheese, topping it all with more sauce, which resulted in some fabulous enchiladas. Unfortunately her assistant, the one charged with fixing the Mexican salad, proved to be a little heavy handed as far as the addition of the hot sauce was concerned. I wasn't sure whether it was really too hot, or she just wanted more enchiladas. Doesn't matter, but she better be fixing more of them later this week unless she wants me to turn up the heat again, this time on purpose. If you can't laugh about your day today, make sure you laugh tomorrow.
---
---