Journal Archive 6/11 - 6/20 2011
Scroll down to read the latest post
June 11 Saturday
Little of this, little of that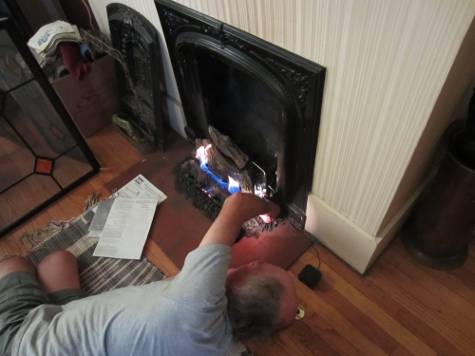 Time to do a good turn. Linda has been doing a number of things for Katherine, and today it was my turn. Seems that the gas fire logs Katherine had installed in one of the fireplaces in her house wasn't working as it should. While it is nice and warm now, last winter when it was needed, it worked, but not as it should.
You know how it is with little old ladies and cold temperatures, and if you don't, you're lucky. At a certain age they think it is nice to press the remote control for the fireplace and have it come on and warm things up before they get up in the morning. Conversely, it is nice to leave the fireplace on in the evening and turn it off by the remote once you're in your nice warm bed. At least I think that is how a little old lady would think, not being married to one myself.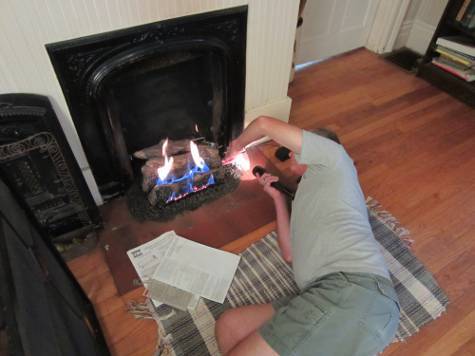 The fireplace worked fine manually, it just wouldn't work via the remote. Linda changed out the batteries, which were bad, but it still didn't work. Out came the manuals, which I carefully read, but even then it still wouldn't work by the remote. I fiddled for a while, trying things other than what the manual said, which didn't work, then tried something else, and presto light-o, it worked. I shut it completely off, gas and all, then tried it again and it worked just as it should. I had fixed it, but don't ask me how.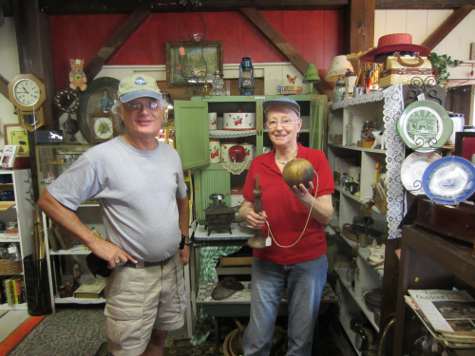 However, it wasn't all work and no play today. This is Katherine's section of The Butter Street Barn, an antique store where she has a display of some of her antiques and collectibles that she has for sale, and she has sold here for years and years. In addition, when she used to be a snowbird, she would pack her RV with things, often setting up and selling at flea markets and antique shows down south during the winter months. I believe she used to joke about selling most everything she had brought down, but also buying more than she had brought down so she would bring back more that she brought down. Antique dealers just can't pass up a bargain when they see it.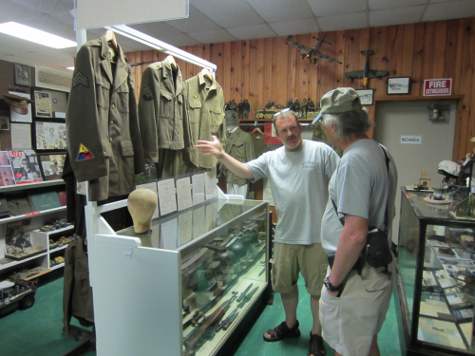 Small town museums are the best, and the Veterans Memorial Museum in Germantown proved how right that is. We even got an explanation of a number of the displays from the curator. What really made it a special place was the emphasis they placed on having the personal stories of the memorabilia displayed alongside the objects. As with many small museums it is only open very limited hours during the week, but if you're in the area when it is open, and want to better understand the personal side of war, particularly WW II, it is definitely worth a visit.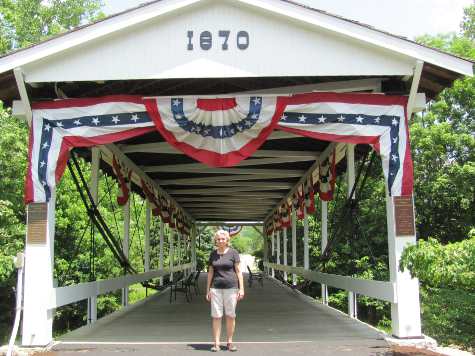 Lately I have been remiss in adding some beauty and glamour to the Daily Journal. This may not make up for it, but at least it is a step in the right direction. This is actually a very unique covered bridge due to its design which is termed a covered inverted bow string truss bridge. That makes it really special, just like the fabulous woman standing in front of it. We hope everyone had a chance to experience something special today, just as we did.
---
June 12 Sunday
Living Life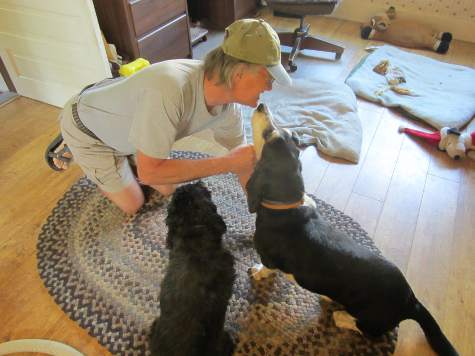 When you are a basset hound, over 97.3 percent of the world is up. Meaning that when something from up there comes down to your level, it is time to do some serious investigating. It doesn't matter what the reason for the object being down is, what matters is that it is now on your level, and hence fair game.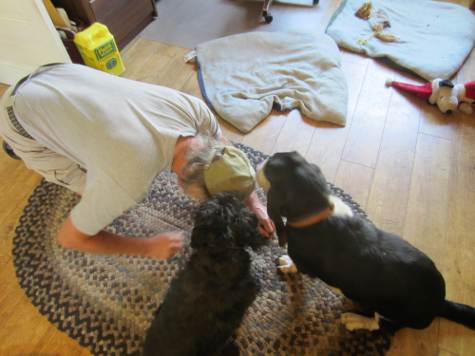 This is not my dog imitation, it is me working and the two inspectors making sure I do it right. Of course if I raised my head up, any dirt that might have gotten on my face was immediately washed off by a quick swipe of the nearest tongue. The nice thing was that there was no hurry to what I was doing, so no problem.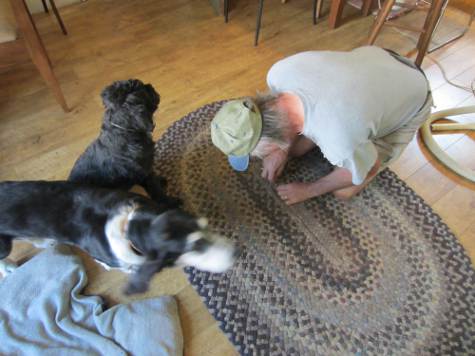 So what was it that I was doing? Repairing a braided rug with my two helpers, that's what. The rugs my mother made are in many places, but the thread she bought to sew the braids together in her earlier ones was a lighter weight than what I was able to get for her once I got involved in the industrial sewing business. Fortunately Linda had some of that heavy duty thread in her sewing supplies, so I repaired the seam by hand. It was a task that brought back wonderful childhood memories. It was living Life.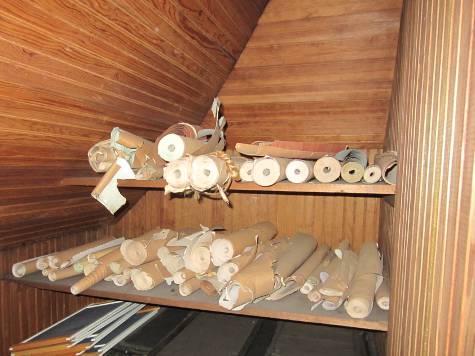 As I wrote yesterday, small town museums are the best, and the Harding Museum in Franklin once again proved how right that is. We got to take a grand tour of the museum, including seeing parts of it that most visitors never see. This was a closet up on the third floor that had the left over rolls of wallpaper from way back when. Open only for a few hours on Sunday afternoons during the summer, it was another of those places where Sara. N. Dippity worked her magic for us.
---
June 13 Monday
Countdown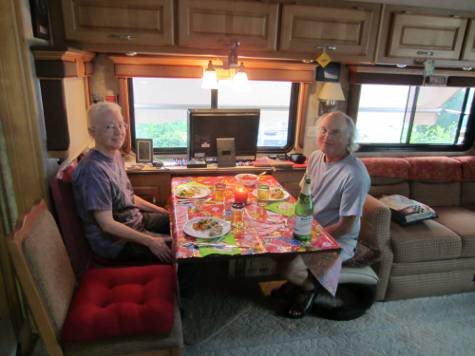 All the world is a stage and we are the actors on it, not preparing for the play, rather, we are part of it. Life isn't a dress rehearsal. Just do it.
What brought all that on is the fact that as far as Life goes, sometimes it is what we don't do that is as exciting as what we do. For the past three weeks we have not been traveling to new places. We have not been doing very much in the way of sightseeing. I guess one could say that we have not led a very exciting Life lately. But that is not true.
Generally when I hit one of these stretches it is when I would always stop writing in the past. Same thing going one every day, nothing to talk about. Just do it changed all that, and is still changing it. Interesting how new habits are formed. These days have certainly not been my best examples of writing, but does it really matter?
I've been able to read many RV blogs, find other interesting websites and actually read books. Real books. Books I enjoy. Books that stimulate the mind in some cases. Books that simply entertain in others. I've toyed around several times in the past with starting a list of the books I've read as a separate section on the website, but the concept is not to the just do it stage yet because "just a list" doesn't cut it.
The above photo might be called many things, "Two old people at a table", or "The white hair stare" for example. Really it is all about connections. The kind that are beyond priceless, the kind that come from the heart. Life does indeed play out upon the stage before us, but remember, in this play there are no dress rehearsals, and so, every moment counts.
---
June 14 Tuesday
Cleaning up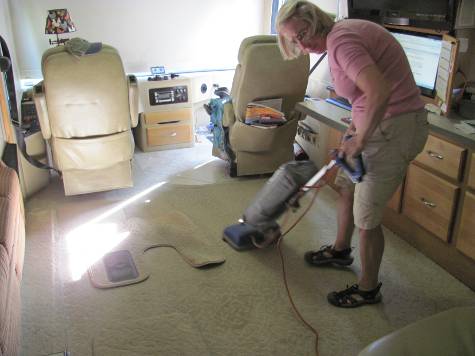 Tomorrow we will be heading northwest towards Goshen, Indiana, but today that was far from our minds, or at least Linda's mind. Once every two to three years it has been necessary to do a more through cleaning of the coach carpets. It is not something that is apparent to me, but for some reason Linda reaches to the point where the amount of dirt contained in our fibered floor covering must be removed at once.
I will probably get in trouble for saying so, but why the big rush when it can be weeks between the times that the carpet gets swept. It is almost like the longer we have been living this way, the less important the degree of dirt in the carpets becomes. Then something comes up, usually a chance to spend time with friends and carpet cleaning becomes the order of the day. I know that is not the case as we journey north to spend time with our good friends, John and Judy, but regardless of the reason, today was clean the carpet day.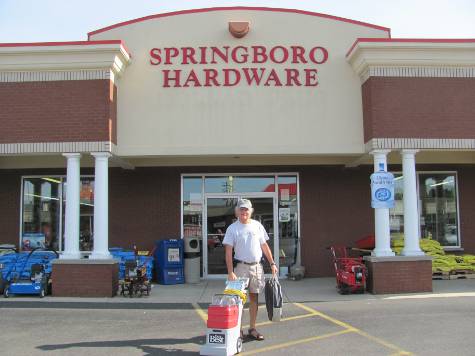 The ladies, Linda and Katherine, had done their research yesterday including confirming phone calls, so shortly after it opened this morning, I was rolling a rented carpet cleaning machine from the local hardware store out to the Explorer. No cleaning solution was purchased, Linda's Internet search yielding the vinegar method of carpet cleaning. It actually worked great, though there was a moment or two when she was in danger of running out of vinegar and alternate plans were being made.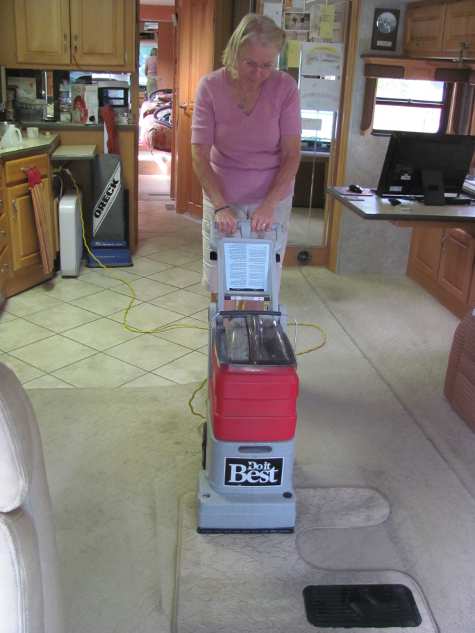 Once back at the coach, Linda took over, mixing up the vinegar solution, and attacking those first special rugs that needed extra attention. My job was to keep the cord out of the way and to take a few photos to document the day.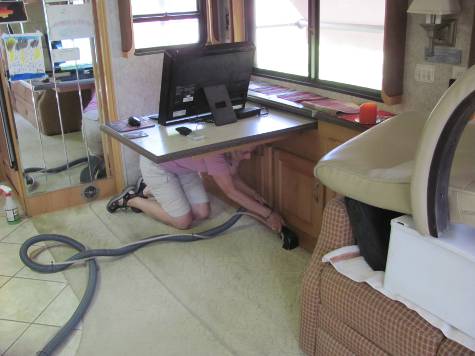 Showing the tough part of the cleaning. You will note how I had to pile all the furniture up and out of the way, making sure that the floor was completely cleared of anything that might interfere with the task at hand. While I rested from all the exhausting work of moving the furniture Linda did a little cleaning around the edges of the carpet.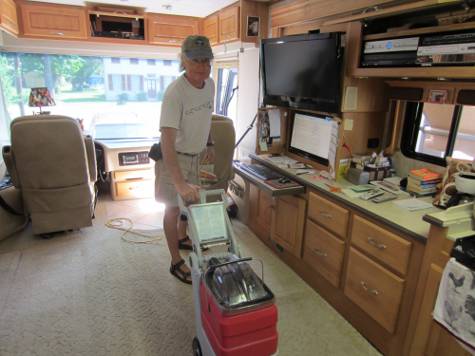 Once I had recovered from the exhausting work of stacking all the furniture, I was told to get to work cleaning the carpet, a task that I hope I don't have to do again for a while. While it may be that Linda would claim to have done most of the cleaning, as you can see, the photos prove otherwise, though it is possible that her story of the day we cleaned the coach carpet would be different from mine.
We talk about living Life, well, it is me who writes the Daily Journal, so it my story that gets told as far as this day was concerned. I look at it this way, I was the one who did most of the work, so she wasn't tired at all. If she claims to have done most of the work, then why doesn't she have me clean the carpets at least once a year or even more often?
For almost 44 years I have been married to this woman who captivated me with her million watt smile and if she hasn't yet figured out how to get me to do her bidding, it probably isn't going to happen. On the other hand, she is the best thing that ever happened to me, so take everything written above with a grain of salt, after all, other than "Yes dear, what else can I do for you", there is not much else I can say. We lived Life today, we hope you did also.
---
June 15 Wednesday
Moving on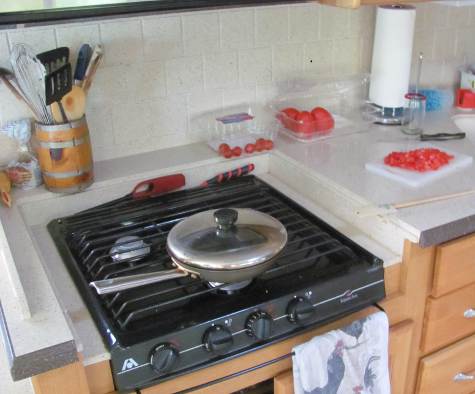 I have been very remiss in the food photo department as of late, so how about a picture of the great breakfast we had this morning. According to Linda it was the best one I had fixed for quite some time, and looking at this photo, long time readers can probably guess why she said that.
The eggs, sweet peppers, onions, garlic and spinach was good, as a look at the skillet shows. Okay so it doesn't show, and when I took the photo I didn't know what I was looking at, but sure wasn't the skillet. That doesn't matter because what made the dish was all the chopped fresh tomatoes you can see on the cutting board. That woman sure loves her tomatoes.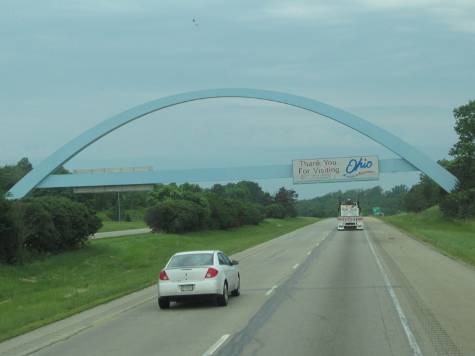 This was our day to leave Ohio, the state where we each took our first breath of air many years ago, and head to Indiana. Not only had the weather been so nice all the time we were in Ohio, the people were also the greatest making it a shame we had to leave, but we want our MotoSat fixed, so northwest we headed.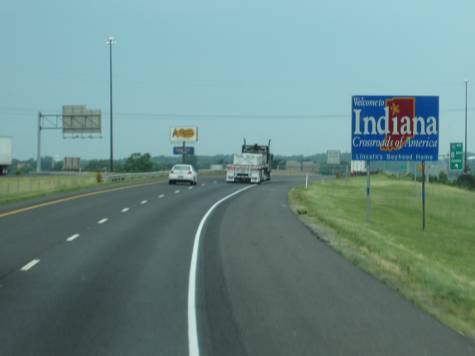 It is always interesting when we cross a border, either between counties, states, or countries, that the culture, the economic conditions and/or the language may change, but hardly ever does the way the land looks change. It only serves to reinforce the concept that we are mere accidents of birth, and that all humans are the same, no matter how much we might try to make some of them different from us. The green fields and blue sky of Ohio are the same in Indiana. As for the people, the people of Indiana were originally from Ohio, but not being smart enough to keep up with the real Ohioans, they had to move west, at least that was what we were taught in Ohio History at school, I think.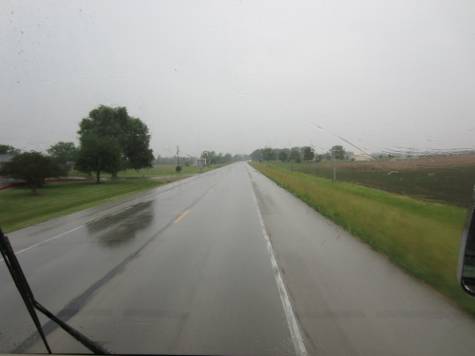 Now I know why all the people who sing Back Home Again in Indiana, are usually someplace other than Indiana when they sing it. The weather in Indiana is such that it rains all the time. It's hard to believe, but everyday we have been in Indiana this year it has rained. Gives new credence to why people always say they are from Indiana, not that they are Indianians. Only joking Indianans, only joking.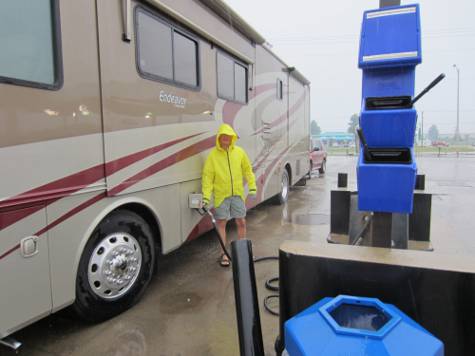 This is a first, fueling the coach in the rain while standing out in the rain. Obviously it never rains in Indiana, otherwise they would have had a canopy over this fuel island. Just one of those things that never comes to mind when you are dreaming about the full time life as you await retirement.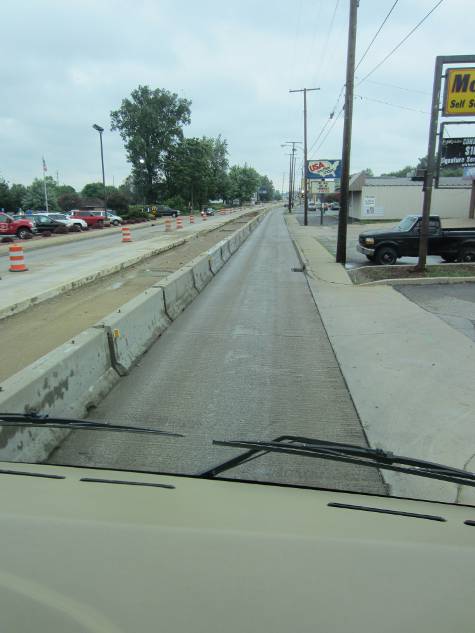 Something else that never you imagine you will be facing. Really, really narrow lanes with K rail on one side, a curb on the other. How did we get in the mess in the first place? It was much worse in Linda's mind than it was in mine, but what is a day without an adventure or two?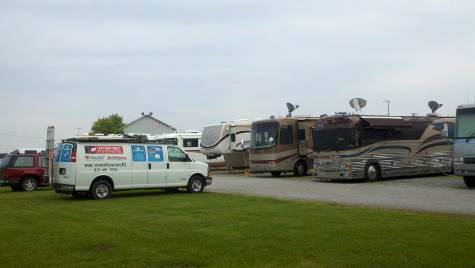 In the end, all was well, and in fact better than we imagined. They had a few cancellations at the fairgrounds and had a full hookup site if we wanted one. Sounded good to us, and in the end it ended up being even better than good. The better than good was that the spot we ended up in was right next to Bill and Janet Adams who would be fixing our MotoSat.
Sometimes we forget that even when things seem to be going in the wrong direction, Sara is always there guiding us down the roads of Life. I wonder how many people worry so much about the possibility of what might happen that never find out what actually happens.
---
June 16 Thursday
Mr. Fix-it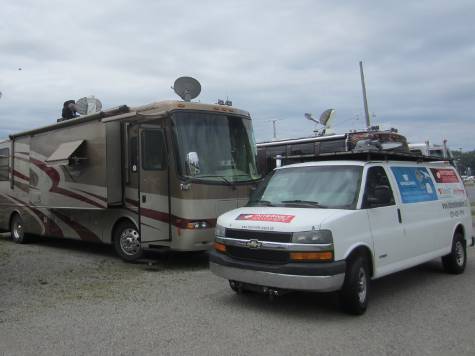 It has been over a month since the late unpleasantness with the fuel stop canopy in Mississippi, and while we haven't had the least bit of interruption in our ability to get online, we still want our MotoSat back and today was the day. Bill Adams of Internet Anywhere arrived between rain showers and began the process of repair.
We know that between tethering the Droid and RV park wifi, we have had 100 percent online connectivity during that time, so why repair the MotoSat? Simple, it lets us go where there is no coverage, i.e., Mexico or Canada, and when there, not be totally dependent on RV park wifi. It's great that there are so many choices in connectivity, because everyone has different needs.
The actual fix was fairly straight forward, replace the dish and arm, including everything, meaning the expensive stuff, on the arm. I even got into the act in a minor way, holding the arm and dish in place when the last fasteners were removed and then replaced.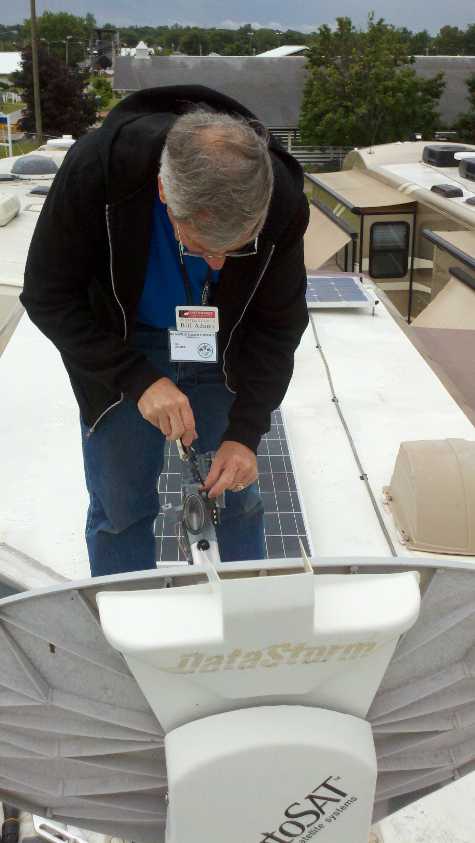 Bill knows what he is doing, but even so it isn't something that takes just a couple of minutes and it is done. Watching him work, it reinforced just exactly why we don't do these things ourselves, especially when the electronics act up, though our on staff tech guru, aka Linda, is quite competent in that area.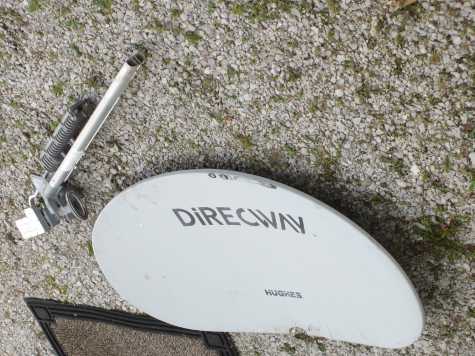 Parts are parts, and these are the parts that were replaced. Bill ended up spending a lot of time tweaking our electronics, though maybe tweaking wasn't the right word, but what ever it was, they work. Just another typical day of Life on the road where 75 percent of what we did has been left out, mostly because this is a just do it post and that's all the writing I want to do.
160.7 0 0
---
June 17 Friday
Oops, discovered when I downloaded the photos for today's Daily Journal why I had so few photos for yesterday which was why I didn't write very much, I was confused. It is like this, the case I use to hold my camera was falling apart so I wasn't carrying it on my belt as usual. However with it laying on the dash Linda took a lot of photos with it, photos I forgot she took, so I hadn't even tried to download anything from it yesterday.
There were quite a few photos of the MotoSat repair, but I had completely forgotten about the oven baked barbecue pork back ribs I made yesterday. I make up a vinegar based BBQ sauce as I go every time, meaning they never taste exactly the same, but are always very good just the same. Yesterday Linda documented how I do it so she could make them if necessary. And were they ever tasty, though a little drier than I wanted, all the more reason to make them again.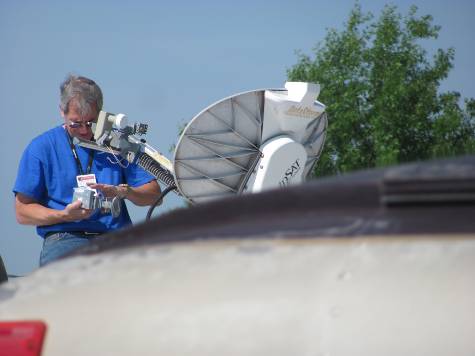 Yesterday I wrote about how Bill Adams of Internet Anywhere had repair our MotoSat dish up on the roof. Today we was on top of a nearby RV working on their dish. Later we were having a problem with the controller for the system resetting, and Bill was quickly able to work some software magic that fixed that quirk. How nice it is to be parked next to the person that can do all this.
Not everyone has the problem of the non-level site, but when it occurs this is not the recommended solution. Just goes to prove that no matter what your day was like, it is highly probable that someone's day was worse. Besides, there is always tomorrow, when you can have a really bad day if that's what you want.
160.2 .5 .5
---
June 18 Saturday
Visiting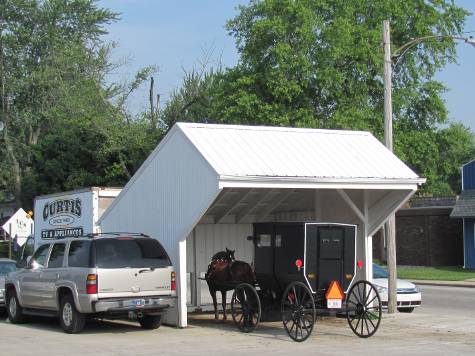 Time for family once again, and early morning found us driving the Explorer towards northwestern Indiana where Linda's brother, Charles, lives. We are in Amish country and our travels took us through more Amish country. This covered parking spot for horses sure caught Linda's attention when we stopped in Nappannee to look at the interesting downtown area.
Linda was definitely having fun looking and taking photos of all the buggies on the streets. I could imagine her looking wistfully at this one full of young girls. It was a case of Linda, who never had a horse even though she very much wanted done, and these girls who only have a horse. Who has the better life and how do you even begin to compare the two? That is why we try to live Life the best we can, thinking of ways to make things happen rather than reasons why they can not happen.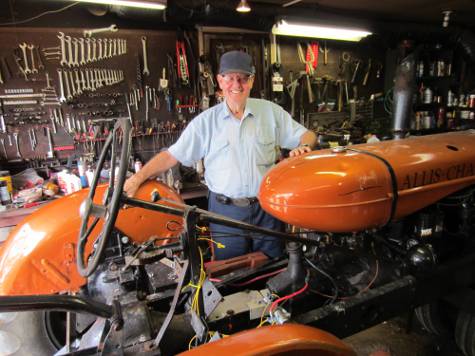 Charles is big into tractors, no horses here, and this one is special. Besides being his stock pulling tractor, it also the one that ran over him, breaking his collar bone in the process. He is standing where it happened, the exact spot where he was standing when he started it up while it was in gear, and it did the rest. Definitely not the standard Allis-Chalmers color I remembered, but at least the tractors nickname is spot on, "The Crusher.". He also showed us the special cut-out switch he installed after it crushed his collar bone to prevent it from being started when in gear. Better late than never.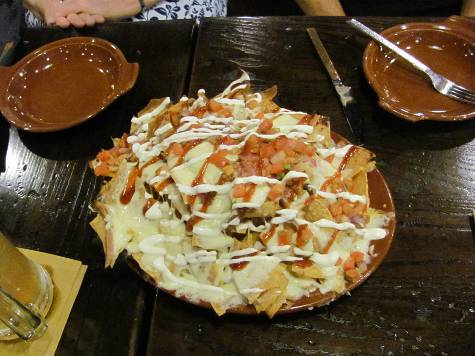 Time for a food photo, even if it wasn't something we made. We ate at the Industrial Revolution restaurant in Valparaiso, a most interesting place that manages to combine very interesting architecture with delicious food. That's our appetizer, a combination of ingredients mound of food that we had to stop eating in order to save room for our main courses even though there were four of us working at it.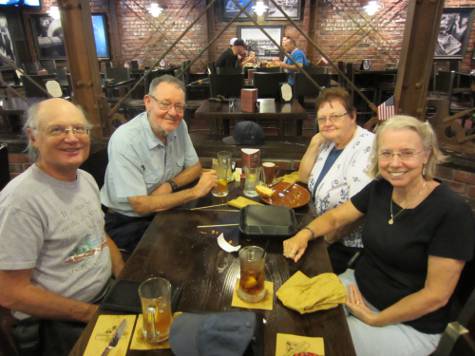 Given all the smiles, the food had to be good, and it was. One key is the fact that there are only two take home containers on the table. I must also say that the combo tea and pink lemonade I had was far better than I thought it would be. I don't like sweet tea, but because of the uniqueness I took a chance and was pleasantly surprised.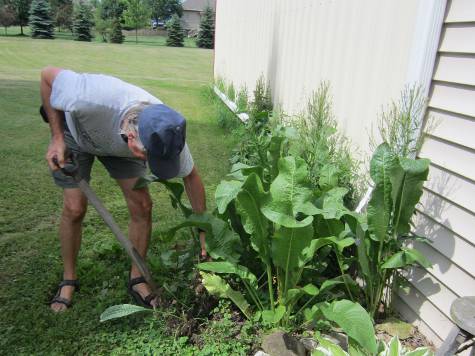 Before we left, Linda made sure we dug some horseradish. Nothing is better than fresh homemade horseradish, and these plants have furnished us some great tasting horseradish in the past, as Linda would bring some back to California whenever she would fly back here to visit. Even though it isn't the best time of the year to dig them, it should still provide us with some of the really good stuff.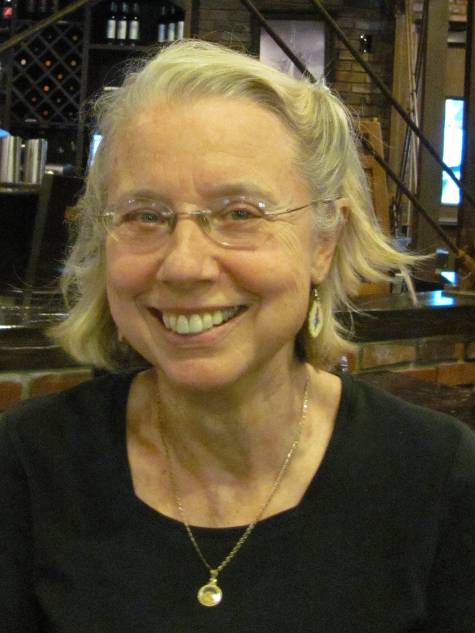 Is it a bird? A plane? No, it's Wing Woman!! Able to fly to great heights with a flap of her locks. Not really, but the way Linda fussed all day with that unruly whisp of hair, you'd have thought she could, making it just another typical day in the paradise known as the full time Life. Besides, I thought it helped show off the very pretty Ancient Walrus Ivory earrings she had on.
161.7 1.6 1.1
---
June 19 Sunday
Something new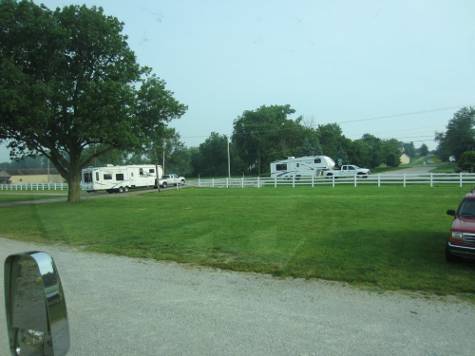 The fairgrounds have been the scene of the Heartland RV Rally this week, and it being over today, the exodus began. It was five years ago that we were here ourselves for a rally, so we couldn't help but wonder where these rigs were going and what adventures awaited them.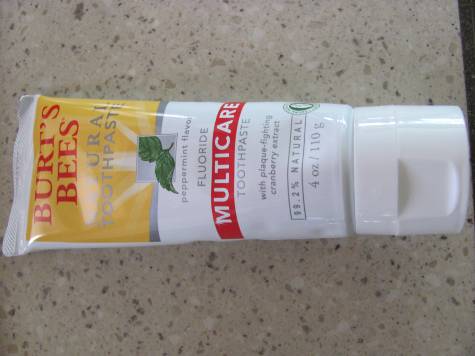 Not everyone can have big adventures, so here is a small one of mine. For a s long as I can remember I have used Tom's toothpaste Then a few years ago they sold out to one of the big companies which started me to thinking every time I would buy a new tube, why don't I find another small company to support. Yesterday I saw Burt's Bees toothpaste, so I voted with my dollars for it. Turns out that when I checked, it too had been sold by its owner to a big company so no joy in Mudville there for me either. I will say that I did like it and barring finding some smaller toothpaste producer in the future, will probably keep on buying it despite its seemingly far too high of price. Linda says I should just use baking soda like she does, and maybe she's right.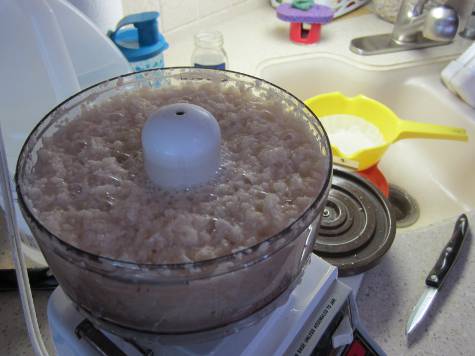 Besides offering advice concerning dental hygiene, Linda was also into making horseradish sauce. Trimming them, peeling them, grating them, letting that set to develop the right amount of flavor and heat, adding the vinegar at just the right time, then putting it into the containers. By the time she was done there were piles of dirty dishes and mountains of horseradish sauce. Typically one puts some horse radish on their food. We may be putting some food on our horseradish. It isn't really that bad but something tells me we will be having horseradish on foods that we normally wouldn't.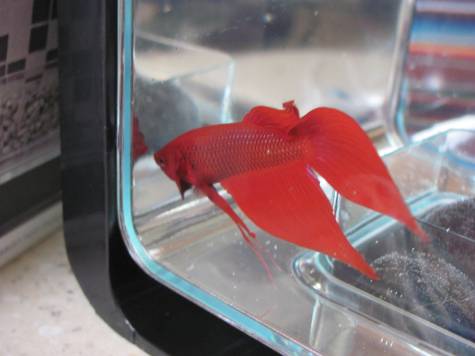 With it being Father's Day, Linda had a surprise for me. My present, which I got to pick out, is Red Rob. I'd had fish for years and years, both inside and outside, but in all that time I'd never had a Betta and now I do. His little home sets on the shelf beside me where it will be easy for us to get to know each other.
I must say that picking him out, given all the different fin patterns and colors, was easier than it first seemed. Bettas are displayed in small containers, and most of them hug the back. Red Rob was just the opposite, out front, inquisitive and active. Besides, I'd already decided I wanted mine to be red, so it couldn't have been easier. I think he was also looking for just the right person to live with and was giving me his own seal of approval. Fish also have personalities, they just aren't quite as apparent as those of our more typical animal companions. All in all, it was a great day, just as every day should be.
161.7 .8 .3
---
June 20 Monday
An outing in Amish country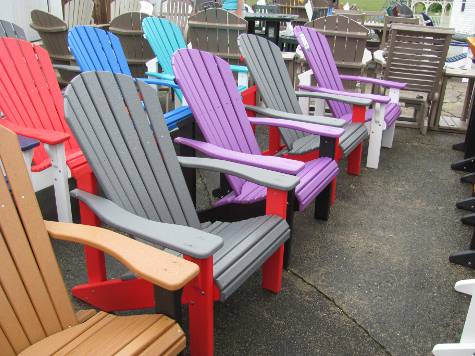 Do we or don't we? Our plan had been to drive over to Shipshewana in the heart of the Amish country today. There were lots of reasons to do it, but on the not do it side was the fact that it had been raining all morning. Meaning it looked like the best plan was to postpone the drive, waiting for tomorrow's good weather.
Luckily for us, Linda reminded me of what it had been like the last time we were there, and it wasn't the weather, it was all the people. Lets see, we could go over today when it was raining, which would probably keep some of the people away, or we could go over tomorrow when those people along with everyone else who was planning on coming on Tuesday would be there. Plus, everything we wanted to see and do was inside so the rain wouldn't really be that much of a bother. All this from Linda, which reminded me once again of just how lucky I was to have married such a smart woman.
And would you believe it, it wasn't raining in Shipshewana, just on the drive over. Linda wants to get some Adirondack chair for our Texas patio, so one stop was to check out the styles and colors. Linda immediately loved the two color chairs, especially the red and gray combination. We came away still not knowing exactly what we wanted, plus now she has even more choices than before.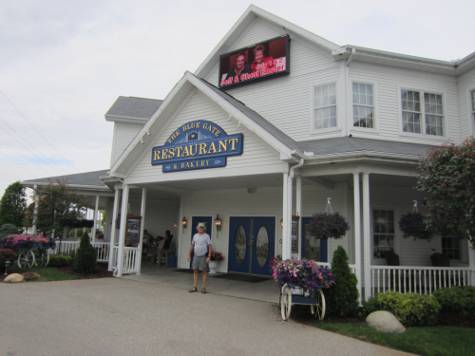 Linda is so neat. We were over here so she could check out the chairs, and shop at two stores, Yoder's Cheese and Meats, as well as at the bulk food store. She also had a surprise of sorts, lunch at the Blue Gate, her treat, as my Father's Day meal. While I had been forewarned, it was still loads of fun, which is what Life is all about.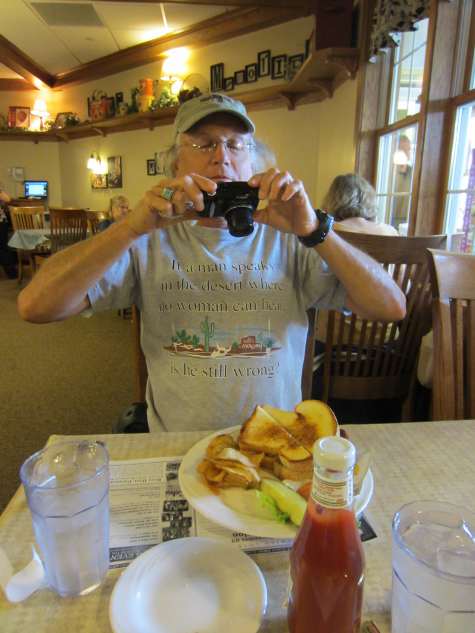 In addition to the fact that my toasted meatloaf sandwich with Amish Fries was spot on, the girl with the big beautiful smile that was sitting across from me made it a perfect lunch. Linda, cheese hound that she is, went for the open faced turkey sandwich smothered in melted cheese. It was even better because we worked out a pre-pigout agreement where we would each give the other, half of our own sandwich. Interesting that both halves that were passed across the table were the small halves.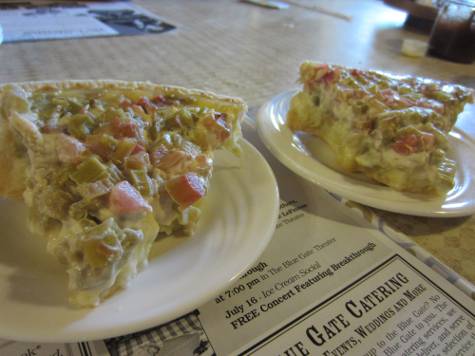 Save the best for the last proved to be true, though no matter how good what comes before is, nothing is better than fresh rhubarb pie. You know you're where they know rhubarb pie when they have real straight custard rhubarb pie. They did have strawberry-rhubarb for those that don't know any better, which is okay for others, but Linda and I are pure purists when it comes to rhubarb pie. What is even worse is to think that there are people who have gone through life without ever having so much as a taste of rhubarb pie.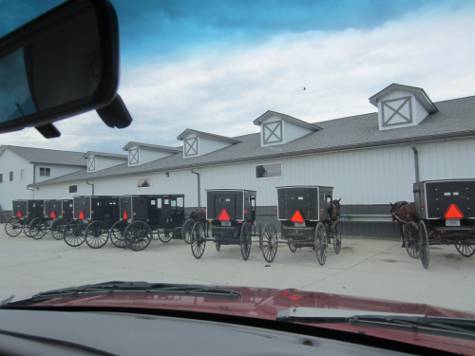 Linda is very much into the horse and buggy thing, obviously stemming from her being deprived of having a horse when she was a girl. The parking area at the side of the bulk food store holds a particular fascination for her, so much so that after taking this photo as we drove in, she wasn't through. Walking towards the store I discovered she wasn't walking beside me, she was heading back around the corner to the side of the building to get a closeup look at them.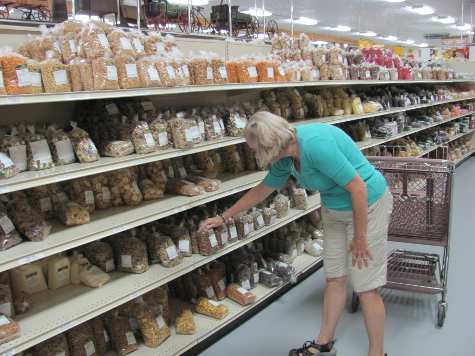 I'll end the day with Linda trying to find something on the shelves of the bulk food store. As the sign on the door says, no credit cards. As the prices on the packages say, if you shop in your supermarkets and buy things in small quantities with lots of packaging, that's what you pay for, packaging and a fancy store.
Linda was pointing how low the prices were on spices, but the big packages made for far more that she needed. A little quick math showed that if we bought it at that low price, we would save a huge amount of money even if we used only a small amount. She only ended up with a container of whole nutmegs, but there is always next time, and we will back again to the area some day.
160.4 .6 .3
---
---