Journal Archive 6/21 - 6/30 2011
Scroll down to read the latest post
June 21 Tuesday
Going to the dogs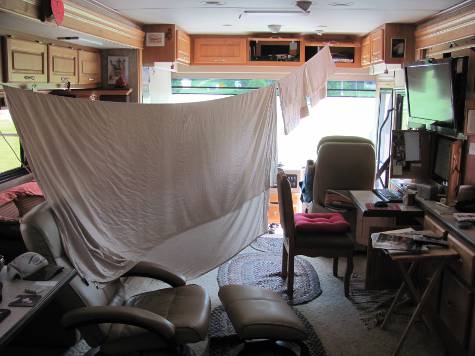 Yesterday when we were driving to Shipshewana, Linda was having fun commenting on the fact it must have been laundry day because of all the clothes that were hanging on the front porches. Turnabout is fair play, so it is Linda's turn to have her laundry hung out for everyone to see, though maybe that should be, hung in for everyone to see. It actually worked out quite well because with the heat, we had the air conditioner running which sucked the moisture out of the air and out of the sheets as well.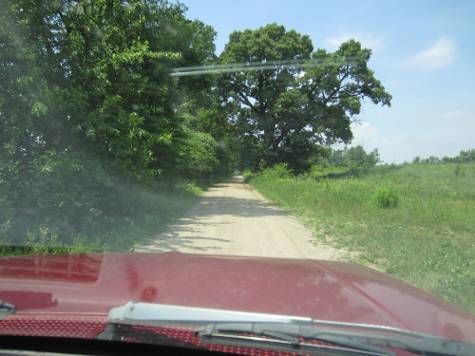 Today's outing was a trip to the RV Hall of Fame and Museum up just up the road near Elkhart. We've read about it in a number of blogs, and since we live in one of those contraptions, it was just naturally something we had to visit. Most people probably see it from the Indiana Tollway and drive in the main entrance, but not us. Our trusty navigator had problems getting the GPS programmed properly, so our route was not your typical one, and lest you think there is only one way into the place, we can assure your there is a back way, even if the signs do say travel at your own risk. They don't call this way of Life, the adventure of the open road, for nothing.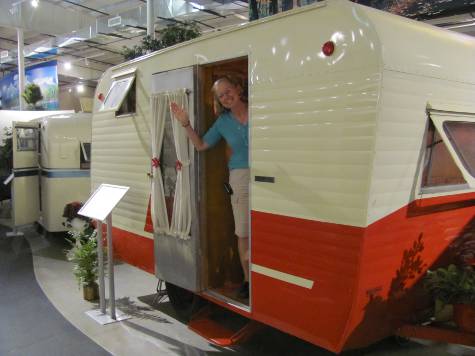 As far as the Hall of Fame and Museum was concerned, our impression was that while it was interesting, it wasn't anything really worth going to see, and definitely not worth the price of admission. They have this grandiose building with pretty much nothing in it. Sure there is a collection of some older RV's, but it sure wasn't anything to write home about. Linda did pose in the door of this old Holiday Rambler trailer, and the fact you can actually go inside a number of the trailers is interesting, but it is almost a seen one, seen them all type of thing after a while.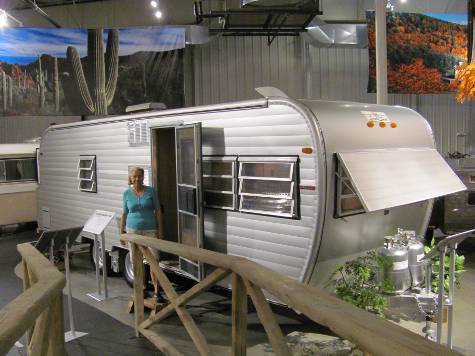 This trailer did have a connection for Linda, it being the same model that her parents once owned. Which was also the one they had wrecked on their way to Florida as snowbirds the year they retired.
I will leave the museum with the thought that was going through our minds as we left, is that all there is? Whatever the reason, lack of vision, lack of money or lack of management talent, it looked like this place was going nowhere fast. I just have to contrast this, all glitz and no show pink elephant, with all the wonderful small county and small town museums we have visited around the country, and wonder what on earth they were thinking when they started this and what happened along the way.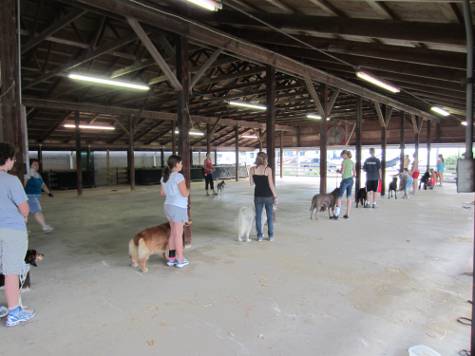 Lest you think the title of today's Daily Journal, Going to the dogs, was about the museum, it wasn't. Linda had noticed the fairground's activity board was showing there were 4H dog training courses being held this evening in the nearby buildings.
We spent over an hour watching the kids learn how to show their dogs, including all their frustrations when the dog paid no attention to the different commands to stay, sit, down and heel. Later we walked over to another building and watched the dogs learn the agility course. Lets just say that some were better than others. It was the perfect way to end the day and just goes to prove the point that oftentimes the best things in life are free.
In case anyone missed it, the homepage was updated with a new article today. As for tomorrow, it is a travel day as we head to that state up north, as Woody Hayes used to say, where we really look forward to spending some time with our friends, John and Judy. And where, hopefully, the daily rains of Indiana will be nothing more than a memory, it having rained at some time or other during every day we have been here.
162.4 2 1.7
---
June 22 Wednesday
Heading north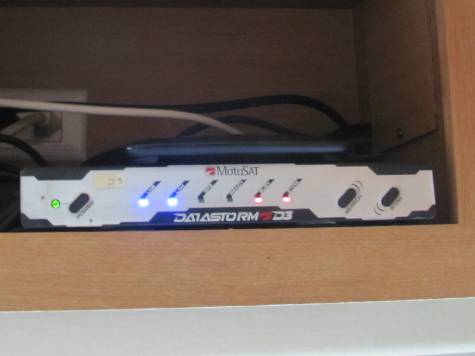 Maybe to some it is just a photo of our D3, but not to us. That photo represents a rather expensive lesson learned, something that after all these years should never have happened in the first place. It also means that if the MotoSat is being stowed, it is time to move on, heading north to Michigan.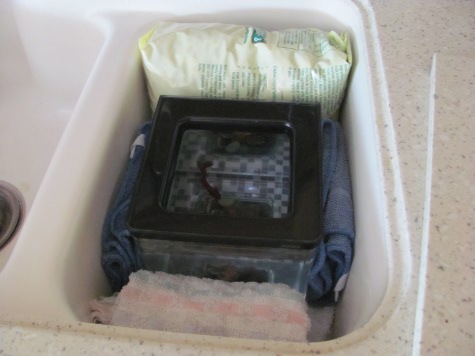 The MotoSat wasn't the only thing being stowed for travel. I had to chuckle over all the care Linda took to make sure Red Rob was safely tucked in for the trip. After the photo was taken, a piece of plastic wrap with small holes in it was placed over the top of his house to prevent him from trying to jump out should my driving not be up to what he wanted. It all worked perfectly, and he arrived at our final destination happily swimming around. I know he is only a fish, but he is my fish.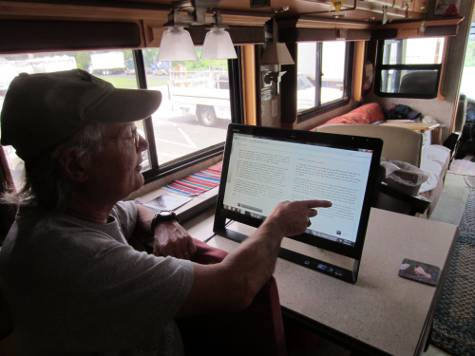 Our way north had one stop built into it where we were getting the front end of the coach aligned. We arrived just after their lunch hour started, even though it was just after 11 AM, and they had just taken another RV into the bay, so it was going to be a good wait before our turn came up. We waited in the coach, Linda reading a book, while I turned on the inverter and used my computer's Nook reader. Nook, Tablet or whatever, they are looking more useful by the day.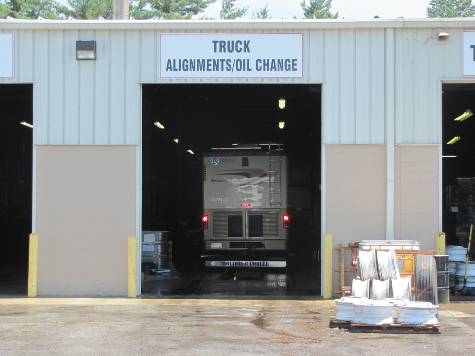 The actual alignment didn't take long at all, and was something that we have needed to have done for quite some time. It was Zolman Tire in Mishawaka and we certainly would use them again.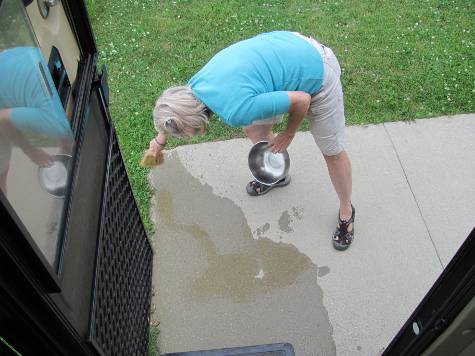 It was late afternoon before we arrived at the RV park where we will be staying for the next several weeks, but with John and Judy greeting us, time no longer mattered. Linda did have one job that she jumped right into. It seems the previous occupants of our site, a flock of geese that moved off as we moved in, had left a few reminders of their having been there. A little water and light brushing cleaned off the little presents they had left on the concrete right outside the front door.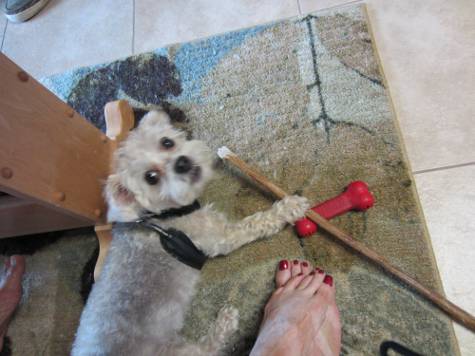 Mollie was certainly happy to see us, and whether or not she remembered that special present we had for her the last time, she sure knew what to do with the same present this time. Meanwhile we got caught up on many things with John and Judy, including a quick review of the Bourbon Trail. In our old life we saw our friends on a weekly basis, in this Life that is not the case. The joy of full time living comes in many forms but this is the best of all.
161.4 1 .7
---
June 23 Thursday
Living Large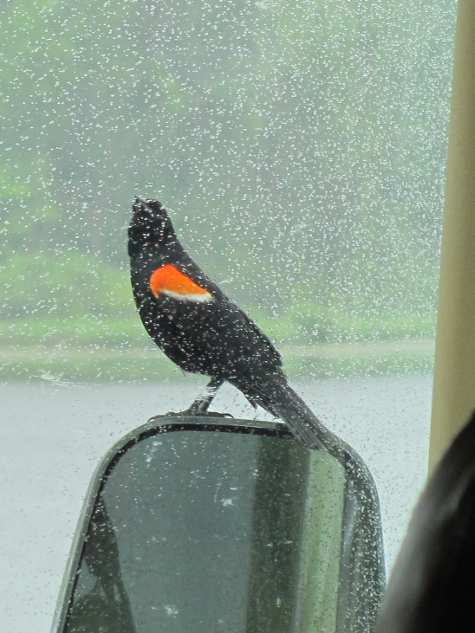 We have a friend who likes to sit on the front mirrors and sing about how wonderful life is. Doesn't matter if the sun is out or it is raining. Linda did a quick check of red wing blackbird behavior and discovered that the more they sing, the happy they are. We have concluded that the happiness of ours knows no bounds.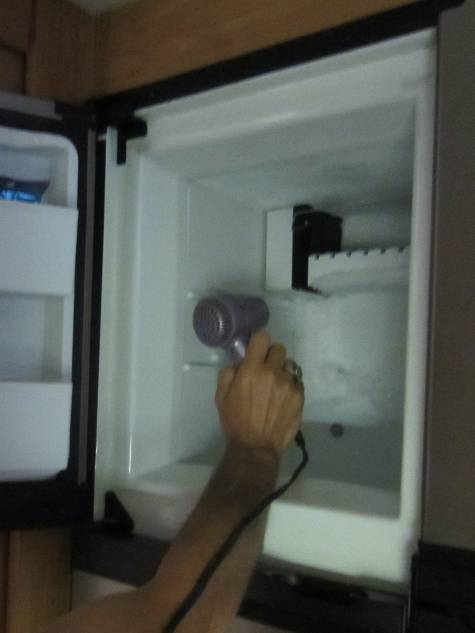 Just a reminder to all those who want to be living this Life as to what this Life really is. While there are no more 3 AM alarms that go off so one can get to the airport in time to catch today's flight to who knows where to conduct some type of business, it doesn't mean you are on an endless vacation either. Nothing like defrosting the ice maker side of the freezer at 7:30 AM to remind you of that.
I've decided to make this a food photo day to make up for all those times that I haven't posted a food photo. I'll try not to make it the just do it concept applied in excess to food photos. This was a three salad sampler plate that Linda had at a great little restaurant John and Judy took us to.
Before that we got a personal tour of the business they own. There are people who resist or resent change and then blame change for their failures. Then there are people like John and Judy who look on technology and change as something to be embraced, and who praise it for helping them to be so successful. How many people are there who think of all the reasons why they can't be full timers, versus the ones like John and Judy who looked at the ways they could become full timers and are now enjoying being just that.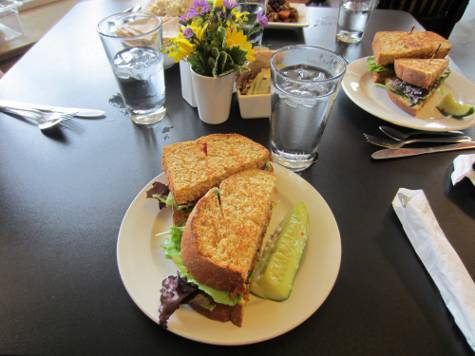 Not to make this a restaurant review, but if you want food that is not only out of the ordinary, but is also extraordinarily good, you might want to take a look at this. And while Judy and Linda had salads, John and I tried the Sweet Potato & Quinoa Burger served with a, dead on, deli dill pickle. So what if it was raining and we had a long wait for a table, great food, great friends, nothing can beat that.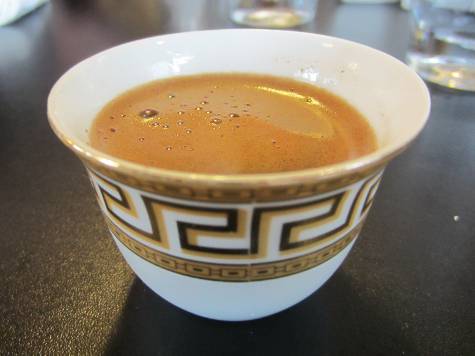 There is dessert and then there is dessert. But dessert wasn't in the cards at lunch, what was, was Turkish coffee, real Turkish coffee, made the Turkish way in the pot, and frothy on top. It brought back fond memories of our travels in Turkey. We also recalled our canal boat trip through France in 2009 and made some tentative plans for a similar one in England sometime in 2012. Memories leading to more memories, living Life large.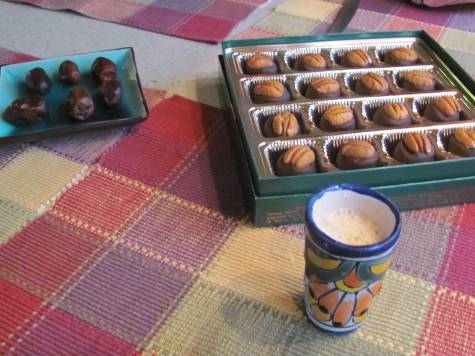 Dessert, not at lunch, but rather after dinner. Look how I spared you the photo of the juicy mouth watering grass fed beef burgers we had for dinner. Dates, bourbon balls and bourbon cream made for the perfect end to a wonderful day. Life is Good
162.7 1.3 2
---
June 24 Friday
Just living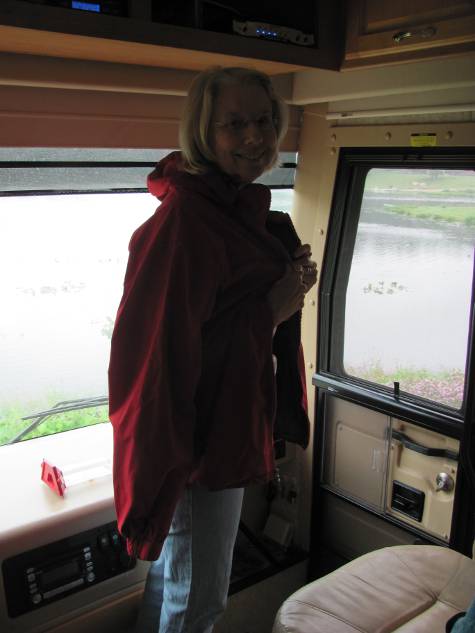 Another rainy Indiana type day in Michigan, but at least I got to see little red riding hood this morning. While I spent much of the day reading, I do like the Nook for PC program, Linda spent the day with Judy. Partly doing girl things, at least I think that's what they were doing, and later out grocery shopping.
I, on the other hand, was also into animal husbandry as well as reading. Our red winged blackbird was a constant visitor, even with the rain. Linda has made one interesting observation about his habits though. It seems that when he perches on the driver side mirror his enthusiasm for certain things knows no bounds. For now she has decided to allow the white deposits on the arm of the mirror to accumulate until just before we leave, when she will clean it off. At the rate it is building up we may be able to bag it and sell it as fertilizer, but I don't think she would go for that idea.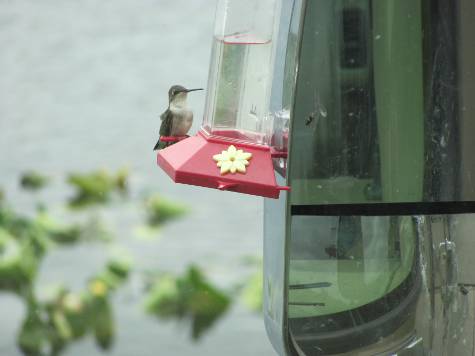 Yesterday was food photo day and today is bird photo day, after all that was a cute chick in that first photo. Between rain showers and Linda's occasional returns to the coach, she managed to put up two hummingbird feeders. Our old one went out to it's customary place on Linda's mirror, while the new one, a gift from her sister-in-law Betty Lou, was mounted outside the window next to her computer.
Of course whenever Linda was around no one came to feed, but let her leave and those hungry little birds were soon there. It is amazing that it only takes an hour or so after you put one up until they find it.
I will leave off today's post by pointing out something other than the hummingbird in the above photo. It looks like Linda will be cleaning off both mirrors before we leave this RV park. Either that or I could double the amount of bird fertilizer we could sell.
Completely changing the subject, we enjoyed a great evening meal over at John and Judy's, after which they shared their extensive knowledge of Florida and the best spots to RV this winter. Today might have been a day of just living, but what a way to be just living.
161.6 1.1 .9
---
June 25 Saturday
The other half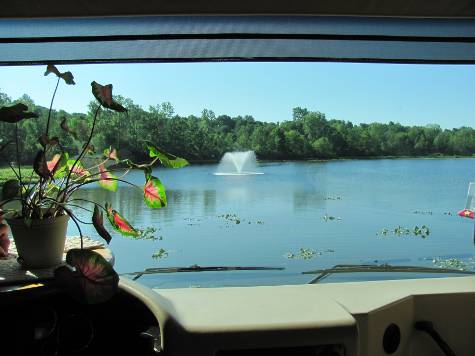 The antithesis of yesterday greeted us as we opened the front shade today. Is this that illusive magnificent Michigan morning? This is one of the joys of the fulltime Life. Not only does the scenery change, but so does that sense of: Pinch me, I never imagined I'd wake up to this.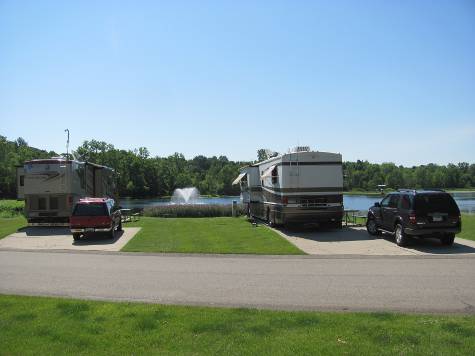 We love the west, the openness of it all. The contrast of desert and mountain, the intense quiet and the ability to easily get away from it all. Here we have none of that, yet there is a sense of peace, that peaceful easy feeling, knowing that all is right. I suspect that there are some people in this park who might focus not on where they are, but on the fact the hookups are at the front of the coach. To them the question might be: why do you even RV in the first place?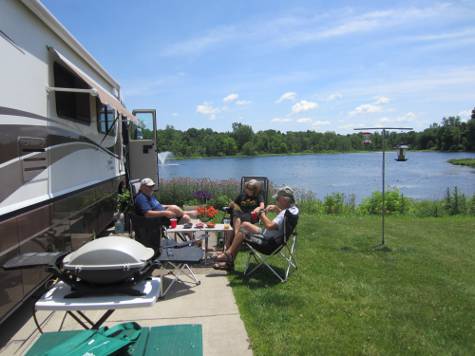 As you might guess, John, Judy, Linda and I aren't concerned about where the hookups are, we are too much into just enjoying Life. An added bonus are those purple flowers in the background. They are some type of thistle, but that is more than offset by the extremely pleasing aroma they exude. The surprises of nature just keep coming, sometimes in unexpected ways.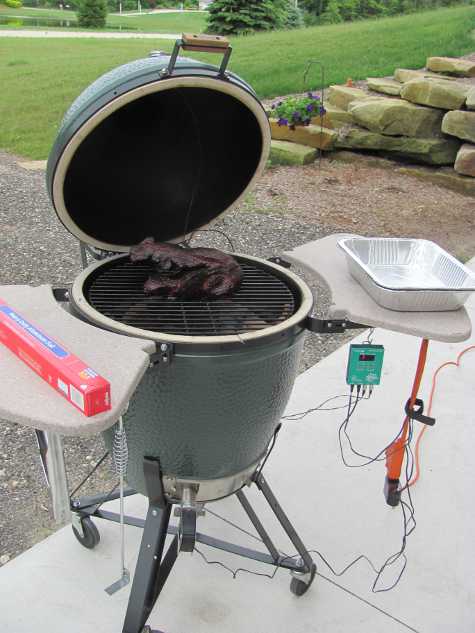 In the evening we had a treat, visiting with Stan and Kathleen, business associates and great friends of John and Judy. It was our introduction to the Big Green Egg cooker and smoker. And while it may not exactly be accurate to say stone age meets space age, it's pretty close to that.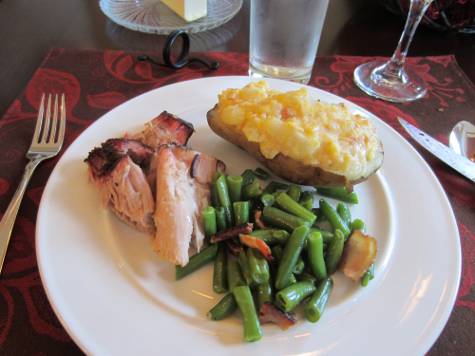 The meat slow cooked for 17 hours without any additional charcoal due to the temperature probe and automatic fan that is part of the cooker. It was real charcoal flavor at its best.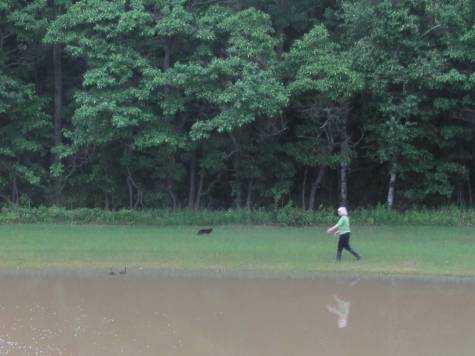 Stan and Kathleen's home is magnificent, including a small pond in the back. They had raised five baby ducks, two of which continue to call the pond home. You might say they are the center of attention, in fact they sometimes get too much attention. Note how Kathleen is informing the neighborhood black cat that these ducks are not to trifled with.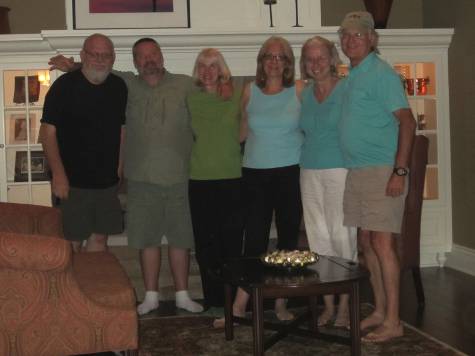 I used a trick of photography in this one. John and Stan are both taller than me, but by being closer to the camera, it appears I was the tallest of all. Now if I could just figure out a way to flatten my stomach, all would be well.
As we drove away I was thinking about how differently each of us here on earth approaches life. We were not all chopped out of a mold looking like marshmallow peeps at Easter. It is the same with how we live Life. So why do some fulltimers think their way is the only way. That no other definition of fulltiming but theirs matters?
It's something I see brought up in the forums on occasion, and it often leads to heated exchanges. Why can't they put themselves in the other person's shoes and look at it that way? We were privileged to see how Stan and Kathleen live, the excitement they exude as they not only talk about it, but as they truly live it. Perhaps we should all take a good look at how everyone else lives their life, and just maybe we will see that others enjoy their Life just as much as we do ours.
163.8 2.2 3.1
---
June 26 Sunday
A pleasant day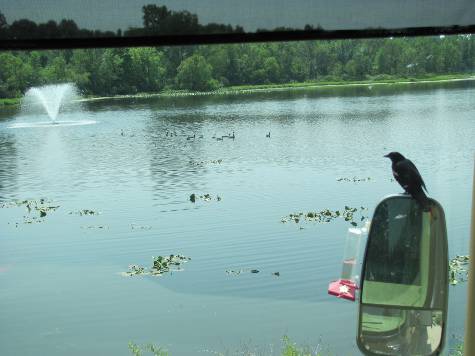 Two days in a row where the sun shone brightly and our ever vigilant red winged blackbird watched and squawked. Today the geese joined in the fun, slowly swimming around the lake in front of the coach. We also noticed the parade of RV's which had entered on Thursday and Friday, reversed direction and headed out of the park. We did note that there were quite a few less than came in, likely because many were staying for the week with the holiday weekend coming up.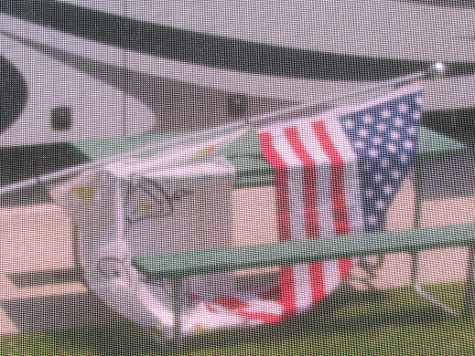 The people beside us were definitely weekenders, but spent so much time off riding their Harley, we wondered why they came in the first place. There wasn't any large number of motorcycles in the park, in fact they may have been the only one. Maybe they were just doing what we did when we were weekenders ourselves, just getting away from it for a while.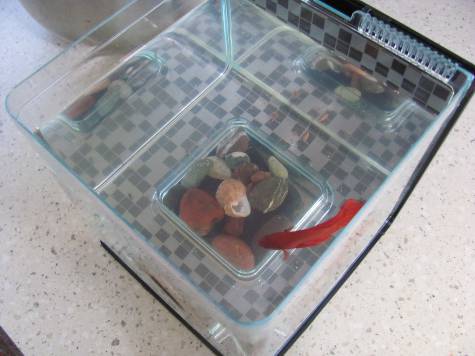 I have tried to be real careful not to post many photos of Red Rob, but with today being his one week anniversary, plus needing to change the water in the tank, here he is. Over the past week I've read a good deal about Betta's, and there are almost as many opinions as to what they need to thrive as there are people posting those opinions. From all indications Red Rob is doing well, at least for the time being.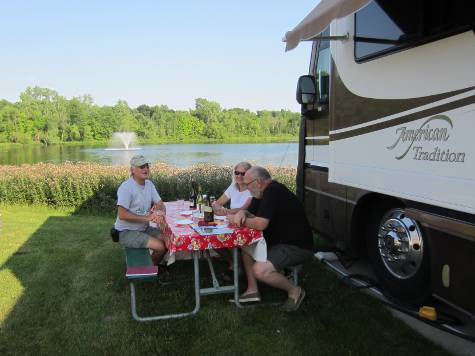 With the weather being so nice, it was time to eat out. With the shade being on the wrong side of the RV's, John solved the problem by dragging our table into the shade cast by their RV.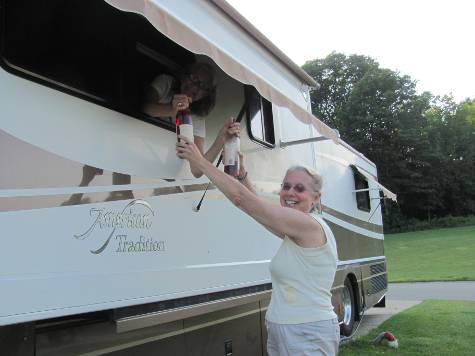 With the shade problem solved, Judy and Linda got the food out.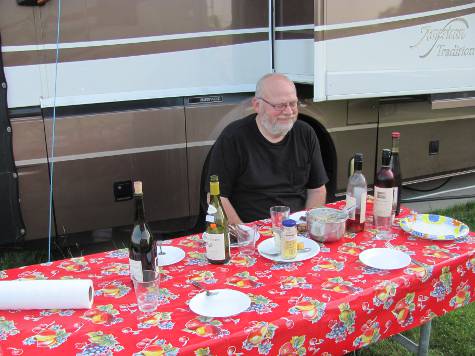 Obviously from the look on John's face, there was an important decision about to be made. I believe the answer was, all of them. Some days the fulltime Life is just like that, tough decisions followed by hours of enjoyment. Then there are other days where even though you don't really want to, you just do it, like the writing of today's Daily Journal.
162.2 1.6 1.5
---
June 27 Monday
Strawberry day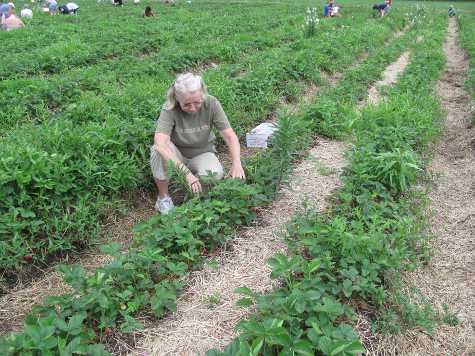 It's been years since we went strawberry picking, but that drought ended today when Judy took us to a u-pick strawberry patch. Even though it was near the end of the season and it had rained out the picking for several days last week, it was a fantastic experience. You also might guess what is for dinner tonight.
As much fun as we had picking, it was just as much fun to listen to the kids in the nearby rows as they picked. The shouts of, "I found a really big one" or "This row is way better than yours", and my favorite, coming from the mom,"Don't just eat them, put them in the basket." How easy it was to close my eyes and remember my own childhood and the trips with my mom to do the same thing, including likely hearing the same words.
There is a significant difference between picking when you're in grade school and picking when you're retired. It is your back. While ours weren't aching as we picked, I know I was certainly becoming aware of mine. Fortunately it started to rain, so I was saved from going too far. It really surprised me that neither Linda nor Judy showed any ill effects. Maybe it is an age thing.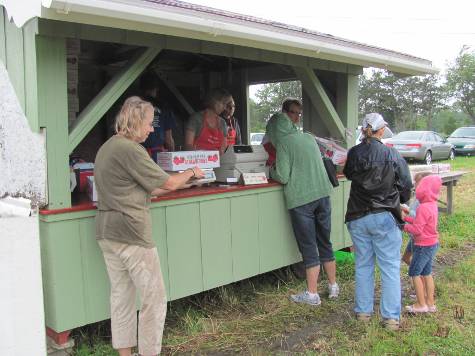 When the rain really started coming down, it was time for many pickers to become former pickers, the three of us included. The nice thing was the shed where you took the berries to be weighed and to pay for them, had an overhang. Before we left the coach Linda had made sure I had funds to pay for the berries, so I figured I would get to stand under the overhang. Not so, I got to pass her the money, then stand out in the rain and take photos. Oh well, at least those berries were more than worth it.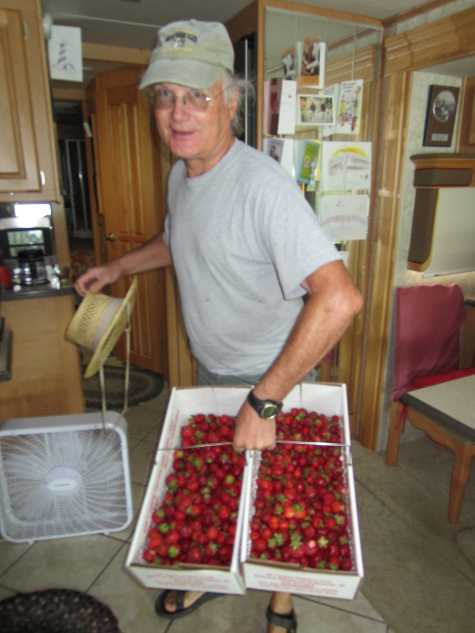 I don't know if she really planned on picking both baskets full or not, as I never asked her, but we had about 18 pounds between the two of them. I did receive comments about some of my berries being a little too far on the ripe side. But dog gone it, after all those half ripe, hollow centered excuses for strawberries they always have in the grocery store, I wanted the real thing for a change, dead ripe juicy berries.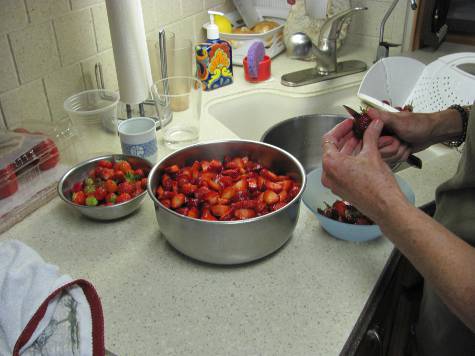 Confession time. Once we were home, I was a wuss and left all the berry preparations to Linda, and interestingly enough, I never heard a complaint about it. However, as I watched her clean and cut the berries I also noticed a considerable amount of quality control testing being performed on them. Besides slicing this bowl full of berries for dinner, she also chopped enough for several batches of strawberry jam which she will make tomorrow. Now that I know about all this quality testing that needs to be done, I'll see if I can take that part over tomorrow for the jam.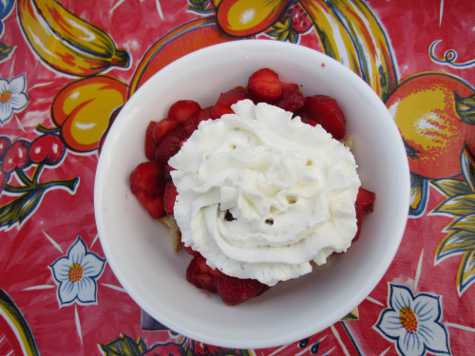 All that work was more that worth it in the end as you can see. Judy baked up some wonderful biscuits, John bought a can of whipped topping, in between were Linda's strawberries, and I took the photo. It simply doesn't get better than this, and truly, this is what Life is all about. Great friends, great food, great times, along with great memories, both old and new. Remember, Life is not a dress rehearsal. Don't be afraid to laugh, love and retire early.
163.4 1.2 2.7
---
June 28 Tuesday
All charged up
We made a mail run today and the result was a Father's Day package. I guess it doesn't matter how old you are, it always fun opening a package, and as you can tell from the expression on my face, this was no exception. I can remember as a boy, how excited I always was when my order from the Johnson Smith catalog would arrive. Of course what ever it was never lived up to the description, but it didn't really matter, since ordering it and getting it was most of the fun anyway.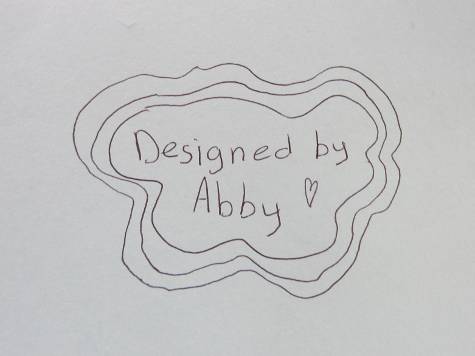 Besides three great books, there was also a card in the box that was very, very special. Thank you Abby!! Along with the books, the fact that the design on the front of the card can be removed and used as a bookmark says a lot about my granddaughter. That's why packages are always so much fun to open, you never know what surprise you might find inside.
When I made my dumpster run today something new greeted me, the roll off to the left. Looks like the park is gearing up for all the people who come out to celebrate the 4th. We've also heard about an annual Fourth of July tradition here at the park that involves water. Not only that, but our site location ensures us a ringside seat for one of the more spectacular parts of it, but we've got to wait until the 4th know all about it.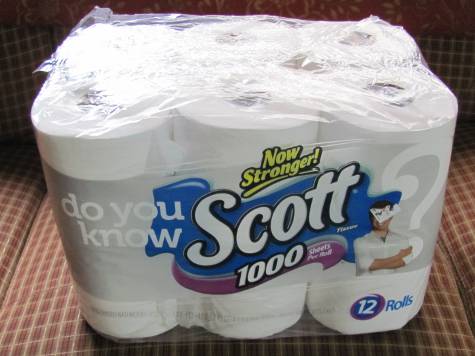 Speaking of waste, at least it's not the 48 roll size or whatever, that we used to buy at Sam's Club. It actually works well, as nine rolls fit on a special shelf I made at the very top of the cabinet in the bedroom, while the other three fit under the vanity, making them handy. And as a side note, we fall into the Scott camp in this matter for two reasons. We have always used it with no plugs or problems, and we like the 1000 sheet rolls because they last a lot longer than those puffy rolls that cost more.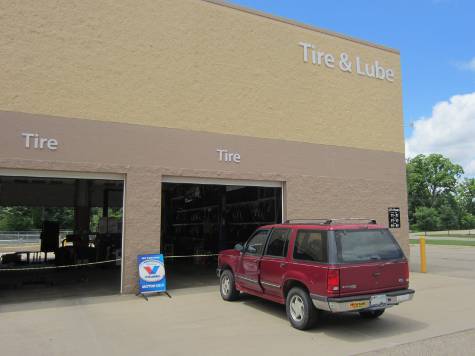 Time for a new battery. For the past two days the Explorer was not wanting to start, as in no battery power. We could jump it with our jump start battery, but that is not the way to drive down the road. A stop at WalMart for a battery test, we'd bought the old battery at a WalMart, showed the battery was good. Still, I had them istall a new one, which solved the problem. As for our experience at WalMart, lets just say they were very competent at being incompetent.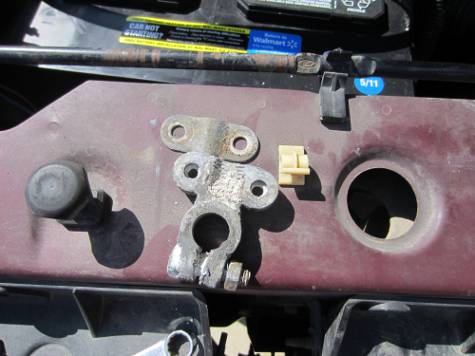 Not sure as to what was actually causing the problem of the run down battery, we bought a battery cutout switch, just to make sure it didn't happen again. Back at the RV park when I went to install it I discovered something. The wires to the negative battery connector were loose. A little disassembly resulted in a mass of corrosion falling out.
There was no way on earth the fellow at WalMart could have installed the new battery and not noticed they were loose. I remembered they were all doing as much complaining about the new manager as they were work, and I could completely understand at that moment why, they were totally incompetent to be doing what they were doing.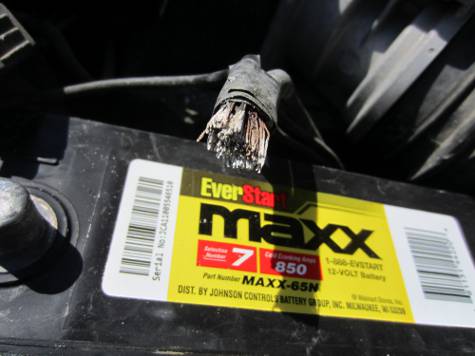 The corrosion on the wires. It was no wonder we were having battery problems, and it's a wonder any current was getting through. The original installation of the connectors had been done at another WalMart, with just a small amount of wire under the cable. It looked like someone had removed the right amount of insulation, but had put only a little in the connector and wrapped the exposed bare wire with electrical tape. I blame myself for not checking this out earlier, but like Linda said, next time we will know what to look for.
Bright shiny copper wires, di-electric grease, a good tight connection, this will hopefully solve the problem at last. Just to show how much faith I had in this last fix, I didn't even istall the battery cutout switch. I did make sure the jump start battery was fully charged, however. We also decided that we need to really re-evaluate our shopping at WalMart. Certainly no more repairs there, but we also need to use local stores for our other purchases. Mr Bindas, my high school economics teacher said the most powerful vote we have is where we choose to spend our dollars. Guess who just lost a portion of our vote.
162.2 1.2 1.5
---
June 29 Wednesday
Tired but not in a jam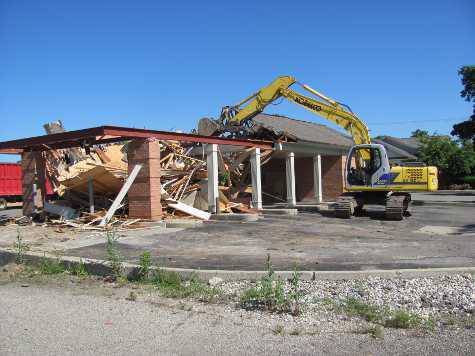 What is so fascinating about the demolition of a building? I'll confess to standing there, staring at what was going on until Linda finally put her foot down and said, "We can't stay here all day, we've got things to do." I was muttering something about wanting to watch some more, when she ended it with, "Stay if you want to, but I am leaving." We left, but it sure was fun while it lasted. Guess I just need to help her get her priorities straight for the next time.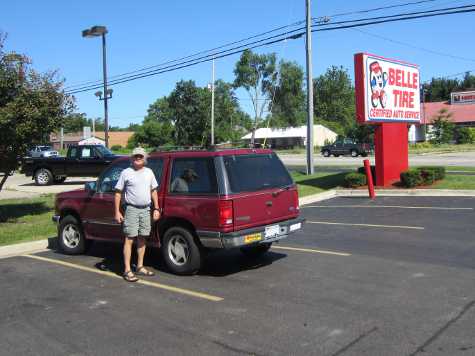 This was the reason why we were walking by that building, we were having new tires put on the Explorer. Guess who didn't get the dollars for those tires. Just as we expected, Belle Tire was less expensive, what we needed was in stock, and they had awesome service when compared the that big box store where we formerly bought most things. We voted with our dollars today and were better off for it. Plus we never heard a complaint about the manager. Imagine a store that really cares about its customers instead of just advertising that it does.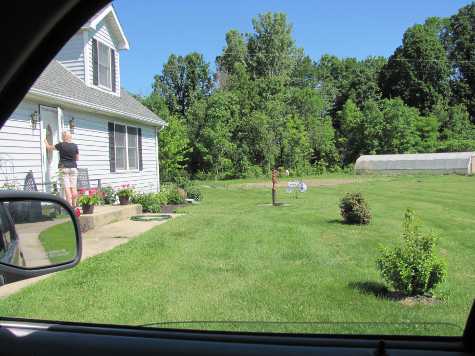 Evidence of another change we have made, buying farm fresh eggs. Those eggs we bought from Linda's former classmate when we were in Ohio has changed another buying habit. On Facebook Linda found a nearby farm that sold eggs, it was a little ways out in the country, but we both agree that there is so much of a difference between real eggs and what you buy in the stores that we will be doing this in the future whenever possible.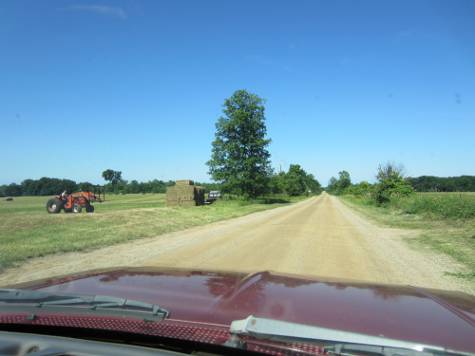 Like I said, they were farm fresh eggs, and the roads that we drove down to get there were mostly gravel. It's just not the taste and freshness of the eggs, it is also the adventure of finding the farm in the first place. As we drove back towards the RV park, we saw another farm house with a sign out front, "Brown and Duck Eggs." It's funny how we never notice things until they are at the fore front of our mind, then they pop up all over. A bonus was it made our tires look like they should, look, mud spattered and dusty, instead of brand new.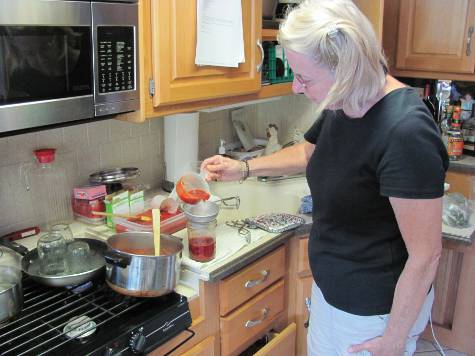 In the afternoon Linda canned the strawberry jam. What we get in the store is always way to sweet and seems to lack real strawberry flavor, tasting almost as if flavoring or flavor enhancers have been added. This was real farm fresh, okay, coach fresh strawberry jam that was just a touch on the tart side to bring out the best in the strawberry flavor. It also means that we won't have to use as much compared to the store bought. Tastes better and goes farther, I like that. Sometimes Linda is not just awesome, she's way beyond awesome.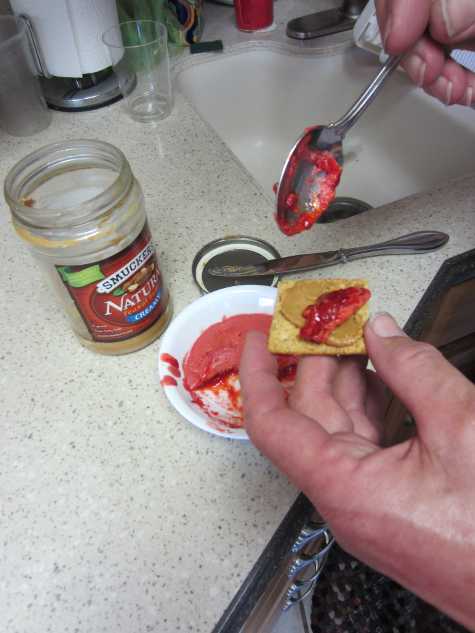 Yesterday I had mentioned that I was appointing myself as the chief of quality control for the jam making. Here is my first taste, after which there were several more samples taken to make sure that there was no variation in the product. We have so many different kinds of crackers it was job in itself to find some that were somewhat bland to showcase the jam instead of the cracker. The peanut better was a requirement, after all, "peanut butter and jelly" is just one word, isn't it?
I do want to point out that small bowl with the jam. When Linda scraped the foam off the jam while the jam was cooking, the foam went into that bowl, and that was where the QC samples were taken from. It is important to note that the bowl appears to be half empty even though this is my first sample. As I learned, Linda was doing something called process control during the jam making process which required regularly checking the product. What's not to love about a woman like that.
We ended the day sitting at the picnic table with John and Judy, sharing our food and our lives. It is a special time with special people, yet it is something that fulltimers everywhere are doing each day. It is truly a case of Life being what you make of it. "There are those who look at things the way they are, and ask why... I dream of things that never were, and ask why not?" Robert Kennedy. "Two roads diverged in a wood, and I, I took the one less traveled by, And that has made all the difference." Robert Frost. We all get those choices, which do we take?
162.8 .6 2.1
---
June 30 Thursday
Lazy day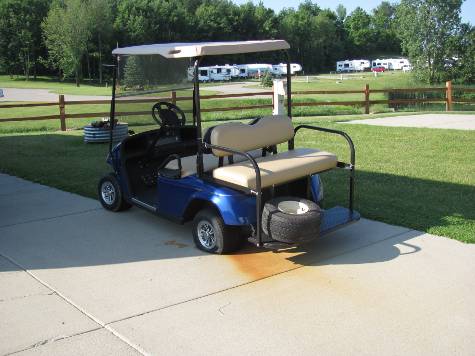 When the most exciting thing you do during the day is to walk around the park and see a golf cart with a flat tire you really didn't do much. Just to let you know, if that was what your day was like that, so was ours. Though I guess the trip to the grocery store that Linda took with Judy should count as something, however even with that, we couldn't even call the day, the adventures super woman and sloth guy, as I believe I rated even less than sloth guy.
I did do something, but it was to read, the book being titled The Imperial Cruise. The history of a diplomatic mission dispatched to Asia in 1905 by President Theodore Roosevelt, it certainly wouldn't be everyone's cup of tea. It was picked out for me by 13 and 9 year old granddaughters, who thought I would really like it, and just like the books their mom picks out for me to read, they were exactly right. Extremely well documented, it paints a picture different from the perceptions of our country and its leaders as commonly presented in the history books. Nothing like an alternate point of view to get one to thinking.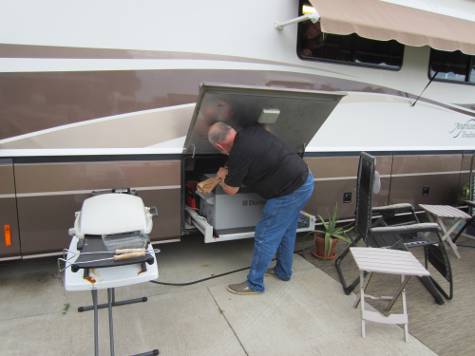 The highlight of the day was the dinner that Judy fixed featuring Shipsewana sausage, sweet potato salad, grilled sweet peppers and cole slaw, giving credit for John the grilling of the sausage. In case you are wondering what the photo has to do with the meal, it's to remind me what came after the meal, Wild Turkey Honey Bourbon.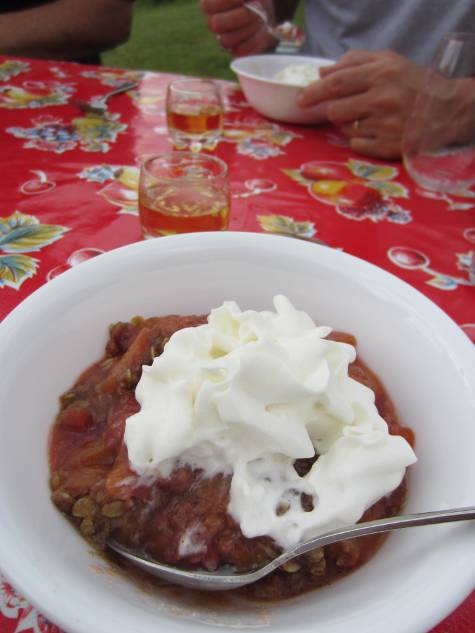 It wasn't just the honey bourbon, there was also a nectarine berry crisp complete with whipped topping also. Back a week ago when we first arrived, Linda's bowl would have had just the smallest dab of topping on it. Since then she has become a convert to the joys of mounds. So what if mounding leads to rounding, there's just more of her to hold, or at least I think that is what is supposed to be said by me about her apparent addiction to tremendous topping toppers. And yes, I make my own topping mound as well.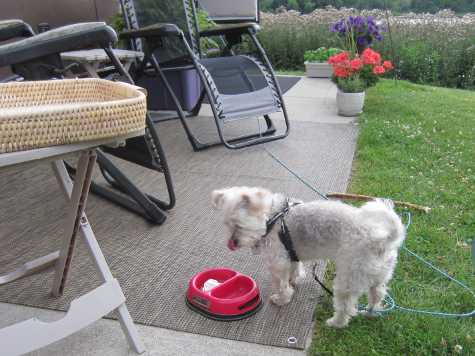 Linda isn't the only one who has a sweet topping tooth, as Mollie, John and Judy's Morkie, always gets a squirt in her bowl. A relaxing day, an afternoon of downpours, a great evening meal, time to sit in front of the TV and watch something new. It was indeed a most pleasant day.
That something new which we watched on TV was Extreme Chef on the Food Channel. It's probably been on for sometime, or even years, we don't know, but this was our first time seeing it. To quote from the Food Channel website, "The series takes chefs out of their kitchen comfort zone to test their wits, adaptability and artistry as they must adapt to extreme conditions and unpredictable factors...." This episode featured making a meal from cans that had no labels, which doesn't do justice to how challenging it was, and also cooking on an engine block. Unfortunately just at the moment, when it was also raining on the show, we had our own major rainstorm which knocked the DirecTV off air. Never did get to see the end of the show, but we will certainly watch, or tape in the future.
I'll just end the day by saying that even though it was a day of little accomplishment, it was a day of great enjoyment, and what more could we ask out of Life. After all, Life is not a dress rehearsal. Don't be afraid to laugh, love and retire early.
163.4 .6 2.7
---
---