Journal Archive 7/1 - 7/10 2011
Scroll down to read the latest post
July 1 Friday
French food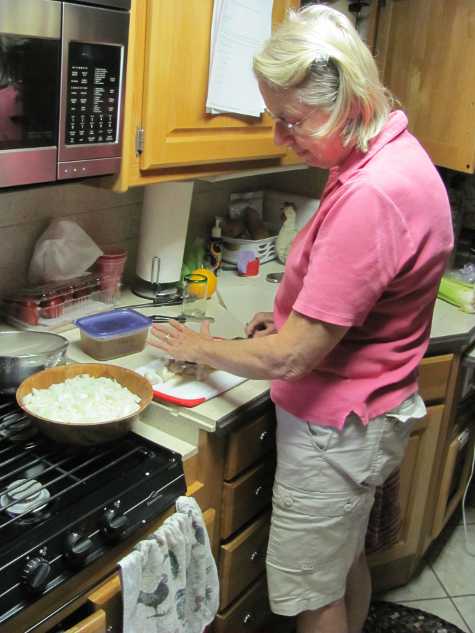 Know how, when you wait a long time to see or do something, and then when it finally happens, how it sometimes turns out to be a disappointment? Well, that didn't happen to us today. In fact it was just the opposite, being even beyond our wildest dreams.
Cassoulet is what Linda is busy preparing, the end result of which turned out to be the nectar of the gods. Think beans, meat and vegetables cooked in a crock pot, which is the basics of Cassoulet, but which doesn't even begin to convey what it really is. For example, the bowl in the photo contains thin sliced carrots, along with chopped celery and onions. Meanwhile Linda is chopping a whole head of garlic to be added to it, after which the vegetables will be lightly sauteed.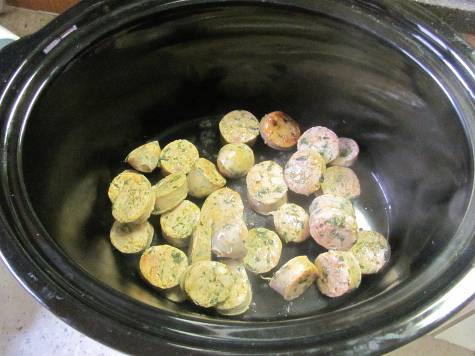 Seasoned sausage links, sliced and browned. Linda was doing the cooking, so no complaints, but one of the changes I would have made would have been to double the amount of the sausage.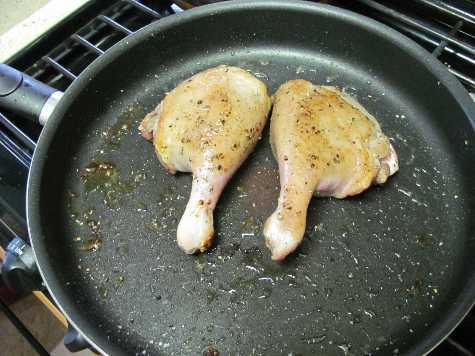 Next up was the duck, browned, and adding its juices to the skillet. There are many recipes for Cassoulet, as it is one of those dishes that varies with whomever or wherever it is being cooked. The one thing that Linda and I really like about Cassoulet is that it is unbelievably rich. Rich as in very, very rich, and duck and duck fat adds a whole lot of that. We had been hauling those duck legs around in the freezer since Thanksgiving, and it was time to really enjoy what they offered.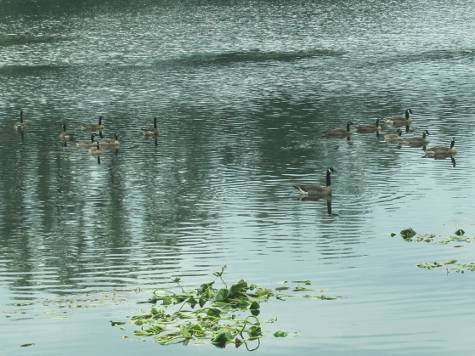 Of course we could have used goose instead of duck, but I couldn't capture any of the geese out in the lake. Okay, not really, but it does make for an interesting thought. We only had duck in France, but I note that many of the US recipes use pork. I have nothing against pork, we eat it all the time, but pork instead of duck in Cassoulet? That would be like substituting carob chips for 87 percent dark chocolate, chocolate chips in chocolate chip cookies. No thanks, we'll take the real thing baby.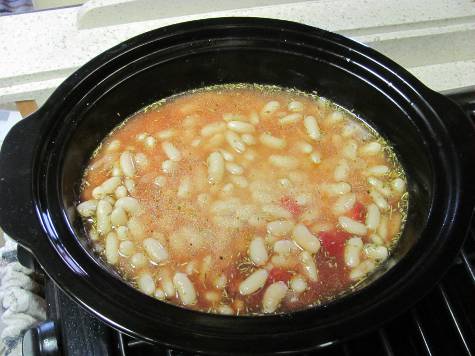 Of course there is a lot more to Cassoulet than those ingredients, like chopped tomatoes and white kidney beans. You can always use canned cannellini beans, but we wanted the real thing so it was dried cannellini beans which had been soaking overnight and precooked about half way. Spices? The easiest part because, you going to Scarborough Fair. You should know that Paul and Art, aka Simon and Garfunkel, sure knew what to use, parsley, sage, rosemary, and thyme.
What we made ended up filling most of two crock pots (and fast forwarding, what we ended up eating was almost all of the two crock pots, it was that good). Cooking time was just a few minutes short of 8 hours and the only thing I personally would have changed was to have had more duck and sausage, but that in no way takes away from what we did have.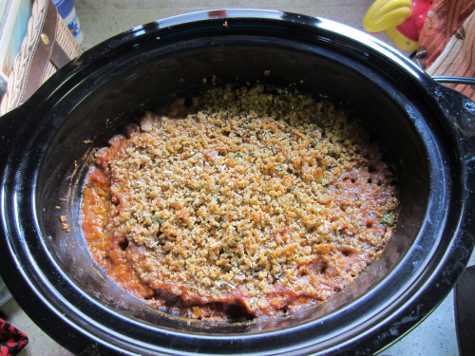 One of the pots had a whole wheat bread crumb topping added about one half an hour before Linda served it. This soaked up some of the liquid and further increased the richness aspect, while the crumbs imparted an added flavor of their own.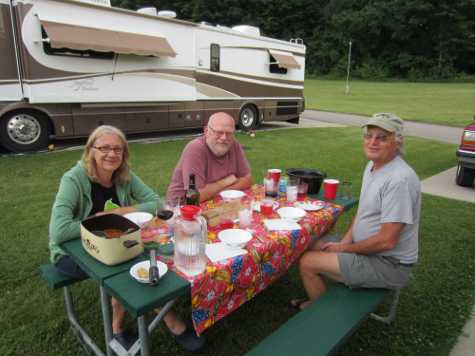 At the risk of boring you, on the night of April 17th during our 2009 canal boat cruise with John and Judy, we walked into the small french town of Bram and had what is arguably the best meal I have ever eaten in my entire Life in a small restaurant called La Petit Gourmand. I ended the post for that day with these words: "Our day ended with us walking several kilometers into the village of Bram, where we ate a fabulous Cassoulet dinner with a wonderful inexpensive local wine recommended by the owner. While we were at the restaurant the skies opened up, which ended as we finished eating and which had been accompanied by a most unusual pink sky..(sic) It had been another day of dreams, and we just knew Sara N.Dippity had a hand in it."
This had been another day just as that one was, because as we were finishing our Cassoulet with John and Judy, rain began falling from the sky and we hurried inside our home, this time it being the coach. To anyone who says you can't go back home again, I have some advice for you. Yes you can and it is even better the second time, which means we can't wait for the third time.
It may be that the third time will be enjoying fish and chips alongside a canal in England in the fall of 2012 with John and Judy. Or it may be a return to France again, or it may be something entirely different. Whatever it is, we will be welcoming it with open arms when it happens. We can assure you that Life is far better lived outside the the box where there are all kinds of scary things happening than inside the box where it is always warm and safe.
164.2 .8 3.5
---
July 2 Saturday
Having fun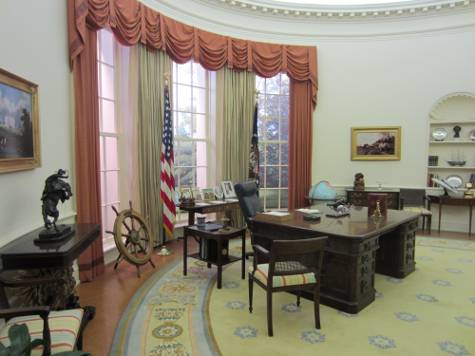 The most easily recognized office in the United States, and we saw it at the Gerald R. Ford Presidential Museum in Grand Rapids. Linda's comment best summed up our visit, "We've visited a lot of museums to the point I am museum'ed out. But this wasn't like all those other museums, I didn't just look at things here, I learned things. I wish more museums were like this one."
I think she hit the nail on the head. Whoever designed this museum had the people who would visit in mind and not merely the things that would displayed and the glorification of the President. Located near downtown Grand Rapids, just off the freeway with plenty of parking, we were sure glad John and Judy took us there, and we would recommend it to anyone visiting Grand Rapids that has an interest in that very historic period of our country.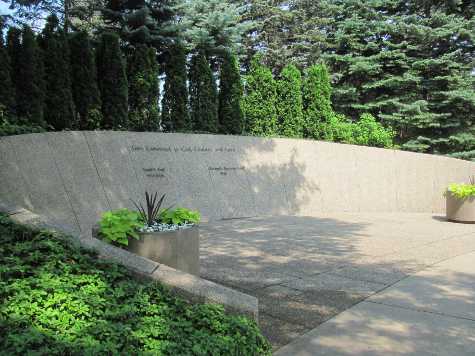 President Ford was never elected President, but that in no way diminished his Presidency. The unpretentiousness of his grave speaks volumes about the man who worked hard for what he got in life, reaped many rewards for that work, yet never let his success go to his head. It will be for history to judge him just as it does all things, and it would be interesting to know what the verdict would be. As always many who are unassuming are elevated and others who are into self promotion, but are lionized at the time, are later viewed quite the opposite. The key however is that no matter how one looks at an individual President, the Presidency itself will continue, and that is what makes our country what it is. The Fourth of July is about more than just fireworks and picnics.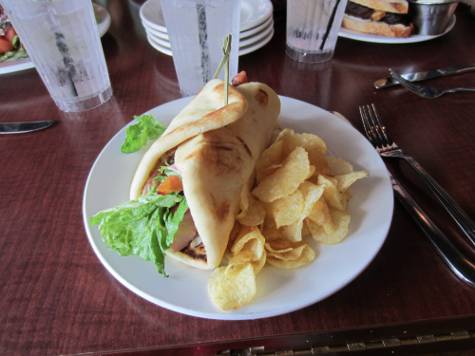 The Electric Cheetah
, where we ate lunch is one of those, you need to live around here to know about, kind of places. It is also one of those places you need to return to in order to try even more items on the menu. To me, having naan as the bread for one of their sandwiches meant that this was likely to be an outside the box experience, which indeed it was. And yes, that was the bread on the sandwich I ordered, how could I resist. Good things oftentimes come in interesting packages.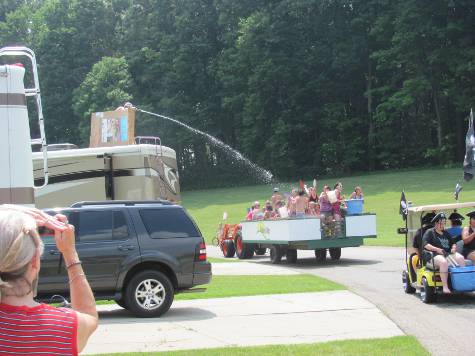 In the afternoon, back at the RV park, it was water wars time. A wagon loaded with kids is slowly pulled through the park. The kids have all manner of water and squirt guns. Meanwhile the RVers are encouraged to use a hose and squirt the kids as the wagon is slowly pulled down the road by a tractor. Lets just say you could tell how close the wagon was by how loud the screams of the kids in the wagon were. Our hose wasn't long enough to be of any good, but it was still fun watching the others.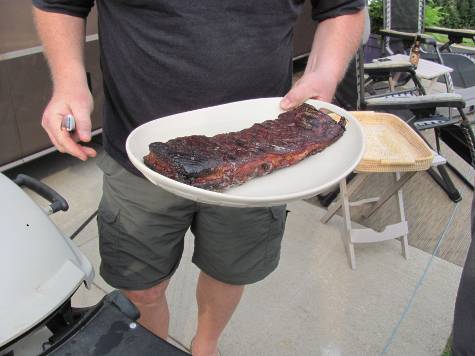 Another shameless plug for a Grand Rapids area business. Ever since we arrived, John and Judy have been talking about Delski's. It's Delski's this and Delski's that, anytime mention of meat is made, and always in the very best of ways. Today we stopped at Delski's on the way back from the museum, and now our freezer can hold no more.
It's in a small strip type shopping center, and just a little hole in the wall place with lots of butcher space and very little customer space. It's the kind of place that there used to be lots of, but there aren't hardly any of them anymore. It's the kind of place where customers are stacked up and if you want something special, it really is no problem. It's the kind of place where the wait for service may take a while because they are so busy, but when your time comes, you really are king.
At the close of the day we were both tired and ready for some sleep. And why not, after all it had been one of those days that you could only dream about. Life is truly good.
---
July 3 Sunday
Celebrations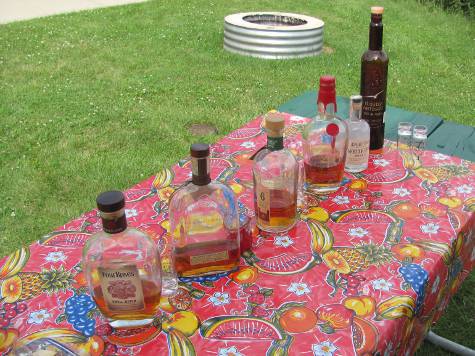 We've been kicking around an idea for the past week and today we finally turned it into an activity. We had our very own bourbon tasting, though technically it was more wide ranging than that. The lineup included an unaged white mash distillate, a rye, plus an aged tequila along with three bourbons.
Two things were soon apparent, each was distinctive in one characteristic or another, while all four of us closely agreed in our appraisal of each. And at the end of the tasting we were unanimous in proclaiming the winner, which was the aged tequila. However, it was not the results that mattered, it was the fun we had in the doing of it. No doubt aficionados would scoff at the wild variation in types. Furthermore, we usually poured at most a quarter ounce that we tasted, though that small amount allowed us to smell, sip and still have enough to throw one down, giving us the entire range of what each had to offer.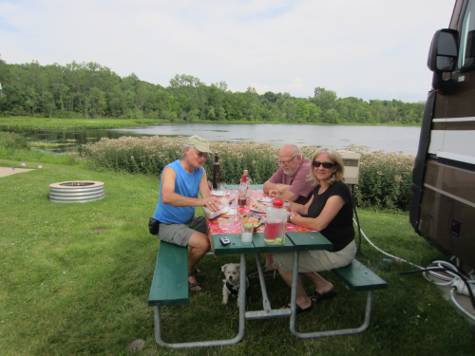 In the end it really wasn't the beverages that made it what it was, it was the shear fun of doing it. Thinking about doing something like this? It could be with anything, soft drinks, or even some type of food. But we'd say, just do it, because love it, hate it, or find what you're tasting to be somewhere in between, you'll at least have had a most interesting experience, and one most people have never had, and never will.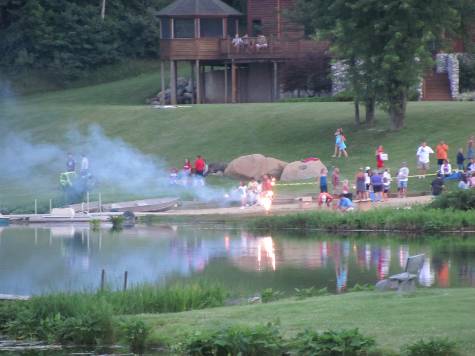 There was also entertainment in the evening, beginning with our introduction to the unique culture of the U.P. where we will be over the next several weeks or so. The perfect vehicle for that was the movie, Escanaba in da Moonlight, which John download from iTunes, and was really enjoyed by all. Later the entertainment came from across the lake at the beach area, where people were permitted to set off their own fireworks. Early on it was the younger kids with their sparklers and an assortment of fountains.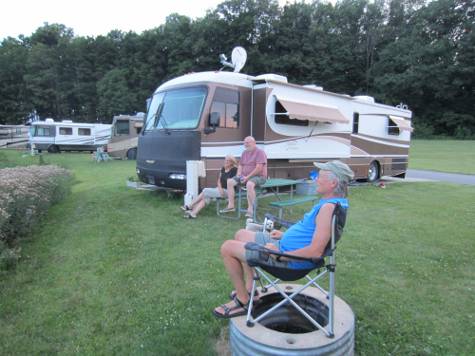 We had great seats for the action, though as you can see, some of us had better seats than others.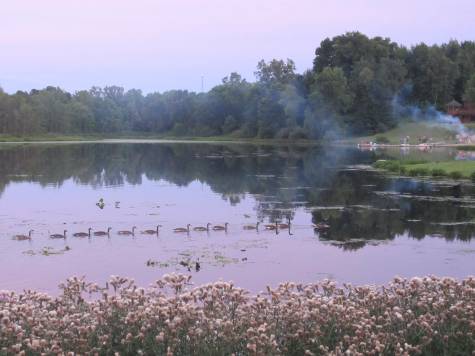 Even the geese were seemingly interested in watching the display. We watched as they slowly swam across in front of us, then climbed out of the water in at a point of land and moved over closer to the beach. I was thinking we had great seats until those geese moved in.
Going inside the coach for a minute, I returned to discover that the geese weren't the only smart ones around. Guess it's a case of, if you marry someone who is smart, as well as being very good looking, that's what you're going to get, a good looking person who is pretty smart.
As always, the fireworks were great and when the display was over, we called it a day. I'll close with a simple thought. Just do it.
164.6 .6 3.9
---
July 4 Monday
Independence Day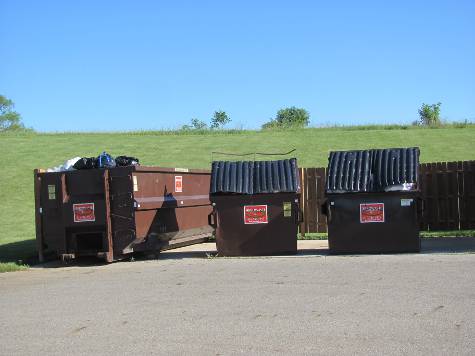 Don't for a second think that I don't appreciate what Independence Day means, but sometimes we only look at it as parades, picnics and fireworks. When it falls on a Monday, and you are at an RV park, it can also mean that the trash really begins to mount up, sometimes literally. Being near the dumpsters, the majority of the parade of traffic past our site is people taking their trash to the dumpsters as it hangs from their vehicle, be it bike, golf cart, car or truck.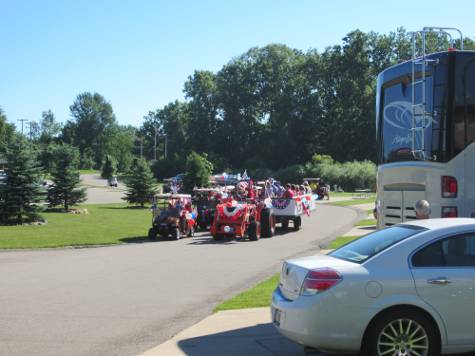 A parade of a different type. The parking lot near the entrance, which is also where those dumpsters are located, served as the assembly point for the park's annual Fourth of July parade. Led off by a farm wagon filled with kids and pulled by a tractor, it may not have been a big parade in size, but it was big in spirit, and that is what really counts.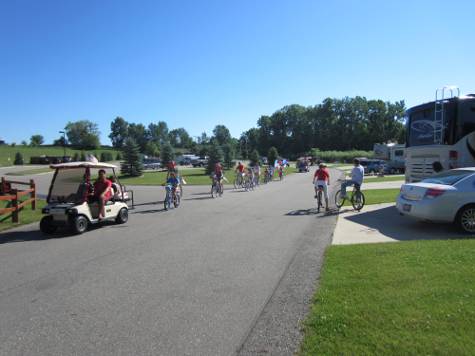 Behind the wagon were the golf carts and the decorated bikes. We realized this was the first 4th of July parade we have seen during the six different 4th of July's we have been fulltiming. Last year we were in Alaska and it was raining, and the two years before that we were in Europe, then it gets murky, though I do recall going to the races in the evening of our first year out, but no parades.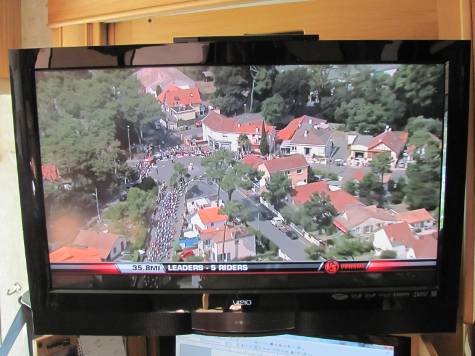 I must also put in a shameless plug for the one sports event that I never miss, the Tour de France. I have never actually attended a stage in person, but that doesn't matter. I don't ride a bike, but that doesn't matter. It's not a popular American sport, but that doesn't matter. Composed of 21 stages, with a total distance of 3,430.5 kilometers that takes three weeks to complete, I still go out of my way to watch as many stages live on TV as I can. Isn't that what the 4th of July is really about? Having a country where we have the freedom to make choices in Life that many countries can only dream about. Besides, now that we have spent time in France, we really enjoy the memories the pictures of the towns, villages and the beautiful countryside bring to us.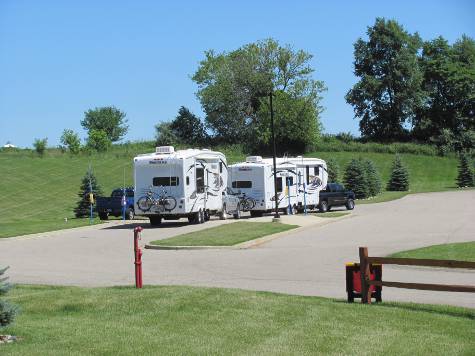 In the late morning a parade of a different sort began, the holiday weekenders exit. The park has a very nice dump station. It also has full hook sites. The line, which extended through the dump station was really for the dumpsters. It's how the other half, the half we used to be part of, lives. Fulltiming isn't for everyone, but it certainly is for us.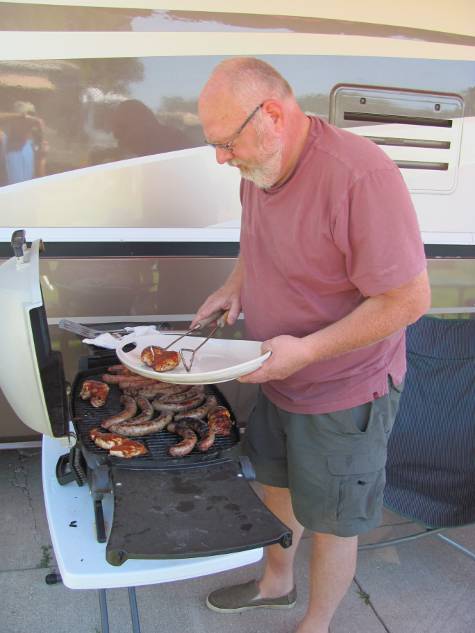 Yes, there was a picnic, and with two of John and Judy's kids, along with their families there, John was the master of the grill. And as might be expected, all meat was from Delski's, which John, with years of practice, grilled to perfection.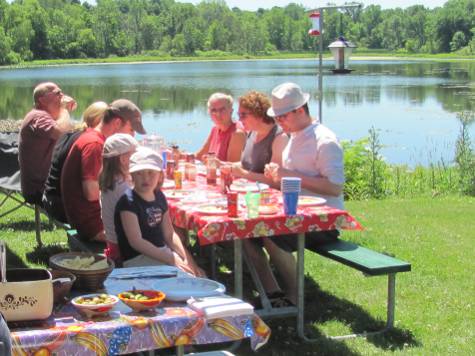 The Fourth of July 2011, Independence Day, a parade, a picnic, and a country where we have the freedoms to agree or disagree, but in the end, we are all Americans. Life once again lived out on the road.
165.6 1 4.9
---
July 5 Tuesday
The day after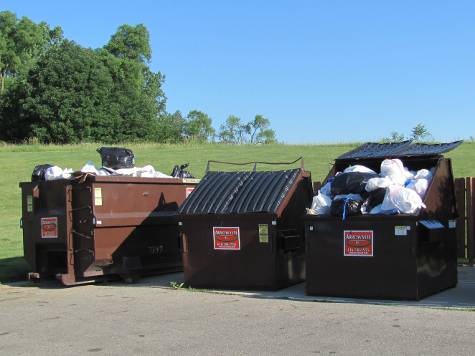 It just hit me that when you go to the website of an RV park or campground, the photos show their spacious sites, large pool, shade trees and other amenities. Something tells me that they would never show something like this because of the negative impression it might make. Yet wouldn't it be nice to know that the park cares enough about you having a pleasant stay to provide enough dumpster space for even the busiest of weekends, like this park does.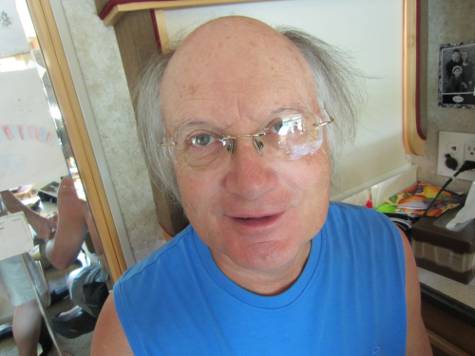 "Hold still," she says. "Why?" says I. "You look funny," says she. "I like my hair this way," says I. Maybe I should have looked into the mirror because I didn't even recognize the person in this photo. "That can't be me, I don't look like that. That photo is what they might use to keep the rats away from the dumpsters," I joked. To which she replies, "You might be right."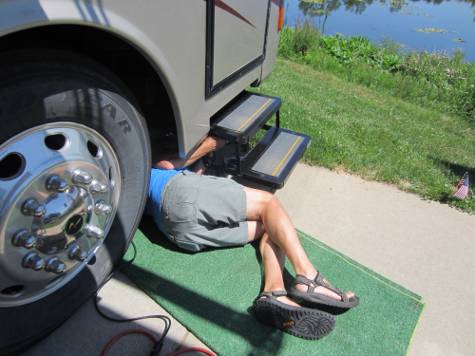 With us leaving tomorrow, I decided that today was a better time to finish installing the step lights than putting it off until the morning. I'd gotten the idea after reading a forum post a short time ago, and having made the mistake of mentioning it to Linda, had ended up partially installing some LED lights on the outside steps.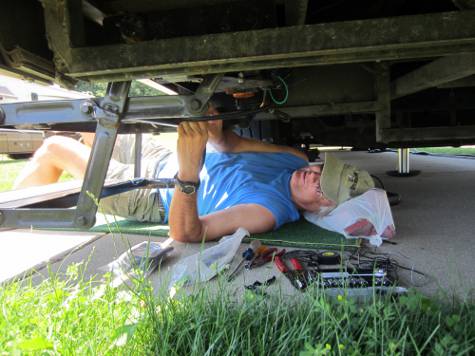 While finishing the installation wasn't all that complicated, the close quarters, and the need to install the wires so they would move with the steps, yet not hang down when traveling made it somewhat of a challenge. As always, the easiest way to determine the best way, was to just do it, and then discover that first way was definitely not the right way.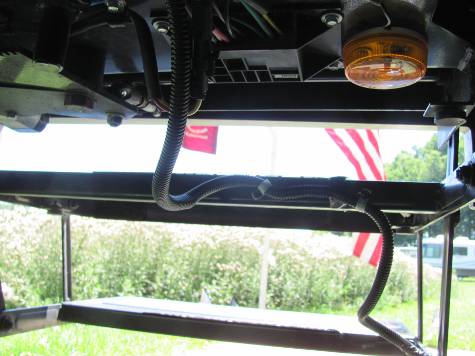 When I finished I told Linda this was a temporarily permanent installation. Unfortunately, until we use it for a while I won't know just how temporary it is. The plan calls for it to be for years, the reality may be days. We shall see.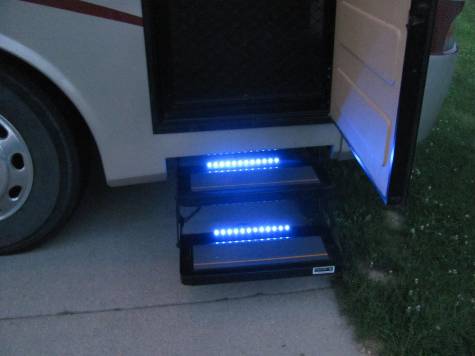 The real test was what Linda would think of them. My fear was that using white lights would have made it too bright based on the comments in the forum post, so Linda chose blue ones. Having only white or blue to choose from helped with that decision. It is difficult to get a decent photo, but with Linda saying, "They're sure bright," which she quickly followed with, "I really like them," meant to me that all was well, and I'll add that she is right. They are bright, but they are also very nice. We sure won't be floundering around after dark wondering where the coach is at. It will be sticking out like a blue thumb. As least it will if we remember to turn on those lights.
165.4 .8 4.7
---
July 6 Wednesday
Heading north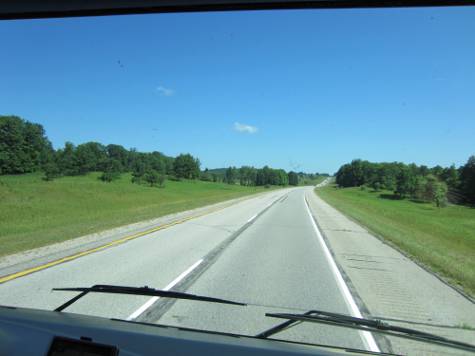 It was a sad morning as we said goodbye to our dear friends, John and Judy, and headed north towards new adventures. Our friendship came about because of the Daily Journal, John being an early reader, and emailing us a question about Quartzsite. Just as we had close friends in our prior life, we have close friends who share the joy of the open road in our current Life. That is why, "Life is not a dress rehearsal. Don't be afraid to laugh, love and retire early." means far more than one can imagine.
Departing the RV park just after 9:30, we soon passed through Grand Rapids, heading north on Hwy 131 towards the Traverse City area. The road was great and other than a stop at a rest area, there being several along the road, we had an uninterrupted drive with only one stop light that we actually stopped at. While it wasn't the same thing at all, the drive, in a small way, reminded us of our drive north last summer.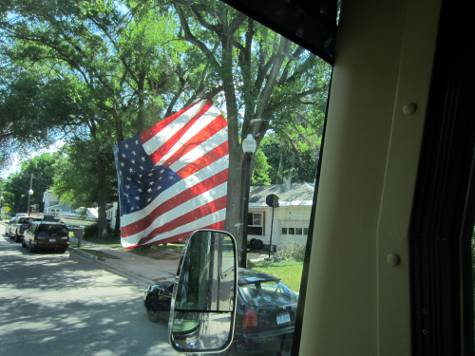 There are flags, and then there are flags. This one, on a side street in Mancelona, was by far the biggest one we ever saw at a house. Linda had programmed the GPS with the place we were staying, and she was nice enough to point out that I shouldn't pay any attention to when it said to turn because she had put in the wrong address. I will skip everything that followed and merely report that we are no longer contemplating initiating divorce proceedings.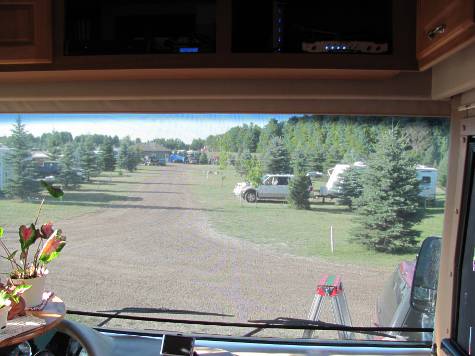 I've been remiss over these past few months in posting the view to the front whenever we arrive at a new RV park, but not today. Of course this is not an RV park, it is a campground, complete with many vacationers in their travel trailers and campfires galore. Nothing bad with that, but it is certainly a change from the types of parks we usually stay at. I had to laugh at Linda saying about herself, "What about campground didn't I (Linda)understand when I (Linda) was looking for a place to stay." I won't hold it against her because I suspect that with few exceptions, most places up here are campgrounds, and not RV parks.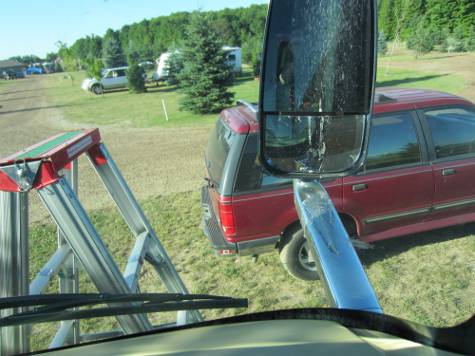 In the late afternoon Linda became a woman on a mission. No it wasn't to do me in, as by that time tensions had returned to their normal level between us. It was to do away with the doo. Doo as in the red wing blackbird doo that bird had decorated the two front mirrors with over the past several weeks. Of course by the time Linda was done, she had washed the mirrors, the windshield and the front of the coach. I was proud of both her work and also all the exercise she got from doing it. I was also exercising, though I did lose track of Marcelona how many logs I sawed while laying on the couch. Tomorrow the good Life continues with a trip into Traverse City where the cherry season is currently in full swing. Life was good today, and it is about to get even better. Full report tomorrow.
164.6 .8 3.9
---
July 7 Thursday
Cherry Festival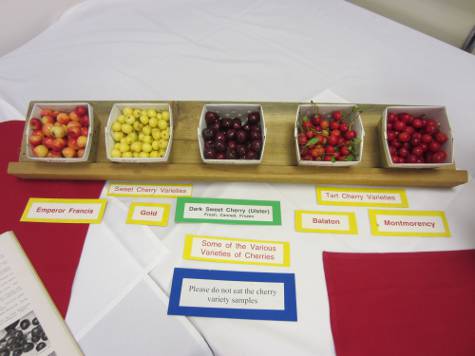 Festival time! This was our day to go to the Traverse City Cherry Festival, so it was up early for Linda. She did make up for any loss of sleep with a four hour nap in the early evening, though. We could have stayed near Traverse City when we picked a campground, however the 45 minute drive was not bad at all. Next time we would probably just boondock at the Casino on the east side of Traverse City, and there will be a next time. Sometimes you just learn as you go, but it is far better to just go than to be somewhere wishing you had went.
This will not be a blow by blow description of what we did at the festival, and to sum everything up, it was a wonderful experience that we both enjoyed. Linda had several things she really wanted to see and do, and we did them all. I also discovered that all that research she had done as to what to do was well worth it, as we both had a great time.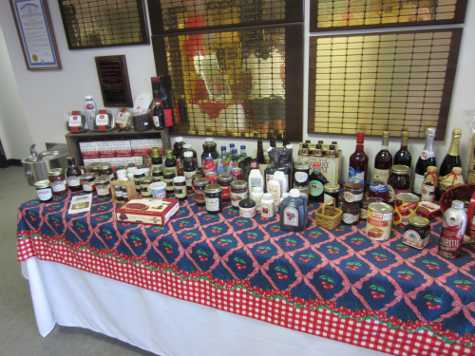 One thing we quickly learned is that cherries are more than the fresh fruit you eat and cherry pie filling. There is a whole industry dedicated to making all manner of foods out of cherries. I believe it is called adding value to a highly perishable crop, especially looking at the prices they charge for all those cherry salsa, dips, mustards, etc.. The problem being that they taste so good that they are worth the price.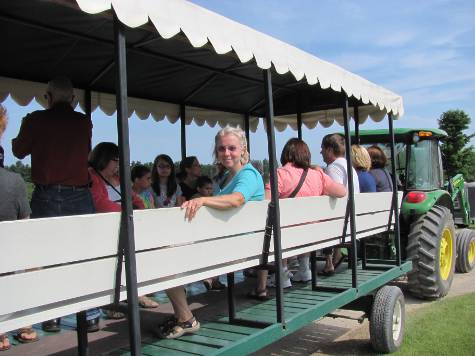 A quick note on parking. In the downtown area of Traverse City, the going rate is $10 to park close by in a private lot or you drive out a few blocks and park along the street for free. We chose the free route since we needed the exercise. We had arrived in the morning and didn't have problem finding a spot, but when we left in the early afternoon, every spot for blocks around was taken and even the private lots looked like they were full. I can't imagine what it must be like on weekends.
Our first stop of the day was actually to take a free bus ride out of town to the experimental station orchard where Linda was smiling the entire time as we took a narrated tour through their orchards. It was great, and we learned more about growing cherries and why farmers do what they do, like ripping out an old orchard and planting an entirely different crop, more than we could have imagined.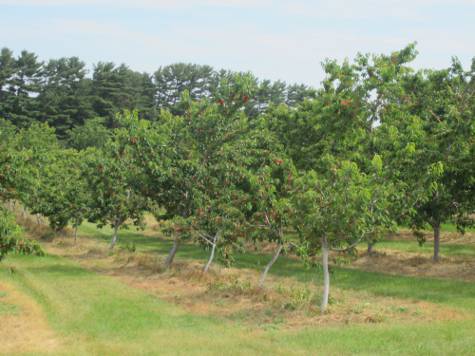 Everything in the orchard is done for a reason, that reason being to increase the yield and hence the income to the farmer. For example, leaving the grasses grow under the trees reduces the yield because the grass competes with the tree for moisture. Remove the grass, and on the hilly terrain in the area the soil erodes reducing the yields. The solution is to leave a narrow strip of grass down the center of the row, but keep the area immediately around the trees bare. For anyone with an inquiring mind, the tour was a goldmine of information.
We also learned that the future of these orchards is to copy what the Europeans have been doing for ages. Intensive, close plantings, as well as trellising, which actually increases yields and reduces costs. Looks like in some areas we are finally catching up to the rest of the world, though in many others, including transportation and health care, we have a long ways to go.
Grapes are one of the crops that is displacing cherries in the area, though we also saw plantings of plums and hops. With the farmers owning the land the station is on, and hence being able to dictate what the University researchers grow, the experimantal station actually benefits the local growers. What a novel way for a government entity to interact with the people it is supposed to serve. Helping them instead of benefiting the big agribusiness firms that give the big campaign donations to get their products recommended. Hey, it's been a long time since I've had any rants, even minor ones like today's.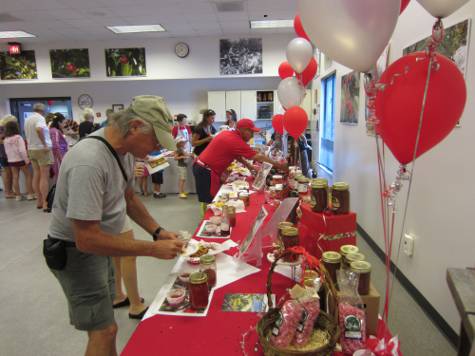 The best part as far as I was concerned was the tasting room. Or at least at first it was, but by the fifth stop I had already consumed a years supply of sugar. I was beginning to think that the sugar producers were a silent partner in this enterprise, everything had so much in it. Fortunately there were one or two things that were different. The spicy hot cherry salsa being one of them. The other was the chocolate cherry donuts, but I'd best not go there.
Of course we had to try our hand at cherry spitting. Here is Linda showing the fine form that allowed her to spit her cherry almost to the 5 you see at her feet. I worried she would be upset at that powerless performance, but she was happy it even went that far. I suspect she was one of those babies whose bibb is covered with whatever went into their mouth and came right back out.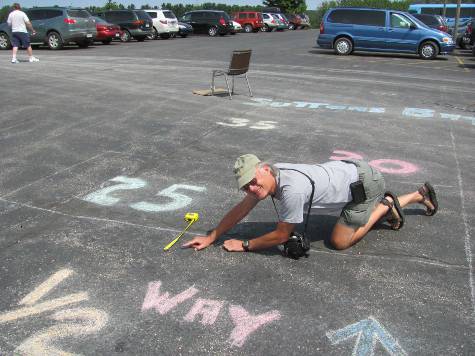 Not bragging mind you, but they did get out the tape measure on my spit, it went so far. Having gone first, I tried to tell Linda how to do it, but she accused me of just blowing hot air. She was right of course, only she left out the part about that hot air propelling the cherry seed. Pretty obvious the girls she ran around with in grade school didn't go around the corner at recess and engage in spitting contests like we did at my school.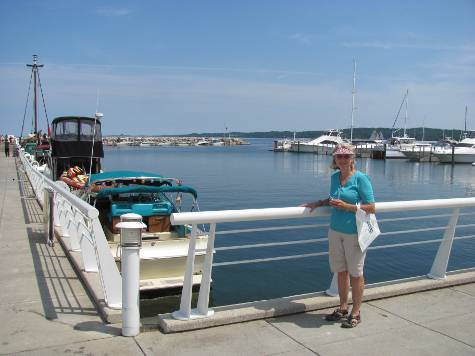 Back in town we bought the things we had tasted at the orchard that we just had to have. The only problem was that no one had the hot spicy salsa I liked, but playing the role of the big man, I didn't cry about it until Linda took her nap later in the day. Unfortunately you couldn't buy anything out at the orchard, but there are always grocery stores to check out.
The stuff of our very own homemade cherry liqueur. Missing is the cup of sugar and the cracked cherry seeds. The container ended up holding the two bags of cherries and 1.5 liters of vodka, which was exactly what the recipe called for. Now it needs to set for at least two months, after which, as Linda tells me, she will need to sample the cherries everyday or so, for a while to make sure the liqueur tastes right. Once she has sampled all the cherries, then I will be a allowed a small glass on ocassion while she checks every day to make sure the liqueur hasn't gone bad with the absence of the cherries. I asked to see the recipe as I didn't believe she had read it right, but she said she didn't bookmark it. Guess I'll just have to wait until the next time we make it to see if we put the right amount of cherry pits in it.
---
July 8 Friday
Hanging around, going into town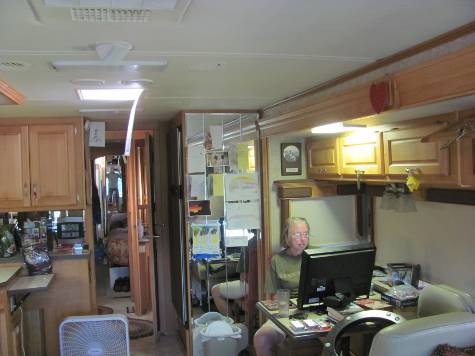 After spending most of yesterday over in Traverse City, the plan for today was to just do a little of this and a little of that. This meaning laundry, reading and genealogy, that meaning going into Mancelona for a few groceries before heading off tomorrow to the Upper Peninsula where Life is looked at differently than it is down here in the civilized part of Michigan.
Obviously the photo had nothing to do with that first paragraph, but it had everything to do with making Linda comfortable, and in more ways than one. While I was writing the disheveled beast from the back made its first appearance of the day, quickly to return to the rear and convert itself into something more presentable.
Once back in the front of the coach, and now looking like Linda, it proceeded to open windows and turn on the overhead fan. I was quite comfortable the way things were, but obviously she was not. When she opened the fan, it allowed the light to shine directly into my face, making it so I could not see anything. The solution was to hang the blackout cover from one side of the fan opening.
She'd wondered why I'd hung it there, and when I told her, she had this look that seemed to say, I'll bet. So when she sat down to assume her editing chores of the Daily Journal, I couldn't resist the temptation to remove the cover and prove to her that indeed, you couldn't see the screen. I realize I should have known better and even if I hadn't thought of that, doing it the first thing in the morning was not the time to do it. Maybe you can't teach an old dog new tricks, but she did prove that you teach an old dog to never ever do something again. As the saying goes, I have seen my own worst enemy and it is me. Or as the song goes, When will I learn, when will I ever learn.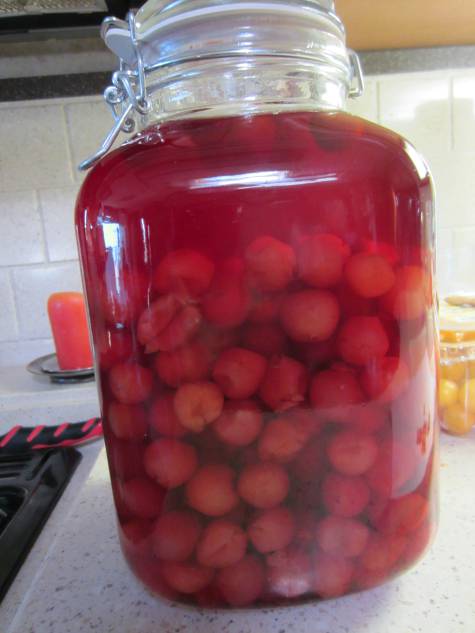 With me behaving myself, the rest of the day was great, though I did mange to throw my cherry seeds into the trash can, necessitating a little hand picking and sorting on Linda's part. The reason for that was to crack them and add the pieces to the cherry mix, which is supposed to improve its flavor. Somehow I managed to repeat my trash canning of the seeds in the afternoon, with Linda picking them out. Something tells me that cherry vodka drink really is going to be hers, and hers alone.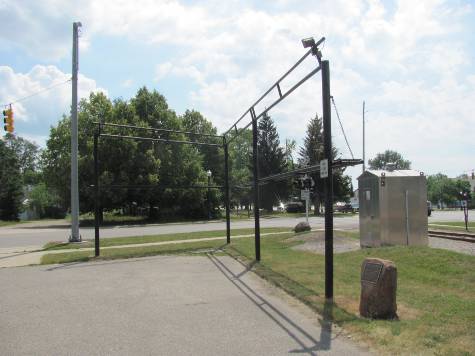 While Linda drove south of town about eight miles to a grocery store she had seen during yesterday's trip, I walked around Mancelona, exploring the few sites that are here. After watching that movie the other night, I at least realized what the Mancelona Buck Pole was for, even if we weren't in the U.P. yet. Nearby was a pole of another type, the snowfall pole that indicated over ten feet fell last winter, which is probably why snowmobiling is such a popular pastime here.
When Linda came back she wasn't a very happy camper, something I can say in light of the fact we are staying at a campground, and not an RV park. Seems that grocery store she had driven to had next to nothing in the way of anything worth buying. That was when I piped up with, "This is a big enough town that it should have a store in it rather than miles away, let me drive up the road a ways." As expected, just a half mile or so up the road was a Glen's Supermarket that had everything she wanted. I will edit slightly with the use of dashes, what she said, " --------------------- ".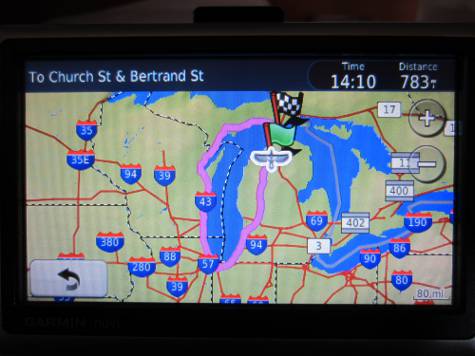 When it rains it pours, and so Linda's driving problems were not over, especially as she tried to program the GPS for tomorrows 90 mile drive to the U.P. As the GPS shows, it was certainly taking the long way around the lake. The problem was she had it set to avoid toll roads, and with the bridge being a toll bridge, it was doing what it was supposed to do, even if avoiding it resulted in a 14 hour drive of nearly 800 miles.
I must say that there was certainly quite a difference between yesterday and today, though in the end all was well and it gave us a good laugh, or at least it gave me a good laugh. And even if I didn't laugh very loud, I sure did have a big smile on my face, when I wasn't looking at Linda, that is. Tomorrow we become "yoopers", so any stupid things we do will be looked on as normal. As always, I don't see how Life could get any better, yet it does.
163.4 1 2.7
---
July 9 Saturday
Across the big bridge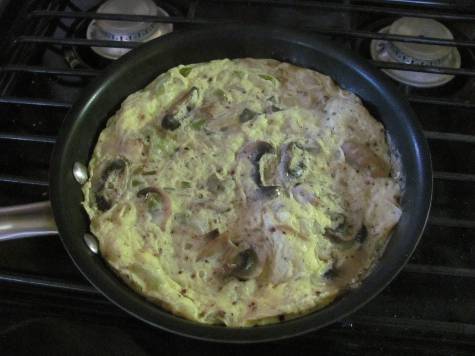 Certainly not the most appetizing photo, but having been remiss in talking about food, it has come time to rectify that error. It's obvious that the addition of fresh mushrooms to our eggs is what caused the discoloration, though it doesn't happen when we have a mushroom omelet in the restaurant, probably because of the way the mushrooms are cooked. Guess it's just another of those mysteries of Life. And that's not even mentioning what the vanilla almond milk Linda bought did to the taste of the eggs.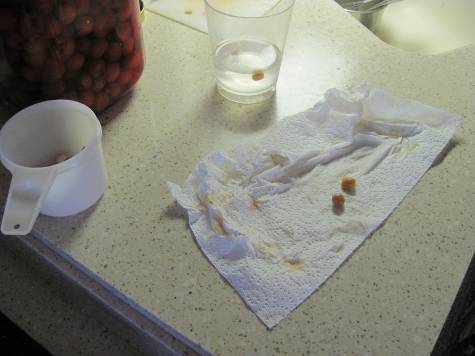 Guess this is my day for unappetizing photos, but therein is a tale to be told. Linda just loves the smell of the ground cherry pits we have put into our cherry vodka mix. In fact, if she liked sniffing glue that much we'd be buying it by the case. however it is not the sniffing that this is about, it's about the acquisition of the pits.
It seems that according to Linda she receives her pits in two distinctly different conditions. The ready to be pulverized condition, and the needs a lot of work condition. She of course is responsible for the former, while I bear the blame for the latter. It seems the pits are expelled from her mouth clean and pristine.
My pits on the other hand, at least according to what I understand her to say, are closely related to a cherry that hasn't yet been eaten. While she doesn't claim that I leave more cherry than I eat, from the look on her face I gather that I could definitely be doing a better job, something that is also backed up by what she says. Some men get into trouble because they don't put their dirty underwear into the hamper. I get into trouble because I don't clean my cherry pits. Remember, no matter how bad it is, there is always someone who has it worse. Though in my case I have trouble trying to determine just who that might be.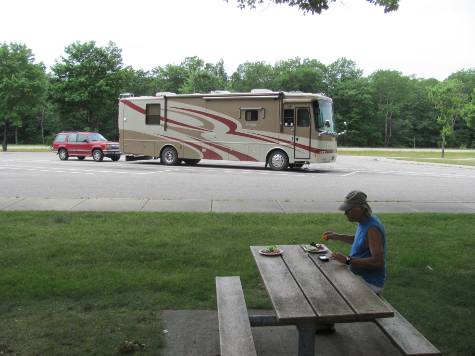 But back to our normal Life, today's route involved taking Hwy 131 north out of Mancelona, then backtracking slightly on Hwy 32 over to Gaylord where we picked up I-75 for the remainder of the short trip. We did make a lunch stop at a rest area on I-75, where two things happened. The first was the observation that almost every vehicle heading north had some something in it, on it, or behind it, that had to do with outdoor activities. RV's, campers, trailers, boats, kayaks, bicycles, ATV's, you name, we saw it.
The second thing was the redemption of Bob. Along with our rollups, sweet peppers and chips, we each had fresh cherries. Cherries with pits. Pits that Linda would use. Pits that have until this time caused Bob to end up in the pits. Not today. Not this meal.
With great fanfare those pits where sucked clean. Teeth were used to abrade away any hint of cherry pulp. Slurping, shloshing and sucking sounds reverberated throughout the rest area as those pits were polished to a sheen that Linda could see herself in. There wasn't going to be any criticism of those pits after this meal. And there wasn't, but was there ever about the noise I had made and the length of time it took me to clean them. I think that Linda really does love me, it's just that I have trouble doing the things she would love me to do.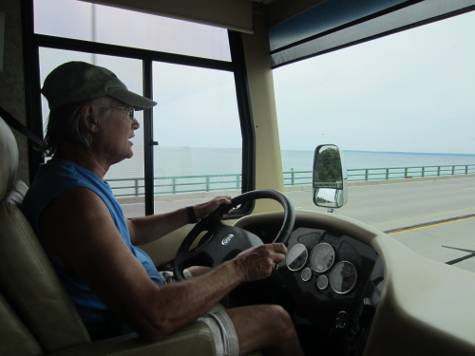 At last we came to The Bridge. We had vacationed up here several times in the late 60's, but had never driven across it in an RV. Miles long, the speed limit is 20 mph for loaded trucks and 45 mph for everything else, and that is the speed people drive, no speeding here. The lanes were a little on the narrow side, but with just a steady light wind blowing from the east, it was an easy drive.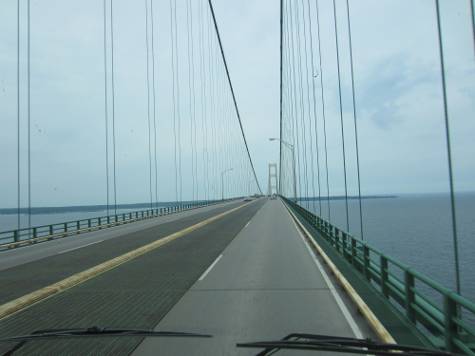 As you might have gathered from the proceeding paragraph, I wasn't exactly looking forward to driving across it with lip smacking anticipation. In the end it was no problem, there wasn't much traffic, the lane we were in was paved, and the bridge itself is so enormous with the road being somewhat arched, that the views are great. In the end, Linda was more worried than I was, or at least all those sharp inhalations and exhalations of breath I was hearing from where she was sitting was indicating that. I believe I also heard a, "That was close," being muttered a time or two, but for what, I had no idea. Maybe it had something to do with her sitting just a few feet from the edge of the bridge, up high in the coach, and far, far above the water.
The park we are staying at is quite near the bridge, and being a state park, we have a great big pull thru site with a fire pit and table, that includes a clear view of the sky, so we have Internet and DirecTV. We may go over to Mackinaw Island tomorrow, but with the forecast calling for thunderstorms and rain, it may get pushed back a day or two.
Michigan has a day pass fee for vehicles, with our setup being two vehicles, and they charge for each day you are camping in addition to the regular site fee. Since we plan to stay here for almost a week, and then stay at other Michigan state parks in the U.P. over the next month, we bought the annual day pass sticker for each vehicle, which was much cheaper than paying by the day.
We have wonderful memories from the vacations we took those many years ago, and we look forward to creating new ones this year. We want to explore the whole of the U.P., east and west, north and south, so it will be interesting to see where our travels take us over the next month or so. And even though we didn't know it those many years ago, we are glad that somewhere along the line we realized that: Life is not a dress rehearsal. Don't be afraid to laugh, love and retire early.
163 .4 2.3
---
July 10 Sunday
Around town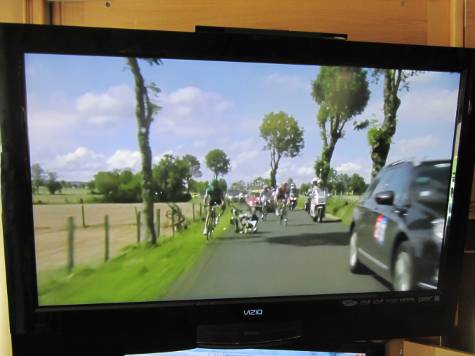 As I've mentioned before, one of my annual guilty pleasures is watching the Tour de France bike race. Unlike auto racing where most people watch to see the wrecks, here the last thing you want to see is an accident, and they have certainly had their share of them this year. Today, a French TV car hit one of the riders causing that rider and another to crash, though fortunately both were able to continue the race.
But really, it is not about the accident, or even the race for that matter, it is about doing something different. In this case that something different is watching a bicycle race that lasts for three weeks. It reminds us of our our time France, but even that is not it. It is about doing something that we don't normally do. It is about breaking the bonds that keep us bound up in our safe little world. We've just passed the 5 1/2 year mark in our full time adventure, and we are realizing that we have more left to see and do than we did when we first began.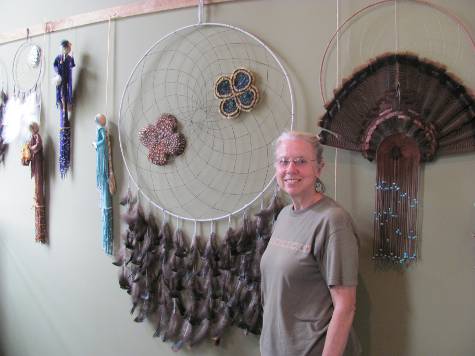 It rained in the morning, meaning we were not going to be going over to the island today, but it allowed us to take time to relax and plan the next few days. I guess you could say we are in semi-vacation mode at the present as there are so many interesting things to see and do in the U.P.. We did spend most of the afternoon in town, not expecting much and discovering how wrong those expectations were. As we looked at this dream-catcher, we both realized that it was there for people who dreamed big, and we needed to join them. That was why we spent so much time at the Museum of Ojibwa Culture and its grounds.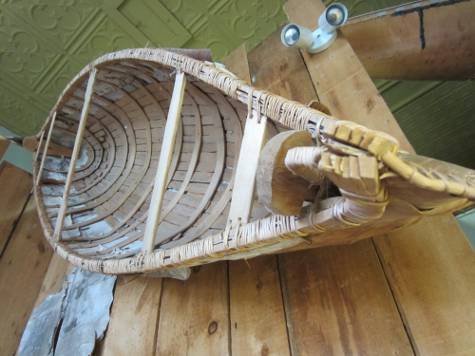 The life of the Ojibwa was different from the Plains Indians we are more familiar with, meaning we really got into it. We even sat through a video that demonstrated how they made a birch bark canoe. And a real birch bark canoe has very little in common with what the movies and TV show as a birch bark canoe. It is simply amazing how Hollywood fills our heads with things that are not real, yet we think they are. Like, a real birch bark canoe has the white birch bark on the inside, not the outside the way Hollywood shows it to be. After all, it's supposed to look like birch bark, doesn't it?. Or at least that is the way Hollywood thinks.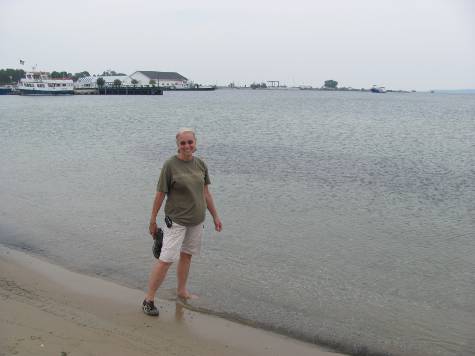 It's pretty bad when we had to look at the map to know which of the Great Lakes Linda was dipping her foot into. It was Lake Huron, and while it wasn't the warmest water, it was no where near as cold as the last body of water she put her foot into, which was the Arctic Ocean last summer. Just think, over the next month she will get to compare the waters of Lake Huron with those of Lake Superior and Lake Michigan, meaning more photos of painted toes in the water. Next thing I know she'll be saying she needs a new pedicure so her toes will good in those photos.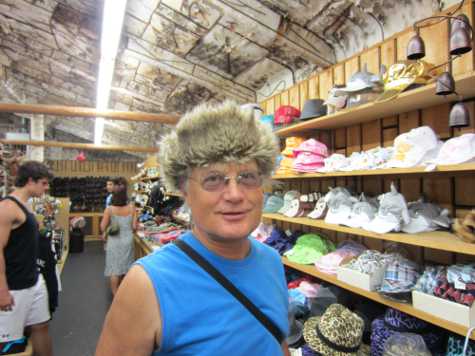 Linda said this will be my official Yooper photo, complete with a Yooper hat. Being a tourist town, St. Ignace has more than its share of places for visitors to spend their money. In this case, it was only to try on the hat, not to buy it, though we did emerge from this particular store with a few must have items, or at least we thought they were must have's at the time we bought them.
We then spent a lazy evening reading and watching TV, which was broken up with several walks around the campground. We are amazed that there are so many sites that are open, though the majority are in the tent, or small trailer areas. Still there are many big rig sites that are unoccupied. We also noticed how few cars and people there seemed to be in town today, meaning that they may not be having too good of a year, touristwise, which is not good for the businesses, but makes it less crowded for we tourists. On the other hand, maybe the threatening weather just kept some people away today. When we venture back out tomorrow, I guess we shall know. And that is what Life is all about, venturing out.
163.2 .2 2.5
---
---