Journal Archive 8/1 - 8/10 2011
Scroll down to read the latest post
August 1 Monday
Shipwrecks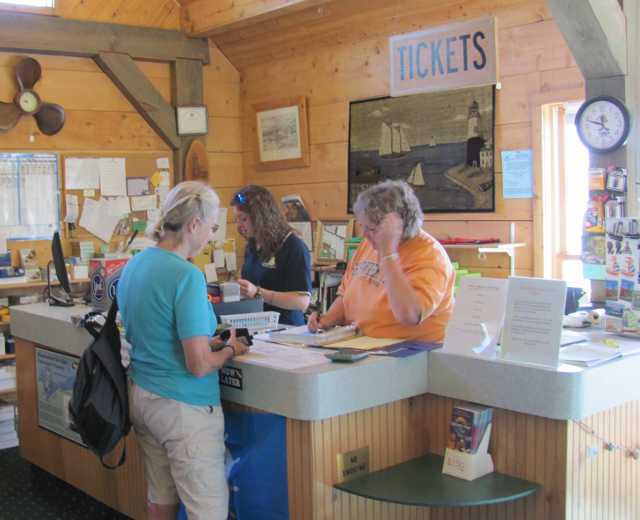 Linda had called the Shipwreck Tour when they opened this morning and reserved tickets for the 10 AM departure. I don't know what that wife of mine asked the lady behind the counter, but it sure seems to have her scratching her head. I can understand though, because back in the day before I met Linda, I used to have a full head of hair, and now all that scratching on my part since then has worn a big hole in it.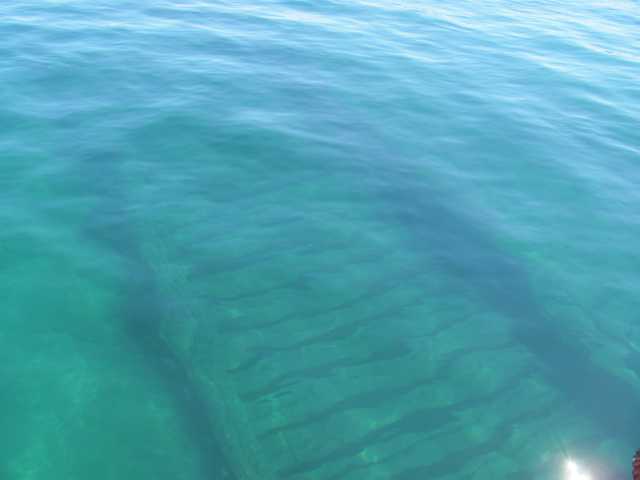 We really enjoyed the shipwrecks, and we have to say that for us it was money well spent. Plus the fact they give a senior discount means you can spend even less of it. Pictures taken through the water from the top of the boat do not do justice to what our eyes were seeing. Perhaps a polarizing filter would have been the thing, but since we don't have them, there was no way to tell. Inside the boat are two wells with glass bottoms, actually Lexan, and while the field of vision is greatly reduced, the view was much better for what you did see, and they make sure you get to see a lot.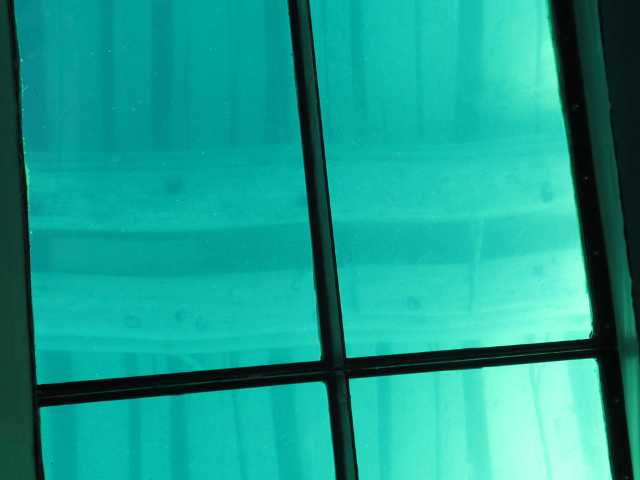 Underwater view through the glass bottom. Again the photo does not show what the eye sees. One thing that I noticed was how big the boats looked, but how small the details often were. That's because the boats really were big, but they were a different depths of water so things, like bathtubs, anchors, and the like appeared much smaller than they really are.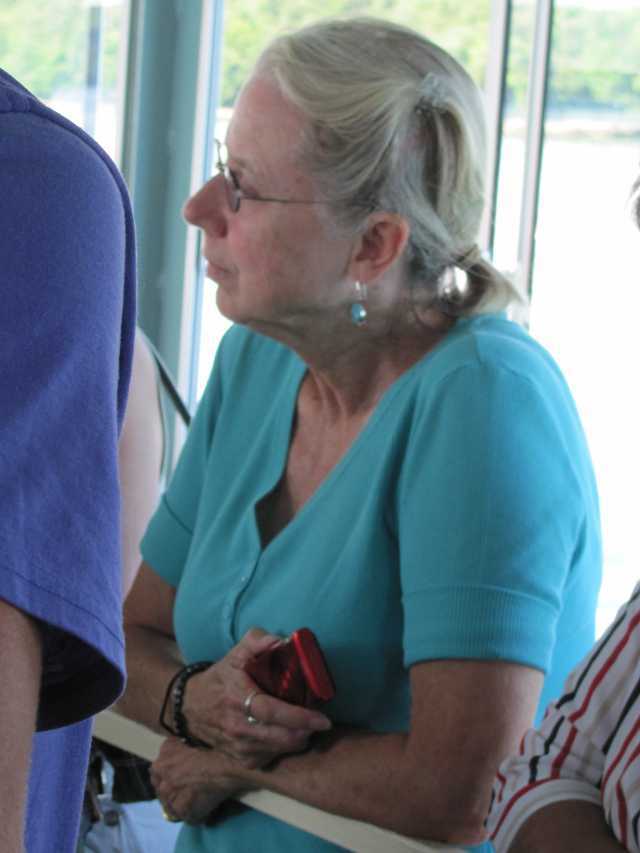 As the boat maneuvered over each wreck with the aid of its side thrusters, there was a running narration provided on everything that was down below. The passengers were split into three groups, and each group was given the exact same opportunity to see the wreck. We were in the last group to see the first several wrecks and after listening to the narration given to the first two groups, it made what we were seeing even easier to understand.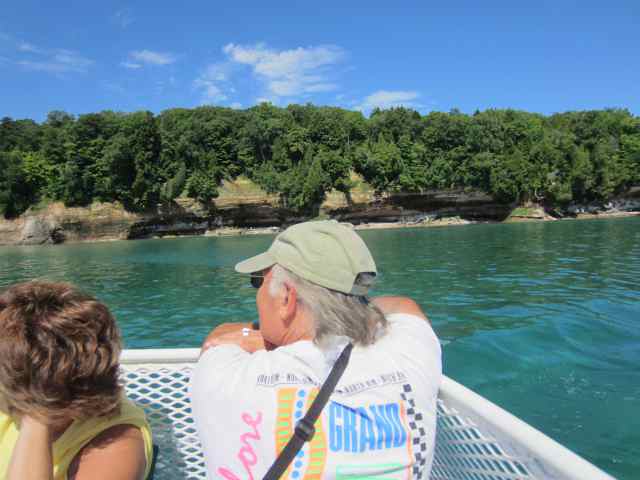 Another thing that made the trip so enjoyable was the weather, which was absolutely perfect. With bright sunny skies, calm seas, and a seat the opposite of yesterday's, this time the aft corner of the boat. Nothing like a great view of the shore as we cruised from shipwreck to shipwreck, to make something nice even better. We saw three wrecks during our 2 1/2 hour cruise, and when we stepped ashore we agreed we would happily take this tour again.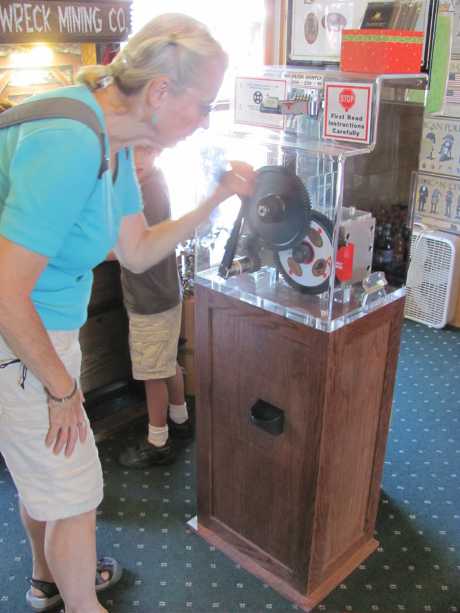 The day may have been perfect, but obviously not all our photos were. Off the boat we discovered a penny smasher, so here is Zachary's obligatory penny smasher photo. At this rate it isn't going to long before he has his second book full of smashed pennies. As for grandma, it isn't going to be long before she has to get another roll of quarters for those machines.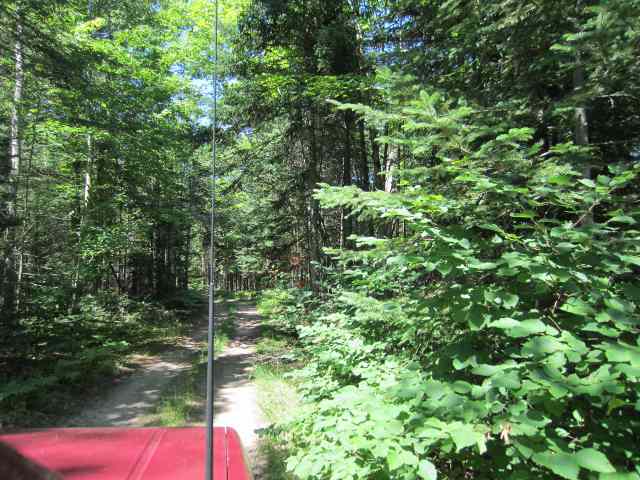 In the afternoon, we hunted down the ruins of some old charcoal kilns that are pretty much out in the middle of nowhere. This time there was a track to follow all the way to our final destination, but it was still a lot of fun driving it. There were several tire tracks visible in places, so we knew that others do visit the kilns, but the entire time we were out there on that very narrow road we never saw another vehicle. As for the ruins were just that, ruins, though there were several interpretive boards nearby to show what once was.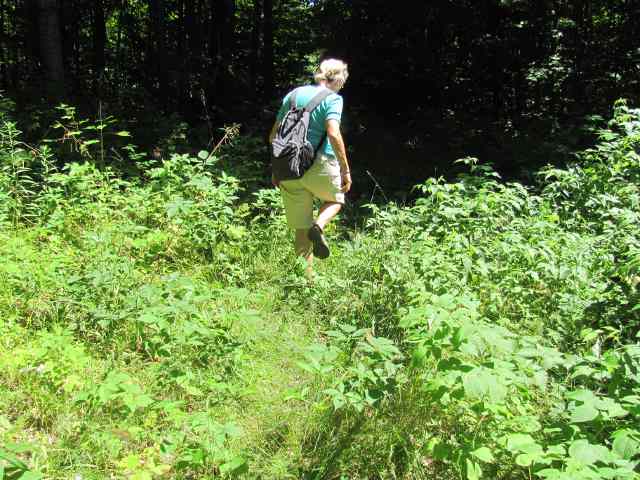 On thing that was mentioned was a cemetery, the problem being that there was no indication of where it was located. That was no problem, the result being a series of searches, some of which took us into places where few have gone for a long time. The only thing we found were wild raspberry bushes, but since they had these red berries in them, Linda wondered aloud why I call her a grizzly when I was the one who was doing the bear imitation, gorging on wild berries. And no, we never did find the cemetery, but some days are like that.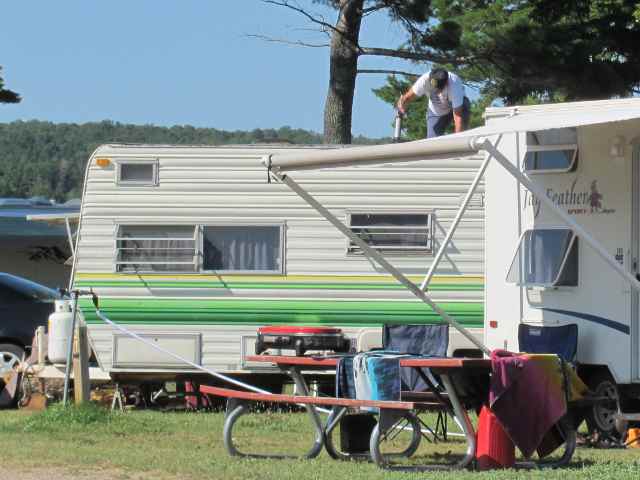 Not everyone was having as great day as we were, or maybe they were, depending how one interprets what they were doing. Though I have to believe they were not having a good day when we were experiencing that cloudburst the other day. There were pieces of caulking tape as well as caulk from a gun, being applied to the roof of this trailer. So far we have been lucky in that extent, though having the roof checked and recaulked as needed every few years has probably had a lot to do with it. For us, it was just another interesting day as we live the Life we didn't know we could until we discovered those early Prodigy bulletin boards and later, websites like ours on the Internet. How time has flow by. How the adventures keep going on and on.
160.2 .2 .5
---
August 2 Tuesday
Falling water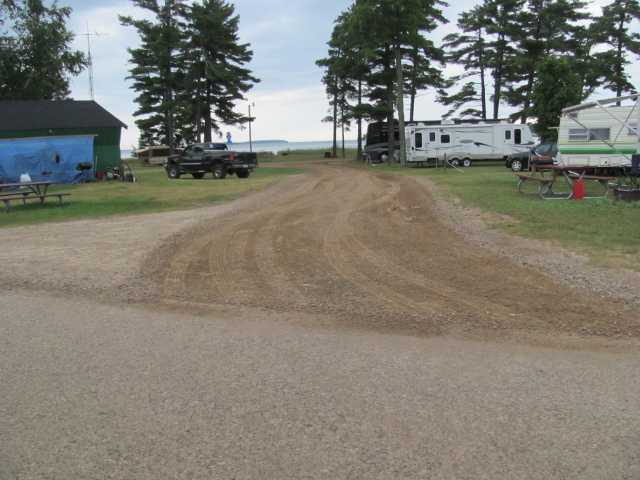 Falling water is right on for today's theme, and in more ways than one. Prior to the day getting started was someone leaving with an extremely loud diesel pickup truck and 5th wheel at 5 AM. Not only was the engine LOUD, by all the sounds we were hearing, they hadn't bothered to hitch up the night before and left the engine running the entire time they were doing it. This is one of the very few times we have ever been awakened because of this, but it helps me appreciate the people who say they don't like an RV park because of road or train noise, something that doesn't bother us at all.
There was another noise in the park this morning and that was the sound of the gravel roads in the park being scrapped. That occurred mid morning, and it says a lot about how nicely kept up this park is. The third noise this morning was one that was predicted, but the nice thing was that it wasn't as bad as forecast. Rain, the forecast called for rain, as in rain all day. The forecast was wrong as the rain fell intermittently during the morning, but then stopped before noon. We could see that most of the people in the park had stayed here during the rain, but once it stopped, the cars and pickups started driving by as people drove off to do their touristy things, and we soon joined them.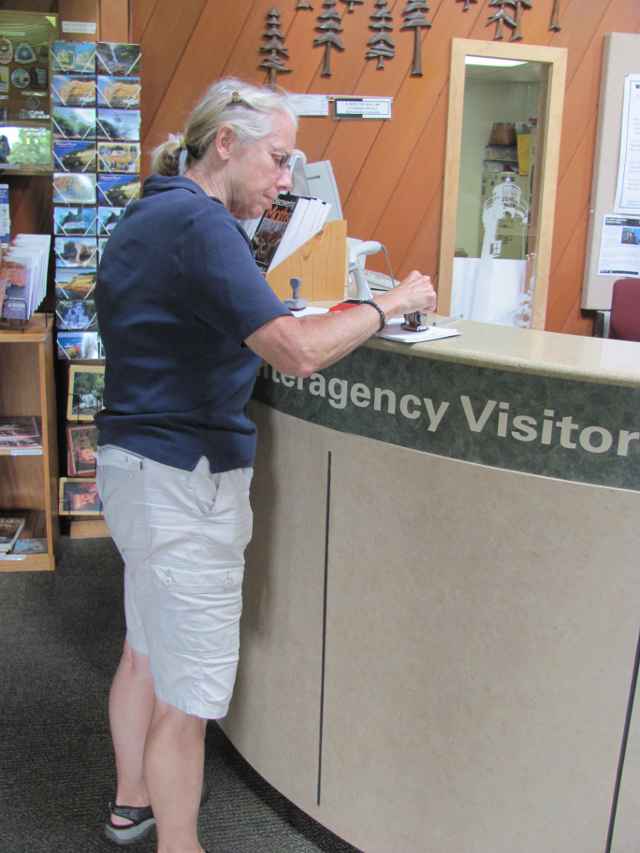 Linda takes getting those stamps at the National Parks very seriously, and we were on a mission today even though we didn't know it at first. Our first stop of the day was at the Interagency Visitor Center where you can get all the info you need about Pictured Rocks Lakeshore and the nearby National Forest. They also had a stamp, but even better when I asked about other stamp locations nearby, it turned out there were several, so off we went. But our first stop, which was to visit the local history museum, turned out to be a dud because even though they were supposed to be open, they weren't. Linda didn't mind, because it wasn't a Park Service stamp location anyway. Still, we will try to get there again before we leave just because we so enjoy local history museums so much. I will say that before the day was over she had a total of three new stamps in her book and a big smile on her face.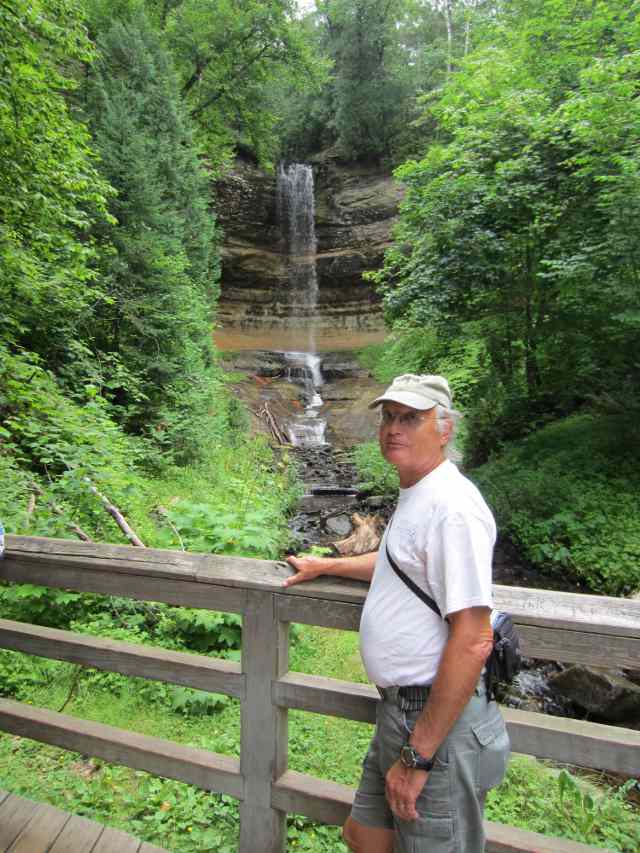 The other type of falling water we experienced today. We always laugh when we hike to some waterfall or other because we know it is going to be nice, but seldom ever very special. We were totally ruined as far as most waterfalls are concerned, during our travels in the Alps '08 and '09, but we still enjoyed the walks we had to see the ones today.
The highlight of the day for us, outside of Linda getting her three stamps, was a visit to Sand Point where they have a marine exhibit in the old Coast Guard boat house. Not only do they have a beautifully restored 36 footer, some of the rails that they used to retrieve the boats from the water are still there, disappearing into the water, something we hadn't seen before. Sure we're easily impressed, but then again, this Life we live sure isn't Kansas anymore either as Dorothy would likely say.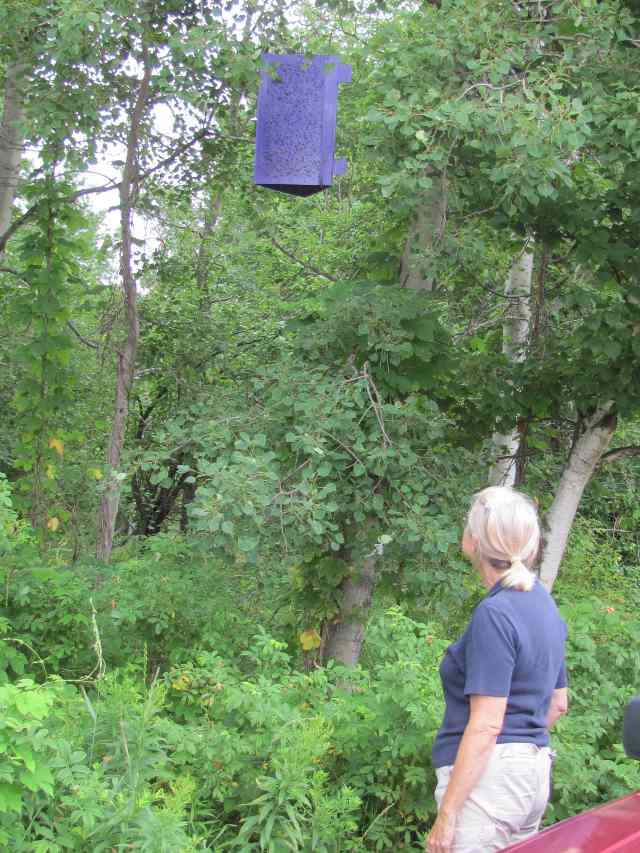 Something we have been seeing all over the U.P., are these three sided purple contraptions hanging in trees along the roadsides. We had guessed they were ash borer traps, and today we found out we were right because there was a small tag on the tree under this one that said it was for emerald ash borer detection.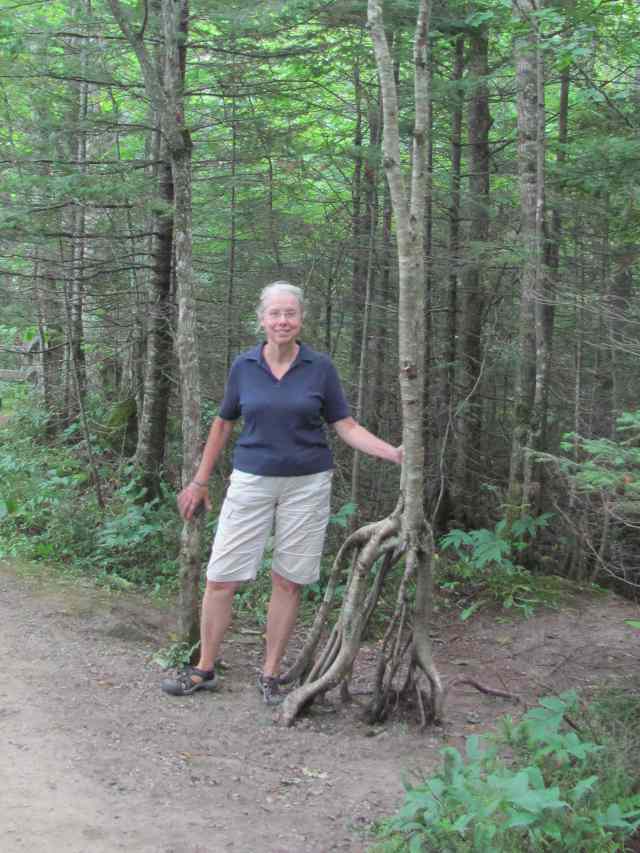 I'll let the people who know how to take photos, post photos of the waterfalls in the area, meanwhile I'll post photos like this. We have seen several other examples of these elevated trees, but never one so easily photographed. The log or stump that it was growing on has disappeared leaving a tree with more "branches" on its bottom than on its top.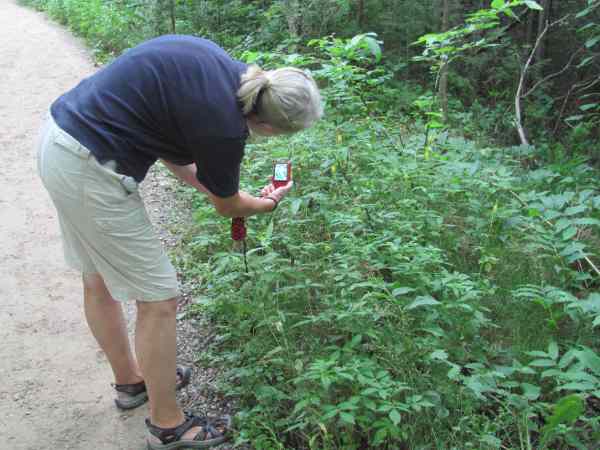 Nature photographer at work. Linda really does enjoy the closeup photos she takes of flowers, though there are time she definitely does not enjoy the taking part. This was one of those times, because for some reason she simply could not get the camera to focus on the flower. Focus on anything but the flower, sure, focus on the flower, no. She finally turned the camera off and on, after which she had no trouble focusing on the flower. Just another of those mysteries of Life.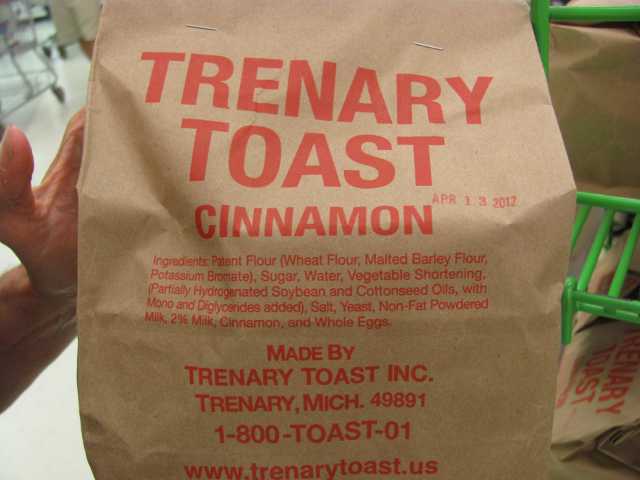 Among the other things we did during the day was shopping at the local farmers market thanks to Linda spotting the sign, and also getting a few items not available at the supermarket. We have seen this toast in other supermarkets during our U.P. travels, but have never bought any. Actually we didn't today either, but I did look it up to see what it is, especially since Linda pointed out that toast with an expiration date nearly a year from now has to be some really toasted, toast. Turns out it is Finnish in origin and more like biscotti than toast. What I read said to slather it with butter and then dunk it in your coffee to soften it up. Something tells me we are not going to be sampling this slice of bread made into a delicacy, but then we sampled lots of other slices of Life today, so we are still winners.
160.2 0 .5
---
August 3 Wednesday
Shops till she drops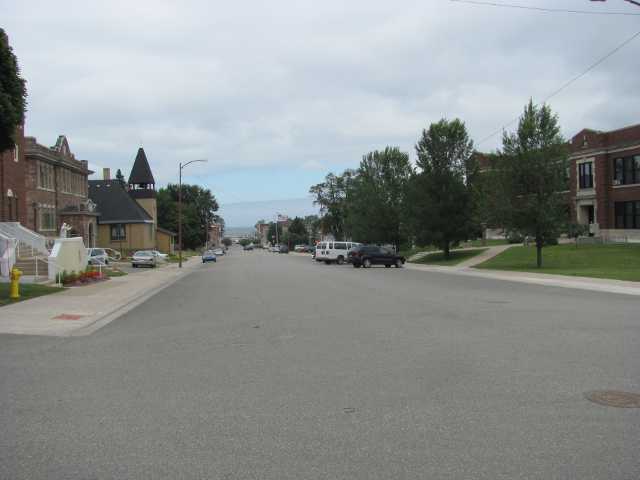 We've been going at it fairly hard for the past few days, so Linda determined it was time for a change of pace combined with a little therapy. The result was an afternoon of shopping in beautiful downtown Munising, and contrary to what the tourists see when they drive through town on the state highway, there actually is a downtown Munising, even if it isn't exactly beautiful. And while it may be just a shadow of what it once was, there were plenty of stores, especially second hand and gift type stores, to keep Linda occupied for a very long time.
In the meantime I was wandering through other parts of town, enjoying the old buildings and churches, reading the plaques about the local history, and getting in a good deal of exercise. Every once in a while Linda would find a good deal herself, and then my phone would ring, we'd talk about it, and another item that was sometimes for me and sometimes for her would find its way into Linda's cart. Since I was getting in my exercise and she was getting in her shopping, it was a win-win afternoon all the way around.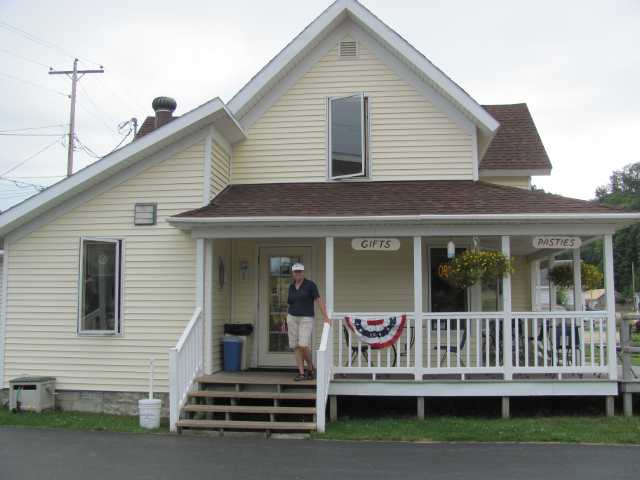 It was nearly time for supper when all the store shelves had been emptied, but knowing that would be such an exhausting experience for Linda, we already had a special thing in mind for supper. Located on the way back to the RV was Muldoons Pasties & Gifts which had sometime in the past been voted the No. 1 Pastie in the U.P.. Many times these types of accolades are nothing more than a way to get more people to stop at a place. In this case, at least based on our admittedly limited U.P. pastie experience, we have to say that in the U.P. we haven't tasted anything even close to these pasties. As usual Linda had chicken and I had the traditional beef, both of which were eaten such that not even a crumb remained. And with Linda's aversion to eating pie crusts or bread, that is really saying something. Still, they didn't come close to ones we had in Butte, Montana many years ago, but then there is best in the U.P. and best anywhere. Guess the Yoopers have to have something they think they are good at.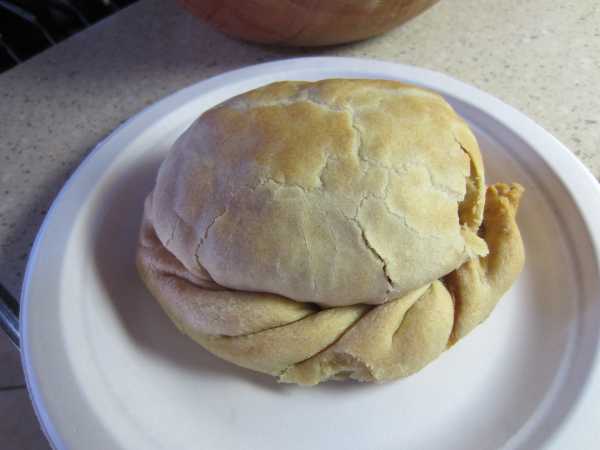 I have to admit they sure did look good as well as taste good. I even used one of Linda's food photos, something I very seldom do. She likes to take such a closeup photo that she almost always cuts out part of the plate, making the photo geometrically out of balance. I go for the take the big picture and crop out the unwanted, while she goes for the, it's the food stupid, the heck with the plate. Can't say she is wrong, but it is not how I look at things.
Isn't that what a lot of Life really is? How we look at things? One perspective can be those that look at someone doing something and think, they sure are lucky. The person doing it may be looking at those not doing it and think, why don't more people do it, it's so easy and fun. There are times it helps to turn the glasses around and look at ourselves. Today was such a day for us, and we had an absolutely grand time, each doing our own thing both separately and together.
159.8 .4 .9
---
August 4 Thursday
Just a placeholder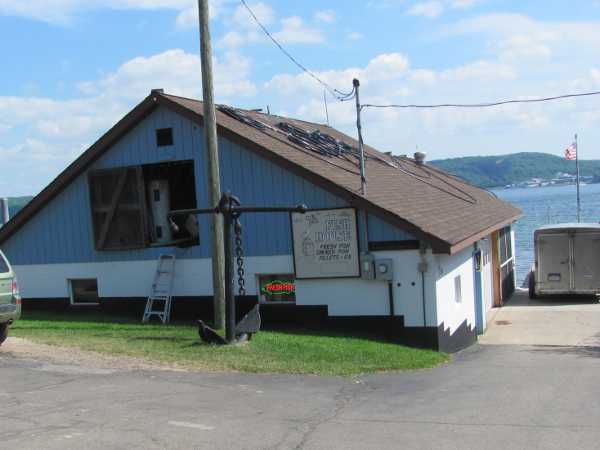 This post is a milestone of sorts, not in the statistical sense, rather in the "just do it" sense. We didn't do much of anything today, just hung around the coach spending time on the computers, reading, and I guess you could say recovering from the last week or so of daily activities. Though Linda did display some enthusiasm for activity, washing the lower part of the coach, I was resistant to those thoughts. My main contribution to what she was doing was initially getting out and then later putting away the ladder for the washing of the front window. Like I said, it wasn't much of a day.
The photo shows our only away from the coach activity, a stop at the fish market where we bought fresh trout for tonight's dinner and several other night's as well. There were also several pounds of smoked trout and a couple of pieces of smoked fish sausage in the bag when we left the market. Since we were going to be heading inland for the next week or more, the thought was to get our fish here because otherwise we might have to go without.
For dinner I tried something different, fish Mediterranean style, or at least my version of it. Simmering yellow peppers, green onions, garlic, capers, sun dried and fresh tomatoes, Kalamata olives, parsley and wine over the trout that had been first been rubbed with Italian spices and then sauteed in olive oil. It was a Bob modification of a recipe I found on the Internet, and was it ever good.
Backtracking a bit, I had been slicing the the peppers when I heard, "Why don't you just grill the trout outside." "I've already started fixing it another way" I replied. "But grilling it would be easier" was the response from my wife. My rejoinder was to say nothing and continue doing what I had started.
Once it was served, I have to say I found my first bite disappointing, the separate flavors, particularly those of the capers and the olives seeming to overpower everything else. But then it began to change as I continued to eat, the flavors melding together into something far more than very good. That meant it was time to ask Linda how she liked it. "How do you like it?" was was my opening gambit. "The flavors are really strong and I wasn't sure I was going to like it" was her reply. Or was it that I was just hearing my own thoughts and hadn't heard her's. Then she added, "But after a few bites it tasted much better. It isn't great, but it's very good." It's getting scary, the thought that we might actually be thinking alike. I guess that sometimes we just have to agree on things, after all something unusual like that only serves to make Life even more interesting than it normally is.
159.4 .4 1.3
---
August 5 Friday
Heading west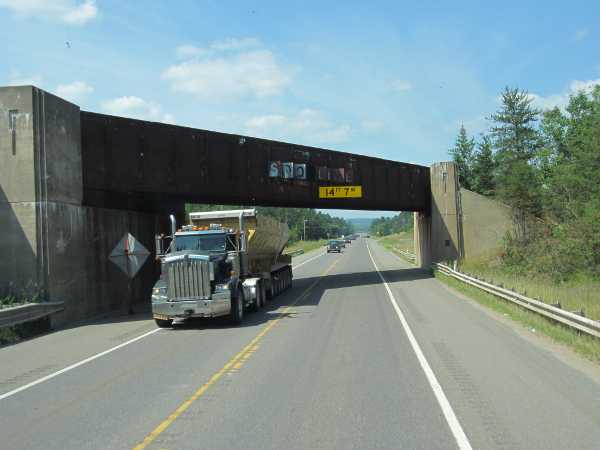 Travel day, but not for any great distance, our objective being Ishpeming, some 50 miles to the west. We weren't sure about visiting the Marquette area, but after reading about all the iron mining and the history of the area, we realized we would be missing something if we didn't stop. The road was good, the ride pleasant, but after the late unpleasantness with the MotoSat, Linda has this thing about bridges, or I should say bridges that appear to be low as we approach them. I always tell her that if the semi's can fit under them, so can we, to which she just rolls her eyes. I have to admit the semi trailer in the photo does look a little low, but the sign says otherwise.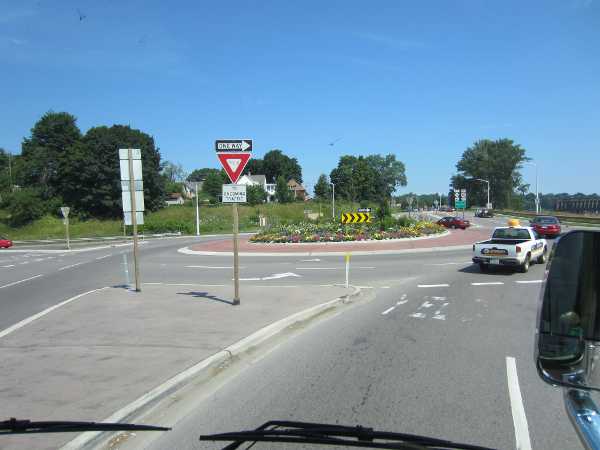 But low bridges weren't all that Linda had to contend with, because sometime later this traffic circle threw her for a loop. As we approached it I could see the signs indicating the left lane turned left while the right lane could either go straight or turn right. She didn't see it, so as we entered the circle there was this, "I don't know where to turn!" coming from her. That could have been very bad had it been her driving, but since I was and I could see the turn, it was okay. Once we had made the turn I hear, "Glad that you knew which way to go because I sure didn't." Nothing like your navigator expressing confidence in herself, is there?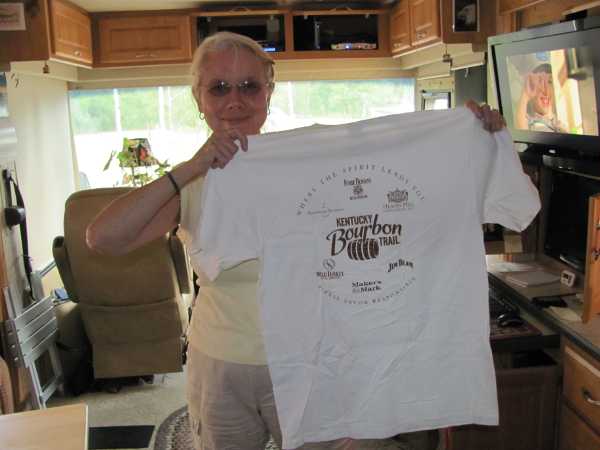 I have to confess to not being perfect myself and it happened like this. The site we have at the RV park is a Passport America discounted site, meaning there is no sewer, though it does have water and 50 amp electric. That meant we would have to dump when we arrived because if we extend our stay here, something we might do if the area is as interesting as it appears, then Linda would start to worry about the tanks filling up. So as we are driving on the road to the office Linda notices the dump station is just ahead, and with that I swing over near it, stopping in just the right place to dump. She looks over at me and I hear "Why are you stopping here?"
"So we can dump right after registering," I reply, mentally patting myself on the back for once being smarter than she was.
"And how do you propose to do that?" was her immediate comeback.
"Just like we always do," all the while thinking that for someone so smart she sure can be dumb at times.
"I don't think so." Now she had me wondering what in the world she knew that I didn't, but a quick look out the mirror showed there were no signs I could see that it was out of order.
"So just how do you know that?" I asked, knowing she didn't have an answer.
"Because you pulled into the wrong side of the dump station."
At least she didn't add, "You can be so dumb at times." Like I say, I married well, as for her, there is always hope.
Once we were settled in and the air conditioners were working hard at making it more comfortable in the coach, we headed out to pickup our mail. We found the Post Office with only the slightest detour caused by my not turning when I should have, but the wonderful old buildings in downtown Ishpeming more than made up for that. An unexpected bonus was that we received our bourbon trail tee shirts, and are they ever nice, just like many of those bourbons we tasted, though I suspect Linda would say to make sure to include bourbon balls as well.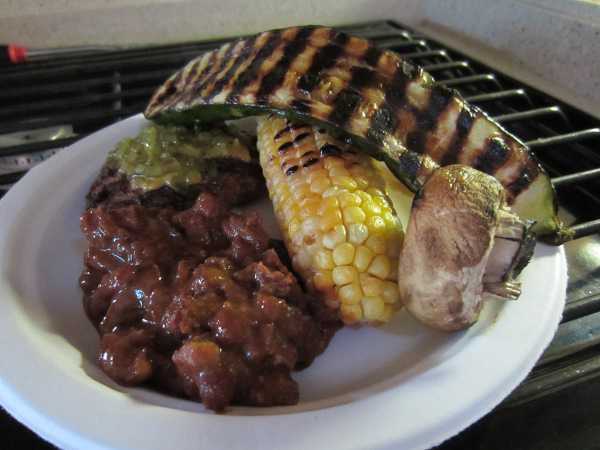 Not every meal do we eat fish, just most meals. Tonight it was veggies with hamburgers. Linda likes hers sans bun, which I think has something to do with her buns, while I go all out, making it easy to guess whose plate this is. I topped mine off with some chipotle sauce, then Linda surprised me by using some herself. As always, just when I think I've got something about her figured out, she goes and does something like this.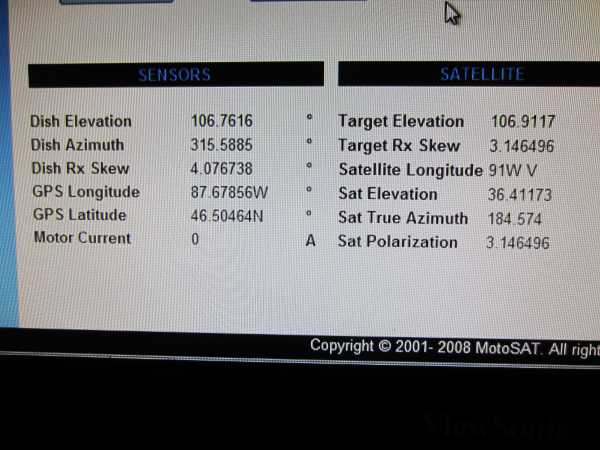 We had some problems getting the MotoSat to pick up the satellite. Well, maybe not "we" since Linda is the MotoSat maven, and not "pick up" since it simply couldn't find the satellite without Linda tweaking the settings by hand via the computer. She finally did get us online, or rather her online, as I was using the parks Wi-Fi while she was doing her thing. Then an email to Bill Adams who is our installer, got a quick response and the solution. We always laugh when these things happen, knowing that Bill was definitely the right choice to originally install our unit, and when something goes wrong he knows the fix. It's a good feeling to know that we aren't out here alone, and whether it is rallies or repairs, family or friends, this Life is really no different than the one we lived before except that now our home has wheels, making it so our neighbors as well as the view out our front window is constantly changing.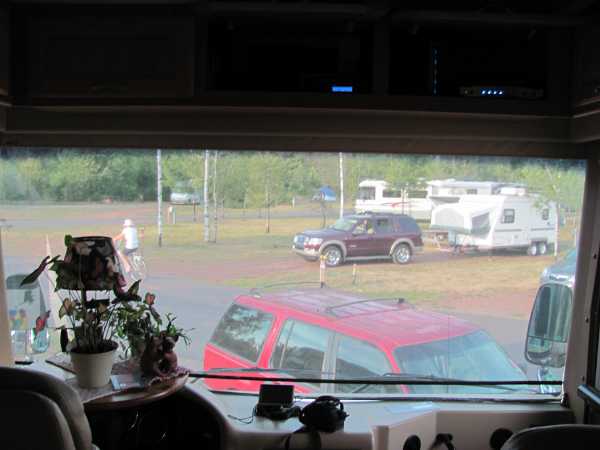 159.4 0 1.3
---
August 6 Saturday
Back in olden times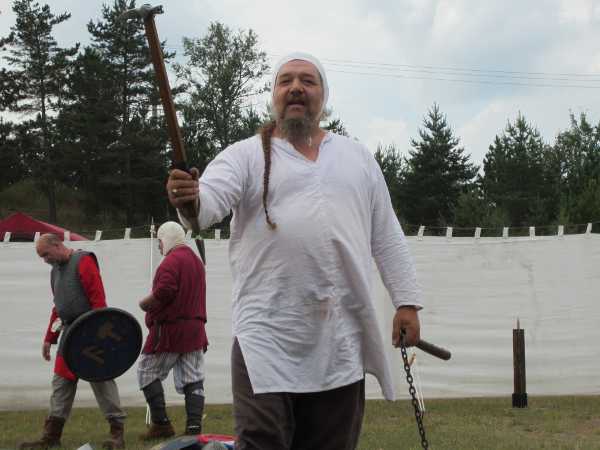 Another travel day, but not like yesterday, today it was time travel as we attended the local Renaissance Faire, the poster for which we saw yesterday when we stopped at the Post Office. It also funny how perceptions can influence ones thinking. Small town, small faire, and quick visit and home. Not so, small town, small faire, big fun, we stay for hours. Many booths selling things we weren't greatly interested in, a few demonstrations that capture us completely. If you are ever in an area where they are having a Ren Fair, take chance, my guess is even if you don't like it, you'll like it.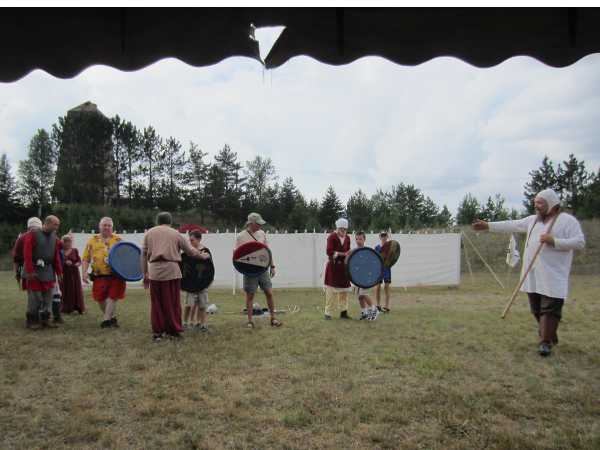 Speaking of taking a chance, take a look at the poor fellow holding the shield in the center of this photo. They called for volunteers and no was volunteering. Having played knights in battle when I was kid, I had some experience at this, so out I went, soon to be followed by several more, no doubt, even less experienced but just as eager volunteers. Actually the second they handed me my shield and asked if anyone else wanted to volunteer, the additional spear fodder headed out onto the field of battle. I didn't know it at the time, but my shield was decorated with the clan emblem marking me as the clan leader which made me a marked man. Actually I think it had more to do with the fact those wooden shields were really heavy and being the only person who could keep his shield up in the center of the line made me the center of the different demonstrations.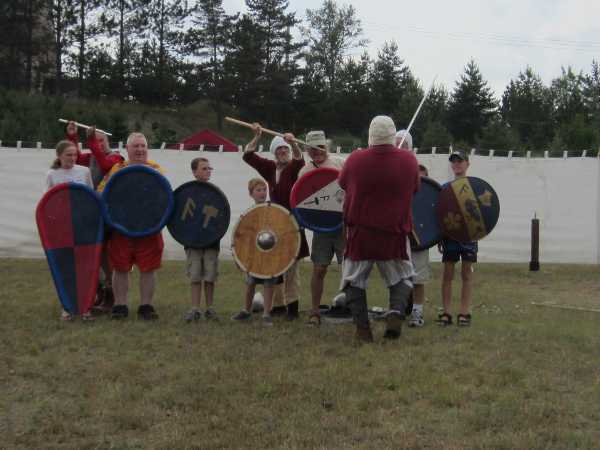 The point of attack. This one is a sword attack which was stopped just before the deadly downward swing. Note that over both of my shoulders is a spearman about to pierce the swordsman. This came after a spear attack where the spear was thrust into my shield, jolting me back and sticking in the shield, which is the reason for the expression on my face. I wasn't sure whether that shield was going to stop that sword or not. And from the look of the little boy beside me, he was wasn't sure either. Five and half years ago we took a chance and started down the highway, today I took another chance and look what it got me. Let me tell you, it's far better to be an actor on the stage of Life than a member of the audience.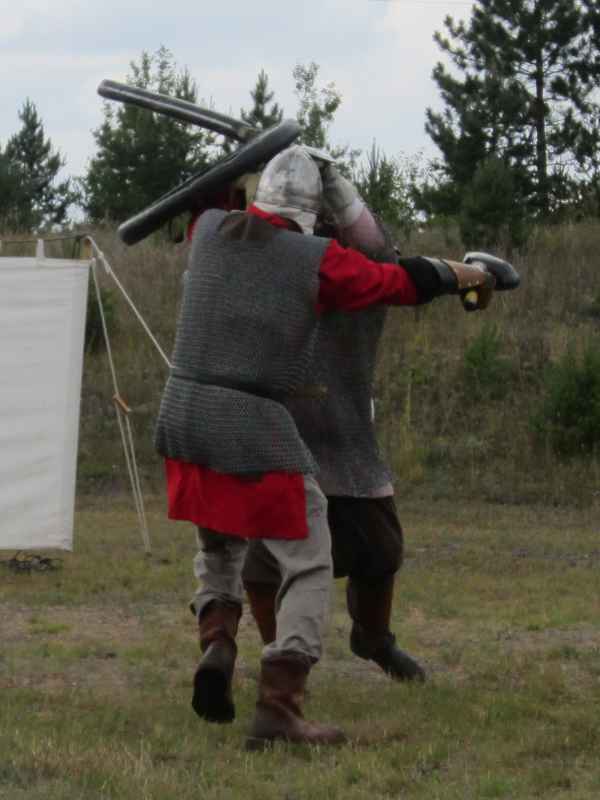 They also gave several battle demonstrations. Not simulated or choreographed fighting, actual fights similar to what it would have in the days of old, only their weapons were highly padded. As we listened to the descriptions of the severe injuries some of them had suffered in past fights, it was easier to imagine what an actual fight those centuries ago must have been like. As they pointed out, many kids, and we were all kids at one time, find history books and classes boring, but movies exciting. The books may tell the true story of what happened but it doesn't excite us. The movies may excite us, but they are totally removed from reality giving misleading and likely, totally false impressions of what life, warfare and death was like back then.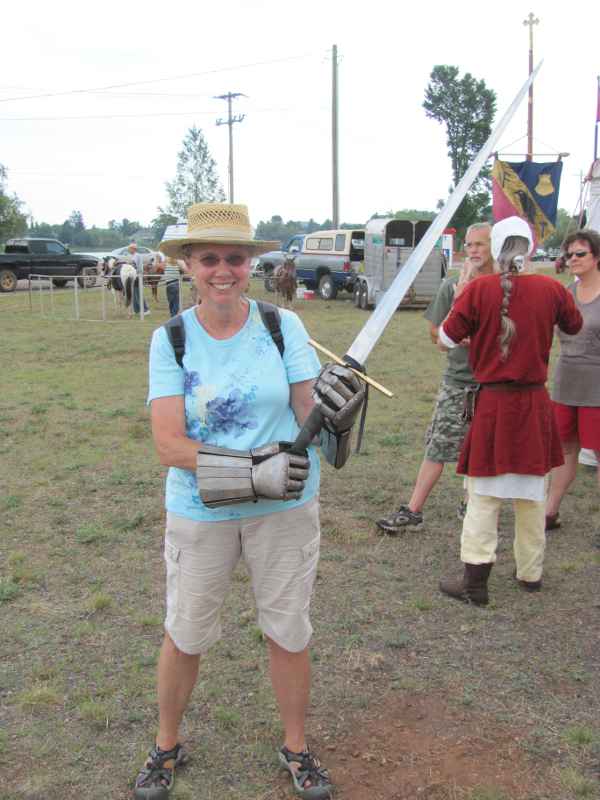 After the demonstration was over we stayed and talked to the re-enactors, learning more than we could ever imagine. This of course was the highlight of that time. What ever happened to the fair damsel in distress that the knight in shining armor rescues? What happened to the evil Queen who shrieks and laughs but in the end gets her just rewards from the blade of a sword. Something tells me I'd need more than just a wooden shield to fend off this fair maiden should she ever get good and mad. As a note, the gloves, though heavy if just you were just holding in your hand aren't nearly as heavy when you have them on. The sword is perfectly balanced and while a little heavy is actually very easy to carry and swing.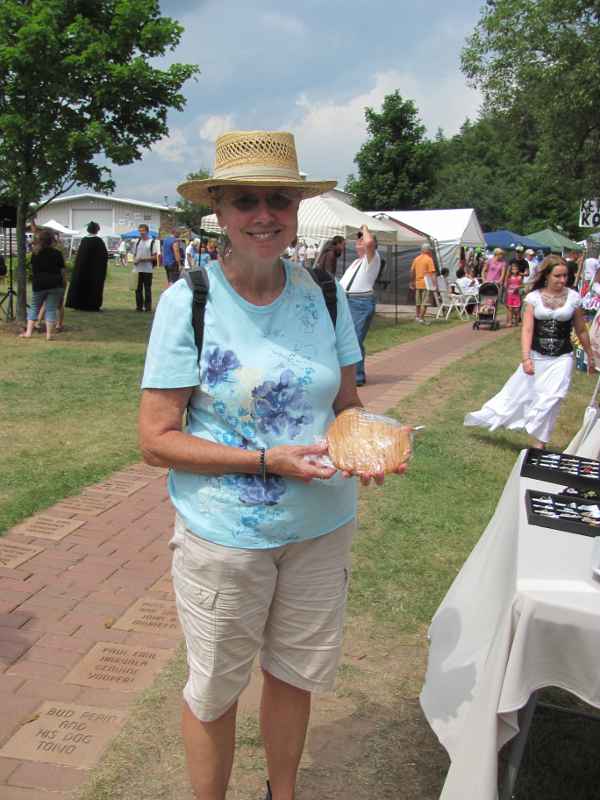 Later in the day I had walked back over to the demonstration area while Linda did some shopping at the many booths. Coming back what do I see but this. Notice how there is definitely a section already missing out of this giant peanut butter cookie. Notice the look on the person's face holding the cookie that say's "Darn it, now that you're back I'll probably have to share some of it with you." And she did to, but not that much. I did get her back by later by buying an elephant ear and eating most of that. Did we ever show each other how to expand our waistline or what. It was just that kind of day, a day to savor Life.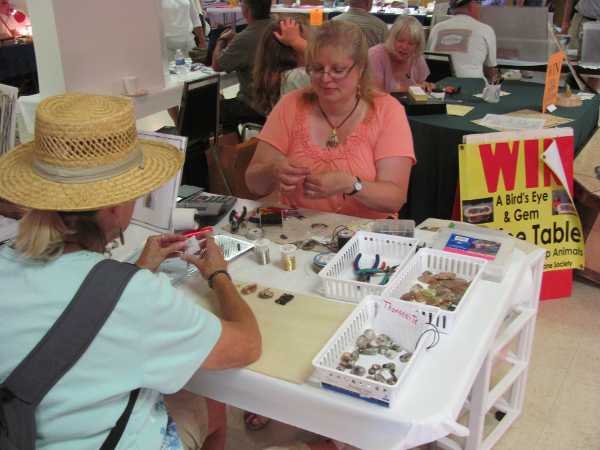 But our day wasn't over yet, because across the street from the fair was a Gem and Mineral Show, something we always enjoy, and always leave a little lighter in the wallet than when we arrived, though whatever it is that Linda buys always outweighs what we've spent. Today we saw some beautiful copper pendants which had free copper showing along with the green ore. That lead to buying a polished piece of ore with free copper, then having it mounted in a twisted wire setting. Besides saving a good deal of money, which was nice, we also got to see the setting being made.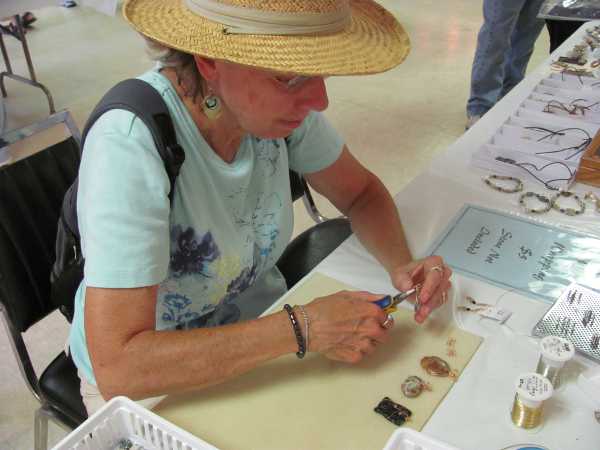 But even better was when Linda got to make the little decorations as part of the setting. She had said before that if she had to do any of it, she wouldn't. But there she was, tongue no doubt flicking, looking like an experienced wiry woman. The pendant looks great on her, she did part of it herself, plus she had no sharp objects in her hands while she was doing it. Looks like I may have my Linda back after her earlier brief foray into the world of the fighting female. Just another day where Life exceeded all expectations, just as the grilled Lake Trout we had for supper did. Life is good? Heck no, it's far, far better than good.
160 .6 .7
---
August 7 Sunday
Around towns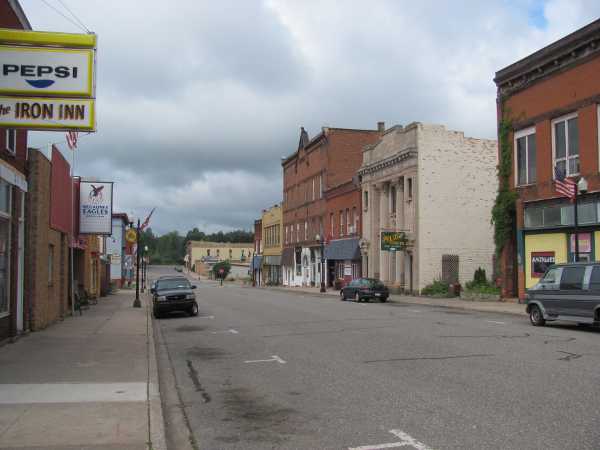 Nothing more than around towns today, Negaunee and Ishpeming, looking at old buildings and visiting the local history museum. We did try to visit a Civil War reenactment but never did find it, then discovered later on the Internet it did happen but it was very small which is probably why we missed it. We are used to seeing masses of soldiers in battle and hundreds and hundreds of onlookers, but this was only a few men with a cannon. Would have been fun had we found it, but that is the way it goes sometimes.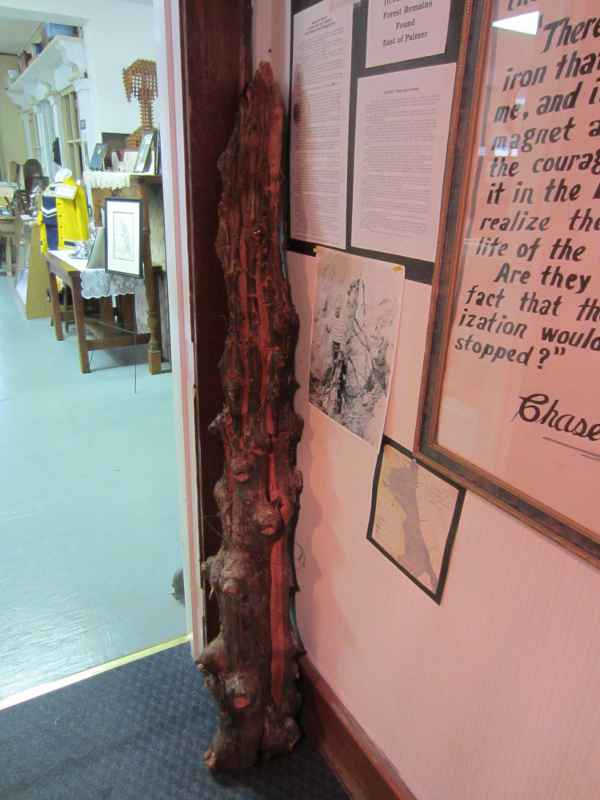 The best thing about small town museums is that they aren't big museums where there are a limited number of objects on display, and those few objects are treated like the greatest thing you will ever see. I'll grant the British Museum a pass, but all the others pretty much fall into that category. Small town museums are different with objects everywhere, along with the surprise of occasionally uncovering something different. That's what Linda found here, a 9,950 year old tree that was once part of a nearby forest that was covered by a glacier.
No brief label here, rather the reports as to what is was were tacked on the wall. The description of how it was discovered by a mining company, the involvement of university researchers, and a log leaning up against a door jamb. No glass case that has the light reflecting off it making it hard to see, no sir, just reach out and touch it if you want. I had thought Linda had become lost, but she was only here, reading every word. That's our kind of museum.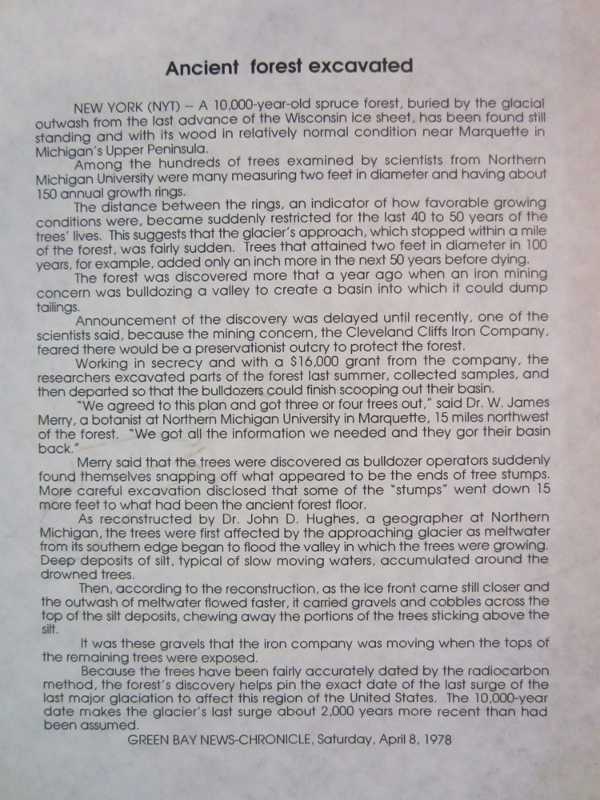 I'll not bore you with 6000 photos of the museum or the towns, but if you want to read about what Linda found so fascinating, her is a photo of one of the articles about that tree that was hanging on the wall near it. Both of these towns are old mining towns which is a good news, bad news story. Good because of the interesting old buildings, but bad because it is an old mining town with old buildings and closed mines.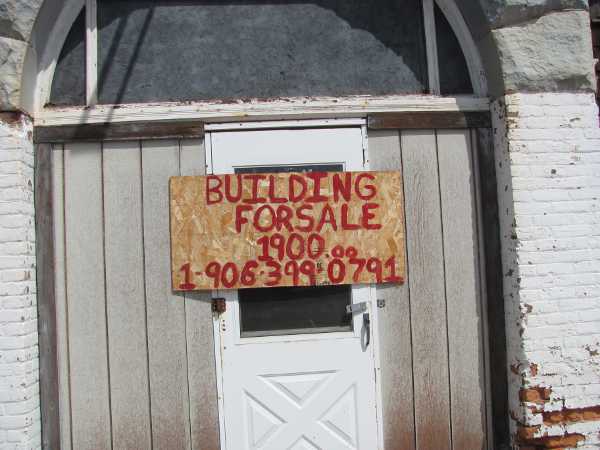 This is a sign of the times on a downtown Negaunee street. A building on the main street of the town for sale for only $1,900.00. So just what kind of building do you get for your money?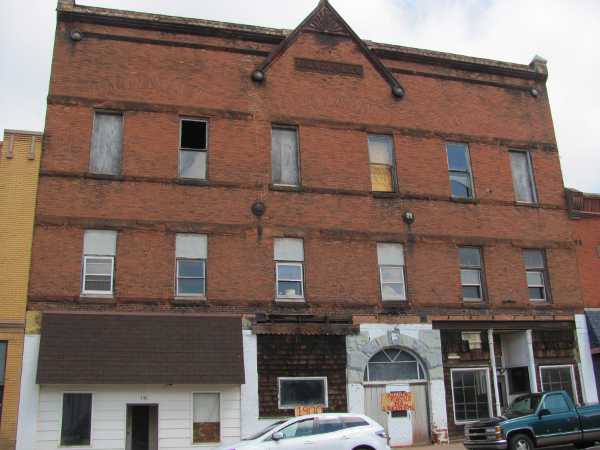 A very big brick building, that's what. Actually most of the buildings looked like they were occupied, though by what or who it wasn't always easy to tell. You could see they were trying to turn the street into an antique lovers destination, but they have a long way to go. It is so sad what is happening to small town America, or even some of our major cities for that matter, but change has always been what Life is about. We could still be living in our house in California, doing the same thing we always did with the exception of being retired, and there are many people who enjoy that. We have chosen a different path, and our Life is different because of it.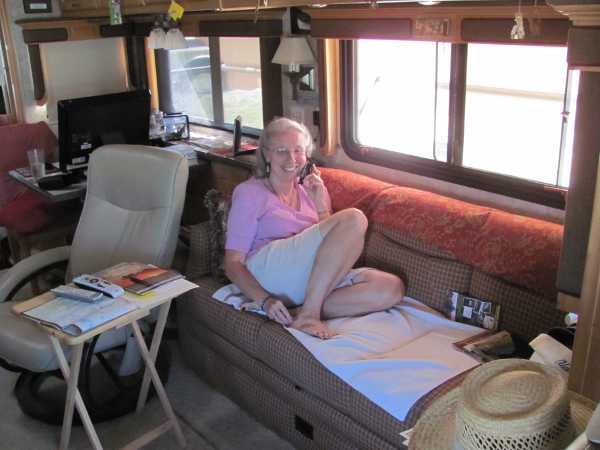 After all that walking around town one would expect to be tired and rest on the couch. Let me explain. While Linda did visit the museum, she also stayed near the Explorer much of the time I was exploring the town, and she talked on the phone all that time. Later when I went off again do some more exploring, she stayed at the coach and upon my return this is what I found, Linda talking on the phone. At least she didn't complain in the evening about her ear hurting. I thought about broaching the subject of why she didn't enjoy walking around these old towns like I do, but realized it would result in the answer, "Don't ask, you'll never understand." So I didn't and don't.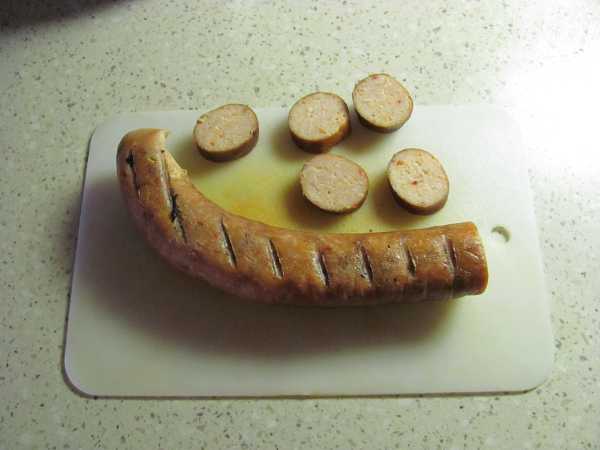 Not the usual food photo showing a delicious meal, but one that gets the point across none the less. I see something new in the way of food, I try it and decide if I like it our not. Linda sees something new in food and first wants to know what it is called, then what is in it, then wants to see what it looks like. I knew were in trouble with this one from the get go. It sure does look good, but the problem was with what it was called, and ancillary to that, what was in it. This was the smoked fish sausage we had bought a few days ago, and tonight I was fixing it with peppers and onions.
I guess my first hint should have been the other day at the market when Linda bought a couple of big green peppers with the comment that they would go good with the fish sausage. That's something she rarely does and I should have been more perceptive. It seems that in Linda's mind the word sausage goes with the word pork. On rare occasions it can go with the word turkey, but never, never should it go with the word fish, even if the word smoked is applied as an adjective.
I'll give her credit because she sure did put up a brave front, but in the end I ate the last of her smoked fish sausage, and will be eating all of it the next time we have it. The reason she gave was that it was too spicy, and she was right, it was very spicy, but some how or other I think the word fish was what really did her in. When I mentioned that I would just fix it with the eggs in the morning, the look I received had me quickly back tracking. In this case she never said anything, but I can tell a murderous glint in that woman's eye when I see it. My, "I'll cook the sausage in the skillet after I've cooked the eggs for breakfast," was enough to a least mollify her until she sees whether I was speaking the truth or not. And you can bet your bottom dollar that in this case I sure was. Life, not always what we expect, but always interesting.
160 0 .7
---
Monday August 8 Ishpeming, Michigan
More touristing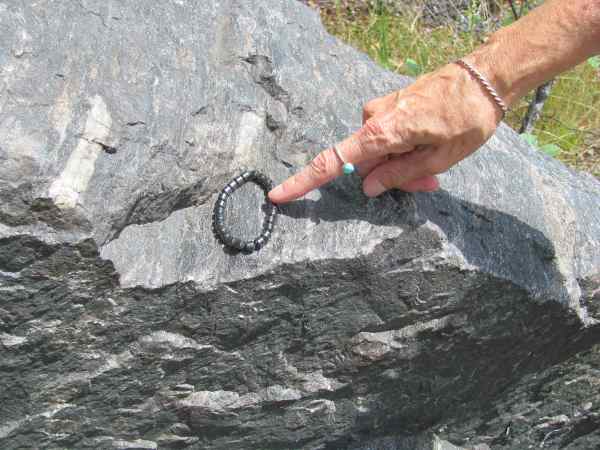 "So, what are we going to do today?"
"I dunno."
"We aren't just going to sit around all day."
This is where my thoughts will forever remain private as I do not wish to make an early departure from this world.
"We could drive over towards Michigamee, it looked like there were some things to see in the area."
"Where's Michigamee?"
For a woman who spends hours with her nose buried in all the pamphlets, brochures and other materials about what to do in the area, I was now wondering if maybe she just uses that as a cover to take a nap. I really, really wanted to say something about how if you spend all that time reading the tourist information, how could you not know where it is. Instead I pointed out that it was a little ways west and I thought there was a mine we could see somewhere in the area. Good Bob.
We were several miles from the RV park when Linda pipes up with, "We forgot the GPS."
"Do you want me to go back and get it?" I asked, looking for a place to turn around.
"No. it's okay, I've got a map."
I know what's happened in the past when this has occurred, so I knew that at least once during today's outing we were not going to be going where I thought we were going, but Life being an adventure, we drove on. We found the Republic mine with no wrong turns, though the mine turned out to be merely a huge pit filled with water, looking not much different than the many lakes in the area. The best part was the gravity defying rock that Linda found. If she placed her magnetic bracelet on it, it stayed where it was placed. Some days we are easily impressed, especially when the eye can not see what the camera shows.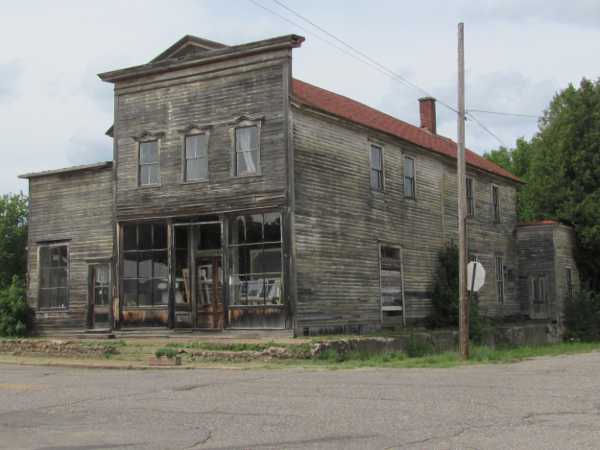 Drive off the modern highway to the towns that once were but now are just a shadow of their glorious past, and they all begin to look alike. While this building is on the main street of Michigamme, it looks like what we saw in Republic where that mine was. However, it is not a seen one, seen them all scenario, as each has a certain dignity that is their very own. And perhaps they also tell us that we shouldn't take what is happening in the country right now as anything more than what it is. Something that has happened many times in the past in different localities and for different reasons, but economic upheaval has, is and will happen again. The impact is the same, only the scale is different.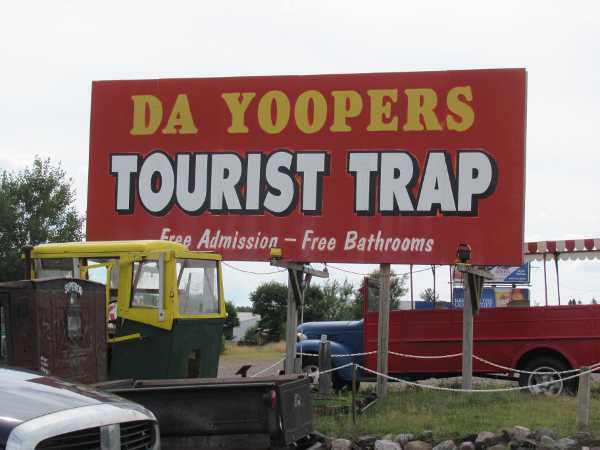 If one business collapses, there may be another that takes it place, and as we approached Ishpeming the last item on today's agenda came into view. Linda sure must have been disappointed a few times during her childhood, because she gets practically hyper if we don't stop at these places when we can. It's not always possible when we are driving the coach, but in the Explorer, it's stop or you'll wish you had never been born. Well, maybe not that bad, but it gives you the idea.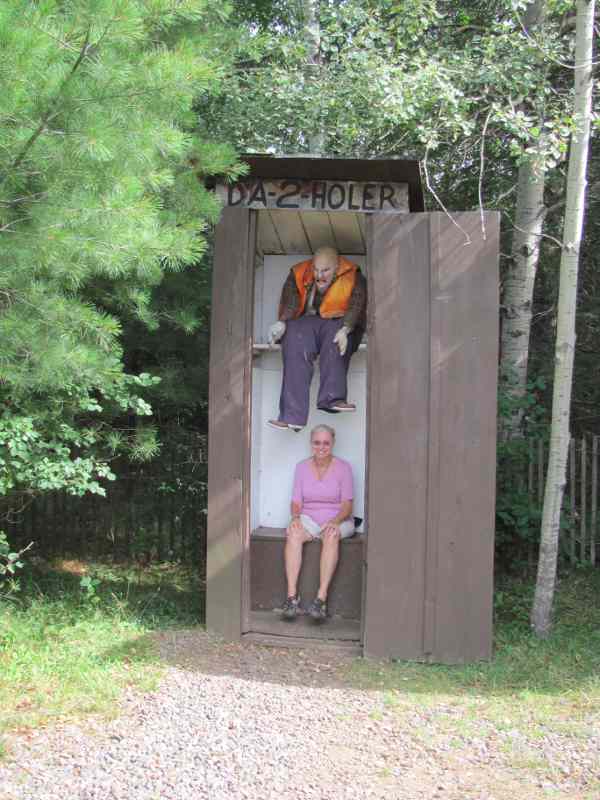 The attraction is to pull you in so that you will spend money on the tacky things they have in the store, and for all the time Linda spent in the store, all she bought was a set of earrings. Then she showed them to me, and I was impressed as the design was in the form of a Kokopelli. Good Linda. However, all that shopping must have worn her out, because before I knew it, she was sitting down, resting. Okay, so I told her to go sit there. Alright, alright, so I politely asked if she wouldn't mind sitting there, and she was a good sport about it. Hey, for all I know this may have brought back one of her fond childhood memories. Editor's comment: Not with doofus sitting above me!!]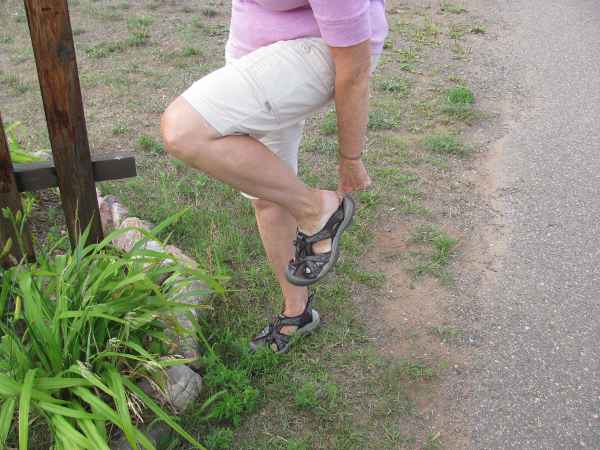 Remember that rock in the very first photo of today's post? Well, to hear Linda, you'd have thought that it had suddenly jumped into her left Keen. The thing was that as soon as she saw me getting my camera out, she had that shoe off and almost back on before I could take a picture. Almost, but not quite. Just because you haven't seen the usual footie photos don't think that she hasn't been doing the one foot hop. Some day I will have to relate what our typical running conversation is like when I receive the order to stand in one spot so she can lean against me and extract another boulder from her footwear. I find that no matter how many times I've done it in the past, I still can't do it right.
Obviously I've left out 95% of what we did today, though more than likely in some of those half million pictures Linda posts on her blog, there are bound to be one or two that fills in the details. But in the end, just like all her photos, what I write can't be made up either, so look at as getting to see all the story at her place and getting to read all the details of some of the story at my place. If that's not a win-win, I don't know what is. For those of you who may want to look at Linda's picture book, you'll find Because We Can II here, which she describes as the woman's version of Because We Can. She tells me mine often reads like something so convoluted it's hard to understand. I tell her hers is like a child's first reader. We are opposites. We were, are and always will be attracted to each other. Our lives are better for it. What more could a person want.
160 0 .7
For those that might have noticed it, yes I have been experimenting a little with the images and how they are displayed.
---
Tuesday August 9 Ishpeming, Michigan
Still more touristing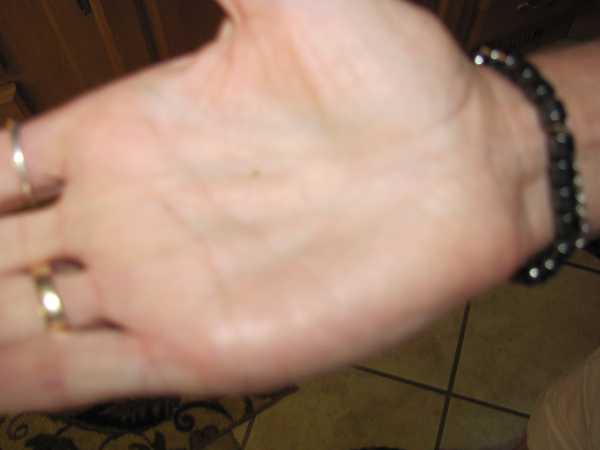 Everyone has at least a couple of unique traits, some people have a number of unique traits, and a few individuals have more than their share of unique traits. While I will resist classifying the woman who is my wife as to which group she belongs to, I will begin today's Daily Journal with a photo that focuses on one of those traits of hers. Due to her being such a sensitive young woman I must tread lightly in these matters, hence the above photo has been intentionally blurred to protect her identity.
Yesterday's post ended with a rock in the shoe photo, and today started with a rock in the shoe while still inside the coach. I will not repeat the conversation that took place regarding the source of said rock, nor the inevitable result of my placing my foot in my mouth while she was removing said boulder from her shoe. In retrospect I have now added another item to my just do it list, this one being:
A rock in her shoe,
a warning to you,
so keep your big trap shut,
or she'll kick your butt.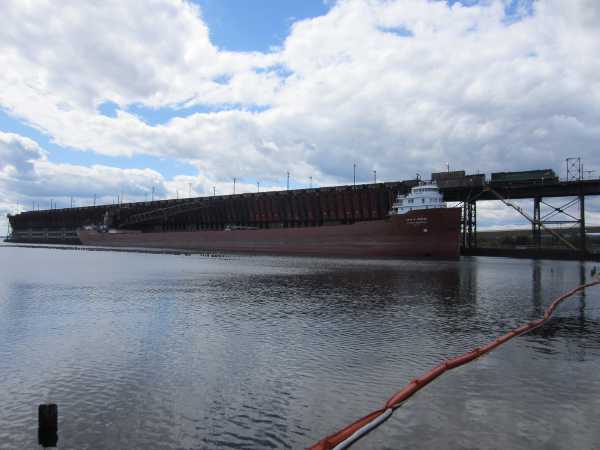 We spent the day in Marquette and before we drove over, Linda spent a good bit of time preparing a list of things she wanted to see and do. There were so many she had to cut a number of things out, but what was left all sounded really great to me. Then Life got in the way. The plan was to start at the north end of town in Presque Isle Park and work our way south. It was a great idea, but then we saw this ship and there went her plans. The opportunity to watch a Great Lakes freighter being loaded with iron ore was just to compelling, and so that is just what we did.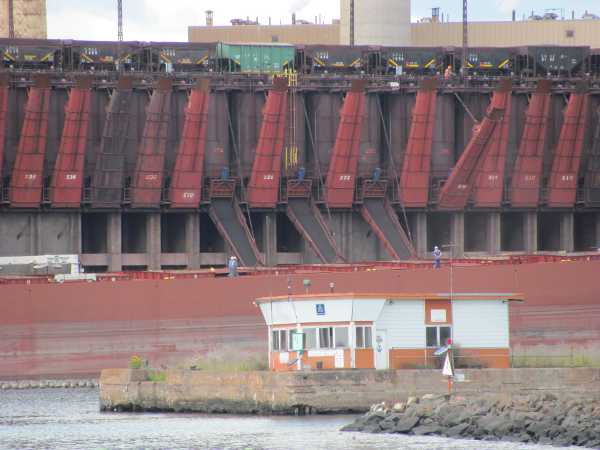 Between the ore cars being positioned on the top of the dock and dumping their loads into the bunkers, as well as the chutes being lowered to the open hatches and hundreds of tons of ore pouring down each chute into the hold of the ship, we were mesmerized by the entire process. We had moved further into the park, but even at that distance, the sights and sounds of the loading were very sharp and distinct.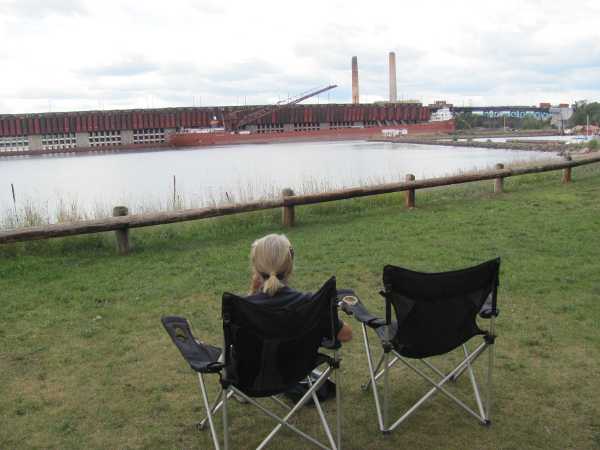 Lunchtime came, and we sat in our chairs, watching and listening, experiencing something that was not at all part of today's plan. In the end we spent close to two hours watching not only the loading, but also the moving of the ship along the dock so that still more ore could be loaded. They had started at the aft end of the ship and we saw it settle lower and lower in the water as the holds were filled. Then they loaded the bow section and that too began to settle lower in the water. Lastly was the center, and the entire ship settled. Then the ship was moved along the dock and the process repeated. All the while we could hear the roar of the ore sliding down the chutes, as well as the clanking of the chains as the chutes were lowered and raise. And even though we have now seen it, I could sit and watch it all over again. In the end we realized that though Linda may have her her plan for the day, our guide, Sara N. Dippity, had an even better plan.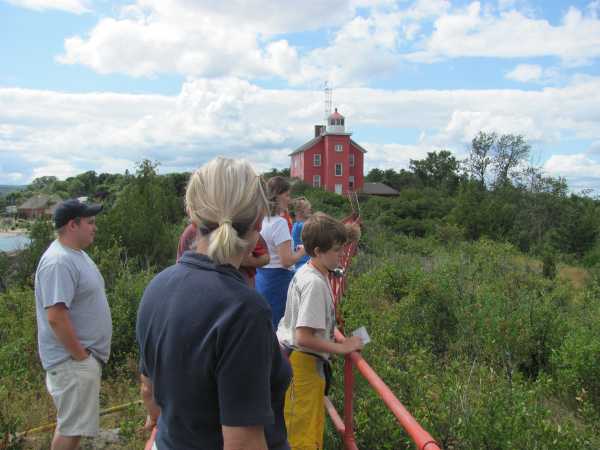 Later we drove through a historical district of town with street after street of magnificent old homes that were just as pretty today as when they had been built. We really wanted to get out of the Explorer and walk these streets on foot, but it wasn't to be. The weather was threatening rain, and the maritime museum and lighthouse were beckoning, so down to the bottom of the hill we went. The museum was great, the lighthouse tour not so much. As Linda said after we got back, "He was talking so fast I couldn't understand most of what he was saying."
Couple that with the fact that he often was looking away from us as he spoke, and also talked in a monotone while jumping from subject to subject, all of which made for a disappointing time, and looking at the body language and facial expressions of the other people on the tour, we weren't alone in our assessment. The lighthouse itself was interesting, but even that left a lot to be desired. By far the best part was the museum, which might have been small, but it was very well done, as have been virtually all the museums we visited in the U.P.. The most fascinating part is when we get to talking about what we saw and each of us realizes that the other saw all kinds of neat things the other didn't. That's the kind of museum we want to go back to.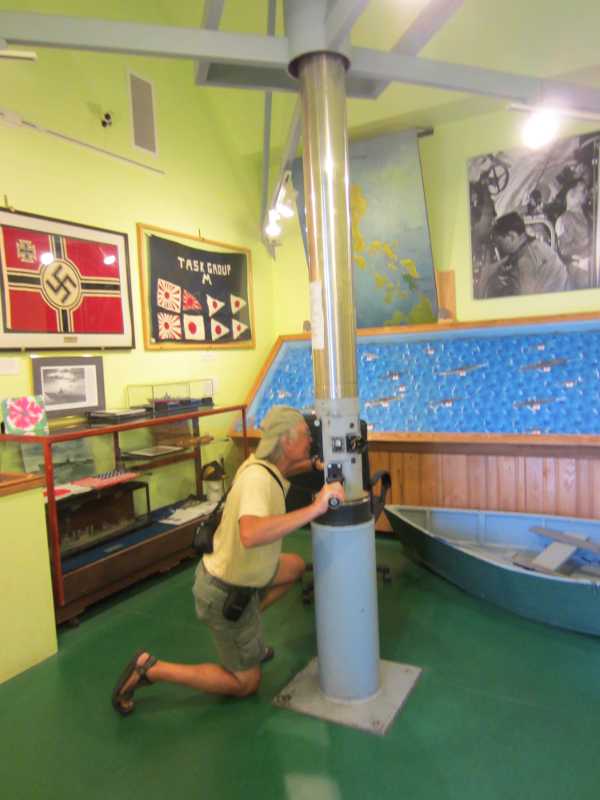 Submarine captain getting ready to fire torpedoes. In a little room just inside the front door is a display honoring a local man who was a famous submarine captain during WW II. In the center of the room is this actual WW II submarine periscope, something that we sure couldn't resist. Both of us played captain, calling out: Bearing! Mark! Range! Fire! With Linda going first.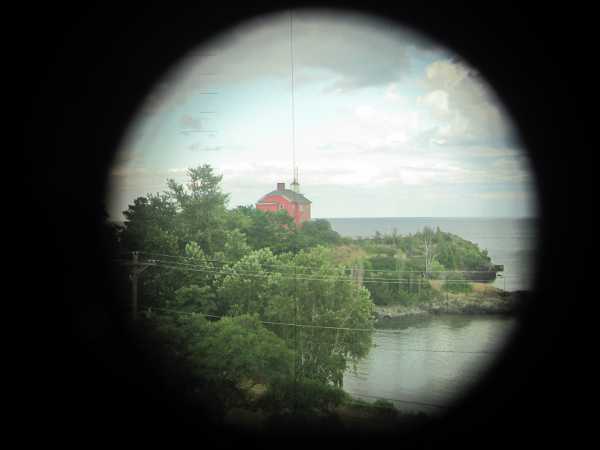 Imagine my surprise when, peering through the scope, I discovered she had scored a direct hit on the lighthouse. Fortunately the torpedo must have been a dud, since the lighthouse was still standing, but I now have begun to understand where she gets her command presence from. Babe, I can live with most anything you do, just don't get it in your mind that I need to salute you too. Also, I don't do the hands and knees swabbing of the floors thing either. P.S. keep in mind what happened to Capt. Bligh, though a little cake for dessert every night will prevent the peasants from revolting. Easy, aren't I.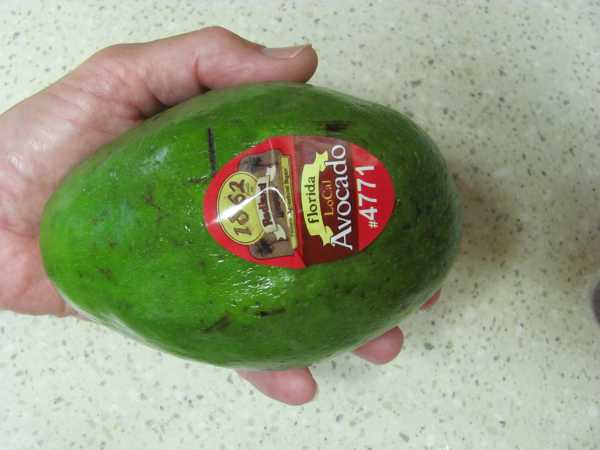 Before heading back to Ishpeming, all 12 miles, we stopped at Walmart for a few things Linda had on her list. This wasn't on her list, and we had never bought a Florida style avocado, but being this big, and only 88 cents, how could we go wrong. Had some on the burgers we fixed for supper and we decided that there is a very good reason we don't remember having one of these before. They don't taste like an avocado. While someone who has only eaten this kind may say the same thing of California style avocados, we will go back to what we like. Of course this thing is so big, we may actually learn to like it before we get it all eaten.
I will leave with something we learned today. Marquette has so many interesting things to see and do that we are coming back. Not coming back as in years from now, rather, coming back as in next week. Thursday we move down to Iron Mountain for at least the weekend and possibly longer if we like it, then we planned to head toward Barga. Now we are going to come back here for three or four more days so we can more throughly explore Marquette.
We read in blogs about people that traveled to Alaska this summer, but have had a hurried trip because they have to be back for the Escapee's Escapade at the end of the month in Wyoming. That's not how we live, and that's the real secret to full timing. Do it your way, not the way someone else does. Do the things you like to do. Go to the places you want to go to. Spend as much time in places as you want to spend. Let the people who still live the life you used to live keep up with the Jones's. In this Life, why not be the Jones's.
160 0 .7
---
Wednesday August 10 Ishpeming, Michigan
Yet still more touristing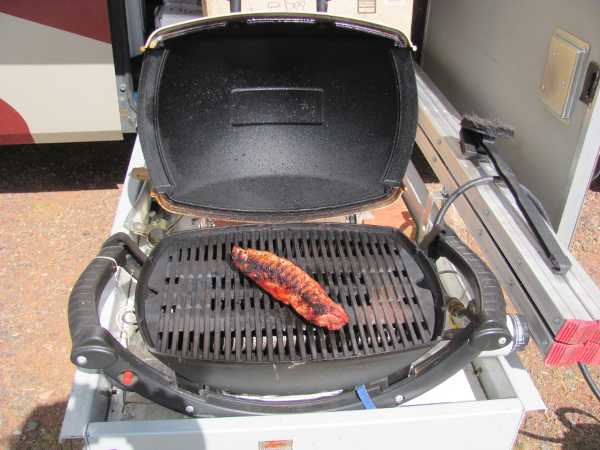 Sometimes you just have to recharge after several days straight of doing the sightseeing thing, and that was what we did this morning, or at least Linda did. While she is busily engaged in facebooking and RV blog reading I hear something about grilling the pork tenderloin. Since I do all the grilling I knew she wasn't talking to herself, and upon a little probing on my part, I discovered that with the wind having died down overnight, now was a good time to get to grilling. Which I did, the only bad thing being that when I was finished and had it inside resting, the smell was driving us both crazy because it was for dinner, not breakfast. Just goes to prove that this full time Life is not all a bed of roses, sometimes you just have to suck it up and suffer.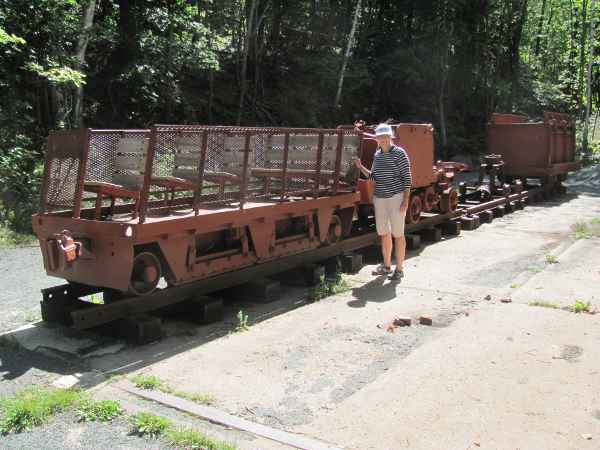 We had decided to spend a little more time in Negaunee today, not in the town itself, but hiking the many nearby trails. It is an area that abounds in history, with many old mines to be found alongside the miles of trails. Mostly it is just holes in the ground or the remains of foundations, but on occasion there is a larger display, such as this one at the Jackson Mine. This was where it all began, the place where in 1845 a 150 foot tall mountain that gleamed like a newly broken iron bar stood. Today it is deep hole in the ground that has filled with water, but it is fun to imagine what it must have been like in its heyday.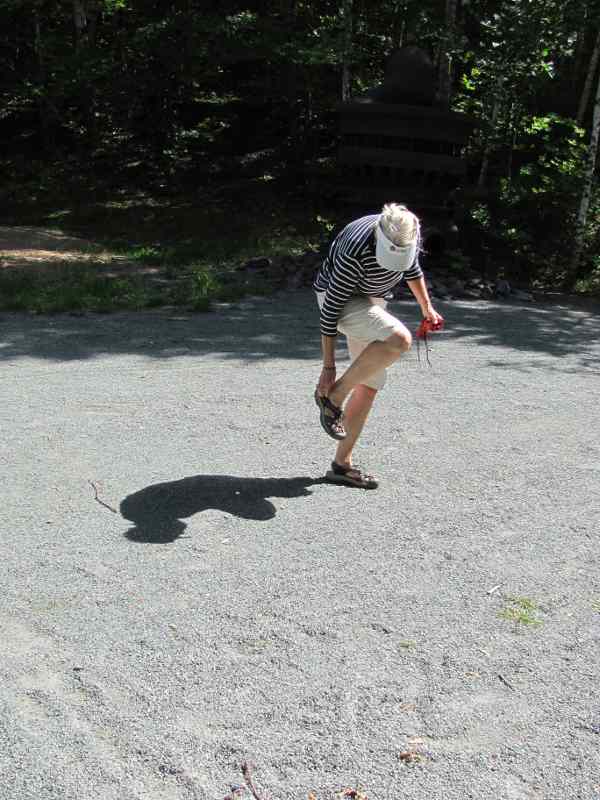 Mining wasn't the only reason for there being large holes in the ground around here. The gigantic boulder that leaped into Linda's shoe likely will be a tourist attraction of its own some day. However, remembering the little ditty that I composed yesterday, nothing more will be said regarding this incident, just as not a word was uttered from my mouth at the time it was taking place, though there was a silent snap of the shutter.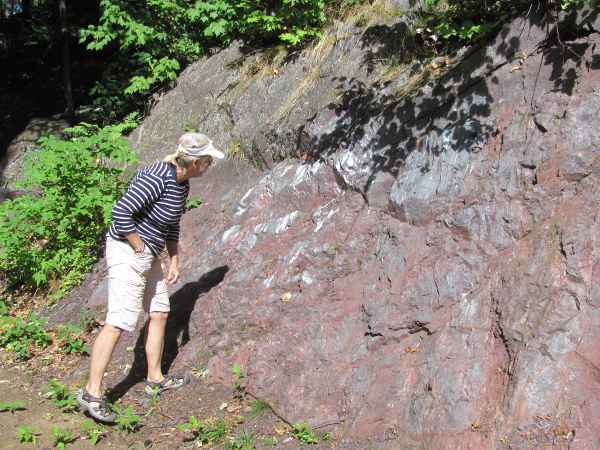 The Because We Can chief geologist and lead rockhound examining what it was that started it all, the presence of specular hematite glistening in the sun. Fortunately it is all over the place around here, so there was no need for me to pry something like a 50 ton boulder out of the ground and carry it back to the Explorer. Back when I was younger that happened a lot, she claiming that a certain rock was the one, even though there were many smaller ones nearby that looked just as nice to me. Guess that is why she got to be the family's chief rockhound, she knows what she wants and she has me to carry it for her. There were also several caves along the sides of the diggings where a vein was followed to see if it lead to a new ore body. Others may have been to store explosives, or for some unknown purpose. Linda took this photo of the inside of one to give you an idea of what the inside of a cave in a mountain of iron looks like. I thought it looked just like the inside of any other cave, but she thought it was pretty neat. I'll let you decide who was right.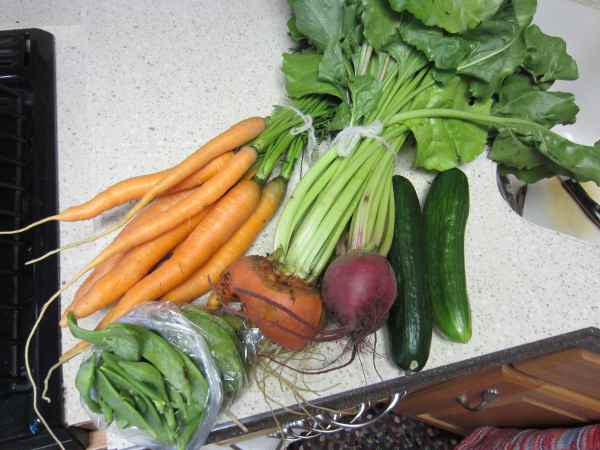 A pleasant surprise occurred upon our completing the circuit of the trail, we discovered a farmers market near where we had parked the Explorer. This has really been one of the joys of our U.P. sojourn, and they can make all the Yooper jokes they want, but it really is a marvelous place and the people are the greatest. We had the beets and their tops for dinner, beet tops being something we have never had before. But like Linda said, "We sure are going to be having them again if we find them in a farmers market." In addition the carrots actually tasted like carrots, not what you buy in the store. We have lost something magical in our country with everything being grown out west or in Florida and shipped to supermarkets. We lost that fact that fruits and vegetables can actually have taste, and not the cardboard taste we have become used to.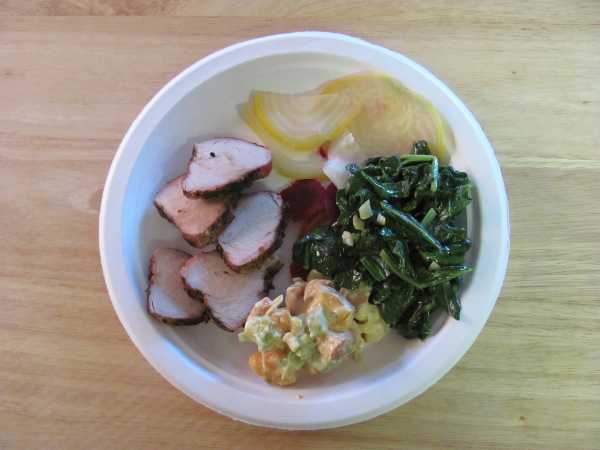 A great meal to end a great day. Tomorrow it is off to Iron Mountain as we take the slow boat through the U.P.. Back a few weeks ago Linda mentioned that one of the RV bloggers she reads said they were back in the U.P., but were driving rapidly across it because they had been here before and had seen all there was to see. For them that was likely true, but the problem is if others take that at face value and decide there isn't much to see and do up here. Looking at the U.P. through our eyes we see more to do every time we open our eyes.
I look back on our time in Mississippi this spring and wish we would have had more time to enjoy that state. Our hurried travels through Tennessee and Kentucky didn't even begin to touch upon what they offer. At least up here in Yooperland, we have taken time to smell the roses. I suspect one might do what we have done over the past five weeks in just a week or less if they wanted to be on the go all the time, but that is not our way. As always, the key to this Life is to remember that it isn't a dress rehearsal, so do it your way, not the way someone else thinks you that you should.
160.4 .4 .3
---
---