Journal Archive 9/1 - 9/11 2011
Scroll down to read the latest post
Thursday September 1 Houghton, Michigan
Going underground again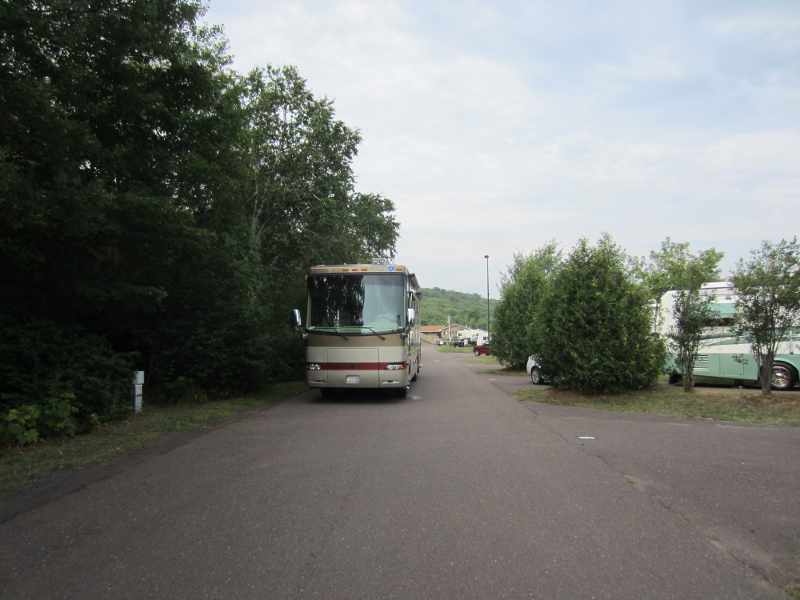 Today was another day to move even though we have really enjoyed our site, but unfortunately this park is completely booked almost all the time. That was the bad news. The good news was that when we checked in last weekend we discovered a site had opened up for the Labor Day weekend, and we booked it. Today's move has set what we believe to be a new record for our shortest move ever, it being only 5 spaces and 150 feet or so. Even better, this site is almost flat, and the view to the front is of the nearby swimming beach, so the official coach people watcher needs only look up from her Facebooking, swivel her head and watch to her heart's content. That means my view will be of Linda smiling a lot and if that isn't the nicest thing in the world to look at, I don't know what is.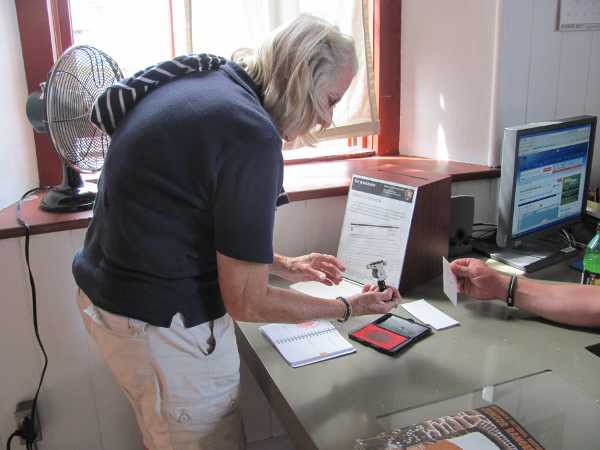 The major outing of the day, the Quincy Mine, came without long pants for me, but with something for Linda. The problem with the long pants is that after what Linda went through yesterday with the bobbin not bobbing, or at least not spinning, when it came time to sew the hems, the tension wasn't right, something that after all Linda had been through with the bobbin most definitely wasn't going to get fixed at that moment. Besides, looking at the photos on the mine website, shorts seemed to be the order of the day for many. We both did end up wearing sneakers for the first time in months, a most unpleasant experience as it turned out, as our feet had definitely spread out from our only having worn sandals all that time. Just another of the enormous difficulties facing those who live the full time Life.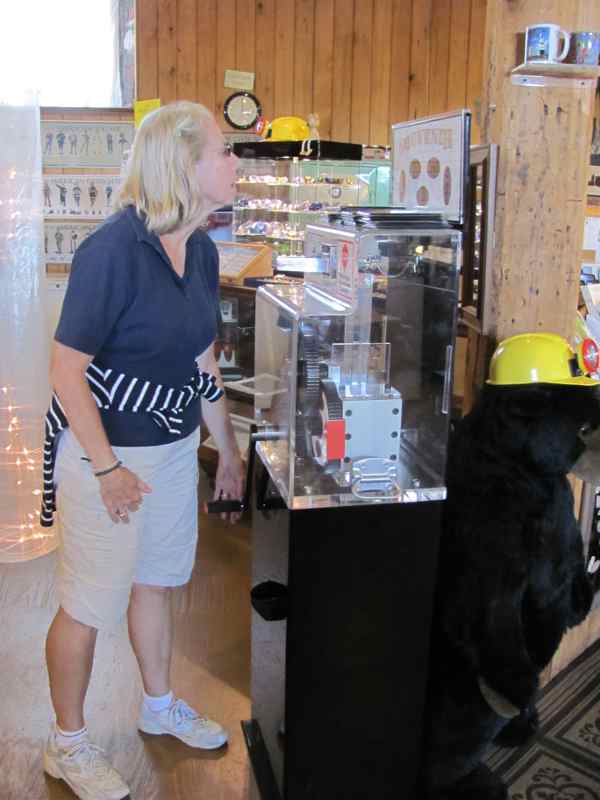 But those less than perfectly fitting shoes couldn't dampen Linda's enthusiasm at the prospect of doing two of her favorite things, getting another NPS stamp in her book, as well as getting another smashed penny for Zachary. With just one stamp it isn't hard to choose, but with four different smashed penny designs, it takes real concentration to pick just the right one.
I must make a brief comment about two things that many readers might over look in this photo. First, the two bears that are visible. The one at the back of the penny smasher is a stuffed black bear, the one at the front of the machine is a live grizzly bear. Secondly, you might notice the grizzly's hair is not in its normal full upright and locked position held in place by dozens of various clips, pins, scrunchies and other do-dads. That's because she's discovered that she can't put on a hardhat with all that paraphernalia in her hair. I always wondered if there was an advantage to being bald, and it looks like I finally found one. However, something tells me suggesting she get a buzz cut is not the way to go.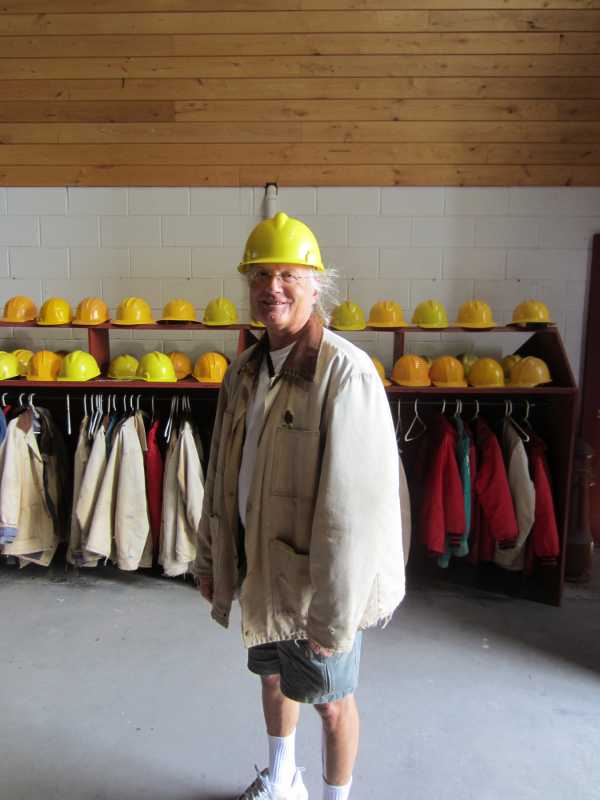 Some photos should never find there way onto the internet, but this isn't one of them. It is merely what a miner looks like before descending deep into the earth. When you don that heavy jacket in room where it is 80 degrees, you wonder why you need them. Then you travel several thousand feet into a mine tunnel that remains 43 degrees year around and wonder why you didn't wear long pants. At least Linda's hardhat was staying in place, and the mine tour was one of the better ones we have had, so in the end it was a great experience.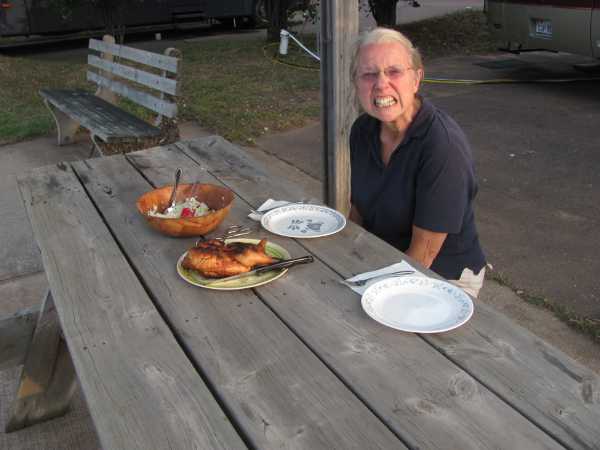 Dinner was once again charcoal grilled chicken, done to absolute perfection. As I got ready to sit down, I could sense that I was going to have to ask very nicely for any little bits of that chicken I would be allowed to eat. Call it intuition, or perhaps experience, but I was able to tell that Linda really liked the way the chicken was cooked, and if I didn't want to lose a hand or worse, I was going to have to let her have all she wanted and be content with the leftovers, if there were any.
As we ate, we watched the boats pulling skis, wakeboards and tubers past us on the canal. Meanwhile, below us families enjoyed the beach as kids frolicked in the water and parents attentively watched over them. Unfortunately all this may come to an end tomorrow when a storm system is supposed to bring rain for the next 48 hours, but at least for tonight, Life was everything it should be and more.
161.4 1.6 .7
---
Friday September 2 Houghton, Michigan
Learning about copper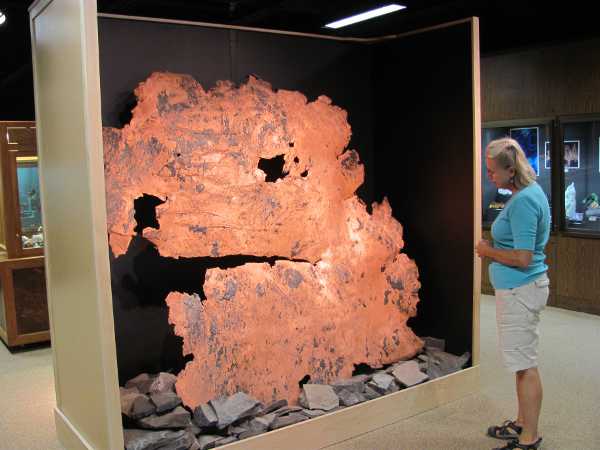 It was one of those places that you wish you had visited earlier, it being the Seaman Mineral Museum at Michigan Tech. They've just moved into a new building, most of the displays are yet to be set up, but what a wonderful place. Had we made this our first stop in copper country, far more of what we have seen and experienced would have made sense. Still it was a case of better late than never. Add to that the fact it was free and the gift shop was by far the best we have seen and it made for a great time. And yes, Linda did her best to put a dent in their copper jewelry inventory, but I did put my foot down when I saw her looking so longingly at this piece of copper, pointing out it was on display and not for sale. Just teasing, just teasing, madame editor.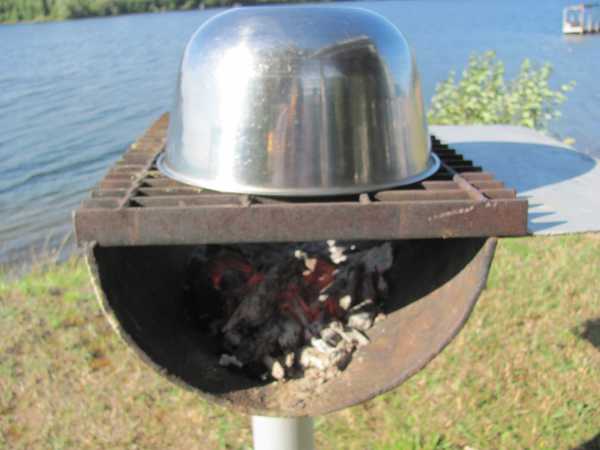 We really weren't prepared for the weather that happened today, since it was supposed to rain, and the sun ended up shining for most of the time. Taking advantage of that, I hiked up and down the hills of the downtown area checking out the old buildings, while Linda did her best to pump badly needed dollars into the local economy, though as she reported, it was only through window shopping. She did find a great food store that has the foods the international students at the university buy, and it looks like we will be picking up a few things before we leave town. Some women get excited over the latest in handbag fashions, Linda gets excited over kilo bags of almonds and four liter tins of olive oil.
Dinner was a change in plans because of the weather, and we ended up charcoal grilling once again. Originally we were going to be having meat loaf, sweet potatoes and lima beans while the rain came down outside. That changed into hamburgers, cole slaw and southwestern beans, enjoyed as we sat at the picnic table watching the activity on the water. Already we are talking about staying here when we come back from Copper Harbor, though we may just end up staying at Linden Lake. This area is so nice we just don't want to move on, and the great thing is that except for the weather turning cold, we wouldn't have to, but we will. Like they say, when Life gets tough, the tough get going.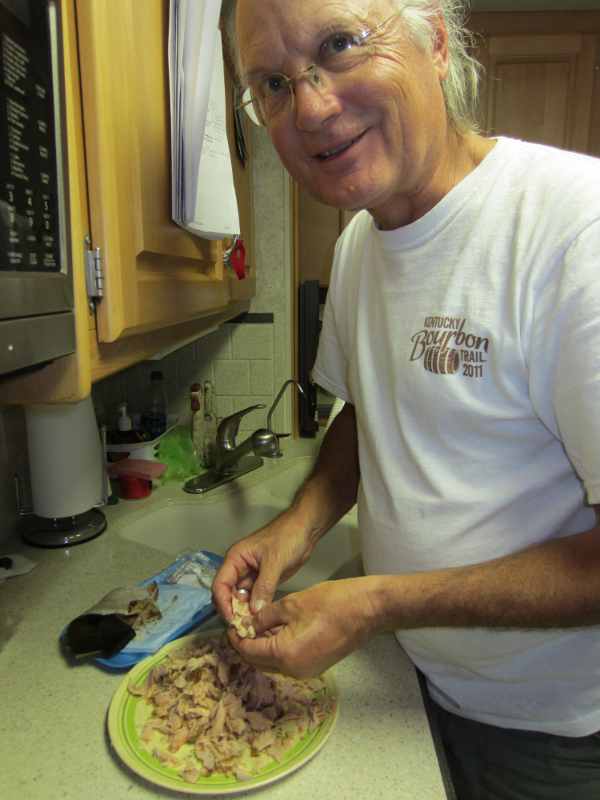 We have been appetizer deprived for several days, having eaten the last of the smoked fish and cream cheese spread, but Linda was fixing to rectify that tonight. When I heard her talking about putting on rubber gloves to debone and shred the smoked salmon, I quickly volunteered my services to prevent her from over taxing herself.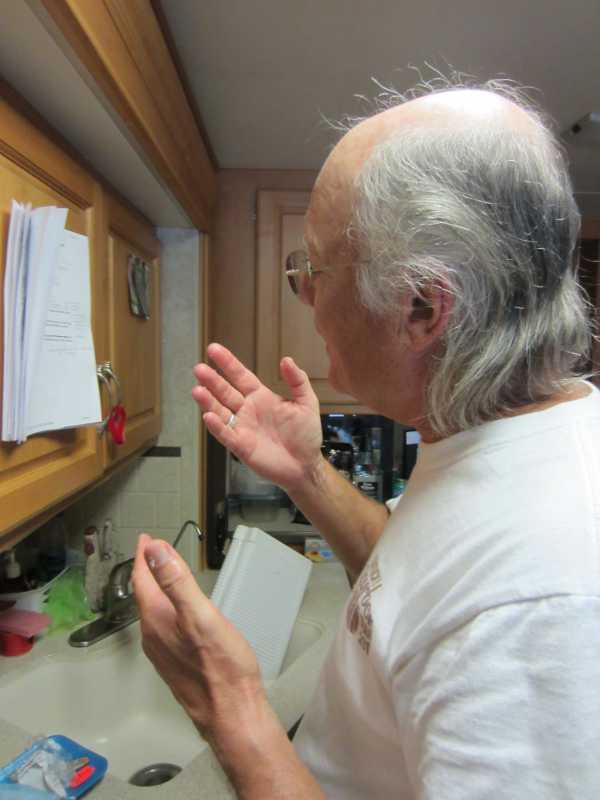 The real reason I was so quick to volunteer my services, cleaning off my fingers after shredding the fish. I did notice the spatula was licked clean by my darling wife after she finished mixing the fish and cream cheese together, so it proved to be a winner for both of us. Interesting how it had been predicted to be a rainy dreary day in the morning, but by evening we had filled the hours with more fun that two people have a right to have. And then people wonder how we could give up living a normal life to live Life on the road. I wonder what tomorrow will bring? Probably rain.
162.6 1.2 1.9
---
Saturday September 3 Houghton, Michigan
Back road travel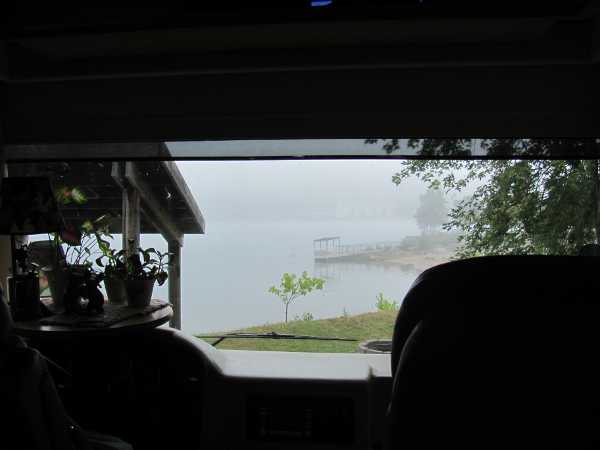 Not every morning can look like a picture post card, and not every day can be another day of eternal vacation. Looking out the window this morning it appeared that our plans for the day might get washed away, but the weather report improved by the hour, the fog burned off, the sun came out, so out and about we headed.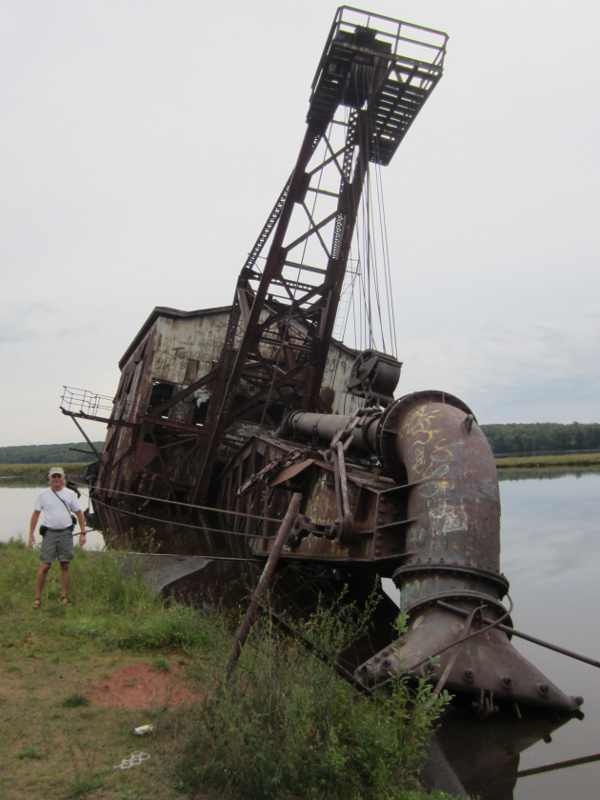 For once there were no museums in the plan, just a drive out into the country to visit a few small towns that looked interesting because of their mining history. It didn't take long before we knew we had taken the right road because we hadn't even read anything about this old dredge, it just appeared along the road. Maybe not exactly next to the road, but a little walking never hurts, especially when something like this is at the end of it. No signs, no nothing to tells us anything about it, but so what, it was pretty cool just the way it was.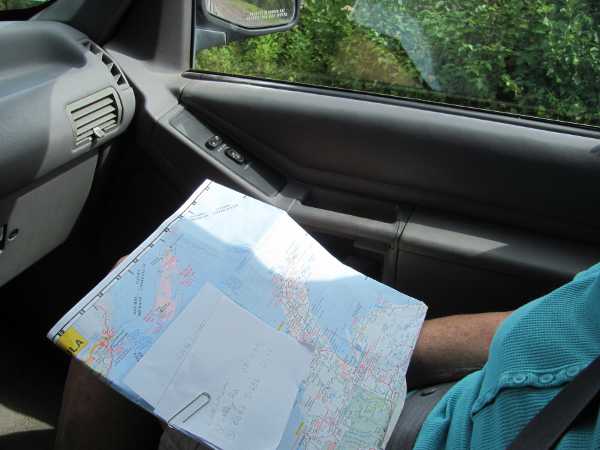 It was also a day where the map was more important than the GPS, because as I would ask, "Where does this road go?" Linda would answer something to the affect, "Unfortunately my dear sweet considerate husband, the GPS only shows a very limited area. I wish I could be more helpful, but I can't. Would you like me to rub your back, you must be tired from the strain of driving on all these back roads that seem to lead to nowhere." I'll just say that Linda's actual reply when I asked that question, which I did more than just a few times, was considerably more pointed and pithy, so you are welcome to come up with your own translation if you want.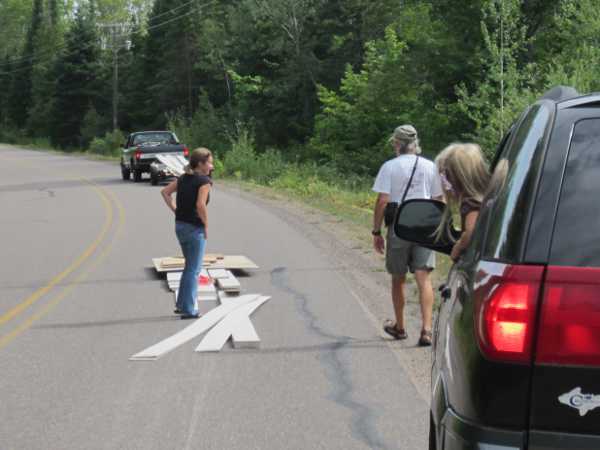 Rounding a curve we could see something on the road up ahead, the result of which was our Good Samaritan deed for the day. A young couple were hauling some building materials with a borrowed truck and trailer, when part of it fell off. With them having a four year old and a baby in the car, the boards in the road, and no experience backing a trailer, we were just what they needed. It took a while but we got the boards loaded, I used my limited experience with truckers rigging and some added improvising to make sure it wasn't going to fall off again, resulting in their being all smiles as they headed toward their destination. Our help made their day, and their gratitude made ours. And like Linda told them, don't look at it as a problem, look at it as a good story, which really brightened up their faces.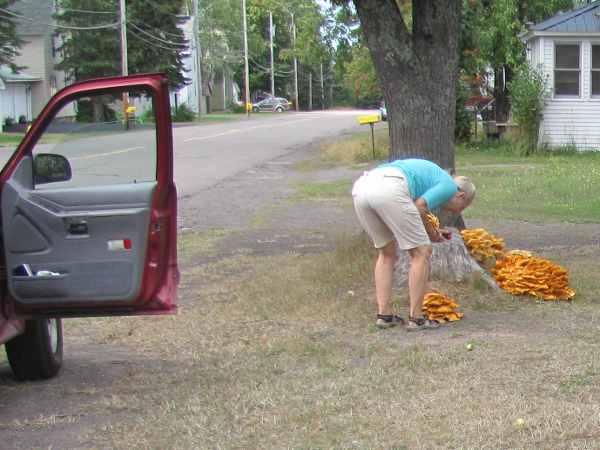 This was one of those turn around and drive back situations, and our fungi queen got out of the Explorer and literally ranted and raved over these fabulous fungus. Even when we finally drove off she was still gushing over them. Guess it was just my day to do good deeds.
Even I had to admit that these were the biggest we had ever seen, including those up in Alaska last summer. The only thing bigger was the smile on Linda's face, Good Bob.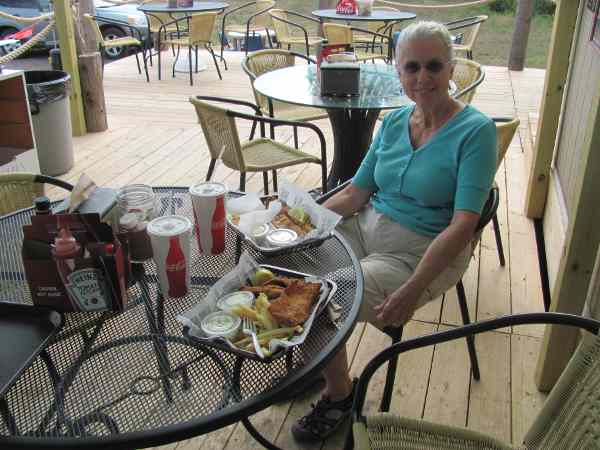 There are some people who seem to eat out all the time, and then their the ones like us who very seldom eat out, but sometimes we just get lucky. Across from the Quincy Mine is the local fish market, and behind it is a very small eatery where where you can have any kind of fish you want as long as it is whitefish, and it can be cooked any way you want it as long as it is batter fried or baked. It is one of those, they don't do a lot, but what they do is way beyond good kind of places. Linda had the baked, I had the fried, and next time, there will be a next time. Today was filled with unexpected pleasures, which is what makes life, Life.
164 1.4 3.3
---
Sunday September 4 Houghton, Michigan
Rain out
That's it for today, and just like in baseball, the rain caused a delay of game that turned into a rainout. We can't reschedule because we are leaving Houghton tomorrow for Copper Harbor. The same Copper Harbor we have been eying for well over a month. As a warning, there is no cell phone or wireless where we will be staying. We tried to reserve a site that we could get a MotoSat signal, but even that is very iffy. So if you don't hear anything from either of us by any of the ways we normally communicate for the next three to five days, it's okay. Maybe more tomorrow, maybe not.
And to really put a topper on the day, I was so well behaved today that there wasn't a single incident interesting conversation between us to report on. It truly was; One of those days.
162.4 1.6 1.7
---
Monday September 5 Copper Harbor, Michigan
Copper Harbor at last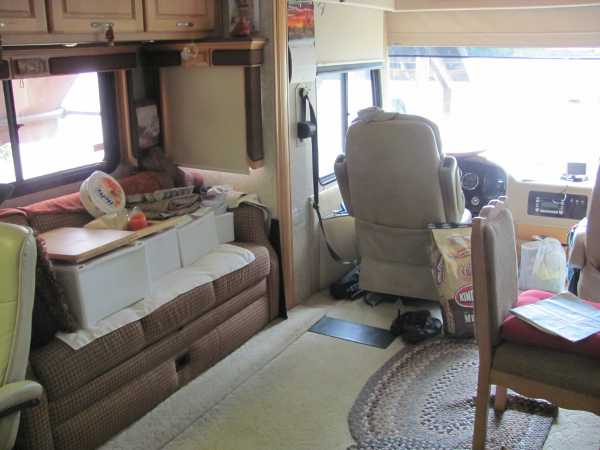 Before it was easy just to take a sabbatical from writing, one that stretched on and on. Then came that fateful day in March of this year when I read that article on "Just do it", which I decided to fully commit to. Now after all these months, I find it easier to just do it, even though I really, really don't want to than having to live with myself if I didn't just write. With that as a forewarning, you may just have to bear with me as I struggle though this bout of "Don't do it."
I don't believe there is an ounce of don't do it Linda's entire being, as this view of the coach interior proves. I'd been out on a morning walkabout while the grizzly continued an early fall hiberation, buried under the covers. Upon returning I didn't need to rouse it, I just had to get out of its way so it could work. I'll probably spend the whole day wondering what got into her, the answer to which I will never know. Regardless, I really did enjoy the results of whatever it was, even if it did stop before she got to the unhooking the waste hose part. Hey, I'll just take what she did and be happy. Sort of.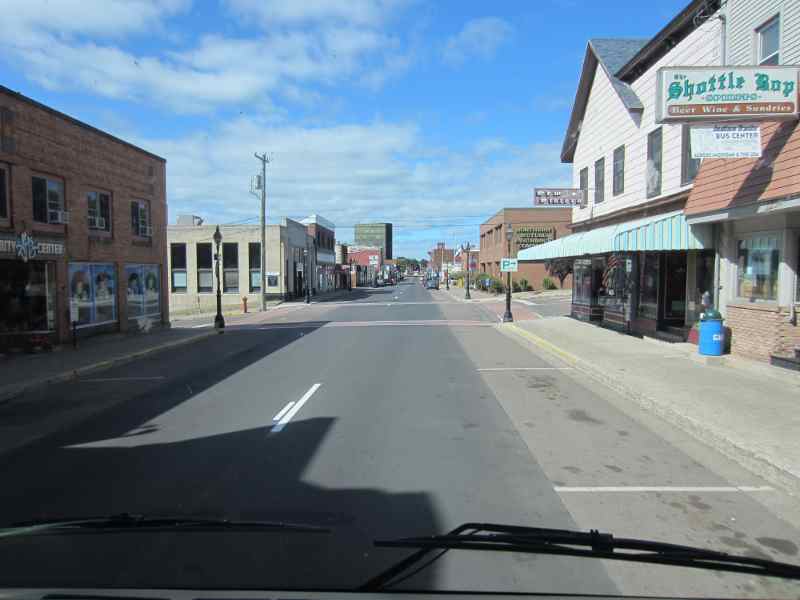 As has been the case with all of our moves here in the U.P., today's wasn't was very far either. The only town of any size we encountered was Hancock, which is just across the bridge from Houghton, and unfortunately a place where we should have spent a lot more time but didn't. An example was the Celtic Festival at the Fairgrounds in Hancock that we learned of today, but which had taken place on Friday and Saturday. I also missed out on all the beautiful old buildings in town, and what is arguably the best pasty shop in the area. But that is what the next time is for, and there will be a next time as we have completely fallen in love with the U.P.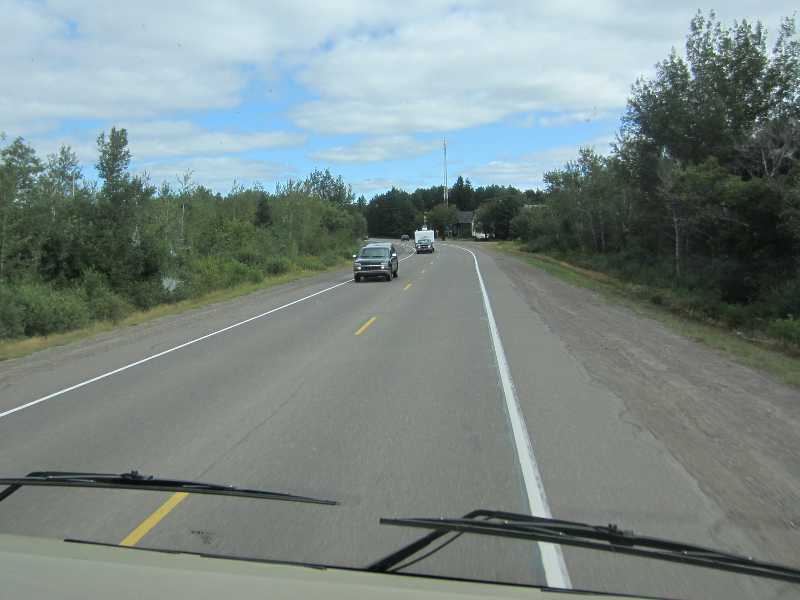 Today is also the yearly emancipation day for fulltimers, the day all the vacationers are finally off the road and the RV parks have far more vacant sites that filled ones. Since we were heading out onto another peninsula, the traffic coming towards us often had many of those RV's heading in the opposite direction. Of course it won't be long before we are turning south as part of the great fall and winter migration, which is why living this way can be so tough at times.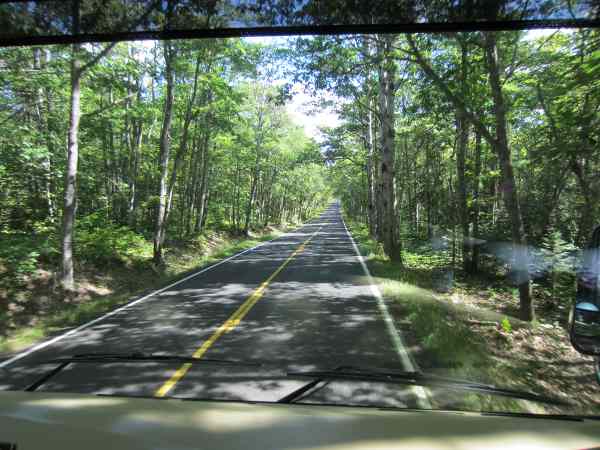 The further north we got, the more the scenery changed, until finally the road narrowed and the trees closed in. More hilly, lots of curves and soon we were going 35 to 40 mph. Interesting thing was, that while we met many vehicles, especially RV's of all types heading in the other direction, we never had anyone come up behind us heading in our direction. And as far as those RV's were concerned, if I heard Linda say once, something about the people pulling the 5th wheels are driving too fast, I heard it a dozen times. They live their way, we live ours, and all is good.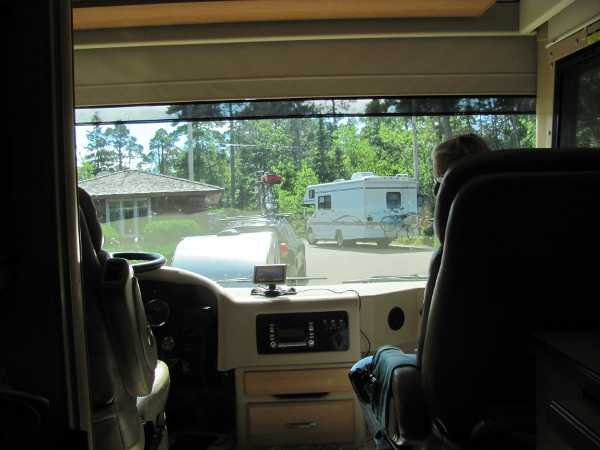 As we neared Fort Wilkins, our destination for the next several days, I breezily quipped to Linda, "I'll bet they are out of practice at checking people into the park, what with everyone leaving." So just where did the RV's in the line before us materialize from? It got us wondering if the park was going to a lot more crowded than we anticipated. Turned out that this was the afternoon rush, and while a few more RV's came in after we did, the campground at this end of the park was mostly vacant. We like it that way, and we are already thinking of extending our stay for a few days. So much to see and do, so little time to do it.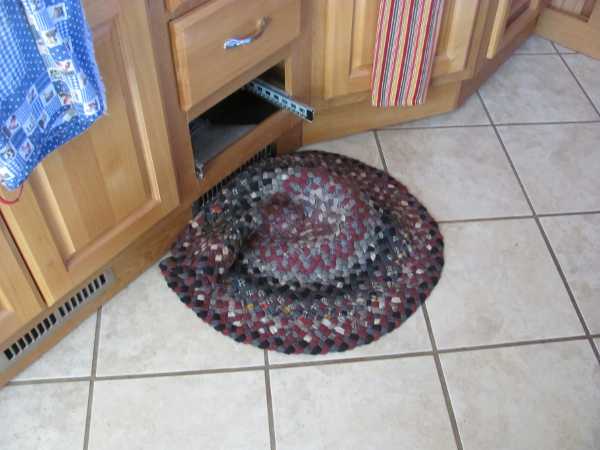 Lest you think everything went right today, it didn't. We arrived before checkout time, and had to wait before we could get into our site as it was occupied, but when we did, we quickly got onto both DirecTV and MotoSat which was great. There was also the slide problem. The one where the braided rug jammed under the slide and it wouldn't go out, and it wouldn't come in. Due to the nature of the incident and the serious tone of the ensuing conversations and activities, we took no photos of the actual jammed rug. This is a reconstruction of the scene, minus either me or Linda sitting there with red face as we struggled to remove the seemingly non-removable rug. And even removing the drawer didn't help, since the rug was wedged between the floor and the bottom of the slide.
Linda, summoning all the strength of an enraged grizzly, which she was fast becoming, finally got the rug to move a little, at which point I took over and with only a small amount of splintered wood, out it came. Miraculously the rug was undamaged by all our tugging, a testament to my mother's rug making ability. So here we sit, enjoying ourselves and looking forward to spending time at this end of the Keweenaw. As Linda observed, "We're having such a good time up here, we may not even make it to Florida this winter." To which I will add, "If we don't such is the fulltime Life, but where ever we are, we will be home."
160.4 2 .3
---
Tuesday September 6 Copper Harbor, Michigan
The great circle route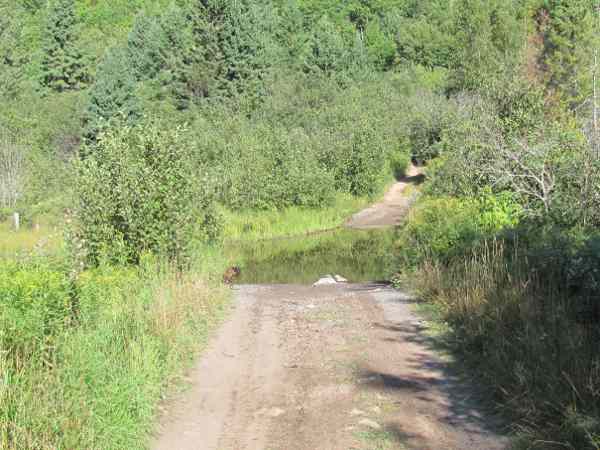 The plan for the day was to drive the Great Circle Route, down US-41 to Phoenix, then M-26 along the lake back to Copper Harbor. We'd driven it the opposite direction on our exploratory trip up here a week ago Sunday, but we'd missed some things we wanted to see, and also learned of some new ones we hadn't known about. Falling into neither category was this trip to an abandoned cemetery, a trip we abandoned when faced with this water crossing. Some days the venture isn't part of the adventure, and this was one of those times.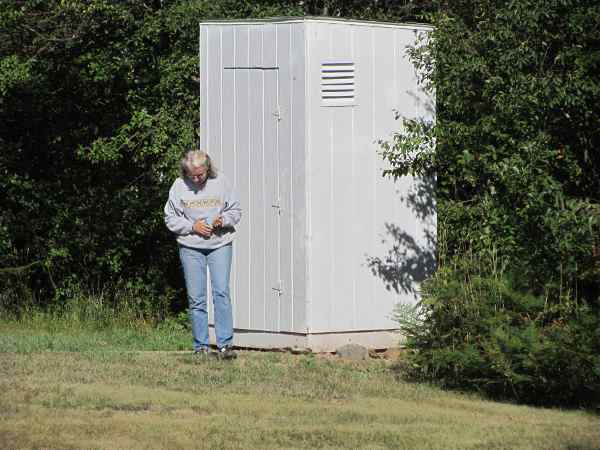 When Linda had made that pot of coffee this morning I was wondering if she realized we would be out all day, which would make our potty stops a little more difficult. No problem for her, because at our first stop, a historical church, I sensed that I was alone while looking at a stone foundation of a school that had been located nearby. Looking around I couldn't see her until I heard a door bang, and being a little slow with the camera, she had walked away before I could react. I thought it was suspicious when she kept asking me if I needed to go, but in the end I decided it was better to be safe than sorry.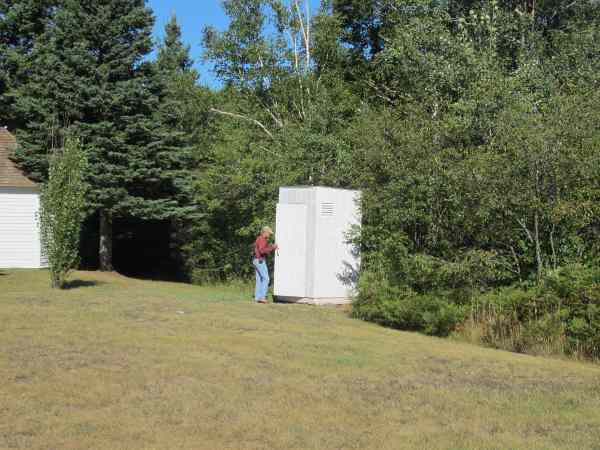 Little did I realize all that was a setup, or I didn't until I downloaded the photos tonight so I could write the Daily Journal. I'd call it dirty pool, and she'd likely say something about, what goes around, comes around. Since at the time we were both happy with our actions, it would probably be better to call it, if it feels good, just do it.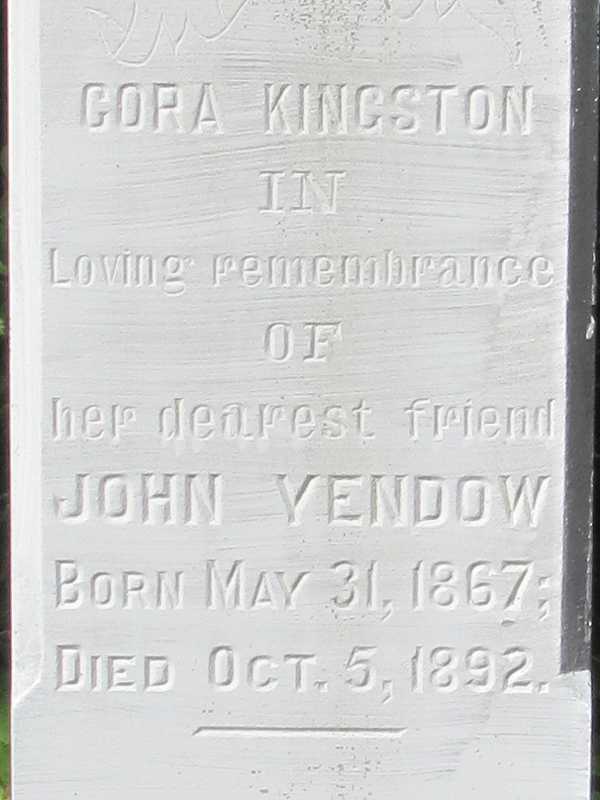 Just because we lost out on that first cemetery didn't mean that we missed out on all of them. I can imagine that our perchant for the roaming of graveyards is not for anybody, but it is seeing something like this that makes what happened years ago come to life. With all the proprieties of the Victorian Age in full swing in 1892, there is far more unsaid in these few words than said. Was it a paramour taken by disease? Perhaps a brother or step brother who had been a rock to his sister. How about a victim of a fit of jealousy by another young man? Could he have befriended an elderly woman, then suffered an unfortunate early death and this was her way of forever thanking him for his kindnesses. How many scenarios could one think of, but never know what took place. Whatever it was that happened and whatever it was that Cora was trying to convey through this stone was on both Linda and my minds over 100 years after the fact. And that may have been what Cora was trying to do when she had this stone placed, make it so people would know the special bond she and John had in life. Actually, we researched these names in the evening and uncovered a few interesting things, but for now, we'll let you wonder, just as we did as we stood there looking at that stone.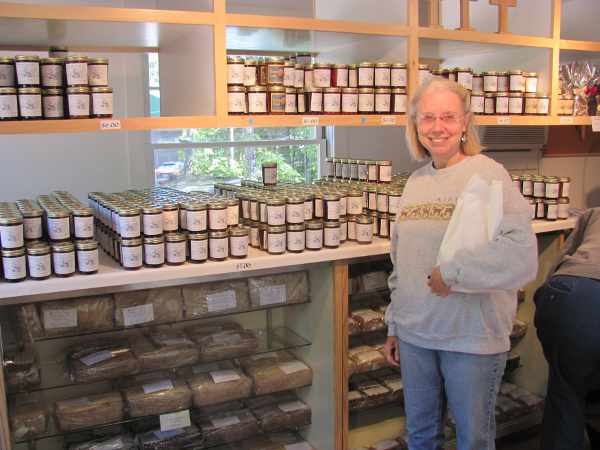 Another pleasure in Life, and anyone who has been to the Jampot, knows what a pleasure it can be. We thank a reader for emailing us about it and listing it as a must stop. Let us second that loud and clear, if you get to the U.P., you must drive to Eagle River on the Keweenaw Peninsula and stop at the Jampot. But be forewarned, it is operated by Monks and they do not work on Sunday. As we wanted in line Linda noticed several people buying something that looked like a brownie cake, and they were in fact wiping out the inventory on the counter.
Wondering what it was, Linda asked the lady in line in front of her if she knew what it was. The reply was that she didn't, but she was sure going to buy some herself. They restocked the supply before the lady got to the register, then had to restock it again after she and Linda had left. Neither of us knows exactly what is, and Linda bought enough other things that we may not get to it for a few days. Fortunately, based on the lemon cream cheese pound cake style cupcake we had for lunch, Linda could have thrown darts blindfold and been assured anything she hit would have tasted great. Another of those must get back to someday, places.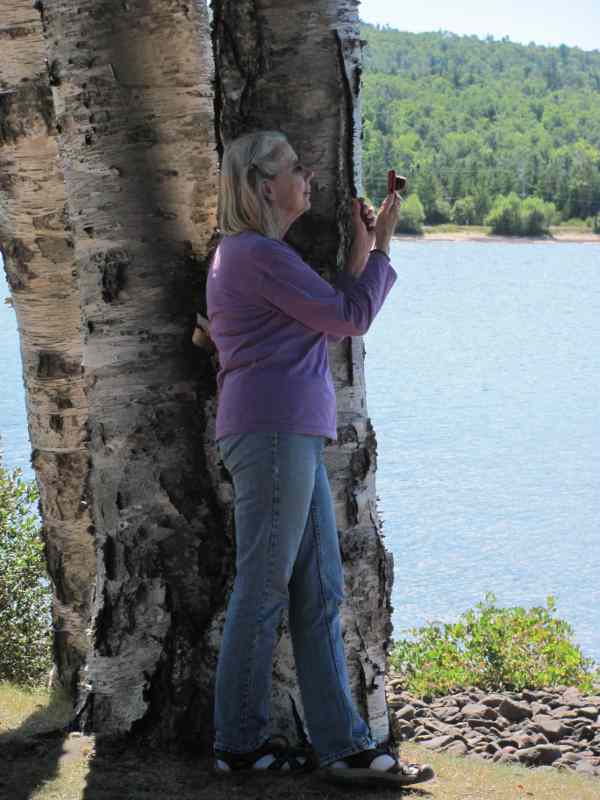 Why would a beautiful young woman be leaning against a tree, holding her camera in her hand? Aren't you glad I can solve at least one of today's mystery's of Life? Answer: it's to take a photo of a lighthouse.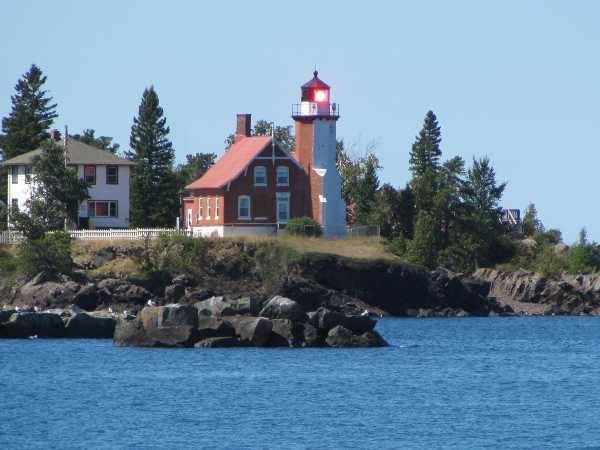 Hey, what can I say, when you're good, you're good. It was just too bad that this photo was actually mine, but that didn't mean that Linda didn't capture the flash of the light from the lighthouse. She did a number of times, it was just that the light wasn't pointing at her when she took the photos. In the end she actually did capture the flash of the light, it was just that the zoom on my camera is a lot greater than hers. However you can make out the dot of the flash in her photos if you look close enough. I realize it could have just been the sun reflecting off the glass, but then again, Life is merely how you look at it, and we really enjoyed what we saw of it today.
162 1.6 1.3
---
Wednesday September 7 Copper Harbor, Michigan
Into the woods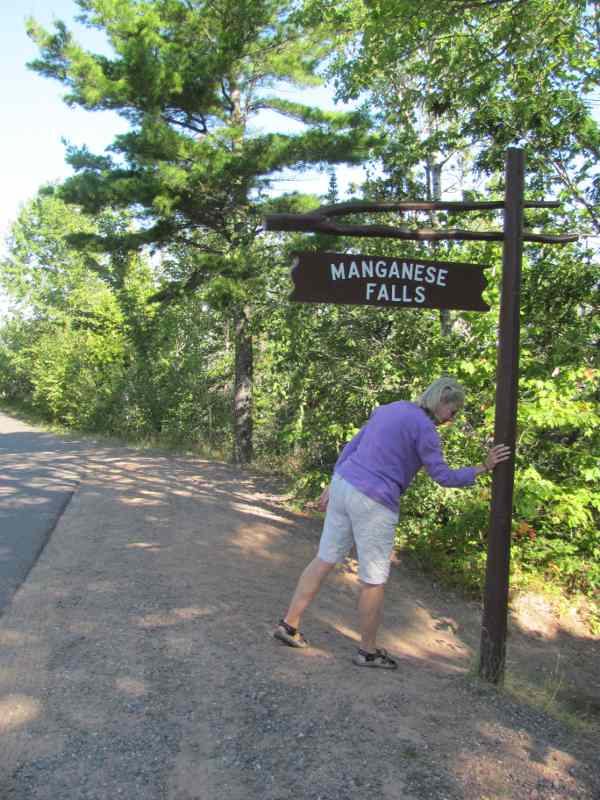 Every morning Linda says, "What are we going to do today." Some days we know and some days we don't. Today fell into the half and half category. We half knew what we were going to do, and we half knew how to get there. Though when we started out we thought we knew all of the where and the how. Take this unplanned stop at this falls sign we saw. After clambering down this slope, Linda being the smart one and staying at the top, I never did see any sign of a falls anywhere. As Linda said upon my hauling myself up out of there, "Maybe you can only see them when the water is running over them in the spring."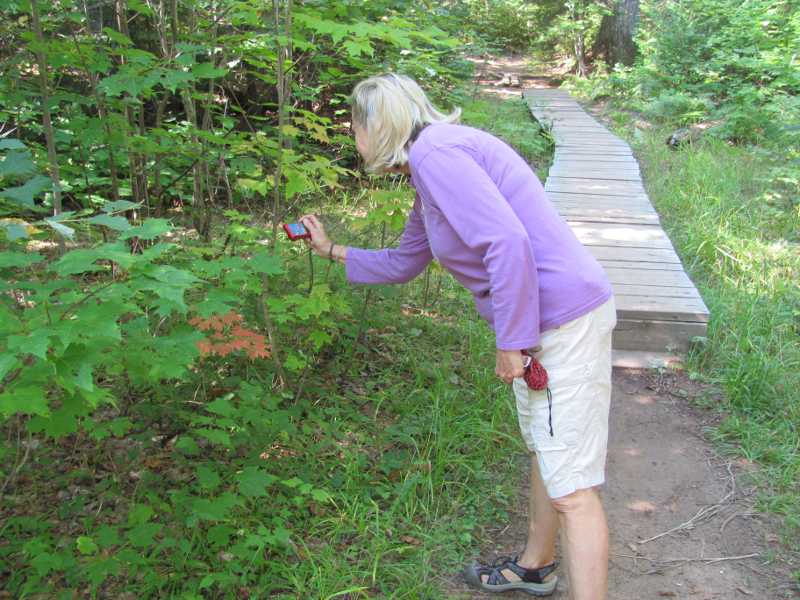 Our first stop of the day was supposed to be this nature preserve, but it wasn't. Somehow we missed the turn and ended up at an old mine, where we climbed over the waste plies looking for whatever it was that should be there. In the end we picked up and looked at a lot of interesting rocks, but nothing that we knew what it was. Eventually we found the tree sanctuary we had thought we were driving to earlier, and took off down the trail, which quickly turned out to be a bit more rugged than we two badly out of shape people had anticipated. Fortunately there were enough distractions along the way that it was more of a stroll than a hike.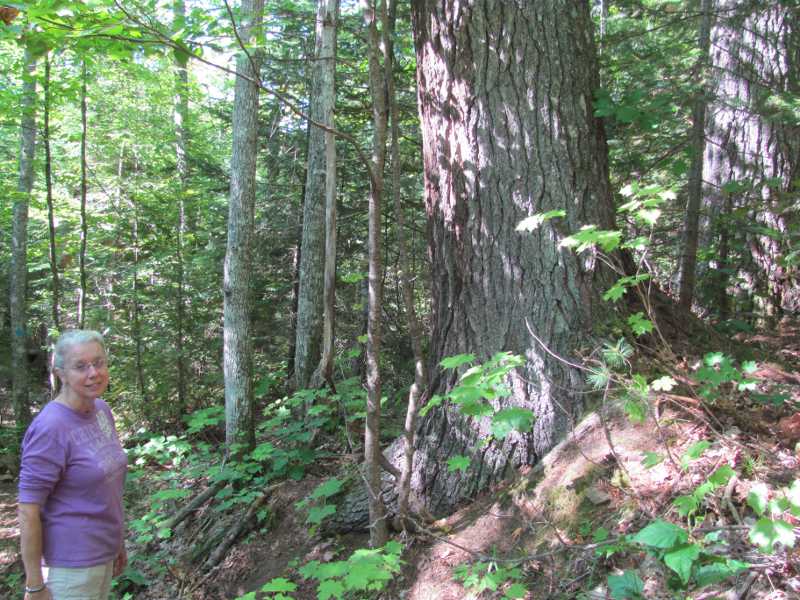 The reason why we were here. The Estivant Pines Nature Sanctuary was created to preserve the oldest stand of white pines in the upper peninsula. Up to 600 years old, and between 110 and 130 feet high, and with many of them larger around than Linda and I could reach together, they reminded us in small way of the groves of Sequoia's and Redwood's we have walked through out in California. The weather was great, the birds and the squirrels were out in force, and all together it made for a most enjoyable time.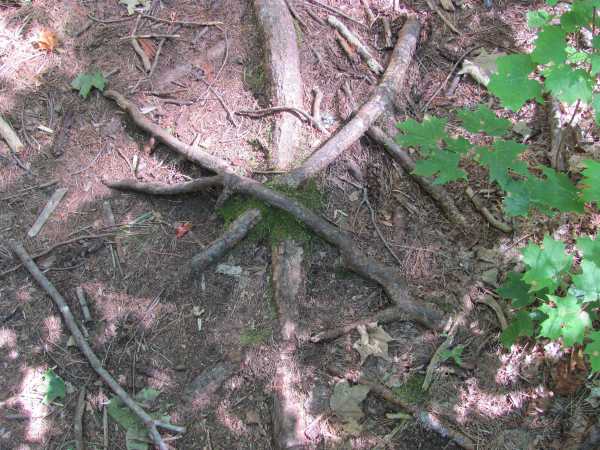 Some things are self explanatory, as was the case here. We were walking down the trail when Linda suddenly stopped and pointed to the ground in front of her. "X marks the spot" was all she said, but no more need to be said. Indeed, it was a case of X marking the spot, though just what the spot was, we never did figure out.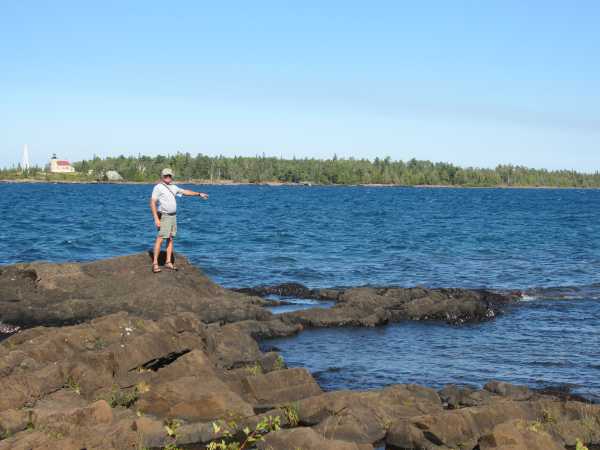 Still, X doesn't always mark the spot, take this spot as an example. I'd be willing to bet that if I wasn't pointing to it you wouldn't have any idea where or what that spot was. Backing up a bit, we had returned to the coach for lunch, then headed into Copper Harbor so Linda could do some shopping, while I walked around town. Luckily I found her just before she had cleaned off all the shelves in the Swede's Gift Shop, though as I walked in she smiled and said, "Just in time, you can pay for all this." Looking at what all of this, this, was, I could see she had really tried to buy the right gifts for everyone on her list, including us. She really does do a good job at picking out just the right things for everyone and I always smile at just how much pleasure she gets from it, even if it is a bit more expensive than my thing of walking around looking at old buildings.
Wondering what that has to do with the photo weren't you? Actually it doesn't have anything, but since I forgot to take a photo of the big smile on her face while she was shopping, what was I going to do? Back to the spot I was pointing to, it was where the John Jacob Astor became the first ship wrecked on Lake Superior. That was in 1844 and since then there have been many more, including the Edmund Fitzgerald. Nothing was left of the ship to see of course, but it was great to stand on the spot where history was truly made.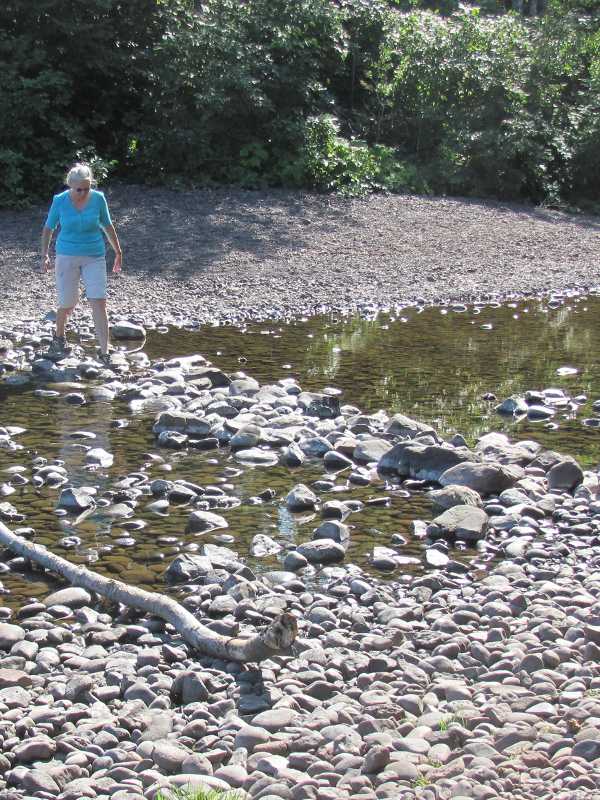 I left out the fact that to take that photo of me, Linda had walked across the rocks that spanned a small inlet that separated that point of land where the shipwreck occurred from where we had parked. I missed the tipping to the side and wild arm flailing that occurred, but rest assured that they did take place, not just once but twice. Once on the way out, and once on the way back. But true to her natural athleticism, she never got so much as a tip of even one toe wet. Not every moment of every day turns out to be great, but if we keep the moments that were great and discard the others, what we have left is something truly worth remembering.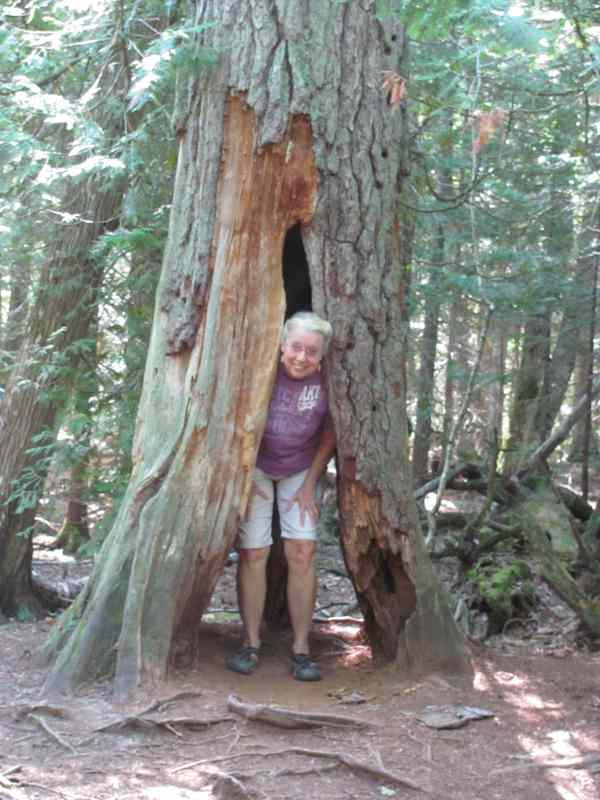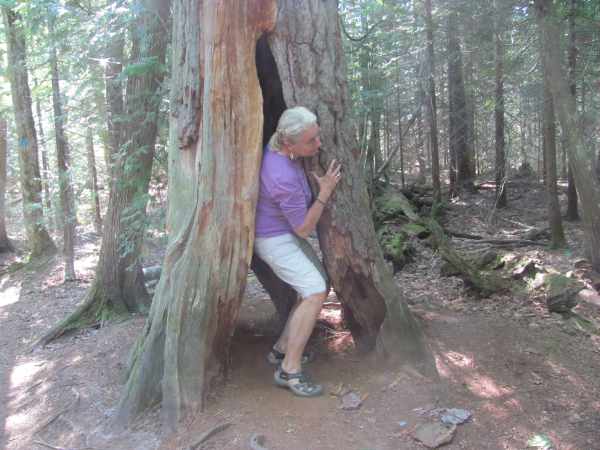 162 0 1.3
---
Thursday September 8 Copper Harbor, Michigan
Not lost, but not really found either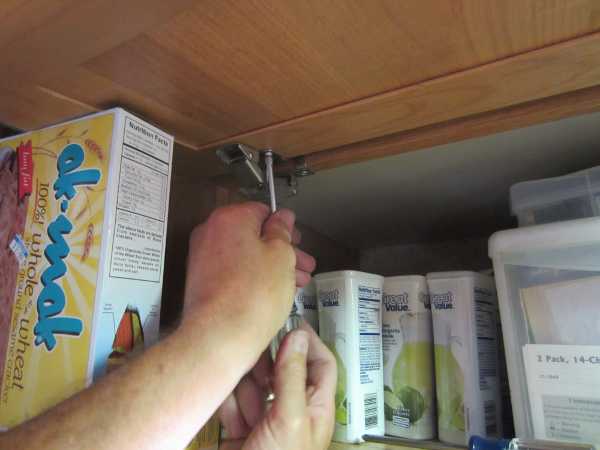 With some 202 photos downloaded from both cameras today it indicated we did a number of things today, which indeed we did. But before all that, before the hours visiting the fort, wonderful boat ride and time at the lighthouse, before we drove to the end of the road, then headed down the dirt trail for miles more, before all that, there was this.
Several days ago Linda opened the cabinet door over my head to get out the Margarita Mix, and something failed. A long bolt fell out and the cabinet would no longer close as it should. Following that came several days of out of sight, out of mind, but for some reason it was on my mind this morning. The fact the door was directly over my head and if it decided to fall probably had more to do with it than anything, but after a major struggle, including discovering I had not fixed the spring hinge even though I thought it was fixed, it was finally fixed thanks to Linda's help as it really, truly was a three handed operation. True it now has a major squeaking noise when it opens and closes, but it sure isn't going to fall on my head, so once again, out of sight, out of mind.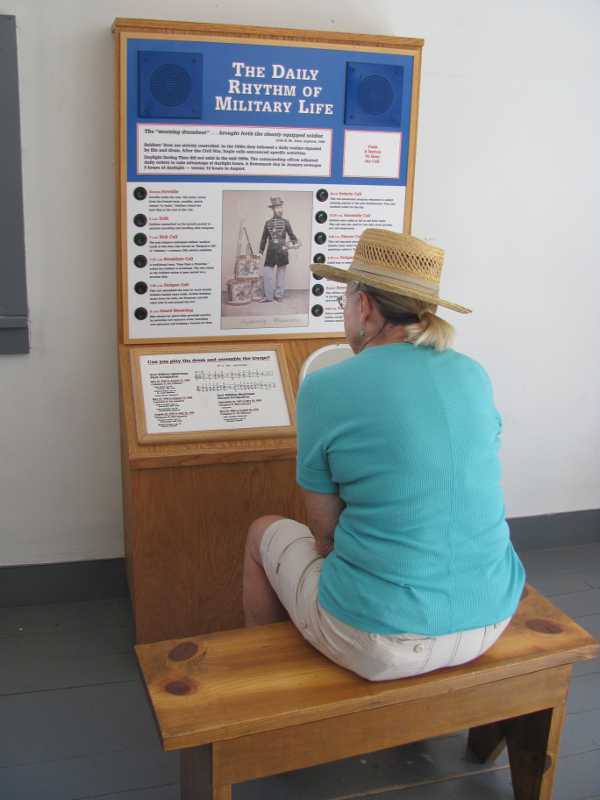 Sure the fort had many interesting buildings and exhibits, but the Daily Journal is not a travelogue, there are other people who blog everyday about those those kinds of things. The Daily Journal is just that, what daily Life living the full time Life is really like, at least through my eyes and words while relating whatever Linda says and does, and with a little me thrown in for good measure. So just what is Linda doing? She's listening to bugle calls so she will know what our grandson, Zachary will play for us this weekend.
He just started 7th grade, and while he didn't get his first or second choices of electives, his third was band, and so once again he is a trumpet player. Last weekend he played a great military bugle call over the phone, so when Linda discovered a station in the fort were she could sit and listen to recorded military bugle calls, she sat right down, drew up the chair and proceeded to study in order to impress her grandson. I thought grandchildren were supposed to want to impress grandparents, but in Linda's case she never had any grandparents, so Zachary gets all that love besides what he gets for being our grandson. He's one lucky boy, and we're one lucky set of grandparents.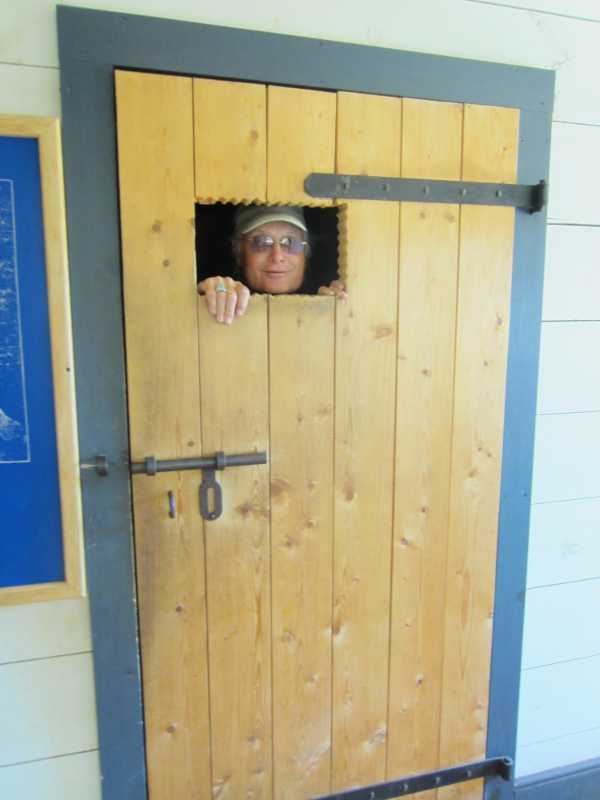 Why do I get the idea that this is where Linda oftentimes thinks I belong, in the stockade? I tried to get her to go in, then found out I couldn't lock the door, bummer! When she discovered what I was up to she insisted it was my turn to enter the cell. I don't exactly know what the meaning of this is, but something tells me it isn't good for me. Luckily the door didn't lock, but from the look on Linda's face I got the idea that a little time in solitary confinement was something that she thought would do me some good. As for me, freedom feels good and I want to keep it that way, so I have vowed to improve my behavior, hopefully.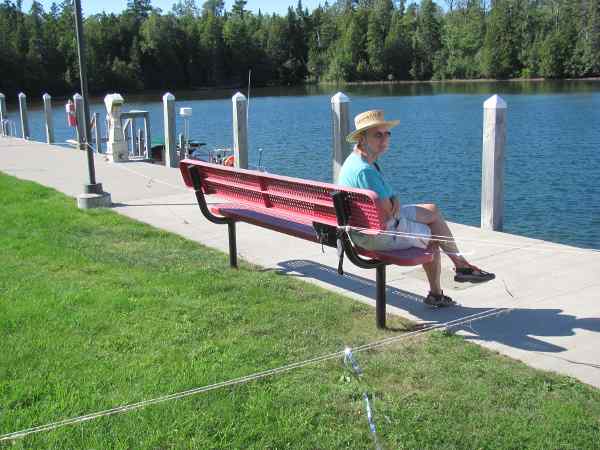 On the way out of the park, as we walked along the banks of Fanny Hooe Lake, Linda piped up with, "Let go see the lighthouse." Sounds easy enough, but in this case the lighthouse was only reachable by boat even though it was attached to the mainland. Seems a group of cottage owners won't allow cars to pass through "their" neighborhood to reach the lighthouse. I won't take it any further, namely because I can't write anything printable about the #@*%$ kind of person who would do something like that. At least the boat trip was most enjoyable, and the lighthouse great, probably because the stench coming from the #@*%$ who owned those cottages was blowing the other way.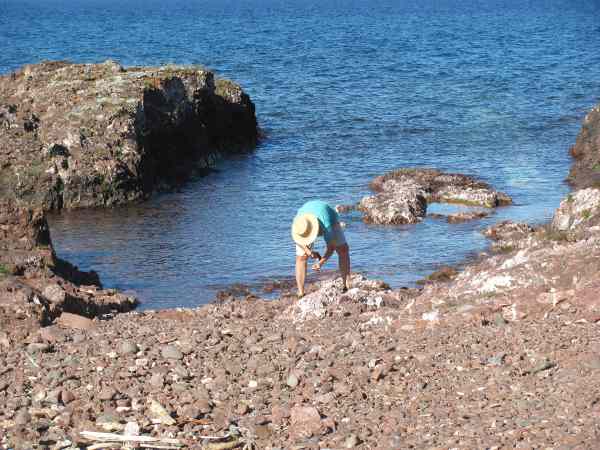 Maybe I might be a little testy this morning as I write this, but there are things and then there are things. Take Linda for example. She liked the lighthouse, but she loved the rocks along the shore. This was the area where "the big green rock" rose up out of the water, a rock that was confirmed to be an ore of copper, and where copper mining in the U.P. began. She even found a few rocks with that magic green color in them, proudly showing them to me and then putting them back down so the next person could also see them. Obviously with a caring and considerate attitude like that she could only visit this area, not own a cottage here.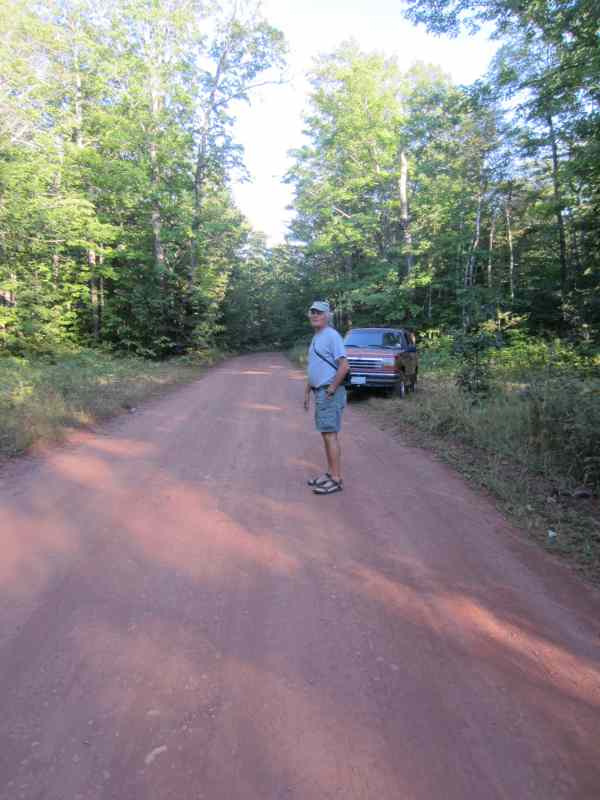 I've left out 90 percent of what we did today, but on some days, as far as writing is concerned, I just have to just do it, and this is one of those days. We did take an early evening drive out to the end of the paved road, then far beyond. I also violated one of my rules that has been instituted because of just these kind of incidents. Never ever take a dirt road out into the middle of nowhere without having the GPS along.
We knew the road led somewhere, but then other roads branching off and we weren't sure which one would actually take us out to the coast. Then the sun, the one that had been behind us, turned around in the sky and appeared in front of us, and that was when we decided it was time to turn around ourselves. Other than the fact that it was a 10 to 15 mph road if you didn't mind Linda constantly saying slow down, (otherwise it would have been a 2 to 5 mph drive), we made it in and we made it out, arriving back at the coach shortly after 7 o'clock. It was a long day, but it had been fun. What more could we have asked out of Life.
163 1 2.3
---
Friday September 9 Copper Harbor, Michigan
Tip toeing through the tulips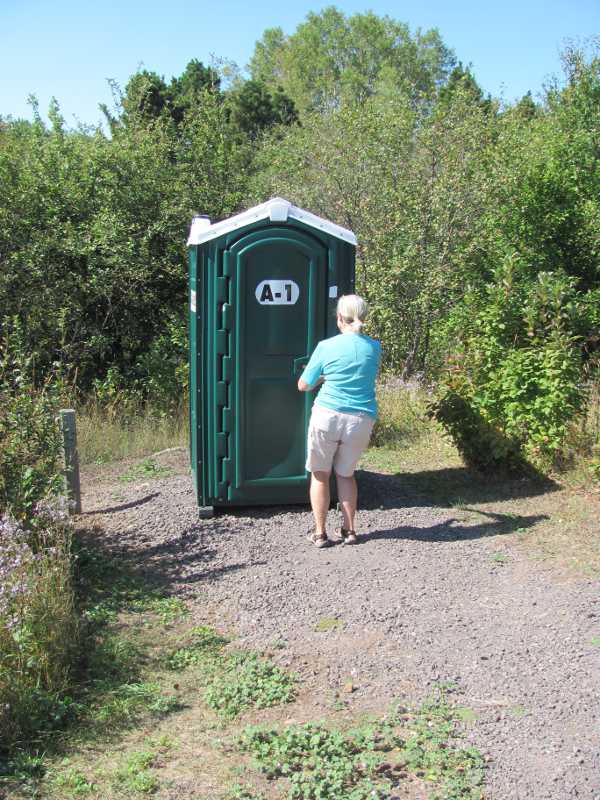 Decision time today. Do we leave or do we stay. We still have things to do and see on the Keweenaw, but something we learned today tipped the scales in the direction of staying. Before Linda sashayed to the porta potty, we learned of a great place to pick wild blueberries. Voila', we are staying for two more days in Copper harbor, One of which will be spent catching up on all those odds and ends we have missed as well as the blueberry expedition. As far as it is concerned, maybe we will find the secrect spot and maybe we won't. But however it turns out, we know it will be a fun day. As far as what Linda was doing in the photo, it's between her and me. Or at least I hope it is.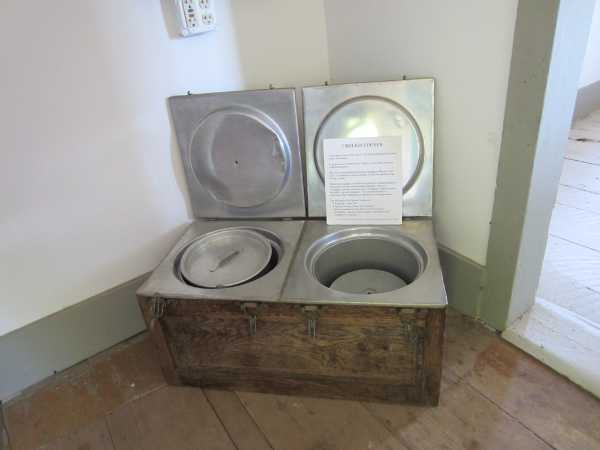 Say what you want about slow cookers, but the Norwegians had that invention beat by many decades. Linda just couldn't get over this "Fireless Cooker" that used two heated soapstones and hay along with this container to allow you to take a hot meal out in the field to the farm hands. I don't think that was what attracted Linda though. I have to think it was the ability to take along a hot meal on a picnic. I could just see her wheels turning that if she had known about this invention in her hillgirl days she would have caught a man long before she spilled that pitcher of beer in my lap on her 19th birthday and ended up stuck with me for the rest of her Life.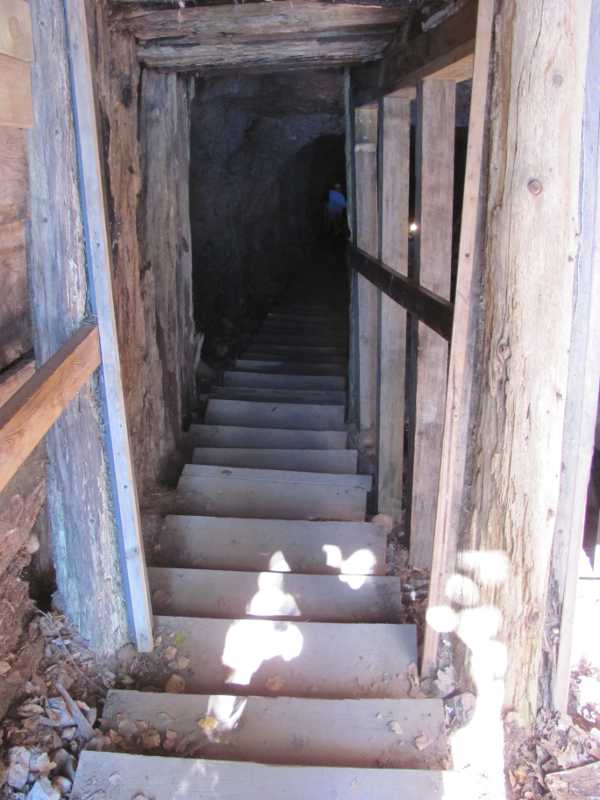 There are towns and then there are towns. We spent most of the morning many miles south of Copper Harbor in the ghost town of Central, spending time in the visitor center and out in what little remains of a town of over 1500 people along with one of the richest mines in the Keweenaw. Maybe it doesn't effect you to stand next to a filled mine shaft that is over 1000 feet deep and realize that at this very spot in the late 1800's a cable broke and a mine car with ten men in it plunged to the bottom of that shaft. How can a person possibly not be affected standing at the edge of that shaft? Those are the things we seek out, those are the things we experience, and those are the resons why we spend weeks in places where others spend a few hours or at most a few days. Everyone has their own idea of what is worthwhile, and we find this area has more things worthwhile than we have time to experience.
So just exactly what is it that the above photo is supposed to represent? The tiny dot in the distance is Linda, and the hundred steps between us is the depth to the first level of the Delaware Mine. Take just a second and realize the depth of this mine is 1800 feet and you get an idea of what dying in a runaway mine car could be like. Actually we were on the underground mine tour of the Delaware mine, something that we would most hardily recommend as being definitely worth the $10 dollars per adult even though it is a self guided tour. Simply put, the longer we are in the Keweenaw, the more we find that we don't know about the Keweenaw.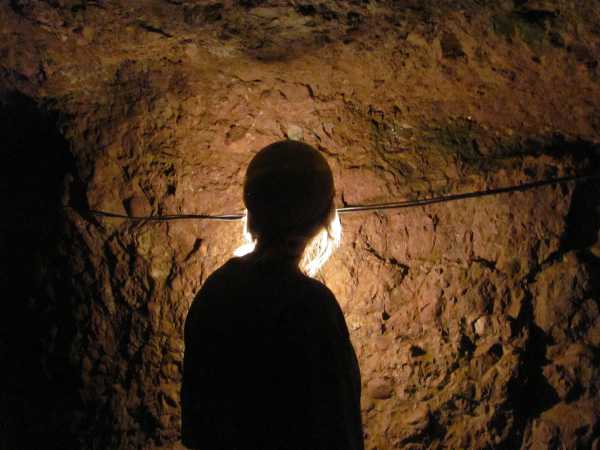 My recommendation is simple. The two things to visit in the Keweenaw before anything else are the Seaman Mineral Museum in Houghton and the Delaware Mine in the middle of nowhere. Between the two of them you will have experienced the basics of what everyone else in the copper country will be talking about. Down a shaft and along a drift, seeing stopes, adits and a lot of other things I don't remember the names of, but which I did know at one time. The Delaware Mine, a very special place to understand what working in an underground mine is like. Notice the little old miner lady in the above photo. That's what this is all about. Whatever that is.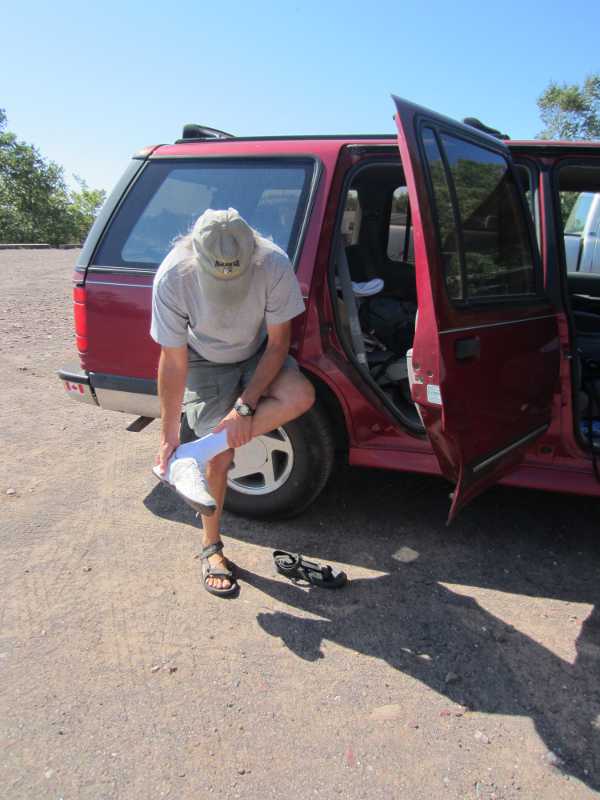 I've put up so many photo's of Linda doing the footie thing that I guess turn about is fair play, even if it isn't the same thing. With Linda it is usually because a dust spec has lodged in her shoe and is bothering her. With me it is because I wanted to wear shoes on the mine tour, but as soon as it was over I wanted my Teva's on again. Maybe that is the secret to Life. Nothing is as it seems. Or maybe Life is what we make make it. I guess it is our choice as to which definition we choose, as well as which Life we choose.
162.8 .2 2.1
---
Saturday September 10 Copper Harbor, Michigan
Norcold Notcold, Notcold definitely dead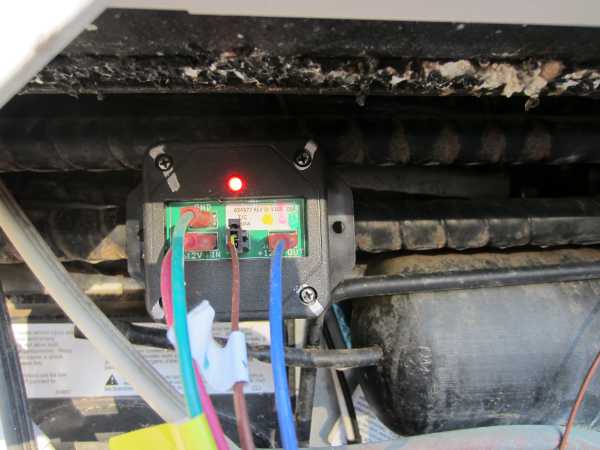 Today began like most days in our Life, I was up just before 4 AM with the grizzly comfortably ensconced in a slightly less warm but very cozy bed. Then about 8 o'clock all blankety blank cut loose. Actually it started in a most innocent way. I started to get the eggs and milk out to make scrambled eggs. Then two things happened almost simultaneously. I noticed the light was out in the refrigerator, followed almost immediately by also noticing the lights on the refrigerator's front panel were also out. At that very moment a hideless grizzly opened the door and said, "Stop."
Since I hadn't done anything although her present status was giving me the germ of several ideas, all of which would get me in deep trouble, I blurted out, "The refrigerator isn't working." And actually this was all a good thing because we had agreed to eat breakfast this morning at the Copper Harbor Lodge, and I had forgotten, hence her command to stop fixing breakfast. Otherwise the non-operating frig might not have been noticed till later in the day. Soon, both us properly attired for public, we were outside confirming what had already been expected, we had been visited by the Norcold red light special.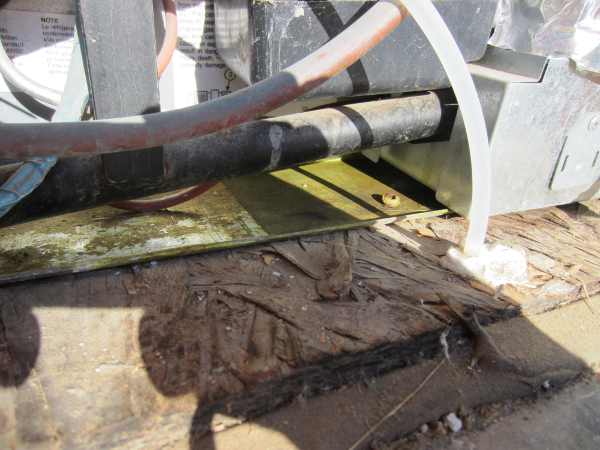 Back inside the coach a quick check of the Internet yielded the way to defeat this shutdown, so back out to the coach armed with needle nose pliers to switch the wiring I went. After removing the cover of the refrigerator, I was looking at the wiring when I noted a very peculiar odor, one that was very unpleasant and one that signaled major trouble in Notcold city. Asking Linda, the nose that knows, to check for an odor, the resulting cough and slurred, "Ammonia, it smells like ammonia" confirmed my diagnosis. Then looking at the bottom of the compartment and the yellow coating, we knew for sure. Our little black box had prevented a refrigerator fire.
That brought up the subject of what Linda would have done if there had actually been a fire. "Grab the bedspread was her answer." Proving just how smart years of marriage can make a fellow, I did not come back with, "Well at least you would have grabbed something big enough to cover up all of you." Good Bob.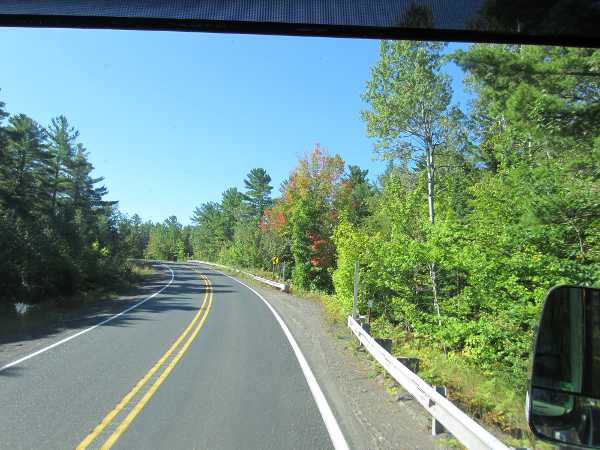 We knew we had two things to do, first get some a ice, move the most perishable things in the frig to the cooler we have down below that we store the flour and such in, then get to somewhere that we could get the problem fixed. The first was easily handled, the second proved more of a challenge. Our first thought was to head towards the Twin Cities area and find someone there. Then it hit me. We couldn't even talk to anyone until Monday, so we had two days to get to where we needed to be, and what better place to get anything RV fixed than in the RV capital of America, the Elkhart, Indiana area.
It was 11:00 o'clock before we had everything packed and were ready to roll. One nice thing was the campground refunded the money we had paid for tonight and tomorrow night, just another of the many nice things about the great Michigan State Parks we have been staying in during our U.P. time. We really, really didn't want to leave the Keweenaw, but really had no choice. But we'll be back. And actually the Elkhart destination works right in with our desire to spend some time in Florida this winter, as we had done a little estimating just last night and realized that with all the places we wanted to see between here and Washington D.C., it would be the end of October before we could actually head south. Maybe all things are actually working out for the best.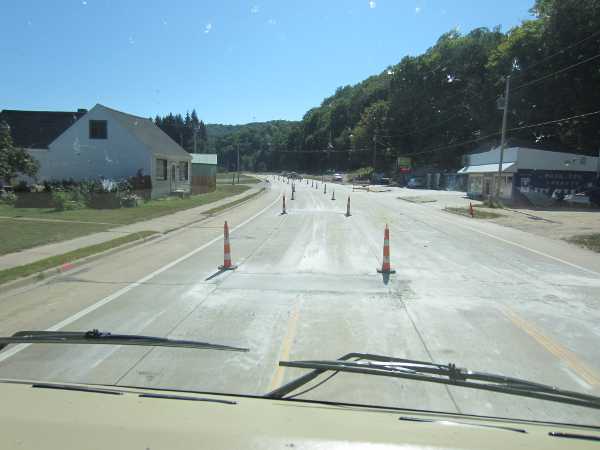 Our destination for the night was St. Ignace, then it will be off to the Elkhart area on Sunday. The drive took a little over six hours, it wasn't tiring, but it wasn't without its moments. Since we had stayed in Munising they had undertaken a major road repair project, one that resulted in some of the narrowest lanes we have ever driven in. Later there was this block of wood in the road that I almost avoided, and as we discovered after we stopped for the night, when it had kicked up from the edge of the tire it had broken several of the brackets that hold the coach body panel in place around the tire. No real damage, and a little gorilla tape should hold it in place till I can fabricate a couple of replacement brackets. Guess we could say that when we are having fun, we are having fun.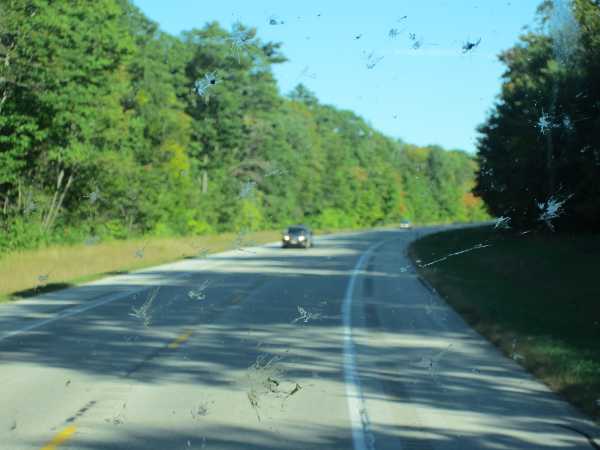 Notcold Norcold's, road construction and blocks of wood weren't the only thing we ran into today. There were also a zillion bugs that decided to commit suicide by splattering themselves all over the windshield. I'd be driving along and suddenly Linda would exclaim, 'Wow, did you hear the splat that one made? That sure was one big bug, and all full of yellow goo too." What's not to like about a woman who can make an observation like that. Sure, some bad things happened today, but the good far outweighed it, and things that break can be fixed. Like that old saying goes, the only thing certain in Life is that it sure is uncertain.
161.8 1 1.1
---
---