Journal Archive 9/11 - 9/20 2011
Scroll down to read the latest post
Sunday September 11 Elkhart, Indiana
St. Ignace to Elkhart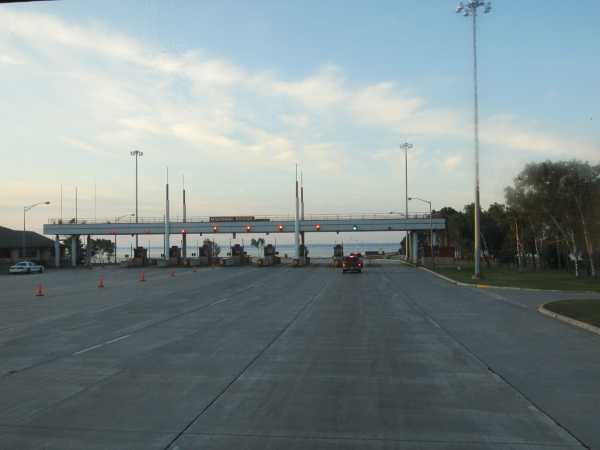 Early start this morning because we wanted to get to Elkhart as early as possible, not that anyone could do anything for the refrigerator, rather just so we had a chance to relax a bit. 646 miles in two days is far more miles than we normally drive, but the goal was to be across the bridge and through Grand Rapids before the Monday traffic. Hence it was just before 7:30 when we paid our toll of $12.50 and started across the Mackinac Bridge.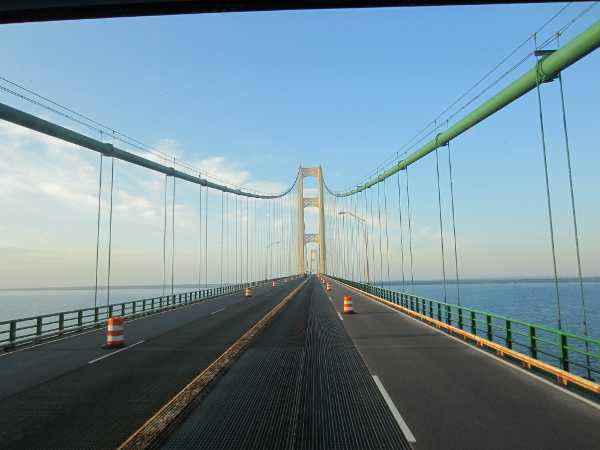 It was an easy drive with no wind and the inside lane blocked of the painting of the bridge. Linda thought it was really cool that we were driving on the open steel grating lane of The Bridge. I thought it was neat that there wasn't any traffic or wind, making the drive a snap. It really is a spectacular drive and anyone who doesn't do it is really missing out on something. In the end it seemed all to soon that the 5 mile length of the bridge was crossed and we were driving down the southern peninsula of Michigan.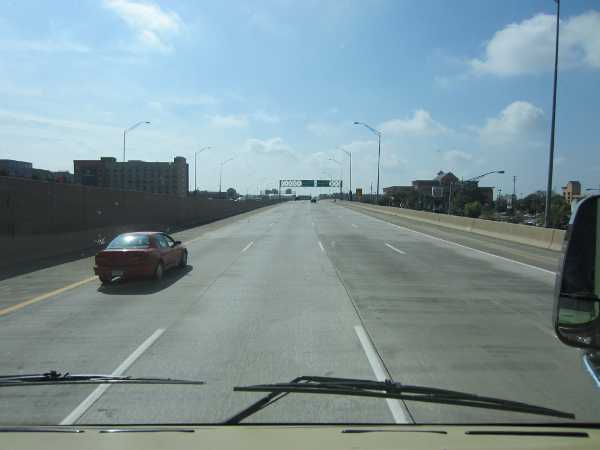 Hours later we passing through Grand Rapids, and with the signs warning about multiple lane closures resuming on Monday at 9PM, we knew we had made the right decision to drive all the way south in two days. At the same time we noticed two other things, the amount of traffic in the very southern part of Michigan was far more than we had become accustomed to over the past several months. The other was that the heat down here is miserable, and it made us appreciate why we so enjoyed the U.P., as if we needed any reminder.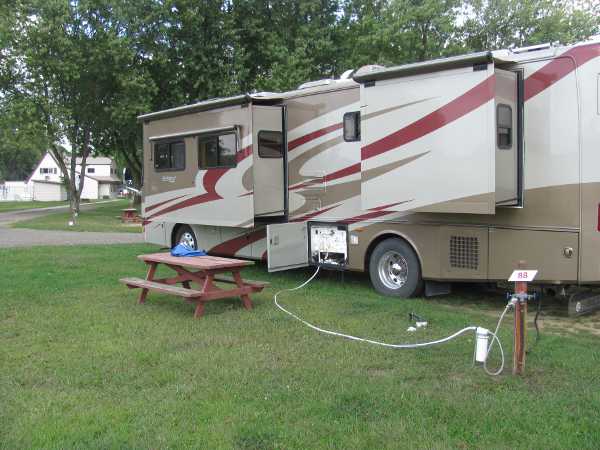 Home is where we park it, and for tonight it was at the Elkhart RV Park, though if we had it to do over again it would probably be somewhere else, the park seeming to be definitely over priced for what we got. Of course compared to way over priced KOA it is real bargain, but as we discovered once we were here, there are other low cost options for overnighting at some of the local repair place if you are not staying for free while having your RV repaired. Maybe tomorrow we will be in one of the repair facility parks, or maybe we will be back here. Who knows. As for tonight, we have laundry hanging everywhere, and the coach domestic servant is as happy as a dung beetle in manure pile.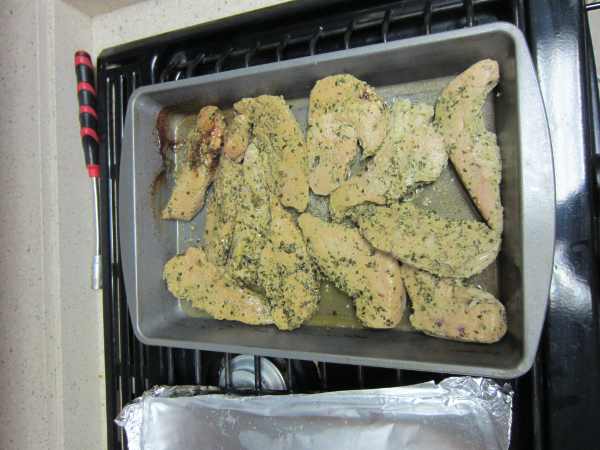 There is domesticity, and then there is domesticity. Linda pulled all the stops out for dinner, baking up a pan of pesto chicken that was knock my socks off good. The plan was to use up the chicken and the pesto in the freezer, which she did in a most satisfying way. One thing that has really surprised us is that all the meat in the freezer is still frozen solid. We know the cooling unit stopped working sometime between 9:30 Friday night and 8 AM Saturday morning, and here it is Sunday night with everything in the meat side of the freezer is still frozen despite no cooling for all that time. I don't think we have any problems with the freezer gaskets leaking air.
Tomorrow will be a new day, and we drove around this afternoon to check out several of the places we had in mind to do the refrigerator repair. All were acceptable, but we narrowed list to two which we plan to drive to in the Explorer after they open in the morning, specifically to talk face to face with them and also get a feel for what each is like. Maybe not the standard way of picking a RV repair shop, but if it doesn't feel right, why deal with them. More tomorrow on the Notcold Norcold and where we are hopefully getting it fixed.
161.8 1 1.1
---
Monday September 12 Elkhart, Indiana
Norcold Notcold Nowcold
Early morning found us at Elkhart Collision and Repair. Mid morning found us at Duncan RV, and late morning found us where the other guys tell you take your RV if you need appliance repairs done right. Talk about luck, it turned out that Hobson RV had a cancellation for today and were able to fit us in. Not only that but they had the new Norcold cooling units in stock. I don't know which of our lucky stars to thank for this bit of good fortune, but which ever one it was, thank you. From here on out you will see more photos than words, a first for me, but it is late and we had a long, though very successful day.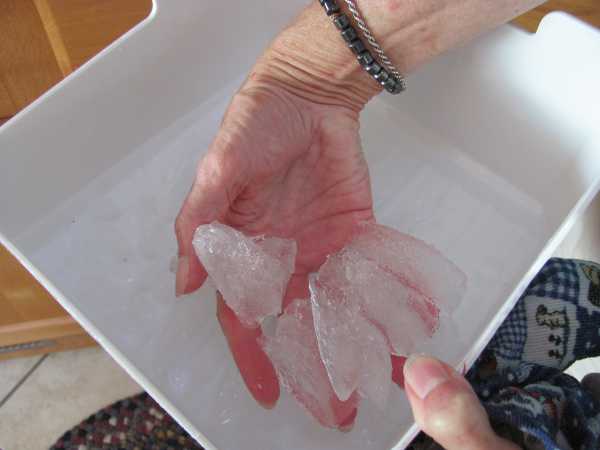 We had already emptied the frig, but had left the two freezer compartments closed. When we emptied them late this morning, they were both registering 32 or below, and even though the frozen items had defrosted in both of them, there was still ice in them also.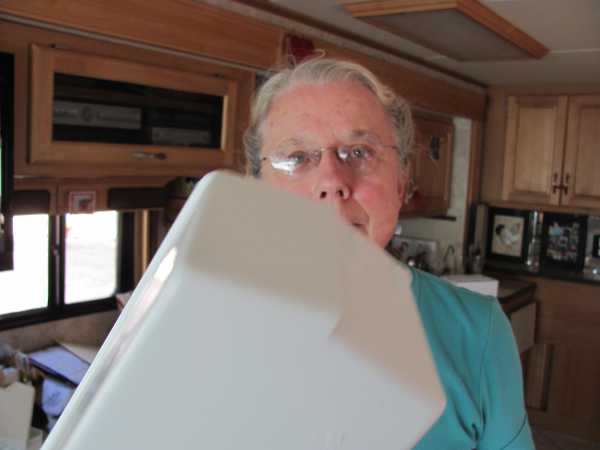 Needless to say the emptying and cleaning of the interior elements of the refrigerator was not without its moments as witnessed by this grizzly attack that I was somehow able to ward off with only minimal damage to myself. Fortunately I was able to utter the right words just as the enrage she bear was preparing for a renewal of her attack, and all ended well. Good Bob.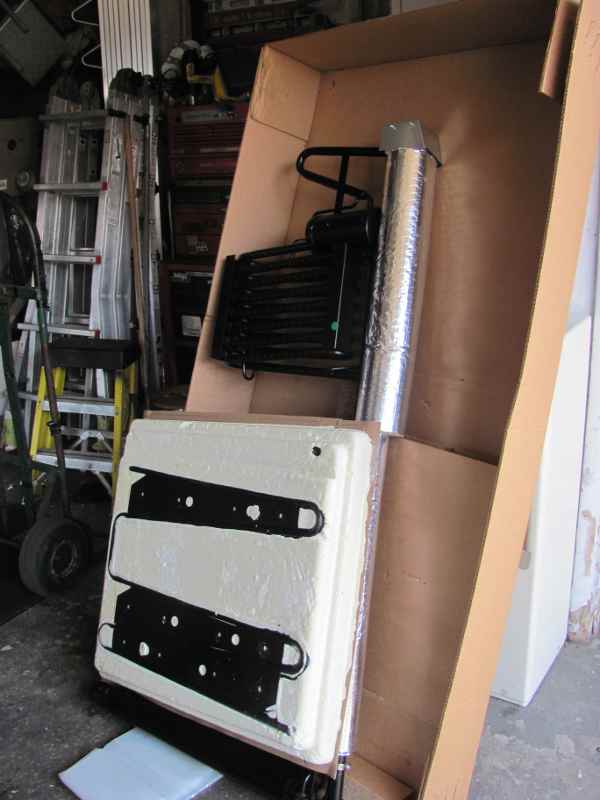 The new cooling unit, similar to the older units, but with changes where it mattered. Yes there are residential units, big bucks with all the modifications needed, and yes there is something called the Amish Unit, but it also wasn't part of the picture. Maybe something for the do it yourselfer, but listening to Jermey talk about their experience with the so-called Amish units, it was easy to pass.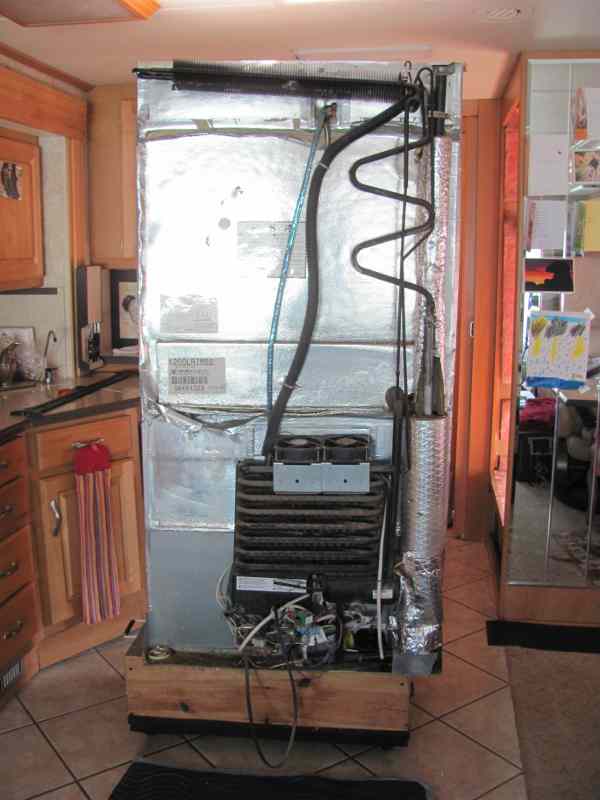 The old unit out in the kitchen area. It wasn't hard for them to remove it, then came the disassembling of all the various components, a far more time consuming activity.
Back of the frig with the cooling unit removed. Note how the caulk is literally clumping in the corners. As Jermey pointed out, the way they now apply the caulk makes for a much better seal.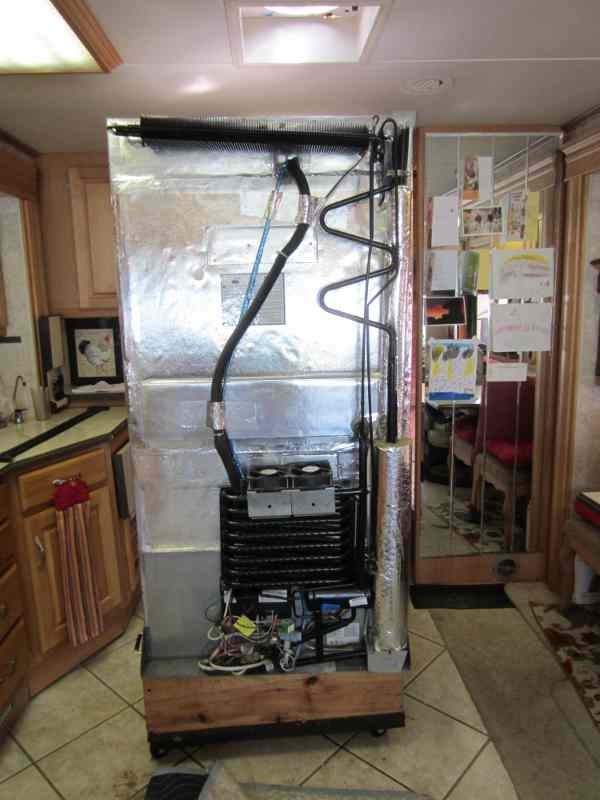 New cooling unit installed in place. It is all taped off with special high temperature tape, not duct tape or reflectorized duct tape that is often used.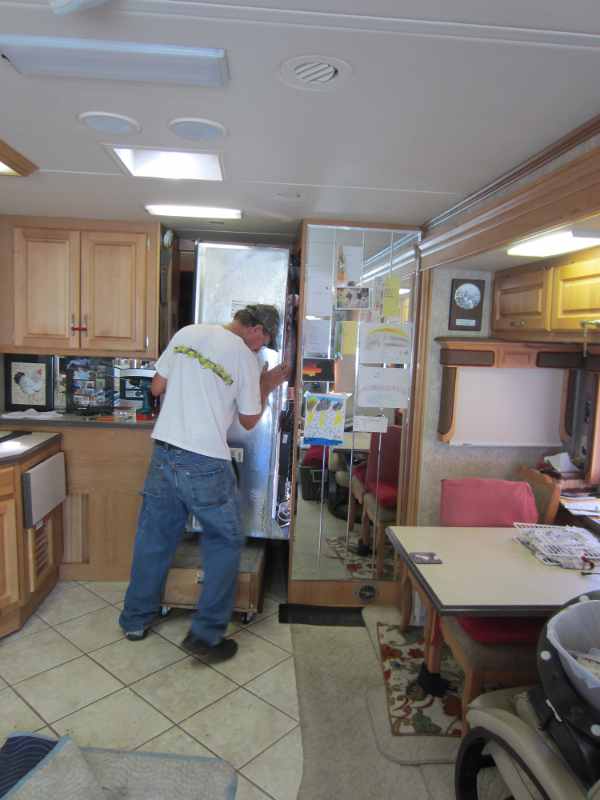 Putting the unit back in the cabinet. Putting it all back together took longer than the removal and disassembly. There is still has one of the infamous red light high temperature cut off units on it, something that we will now never operate the frig without it. One close call was enough. In the end our extended warranty covered almost all of the replacement with the exception of the deductible and the several hundred dollars difference between a rebuilt unit and a new unit. As Jermey said, they will not touch a rebuilt unit, only the new manufactured units. Hobson RV, they really know what they are doing and they treat you right, especially with all the little tricks they pass on about operating your refrigerator based on their decades of experience from the factory floor to the present.
Tonight we are at Duncan RV where we have an appointment for tomorrow morning to take care of some of the odds and ends type of problems with the coach that will make our Life easier. With a major scrap metal operation that appears to go 24 hours a day on one side, and across the tracks the constant screeching of rail cars in a major marshaling yard, this is a most interesting place. Now if the folks at Duncan are only half as good as Hobson, it will be a second good day in a row.
---
Tuesday September 13 Elkhart, Indiana
Duncan does, we have fun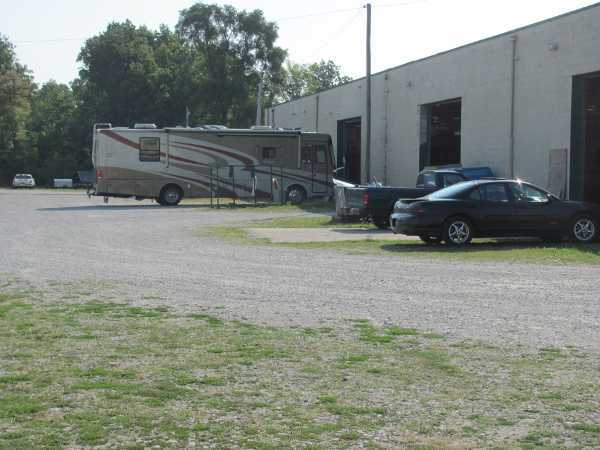 Last night was interesting to say the least. If you stay at the Duncan lot while having your RV repaired, the nightly symphony is going to be interesting. With a major scrap metal yard that works until at least 11 on one side, and a huge rail yard on another side where trains are moving all hours of the day and night, it is a place of banging, clanking and screeching. It didn't bother Linda, but since she hibernates it shouldn't. I on the other hand suffered from major loss of shut eye, principally because of the screech of the rail yard. Since I hear no low frequency sounds with my hearing aids out, the screeches are not only magnified, they are the only sounds I hear. Tonight is going to be a head buried under the pillow night for me.
This morning we had our appointment with the service tech, and once everything was written up, it was off to the shop for the coach. We are having them fix the generator cover, the front door, replace the torn slide seals, repair a MCD blind, repair the driver front slide topper, and adjust the curb side slide, which apparently was never adjusted correctly when it was built. There are also several other very minor things that we will have them do, better their expertise than my amateur attempts at fixing something and doing it wrong.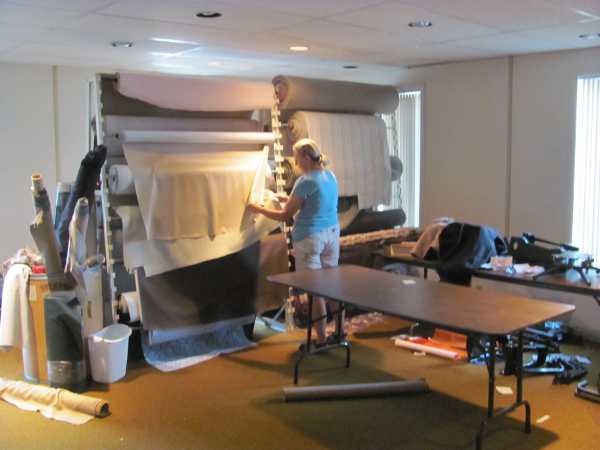 Not exactly a free day, but with the choice of either spending time in the lounge at the repair shop, or heading out and about, we chose the do something route. That took us to several large, and I do mean large, RV surplus stores. These made the ones we have seen in other places look like a home pantry compared to Walmart. But could you believe it, the two things we were looking for, we never did find. Some days you win, and some days you don't. I don't know if Linda was happy here or not, but she sure did like several of the fabric rolls they had, even if we had absolutely no use for them.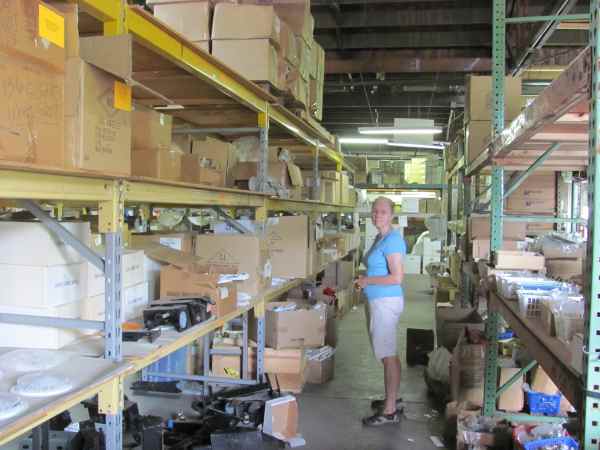 This is the look that says, "So much good stuff, so much potential, so why isn't there anything that we can use." It sure wasn't for lack of trying on Linda's part because she must have showed me at least two dozen different items, asking each time if it was something that we could use, and each time my answer was the same, "No." It has to be tough on a woman shopping in a place like this and not being able to buy anything. But Linda is a big girl and I do believe she can handle it. I hope.
I was ordered to take this photo, then managed to get into trouble while taking it. We had been on the other side of this creature when the boss bellowed out her orders for me take her photo. The problem was the sun was on the wrong side, causing major shadows to obfuscate the charms of my charming wife. Hence I moved around to the other side, while she was prepping herself for her time in front of the camera on the other side. The result was a very loud "Where are you?" Followed by my very meek, "Here." Once we got it straightened out, and me straightened as well, the vivacious young model posed and the inept cameraman snapped away. Like Clint said, A man's got to know his limitations. And is Linda ever good at letting me know what mine are.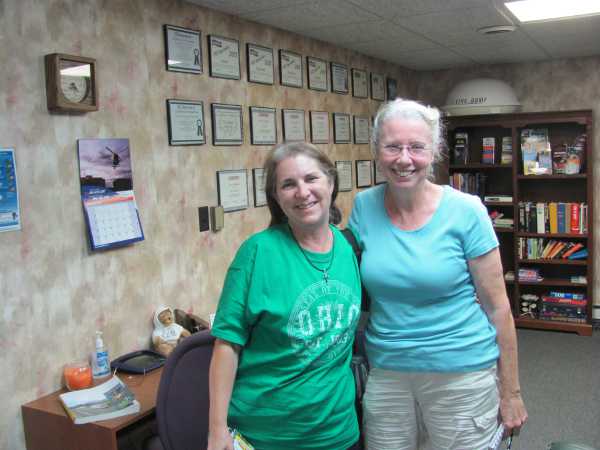 "Linda?"
The question cut through the fog of both of us as we were reading our respective books in the late afternoon after having returned to the Duncan customer lounge. Linda got a look of recognition in her eye, and said, "I know you." And they did know each other. Marie because she has read the Daily journal almost from the beginning some five years ago, and Linda from reading Marie's blog, which is here. They being women had a great visit, and I even got to put in a word on occasion. This is one of the great joys of full timing and writing about your travels. They both knew each other from all the reading they had done even though they had never met. Plans were made to get together in a few days when our repairs were done and we were hanging out for a couple days to just make sure everything is working as it should. Life, lived in unexpected and very pleasurable ways. And as an added bonus, it looks like the new Norcold Nowcold cooling unit is working just as it should. The full time Life is truly good, though maybe a bit costly at times.
This Daily Journal for Tuesday September 13, should have been posted in the evening of Tuesday September 13th. I think I like writing in the evening much better than in the morning. I did that for quite a while in the past and somehow during one of my vacations from writing, I picked up the habit of writing in the morning. Now it is back to evening writing and also evening posting. We shall see how it goes, but I think I will like it much better this way. Change is good. I hope.
---
Wednesday September 14 Elkhart, Indiana
A trial separation is a success
It was one of those days that go down as great for all concerned even though it looks bad on the surface. Linda and I decided that separating was the best thing to do. She wanted to sit in the customer lounge at Duncan's and either read or watch TV, with a little conversation with the other immates thrown in for good measure. As for me, I wanted to wander the downtown area and spend far more time in the local cemeteries than she wanted to. Thus we each went our own way.
Have you ever heard of Miles Nervine? Dr. Miles was a local physician in the late 1800's when he developed the formula for the medicine that would make him famous. Alka-Seltzer? Another Miles Laboratories product that came much later. Interestingly enough the building that Dr. Miles used as his headquarters is now a funeral home. Maybe if Miles Nervine and Alka-Seltzer can't mitigate your problems, the only thing left is eternal peace.
Linda kept me abreast of what was happening with the coach and I kept her abreast of what was happen where I was, i.e. the grave of a Civil War Medal of Honor Recipient. It doesn't get much better than that. At the same time, I got to eat my lunch in one of our favorite places, and I even had company while eating.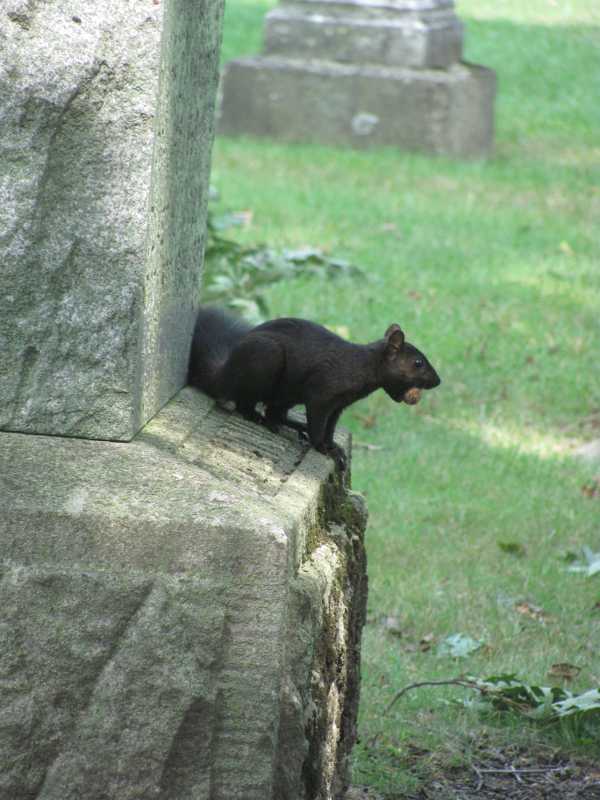 Not everyday do we get to eat an apple with almond butter while a black squirrel eats a hickory nut nearby. Of course this time it was just me and the squirrel. As for Linda, I suspect she was doing the same thing, unless she had managed to sneak in a bag of chocolate chips. By the time the late afternoon rolled around, I was burned out from being a tourist, and Linda was reporting the coach was going to be back early. Then it started to rain which sealed the deal for me returning home. At least I got to drive back while poor Linda had to walk to the coach in the rain. Why was I not very sympathetic to her problem?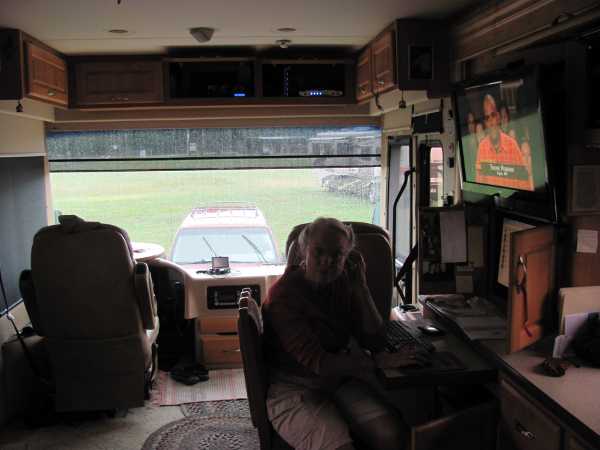 The evening was not what it normally was. First, what to eat, then discovering a package of ground beef that Linda missed yesterday when she browned all the defrosted beef, or what she thought was all the beef. How was I to know this was akin to waving a flag in front of an enraged bull? [Editor's comment: Bob does like to wave lots of red flags!] All I did was find a package of ground beef on the side of the refrigerator where there wasn't supposed to be any ground beef. For a moment I was afraid it was going to be a full fledged grizzly attack, but at the last moment she calmed a little.
Still, from there it seemed to go down hill until I suggested we combine half of the ground beef with a package of yellow rice. Then it was all uphill for the rest of the evening. Sometimes we win and sometimes we don't. Today it as a little bit of both. Life is sometimes like that.
---
Thursday September 15 Elkhart, Indiana
A not feel good day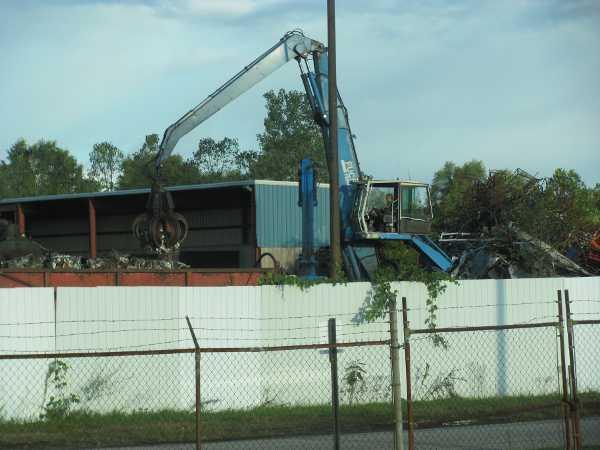 Doesn't happen very often, but today I was feeling like I was fighting off the beginnings of a cold. No worries on my part because the coach doctor was Linda on the spot. I haven't heard the clanking and banging from the scrap metal yard across the way the last two nights, and have slept soundly. So whatever it is, I can't blame them. I can't blame Linda either as she has me loaded down with more medications than Elkhart's Dr. Miles would have treated me with. And guess what, I've perked up quite a bit, enough that I think I will be able to fight it off rather than succumb to its advances. At least I will if Linda has anything to do with it.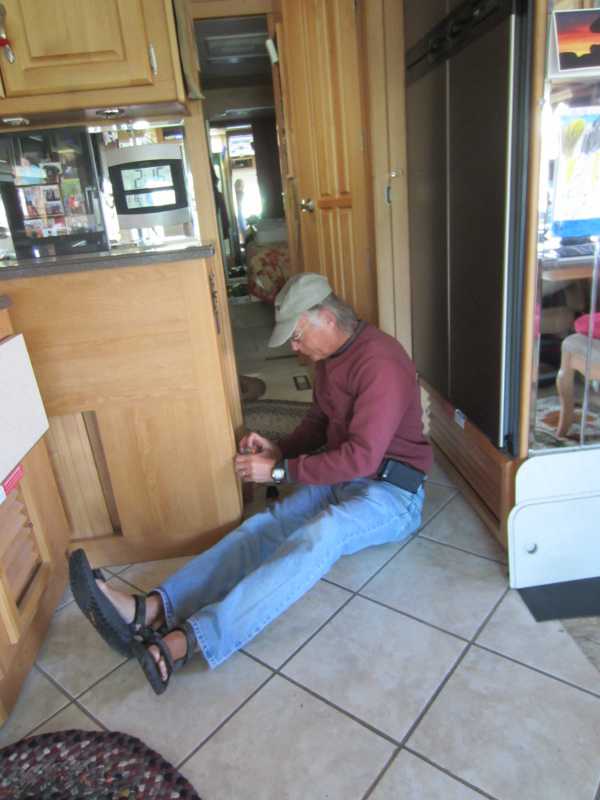 Dave, our tech, had finished up the coach in the late morning and had it back out at the site. That meant I would have to do a honey do, which was glue a piece of trim back in place. A little rubber cement, and it was done, and even better, Linda was happy. Unfortunately the office staff wasn't on par with the tech department, but we did finally get the bill, which pleasantly surprised us, just before quitting time. Tomorrow we have an early morning appointment to get our wayward MCD shade looked at by another shop that can do warranty work on the shades. Poor Linda, all these days of having to get up early, but I think I can see some real hibernation time coming up in a couple of days. Who knows, I catch a cold and I will probably be joining her.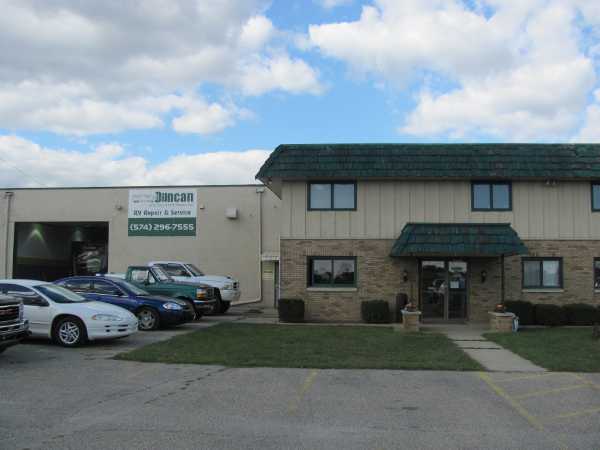 As we were waiting for the bill, Linda mentioned I should take a photo of the shop. Here it is, and yes, we would come back to Duncan's RV Repair for more work. After all, what value could we place on having a door that works as it should. Meaning Linda can open it with one pull of either hand. I wonder how she is going to take having to open the door herself? Somehow I think she has gotten used to me being the gentleman by default. Only time will tell on this one.
With me not feeling good, the cooking duty fell to Linda, a task she excels at. Sausage patties, fried cabbage and spicy beans, it was great. The longer I type the less my brain seems to want to work, so that's all for today. Time now to get back to Dr. Linda and her shelf full of nostrums.
---
Friday September 16 Elkhart, Indiana
Time to move on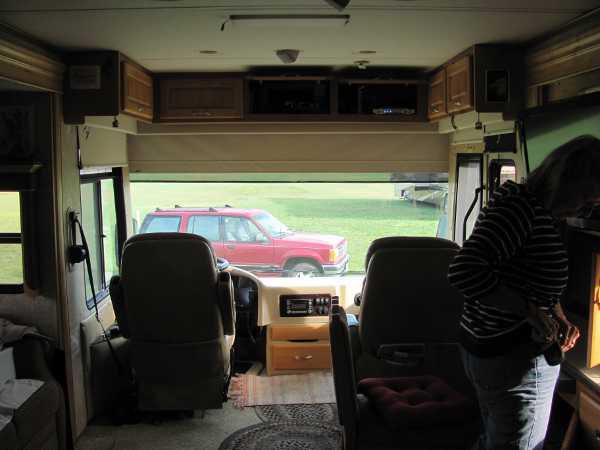 Feeling better today, but as the day went on, I was running down, then seemed to get my second wind. We joked about me not pulling a Tigger, and I tried not to. Tigger was a cat we had once who got a very serious Kitty disease. For a number of days he simply laid in bed, never moving anything except his eyes. Then on a Saturday morning he literally jumped up in front of us, tore off into the living room, raced around it several times, clawed at the pillows, they ran back to his bed and laid down, not to move again for four days or so. Then he got up and for the rest of his life acted as if nothing had happened. Ever since we have called doing too much before one of us is completely over being sick, "Pulling a Tigger." I did not pull a Tigger today, so tomorrow I should improve even more. Oh yes, the photo. It was our last morning at Duncan as were moving over to Elkhart Service and Collision, not for service, but to stay in their RV park.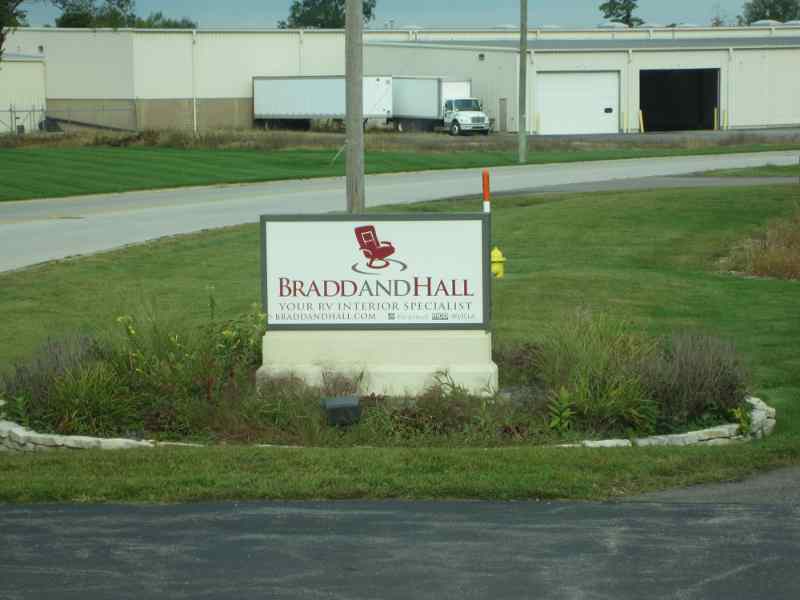 I had mentioned yesterday that Linda was going to have to get up early again today, which she did. For the seventh straight day I was responsible for her getting up hours before she normally would, though I was really nice and let her sleep in until 7:30 before confronting the she bear this morning. Then it was off to Bradd and Hall to get out MCD shades adjusted.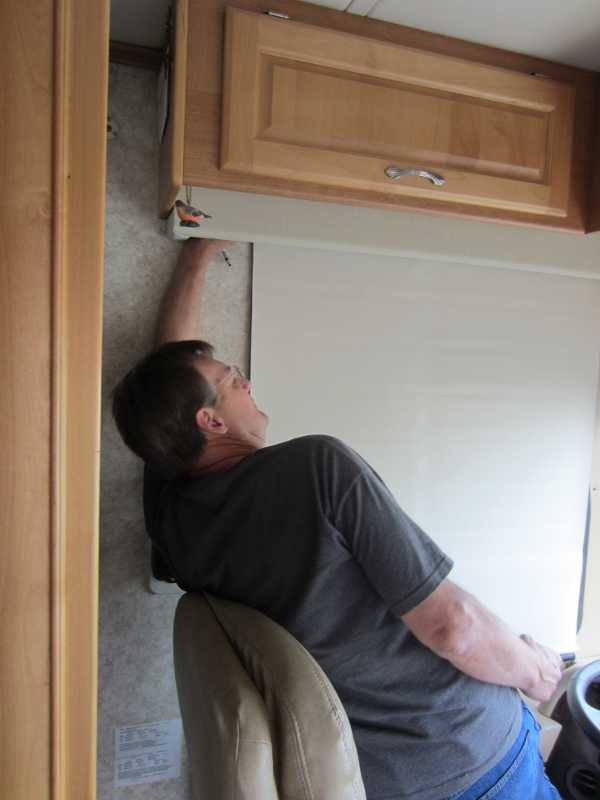 Just let George do it, and George did it, though not before a call to MCD. Turns out that MCD has changed the remote control they use three times and the way you adjust each is different. Not only that, but you can not tell which is which just by looking at them. I'd written before about what a good product they have, though there seems to be something wrong with whoever it is that runs the company in terms of management ability. This only reinforces that notion, and it makes you wonder if they really know what they are doing, or if they were just lucky to stumble onto something that there was a ready made demand for. Maybe there is someone else out there who can take the concept they have come up with and make it into a great product.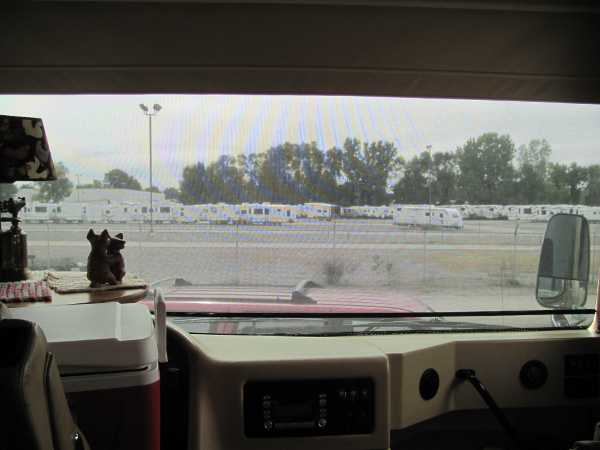 It was about 11:00 when we parked at Elkhart Service and Collision, getting a full hookup site for just over $19 a night where we will be staying for the next week. We decided we needed a little R&R time where we do more nothing than we do something. The sites here are back to back, and most people are over on the other side, facing a tree lined street with houses. Of course almost every site has an RV, so I decided we would be contrarians, facing the razor wire fence that encloses all the trailers in the large lot in the distance. Linda admitted to have a desire to face those lovely trees, but since she was outside and I was behind the wheel, we got razor wire. I tried to tell her we were just being nice, leaving a spot open for the people who wanted a pretty view, but she wasn't buying any of it. Wonder why?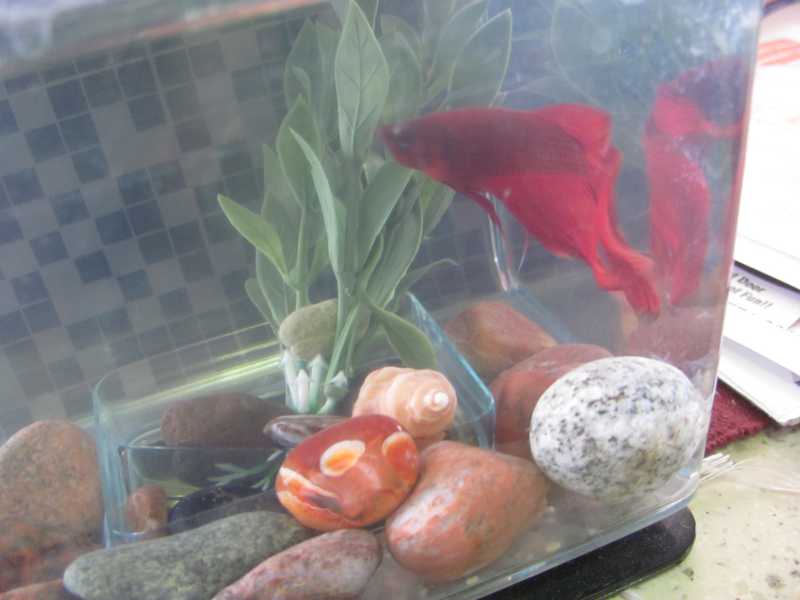 The happiest person in the coach about our little R&R sojourn has got to be Red Rob. For almost all of the past week he has been tucked into the small side of the sink, his tank wrapped with towels and his belly wondering if he was ever going to get fed again. The first thing Linda did after we put out the slides and leveled the coach was to get Red out and onto the windowsill. I noticed she had drawn the shades around him, and queried her as to why. "So the sun doesn't hurt his eyes" was her response. I would never have thought of that, but it is something she does, just because of who she is. Maybe if I combed my hair out so it looked more like Red's flowing fins, I'd get better treated. Then again, maybe she would decide that fish was on the menu for the night and proceed to gut and fillet me. Women! Who can understand them? Still I think I'll keep the one I've got.
---
Saturday September 17 Elkhart, Indiana
Holed up, kinda
Up early but tiring late so this may be a short one. While I resisted pulling a Tigger yesterday, and with excellent success I might add, today was a different story. Up early, mid morning walk, daytime doing things including the cooking, evening tired. I'll accept that as a great improvement and hope that tomorrow find me back to normal. In the normal vein, our walk, which was a short distance to flea market kind of place, had the usual Linda interruption for rock removal. I will admit to being impressed by the rock she had in her Keen, as it was big enough to see at a distance with the naked eye, and it actually made a sound when it hit the ground. Problem was she has gotten so fast at the dump and dash that I almost missed the event. Actually all I got was the "Ha, ha, ha" look from Linda, but one of these days I will again catch her in the act.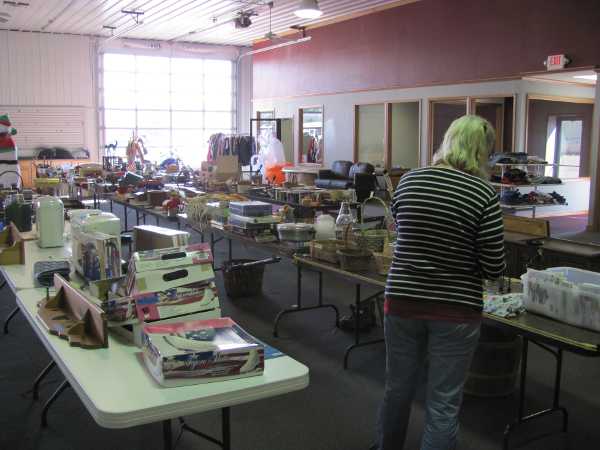 Our walk really wasn't much, merely out to the main highway where there is a small outdoor stand selling fresh local fruits and vegetables. That resulted in a butternut squash soup lunch, and another kind of squash that we don't the name of and was a little starchy, for dinner. The remainder of the walk consisted of strolling through the large building out front that had been Hart City RV. It now bills itself as an indoor yard sale, and that pretty much sums up what it was, mostly other people's castoffs with an interesting item here and there. We never saw a thing we were interested in, and while we saw a few other lookers, there didn't seem to be any buyers. Besides that, Linda was planning on going shopping at real stores in the afternoon so she didn't need any shipping fix.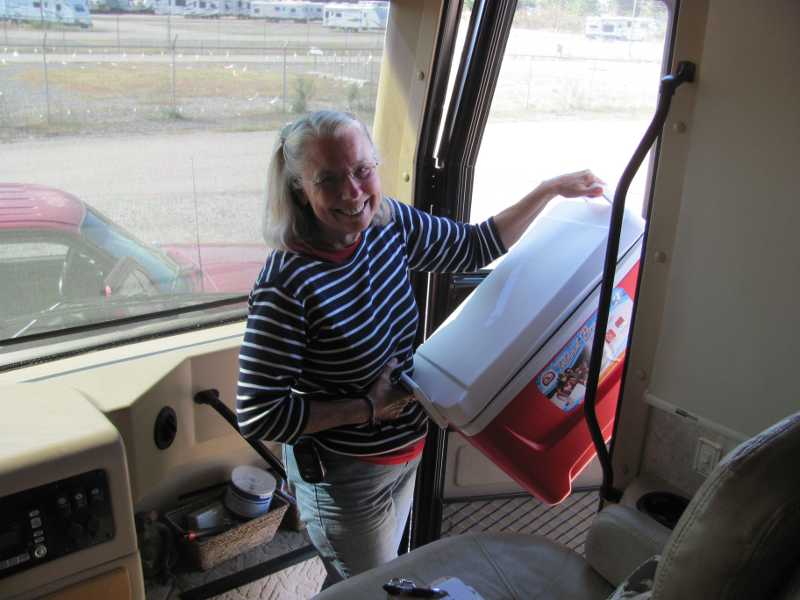 Linda heading out the door to do some real shopping. But wait a minute. I post these photos of Linda doing things while displaying her million watt smile and there it is for everyone to see. Most readers likely think taking the pictures is the easy part, with the writing probably being the more difficult of the two. Possibly true, but definitely not always. Let me give you an example using the above photo.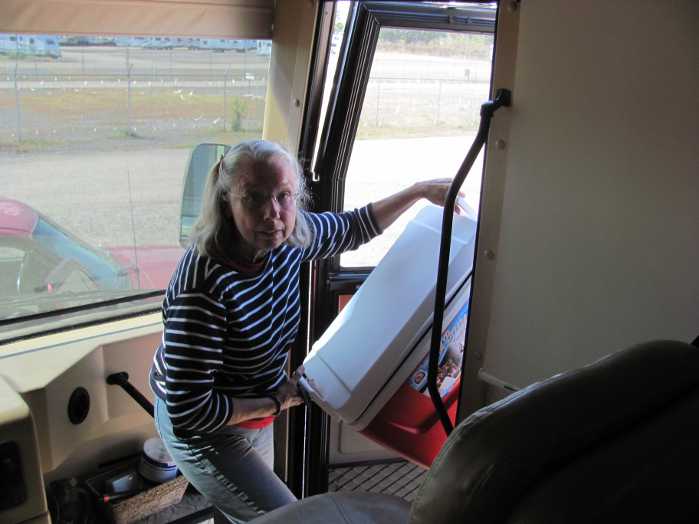 I was off in a world of my own as usual when Linda said she we leaving to do her shopping. Once that percolated through my brain enough, I looked up to see a great photo opportunity of her going out the door. Both literally and figuratively that is, because the problem was what with my having ignored her she was leaving right now. Pulling out the camera I realized I'd miss the shot, so yelled at her, "Stop!" That got her stopped, but it also brought her head snapping around just as I took this photo. It took just the merest glance to realize this was not the photo either of us wanted, so I diplomatically said, "I don't think you're going to like this photo, let me take another."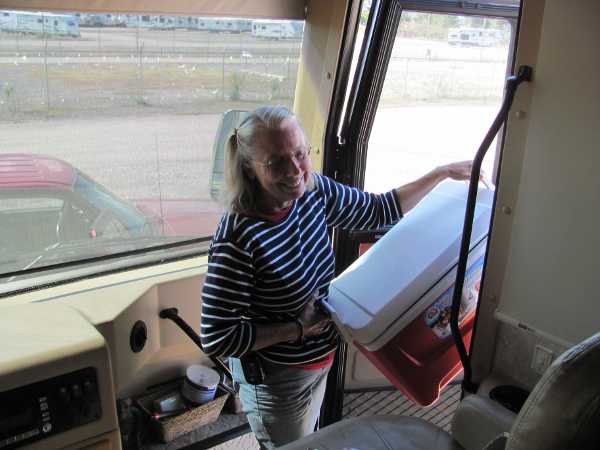 That resulted in this one. "Why didn't you smile?"
"I did."
"You could have looked at the camera while smiling."
"It hurts my back to twist around and my neck to look up."
Fortunately that last comment was made while she twisted around a little and looked up with a big smile on her face, resulting in that first photo, the I used in today's Daily Journal. Just a quick behind the scenes look at what Life is really like. It just goes to prove that Life isn't always easy but sure is interesting. Especially around Linda. Which is why I always make sure to only post photos that show her in her best light.
---
Sunday September 18 Elkhart, Indiana
Up the apple tree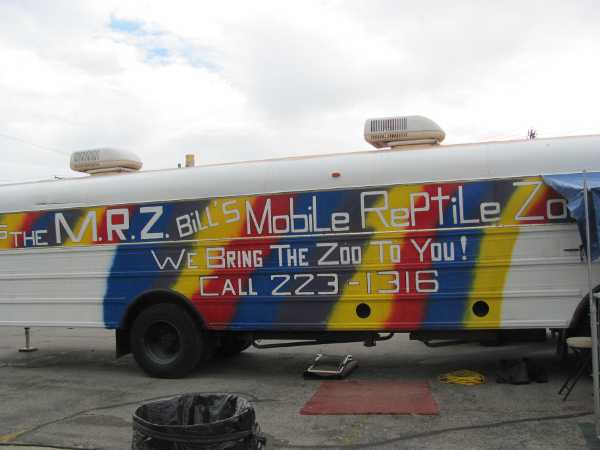 It's not everyday you get to see Bill's Mobile Reptile Zoo, and for only the measly sum of $2 at that. Don't ask us what you get to see, because we didn't go in. And since it also touts itself as a petting zoo, I don't think there is ever a chance of the coach grizzly acquiescing to a visit. Maybe next time though, because it sure looked kind of cool to me.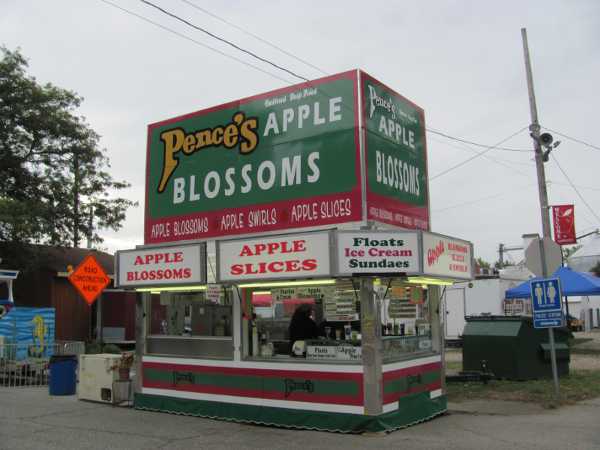 So where were we? At the Nappanee Apple Festival. It brought memories of Linda climbing the apple tree as little girl, but it also brought a puzzle. Just what kind of apple blossom were they selling. We never did find out, but only because we pigged out on too many other goodies during the day. Yes, health food freak always check the labels Linda, threw caution to the winds and gorged on apple goodies today.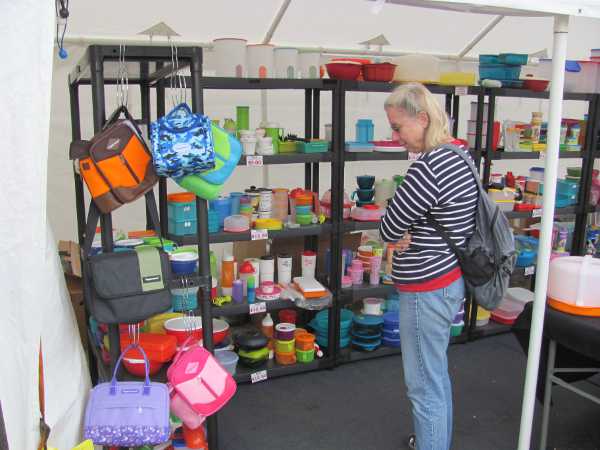 But before the food came shopping time. There is no age limit to the Tupperware shopper as you can readily see. Back when we had acres of cabinet space, Tupperware was constantly appearing in the form of gigantic plastic containers that I was always informed we couldn't do without. I thought it had more to do with a girl's night out than a need for more containers, but my earlier training by Linda convinced me to keep my mouth shut. At least she exhibited some restraint today, though only in the container department.
Lunchtime saw us going our separate ways. Linda picking barbecue, while I opted for Italian sausage. We enjoyed both, and also got to enjoy a former America's Got Talent contestant in the entertainment tent. We had spent some not so quality time in there earlier, listening to a church praise band that needed something else to make what they producing music instead of noise. Hey, not everything in Life is perfect, but Mike Hemmelgarn sure had us laughing at his antics. We saw him twice, and never got tired of his act, though we did leave early the second time to get some dessert.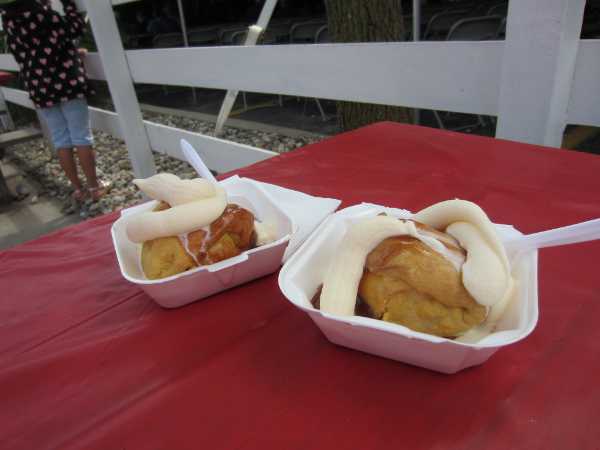 As we were sitting there, hearing some decent playing, but atrocious vocals, I said "Do you want to get some dessert?" The next thing I know she's climbing over me on the way out so I took that as a yes to my question. Over at the apple booths we spied one that had apple dumpling ala mode. I don't exactly recall how we ended up with one of those monsters of cream and calories apiece, but the next thing I knew were were sitting at a table, a full bowl before each of us. Then minutes later I was taking the empties to the trash barrel.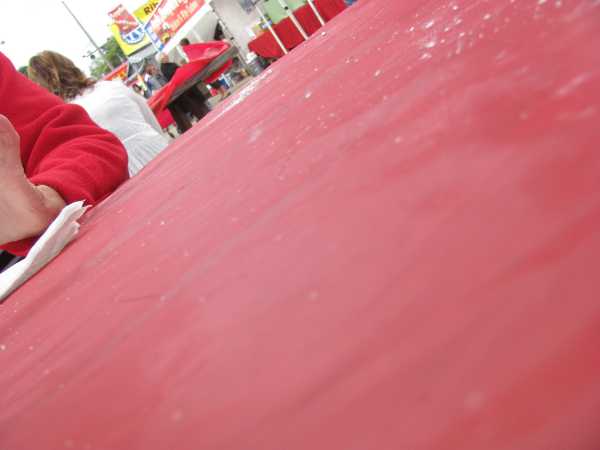 But wait! We weren't done yet. I remembered I had a $5 bill in my pocket and mentioned it to Linda. That was why moments later we were standing between the funnel cake place and the elephant ear place trying to decide which to get. In the end it was the elephant ear, but to protect the party most guilty of this last purchase I have tried to post a photo that only showed her sleeve making her harder to identify. I was feeling much better today, but like they say, an apple a day keeps the doctor away. In our case it will likely be months before he is ever needed based on our day's apple consumption. As always, Life is good in our mobile world.
---
Monday September 19 Elkhart, Indiana
The Fish King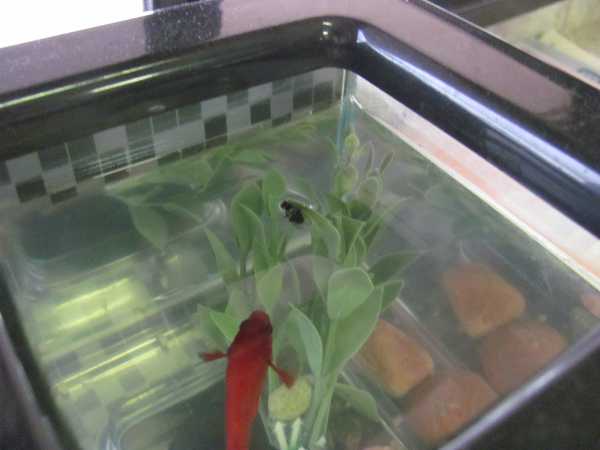 In the water, the mighty water
The Red Rob rests tonight
In the water the quiet water
The Red Rob rests tonight
Near the fish tank the peaceful fish tank
The Red Rob rests tonight
Near the fish tank the quiet fish tank
The Red Rob rests tonight
Hush little fly don't fear little fly
The Red Rob rests tonight
Hush you little fly don't fear you little fly
The Red Rob rests tonight
I was sitting at the computer this morning when I heard it. A loud splash eminating from the fish tank. My first thought was that Red Rob had finally done what Betta's are known for, and jumped out of his tank. But a quick glance at the tank and that hypothesis was disproved. Then I saw him move quickly towards the top edge of the tank, and what followed was almost unbelievable.
He backed up, held his position with only his pectoral fins moving, then in a lightening thrust he popped a black object on the surface of the water, knocking it across the tank. When it moved a little I realized it was a fly, and the splash I had heard earlier had to have been Red Rob launching himself out of the water to hit it when it walked on the top edge of the tank.
I watched for a while, and as I did, Red turned towards me, came to the front edge of the tank and started doing his "feed me" dance, or at least I thought that was what he was doing. Then it hit me, I had already feed him and this had to be nothing less than a victory dance letting me know how proud he was of what he had done. I was just as proud of him as he was of himself, and in his honor I composed the victory song above. You shouldn't have any trouble guessing the tune, but you do, remember, Red may be a fish, but he has the heart of a lion.
As far as the rest of the day, it rained most of the time, and other than a little quality carpet sweeping by Linda, during which she did the requisite complaining about me not moving so she could sweep where I was sitting, nothing remotely approaching Red Rob's activity happened during the day.
---
Tuesday September 20 Elkhart, Indiana
Out and about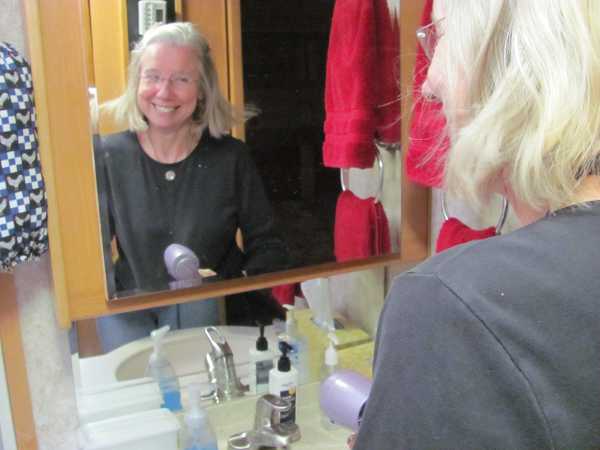 Yesterday it was all about the exploits of that mightiest of Bettas, Red Rob. Today we are back to a normal Life with a glimpse into the exploits of my wife. We had a breakfast date with fellow bloggers and RVers, Craig and Marie, which meant that I had a difficult time getting any sink and mirror time as Linda was monopolizing it.
Just before it was time to leave for the restaurant Linda came out and asked the usual woman question, "How do I look?" I was about to give the usual man reply, "You look great" when I noticed she actually didn't look great. For a woman who accuses me of sometimes getting more food down my front than in my mouth, she was working on setting her own record in the dribble department, what with the big white toothpaste spot between the mounds in the middle of her top. And now you know why she is giving me the look she is in the above photo as she used the hair drier to dry the damp spot where she had cleaned of the offending toothpaste blot. Life, meant to be lived.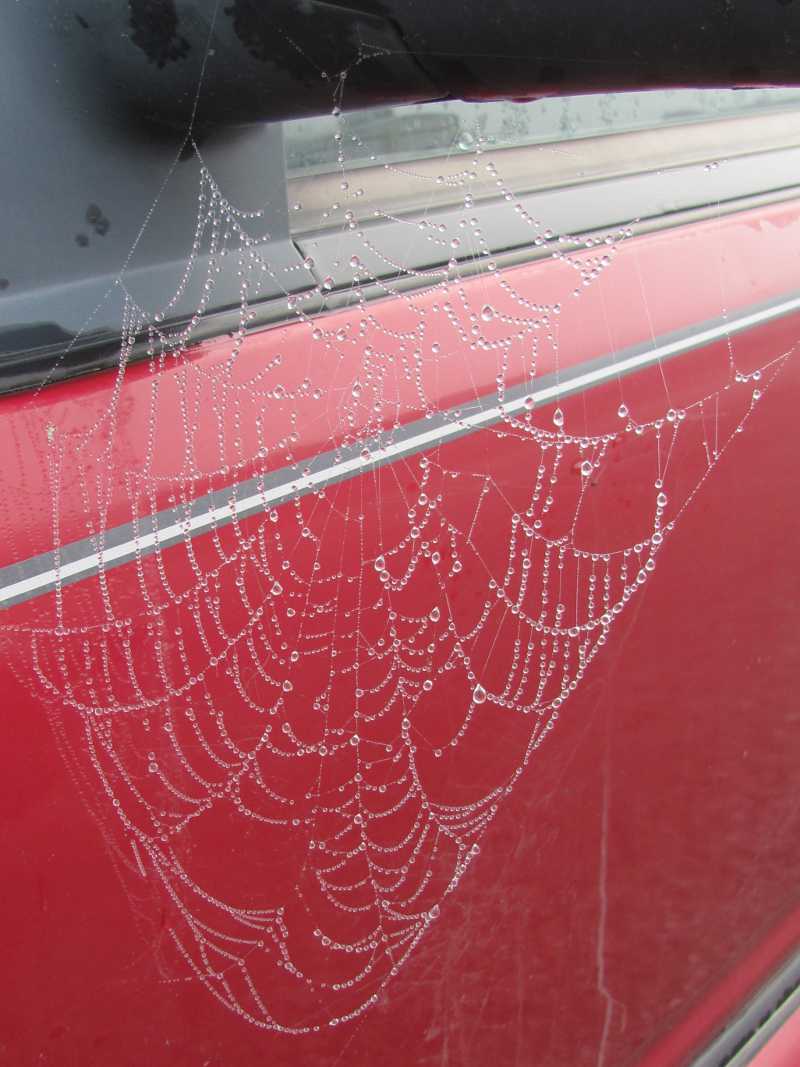 Interesting spider web on the Explorer this morning. Those little buggers sure do work fast. Better watch what I say or Linda will be wanting to inject me with spider venom to speed me up. Come to think of it, on occasion she has mentioned that the female black widow has the right idea. Not good, Bob.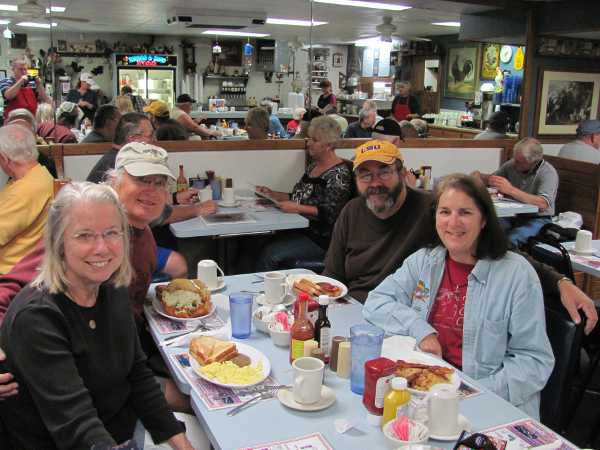 The thing that is most amazing is not the big smiles on our faces. Nor is the huge quantity of great tasting food on our plates. What is amazing is the number of old people eating in this restaurant with us young people. I find it amazing how many places we go that there are always a lot of old people. I guess someday when we are old we will know why they are out this early in the day. For now we will keep having fun with young people like Craig and Marie. Life, it's what you make it.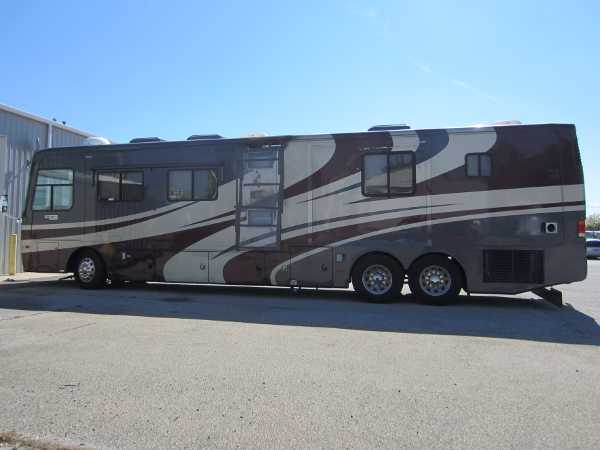 Why we are glad our safety cutout device for the Norcold refrigerator did its job. Looks like they were lucky and the fire was extinguished before it could really get going. Based on what we hear, it takes months to fix something like this. I wonder how fulltimers handle something these things?
One of those mysteries of Life things. Late this afternoon Linda noted that the charge for the next year of MotoSat service was higher than expected, so she called about it. Or rather I should say she started to call about it since this was the kind of thing she spent much of her former life doing for a paycheck. The problem was it wasn't her keys that were missing. Nor was it her wallet which she seems to be misplacing more than usual as of late. Today she broke new ground with the misplacing of her phone.
Searching high and low, as well as in between, everywhere inside the coach proved fruitless. The same with a foray to the Explorer. "Call my phone" was what I was ordered to do and call I did. Nothing, no sound at all, then I noticed she was outside. "Call again, I think it is in the Explorer" rang out from she who must be obeyed. I did as commanded, and waited. And I waited. And I waited. No answering voice on the phone, things weren't looking good.
Then she appeared at the coach door. "Come out and see if you can find it" were her words, followed by, "It's in the Explorer." Now she had the advantage of having heard it ringing, and try as I might I couldn't see it. Then laughing, she said, "Look at the seatbelt." If you look at the seat belt just above the water bottle in the photo you can see it hidden behind it. Sometimes things work out. Today everything worked out, including a new live plant for Red Rob as a reward for his exploits of yesterday. Life is indeed great.
---
---