Journal Archive 9/21 - 9/30 2011
Scroll down to read the latest post
Wednesday September 21 Elkhart, Indiana
Tired out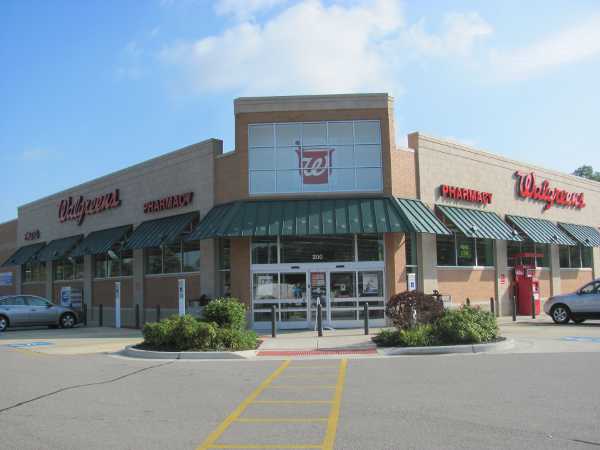 Tired tonight, too much walking around town looking at old buildings so this may be short. And yes, I really enjoyed my time in the past, it was just that I went long past the time to be in the past. Such is Life. This morning Linda had me out doing some shopping, the object being a new fan for our MotoSat control cabinet. She had a $2 off on her next purchase coupon from Walgreens that she was bound and determined to spend. Unfortunately their $2.99 fan was too big for the compartment, so we ended up buying some Tom's toothpaste for me, and getting another $2 off coupon. She solved that by buying some deodorant for herself using the second $2 off coupon. If we hadn't had the $2 off coupons we wouldn't have bought either of those items. I think that means those coupons ended up costing us money, though something tells me Linda would beg to differ. The gulf between man and woman is wide indeed.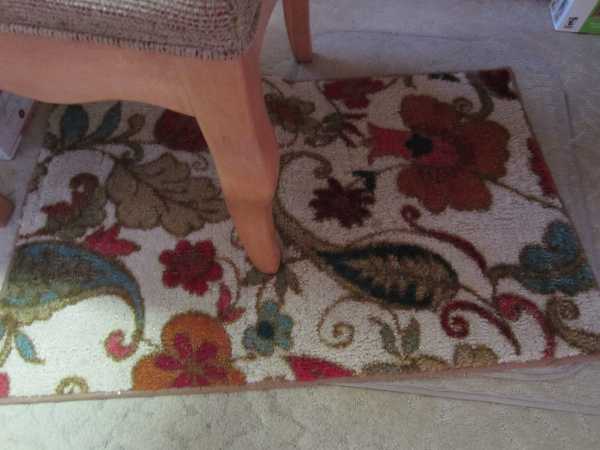 Since we are on the subject of the woman's mind and problem with the male of the species fathoming it, the following is appropriate. I saw the above photo tonight when I down loaded the photos and innocently said, "Hey you, come over here and tell me what this is for." While that brought a look of daggers and poisonous potions, she did come over and look at my computer screen. "It's so I'd know which rug to buy" was the answer. Earlier we had driven to Bed Bath and Beyond for that rug where we ended up spending more for a really neat pepper mill than on the rug. But at least we bought the right rug. It was looking like we were on a buying binge, at least when it came for things for the little woman.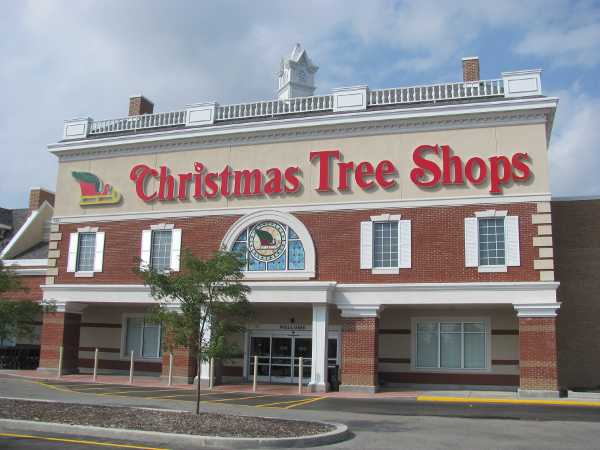 This is a Christmas Shop that had nothing to do with Christmas, being just a regular store. But is was across the street from our last purchase of the day, a computer fan. Nothing wrong with our computers, the fan was to cool the MotoSat compartment, the reason we had come shopping in the first place. After spending all that money earlier to save money, Linda was in no mood to send us to the poorhouse with the fan purchase.
The problem was that we went to one of those old fashioned, the way computer stores were before the big box stores drove them all out of business, computer stores. They had at least 20 and possibly 30 computer fans to choose from. I was for the bright colors and LED lights style of fan. Linda was for saving money after her earlier purchases that had meant spending money to save money. We compromised on a nice $7.99 puts out lots of air but doesn't look great, fan.
I got in line to check out and the fellow in front of me had a problem, which meant Linda had time to look around. Just as the I was reaching the register, I was told in no uncertain terms to remove my body from the line and place it where the woman grizzly bear was triumphantly holding aloft a green package. It turned out to be a $1.99 fan, the very same one I was informed we would be buying. I didn't get it installed today, but it looks like it will be fodder for tomorrow's Daily Journal. I can't wait to see what happens. Life, never a dull moment with a wife like mine. Life, no way it could ever be better than it is with a wife like mine. The tale of the cheap computer fan to be continued tomorrow, stay tuned.
---
Thursday September 22 Elkhart, Indiana
We get the flu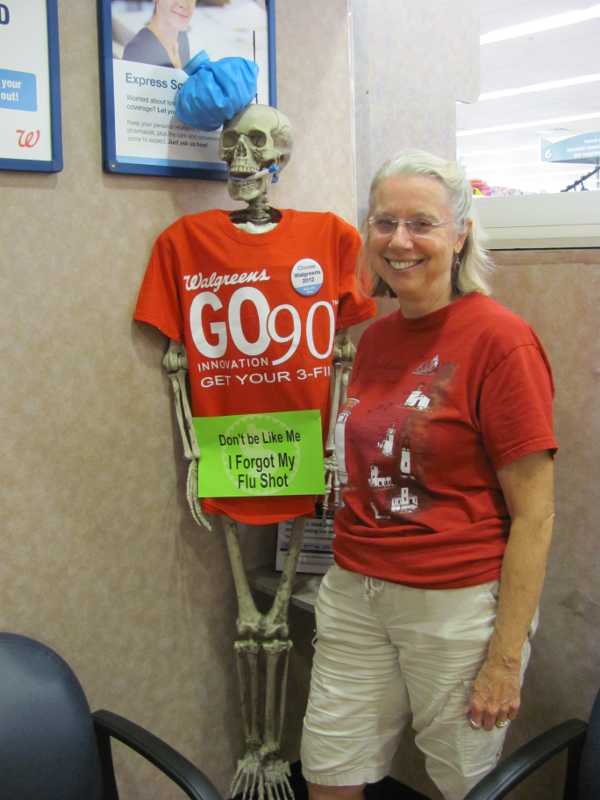 She who decrees told he who obeys that today was to be flu shot day. With any and all Walgreen's offering flu shots, no appointments needed, it was off to you know where for you know what. First there was a detour to an Ace Hardware store that was out of business, but as luck would have it, just a few blocks away was a Walgreen's. That meant the poster child for getting your flu shots was posing for a publicity shot. Even if the only place it will be publicized is on the Daily Journal.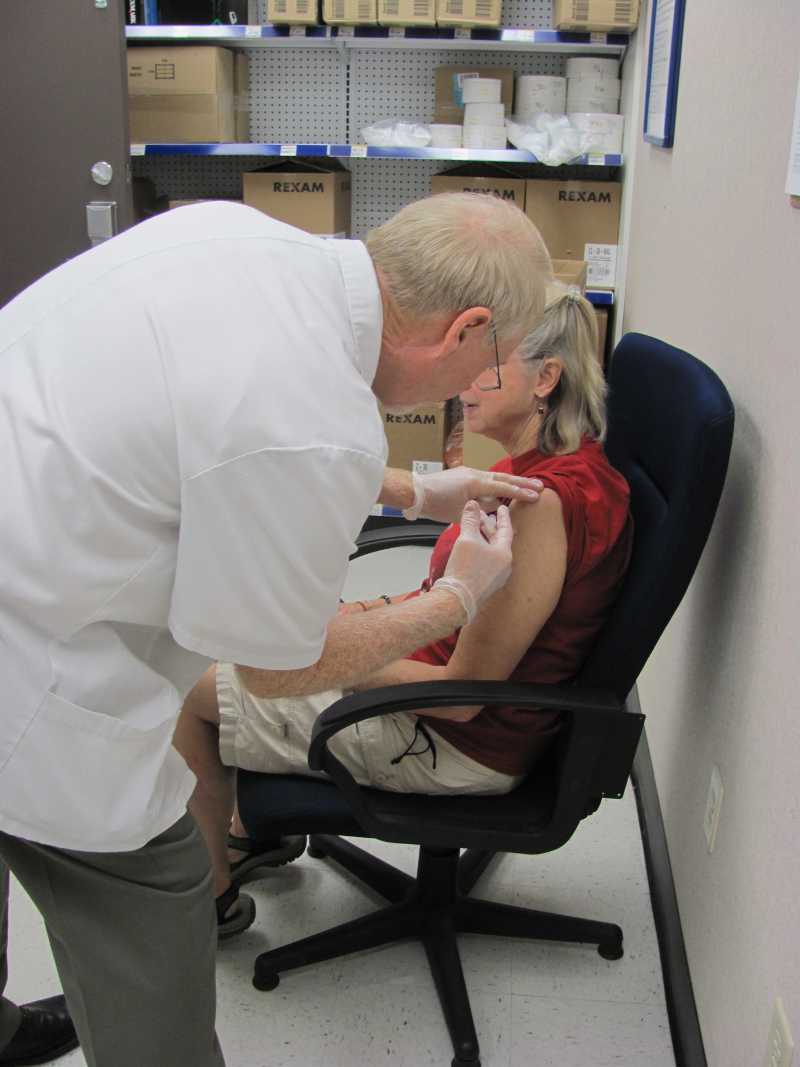 A shot of Linda getting her shot just before she fainted. No, just kidding. She was really tough and didn't even flinch, something that I have to admit I did. Flinch that is. Hey, so I have always been a whimp when it comes to shots, at least I get them. Interestingly enough, the vaccine for this year contains the same viruses from the past several years, including the famous H1N1. They say the vaccine is only good for 6 months so you can't rely on last years shot to protect you this year. I guess we are well protected, though as I type this Linda is feeling fine and I feel a little under the weather. Probably psychosomatic on my part, but still it real enough. The mind, a terrible thing to waste, especially when blessed with one like mine.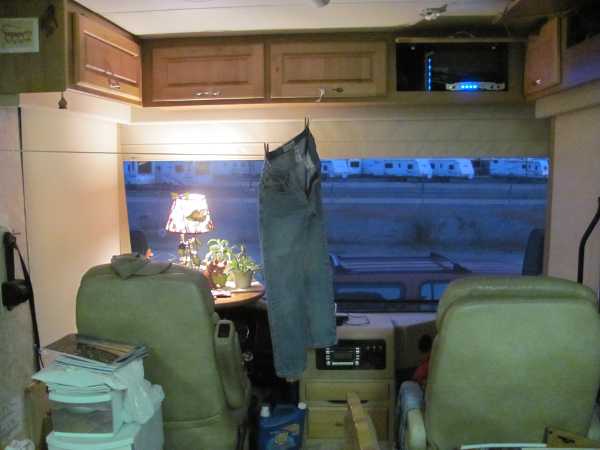 The major activity for the day outside of that trip to not find the Ace Hardware in business and get our flu shots was washing clothes. Now we are protected from the flu and if we get it, at least we will have clean sheets to lay on and clean clothes to wear. Some days just are. That was what today was.
---
Friday September 23 Elkhart, Indiana
The day after the flu shots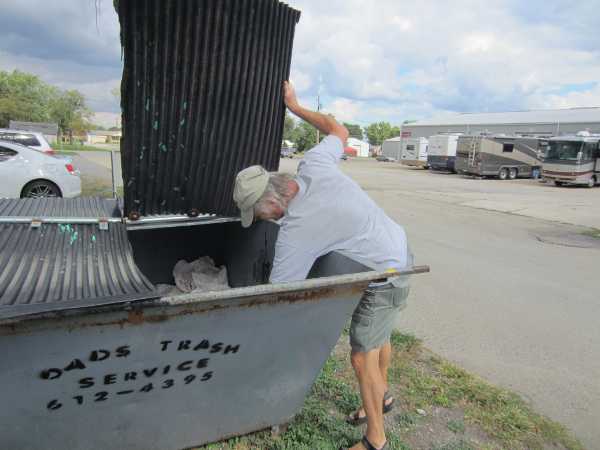 "You'll never guess what I saw" she said as she returned to the coach, and she was right, I never did guess. Finally she let me in on the secret. "There's some refrigerator containers in the dumpster, but I couldn't reach them." And that was how I was recruited to be the new coach dumpster diver. I did get her back because as we started out I had to remind her twice to bring her camera. Good or bad, there was going to be photographic record of what she was getting me into.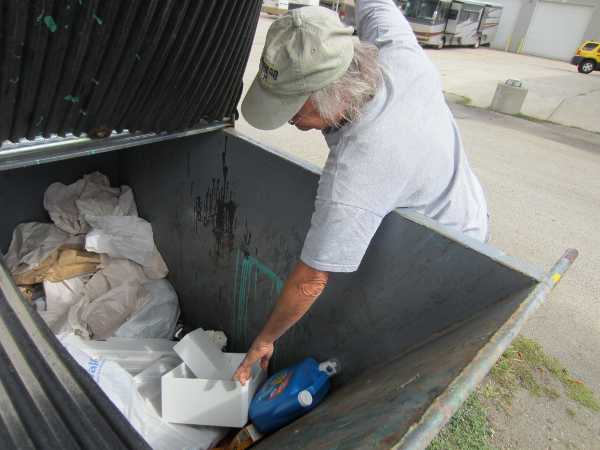 "There's a vegetable keeper drawer and also an icemaker tray" I was told as we went boldly where no one else staying here was going. Opening the lid I was struck by the fragrance of ripe dumpster assaulting my nasal passages, but with a mighty reach I fastened on to the prized pieces she so eagerly had me procuring for her. Alas and alack, there was a reason for their being in the dumpster, they were cracked worse than the ones we have in our refrigerator. "Oh well, it was worth trying" she said as we walked back to the coach. She's a woman, what else can I say.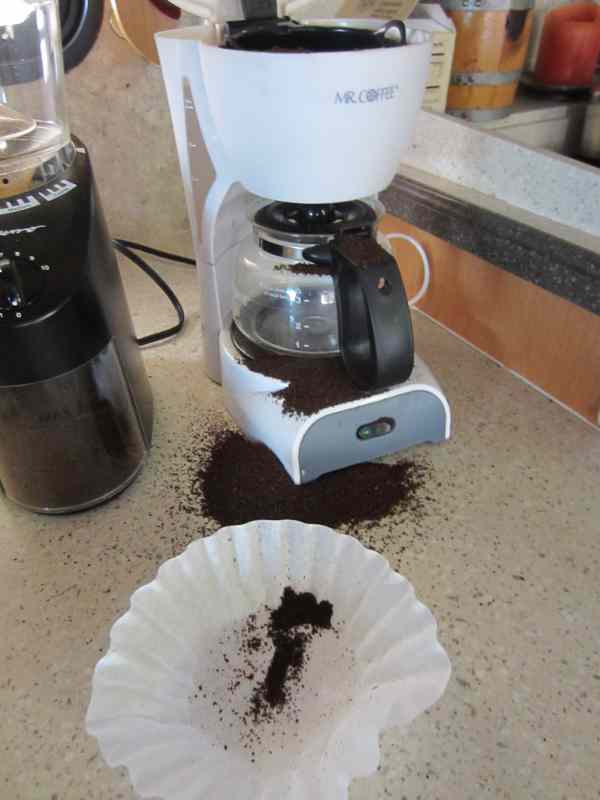 Yes indeed, she is a real woman. One able to spill coffee, take a photo, clean up the mess and keep it all from me until I see the photo she took of it. Now she has me wondering what else she did today that she didn't take a photo or, or tell me about. Something tells me I will never know, and that is probably for the best.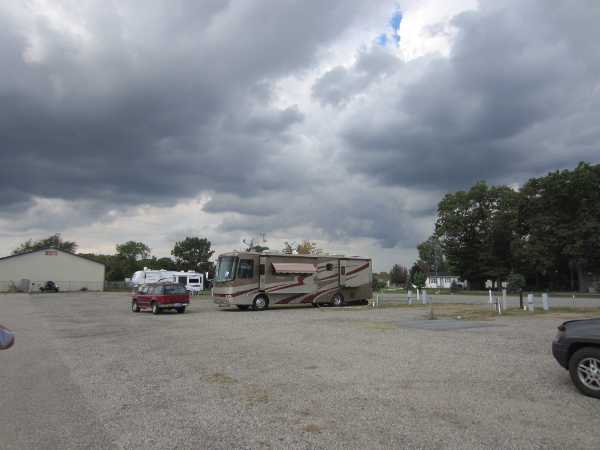 Looks worse than it was, as it was all show and no go. The bad weather passed to either side of us, but all the while we stayed in the coach. Some days are just like that. Tomorrow we are venturing out to Shipshewana to check out the standardbred horse auction which is a big Amish event, and pick up a few items from Yoder's Meats. It is supposed to be cold and rainy, but it is also our last day in Indiana, so off we go. I just hope we don't drive by a bunch of dumpsters on the way over or we may never get there. Until tomorrow, this is your intrepid dumpster diver signing off.
---
Saturday September 24 Elkhart, Indiana
Into the past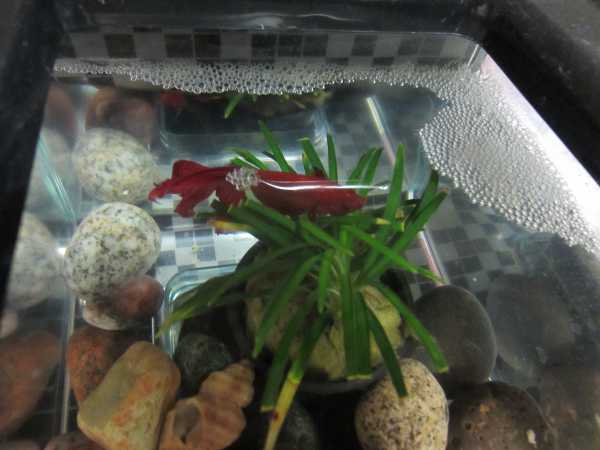 Linda was into leaning over me this morning as I worked at my compouter, and taking photos of Red Rob doing his thing. His thing for the past couple of days being blowing bubbles, lots of bubbles. Linda's first research revealed that Bettas blow bubbles when they are happy. Then she found other websites that say Bettas blow bubbles when they are unhappy or depressed. So it looks like we either have a very happy fish or a very depressed fish. At least he is doing something even if we don't know what it is. Once again we are presented with one of those seemingly insolvable mystery's of Life. But personally I think Red is one very happy boy.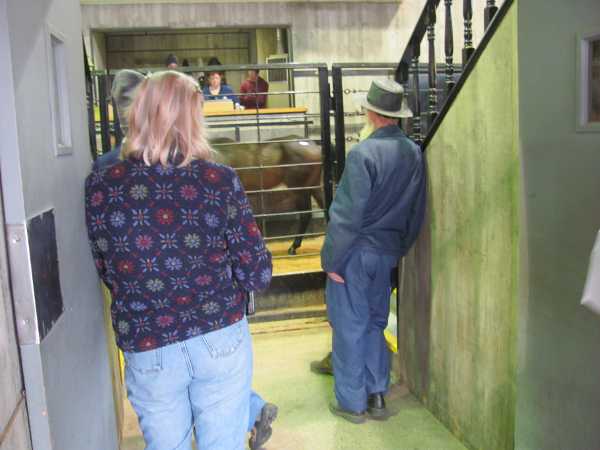 We did make it to Shipshewana, and even though it was raining off and on, it was cold, it was Saturday and the entire town was packed, we still enjoyed the experience. One thing Linda wanted to see was the Standardbred horse auction that was being held today. We've seen this place on TV, and it was even better in person. Linda pointed out she was the only woman in the entire building that didn't have her head covered other than the auctioneer's assistant. Linda was also the only woman in the building with long hair showing. That was all okay with me because I know she also was the prettiest woman in the building by far. If you ever get a chance to attend one of these horse auctions, do it.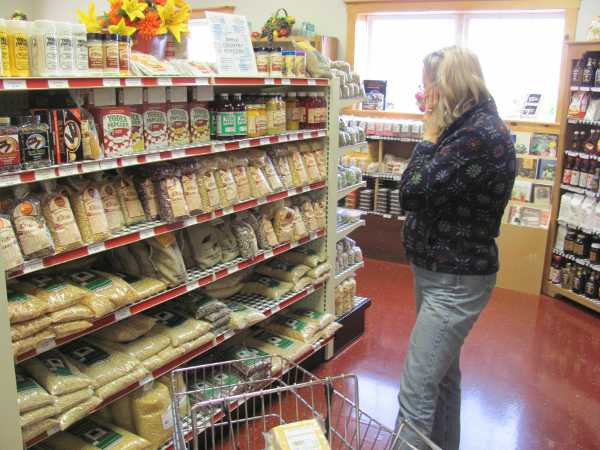 Too many kinds of popcorn! In the end she did pick a variety, but no sooner did she put it in the basket than I pointed out the sign over the display, something she hadn't noticed.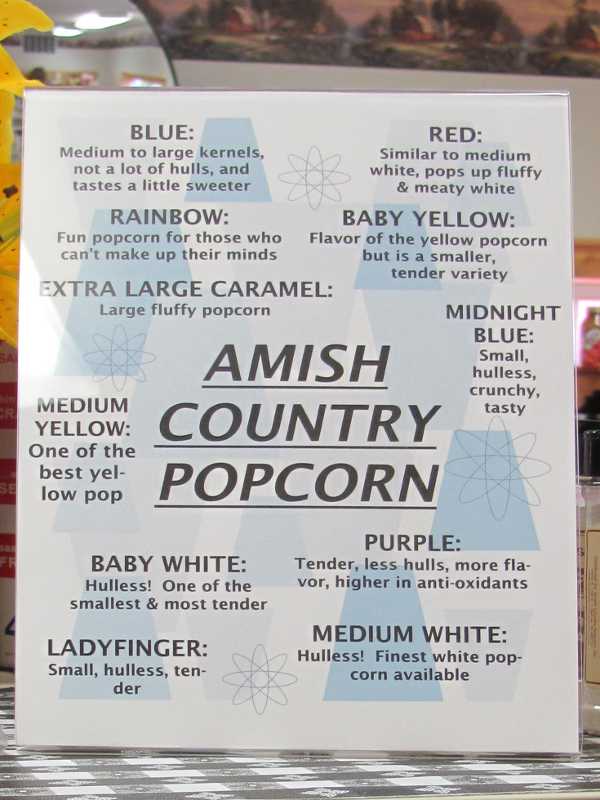 Looks worse than it was, as the kind she had chosen was what we both agreed was what we wanted. The store was Yoder's, where we have shopped every time we have been to Shipshewana. Today we got the last parking spot in the lot, and every buggy spot was also filled. The store has expanded and still the checkout lines were long. This is another of those must stop places. A shop where the locals shop kind of place.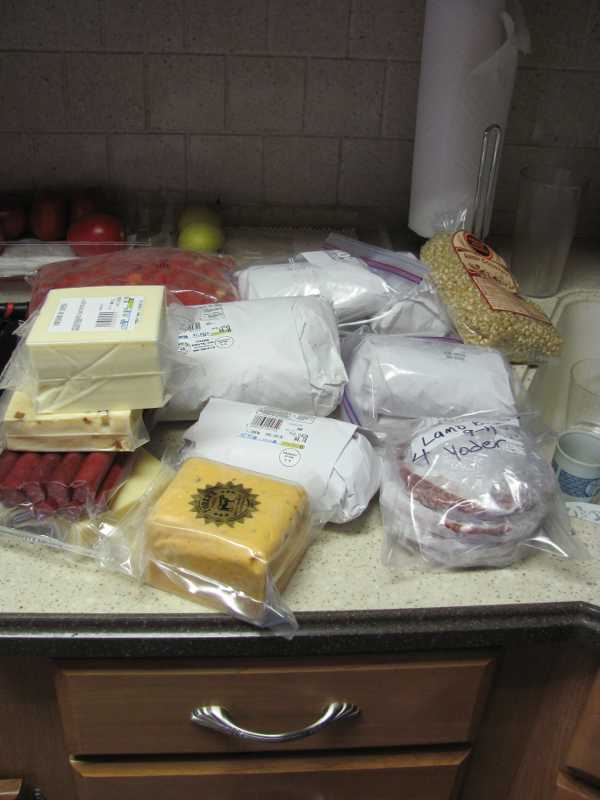 We bought far more than this, but this is primarily the meat and cheese from Yoder's. Linda managed to slip in the popcorn, but that was okay. Filet, ground beef, chicken halves, ground veal and ground lamb are there. Grass feed in some cases, all natural in all cases. Good food at a very good price. We will be eating very well for the near future.
Tomorrow we leave Indiana, heading for southwestern Ohio for a week or more. This has been a good place to rest up after the continuous touristing in the Upper Peninsula for much of the summer. I guess as we leave here we could consider it as moving on to the next part of our journey, the one that will take us to Gettysburg and Washington D.C., then towards the south for the winter. Life is indeed good.
---
Sunday September 25 Carlisle, Ohio
Heading East
Up early today, trying to get on the road before the rains came. We made it, but drove many miles in a light mist/rain. No problems, but just not as easy of a drive as we would have liked.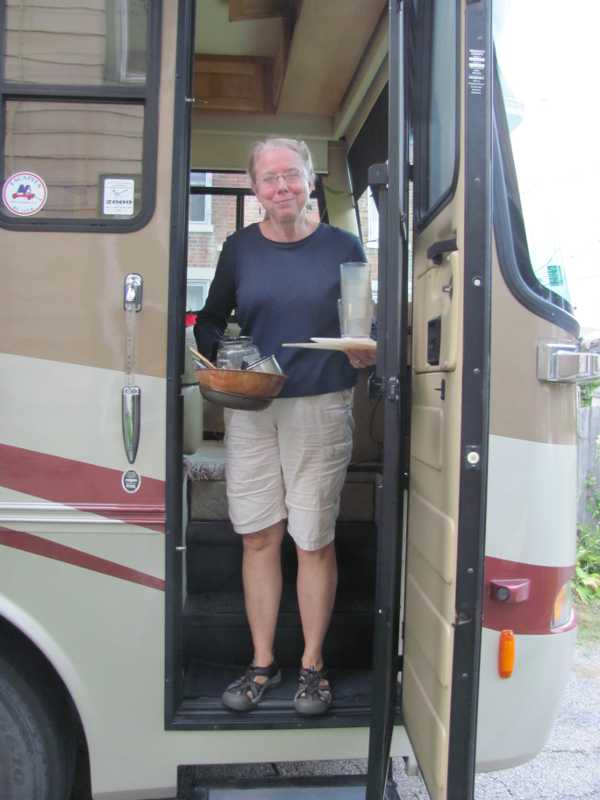 Linda getting ready to do our dishes in Katherine's sink. No hookups, but with a sink within a few feet, Linda is having fun. Photo's for the day didn't want to download, then all messed up when they did. Tired. Heading to bed. Not every day is a great day, but everyday is worth living.
---
Monday September 26 Carlisle, Ohio
Nothing doing
Some days it makes you wonder if it was worth it to get up or not. Today wasn't one of theose days, but we did exactly nothing. Not a single photo was taken either which has to be first. Linda did make a pot of pinto beans, but I was sloth child. We have three every intense weeks in the Gettysburg and Washington D.C. coming up, so maybe day of rest is appropriate. Besides it rained really hard almost all last night and both of us were up several times. I've got to admit that I almost didn't write at all tonight, but then I had to go and remember that just do has been getting it done for over six months without a miss, and it wasn't going to happen today.
---
Tuesday September 27 Carlisle, Ohio
Not much today either
Last night I realized something major had happened in my attitude towards my writing the Daily Journal. In the past when I got burned out I would go on one of my infamous, hiatus from writing, binges. The problem always was that once I stopped writing it was easier to stay stopped than start back up again. That was why I really crossed a threshold with last night's Daily Journal.
Before I would never have written the last couple of days because it just wasn't up to the standard I set for myself. Fortunately, just do it has set a new standard, the just do it standard, and that was what I did. And the best part about it was that it didn't bother me that it wasn't how I normally write, yet it was okay. As Linda knows only too well, for me that is one very major step.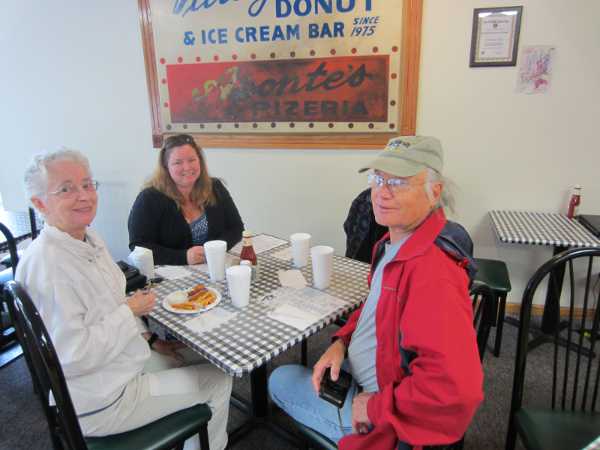 Back to the present, and a day to have lunch with Katherine and Susan. All alone am I, so the only brother and sister-in-laws I have are on Linda's side. The same for nieces and nephews. This then is as close as I get to a family photo. But you know something? It really is a family photo. And I never did figure out how Katherine got her food long before the rest of us. Maybe living a couple of hundred feet from the restaurant gives you an in.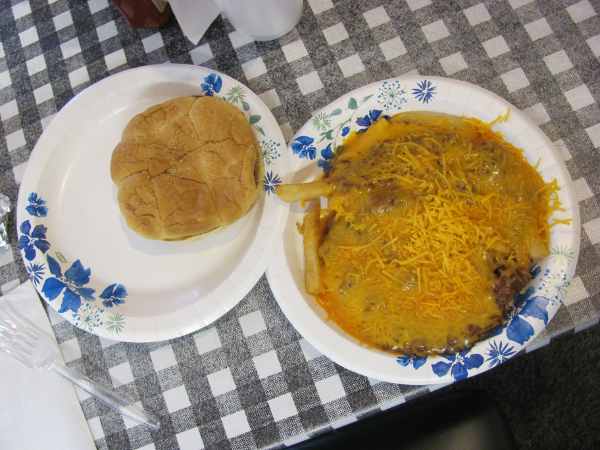 Remember these lyrics to that wonderful song sung by Crystal Gayle?
"Tell me no secrets, tell me some lies
Give me no reasons, give me alibis."
That's a couple of plates of health food you see there. I may have been at a Greasy Spoon, but I found something special to order to keep me healthy. No junk food for me.
Then there is the Tams song with the chorus that goes:
"What kind of fool (do you think I am?)
What kind of fool (do you think I am?)
What kind of fool (do you think I am?)
Which is what anyone reading that last paragraph was thinking. Based on that, I'll confess. A fried baloney sandwich with mustard and onions, along with a side of chili cheese fries. How can we honestly know what healthy food is unless we eat unhealthy food on occasion. And I won't even get into the fact that unhealthy food tastes so good. Linda wasn't exactly Miss Goody Two Shoes either, what with the Philly cheesesteak sandwich she had. She did skip the fries, so she wasn't all bad. Though I do think this was more a case of bad was good.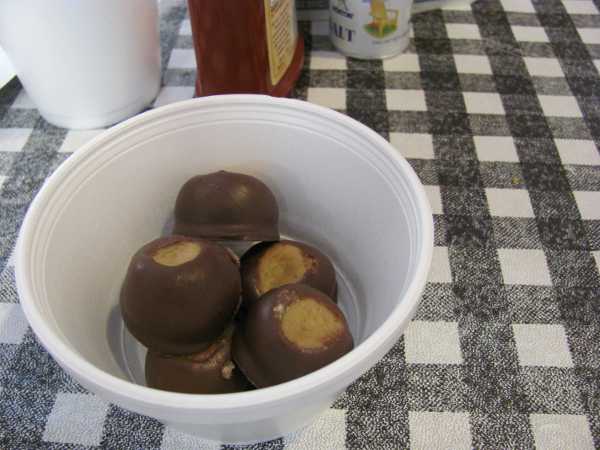 Any true Ohioan knows what those are. How many states have an official dessert? I don't know if Ohio actually does or not, but any Buckeye can tell you that those are the famous Ohio Buckeyes. The rest of the world may eat Reese's Pieces, but long before that Ohioans were licking their lips over this combination of peanut butter and chocolate, affectionately known for what they resembled, buckeyes. You can bet your bottom dollar that Linda didn't pass up her buckeye, which was probably why she did forego the fries, to have room for more buckeyes. Those Ohio girls sure ain't dumb, especially the ones that came out of the hills.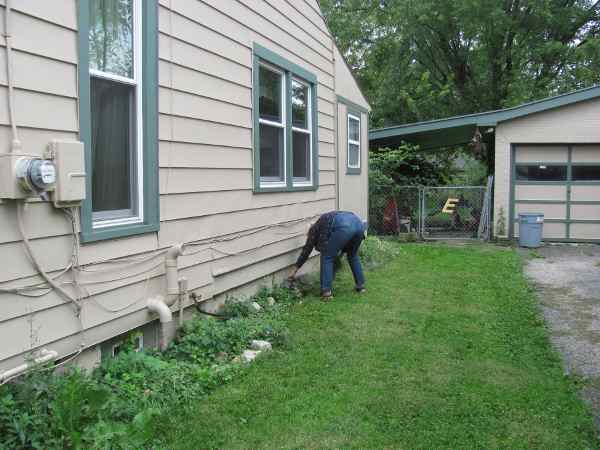 After we came back from having more food than was good for us, even if it really was good, we had to engage in a little exercise. While I mowed the yard for Katherine, Linda pulled a few weeds. When we were done she came and smiled at me, saying, "I took a picture of you mowing the yard." She might have been a little sensitive after my comments of last night regarding her not taking any photos yesterday, and so she was happy to let me know she was with it today. Little did she know that I was just as sensitive to her comments of last night about my not taking any photos yesterday, so I took one of her. In this case it is probably better that I not make any comments regarding said photo, something that I will certainly do, or not do depending on your choice of words.
---
Wednesday September 28 Carlisle, Ohio
More rain
More rain today, but that is okay. We aren't here to go sightseeing, it is so Linda can spend time with Katherine, and that is exactly what is happening. With no brothers or sisters, my brother died in Vietnam, I can only try to appreciate what she feels. It is because she does things like this that I can't help but love her. And it because she is who she is that I do love her. That's a win-win if there ever was one.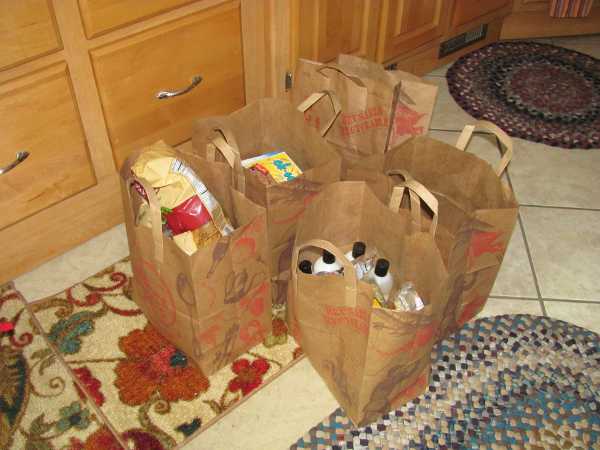 We did make it out to Trader Joe's today, and we made up for lost time. Linda calculated it has been about a year since we last graced a Trader Joe's, something that was reflected in the size of our bill. Those cheeses that we can only get there. The really good, yet really cheap olive oil. I could go on and on, but I can see the package of dark chocolate covered expresso beans calling me from the counter. If you've never shopped at a Trader Joe's you are probably lucky, because once you do, Life will never be the same. Got to go, all those late evening snack things we bought are calling. Besides, if I don't eat them Linda will. Life is great.
P.S. Linda's biggest purchase, the special shampoo she used most of her Life that she can only get at Trader Joe's. Life doesn't get any better than that.
---
Thursday September 29 Carlisle, Ohio
Girls having fun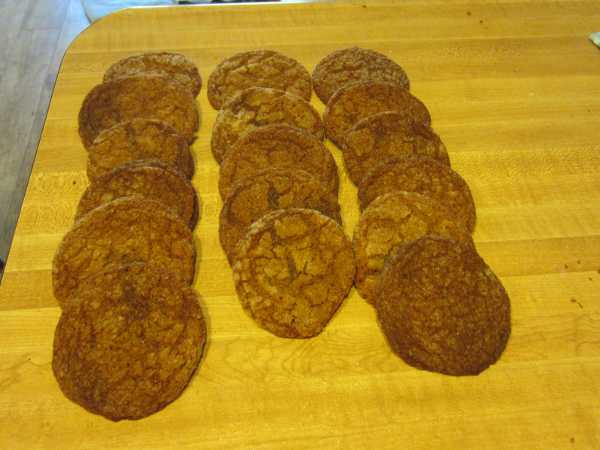 Nice day today, at least in the morning and afternoon. That was when the girls did their girl thing and I did my thing. It is easy to guess what their thing was, though maybe not the exact kind of cookie. I'll help you out and say that Linda was being tutored by her older sister in the fine are of molasses cookie making. Linda was a great pupil, messing up on just enough that I got to have a few of the mistakes during my time in the kitchen. I could tell from the big smile on Linda's face she was really having fun doing this with Katherine.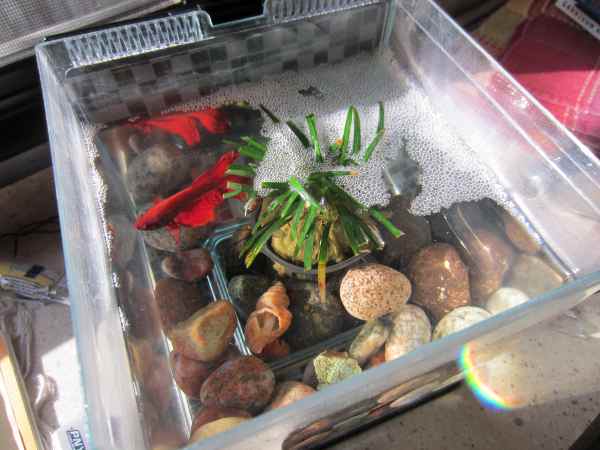 I did my thing, out visiting a couple of cemetery's and ending up spending several hours talking with the superintendent of one of them. Let's just say that I learned far more about the cemetery business that I ever wanted to know. For example, I learned about "leakers" and the fact that water of all types flows down into a newly dug hole. You can fill in the rest.
In the meantime Red Rob was hard at work doing whatever it is that Bettas do when they are either happy or depressed. He's no good at telling us which it is, but Linda thinks he is depressed. If he is, we don't know the solution to his problem, and if he is happy we don't know what we have done to make him so. Sometimes Life is just like that, in that it just is and we don't know the reason why.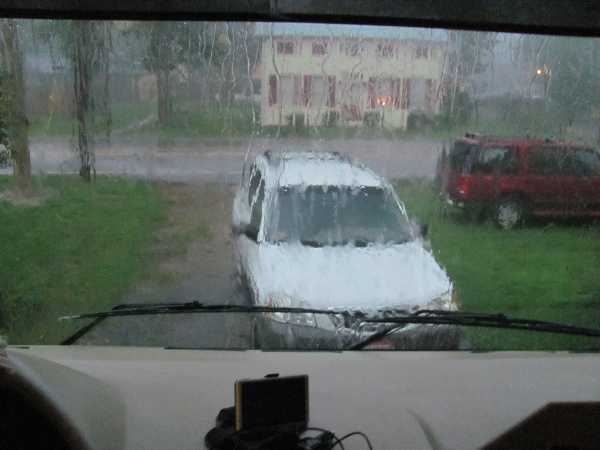 Another day, and more rain. It put no damper on what we are doing though, because as I've written before, we are here so Linda can visit with Katherine. That is where she spends her time and it is good. Sometime next week we will be back to normal, and that means the Daily Journal will also be back to normal. Until then we are just doing what we do, just in a different way than we normally do. But that is really what living the full time Life is all about. It isn't any different from how anyone else lives, it is just lived in lot more places, and we take our house to those places. It is not something to cure all the ills of your life, it just constantly provides a new and different location where you get to experience them.
---
Friday September 30 Carlisle, Ohio
Stepping out and stepping in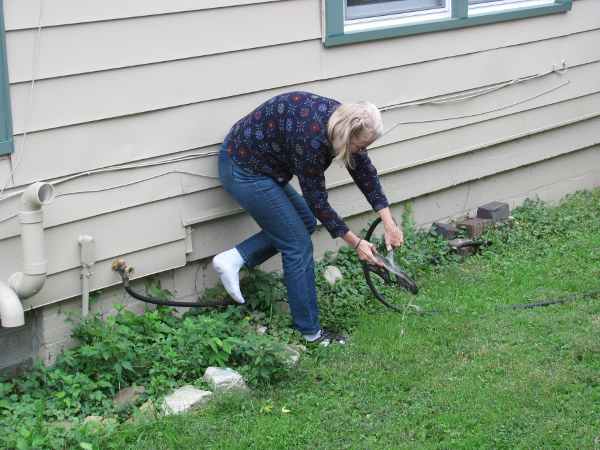 There was a shopping trip this morning where we bought a roll of gutter guard to go in the back porch gutter, but it was preceded by some interesting activity on Linda's part. We got out the ladder to be able to clean the leaves out of said gutter. I looked into the gutter and saw it was full of water, but the only place any leaves were to be found was where they were plugging the opening to the downspout. In a way it was like looking into the past and seeing what Life was once about.
Pulling out the leaves resulted in a flood that washed out the gutter, but there was still some debris left that needed to be flushed away. That meant that we needed to get out the garden hose so I could climb back up the ladder and finish the cleaning process. While I went to the carport and uncoupled the hose from the section that extended out into the far reaches of the back yard, Linda went off looking for that far end, though for reasons know only to her. As usual she jumped into the task with both feet and unfortunately planted one of them directly on a present one of Katherine's dogs had deposited.
Me being me, I was oblivious to all this, only putting two and two together when Linda was engaged in a little one and one. One foot up and one foot down. One shoe on and one shoe off. Poo on, poo off. Only in this case it wasn't coming off as easily as it had gone on. Taking pity on her I volunteered, and entirely on my own volition with absolutely no pressure from Linda, to finish the task of removing the offending substance from said shoe. After spraying the shoe sole for a while I handed it back to her, waiting for a nice compliment.
"You didn't get it all off."
"Yes I did."
"No you didn't, look at the 'K', there's some right beside it."
In tiny raised yellow letters on the bottom of that shoe was the word "Keen". Alongside the top of the "K", barely visible through an electron microscope, was a minute spec of you know what. I was thinking that two steps would wear it off. Linda was thinking that she should have cleaned it herself because I sure hadn't. In the end I found a small stick and loosened the offending dab of doggy doo. A quick rinse and it was pronounced clean by she who is in charge of such things. After that, finishing the cleaning of the gutters was a snap.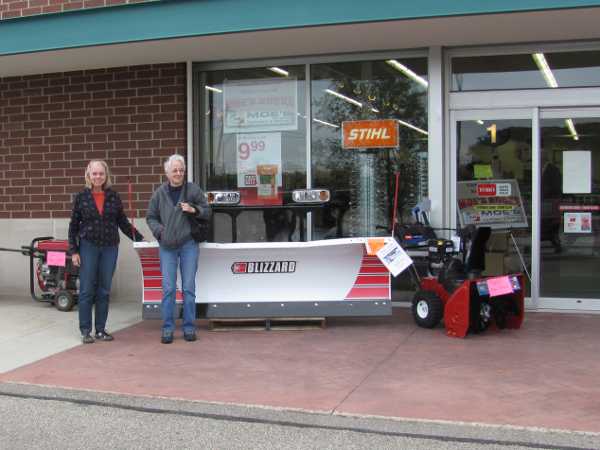 This is the reason why our general direction is towards the south. When you go the hardware store and they have a snow plow blade on display out front it should be telling you something. If you are a full timer it better be telling you it is time to be thinking about where you are going to be in the near future. We're still not sure when we are leaving Katherine's, maybe Sunday or Monday, but when we do, it will lead to our travels tending in a southerly direction over the next few months. In the meantime, I sure hope Linda pays more attention to where she is stepping, or what she is stepping into. Who knows what tomorrow will bring, but isn't it great when it is something we don't expect.
---
---