Journal Archive 11/1 - 11/10 2011
Scroll down to read the latest post
Tuesday November 1 Washington, DC
Crime and Punishment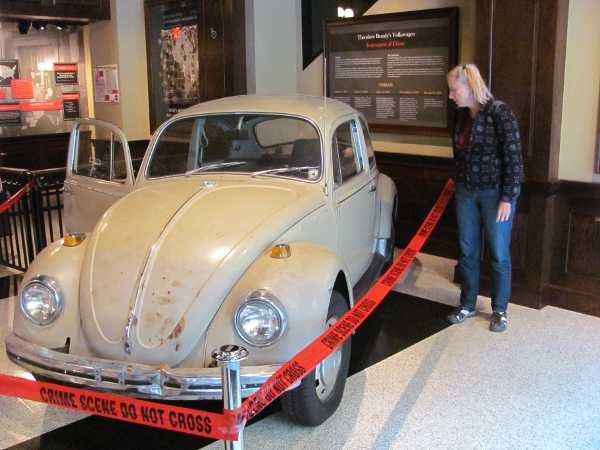 Little change of pace today. Yesterday I got to do the one thing I wanted to do while we were in DC, and today Linda got to the do the one thing she wanted to do. Shortly after it opened this morning we were in the Crime and Punishment Museum, where we spent the morning and early afternoon having an enjoyable time. As you can see, we weren't even inside the museum part of the museum and already Linda was into it. The "it" in this case being the Volkswagen Ted Bundy used in committing some of his crimes.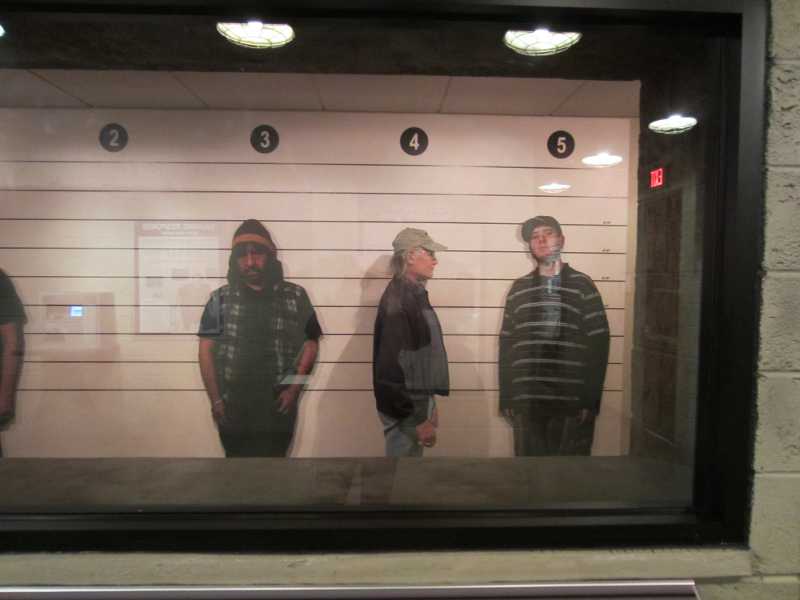 Somewhere along the line this photo appeared. It looks like a police line-up with someone who bears a strong resemblance to yours truly. Actually it was kind of fun, or at least the turn right, turn left and say "Give me your money" was. When the the next words from the loudspeaker were, "That's him, that's the man who robbed me", it wasn't quite as funny, and I was out of there in a flash.
This was Linda's day and I am sure she will have many photos of what we saw. As for me, I was still suffering fatigue from the unbelievable adrenaline rush of attending those two Supreme Court cases yesterday. For almost two weeks we have been riding the bus to the College Park Metro Station and back to the RV Park. In all that time we have never figured out the bus schedule even though we carry one with us. It's a case of when we get off the Metro, we will wait for the bus. But just to prove that Linda is not as patient as me, she has to determine exactly when the next bus is going to arrive. I just look at the buses driving up to the stop and if the say Cherry Hill I get on. Today as the bus was driving up Linda was saying it couldn't be ours because it wasn't time for it yet. I could see it said #83 Cherry Hill. It's been a long time, but for once Miss Perfect wasn't Miss Perfect, she was only Miss Almost Perfect, but it was good enough for me. Lucky Bob.
---
Wednesday November 2 Washington, DC
Last day Blues?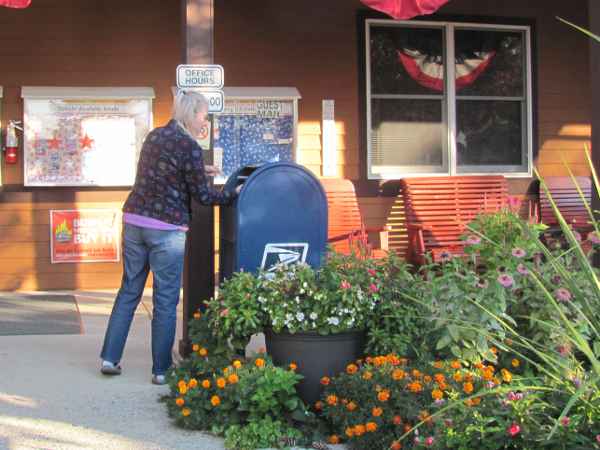 The other day Linda had gone off to mail something and when she came back she was laughing. It went something like - I (Linda) had walked up to the office to find out where the closest mailbox was. I didn't want to leave the letter in a box on the counter because of who it was addressed to, and someone just might get some idea's (BIG check inside). The reason for the giggles is because as I came out of the office, there was this big blue official mailbox. Don't know how I could have missed it, but there it was.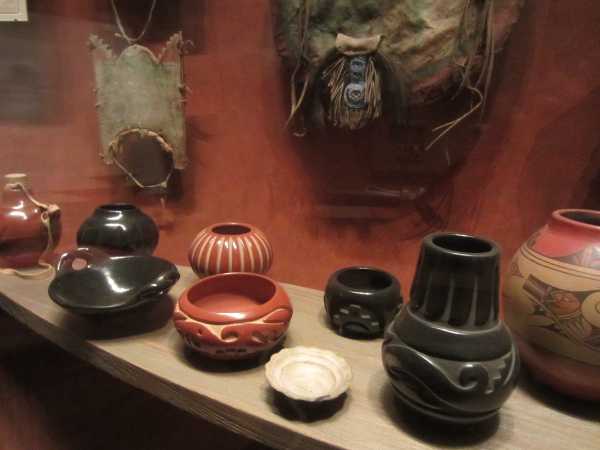 Stop number one for the day was the Museum of the American Indian, which included all the America's, from the Arctic to South America. All my life I have never hesitated to believe that we royally shafted the native peoples of the New World, with the catholic missionaries being the absolute worst of the lot, may they suffer in Hades for all of eternity. This is a museum where the stories are told from the Indian point of view, and as they point out, it isn't the history we typically learn in our history books. If you're wondering, I have no Native American blood, I am actually 50% Swiss and the rest is mostly German with a little Scots blood thrown in for seasoning. In Linda's case one of her great grandmother's was Native American, which makes her 1/8th as I calculate it, and also explains those beautiful high cheekbones of her's, as well as her love of nature and that take no prisoners approach to things. Linda is going to probably really write up this museum on her blog so I'll just leave off here.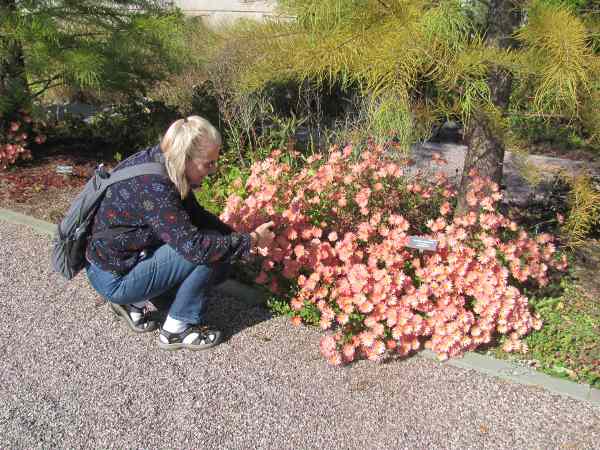 In the afternoon we headed over to the Library of Congress, but got waylaid by the National Botanical Garden on the way. For far longer than I care to state, it was Linda taking a photo of this flower or that plant, which started before we even got inside as the above photo shows. Of course I was also taking my share of photos of Linda taking those photos. It hadn't been on our list of things to do, but were we ever glad we stopped. My favorites were all the cacti, Linda's were the orchids, dozens and dozens of different orchids, and thank goodness she didn't take a photo of everyone of them or we would still be there.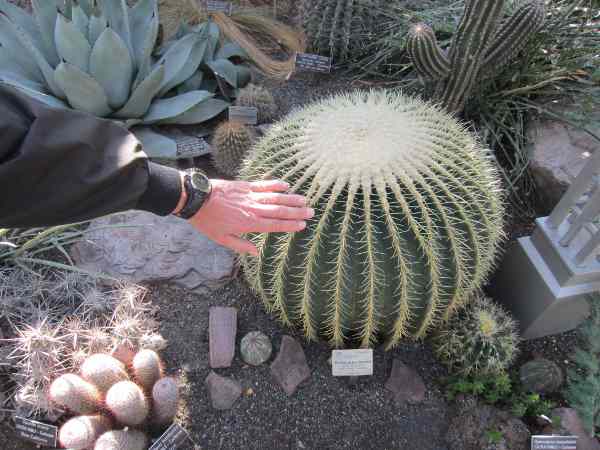 No, my hand is not touching it! But I would like to have several in the coach, which has been ruled out by she who rules. Then out of the blue, she mentions that we could have some at our place in Mission. That is my kind of woman.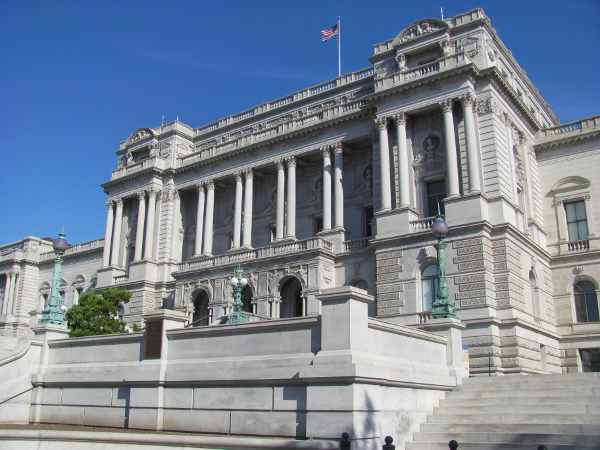 Last stop in DC today, which makes it the last stop for our time here. The Library of Congress is beautiful, on the outside and the inside. And that pretty much sums up our time in the Nation's Capital. We've seen many things and missed many things, but one thing we have certainly done is to enjoy our time here. Another certainty is that we will be back again sometime, though when is anybody's guess. I think Linda summed up our time here absolutely perfectly tonight when she said, "I'm tired, but it is a good kind of tired."
---
Thursday November 3 Centreville, VA
Moving day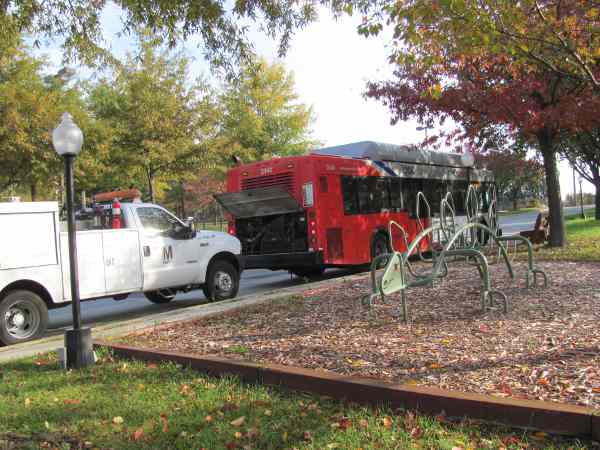 Unfortunately it looked like some of the people in the RV park didn't get to catch the bus this morning. That was no problem for us as we were heading for the opposite corner of Washington today. Linda's great grandfather was in the Second Battle of Bull Run, and we were moving to Bull Run Regional park, which as it sounds, is located near where the battle took place.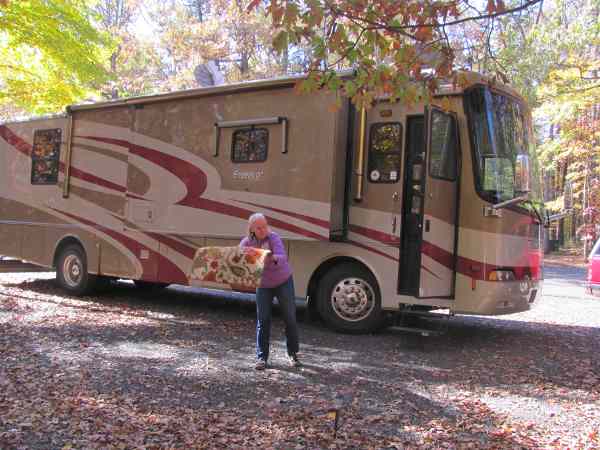 This is a nice park, and our site, thanks to our soon to be fulltiming friends Paul and Marti who have stayed here many times, allowed us to get on both DirecTV and the MotoSat. While waiting for the satellite dishes to lock on, Linda took the opportunity to do a little housekeeping. We have accumulated a list of "little things" that need to be done or fixed, and we hope to check a few off the list before we leave here. But if we don't there is always somewhere down the road that they will be taken care off.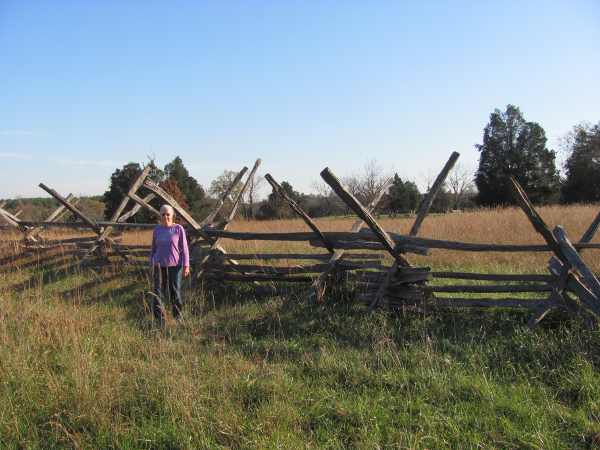 In the afternoon we headed over to the battlefield, watching the movie, which was one of the best we have ever seen at a National Park site. Then it was off to the battlefield where we eventually ended up here. Along this fence line just after 5 o'clock in the afternoon on August 30, 1862, Linda's great grandfather and some 300 hundred other soldiers of the 73rd Ohio Volunteer Infantry were slammed into by 1000's of confederates under the command of General James Longstreet. Needless to say that even though they gave a heroic account of themselves and delayed the attack long enough to allow the Union Army to form a defensive line some distance away, by nightfall almost half of them were casualties. Fortunately Linda's great grandfather wasn't one of them, and to see the look on her face as she stood here was to know that he would be very proud of his great granddaughter, just as she is of him.
---
Friday November 4 Centreville, VA
Why we go south in the winter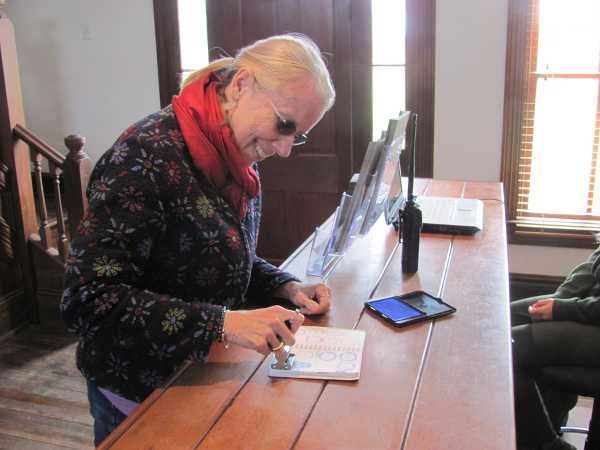 I have no idea of exactly how many stamps Linda has very carefully stamped in her NPS Passport Book while we have been in Gettysburg, Washington and Manassas, but however many it is, she added another today. As a wild guess I'd say more than thirty stamps because I think she picked up something like 22 at the Washington Monument stamp location alone, where they had all of the Mall area stamps. The other thing about this photo is how she is dressed. It was cold today, really cold and there was also an even colder wind blowing. It most definitely is time to head south, and when we leave here, it isn't going the 50 miles and stop for a few days, we are going far, far south in a hurry. I want shorts and tee shirt weather again.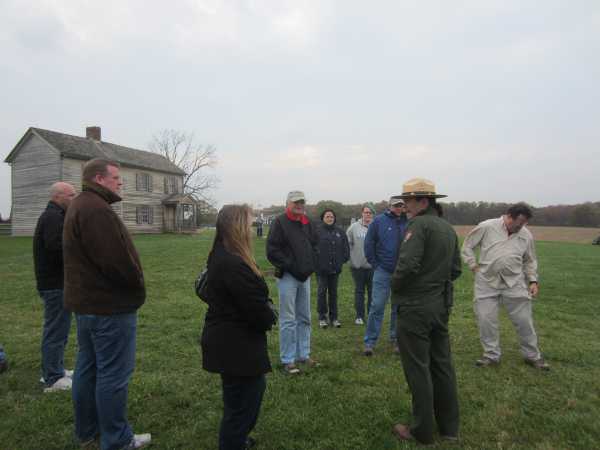 Of course a little near freezing weather couldn't stop the great granddaughter of a soldier who fought here from taking several ranger led tours, though by the looks of her husband, he could have waited for a warmer day to take those tours. Me, "Are you getting cold?"
She, "What are you saying?"
Me, "Well I thought that if you're too cold we could...."
At this point I found myself looking at her back as she hurried to catch up with the group. I scurried forward to catch up with her and said, rather apologetically, "But I was only trying to think of you."
To which she snapped back over her shoulder, "I'll bet", as she continued walking. And to think this is the same woman who has told me on more than one occasion that she hated history in high school.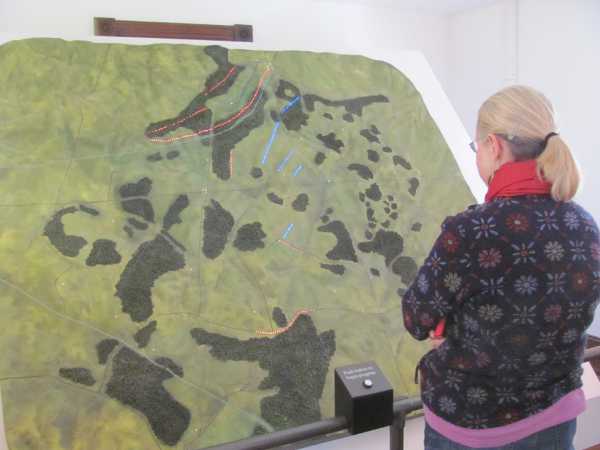 There is something very special in this photo, beside there being a beautiful woman who also happens to be my wife, that is. In the center of that electric map is a short blue line with a red line perpendicular to it. The red shows the confederate attack on the second day of the battle, and the blue dots at the end of the Union line right where the confederates are smashing into them is where Linda's great grandfather was in the 73rd Ohio. She watched the entire show twice, but I understand why. The past, sometimes you can almost reach out and touch it.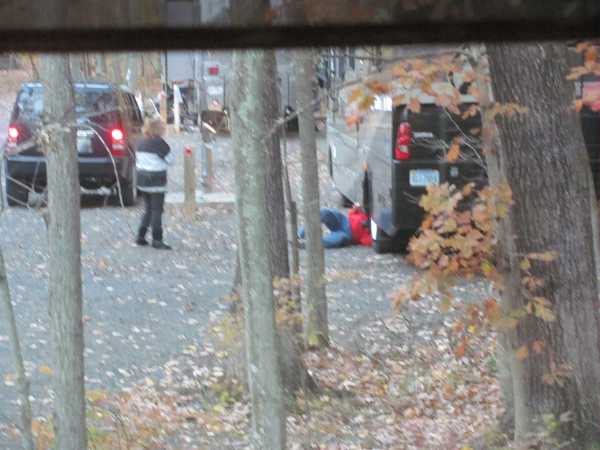 In the late afternoon, about an hour before dark, we saw an RV coming down the road towards us fairly fast. When it pulled off the road into the space across from us, wildly rocking back and forth as it entered the site, we both commented on the fact it must be weekenders. Then it turned around where there was not a turn around, and pulled into the space in front of us, again accompanied with much rocking.
Later we noted a great deal of discussion taking place, then a bay was opened and throughly examined, followed by a body prostrating itself on the ground, and finally wiggling under the RV. As we watched we both decided maybe they were having some problem with their jacks. There followed repeated attempts to reposition the RV, and it was over an hour later, when darkness had descended that the lights were finally out and the activity ceased. We could laugh at their antics, but we could also remember a time when we was them.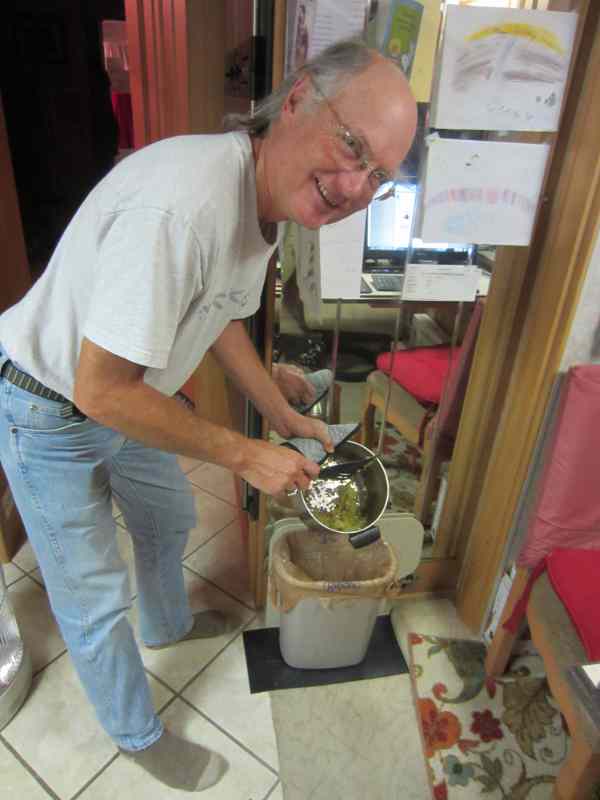 Then when I was fixing dinner, I had Linda wondering if the family cook was in need of more training. Turning the heat up too high on the onions, celery and garlic I had so carefully chopped, I compounded the error by sitting at the computer instead of standing and stirring the mixture as it cooked. Then at the same time we both smelled something that most definitely wasn't a good smell. Unfortunately by then it was too late and the pot was as black as the kettle, or something like that, which was also the color the vegetables were turning. But as you can see, it wasn't a disaster, it was something to laugh at. Meaning we just don't say it, we live it: Life is not a dress rehearsal. Don't be afraid to laugh, love and retire early.
---
Saturday November 5 Centreville, VA
Life is not a dress rehearsal. Don't be afraid to laugh, love and retire early.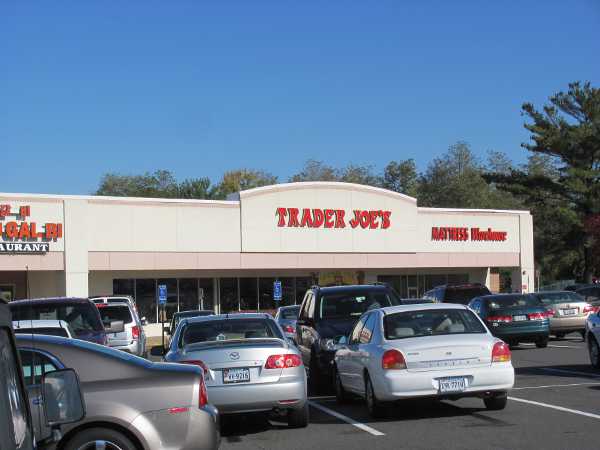 One of the nice things about where we are staying is that just a couple of miles up the road is one of our favorite stores, Trader Joes. It was early June when we last crossed the threshold of one of these food pleasure palaces, so you can say we were definitely looking forward to today's visit.
I was interested in buying food, Linda was interested in taking food photos. Note how she has commanded her servant/slave to hold this stalk of Brussels Sprouts up so that the photo would look better. Needless to say, we came out with far, far more than we had on our list, but that was preordained. "Did you make up a list of things we need" I asked before we left the coach.
The answer was "Yes, but it's only for what we really need, not for what we will be buying."
New readers might find Linda's response a little large on the female logic and a little low in the what does she mean department. Having been married to her for far longer than any other male would have been, I completely understood exactly what she was saying. Translated it is basically when we shop at Trader Joes, 95% of what we buy is an impulse purchase, the reason being that as best we can remember only once have we ever bought an item at Trader Joes that we didn't like. True, many of the things we buy we have bought at one time or another before, but today I know that two bottles of different kinds of Thai Curry Sauce that we have never before bought ended up in the cart. Our friends, John and Judy fixed a really great curry dish when we were with them this summer, and with us now slowing down and having time to do more cooking, it's time to try a few curry dishes ourselves.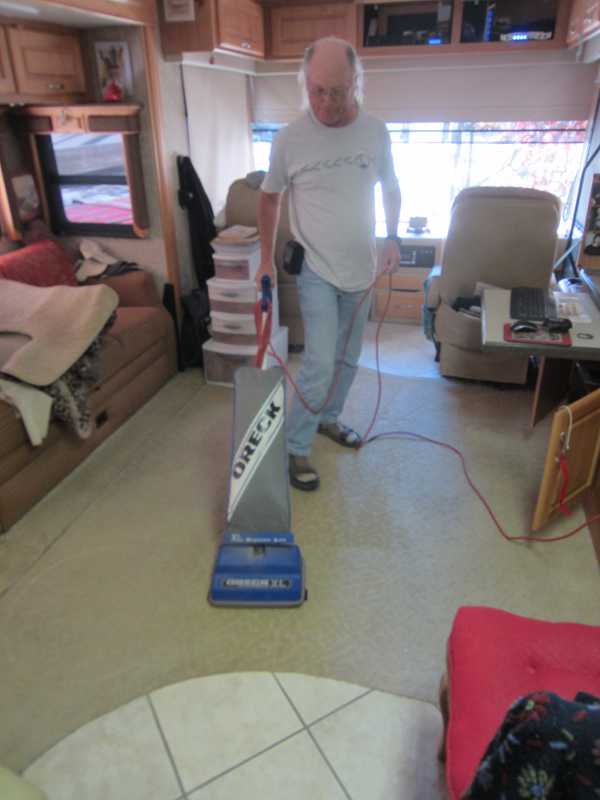 Slave laborer at work, and she who issues orders didn't even have to order him to do it. Good Bob. We both got a good laugh out of our antics today, most of which revolved around cleaning the coach for a visit by our friends, Paul and Marti, who we have never met. It has been ages since we have given the coach a good cleaning and even if they hadn't been coming by, we would still have done it. I always say that you can't clean the coach often enough, though once in the spring and once in the fall is pushing the limits of that idea. Next thing you know she'll be wanting to clean it three times a year which WILL be too many times a year.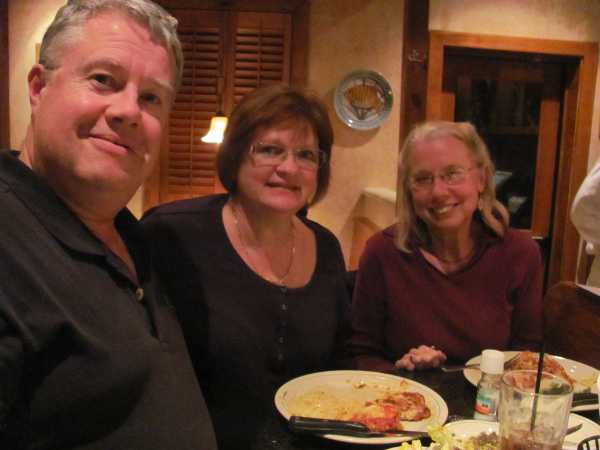 Bet you can guess from the setting that these are fellow RVer's. Paul and Marti of RV Sanity lived nearby and we were privileged to join them for dinner at a local restaurant, then spend time relaxing and talking back at our coach. They have just sold their house and should be on the road as fulltimers before the end of the month. Good things happening to good people. What's not to like about the full time Life, especially when you realize that Life is not a dress rehearsal, so don't be afraid to laugh, love and retire early. And should you wonder about the wisdom of that decision, just ask someone who has done it.
---
Sunday November 6 Centreville, VA
Old friends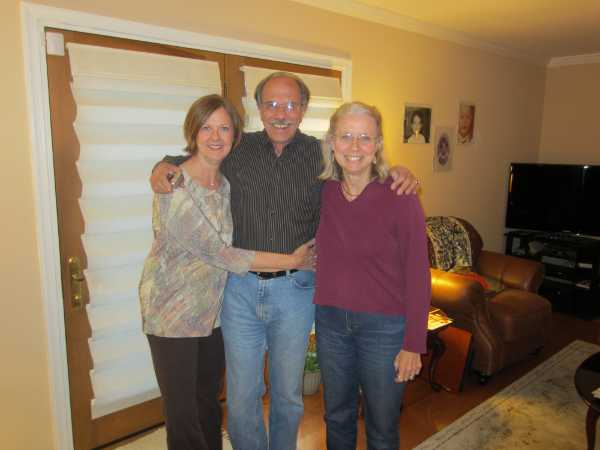 In a former Life in a former fixed location we had some great friends who moved away. Today we relived those old times and what has gone on over the past years that we have been separated by the width of the continent. Sometimes Life is just not wondering what is over the next hill or around the next curve. Sometimes it is remembering how we got to where we are. Sometimes it is realizing that Life isn't always going to turn out exactly as we plan, but if we are willing to put up with the speed bumps and potholes along the way, we will still have a smile on our face when we arrive at our destination.
---
Monday November 7 Centreville, VA
"Things happen in threes" Linda says.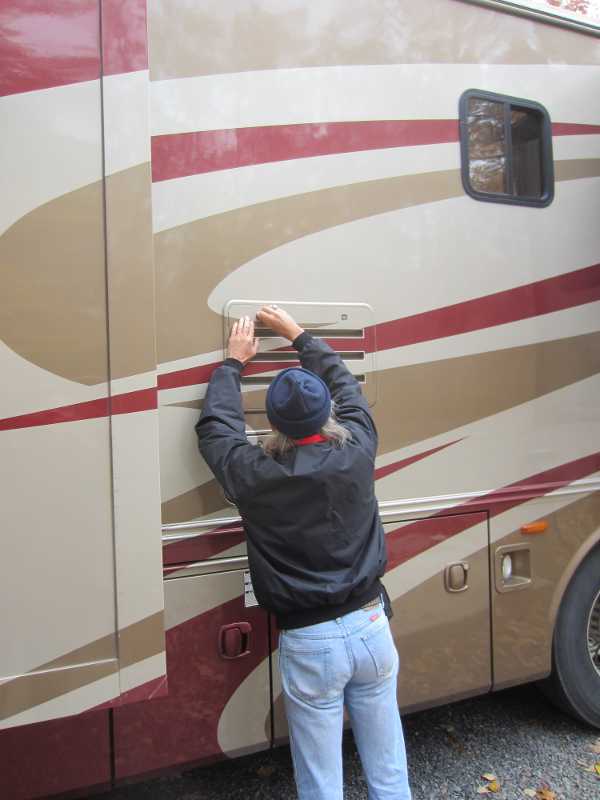 The wise woman I married, when not acting out the role of grizzly bear, says that things happen in threes. Today proved her wrong as we certainly had more than three things that bedeviled us. As usual when the time changes in the fall I was up at an hour that most normal people have never seen, and for many hours was happily spending time doing my thing, which was mostly trying to learn new things while perusing the world wide web. Then she who has been known to shake the coach with her morning grizzly growls, aka snores, flounced out into the front the coach and shortly thereafter let out a screech of terror.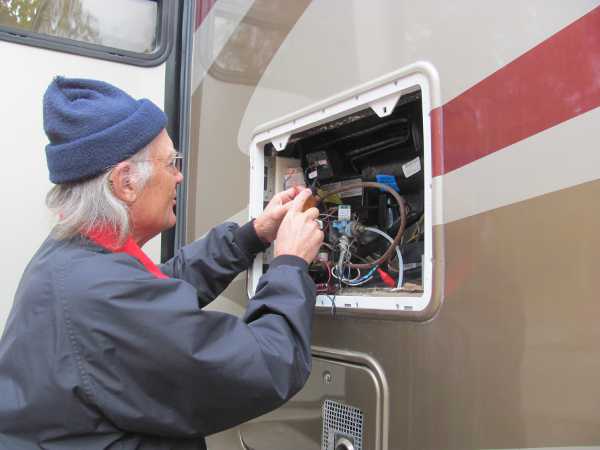 This does not look good and it isn't. For when that beautiful, sweet young woman that is my wife opened the refrigerator this morning the light was out. I quick check confirmed that the refrigerator, the one we had just had a new cooling unit installed in a few months ago, was not working. Perhaps it was the safety cutout module that Norcold now installs on all their refrigerators that had failed. In a way we had been expecting this to happen as it seems to be a common occurrence, but still, why us, and why today?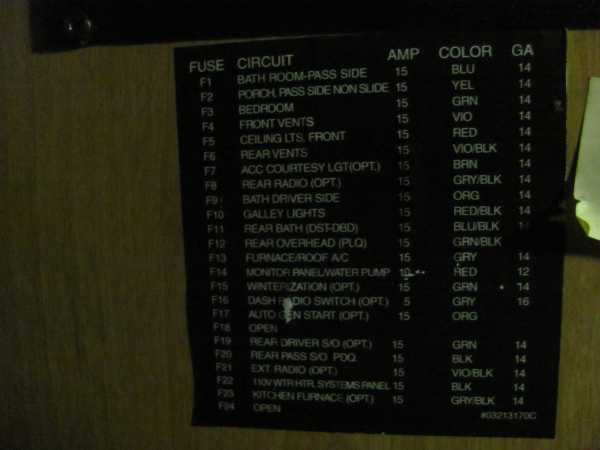 I tried all the fixes I knew from that time in the Upper Peninsula that the refrigerator had self destructed, but nothing seemed to work. The answer was at a local Norcold authorized repair facility, that we were soon driving to. I won't get into all the things I'd done, but they included cutting off the connectors and crimping new ones on. And as I learned later, had I carried what I was doing one step further, I would have bypassed the problem, but it was not to be today. We even went so far as trying to determine if a fuse had blown, but unfortunately there are none in the circuit.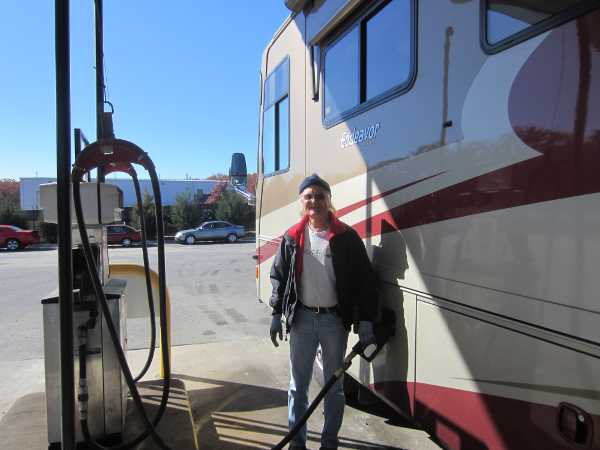 This is major changing subjects, but bear with me. We had arrived at the RV Park with out fuel gauge a tick or so above empty. That meant that before we could go to the RV repair shop, we needed to first get fuel. Fortunately the other night Paul had showed us a great place to fuel up, Fannon Petroleum, which was just a few miles down the road, though in the opposite direction we needed to go. Some 87 gallons of diesel later, at a cost that was $.30 a gallon less than anyone else in the area, which means that the next time we are back here, we know where we are going to get diesel (as well as gas for our toad). In this case, drive a little, save a lot is oh so very true.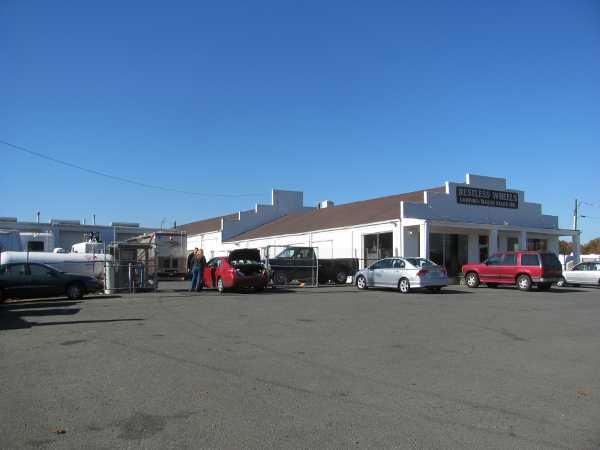 Restless Wheels, where we learned that my attempts at bypassing the wayward safety module had been just one tiny step short of doing everything I needed to do. In the end the fix was for them to bypass the errant module and tell us to get it fixed as soon as we returned home to Texas. I now know that last little step I didn't complete, but it is actually okay as I like their way of bypassing the module with the inclusion of a fuse far better than what my crude attempts would have resulted in, should they have been successful. Needless to say we were both very happy with the outcome, and the few dollars it cost us were more than worth it.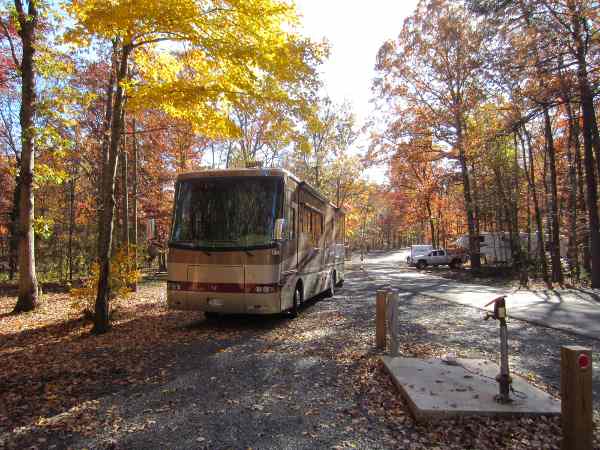 Recall that earlier reference about things happening in threes? Number two happened when we returned to our site, the same site we had been in the past few days, and had left only a few hours ago to drive to the repair shop. Now the 50 amp connection wouldn't connect. Wiggling the plug in the socket would bring about flashes that indicated intermittent connections, but try as I might, it just wasn't going to provide power. In the end we connected to the 30 amp plug and all was well. We still washed and dried two loads of clothes with the electric water heater on, thought while doing that we could not have the quartz heater running.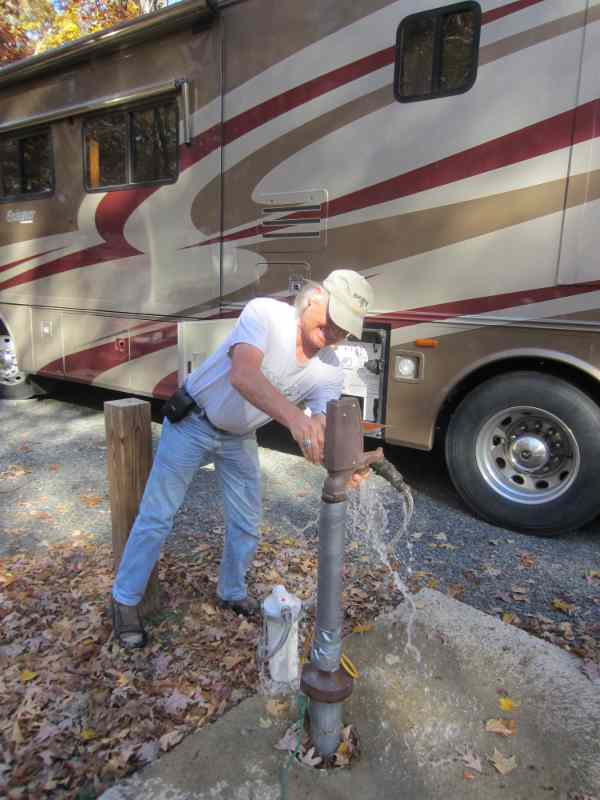 Strike three! We had not hooked up to the water during our first days here, but since the family laundress was indicating that it was Monday, and Monday was the day to do laundry, I now set out to hook us up to water. The only problem was that there was some kind of safety bypass that needed to be bypassed, and that bypass wasn't working. The result was that I got my feet soaked with water, and Linda got a good laugh at the antics of her poor husband. I finally got my big wrench out and soon that stubborn bypass was working as it should. And all the while I was letting my charming, though laughing wife, know that we were now done with all the things that could wrong as she always says things come in threes.
I have no photos to document number four, but rest assured it did happen. We were in the same site we were before, but would you believe it, the Winegard wasn't going to allow us to connect to DirecTV no matter how much it was tweaked. Some things are just meant not to be. As Linda said, it would give us a nice evening of CD music for a change, and so we relaxed to the sounds of flutes and drums as we listened to a number of Native American recordings.
Was today perfect? No way. Did today go the way we had planned? No way. Did we enjoy the day and have fun? We sure did. Some people get handed lemons and turn into sour faces. Today we were handed lemons and guess what, the lemonade tasted great. It's your Life and your choice. For us it was to remember that Life is not a dress rehearsal. Which was why we weren't afraid to laugh, love and retire early. As has been attributed to Abraham Lincoln, "A man is as happy as he makes up his mind to be." Did things go wrong today? They certainly did. Was it a great day? It certainly was.
---
Tuesday November 8 Wytheville, VA
Travel day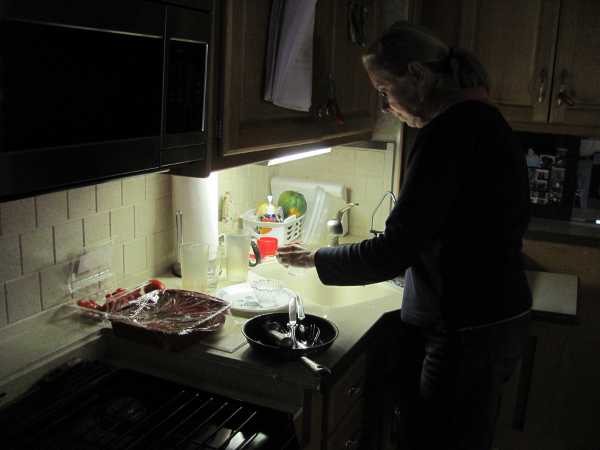 There are times when I portray Linda as a giant morning sloth, and I need to correct any misconceptions that may arise from those posts. Linda is not always a giant morning sloth, and this morning proves it. Once or twice a month she actually gets up when normal people arise, those that have to work for a living and battle the rush hour traffic at 7 AM and at 5 PM. Today was one of those days, and I wanted to document that the sun does not always rise before Linda. Let's not get carried a way and think this is her normal regimen, but still, I was proud of her for what she accomplished this morning.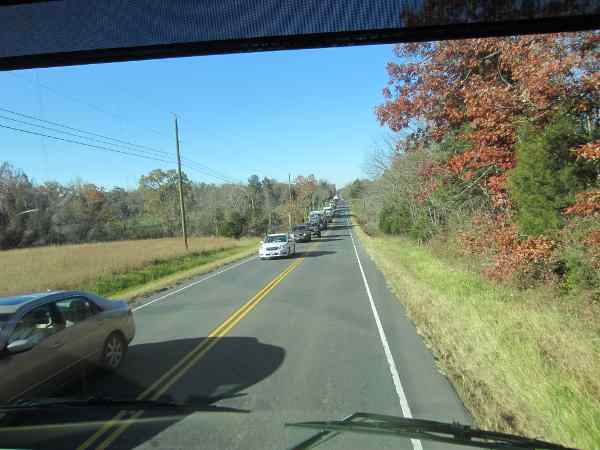 This certainly looks good, what with traffic backed up the opposite way we were traveling. And the way we were traveling was towards warmer weather, which was towards the southwest. Not to say anything bad about where we have been because we loved every minute of it, well almost because there was a few minutes yesterday when we discovered the refrigerator wasn't refigerating that we may have had a doubt or two.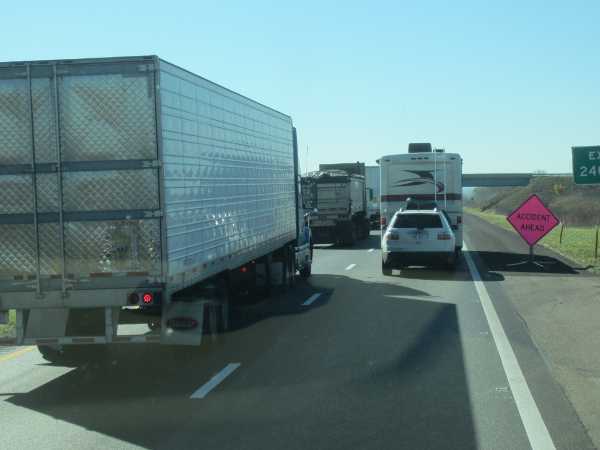 Once we merged onto I-66 traffic moved right along, at least it did until we got caught up in this. Suddenly our 275 miles, our four and a half hours of driving got a whole lot slower, and a whole lot longer in terms of time.
The scene of the accident. My job was to merge into the left lane and drive past the wreck while watching what the person in front of me was doing. Linda's job was to take a photo of the accident so we would know what happened. This is the photo she took. If you have any idea what happened, you know more than either of us. And to think, all she has to do is to take a photo of the wreck and this is what I find on her camera.
Now before you ask what good is she, let me answer that question. She is by far the most beautiful girl I ever dated. She has stood by me when I was a total jerk, more times than I care to say. She has a million watt smile that can literally light up a room, and I have seen her do it more than just a time or two in our previous Life. I don't know if you can call me lucky or not, but I do know that the best thing that ever happened to me was to meet the Appalachian hill girl that became the woman that couldn't take a photo of the accident we drove by today. Me upset? No way, after all, I know I have to be the luckiest man in the world, and it all because of a girl I met on a blind date some 44 years ago.
---
Wednesday November 9 Fort Payne, AL
Travel day too, two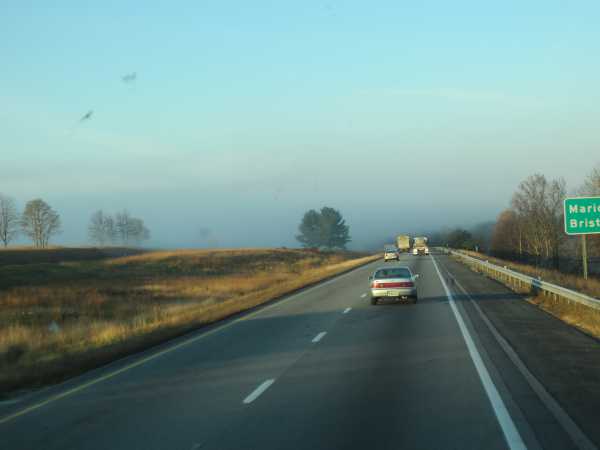 It is true that we do not like to travel great distances any given day, but that doesn't mean we don't so it. Right now we are in the process of fleeing the cold weather of the north, at least the north as we view it, and heading towards the warm south. Our travels have been accompanied with many snowbirds on the roads, and it comforting knowing that our assessment of what is cold weather is correct. This morning we were on the road right at 7 o'clock and our route would have us traveling through Virginia, Tennessee, Georgia and Alabama to our destination. Or stated another way, from fog to rain.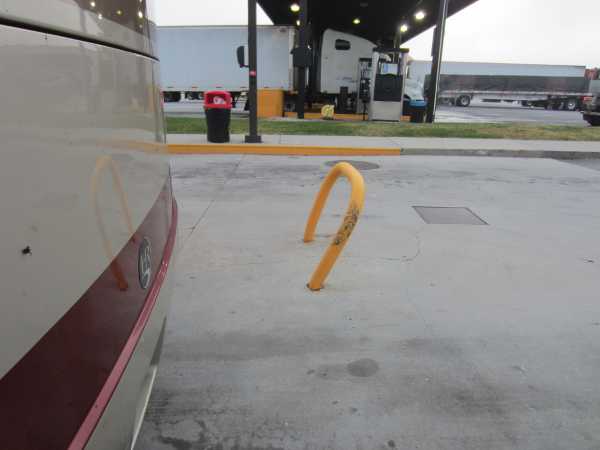 Our first stop this morning was at the south end of Wytheville, where there was a Flying J. After our trip on empty to fill up with diesel the other day, it is going to be a while before that happens again. The Flying J along I-81 on the south side of Wytheville has an easily accessible RV island. It wasn't until we were starting to fill our tank that I remembered why I don't use the RV pumps at Flying J's. It's because they have the little hoses that take forever to fill the tanks, and this was no exception. It was still okay, as at 7:10 AM the pumps are most definitely not busy. Still it took putting the credit card in twice to get the tank full, meaning it was after 7:30 before were on the road. Still, it's an easy in and out, so if your looking for a nice spot to fill up along I-81, the Wytheville Flying J at the south end of town is a good stopping place.
Now to explain the photo. I don't know for sure what happened here, but if there was a husband and wife in the RV that bent this heavy duty barrier to the point you see it, I can only imagine the words that passed between them. These pumps are not nearly as narrow as many of the Flying J pumps are, so it must have taken a real fine example of someone who shouldn't be driving an RV to do the amount of damage to the barrier pipe that was done. Oh well, just another of those unexplained mysteries of Life.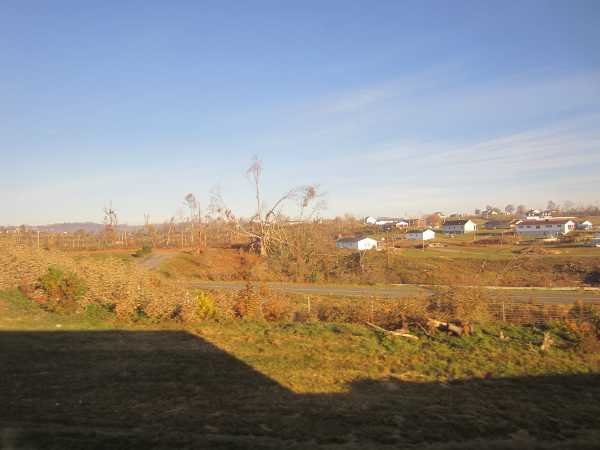 About 30 miles north of the Tennessee border we came face to face with the destruction that ravaged many places throughout the south during this spring. In this area there were a number of people who where killed by the storms, and the number of new buildings testified to the power of the storms. We were so lucky to have been staying just west of where many of the storms were spawned this spring, but our hearts go out to those who were affected by something they had no control over.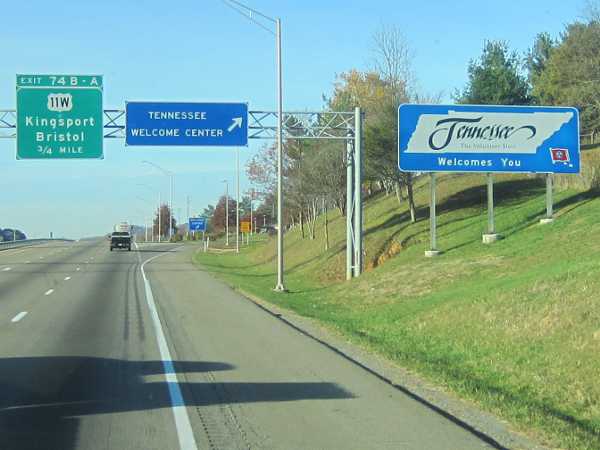 Then it was time to cross over into Tennessee. The miles rolled off, we drove through Knoxville with its narrow lanes and heavy traffic, but still traveling the interstate was saving us huge amounts of time and our goal was get as far south as possible. Next up was Chattanooga, where the lanes were wider, and the traffic was lighter, at least until we got to the west side of town on I-75 where it was almost bumper to bumper.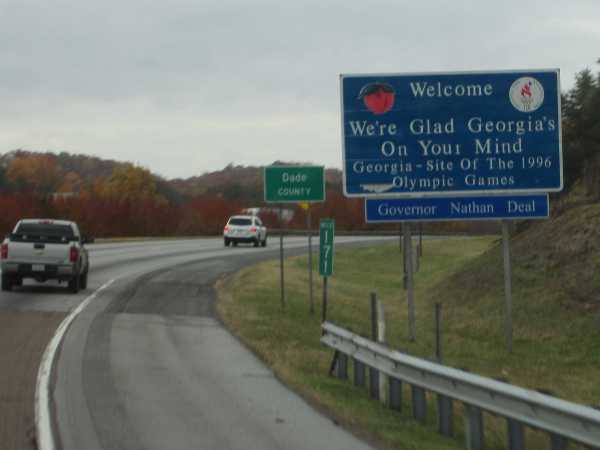 When we turned off onto I-59 and started south through Georgia it was a different story. Light traffic, wide lanes, though we did note that the concrete pavement was anything but smooth. Maybe it was because this stretch of highway was only a connector between Tennessee and Alabama, or maybe it was because Georgia really doesn't care about the condition of their roads. Whatever the reason, it left us with a negative impression of Georgia, and we are not going to be spending any time, nor spending any money in Georgia during this trip. They don't care about us, why should we care about them.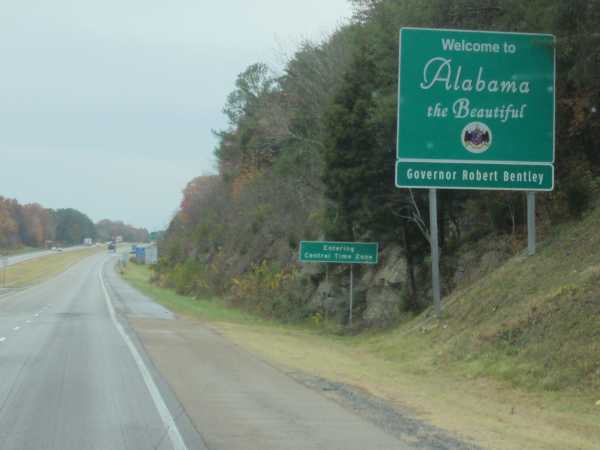 Alabama, a state that really wanted us to stay and visit. We stopped at the Welcome Center at the first exit, and from the information and assistance we got, we will be spending time Alabama. Some twenty miles further we reached our destination, Fort Payne, where we plan to set a spell and do a whole lot of nothing. It's been months since we could just be somewhere without having to do anything, and that is what we are looking forward to doing. Exactly nothing. What followed was a lazy afternoon, an evening meal of meat loaf, baked sweet potato and green beans, followed by a lazy time of wine, women and song. Okay, maybe it was only wine but a guy can dream, can't he? Tomorrow, for the first time in months, Linda can sleep in as long as she wants, and if we do nothing at all, it is almost more than we plan to do. Life, lived to its fullest, even if it is doing next to nothing. But then, just what is retirement for, if not the chance to do absolutely nothing on occasion.
---
Thursday November 10 Fort Payne, AL
Nothing doing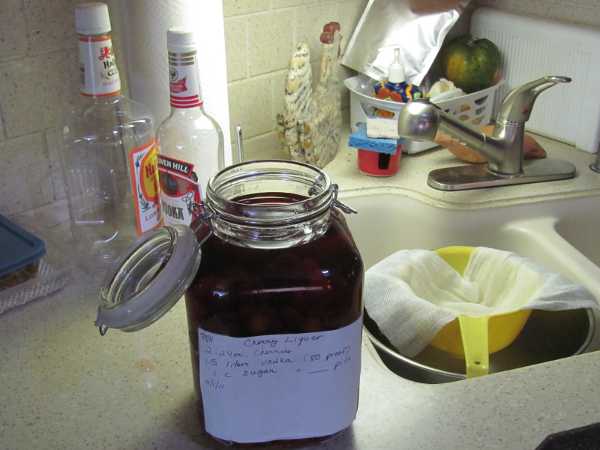 It finally arrived, our planned day of doing absolutely nothing. For far too long we have had something we needed to do each and every day, but not today. No plans, but still it didn't mean we didn't do a few things. After all, there were still meals to prepare, though we did manage to skip lunch as a formal thing. One of the few things that could be considered as doing something was when I got out the prunes and refilled the container. Yes, I have to admit it. Every morning we each get two of them, not because we need them, but because we enjoy eating them.
The second example of doing something involved bottling the last of the cherry liquor. There was no mistaking what was in the container, Linda having made sure to label it when we made it. This was the one with the cracked cherry pits, which meant the cherries were going to be squeezed to expel any liquid, and then they would be thrown away. Last time I had taken care of the decanting of the liquor from the cherries, but today Linda wasn't letting me close. It wasn't because I had imbibed of the cherry nectar last time, it was because I dared spill some of it.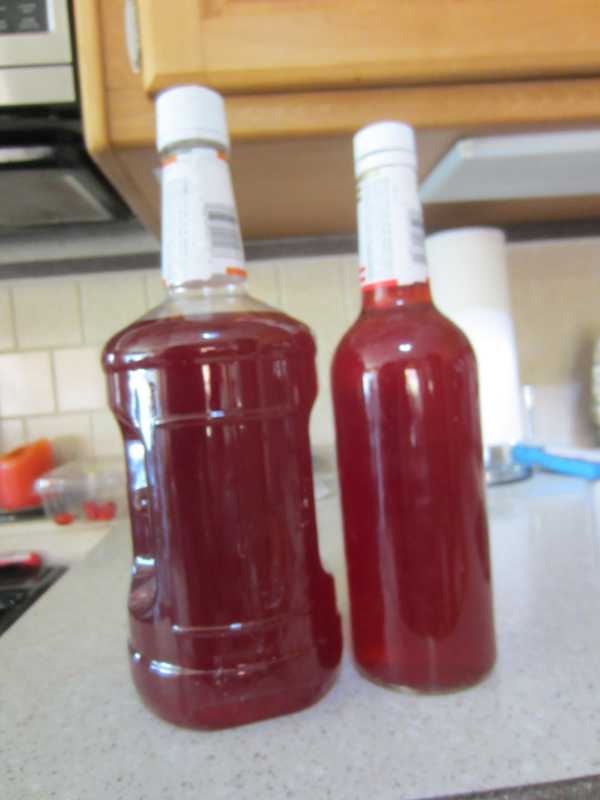 This photo is a slightly out of focus end result of Linda's efforts in the area of liquor bottling. You won't find me commenting on the fact that the spillage was cleaned up in an unusual way. You won't find me attempting to make a connection between said spillage sucking and the out of focus photo said wife took after said spillage sucking. In my way of thinking, Linda did an outstanding job of cleaning up every last bit of spilled cherry liquor, not leaving a single drop. I truly am a lucky man to have such a considerate wife, that she would go to such lengths to remove any vestige of spilled cherry liquor. P.S., if you're interested, I have a bridge for sale, and it's very cheap.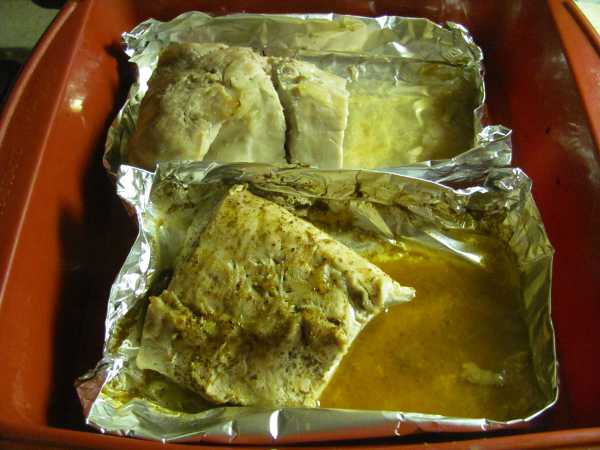 Food photo time. One could contend that the two previous photos could fall under the food photo heading, but that would only pertain to Linda, so we will skip that for now. A pork tenderloin. Divided into two unequal parts, one of which is doused with wine, the smaller part with "Fiery Vinegar Barbeque Sauce." And I'll bet, based on the earlier paragraphs, you can guess who had the pork drenched in wine. Hint: Linda doesn't do anything with the word "Fiery" in the name.
I couldn't believe how good they turned out to be, as they baked for 50 minutes in a 350 degree oven. It was the perfect end to a day of total sloth, though she who plans such things has already lined up several trips for us tomorrow. Some days are like today, a day to literally and figurative do nothing. A day to recharge and rest. A day to just enjoy the Life we are privileged to live. A day that is just another 24 hours in the life of a fulltimer, somewhere on the road of Life.
---
---