Journal Archive 12/11 - 11/20 2011
Scroll down to read the latest post
Sunday December 11 Livingston, TX
Day of rest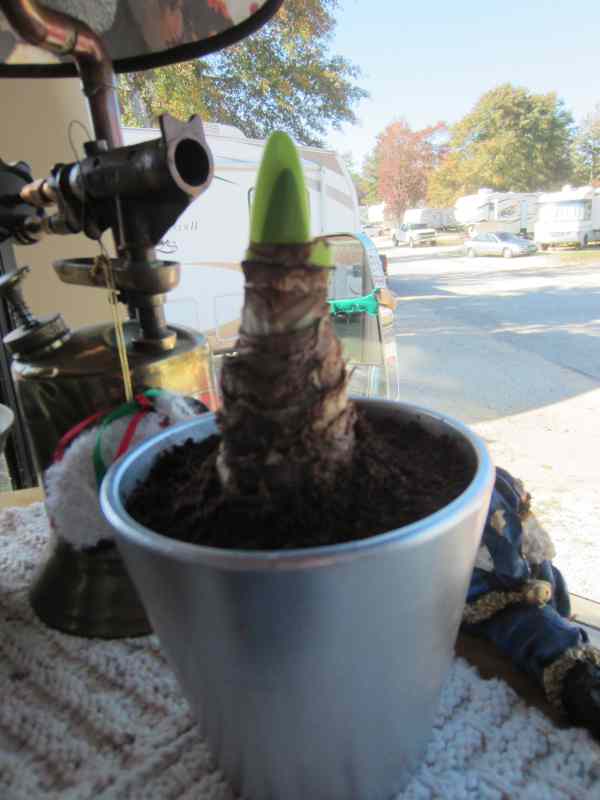 The purpose of this photo and the one that follows is to establish the baseline for just how fast Linda's new plants will be be growing. This is the amaryllis, planted to the proper depth and now residing on the front table. We usually don't open the shade beside the drivers seat, but wanting to make sure her babies get all the light they need, that shade is now opened in the morning and closed in the evening.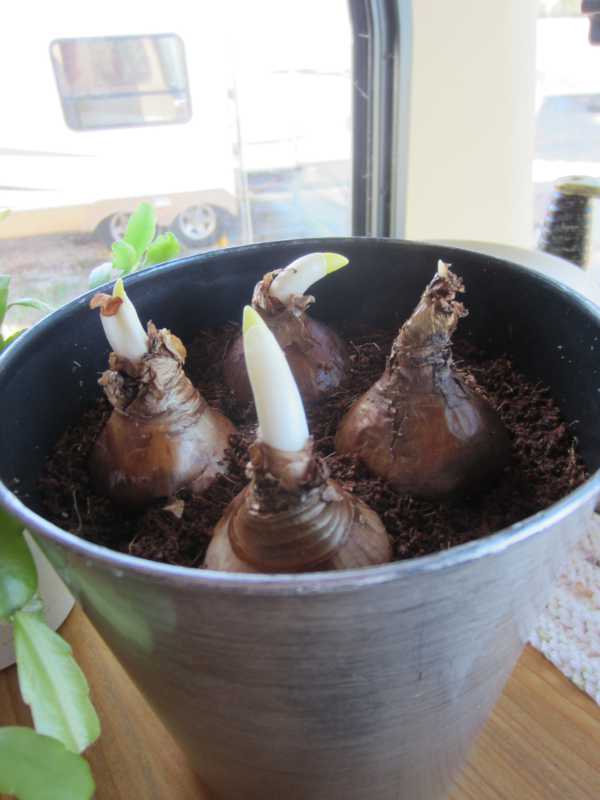 The narcissus show the effects of sprouting inside the box they were in. Hopefully a little sunlight will go a long way. If that isn't enough, the different times Linda stops beside them and and gazes down should give them something to shoot for. I was going to mention something to her about fertilizer, but it occurred to me that fish emulsion is an excellent plant fertilizer and I don't want her to any ideas as to what use she put Red Rob. I can just she her writing about how Betta's make better bulbs. Not going to happen, he's my fish and I like him just the way he is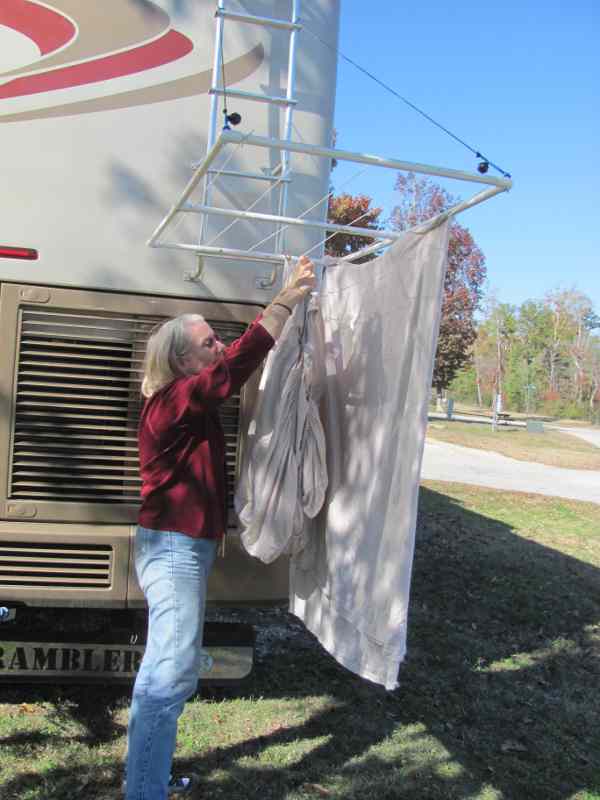 Linda was putting her new drying rack to good use, as today it was time for the sheets to take their turn. I know where my nose is going to be tonight, buried in my pillow.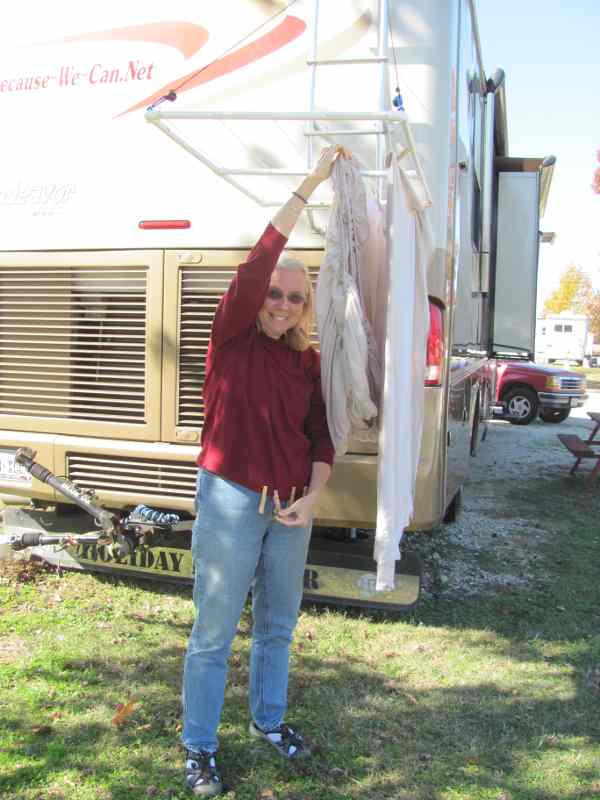 Linda was wondering what she was going to use for a clothes pin bag, then I noticed she had come up with a rather inventive solution to the problem. Smart girl. Smart man for marrying such a smart girl.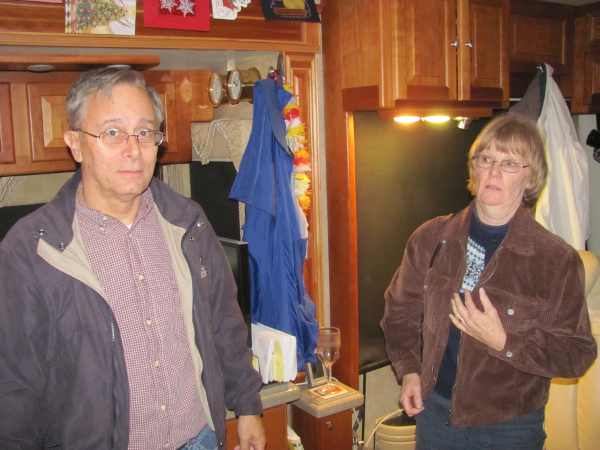 In the evening we got together with three other couples to go out to eat. We had met Joe and Jan when we were in Livingston last year. George and Kelli who we had met at Betty's RV Park were also there. The third couple, Tom and Ann, we had never met. It happened later, while we were having an after dinner drink in Joe and Jan's coach, it, being what led to the above rather interesting photo.
As we getting ready to go our separate ways, everyone started passing their cards back and forth. Looking at ours, Tom remarked, "You have a blog." to which someone else said, "Yes, and it's rather interesting." Mulling that over for a second, Tom asked, "What's in it?" That was when I dug out my camera and as I took this photo, said, "You." You can probably figure out from looking at Tom, exactly what he thought of that.
As always, Life is not a dress rehearsal. Don't be afraid to laugh, love and retire early.
---
Monday December 12 Livingston, TX
Music in the park
Another day, another load of wash. Maybe I have unloosed a monster. Prior to making the drying rack, the woman I have called my wife for all these decades seemingly had an aversion to doing the laundry. More than once as we lived this fulltime Life I have thought the washer was so full of dirty clothes, it being used as the hamper, that it would literally pop the door. No more. If one or two items should appear in the washer, the wife is pouring in the detergent and soon taking out the wet clothes to be hung on the drying rack. Maybe I should start a pool to see how long this new behavior of her's lasts. Or maybe not, especially if I like my body being in the form it currently exhibits.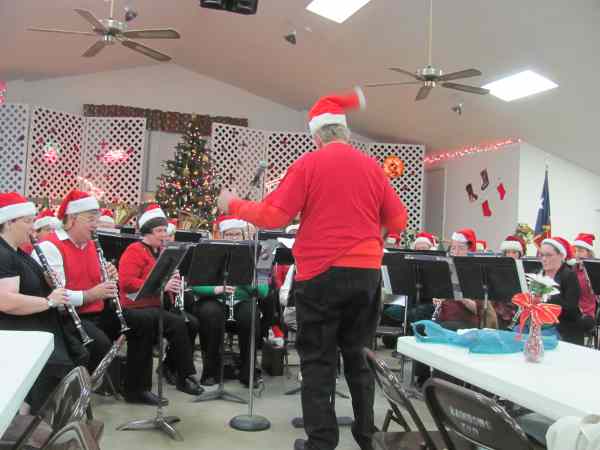 In the evening we walked up to the park's Activity Center, where the Livingston Area Community Band was presenting one of their two their annual Christmas Concerts. The band is composed of local people ranging from Junior High School students to retired band directors. Over the years we have heard a number of community bands, and while we might be prejudiced because we "live" in Livingston, this was by far the best community band we have ever heard. Home town pride? Sure, but it was well earned by this wonderful band.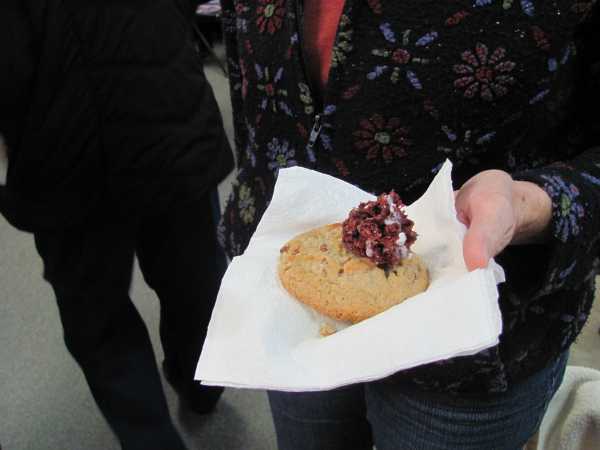 Before the end of the concert an announcement was made about there being cookies after it was over and everyone was "required" to have at least one cookie. As you can see, there were some people, whose name will not be revealed since it was my wife, who had more than that single cookie.
When the day started we didn't know for sure what we were going to be doing, by the end of the day we marveled at the joy the day had brought us. Life isn't always about plans. Life is sometimes about looking at what falls into our lap and saying I like it and want more of it. Planning? Nothing wrong with it, after all we already have tours of France and Spain scheduled for next fall. But for most of our Life? We let Sara lead the way, and we gladly follow. Today was another of those days and our Life was better for it.
---
Tuesday December 13 Livingston, TX
Seeing is believing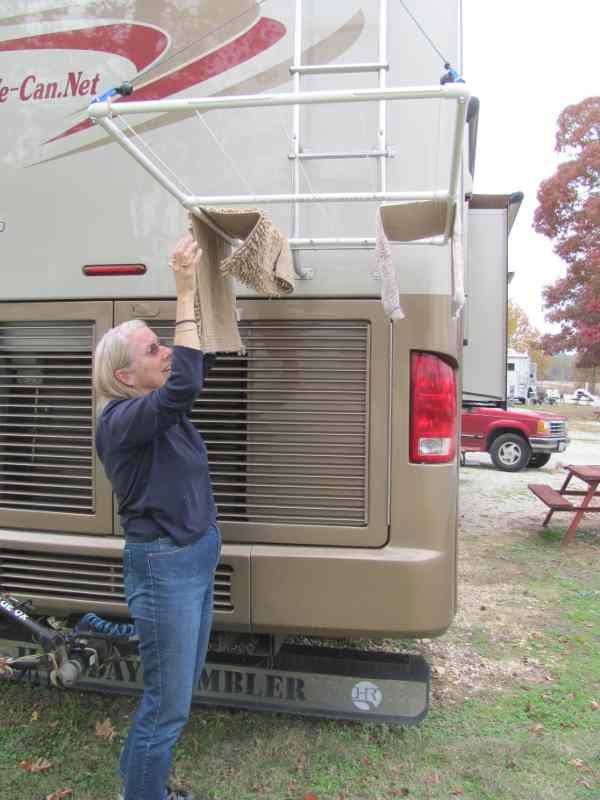 Another day, another load of wash. Maybe I have unloosed a monster. No maybe about it, this is happening everyday now. I get up, I fix breakfast. The grizzly stirs in the back. The coach begins to rock as the washer begins to do its thing. She comes out. I ask, "Is the washer running?" She says "Yes." And so begins another day just as the day before and the day before that. Verily I say unto thee, "A monster has been loosed upon the coach. A monster of the washer and drying rack kind."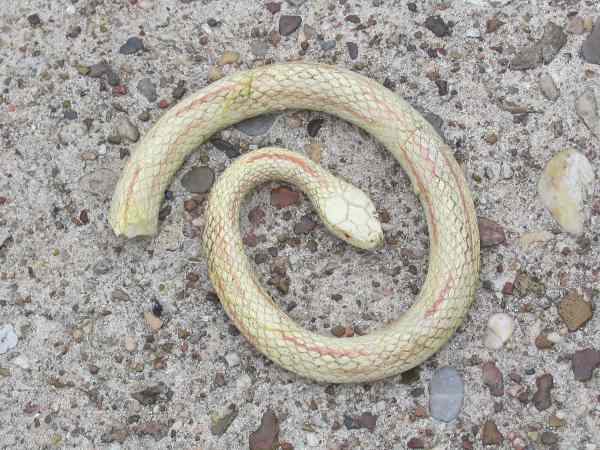 Don't think we didn't do anything today, because we certainly did. Linda had an early morning appointment for several more well woman checks, while I went off to get the Explorer inspected. That presented a small problem when they asked me for a copy of our current insurance card and a call to Linda resulted in the fact that said card was on the dash of the coach. I said nothing to her, and retrieved it from the coach, eventually getting our inspection sticker. Good Bob. As far as the partial rubber snake, it was laying in a parking lot. Everybody is always posting photos of their friends or what they had at the restaurant, I though I'd post a photo of what we found laying in the optician's parking lot.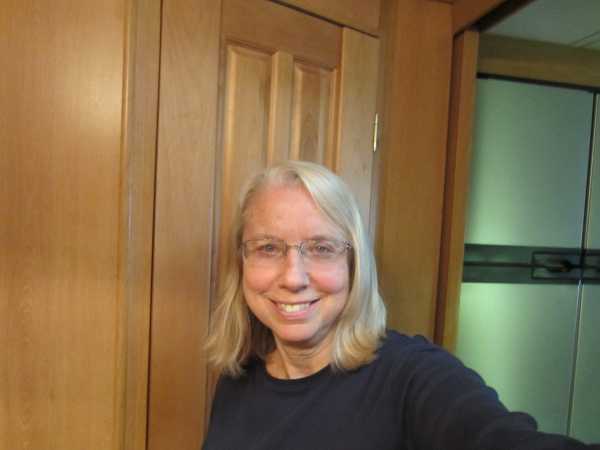 The reason for the stop at the optician's was to pick up our new glasses, and I know over the next few days to weeks, Linda is going to be hurting for certain. Whenever she gets new glasses, she and the glasses take a period of time to adjust to each other. Along that line. I asked her if she wanted me to take a photo of her new glasses, only to be informed that she had already taken one.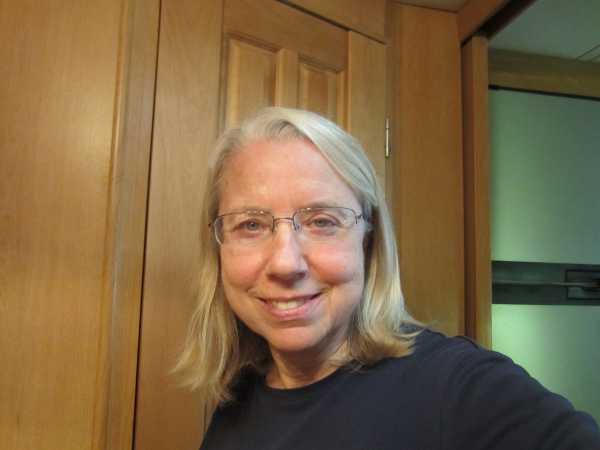 Then I was to learn that "a" photo wasn't the word for it. She had taken enough photos to fill a hard drive and then some. I wasn't sure what it was she was looking for, but whatever it was, in one of those millions of photos she had to achieved it.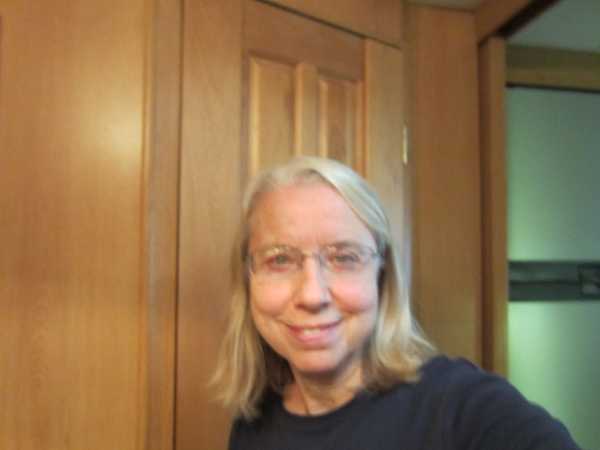 I expend many words in these Daily Journals expounding on the many attributes of Linda, but as much as I would like her be perfect, and she almost is, every once in awhile she proves herself to be a mere mortal. I couldn't believe it when I saw this self portrait that was, shall we say, slightly out of focus. It has taken a great deal of effort on my part to admit that I was a failure when it came to picking a Life mate. All this time I was under the impression I had picked the perfect woman to be my wife, and here, after all these years I find that I was an abject failure in that department. It is simply too late to start the search over so I'll just have to live with what I've got. I guess when Life gives us lemons, we should make lemonade. Poor Bob.
Actually, I have to be the luckiest man alive to have found, on a blind date of all things, a woman that has made me a better person that I ever had a right to be. Lucky Bob.
---
Wednesday December 14 Livingston, TX
A little of this, a little of that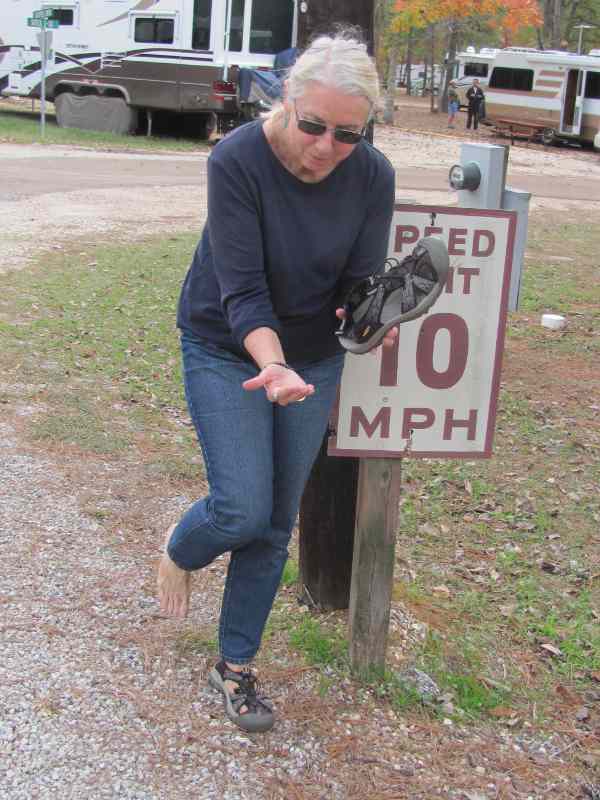 Most of what we did today shall remain just that, which is what we did without anyone knowing what it was. As far as what we did that you should know, here is an example. In the afternoon we walked up to the Activity Center, then over to the Mail Center, where Linda was happy to find we had a number of pieces of mail. She was going to be a happy girl when we got back to the coach, but before that she had a problem. A massive boulder of at least a micron in size found its way into her Keen sandal, meaning she had to stop and remove it. If her parents would have had the gift of precognition, I have to believe her name would have been Woody Footie ********.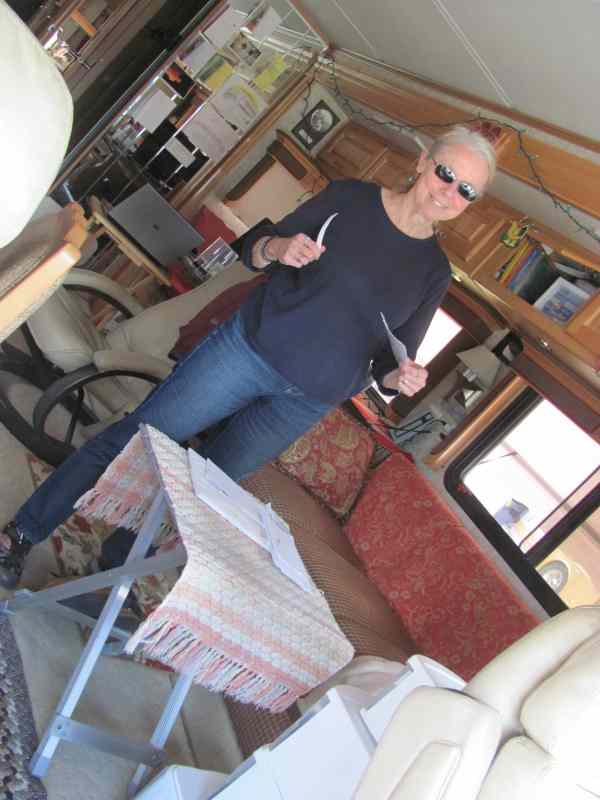 Don't think for a minute that Linda doesn't enjoy getting her mail, because truth be told, there is nothing that she enjoys more than getting the mail. At least nothing that we talk about in the presence of others, that is. I have to think that one of the reasons she likes staying at Rainbow's End is exactly because of this. She gets to rewind her Life back to the days when as a little girl she wasn't allowed to get the mail, only now she is allowed to get the mail. I'll just chalk it up to another mystery of Life or Women, take your pick.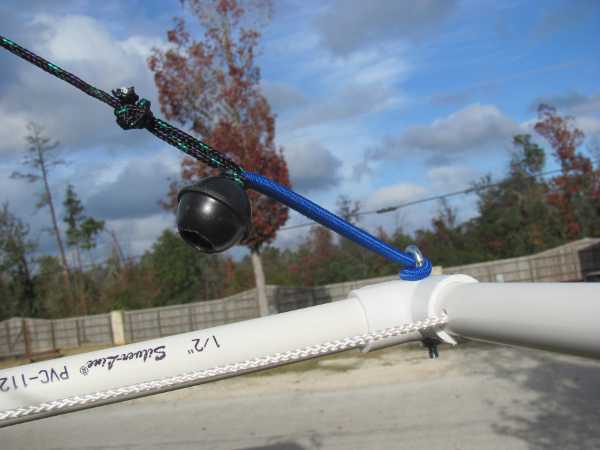 In the aftenoon we took a whole bunch of photos of the new clothes drying rack. That's a whole bunch, as in many, many, many photos, some of which will NOT find their way into the webpage I plan to make for our drying rack. I had thought I had enough photos, but then she who orders, and I who obey, came back to where I was doing my photography. Needless to say, there are now enough photos to produce a multi-volume series on how to make a PVC clothes drying rack. I still plan to get it done this week, but with the need to sort through hundreds of photos, it may get pushed back a day or two. [Editor's comment: you all do know he exaggerates, don't you!!]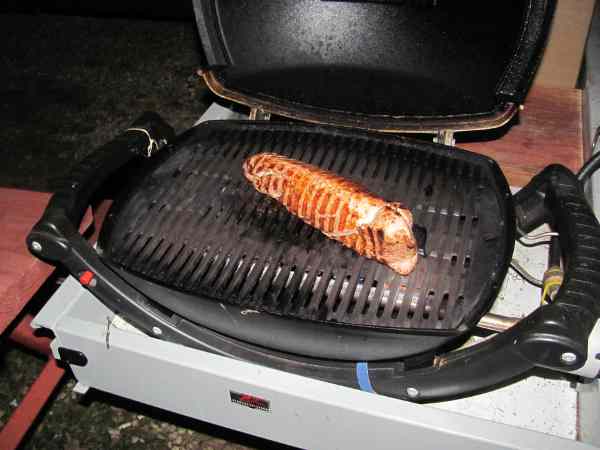 She who commands, decreed that dinner tonight would be grilled pork tenderloin, so I poured a generous amoumt of our vinegar based sauce into a Zip Loc bag, resulting in a grilled tenderloin that was probably the best we have ever had. Linda did comment that the green beans we had with it were a little bit to spicy side, but in my infinite wisdom, I will refrained from mentioning that Linda was the person that added the spices to those green beans. That classifies as a Good Bob, if there ever was one.
There is far more to this photo than meets the eye, but I don't know if I should reveal what that is. Oh well, what do I have to lose other than my life.
I needed a knife to slice the pork tenderloin, and aftr finding one, I discovered I needed to shapen it. Only the knife sharpener was missing. That led to drawers being removed and various commodities that included several types of beans being retrieved from the behind our drawers. Let's just say that I was mutering things that might better have been left unmuttered. I still hadn't found the knife shapener when Linda took over, eventually finding it in the drawer it was supposed to be in. And that was when I learned that she who is a grizzly, is best to be deferred to. Fortunately I still have all my appendages, and now know that whatever she that commandeth wants, I who obeyeth had better do.
As always, we need to remember that Life is what we make it. It is just that sometimes we forget that there are people who came make it pleasant or misserable. Linda, from this moment I vow that whatever your wish is, it is my command. Like I said, Life is what we make. It's just that sometimes we need to remember who it is that makes it what it is. All Hail Linda, Most wonderful Woman ever created.
---
Thursday December 15 Livingston, TX
Work Day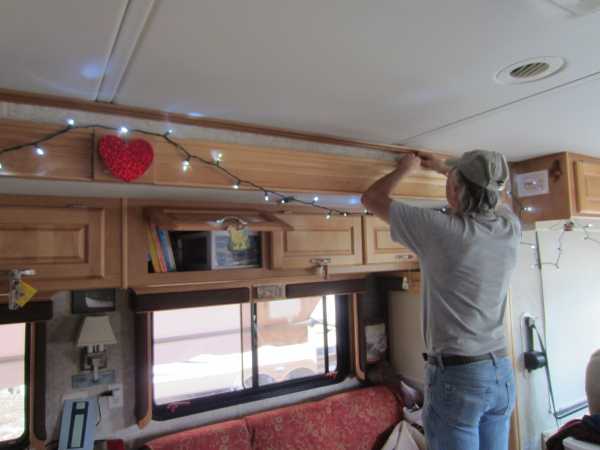 This was the day for finishing up a few odds and ends before we start heading west. First off was installing additional cup hooks in the wood trim at the top of the front road slide. We have strings of LED lights along both slides and across the front of the coach, but they did not look the same. Now that we have installed the additional cup hooks the sides still don't look the same, but at least there are the same number of cup hooks at similar spacing for all three places. Who knows, maybe we will tweak them some more next year.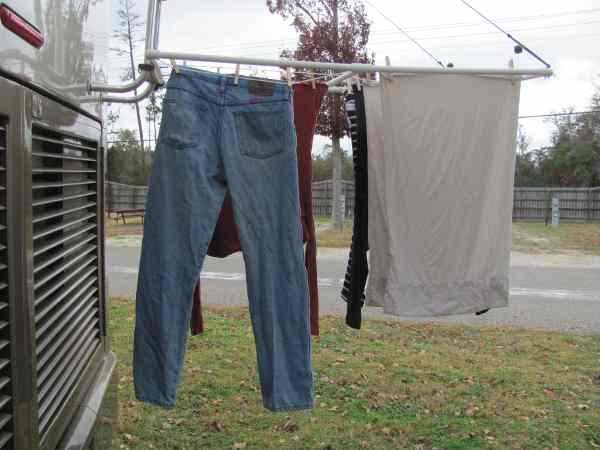 The only purpose of this photo is to show that Linda has kept intact her record of doing a load of wash every day since we built the drying rack. As far as the post on how we built it: The photo's have been taken. Finally!! A rough outline was written and the beginnings of the web page is on the computer. Now I just have to finish it, but as I might have suspected, I was a little optimistic in when I would have it done. I do promise though, it is being written and should be posted by next week some time, probably, hopefully, maybe, perhaps.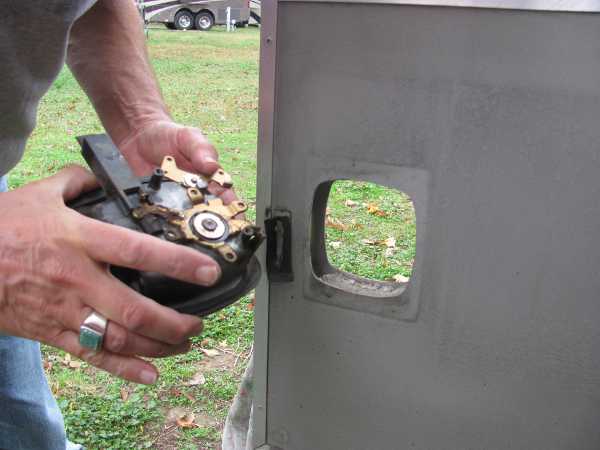 The next item on the list was a bay door latch that would lock or not lock or not unlock, or at least it seemed that way. The bay locks all make a loud click when they lock or unlock, however in the past month I have had problems with the electrical bay lock, locking. The click was no more and sometimes it would lock and sometimes not. Today we took it out of the door, hopefully to be fixed.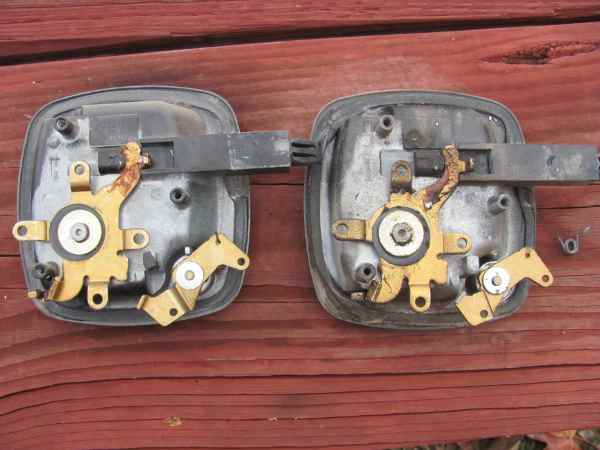 Once the latch was removed from the door, the problem became apparent, especially when I saw a small spring laying in the bottom of the opening where the latch had been. The only problem was where did the spring go. That puzzle was solved by taking out another latch, one that worked. A little observation, pick up the spring with my needle nose pliers while Linda cupped her hands under the latch to hopefully prevent a fatal case of fly away spring, should that affliction strike.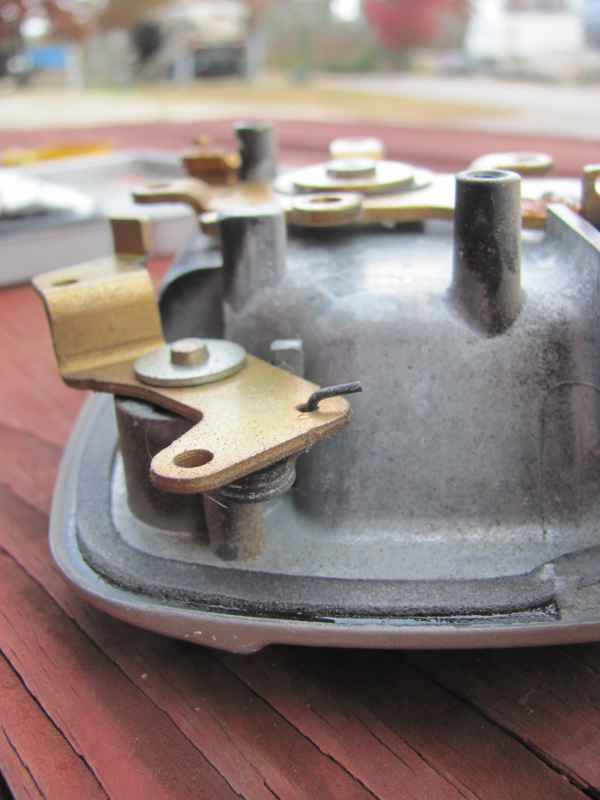 It really wasn't very hard to reattach the spring, still the big smile that accompanied the "You did it" from Linda made me feel like I just put a watch together from scratch. I can see it now, early cave man manages to light a fire in the cave to which his woman says, "You did it" while smiling at him. The next thing you know he's out of that cave like a flash, and a short time later comes back dragging a mammoth behind him. I have to believe that over the eons we have been programmed by woman. We will never understand them, but does it really matter?
The next job was to finally add the Bar's Leak to the Explorer's radiator. We have been carrying the can around for the several weeks, but unless we added it to the cooling system we would never know if it would solve the problem of the slowly disappearing coolant. Hats off to Daily Journal reader Pat for suggesting this fix.
I have a game I play whenever we are here at Rainbow's End. Most people take their trash to the dumpster, open the side door and toss it in. Not me. The top of the dumpster is open, so I use it as a giant basketball hoop, and "shoot" the trash into it. Most people see railroad tracks, but some see the city the tracks take you to. Even the routine can be made special if we open our eyes to the possibilities.
Friday December 16 La Grande, TX
Travel Day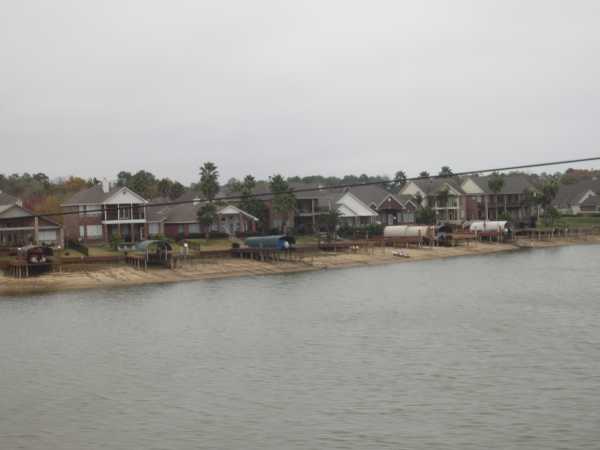 Travel day today, but before we actually got on the road, or at least heading west, we had to get our coach inspected. We have to laugh at the people that pick South Dakota as their residence because Texas requires you to take a driving test if you have a motorhome over 26,000 lbs, or because of the annual vehicle inspections. If you're looking for an excuse they are both pretty good. But they should never be the reason you pick another state than Texas as your domicile. Unless things that go bump in the the night scare you, that is.
We hadn't been on the road long, or at least it didn't seem like it had been very long before we were crossing several appendages of Lake Conroe. All summer long during our travels people were asking us about the terrible drought that Texas was under going, and we would always say we were so glad to be where ever we were than back in Texas. Today we go to witness first hand some of the devastation the drought conditions brought to the area we call home. What a summer it must have been to have summer home on the lake and not to have been able to use your boat or jet ski's. I can only hope my cousin Patty and her husband Wayne weren't left high and dry at their Lake Conroe summer home like these homes were.
Our destination for the day was to the west of San Antonio in the Hill Country. Never been to the Hill Country? You've missed out on one of the best places on earth. And that is not just because we are transplanted Texans. Really interesting small towns. Winery's, gift shops, bed and breakfast's, historical sites, gently flowing rivers, God's Country. Call it what you will, but is worth a stop in our passage through Life. We were all alone tonight, but we had our Christmas decorations out in full force, so what more could we ask for.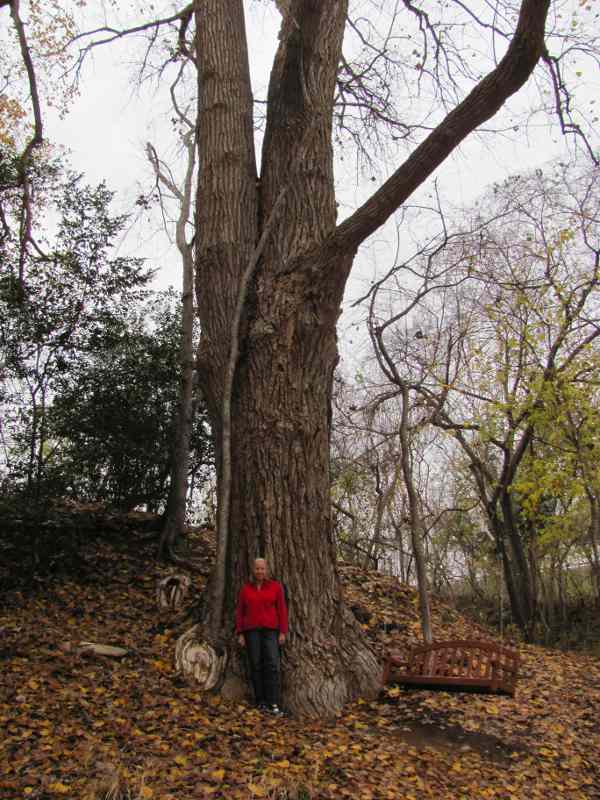 Down along the banks of the Colorado River, the Texas Colorado River, we found a awesome Cottonwood tree. Note the swing, and if you visit Linda's Because We Can II website you can see a video she took of her totally incompetent husband try to swing a swing that didn't want to swing. Life is what you make it, and we had fun making it fun today.
Closing out the day was Linda using her latest purchase to iron a patch onto the pocket of my blue jeans. Only some $20 from Ebay, this iron heats in only 15 seconds, has three settings, delicate, synthetic and cotton, and can also be used as a steam iron. I have to say that I married far better than merely well, I married the smartest and prettiest girl in Athens County, Ohio in the late 1960's. And that is not bragging. That is simply stating the truth.
I will close with a personal comment. Today my Dad would have been 92 years old. He died far too early, over 30 years ago, before he ever got to retire. Hardly a day goes by that I don't think of him, as he was a person who understood what Unconditional Love was. I have never been able to live up to his standards, but to whatever standards I have lived, I am a better person than I would have had been, had he not been been my father. I love you Dad.
---
Saturday December 17 La Grande, TX
Lazy Day
This is exactly what small town America is all about, and why we choose to stay in small towns. It's only a tree, but they chose to save it because it represents something. I can think back to a street that was widened near where we used to live. The street where the beautiful big oak tree beside the street had it roots chopped off so the sleaze bag pedophiles of the Catholic Church that owned the property on the other side of the street could retain all their property and also extract more money from those stupid enough to think that they actually cared about souls. Like they say, there's a sucker born every minute.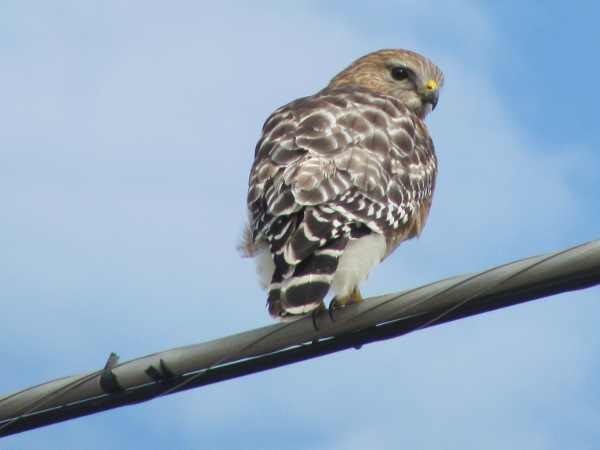 We spent a good portion of the morning just walking around the town of La Grange. It had a magnificent town square that surrounded a beautiful stone courthouse that was built in 1891. Many of the buildings in the downtown area had that special something that said they were privy to the history of the town. In our travels we pass though many old towns that we say we would like to stop in, yet we never do. How wonderful it is to be actually enjoy one of them. We get caught up in life in the fast lane, but this is Life in the slow lane, where even hawks don't fly off as strangers pass them by.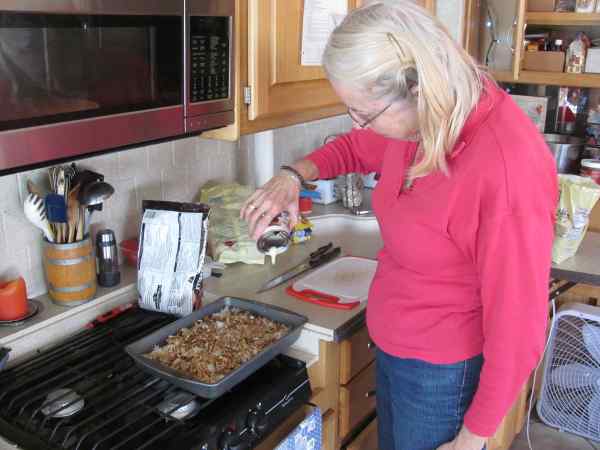 I really like the way the woman in this photo thinks. The lady in the office at this RV park treated us really nice when we checked in and Linda wanted to do something special for her. So she made a pan of her awesome chocolate nut Christmas bars, then proceeded to take about 10 percent of the pan over to the lady. Guess what is going to happen to the the remaining 90% of the pan, oops, 70% of the pan since I had to do a little quality checking as well as eating the edge pieces that might have been over baked. I have to hope Linda will need to do the same thing at our next RV park tomorrow, at which point I will suggest that she shouldn't give them some day old baked goods, but should bake a fresh pan. Smart Bob. Full of Christmas goodies Bob. Fat Bob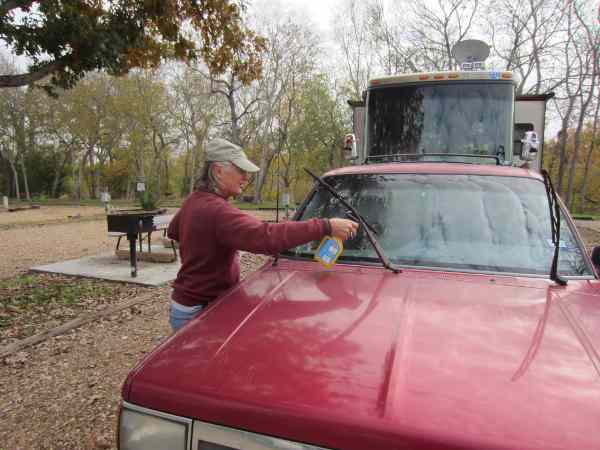 I understand that anyone reading Linda's blog could get the idea that I might be a perfect person, but really, every year I do one or two things that prove I might be only 99.9999% perfect. Today was one of those days. The weather report was calling for the possibility of rain tomorrow, and so I needed to apply Rainex to the windshield of the coach.
In that case, just what was I doing applying Rainex to the Explorer's windshield since we would be towing it behind the coach? I have utterly no idea, and that only goes to prove that I am truly not perfect, just nearly so. In the end I did do the same thing to the coach windshield, only to have Linda later tell me that rain is no longer in the forecast for tomorrow. Who knows, maybe my application of Rainex to the two vehicles scared the rain away. Either way it should mean an easier passage through San Antonio, which will certainly be nice. That's all for today, as we journey to the SKP park in Hondo, Texas tomorrow, then hopefully get our refrigerator safety module installed on Monday, before heading towards the New Mexico/Mexico border for Christmas and New Years.
---
Sunday December 18 Hondo, TX
A Sunday Drive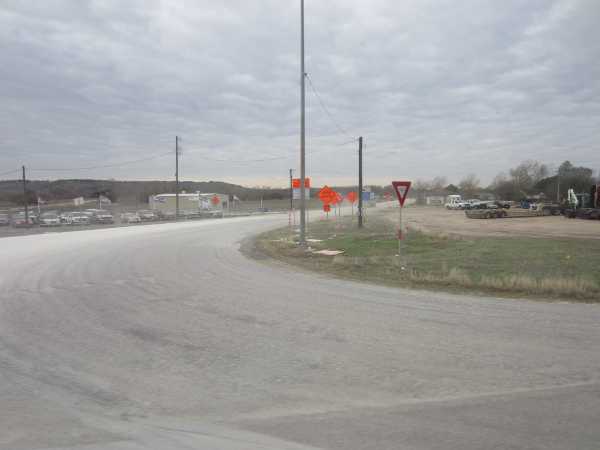 Time to move on, though not that far, and not with the start we had planned. It turned out that the route we had planned on taking to I-10 was going to be down a road that was being reconstructed. After seeing all the dust and debris at the entrance, we decided to turn around and go another way. Maybe it would have been no problem on that road, or maybe we would have been kicking ourselves for taking it. Regardless of how we felt about it, the GPS was really upset with us for not following its planned route, meaning it spent the next 20 minutes or so yelling at us. As Linda said, "Let's see how long it takes before it gives up and accepts the way we are going." Life is what you make it.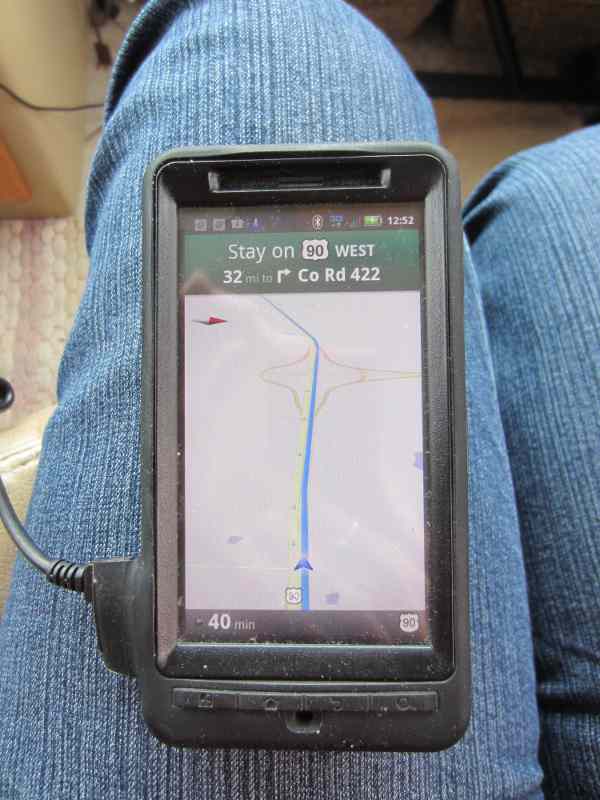 You mess with Linda, you better be prepared to pay the price, which was something our GPS hadn't understood when it kept trying to tell Linda its route was better than hers through San Antonio. We wanted to take Texas 90 straight through the town, while the GPS wanted to route us on various inner and outer belts. Wasn't going to happen, and so we navigated by road signs with no problem.
Once through San Antonio, Linda got out the Droid and started doing things on it. I was curious as to what she as up to, but let her do her thing. Then with more than a hint of triumph in her voice, she says "There's where we are." while waving the Droid at me. I was to learn she figured out the Droid navigation app and was now using it check our GPS. I just hope they never come out with a husband app, or my days may prove to be numbered.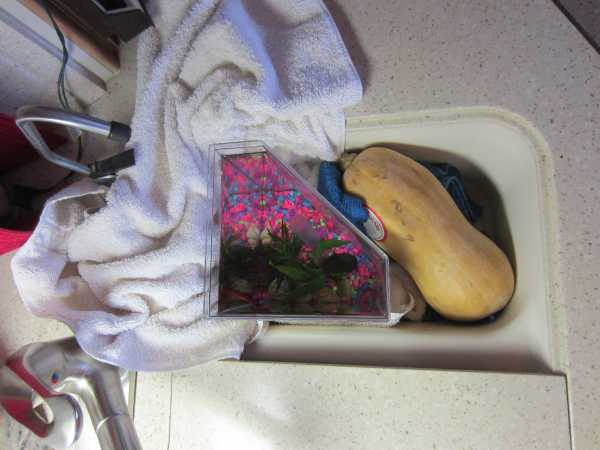 Sure Linda can be hard as nails, but she can also be soft as cookie dough. When she had packed away Red Rod prior to the days travel, I could hear her talking to him, but really hadn't paid any attention as I was busy with doing things myself. After we arrived at Hondo I was again privileged to catch her talking to Red. Still, it gave me pause when I heard her talking about him being squashed in the sink so she had put a squash next to him to keep him company. When all the mystery's of Life are finally unraveled, man will still not understand woman.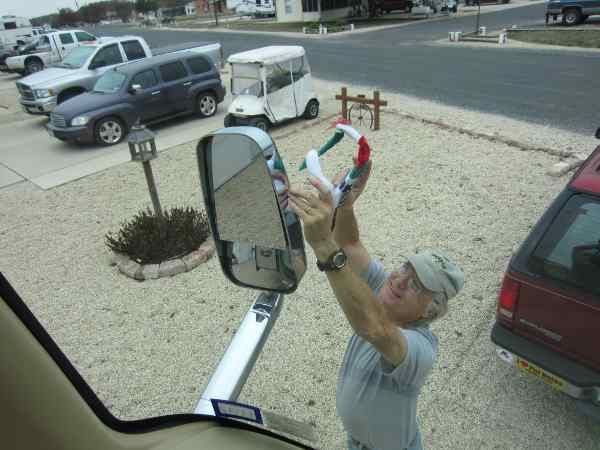 Remembering that former life, the one where the house stayed in one place, it was always fun decorating for Christmas. In this Life, when we are traveling during the Holiday Season, it is also fun, it's just that we get to do the decorating more times. I have to laugh at Linda as she picks up a wooden snowman figure, looks at it, looks around the inside of the coach, and asks herself where she should put it this time. The most amazing part is that every time we move she picks them all up and puts them on the bed until we arrive at our next destination. In that previous life we would be finding Christmas decorations until June. Could it be the old grizzly is learning new tricks? I only put the two figures on the mirrors up, and to date haven't forgotten to take them down. Maybe Linda thinks simple people should have simple tasks?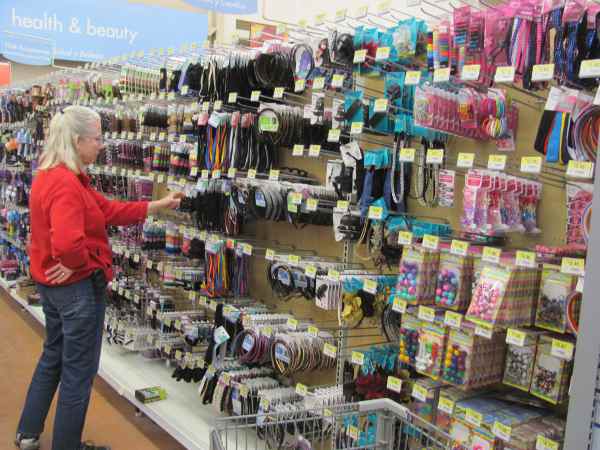 I've been complimenting Linda on how pretty her long blond locks are, and it is really paying off, at least for the companies that make all the hair dodads, that is. We were back to WalMart this afternoon to stock up on food before we head off to the more barren area of Texas, and where did she head first? Actually we got off pretty easy, and I will admit I bought more things for Red Rob than she bought for her hair.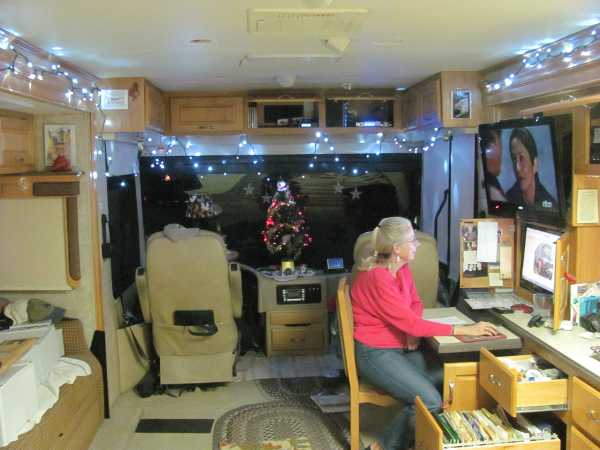 A Christmas movie on TV, Christmas decorations and lights brightening our home, and a beautiful woman that is the love of my Life. What more could a guy ask for. Life is indeed good.
---
Monday December 19 Fort Stockton, TX
Change in plans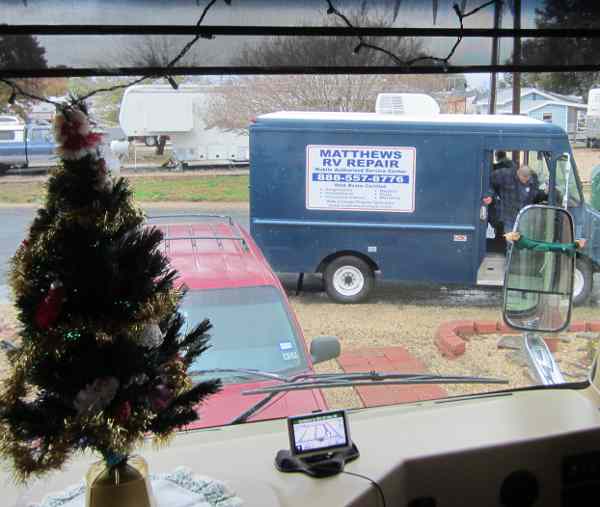 We got our Norcold safety module replaced early this morning, when Murphy showed up just before 9 o'clock. We had originally thought we would be staying in Hondo for two nights then stopping at Seminole Canyon State Park. Checking we found there were no tours at the State Park until Wednesday, which would put us into Columbus, New Mexico on Friday at the earliest. Major change in plans. We headed out to Fort Stockton as soon as Murphy was finished, and will continue on to Pancho Villa State Park in Columbus, NM on Tuesday. At least that is the plan at this moment.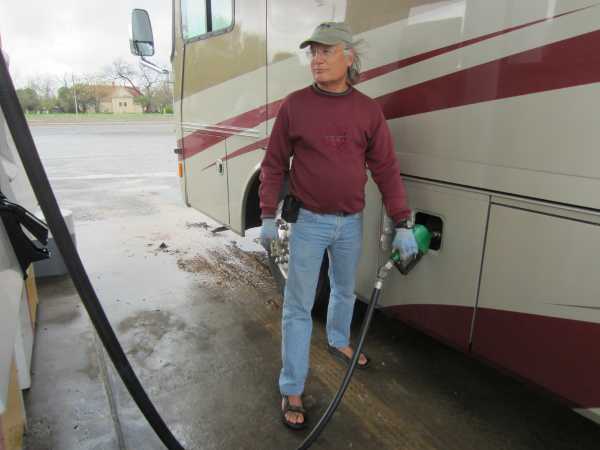 No telling how many times over the years we have filled the coach with diesel, but today was a little different. Small town, big service station, but their cut-outs in the curb were sized for cars, not trucks. While there we saw a semi do an unbelievable rock and roll as he entered the lot. While ours wasn't that bad, we did do a little shaking.
This was the truck pump, but the turn was so tight I could only turn into the outside pump. It was no wonder there weren't any trucks refueling. The pump ended up having the small hose instead of the larger truck hose. And of course when Linda went inside to prepay, the line was practically out the door with people buying everything but fuel. The kicker was the big mud track right where I needed to stand. At least we got a nice break from driving, even if nothing else seemed to go right.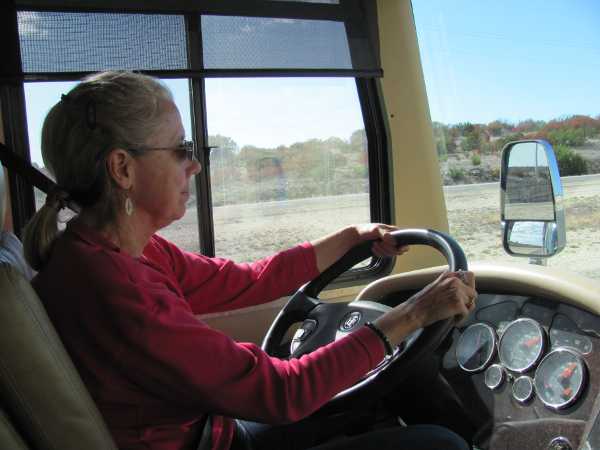 Why was it that most of the time I drove, at least in the morning, it was raining, but once Linda took over the sun came out? It had been nearly a year since she had last been behind the wheel, and I noticed several deep breaths before she started out. As always, she did a great job, getting us there safely and beating several snails in the process, though a turtle did manage to beat her.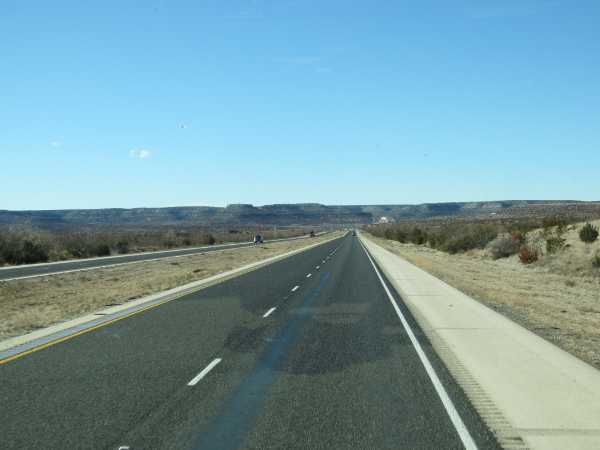 We were on the road about six hours with the stops we made along the way, traveling on both State Highways and the Interstate. We got to view some marvelous scenery, and the last part of the trip was through the wide open spaces that we have missed so much during the past nine months that we have been back east. And tomorrow there will be even more of it as we head to our Christmas stopping spot. And even though the forecast is for much colder than normal weather, Life is great.
---
Tuesday December 20 Columbus, NM
Sunrise to sunset with electronic malfunctions in between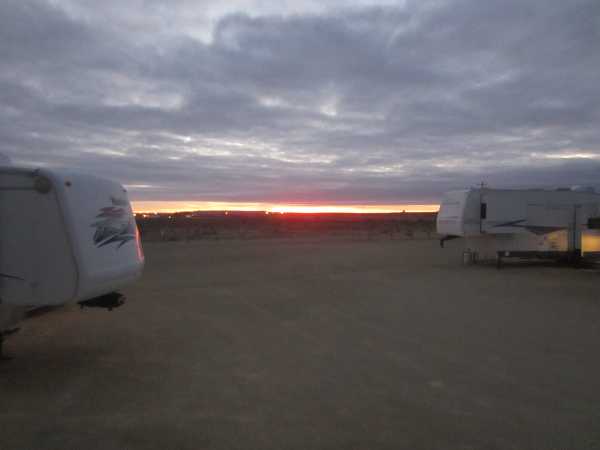 There are days and then there are days. And then there are days like today. It started with Linda asking, "What is that?"
"What is that, that?" I asked in reply. "That red line across the sky."
Bingo! "That's the sunrise, you know when the sun comes up in the morning."
"It sure is pretty." and the next thing I know she is taking pictures of something I see every morning.
It was a cold morning and we were up early because we had many miles to go today. The thing is, the coach really, really does NOT like cold weather, and it was in fine form this morning. It started when I retracted the jacks and the jacks down light would not go off. By any visual check, the jacks were up, but the panel said they weren't, which meant as soon as I put the coach into drive, the alarm started ringing. We've come to expect this, and it was only a few feet of travel before we had tuned it out.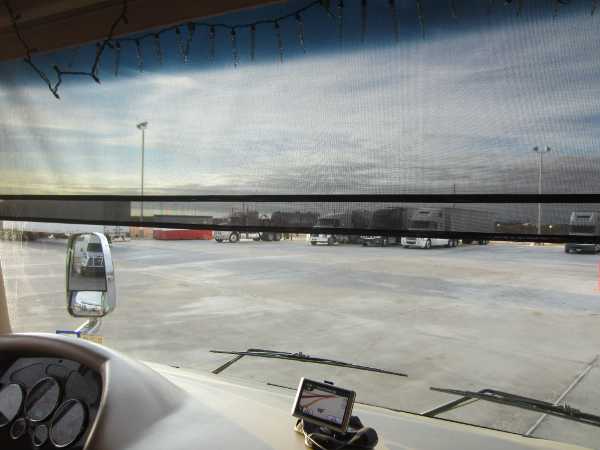 Accompanied by the dinging of the jacks down alarm we no longer were paying attention to, we prepared to exit the park. We had to backtrack a few miles to the closest diesel station, which meant driving east into a very bright sun that wasn't far above the horizon. Anticipating the blinding light we would receive the moment we turned east, I lowered the front MCD sunshade as we drove out the park exit. The problem was that it went down all the way, then when I realized it was so low it interfered with being able to see the road while driving, it wouldn't go up.
Peering under it, we drove to the fuel stop, filled and then pulled off to the side of the truck parking area to fix it. OK, it was right in the middle of the exit from the station, but that shade was going to have to go up. Had the fuse blown? Had the programming come unprogrammed? Who knew, but one thing was sure. There was no way of fastening the shade up above the line of site. It was going to have to be fixed before we went anywhere.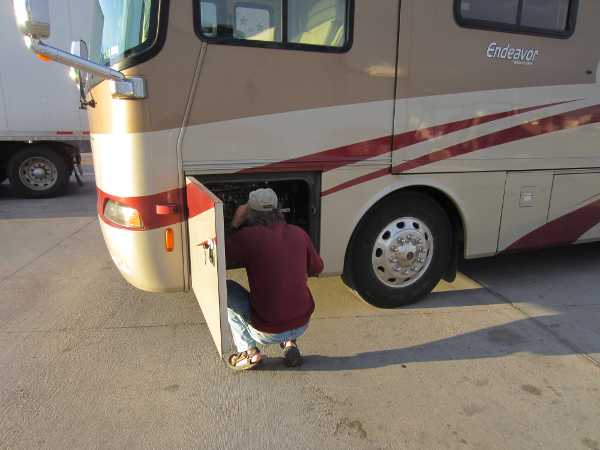 Trucks passing to the right of us. Trucks passing to the left of, roared and thundered, all the while I searched for the right fuse, one in a hundred. Finally I found it, pulled it like a bad tooth and replaced it with one that worked. Back in the coach I asked Linda if she had tried the switch, only to learn that she was taking a photo of the bad fuse. I will say nothing. I will say nothing. I will say nothing. And because of that, I will live. And yes, the new fuse solved the problem and within minutes we were on the road. Life, it's what you make it. As long as you let grizzly's do their thing.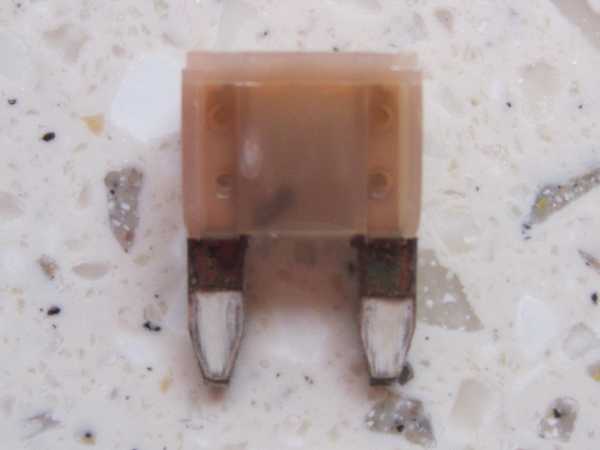 I guess that after all she went through to take a photo of the blown fuse, I would be remiss if I didn't post it. Thinking about all that was said as we discussed what might be wrong with the sunshade, and then how to fix it, it would probably be best if I just let sleeping grizzlies lay. Smart Bob.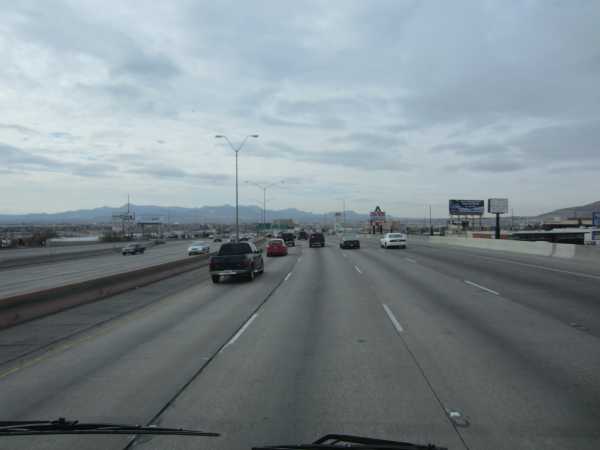 Many miles today, but we shared the driving, except when we got to my least favorite city, El Paso. I've figured out why I don't like it. It's because there are almost 30 miles miles of congested driving from one side of El Paso on I-10 to the other. The lanes are narrow, there is always construction, and unlike every other city we encounter, there is simply no good way to go around it. Now I know why it is only 7:30 as I write this, and already I feel like it is time for bed. Some people don't like broccoli, I don't like El Paso.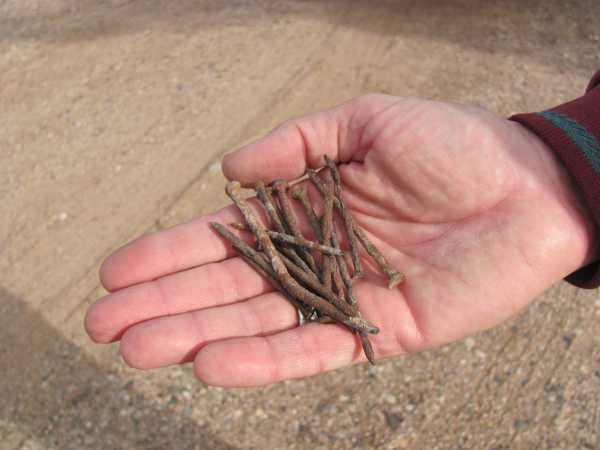 Nails. I know this doesn't seem to have anything to do with electronic malfunctions, but really it does. When we finally arrived at Pancho Villa State Park, we ran into a problem. Or more properly, several problems. Neither the WineGard nor the MotoSat would connect. No matter what she did, and believe me, she knows every trick in the book, they would not work. In the end we took a walk around the park to calm the grizzly, and upon our return, with a clear mind, she solved the problems. As for the nails, we picked them up while walking back to the coach along the park road. After all, this was a military base at one time, and the evidence is all around us.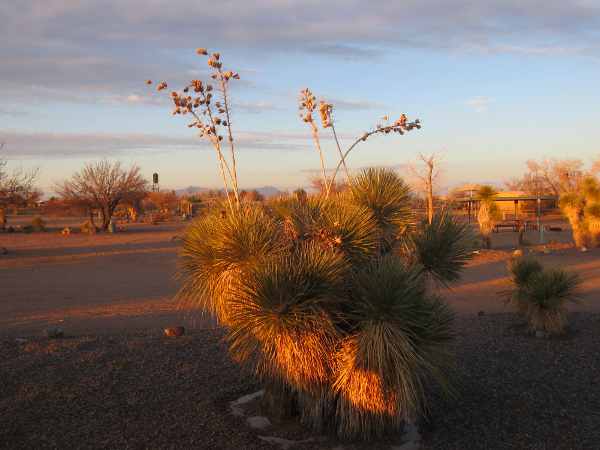 Several resets of the DirecTV box finally solved that problem. For the MotoSat, she concluded it had lost its mind, and proceeded to give it a brain transplant, reloading the satellite tables and recalibrating the dish. And as I knew it would, the next search brought in the 91W satellite with no problem. It had certainly been a day of electronic problems, yet in every case we had overcome them.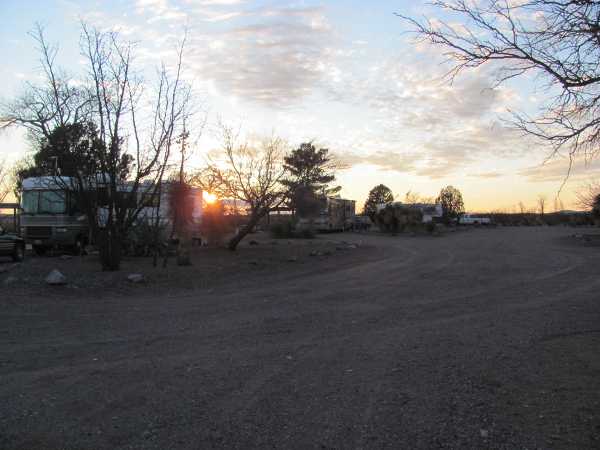 Sunset at Pancho Villa State Park in Columbus, New Mexico. Dusty, open, 30 amp electric and water pull thru sites, no sewer hookups, with cactus being the principle landscaping. This week it is expected to be exceptionally cold with day time highs in the 40's to low 50's and night time lows from the upper 20's to the low 20's. It isn't for everyone, and the few RVs in the park prove that fact. Yet it is a place that we really love, having been here some five times over the years. We all know what we like, and this is a place we like, irregardless of the weather. Besides, our electronic problems appear to be fixed, meaning Life is good, and who could ask for more.
---
---