Journal Archive 1/1 - 1/10 2012
Scroll down to read the latest post
Sunday January 1 Gold Canyon, AZ
It's a new year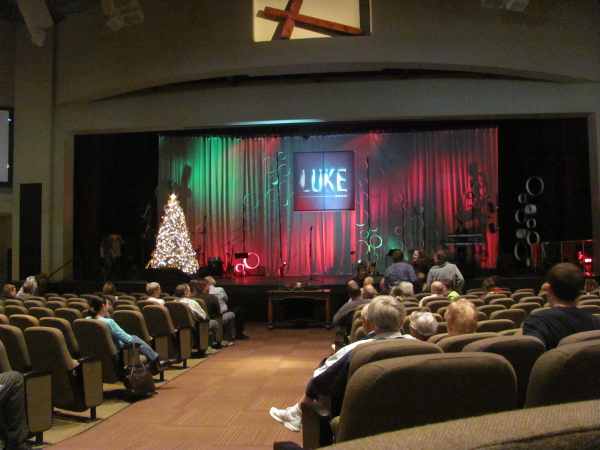 We have a megachurch we like to attend when we are in this area of Phoenix, so that was where we went this morning. It's 22 miles from here to the Mesa Campus of Central Christian Church, which I guess means we don't just like that church, we really like that church. As luck would have it, the senior pastor was on vacation this weekend, but we still got a great deal out of the service. We'll probably go back again next week, especially since the other church we like in the area is 66 miles away on the exact opposite corner of the Phoenix metro area.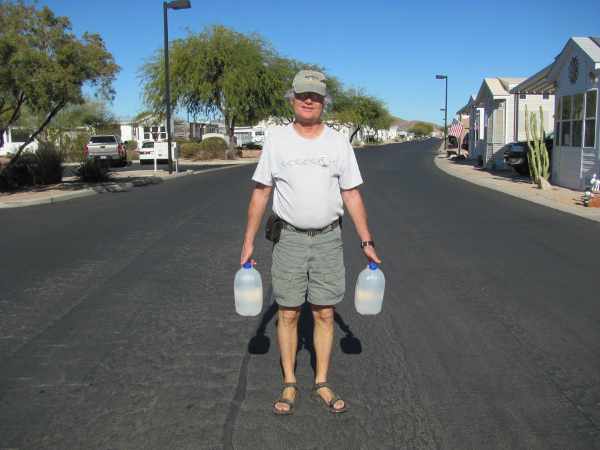 One thing about this park that everyone can agree on is that the water is terrible. Not just merely bad, but loaded with minerals terrible. In all our years of fulltiming this is only the second place we have stayed where the water was so bad as to be undrinkable. Fortunately they have a water dispenser up by the office, and so we were off to get several gallons, at a quarter per gallon. I had carried the empties up to the dispenser, so I figured that Linda would carry them back. Guess I was wrong.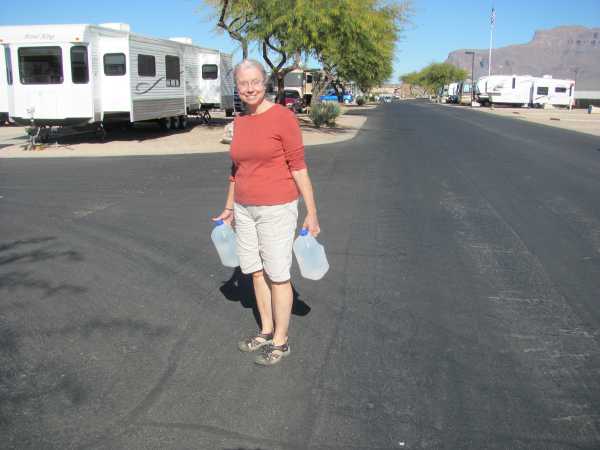 Then I took a page from Tom Sawyer and started talking about all the benefits of walking with weights. You could raise and lower your arms, you could swing the containers gently, but what ever it was, you would be in better shape because of it. Miracles of miracles, it actually worked, because we hadn't gone very far before she asked for both of them. Eventually she gave one back, but never once did she complain as she exercised her way back to the coach. Too bad I don't have a clue what it was I said or did that actually got her to start carrying those two containers. Oh well, such is Life.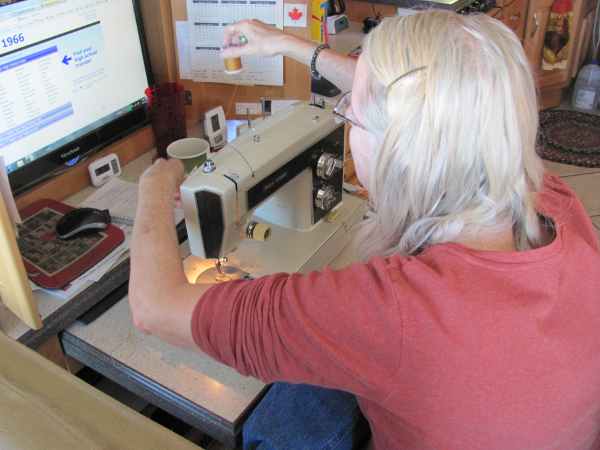 Linda must have made a resolution about sewing because once back at the coach she got out her sewing machine and started to hem a pair of my blue jeans. She has been saying that she was going to do this for two or three months, and here she was doing it. Will wonders never cease? Or will New Year's resolutions last? For now I will just take what it is that happens because I really did need those jeans hemmed. Good Linda.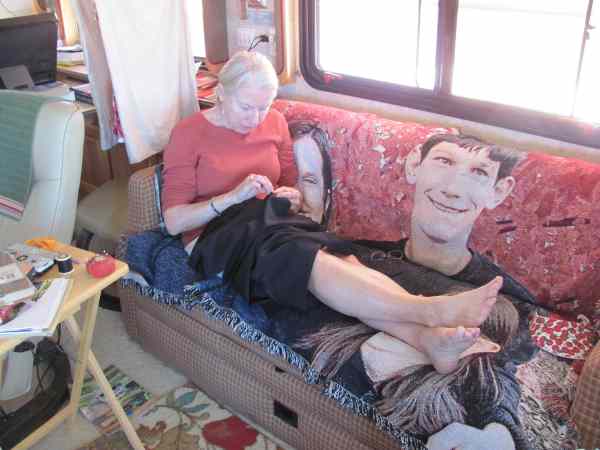 When it rains, it pours. Or, when Linda sews, she really sews. I did my own catching up as this is the fourth Daily Journal I have written today. One last thing was the pork tenderloin we grilled for dinner. As long as we have been married we have eaten pork on New Year's Day, and this was no exception. Marinated since yesterday in a vinegar based barbecue sauce, it turned out to be juicy and mouth watering good. Now I'm afraid I have no where to go but down, at least in the grilling department. While that might not be the best way to start off the new year, it sure was a tasty way.
---
Monday January 2 Gold Canyon, AZ
What day is it?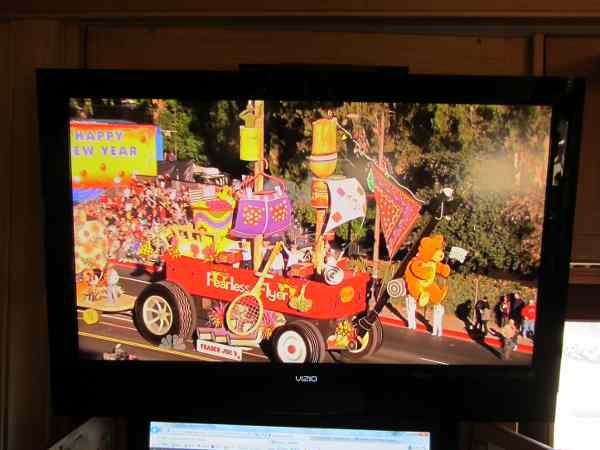 "Do you know what channel the Rose Bowl Parade is on?"
"It was on yesterday."
"I thought it was on New Years Day?"
"It was."
"But today is New Years Day."
"No it's not. When was New Years Eve?" "Oh!"
A little while later, "It says it's on today."
"Are you sure?"
"What's this?" she she says as I look up to a float on the screen. Obviously neither one of us was ready for 2012.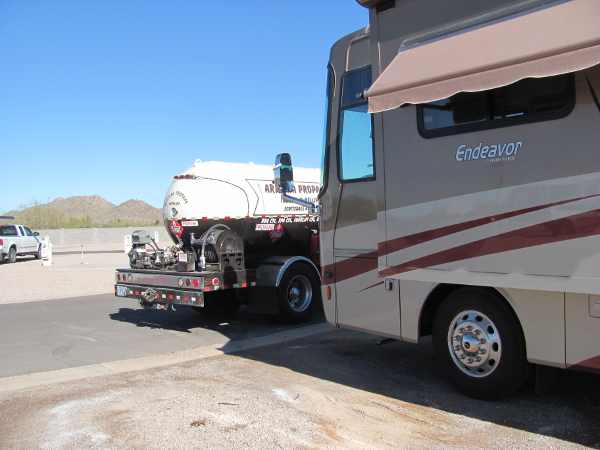 One thing about the driver of this truck, he'll never forget his encounter with Linda. The plan had been to fill the propane tank at the Pit Stop when we arrived in Quartzsite, and fill up with good filtered water at the same time. Then when Linda saw the propane truck driving through the park, she flagged it down. It only took 5.5 gallons to top the tank, less than the driver said they stop for. That was after he had "filled" the tank, but before he was to discover that Linda is not a grizzly to be triffled with. I wasn't present for the, he said, she said, but I have to believe what happened was as Linda told me. That once "she" got through with her last she said, he never said another thing, most likely from the shock of what she said, what ever it was that she said.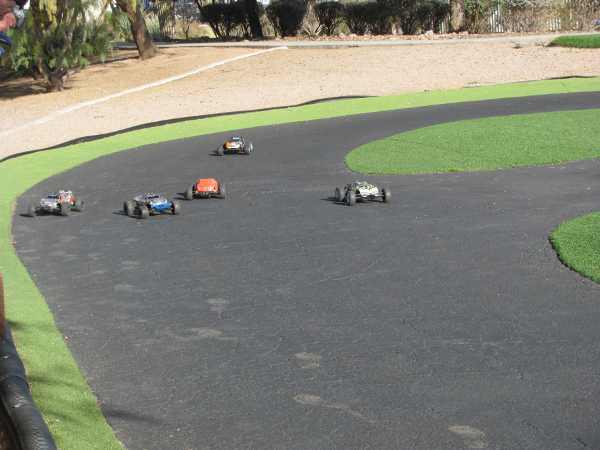 In the afternoon I walked up to the RC track by swimming pool where they race radio controlled electric powered cars everyday day at 2 o'clock. They race Traxxas Rustlers, 1/10 scale models which are 18 inches long, 12 inches wide and can reach speeds of 70 mph.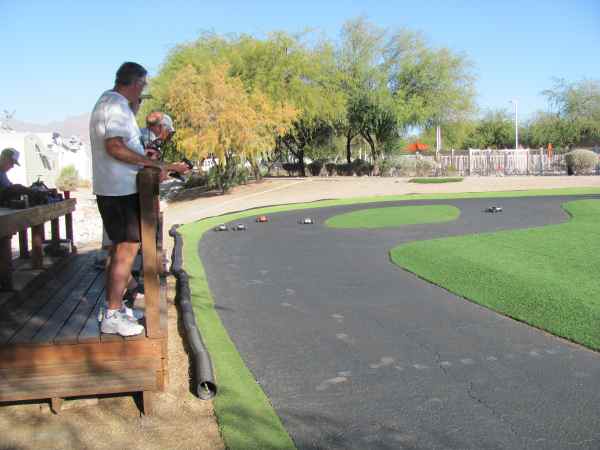 Here's the best part, the drivers are all old guys who are 12 years old. The cars are tough, and there were crashes galore as well as some really exciting multi-lap racing with even some side by side action. There were six races, but given the need to repair or replace, I don't think there was a single race when all six raced. I watched the action for almost an hour before I headed back to the coach where I needed to do some more waxing of the Explorer.
So much for waxing the Explorer, it was time to spend some time with my Traxxas Slash. The Slash is the slow big brother to those racers, some two feet long, one foot wide, and with my stock motor, getting up to 30 mph with a strong tailwind. That's the difference between the Rustler built for paved track racing, and the Slash which is built for serious off road racing. It really doesn't matter how fast it is, it's all about how much fun you have with it. That's one thing that getting old will do to you. Then again, if Life isn't fun you aren't really living.
---
Tuesday January 3 Gold Canyon, AZ
This and that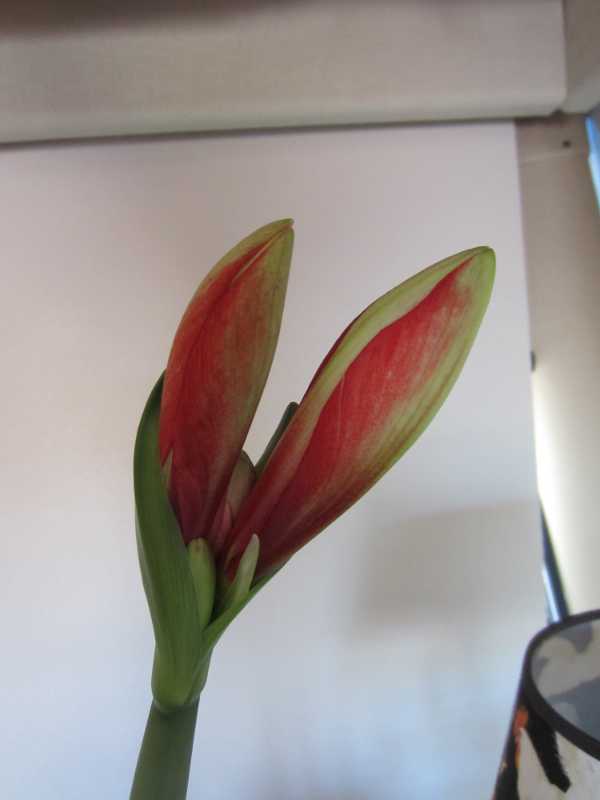 It's really not a rabbit. Our slow growing Amaryllis has undergone a recent growth spurt, and it looks like it will result in a flower within the next several days. Some people think that an RV is a small, sterile box when you exist. But to many of us it is our where we live, and live no differently than those who look down our way of Life. We figure if they are unhappy with our Life they must also be unhappy with their life. And we will gladly allow them their opinion as we happily live our Life.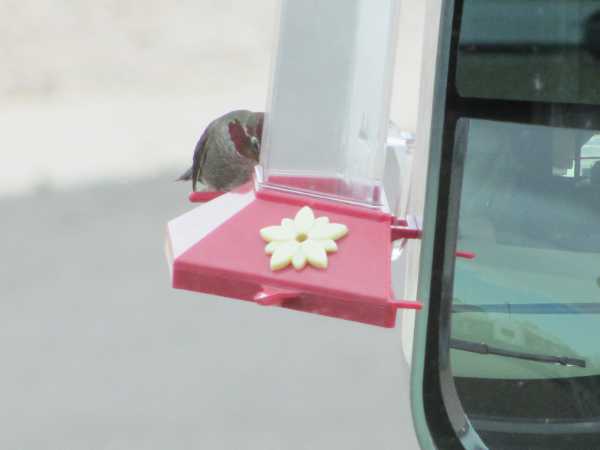 Linda is so diligent about putting out her hummingbird feeder, even though many times no hummers appear. One of her first tasks when we first arrived here at Canyon Vistas was to fill the feeder, and then tell me to mount it on the mirror. Today her efforts were rewarded, as we saw our first hummingbird. It may have only stopped by for a quick drink, but it holds promise for the future. It also brought a big smile to Linda's face, which in itself made it special.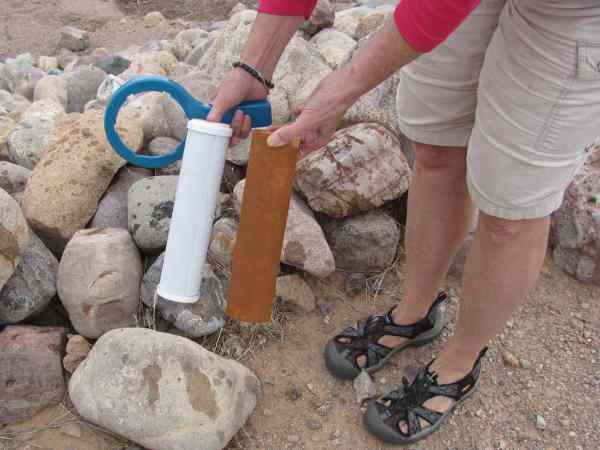 Two guesses as to which was the old filter and the first one doesn't count. We're not sure where we picked up all the red crud, having changed the filter in mid September, but it certainly was messy. Usually we buy filters in the $10 to $12 range, but today we decided to splurge a bit and see if it made a difference. The new filter is a .5 micron filter, as opposed to the 5 micron filters we usually buy, and a little pricy at $23. I thought the water was better with it installed. Linda thought it was still undrinkable. We agreed to disagree, and I agreed to carry the refilled water containers back to the coach. Smart Bob.
Linda has been putting away the Christmas decorations the past few days, and this evening she pronounced the job done except for the LED light strings which we will use when boondocking in Quartzsite. Of course it was only an hour or so later that she started laughing, and when I looked up, I was greeted with "Missed one." It's a typical year, just like all the previous ones where we miss an ornament or two. Now it will be interesting to see just how typical the remainder of the year is. Something tells that that even it is typical, it is still going to be interesting. And what more could we ask from Life.
---
Wednesday January 4 Gold Canyon, AZ
Hangin' out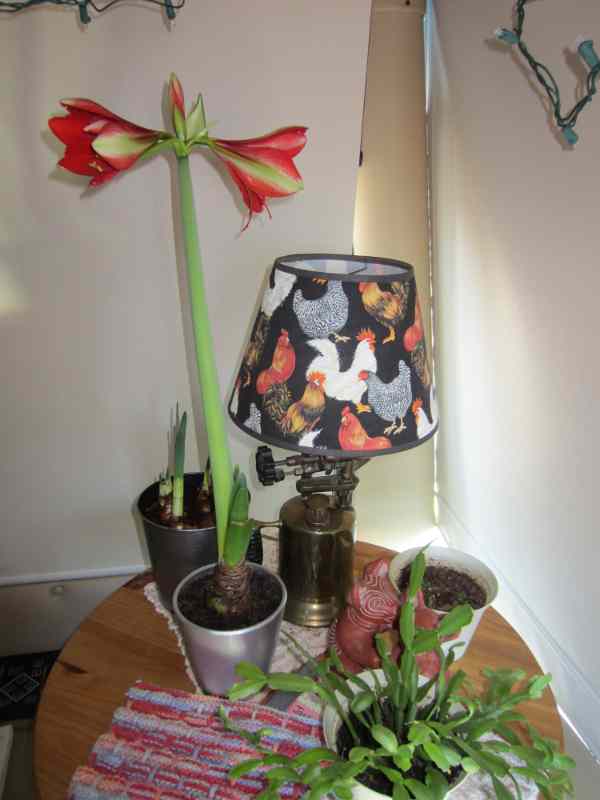 See, it really truly wasn't a rabbit. That Amaryllis wasn't wasting any time once it started to bud, and today we had two blooms with two more yet to open. I had thought we picked out a bright red flowering bulb, but Linda looked me in the eye and said, "We picked one that the bulb looked right." Now I remember, I had three or four picked out but in each case she found something wrong, before she found the perfect bulb. I guess I was so glad that we finally found one she would approve of that I paid no attention to what the photo of the flower on the box was like. The grizzly growls and the forest trembles.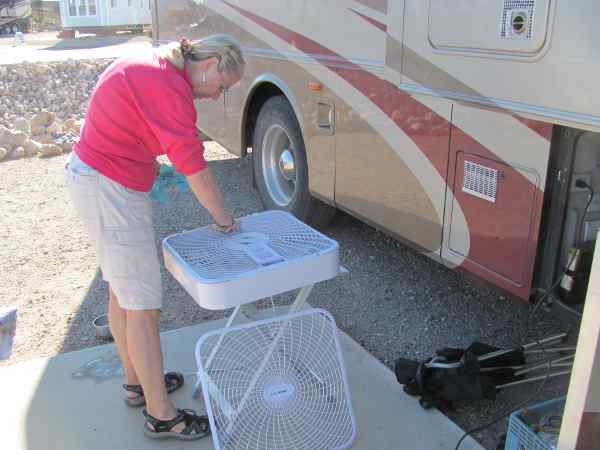 Speaking of grizzly's, here's the old she bear handling one of the many little jobs each of us worked on during the day. We bought this fan for $15 two and a half years ago, and it is still running, which is probably due as much to Linda's care of it as to durability. The plastic blades are cracked, it was covered in dust, but with a little disassembly, which involved slicing my finger open necessitating a quick trip for a band aid on Linda's part, she soon had it clean as new. Later as it was running she commented that it was working much better now that it was clean. Who was I to argue with that?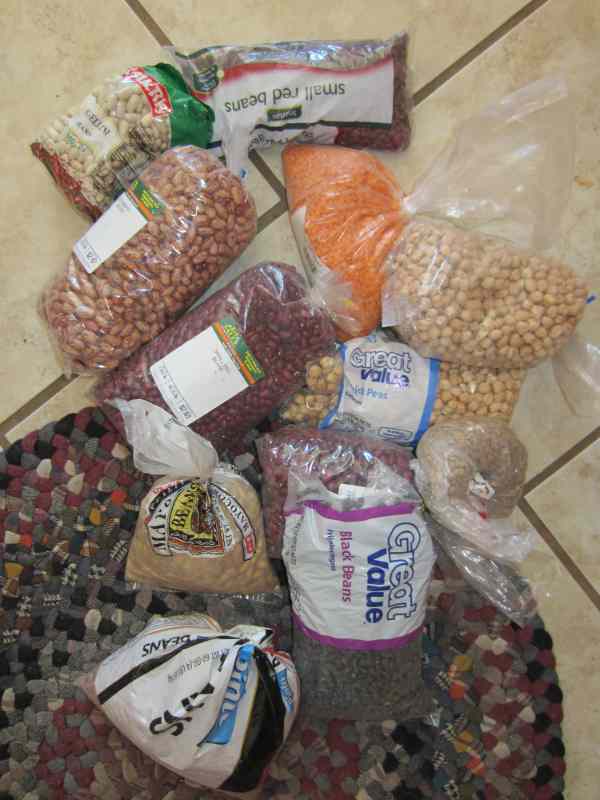 Beans, do we have beans. It's what happens when you use one of the many nooks and crannies that come with the RV to store your beans. I also heard some growling about all the work it took to cook beans from scratch, but I think that was an excuse to try to get me to volunteer to fix them. Years ago I used to cook a pot of southwestern beans every weekend, but that was in our former life. Maybe it is a case of Life imitating life, but I think I ended up volunteering to do it once again whenever there is room in the refrigerator. Hard to believe I married a grizzly with the name of Tom Sawyer, but it appears to be true.
I don't mind though because today is a special day. It was 45 years ago tonight that I first saw Linda. We remember the date because I had to go down to YWCA in Columbus, Ohio where she was living at the time to be approved by her before I could go on a blind date with her on Friday. As she has explained to me many times over the years, she had standards.
---
Thursday January 5 Gold Canyon, AZ
A special day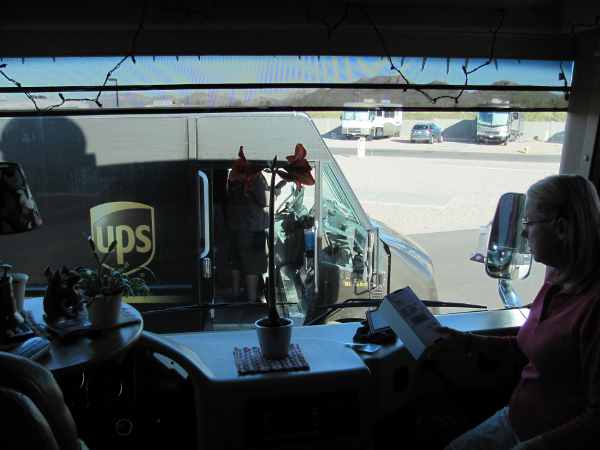 Our new control board for our sometimes cold Norcold was delivered today. I still don't know whether we will install it while here in Gold Canyon or wait until we get to Quartzsite so I can do some more tests if the temps get low enough to cause the old board to malfunction again. Linda is for just going ahead and replacing it now, while I want to wait and test with a direct line from the coach battery to the board at low temperatures. I must say it is looking more and more like it is going to get replaced on Saturday, which probably correlates with me being a Good Bob.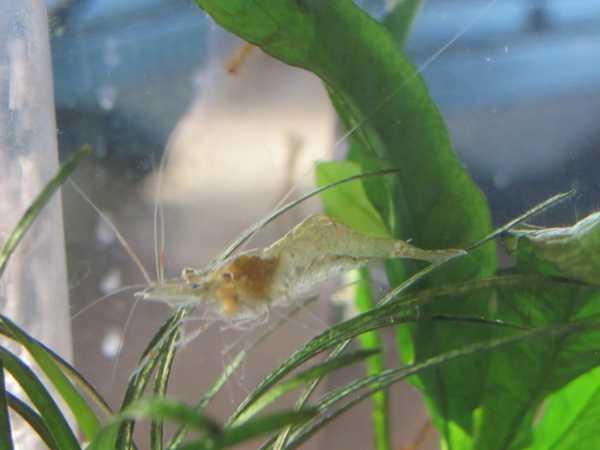 Our ghost shrimp are really fun to watch as they scour the tank looking for edibles. The large tan area in this one indicates it is in absolutely no danger of starving. They work really hard cleaning the algae off the plants and snatching up any food pellets that Red Rob doesn't eat. Meanwhile the algae eater goes all over the sides of tank or roots around in the gravel at the bottom of the tank. I must admit that just as I spent many an hour watching my fish when we lived our former life, I now do the same in our current Life.
And now to what today was really all about. If you read the new homepage article you know what follows, having already read it. If not, enjoy.
There's a little birdy whispering in my ear that if Dave Dudley had sung his Six Days on the Road song in 1963 with these words, it would have been off the charts, as opposed to where it ended up.
Six Years On The Road
When we left that former life,
Rollin' towards a brand new Life,
We had our diesel runnin' right,
And we were livin' like never before.
Our dream was where we were, all right,
We didn't see a stop in sight.
Six years on the road and we're gonna be at home tonight.
We've got six forward gears,
And a wife who can drive.
Livin' Life as long as God wills,
With each other at our side.
We just passed a "Prowler" and a "Thor":
Yes, our Life is such a delight.
Six years on the road and we're gonna be at home tonight.
Well, it seems just a month,
Since we kissed our house good-bye.
Said so long to our old friends,
It was time to cut all those ties.
We had our RV to hold us tight,
We couldn't believe how it felt so right.
Six years on the road and we're gonna be at home tonight.
And while nothing is perfect all the time,
We've never regretted leaving our old life behind.
So nothing bothers us tonight,
We're out livin' the Good Life, all right.
Six years on the road and we're gonna be at home tonight.
Sure, we're now a little older,
But we aren't livin' any slower.
There's a flame burning bright,
Seeing more places, that's still our goal.
The campground's coming in sight,
If you guessed we're happy, you're right.
Six years on the road and we're gonna be at home tonight.
Six years on the road and we're gonna be at home tonight.
Six years on the road and just like always, we're gonna be at home tonight.
It's hard to believe that we are starting our 7th year of fulltiming tomorrow. It's hard to believe that time passes by faster each year. It's hard to believe that we are just as excited today was we were when we first started. It's hard to believe all the changes we have experienced in our Life. And it's hard to believe that we now have more places to go and things to do than when we'd first begun. Who would ever have thought Life could be this good.
---
Friday January 6 Gold Canyon, AZ
A shopping day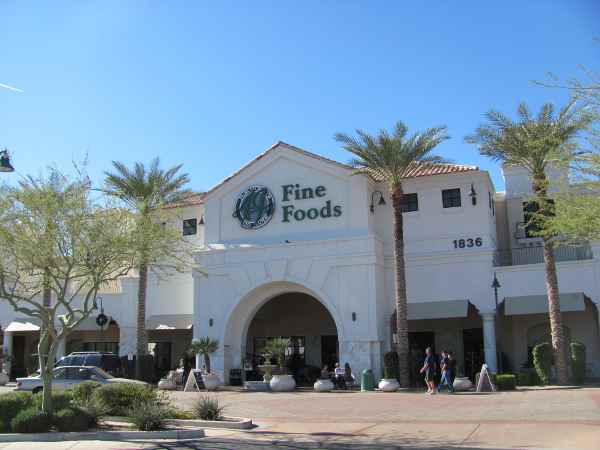 Our day of shopping actually started at the Apache Junction Post Office where both the package from our daughter Jenny and our forwarded mail package were there. Yesterday Linda had spent nearly a half hour in line only to learn the packages were not there even though the online website said they were. This morning she only had to wait several minutes and they found them with no problem. I guess the mail people had overheard her practicing what she was going to say and do if they claimed the boxes were not there. I can tell you it would not have been nice, and in fact it would have been bad, very, very bad. At least my worries about having to go down and bail her out were for naught.
Next was a stop at Sam's Club where we spent a whole bunch of money and bought enough food to last us until months from now. Nothing like a Sam's Club to get Linda into the buying mood. Take for example the 10 pounds of almonds or the four pounds of chocolate chips. And that is just the tip of the iceberg. To say the refrigerator is full is a colossal under statement. But are we ever going to eat high on the hog for the next month.
Our next stop was at AJ's, a local chain that has specialty foods. We have shopped here before when in the Phoenix area, but today it just wasn't right. Ever walk into a store and have the feeling that it really isn't what you are looking for? That is how we felt at AJ's. Sure the meat counter had all kinds of great cuts of meat and fish, but the prices on everything else were way higher than we have paid anywhere else. We'd actually picked up a cart and put a loaf of bread in it when we realized this wasn't the store for us, and left.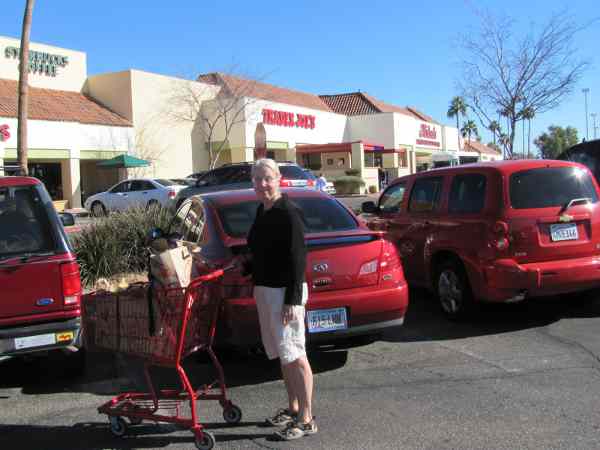 We ended up back tracking a few miles to our all time favorite store, Trader Joe's, where we bought old standby's as well as things we had never bought before. We actually had to tell each other No! several times as we looked longingly at items from our past life. We bought more than we thought we would, but with some inventive repositioning of items in the refrigerator as well as some selective culling of older items, we managed to cram everything inside. Besides, if it was easy everyone would do it.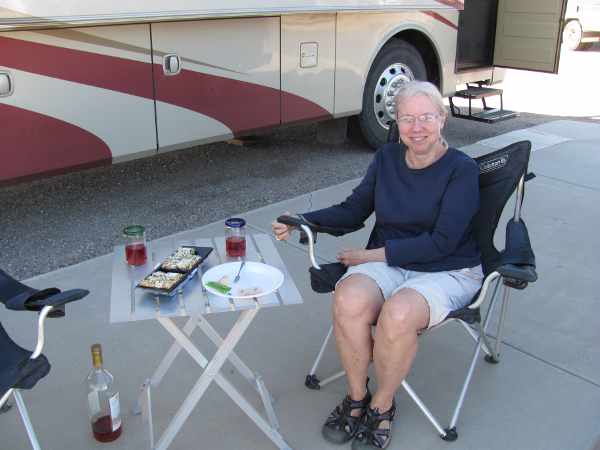 Lunch, sushi and a glass of wine. We laughed as we thought back 45 years ago, the day of our first date, but also a time when Linda would never have eaten Sushi, wasabi, pickled ginger or drank wine. It has been a long road taking the girl out of Appalachia and a good bit of the Appalachia out of the girl, but what fun it has been.
This was also a special day for Linda and she had presents to open. I was amazed that it has been 45 years since I first got to know her, though it is miracle we ever had a second date considering our first date. As she says, she couldn't believe it that I called and asked her out after our blind date. Especially after what she did on our first date. I don't know why I did either, maybe I thought that no one could be like that two dates in a row, or maybe I just knew that this girl was the one for me. What ever it was, 10 and a half months later we were married and the rest has been a bear. No, just kidding. Life may be what you make it, but as for me, I have been one very lucky guy. And all because of a blind date 45 years ago tonight with a girl that had a boyfriend at the time and was also a teenager to boot. Thanks Sara!!! Plus, as Linda has said to me, "You were a college senior and had possibilites." Maybe those Appalachian hill girls aren't as dumb as they let on.
---
Saturday January 7 Gold Canyon, AZ
She's what?
It's true! We didn't even know it was a she, and now she is carrying her eggs just like all the Internet photo's show ghost shrimp carry their eggs. For much of the day she just sat on the plant leaves, then in the early evening she simply disappeared. Look as much as I might, I never could find her. I've read ghost shrimp will sometimes dig burrows and maybe that is what she has done. Wow, this aquarium is even cooler than I could have ever imagined. But little shrimp are very unlikely as the odds of any surviving for more than a day or two after they hatch a few weeks from now, are slim to none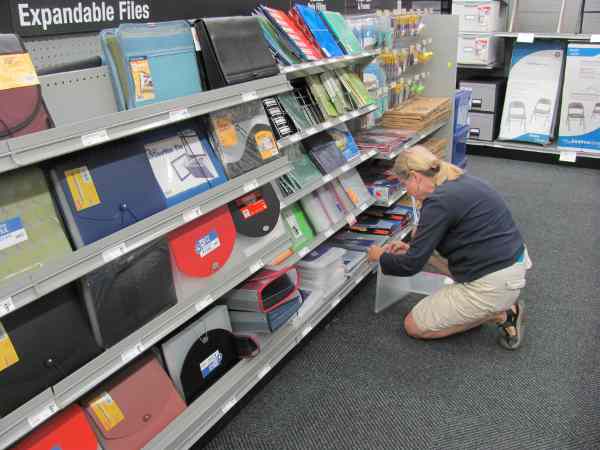 While shopping we stopped at Staples so Linda could pick up two things she needed to keep the home office running smoothly and efficiently. First was several plastic sheets to hold business cards from fellow fulltimers as the ones we have are full. The other was to find a certain special folder that would hold all of last years receipts, something that she really dug into.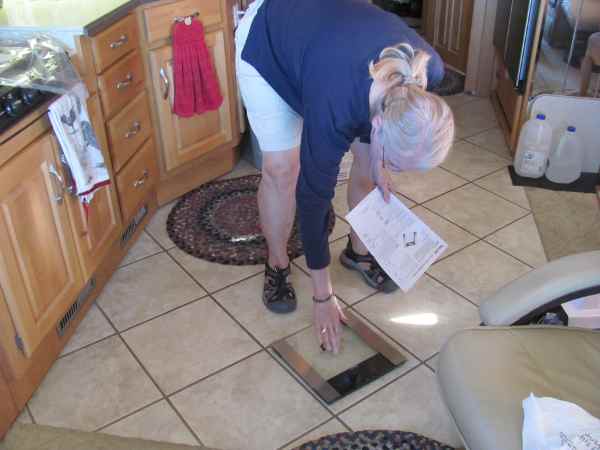 An impulse purchase, as our current scale was nearly seven years old. Linda has been protesting that it is in error and that she can't weigh that much. Maybe she was right. The new scale indicates her weight is nearly a pound less than what the old scale reported. Linda is happy. Bob is unhappy. The new scale reports he actually weighs 0.8 pounds more than the old scale showed he weighed. And all this was with a side by side comparison where we weighed on the old scaled then immediately stepped on the new scale and weighed again. Linda is happy. Life is good. Bob is still scratching his head wondering how she managed this little trick.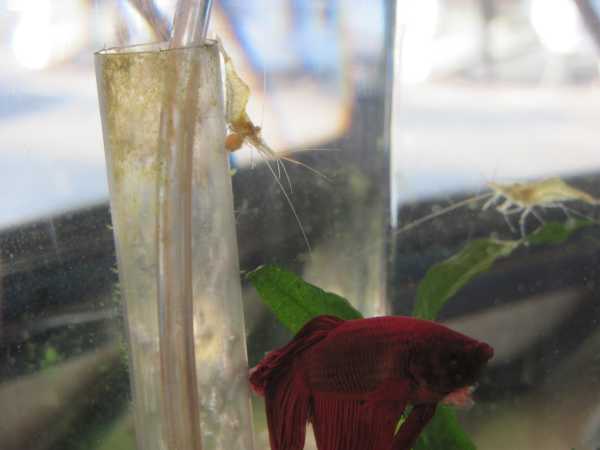 This is not the shrimp that is carry the eggs. This is the thief shrimp that stole one of Red's food pellets. We got the shrimp to eat the algae, which they did, but the algae is now growing again and instead of eating it they are stealing Red's food. Obviously shrimp are more than something tasty that you dip into cocktail sauce before popping them into your mouth. They are downright smart little critters. Life, we can sit and watch it pass by, or we hop on board and enjoy the ride, the choice is ours.
---
Sunday January 8 Gold Canyon, AZ
Last Day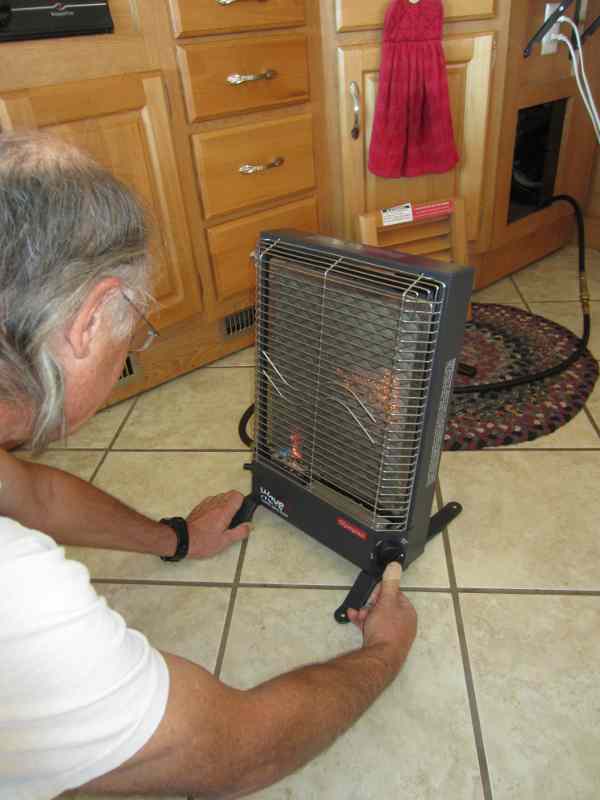 Our last full day before heading west to Quartzsite meant it was time to check out the Wave 6. And just like it always does, it started right up. What really makes it easy is the rubber hose with the shut off valve and quick connect that we installed when we first started staying at Q. And while it isn't the same as using the furnace, it does serve its function of making the coach more livable when we use it in the morning. More livable meaning it is pointed directly at Linda, which in turns makes Life much more livable for me.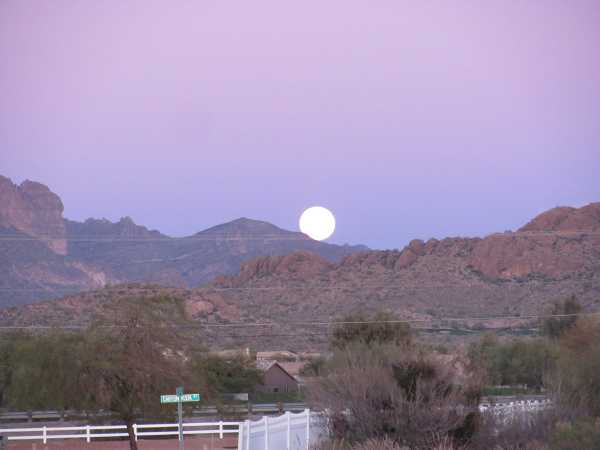 There is Moon over Miami, and then there is Moon over Maricopa. It was a great way to catch our last glimpse of the Superstition Mountains, though we are looking forward to many wonderful sunsets and moonrises at Quartzsite.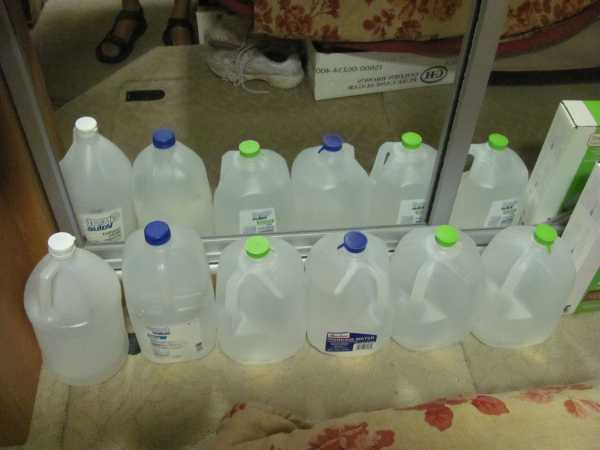 Now I know where Linda hides her shoes so I don't trip over them. They're under her side of the bed. The photo obviously isn't about shoes, it's about water. Linda is not keen on the water at this park that we are filling our tank with to use while we are boondocking in Quartzsite. Neither is she keen on the water we will be getting when we refill at the La Posa South water station. We could buy water at the Pit Stop, but that means another stop, so as a first, we are going with bottled water to drink. I guess it must be a sign that we are getting old when the water we have used for years in Quartzsite just isn't good enough anymore. Or maybe it is just that Linda has better taste than I do.
---
Monday January 9 Quartzsite, AZ
Quartzsite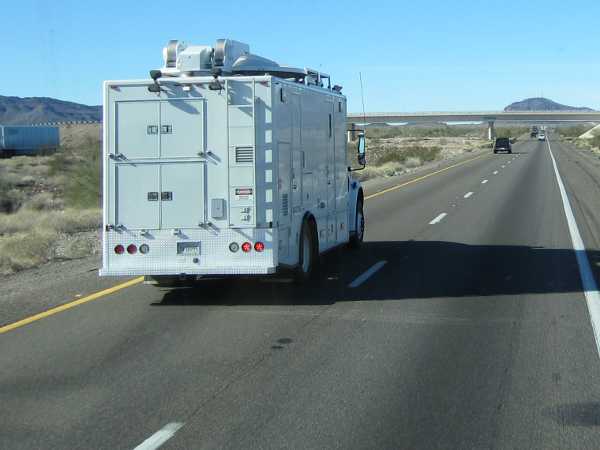 Easy drive to Quartzsite, as we just followed US 60 west to where I-17 begins, then up to I-10 and west to Quartzsite. I don't like taking I-10 through Phoenix, which is probably why the GPS routed us on US 60 today. It was likely tired of hearing me grumble about how stupid it was when it came to routing us through cities. As for the truck in the photo, the entire top of the truck was covered by a gigantic satellite dish. I can just hear the driver going down the road passing RV's, all the while muttering, "That's not a dish on top of your RV mate, THIS is a dish.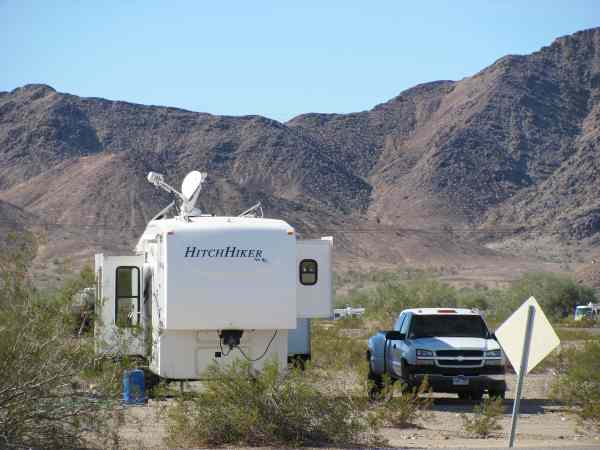 It was early afternoon when we pulled into La Posa North, the LTVA we will be calling home for the next ten days or so. As usual, we unhooked and drove around looking for that perfect spot, and were pleased to see that Ron and Terry of Hitchitch were in the special spot they try to get every year. They must have just arrived because there was no awning up or hot tub to be seen. If you didn't read about their hot tub a few years back you missed one of the great moments in RV blogging.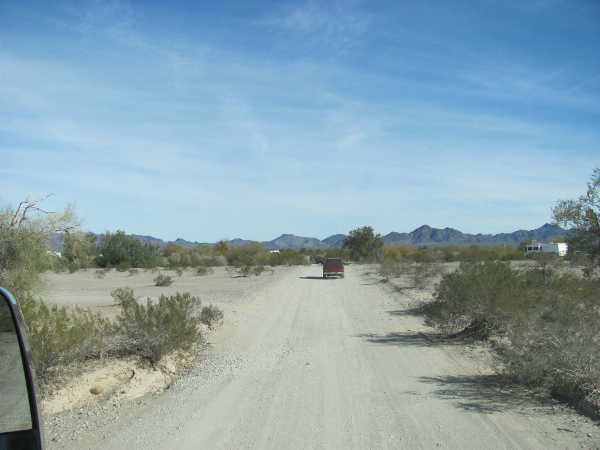 It took some searching, but eventually we found the perfect spot, one that turned out to be near where we had stayed a few years ago. This is the best road we drove on getting back to it, though we were pleasantly surprised at how well the tracks through the desert were holding up once we were off this road. What really surprised us was that one of the dry creek crossings that had been getting worse and worse every year, had been widened out as well as smoothed up. That's not smooth as in smooth, that's smooth as in not bone jarring. But that is also one of the things that makes Quartzsite, Quartzsite.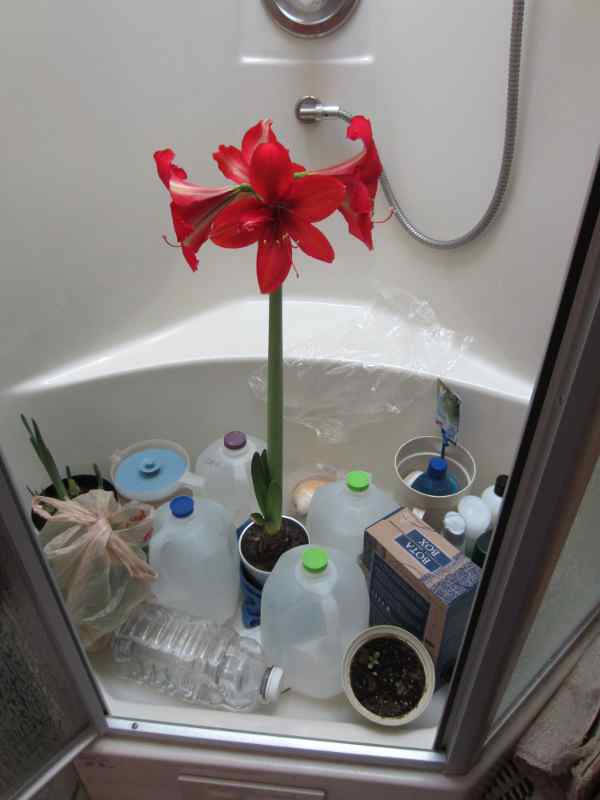 Just to prove it wasn't as bad as my words might indicate, the Amaryllis survived without any damage what so ever. And as Linda pointed out, there was even another use for all those bottles of drinking water she was bringing, they made excellent packing to hold the Amaryllis steady during the trip. At least I was smart enough not to pipe up with something about my great driving having more to do with our safe passage than her big jugs did. Smart Bob. Good Bob.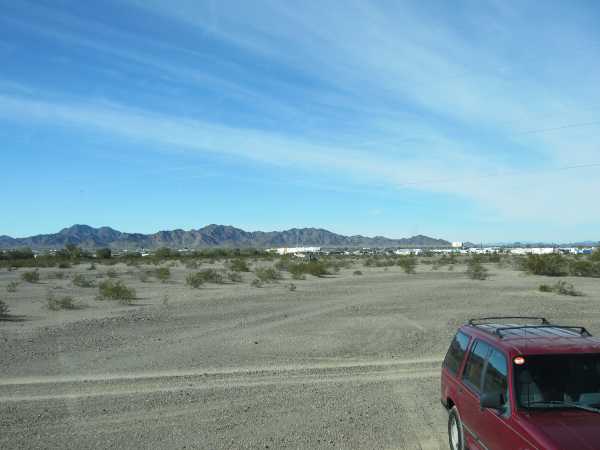 The view to the front. In the far distance the Big Tent was going up. Over the next week or so there will be a few more RV's parking in the distance every day. They will be far enough away that our view out the front, at least Linda's view, of the Quartzsite sunsets will be spectacular. We always park at a little angle to the northwest to better align the solar panels. I don't know how much it actually helps, but it makes us think it does, and that works for us.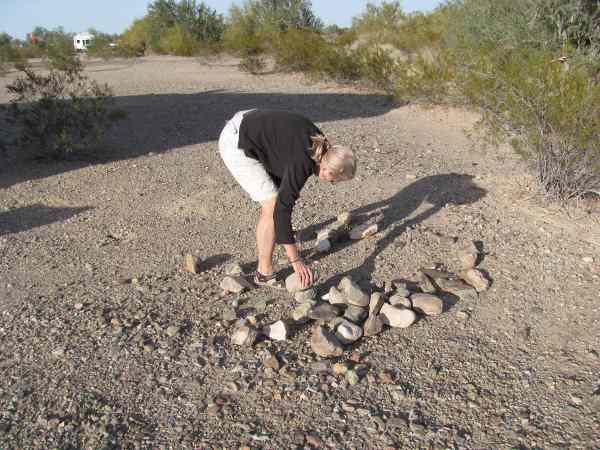 The view to the rear. The first thing Linda wanted done was to build a fire ring. First off I managed to get a nasty scratch from a Palo Verde tree while reaching for a rock where I shouldn't have been reaching, at least in a short sleeved shirt. Then no sooner did we get the fire ring built than Linda decided it was in the wrong place and we ended up rebuilding it some distance away. One thing we have learned is that the way we park the coach and the way the wind usually blows means that the only protected area is off the back corner of the coach on the drivers side. That's where we set up our lawn chairs, and it is where we moved the fire ring. And when the second fire ring turned out better than the first, it really brought a big smile to my girl's face. And that made it more than worthwhile.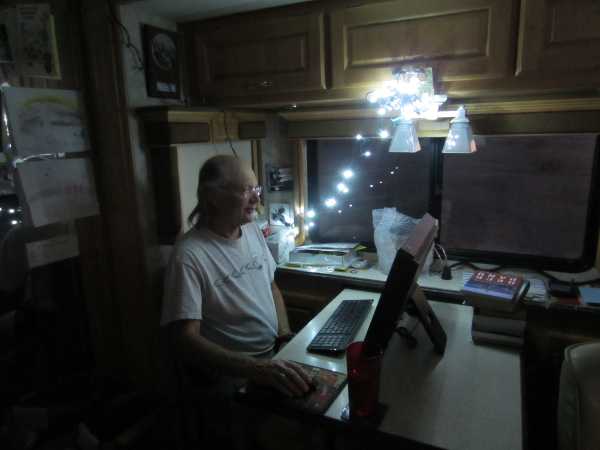 Night time in the city of Quartzsite. Everyone has their own things they do when they boondock, and this is a new one for us. We have four solar panels on the roof, a big bank of batteries and a huge generator, so electricity is not a concern. What we do when we stay at Q is to go back to our decades of camping in a tent, years when conservation of water and energy was the key to success.
Something new for us was to use a bundled up string of LED Christmas lights for an overhead light. The whole string uses just .04 amps, and with the inverter on because of the computer, it is a very efficient way of providing some light. A little odd you say? I'll tell you that you don't know know the meaning of odd until you've seen some of the really odd things that appear in the desert around Quartzsite, which may be exactly why we enjoy this place so much.
---
Tuesday January 10 Quartzsite, AZ
Shopping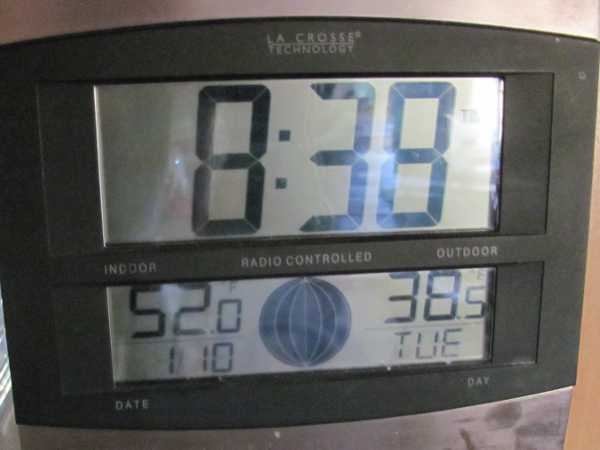 Early morning in Quartzsite is much later than what I usually call early morning. I don't know what it is, but when we are out in this desert air, my usual early morning rise and shine hasn't only got up and went, it has completely disappeared. It probably has something to do with the inside temperature as indicated by the photo, along with the warm creature next to me in bed. Heat through absorption, not chill through arising is my morning motto when at Quartzsite and from the sounds occasionally coming from beside me I think Linda enjoys it too.
While Quartzsite isn't exact OZ, though it might be close, somewhere over there is the rainbow, or least the pot of gold at the end of the rainbow. The problem is that we wouldn't know it if we saw it, though the looking sure is fun. We did have a purchase in mind as we headed out, those 5 amp fuses for our sometimes Notcold Norcold control board that I have yet to replace. Like Linda says, "It isn't cold enough for it to go out, so why replace something that is working." Hope she applies that same thinking to me.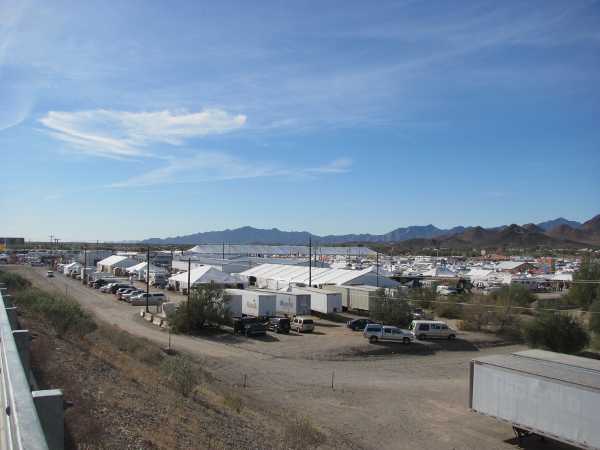 We did have one thing that Linda had decreed would be first on our agenda, walking over the I-10 bridge then up to the QIA to buy our tickets for the New Christy Minstrels concert. We go to the afternoon performance, and we got tickets in the 150's, which means there were just over 150 tickets already sold. Once that purchase was completed, we walked over to the post office area to check out the vendors, then headed back across the bridge to KB Tools.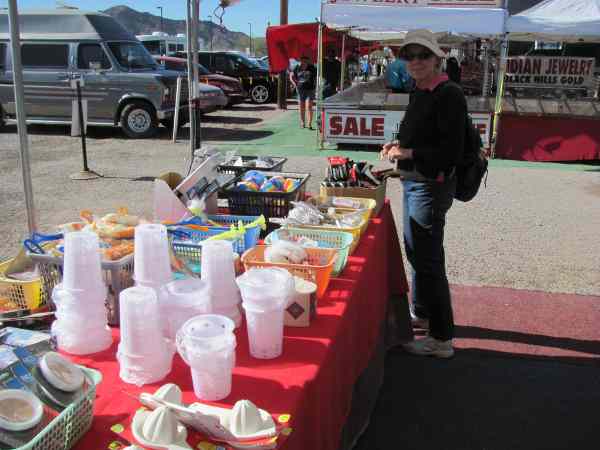 There are a number of vendors already set up, but there are also many empty spaces waiting for next week's major influx. We do have our special places where we always shop, the kitchen store being one of them. As we walked away without making a single purchase I remarked, "I can't believe you couldn't find a single thing to buy." To which she immediately replied, "Neither do I." What's not to like about a woman with an outlook like that.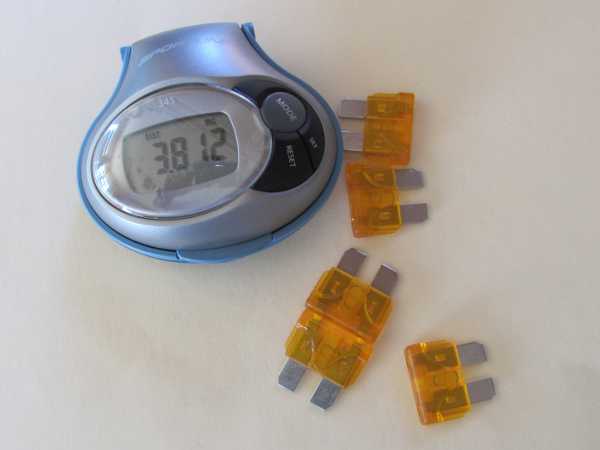 Back at the coach we reviewed the results of our excursion, two concert tickets and what you see. That's five fuses which cost a grand total of $1, and 3.812 miles of walking. To say we were tired would be correct, and to say that we decided not to go back again in the late afternoon would also be correct. I guess it was a case of our need for exercise and shopping both being sated, plus any bargains that we didn't find today will still be where we can't find them tomorrow.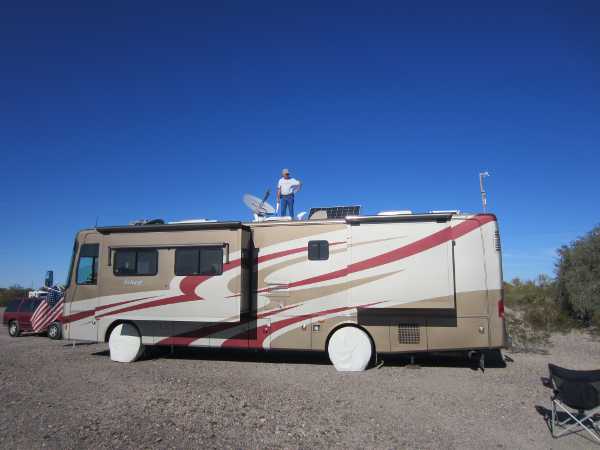 Another of those little jobs that makes Life at Quartzsite better, tilting the solar panels to increase their efficiency. Of course it wasn't without a small glitch, that being the panel I had moved when we had the Winegard installed being partly shaded by the MotoSat. For now we are leave it where it is, but if we don't generate as many amps as we need, I'll have to figure out some way to reposition it. Time will tell.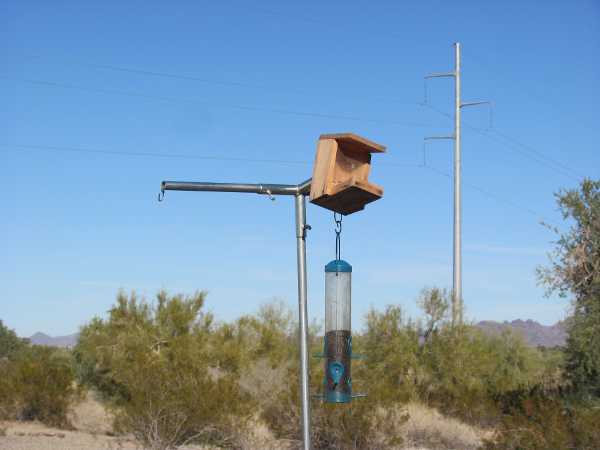 We also set up the bird feeder. We both agreed that Linda's mounting of the feeder our grandson Zachary made for us was a little off kilter. But maybe that is the real key to enjoying the Quartzsite experience, you have to be a little off kilter. That's not to take anything away from the people who have to have everything in its place and their RV immaculate, but to us part of being at Quartzsite is the dust and dirt. The being tired from too much walking. The hum of generators in the evening. The birds gathering around the feeder. The fantastic sunsets. As always, it's a case of those that say they couldn't do it being absolutely right.
---
---