Journal Archive 6/1 - 6/10 2012
Scroll down to read the latest post
Sunday June 3 Borger, Texas
It's Been A While
I plan to do a home page article to fill in the past months that I have not been writing, but suffice it to say that 45 years of accumulation has been sold or given away, the house put on the market, an offer received before it was officially listed, we made a counter offer, an acceptance by the buyer, and with the recent recording of the deed, someone else now owns it. To quote Linda "I never would have believed it." Or to quote the real estate people, "It's location, location, location."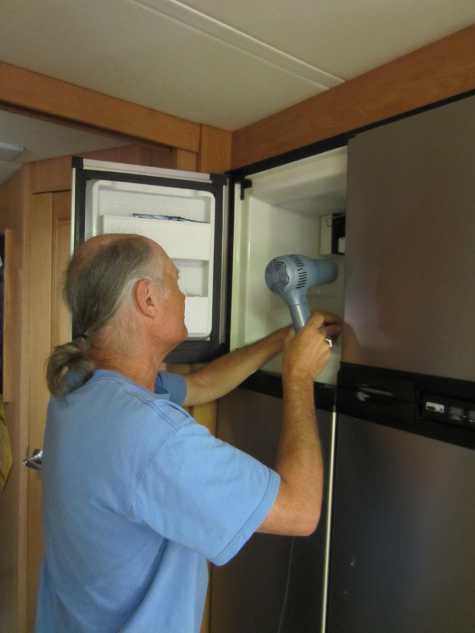 So here we are, in Borger, Texas where it is hotter than blue blazes, but it really doesn't matter as Borger is filled with pleasant memories of that former life we lived. Even the fact that the ice maker started groaning could not put a dent in the good feelings I had about this town in the upper reaches of the Texas panhandle.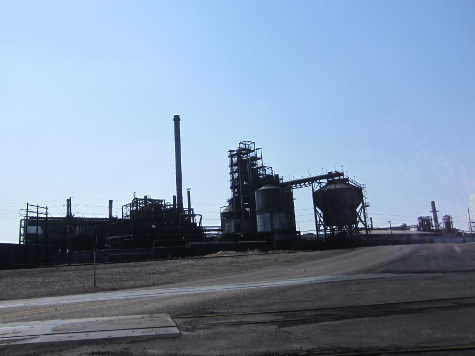 Forty three years ago in the middle of the winter, this was my home for seven days a week, ten hours a day or night depending on which shift I worked. And on occasion 20 hours straight when I worked as a shift breaker. At that time I was recently out of college, and carbon black was something they never even mentioned during those four years, but my time at what was then known as the Philblack Plant turned me into an expert, or at least in my own mind it did. Today we were back for the first time in four decades, and I think Linda was more excited than I was.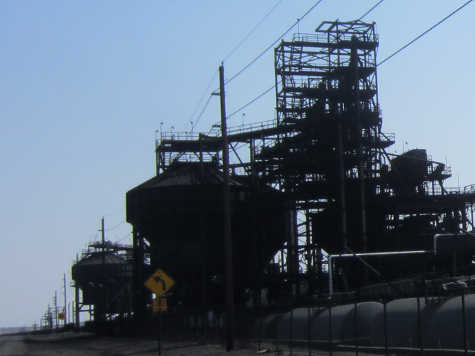 Memories. I remember walking on these steel grate catwalks, arms loaded with sample bags of carbon black. The temperatures far below freezing, the wind howling, the grating coated with ice. My thoughts leading me to wonder if my high school classmates who had opted for jobs at the GM assembly plant located nearby to where I had grown up hadn't made a wiser career choice. I survived those icy excursions and the end result was I realized that I could do anything if I put my mind to it.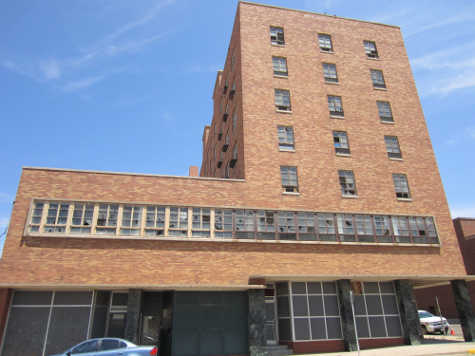 Change is inevitable. During my stay in Borger this was my home when I wasn't working. Today it is an abandoned building, with pigeons flying in and out of its broken windows. Back then the left side corner room on the next to the top floor was where I lived. Today we live in our motorhome, but without what went before, today would not be possible. Memories, good memories.
---
Monday June 4 Liberal, Kansas
Travel Day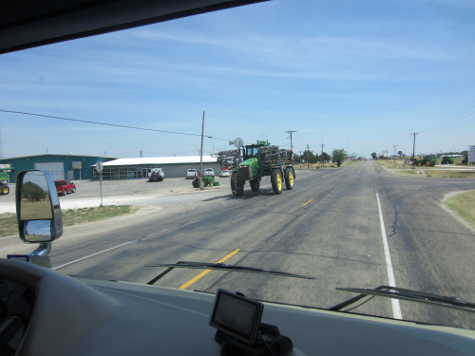 This morning found us leaving Borger, and heading northeast towards Liberal, Kansas and the land of OZ. From under Hutchison County Texas comes oil and gas, but on top of Hutchison County, a land that once saw immense and seeming endless herds of buffalo, today is a land of huge tractors and fields of grain disappearing over the horizon. To break the monotony of the grain fields, the range lands where cattle roam oftentimes spread from horizon to horizon. Yes, I wax poetic, but it has been a long time since I have written every day, and getting back into the rhythm of things ain't exactly easy when one is as old as yours truly.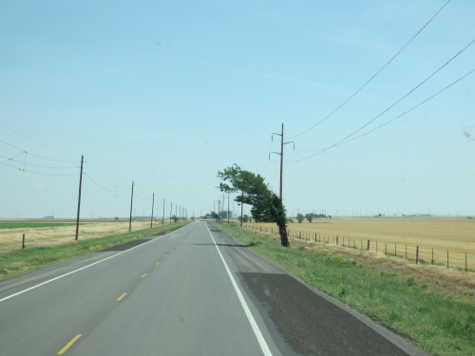 The only certainty in this country is the wind. It seemingly never stops blowing, a fact that is confirmed by the unique appearance of the trees as we traveled towards Oklahoma. I remember that winter I spent in Borger nearly a half century ago. The need to wrap newspapers around my body under my clothes to keep the cold wind from penetrating to my very soul. I can only think how very tough these people who live here are. I think of those people, the ones in New York and San Francisco, who belittle and ridicule the beliefs of these hardy souls who live in the panhandle. I wonder who the real Americans are? Yet diversity is what makes us the one country that every other nation looks to. Are we real? Or are we merely dust in the wind of eternity?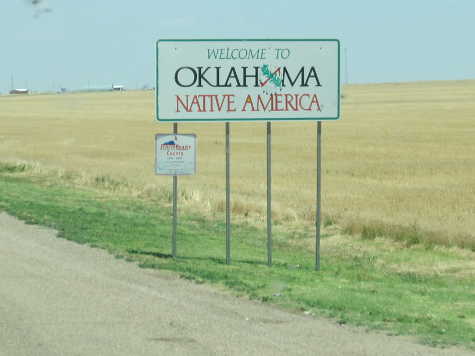 Oklahoma! Rogers and Hammerstein got it exactly right, it is truly a grand place, but today we were only spending minutes in the state to which we owe the Life we live. Oklahoma, Phillips 66. They are twins, but out here, out in the western reaches of the state, it is a long ways from those bygone days of gushers and boomtowns. Here the land from horizon to horizon is dotted with farms and ranches. In the distance the occasional wellhead can be seen. This is the land of real people, not the 1% of the big cities, but rather the real people that make up the real America.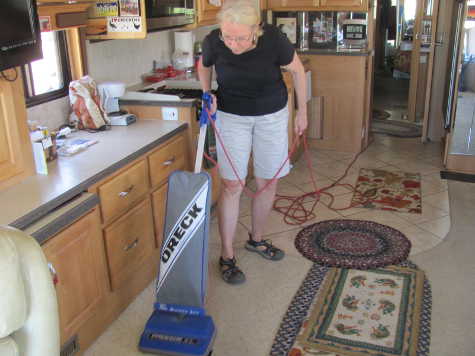 Speaking of real Americans, I'll take an Appalachian hillgirl over one of those totally fake and totally worthless big city, wanna be girls any day. Nobody is perfect, but the fact that an Appalachian hillgirl named Linda picked the very best of the very best to be her husband speaks volumes. Hey, it's my blog and I can write what I want. Just remember: Life is not a dress rehearsal. Don't be afraid to laugh, love and retire early. And if you don't know whether you you can fulltime or not, you're right. You can't.
---
Tuesday June 5 Liberal, Kansas
We're off to see the wizard, the wonderful Wizard of Oz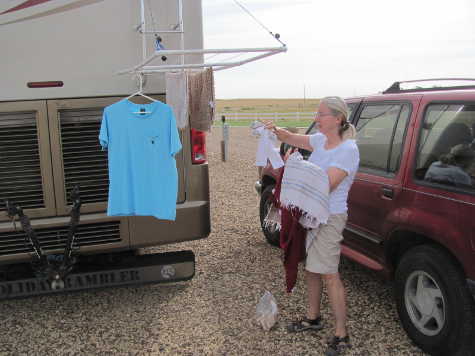 We really do not have a laundry day, meaning with the Splendide not having a huge capacity, laundry day comes every couple of days. As you can see, Linda took advantage of the nice weather and dried everything outside. In the past we have had a problem with the fact we had never glued the drying rack together, meaning in high winds it would pull apart on occasion. No longer however, as yesterday we finally glued it together.
You'd think it would be an easy thing, but with the clothes line in place, it proved to be not quite so simple. First there was the struggle to pull the connecting pipes out of the fittings, then there was the problem of too much glue on the joints. That first problem of not gluing the joints earlier, was my own doing. The second problem was also my problem, but it was due to my asking Linda to help me correct the first problem.
Apparently not only should a drying rack function properly, it should also look good. Think of white pvc pipe and gray pvc glue. Think of how ugly a tiny amount of that glue on the white pipe would look. As I dabbed the gray glue on that first joint I heard, "You're getting too much glue on. It's going to run and look terrible."
"It is not, and besides I need to put enough glue on to hold the pieces together."
"It's starting to run."
"It is not."
"It is too. Just look at it."
All of that had taken place as we glued the first joint and I could just imagine what was coming as more joints were glued. That's when in a stroke of genius I said, I'll hold the pieces and you glue them."
It wasn't long before I heard, "It's really hard get the right amount of glue on, isn't it?"
"Yes dear, it is." Interesting that now that she was doing the gluing there were no comments at all on my part about too much glue, or any runs. I may not understand women, but I do understand when to keep my mouth shut. Good Bob.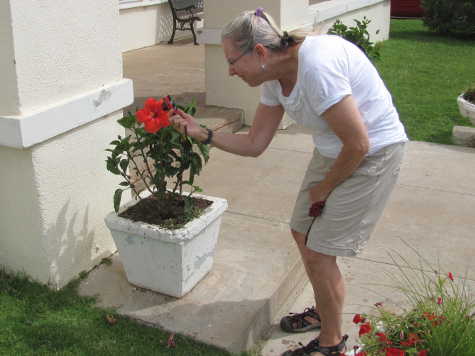 I know it has probably been very difficult for long time readers not seeing any photos of Linda taking a photo of flowers over these past months, but today that situation is being rectified. It is obvious from the expression on her face that getting the perfect posy photo takes a great deal of effort. Something else I do is to only post of the photo of her taking a photo, but never posting the photo she took. After today that will no longer be the case.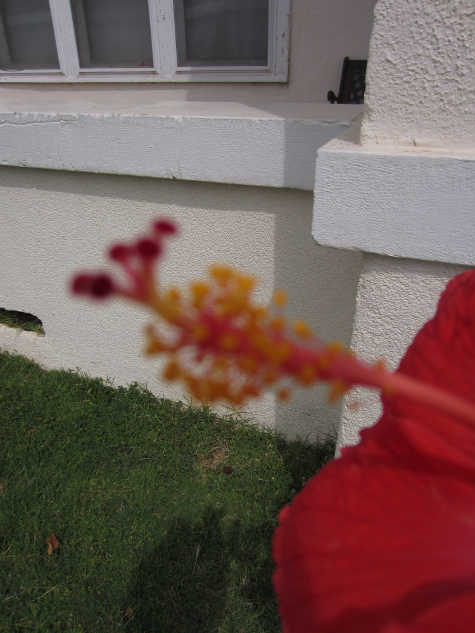 I readily admit to having little to no artistic talent. Linda on the other hand can look beyond what the normal person sees, and pick up the details others overlook.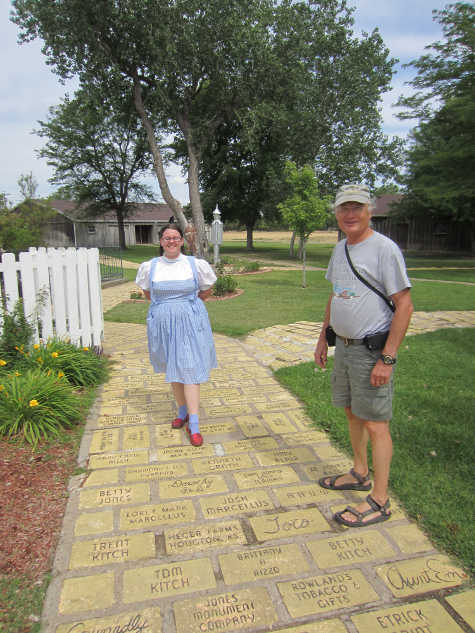 Since I made the reference to the Wizard of OZ in the title of today's post, I'd better mention we visited Dorothy's House/Land of Oz. If you visit, brush up on The Wizard of OZ before you go. You'll get a lot more out of it, and that's all I'm going to say.
---
Wednesday June 6 Larned, Kansas
Travel day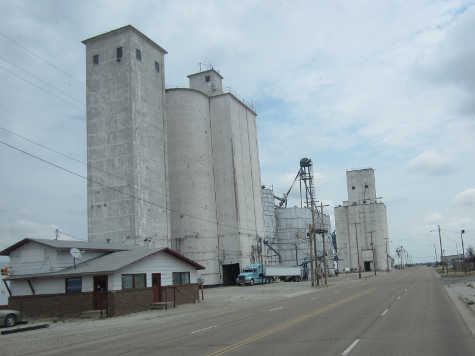 Today we were moving some three hours northeast to the small town of Larned, Kansas where there are a number of sites associated with the Santa Fe Trail. This area we traversed had miles of wheat fields and cattle range, but we could always pick out the towns from a great distance due to the grain elevators towering in the sky. Most of those towns seemed to be mere shells of what they once were, with numerous vacant buildings in what was once a thriving business district.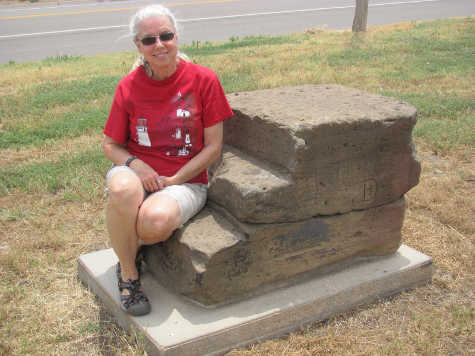 It's not the lonely stone steps from a long ago demolished building that Linda is sitting on, it is an upping block, also known as an carriage stone. We are always on the lookout for something new, and here it was. It was used by a lady in a long skirt to mount a horse or get into a carriage. How distorted our view of the 1800's is because of movies and TV. Ladies wore long dresses that covered neck, wrists and ankles, never pants. Ladies rode a horse side saddle, never astride. A ladies used upping blocks. Times have certainly changed, haven't they.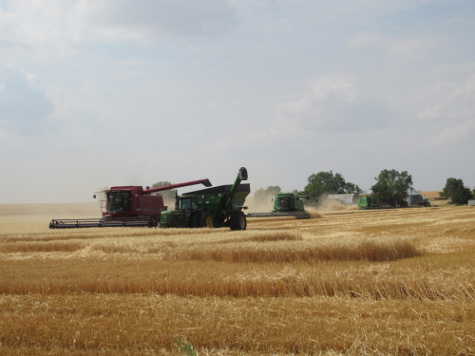 All around us the winter wheat harvest is full swing, and Linda is excited as a little girl in a candy store. She loves to watch the giant combines move through the fields, the grain carts pull up next to them as the combines unload the wheat without ever stopping. The grain dust in the air, elicited a "Isn't that smell wonderful" from her, and I could see in my minds eye a young girl driving a tractor on the family farm [Editor's Comment-I only did drive the tractor a few times, but they were memorable]. I missed that part of her Life, but the past 45 years we have shared has been more than awesome. Lucky Bob.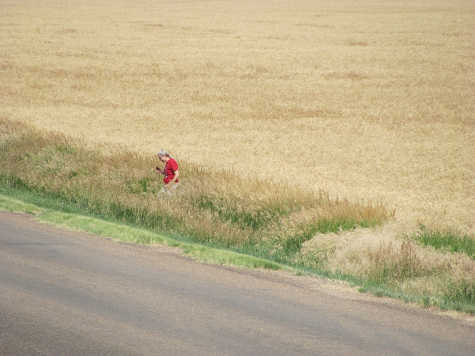 When I stopped at a cemetery so I could wander among the tombstones, what did Linda do, she headed across the road and out into an unharvested wheat field. I lost track of her as I searched for the unusual tombstone, but found none. I wondered in the zinc tombstone salesman never got off the train in this town, or maybe he was run out of town on a rail. No zinc tombstones, no woodmen of the world tombstones, just the markers for hard working farmers that made America the greatest country in the world.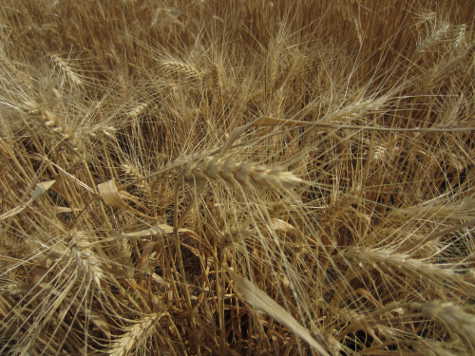 After downloading Linda's photos and discovering a half dozen or so photos of wheat, some in focus and some out of focus, I selected this one for inclusion in todays Daily Journal. After what I heard after posting that out of focus flower photo yesterday, it is going to longer than a coons age before I post an out of focus Linda photo again. Bad Bob for posting it. Good Bob for realizing that it should never be done again. Till next time that is.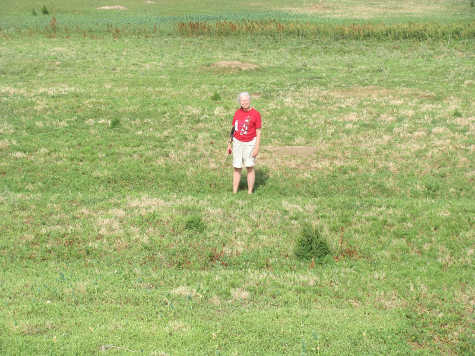 Traveling and watching the wheat harvest while standing in a cemetery wasn't all we did today. We also drove out to several sites where there were Santa Fe Trail ruts still visible on the landscape. They are not the furrows where the wagon wheels traveled, they are undulations that have been filled in during the last 150 or so years. Here is Linda experiencing the joy of standing in the track where those wagons once traveled while I tried to figure out how to best take the picture.
Not everyone appreciates history. Some people care nothing for history, yet think that a certain type of music is something that everyone should appreciate. For others it is only the fastest drive to travel from winter quarters to summer quarters, or to get to where the next rally is being held. Everyone lives life differently. We are glad we have chosen to Live the Life we Live. How about YOU?
---
Thursday June 7 Larned, Kansas
Museums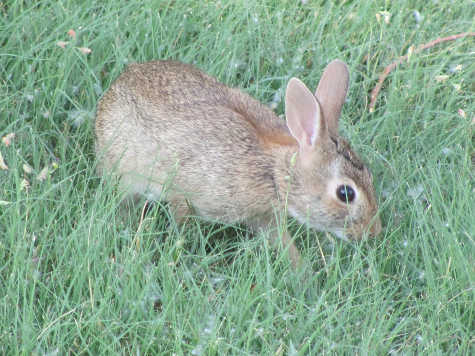 Today we were off to visit several museums and then chase down some sites on the Santa Fe Trail. That meant a fairly early start, but when we arrived at Fort Larned shortly after it opened we discovered we weren't the only ones up early. It was pretty apparent this cotton tail understood the old adage, the early bunny gets the best grass, and it was certainly enjoying itself. It also made us realize that we didn't need to rush through the day, something we took to heart.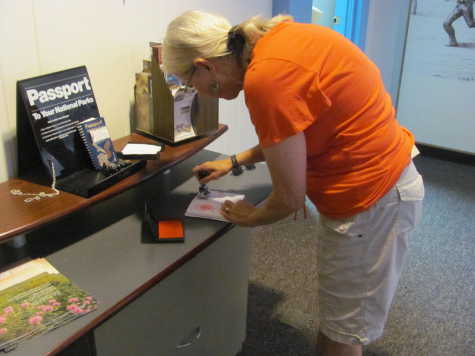 Linda had her NPS Passport book ready when we waled into the visitor center. I heard her say, "I wonder which section it is in?" It turned out to be the orange section and it wasn't long before she was checking the passport stamp to see if it showed the correct date. It turned out the date was wrong, it was the 6th instead of the 7th, so she changed it and soon two new stamps where in her book. This is always my chance to glimpse the past, to see her as a little girl, and it sure brings a smile to my face. Lucky Bob.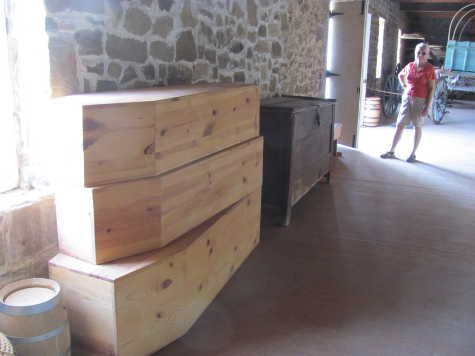 We spent nearly 2 1/2 hours at Fort Larned and never did take the hour long hike to the out lying areas. After all, we have to leave something for the next time we are here. But I digress. Look at the above photo. Look at what is at the left side of the photo. Look at what is at the right side of the photo. There is a story there.
We were in the commissary building when I heard Linda say, "You know what these are?" as as she put her hand on three stacked wooden objects.
"Sure I do." I replied, without saying what they were. Seconds later I was looking at some nearby boxes when I caught a movement out of the corner of my eye. My wife, that sometimes little girl, was actually trying to lift up the lid of the top most coffin to see if anything was inside!
My "I can't believe you're doing that", caused her to flinch just slightly, and then move away. I looked back at the stack of coffins, and it occurred to me, this would make a great photo. I framed the photo, and I heard her state rather emphatically, "You're not going to write about this in the Daily Journal." I reframed the photo to take in my wonderful wife with hand on hip and fire in her eye. "Who, me?" I said.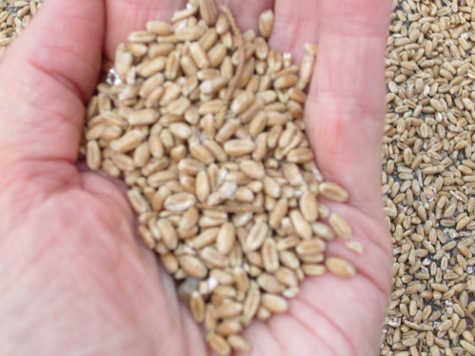 Later we had stopped at the Santa Fe Trail Museum, which we really enjoyed, then after returning to the coach for lunch, we were off to Pawnee Rocks to visit more sites on the Santa Fe Trail. One of the interesting things about downloading Linda's photo's is that I never know what I will find. When I stopped at a Kansas Historical Marker to read about the area, Linda had stayed back by the Explorer. Downloading her photos I discovered she had obviously been playing in a pile of spilled wheat. The little girl can grow up, but the woman will never stop being a little girl. Am I lucky or what.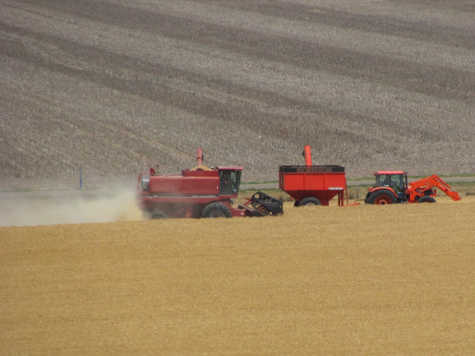 We stopped at Pawnee Rocks, a major point on the Santa Fe Trail, a place where Kit Carson had once been, A place where early travelers had carved their named in the soft sandstone. So what did I find when I downloaded Linda's photos of this famous rocky outcrop? You guessed it. Photos of combines in the nearby wheat field. Guess you can take the girl out of the farm, but you can never take the farm out of the girl. And I would never have it any other way. It was a very good day, even if we didn't find all the Santa Fe Trail sites we were looking for.
---
Friday June 8 Ellis, Kansas
Riverfront property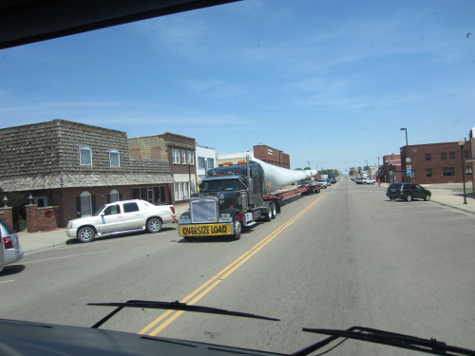 Travel, reading and resting were the order of the day. We moved towards the northwest, passing through some small, smaller and very small towns, everyone of which had seen better days. It was also a day when the wind was definitely blowing, though fortunately we were mostly on north bound roads and wind was blowing from the south. We also met a number of trucks with windmill blades on them, meaning the wind was certainly not an unusual occurrence in this part of the country.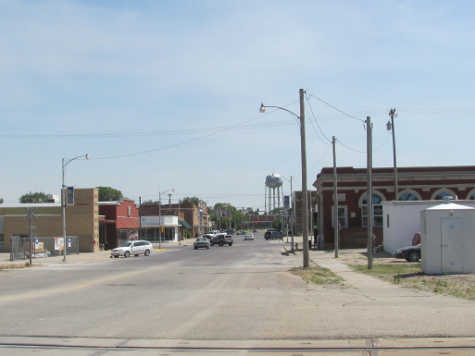 The main street of Ellis, Kansas on a Friday afternoon in early June. It really isn't dead, it just looks that way. Sure there are a number of vacant buildings, but there are also some businesses that are open. We really like the fact the RV park we are at is in town, and we walked down to the far end of the street to the local grocery store and bought some fresh vegetables.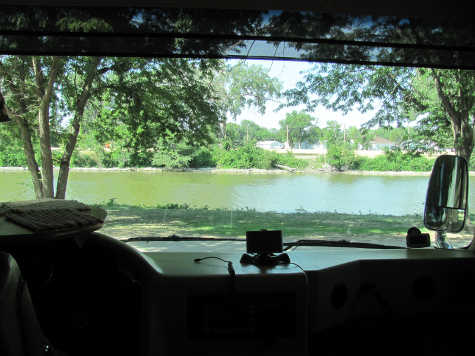 The view to the front. This is a really neat little campground, and even though we have trees around the coach, there is a hole to the south, so we have both MotoSat and DirecTV. And that hole in the trees wasn't by accident, especially since Linda had our compass in her hand as we were scouting out sites. A great view out the font, cool shade, a police officer who comes around in the evening to collect the money, and a Riverfest being held this weekend all make this a great place to stay. And we had no idea the Riverfest was being held until we saw something about it on our walk down to the grocery store. What's not to love about this Life and our guide, Sara N. Dippity.
---
Saturday June 9 Ellis, Kansas
A fun day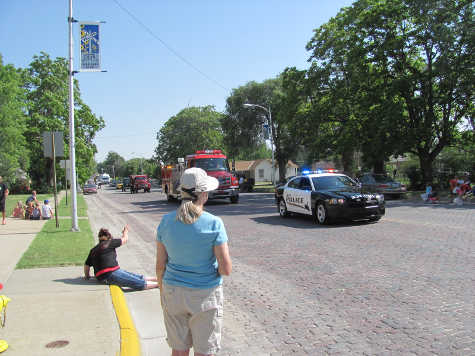 At ten o'clock this morning the streets were lined with kids watching the Riverfest parade, and the coach's kid was right out there among them. Deprived of parade watching due to a country upbringing, she as more than made up for during our 45 years together. She was definitely on her best behavior and didn't dart out in front of the little girl sitting on the nearby curb with her mother. I could just imagine what was going through Linda's mind as all the candy was thrown just a few feet away and she resisted the temptation to jump out and pick it up.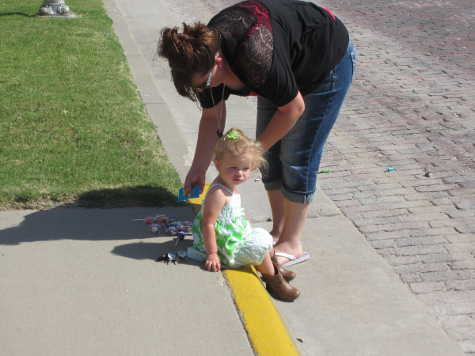 I think this is called watching so the mean old lady that keeps looking at my pile of candy doesn't come over and steal it while my mommy picks it up. Well not really, but that look does suggest she might have some second thoughts about exactly what Linda's intentions were.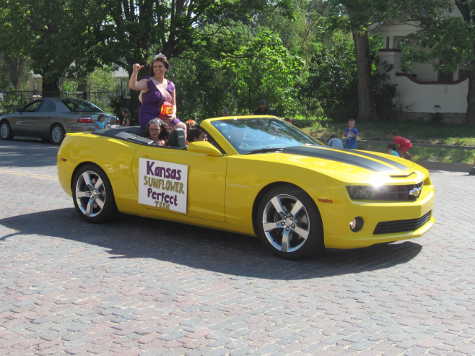 Fire trucks, race cars, politicians, horses and even a queen. It just doesn't get better than this. As we learned, out here it is God, country, agriculture, gas and oil, and the heck with those politicians back in the big cities of eastern Kansas. We may not all agree on how things should be run, but we all believe there is no other country like ours, for better or for worse. Though extensive travel outside the US can cause one to wonder at times.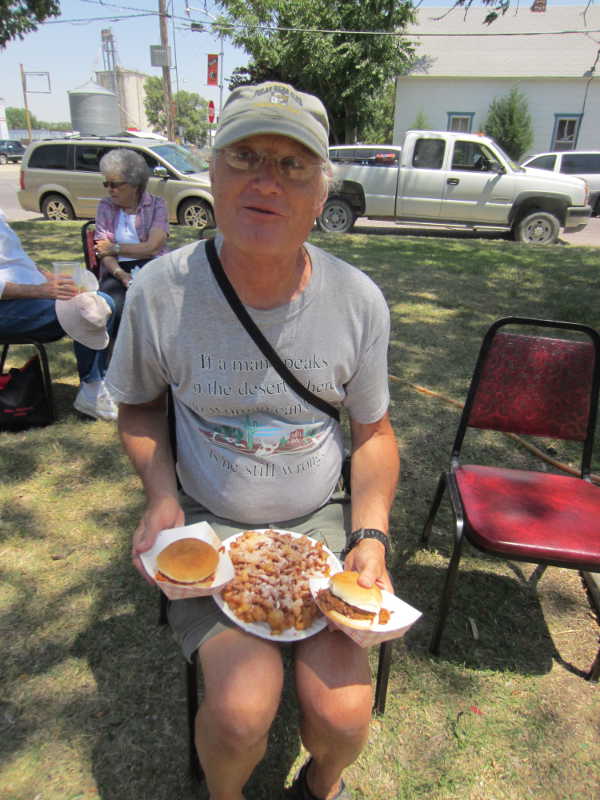 Later we headed down to the town park where the Riverfest was being held, and where Linda enjoyed the pork and I devoured the beef barbecue plus a wonderful funnel cake. It was hard deciding which booth to buy from, but we finally decided to support the kids and buy from the St. Mary's CYO booth. And in case you are wondering, I don't have a clue what was on my mind when Linda took this photo.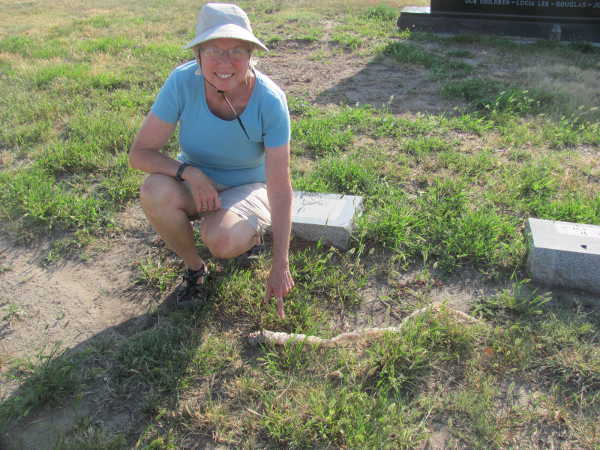 No visit to a town is complete for us unless we visit the local cemetery. We drove into the cemetery to sound of the carillon bells, then got to see some indications of a previous visitor to the cemetery. As Linda said, that was a very big snake, and we were glad it wasn't around.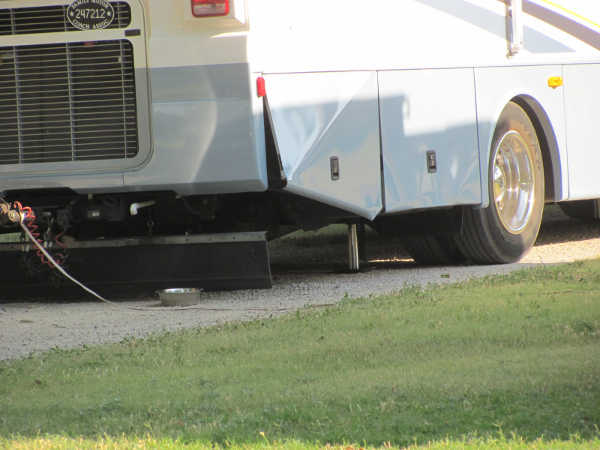 There was also some excitement in the park as we watched a couple of RV's come and circle round and round as they tried to find the right site. Since there were only three sites available, it should have been a lot easier than they made it. One of the RV's had its jacks partly down and we decided the driver of the other one didn't have much a clue as to how to drive it. When the later RV drove over a stump and bent one the bay doors we knew we had them pegged. I have to believe that when they bought it she said something about it being awfully big, and he said something about it wouldn't be a problem. RVing, if you don't have a story to tell, you haven't taken the RV out yet.
---
Sunday June 10 Ellis, Kansas
A major museum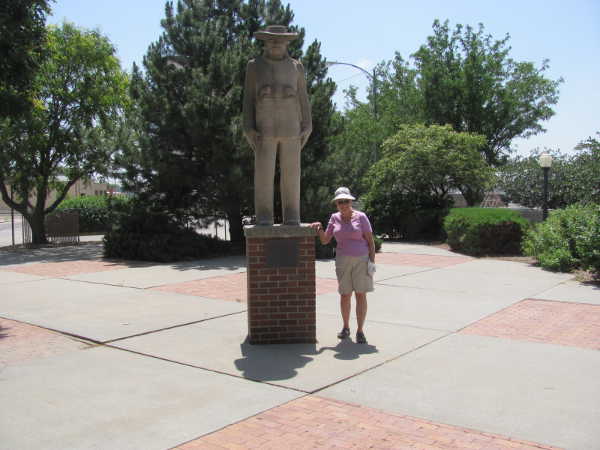 Ellis is about 15 minutes from Hays, Hays being where the museum Linda wanted to visit was located. So early afternoon found us in Hay's wandering around the downtown area as we waited for the museum to open. On one corner we found a plaque that said Wild Bill Hickok had killed a man in a gunfight at that location. Later we stumbled upon this statue of Wild Bill, and Linda just had to have her picture taken next to him. One hundred forty years apart, yet kindred spirits. Linda sure did enjoy those TV programs when she was a little girl.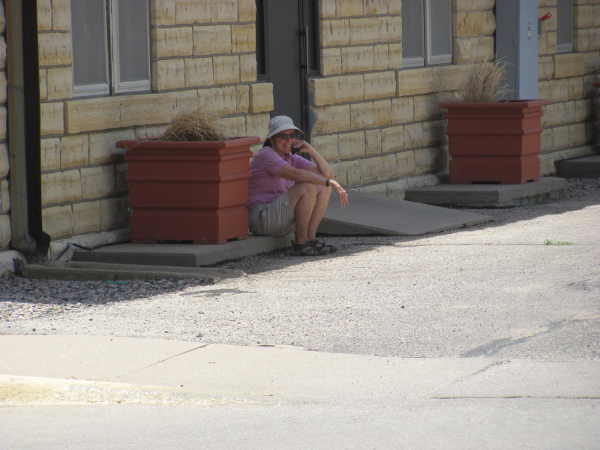 I enjoy walking around small town downtowns and looking at old buildings. Linda has other ideas as to what constitutes a good time. Imagine my surprise as I was walking down one street and look over to see a little old street person hunkered down in the shade behind an old building. On the other hand, it just goes to show how smart I was to marry a girl who has enough sense to get out of the sun when it is really hot. A smart Bob is a Good Bob.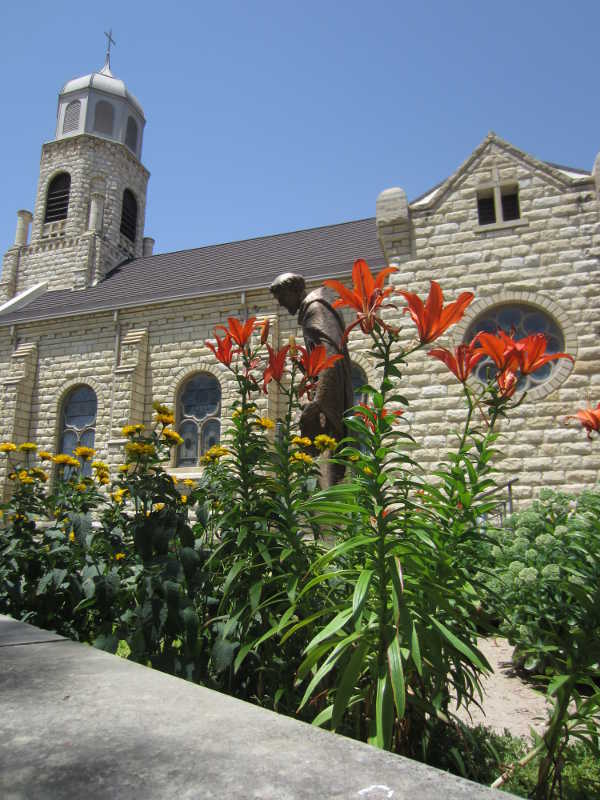 I was taking some photos of a spectacular church when I noticed Linda had emerged from the shade and was taking some photos herself. I was thinking that maybe she was appreciating the beauty and the architecture of these old buildings that I get so much enjoyment from, but when I downloaded her photos I discovered she was really taking photos of flowers. I guess a few flowers are better than complaining about what I was doing.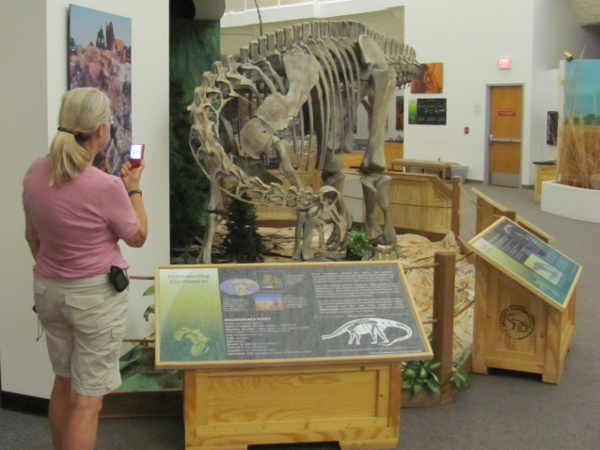 Eventually we did get to the Sternberg Museum, where Linda got her fill of of the past. I will not attempt to post even a tiny bit of all the photos she took, so if you want to see more you'll have to go in person, though we both agreed we sure got more than our money's worth from the nearly three hours we spent there.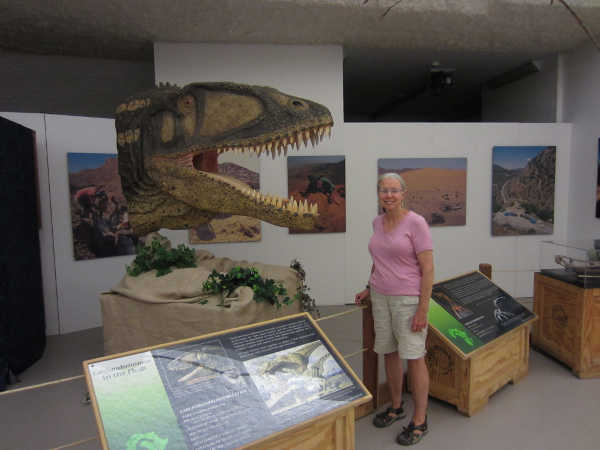 My title for this one is: Two toothy grins. A little girl in a candy shop does not begin to describe how excited she was as we wandered through the various exhibits. I always thought when I was little boy that women in their sixty's were so stuffy and serious. And yet here is my wife at that stage of her Life, and all the while she's acting like a little girl. Did I pick good or what!!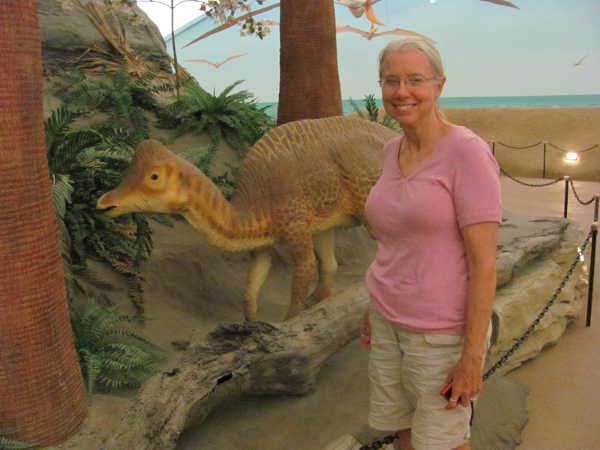 Just one last photo to prove that all those others were no fluke. Suffice it say that we both had a very good day and we will be sorry to be moving on to Concordia on Monday, but that only means new adventures await. Remember: Life is not a dress rehearsal. Don't be afraid to laugh, love and retire early.
---
---