Journal Archive 12/11 - 12/20 2012
Scroll down to read the latest post
Tuesday Dec 11 Mission, Texas
So What Happened?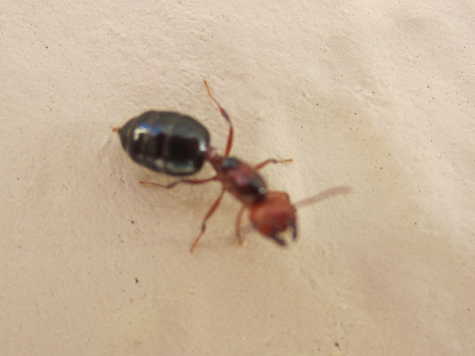 Hard to believe that there has actually been a post to this more than irregularly irregular website. Some things aren't easy and writing the Daily Journal, the new Homepage article and remembering how to post after so long with no posts was bad enough. Then on top of that they had changed our server address while were in Europe and even though I had uploaded the late November post, it was to the old address, so it didn't show.
This morning Linda remembered an email we received while we were in Europe, and as they say, the rest is history. With that in mind I will just take off from this moment and go forward with the Daily Journal. As far as the ant photo is concerned, I just wanted something to start with, and that seemed as good as any. We did have about a week where they were all over, but that too has passed.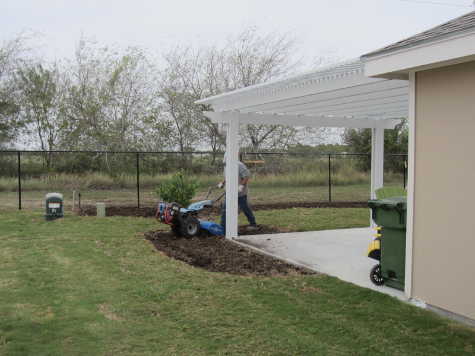 We think not much goes on here in Retama, but in reality that is not true. Today there was a noise like they were mowing in the back yard, but since it isn't the day they mow, it had to do with our new plantings. Sure enough, they were tilling up the ground where the new beds were going in. We are going to be living with the "new house small plant syndrome" for at least this year, but the way things grow here, next winter should have it looking much better.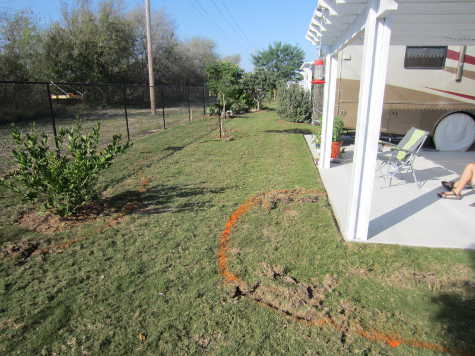 Linda knew what she wanted, so I'll back up a bit and show the before photo after the after photo. Imitation being the sincerest form of flattery, and knowing a great thing when she sees it, Linda had our beds laid out the same as our neighbor's. Roger and Diane's look so nice across the back of their lot, and that was exactly the look Linda was wanting to achieve. The bed at the near edge of the patio is to provide a block and windbreak since that is the direction the wind normally blows from.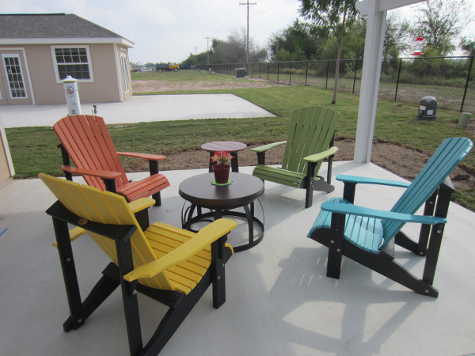 A few days ago our new chairs arrived to add a splash of color. Easy to put together, it only took a couple hours and all four were ready for action.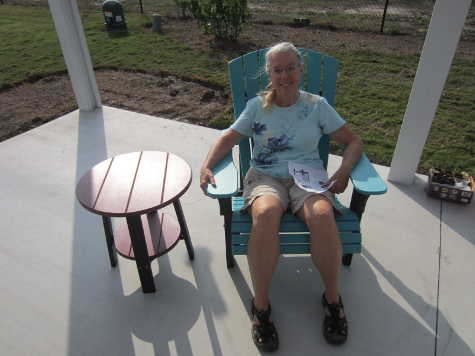 As you can see, Linda, assembly instructions in hand, had immediately tested them to make sure I had every bolt and screw good and tight. With all four passing with flying colors, she was certainly one happy girl. To back up a moment or two, I'll just say she wasn't always a happy girl during the assembly process, especially when I expected her to know what I was thinking without telling her. I'll just say, Bad Bob, and let it go at that.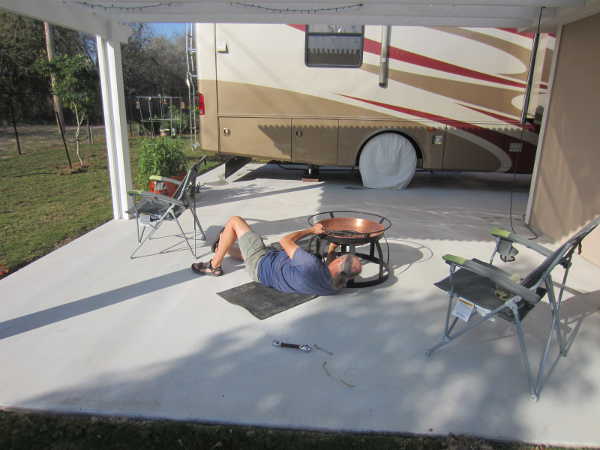 Another addition was our fire pit. Unfortunately it came with a broken thermocouple and a scratched top. The company sent us new ones, and once the thermocouple was installed, it worked great. Oh yes, above all of these items is the pergola that was installed last week. Needless to say, Linda is one very happy girl. And I would be remiss if I didn't mention that among all the goings on, there was a Good Bob or two thrown in. Like Linda says, I do have my good points, it's just that sometimes they are had to find.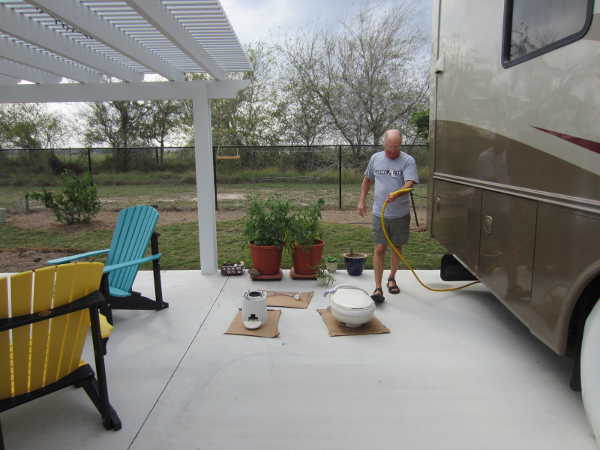 One other little job that got taken care of this week was fixing our toilet. We've been using the plastic bag method since the flush ball broke, but on this day that was going to get fixed. Now before you jump to wrong conclusion about the plastic bag method, let me explain. The ball is the thing that closs off the opening at the bottom of the toilet bowl, pressing the foot pedal rotates it and everything falls into the black tank. When it broke, we left it in the open position all the time, meaning we now had the RV equivalent of an outhouse. That was where the plastic bag came in. By draping the bag over the toilet with the seat and lid up, then laying a folded towel over the bag to better hold it in place, there was no smell.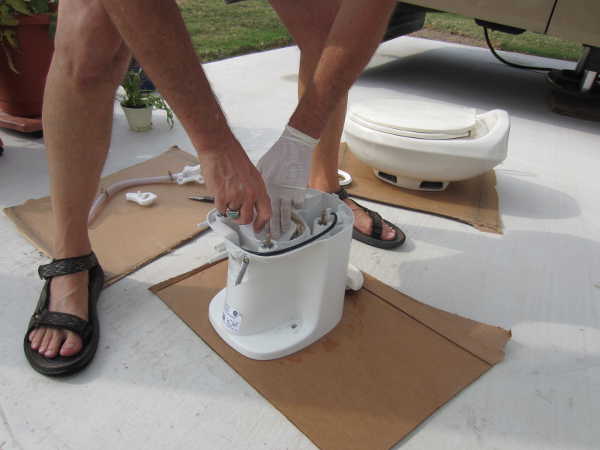 Inserting the new ball. The kit came with a new ball and three rubber seals. It was easy putting it back together once we understood that the best thing to do was pretty much ignore the written instructions and put things where it looked like they should go. If you've ever repaired one of these toilets you know what I mean. If you haven't repaired one, you will likely know what I mean if you do repair one.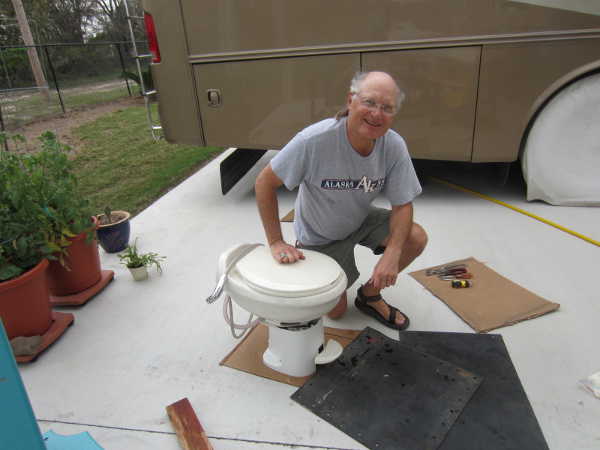 Happiness is a repaired toilet ready to be reinstalled into the coach. That's the great thing about living the fulltime life, it doesn't take much to bring a smile to one's face.
---
Wednesday Dec 12 Mission, Texas
A little of this, a little of that.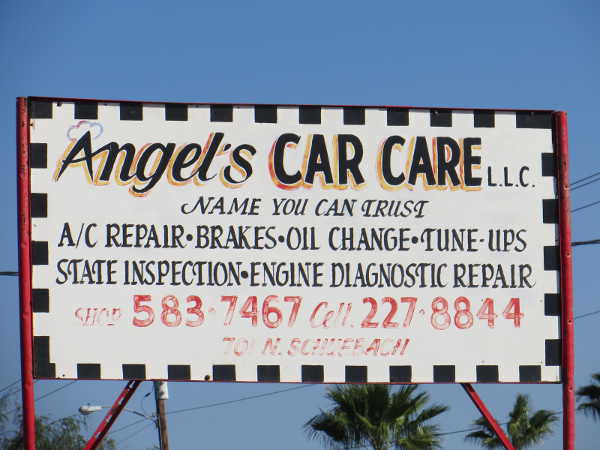 It's not as bad as it looks. But then neither was it without its moments. The reason we were there was to get our annual vehicle inspections. That didn't take very long and both vehicles had no problems. Of course the fact we made sure all the lights, etc. worked before we took them in had a lot to do with it.
You know how that trip check goes. It was a few afternoons ago. I sat in the Explorer with the lights on while Linda stood at the front of it. "Are they on?" Dead pan stare. "Are the lights on?" louder this time. Blank look. Getting out and standing by the door I yell, "Are the parking lights on?" I will leave out her exact words out, but the end result was that I checked the lights while she sat in the Explorer. Note to self: next year Linda sits in the Explorer from the beginning. And we never, never do it on a day when the sun is brightly shinning.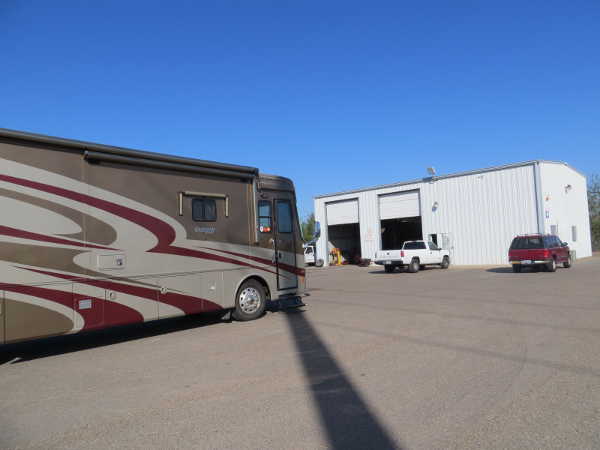 In comparison, what happened this morning was nothing. First thing was that nothing happened when I turned the key to start the coach. Thank goodness for the battery boost switch. The starting batteries are over seven years old, and with the high temperatures this summer, it is looking like replacement of them is due.
Once the air was up as well as the jacks, it was time to bring in the slides. Next problem, the rear slide didn't want to come in all the way. It was close, well not exactly close, but it was within about four inches of coming in all the way. Between me going up on the roof to see if the slide topper was folding up and getting jammed, and Linda crawling around on her hands and knees with a flashlight around the bed, an ink pen was found by Linda in an unlikely place. The end result was the top came all the in, while the bottom was out maybe a half inch.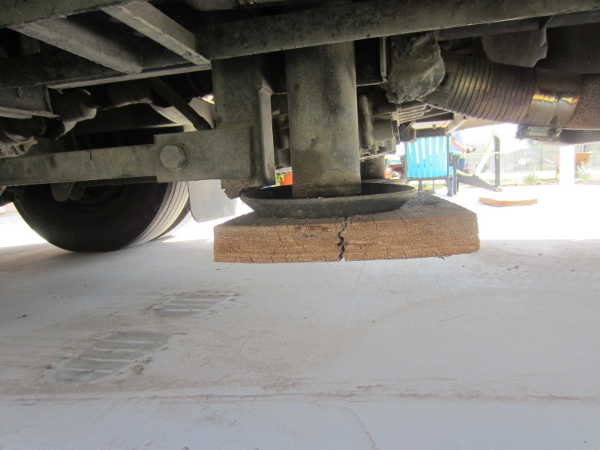 When we arrived back at our lot, Linda was going to guide me back in. As I waited for her I could see her start to laugh, then she walked up and motioned for me to open the window. It turned out one of the wooden blocks we put under the jacks had glued itself to the bottom of the jack. It really stuck, because it had remained there while we drove to the inspection place and back. I must say that it sure goes to show what a good driver I must be, slowing down for all the bumps and the four times I drove over railroad tracks during the trip. Linda said it was just luck it didn't fall off. Lucky in wooden blocks, lucky in love, what more could a guy ask for.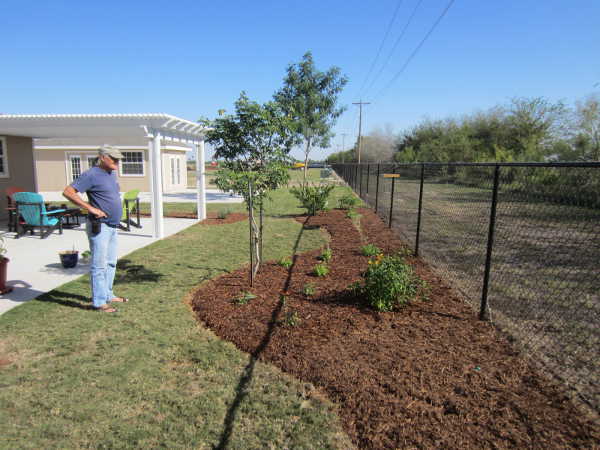 Something new! Our beds got planted today. Linda was one very happy girl. I wish I could tell you what was planted but neither of us knows what all the plants are. Those little one gallon plants aren't much right now, but come next year, it should look a lot different. And the best part is that we left room for Linda to have a herb garden and me to plant some cactus. Life is very good.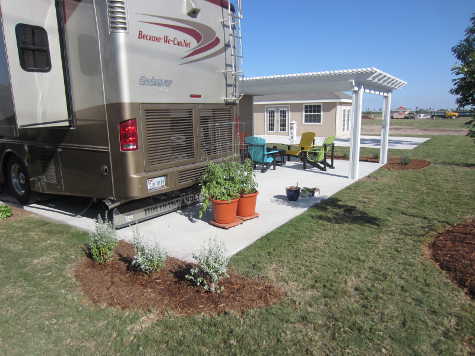 When we backed the coach in, we stopped a few feet from the back. Taking our cue from our neighbors, Dianne and Roger, it will give us room for our garbage can, but more importantly, room for Linda's tomato plants. In keeping with the need for full disclosure, not only do Roger and Dianne have their tomato plants behind their coach, the tomato plants behind our coach were actually raised from seed by Dianne. As far as Linda is concerned, neighbors just can't get any better than this.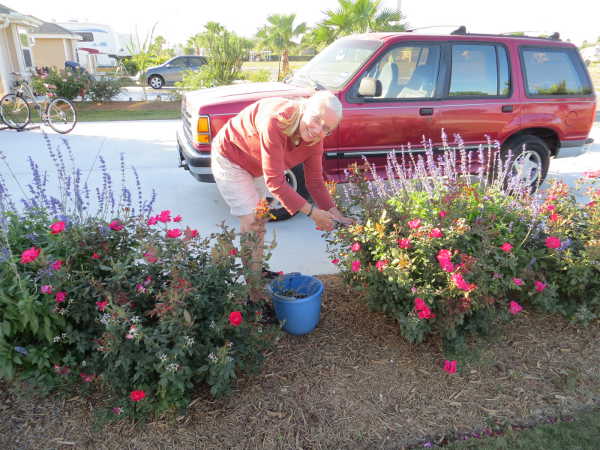 The past two days have been down right miserable, relatively speaking. With high's in the 50's, they were 20 to 30 degrees colder than what we have been experiencing since we returned from Europe. Even so, with the sun out it really isn't that cold. Anyone who knows Linda, knows she would never be outside trimming roses if it was actually cold. Anyway, it's supposed to be back up in the 80's this weekend, so it gave her a chance to wear some long sleeved clothes for a change. Like they say, sometimes life is tough and you just have to suck it up.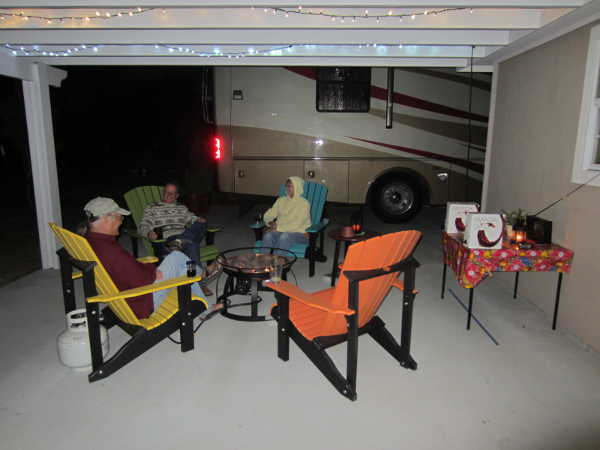 While it is not a "every" night thing, it is an "almost" every night thing, but tonight was different. It being the nightly happy hour we share with Roger and Dianne. It being the fact it is always over at their place. The difference being that despite the cold temperatures, relatively speaking of course, we hosted happy hour tonight.
Something old, something new. The new being our chairs and fire pit. The old being the card table that held the goodies. Covered with a Mexican oil cloth, it was out of sight, but not out of mind. Linda's mom got it with grocery store premiums, then gave it to Linda before we were married. It served as our first kitchen table, and also as our card table, serving table, jigsaw puzzle table, and everything else table for the last 45 years. Linda's mom passed a number of years ago, but who she was lives on in Linda, and our Life together is so much better for it.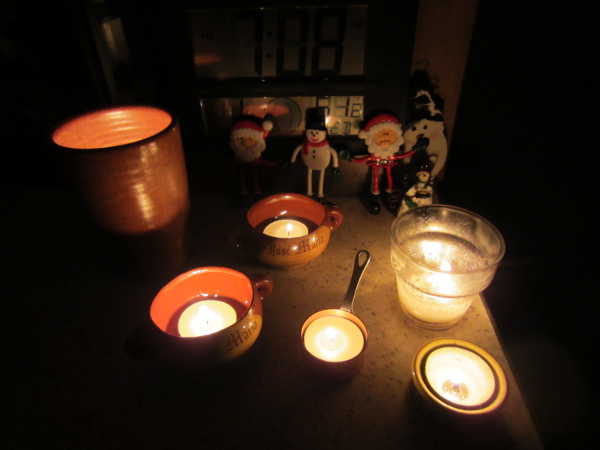 We ended the night as we always do at this time of the year. There were candles burning around the inside of the coach. There was a Hallmark Channel Christmas movie on TV. We were both on the couch even though it was really designed for just one person. A special time. A special place. A special moment. Repeated over and over for more than a month. How did I ever get so lucky? And all because of a blind date.
---
Thursday Dec 13 Mission, Texas
Food day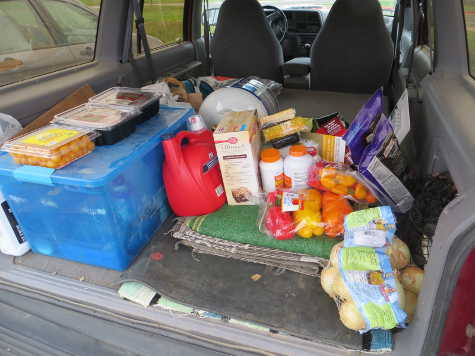 Interesting how our food buying habits change with our location. When we are traveling in the coach it is whatever grocery happens to be in the town we are stopped at. Still, we always look for the occasional Sam's to stock up on some of our favorites. Here in the Valley it is long ways to the nearest Sam's, so it isn't someplace we regularly shop at. Today we made the 15 mile drive, and returned with very little in the way of purchases. Old habits die hard, but a 30 mile round trip goes a long way to assure it happens but once in a blue moon.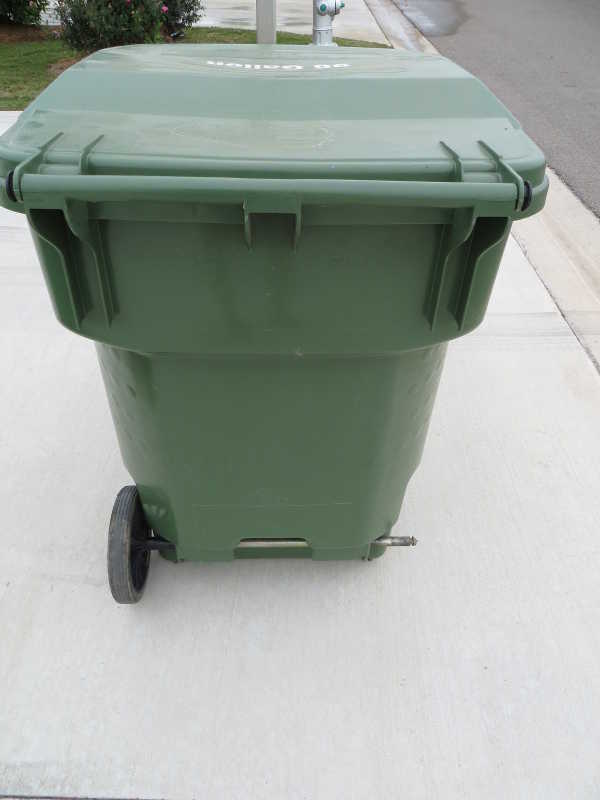 It is not just a photo of a trash can. Look at the lower right corner, notice something missing? This is the second wheel that has been missing from our trash can since we arrived back from Europe. The first time the other wheel was smashed, and it took about a week for them to come out and replace it. Now it has happened again. They pick up the trash twice a week, which means twice the number of opportunities to destroy the garbage can. We watch the truck pull up, the arm coming out before the truck stops moving, the can sliding on the street. Look at it this way, watching the garbage getting picked up sure beats taking an afternoon nap. And when they snap the wheel off it makes it even more exciting. Maybe that's what they mean by the term, Living Life Large.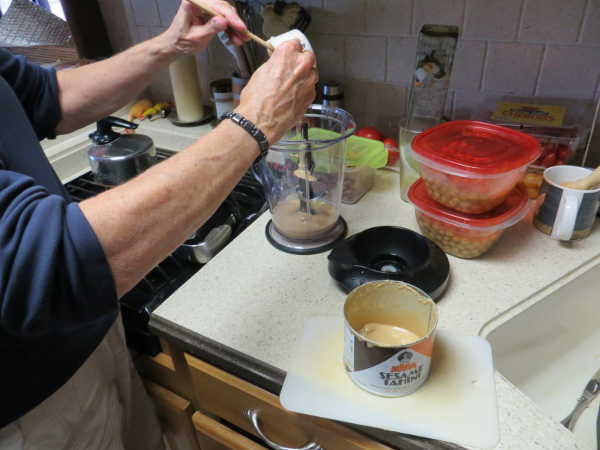 Just to prove that Linda still has her hand in the cooking department, here she is making hummus. We can buy it at the grocery, and while it is good, it is never as good as Linda's. Last time she made it I asked her what the secret was. "Cayenne Pepper", was her reply. It was good enough for me and I keep out of her way when she makes it.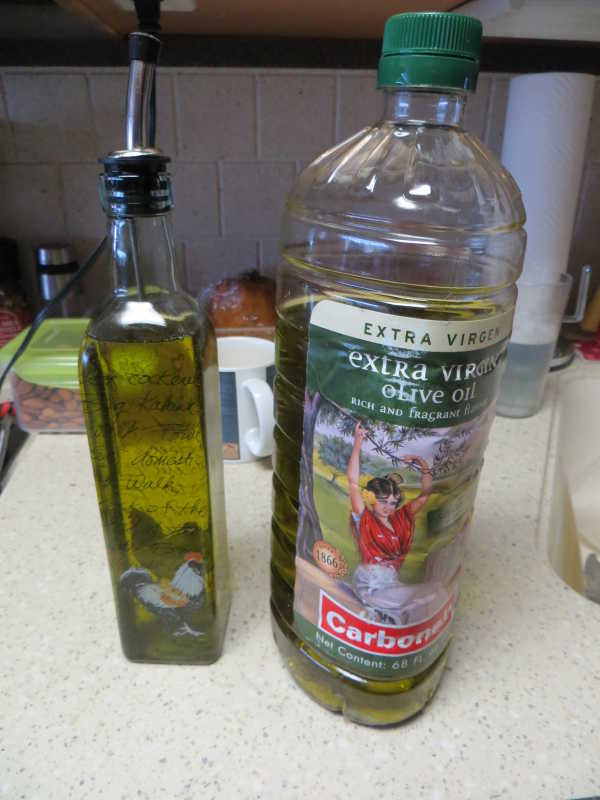 Before our travels in Spain this fall, olive oil was olive oil. We did always make sure to buy the extra virgin oil, but the brand really didn't seem to matter. Then we had all those different olive oil tastings while in Spain. At the store today I was informed by the other half that the only olive oil we would be buying would be from Spain. As she picked up the different brands I could hear mutterings about the lack of distinct country of origin labeling. In the end a bottle of Spanish olive oil was placed in the cart. Linda is now a very happy girl.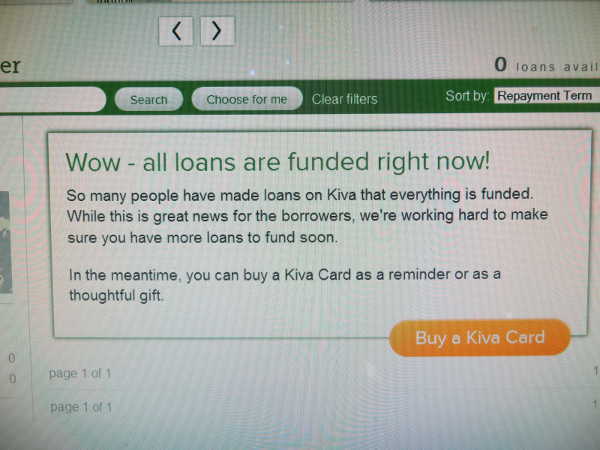 One of the things I do that seldom ever gets mentioned is that I enjoy loaning money through Kiva. Kiva then makes it available to microfinance groups that in turn loan it someone who wants to better themselves. It's not something that is for everyone, and a quick search of the web shows that Kiva certainly has its detractors. (The money doesn't go directly to the borrower, the borrower is actually charged interest, oftentimes extremely high interest, etc., etc.). But that takes me away from my point. The point being that this is the very first time I have seen every loan on Kiva fully funded. Humanity. Connections. Life. Why is it that many times people seem to resent others having the opportunity to better themselves?
---
Friday Dec 14 Mission, Texas
Gardening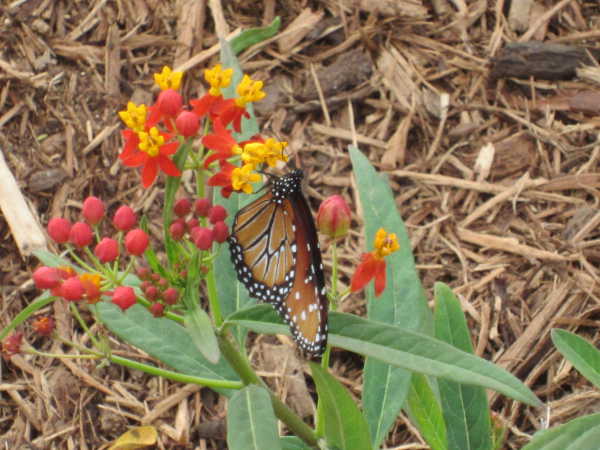 Linda is one happy girl now that she has a garden of sorts. One thing she made sure that was planted in it were butterfly attracting plants. Looks like she got her wish. Actually this one was planted not so much for the flowers, i.e., nectar, but rather for the foliage. It was to have the butterfly lay its eggs on it then the lava would eat the foliage. Maybe in few weeks she will be out there taking photos of green worms. Funny how life changes. Fifty years ago she was likely hoping one of the cute boys in one of her classes noticed her. Today she hopes to see green worms on her plants. Wonder if I dressed in all green if it would help.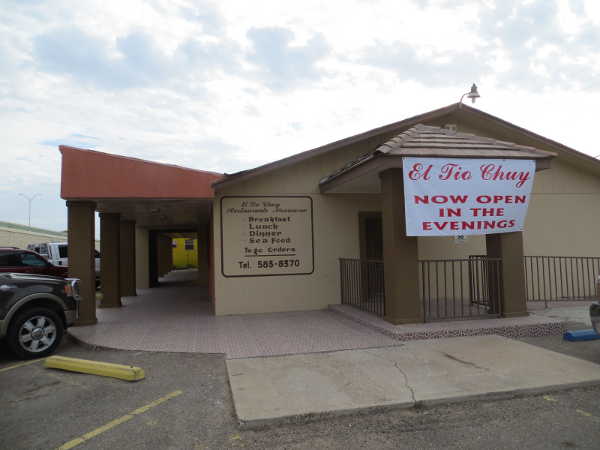 At least I didn't have to fix breakfast this morning, it being Friday. Every Friday there is a Retama men's breakfast at one of several rotating local restaurants. I've only gone a few times, but have enjoyed it. At least I have enjoyed the food. The problem is the noise level coming from 30 plus men sitting in close proximity, all talking rather loudly.
While my hearing aids make it difficult to hear in noisy situations, it seems that the noise bouncing around an enclosed space affects everyone. Meaning everyone talks louder, making it more difficult to hear because of the background noise, so everyone talks even louder, etc., etc. The end result being almost everyone has a difficult time hearing.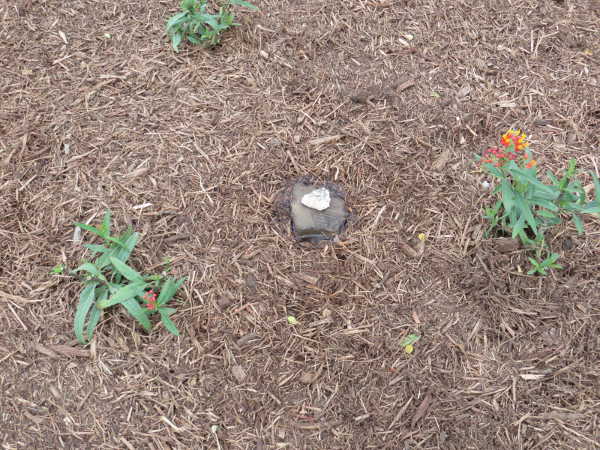 Back home, me from breakfast, Linda from an extended shopping trip, there was more to do. Actually I was inside the coach when it occurred to me that I hadn't sensed Linda's presence for a while. Turned out she was outside having fun in the new beds. She'd bought a plastic pan and was making it into a butterfly watering station. Sunk into the mulch, with a couple of her "collected" rocks in the center, then filled with water, she hoped it was just what a thirsty butterfly would want.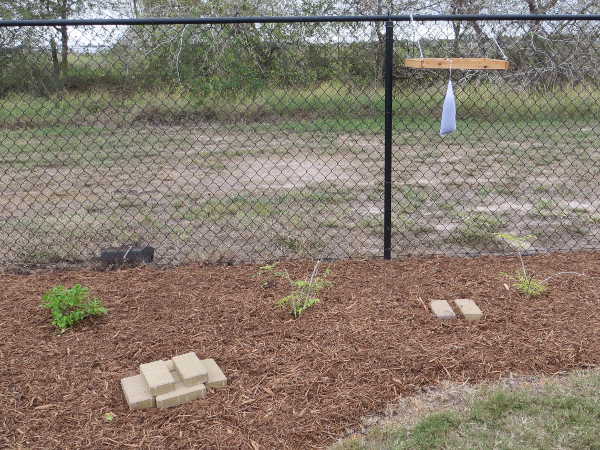 She had also bought some bricks that she wanted to use as stepping stones and as a platform for a candle. "I think I bought too many bricks."
"Oh, I don't think so."
"I don't know what I was thinking, they were so nice and I just kept putting them into the cart."
During this conversation I was racking my brain trying to think of a way to use all of them. Then she continued, "I wanted two of them for the stepping stone in front of the bird feeder, but look at all the others."
Then it hit me, "How about if we stack them up like this, then the candle will be up higher?"
This is the place in books and movies where she is supposed to bat her eyes and exclaim, "My hero!" just before throwing her arms around me. Yep, sure thing. Not going to happen, no way. What I heard was, "I like it." Then came the million watt smile that more than made my day. What more could a guy ask for.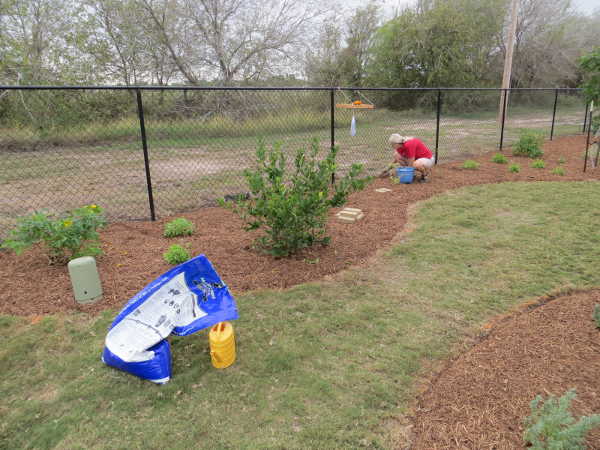 My Lady of the Soil. From that tomato plant in the basement window box of our first apartment to the coneflowers, sunflowers and morning glories she has been raising from seed this past month, it is who she is. As she said, "Even if they don't grow, it was fun planting them." It's what makes Linda, Linda. And that's what makes Bob, Lucky Bob.
---
Saturday Dec 15 Mission, Texas
Omelet in a bag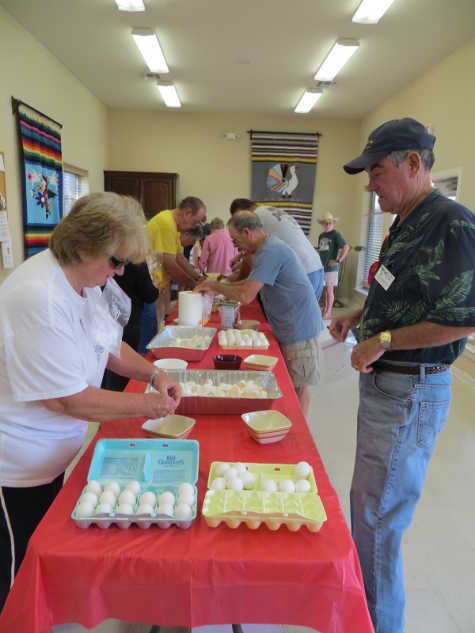 Two mornings in a row I get to eat breakfast without cooking it. Linda had signed us up for the Omelet in a Bag breakfast at the clubhouse so that was where we were this morning. Coffee, juice, sticky rolls and a two egg omelet for $3, not a bad deal at all. Of course you did have to fix your own omelet. That consisted of taking a quart Ziploc™ bag, breaking two eggs in it, then adding toppings from a selection that included yellow, red, orange and green peppers, bacon, sausage, onions, mushrooms, cheese and potatoes. I probably left something out, but that is just the way the omelet cooks. All mixed up.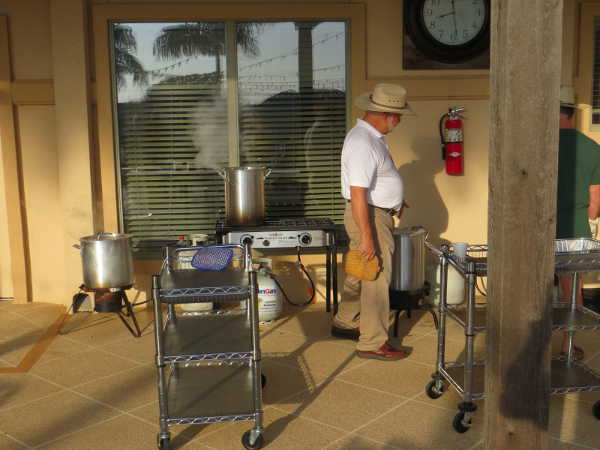 As far as cooking was concerned, there were several pots of boiling water, and all the cooks did was to drop the bags into boiling water and wait 13 minutes. Or at least it works that way in theory. Truth be told, that is predicated on the concept of everyone placing just one spoon of each ingredient in the bag, or if they double up on some, leaving some others out. It also means that all the air was squeezed out of the bag. Didn't always happen that way and we got a good laugh listening to one of the cooks talk about how someone who received an omelet that was under cooked protested that it was the cook's fault. It sure was the cook's fault, but not the one who dropped the bag in the water and took it out, rather it was the "cook" who hadn't followed directions when making their omelet.
A re-creation of what the omelet looks like coming out of the bag. I was getting ready to take my first bite when I heard, "We need to take a photo of that."
Followed shortly by, "Give me your camera, I forgot mine."
Next it was "Can you hold the bag up so it looks like you just emptied it?"
At least I remembered to smile so she didn't have to remind me to do that. The best part was that I was so anxious to taste that darned omelet I didn't even say anything to her while all this was going on. And that was definitely a Good Bob.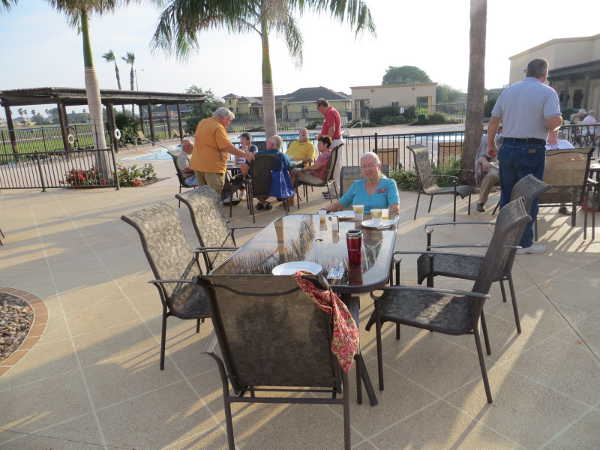 This is one of those, why didn't you tell me you were going to take a photo, photos. All I was trying to do was show that at 8:30 in the morning it was in the 70's, the sun was shining and Life was good. The fact I managed to take it with a beautiful woman sitting at the table was bonus.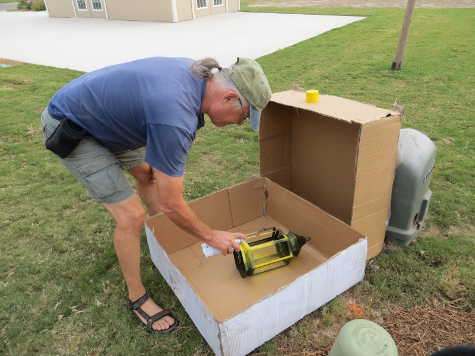 Proof that the old saying, "All work and no play for Bob, makes Linda a happy girl", is very true. Wanting the candle holder to be as colorful as the chairs, she had me spray painting this one bright yellow. Sure I messed up and got too much paint in one area causing it to run, then when I tried to wipe some of the excess paint off, it messed it up even more. The solution I proposed was to just turn the slightly less than perfect side to the back after she lights the candle. I thought it was a brilliant idea. She thought it was extra work she wouldn't have had to do if I had done it right in the first place. I can't argue with her logic, but I did smile to myself when she picked it and turned it around so the spot didn't show.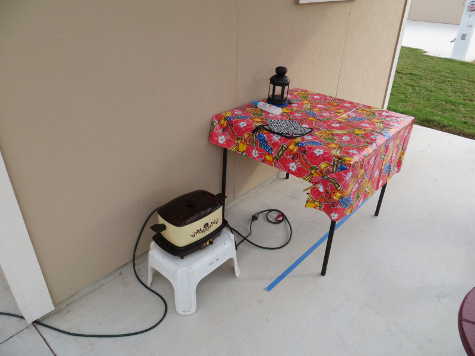 Just to prove that I can do things right on occasion, I did get out the stool she sat the slow cooker on. She was making barbecued beef, which proved to be not very good. You see, it made it almost impossible for me to sit outside and read because it smelled so good, so I ended up doing far more work during the day than I intended. Sometimes you have to suck it up and take the bad in order to get the good. Or something like that.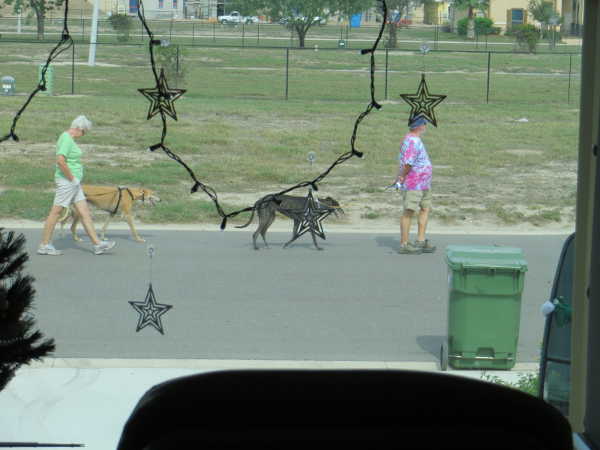 I've been wanting to take their picture for the longest time, and today it finally happened. This couple have these two beautiful retired greyhounds that walk several times each day. They move so gracefully and I never tire of seeing them. And Linda knows when they are nearby because I always say, "There go the slowhounds." And I am happy to say that we are just like them. Once we raced around living life or so we thought. Now we are Living Life, living like those slowhounds. And do we ever enjoy it.
---
Sunday Dec 16 Mission, Texas
Lumberwoman Linda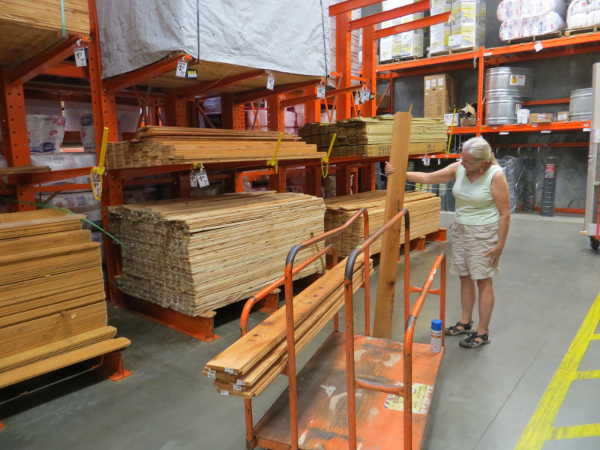 In the back corner of the local Home Depot was where we were this morning. Here is the family lumber inspector making sure that the fence boards I picked out met her approval. And before you jump to conclusions, no Linda has not decided that she would like to go back to work.
"That one is no good, put it back."
"What's wrong with it?"
"It has a split in it."
"Okay."
"How about this one?"
"It's bowed too badly."
Now you know why it took so long to buy those fence boards. When all was said and done we had 20 5 ½" by 6' rough sawed cedar boards in the back of the Explorer.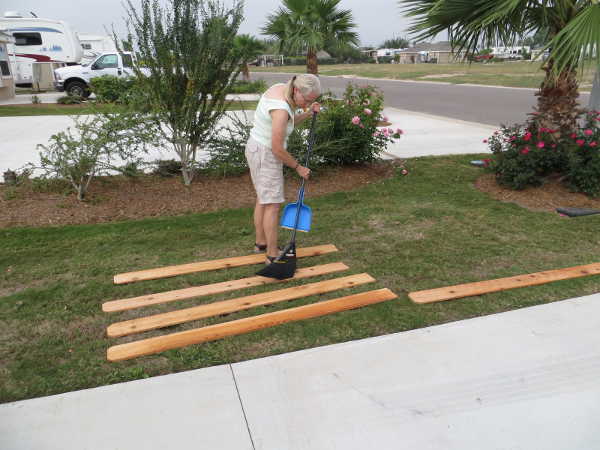 Once we had those boards back at the coach house, Linda switched hats, becoming cleaning woman. I'd throw a Superwoman in here but that would be redundant. I know that it is not typical to sweep off lumber while it laying in the grass beside your RV, but then Linda has never been what I would call typical.
The reason for this has to do with the female penchant for cleanliness. These were fence boards after all, and they were two things. First they were not dry, they were wet. Secondly they had sawdust clinging to them, which was aided by the fact they were wet. We have bought and used enough fence boards in non fence applications over the years to know that unless you air dry them first they are going to shrink after you use them. With that in mind we were planning on putting them up in the rafters of the coach house to dry out. Linda could see the sawdust raining down off them as they dried, hence the reason for sweeping them off. That is probably far more than you wanted to know, but as the old saying goes, a happy wife makes for a happy husband. Though I've never figured out why a happy husband gets told on occasion, "Sometimes you just piss me off."
This is similar to what I will be doing with those boards. I'll let you draw your own conclusions from the posture of the two people in the photo. Simply put, it was another great day in Paradise. And just so you know it, that lumber inspector wasn't perfect. A partially split board got past her. However I was perfect about it when she realized her mistake, as I kept my mouth tightly closed. Good Bob.
---
Monday Dec 17 Mission, Texas
Getting ready to go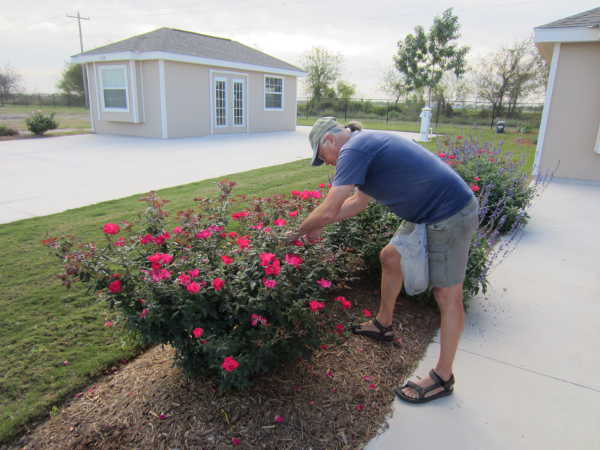 When we lived in Sacramento, every year around Christmas it was time for our annual rose bush maintenance. That meant striping off all the leaves and trimming the bushes. That is not what I am doing here. What is happening is that all the dead blooms are being cut off, partly because it makes the roses look better. Partly because we'd like to think that it will cause the roses to continue to heavily bloom. And partly because we miss doing gardening. It is interesting how our "have to's" become "want to's".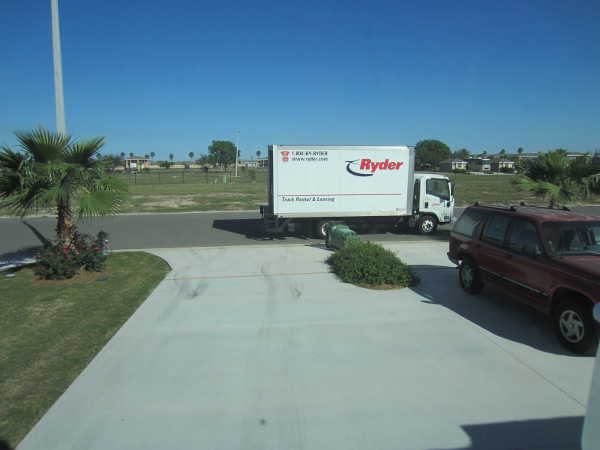 When this truck first stopped I thought it was delivering something that Linda had ordered. We get so many Fed Ex and UPS deliveries that Linda is on a first name basis with their drivers. It turned out to be better than a delivery, it was the fix it man for our garbage container. Only took him a few minutes and a new wheel was in place. Like Linda told our daughter on the phone, "You know your parents are getting old when one of our day's highlight's is watching the garbage get dumped or the garbage can get fixed."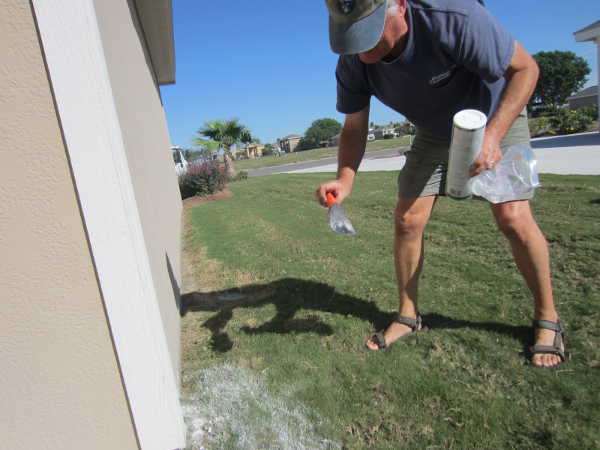 Speaking of the day's highlights, this wasn't exactly one of them. As I was pulling a few weeds in the yard (another "have to" that is now a "want to") I came across another fire ant nest. It is near the back corner of the coach house where we have found them before. We've developed the tag team approach to fire ant control, I stir up the nest and powder it real good while Linda watches around my feet to make sure I don't step in the wrong place. If that isn't true love I don't know what is.
This one is for our grand daughters. Grandma mailed a box with a dozen of the large size bottles of La Anita Green Chile Habanero Hot Sauce to you today.
I have been remiss by not ending every post with a photo like this, because this is what we do almost every night. Good friends, good fun, good Life. The only regret we have ever had about the full time RV Life is that we didn't do it sooner, so I'll end with this: Life is not a dress rehearsal. Don't be afraid to laugh, love and retire early.
---
Tuesday Dec 18 Mission, Texas
Leaving on a Jet Plane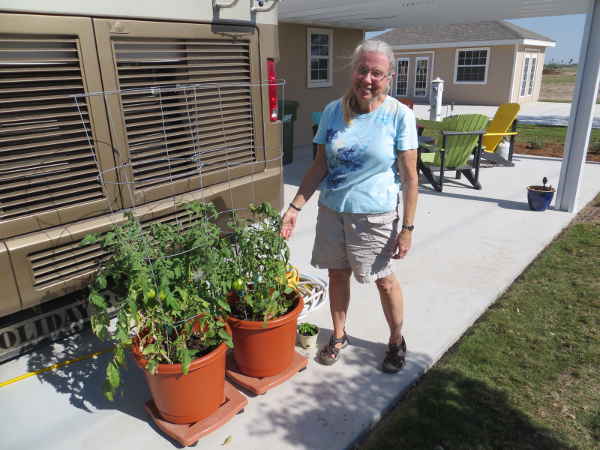 From the title of today's post you can tell something is happening and so it didn't surprise me when Linda disappeared outside for a while. I knew she wasn't watering the new plants as I had watered them a little earlier. Eventually my curiosity got the best of me and I went out to see what she was up to. It turned out that she was, as she put it, "Just spending some time with my plants." It's what makes Linda, Linda.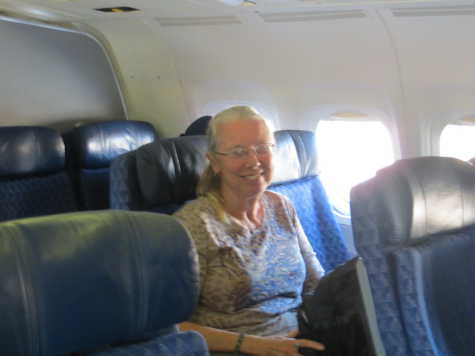 Lady on a jet plane. Today were were leaving the Rio Grande Valley and traveling to the Sacramento Valley. Last year we spent Christmas in Columbus, New Mexico, this year it will be in Folsom, California. Last year we had snow on the ground, this year we will have grandchildren all around. We weren't planning on coming back to California this Christmas, but a call from our daughter at Thanksgiving where she mentioned that the girls (our granddaughters) would really like us to be there for Christmas, led to a change in plans
We knew that it would be a hectic travel day, but it got off to a great start with our wonderful neighbors, Roger and Dianne, driving us to McAllen Airport. McAllen International Airport is very modern and getting through security was a breeze. Then we waited for the flight, and waited and waited. It was over an hour after we were supposed to takeoff when we finally left.
Our nice hour and forty minute time between connections in Dallas was no more. Then when we landed in Dallas we were held on the taxiway. When we finally got to the gate, it was at the very end of the C terminal, and our connection was leaving from the opposite end of the A terminal. To top it off we were in the back of the plane, meaning it took forever to disembark.
Long story short, we did make our connection with 10 minutes to spare, but it wasn't without it's moments. There we were, hurrying down the concourse, me slightly in front when Linda said something I didn't hear. Moving over towards her was not the thing to do because the next thing we know, she steps on the roller of my pull along bag. Next was a mighty tug as the handle of my bag was ripped from my hand, and as my head jerked around, Linda was in the process of falling on top of my bag.
Several men stopped, one asking if she was okay and the other bringing her bag up to her. I helped her to her feet, and she said she wasn't really hurt physically, but it was easy to tell that emotionally she was not what she was several seconds ago. Later she said she had bumped her knee and that her heel was hurting, but that heel has been giving her problems for some time now. No real damage done, but it was scary for a few seconds as I looked at her laying on top of my bag. Or maybe we can laugh and say the only real damage was to the handle of my bag that has been slightly bent.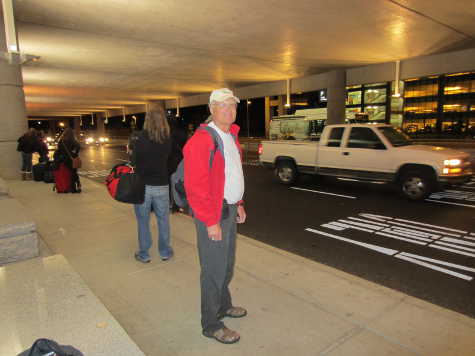 What difference it was when we arrived in Sacramento. Gone was the 80 degree weather, but that was more than made up by being able to spend time with family. We know the next eight days will be special. Life is Good.
---
Wednesday Dec 19 Folsom, California
A Musical Interlude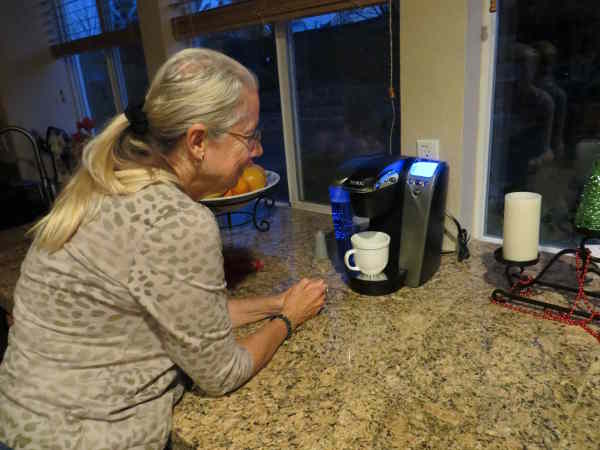 With the two hour time change from Texas, Linda and I were up not only before the sun, but also before anyone else in the house was up. Immediately we faced a major obstacle, how do we make coffee? There was a Keurig coffee maker on the counter, and a drawer full of those little plastic cups of assorted coffees and chocolate. It was full of water, so we put a cup under the spout, then figured out how to put one of those little containers of coffee in the machine. There was a button that said brew, so Linda pushed it. And then nothing happened.
Then I made my first mistake of the day. Not realizing it was very early morning for Linda, and that she had not yet had that first cup of coffee, I innocently asked, "Are you sure you pushed the button?" Bad Bob, very Bad Bob. Do not aggravate a grizzly just out of hibernation. Luckily none of the flames damaged the coffee maker, a coffee maker that I was now 100% solely responsible for getting to work. I finally discovered a little button on the back of the machine that turned it on and after a few false starts, Linda took over and soon had her morning cup of coffee. That was a close one for sure, one that I will not be repeating.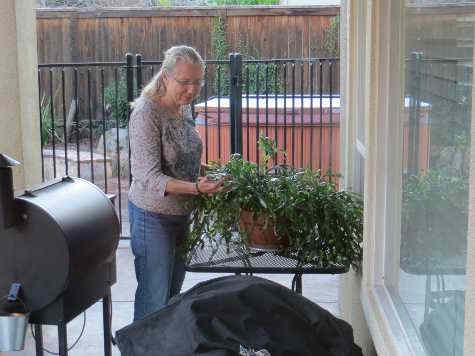 One of the first things Linda always does when she is at our daughter's house. This was originally Linda's mom's plant. Then we had it for nearly forty years, and now it is our daughter's plant. There are things in Life that no value can be put on. This is one of those things. This is one of those moments. It is another of those things that makes Linda, Linda. By the way, our son has a plant that was started from this same plant and every tip has a bloom on it. Talking about this always brings a smile to Linda's face. From generation to generation, it is what makes us human.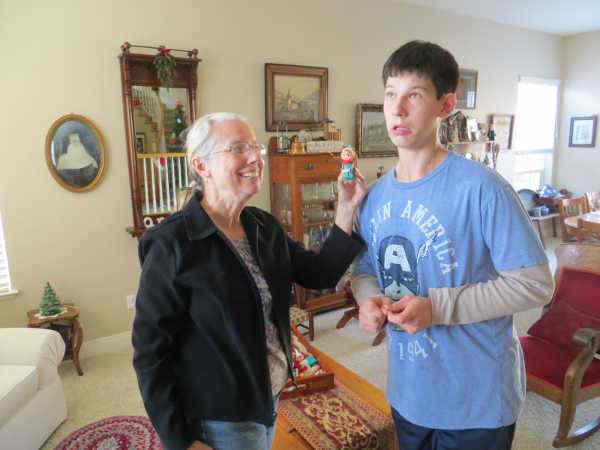 Grandma teasing her grandson. Justin is very special in many ways, and grandma had fun teasing him with a pixie.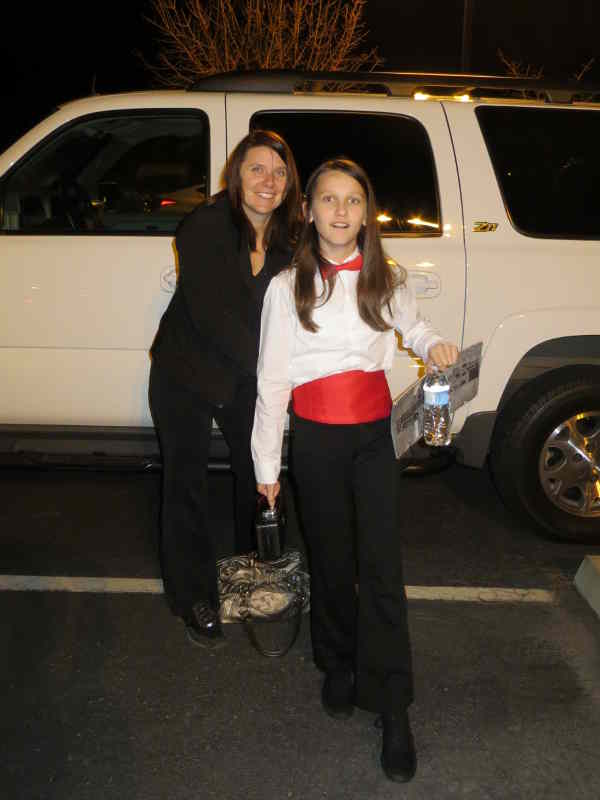 There was actually a reason we had arrived last night, we wanted to make sure that a delayed flight would not keep us from attending the band program's at our grandchildren's schools. This is our youngest granddaughter Abby getting a last minute going over by her mom before her concert. She plays the flute and her mom and I were at her concert.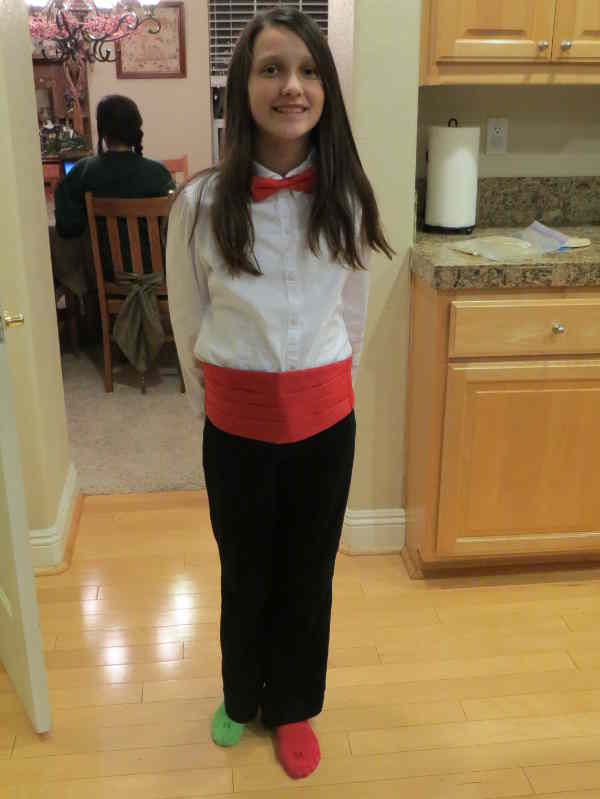 This photo came before the previous one but shown now because if this one had been first someone might have gotten the idea that Abby didn't know how to pick out socks. Not only does she play several instruments, she also has a wonderful sense of humor as the two different colored socks show.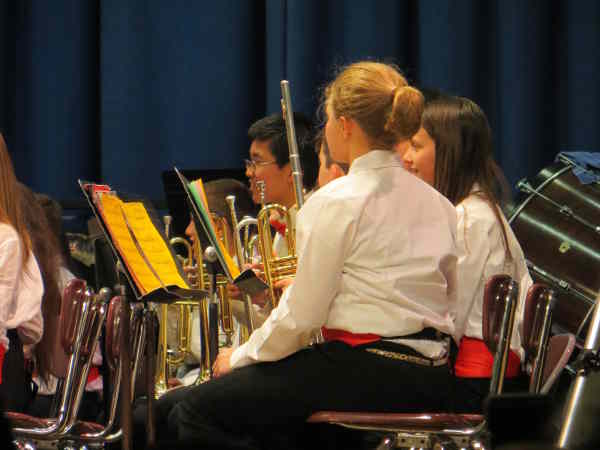 Why is it that at these school programs, no matter where you sit, you always end up sitting where you have trouble seeing your student, even it they are sitting near the front of the stage?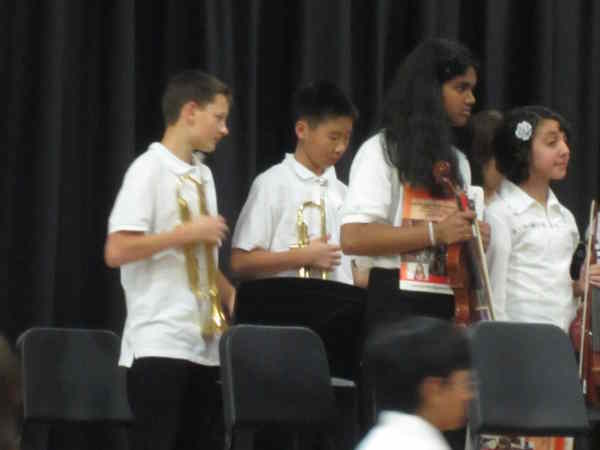 Meanwhile Linda was with our other daughter at our grandson Zachary's band concert. This time Zach wasn't next to the end, he was on the end. But the same thing happened with where they sat. They were on the wrong side also. Like his cousin, Zach also plays several instruments, including the tuba, but tonight it was the trumpet. Linda and I sure are lucky to have such wonderful grandchildren.
Getting tro be study helper. It was also a fantastic night in ways other than music. I got to help Abby with her math homework and a review for her upcoming history test before we left for the band concert. Then afterward Abby had me be her audience while she practiced giving her science class power point presentation on the southern stingray. Finally I had fun helping our other granddaughter, Lindsey, with her Spanish final review questions. Life just doesn't get any better than this.
---
Thursday Dec 20 Folsom, California
Family Fun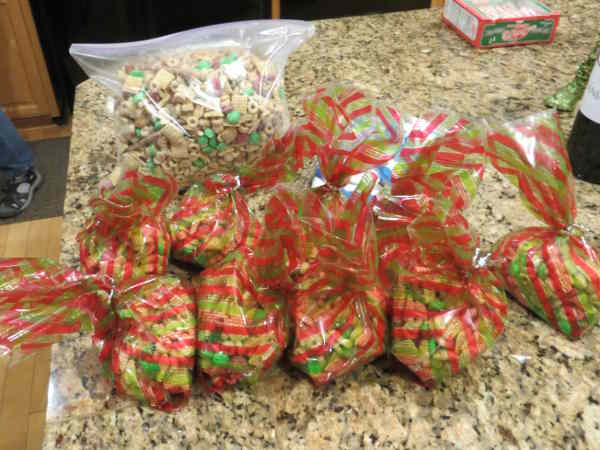 Treat time today at school. We had helped in the making of some treats last night, a ball like thing with cherrios, chex, red and green m&m's, pretzels and probably something else I can't remember, all held together with melted white chocolate chips. At least I think that was what it was. What I do know is that it was very, very good and there were as many hands sampling them as were making them. Things don't always have to be good for you, sometimes just the fact they are good is good enough.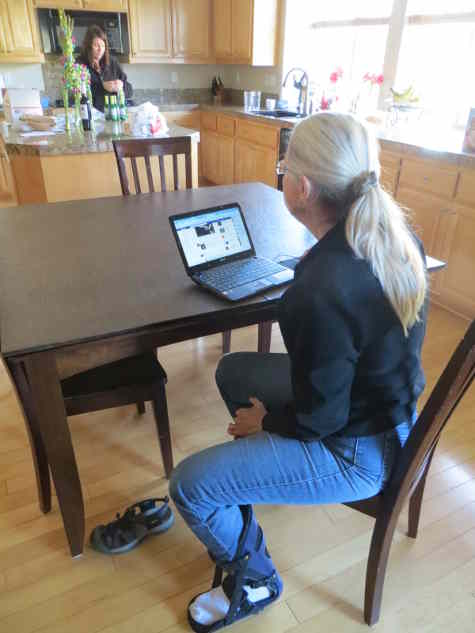 Linda has had problems with one of her heels (and no, that isn't a reference to me, or at least it wasn't intended to be) ever since we were in France a few months ago, so she has been wearing this apparatus to stretch her foot muscles and relieve the pain. Since tripping at the airport on Tuesday, her heel has been hurting like it did back before she started using this thing. But Linda has a saying that things always feel better on the third day, so I guess that makes tomorrow a big day. In the meantime there is nothing like having a husband and two granddaughters to wait on you. It's not that any of us mind, me having been well trained for these things and the girls enjoying their grandma time. It isn't that she can't do everything she normally does, she can, it's just that her heel hurts when she does. So it would be nice if tomorrow's prediction of better on the third day comes to fruition. That's for Linda's sake, not ours. Good Bob.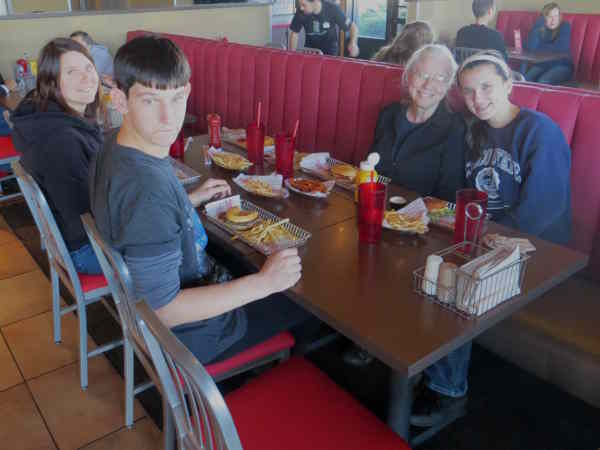 Smashburger time. Lindsey got out of school early today, she's a high school freshman, so it was treat time. They do Groupon things, and there were a few Groupon's that just had to be used so that was what we were doing. Here's what Linda said when she took her first bite. "Wow, this is really good. I usually don't like hamburgers, but this is really good." There was a purported incident many years ago with something very unappetizing being added to a major hamburger chain's hamburgers, and ever since then, unless Linda makes the burgers herself, or sees them being made, she generally doesn't eat burgers. In case you're wondering, the name of the place, which was part of a chain, was Smashburger.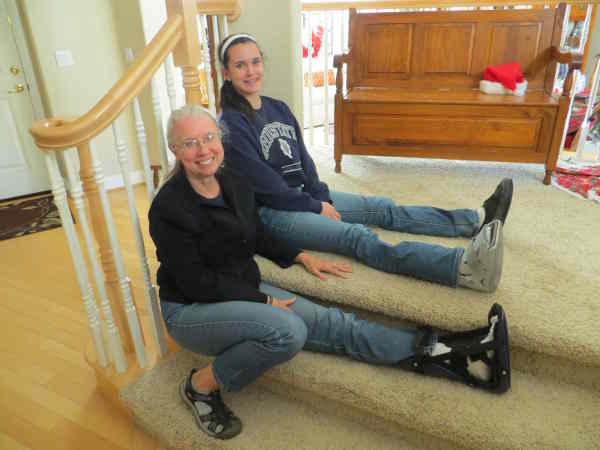 Softball injury, airport injury. Like grandma, like granddaughter. The big smiles say it all. I started to tell Linda she should have hurt her foot when she was an early teen instead of smashing her front teeth with a rake handle, fortunately I kept my mouth closed. that's another Good Bob.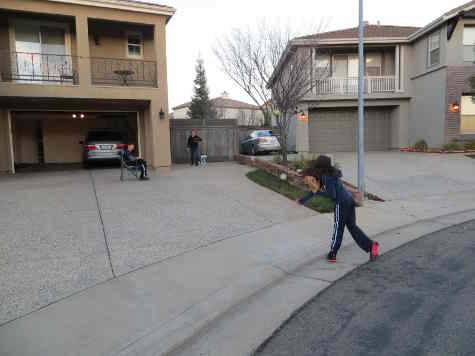 Abby is also into softball, and with practice making perfect, or at least making you a better player, after school found her outside working at her pitching. It was one of those, you have to want to to be doing this kind of days, so I didn't even last long enough to see her finish her warm ups, let alone do any actual pitching. That was okay as Justin took care of the watching, as he is always out watching anything that has to do with a ball.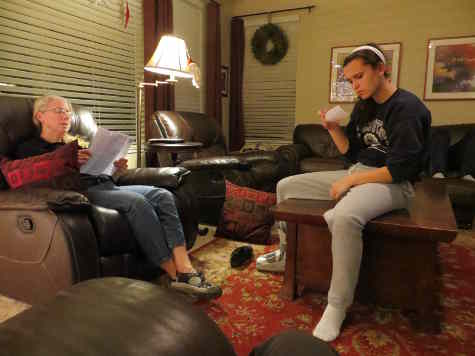 Tonight it was Linda's turn to be the final exam review helper. As she discovered, the biology in high school today sure isn't the biology we had in high school all those years ago. Maybe those fleeting thoughts we all occasionally have about, oh, to be young again, should come with more than a few exceptions.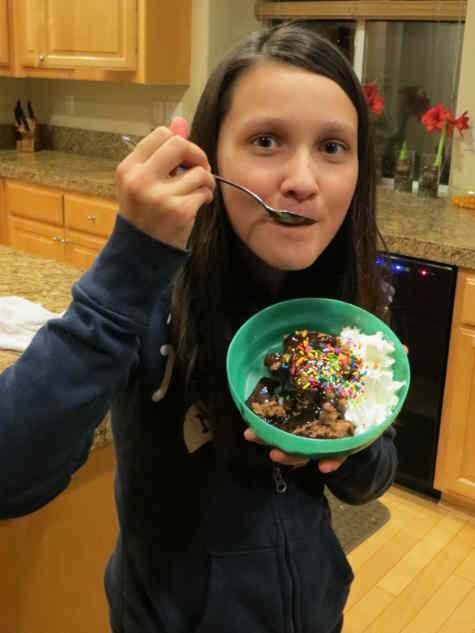 Tonight was ice cream night, and we found out that when it comes to making a bowl of ice cream, nobody can, like Abby can. It was another of those to be young again moments. Oh to be young again and eat like that and still be so thin. Isn't going to happen, no how, no way. But it really doesn't matter because just the fun of everyone crowding around building their bowl was as special a time as we could ever want. Life is too short to worry about the what mights, what ifs and shouldn'ts.
---
---