Journal Archive 12/21 - 12/311 2012
Scroll down to read the latest post
Friday Dec 21 Folsom, California
Zachary's Here!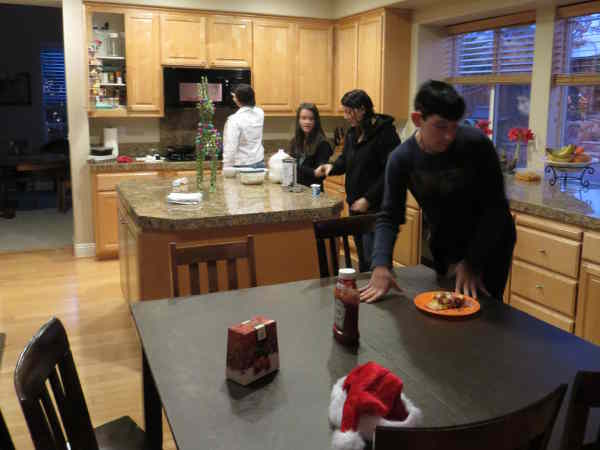 It was the normal morning routine even though it was the last day of school for two weeks. For Linda and I it was a case of staying out of the way and watching everyone do their thing.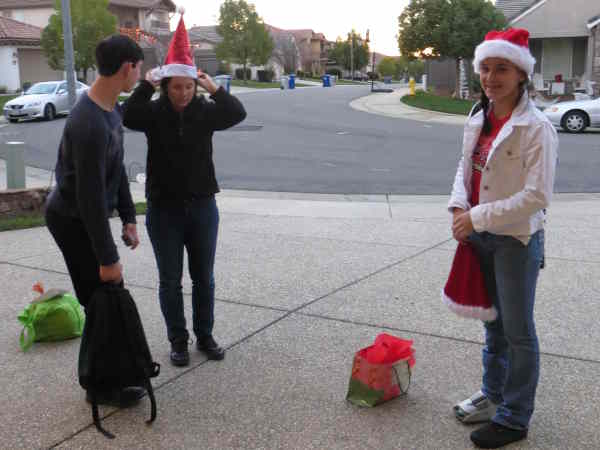 Everyone was in the Christmas spirit this morning.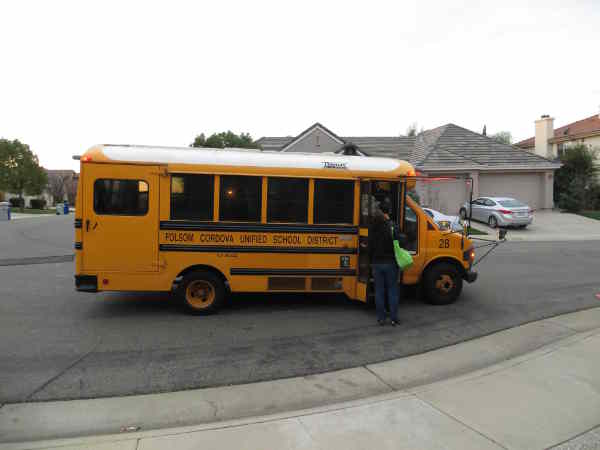 Memories of times past.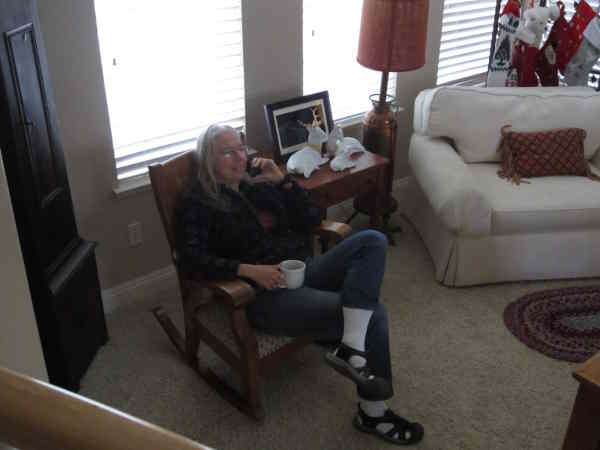 Linda talking to her sister Katherine. A special moment shared between sisters.
When we were in Portugal,the tables in the restaurants would always have a bottle of oil and peppers on them. It was spicy and we quickly learned to put some on whatever food we had as it always seemed to make things taste better. In our daughter's family and also for Zachary, hot sauce is one of the basic food groups, so Linda had bought some of those peppers to bring back, and today she was putting them in a bottle and adding olive oil. For us, piri piri means spicy good.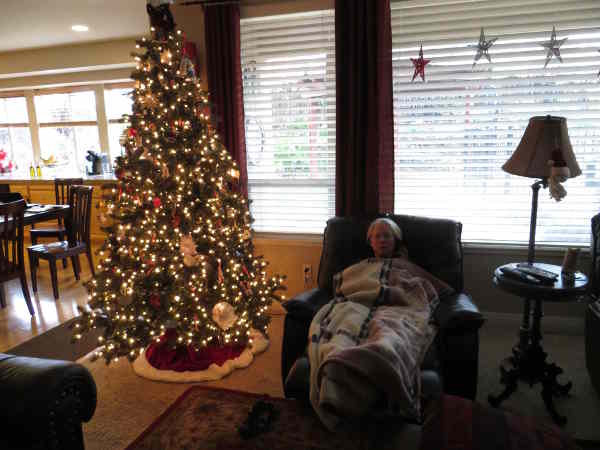 All that work must have tired grandma out.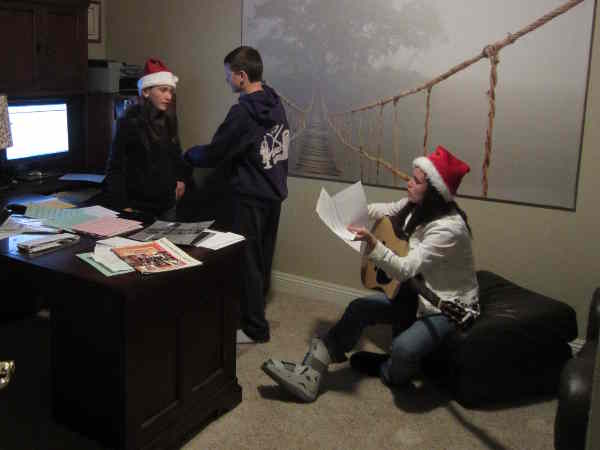 The family band going over one of the musical numbers they will be playing at the family music night. I was informed that Lindsey is the base section.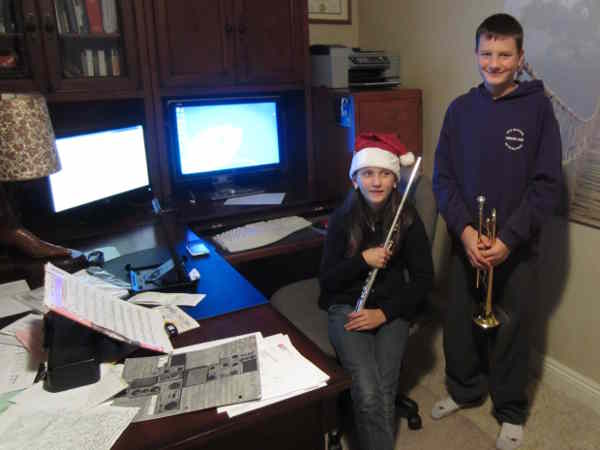 The rest of the band, Abby is the wind section and Zachary is the brass section. Another of Life's special moments. And even better was the fact that Lindsey has gotten A's in all her classes, Abby's science presentation was awesome and Zachary has been selected as one of the eight students to participate in his school's geography bee. Wonderful grandkids who worked hard and accomplished their goals sure make for proud grandparents.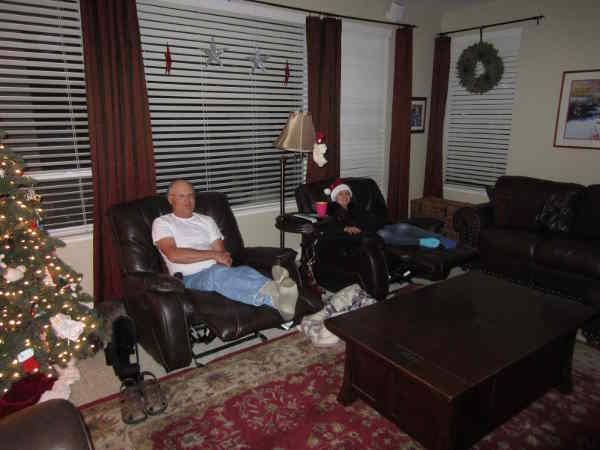 It may not look like it, but Abby and I, as well as Zachary are playing a game. We were watching a movie and it seemed like every few minutes five minutes of commercials would come on. Since they played the same commercials over and over, as soon as one would start we had to say what it was then tell what would happen later in the commercial. I finally decided that Abby must have a video recorder for a brain since she was always far ahead of me, and whenever I managed to beat beat her, Zachary was beating me. There are times when coming in last is the best you can do, and for me, this was definitely one of those times. Life is what you make it, and we were making it a lot of fun.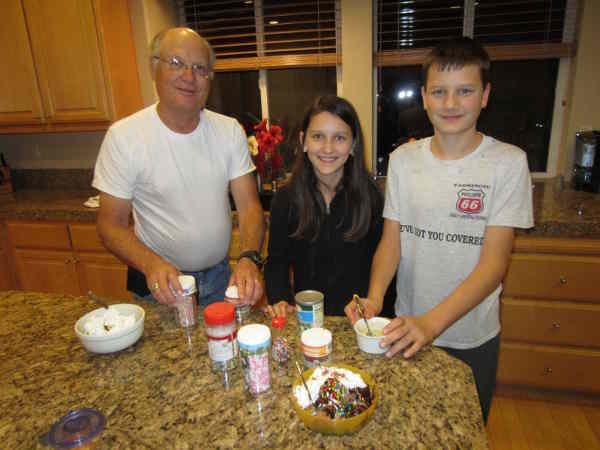 Those brain games can be exhausting, which means that extra nutrition is necessary. Okay, so the use of the word nutrition may be a stretch, but our snacks sure did taste good. It was a day to make memories, just like tomorrow and the day after. It was a day to live Life. It was a very good day indeed.
---
Saturday Dec 22 Folsom, California
Having Fun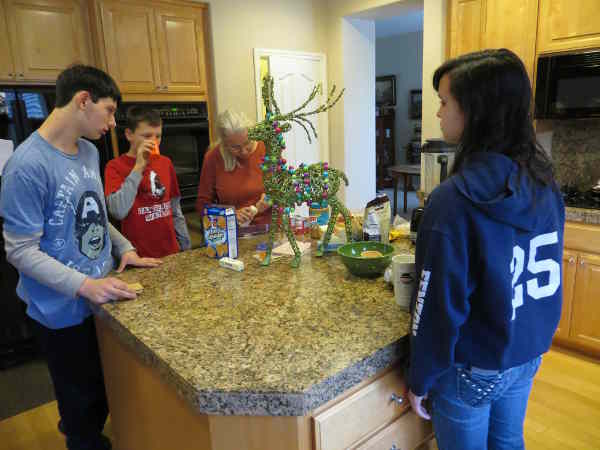 I had so many things to do yesterday, meaning that we are so much enjoying our time with our family, that I barely had time to write the Daily Journal. So my writings are going to be short and sweet for a few days while Linda and I enjoy Life.
Grandma was the center of attraction this morning, or at least that's how it seemed. Once again we were the first ones downstairs, but I have discovered that is for a very good reason. Linda and I tend to be early people. Like in early to rise and early to bed. In this family it is the opposite, late to bed and late to rise. We all work and play hard, it's just that we do it at different times of the day.
"Grandpa, do you want to help me build something?" Talk about something you can't refuse, that was sure it. As Zachary was getting the box out, Abby and Justin joined us. It wasn't long before I knew what my job was. "Grandpa, can you get me a green one?"
"Grandpa, can you hold this?"
"Grandpa, you're sitting on the part I need."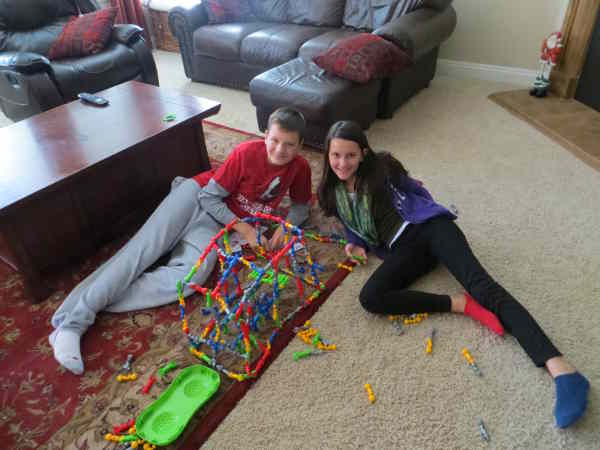 The proud builders with their car in its garage.
Of course there was much much more to the day. For Linda it was a chance to do some cooking with our daughter and take some of the grandkids out shopping. For me it was the few minutes I helped move a refrigerator in one of their rental houses, or at least it was presented as job that would take a few minutes.
We ended up taking the doors off a double refrigerator to get it out of the house, then having to take the doors off the replacement refrigerator to get it in the house. Off course the doors had to go back on the refrigerators as well. Obviously there was a lot more to all this than I can relate here, but after a number of hours all was done. At the end of the day Linda and I both knew it had been an awesome day. What more could we ask from Life.
---
Sunday Dec 23 Folsom, California
Rainy Day
The best thing to do on a rainy day is to have some real comfort food, and that was what Zachary was fixing this morning. Zachary loves chili, Zachary loves to make chili, we love to eat Zachary's chili. Which means the smell of a pot of chili cooking was going to be filling the house today.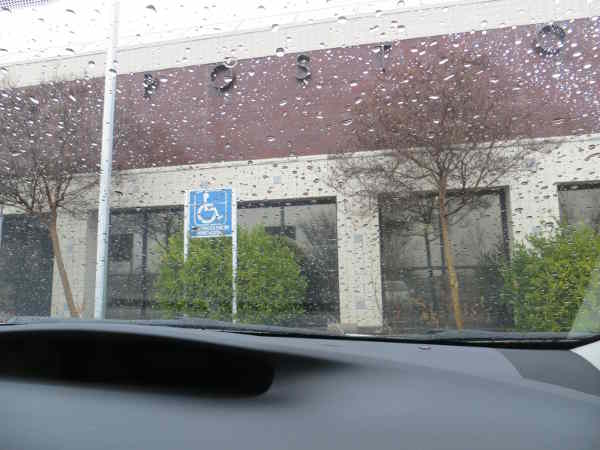 Today's forecast called for a 90% chance of rain. It was raining when we got up, it was raining during the day, and it was raining when we went to bed. Never did get to see the 10% of the time when it wasn't raining so it looks like the weather forecast was wrong as usual.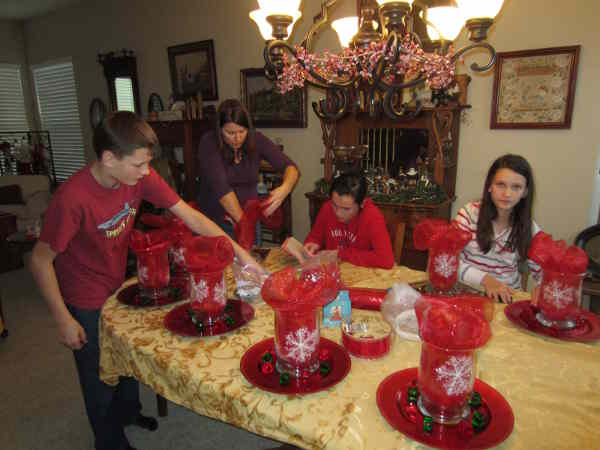 Big get-together when our son-in-law's family comes on Christmas evening, so the kids had fun making the centerpieces for the tables. How can it be that something as seemingly mundane as making centerpieces can be so much fun?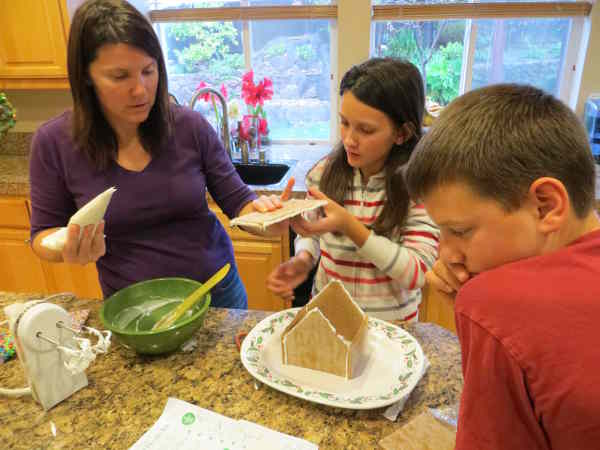 What's Christmas without the fun of making a gingerbread house? I tried to help, but was informed that they didn't need a building inspector, so I was relegated to the role of semi-official photographer. Not only had I proven to be a bad building inspector, it turned out I was an even worse photographer as I never took a picture of the completed house after they decorated it. Bad Grandpa.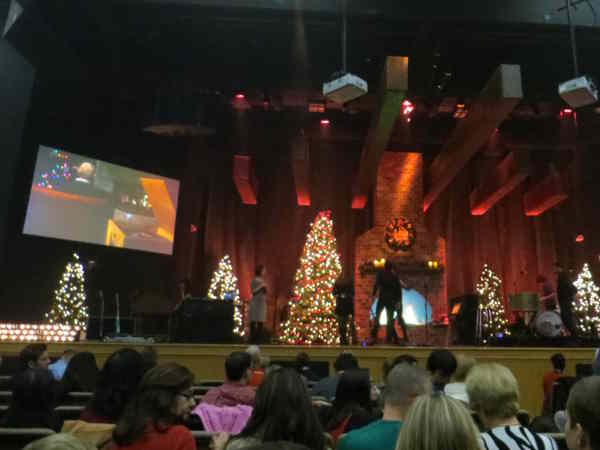 One of our traditions, attending one of the Christmas Eve services at Lakeside Church.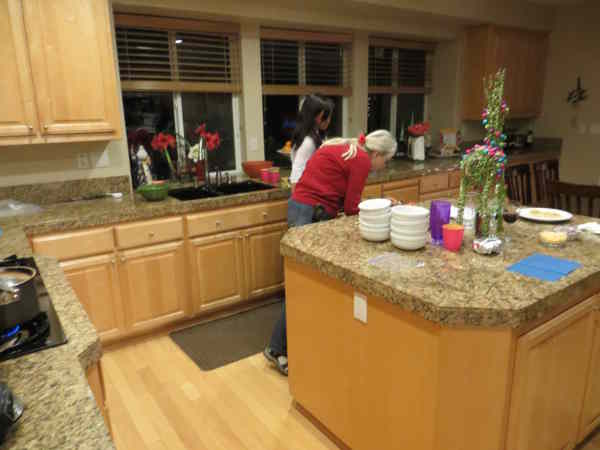 Back home there was pot of Zachary's chili on the stove. There were dishes to get out, and there was delicious chili to eat.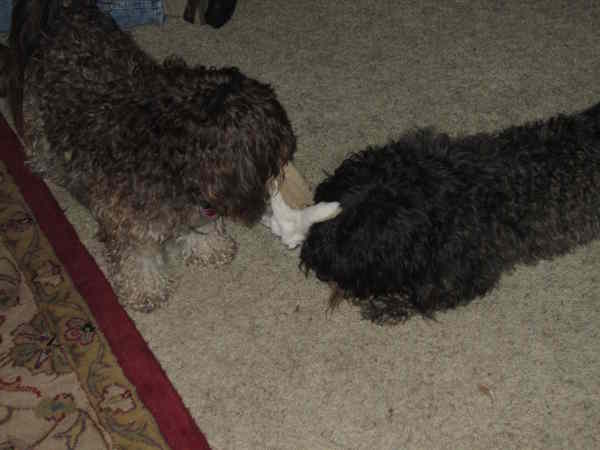 Later there was fun and games, which was lead off with a rousing round of tug of war by Cooper and Kona.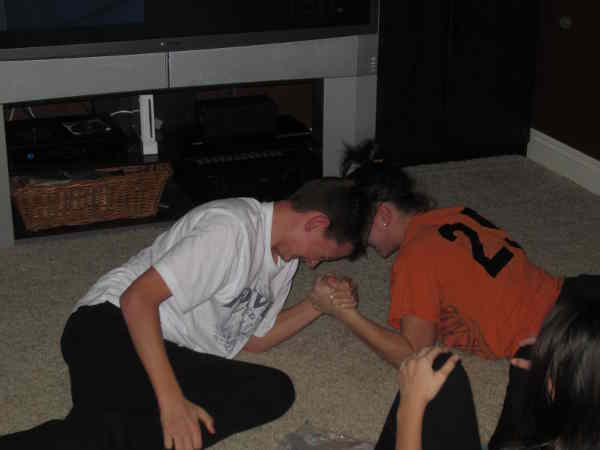 The teenage arm wrestling championship between Lindsey and Zachary ended in an exhausted draw.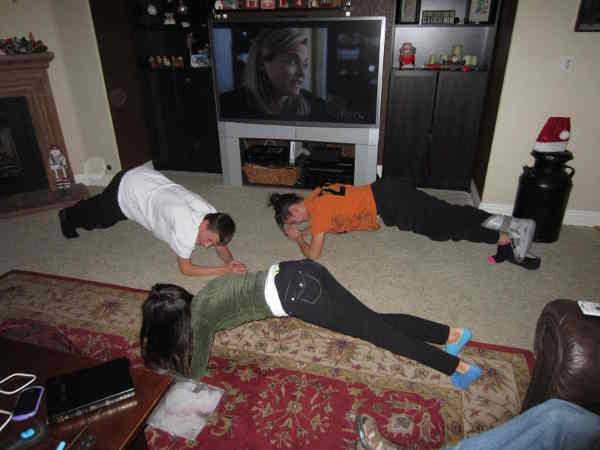 In the modified version of Plank, Lindsey was handicapped by only being able to use one foot, Zachary got to laughing, and Abby came out the clear winner.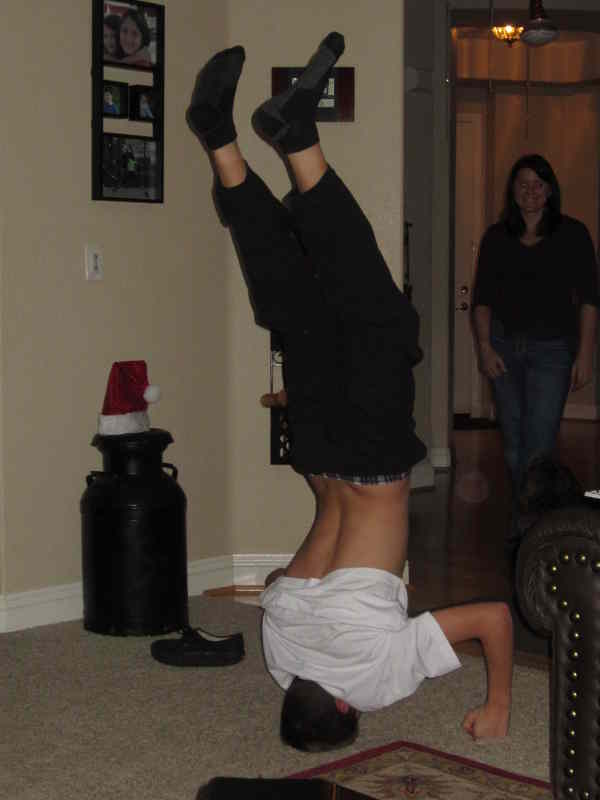 Zachary came back to redeem himself with this awesome headstand that had everyone wondering how he did it.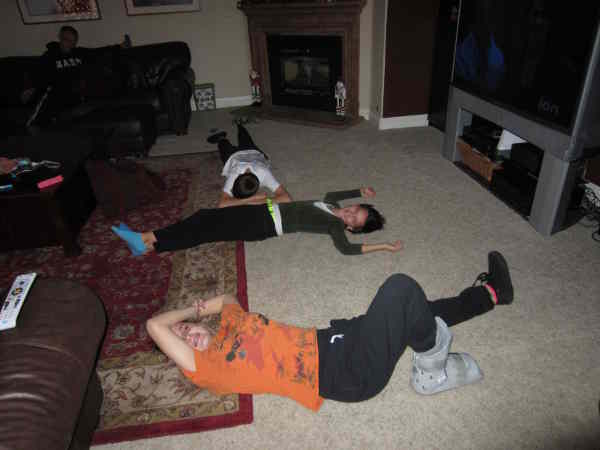 This is the after the end of the competition photo, but let me back up a moment to describe why the competitors look like this. The final event was the passionate push up paranoia. There was giggle girl Abby who dropped out to observe the intense struggle between her sister and her cousin. There was Zachary who put in a supreme effort and managed twenty touch your head to the floor push ups. Then there was Lindsey who has years of intense training as an outstanding softball player behind her. Could she beat Zachary? Can you believe, when she was finished she had done 80, yes 80 touch your head to the floor push ups. And those weren't the knees on the floor kind, they were the toes and hands kind, and that was with only one foot to boot!
We are so blessed to have such wonderful fun. Life just doesn't get any better this.
---
Monday Dec 24 Folsom, California
T'was the Day Before Christmas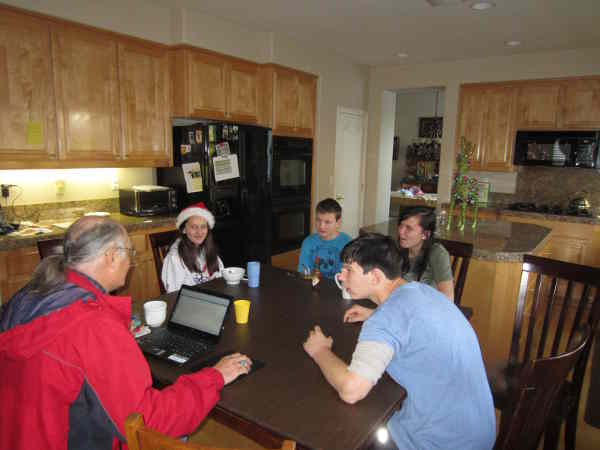 And all the grandkids were gathered around the breakfast table as grandpa read what he had just written about them in the Daily Journal.
The only way to compete at the highest levels of softball is to practice and practice and practice some more. My arms got tired just watching how many times Lindsey hit the ball off the tee. It's no wonder she can do 80 push ups.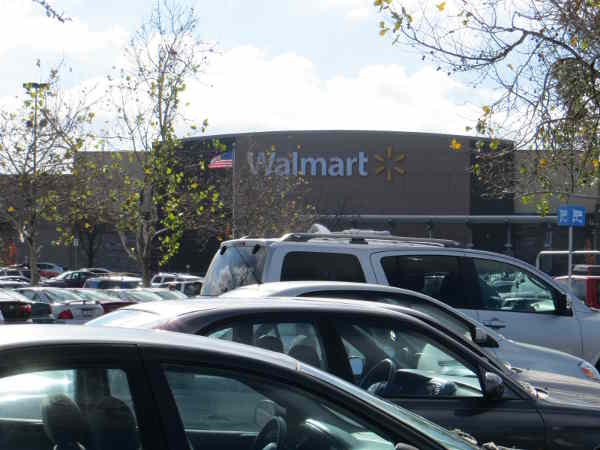 What is Christmas Eve without a last minute trip to WalMart. When we got there I didn't think the store was very busy. Later when we got in line to check out I wondered if there was anyone in town who wasn't in WalMart.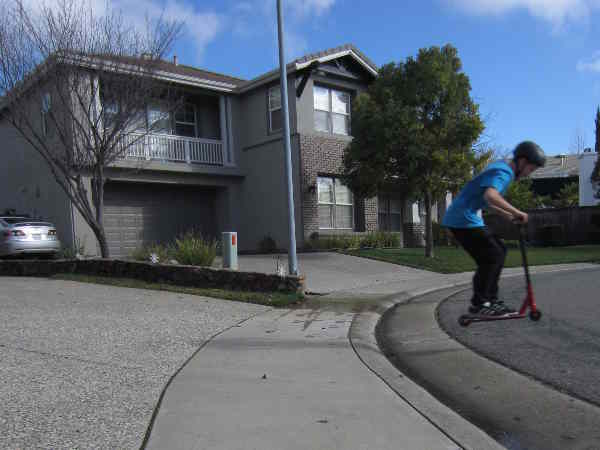 Zachary showing some of his scooter skills. Linda took a short movie of this. Rather than post it and embarrass the camera operator since she was aimed at a spot about five feet behind Zachary for the first part of the movie, I'll just post this photo. Good Bob for not posting Linda's video faux paux.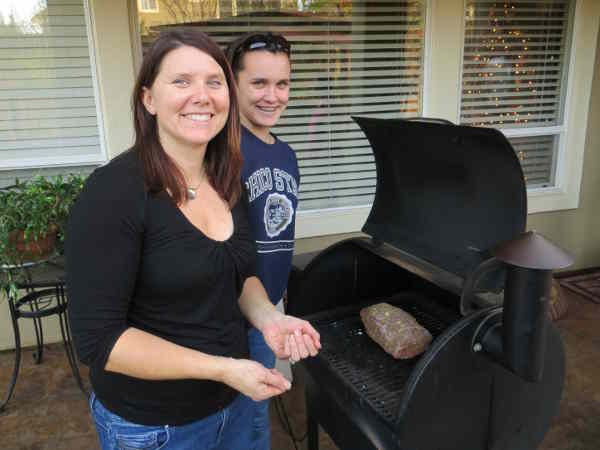 Smoked beef roast was on the menu for tonight's meal. I think the chef's like the concept of put it in the smoker and forget it..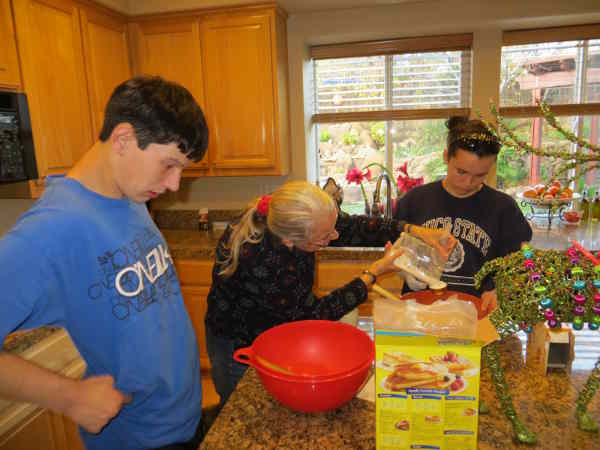 Traditions being passed on. Christmas breakfast at our house has always included Linda's cream cheese braid. Even if she didn't want to fix it, (something that would never happen) everyone would would demand she make it. Now the recipe, or I should say the technique of making it was being passed down to the newest generation of the family. It looks like Lindsey is busy measuring out the ingredients into her bowl while Justin is wanting to know why nothing is going into his bowl.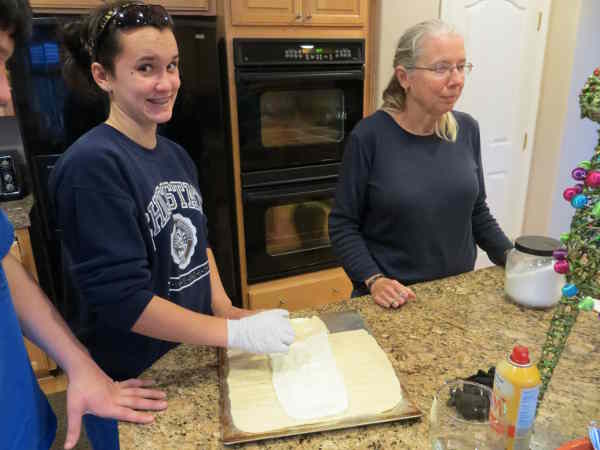 Lindsey flattening out the dough.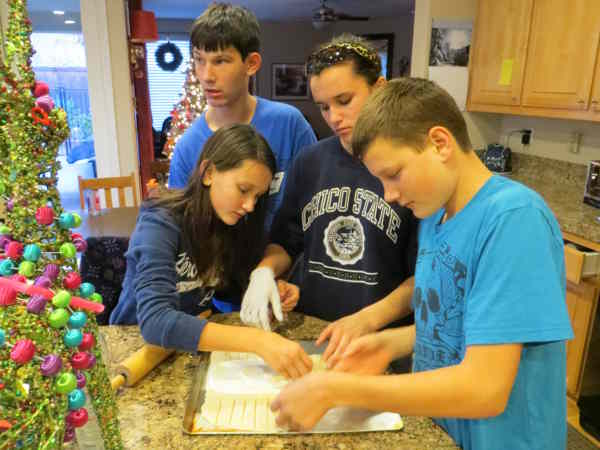 When it came time to fold over the pieces to make the braid, everyone got into the act.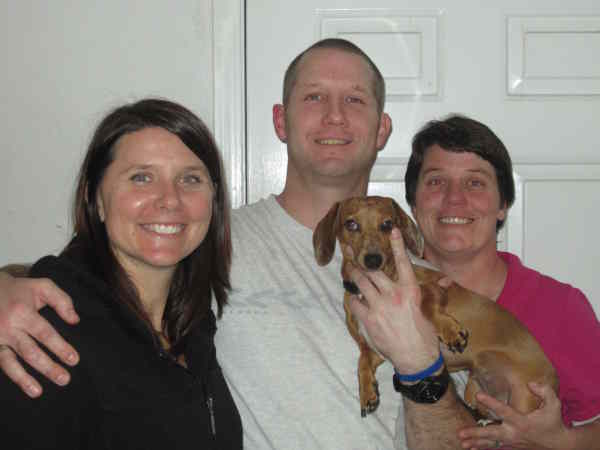 They may be a little old to be called "kids", but they are our kids and that's what we will call them. Christmas is a very special time of the year and special people make it even more so.
---
tuesday Dec 25 Folsom, California
And a WONDERFUL TIME Was Had by ALL
Everyone was told yesterday that presents would be opened right after breakfast. Huge uproar. This morning all the kids got to open one present before breakfast. Christmas Day was officially here.
The gingerbread house that I forgot to photograph a few days ago. Every morning as Christmas Day approached Abby would change the days on this plate to show how many were left before the big day. This is what it was changed to this morning. I think someone really enjoys Christmas.
Breakfast time. It was amazing how little food the three youngest took and how fast they ate. Once finished they kept looking at the adults with a hurry up and finish look in their eyes. What can I say, we were all kids once.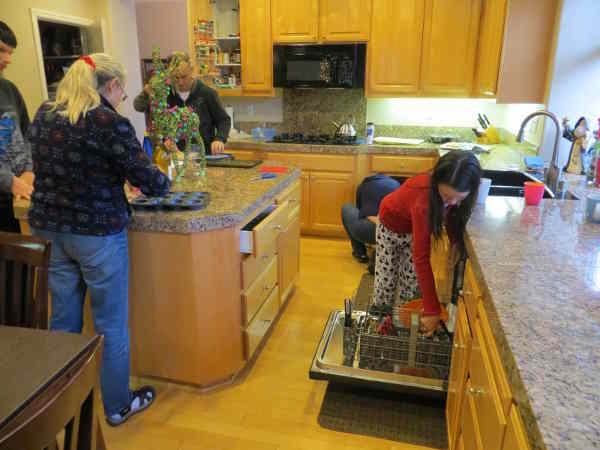 Breakfast wasn't over until it was over, meaning the leftovers put away and the dishes put in the dishwasher. Then disaster struck. Such long faces you have never seen. The dishwasher would not come on. No lights, nothing. There were lamentations and other pleas concerning the fact that this might mean the need to wash the dishes by hand. But the day was saved when it was discovered the circuit breaker had tripped and soon the sound of the dishwasher doing its thing was accompanied by the sound of presents being opened. The dishwasher grinch had not succeeded in stealing Christmas.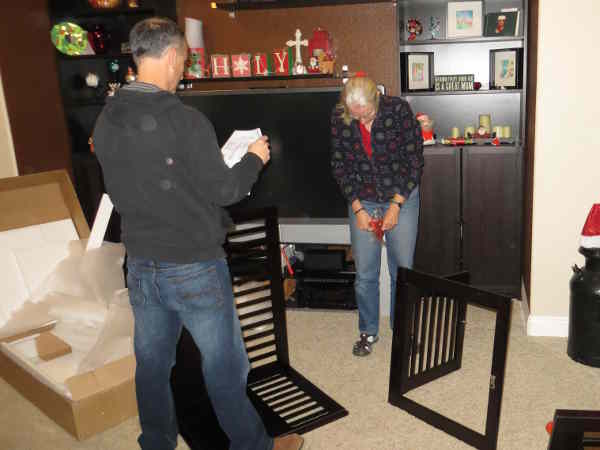 Fast forwarding to later in the day, if it comes in pieces you have to assemble it. You know how it goes, instructions, who needs instructions. And you know, it went together exactly as it was supposed to.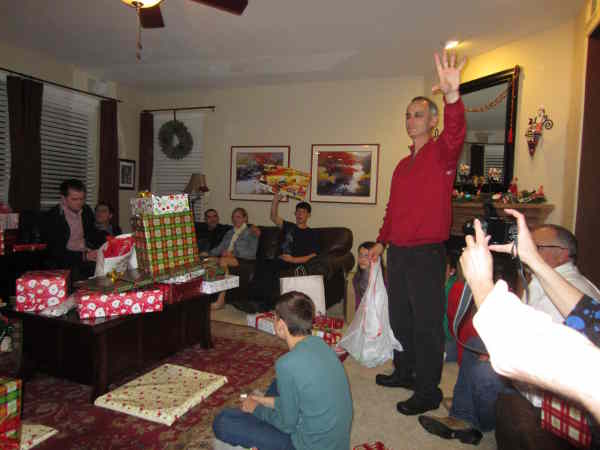 In the evening it was our son-in-law's family get together. The highlight of the evening, as always, was the Secret Santa gift exchange. Personally I think they could rent out a hall and charge admission to watch the goings on as they are so funny. May your day have as special as ours was.
---
Wednesday Dec 26 Folsom, California
Boxing Up the Christmas Decorations Day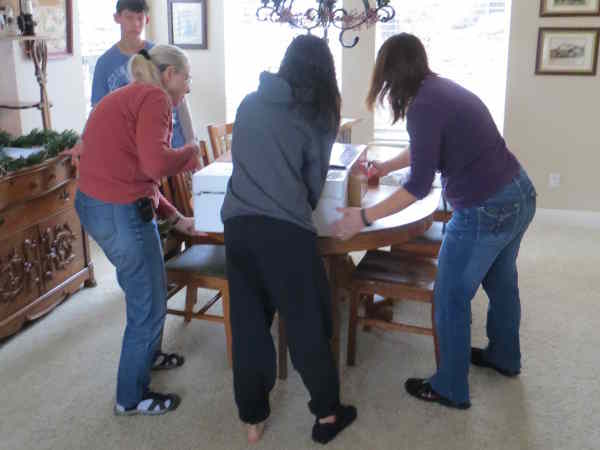 Maybe our 'boxing day' is quite different from the same day in England, but boxing was what was going on. Sometimes it was easy and sometimes it took many helping hands to accomplish the job.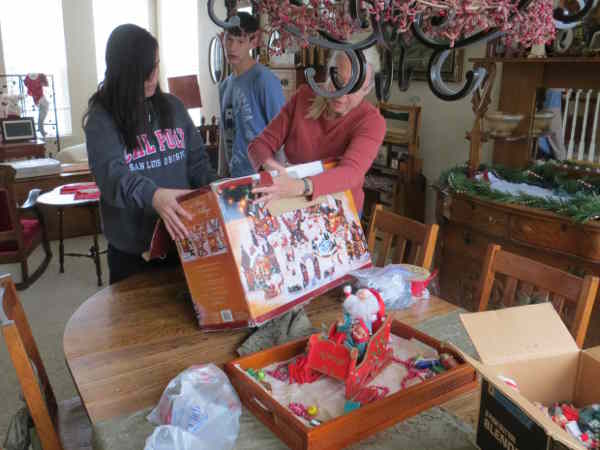 This was one of those, "Grandma, do you need help?" moments.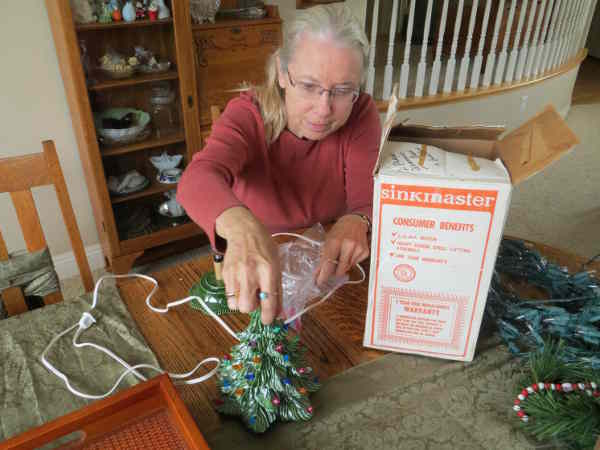 As we worked Linda and I talked about how much fun it was to see some of the decorations we had out in the house when the kids were growing up now being out for the next generation to grow up with. Linda got her own special moment as she put away this ceramic tree. It was most likely around 1980 that she made it, and I could tell it gave her special feelings to be putting it away, knowing it will be out again next year. Maybe some year it will get passed on to yet another generation, continuing the connection of Life.
Many hands make removing the decorations from the tree go quickly. Poor grandma, she sure had a hard time keeping up with all the ornaments being handed to her.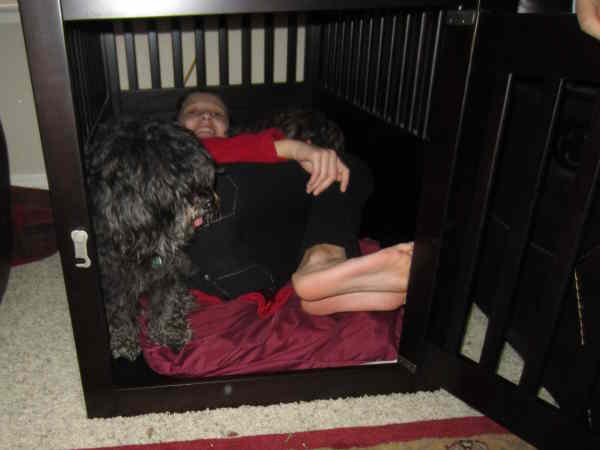 The piece of furniture that was put together by Linda and Ed on Christmas Day was being put to use today. But if it was supposed to be a dog crate, what in the world was Abby doing in there?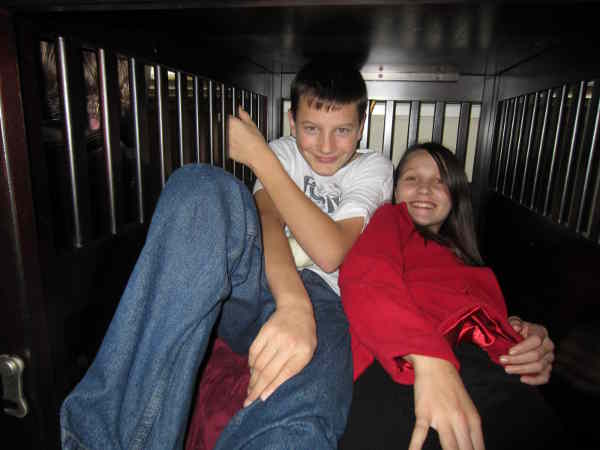 Maybe it is the modern equivalent of the refrigerator box. Who needs all those electronic gizmo toys when you have a cage to play in.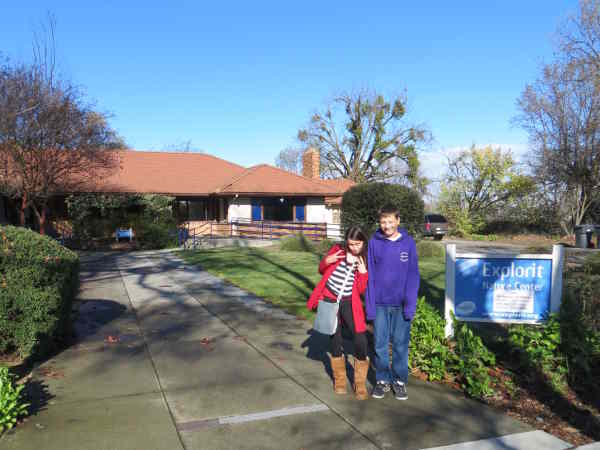 In the afternoon Abby, Zachary and I went to a place called Explorit. It was a really cool place and we three kids had a blast.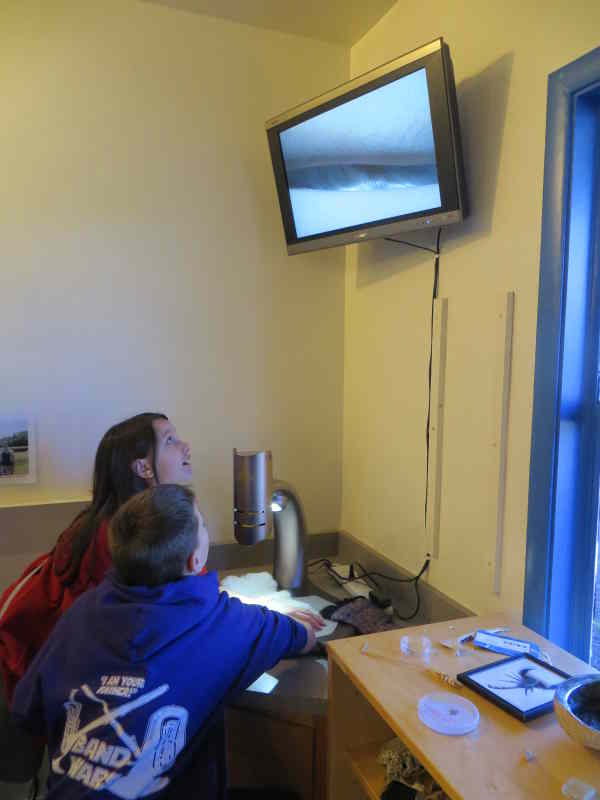 The smiles say it all.
I was trying to figure out why Linda took still yet another photo of the christmas cactus. Then I saw it. It has a bud on it. All the time we had it, it never bloomed at Christmas, but instead weeks afterward. Looks like it is doing its part in keeping up another family tradition.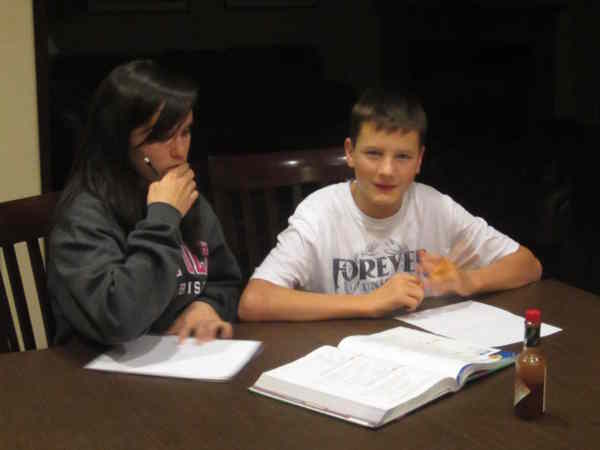 Zachary getting a little help in math. Things always go better with hot sauce.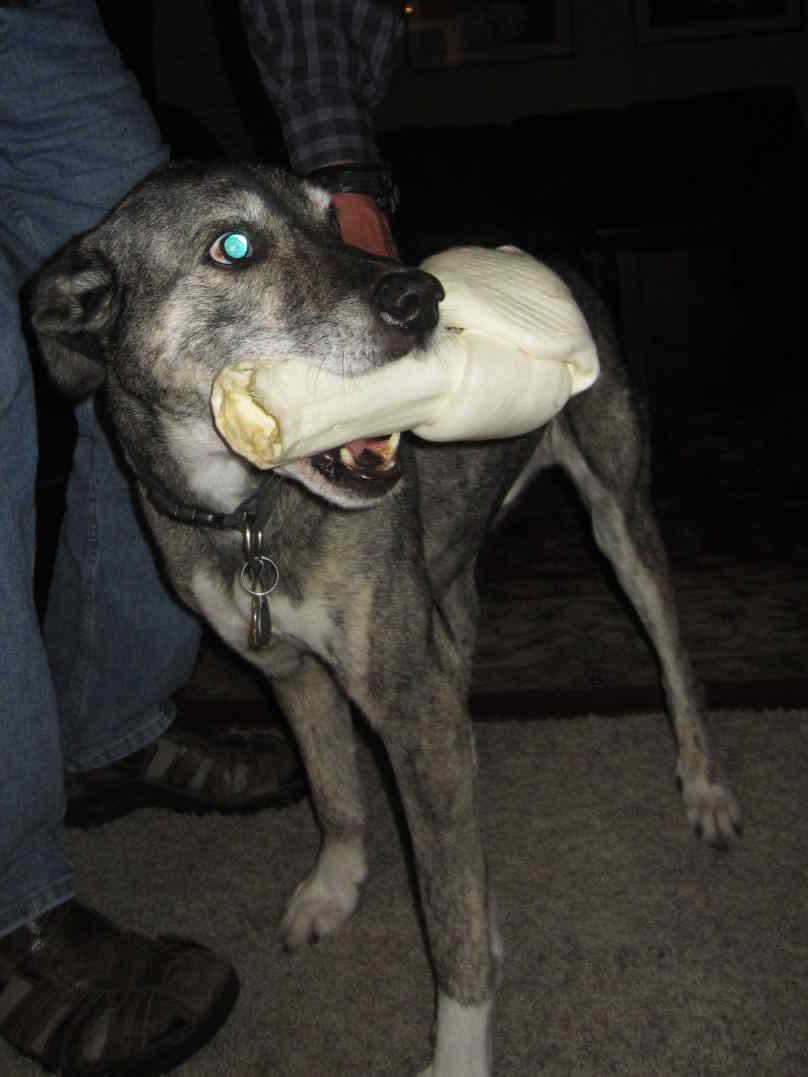 Linda worked so hard getting a picture of Happy with his rawhide bone, that I just had to include it. And with that it was the end of another wonderful day.
---
Thursday Dec 27 Folsom, California
Play day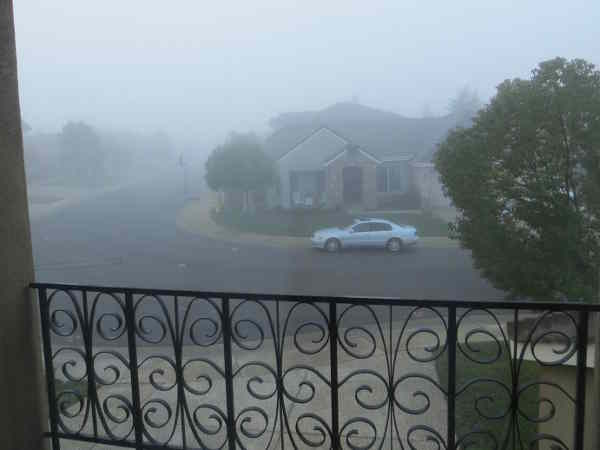 It's another Sacramento area Christmas tradition, fog. It brought back memories of years past when we lived here, because it always seemed like on the night of a Christmas party or some other reason for driving in the late evening, the fog would inevitably be as thick as pea soup. Not nearly that bad this morning, and it is also the reason we booked our return flight for tomorrow in the afternoon, just in case there was fog.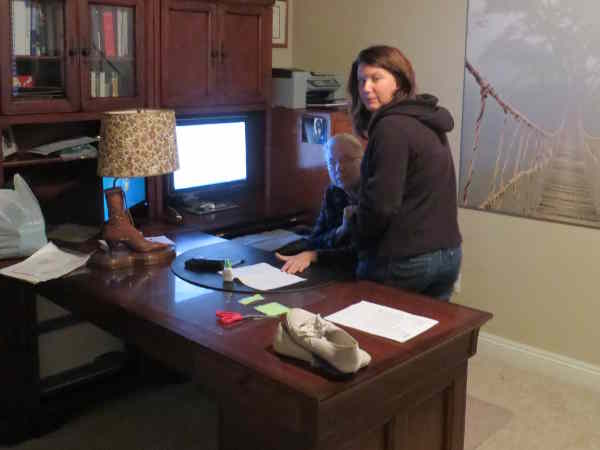 Great minds working together. Our daughter volunteered to be in charge of a craft project for the girls who are Abby's age at their Church. Doesn't sound like it should be too difficult, except for the fact there are over 100 girls Abby's age who will be doing the project. If patience is a virtue, our daughter is one of the most virtuous people in the world. And the world is a better place for her presence.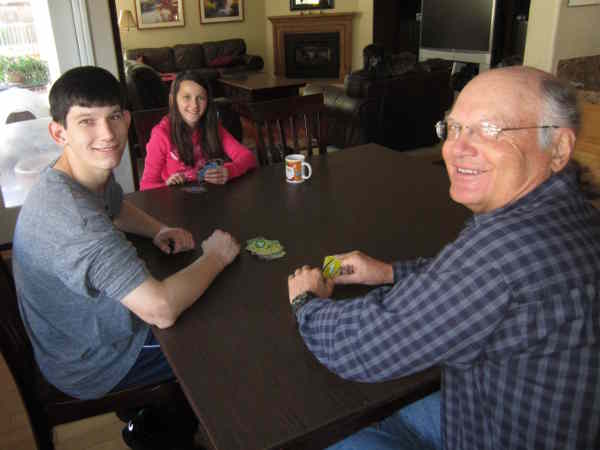 I thought I knew how to play Uno, but did I ever get my clock cleaned when playing against these two card sharks.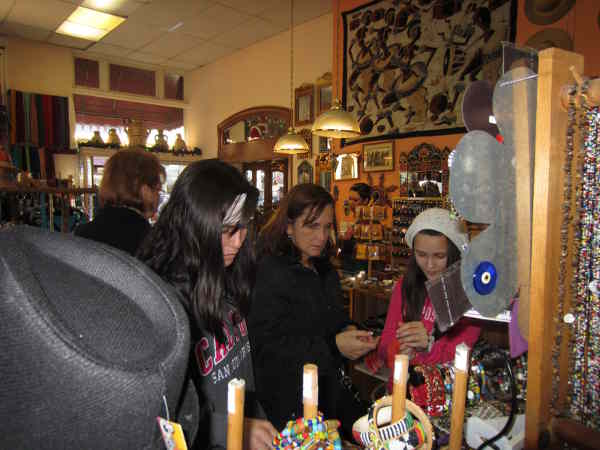 An afternoon shopping expedition in Nevada City. When we were on the Rick Steves tour of France this fall our tour guide wore a pull over open weave wrap. Linda had searched high and low during our time there for one and never found any. Today she found one in a shop in Nevada City. Talk about a happy girl. It also looks like the other girls on the shopping trip were also having fun. And after all, isn't that what Life is really all about, enjoying Life no matter what the circumstances.
---
Friday Dec 28 Folsom, California
Travel day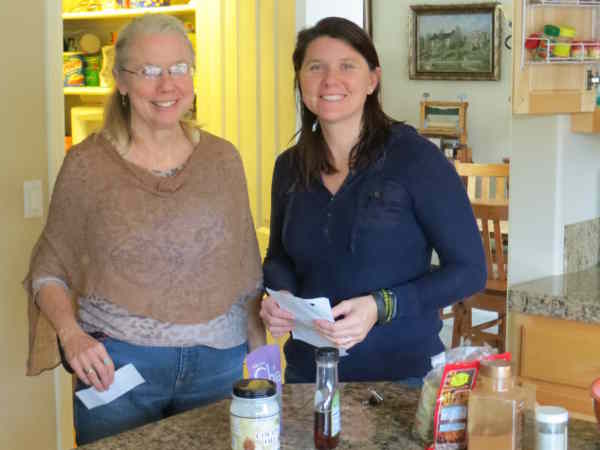 Two of the awesome girls in our family. Our daughter is getting ready to bake some homemade granola. And permit me a father's brag. Jen started cooking when she was a freshman in high school because Linda went back to work at that time. Jen is an absolute natural when it comes to cooking, never using recipes and turning out food that is way beyond awesome. We enjoyed four wonderful years of her cooking at that time, and now get to enjoy it whenever we visit. Heck, that's not bragging, that's just the facts!!
Note that Linda didn't waste any time wearing that poncho shawl thing she bought yesterday. I enjoy it when she buys clothes that look great on her and that she really enjoys wearing. It means I get to she her in them more often. And that rates a: Good Linda.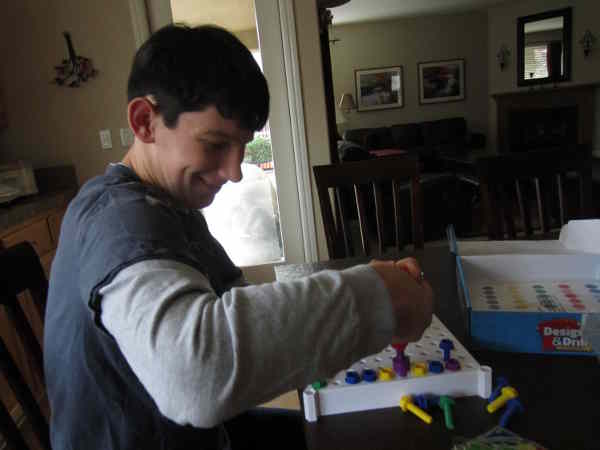 Justin having fun with one of his Christmas presents.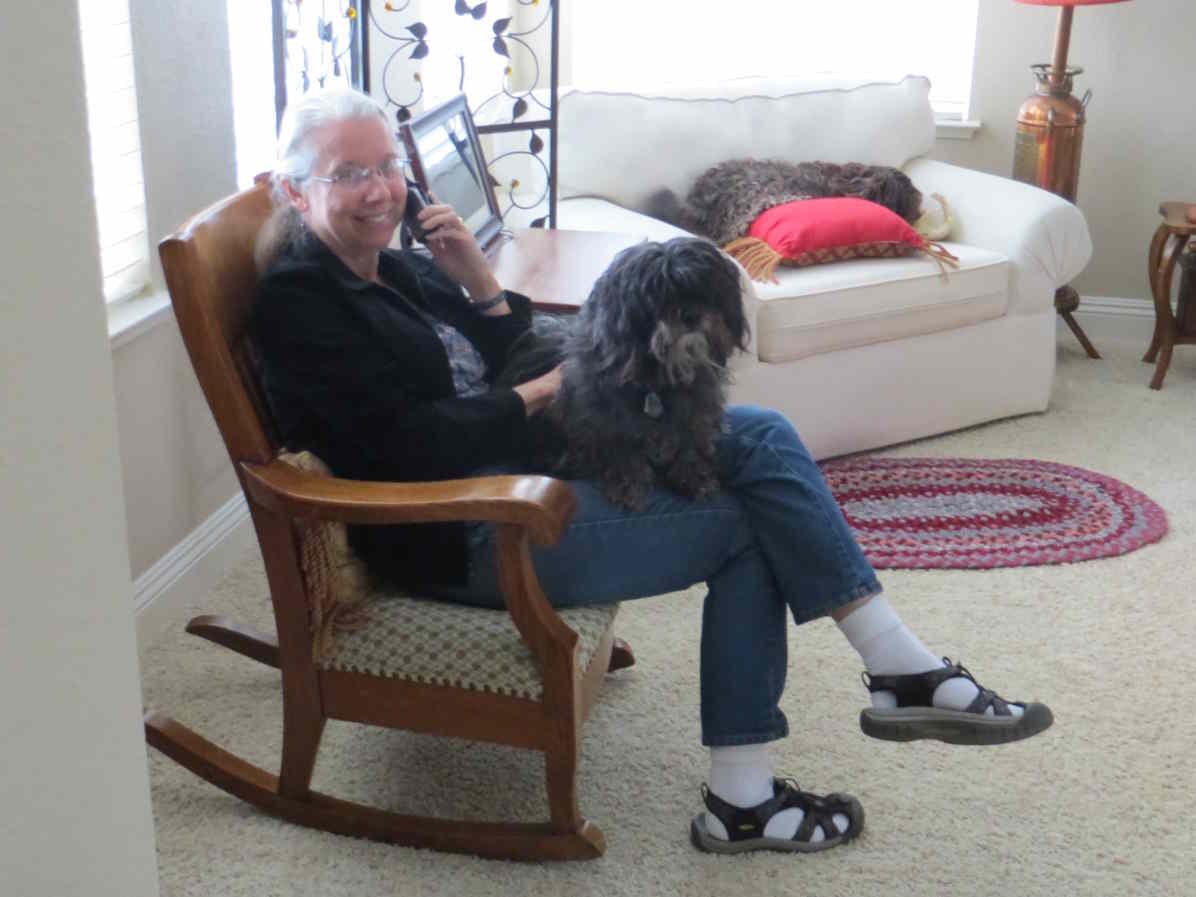 Linda has a friend in Kona. Linda has gotten into the habit of talking to her sister Katherine while sitting in this rocker. Kona has gotten into the habit of sitting in Linda's lap while Linda talks to Katherine. I haven't heard whether any of Katherine's two dogs are in her lap when she is talking to Linda, but the prospects of that are pretty high. Sisters are special in so many ways.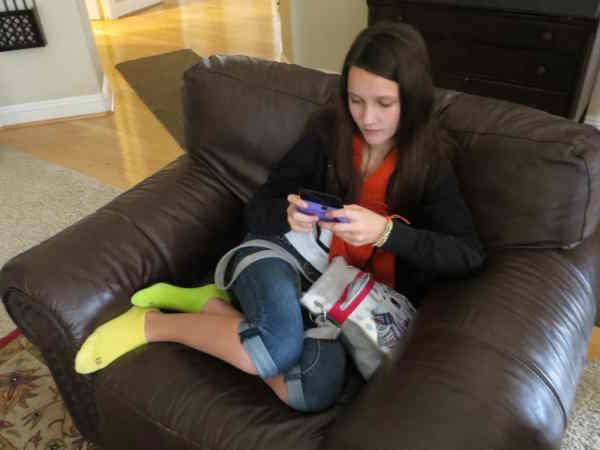 Hopefully by the next time we come to visit, Abby will have learned to wear matching socks. Grandpa is just teasing. And as for Abby, she just likes to take the path no one else travels.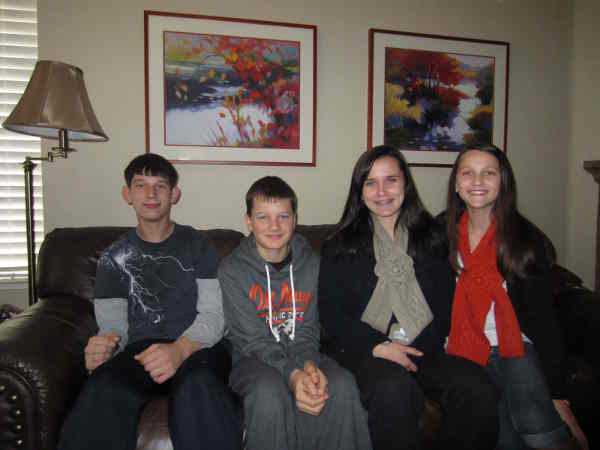 Our four very special grandchildren, Justin (16), Zachary (13), Lindsey(14) and Abby(11).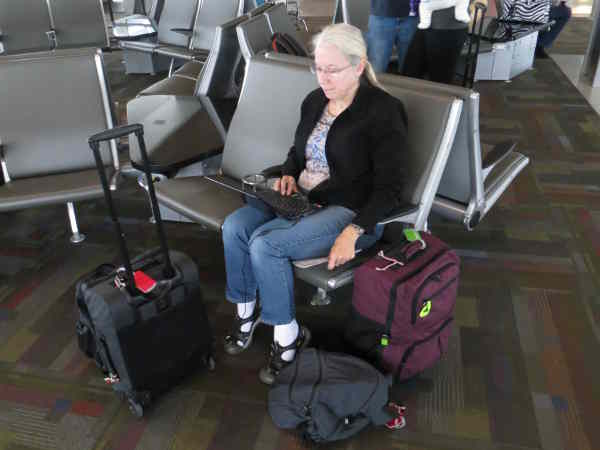 In the afternoon we headed back to Texas, getting to the Sacramento Airport only to find that it was looking like this was going to be a repeat of our trip out here since the plane we would be taking was forty minutes late in arriving, the exact amount of time between flights in Dallas.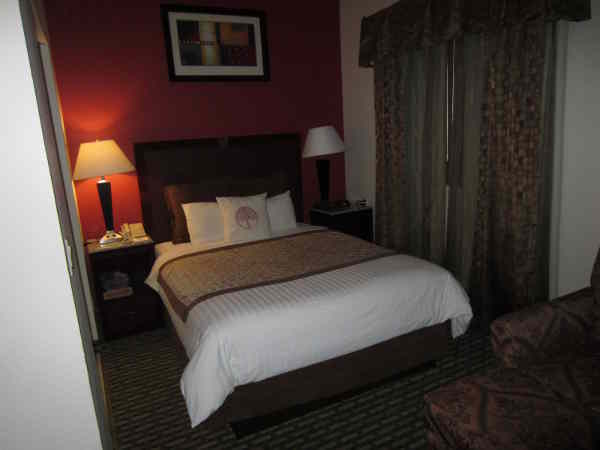 Our abode for the night in Dallas courtesy of American Airlines. Linda said it best, "This is fun." Was I ever lucky to find her or what.
---
Saturday Dec 29 Mission, Texas
Back Home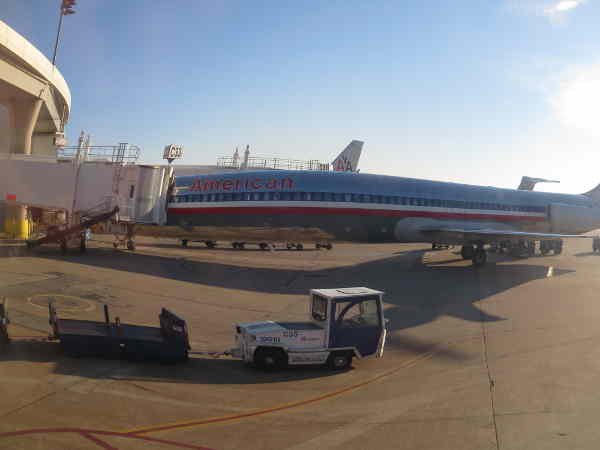 This was the view we wanted to see this morning. Well maybe not exactly, because who wants to fly on a humpback airplane. Luckily I discovered that I had my camera set on fish eye effect before I took anymore photos. And no, I have no idea how it got on that setting. I'll just let it fall into the man understanding woman category of things that can never be explained.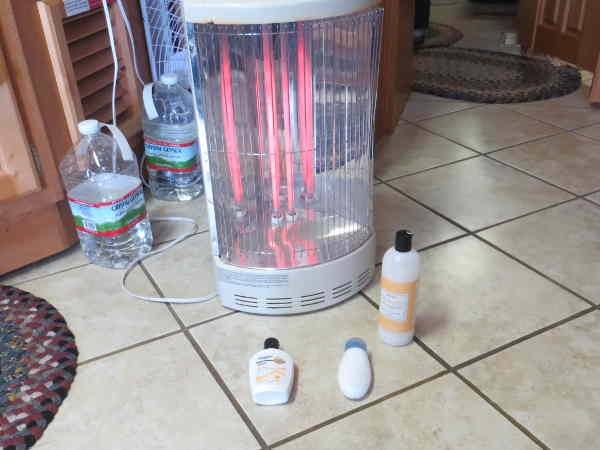 There is more than meets the eye to this photo. First it was not very warm when we got back to the coach. But backing up a little bit, our arrival at McAllen Airport was full of smiles as our wonderful neighbors, Roger and Dianne, were once again there to pick us up. It just doesn't get any better than that. Fellow fulltimers are the best people on earth.
So why the photo of the bottles in front of the heater? It is because they were so cold that Linda couldn't pour the contents of the big bottles into the small bottles. And why was she doing that? It was because she is flying out again tomorrow to spend a week with her sister Katherine who is now under hospice care. Special sisters, special bonds.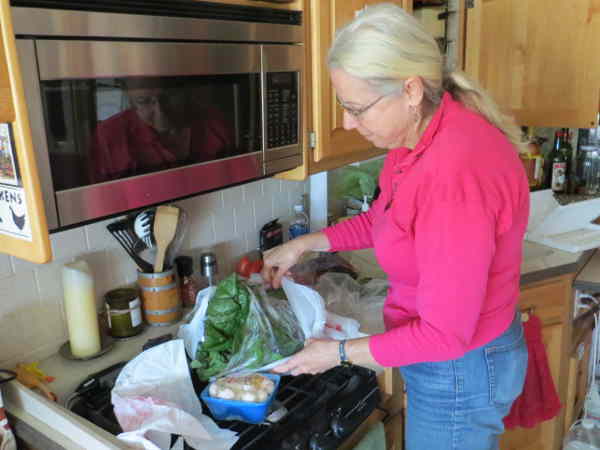 We had used all our fresh food before leaving for California, so it was off to HEB to replenish the refrigerator. The nice thing about being alone for the week is that I get to fix what I like. You will notice Linda putting away the red swiss chard, not one of her favorite foods. I did notice a container of tiny tomatoes had found its way into the cart. Now I do eat those tomatoes, but they are not at the top of my favorite foods list. When I asked about them I was told, "Don't worry, I'll eat them." and you know, that's just what she did. I swear that woman is part tomato worm.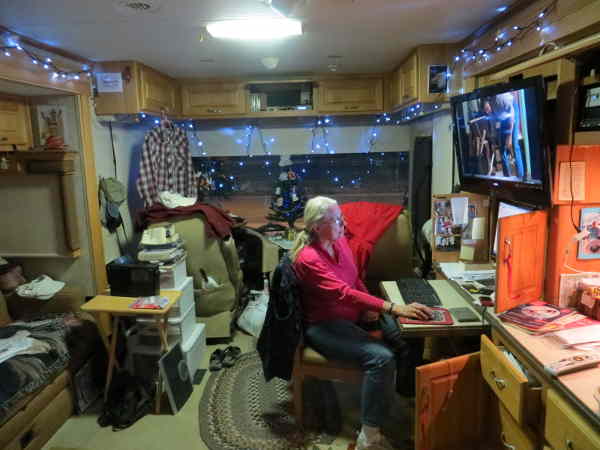 Hopefully I won't get into trouble for posting this photo, but this is the way fulltimers live. Our daughter's house is over 4000 sqft. Our RV is under 400 sqft. Do we miss that life? The answer is: Life is not a dress rehearsal. Don't be afraid to laugh, love and retire early.
---
Sunday Dec 30 Mission, Texas
Travel Day for Linda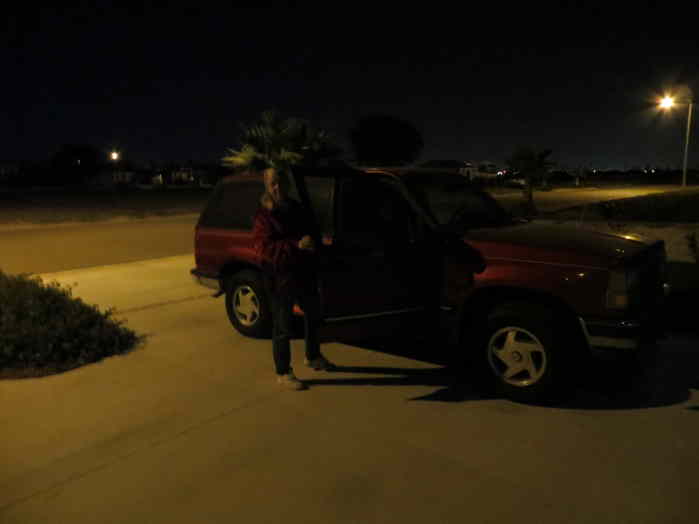 Linda had everything packed and ready to go last night. I got up this morning and fixed us breakfast, then 4:46 saw us leaving for the McAllen airport. We took Military Road rather than the Expressway and the only other vehicles we saw had the green stripe of the Border Patrol on them. Linda pointed out that the full moon was probably the reason as it made it easier for international guests to see where they were walking.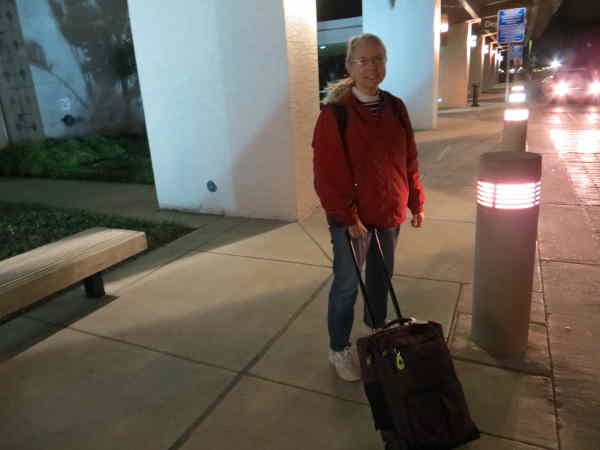 We arrived at the airport just after five o'clock, and Linda called to say she was through security in less than 10 minutes. Guess that's one of the advantages of a small airport. You will note the very nice looking jacket she is wearing. If it looks very similar to my Alaska jacket it's because that is what it is.
Meaning Linda is so special that I was willing to give her the jacket off my back. It also means she is very smart since it has a hood and doubles as a rain and cold weather jacket, just what she needs for the weather back in Ohio.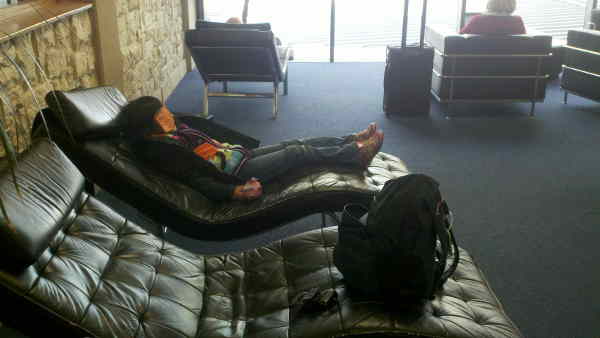 While Linda was waiting in Dallas for her connecting flight to Cincinnati, she called me to let me know she had found a very comfortable chair. This is a photo she emailed me, and no, that is not her.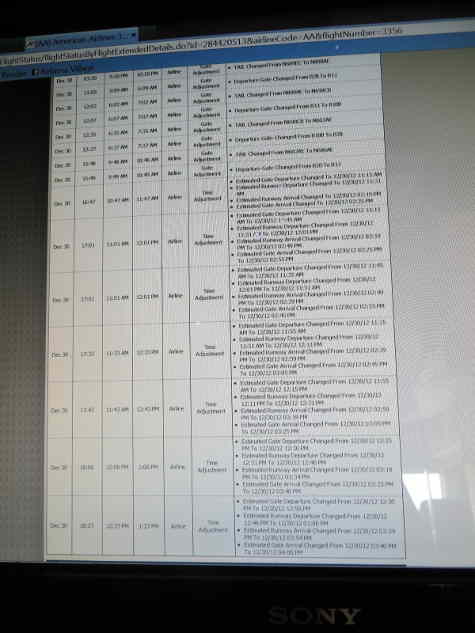 This is an unreadable photo of the changes in Linda's flight to Cincinnati. She wasn't worried about making the connection because she had 3 hours and 5 minutes between the two flights. And it made it even better when her flight from McAllen to Dallas arrived 12 minutes early.
Then it happened, delay after delay. A new time was posted, then changed again and again. Then the gate was changed, and more changes to the departure time. In the end her layover in Dallas was 6 hours and 5 minutes, but at least she was on her way. Eventually I received an email saying she was finally at Katherine's house. The sisters were once again together.
---
Monday Dec 31 Mission, Texas
Ringing Out the Old Year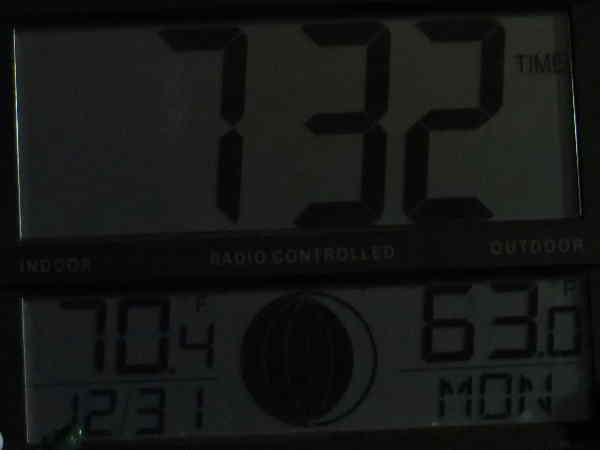 Linda is in Carlisle, Ohio where today's high is supposed to get up to 34, hopefully, maybe. Meanwhile down in the Rio Grande Valley, at 7:30 this morning it was already 63 on its way to a high of 80. Of course we are supposed be in for a cold spell later this week with highs only getting into the lower 60's. It's a tough Life but someone's got to live it.
Linda likes her scrambled eggs plain, that's plain as in absolutely nothing in or on them. Heck, she doesn't even like them scrambled very much, with the yolks barely broken. Then there are the additives. I don't know how many times I have been a very Bad Bob over the years due to excessive black pepper, but it is a whole bunch of times. As you can see, I was a Bad Bob in the pepper department this morning, but as the the old saying goes, "When the wonderful wife is away, the husband will use lots of pepper every day."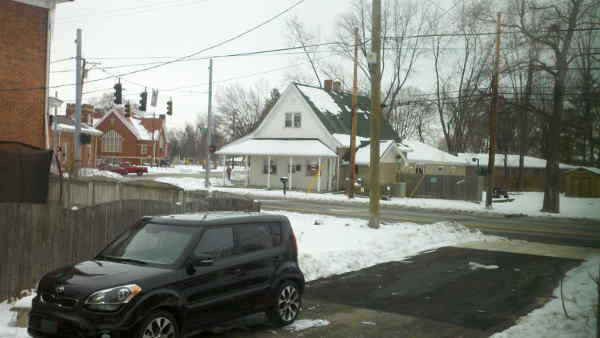 This is a photo Linda emailed me today, the view out the window of Katherine's house. I grew up in this kind of weather and thought that was all there was. As you can tell, I got some real learnin' on that matter with the passage of years.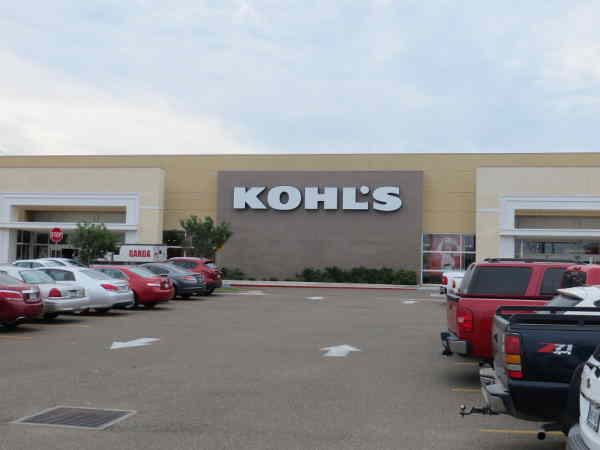 Smart Linda. There is a story behind this photo and it goes back to when we were in California for Christmas. Linda had bought some gifts at Kohl's and received a coupon good for $10 off on her next purchase. As we were getting ready to leave for the airport she handed it to me and said, "This expires on the first of January, you need to go to Kohl's and spend it."
Having thus far survived decades of being married to this woman, I came back with, "And just what would you like me to buy for you with it?" Good Bob. Her reply was, "Oh, I don't care, but remember, I do have a birthday coming up." As if I would ever forget it again, doesn't she have any faith in me remember those important dates in her Life.
So now you know the reason for the above photo, I went shopping at Kohl's today. I found it to be really difficult picking something out, do you know how hard it is even find something for a woman under $10, let alone something that comes in the right size? It took the longest time searching but eventually I found the the final clearance markdown rack tucked off in a back corner. I sure hope she likes what I got. Good Bob.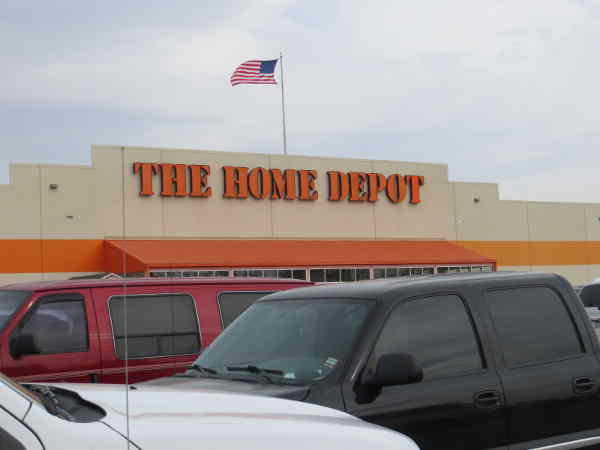 She had also mentioned that if I got the chance, to buy the pvc pipe we needed to build the bird netting enclosure for the tomato plants. You can bet that it was also on my list for today, and that was my next stop. When I got to where the pipe was I realized two things. First, Linda and I usually go shopping together, and second, Linda always makes up a list of exactly what we need to buy and brings it along. (Luckily I wasn't writing the Daily Journal when the occurrence me forgetting the Droid which had the shopping list on it happened. That one was too painful to write about anyway, but I have gotten used to being in the doghouse all this time. Maybe she will let me out someday.)
Back to the pvc pipe, there I was, reaching for the pipe when I realized that I didn't know what size to buy. She had already bought the special three way corner fittings through Amazon, but what size were they? I thought about calling her even though she was in Ohio, but decided that probably wasn't the the wisest thing to do, as it might give her the wrong impression about her wonderful husband. Brilliant man that I am, I decided to go back home, measure the size of the fitting and buy the pipe the next time I go shopping. Am I smart or what.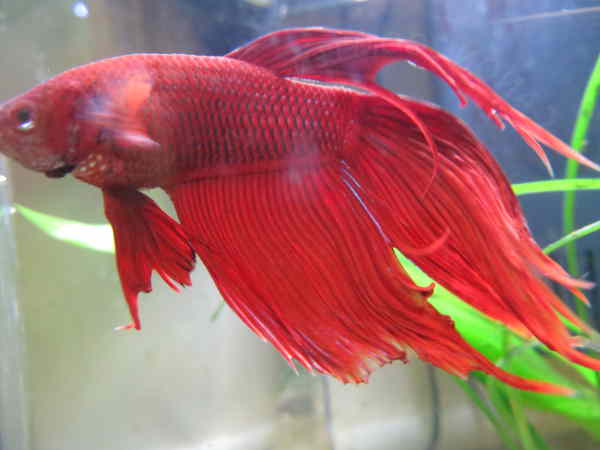 This is who I celebrated the ringing in of the New Year with. Of course the other people who were ringing it in when we did lived in Greenland or much of South America. May this be the year your wishes, dreams or hopes become reality. Life is not a dress rehearsal. Don't be afraid to laugh, love and retire early.
---
---