Journal Archive 1/10 - 1/20 2013
Scroll down to read the latest post
Friday Jan 11 Mission, Texas
Happy Linda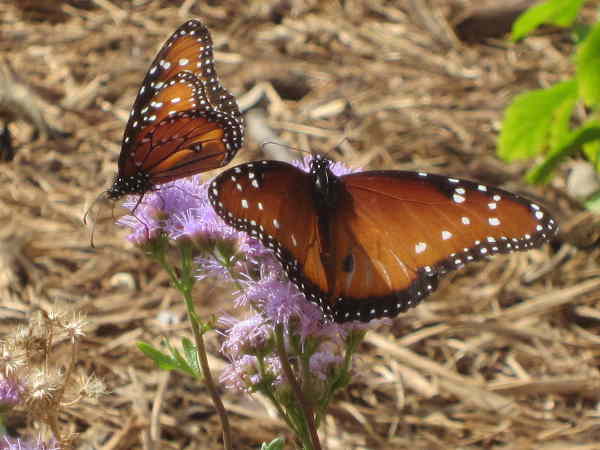 The weather had turned around, with the expected high for the day in the 80's, and we weren't the only ones taking advantage of the nice weather. We can only imagine the number of butterflies that will be on these plants when they are grown. This makes for a very happy Linda which makes for a very happy Bob.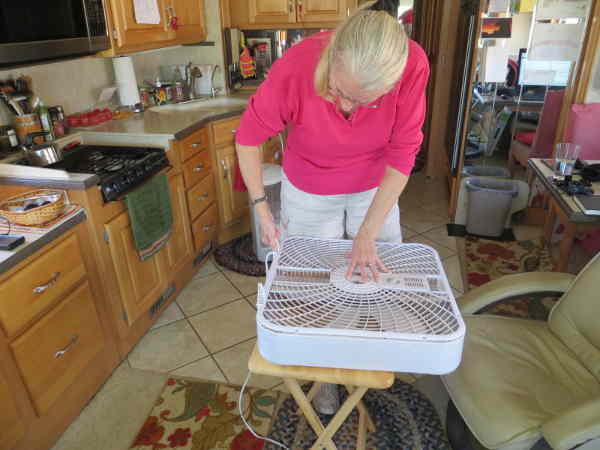 It wasn't because of today's forecast that Linda cleaned the fan, as we use it most days, it was simply the fact that it was dirty. Maybe it had been dirty for a long time, so what, today was the day to clean it. Except for a small problem disassembling it, she did everything herself, and when she was done, it was most certainly clean. Good Bob for not bothering her while she cleaned it.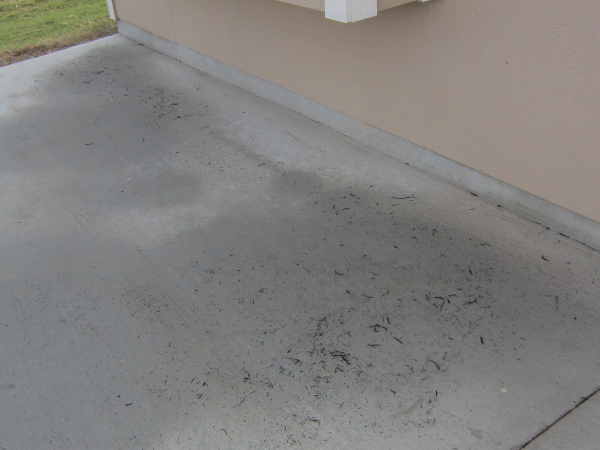 This is not the dirt off the fan. The wind was blowing from the south, the cane is ready to be harvested, the fields are burned. We see the smoke billowing up in the distance. Then the ash begins to rain down. It slacks off and stops. Another plume of smoke appears, more ash falls from the sky. Now you know one of the steps in getting that pure white sugar cane into those 5 lbs. packages.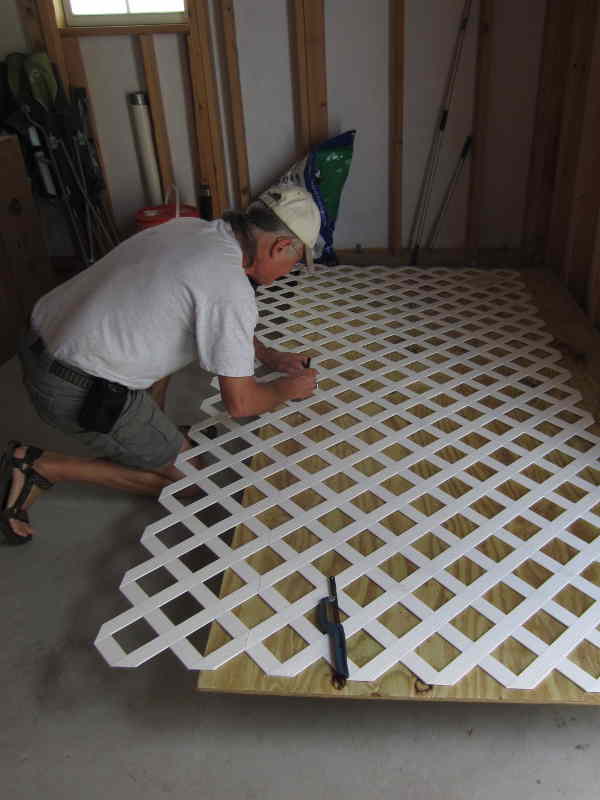 If you noticed a piece of white plastic on top of the plywood in the back of the Explorer the other day, her it is. It was going to be used as a mini trellis at the back of the pergola. The first step being to cut it into one foot wide pieces, then notching out the top to fit around the beams of the pergola. After trying the hacksaw blade holder you see, I dug out my Dad's old hacksaw, the one filled with memories. It was a special time.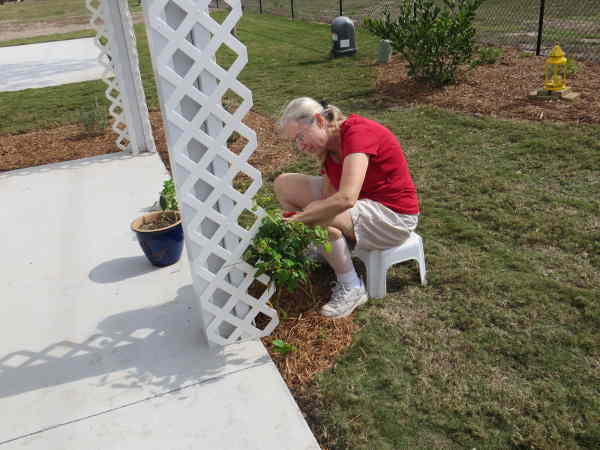 I had barely put in the last screw before Linda was hard at work trimming and tying up the vine she had planted here for this very reason. If it grows like it should, and if it doesn't get its top killed back by a hard freeze, we are going to have a very pretty vine with orange flowers growing atop our pergola next year.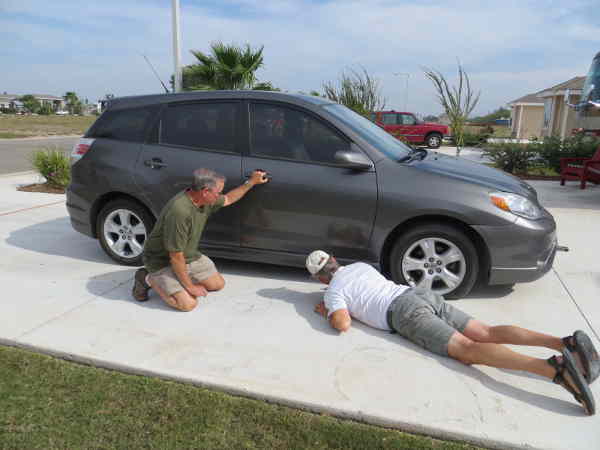 It looks like Roger might have a problem with his car.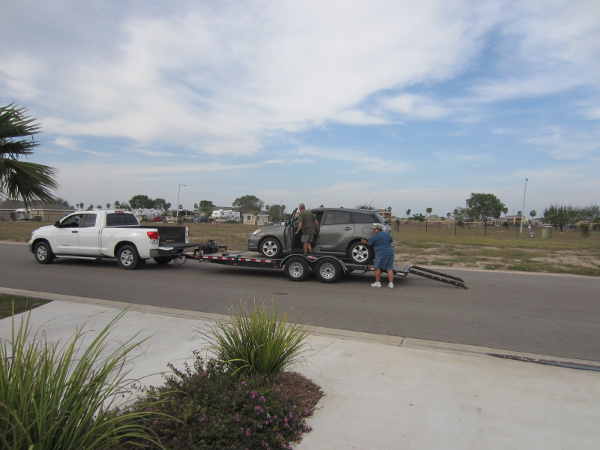 Yes it was a problem. I drove Roger over to Pharr where the Toyota dealer is located. We drove back. I missed our expressway exit on the may back. I took a wrong turn. Eventually we got back to Retama. Roger thought he had a bad day. I thought it could have been a lot worse. It sure will make for a good story. Just think how boring Life would be it was the same thing every day.
---
Saturday Jan 12 Mission, Texas
Builder Bob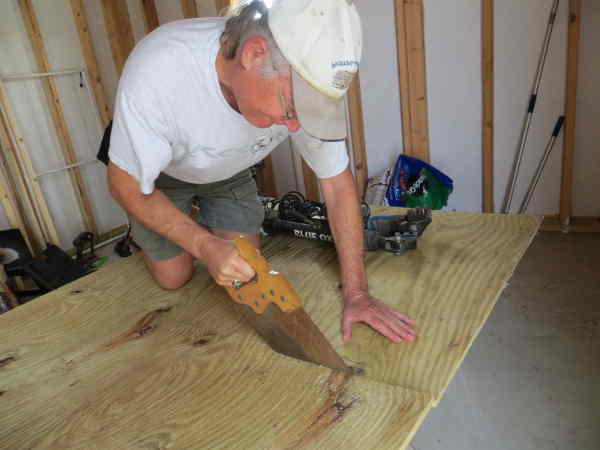 Linda wants the outdoor bar for the patio built by next Friday. Today I started on it. There was no plan drawn, just a general idea of what she wanted. Of course she knew some of the dimensions she wanted, but how to build it was left up to me. As always there were a few miscuts and some pleasant surprises.
No, it didn't get built today, but much of it was cut out. As far as assembly, it seems I bragged a little too soon the other day about my Home Depot shopping list. I had two different lengths of screws on it, unfortunately one was the wrong length. That means there is a trip to Home Depot in the offing for tomorrow morning, or so says Linda. Luckily I have play practice tomorrow afternoon, so I have a built in excuse for not having it completed tomorrow. Monday is looking like a different story and time will tell whether the result is Good Bob or Bad Bob. Let's hope I buy all I need tomorrow.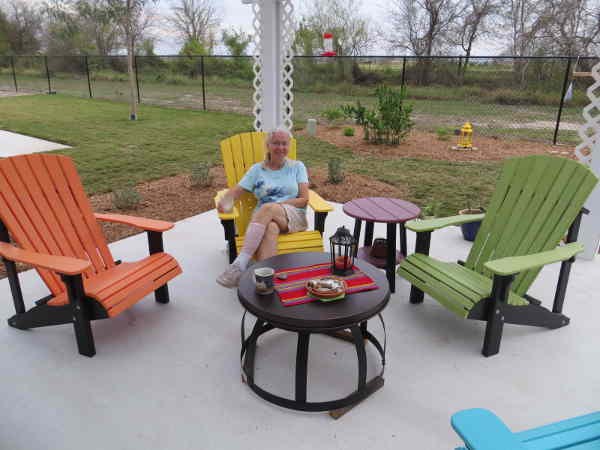 It appears Linda had a good day today, and she did. I did too. It was a great day weather wise, the high was in the 80's, we had fun working together despite my several errors in measuring and buying. There is nothing better than a beautiful woman, gin and tonic in hand, sitting on our patio, and giving me one of her million watt smiles. Very lucky Bob.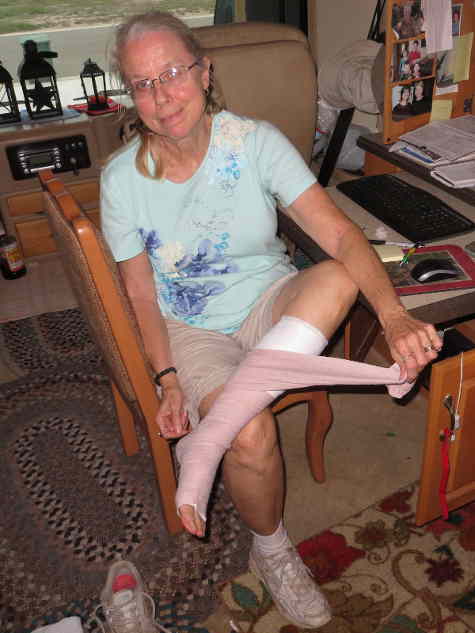 The difference in Linda's heel since she visited the podiatrist on Tuesday has been simply amazing. Tonight it was time for the wrap to come off and the heel inserts to go into her shoes. Disclaimer: this is a posed photo, she did not take the wrap off, I did. Additional information: she was not allowed let it get wet. I will let you draw your own conclusions from that. As always: Life is not a dress rehearsal. Don't be afraid to laugh, love and retire early.
---
Sunday Jan 13 Mission, Texas
The Weather Turns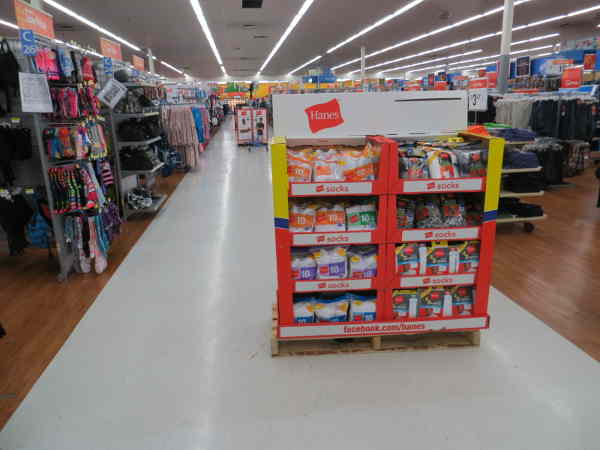 Yesterday Linda had gone online, checking when the stores opened this morning. This morning I went back to the bedroom to wake her so we could get our shopping done before the crowds from across the border descended on the stores. When did that smiling, laughing girl I married go? It's not nice to disturb a hibernating grizzly. Bad Bob
We did get everything that was on our list, Linda having made sure it was detailed enough to know exactly what we needed. We have a happy hour Retama wide get together on Tuesday that has an Italian theme. Everyone brings "heavy" hors d'oeuvres which substitute for dinner. I was informed by she who lives with me that "heavy" hors d'oeuvres does not mean triple crust pizza, it means enough to make a meal as opposed to just an appetizer. Wow, you learn something new every day.
So after all that, why a photo of an aisle in Walmart? Probably because I don't understand why they talk about the new wider aisles in their stores, then block most of the width of the aisle with something like men's socks. I can see kids toys or DVD's, or even underwear, but socks? Looks like merchandising is something beyond my understanding. And they don't even have the display centered in the aisle.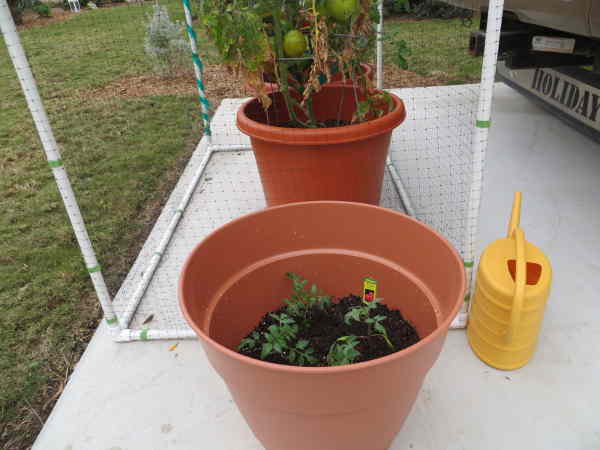 Guess what Linda bought at Home Depot. That blonde tomato worm sure does love these things. She'd disappeared on me, and upon her return was carrying this pot and a pak of 4 tomato plants. You can guess what the first thing we had to do when we arrived back at the coach. If you think four plants are two too many for this pot, you are right. After they get a little bigger she plans to give two of them to Dianne next door since her tomatoes are looking as poor as Linda's.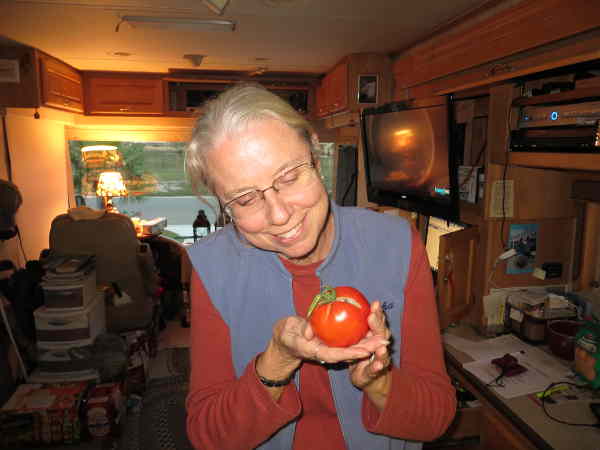 I was hearing things like, "Tomatoes can get too ripe." "Tomatoes don't taste as good if they aren't picked at the right time." And, "I don't want that tomato to rot on the vine." Looks like that is not going to happen. I have to admit when she held it up to my nose, the aroma of tomato was almost overpowering. That woman knows exactly when to pick her tomatoes at the peak of ripeness. And to prove just how much I love Linda, I only had one small wedge, leaving all the rest for her. Good Bob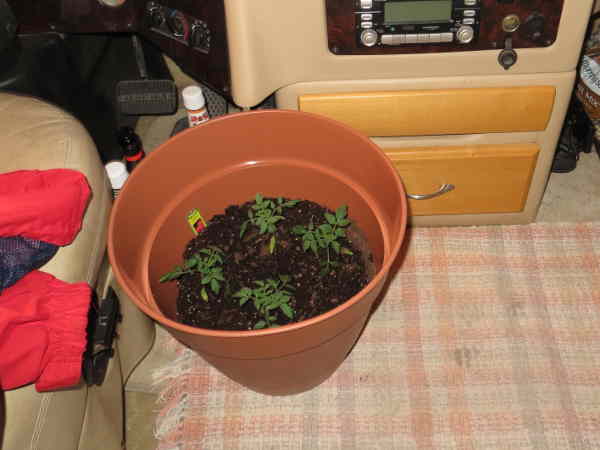 This one is added proof of just how much Linda loves her tomatoes. Not that it is supposed to be very cold tonight, but with lows in the upper 40's, she didn't want her new babies to needlessly suffer their first night in their new home.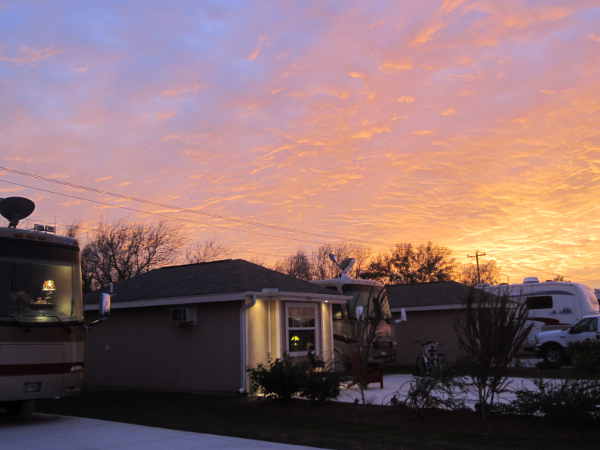 Only one thing fits, "Another beautiful day in paradise."
---
Monday Jan 14 Mission, Texas
Time to Learn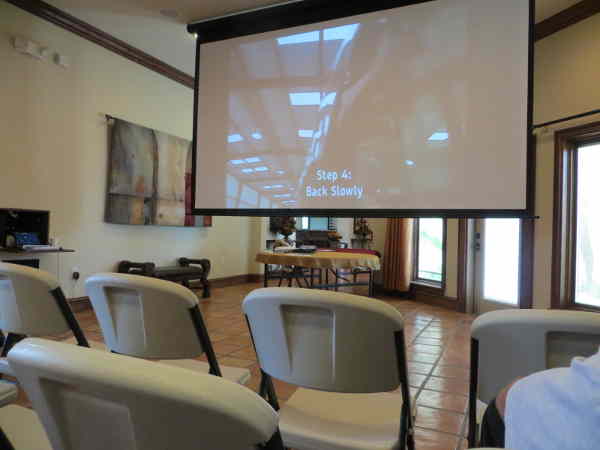 We attended a presentation today that was given by one of the residents here at Retama. His family owns a bus company and one of his responsibilities has been the various aspects of driver education. It started at 9 and concluded at 2:30 with a break for lunch. While I can't say we learned much that we didn't already know or had at least been exposed to, it served as a great refresher for both of us. The fact that lunch was included was an added bonus. I think this experience could be called helping an old dog remember his tricks. Note how I was careful to exclude Linda from that last sentence. Good Bob.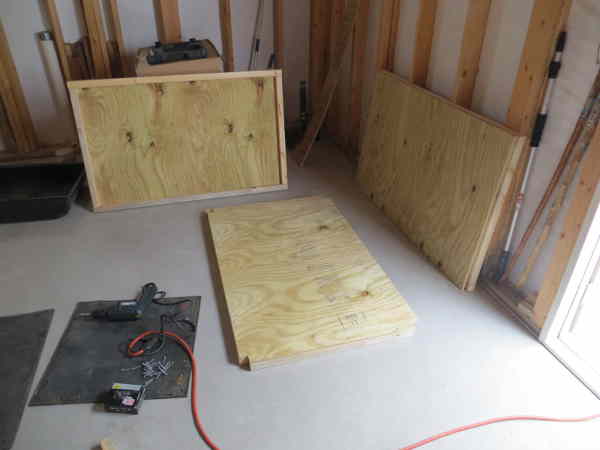 It was a cold day, the high only reaching the low 50's, so Linda was surprised when she discovered me out in the coach house working on the outside bar. This is a case of her previously telling me that it was going to be ready by Saturday, and that was what I was working towards. The best thing was all those pieces I had cut out on Sunday were actually fitting together as they were supposed to.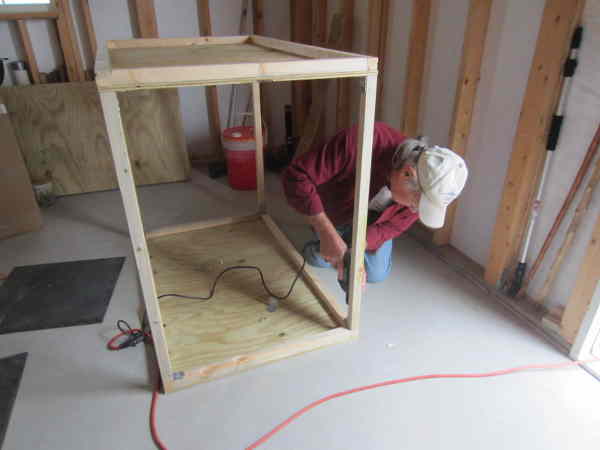 The top and bottom in place. My concern had been how to attach everything together in such a way that it was stable. By using Simpson angle brackets on two sides of each post where they attached to the top and bottom, it really stiffened the frame. Once the center shelf was in place, even Linda was amazed at how rigid it was. Tomorrow we will buy the stain, attach the cedar boards to the front and side, and hopefully get the stain on. That should give it enough time to dry, even with the bad weather, so that I don't end up in the doghouse.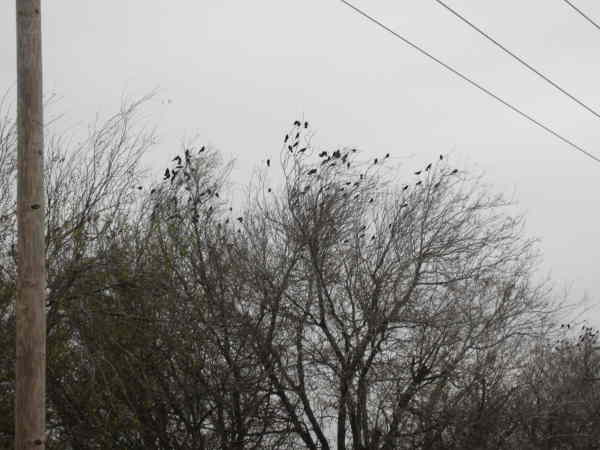 While I busy, Linda wandered outside to see what was raising a ruckus out back. It was blackbirds, many more than what you see here. First thing I know, she's off to the coach getting a bag of bird feed and and refilling the bird feeder I built, the one that any birds hardly ever visit.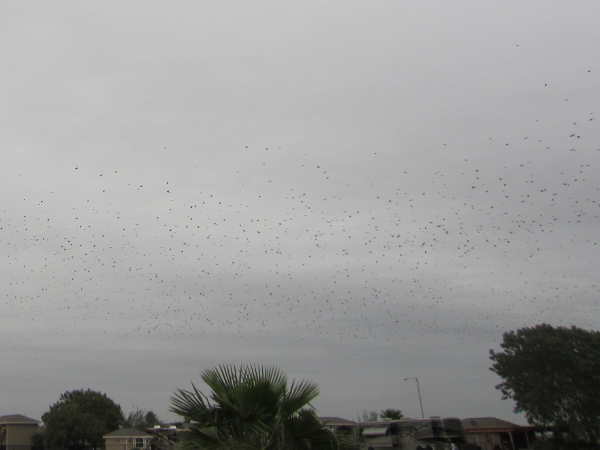 It's a little difficult to see, but there sure were a lot of blackbirds everywhere. I wonder what will happen if she feeds these pests, they get used to coming to the bird feeder, then they notice the nice red ripe tomatoes a few feet away at the back of the coach. Something tells me I wouldn't want to be a blackbird flying around Retama if one of those tomatoes gets some holes pecked in it. If you think Linda sometimes gets upset at me, that's nothing compared to what will happen to those birds if one of those tomatoes gets holed. It was Oscar Wilde who summed it up best: Women are made to be loved, not understood.
---
Tuesday Jan 15 Mission, Texas
Doghouse Day
I don't know what it was that I did wrong today, nor when I did it, but whatever and whenever it was, I sure hope I don't do it again. Now, on to what took place today that I did know about, and did willing participate in.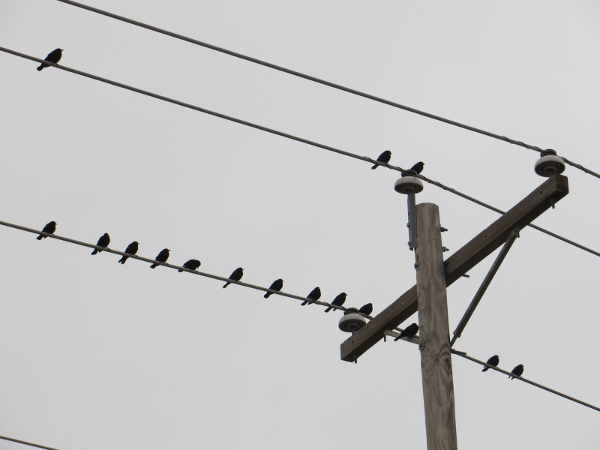 Early morning at Retama, the power line behind the coach. I couldn't believe it, birds lined up looking hungrily at either the bird feeder or Linda's tomatoes. I commented on the fact that all those birds were likely perched there because she had put out all that bird feed yesterday. No comment from Linda.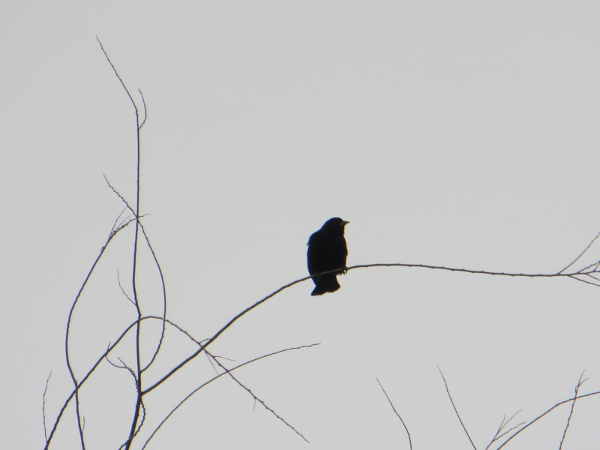 A little later I noticed the power line was was devoid of feathered flyers, but a lone lookout remained in the tree directly behind Linda's tomato plants. I couldn't resist, "Look Linda, the blackbirds left a lookout in case you put out more bird feed or uncover the tomato plants." Once again there was no response from Linda.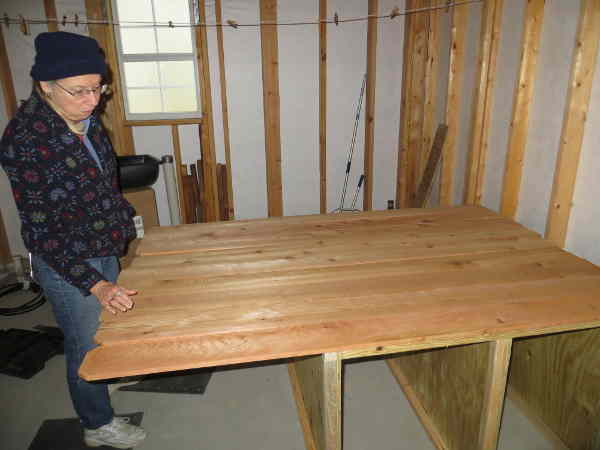 I was working hard to complete the outside bar as Linda wanted. I was trying to cut the boards and attach them this morning, but first I asked Linda, "About the boards on the front of the bar, make sure they look okay, and I expect you will find something wrong with how I placed them." She said nothing but swapped the location of several of them.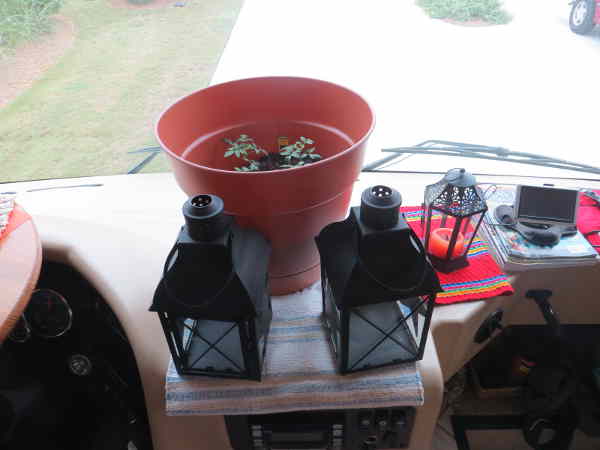 Coming back inside because it was downright cold outside, I noticed she had moved the huge pot of her new tomatoes onto the coach dash. I thought it looked pretty stupid so asked her, "Don't you think that big pot on the dash will look pretty stupid to anyone walking or driving by." Once again she said nothing.
As I was working on Linda's outside bar, the Fed Ex truck pulled in the drive and unloaded two boxes. They were the new tables to go with our outdoor furniture that Linda had ordered. I immediately started putting them together to so she could see what they looked like. In a few minutes she came out and asked why I hadn't let her know they were here, but soon began helping me assemble them.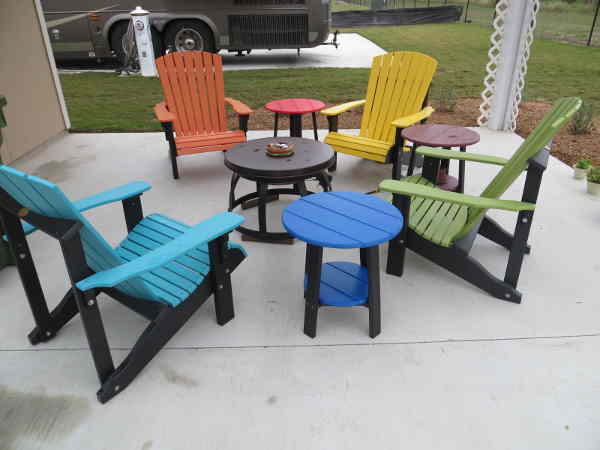 The patio showing the new tables. Linda's only comment was that the first table she had ordered didn't really fit in. She said maybe we could put it out when the Retama yard sale takes place and sell it for what we paid for it. I said, "Wasn't it over a hundred dollars?" She said, "$122 plus freight." I said, "Who would pay that kind kind of money for a table like that?" She returned to the coach, not saying anything.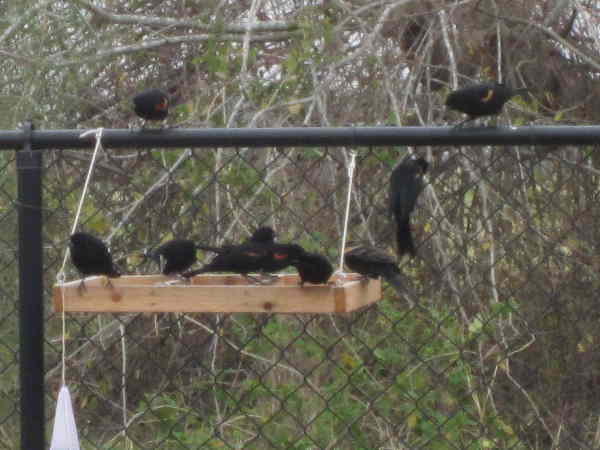 This is what the feeder looked like later in the afternoon. At times there were more than 10 blackbirds in it. When she was taking his photo I commented, "You keep feeding those blackbirds and soon we will be buying 20 pounds of bird feed every day." She never replied, and in fact didn't even look at me as she went back into the coach.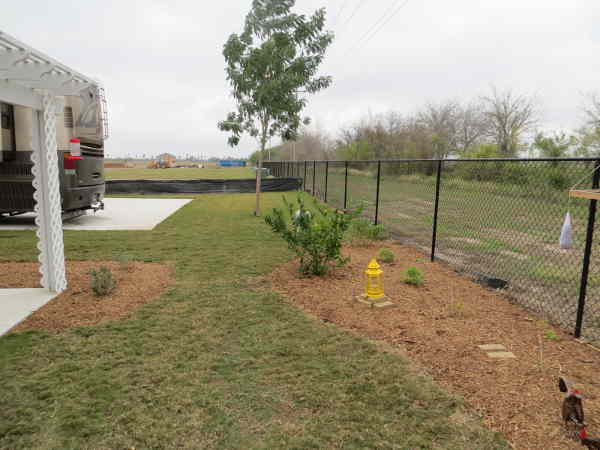 In the mist of all that was happening a fence appeared at the edge of Tim and Bonnie's lot, which you can see in the distance. They had said the start date of construction was the 15th, which was today, and it looks like that is what is taking place. It is amazing how nice the people who live at Retama are, and we look forward to welcoming Tim and Bonnie to our little corner of Retama.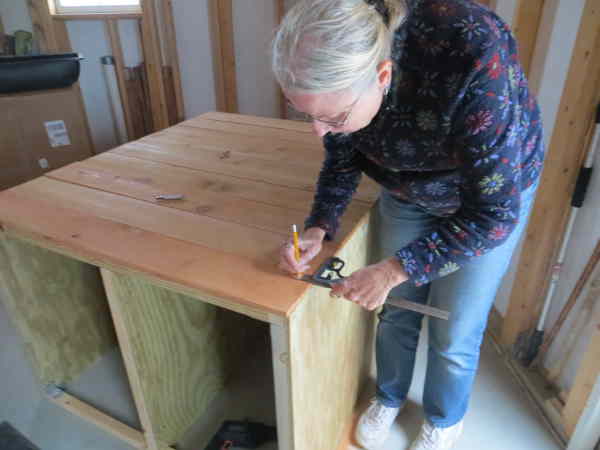 The boards for the front of the bar had been approved by she who approves such things, they were marked and cut, and it was time to install them. It went well until the board exactly in the middle jumped a half inch out of place when I drilled the hole for the screw. Okay, so maybe it didn't jump a half inch, and maybe I just drilled the hole in the wrong place, but was that any reason for Linda to take over marking where the screws went? I may not be be perfect, but I try. Unfortunately I muttered that comment a little to loudly and I heard, "Yes, you really are very trying."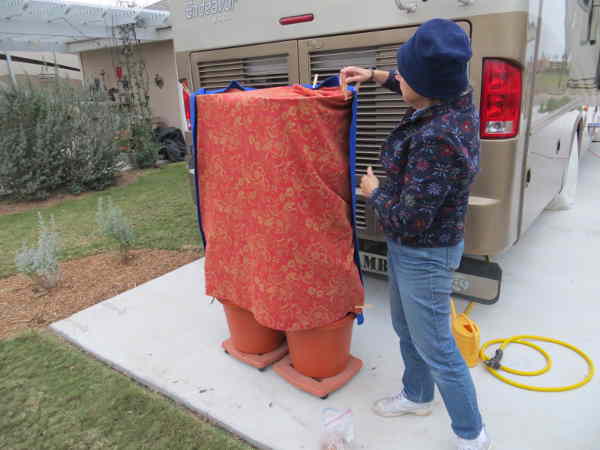 There aren't going to be any tomato's suffering through the expected 39° low tonight. I was told to get the blanket off the back the back of the couch and bring it out side. Next I was told to go back inside and get the blue blanket in the cabinet above the washer. Back outside I was told I was holding the blue blanket wrong and cold air could leak inside. With a grimace, she told me she would do it herself and to go back to what ever I was doing inside the coach house.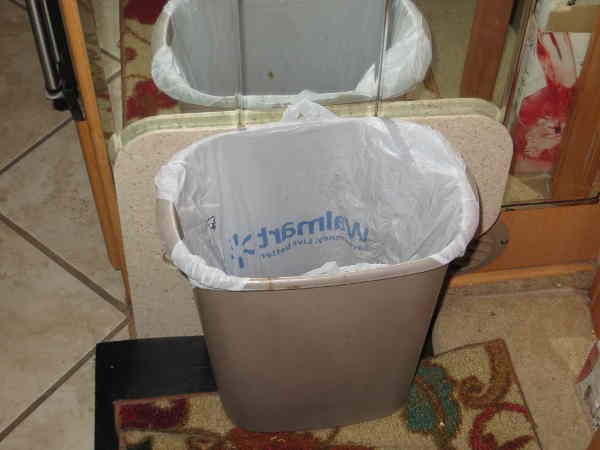 The fitting end to the day. We had planned to go to the get together at the clubhouse this evening, the one with the Italian theme. Things conspired to prevent our attending, and it proved to be a very good thing. I had planned to take brushetta, but it wasn't to be, attending the get together that is. I made the brushetta for our supper and it was bad. Actually it was beyond bad, it was garbage and that is where the last of it ended up. Linda has a saying that things happen for a reason and was I ever glad we were late getting back so I didn't inflict this less than worthless brushetta on anyone other than Linda and I.
As I reflected on the day, and all the silent treatment I received from Linda, I couldn't help but think that it was all my fault, though for the life of me I never did figure out why. Like Nietzsche said, Women. They make the highs higher and the lows more frequent.
---
Wednesday Jan 16 Mission, Texas
Doing Things Day
Yesterday I wrote "I don't know what it was that I did wrong today, nor when I did it, but whatever and whenever it was, I sure hope I don't do it again." This morning I was informed what the reason was for all the silence on Linda's part yesterday. To quote Linda, "My mom told me 'if you can't say something nice, don't say anything at all' and she also said, 'don't get upset at the person, if you have to get upset, get upset at what they did'." After that call me Bob who's neither Good nor Bad, but sure is scratching his head.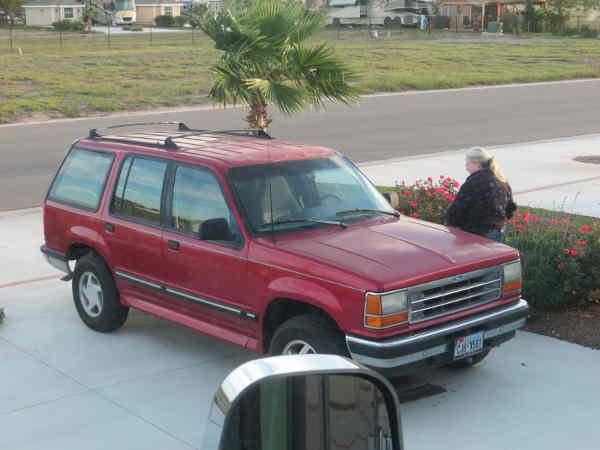 Early morning and Linda is off to do what she as been doing every week since she got on the big "M". After 7 years of monstrous deductibles, she now has her kind of health care insurance. Ms. Ouch It Hurts I Need to Get It Checked Out, is in her element. All those years of working and paying taxes, now it her time to get it back. Nothing really wrong with her, so I think of it as a series of 65,000 mile checkups of her various systems.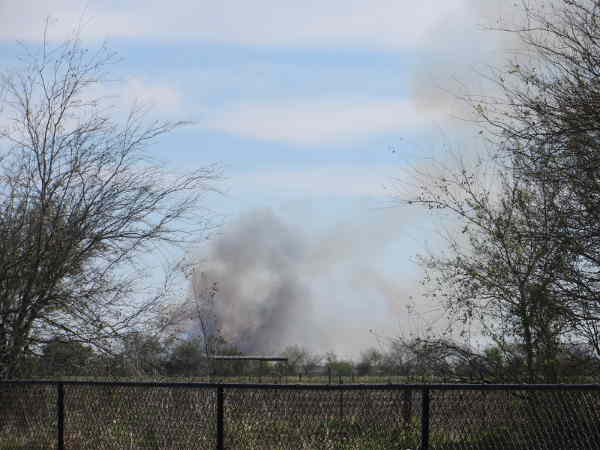 Another day, another cane field being burned. Unfortunately this was the only thing around here today that was hot. Excluding my beautiful wife that is, who I have always considered to be "hot". A low last night of 42, but with the sun out today it was at least seemed warm. Discretion being the better part of being stupid, I opted for indoor pursuits throughout the day. Smart Bob. As far as that burning cane field was concerned, the wind wasn't blowing this way today. Hooray for small pleasures.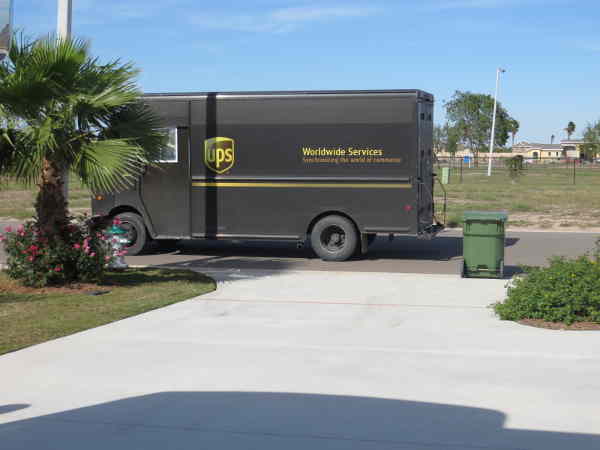 Linda had her own little pleasures today, a steady stream of packages being delivered. It's starting to look like my idea of her doing the free delivery through Amazon Prime might not have been such a good idea after all. While the jury is still out, when I ask her what is in the package that was just delivered, she is having to think before she answers. Not good Bob, not good at all.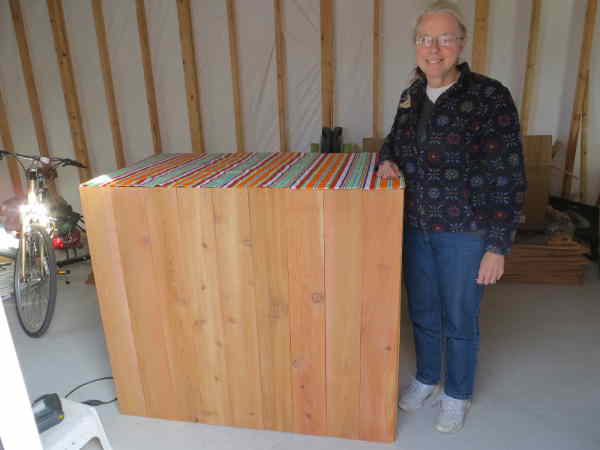 One thing that brought a smile to Linda's face was the fact we finished building the bar. At least it is as finished as it's going to be for the time being. Maybe I shouldn't say that because it isn't finished yet, finished in the sense that the green semi-transparent stain and waterproofing we bought yesterday at Lowes had yet to be applied.
It can truly be said it is now out of my hands as I was informed that I would not be doing the staining. While various descriptive terms were bandied about, the bottom line was I have to heavy a hand when it comes to anything in the paint application realm. Green tinted stain on red colored wood. It should be interesting to see how it comes out. And just think, if it doesn't come out right it isn't going to be because of anything I did. If you think you see a big smile on my face, you're right.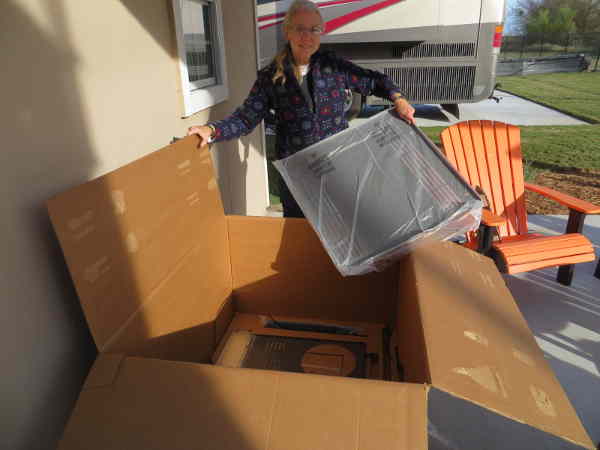 We almost didn't get a photo, but another delivery today was our new Weber grill. The little we did towards assembling it today has us marveling at the quality of this grill. More photos and commentary tomorrow.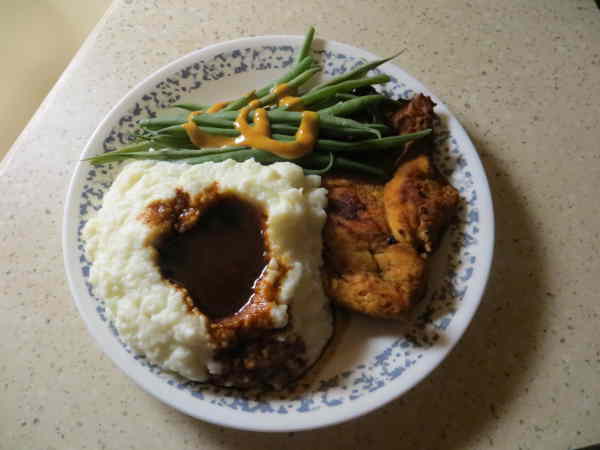 It's been a while since I posted a food photo, so here is what I fixed for dinner tonight. Build the bar, assemble the grill, fix dinner, do the dishes, write the Daily Journal, it's like that old saying, "Man's work is never done."
Thursday Jan 17 Mission, Texas
Finishing Things Day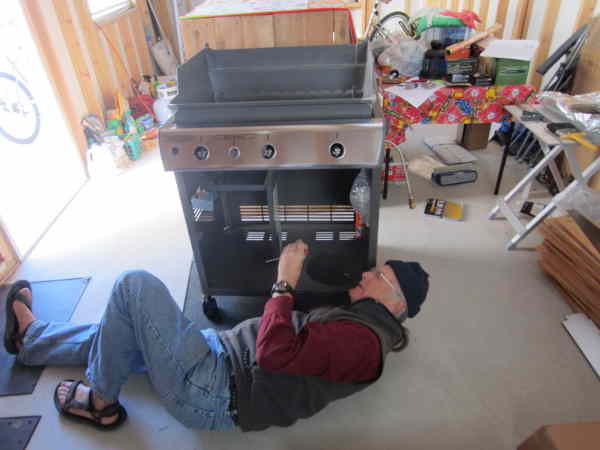 It was 42 when we started this morning, and while waiting for it to warm up enough so Linda could apply the stain to the bar, we finished assembling the grill. Amazingly, there was only one screw that gave me any problem, not lining up correctly at first. Realizing I was starting to cross thread the piece it was supposed to go into, I managed to get it rethreaded correctly. The next time I tried to put it together everything lined up perfectly. Just another of those mysteries of life that we will never understand.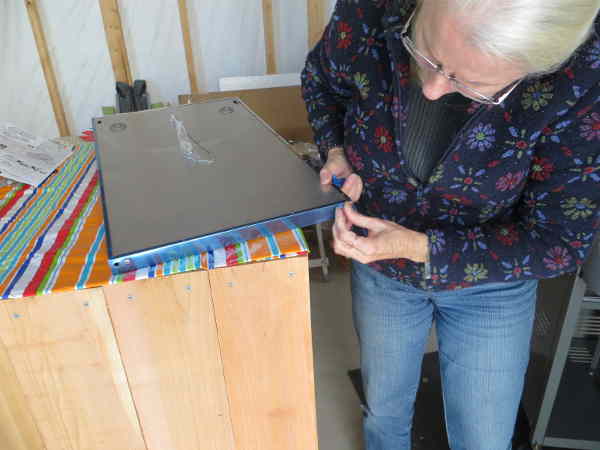 While I was upside down doing my best to assemble the grill while using all the parts supplied where they were supposed to be used, Linda was also busy, spending time stripping. Yesterday I wrote she was "hot" and today I write about her stripping. Don't get the idea she has an alter ego, sorry but it's just that we have always helped each other do things. This morning she was stripping the protect film off the stainless steel parts of the grill.
Long ago I learned it does no good to make comments about her doing these kind of things, in this case, stripping. And if I did, she wouldn't even have to say anything because I'd say it for her. "In your dreams Bob, in your dreams."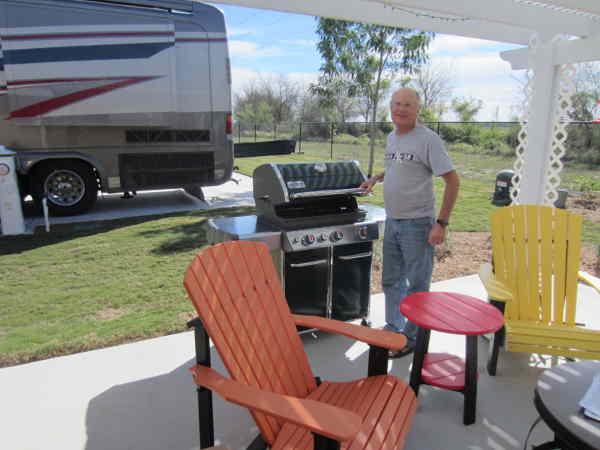 Success. Our Weber Genesis grill with sear burner and side burner in dark green, assembled and ready to go. I hooked up the propane tank, turned on the first burner, hit the spark button and it immediately ignited. Same for all the other burners. We have a Weber Baby Q in the coach that has served us perfectly since we first started our travels. It looks like our Weber Genesis 330 will serve us for years into the future here at Retama. Quality costs, and quality performs. At least when it's a Weber it does. And no, I wasn't paid anything for the above, it's just the ramblings of a more than satisfied owner.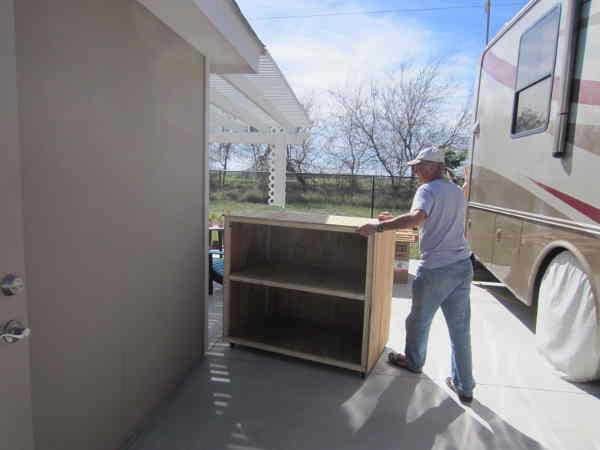 With the grill done, it was time to finish the bar. All that was left was to attach the casters and stain it. The casters were quickly installed, and I rolled it out so Linda could see what it would look like. Her comment was, "I didn't think it would be that big." Interestingly enough I didn't think it looked that big. Just another of the things that make women, women, and make men scratch their heads over women.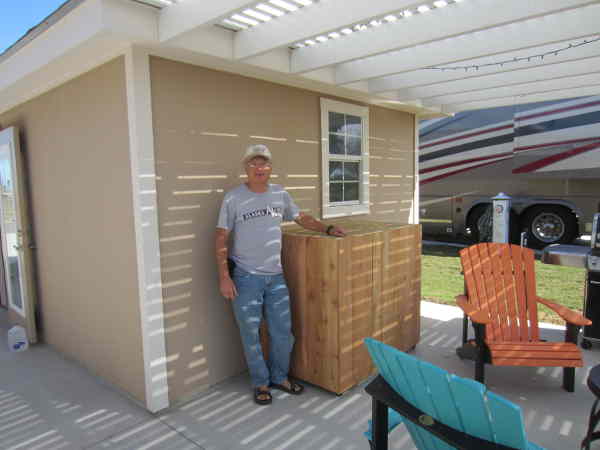 Looks just fine to me.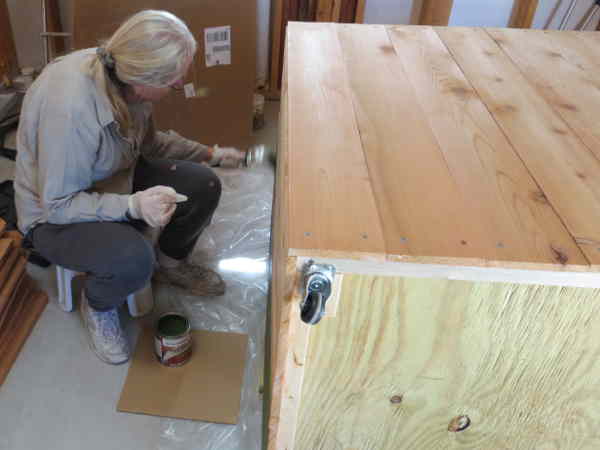 When we put down the drop cloth, placed the bar on it, and Linda started applying the stain, I was relieved. I wasn't going to have to tear it apart and rebuild it with a smaller footprint. And in addition, I wasn't going to have to stain it and suffer the slings and arrows of "too heavy a hand with the stain."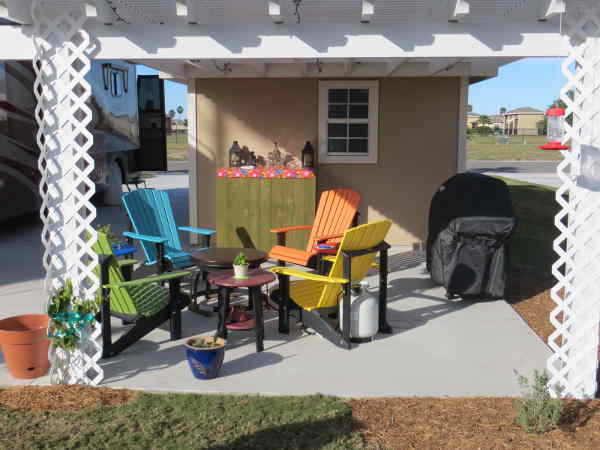 Like I said, looks just fine to me.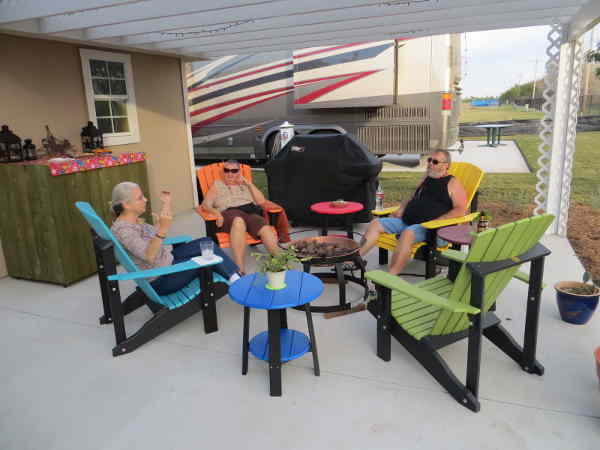 The perfect way to celebrate a very successful day, a visit by fulltiming friends. It had been 18 months since we had last crossed paths with Peggy and David, and then it was a rainy day in Upper Michigan. But with them staying just up the road at Mission West RV Park, it was the perfect time for another visit. People who did it rather than hoping to do it some day. People who have memories while others have only dreams. Life is not a dress rehearsal. Don't be afraid to laugh, love and retire early.
---
Friday Jan 18 Mission, Texas
Dirty Day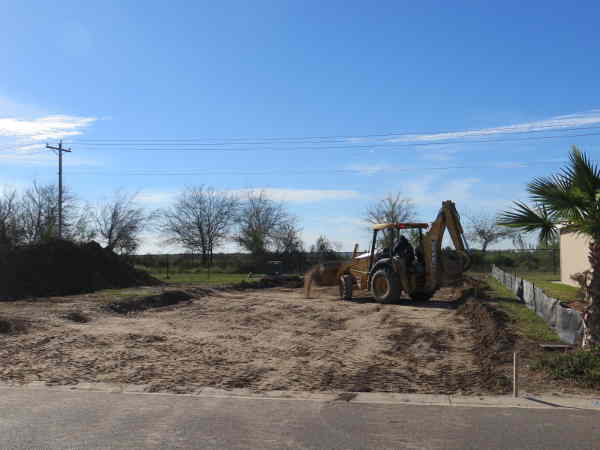 It was in the 40's once again this morning, but there was a difference. The sun was shining brightly, and so when I ventured out it was in a tee shirt. That proved to be the right choice as it was was a glorious day, one that seemed to scream - Aren't you glad you chose the Rio Grande Valley for your winter hidey hole.
Among the things I have to consign to the never to be understood category are the people who are retired but choose to live where the winters are cold. I understand that everyone is different, but.... No buts for Tim and Bonnie, their lot is being graded and soon there will be forms, then concrete, then a coach house, then landscaping, then Tim and Bonnie will be spending their winters two doors down from us. Change isn't always easy, but then again, we aren't going to live forever either.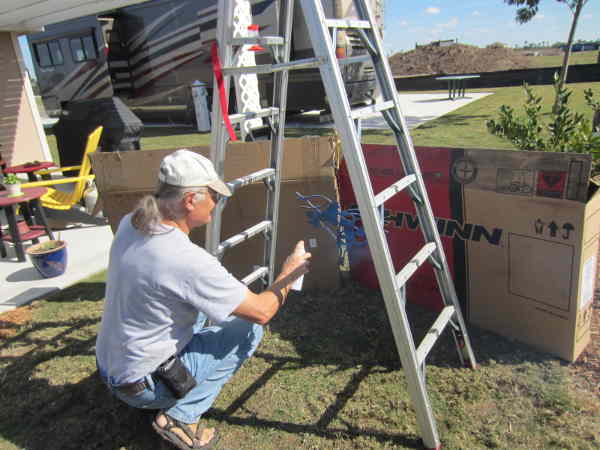 I can't believe how much fun we are having "decorating" the patio. Most Retama residents have a theme for their coach house, we have a theme for our patio. I have to believe there isn't another patio in all of Retama that is as colorful as ours. That said, we are not resting on our laurels as the above photo proves. When we bought it it was brown. When it hangs on the back wall of the coach house it will be blue. Maybe I should put a sign underneath indicating it is dedicated to Crystal Gayle.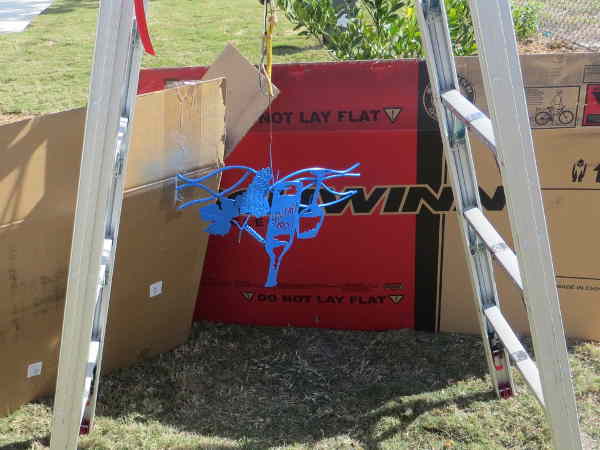 Looking good. I was repeatedly warned as I was painting it that I should have a light hand on the spray button to avoid runs. Look Linda, no runs! It isn't designed to hang this way, but how fitting for the the bottle to be upside down. Unfortunately something tells me Ms. Got To Be Right wouldn't look at it the same way I do. It's okay, I'll take her acceptance of my wild colors and let it go at that. Nobody is perfect, not even Linda. Now if I could just get her to realize the things she sees as wrong with me are actually positives, then she would see that I truly am perfect. Well, I can always hope, can't I? Bob, who's as good as it gets. In his own mind at least.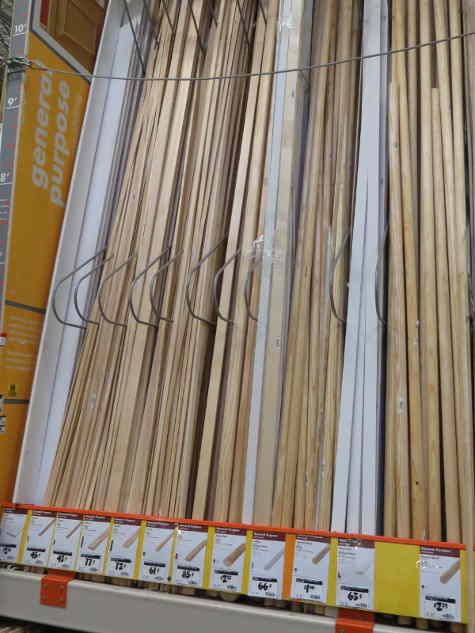 The wood trim area at Home Depot. We needed a very specific type of trim to finish off the bar. We needed two pieces 30 inches and one 48 inches long, that is a total length of 9 feet. What are the odds we find a piece of that exact trim, exactly 9 feet long, in this bin? If you guessed 100% you better buy a lottery ticket, because that is exactly what we did.
But now the rest of the story. The piece of oilcloth we were using to cover the top of the bar was just a few inches too narrow. Time to use everyone's best friend, Google. The search turned up the only location where the specific type of oilcloth we wanted could be found. It was as a table cloth made by a group of ladies in Palomas, Chihuahua, Mexico. Small world. We had bought this piece of oilcloth in The Pink Store in none other than Palomas, Mexico. Linda has sent an email. Hopefully there will be more to this story at a future date. Either that, or there will be a stop at The Pink Store on our way west later this spring.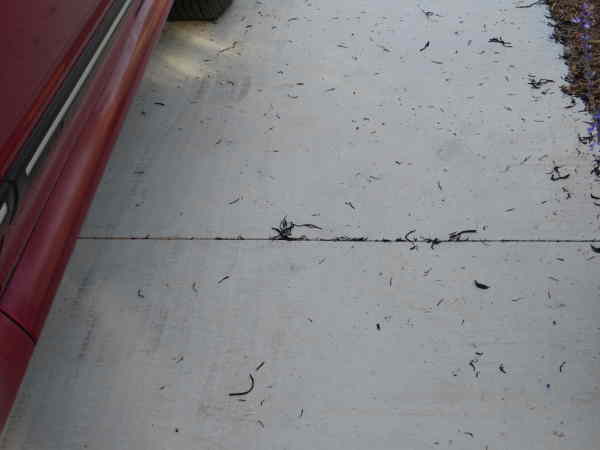 When we returned to the coach this is what greeted us, black cane ash everywhere. We had passed by several still smoking cane fields on the way back from our shopping trip, so it wasn't exactly unexpected. I got a good laugh at Linda's admonition that I was not to step on any ash when I got out of the Explorer. In your dreams babe, in your dreams.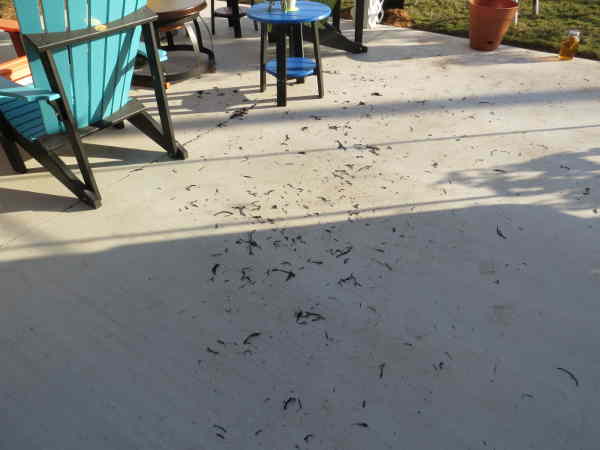 Earlier this morning I had made a number of muddy footprints on the concrete, much to Linda's chagrin. At the time she was thinking she needed to hose the concrete off, then decided to put it off until tomorrow morning. I was wondering what had happen to Ms. Do It Right Now, as this definitely wasn't like her. Now she had me wondering if she was clairvoyant. Maybe I had better get back in harness in "Yes Dear" mode. Puzzled Bob. Surely she can't be that smart. Can she?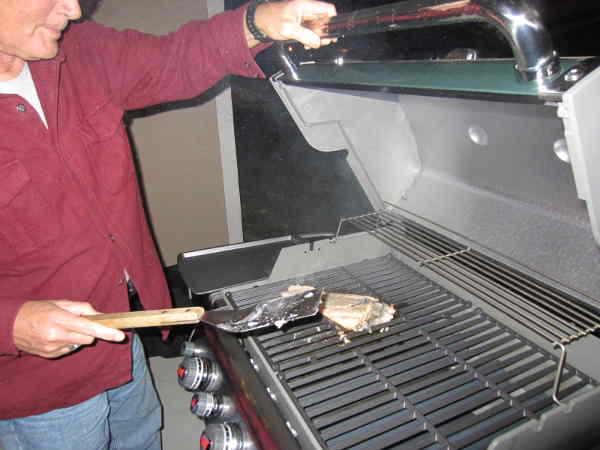 Dinner time. Our first experience grilling on our new Weber grill. Please excuse the lousy photography, the pro was doing the grilling, so the wanna be photographerette had to take the pictures. I should have had the family super model pose with the salmon and grill, but it's hard when you have to do everything. (When do I get out of this doghouse darling Linda?)
As you can tell, we had a great day today. The weather was awesome. We had fun doing things together. We had a great Happy Hour over at Dianne and Roger's. We are excited that our great friend's John and Judy are arriving tomorrow. And we look forward to the little surprises we have for them. Life just doesn't get any better than this. The best thing we ever did was step out of our comfort zone, leave our old life behind, and take a chance on a Life we had only dreamed about. Take a chance. Even if it doesn't turn out the way you expected it will make for a great story. This is ours for the day and I hope you enjoyed it. Bob, who still hopes he makes it out of Linda's doghouse before tomorrow.
---
Saturday Jan 19 Mission, Texas
Today's the Day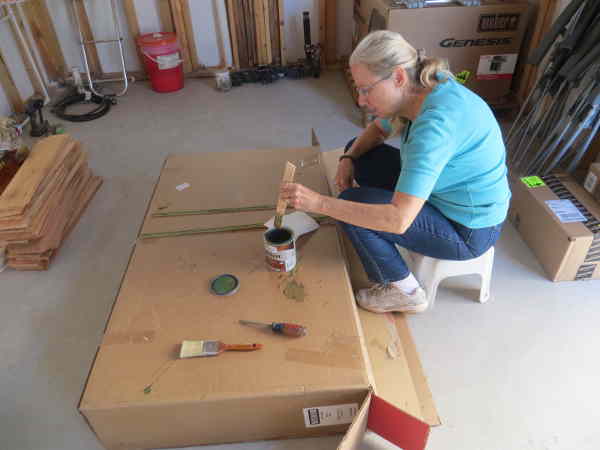 Outside we had our nice weather back, with the forecast calling for highs in the mid 70's for the next week. Inside that painter who forgot to stain the trim yesterday was back. So maybe I exaggerate just a little, and she did stain the trim yesterday, just not all of it. Here she is getting ready to put the stain of the ends of the three pieces of trim, something she neglected to do yesterday. I tell you, good help is hard to find, but I will be nice and not mention the painter's name, so hopefully that will keep me out of the doghouse. Smart Bob.
There is more than meets the eye here. A little earlier Linda had hosed off the patio, and it looked very nice. Then, unfortunately for me, I took the trash out. I had to walk across the yard to get to the trash can and when I stepped onto the patio, the cane ash in the grass that had attached itself to the bottoms of my Tevas left black foot prints.
Putting it delicately, Linda took umbrage at this and politely informed me that I was to be more careful next time. There is a saying, He who laughs last laughs best. Later when I heard some unlady like words being uttered, then the patio and Linda's shoes being hosed off, that saying came to mind. In this case it's application was bit muted, meaning I only raised one corner of my mouth in a slight smile, maybe because of the saying: Discretion is the better part of valor.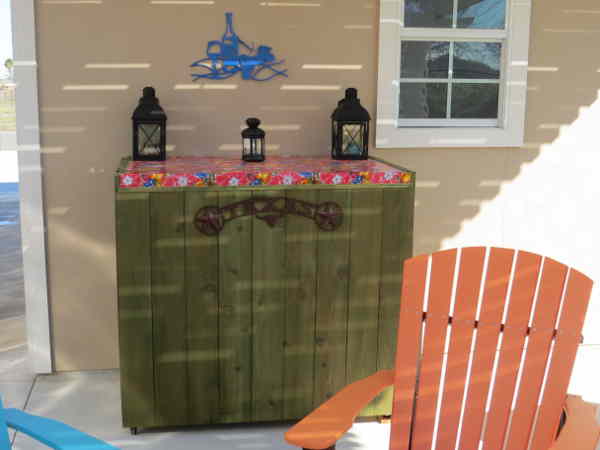 The oilcloth was placed exactly where Linda wanted, the trim was tacked down, the blue piece of metal art was hung on the wall and another was fastened to the front of the bar. It is really starting to look like home out back.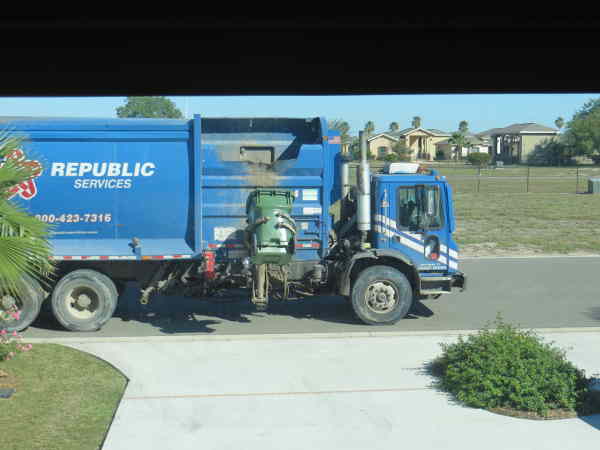 Last Saturday this didn't happen. Last night Linda took the trash can out to the curb since she had told me to do it earlier in the evening and I had forgotten, according to her. Actually I was just waiting until a little later in the evening to take it out, but Ms. Got To Do It Now, just had to do it then. The result - Bad Bob.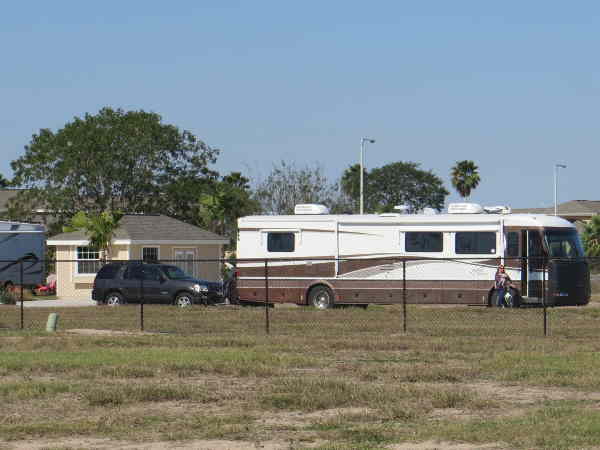 The much anticipated arrival of our friends, John and Judy. The Good Life is getting much better. Good friends, good food, good fun, good times, Life is too short for anything else.
---
Sunday Jan 20 Mission, Texas
Rest Day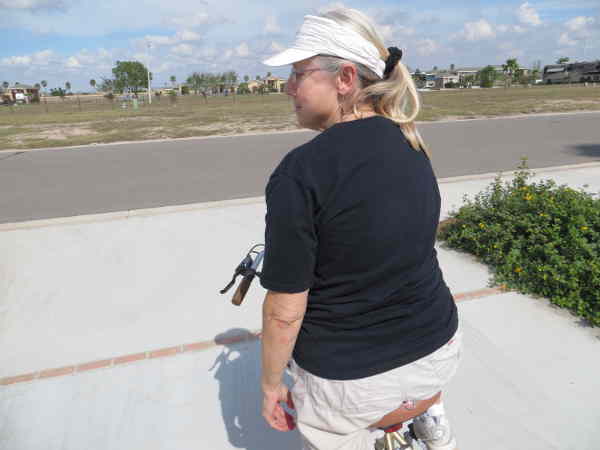 Sunday is known as the day of rest, and we worked hard to have it live up to its name. Still, nothing is ever as simple as it seems, and this photo shows one of those moments. To the casual observer it would appear Linda is on her bike about to ride over to John and Judy's coach where we would spend the afternoon and evening.
Looking closely one might notice a tightening of Linda's jaw, and then the thought might occur, what could have brought it about. It seems that Linda does not like to have her husband ride his bike in circles around her bike, especially when she is on her bike and in the process of riding it. Sometimes that woman is so touchy, I'll tell you. I made sure to never get closer than a foot or so away from her so I don't understand why I was banished to a location at least a bike length away, and always behind her. Women are just so hard to understand sometimes.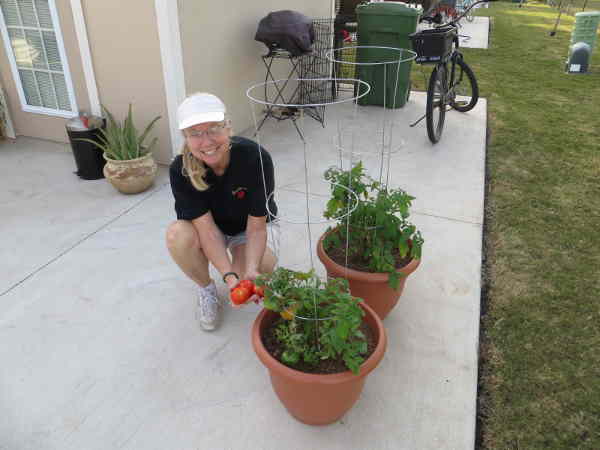 There is trust and then there is real trust. Linda had walked over to take a look at Brenda's tomato plants, when I pointed the camera at Linda to take her photo beside them. Next thing I know Brenda is handing Linda three of the ripe tomatoes she had picked off those plants. Talk about turning the fox loose in the henhouse. Brenda was proudly pointing out how her tomatoes might be smaller than Linda's, but they were perfect in shape while Linda was holding them for this photo. The amazing thing was Linda was able to resist the almost overwhelming temptation to take a bite out of one of them. I was so proud of her.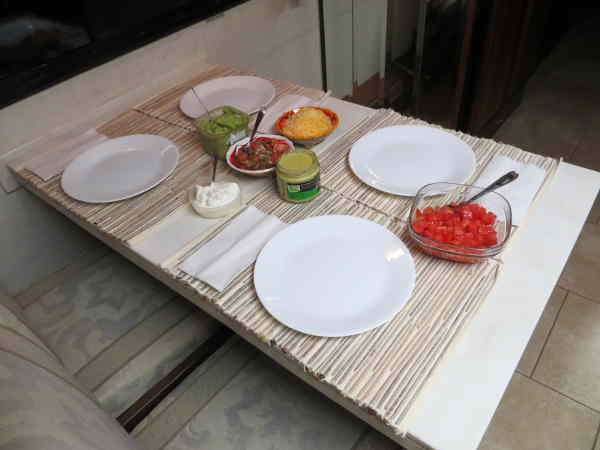 Add in the pork and fresh corn tortillas and it was meal to remember. Some day's you just need to sit around and relax. Some day's the weather is perfect. Some day's you just need to enjoy Life. This was one of those days. Life is Good.
---
---