Journal Archive 1/21 - 1/31 2013
Scroll down to read the latest post
Monday Jan 21 Mission, Texas
Work Day Play Day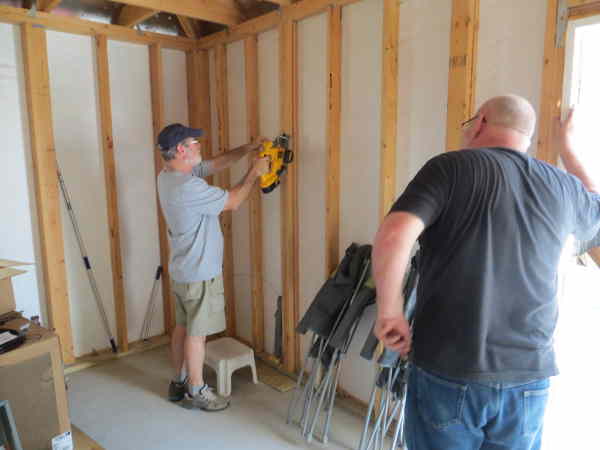 Yesterday's day of rest morphed into today's day of work. Linda and I have gone back and forth about how much work we should do ourselves in the coach, or whether to do any at all and just have contractors do it all. With friends like John and neighbors like Jeff, it looks like the decision has been made, at least as it pertains to some of the work.
This is also not what it seems, and I most assuredly did not pull a Tom Sawyer, it's just neighbor helping neighbor. Besides Jeff is likely going to face something similar when he builds his coach house out, so why not get in a little practice on our place.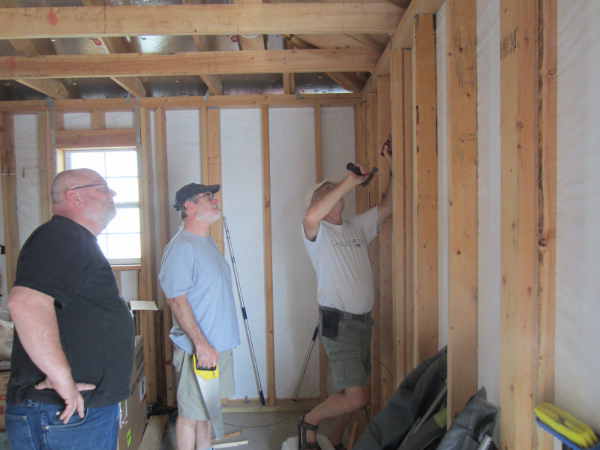 Since all play and no work makes Bob a dull boy, I made sure I was well polished before the day was over. The project was running the electric from the outside pedestal into the coach house. I had a list, John and I went to Home Depot where I hopefully bought everything we would need, everything was going great and then this happened. "This" being the fact that the inside breaker box was designed to fit between normally placed 16 inch on center wall studs. Unfortunately where the conduit came up through the concrete pad the studs were not 16 inches on center.
What we are doing is cutting 5/8ths of an inch off one of the studs so the breaker box will fit. With some sawing, deep drilling and creative chiseling on the part of Jeff and myself, the opening was enlarged. At this point John took over and with a little pushing followed by some hammering on a block of wood placed on the front of the box, it was soon snuggly and perfectly positioned. It was then that a check of the clock confirmed that somewhere in the world it was happy hour, and so we retired from work and once again took up the Life of Leisure.
It was also time for celebration, though I guess as the years go up it is a quieter celebration every year. Other than that, I will not divulge any more about what the occasion was or who it was for.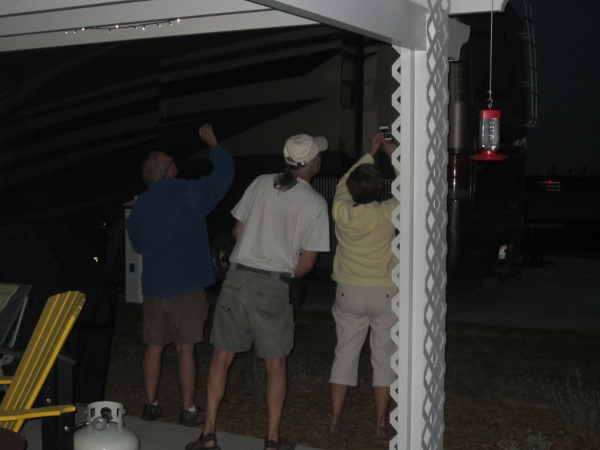 I seem to remember hearing that as you age your brain cells die, they are never replaced. This appears to be proof that it is true. Actually it is proof you don't have to be young to have fun, just young at heart. Call it a party within a party, in this case a Sky Map party.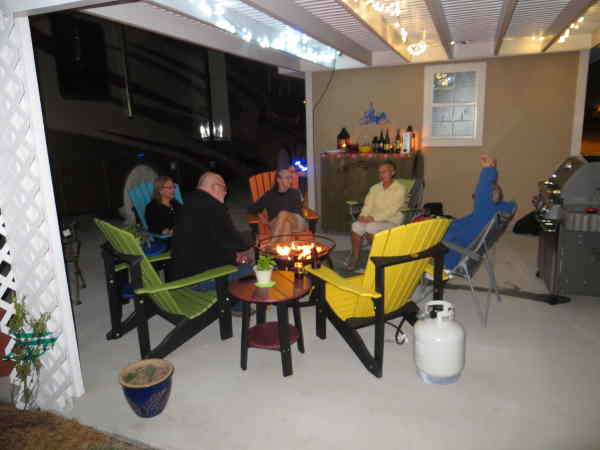 We talk about living the Good Life, but sometimes a photo is worth a thousand words. An evening in late January, friends gathered around the fire pit, the stars shining overhead, only a slight chill in the air. A moment in time, yet so much more.
It seems appropriate to end today's daily Journal with the following: What we call the secret of happiness is no more a secret than our willingness to choose life. (Attributed to Leo Buscaglia)
---
Tuesday Jan 22 Mission, Texas
Dog Day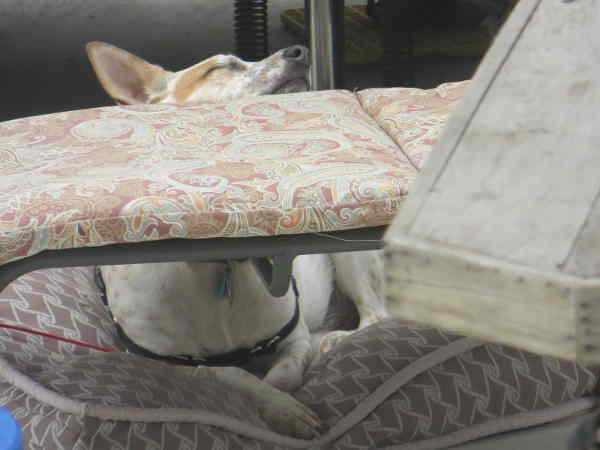 Now you know where the title to today's Daily Journal came from. This is Tequila, our neighbor Dianne's dog doing her best to get some sun. Interestingly enough it can't be as uncomfortable as it looks, because this is often the way she lays out in the sun. In case there is any confusion, the she I refer to in the preceding is Tequila the dog, not Dianne.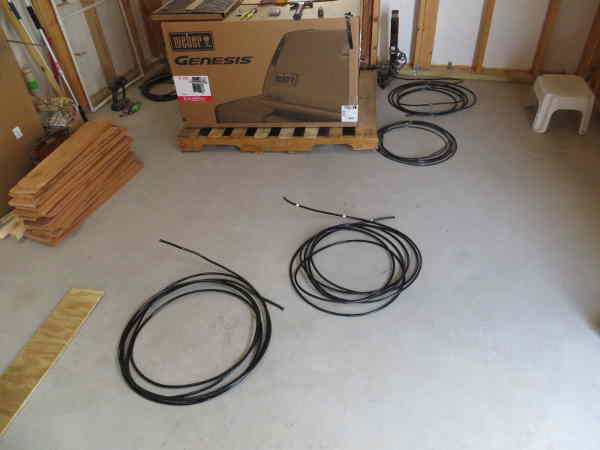 While it might be a dog day to Tequila, it was a work day at our coach house. Here are the wires laid out that we would shortly pull through the conduit between the outside pedestal and the coach house.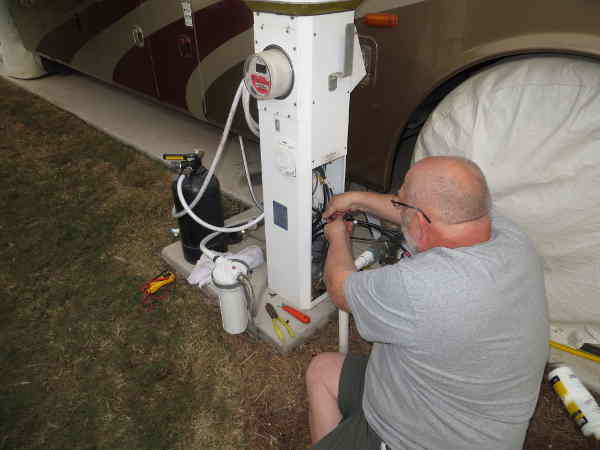 We used a wax cable lubricant to make it easier to pull the cable through the pvc conduit, and it really worked. Once that was done it was time to make the connections. We started at the pedestal and wired in the two hot legs, the neutral and the ground.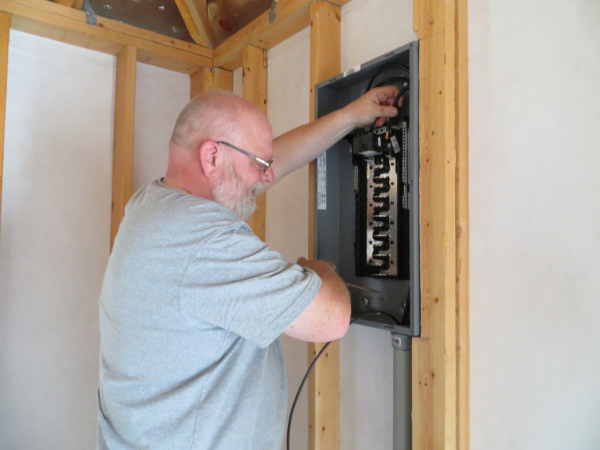 Next came the connections at the breaker box inside the coach house. While the breaker out on the pedestal serves as the main breaker, I decided to get a box with another main breaker for inside the coach house rather than just a distribution box. A little redundancy never hurts, and this way we can shut off the electric to the coach house without needing to go out to the pedestal to do it.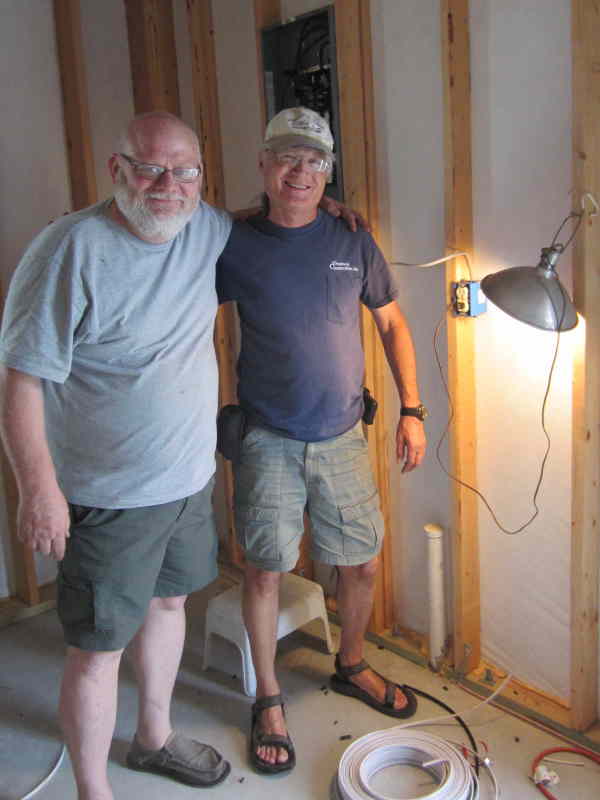 The result of Linda's "Well, does it work?" Still have a little finishing up to do, but the smiles tell the tale.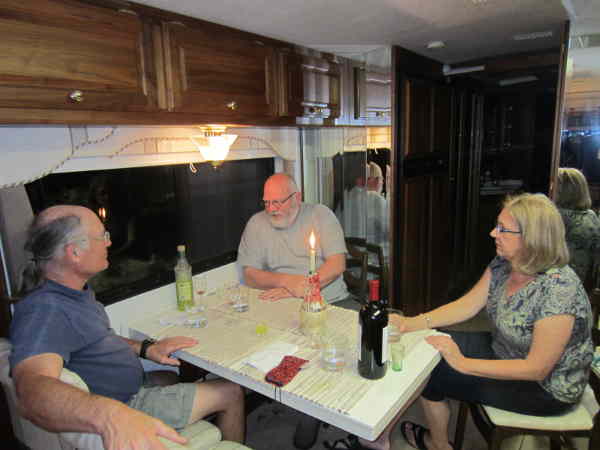 The joy of a job well done, sharing with good friends.
---
Wednesday Jan 23 Mission, Texas
Doo Day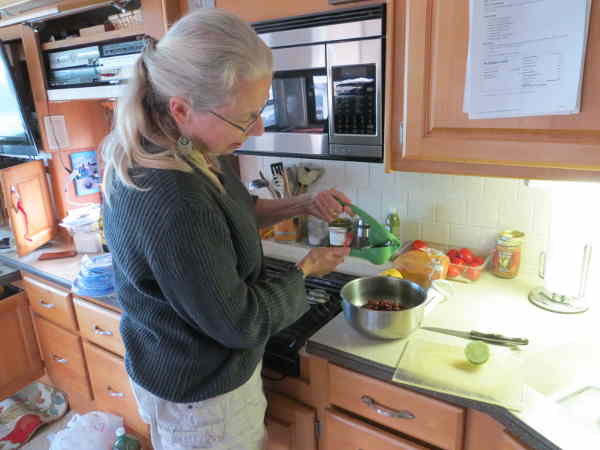 Linda trying out her new lemon - lime squeezer. It is one of those things that you think sounds good, but will probably just end up taking space in a kitchen drawer, never to be used. Amazingly this little gadget really does work. Linda's hand strength is not good, but even she had no problem squeezing it closed. I think this means our lime purchases are going to be increasing.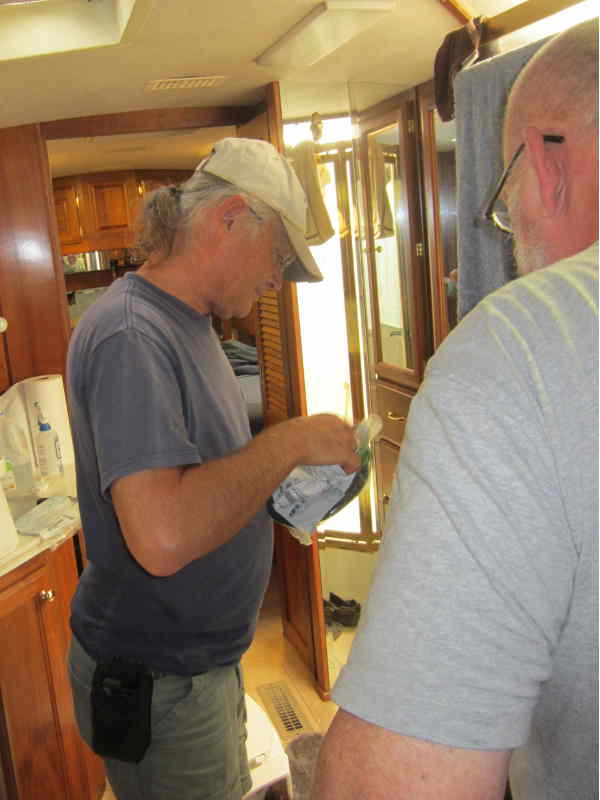 It was my day to help John, a task that included replacing the ball and seals in their RV toilet. Since I was experienced in toilet maintenance and repair, and John wasn't, it was fitting that I read the installation instructions and offered suggestions on what would make the job easier while John was getting hands on experience in the crappier parts of the job.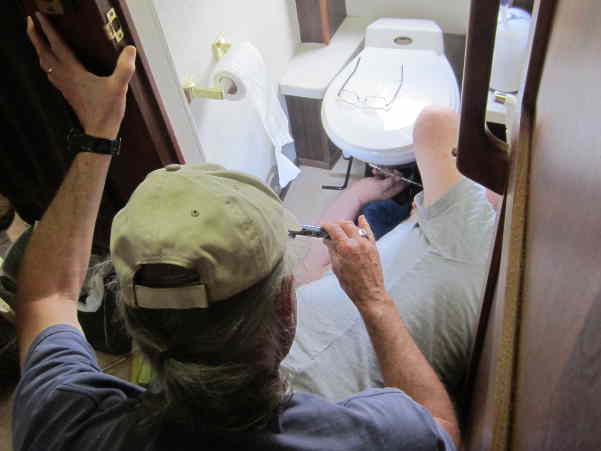 Don't think for a minute that I didn't pitch right in and get my hands full. For example, to make it easier for John as he was sprawled out on the floor, attempting to put the toilet back together, I was focusing a high intensity LED light on the area he was working to make it easier to see what he was having trouble getting to go together. Let me tell you, it was hard work keeping that light focused on the right spot the way John was thrashing around on the floor trying to get in the right position.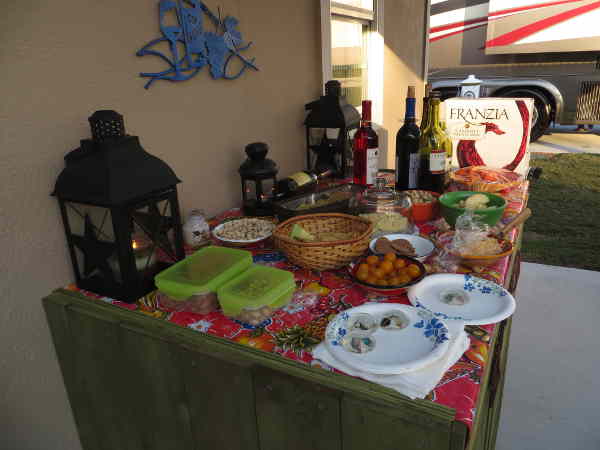 After all that dirty hard work, this was a welcome sight at happy hour. When we had first set the bar out on the patio Linda had commented that it was bigger than she thought it was going to be. After getting everything out on it tonight she commented that maybe we should have made it bigger. Her worries were soon for naught as the six of us descended on it, leaving empty trays, bowls and bottles in our wake.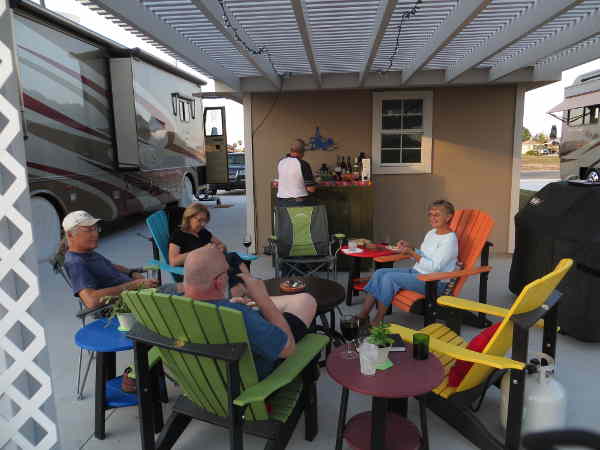 Soon we were telling the tales of our toilet repair, leaving out some of the messier details of course. That brought on a big smile from Dianne, as she laughed and said that was why they had an RV repairman do theirs. Look at it this way, our afternoon made for a great story, and isn't that what Life should be - Great.
---
Thursday Jan 24 Mission, Texas
Shopping Day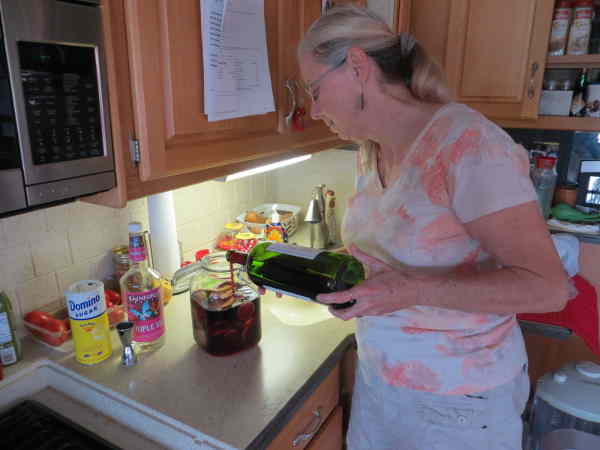 A little early morning work for Linda, making sangria for our get together tomorrow night. She has been wanting to show off her sangria making skills, but wanted a really hot day to serve it. With tomorrows high forecast to be in the mid 80's, it was sangria making time.
I was busy with something else when I heard her say, "This is great." Looking at the container it sure did look great, but I was learn that was not what she was referring to. It turned out this was only part of the sangria, and tomorrow the amount would double when she added the ginger ale just before serving it. That woman sure does like her sangria, both the production and consumption.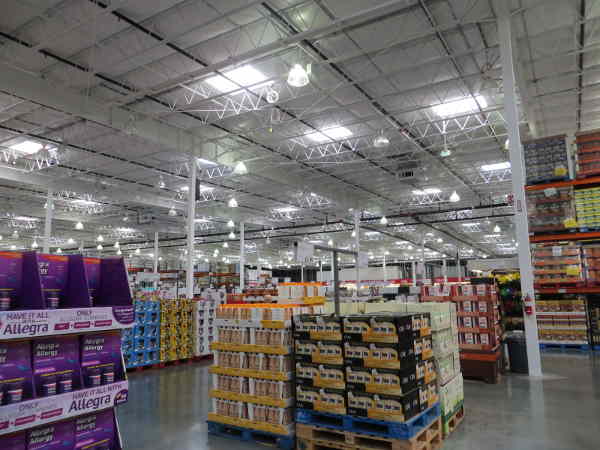 Shopping, shopping at Lowes, Costco and Sam's Club. I was looking for some exterior recessed LED fixtures for around the soffit of the coach house which was why the fruitless stop at Lowes. I really thought they would have some of those fixtures, but that was not to be. As far as Costco and Sam's, John and Judy belong to Costco while Linda and I are Sam's members. It was fun seeing the difference between the two and we each got to buy a few things that were new to us.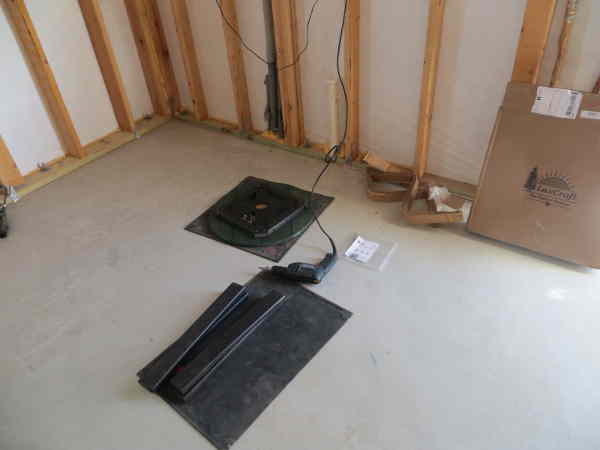 Linda wanted another table to go with our patio furniture, and it came today. The color is dark green and it goes well with the other furniture. I thought I had taken a photo of the assembled table, but this was all I had. That's okay because it lets me brag again about how nice it is to have electric in the coach house. I almost feel like saying, "Look Linda, no extension cords." Good Bob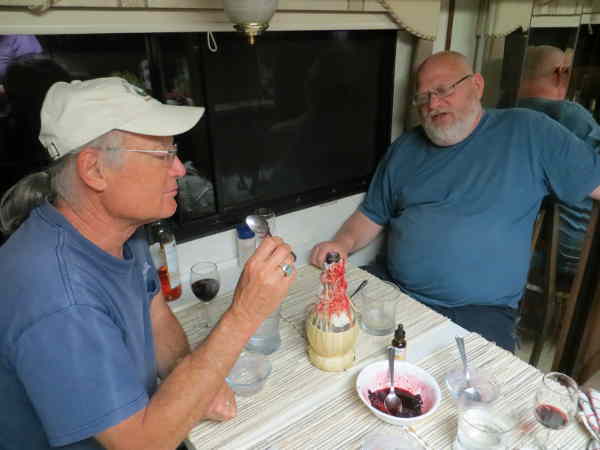 Relaxing in the evening, though what in the world are these two men doing?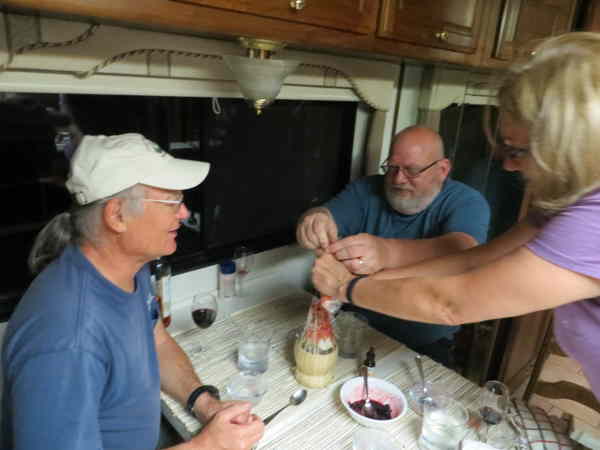 No one says every moment needs to be exciting, but some are more memorable than others. In that previous photo I was poised with spoon handle to shove the last remnants of the burning candle down into the bottle. Leave it to a woman to do a man's job, or at least to be smarter than a man. While I waited, Judy got the new candle out and used it to push down the old candle while the heated glass made it easy to insert the new one in the bottle.
I'm not sure about all that stuff about woman being man's helpmate when they are obviously the smarter of the two. Or maybe it just that she didn't want to have to clean wax off the spoon. I'd like to think it was the latter but something tells me it was the former.
---
Friday Jan 24 Mission, Texas
Touring Day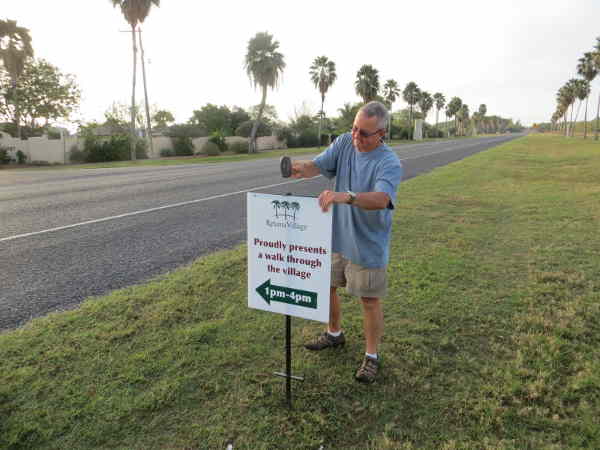 A little early morning work for Roger and I today. 7:30 found us out putting up the signs for the annual Walk Through the Village, Retama Open House. It was fun and we even learned a lesson. No matter how many times you pound on that stake, if it's hitting a rock, it isn't going to go into the ground. A corollary is, there is a reason that grass doesn't grow in some areas and it has to do with rocks.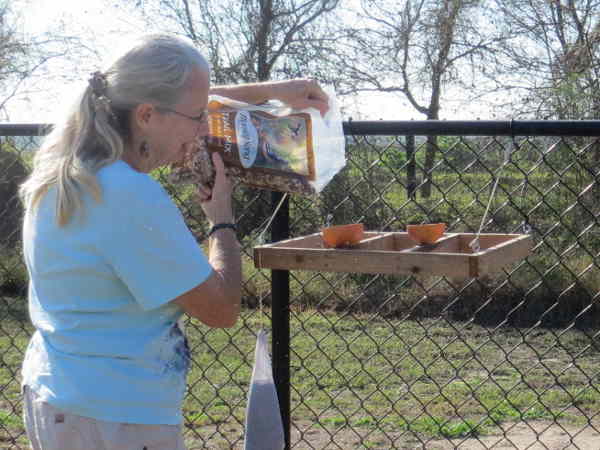 Linda feeding the feral birds behind our coach house. There has been an "interesting" discussion on the Retama Facebook page about feeding the feral cats who reside here. You know how those things are, someone starts it by opening mouth before engaging brain, and soon others are doing the same thing. Sure gave us a good laugh reading it, especially when it descended into feral birds. Hope my posting this photo doesn't get Linda in trouble with the local vigilantes. That would be a very Bad Bob.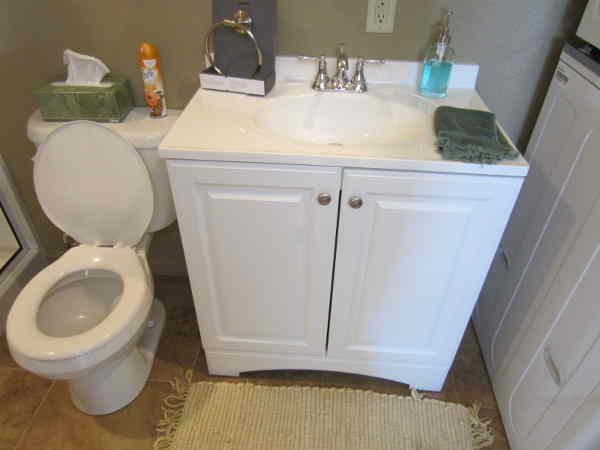 This is what we did in the afternoon. Visited as many open houses as we could, taking photos. By the time Linda was done, we had one of the finest Bathrooms at Retama photo collection's ever assembled by one person.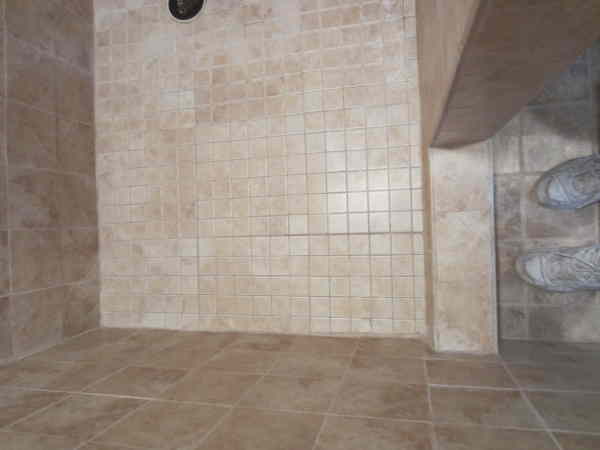 Her other passion was showers. This is an example of a typical photo. Adhering to the rule that a single photo is equal to 1,0000 words, I'll stop right here before I really get in trouble.
---
Saturday Jan 26 Mission, Texas
Friendly Day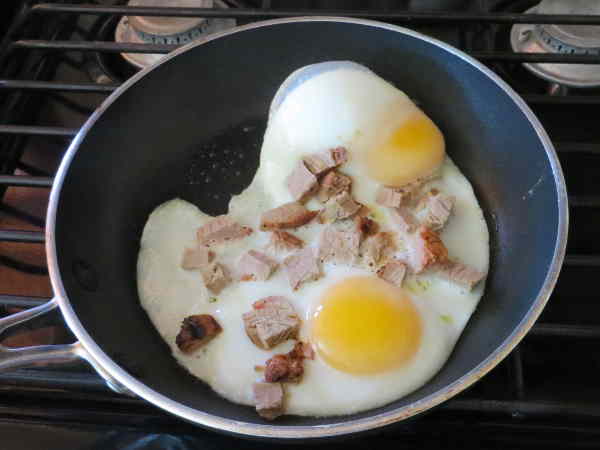 Eggs Linda style to start the day. I still can't get over how I could have been married to her for over 45 years and never understood she really preferred her eggs over easy rather than scrambled. She is also working hard at teaching me over easy doesn't even necessarily mean I have to turn them over, just have the yolks cooked beyond the point of being runny. Good Bob for being so much in turn with her needs, even if it is over four decades past when I should have known.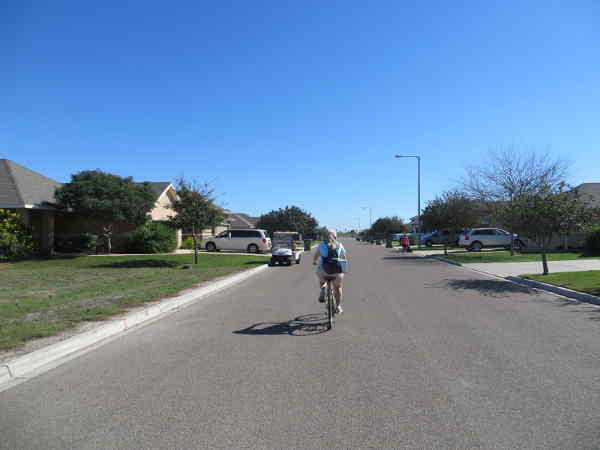 No biggie here, it's just Linda returning to the coach house with the mail. The point being that her heel is so much better in just the few weeks since she went to the podiatrist. I probably should point out she is using her old daypack, the one with the broken zipper, the one the mail fell out of a few seconds later. I won't mention that we have three others just like that have fully functioning zippers. Just like you, I don't understand why she doesn't use one of the new ones either.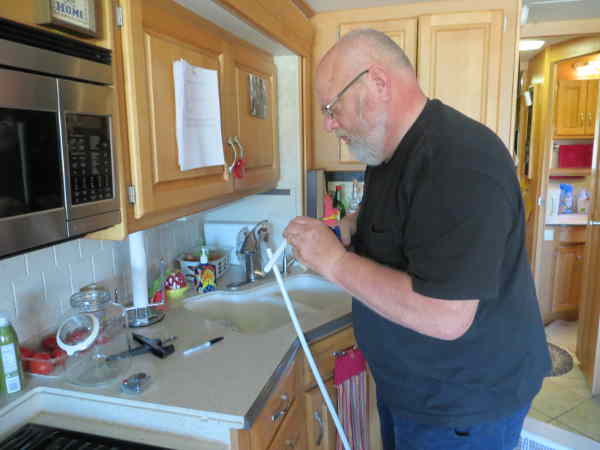 Today John came over to help me reroute the water supply line to our toilet. Every once in a while a piece of scale will lodge in the valve and the water won't completely shut off to the toilet bowl. The plan was to install a water filter in the line, and other than some cramped quarters for the final connections, it was a breeze.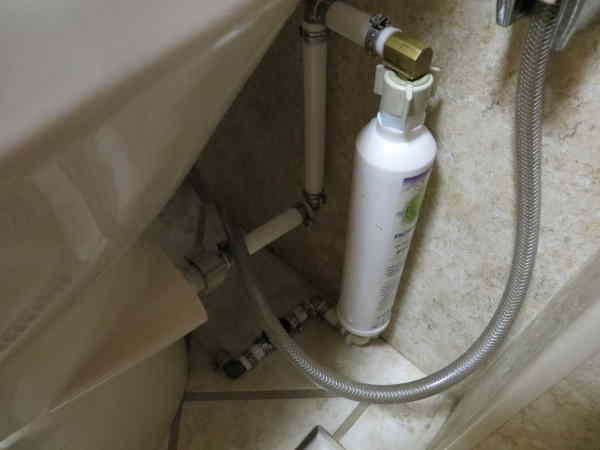 Looks nice and now John is a certified Pex person.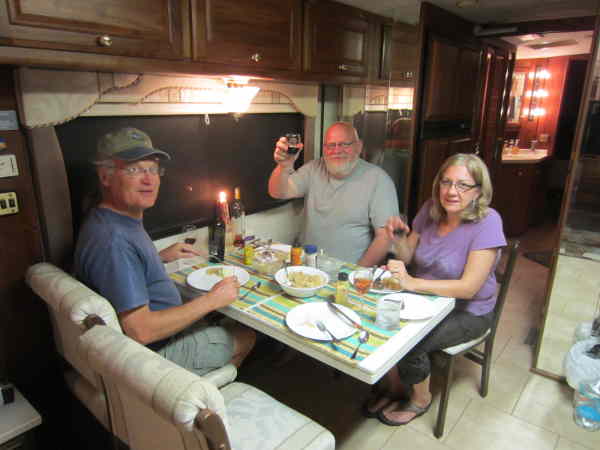 What a great way to end the day. Note that while John and Judy are hoisting glasses, my hands are filled with knife and fork. Nothing like a plate of sauerkraut, mashed potatoes and sausage to have me ignore the wine. Awesome day, awesome food, awesome friends - what we live is an Awesome Life.
---
Sunday Jan 27 Mission, Texas
A Great Day
It was indeed a great day as we enjoyed a boat trip on the Rio Grande, then ended the day with a wine tasting party on our patio. When we bought the coach house we could foresee days like today, yet somehow today turned out to be far better than we had ever imagined it might be.
Nothing like an outing with friends on the Rio Grande during a Sunday afternoon in late January with temperatures in the 80's to put Life into perspective. As we enjoyed our wine and sandwiches Linda had brought along, the banks of the river rolled by.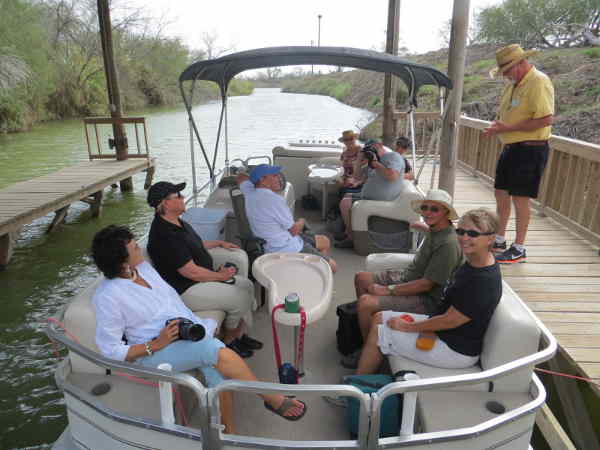 Backing up a moment, here is a photo of our group before we departed. This will save me from being told by a certain woman, about all the photos I took that I should not use because someone has their hair blown in their face or they are in the process of eating or drinking. Good Bob.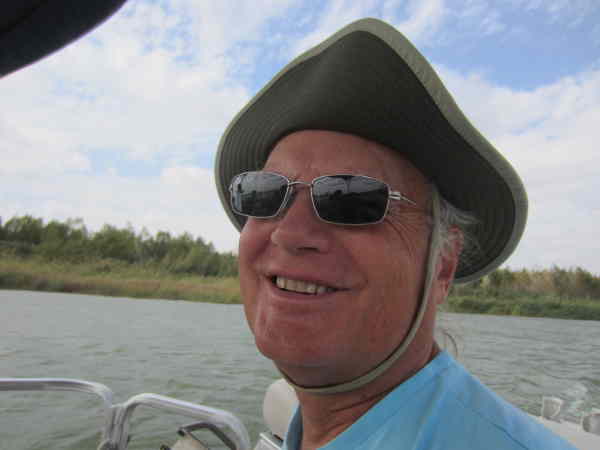 I know I won't get into any trouble if I use a photo of myself. On most days we have some wind, typically between 4 and 10 mph, something we seldom notice and besides, with a little wind there are absolutely no bugs. I get to chuckle at the people on the forums who complain about the wind in the Valley, guess they must like the bugs. Then there are some days like today and the next several, days when the wind is more noticeable because it is blowing 18 to 22 mph. Today was one of those days.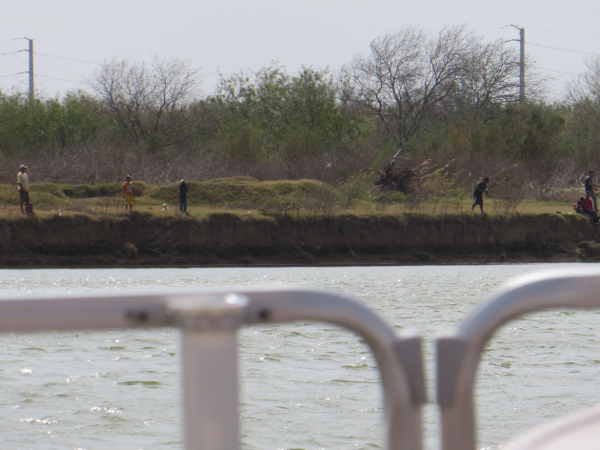 No border here, at least not so that anyone would notice. It's just an imaginary line down the middle of the river. On the Mexican side are people out fishing along the bank, on the river is our small pontoon boat cruising along. Interesting how it is the people who live in other parts of the country who think it unsafe to even travel, let alone live near the border. Their fear is our fun.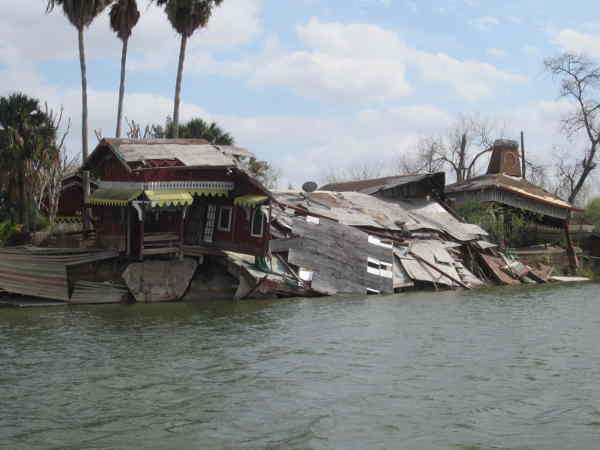 Danger, destruction, devastation. When a hurricane comes through things happen. Four years ago Dolly came up the Rio Grande Valley and while there were no deaths associated with it, property damage was significant. Two years later Alex dumped enormous amounts of rainfall that caused severe flooding. As you can see, some places are still not rebuilt along the American side of the river.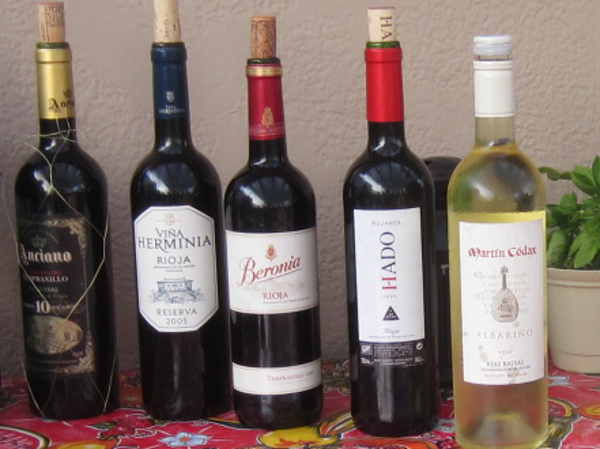 In the evening we hosted the Retama - East Mallard - Spanish Wines Tasting Event. This is the "THE" wine tasting event held in this part of Retama in late January, or at least we would like to think so. Quite a step up from the last such tasting we hosted, which was in Michigan's U.P.. That time it was with boxed merlot's, but considering that all the people in the U.P. know is hunting deer and drinking beer, the boxed merlot's were appropriate.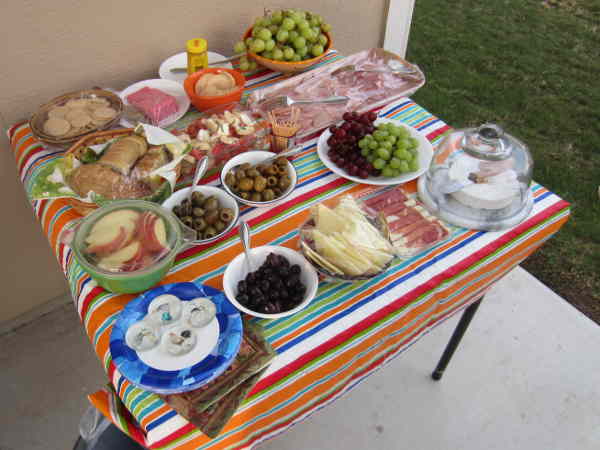 The food table. Sparing absolutely no expense, Linda had even bought imported Spanish cheese and three types of Spanish olives, or at least I think they were from Spain. To show what an elegant tasting this was, the last Spanish wine tasting we attended had peanuts. Tonight we had pistachio's, is that a step up our what.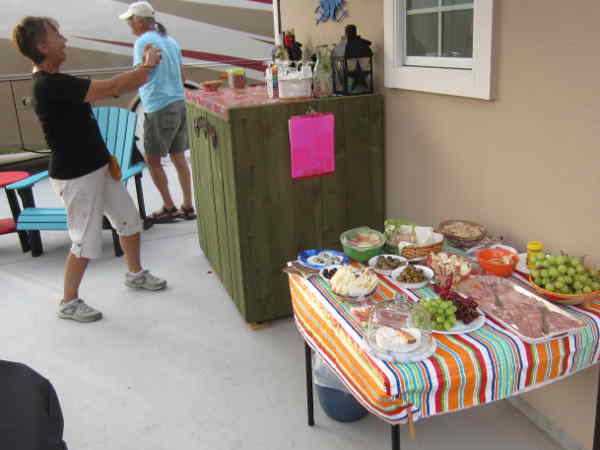 With the select list of guests, all of who knew about wines, even if it was just knowing that you added an "s" to the end of wine to get wines, we were amazed that some even took photos of the wines and food. It most likely had more to do with either the colorful layout or the fact they wanted to make sure to never buy these wines in the future.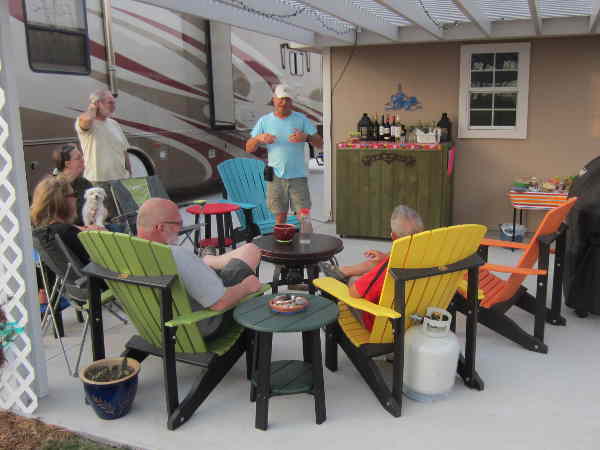 I began the evening with an explanation of the history of wine in Spain, emphasizing history, which was the only thing I actually knew anything about. As you can see, Jeff was already wondering if I knew anything about wine or if I was just making it up as I went along. Bringing out my extensive notes, I proceeded to get deeper into the different types of Spanish wines.
I knew we were in deep trouble when I held up a bottle and asked, "What type of wine is this?" "White" was the immediate answer from one of the group, followed by a knowing nodding of the head from all the others. Pausing to collect my thoughts, I gently pointed out that we were speaking of Spanish wines so blanco was the correct term. I held another bottle and someone blurted out "rouge", again accompanied by nodding heads. Patiently I pointed out that in Spain it would tinto, all the while thinking, this is going to be a long night, as I remembered why I had only ever hosted one wine tasting in my life. Just teasing about those thoughts. We had the most wonderful and fun filled evening, laughing, sharing and enjoying Life. And we may even have learned a thing or two about Spanish wines.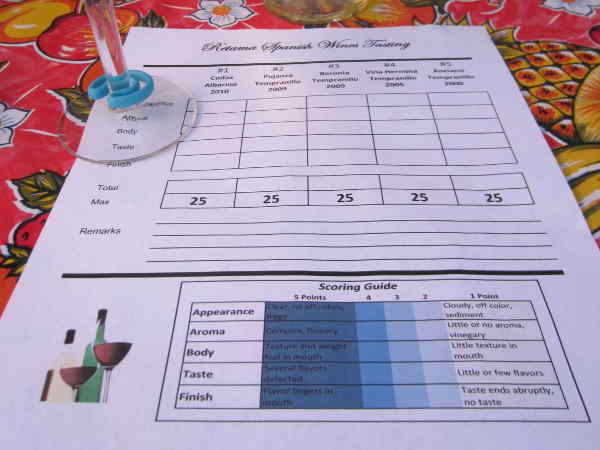 This wasn't just any old wine tasting, Linda had even gone so far as to print of these very professional looking customized scoring sheets. The results of the tasting proved that you don't have to drink the most expensive wine to have one that tastes good. For what it was worth, our tinto wines in order of ranking best to least liked were: Anciano Gran Reserva, Vina Hermana Rioja Reserva, Bodegas Beronia and Pujanza Norte Hado. The blanco was Martin Codax Albarino, and even those who don't normally drink white wines said it was very good. All wines came from Costco.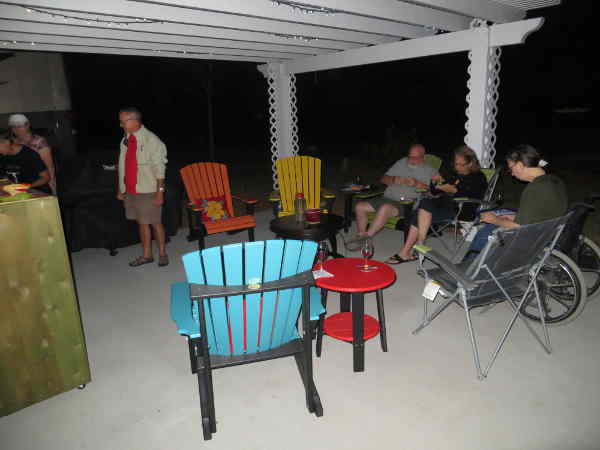 Fine wines, fabulous food, fantastic friends, it was a day you don't really want to have end. The best part? We are already talking about what we might do for our next wine tasting. Life is not a dress rehearsal. Don't be afraid to laugh, love and retire early.
---
Monday Jan 28 Mission, Texas
Last Day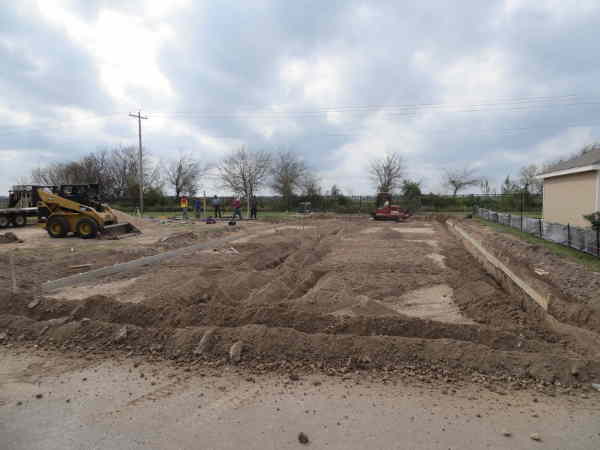 Progress on the lot two doors down. The trenches for the plumbing were dug, some the rebar was wired together and a portion of the concrete forms were placed. Sidewalk superintending, a great way to start the day.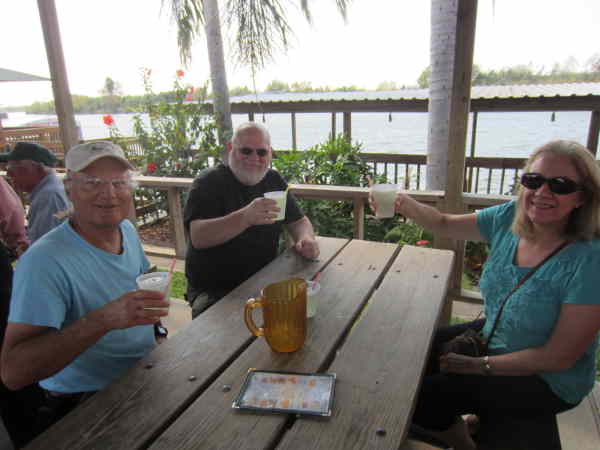 This was John and Judy's last full day here, so a pitcher of margaritas while overlooking the Rio Grande was in order in the early afternoon. Good friends make for good times which mean great memories.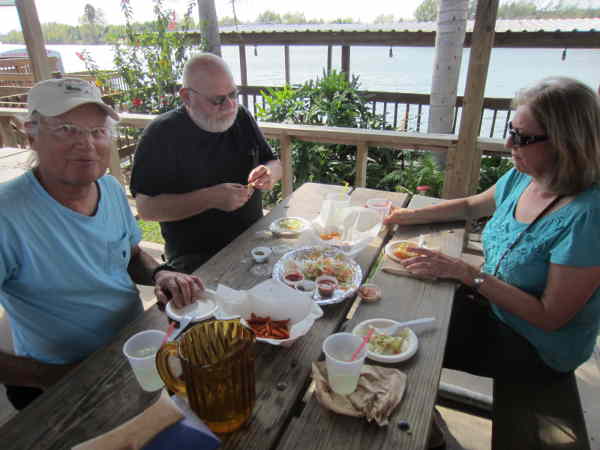 Backing up, here is nothing like a pitcher of margaritas along the banks of the Rio Grande over looking Mexico to give you an appetite. On the other hand, we know a few people who live far, far to the north who at the very thought of the Rio Grande Border being an unprotected stretch of the river with no fence, would rush out and stock up with more ammo to use to fight off the hordes of illegals who are just pouring over the border. We are here and the only thing being poured is our margaritas. Some people don't have a life, we live Life.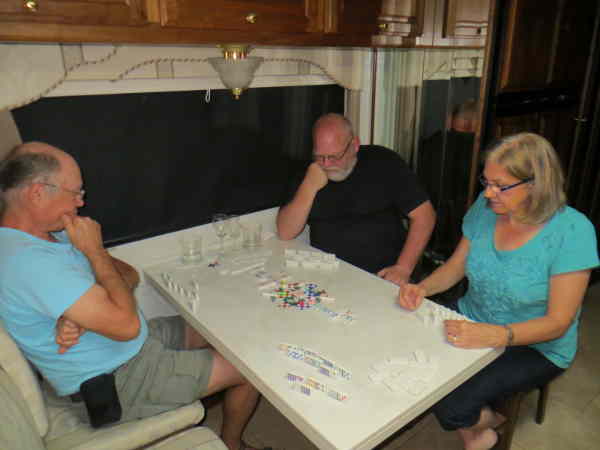 When you put a group of great minds together, such as shown here, it is amazing what they can contemplate. In this case it was whose move was it in Mexican Train. We like to play until everyone wins a game, which can take most of the evening as John manages to win most of the games no matter how much we try to change the rules.
John claims to only play when he is with us, but I suspect he has Mexican Train on his iPad and has regular practice sessions before they meet us. I know I'm a great player, so if I lose there has to be some nefarious reason. Guess I will have to break down and buy the book A Million Trillion Ways to Win at Mexican Train. Brilliant Bob.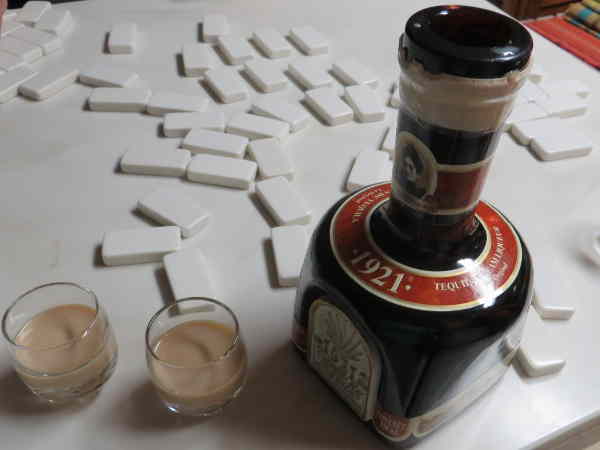 The best way to end a great visit with great friends is to share something great. 1921 Tequila Cream, if you have never had it you have missed out on one of the great pleasures of Life, at least according to John, Judy, Linda and Bob.
We bought this at the Pink Store in Palomas, Mexico, so not sure if it can be bought in the US. Talk about good, it is so good here is the link to their website. There are special things in Life, this is one of them.
There are special places in Life, Retama is one of them.
There are special people in Life and we are so blessed to have met John and Judy a number of years through this Daily Journal I write. In subsequent years we have met many other great friends the same way. Some days when I write I wonder if there is anyone out there. Then a connection is made and our Life is better for it. And that is what I believe is the the very best thing thing about living the full time Life.
---
Tuesday Jan 29 Mission, Texas
Interesting Day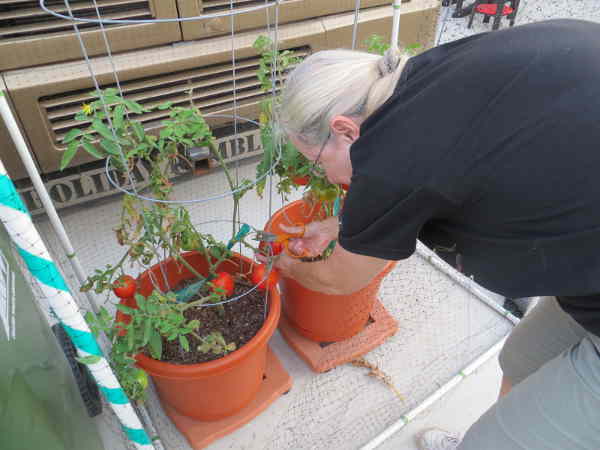 A gift from the heart. With John and Judy leaving this morning Linda wanted to give them something special. It simply doesn't get more special than this.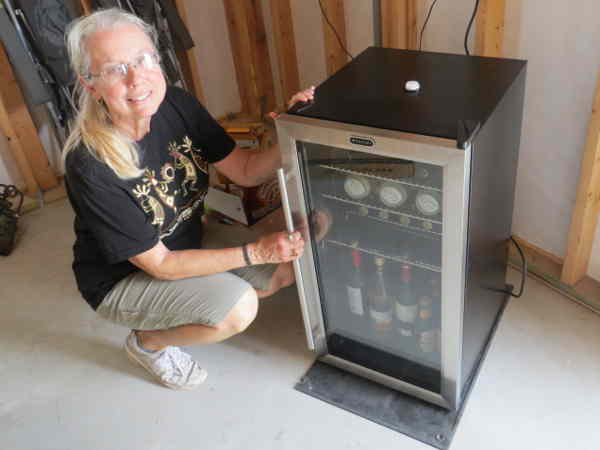 Amazon Prime strikes again. The beverage cooler Linda ordered last Friday arrived today while I was at the mystery dinner cast practice this morning. Other than attaching the handle and inserting the drip tray, it only needed to be leveled and plugged in. With the temperature already in the 90's it will be tomorrow morning before we can see how well it works. Still, that didn't keep Linda from smiling at her latest acquisition.
John and Judy had planned to leave around 10 this morning, but instead of leaving at that time, they now have a good story to tell, the tale of the wayward jack.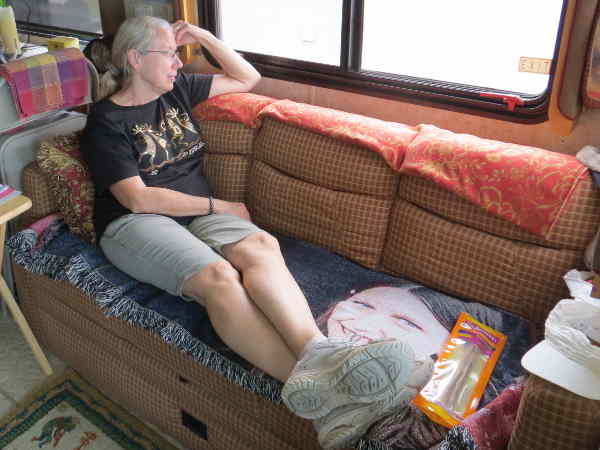 They weren't the only ones watching the mobile techs work on the jack. Linda had her own special seat with a view of what was going on.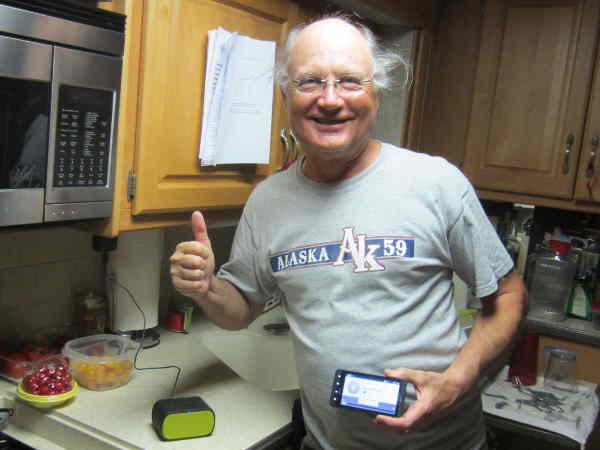 Linda called this photo "Happy Boy". I'd have to say she was right as I was one very happy Bob. Thanks to John we discovered the wonders of bluetooth, and this was our new speaker. Now we can have sound wherever we want, that is if I can figure out how to organize the music on our phone.
Not everything that happens during the day is perfect, because some things are more perfect than others. Yet, even with those minor imperfections we will take the life we live
---
Wednesday Jan 30 Mission, Texas
I was maligned to-Day
Read this and tell me I wasn't unfairly maligned. I could refute each of those unwarranted allegations point by by, but what good would it do since the abominable accuser is from Michigan and hence only knows about beer and deer. Any attempt on my part to take the high road would likely be met with belches and the fact he's already shot himself in the foot, so I will let bygones be bygones.
On second thought, I was the one who let John win at Mexican Train so he would feel good and want to come back and visit us again. As far as infecting his coach with a virus, we made sure they were parked a street away from us so we wouldn't be infected by their coach. And further more, I was surprised that he failed to accuse me of drinking the entire bottle of the fantastic Portland area distillery bourbon he brought. I absolutely did not. I'm pretty sure I left John a finger or two so that he could at least have a couple of sips. Thank goodness I was able to put the record straight. Good Bob.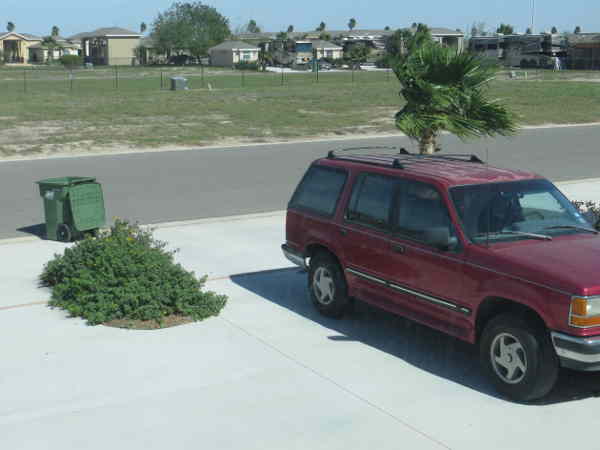 Now that I have put those absurd allegations to rest, let us return to the adventures of Bob and Linda as only the Daily Journal can report them. Meaning the unvarnished and true tales of Life as only I can relate them. In Retama today the story was the wind. Ferocious winds. Winds so strong our full trash can was blown across the drive and into the roses in the median area.
That didn't keep Linda from going shopping, and was she ever excited about something she bought, showing me what it was the moment she came in the door. As I write this I asked her what it was since I couldn't remember what it was. She couldn't remember what it was either. It was one of those kinds of days.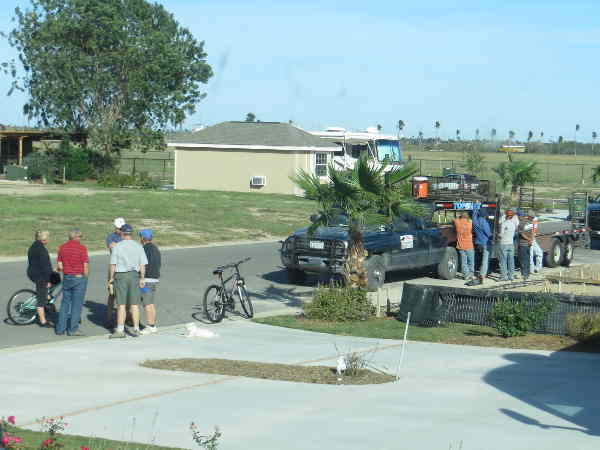 Five sidewalk superintendents saying they have never seen so many workers standing around doing nothing. Six workers saying they have never seen so many sidewalk superintendents standing around looking so clueless. Actually, only a few minutes before Linda took this photo there were 11 workers standing there. Just a normal day in Retama where the cares of the rest of the world pale in comparison to what we face everyday. In fact we are so far out in the country it hard to even know what is going on in the rest of world. It's a tough Life but we are up to it.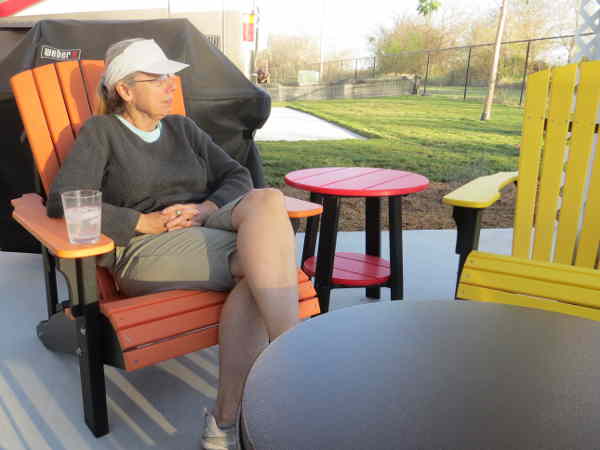 You can see from this just what a tough Life we live. Can you believe it, it was so cold today Linda actually had to wear a sweater this evening during happy hour. What's next, a bitter cold snap with daytime highs in the 60's? Thankfully not, though we are going to have several days were the highs are only going to make into the high 70's.
I know there are people who say they enjoy living where it is cold in the winter, but if that was meant to be why weren't we born wearing winter clothes? To each his own, or as Carl Reiner put it - "A lot of people like snow. I find it to be an unnecessary freezing of water."
---
Thursday Jan 31 Mission, Texas
A Gutter Day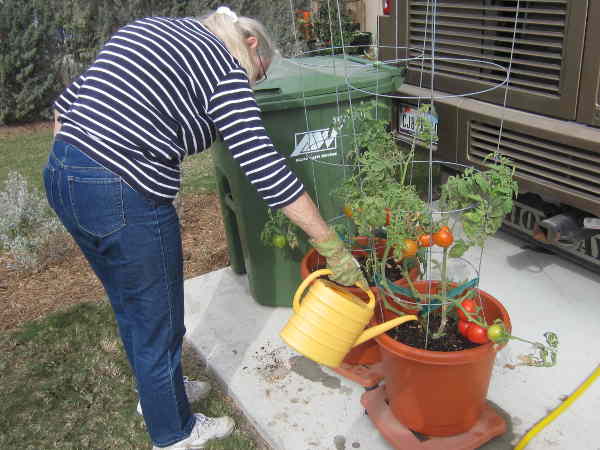 Linda decided the new tomato plants she had bought were now big enough to go into the pots with the original plants. When I realized what she was doing, I knew I had to take a photo, which was well and good until I returned outside. There she was, fighting with the nozzle on the end of the hose. Actually she seemed to be trying to strangle it, or even twist its head off.
It is the kind where you turn it and it is supposed to change spray patterns. Unfortunately it had aged to the point where it was unable to perform like it did in its younger days, and this was making Linda a very unhappy girl. That meant Bob to the rescue, and I showed her how to place the nozzle in the watering can, fill the can, then use the can to water the tomatoes. Something tells me this is more steps than Linda likes and a new spray head is in her future. I apologize for leaving out all the interesting repartee regarding the above, but it's late and I'm tired.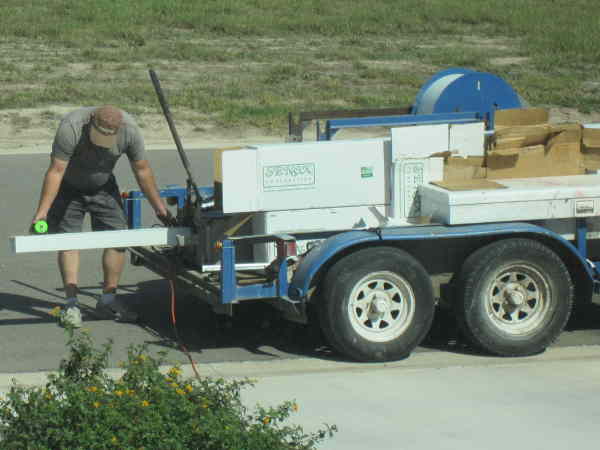 Late morning the gutter crew showed up, and soon the first sections of gutter were being formed.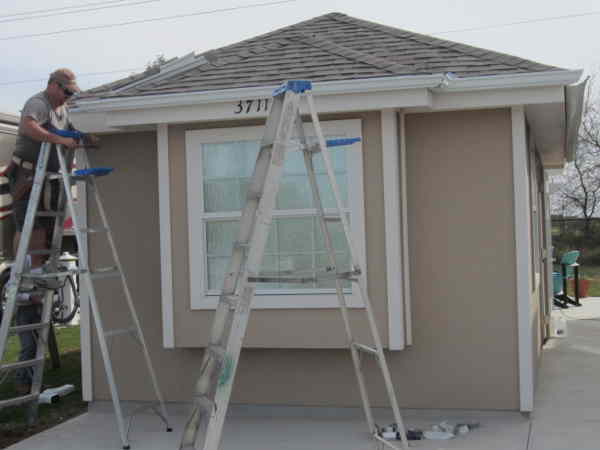 They first formed and cut the gutters for both Jeff's and our coach houses, then installed Jeff's and followed with ours. There is a drip rail in the form of a "J" along the back, gutters on the coach side and front, and a lone downspout at the grass side front corner.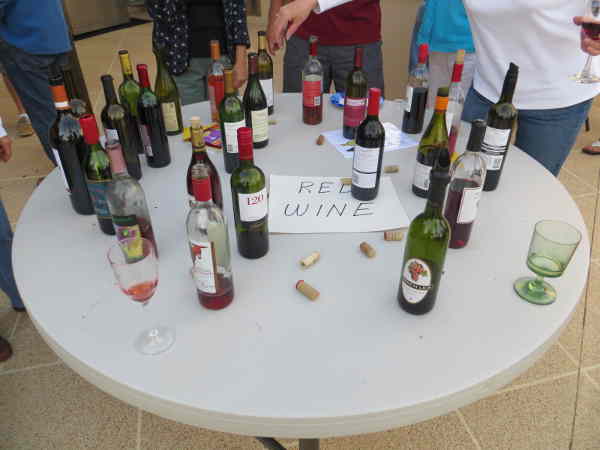 The early evening found attending the annual Retama Wine and Art show. Some of the art was very good, as were some of the wines. We counted wines from eight different states, not including California. After sampling those eight wines I could understand why some states are not known for their wines. Even so, it is better have experienced that which is less than stellar than to have never experienced at all. Or at least I think it is, but just as long as I never have to experience some of those wines again.
---
---