Journal Archive 3/1 - 3/10 2013
Scroll down to read the latest post
Friday Mar 1 Mission, Texas
Another Building Day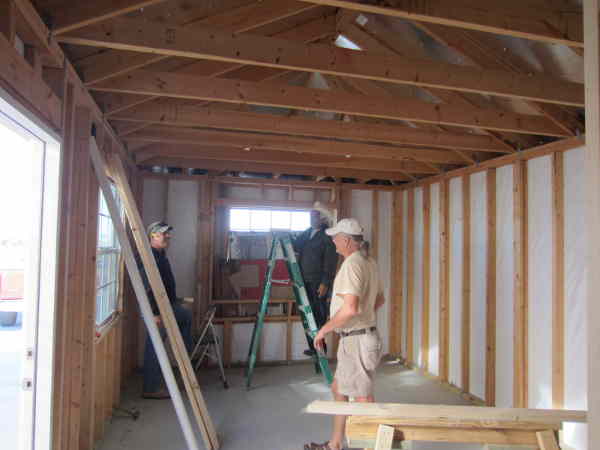 Early morning came early today. Normally Raul shows up a little after 9, this morning it was 20 till 9. This morning I was supposed to have the main area of the coach house cleaned out by the time he came. At least Linda helped me by pointing out that it wasn't cleaned out like it should have been, but it was okay because Raul was early. Sometimes she can be so sweet.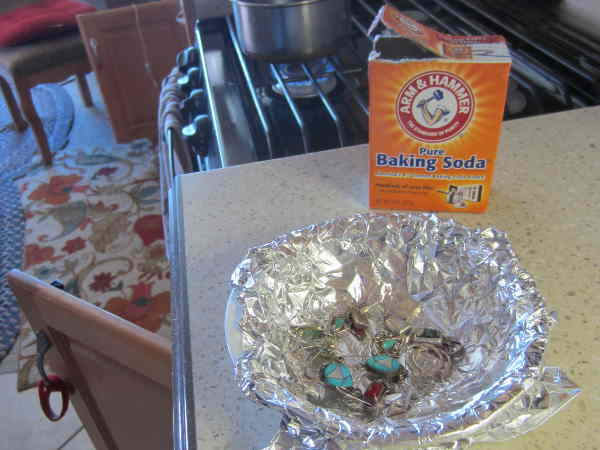 Yesterday she worked off her frustration caused by a certain individual by cleaning the mirrors in the bedroom. Today she cleaned some of her jewelry. If I keep this up the coach is going to look like new.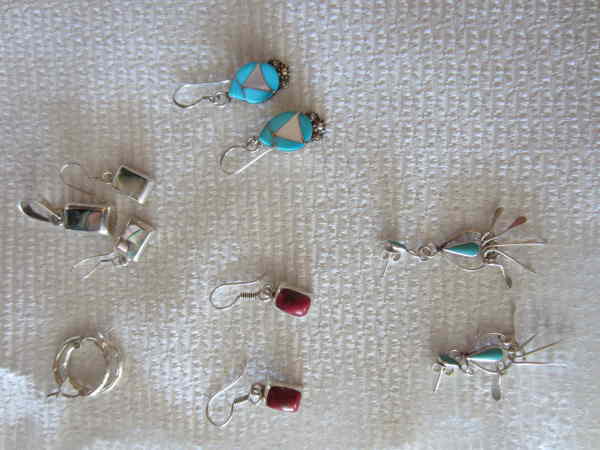 Sparkling jewelry for a girl with sparkling eyes. Lucky Bob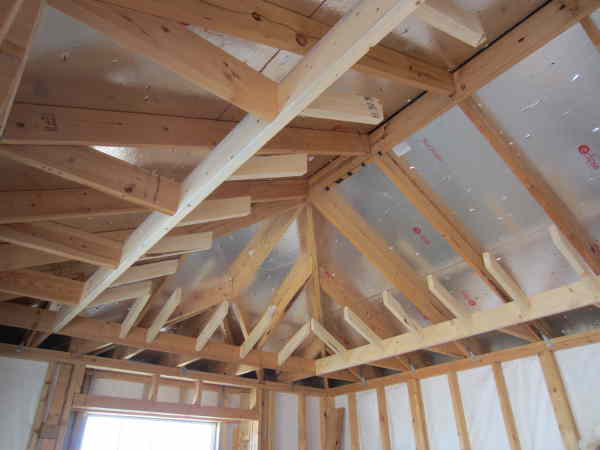 The framing for the ceiling is looking better. Raul has done many coach houses but he has never been asked to do a ceiling this way before. We wanted something different, it looks like we will have something different.
It was Friday afternoon, and they quit for the weekend just after 2:30. That meant it was time for us to get started. We are going to install the plumbing and the electric. It is going to be a very busy weekend. Shortly after this photo was taken we were off to Home Depot for more Pex fittings. Linda summed it up best, "We need to get an early start tomorrow." I'm sure she will make sure we do.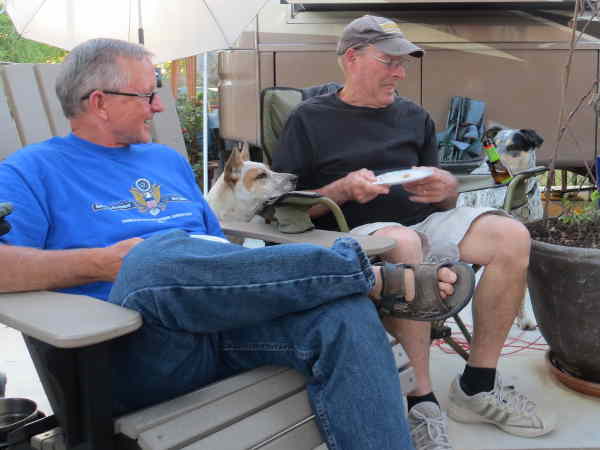 Having trained Roger a few days ago in recognizing where the happy hour boundary line was, tonight Bandido was joined by Tequila in teaching Tim just how to hold a plate of food so no dog could steal something off of it. Maybe it was that Tim was a slow learner, or maybe they were just into reinforcing the lesson through continued repetition, whatever the reason, they sure spent a lot of time working with him.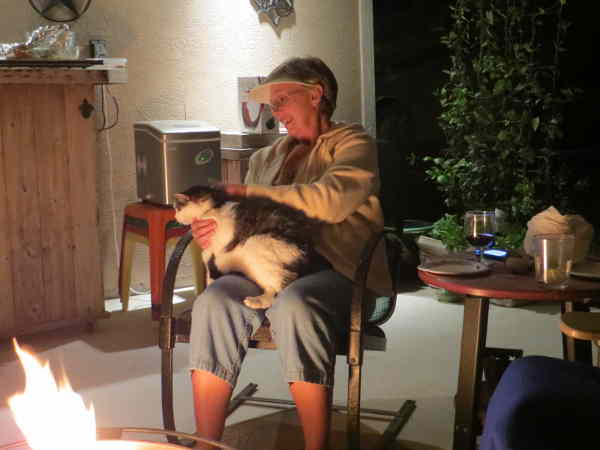 For months we have be regaled with tales of the mystery cat, Big Chuck, also known as a basketball with a head and a tail. Tonight Dianne brought him out. We all agreed, his name, Big Chuck, was very apt. For all of us gathered around the fire pit tonight, the name for us was Happy. May your day have been like ours.
---
Saturday March 2 Mission, Texas
Work Day
Bingo!! We have a winner. A couple of days ago I posted a photo in the Daily Journal and asked if: "After carefully studying this photo, can you tell which person is from Canada, Manitoba to be exact?" I guess it was pretty obvious, since our neighbor Jeff was the only one wearing shorts. But one person not only identified who the Canadian was, they also remembered seeing Jeff in a campground in Talkeetna, Alaska last summer.
It was George of Not A Moment Too Soon. We have met George and his vivacious wife Kellie several times during our travels, and now we are meeting the people who they are meeting during their full time travels. It sure is a small world. What can I say but, Good George.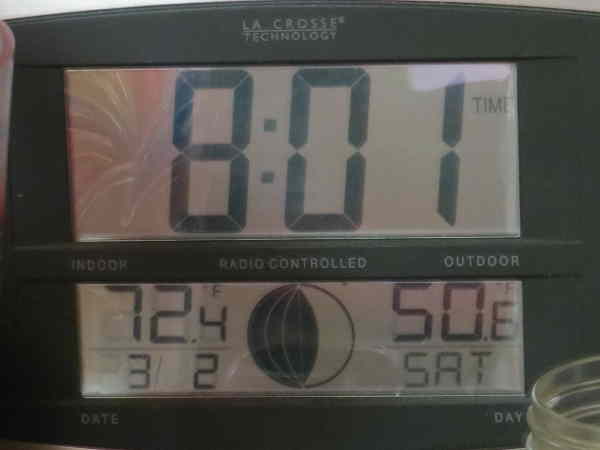 Linda had said last night that we would be getting an early start to the day today, and she was true to her word. So what if the last of my morning tea was still heading toward my stomach, or that it was only 50 out there, it was time to go to work. And work we did, all day long right up till it was time for happy hour.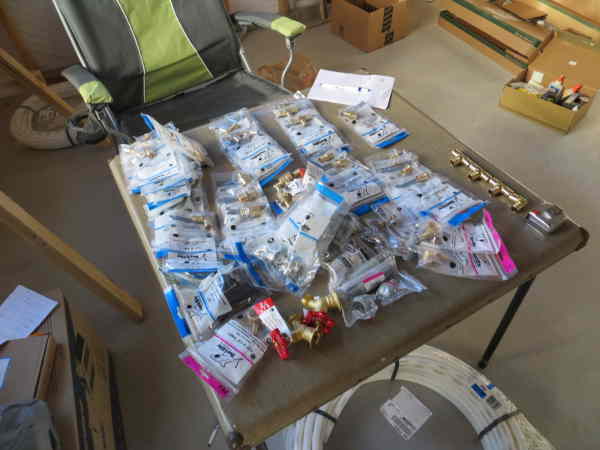 This was to be a Bob and Linda joint project, and it didn't take long to find out what Linda's part was going to be. While I dug my tools out from under the coach, she set up the card table and organized all the fittings. As I quickly learned, it was alright for me to pick up a fitting, but if I put it back it had better be in the same place I took it from.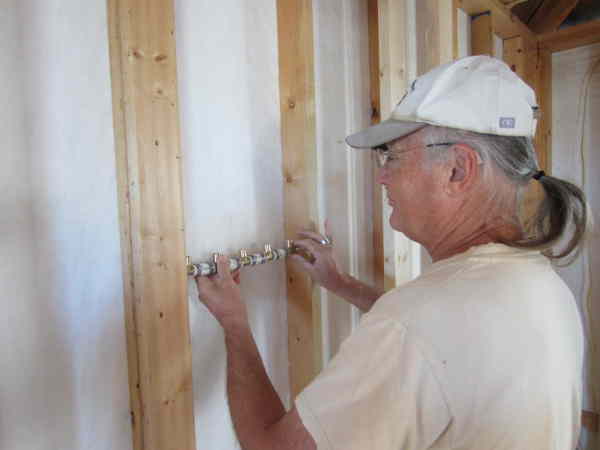 You have to start somewhere, but at least it looks like it will fit.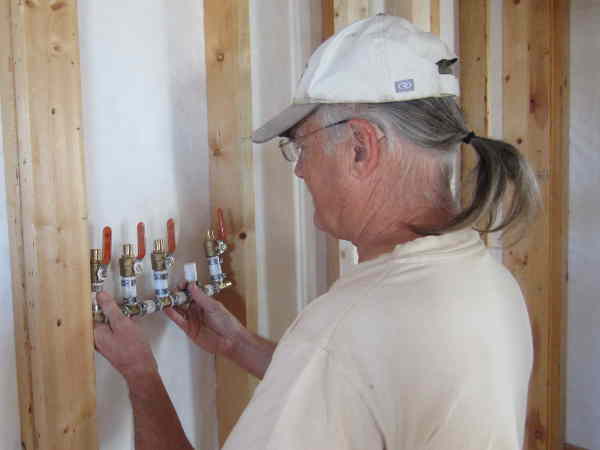 Even if you really don't know what you are doing, at least you can look like you know what you are doing. Here is my best, it looks like I know what I am doing, imitation.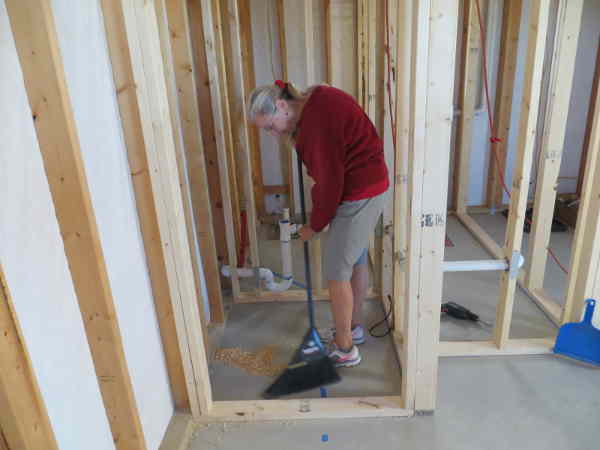 So, I drill a hole, move the ladder and Linda leaps out of her chair from behind her table and starts sweeping the shavings up. I thought she didn't have enough to to do. She thought I was very messy. I made lots of holes. I made a lot of messes. Linda immediately cleaned every one of them up. What a pair we make.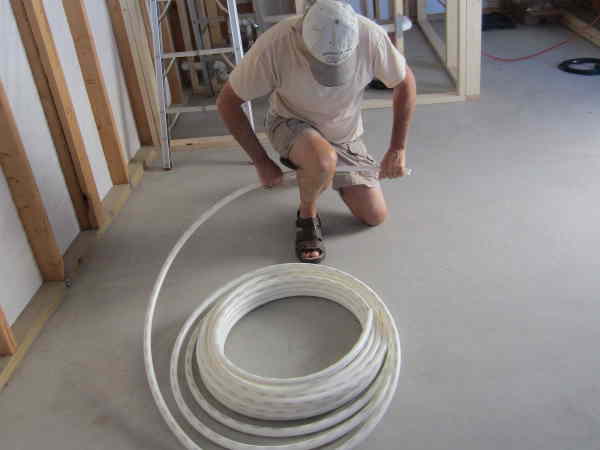 If you have ever worked with coiled Pex tubing you know what I am doing. If you have never worked with coiled Pex tubing you might want to make sure you keep things that way. If it was easy I would be the one sitting behind the table. Tomorrow we are off to buy some 10 foot sections. Tomorrow working with 3/4" Pex will be a lot easier. Something tells me that even so, I still won't be the one sitting behind the table.
---
Sunday March 3 Mission, Texas
Another Work Day
Bad Bob. I discovered this morning that I had omitted the very essence of what Linda had done yesterday in the last Daily Journal.

---
"You made it look like I did nothing yesterday" was how she began. "You said I just sat at the table all day."
"I did not, I told how you cleaned up the sawdust messes and even posted a picture of it."
"Big deal!" "Did you write about how organized all the fittings so it was easy to find them. Did you write about how I handed you the fittings you needed, and how I held the crimping tool when you put the Pex in the fittings. Did you write about all the times you picked up the wrong fitting and I got you stopped before you installed it. Did you mention how I picked up all the rings you kept dropping. No, you didn't, and I don't like it."
She's absolutely right you know. I guess I could claim being overly tired when I wrote the Daily Journal, but that was still no excuse. For all our Life together she has always been right there with me, helping in whatever way she can. I think I was just having fun with the photos we had taken, but somehow the words that were meant to be a humorous look at the day just didn't come out that way. I was wrong. Sorry Bob.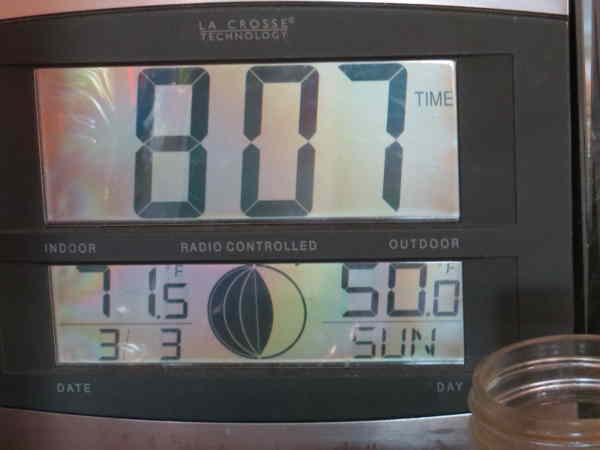 This morning was almost an exact repeat of yesterday. We got started shortly after 8 and finished up just before 5. Our first order of business today was another trip to Home Depot for more Pex fittings. Part of the problem is that I plan to run the lines one way, then end up running them a different way. It also doesn't help that every time we go to Home Depot I see another fitting I hadn't noticed before that causes me to change once again what I had just changed.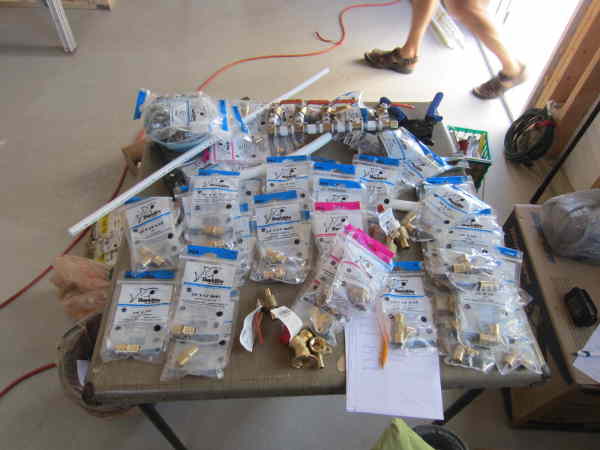 This is a Bob and Linda joint project, but besides helping me do the shopping this morning she also organized all the fittings, both old and new. It was even harder today, as yesterday was only 3/4" fittings, but today was a blend of 3/4" and 1/2" which made her task even harder, especially when I was up on top of the ladder and was in a hurry for the next fitting.
Part of the reason for my being in a hurry is our ladder. It's one of those folding ones that work well for taking up very little space in the RV. The problem is that the steps are very narrow compared to a regular step ladder, and so it is hard on the feet. Couple that with standing on concrete all the time I wasn't on the ladder and by evening my feet were hurting big time, which is something they hardly ever do.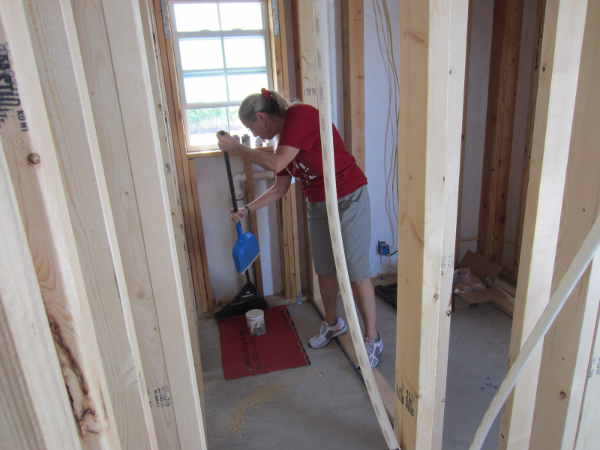 Like yesterday, I drilled a hole, moved the ladder and Linda immediately started sweeping the shavings up. Suddenly she stopped, looked at me, and said, "You're just going to drill more holes here and make more shavings, aren't you?"
Today I responded with, "You're right about drilling more holes, but it sure is nice not to have to walk around in all those shavings. Thanks for sweeping them up."
The smile I got in return made my day.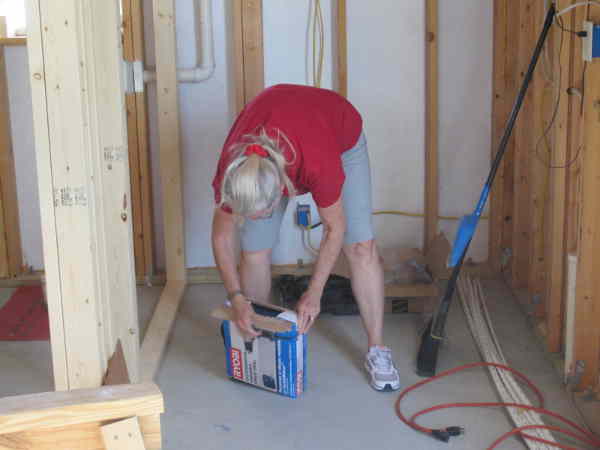 We lost an old friend today, my drill, which was a present from Linda many years ago just up and quit. The timing wasn't the best, but after Linda did a little searching on the Internet, off she went to Home Depot while I worked on the plumbing. What she came back with was much nicer than the old one, especially since it had more torque. Happy Bob.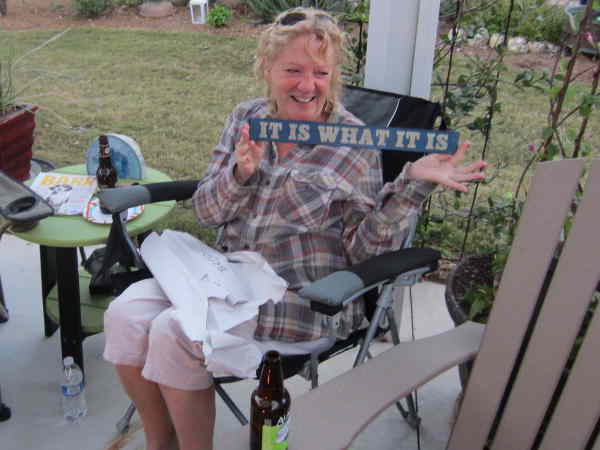 I tried to make it to happy hour, but my feet were really hurting and the only thing I wanted was to soak them. It was also a case of they smelled so bad that even I could hardly stand them. That meant I missed out on the presentation of the "It is what it is" plaque that Linda had bought for Brenda.
Brenda had been wanting to start a blog, so a few days ago Linda went over to her RV and helped her get started on blogger using LiveWriter. You can probably guess what the name of her blog is, link here.
As Eleanor Roosevelt said: Life is what you make it. Always has been, always will be.
---
Monday March 4 Mission, Texas
A Long Work Day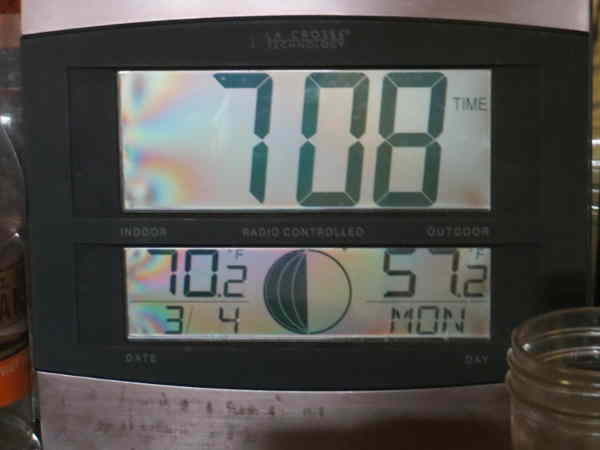 This is not going to be a long post today. The day started at 7 AM and ended at 9 PM. I joked with Linda that we worked like this at one time or another at every house we owned. The tradition has now gone from houses and RV's to coach houses. Tired Bob.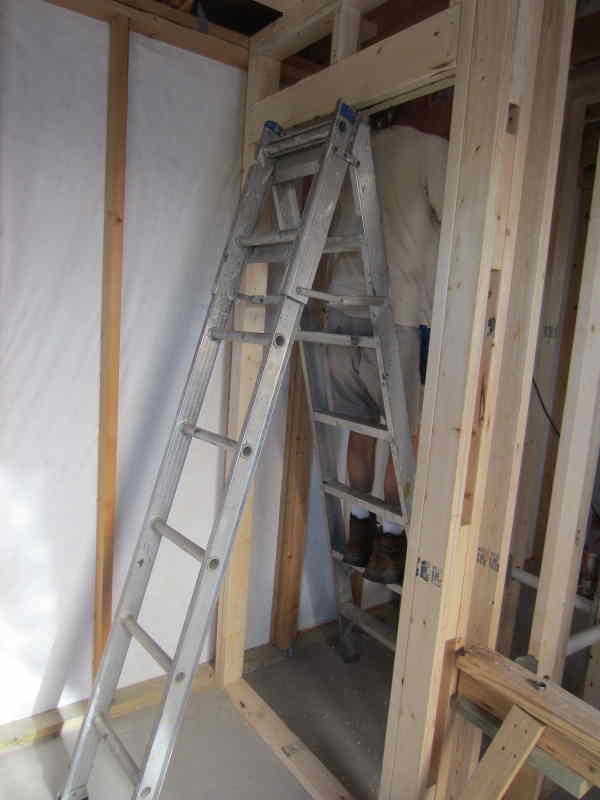 Talk about nice neighbors, Jeff came over bright and early and said, "I've got a real ladder if you want to use it." Seems he had read the Daily Journal and took pity on my poor tired feet. Believe me, nice wide steps made for a much easier day.
Linda suggested I wear my hiking boots, but I sort of ignored her. Then she dug them out and brought them to me. Between the ladder and boots my feet are just fine tonight. Good Jeff. Good Linda.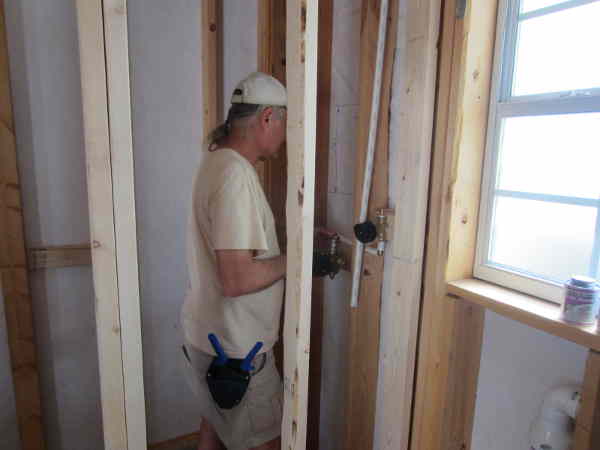 Mounting the shower controls. They were challenging because they to be mounted within a minimum and maximum distance from the surface of the finished tile. There were a total of three controls and two outlets that had to be set just so, and because the back wall was a 2x6 wall while the side wall was a 2x4 wall, none of the five items were mounted at the same depth. Needless to say we have our fingers crossed my math was right. And that's why you study fractions in school.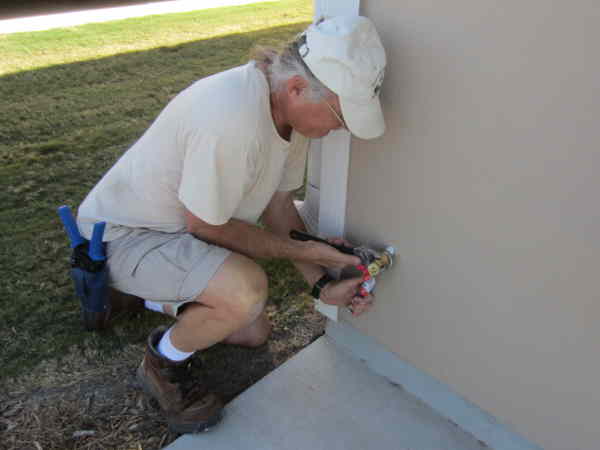 Mounting the outside faucet in the front of the coach house. Because of the time constraints I didn't fasten the spigot to the wall. Maybe it was also because if it leaks it will be easier to fix. Leaks? We aren't going to have any leaks --- are we?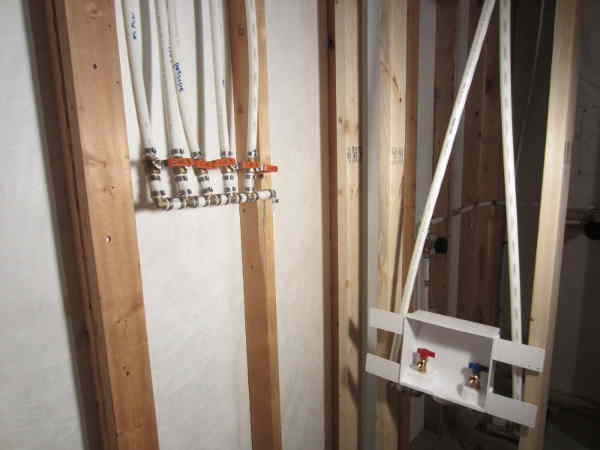 Mistakes? You bet, a number of them to be exact. Three good ones in this photo. The water lines to the washing machine wall box are crossed, thank goodness Pex is so bendable. A major twist in the lines dropping down to the cold water manifold. It wasn't a good idea to use coiled 3/4" Pex for them, should have bought the Pex in 10' lengths for things like this. Out of focus in the back corner, a notch in the corner at the wrong height. Had to cut a new notch at the right height for the water line that goes to the outlet beside the seat.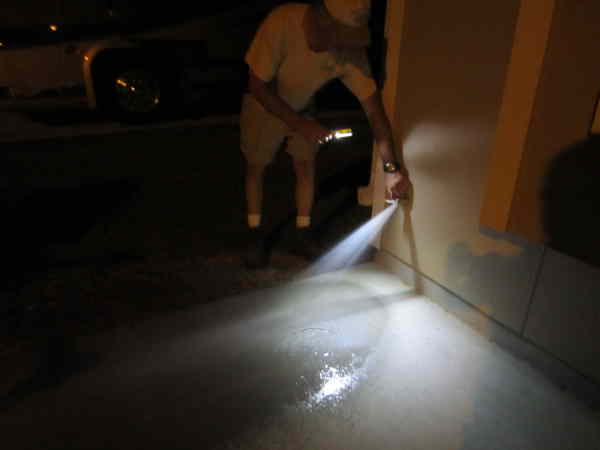 Just before 9 o'clock and water is flowing out the front faucet. Talk about two happy people. And the best part, no leaks. May your day have been as successful as ours.
Tuesday March 5 Mission, Texas
It Was A Day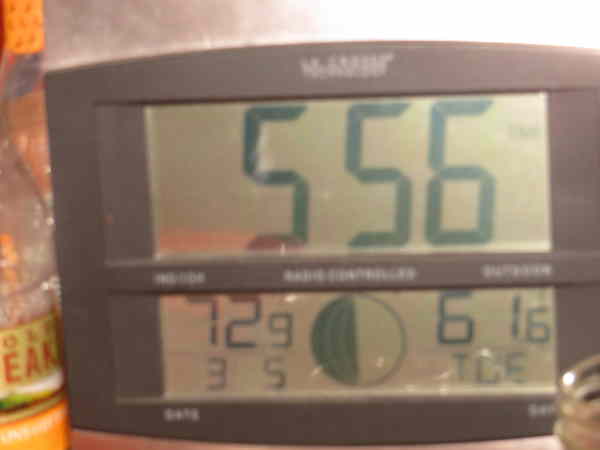 My first thought when I saw this photo was not to post it because it looked pretty crappy. Then I thought about how I felt this morning at the time I took it, and decided the photo and myself were two peas in a pod.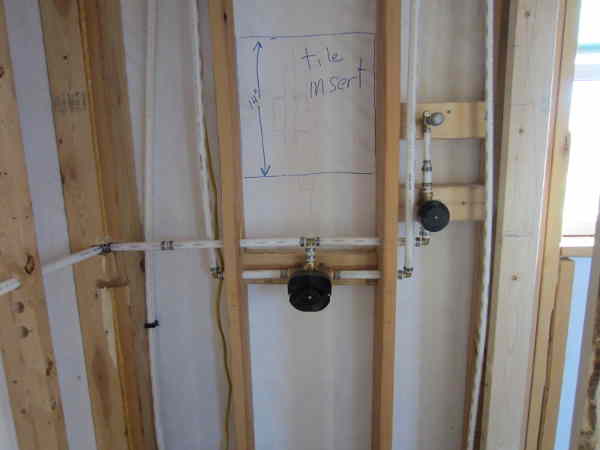 The reason for the extra early start this morning was to check out the plumbing for leaks. This was one side of the shower, the back wall where the temperature control is located. Linda was up not long afterward and soon it was time to cross our fingers and turn on the water.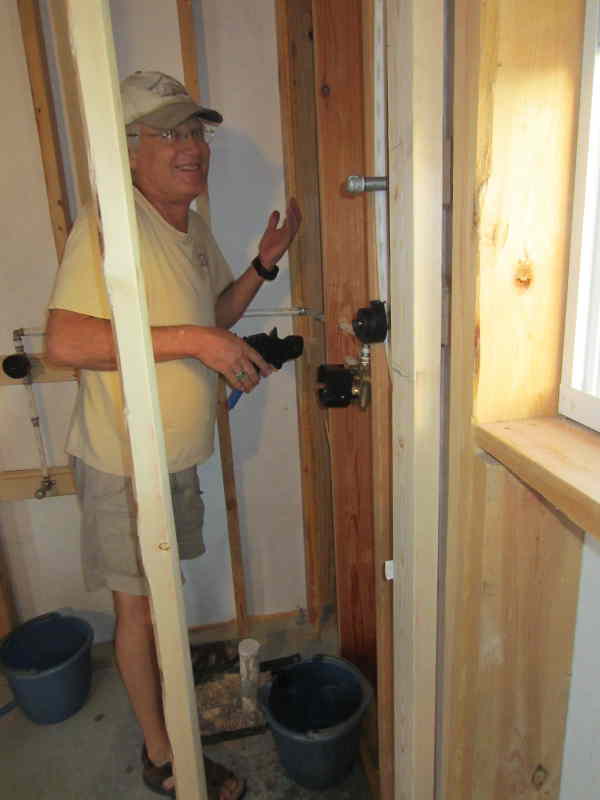 The look says it all, water, water everywhere. Well, not everywhere, just spraying out around one connection, the connection that had the unclamped Pex ring on it. Turn off the water, crimp the clamp, wipe up the mess, turn the water on, and not a drop anywhere. Talk about two happy people.
There was a lot more work during the day, high winds and dust everywhere, a shopping trip for the last of the electrical items and in the early evening some wire run in the wrong place. I won't talk about the latter other than to say that was when Jeff came over with a beer in his hand and we headed off to his coach where Linda and Val were already visiting. You can read into the remainder of the evening whatever you want, but there is a reason why the Daily Journal is late being posted.
---
Wednesday March 6 Mission, Texas
A Different Day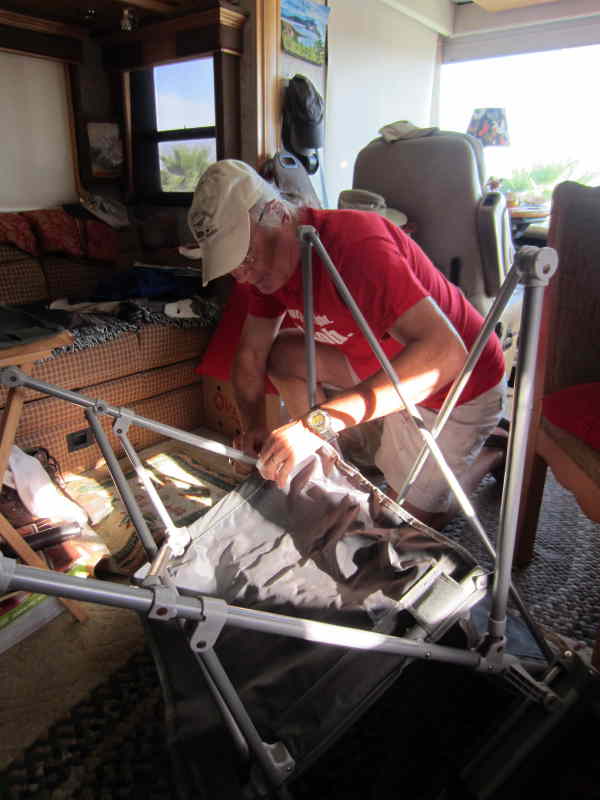 What a difference a day makes. No photo taken of the clock early in the morning today. It was a day to step back, take a deep breath and do other things. Things like replacing the seat on the StrongBack chair. It was an easy job that fixed the problem. They had sent us a new seat and it turned out the reason for the failure was the old seat had been improperly installed when the chair was manufactured. StrongBack Chairs, good people who stand behind their product.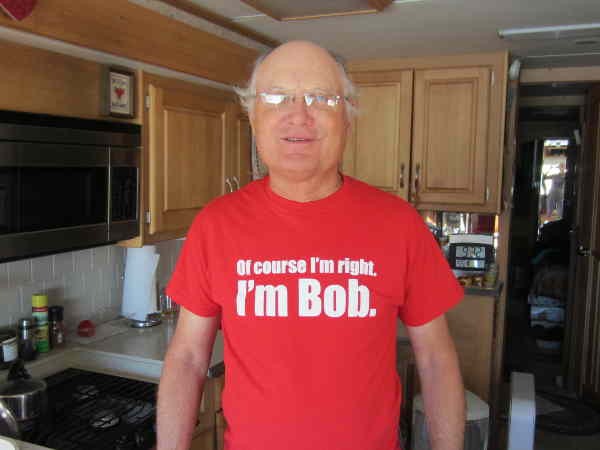 Linda liked my shirt, so much so that she wanted to take my picture. That led to a discussion on how to take a photo like this. Linda wanted to get up real close with the camera, I said it would make my face look fat, she disagreed, but did take the photo from further back.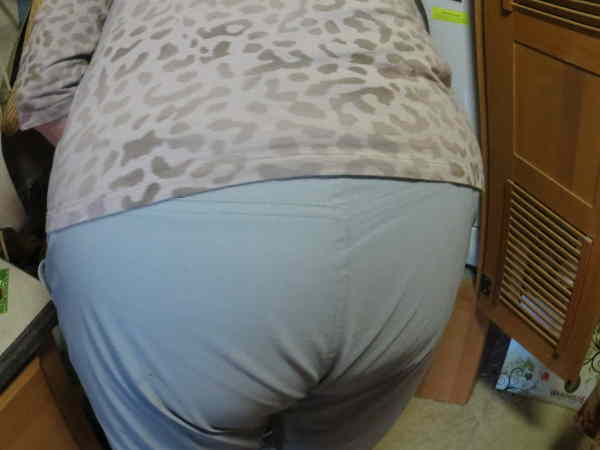 This photo is being shown only to demonstrate just how much distortion there is when an extreme closeup is taken.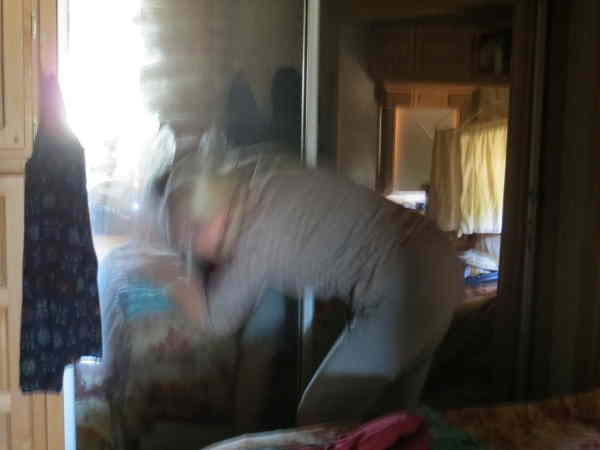 I have no idea whatsoever of what I said or did, but soon Linda was back in the bedroom feverishly cleaning the mirrors. This time she was wiping so fast she made a whirling dervish look slow. Puzzled Bob.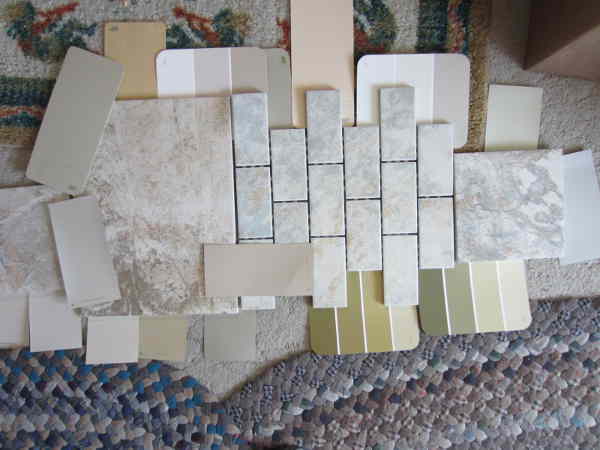 While I spent much of the day as a covenant cop checking other people's coach houses, Linda was working at selecting the paint to go with our tile in our own coach house. What made for an easier decision was the fact she ran her choices by our new neighbor two doors down, Bonnie, who has the background and training to pick the best colors. In this case it wasn't what you know, it was who you know.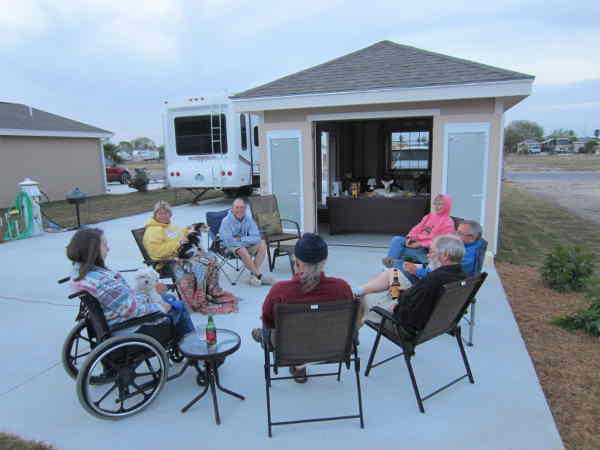 If you're from Manitoba like Val and Jeff, this is cool weather. For the rest of us, it was downright cold. Still, it is called happy hour for a reason, and we sure did enjoying a great number of laughs. Though it is puzzling why the weather in March is colder than the weather in February, maybe winter is coming early this year?
It was probably W. C. Fields who had the best take on cold when he said:
Drown in a cold vat of whiskey? Death, where is thy sting?
---
Thursday March 7 Mission, Texas
A Fun Day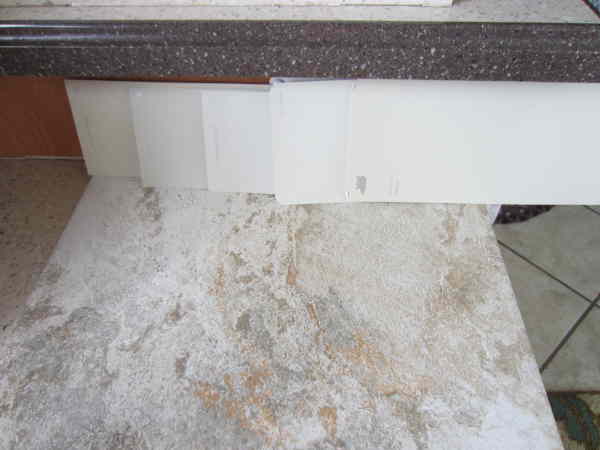 Linda was at it again today, while I was once again playing covenant cop, she was buying several more pieces of tile. The tile she has picked has a range of colors in it with sometimes one and sometimes another dominating in any individual tile. That leads to something called confusion, and that is most certainly a state that Linda does not like, and all because the walls are painted before the tile is installed.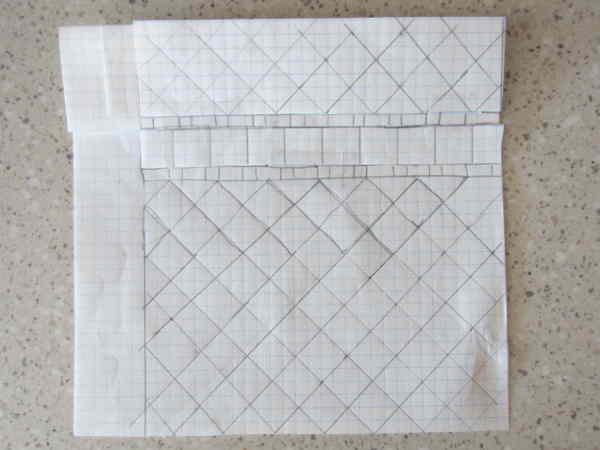 We have also been trying to decide what tile pattern we want in the Taj Mashower. Currently this one is leading the pack, but tomorrow another one may come out of nowhere to take the lead. The best part is that by this time next week the tile will likely be going in and what is, is. The floor itself was easy, an 18" diamond pattern everywhere in the coach house.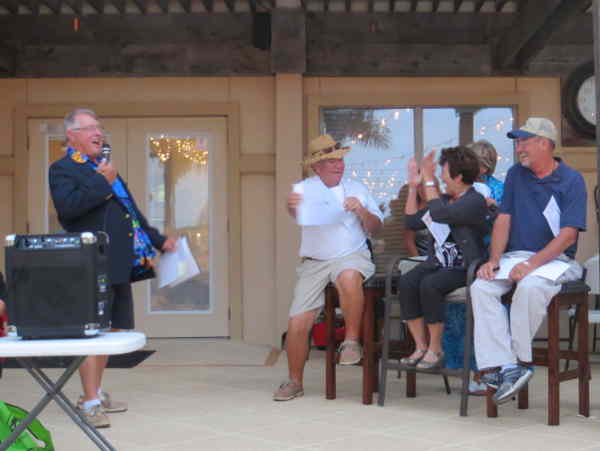 On the other side of the day's coin was the "Newlywed Game" we attended. Starting with a happy hour, then a wonderful pasta dinner, and finishing with a hilarious rendition of the Newlywed Game show complete with commercials. The problem with the night was it was so funny, both of us got caught up the action and kept forgetting to use our cameras to capture the moment. We were pretty good at capturing the after the moment, for what it was worth.
One of the commercials. A spoof on one of Billy Mays' products, this one featured Axxident Stain Remover. Think a very large pair of men's briefs with turf marks in the back and a huge yellow stain in the front. Axxident was guaranteed to remove any and all stains. As I said early about watching and not photographing, we both missed taking a photo when the briefs being held up for all to to see those stains.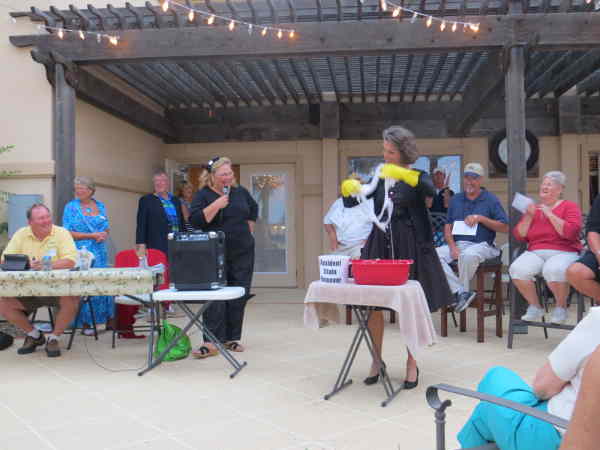 After being repeatedly dipped in Axxident Stain Remover the stains are gone. Of course so are most of the briefs, and so it went for a number of later commercials.
Back to the show, here the wife was asked to name which "character" best represented her husband. In this case her answer was "Dumbo" and even with a very blurry photo you can tell the whole place rocked with laughter. Unfortunately, between my poor photos and description, it was one of those "you had to be there" events.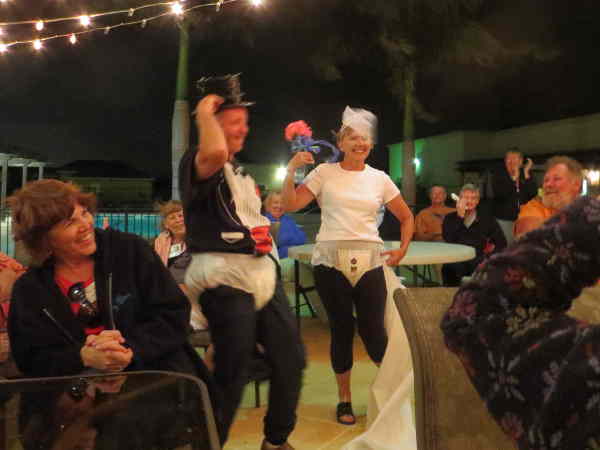 To add a local touch, our neighbors Dianne and Roger were part of the Depends commercial. In this case I will just let the photo do the talking.
---
Friday March 8 Mission, Texas
Tired To-Day
Linda was making a dip for tonight's happy hour when she started laughing. Knowing there had to be a reason I looked up to see her holding a white object in her hand. "It sure doesn't chop very well when you leave the guard on," was all she said.
It turned out Linda was trying to chop some onions in her new hand chopper our daughter had got her for her birthday. The blades are very sharp and so there was white "protector" that was normally on the blades. Not having used the chopper very often she had forgotten to remove it. Fortunately the only damage was some slightly bruised onions along with some slightly bruised pride.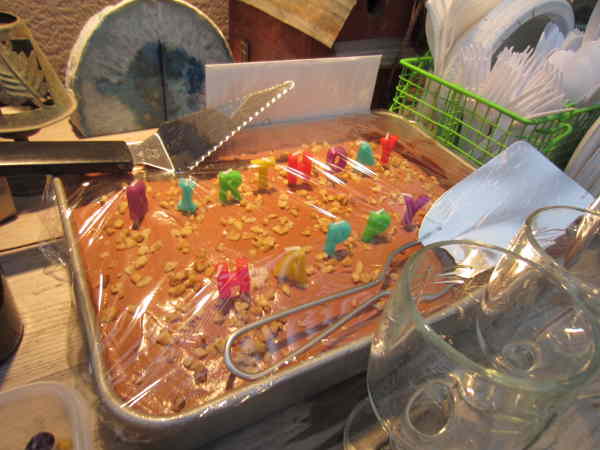 A cake, a birthday cake, someone must have had a birthday. Big celebration next door this evening as Roger proudly announced he was "39".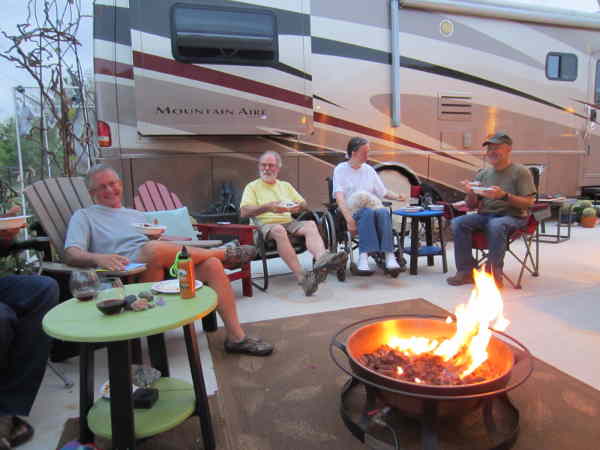 As you might guess, everyone had a great time. As for me, as the title to this post said, it was a tired day. I fell asleep in the late afternoon, woke up long after the party had started not feeling the best, and later slept through the night. I think I'm not as young as I used to be. Not nearly in as good a shape as I used to be. And am still worn out from those three long days of physical and mental labor doing the plumbing last weekend. As Linda's sister, Katherine, used to say: Getting old is pigeon poop.
---
Saturday March 9 Mission, Texas
A Nothing Day
The title says it all. Some days are like that. This was one of them.
---
Sunday March 10 Mission, Texas
A Next To Nothing Day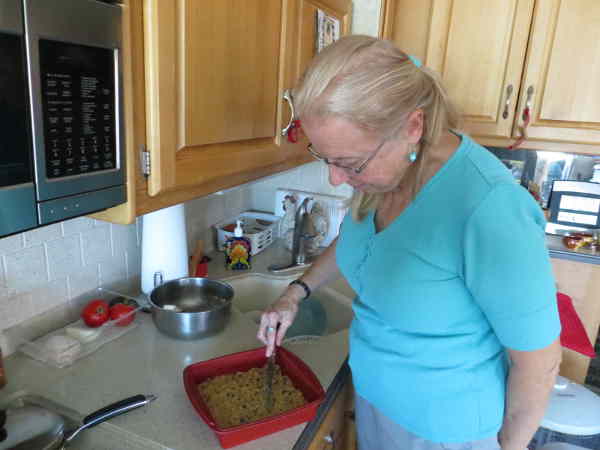 Linda baked a cake. Linda cut the cake. Linda let Bob know she didn't stick her tongue out when she cut it. Linda let Bob know it wasn't a cake, it was a pan of oatmeal cookies. Poor Bob.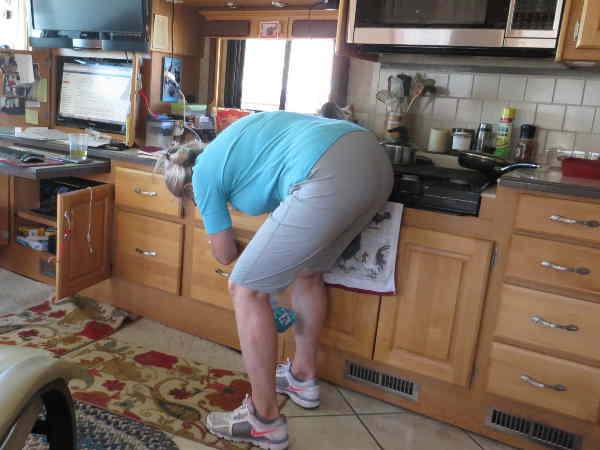 Linda cleaned. Linda looked at Bob. Linda said, "I am really mad at you." Bob deserved it.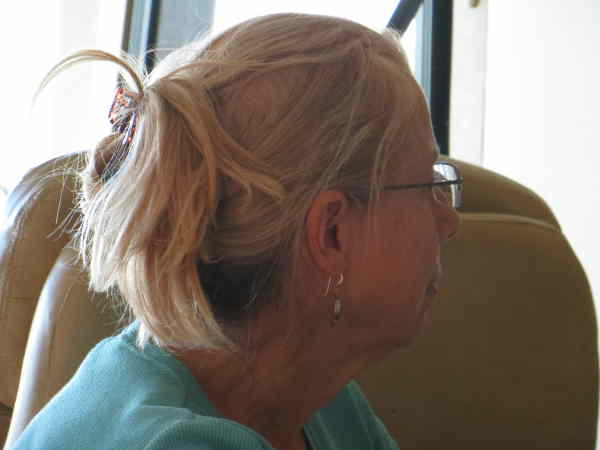 Linda sat in front of the computer. Linda laughed at what she was reading. Bob looked at Linda. Bob thought, 'How did I ever get so lucky.' Lucky Bob.
---
---