Journal Archive 3/21 - 3/31 2013
Scroll down to read the latest post
Thursday March 21 Mission, Texas
Lazy Day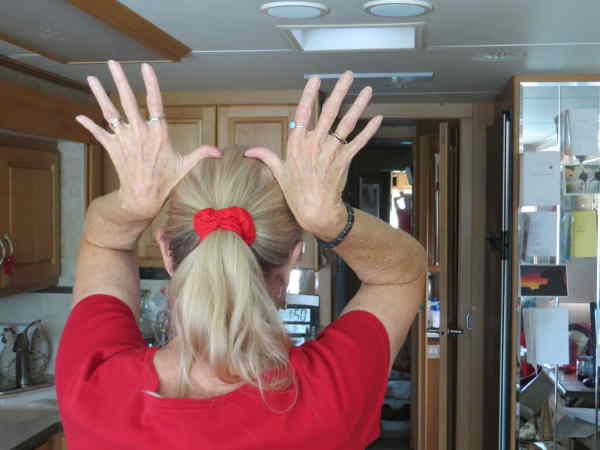 Linda doing her best to look like an elk. I'll say no more.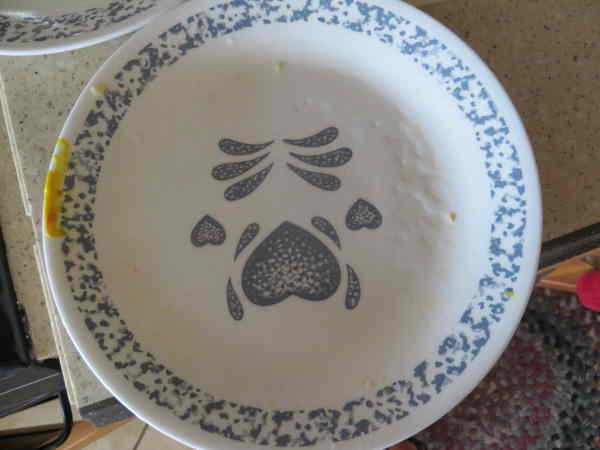 It's not just a photo of a dirty plate. You see, there's a story behind what's on that plate, something that Linda mentions every time she sees it. It concerns the yellow spot, something that has ties to the area in England where Linda's ancestors are from. Colman's mustard is our mustard of choice with it's tang that makes the usual yellow mustard pale in comparison.
That however is not the reason why Linda waxes poetic every time we have Colman's. No, you have to go back to our trip last year where we spent time in Norwich and learned of the history of the area and also of Colman's. It was during a walking tour of the town that our guide mentioned what Linda now repeats every time we have that mustard. Quoting Linda, "Mr. Colman, the man who made his millions from what people left on their plates."
---
Friday March 22 Mission, Texas
Tile Day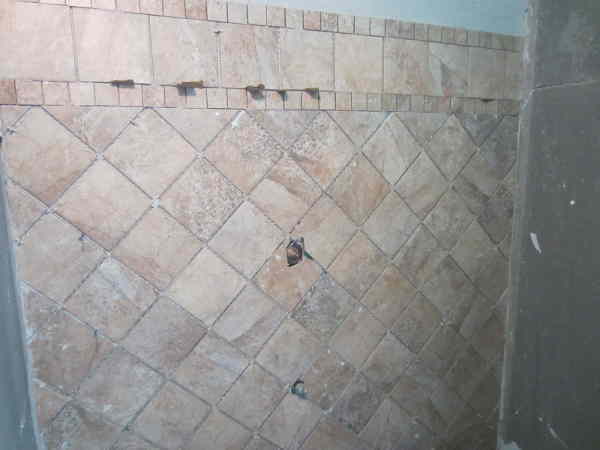 More of the tile was placed in the shower today. He didn't show up until almost 10, still, better late than never. Based on how much he got done today it looks like we will still be here next weekend.
It's not just a photo of me holding a plate of pie and ice cream. Well maybe it is, but there is the reason why we were up at the clubhouse. It was the monthly birthday get together and they weren't just celebrating the March birthdays.
Tonight it included the months of March, April, May and June, and even though I barely made in, that was good enough. The real advantage of having a birthday in the whatever month(s) is being celebrated is that you get to eat first before everyone who doesn't have a birthday. Of course they called the months off starting with March so by the time they got mine the line was already very long.
At least it was recognized. I remember in grade school how every birthday would be celebrated during class in some small fashion or another. Sometimes their mother would even bring in a big cake for everyone. I still remember always feeling left out since mine happened over the summer, but no one but me ever knew that. It's interesting that was what I was thinking about as Linda took this picture. I'd also have say that I was probably told many times when something would take place that I would remember it for a lifetime, but for the life of me I just can't recall what those times were.
---
Saturday March 23 Mission, Texas
Bird on a Wire Day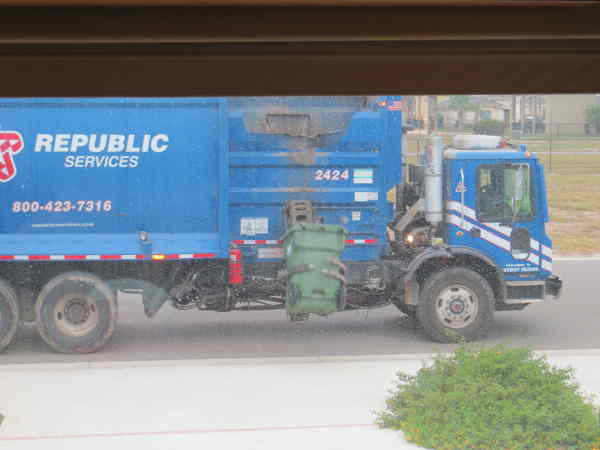 For the past few weeks the Saturday garbage pickup had been in the early evening. This morning everyone was scrambling to get their cans outs as the truck was here early this morning. As our neighbor Tim put it, "They pick up the garbage at 6 o'clock. We just don't know it it is going to be AM or PM."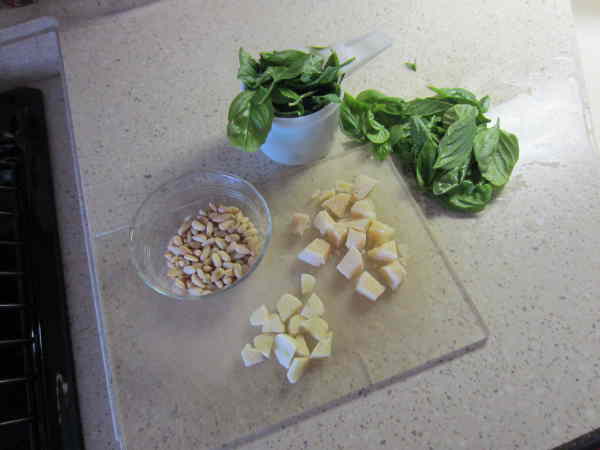 Pesto before it is pesto. Linda said the basil plant needed a good trimming, so she gave it one. Smart woman she is, she couldn't let all those basil leaves go to waste. And as far as the completed product? I got to smell it and smell like basil it did. Then she used some of it make basil chicken. Unfortunately she followed the recipe instead of her instincts, meaning there was just a little dab of pesto on the chicken instead of smothering the chicken in pesto. It was still very good, but I sure could have had custard cup of pesto on the side.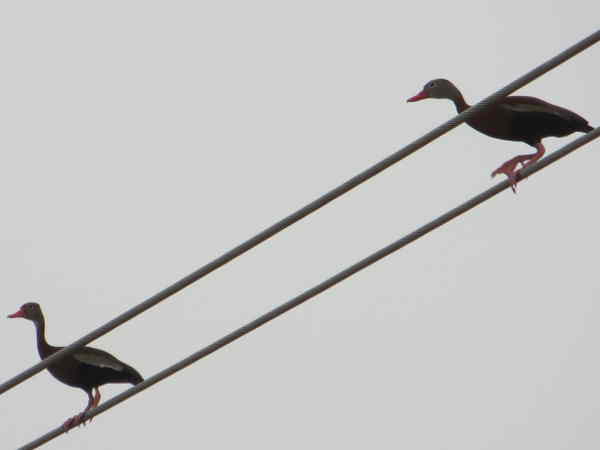 It's a bird on a wire. We've heard it's a whistler duck, but since we never heard it whistling we don't know.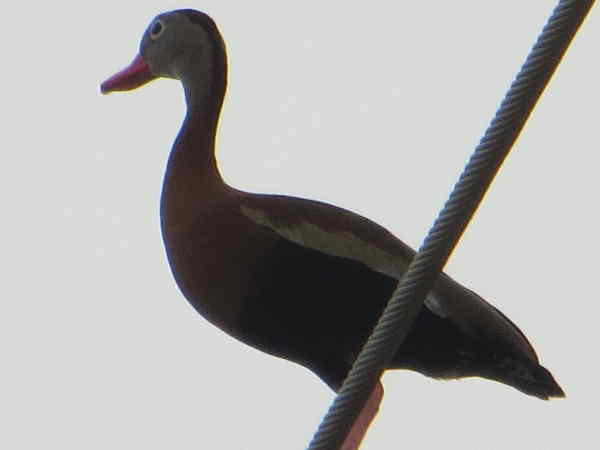 What we do know is that our friends Pat and Sharon will very shortly be spreading their wings and taking off as new fulltimers as their house has sold. Sometimes it takes a while, but good things do happen to good people.
---
Sunday March 24 Mission, Texas
More Pesto To-Day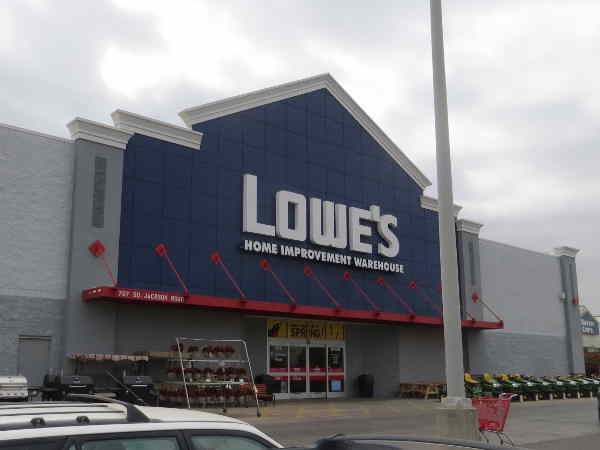 I surprised Linda this morning because when she asked if I had the Droid as we were walking out the door to go shopping I was able to say yes. I can't say I've completely learned my lesson, but I have been doing my best to make sure I have her shopping list along when we go to the store. With the shopping list being on my Droid you don't even have to guess to know who gets in trouble when the Droid gets left at the coach.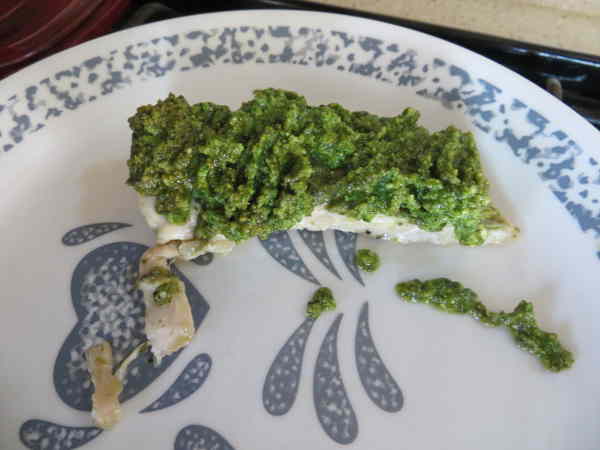 Yesterday I was lamenting the fact the recipe she followed for the pesto chicken called for just a little dab of pesto on the chicken instead of smothering the chicken in pesto. As you can see, I had it my way today, a little chicken, a lot of pesto.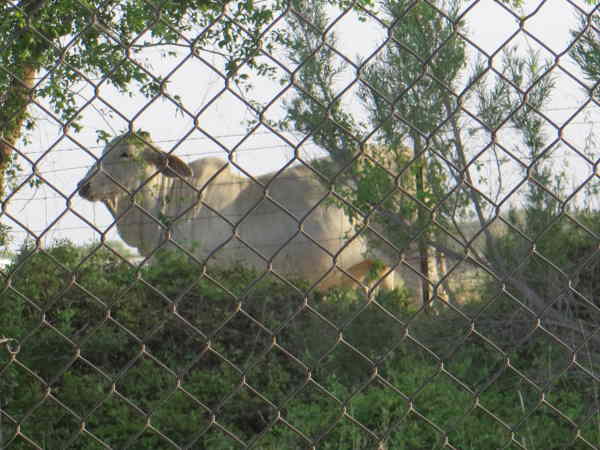 Linda sure does like to watch the cattle in the field behind the coach house. Kevin Fowler got close in Girl in a Truck, but I like my version better; She's pretty as a peach, soft on the outside, yet tough as the pit. She's a country girl right down to the core.
---
Monday March 25 Mission, Texas
Bugs To-Day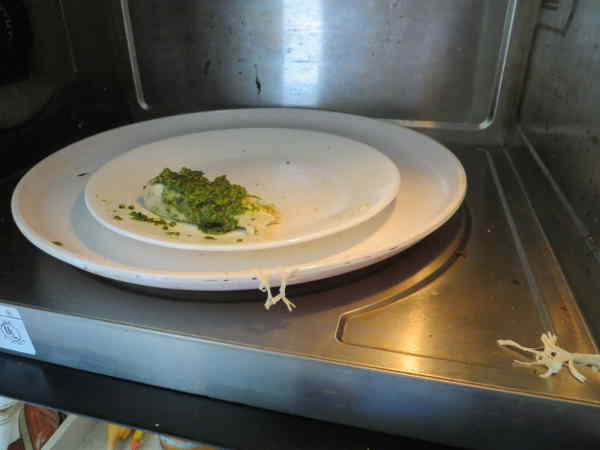 Linda was surprised this afternoon when upon opening the microwave door to check on her piece of pesto chicken. At first glance it appeared that several white bugs had attacked the chicken. But since Linda laughing rather than shrieking it was likely something else.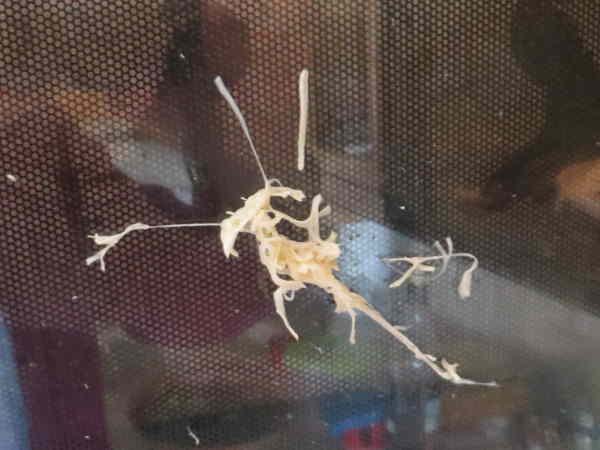 A big one on the microwave door. Amazing what patterns a piece of chicken exploding in the microwave can produce. At least this time it wasn't something I had done, meaning it was Linda's turn to clean it up. Lucky Bob. Unlucky Linda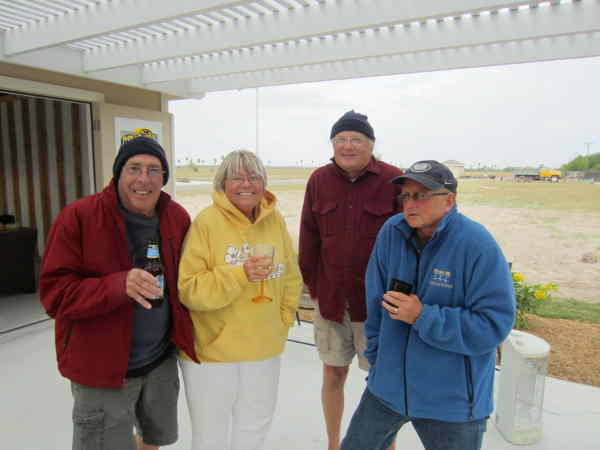 This photo is real. Happy hour was still happy. The temperature was 65 and the wind was blowing 15 mph. Sometimes you can not just act tough, you also have to be tough.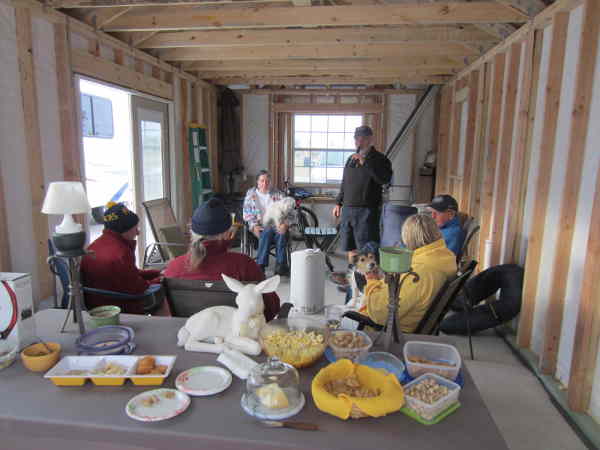 Sure, we are tough, but we're also pretty smart.
You have to do what you have to do.
---
Tuesday March 26 Mission, Texas
Tile and Smile Day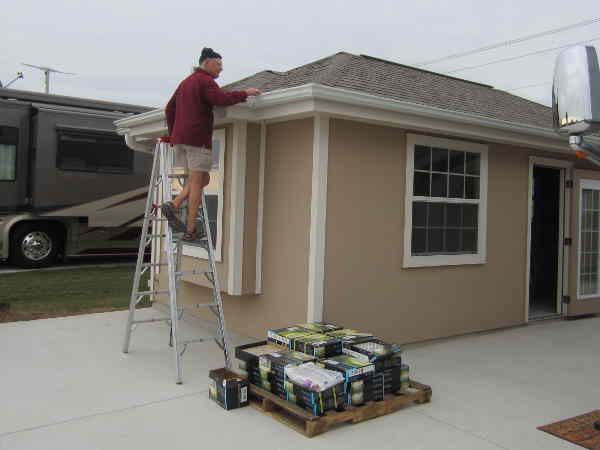 Right now it looks like we will hitting the road a week from today. That means all those little odd and put off jobs are going to have to be done very soon. This was one of them. The fellow who had installed gutters for a number of us at Retama a month ago hadn't been the best at what he did. They'd been back to reseal some of the seams a second time and we had one that still leaked. Checking, I could see the edge of the seam didn't even have any sealer on it. I think I put more than enough gutter sealer on it this morning that there will be no leaking at that seam. Linda will let me know if I didn't. Hopeful Bob.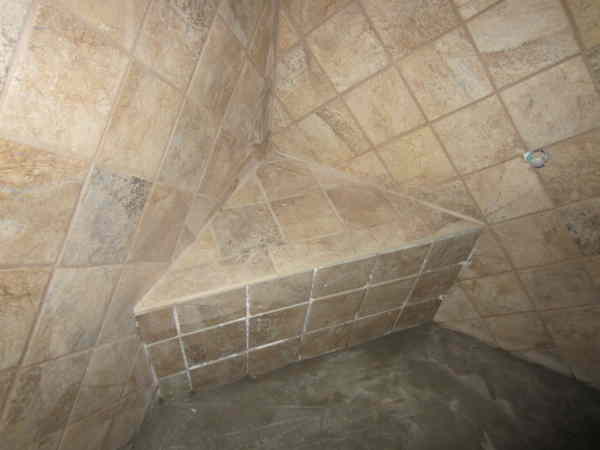 To say Linda is thrilled with the way the shower is turning out would be a major understatement. Here is the biggest source of her joy, the built-in seat. I guess it says something about where she is in Life when a tile bench in a shower gets her really excited.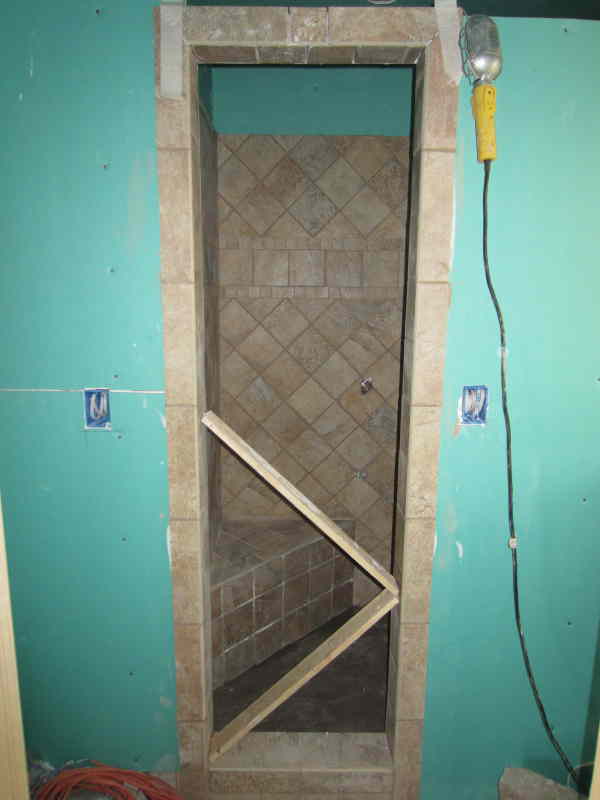 Poor Linda, all she can do is look at her bench, no sitting allowed.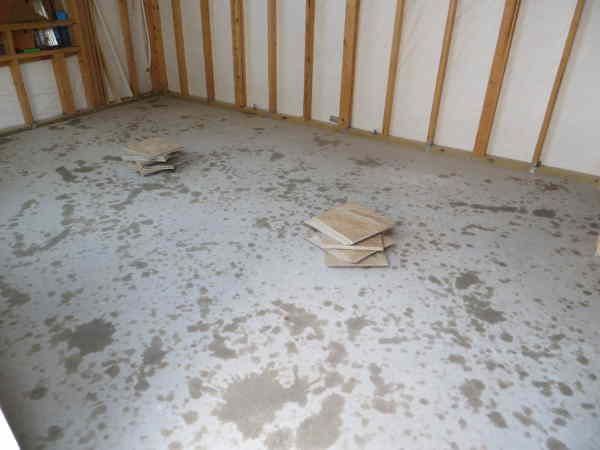 And I thought she was excited about the bench. She was positively ecstatic when the floor started going in.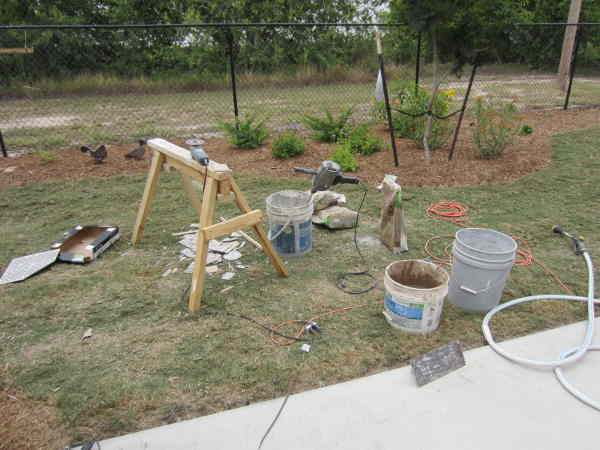 It is amazing watching our tile man hold the tile in the position it will be placed, make a couple of pencil marks, go outside to his work area and freehand cut the tile so it fits exactly. It puts into perspective what the term, craftsman, means.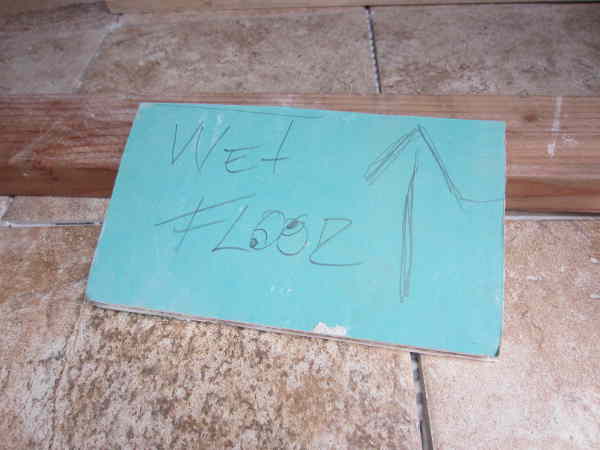 The sign that brought our day to a close with a smile. We may not all speak the same language. It may take a combination of words and pointing to communicate, but some things are universal. To quote Thackeray: A good laugh is sunshine in the house. We thank our tile man for bringing a ray of sunshine into our coach house and we will do our best to make sure it is filled with laughter and joy in the years ahead.
---
Wednesday March 27 Mission, Texas
Tile Done Day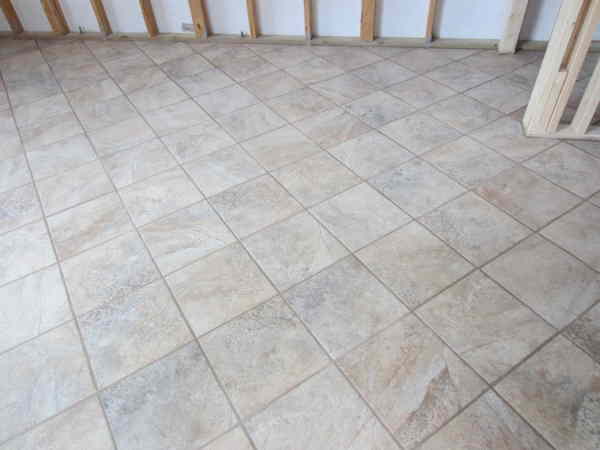 Linda really likes the tile in the coach house, which she says looks like stone. I have to agree with her. Smart Bob.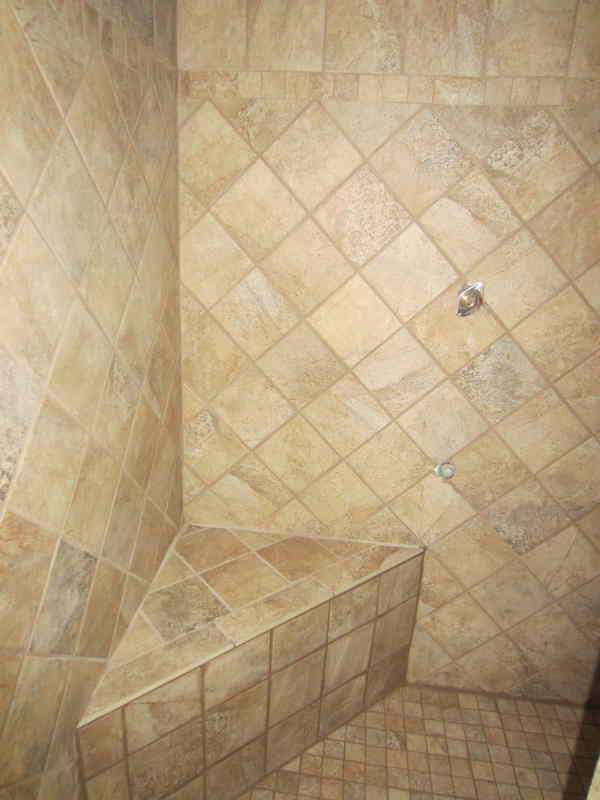 (This is the exact same thing I wrote yesterday except with a better photo) To say Linda is thrilled with the way the shower is turning out would be a major understatement. Here is the biggest source of her joy, the built-in seat. I guess it says something about where she is in Life when a tile bench in a shower gets her really excited.
Other than what you see above it really wasn't much of a day, so I'll just leave it at that. Sorry, but I couldn't resist adding one more line: Every day may not be good, but there's something good in every day.
---
Thursday March 28 Mission, Texas
Change of Plans Day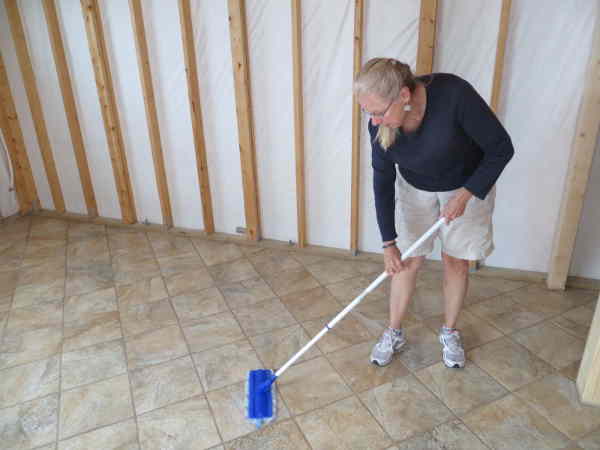 Linda really likes the tile in the coach house, early this morning she was busy mopping.
Mid-morning the pod arrived, it was exactly one year to the day from when it had been placed at our house in Sacramento to be loaded.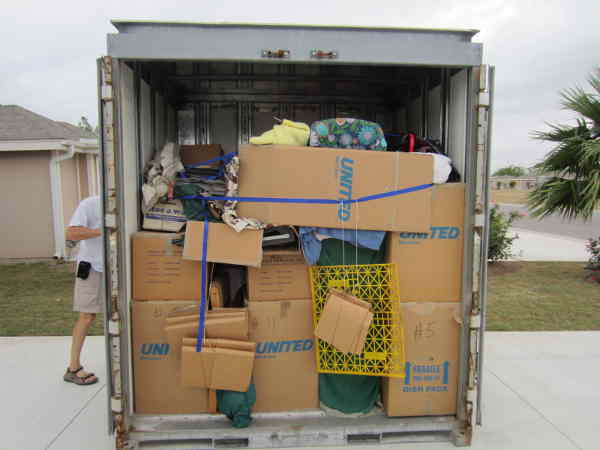 It looked exactly like it had when we closed it up. Note the cushioning in the front. What can I say, it worked.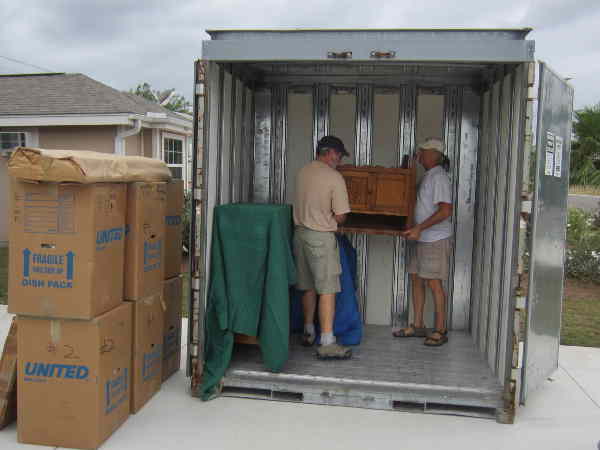 Thanks to Jeff's help the heavy and bulky items were easier to unload than they had been to load.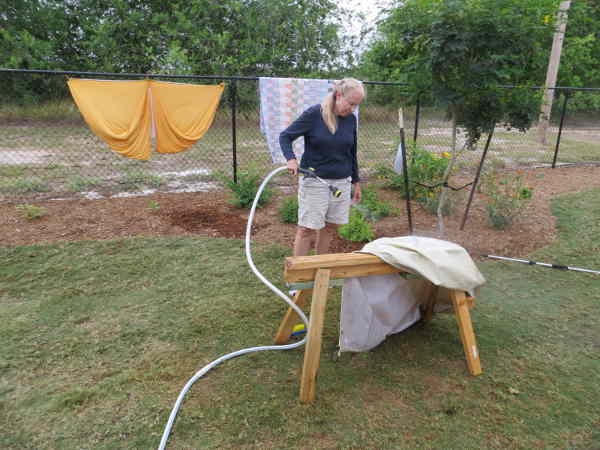 Cleaning the tire covers, it's time to get back on the road. And that is where the change in plans comes from. Departure day is now Sunday. We have been here long enough.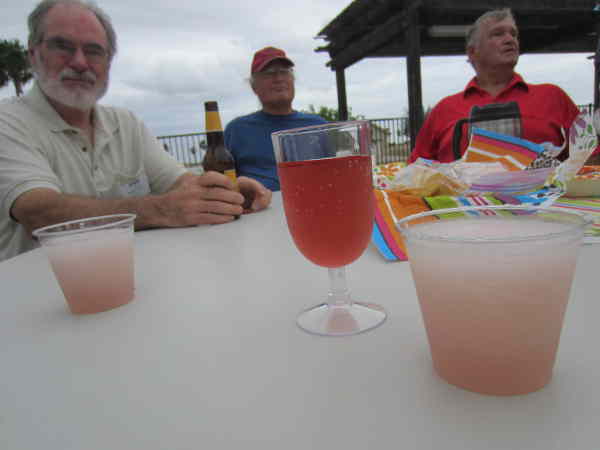 It was the night of the annual tail light party. Some people drank more than others.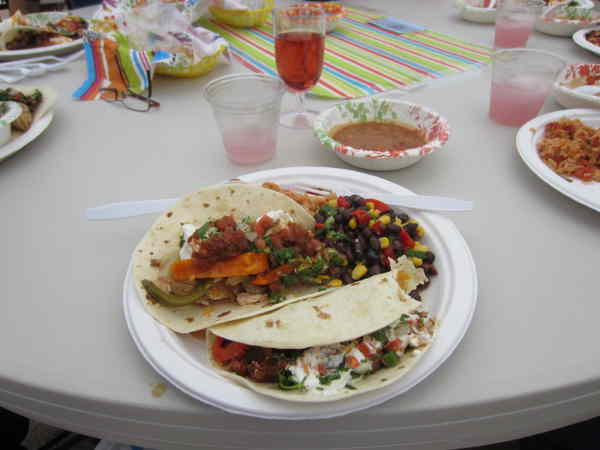 Some people not only drank a lot, they also ate a lot.
But everyone had a great time. We may be anxious to leave but something tells me we will be happy to return late next fall.
This post was written much later in the day than usual, but after all the work we did, I just wasn't in mood to write. How nice it will be to get back on the road where we can just stop and relax and change our plans at the drop of a hat.
---
Friday March 29 Mission, Texas
Packing Day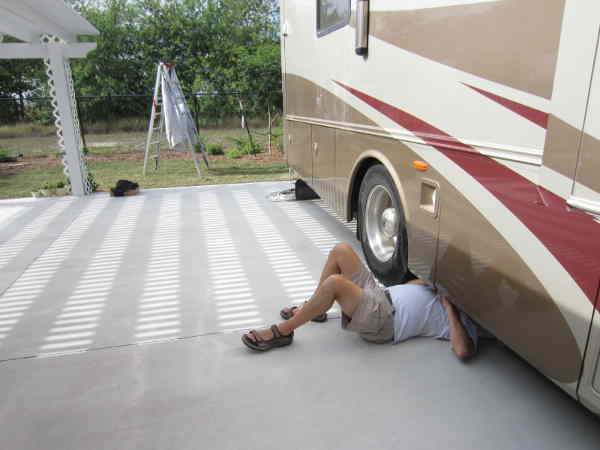 On of those last minute fixes before leaving. The panel on the passenger side in front of the rear tire had a broken bracket. Or at least the screw that I used when I repaired it in Quartzsite a few years ago had broken. Deftly using a pair of vise grips and following with a bigger screw than I had used before, it was quickly repaired.
Linda said if I had fixed it when we first arrived at Retama I wouldn't have had to fix a day or so before we were ready to leave. I said that if I had fixed when we first arrived it would have sat unused until a few days from now when we are leaving. In the end we agreed to disagree. Poor Bob.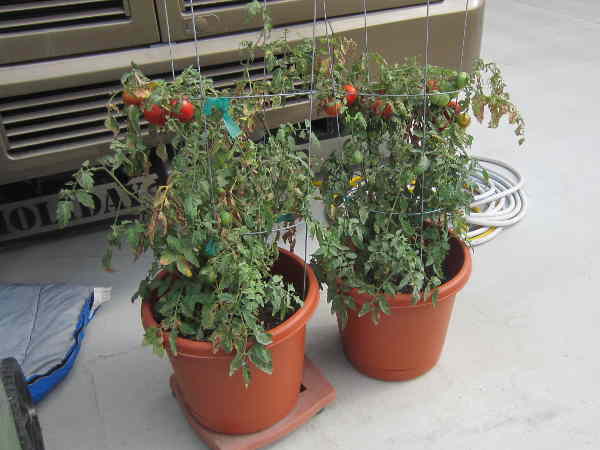 This is what Linda's tomato plants looked like at 9:20.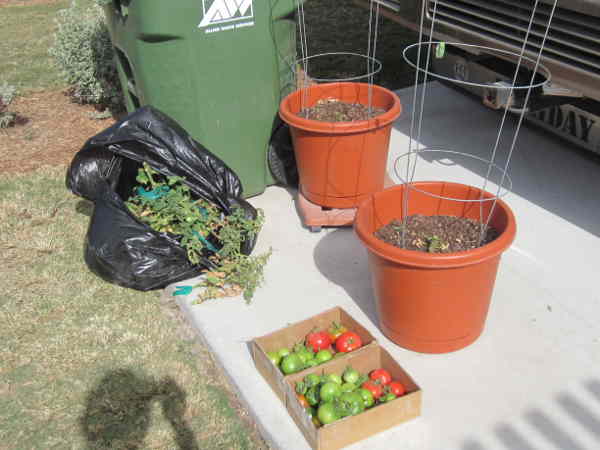 Ten minutes later and those poor tomato plants have been slaughtered. Stripped of there delectable fruit, chopped to pieces and unceremoniously stuffed into a garbage bag. The identity of the butcherer is revealed in the shadow. I looked it up and what she did is called filicide. The St. Valentines Day massacre was nothing compared to this. Just look at all those poor babies in that box.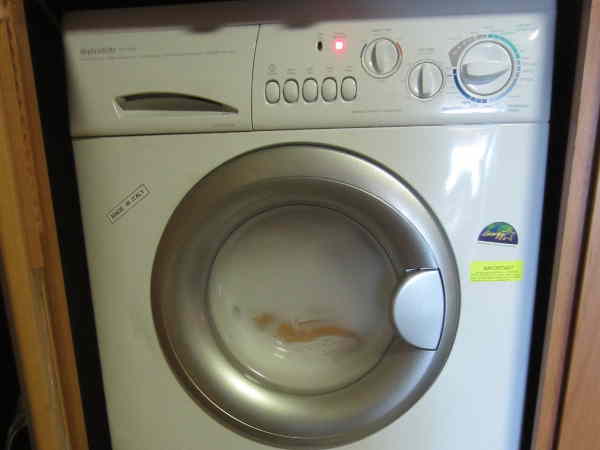 Ever wonder what happens when you put the normal amount of detergent in a Splendide washer/dryer, then add a tablespoon of Oxi-clean and a half cup of vinegar. Well wonder no more, and besides what you see in the photo there is stuff that comes up through the drain in the shower. How cool is that. Cleans out the washer and the pipes at the same time.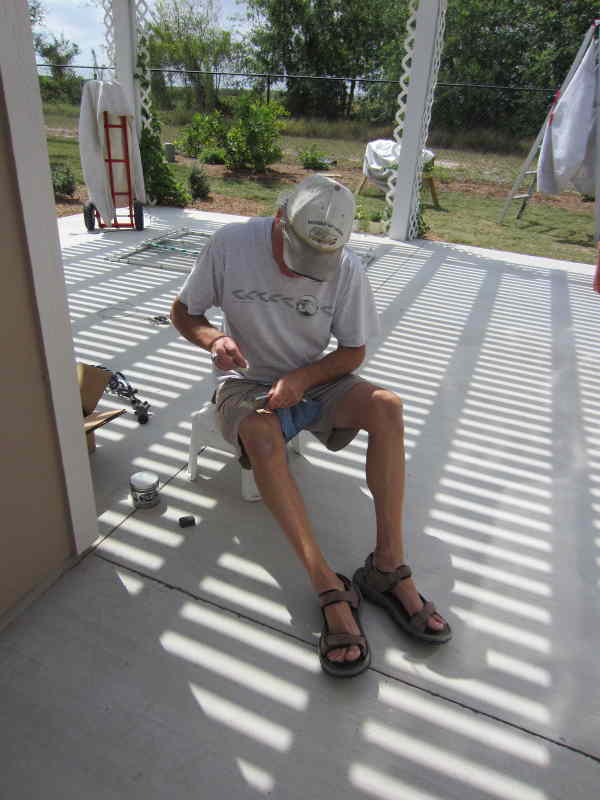 Cleaning the tow bar or at least the locking pin when she took the photo. "Jeff cleaned his tow bar, are you going to clean ours?"

"I never have before, do you think I should."

"Yes." Poor Bob.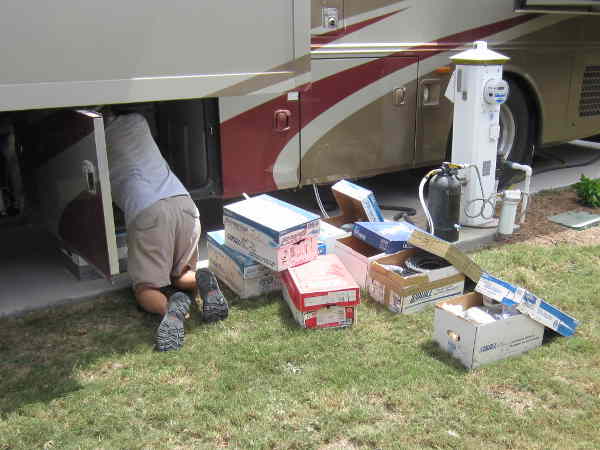 "We need to inventory the boxes in the bay."

"If you think they need inventoried at this very moment why don't you do them yourself." Note to Bob: In future engage brain before opening mouth.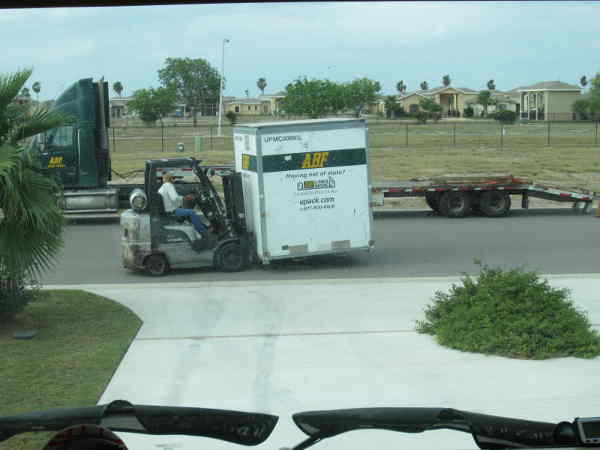 Goodbye U-Pack box, thanks for the memories. One more full day. Linda has the list copied over to another sheet so nothing will be forgotten. And really she is not a slave driver, far from it. She has more patience than she should with her husband who can even procrastinate at procrastinating. Wonderful Linda.
I would be remiss without mentioning the hot topic of conversation at our happy hour: Should it be a right turn or a left turn. A left turn means a possible encounter with a palm. A right turn means three left turns instead of two to exit Retama. As Jeff said, "If you have this much trouble getting out of Retama, what do you do when you actually are on the road." Stay tuned for the exciting conclusion to this thrill packed adventure in tomorrow's Daily Journal.
---
Saturday March 30 Mission, Texas
Last Day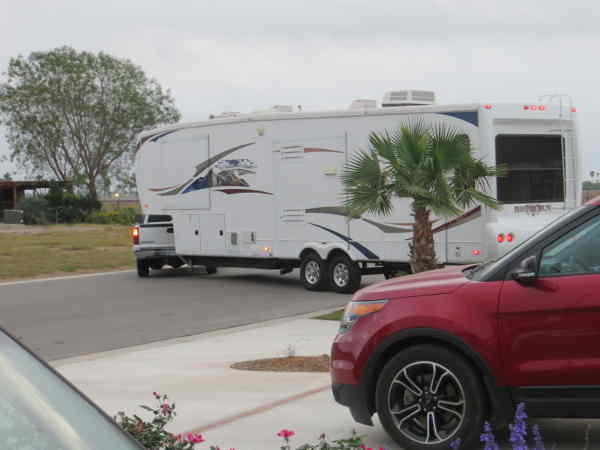 last night I posted the following. I would be remiss without mentioning the hot topic of conversation at our happy hour: Should it be a right turn or a left turn. A left turn means a possible encounter with a palm. A right turn means three left turns instead of two to exit Retama. As Jeff said, "If you have this much trouble getting out of Retama, what do you do when you actually are on the road." Stay tuned for the exciting conclusion to this thrill packed adventure in tomorrow's Daily Journal.
As you can see from the photo the correct answer was --- Right. I'll not mention exactly who it was that was concerned about turning left and encountering the palm tree. By the way, did I mention that Tim and Bonnie left this morning.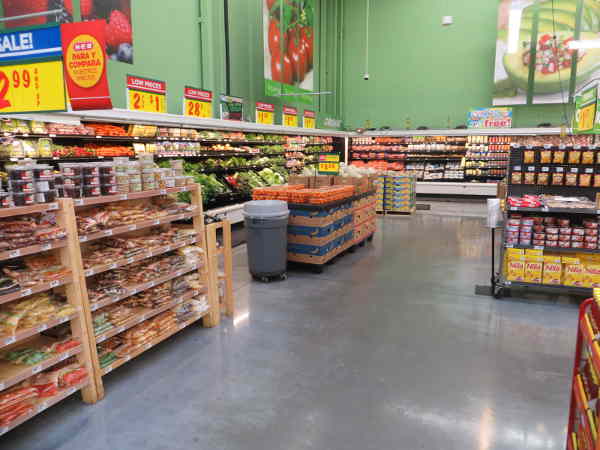 A deserted aisle this morning. A month ago it would have been wall to wall old people leaning on their carts to keep from falling over. The Winter Texan's are returning to the miserable weather of the north. We all live our lives differently. We don't envy theirs, but we love ours.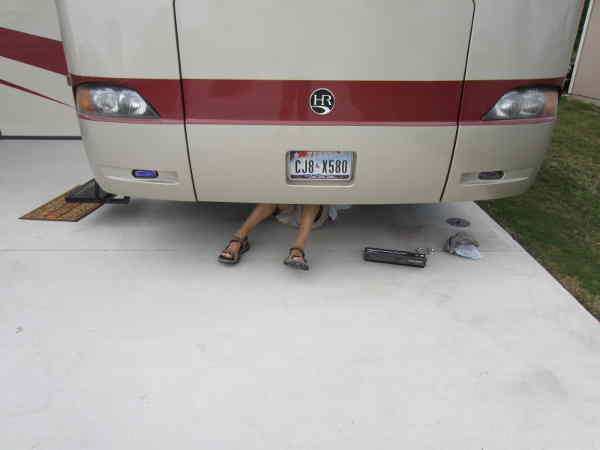 What is this strange creature and what is he doing? It is Super Bob and he is doing Linda's bidding. She who ruleth the Because-We-Can world hath proclaimed that henceforth the generator shall nevermore extendth from the front of the coach on sudden and rough stops. What Linda commandth, that shall Bob do. Very Smart Bob.
A large U clamp and Linda wish is Bob's command. Good Bob. Happy Linda. Happy Bob.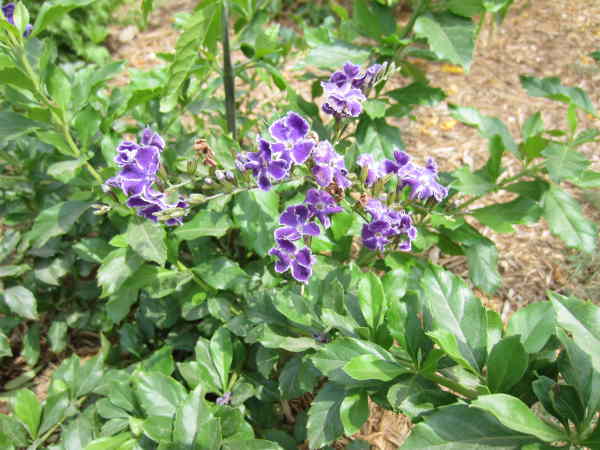 I will do you readers a great favor here. This is Linda's flower photo, at least the one I will post. It saves you from the twenty or so other flower photos. They range from morning roses to late evening moon flowers and everything in between. Lucky Readers.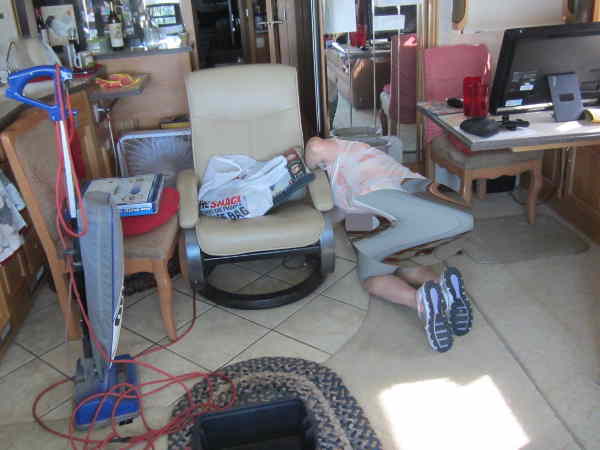 Linda was cleaning the floor when I took this photo. Knowing that if I took a bu## shot, my bu## was in big trouble I was careful to apply a distortion to the area that has caused problems in the past. To those unfamiliar with what that area of Linda's anatomy I was referring to, please read the following definitions. How you interpret them is your own business and I can't be responsible for that.
The words that describe that distorted area include the following: behind, buns, buttocks, derriere, fanny, hind end, hindquarters, posterior, rear end, tush, backside, bottom, stern, rump, tail end, rear and a couple of words that start with "a" that I'd best not include. Bob is totally blameless in how your mind and eyes process the words and the photo. Smart Bob.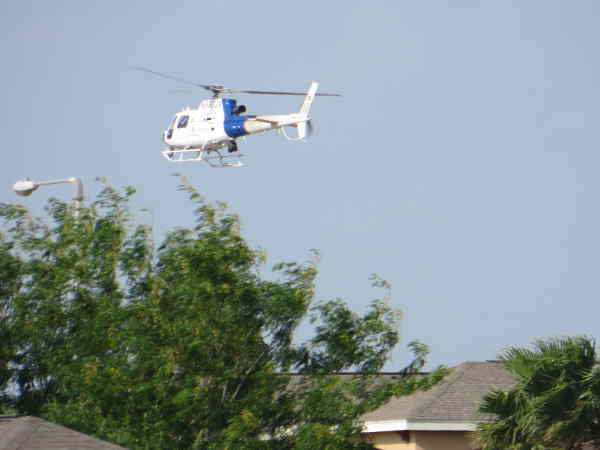 Another day at Retama, another day of Border Wars right in front of us. The copter dipped and swooped for a while then a gray car took off down the road with the copter flying directly above. We can guess the result that somewhere to the east this little scenario ended with the Border Patrol the winners.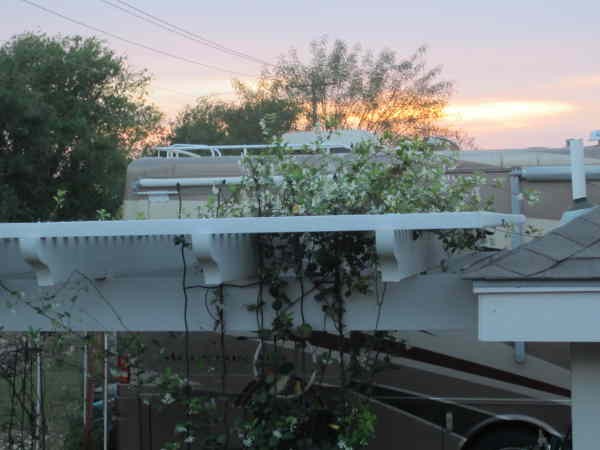 Sunset in a place called Retama. Good friends, great times, they are soon to be left behind. In their place will be good feelings and great memories. Everyone who lives this Life knows this feeling. I have to feel sorry for those who for whatever reason cling to the chains of where they reside, especially those in the north. Those who have the ability and the desire, but not the will to journey south for winter. May their Higher Power grant them the ability live Life, whether it be where they are or in another place. We were granted that ability, and for that that we are most thankful. Blessed Linda. Blessed Bob.
---
Sunday March 31 Carrizo Springs, Texas
We Left To-Day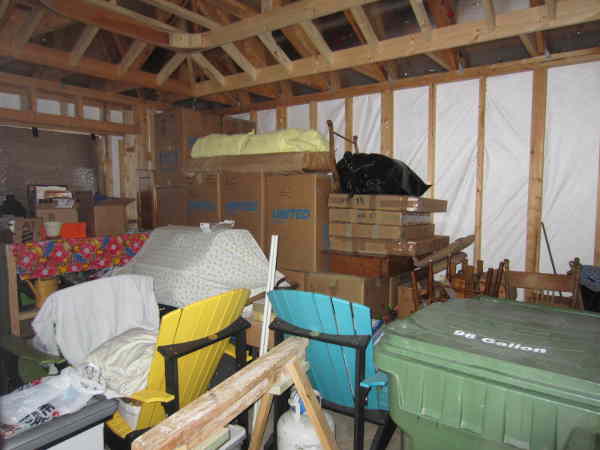 Exactly what does a Retama coach house look like when the inhabitants leave at the end of the season? We don't know, but we did take a number of photos of our coach house with all the "stuff' we put inside it before we left. We have no idea if we did it the right way or the wrong way. What we did do, is do it the Bob and Linda way.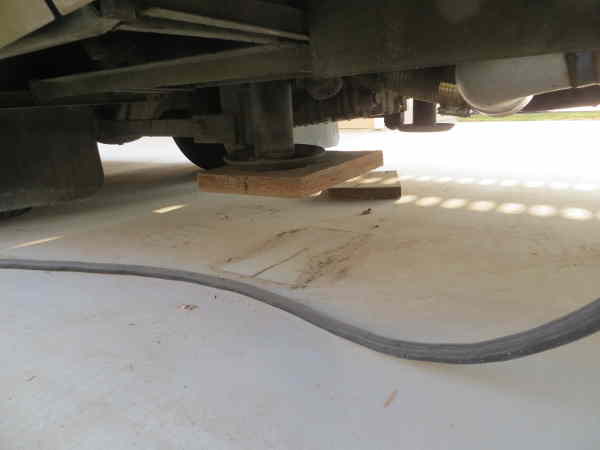 I had raised the jacks and was walking around the coach to make sure they were up when I encountered Linda laughing and carrying on like a six year old at a birthday party. I knew she definitely wasn't six. I knew this wasn't a birthday party. So exactly what was it? It was a board stuck to the jack. Exactly what made this so funny I couldn't determine. I just added it to all the other mysteries of the universe that falls within the man can never fathom woman scenario. Puzzled Bob.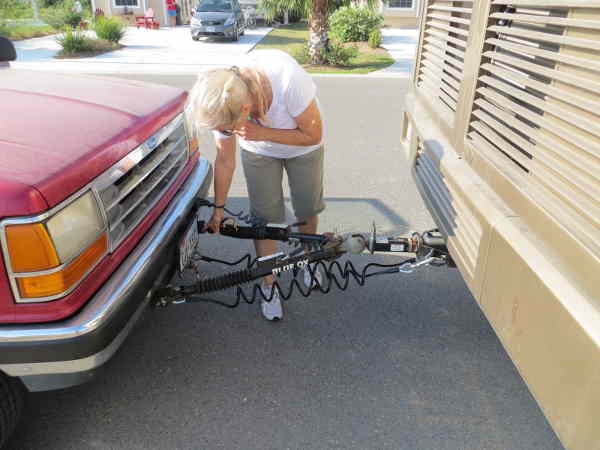 Before we leave, Linda always checks the tow bar set up. Suffice it to say that not having traveled since early August, Linda was a little rusty as to exactly what she needed to check. Okay, okay. I have to admit that I was even more rusty than Linda at what I was supposed to do during the lights and brake check. Lucky Bob that Linda was so understanding.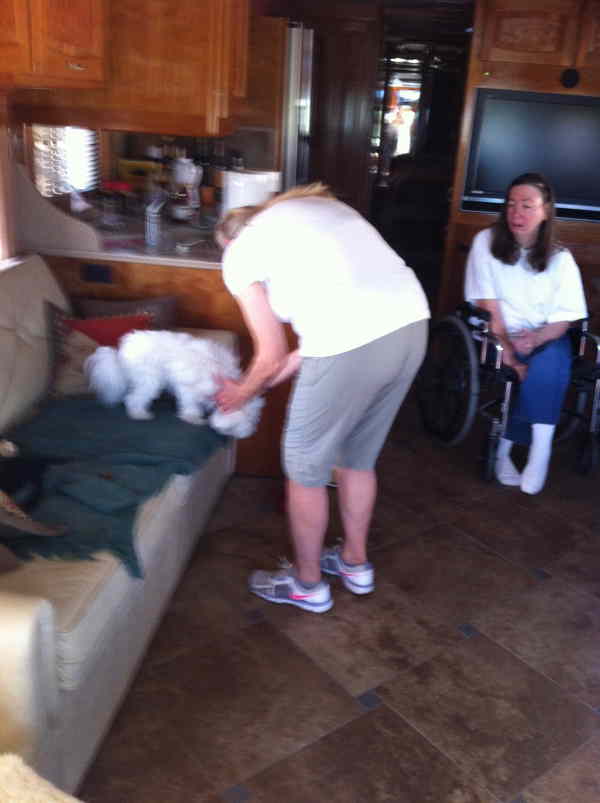 This photo is actually allowed under the Linda, "Bob shall take and post no bu## shot photos", dictate. You see I didn't take this photo, Jeff did when Linda was saying goodbye to Maggie and Val. Since I only posted it, technically I didn't violate Linda's Law. Brilliant Bob. Am I sneaky or what, ha, ha.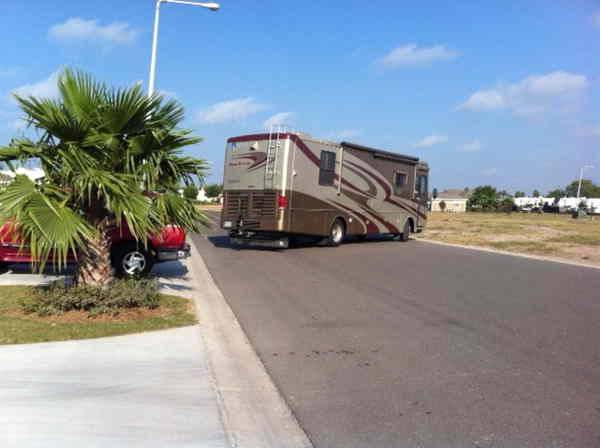 Answering the right or left question when we pulled out this morning. Thanks Jeff for the photo. That means the count for the East Mallard Duck Dynasty now stands at 1-right, 1-left. Most likely Jeff will up the count to 2-lefts tomorrow. Then it comes down to Roger in about 10 days. Will he seal the deal with 3-lefts or will he create a tie with another right? Will there be a photo? Only time will tell.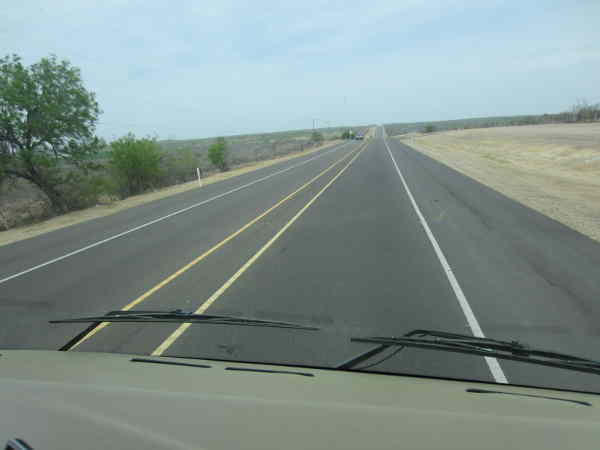 Our route was Hwy 83 from Mission to Laredo, Hwy 20 around Laredo to I-35 north, then back on 83 to Carrizo Springs. We didn't hurry, but the greatest thing was the traffic. There wasn't any. It was Easter Sunday and it was the easiest drive we have had in months. Sometimes you get lucky.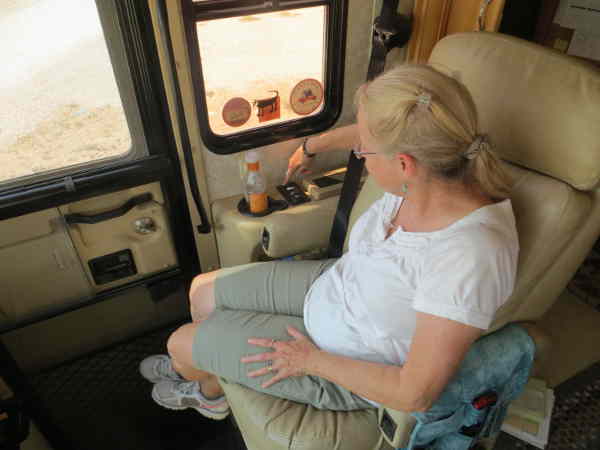 What is going on here? We are reprogramming our MCD blinds. We really like them when they work, but since that is a sometimes thing, occasionally have to reprogram ours so they work right. Sort of like having to baby them and point them in the right direction when they get of sorts by following precisely a number of steps. Today it took us almost a half hour to get our front sunshade blinds working properly. Trust me, there were many mis-steps by each of us.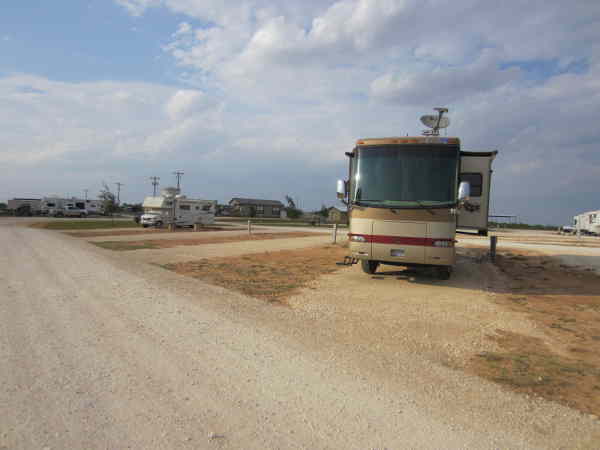 No view to the front today. The reality of West Texas is that this is what virtually all RV parks look like. Open sky and lots of dirt.
West Texas dirt. West Texas wind. West Texas dust.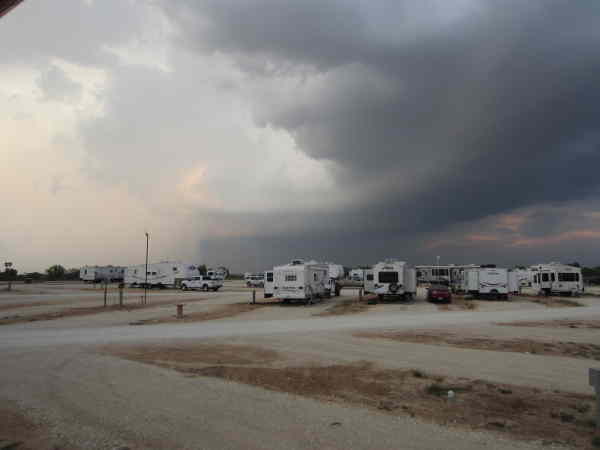 West Texas storm. Luckily it passed by just to the north of us. Linda really liked the "squared off" left side of the storm. I was just glad it stayed to the north of us. Happy Linda. Happy Bob.
I will end this post with something I haven't posted for ages, a food photo. Linda was responsible for the broccoli and yams. My contribution was the ham. We enjoyed our time at Retama. We are enjoying our first day on the road. Life is too short not to enjoy every moment. Lucky us. And may you be just as lucky.
---
---