Journal Archive 5/11 - 5/20 2013
Scroll down to read the latest post
Saturday May 11 Sacramento, California
Satur-Day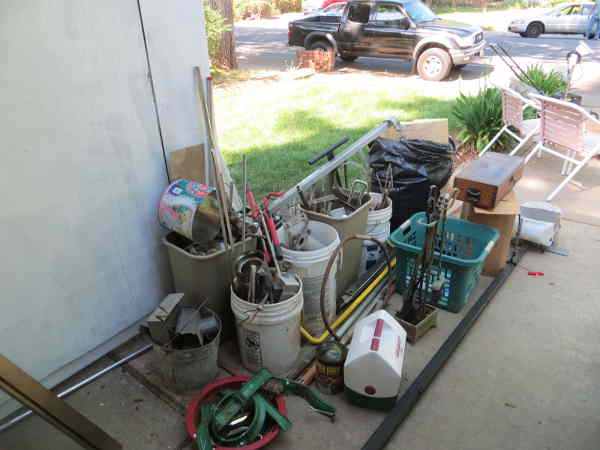 For some strange reason we both wanted to go to yard sales again this weekend. There was a difference though, it was estate sales rather than yard sales. We didn't really buy anything, but the entertainment value was worth it. This photo is almost identical to one that could have been taken at the estate sale we had when cleaned out our house. We had, or I should say I had, buckets and trash cans filled with metal scraps. There was a fireplace set and the exact same christmas tree stand. Small world.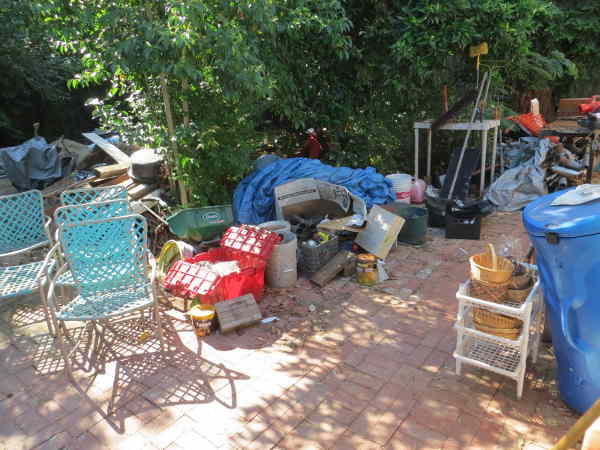 The backyard was where the junk was. It was the same at our sale. Smaller world.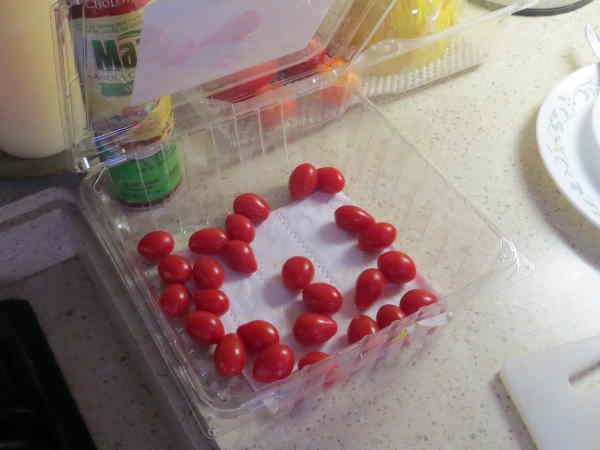 A day ago we brought this container home from the store. It was completely full of tomatoes. Today it was almost empty. The family tomato worm had been busy.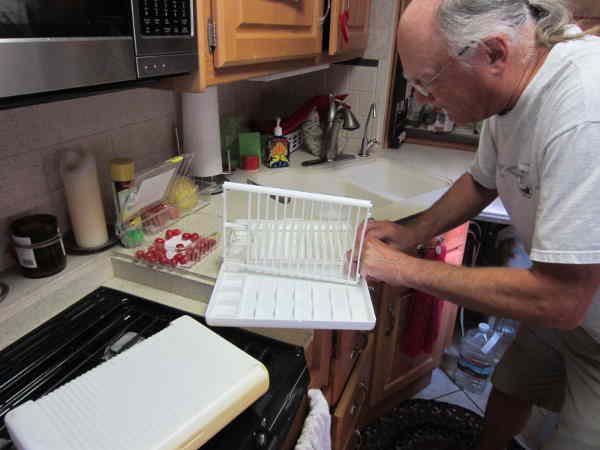 Linda has a drainer that she loves. Over the years one piece after another had broken off on the inside part. It became a shell of its former self. Some time ago we found one of the same style, the insides of which were in excellent shape, but the outside was not. Today we combined them into one working drainer. Linda is now one very pleased lady. It wasn't a big thing, but it was an important thing. Some days Life is like that.
---
Sunday May 12 Sacramento, California
Study Day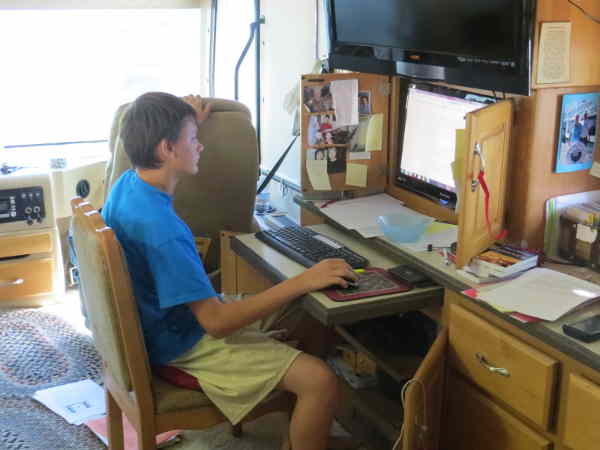 Zachary spent much of the day working on his history report about the Civil War. We spent much of the day giving Zachary guidance when he had questions about his history report. Zachary learned we wouldn't do his report for him, but we would certainly help him figure out what he should do.
As the saying goes: Give a man a fish and you feed him for a day. Teach a man to fish and you feed him for a lifetime. Today we gave Zachary something he can use for the rest of his Life.
---
Monday May 13 Sacramento, California
Sale Day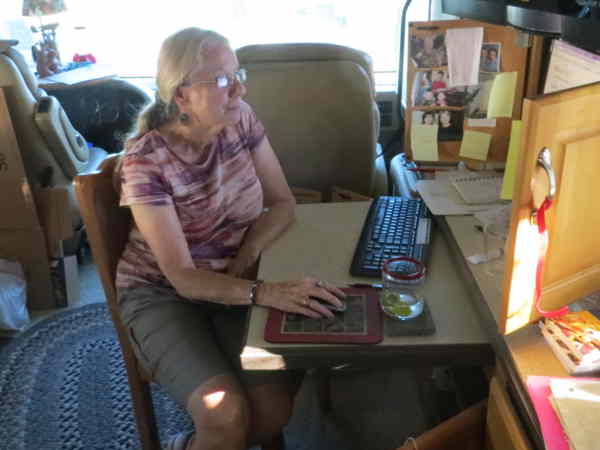 Linda was a happy girl today. One of her Ebay items was selling for some big bucks and it was with in a dollar of what her prediction had been. She watched the bidding during the last few minutes then let out her victory cry. If she gets this excited at her advanced age, what must she have been like as little girl?
---
Tuesday May 14 Sacramento, California
An Electric Fish Day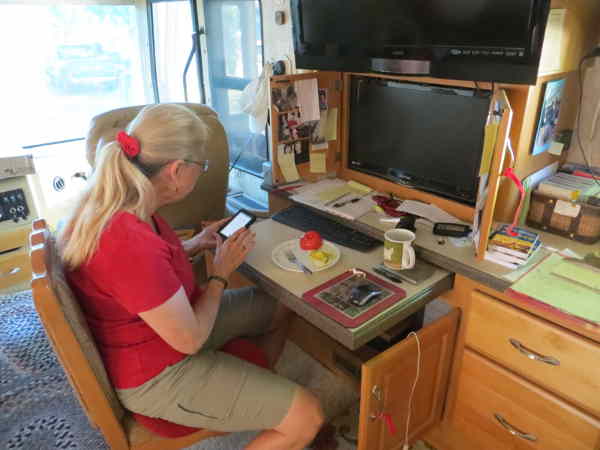 There was a power failure this morning. The whole park was without power. The entire side of the street, including all the businesses along it were without power. The coach was without power. Linda's computer was without power. Linda simply picked up the Droid and continued visiting her list of RV websites. I walked around the RV park along with a number of the other men. Such is Life.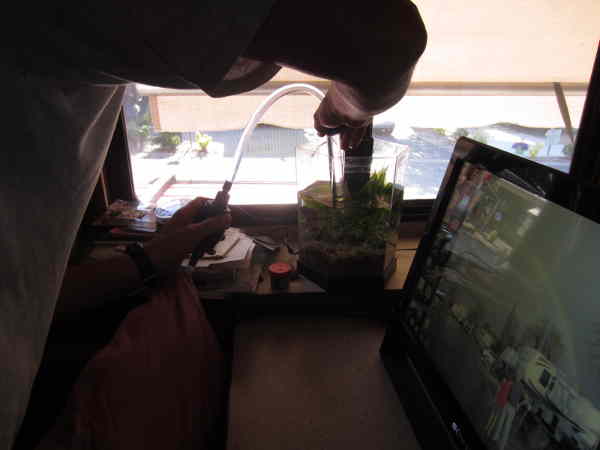 I actually did do a number of things during the day, including changing the water in the aquarium. What with the water change, adding some new rocks, and trimming the plants, both Flash and Red were very happy fish. And as I write this tonight they are still happily swimming around, playing chase and slithering through the plants, then resting under the rocks. Life is good even for the fish in our family.
---
Wednesday May 15 Sacramento, California
Wake Up Day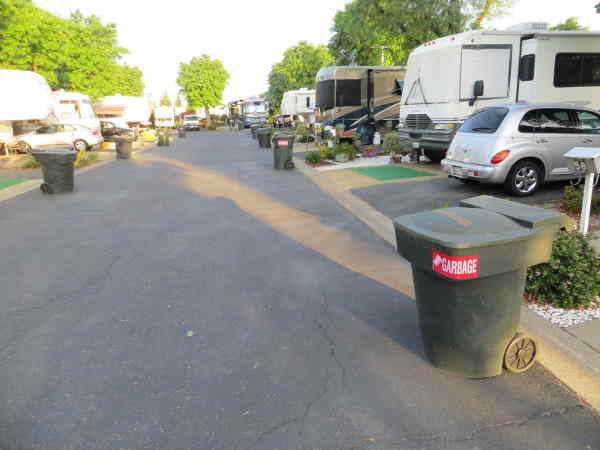 Linda sure lit a fire under me this morning. It started at 6:25 when she said, "Did you put you put out the trash last night? The truck is coming down the street." I made it, but not by much. And with that start to the day I just seemed to keep it up. If I hadn't beat the truck there is no telling what condition I would have been in. Lucky Bob.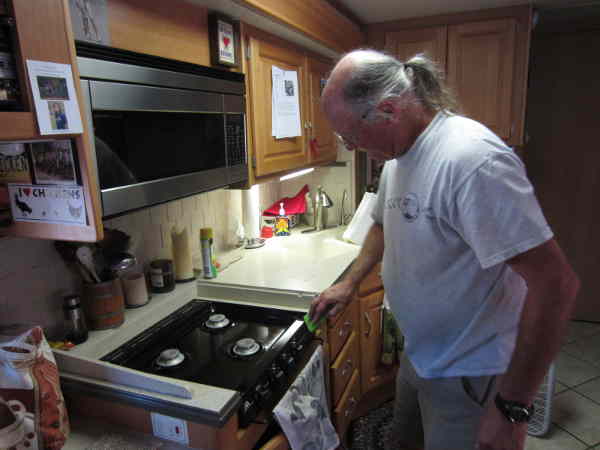 Having realized just how precarious my position was, I proceeded to clean the stove after fixing Linda her breakfast. Today there was none of the, "I fix breakfast so you should clean the stove," coming from my mouth. Smart Bob.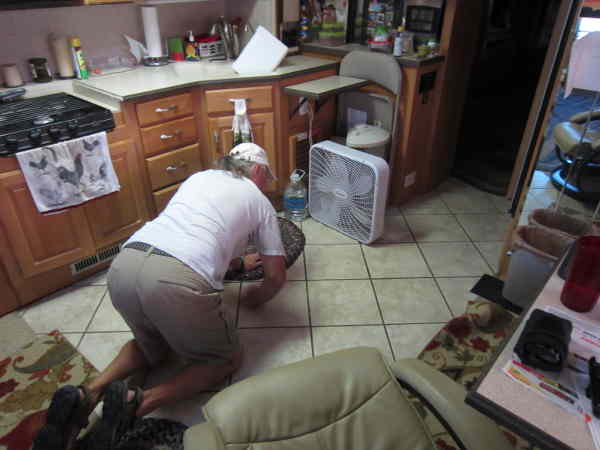 If the stove is clean then something else looks dirty. Not really, but since I haven't cleaned the floor in ages, Linda having done that task, it was natural to segue into sweeping and hand mopping the cooking area. I know Linda was puzzled and probably wanted to know what had caused the flurry of activity, but she never did. It probably means she is taking me for granted and expects me to continue doing it for the foreseeable future. Poor Bob.
Next there was trip to the grocery store where besides loading up veggies, we bought ground beef and ground turkey. Linda worked a little magic with her secret ingredients and soon we had fresh baked meat loaf cooling. Part of her magic was having me line the pan with aluminum foil before she formed the loaves in it. Clean up was a breeze, lift the foil and toss in the trash. Smart Linda. Lucky Bob.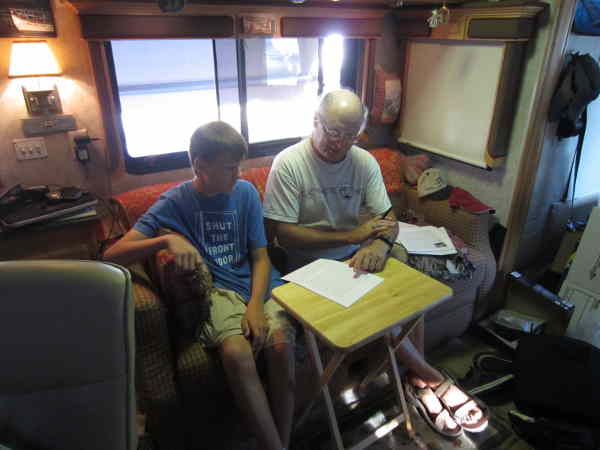 For the past three nights Zachary's mom said he has been working on his history report. It was on a Civil War general, and with his love of the Civil War, he really put a great deal of effort into doing a good job. I was amazed at how good it was. He had done a lot of research, then combined that information with his own words, and the result was very good.
He knows I have his same love of all things Civil War, so he asked me to go over the paper with him. We found a few very minor errors which he corrected, but all in all, I would have been proud to have turned it in myself. Very good job Zachary. Grandma and grandpa are proud of you. What a great way to end the day.
---
Thursday May 16 Sacramento, California
Track Finals Day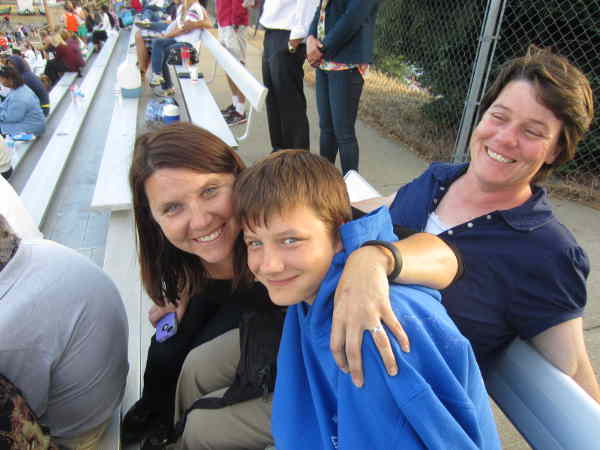 It was the day of the track finals. Zachary was in four events. Aunt Jenny came to root Zachary on. Happy Zachary.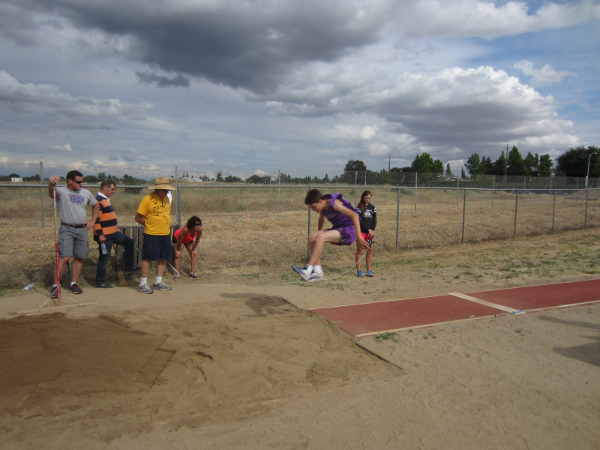 First up was the long jump. Zachary gave it his all. Zachary jumped far. Zachary scratched on all three of his jumps. Unhappy Zachary.
Zachary so much wanted to win a medal at the meet. Medals were handed out to the first five places in each event. Zachary was upset with himself for scratching in the long jump. Frustrated Zachary.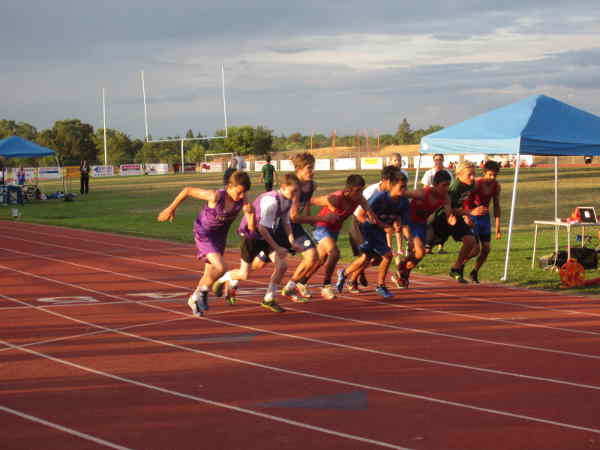 Zachary was in three running events. Zachary got off to a good start in each of them. Optimistic Zachary.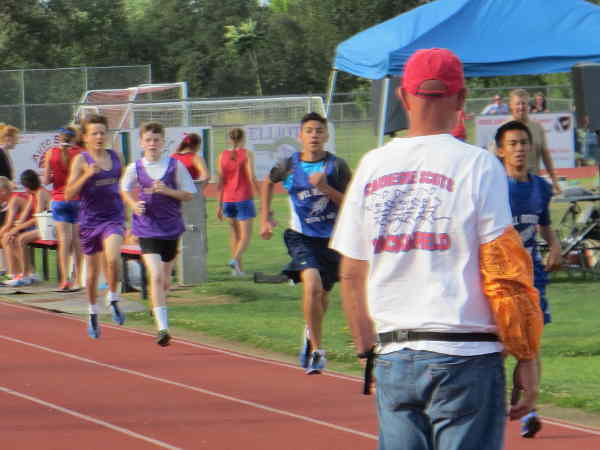 Zachary ran a good race in each of the events. The others runners were always just a little faster than Zachary. Zachary was unable to finish in the top five. Zachary was unable to win a medal. Sad Zachary.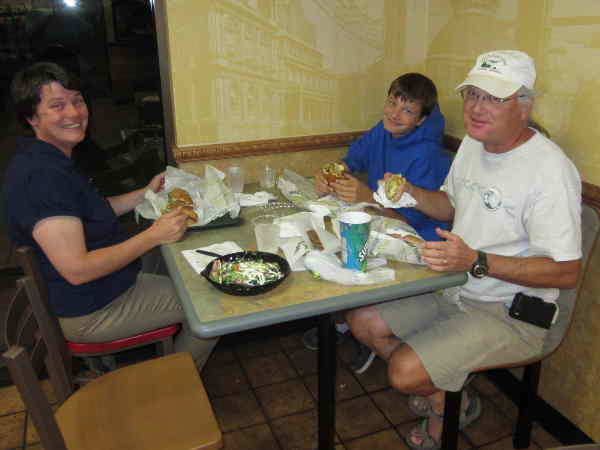 All things pass, and while there was disappointment at not winning that medal he so badly wanted, there was always food to enjoy. Continuing our tradition, we stopped at Subway for our post rack meet meal. Hungry Zachary.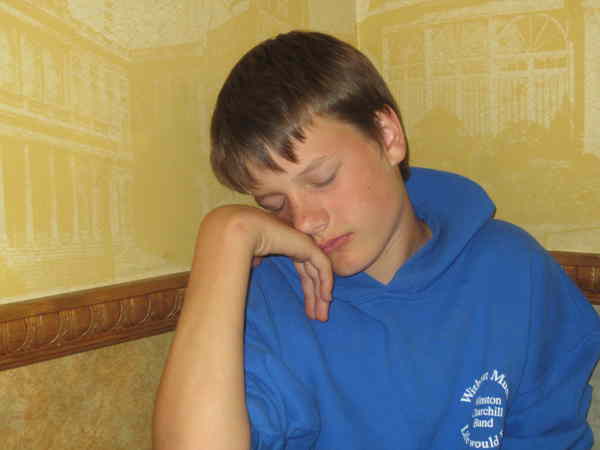 Participating in the long jump, 1600, 800 and 4x400 relay takes a lot of energy. Tired Zachary.
Zachary, you may not have won a medal, but you tried your best. As President Theodore Roosevelt said: It is hard to fail, but it is worse never to have tried to succeed. Zachary competed and did his best. Successful Zachary.
---
Friday May 17 Sacramento, California
Another Nothing Day
Bear with me here. It was a nothing day as far as far a Daily Journal article is concerned, but that doesn't mean we didn't do anything today. Actually were busy almost all day long. I have decided to write a new Homepage article addressing what a nothing day actually is. It may take a few days to get into the shape I want it to be because there is so much I can not say in order to say what I want to say. Until tomorrow, may all your dreams come true and may all your problems be overcome.
To quote 1 Corinthians 13:13: "And now these three remain: faith, hope and love. But the greatest of these is love." Another way to put is in the words of Stephen Kendrick in The Love Dare: "The only way love can last a lifetime is if it's unconditional. The truth is this: love is not determined by the one being loved but rather by the one choosing to love."
---
Saturday May 18 Sacramento, California
Another Zachary Day
It looked like a woman on a mission and it was. Zachary has a presentation to make in his history class on Monday, and it needed to be accompanied by facts presented on poster board. Grandma was going to make sure it wasn't something he did at nine o'clock on Sunday night.
This was taken at the scene on the great gardenia heist of a few weeks ago. Today as she strode by those plants, there being a number of wonderful smelling blooms on them, she pointed to them and said something about there being quite a few blooms she could smell. I thought that meant there was going to be a repeat of gardenias in her hair. Imagine my surprise when as we walked out of the store and she never wavered in her path to the Explorer. Obviously Zachary is far more important than gardenias. I know better than to ask where I rank.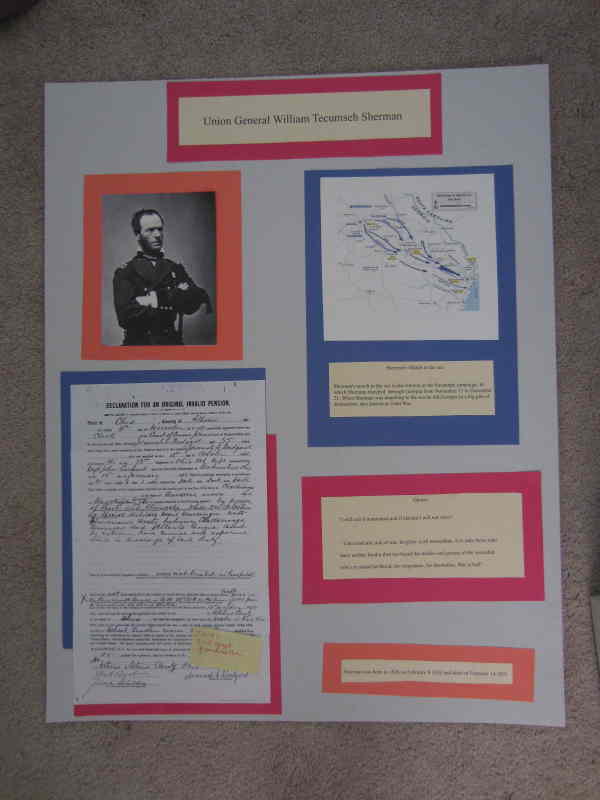 Zachary had told us he knew what he wanted to put on the poster board, and he sure did. Tomorrow he wants to give the presentation for us. He is in AP History, so he has to go all out and we know he will.
Completely changing subjects, Zachary and grandpa were doing something and then grandpa did more than he was planning to do. It seems like I managed to tear a hole in one of my fingers. I told Zachary that it was nothing and so we kept doing what we had been doing. A few seconds later Zachary looked at me and said, "Grandpa your getting blood all over everything." He was right and we stopped patch it up. I had been trying act nonchalant so he wouldn't worry. In the end it helped me realize that just as I would anything Zachary, he would do the same thing for me.
---
Sunday May 19 Sacramento, California
Lazy Day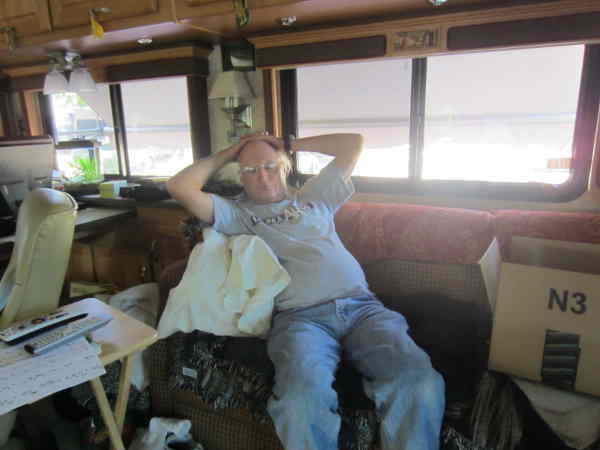 Sunday is the day of rest. Linda has been known to take a photo of me on those rare times that I nod off. Today was one of those days. I wish I could come up with something witty that happened today, but unfortunately it was a very boring day.
I guess I could mention the fact we stopped at the grocery store and Linda forgot to bring the shopping list. Obviously ours is a typical marriage because she seemed to be upset at me because she forgot the list. I'll say no more. Smart Bob.
---
Monday May 20 Sacramento, California
Busy Day
As part of my early morning routine every day, I walk. It is a quarter mile around the outside of the RV park where we are staying, and normally I do eight laps for a total of two miles which takes me just under 30 minutes. I do this two and sometimes three times a day. I get bored seeing the same view step after step. The above photo in the gray light of the early morn is what I see as I approach the coach at the end of a lap.
Today I decided to vary the view and headed out of the park and walked the neighborhood. What a difference. Or as Dorothy might say, "This isn't Retama Tequila." Oops, that wasn't Dorothy, that was Diane, but the point is still the same. Quiet it wasn't. Six lanes of traffic speeding to work. It wasn't long before I was seeking a side street for quiet. The problem was the side street was four lanes of traffic speed to work. Still, I'd much rather be walking even with the noise than being one of those poor souls that still have to work for a living. Joy is where we find it, even if it isn't what we were expecting.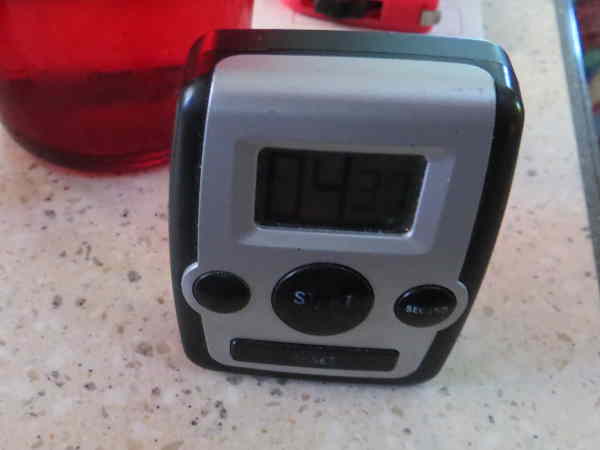 Linda was on a girl's day out today. She has been trying to spend time every Monday with our oldest daughter, Jennifer. (A Dad disclaimer here: Jen is NOT OLD, she just happened to be the first born of our children, hence the oldest label. Whew!) Anyway, back to Linda. She left this morning to get some visiting in with Jen, but before she left I was giving instructions in the firmest tones that when the dryer was finished drying I was to remove her tops and hang them on hangers to finish drying. Trust me, that woman has no tolerance of wrinkles.
That is why you see the photo of the timer. She had said, as she went out the door, that the dryer was going to shut off in about twenty minutes and I needed to hang the clothes up as soon as it was finished. Now I may not have been a rocket scientist, though early in my life I actually was a scientist, but that doesn't mean I can't figure out that an ounce of prevention (hang the clothes on time) is worth a pound of cure (the verbal pounding I would receive if I forgot to take the clothes out). The sound of that timer going off was music to my ears, and clothes were hung wrinkle free. Brilliant Bob.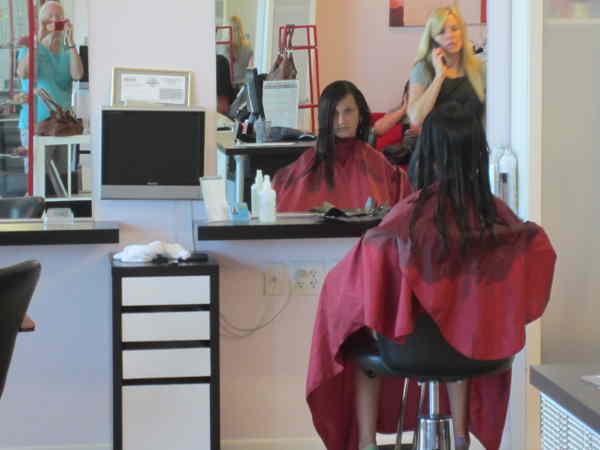 Part of Girl's Day was Abby getting her hair cut. Linda said it was a style cut, though I don't know what that means. Maybe it's one of those beauty parlor things where it is the same as a regular cut, it just sound better and costs more. By the way, note the beautiful blonde that has a strong resemblance to Linda in the upper left hand corner of the picture. Come to think of it, there are two blondes in this photo, one with a phone in her ear and the other with a camera in her eye. Maybe it is just a blonde thing.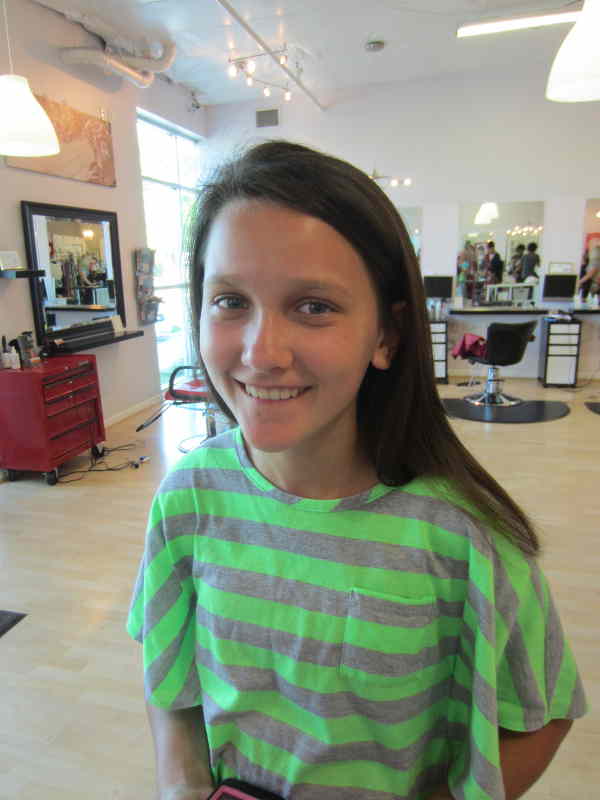 This one is easy to title, lovely young woman with a styled haircut. Smart Grandpa. Beautiful Granddaughter.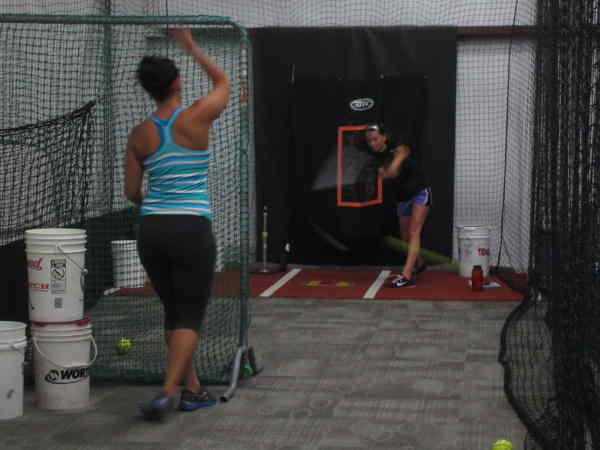 In the afternoon Linda became Soccer Grandma, a full time child taxi driver. Not really, but she did get to watch Abby pound the cover off the ball at her weekly session with her batting coach. As far as our other granddaughter, Lindsay, was concerned, I think I heard Linda say something about getting a glimpse of her coming from one activity and heading out to another. There's always next week. Of course with the end of the school year coming up the girls will probably be even busier next week. Makes me question whether I really want to wish to be young again. But then again, when I was young time moved at entirely different pace. For now I'll just take the pace of the full time Life. It doesn't get any better than this.
---
---