Journal Archive 6/1 - 6/10 2013
Scroll down to read the latest post
Saturday June 1 Sacramento, California
Satur-Day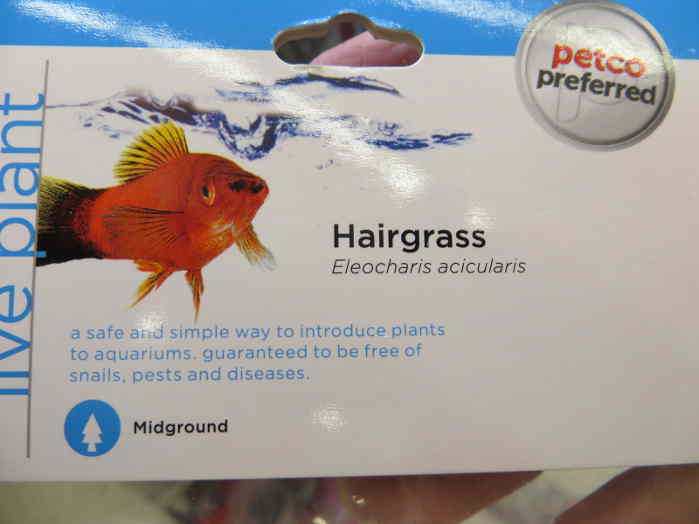 Out and about today, and one of the stops was at a pet store. I have a soft spot for my fish, even though there are only two of them and all they can do is swim around in their aquarium. I keep thinking that if I can find a dense low growing grass, then pile up all the large rocks and shells near the "grass", maybe I could get some ghost shrimp to survive, meaning not become fish food. If you don't understand it's okay. If you've been into aquariums and ponds and fish all your Life you know what I mean. It's like everyone has a dog including us for many years, but fish? They're not for everyone, but those who do, know what I mean.
Jack Nicholson made a movie with Helen Hunt that is one of our favorites. Linda likes the car ride scene, I like the Helen Hunt in the rain scene. But be that as it may, what matters most at this moment is the title of the movie, "As Good As It Gets". Tilamook chili garlic cheese at one third the price it normally is. Expiration date of June 21. Buy three packages. One package gone today, the other two in the next several days. Yes, there is another trip to the store to buy a dozen or more packages. After all, when it is as good as it gets it can't get any better.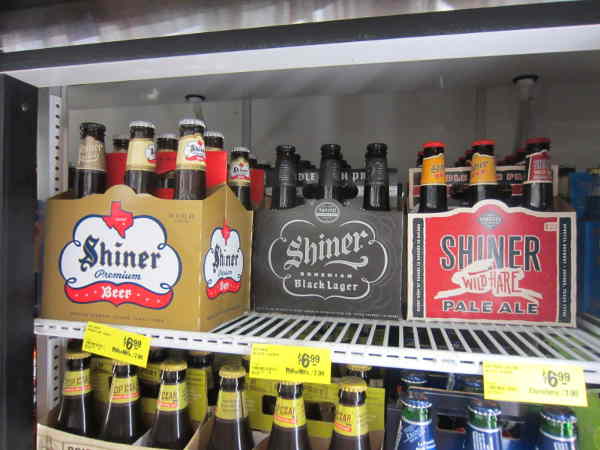 What's wrong with this picture? Give up? There is no Shiner Bock. Texas this isn't. Looks like the off spec, didn't make the grade stuff gets exported to California, while the genuine Texas article finds its way into Roger's cooler at Retama in the Rio Grande Valley of Texas.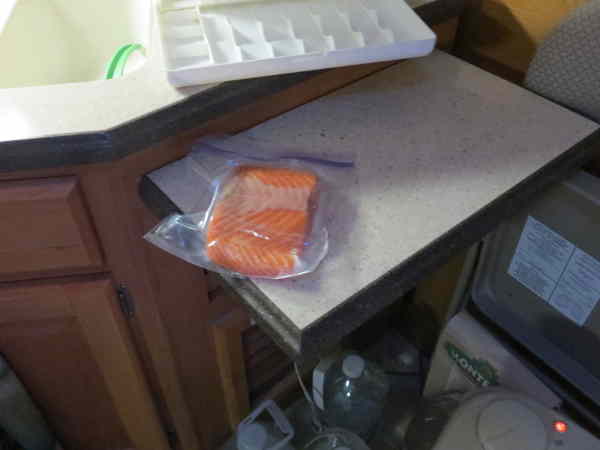 What was for dinner tonight. Let's just say that Linda and I were less than pleased with one another and leave it at that. However, the salmon I grilled was perfect, as was the fried squash, onion and garlic dish that Linda invented. Some things overcome even the worst of times.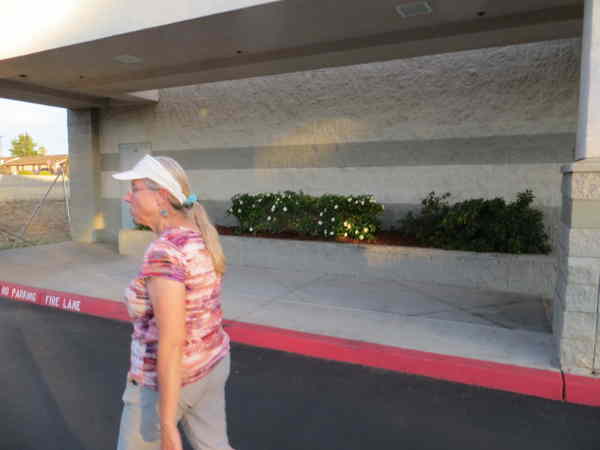 No Gardenia Girl tonight. That plaque she has up on the wall of the coach was sizzling. The one that says, "I love you more today that yesterday, Yesterday you really pissed me off." Or at least I sure hope that is what happens tomorrow. I'd shudder to think it would be a repeat of today. Like they say, not every day that we are alive can be great day, but it sure beats the alternative.
---
Sunday June 2 Sacramento, California
A Very Hot Day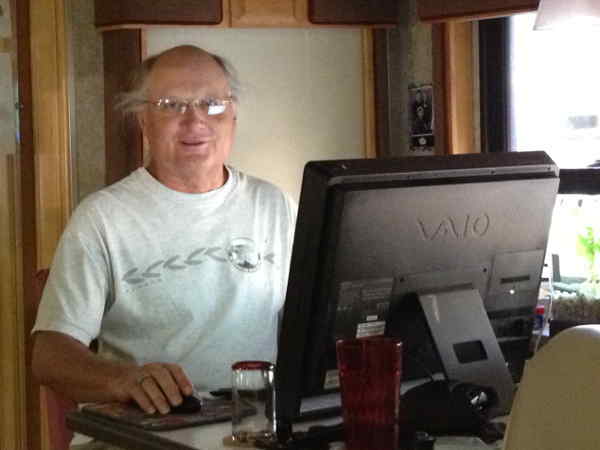 Long walk very early this morning as it is supposed to be around 100 again today. My "look what the cat dragged in" appearance made me a good subject for Linda to begin learning how to take pictures with her iPhone. For all I know, she was able to capture the real Bob at this moment in time.
We are going to try a little change for the next week. We have both been less than pleased with ourselves recently, particularly in the area of the ever higher readings on the scales. The fact that how we feel has been tending in the opposite direction has also been on our minds. We try to eat a healthy diet, but lately our want to's have not matched our been doing's.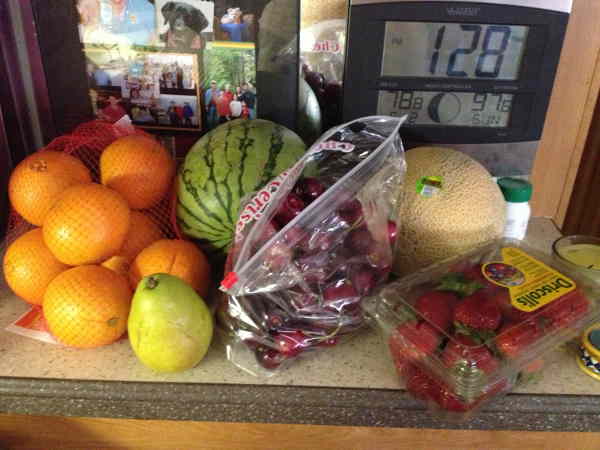 The result of this self examination is a one week change in diet, one of those flush out all the crud by eating a whole lot of fruit and vegetables diets. If it works we should feel more like our old selves. Reports daily on how it goes will be coming for the next week.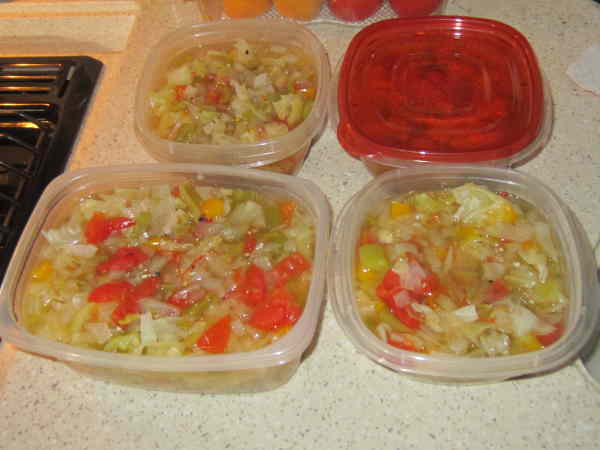 Lest you get the wrong idea that all we will doing is eating celery for the next week, the veggies pretty much all went into a vegetable soup. We shared cutting duties, then Linda added the magic touch of herbs and spices. I love to watch her do this, as she adds a few things, tastes, adds either more of what she has already added, or something different. This goes on fro a while, then she asks me to taste it. Most of the time it is perfect, and that was the case this time. And no, we aren't going to just be eating vegetable soup all week. More tomorrow.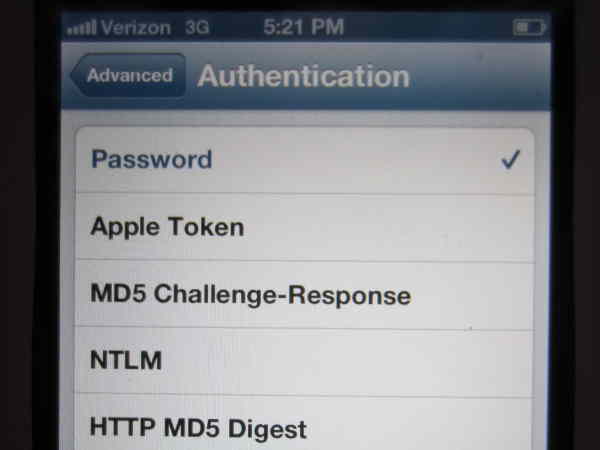 Linda set up her email on her new phone today. It took a while, check out the battery symbol in the upper right corner, but in the end she was all smiles. To say she loves her phone is an under statement. One small example was when we were grocery shopping yesterday. Instead of getting frustrated because I forgot my Droid which had the shopping list on it (and I actually did forget it), she used her iPhone, and got everything she needed. That in itself made it worth every penny it will cost us. Life is good.
---
Monday June 3 Sacramento, California
A Food Day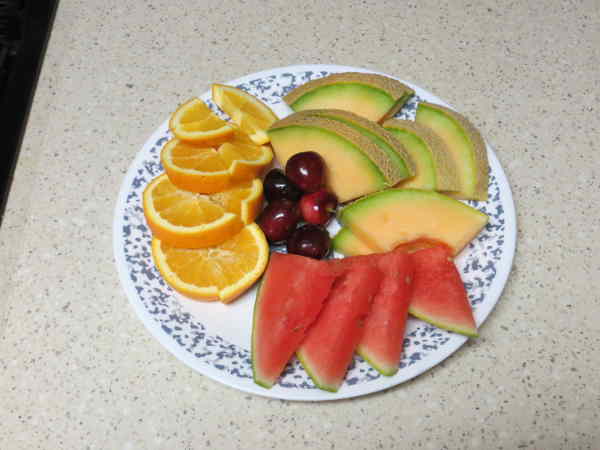 Day one of clean out the crud week. This is something we have never done before so it might be interesting. Day one called for fruit. That's fruit as in nothing but fruit. Bananas are excluded, but otherwise it's any fruit, though we can also have the veggie soup if we want. Linda was a happy girl, knowing that the result would be that she would feel better and also look better. With that in mind she sliced and diced and loaded up our breakfast plates. When I was done I'd eaten a lot of fruit.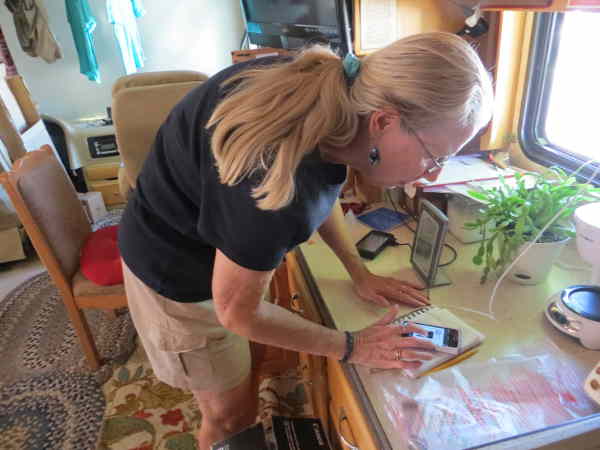 I have been remiss in saying just how much Linda loves her new iPhone, or have I? It's so much fun watching her act like a little kid. She finds a new app, installs it then has to show me what it is. She has laughed more the past few days than she usually does in an entire week. And she is normally a happy girl.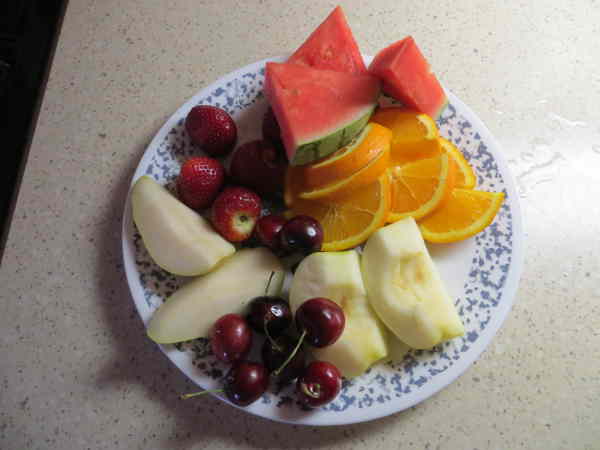 Lunch looks a great deal similar to breakfast, and the snacks we were eating between breakfast and now also looked the same. This plate has more fruit on it than I would normally eat in a week, meaning I am not a big fruit eater. By the time I got this gargantuan mound consumed, I was feeling like I ate the whole thing. And what was more, I was on what felt like sugar overload. It took several hours and a walk around the block, but I eventually returned to the world of the normal. Speaking of walks, we went on a 40 minute walk this morning, Linda's first long walk in ages. The best part was that her foot did not bother her at all.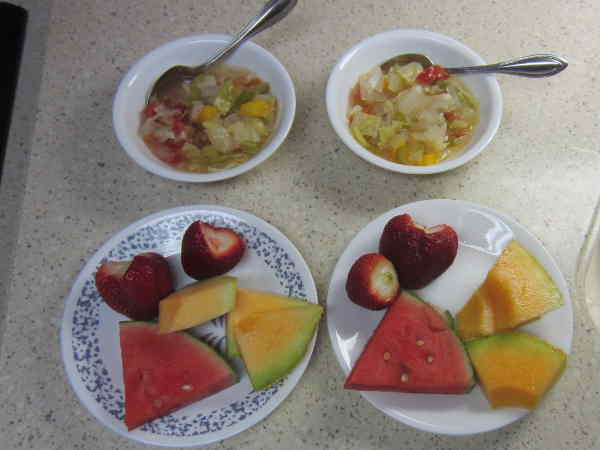 Note a difference when it came to the evening meal? No mound of fruit for either one of us. And even with this tiny amount, I had to force myself to clean the plate. Desert was the small bowl of vegetable soup, and was it ever good. Tomorrow is veggie only day, and it is looking like most of that huge pot of soup may disappear.
Another thing was the amount of water we were drinking. Think water logged and you get the idea. I joked with Linda that if we drink this much water everyday I will be emptying the black tank several times a week. Never thought I would be doing something like this, but so far it has been fun. Fun in a different sort of way. May there always be fun in your days.
---
Tuesday June 4 Sacramento, California
A Fun Day
Day two of clean out the crud week. Woke up feeling very good, both Linda and I, stepped on the scales and there was a couple of pounds less on each of us. Took our 40 minute walk before breakfast, and Linda discovered just how long it had been since she walked such a long distance as she did yesterday, and what happens in that case. Linda had back pain (I crunched it and it eventually went away), hip pain (it went away after we had walked about one mile), and left knee pain that never went away. Forty minutes, 2.4 miles, not bad for woman who hasn't walked any distance in at least six months.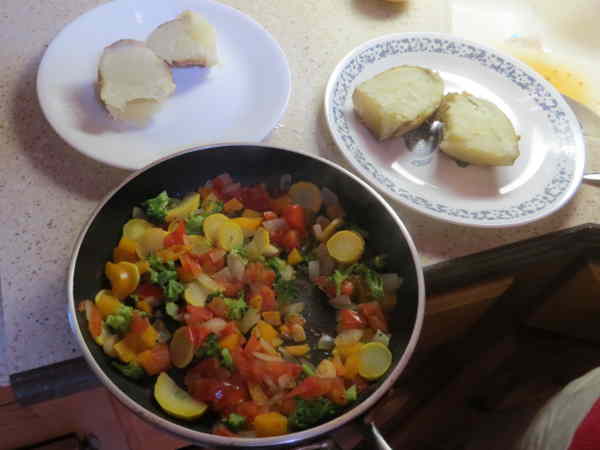 Veggie day today, vegetables and only vegetables. I was teasing Linda that I sure hoped breakfast wasn't going to be boiled broccoli and boiled carrots. She was really nice and fixed sauteed mixed vegetables (Pam spray only) over a half a baked potato. I don't know if it was hunger or the fact it really did taste great, but I have to say, it sure was delicious. What you see was all there was for both of us for breakfast.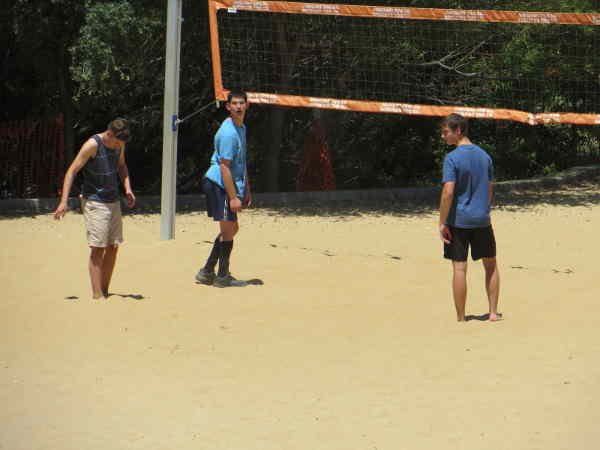 We spent the afternoon over at our daughter, Jenny's place. But first there was softball practice for Lindsey and Abby. Meanwhile Justin was down at the volleyball pit hanging with the guys. They really treat Justin great, not minding if he gets out on the court, then giving him any errant balls to throw over the net. Just a bunch of high school boys being what they really are, great kids. There really is hope for our country despite what the cable news channels would like you to think.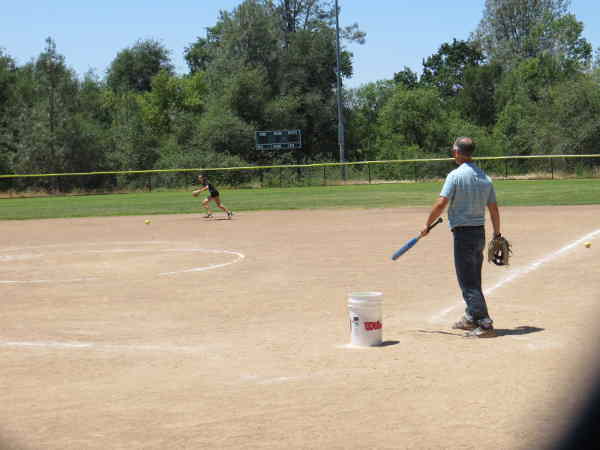 Meanwhile Dad was spending his lunch hour hitting balls to the girls. We watched them work and work on fielding wicked, hard hit balls, sweat just pouring off them. It's how you get selected to play on teams that qualify for the western region finals year after year. Hard work, dedication, success, it is for more than just softball, and the 4.0 average both of them have in school testify to that.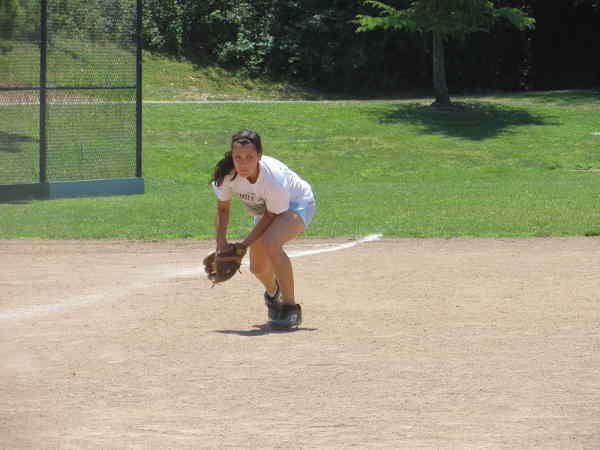 The look of a winner.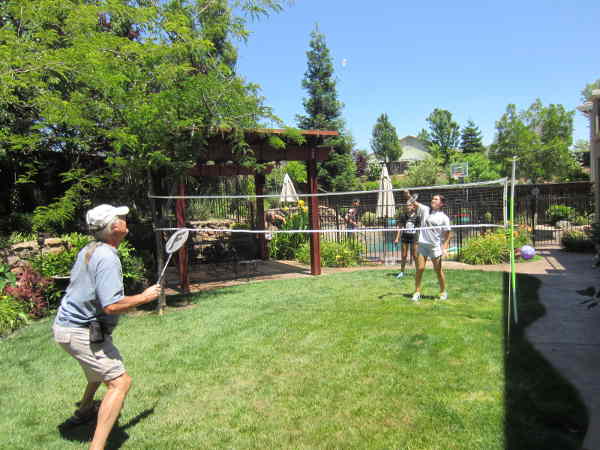 The girls are great at softball, so grandpa had to show off his rusty badminton skills. Two to one really wasn't a fair match, but since they only had three rackets, grandma or mom couldn't help them. Well, I did manage to hold my own, not bad for someone who is 50 years past his badminton prime.
Justin showing off his diving skill.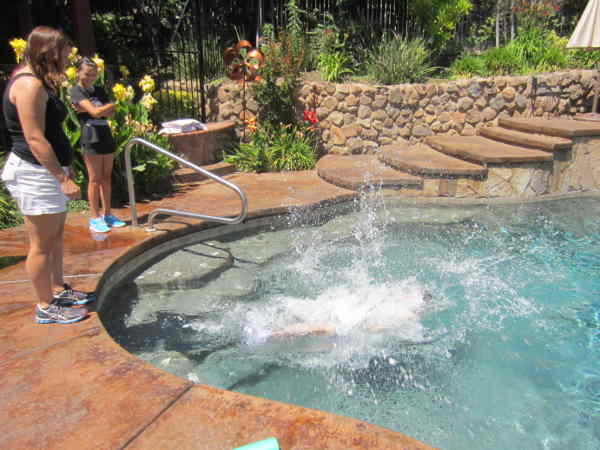 Another perfect belly smacker by Justin.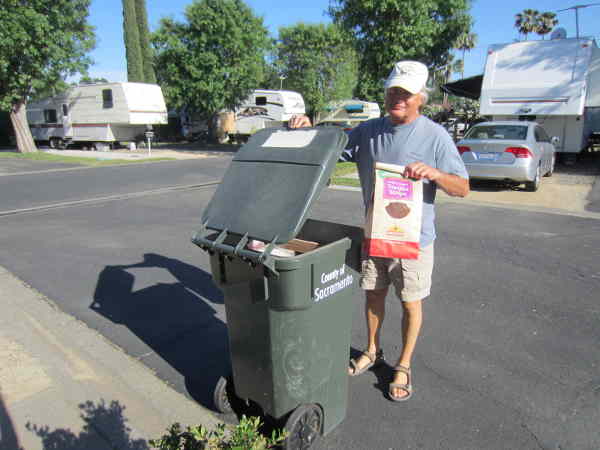 This "diet" we are on requires some sacrifice. This is one example.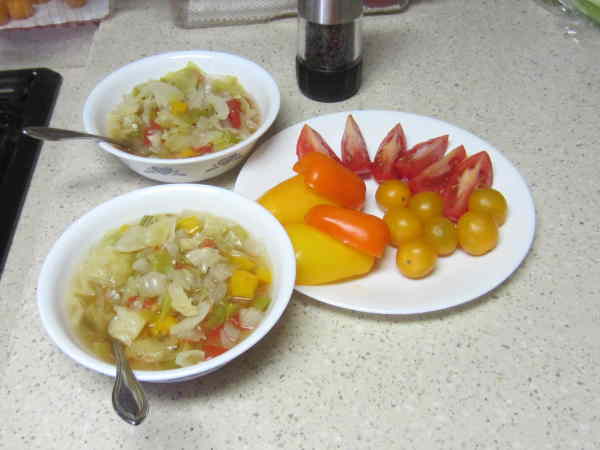 Dinner. Lunch was a bowl of the same soup and one pepper. We choose the amount we want to eat and we could eat a lot more if we wanted. I let Linda set the eating pace. If she wants a little more so do I, if she is happy with what she has, then so am I. It easy necessarily easy, but neither is it particularly hard. It's the result that counts, and it's what we try to focus one.
And to clarify one point that came up today, I did NOT normally eat 1/2 a pound of cheese every day. Maybe 7/16 of a pound, but that was all.
---
Wednesday June 5 Sacramento, California
A Play Day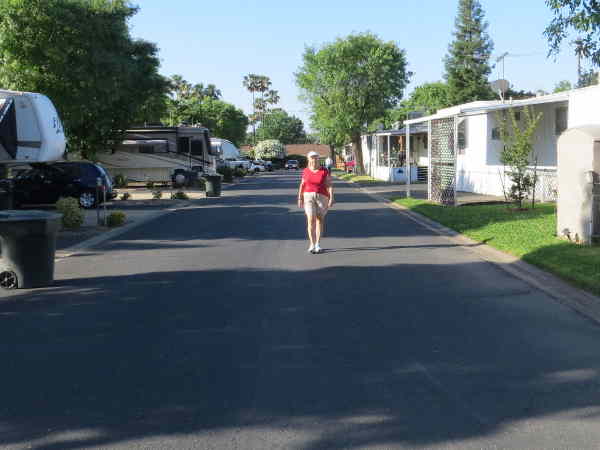 Day three of clean out the crud week. While I felt very good this morning Linda was fighting a small headache, something that she occasionally suffers from in the morning. That's the headaches, not me. When we stepped on the scales, there was another pound or so less on each of us. Took our 40 minute walk, me before breakfast, Linda after she had an orange. Linda then corrected me as we walked. It seems we did not walk 2.4 miles yesterday, we only walked 2.14 miles. Correction posted to the Daily Journal, as requested dear.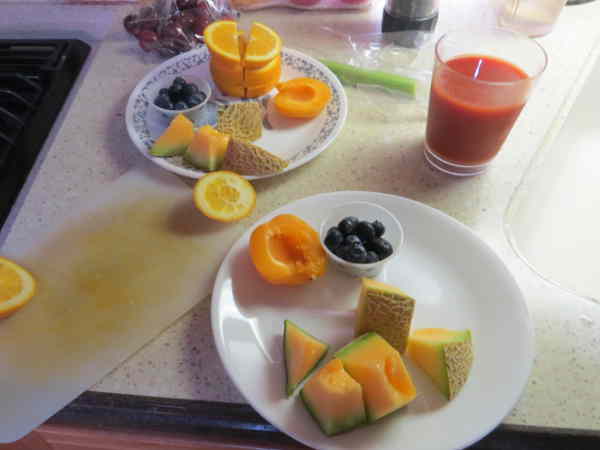 Fruit and veggie day today. I got the feeling that the veggies were coming later in the day after observing what was on my breakfast plate. What you see was all there was for breakfast. I did eat the piece of celery, so at least I had fruit and veggies for breakfast.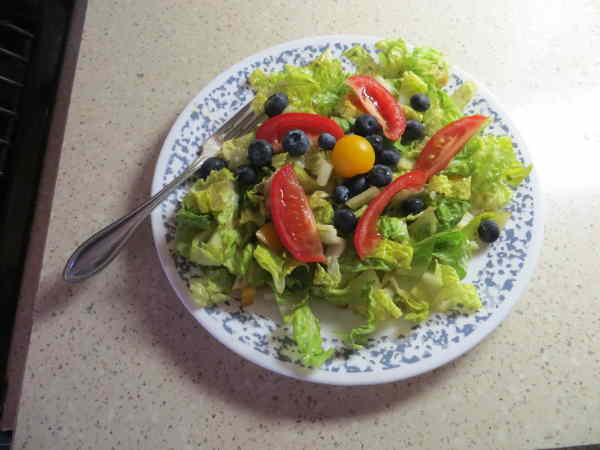 We did remembered to take a photo of lunch today . It's looking eating nothing but fruit and veggies improves the brain, or at least the memory. What you see and is what we had with the addition of a handful of cherries each. I am trying to figure out how, with so little going in there is going to be anything in there to flush the crud out? Maybe it's the water.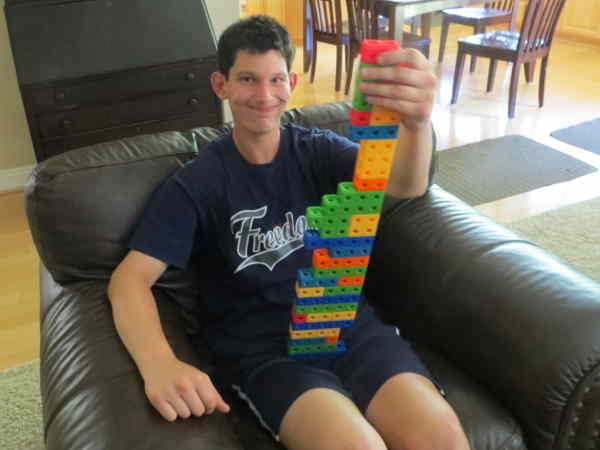 I spent the afternoon playing with Justin. Here he is showing off the great job he did of putting his giant Legos together. He did it all by himself, so I asked him to give me his biggest smile. I think I got the million watt version. Great job Justin.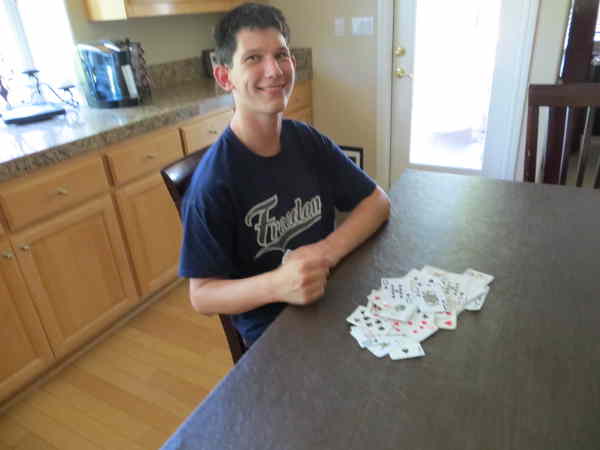 Later we played cards. One game we always play is War. It's easy to tell who won, since he who gets all the cards wins. Poor grandpa, he has never been able to beat Justin at any card game we play.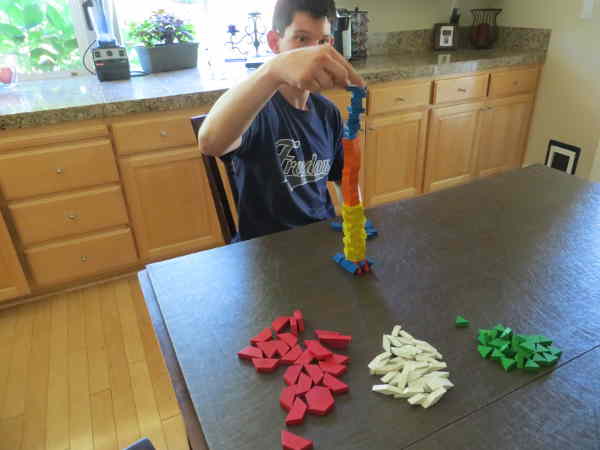 Grandpa built the blue and red base, Justin built everything else. To know Justin is know that this is a very good accomplishment for him. When it falls over it's all laughs, especially when grandpa is crawling around on his hands and knees under the table picking up blocks. Our motto, "Don't be afraid to laugh, love and retire early" was never more appropriate.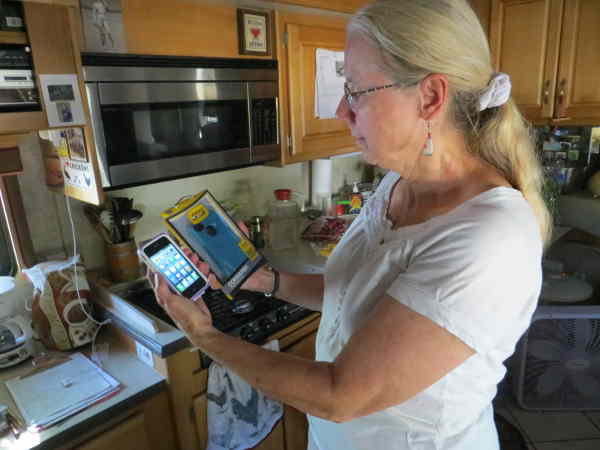 The girls, Lindsey and Abby, got Linda a new case for her iPhone. She really loves it. When you want to know what the best cover is, have someone their age pick it out. You can't go wrong.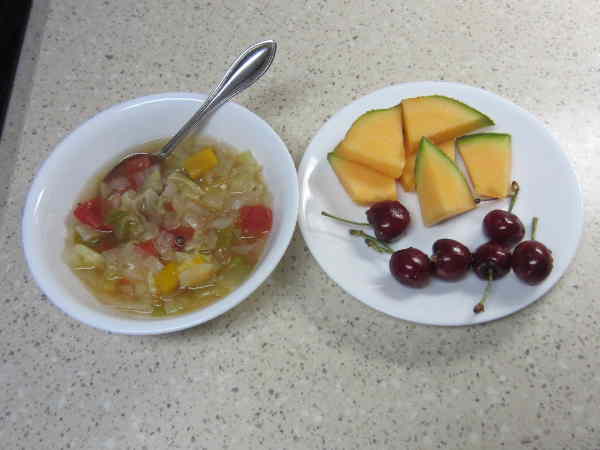 Tonight's meal. There are no guidelines on how much to eat, other than as much as you want. That means we added more cherries, then after our short evening walk, some watermelon, but other than that, this was it. We have decided that one thing which happens by eating this way is that both your appetite and your stomach shrink. I tease Linda that by the time the food we eat at a meal gets to my stomach, there is a half an inch of solids in the bottom and the rest is water. Then she gives me a funny look, and wonder if I'm right.
---
Thursday June 6 Sacramento, California
We Peeled To-Day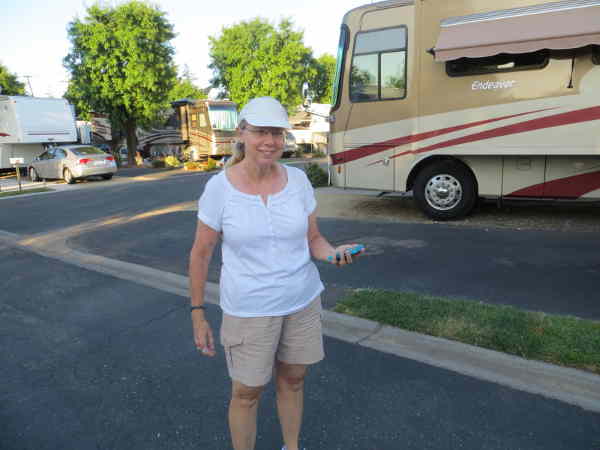 Day four of clean out the crud week. While I felt very good again this morning, I did lay in bed for a half hour before getting up 4:30. Poor Linda was once again fighting a small headache, and she also had trouble going to sleep last night, but I sure didn't. When we stepped on the scales, there was once again another pound or so less on me, Linda on the other hand was chagrined to learn the scale actually went up a couple of tenths. Believe me, I said nothing. Next we took our 40 minute walk, and today we traversed 2.36 miles, so each day we walk farther in the same amount of time.
The photo shows what happens when we set out each morning. First she starts the Map My Walk app on her iPhone, it shows how far we walk and how many calories she burns. Then she starts the 20 minute timer on her iPhone which signals when we are to turn around a head back to the coach. When it goes off she resets it for another 20 minutes and we head back. Any left over time when we reach the RV park is used up walking the park roads until every second of those 20 minutes are used up.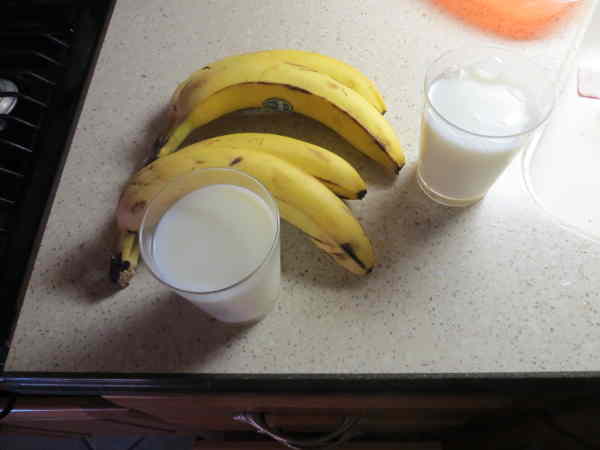 After that vigorous walk we were ready for another huge crud cleaner breakfast, and we weren't disappointed. Two bananas and a glass of non-fat milk each. Now that is what is called a yummy filling breakfast. But it really was. It shows just how far we have come in shrinking our appetites and changing what foods we enjoy. I hadn't eaten a banana in years before this morning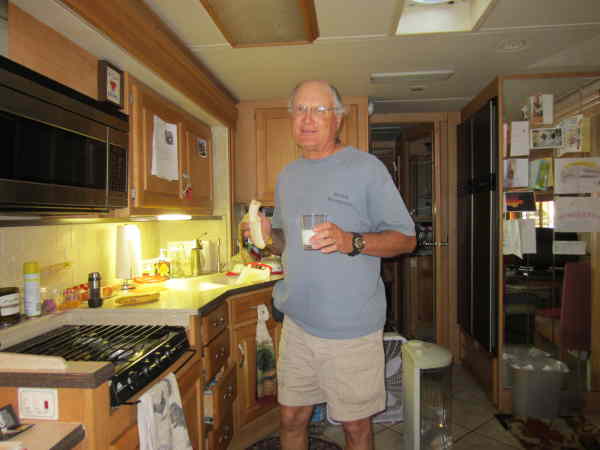 Don't believe me about enjoying it? Just look at how excited I look. Actually, I have started to eat so slowly that I was considering not eating the second banana by the time I finished my first. I did have two glasses of milk since the plan was for me to drink a gallon of milk today. It is one of those, you never know what you can do until you try it things. And by bedtime tonight I will know if I could do it.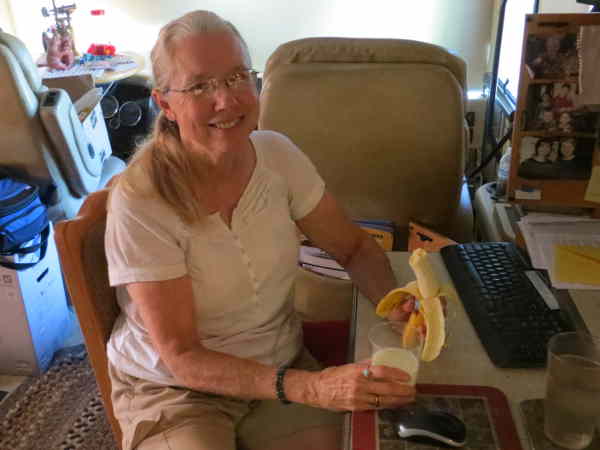 I think this is Linda's, see I can do it too, smile. Or maybe it was her, this glass is the dish I need to wash today, smile. Sorry but there are no more food photos for the day, simply because this was what lunch and dinner both looked like. In between there were a good number of glasses of milk, along with several glasses of water each. I write this as night is coming on, and we each have a glass of milk left. That will make 3/4 gallon for Linda and one gallon for me, all of it non-fat milk. Add in the six bananas we each ate and I'd have told you had to be joking if you'd asked a week ago if would we eat something like this as our only food for the day.
Remember the song that had this in it?

Arnold!
Arnold, Arnold bo Barnold Bonana fanna fo Farnold
Fee fy mo Marnold Arnold!
If we could do what we were asked to do in that song, then eating a little different decades later should be easy. Instead of thinking about what we can't do, we need to just go out and do. We have a good friend that thinks this way, and below is the latest thing it led to for him. Life is too short to worry about what might be.
---
Friday June 7 Sacramento, California
A Very Hot Day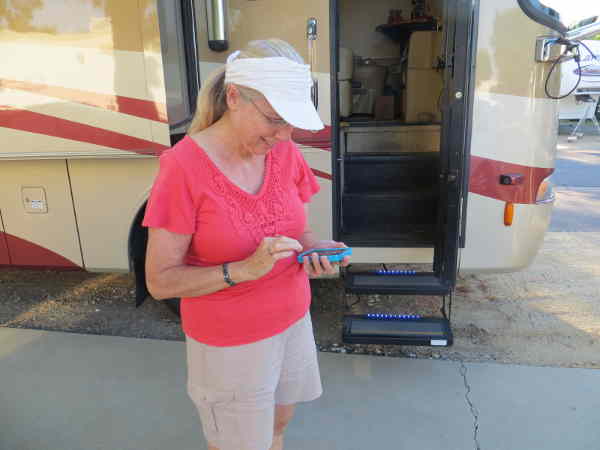 Day five of clean out the crud week. We both felt great this morning, and Linda was really happy she didn't have a headache. When we stepped on the scales, there was once again a small loss for Linda, but it was my turn to be chagrined when the scale went up to what I weighed yesterday. There's always tomorrow. Next we took our 40 minute walk, and Linda came through with no aches or pains at all. When we were back at the coach she said she felt great. I liked that.
I didn't know it when I took this photo, but I caught one of her hidden smiles. I was teasing her about making sure we got to walk for the full forty minutes when I learned I was interfering with her ability to get everything going on her iPhone. When she can laugh about going on a 40 minute walk I know she is feeling good. Happy Bob.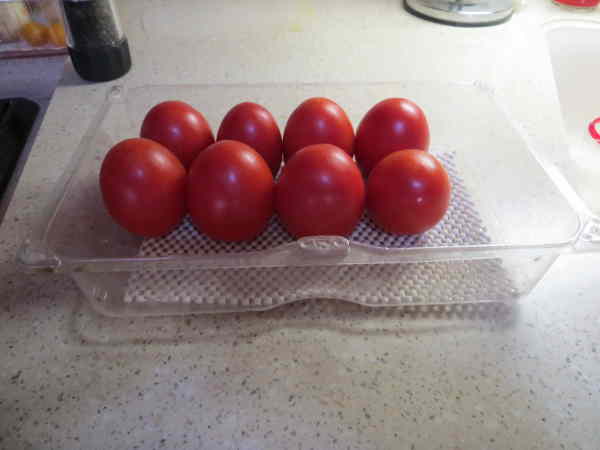 Time for another huge crud cleaner breakfast. Can you guess what we were eating today? Linda was making comments to the effect that maybe we should plan on eating like this several days a week. I said nothing.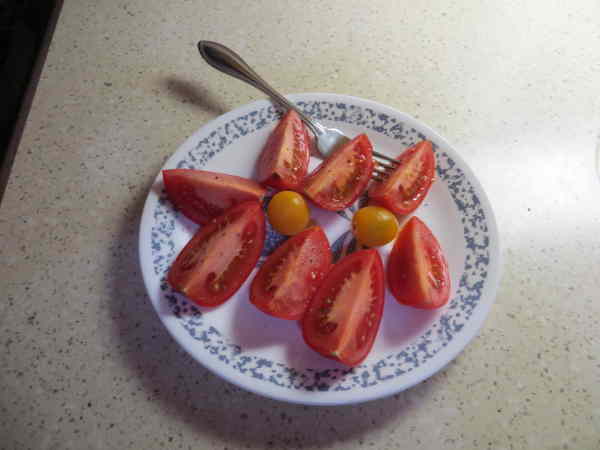 I looked at my plate, then looked at Linda. "You mean we're eating just tomatoes for breakfast?"
"No, not just tomatoes, there are red ones and yellow ones."
Linda obviously looks at tomatoes differently than I do. I didn't actually choke them down, but it was very close to that. Meanwhile the tomato worm was sitting at her computer saying we were going to have to buy more tomatoes or we wouldn't have enough for both lunch and dinner. At this rate my skin will be red by tonight.
Lunch was a treat, or at least the salmon was. Our first meat since Monday. My plan was to eat all the tomatoes, then enjoy the fish. Unfortunately about half way through the tomatoes my desire for a bite of salmon overcame my best laid plans. Not good, as I ended up alternating salmon and tomatoes to get all the tomatoes down. I have never enjoyed eating tomatoes like Linda does. Heck I've never known anyone that enjoys eating tomatoes like Linda does.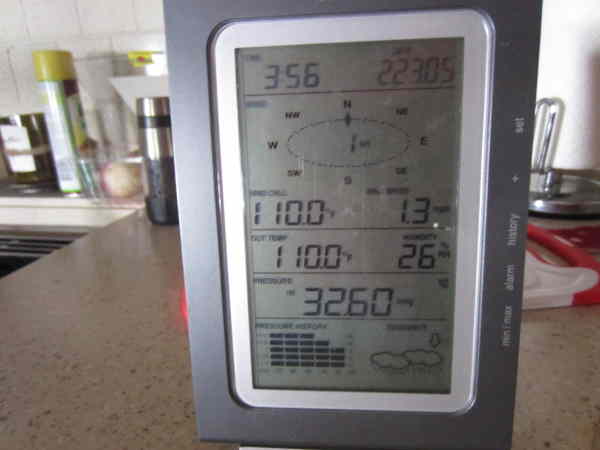 It was hot today. The thermometer read 110. We didn't go outside to check.
I did go out, with the result being perfectly grilled salmon.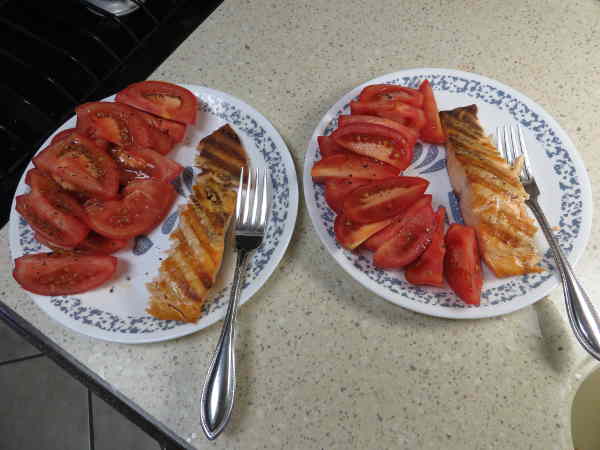 The tomato worm's plate is on the left. I did much better with dinner, managing to down all my tomatoes before attacking the salmon. And it was a food day of tomatoes. A minimum of eight tomatoes, plus salmon at lunch and dinner. I have started counting the days until Monday morning when we will be crud free and eating like normal people once again.
It wasn't just a day of eating tomatoes for Linda. She went to Fleet Feet and ended up with a new pair of shoes. She had heard really good things about this store, and with her foot problems it was looking like what she needed. She now has a pair of Brooks shoes that fit her perfectly, and an improved insert to keep her heel stable. Time and a few walks will tell, but from what I have heard so far, she's never had a pair of shoes fit as well as these. She said the girl who waited on her really knew what she was doing, beginning with asking Linda what her foot problems, if any, were before doing anything. Happy Linda.
---
Saturday June 8 Sacramento, California
An Even Hotter Day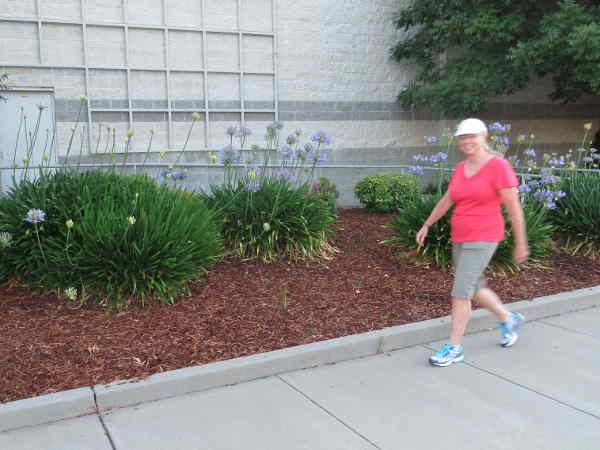 Day six of clean out the crud week. I felt great this morning and was up at my usual middle of the night hour. Linda on the other hand was not a happy camper. It was supposed to be really, really hot today, so that meant an earlier than usual walk, plus we were planning to watch Abby's softball game at 9 o'clock. When we stepped on the scales, there was once again a small loss for Linda, but I was down almost a pound and half, offsetting all of yesterday's gain.
I did have to take a photo of Linda striding out in her new shoes. From the blur of her hand and foot, it looks as if she striding very rapidly. That was confirmed at the end of our 40 minutes when we had a new distance record on the iPhone.
We were in such a hurry to get to Abby's game that we didn't take any breakfast photos. Mine was a plain hamburger patty, a sweet pepper and a piece of celery. Linda had a half can of tuna and two pieces of celery. Not sure how any crud can get cleaned out with so little going in, but we do what we have to do.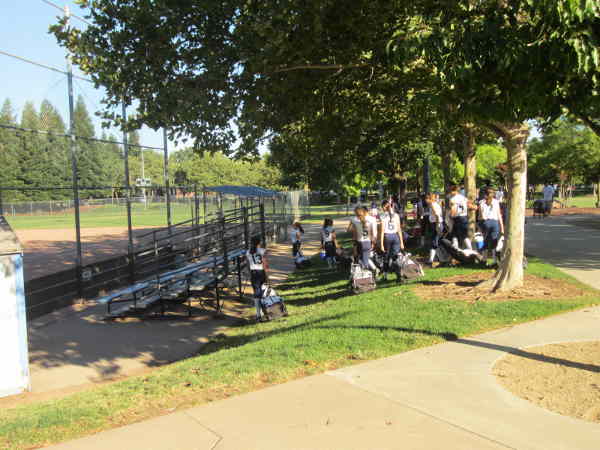 Bright and early Abby's team arrived. They were to play two games in the morning. Wonder what they will look like when they play their third game of the day at 2 o'clock this afternoon when the temperature will likely be around 110.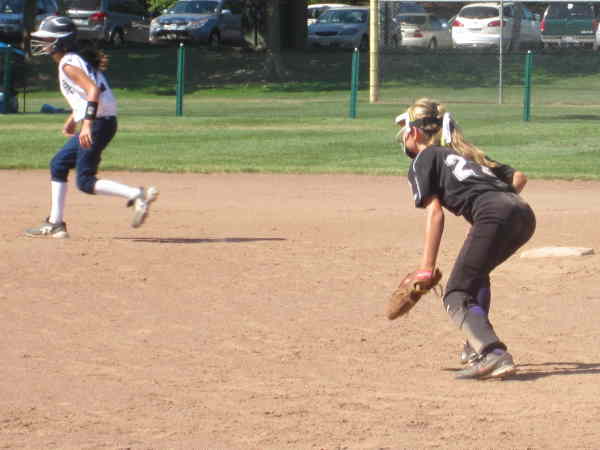 Abby running the bases.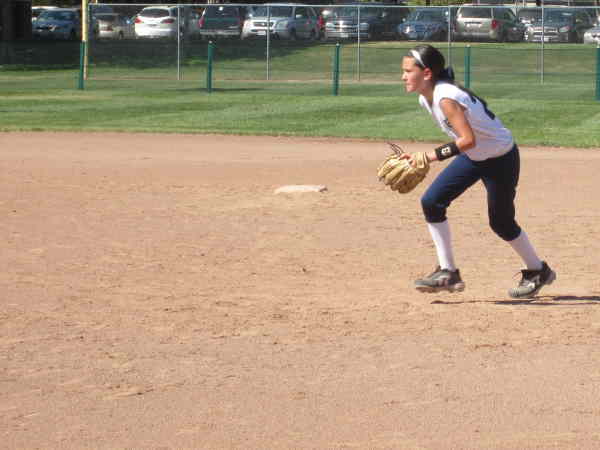 Abby in the field.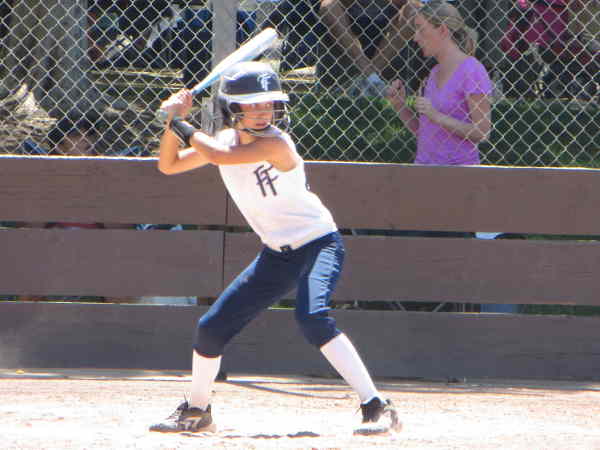 Abby at bat.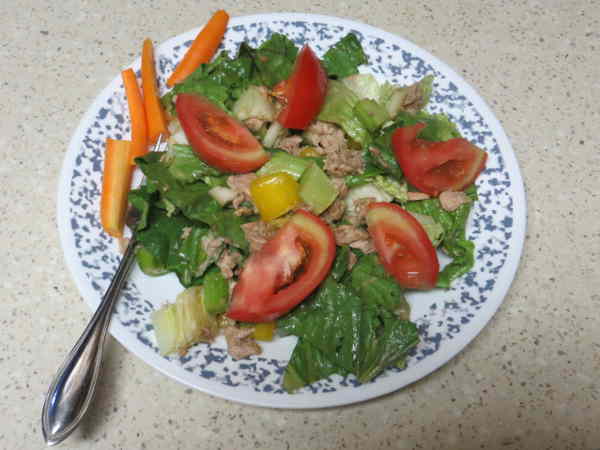 Lunch. All we had to eat for lunch. Not because this was all we were allowed. But because this was all we wanted. There are major changes afoot on the quantity of food consumed front.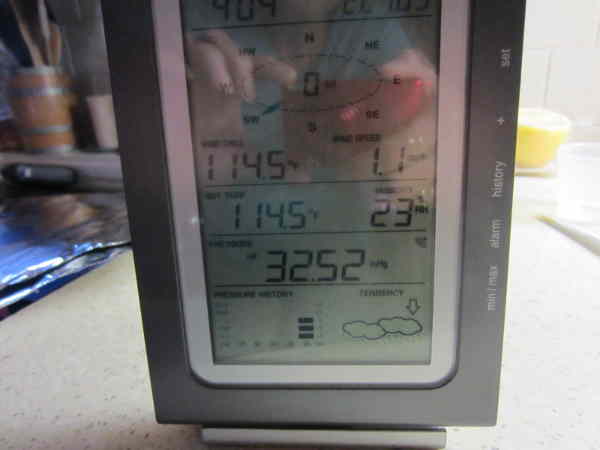 It was hot today, but what was worse was the humidity was nearly 25%. It should have been 10% or less.It didn't bother us though because we stayed inside all afternoon. There was a time in our lives when Saturday meant working around the house no matter the weather. No more. Lucky us and anyone else who is a fulltimer.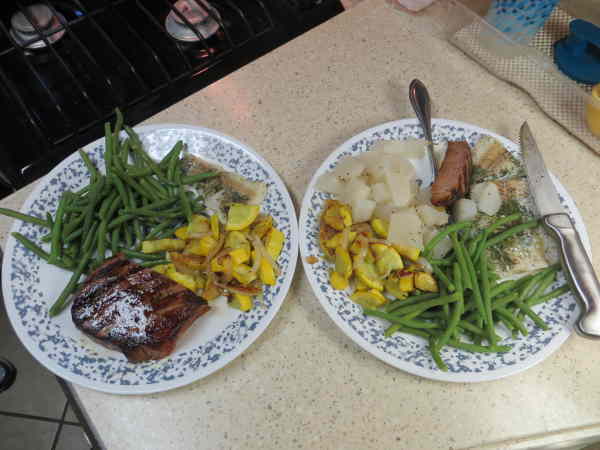 Dinner. So much for small meals and small stomaches. Note the turnips on Linda's plate and the lack of same on mine. Linda got all of the turnips, I got most all of the beef. The real story was the squash.
Taking my first bite I said, "What did you do to the squash?"
Big smile on Linda's part then, "Coconut oil."
That was indeed what it was. A mere teaspoon in the skillet, but the taste it imparted was wonderful. She'd bought a jar some months ago but had never tried it. Now it is probably going to be a regular thing when we once we start eating like normal people. Another case of, you never know what you are missing if you don't try something new. Reminds me of some people we knew who said they didn't need to even think about fulltiming, they were happy where they were. And they still are. The same place they always were that is. As far as happy, I know what we are. As far as them, we no longer care, it's their life to live or not live as they see fit.
---
Sunday June 9 Sacramento, California
A Much Cooler Day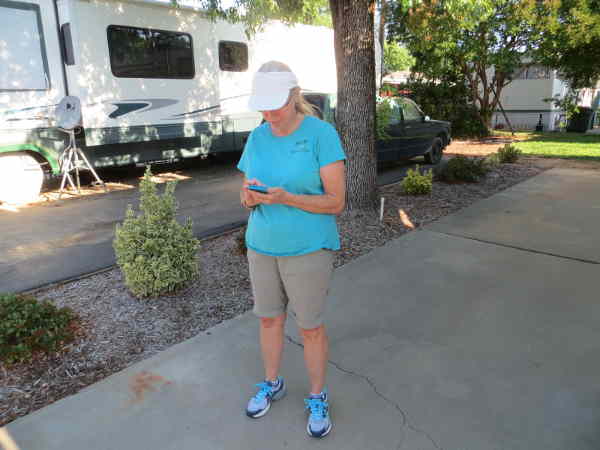 Day seven of clean out the crud week. Once again we felt great this morning and with the temperatures forecast to be much lower, like in the mid to upper 80's, we weren't in as big a hurry to get in our walk, so Linda got a little extra sleep. She did tell me that she wasn't a happy camper at having to get up so early yesterday. Well she was the one wanted to do this way of eating and exercising, so what does she have to complain about. The trick is in not mentioning it to her. Smart Bob. When we stepped on the scales, there was once again a small loss for Linda and another large loss for me. I didn't even smile when she glared at me after my number appeared.
The photo today doesn't show the color matching hair scrunchie or the iridescent earrings personally picked to match her shoes, top and phone. When I remarked about it she let me know she has also ordered walking socks with the same color tops.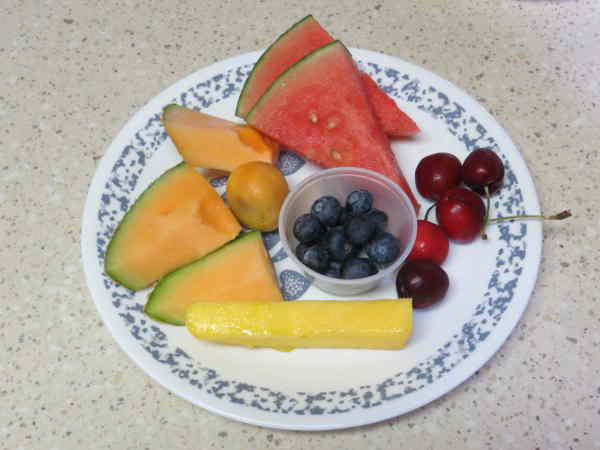 Does this look like a crud remover breakfast or what. You'd think that by now I would be used to breakfast being something like this but I definitely wasn't. It was my first day of really craving something other than the food we have been eating the past week. I wanted a plate of eggs. Wasn't going to happen and Linda telling me to be a big boy and suck it up didn't help. Note the apricot that looks exactly like the ones on the apricot tree we walk by each morning.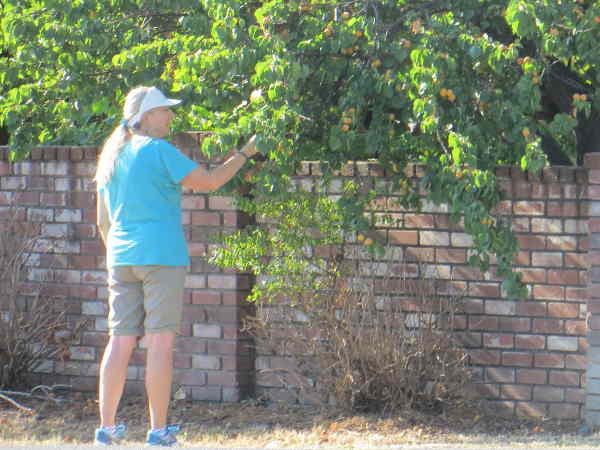 My, my, look what I found on my camera.
Awesome music in Church once again this morning. When I can hear as well as feel the base, I first start to think of all I missed over the years. Then I think of how thankful I am to have my hearing aids at all. It's what we do with what we have, not what we bemoan not having that that makes us a better person.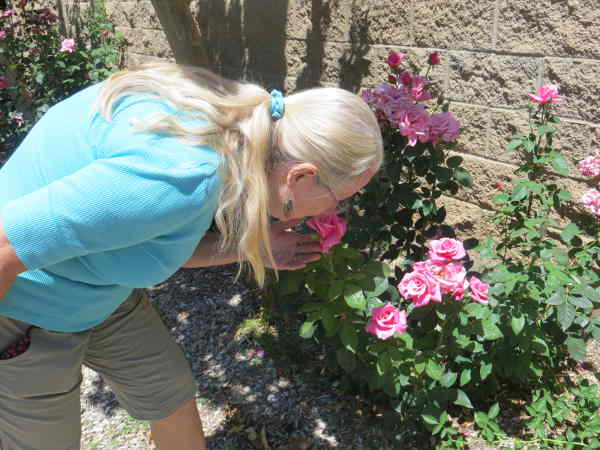 I was talking to Linda as we were leaving Church when I realized I was talking and nobody was there to listen. Looking back, this is what I discovered. By the time I got my camera out she was standing up, but I had no problem getting her to take another sniff. She is trainable. As long as it is something she wants to do.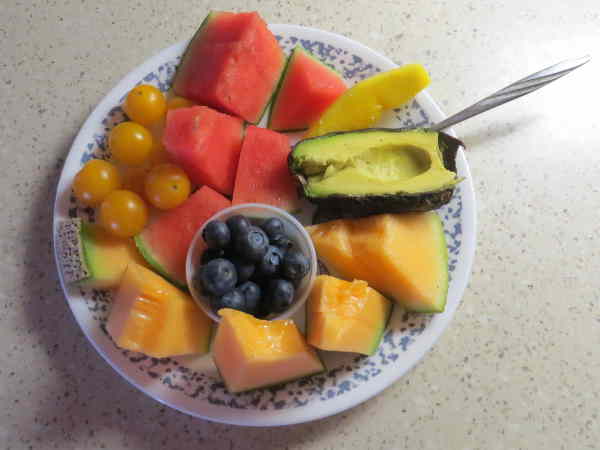 I think even Linda was getting a little fruit burnout. Notice the avocado? I don't even know if we were supposed to eat it, but that didn't stop me from spooning out a big chunk of it. Savoring the thought of how good it would taste, imagine my horror when just short of my mouth it slipped of the spoon and fell on the floor. I picked it up and examined it, really wanting to eat it, but calmer emotions ruled and I tossed it into the trash. What I did get to eat of it didn't even taste as good as I thought it would. Has something happened to my taste buds? Am I now fruit dependent? Not me.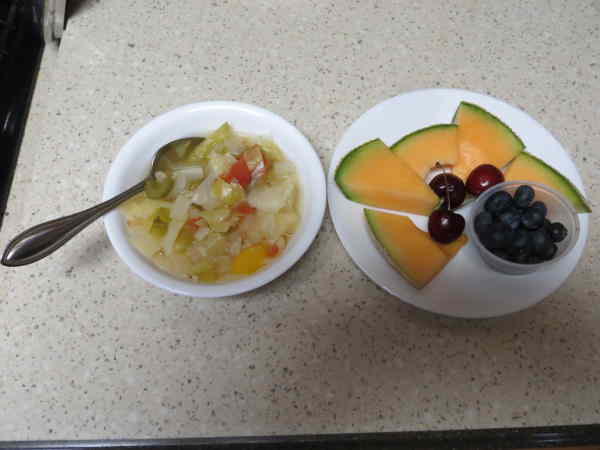 The evening meal. Vegetables at last. And fruit. Tomorrow will be the final weigh in. Tomorrow we will measure once again. The tale of the tape. The tale of the scales. Should be interesting.
Before I go, a comment on clean out the crud. The crud I have been referring to is not the lower expelled crud that one might think it to be. It is the toxins and chemicals that build up in our bodies. Sorry if you thought otherwise. Not really, I was having fun with how I described what we were doing.
---
Monday June 10 Sacramento, California
A Great Day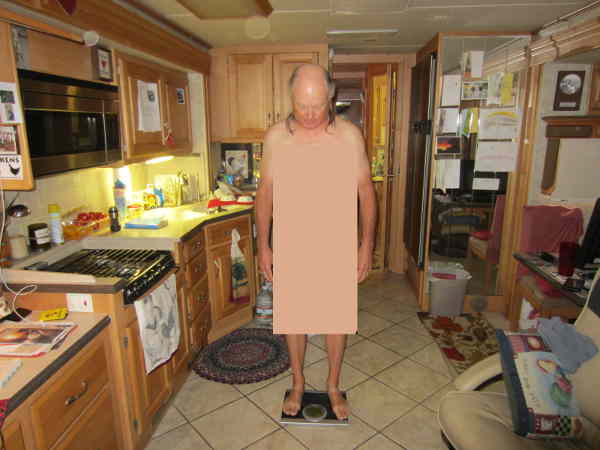 Officially clean out the crud week ended this morning. There was a weigh-in and a tale of the tape. First the tape. I added a little in my chest and thighs, everything else was either the same of smaller. Linda did likewise, shedding a little here, a lot there, and adding a little were she really didn't want to. One week wasn't long enough, and besides I was lousy at doing the measuring thing on her.
The weight was a different story. 5.0 pounds for Linda and 8.6 for me. Interestingly enough we didn't set out on this diet with the goal of losing weight though we knew from reading what we would be eating that we would lose some weight. The best thing was that we accomplished what we wanted. We both feel much better than we did week ago. It's hard to say just what it is, but it is a good feeling. Now that it is over we can get back to living a little more normally as far as eating is concerned, but only to a degree.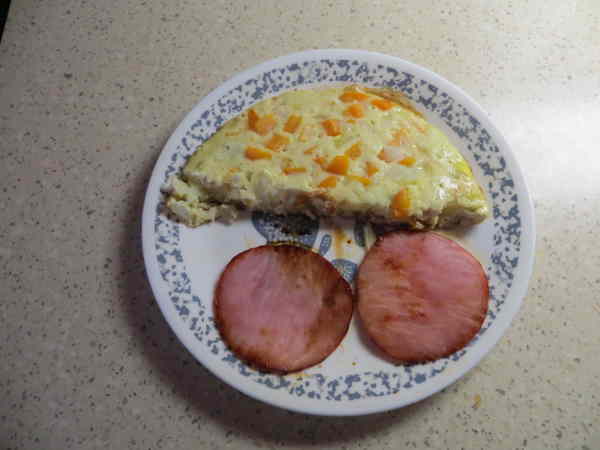 Guess the habit of food photo posting is going to be around for a while. Our breakfast this morning, diced 1/2 of an orange pepper, diced 1/2 of a sweet onion, three eggs worth of egg whites, and one egg. Then we split it evenly between us. It was our first real food in a week, or at least the kind of meal we normally eat. And we did start taking our vitamins again. P.S. the Canadian Bacon was heavenly.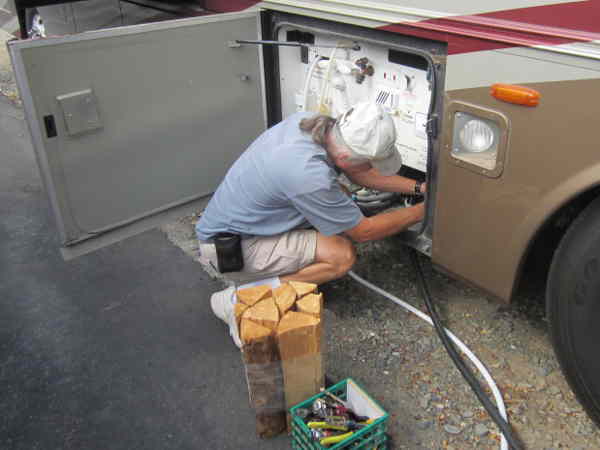 What is this? What is going on in the wet bay? What does a bundle of firewood and a container of tools mean?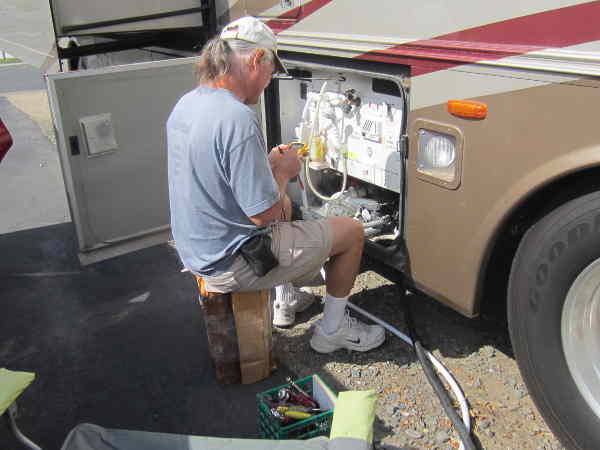 Beginning to make sense? What is the meaning of the electrical tester in my hand?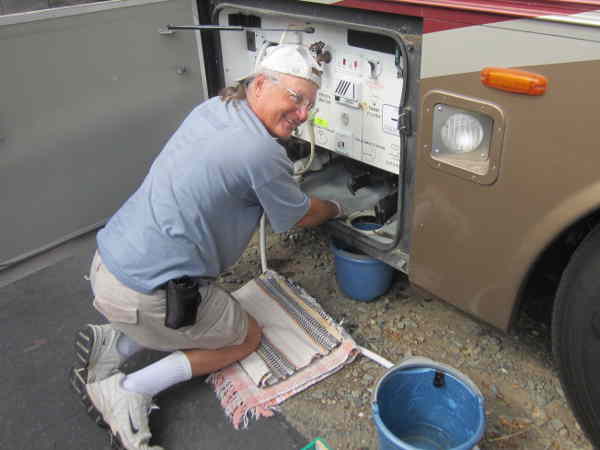 Rubber gloves and buckets, not good, not good at all. Still, there is a smile on my face. Does it mean whatever the problem was, if it was a problem, it has now been fixed?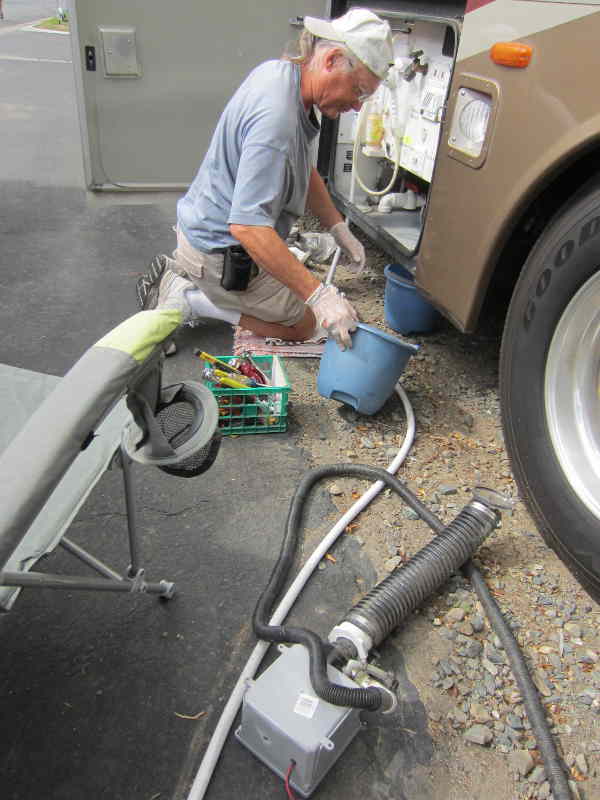 Now it is getting interesting. Whats's the Sani-con doing out of the wet bay?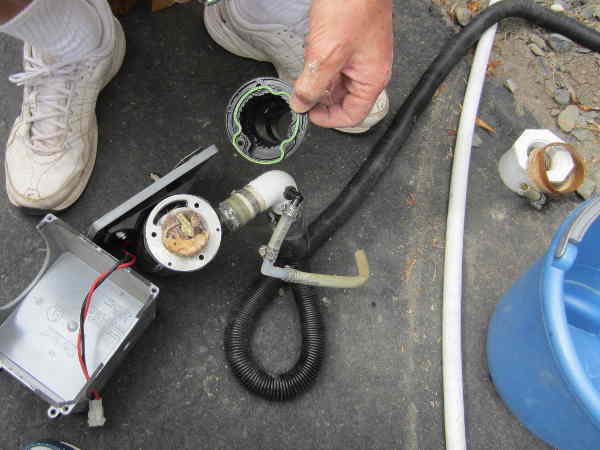 The Sani-con is in pieces. The Sani-con is supposed to pump the waste out of our holding tanks. The Sani-con has become a Sani-non. Did our crud cleaner diet clean so much lower crud that the Sani-con has been overwhelmed?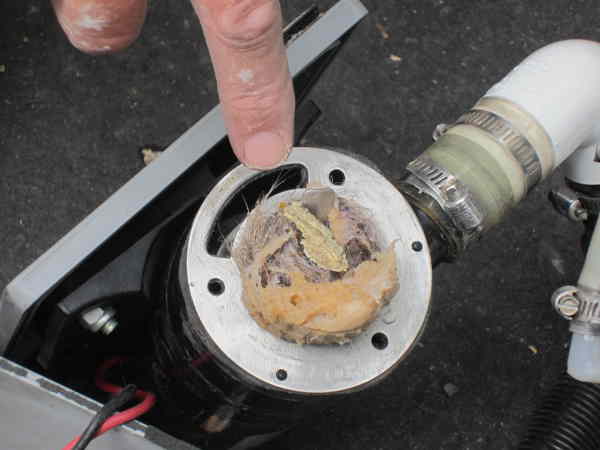 The problem revealed. It's a giant hair ball. Linda took over at this point. A razor blade, rubber gloves, some choice words and I was taking a nut off the shaft, then she was taking the blades off to really get them clean. A small hint here if you ever have to do this. Pay attention how the blades come off the shaft, it will save you no small amount of frustration when you try to put them back on.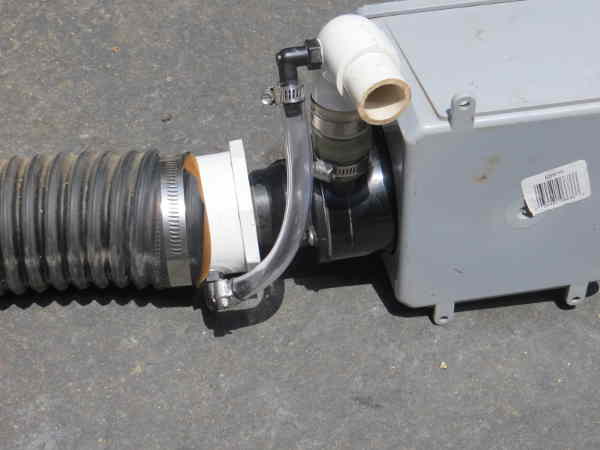 All back together. Another change was changing the direction of the discharge elbow, plus shortening and replacing the bypass tubing. The best part, it now works even better than it did when it was new.
What we had at noon, a tuna salad.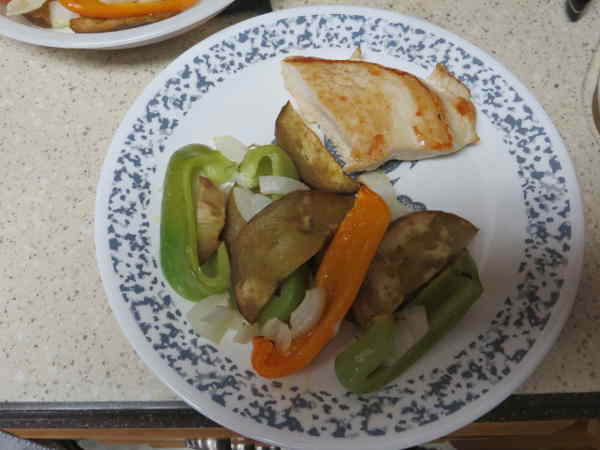 Dinner. What a day. Where else do you learn how to clean a Sani-con and eat healthy in the same post. If Life isn't fun, then what's the sense? Remember: Life is not a dress rehearsal. Don't be afraid to laugh, love and retire early.
---
---