Journal Archive 6/11 - 6/20 2013
Scroll down to read the latest post
Tuesday June 11 Sacramento, California
An Easy Day
Just to let readers know, the next three or four day's posts will probably be very short, may even be posting a day late.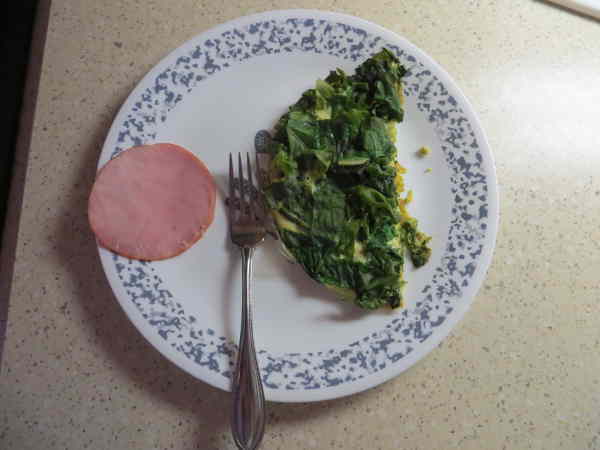 Talk about something different for breakfast, this is a spring mix omelet. I was thinking it would taste bad. It did not. May even have it again.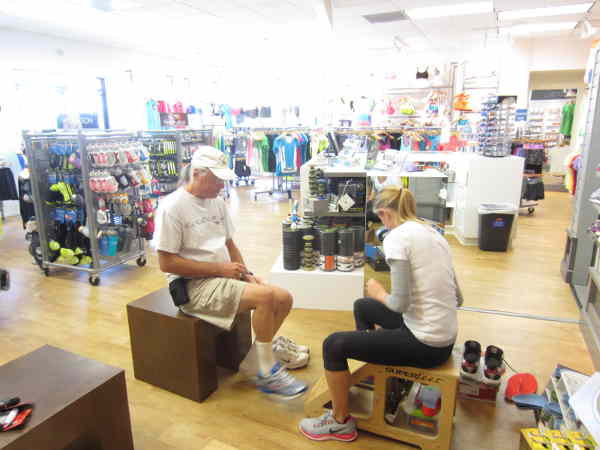 My turn to get new shoes. Fleet Feet got another sale. Out with the old white leather, hot, uncomfortable Nike's. In with the new very light weight, cool New Balance shoes. They are really different than anything I have ever worn before. The jury is still out but it is looking very good for a perfect fit.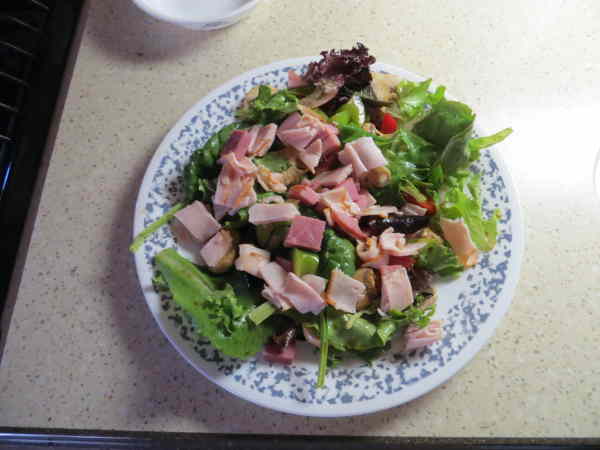 The noon meal. Linda gained a little weight this morning. We are on short rations today. I sincerely hope she is down tomorrow.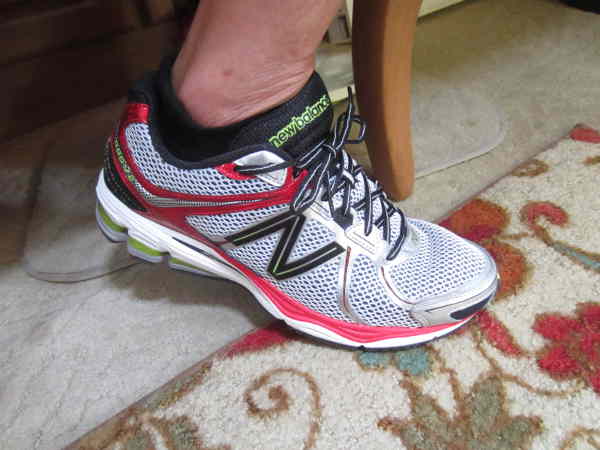 Are those great looking shoes or what. Linda surprised me, I didn't know she had taken this one. Sneaky Linda.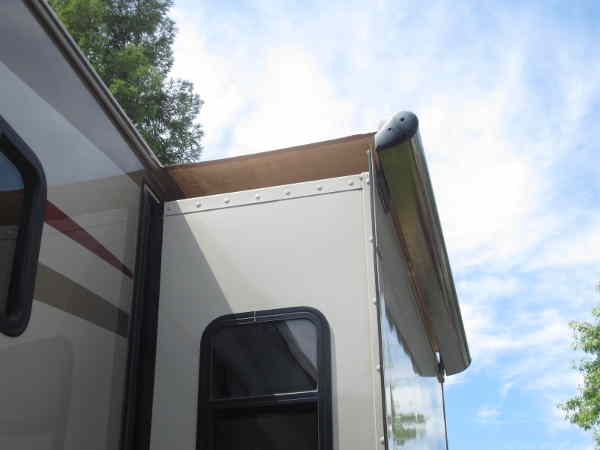 Ordered a replacement topper for the bedroom slide. Up on the roof top measure the width of the roller, then the distance the slide come out. A few clicks and it was ordered. Will be here in a week or so. Installation posted when it goes in. I've done two before so this one "should" be easy. That's all for now, have a great day!
---
Wednesday June 12 San Luis Obispo, California
A Fun Day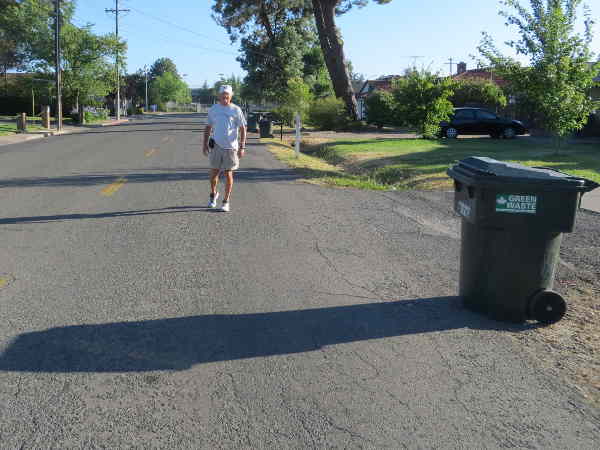 I asked Linda to take a photo of me walking. This is what I found. Wonder if the garbage can has any hidden meaning?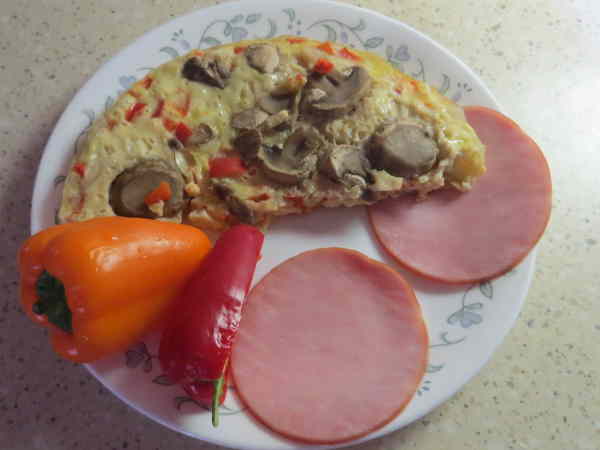 Now I know at least one reason for the term, dirty eggs. Mostly egg whites and then some mushrooms makes for a rather unappetizing color for eggs. The photo doesn't do it justice.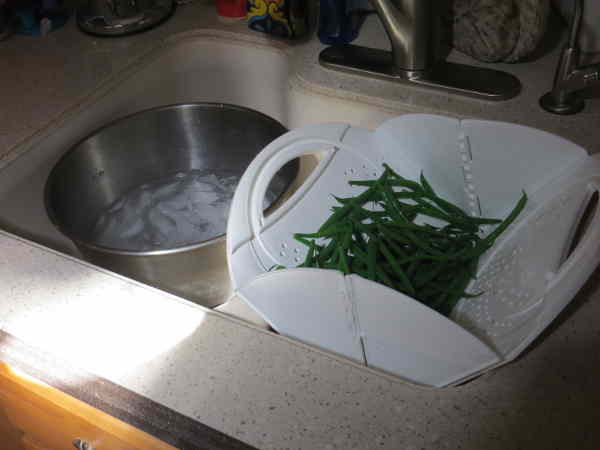 Too many fresh green beans. Linda to the rescue. A little blanching. A little freezing. It was just like back in our gardening days when we had too many to eat fresh. Good memories, but that is all they are. Wouldn't switch with how we Live today.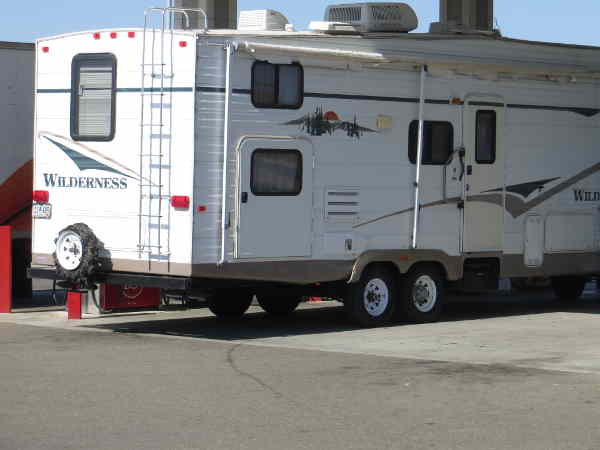 Saw this at a gas stop along I-5. The rear wheel on the trailer was bright white, so they were lucky they didn't tear up the trailer when it went flat. 75 mph on I-5 towards Bakersfield means you are holding up traffic.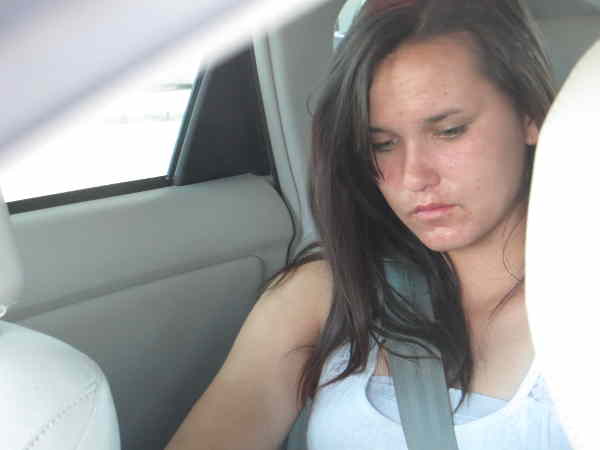 Lindsey keeping up to date. What we are doing is going to San Luis Obispo for a softball camp. Linda is staying at our daughter's house to watch Justin and spend some time with Abby, while I drive our daughter and Lindsey to San Luis Obispo. Awesome!!
I drove their Prius, and once I got past the fact there is no key, it was great. Cars have certainly changed since we bought the Explorer 20 years ago.
---
Thursday June 13 Sacramento, California
Another Fun Day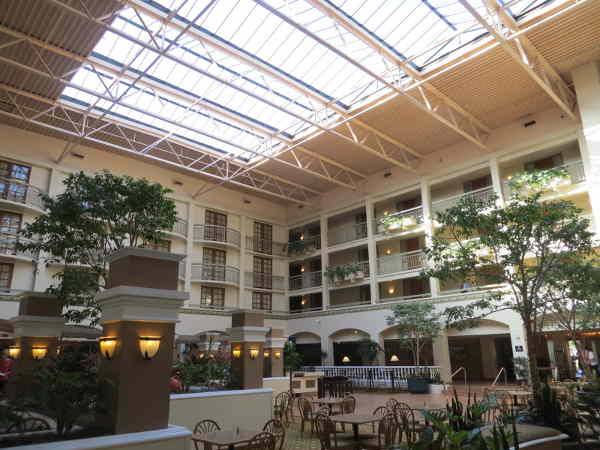 Got up early and went for a walk, but since it is hard to take a photo of yourself, here is what the inside of the San Luis Obispo Embassy Suites looks like. Linda let me know she also walked.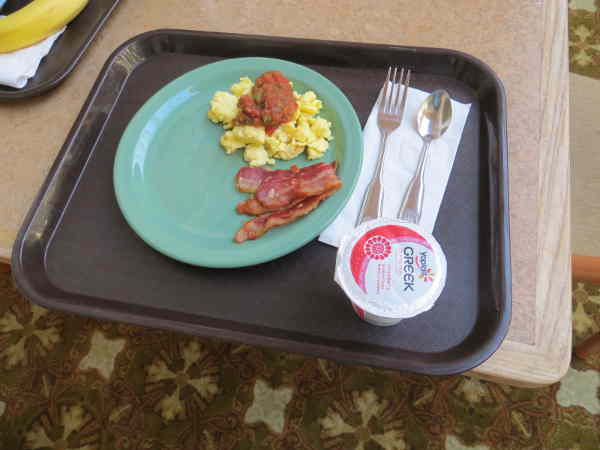 What can you do when bacon is the only meat at the breakfast buffet? You eat the bacon. It was really good too. May have to make some fresh salsa to put on our morning eggs, I forget how good it tastes.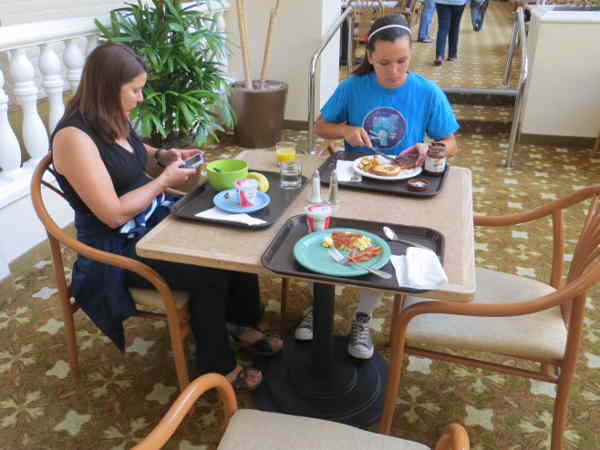 So much to do, so little time.
Softball camp. Lindsey wants to play for Cal Poly when she goes to college in three years, so that is why she is here attending this camp. That way the coaches will be familiar with her. Cal Poly is also a top ranked engineering school, which is field Lindsey wants to go into, so she hopes to fulfill both of her dreams here.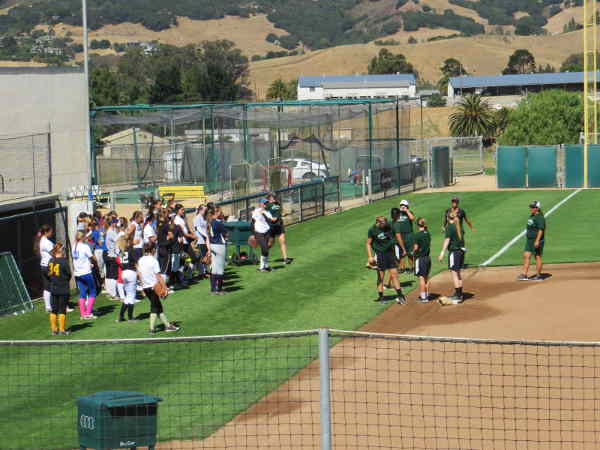 What it takes to make a dream come true. Lots of competition at this camp, but that is why she plays on a traveling team, the better the competition, the better you get. The last tournament she played in they played six games on Sunday and finished as runners up. That tournament was in Las Vegas. Most kids just play video games. Some go far beyond. Proud Grandpa.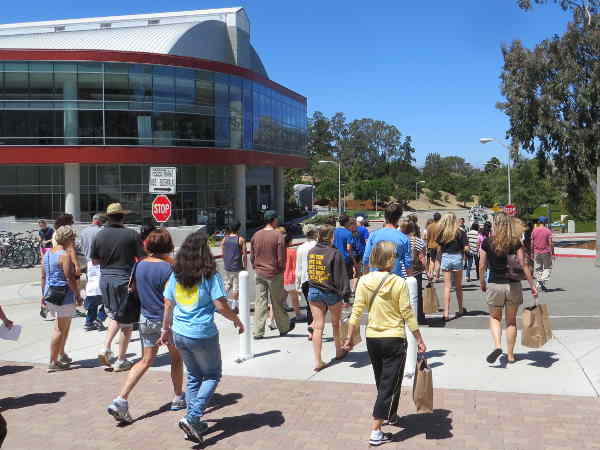 While it was softball for Lindsey and watching her for her mom, I was taking a great campus tour. I now know why she wants to go here. Heck, if I was young again so would I. It is so competitive for the choice engineering school slots that Lindsey is working hard to have a grade average of over a 4.0.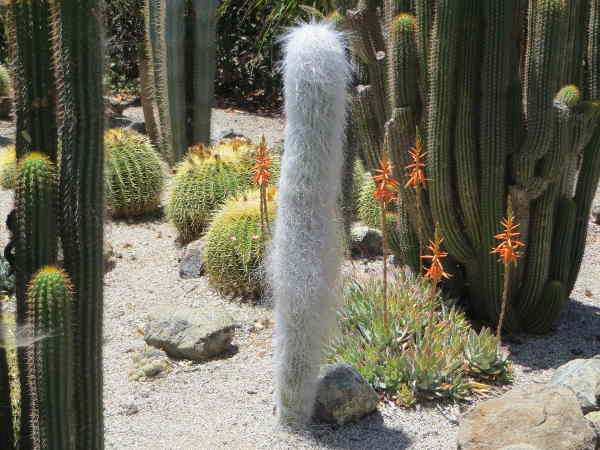 After the tour I wandered around the campus discovering the corners and hidden things that few see. My favorite cactus was one of them.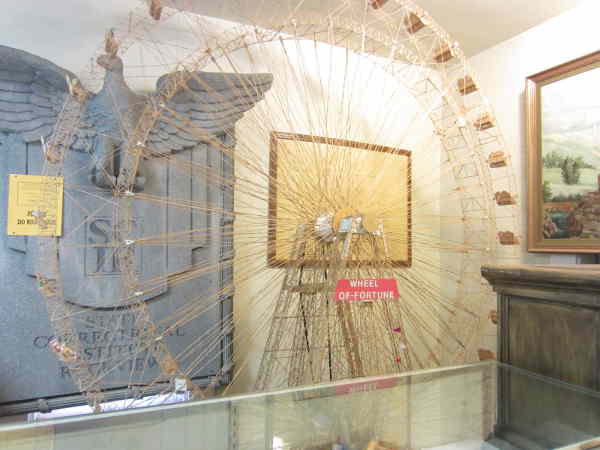 Back in Folsom Linda and Abby were visiting the the Folsom Prison Museum. This is a giant ferris wheel made from toothpicks. Abby looked at it, looked at the doors and asked grandma, "How did they get it in the room"? Not even the docent knew how they did. Star Trek had the line, to boldly go where no man has gone before. That is how Abby's mind works and it will take her to those places.
When the camp was over we drove back to Sacramento. The past 24 hours were a special time for both Linda and I. Life is truly Good.
---
Friday June 14 Sacramento, California
A Rest Day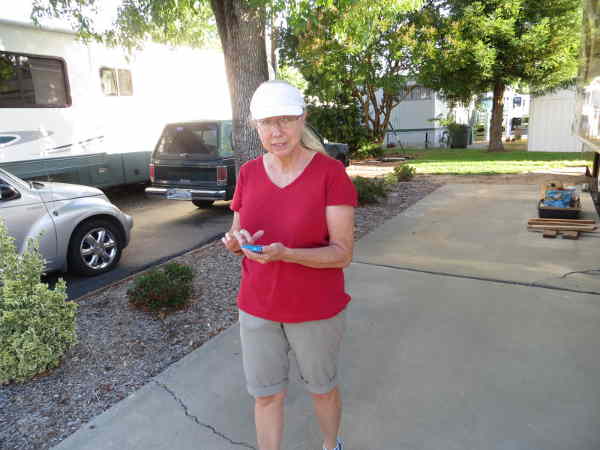 This is the- You're taking my picture -look. Yes dear, I was taking your picture. I just love how every morning when we go outside to start our walk you quickly start the app to track what we do. It's what makes you, you.
There are men and then there are men. And when that man has got to go, he's got to go. I'll say no more.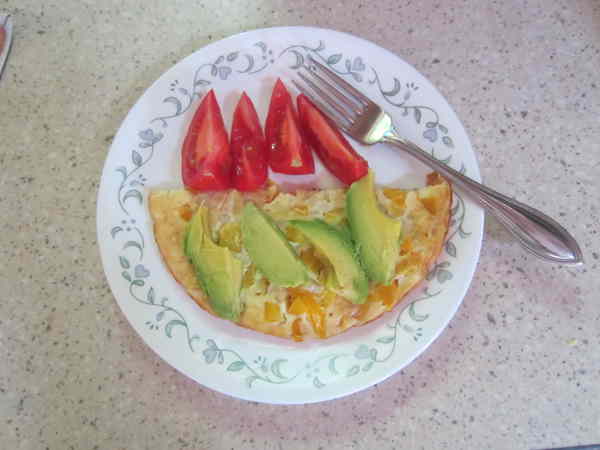 A very tasty breakfast this morning, a pepper and onion omelet.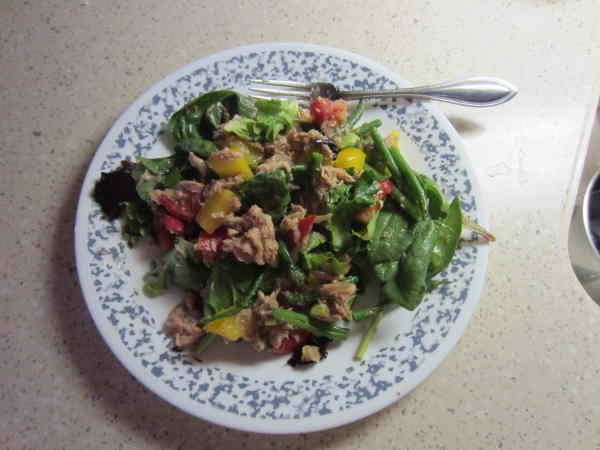 A very tasty lunch this afternoon, a tuna salad like only Linda can make. Her secret ingredient, a half teaspoon of coconut oil, and some premium great tasting olive oil. She's putting to good use what we learned eating all those wonderful meals during last year's three months in Europe.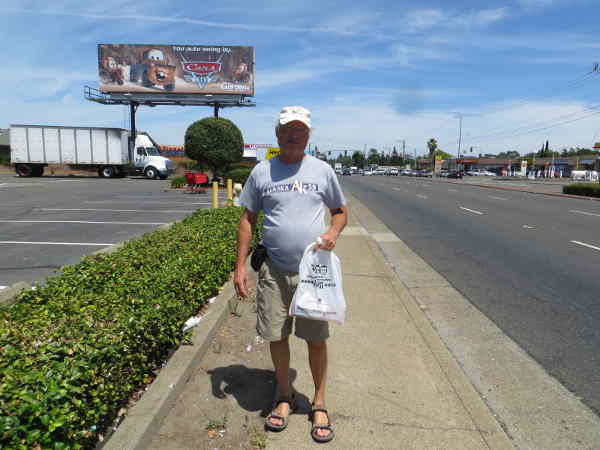 A little shopping trip. The ignition lock on the Explorer has decided that that's what it wants to do, lock. So we walked down to Pep Boys and bought a replacement. Too hot this afternoon to work on it, but early tomorrow morning we should once again be good to go.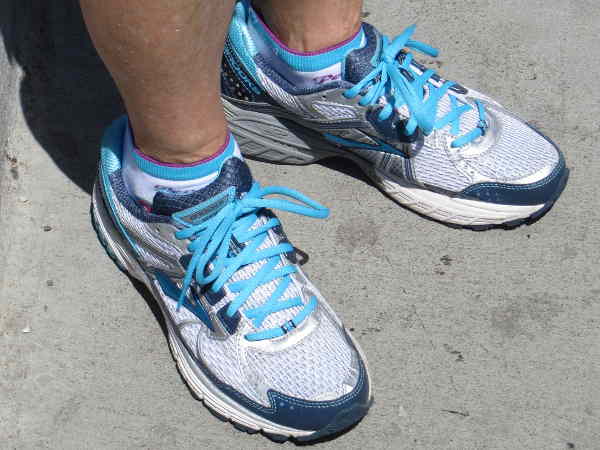 Linda got something new, her color matching socks. I smile and think, it's what makes Linda, Linda. Lucky Bob.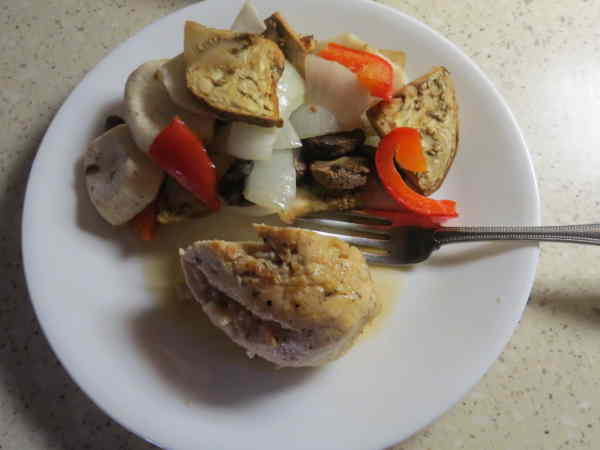 Photos of all three meals today. Linda nailed the oven baked, mixed vegetables, once again adding a small amount of coconut oil. Yes, we really like a little bit of coconut oil on most anything. Meanwhile I was doing the same thing with lemon ginger chicken, sans the coconut oil. So moist and tender it almost melted in our mouths. The problem being I kind of made it up as I went, so it is highly unlikely I can ever duplicate it. But trying to duplicate it might be a lot of fun.
We all have to Live Life our own way. We love the way we Live ours. As always, Life is not a dress rehearsal. Don't be afraid to laugh, love and retire early.
---
Saturday June 15 Sacramento, California
A Work Day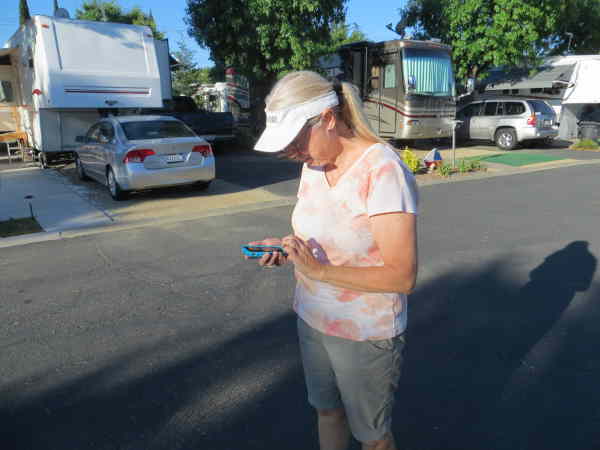 When we walk in the morning we often see an older man walking while pushing a walker/cart with a old pug in it. Today we talked and learned he had lived here before here was here. Houses and retail buildings as far as we can see were once only a lone large Victorian house with open land all around. Time and change, do it today or tomorrow it may be gone.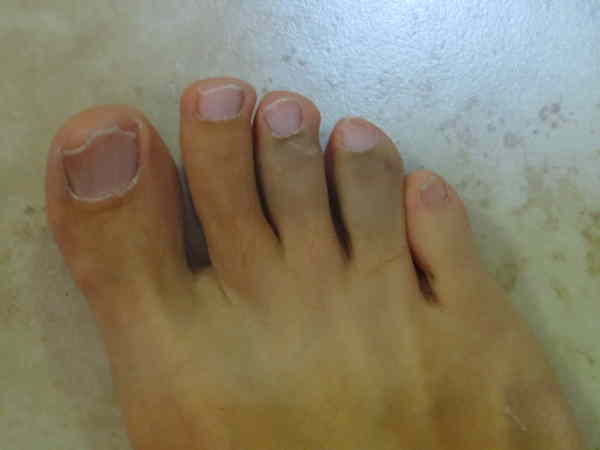 Last night I put my foot under where Linda was putting her foot. This is what my toes looked like this morning. I loved Linda's comment. "Just think what they would have looked like if I hadn't lost all this weight the last few weeks." That's what is called looking at the bright side. Of course I can't even imagine what she would be saying if it had been me stepping on her toes.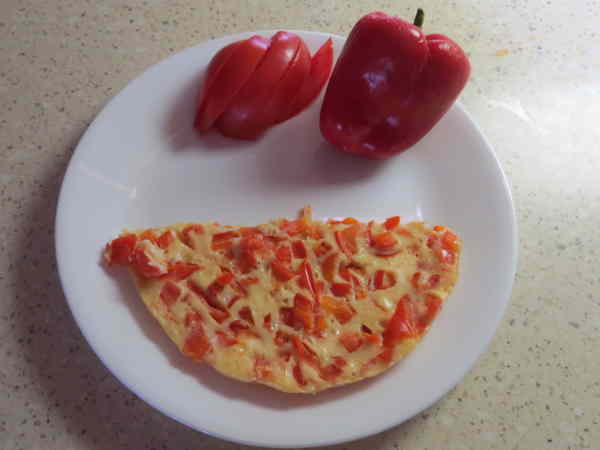 Red was the color of the day when it came to Linda's breakfast this morning. Red bell peppers in her eggs, red sweet peppers on her plate. Plus the ever necessary tomatoes. I forgot to pour her V-8 juice or she would have had a red drink.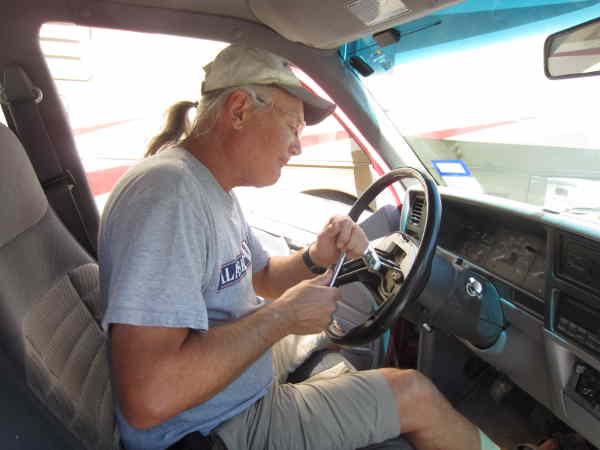 Linda had a problem while I was gone with the ignition switch on the Explorer not wanting to turn. Today was replacement day. Had to buy a steering wheel puller but Linda already has it up on ebay hoping to get some of our money back. It wasn't very expensive but they do sell and it is unlikely we will ever need one again. Live in an RV, keep only the things you use on a regular basis.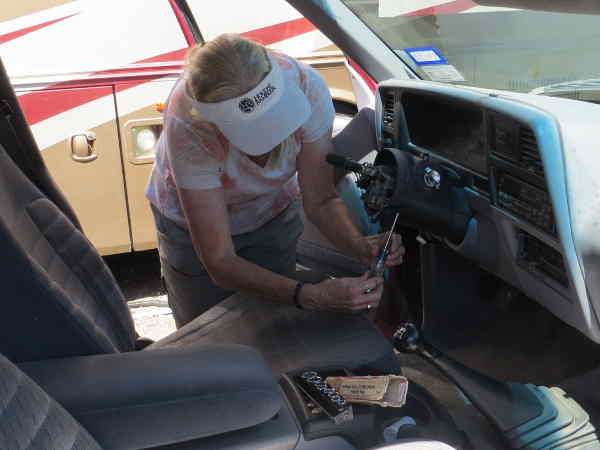 As you can see, this project was a joint effort, something we have done all our lives. I was stumped on how to remove two screws holding the shroud on. It didn't take Linda long to figure out they were phillips head screws and soon she had them out. Smart Linda. Smiling Bob.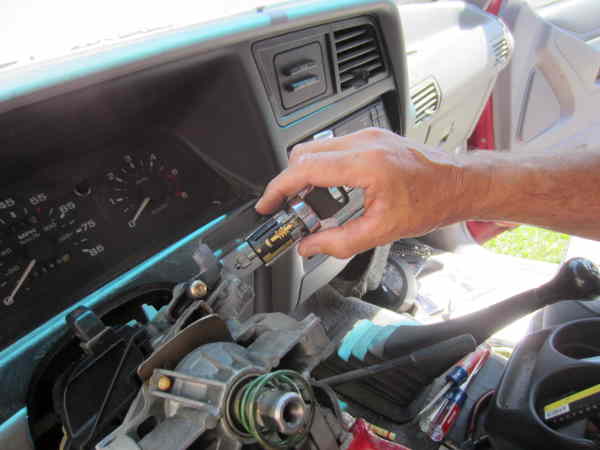 Success. The old lock is out. And soon it was all reassembled and working just fine.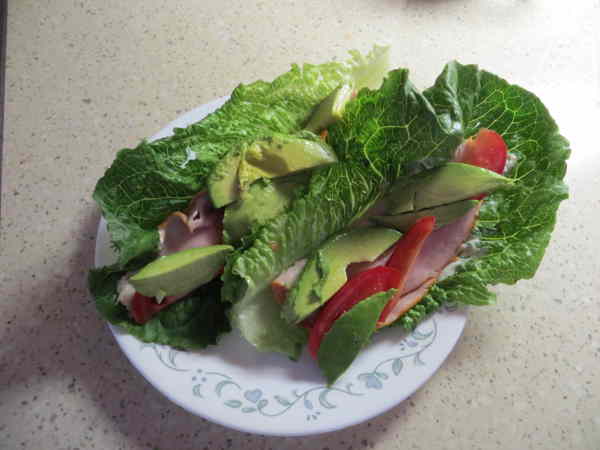 Linda came up with the idea of open faced romaine lettuce sandwiches for lunch. Topped with avocado they were beyond delicious. Asked where she got the idea, I was told the same place as always. Which means she just thought it up herself. No wonder I had gained so much weight, I was snacking all the time instead of letting her do the cooking. That's right, my weight problem is her fault for letting me do all the cooking. Something tells me that idea is going to go over like a lead balloon.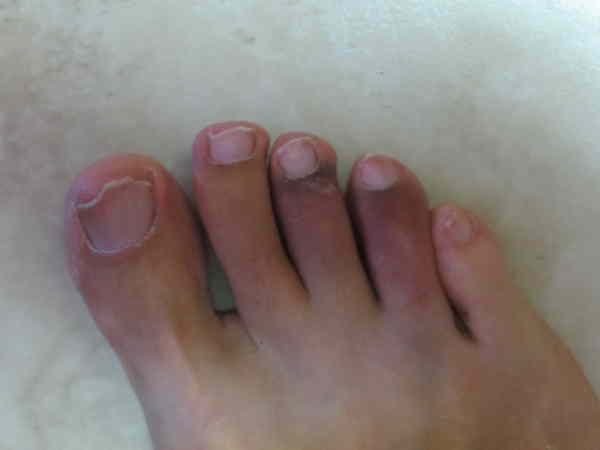 The afternoon toe photo. Soon after it went into a pan of ice water well populated with cubes. Soon it came out of the pan, then a little later it went back in. Repeat many times and the toes look much better tonight.
Linda was a happy girl today, her Ben and Bud silver ingot arrived in the mail. Not all the blogs we follow are of the RV kind. Linda has been a devoted follower of The Field Lab since she first discovered it thanks to our friends John and Judy. To find out what her ingot was all about you will have to check out The Field Lab.
---
Sunday June 16 Sacramento, California
A Rest Day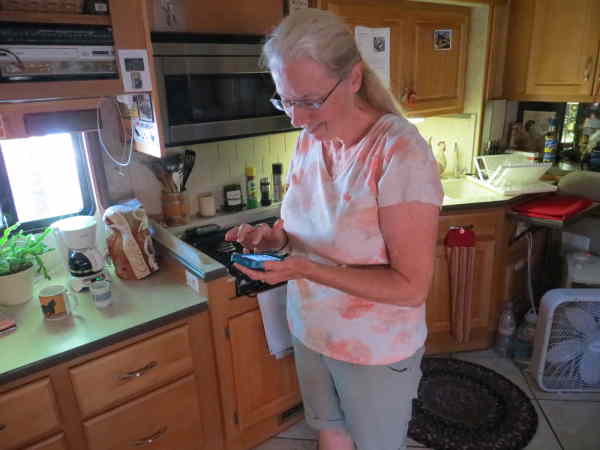 How can merely taking Linda's photo cause her to Laugh? I guess it's going to be one of those unsolvable mysteries of woman. Giggling Linda. Lucky Bob.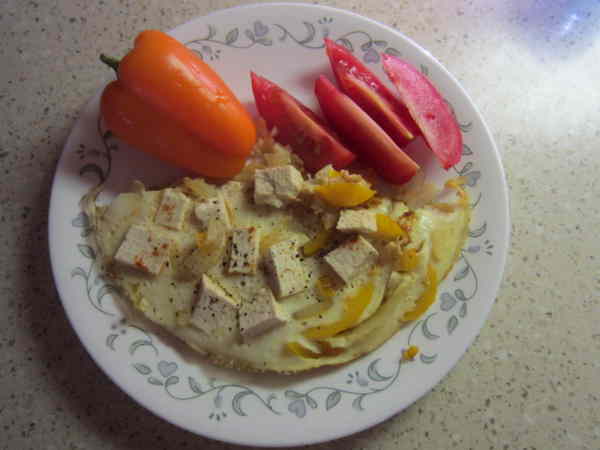 Father's day breakfast compliments of Linda. That's not cheese chunks Charlie, that's tofu Toto. Don't turn up the corners of your mouth, actually it tasted very good, not that I think we should have it every day. Diplomatic Bob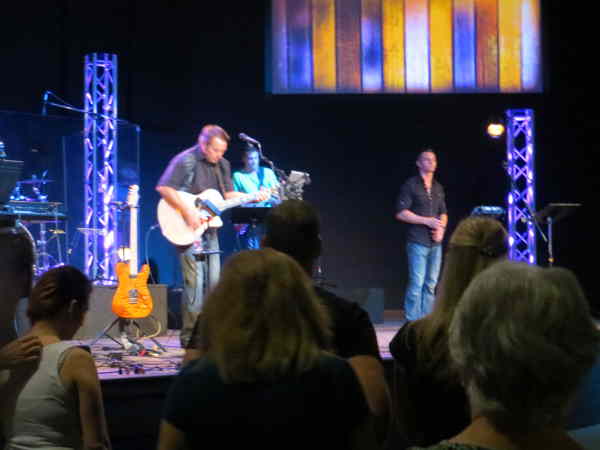 Sunday morning music. They were really wound tight this morning with the rhythm guitarist really riffing. Onward Christian Soldiers it wasn't, but it was every bit as inspiring. Just as there is no one way of full timing, there is no one way of churching.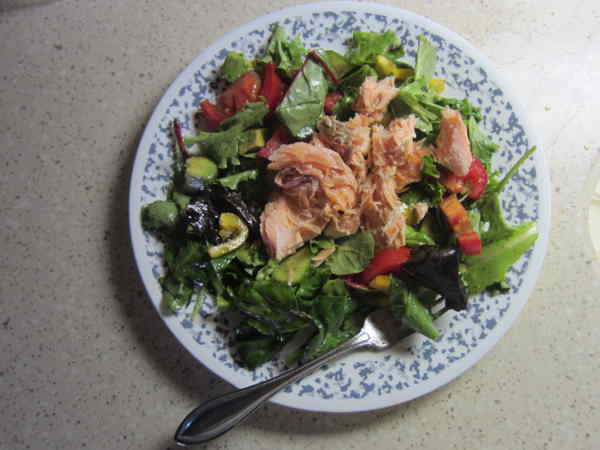 Linda cut loose again at dinner, whipping up a salad from leftover grilled salmon. She has a secret salad dressing recipe that is beyond good. So maybe I do know the secret, a very small amount of coconut oil added to the olive oil, but her secret is safe with me. Sealed lips Bob.
Toe photo of the day. Actually it looks a lot worse than it feels. Needless to say I made sure I gave Linda a wide berth whenever she lifted one of her feet anywhere near me. Isn't it funny how things we never think about can be a big problem, while things we worry about never come about. Live the Life you have, don't worry about the life you can't have, after all, Life is not a dress rehearsal.
---
Monday June 17 Sacramento, California
A Fun Day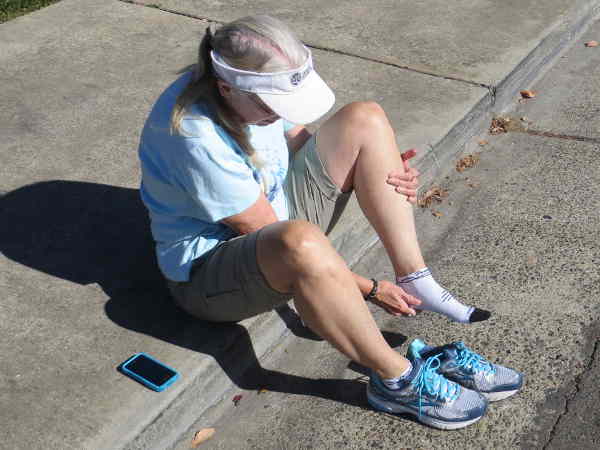 We were taking our walk this morning and suddenly Linda wasn't beside me. What in the world is this? At first I thought something was wrong, which it was, but not what I feared.
My gosh, no wonder she sat down, that rock is about the size of Gibraltar! Okay, maybe not, but it sure brought something to my attention. This is the first time since "rock in the shoe" bought her new shoes that she has had a rock in her shoe. Will wonders never cease?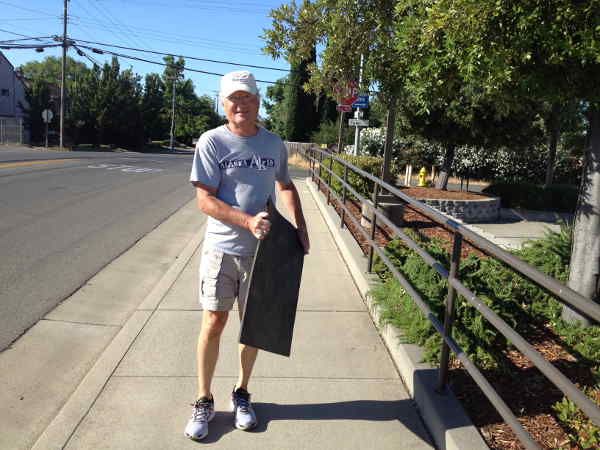 Since we have been walking I have been eyeing this rubber pad laying in the ditch along one the streets we walk. I finally decided that it was time to find out what it was. Still not sure about that, but it is going to make a very nice door mat. Then when we get to Retama this winter it will be a drip pad under the Explorer.
What you don't see was me shifting the pad from hand to hand every 15 feet or so. Heavy it was. But what I never could figure out was how it was gaining weight the closer we got to the RV park. I wanted it to be heavy so it won't blow around in the Retama wind, but this was way beyond heavy. Or at least it seemed. Weakling Bob.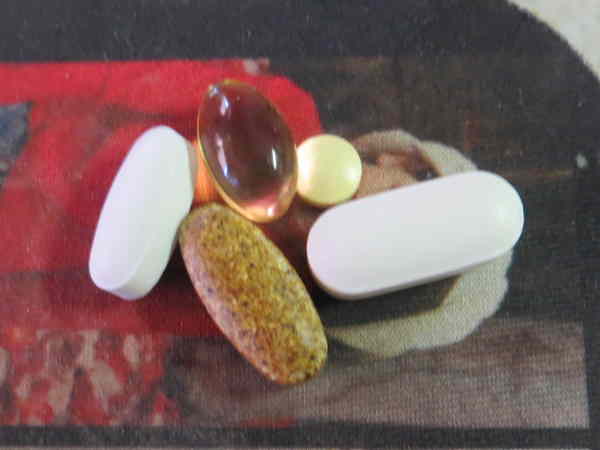 Breakfast is vitamin time. For years I have taken the same vitamins. Linda refilled the weekly container yesterday after breakfast. This morning I looked at my pile. I wasn't sure but one seemed to be missing, so I asked, "Are all my vitamins here"?
"What do you think" she answers.
"Not sure but I think there may be one missing."
"You're right."
She was being absolutely no help, so I came right out. "Tell me which one."
She looked at me and said, "You really don't know do you?"
"No." "It's your folic acid, the one that is supposed to help your memory and I told you yesterday we were out."
It just goes to show how important my daily dose of folic acid, the memory aid really is. Miss a day of it and my memory is already beginning to fade away.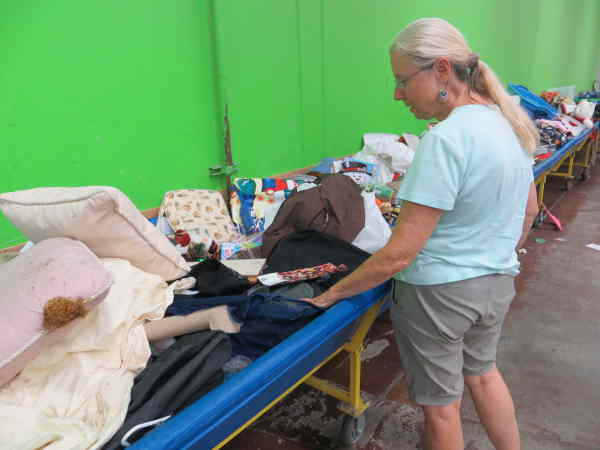 Shopping, but not like we ever have been shopping before. Actually Linda has, one time, but I never have. If you ever get the opportunity to shop at a Goodwill Outlet Store do it for the experience. Everything is in huge bins. Everything has only one price, or I should say is priced one way, by the pound. Doesn't matter what it is other than furniture, and bicycles, it is $1.39 a pound here. People wheel heaping shopping carts up to the checkout. Everything goes into a blue plastic tote bin. Simple easy and effective.
I couldn't believe how much merchandise was going out the door. Linda was right in there with them, and when we checked out our bill came to a whopping $1.55. So maybe we didn't make too big a dent in their inventory, but Linda is already talking about going back. I hope we haven't unloosed a monster. But really, it's okay because we had fun and laughed about it. What more can we ask. Life, meant to be Lived
---
Tuesday June 18 Sacramento, California
Visit Day
It wasn't just Linda, it was us. We set a new record for our first mile this morning, walking that distance in just under 16 minutes. I'd say that is not bad for a woman who six months ago couldn't even walk across a store parking but needed to be let out right at the door. I'll just say that Bob is way beyond proud of Linda and let it go at that lest she accuse me of trying to get on her walk even faster tomorrow.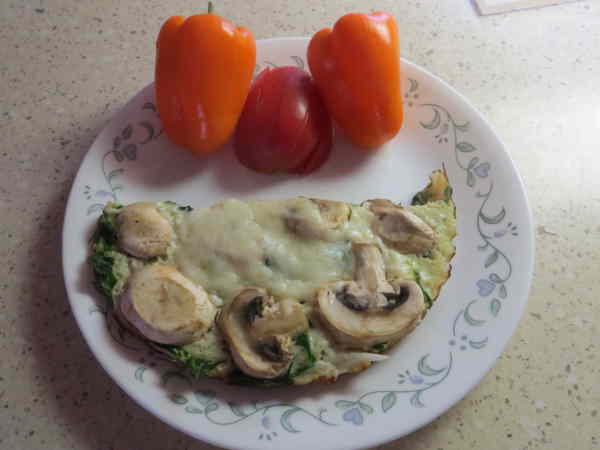 Moving up in the food world for breakfast. a spinach, mushroom and cheese omelet this morning. Are we about to return to the land of the normal? The ever decreasing numbers on the scale say otherwise. We both haven't felt as good as we do now in a long time. I dare say, are we becoming health nuts?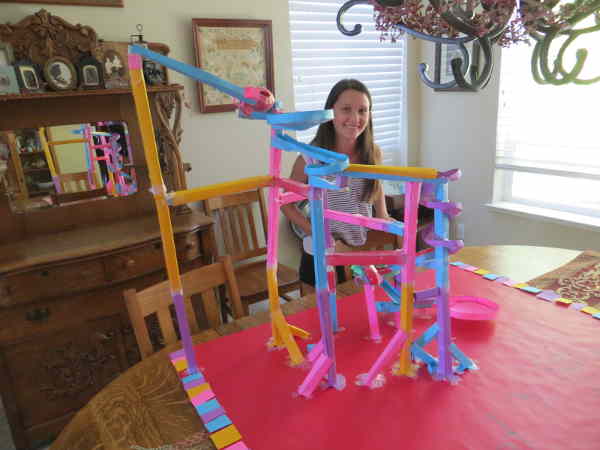 Father's day at our daughter Jennifer's today. It meant I got to be grandpa. Abby had attended an Engineer Camp last week and had brought home one of the many projects she designed and built. The assignment here was to incorporate different things into a marble roller. She got them all, the only one who did. I was amazed as she explained how she analyzed several earlier attempts, altering them to achieve the results the assignment called for. Twelve years old and she wants to be an architect or architectural engineer. And she will be someday.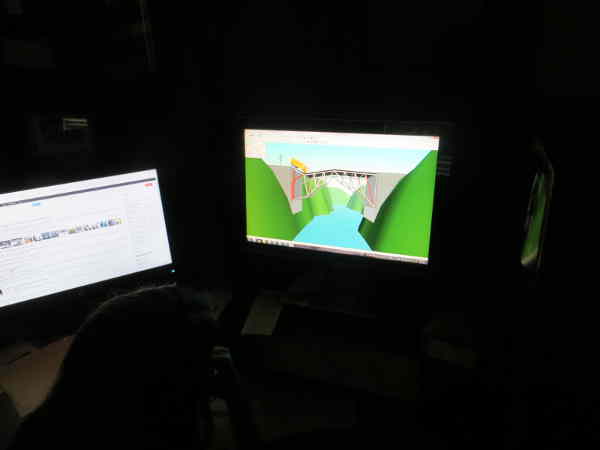 Then she wanted to show me the bridge design program she has on the computer. Blown away doesn't begin to describe what I felt watching her. She showed me how selecting the wrong type of steel for example could cause a bridge to fail, then proceeded to design and tweak the design until she had taken over $100,00 off of the cost, and had an even stronger bridge that before. Amazed Grandpa.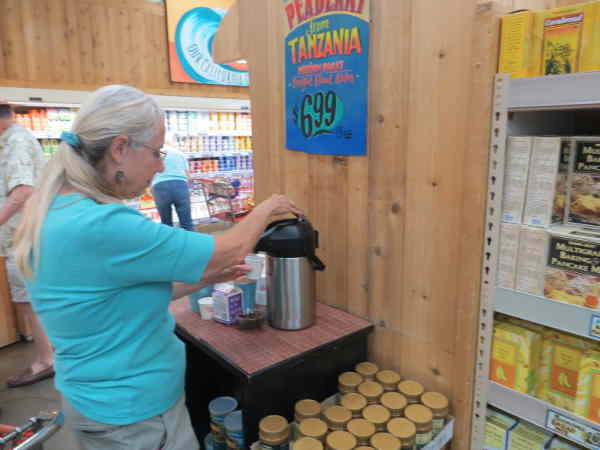 Shopping again today, but this time at Trader Joe's, the one store we miss more than any other as we travel. There are businesses that do it right, and Trader Joe's is one of them. We really have to watch ourselves, no chocolate covered expresso beans, no chocolate almond biscotti, it's enough to make two grown people cry. We were reduced to a bottle of Sriracha Sauce and an insulated Trader Joe's bag for something special. But don't laugh, the quality of the cold bag is way beyond what you get anywhere else, and the Sriracha Sauce, if you like spicy sauces in the least, it is about as as good as it gets.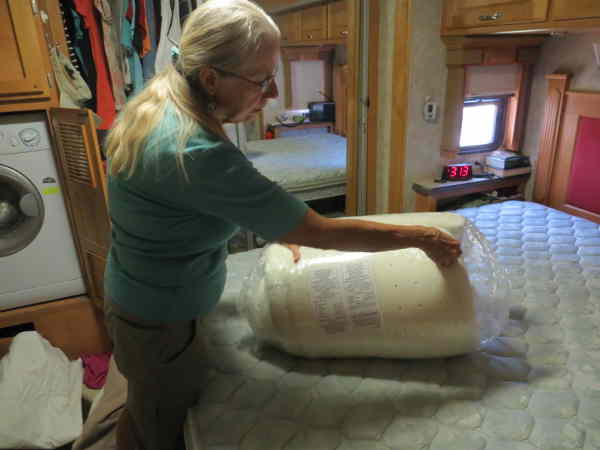 Back home there was a package. The new mattress topper Linda wanted had arrived. Report in few days as to how it works.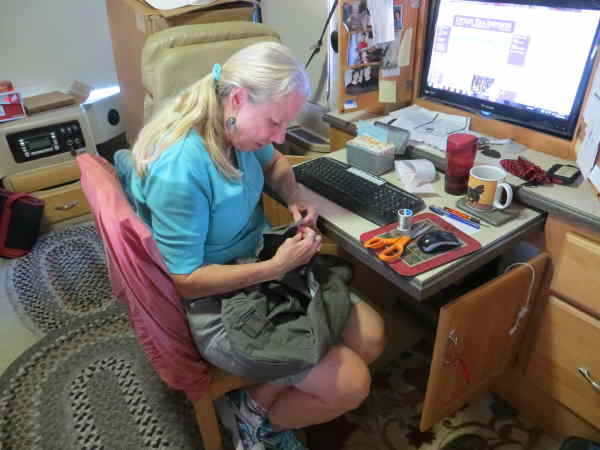 One of the reasons for all this change in food consumption on our part is being fixed. Back several weeks ago Linda's husband was so malformed that he actually popped the button off his favorite pair of shorts. Maybe burst would be a better description since the middle of the button simply gave way, Now that progress has been made in the spare tire department, she was ready to sew a new button on without fear of another pop. At the rate I am going I'll soon be worrying if they will stay up. But that is a good problem to have.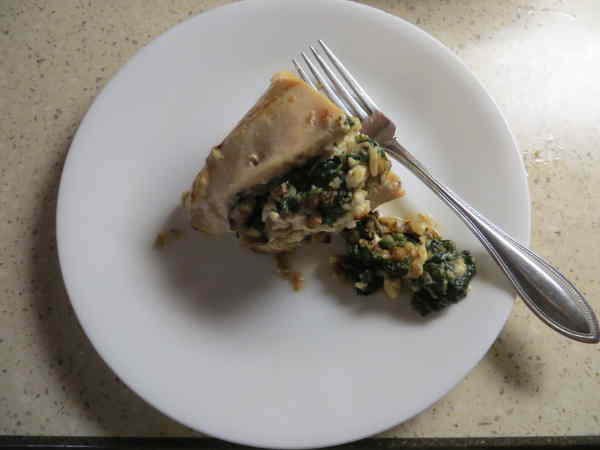 Dinner. My invention. Breast of chicken stuffed with spinach, Feta cheese, minced garlic and chopped mushrooms. Linda was saying how good it was. I was smacking my lips. What a wonderful way to end a fabulous day. How did we get to be so lucky?
---
Wednesday June 19 Sacramento, California
Interesting Day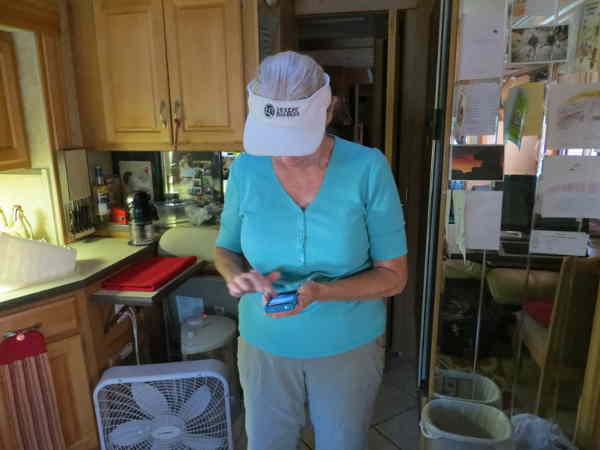 Linda was in a hurry to start her iPhone walking apps this morning. So we leave, or I should say, we start to leave. I see the trash can in the street, the truck having come as always at 6:30. Linda said it woke her up. I said it never wakes me up. She said that's because you've already been up for 2 1/2 hours when it comes. I just smiled and brought the trash can in. Can you believe it, much of what I hear for the next minute or so is how I caused our time to be off this morning since I had to stop and put the trash can away. I said nothing. Smart Bob.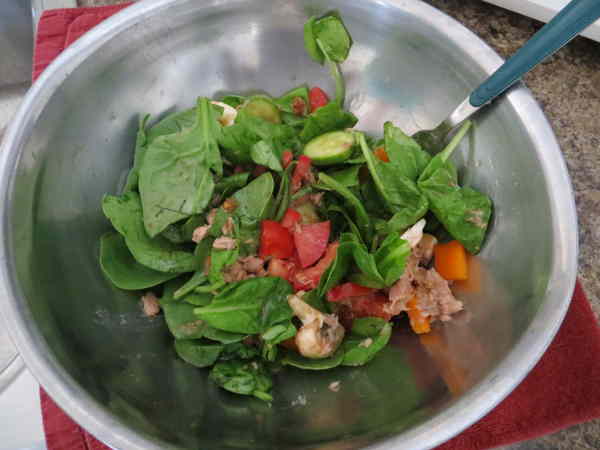 Tuna spinach salad by Linda. Linda put her secret dressing on it. Bob ate every last little bit of his. Linda looked pleased. Smart Bob.
Father's day at our daughter Jennifer's yesterday. I meant to post these photos yesterday, but that ginkgo bilboa pill that I am not taking every morning to aid my memory had reared its ugly head again. No pill this morning either, but tonight I remembered to post them. Happy young ladies, Happy Dad and Grandpa.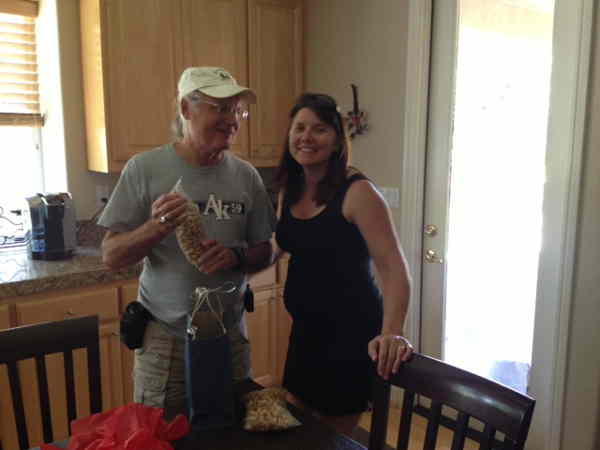 My look says it all.
I had to pat myself on the back for this asparagus, mushroom and onion side dish. It had a few other things in it, and it was like, wow, good. Sometimes you're good and sometimes you're lucky. Tonight it felt good to be lucky.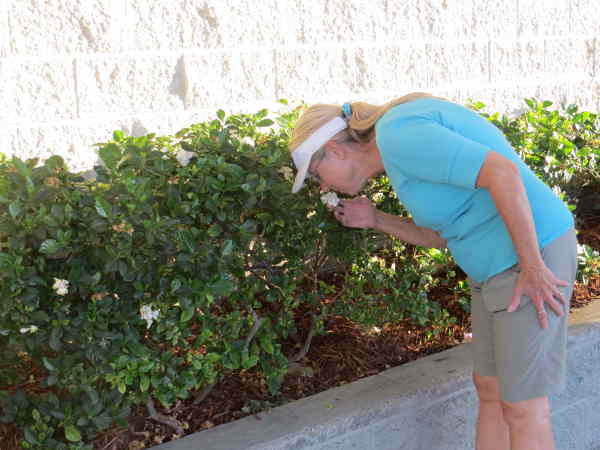 Gardenia girl at it once again. At 7:30 tonight the overwhelming need to shop at Office Depot struck Linda with a vengeance. It takes just a couple of minutes for us to walk over. Eventually I decided she'd been there twice as long as was needed and started showing my impatience. Bad move. Soon I was banned, and when she finally did come out of the store it appeared she had used her credit card to calm herself back down after I had mistreated her. Sorry Bob.
Never was that famous old saying more true. The one that goes, "The smell of the gardenia is long gone before the credit card bill arrives." Really Sorry Bob.
---
Thursday June 20 Sacramento, California
A Day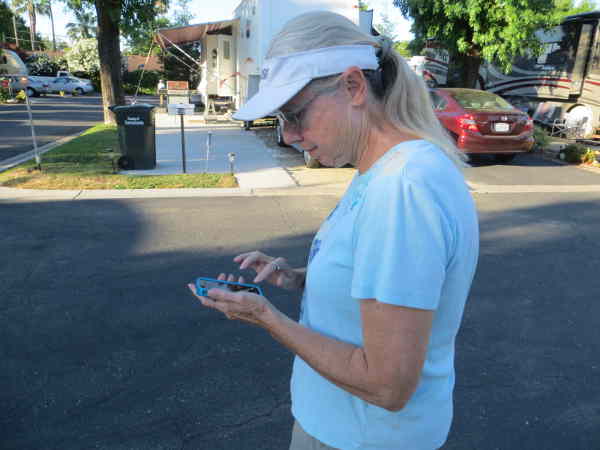 Linda was not in as big a hurry to start her iPhone walking apps this morning. From her comments, I believe she felt what I wrote in yesterday's Daily Journal did not accurately reflect the events that transpired at the beginning of yesterday morning's walk. Even so, she waited until we were outside to start her apps. The result was a new time and distance record. That's two days in a row. We are on a roll.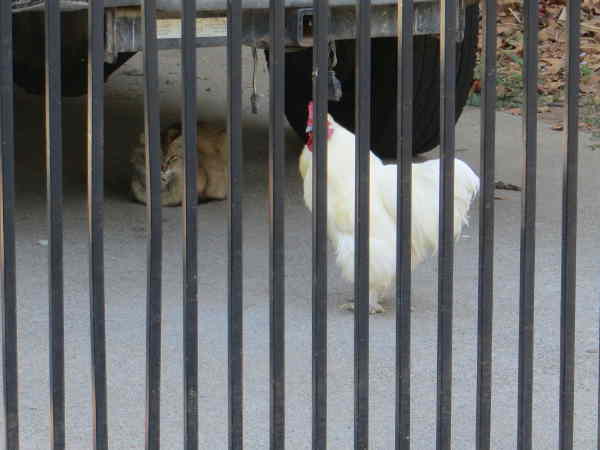 We took a different route this morning. I think we will be taking this route from now on. The crowing of chickens called Linda. Linda got her chicken fix. Very Happy Linda.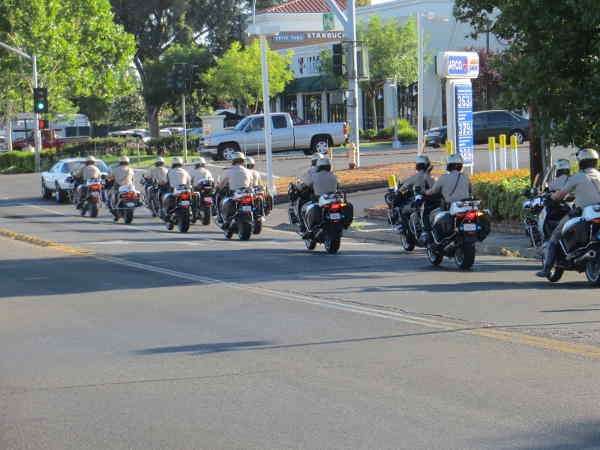 The early part of our daily walk always takes us past a CHP office. On our return trip today this line of CHP motorcycle officers overtook us. They made for quite a sight, but we wondered if they were going to a service for a fallen officer.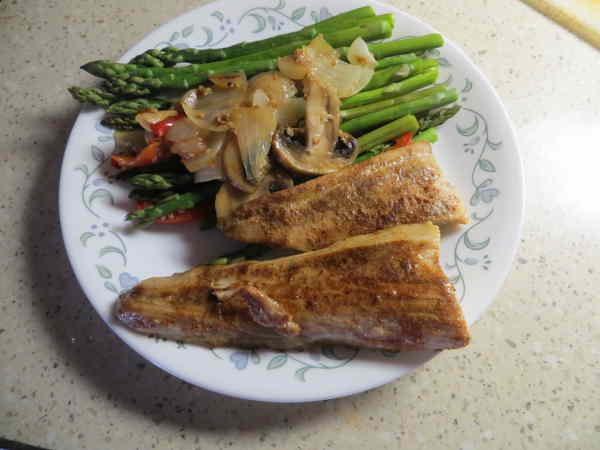 Fish and asparagus. A fitting end to the day. Bob and Linda, Living the Dream Large.
---
---