Journal Archive 7/21 - 7/31 2013
Scroll down to read the latest post
Sunday July 21 Sacramento, California
Sun-Day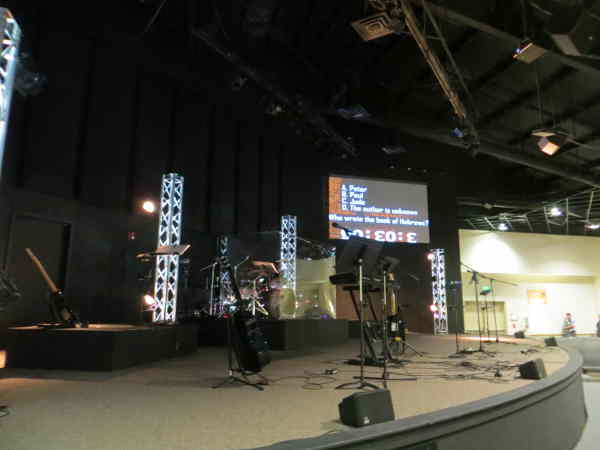 Sunday morning before anything happens at Church. We never sit in the same place we did before. Side to side, front to back, it makes for a different experience each week. In that former life at that old mainline church we attended, we always sat in the same seat each week, just like everyone around us. Not in this Life. No way.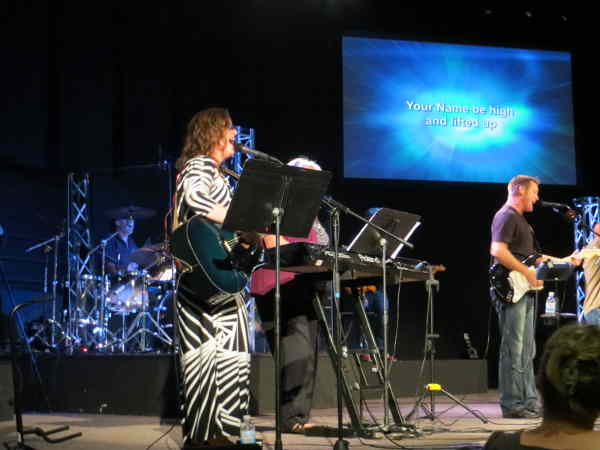 The pounding of the drums, the sound of the guitars, the vocals sending shivers down your spine. We are going to miss this place. It was near standing room only once again this morning, and we know why. Church isn't for everyone, if fact it isn't for most if the numbers are to be believed. But sometimes what once was Church, isn't always what Church is today.
Unfortunately those were the only photos we took today, or I should say, I took today since Linda was a no show in the photography department. Grilled filet mignon and zucchini for dinner, thank you Trader Joe's for the great price on the filet. Only a few more days until we are once again on the road, and we are starting to really get anxious to leave. That is countered with the sadness of leaving those we love. Yet out on the road are our RV friends. Never a regret. It's true you know: Life is not a dress rehearsal. Don't be afraid to laugh, love and retire early.
---
Monday July 22 Sacramento, California
A Good Day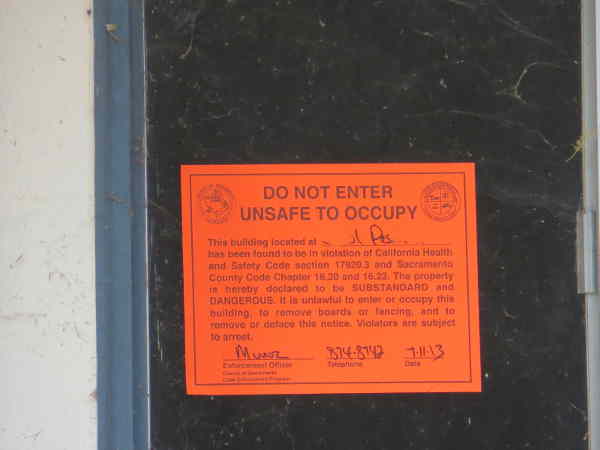 Every day we walk we look at the orange signs on a house we pass and wonder what they mean. This morning curiosity got the best of me. This is the result. Now we can only wonder what happened. Life is like that, a never ending journey when we open our minds, or the same thing over and over if we don't.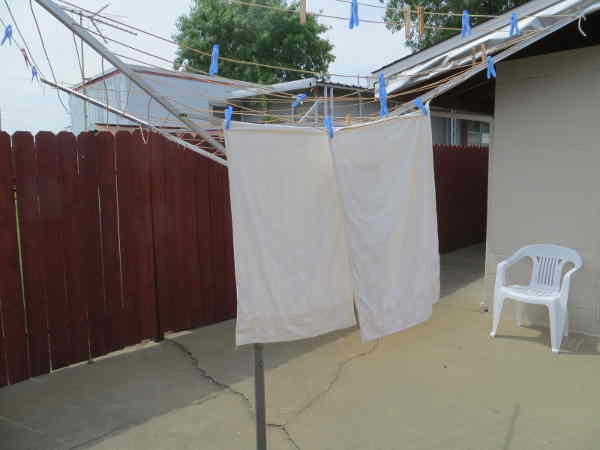 I got Linda today. This morning she had stripped off the sheets and washed them, then had hung them on one of the park's outside clotheslines. This afternoon she left to do a few errands and so I being the perfect husband, I walked over and took them down, then made the bed.
She can back, then when I was on the phone she disappeared. It was much later that she told me where she had gone. Seems she had remembered the bedding hanging on the line and gone over to get it. She was shocked when it wasn't there. When she came back she remembered seeing the bed made but hadn't connected it with my getting the sheets and making it. We both got a good laugh out of that one.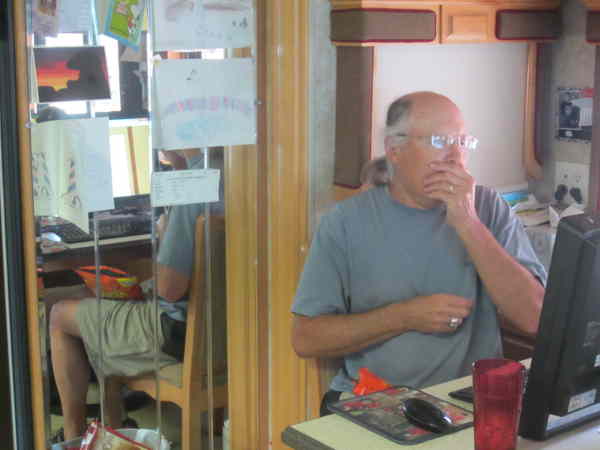 It's been days since Linda took a photo on her camera. It was like she had her iPhone and it does everything. Not today. After the earlier incident with the wayward sheets, maybe this was my payback. Pretty good on her part catching me in mid yawn. And I didn't get up this morning until almost 5 so no way should I have been tired. Still, Sleepy Bob.
Lucky grandma and grandpa, we had a visitor today. Every time we see Zach he seems to have grown more. We are truly blessed to have four really awesome grandchildren. Lucky us.
We closed out the day stowing more items, at least those we could remember where they go. It is the bad thing about sitting in one place for so long, at our advanced age we don't always recall the what's, or where's, or why's. At least we have the when down, which is Wednesday.
It is time for us to travel on and may our travels reflect the spirit of G. K. Chesterton when he said: "The traveler sees what he sees, the tourist sees what he has come to see." May our guide, Sara N. Dippity, lead us down the road, for tourists we are not.
---
Tuesday July 23 Sacramento, California
Last Day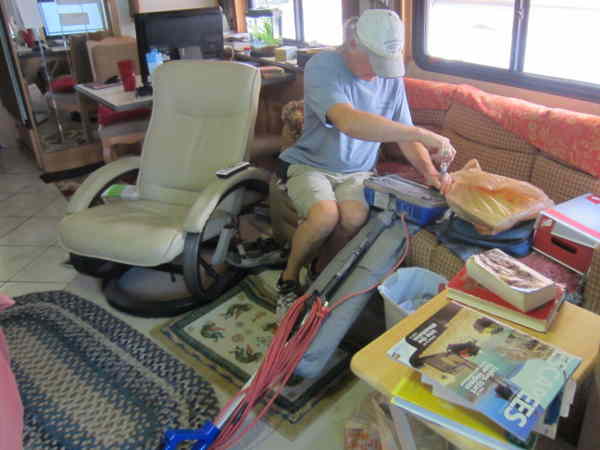 Our Orick doesn't suck the way it used to. It makes noise, it vacuums, but not that well. It seems to end up with as much dust outside the bag as inside. Time for a fix. In other words it doesn't suck, it sucks.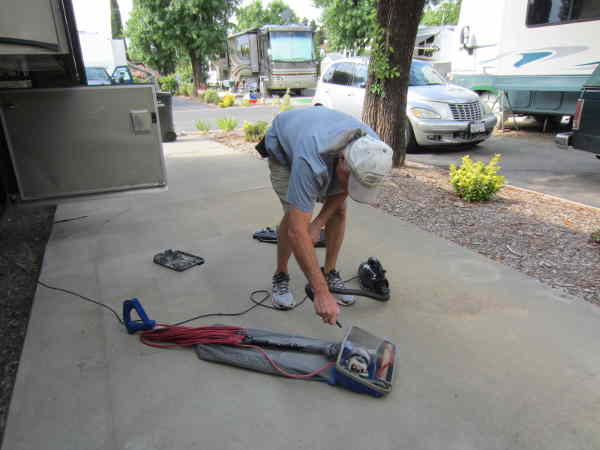 Once I understood that the vacuum was very dusty, and she who commands had commanded the repair be made outside, things proceeded rapidly. I never did find a leak, but I sure did find a lot of dust and enough hair to make a decent sized wig. Back together it worked like it hadn't in years. I did good, at least once I took it outside. Happy Linda.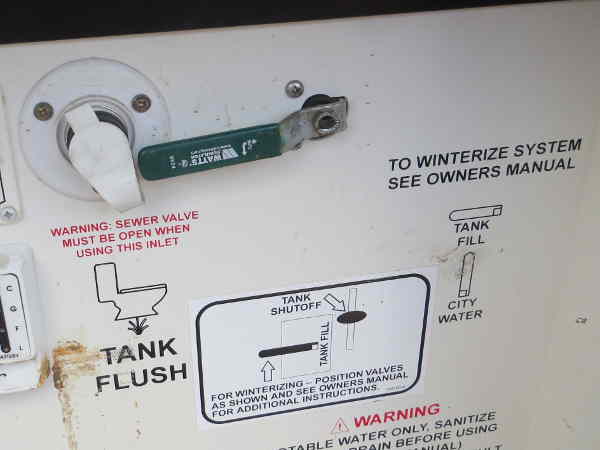 Getting ready to travel. I'd drained the fresh water tank yesterday, so today I filled it. Or I should say I tried to filled it. The valve was turned in the correct position but there was no noise of water filling the tank. It turned out the water filter was malfunctioning. We never did figure out exactly what it was, though it looked like we had bought the wrong kind of filter the last time. It was installed but likely not filtering. Don't ask me how that could happen. And today it just stopped working. We had another style of filter that we installed. It worked great. Just another of those unfathomable mysteries of Life on the road where in the end we laughed and went on with Life.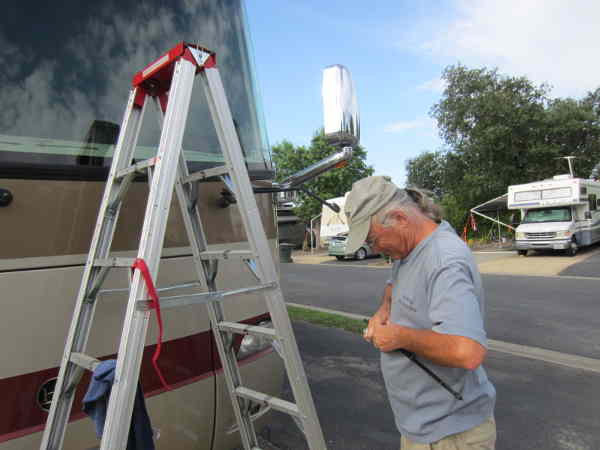 While Linda washed the windshield I replaced the drivers side windshield wiper. We carry spare blades just in case, and this was one of those times. The new one attached completely differently that the old one, but some sawing, some reaming, some bending and some silicone spray was all that was needed. It now looks just like the other one and I know for sure it is not going to fall off when we use it.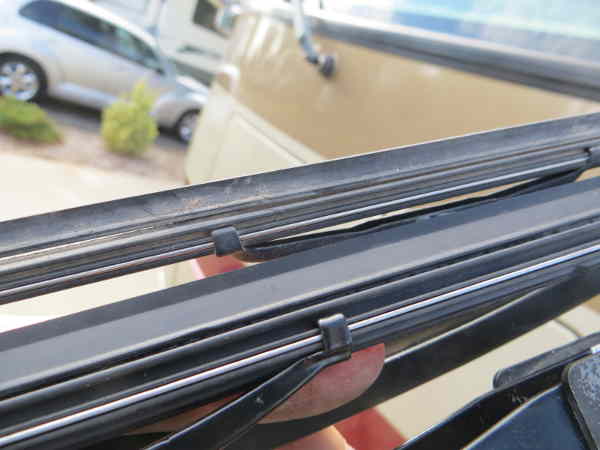 It was amazing how much better made the new one was compared to the old one. About three times the rubber in the blade and the steel of the mechanism was thicker. It was made in China so we shall see just how long it lasts. If past experience is any indicator, it won't be as long as the one we replace. Nowadays the term Chinese Junk does not refer to a ship.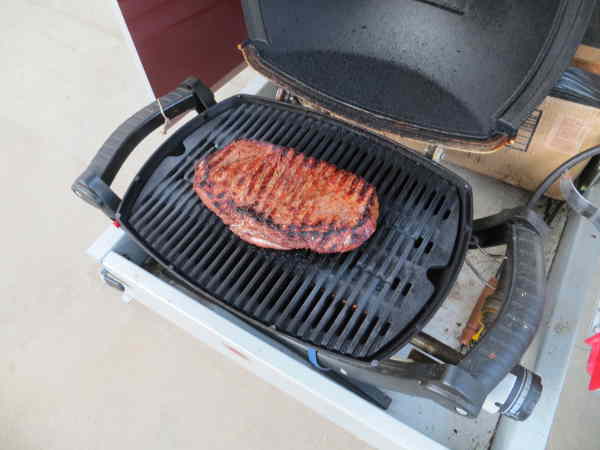 Our last supper in Sacramento. It was great, grilled London Broil marinated in wine and other special things. Tomorrow we head out. We are ready. The coach is packed, well almost packed, there will be something we forget to put away or close and there will be a loud noise shortly after we leave and Linda will look around around and say, "We forgot to put away (fill in the blank)." It won't matter. We will be traveling. We will be happy for we know Life is not a dress rehearsal. That's why we laugh and love. And it's also why we retired early. Life is too short to wait for someday.
---
Wednesday July 24 Orland, California
On the Road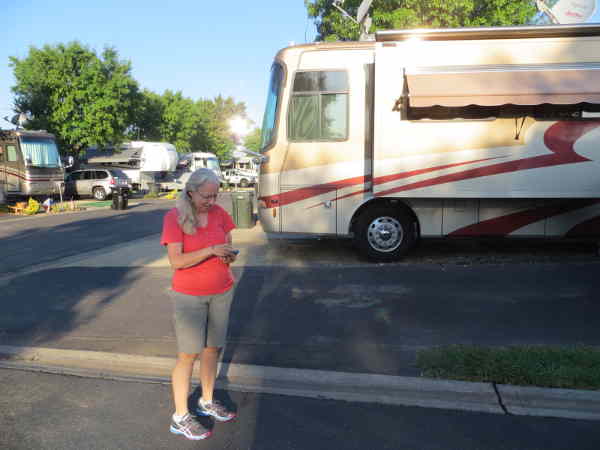 The last walk. The familiar will be gone after today, and interestingly enough, the 5th wheel that was directly across from us left yesterday and a motorhome up the street was pulling out as we walked by. Wonder if everyone else got the message about Life on the road as opposed to sitting in one place all the time.
We did get to say goodbye to one of the people we occasionally meet during our morning walk. A man in his 80's who pushes a pug in a small cart attached to his walker. He has to stop every once in a while and sit on the walker to rest. He wished us good travels and said he looked forward to seeing us again next year. He proves that you are only as old as you think you are. Linda and I are excited about going to kindergarten next year.
Looks like Linda and I weren't the only ones who set up housekeeping in this RV park. Bless her heart, Linda is finally beginning to understand that spiders in the coach means fewer insects in the coach. Still, she wiped this web from the face of the earth. Sad Bob.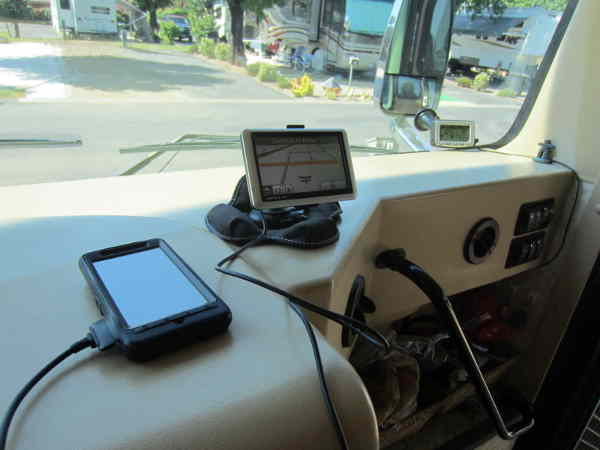 Linda was all set up to get us to our destination with the GPS and Google Navigation on the droid. It really does work well for her because even if we do get lost she at least knows where we are lost. At one point as we journeyed up the tedious miles of I-5 she seemed to have a problem and proceeded to use the routing program on her Iphone in addition to these two. Since it was at least ten miles between exits and we were far from being where we were going I wasn't sure what the problem was. It turned out the GPS and droid were not agreeing as to where the RV park was, so she wanted a third opinion. When we did reach the exit I just followed the signs and had no problem. Technology is not always the answer.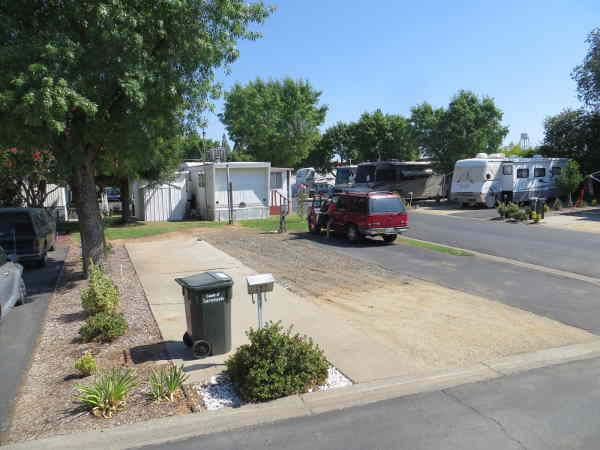 It was home for many weeks.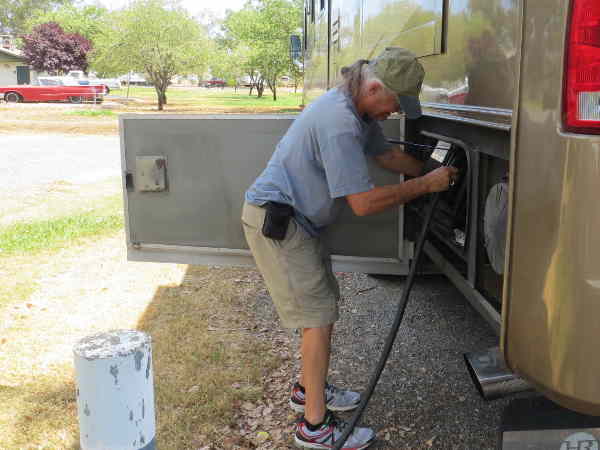 A minor problem. The cord reel decided that it had reached its life expectancy and hence expired. A check of the internet and I knew what the problem was without taking it apart. The noise it made and the fact it locked up was enough to confirm that a little gear was no more. The original manufacturer sold a gear kit for $25. Then they were sold and the new company doesn't sell the gear kit, they tell you to buy a new reel for big dollars, as in $500 for this particular model. They do a trade for $250 if you want.
For now I will be doing it by hand. When we get up to Junction City we will either take care of it ourselves or try to get it replaced under our extended warranty. Welcome back to Life on the road, Bob and Linda.
Linda pre-cooling the insulated food bag. I will say no more.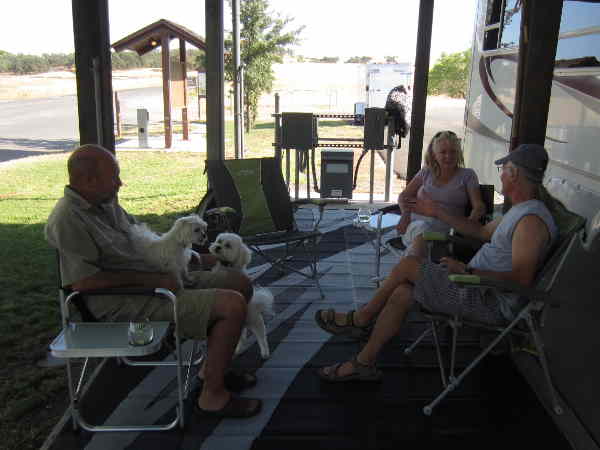 Visiting with Mike and Brenda, friends from Retama who work the summers as gate attendants at Black Butte Lake near where we were staying. What an awesome way to end our first day back on the road.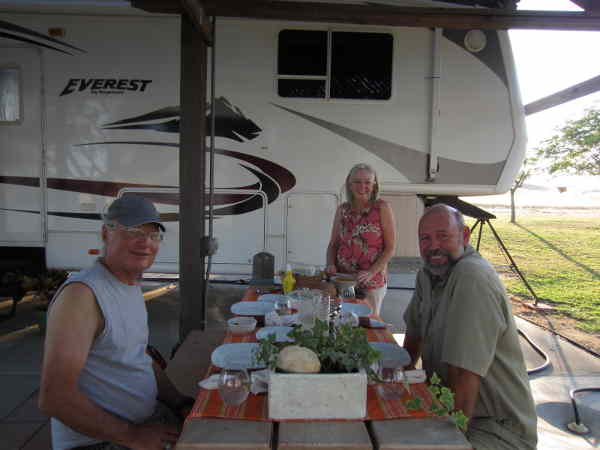 Doesn't matter whose RV blog you read, whenever anyone meets up with RV friends on the road there is meal. What is really great is that Brenda and Mike eat healthy like we try to do.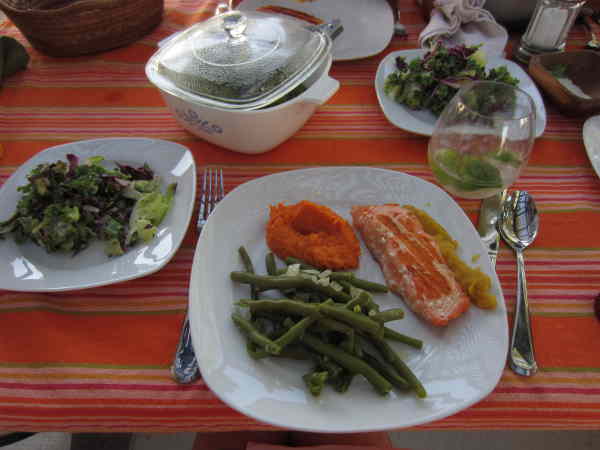 Linda's plate. What can I say, it was time for a food photo, and I'll be extra nice about this photo and not say how many lime slices there are in the glass that held Linda's gin and tonics. Good Bob.
---
Thursday July 25 Orland, California
Rest Road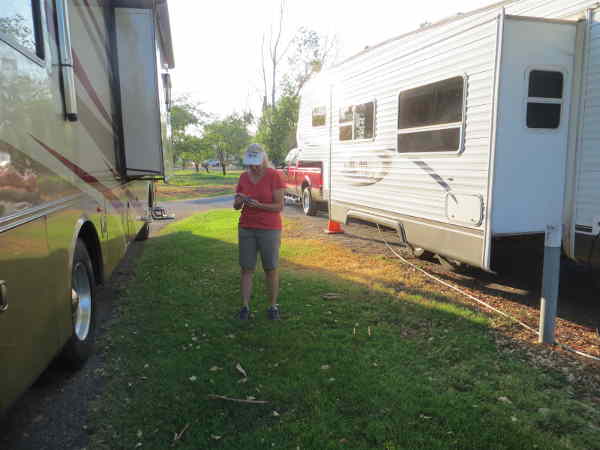 Another morning, another walk, another place. Linda was in fine form, shooing me out of her way and telling me that I was a pain in the you know where. I had done nothing wrong in my eyes. But then I do wear glasses so maybe there was something to what she was saying to me.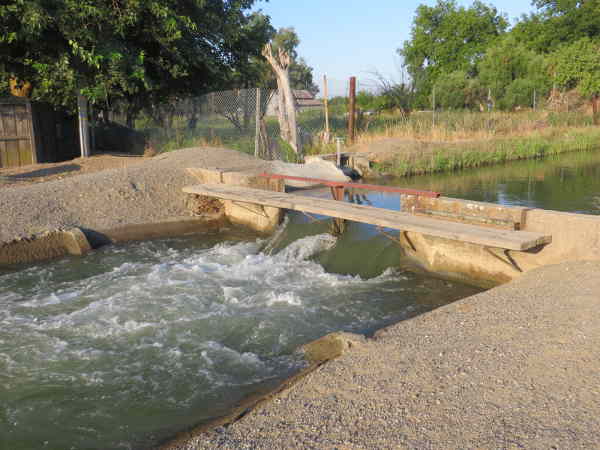 We followed this canal for more than a mile, 44 minutes to be exact, and we never once saw a rattlesnake. Linda was happy. I told her there is always tomorrow. Bruised Bob.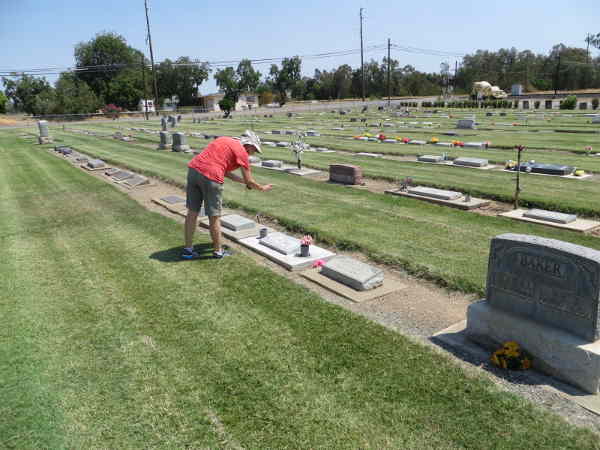 It had been months since Linda had been able to do this. There is nothing more gratifying than to be able to help another human being. What she does isn't always easy. One person had requested a photo of a grave but had the cemetery wrong. By talking to the person in the cemetery's office Linda and the person were able to figure out which cemetery she should be searching. Later, after we drove back to the other cemetery which we had visited earlier and took photos, Linda sent the person photos of the grave and a note explaining the cemetery mix up. Back came an email that more than made all our driving and searching more than worthwhile. What can I say, we like cemeteries and how they can bring happiness as well as grief.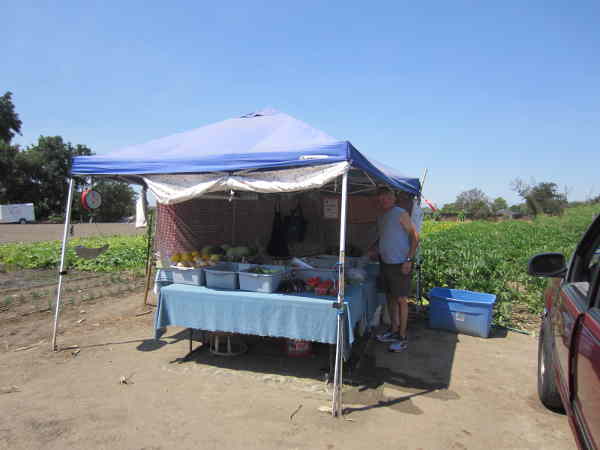 This is one of the side benefits of driving out in the country hunting for cemeteries. An awesome melon for lunch. About as good as it gets.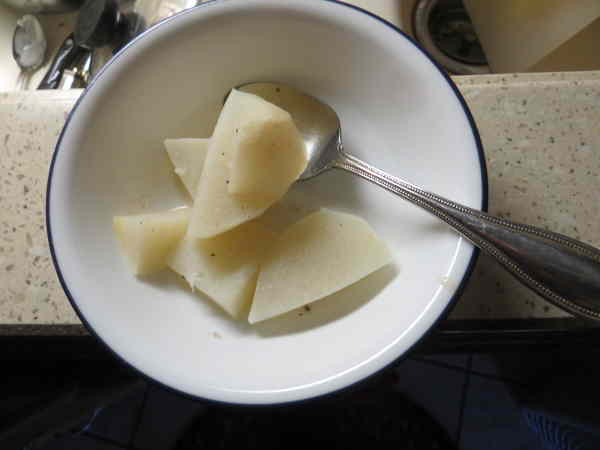 Not my favorite food, but it sure is Linda's favorite. Every time I watch her eat plain boiled turnips I can't understand how she can do it. I smother them in sauce, tonight it was chipotle sauce, and I still can taste turnip. Eating turnips makes her happy, and the fact I always give her most of my turnips makes her even happier. Smart Bob.
I realize our cemetery excursions are not for everyone. They may not be for anyone. Anyone other than us that is. But remember, it's not what you have that matters, it's what you do with what you have.
---
Friday July 25 Anderson, California
A Not What We Expected Day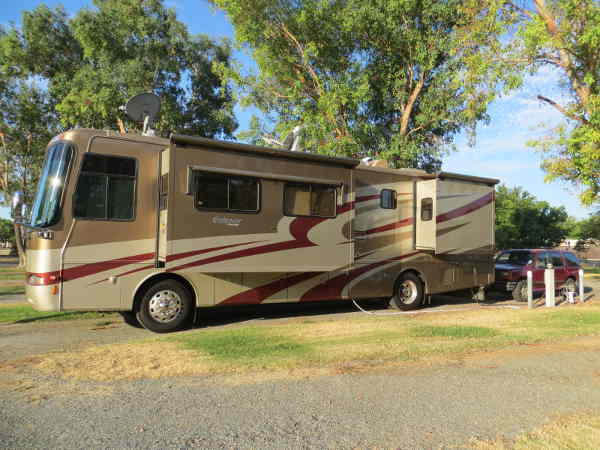 It wasn't the greatest RV park, it wasn't the worst RV park. A level site, full hookups close to town, 2/3's the price of the one with a pool a short distance away. It was just fine for how we live. But it was time to move on up into the mountains and some lower temperatures.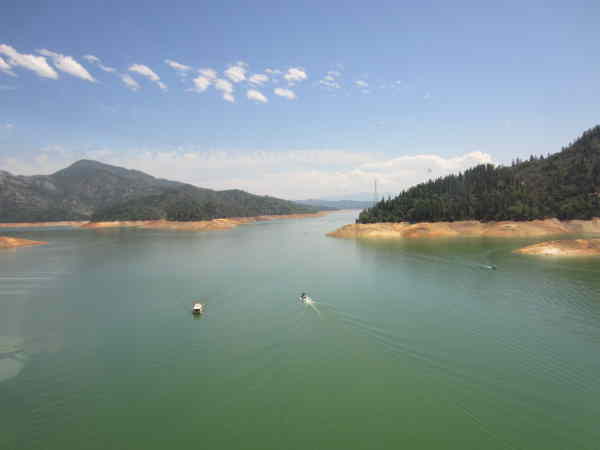 Shasta Lake, it sure is pretty.
Mount Shasta, we were almost to our stopping spot for the night.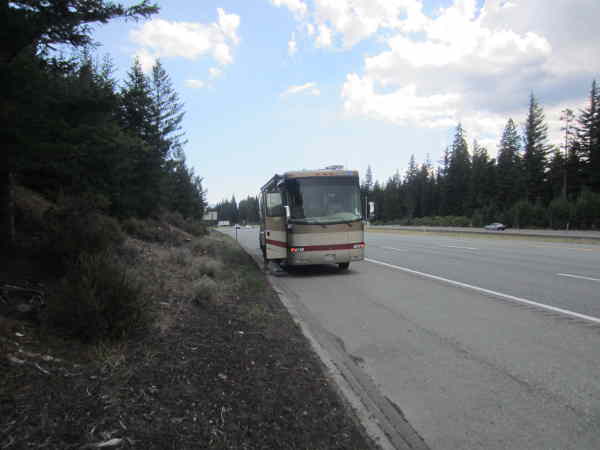 Unfortunately this is where we stopped, just two miles short of where we wanted to spend the night. Going up this hill we suddenly heard a very loud BAM! We weren't sure what it was, I thought we had blown a tire, but Linda said the tire monitor showed the tires were all okay.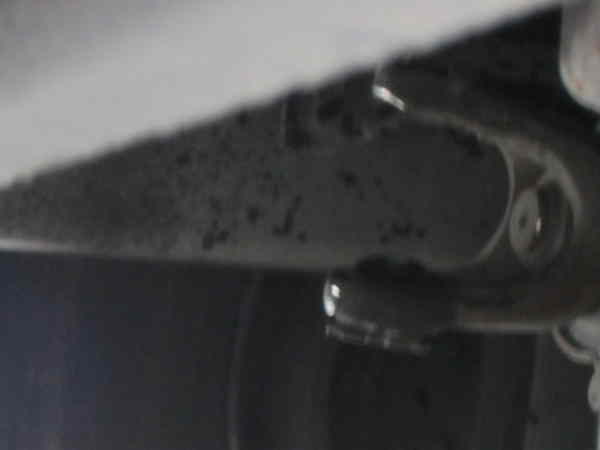 It's a blurry photo, but there is supposed to be a drive shaft in this photo and there isn't one.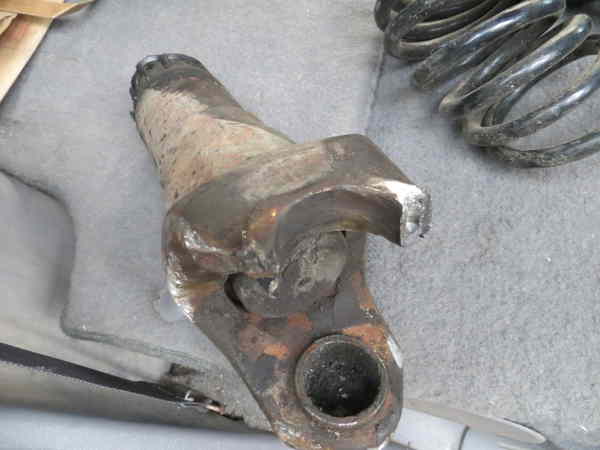 CalTrans picked this up from the road. It's where the "BIG BAM" came from. Unfortunately a following vehicle apparently hit one of the pieces and damaged a tire and wheel, but no one was hurt.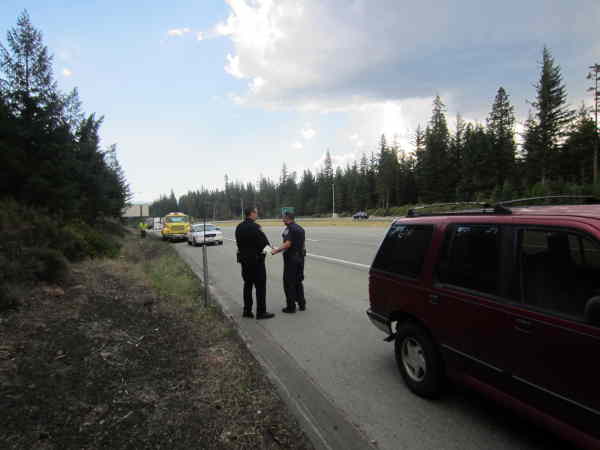 At one time there were four CHP vehicles on the scene. One officer even stayed until the tow truck arrived.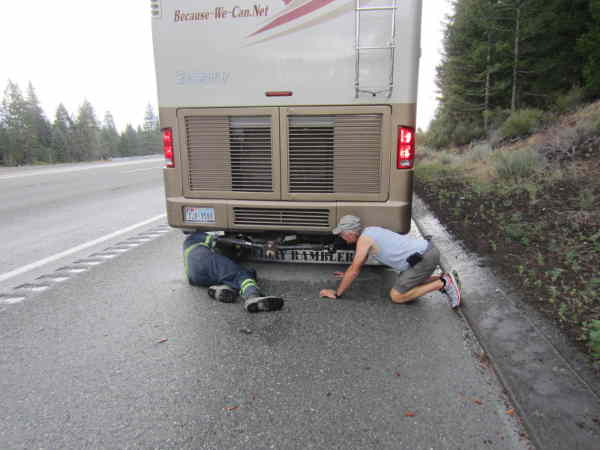 This is that, "Yep, you're right, the drive shaft is missing" photo.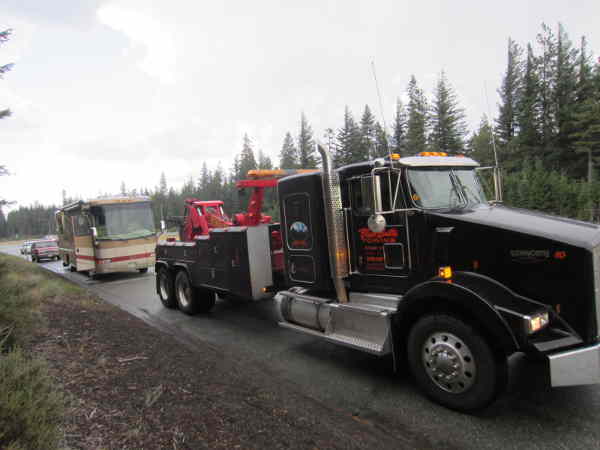 We've seen this before.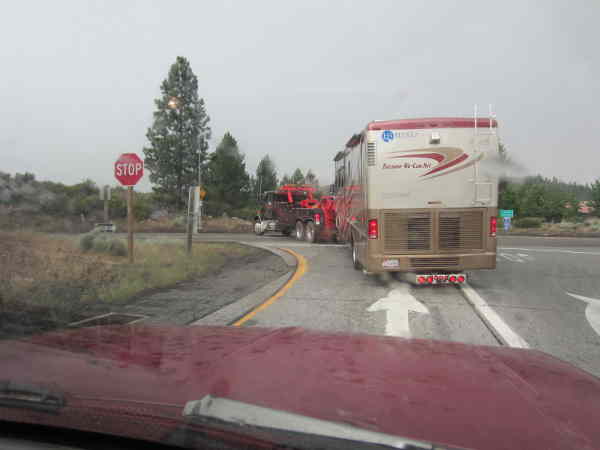 It takes a long time to get underway, in this case it was four hours from when it happen until the tow truck began the tow.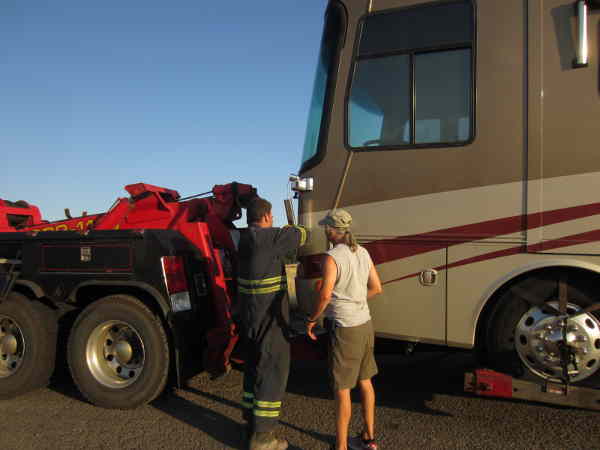 On the final turn before dropping us off outside the Kenworth shop in Anderson, the boom on the tow truck broke off the coach's driver side mirror. Some days not much goes right.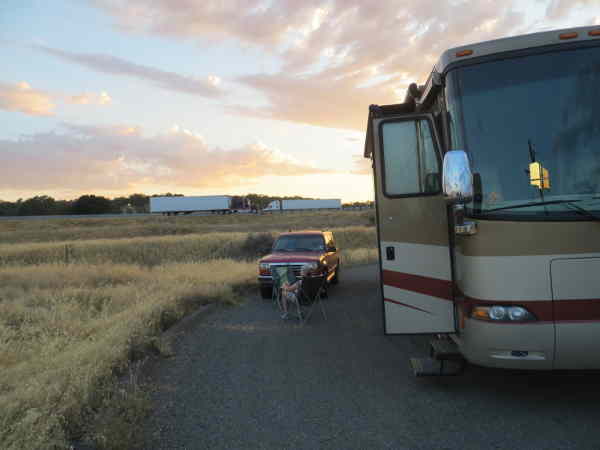 Our home for the next few days. No hookups, temps over 100°, 95 at nine o'clock. Kenworth is closed until Monday morning. Then there will likely be an another day or so until the parts arrive if it is an easy fix of just replacing the drive shaft and nothing else was damaged. We will be spending time sightseeing during the day, and shopping. Besides, the generator works great to run the air conditioners.
There are so many wonderful things about Living this Life that we can't let something as trivial as this bother us. And we don't.
---
Saturday July 26 Anderson, California
Making the Best of the Day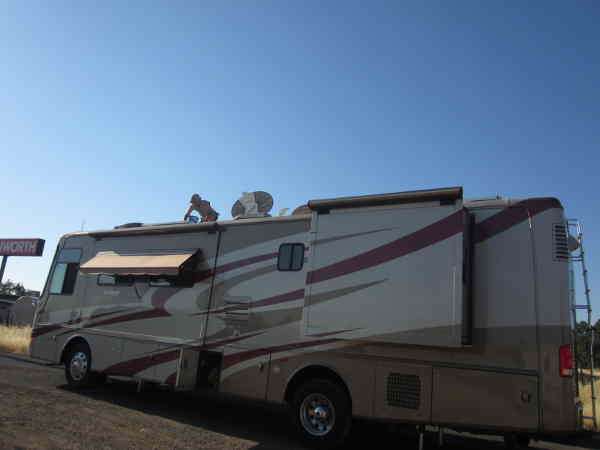 Not washing the coach, just cleaning the solar panels so they can produce the maximum amps. Nice in the morning, so we will use the inverter for electric and might as well be putting the maximum charge back in with the solar panels.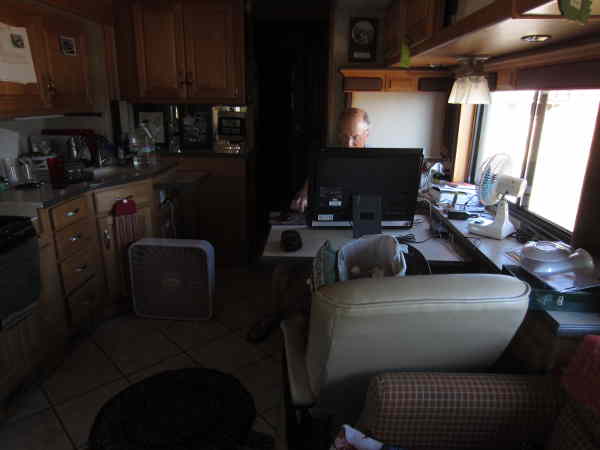 We decided not to put the front road side slide out, smaller space, better cooling with the air conditioner. We do the same in really cold weather for heating, so we know it works.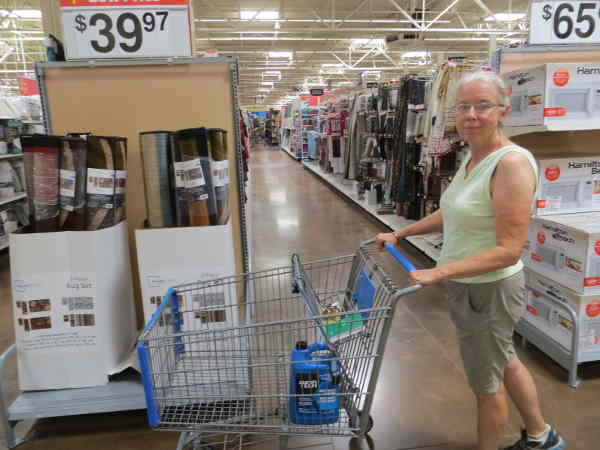 How we spent our morning in air conditioned comfort. As you can see from the cart it wasn't free, but then we really did need everything we bought.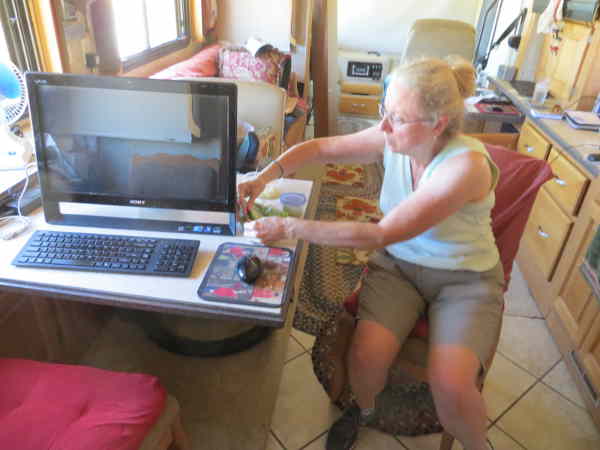 We had debated about staying in a motel and eating out, but the entire discussion consisted of, "Do you want to stay in a motel and eat in restaurants?"
"NO."
"Me neither."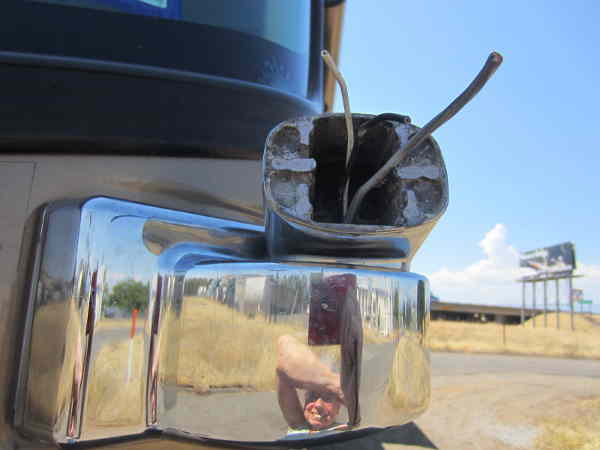 The broken end of the drivers side mirror. With the help of some penetrating spray and the judicious use of a block of wood and hammer it was soon out.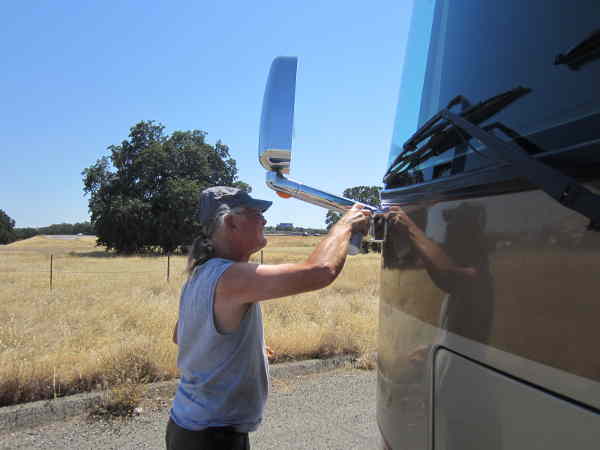 Making sure the other side can easily be adjusted.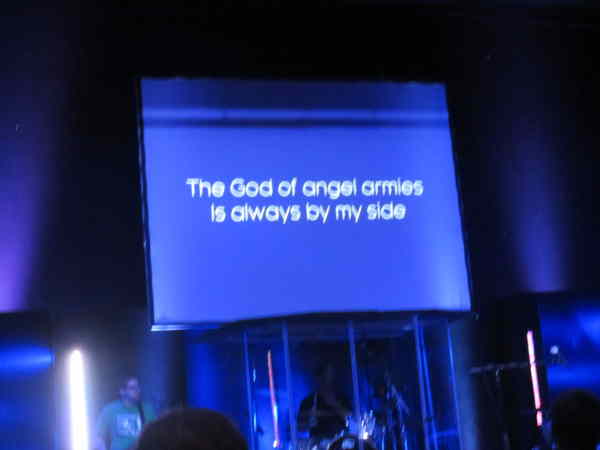 In the early evening we went to church. It was one of those five services a weekend mega churches where they are building a new worship center to have room for everyone. Linda really like the last song, and took this photo. She had said several times in the past 36 hours that we must have had an angel watching over us.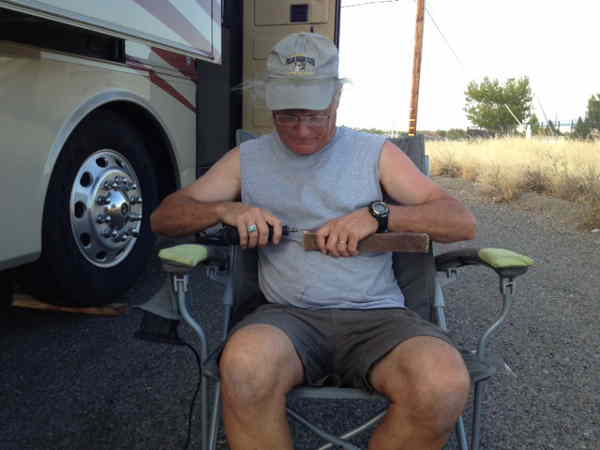 What is he doing? And no, I did not suddenly decide to become a wood carver.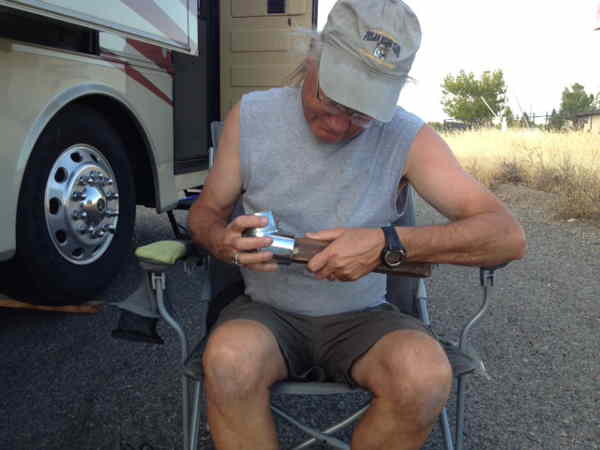 The base of the mirror arm.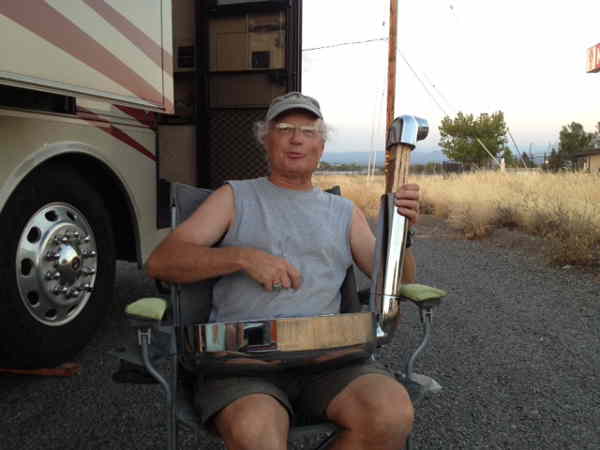 Now it becomes apparent. Use the block of wood to help temporarily repair the arm of the mirror. You can't order parts for this brand of mirrors but if you send it back to the factory they will repair and refurbish it. That's not going to happen until we are in one place for a while and that is not likely until we are at Retama this winter.
Just to put the last 24 hours in perspective. Going up a grade just south of Weed, California the drive shaft on the coach broke. We were able to easily and safely pull off the road with no apparent damage to the coach other than the missing drive shaft. A following vehicle apparently struck a piece of the drive shaft damaging a tire and rim. We were towed to Anderson, California where we are staying in the coach while waiting for the repair shop to open on Monday morning. No hookups, but it is no different than any of the other times we have boondocked. When we ask for oranges and are given lemons we can get upset or we can make lemonade. And what great lemonade it is.
---
Sunday July 27 Anderson, California
Sun Day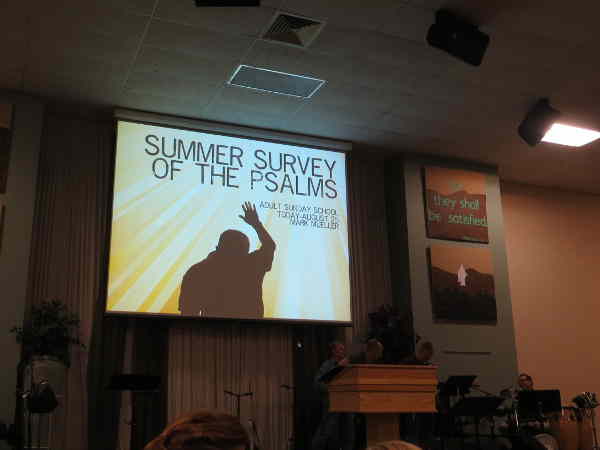 In the early morning the coach is cool, but soon the temperatures climb into the 90's. Churches are cool, so the 11 o'clock hour saw us attending one that was just a few miles away and had an awesome air conditioning system. Great music and message, but one thing they did was something neither of us could remember ever having experienced at a church before. There was no collection, not any hint of money in any way. Yet the church was packed and obviously growing. Linda and my background is with mainline churches where the motto is if two or more gather in the church, take up a collection. Interesting.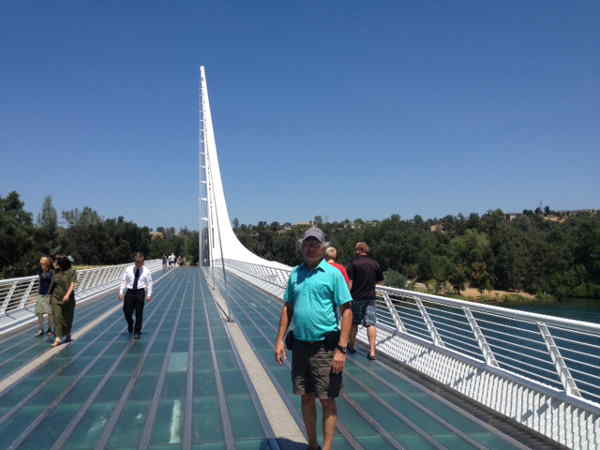 We did some sightseeing after church along the banks of the Sacramento River in Redding. This is the famous Sundial bridge. It has a single pylon with cables that support it, plus the walkway is glass. It isn't clear, so you can't really see down through it, but is neat to walk across it.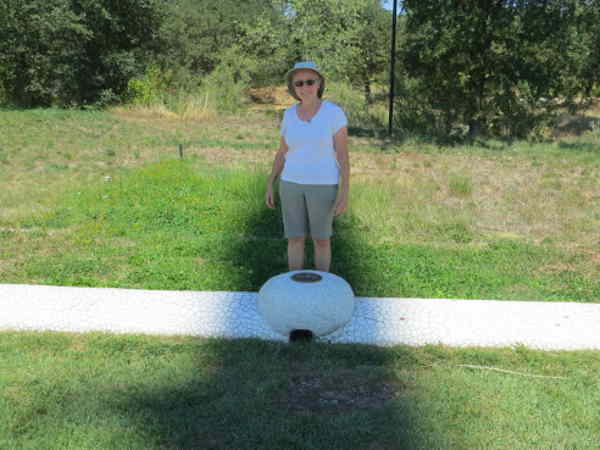 One o'clock and the shadow is on the right marker. Linda really liked it, and I know that is true because she never once mentioned anything about how hot it was.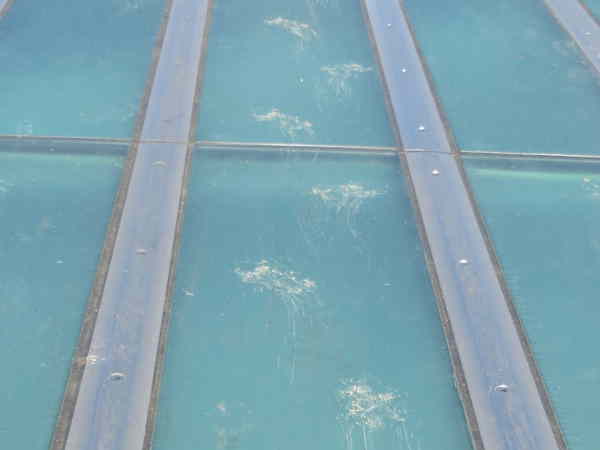 We were here because friends of ours had visited the bridge a few months ago and said it was a must see. They also said they had tried to walk across it with their dogs, and while one crossed with no problems the other one dug his claws in and really, really didn't want to go across. It looks like we found those claw marks.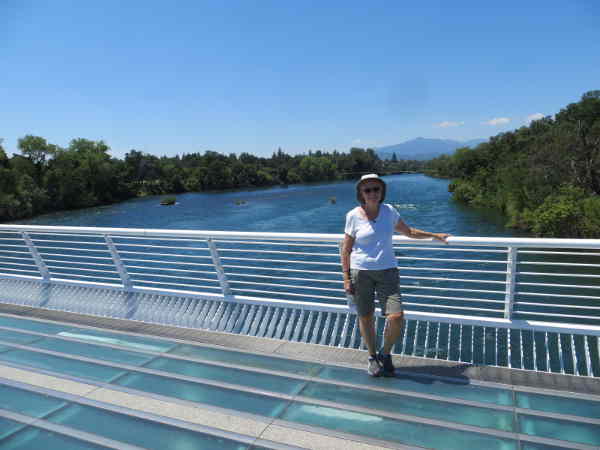 What a great place to be on a Sunday afternoon.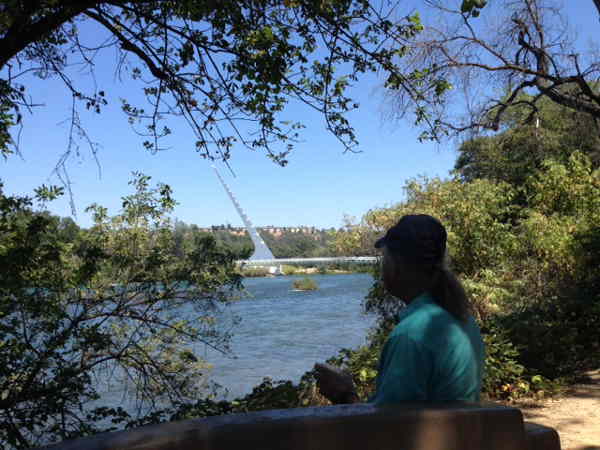 Along the riverbank we found this bench in a shady spot with a great view of the river and bridge. Out came lunch and a great time was had by all.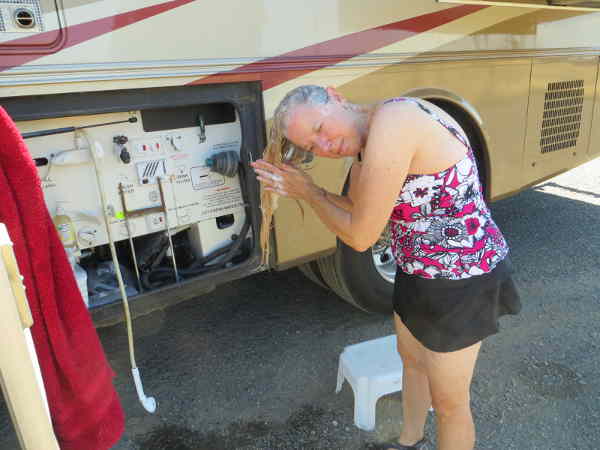 You do what you have to do, and it was time to wash our hair. Linda donned bathing suit, which it turned out she wouldn't have had to, and soon it was a woman with the drowned rat look. But at least she had clean hair and felt oh so much better.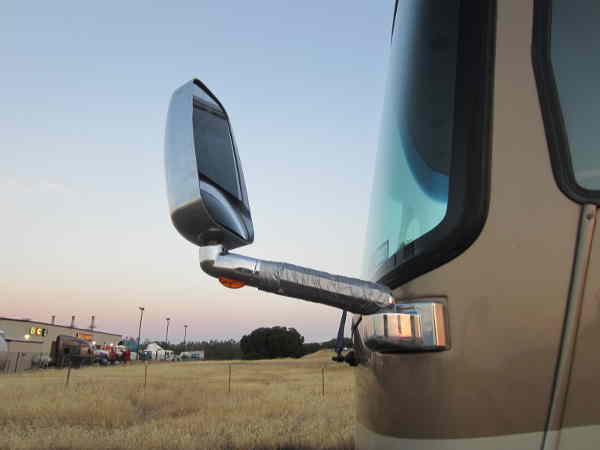 Right idea for a temporary repair on the mirror, bad implementation. Wood in the center, metal strips around the outside secured with gorilla tape and topped with duct tape for appearance. Just too much weight hanging out there on the little stub of metal at the bottom. Heavier metal strips, bolts and epoxy looks to be in the mirror's future. The arm is ruined so what ever I do won't make any difference. It just needs to last until we can send it back to be repaired.
Tomorrow we should find out what is going to happen with the drive shaft repair. What it is, it is. When it is done, it is done. It's not like we have to be anywhere. As we sat outside in the late evening we talked about the past few days and decided that it had actually been "fun" in a way. The unexpected can be viewed differently at different times. This is when "Life is not a dress rehearsal, don't be afraid to laugh, love and retire early", means exactly what it says.
---
Monday July 28 Anderson, California
Mon-Day
Nothing much going on today. The weather was much cooler today with the high only in the mid 90's so we spent more time at the coach. Drove and walked around town some, not a whole lot to see, but by the time we leave we will likely have seen it all.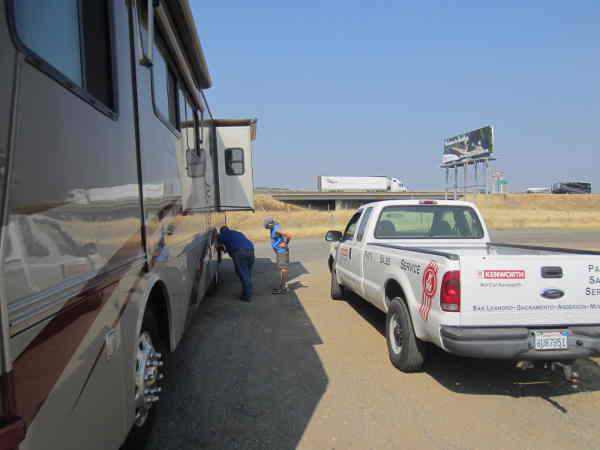 The mechanic is under the coach, the service manager beside me. Looks like we did a good job of tearing things up. Drive shaft and both yokes. Looking at possibly Thursday when it will be done as a new drive shaft will have to be built and the yokes shipped in. As Linda so aptly puts it, when we are again on the road, we will look back on this and all it will be is a good story about our travels.
---
Tuesday July 29 Anderson, California
Waiting Day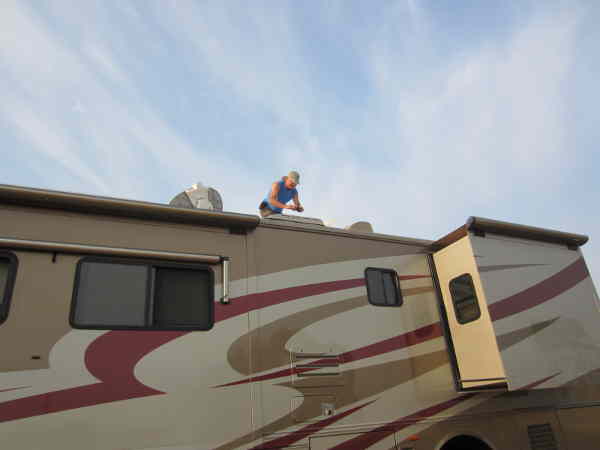 A photo of me taking a photo. That's something I would take of Linda, what's with her doing it to me? It's relatively cool in the mornings so having nothing better to to do, time for a little replacement of the black tank vent.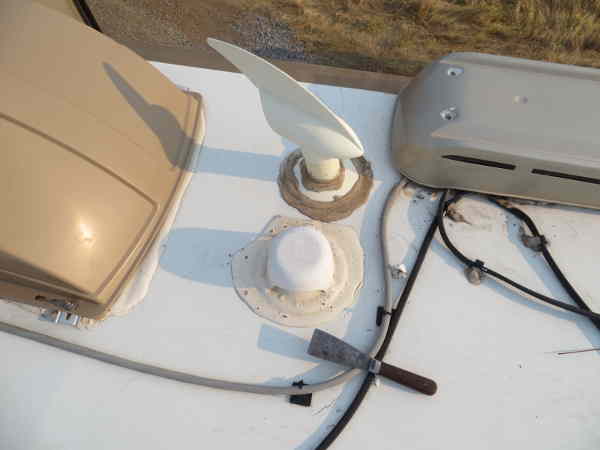 The one I replaced on the gray tank several years ago is on the right. Now it is time for the black tank. We get a little whiff every once in a while, particularly when we first start driving. We shall see if this stops it.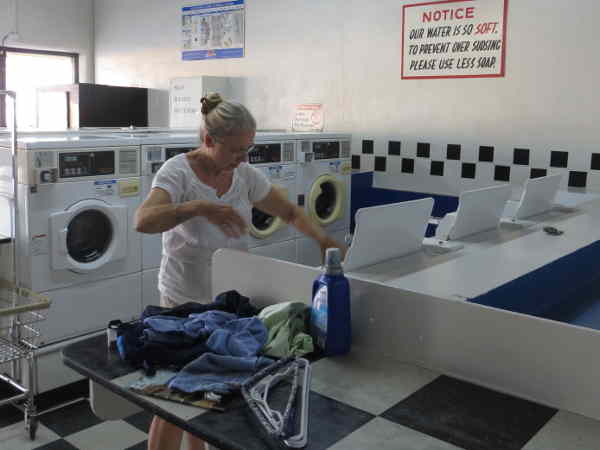 Laundry day, and with the coach the way it is, it was off to the laundromat. There was one just a mile or so away, it was decently clean and once we figured out that you had to put the lid all the way up and then down to get the washer to work, it didn't take long. There is something in there about Linda lifting the lid a few inches to peek inside that I'll let you fill in yourself.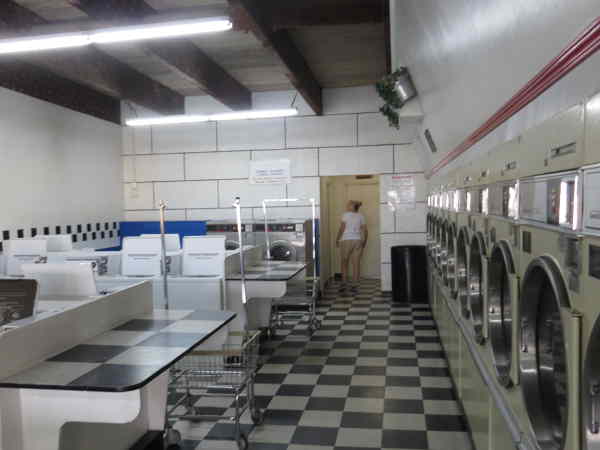 Curiosity did you know what to the cat, but that saying has never stopped Linda from doing the same thing.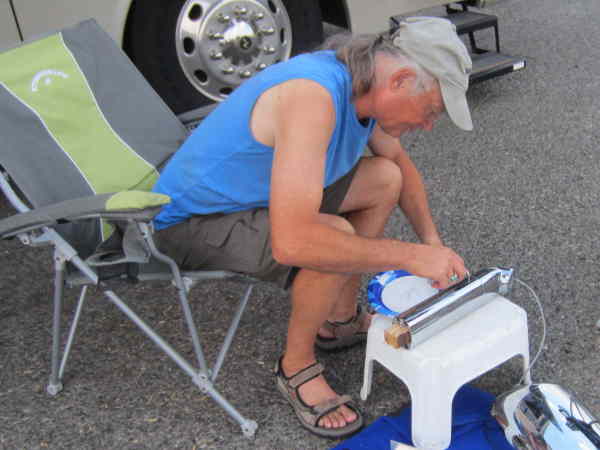 Time at the local library in the afternoon, relaxing by the coach in the evening. Still working on fixing the mirror, needed stiffer bracing than those first metal strips and tape. Trying some aluminum angle, epoxy and bolts with the wood in the center. Put the first angle piece in place tonight. As Linda said, we discussed everything but what was supposed to happen after I put the epoxy on and was holding the two pieces together. I'll just say things went downhill very fast, and the fire coming out of Linda's mouth nearly scorched my hands. I will make sure to let her know exactly what I need her to do on the next one before I apply the epoxy. Bad Bob.
Hopefully things are coming together on the other coach repairs. The yokes are in transit, the drive shaft is on schedule, but things have a way of proceeding at their own pace. We would like to spend the weekend in Weed, which was what we planned to do last weekend. If so, great, if not great. As Linda says, "Things happen for a reason." It's the attitude we have when when things happen that makes all the difference.
---
Wednesday July 31 Anderson, California
A Surprise To-Day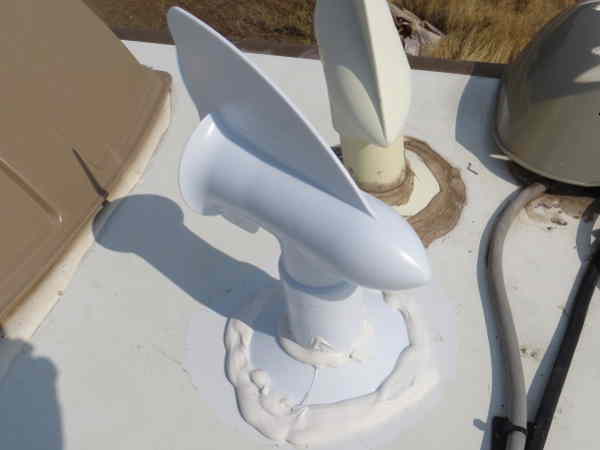 Finished up the vent this morning, but not before I was informed that I had forgotten which vent was replaced several years ago and which vent this one was. She worked with numbers all her life. Everything had to be exact. I dealt in concepts where it was the idea that mattered. It's why we get along so well together, she makes up for all my failures and I can always compliment her for doing things right. Smart Bob.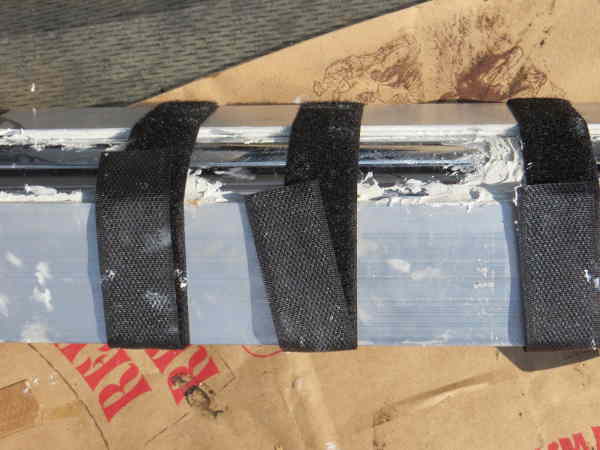 In the vein of doing things right, you can bet there was no repeat of the previous nights-mare over applying the epoxy and aluminum angle piece to the other side of the mirror. Just as she had so nicely explained to me last night about what I should do before I tell her what to do, this morning I went over the process step by step. When I explained exactly where she should place each finger and offered to use a marker to mark the location, I noted the look in her eye and realized I might be going into just a little too much detail. But who could blame me, I was still remembering the blast I received last night because I hadn't explained what I expected of her, and believe me, that sure wasn't going to happen again.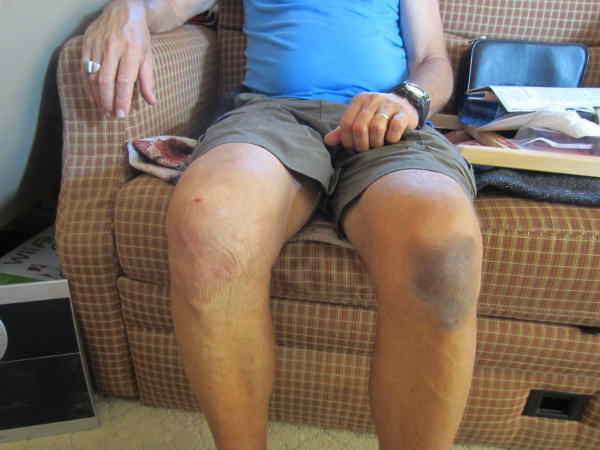 One knee dirty, one knee washed. It wasn't from kneeling down in front of her royal highness and begging forgiveness for being a jerk, though I expect she would have appreciated it even if it was for past things as I was being on my best behavior this morning. It was Linda who washed them, though I did note a smile on her face when she remarked that she had to scrub so hard to get the dirt off that some skin may have come off also. Clean Bob.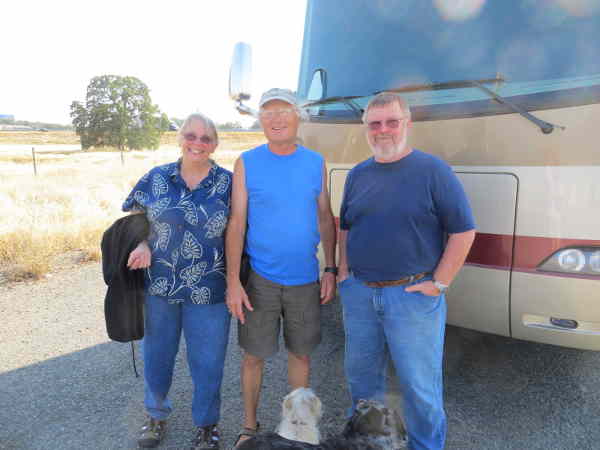 A very pleasant surprise. Friends from our previous life. Wayne and Linda had read about our recent problem, and stopped by on their way north. We had a great visit catching up on happenings in their Life now that they are retired, and giving them a nice break from their drive. The joy of being human and its connections.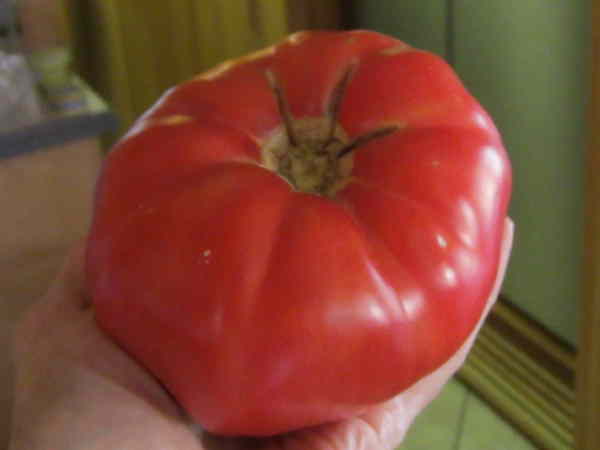 Think Linda was a happy girl when she received this? I'd say she was way beyond happy. Within a few minutes it was already being taste tested and pronounced as good a home grown tomato as she can remember. Beyond Happy Linda.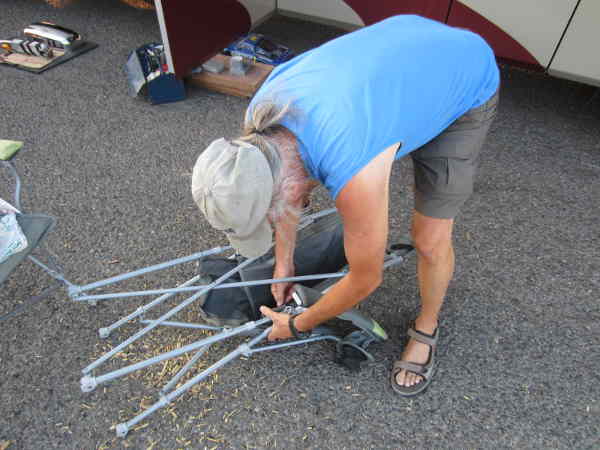 A bolt in Linda's chair broke last night. We bought a bolt we hoped would work at the local ACE Hardware, but as I suspected, it was just a hair short. Problem was it was the longest bolt in that size range they had. Found an eye bolt in one of my tool boxes that looked like it would work, and it did. Every once in a while Linda will say something that lets me know that despite what problems I can cause her, she thinks I am special. The smile on her face when she said, 'McGyver Bob" was one of those moments. Lucky Bob.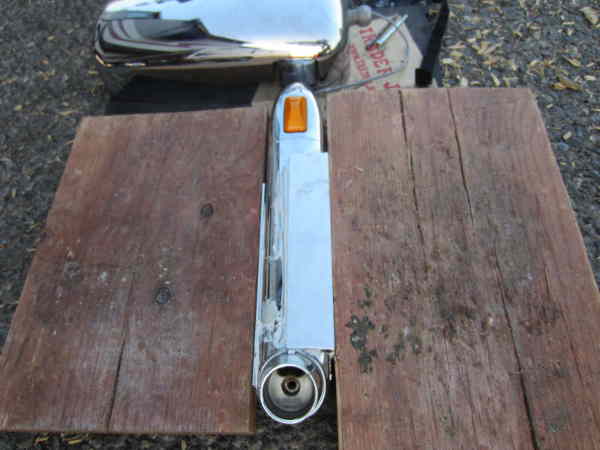 Linda's method of holding the mirror arm so I could drill the holes through the aluminum angle plates we attached. She stood on the side boards and nothing moved. Smart Linda.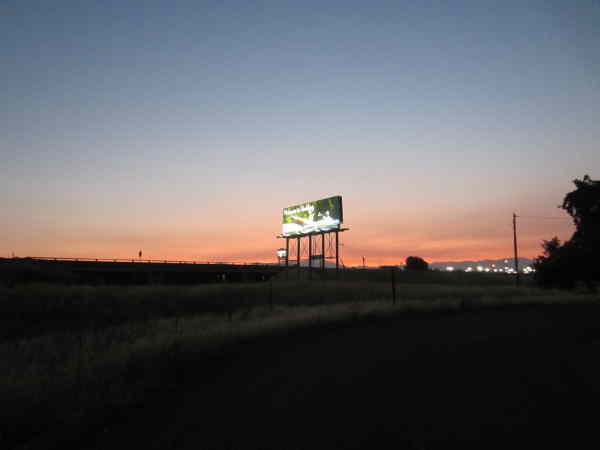 Pretty sunset to end a great day. We are so lucky to able to Live the Life we do.
---
---