Journal Archive 8/1 - 8/10 2013
Scroll down to read the latest post
Thursday August 1 Anderson, California
A Very Good Day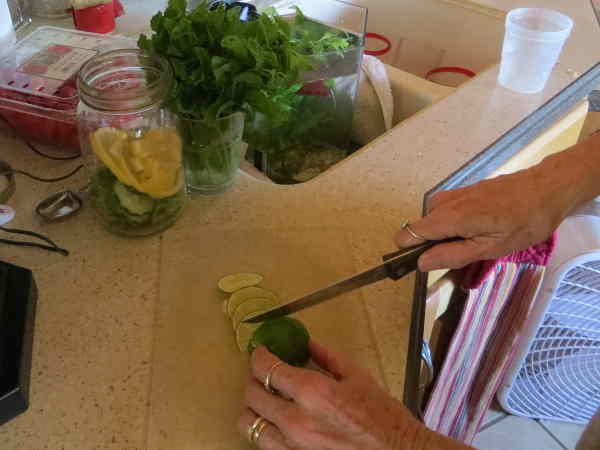 Linda read, heard or saw something about a morning tonic [Linda here: it is called a Detox Drink) that was supposed to make your day. Linda has started making this tonic. Cucumbers (likely the reason she likes it) lemon, lime, fresh mint and water, there may be something else but all I can taste is the lemon and some mint. It soaks overnight and you drink it first thing in the morning. I don't know about the health aspects but I can sure tell you that the first mouthful would instantly wake anyone up. Healthier Linda. Dubious Bob.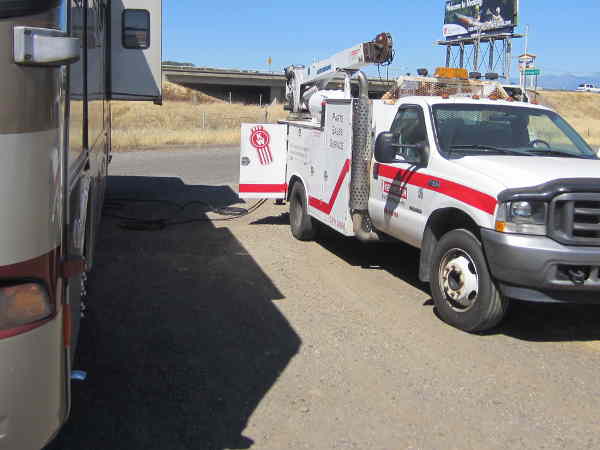 Just as they said, the parts all came in this morning, and soon the mechanic was using the service truck where we are parked. Those bolts are big and the air rachet is loud. The coach shook at times from the force, but by early afternoon the work was done.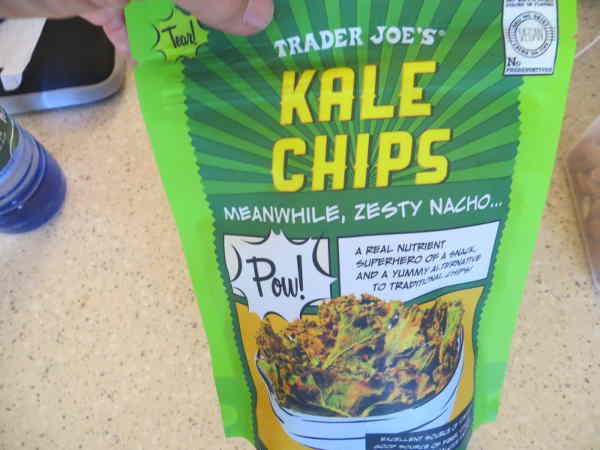 Something new was added to lunch today. Linda's health food craze extended to our chips we had with lunch. Zesty Nacho Kale Chips from Trader Joe's. It turned out to be one of those don't knock them until you've tried them foods. Unlike the Linda's morning tonic, they taste great besides being healthy for you. Who would have thought.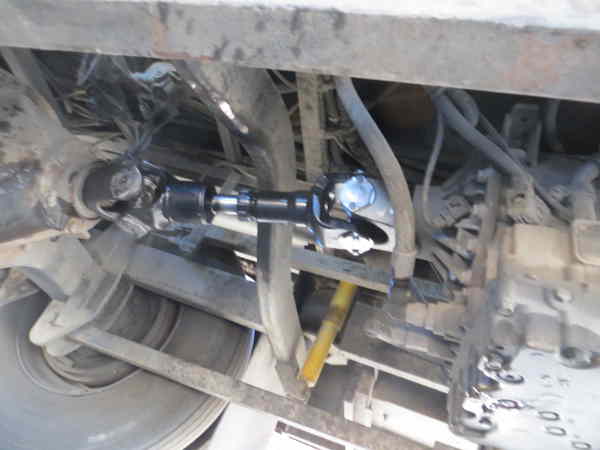 The new drive shaft and yokes in place and ready to roll.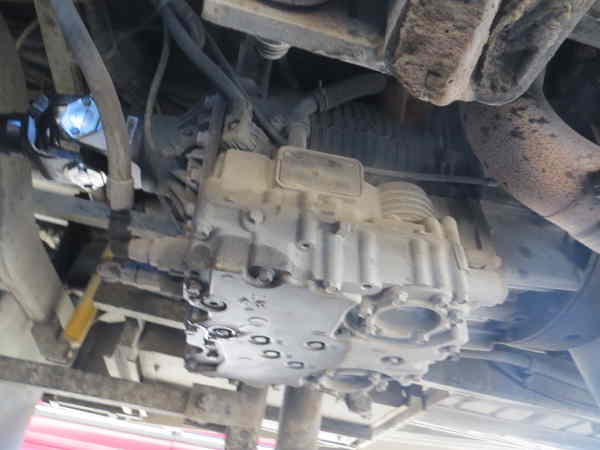 More good news regarding the small leak at the bottom of the transmission. It turned out that there was a crack in the pan, likely caused by the drive shaft hitting it. The pan is going to have to be replaced and it is very expensive, but that takes care of the leak which was really concerning me as we have never had a leak of any kind from the engine, transmission or differential. It means another day or two here, but we'd rather have it fixed now than have a breakdown and ruined transmission from continuing to drive with the small leak. The choice is to look at it as another expensive repair, or having a problem fixed and getting on with our Life. Which means no choice is necessary, and I can't even feel sorry for the people who would take the first option, because as they say, Life is too short to sweat the small stuff and this is small stuff in the scheme of things.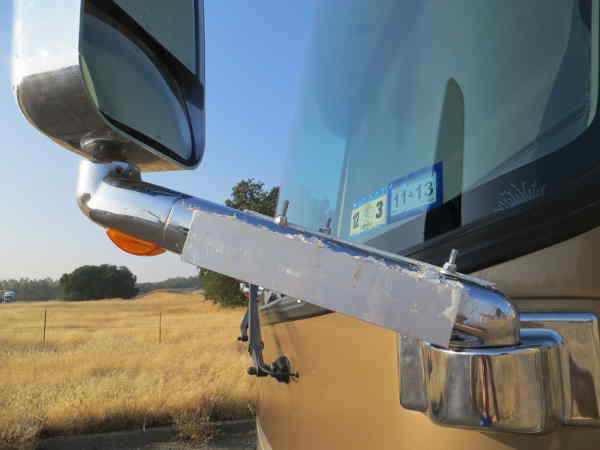 In the evening we mounted the patched mirror. At least it didn't break in two when I put it in place. As Linda said, "As well as it is fastened together, we may have a problem getting it apart when we get the new arm next week." I sure hope that is the case.
You can see I went for function over form. It's that way in Life also. Some people act like they are living the good life. Others Live the Good Life. The choice is ours.
---
Friday August 2 Anderson, California
We Stay Another Day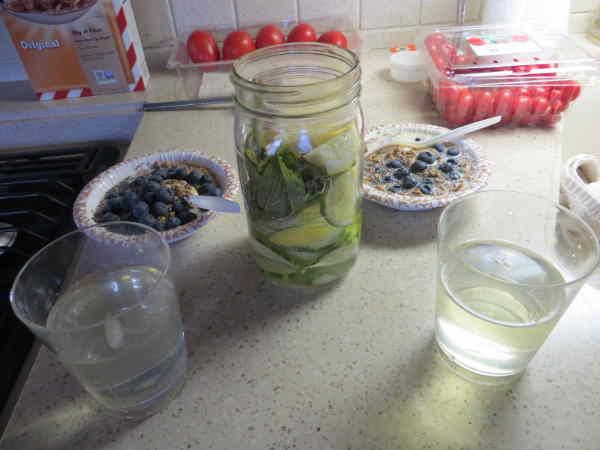 I note that Linda added something yesterday about this being our morning detox drink. For the life of me, based on the minuscule amounts of only healthy food she has us eating, I have no idea how we could have anything toxic in us. Healthy Bob.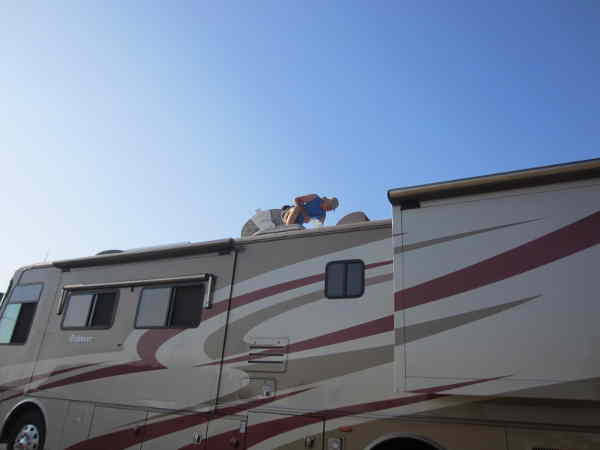 Up on the roof doing my thing. Somehow we lost the two rear screws that hold down the refrigerator vent cover. Since the hole was reamed out a little and was simply a plastic molding, a screw once size larger was exactly what was needed, which was exactly what I had bought. Linda wondered why I wanted a larger screw when we bought them. Now she knows. Learned Linda.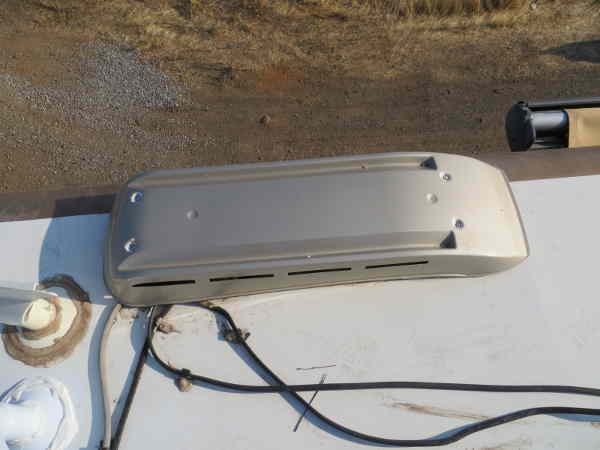 Doesn't look like much, but something tells me that had we lost it, it would have cost plenty to replace.
We have our own entertainment just down the road, which is a probably a pretty good indication of just how easy it is to entertain us.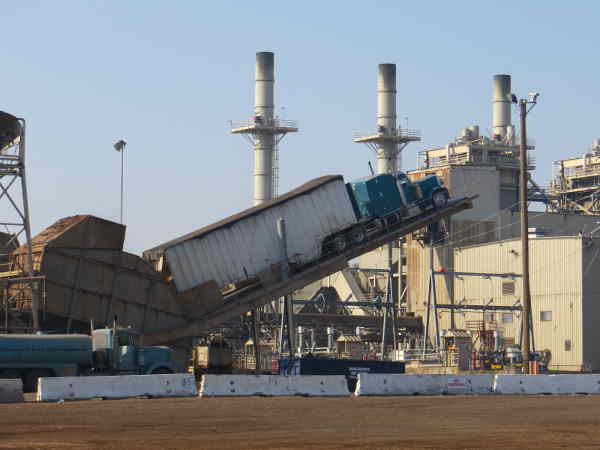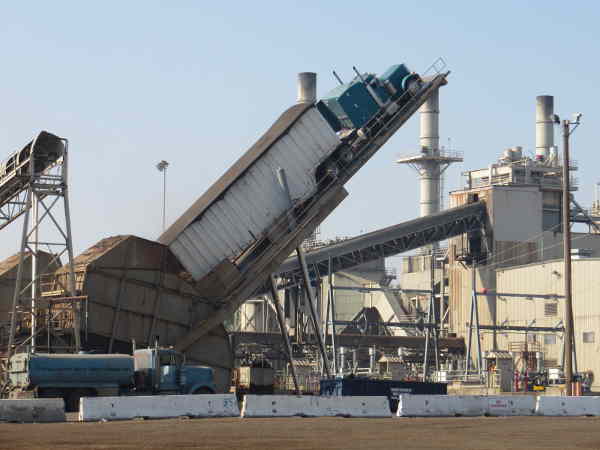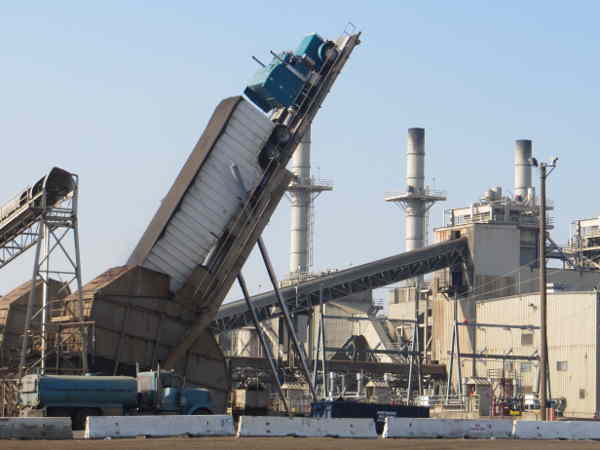 It's great being human and finding fascination in the simplest of things. Some people get excited looking at modern art, we get excited looking at wood chip trucks being dumped. It just goes to prove that we are all different. So why is it that so many institutions and organizations try to make us all the same?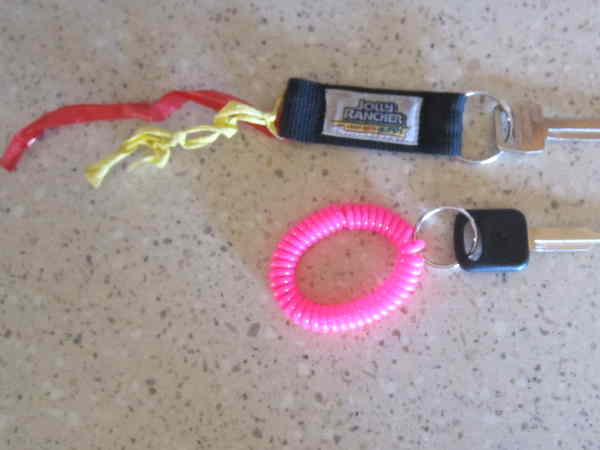 Linda was happy with this. The key ring with the ribbon has marked the key we put in the ignition of the Explorer whenever we tow it since we began full timing. The problem being that sometimes it gets taken out and laid down somewhere, or it ends up disappearing into a pocket, both of which require a search. From now on it is going on Linda's wrist. Problem solved. Domestic tranquillity improved.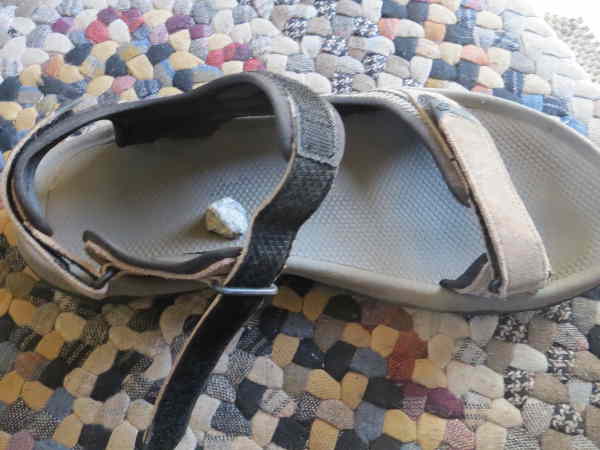 I got a rock in my sandal this afternoon. No little grain of sand like Linda likes to make out to be a boulder. This was actually a real rock. I talk about not feeling much pain, let me tell you that when I stepped down on this thing I certainly felt pain, and only one step was all to took to get that sandal off.
Unfortunately the transmission pan did not come in today, so now we have to spend another weekend here. The good news is that fires around Grants Pass seem to be diminishing and the delay will give the smoke, etc. more time to dissipate. Linda is already hard at work checking places we can go be tourists at this weekend. As alway, lemons mean lemonade.
---
Saturday August 3 Anderson, California
History Day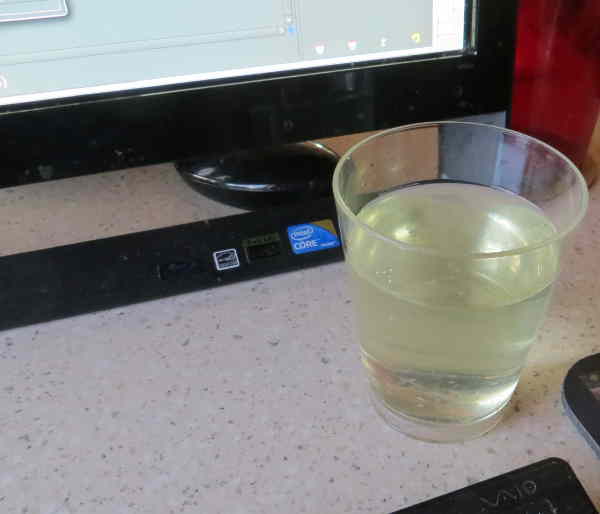 As I hoisted this horrible tasting contoction to my lips this morning I realized there was a side benefit to it that Linda never mentioned. After drinking this the very first thing in the morning, everything that takes place during the day is better than this stuff. Food, drink, events, sights, sounds, smells, you name it, it is better. Smart Bob.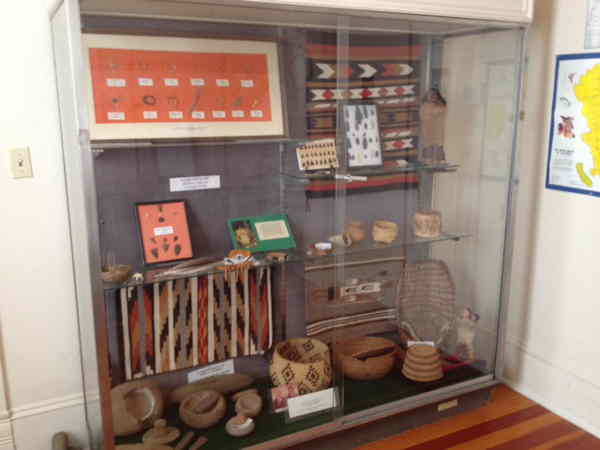 One of the things we did today was to stop at the local history museum. Small town museum, but those special items donated by families from the area, which why we always try to visit these places. Run by volunteers who have a passion for the area and its history, we were taken back in time. As always, we both spent time studying the basket exhibit.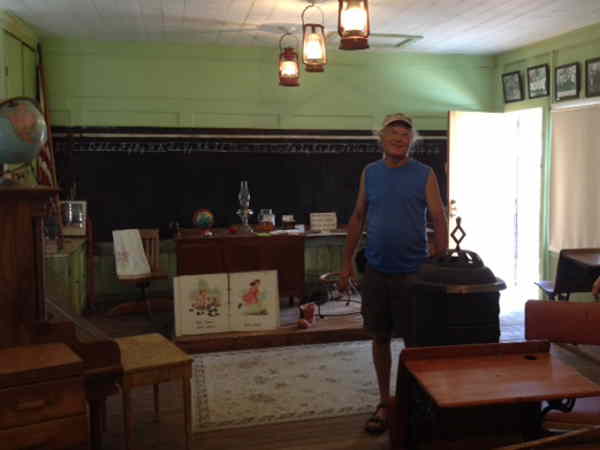 A one room schoolhouse brought back memories. Or at least that desk in the bottom right corner did. I sat at desks like it through fourth grade. In the late afternoon Linda sat in the Explorer parked in the shade while while I walked through a neglected cemetery getting my last bit of history for the day.
Short post today, but it is what it is, just like Life. We can hold it out at arms length and shake our head, or we can wrap our arms around it and enjoy its wonders.
---
Sunday August 4 Anderson, California
Another History Day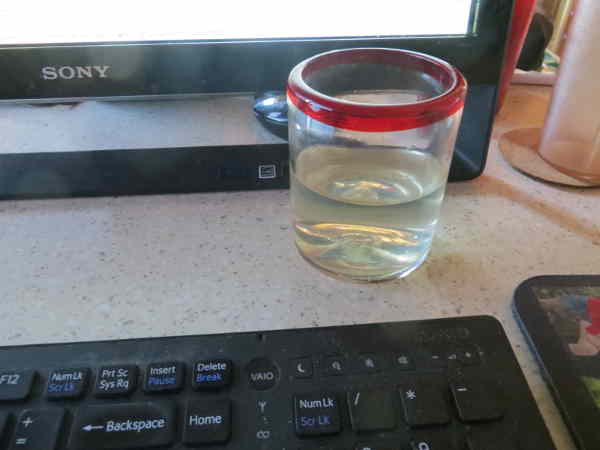 As I sipped this horrible tasting stuff this morning I realized it really wasn't all that horrible tasting, in fact it tasted pretty good. Deciding I needed to delve further into this unexpected elixer, I queried the family mixologist. Seems there was a large type of lime and a smaller type of cucumber that was used. If variety is the spice of Life I hope she uses these same two new varieties to make her tonic from now on as too much "spice" isn't necessarily a good thing in the early morning.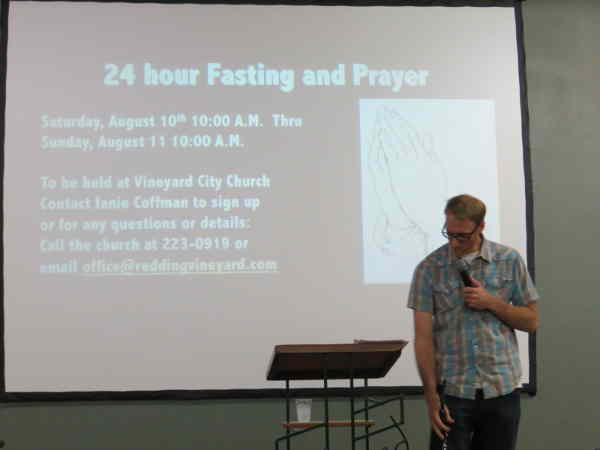 Something different for Church today. Our niece who lives in Ohio mentioned her Church had a sister Church in Redding so that's where we went this morning. I can't even imagine how a prim and proper straight laced Baptist would react to being in a service like this. To us it is the joy of Living the Life we Live. Not everyone and everything is the same, and we get to experience it.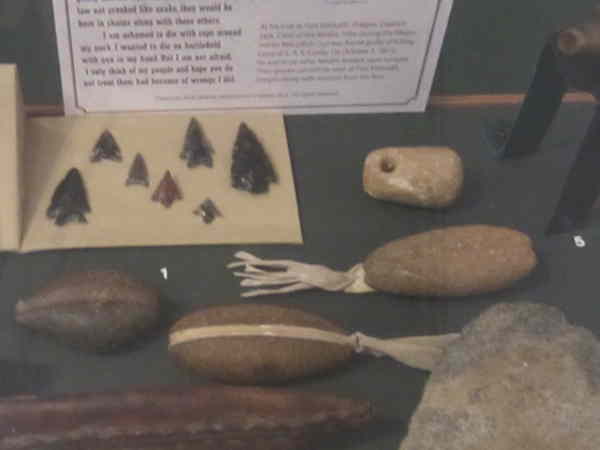 In the afternoon we enjoyed a visit to Shasta State Park, a former gold mining town that was a few miles outside of Redding. Linda has this thing for Native American fishing weights and so I wasn't surprised when this photo turned up on her camera. What can I say, some women like to shop for and wear makeup, Linda likes to hunt for and look at fishing weights. Am I lucky or am I lucky?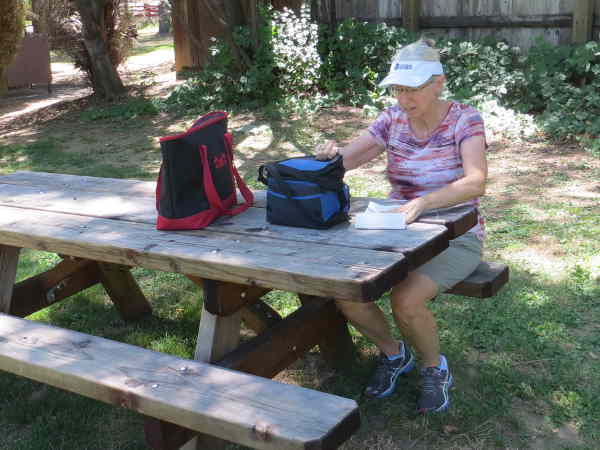 Havent done this for a while and so it was fun. Probably not what most people pack for a picnic lunch but we like it. Boiled eggs, turkey lunchmeat, celery sticks, almond butter and blueberries.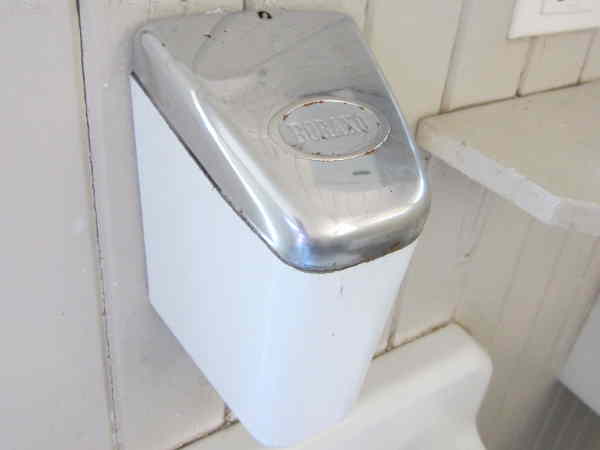 When I used the restroom I was surprised that the soap dispenser had the old style, coarse powdered soap. Then I realized it was in keeping with the theme of the park. Linda must of thought the same thing because I discovered she had taken a photo of the dispenser. I wonder if this means we have been married for so long we are actually starting to think alike instead of thinking the opposite of each other. What's Next? Will I actually be asking her to make her morning tonic if she stops? Maybe the end of the world is closer than we think.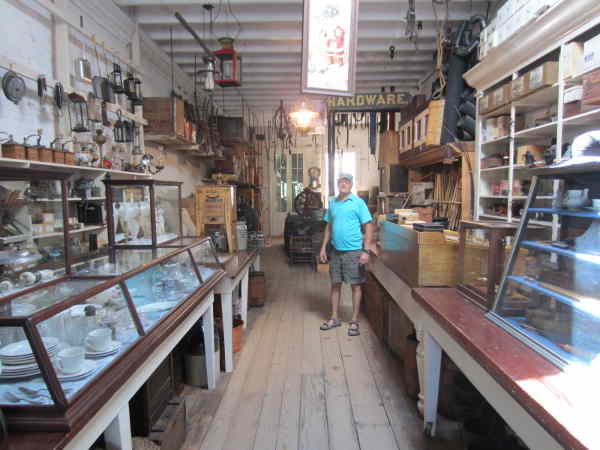 I have a photo of my grandfather standing in a general store like this, because when he was a young man he worked for a time at a general store. Connections, it made my day.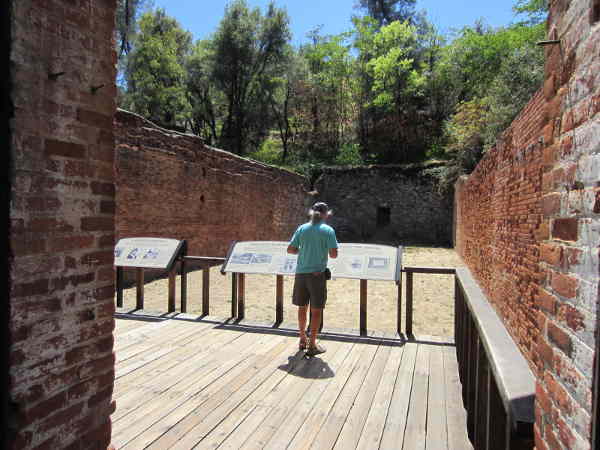 The ruins of a building. A sign. We go back in time and wonder what was it like. It's why we like places like this so much. It's why we spent so much time at the park.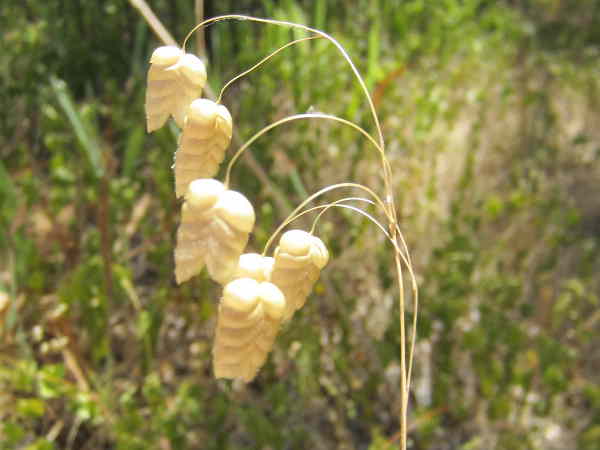 Another photo by Linda.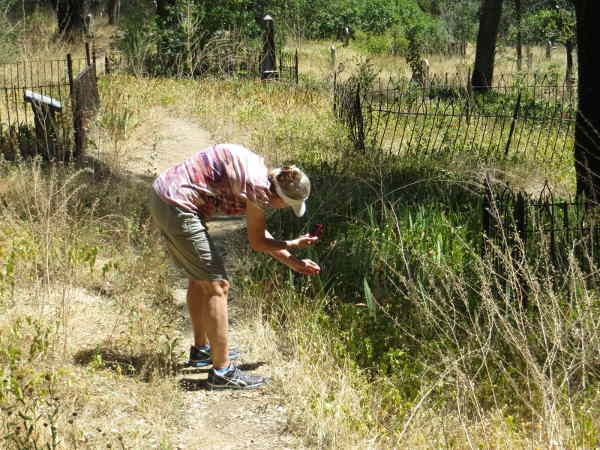 Where the above photo came from. Note that we are in one of our favorite places, the town cemetery. From the inscriptions on many of the stones, they died young in gold rush towns.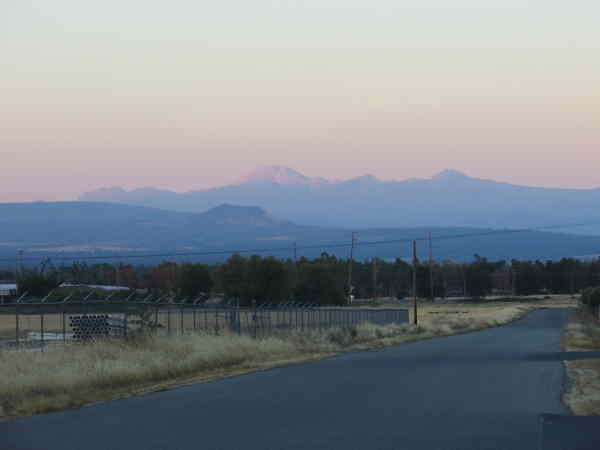 The haze and smoke of the fires up in Oregon finally disappeared and we could see Mount Lassen out the front of the coach. In the early 80's we vacationed at the Park with the kids. There was one particular hike we took on the flank of the mountain to find the remains of an airplane crash from the late 40's that they have never forgotten. It was one of those, "We're not going one step further" times when a few minutes later I discovered the crash site about fifty feet above where they had made their protest. All was forgotten by them as they scrambled up to where it was. Memories, you never know when you are going to make them or recall them.
---
Monday August 5 Anderson, California
A Nothing Day
One of those nothing days. The transmission pan didn't get here until late in the day and they want their best mechanic to install it. That means it will be first thing tomorrow morning. It was all okay though as we both just rested up doing what the title of today's post says, nothing. Some days are like that.
If all goes according to plan we should be in Weed tomorrow night, where we will spend a few days in what will hopefully be cooler weather. We know it will definitely be cooler at night. Life is simply too short to fret over what might be. This will be our 11th night here, and we still have water in the fresh water tank, but it really, really is time to move on, the coach willing.
---
Tuesday August 6 Anderson, California
A Long Day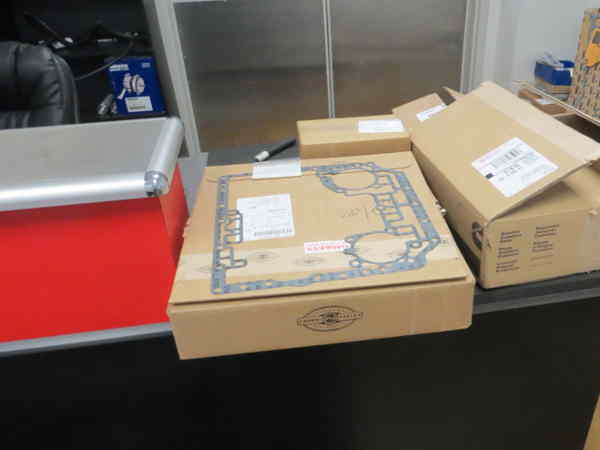 The knock on the door came at 7:15, it was time to get the last of the repairs done. When we were in the office Linda pointed to a box sitting on the parts counter and smiled. The gasket on top gave it away, but still, she knew what it was. She must have played with trucks as well as dolls when she was a little girl.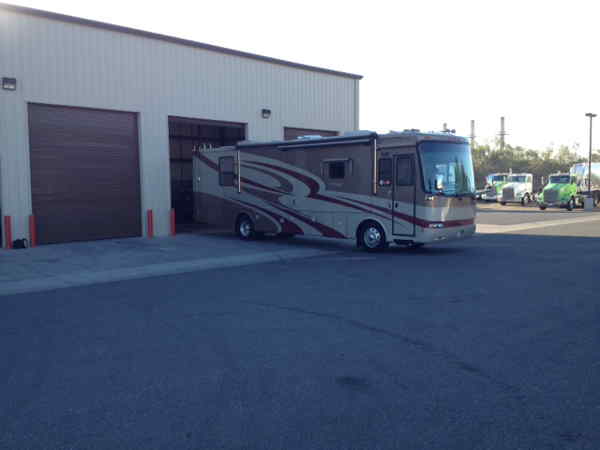 It was shortly after 7:30 when the coach was backed into the bay. It was 5 o'clock when we drove off with it fixed. It made for a long day, but we are finally as good as new. The crack in the transmission pan extended all the way through, so it was was only a matter of time until something bad would have happened had we not had it replaced. With new filters and fluid its ready for another 4 or five years.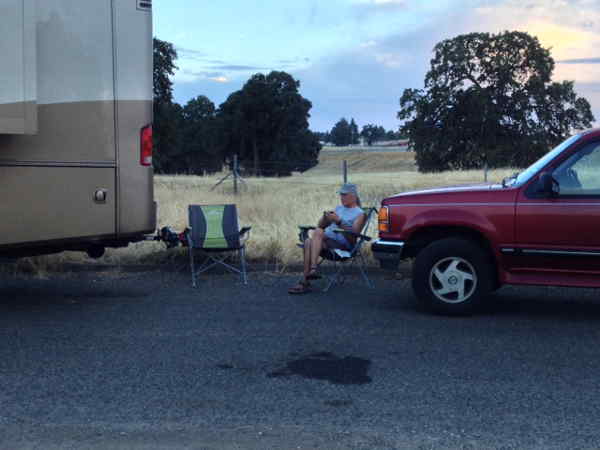 As you can tell we didn't travel very far tonight, only as far as where we have been for the past week and a half. Tomorrow we will be off to Weed, with the plan being to stay through Sunday morning. Which was exactly what the plan was originally, just the weeks have been changed. Nice days, cool nights, it should be just what we need to relax for a few days. Guess I could say that all our days are days to relax, some are just more relaxing than others.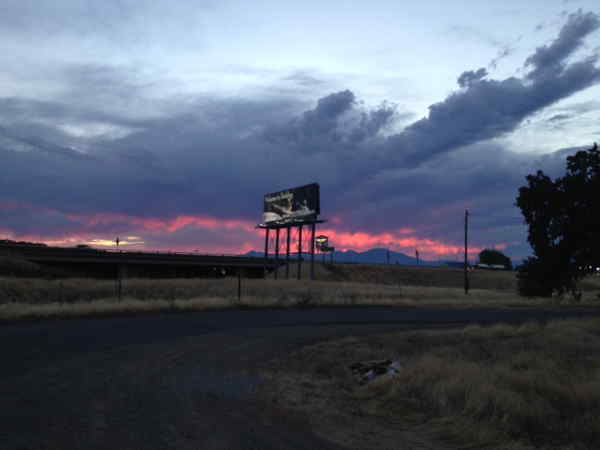 The perfect view to end the day. The sign reads Welcome to Redding, and thats where we will be heading tomorrow morning, then passing through to head further north. Life is Good.
---
Wednesday August 7 Weed, California
Travel Day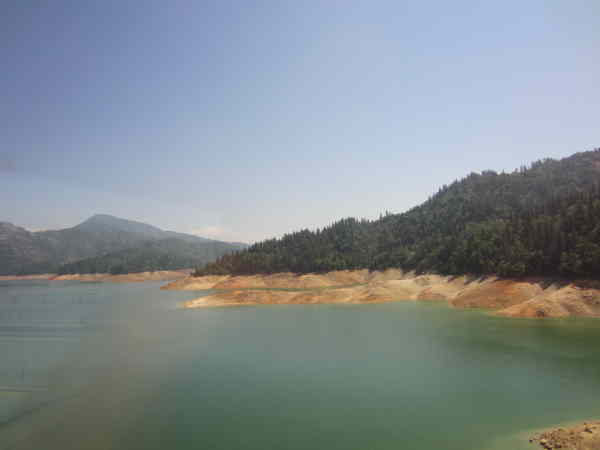 That photo says a lot, and it was a long time coming. Nice easy drive up to Weed, our original destination before our unfortunate incident. I confess to being a little nervous at the being of today's drive, though Linda might use the term testy if she was being nice to me. What can I say. Will the mirror I repaired fall off? Will the repair hold up or is there something messed up in the transmission or rear end? Did the the replacement of the pop off valve fix the air leak, we will be driving in the mountains after all.
On top of that the tire monitor system decided that if the RV could break down, so could it. We had the two boxes on the screen for the RV and Explorer, but no tires and no numbers. It looks like it was a case of everything being deleted. In the end we decided to drive without it and reset it tomorrow, hoping that is the fix. We drove all those years without a tire monitor and it never bothered us. Now that we have one, let it be inoperable and it's a different story. We decided we are definitely out of practice when to comes to traveling in the coach.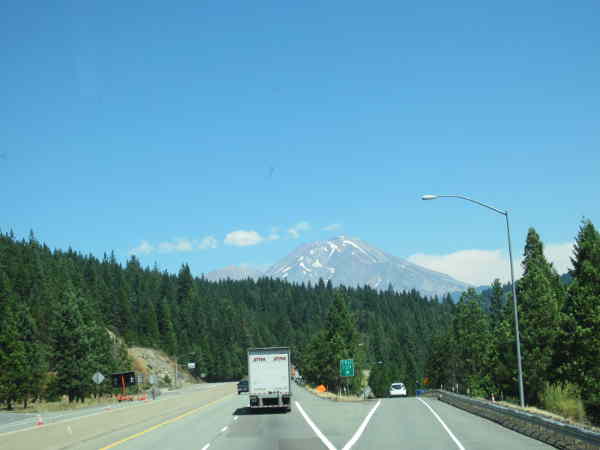 No problem with any part of the drive. There was a good deal of truck traffic, almost all of which was going 55 or a couple of miles over. We just fell into line and had a very easy drive. There are quite a few upgrades where there are truck lanes and just like the trucks, used them and sailed along enjoying the scenery.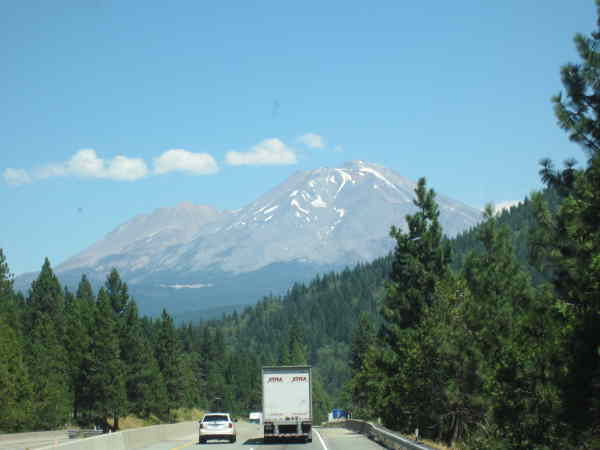 Mount Shasta. Not much snow, but it is still pretty.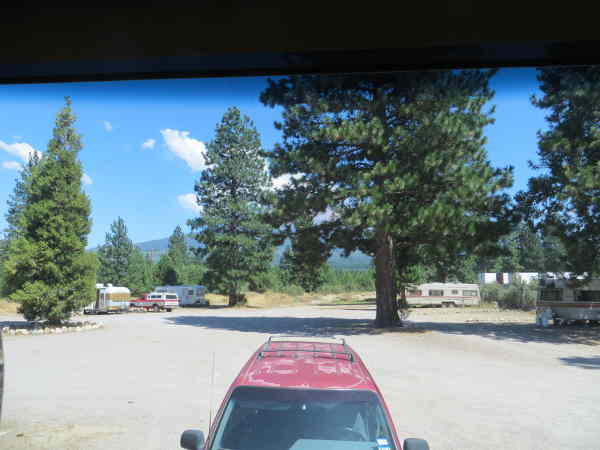 Our site in this RV park. When we checked in they told us we would have a view of Mt. Shasta. We decided they tell everyone that. A days work with a chain saw would yield a view. I have to feel sorry for the people who really do expect to get a view of the mountain from the park. There are several sites that actually do more of a view, but that's it.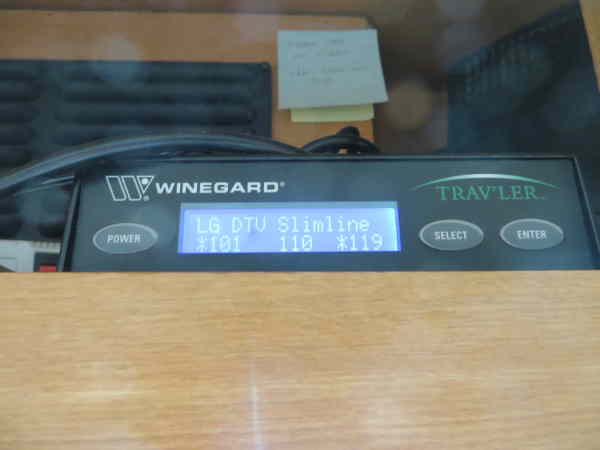 I just sitting down when Linda stated pointing at the front of the coach and Saying "Look, look." I thought she wanted me to reset something and started to reach for the plug. That brought out a "No, no."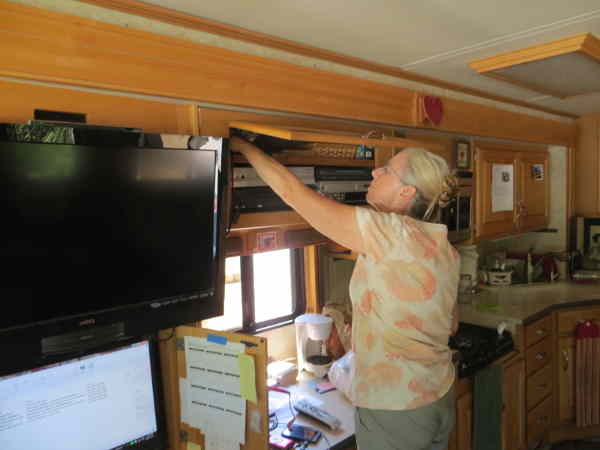 Now I was being accused of doing something dastardly to her DirecTV receiver. I admitted to unplugging it when we were boondocking at the repair shop, but it took just took a moment to plug it back in and Linda was once again a happy girl. For a few moments while I was trying find the end of cord I was in some danger, but that soon passed when the receiver started up. Lucky Bob.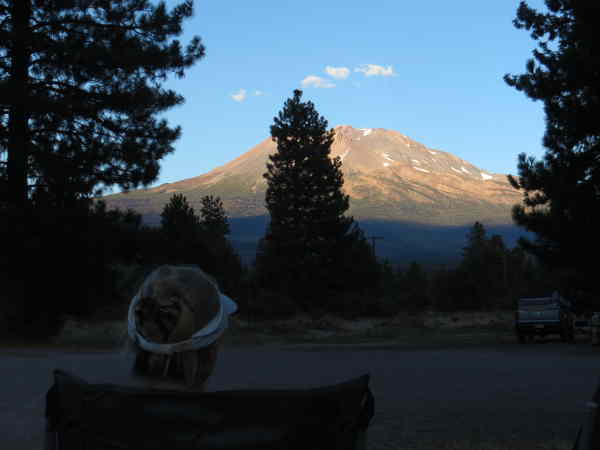 Quite a different view for our happy hour tonight. It's so true. Don't like how things are? Just wait a while and things will change. Lucky Bob. Lucky Linda. Living Life Large.
---
Thursday August 8 Weed, California
Weeding To-Day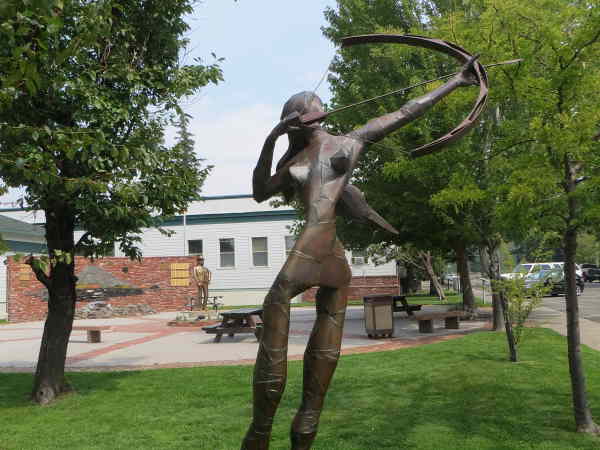 We spent the morning in Weed, which took some doing since there isn't much to see in Weed. Linda visited every thrift store in Weed. I walked the main street looking for interesting buildings. There really weren't very many, but most of the buildings in town have a small plaque on them telling what building was on the site before it either burned down or was torn down and the present nondescript building was built.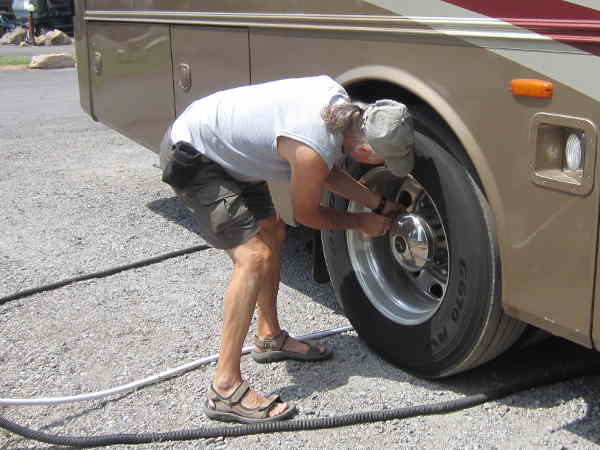 In the afternoon it was time to reprogram the tire monitor. I read the manual several times yesterday. Linda read the manual several times yesterday. I read the manual several times this afternoon, and Linda, well Linda said if I understood what we were supposed to do and could tell her what to do, she would do it. It was looking like she was the smartest person in the family.
Plunging ahead, I first set the upper and lower limits for all the tires as stated in the manual. Then I went around to each tire and loosened the sensors. Linda just smiled and mentioned something about hoping that I knew what I was doing. Hopeful Linda. Prayerful Bob.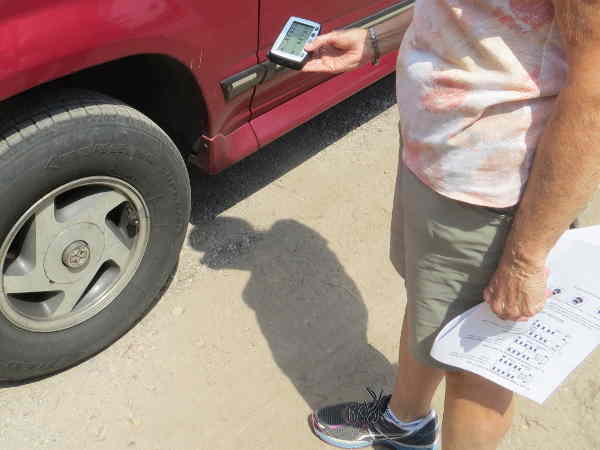 Do not for a microsecond think that the fact Linda is holding the instructions in her hand means anything. Well, it does mean something, but only that I asked her to hold them in case I need to refer to them. The miracle was that as I tightened each sensor, the monitor identified it, meaning we were able to get everything working as it should. The greater miracle was that it was all accomplished without any accusatorial words between us. That truly may have been a first.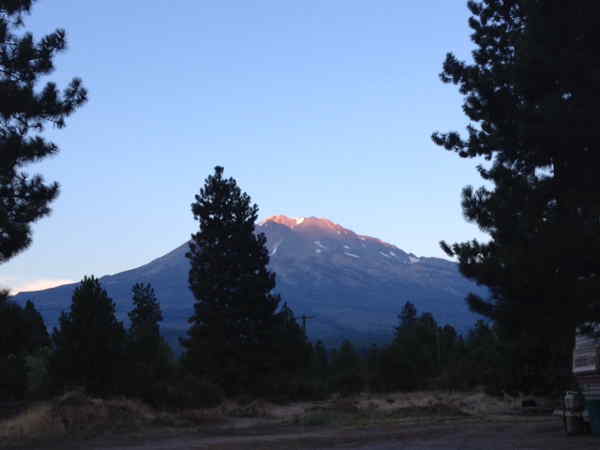 Looks like last nights view and it was. The wind was blowing. It was chilly. We went back in the coach right after Linda took this photo. We've decided that we prefer hot weather. Tomorrow night we should be back in warmer weather and at a place where Linda will have the opportunity to enjoy some adult entertainment, as they put it. As always, Life is not a dress rehearsal. Don't be afraid to laugh, love and retire early.
---
Friday August 9 Canyonville, Oregon
Travel Day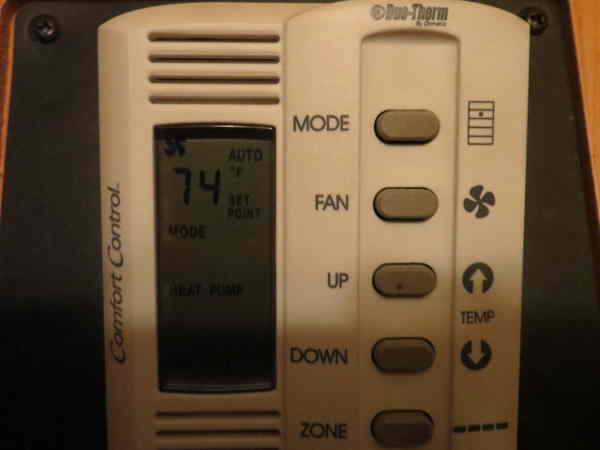 It's a little hard to make out but there it is, those words: Heat Pump. It's been so long neither of us could remember the last time we woke up to cool weather where we needed heat. We said we wanted to spend time in the mountains to get away from the heat, but we forgot to beware of what you wish for, you just might get it. Meanwhile back in the bedroom Linda was nice and cozy under the blanket and comforter. When I was telling her how cold it was this morning her only comment was "You were the one that wanted to get up at 4:30, I was nice and warm in the bed, so don't tell me your problems." And to think that I had her coffee ready when she finally got up. Married Bob.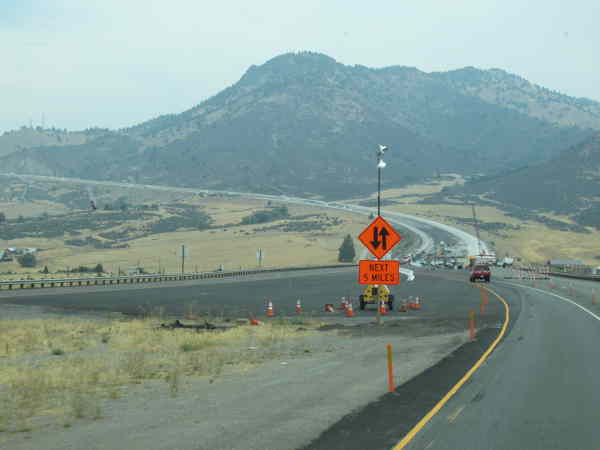 Today's drive was either up or down, with curves this way and that way. Then for good measure there was the occasional construction zone. No wonder we were both tired when we arrived at the RV park this afternoon.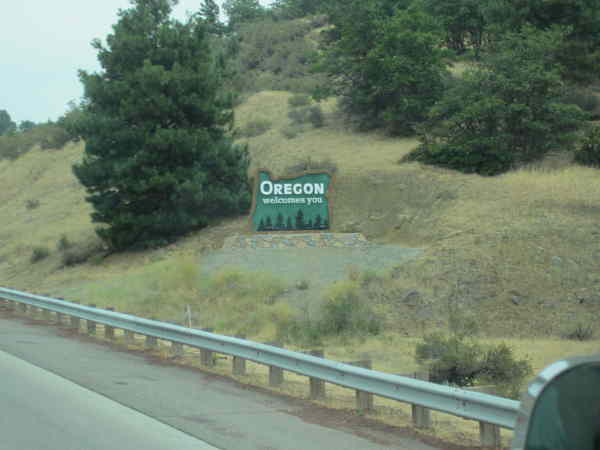 When we crossed the state line into Oregon, Linda let out a whoop of joy. Not because we were out of California, rather because she got a picture of the Welcome to Oregon sign. That's a great improvement over the previous three crossings on the trip, New Mexico, Arizona and California, all of which she missed. If at first you don't succeed, try, try, try again.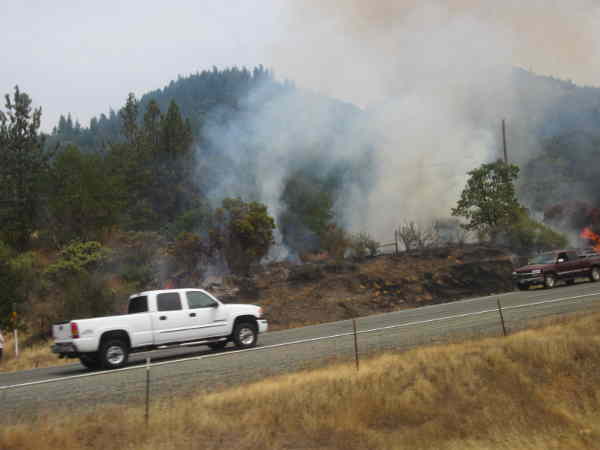 In Oregon there was smoke in the air to differing degrees, plus this small wildfire just off the highway.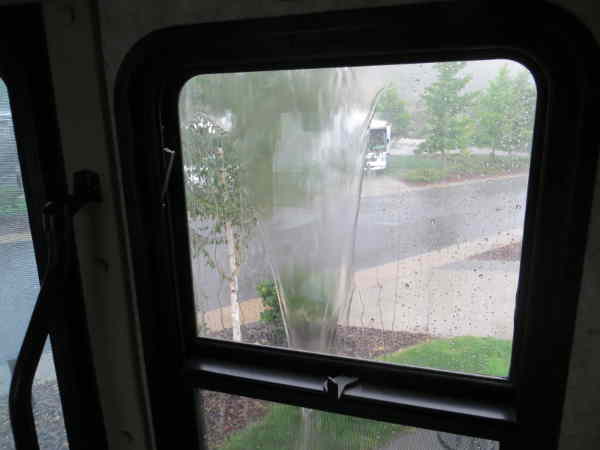 This evening the skies opened up and the rain came down in torrents. Hopefully it was widespread enough to make the fire danger much less in this area. As for us, we decided to call it quits a little earlier than usual. Some days are like that. As Longfellow said, The best thing one can do when it's raining is to let it rain. And that's exactly what we did.
---
---