Journal Archive 8/11 - 8/20 2013
Scroll down to read the latest post
Sunday August 11 Harrisburg, Oregon
A Scandinavian Day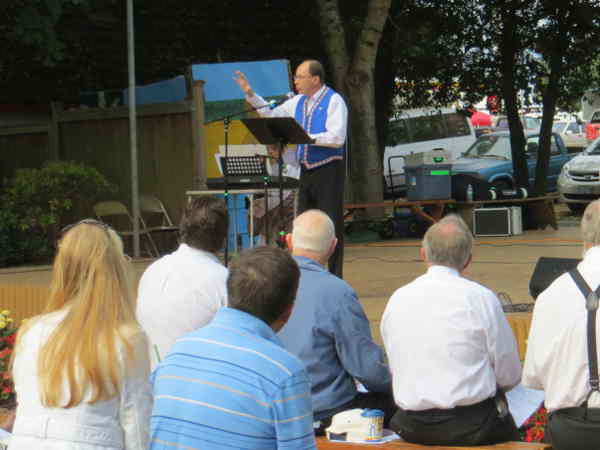 Something different for church this morning. An outdoor service at the Junction City Scandinavian Festival. Ministers from three of the town's churches, an offering that goes to Local Aid which helps the needy in the community, and songs from our past. Holy, Holy, Holy; They Will Know We Are Christians; and Amazing Grace. Definitely different from the contemporary services we usually attend. It reminded me that these small local churches can have pastors who are just as inspiring as the mega churches we often attend. Sometimes we need to just open our eyes and what we are looking for has always been right in front of us.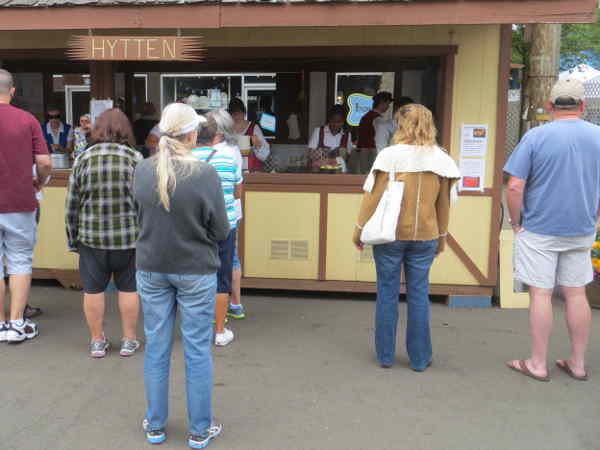 The great thing about attending festivals like this is the food, and this one was no exception. As we drove over Linda was talking about foregoing festival food to make sure she stuck to her eating regimen. It's looking like there might be a few exceptions to that vow.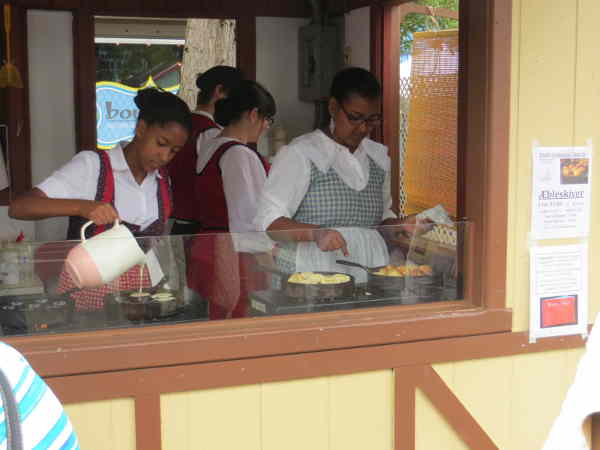 Aebelskiver. Describing them as pancakes in ball form doesn't begin to do them justice.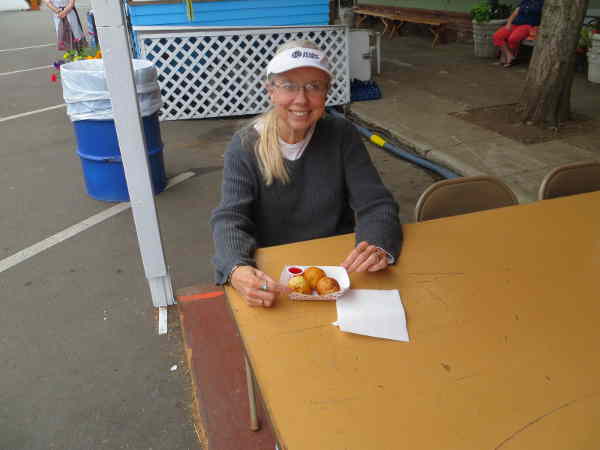 What Linda did, was to do them in. She was true to her word about only eating one, but I did note that after eating her first half of an aebelskiver, she made sure to pick up the largest remaining half to eat as her last one. Smart Linda.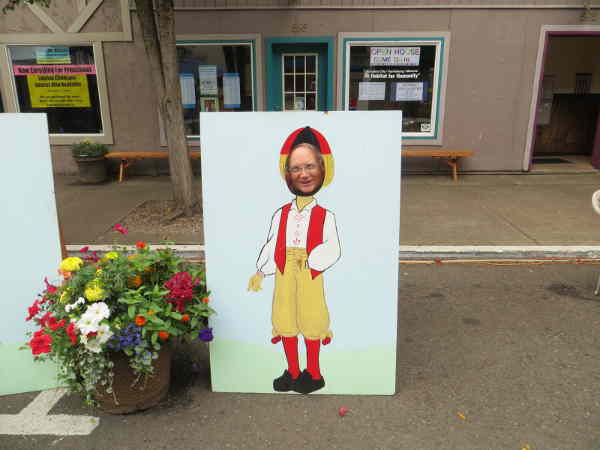 Having fun. The most amazing thing is how much I look like my dad in this photo. He enjoyed Life and I do too, so maybe that's why it is a like father, like son photo.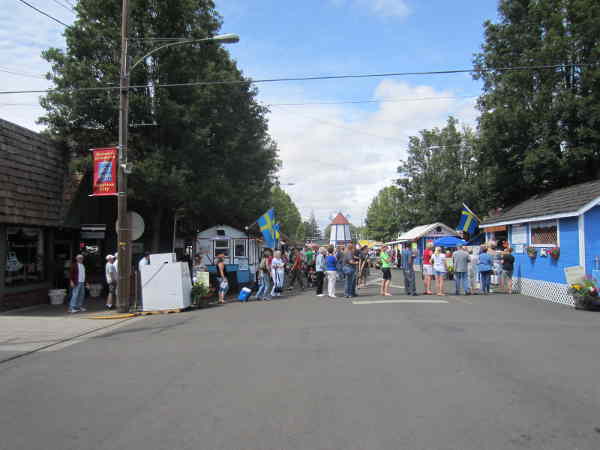 In line for lunch, all the way across the street and on the sidewalk. Swedish meat pie. It was more than worth the wait.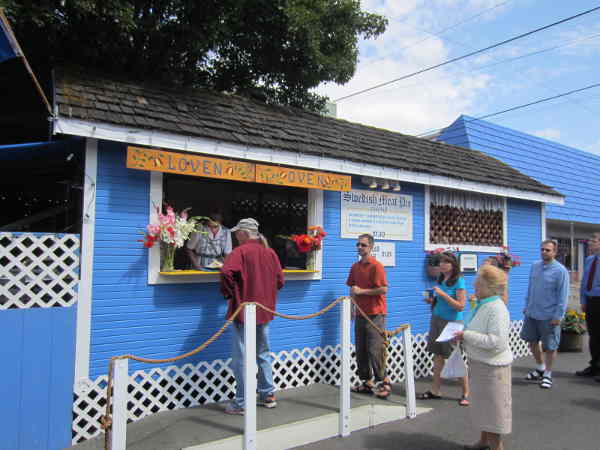 They were making them and baking them as fast as they could, but they had to run out eventually as the line was just as long when I bought ours as it was when I got in line.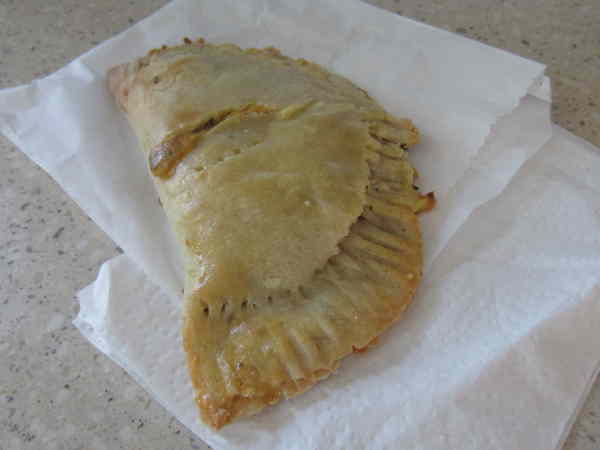 Linda took a photo of hers. We brought them back to the coach to eat, but I had already eaten half of mine. I was hoping she would decide a whole one was too much, but no such luck.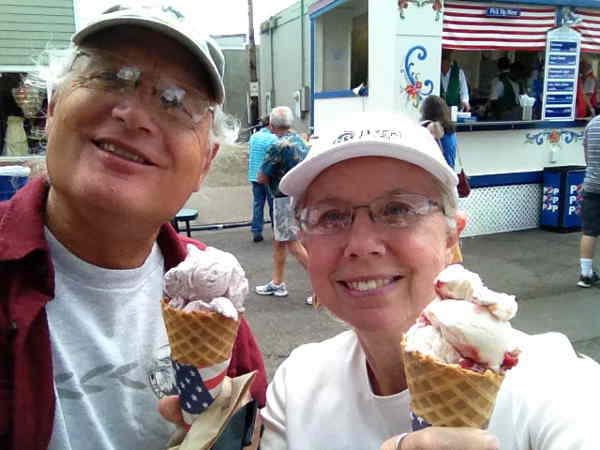 I'll end the day with this photo of our cones, mine huckleberry and Linda ligonberry, two kinds of ice cream that are definitely not common. That was at the festival this morning. Linda said that it was okay to eat dessert in the early morning because then we would have room for more later in the day. So we ended the day just as we did last light, eating blackberries by the handful from the bushes that grow at the edge of the RV park. Life doesn't get much better than this.
---
Monday August 12 Harrisburg, Oregon
A Shopping Day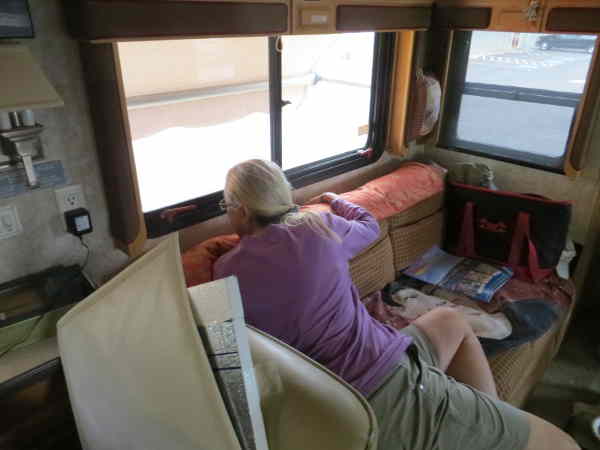 Something was happening out there and Linda was eagle eyed, observing whatever it was. I never did know what she found so interesting, but I've learned that nothing gets past her, including anything I try to do. Fortunately I wasn't trying to do anything other than sneak in a photo of Miss Snoop without her knowing, and it looked like I succeeded. Sneaky Bob who's probably going to be in trouble when Linda read this.
Notice what the words are on the GPS. That's exactly what it was saying. Coburg Natal Hist Dist. Linda got to laughing so hard she could barely take the photo. As far as why we were out needing the GPS, it was because we were visiting some of the places we are considering to have do the remodeling on the coach. It was amazing how different if felt at the various places. We still have another to visit, so we will hold off making our decision till after see it. Lets just say that we visited four places, two which we could have do the work and two that we wouldn't, but not for the same reasons. Report later in the week.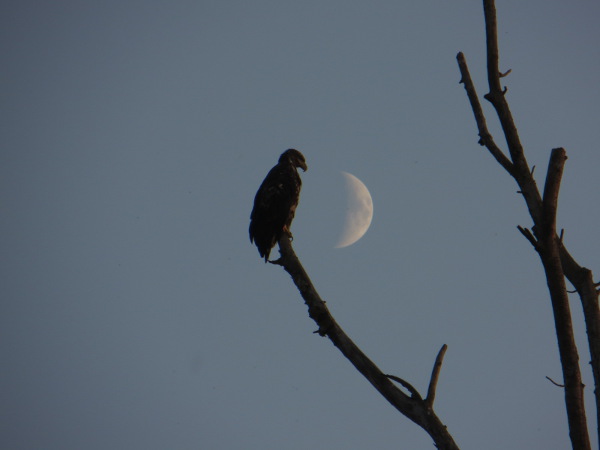 This raptor was perched at the edge of the river a short distance from our site. It's unexpected views like this that make Life special.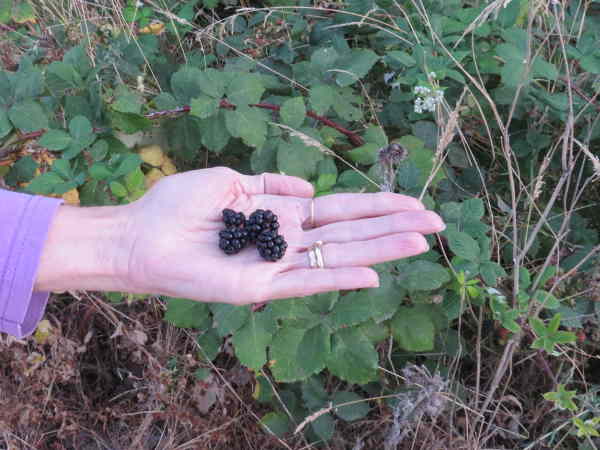 We ended the day just as we have every day since arrived here, by grazing the blackberry bushes out by the road and along the edge of the park. Linda estimated we each ate a cup of berries. I don't think she realizes just how fast I can pick and eat those unbelievably sweet bursts of intense flavor. We we do is to come back to the coach with fingers stained and more than satisfied. There is simply nothing better than a dead ripe berry that you eat a second or two after it was picked. We do indeed Live Life Large.
---
Tuesday August 13 Harrisburg, Oregon
A Fun Day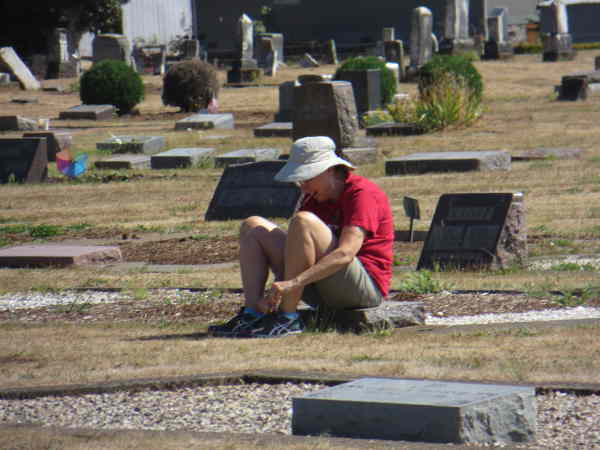 Mid morning found us doing one of the things we really enjoy, visit cemeteries. "Footie" managed to get a huge rock in her shoe even though we were walking in the grass of this cemetery, which was one of the four we visited. Also note that when you have to sit down and take that big old rock out of your shoe, you sit on whatever is the handiest. I can just hear whoever it was under her saying something to the effect that at last someone is paying attention to me.
Big Tree. As we walked into this cemetery Linda pointed to the side and said, "Go stand over there." I wasn't sure what was going to happen, but long ago I learned that when the lady speaks, the man obeys, or there is H@!! to pay. At least she didn't play Wilhelmina Tell and try and shoot something off my head. Lucky Bob.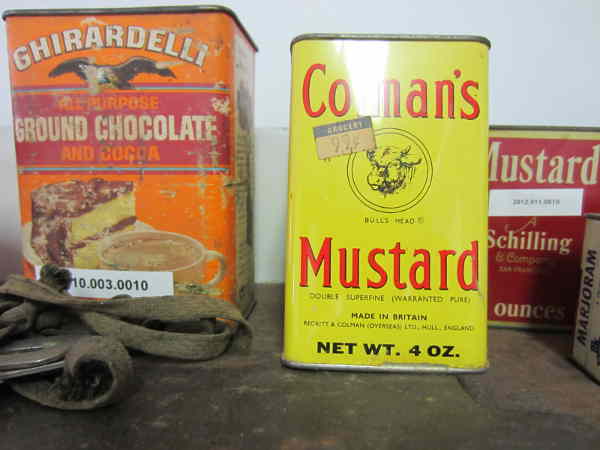 We spent the afternoon at the Harrisburg Area History Museum. There was so much to see and the wonderful lady that took us through the museum knew so much that we will be back again. Like virtually all of the local history museums, this one operates solely on donations. Going through the photos we took I had to chuckle at this one. Linda and her Coleman's Mustard. It's in that Norfolk girl's genes.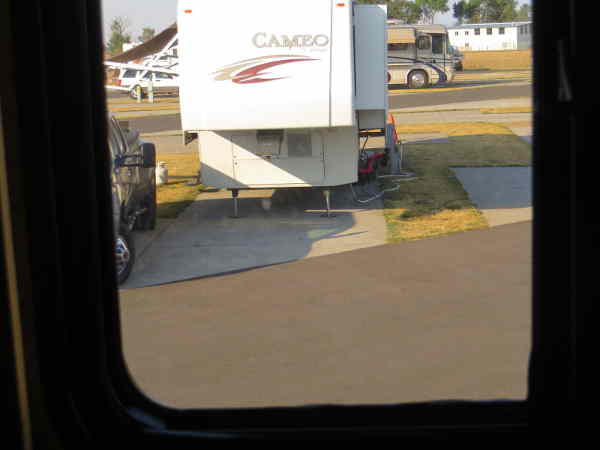 Some entertainment in the early evening. It took close to a half hour for this 5th wheel to get parked. The saving grace is that it will get better for them. I can still remember my three attempts to pull into our pull thru site the fist time I ever drove the coach. The most important thing is that they are out doing it.
As we were sitting out enjoying our evening happy hour, there were two RV's near us dumping their tanks. Deciding to join them we moved our chairs around to the wet bay and proceeded to dump our tanks as well. As we sat there I remarked to Linda. "I absolutely know that ten years ago I could never have imagined doing this during happy hour." Back then our happy hours were spent out by our fish pond relaxing after a long day of work.
She looked at me and just smiled. It was a case where she didn't have to say anything. It's one of those, you have to Live our Life to understand, things. Am I ever glad we realized Life is not a dress rehearsal. Don't be afraid to laugh, love and retire early.
---
Wednesday August 14 Coburg, Oregon
A Fix-it Day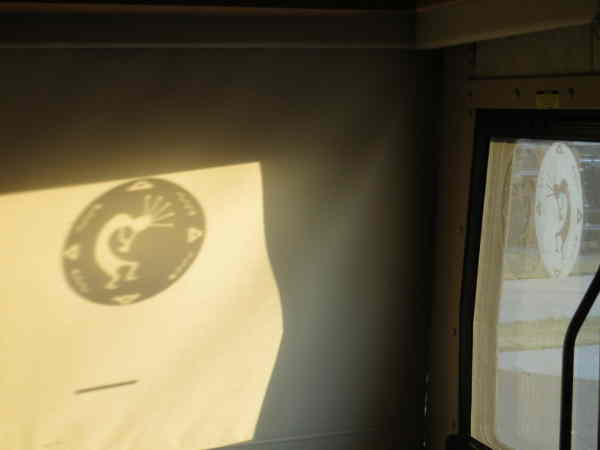 Up early this morning for our service appointment at the Cummins Coach Care Center down the road about ten miles. The early morning sun coming thru the door made for a most interesting design on the front shade. Linda loves Kokopellis and she sure did smile when she saw this one. Happy Linda.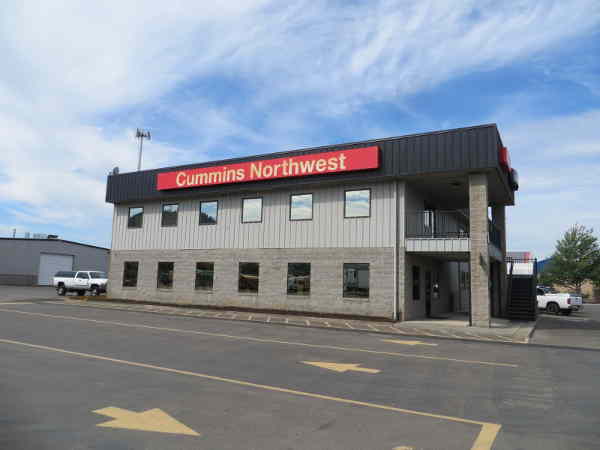 Where we spent the day, as well as a bunch of dollars. We just decided to get all the little things that we have learned to put up with, fixed. That was in addition to all the regular scheduled maintenance. We also wanted to get several slide toppers replaced as well. They didn't get everything done today, or I should say they got everything but one thing done today, and that was because it will take until tomorrow to get the front roadside slide topper sewn at a local shop.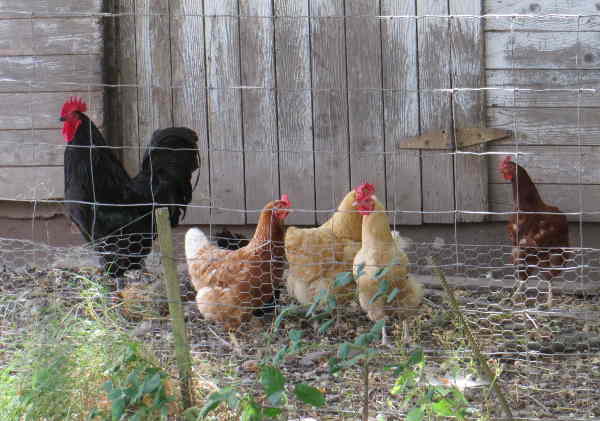 While Linda spent time in the waiting room I ventured out to visit the big city of Coburg. When I came back with this picture, I just had to immediately show it to her. She thinks I just spend all my time looking at buildings when I wander around these towns. Not so, I also visited the cemetery as well as spending time with these pretty girls.
Tomorrow afternoon they should finish up with the coach, and then we can be on our way. Right now we really don't know where we will be going, though Albany and Keizer are being mentioned by she who did a little planning about towns while I did the galavanting about town. One thing we want to do is to not go very far and to get at least a little ways away off the Interstate. As Charles Kuralt so aptly put it: "Thanks to the Interstate Highway System, it is now possible to travel across the country from coast to coast without seeing anything."
---
Thursday August 15 Coburg, Oregon
Another Fix-it Day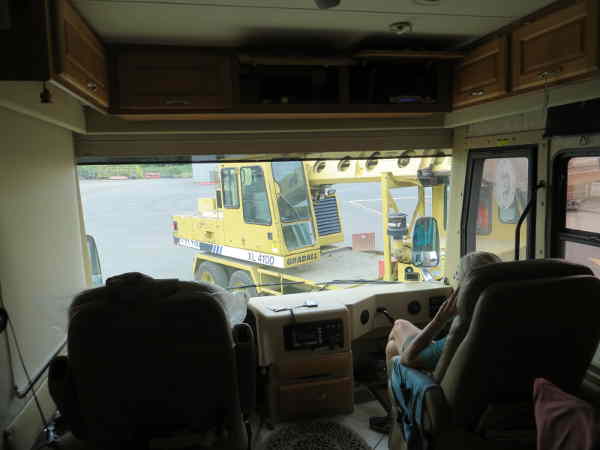 Interesting view out the front window this morning. Now why do all those ads for RVing show you driving down the road or parked beside a stream or lake with mountains in the distance? When I was kid my dad took me out to watch the building of the Ohio Turnpike. When I was a dad I took my son out to watch them build a street near where we lived. Today the construction equipment came to us. Wonder if that is what is known as getting lazy in your old age? Note that reference to lazy and old age was in reference to me and not Linda. Just saved myself a lot of grief. Smart Bob.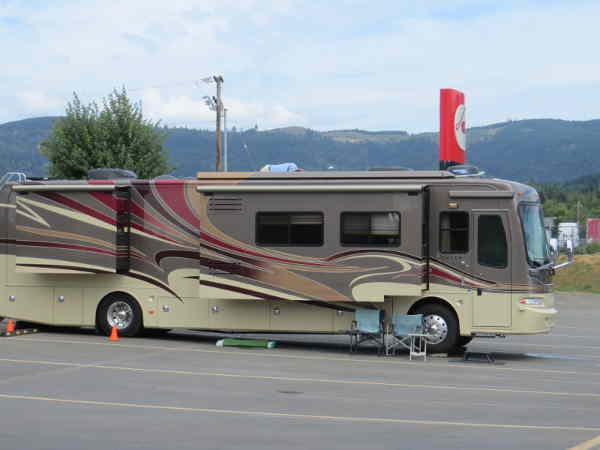 Speaking of grief, I had to wonder what this poor fellow did to get himself banished to the roof. On second thought, this may not have been a good thing to post because it may give Linda ideas. Not really because despite what you might think from my mutterings here at times, Linda is the best thing to ever happen to me. Ultra Lucky Bob.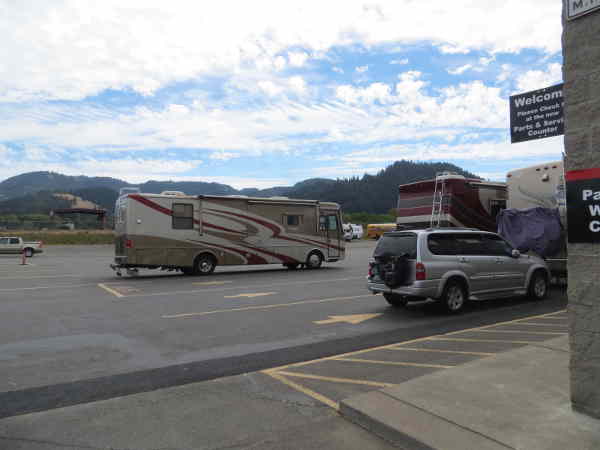 Back into the shop for more work. Before I forget it, I was told yesterday that those weren't all hens in the chicken photo I took. Linda put it into her own unique way of correcting me when I mess up, but that was for my ears only. Chastised Bob.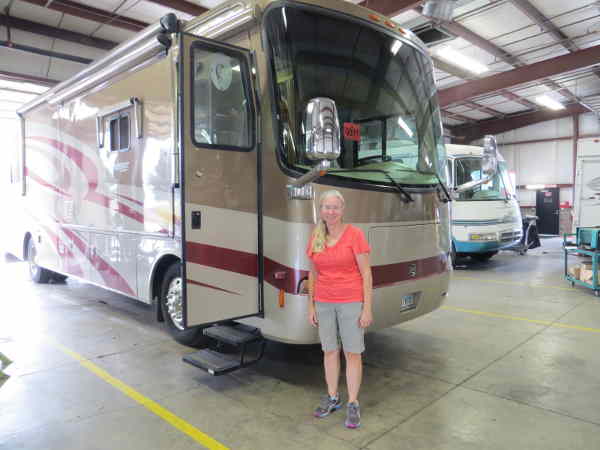 Just to prove we really are having the coach worked on. Linda is a very, very happy young lady because she can not only open the coach door, she can open it every time with the greatest of ease. And you can probably guess what a happy Linda makes. A Happy Bob. Life is Wonderful. Even when you're at the repair shop. Now if they can just get the slide that wouldn't go in this morning fixed. What timing. Sometimes its good to be lucky in being unlucky.
---
Friday August 16 Harrisburg, Oregon
A Pick It Out Day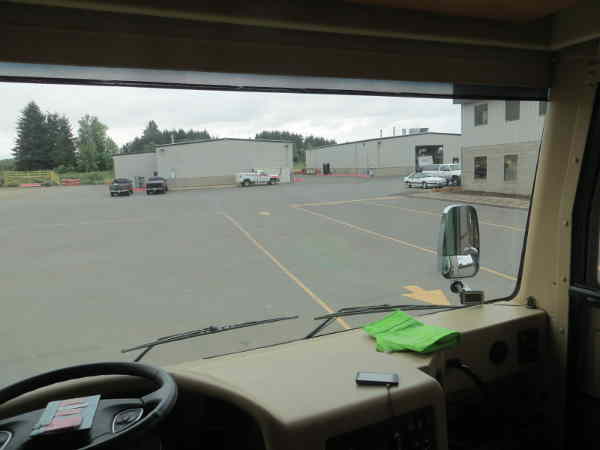 The view out the front this morning was a good one. We were done with all our maintenance and repair issues, and would be heading back to where we can from today. We had the coach oil changed, the entire chassis lubed, changed all the filters except for the transmission filters which were done as part of the recent repair, the generator serviced and the reluctant front slide lubed. On the repair front we had two slide toppers replaced, the serpentine belt replaced, the front door fixed, the generator slide fixed, the cord reel replaced and the waffle tape on the side walls at the slide outs removed. It was all done at Cummins Northwest Coach Care in Coburg and we were very happy with the results. The techs are former Monaco service center employees and they really know what they are doing. To paraphrase Arnold: We'll be back.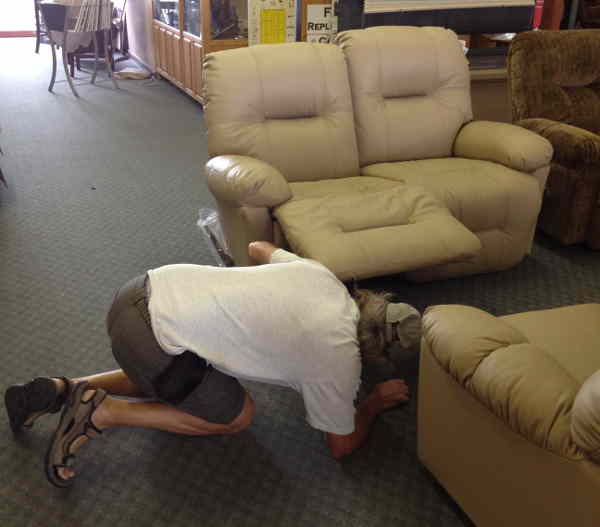 We stayed at Coach Care overnight as they have electric and water hookups. We only hooked up the electric and at 10 this morning we headed up to Countryside in Junction City to have them give us a quote on replacing the floor and also to confirm that we really did want a double recliner to replace the couch. As you can see, I had to give the recliner a good checking out to make sure it was what we wanted.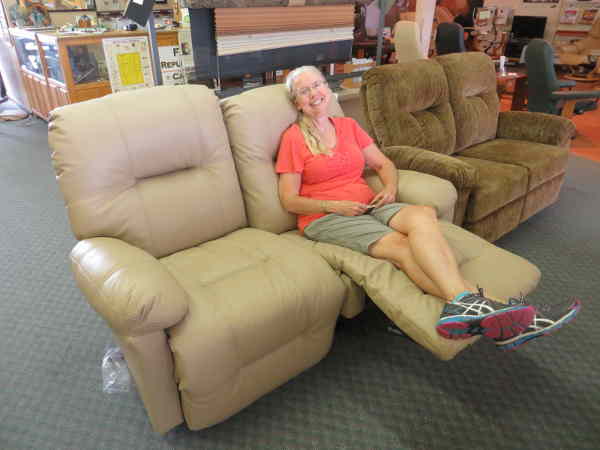 Linda had her own way of checking out the recliner. Her comment was, "I love it." When it came time to actually order it, she opted for the electric model in leather. A couple of hundred here, a couple of hundred there, what does it matter. Besides, as she put it, its the money our kids would get someday that she is spending.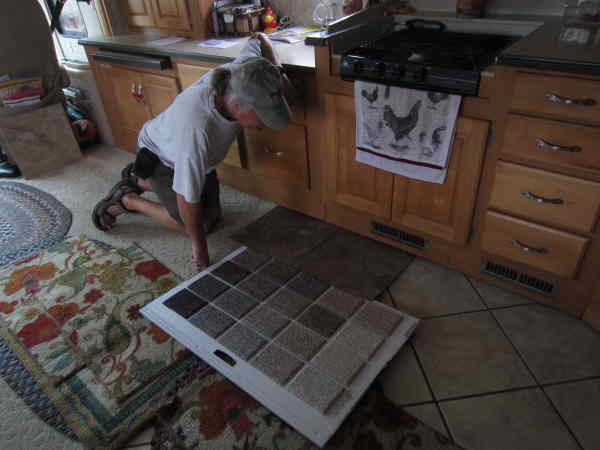 Then there was the floor. The main area of the coach will have Nafco tile installed while the road side slide and the rear engine doghouse while have carpet. Darker is what Linda wants this time, and that was what the samples were that she brought out to the coach. I wasn't sure what she wanted me to do, but I did my best to look like I knew what I was doing.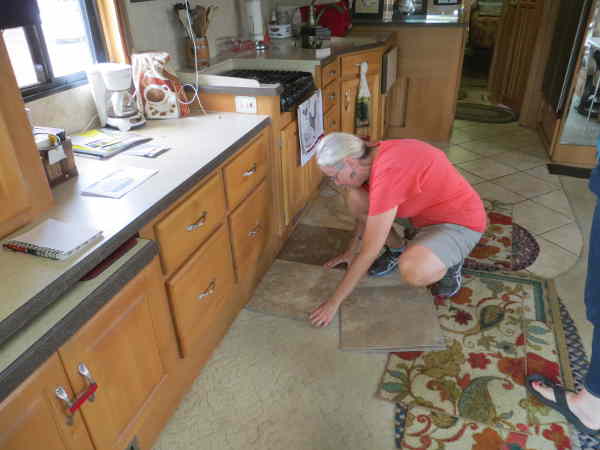 So, you check the tile against the cabinet wood, then you check the different shades of the carpet against the tile. Then move up to the front into the sunlight and do it all over, then you move back to the bedroom where the sun don't shine and do it once again. Is this something women are born knowing, or do their mothers teach them this stuff? Puzzled Bob.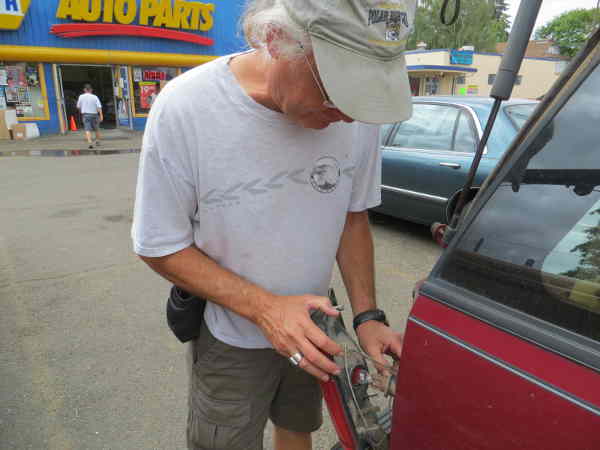 Luckily I was able to show Linda that there is a reason to keep a man around when I replaced this burned out brake light in the parking of the auto parts store.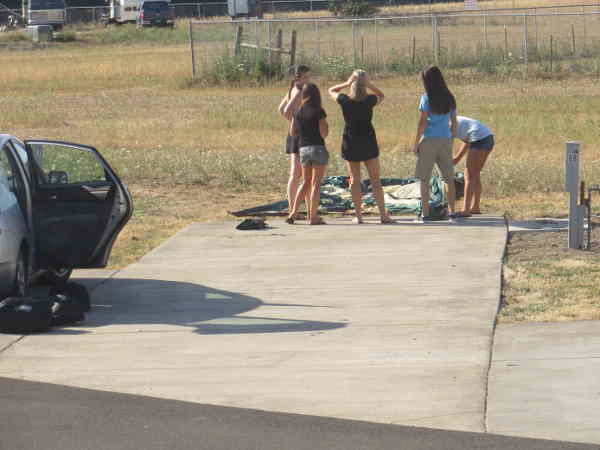 There is a major country music festival just up the road this weekend. This scene is being repeated all around the RV Park. Linda had a great time watching these girls figure out how to put the tent up, then blowing up two huge double air mattresses and getting them both into the tent.
It's been said and written many ways, but it always true. When you look back on your life, you'll regret the things you didn't do more than the ones you did. How true it is.
---
Saturday August 17 Harrisburg, Oregon
A Good Day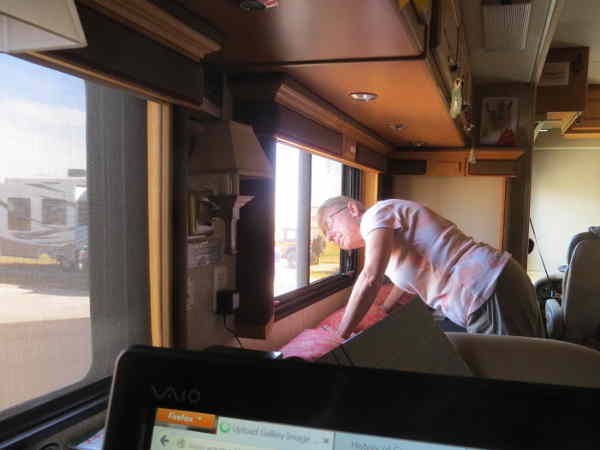 Not sure what the woman I married was so intently observing (Note that I didn't use the word snoop to describe her actions, Good Bob), but whatever it was, it sure had her attention. I know that because right now as I write this she said, "I didn't know you took that picture." Sneaky Bob.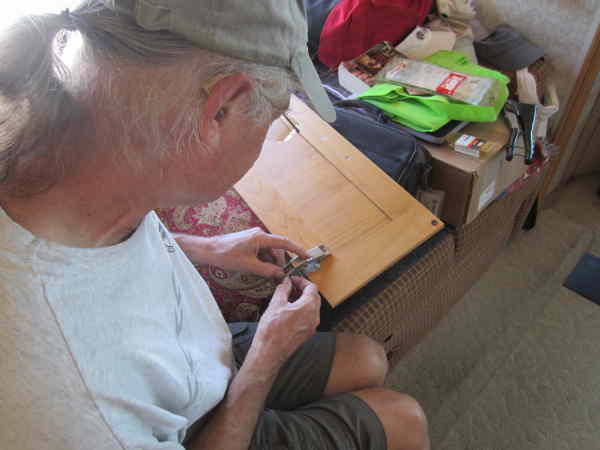 The hinge in one of the overhead cabinets wasn't working right. Discovered it was partially broken. Couldn't fix it but came up with the brilliant idea of changing it out with one from a cabinet we won't need to open. That was the second fix, which was to take the glass out of the electronics cabinet. Now we don't need to open it, so the hinge swap worked perfectly. Plus we needed to always have the electronics cabinet open or it would over heat. Now with being nothing but just the frame it can always be closed. Smart Bob.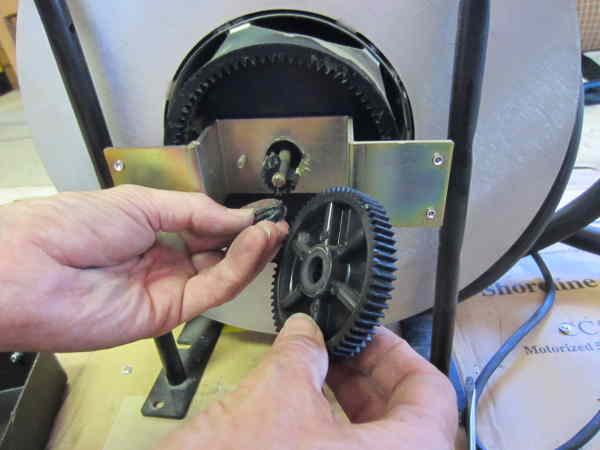 The broken gear in the cord reel. Plastic gears, what did they expect. Our extended warranty paid for the new one. The new one is loud. The new has metal gears. The new one will last. Hopefully.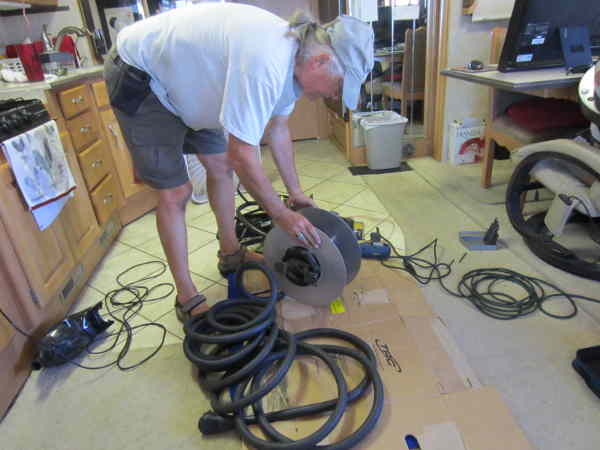 I had requested the old cord reel, and today was take it apart in more ways than one, day. One reason was to see what the gears looked like. The other was to take off the 50 amp cord so I could make it into an extension cord by adding a female end. You know the old adage, "You can't have enough 50 amp extension cords."
Okay, so maybe that's just something I made up, but I guarantee you if you're ever a foot short of being able to hook up, that extension cord will come in handy. It also doesn't hurt that a new end is $25, and an extension cord is $150. It was "fun" taking the old one apart, especially with it being put together with rather heavy duty rivets, all of which had to drilled out to get it apart.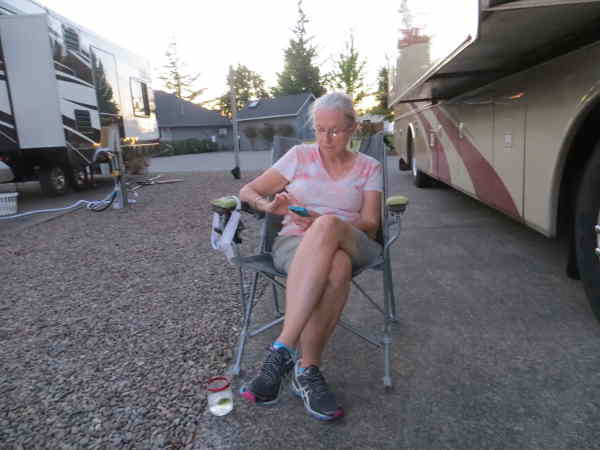 The end of the day. A time to sit back and relax. The full time Life isn't for everyone, but for those it is - no more need be said.
---
Sunday August 18 Albany, Oregon
A Rest Day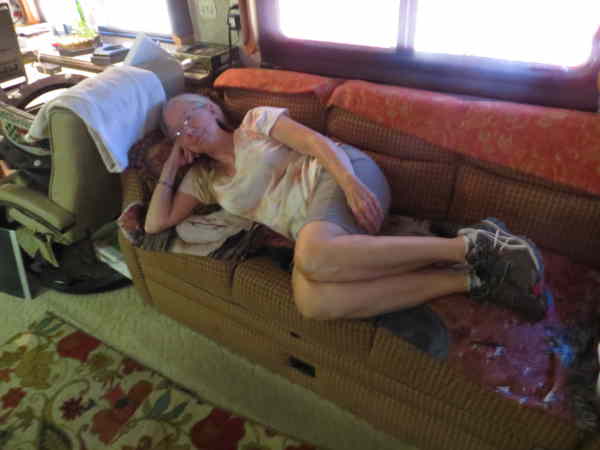 An entire Daily Journal in a single photo. Some days you just don't want to do anything. This was one of those days.
---
Monday August 19 Albany, Oregon
A Fun Day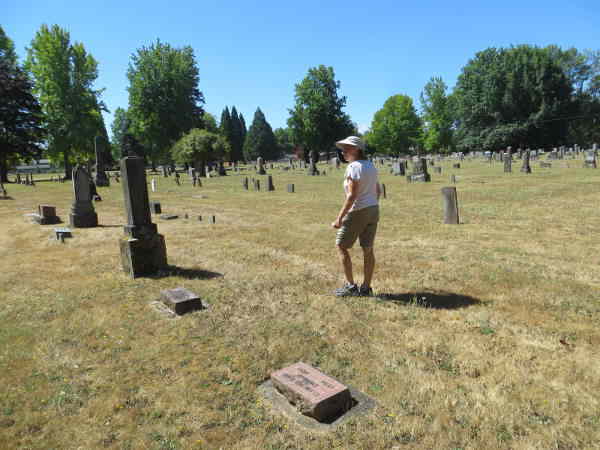 Back to doing one of our favorite things.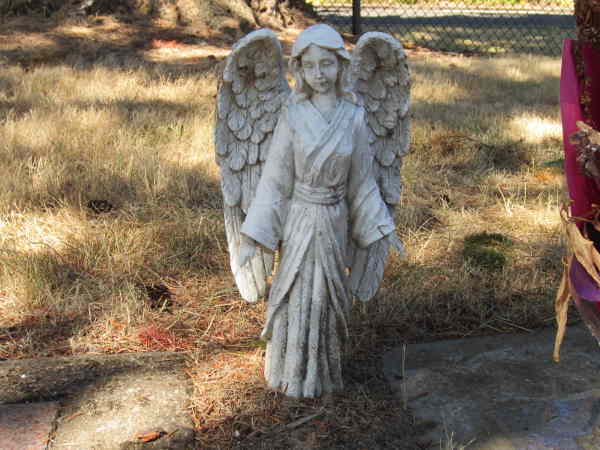 I also enjoy downloading the photos from Linda's camera because I never know what I will find.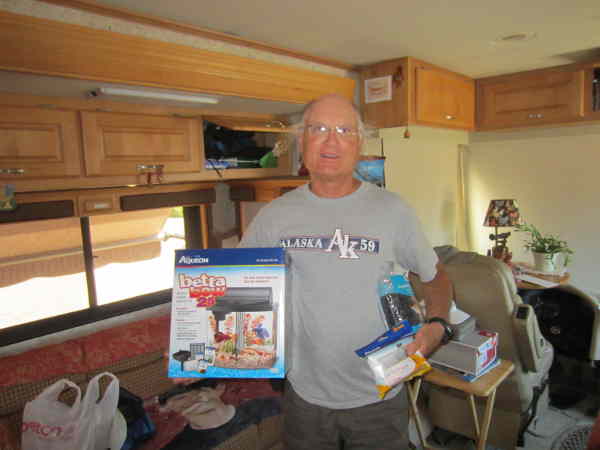 Something for Red. The LED light in his tank has a dozen or so bulbs, which have been flickering. First it was a couple, then a couple more and now almost all are flickering. I covered them over with black paper, but it had gotten to the point where there is very little light in the tank from the lights. New tank today with an old style bulb. We shall see how Red and Flash like their new home. Something tells me they are going to be less than happy for a while.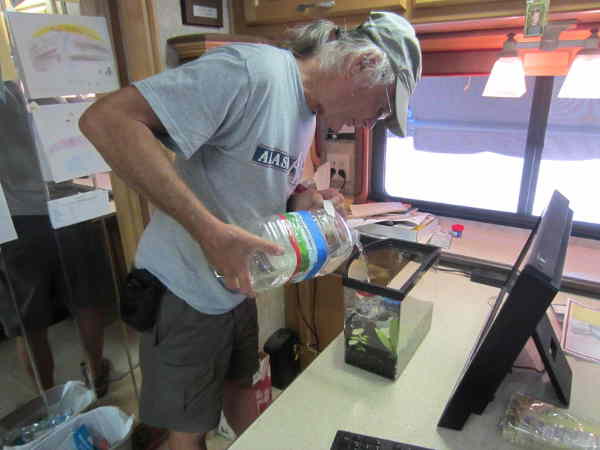 The new tank is a bow front 2.5 gallon tank which gives them more space. Black gravel, trimmed the plants heavily, and added back a gallon of water from the old tank. It has a filter, but the current seems to be mainly at the surface, which is the opposite of the last tank. It will probably take some getting used to on Red's part. What can I say, people like to write about their dogs, so I'll write about my fish. Maybe I should have Red and Flash write a paragraph or two one of these days telling about their experience with being uprooted from the only home they ever knew.
A few days ago I bought four different inexpensive wines from Trader Joe's. This wine from Spain was $3.99 and reminded me of the delightful Tempranillo's we had in Spain last fall. Will definitely be getting more of this one.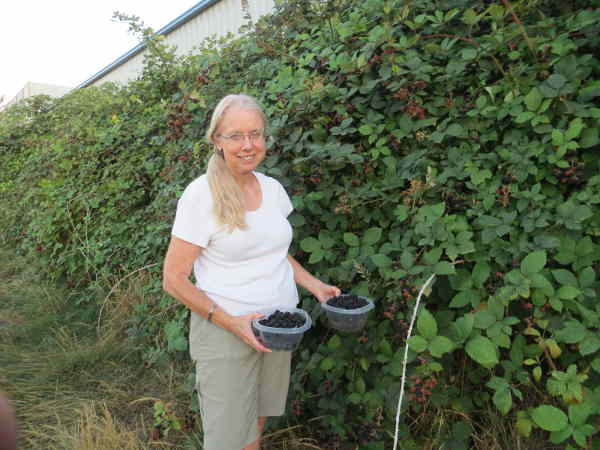 There are blackberry bushes lining the entrance road to the park. There are not as many blackberries on those vines as there were.
We ended up with just short of 5 lbs going into the freezer for now. The plan is to make blackberry jam later. It should be noted that we probably picked close to six pounds of berries, but one pound never made it into our containers, being diverted into our mouths during picking. Just so you know, our Life is Fantastic!
---
Tuesday August 20 Albany, Oregon
Another Fun Day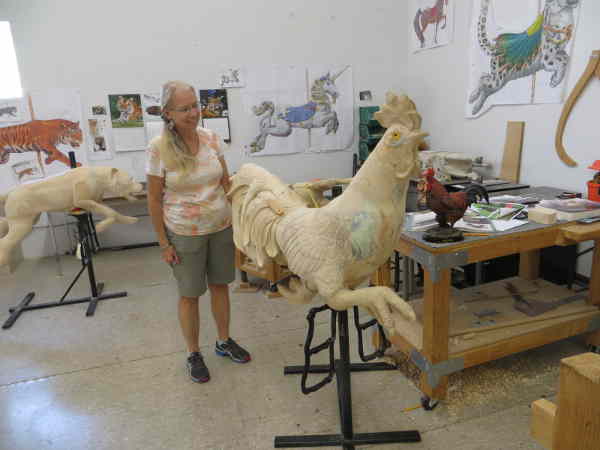 Stopped by the Carousel Museum today where I saw these two awesome chicks. Happy Linda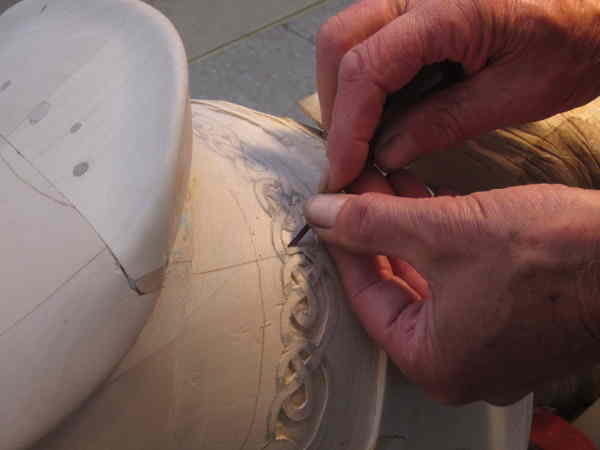 This is a working gallery where they are carving the animals that will be mounted on a carousel. It was fascinating watching them at work, especially knowing it is all being done by volunteers with greatly differing levels of skill.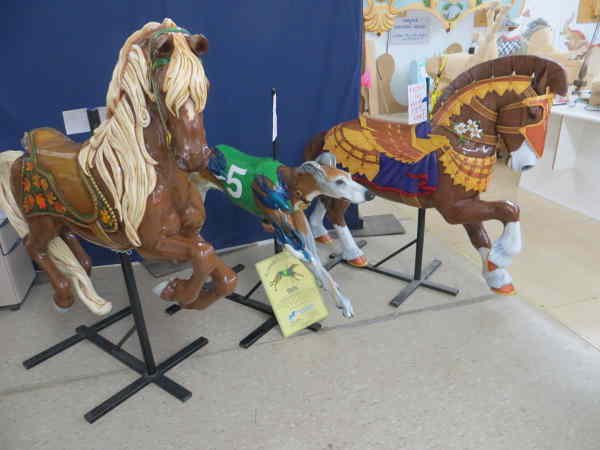 Several of the completed animals.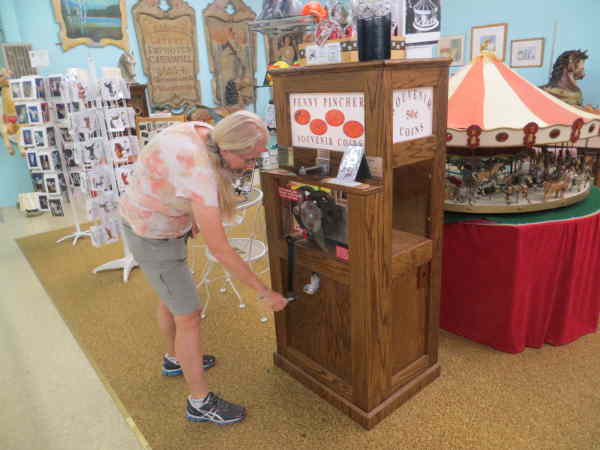 Linda saw it. Linda pestered me until I dug around in my pocket for the quarter she needed. Linda cranked. Linda went right by the design she wanted. Linda cranked it all the way around again. Linda smashed the penny. Linda was happy.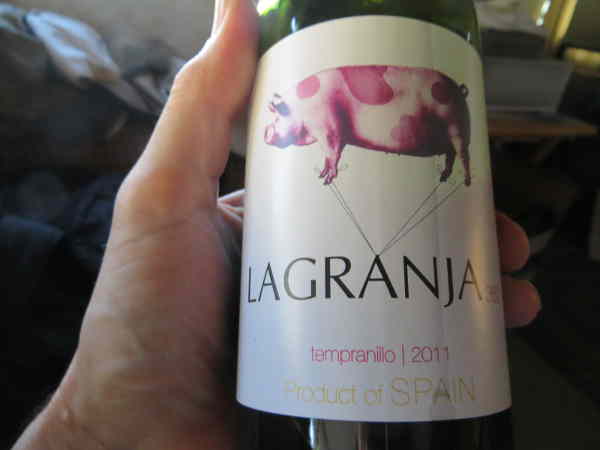 Note to self, never buy a bottle of wine with a pig on the label, there is a message there you don't understand. Maybe I'll get rid of this one by using it in cooking. It definitely isn't worth drinking as far as I am concerned.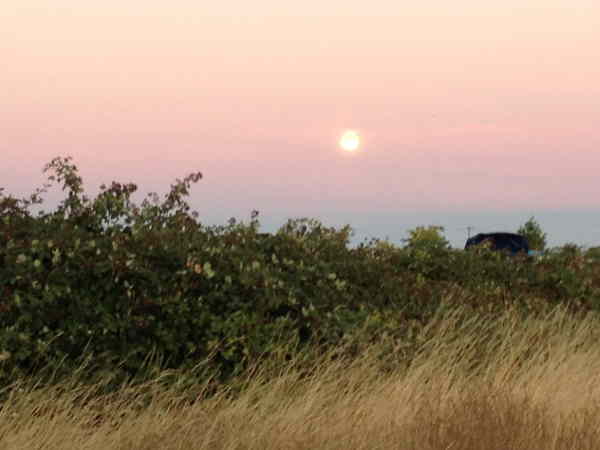 Full moon rising over blackberry brambles. Note to self, anytime the moon is out is a good time to pick blackberries, and anytime the moon isn't out is also a good time to pick blackberries.
The price paid to get those berries. I even managed to get two thorns stuck in my leg. Over five pounds tonight as a wiser Linda put a bigger container in the backpack. We may not be the best the best at picking wines, but we know a thing or two about picking blackberries. Forty-three years ago this month, Linda who was over 8 months pregnant with our first child at the time, got stuck in a blackberry thicket while we were picking. We have laughed about it ever since, especially when ever we pick berries. It is those connections that make Life what it is.
Life. Today would have been my brother's 65th birthday had there not been a war in Southeast Asia. It's why it's important to remember: Life is not a dress rehearsal. Don't be afraid to laugh, love and retire early.
---
---